Looking for the most beautiful places in Europe? We have covered the most beautiful cities, countryside and pretty landscapes for your next trip to Europe.
Whether you are looking for the prettiest places in Europe for nature or the most beautiful spots in Europe, you can be sure you will find many of those on our continent! Yes, it may be one of the smaller continents in the world, but Europe has probably the best sceneries and landscapes you can imagine!
From fairy-tale villages in the Cotswolds and Algarve in Portugal to the most beautiful European cities like Amsterdam, Bruges or Venice – you will appreciate all the amazing places in Europe.
Discover the most beautiful European landscapes with Madeira island but also the stunning Gran Canaria. You probably already know Hallstatt and Schafberg but what about Hel, Zugspitze, Seven Sisters Cliffs or Alicante?
Best landscapes in Europe – car hire:
We have rented cars many times during our trips to see some of the most picturesque places in Europe and we always used discovercars.com
Check out our guide to the biggest car rental companies in Europe or simply explore the options directly on discovercars.com if you need a car during a trip in Europe.
So, what are you waiting for? Choose your most beautiful landscape and book your trip to one of the best European destinations. Take a look at 21 of the most breathtaking landscapes across Europe – our list of 21 natural wonders of Europe! 🙂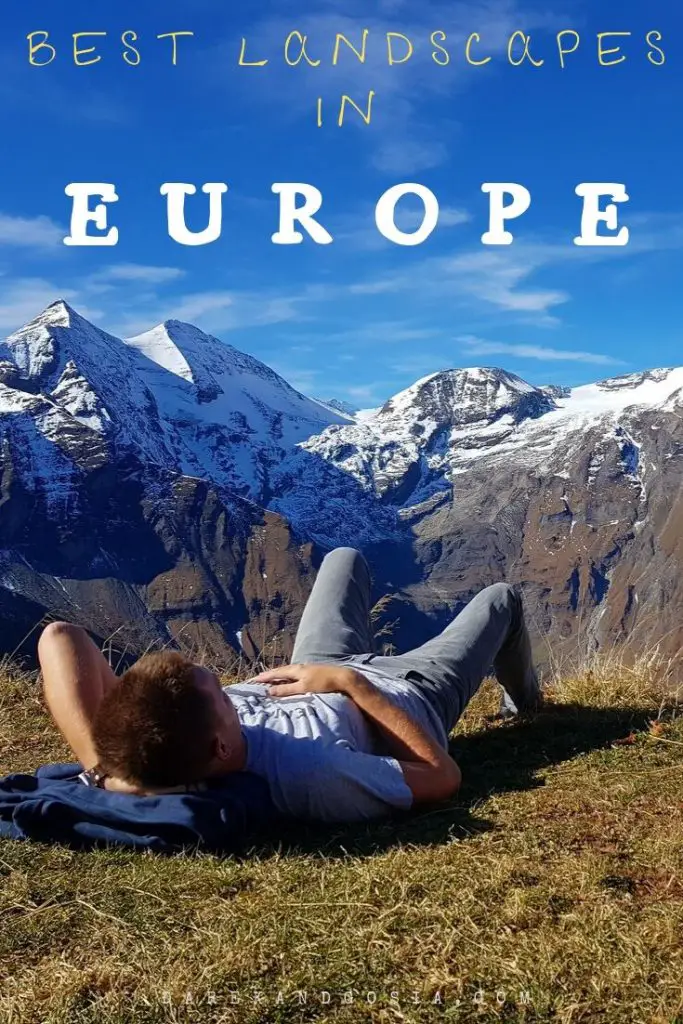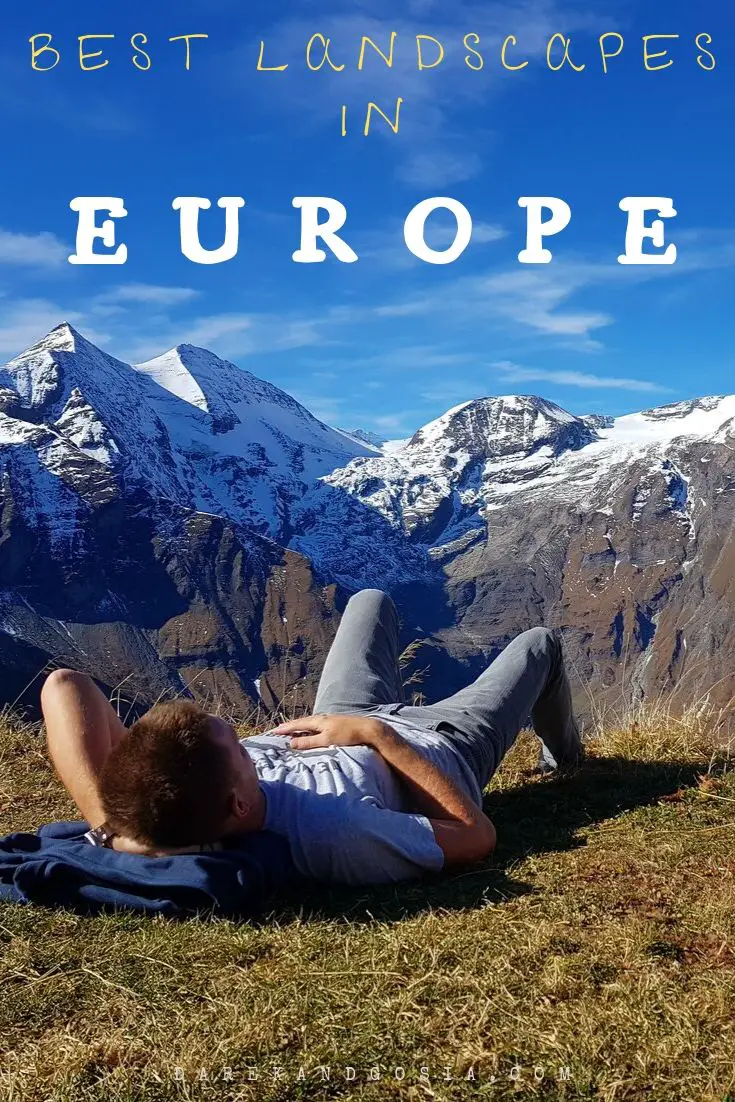 Explore the most most beautiful places in Europe and top ideas for visiting amazing European landscapes:
21 Most beautiful landscapes in Europe
1. The Dolomites, Italy
Most beautiful European holiday destinations? If beautiful Europe landscapes are your thing, this mountain range is absolutely perfect for you. At an elevation of over 10,000 feet, a hike in the Dolomites will leave you feeling on top of the world. They actually form part of the southern limestone Alps, and the crisp mountain air makes for a relaxing trip.
Instagramable views, exciting trails, and rustic accommodation make this worth visiting. So, if you are visiting Italy, make sure you add the Dolomites to your itinerary!
About 2 hours or so from Venice, the Dolomites is an area of outstanding natural beauty that you'll love (and easily one of the best landscapes in Europe).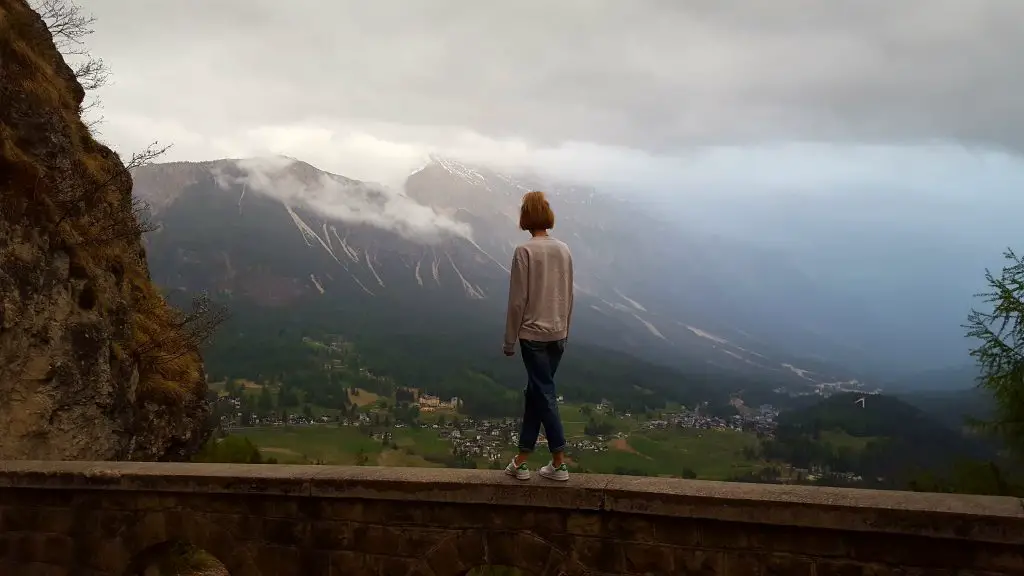 Read also: TOP Things to do in the Dolomites & best places to visit!
2. Barranco de Las Vacas, Gran Canaria Spain
Best landscapes and amazing scenery in the world? The Spanish for ravine is Barranco, and there are many of them in the Canary Islands. This one, however, is one of a kind. It's what is known as a slot canyon, and it was formed by volcanic ash and water; giving it smooth edges and mesmerising patterns in the rock.
As the position of the sun changes, so do the colours, and you will find that the most prominent one is always shifting. If you decide to hike through the ravine, you will find a gorgeous village at the end; Temisas. This ravine certainly has some of the best scenery and should not be missed as it's one of the best places to visit in Gran Canaria and one of the most beautiful landscapes in Europe!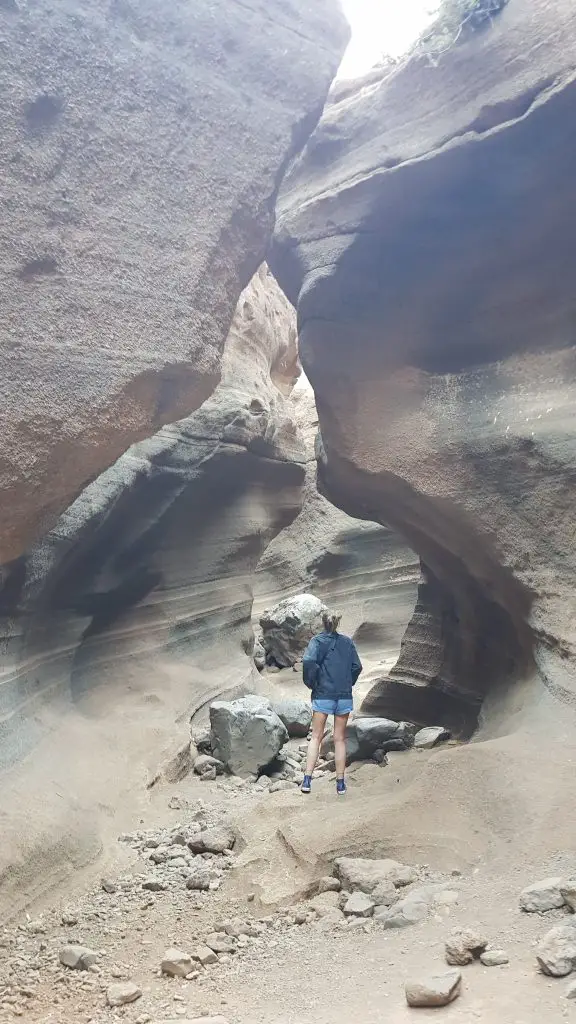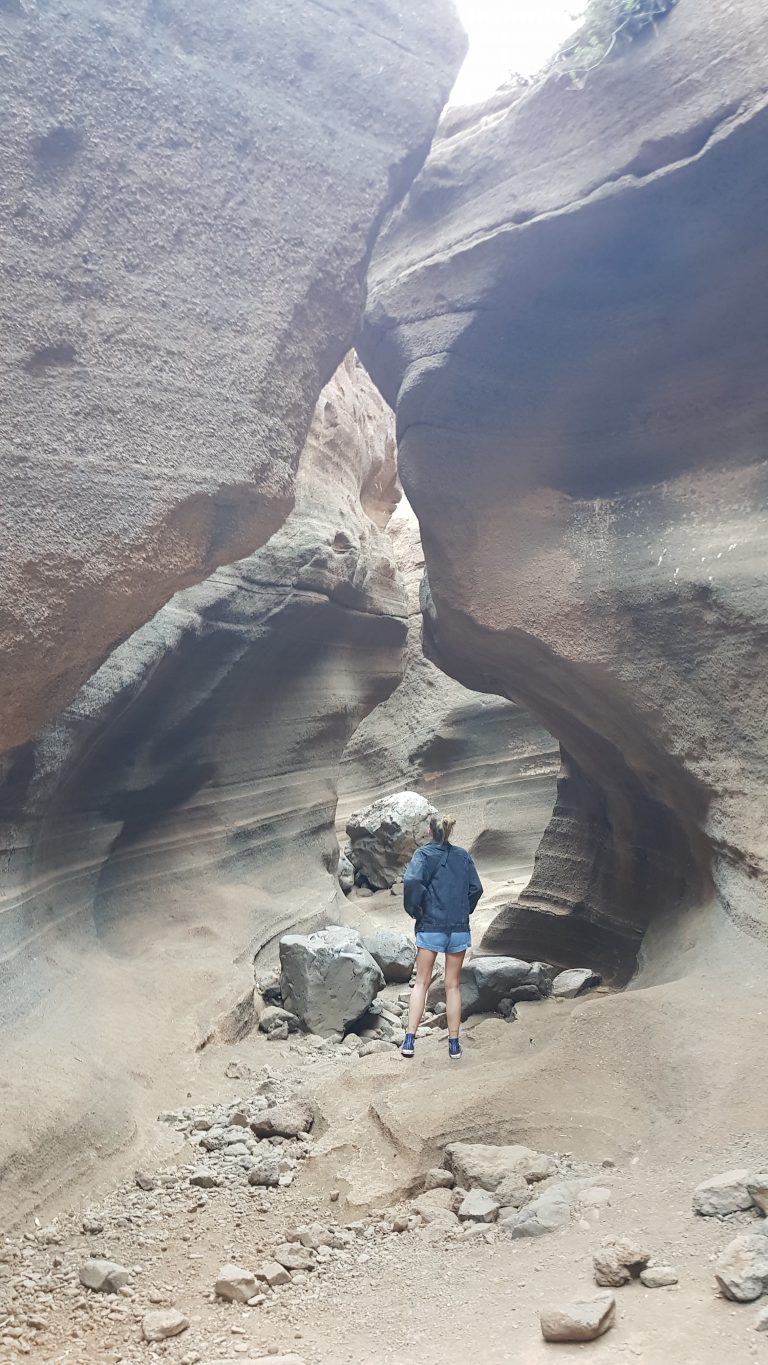 Read also: 20 Things to do in Gran Canaria & best places you HAVE to visit!
Looking for one of the most beautiful places to visit in Europe? The search has come to an end. If the clear turquoise waters weren't enough for you, then just wait; this beach in Zante island holds something special. Within the exposed cove, you will find the remains of a massive ship, which is what earned it the nickname Shipwreck Beach.
Take a tour of the stunning European beach and explore the remains of the ship, but don't leave just yet. The views from the top of the cliffs are something else and need to be appreciated.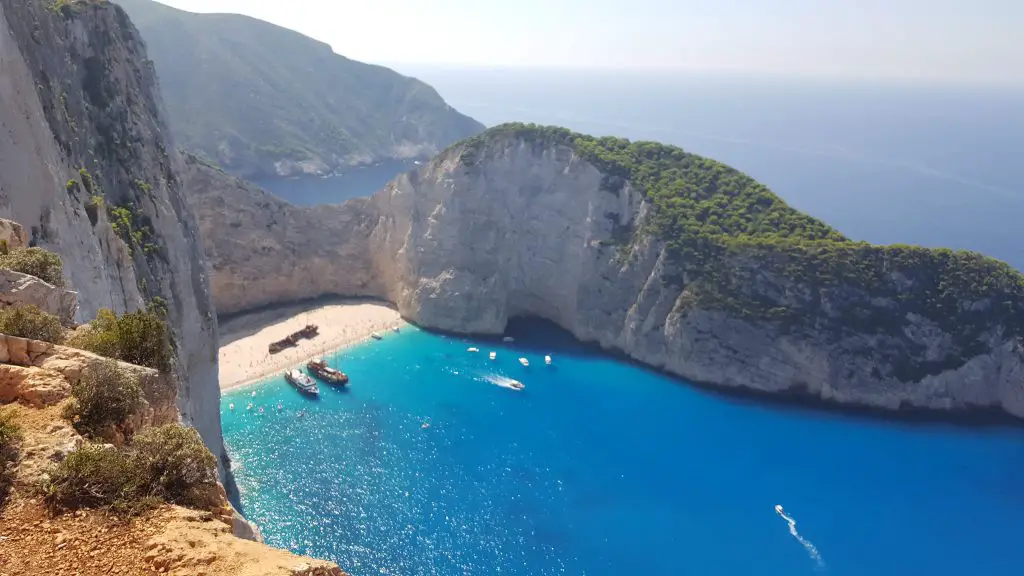 Read also: TOP 13 Things to do in Zante [Zakynthos – Ionian Island in Greece]
4. Eibsee, Germany
Most beautiful countries in Europe? Found in Bavaria, this is a classic example of the stunning European landscape. It is over 3km long and surrounded by rich forest. For those that want a holiday peppered with relaxation, this is the ideal location to just sit back and take a deep breath of fresh air.
Hiking and kayaking are some of the most popular activities around the Eibsee lake, and there is even a spa nearby for some soothing treatments. Coupled with impressive mountain views, you will never want to leave. It really is one of the top 10 most beautiful places in Europe. And yes, the famous Garmisch-Partenkirchen is just stone throw away!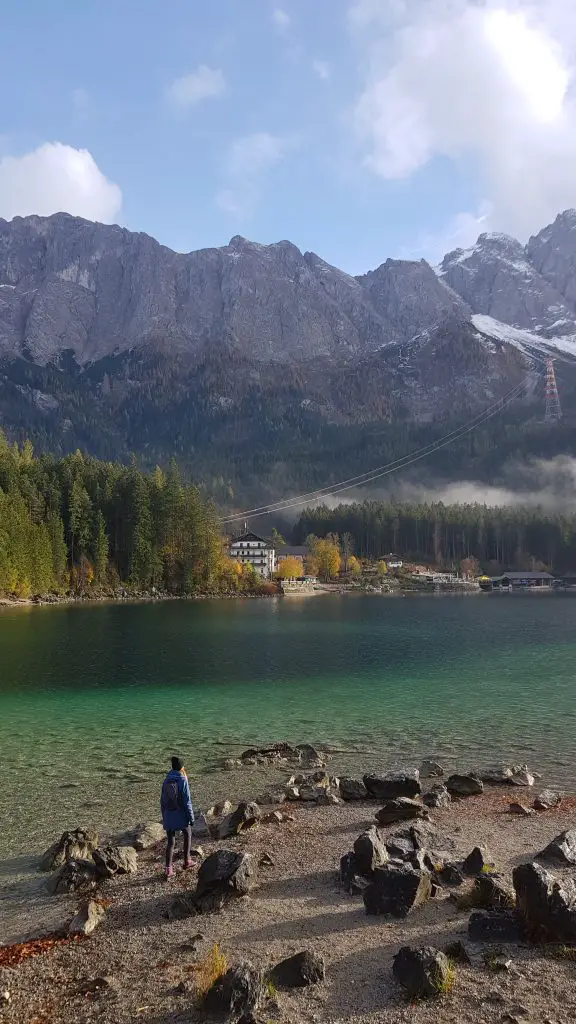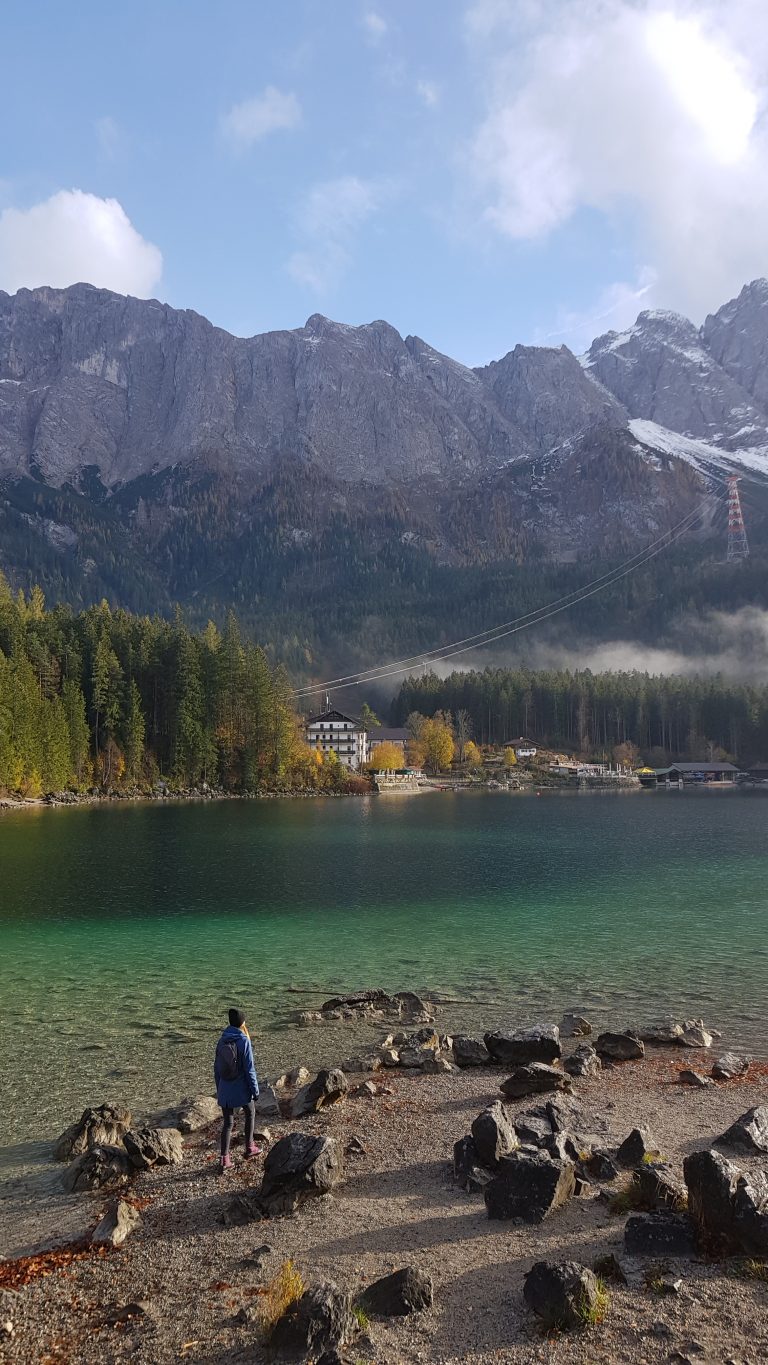 Read also: Eibsee Lake in Bavaria, Germany – the #1 lake in Bayern!
5. Pravčická Brána, Czech Republic
Recommended by Megan from boboandchichi.com
Best landscape Europe? Located north of Prague in the Czech Republic close to the border of Germany is the gorgeous natural fantasy world of Bohemian Switzerland National Park which is home to many natural wonders including lush forests and unique labyrinths of rock formations.
The gorgeous scenery here as inspired painters and creatives for centuries and its no wonder why. The Elbe Sandstones are a natural wonder in themselves, but one of the most impressive feats of Bohemian Switzerland National Park is Europe's largest sandstone arch, Pravčická brána.
The arch stands at 52 feet high and 26 feet wide and offers stunning views. You can't go on top of the arch because of erosion, but it is said that in the past people used to be able to. There are several viewpoints and even a really beautiful rustic lodge that is now a museum and restaurant built right next to the archway called Falcon's Nest.
Once you are parked, you can easily hike here in 20 minutes passing through a beautiful and serene forest. Once you get to Pravčická brána you can enjoy a meal at the restaurant or buy a beer to drink at the picnic tables under the arch.
This was also one of the filming locations for the Chronicles of Narnia.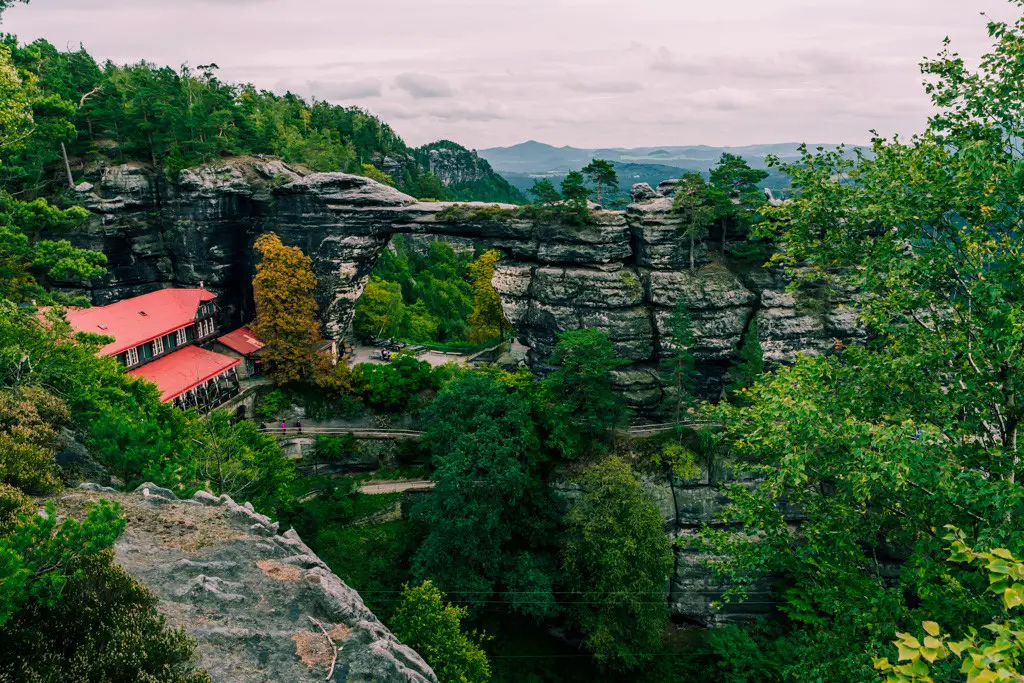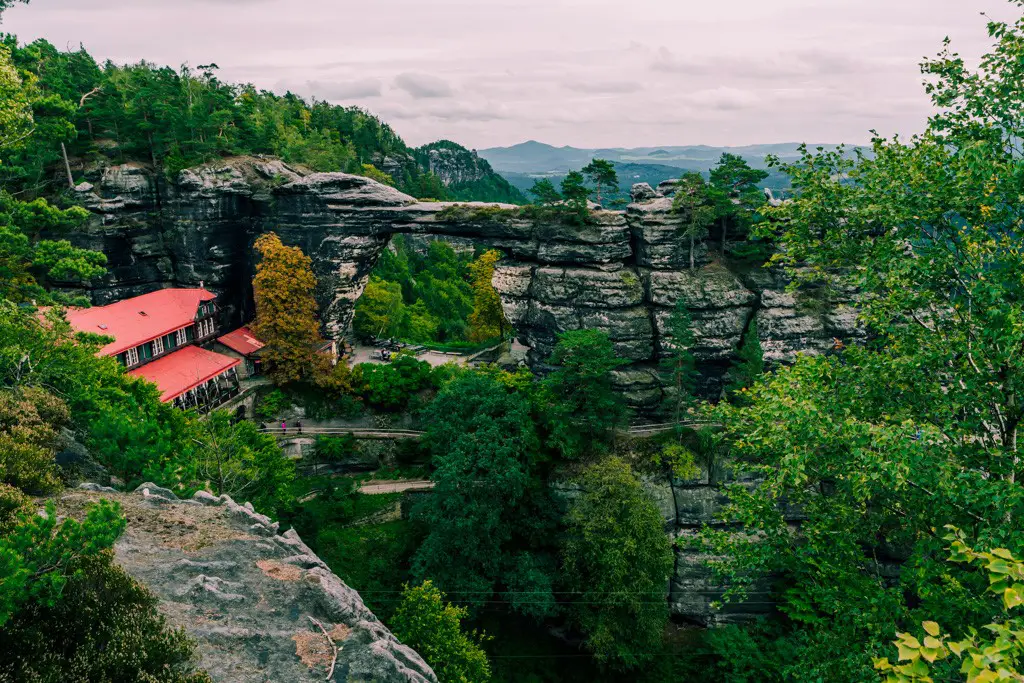 6. Madeira, Portugal
Looking for beautiful views in Europe? While part of Portugal, this archipelago consists of four islands off the northwest coast of Africa. There's quite a lot to do here, and amazing landscapes certainly play a key role. The botanical gardens are a prime example of this, and the views that stretch across the rest of Madeira island will leave you breathless.
Whether you are eager to climb the highest mountain in the region, or you would rather sip coffee at the mountain peak café, there is something for every adventurer.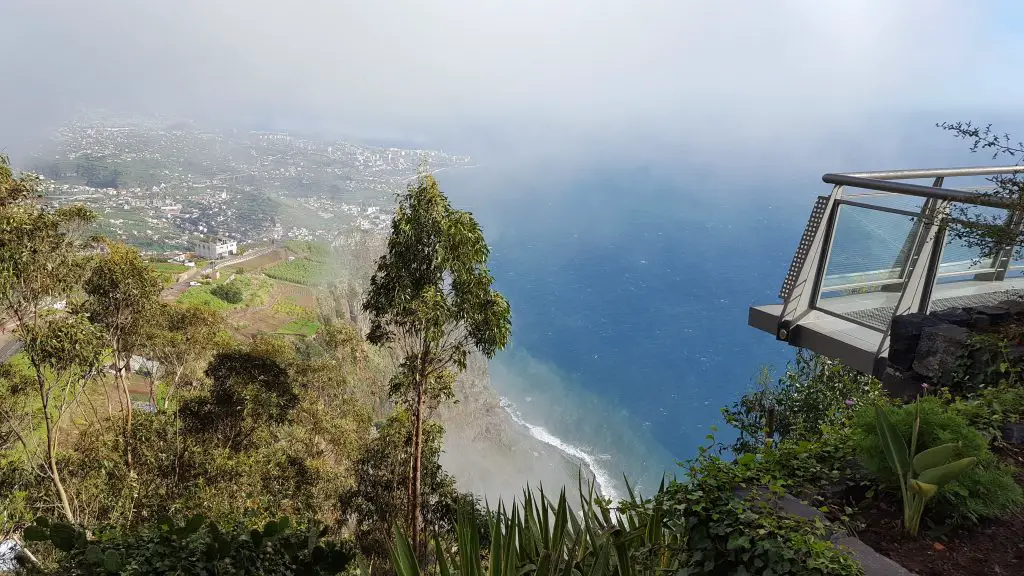 Read also: Unusual Things to do in Madeira – AMAZING Island of Eternal Spring!
7. Bruges, Belgium
Most beautiful holiday destinations in Europe? Found in the Northwest of Belgium, and known as the capital of West Flanders, there is a lot that makes this wonderful city of Bruges unique. One of the most beautiful cities of Europe, those who admire medieval architecture are in for a real treat.
The famed Michelangelo's art can be found adorning the walls of the Church of Our Lady, and the old port remains a key part of the city's infrastructure. In many ways, it's like taking a step back in time.
Bruges is also one of the most romantic cities in Europe. Fancy a weekend trip? 🙂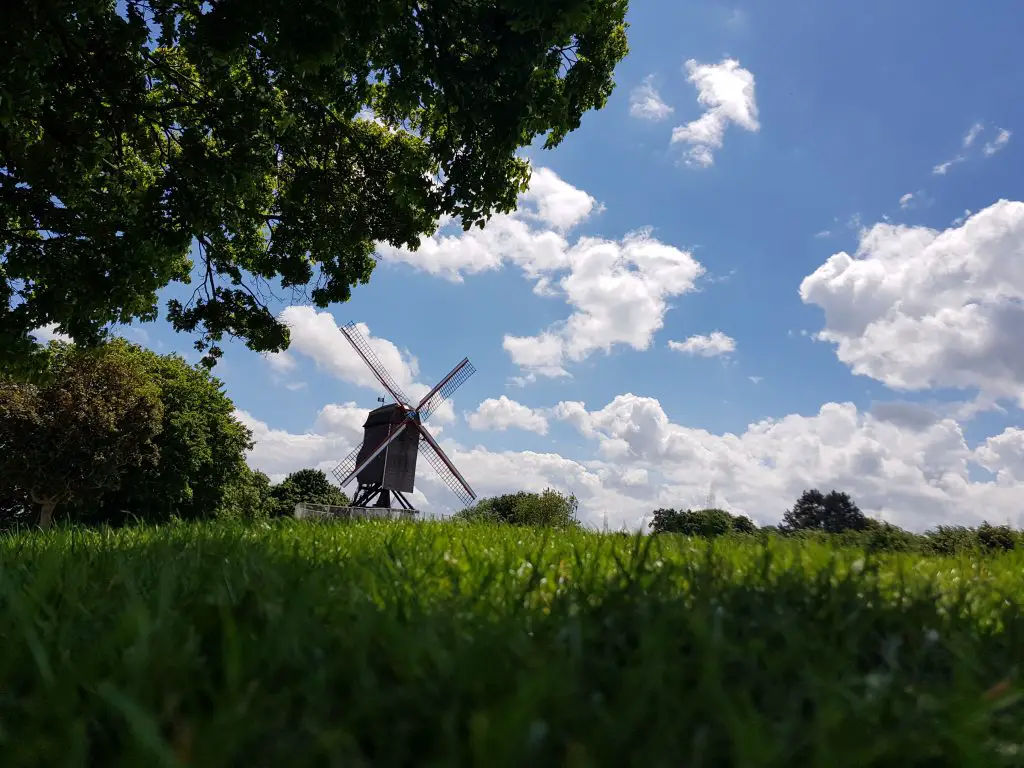 Read also: 30 Best Things to do in Bruges – chocolate & Belgian fries included!
8. Salzkammergut area, Austria
Best mountain views in Europe? Lakes and Alpine ranges are why people say this location offers some of the best landscapes Europe. In the south, a collection of pastel houses surrounds lake Hallstatt; a gorgeous contrast that makes for stunning photographs.
Underground salt mines and ice caves are part of what makes the region so diverse, as well as grand manor homes with perfectly manicured gardens. Even if you are more into castles, there is a hilltop fortress looming over the area that you absolutely must visit.
Salzkammergut area is probably one of the most unique places to visit in Austria, so you have to visit this stunning part of Europe at least once in a lifetime!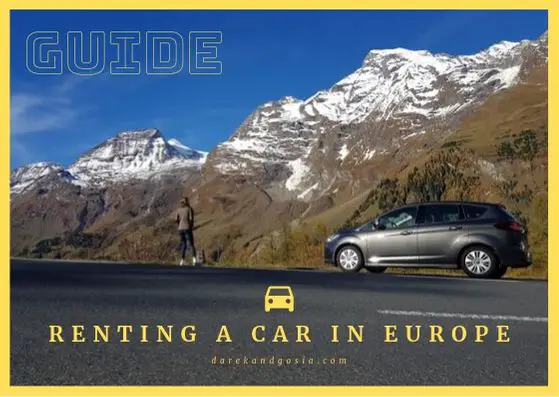 Book a flight to Salzburg and in 2 hours drive, you will be able to admire stunning views from Schafberg or other amazing places in the Austrian Alps!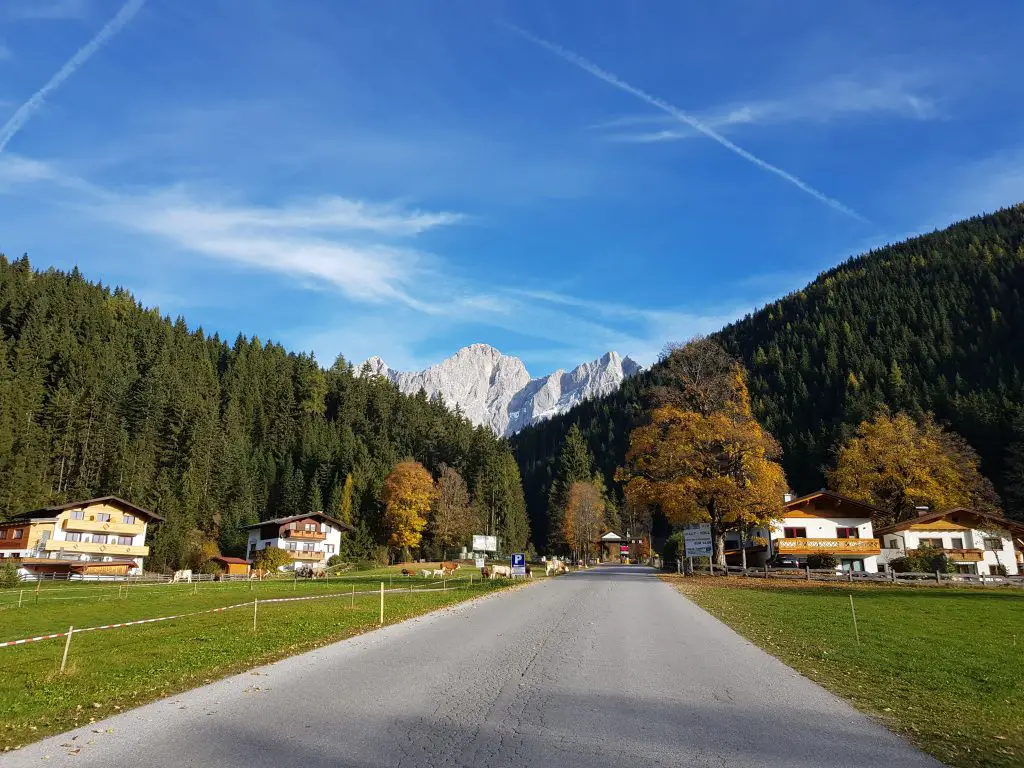 Read also: 13 UNIQUE Things to do in Austria. Bucket List Must-Haves!
9. Zugspitze, Germany
There are many cute landscapes and special places in Europe! Zugspitze mountain, Standing tall at nearly 3,000m above sea level, is the highest peak of the Wetterstein mountains and the highest in Germany as a whole. Over the Western summit, the German and Austrian border runs across, separating the two countries.
Home to three glaciers, a hike up this peak is quite an experience. Whether alone, with friends, or your furry companion, there are plenty of opportunities to truly discover this mountain and the beautiful landscapes it watches over.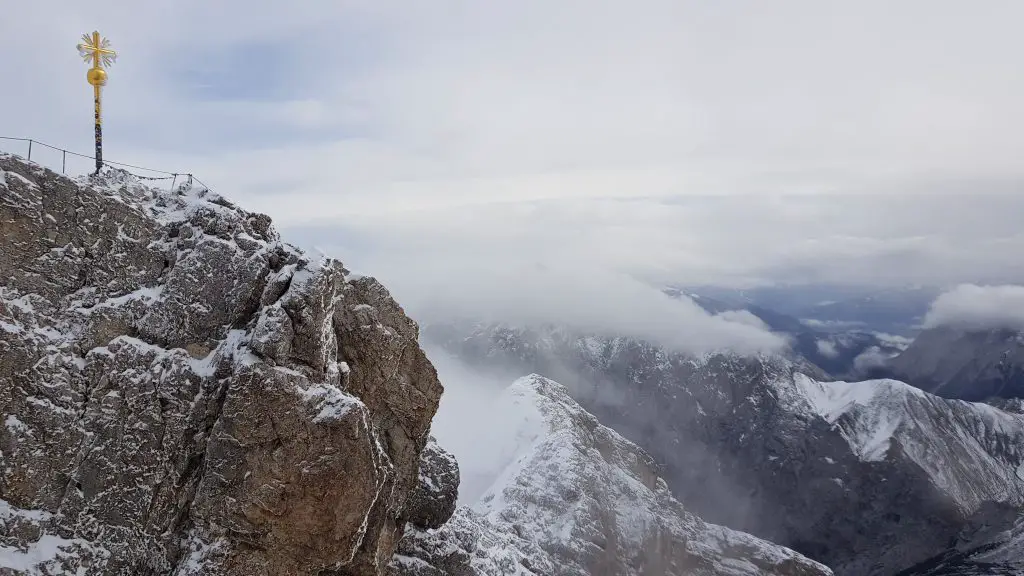 Read also: How to visit Zugspitze? A STUNNING trip to Germany's highest mountain!
Looking for beautiful nature in Europe? Found on Lanzarote, this particular park is made up entirely of volcanic soil. The rich colours of the earth make for gorgeous photographs, and you have over 5km of amazing landscapes to marvel at. It really is one of the most unique places to visit in Spain and truly amazing experience if you visit Lanzarote at Christmas!
There are tours that you can take, but the most exciting is probably the camel tour. Join the caravan as your guide takes you on a journey that explores the history and natural wonder of the park. Would you visit this stunning Spanish island?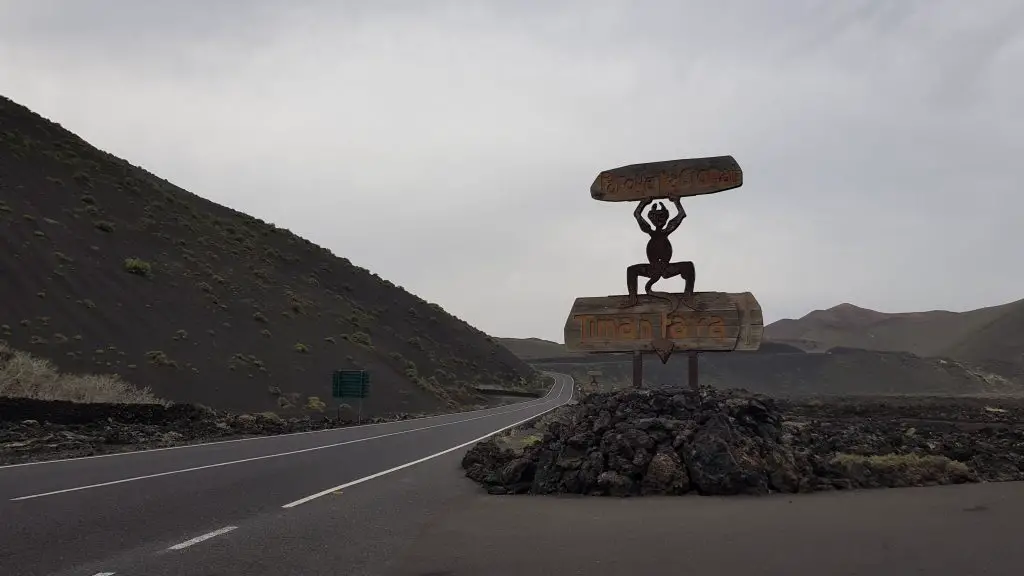 Read also: 21 Things to do in Lanzarote, Spain – TOP Attractions & Places to see
11. Ring of Kerry, Ireland
Why is Europe so beautiful? For those who enjoy a driving holiday, what better way to take in the best view in Europe than from a window? The Ring of Kerry drive is 179km long, and I recommend taking a few days to really soak it all in.
Rugged coastal landscapes and tumultuous sea views make for an experience you will never forget. Combined with winding roads that slide through the countryside, taking you to the ruins of abandoned monasteries, it's like being dragged into a fairy tale.
You'll honestly be blown away by how beautiful this place is and really is one of the most beautiful places to go in Europe. Would you go for one of the best road trips in Europe?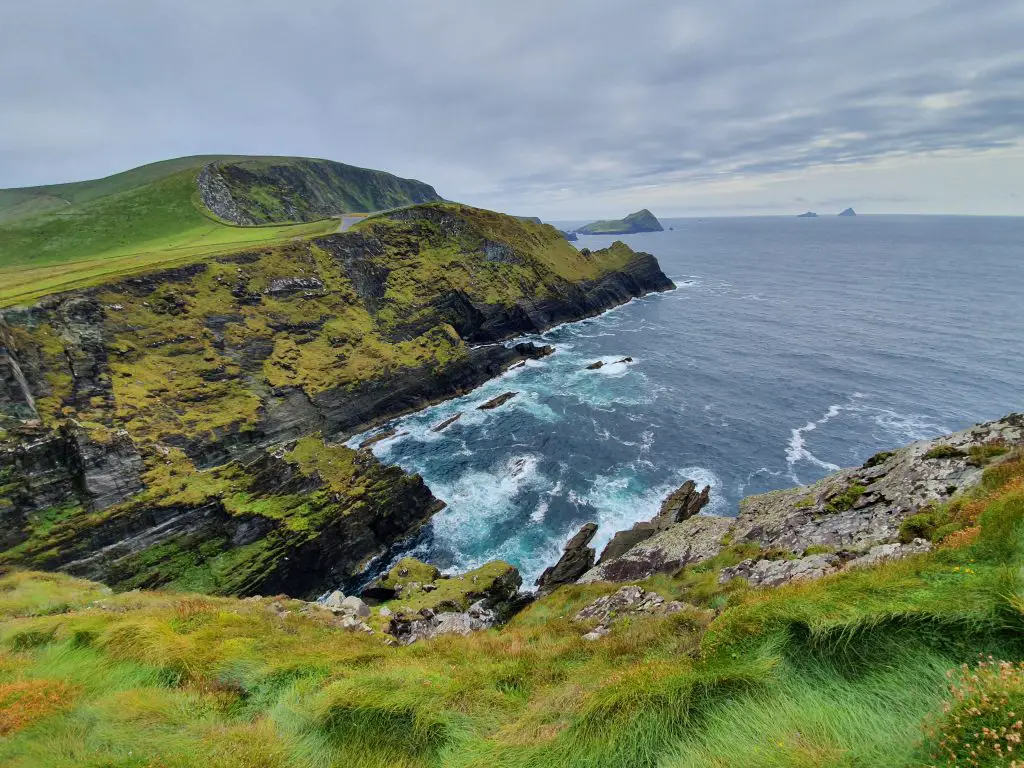 Read also: 3 days Ring of Kerry itinerary. Is driving the Ring of Kerry worth it?
12. Venice, Italy
Where to go for most beautiful places in Europe? Built on over 100 small islands, there are no cars in this city. Instead, you travel via the canals and paths that cover the city. It is one of the most unique places in the world, a manmade city to its very core.
What's the best time to visit Italy?
However, it is no wonder Venice is classed as one of the most beautiful cities Europe. The gothic architecture merges with baroque and renaissance, creating a style that works perfectly. Even the bridges are a sight to behold, and you'll find it hard to walk anywhere without stopping for a photo.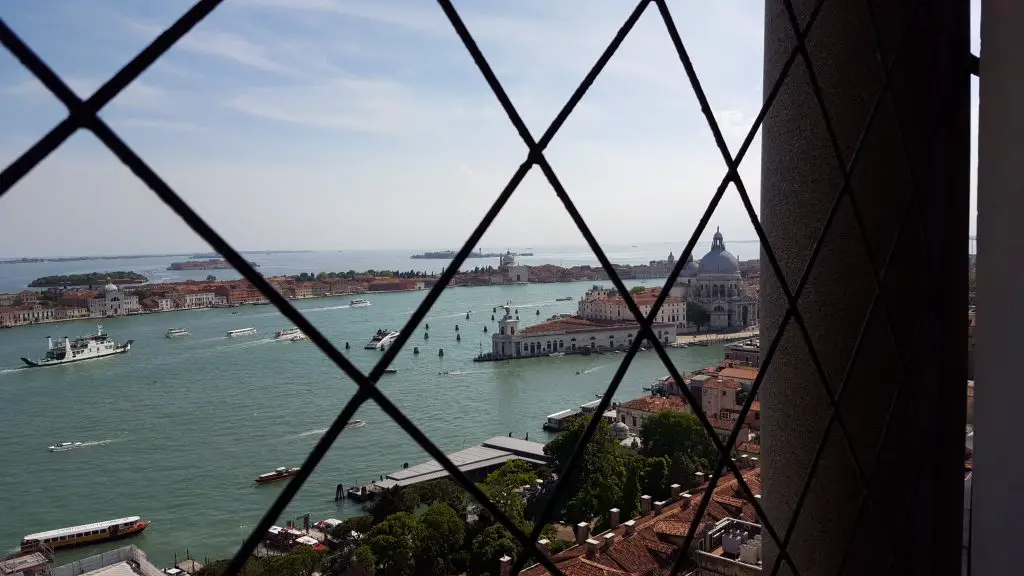 Read also: TOP 15 Things to do in VENICE Italy – The most romantic Italian city!
13. Ronda, Spain
Looking for beautiful scenery in Europe? Then you have to visit Ronda in Spain! One of the first things you notice about this mountain city is that from a certain angle, it looks strikingly similar to the fantasy city of Rivendell. Dramatically set over a massive gorge, some of the best scenery in the world can be found here – a top Spanish attraction!
The stone bridge, one of the most beautiful bridges in Europe, that spans the terrifying gorge separates the old and new towns, and there are plenty of opportunities to learn about the rich history of the city, as well as some fantastic places to stop for a bite to eat.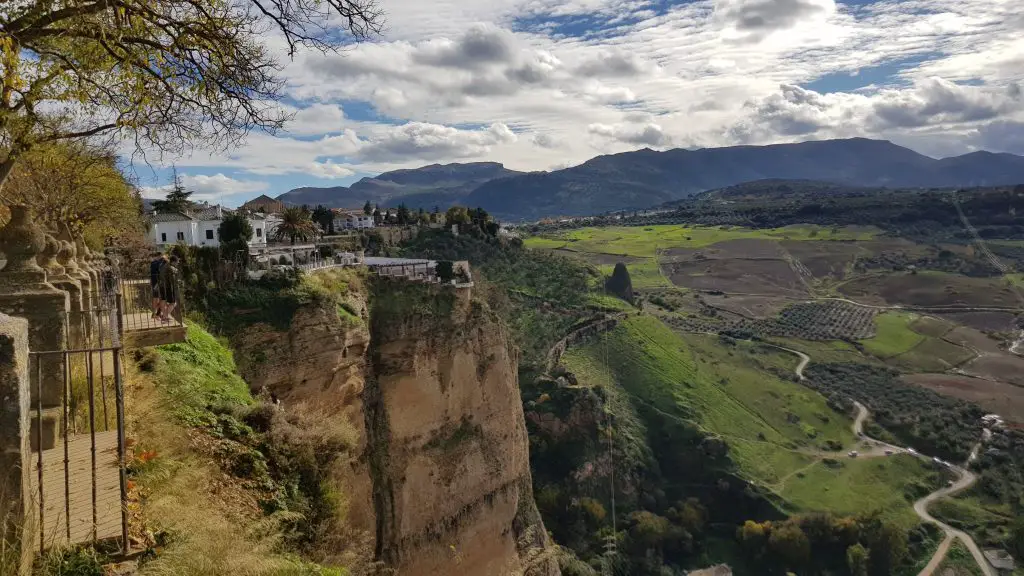 Read also: Things to do in Ronda Spain: Day Trip to the Pearl of Spanish Andalucia!
14. Keukenhof, Netherlands
Beautiful landscapes in Europe? Keukenhof Gardens, otherwise known as the Garden of Europe, has to be one of the most amazing places to visit in Europe without a doubt. Every year, seven million bulbs are planted across the 32 hectares of land.
The Dutch tulips are an especially popular attraction, and it is easy to see why when you go and witness them blooming for the first time. The gardens smell glorious, and while it can be busy, it is also worth the crowds just for the stunning experience in the Netherlands.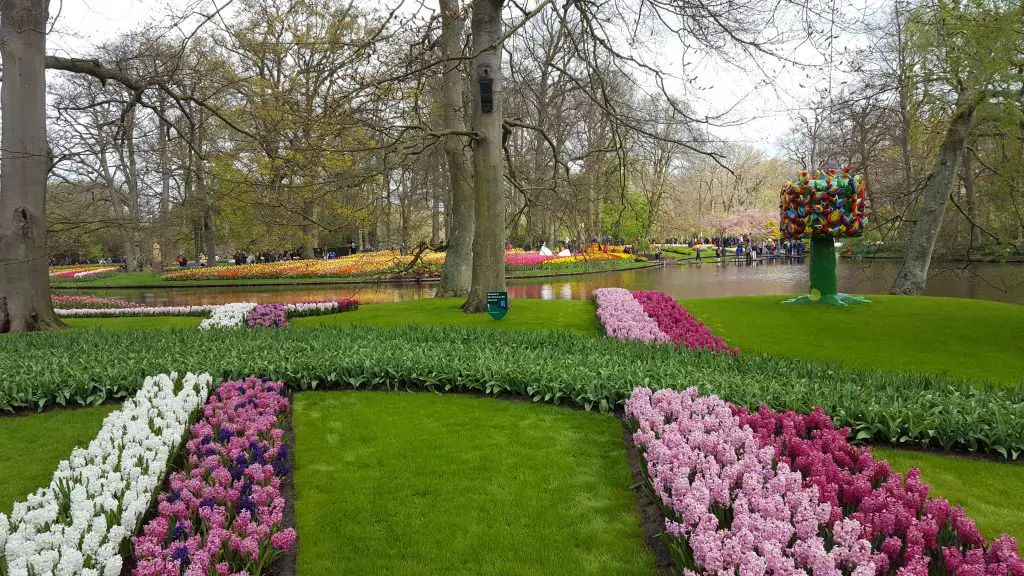 Read also: Tulips bloom – When is the best time to visit Keukenhof gardens?
15. As Catedrais Beach, Spain
Where to go for prettiest places in Europe? Commonly known as the Beach of the Cathedrals, it has become a natural wonder as well as one of Spain's best-kept secrets. The name comes from the vaulted caves that have been naturally sculpted by the crashing waves, creating something akin to gothic architecture within them. It really is one of the best beaches in Spain!
It is best to visit this beach in the off-peak season to avoid reserving time there, but when you get a chance to stroll along the waters, you'll understand why this is such a popular location with the best scenery. Can you find more scenic landscapes in Europe?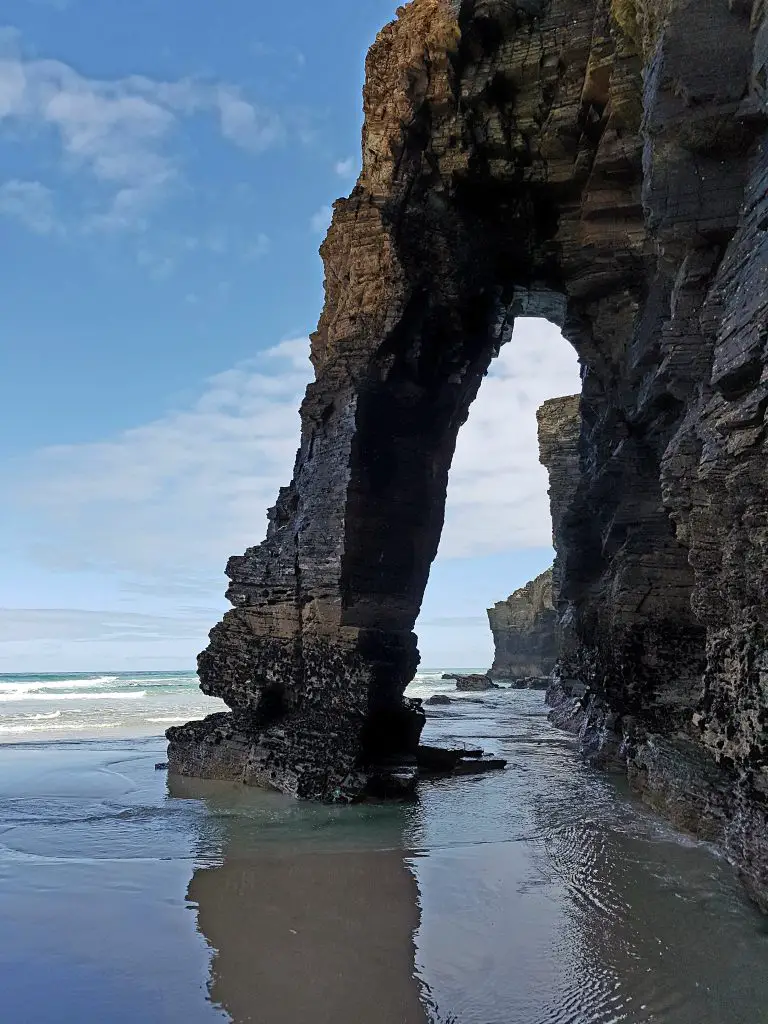 Read also: As Catedrais Beach in Ribadeo, Spain – The Beach of the Holy Waters!
16. Praia de Marinha, Portugal
Most scenic places in Europe? It's the perfect example of the European landscape, with an emblematic beach that shows nothing but how stunning the coastlines of the continent can be. It really is one of the best beaches in Algarve!
Natural rock formations in the Portuguese Algarve create a unique view, and the turquoise waters lapping against your feet as you stroll are sure to be relaxing. With a temperate Mediterranean climate to enjoy, there is nothing better than a lazy summer's day on the sands of this beach. It really is a contender for one of the most magical destinations in Portugal most beautiful places in Europe to visit!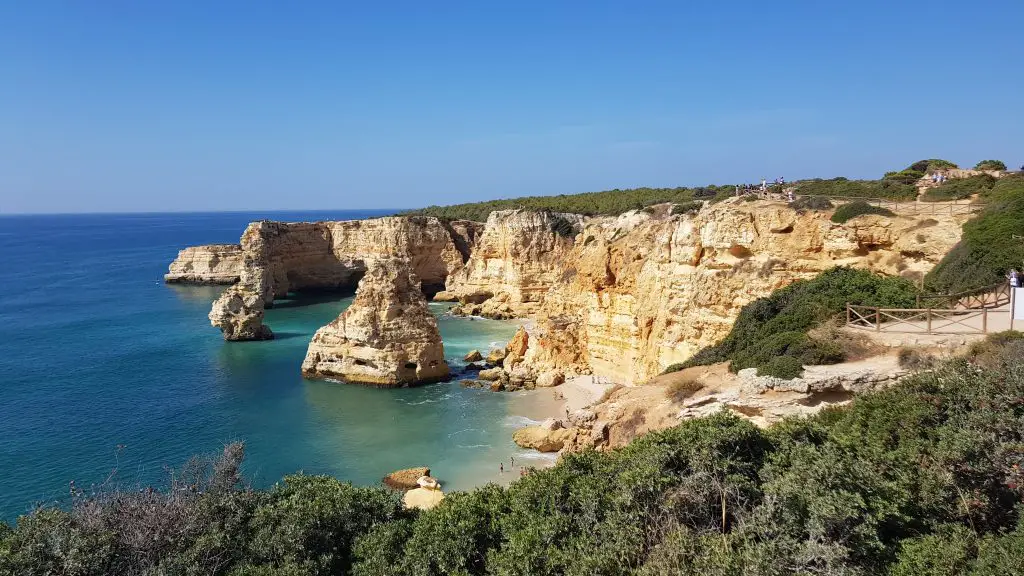 Read also: Best beaches in Algarve Portugal – Algarve's TOP 13 beaches!
17. Blue Lagoon, Iceland
Beautiful places to visit in Europe? This really is one of the most amazing places in Europe we have seen! One of the wonders of the world, this doesn't just offer amazing landscapes, but also a whole new element of relaxation. It's a geothermal spa that you can soak in, absorbing all the health benefits that come with it for both mind and body. Hotels and restaurants are nearby, and the tickets to get into the spa are not expensive either.
Surprisingly, Blue Lagoon in Iceland is not a natural spa-like the rest of Iceland's locations, but the runoff from a geothermal power station nearby. Interesting, right? 🙂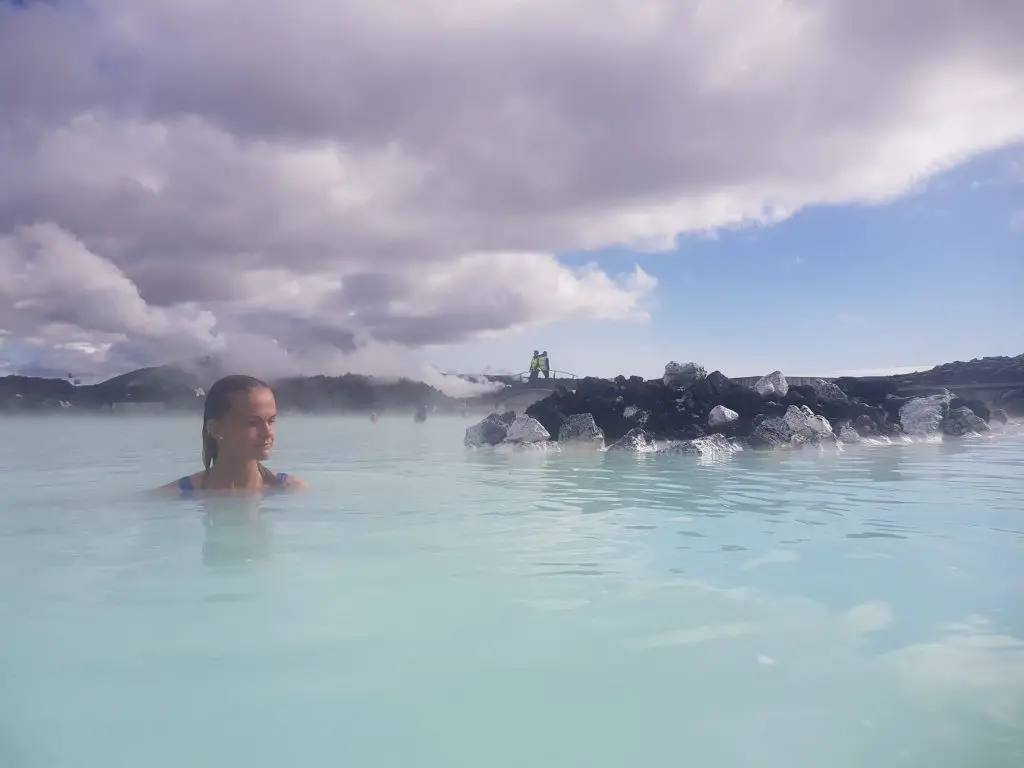 Read also: Blue Lagoon Geothermal Spa, Iceland – All you MUST know!
18. Verdon Gorge, France
Nice places in Europe to visit? We couldn't forget to shout out Verdon Gorge as one of the most beautiful landscapes of Europe, could we? 🙂
Hiking, kayaking, canoeing, rock climbing. These are just some of the many activities you can take part in when you visit this massive gorge in southern France. Some of the best views in Europe are here, from the tranquil waters at the bottom to the glorious surroundings at the top.
Towns and hotels are located nearby so that you have easier access to the gorge, and it is easy to spend an entire weekend here, if not longer. Verdon Gorge is known as one of the most beautiful natural places in Europe, why not come and find out why?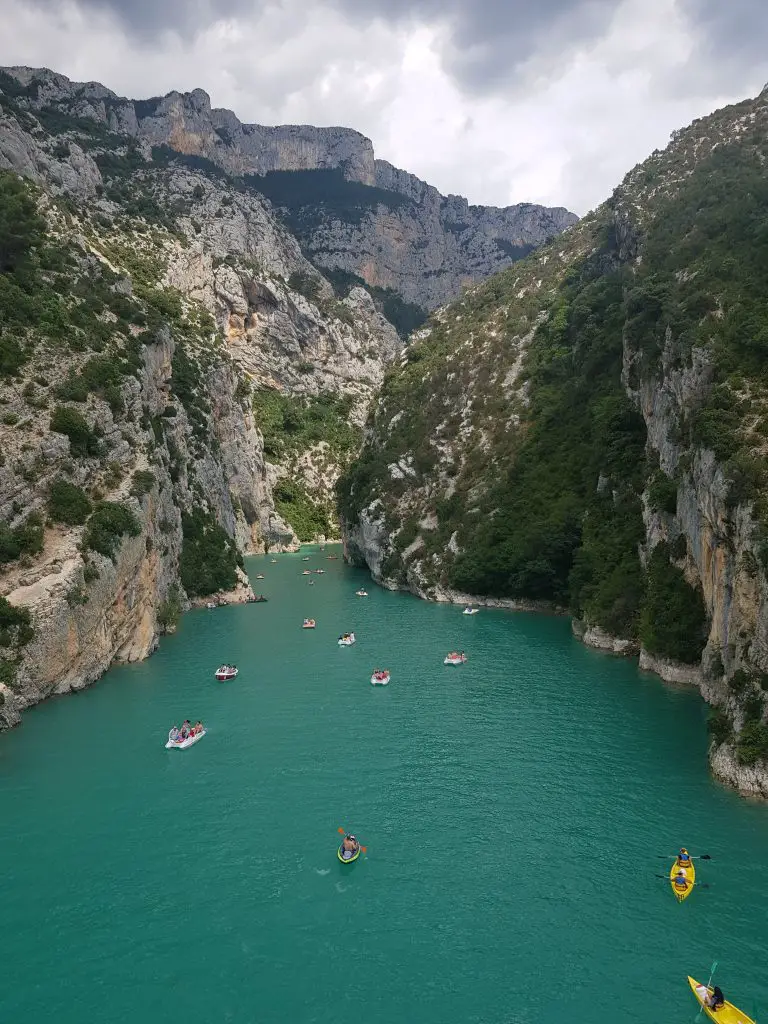 Read also: Visiting Verdon Gorge France – Top tips to French Grand Canyon!
19. Arlington Row in Bibury, England
Looking for breathtaking destinations in Europe? One of the best places to visit in the UK, located in the rolling hills and beauty of Cotswolds, this little row of houses might seem insignificant on passing, but this is far from the truth. Built-in 1380 as a monastic wool store, they were later converted into houses for weavers.
It is fair to say that Bibury is one of the most beautiful villages in England!
You'll see these houses in films such as Stardust and Bridget Jones' Diary. Number 9 is open as a guest house and absolutely worth staying in, especially as Cotswolds is such a wonderful place to visit and offers amazing landscapes. The whole area is one of the best places to visit in south England, so it's really worth spending a few days in Bibury village.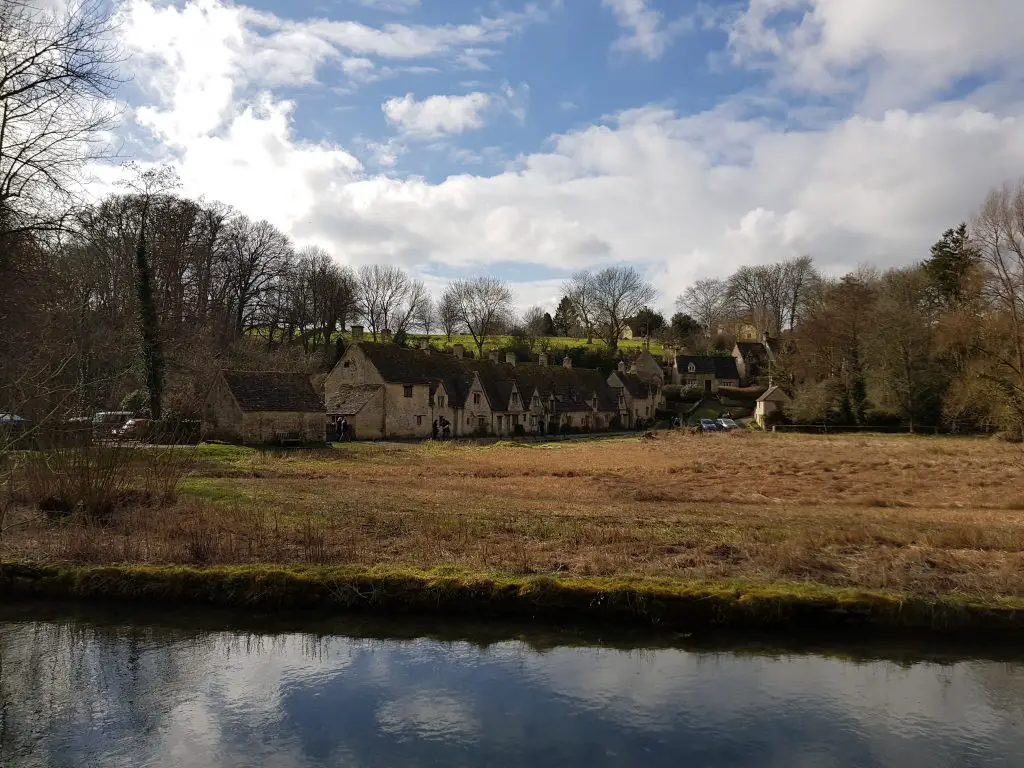 Read also: Best places to visit in the Cotswolds & Things to do in the AONB!
20. Popeye Village, Malta
Cool landscapes and beautiful places to visit in Europe? You will love this place as it's one of the most beautiful sceneries in Europe! The name is exactly what you think, and this was actually the filming location for the 1980 musical Popeye. It's now a theme park village that can be visited by the general public, with fun boat rides that the whole family can enjoy.
Filled with delicious food outlets, you'll never be far from something good to eat as you enjoy a relaxing and carefree day out. Some of the best scenery in Malta can be found here too, just look out over the ocean. This really is one of the prettiest places in the world!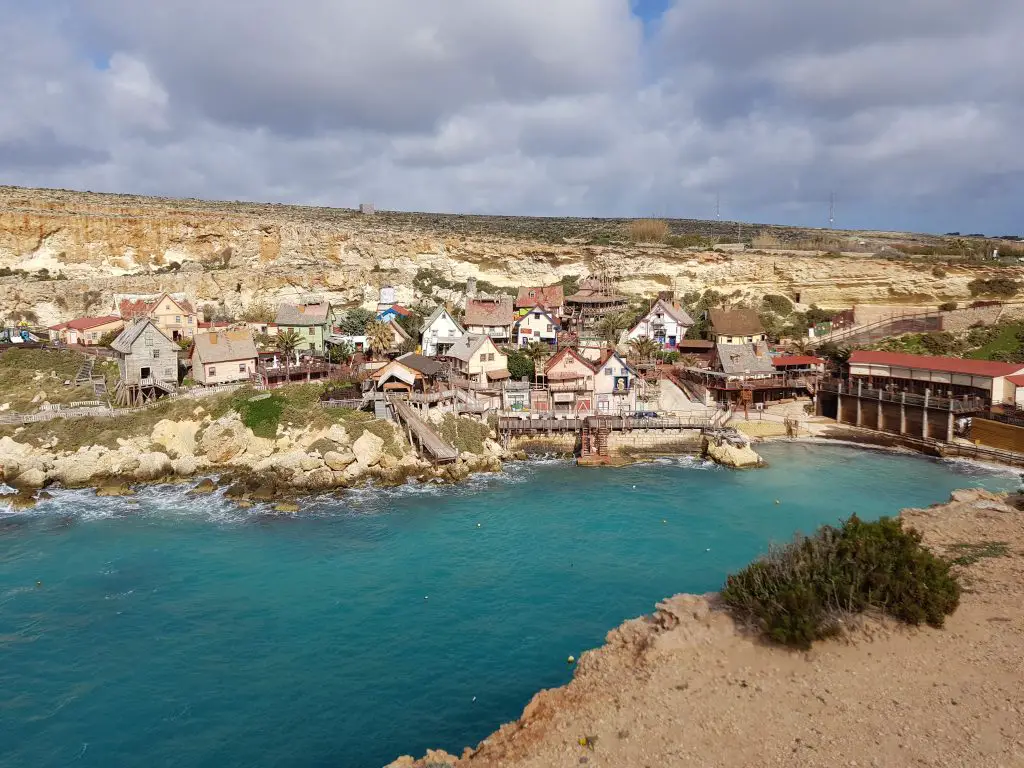 Read also: Unique things to do in Malta & Gozo – TOP 16 Malta points of interest!
21. Seven Sisters Cliffs, England
Looking for beautiful natural scenery and amazing landscapes? There are many places in England, which could be called as some of the most beautiful places in Europe to visit! And Seven Sisters Cliffs is also on that list.
A series of chalk cliffs drenched in mythology; they are some of the most recognisable in the country. They can be found within the South Downs National Park, and allow you to look over the sea.
The beautiful landscapes of Seven Sisters are almost unrivalled, and the chalk cliffs deserve to be seen by everyone. It is one of the best day trips from London. There is an amazing walk that you can take as well if you really want to soak in the scenery and admire the natural beauty of the region.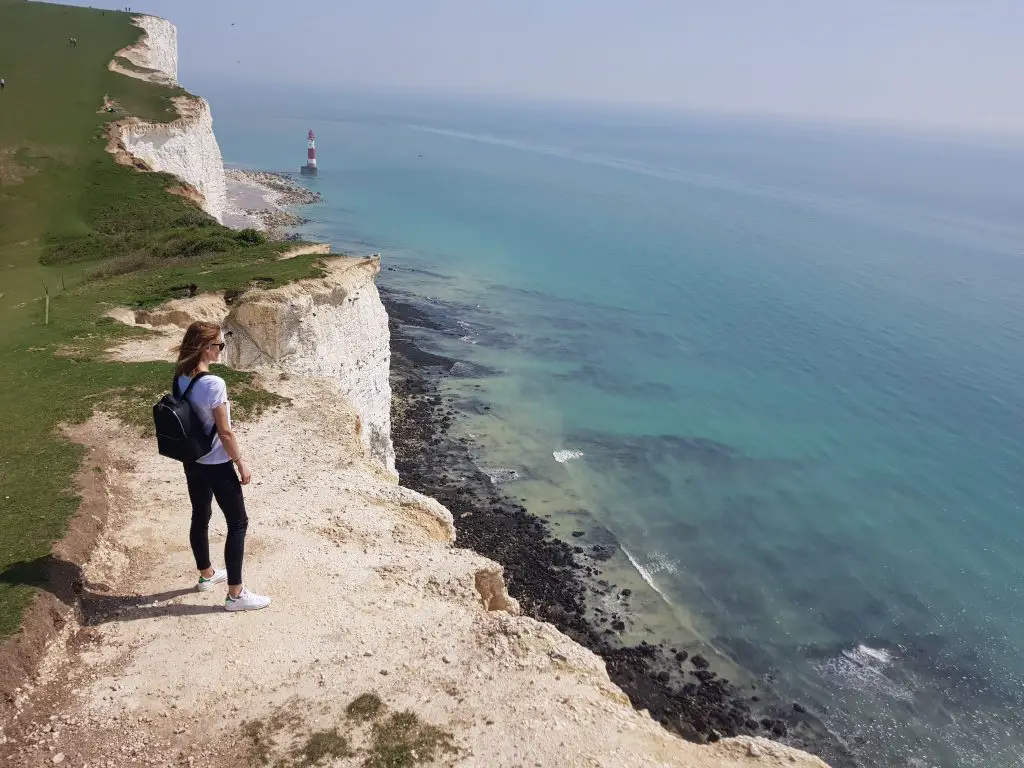 Read also: Best Guide to SEVEN SISTERS Cliffs Walk – Sussex, England
Most beautiful places in Europe FAQ
Have we covered all the most beautiful places in Europe?
No, we have not! 🙂 The list of the most scenic places in Europe is probably endless! We could easily add to it some of the best islands in Europe or top European beaches. We hope you will visit one of the beautiful landscapes in Europe during your next trip!
Read our other articles related to this stunning continent:
Best places to visit in Europe
Most romantic places in Europe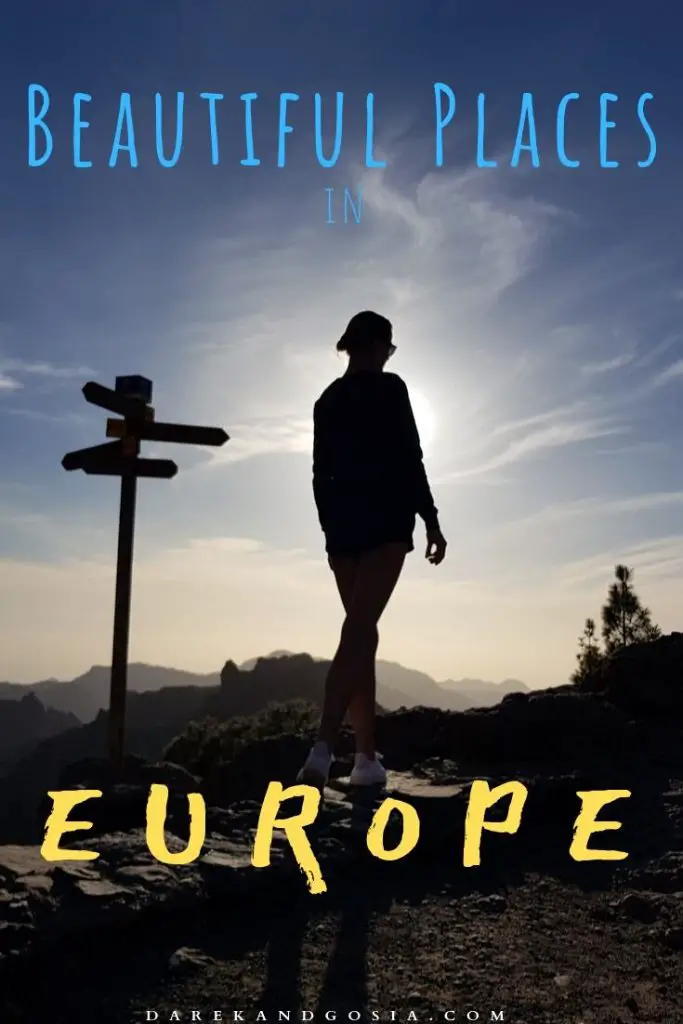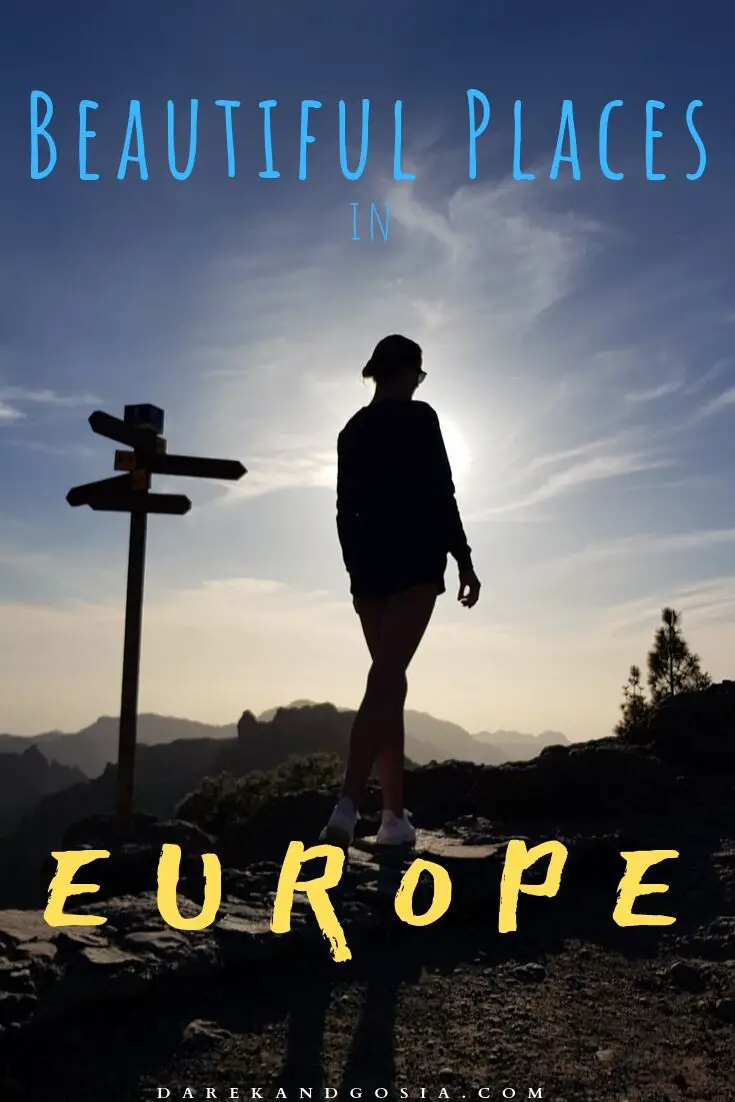 Articles you may like: