When do tulips bloom in Amsterdam and when is Keukenhof Gardens in bloom? All you have to know about Tulip Bloom Season in Holland!
Visit Keukenhof Gardens near Amsterdam to see the best tulip garden in Holland! Known as the Garden of Europe – Keukenhof, situated in Lisse (southwest of Amsterdam), is one of the most photographed flower gardens in the whole world.
Each year over 1 million people visit the Keukenhof tulips garden during the eight weeks opening time. If you are looking for a warm Spring destination in Europe, Keukenhof Gardens is 100% worth visiting.
That's a lot of flower-lovers! 🙂 Many of them are international tourists, who combine the visit with a trip to Amsterdam.
Some people say that Keukenhof is the most beautiful spring garden in the world. It's a mecca for tulip bloom enthusiasts!
Do you agree?
Gosia does, as she loves tulips 🙂
If you are like Gosia, seeing tulips bloom in Keukenhof should be a must-have on your list! But when is the best time to visit Keukenhof?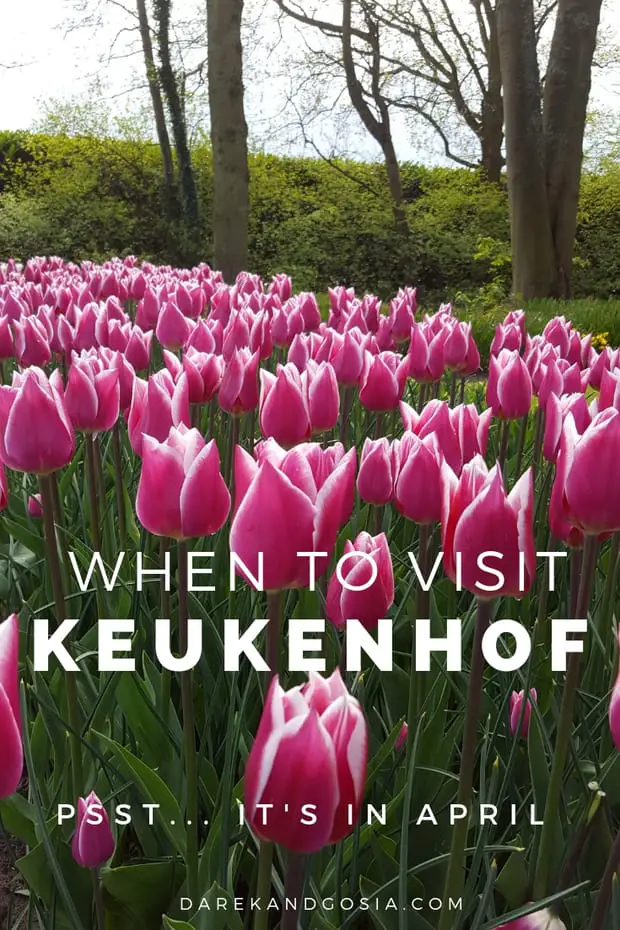 Where to stay around Keukenhof garden?
Best hotels near Keukenhof gardens? There are a few great places to stay during your holiday in Holland. Please see below some of the TOP hotels we have selected for you:
"Located in the centre of Lisse, Boutique Suites Lisse is 900 yards from Keukenhof. Each accommodation at the 4-star hotel has city views and free WiFi. There is a restaurant serving French cuisine."
"Located in Lisse and with Keukenhof reachable within a 12-minute walk, Hotel de Lis provides a tour desk, non-smoking rooms, a bar, free WiFi and a shared lounge."
Need more inspiration? Find a hotel in around Keukenhof garden.
When do tulips bloom in Amsterdam, Holland?
So, when do tulips bloom in Holland? Every year this is the most frequently asked question amongst tulip-lovers, who would like to see millions of tulips in bloom. 🙂
And you can't blame all those people for searching for the answer to this question! In fact, you are one of them, right?! 😉
OK, the best time to see tulips in Amsterdam? Does anyone know?!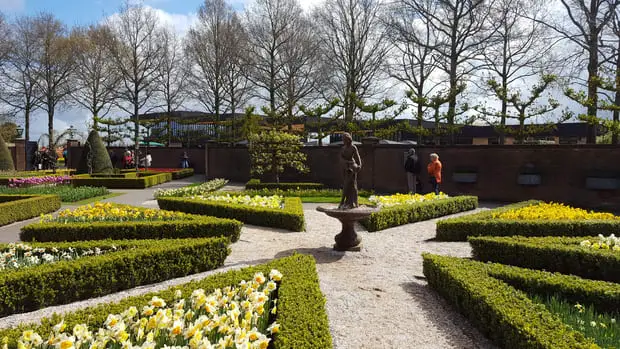 What month do tulips bloom in Amsterdam?
Every year Holland is covered in tulip fields and Amsterdam is no an exception! The best month to see tulips bloom in Amsterdam is April. The tulips can be found all over the city, so you don't really have to visit the Keukenhof Garden.
Main squares and tourists' attractions in Amsterdam are decorated with tulips. The city looks really beautiful at this time of the year as it looks like a giant rainbow – so many colours!?
So, remember – April is the best time of year to visit Amsterdam for tulips bloom.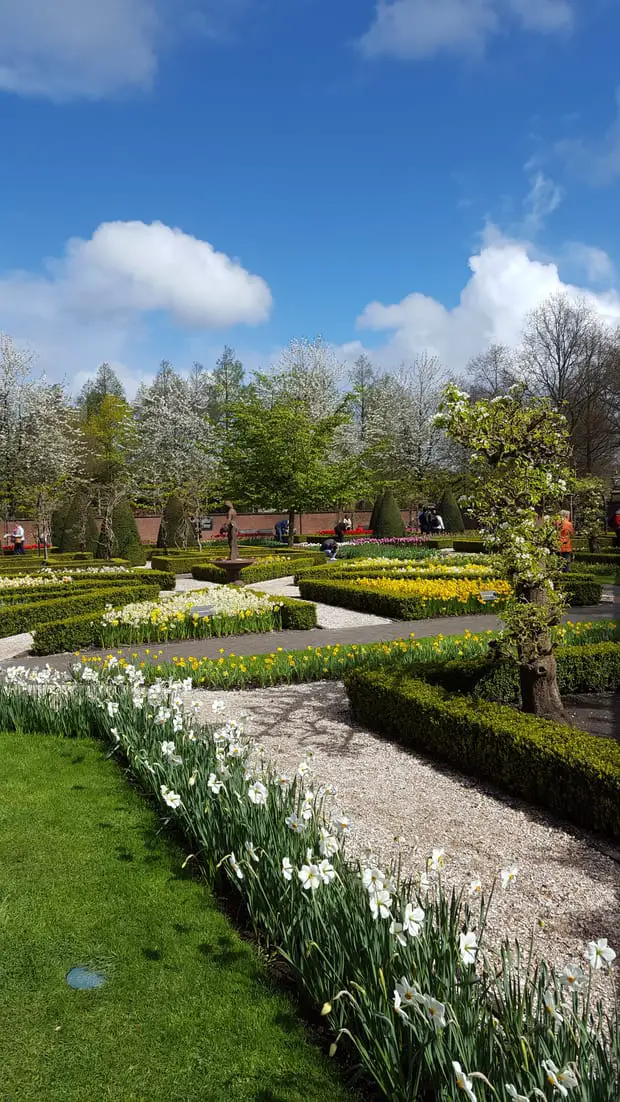 Keukenhof Gardens best time to visit:
So, we rush to answer the question – What is the best time to visit Keukenhof? 🙂
Keukenhof tulip gardens is a stunning place. Tulips bloom when temperatures during the day start to exceed 15° C. But not all species bloom at the same time, so precise dates can't be really given.
The best time to visit Keukenhof and see millions of Tulips in bloom is the second half of April.
What is the best time of the day to visit Keukenhof Gardens?
Let's face it! Keukenhof Garden near Amsterdam is one of the most visited places in Holland. This means it's really hard to enjoy this stunning attraction without crowds. If you prefer to smell the flowers without others looking at your shoulder you should visit Keukenhof Gardens outside of the pick times.
Keukenhof Garden is also one of the most child friendly places to visit in Holland, making it a great destination for a family day out.
Try to plan your visit at the begging of the week. Monday to Wednesday seem to be a perfect time of the week. If you combine that with early hours you will be able to walk through the park without thousands of other tourists.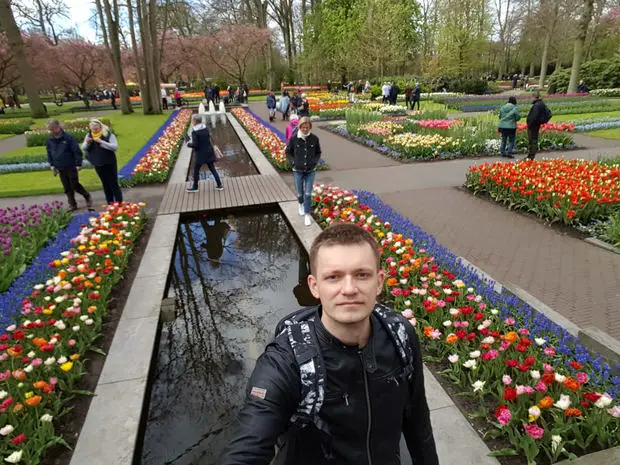 How to get to Keukenhof Garden from Amsterdam?
The town of Lisse is the tulip centre of the Netherlands. In the local museum "De Zwarte Tulp" you will learn everything about the Dutch cultivation of tulips. Without a doubt, Lisse is one of the best towns to visit in Europe for a short vacation.
But is Keukenhof far from Amsterdam? Not really – it takes just under 40 min by car from Amsterdam. (There are many car hire companies at the airport). There are also many buses from the city and also directly from the airport.
Every year, Keukenhof opens its doors for eight weeks, during which you can enjoy discovering various varieties of tulips, daffodils, hyacinths planted on 32 hectares of land. There are even reports published on the internet about flower flowering – so you can plan the visit as best as possible.
Yes! There are many people who are crazy about tulips! 🙂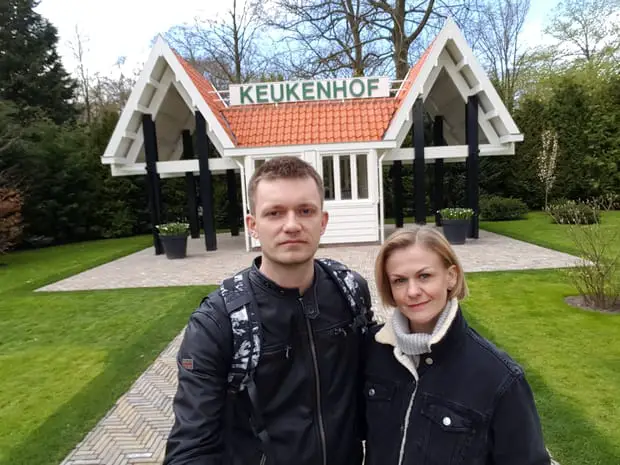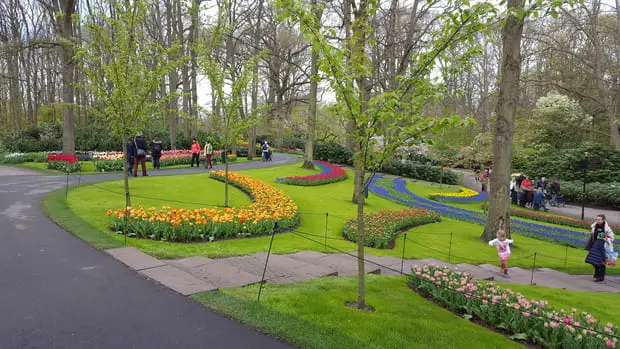 Is Keukenhof open all year?
The Keukenhof Garden is not an all-year-round place to visit. It's open annually but only for a limited time. Every year from mid-March to mid-May its gates will be opened for thousands of tourists visiting it every day.
This amazing flower garden is also one of the most visited places by the locals. And as it's opening time is quite limited it will be a very crowded place! Not only due to 8 million tulips ?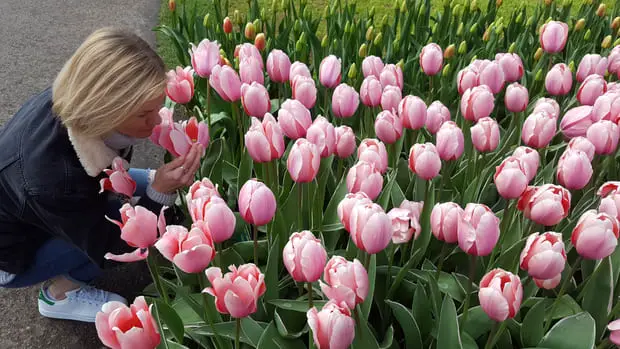 How much time do you need to visit Keukenhof?
Usually, most tourists spend between 4 and 5 hours at Keukenhof. There is no time limit while visiting the tulip garden. If you are really a flower-fanatic and tulip-lover you can enjoy spending the whole day at Keukenhof.
The only limit will be the opening time, but from 8 am till 7.30 pm there is enough time to see many of the 8 million tulips!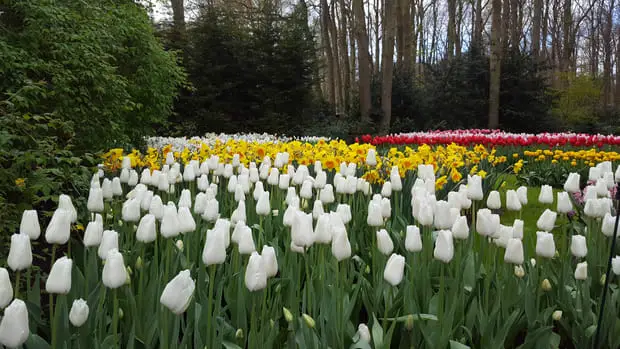 Can you buy bulbs at Keukenhof?
Of course! In fact, buying a few bulbs at Keukenhof Garden is the best souvenir you can get! There are two Flowerbulb shops so you can be assured that there is a huge selection of tulip bulbs to choose from.
The best is to visit the tulip shops after you have spent a day in the Keukenhof Garden. This will not only allow you to keep the tulip bulbs a bit fresher but also you will have a chance to spot your favourite tulips while walking in the garden.
We are 100% sure you will discover some tulips you have never seen before. Buying tulip bulbs will be a great memory of the trip to Holland's best tulip garden!
Is it worth visiting the Keukenhof tulip garden?
Pink, yellow or even black – you can buy tulip bulbs as a great souvenir from Keukenhof gardens! For only €18 you can spend a whole day discovering 100s different types of tulips – many of them you have probably never seen before in your life 🙂
Over 7 million bulbs will bloom in early spring, making your trip to Keukenhof a unique and unforgettable experience. From mid-March to the end of May, the tulips transform big parts of Holland into a colourful patchwork quilt – YES! it really looks like that! You can easily name it as one of the best landscapes in Europe! 🙂
If you are planning to travel to Holland – and seeing tulips bloom is on your bucket list – make sure you visit the Netherlands in April. Keukenhof is the best place to see tulips in Holland. You will discover endless, colourful fields filled with gorgeous tulips everywhere – you will love it!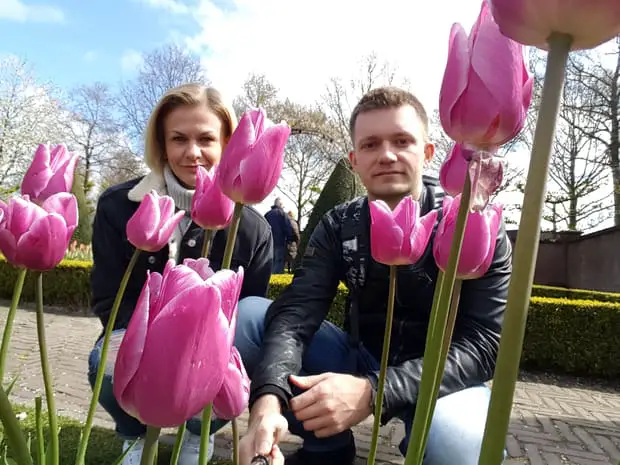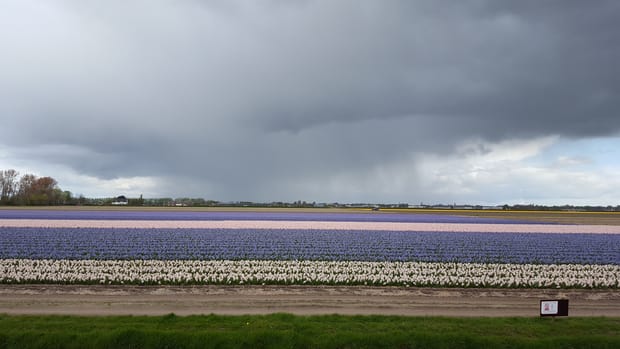 Ready to book your trip to Keukenhof gardens in April?
Keukenhof Gardens is one of the most romantic destinations in Europe so make sure you go for a day trip while visiting Amsterdam!
Best time to visit Keukenhof? Don't look for the answer any further! Just book a trip to Keukenhof gardens during the best time to visit – in APRIL 🙂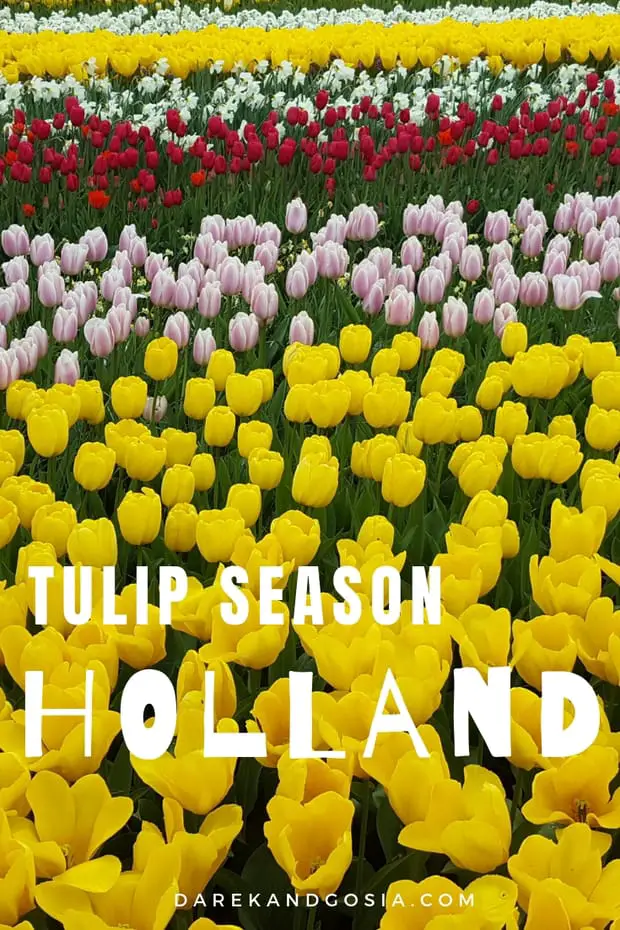 Articles you may like: