Probably* the best list of the most charming & beautiful English villages! From small villages in England to stunning countryside areas.
Cute historic pubs, rolling green hills and charming stone cottages, the most beautiful villages in England have all that you need to spend a wonderful time during a getaway in the UK! From stunning Cornwall, fairy-tale-like Cotswold villages to the amazing countryside in the Yorkshire. Many villages from our list could be easily named as "the prettiest village in England".
All tourists should remember that England is not only about visiting London! The real England is further away from the capital city. It's full of historic sites and most importantly beautiful English villages.
Yes, there are many pretty villages in Europe but why would you go that far if you have amazing English countryside on your doorstep? Maybe it's only us, but there is really something special about the rural areas of England and its charming villages – the picturesque beauty hidden away in countryside areas across England.
If you only have a chance, make sure you visit the most beautiful villages in England – you will love all of them!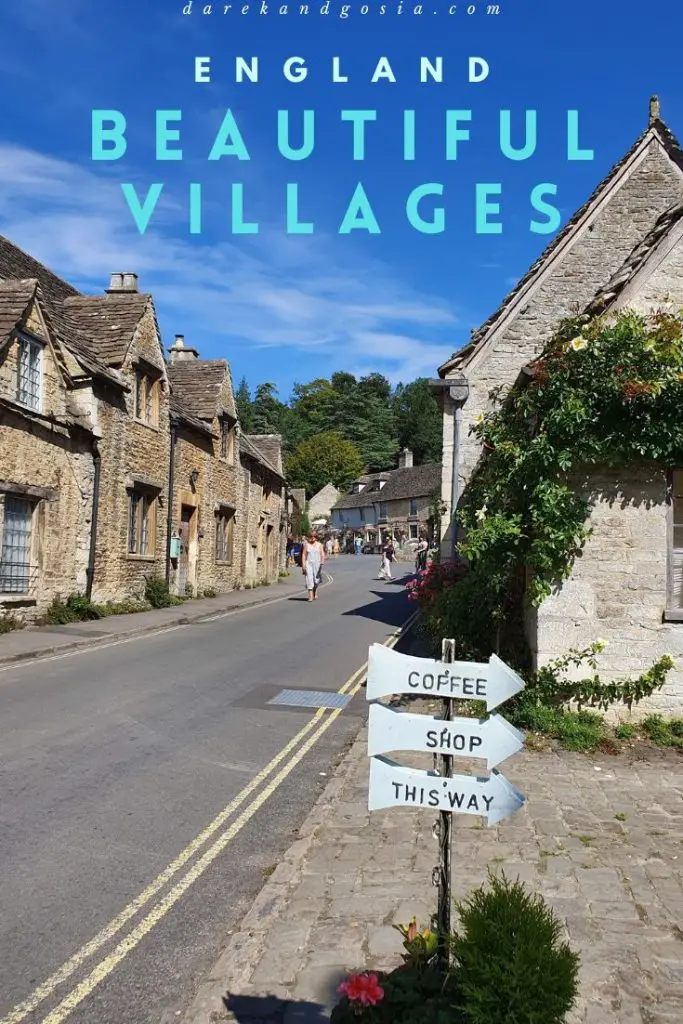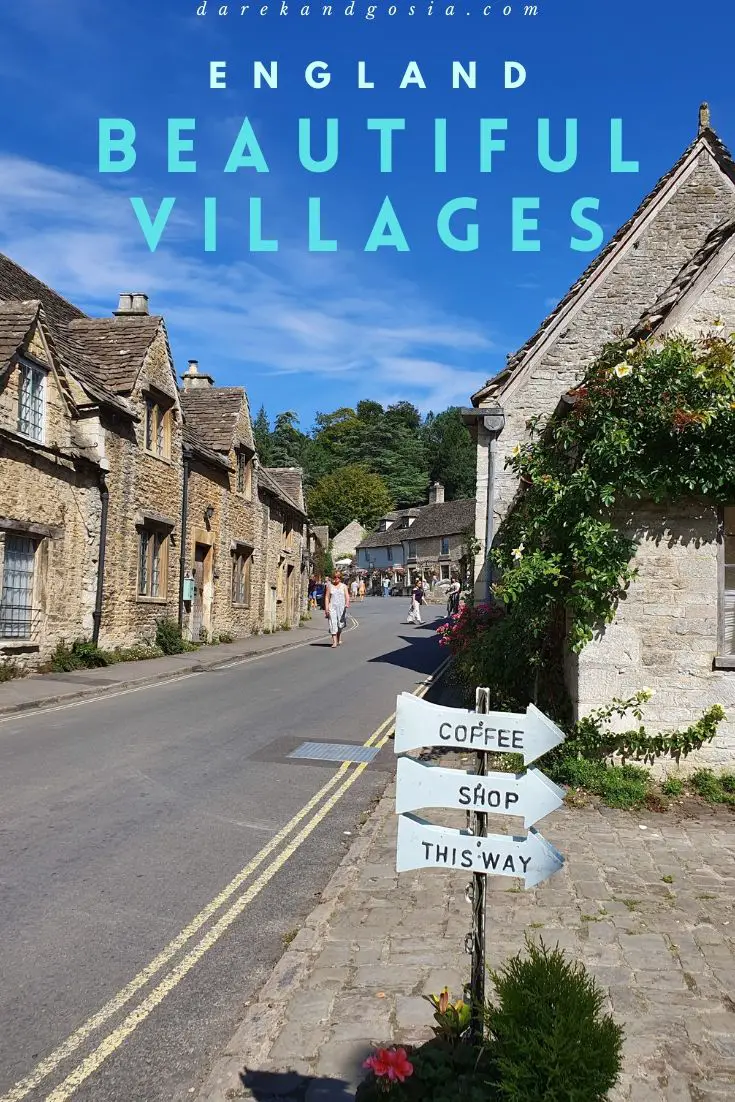 Where is the most beautiful village in England?
There are so many beautiful villages in England, and it can be hard to choose the most beautiful. Listed below are the top picks for English villages that are gorgeous and scenic, as well as a little look at what makes them so spectacular. Ready to explore the best of the English countryside? 🙂
26 Most Beautiful Villages in England:
1. Castle Combe, Wiltshire
Quintessentially English, it is no wonder Castle Combe village has been named as the prettiest in England. Found in Wiltshire, it is another Cotswold location that really captures the charm of the area's aesthetics.
Striking stone cottages and bridges of the same hue combine to create a picturesque location that you will never want to leave. The river is peaceful to watch, and there are plenty of locations where you can grab a bite to eat and watch the water.
With all that in mind, you can consider Castle Combe as one of the best places to visit near London.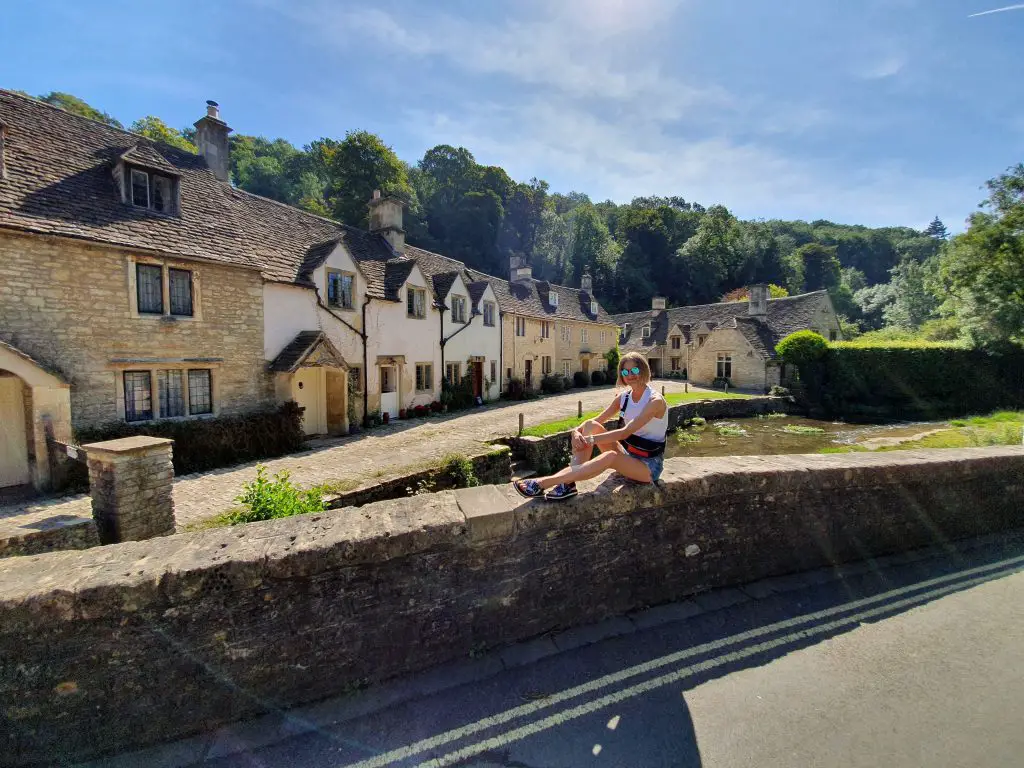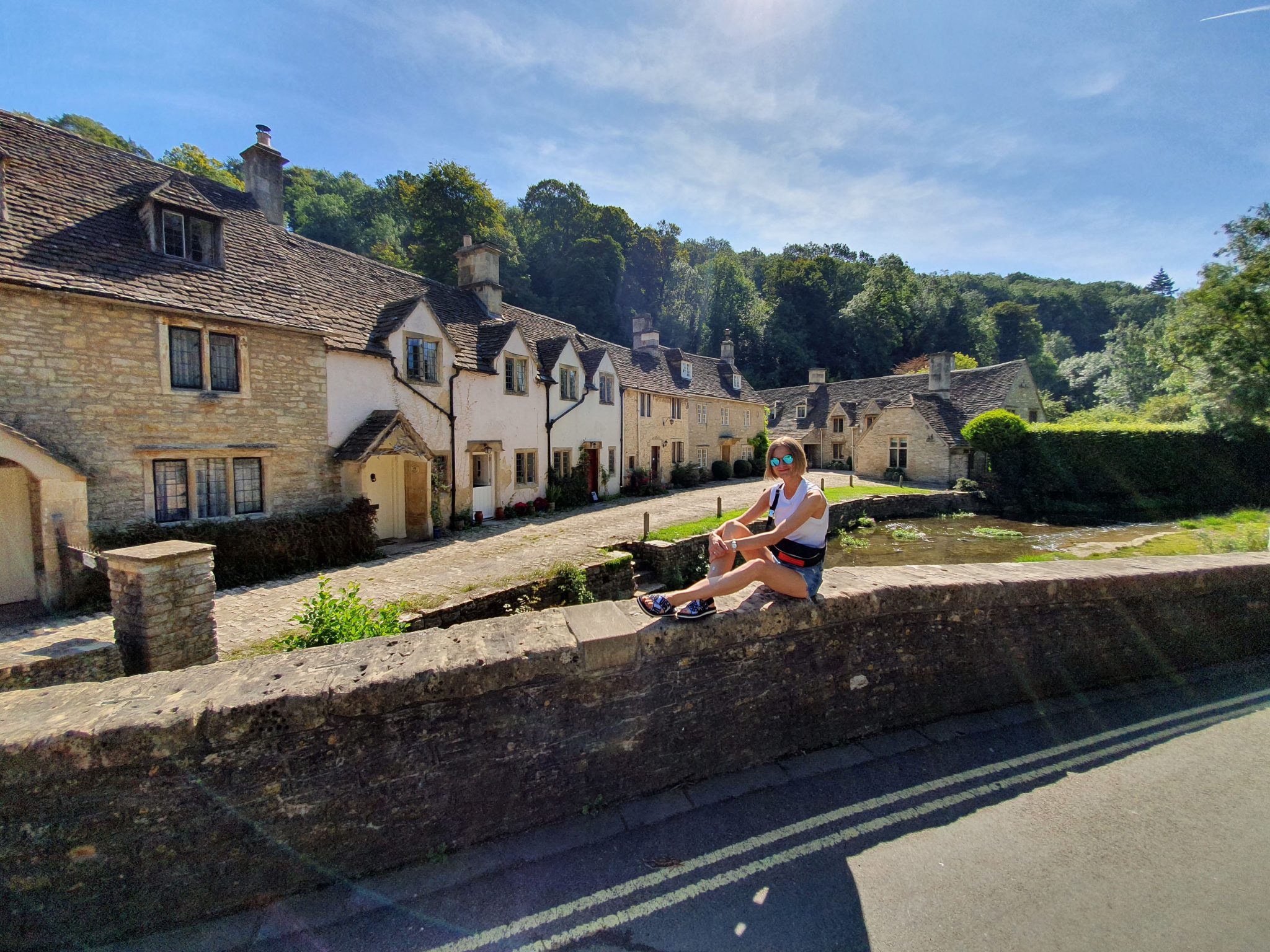 2. Fingest, Buckinghamshire
Buckinghamshire is home to many beautiful places. Due to its location many of them you can visit on a day trip from London. When it comes to most beautiful villages in England, Fingest has to be very top on the list!
The village is often described as a great example of an unspoilt British village. A combination of Georgian and medieval cottages, beautiful countryside and a top call English village pub called The Chequers attract many tourists to visit this village every weekend.
Fingest definitely is a must-visit village in the Chilterns!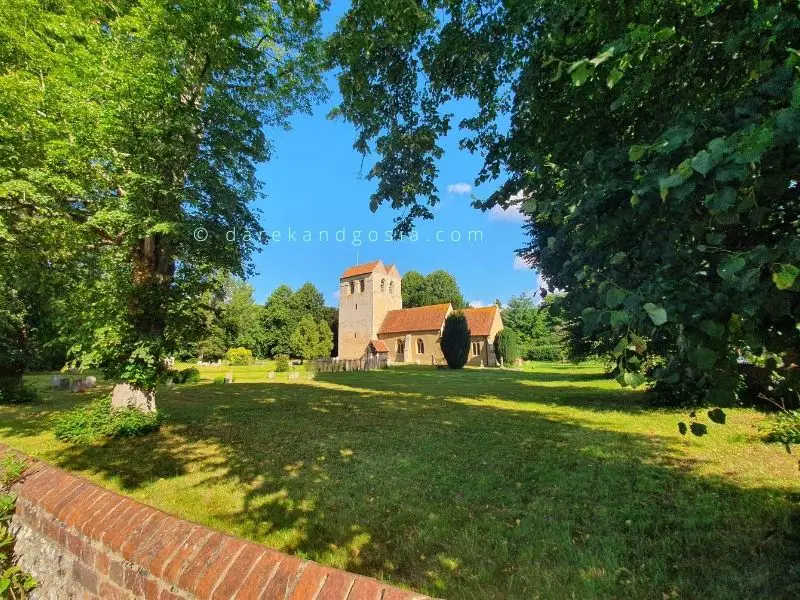 3. Polperro, Cornwall
Recommended by Sophie from thewanderfulme.com
Who else loves little seaside villages featuring quaint little pubs bustling with locals having a pint, fishing boats bobbing up and down in the harbour, the sounds of seagulls floating along in the salty breeze, and the crash of waves along the rocky coast?
The tiny little Cornwall village of Polperro delivers all that and more. It really is one of the most beautiful villages in the UK.
You'll find it hard to not go absolutely crazy for the colourful cottages clinging to the jagged hillsides, charming local shops selling everything from handmade pottery to homemade candy, picturesque ocean views, timeworn pubs with their stooped ceilings serving up crisp Cornwall cider, and teeny cobblestone pathways leading to nowhere.
What makes Polperro unique though is its history. Once a thriving centre for the area's smuggling days, under the cover of night smugglers used to weave their way through the winding streets, carting off barrows of fish, tobacco bales, and casks of brandy to places like London.
Without a doubt, this is one of the cutest and most unique fishing villages in southern England and is a must if you're ever in the area.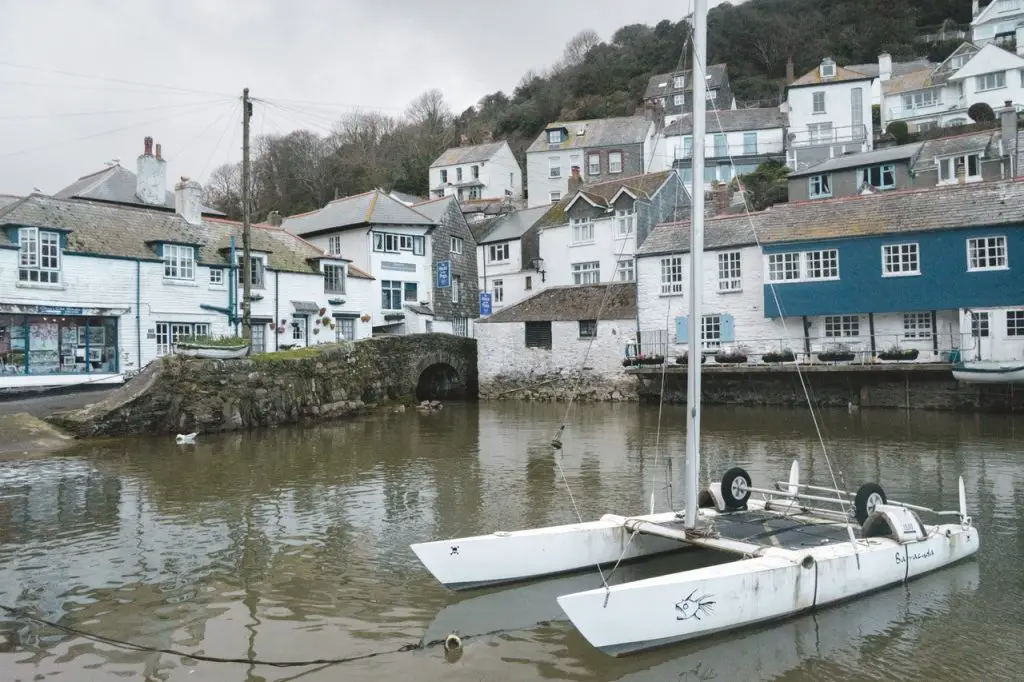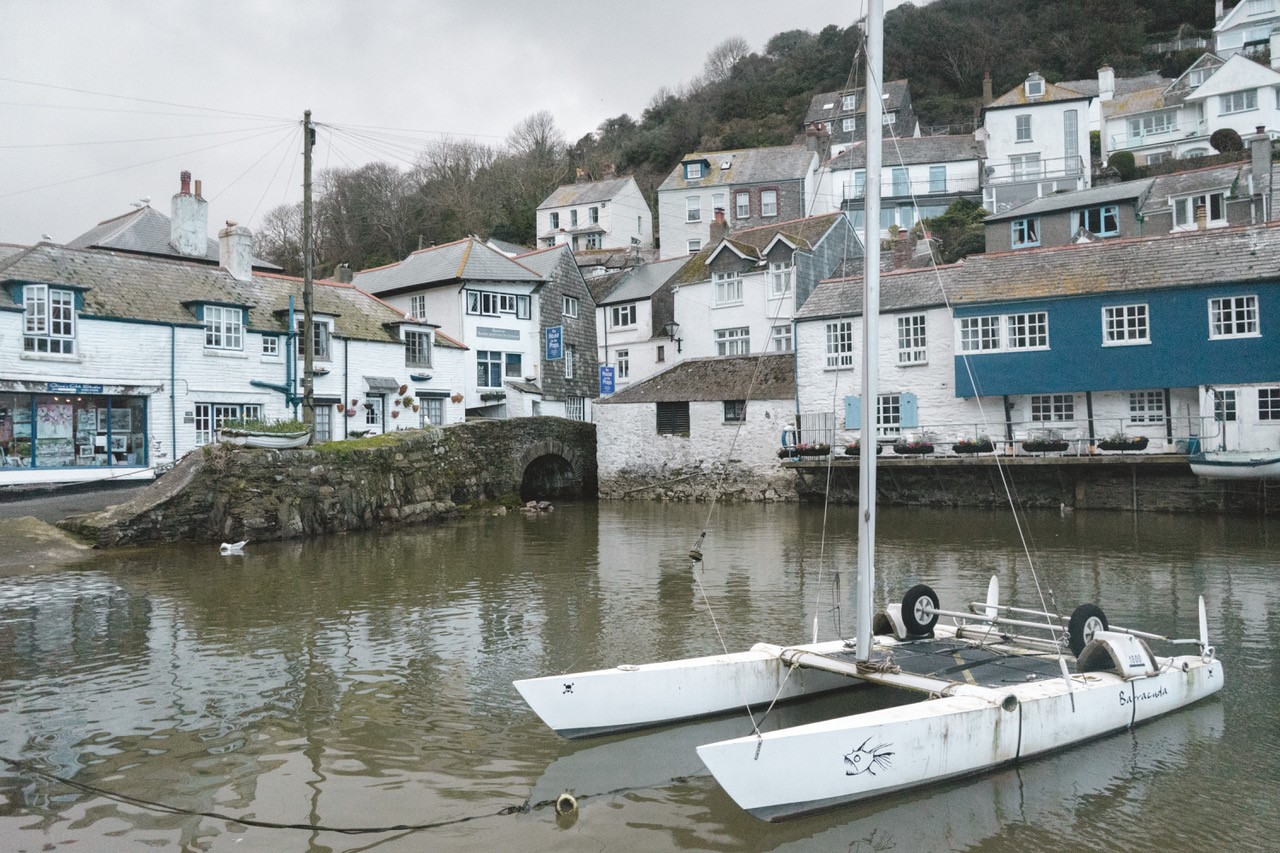 4. Turville, Buckinghamshire
Known for numerous appearances in televisions shows (e.g. The Vicar), Turville is a stunning example of a quintessentially British village. Located in the beautiful Chilterns Area of Outstanding Beauty, just 5 miles of High Wycombe is a famous spot for hiking near London.
The Bull and Butcher, as it's called the only village pub, is a perfect place to relax after exploring the surrounding area. Or, you can just get the for a pint after visiting nearby Henley-on-Thames.
Don't forget to walk up the hill to see the Cobstone Windmill and take an amazing picture of Hambleden Valley and the village. Without a doubt, Turville is one of the best places to visit in Buckinghamshire!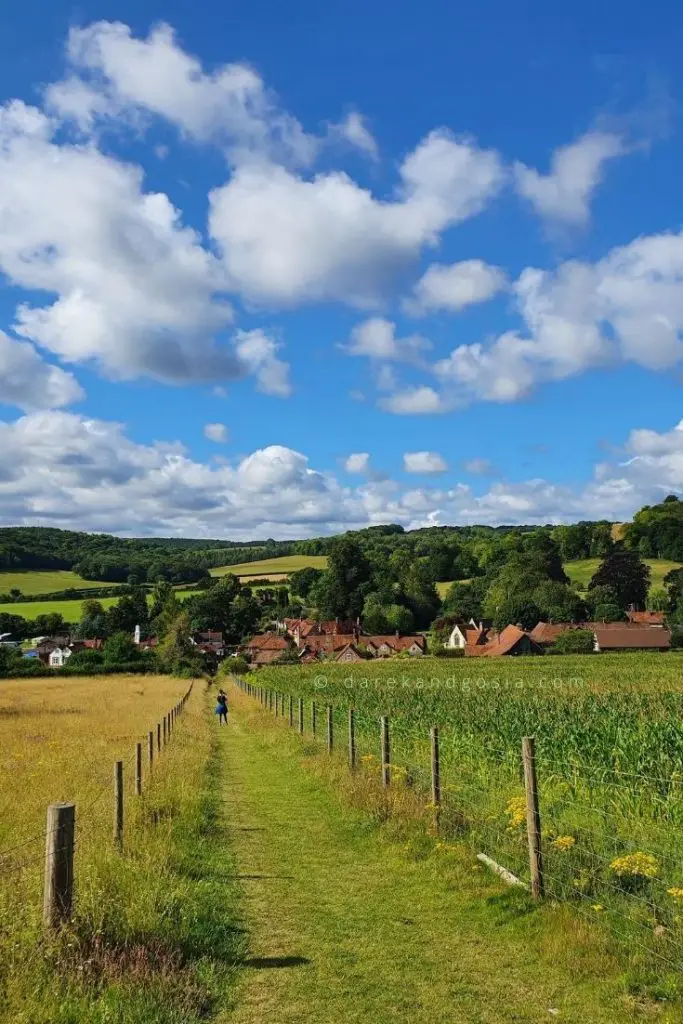 5. Long Crendon, Buckinghamshire
Anyone looking for picture-postcard villages in England has to visit Long Crendon! If you are planning a weekend getaway in England and Buckinghamshire is your location of choice, then you have to stay at Long Crendon Manor. This unique and historic country house provides luxury bed and breakfast, which will definitely make your visit special.
The rural stunning landscape is watered by the River Thame on which the Long Crendon village stands. Apart of spending time in the village, you should also visit the nearby Thame and Brill, both are within easy driving distance.
We really liked this village as it's a delightful one to stroll around – it really is one of the best places to visit in Buckinghamshire and a top British village!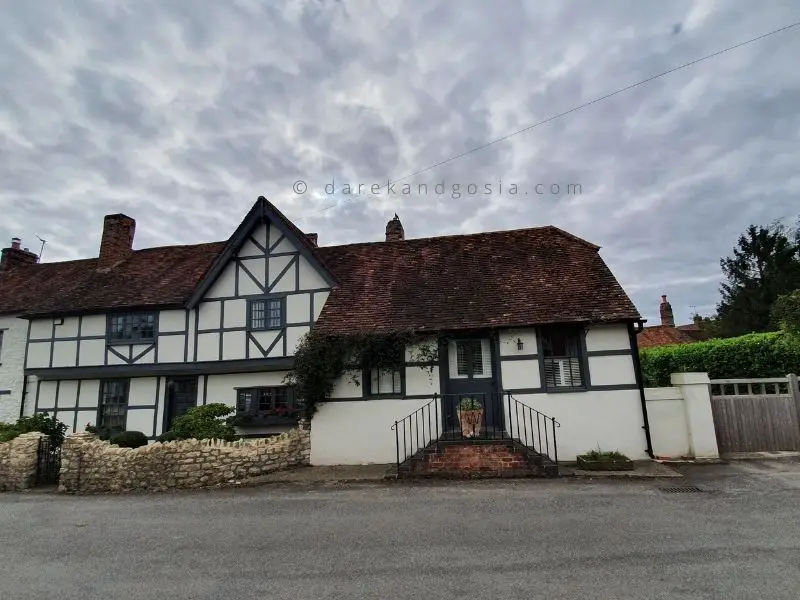 6. Bakewell, Derbyshire
Recommended by Jenny from peakdistrictkids.co.uk
Anyone visiting the Peak District finds themselves in Bakewell at some point, whether it to taste a traditional Bakewell pudding, to add a love-lock to the bridge, or to start a hike along the Monsal Trail.
Idyllically situated on the banks of the River Wye, it's a lovely town for an afternoon stroll past mellow stone buildings to quaint courtyards showcasing local artwork, before popping into a cosy cafe for a pot of tea and slice of Bakewell pudding. The medieval five-arched stone bridge is also a picturesque spot and you can continue your walk along the river.
Bakewell really is one of the best villages in the UK.
Bargains galore are on offer every Monday at the bustling outdoor market, and for an extra buzz, head for the livestock market to experience the action in the theatre-like auction ring!
Bakewell also marks the start of the Monsal Trail, which runs along the former Midland Railway line for 8.5 miles to Chee Dale. This traffic-free gravel path is a popular cycle and walking track.
A top local tip: don't try and park in the town centre, especially on a weekend or during the school holidays. Instead, head to the car park next to the Agricultural Business Centre. There's then a footpath that leads you in to town.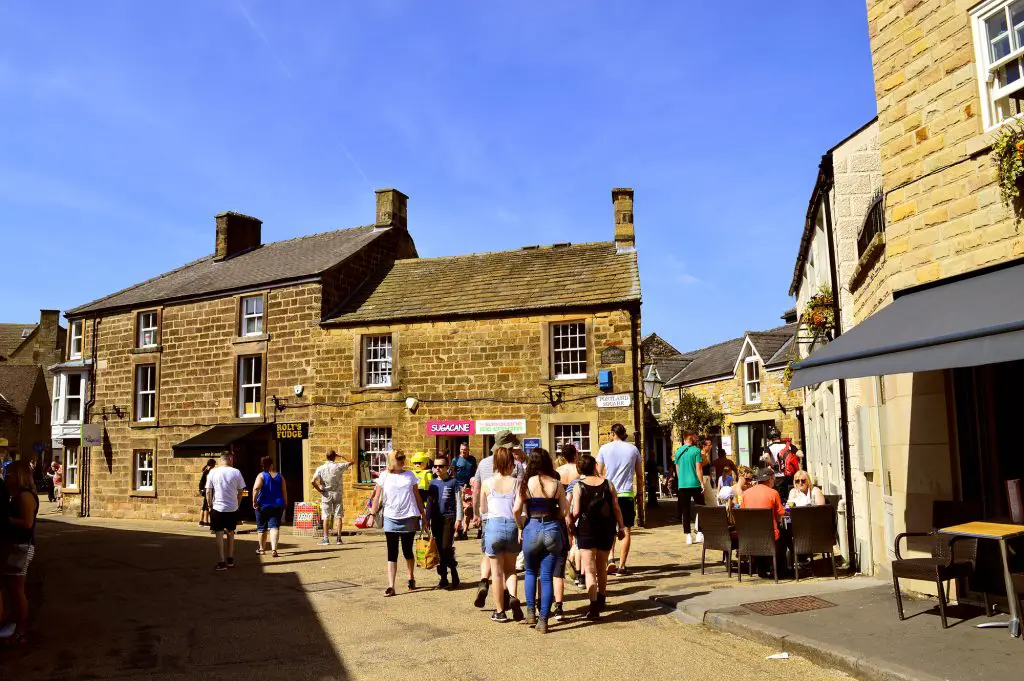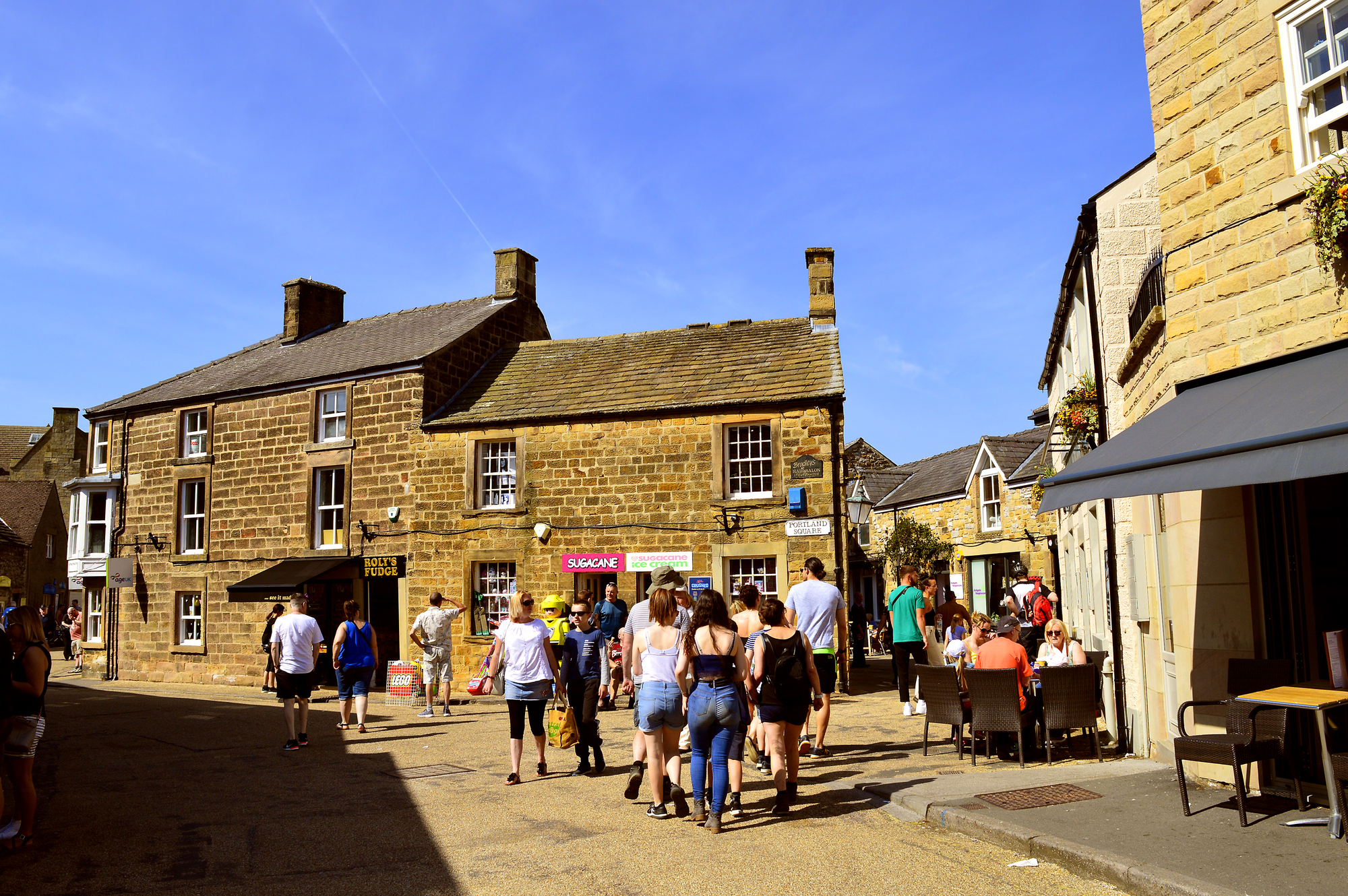 7. Cuddington, Buckinghamshire
This small village with a population of around 550 residents is mostly popular due to being the location of several Midsomer Murders episodes.
There are a few facilities, a proper British village has to have – those include shop a post office and even 2 churches, but only one is really in use.
It is also worth mentioning that for many years Cuddington won the regional competition of Britain's best kept villages, so it has to be very top on the list of most beautiful villages in England!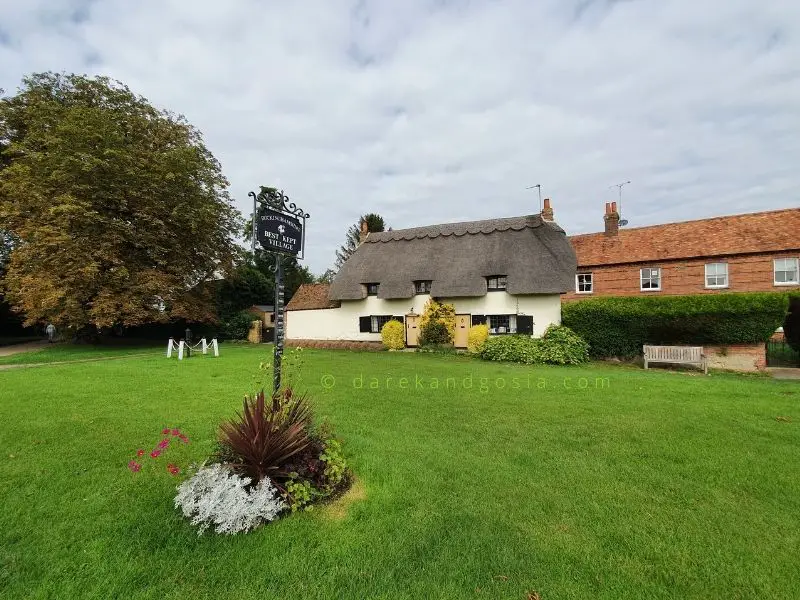 8. Little Missenden, Buckinghamshire
Without a doubt, Little Missenden can be named as one of the pretty villages in England! Located just of the A413 between Amersham and Wendover, this English village is perfect to visit on a day trip from London while exploring the surrounding British countryside.
Little Missenden lies on the River Misbourne in the Misbourne valley, which really makes it one of the most picturesque villages in England.
This village with less than 2,500 inhabitants is very often visited by tourists. Mainly because of the beautiful buildings, but also its location in the Chilterns, which makes it a perfect location for hiking near London.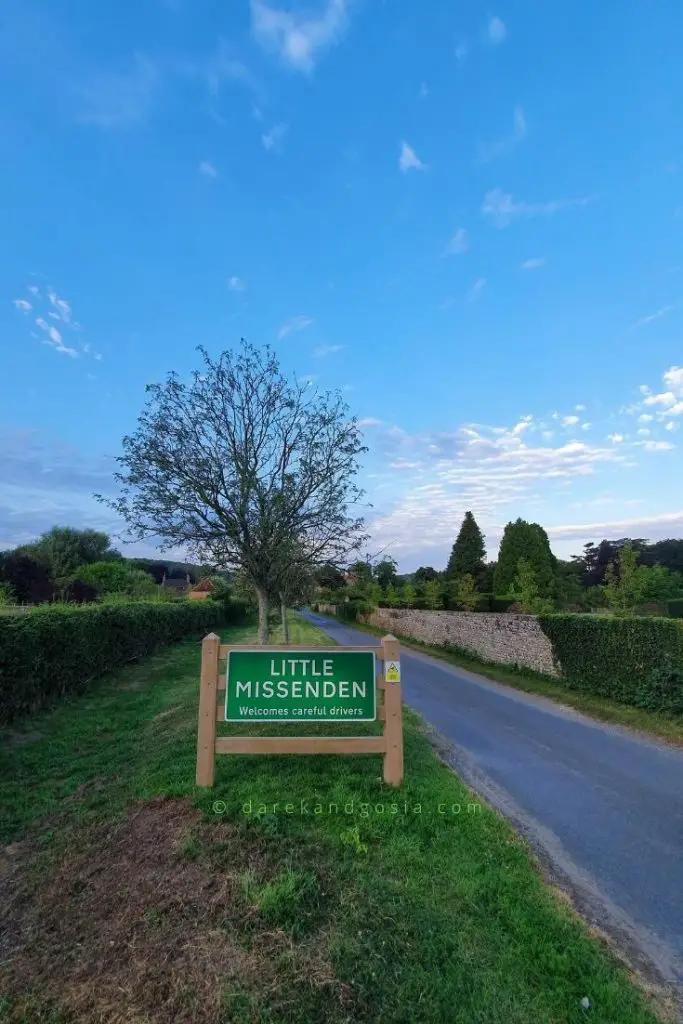 9. Cheddar, Somerset
This Somerset village is known for two things. The first is an array of cheddar cheeses that are made using traditional methods, and taste unlike anything you have had before.
The other is the mysterious and alluring Cheddar Gorge. This limestone canyon leads to gorgeous caves filled with dazzling geology and stalactites (and mites) that leave you wondering how nature manages to be so artistic in everything it does. To top it all off, they have some of the best afternoon tea you'll find.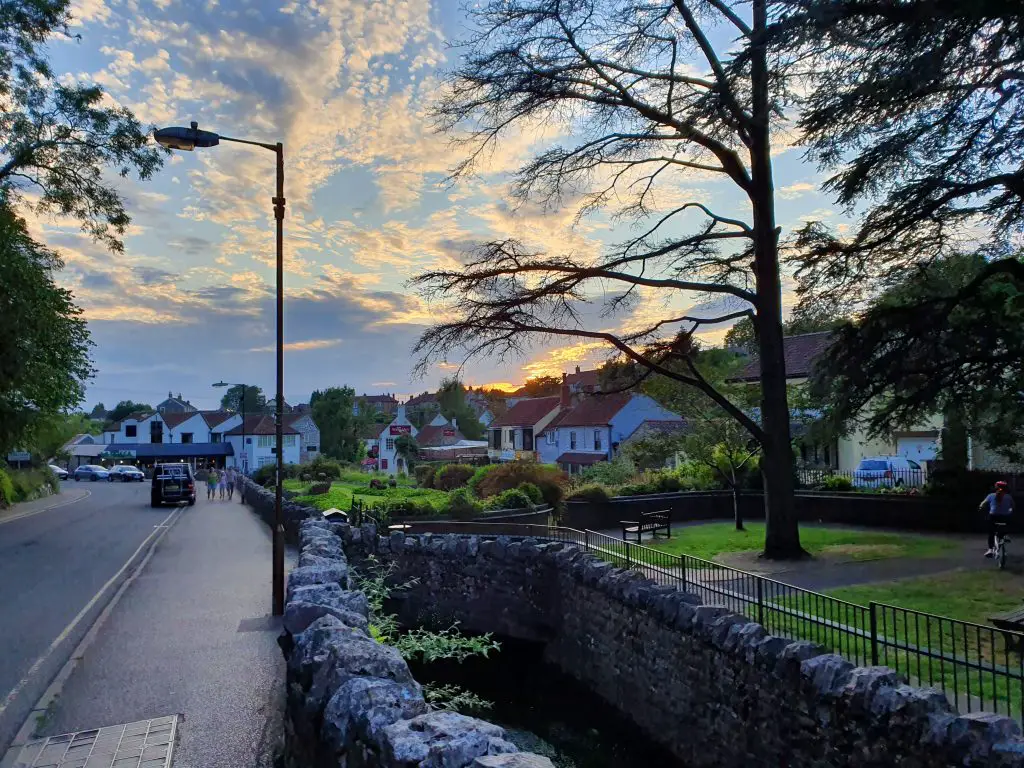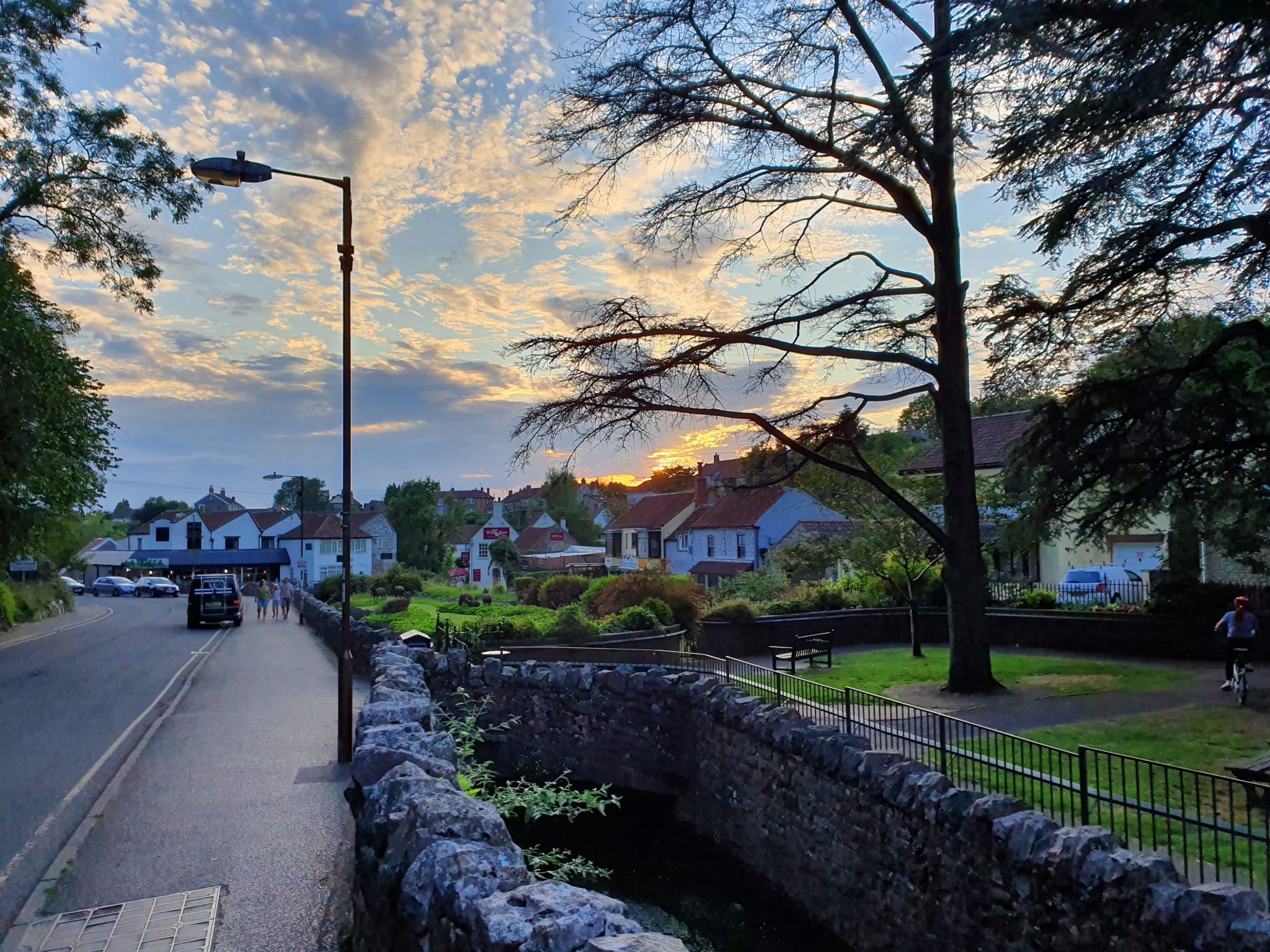 10. Hambleden, Buckinghamshire
If you are looking for the most beautiful countryside in England, you need to visit Hambleden village!
Located around 3 miles north-east of Henley-on-Thames in Oxfordshire and 4 miles west of Marlow, this village is a must-visit place in Buckinghamshire.
As one of the quaint villages in England, Hambleden is just a gorgeous little village you will love. With a great pub, local shop and a village church it is one of the cutest villages in England we have ever visited.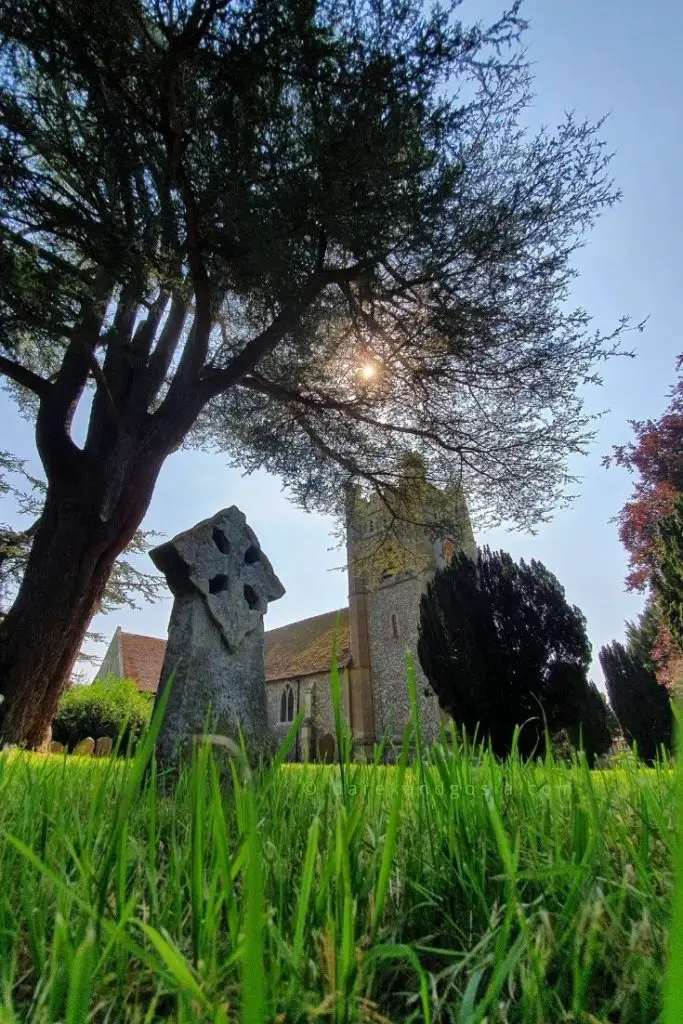 11. Grassington, North Yorkshire
Recommended by Cora from insideoursuitcase.com
Grassington is located within North Yorkshire and is has been a place I have visited since I was young. With the area being a great hub to start and end walks within the area and neighbouring villages, it is a perfect spot to head to when looking to further explore the Yorkshire Dales.
Grassington is one of the prettiest villages in England because it is old, has wonderful countryside charm and a wonderful village of unique shops, great places to eat and even more wonderful places to stay.
It is definitely one of England's prettiest villages!
Grassington has some great festivals that occur throughout the year though the better months to visit are Spring and Summer when you can see the lambs within the fields.
My favourite thing to do within the area of Grassington is going on a walk. Whether this is around the village, down by the River Wharfe or up into the hills to see the spectacular views over the fields.
If you aren't much of a walker, Grassington makes for a great base while exploring some of the small neighbouring villages such as Burnsall, Kettlewell and even down to Bolton Abbey.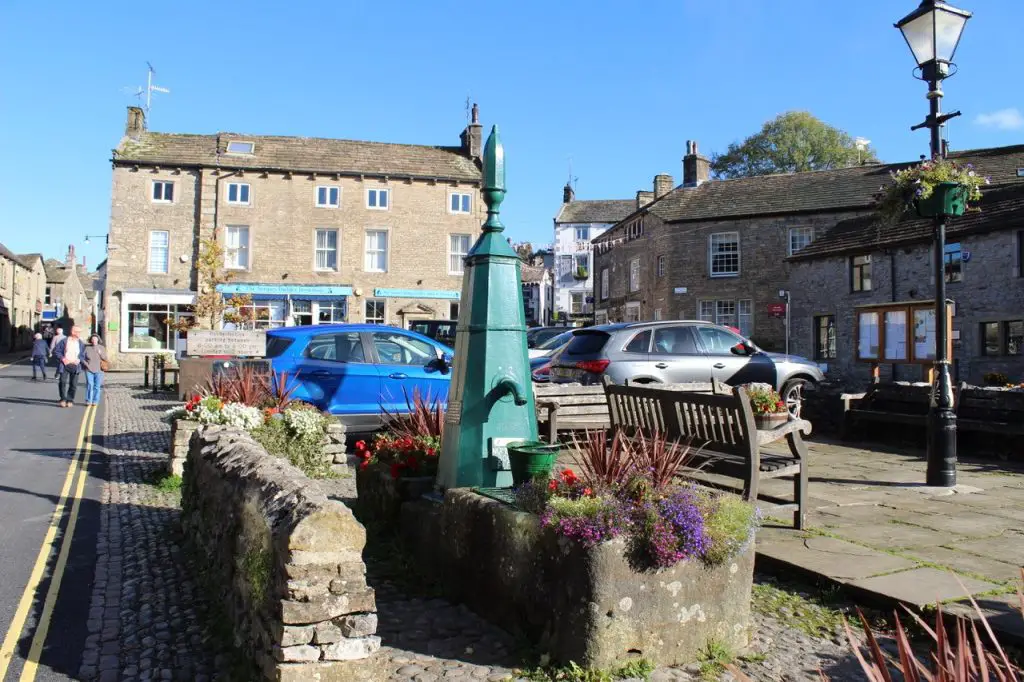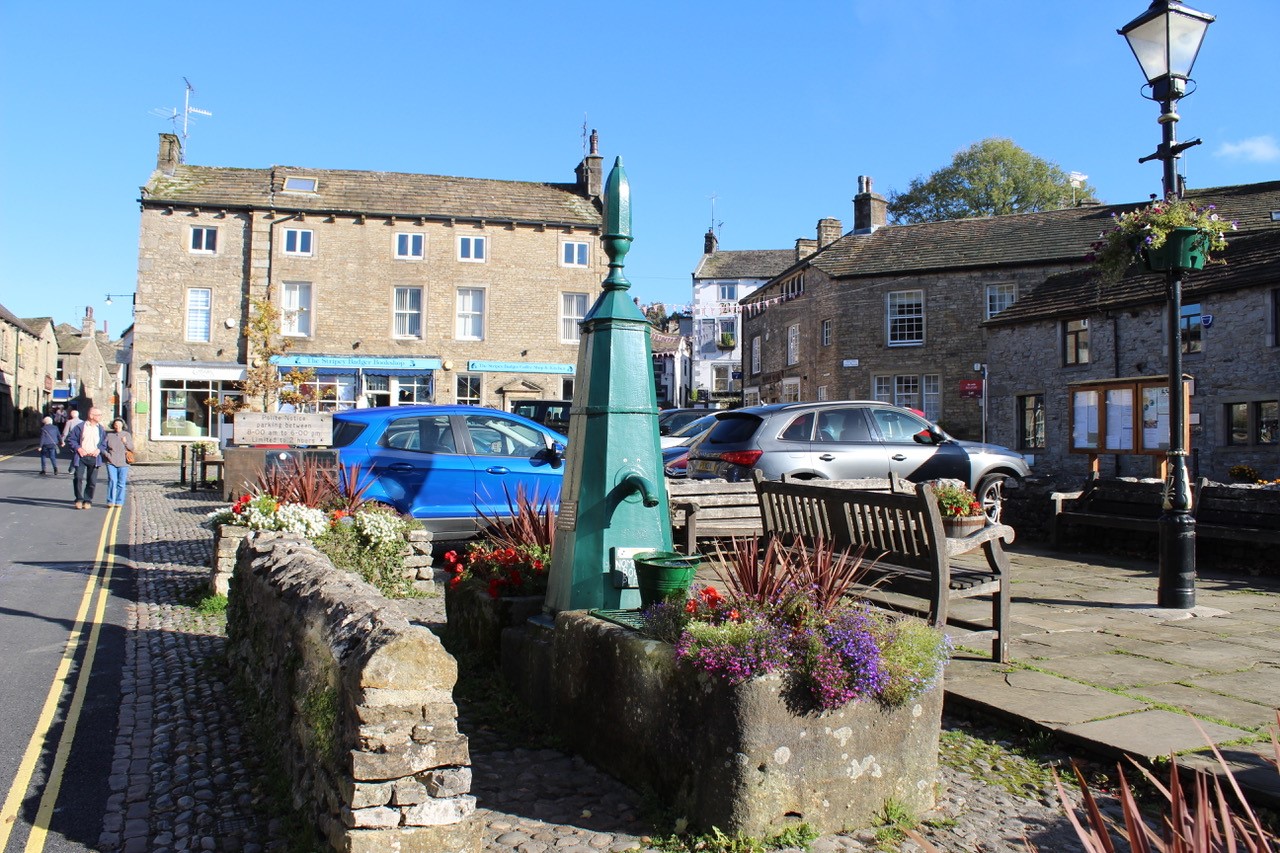 12. West Wycombe, Buckinghamshire
Located in Buckinghamshire, the charming village of West Wycombe is situated along the A40 road. There is ample parking in and around West Wycombe so you can easily visit this beautiful village by car.
This one-street village lined with stunning Tudor houses is must-see in this part of southern England!
Without a doubt, West Wycombe village is one of the most beautiful villages in England. It is also a perfect place to visit on a day trip from London – you not only get to admire stunning old building in the village, but you can also explore the National Trust's West Wycombe Park and hike the hills. This area is known for being the best countryside in UK!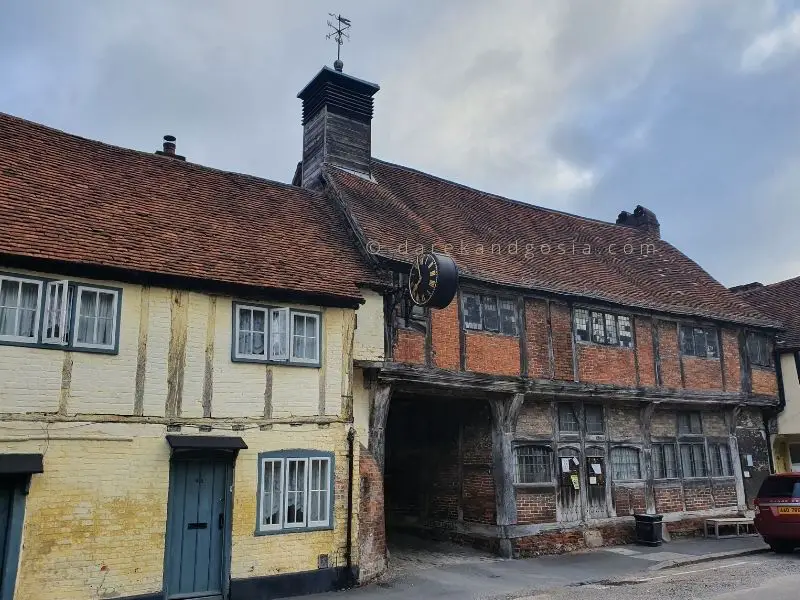 13. Framlingham, Suffolk
Recommended by Jacquie from flashpackingfamily.com
Framlingham is located in the heart of Suffolk, one of the most rural parts of the UK. It is quintessentially English with its small independent shops, colourful houses and resident ducks taking right of way over the traffic. So idyllic is it that it has previously been voted the best place to live in England by Country Life magazine.
The pace of life in Framlingham is slow but really comes alive in the summer when visitors come from all around to visit Framlingham Castle, one of the best-preserved medieval castles in England. It sits on a bluff with commanding views over the Suffolk countryside and is a great place to explore if you're visiting Suffolk with kids.
If you are looking for picturesque villages in England, Framlingham is one of them!
After visiting the castle, you can take a walk around the narrow streets lined with colourful houses and adorned with equally colourful flowers. There are a couple of small tearooms where you can enjoy a traditional high tea and a handful of pubs, one of which is Ed Sheeran's local which he pops into from time to time.
If you're visiting Framlingham on a Saturday, make sure to check out the small market with produce from the local area. Framlingham is the perfect place to visit if you want to feel like you're stepping back in time.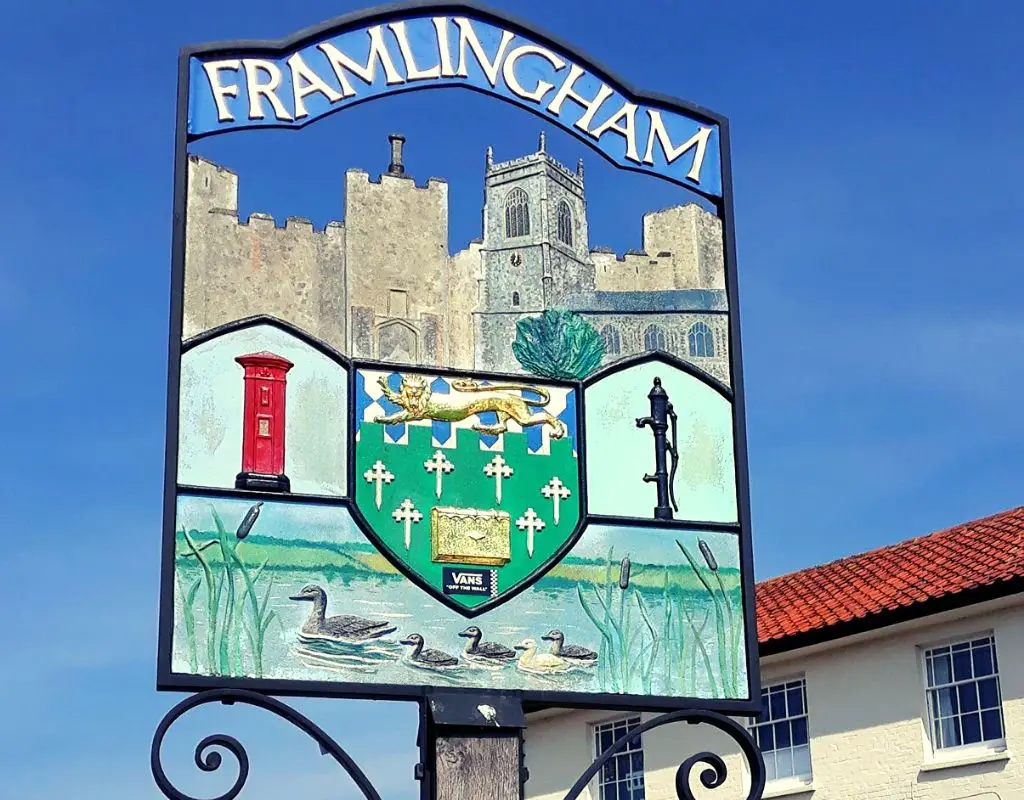 14. Bibury, Gloucestershire
This serene Cotswold village is famed for the honey-stone walls that make up most of the homes there. It's surrounded by stunning rural scenery, as well as friendly locals that will make your stay a welcome one.
The famed Arlington Row is where the movie Stardust was filmed, as well as Bridget Jones' Diary. Despite this, it remains undisturbed and perfectly peaceful.
Would you add Bibury to the list of most beautiful villages in England? 🙂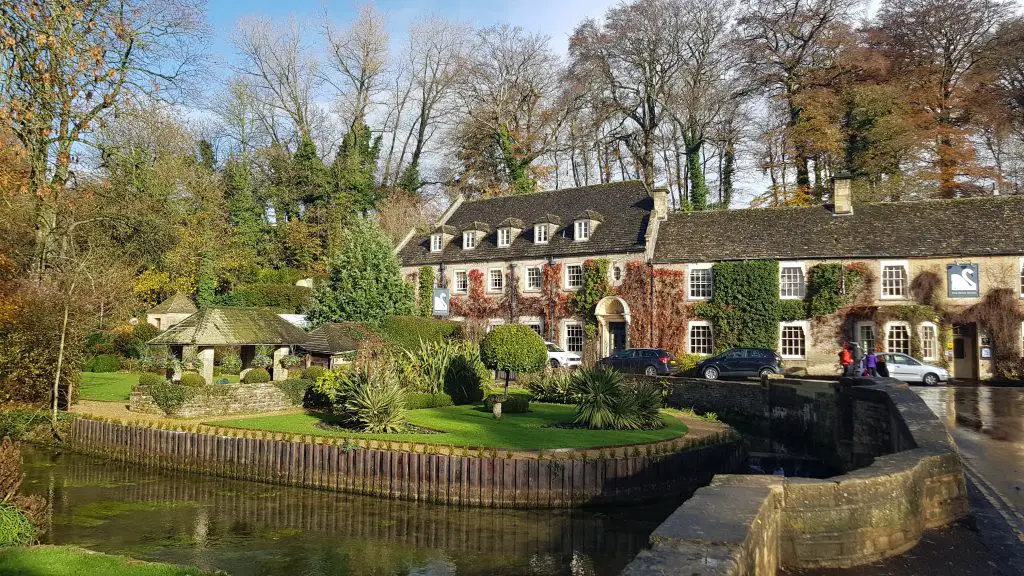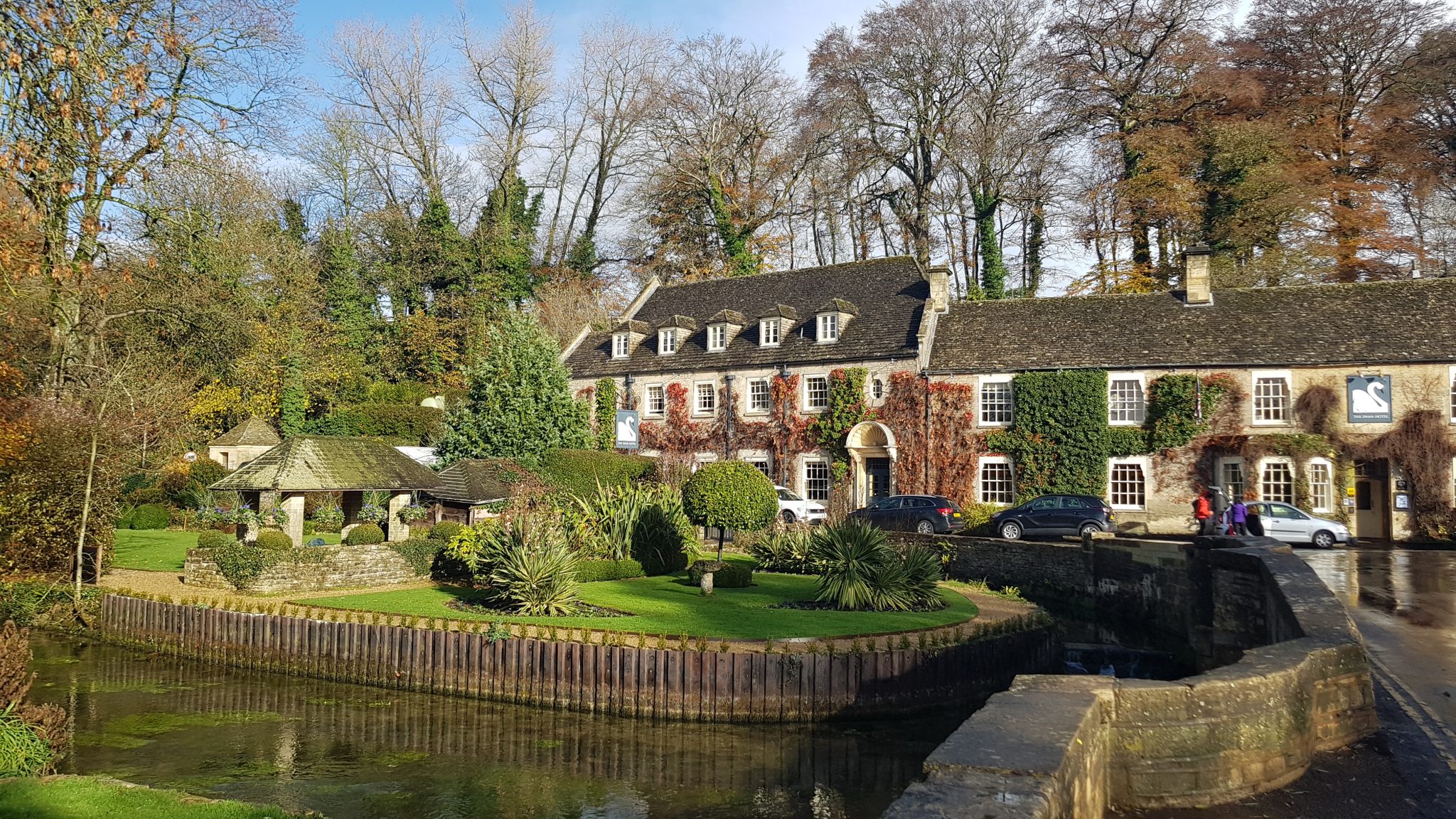 15. Ashburton, Devon
Recommended by Annemarie from travelonthebrain.net
When I explored Devon in Southwest England I decided to base myself in Ashburton. It's well connected to the bus lines across the county, right at the fringe of the gorgeous Dartmoor National Park and busy enough to dine out and get some shopping done as well.
While not particularly big, I found plenty of things to do in Ashburton. I absolutely adored the many opportunities to amble around the countryside with shady walks through bluebell woods, over open pastures and up to Hound Tor and other natural landmarks of the national park.
Moreover, Ashburton has a few restaurants, pubs and cafes to please the foodie in you. I can recommend The Old Library Restaurant for an amazing avocado toast, Rust and the Wolf for a nightly drink out and Taylors for tea time.
This picturesque village in England really is worth visiting!
When you're done filling your stomach, check out the many different antiquity stores all over Ashburton. There sure is something to intrigue, maybe vintage brooches, period furniture or shiny frames, to name just a few.
Having said all that, what Ashburton is most known for is its renowned cooking school, where beginners and professional chefs alike can perfect the art of cooking that is both delicious and pleasing to the eye.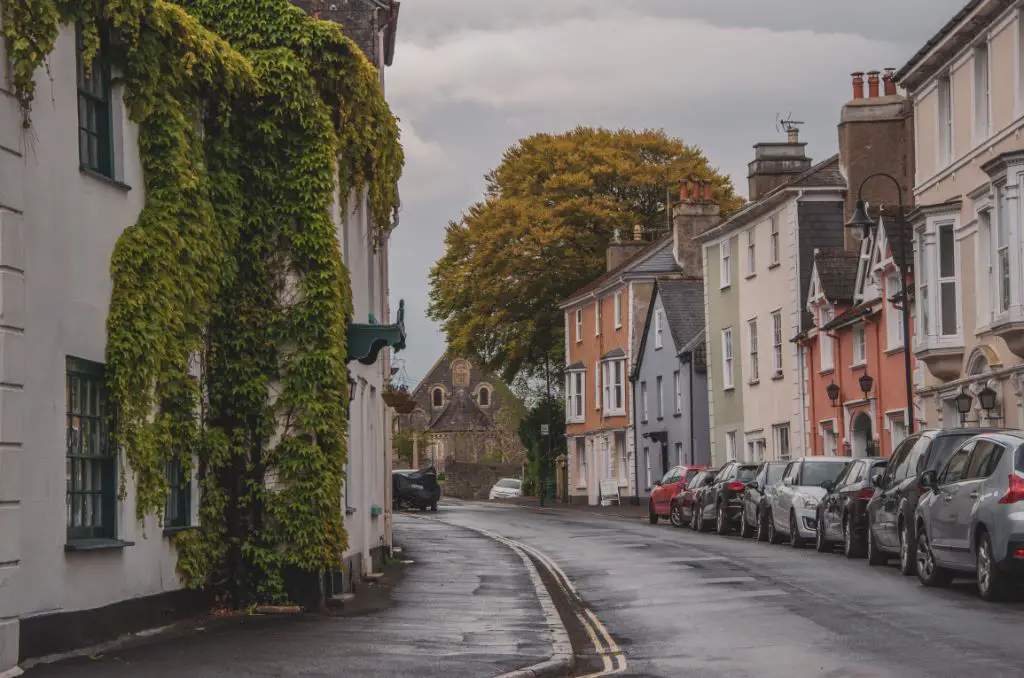 16. Bradenham, Buckinghamshire
Set in the Chiltern Hills, Bradenham village is definitely one of the most charming British villages. Blessed with a network of footpaths, it's an ideal place for anyone looking great hiking spots near London.
Bradenham is a very small village located just 3 north of West Wycombe village. It is one of the best places to visit in Buckinghamshire!
If you are visiting by car then you should know that free parking is available in the village. It's located just opposite the cricket pavilion.
The two most prominent historic buildings are Bradenham Manor, which is currently in use by a commercial company and is not open to the public, and the medieval parish church.
There is also a cricket pitch in the village – a perfect place for a quick game on a weekend!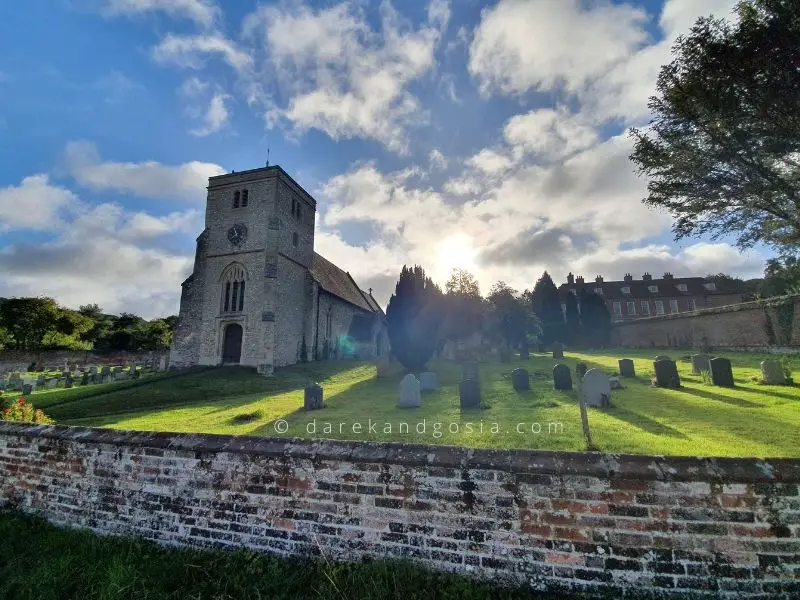 17. Cadgwith Cove, Cornwall
Recommended by Annabel from smudgedpostcard.com
Cadgwith Cove is a working fishing village on the east coast of the Lizard Peninsula in southern Cornwall, England. Visit the village during summertime to see it at its best. The pretty thatched cottages have flower=filled gardens and the narrow lanes wend their way down to the harbour where at low tide colourful boats sit on the pebbly beach.
The locals of Cadgwith hold a charity BBQ party on certain evenings in the summertime, visitors and residents enjoy freshly caught seafood and children are entertained with a puppet theatre on the beach. There's an excellent local pub, the Cadgwith Cove Inn, which hosts live Cornish folk music each week.
The village is close to some great coastal walks, there's a path from the village to the Devil's Frying Pan, a collapsed sea cave. There's also a host of lovely beaches nearby which remain relatively quiet even in the high season compared to those found in other parts of Cornwall.
Would you add Cadwigh Cove to the list of England's most beautiful villages?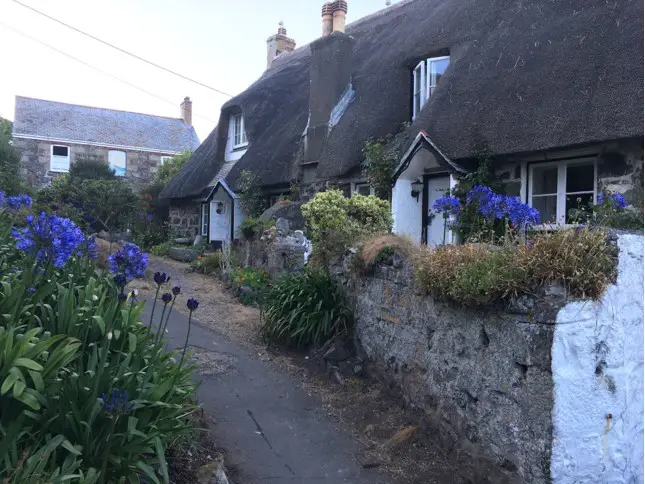 18. Castleton, Derbyshire
Recommended by Roshni from thewanderlustwithin.com
One of the prettiest villages in the Peak District is Castleton in Hope Valley. Castleton has long been a hotspot for hikers, outdoor lovers and history buffs. Castleton village is situated in Derbyshire and can be reached in only half an hour from Sheffield by train.
The charming village of Castleton is home to Mam Tor, also known as Shivering Mountain. It is the top attraction in Hope Valley and provides dramatic views of the Peak District from above. The hike to Mam Tor only takes two hours from the village centre, making it popular amongst families as well as seasoned trekkers.
Also overlooking this quaint village is also the 11th-century ruins of Peveril Castle, one of England's earliest Norman fortresses. The castle makes for another great hike in the area as it is perched well above Hope Valley, and is opposite Mam Tor.
Surrounded by the most beautiful countrysides in England, Castleton really is one of the most beautiful English villages!
For those who want to soak up history, Castleton is home to some of the best show caves and caverns in the country, such as Speedwell Cavern, Peak Cavern and Treak Cliff Cavern. Once you've enjoyed the hikes and caves, tuck into a traditional afternoon tea or a delicious pub lunch in one of the many eateries in the village.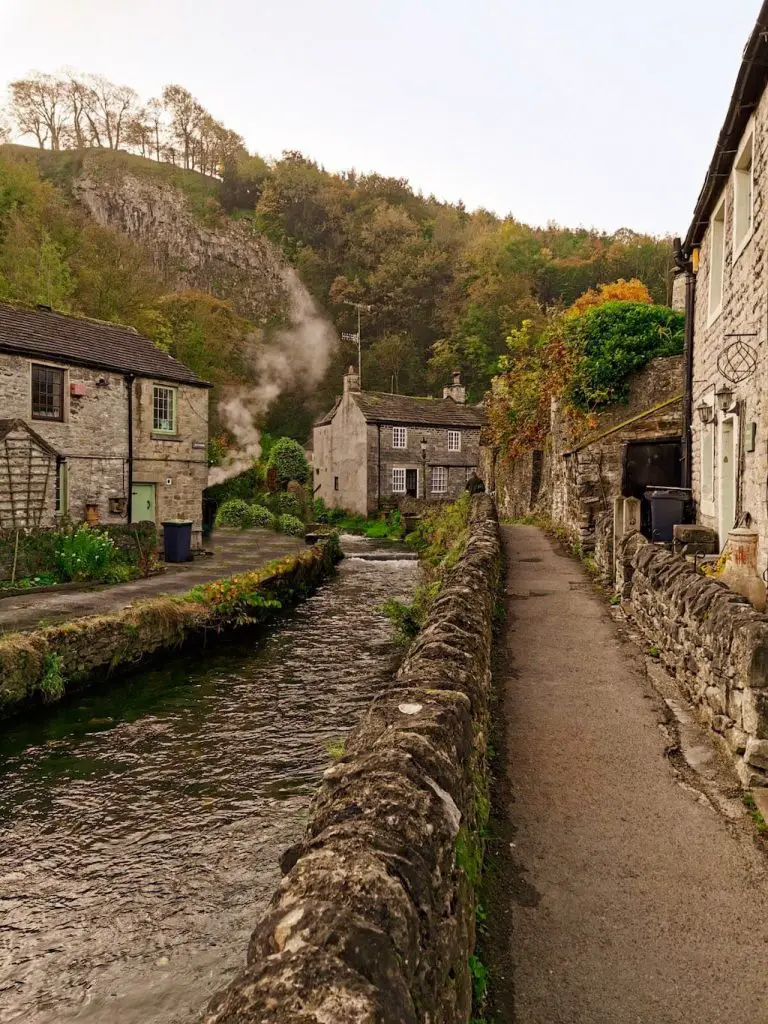 19. Bourton on the Water, Gloucestershire
Known as the Venice of the Cotswolds, this really is a unique place to visit in England. Straddling the River Windrush, it is famed for its low bridges and stone houses.
Home to Birdland, incredible species of bird are available for you to see and learn about on your trip. Combined with some of the best little tea rooms and cafes in the area, it is the ideal getaway.
Bourton on the Water Model Village is also one of the most popular attractions in this stunning English village.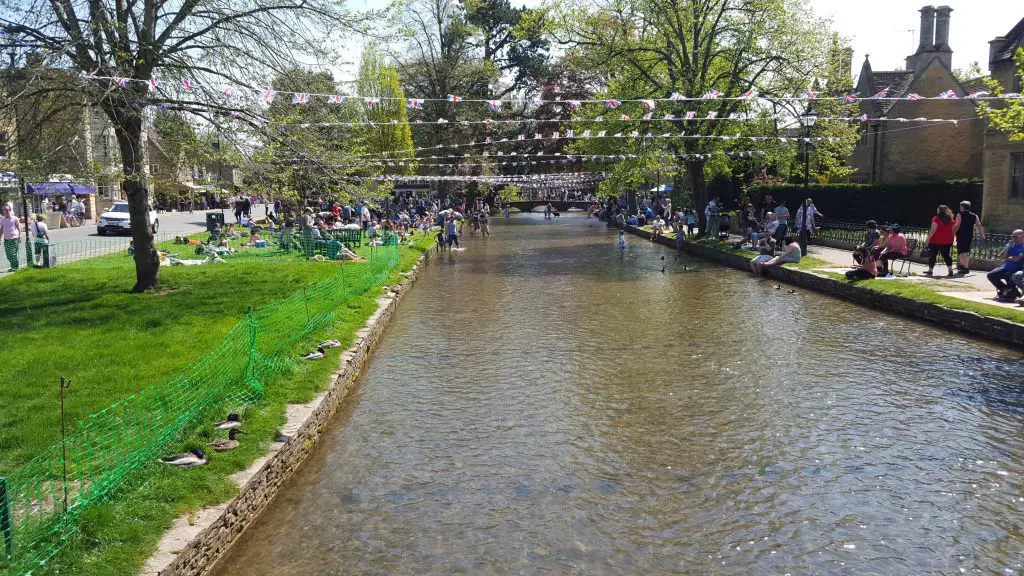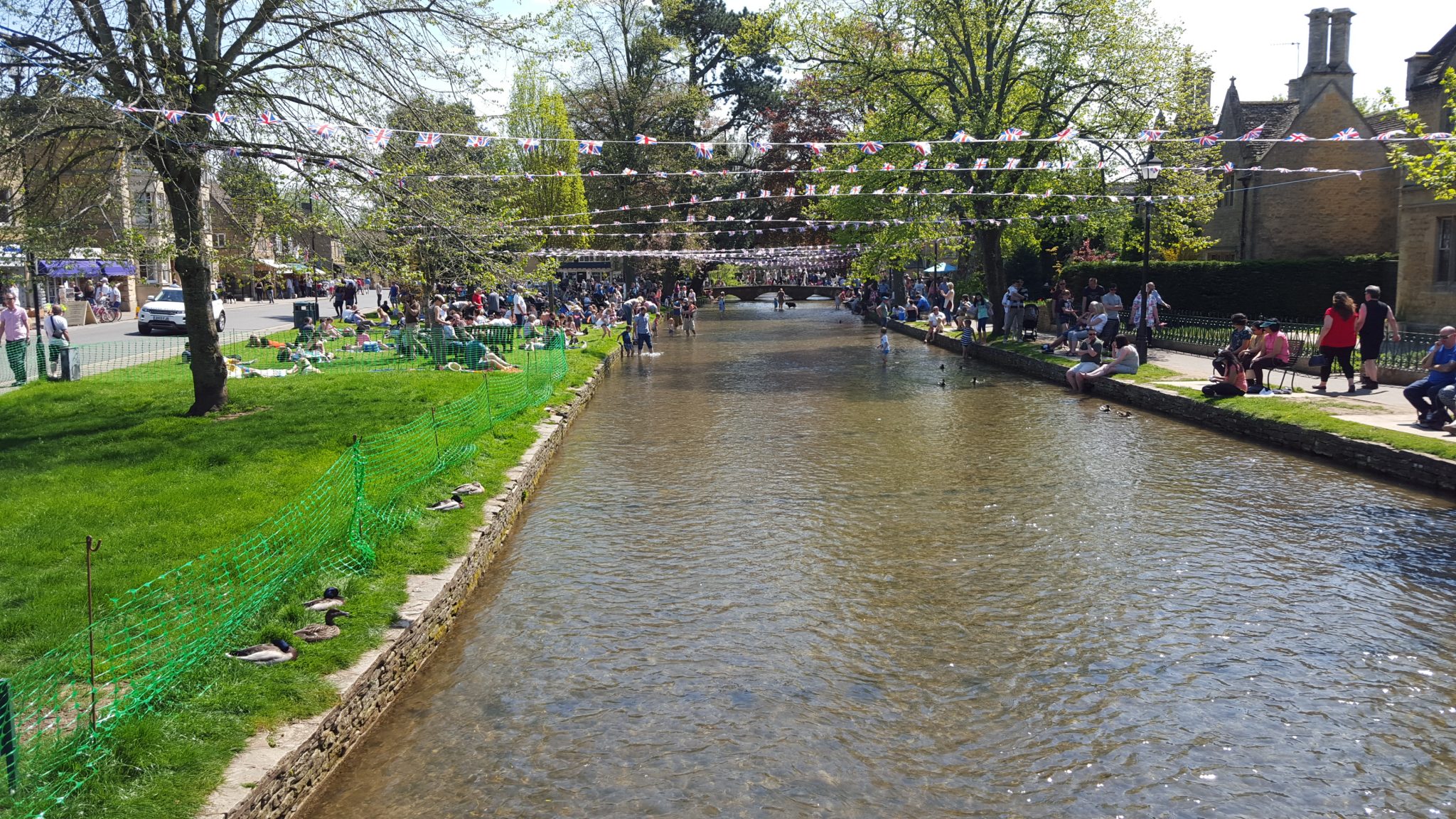 20. Boscastle, Cornwall
Recommended by Kat from wandering-bird.com
If you're looking for a beautiful English village, look no further than Boscastle, Cornwall. This pretty village has several reasons to visit – some more macabre than others!
To start, it's a typical Cornish village – beautiful slate and stone houses set around a cute little harbour full of local fishing boats. It also has world-famous local pottery and one of the best ice-cream shops in the area!
It's also home to one of the most famous witchcraft museums in the world. Yep, this tiny cute village houses an entire building filled with myth, magical and gore. It's a fascinating place to visit – learn the history of witchcraft in the area, devices used to torture and condemn witches and even discover your fortune!
We visited Boscastle after our trip to the incredible Tintagel Castle (supposed home of King Arthur and also worth a visit.) Boscastle is a short drive away from the Castle and there's plenty of hotels/B & Bs in the area if you need.
In short, if you're looking for a cute village in one of the prettiest parts of the country, Boscastle is it!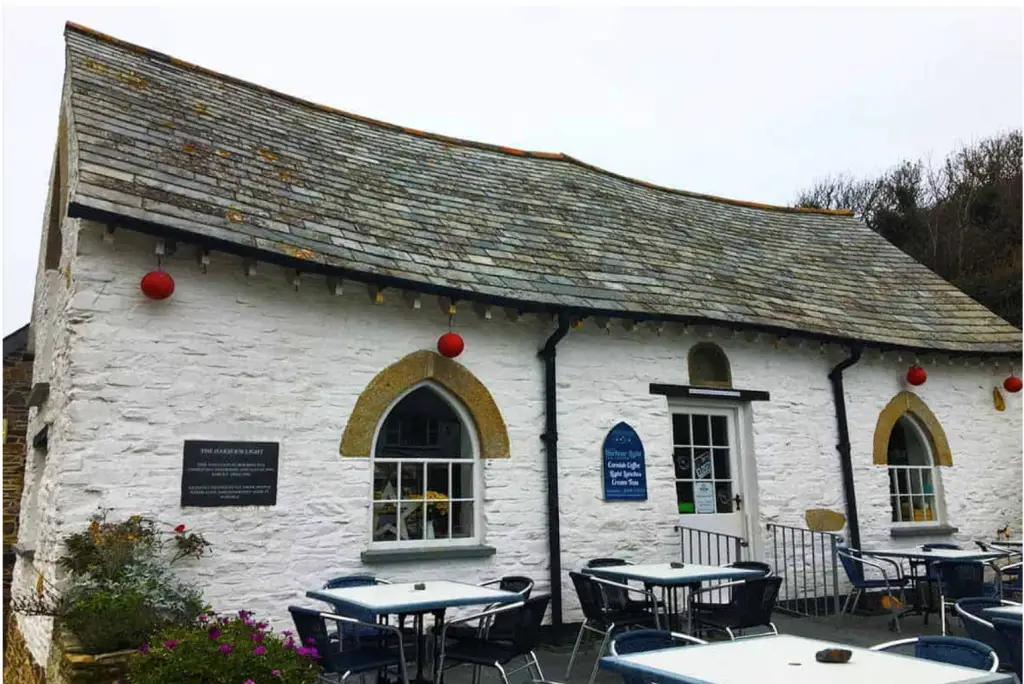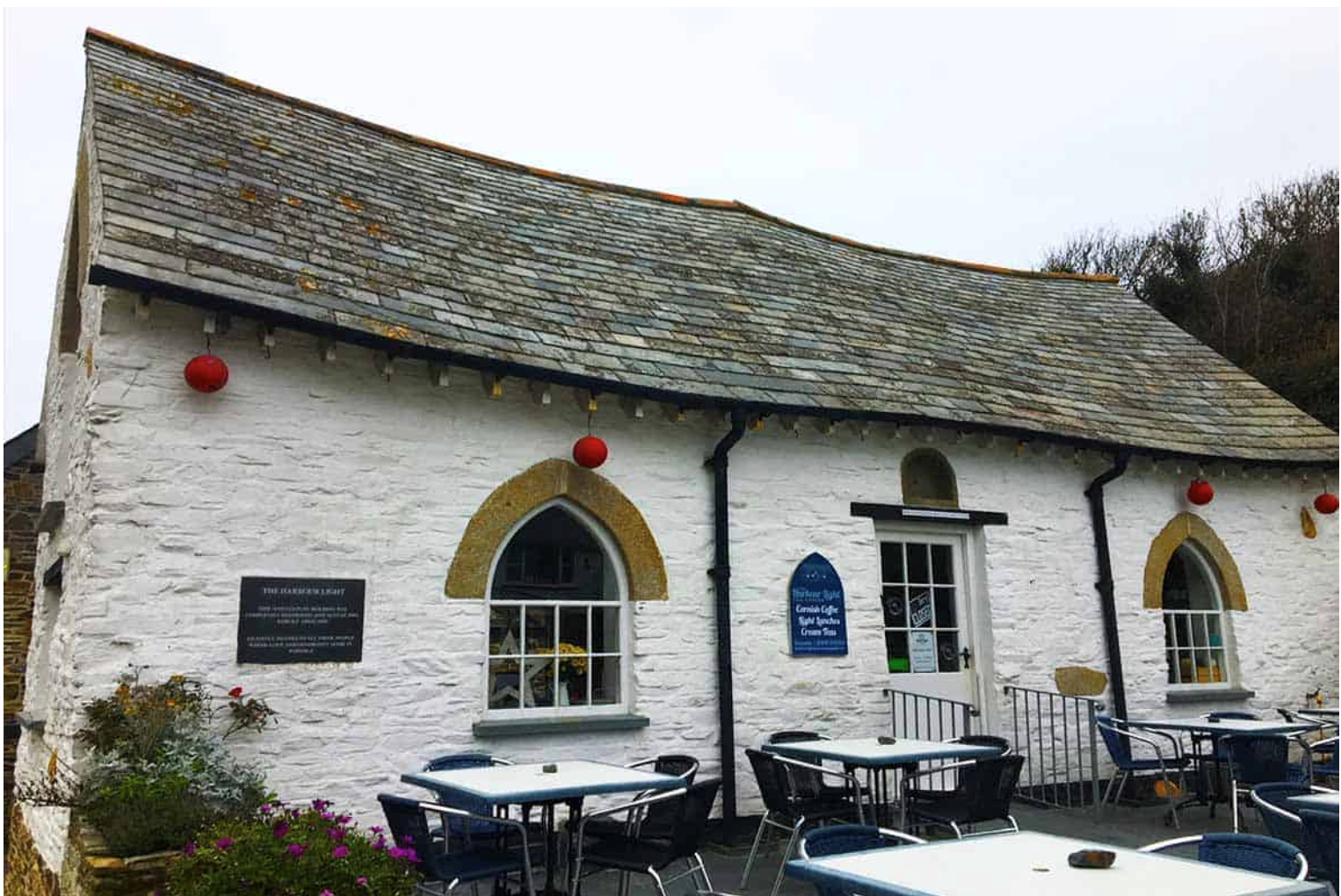 21. Alfriston, East Sussex
Recommended by Enikő from travelhackergirl.com
Alfriston is a real hidden gem in the South Downs National Park. It was even named as one of "England's 27 most beautiful villages" by the Telegraph. You can reach the village by public transport if you take the train to Polegate and then change to the local bus.
Alfriston lies in the valley of the River Cuckmere, which is a lovely place for recreational sports like kayaking or paddleboarding. If you go for a stroll, you can explore the historic heritage of the village and visit one of the cute cafes, pubs, shops or galleries. Don't miss St Andrew's church (the "Cathedral of the South Downs") and the clergy house (the National Trust's first property).
The village also hosts many events throughout the year including music festivals, summer fairs, book launches. Alfriston is also surrounded by beautiful countryside. From the village, you get great views of the Litlington Horse, which is a popular place to go hiking near London. As one of the best countryside villages in England, Alfriston is a must-visit.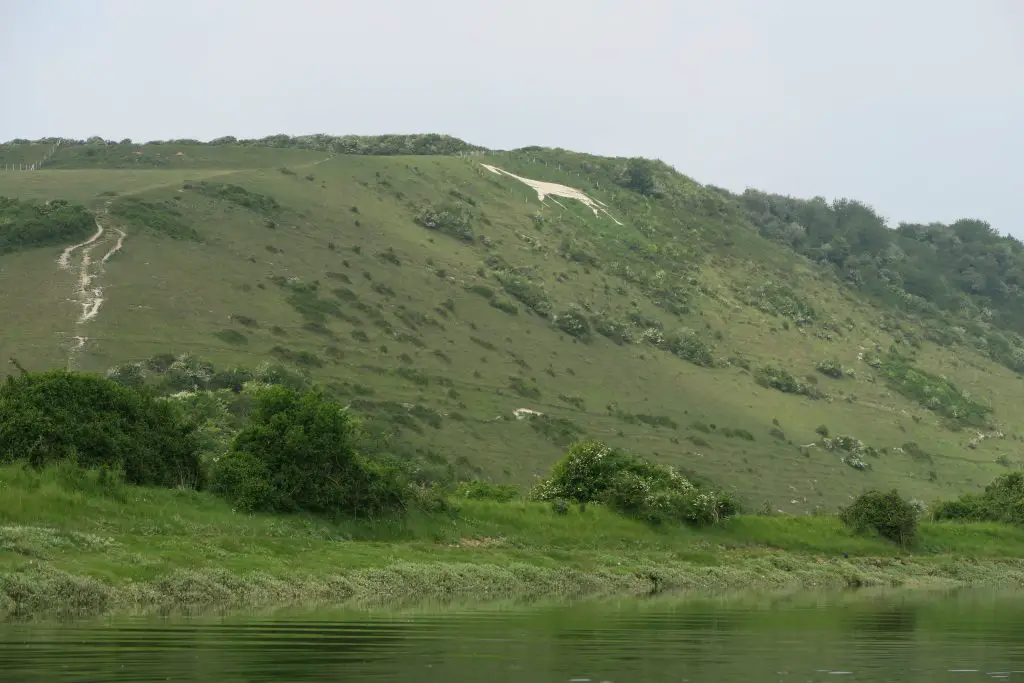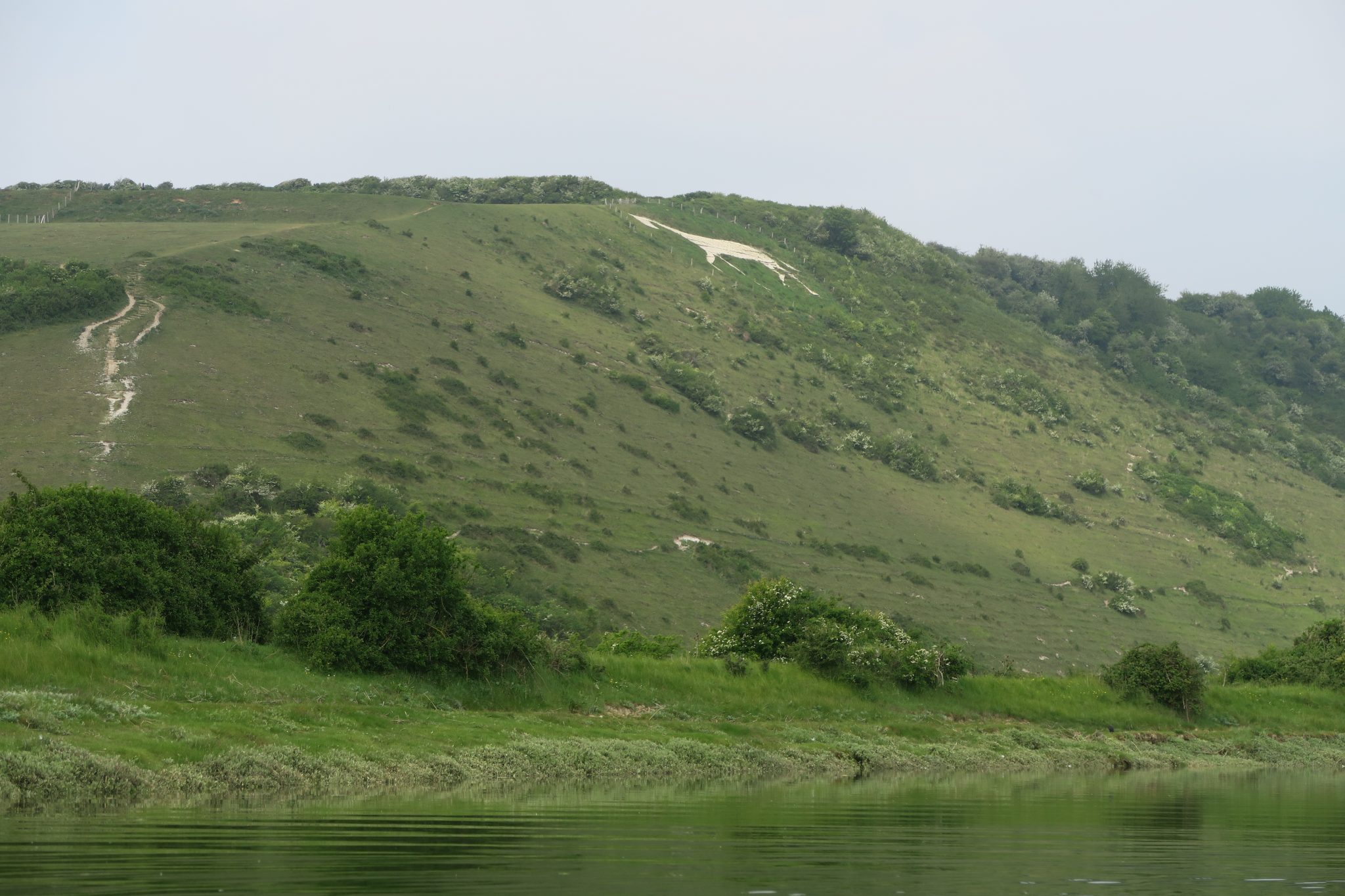 22. Romsey, Hampshire
Recommended by Mal from rawmalroams.com
Romsey is a charming market town dating from Medieval times. It's a quiet and traditional place where people smile at each other and where you can have a chat in a grocery store because the owner recognises you.
In the heart of this small town, there is an expansive Norman Abbey built in 907 AD which is the largest Parish church in Hampshire that houses many notable musical events. Sometimes you can hear Abbey's bells kilometres away from town.
There is a king John's House heritage centre where you can have tea and a cake, and a stunning period garden bustling with colours and scents of flowers and plants in the Springtime. Romsey was home to the 19th-century British prime minister William Petty. Today, his statue takes a central place in Romsey and his former residence – the Broadlands, hosts many craft events and charity races throughout the year.
A great time to visit Romsey is during its summer festival – Beggars Fair that includes over 90 acts in various venues and most importantly it's free.
Without a doubt, a list of the most charming villages in England wouldn't be complete without Romsey village.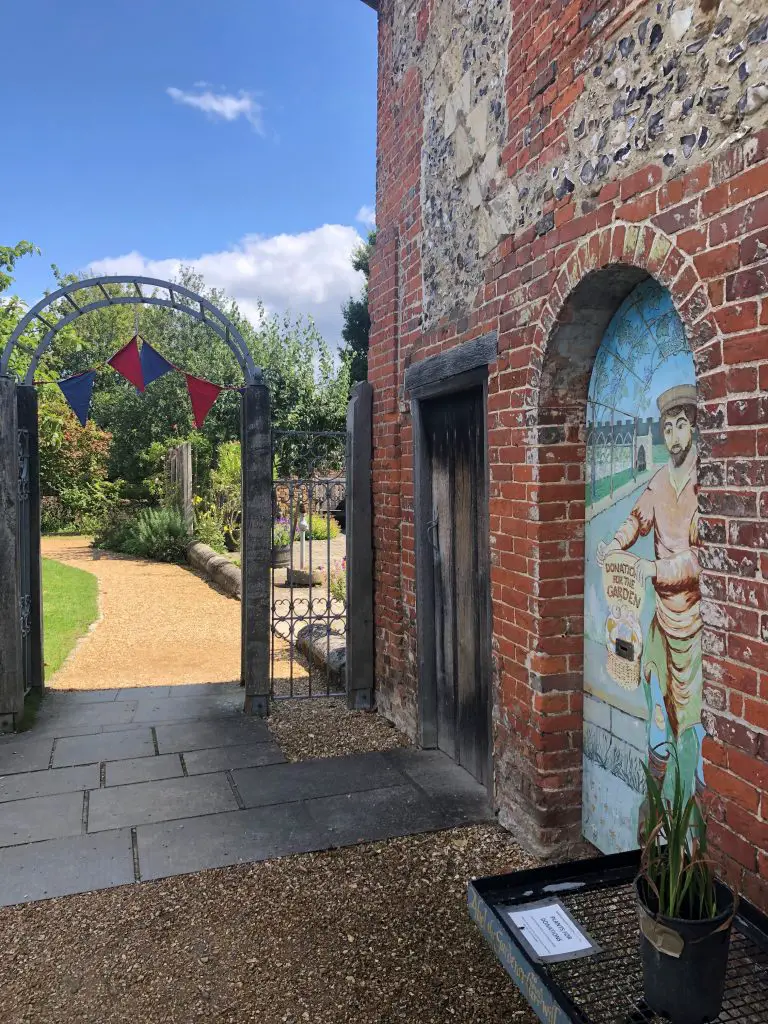 23. Lindisfarne, Northumberland
Recommended by Tracy from uktravelplanning.com
The beautiful village of Lindisfarne can be found on the Holy Island of Lindisfarne located off the coast of Northumberland. The village and island of Lindisfarne are popular destinations in the northeast of England. This tiny island only 3 miles long and half a mile wide welcomes over half a million visitors a year.
The village (and island) are incredibly pretty with stunning views towards Bamburgh Castle and the Farne Islands. Cross over to the island via a tidal causeway (be sure to check the tides before you drive over) and park in the island car park before walking up to the village.
Once in the village enjoy a stroll around the ruins of Lindisfarne Priory. The Priory was home to St Cuthbert and was one of the centres of early Christianity. The famous Lindisfarne Gospels were also written at the Priory. After learning about the history of the Priory at the museum walk a little further through the village to Lindisfarne Castle which was built in 1550.
With so many beautiful villages in England, Lindisfarne really is up there!
There are a number of cafes, restaurants and pubs in the village and I recommend the Ship Inn during the summer months. Its large beer garden is a great place to relax during a day of sightseeing.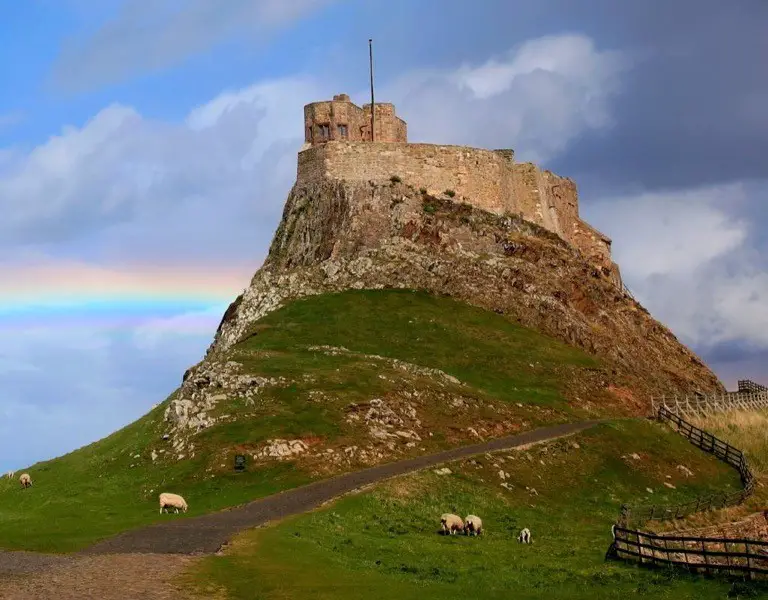 24. Stow on the Wold, Gloucestershire
Found in jolly Gloucestershire, this market village stems back to the Norman period and is rich with tradition. It's located at the top of an 800-foot hill, and is defined as the junction of the Cotswolds and the Roman Road, Fosse Way.
The town itself was founded by Norman Lords, and it has since been a central point for trade due to its ideal location on so many key roads for the area. The markets held in the village uphold that trading tradition.
Stow on the Wold really is one of the prettiest villages in England!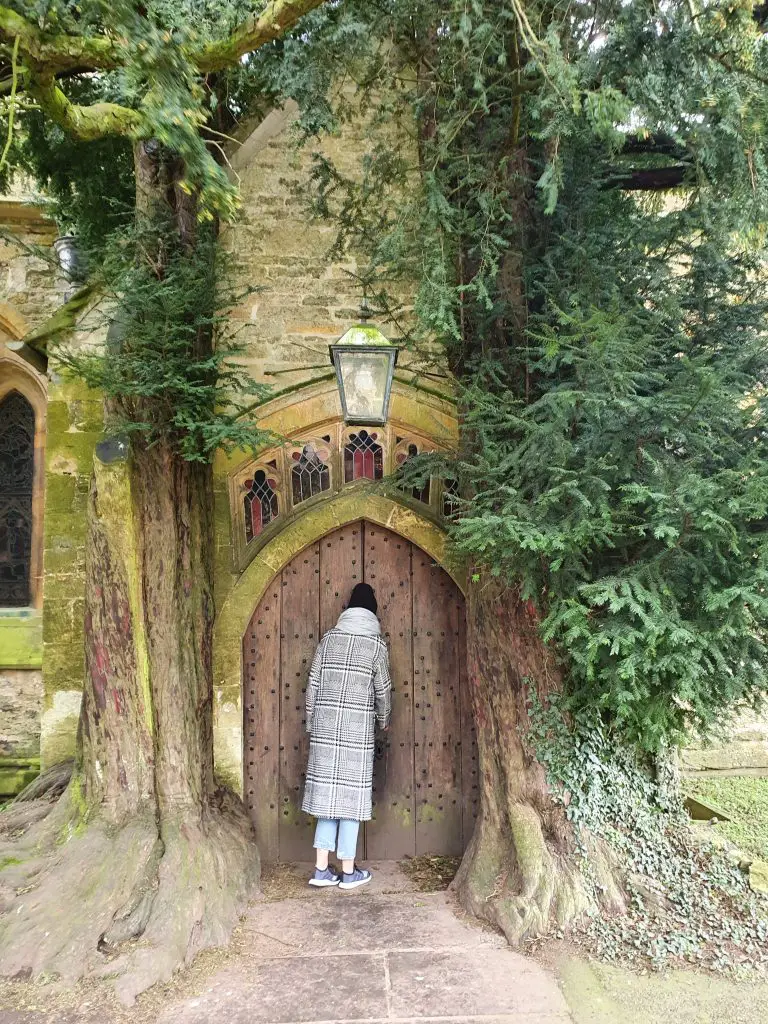 25. Hartley Wintney, Hampshire
Recommended by Danni from livein10countries.com
Set in the very popular Hart District of Hampshire, Hartley Wintney is an immensely popular place to live. You're on a direct train line from Waterloo, with lots of towns and attractions in an easy drive, but your immediate surroundings are a sweet village with charming cottages, a luscious cricket green (and highly competitive cricket team), quirky boutiques and welcoming local pubs.
For a day trip, you can whip down the A30 easily to Hartley Wintney and soak up the quaint atmosphere. There's a small selection of boutique shops on the High Street that you won't find elsewhere and afterwards a bite from the bakery is great for refuelling.
Kids will love feeding the ducks in the duck pond or watching a summer cricket match with the rest of the village and Hartley Wintney's houses also back onto a wide heath which is popular with horse riders and wildlife fans. Don't miss the hearty pub lunches and friendly country folk you'll find in the Waggon and Horses Pub.
Would you add Hartley Wintney as one of the most beautiful villages in England?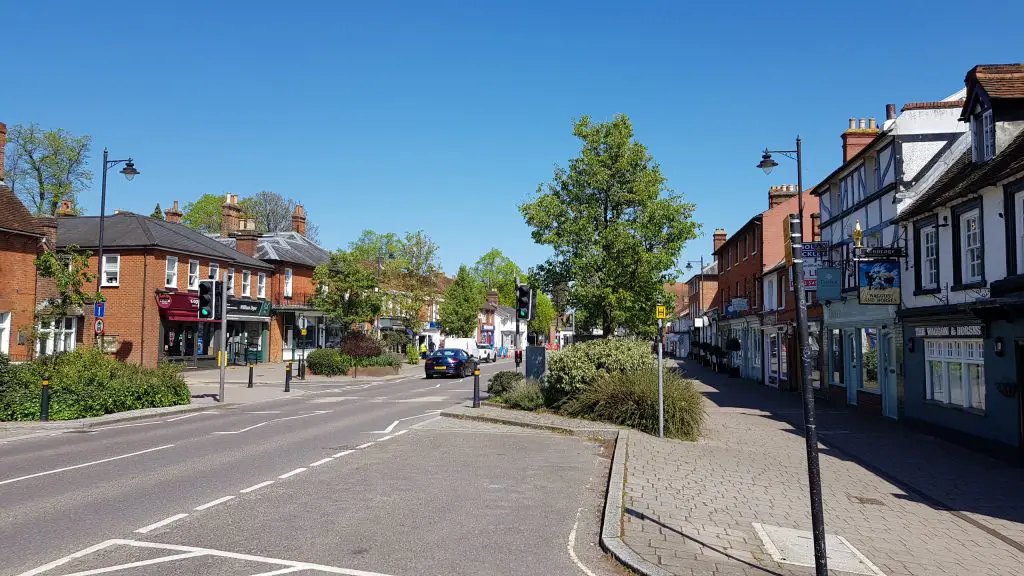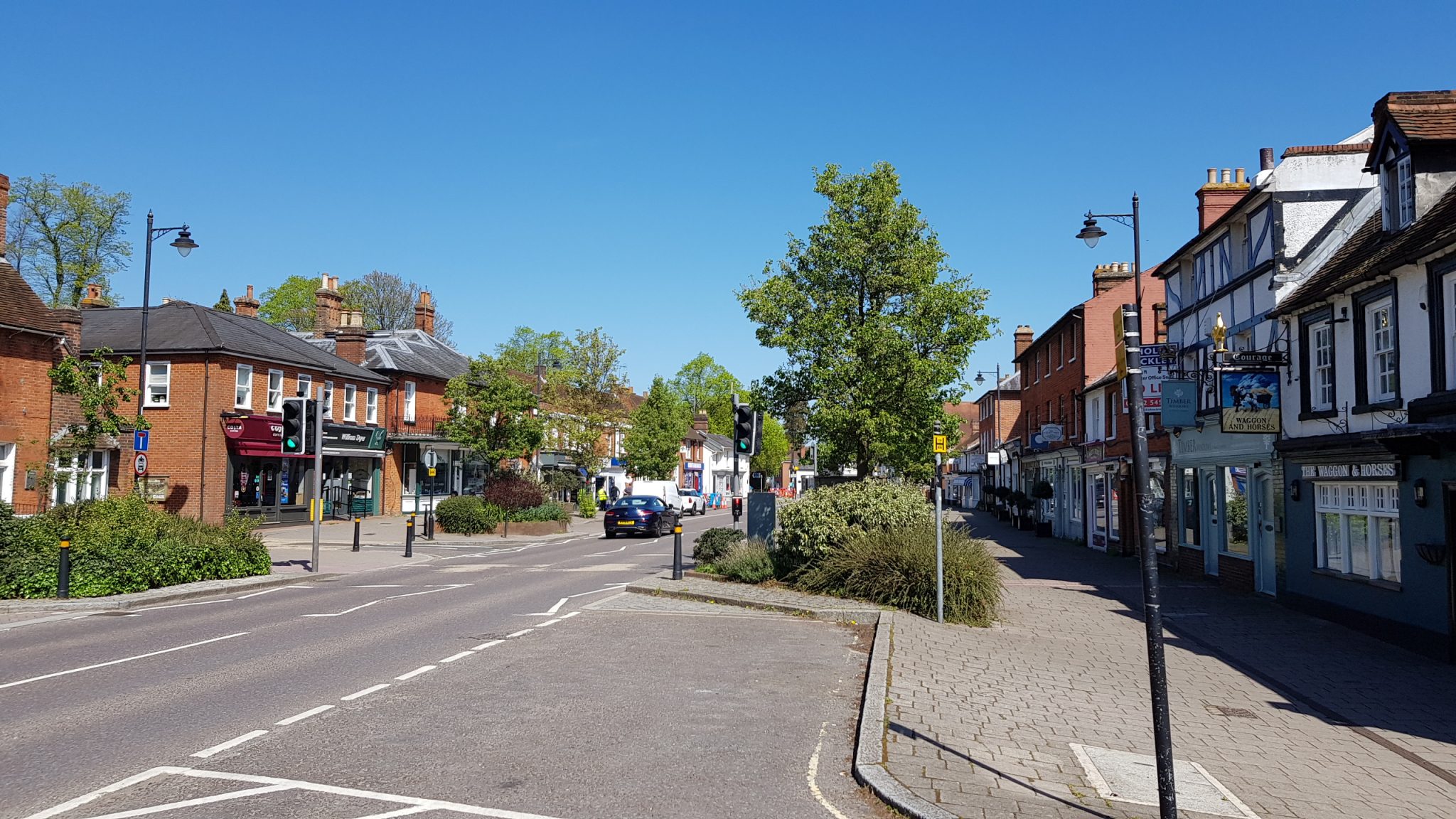 26. Hawkshead, Cumbria
Recommended by Elizabeth from thefearlessforeigner.com
Hawkshead is one of the most charming villages in the Lake District of England. If you are a fan of the beloved children's book author, Beatrix Potter, you will definitely want to visit. The author's gallery, full of her artwork and books is located in the centre of the village. You can also learn more about where she received the inspiration for her books and then go out the door of the gallery and walk around the surrounding area to see for yourself!
Within Hawkshead, the Grammar School is another interesting place to visit. The school, known as the best boy's school in the country was founded in 1585. When visiting you will get a tour of the school and learn about history.
The main street of Hawkshead is lined with quaint shops and cafes. Poppi Red, a combined gift shop and cafe was one of my favourite places. You can find some unique gift items there and choose from a wide selection of fresh baked goods. Not only is Hawkshead a beautiful village to walk around in the surrounding countryside is also worth the walk or drive to the village. The quaintness of the village combined with the idyllic countryside make it one of the best villages to visit.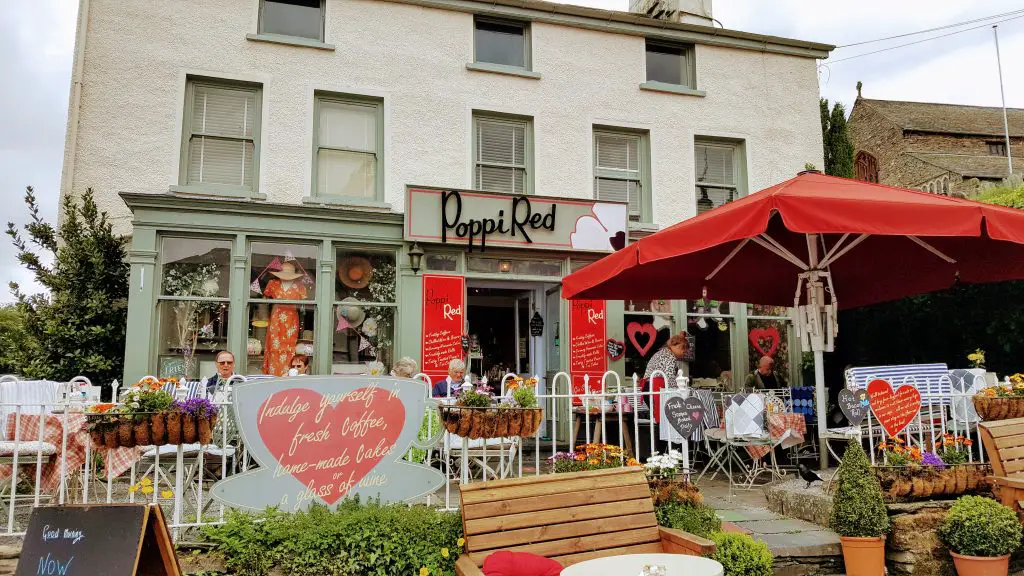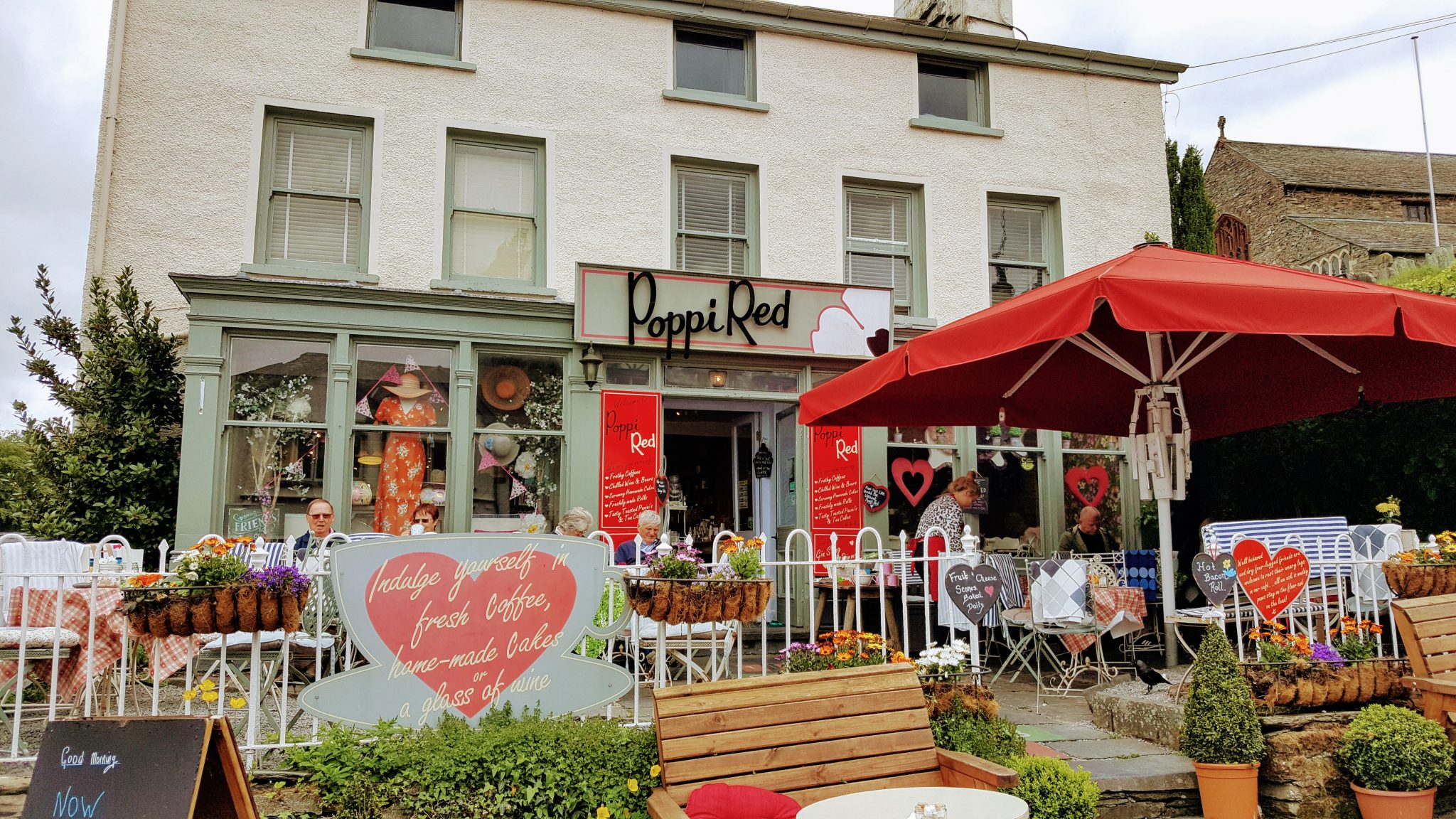 Most beautiful villages in England FAQ:
Which is the prettiest village in the Cotswolds?
Castle Combe is the most beautiful village you can visit in the Cotswolds.
Is Bibury prettiest village in England?
Bibury was described by William Morris as "the most beautiful village in England" – explore Cotswold villages to see if that's true!
Where is the best countryside in the UK?
The South of England is full of beautiful places to visit and home to some of the best countrysides in the country.
Facts about villages in England:
Where is the best countryside in England?
There is so much glorious countryside in England, that it can be hard to choose just one location. The Cotswolds are hailed as some of the best areas in the country, and they have such a warm and welcoming atmosphere that makes you feel as though it was always your home. Additionally, they serve delicious treats and local foods that make the trip even more wonderful.
However, Cambridgeshire and Hampshire also have their fair share of gorgeous countryside retreats. Manor houses and large gardens make some of the most inviting and relaxing places to spend a day and maybe learn a little history. The Devonshire countryside is vast and rural, and you often have the benefit of rolling fields turning into sand and sea in the blink of an eye.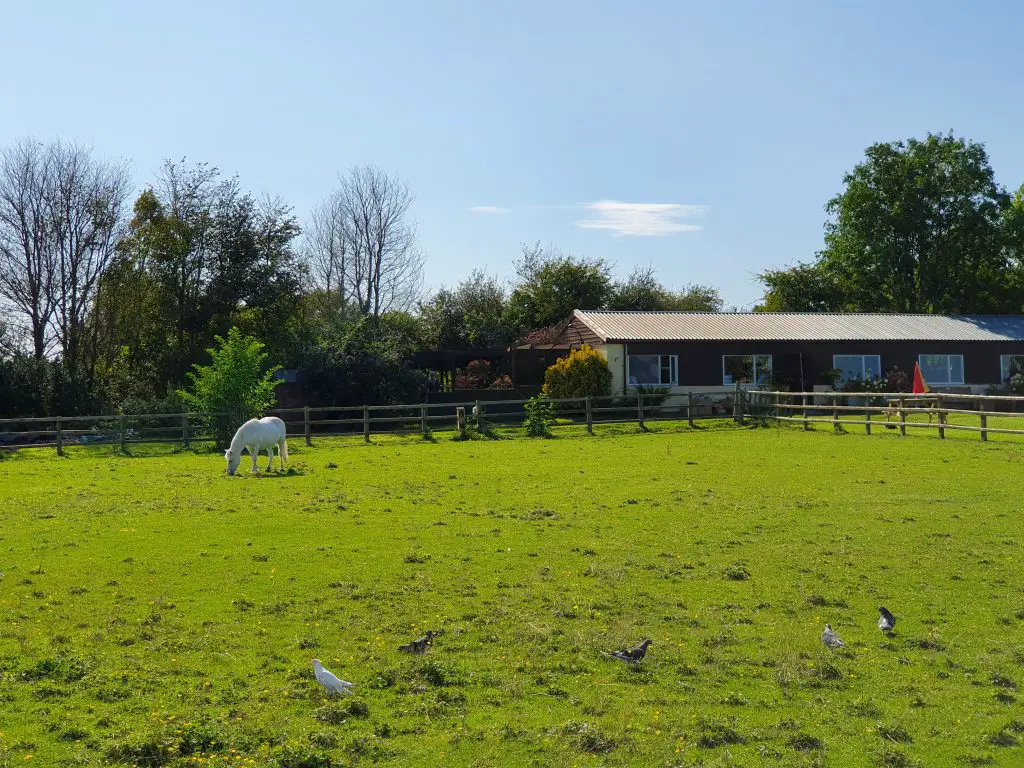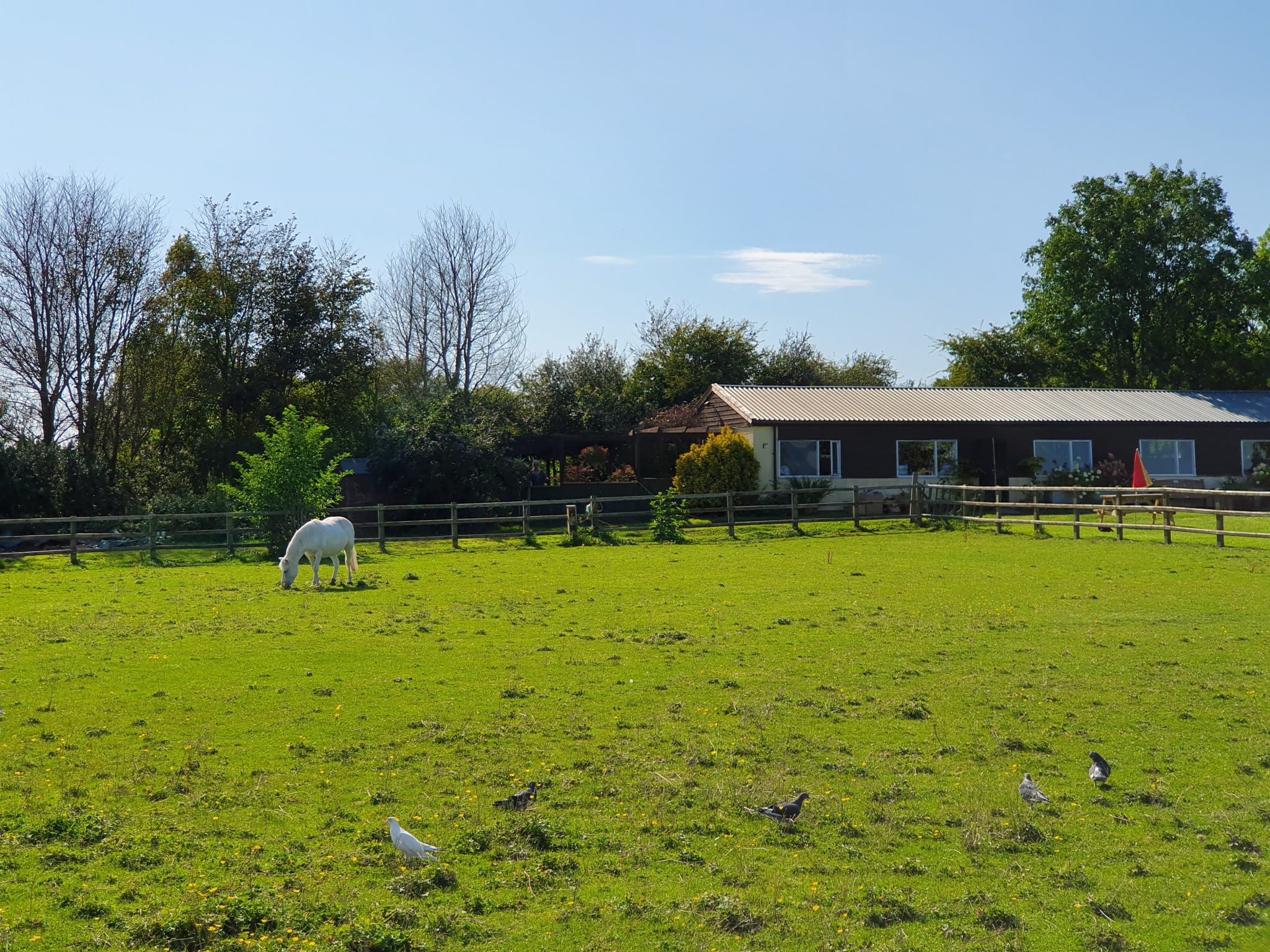 Best countryside near London
Ashwell in Hertfordshire is certainly one of the best countryside locations near London. It is quaint and quiet, but not so much so that it leaves you wanting something to do. It's a civil parish laced with history and some truly beautiful buildings, including the church which acts as the perfect centrepiece.
Lined with shops and local businesses that sell unique items, it brings you back to a time where everything was less mainstream and more personalised. Sampling local baked goods and meals at cafes and restaurants that are family owned make this the perfect place to escape to if you want to escape the manufactured feel of the city and would rather try something that is a little more down to earth.
How many villages are there in England?
An interesting way to start this is with the number of abandoned villages in England. This number is estimated to be a staggering 3000. The reasons for this vary from the Black Death and social reorganisation (each of which caused depopulation), as well as changes to both the monastic and manorial system during the Medieval period.
However, these numbers might not be entirely accurate – we could be looking at a lot more abandoned villages. This is because a regular census has not been carried out prior to the Doomsday Book, and even after its creation, the census was massively lacking. Therefore, we find ourselves uncovering even more abandoned ancient villages.
Currently, in Modern England, it is a little difficult to determine the exact number of villages. This is because there is no clear definition, and some fall under the small town category and hamlets do not have their own section in the government charter. Put simply, there are thousands of villages in England and the UK. As an interesting side fact, there are 56 cities in England and 74 in the UK – with more pending in their application for becoming one.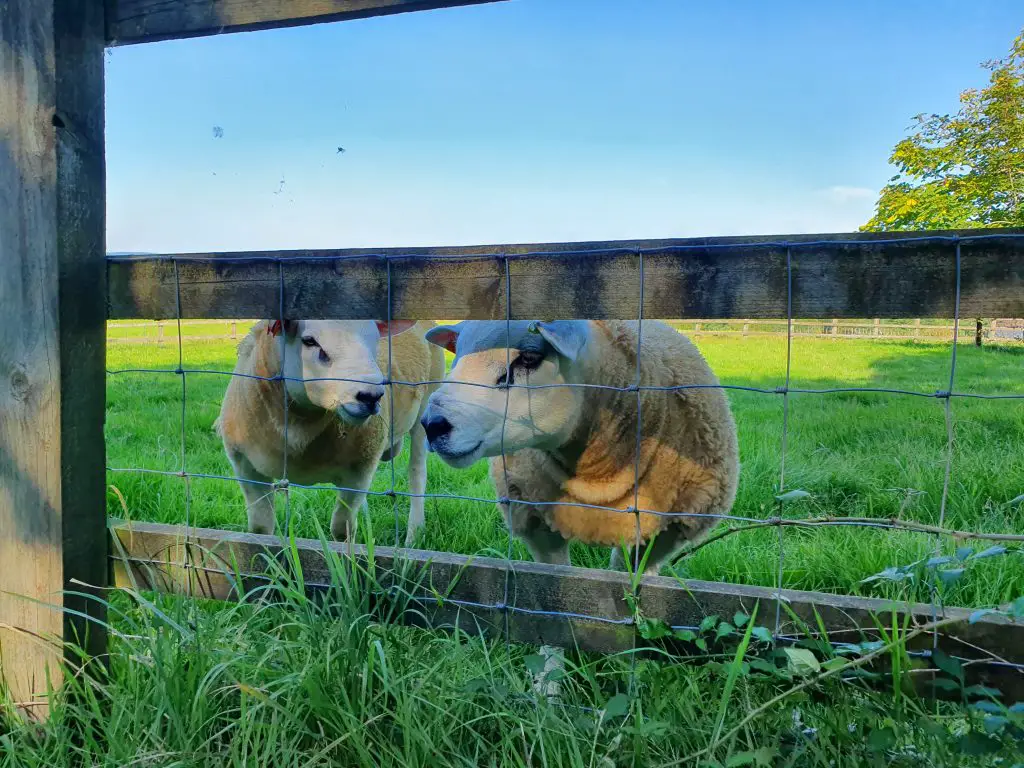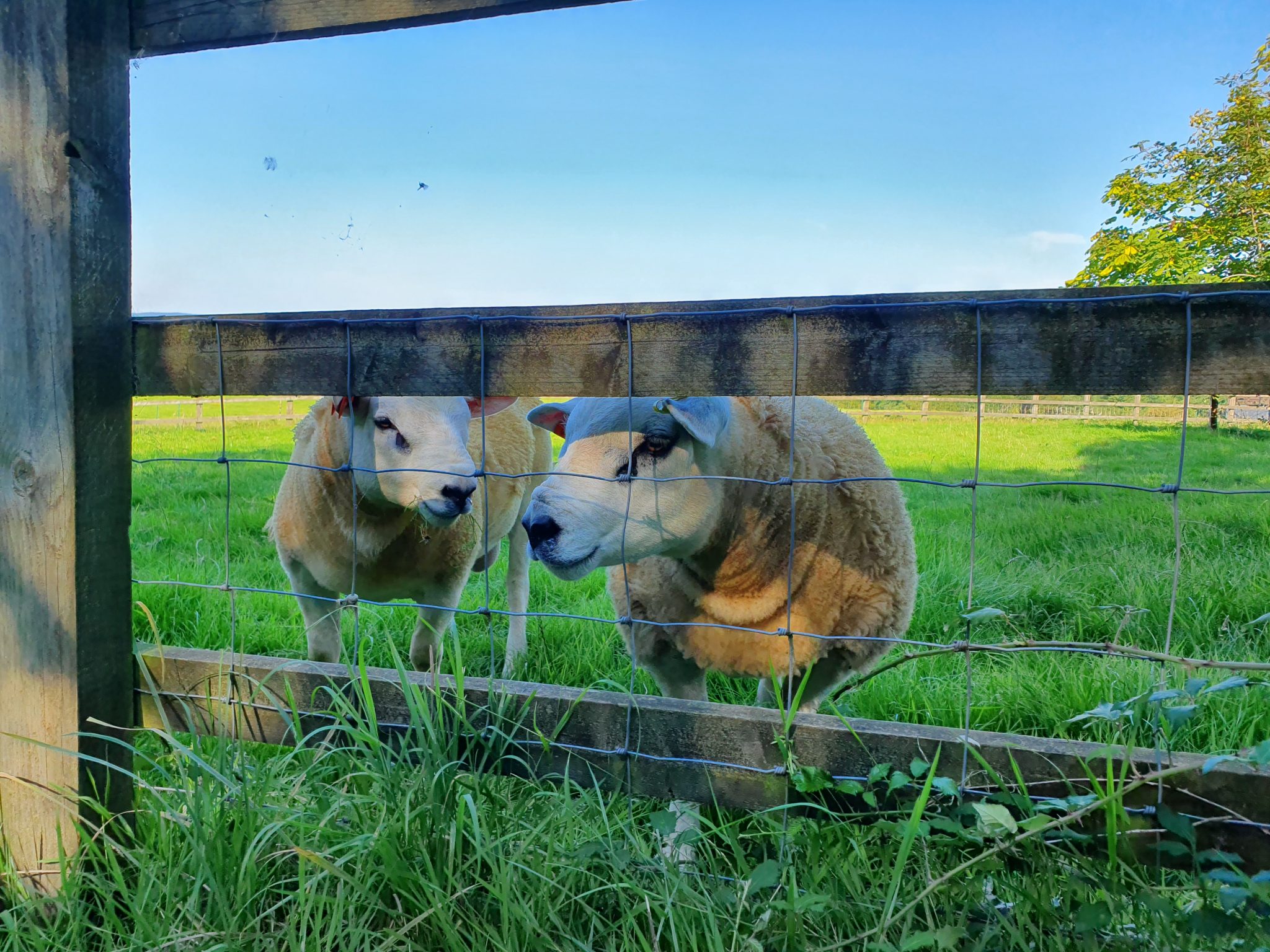 What makes a village a village?
A village is classically defined as a small settlement in a rural location. They are larger than a hamlet, which has very small populations. It is generally agreed by geographers that the population of a village is usually between 500 people and 2500 people. One of the defining features of a village is that they are usually clustered around a single point.
In the UK, this point is commonly a church. This is because many of the villages that stand today grew around the church that was built in them, or were newly formed when Christianity became the prevalent religion. Some are centred around green areas or homes – such as Old Basing which has the magnificent Basing House (now in ruins) as one of the central features.
The small population of a village often means that the communities are very close, and there are usually limited places to buy food and supplies. Usually, there is one local shop and a pub where the residents can buy essentials as well as socialise. Their rural location also tends to mean that they are a popular place for walking dogs as well as taking long strolls with family.
Where is the oldest village in England?
There are conflicting ideas on this, and while both are technically classed as towns they are also very small. Colchester is the oldest recorded town. This is significant because it was referenced by Pliny the Elder, a Roman writer, in AD 77. This far predates the Doomsday Book where we find many of the villages, towns, and cities that we know today.
On the other hand, archaeologists claim that Amesbury in Wiltshire is the oldest village. This is not because of any written record, but simply through proof of habitation. It is the oldest continuously habited village in England. This is quite incredible because of the way settlements move so much throughout history.
To have evidence of a settlement that has not ceased since 8820 BC. A little fun fact is that the consumption of frogs' legs was recorded here 8000 years before the French even thought of the notion. The reason this site is so interesting is because the Neolithic period is so known for its nomadic people. To find a solid settlement that has been inhabited for so long is astounding.
What's the difference between a town and a village UK?
The very basics of this are that a village is a small community in a rural setting, and a town is a populated area with fixed boundaries and a local government. But the question on the tip of the tongue is how exactly a village becomes a town. The answer is through an increased population, which also leads to the construction and expansion of the village boundaries.
Where a village tends to be classed as having up to 2500 people, a standard town will often contain at least 10000 people. This does leave a notable gap between the two population levels, and this is a sort of limbo that villages are left in while they are transitioning to towns. At this point, they are often classed as small towns as opposed to villages.
Love England and the rest of the UK?
Read our other articles related to this stunning country:
Places to visit in South England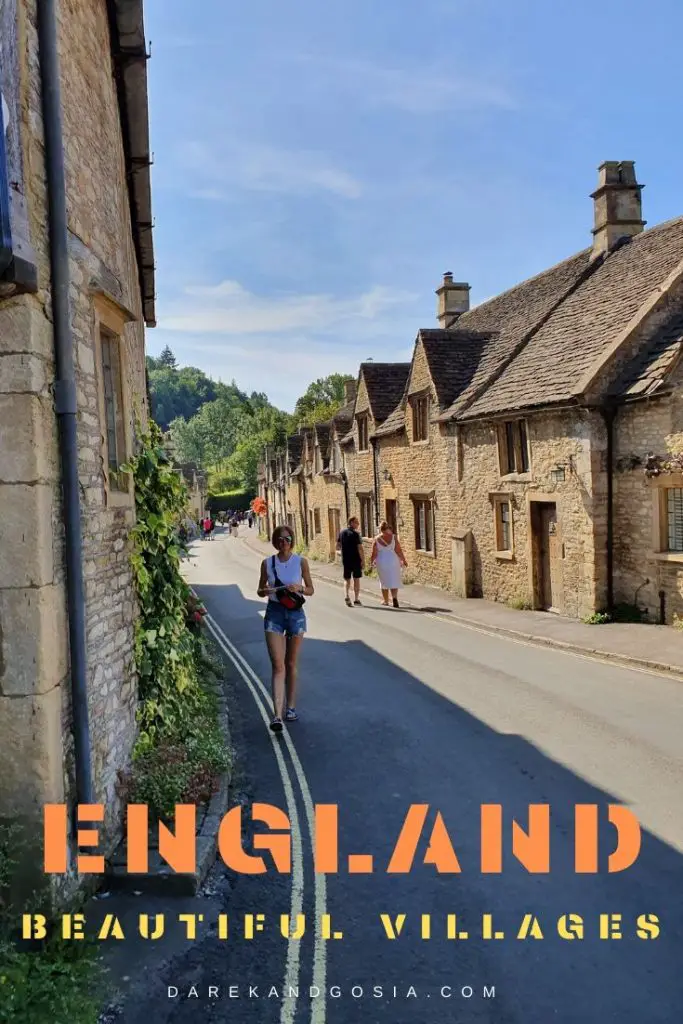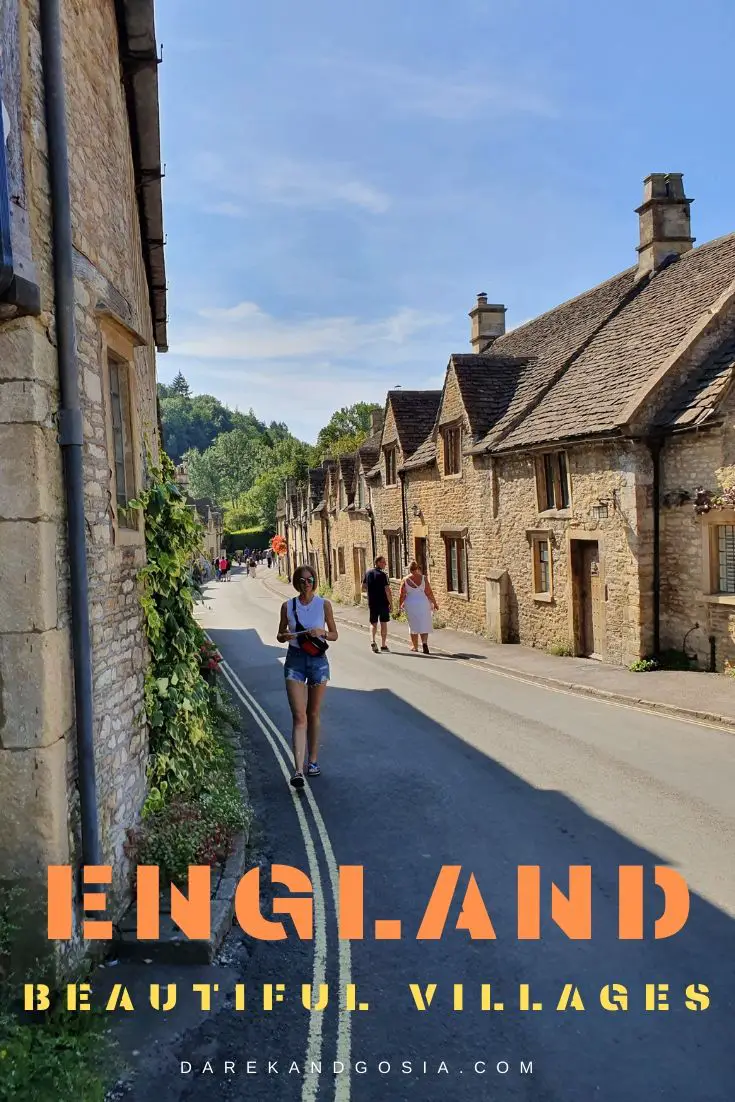 Articles you may like: