Ever wondered about the best things to do in Salzburg? Well, step right into a world of enchantment! Salzburg, one of Austria's shining jewels, is not just a city; it's an experience.
Yes, it's the proud birthplace of Mozart and an undoubted paradise for music aficionados. And while Mozart House is a melody of history in itself, Getreidegasse Street is like a lively dance number – bustling, vibrant, and full of life. Then there's the grand Hohensalzburg fortress, standing sentinel over the city, echoing tales of medieval times.
But peel back the layers, and you'll find even more treasures. Love to wander? The historic streets of Salzburg are your personal storybook, with tales of old waiting around every corner. For those who appreciate a view, Mönchsberg offers panoramas that are nothing short of poetic. If you've got your camera, prepare for some serious snap-happiness.
Short on time? One day in Salzburg can be a whirlwind of wonders. Dive into local cafes, indulge in Austrian delicacies, or simply let the city's charm wrap around you. Traveling with young explorers? Salzburg's parks and interactive museums ensure their adventures are as memorable as yours.
Perhaps you're dreaming of a weekend break? Salzburg, with its mix of culture, history, and sheer beauty, is a perfect candidate. And for the more intrepid souls, the broader Salzburg region is a canvas of Alpine beauty, dotted with serene lakes and meadows, beckoning for day trips.
Salzburg is not just a destination – it's a melody, a story, a dance of experiences. From unique hidden gems to iconic landmarks, it promises memories that linger long after the trip. Dive in and let Salzburg serenade you. It really is one of the best places to visit in Austria.
Salzburg – car hire:
We have rented cars many times during holidays in Austria and we always used discovercars.com
Check out our guide to car hire in Austria or simply explore the options directly on discovercars.com if you need a car during your next trip to Österreich.
Salzburg is also a perfect city as a base for day trips. From fairy-tale towns like Hallstatt to amazing views of the Austrian Alps in Schafberg.
Ready to learn more about Salzburg? There are several million tourists visiting this Austrian city every year so there must be a good reason (or two).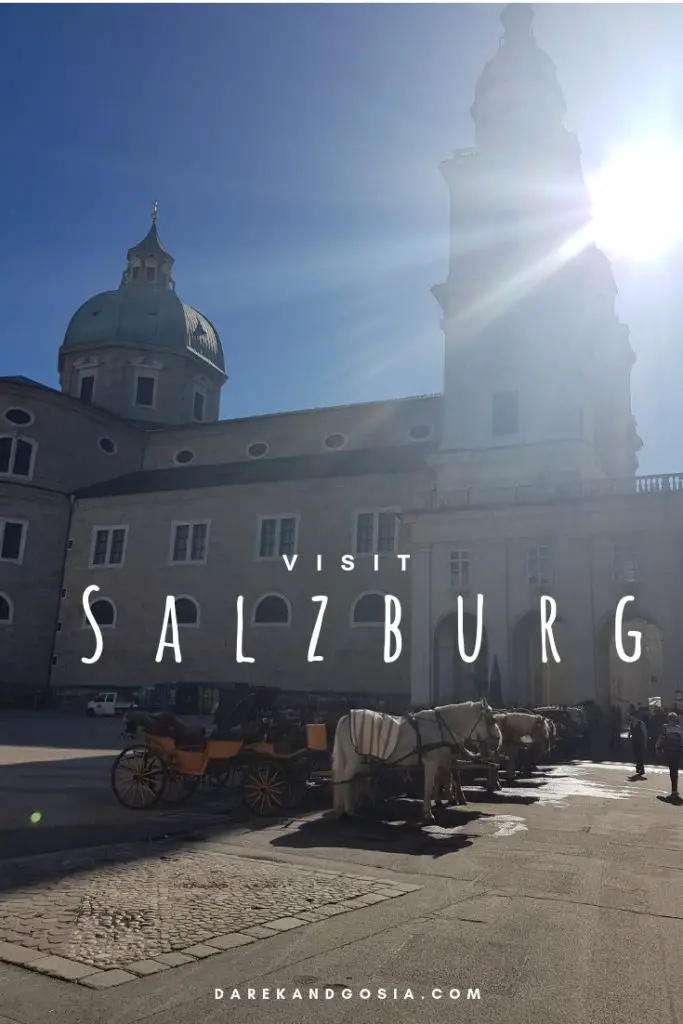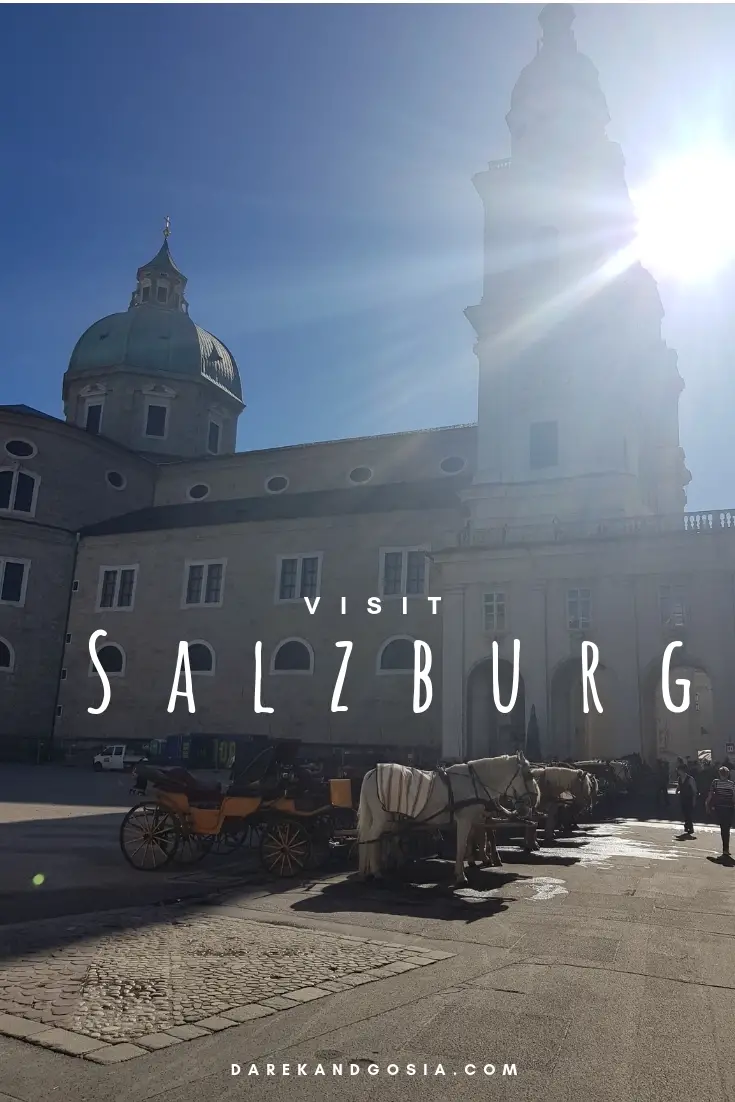 Where is Salzburg located?
Salzburg is located in Austria and is the capital city of the state of Salzburg. It's right on the border with Germany, which is why so many confuse its location. It's a popular tourist destination, and with so much to see and do you are sure to make some truly lasting memories on your trip.
How to get to Salzburg?
There are a number of different ways you can get to Salzburg, and each of them is fairly simple. Here's a quick rundown of the routes you can take. 
Train from Vienna to Salzburg
The journey takes just under three hours to complete, and there are gorgeous views as well as tasty food services to keep you occupied. Despite the long travel time, the prices remain very affordable for standard classes, so you won't need to worry about spending a small fortune on travel fares. 
Flights to Salzburg from London
A non-stop flight will only take two hours, but if you go for a connecting flight will be more like four hours. The prices tend to be quite reasonable, and the airport is close to the city centre so that you don't have too far to travel. 
Munich to Salzburg train
As Munich is very close to Salzburg, this train journey takes under two hours to complete. It's quite a lovely journey, and the short travel time means that you won't spend too much time sitting down. Plus, the train fares are incredibly low so that you can just hop on without thinking about it.
A trip to Salzburg is very often combined with a visit to Bavaria in the German Alps – it provides one of the best landscapes and views in Europe!
Salzburg airport – how far from the city?
The airport is only 11km from the city centre, which means that if you take a car it will be a 20-minute journey. This is great if you just want to get to your hotel and settle in. However, it should be noted that if you decide to take a bus to the city it will likely be double the time due to stops and specific routes. 
Car hire at Salzburg Airport
If you want to hire a car straight from the airport, you're in luck. There are a couple of places nearby where you can rent a vehicle as well as one that is part of the airport.
Always book a car in advance so you can benefit from the lower prices. Also, at pick times, the availability is limited so you risk not having a car at all if you leave it till the last minute. Check the prices here and rent a car today.
So, if you were hoping to drive yourself around, you can do so from the moment you land.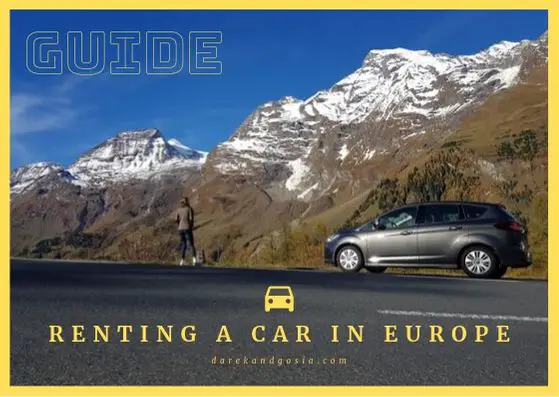 Parking in Salzburg
There is a lot of parking available in the city, but if you are in search of free spaces you are only going to find them on the outskirts. Even hotels will have an additional fee that needs to be paid if you want to park there; something that is normal for nearly every hotel in Europe.
There are 273 parking spaces at Contipark Tiefgarage Wifigarage. The central location and only €2 per hour fee, make it a good choice 🙂
How many days in Salzburg is enough?
How many days should I stay in Salzburg? A long weekend tends to be perfect for seeing the sights and the major attractions in the city. People usually stay between one and three nights so that they are able to get a feel for the culture and relax.
It's perfect if you were looking for a short break that still allows you to get a lot of history and good food into the experience.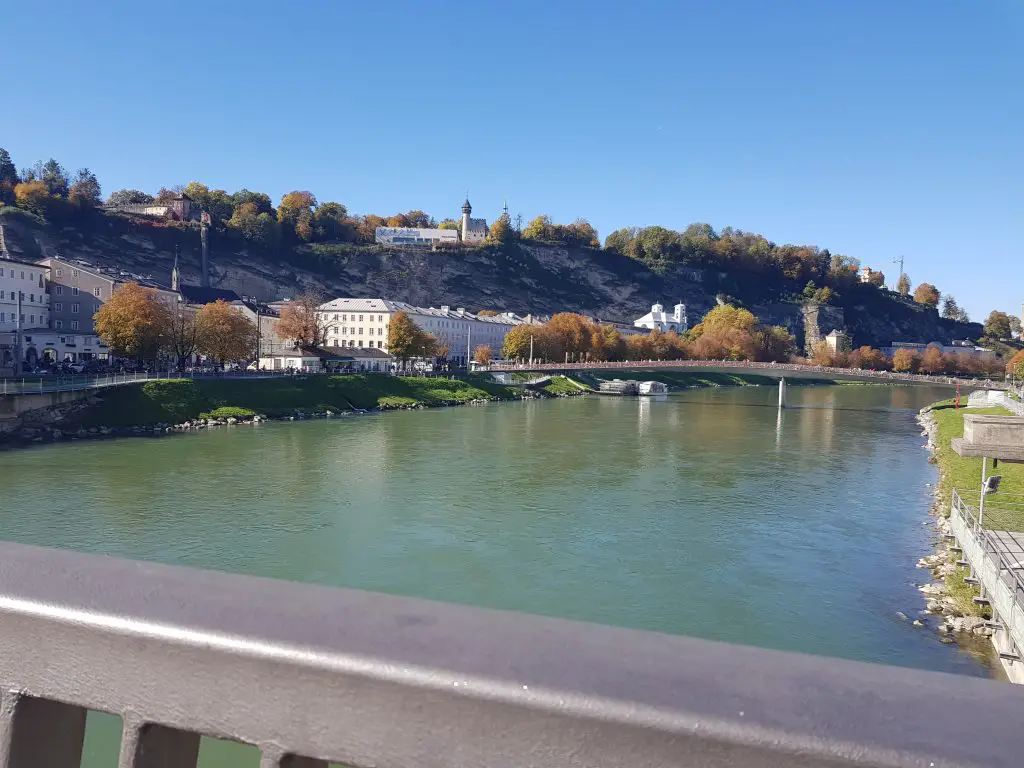 Explore the most unique places to visit in Salzburg Austria and top Salzburg things to do:
What to see in Salzburg
There is a lot to see in the city, and while you may be left wondering how you could possibly fit this into a long weekend, you would be surprised how much you can get in without rushing it. Here is everything you need to see in Salzburg.
1. Get Salzburg Card
Looking for top things to see in Salzburg? Enjoy free admission to many of the attractions in Salzburg as well as travel on public transport with the Salzburg Card.
Available as a digital or physical card, tourists can save money on top attractions as the card includes free entry to top sights including the Hohensalzburg Fortress, St Peter's Monastery, the Salzburg Open-Air Museum and Hellbrunn Palace and Trick Fountains.
The other benefit of the Salzburg Card is that it offers fast entrance, so less time queuing, more time exploring!
2. Love Locks Bridge Salzburg
Unique things to do in Salzburg? These have become quite popular in European cities, and they are the perfect place to bring your partner. The point of the bridge is to take a padlock with your name inscribed on it and lock it on this beautiful European bridge.
That way, your love will remain there forever. It's a romantic spot, as well as a deep gesture of love. A must-have on your Salzburg things-to-do list!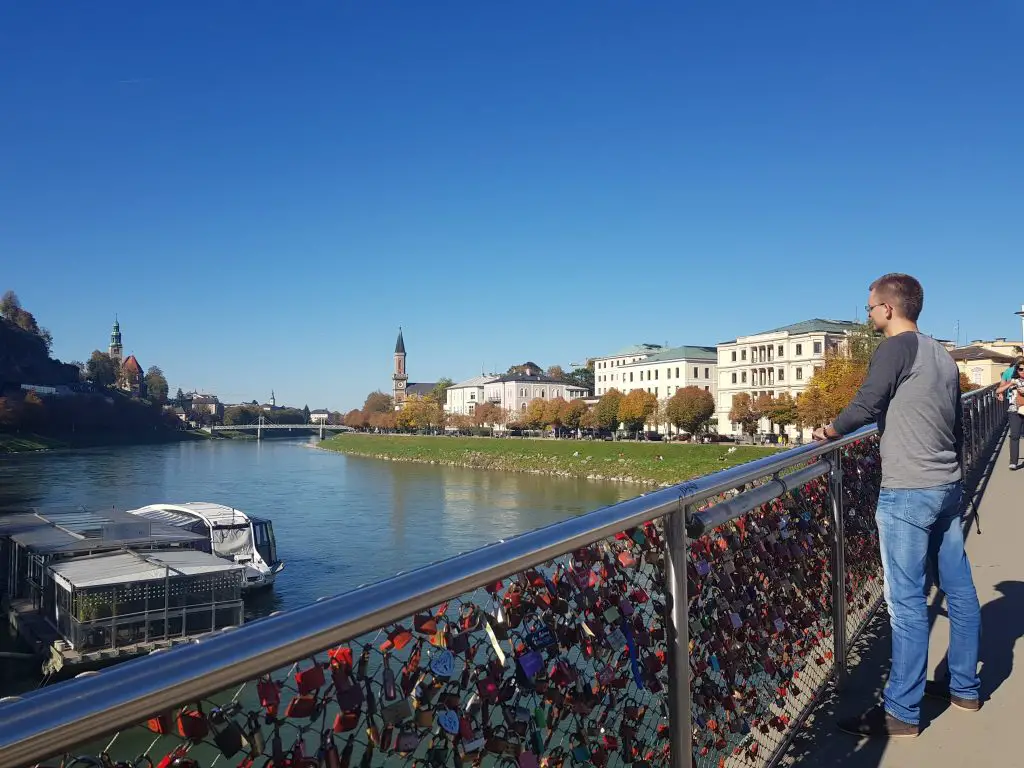 3. Hop-on Hop-off Salzburg Tour
Best places to visit in Salzburg in 1 day? The hop-on hop-off Salzburg tour bus is a fantastic way to explore the sights of the city and travel between different attractions while learning more about the city through a detailed audio guide.
Operating throughout the day, it is possible to explore the sights of the city at your leisure as the bus travels between attractions such as Mirabell Palace and Gardens, the House of Mozart, Hellbrunn Palace and St Peter's Abbey. The journey tours through the beautiful architecture so you can sit back and marvel at the grand 18th-century buildings.
4. Festungsbahn
Top Salzburg tourist attractions? This is a funicular railway, and it runs every 10 minutes in order to take you to Hohensalzburg Fortress. It manages to achieve this journey in less than an hour, providing a comfortable ride to what is known as the emblem of Salzburg.
While on your journey, you can keep an eye out for some of the other key sites in the city. This really is one of the best places to visit in Salzburg!
5. Hohensalzburg Fortress
Where to go in Salzburg? Anyone visiting Salzburg in a day can't miss the Hohensalzburg Fortress! Sitting atop a small hill in the city, you will find a breathtaking fortress built in AD 1077. One of the largest Medieval castles in Europe, it is a truly formidable sight to behold. You can look around by yourself, or opt for a guided tour, and either one is a great choice.
You'll learn more about the history of the area and the castle, as well as set your eyes on fantastic art and architecture.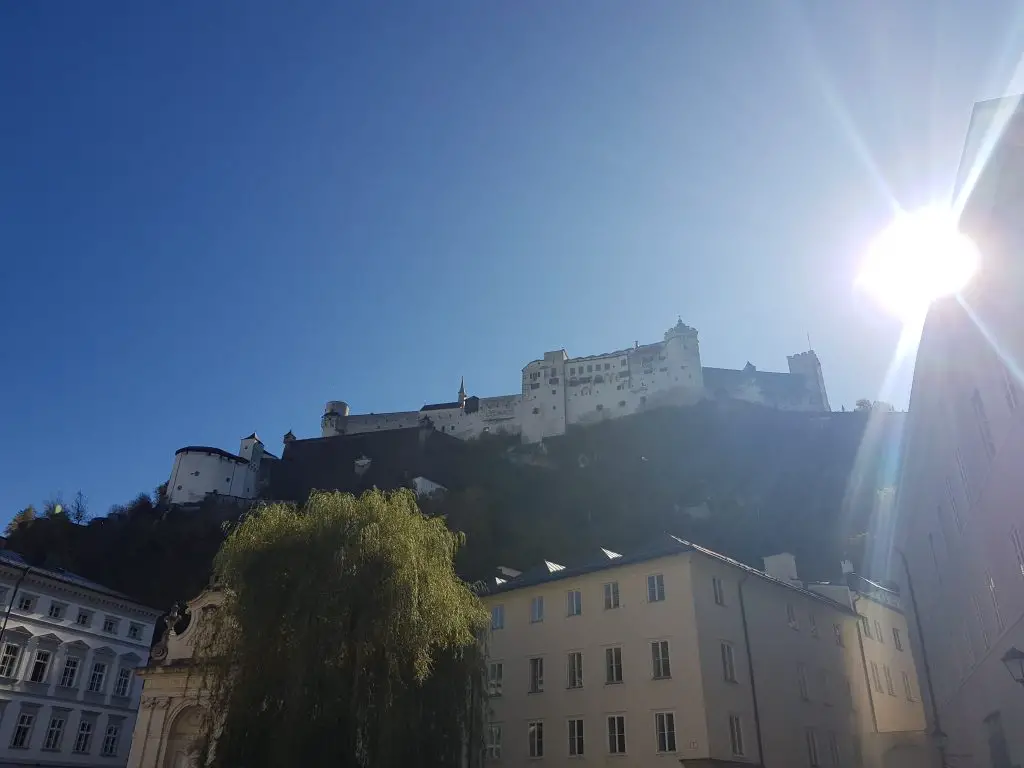 6. Boat Ride on the Salzach
Best places to see in Salzburg? Enjoy the beauty of Salzburg from a unique perspective as you cruise along the river with a boat ride on the Salzach. This enchanting boat ride cruises throughout the cityscape, making for wonderful photographs while the guide shares fascinating insights into this beautiful city and its history.
A boat ride will take you to Hellbrunn pier where you can see the beautiful Hellbrunn Castle, throughout the cruise, you'll be able to spot many of the sights that you may recognise from the Sound Of Music film.
7. Kapitelplatz
Beautiful places in Salzburg? This particular square is nestled nicely between the cathedral and the train that takes you to the fortress. However, it is different from your average square because it is the kind of place that invites you to stop for a while and admire the architecture and decoration that adorns it. There are several old and beautiful buildings lining the square, the most notable of which is the Bishop's Palace.
If you are making your way to the fortress, you are going to come across this square. It was once home to Cathedral Abbey before is dissolution in 1803. Each of the residences in this district was sovereign in nature, which is why the buildings are so grand in their design. It's one of those places you simply have to go and see on Salzburg trips.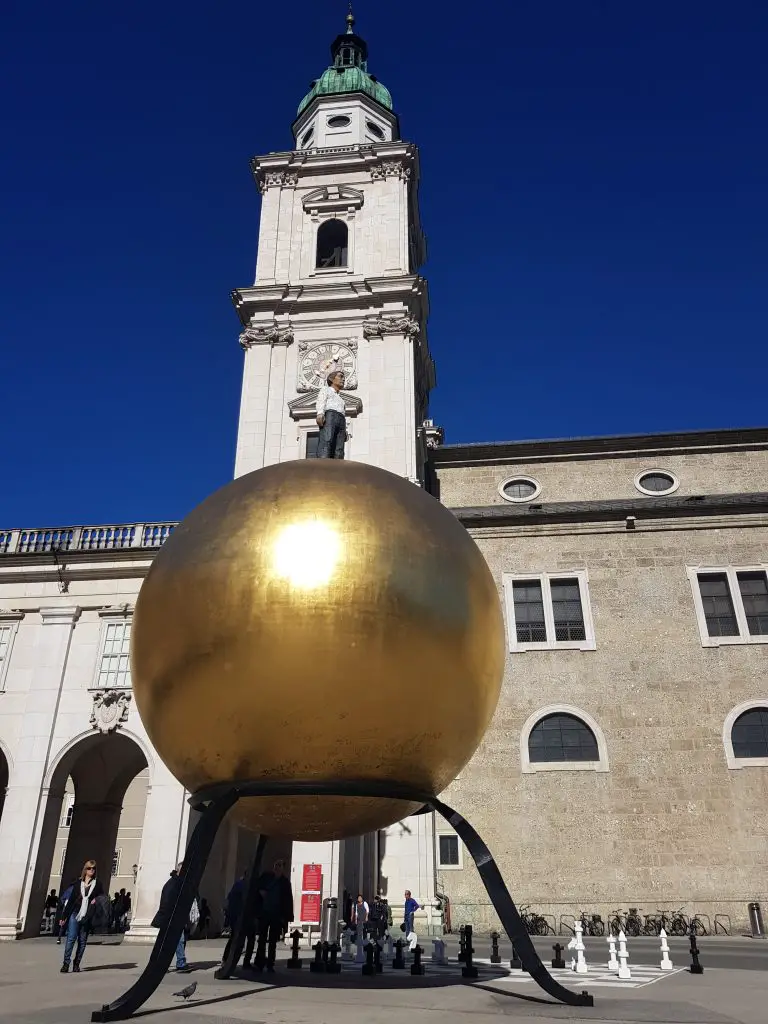 8. Salzburg Cathedral
Places to go in Salzburg? Constructed in the 17th century, this cathedral features some truly stunning Baroque architecture. Originally, it was a church that has been built in 774 upon the remains of a Roman town and was later reconstructed in 1181 after a fire devastated the building.
To this day, it remains a popular place to visit, as well as one of the most beautiful cathedrals in Europe.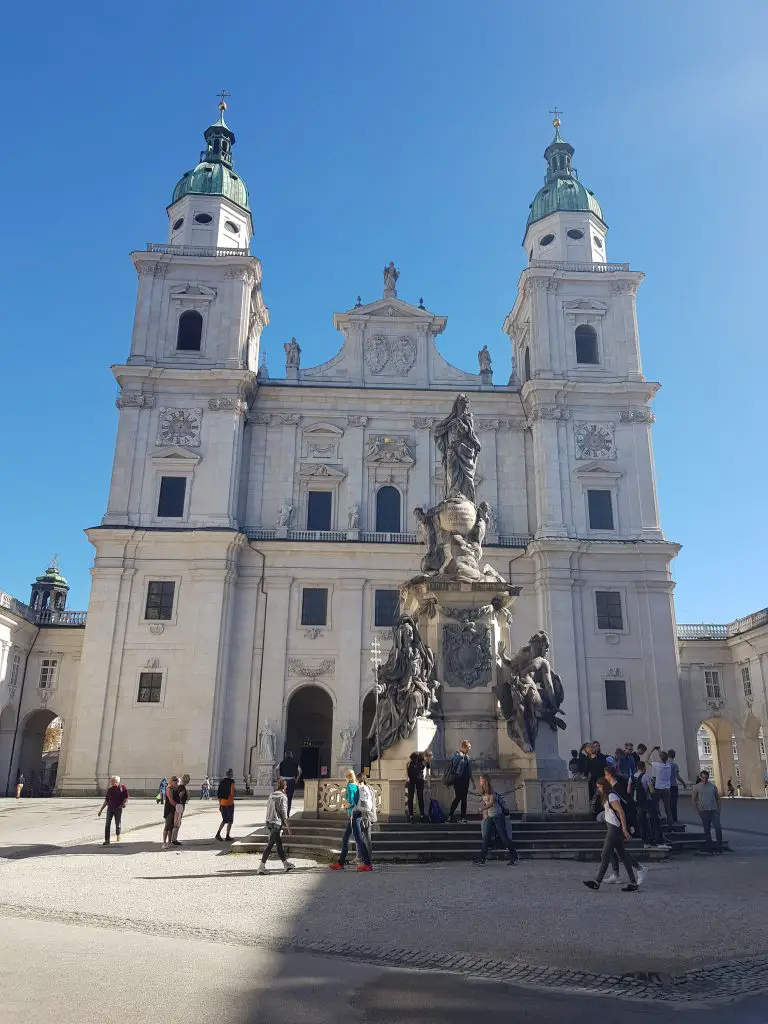 9. Mozartplatz
What to do in Salzburg in one day? Dedicated to Mozart, this is a definite must when you are visiting the city. In the centre of the plaza, there is a giant statue of the composer that you'll want to see. It has been stood there since 1842, and remains the pride of the people of Salzburg. 
10. Take the Apple Strudel Class
Fun things to do in Salzburg? Yes, there are many things to do in and around Salzburg. Learn how to make one of the delicacies of Austria by taking an Apple Strudel Cooking Class. With a small group, you'll learn how to create delicious Austrian pastries such as the iconic dessert of Apple Strudel.
An expert pastry chef will guide you through the process from the secret of marinating apples to ensuring the perfect pastry and presentation. This is a fun-filled way to learn more about the food and culture of Austria and, of course, taste your finished pastries too!
11. Stroll Down Getreidegasse
What to do during 1 day in Salzburg? Part of Altstadt, it is one of the busiest streets in the district. This is because of the amazing shopping that can be found; everything from top designers to something a little more local.
Known as the birthplace of Mozart, there is more than just shopping to be found here. Looking for an interesting walk in Salzburg? This is the route.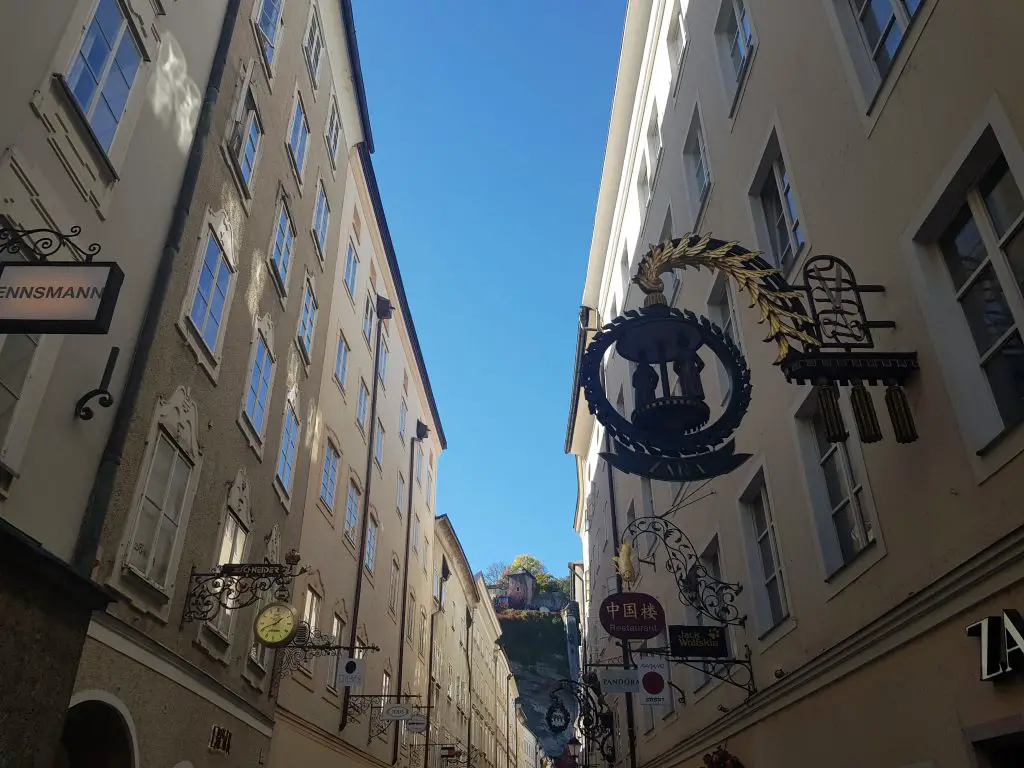 12. St. Peter's Abbey
What to see in Salzburg in one day? Founded in 696, it is one of the oldest monasteries in existence. In addition to this, it is the oldest with a continuous history, as it has never been abandoned. The Romanesque architecture not only highlights its age but also sets it apart from many of the other buildings in the area.
Both the interior and exterior are gorgeous, and a guided tour is highly recommended. It's worth stopping at the catacombs if they are open as well. A must-have on any Salzburg Austria things to do list.
13. Residenzplatz
Salzburg places to visit? A stately square, it may not be the most interesting in terms of contents, but it is one of the most popular. On a sunny day, there is nothing quite like taking a seat by the gorgeous fountain and watching the world go by.
It is also the ideal place to catch a horse and carriage ride; perfect for really taking in the city and getting a good view of the sites. So, is Residenzplatz on your Salzburg what to do list?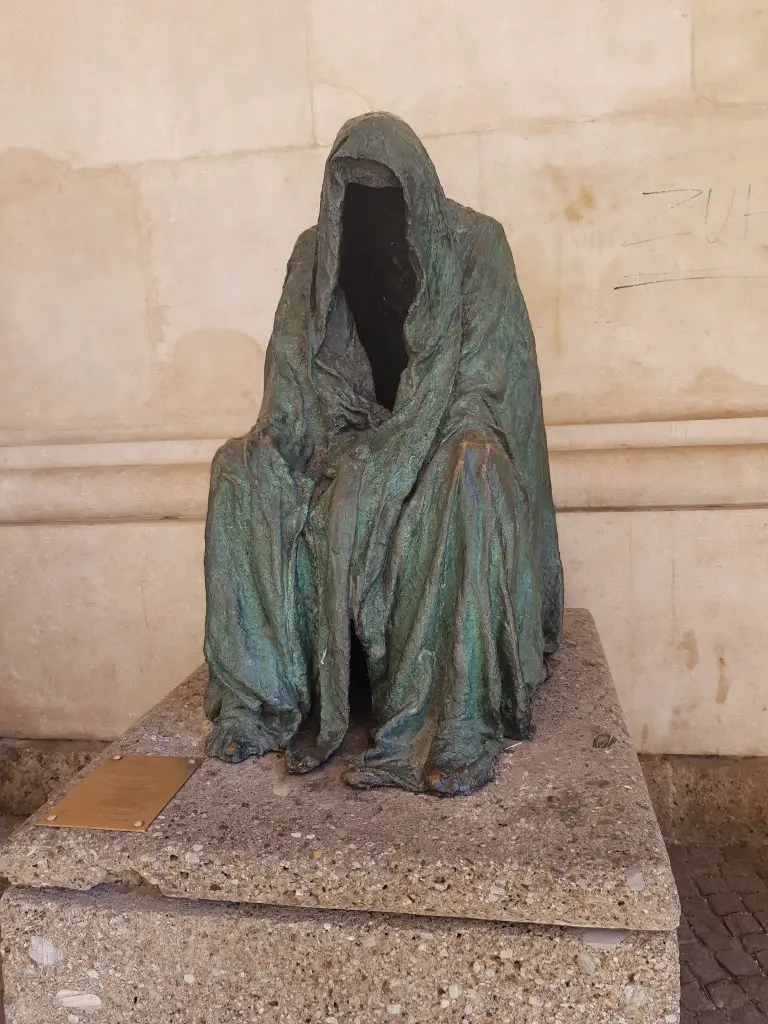 14. Mirabell Palace and Gardens
Cool things to do in Salzburg? Built as a token of love by Prince Raitenau, these gardens are small and yet also very pleasant. The main theme is mythology, and you can spend a good hour spotting each of the statues and who they are.
Some of the most notable are Hercules and Aneas; the latter of which is for the true Classicists to catch. It's a lovely location to take someone you care about and want to create a romantic setting for. 
15. Trip to Eagle's Nest and Berchtesgaden
Looking for the best places to visit near Salzburg? If you want a fascinating historical tour when in Salzburg, then a trip to Eagle's Nest and Berchtesgaden provides a fascinating historical insight. The Eagle's Nest was built as a 50th birthday present for Adolf Hitler at the top of a mountain in the Obersalzburg region.
As well as it's impressive panoramic vistas, the Eagle's Nest, as Nazi Headquarters, also houses an incredible underground bunker system which you can now explore as part of a guided tour.
16. Mozart House Salzburg
Top things to do in Salzburg? It is one of the most visited museums in the world, and as one of the greatest composers in history, this comes as no surprise. Located at number 9 on Getreidegasse, it takes you through a renowned UNESCO site.
The house itself even features Mozart's piano as you step into the home he was born and raised in. It's a place for lovers of Classical music and the arts to come and pay their respects.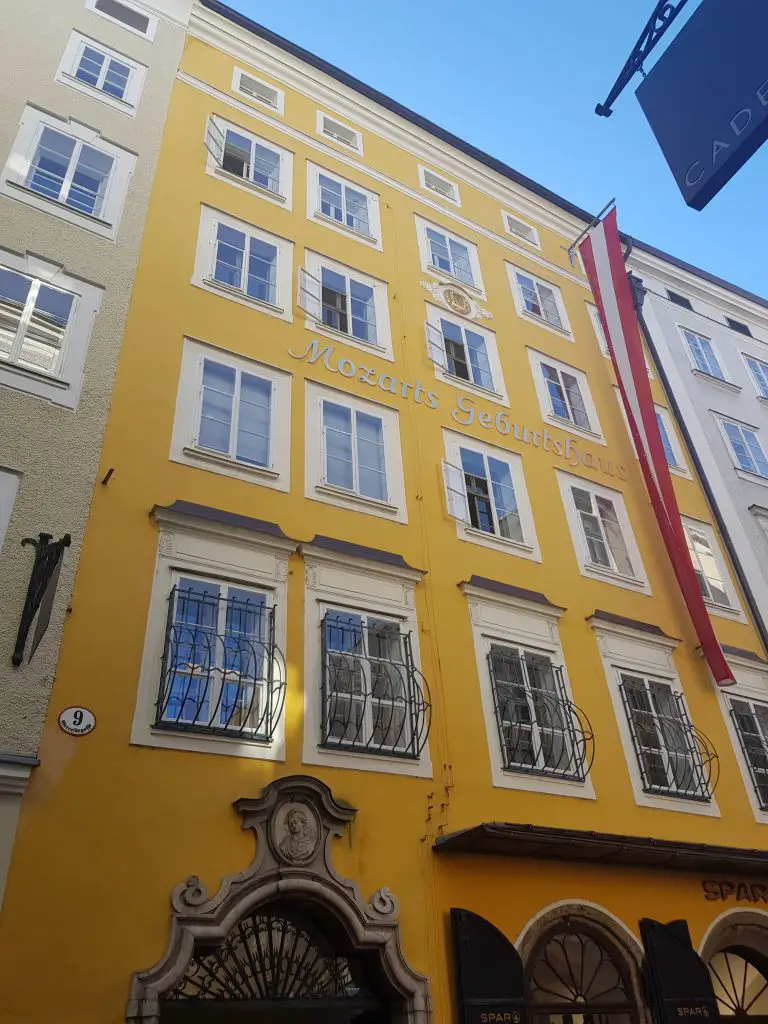 17. FC Red Bull Salzburg
Top tourist attractions in Salzburg? For football fans, this is the ultimate stop. The arena was opened in 2003, and has been home to the Salzburg football club ever since.
It has hosted some incredible games and has an exceptionally large capacity. Even if you are not visiting to watch a match, it is worth going for a tour of the arena so that you can take it all in for yourself. Must see on any Salzburg, Austria things to do list!
18. Sound of music tour Salzburg
What to do in Salzburg Austria? If this is one of your favourite films, you're in luck. These tours will take you the filming locations found throughout the classic movie. It teaches you more about the inspiration behind the film, as well as the history of the locations that you are visiting.
It's a great way to spend the day, and there are several different types of tour for you to choose from. 
19. Walk through Altstadt
Have only one day in Salzburg? Some of the oldest buildings in the world can be found here, and this district is perfect for those who want to grip history and really get to know more about what made this city the way it is today.
Since 1996, it has been recognised as a UNESCO World Heritage Site, and as a result, you are bound to discover something entirely new and fascinating.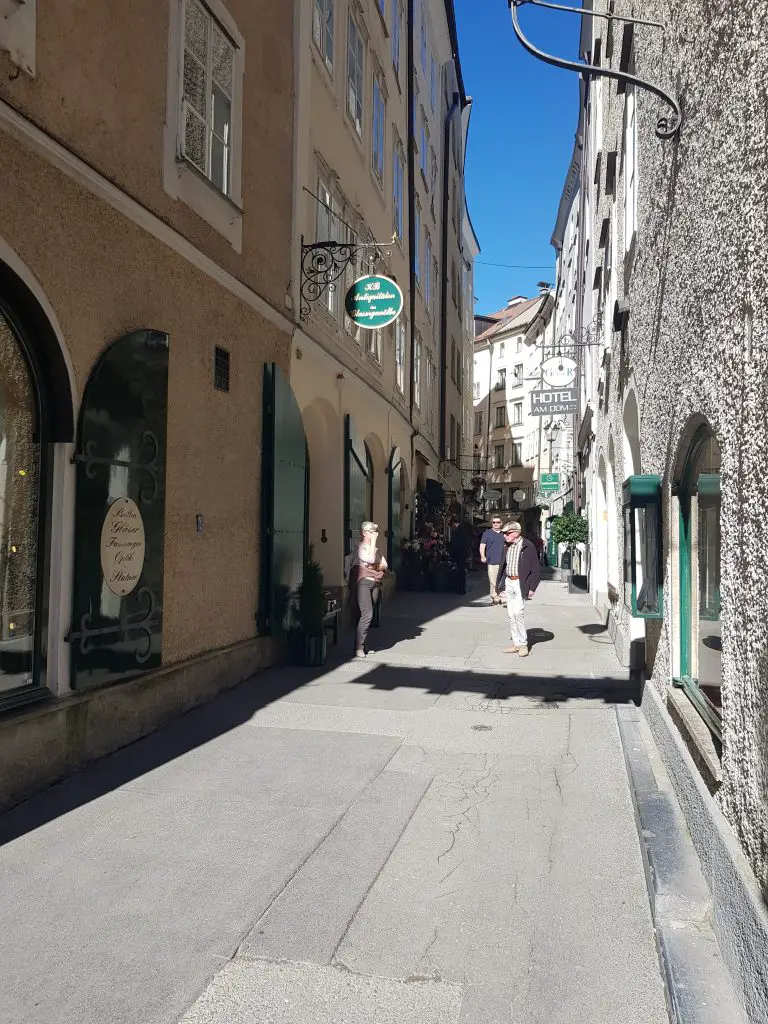 20. Salzburg salt mines
Things to do around Salzburg Austria? Indescribable is the first word that comes to mind. A truly stunning location that offers the definition of natural beauty. For over 7,000 years, this mine has been working, making it one of the oldest (if not the oldest) in history.
It is what made Salzburg such a powerful trading city, and now you can enjoy the magic that it brings. Whether you want to explore in your own time or you fancy a guided tour, there is a way for everyone to experience this truly unique wonder. 
21. Franciscan Church
Top attractions in Salzburg? This is one of the oldest churches in the city, and it was constructed in 1498. However, it was built on the remains of another church that had been built there back in the eighth century.
The slender gothic architecture is part of what makes it such a gorgeous structure, and you will find it just as jaw-dropping on the inside. It will take you on a journey through Christianity, reaching right back to when it first entered the country. 
Salzburg restaurants
There is no shortage of food in this city, that's for sure. Some of the best and most delicious meals can be found here and in the most unlikely places.
The street vendors are often just as good as the top restaurants, and sit-down concerts provide dining that is just as good as the music. Many restaurants have a cosy feel and will stay open until late at night, so you'll never find yourself struggling to find good food. 
When does the Salzburg Christmas market start?
The Christmas market starts end of November and runs all the way until the 26th of December. It is a market unlike any other, with a history stretching back to 1491.
With a massive number of stalls and a fresh blanket of snow, it really is like walking into a fairytale. It makes for the best place to buy sweet gifts for family, or to share hot chocolate and mulled wine with the person you love. 
When to go to Salzburg?
So much of this depends on your preferences. For those who love to see the rolling hills in full bloom, April is the ideal time of year. The summer is perfect if you want to enjoy the heat and busyness that comes with the city, but this is also peak season.
However, the absolute best time has to be between October and December, when the tourists have thinned out and the taste of Christmas is in the air.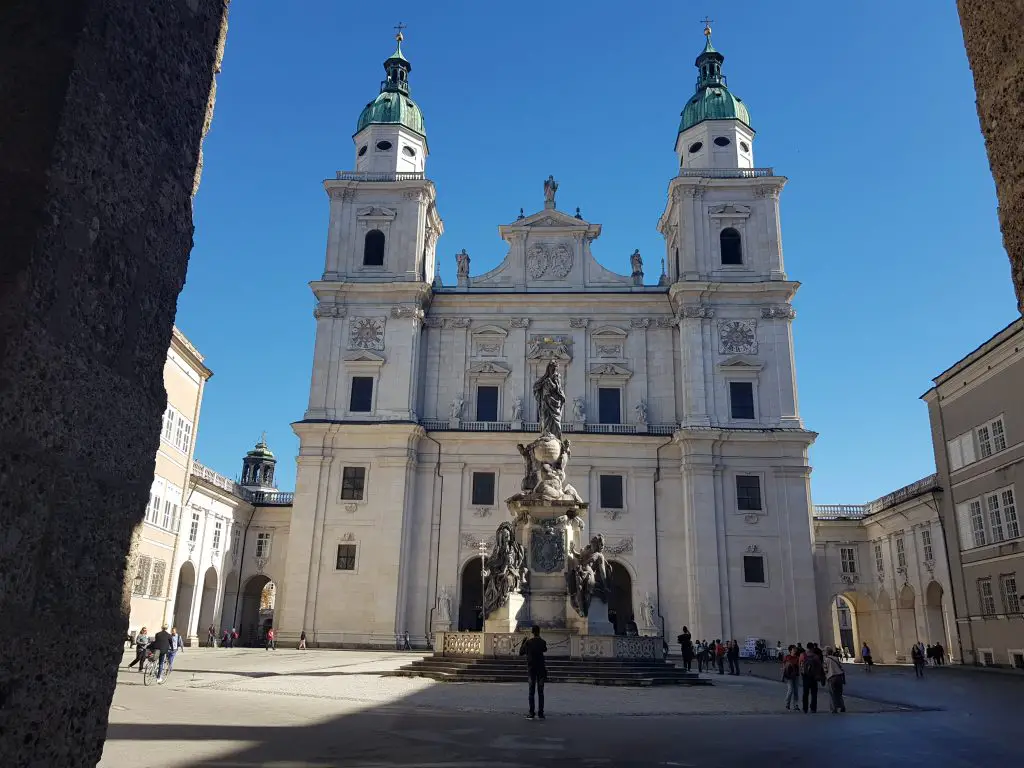 Salzburg, Austria's captivating city, is a treasure trove of experiences. Whether you're seeking things to do with kids in Salzburg or hunting for the most scenic places to visit, this city delivers. Spend one day in Salzburg and be swept away by iconic tourist attractions like the Mozart House and Getreidegasse Street.
For those planning weekend breaks, Salzburg's rich tapestry of history, culture, and beauty promises a getaway unlike any other. Dive deep into the heart of Austria and discover all the unique things to do in Salzburg.
From free activities that delight the budget traveler to awe-inspiring sights that stay with you, Salzburg is more than just a destination – it's a journey of unforgettable moments.
Day trips from Salzburg
What to do around Salzburg? There are many great day trips from Salzburg you can do. Most of them would require you to hire a car as it's much easier to get to those destinations. Our favourite trips are:
Day trips from Salzburg in Austria:
Day trips from Salzburg to Germany:
Is it worth visiting Salzburg in one day?
So, is Salzburg worth visiting? Salzburg is a compact city which makes it very easy to explore in just one day! It's one of the best weekend getaway destinations in Europe. Many tourists say that it is also a top European romantic city. So, it is definitely worth visiting this Austrian city – even for a single day!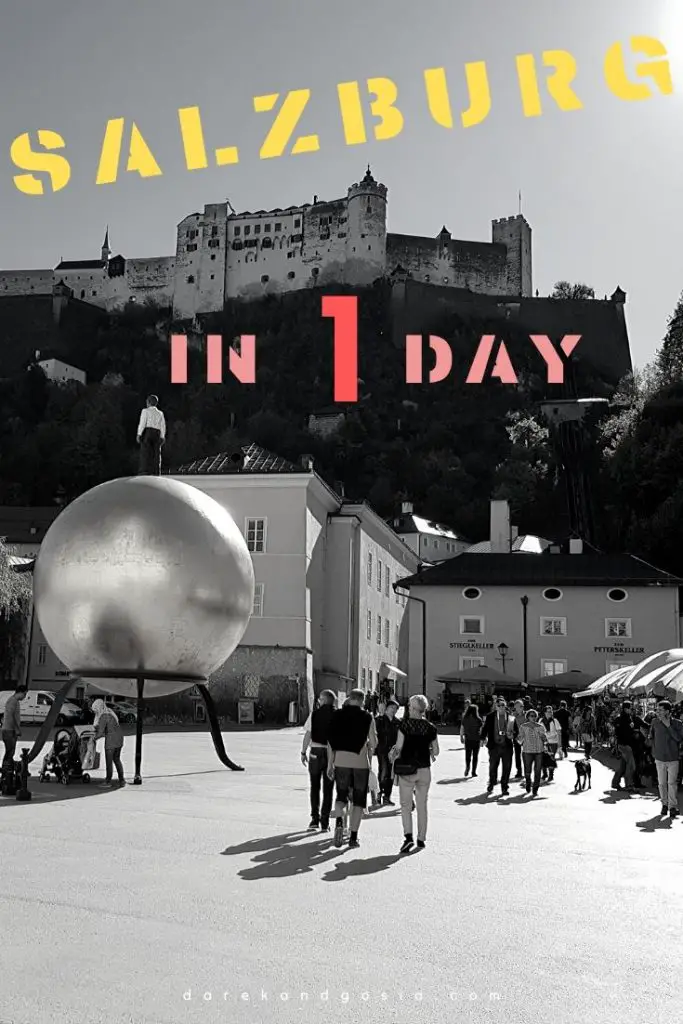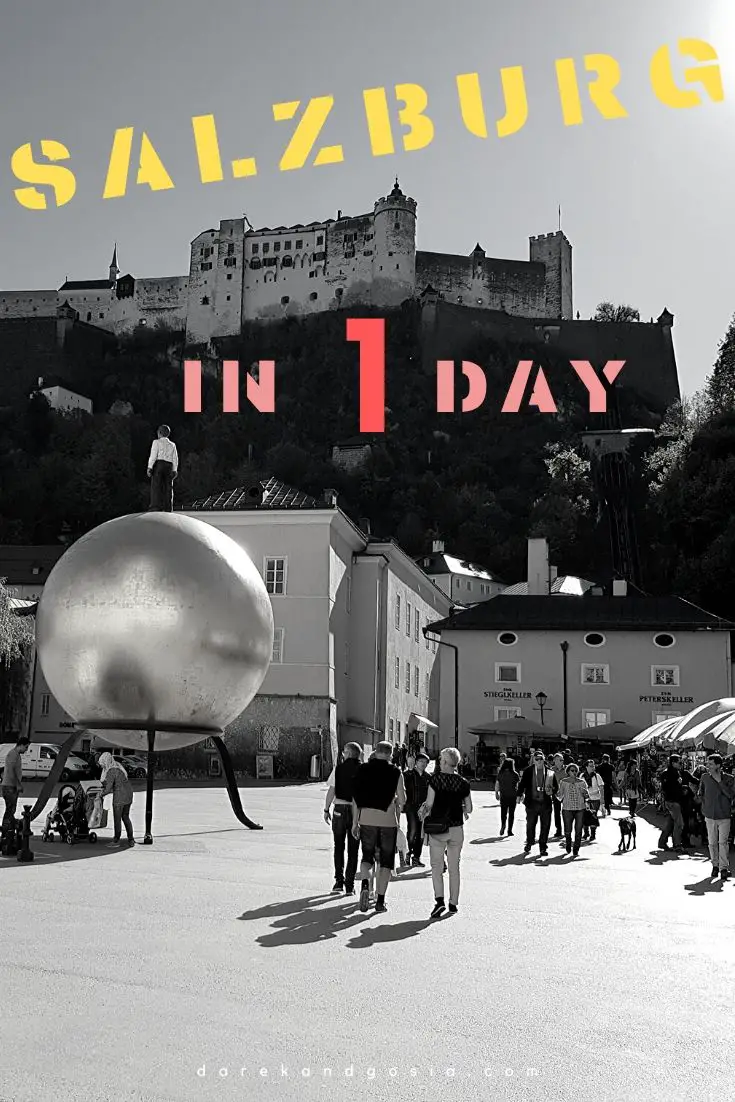 Love Europe? Read also: