Looking for the best things to do in Algarve Portugal? From watching the sunset in Cape St. Vincent, swimming with dolphins to Algarve's best beaches – there are many stunning places to visit in Algarve.
The southern tip of Portugal is a land carved by the Atlantic waves and the turbulent history of the intersection of European and North African cultures. Algarve, once off the beaten track, a little isolated and misunderstood by the inhabitants of the rest of the country closer to Lisbon, it has been experiencing a tourist boom for several decades, yet offering peace and authentic colours in many places.
What is Algarve Portugal known for?
Almost 200 km of wonderful coast with over a hundred wide sandy beaches (about 50 honoured with the Blue Flag!), Amazing rock cliffs and the wild charm of the Atlantic – some of the most beautiful landscapes in Europe are based here!
Excellent marinas and ports for sailors, dozens of respected golf courses and the world's best surfing spots. Great wild nature of coastal backwaters and sandy islands need also be named as the reasons Algarve is famous for. All this could not be kept away from tourists for a long time.
In addition, a very mild climate with over 300 sunny days. In summer the temperature can reach 35 degrees Celsius and there is basically no rainfall. In winter, the average temperature is 15-18 degrees C making Algarve one of the best winter sun destinations in Europe.
Where is Algarve located?
This stunning and sunny region is located just on the edge of Europe, in southern Portugal. It's been a very popular holiday destination among Brits for several years.
Algarve coast, with its beautiful beaches and surrounded by picturesque red cliffs, is considered as one of the most beautiful regions in the world – and we totally agree with that! 🙂
If you are thinking about visiting Algarve, you will definitely love this stunning region of south Portugal! Golden sand and many little towns and cities (like Albufeira, Lagos or Carvoeiro) are really worth to visit. In addition, they are all surrounded by the best beaches in Algarve Portugal.
Just book a ticket and fly to Faro airport – your gate to Algarve in Portugal!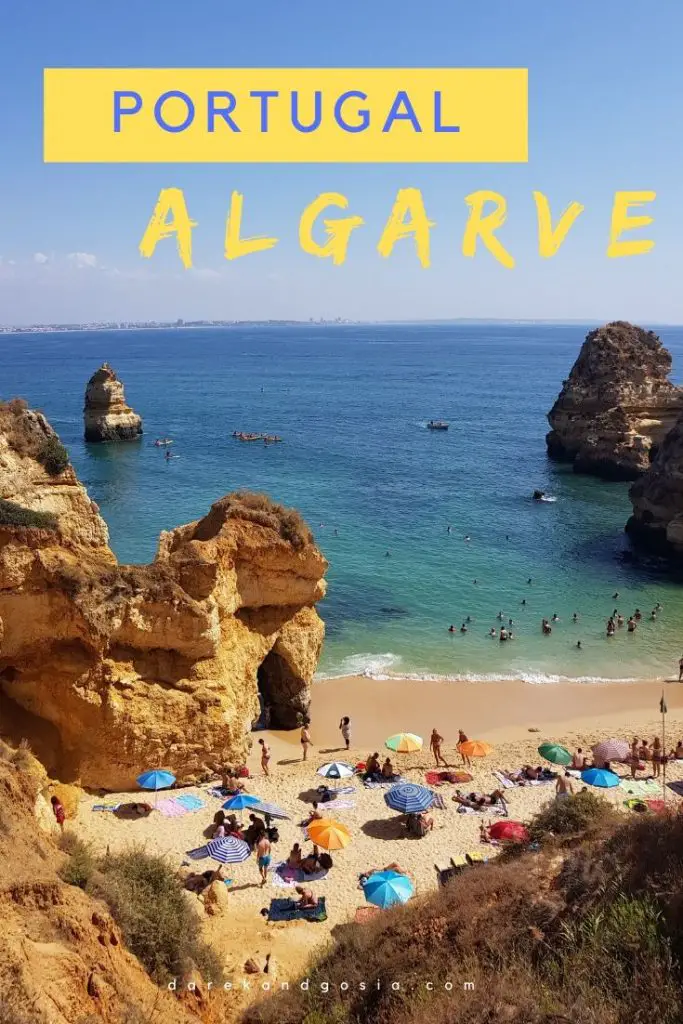 Best time to visit Algarve
You can easily consider Algarve, and the whole of Portugal, as the all-year-round holiday destination. Yes! – winter is also a great time to visit Portugal 🙂
But the best time to visit Algarve will be between April and October. The high season is from mid-June till the end of August – this is also the hottest and most crowded time of the year. So, if you prefer to have more golden sand to yourself visit Algarve in September, just as we did 😉
The weather in September was very pleasant with the temperature reaching 28-30 Celsius and many hours of sunshine 🙂
Definitely, the weather forecast will not disappoint you during your September holiday in the Portuguese region of Algarve.
Rent a car to explore Algarve!
It is worth to say that a car is the best option to travel in Algarve Portugal! It will give you much more flexibility in organising your days – so exploring less crowded places will be much easier.
Nothing against buses in Algarve, as they go to many places as well, but unfortunately don't run too often.
If you want to explore hidden beaches and get to places that can't be reached by bus – travelling by car will work perfectly! Algarve is one of the best regions in Europe for a road trip.
(read our guide to renting a car in Europe)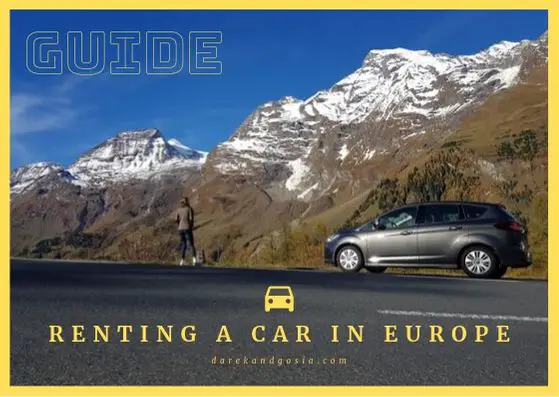 As always, we booked a car via rentalcars.com before our trip – we have collected it at the Faro airport 40 minutes after we landed in Portugal 🙂
And the adventure began! 🙂
THINGS TO DO IN ALGARVE
You probably know where to go in Algarve to find the best places to visit, right? In case you don't, we have put a list of the main Algarve's tourist attractions and activities. From hiking in Algarve's coast to all the top places of interest in the Algarve.
So, what to do in Algarve Portugal? See below 🙂
1. Albufeira
Albufeira is one of the most crowded and lively cities on the coast, filled with tightly arranged hotels and numerous bars, restaurants and clubs.
We will definitely not find a peaceful vacation here, but we will find many captivating beaches.
For example, Praia da Falésia, which is one of the most beautiful on the Algarve coast – wide, sandy, stretching for kilometres. This place is extremely popular among tourists, so it is worth moving away from the wooden descent to the beach. Particularly impressive are the red cliffs, which, in an interesting way, contrast with the light sand and crystal clear water of the Atlantic. A must-see during your holiday in Algarve!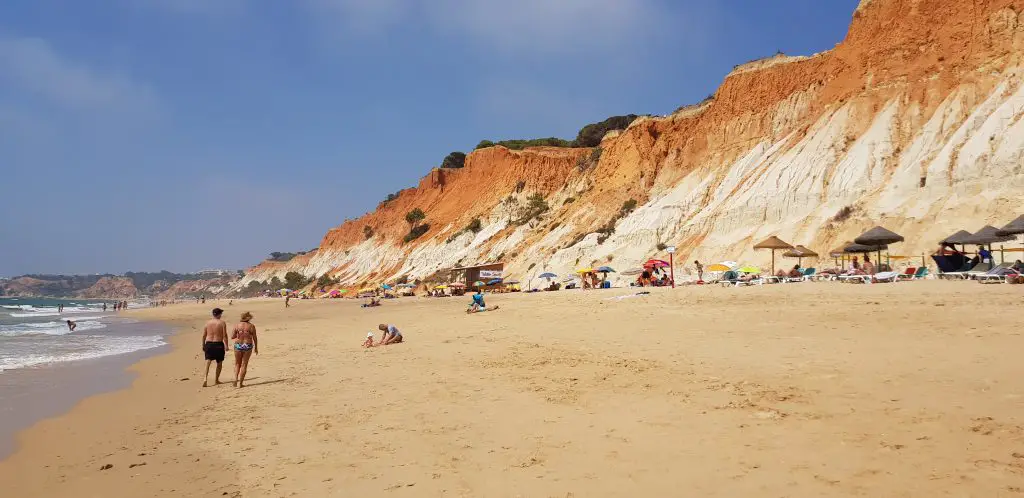 2. Farol da Ponta da Piedade
Ragged rock formations of Ponta da Piedade rising 20 meters above the azure waters are probably the most recognizable place on the Algarve coast.
One of the most beautiful places in Europe – cape Ponta da Piedade. It's full of small caves and bays, which are definitely worth seeing either from the top of the cliffs or during a cruise by motorboat 🙂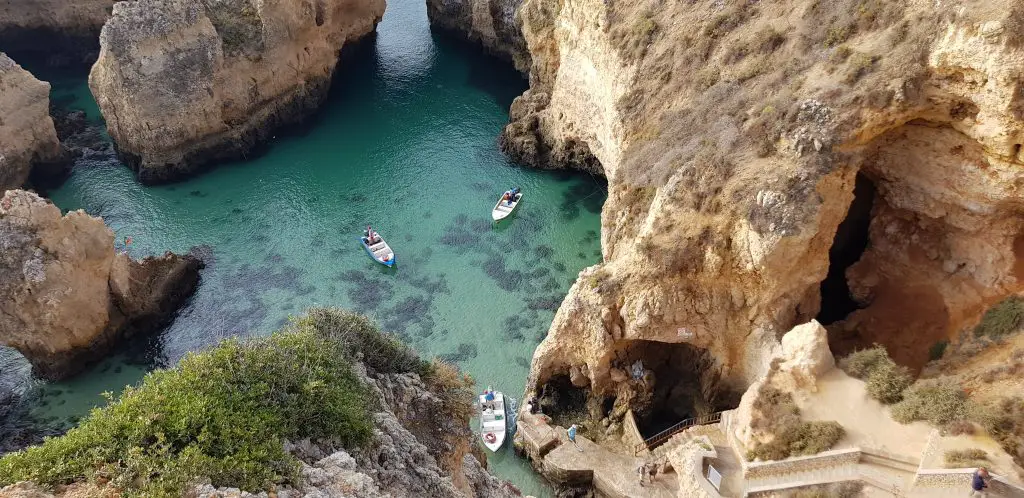 Taking a stroll around Ponta da Piedade was absolutely amazing – ahh those breathtaking views! 🙂 The sights were just stunning, we really recommend walking there. There are many great walking trails to explore, so you can easily spend a few hours over there.
It really is one of the best places to visit in Algarve… especially for hiking lovers!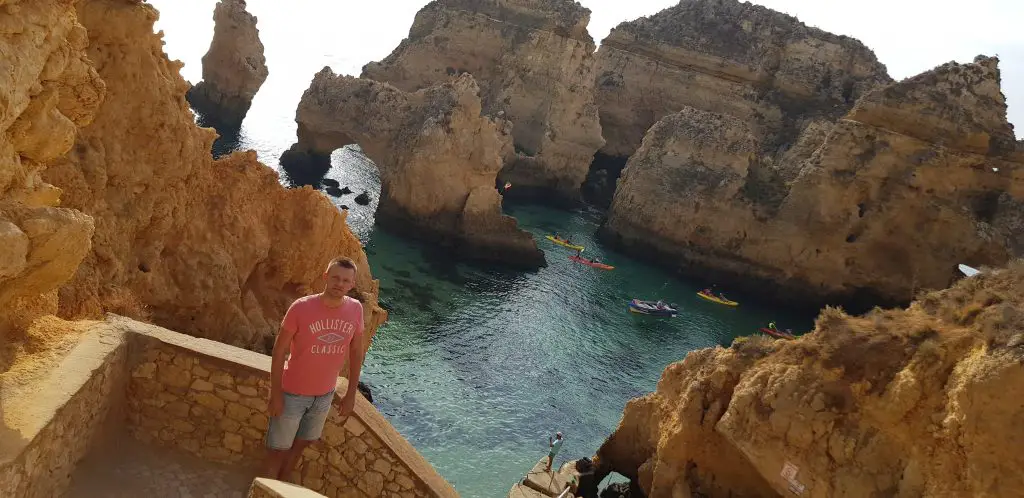 3. Praia da Marinha
If we had to name one place, only one best thing to do in Algarve it would be visiting Praia da Marinha – one of the best beaches in Europe!
It is famous not only for its breathtaking location but also for crystal clear water. Praia da Marinha, surrounded by 30-meter rocks, often appears on travel folders and postcards and is a beautiful showcase of the town of Carvoeiro.
After spending a day on the beach, it is also worth taking a walk on the upper edge of the cliff – the views from there are amazing!
4. Algar Seco
Wow! Amazing rock formations providing a perfect setting for photos 🙂
We visited Algar Seco early in the morning, which was a great thing to do. There were only two other people – so we had plenty of time to appreciate the caves and beautiful scenery!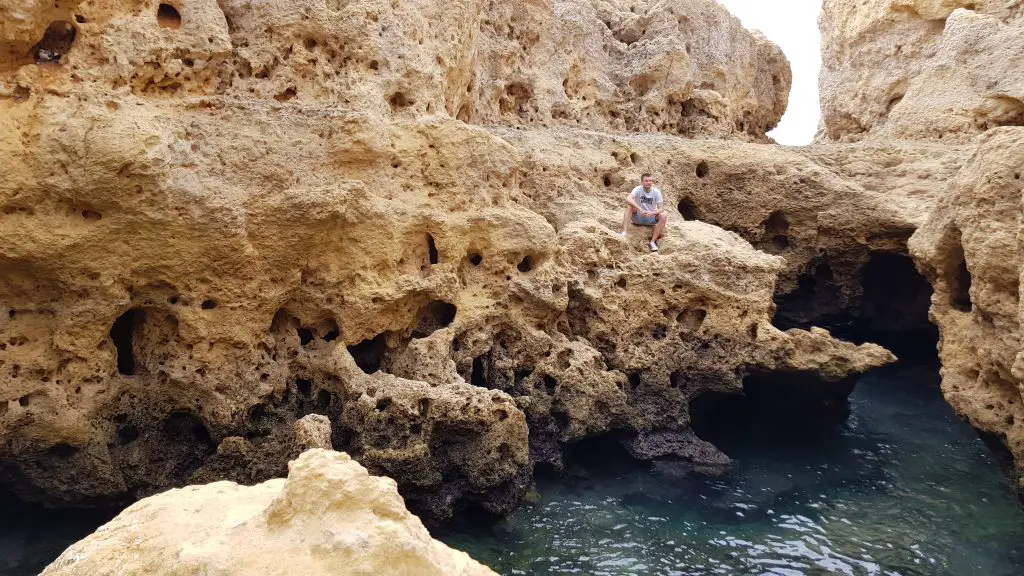 Make sure you go through a tunnel carved into the rock to see Gruta da Boneca – the eyes are watching you! 😉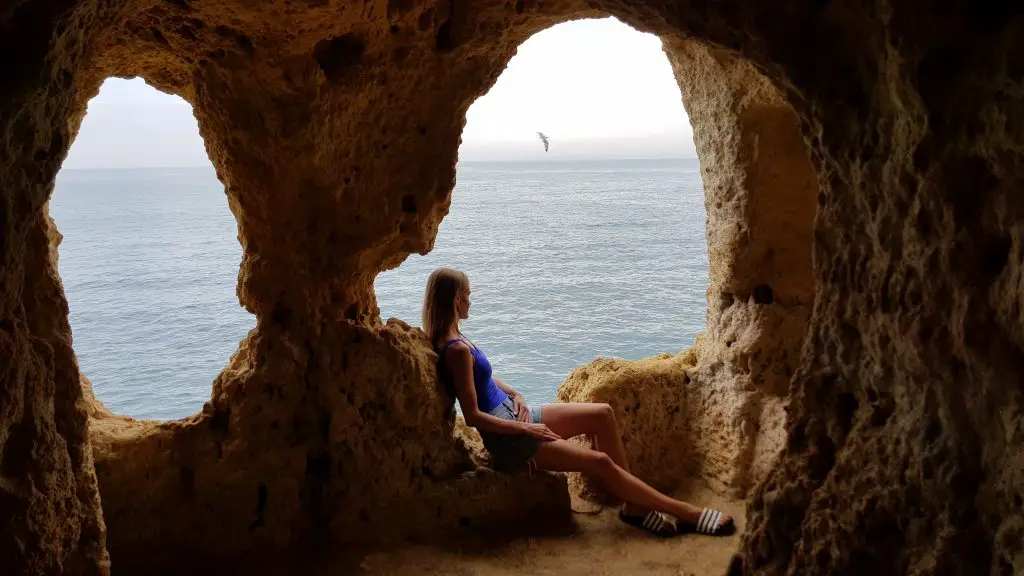 It's one of our favourite places in Algarve we visited during our holiday and possibly one of the best things to do in Algarve Portugal.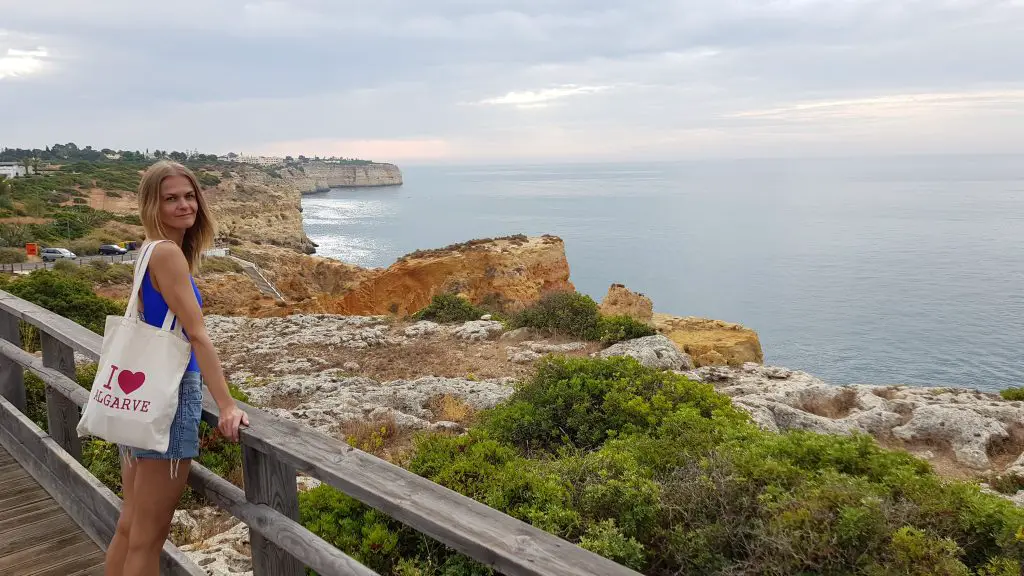 5. Tavira
Tavira is probably the most authentic and least crowded part of the Algarve coast. The town, dating back to the times of the Romans, was once the capital of the region and an important port.
This part of Algarve is full of charm with its small churches and the most recognizable Moorish castle. Ilha de Tavira is one of the few sandy beaches located on the island of the same name. In total, it stretches for 11 km, which creates a perfect area for long walks along the Atlantic shore.
6. Visit Zoomarine & swim with dolphins!
Out of this world experience! One of the tops on our bucket list 🙂
Dolphins are one of the most amazing and clever animals in the world. Just having the opportunity to swim with them makes your day very special – honestly! If you go to Algarve, make sure to book this amazing experience: swimming with dolphins – you will love it! The price is a bit high, €125 per person, but it's worth it! 🙂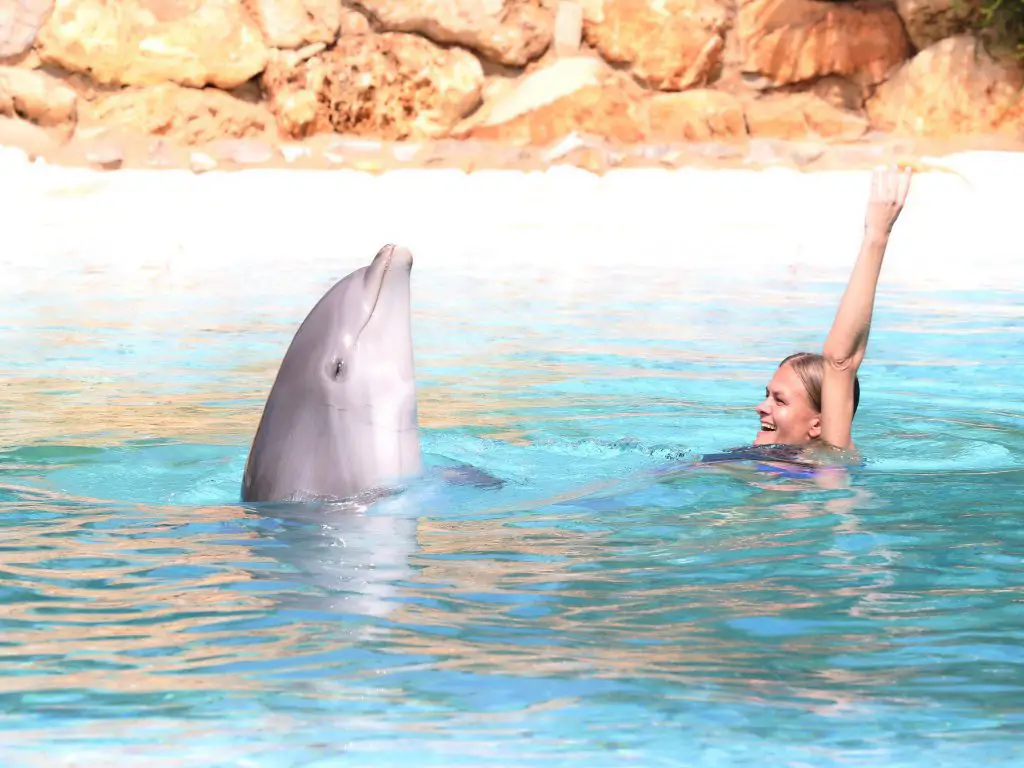 You, together with ~6 other people, will get the opportunity to learn about dolphins and spend around 30 minutes in the water with them. During that time, you will be introduced to the dolphins and get to perform two figures with them (e.g. dance with a dolphin!) – simply STUNNING experience. It really is a contender for the best things to do in Algarve.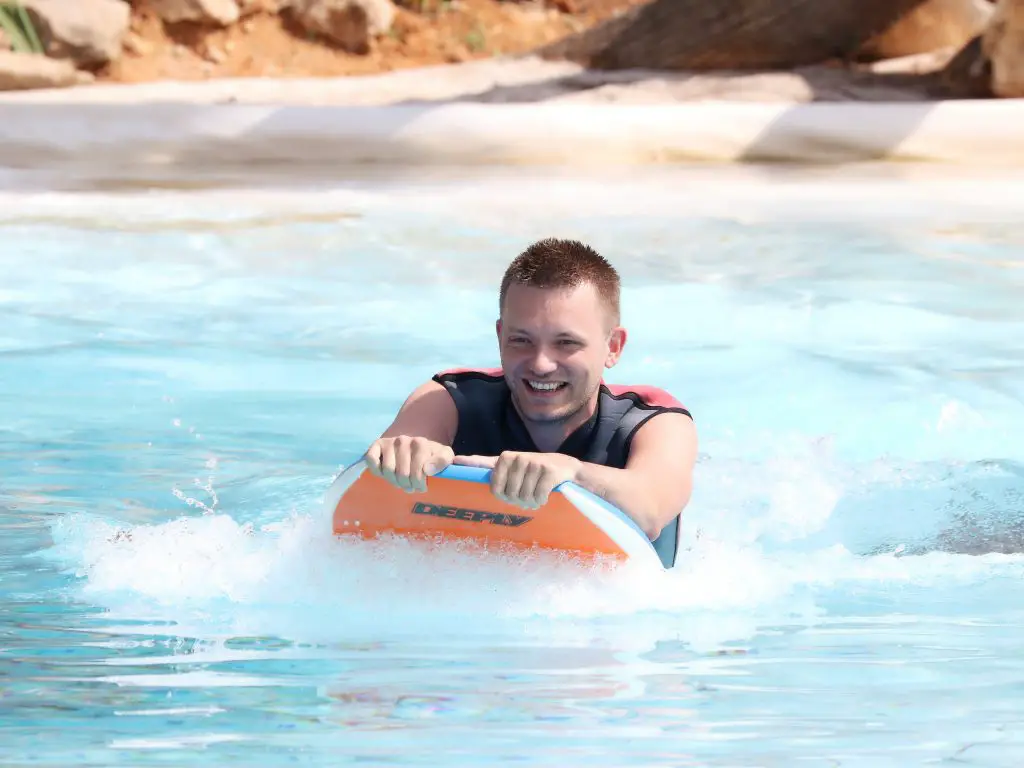 The whole experience was really amazing! Apart of one lady from the shop, who was kind of rude to us as we wanted to buy only digital version of the pictures (yes, you have to pay for them on top of the entry fee).
But hey, you go there for the dolphins, not people 😉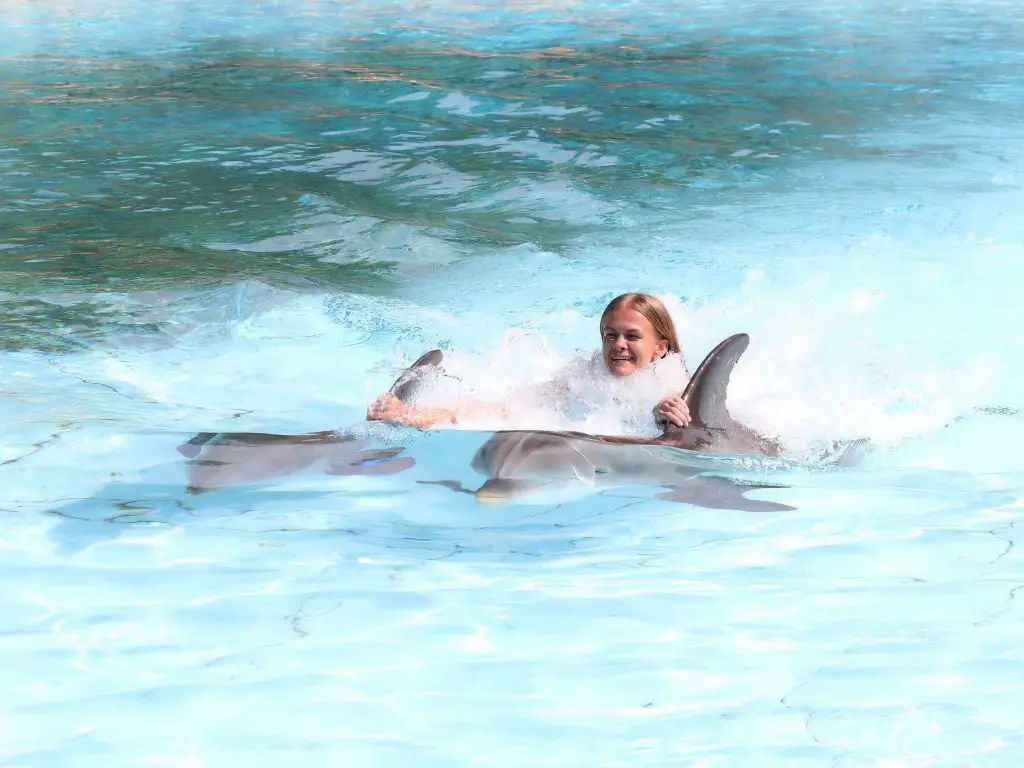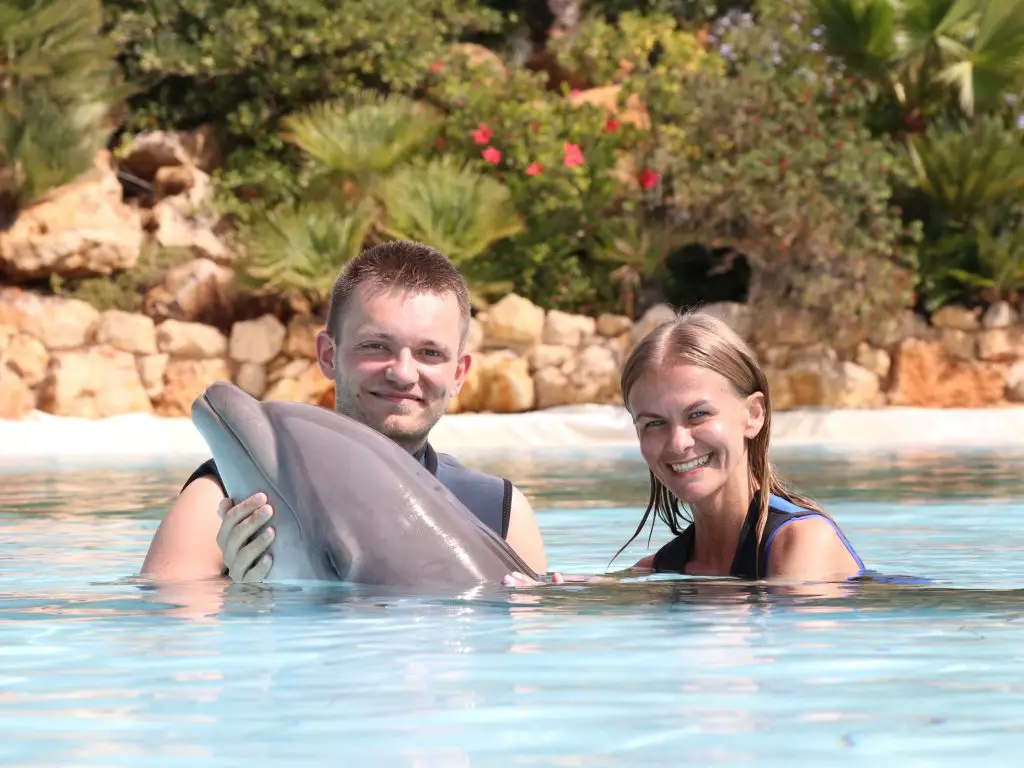 7. Fortaleza de Sagres
A very enjoyable walk along cliffs with amazing views. The parking was free.
We visited Fortaleza on the way to Cape Saint-Vincent and spent there one hour admiring the magical view of the surrounding landscape.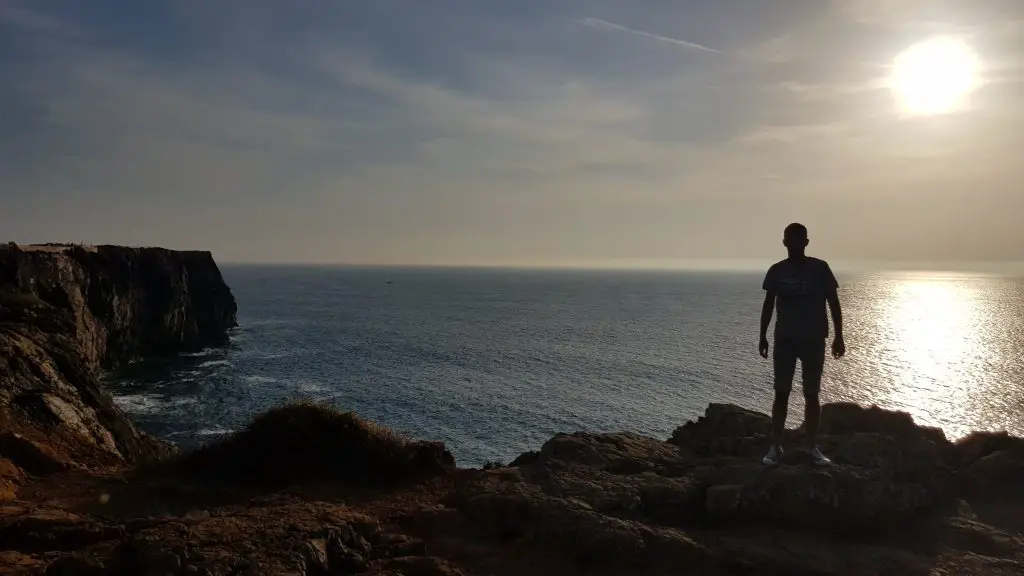 Perfect place for just chilling out or watching the surfers at Praia do Tonel. It really is one of the best places to visit in Algarve.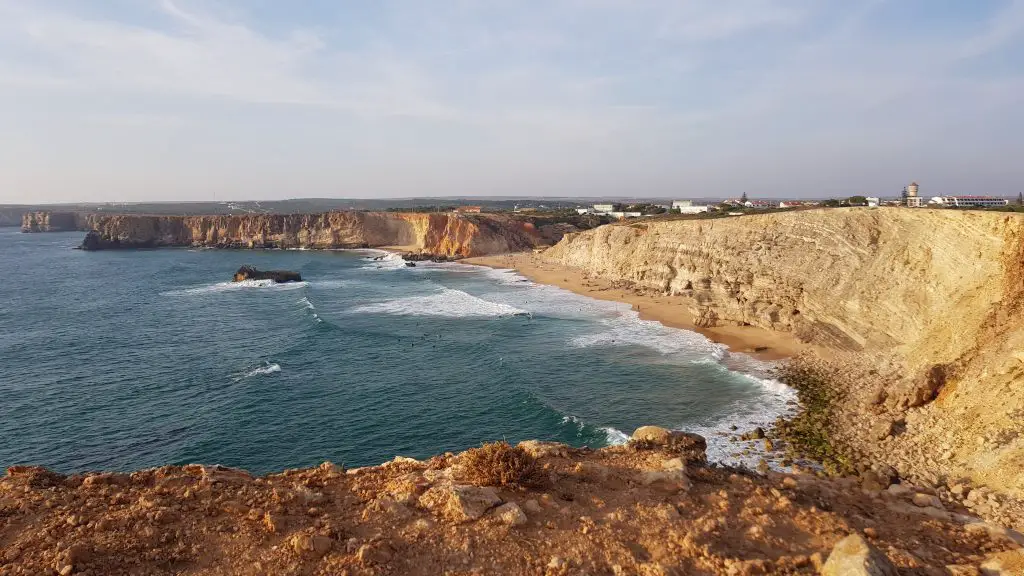 8. Lagos
Lagos has been exceptionally generously endowed with magnificent cliffs and beaches, so it is surprising that it is also very touristic.
This is probably one of the most vibrant cities in the south of Portugal, so if you are looking for quiet places in Algarve, this isn't one of them. 😉
However, Lagos owes its popularity mainly to fantastic landscapes and beautiful beaches.
The beaches are also enchanting, among them, Meia Praia or the small Praia do Camilo surrounded by rocks, to which there are characteristic wooden stairs known from photos. Everybody has seen this place on Instagram, right? 🙂
9. Cape Saint-Vincent
Best Sunset spot in Portugal. You can't get further southwest in continental Europe than to Cape Saint-Vincent! The biggest attraction is the impressive and breathtaking views of the vertical cliffs washed by ocean waters. You could easily name it as one of the best cliffs in Europe!
It is definitely worth coming here to see the lighthouse from 1846 and watch the sunset. On both sides of the cape, Cabo de São Vicente offers amazing views! Just make sure you have time to admire the astonishing landscape of the high cliffs that fall steeply into the dark-blue water of the Atlantic.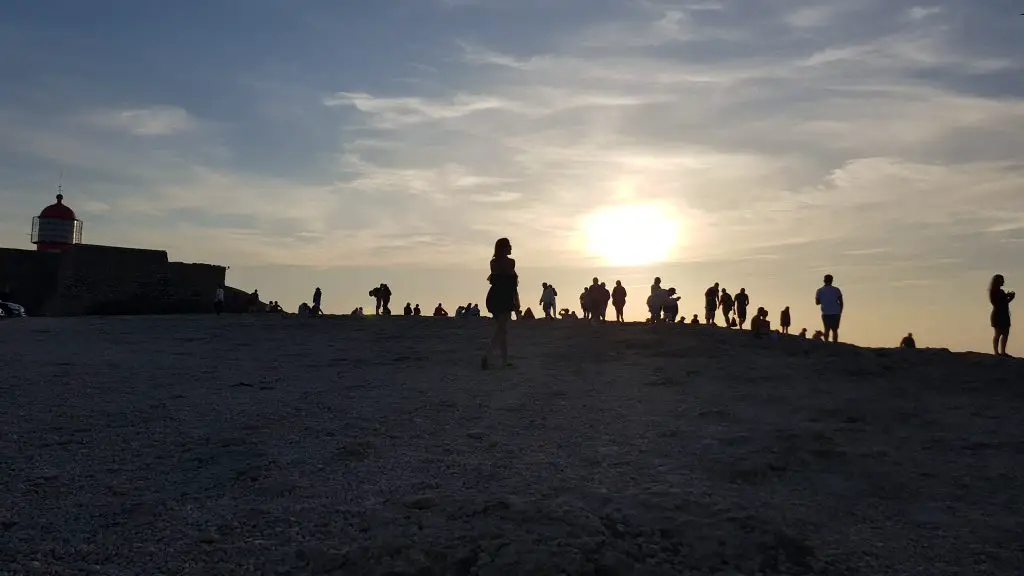 The best place to watch the sunset in Portugal?
Well… end of Europe of course!
But don't even think that you will be the only one who has that idea!
No! There will be probably 100s other people waiting for the sun to go down 🙂 Well, this must be then one of the most romantic places in Europe!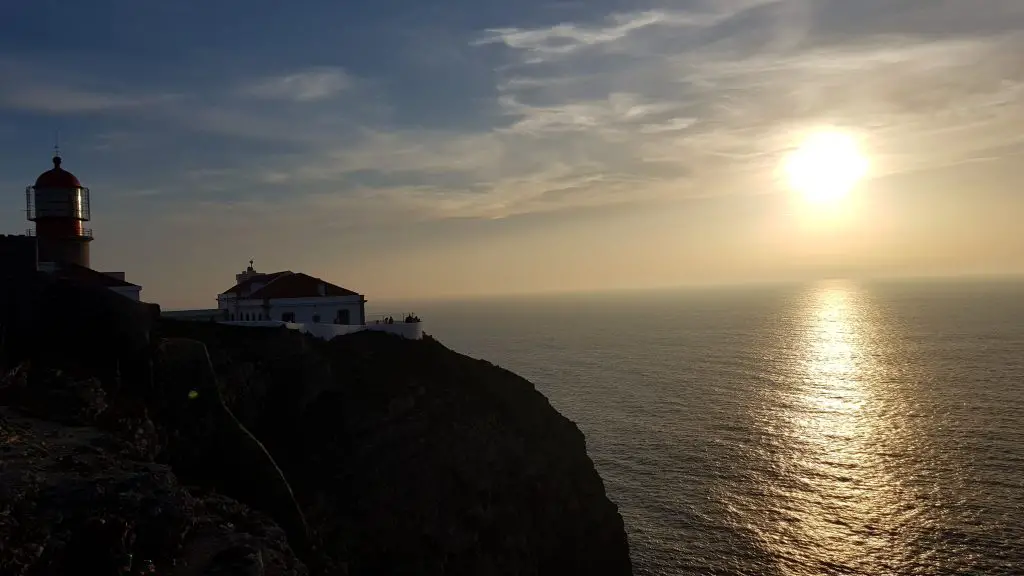 Don't worry – there is enough space in Cape Saint-Vincent for all of them 😉 You will still be able to take a few amazing pictures. We fell in love with this place straight away and it's really up there with the best things to do in Algarve.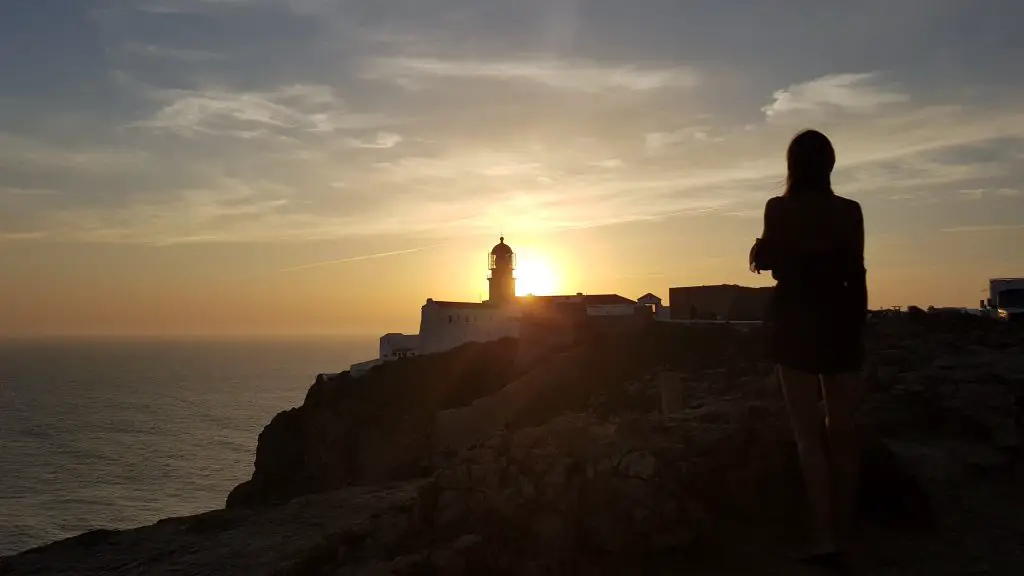 10. Eat local
If you are a big fan of pastel de nata (as Gosia is) – you probably think that Algarve is heaven! 😉
Good news! You can buy the Portuguese Custard Tarts almost everywhere in Portugal.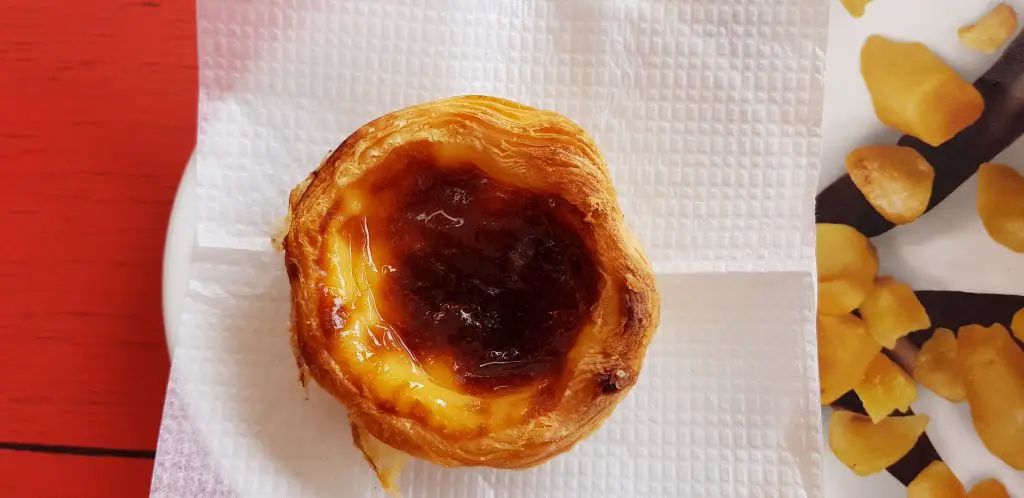 There are many great little cafes and bars in Algarve. If you are in Lagos make sure you go to Al-Bravo Cafe & Shop for a lunch: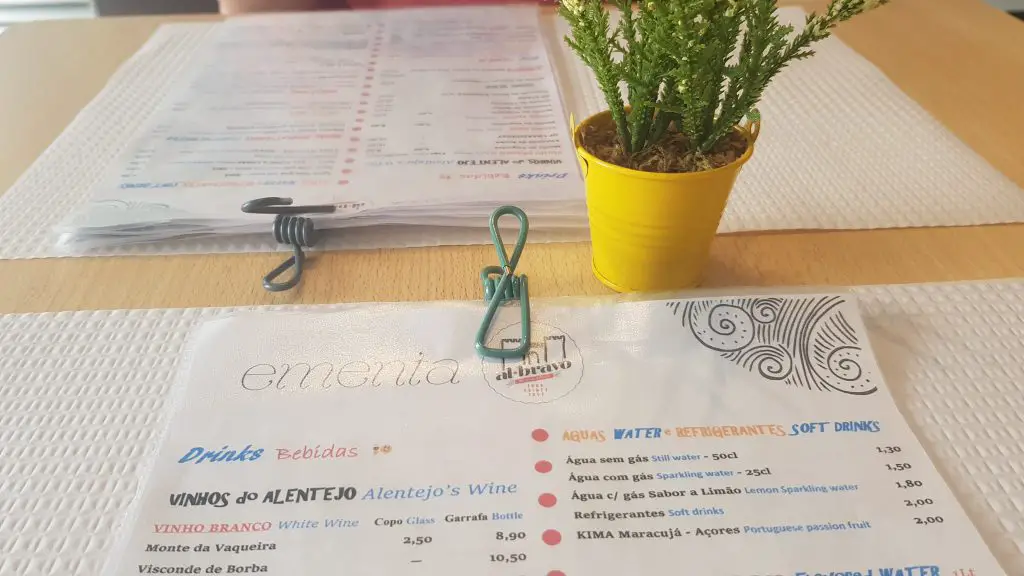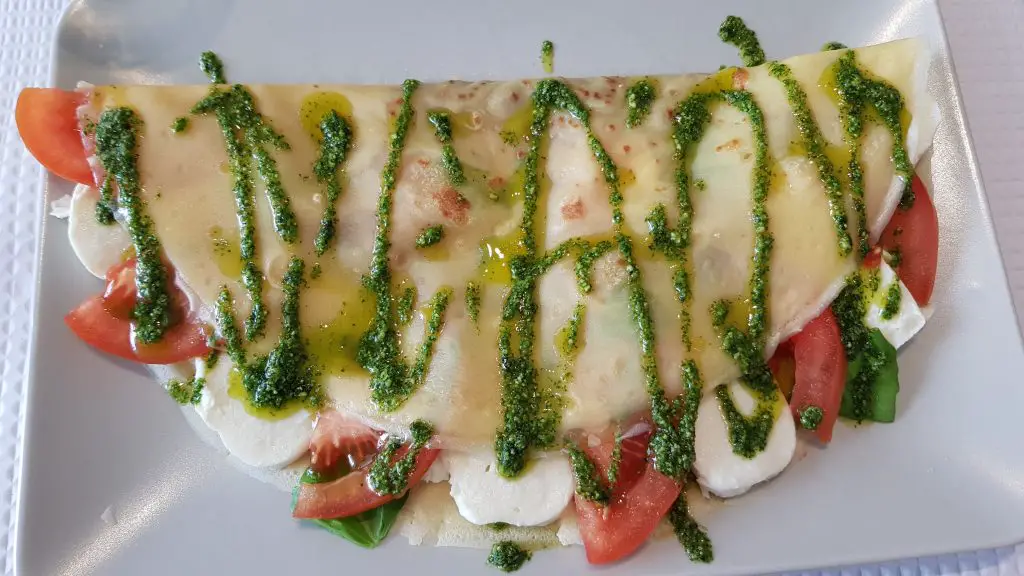 In Lagoa, Tapas no BUCHO is a must on your list!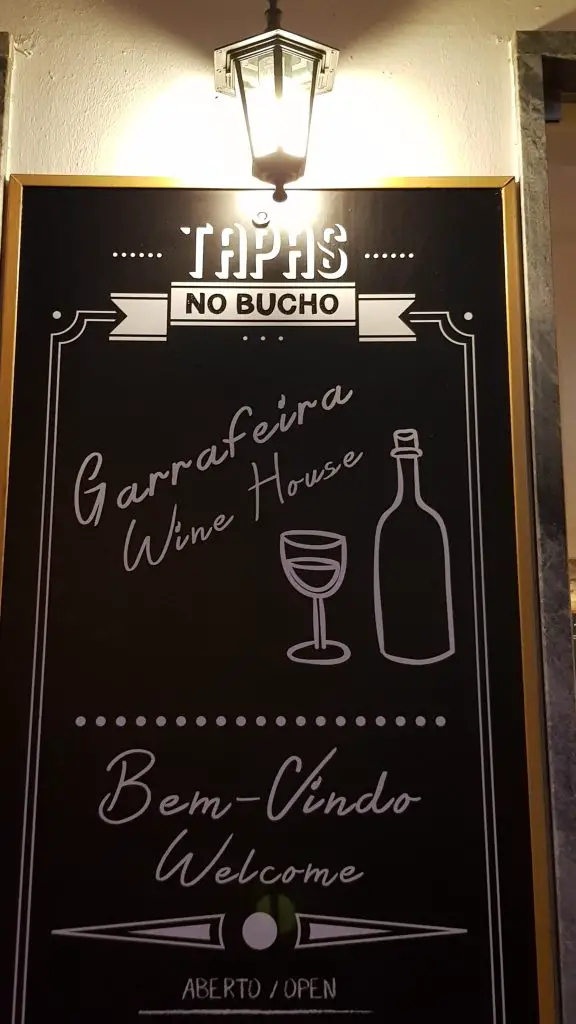 11. Boat trip to Algar de Benagil
A HIGHLIGHT of the Algarve coast! 🙂
Benagil Cave, with a sandy beach hidden inside, is considered one of the most beautiful beaches in Europe. it's definitely true! The vault of this rock cave once collapsed in one place, resulting in a round hole.
The grotto is only accessible from the ocean, but you can rent a motorboat or a kayak to explore the Benagil Cave.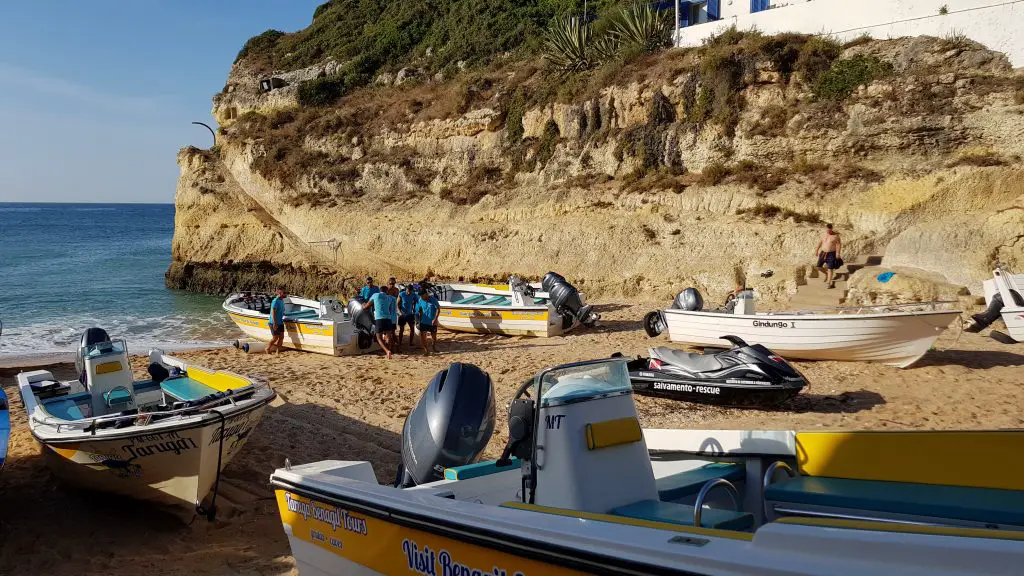 We went on an organised boat trip which did cost us €25 each. 70 minutes of exploring the coastline and many other caves (not only the Algar de Benagil) was definitely worth it! 🙂 But yes, you are right, the Benagil Cave is the highlight of the boat trip 🙂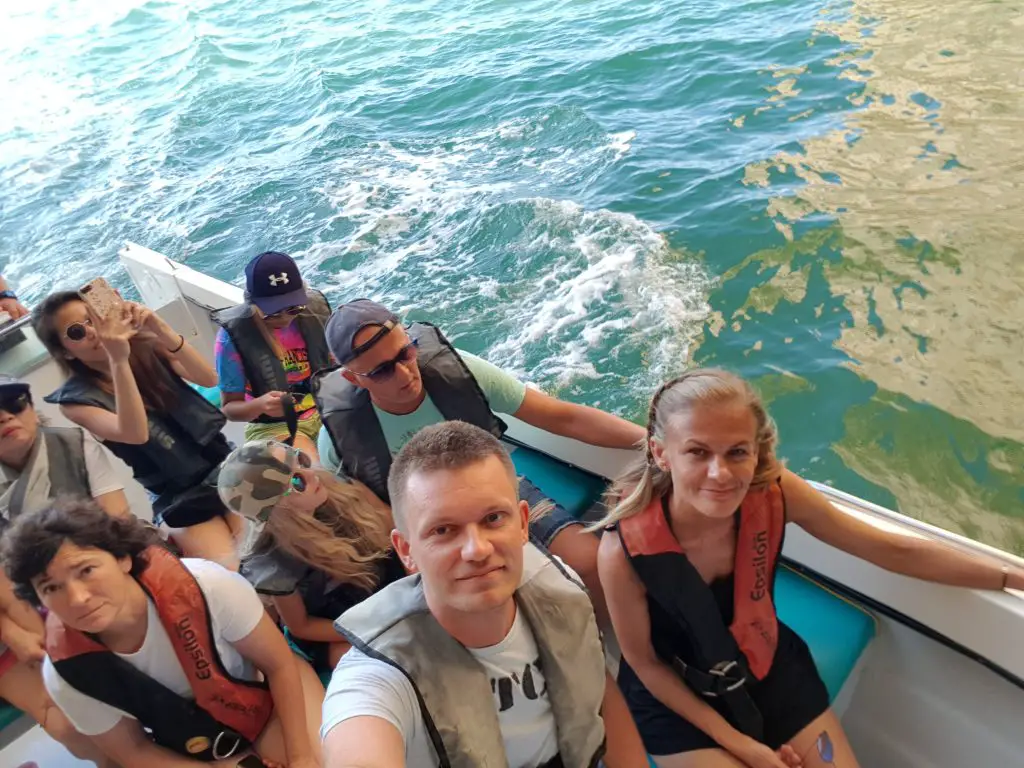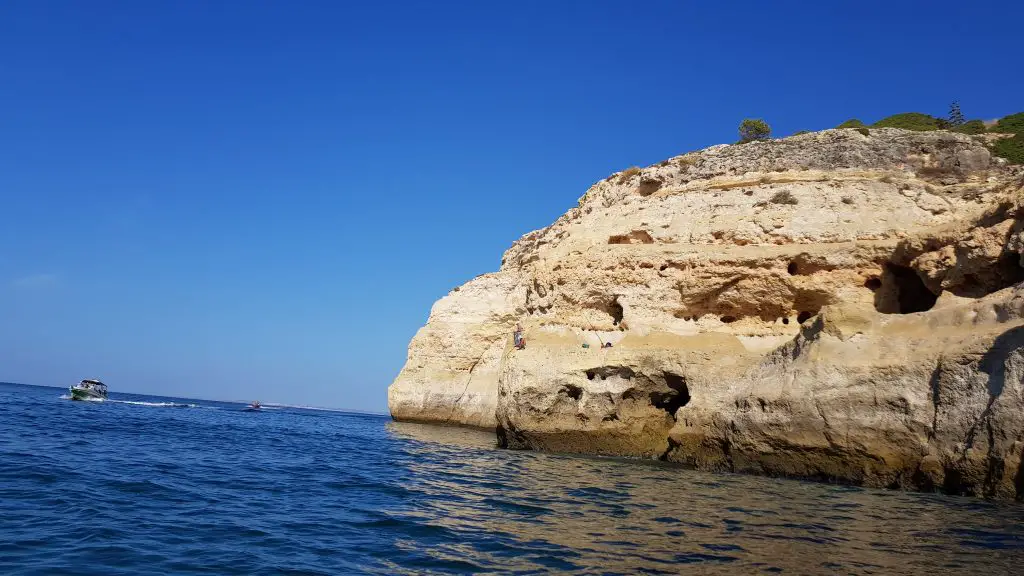 Make sure you reserve your ticket earlier as the guys as super busy in the high season. All you have to do is booking online a spot for a specific day – you will pay on the day of your trip but make sure you take cash with you!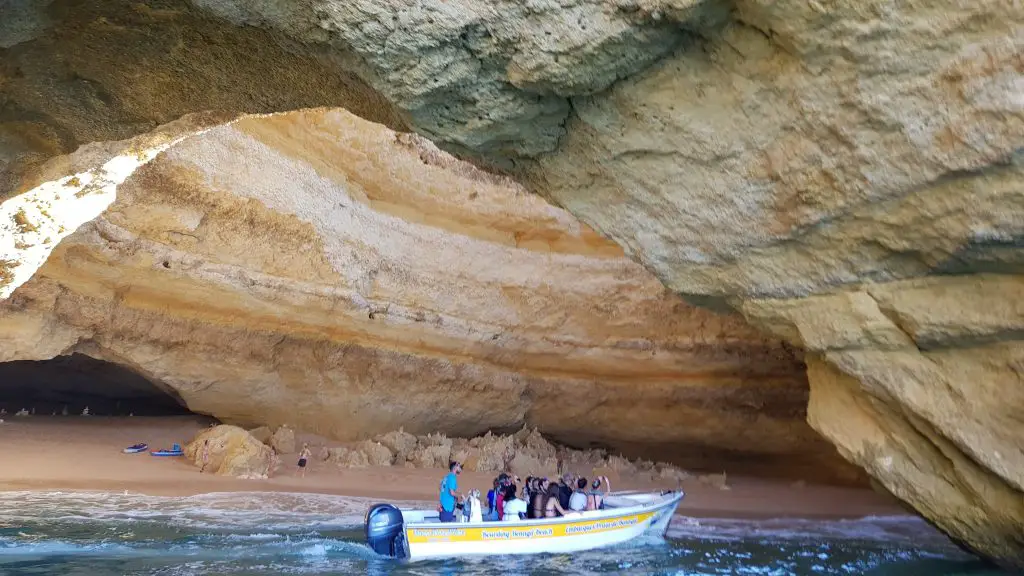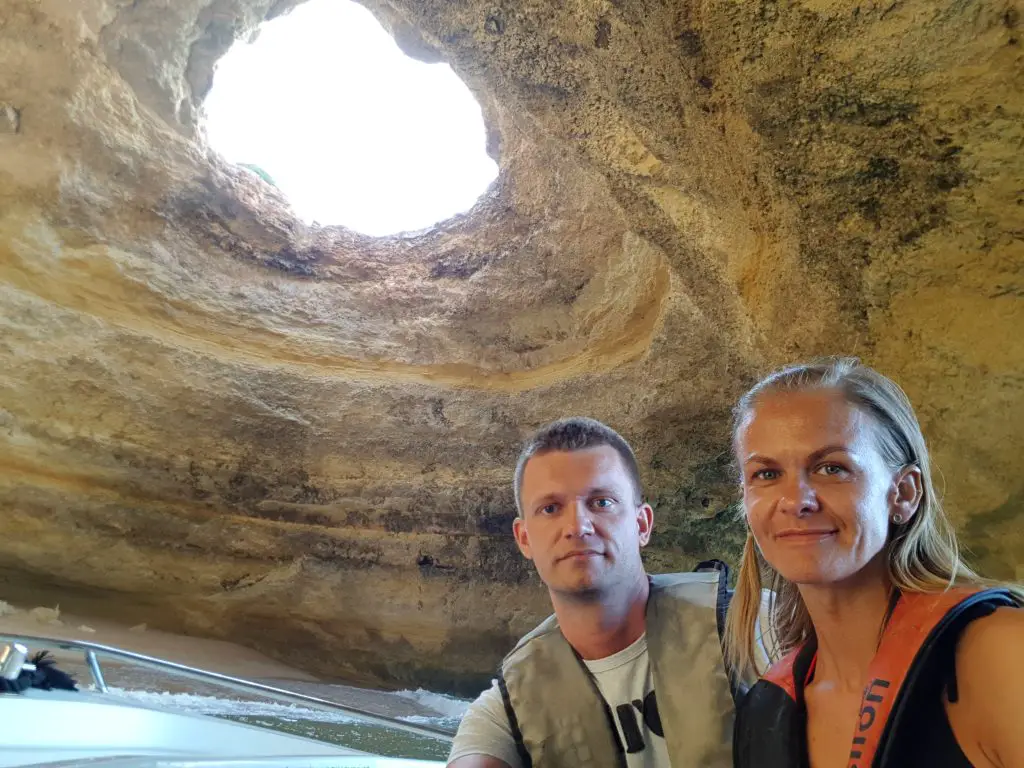 12. Costa Vicentina
Costa Vicentina is a 100-kilometre long coastal strip stretching from the border with Alentejo in the north to Cape St. Vincent. Thanks to its protection by Parque Natural do Sudoeste Alentejano e Costa Vicentina, it avoided the invasion of investors and has kept his cosy atmosphere to this day.
Those who are looking for almost pristine beaches, high waves and traditional restaurants will certainly not be disappointed. It is definitely worth visiting Praia de Odeceixe – a stunning, extensive beach, which is flooded by the ocean from the west, and the Seixe River stops from the east.
Costa Vicentina is really one of the best areas to visit in Algarve and is a particularly popular place among surfers and paragliders – all due to the high waves.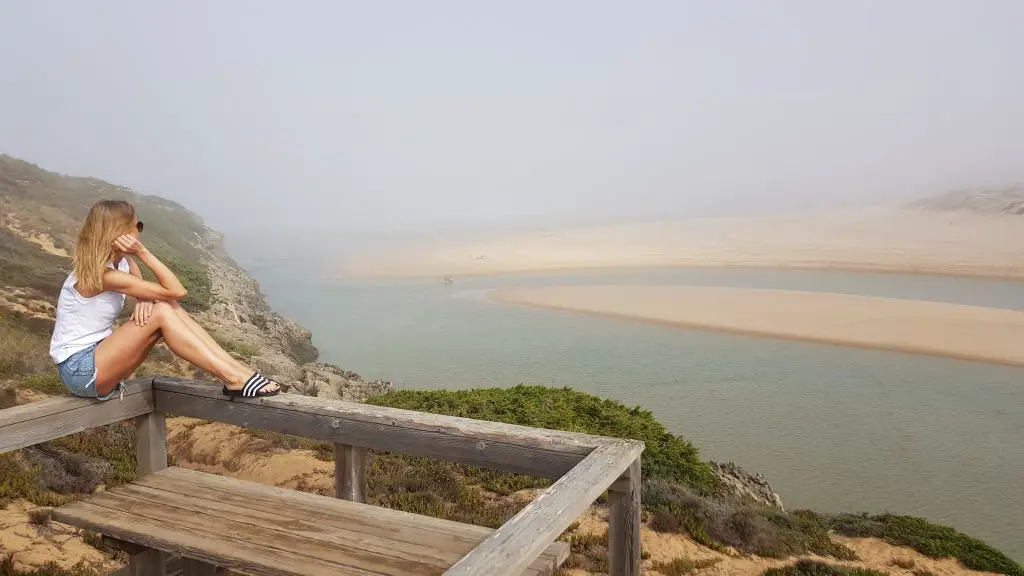 Where to stay in Algarve Portugal?
Whether you are planning a short break in Algarve or all-inclusive holiday in the south of Portugal, you will find a huge range of accommodation.
The hospitality is very advance in Algarve and you can find them one of the best resorts and hotels in Portugal.
In our opinion, Lagoa is the best area to stay in Algarve. It's located just in the middle of the region so will need max one hour by car to get to all the top attractions in Algarve. We have stayed in the Lagoa Hotel in Lagoa – yes, we know – they were not very creative with the name 😉 But we had a very nice duplex apartment with a parking space underneath and buffet breakfast! All at a very reasonable price.
As we always advise, check the latest deals and book your favourite type of accommodation 🙂 It's OK to book a 5* hotel in Algarve if you can afford 😉
Fun fact: Did you know you can wash your clothes at a bus stop?! 🙂 – we love Algarve 🙂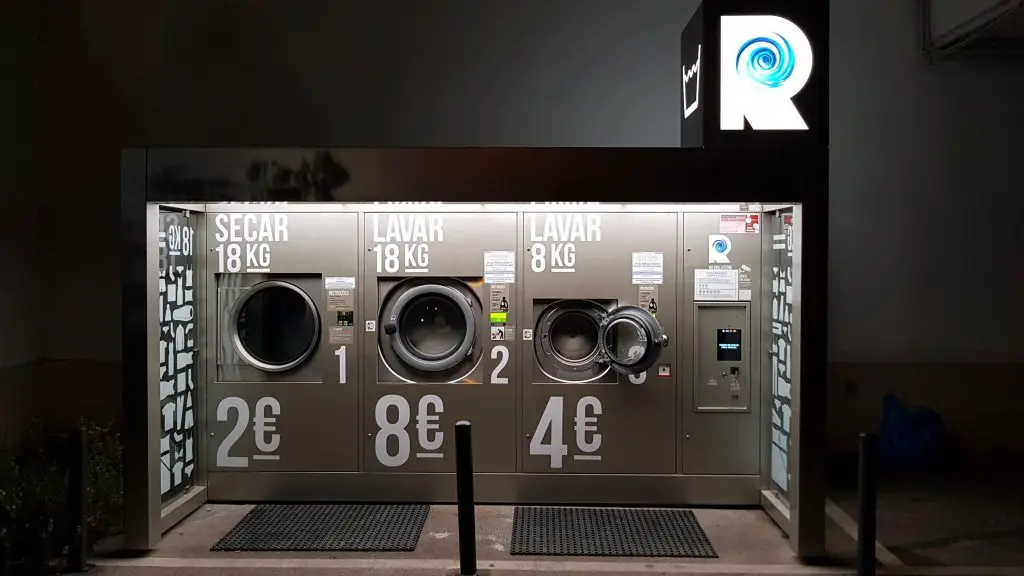 Don't forget to PIN me! 🙂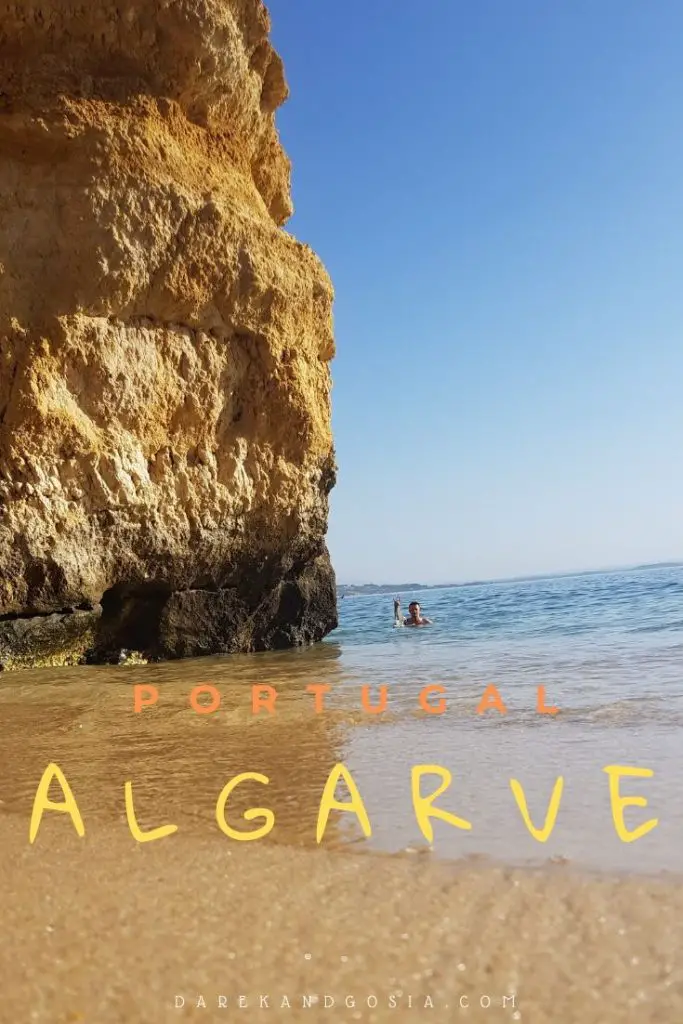 Articles you may like: