What to do in Malta? Read our guide to the best things to do in Malta & Gozo. Learn where to go on Malta island to see Malta's best points of interest!
Malta? But where is that country? Are there any interesting and unique things to do in Malta? With 7000 years of history, there are endless things to discover on the island of Malta. The country of Malta is an amazing little archipelago that sits just south of Sicily.
Visitors seeking sunshine and sea breeze love this European country as a perfect winter sun destination. Malta and its capital city Valletta are also one of the warmest holiday destinations in April in Europe. So, if you are looking for sun, beach, great food and history, Malta is your place to visit!
If you are looking for ideas for Europe long weekend breaks Valletta is a great option!
If you are from outside of Europe, you have probably never heard about this tiny country. And for sure, you wouldn't be able to point it on the map, right?
Not to mention, that you know the top points of interest in Malta and definitely don't have this European island on your travel bucket list – and that's a huge mistake! There are many interesting things to do in Malta, and as the country is very small, it's a perfect destination for a 3-4 day trip.
Malta, the EU's smallest member state and one of the smallest countries in the world, is located just in the middle of the Mediterranean. And only 93km from the south of Italy – you can even take a ferry from Sicily to Malta!
The country consists of three islands: Malta, Gozo and Comino – it's worth to visit all of them 🙂
What is Malta famous for? Before we went to the island, we created a list of the best things to do in Malta. But as you will learn, we haven't managed to see all of them. Malta is a great European winter-sun destination, but sometimes the weather wins and you can't do anything about that 😉
Can you do Malta in 3 days?
Yes, it is possible to explore Malta in 3 days, but keep in mind that you will have limited time to see all the attractions and experience everything the country has to offer. Here's a suggested itinerary for a 3-day visit:
Day 1:
Start your day by visiting Valletta, the capital city of Malta. Explore the historic center, including St. John's Co-Cathedral, the Upper Barrakka Gardens, and the Grandmaster's Palace.
In the afternoon, take a ferry to the neighboring island of Gozo. Visit the stunning Azure Window (if it is still standing, as it collapsed in 2017), the Cittadella, and the Ggantija Temples.
Return to Malta in the evening and enjoy a dinner at one of the local restaurants.
Day 2:
Spend the day exploring the ancient city of Mdina, often referred to as the "Silent City." Walk through its narrow streets, visit the St. Paul's Cathedral, and enjoy the panoramic views from the bastions.
In the afternoon, head to the Blue Grotto, a series of sea caves renowned for their vibrant blue waters. Take a boat tour to admire the natural beauty of the area.
Visit the nearby fishing village of Marsaxlokk, known for its colorful traditional fishing boats called "luzzus." Explore the local market and enjoy fresh seafood for dinner.
Day 3:
Start your day by visiting the megalithic temples of Hagar Qim and Mnajdra, which are UNESCO World Heritage sites. These temples date back to prehistoric times and offer insights into Malta's ancient history.
Head to the picturesque fishing village of Marsascala, where you can relax on the beach, enjoy some water activities, or explore the charming harbor area.
In the afternoon, visit the Three Cities (Vittoriosa, Senglea, and Cospicua) and wander through their historic streets. Don't miss the opportunity to visit Fort St. Angelo and the Malta Maritime Museum.
End your day by experiencing Malta's vibrant nightlife in Paceville, a popular entertainment district in St. Julian's.
This itinerary is just a suggestion, and you can customize it based on your interests and preferences. It's recommended to plan your time wisely and prioritize the attractions that appeal to you the most.
Where to stay in Malta?
There is no shortage of amazing places to stay during your holiday in Malta. Please see below some of the TOP hotels we have selected for you:
"Offering a seafront location, overlooks Marfa Bay and features 2 seawater outdoor pools, Thalasso Spa and fitness centre, as well as 4 restaurants and 4 bars. All designer rooms have a balcony or terrace, and free WiFi is available throughout."
"Just 450 yards from Mgarr Harbor, the Grand Hotel offers rooftop dining in summer and a pool with uninterrupted views of the island of Malta. This hotel has free WiFi throughout and large rooms with satellite TV."
Need more inspiration? Find a hotel in your favourite part in Malta.
This is our list of Malta's top points of interest:
Explore the best places to visit in Malta and top Malta points of interest:
What are the most unique things to do in Malta island?
1. Fly to Luqa, Malta
How to get to Malta?
The best way is by plane – there are many direct flights to Luqa from different airports all over Europe.
If you plan to rent a car, please note that you will have to rent from the Luqa airport – NOT Valletta city! The capital is located around 8km from the airport.
And btw, renting a car in Malta is a must! There are way too many things to see in Malta & Gozo and you don't want to miss them! 🙂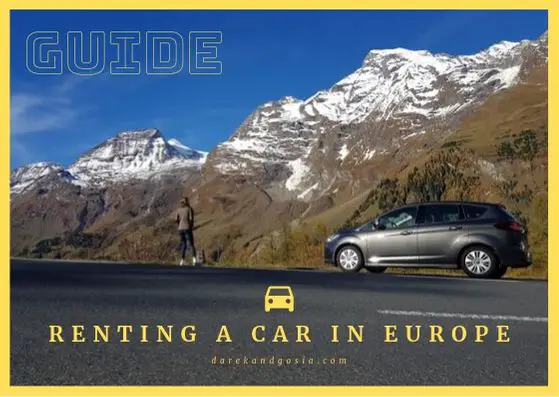 2. Visit Ħal Saflieni Hypogeum, Malta
Best places to visit in Malta? Did you know that the Hypogeum was first opened to visitors in 1908? WOW – that's over 100 years ago! Since then, it has been visited by many thousands of people.
And that's a huge problem!
As all of them had an impact on the delicate micro-climate of the archaeological site. Nowadays there are daily limits for visitors. The site is open 8 hours a day and only 10 visitors are allowed in per each hour.
Make sure you book your ticket in advance. Otherwise, it will be very difficult to get a ticket on the same day. We didn't do that and were not able to purchase the ticket on the site… I know – a rookie mistake! 😉
Ħal Saflieni Hypogeum really is one of the best points of interest in Malta.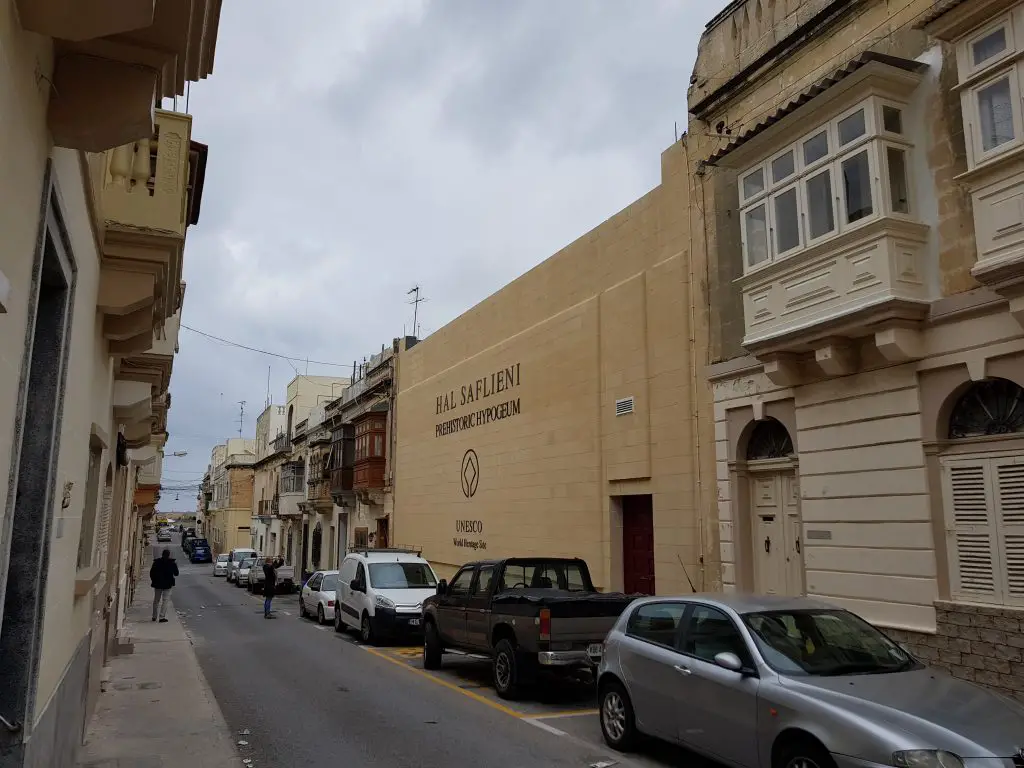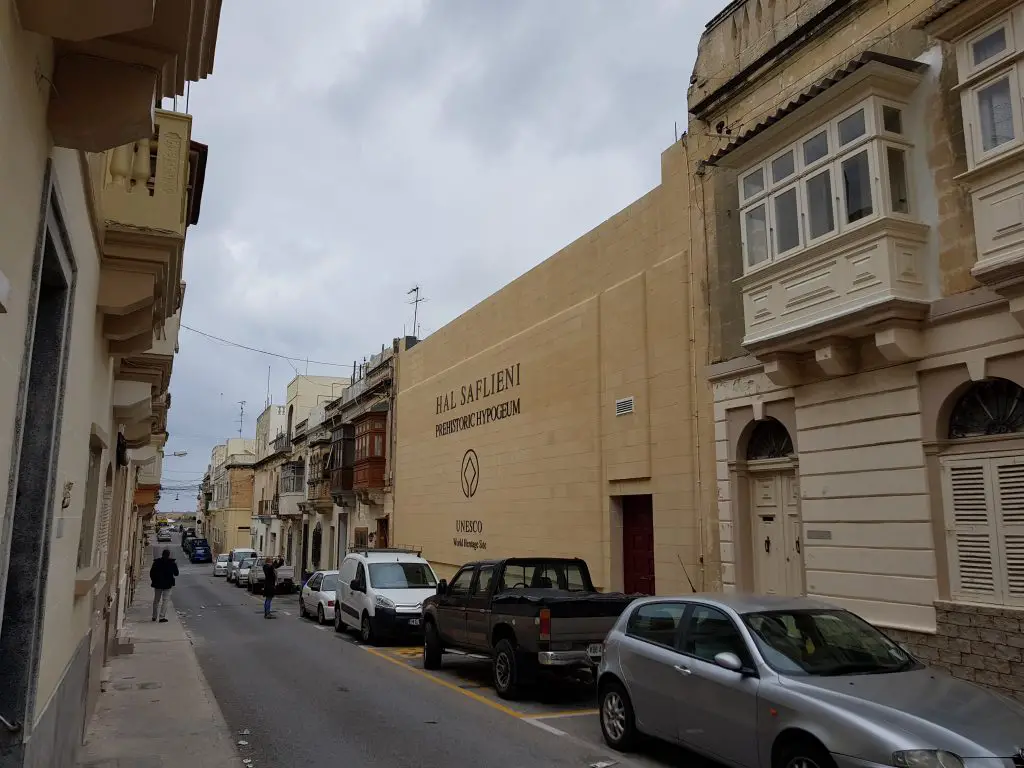 3. Take a colourful picture in Marsaxlokk, Malta
What to do in Malta? This small fishing village is one of the most charming villages in Europe – a must-have on your bucket list! Who wouldn't like to take a picture with many colourful boats in the background? 🙂 This is a top place to see while visiting Malta!
The Sunday Marsaxlokk Market, located next to Marsaxlokk Parish Church, is a very popular tourist attraction. So, if you fancy buying a freshly caught fish or seafood – this is a place for you. It is one of the most unique villages to visit in Europe.
If smelly fish is not your thing, you can buy many local products like fruit jams and honey. Or just go for a cup of coffee to one of many cafes. We couldn't forget to shout out Marsaxlokk as one of the best points of interest in Malta, could we?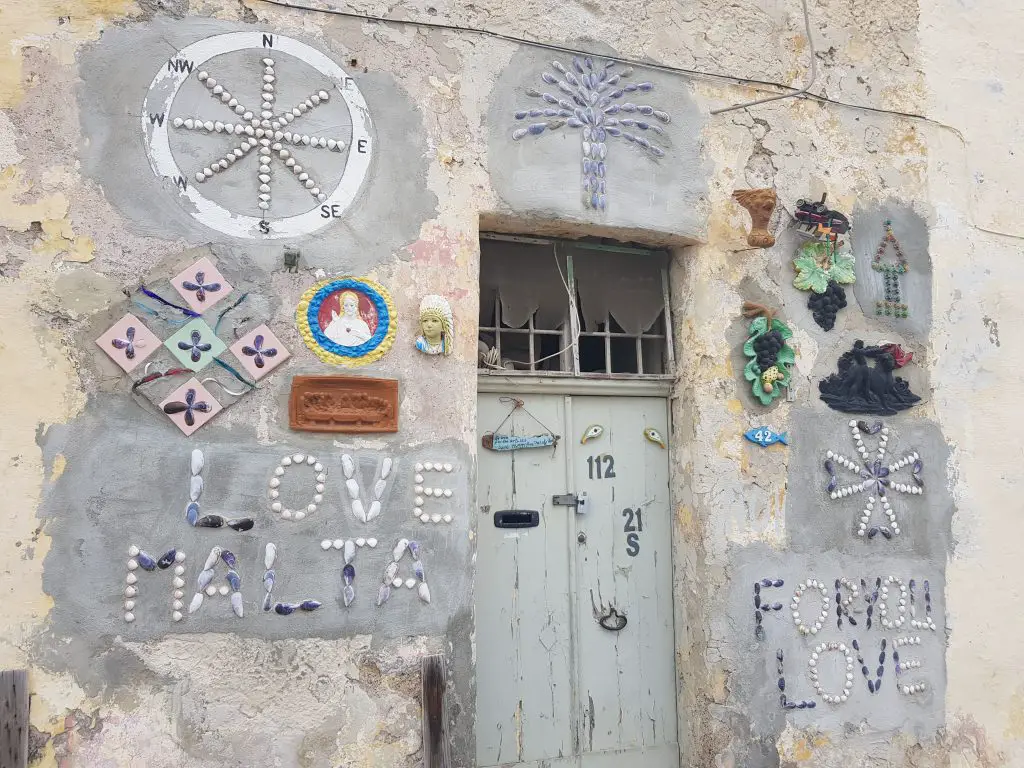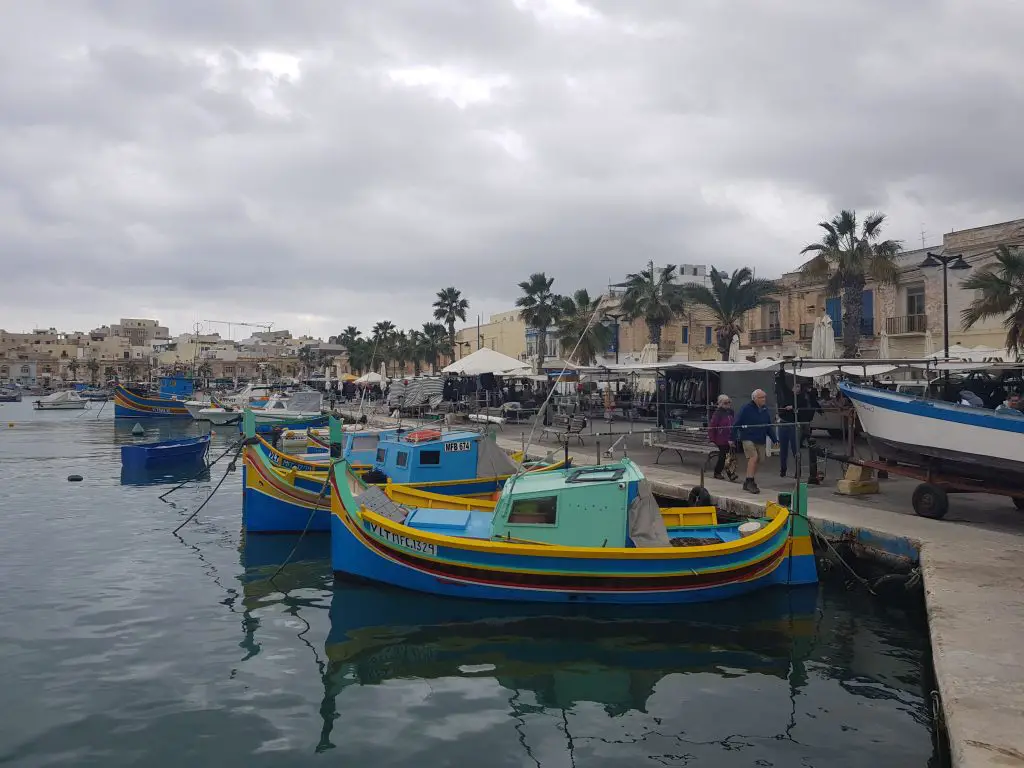 4. Visit St. Peter's Pool, Malta
What to see in Malta? This wonderful natural swimming pool is a must-see when visiting the Marsaxlokk area. It's located only 10min drive from the beautiful fishing village. You can also take a half an hour walk if you fancy 🙂
The stunning deep-blue water and natural limestone rocks create an unforgettable landscape – one of our favourite spots on the island!
There are no amenities nearby so take some snacks and water if you plan to spend a few hours over there. Is a natural swimming pool in the top of things to do in Malta? You will be blown away by how beautiful this place is and really is one of the best points of interest Malta has to offer.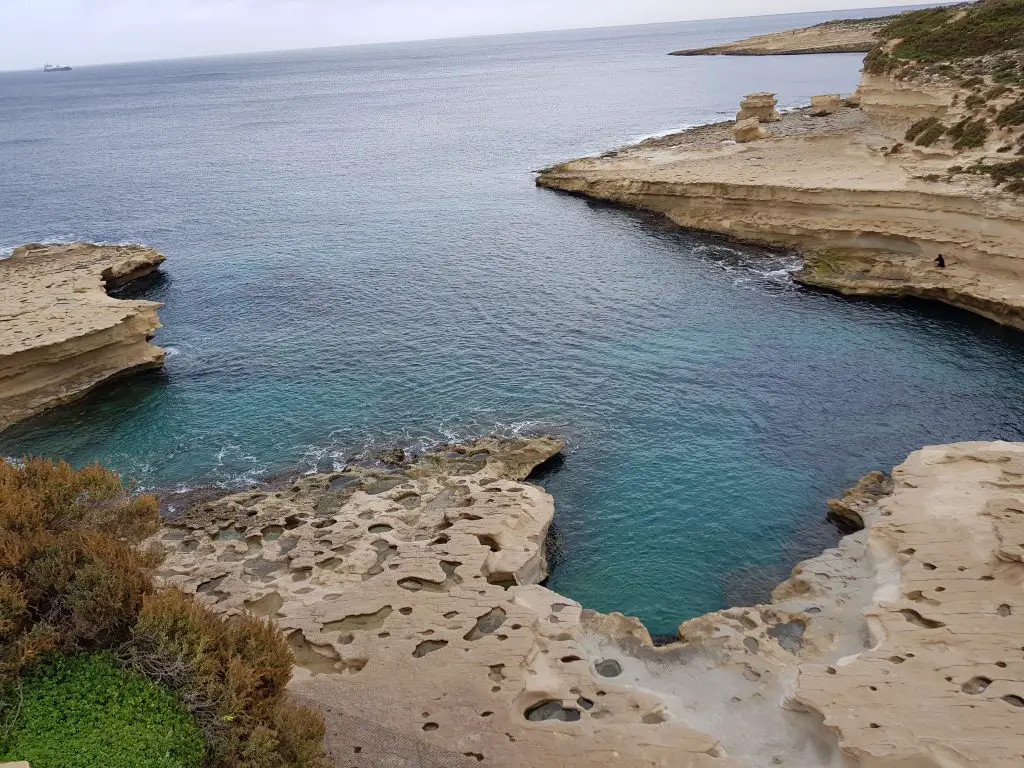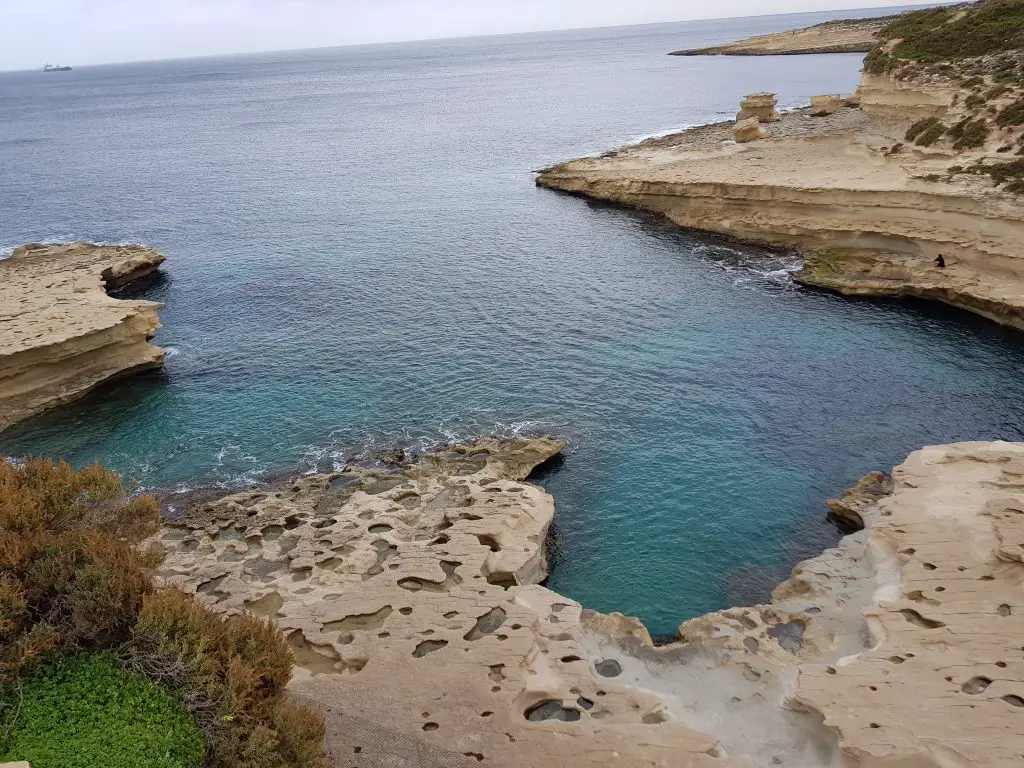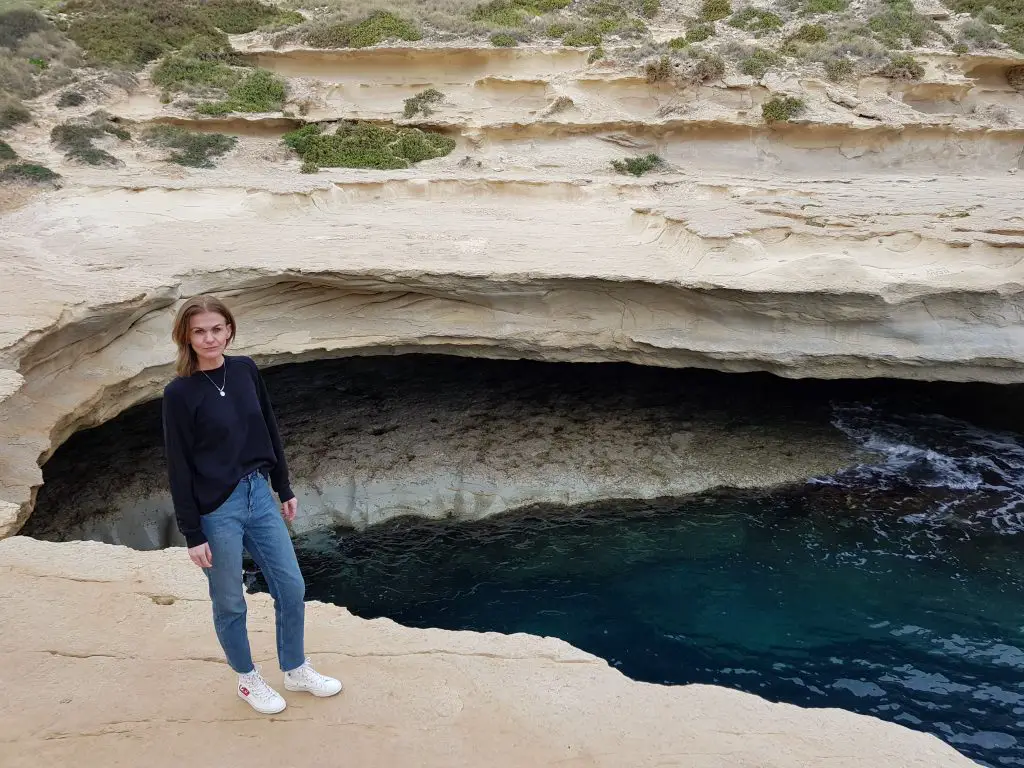 5. Admire the views from Il-Gardjola Gardens in Senglea, Malta
Best place to see Valletta's waterfront? Il-Gardjola Gardens of course!
Well, it's not a garden really but the views from there towards Grand Harbour and Valletta are second to none.
You can really enjoy the scenery in peace and quiet. But be prepared that it will be extremely windy in winter months. Still, worth to spend an hour watching the yachts come and go.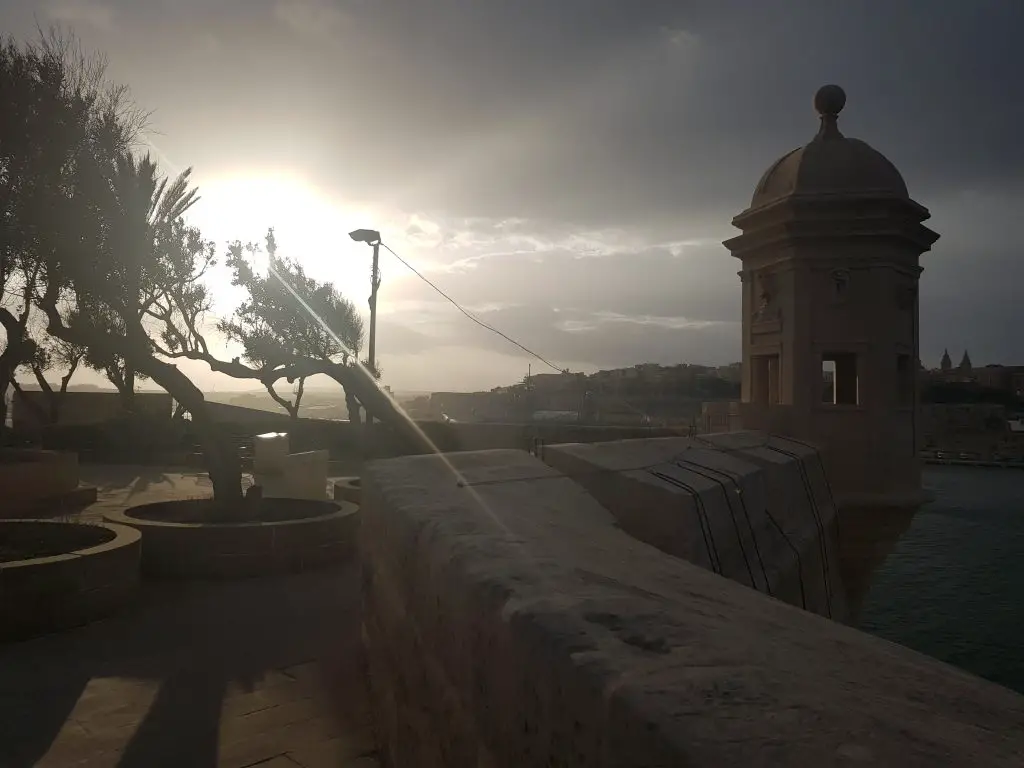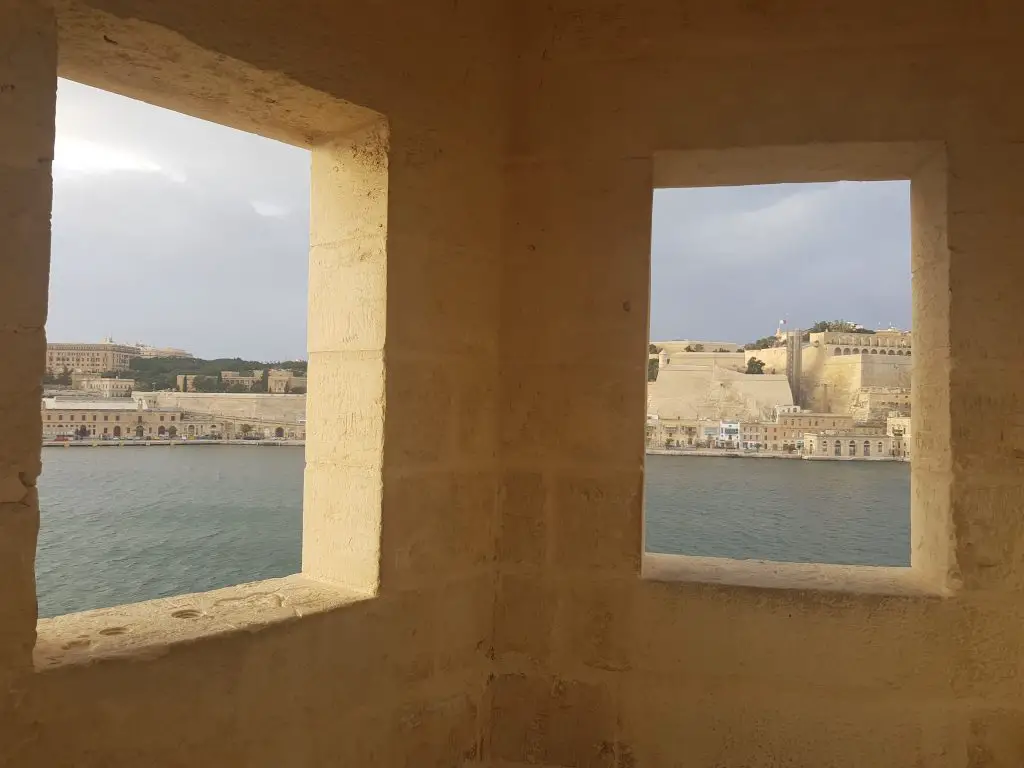 6. Go to Blue Lagoon, Comino
Top places to see in Malta? Many people say that the Blue Lagoon in Comino is the most beautiful place in the Maltese islands.
Can we confirm that? NO…
… as we didn't see it 😐 – Unlucky, as with our trip to Capri…
If the Blue Lagoon is your top place to see while visiting Malta, then do NOT go there in winter! The trips to the lagoon rely heavily on the weather. And the weather in winter is very unpredictable. As winter is a low season in Malta, the locals will not take any risk to do a boat trip when it's windy and the sea is rough.
We only saw the Blue Lagoon from the ferry and plane – I guess, we must come back to Malta one day! 🙂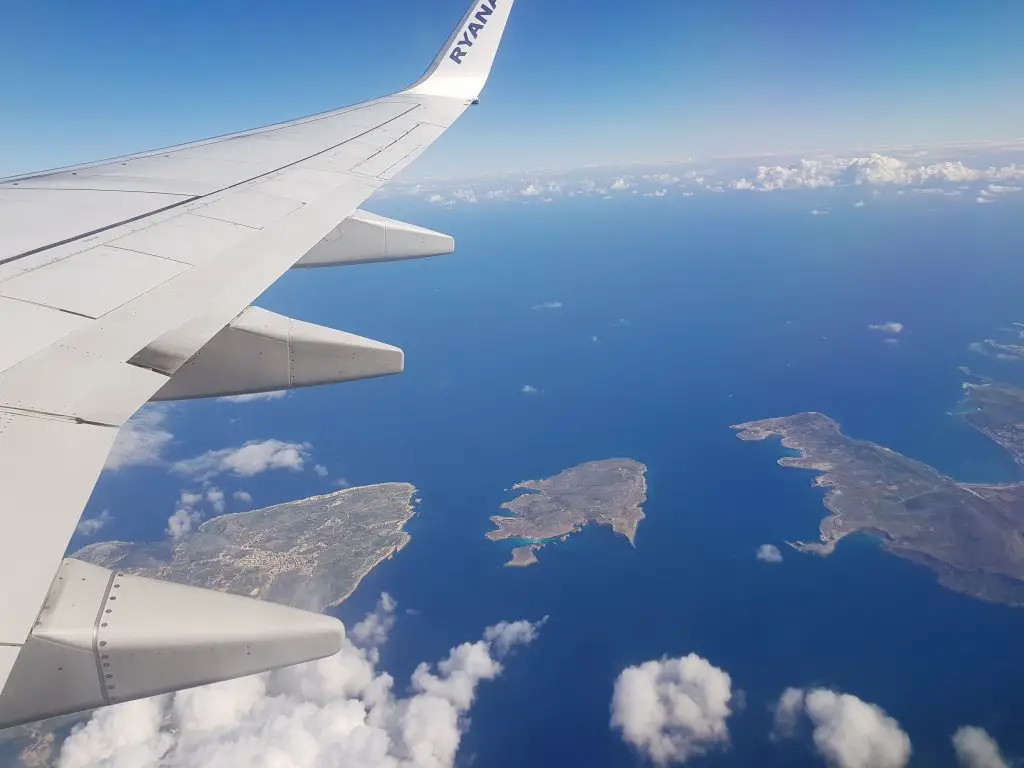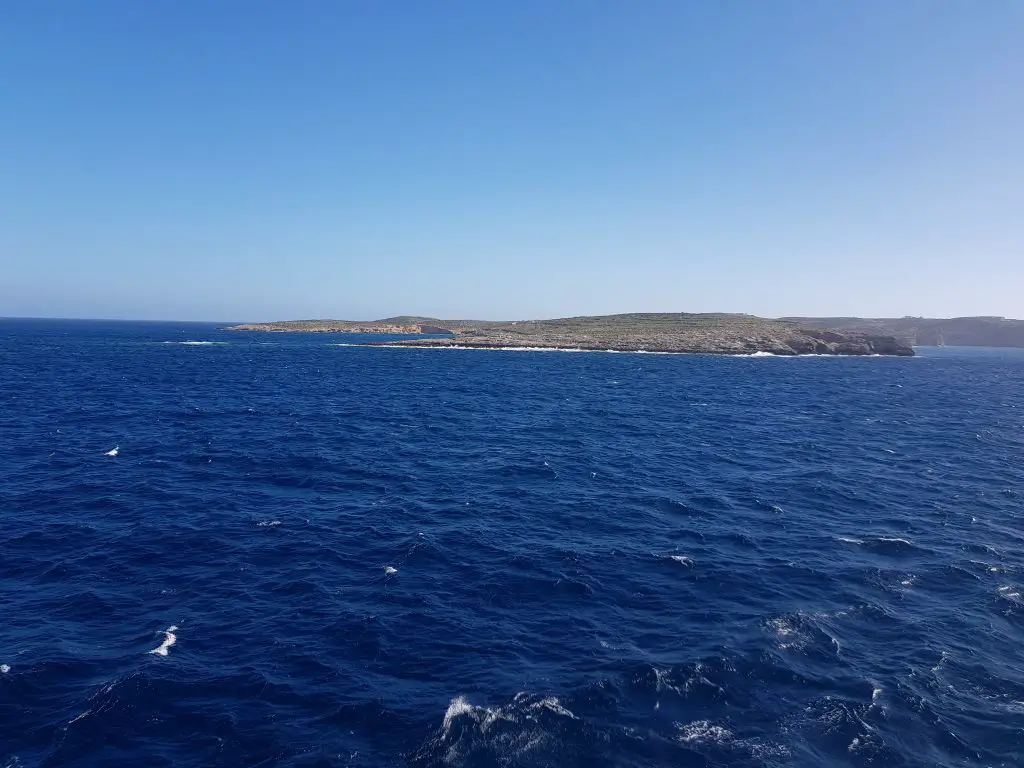 7. Take a ferry to Gozo
What to see and do in Malta? In order to visit Gozo, you will have to take a ferry from Cirkewwa. No idea why, but you buy your ticket only on the way back from Gozo. The ferry takes approx. 25 min and you can check the latest schedule and prices here.
You can take your rented car on the ferry (the fee will be higher) but do note that you will have to queue for a bit. The ferry is used by the locals to travel between the islands, so it can be busy at pick hours – make sure you plan your day with this in mind.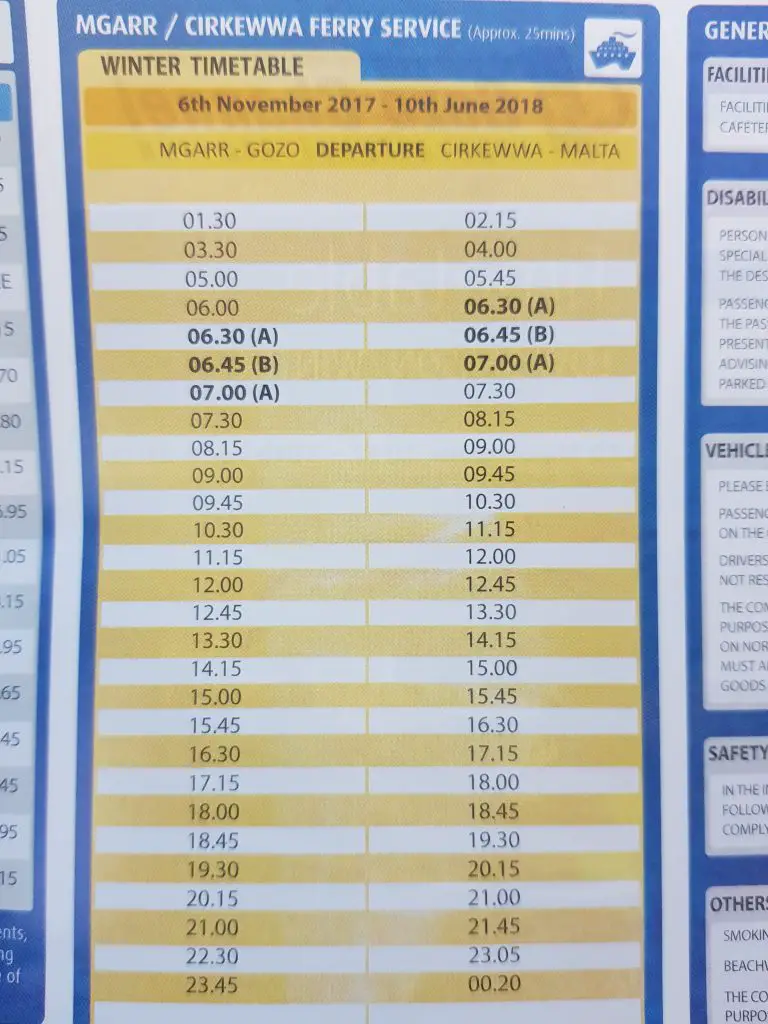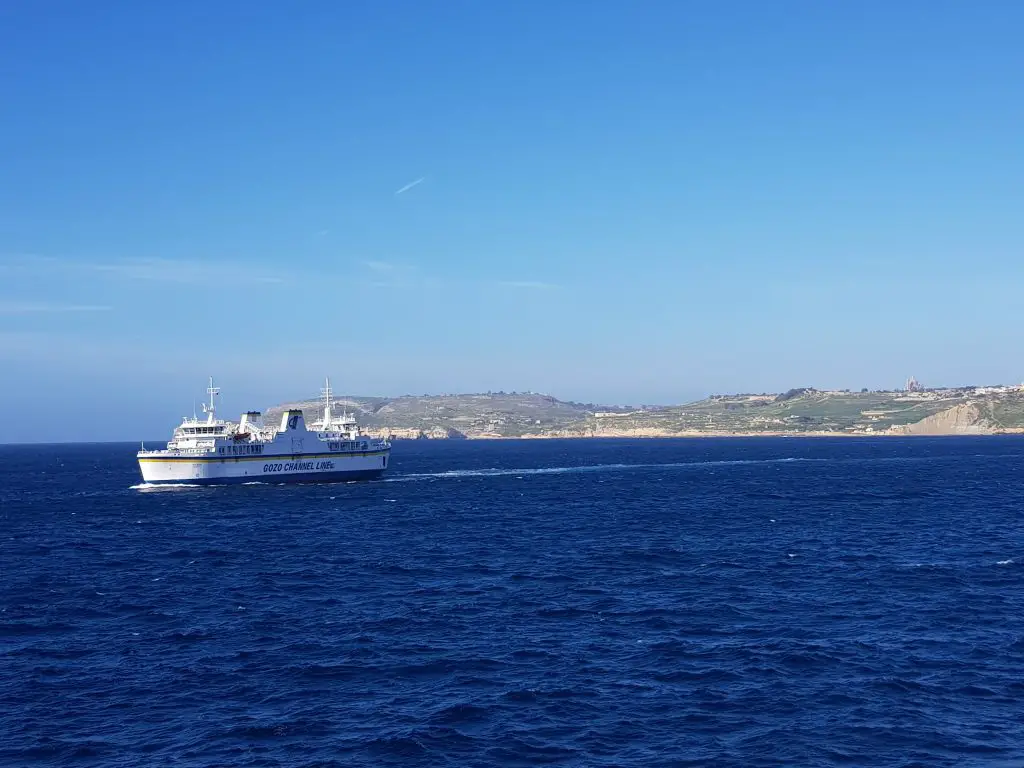 8. Go to Xlendi Beach for a hike, Gozo
Where to go in Malta? If you have a spare couple of hours on Gozo, definitely go to Xlendi Beach. The cliffs and massive caves are absolutely stunning! It's a very popular spot in summer for diving and snorkelling.
If your main goal is to do snorkelling in Gozo you are in the perfect place!
Never tried before? No problem! Just make sure you get the right equipment (like wetsuits and scuba masks) and you are good to go. You will be amazed by this experience 🙂
Outside of the high season, you can take a walk along the cliffs, where you will have wonderful views out over the ocean and few amazing rock formations on the shore. A superb place for photography!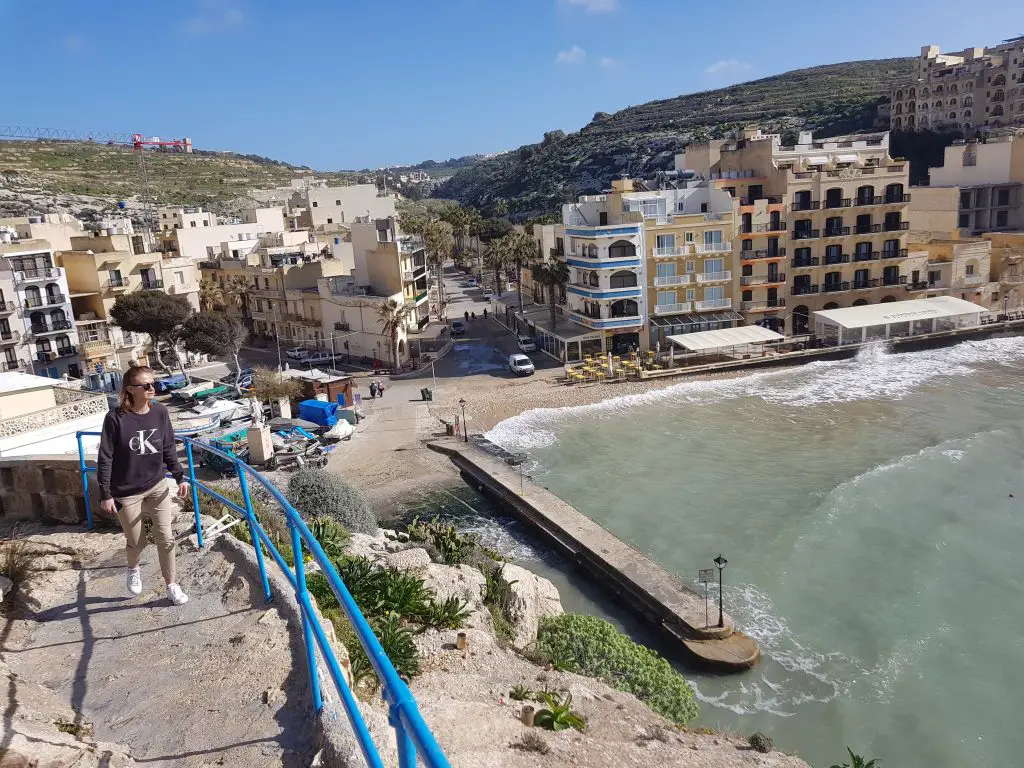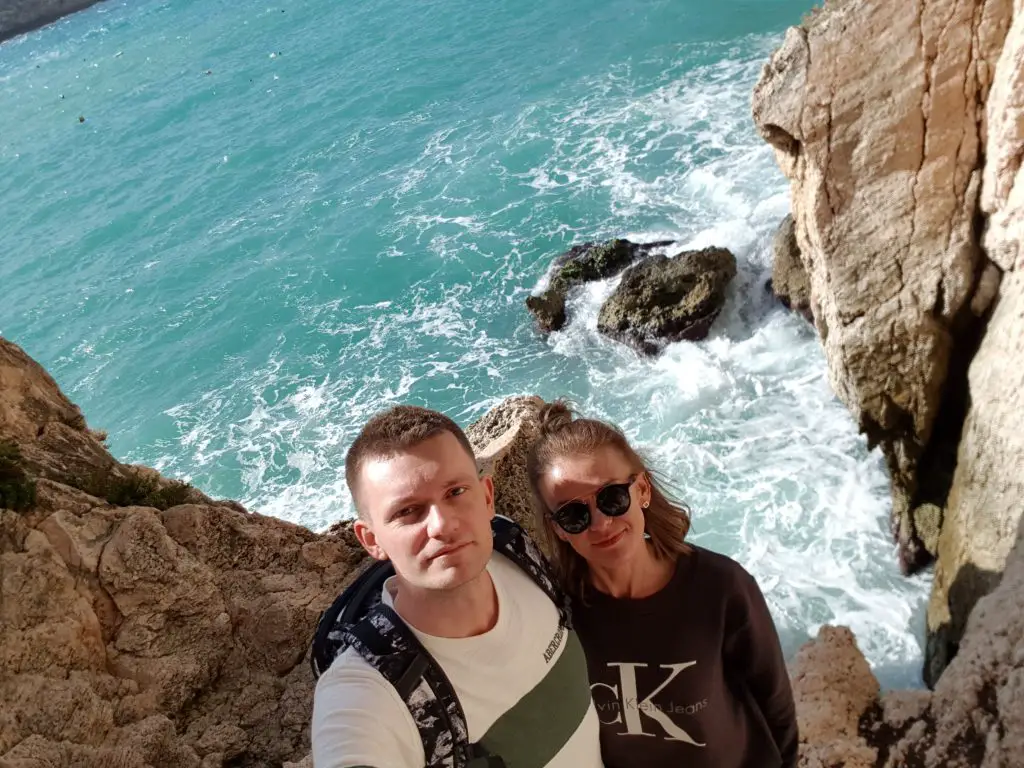 9. Visit Blue Hole and Azure Window, Gozo
Top places to see in Malta? Azzure Window in Dwejra Point is one of the obligatory points on Gozo. Well, it used to be… until it collapsed in 2017. The tad-Dwejra was one of the island's most popular attraction. It was a natural limestone arch, which developed through see and rain erosion over a period of around 500 years!
The Blue Hole is located just next to the place where the Azure Window once stood. It's a world-class dive site, so if you are a big fan of scuba diving – this is a place to go! A must-have on your bucket list to do in Malta & Gozo.
Unfortunately, we also didn't see the Blue Hole 😐 due to weather conditions – it was very windy, and the sea was very rough. Too many massive waves to see the Hole.
But hey, it was still worth to visit this amazing location – the surrounding scenery is just breathtaking! (see the pictures below) No wonder it was used as a setting for several films, including Games for the Throne. This is one of the top things to do in Malta, or Gozo to be precise 🙂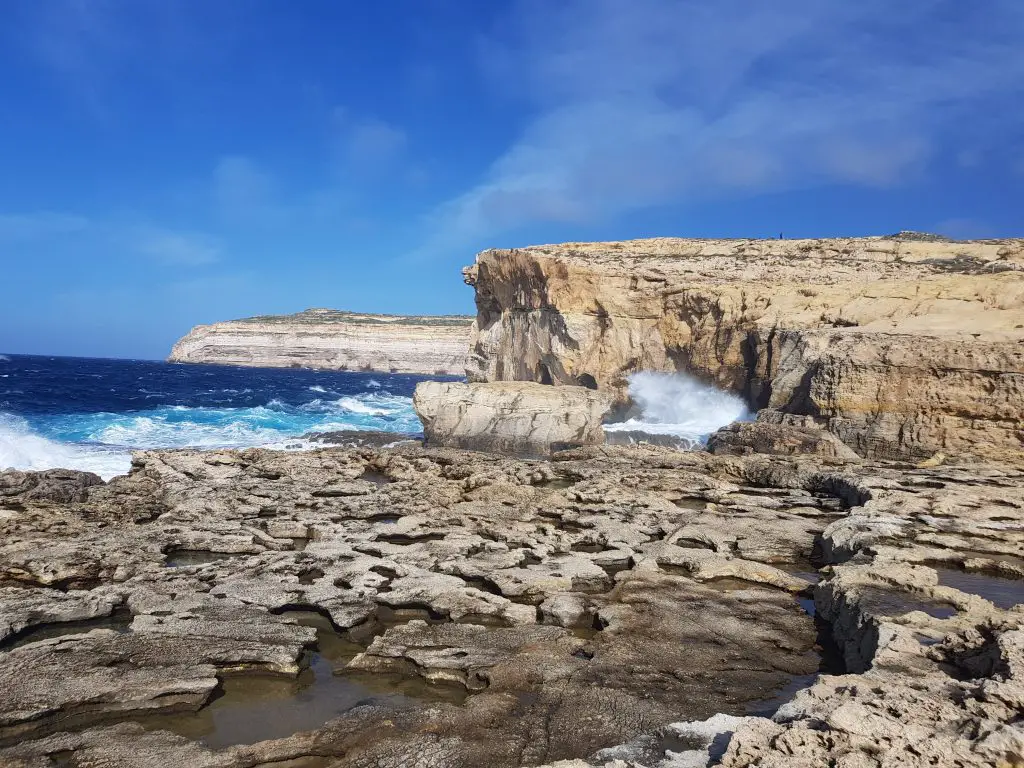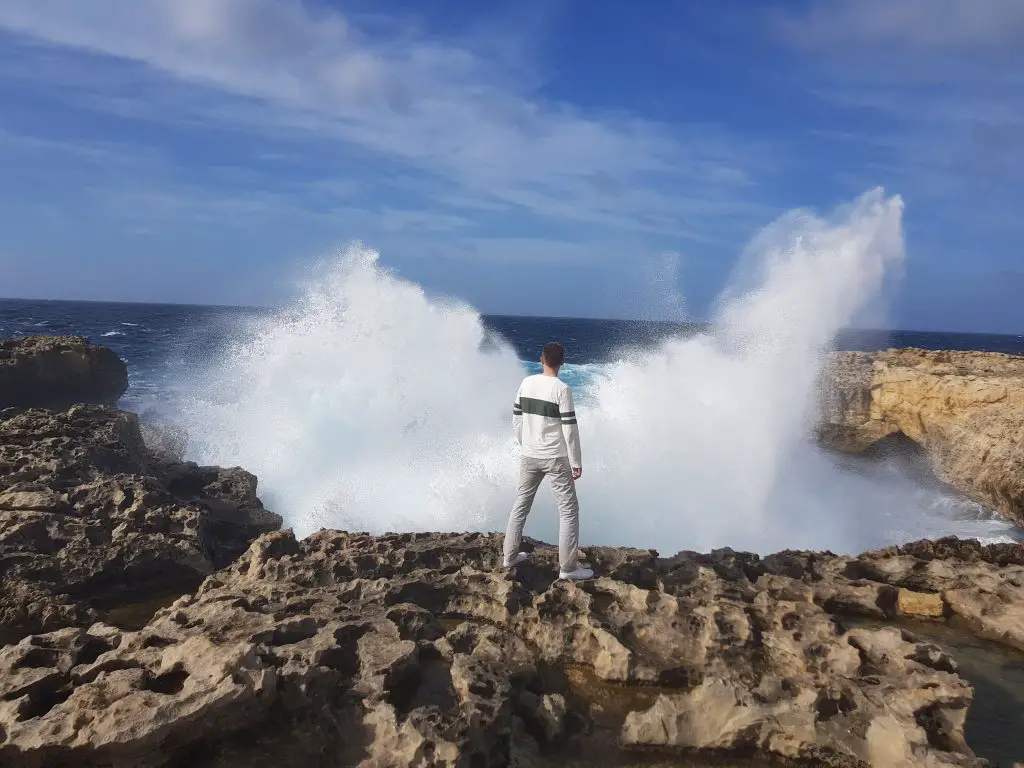 10. Go to Ramla beach, Gozo
Must see places in Malta? Malta's best beach – without a doubt! We absolutely loved the orange/red-ish colour of the sand. Ramla Beach is one of the most stunning beaches in Europe!
The beach is located on the northern side of the island of Gozo and it's called by the locals a "Ramla il-Ħamra" which reflects the colour of the sand.
We fell in love with the beach straight away and it's really up there with the top points of interest in Malta.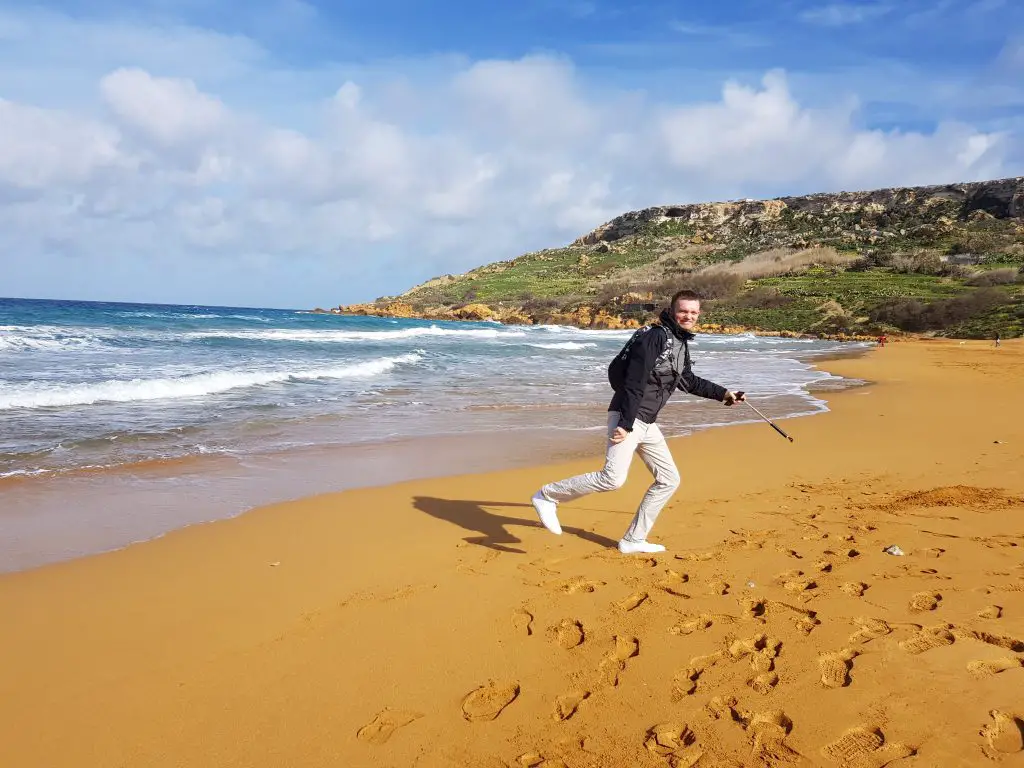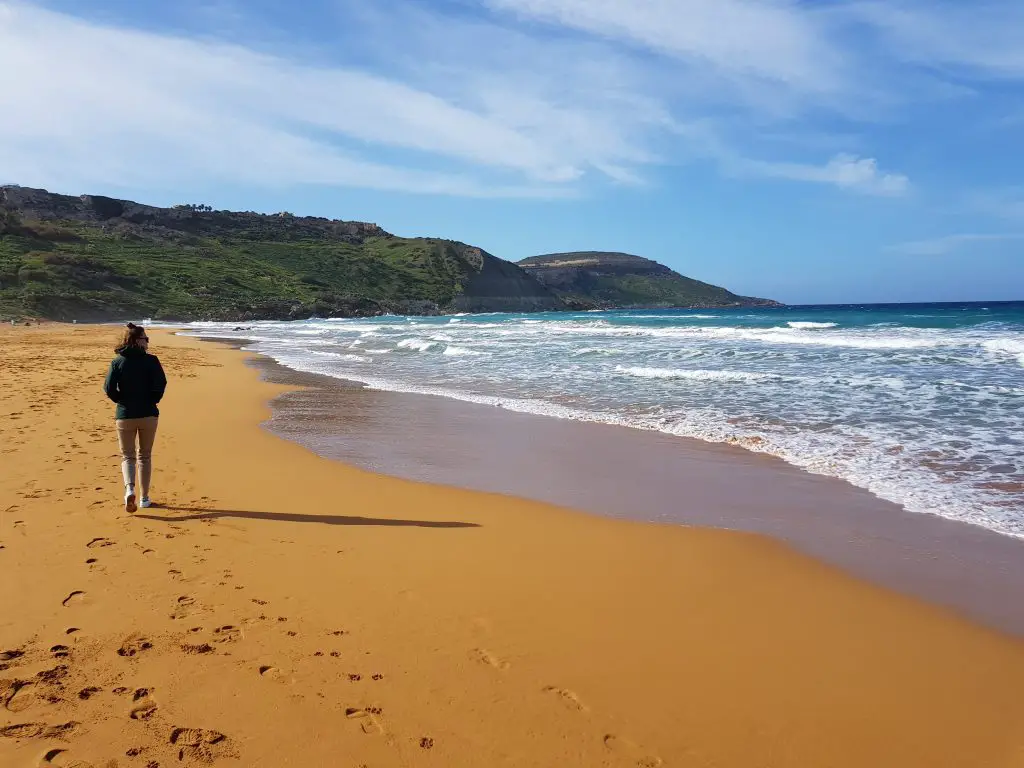 11. Admire the cost line in Ħondoq ir-Rummien, Gozo
Looking for best things to do in island of Malta? One of Gozo's hidden gems! An amazing place to escape from the crowd, just look at the pictures below! The scenery is amazing, and the crystal clear, azure water – stunning!
Great as your starting (or last) point on the day trip to Gozo.
Not loads of parking so go early, however not a problem in winter months 🙂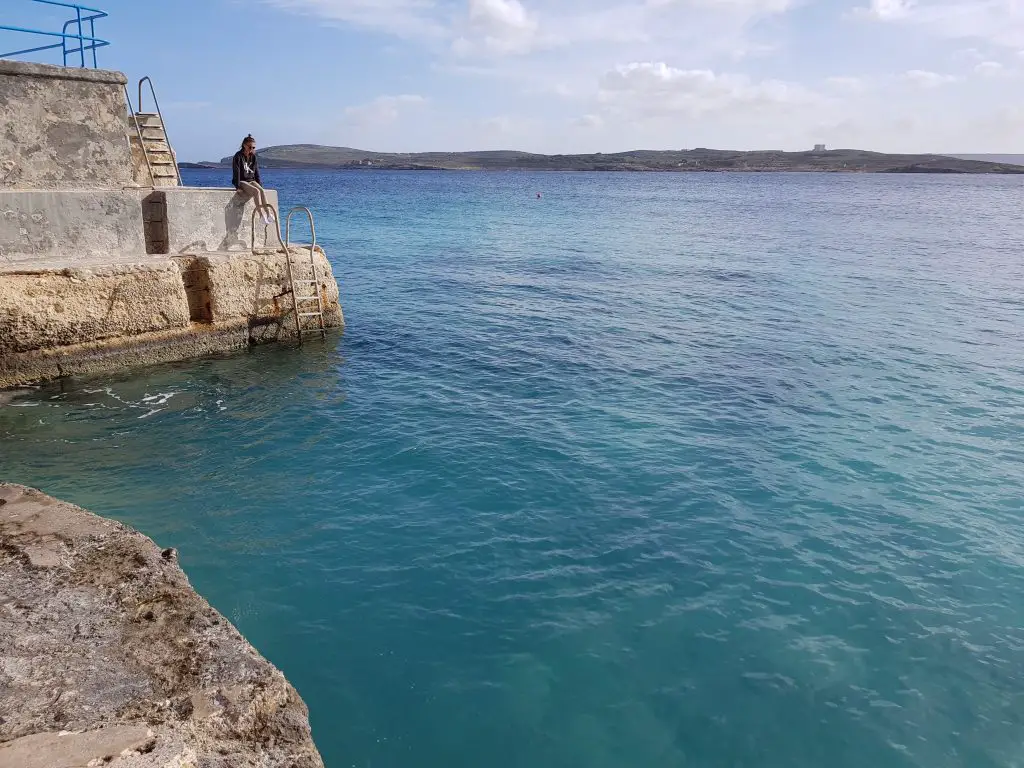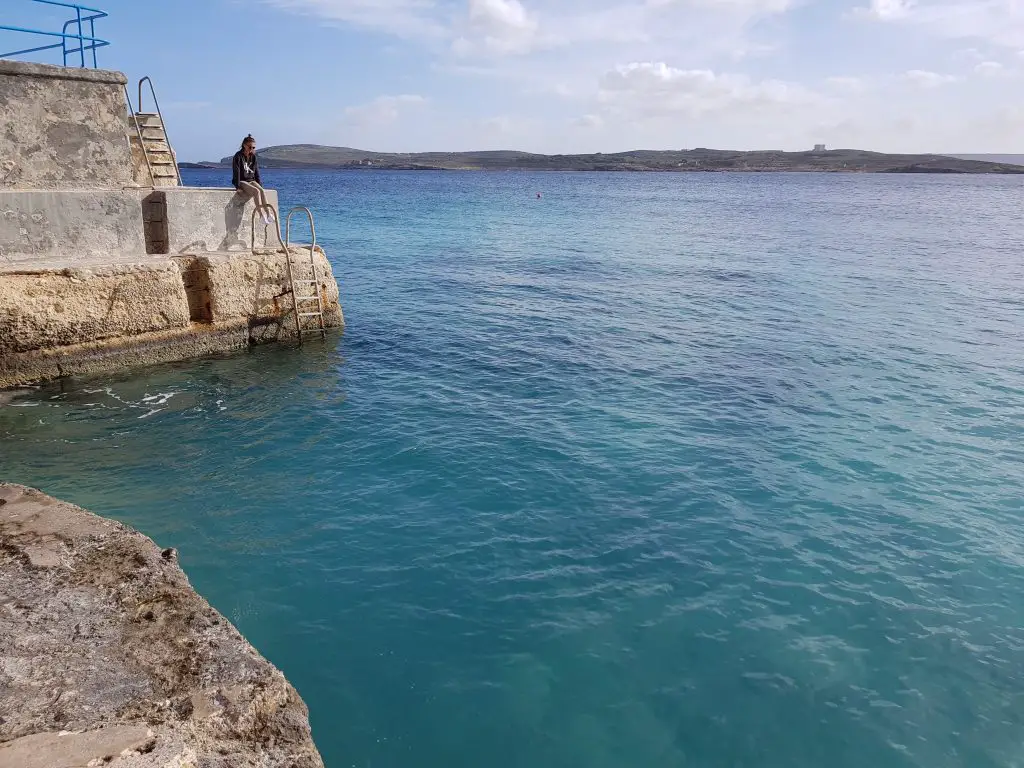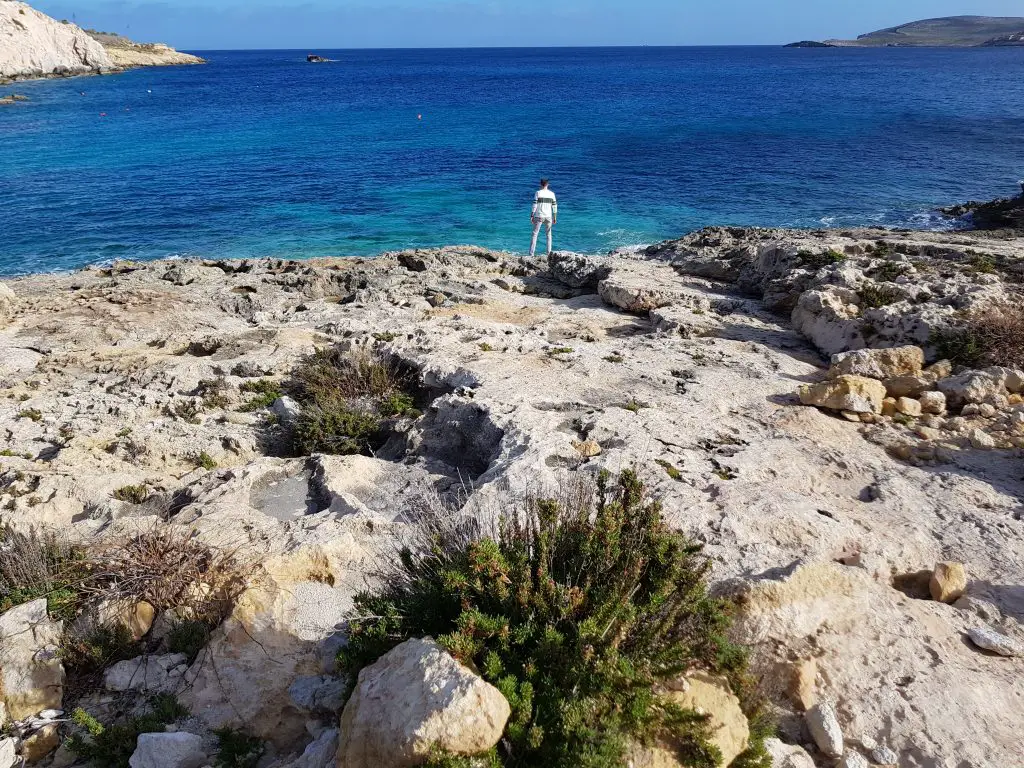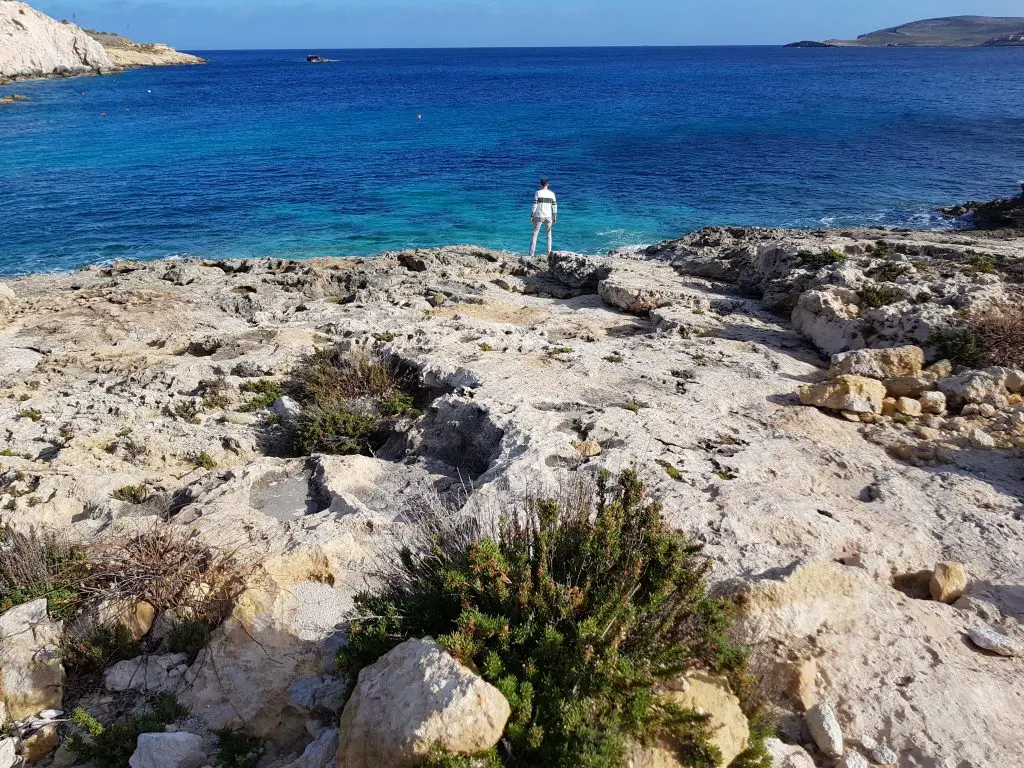 12. Visit Valletta at night, Malta
Don't take us wrong – Valletta is a great city to visit during the day – but you can see its true beauty after the sunset 🙂 It's one of our favourite cities in Europe and possibly one of the top 3 points of interest in Malta!
Valletta is one of Malta's main points of interest and to us, one of the most romantic cities in Europe. So, what to do in the capital city:
– Upper Barrakka Gardens is one of your top spots to visit and things to do in Valletta – just look at the amazing view from this viewing point – one of top Valletta points of interest!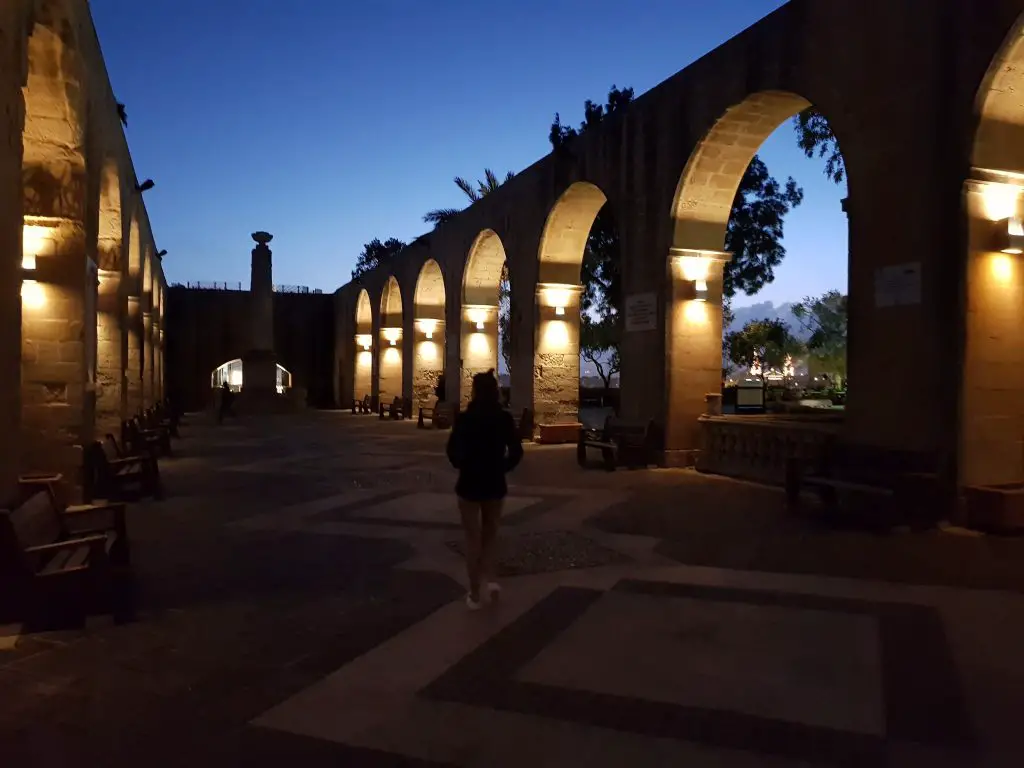 – The Saluting Battery – OK, if you would like to see the gun firings, you would have to visit this place earlier in the day (for a Noon-day Gun at 12 pm or Evening Gun at 4 pm).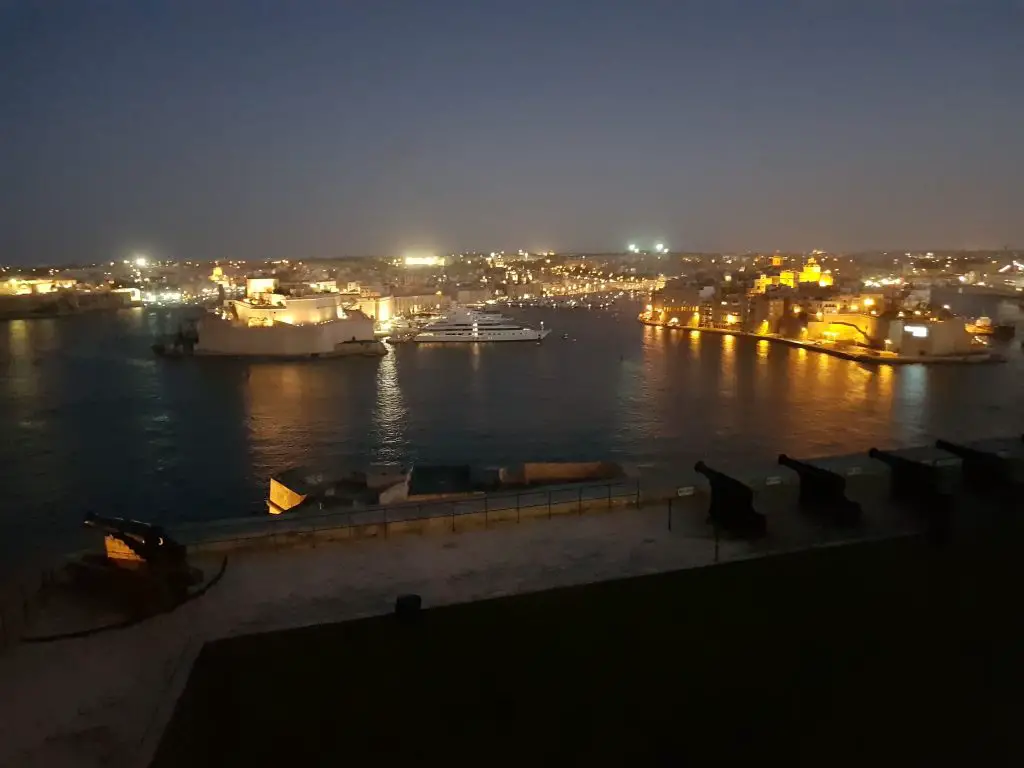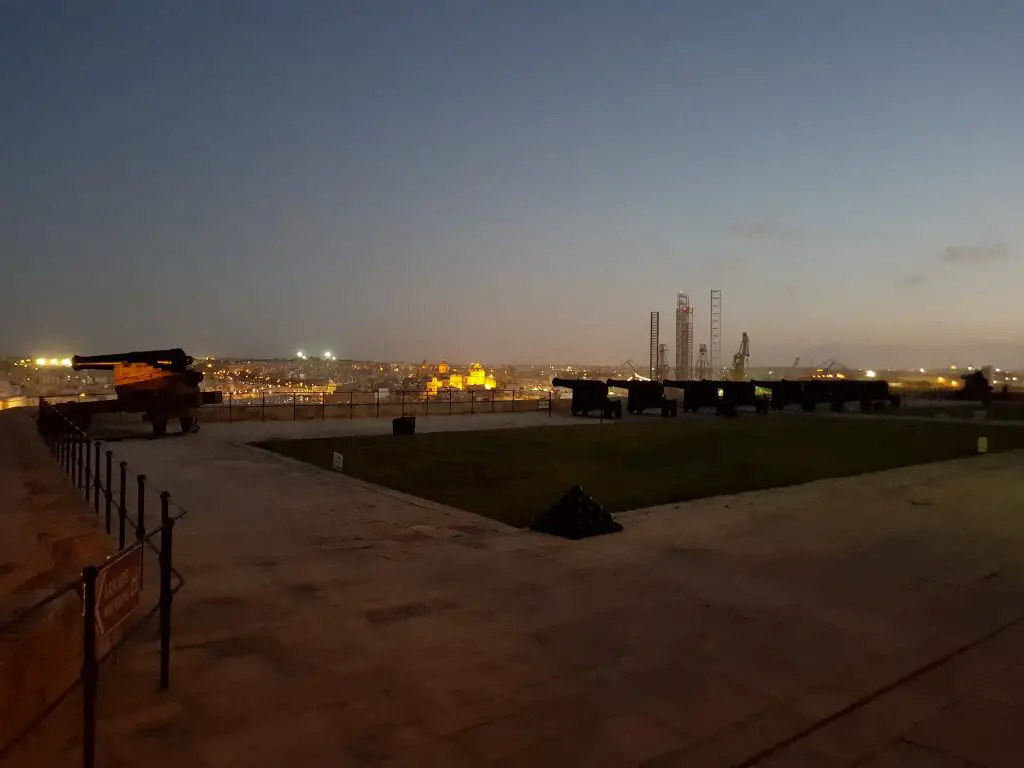 – Watch the colourful Triton Fountain, one of the most iconic landmarks in Malta. It's located just outside of the Valletta's City Gate.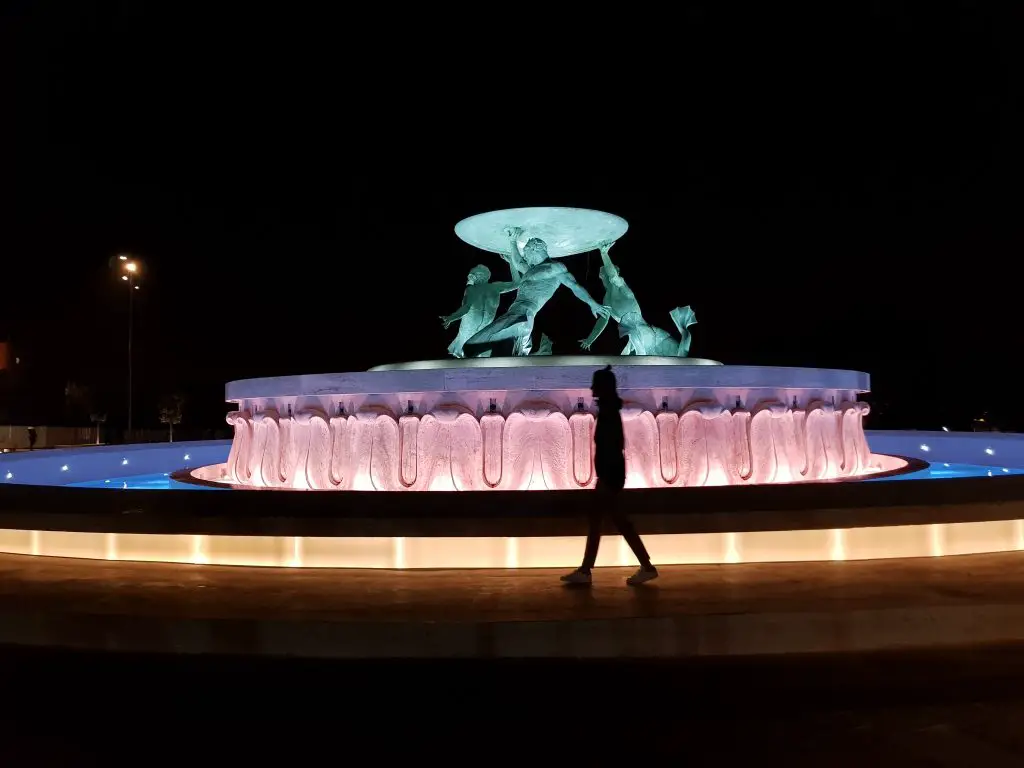 – Just walk through Valletta's little streets and admire old buildings.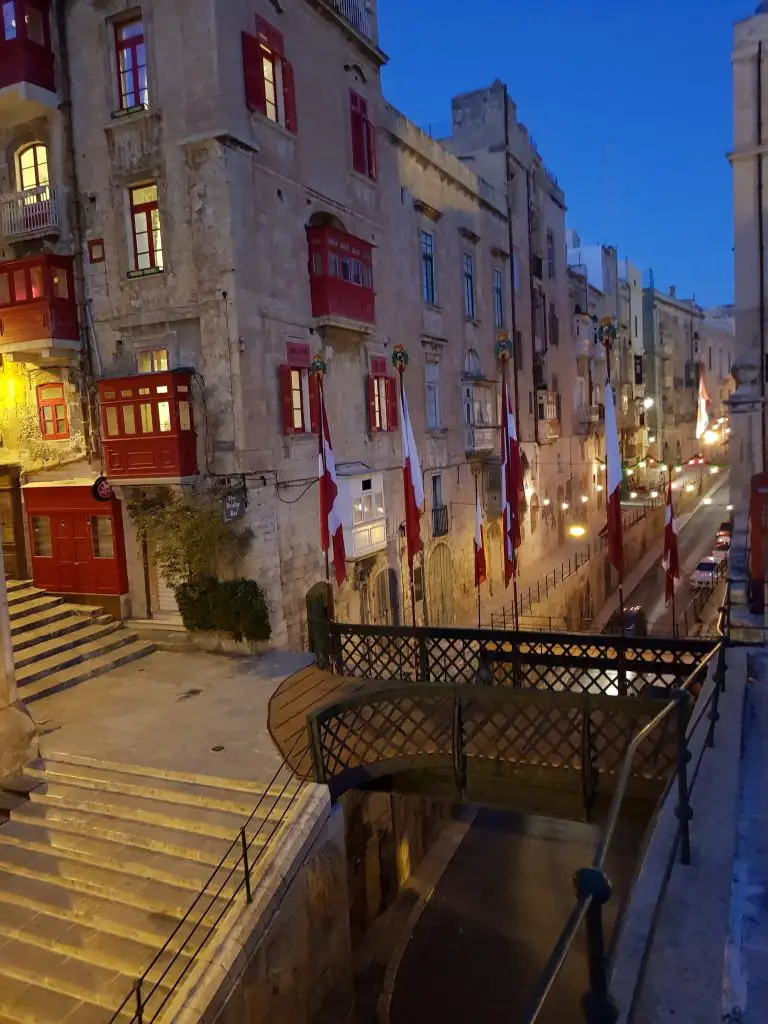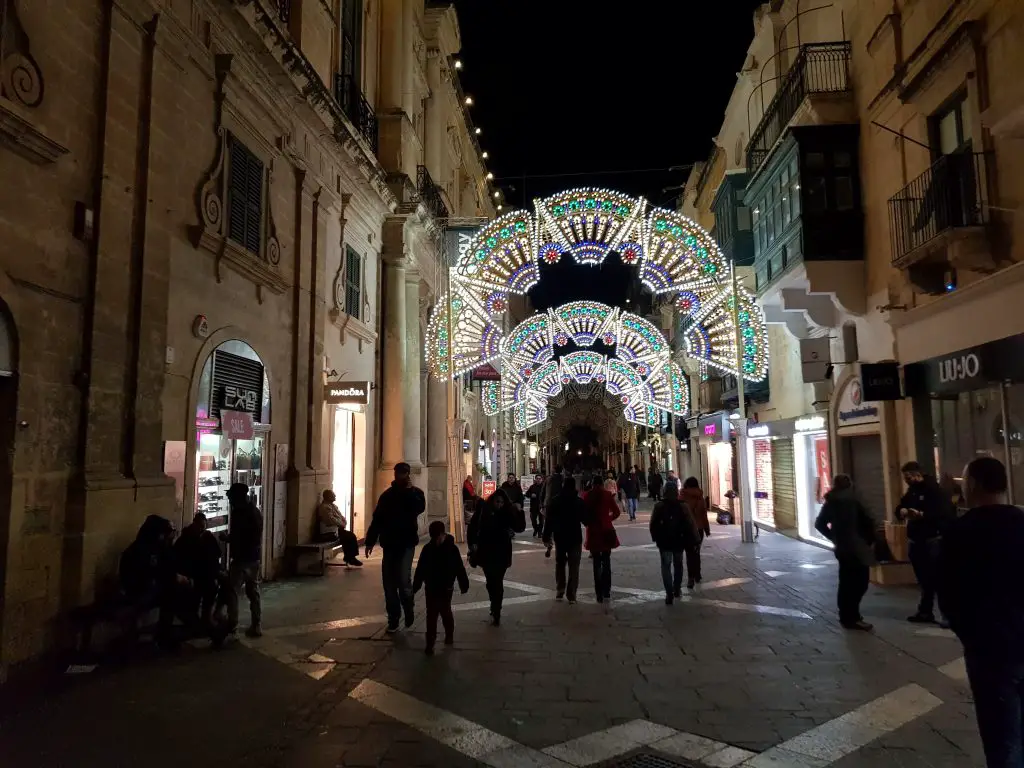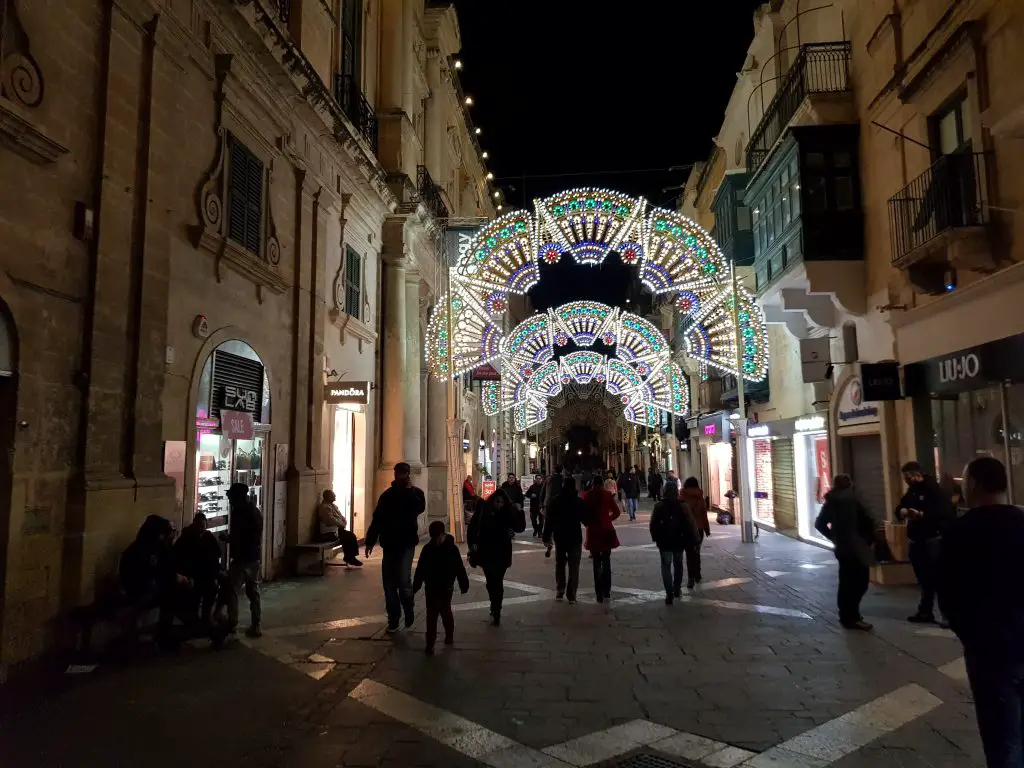 – Watch the sunset from the waterfront and admire the panoramic view of the Grand Harbour.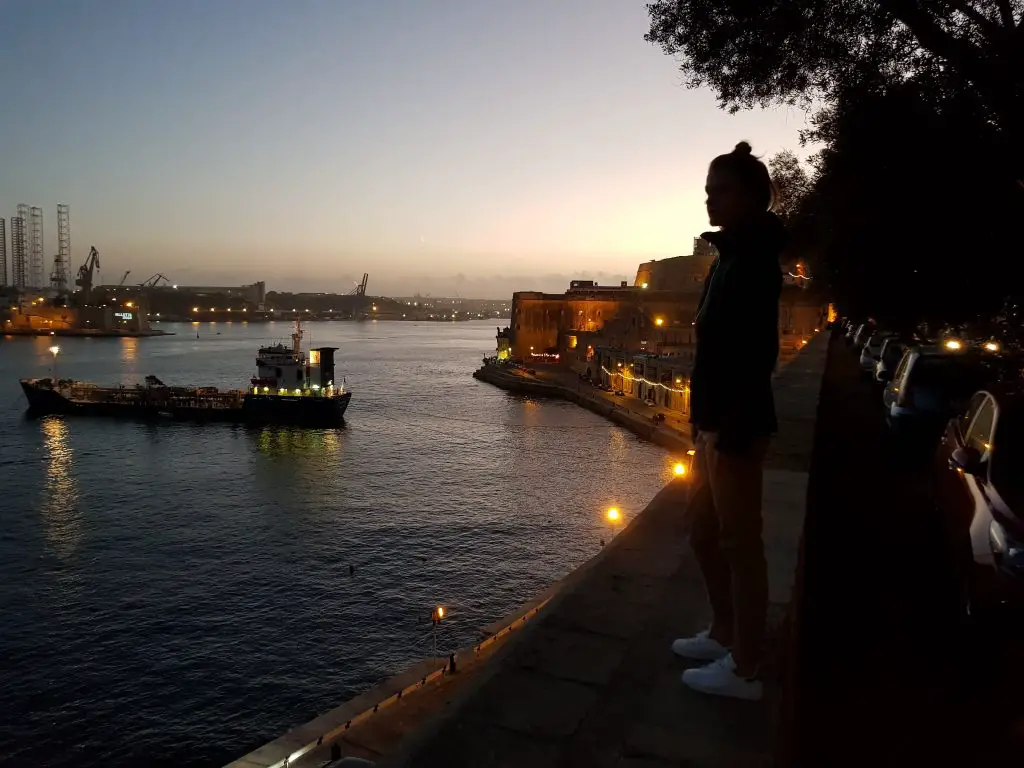 13. Spend some time at Coral Lagoon, Malta
Best places to go in Malta? If you are a fan of caves (btw. have you visited the best cave in Europe – Algar de Benagil in Algarve?) make sure you add this one to your list of things to do in Malta!
The water in Coral Lagoon is clear blue – no wonder that it's very popular with divers exploring the underwater caves.
The only way to access the lagoon is from the water level, so if you are visiting Malta is summer months do rent a kayak and explore the Coral Lagoon.
Unfortunately, it's not possible to do that in winter. But you can still admire its beauty from above 🙂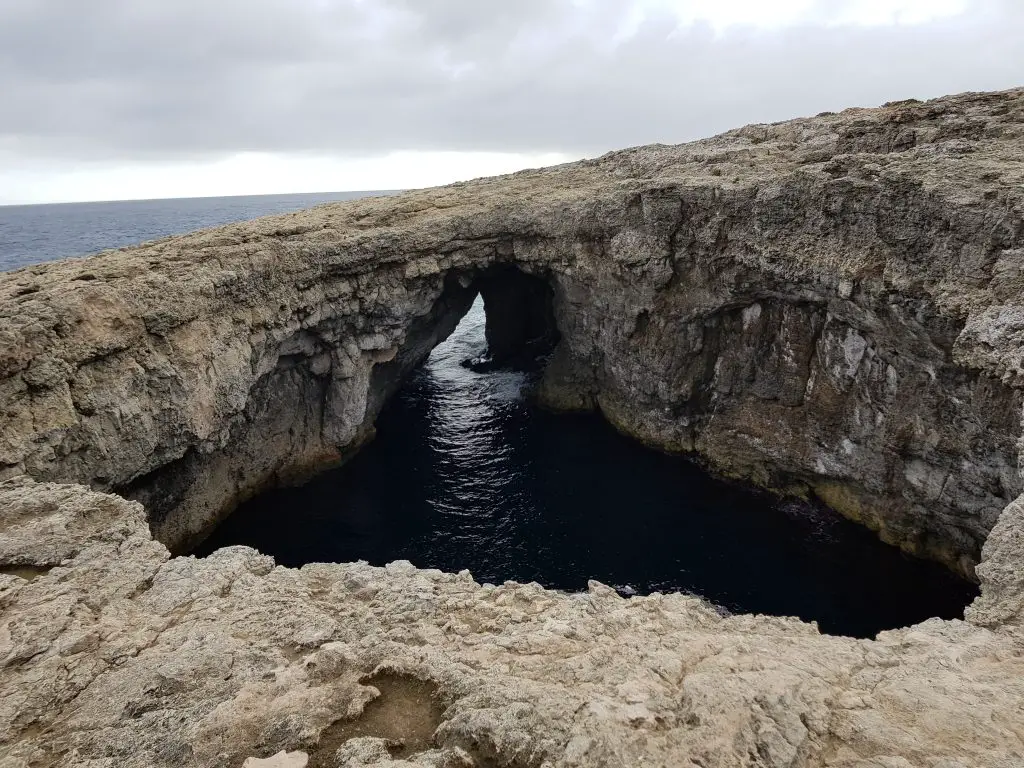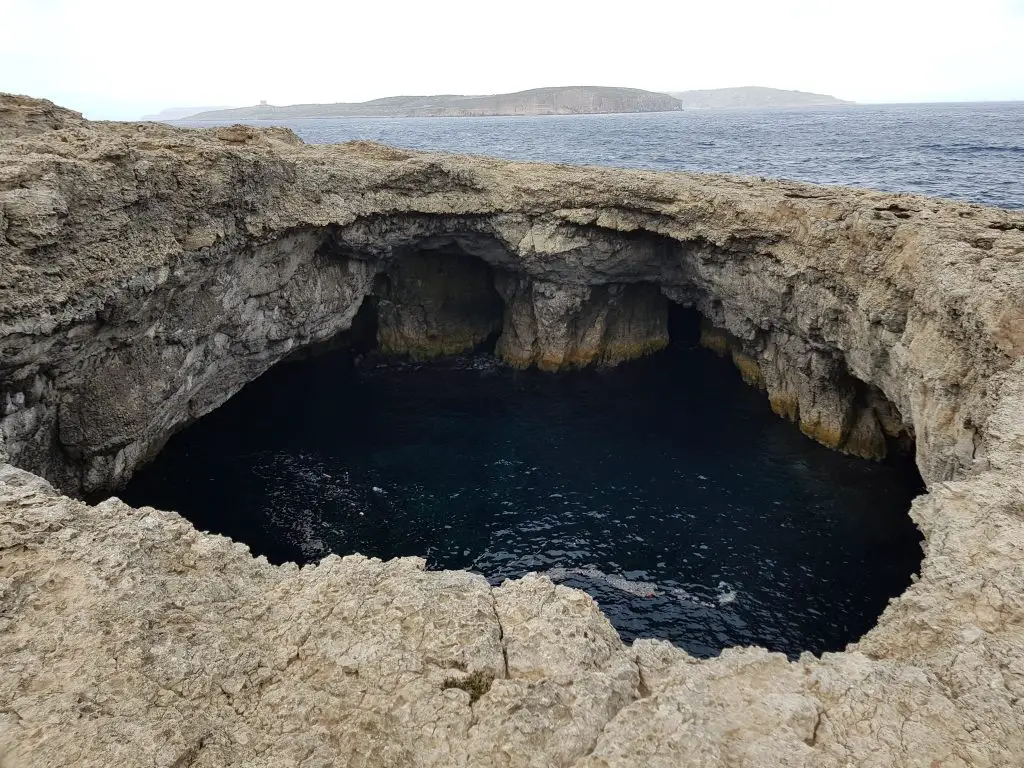 14. Eat spinach at Popeye Village, Malta
Looking for a colourful attraction when visiting the Maltese Islands?
Don't look further – Popeye Village, the popular film set of the 1980 musical production, is a perfect place to spend a half a day! Whether you are in your 20s or a bit older (and still remember "Popeye" from the TV) you will definitely have fun while visiting this former film set.
OK, they don't sell spinach there, but Popeye Village is a must-have on any travel bucket list! Crossed off! 😉 It really is a contender for the top points of interest in Malta and one of the most unique landscapes in Europe!
Worth taking a few shots from the road above – the view of the whole Anchor Bay is just amazing! Malta's must-see! Have you added Popeye Village to your list of things to do in Malta?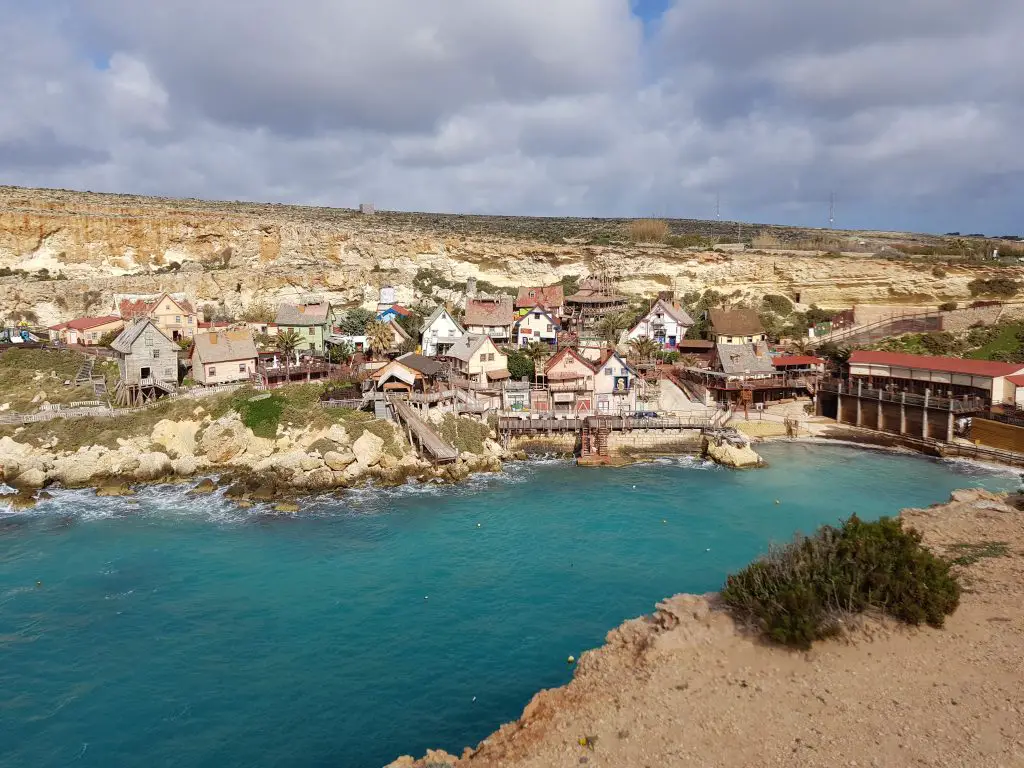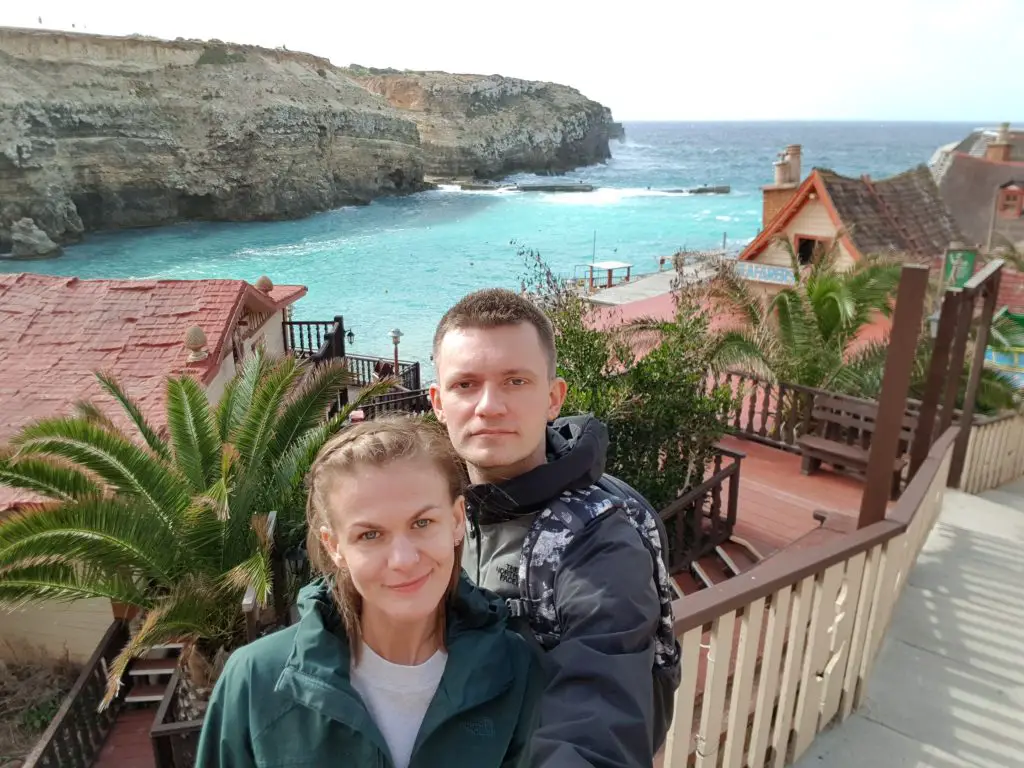 15. Have a swim in Golden Beach, Malta
Best Malta places to visit? This is quite a small beach located in a very quiet area of Malta West. It is one of the few beaches in Malta with, as the name suggests, golden sand 🙂
We went there on a cold-ish, winter day but still managed to go to the sea – OK, only up to ankle level 😉
Better to visit during a warm day, but still enjoyable for a walk when it's a bit colder.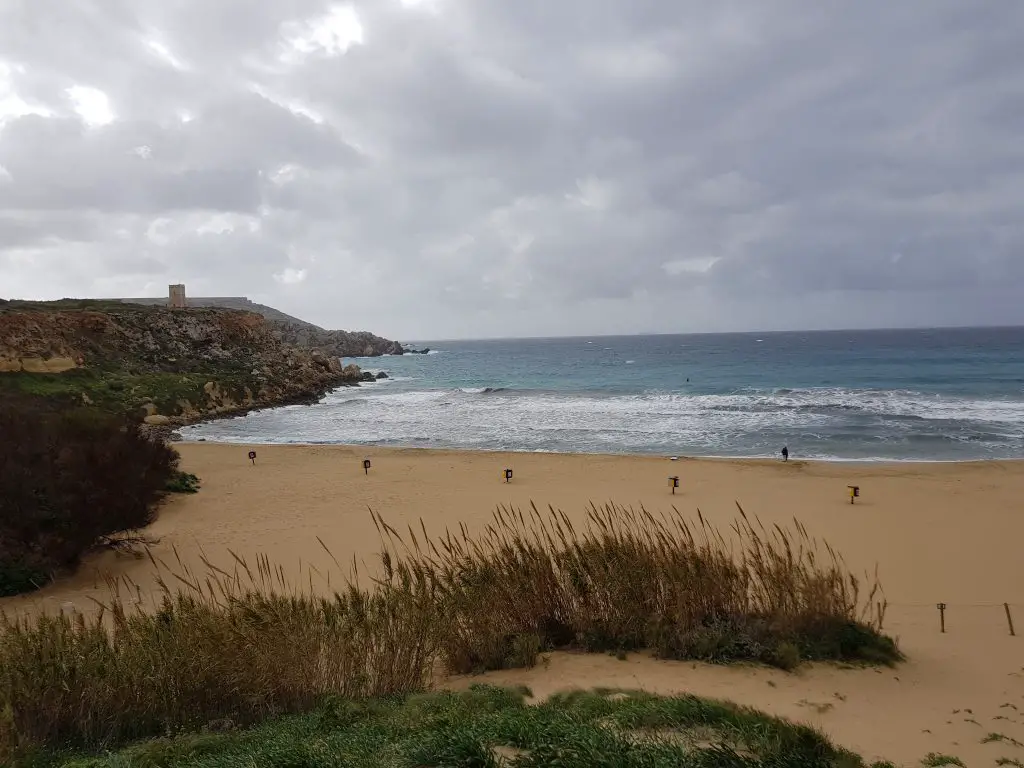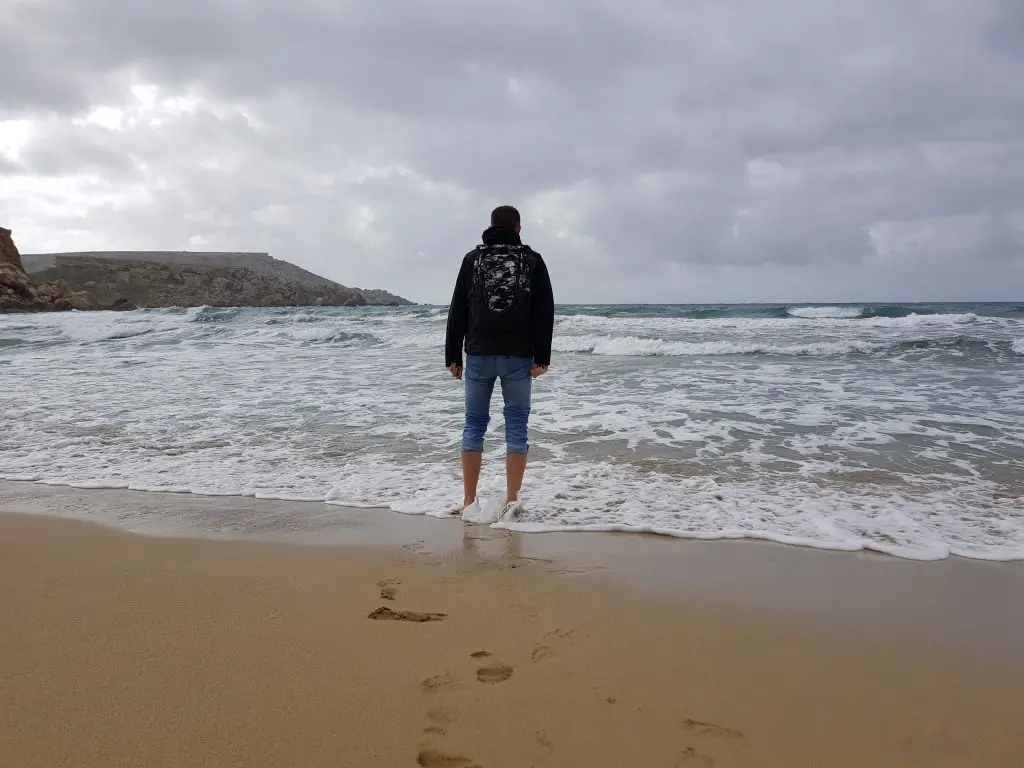 16. Hike in the Dingli Cliffs, Malta
What to do in Malta in a day? Welcome to the highest point of the Maltese islands – a whopping 220 metres above the sea level – woohoo 😉
This place was on our list of things to do in Malta as we love cliffs and breathtaking ocean views.
We had a short walk around the area but to be honest, since you are on the cliffs, you can't see them very well. It's still worth stopping and walking around for an hour but not longer.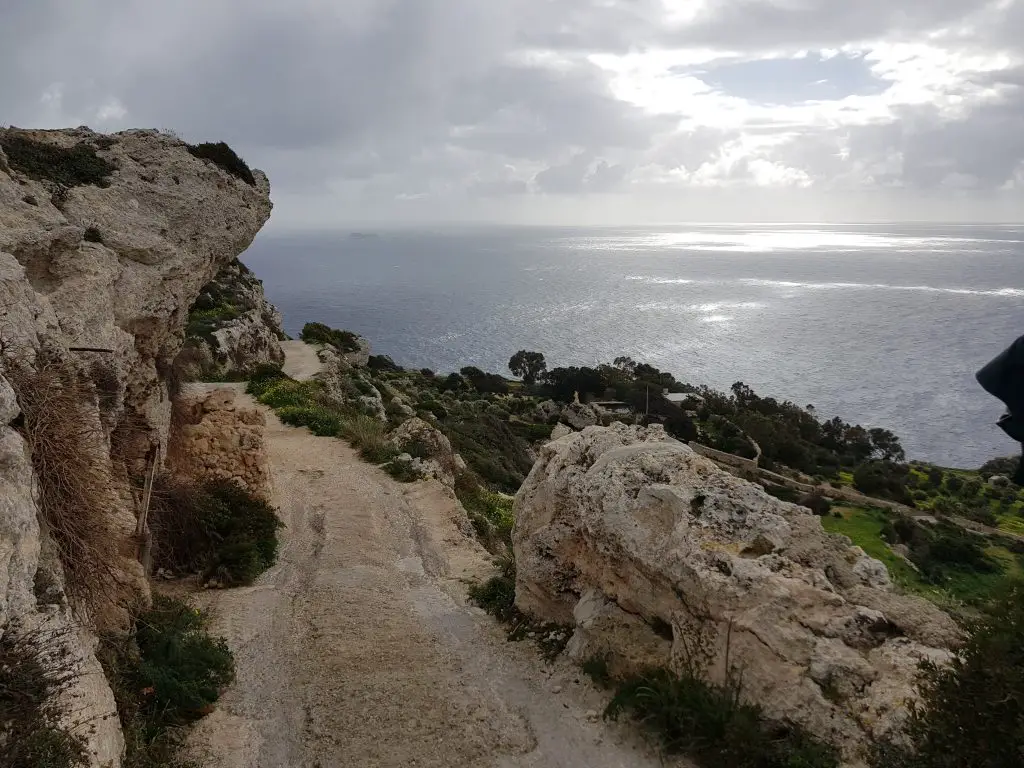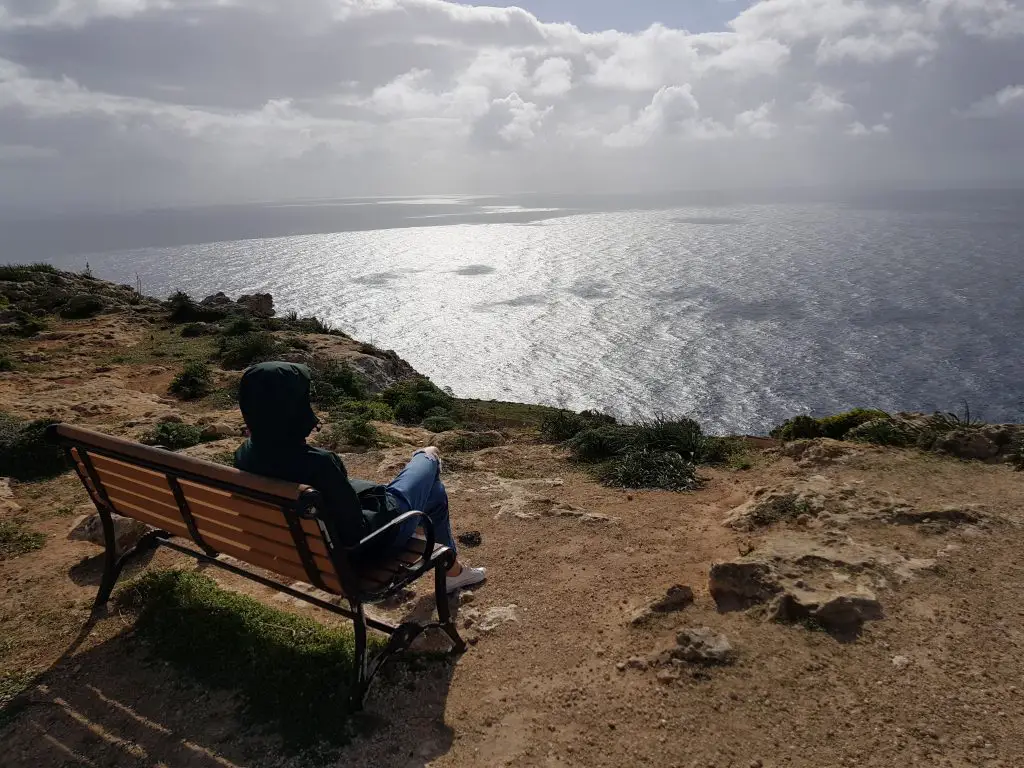 WAS IT WORTH VISITING MALTA IN WINTER?
100% YES! 🙂
The country is very beautiful with many outstanding landscapes and views! So far, probably only Iceland has impressed us more.
The weather can be tricky – it will be very windy, which will definitely restrict you from doing all the activities you would be able to do in summer. But still, we think that Malta is one of the best winter destinations in Europe. 17°C in January is not bad, right? 😉
So why not to visit this fabulous country this winter? There are many cheap hotels waiting for you! 🙂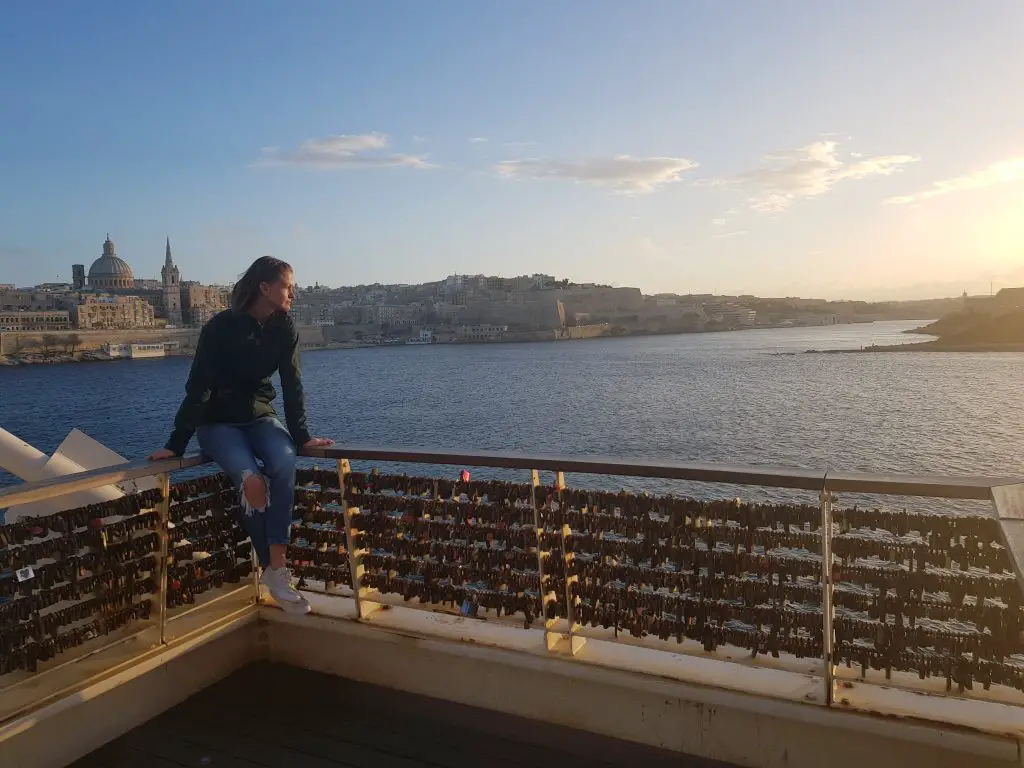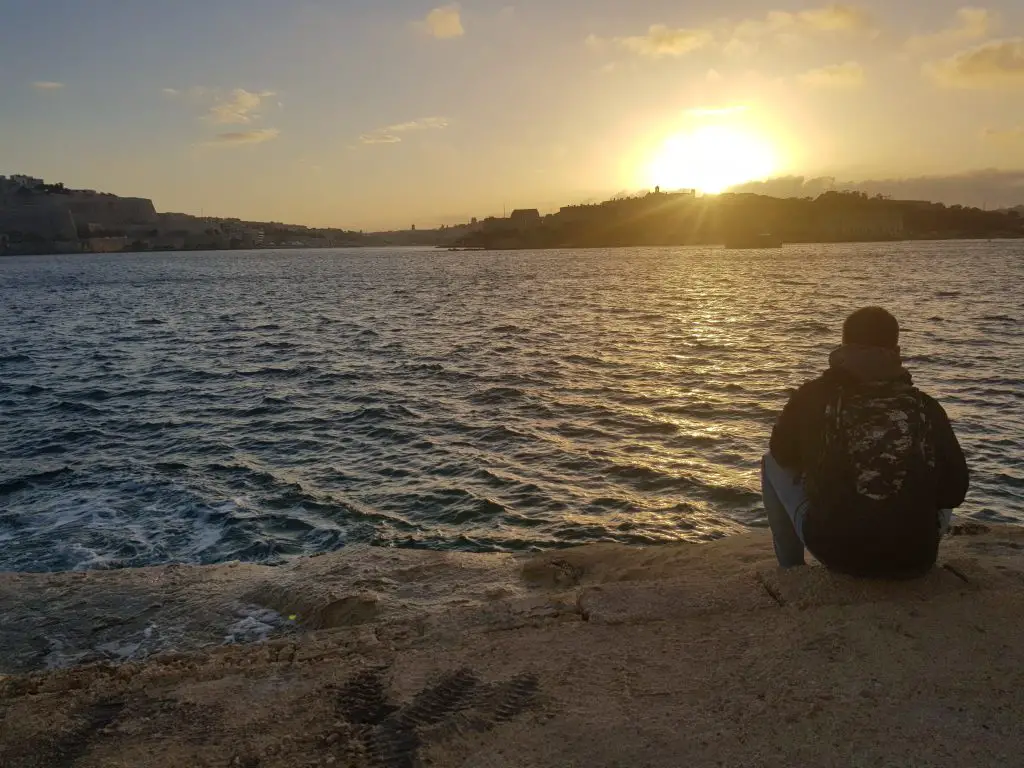 Is our list of the top things to do in Malta long enough?
Or you know other attractions we have not seen in Malta? Do let us know! 🙂
FACTS ABOUT MALTA:
What can you do in Malta in one day?
The thing about Malta is that you are likely to want to spend more than just one day there. However, if you are stuck for time and want to see the best of the area, then there are certain things that you are going to want to see and experience. These include seeing the capital Valletta as well as visiting the St John Co-Cathedral too.
Is Malta good for shopping?
You should never choose a holiday destination just because of shopping. However, if there are some good bargains to be found than all the better. Malta is a great place to go shopping, particularly if you like the idea of heading to a market and seeing what the local traders have to offer those who have some money to spend.
What can you eat and drink in Malta?
The food and drink in Malta is incredibly varied thanks to the many neighbours that surround it. This means that you can sample some rather tasty and interesting dishes. Pasta with bolognese sauce in pastry. You can also sample rabbit cooked in wine and a variety of seafood dishes that are incredibly fresh and tasty too.
What drink is Malta famous for?
There are a variety of drinks both non-alcoholic and alcoholic drinks made and enjoyed in Malta. This includes beer and wines. Another famous Maltese drink is called Bajtra, this is made from the prickly pear plant and not only has a bright colour but also has a sugary sweet taste too.
Are there sharks in Malta?
It is a well-known fact that the Mediterranean sea doesn't have a high amount of sharks due to the hunting of these creatures over the years. There are still sharks left in the seas around Malta. However, these are very small and pose no threat to the people who swim in the waters during their holiday's.
What currency is used in Malta?
If you want to take spending money with you to use during your time in Malta then you are going to need to find some Euros. This is after Malta became a part of the EU on the 1st May 2004. Before this Malta used the Maltese Lira.
Is Malta expensive for food and drink?
Whilst we can accept that spending out on food and drink on holiday is inevitable, it isn't always a good feeling to know that we are paying over the odds whilst we are exploring a country. Malta can be somewhat expensive to eat out, so be prepared to spend out if you are holidaying here. Although the food is definitely worthwhile spending out on.
What is there to do in Malta in winter?
When is the best time to visit Malta? The majority of people choose to visit Malta during the Summer months. However, that doesn't mean that there is nothing to do for the rest of the year. Malta is packed full of amazing things to see and do, no matter what the weather. This includes visiting the amazing museums or perhaps going for a hike and taking in the different sights.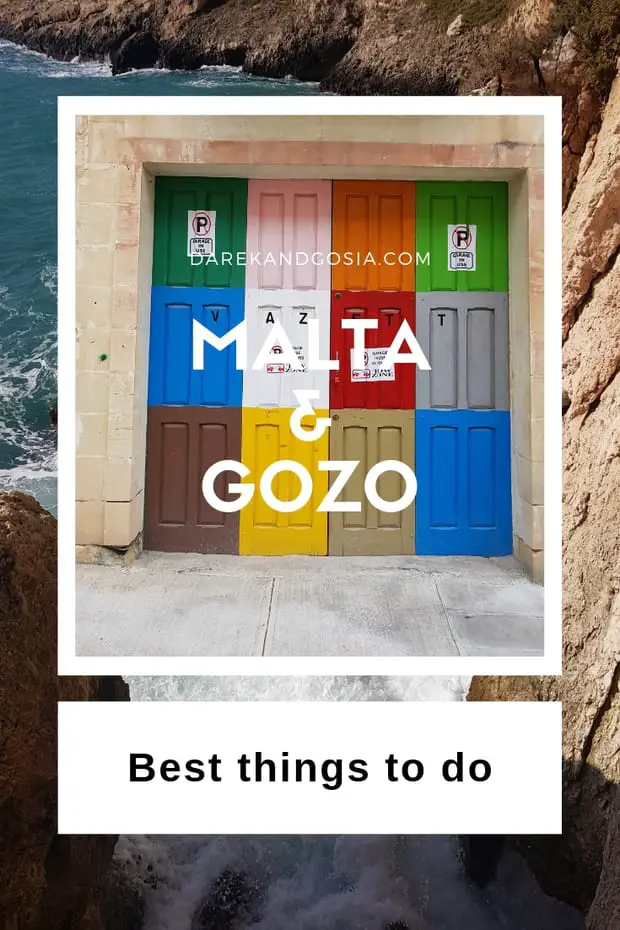 Articles you may like: