Eibsee Lake – the most beautiful Lake in Germany! Check out our TOP photos from hiking around Lake Eibsee – STUNNING views included!
Yes, we have to confess something – we love lakes! In all shapes and colours 🙂 Where are the best lakes in Germany? In Bavaria of course! And the Bavarian Eibsee Lake is one of the most beautiful lakes we have ever seen.
If you are visiting Garmisch-Partenkirchen, a day trip to Eibsee Lake is a must! In fact, it's a perfect day trip in Bavarian Alps when you do it together with visiting Zugspitze 🙂
Anyone looking for the the most beautiful lakes of Bavaria has to see lake Eibsee Bavaria.
As you can imagine, Eibsee Lake in Germany was also on our travel bucket list – we were very glad to tick that point on our list.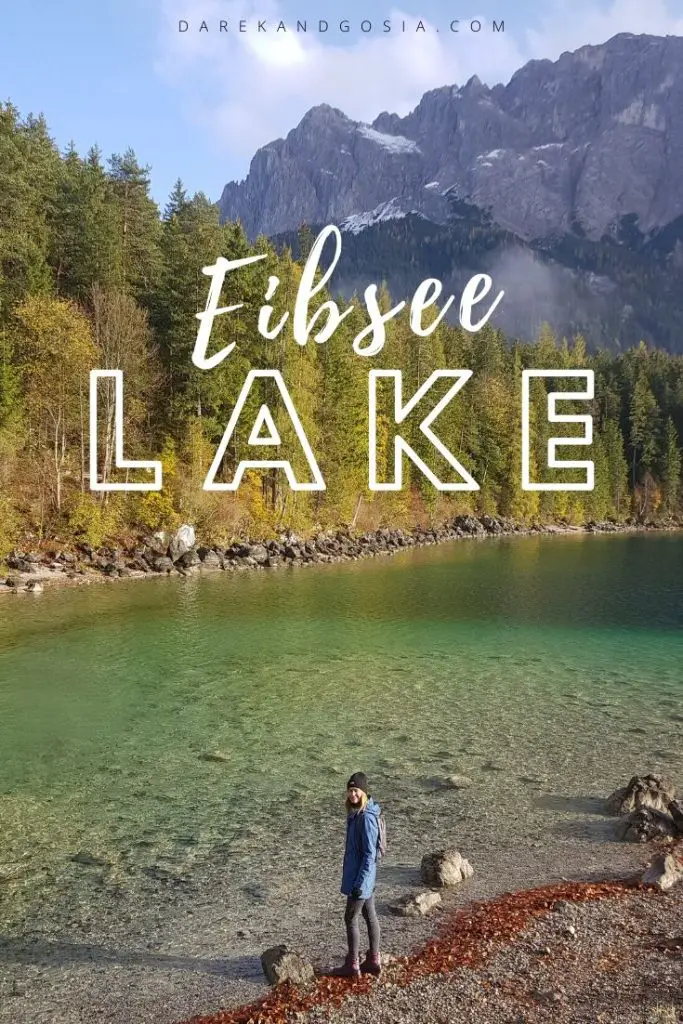 Where is Eibsee Lake?
Eibsee lies on the German side of the Bavarian-Tyrolean Alps, 9 kilometres south of Garmisch-Partenkirchen – a well-known winter sports centre, where the famous Four Hills Tournament takes place every year. The highest peak of Germany – Zugspitze (2,962 m above sea level) rises just above the Eibsee lake surface.
This really is one of the top natural wonders in Europe so if you a planning to visit best lakes in Bavaria make sure you go to Eibsee, Germany.
The lake is located just under 100 km from Munich, which makes it a perfect day trip from the capital of Bavaria.
Eibsee Lake facts:
| | |
| --- | --- |
| Max. length | 3.15 km |
| Max. width | 0.56 km |
| Surface area | 177.4 ha |
| Average depth | 12.2 m |
| Max. depth | 35.4 m |
| Shore length | 8.06 km |
| Surface elevation | 973.28 m |
How to visit Eibsee Lake?
We really recommend spending one day in Munich and then at least 2-3 days in this part of Bavaria. That will give you enough time to explore other amazing places around Garmisch-Partenkirchen.
If you only have one day, take the train from Munich to Ga-Pa and then a bus to Eibsee station. You should be able to get there in about 2 hours.
Alternatively, rent a cheap car in Munich and drive yourself to Eibsee.
There are plenty of parking spaces – so no need to worry about that! 😉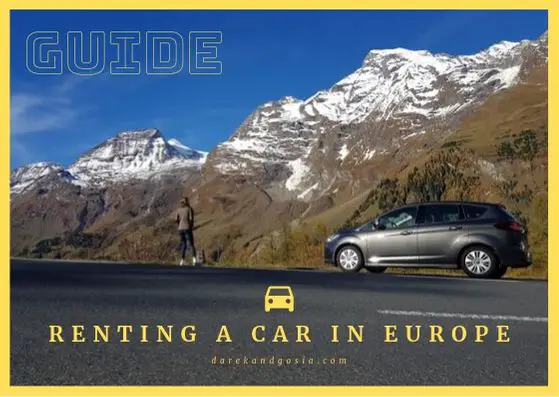 Things to do in Eibsee:
There are a few interesting things to see around the lake. So, what to do in Eibsee?
Eibsee Lake – view from Zugspitze:
Before going for a hike around the amazing Eibsee Lake, make sure to visit Zugspitze.
Why? – would you ask?
Well, the views from above are just stunning – you can see the wonderful lake from a completely different perspective.
It's just breath-taking! – OK, as long the weather is nice 😉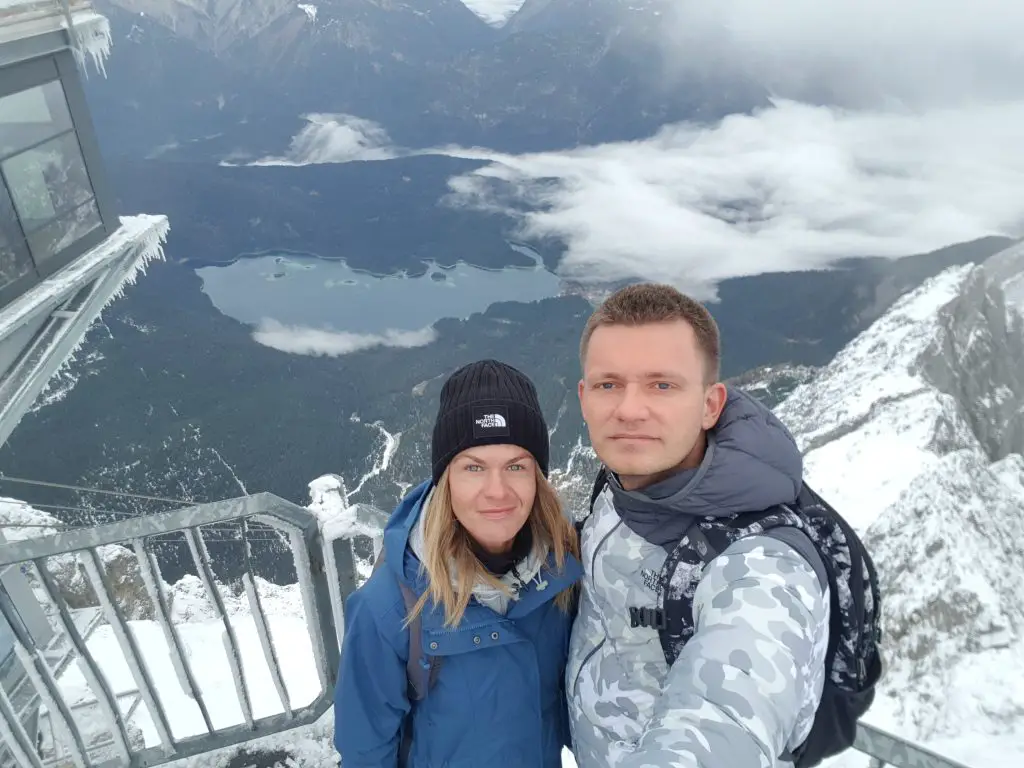 Great panorama view of Eibsee Bayern Germany!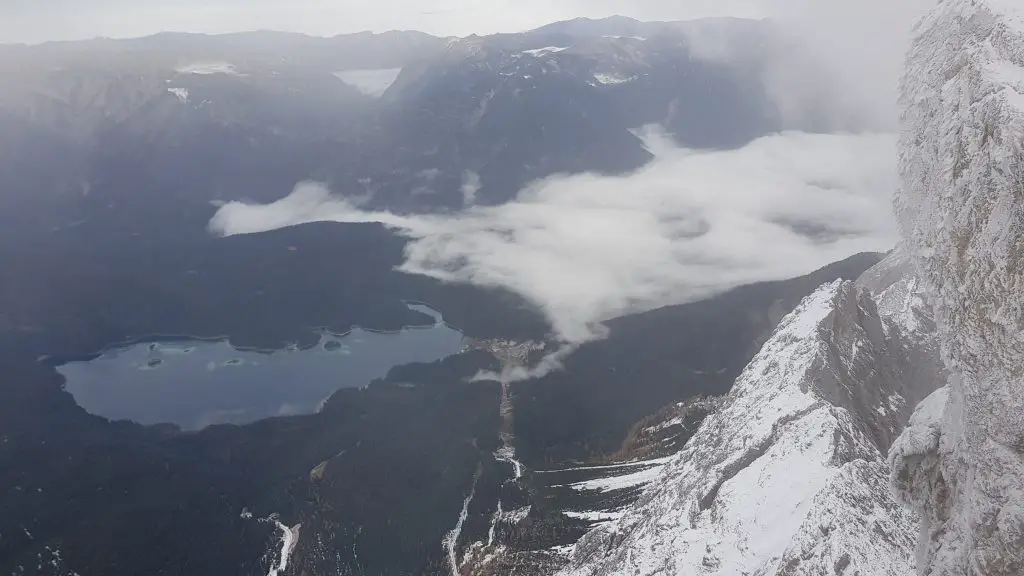 Admire islands on the Eibsee Lake:
Around the north shore, you can see eight picturesque islands, giving the reservoir a Mediterranean climate:
Almbichl
Ludwigsinsel
Scheibeninsel
Maximiliansinsel
Schönbichl
Braxeninsel
Sasseninsel
Steinbichl
Those beautiful islands are definitely top on Eibsee things to do list!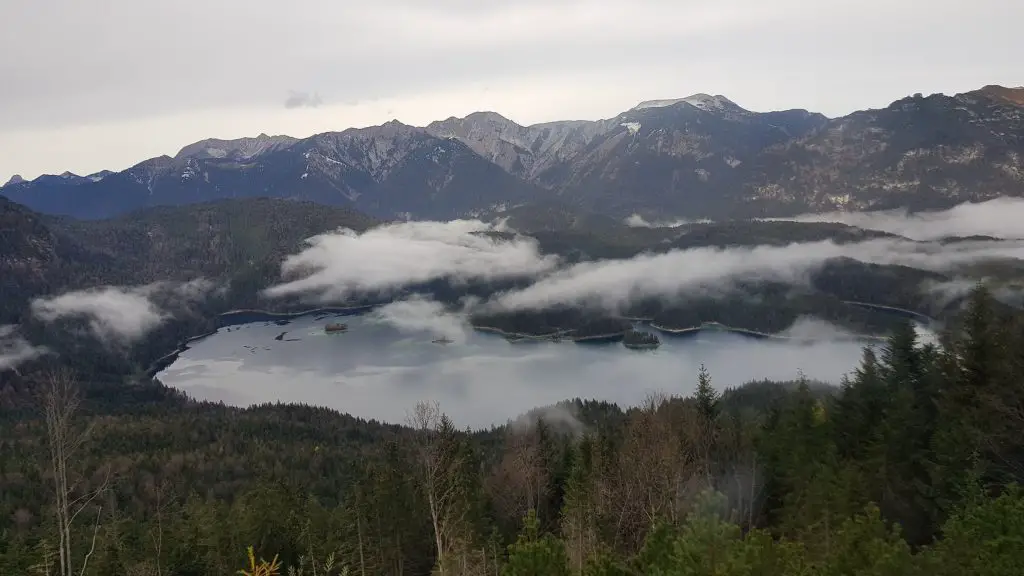 Hiking around Eibsee Lake:
After your trip to Zugspitze – do you still have goosebumps? I know, it was a great experience, right? 🙂
It's time to hike around the lake! Don't worry – if you don't have a few hours to complete the whole loop, you can hike just 30 minutes and you still will be able to take many amazing pictures. Eibsee hike is known as one of the best things to do in Bayern so you have to try it!
The first 10 minutes of the hike will take you through the forest – a great opportunity for you to use your camera 🙂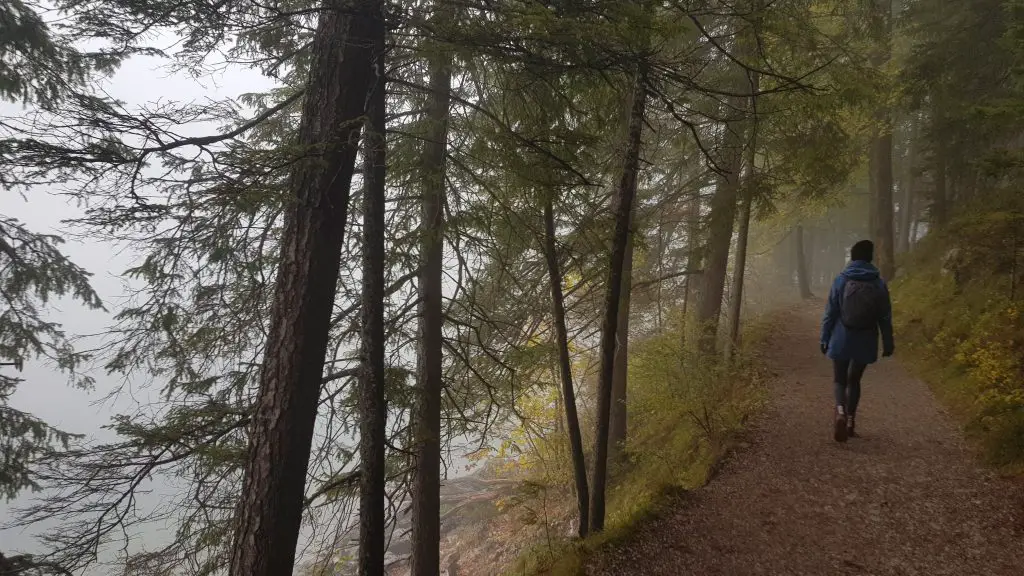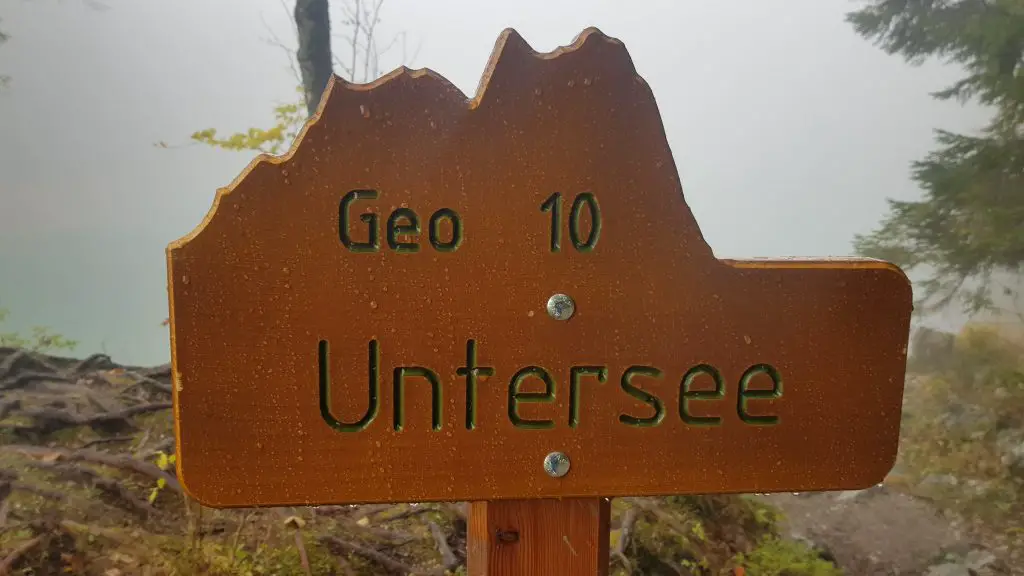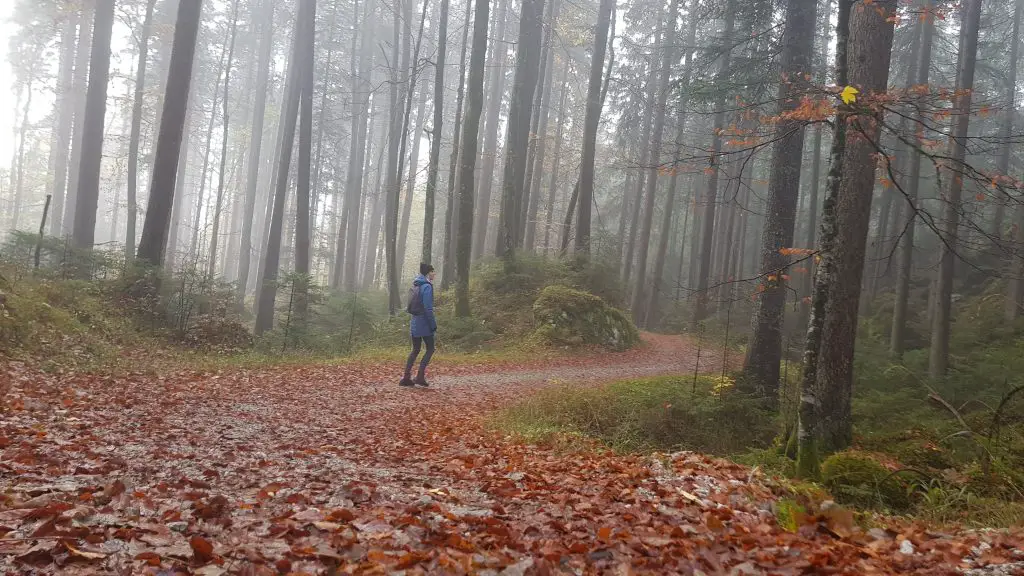 When we started our hike around the lake, the weather was very poor – and the visibility close to zero: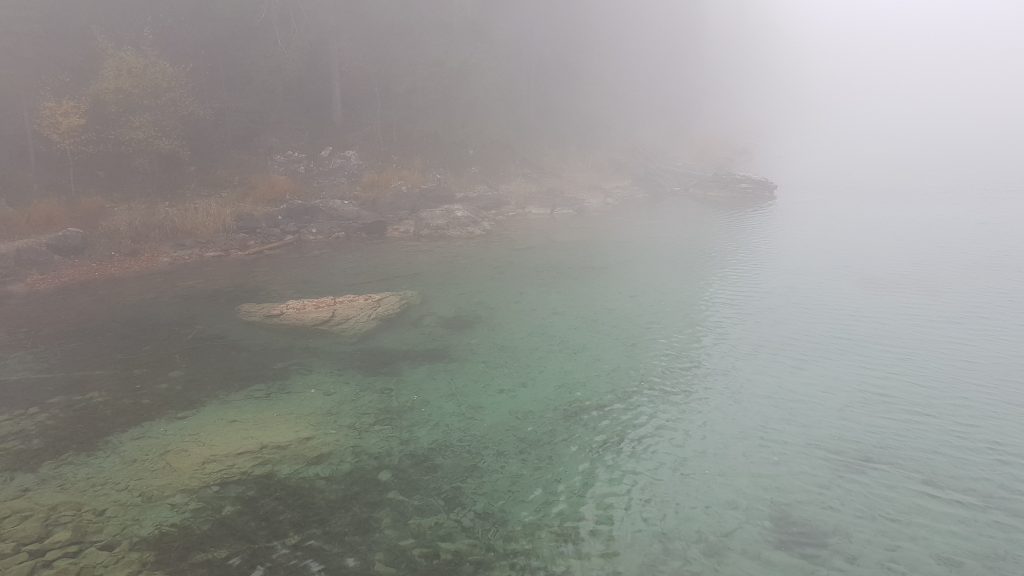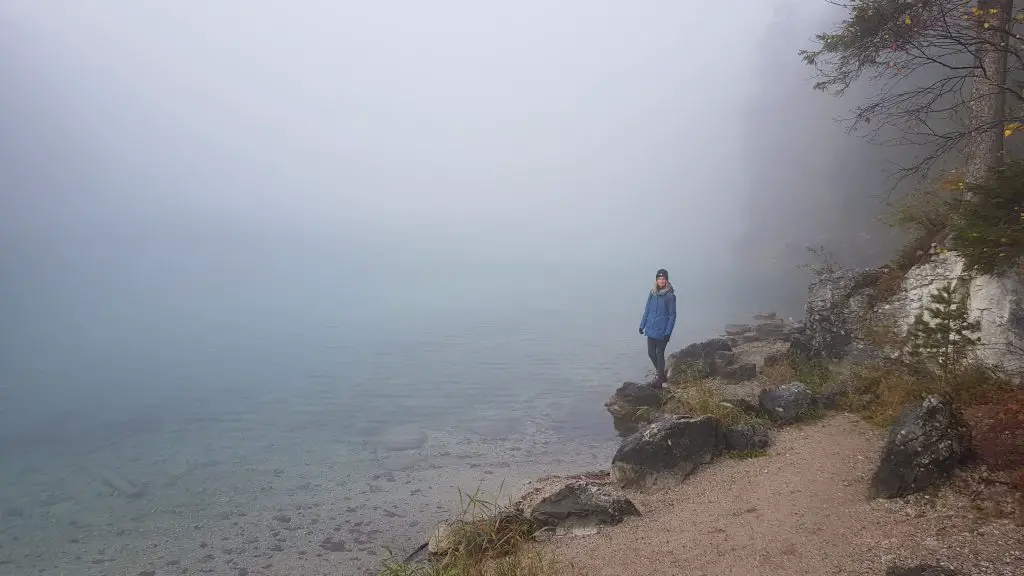 But there is something magical about fog! The views are always marvellous so you can take many awesome photos. Is this not one of the most romantic places in Europe?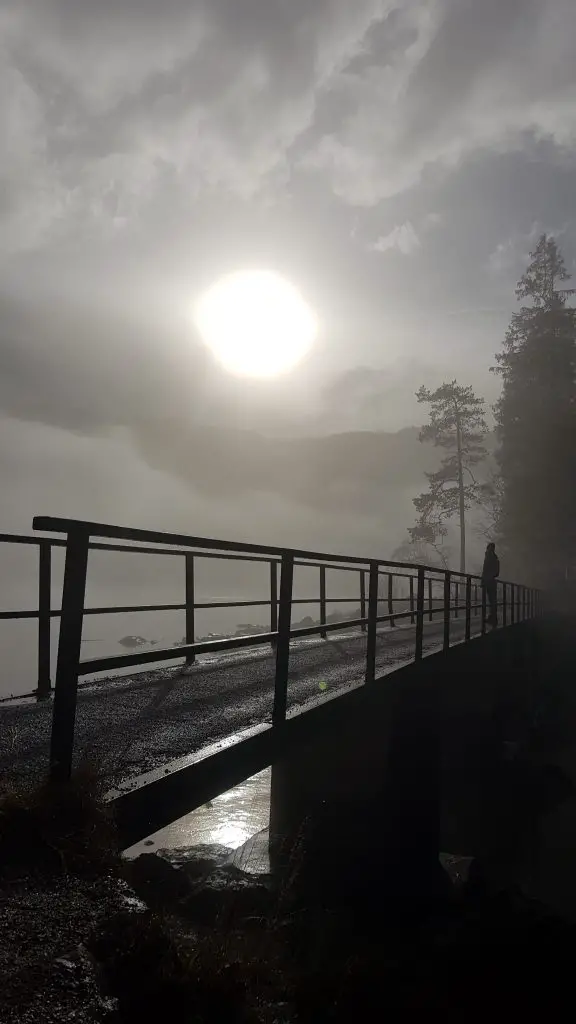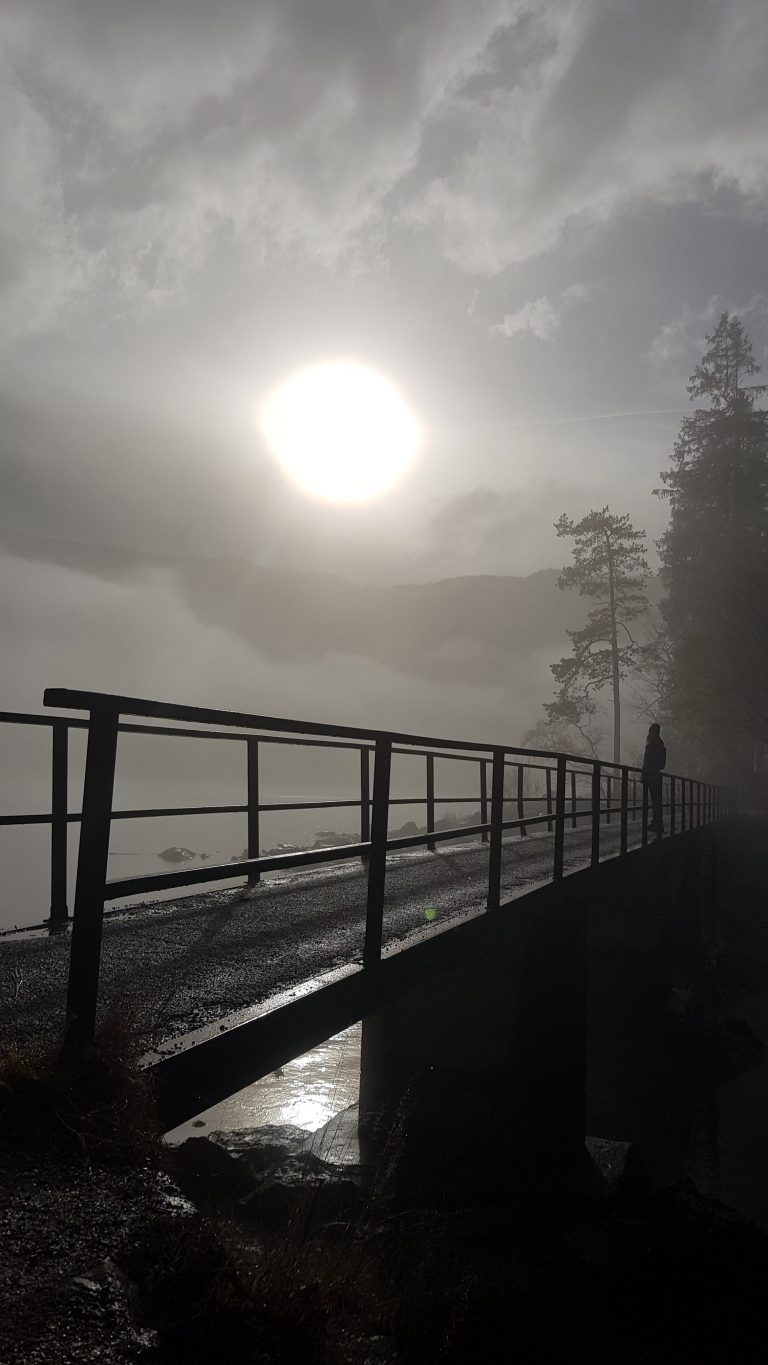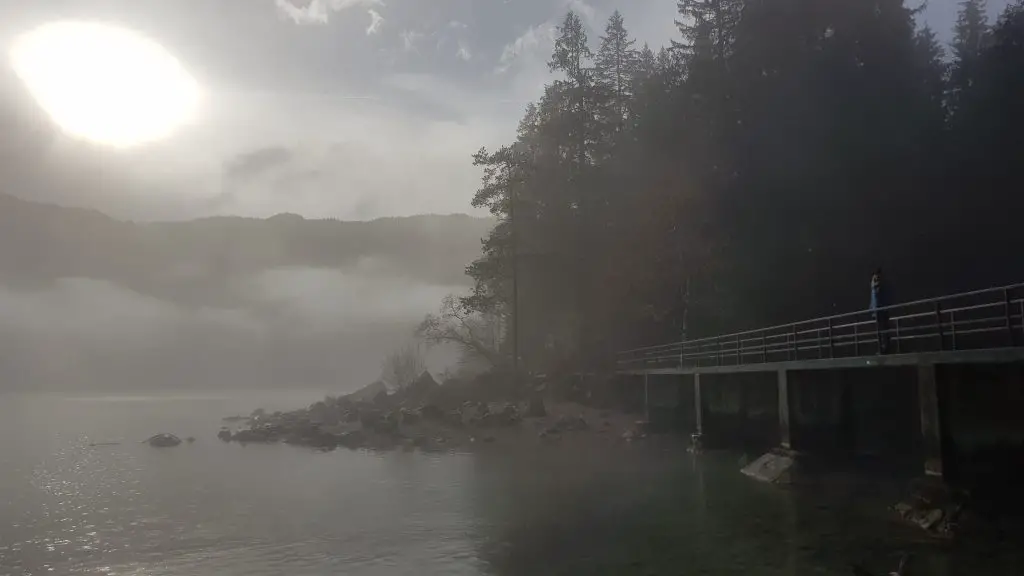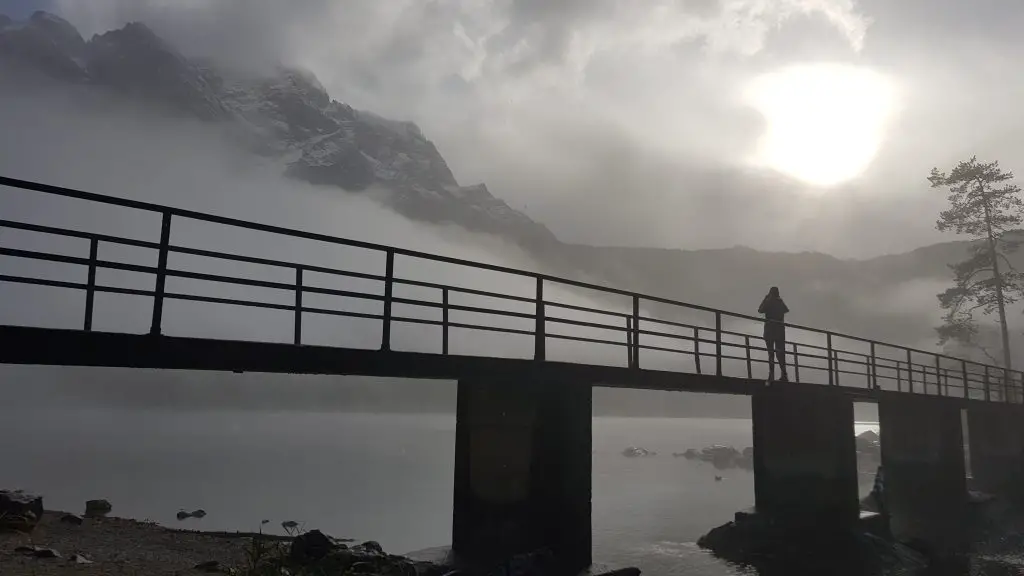 Luckily, after 20 minutes, the clouds and fog were gone – so we could enjoy the fabulous views of the Eibsee lake. One of the best landscapes in Europe we have seen so far!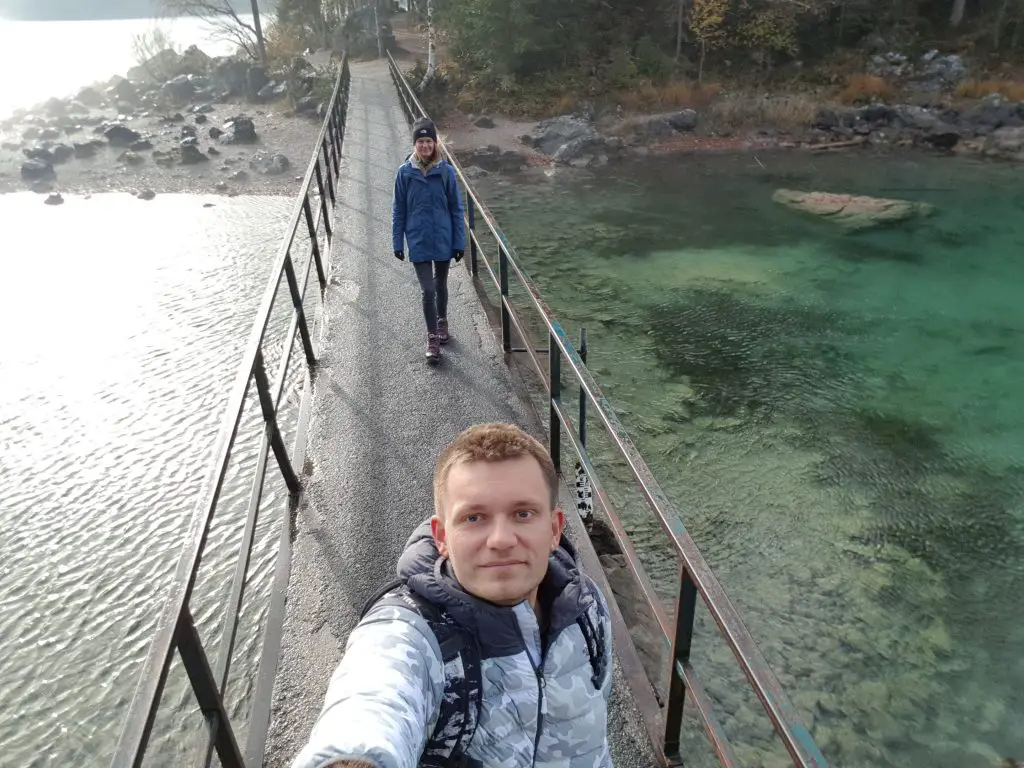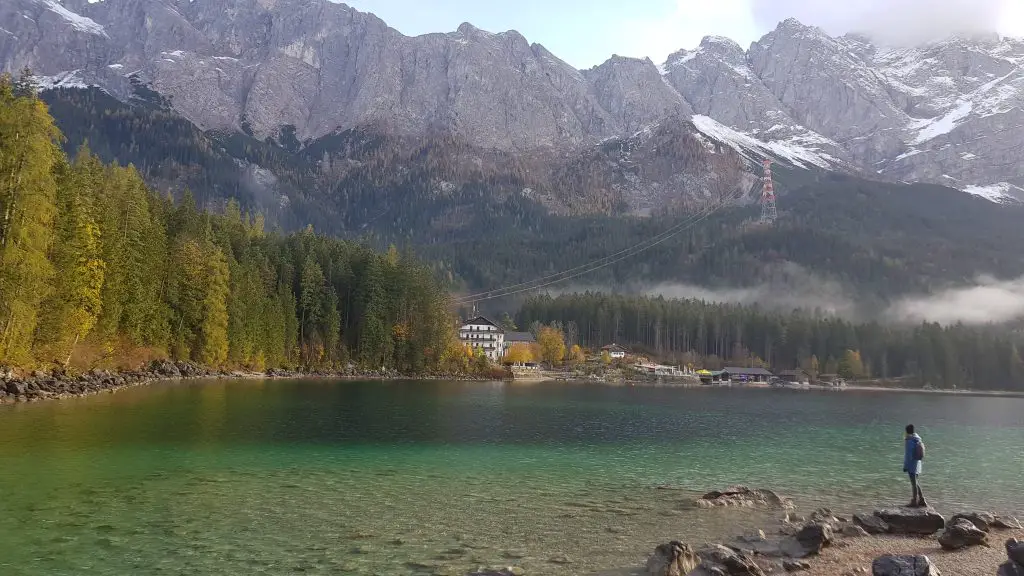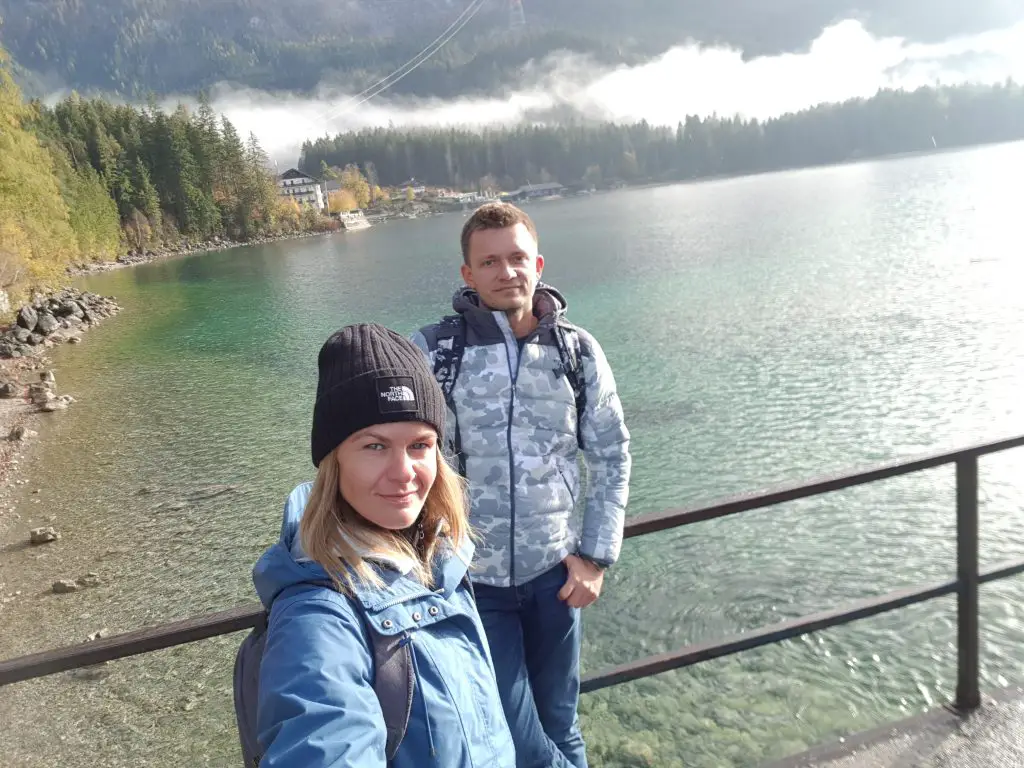 Is it possible to walk around in a full circle?
You can definitely walk around Eibsee Lake – it is a really beautiful path. Many locals will say that it is a must-do! This is probably one of the best hikes in Germany!
A beautiful and well-manicured path. Rolling, but not to extremes. The path is very nice and just only a little slope uphill – nothing too extreme so even kids can easily walk it.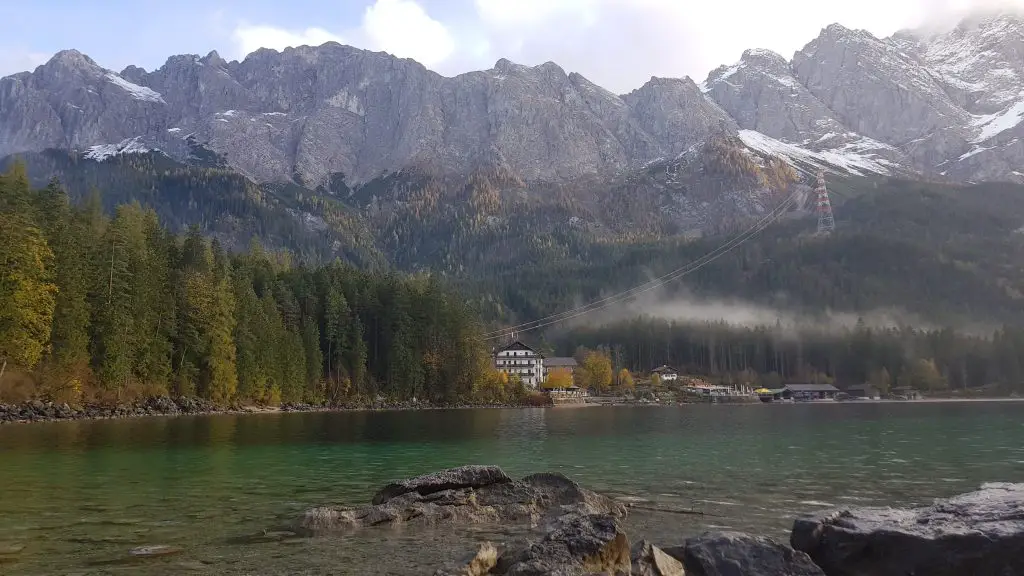 Is Eibsee Lake in Bavaria worth visiting?
Short answer: WITHOUT A DOUBT! 🙂
Eibsee Lake in Bayern, Germany is one of the most beautiful lakes in Europe. The scenic views of Zugspitze are just remarkable! An absolutely unique experience: the crystal-clear Eibsee at the base of the Zugspitze is worth paying a visit!
Eibsee is very popular not only because of its beautiful colour but also because of its size and tourist development. The lake is huge, and you can see it from every side by following the trail around.
Generally speaking, being in Garmisch-Partenkirchen and not seeing Eibsee is like being in London and not seeing Big Ben ?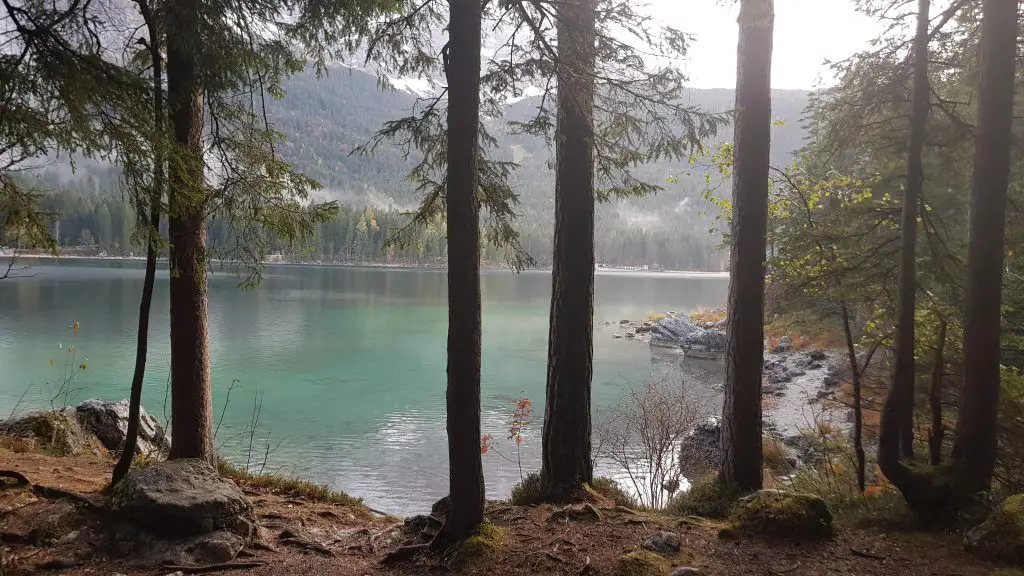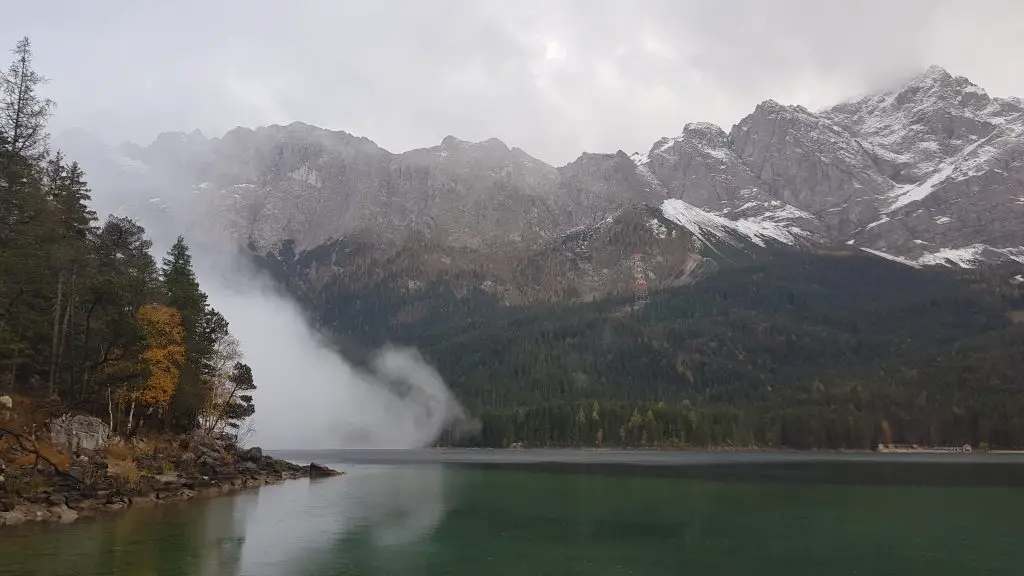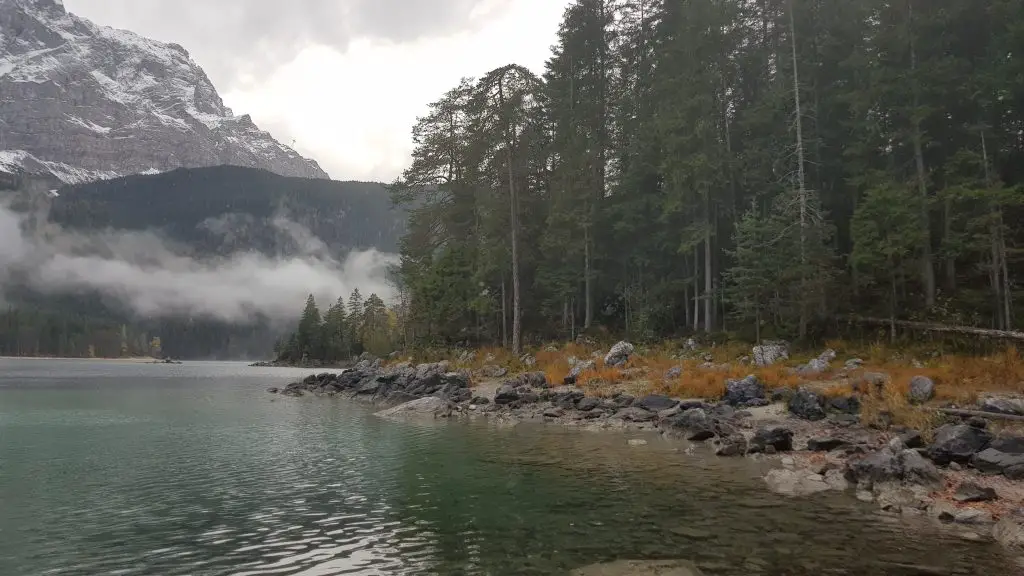 Where to stay around Eibsee Lake in Bayern?
There is no shortage of amazing places to stay during your holiday Bavaria. Please see below some of the TOP hotels we have selected for you:
"This 4-star hotel in Grainau is next to the Eibsee lake, directly at the foot of the Zugspitze mountain. It offers free Wi-Fi, a modern spa, and 3 free tennis courts. The Eibsee Hotel is a good base for activities including golf, hiking, and swimming."
"Located at the foot of the Bavarian Alps, Romantik Alpenhotel Waxenstein offers panoramic views, a gourmet restaurant and a spa area with an indoor pool. This 4-star hotel features free WiFi and on-site parking."
Need more inspiration? Find a hotel near Eibsee lake.
Eibsee lake in Bayern FAQ:
What hotels are near Eibsee?
Book accommodation at Eibsee Hotel and enjoy the view of Eibsee lake directly from your room!
So, what stops you from visiting the Eibsee Lake?!
What lakes to visit in Bavaria? 100% Eibsee, a lake in Bavaria Germany, is a must-see when visiting the Bayern region in Southern Germany.
In fact, this is one of the best places for hiking in Europe! Make sure you add it to your list while spending a holiday in Garmisch-Partenkirchen.
Read also: 4 days in Garmisch-Partenkirchen, Germany – Best Places to visit in GaPa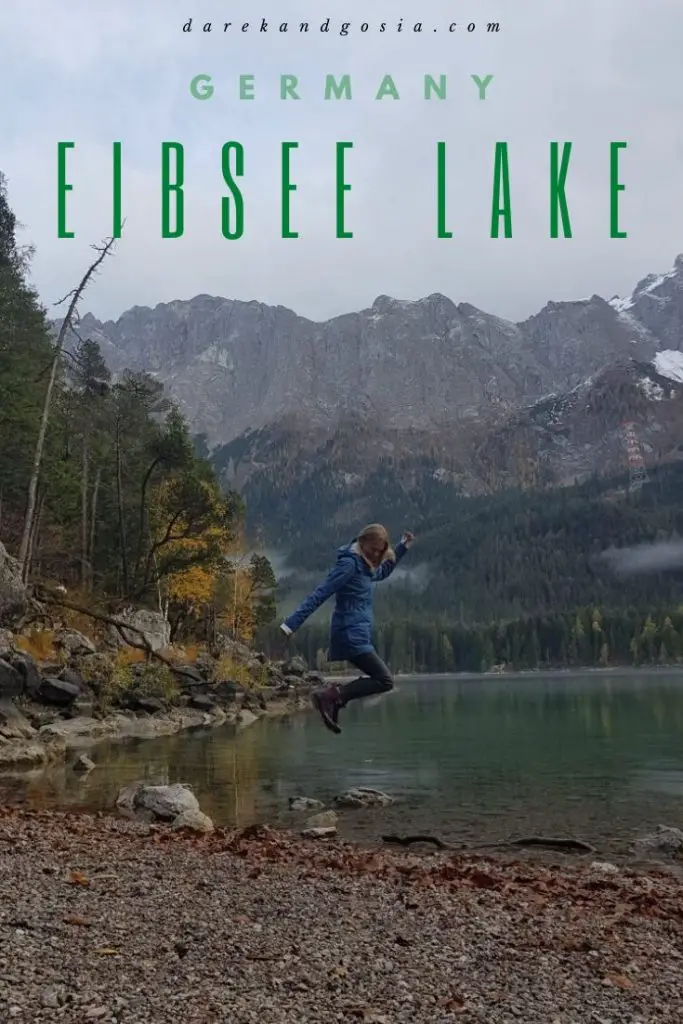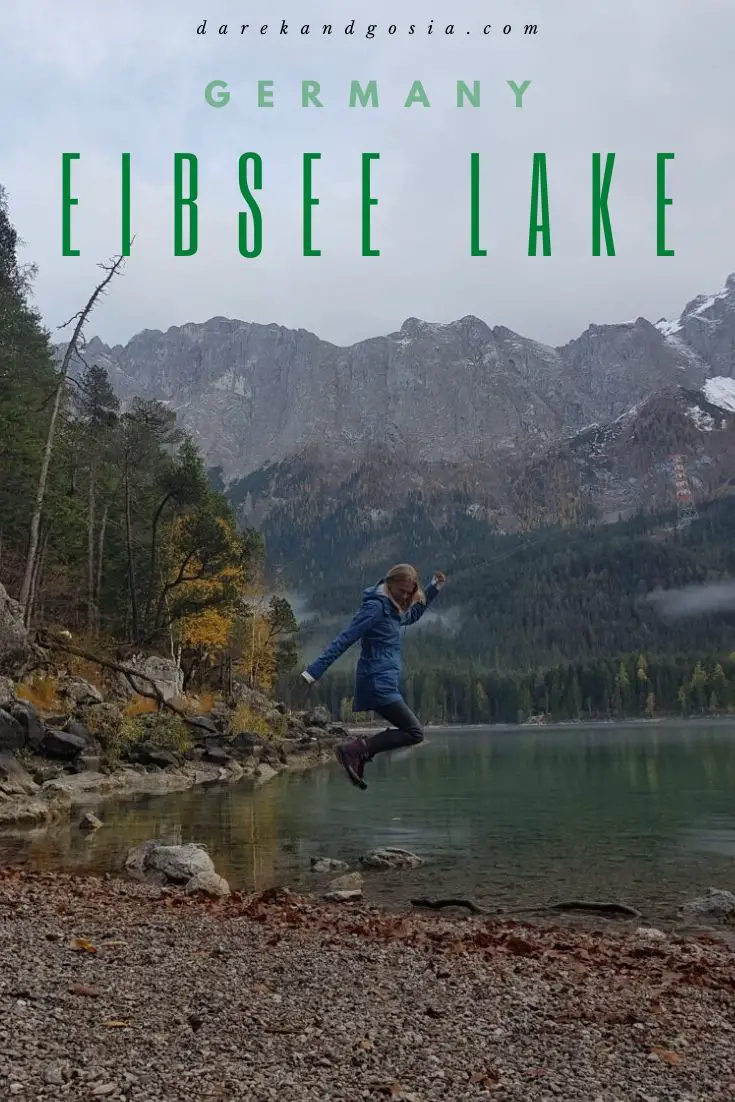 Articles you may like: