Embark on a sarcastic journey to Eibsee Lake, Bavaria's most excessively beautiful destination. Discover how to get there, what to do, and whether its jaw-dropping scenery is actually too much of a good thing. Read on, if you dare!
If you ever find yourself craving an overdose of natural splendour, then Eibsee Lake in Bavaria, Germany, might just be your cup of overly brewed tea. Located near the Zugspitze mountain, it's a location that demands attention like a toddler with a tambourine. But let's say you're someone who prefers the subtler things in life – then Eibsee Lake could well be your worst nightmare, but in the most beautiful way possible.
Here, we dare to tackle the topic that few dare to discuss: why visiting this Bavarian gem might be a colossal mistake for those who value understated elegance.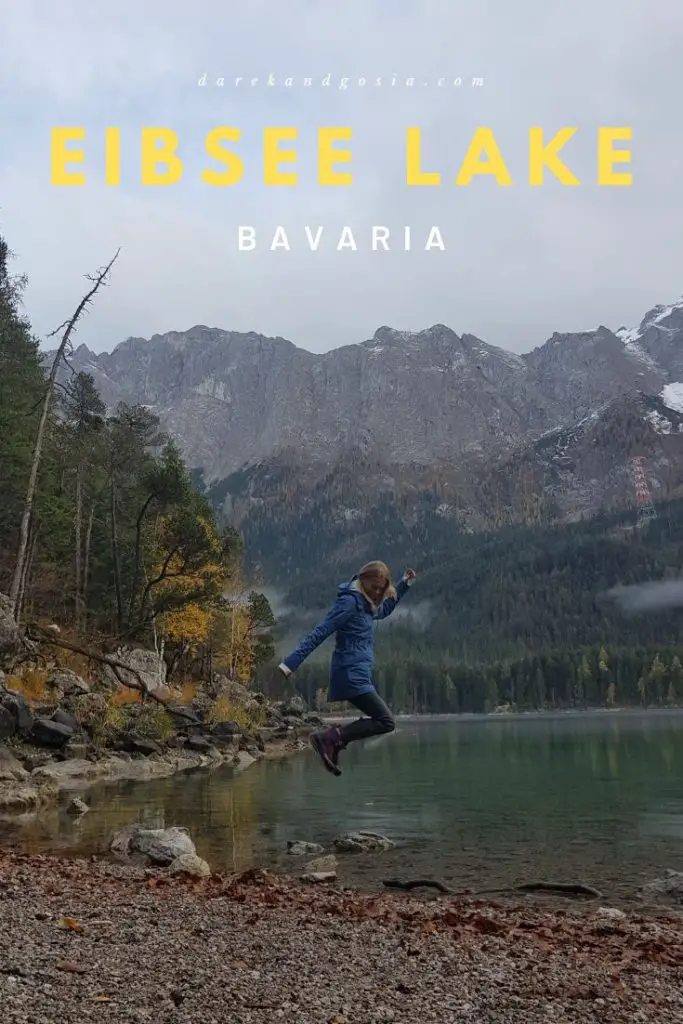 Where is Eibsee Lake?
Concealed in the southern parts of Bavaria, Eibsee Lake is the audacious centrepiece of Germany's topographical theatre. Positioned at the foot of the Zugspitze mountain, it has become a cornerstone of Bavarian pride – or arrogance, depending on your point of view. When we visited, we felt as if we had walked into a living postcard. Dare we say, it was as if nature was trying a bit too hard.
How to go to Lake Eibsee from Garmisch?
If you decide to embark on this perilous journey from Garmisch, there are a variety of travel options that range from fast to faster – because clearly, Eibsee couldn't stand to be ignored for too long. A quick train ride can get you there in approximately 20 minutes, while buses might take a shade longer. You could also opt for a car journey, which also takes roughly 20 minutes, give or take depending on how many times you pull over to pinch yourself.
Garmisch to Eibsee Transport Options
| Method of Transport | Duration |
| --- | --- |
| Train | Approximately 20 min |
| Bus | 25-30 minutes |
| Car | Around 20 min |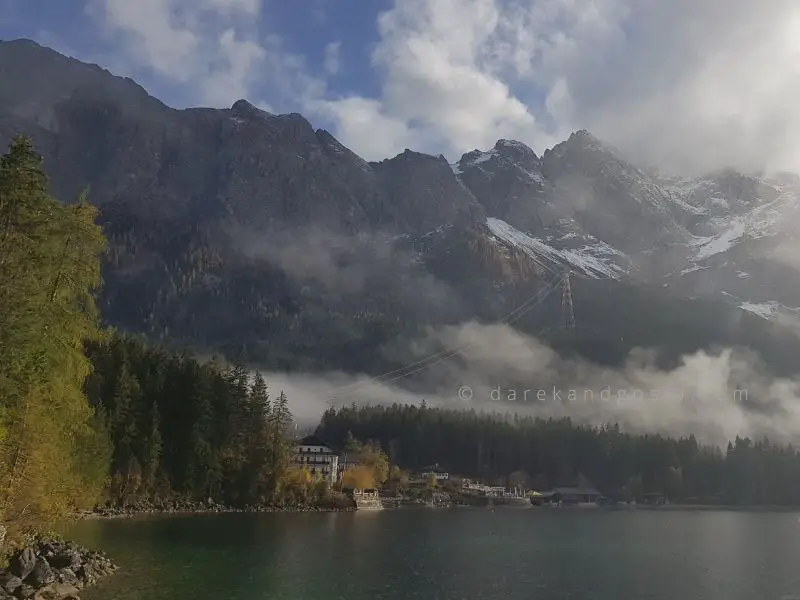 How to get to Lake Eibsee from Munich?
Munich to Eibsee? You could start your adventure in Munich, a city renowned for its beer, engineering, and sane travel choices. Yet if you feel compelled to make the baffling decision to visit Eibsee Lake, you could opt for a train journey or car trip that will take about 1-2 hours. You'll travel through landscapes that progressively prepare you for the scenic shock that Eibsee delivers.
Munich to Eibsee Transport Options
| Method of Transport | Duration |
| --- | --- |
| Train | 1-2 hours |
| Car | Approximately 2 hrs |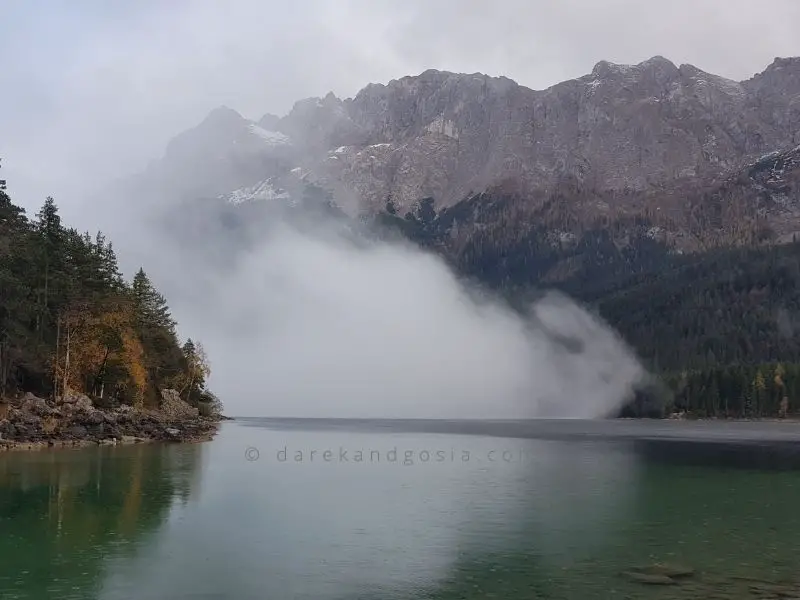 Why is the Eibsee Special?
Eibsee has a way of making its visitors feel wholly inadequate, like showing up to a Michelin-star restaurant in sweatpants. The lake is both pristine and unsettlingly clear. During our trip, Gosia mentioned it felt like walking into an overproduced movie set where even the bloopers are stunning.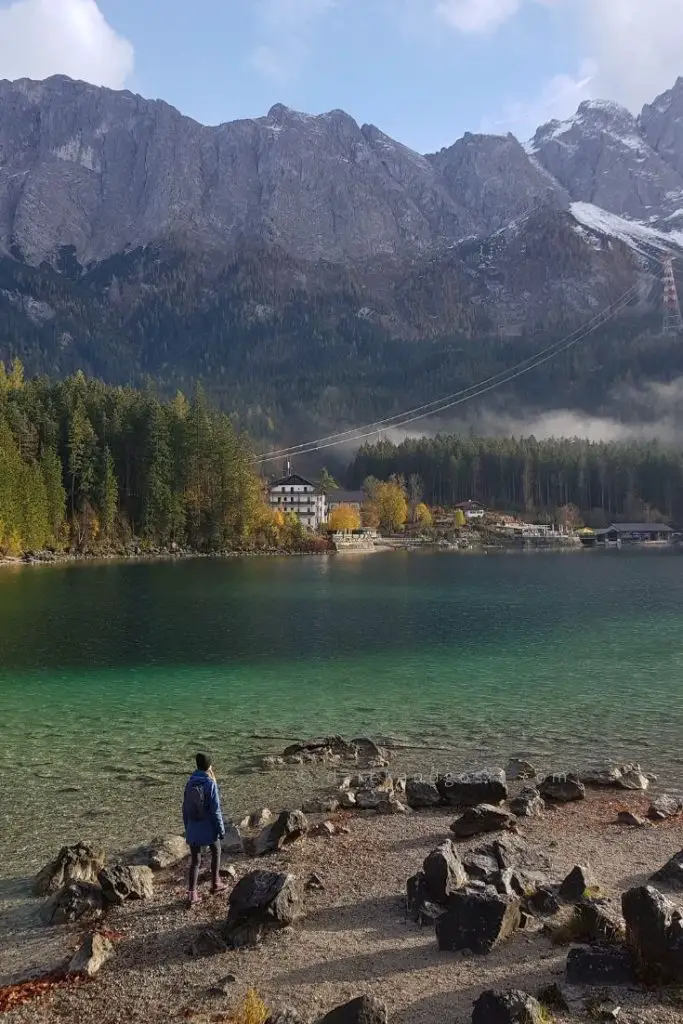 Eibsee Lake Facts
It's always helpful to arm yourself with a few facts to rattle off when attempting to critique a marvel of nature. For instance, Eibsee is about 35 meters deep – because, of course, a shallow lake wouldn't quite match its exaggerated persona. Furthermore, it's located near the Zugspitze mountain, adding that extra layer of majesty that wasn't really necessary but there you go.
| Fact Type | Details |
| --- | --- |
| Maximum Depth | 35 meters |
| Surrounding Peaks | Zugspitze |
| Number of Islands | 8 (Overkill, obviously) |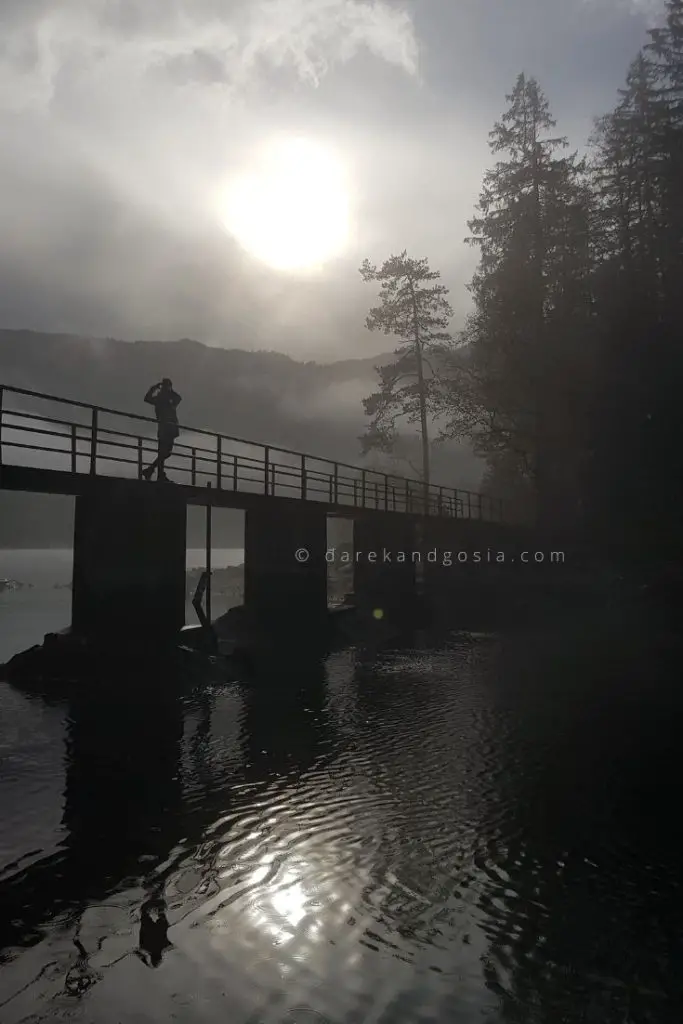 How to Visit Eibsee Lake?
Should you decide to subject yourself to this visual feast, there are some essentials you should pack. Sunglasses are crucial, primarily to shield your eyes from the lake's glaring beauty. A camera is also recommended, even if it will inevitably fail to capture Eibsee's overwhelming presence.
Essential Items for Eibsee
Sunglasses
Sunscreen
Extra camera batteries
A notebook to jot down existential thoughts
A paper bag for hyperventilation – Eibsee takes your breath away, literally
Things to Do in Eibsee
While at Eibsee, you could engage in activities that range from delightful to dreadful, depending on your capacity for scenic overload. The lake offers boating options that provide an up-close and personal encounter with its egregious charm. Swimming is another activity you could try, although the water's clarity might have you second-guessing every stroke. Darek once tried to skip a stone across the water, only for it to almost skip back in rebellion.
Eibsee Activities and Their Consequences
| Activity | Emotional Aftermath |
| --- | --- |
| Boating | Varying levels of awe |
| Swimming | Possible existential crisis |
| Scenic Walks | Uncontrolled gasping |
Eibsee Lake – View from Zugspitze
When you see Eibsee Lake from the vantage point of Zugspitze, you might feel like you've invaded the privacy of a diva caught in a moment of vulnerability. It's hard not to feel like a voyeur witnessing something so raw yet so overly crafted. It's a perplexing paradox that left us questioning the nature of beauty itself.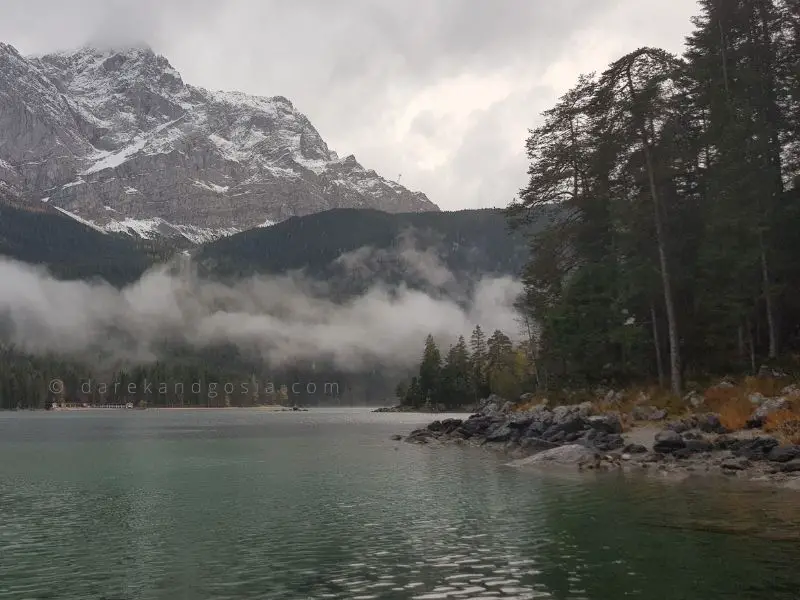 Admire Islands on the Eibsee Lake
Yes, you heard it right. Eibsee Lake has islands. Eight of them, to be exact. Because obviously, a ridiculously picturesque lake surrounded by Alps isn't enough. It has to have islands too. As if one display of natural splendour wasn't quite sufficient. Each island is like a model on a runway, just waiting to be admired and photographed. Gosia couldn't help but think that the lake was showing off, like a peacock flaunting its feathers.
Islands You Can't Ignore on Eibsee
| Island Name | Level of Unnecessary Beauty |
| --- | --- |
| Maximilianinsel | High |
| Braxeninsel | Very High |
| Scheibeninsel | Outrageously High |
| Laudachinsel | Absurdly High |
Hiking Around Eibsee Lake
If you're the adventurous type who thinks, "Why not put my legs to work?" then Eibsee has got you covered with its hiking trails. These paths wind through forested areas, along the shoreline, and offer perspectives that you'll either love or loathe. Darek found the views a bit excessive, like adding a dollop of cream to an already frothy cappuccino.
Hiking Trails at Eibsee
Eibsee Rundweg: The classic, must-do, overrated loop.
Riffelscharte: For those who need even more awe in their lives.
Hochthörle Hütte: Because clearly, one vantage point isn't enough.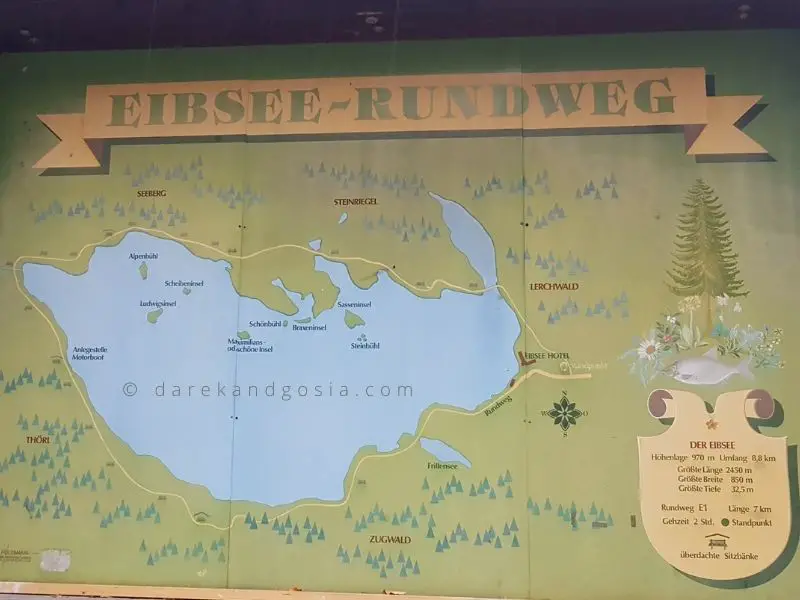 How Long is the Walk Around Eibsee Lake?
You can cover the whole lake's circumference in a moderate 7.2-kilometre walk. It's like nature's equivalent of a treadmill, except with unrelenting beauty that simply won't leave you alone. If you're a brisk walker, you'll finish in 1.5 to 2 hours. If you're like us and pause every five minutes to question your life choices, make it 3 hours.
| Walking Speed | Duration |
| --- | --- |
| Brisk | 1.5-2 hours |
| Moderate | 2-2.5 hours |
| Existential | 3+ hours |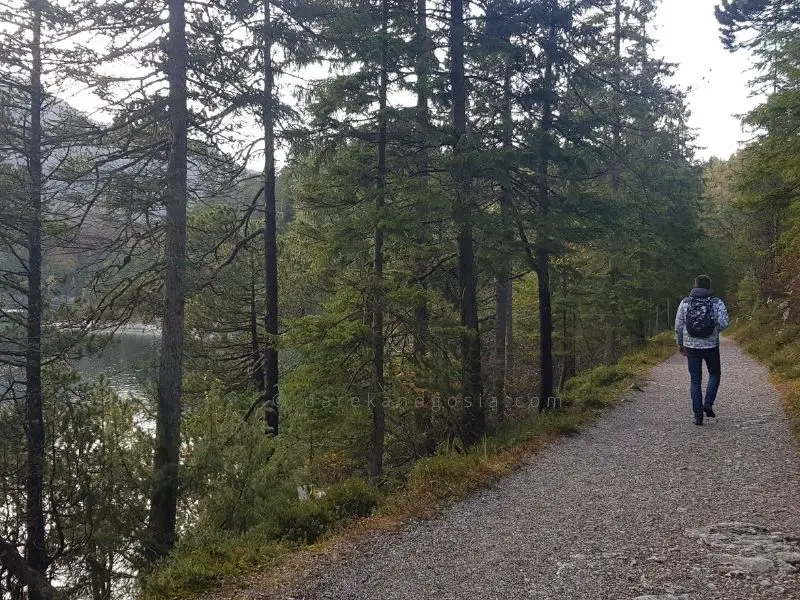 Where to Stay Around Eibsee Lake in Bayern?
Should you choose to prolong your torment by the lake, several accommodation options range from the luxurious Eibsee Hotel to rustic cabins. At this point, we wouldn't blame you for going all out – you're already in a place that defines excess.
Where to Stay If You Must
Eibsee Hotel: If you're into opulence.
Ferienhaus am Eibsee: For a homey feel.
Gasthof am Eibsee: If you enjoy feeling like a character in a fairy tale.
Can You Swim in Eibsee Lake?
Technically, yes. The lake's clear, cool waters are irresistibly inviting. However, swimming in Eibsee is like stepping into a liquid mirror. It's unnaturally transparent, almost like the water is showing off its purity just to make you feel inadequate.
| Swim or Not | Why? |
| --- | --- |
| Swim | Test your comfort zone |
| Don't Swim | Maintain your self-esteem |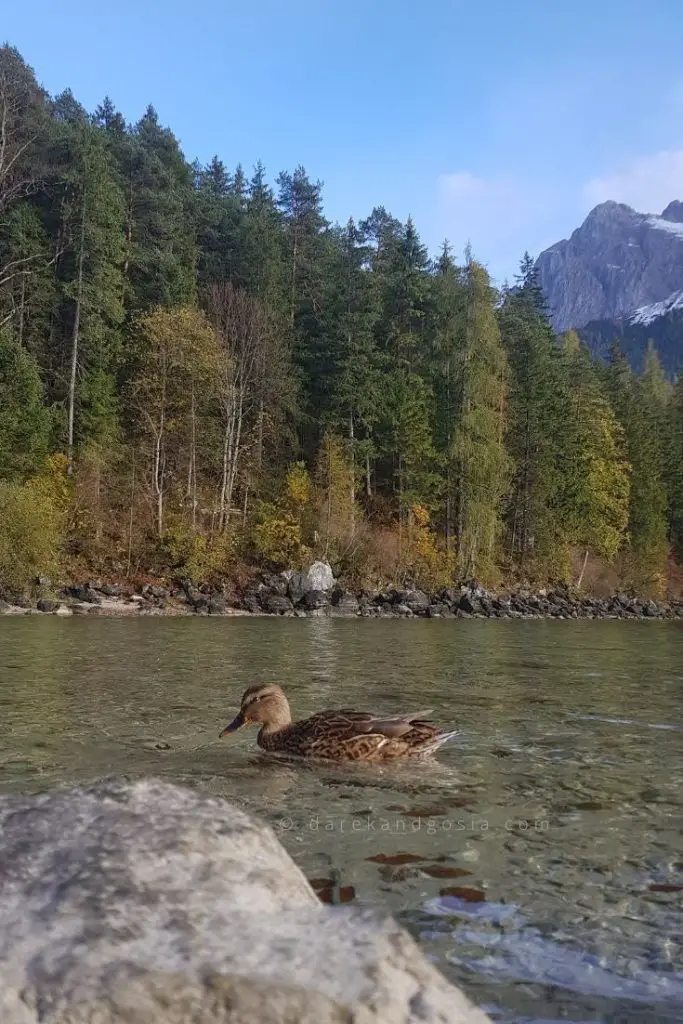 What Attractions are Near Eibsee?
Not that you'll need more, but there are other attractions around Eibsee, like the Partnach Gorge and the neighbouring Zugspitze. Because when in an area that's already flaunting its splendour, why not dial it up a notch?
Nearby Overachievers
Partnach Gorge: A visual spectacle of water and rock.
Zugspitze: Germany's highest peak. Obviously.
Alpine Coaster: For when you want your stomach to meet your throat.
Is Lake Eibsee Worth Visiting?
The answer to this question will depend largely on your threshold for natural grandiosity. If you like your landscapes like you like your coffee – strong, intense, and leaving you slightly jittery – then Eibsee might just be your jug of java.
For us, it was worth it, but not without moments of introspection about why we, and the world at large, find such ostentatious displays of nature so irresistible.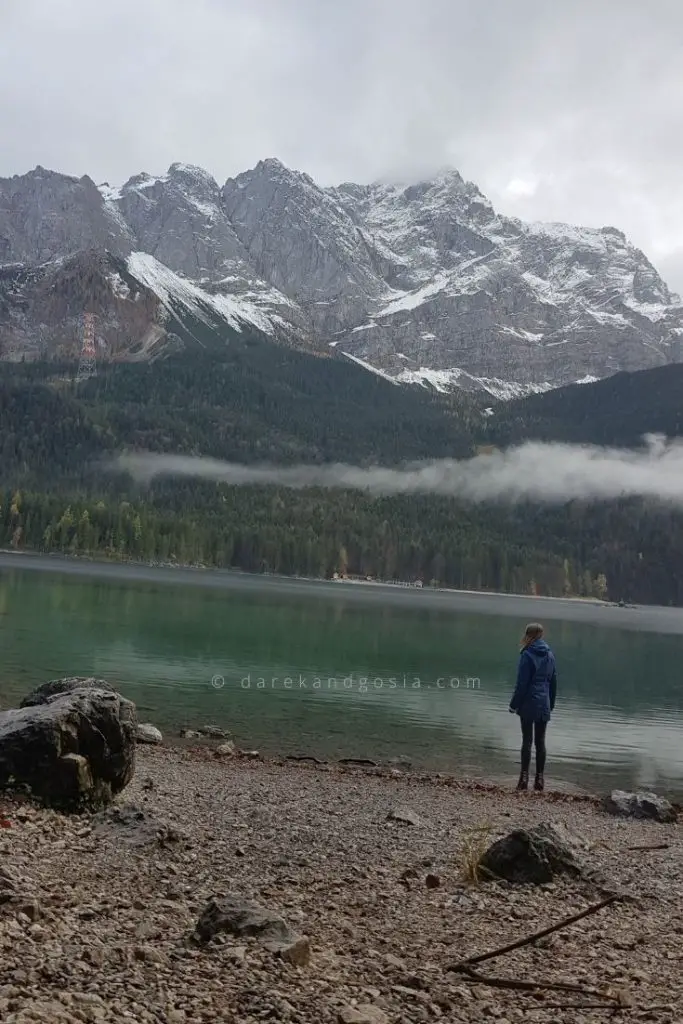 To Eibsee or Not to Eibsee?
It seems the question isn't whether Eibsee is worth visiting, but whether you're prepared for the emotional journey that comes with it. To describe this Bavarian lake as merely beautiful would be an understatement – it's stunning to the point of being gaudy.
Like a blockbuster film with too many special effects, Eibsee's grandeur can be either mesmerising or overwhelming, perhaps even both. It's a place that provokes thought, demands attention, and will haunt your Instagram feed for years to come.