Mom, I'm moving to London! But, where should you live in London? Learn more about 25 safest & best places to live in London, UK!
Looking for the best places to live in London? Right, but where to move to in London? Many people, from individuals to large families, move there for job opportunities or for a fresh start. London is a popular city worldwide, with thousands of tourists being attracted to this fast-moving location every year. There are hundreds of sights to see and several different attractions where you can experience pieces of history or take great photos.
Of course, with a city so big, it can be difficult to figure out where you want to live. The purpose of this list is to give readers a rough idea of some of the more popular locations to live in London, with the hope to take away some of the stress you might be feeling if you're looking to move to England's capital city.
There are many different reasons that people want to move to London. Despite its reputation for being a tad expensive – especially in the case of renting or buying a property there – it's not the most expensive place in the world to live; and even if your rent is a bit steep, you'll find countless markets and wholesale places to make living a bit easier.
Not only that, but London is perfect for travelling. You can take a train from London to practically anywhere else in England, and even take trains across to France with the help of the glorious Eurostar train.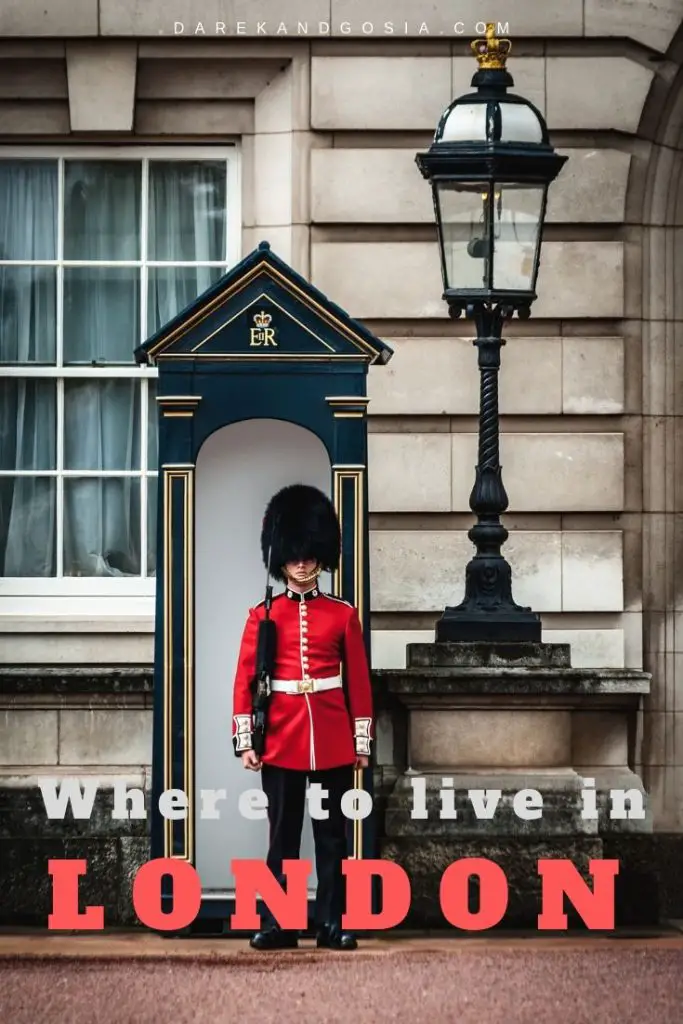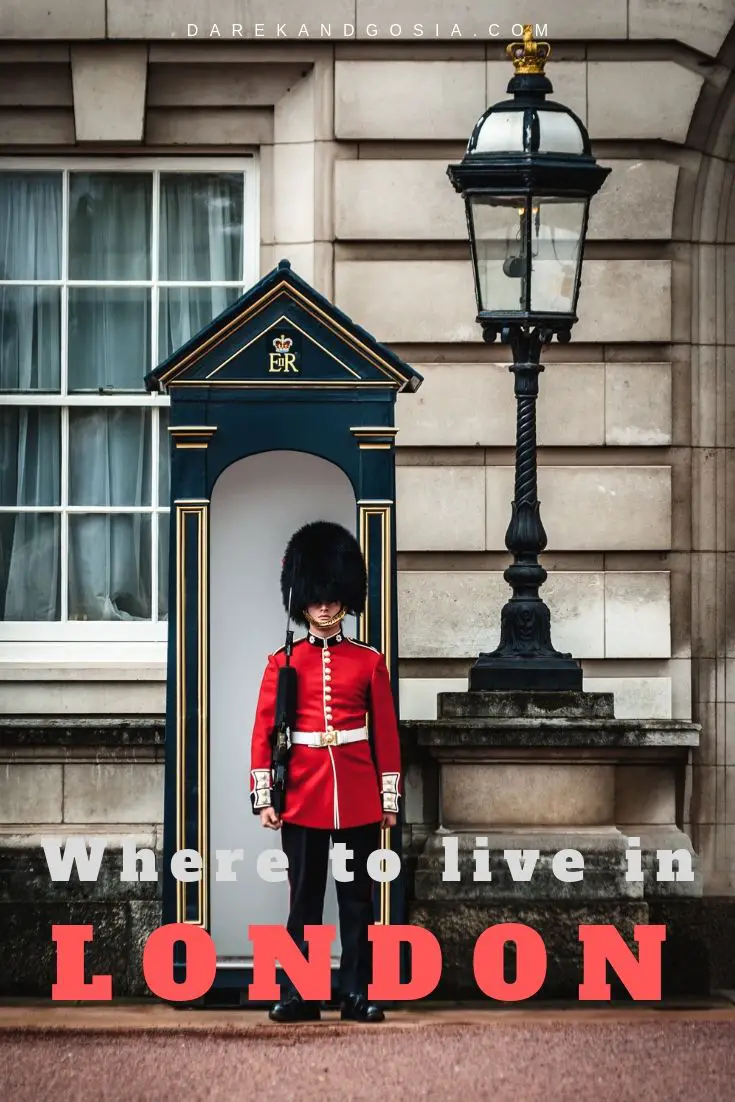 Best places to live in London:
So, without further ado, here are the TOP 25 places to move to in the city of London:
1. Farringdon
Best place to live in London for club-lovers
Farringdon is centrally located. You can easily get from this vibrant area to the rest of London by using the wonderful bus and tube system.
Farrington is home to one of London's most popular clubs, Fabric, and also has enough restaurants and coffee shops to please a person of any age. There are also many romantic places in London to be found in this part of the city. Farringdon is found within the London Borough of Islington and is popular with couples and professionals seeking to live near central London.
2. Clapham
Top place to live in London for young professional
Clapham is one of the more diverse areas in London, offering a neighbourhood that is perfect for any young professional or family. This social hub is right next to Brixton, so you're never far from a great night out.
Creatives will find inspiration living here, and many different famous people (including JK Rowling!) have lived here at one point in their lives.
3. Angel
Top place to move to in London for restaurant-lovers
With such a beautiful name, it's no wonder that people move to Angel. This area is picturesque and has a fantastic cultural atmosphere. Situated in Islington, right on the Northern side of Central London, Angel is separated from the tourist atmosphere that the centre of London suffers from.
Upper Street is well-known for having a variety of restaurants and bars with a range of cuisine from around the world. Business and creative types will be spoiled here.
4. Vauxhall
Best place to live in London in your 20s
Modern housing is easy to find in Vauxhall, and it's the perfect place for young professionals to get to grips with their career and their adult lives. Because it's on the Victoria line for the tube, Vauxhall is extremely accessible, and only a short journey away from Waterloo – a major part of London.
The riverside location of Vauxhall is perfect for students and young professionals looking to spend their 20s somewhere equally relaxed and thriving.
5. Putney
One of the safest places to live in London
Another location that's right across from the river Thames, Putney can be found in South-West London. This area is known for being quiet, peaceful, and accessible.
For a young person, couple, or family that want a cosy place to live that has a countryside vibe without being too far out of the way, then Putney is perfect. Putney also offers the best transport links in the South-West of London!
6. Balham
Most underrated place to live in London
Unfortunately, Balham is typically overlooked because of the neighbouring areas that it's right next to. Places like Brixton and Clapham are more likely to draw attention from those looking to move to South-West London, but this calm neighbourhood was actually voted as one of Britain's best places to live in the past.
Community is crucial to those who live in Balham, so if you're someone who enjoys talking with your neighbours and has a friendly disposition, then Balham is where you need to be.
7. Ladbroke Grove
Best place to live in London in your 40s
The name is a little strange, we'll give you that, but Ladbroke Grove is a pricey neighbourhood with great transport links and rich history in bohemian art. This is another middle-class district, and the cost of renting in Ladbroke Grove is quite substantial.
Houses almost never pop up on the market; you're more likely to be looking at renting a flat. That said, there are many bookshops and bakeries that could entice anyone to live here.
8. Kentish Town
Top place to move to in the capital for cocktails-lovers
This neighbourhood has personality, that's for sure. Kentish Town is in walking distance of Hampstead Heath and is considered to be a great hotspot for anyone who loves a good meal or a cheeky cocktail.
Foodies will find their calling here, as many of the restaurants are showcased by well-known food critics. Kentish Town is also in the perfect location; right in the middle between Camden's spending sprees and the more reserved Hampstead area. A mix of people awaits you here.
9. Colindale
Best place to live in North-West London
With a retail scene that seems to never stop growing and brand-new housing coming up on the market quite frequently, Colindale is a good fresh start. Nestled in North-West London, this competitively priced area has several new amenities that have been built over the last few years, including a spa!
There are also great travel routes to take residents and visitors to the West End, where you can have the time of your life if you're so inclined.
10. Finchley
Great place to move to in North London
There are many areas within what London calls "Finchley", but no matter which area of this neighbourhood you choose to settle down in, you'll have domesticity at your disposal. Finchley has a bounty of properties and transport available in the area, but you shouldn't confuse it with Finchley Road – that's not actually in Finchley.
Located in Barnet and on the North Circular route for the tube, Finchley is a quiet little area with good restaurants and a well-known cinema by the name of the Phoenix.
11. West Hampstead
One of the best places to live in London for young families
West Hampstead has often been ignored in favour of Hampstead. Tourists tend to flock towards well-known areas, especially if they're aware of Hampstead's celebrities and European cafés.
However, West Hampstead has many of the same things that its neighbour does, and the charming residential area has a lot of perks; including friendly families and professionals living right next door to you. Community is important here, and everyone is very respectful of one another.
12. Stratford
Best place to live in East London
It's only been the last few years that Stratford has gained popularity as a residential area. With the additional of Westfield Shopping Centre, and since hosting the Olympics in 2012, Stratford has risen from its ashes and become a London hotspot.
Westfield Shopping Centre is one of the main attractions of the area, being the largest place to shop in all of Europe. If you're a fan of the Olympics or a fan of shopping, then Stratford can certainly accommodate you.
13. Finsbury Park
Top place to live in London for families
At first glance, Finsbury Park may not seem like an ideal place to live, but if you can overlook a bit of scruffiness, you can easily find a home here. Like several neighbourhoods that we've mentioned already, Finsbury Park has a vibrant sense of community, and great transport links.
It also has an enormous park that is great for families to take their children to, or for dog owners to let their pups explore.
14. Fulham
One of the best places to live in London with good schools
Full of gorgeous and expensive homes, Fulham sits right in one of the bends of the river Thames, close to Stamford Bridge, and just a short journey away from Hammersmith. There are many sought after schools in this neighbourhood, including Lady Margaret.
These top schools are one of the many reasons that families look to move to this area; as well as the Victorian and Edwardian vibe that is simply masterful.
15. West Kensington
One of the safest areas in London
Lined with beautiful apartments that showcase Victorian terraces, unique shops, and awash with successful professionals; West Kensington is a dream to live in.
This particular neighbourhood in London is popular with those moving from Europe into England's capital. West Kensington is extremely residential, and though the population here is a bit densely proportioned, it's peaceful.
16. Chelsea
The place to move to in London for football-lovers
Chelsea is definitely one of the more well-known places on our list, mostly thanks to the football club that shares its name – despite the fact that Chelsea F.C. actually runs out of Fulham, right next door.
Though it has a reputation for being expensive, it's quite possible to live in Chelsea on a budget if you're happy to live just outside of the borders of the area. For high-end homes and plentiful fashion boutiques, Chelsea is the place to be.
17. Richmond
Best place to live in London for green-lovers
Home to the second biggest park in London, Richmond has plenty to offer. Richmond Park is a Royal Park with its own wild deer and a ballet school right within its boundaries.
Richmond, itself, is no less beautiful. Offering bookstores, vintage clothing, and food markets, this Greater London paradise is far cheaper than you probably think it is.
18. Shoreditch
Top place to live in London for students
For young couples and singles, Shoreditch is the perfect location to move to. This little nook of London extends over a couple of postcodes because of the various neighbourhood boundaries around it being a little blurred.
However, that is of little consequence when you have high streets filled with pop-up establishments and trendy coffee places that would make anyone on Instagram swoon.
19. Hammersmith
Top place to move to in London for office workers
Several huge corporations (such as Disney and Coca-Cola) have HQs in Hammersmith. Because of this, it's a great business neighbourhood for professionals to move into.
Not only big companies but also smaller cafés and shops have made Hammersmith their home. If you're someone with office work skills, you can easily make a life for yourself here in Hammersmith.
20. Islington
Best place for students to live in London
The perfect place for intellectuals and academics, Islington has made a reputation for being an area full of smart workers and students. Islington is right next to Camden, and there are ten different tube stations within walking distance.
For those interested in vintage and antique shopping, you'll be happy to know that living in Islington puts you extremely close to Camden Passage.
21. Marylebone
Best place to move to in London for shopping lovers
Just a few minutes away from Oxford Street, Marylebone has so many independent shops and eclectic places to go, eat, and see, that you may find yourself feeling overwhelmed.
For people who like being adventurous and pounding the pavement to discover new things, this area of London would be a dream come true.
22. Ealing
One of the best places to live in London for families
Ealing is surrounded by greenery. It's quiet and has a charming town centre which vibrant and full of life without being too busy. Ealing can be found in West London and has great travel links that can take you across the Central Line and into some of the best locations in the city.
Ealing is quite a bit larger than most of the places we've mentioned so far, so you'll be spoilt for choice if this is your destination.
23. Paddington
Best place to live in West London for weekend trip lovers
Paddington doesn't get a lot of attention but it's a short journey away from Hyde Park.
Paddington's canal area was recently transformed, and the surrounding establishments offer everything from green spaces for you to relax to thriving restaurants great for family nights out.
24. Bayswater
Best place to live in London for couples
Like Paddington, Bayswater is close to Hyde Park, but it also has easy access to the West End – full of many famous landmarks in London!
The rent prices in Bayswater are lower than any of the neighbourhoods that surround the area, and there are also beautiful places to enjoy here – including family pubs and restaurants. Bayswater can be found right next to Paddington.
25. Chiswick
Top place to move to in London for cafe-lovers
If you're looking for somewhere that's central without being cursed by tourism, then Chiswick may be exactly right for you. More than that, this neighbourhood is a haven for those who enjoy delicate foods and like to expand their taste buds.
Everything from tranquil cafés to lively gastropubs can be found in this wonderful slice of London.
Where would you move to in London?
With so many choices from the best places to live in London the task is not easy! We really hope that our guide to the best areas in London will help you make the right decision! Let us know where is your ideal place to move to in London 🙂
Please check out the below posts too: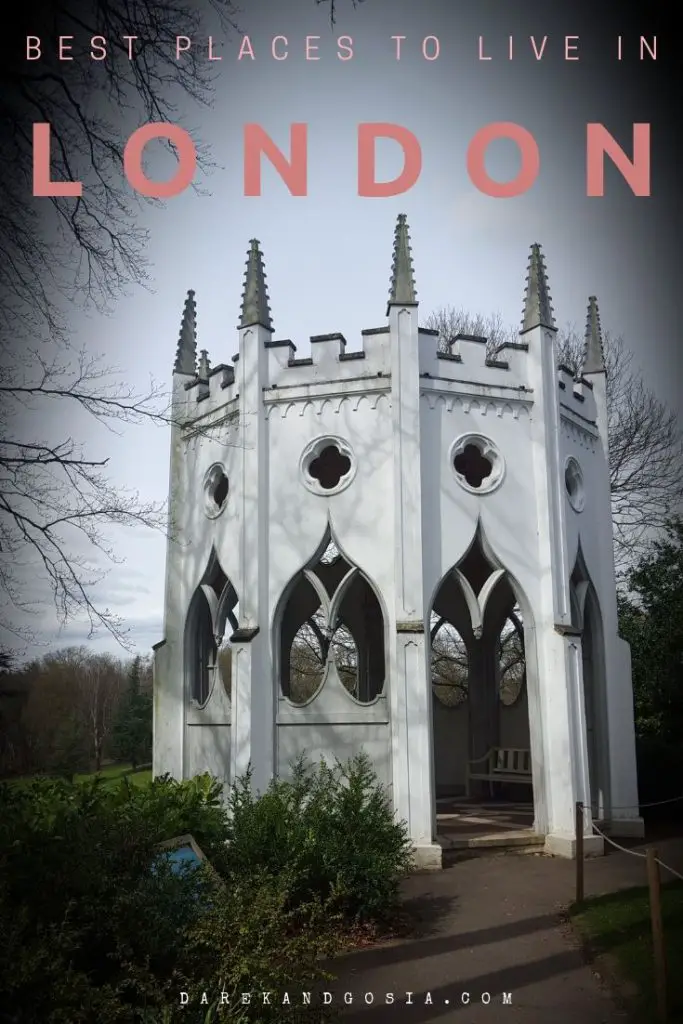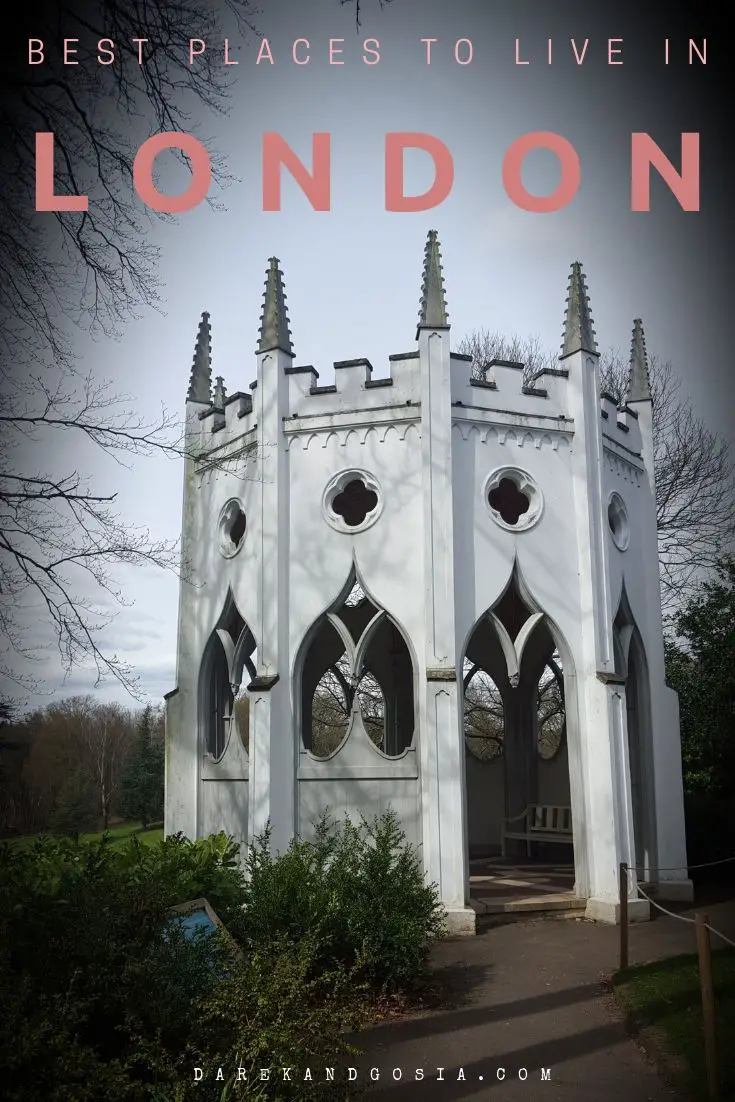 Read our other articles related to London / England / UK: