Discover the best of Gran Canaria: from the sun-drenched dunes of Maspalomas to the towering peaks of Roque Nublo and the vibrant vibes of Puerto Rico.
Gran Canaria isn't just an island – it's a miniature continent, bursting with diverse attractions. Wander the impressive dunes of Maspalomas, gaze out from the Mirador del Balcon, or relax on the golden shores of Playa del Ingles and Amadores Beach.
If romance is on your mind, Maspalomas offers the perfect backdrop. Imagine sunset walks and cozy beachside dinners. And for those who come alive when the sun goes down, the island has a lively nightlife waiting to be explored.
Visiting in March? You're in for a treat. Gran Canaria is one of Europe's warmest spots in early Spring. But don't worry if February is your travel month, the island is still abuzz with activities, including the vibrant Carnaval de Las Palmas.
No trip to Gran Canaria is complete without diving into the adventures of Puerto Rico. Beyond the sun and sand, it offers a tapestry of experiences, from volcanic treks to stargazing nights.
And if you're hitting the road, there are countless spots to uncover. Gran Canaria is tailor-made for explorers, whether you're seeking thrills or tranquility.
So, gear up for an unforgettable journey. With its mix of natural wonders, fun activities, and rich experiences, Gran Canaria promises memories that'll last a lifetime. Ready to explore this Spanish island?
What is Gran Canaria best known for?
Gran Canaria is a popular island in the Canary Islands archipelago, which belongs to Spain. It is known for several notable features and attractions:
Beaches: Gran Canaria is famous for its stunning beaches. The island offers a diverse range of coastal landscapes, from long stretches of golden sand to rugged cliffs and hidden coves. Playa del Inglés, Maspalomas, and Puerto de Mogán are among the popular beach destinations on the island.
Maspalomas Dunes: One of the most iconic landmarks of Gran Canaria, the Maspalomas Dunes are a vast expanse of sand dunes located along the southern coast. This unique natural area is a protected reserve and offers a desert-like landscape that attracts visitors from around the world.
Natural Beauty: Gran Canaria is known for its diverse and breathtaking natural beauty. The island features stunning landscapes, including volcanic formations, dramatic cliffs, deep ravines, and verdant valleys. The Roque Nublo, a distinctive volcanic rock formation, is a must-see landmark.
UNESCO Biosphere Reserve: A significant part of Gran Canaria has been designated as a UNESCO Biosphere Reserve. This recognition highlights the island's exceptional ecological diversity and its efforts to preserve and sustain its natural resources.
Outdoor Activities: Gran Canaria offers a wide range of outdoor activities for nature enthusiasts and adventure seekers. From hiking and mountain biking to water sports like surfing, windsurfing, and diving, there are abundant opportunities to engage in outdoor pursuits.
Resorts and Tourism: Gran Canaria has developed as a popular tourist destination, offering a variety of resorts, hotels, restaurants, and entertainment options. The island attracts visitors seeking relaxation, sunbathing, water activities, and vibrant nightlife.
These are some of the key aspects for which Gran Canaria is well-known. The island's unique blend of natural beauty, stunning beaches, and a vibrant tourist infrastructure make it a popular choice for vacationers seeking a diverse and enjoyable holiday experience.
Gran Canaria – car hire:
We have rented cars many times during holidays in Spain and we always used discovercars.com
Check out our guide to the best Spanish car rental or simply explore the options directly on discovercars.com if you need a car during a trip to Gran Canaria.
Top 10 unusual things to do in Gran Canaria: At a Glance
Mirador del Balcon
Maspalomas dunes
Puerto Rico Beach
Caves of Valeron
Cascada de Soria
Roque Nublo
Playa del Ingles
Barranco de Las Vacas (natural wonder of Europe)
Tagoror restaurant
Are you planning a holiday on this island and don't know what to see? Discover the 26 best attractions & things to do on this Spanish island. These places can't be missed!
Where to stay in Gran Canaria island?
Which part of Gran Canaria is best? Looking for the best places to stay on Gran Canaria? There are many amazing places to stay during your holiday on Gran Canaria island. Please see below some of the TOP hotels we have selected for you:
"Located just 50 yards from Aquamarina and Patalavaca Beaches, the resort offers a spa. The rooftop restaurant has spectacular ocean views and serves local and international cuisine."
"Adults Only is a 4-star property located in Puerto Rico, 10 minutes' walk from the nearest beach. It features a shared swimming pool and a rooftop terrace with a hot tub. Free WiFi is available."
Need more inspiration? Find a hotel in your favourite part of the island!
Facts about Gran Canaria:
Region:
Canary Islands
Population:
850,000
Main airport:
Gando Airport
Top city:
Las Palmas
Best town:
Maspalomas
Best village:
Fataga
Best for:
Beaches
Best beach:
Amadores
Sunset spot:
Roque Nublo
Best hotels:
Marina Suites
Servatur Waikiki
Riu Palace
This is our list of amazing places we visited during our holiday on the island – your GRAN CANARIA BUCKET LIST: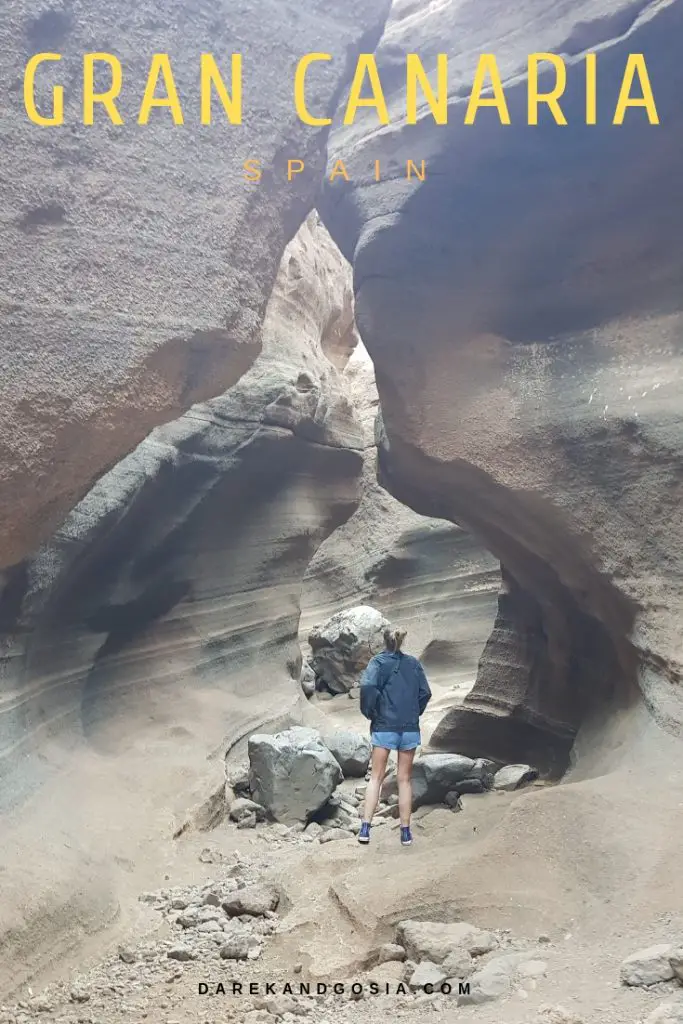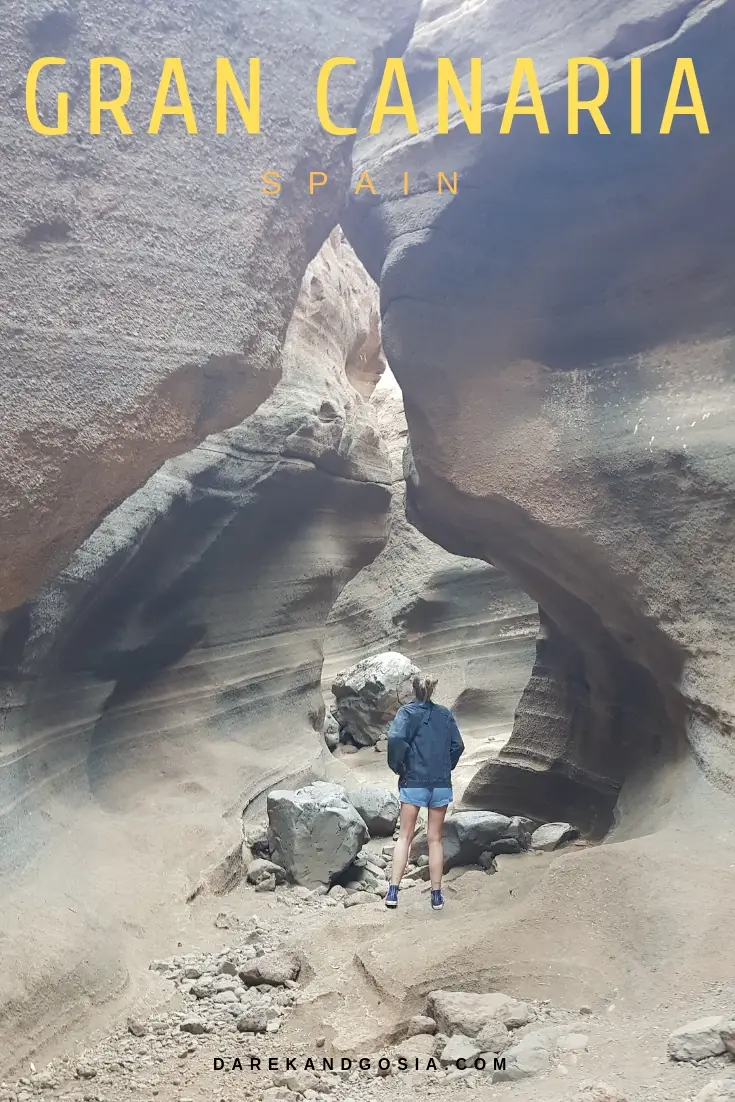 Explore the best things to do in Playa del Ingles and top ideas for things to do in Puerto Rico Gran Canaria:
Unique things to do in Gran Canaria
1. Las Palmas Hop-on Hop-off Tour
Gran Canaria must see? There are many things to do in Las Palmas! Discover all that the city of Las Palmas de Gran Canaria has to offer with a hop-on hop-off tour that takes you to eleven of the best sights to see in the city. The hop-on hop-off tour provides an audio guide of the city as you travel, but allows you to explore the sights at your own leisure.
Some of the stops include Vegueta Cathedral, Santa Catalina Park and Alfredo Kraus Auditorium. Furthermore, a free walking tour is included in your ticket so you really can make sure that you see all of the sights the city has to offer.
2. El Bufadero
What to do in Gran Canaria? This is one of Gran Canaria's most visited water features. Located just 20 minutes drive north from the airport, is a perfect starting point on your adventure in Gran Canaria Spain – one of the best places to visit on the island. The Bufadero de la Garita is a stunning example of how powerful nature is.
Be careful when exploring this area – it's not suitable for kids due to the basalt rocks. But it's definitely worth visiting El Bufadero and spending a couple of hours watching the waves and relaxing by the sea. Is this place on your list of things to do in Gran Canaria?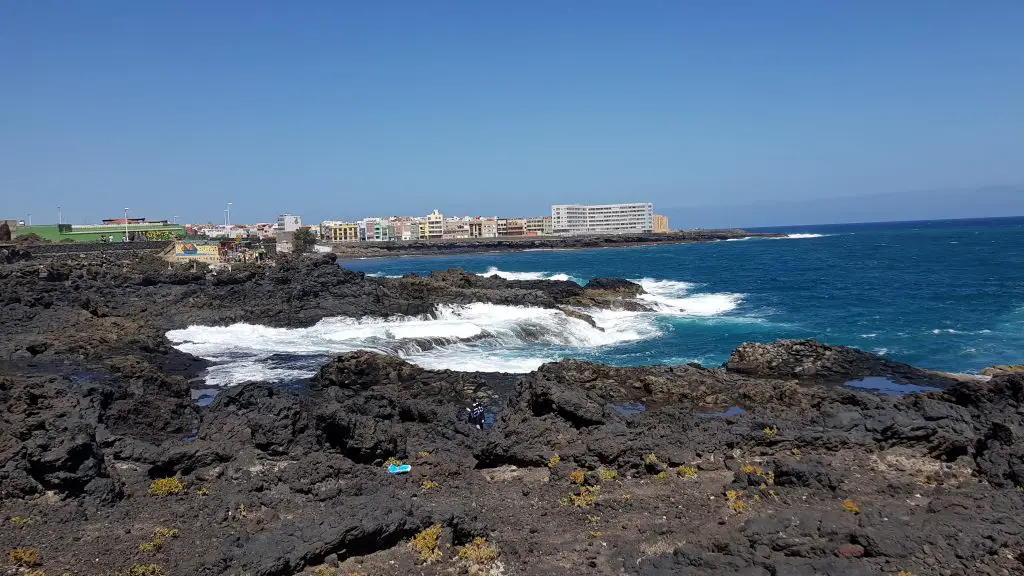 3. Caves of Valeron
Looking for the best Gran Canaria activities? Cenobio de Valerón is a massive basaltic arch, covering a volcanic tuff, in which about 300 caves were excavated by Guanche people. It is one of the main Gran Canaria tourist attractions. Situated in the north coast of Gran Canaria, they back to the stone age. Cenobio de Valerón is one of the most important pieces of architecture on the island but still, nobody knows the purpose of the caves!
So, if you ask: "who originally inhabited these caves or what they were used for?" you are not the only one asking this while visiting Cenobio de Valerón in Gran Canaria.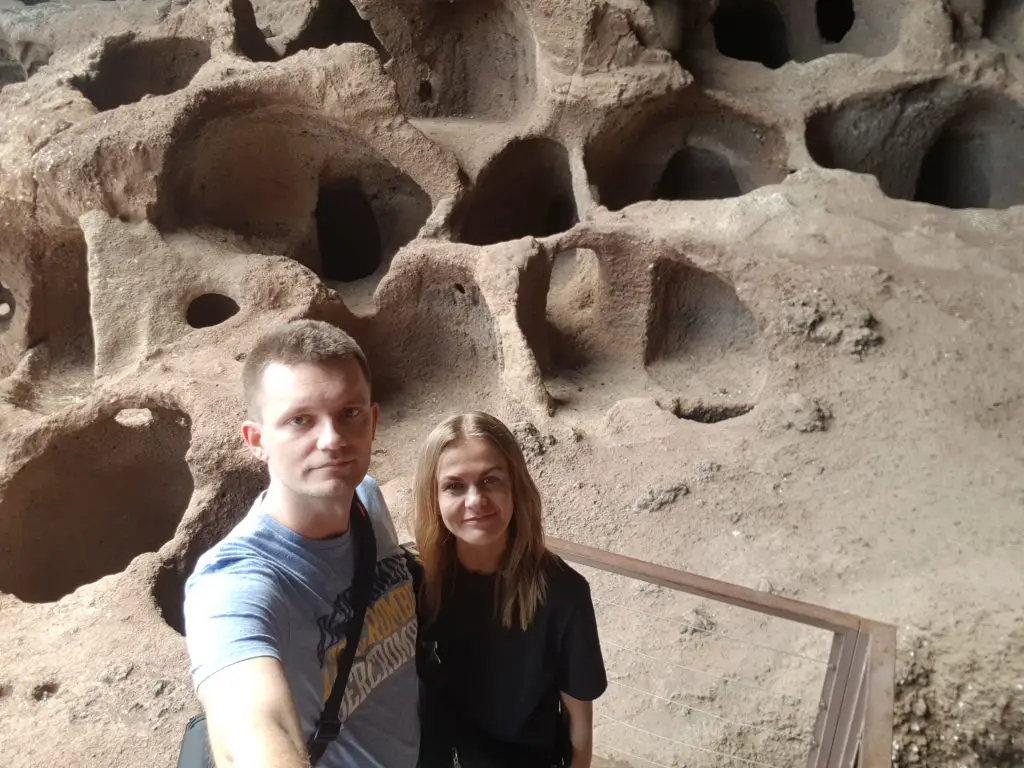 4. GC-200 Road
There are few amazing roads in Gran Canaria but GC-200 is one of the most spectacular roads – the views are just breathtaking. This is one of the best roads in Europe we have driven on. From hairpin bends to sheer cliff-edge drops you have all you need to enjoy the drive!
This is a very popular Gran Canaria thing to do with many stunning points of interest along the road. So, is this road on your Gran Canaria what to-do list?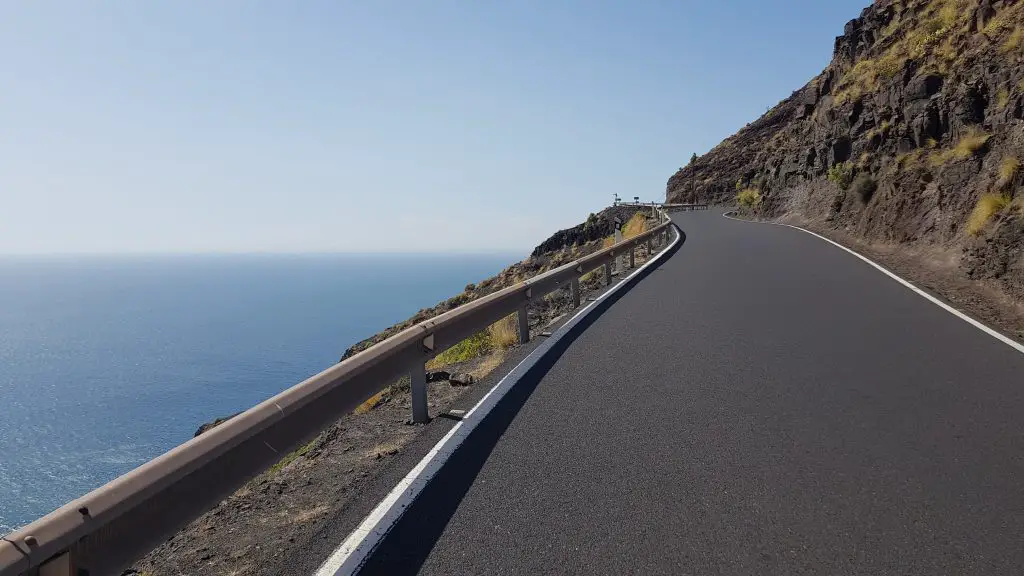 GC 200 starts at the end of the GC 1 motorway at Puerto de Mogán but the best part of it is between Puerto de las Nieves and Mirador del Balcón. Enjoy! One of the best and free attractions in Gran Canaria!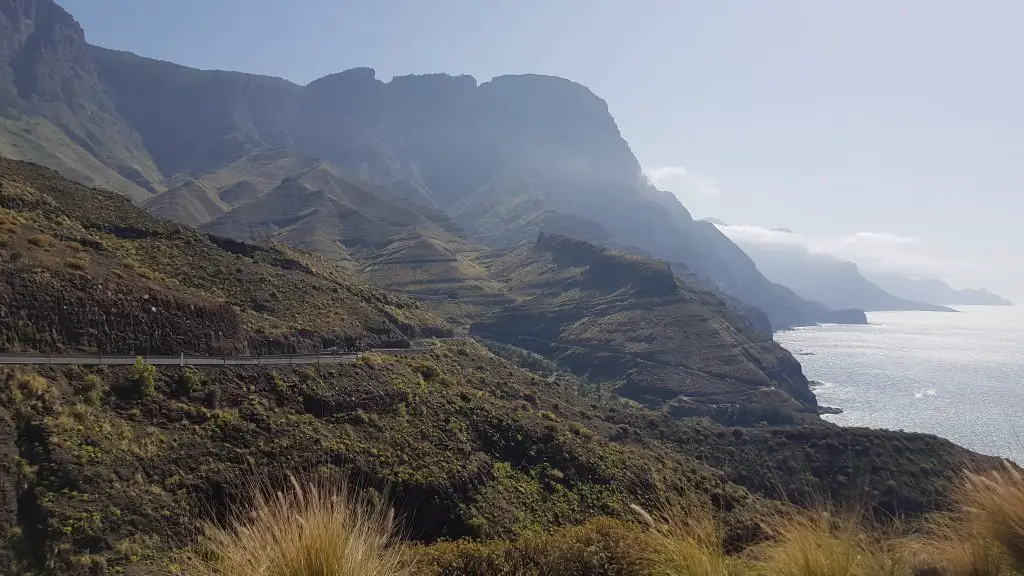 5. Dolphin and Whale Watching
What to do in Gran Canaria? The waters surrounding Gran Canaria are home to an abundance of wildlife including a vast variety of dolphins, whales and even sea turtles too. The waters are a perfect feeding ground for incredible marine life which means you don't have to go too far from the shores of Gran Canaria to spot beautiful creatures.
These include Orcas, Beaked Whales and Sperm Whales as well as Bottle-Nosed Dolphins, Common and Spotted Dolphins too who all like to play in the waves of the dolphin-watching boats!
6. Mirador del Balcon
Where to go in Gran Canaria? No time for a break! After an amazing drive on the GC-200 (you might be suffering from travel sickness by this time ?), you will experience another stunning view – just from the edge of Mirador del Balcon – a fabulous place to visit in Gran Canaria.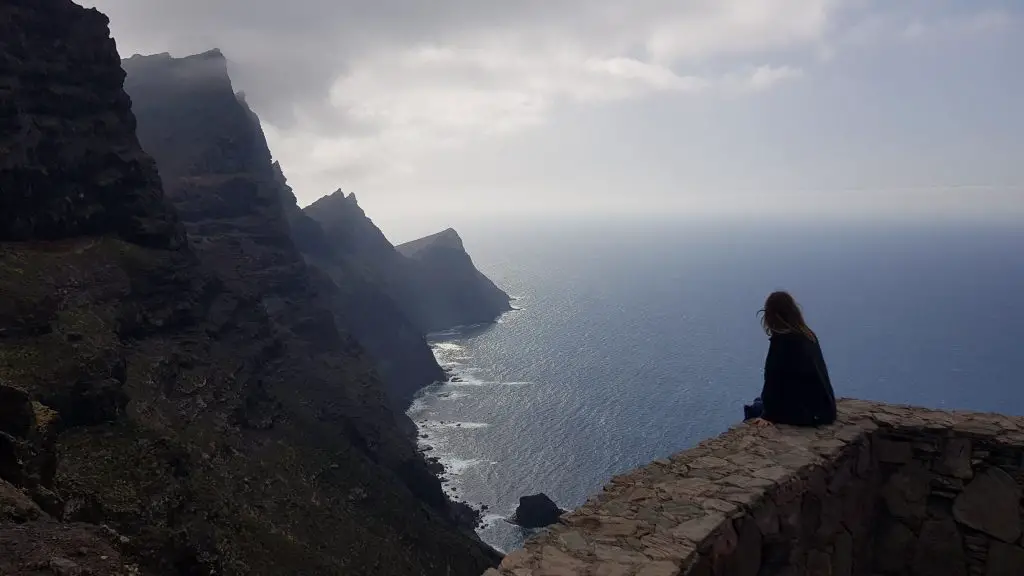 Make sure you walk down the step-stone steps to the balcony, which hangs out over the ocean! You will be rewarded with spectacular views! This is one of the best places to visit in Europe – it's just stunning!
Would you take a picture from the end of the Mirador del Balcon? This really is one of the top Gran Canaria sightseeing!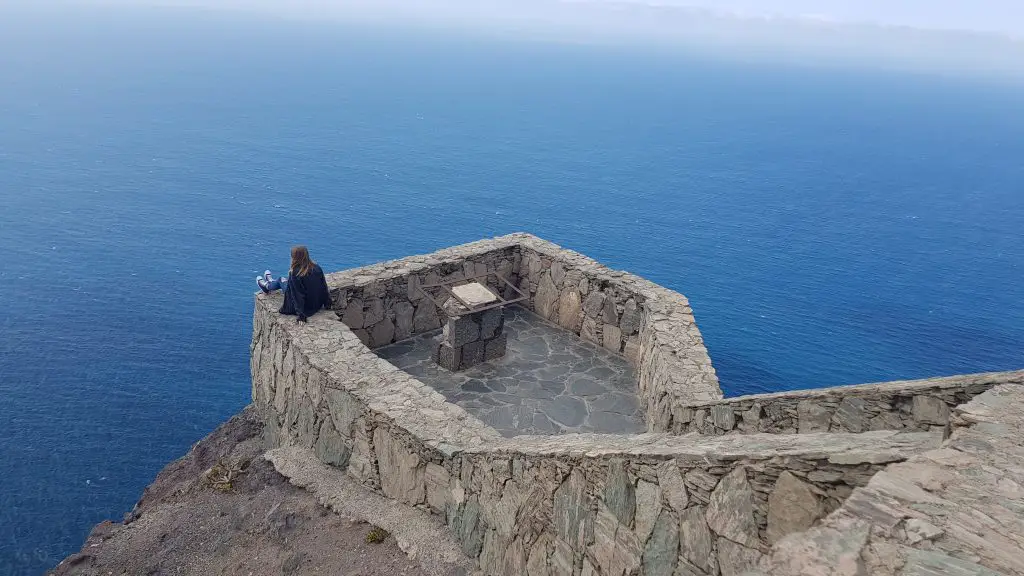 7. Puerto Rico Beach
Looking for Puerto Rico Gran Canaria things to do? Situated in the south-west of Gran Canaria, Puerto Rico's beach is a crescent of golden sand imported from the Sahara. It looks stunning! The beach of Puerto Rico in Gran Canaria is one of the best family-friendly beaches as you can enjoy sunny weather for most of the year!
What else would you expect from Puerto Rico? This part of Gran Canaria is really busy with tourists seeking sun, beautiful beaches and a relaxing atmosphere.
Would you visit Puerto Rico during your holiday on Gran Canaria?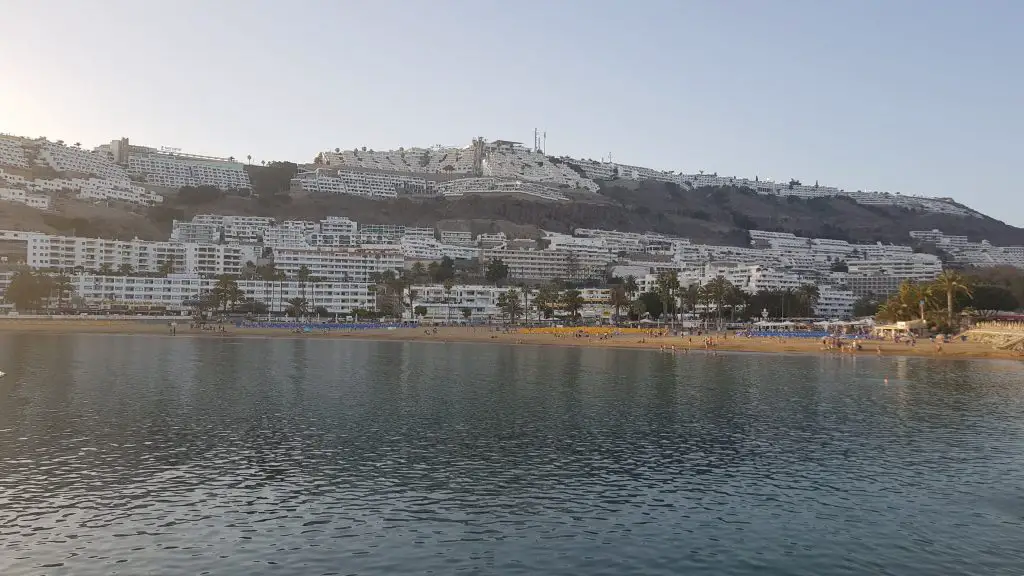 8. Amadores Beach
Top activities in Gran Canaria? Visit stunning beaches!
Amadores Beach is located in southwest Gran Canaria. It is a man-made beach perfect for relaxing in the sunshine and swimming. The beach is sheltered by two dykes, so its waters are mostly calm.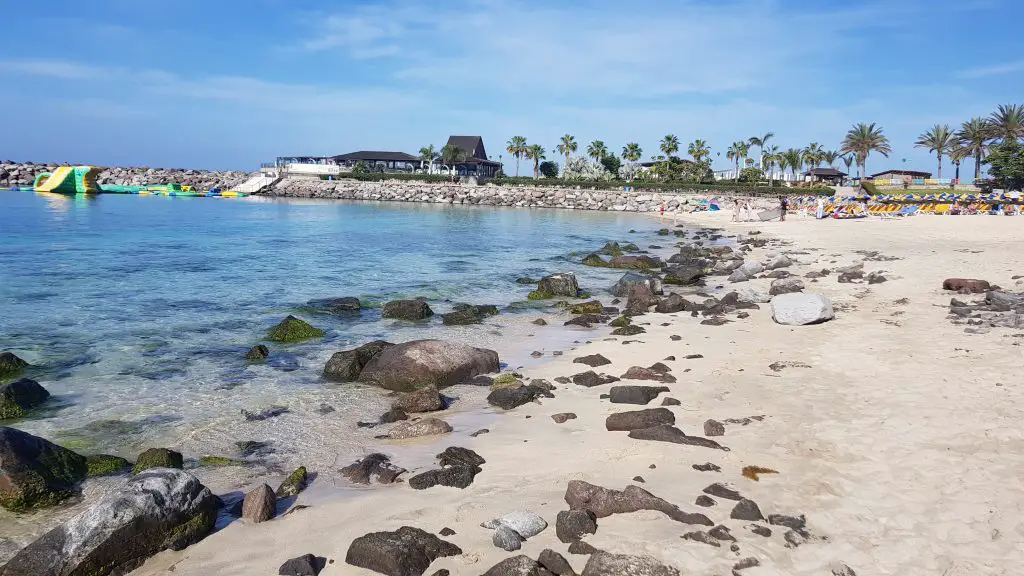 Amadores Beach is the most stunning beach in Gran Canaria, and one of the best beaches in Europe! With crystal clear water and white sand, along with the restaurants, it makes a perfect place to spend a whole relaxing day.
This Blue Flag beach is the largest artificial beach on the holiday island of Gran Canaria and one of the best Amadores Gran Canaria things to do!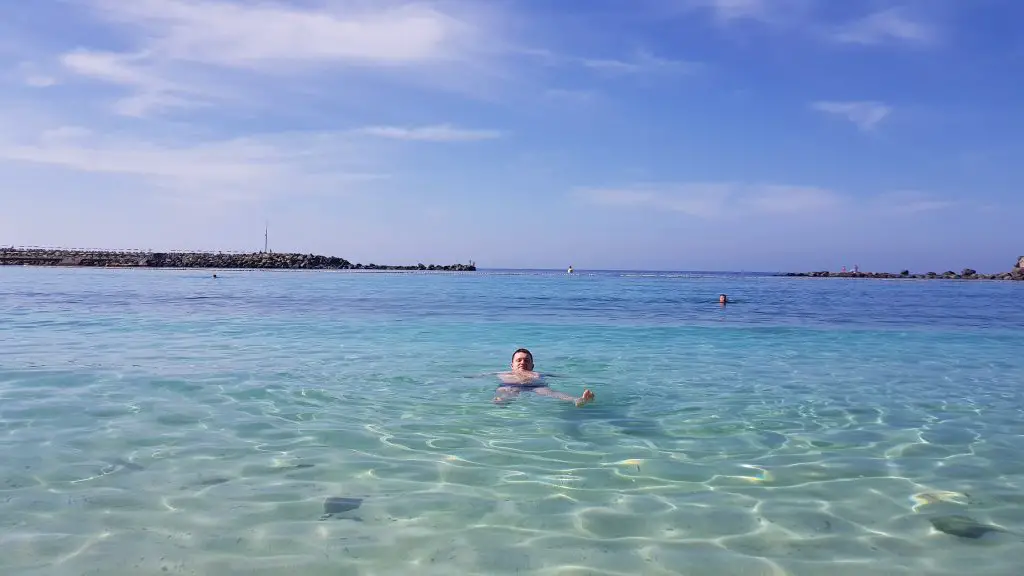 This is one of the best beaches in Spain so you can't skip this place while on the island! 🙂
9. Catamaran Cruise
Top Gran Canaria attractions? Live a life of luxury and enjoy the crystal-clear waters that surround Gran Canaria with a sumptuous catamaran cruise. With food and drink on board and plenty of ways to enjoy the seas whether it's a quick dip or a snorkel, a catamaran cruise offers a mix of pampering and adventure.
With options for half-day, full-day or sunset experiences, you can find a trip to suit you and may even be lucky enough to spot some of the marine life from the catamaran including dolphins and whales!
10. GC-505 Road
Where to find the best places to visit in Gran Canaria? This is another stunning road on the island with spectacular views. The best part of the road starts at Las Filipinas and ends at Cascada de Soria. Just under 10km of hairpin bend & mountain s-shape curved road, you will love every of the 20min on the road.
Make sure you have a strong car as you will be climbing a lot (read our guide to renting a car in Europe)! The altitude difference is around 900m!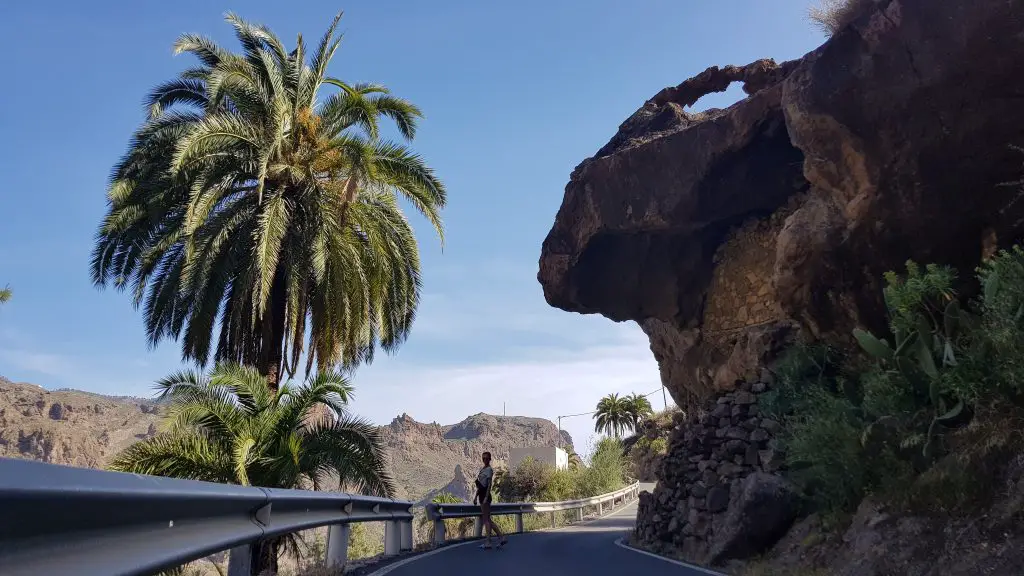 11. Cascada de Soria
Gran Canaria activities to do? This is one of the best sights in Gran Canaria when… it's raining. As this doesn't happen too often, it is very unlikely that you will see the Cascada de Soria waterfall. As we didn't see it.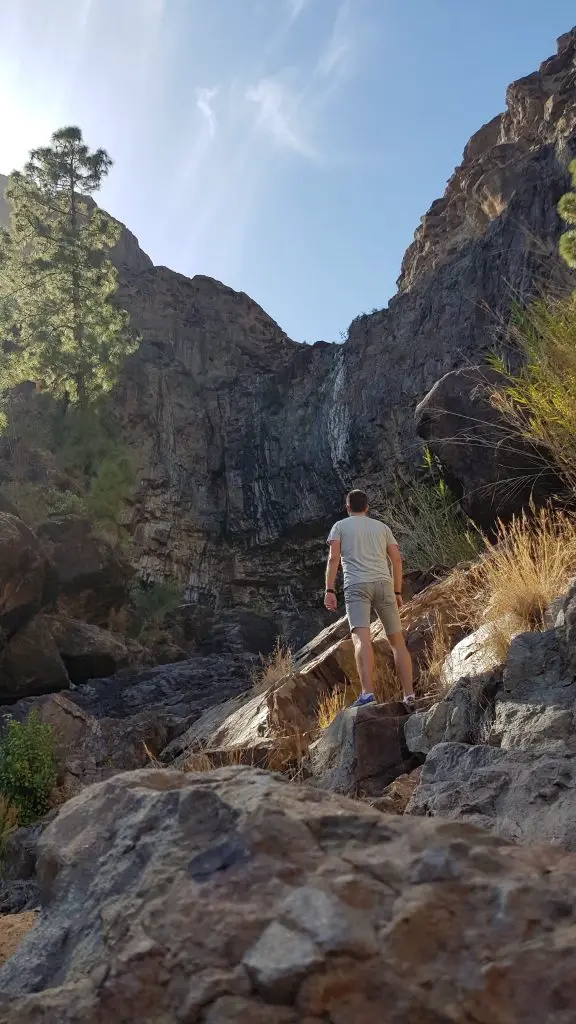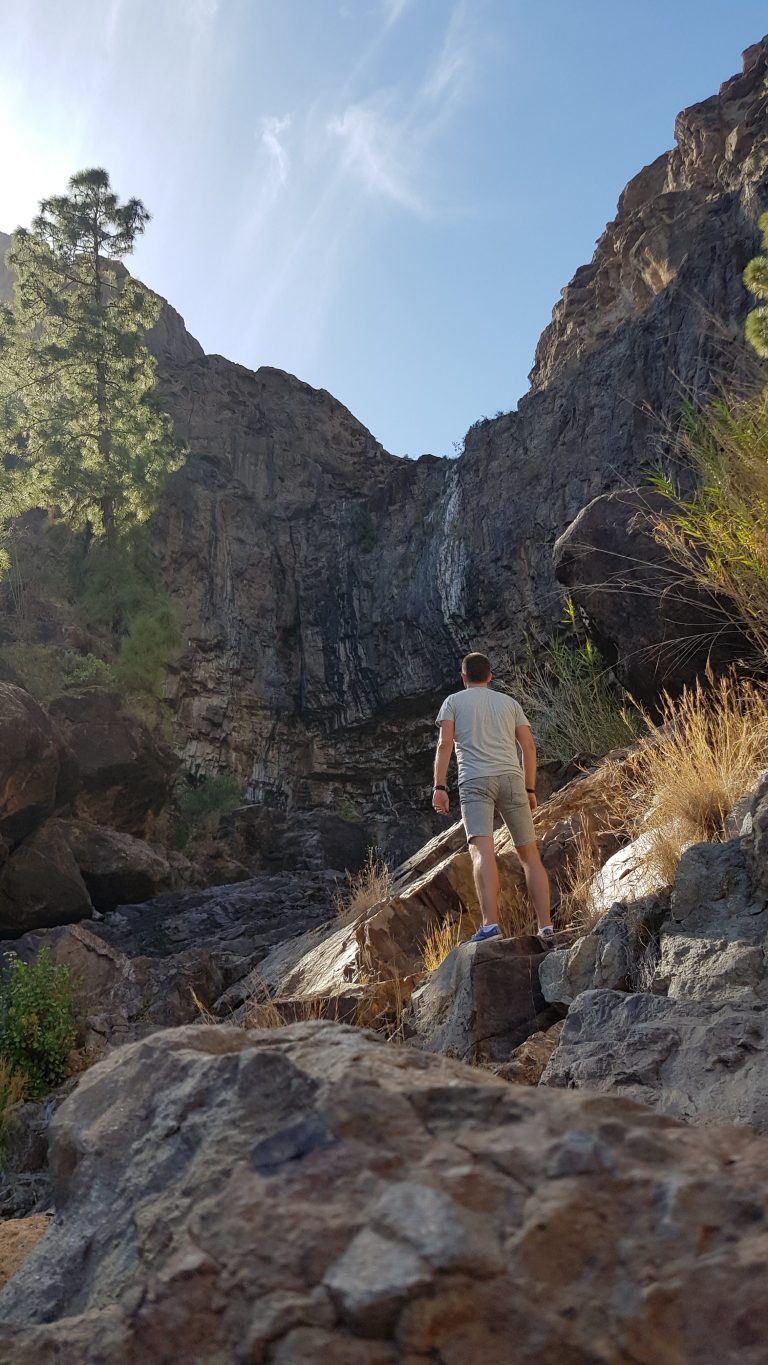 Nevertheless, it's worth driving to this amazing location in Gran Canaria. There is a little car park, from which you can go for a walk to admire breathtaking views.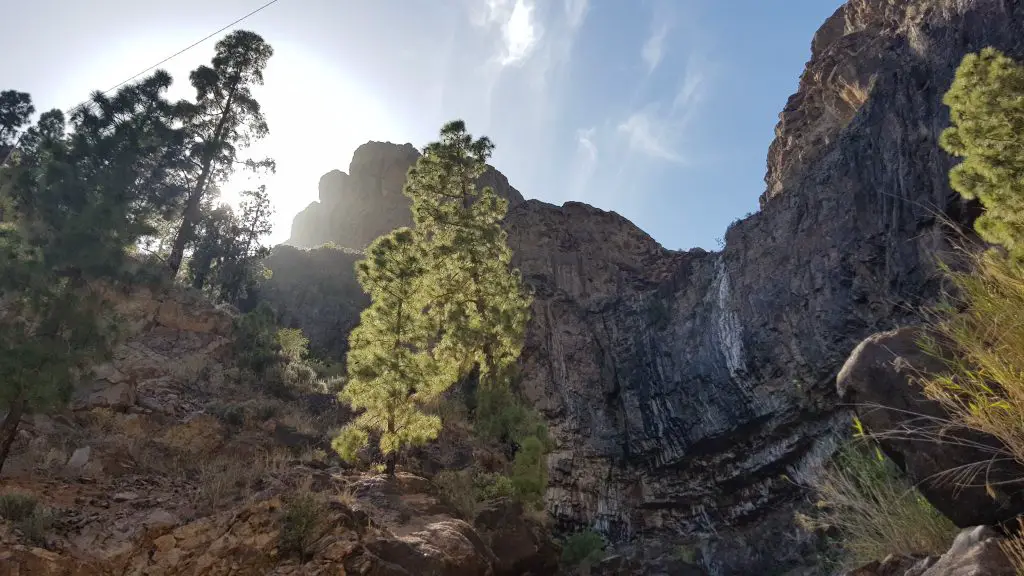 12. Snorkelling Trip
Best water activities in Gran Canaria? With a mix of African, Mediterranean and Atlantic marine life surrounding the island of Gran Canaria, a snorkelling trip offers a chance to spot some of the most interesting creatures the ocean has to offer.
Whether you're a beginner or an experienced snorkeller, experts will take you to the best spots the sea has to offer where you can discover the fascinating world beneath the waves. With exciting flora and fauna to spot a snorkelling tour provides fantastic memories.
13. Casa Fernando
Looking for fun things to do in Gran Canaria? On the way back from Cascada de Soria make sure you stop at Casa Fernando and have the best smoothie in Gran Canaria!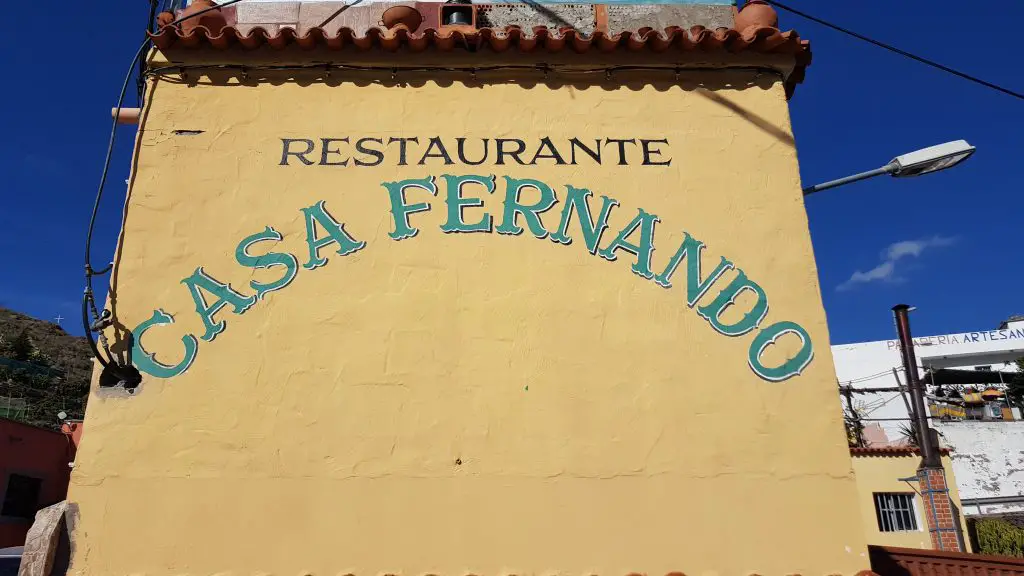 After a little break, walk down the hill to see an old dam called Presa de Soria.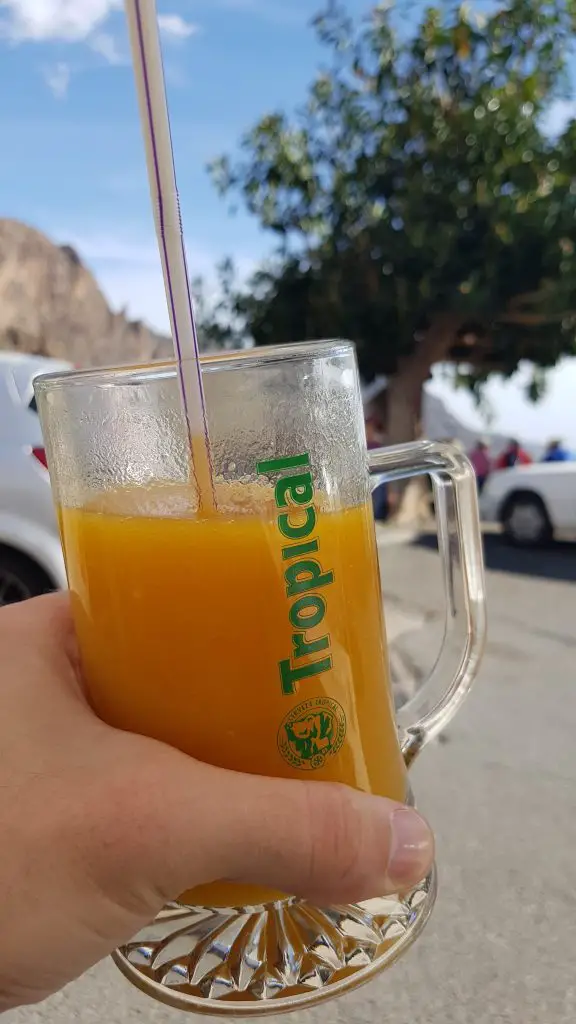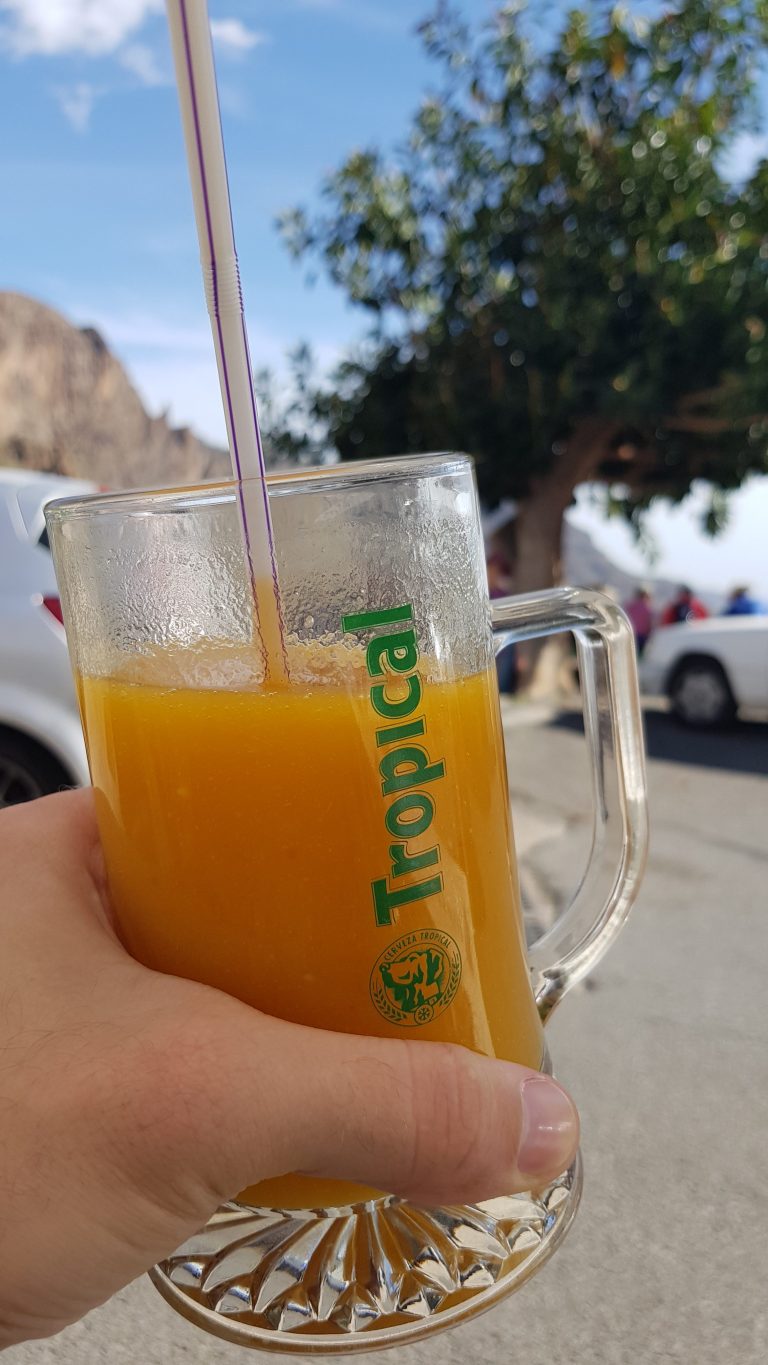 14. Roque Nublo
What to see in Gran Canaria? Must see when visiting Gran Canaria! Roque Nublo is a volcanic rock – an incredible and magical landmark of the island. You can easily hike to the monolith – the trekking path to Roque Nublo goes along the mountain peaks and it takes about 30 minutes – it is considered very easy.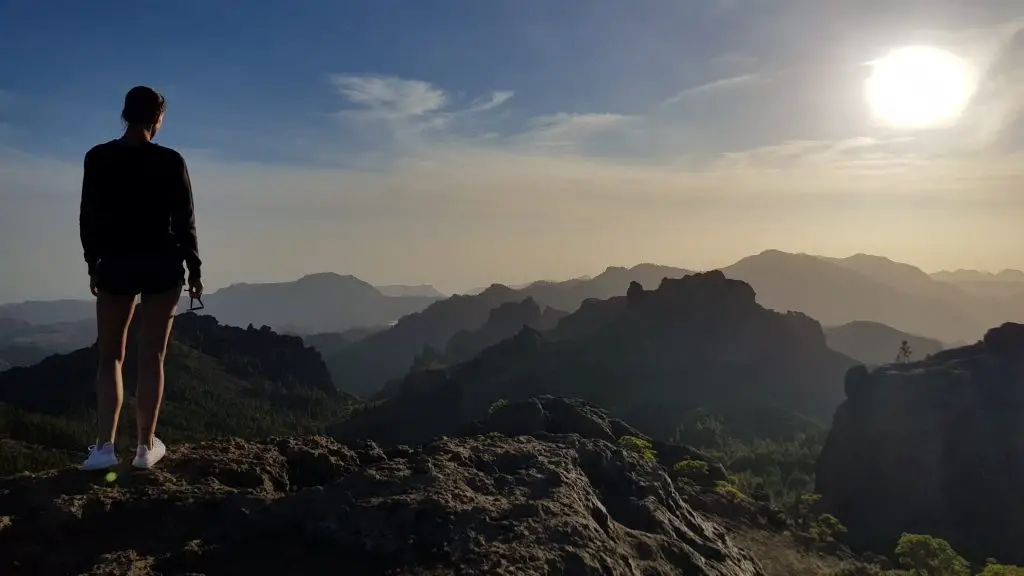 There is a small car park but it gets very busy late afternoon as many people want to see the sunset from there – and it is stunning! You can also stay for the night to do stargazing if you fancy.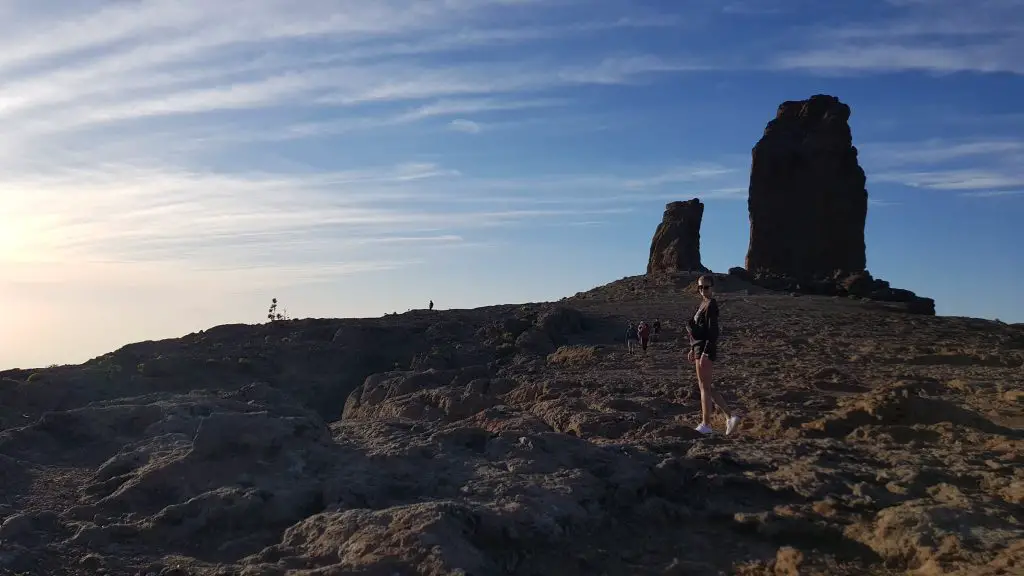 15. Maspalomas dunes
Gran Canaria what to visit? This is one of the best things to do in Maspalomas and a must-see in Gran Canaria! A wonderful, unique place in the scale of all the Canary Islands! The Maspalomas dunes stretch along the ocean at a length of 6 km and they occupy over 400 ha – so there is enough sand for everyone! The whole area is a great nature park and it's partially shared with tourists.
This stunning space, covered with golden sand, looks out of the world! Where else in Europe can you see dunes this size? The highest ones reach a height of up to 20 meters!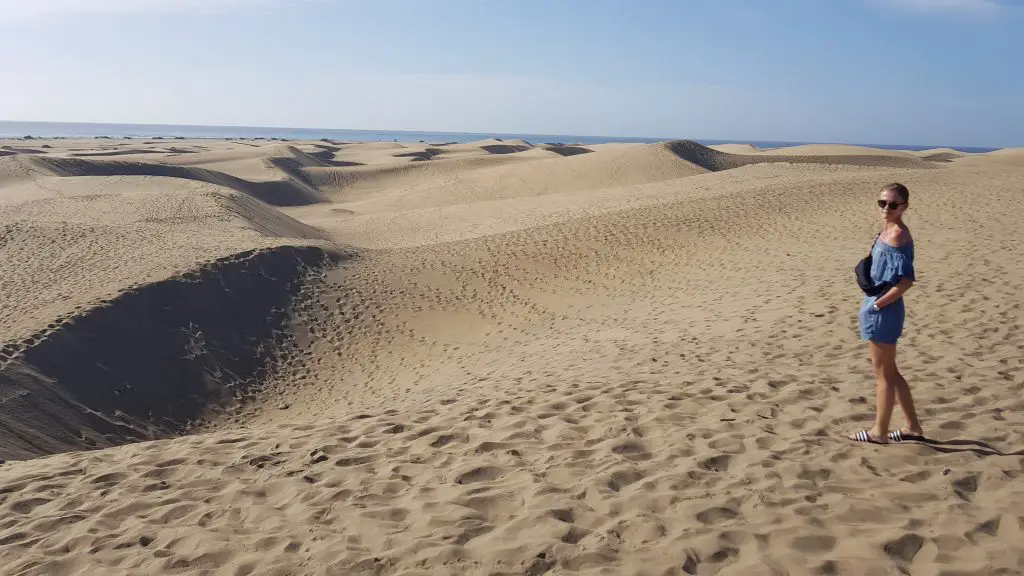 But hurry up! The famous Maspalomas dunes might be lost to the island of Gran Canaria early next century – according to years of study.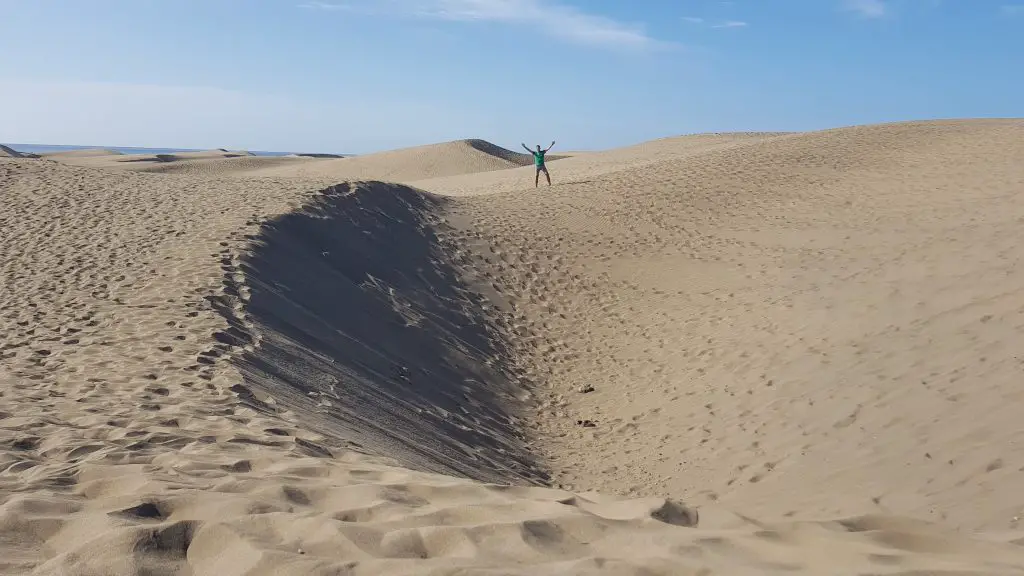 Would you add Maspalomas dunes to your Spanish bucket list?
16. Camel Ride
What to do in Maspalomas?
As well as the amazing beaches and marine life that surround the island of Gran Canaria, if you head inland, you can find the impressive Maspalomas Dunes. The best way to explore this natural wonder is by camel! During a camel ride, you'll feel like you're venturing through the desert.
On your camel ride, you can learn more about these fascinating creatures and how well suited they are to life on the Maspalomas Dunes and be able to take some incredible photos too. This is certainly a bucket-list activity for Maspalomas things to do list.
17. Playa del Ingles
What's on your Playa del Ingles things-to-do list? If you are looking for vibrant nightlife and sandy beaches in Gran Canaria, Playa del Ingles is the place for you! This is Gran Canaria's most famous holiday resort and a massive party place visited by many Northern European tourists – one of the top places in Gran Canaria!
It is also one of the island's oldest party resorts going back to the 1960s. There are also many great restaurants in Playa del Ingles, so it's almost impossible to be hungry while visiting this part of Gran Canaria.
If you love to party, Playa del Ingles on the Gran Canaria is where you should stay, otherwise, find a bit quieter place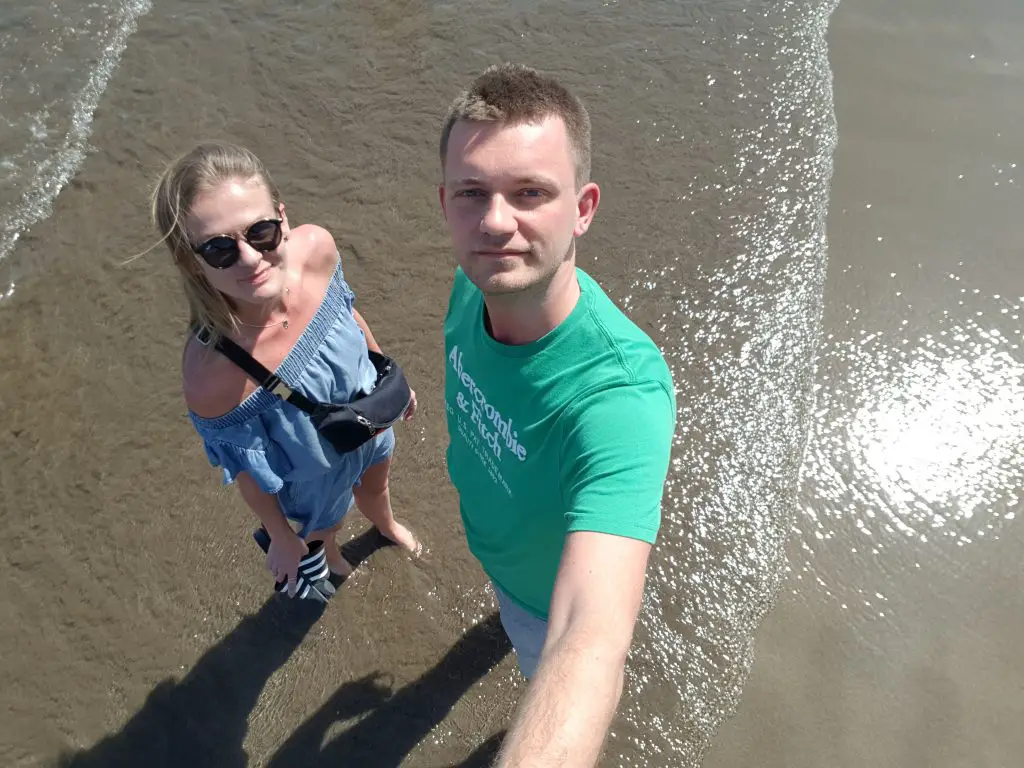 The beach itself is nice but we preferred Amadores Beach as the water over there is much clearer.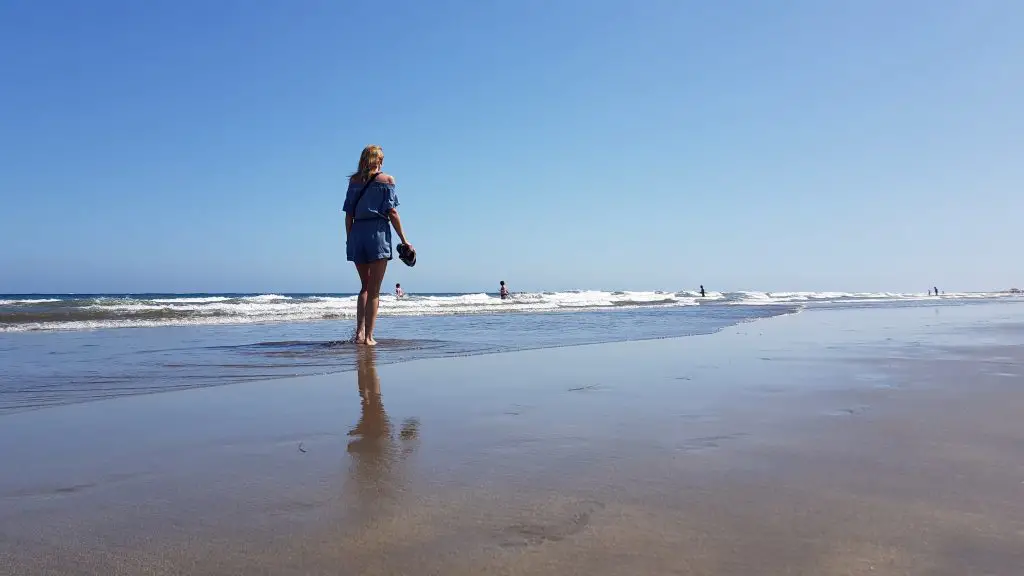 18. Tapas
What is there to do in Gran Canaria? Have tapas!
There are many amazing places with tapas on the Island. With so many choices of tapas available, it can be difficult to know which one to choose. Pimientos del Pardon, Canarian Potatoes with mojo or Jamon Ham – we love all of them!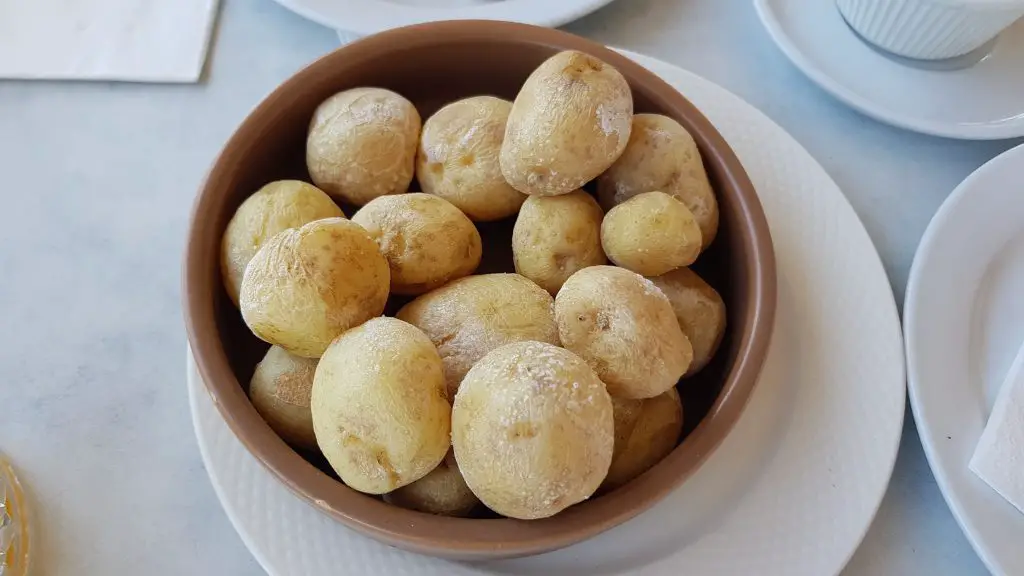 19. Mirador Degollada de La Yegua
Best place to go in Gran Canaria? Located on the GC-60 from Maspalomas towards Fataga. Degollada de las Yeguas is one of the best miradors on the island. There are a small car park and designated viewing area with breath-taking views!
A must-have during your car trip in Gran Canaria – an amazing place on this island.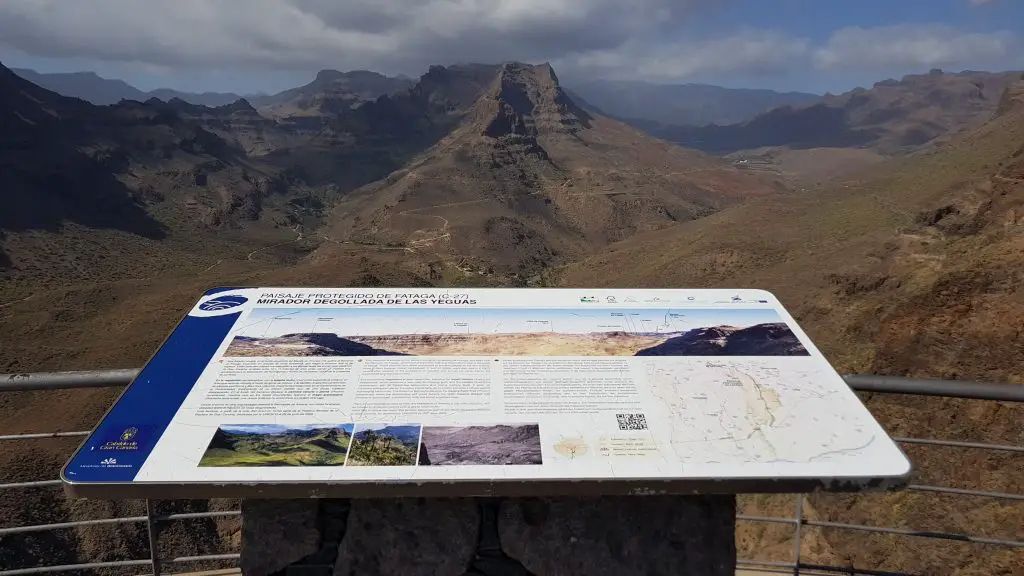 With a clear sky, you can see the sea and sand dunes of Maspalomas on one side and the Valley of 1000 Palms on the other – a stunning and very popular lookout point. Btw., the drive on the GC-60 is pretty amazing too! 😉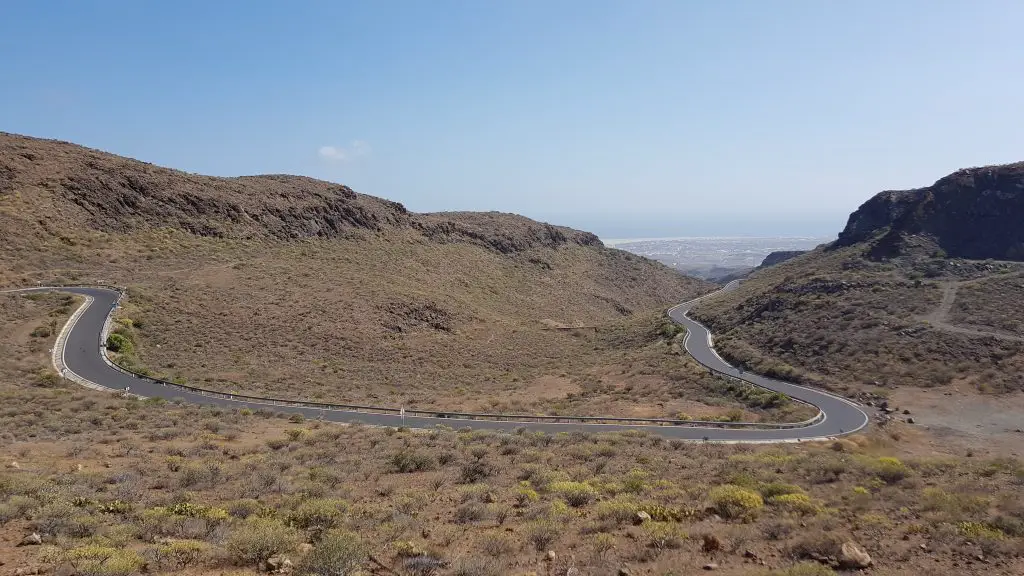 20. Visit Sioux City Park
What to do in Gran Canaria? This one is one of Gran Canaria's unusual things to do! Want to star in your own American Western film? The Sioux City Park is a must-visit theme park in Gran Canaria. The whole setup looks straight out of a Western movie, complete with the swinging doors of the old Saloon bar, the Sheriff and the dusty old town road.
The Sioux City Park offers a fun-filled day out where you really do feel like you've stepped straight into a film. From shoot-outs to cowboy lasso-throwing, there is action at every turn!
21. Fataga
Where to go in Gran Canaria? The best place in Gran Canaria to really feel the island! This small village, located in the middle of the island in the so-called "Valley of Thousand Palm", has preserved its true Canarian charm until today. It really is one of the must-see villages in Europe.
Cottages here are built in a traditional style with covered patios & narrow cobbled streets. Make sure you take a walk there as it's totally worth it! An unhurried lifestyle and an amazing atmosphere create a magical place where time seems to stop.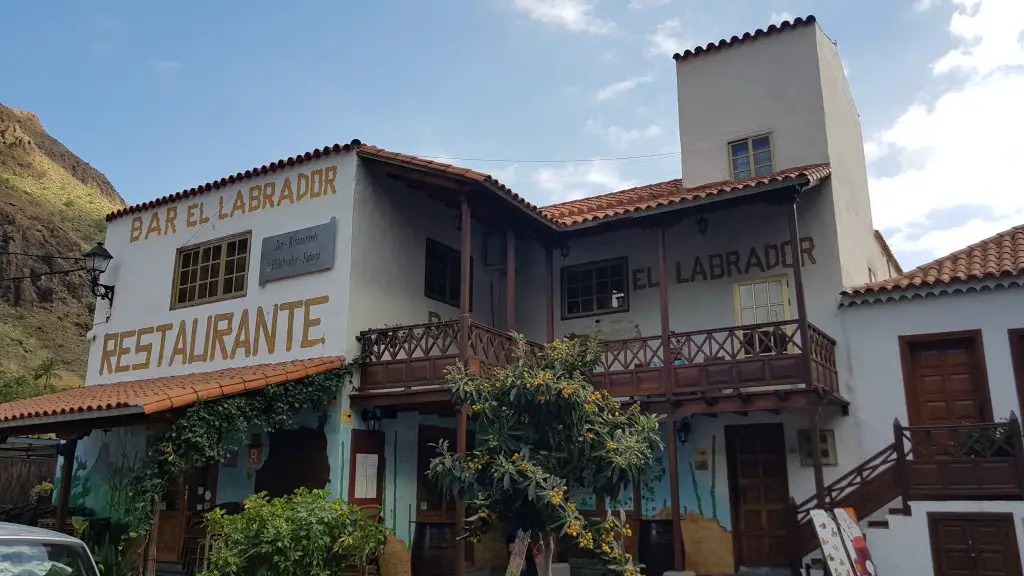 22. Mirador de Fataga
Top Canary Islands points of interest? Just 5 km north of Fataga, after a 10-minute drive, you will get to another stunning viewing point – Mirador de Fataga. The views from there are also fantastic so it's definitely worth spending there a bit of time.
Mirador de Fataga is a very popular stop and meeting point for all quad and bike lovers – a great opportunity to stretch your feet whilst admiring the fab view. There is also a small shop so you can get some refreshments if you need them.
What do you think? Would you visit this popular spot on Gran Canaria? 😉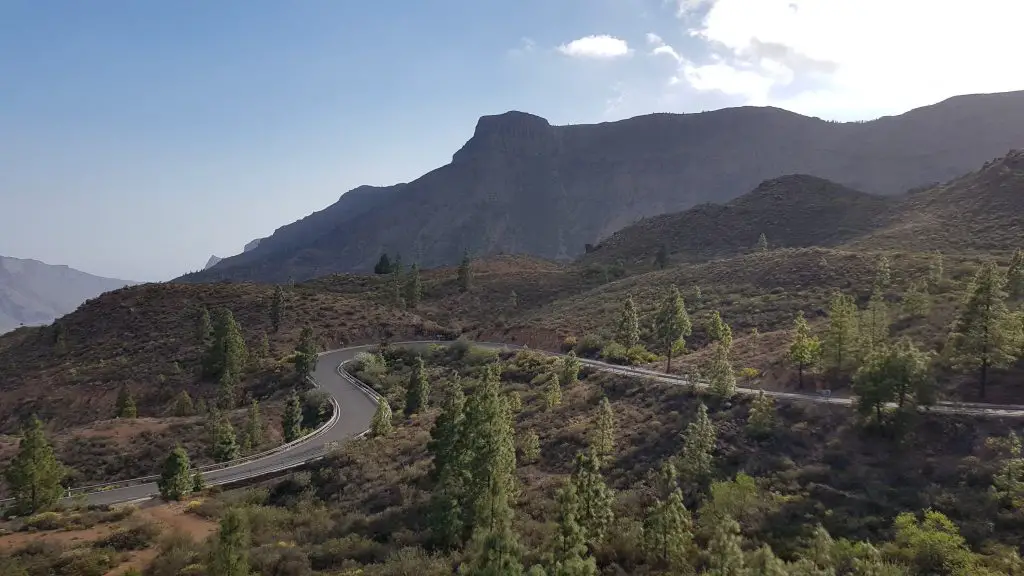 23. Barranco de Las Vacas
When you visit Gran Canaria you just have to go to this stunning place!
Always wanted to see Antelope Canyon in the USA? Well, we have great news for you – no need to leave Europe to see it! Gran Canaria has its own called Barranco de las Vacas. And it is stunning! One of the best things to see in Gran Canaria and one of the best places to visit in Europe – it's definitely worth it!
This stunning canyon formed from porous volcanic ash and then finished off and smoothed by water looks really breath-taking with its coloured stones and flowing curves. But this gorgeous, hidden gem it's not easy to find!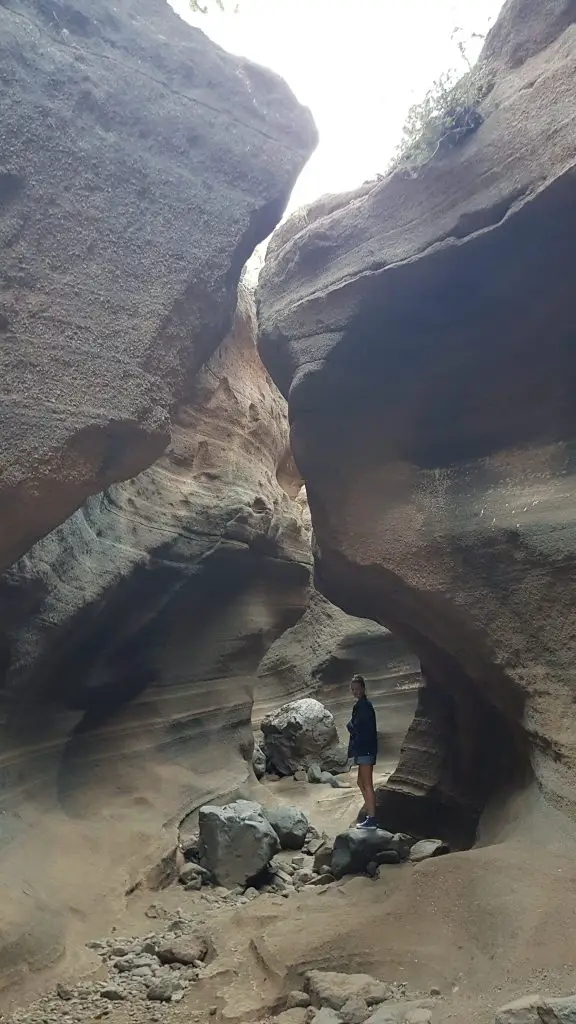 Barranco de las Vacas really is one of the most unique landscapes in Europe!
How to get to Barranco de las Vacas?
First thing – you will need a car! The Barranco is located near Agüimes province on the GC-550 road. There is no sign on the road so you will have to trust your sat-nav or just look for a grey bridge (you will be driving over it ?).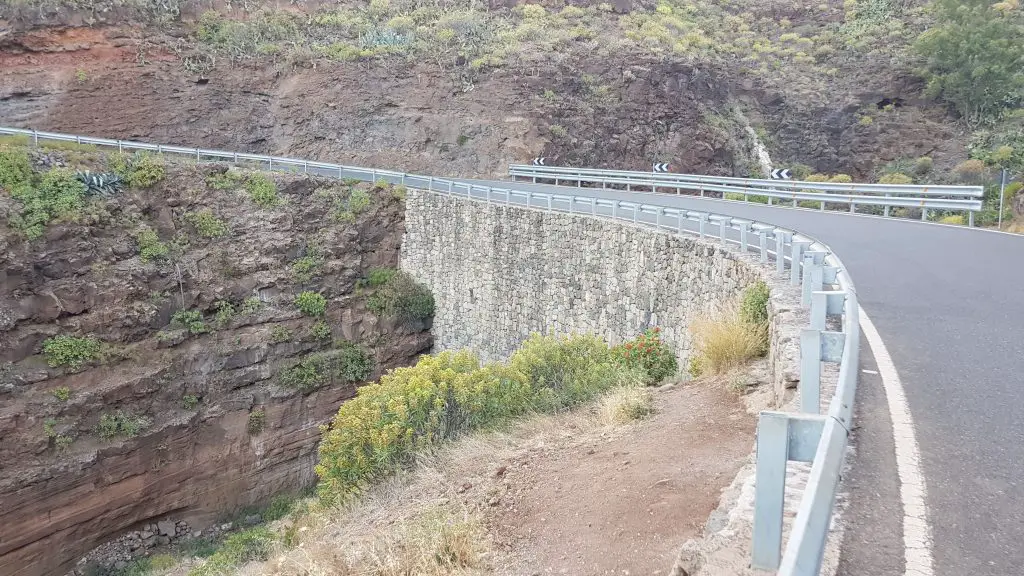 Unfortunately, there is no official parking, but you will most probably see a few cars parked along the road. Or if you are lucky, you will get this private parking space?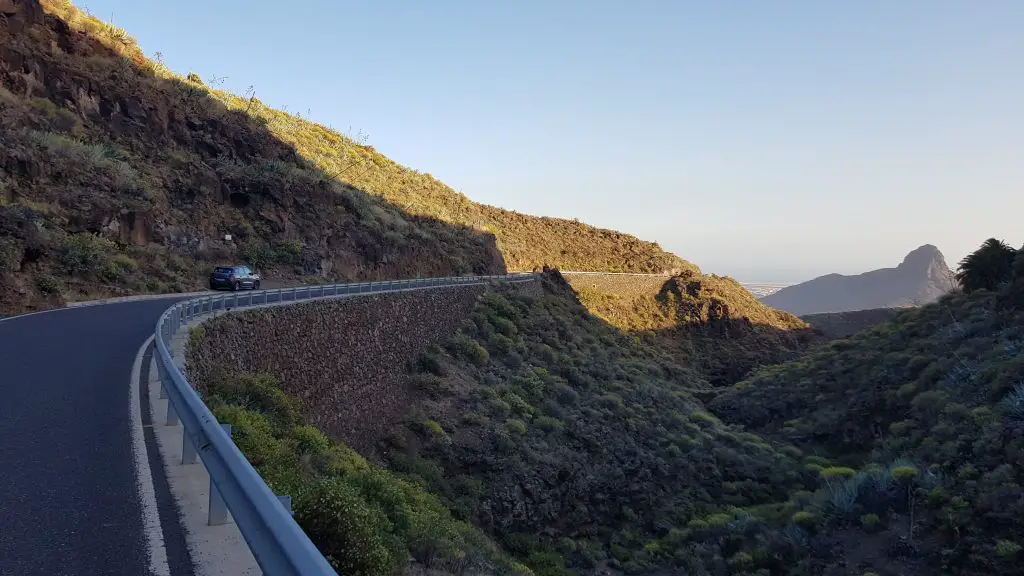 Once your parking is sorted, you will have to jump through the barrier and walk down into the ravine – there is no path, but you will see where people are usually walking ?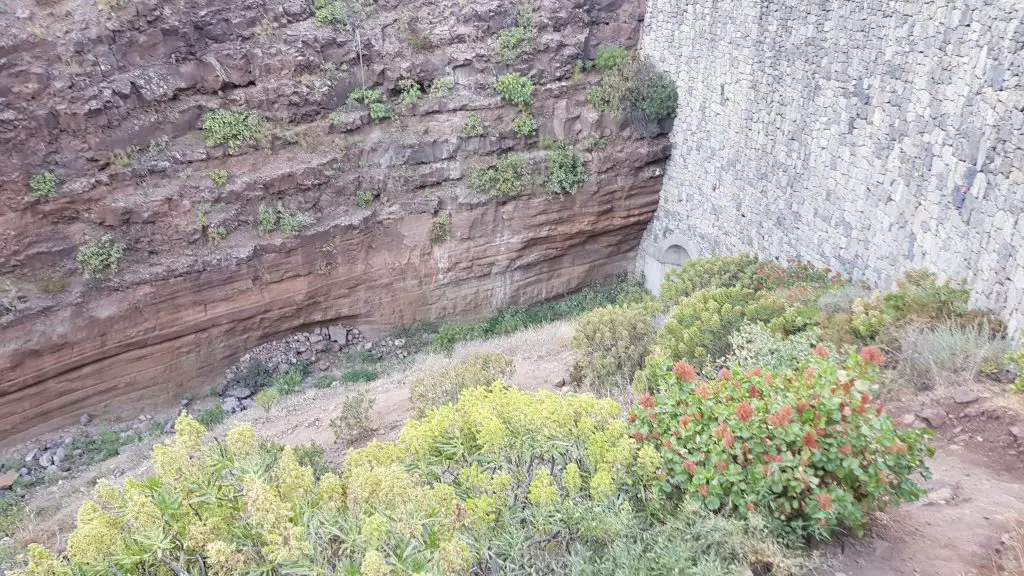 Then, walk under the brick bridge and after 2 minutes following the path you will get to the Barranco de las Vacas. Is it not wicked?!
We really loved this stunning place – it's a must-visit place in Gran Canaria and should be added to any travel bucket list!
24. Ermita de Guayadeque
Looking for the most beautiful places in Gran Canaria?
Do you fancy living closer to nature? No problem! What about visiting Ermita de Guayadeque, a unique place in Gran Canaria where you can see a whole village of cliff dwellings? Really spectacular.
There is also a little chapel carved into the rock! Even driving through the gorge is a very unique experience – one of the top places to visit in Gran Canaria.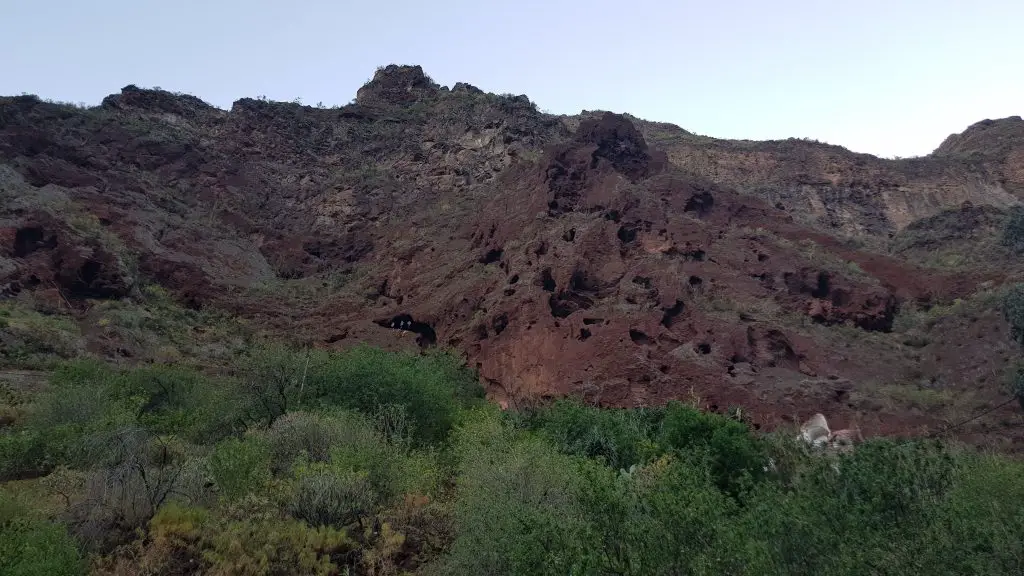 25. Montana de Las Tierras
Unique things to do on Gran Canaria? At the very end of GC-103, you will find this amazing spot called Montana de Las Tierras (Mount of the Lands). This tourist attraction is not crowded at all. In fact, it is a perfect place to be one-2-one with nature.
You can really feel that time just stopped there – this, combined with spectacular views, makes it a great place to start your hiking trail so you can recharge your batteries.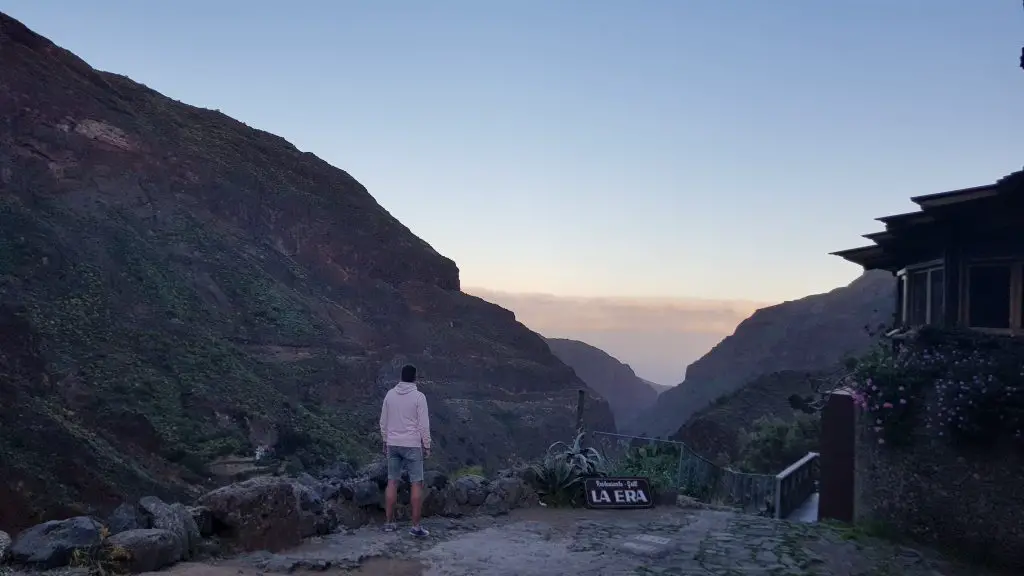 Got hungry after the hike? Head to Tagoror Restaurant!
26. Tagoror restaurant
Where to go in Gran Canaria for couples? Have you ever dreamt about eating dinner in a cave? You can feel like Fred Flintstone if you visit Tagoror Restaurant. Yes, if you are a food-lover this is a top place to visit on your holiday 🙂
With a total area of over 800 m2 carved into the mountain, there is a lot of space to taste delicious tapas. You can't find a more unique place in Gran Canaria! It took over 11 years to complete this place thanks to Bartolomé Rodríguez López, who started the work back in 1972.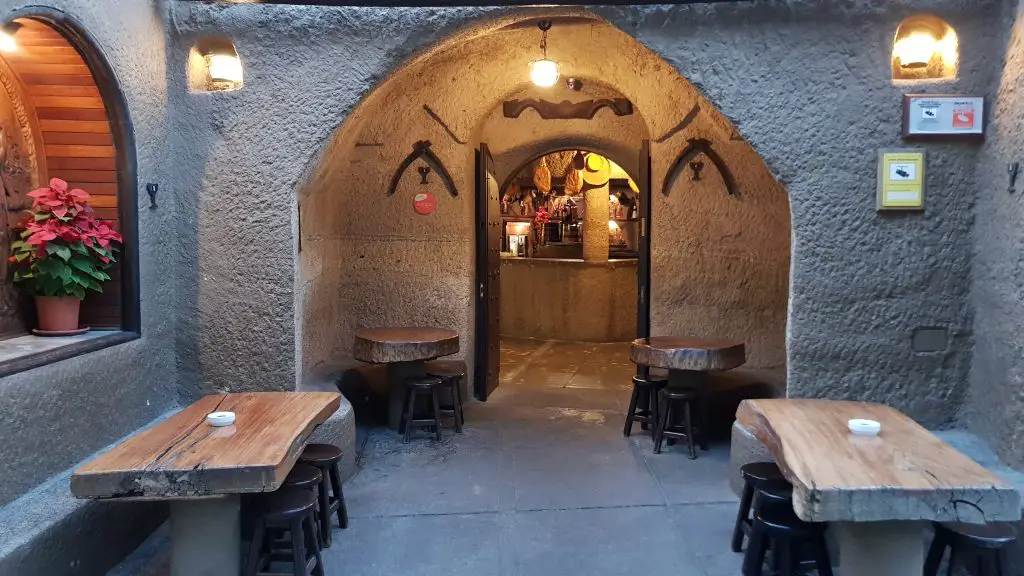 Make sure you visit Tagoror Restaurant and try the best Canarian cuisine – you can even stay for the night in one of the Guayadeque Rural Villas.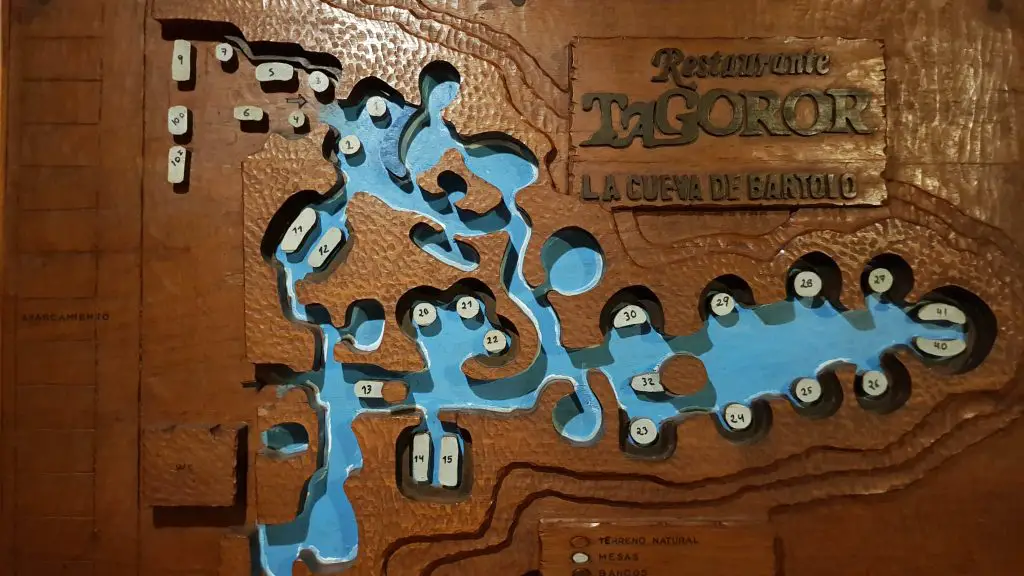 All you HAVE to know about Gran Canaria Island:
What is the best time to go to Gran Canaria?
Gran Canaria is great for a year-round holiday. It doesn't really see much in the way of rain and between May and November, you can expect to see some rather pleasant and warm temperature, often around the 26°C mark.
Can you drive around Gran Canaria?
Getting around in Gran Canaria is easy enough if you are happy to hire a car and drive. Steering wheels are fitted on the left-hand side of the car and you will need to drive on the right-hand side of the road. It might also be worth noting that there are likely to be some mountain roads that you will need to drive along too.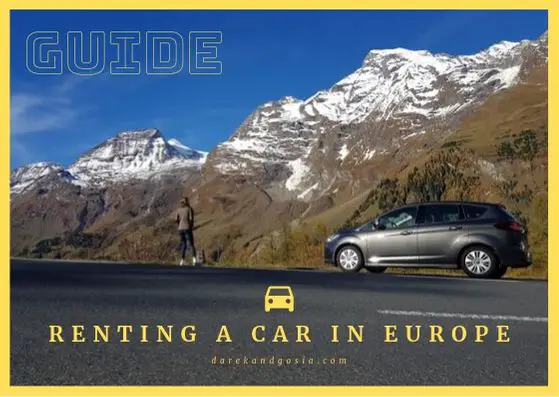 Are there mosquitoes in Gran Canaria?
There are mosquitoes in Gran Canaria, but if you are staying in a tourist resort then chances are that you will not even notice them. If you do happen to come across any mosquitos then they will not be carrying any infectious diseases as they can in other areas.
Where should I stay in Gran Canaria for nightlife?
If you are looking for nightlife in Gran Canaria then you are going to want to head to the south of the island rather than the north. The best areas are Playa Del Ingles, Maspalomas and Puerto Rico. All of which are packed full of spots to spend the evening.
Is the sea warm in Gran Canaria?
For those who love to splash in the sea during their holidays, the island is a great destination. The sea temperature is usually around the 18ºC to 25ºC, depending on the season. You will usually find that it is at its warmest in September and October. This is because the sea is calm and the water can be heated up by the sunshine easier.
What is the hottest month in Gran Canaria?
The warmest month in GC is August when the temperatures average out at 24°C. There are roughly around 10 hours of sunshine during this month and there is very little chance of any rain.
The average temperature in Gran Canaria per month:
| | |
| --- | --- |
| | Avg. high °C |
| January | 20 |
| February | 21 |
| March | 22 |
| April | 23 |
| May | 24 |
| June | 25 |
| July | 27 |
| August | 28 |
| September | 27 |
| October | 26 |
| November | 24 |
| December | 22 |
Is there a volcano on the island?
The island of Gran Canaria is known to be of volcanic origins. However, the volcano that can still be found on the island hasn't actually erupted for millions of years and is actually now a tourist hotspot instead.
Which area of Gran Canaria is best?
It really does depend on what you are looking for as to which area of the island is the best for your break. However, some of the most popular choices include Playa Del Ingles, Maspalomas and Puerto de Mogan.
Is it worth it to visit this Canaries island?
From majestic cliffs & diverse beaches to volcanic landscapes and one of the most spectacular roads in Europe – Gran Canaria has it all to make a fantastic holiday on this Canary Island in Spain! It's one of our favourite islands in Europe and the region of Macaronesia (Canaries, Azores and Cabo Verde).
It is definitely worth spending a holiday in Gran Canaria. Where else can you walk on amazing dunes and after a one-hour drive hike in the mountains?
But be quick! This hidden European gem will soon become THE place to go on holiday! Make sure you visit this island before it becomes too popular.
What is better Tenerife or Gran Canaria?
Tenerife and Gran Canaria offer unique experiences. Tenerife has Mount Teide, diverse beaches, a vibrant tourist scene, and is family-friendly. Gran Canaria boasts diverse landscapes, the famous Maspalomas Dunes, a UNESCO Biosphere Reserve, and a rich cultural heritage. Choose based on your preferences for landmarks, beach options, nightlife, and overall atmosphere.
Which side of Gran Canaria is best?
Gran Canaria offers different experiences on its various sides, so the "best" side depends on your preferences. Here's a brief overview of the different sides of the island:
South Coast: The south coast of Gran Canaria, particularly the area around Playa del Inglés, Maspalomas, and Puerto Rico, is known for its beautiful sandy beaches, vibrant tourist infrastructure, and lively nightlife. It's a popular choice for those seeking a bustling atmosphere, water sports, and a wide range of accommodation options.
North Coast: The north coast of Gran Canaria, including areas like Las Palmas, Puerto de las Nieves, and Agaete, offers a more authentic and local experience. This side of the island features charming coastal towns, rugged cliffs, natural pools, and a rich cultural heritage. It's ideal for those who prefer a quieter atmosphere, local cuisine, and exploring the island's natural beauty.
Inland and Mountainous Areas: Gran Canaria's interior and mountainous regions provide opportunities for hiking, exploring picturesque villages, and enjoying panoramic views. Places like Tejeda and Teror showcase the island's stunning landscapes and traditional architecture. This side of the island is perfect for nature lovers and those seeking a more tranquil and scenic experience.
Each side of Gran Canaria has its own appeal, so it's recommended to consider your preferences and interests when choosing the best side for you. Some visitors even opt to explore different areas of the island to experience its diverse offerings.
Planning a trip to Gran Canaria soon? Make sure you use the below resources:

* Find a cheap flight to Gran Canaria

* Rent a car at Gran Canaria airport, but before you do that read our guide about renting a car in Europe

* Book accommodation: 3* Hotels in Gran Canaria start at €33!

* Read our other Spanish articles: Alicante, Ronda or Lanzarote
Things to do in Gran Canaria FAQ
What are the things to do Playa del Ingles?
Dunas de Maspalomas, Holiday World Maspalomas Palmitos Park are the top Gran Canaria Playa del Ingles things to do!
Top 5 things to do in Gran Canaria Las Palmas:
If you are looking for the best things to do in Las Palmas de Gran Canaria, consider:
Catedral de Santa Ana
Las Canteras Beach
Casa de Colón
Port of Las Palmas
Jardín Botánico Canario Viera y Clavijo
Best Puerto Rico Canaries things to do?
Playa de Amadores, Angry Birds Activity Park Puerto Rico Gran Canaria and Playa Anfi del Mar are amongst top Puerto Rico Gran Canaria attractions!
Things to see in Gran Canaria in 1 day:
Roque Nublo, Maspalomas and Caves of Valeron are the best things to do in Gran Canaria for families in one day!
Things to see in Gran Canaria in 2 days:
Mirador del Balcon, Barranco de Las Vacas and Amadores Beach must be added to your Gran Canaria things to do and see the list if you have two days in Gran Canaria!
What is Gran Canaria like?
Known as a continent in miniature the Gran Canaria island is full of a variety of different terrain – form amazing dunes, top-class beaches to caves and stunning mountain-line roads.
Which is the warmest side of Gran Canaria?
The South-West part of GC with its amazing resorts is the warmest part of the island.
Most romantic things to do in Gran Canaria?
There are many attractions Gran Canaria for couples – stargazing in Gran Canaria and a catamaran sunset cruise are the top romantic sightseeing Gran Canaria!
Gran Canaria is more than just a holiday destination—it's an experience. Dive into unique activities, from stargazing amidst the serene beauty of its nights to exploring the enchanting landscapes of Puerto Rico Gran Canaria. Discover free things to do like wandering through the Maspalomas dunes or capturing memories at Playa del Ingles.
For those looking for local experiences, indulge in the island's rich culture and Spanish delicacies. Couples can find their slice of paradise with intimate settings and activities tailored just for two, while adventurers have a buffet of experiences, from mountain trails to vibrant nightlife.
No matter when you visit, be it the warm days of March or the festive vibes of February, Gran Canaria stands as a must-visit on every traveler's bucket list, offering an endless list of things to see, do, and cherish.
Which of the best things to do in Gran Canaria did you like most?
No worries if any, you can still visit Tenerife or Lanzarote if you fancy 😉
Love Spain?
Read our other articles related to this stunning country:
Unusual Things to do in Alicante
30 TOP attractions in Barcelona
11 Best things to do in Malaga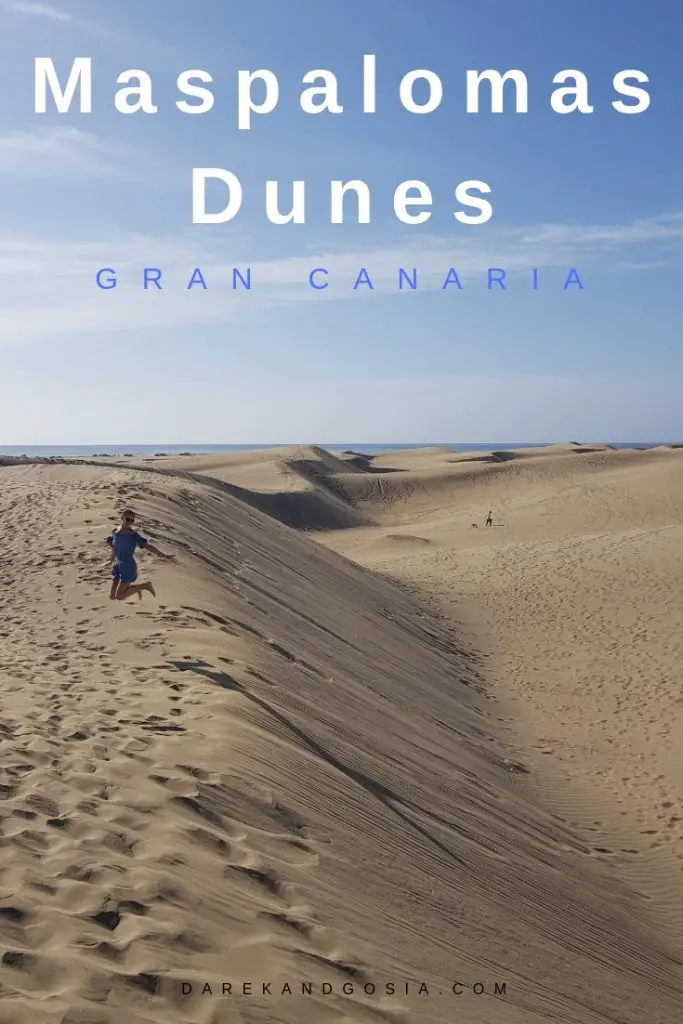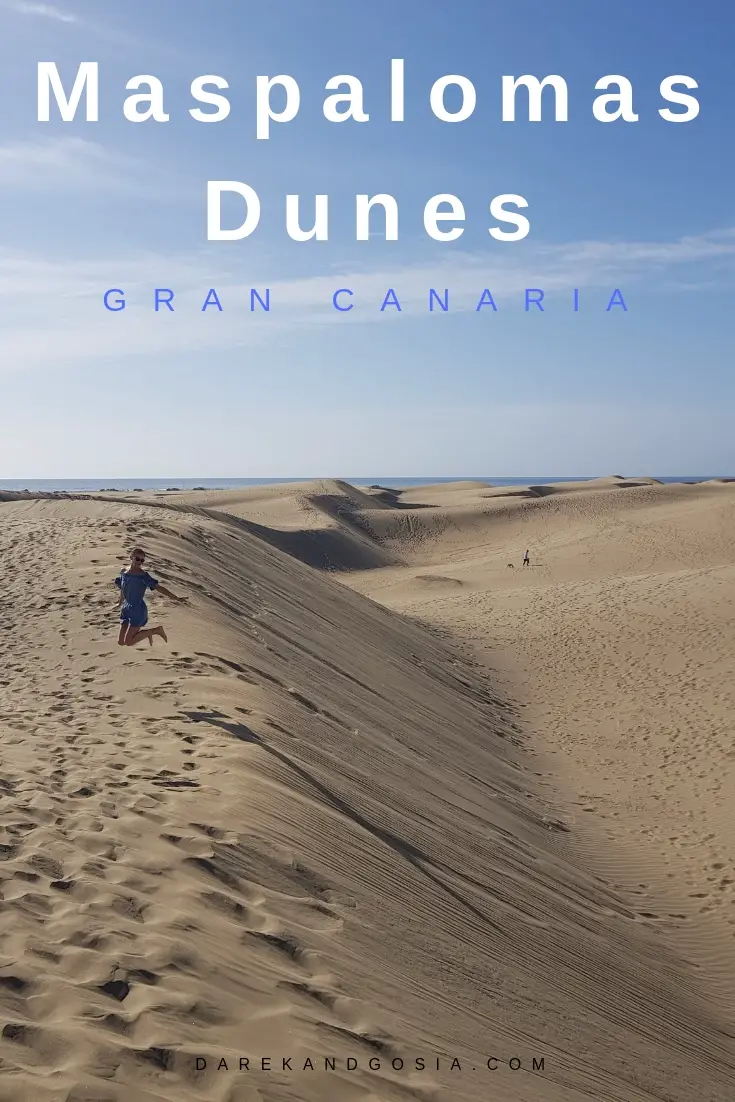 Articles you may like: