What's on your bucket list Austria? Amazing views, endless hiking trails & beautiful lakes are among many activities & unique things to do in Austria!
Are you looking for top things to do in Austria? You have found the right place! We have a great bucket-list of unique things to do and places to stay in Austria 🙂
Austria is an incredible destination to visit at any time of the year; and there are so many things to experience, do and see in this stunning country. Most people visit the capital city – yes, there are many great things to do in Vienna. But if you really want to see how Austria looks like you have to go to the Salzkammergut region in Austria! From famous Hallstatt to amazing views in Schafberg there plenty of attractions and things to do in Austria!
Still not sure what you can do in Österreich?!
Top Unique Things to do in Austria: At a Glance
Suspension Bridge
Stairway to Nothingness
Silberkarklamm
Filzmoos
Gosausee
Read our guide to find many hidden attractions, cool sights and unusual things to do in Austria – your ultimate Austria bucket list!
All across the country, it's filled to the brim with some of the best places to visit in Austria. From top-rated tourist attractions to free things to do in Austria – we are sure that our list of great ideas will make you want to return to Austria many times! We will for sure 🙂
OK, close your eyes.
Seriously, close your eyes and imagine…
… a country with breathtaking views, crystal clear lakes, endless trekking paths and stunning nature.
Can you see it? Yes, it's AUSTRIA! 🙂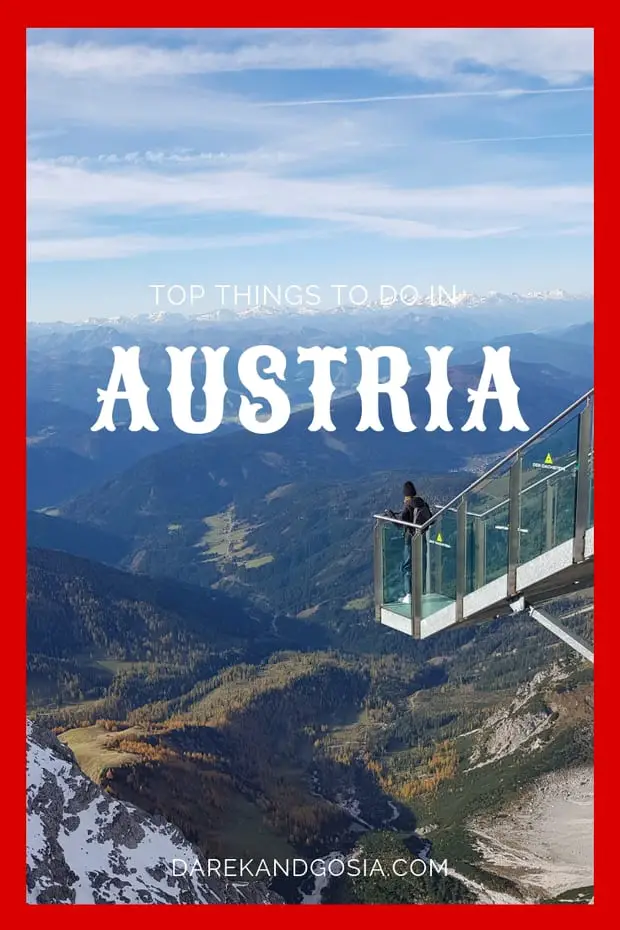 WHAT ARE THE BEST THINGS TO DO IN AUSTRIA?
1. Visit Salzburg – a great place to stay in Austria
Whether you are listing to Mozart's requiem while walking around the Altstadt or take the funicular to Hohensalzburg Fortress, Salzburg is a perfect place to start your adventure in Austria. So make sure you go for a weekend trip to Salzburg before exploring the rest of Austria.
Classical music not your cup of tea? Just buy some Mozartkugel – everybody loves them!
(TIP: if you have enough time you can also visit Munich or Bavaria – with a Bayern-Ticket it's easier and more affordable than you think)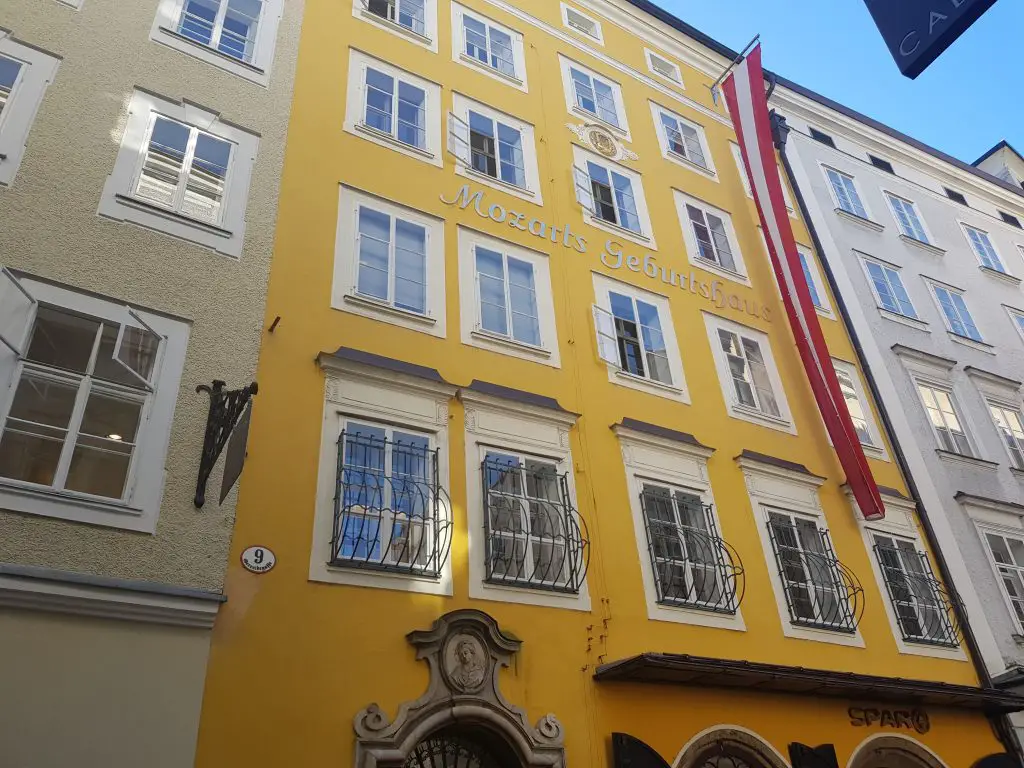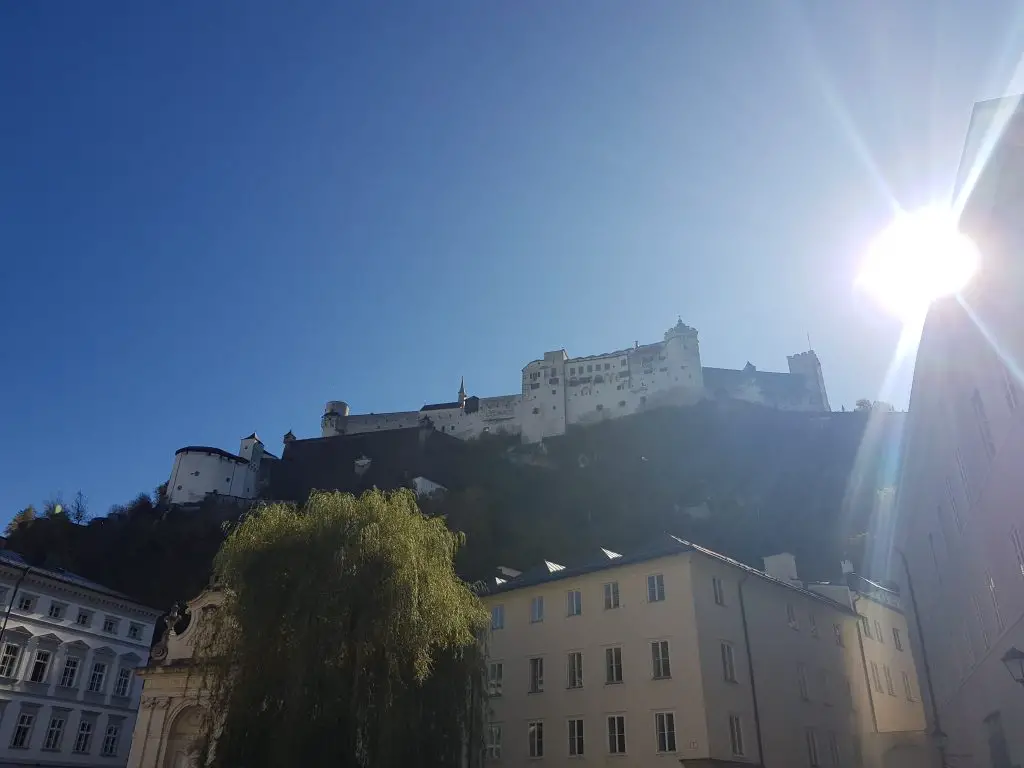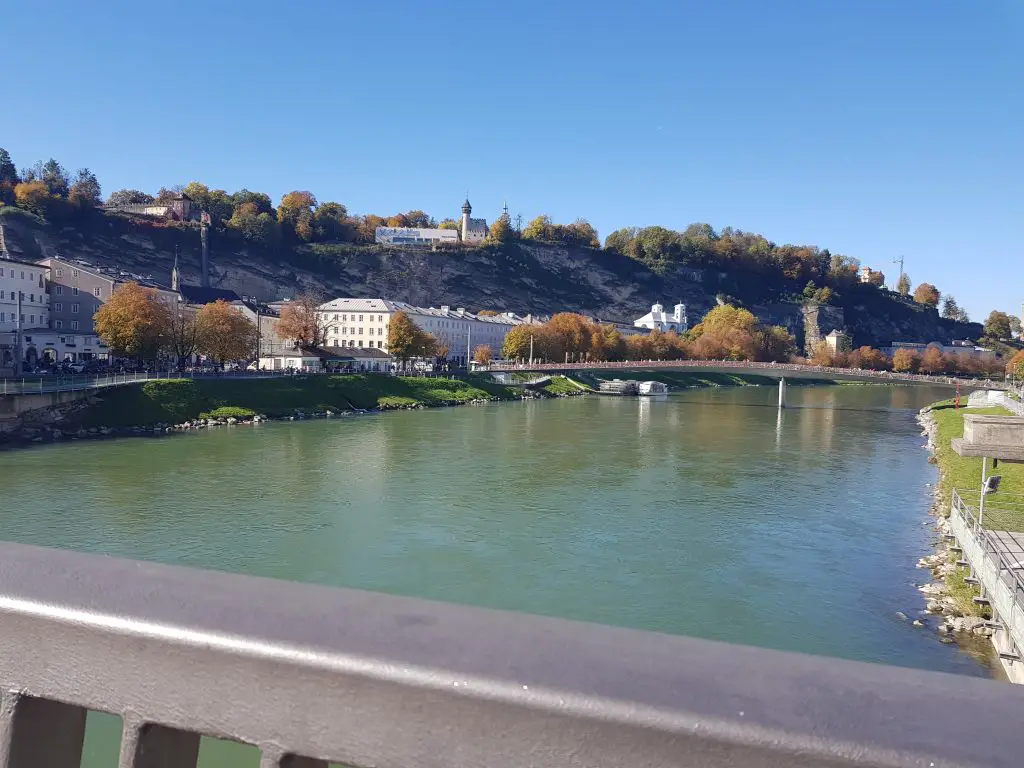 Read also: Best Weekend Getaways in Europe – Where are you off this Weekend?
2. Drive-up Grossglockner High Alpine Road – must-have on any bucket list Austria!
When visiting the Austrian Alps, Großglockner-Hochalpenstraße, with its 36 turns, is one of the highlights for many tourists from all over the world. It really is one of the best places to visit in Austria… especially for mountains lovers!
No question, the Grossglockner High Alpine Road is among Europe's most amazing panoramic roads. The stunning scenery, combined with serpentine curved roads, guarantees a great adventure. The entry fee is at €36, but believe me – it's worth every cent!
Make sure you block the whole day for this trip. You will definitely stop your car every few 100s meters to take pictures. The views are sensational – you will want to jump…
TIP: Make sure you rent an SUV car for the Grossglockner High Alpine Road adventure. Check prices at rentalcars.com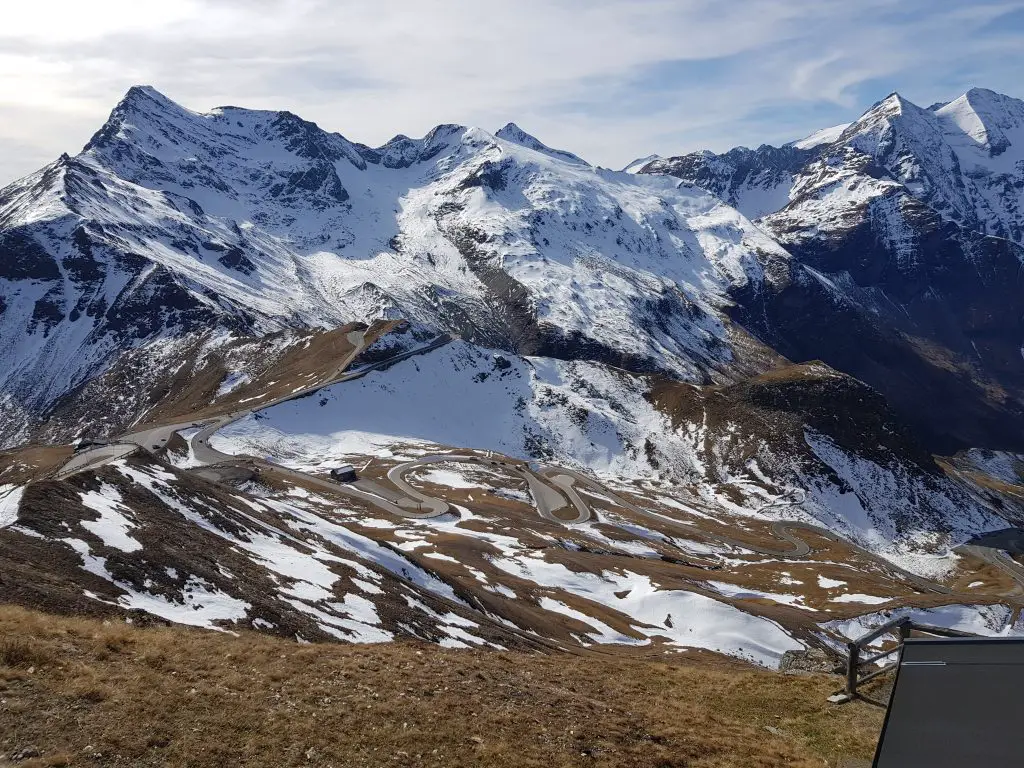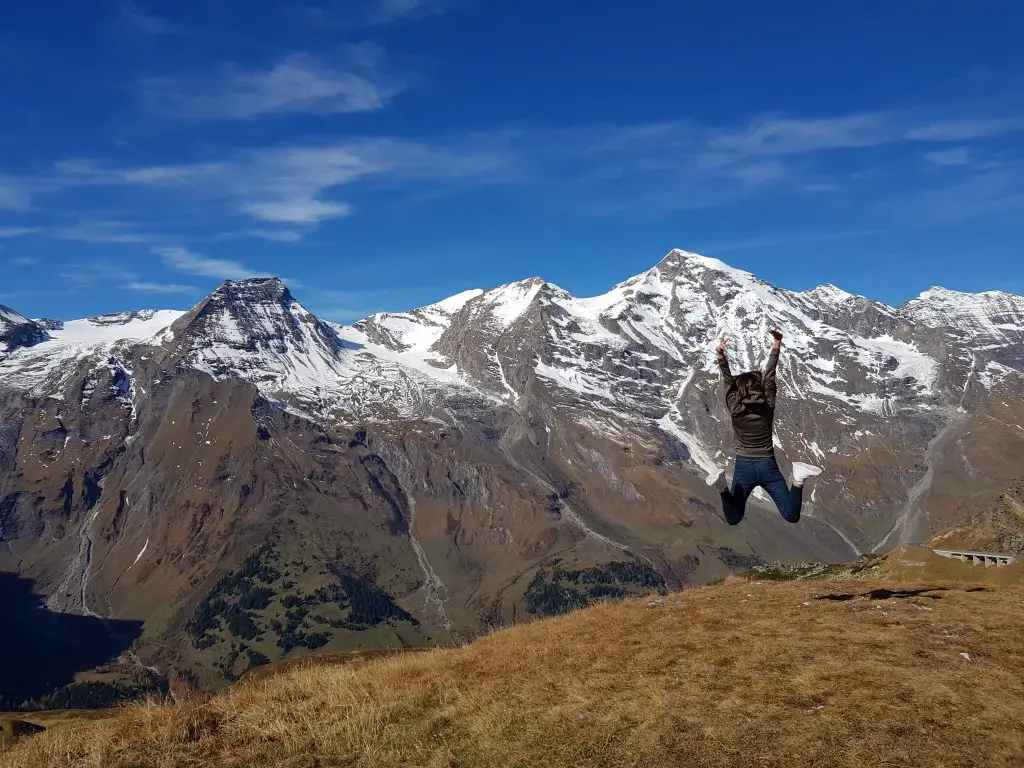 … and she's gone.
Read also: Best road trips in Europe – Europe's Top 15 Unmissable Roads!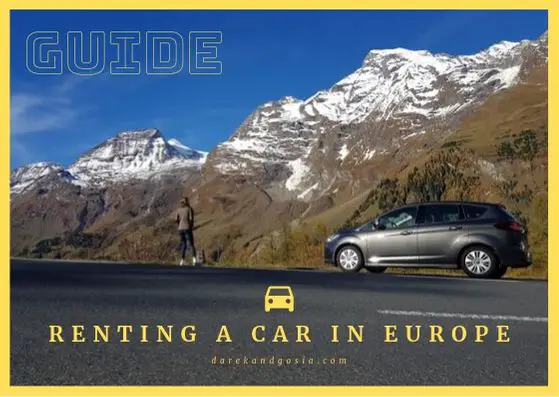 3. Walk on the Suspension Bridge – unique thing to do in Austria
Ha! Don't worry… she's back… 🙂
On your trip to Ramsau am Dachstein, the suspension bridge is a must-have. Make sure to put the Dachstein Sky Walk on your bucket list. It really is one of the most fantastic bridges in Europe!
Would you dare to walk on it?
Before you get there, you will have the opportunity to ride a gondola up to 3000m. Check the latest prices here.
(TIP: make sure you take the trip 1st thing in the morning to avoid the crowd. But hey, if you go there in October, as we did, there is a very high chance there will be no one around you)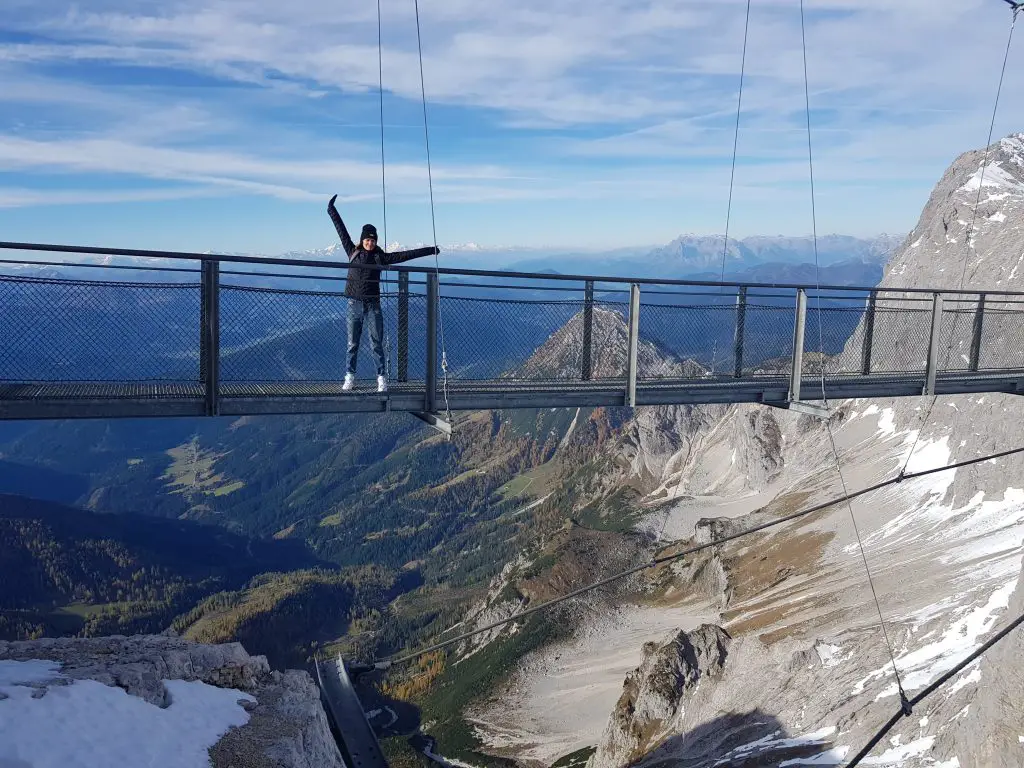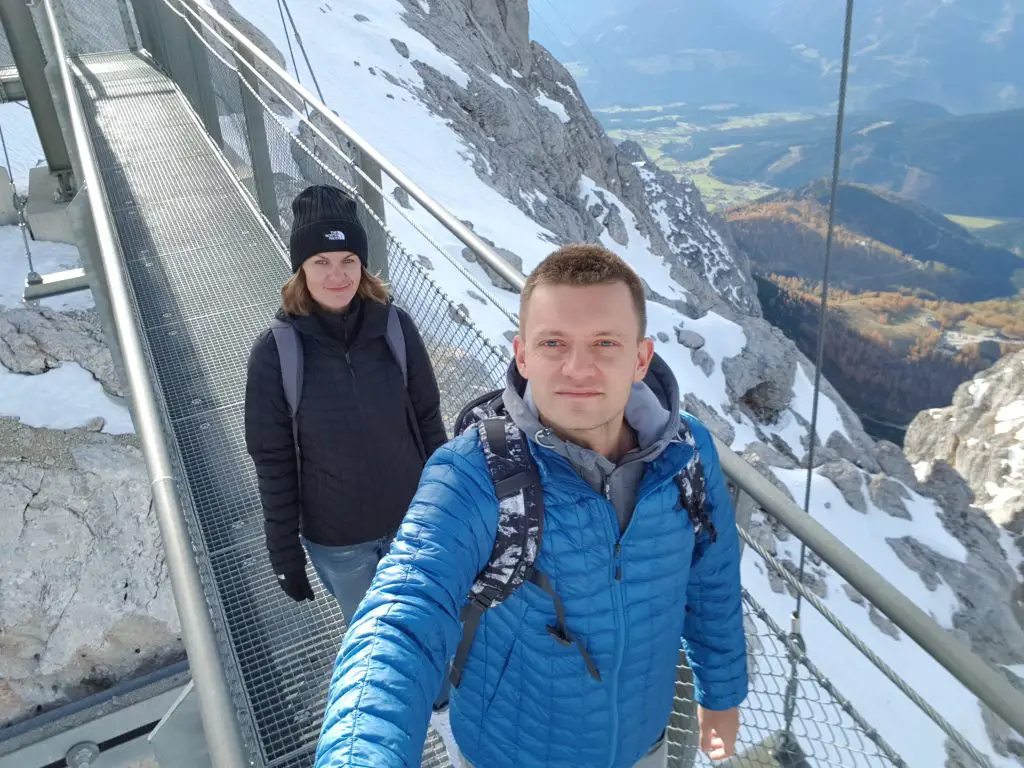 Read also: Best Places to visit in Europe for true American Cowboys!
4. Take the Stairway to Nothingness – stunning thing to do in Austria
You haven't heard about Treppe ins Nichts? It's probably one of the most unique things to do in Austria. In recent years, it has become Austria's top tourist attraction!
Scroll down to see pictures…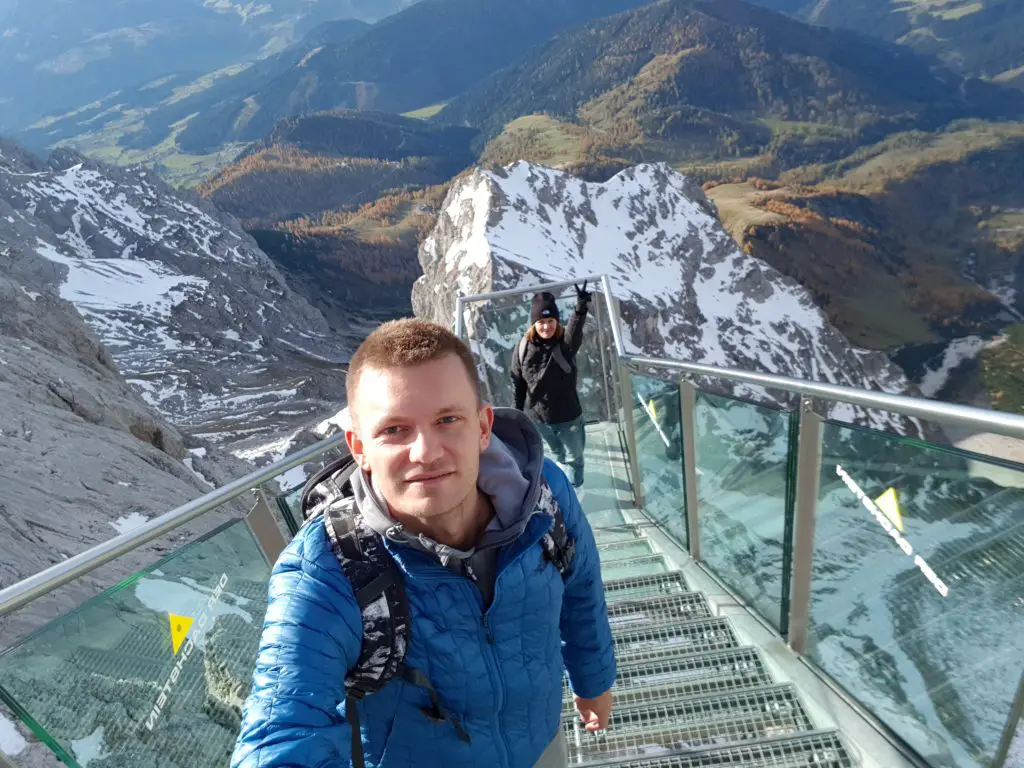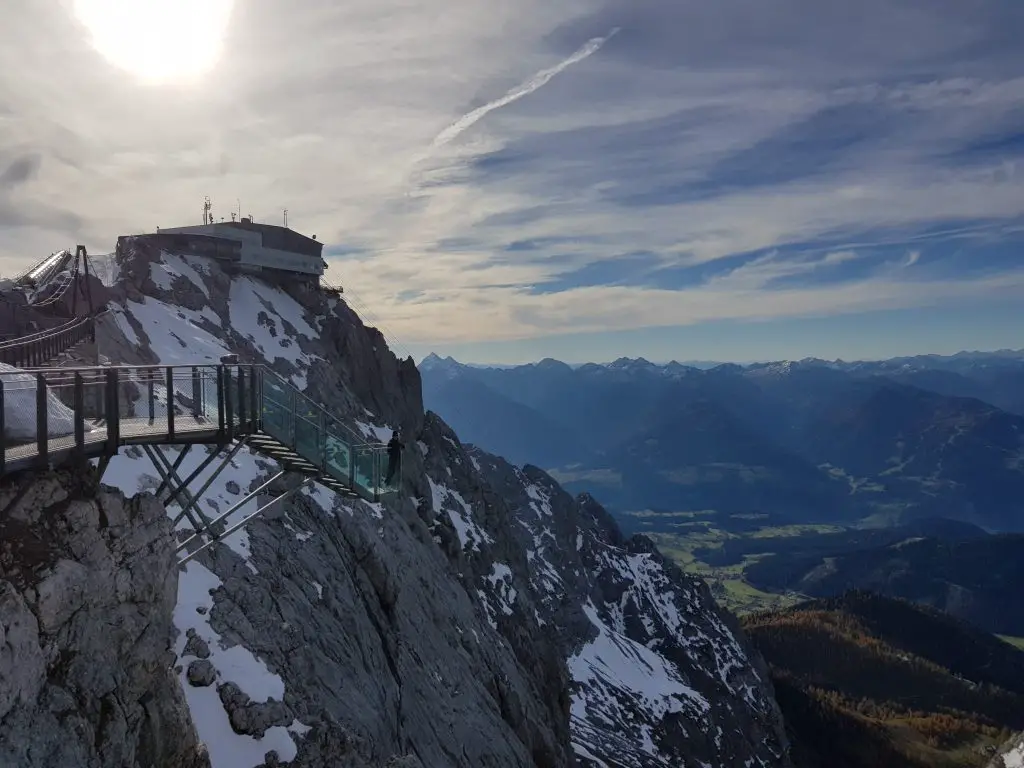 … and … tell me you are not thinking about booking a flight to Austria and a hotel right now? 🙂
If you love spectacular views, you will get many from the last step of Stairway to Nothingness. It can't get better than this! Make sure to add this trip to your bucket list Austria.
Perched about 1.5 hours south of Salzburg by car, it's one of the best places to visit in Austria – a spot that I know you'll love!
5. Have a strudel, bratwurst or gulaschsuppe
There is nothing better (after a long hike) than a gulaschsuppe followed by a cup of coffee with apfelstrudel! Agreed?
OK, a bratwurst with pommess (fries) would also be a good choice.
If you are food-lover, read more about Austrian foods on traveltyrol.com – their Wiener Schnitzel recipe looks delicious 🙂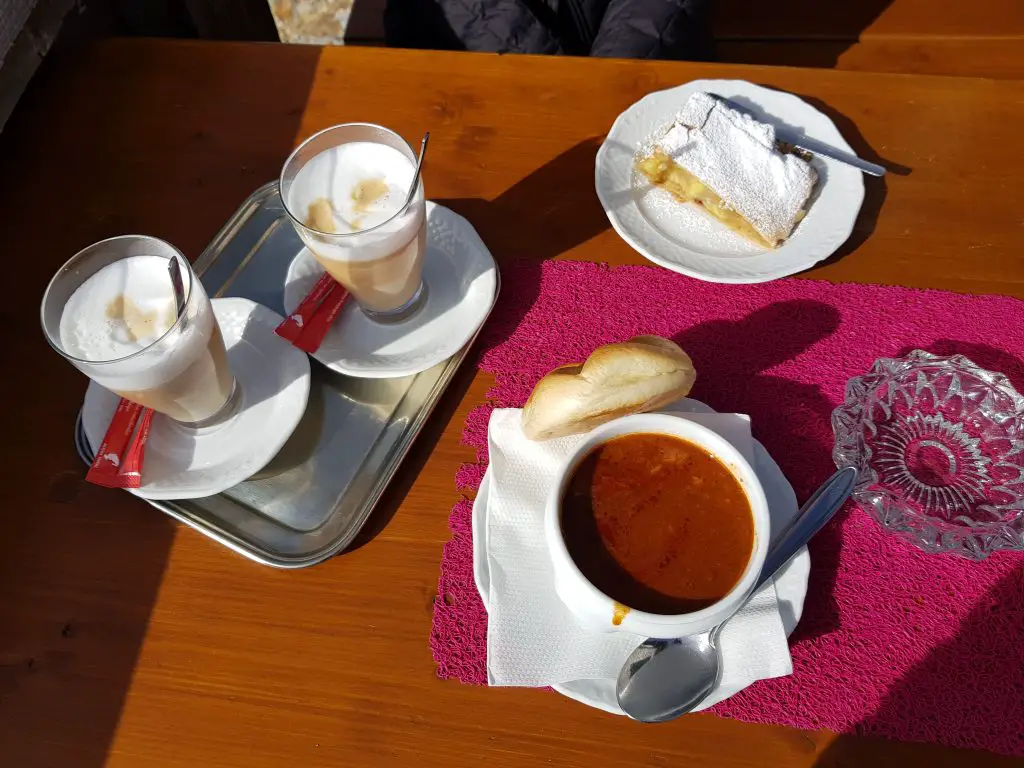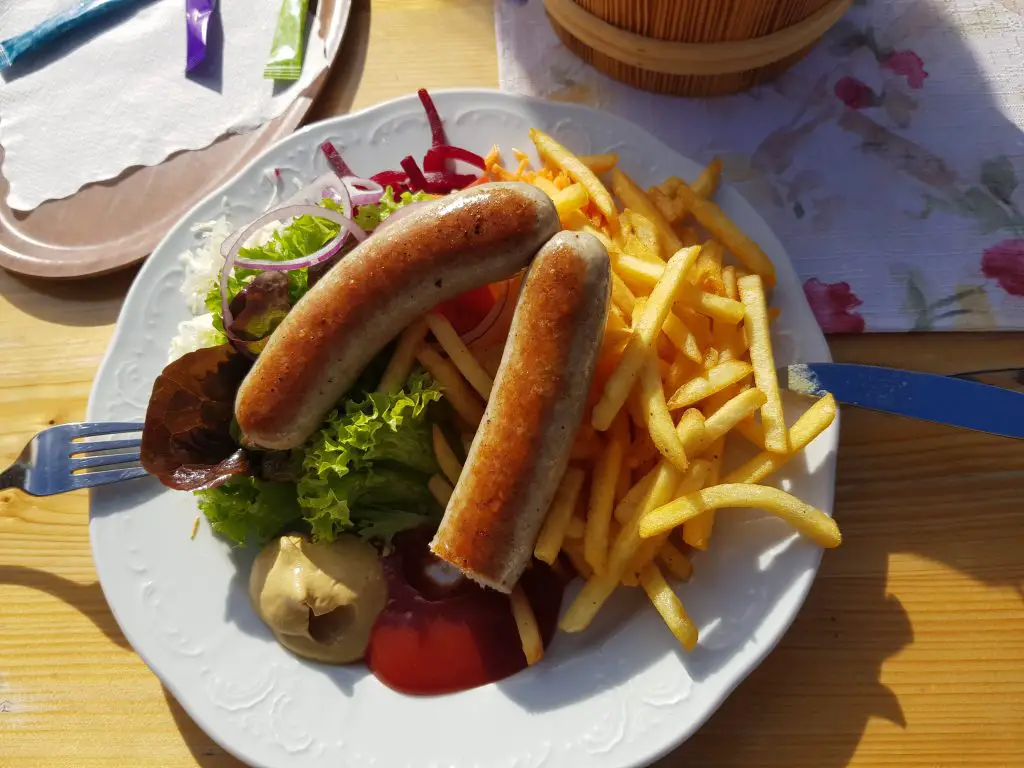 6. Go to Schafberg by cog railway…
Choo-choo, puff-puff, off we go!
Brings back some memories from childhood, right? 🙂
Well, you can feel like a child again when you jump on that cog railway – it will take you up to Schafberg in no time (okay, roughly in 35 minutes).
I couldn't forget to shout out SchafbergBahn as one of the best things to do in Austria, could I? 😉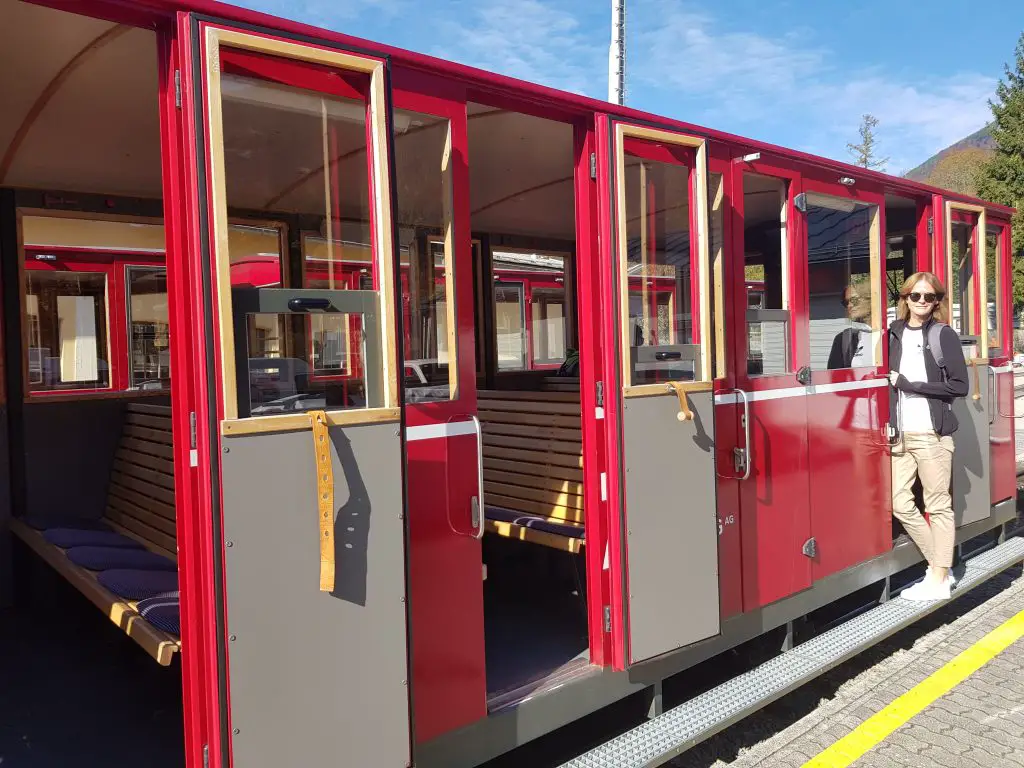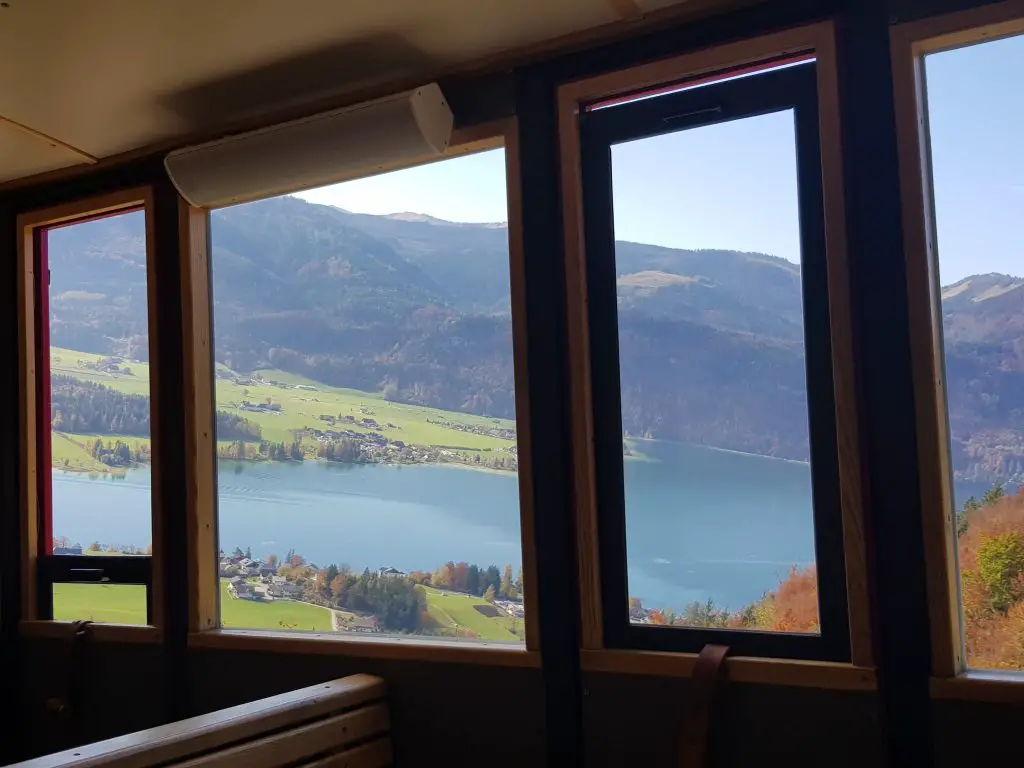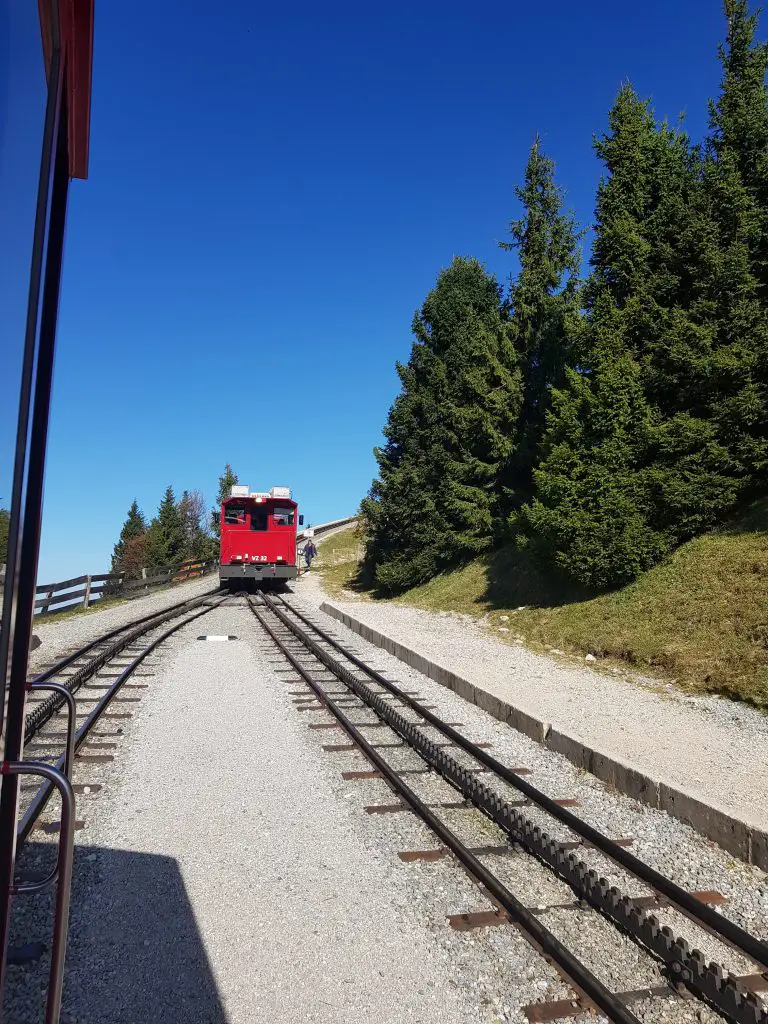 6b. …and admire the amazing views!
Once you get to the top, Boy! WHAT a view!
This is definitely one of the best places to visit in Austria – we can't recommend it highly enough. The endless views are just breathtaking.
(TIP: upon arrival, you will have to "book" your return place on the train – make sure you stay there at least 2-3 hours)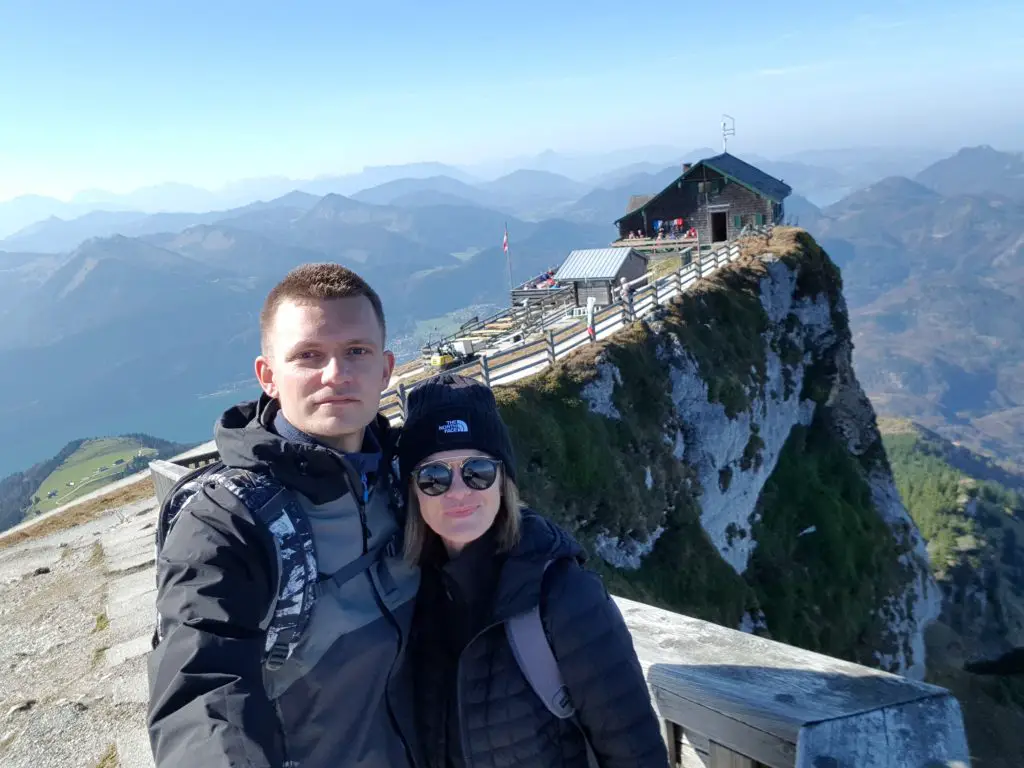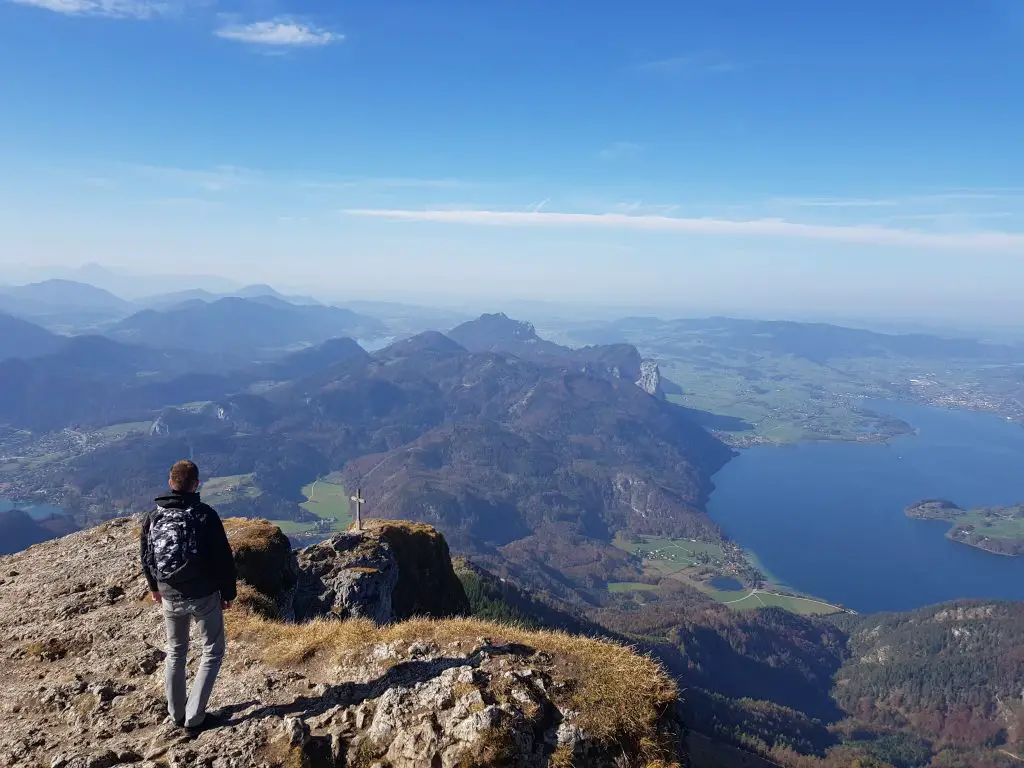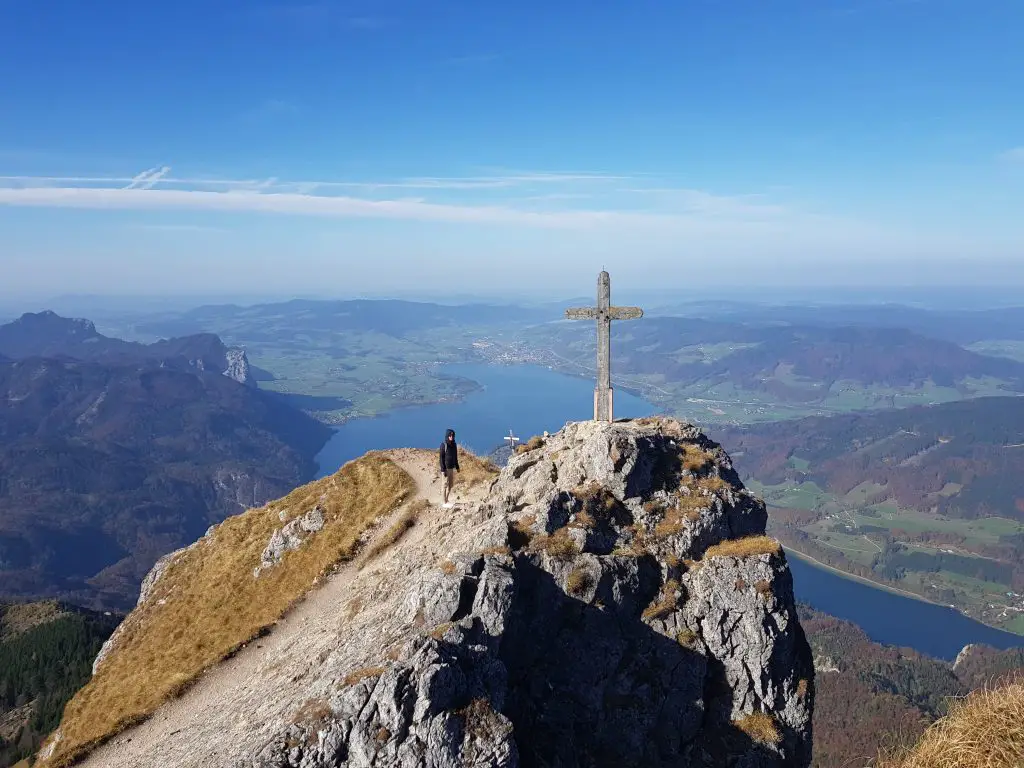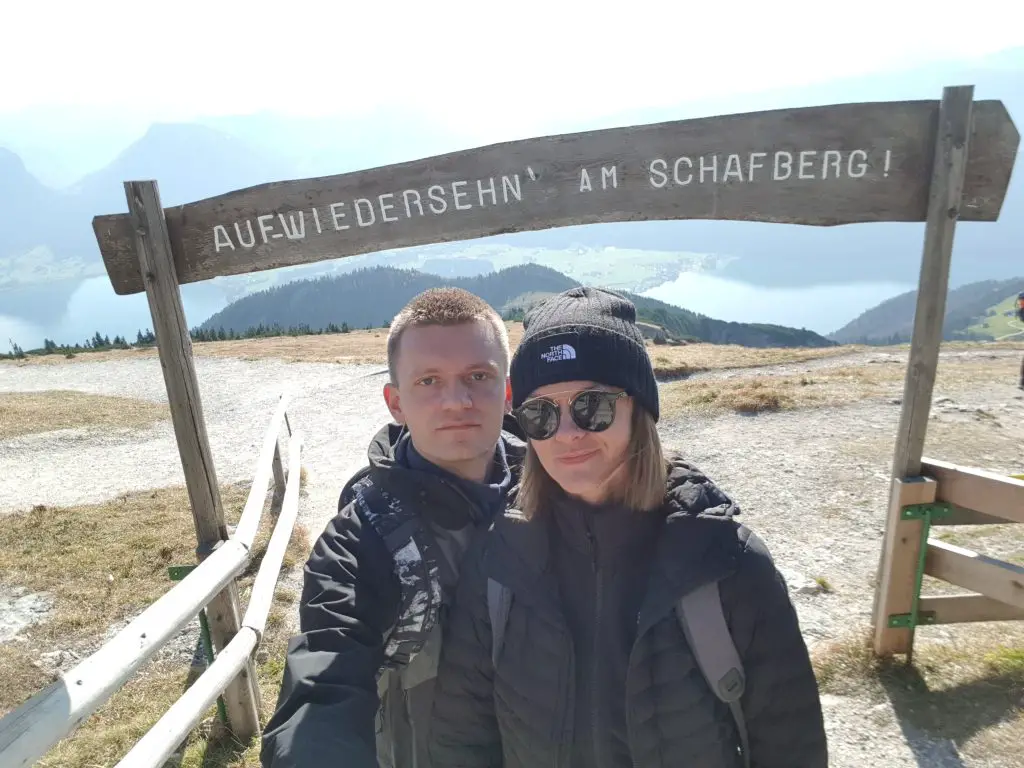 Read also: Schafberg Mountain, Austria – Europe's travel at its prettiest!
7. Take a boat trip in Hallstatt – Austria's main tourist attraction
When you type in Google best things to do and see in Austria, Hallstatt will be in the top results – I can guarantee this!
I guess they have an amazing PR person 🙂
Don't take me wrong, it's a very pretty village but there are much nicer places to visit in Austria. So call the town the most romantic place in Europe – would you say so too?
If, by accident, you end up being there, rent an electric boat – it's fun and you will be able to take pictures from a different perspective.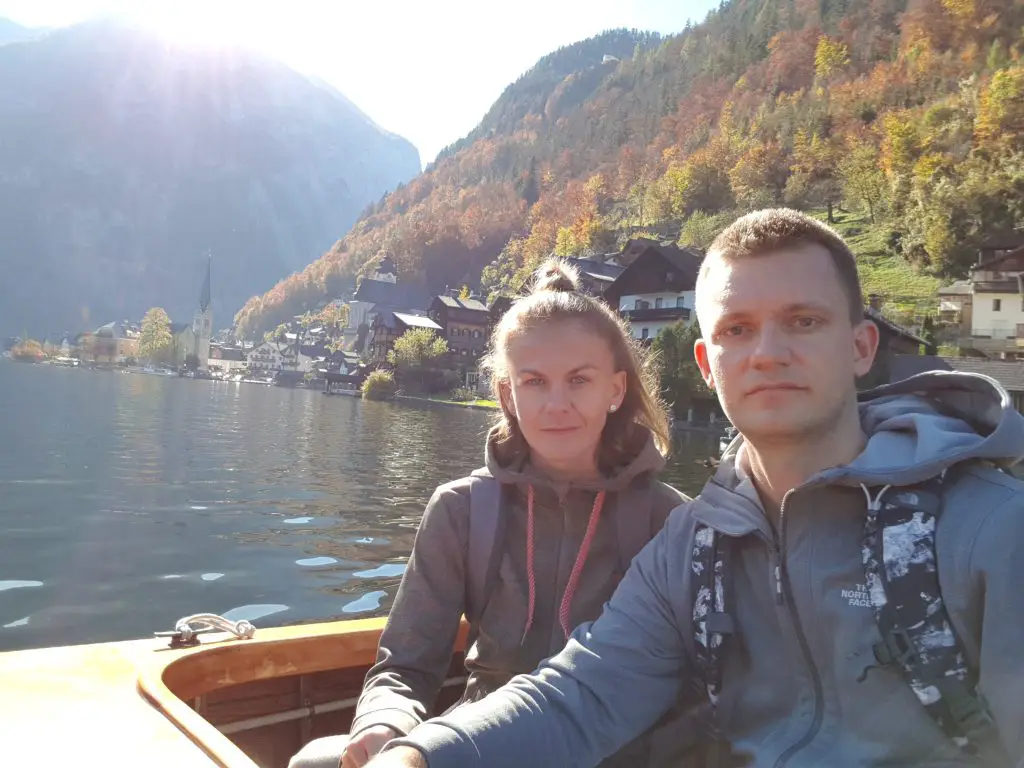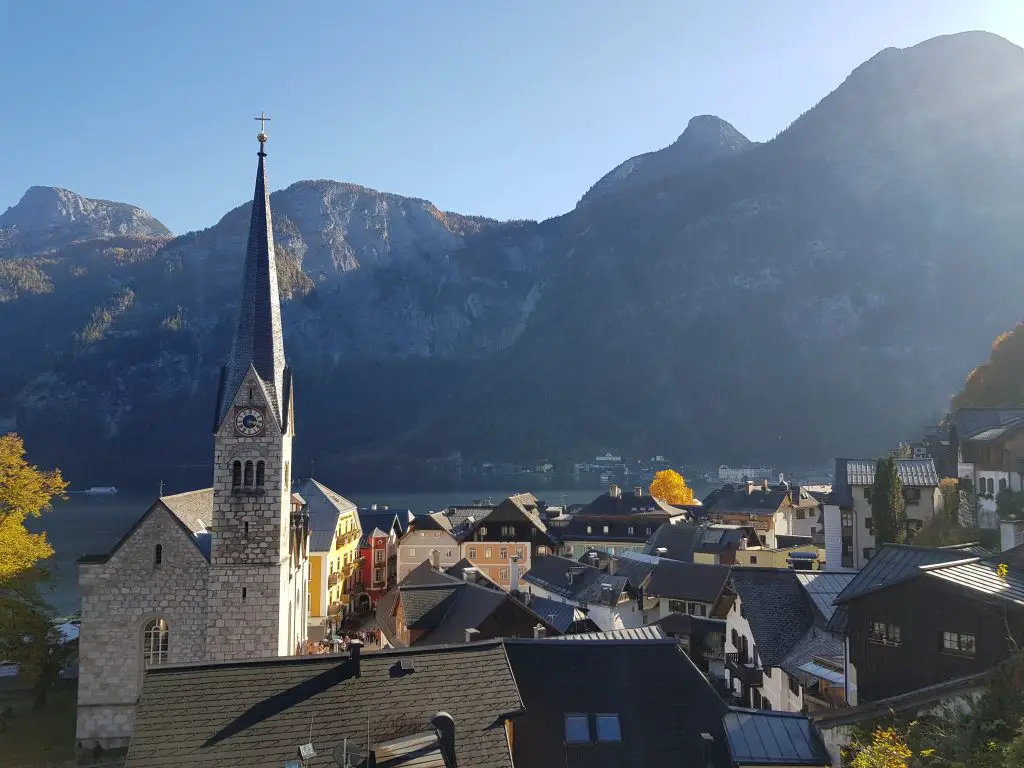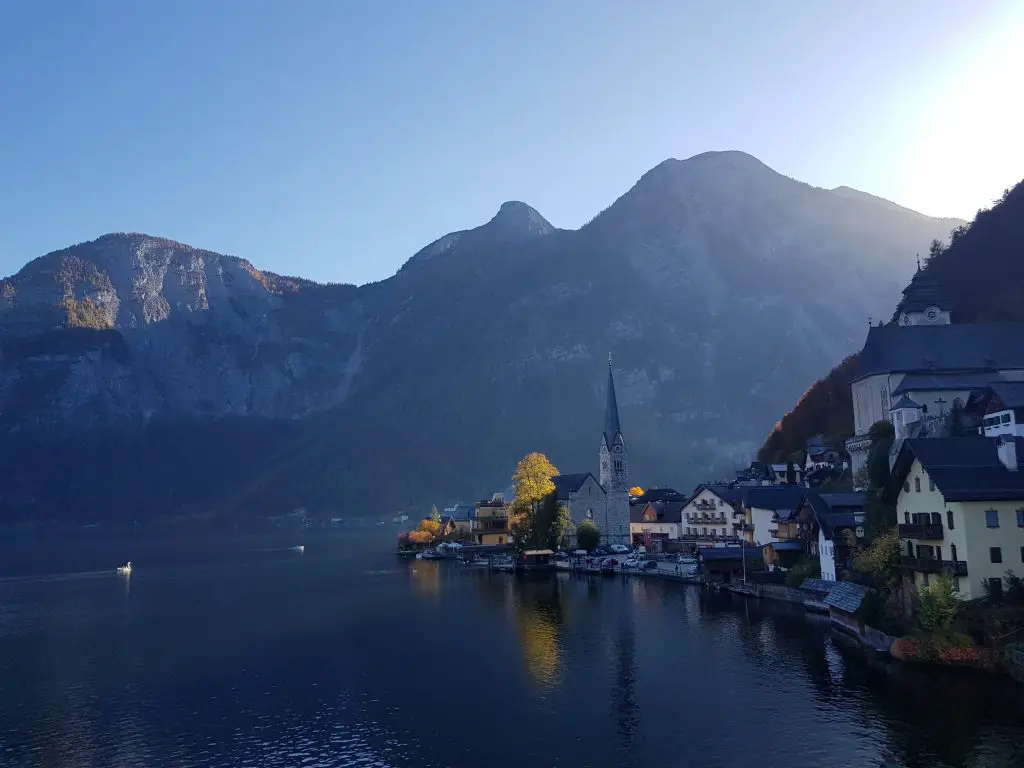 Read also: Is Hallstatt Austria worth to visit or is the Town a tourist TRAP?
8. Go hiking in Silberkarklamm
If you like hiking in narrow valleys between mountains – this gorge, with steep rocky walls and a stream running through it, will be a perfect choice for you. Have you ever seen such a long wooden staircase? 😉
This is one of the best hikes in Europe and it really is a contender for the best places to visit in Austria.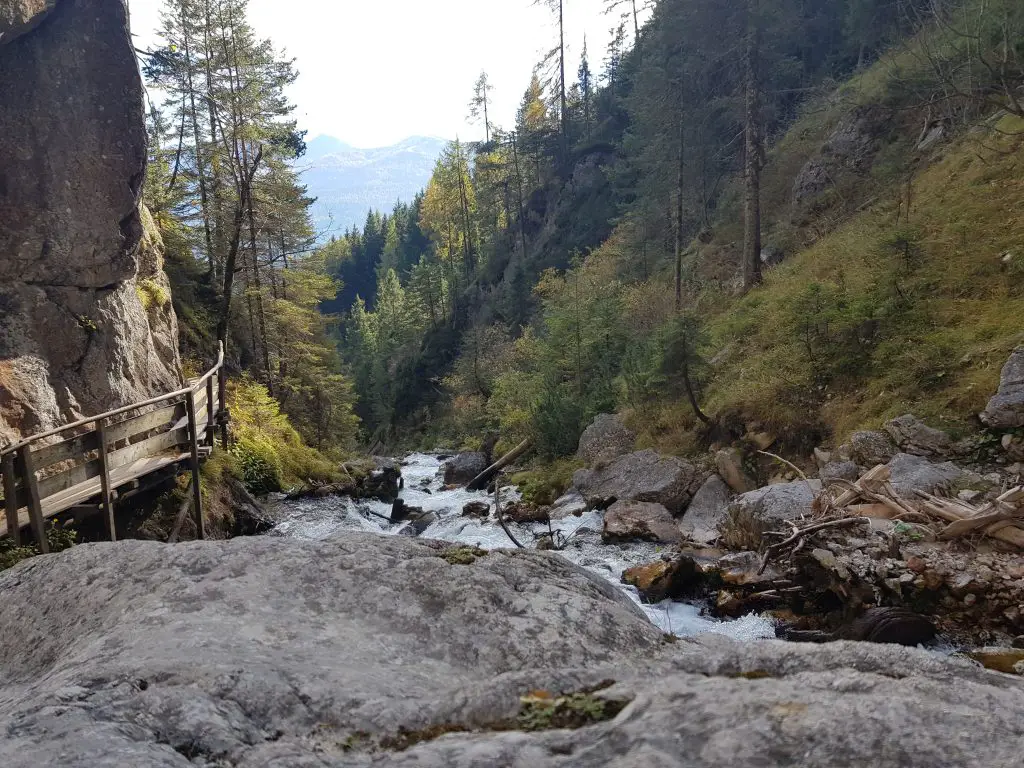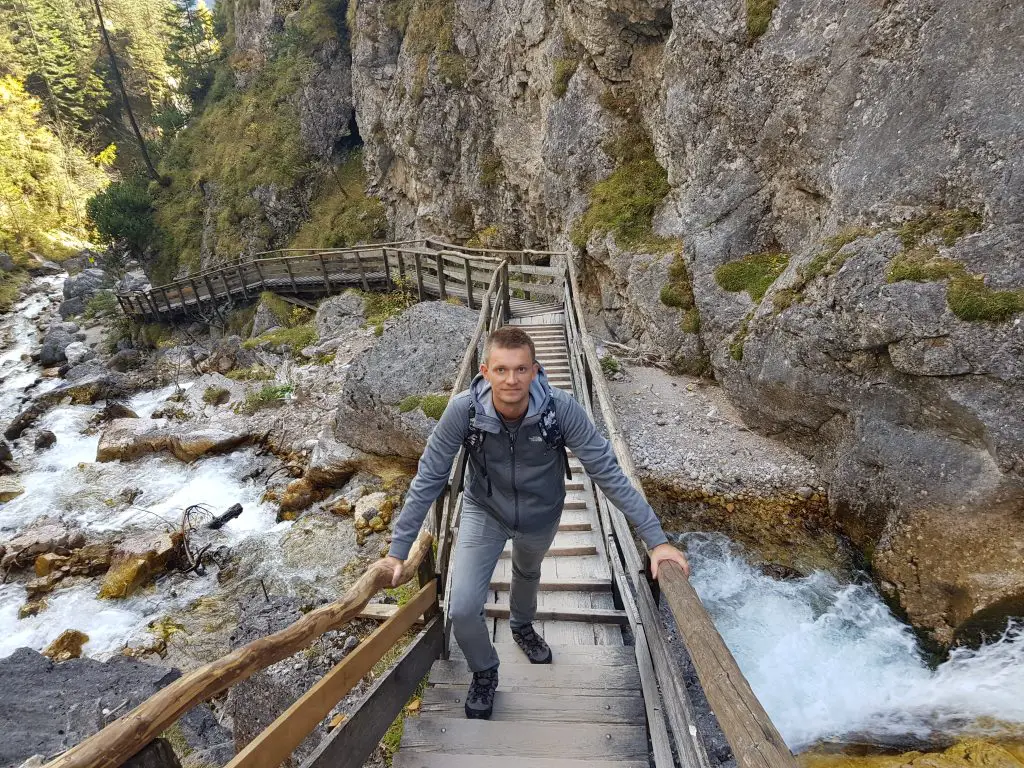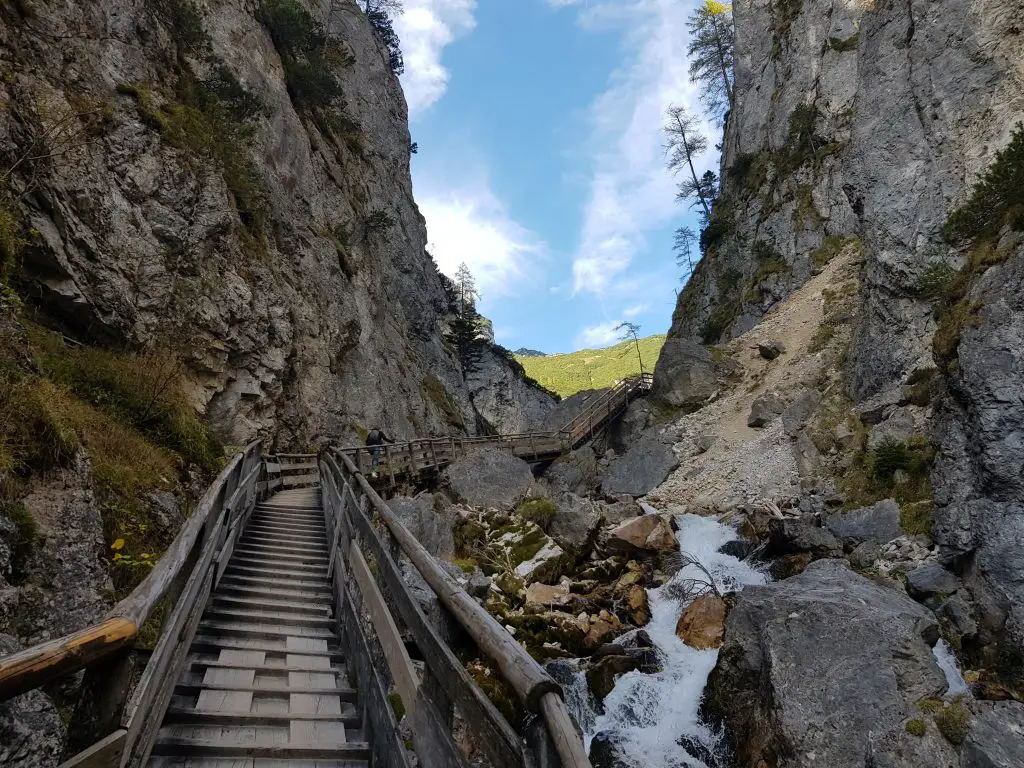 9. Drive around in Filzmoos area
Wake up early in the morning, don't waste time!
Jump on the car and start exploring – the marvellous landscapes and charming villages are just around the corner. And Filzmoss really is one of the must-see villages in Europe.
(read our guide to renting a car in Europe)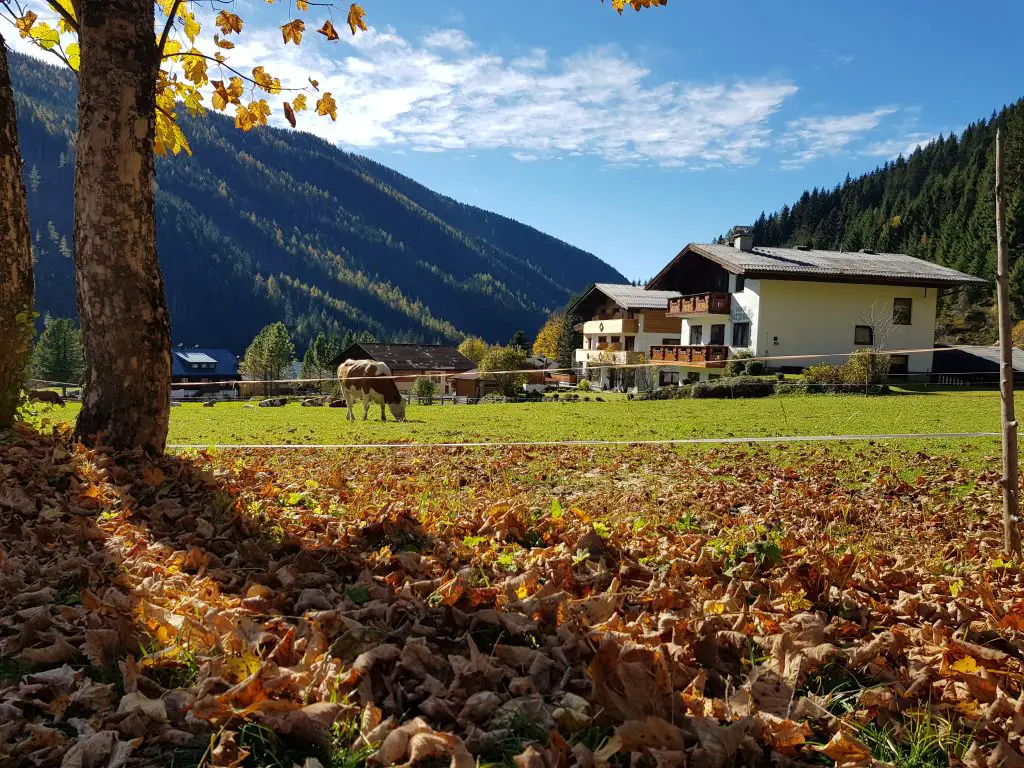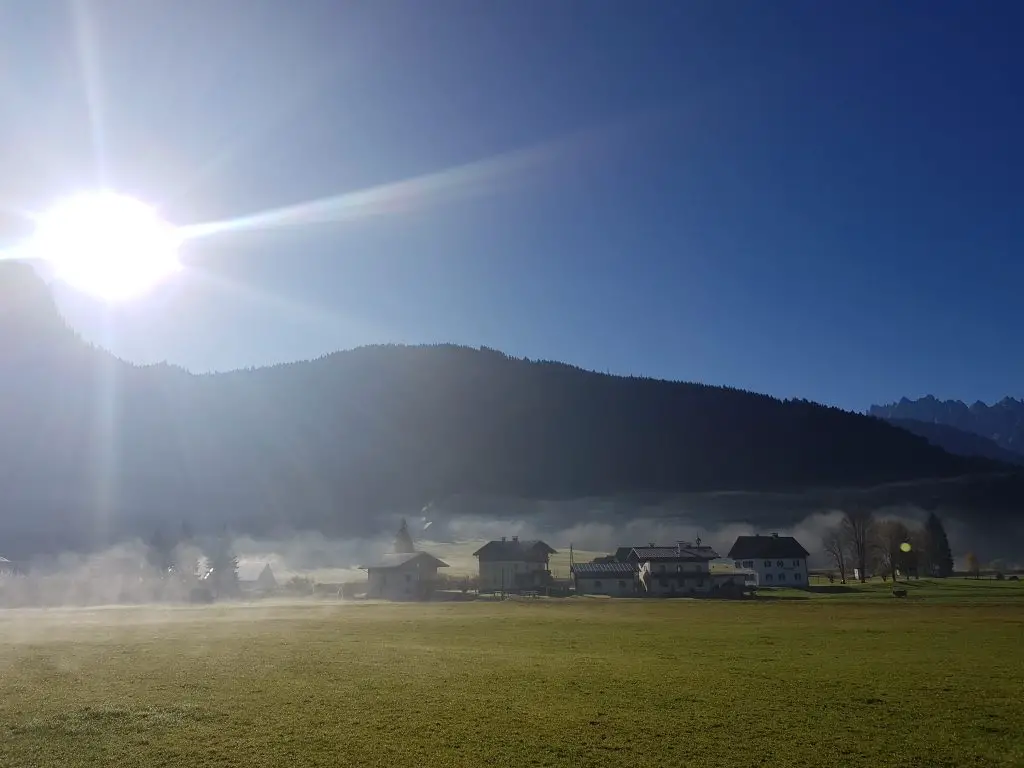 10. Go off the beaten track
There are 100s of hiking trials in Filzmoos, the tricky part is: to decide which one to choose.
Whichever you will go for, you can be sure it will NOT be crowded…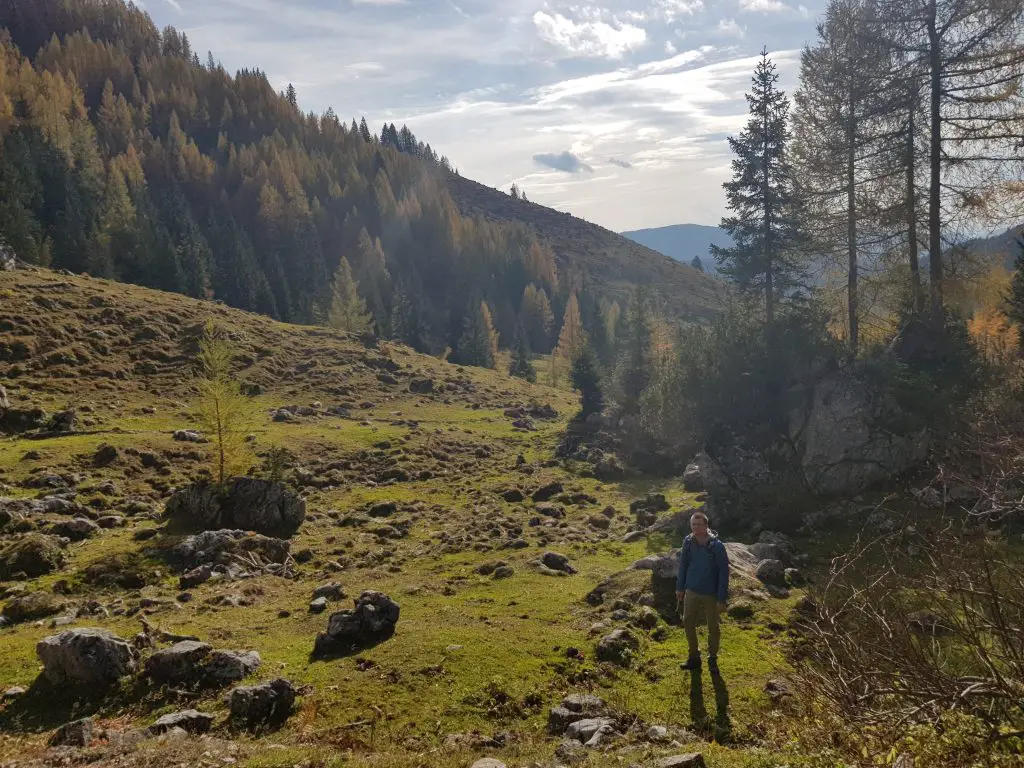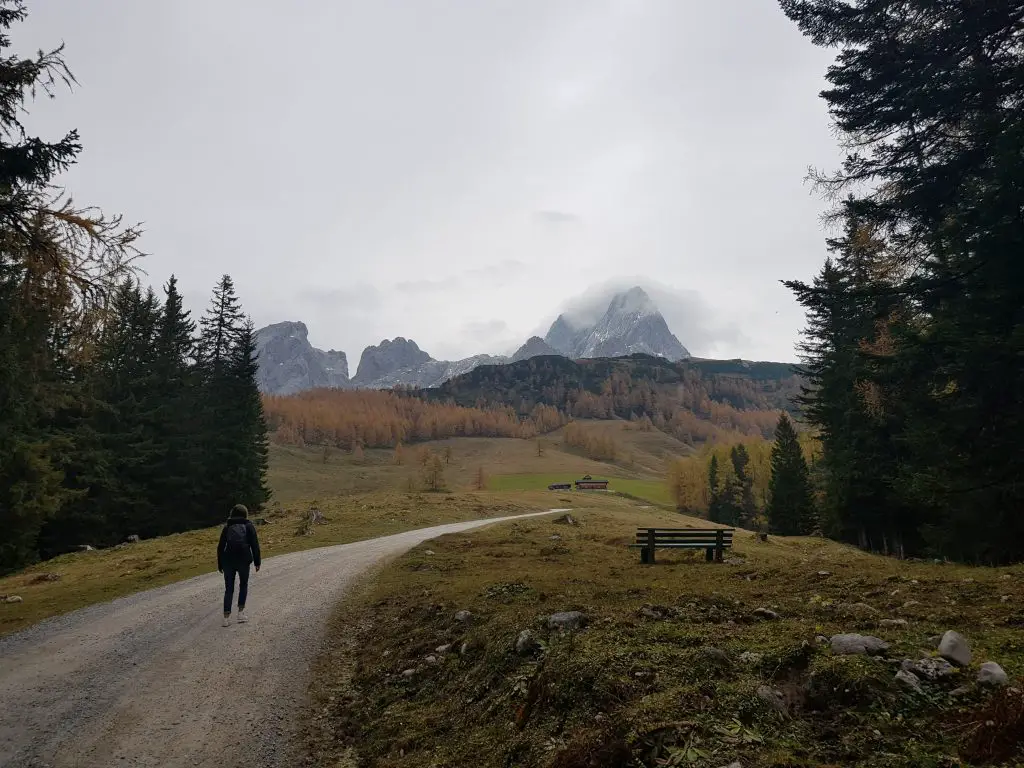 11. Go hiking around Gosausee
Probably the best lake in Dachstein Salzkammergut area!
It will take you only one hour to follow the path around the lake – as long you don't stop every 5 minutes 🙂 You will be blown away by how beautiful this place is and really is one of the best places to visit in Austria.
P.s. NO, the 2nd picture it's not upside down. It's a reflection in the lake!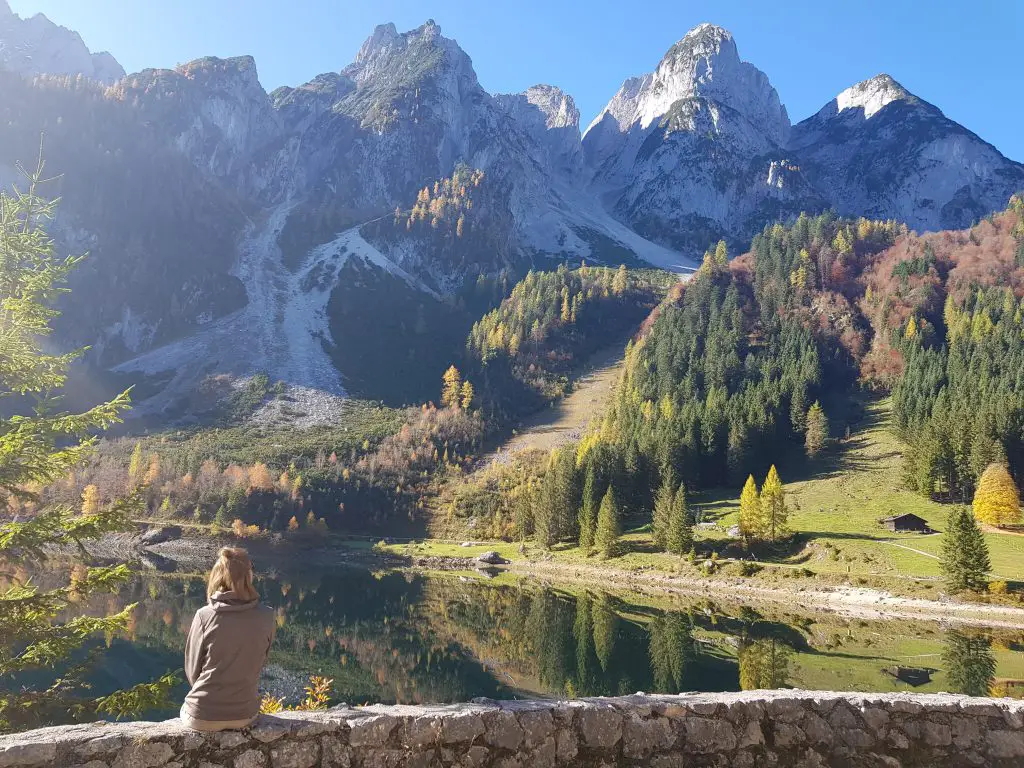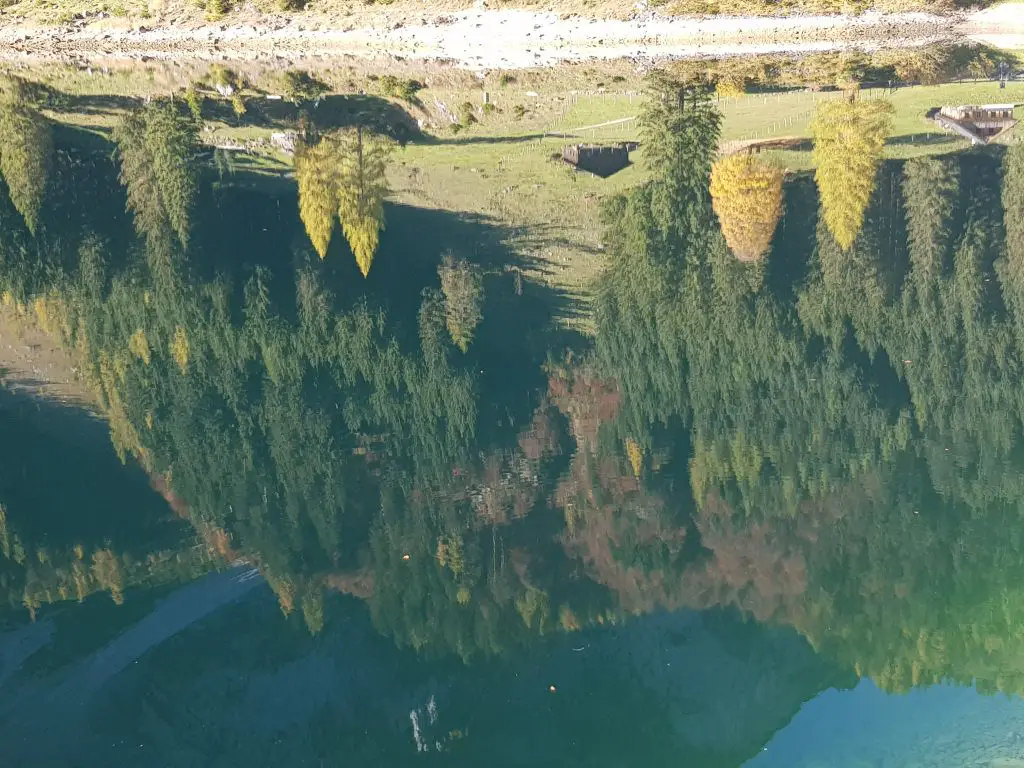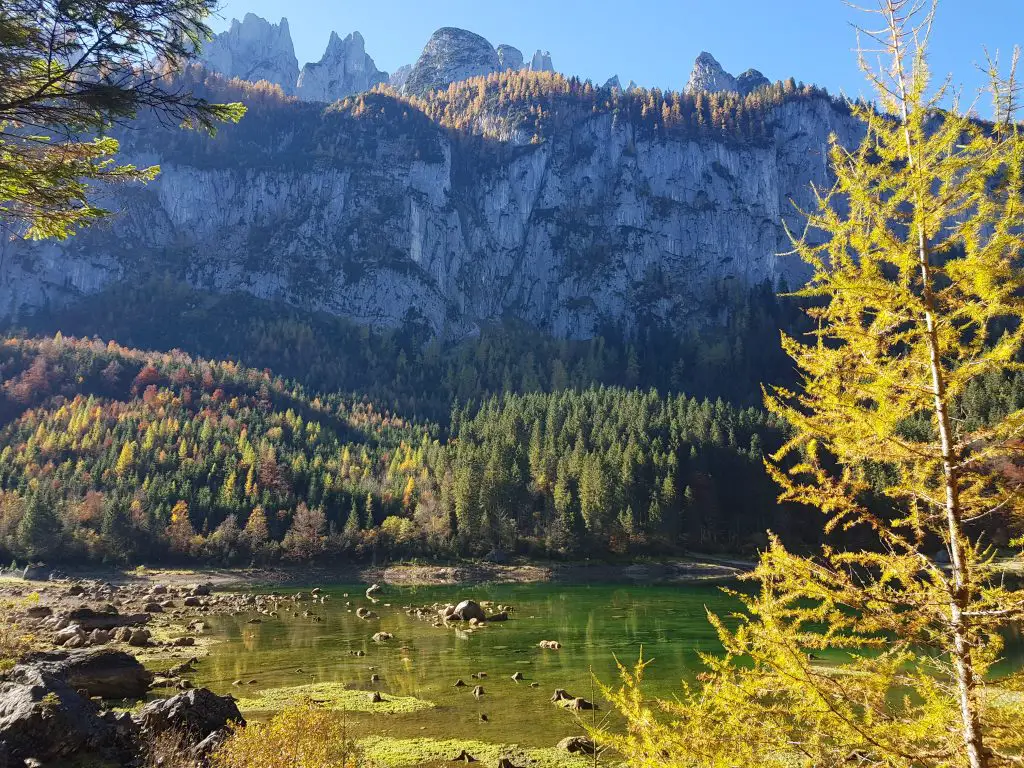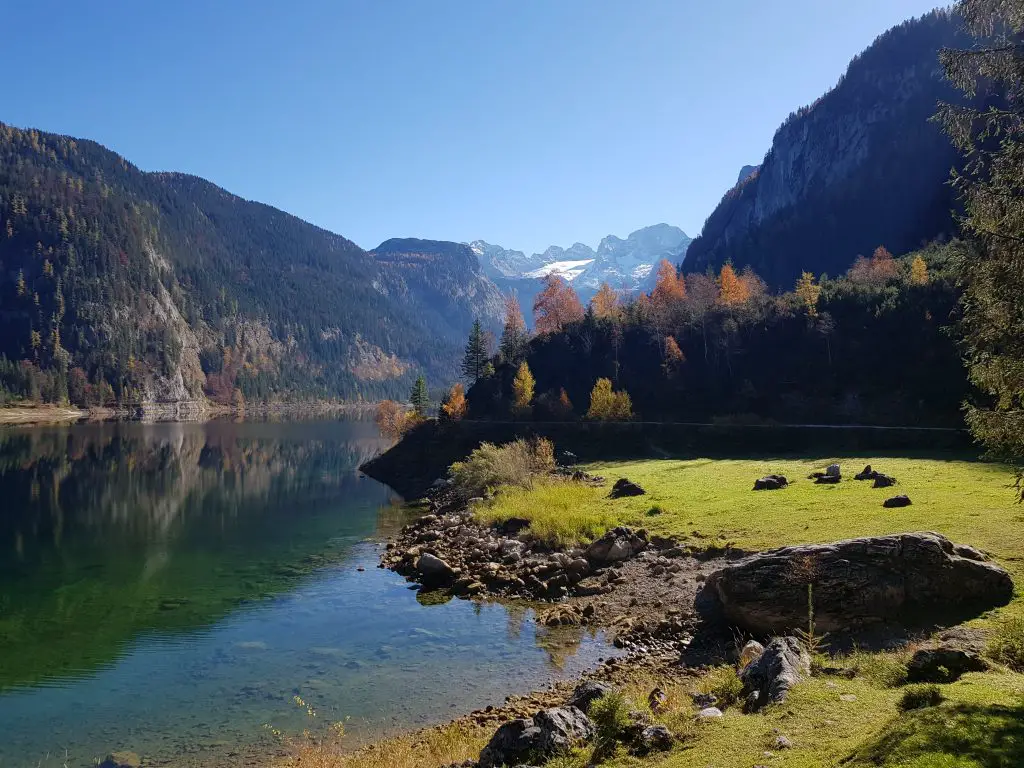 12. Meet the locals
Best hidden gems? Ask the locals! They always know many.
Right, maybe not all locals… 😉
But, please make sure you say HELLO when you meet them during your trip to Austria – it's one of the cool things to do in Austria 😉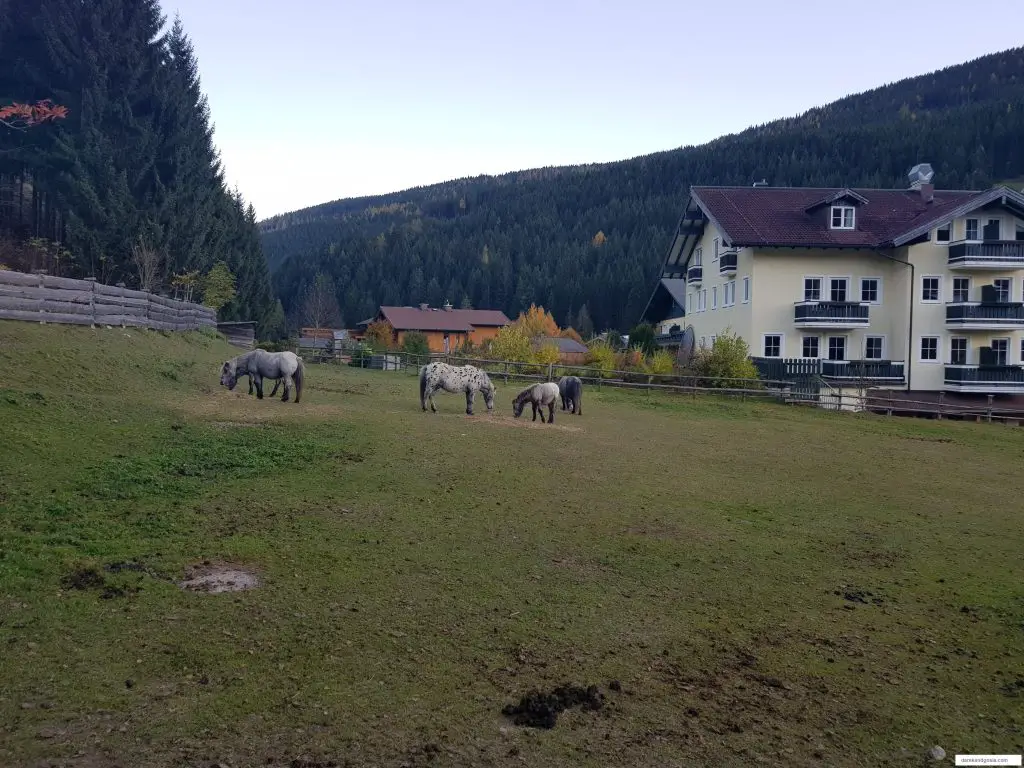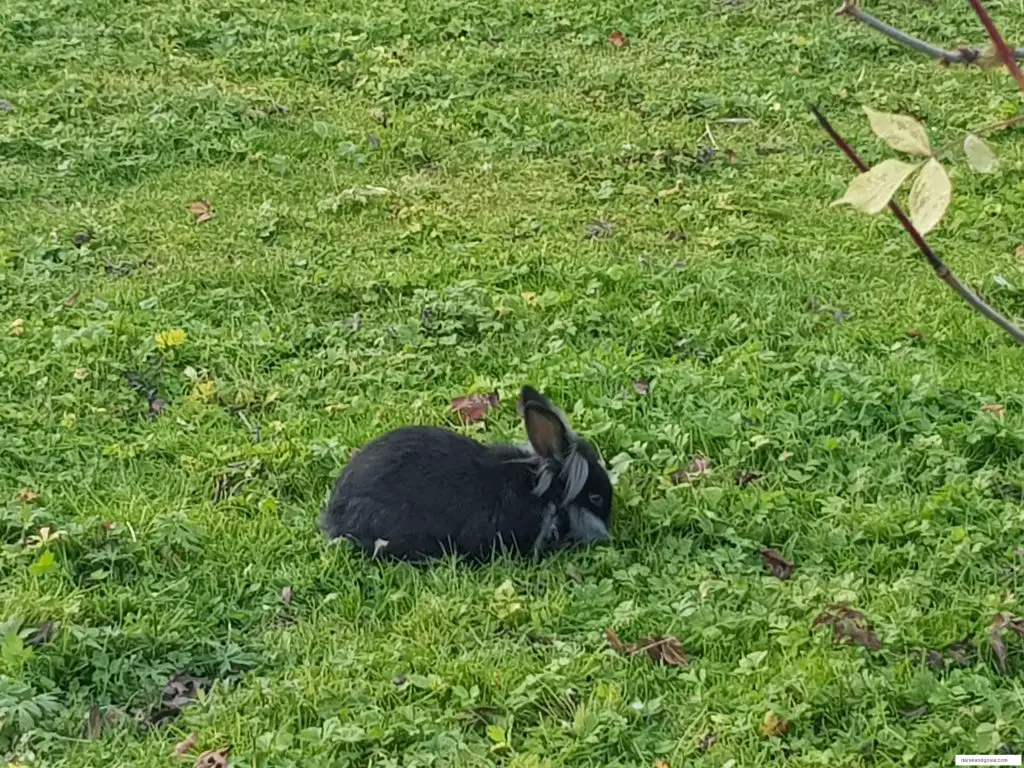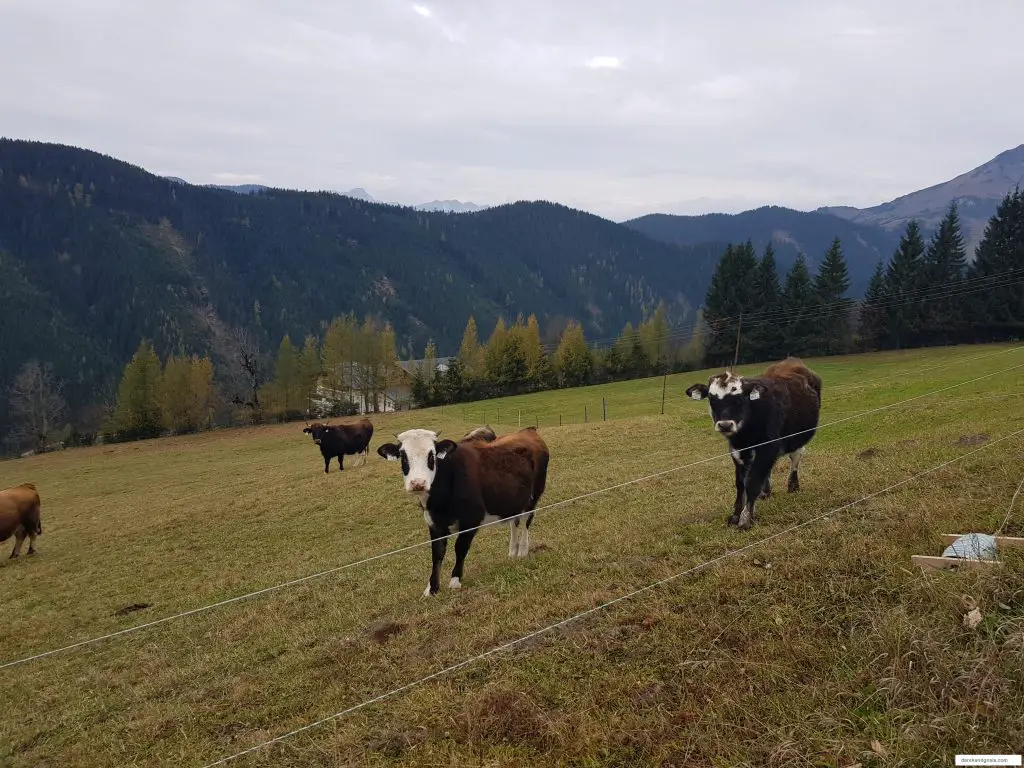 13. Just relax…
… probably the best thing to do in Österreich.
Sometimes when we travel, we are too busy (with taking pictures etc.) to have time to stop…
So… slow down… stop… and just relax…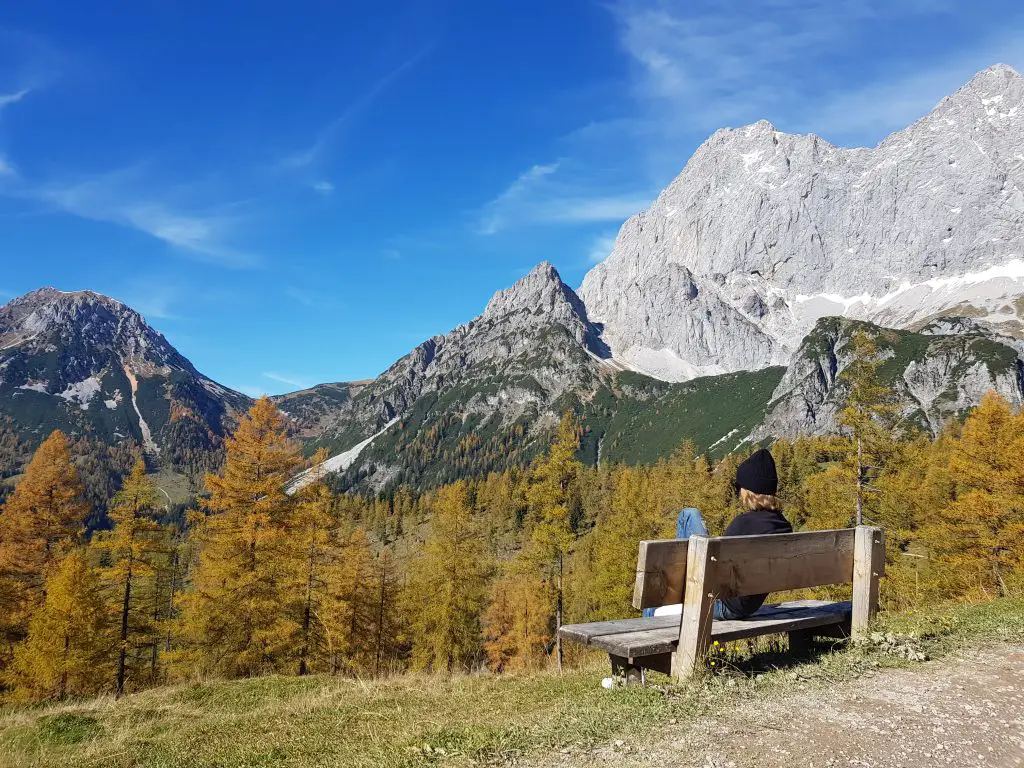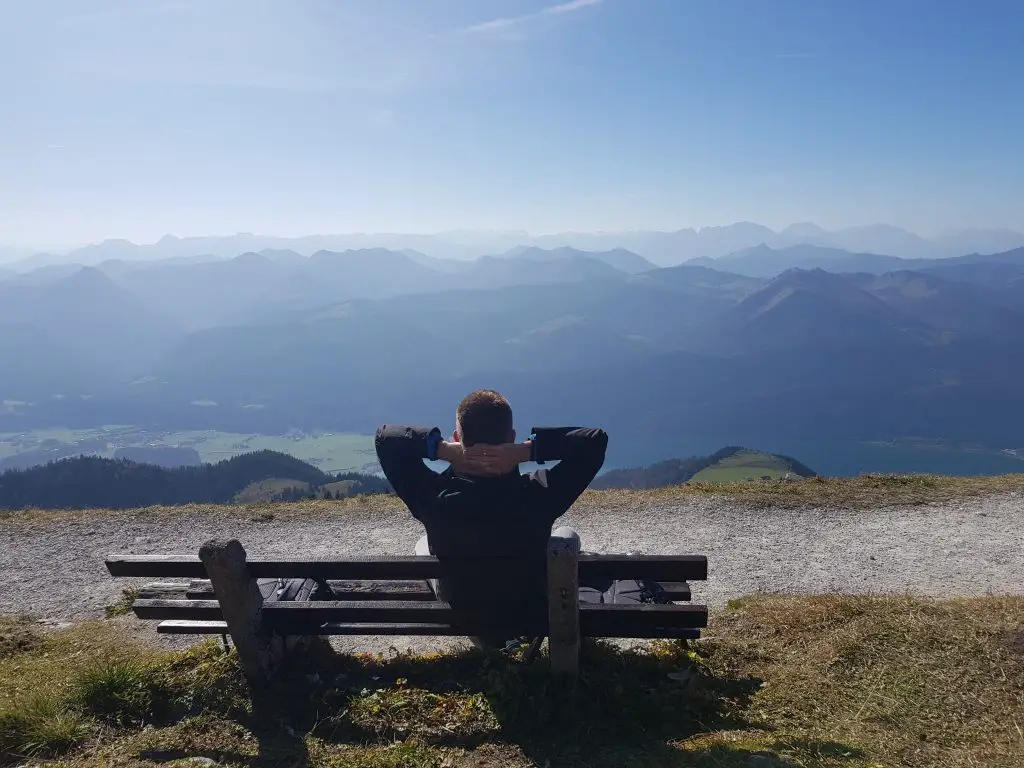 Things to do in Austria FAQ:
Know any other amazing things to do in Austria?
Please let us know and we will try to visit them next time we are there. Austria is truly an amazing country which can be visited at any time of the year. Whether you visit Vienna in January, hike around Schafberg mountain in autumn or spend a weekend in Hallstatt, you will always find many unique things to do in Austria! 🙂
Planning a trip to Austria soon? Make sure you use the below resources:

* Find a cheap flight to Salzburg

* Rent a car at Salzburg airport, but before you do that read our guide about renting a car in Europe

* Book accommodation: 3* Hotels in Austria start at €55!

* Read our other articles: Hallstatt, Schafberg or Road trips in Europe
Where to stay in Austria?
If you would like to see all the amazing things from our list, we would recommend staying at Landhaus Vierthaler in Filzmoos.
We absolutely loved that place!
The owners, Maria and Wolfgang, were super nice and the place was spotlessly clean! We gave them 10 as a review on Booking.com – which we have never done before 🙂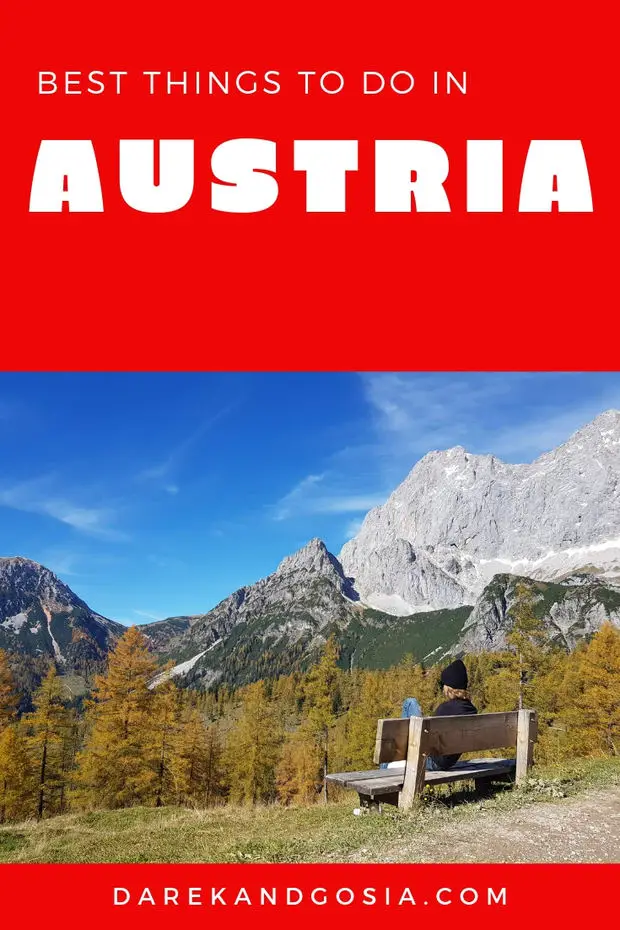 Articles you may like: