Iceland, a captivating blend of fire and ice, is packed with jaw-dropping sights. And the Blue Lagoon, or Bláa Lónið as locals lovingly call it, ranks pretty high on that list. Picture this – you're soaking in geothermal waters, enriched with minerals, surrounded by a stark, stunning lava field. Doesn't that sound amazing?
Located conveniently near Reykjavik, it's an easy addition to your Iceland itinerary. While a day at this spa feels like a joyous escape to a parallel universe, the trip also serves up a dash of cultural immersion. You'll soon realize that locals love their hot pools, and cherish their bathing rituals, which include a thorough pre-soak shower.
By the way, remember that age-old debate about, to rinse or not to rinse after a swim? Well, in Iceland, you definitely want to rinse! The minerals that work wonders on your skin can give your swimsuit a bit of a faded, vintage vibe. Nothing major, but a good rinse should take care of it.
As for your hair, think of the lagoon's waters as a volumizing treatment. It can leave your hair a tad stiff, but nothing a good conditioner can't handle. And yes, we see you, the brave and the bold, you can absolutely rock your bikini here! Just keep in mind that showering in the buff is the Icelandic way. But no worries, they've got private cubicles for those who are shy.
Ever wondered what it's like to swim in a pool heated by the Earth's core? The Blue Lagoon isn't your average backyard pool. It's not too deep, with the deepest parts only about 1.4m. And the water? Perfectly warm, with temperatures between 37-39°C (98-102°F). It's like nature read Goldilocks and got the temperature just right!
Is the Blue Lagoon worth it, you ask? Just imagine the selfies, basking in the milky-blue waters, the steam rising, with a backdrop of lava fields! Plus, who doesn't love a natural spa day?
When it comes to timing your visit, most visitors spend around 2-4 hours soaking it all in. But hey, feel free to lose track of time! Just make sure to secure your tickets in advance – the secret's out, and this place can get pretty busy!
So, ready for a fun day at the spa, Icelandic style? The Blue Lagoon is waiting for you with its warm, welcoming waters. It's an adventure that you're sure to remember for years to come.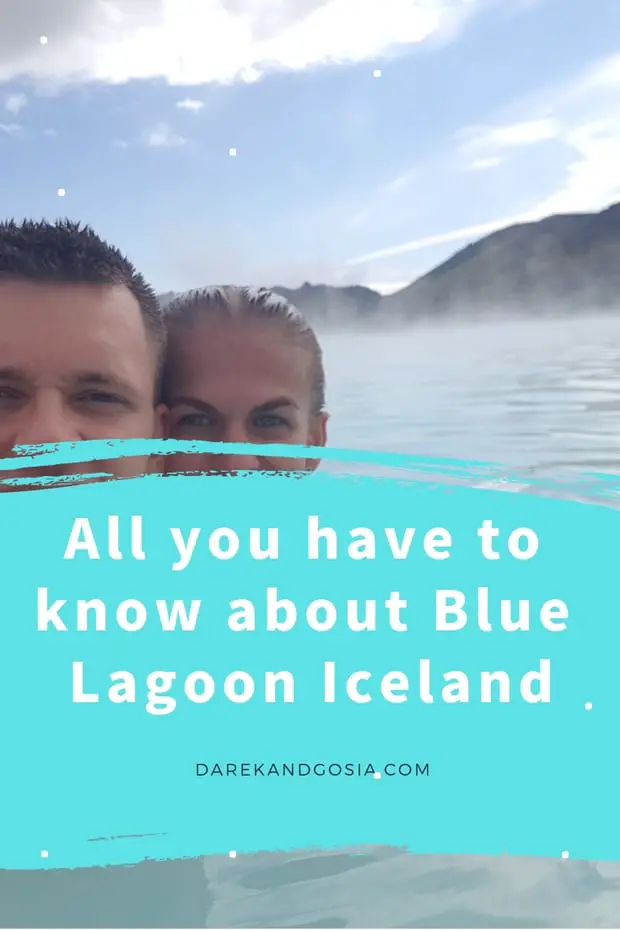 When is the best time of day to visit Blue Lagoon Iceland?
This will really depend on the time of the year you are visiting Iceland.
You shouldn't be afraid that the Iceland geothermal spa will be overcrowded. Yes, it will be busy – it always is – but they have great crowd control and limited spaces per hour. Having said that, there are definitely fewer people visiting the Lagoon in Iceland during late afternoon/evening hours. So, if you don't like to share the silica and sulfur minerals with too many people – this will be an ideal time for you 🙂
If you go in winter, you can book a time slot for late afternoon – then, with a bit of luck, you will see the northern lights while bathing in the geothermal spa. We went to Iceland at the end of August so when we visited Blue Lagoon Spa there was no chance to see the green lights on the sky.
Some people are a bit confused when booking tickets online. You have to choose a time slot (e.g. 2pm-3pm) during your online booking. But this means that you have to be at the entrance, with the printed version of your ticket, between 2 pm and 3 pm. It doesn't mean you can stay in the geothermal spa only for one hour.
Please note that you will not be permitted to enter the spa earlier than 15 minutes before the beginning of your time slot (1.45pm). But don't worry if you are earlier, you can visit the Blue Lagoon Silica shop or have a quick cuppa before the bath 🙂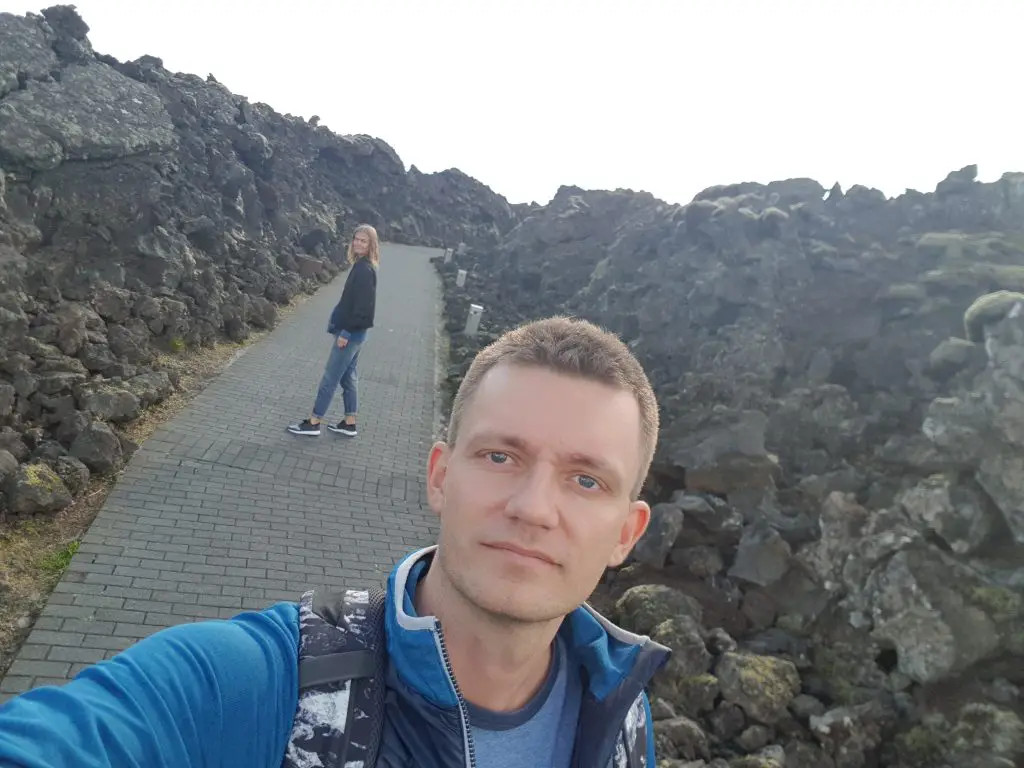 How much time do you need at the Blue Lagoon Iceland?
We spent just under two hours in the geothermal water – which the typical average time people spend there.
But the whole experience will take a bit longer. Most probably you will stay for a coffee at the Blue Café or lunch/dinner at LAVA restaurant.
No matter how long you will stay in the geothermal water, make sure you are well hydrated! You will get one complimentary drink, which you can have while in the water, and then you can buy more if you fancy. Don't worry about money – you will pay with your bracelet at the exit of Blue Lagoon Spa.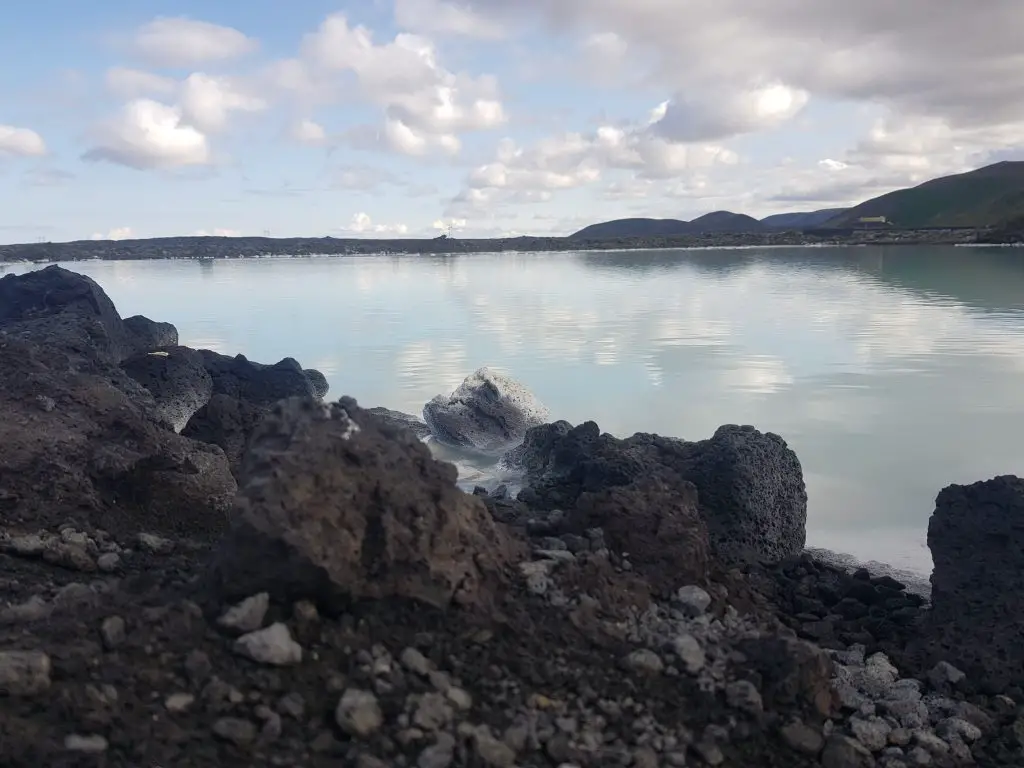 Does the Blue Lagoon Spa ruin your bathing suit?
Make sure you are aware of the Blue Lagoon bathing suit issue. The official website will say that the water from Blue Lagoon will not ruin your swimsuit.
But… unfortunately, I had some permanent stains which I couldn't get rid of after a few washes.
If you have a very expensive swimsuit it could be a good idea to leave it at home and take an old one with you to Iceland.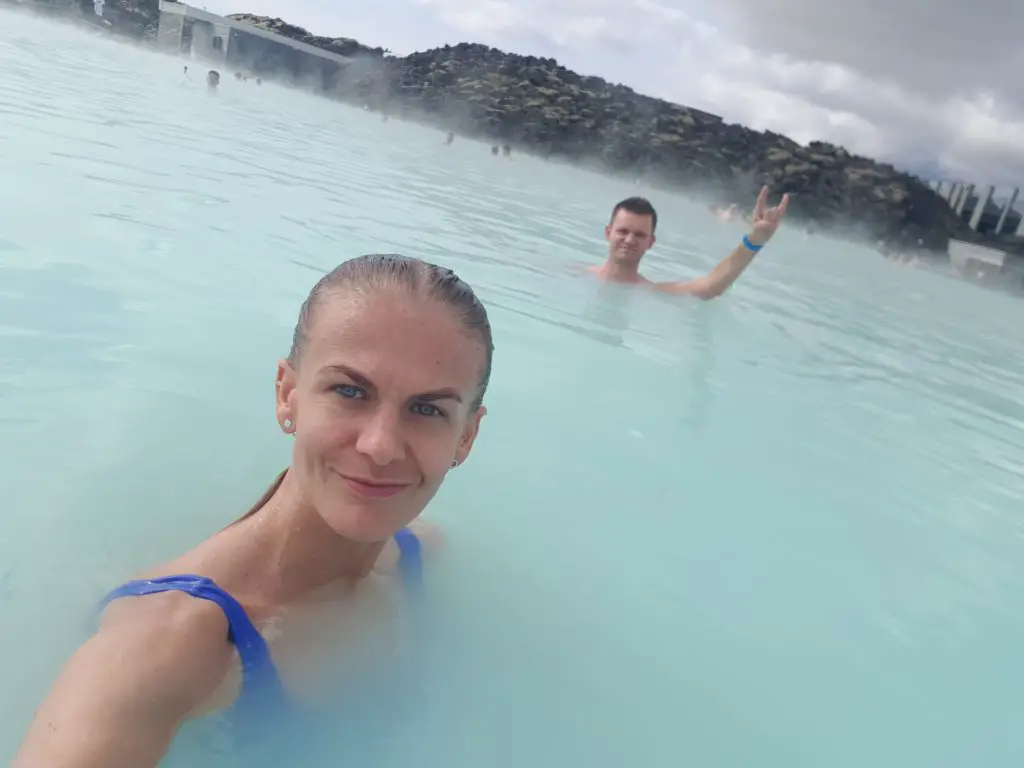 Is the Blue Lagoon Spa bad for my hair?
This really is one of the best spas in Iceland but does the Blue Lagoon ruin your hair?
Guys – most of you probably don't even care about this topic 😉
Ladies – no panic!
The silica from the geothermal water will not harm/destroy your hair. The only negative effect might be that your hair will become stiff and not easy to manage.
Having said that, you will get complimentary (unlimited!) conditioner, which you can apply on your hair after the shower. It will protect your hair while in the Lagoon. So, do no worry about your travel size toiletries – you can keep them for the rest of your trip to Iceland 🙂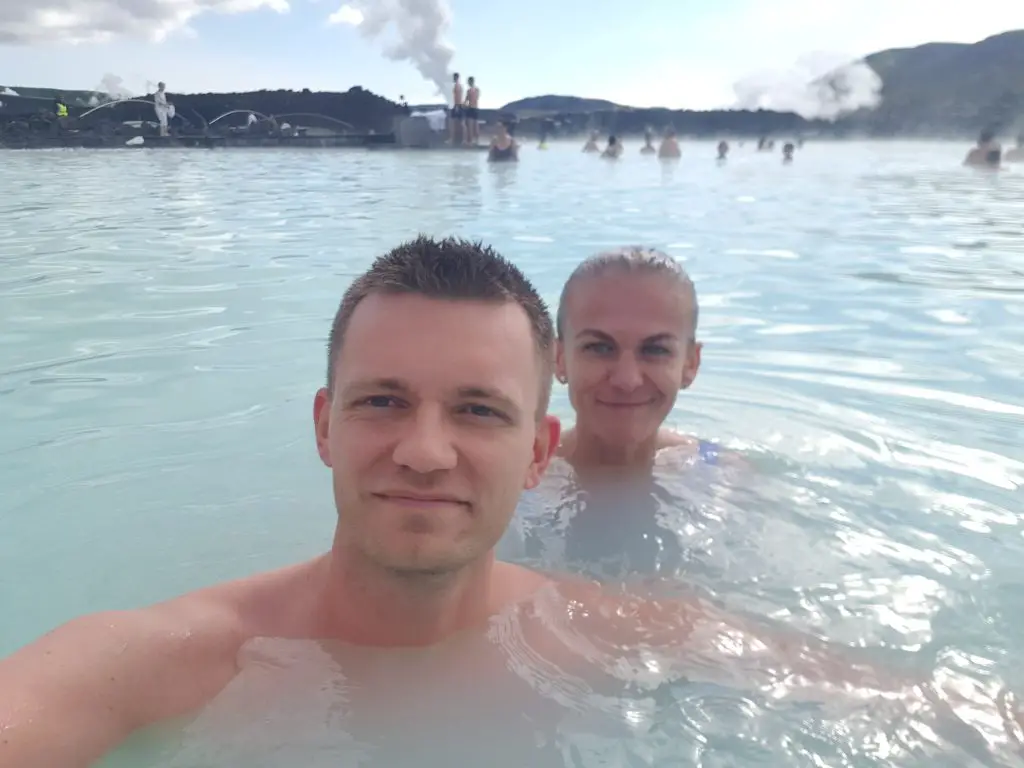 How much is the entry to Blue Lagoon Iceland?
Is Blue Lagoon worth it? First, do remember to book your ticket online!
This place is always very busy so don't count on your luck! You can be 100% sure you will not soak in the geothermal water if you think to get the ticket on the day.
The price of your ticket will depend on the package. If you are not a spa-master and just want to visit the lagoon for experience (and to cross off another position on your bucket list) go for the comfort package (it includes the use of a towel, Silica Mud Mask and one drink of your choice).
Comfort: €55-78
Premium: €78-101
Retreat Spa: €460-554
So, your next question should be: why there are price brackets for the Blue Lagoon packages?
Well, the bad news is that you will most probably end up paying the higher price of each bracket!
The lower price is only for the last slot of the day. Believe me – you would rather stay in the geothermal water longer than one hour 🙂 Unless you don't like a long warm bath in the Blue Lagoon Spa 😉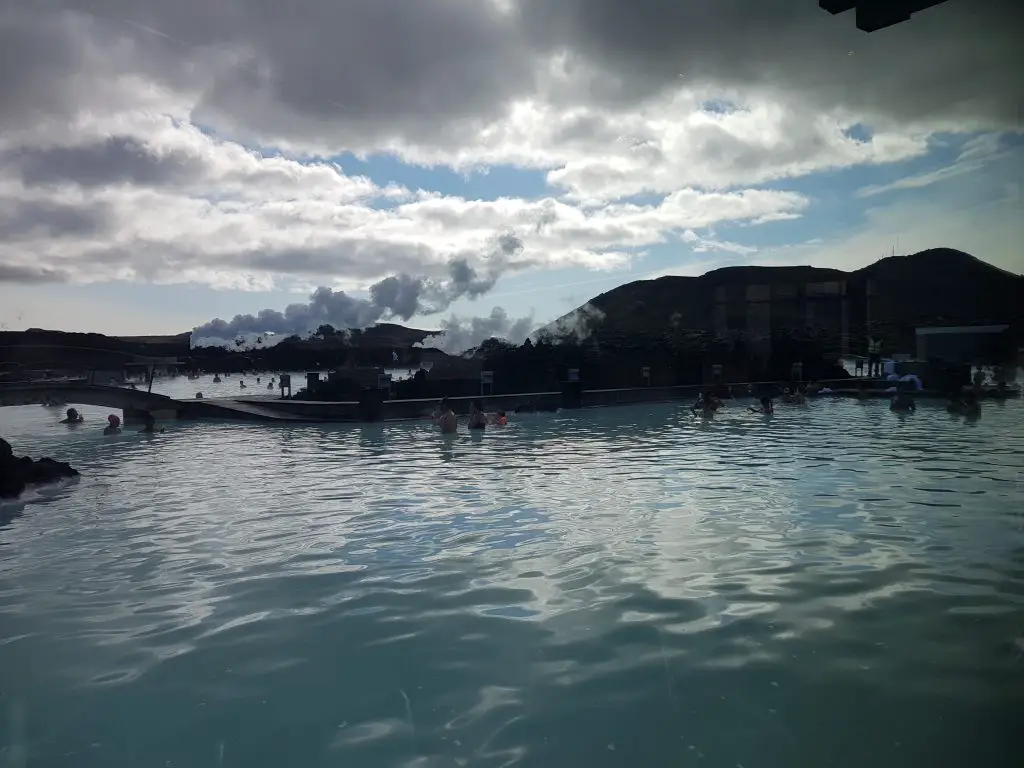 Is there a time limit at the Blue Lagoon Iceland?
Great news! There is no maximum time you are allowed in that spa water! 🙂
Once you purchase your ticket, it is valid for the rest of that day. So (in theory) you can spend there a whole day if you enter the spa in the morning.
The Blue Lagoon entry time is not limited but obviously, you will have to leave before the closing time 😉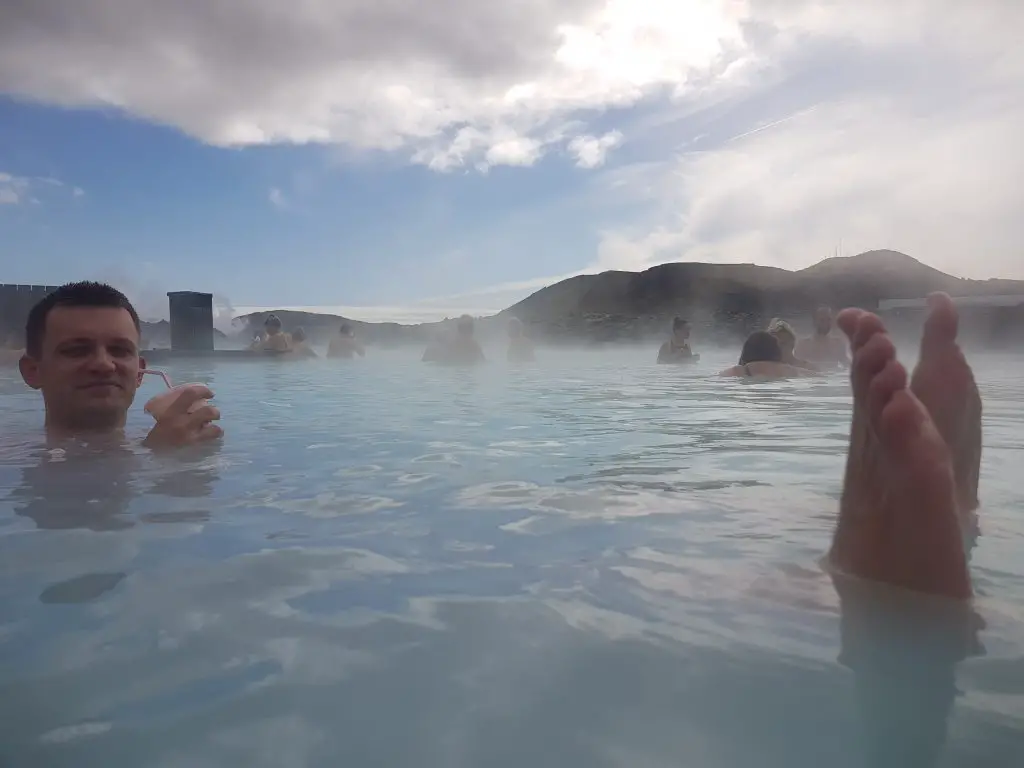 How deep is the water in the Blue Lagoon in Iceland?
How deep is the Blue Lagoon? The Lagoon is not really deep – the shallowest area is 0.8m (2.6ft) and the deepest is 1.80m (5.9ft).
So even if you are not as tall as I am – 1.94m (6.3ft) – you should not have any challenges with the deep of the water 😉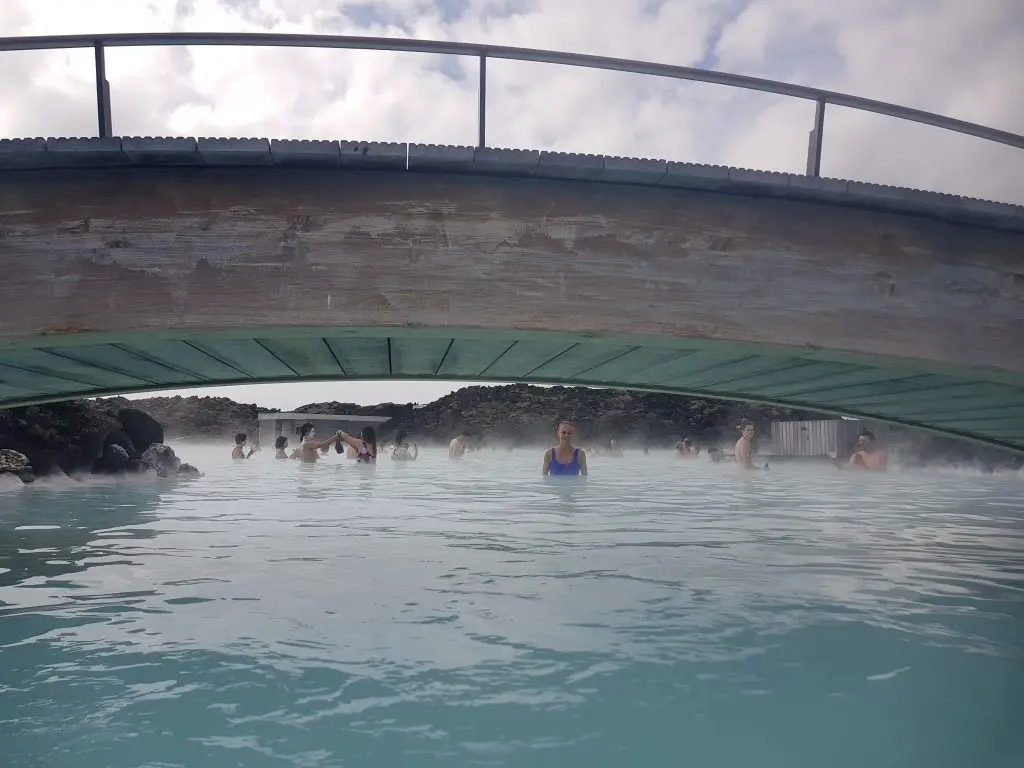 How far is the Blue Lagoon Spa from the airport?
It is known as Blue Lagoon Reykjavik Iceland but it's not actually in the capital city. The good news is that it's very close to the airport.
Woohoo! There is only 23 km from Keflavík Airport to Blue Lagoon Spa, which makes this attraction a great starting point when visiting Iceland.
Just get off the plane, grab your rental car and off you go to soak in the milky-blue water 🙂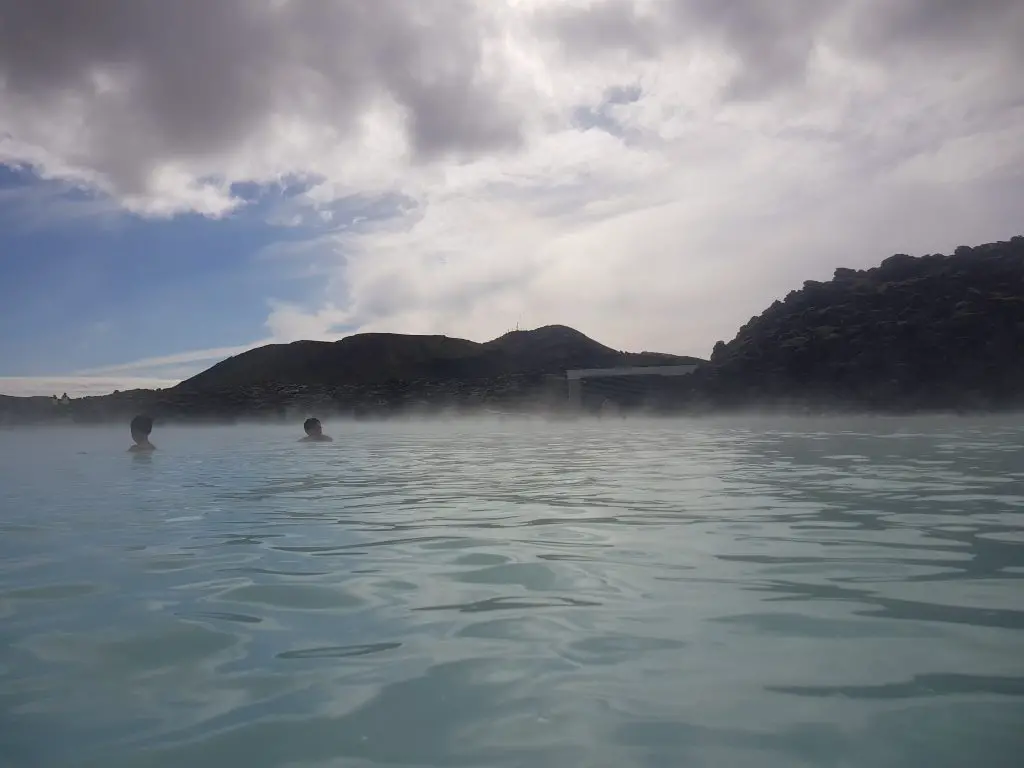 Is the Blue Lagoon Geothermal Spa natural?
Looking for Iceland natural spa? A lot of people think that the mineral-rich geothermal lagoon is a phenomenon made be mother-nature.
But you have to know that is not – it's a man-made beauty!
OK, not all of that – the surrounding area and lave, which created the shape of the pool, are natural 🙂
Still, the Spa Lagoon was named in 2012 as one of National Geographic's "25 Wonders of the World" – well, they didn't do the research properly 😉
But the milky-blue water is actually a run-off from a geothermal power plant.
I'm really sorry! I know, we are very disappointed now!
We all hoped, it was a natural wonder…
Ah, and one more thing… Santa Claus doesn't exist either 😉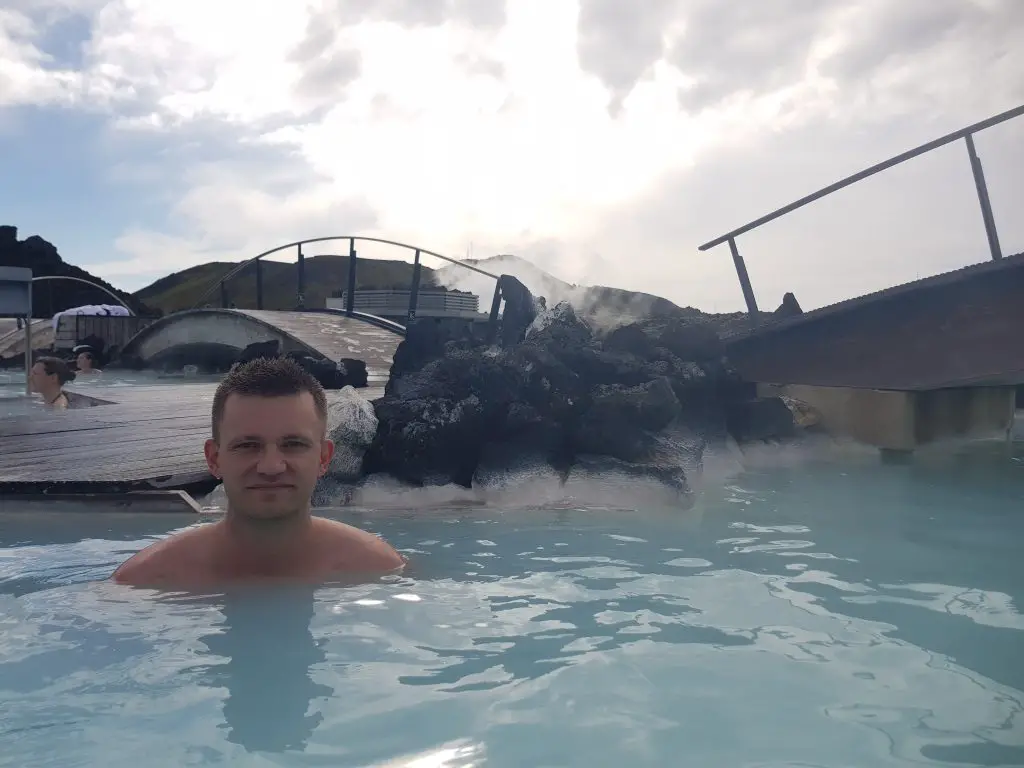 Is the Blue Lagoon water cold?
A top question: is the Blue Lagoon cold?
Oh no! It's pleasantly warm.
For some, 38-39°C (100–102°F) it is considered even hot. So, don't worry about freezing off your ass 😉
To be honest, after around 2 hours in the warm geothermal spa water you might start feeling a bit tired as you will start cooking slowly 🙂 Just make sure you grab another drink from the bar.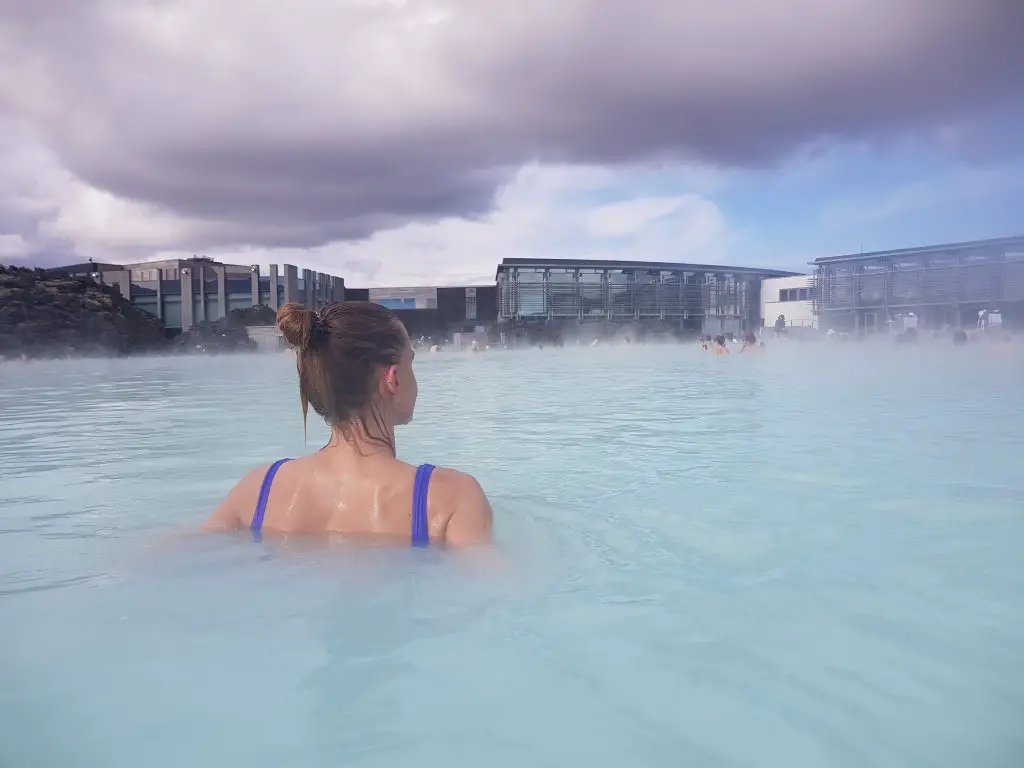 Do I have to shower naked at Blue Lagoon?
Blue Lagoon showers is a controversial topic 😉 You have probably heard about showering naked Blue Lagoon?
YES, you have to! That's what the signs will tell you. So, would you stil visit the Blue Lagoon Iceland spa?
But to be honest, there is absolutely nothing forcing you to shower without a bathing suit on. Yes, there are few signs telling you do that but that's all 🙂 The security person will only make sure you use the shower before entering the main attraction.
Don't fancy being naked surrounded by strangers?
Good news!
If you are faint-hearted and don't want to be staring intently at the floor while taking the shower – there are few showers where you can shower behind a screen 🙂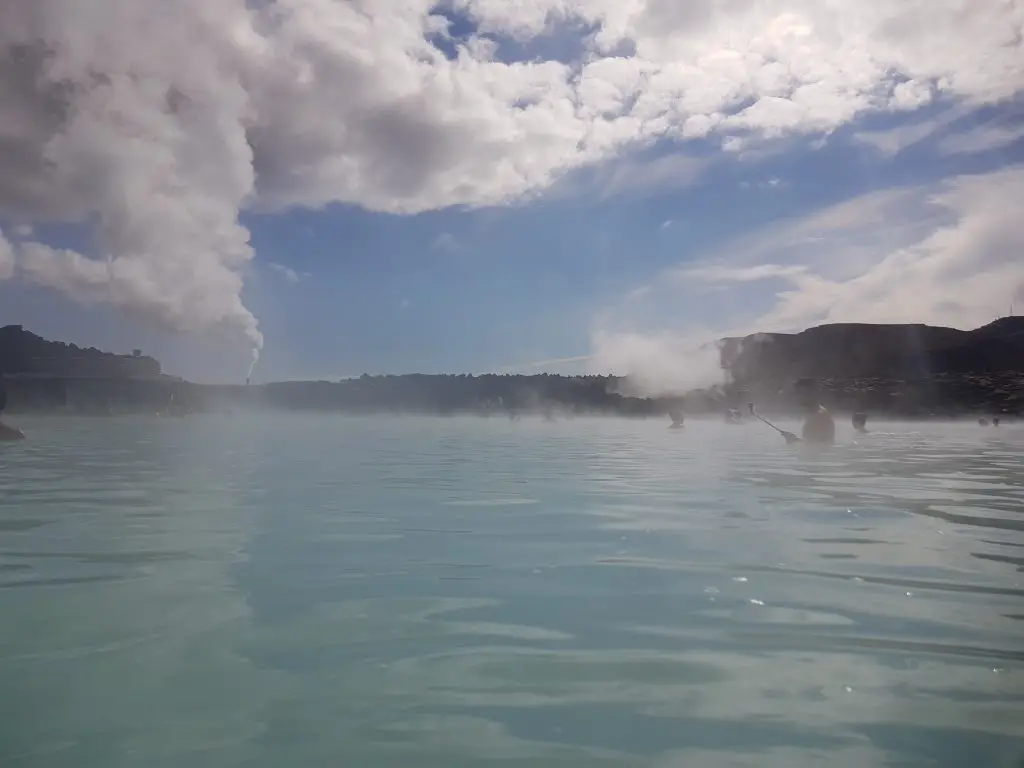 Is Blue Lagoon Geothermal Spa in Reykjavik?
Blue Lagoon spa Reykjavik is a must-visit place in Iceland. The geothermal spa is situated on the Reykjanes peninsula in southwest Iceland.
And this is where the confusion lies – Reykjanes peninsula is NOT Reykjavik! 😉
The capital of Iceland is located around 49km (30miles) from the Blue Lagoon Spa. It will take you around 40 minutes by car to get there.
Where was The Blue Lagoon filmed?
If you are old enough – sorry Millennials you are still kids 😉 – you probably hope that the movie from 1980 was made in Iceland, right?
But the Blue Lagoon movie was not filmed there! In fact, you would have to book a trip to Malta and Fiji if you would like to follow the paths of the young couple from the American romantic survival drama.
What else should I do in Iceland?
There are many other things to do in Iceland, but due to its proximity to the airport, Blue Lagoon Spa should be the starting point of your adventure in Iceland.
Depending on how many days you will have in Iceland, you should try to visit the below places:
Try to spot Puffins at Reynisfjara Beach
Hike along Kerid Crater
Collect diamonds from Diamond Beach
Observe seals at the Jokulsarlon
Admire the Gullfoss Waterfall
Is Blue Lagoon Geothermal Spa worth it?
I guess this should be the first question I answer – just to save you time going through all the above questions 😉
But I'm not going to do that…
… just ask yourself: would you visit Park Güell in Barcelona, Swim with dolphins in Portugal or Drive-up Grossglockner High Alpine Road in Austria?
All the attractions are the highlights of its region. And yes, all of them are unfortunately paid.
So, just think if you have enough space on your wall to hang a picture like the below. And then, answer the question 🙂 At the end of the day, this is one of the most romantic places to visit in Europe and probably one of the most scenic European landscapes.
Ready to get your Blue Lagoon Iceland tickets?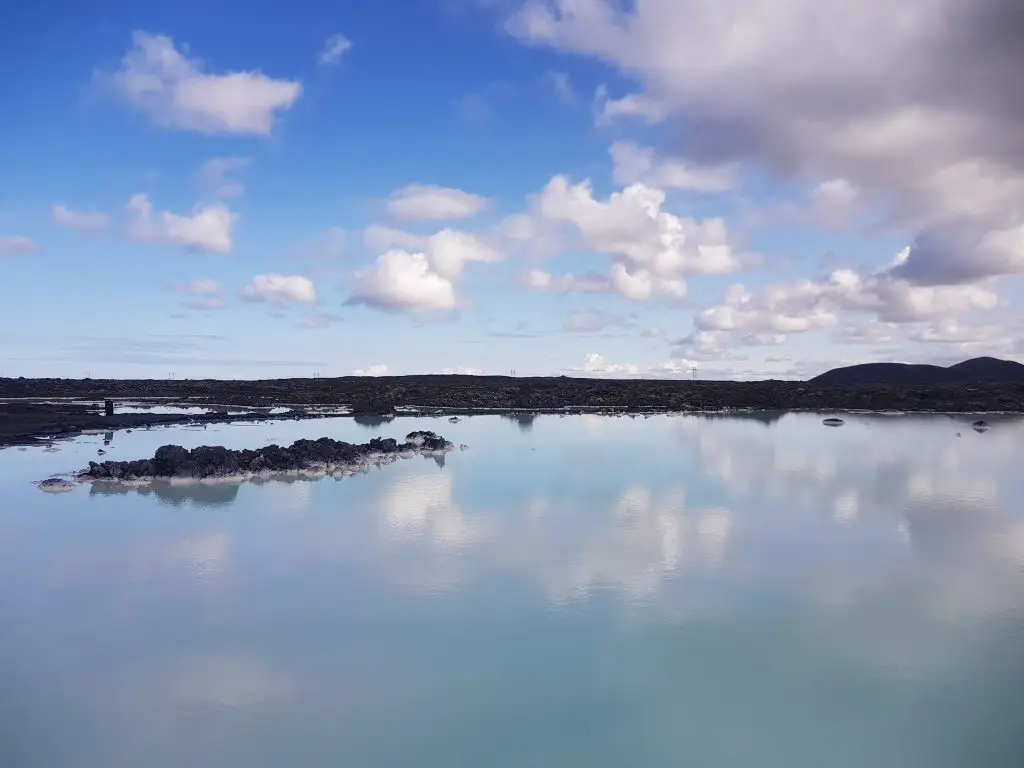 Other Spas & Wellness Centres in Iceland
If you don't fancy The Blue Lagoon Spa you can visit a few other in Iceland. In fact, there are min 8 great Wellness Centres & Spas in Iceland worth visiting:
To wrap things up, let's talk about what makes a trip to the Blue Lagoon in Iceland an unforgettable experience. This iconic geothermal spa is not just a sight for sore eyes, but a haven of wellness nestled in Iceland's dramatic landscape. It's truly a one-of-a-kind destination where relaxation meets adventure.
Every year, thousands of visitors, armed with their bathing suits and an appetite for wonder, flock to this stunning location near Reykjavik. The reason? The Blue Lagoon promises a rare combination of natural beauty and rejuvenating spa treatments.
Before you dive in, be sure to prep your hair and swimsuit to handle the mineral-rich waters – they can be quite surprising! Consider this a small price to pay for the unique benefits the lagoon offers. After all, who wouldn't want to soak in nature's very own hot tub, warmed by geothermal energy, and infused with skin-loving minerals?
Speaking of bathing, Iceland's tradition calls for a pre-soak shower, usually taken without a swimsuit. But don't worry, private cubicles are available for those who prefer a bit more seclusion. Once in the lagoon, you'll find the water depth to be quite manageable, making it ideal for both swimmers and floaters alike.
But is the Blue Lagoon worth your precious vacation time? Absolutely! The lagoon is not just a place to unwind but also an opportunity to immerse yourself in a unique Icelandic tradition. From bathing in geothermal waters to the stunning views of surrounding lava fields, your visit is sure to be filled with Instagram-worthy moments.
As for the length of your visit, plan for at least 2-4 hours to truly soak in the experience. The best part? Regardless of how long you stay, the lagoon's warm temperatures promise a cozy escape from Iceland's cool climate. Just remember to book your tickets in advance – this gem of a location is no secret!
The Blue Lagoon is more than a spa; it's a slice of Icelandic culture, a natural wonder, and a testament to the power of geothermal energy. Whether you're a wellness enthusiast, a nature lover, or an adventurer, this unique destination has something for everyone. So pack your swimsuit, and get ready for an Icelandic adventure that will leave you refreshed, rejuvenated, and ready for more!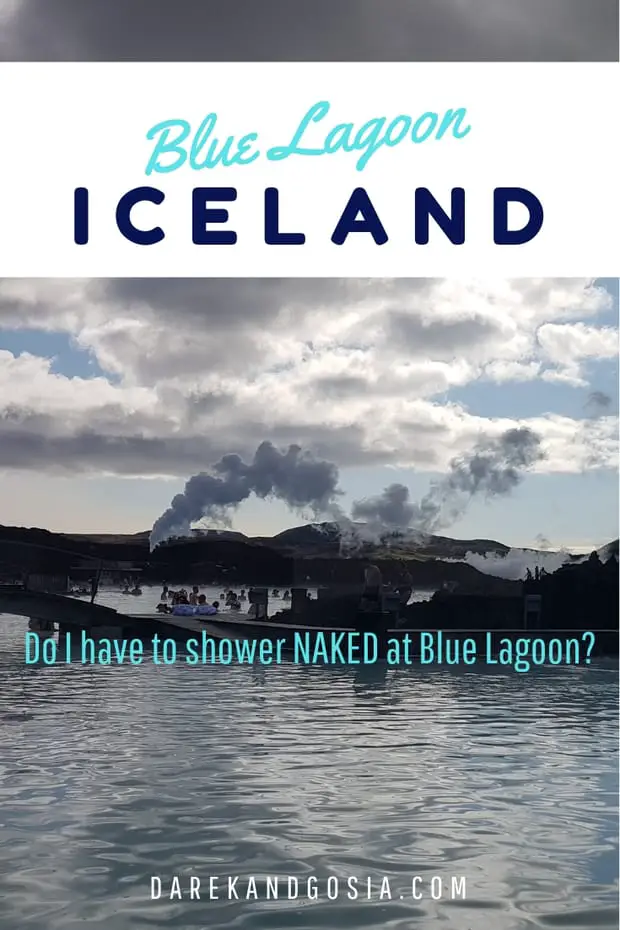 Read also: Golden Circle in Iceland – MAP + self-drive tour for newbies
TIP: Check out hotels near Blue Lagoon Iceland – note that many are often fully booked! So, do check before planning your trip!
Articles you may like: