Hiking near London is a great way to spend time outside of the capital city. Find out more about the best walking destinations and some of the most stunning trails to go hiking near London!
When you think of London, you might not think of lovely idyllic walks in the countryside. However, in and around London and the South East, there are some stunning and exciting walks.
Whether you drive a couple of hours from the capital to find the perfect place for a hike or just visit something closer to the city, you know that there are many great opportunities for hiking near London!
Here are 26 of the best that you don't want to miss out on.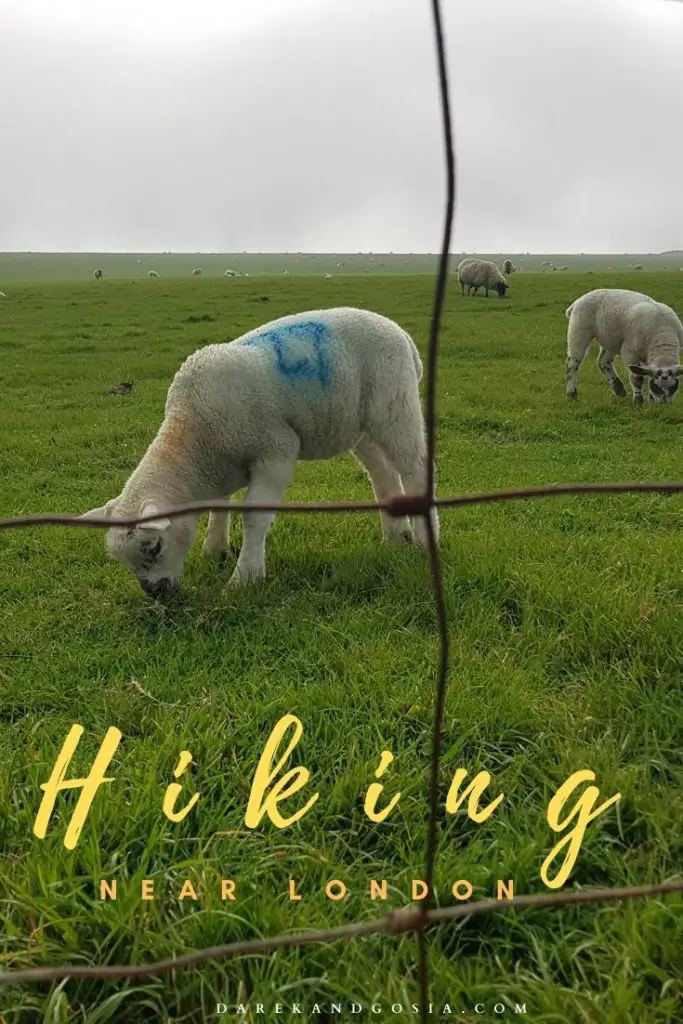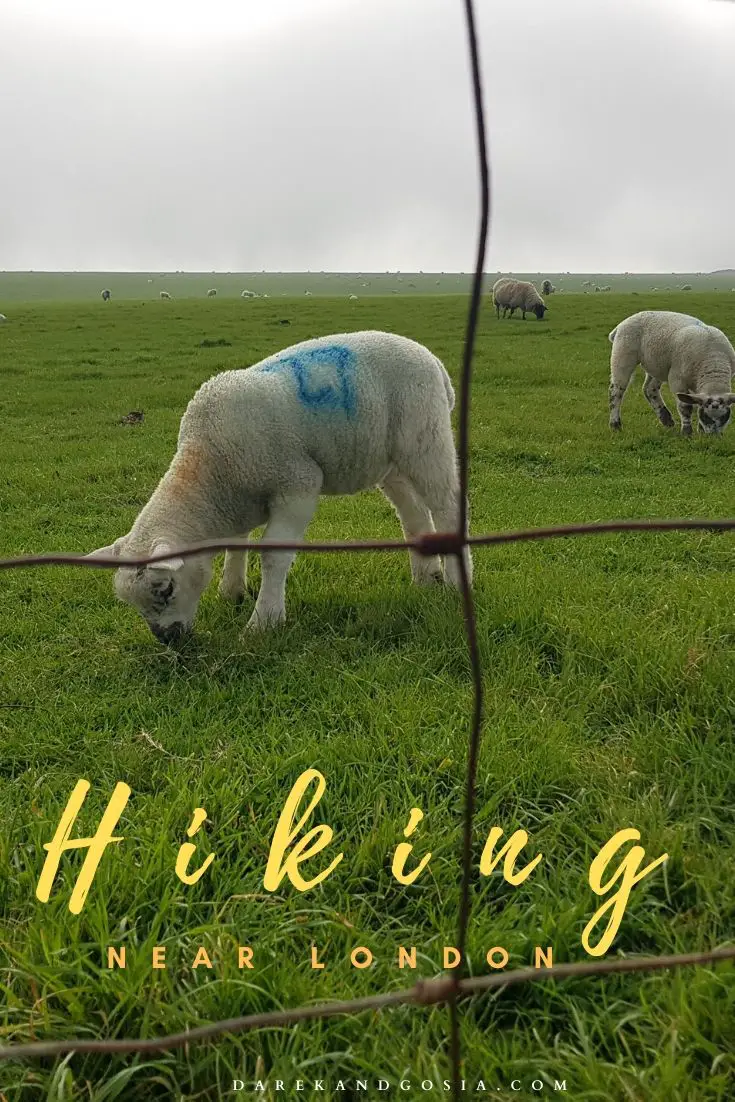 Best places for walking & hiking near London:
1. Hambleden Valley hike
If you love the Chilterns, then the Hambleden Valley walking trail will be a perfect choice for a hike near London.
At 10 miles long, you need to be ready for around 5 hours of hiking. Believe us, it is 100% worth spending half a day in this beautiful part of Buckinghamshire.
From watching sheep in the fields to visiting some of the best British villages like Turville, Fingest and Hambleden – this beautiful hike will deliver on any level.
You will be also rewarded with the opportunity to see some famous film locations and of course some of the best British pubs!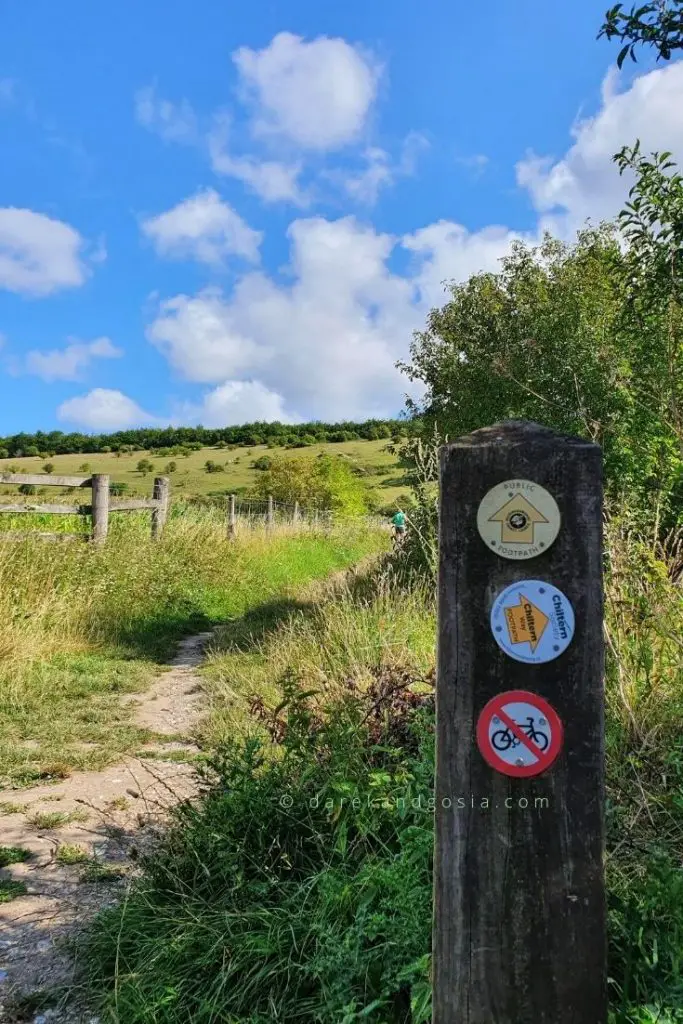 2. New Forest walks
The New Forest is overflowing with walking routes. This verdant and lush area is one of the newest national parks in Britain. Designated as such in 2005 it has long been recognised as common pasture. This means that there have been animals grazing on these lands since the Domesday Book was written. Still to this day you may find ponies wandering past your walking route.
Inside the forest, there are wildly varying landscapes to explore. You can start in open pastures pass through heathland and wind up on the coast. If you fancy a challenge, why not climb to the highest point, Pipers Wait, which sits 129 metres above sea level.
New Forest really is one of the best places for spring hiking near London!
3. Seaford to Eastbourne hike
The 13.6-mile walk (21.9km) between Seaford and Eastbourne is the best way to experience the Seven Sisters. The Seven Sisters are a series of white chalk cliffs. They number among the most striking landscapes in the UK. The cliffside walk is easy to follow; however, do come prepared to climb some rises. There are a few stretches along the way that can be described as flat, that provides a little rest between the hills.
To walk the full route takes around 7 hours, not including breaks. If you want to experience the cliffs but don't quite feel up to tackling the total distance, you can split the walk at several points. The shortest route is just shy of 4 miles (6km).
You will honestly be blown away by how beautiful this place is and really is one of the best places to hike near London.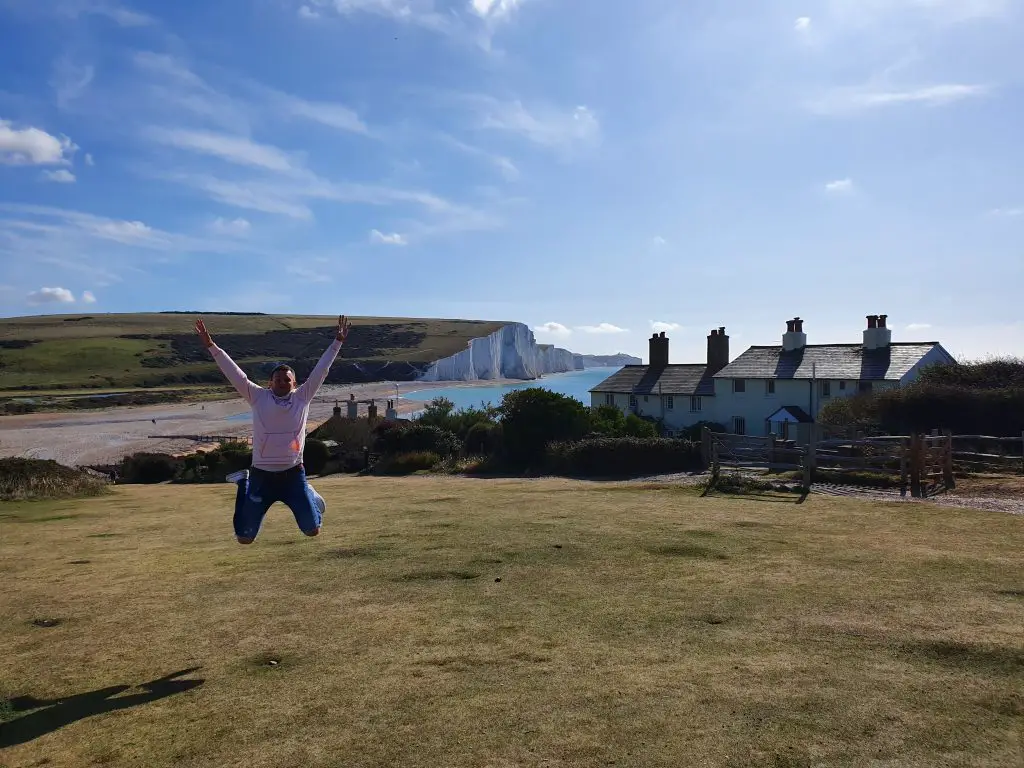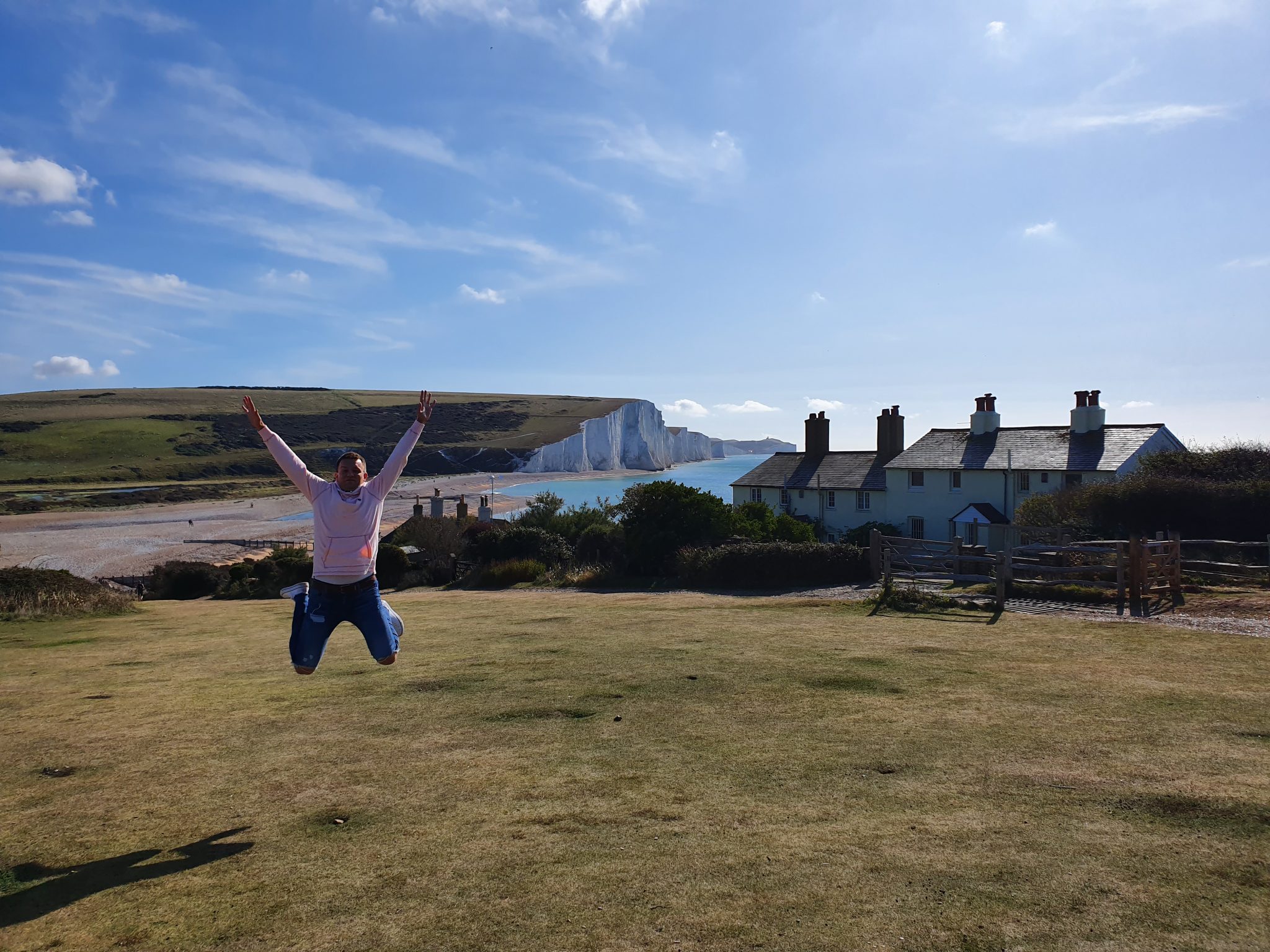 4. Richmond Park walk
In the outskirts of south-west London, you can find Richmond Park. It's the second-largest park in London and feels like finding a secret garden. As as an are of particular conservation it is overflowing with wildlife. The woodland trails and open grasslands offer reasons to visit all year round. If you do visit, try to plan a route that takes you to the Isabella Plantation. It is a woodland garden inside the park, and when it is full bloom, it is stunning.
Many paths wind their way through the area. It is easy to make a day of this trip and just lose yourself in the wildlife. Just remember to keep your eyes open for the Richmond Deer that roam in the park.
It's one of our favourite parks in London and possibly one of the best places to go for a nice long walk in nature.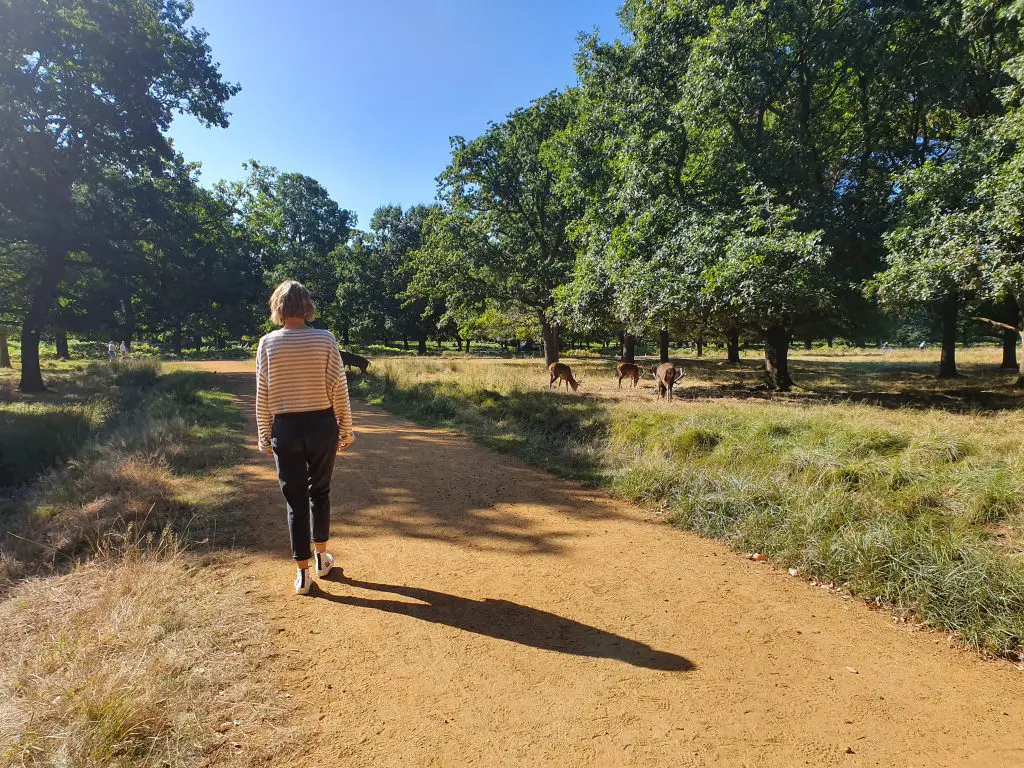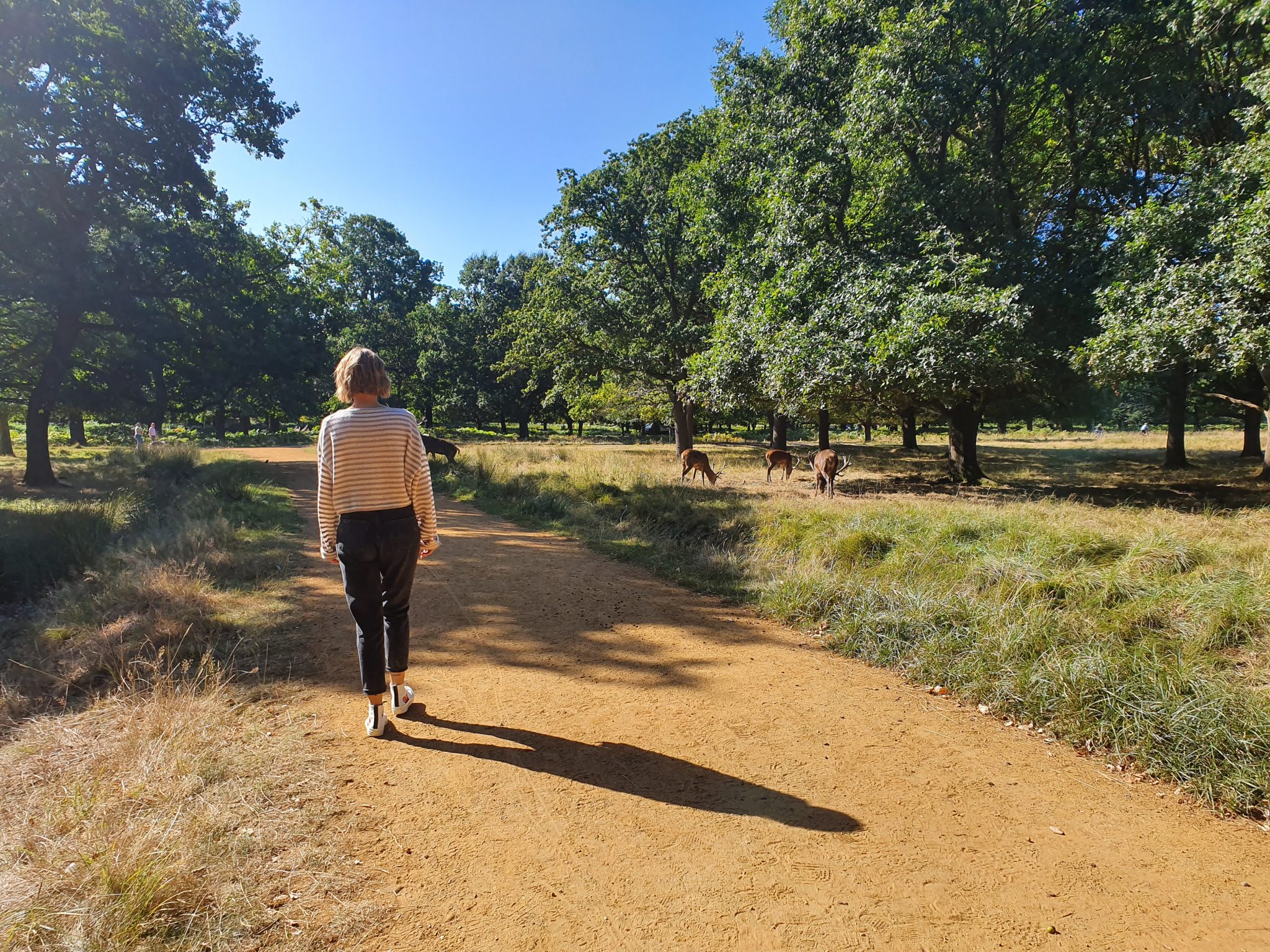 5. Belchamp Brook Walk
Belchamp Brook walk is a great circular walk. You can complete the full loop which is 9 miles (14.5 km), or you can split it into two shorter loops of around 6 miles (10km) each. This is a great British walk, as it gives you a real flavour of the Brtish countryside. The route takes you along bridleways, public paths and field boundaries, so make sure to wear appropriate shoes.
On the course of the walk, you can visit four local churches, spot the reintroduced fallow deer that roam the area and stop for refreshments in the cafes and pubs in both Sudbury and Bulmer.
6. Cheddar Gorge hike
We couldn't forget to shout out Cheddar Gorge as one of the best places to hike near London, could we?
The Cheddar Gorge trail, in Somerset near Bristol, belongs to one of our favourite routes in England!
The entire walking route is 4 miles (6.4km) long, during which you will walk around the Cheddar Gorge. You will need just under 2 hours to complete but we recommend spending a bit of time on top of the gorge. A picnic with a stunning view is always a great idea!
Walking around Cheddar Gorge is a great choice for anyone who wants to go for a solid walk and at the same time enjoy stunning views. It is also one of the best places to visit in England!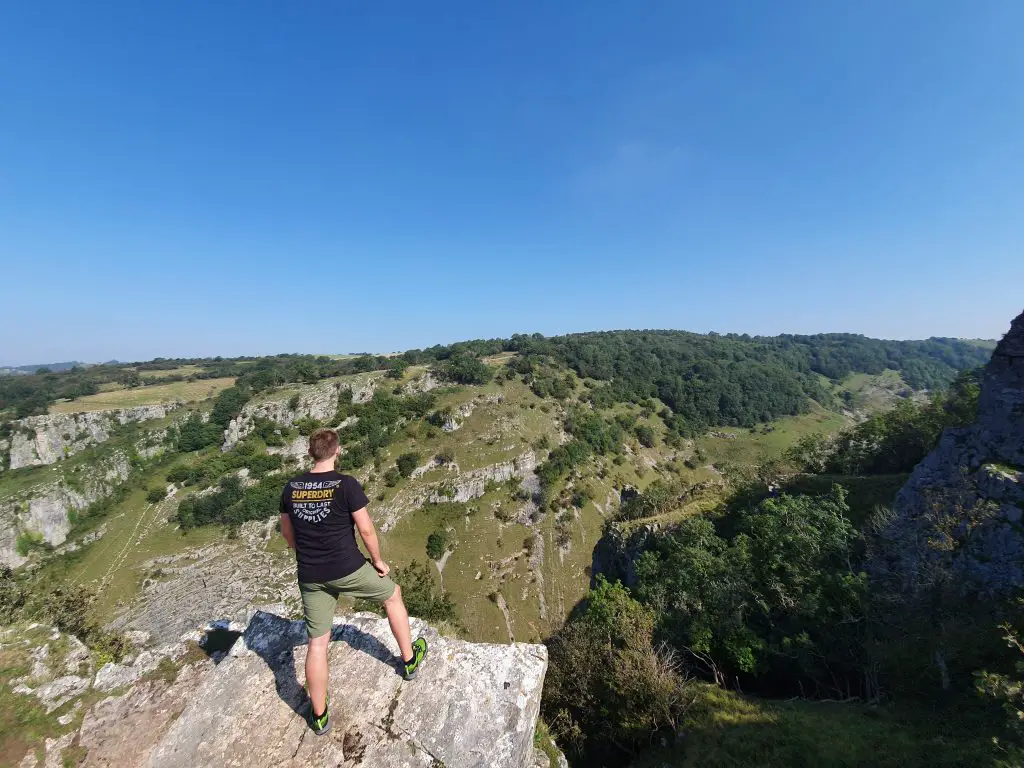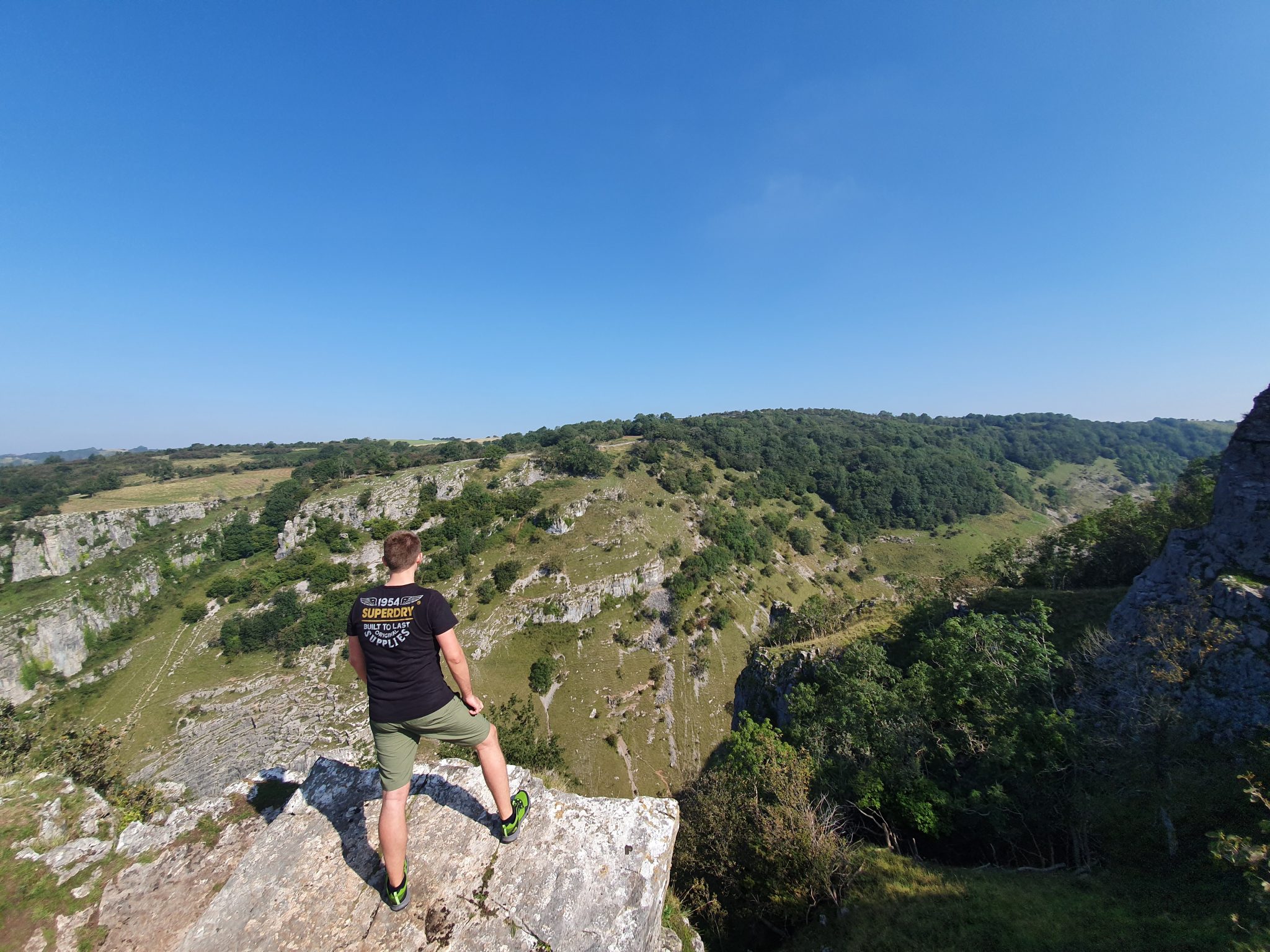 7. Painshill Park walk
Painshill Park is an exquisite example of 18th-century English landscape parks. The park has fallen into a state of extraordinary neglect, not that you can tell if visit today. Hard work and love have been applied in equal measure to return this park to its glory.
The park is split into two sections. The first is the ornamental pleasure gardens that surround the central lake. The second half of the garden is styled to be more natural and showcase the beauty of the area. There are a great many paths to explore, and you can easily while away a day here.
If you fancy something a little different, you can attend a nighttime walk and meet the bats that inhabit the park.
It really is a contender for the best places to walk near London.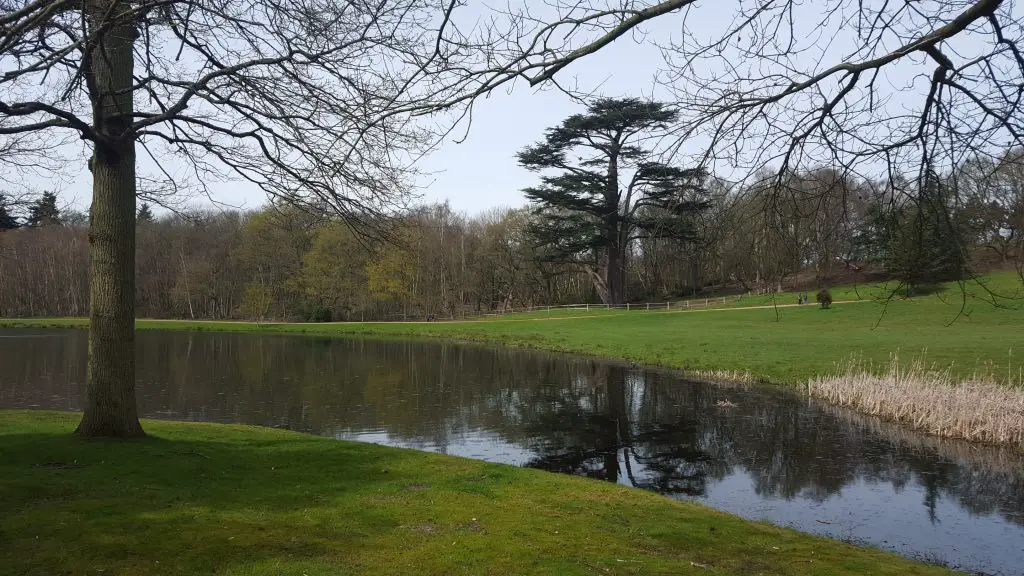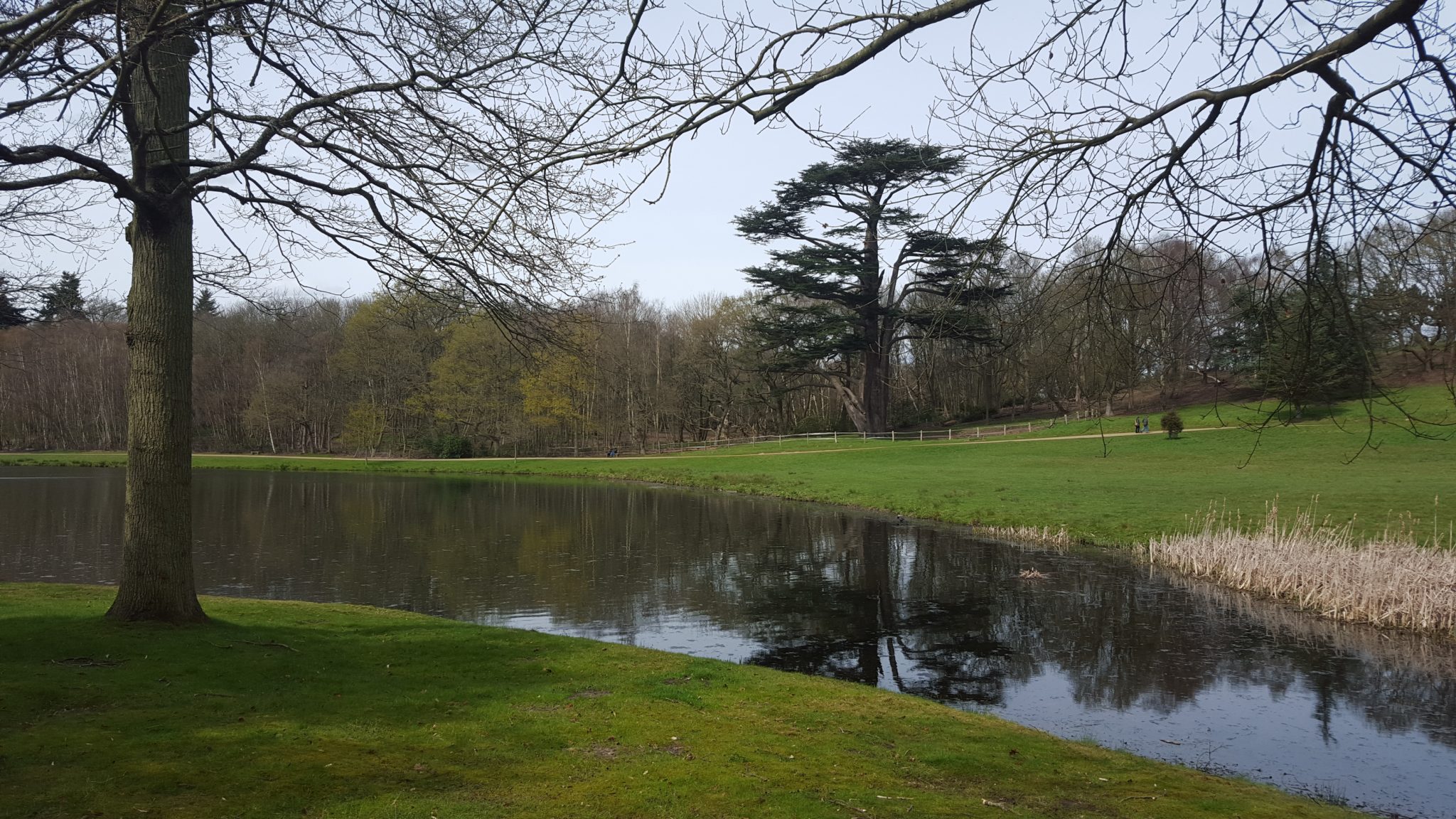 8. Southease Circular hike
For those who love a brisk walk along a river, the Southease Circular delivers. This 9-mile circuit gives you spectacular views over the Ouse Valley. The walk begins in Southease. You'd best have a hearty breakfast as the trek starts with a challenging climb up Itford Hill onto the Downs.
You join the South Downs Way as you travel north before turning towards the sea and dropping into a serene and quiet valley. You follow the river bank to find your back to the start. The whole route is clearly marked and easy to follow. It makes a fantastic day out on a crisp autumn day.
It really is one of the best places to hike in the south of England… especially for sea & cliffs lovers!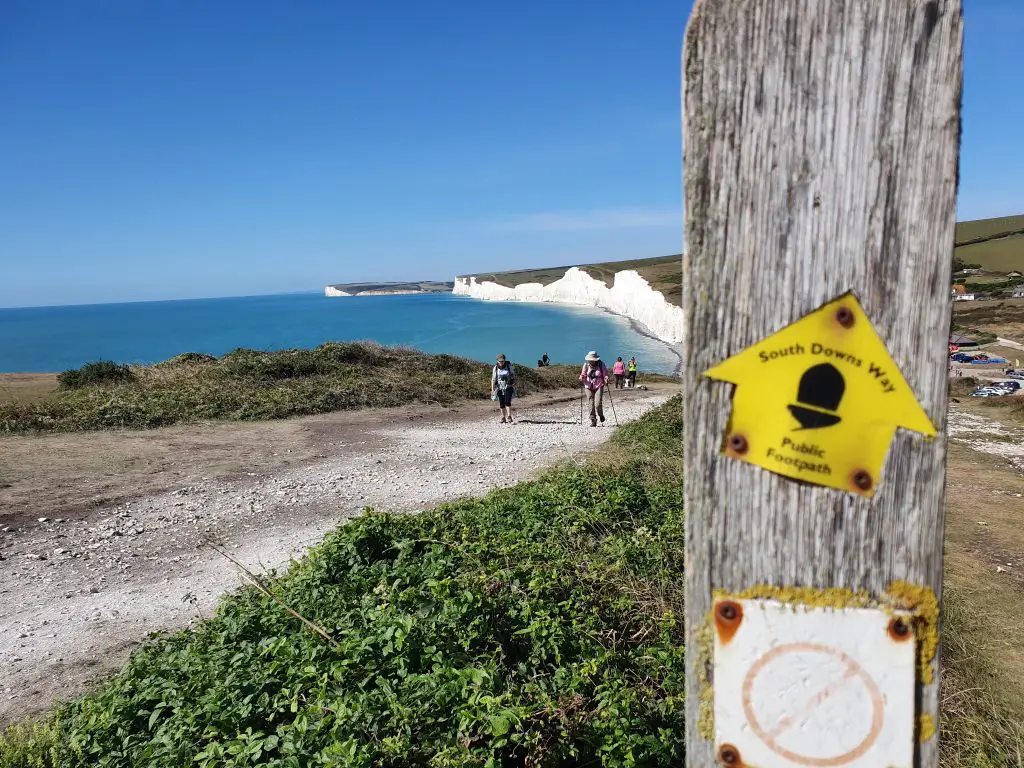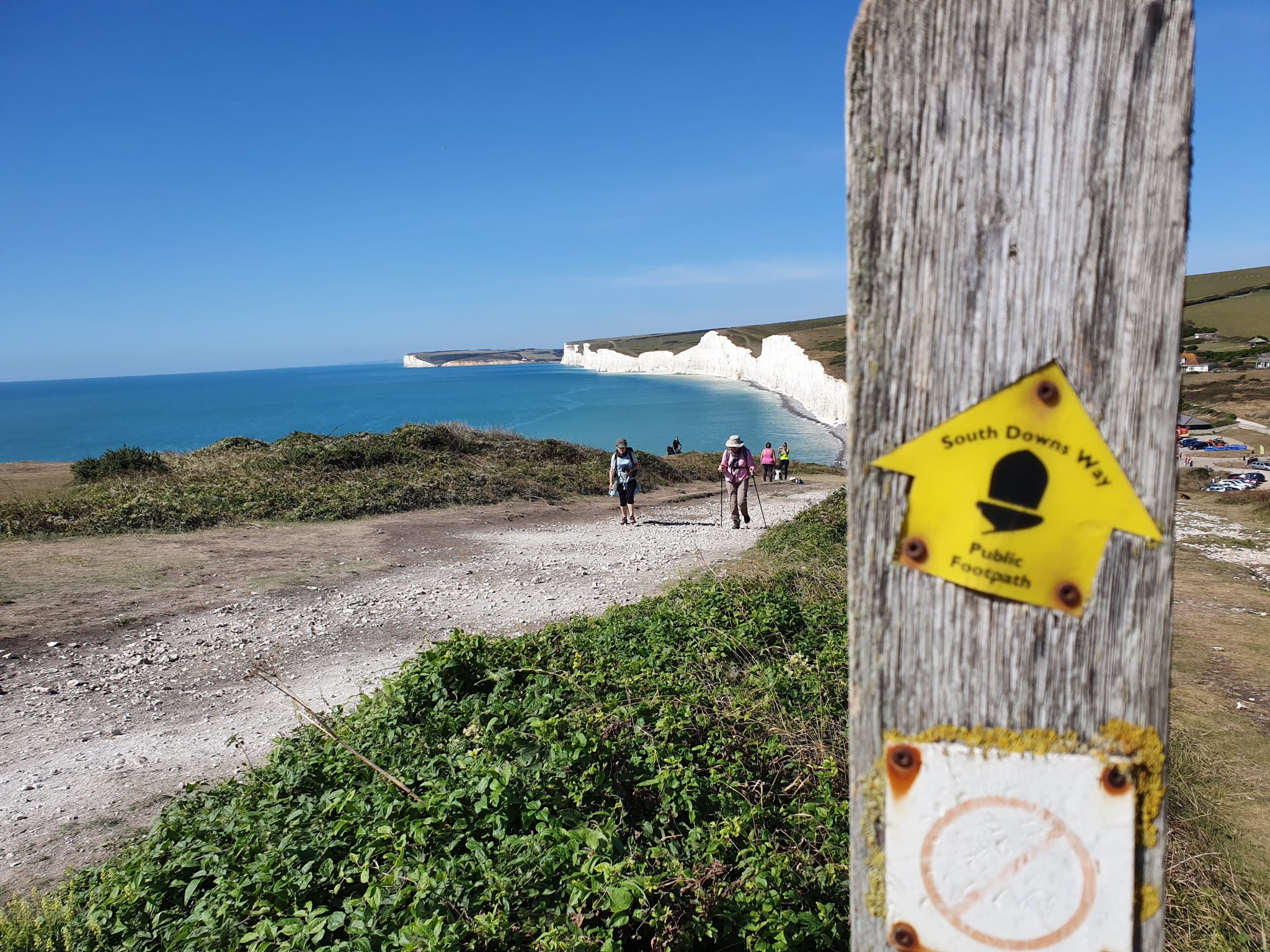 9. Alton Circular hike
The Alton circular is a long walk coming in at 12.7 miles (20.4 km). However, if you're up for the distance, it is a gentle stroll most of the way. It gives you the chance to get a glimpse of the countryside that inspired two of the nations best writers – Jane Austen and Gilbert White.
As you pass through the villages of Seabourn and Chawton, you will discover how different places so close together can feel.
10. Blenheim Palace walks
Perched about 2 hours west of London by car, it's one of the best places to visit in Cotswolds and a perfect spot for a long walk that we know you will love.
There are a few walks you can do around the Blenheim Palace. The two most popular are the Queen Pool walk and the Park Perimeter.
The Queen Pool walk is a dog-friendly walk, which takes you around the smaller lake near the palace. You will only need around 45 minutes to complete it.
The Park Perimeter is the longest walk, which requires over 2 hours to go around it.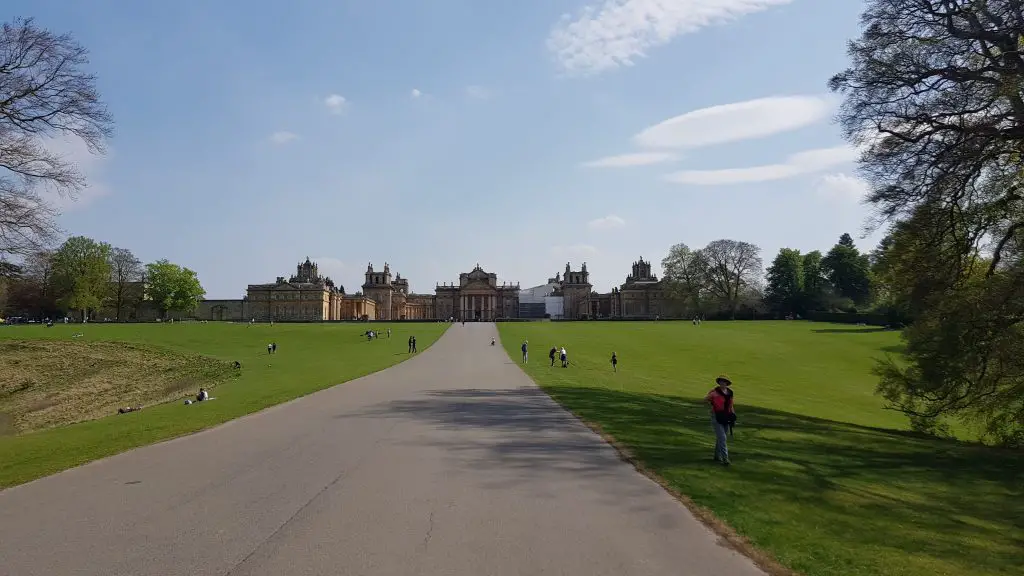 11. Bodiam Castle Walk
The medieval castle is still a sight to behold. The castle sits within a moat and looks magical. The walls of the castle seem to rise out of the water. The cleverly designed castle looks almost too perfect to be real. As a start and endpoint of a walk, you won't get anymore distinctive.
The walk is a circular route that covers 5 miles (8km). The journey takes you through some of the best British countrysides. It is the kind of walk that seems to stay muddy even if it hasn't rained for weeks, so come prepared. While there is not much rise and fall during the walk, you should be prepared to clamber over a stile or two on your way around.
12. Stonehenge from Amesbury walk
It really is one of the best places to walk near London… if you love stones 😉
Many say that this is.one of the most impressive and important walking routes in Britain. Whether you agree with that or not, Stonehenge is the main landmark in England so it's great you can visit it while enjoying a long walk.
This walk, about a 2 mile long, takes you from the town of Amesbury to the historical site in no time.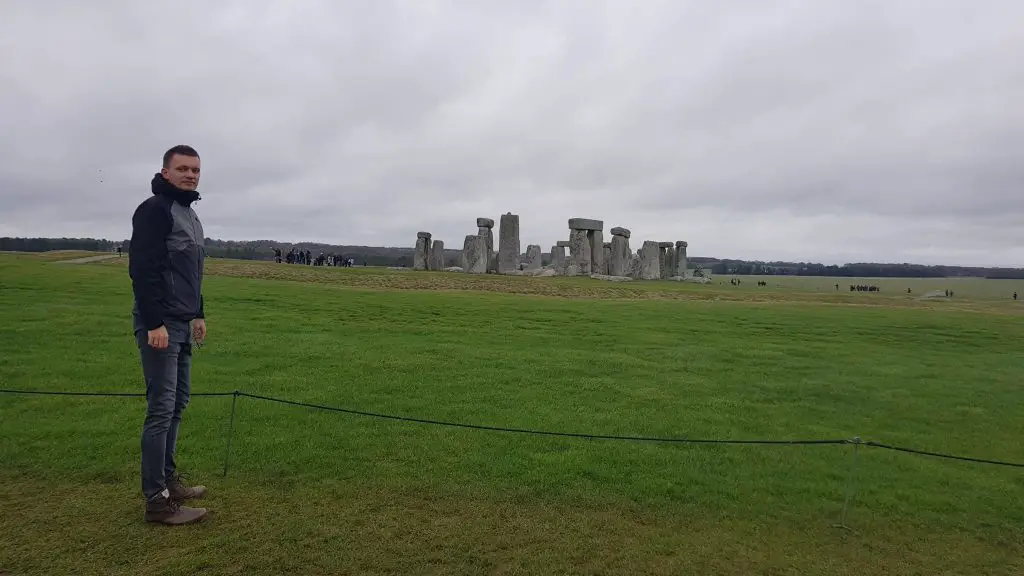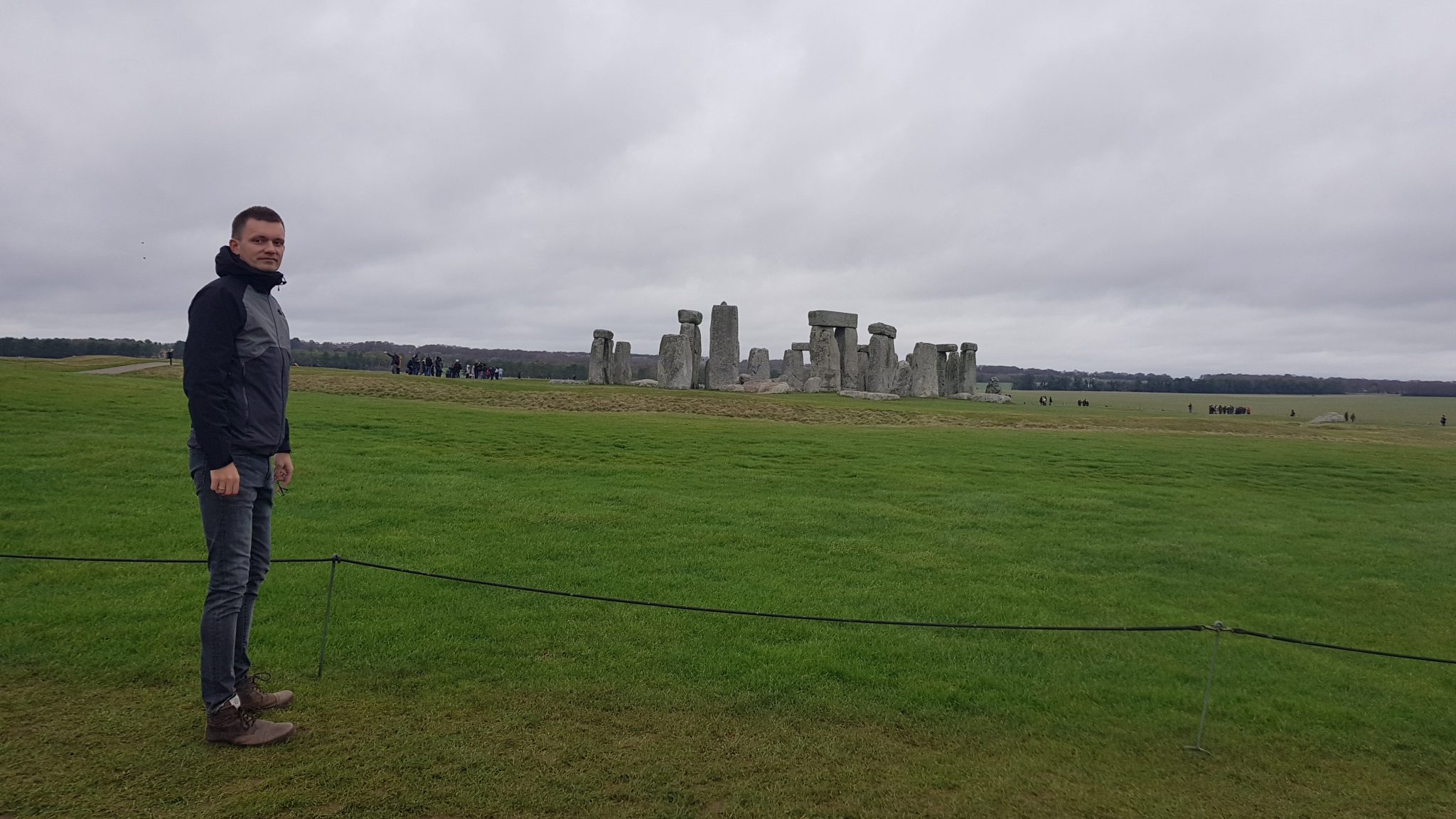 13. Hampton Court to Staines walk
As you follow the Thames out past Hampton Court, you see the world around you rapidly change. This walk along the Thames path takes you through one of the outermost London suburbs and out into rural Surrey.
This scenic route lets you see the city give way to the countryside. The houses grow in size and distance, and the towns spread further and further apart. You will pass locks weirs and even take a little ferry ride to complete this 12 mile (19km) exploration.
14. Alban Way walk
The Alban Way is a fantastic green route joining Hatfield House and St Albans Abbey. The whole journey is around 6.5 miles (10.5km) long. The path is part of the Sustrans National Cycle Network. This means you will come across all sorts of users as you walk. It also means that the route is beautifully kept and easy to walk along.
The path is part of a great British tradition in that it runs along a now disused train line. It's an excellent walk for anyone as there are plenty of places to stop along the way for a break or refreshments.
Now, St Albans itself is easily one of the best places to visit in England, especially if you're based in the capital city and is a great place for walking near London.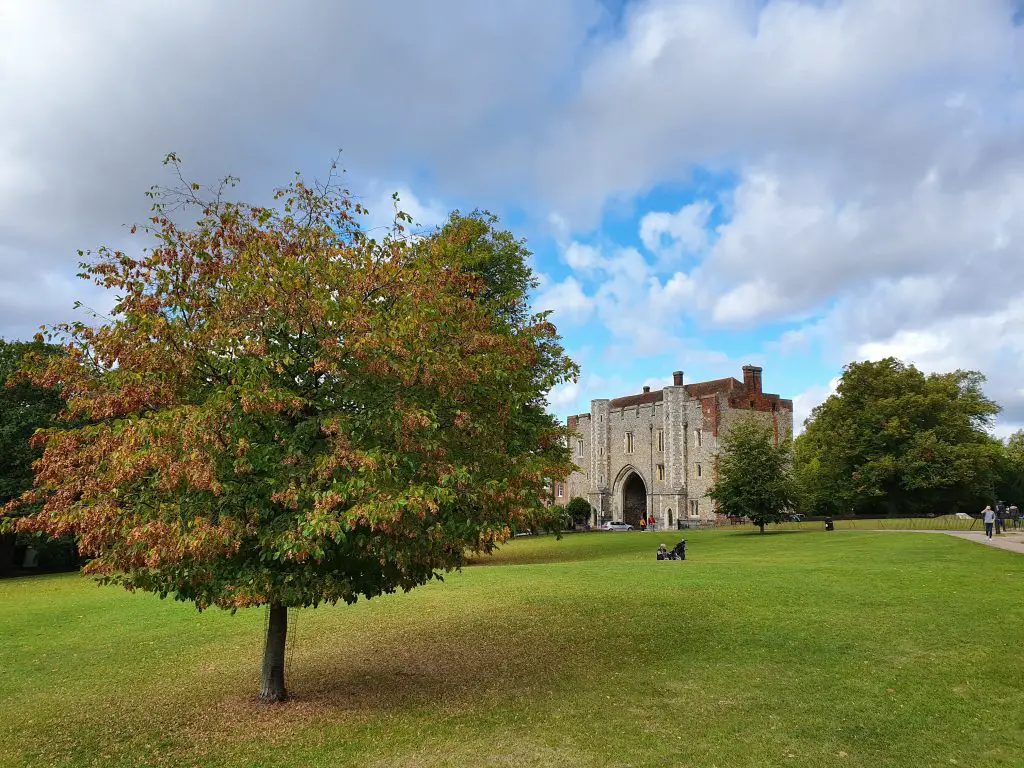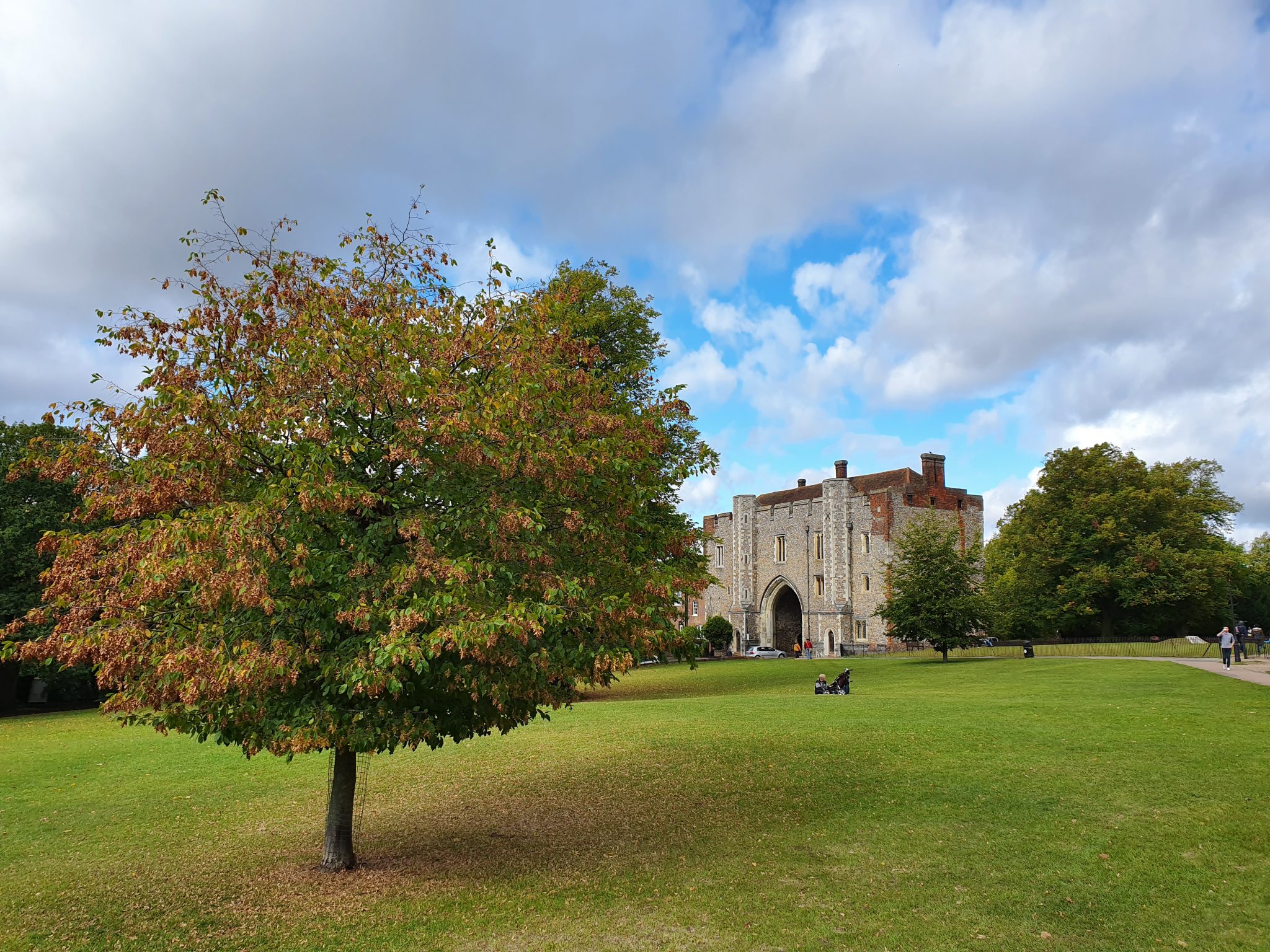 15. Berwick to Exceat Bridge walk
This walk is a delight at any time of year. But if you can find your way to this part of the world in early March you will get to share the fields will the multitude of newborn lambs that will be frolicking in the fields. There are plenty of places to explore in Berwick, including Berwick church which has some pretty murals inside.
As you make your way to the coast in this walk, you will pass through several quaint English villages, which are worth exploring if you have the time. Just make sure you pace your self because the walk ends with a climb up and down High and Over hill before you finish up in Exceat.
16. Oxted Circular hike
This 10-mile (16km) walk gives you the chance to get a taste of the Oxted countryside and woodlands. The mix of country paths and trails will take you up and down the rise and falls of High Weald and the North Downs.
Along the way, you will pass through Limpsfield Common, Crockham Common and Squerryes Court. At the far end of Limpsfield Common, you should stop by the community orchard which is filled with wildlife as well as wildflowers.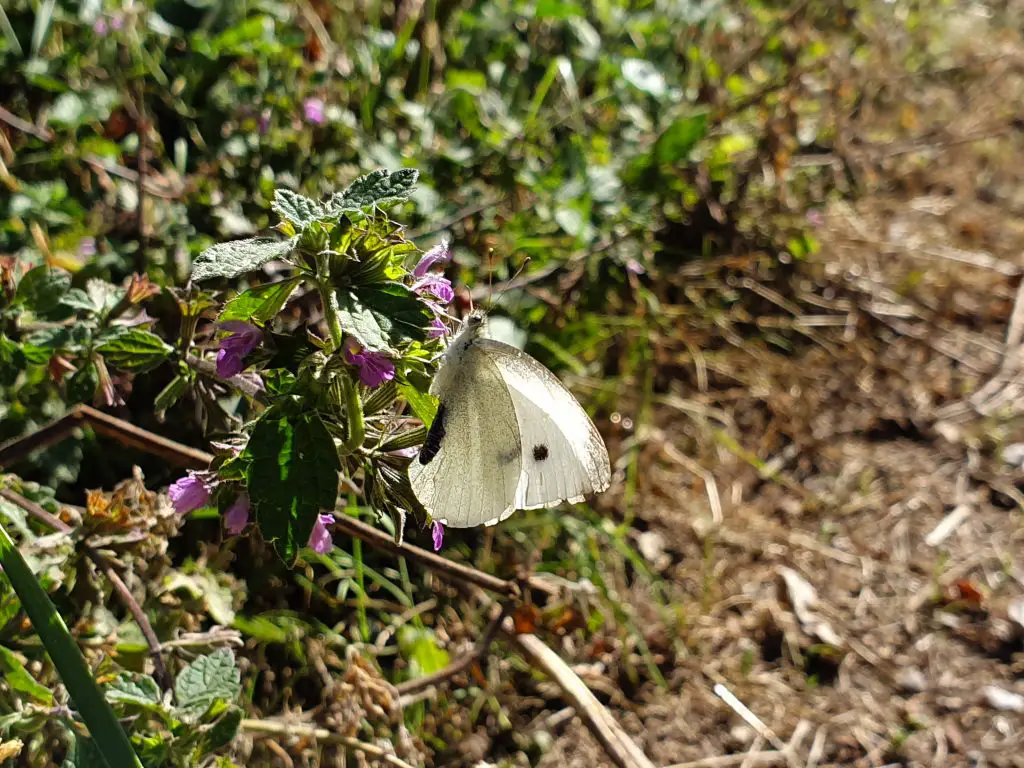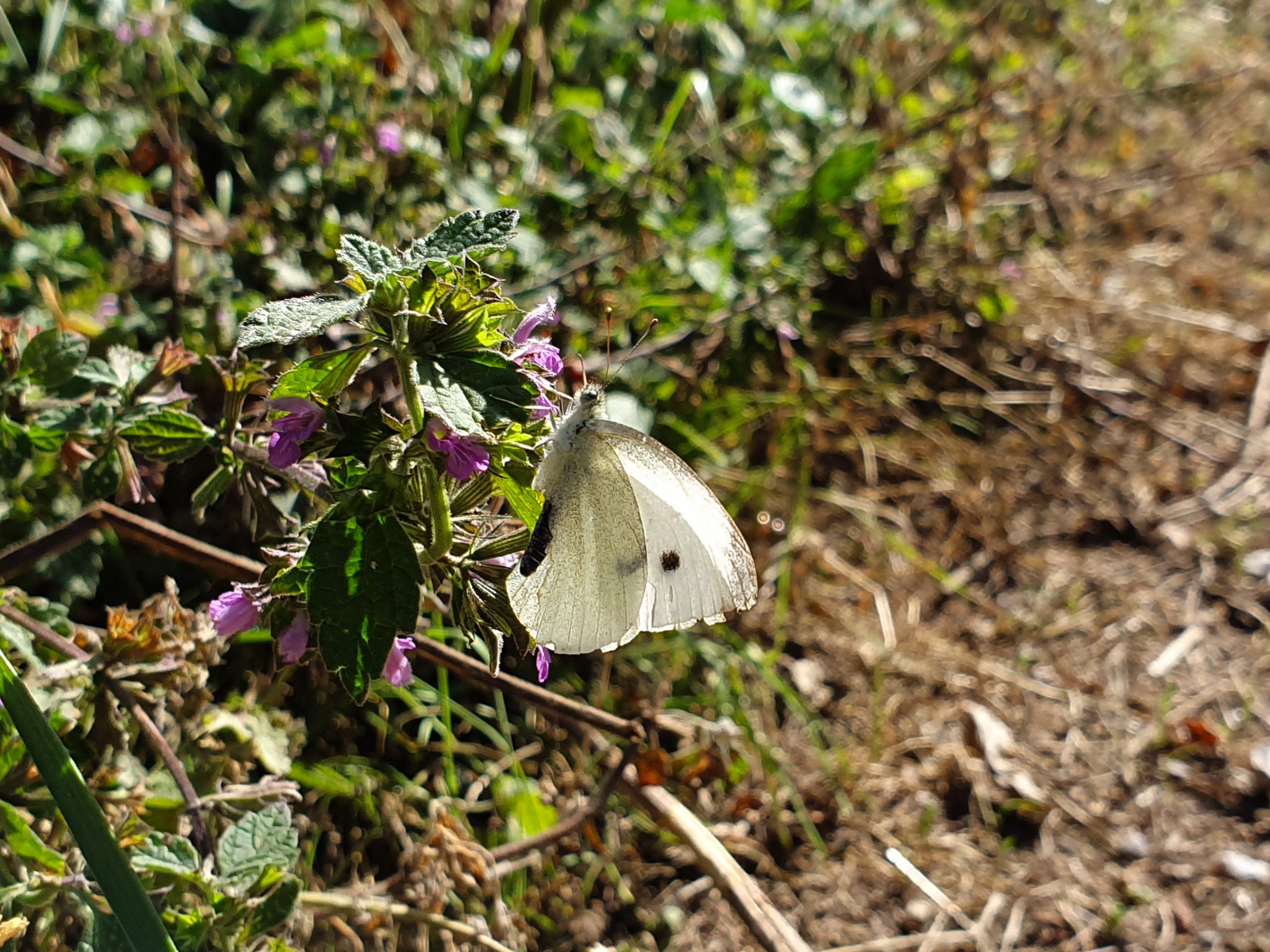 17. Black Park walk
Black Park is an area of over 500 acres. It includes a rare mix of woodlands and heathland. It's an excellent spot for families as there are plenty of amenities, like an adventure playground and a Go Ape high wire course.
There are plenty of routes to follow with short ones around the lake at under 1 mile (1.6km) as well as longer paths that wind through the woods. These routes cover around 3 miles (5km).
It really is one of the best places to go walking near London.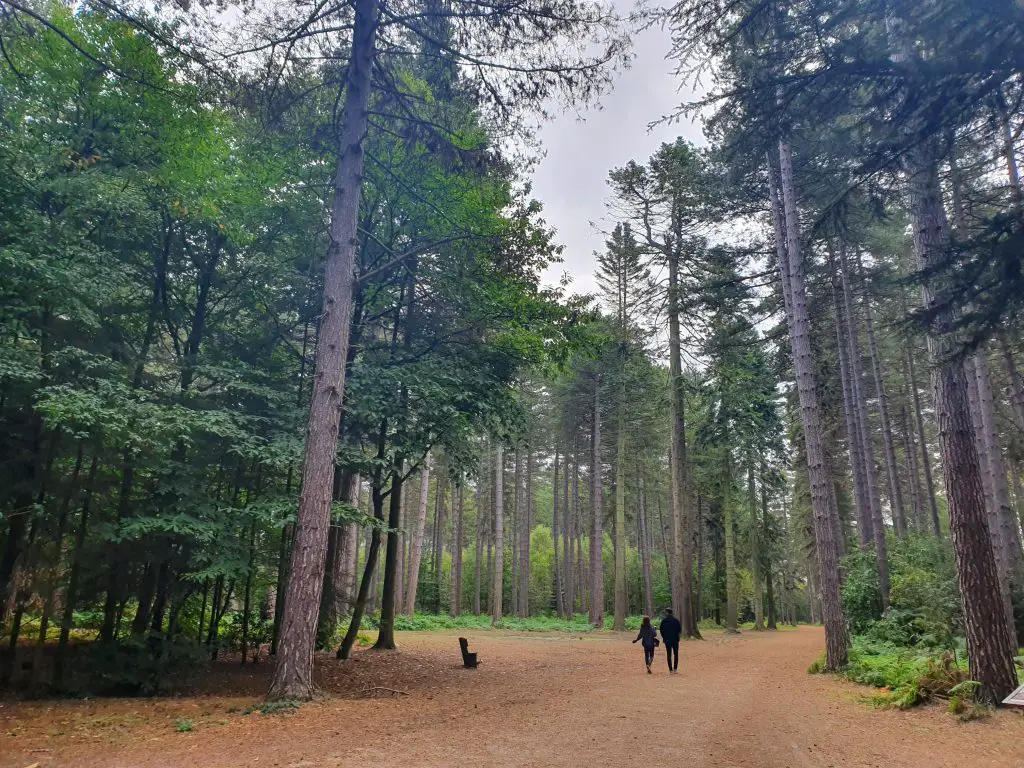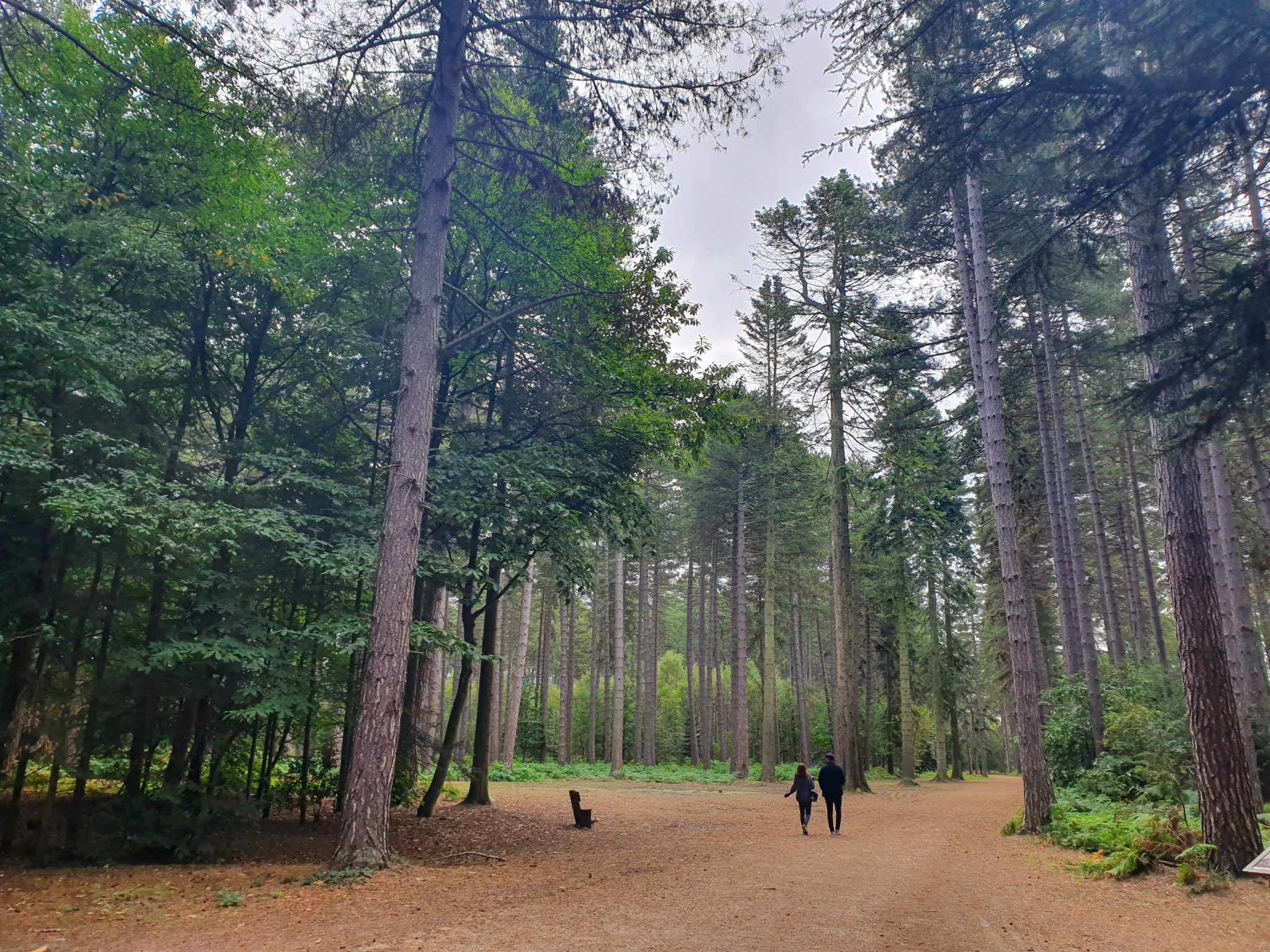 18. Surrey Hills walk
Surry is an area that abounds with natural beauty. Some of the UK's most famous beauty spots can be found within Surrey Hills, including Box Hill, Leith Hill and the Devil's Punch Bowl.
There are hundreds of paths that are open to the public to explore so when it comes to finding a route. The sky's the limit. You really can find any sort of walk to suit your fancy here from town-based routes to the pure countryside, or a little of both.
19. The Coastal Path hike
If it's your first trip around the Isle of Wight we know you will find some of the best places to hike in England here. The coastal path is one of the best hiking trails that you will just love!
The only issue is, you need a few days to complete the 65 miles long route. The good news is you don't have to walk around the whole island to enjoy the stunning views.
Start your hike in Brighstone towards the Needles and then to Yarmouth. The 13 miles route takes over 4 hours to complete but you really need a whole day as you will stop many times to take photos.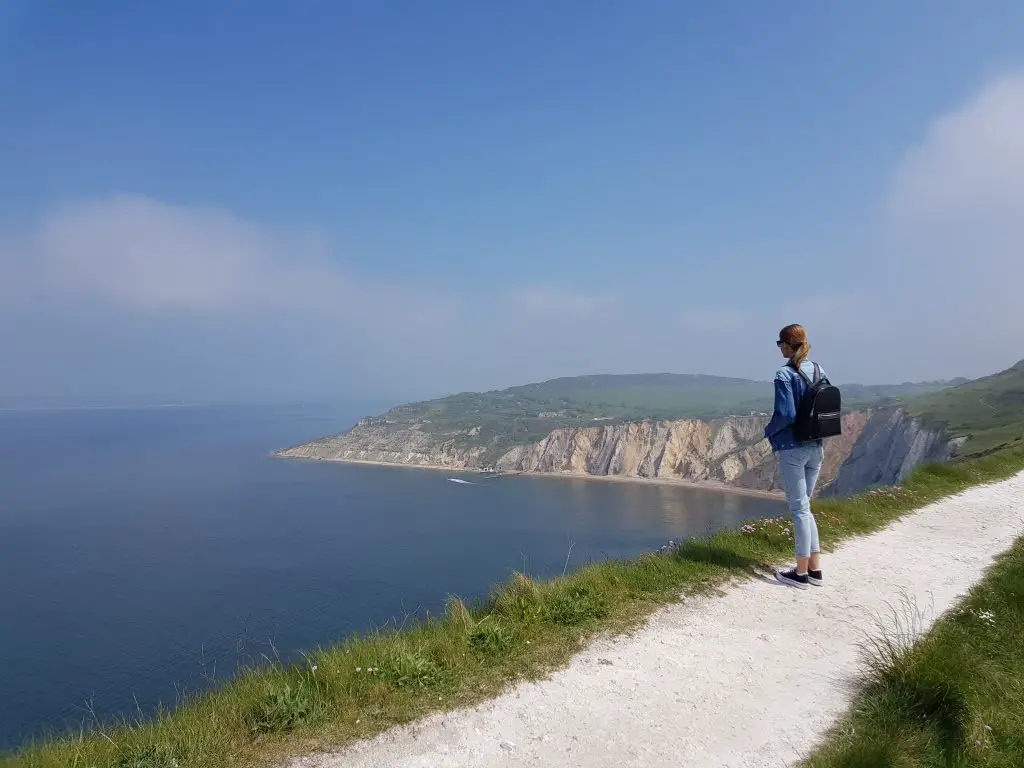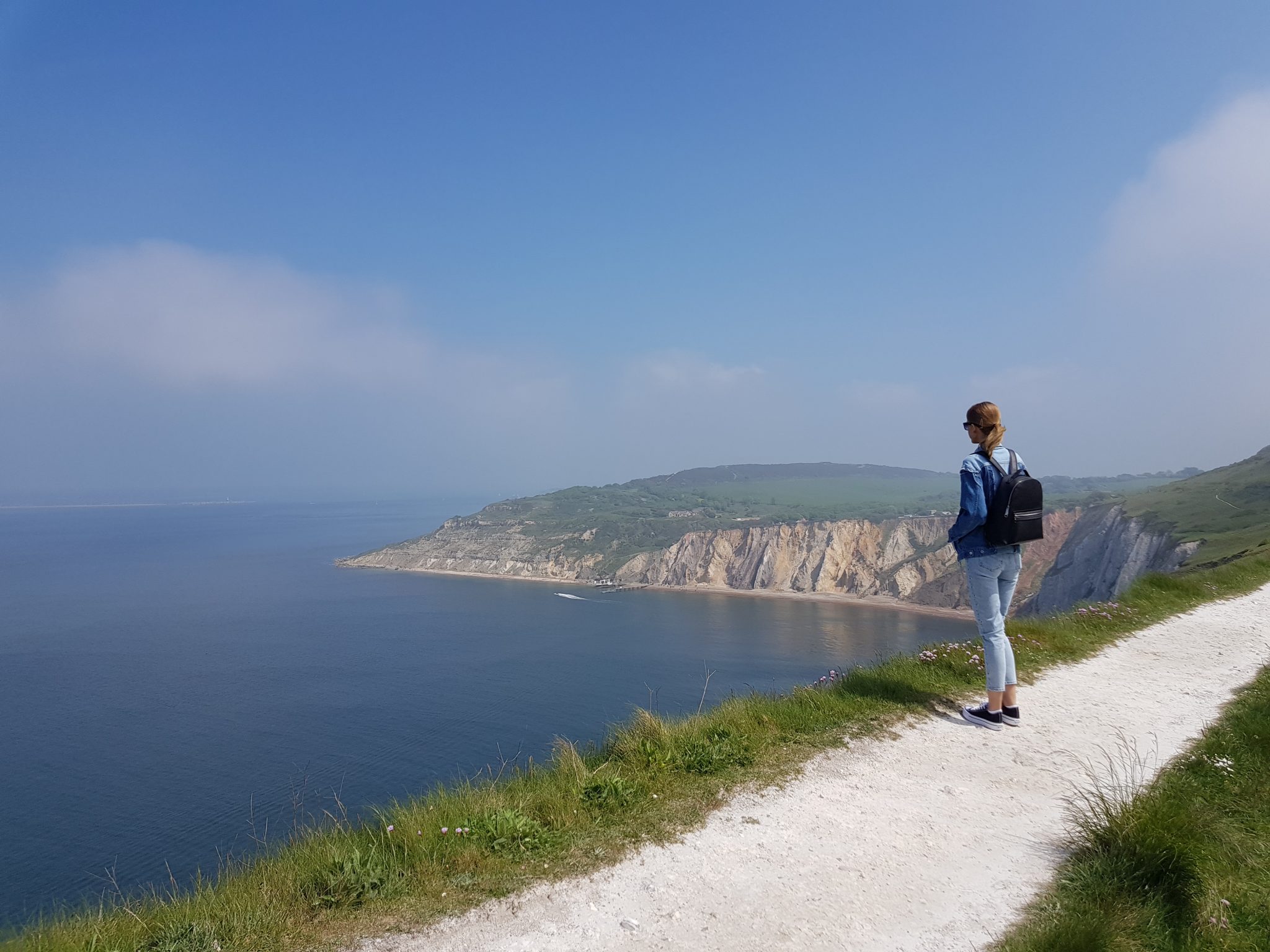 20. Box Hill walk
Within Surrey Hills, you can find Box Hill. This is an area that is most deserving of a visit. There are several walks to enjoy here. One of the best is the stepping stones walk. This takes you past the Box Hill Fort and gives you the chance to cross Surrey's iconic stepping stones.
For the more energetic you can climb to the top of Box Hill which takes roughly 4 hours, there and back. There is also a play walk with activities along the way for children to enjoy. It really is a great spot to get out and enjoy nature.
21. Chiltern Link hike
The Chiltern link is an 8 mile (12.8 km) hike. The route follows what used to be an ancient trade route from Wendover to Chesham.
No longer used for trade, this path now joins two major routes – The Ridgeway National Trail and the Chess Valley Walk. This easy and clearly marked route is an excellent introduction to the Chiltern countryside and village life.
It really is one of the best paths to go hiking near London.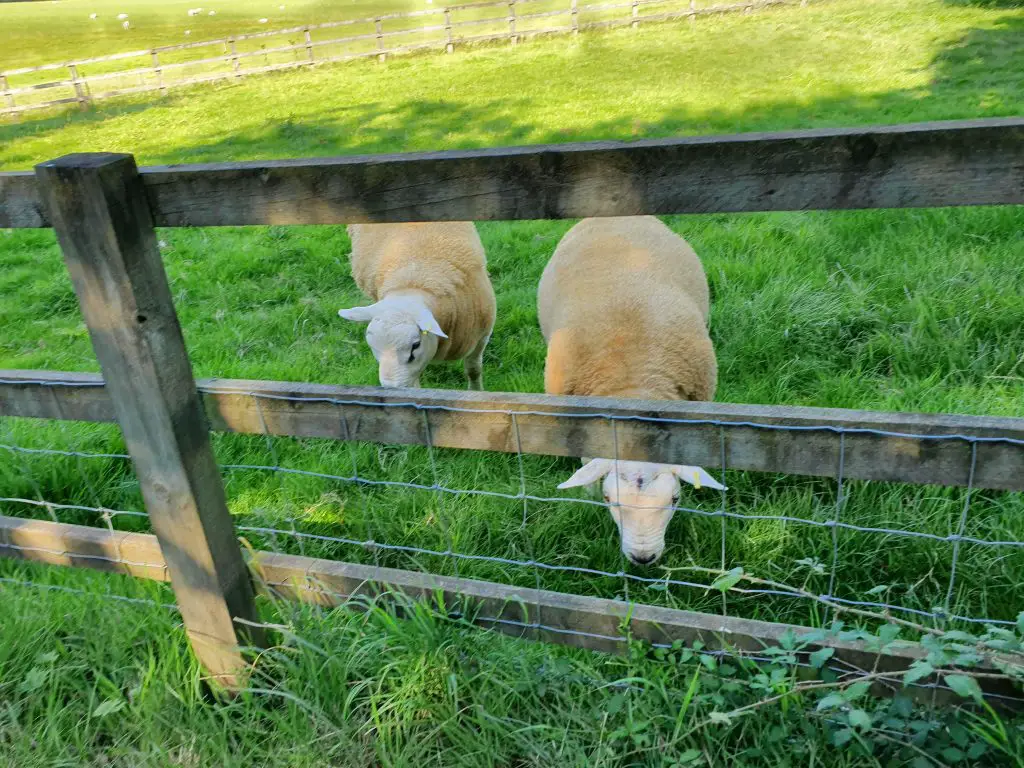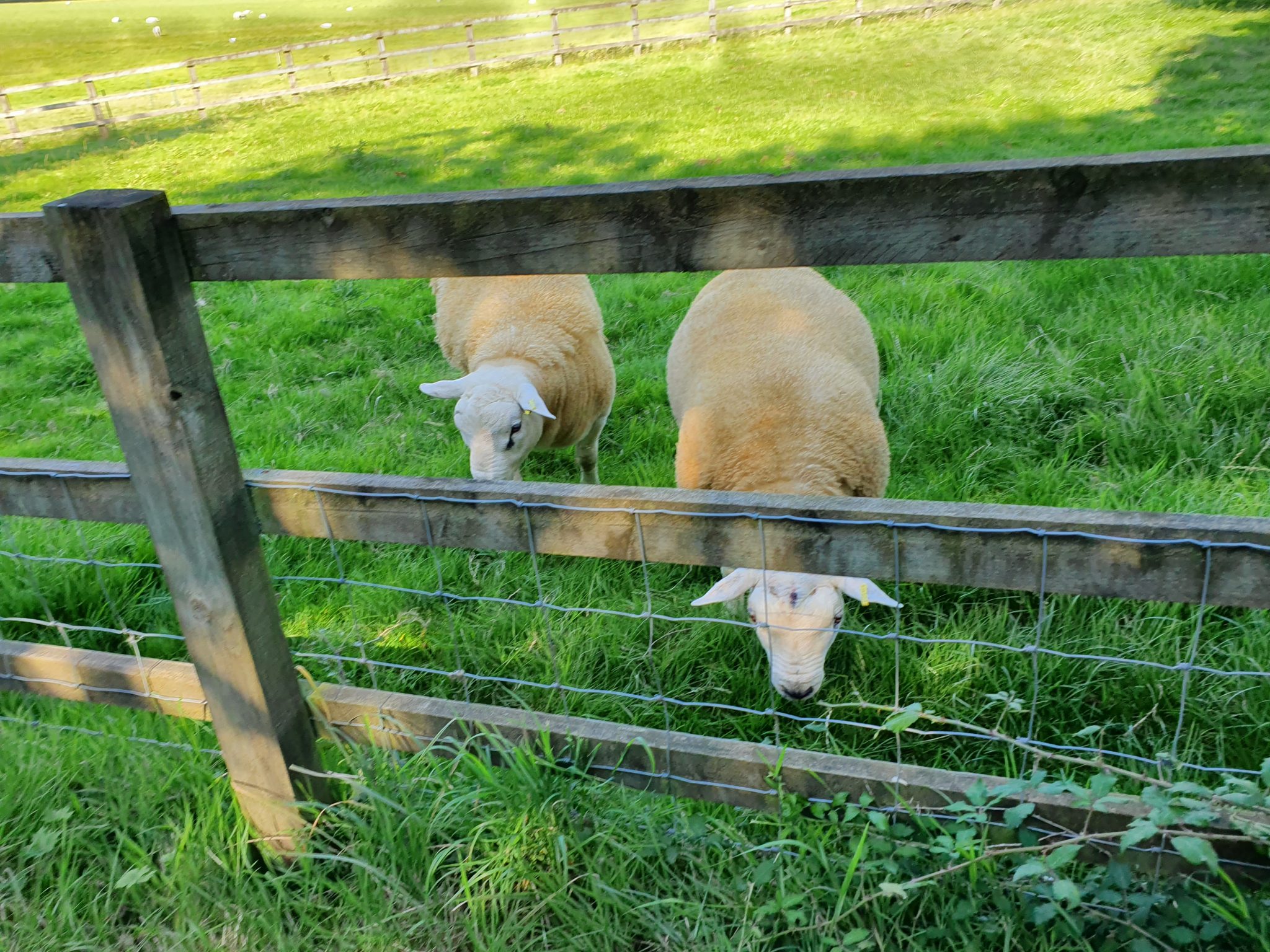 22. Mole Gap Trail hike
The River Mole has slowly been eroding the chalky hills that it passes through. This lengthy process has created an excellent walking opportunity. This 6-mile (9.6 km) trail is easy and flat throughout, making it an ideal outing.
As a bonus, the walk starts and ends at two railway stations, making it easy to access and enjoy. The route is quiet and tranquil and even takes you through the UK's largest vineyard.
23. The Oak Trail walk
Epping Forest is an enchanting place. The Oak Trail is a roughly two-hour walk that takes you in and around the forest. The route is well marked and easy to follow. It includes a mix of trails and paths. The circular route starts and ends at Theydon Bois stations, making it easy to reach.
While on the walk you will pass beneath some veteran Beech and Oak Trees, pass through a wooded pasture, where you will see cattle grazing and past the deer sanctuary. It gives you a real flavour of Epping Forest.
It really is a contender for the best places to go hiking near London!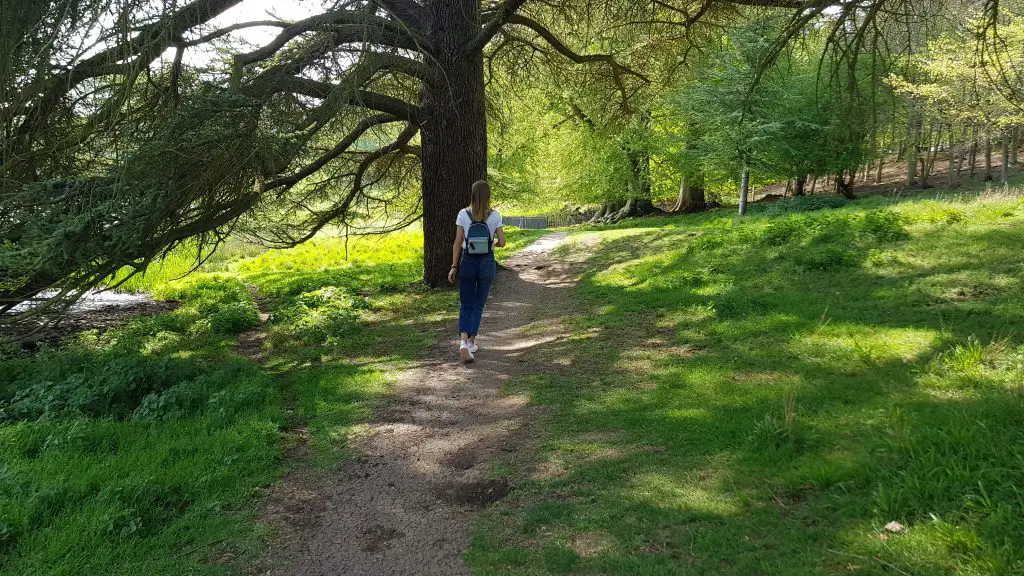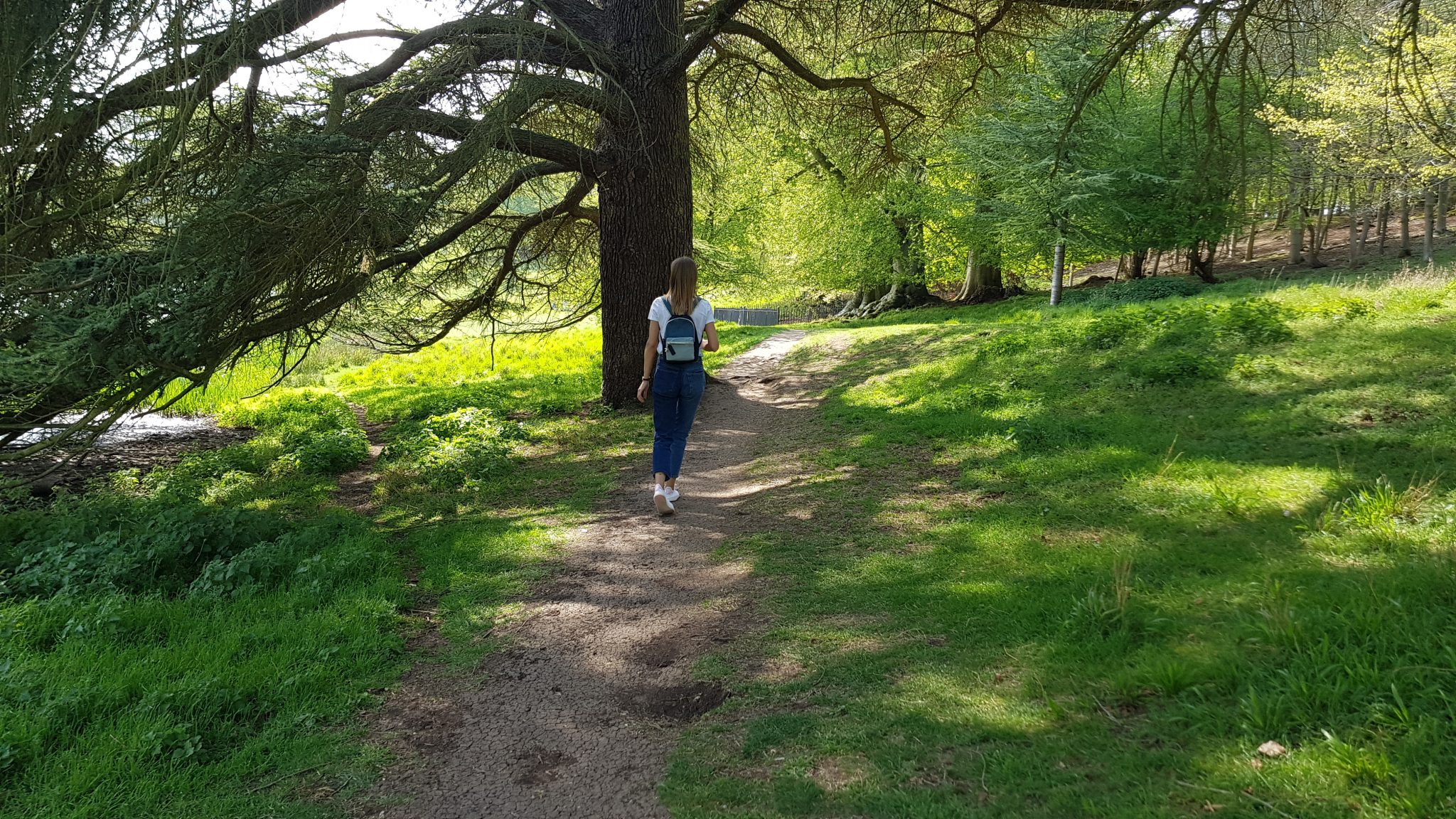 24. Abingdon to Oxford walk
The Thames path joins Abingdon and Oxford. This easy to follow route gives you a lovely way to explore the area. The walk starts in Abingdon, which is worth spending some time in. There are plenty of little shops to explore in this small market town.
As you walk along the Thames, you will likely see a lot of river traffic, as the canal boats and longboats chug along the calm river. Along the way, you will cross lochs and weirs. The walk ends in Oxford at the Osney bridge, which is just down from the train station, making it an ideally located spot to end a beautiful walk through the countryside.
25. Tower Circular walk
About 2 hours or so from London by car, the Cotswolds is an area of outstanding natural beauty that you will love! It is also home to many great walking routes and one of them is the Tower Circular walk around the Broadway tower. A must-do when visiting Cotswolds.
Start the walk from the quintessential Cotswold village of Broadway towards Tower Country Park. The whole loop is 5.2 miles long and it takes 2-3 hours to finish it. That includes a small break to refresh with a nice cup of tea.
Without a doubt, this is one of the best short walks in the Cotswolds and one of the must-walk trails near London.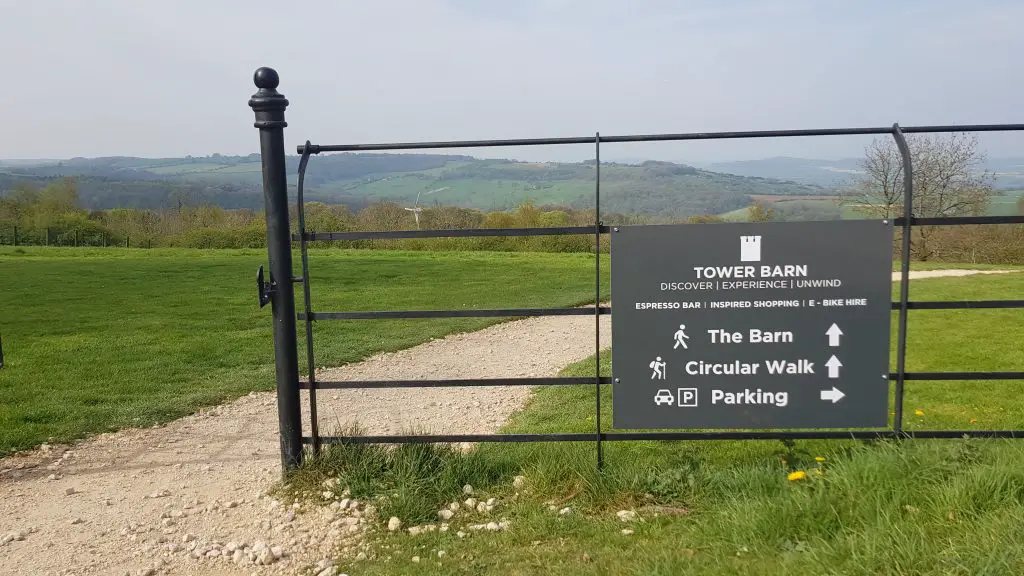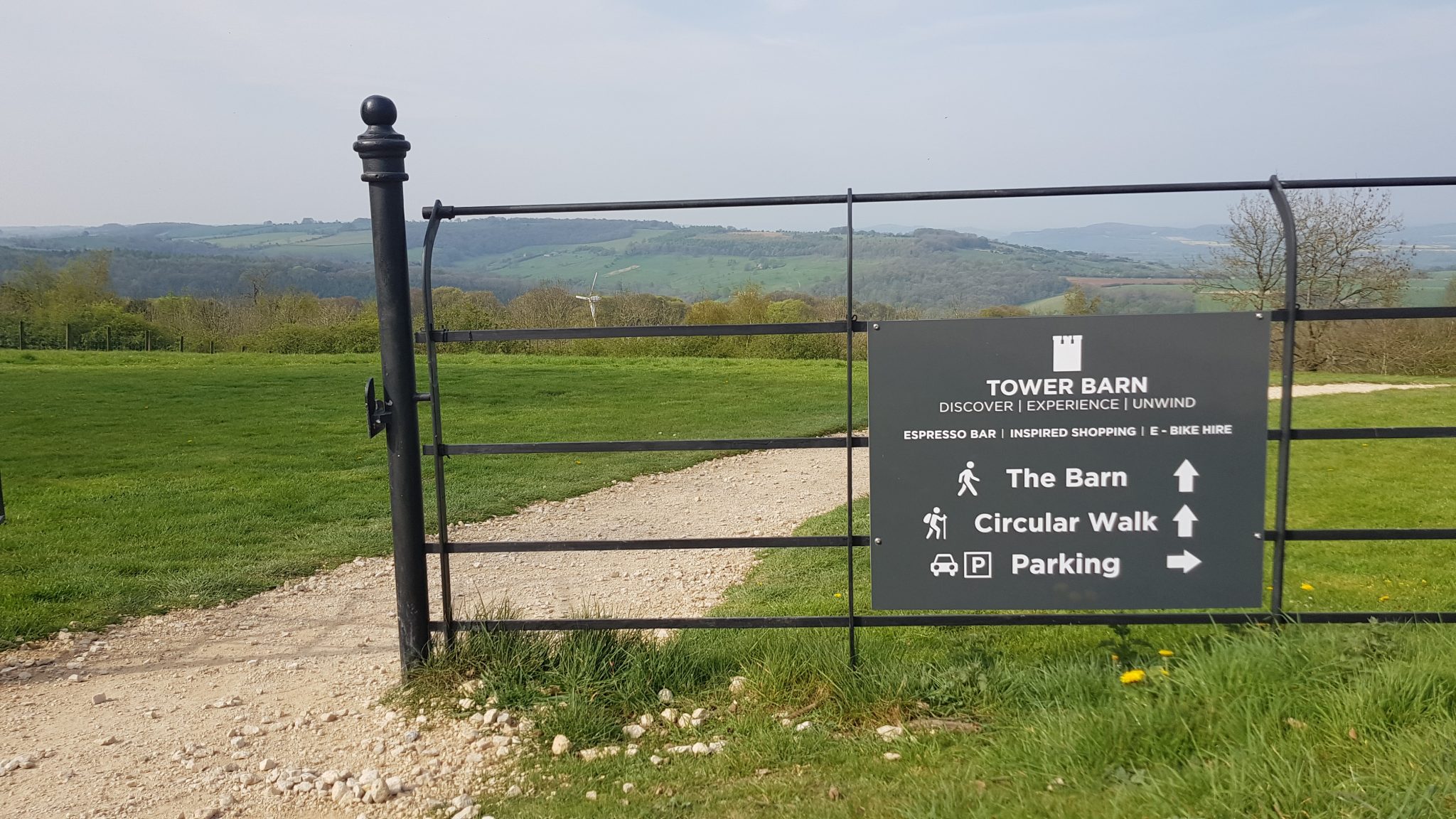 26. Hastings Circular hike
The Hasting Circular is a lovely day walk. This 6-mile (9.4 km) route is a varied trail around Hastings. There is an enjoyable mix of woodland trails, coastal sections and hill climb. You start in the Harbour then pass by the coast to reach Hastings Country Park. If you want some extra walking, there are over 600 acres of park and woodlands to explore.
When you leave the wonders of the park, you pass into Covehurst Bay. During this section, keep your eyes open for the Peregrines that circle the area. After skirting the bank of the reservoir, you come to Ecclesbourne Glen, where you can take a small detour to see the waterfalls and the fascinating rock formations they have carved out. The walk ends with a beautiful downhill section back to where you began.
Hiking near London FAQ:
Best circular walk near London
Tower Circular walk including Broadway Tower and amazing countryside in the Cotswolds is one of the best circular walks.
Walks from train stations near London
Take a train to St Albans and enjoy the amazing Alban Way walk!
Time to get walking near London!
Now that you know how many amazing places there are waiting for you to explore, it is time to lace up those walking boots and grab your camera. The hard part is going to be deciding where to start and which route to take on first. Good luck and happy walking!
Need more ideas for hiking near London?
Whether hiking or walking there are endless opportunities just outside of the capital city of London. How to find more ideas for a perfect hike? Find out below in our other articles related to amazing places near London: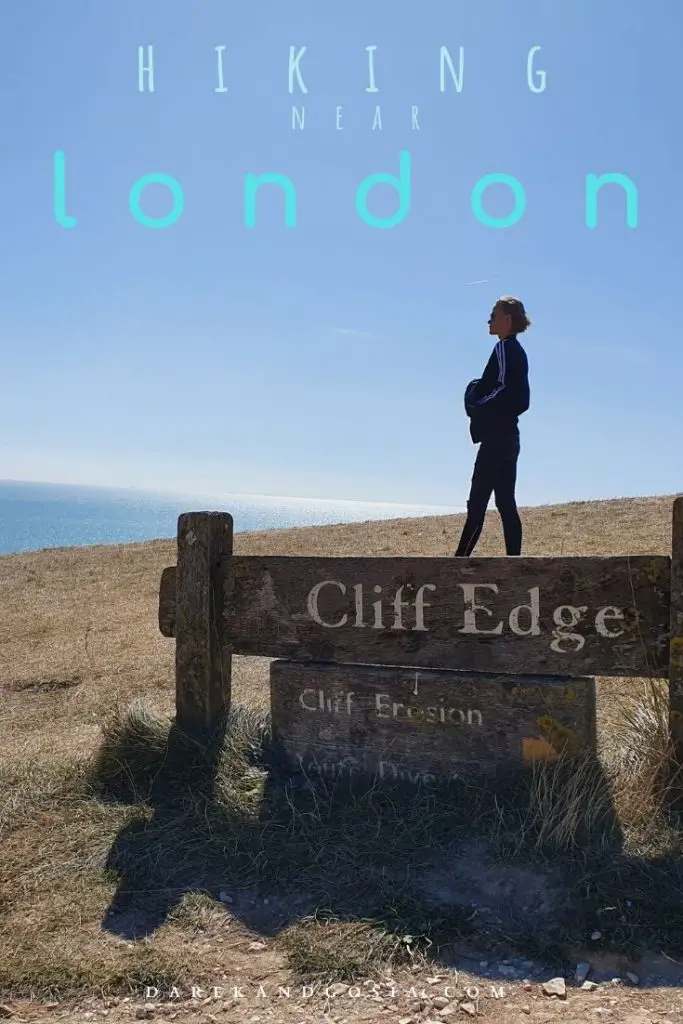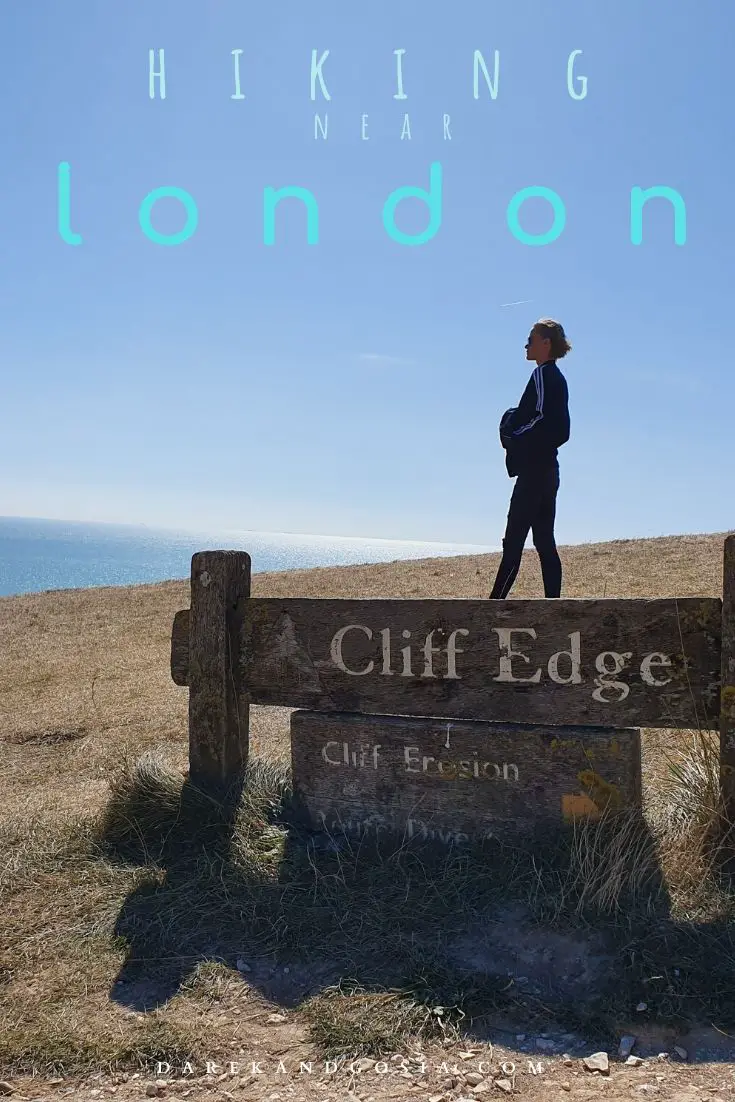 Articles you may like: