Looking for the ultimate vacation in Zante, also known as Zakynthos? Well, buckle up! This Greek island, nestled in the Ionian Sea, promises a cocktail of adventure, beauty, and pure joy.
Places to visit in Zante by car? First stop: Navagio Beach, famously known as Shipwreck Beach. Imagine a rusted shipwreck cradled by golden sands, with towering limestone cliffs playing sentinel. Dive into the mesmerizing azure waters or snorkel to spot playful marine life. And if you're after that postcard-perfect view, a boat ride around the beach is an absolute must! It really is one of the best beaches in Europe.
Got a penchant for adrenaline? Try cliff-jumping on the west coast. It's like diving into a dream – the rush of the wind, the allure of the deep turquoise below, and that heart-stopping moment before you're embraced by the cool waters of Zante.
For the explorers at heart, the island's sea caves beckon. Kayak through secret passageways and let the sun-kissed rock formations leave you spellbound. Speaking of exploration, don't miss out on a trek to Mount Skopos. It's a bit challenging, but the panoramic views atop are worth every drop of sweat.
Ever dreamt of an underwater escapade? Dive deep into the Ionian Sea to discover vibrant coral reefs, mysterious underwater caves, and dance alongside marine buddies like loggerhead turtles and friendly octopuses.
And when night falls, Zante doesn't sleep – it dances! The island's nightlife is a melting pot of rhythm, laughter, and sparkling beach bars. Perfect for those looking to groove the night away or simply savor a cocktail under the starry sky.
Zante is more than just a destination; it's where memories are made. Whether you're on a romantic escape, a solo retreat, or a fun-packed group adventure, Zante is your playground. So, grab your sun hat, and let's make some waves in this slice of paradise!
Zante by car
There are many things to do in Zante for couples but the secret to an amazing holiday is that you need to explore Zakynthos by car!
You can easily rent one here or explore the cheapest prices before booking.
Zakynthos really is beautiful and together with Lanzarote, Madeira and Gran Canaria, Zante is very top on our list of the best island in Europe!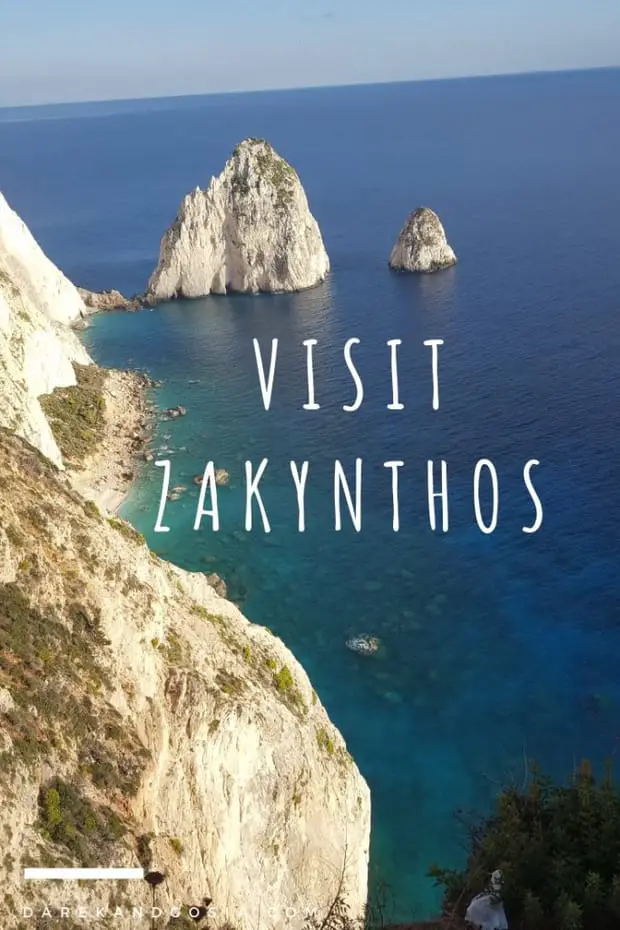 What is Zante best known for?
Zante, also known as Zakynthos, is best known for its stunning beaches, crystal-clear turquoise waters, and picturesque landscapes. It is a popular tourist destination in Greece, offering breathtaking views, vibrant nightlife, and a variety of water sports.
Zante is particularly renowned for Navagio Beach, often referred to as "Shipwreck Beach," which features a shipwrecked freighter resting on its golden sands. The island is also famous for its loggerhead turtles, as it is one of the few places in the Mediterranean where they nest.
Additionally, Zante boasts a rich cultural heritage, with traditional villages, historical sites, and delicious Greek cuisine, making it a well-rounded and memorable vacation spot.
Top 10 Things to do in Zante: At a Glance
Xigia Beach
Keri Lighthouse
Porto Limnionas
Marathonisi Island
Porto Vromi
Porto Roxa
Cameo Island
One of the most interesting of the Greek islands is Zakynthos (also known as Zante to the British). It really is one of the best natural wonders of Europe!
What is the difference between Zakynthos and Zante?
Zakynthos and Zante refer to the same Greek island; the difference lies in the name used to refer to it. "Zakynthos" is the island's official Greek name, while "Zante" is a colloquial and more commonly used name, especially among English speakers.
The name "Zante" has become popular over time and is frequently used in travel and tourism contexts. Therefore, the only distinction between Zakynthos and Zante is the name itself; they both refer to the same beautiful island in Greece.
Facts about Zakynthos:
Greece and Zakynthos (a stunning European island) have so much to offer – there are so many stunning things to do in Zakynthos! It is a place that we have certainly loved when visiting as a couple on our September holiday.
So, to help you discover where you should visit on your trip to Zakynthos, we have gathered the best places that we loved the most for you to explore. Hopefully, you will add some of them to your list of the best things to do in Zante🙂
Is Zakynthos worth visiting?
The Greek island of Zakynthos, a very popular corner of the Ionian Sea, is one of the most beautiful places in southern Europe. When visiting Zakynthos you will be amazed by its beautiful beaches, stunning coast, blue water and lots of greenery.
Zante is the greenest of all Greek islands and offers many attractions which prove it's worth visiting Zakynthos even if you are not looking for a typical sunny vacation.
Where to stay on Zante Island?
Best resorts in Zante? There is no shortage of amazing places to stay during your holiday in Zante. Please see below some of the TOP hotels we have selected for you:
"The 5-star Mabely Grand Hotel features 16 pools, 1 children's pool and a restaurant. The classically decorated property offers a variety of leisure and sports facilities, such as a bridge room."
"Offering an outdoor pool and a restaurant, Zante Atlantis Hotel offers self-catering accommodations. Free WiFi access is available in public areas"
Need more inspiration? Find a hotel in Zante island.
Here are the top reasons why Zakynthos is worth visiting – enjoy the best 13 things to do in Zakynthos:
Things to do in Zante
What to do in Zakynthos? Without a doubt, this is definitely Zakynthos must-see!
This particular beach also known as Shipwreck Beach is an exposed cove that is also sometimes nicknamed Smugglers Cove since its tucked-away location was perfect for sneaking in goods in the dead of night. It really is a contender for the best landscapes in Europe!
It used to be called Agios Georgios but was renamed in 1980 after a freighter named the MV Panagiotis ran aground on the shore of the beach while trying to escape from the Greek navy as the ship was smuggling goods such as cigarettes and alcohol.
Shipwreck
The ship was abandoned, and since then it has been left on the beach – making it quite a popular tourist attraction as you can walk right up to it and explore. It has decayed quite a lot, but it still looks magnificent. There have been claims that the real story is the ship was wrecked due to bad weather conditions, but we much prefer the adventurous tale of smugglers escaping the law.
So, is Shipwreck on your list of the best things to do on Zakynthos island? 🙂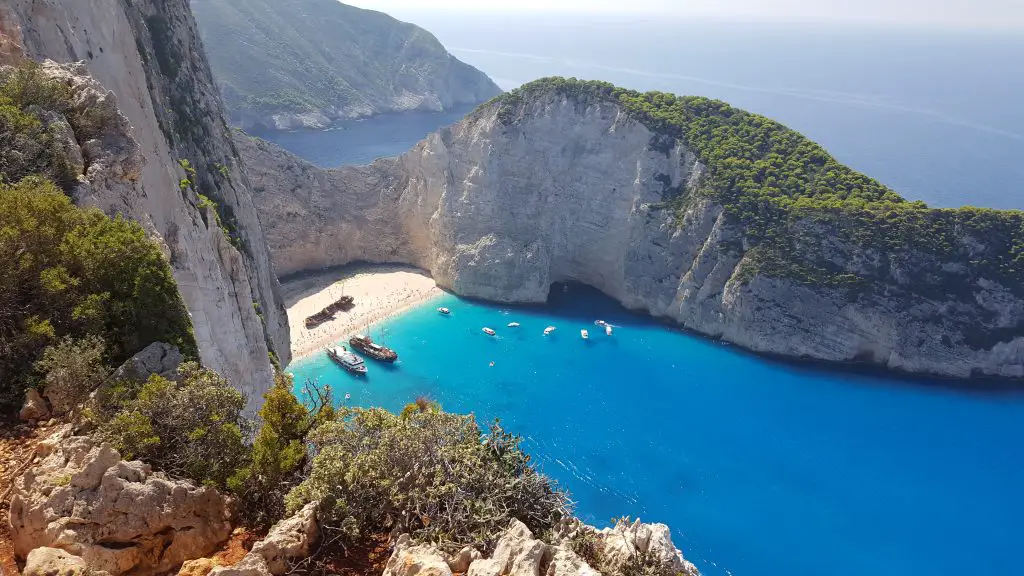 Top things to do Zakynthos? The beach, as well as the surrounding area, is truly spectacular! It is a perfect place to take a few photos together while you are on your trip. While you can visit the ship up-close, there is also an amazing view that you have to take advantage of. The site isn't just glorious, it is also incredibly romantic – for many people, this is the most magical and romantic place in Europe. Midday is the perfect time to visit if you want to witness the water sparkling as the sun hits it.
The colour of the water is just out of the world and is one of the top Zakynthos attractions.
And YES! It really looks like in the pictures. We couldn't believe we have seen in real 🙂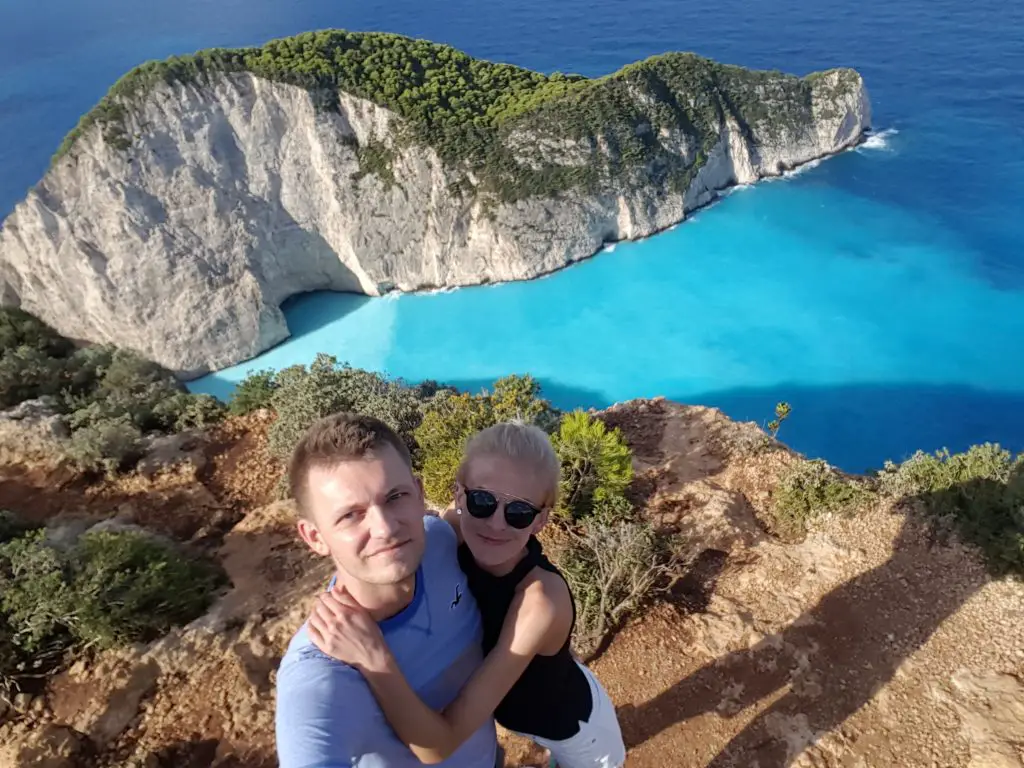 Our advice is to skip the official viewing point balcony and head a little further right. You will find a little path that is lined with rocks and bushes. It will lead you to the most spectacular location! You get the ship, the sea, and the beach in one shot – just a stunning spot you will love! 🙂
You really need to book a boat trip to Navagio Beach!
Navagio Beach is probably the most recognisable picture of Zakynthos – it's one of the best places to see while visiting Zakynthos!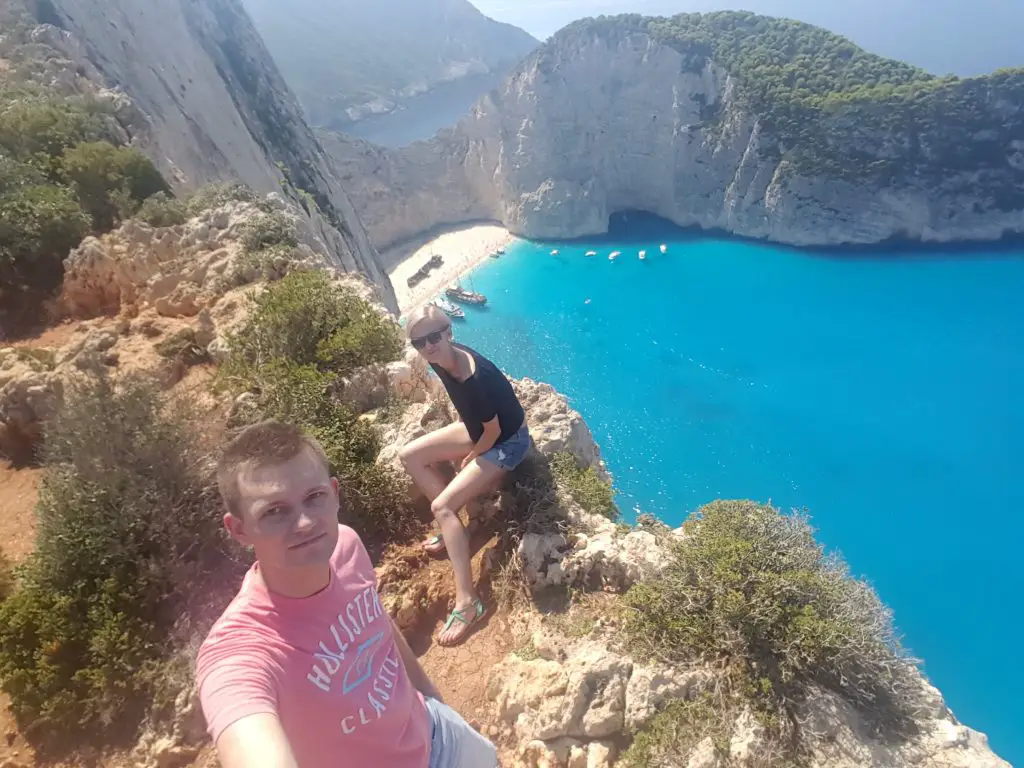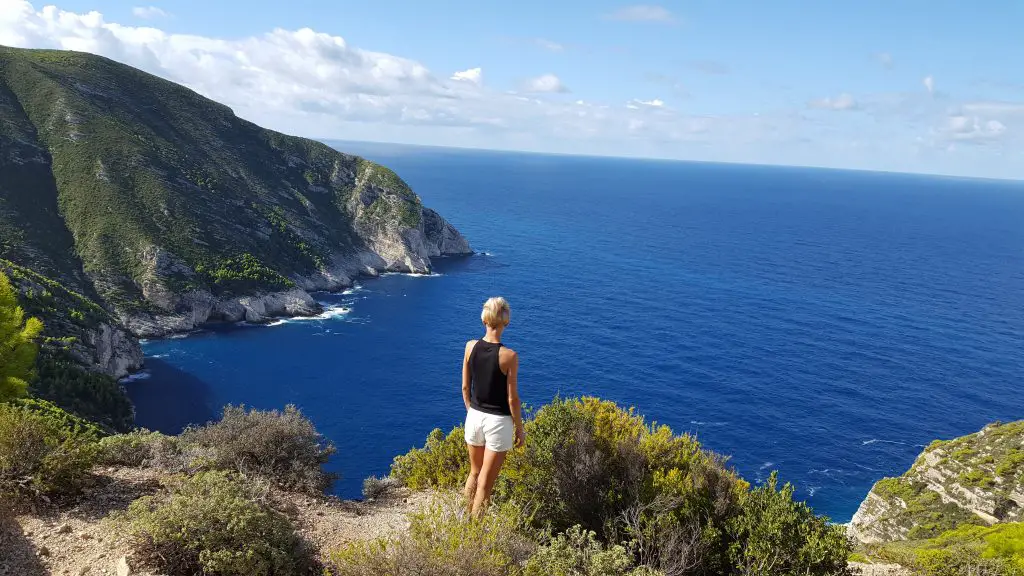 2. Xigia Beach
What to do in Zakynthos Greece? This is a very unique place on our Zakynthos things-to-do list. It's just stunning!
While on Zakynthos, you will likely be visiting as many beaches as possible. So we have another of Zakynthos' wonders for you to take a trip to – the Xigia beach!
At first, you might notice that the water in Xigia has both a strange colour – as well as cloudy with an almost milky coating. This is because it has a high concentration of sulphur. It really is one of the best things to do in Zante!
Yes, the same you can find in the Blue Lagoon in Iceland.
The sulphur comes from the neighbouring caves, making it quite a unique spot. If you suffer from joint pain or arthritis, the water is said to have healing properties that can help to ease the symptoms.
There is also a small car park and a little canteen if you fancy a quick lunch by the water.
(read our guide to renting a car in Europe)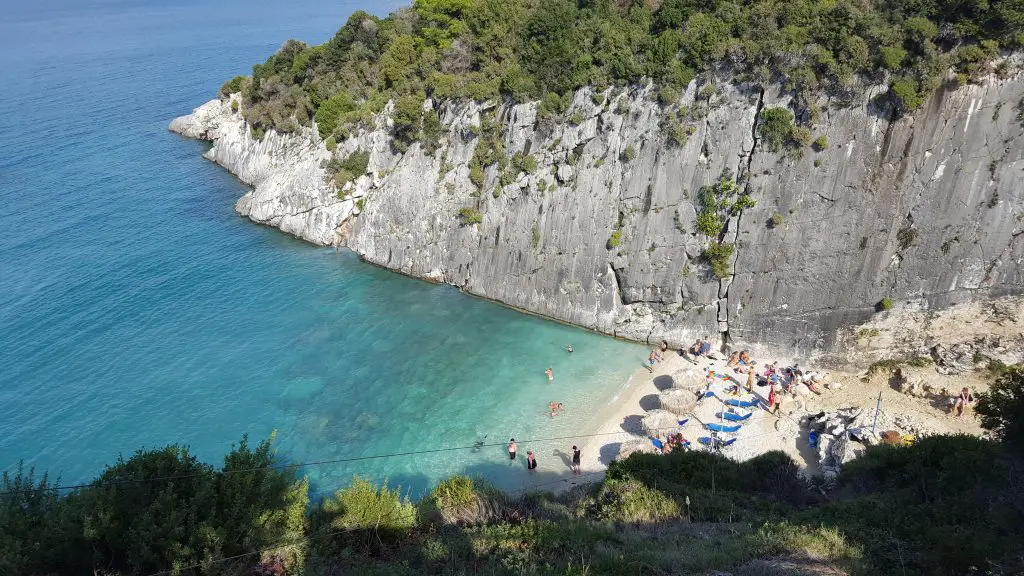 If you are looking for top activities in Zakynthos island, then head out to Xigia Beach.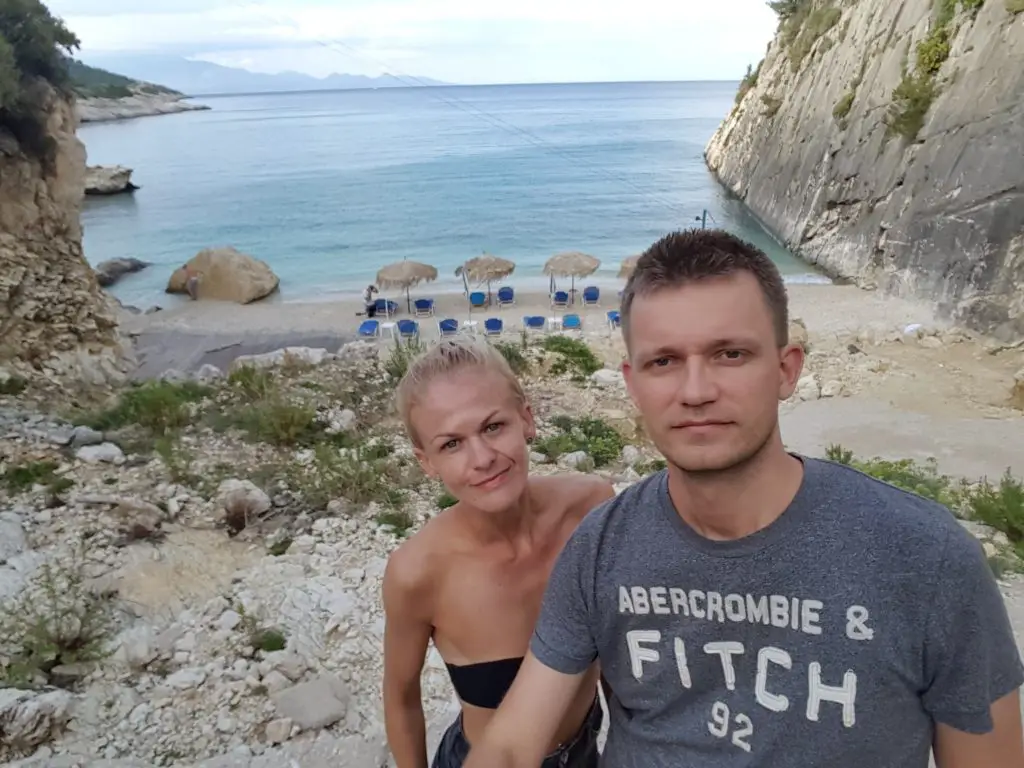 3. Keri Lighthouse
Where to go Zante? There are many magical places to see in Zakynthos and Keri Lighthouse is definitely on that list!
This is a location best visited in August or September, although it remains beautiful throughout the year.
If you are searching for a romantic sunset location to take the one you love, this is it. There is nothing quite like watching the sun dive into the sea as it goes down to make way for the night, and in many ways, words cannot describe the sheer splendour of the experience. It's one of our favourite locations and possibly one of the best places to visit in Zante.
There are a restaurant and parking near the lighthouse. We recommend getting there a little early so that you can find a good spot to watch the show.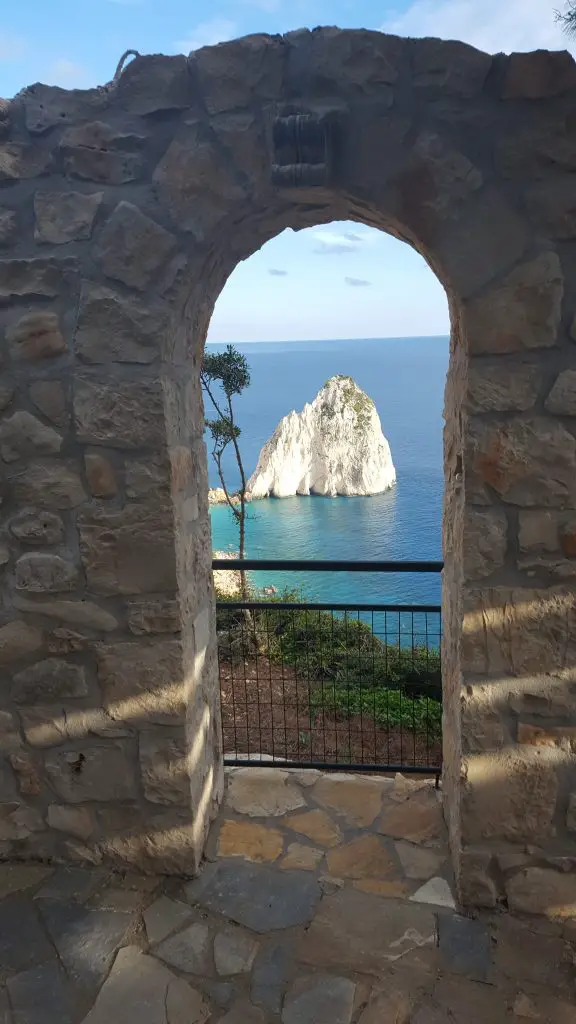 This is one of our favourite and best places to visit in Zakynthos.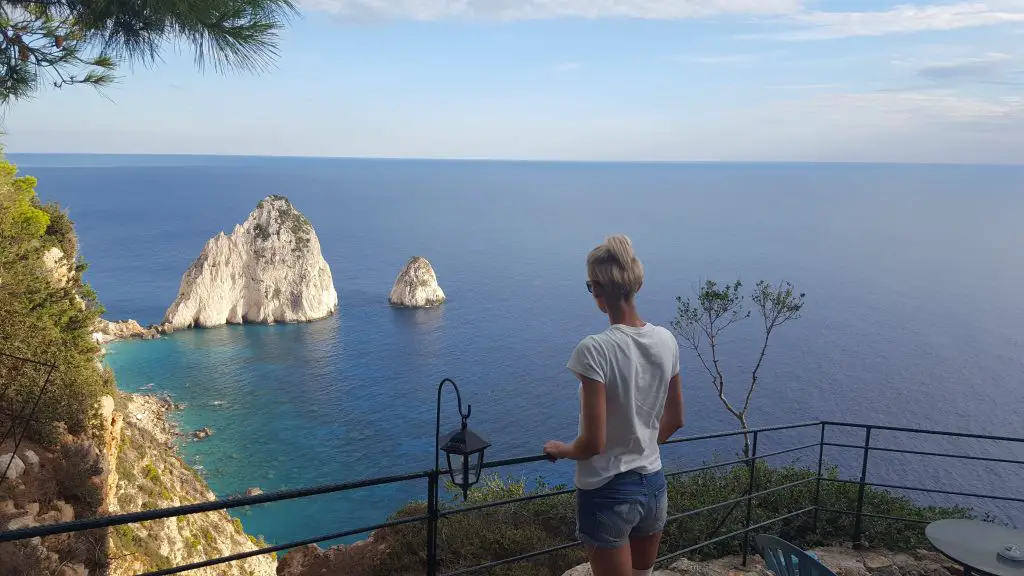 4. Boat Tour in Zante – Turtles spotting
What to see in Zakynthos? Turtles are amongst the top Zante attractions!
There are actually quite a few boat tours that you can take to see the Caretta Caretta Turtles in Zakynthos. But there is one outstanding, which was recommended to us. It's Levante Speedboat Excursions with captain Spiros.
HIGHLY RECOMMENDED!!! 🙂
He is a very reputable boat owner that respects marine laws and will not harass the turtles. The number of turtles is shrinking so they need to be protected.
They also organise boat tours to Shipwreck Beach. Unfortunately, our trip was cancelled due to the weather conditions…
You can choose another company if you fancy. Just keep in mind (if you want to see the turtles) that Laganas Bay and the Keri Caves are exactly where you need to be 🙂
If you get the chance to see the Caretta-Caretta turtles, you will love this experience. One of the best things to do in Zakynthos – it is so worth it!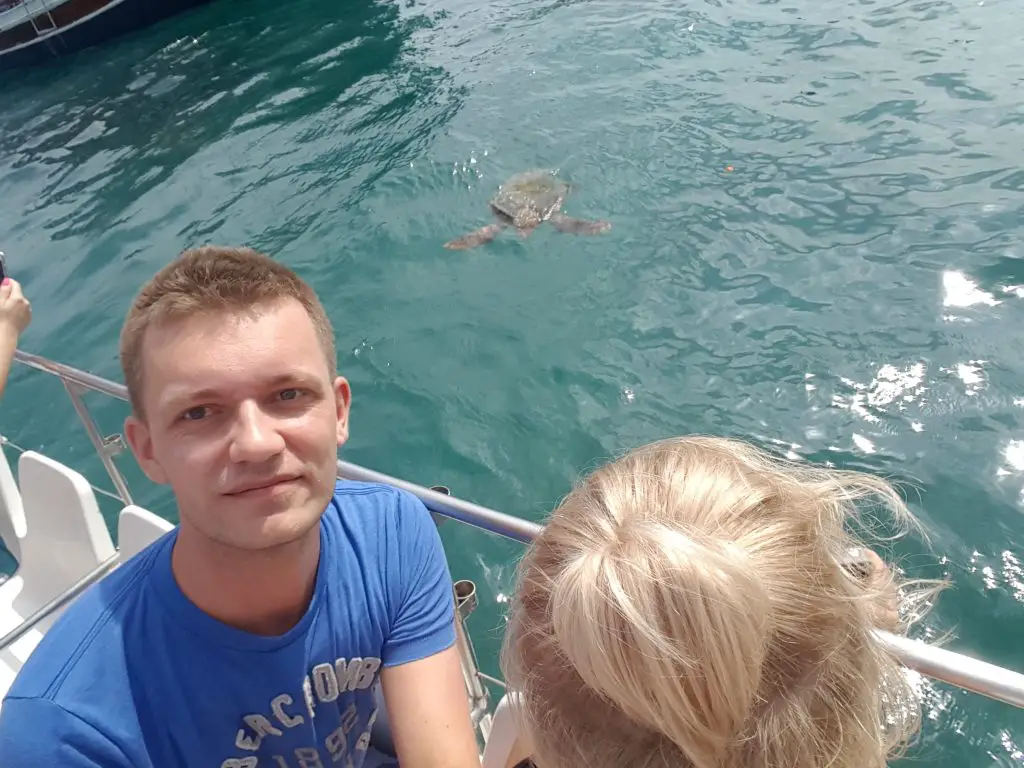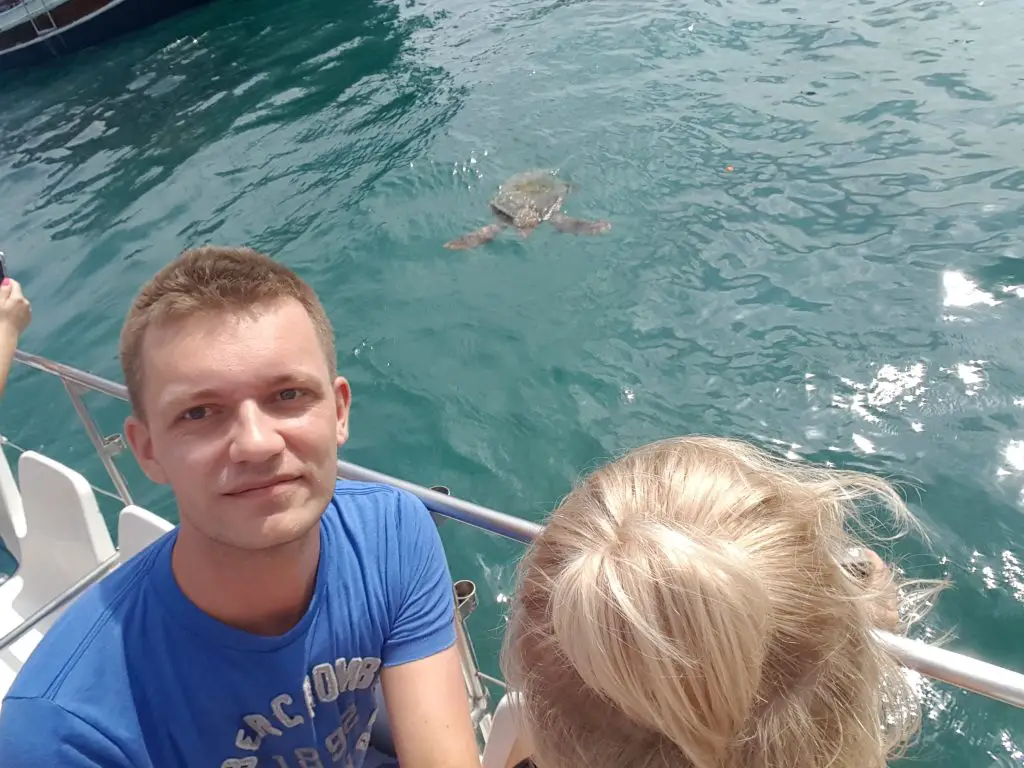 If you like turtles then you have to visit Marathonisi turtle island Zante – top Zante things to do!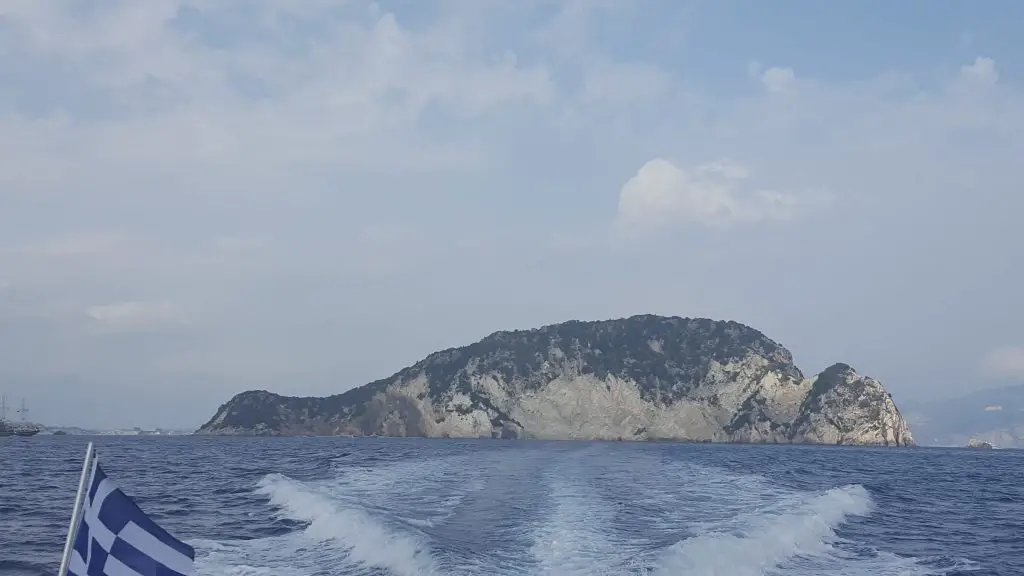 5. Marathonisi Turtle Island
Most places to see in Zante Greece? We couldn't forget to shout out Marathonisi Turtle island as one of the best places to visit in Zante, could we? This little islet is the nesting ground for the Loggerhead Turtle.
The fact that the islet itself actually formed in the shape of a turtle has led to the creation of many myths and legends over the years. 😉
The mystery that surrounds this little piece of land is part of what makes it such an exciting adventure. We really loved this place, which we visited with captain Spiros on the way to watch the turtles. A MUST have to visit while on Zakynthos.
Seriously! One of the best places to see on the island of Zakynthos.
Make sure you check any restrictions before you take a boat trip there though, as it is a protected site.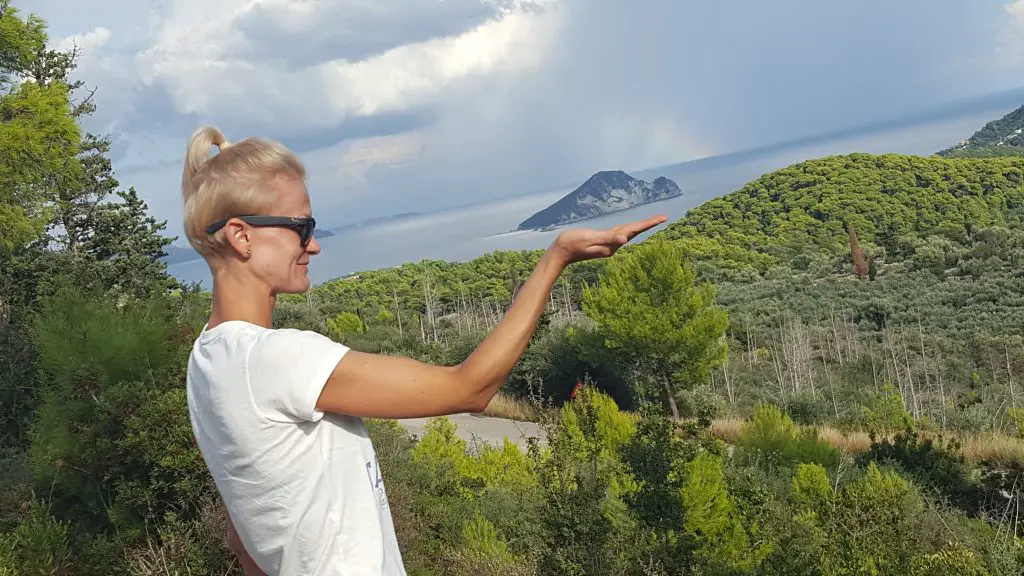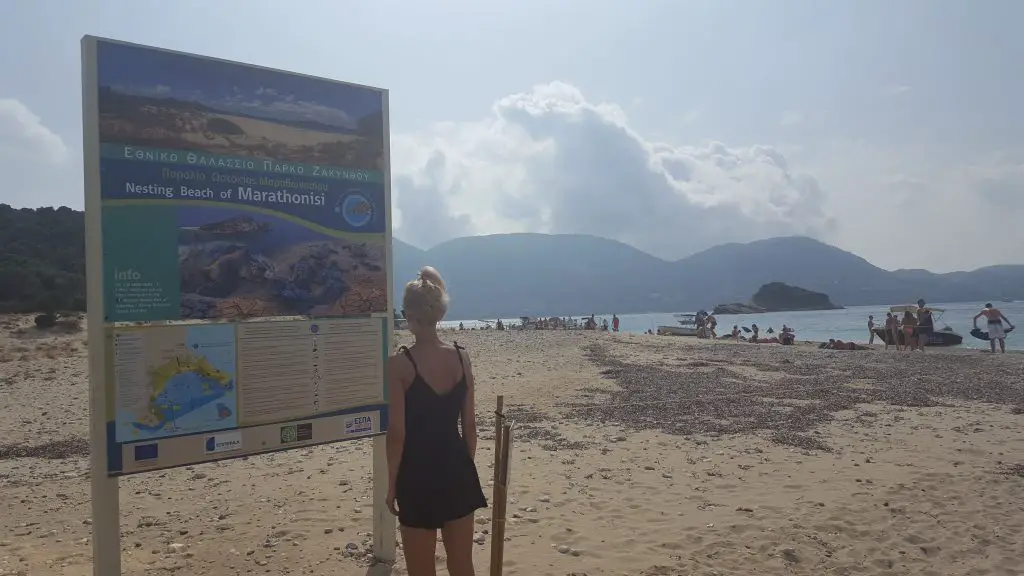 From all the beautiful things to do on Zante, this little beach is probably the one you have to see on your Zakynthos vacations. It really feels like it is from another world.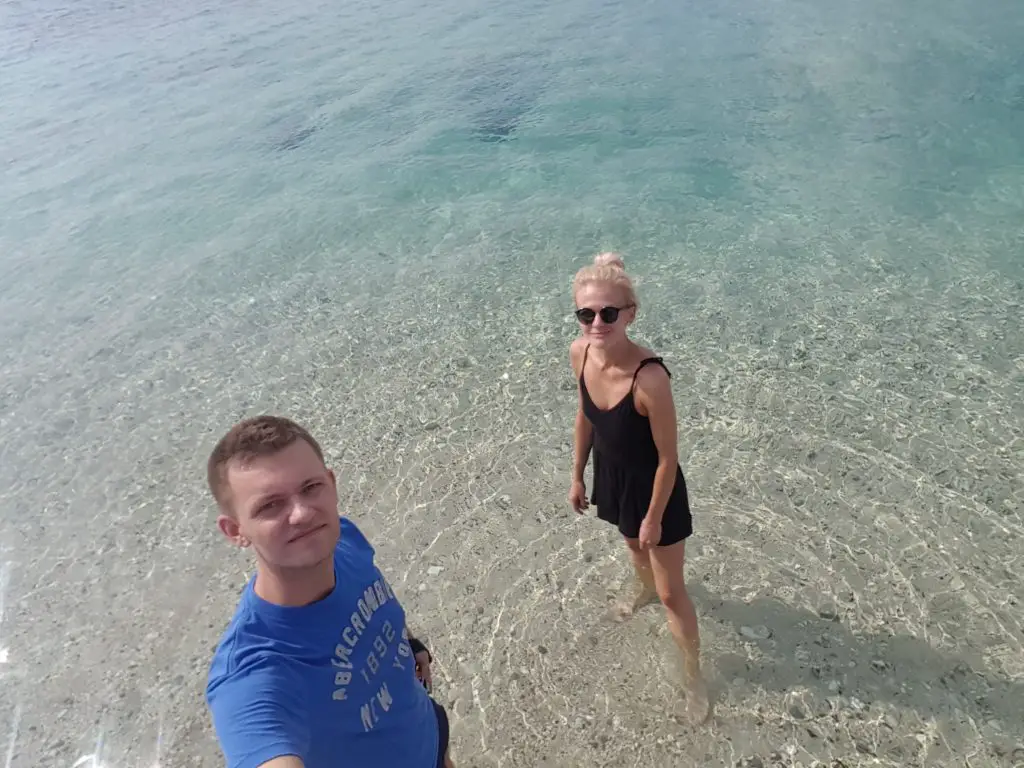 6. Gerakas Beach
Must-have on your Zakynthos island what to do list! This southern beach is probably one of the most beautiful and exciting in Zakynthos. There are lovely cliffs which are made from clay.
But the main attraction is… under the ground 🙂
Between May and October, if you fancy getting up incredibly early, you might be able to get the chance to help the newly hatched turtles make their way to the sea.
This is one of the most magical things to see in Zakynthos so it's worth the effort.
It is also a protected beach, and it is important to check the opening hours as there are some restrictions.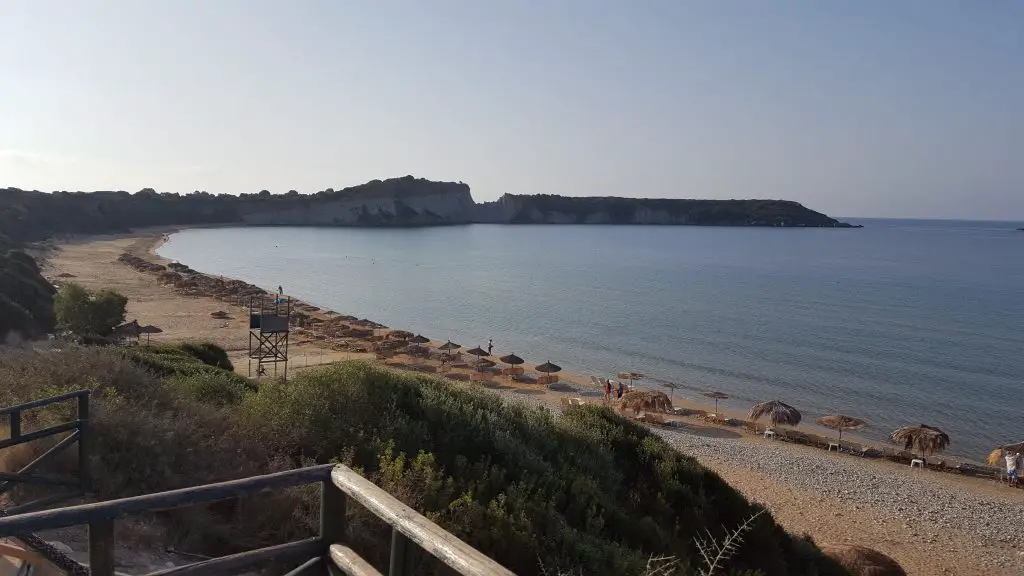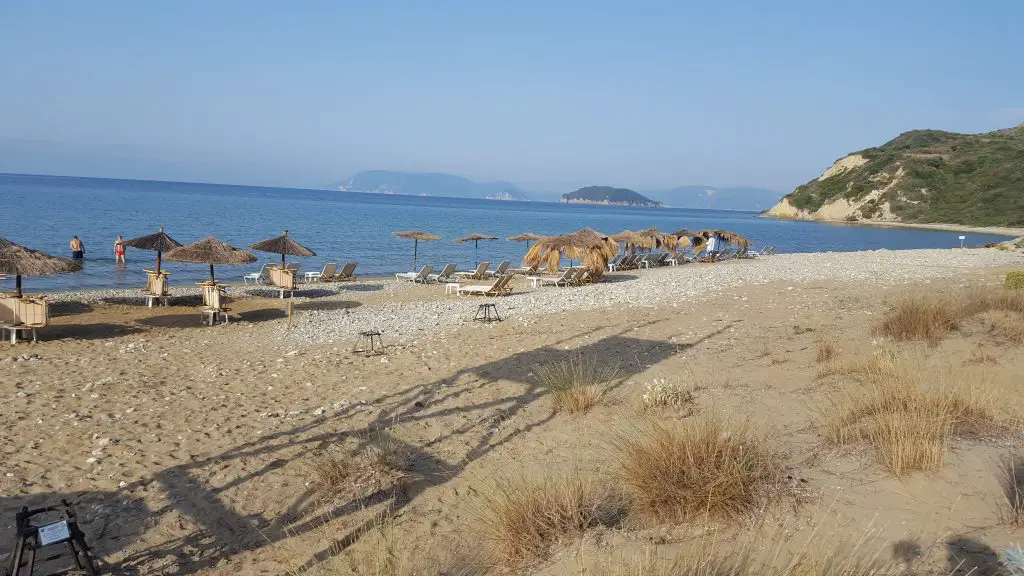 7. Porto Limnionas
What to do in Zakynthos island Greece? This is a real hidden gem everybody has to visit while on holiday in Zante! Yes, there are many great things to see in Zante – and you will love this one!
One that you definitely need to take the time to visit. If you are looking for a little time alone in a quiet location, this will be the perfect place for you.
You will have to take a quiet backroad through a little town in the mountains to get to this secret place. The whole area is surrounded by wildlife and plants, so it looks really stunning.
The fjord has clear blue water. It gives the feeling of a tropical paradise that you will never want to leave. 🙂 We fell in love with the place straight away and it's really up there with the best things to do in Zante.
It is certainly worth visiting the little mountain town as well on your way to or from the area.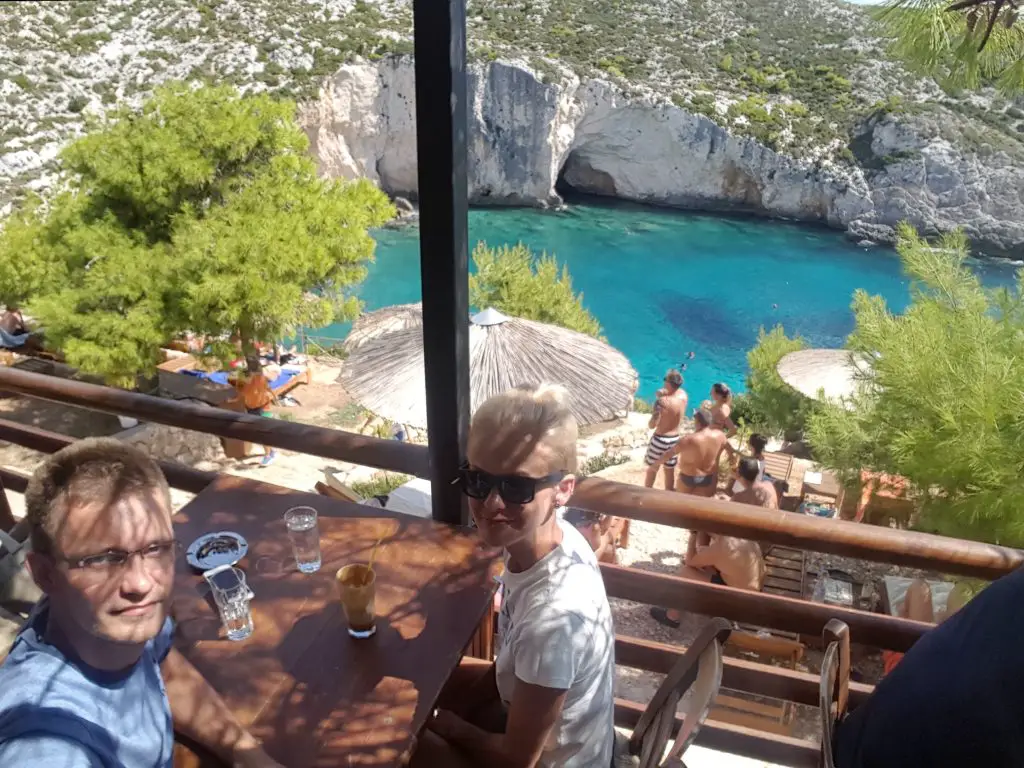 Would you add a trip to Porto Limnionas to the top things to do in Zakynthos Greece?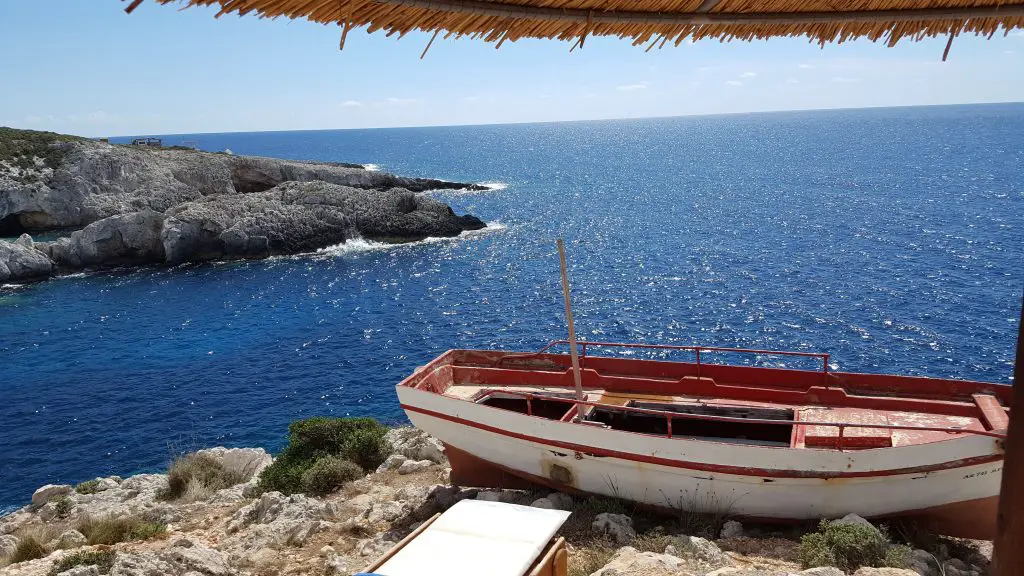 8. Watching the Sunset
Where is the best place to go in Zante? We have already mentioned that Keri Lighthouse is a great place to watch the sunset on the island.
But there is one other that we would strongly recommend – and this time you can enjoy it with a romantic meal and some delicious Greek cuisine.
The Cross Taverna and the Porto Schiza Sunset are the two best places to dine and watch the sun go down.
It can't get better than that and it really is one of the top Zakynthos things to see and do!
So, if you are searching for the best spot to watch the sunset in Zakynthos – head to Porto Schiza. You will honestly be blown away by how beautiful this place is and really is one of the best places to visit in Zante.
You will love it!
This was one of the best sunsets we have seen in Europe! And definitely one of the best things we have seen in Zakynthos! 🙂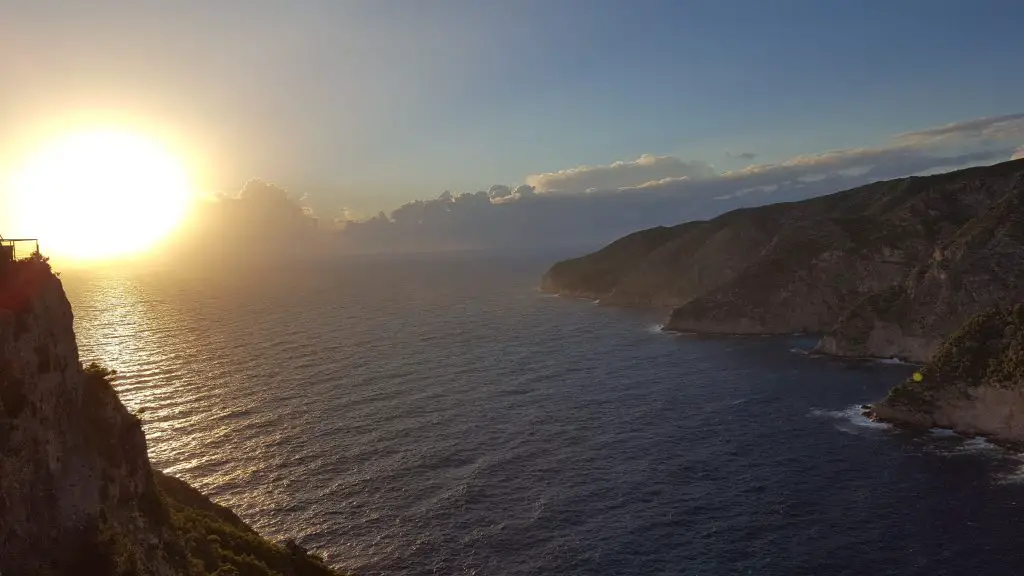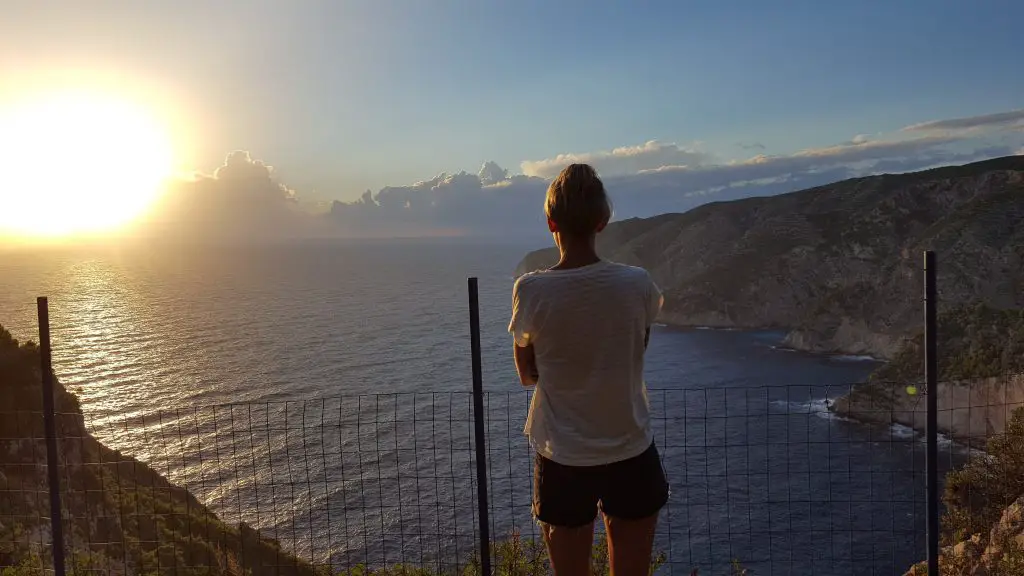 9. Porto Vromi & Anafonitria Beach
One of the top Zante places to visit! It is a white pebble beach, and quite small, but absolutely worth it for the views. Plus, the water is so clear and cool you might be tempted to have a quick swim together; and you would be welcome too.
Many people take the time to relax in the waters of this secluded bay. And you can't blame them! We did the same 🙂 I've been to a lot of places in Zante and we can't recommend Porto Vromi enough!
It's not a huge beach but the surroundings make this place very special. Make sure you add Porto Vromi to the list of trips in Zakynthos!
There is a little canteen if you get hungry, as well as some lovely boat trips that you can take part in. A must-have on your Zante bucket list!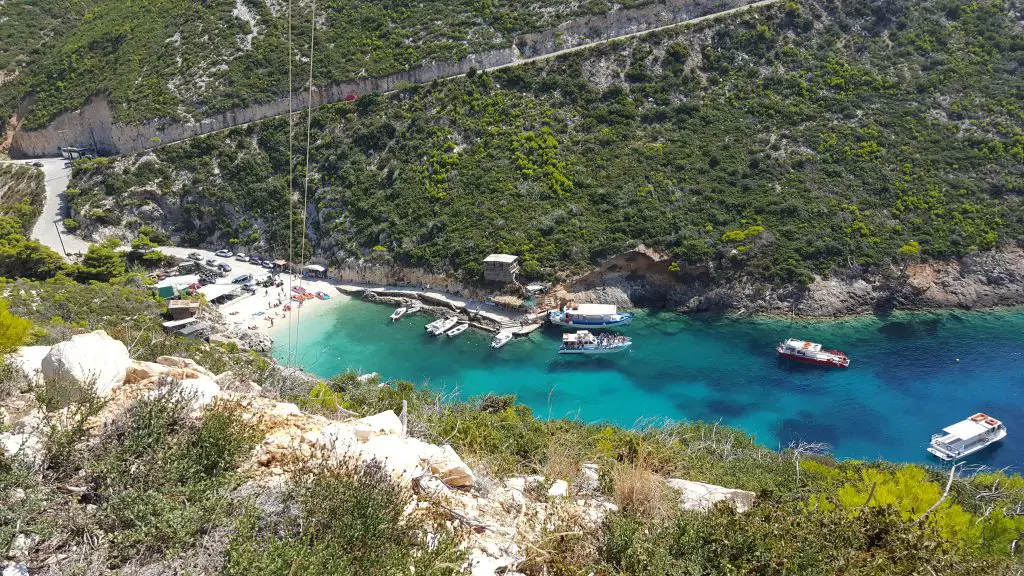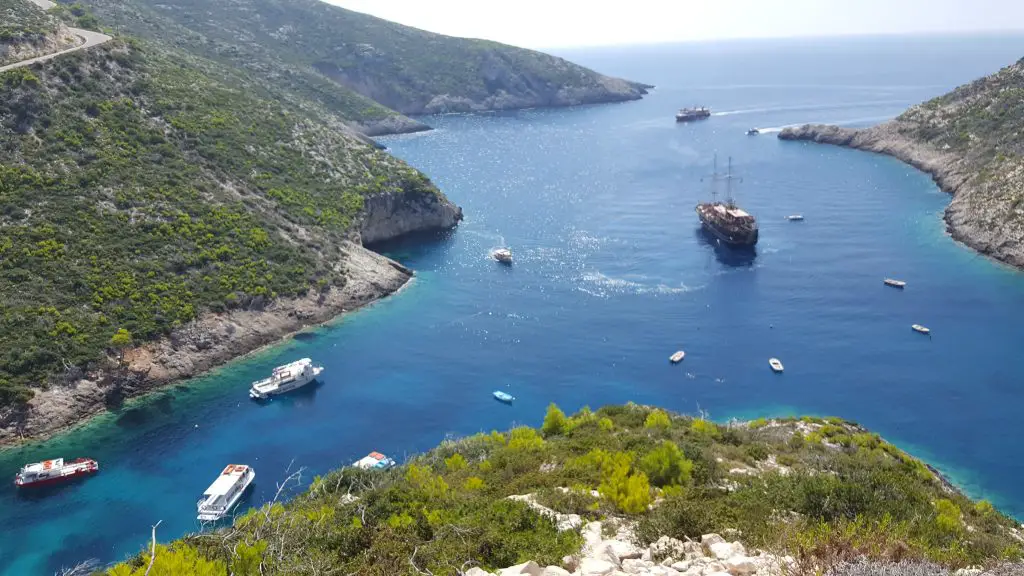 10. Drive around the Island
Where to find the top things to do in Zante? Hire a car, pack some essential supplies, and get on the road! 🙂
A driving trip around the island is the perfect way to really explore Zakynthos. Zante island is one of the best places for a road trip in Europe.
You can easily see the island in 4-5 days, and there are loads of great locations that you can visit – including each of the ones mentioned in this article.
Who wouldn't like views like the ones below? 🙂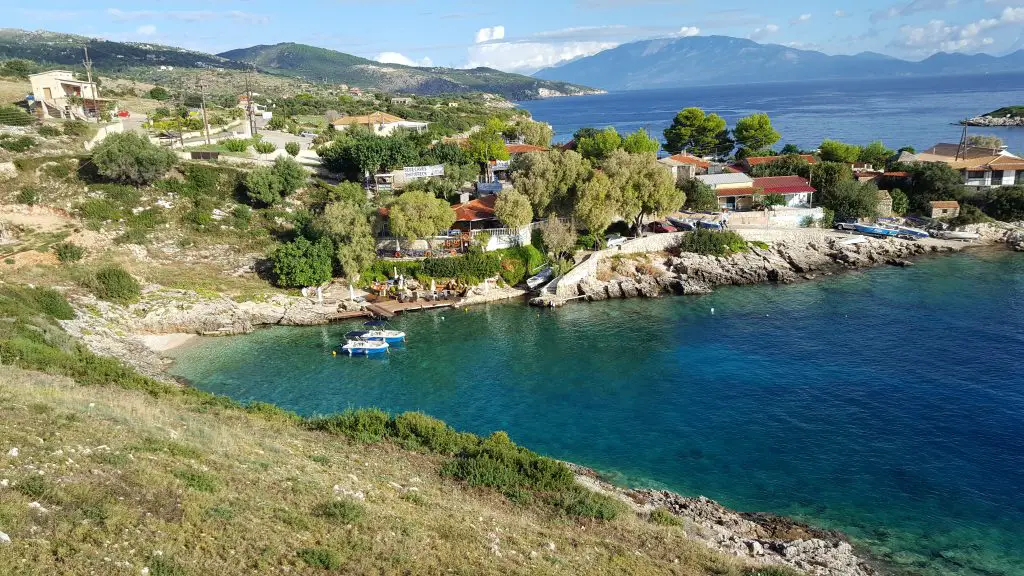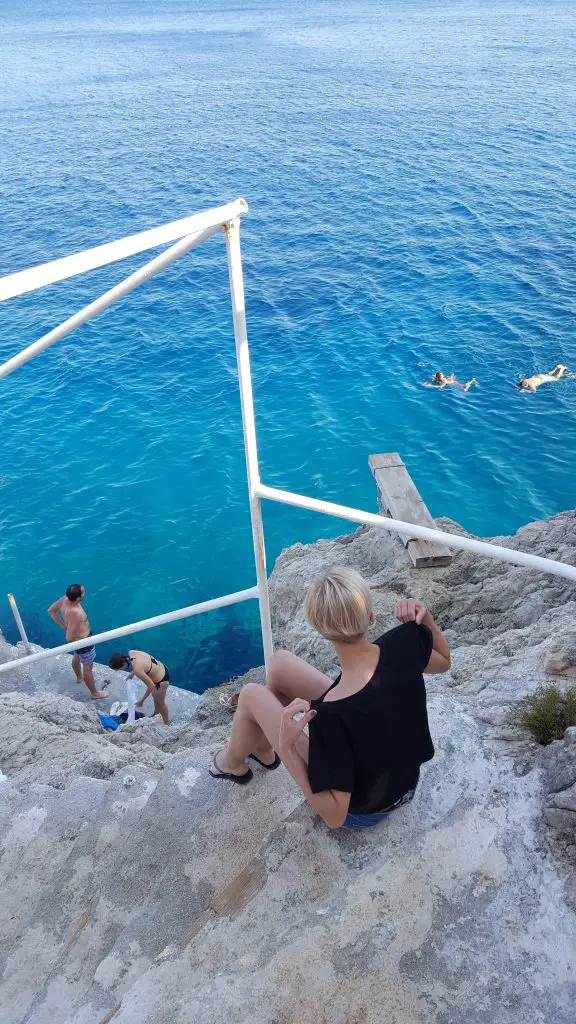 11. Try Greek food
What to do in Zante? We would encourage you to try out the local cuisine – Zakynthos is filled with amazing Greek food!
There is everything from bright Greek salads and rich yoghurts to unbelievable fish and mouth-watering lamb dishes 🙂
There is something for everyone!
If you can find it, you should definitely pick up several boxes of baklava – the most delightful dessert/sweet treat around.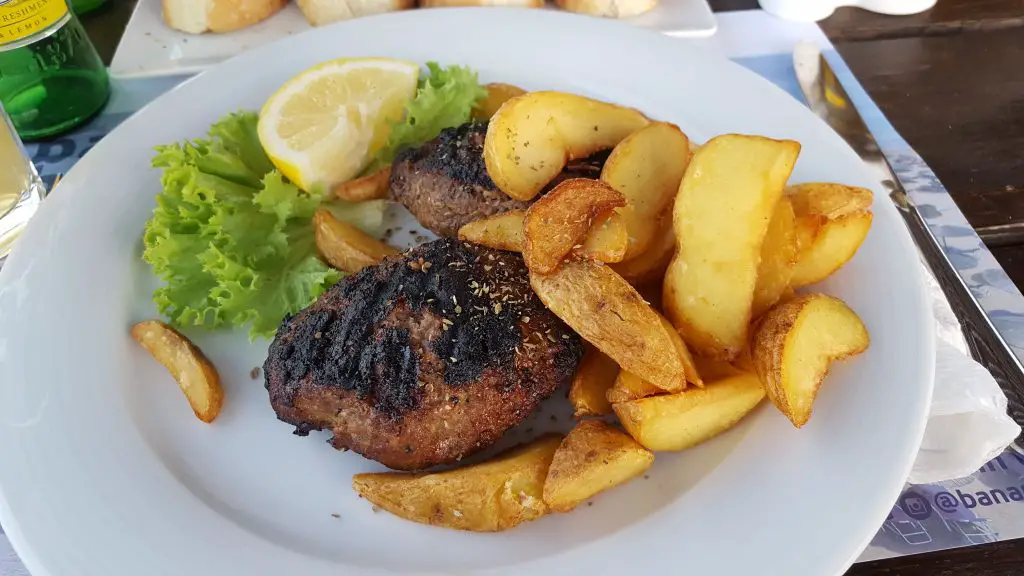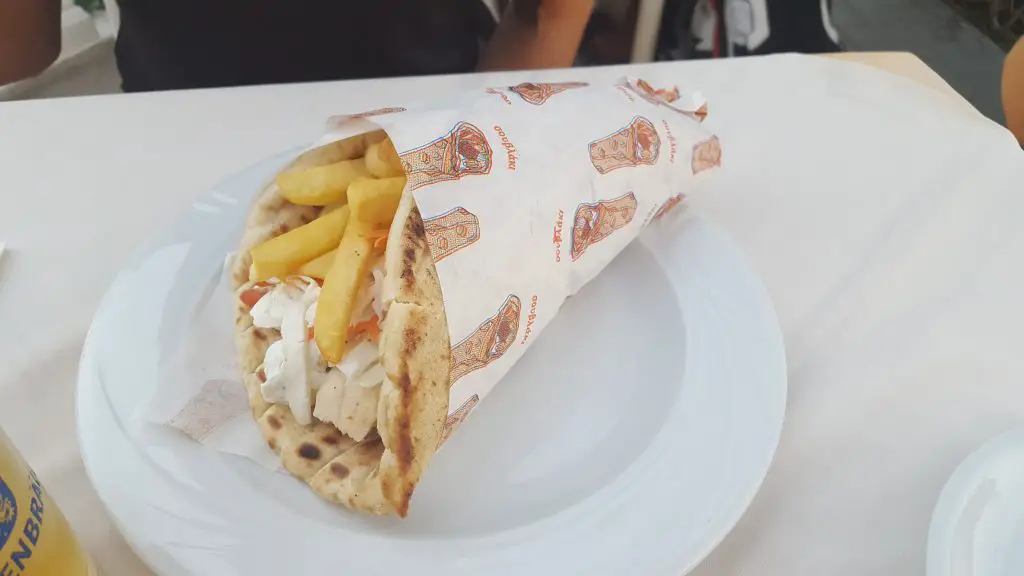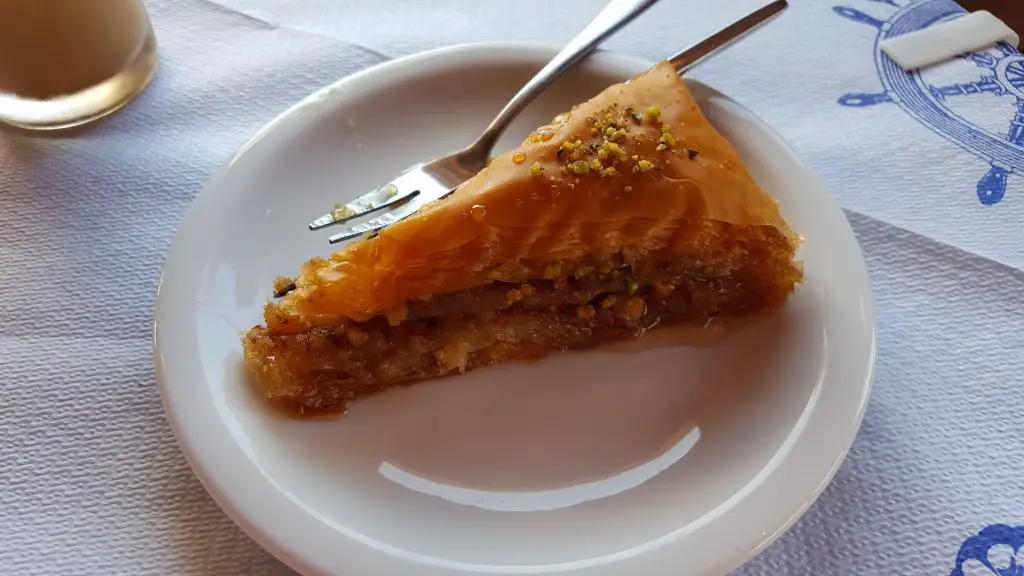 12. Porto Roxa
Yes, there are many great Zakynthos destinations. If you visit Zakynthos then head out to Porto Roxa one of the top Zakynthos island attractions! This is another secluded bay. One that is not often directly advertised to tourists so it will be definitely less busy.
The azure waters are incredibly welcoming!
If you are up for it, you can use the springboard to dive straight in and enjoy the experience. Or just take a little walk – there is a path that leads straight to the edge of the water.
With very few facilities nearby, it is the perfect occasion for a little picnic on the shore that the two of you can enjoy in peace and quiet.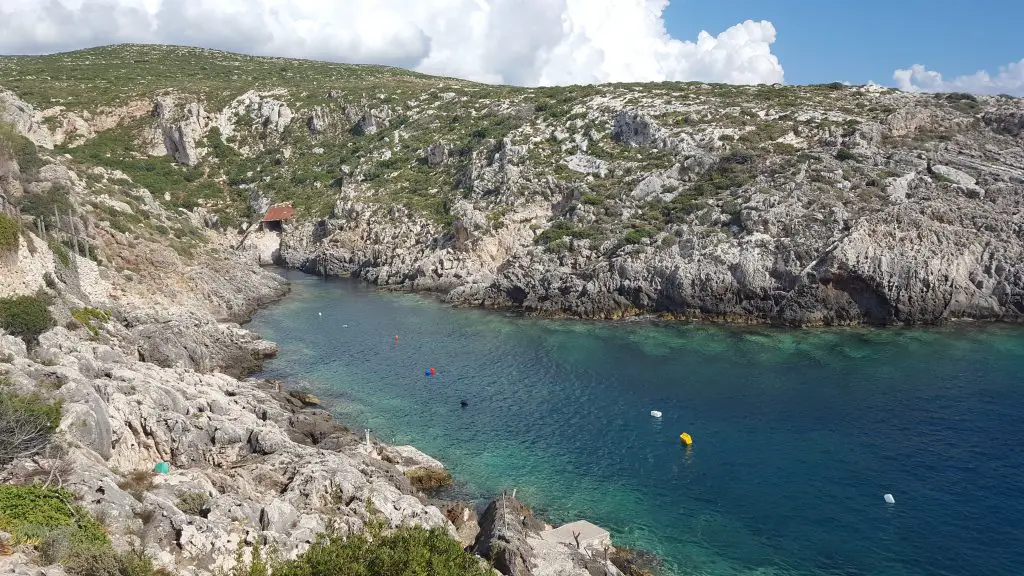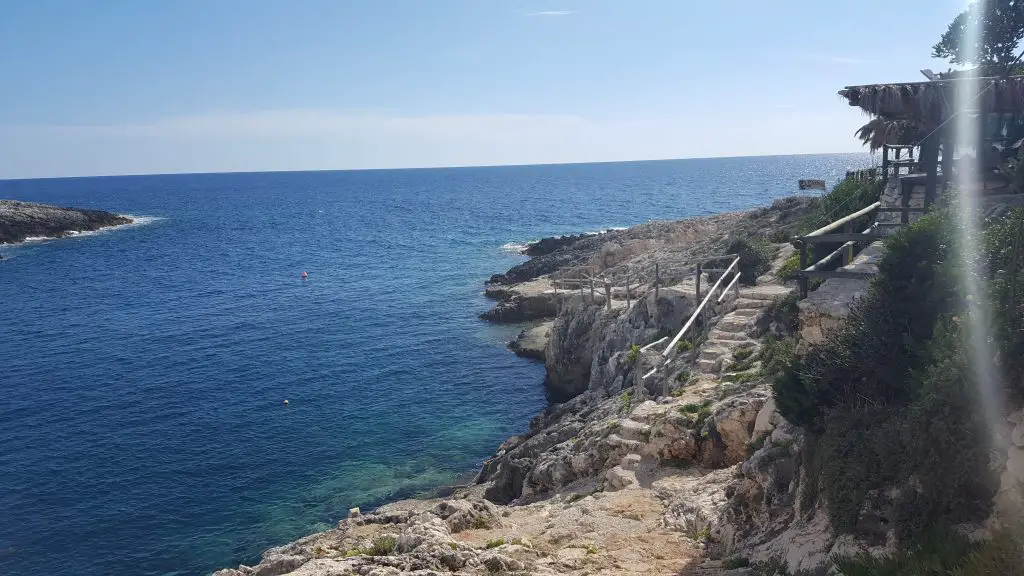 13. Cameo Island
One of the most unique activities in Zakynthos! This is a private island, and so there is a small fee to enter. But it is so worth it – and it includes a free drink 😉
After dark is the best time to visit. There is live music on the beach, colourful lights and an excellent bar that has a lot to offer.
You may even get the chance to see some Loggerhead Turtles swimming around. This is a top sightseeing Zante Greece and one of the most popular places in Zante!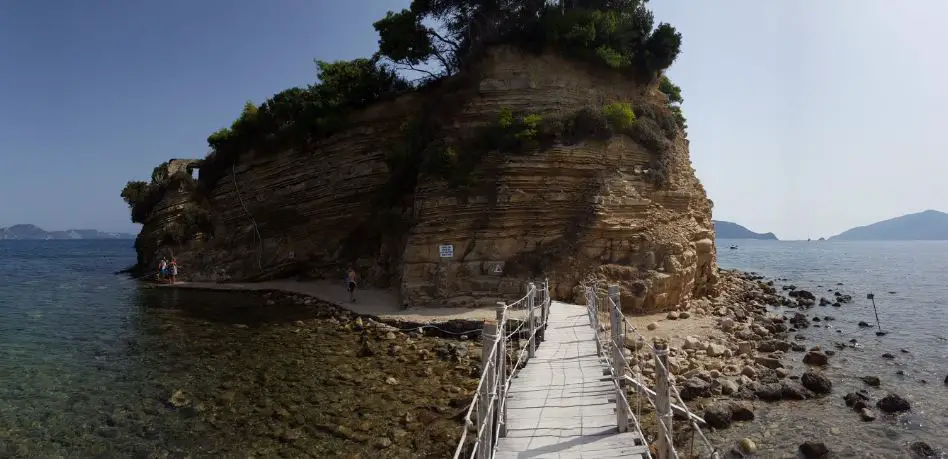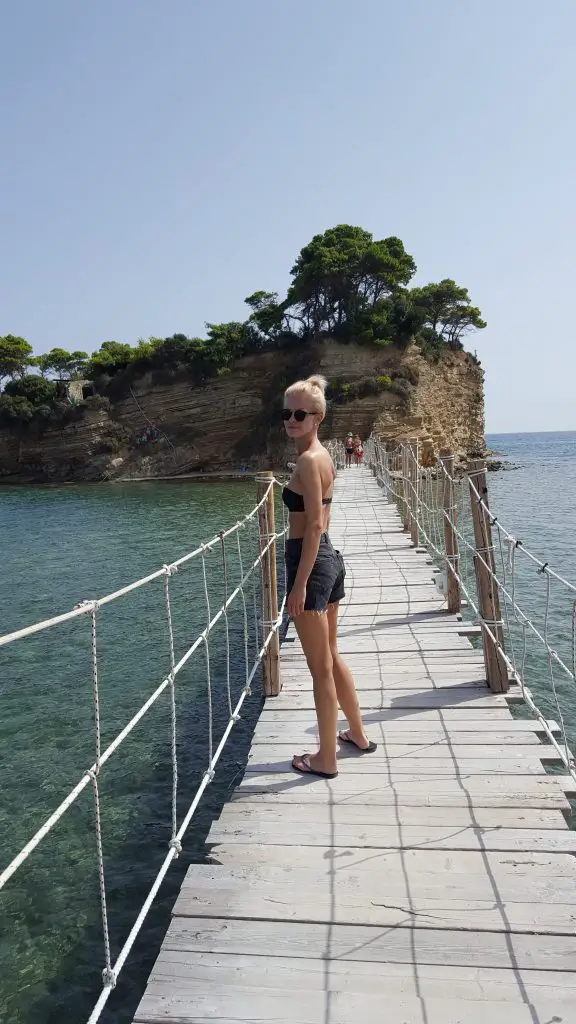 What is the best month to go to Zante?
The best month to visit Zante depends on personal preferences and the activities you wish to engage in. The peak tourist season on the island typically runs from June to August, when the weather is hot and the beaches are crowded. If you enjoy lively nightlife, vibrant atmosphere, and want to take part in water sports and beach parties, this period may be ideal for you.
For a balance of good weather and fewer crowds, the months of May and September are excellent choices. During these months, the temperatures are still warm, the sea is pleasant for swimming, and you can explore the island without the overwhelming tourist influx.
If you prefer a quieter experience and don't mind slightly cooler temperatures, visiting Zante in the shoulder seasons of April and October can be a good option. These months offer a more peaceful atmosphere, lower accommodation rates, and opportunities to explore the island's natural beauty and historical sites.
It's worth noting that weather patterns can vary, and it's always a good idea to check the forecast before planning your trip.
Can you walk around Zante?
Yes, you can walk around Zante and explore various parts of the island on foot. The island offers many walking and hiking trails that allow you to discover its natural beauty and charming villages. In areas like Zakynthos Town, the capital of the island, and popular tourist destinations like Laganas and Tsilivi, you can easily explore the town centers and nearby attractions on foot.
Additionally, many of the beaches on Zante are accessible by foot, allowing you to enjoy leisurely walks along the shoreline. However, if you plan to explore more remote or mountainous areas, it is advisable to check the difficulty level of the trail and come prepared with proper footwear and supplies.
Are there any other things to do in Zante?
Zakynthos, and the entirety of Greece really, is a beautiful place to visit at any time of year.
Yes, the summer months are best if you want to relax on the beach. And as you know, there are plenty of amazing beaches to choose from 🙂
Go for a day trip to Kefalonia island and visit Myrtos Beach – one of the most stunning beaches in Greece!
There is so much that you can do while you are on Zakynthos! The question is, how much time do you have there?
Zakynthos Island FAQ:
Is Zante and Zakynthos the same place?
One common question that is asked about Zakynthos and Zante is whether or not they are the same place. The answer is YES. The island can be known as both Zakynthos and Zante. Zakynthos is the Greek name for the island, whilst Zante is the Italian name.
Best things to do in Zante Laganas:
When planning your Laganas vacation make sure to visit Laganas Beach and Marathon – some of the best things to do in Laganas!
What are the best hotels in Zakynthos near Shipwreck Beach?
Luxury Villa 3min from the famous Shipwreck is one of the best places to stay near Shipwreck Beach!
What is the most popular resort in Zante?
If you are looking for a lively break with plenty of people having fun, then Laganas is the place to go. This busy resort is not only popular with tourists, but it also has plenty to see and do during your time there. This includes daytime and night-time activities.
Where should I stay in Zante for beach?
Whilst many people choose Zante so that they can have some fun and let their hair down, there are also people who choose Zante as a destination where they can relax on the beach and grab some sunshine. For those looking for a beach holiday, Porto Zoro is a great destination, in fact, it is one of the most popular beaches in all of the Ionian islands!
What plug sockets are used in Zante?
When staying in Greece, including the island of Zante, you are going to need to bring the right plugs (or adaptors) for sockets that are type C and F.
From its stunning beaches to vibrant nightlife, Zante, or Zakynthos, truly is an adventurer's delight in the heart of the Ionian Sea. Dive into world-renowned attractions like Navagio Beach, explore the island's hidden gems with sea cave adventures, or indulge in the rhythmic beats of Zante's lively clubs.
Whether you're looking for romantic places to visit, thrilling activities for young adults, or simply the best sights this Greek island has to offer, Zakynthos promises an unforgettable blend of natural beauty and adrenaline-packed escapades. Come discover what makes Zante a top destination for travelers around the world.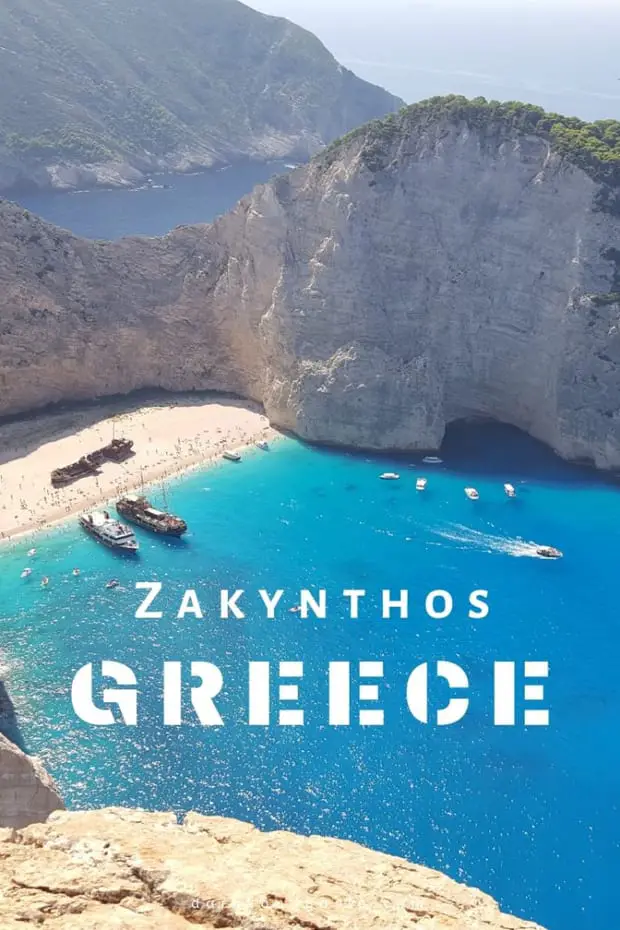 Articles you may like: