Learn about the most beautiful places for hiking in Europe: our list contains off-the-beaten-track trekking destinations & top hiking trails in Europe!
Whether you're after a physical challenge, breath-taking natural beauty, fascinating history or experiencing a new culture, hiking in Europe can be incredibly rewarding. While most people will think of the Alps when they search for a hiking adventure in Europe, there is so many more hiking trails across Europe to explore and enjoy.
So, what are you waiting for? It's time to lace up those boots, pack your camera and head out for an adventure.
Hiking trails Europe – car hire:
We have rented cars many times during our trips to the best places to hike in Europe and we always used discovercars.com
Check out our guide to the best European car rental companies or simply explore the options directly on discovercars.com if you need a car during a trip in Europe.
Here are our 31 best places to hike in Europe! 🙂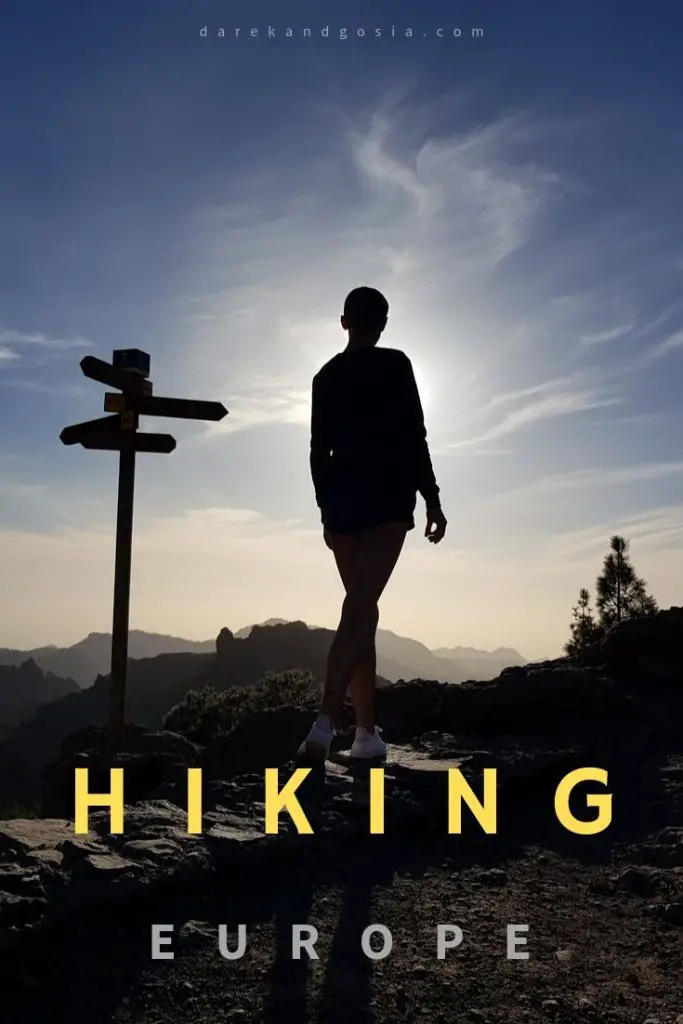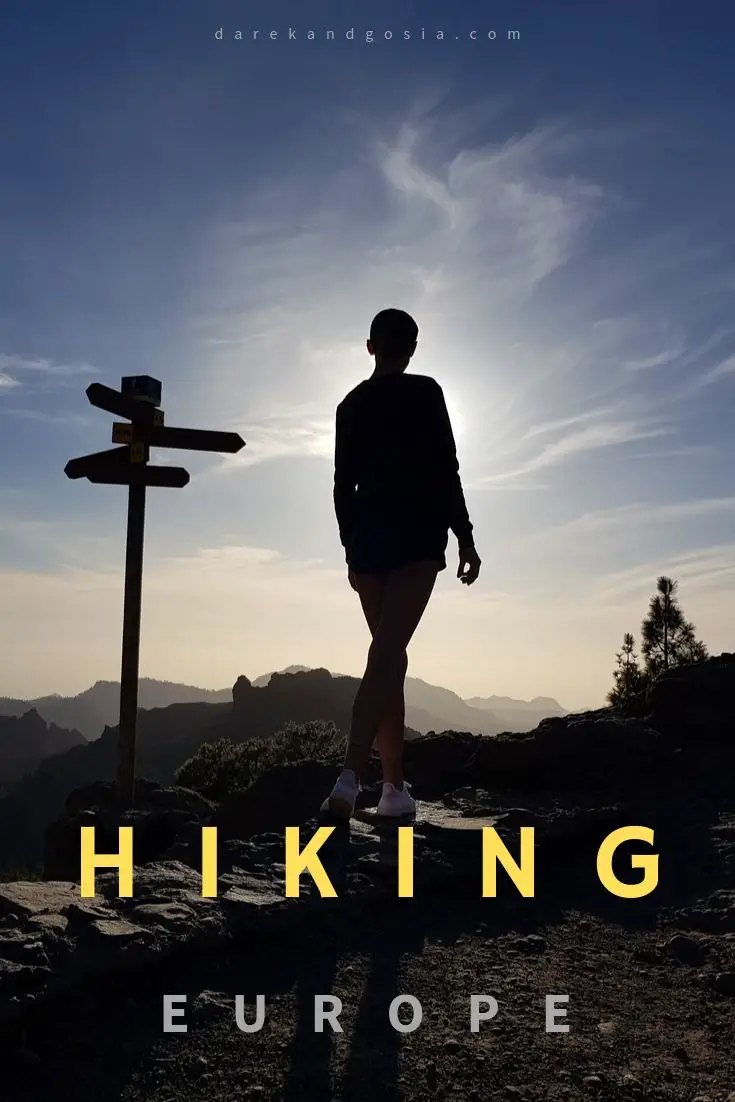 Explore the top hiking trails Europe and the best hikes in Europe:
Best places to hike in Europe
One of the best hiking trails in Europe
Where is the best place to hike in Europe? As a moderate 7km hiking route, the Bray Head Loop offers truly stunning views of the coast of Kerry, the wild and, sometimes stormy, Atlantic Ocean and the beautiful Skellig Islands. You will find some of the best landscapes in Europe in this part of Ireland.
The walk will take you along exposed cliffs to the summit of Bray Tower, a historical monument in the region. From here, you can see as far as Puffin Island, Portmagee and Skellig Coast.
If you're lucky, you may be able to spot some passing whales too, so don't forget your binoculars.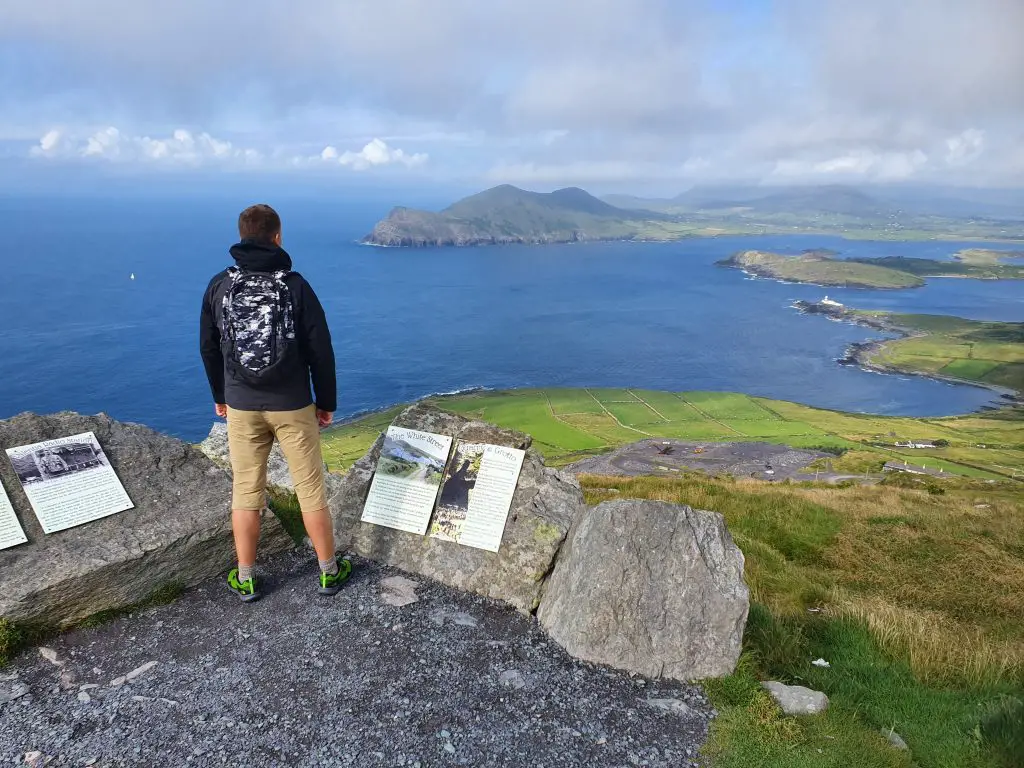 Read also: 3 days Ring of Kerry itinerary – Is driving tour worth it?
One of the most beautiful hiking in Europe
Nature hikes in Europe? Reaching a summit of 2962 metres above sea level, Zugspitze is the highest mountain in Germany and probably one of the best places to visit in Europe!
It is an impressive and challenging hike passed the Zugspitze glacier to reach the often snow-topped mountain caps. Once at the top, hikers can enjoy an incredible 360-degree panorama of over 400 mountain peaks in the area.
If you're looking for an easy way down after a hike up the mountain, you can enjoy a ride in the cog-wheel train down to Lake Eibsee. There are also cable cars here too if you don't fancy the walk up to the summit.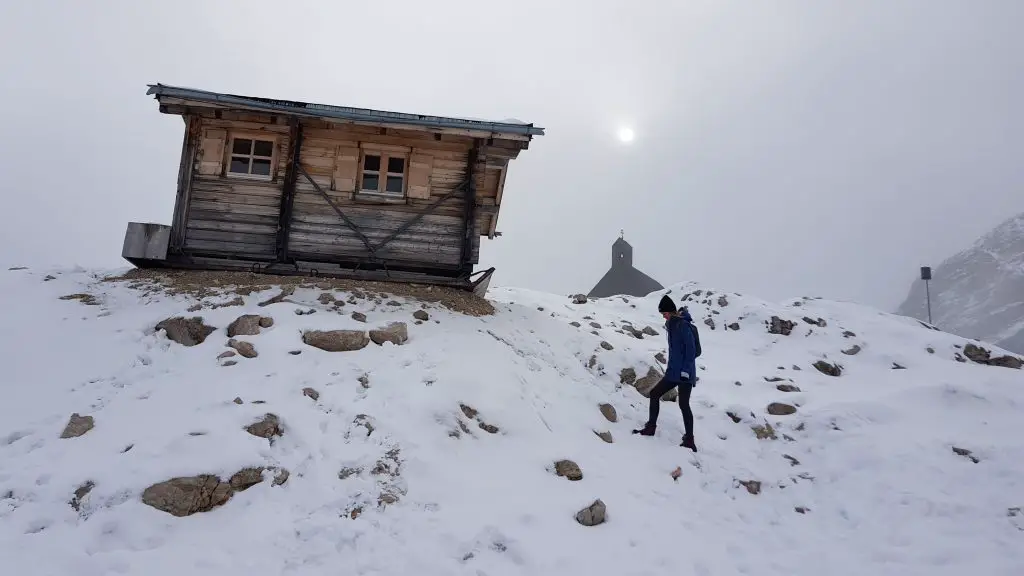 Read also: How to visit Zugspitze? A STUNNING trip to Germany's highest mountain!
A great hiking vacation in Europe
Best hiking places in Europe? Often named as the most beautiful village in the Canary Islands, Masca not only has a quaint village to explore but an incredible walk up the ravine with incredible gorge views complete with swirling and fascinating rock formations.
Many companies offer a guided hiking trip up the valley to the picturesque gorge. However, there are also routes from the Masca too.
Be careful if you plan to drive to the village of Masca – it is a road only for confident drivers.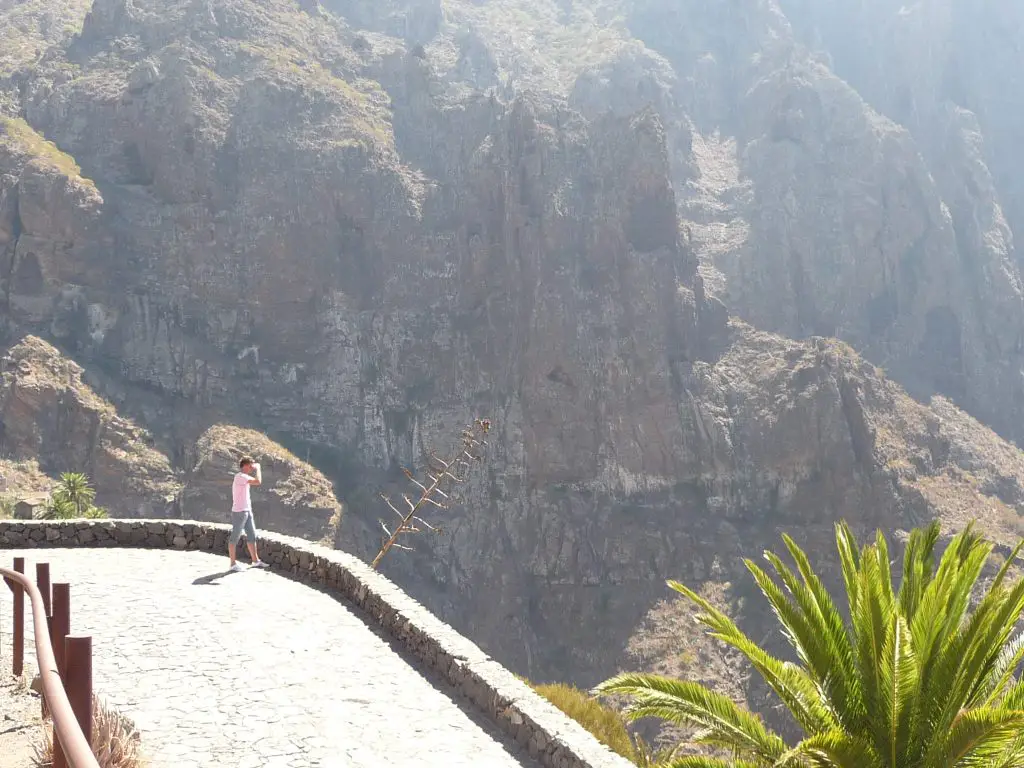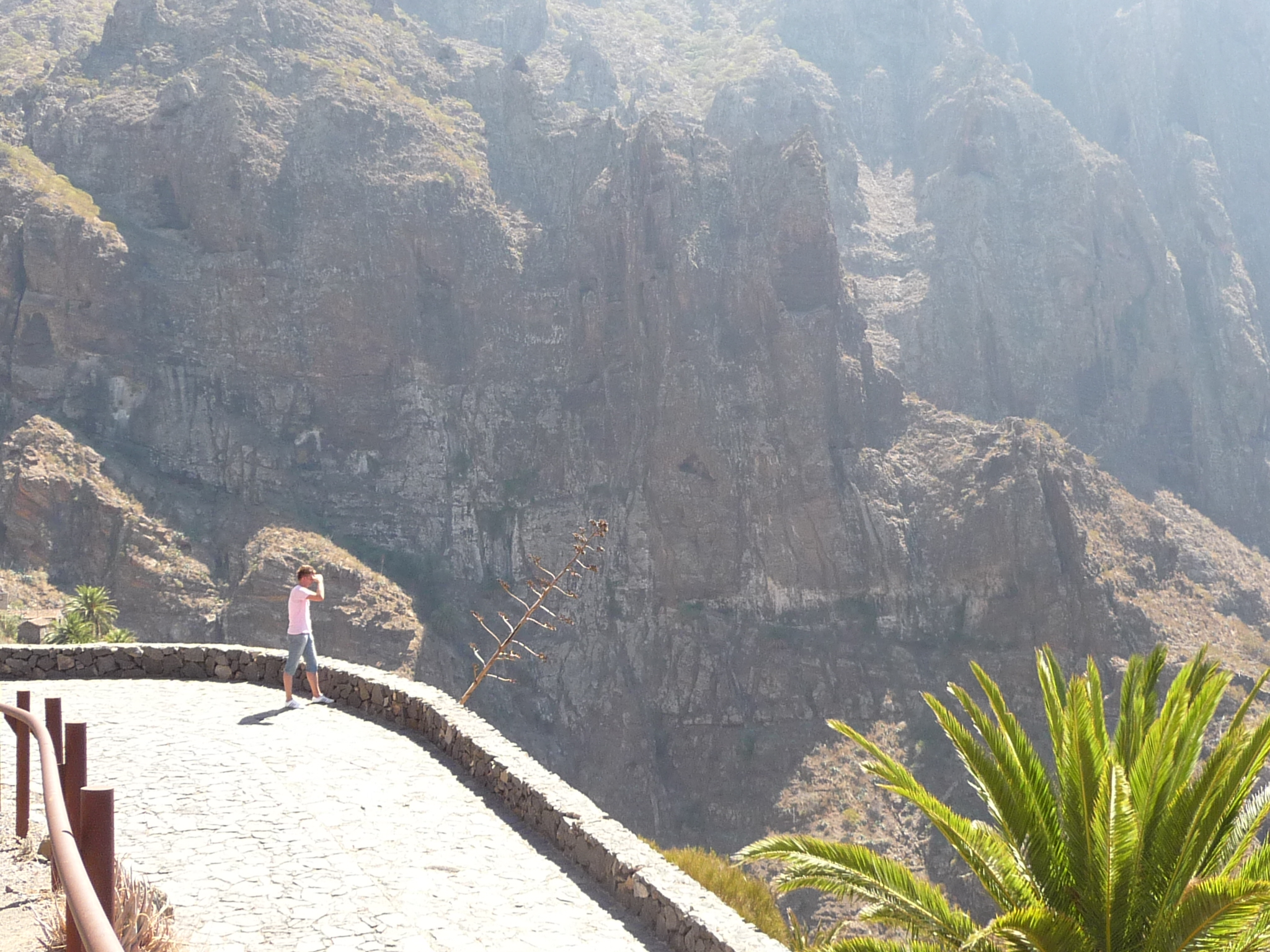 Read also: Unusual Things to do in Tenerife: Top Attractions & Places to visit!
4. Mulhacen
Recommended by Linn from brainybackpackers.com
Best hikes Europe? With 3479 meters, Mulhacen is the highest peak in mainland Spain and a popular day hike in Andalusia. You should start the hike from Mirador de Trevelez. You are not allowed to drive a private vehicle that far up, so the only way to get there is to get a shuttle bus from Capileira town. The bus has to be booked in advance and only runs in the summer months. The bus picks you up again exactly 6 hours after drop off, which is plenty of time to do the trek.
The hike itself is not very hard, but the altitude might kick in at the end of the trail which can make it hard to take the next step. There are so many beautiful places to stop for a rest on the way and maybe you'll even see mountain goats roaming around so that you can focus on other than the thin air.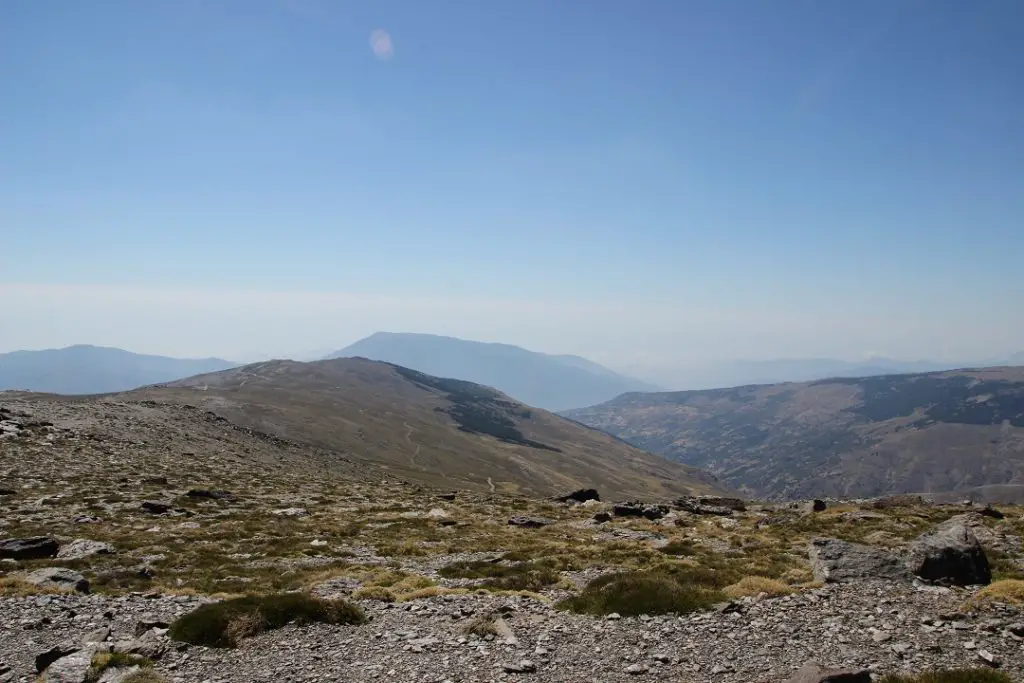 One of the best day hiking in Europe
Nature hiking trails Europe? Set in the centre of Gran Canaria, Roque Nublo offers a range of trekking routes that cover the volcanic rock and craggy areas that make the views and hike itself so breath-taking.
The Roque Nublo hiking route reaches a summit of 1813 metres and is an ancient place of worship.
If you want to extend your hike, there is also Roque de la Rana, and Roque de El Fraile considered the 'brothers' of Roque Nublo and offers views to match.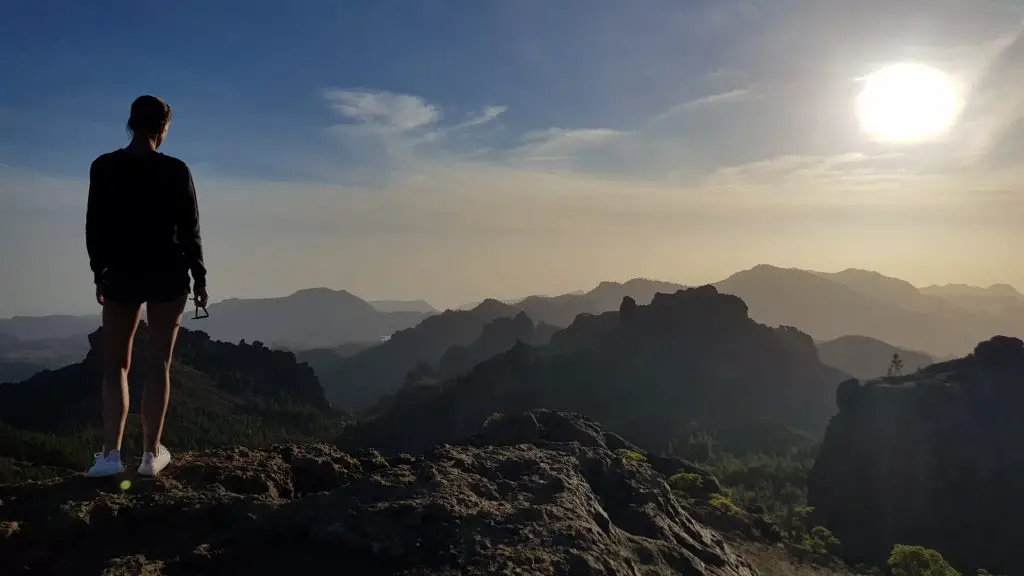 Read also: 20 Things to do in Gran Canaria & best places you HAVE to visit!
6. Trolltunga
Recommended by Una from wandernity.com
Best hiking spots in Europe? Trolltunga is one of the most iconic places in Norway. It's a big piece of stone resembling a Troll's tongue. When you are standing on it, the views of the surrounding mountains are breathtaking, and so is the lake so far down below the rock.
The Trolltunga hike is around 23 kilometres long both ways, and it's possible to hike it in a day. The most challenging part is the beginning, as there is the steepest elevation. The hike is very popular, and during the summertime, there are hundreds of people hiking to the famous spot. The path is well marked but slippery at some points. There is some snow left at the top of the mountains even in July, so be prepared and take some warmer clothes with you. It's preferable if you use proper hiking boots.
One cool variation for this hike is to extend it to two days. That way you can avoid the crowds because it's possible to start climbing up later in the day. Also, the queue to take the iconic photo of yourself on the Trolltunga will be considerably shorter in the evening. It's allowed to set up tents on the mountain, so you'll also get an amazing view to wake up to.
Whether you plan a few days trip to this nordic country or touring Norway by a Campervan, Trolltunga has to be on your bucket list! 🙂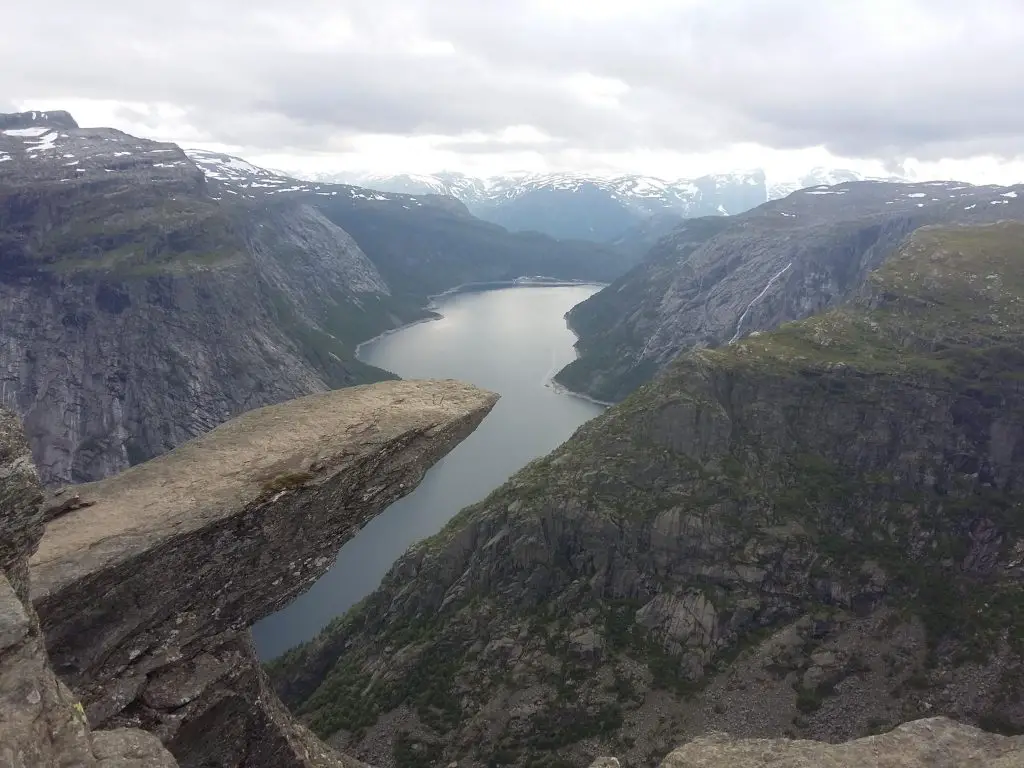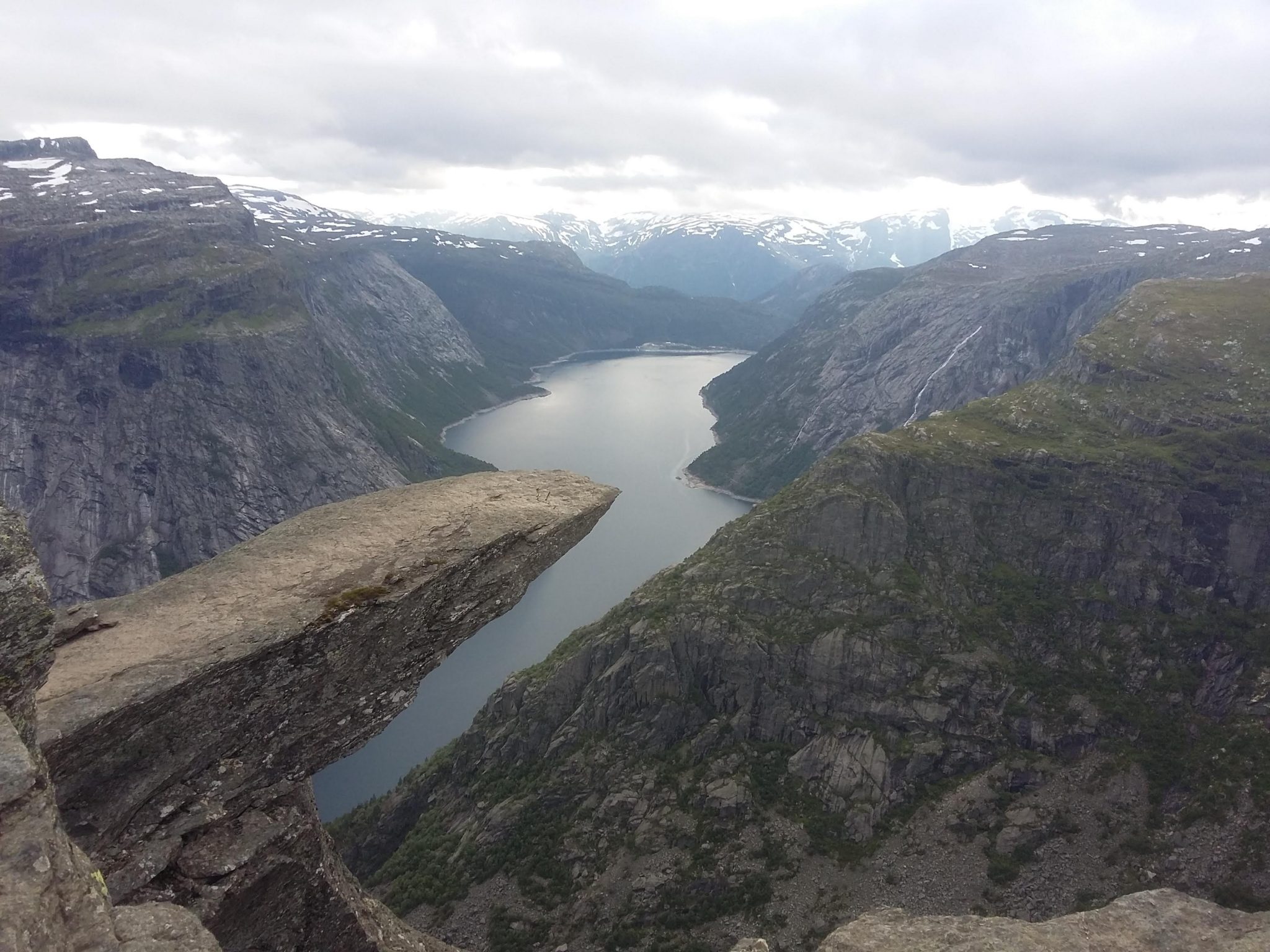 Great hiking in Europe in October
Best mountain hikes in Europe? While there is a cog railway transporting visitors up the 5.85km route to the summit of Schafberg, enthusiastic hikers will prefer the mountain hiking trail which delivers impressive panoramic views and a challenging route with exposed, but fixed rope sections along the way.
From the summit, you can enjoy unparalleled views of seven mountain lakes and stunning alpine scenery. Pick your time right, and you can see the alpine flowers in all their glory. If you are visiting Salzburg, take the opportunity and spend one day hiking the Schafberg Mountain in the Austrian Alps!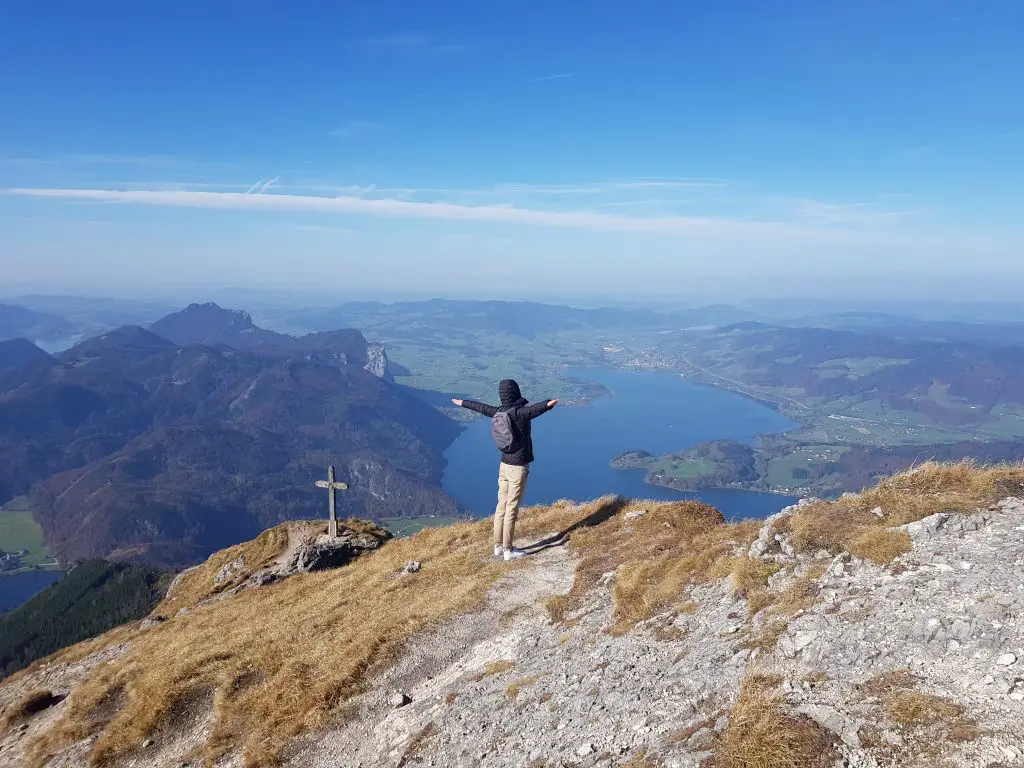 Read also: How to get to Schafberg mountain Austria? Europe's travel at its prettiest!
8. São Lourenço
Recommended by Marco from travel-boo.com
Top walking trails Europe? Known for its stunning natural beauty, Madeira Island which is a short 2-hour flight from mainland Portugal has long since been a popular destination for outdoor lovers and hikers alike. The Ponta de São Lourenço hike situated on the far eastern tip of the Island is a 6.9-kilometre circular loop hike that offers breath-taking and sweeping views out over the peninsula and Atlantic ocean.
That's not to mention the rugged and imposing cliffs and rock formations scattered along the route, somewhat reminiscent of scenery you'd expect in places like Iceland. The hike is classed as an easy hike, although, if you are a beginner, I would warn it's more moderate. You also have the option to go up to the Pico do Furado, a very steep hill leading up to a viewpoint overlooking the very tip of Madeira.
The best way to reach the Ponta de Sao Lourenco hike is to do so by car. There is parking space right outside the hike entrance but can get quite busy later on in the morning. So, be sure to get there early to get a good parking spot and avoid the crowds. It is also worth mentioning that this hike offers no shade at all. Make sure to pack lots of sunscreen and water, especially on sunnier days!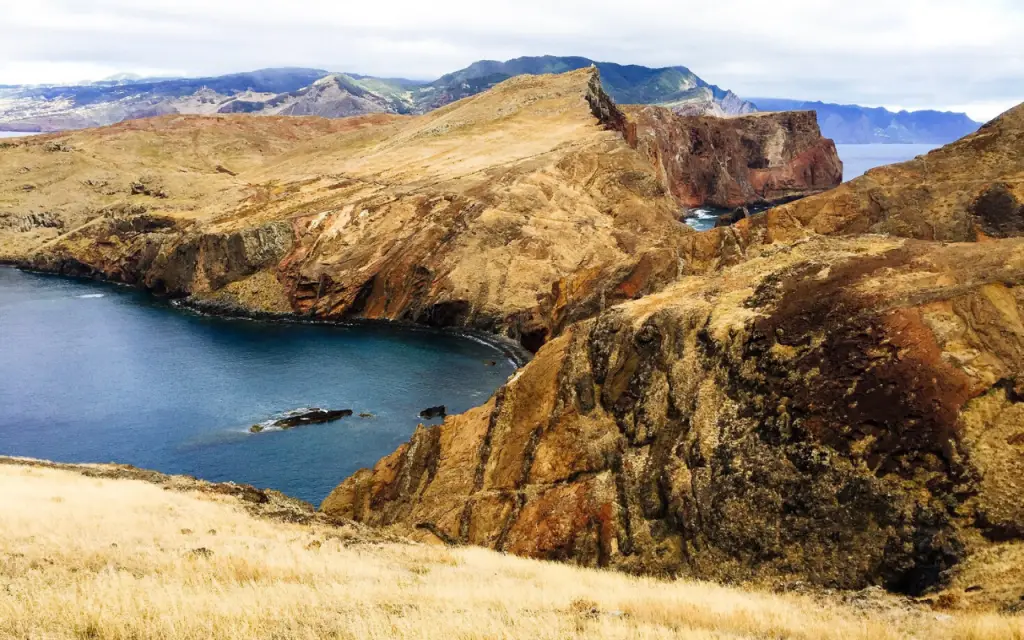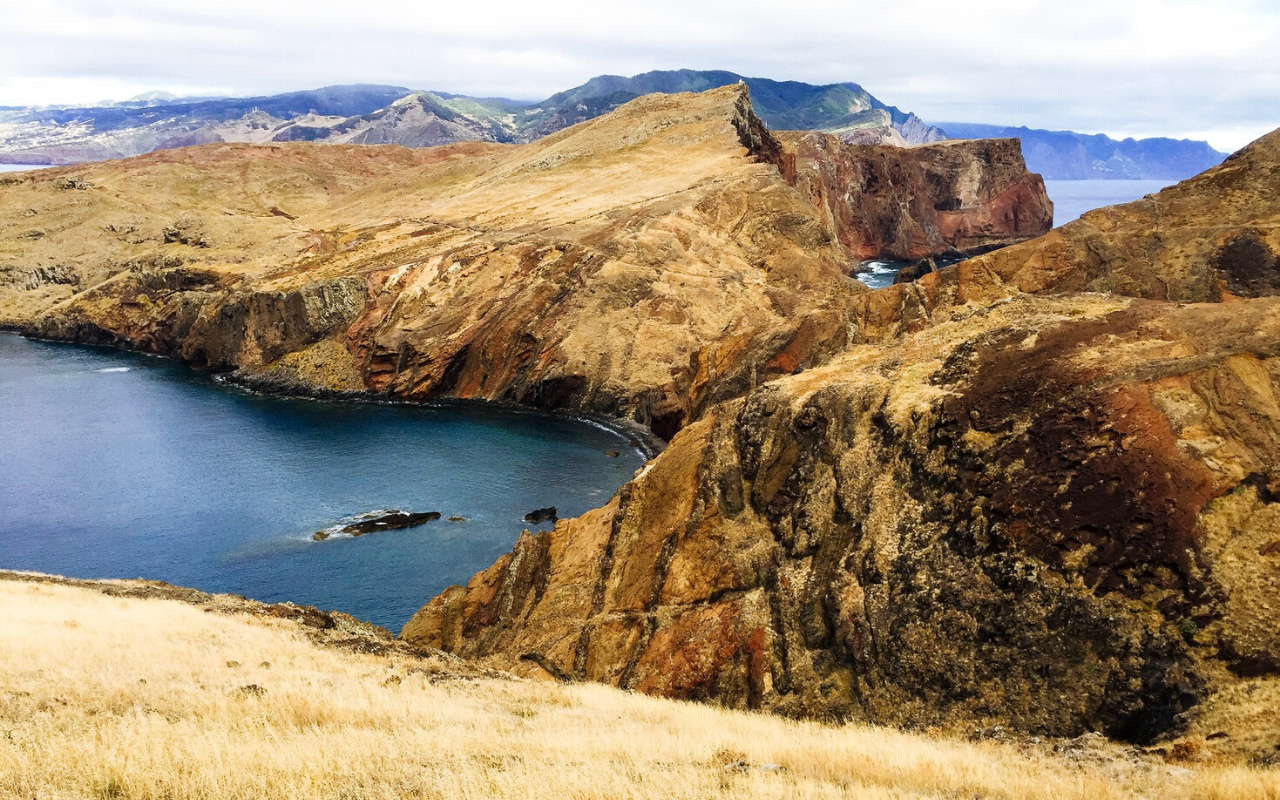 One of the best places to go hiking in Europe
Easy hiking trails in Europe? Linking Eastbourne and Seaford in Sussex, the Seven Sisters are a series of beautiful white chalk cliffs that undulate between the two towns. It really is one of the best places to visit in the UK.
Topped with a carpet of green grass, and the blue sea to the side, the Seven Sisters walk is a colour and beautiful hike.
The walk is relatively easy and comfortable underfoot and covers 13.6 miles from one town to the other. If you want to take your hike further, the Seven Sisters Cliffs are actually part of the much more extensive South Downs Way.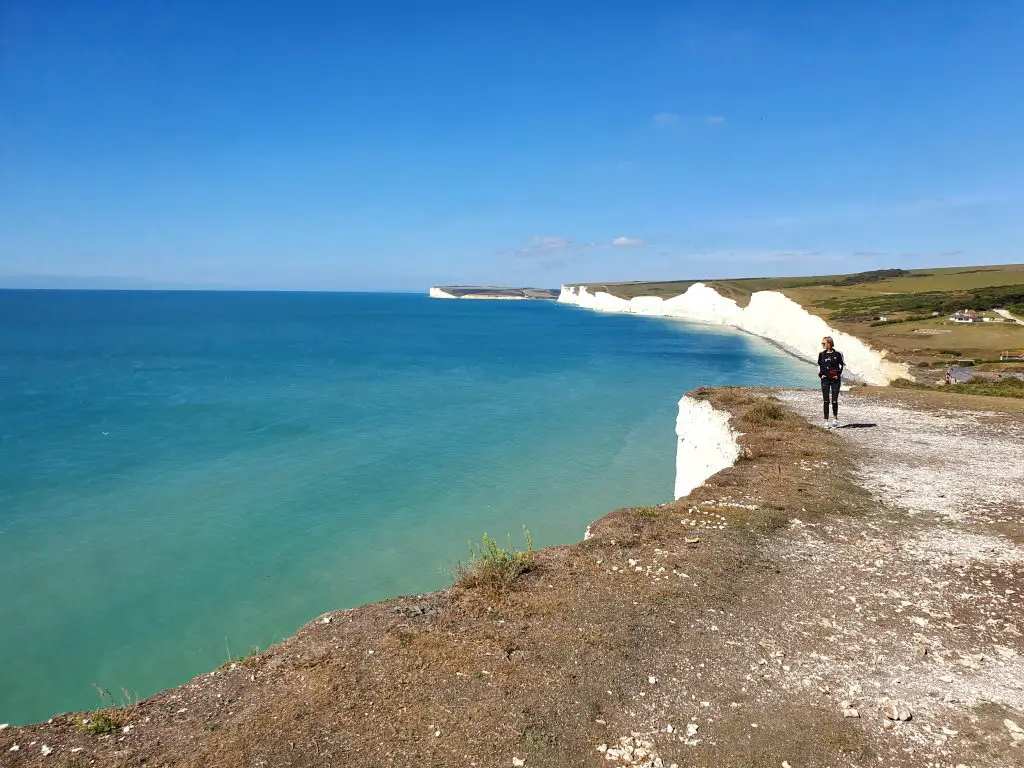 Read also: Best Guide to SEVEN SISTERS Cliffs Walk in Sussex, England
One of the top hiking destinations in Europe
Hiking adventures in Europe? Ronda is full of stunning hiking trails and many cross over the El Tajo Gorge. The gorge is around 400 feet deep, and it is possible to hike right down to the bottom to provide a stunning view up the canyon and towards Puente Nuevo bridge – one of the most romantic places in Europe!
Regardless of the trail you want to walk, they are all relatively well marked and tend to link back to the Old Town where you can stop for a rest and refreshment.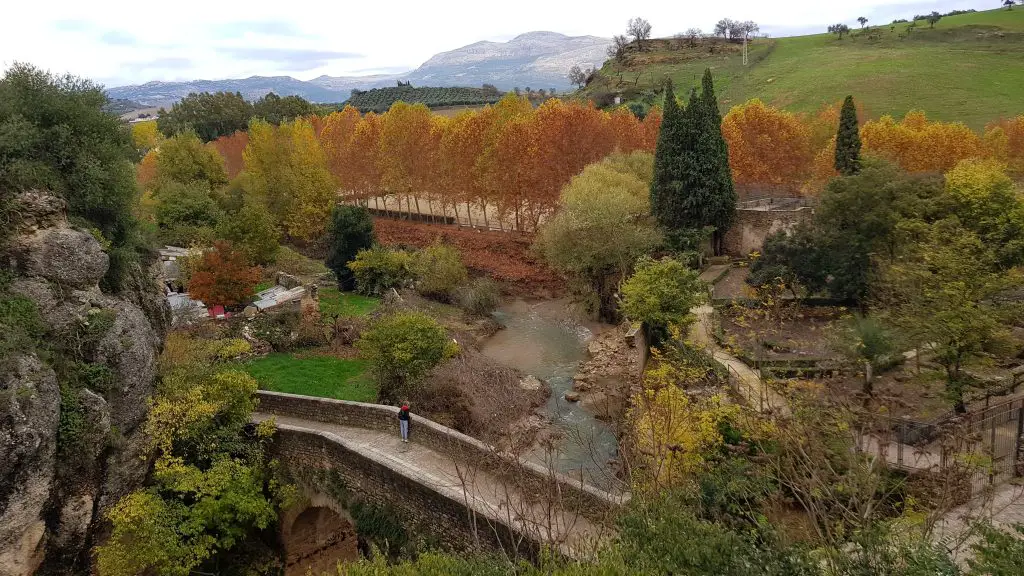 Read also: What to see in Ronda Spain in ONE day? Top 7 things to do!
Stunning hiking route in Europe
Most beautiful hikes in Europe? With the beautiful crystal-clear waters of Eibsee Lake, the whole region is a hiker's paradise where walks take in the views of the lake and the mountainous region.
One of the most popular trails in the Zugspitzblick loop which circles the lake. The route is just under five miles long and features accessible paths so you can take in the surrounding views.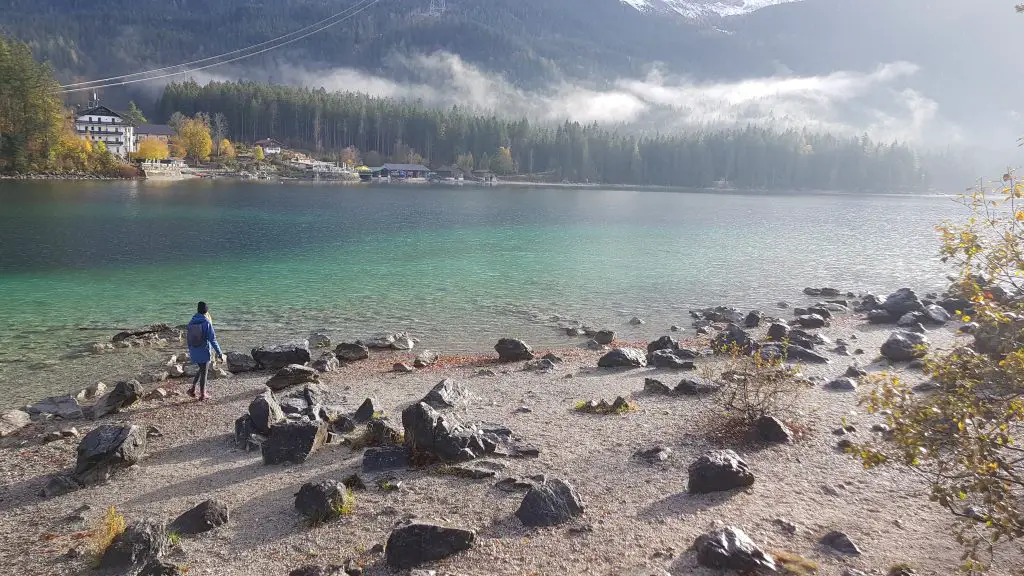 Read also: Eibsee Lake in Bavaria, Germany – the #1 lake in Bayern!
12. Kröndlhorn
Recommended by Rai from araioflight.com
Top hikes in Europe? The large Kröndlhorn is a 2,444-metre mountain found in the Kitzbüheler Alpen in Tirol. As one of the highest in the region, it has become popular with those looking for a challenge and during the strenuous 14km trail you get to fully enjoy the alpine wilderness. It is not an easy trail but is accomplishing and well worth it. Many mountain inns, and private huts, which offer a wide range of accommodation are found throughout the region making it suitable for those looking to break the trek up over a couple of days.
The numerous peaks of the Kitzbüheler Alpen region all have their own unique features. The Windautal and Kelchsau mountains are gentle and grassy, while the Wilder Kaiser mountains are jagged trails with high peaks. This trek offers seclusion from everyday life with great panoramas and a highlight is the view of Lake Reinkarsee from the summit, where a tiny chapel can also be found.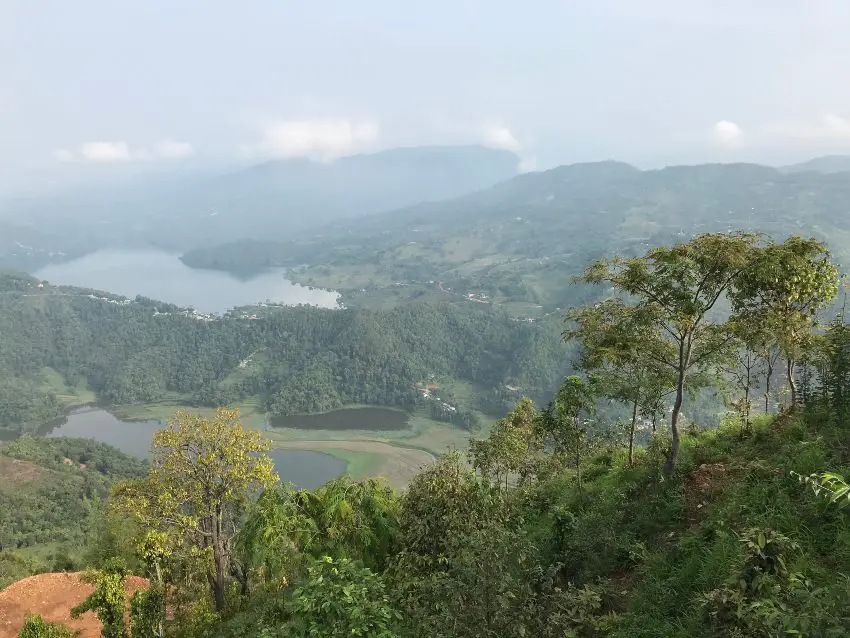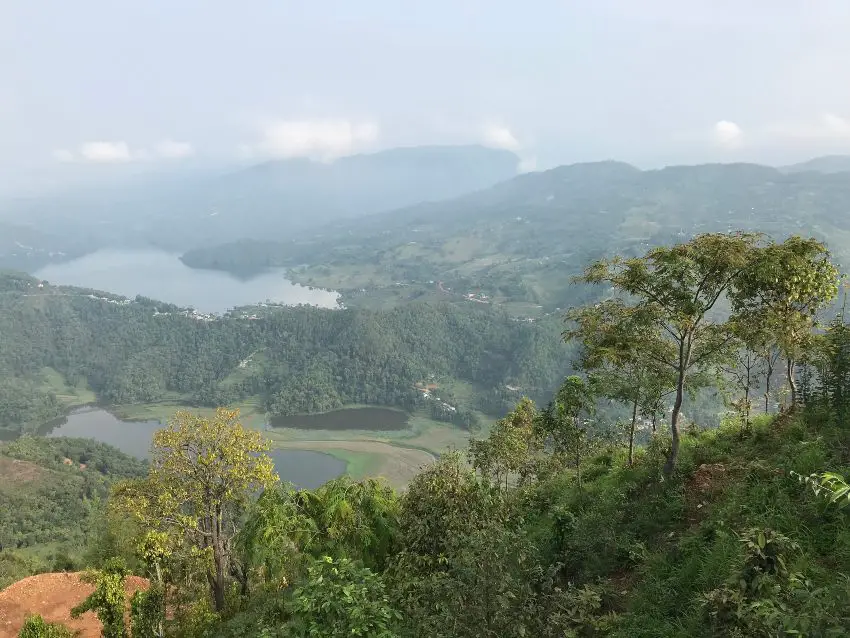 Best hiking in Europe in February
Hiking Europe February? Are you going to visit one of the best islands in Europe? While there are many incredible hiking routes across the whole of Malta, Dingli Cliffs are the highest point on the island at the height of 253 metres. With stunning ocean views, cliffs and countryside the cliffs offer a picturesque hike.
A hike along the cliffs can lead to Munqar where, along this route, you can find the impressive and famous Blue Grotto of Malta. It really is a must-see.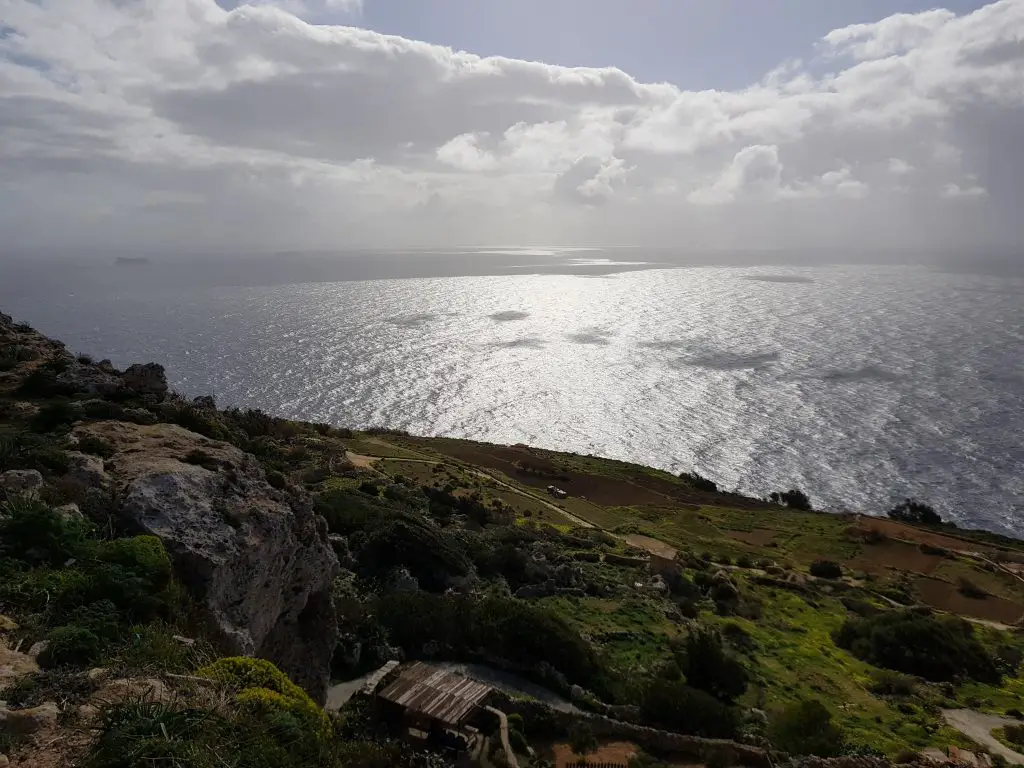 Read also: Unique things to do in Malta & Gozo – TOP 16 Malta points of interest!
14. Theth to Valbona
Recommended by Anita from travellingbalkans.com
Best hiking routes in Europe? The Theth to Valbona hike is one of the best hikes in Europe, and one that is not too well known yet. Nestled in the Albanian Alps this hike lasts between 6-8 hours, usually, 8 as you are guaranteed to stop a million times for photos as the views are amazing!
The best time to do this hike is in spring or autumn as in the summer, temperatures can rise above 30 degrees and in winter, the Alps are blanketed in snow, making it near impossible to do this hike if you don't have the correct gear.
You can start the hike in either Valbona or Theth, depending on what you prefer. You can drive to Valbona easily if you have a car but to get to Theth you either have to have a 4×4 vehicle or you can catch a shuttle from the city of Shkoder, so bear that in mind. Whatever you decide, you really must stay in Theth a few days before or after the hike as it's one of the most beautiful villages within Albania and there are many smaller hikes and natural beauty spots to visit.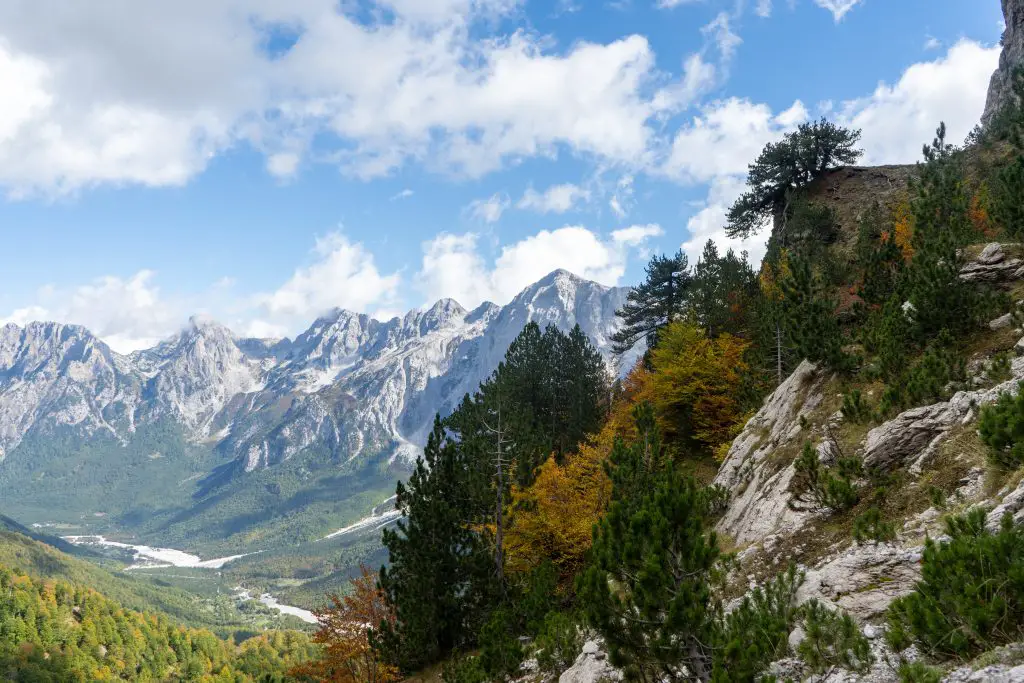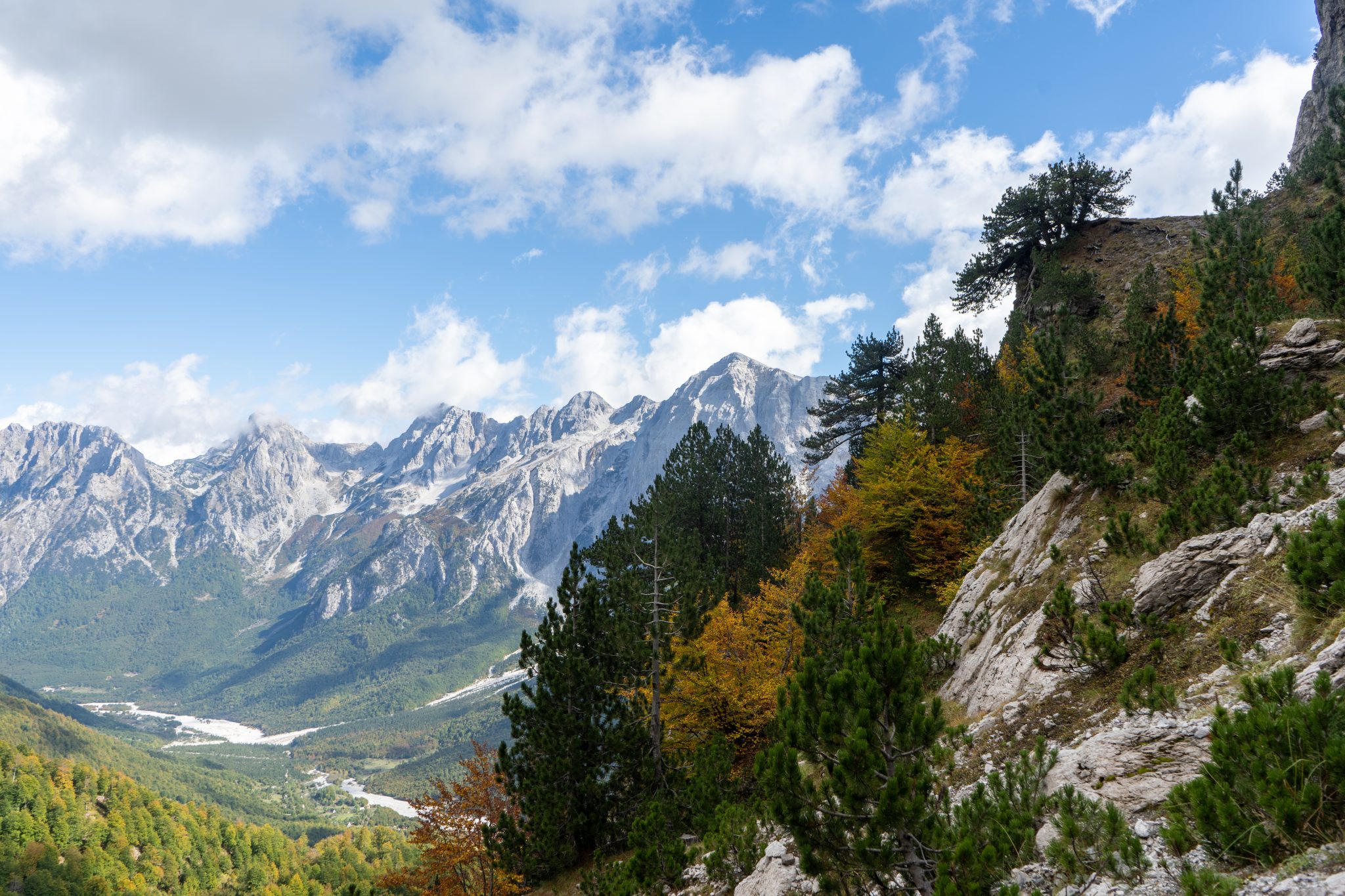 15. Pico Ruivo – Madeira
Great hiking in Europe in winter
Hiking routes Europe? Madeira is a great winter sun destination in Europe for all hiking lovers. At the highest point of Madeira, Pico Ruivo stands tall at 1862 metres. Reaching the summit provides an invigorating and challenging hike.
What's more, there are two different routes; the most popular course is arguably more challenging and begins at Pico do Arieiro following a 12km route. The easier route is just three kilometres long, starting at the village of Achada do Teixeira.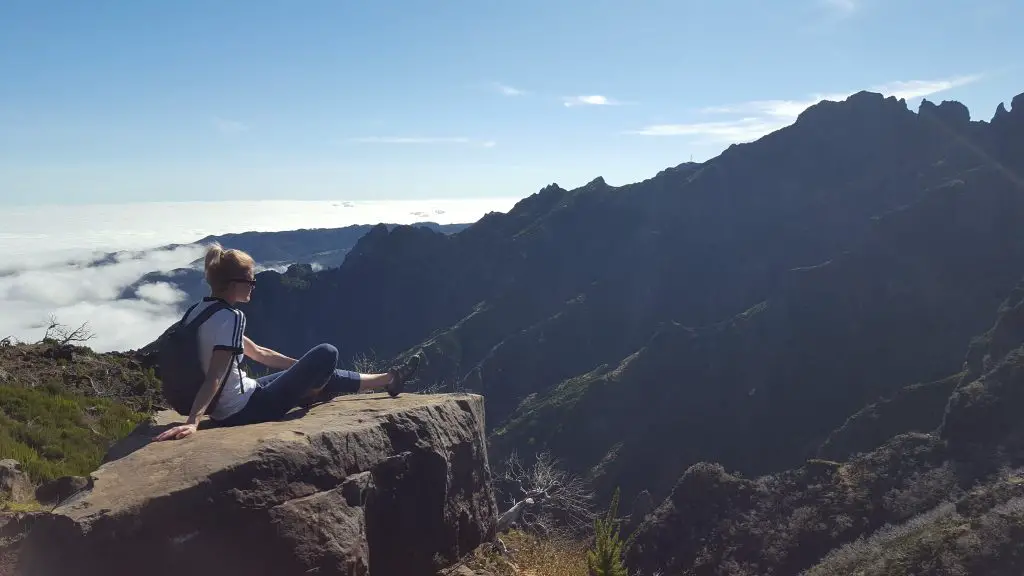 Read also: Unusual Things to do in Madeira – AMAZING Island of Eternal Spring!
16. South West Coast Path
Recommended by Danni from livein10countries.com
Hiking vacations Europe? You can't talk about fantastic hiking routes without bringing up the South West Coast Path. It's simply the best, for me. And it's England's longest, spanning over 600 miles and passing through the ever-popular counties of Cornwall, Devon, Somerset and Dorset. Yep, it's the sunniest part of the UK, with its fabulous coastline and top beaches.
The walk is really well maintained, with waymarked trails and lots of great places to rest, take in the view and stay overnight. From beginners to pros, there's a stretch of path to suit.
You don't have to take the whole route at once of course, it's perfect for a short chunk – passing Burgh Island for example, or St Michael's Mount and St Ives. Dogs are welcome and there are campsites perfect for a night staying in the outdoors, or lovely views of the cliffs, bays and mysterious caves down below which will help inspire your adventures.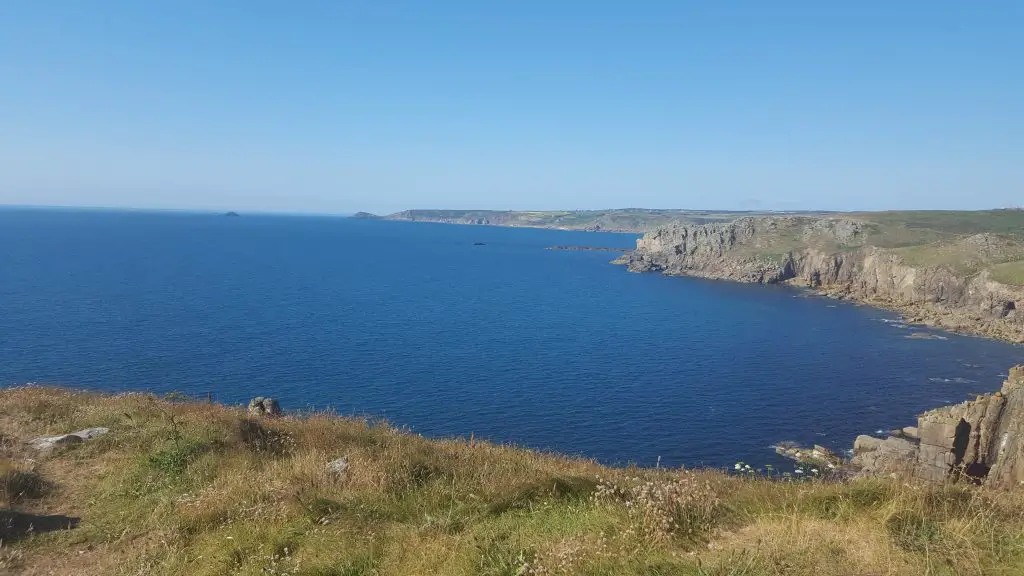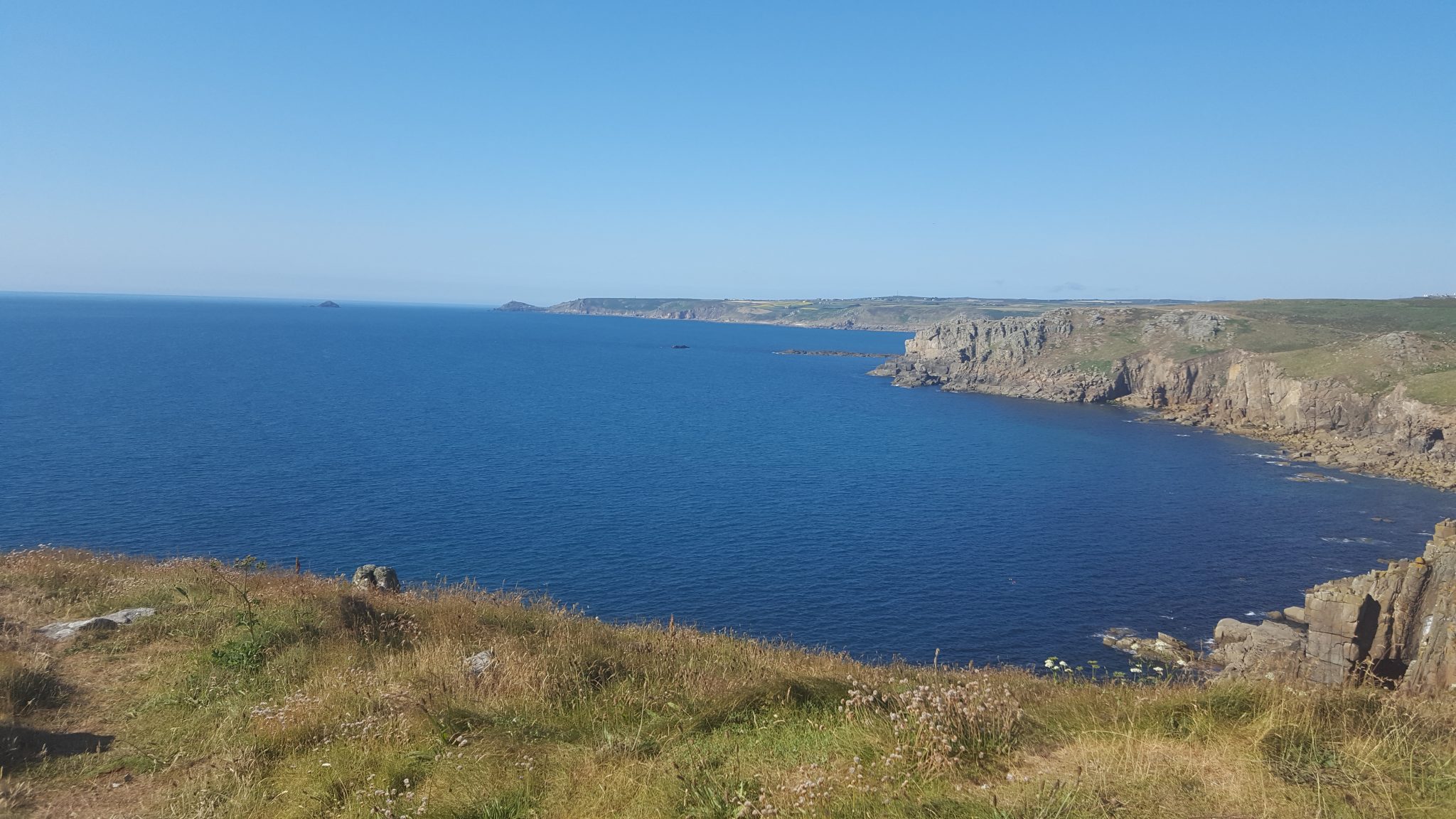 17. Lago di Sorapis – Italy
One of the best hiking vacation in Europe
Best hiking in Europe in May? The Dolomites are on the bucket list for many hikers. However, Lago di Sorapis is perhaps less well known but is undoubtedly one of the most impressive sites in the area. It really is one of the best places to visit in Italy.
The shimmering blue waters and the rugged cliffs serving as a backdrop makes a great photo, and the hike is certainly an impressive achievement.
Throughout the forest, hikers will have to use ladders and stairs and be prepared for walking sections that cling tightly to the edge of the cliff. Not a route for those with vertigo!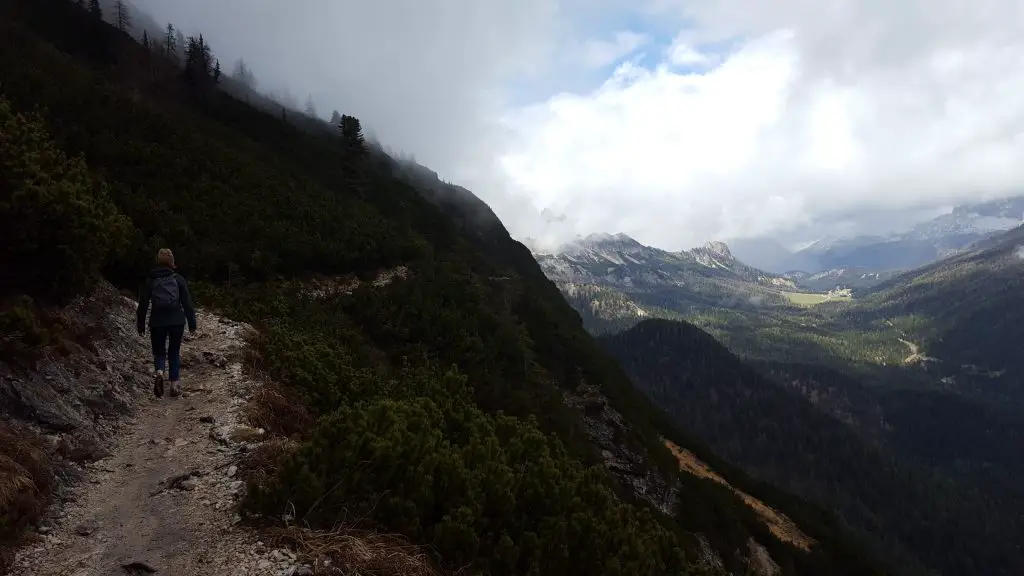 Read also: TOP Things to do in the Dolomites & best places to visit!
18. Silberkarklamm – Austria
Great hiking trails in Europe
Best hiking Europe? For a fantastic trek through beautiful alpine scenery, Silberkarklamm offers a beautiful looped trail. It's one of the best things to do in Austria.
The route is relatively easy but allows hikers to take in the beautiful surrounding views. Nearby there is also the Silberkar gorge which is full of beautiful alpine flora and the sound of the roaring waterfalls. There are lots of stairs and ladders on this route which add to the fun and challenge of the route.
Read also: UNIQUE Things to do in Austria. Bucket List Must-Haves!
19. Val d'Ega
Recommended by Annabel from smudgedpostcard.com
Best hike in Europe? The Val d'Ega is one of the less well-known parts of the Dolomites but it offers stunning mountain scenery and great hiking and cycling opportunities. Many of the trails are suitable for families with sculptures, interactive information boards and fun lookout points. The walks are well maintained and there are plenty of inviting restaurants to stop at for lunch or coffee.
There is a great range of accommodation for visitors to the Val d'Ega including luxury hotels, guest houses and self-catering apartments. Obereggen and Nova Levante are popular villages to stay in.
The Val d'Ega can be easily reached from Bolzano and northern Lake Garda. For visitors staying in Obereggen, there is a chairlift up to the hiking routes of the Latemar Massif. Lake Carezza (Karersee) is also a popular destination with an excellent hiking trail taking walkers through forests and meadows to this beautiful alpine lake.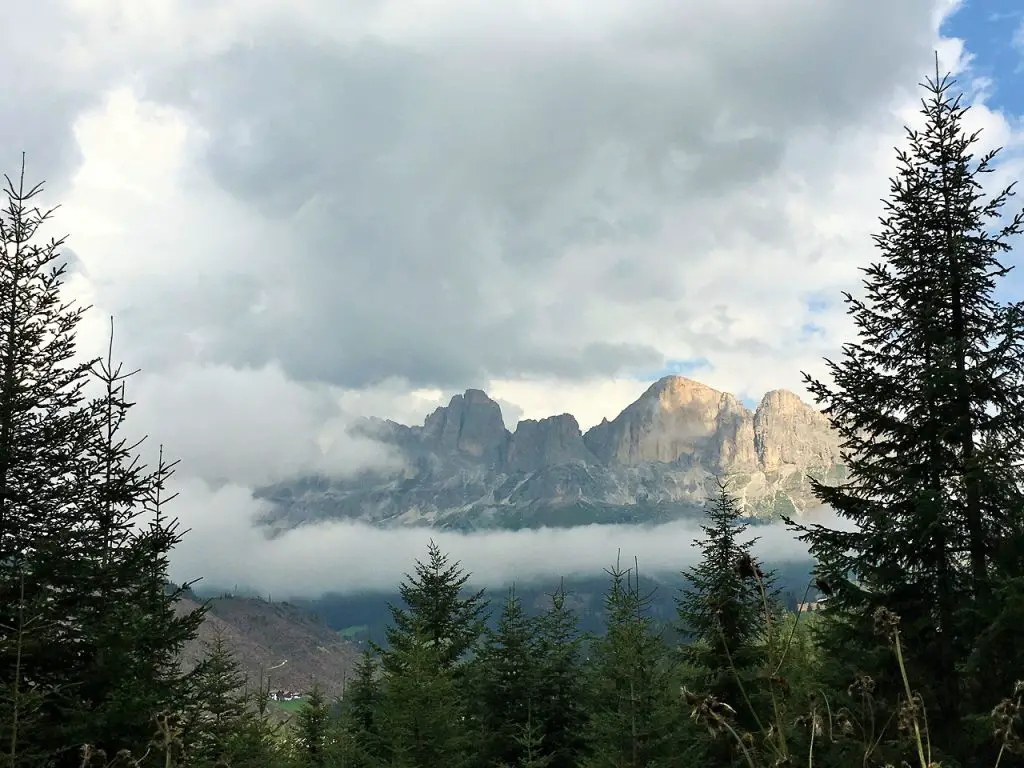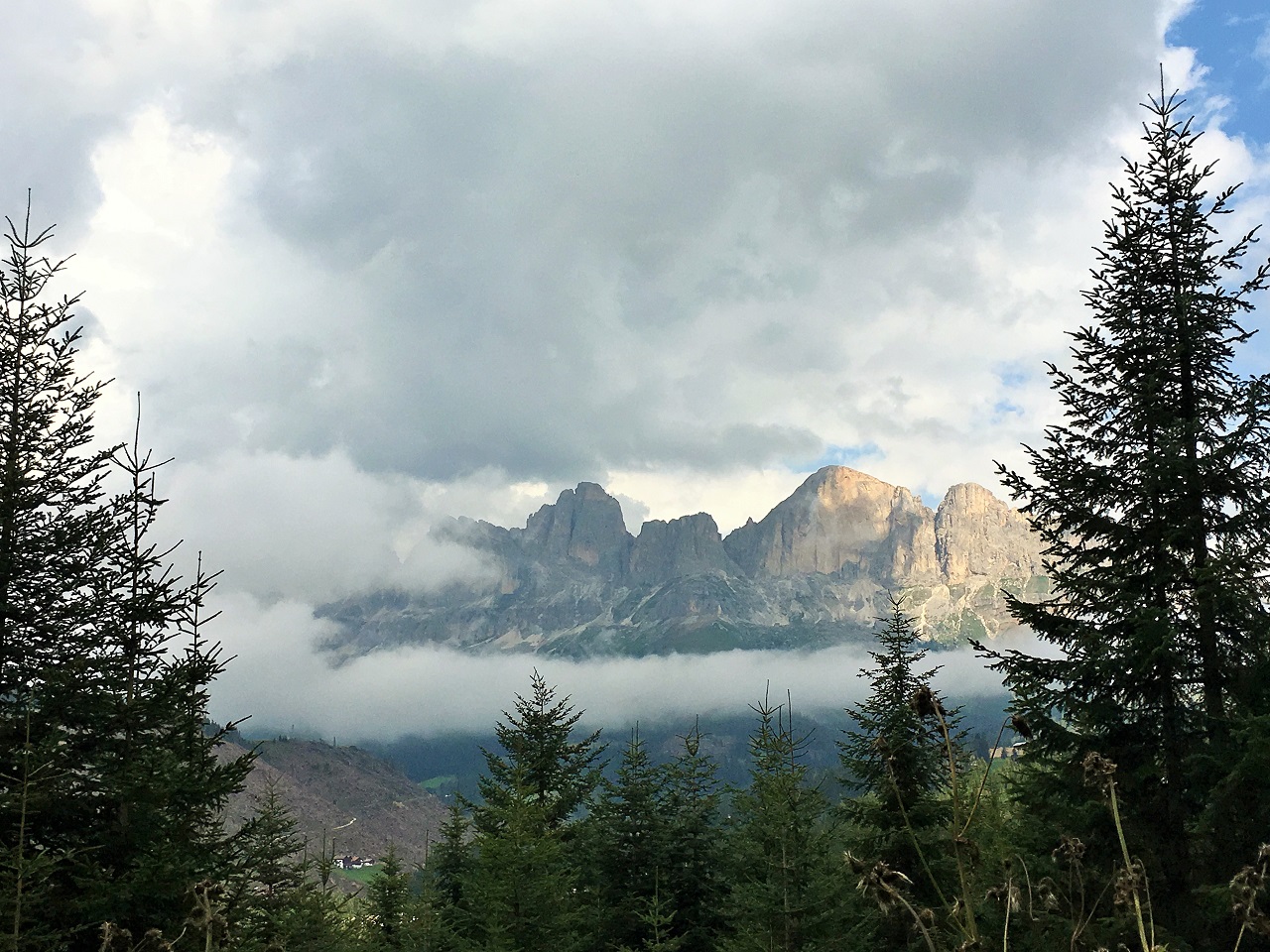 One of the most beautiful hiking in Europe
Best hiking destinations in Europe? Considered a natural wonder of the Provence, Verdon Gorge is the deepest gorge in France with depths of up to 700 metres.
The gorge offers some exceptional hiking trails such as Sentier de l'Imbut which takes around 2.5 hours to complete and follows the river route complete with a footbridge across the river. This route offers truly beautiful views throughout the canyon.
It really is one of the best places to visit in the south of France!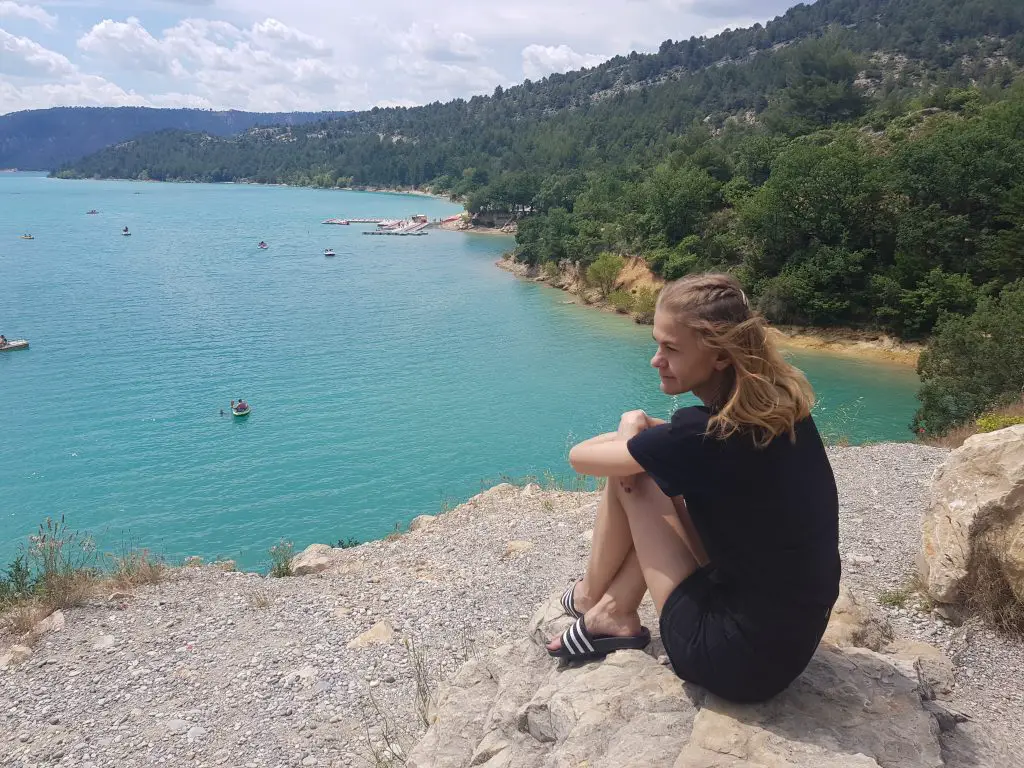 Read also: Visiting Verdon Gorge France – Top tips to French Grand Canyon!
One of the top day hikes in Europe
Best day hikes in Europe? While there is plenty to see and do in Cheddar Gorge, there is also a fantastic circular route that allows you to take in the rugged, weathered crags and the gorge itself which is 122 metres deep and three miles long.
Starting in the lower gorge, the route runs for four miles and is an easy to moderate walk with well-marked paths and signage. This walk begins at a National Trust car park which is ideal for those who have a membership.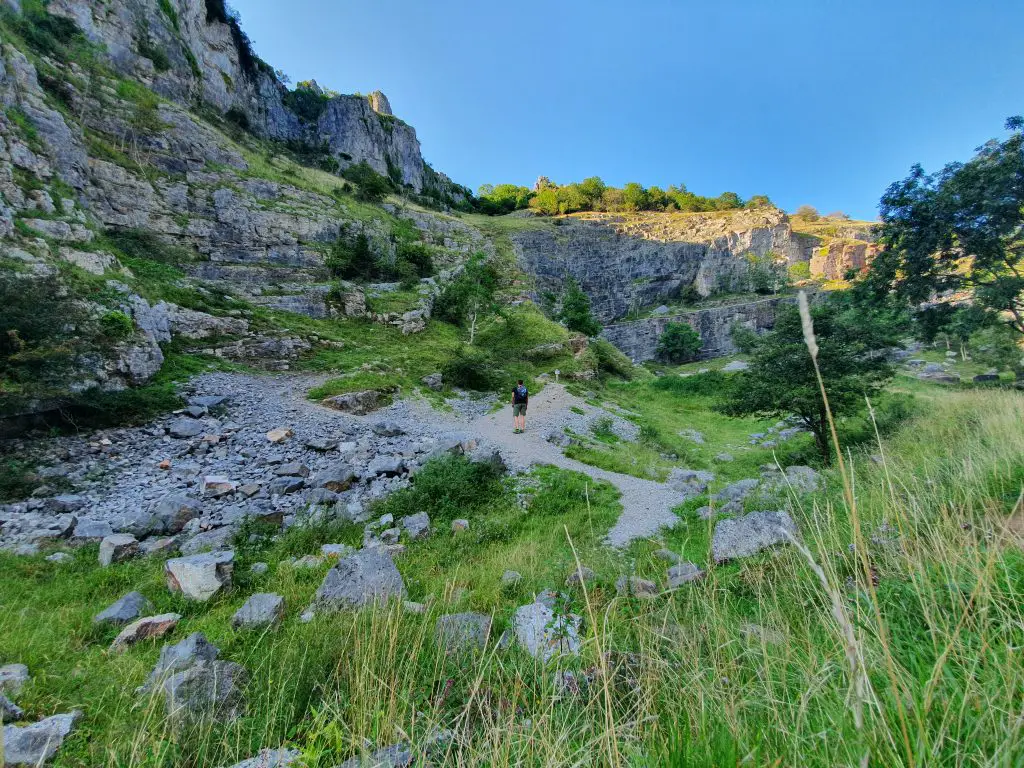 Read also: Cheddar Gorge caves vs. Cheddar Gorge cliff-top walk
22. Reykjadalur
Recommended by Millie from amateuristadvice.com
Best places to hike in Europe in May? The hot river in Reykjadalur is a unique spot where hot spring water combines with a cold river. The hike to this natural phenomenon is located in Reykjadalur, Iceland. It's only 45 min. drive from the country's capital Reykjavik. From the parking lot of the trailhead, it's an easy 1-hour hike to the bathing area. There are steam vents rising from the ground along the way, and other spots where it may look inviting to bathe. To be safe, wait until you see the change areas before taking a dip. You'll know you've reached the right place when you see the boardwalk by the river.
There are also partitions set up for changing. But it is not a change room. You will have to move quickly to avoid the cold breeze. Once in the water, you'll see that this is the perfect spot to relax and enjoy the Icelandic scenery. Make sure to bring snacks and drinks to enjoy with your friends. 
The river is long and divided into different sections so it's easy to find a spot for your group. The water is not deep, and it has a relaxing consistent flow. This area is also a popular spot to camp in.
Whether you stay the night or just for the day, please make sure to clean up after yourself. There are no entrance fees or parking fees to enjoy this beautiful hike. To show our gratitude let's keep the area clean so that everyone can enjoy the river in the years to come.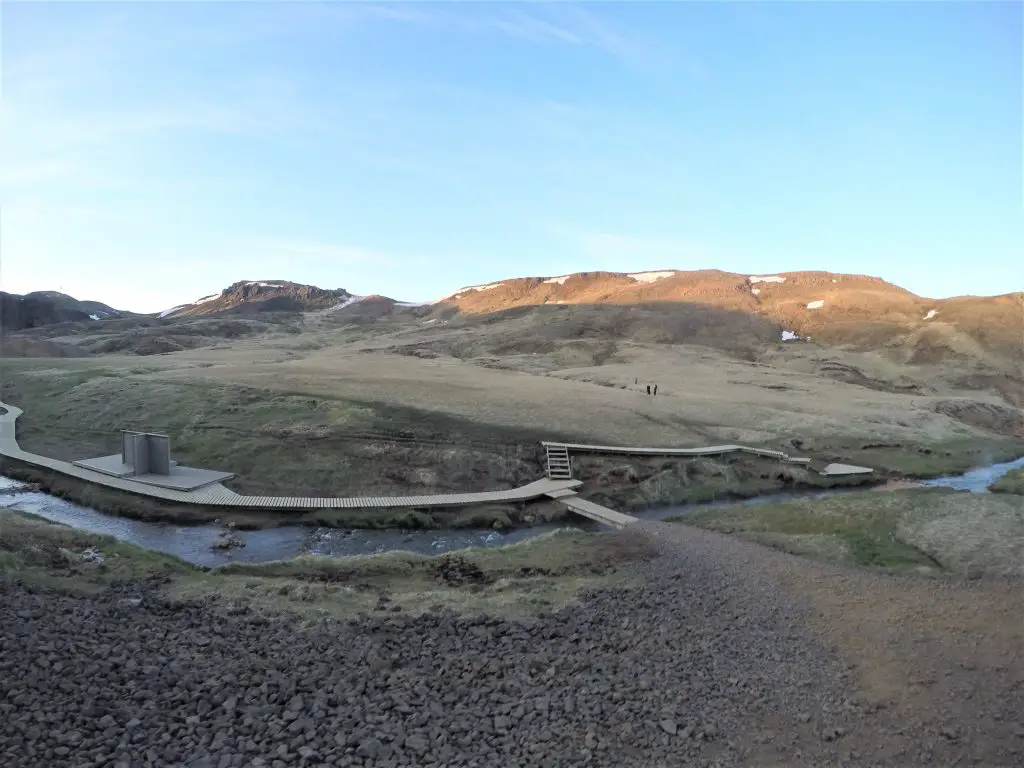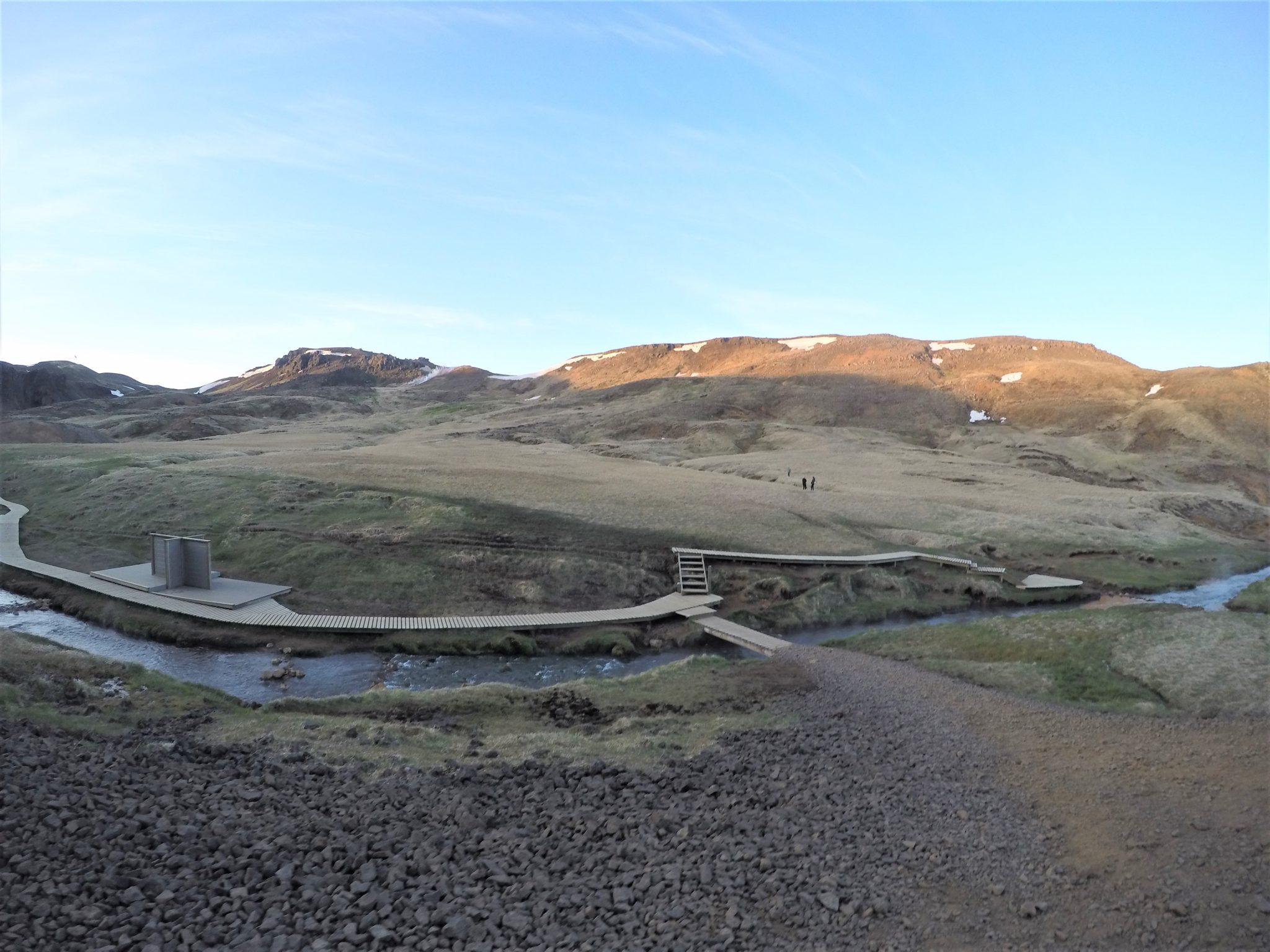 Cheap places to hike in Europe
Hiking vacation Europe? Translated as the 'Beach of Cathedrals' this popular Spanish beach is situated in Galicia and makes for a beautiful beach walk. It's one of the most unique places to visit in Spain.
You have to plan your visit in advance as the arches and cathedral are only accessible during low tide.
During winter, you'll often find you have the place to yourself. However, during summer the place is packed which is why there is a permit system in place. While the permits are free to obtain, you will not be allowed on the beach without one, so it is really best to plan ahead.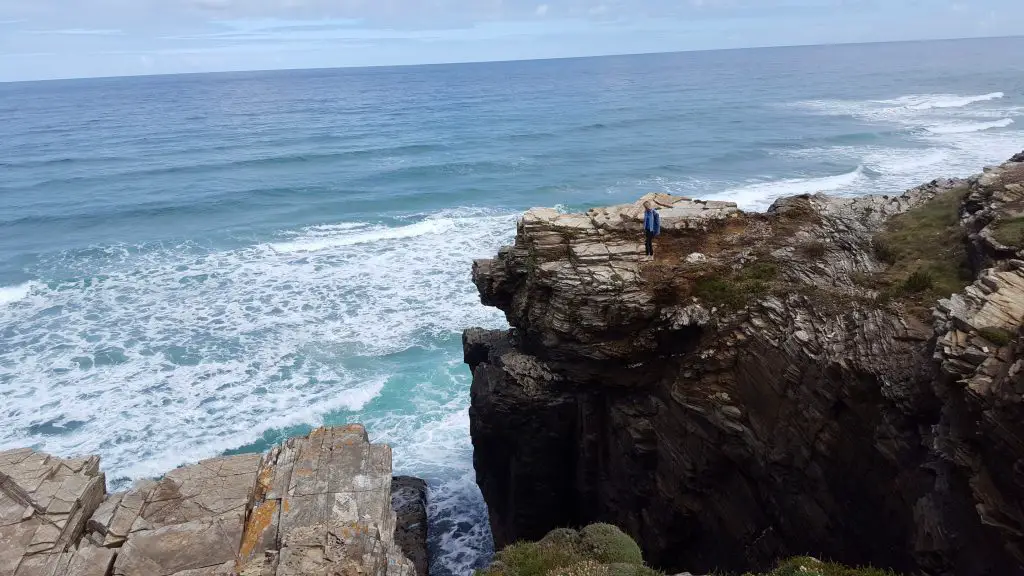 Read also: As Catedrais Beach Spain: The Beach of the Holy Waters!
24. Vikos Gorge
Recommended by Wendy from thenomadicvegan.com
Best places to hike Europe? Even though hordes of tourists descend on the Greek islands each summer, the mountains of northwestern Greece are virtually unknown among foreign tourists. This means you can have these spectacular landscapes all to yourself. One of the best hikes in the Pindus Mountains is through the Vikos Gorge, which runs for about 20 kilometres and holds the Guinness world record as being the deepest gorge in the world. At some points, it's only a few meters wide, and looking up at the towering cliffs reaching up to the sky on either side of you as you hike through is a spectacular sight.
The hike through the Vikos Gorge starts in a small, pretty village called Monodendri and finishes in an even more beautiful village called Mikro Papingo. Monodendri is accessible by public transport, but buses are not very frequent, so be sure to check the schedule in advance. You should also bring plenty of food with you, as there is nowhere to eat in the gorge, and Monodendri has a couple of small shops but not many supplies.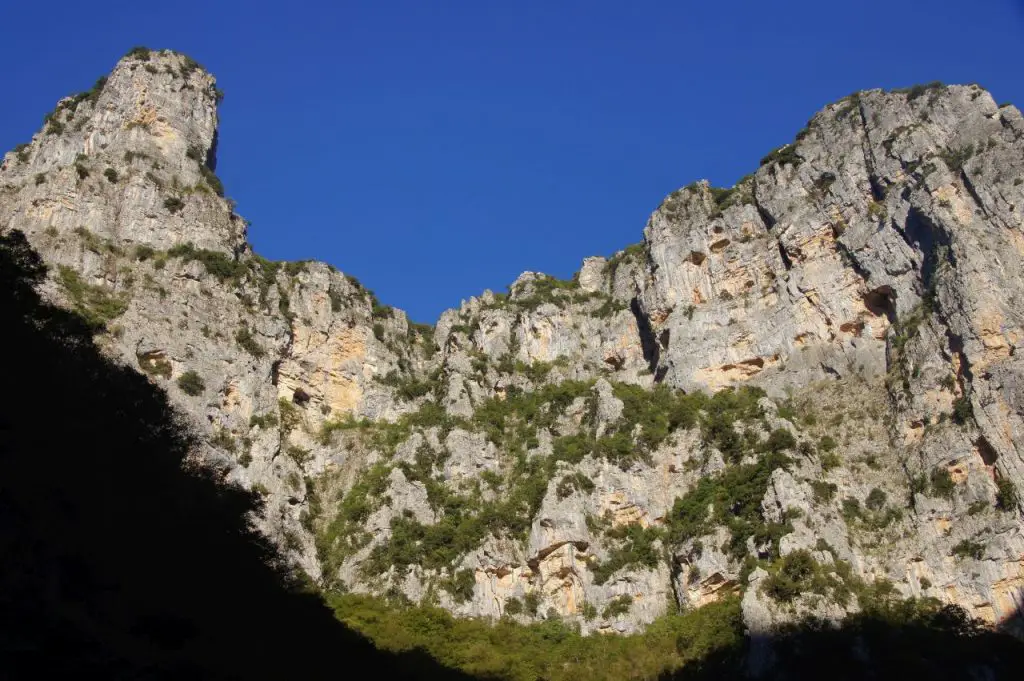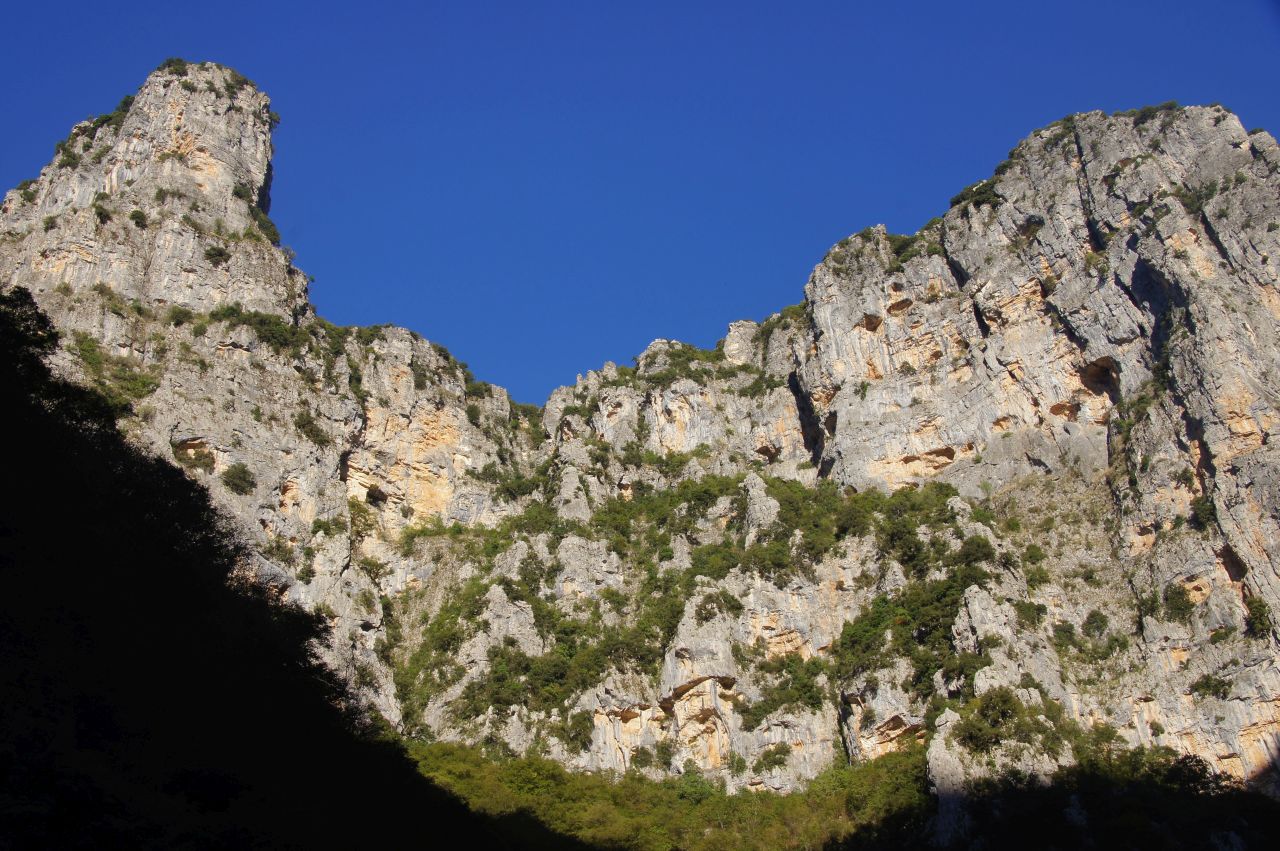 Great hiking in Europe in summer
Europe hiking trails? Known for its jaw-dropping beauty, hiking in the Amalfi Coast gives you plenty of time to get up close to the natural beauty and to see it from as many angles as possible.
The primary hiking association in Italy lists 124 different hiking trails in the Amalfi Coast. So you can be sure you will be busy during a weekend getaway to Amalfi Coast 🙂
Almost all of these will require steep ascents and descents which is what the area is known for. If you prefer flatter terrain you can enjoy the popular route of Sentiero Degli Dei which is a mostly flat 7km trail. If you'd rather more shade and greenery, then Valle Delle Ferriere is a fantastic choice for waterfalls, flora and seclusion.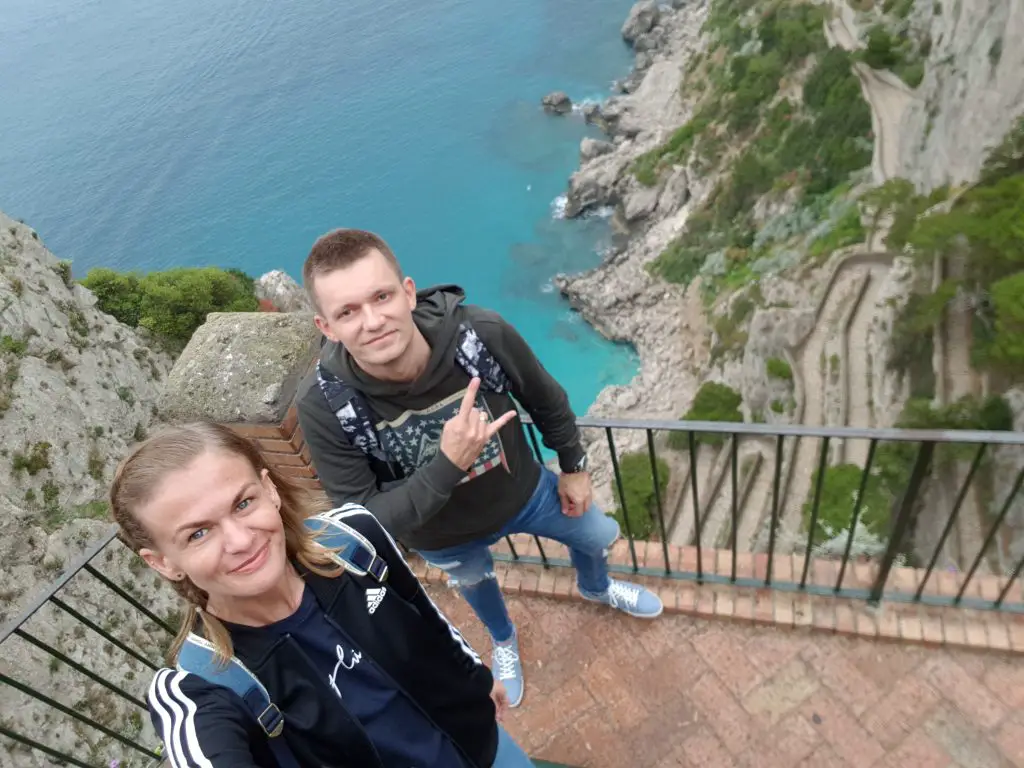 Read also: Best places to visit on Amalfi Coast – Italy's most scenic coastline!
One of the best hiking in eastern Europe
Best hike Europe? To enjoy the wild and rough Baltic sea then Hel Peninsula is a great walk across a sandbar that stretches out to sea. The sandbar at its thinnest is just 100 metres in width, with Hel sitting at the very tip of the peninsula.
However, the peninsula stretches for 34 kilometres. There are lots of walks around the area most of which can start and end in one of the nearby villages which include Jurata, Jastarnia, Chałupy and Kuźnica.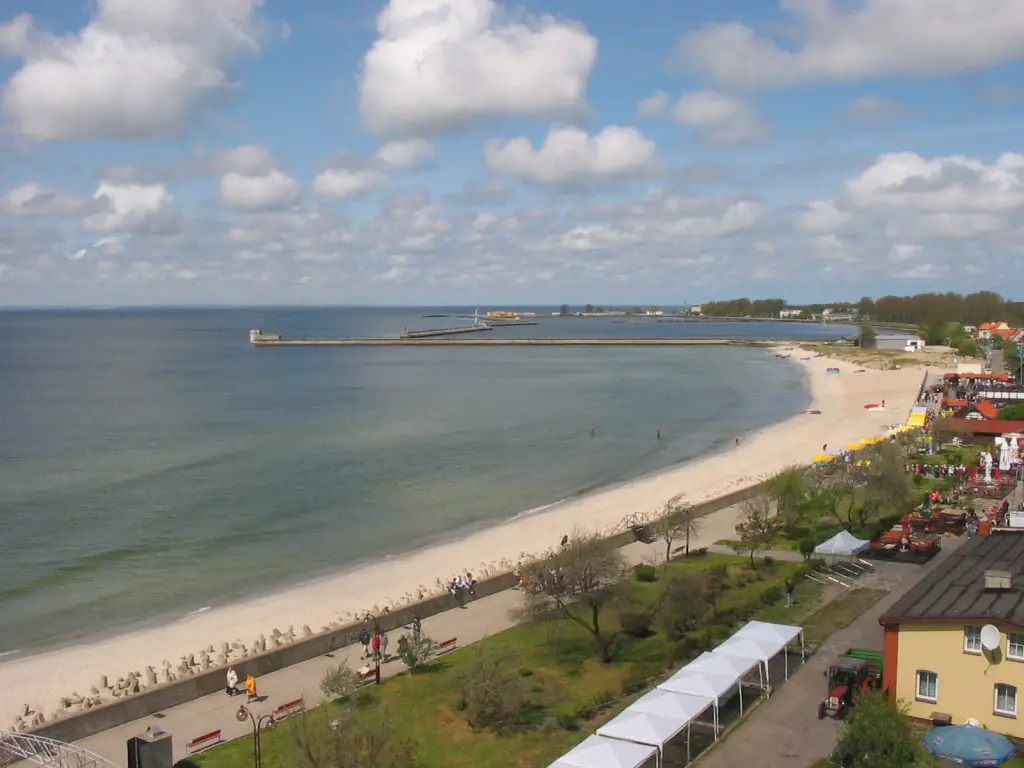 Read also: Go to HEL in Poland – Top Things to do on Hel Peninsula
27. Rimetea
Recommended by Sean from livingoutlau.com
Rimetea is one of the hidden gems in Romania. Located a little over an hour from the touristy city of Cluj Napoca in Transylvania, Rimetea is usually not visited unless you are doing a road trip across Romania. As a result, not many travellers get to see this beautiful town and go on the gorgeous hikes. Though only about 1.5 hours to ascend, the trail is quite steep and difficult. However, the most difficult part is not going up but rather going down.
The trail is filled with powdery sand and loose gravel, making it extremely slippery when descending. I would recommend that you have proper hiking shoes for this trail. However, don't let that deter you because the view at the top of the hike is something that belongs in a travel magazine. The beautiful nature of Romania along with the timeless architecture of the town will be nothing less than breathtaking.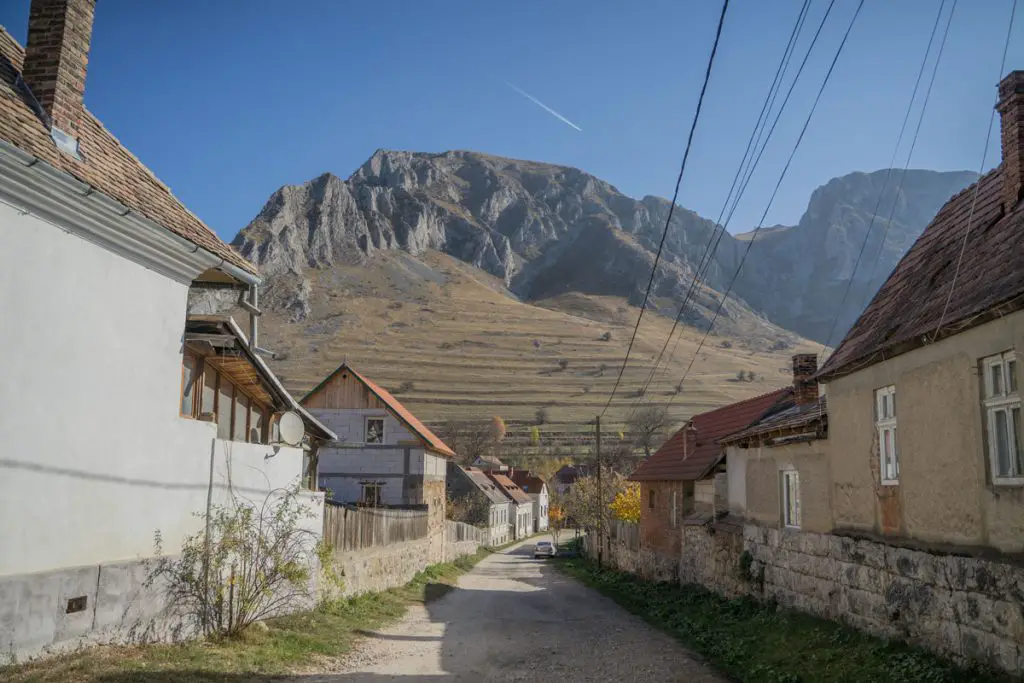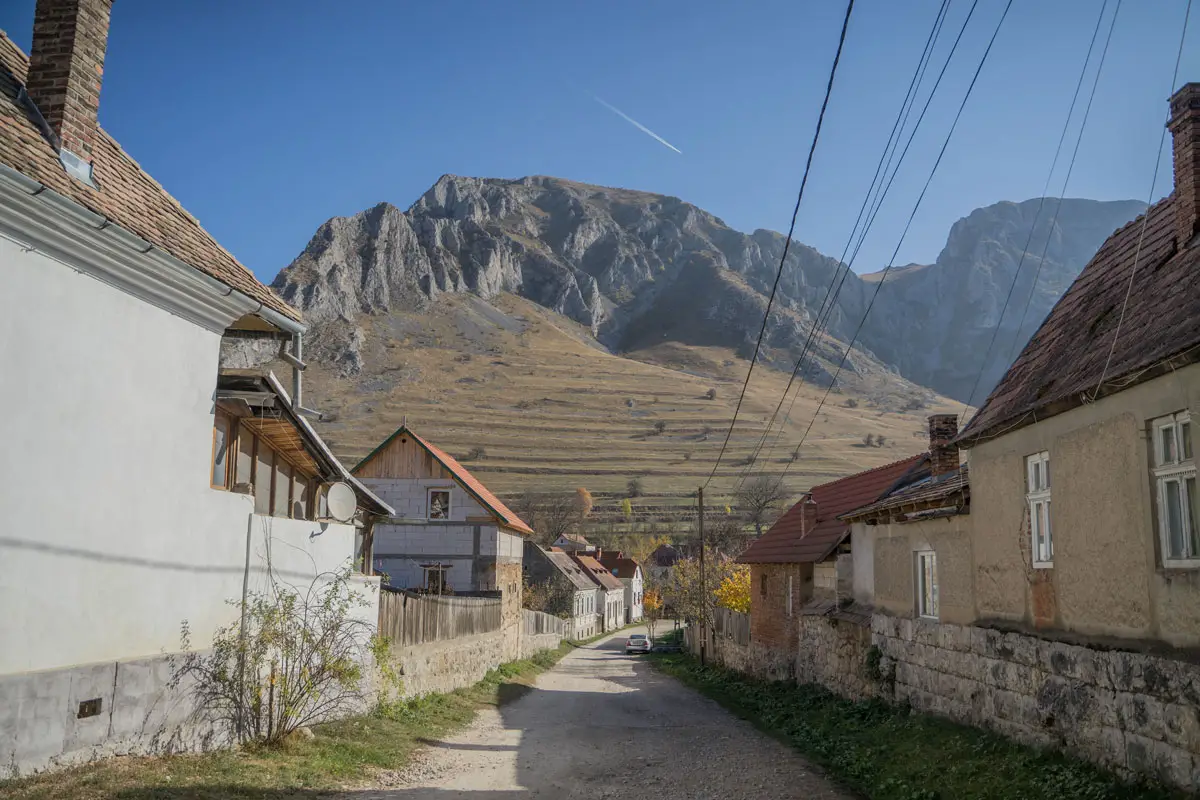 28. Tre Cime di Lavaredo – Italy
One of the best places for hiking in Europe
Best place to hike in Europe? To save you doubling back on yourself, it is always nice when a hiking trail follows a loop like the Tre Cime di Lavaredo route in the Dolomites. This circular route focuses on the high alpine meadows and jagged cliff edges that give photographs plenty of contrasting beauty.
The circuit route covers just over ten kilometres and will feature three peaks of the Dolomites that provide plenty to see and marvel at. The route is relatively twisty, and there are several sections where the walk extends along a narrow rock edge. However, in certain parts of the trail you'll have all three peaks in your eye line.
If you are going on a European road trip in the Dolomites, make sure you book some time for Tre Cime di Lavaredo hike!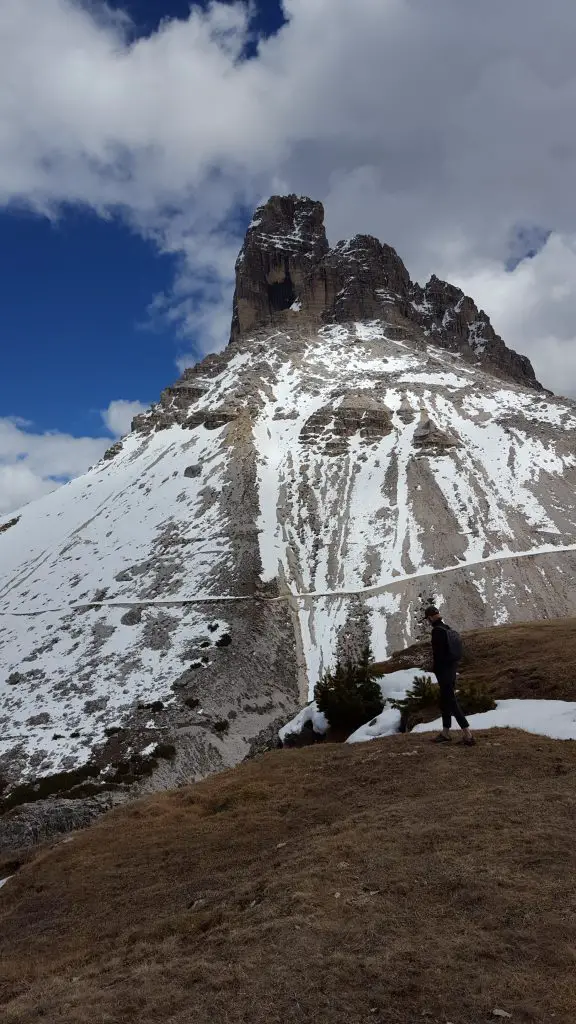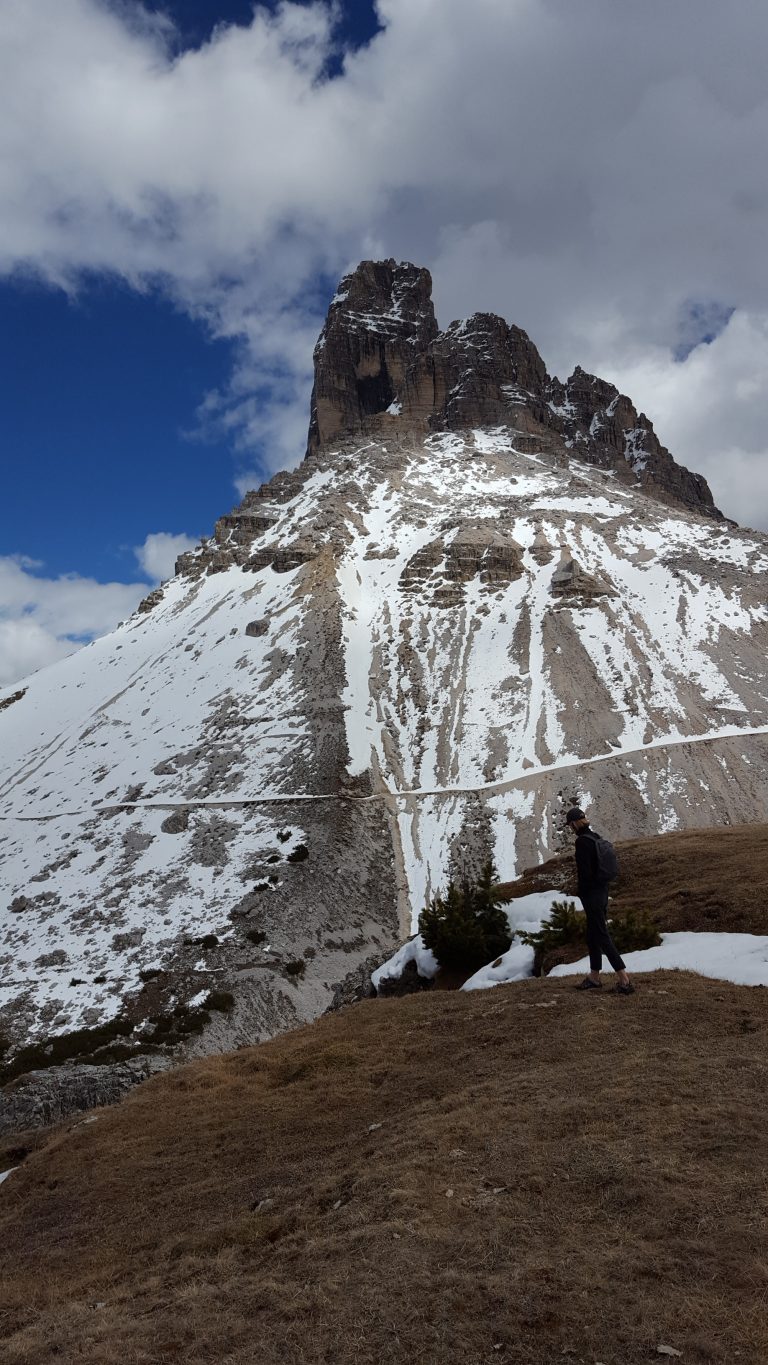 Read also: When is the best time to visit ITALY? [Month-by-Month Guide]
29. Cinque Terre
Recommended by Theresa from fueledbywanderlust.com
The hiking paths of Cinque Terre follow the Italian coast along the Ligurian Sea, which means they have some of the most stunning views in the world.  While hikes range from easy to moderate, the effort is worth it for this unforgettable experience.  Each path offers unbeatable scenery high over the glittering blue water and colourful towns below.
The main coastal trail (or Blue Path) of Cinque Terre connects all five of its small villages.  When all the paths are open, it is possible to hike between each village in one long, sweaty day.  While you could village hop by train, it's much more rewarding to spend a day making the trek between each village, with the occasional gelato break in between.
Although a portion of the Blue Path is closed for repairs, you can currently hike this trail between the villages of Monterosso Al Mare, Vernazza, and Corniglia.  Just be sure to purchase the Cinque Terre Card for €7.50, as it is required for entering this particular trail.  The card can be purchased at small stands near the trail entrance – right before you begin your ascent high up into the vineyard-covered hillside.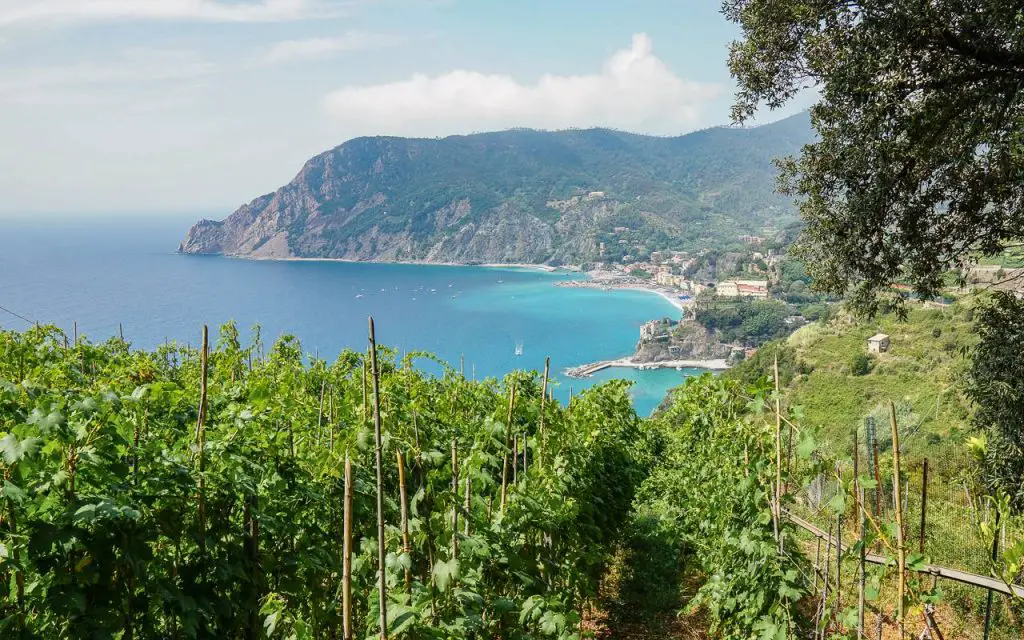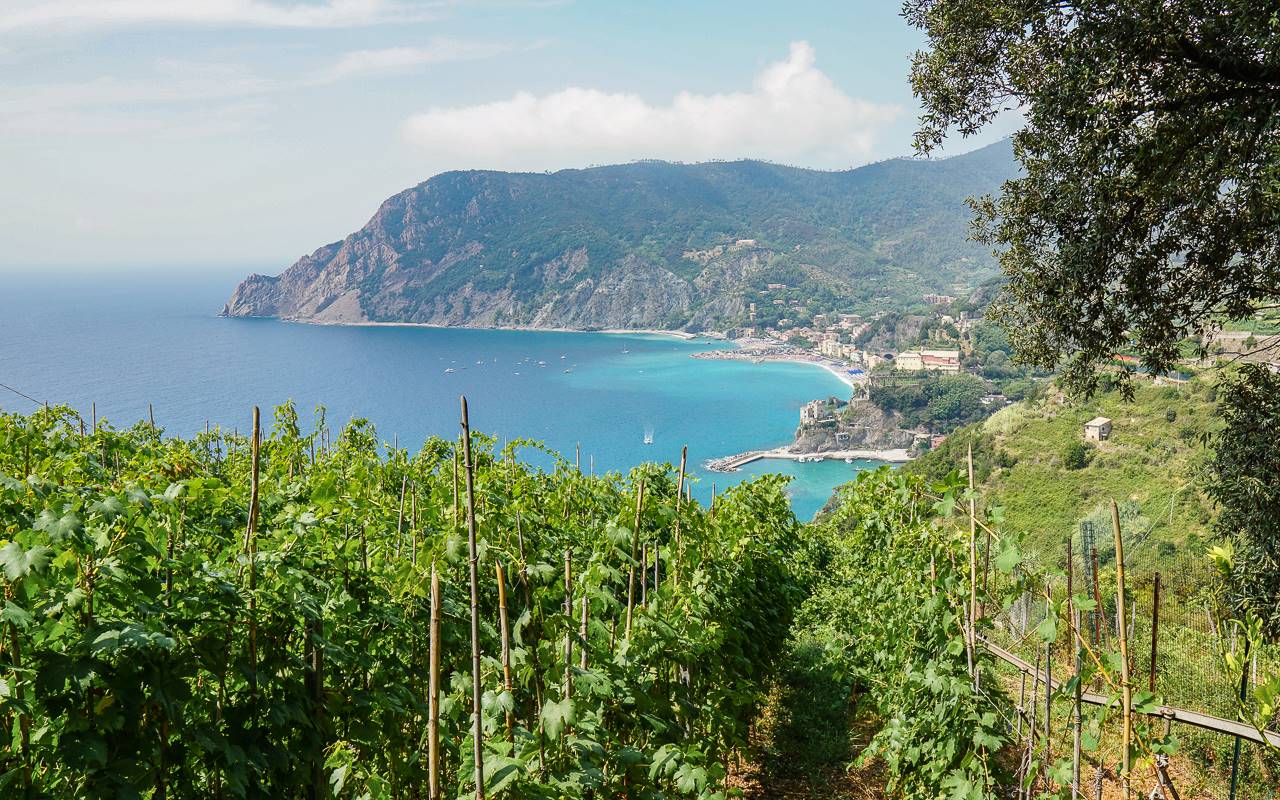 Unique place to go hiking in Europe
Best hiking Europe? Arguably the most popular black sand beach in Iceland, you can enjoy a fantastic coastal walk in this famously beautiful area. Reynisfjara is full of weird and wonderful formations created by the fire and ice that the country is known for.
Instead of just dropping by for a look, there are several trails that cover beautiful rolling hills and then finally lead to the black pebbles on the beach. From here you can take stock of the crashing waves, but it is wise to keep your distance, the currents here are very strong.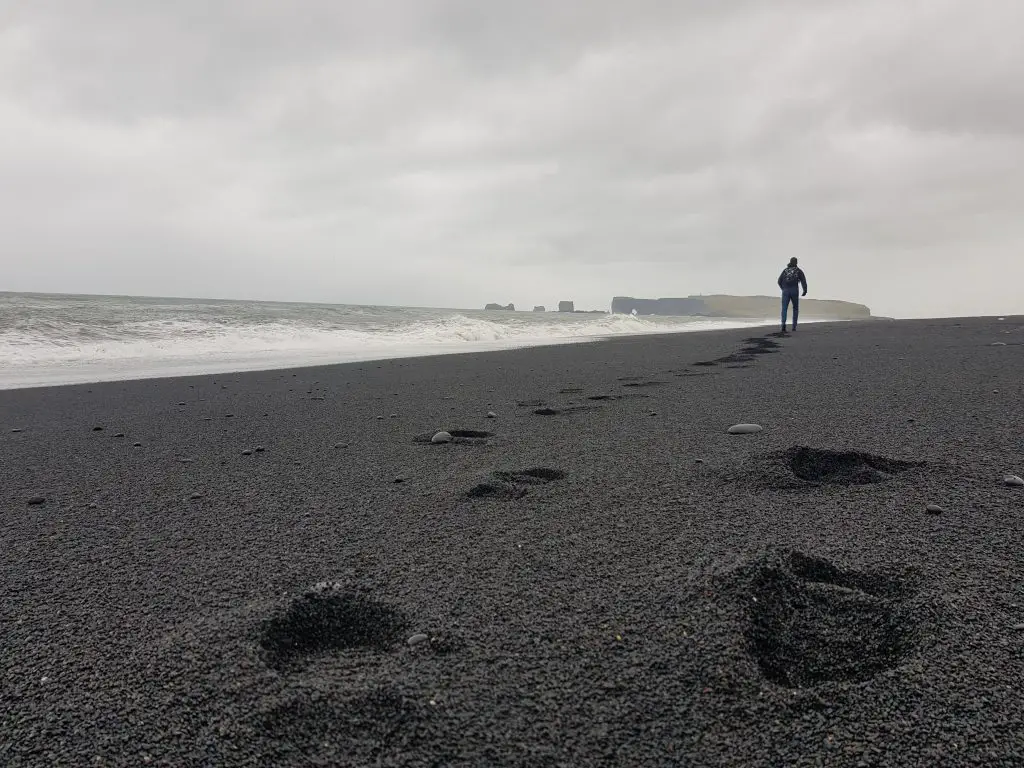 Read also: Reynisfjara Beach – the best black sand beach in Iceland!
31. Algarve Coast – Portugal
Great hiking vacations in Europe
With stunning European beaches, incredible shades of blue from the ocean and magnificent sunset shades from the cliffs, you may not expect the Algarve to be your ideal hiking destination, but it really does provide unique and stunning views.
What's more, there are plenty of hiking trails to follow in the Algarve and thanks to the warm, sunny climate; you can enjoy most of these trails all year round.
If you like variety on your trails, then the Algarve Coast has variety in abundance from coastal paths to forests, river woodlands to karstic landscapes and top Algarve's beaches the hikes around the Vincetine Coast, or Castro Marim Nature Reserve do not disappoint. A must-see when visiting Portugal!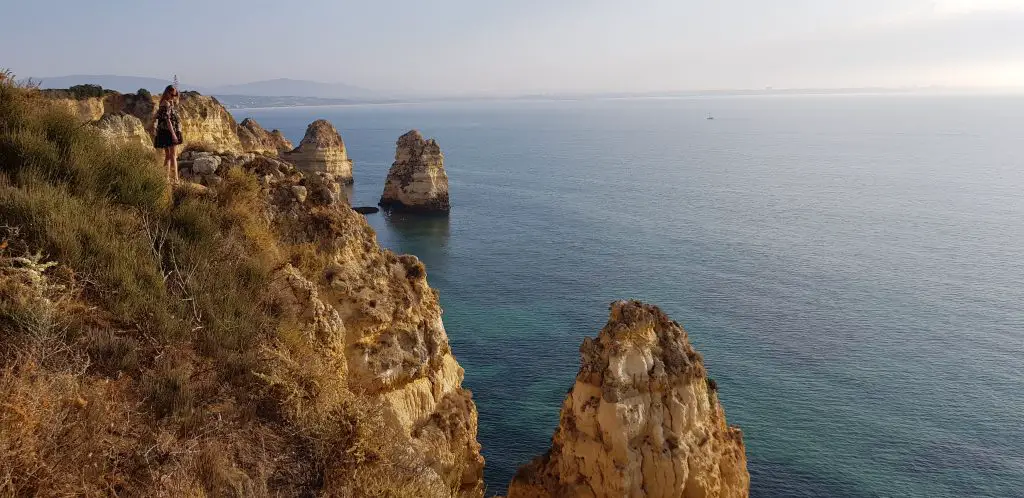 Read also: Best beaches in Algarve Portugal – Algarve's TOP 13 beaches!
Read our other articles related to this stunning continent:
Most romantic places in Europe
Most beautiful landscapes in Europe
Ready to lace up those boots?
Whether you're after a gentle stroll or a challenging summit, all of these hiking spots in Europe offer something for everybody. From coastal charm to must-see attractions, fresh mountain air or beautiful flora you can enjoy each walk for its own unique beauty.
So, if you've been inspired to get your walking boots on and do some exploring, why not add these fantastic hiking locations to your next travel plans?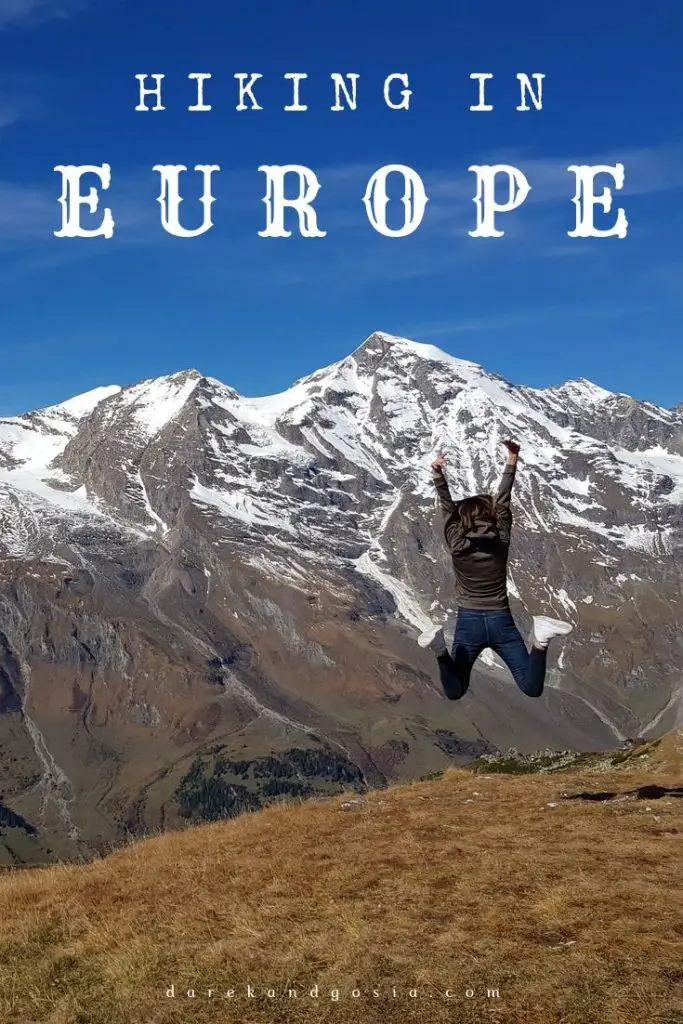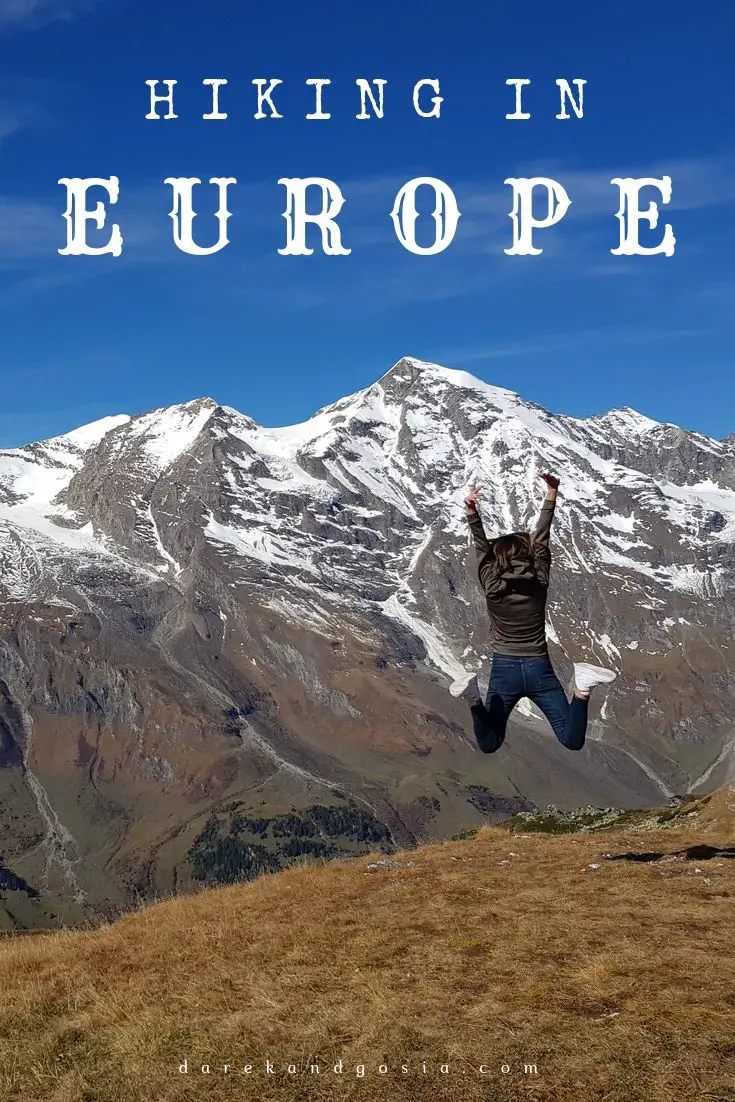 Articles you may like: