What are the must-do things in London? Read our ultimate guide to 99 Things to do in London & explore London's must-see places today!
What to do in London? London – one of the best capital cities in Europe & a top place to visit in England! An amazing destination where you can always discover new places to visit and attractions to see – the list of things to do in London is endless!
There are many London attractions and fun things to do in London – from romantic things to do in London, visiting the coolest Neighbourhoods to Richmond Park and top landmarks in London.
Some things are cool and fun, others are interesting and exciting – an amazing list of must-do things in London! You can also visit London in one day if you don't have enough time in the capital city.
We are lucky to call London home, so we know a lot about the city and all the areas you can explore. Yes, London is a very expensive place to visit but don't be put off by this!
European Spring is a perfect time to visit the capital city – there are many cheap things to do in London and some of them are even free 🙂
10 Best Things to do in London: At a Glance
Big Ben
Buckingham Palace
Coca-Cola London Eye
Tower of London
Tower Bridge
Hyde Park
Camden Market
Millennium Bridge
From Big Ben – London's iconic national timepiece; Coca-Cola London Eye – stunning riverside observation wheel; to shopping at Liberty London – there is a huge range of must-see and do experiences in the capital city of London.
The only question is – which of the below things you will do in London? 🙂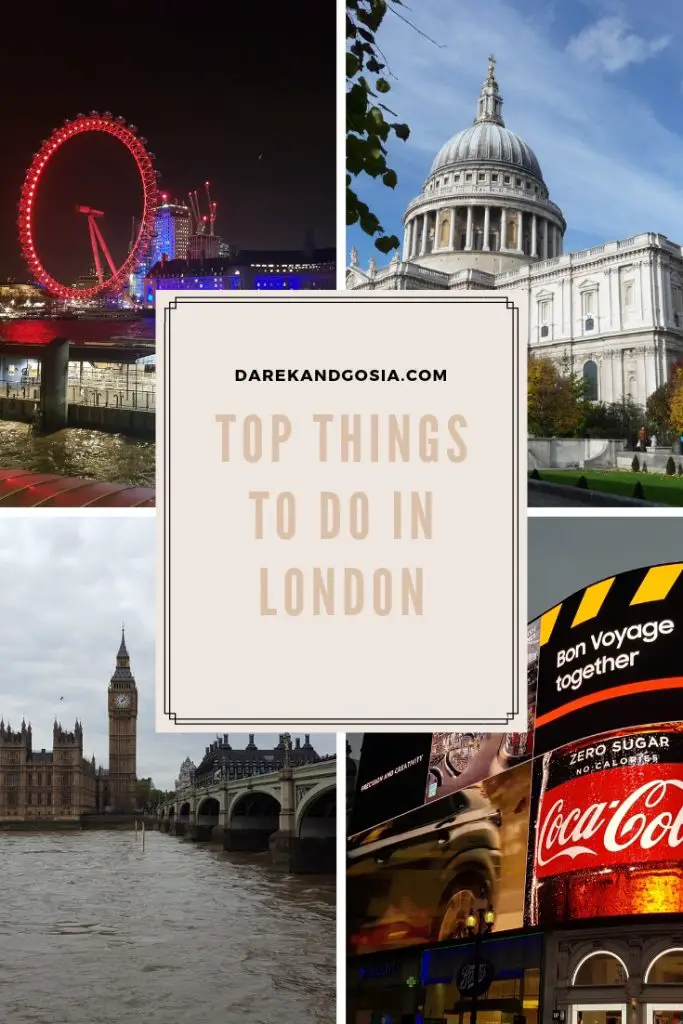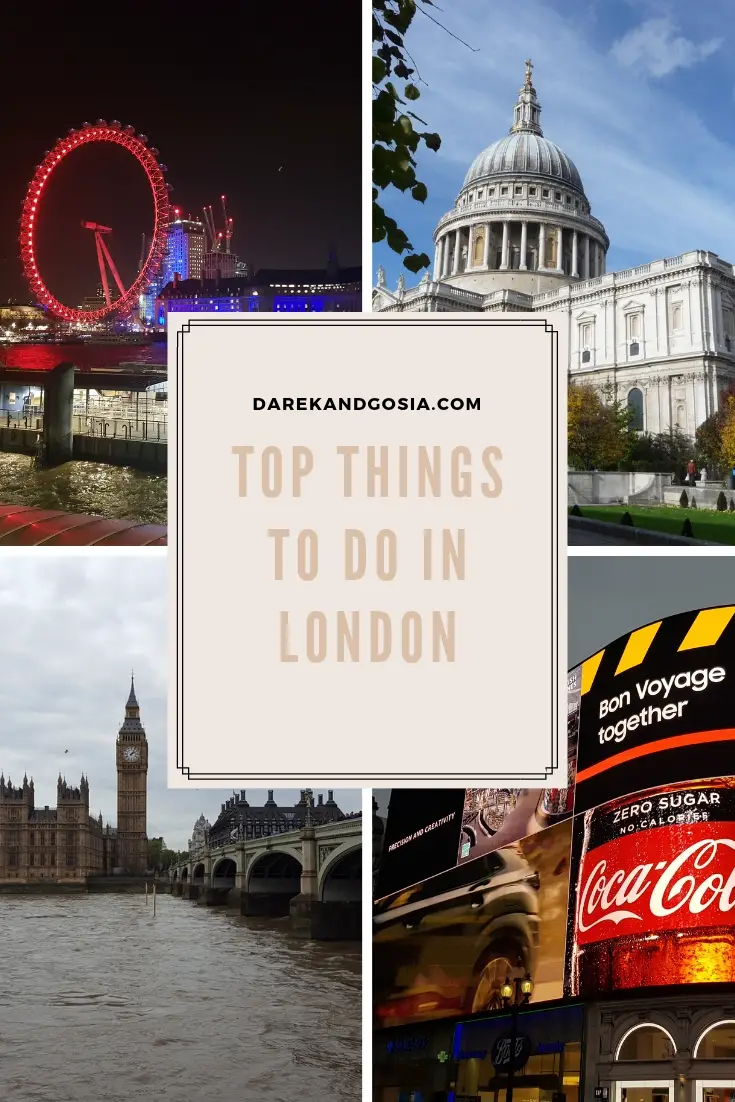 How many of the below best things to do in London would you add to your UK bucket list?
If you plan to visit London, and are still looking for the best things to do, read our below guide and learn about the main attractions in London. There are 99 reasons to visit the capital city of the United Kingdom.
Top must do things in London:
Let's face it, there are many great things to do and places to visit in the capital city. So in order to help you understand the scale, we have divided all of them into 12 different categories:
Places to visit in London for 1-st time visitors
Best things to do in London for sport lovers
Unusual places to visit in London
Must-see attractions in London
Top things to do in London with kids
Cool things to do in London
Cheap things to do in London
Best places to see in London for museum lovers
Interesting stuff to do in London
Fun stuff to do in London
Best places to visit in London for couples
Non-touristy things to do in London
OK, let's start with our list! We present you the best 99 things to see in London:
Places to visit in London for 1-st time visitors
1. London Eye
Top places to go in London? One of the biggest and best attractions in London, you'll find the eye standing proudly on Southbank. It's the tallest observation wheel in Europe, so why not take a ride and enjoy the view?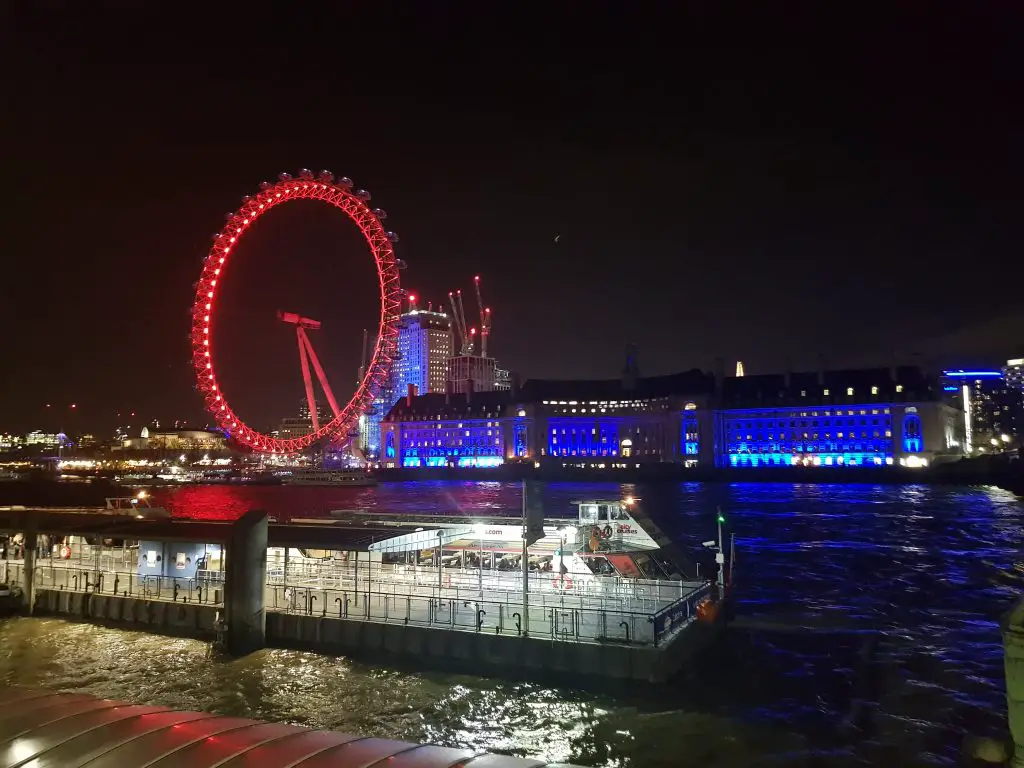 2. Trafalgar Square
What to see in London? One of the most popular spots in London, the square is home to tourists, lunchers, and protesters alike. Completed in 1840, it was formerly famous for the feral pigeons that people used to feed until the activity became outlawed.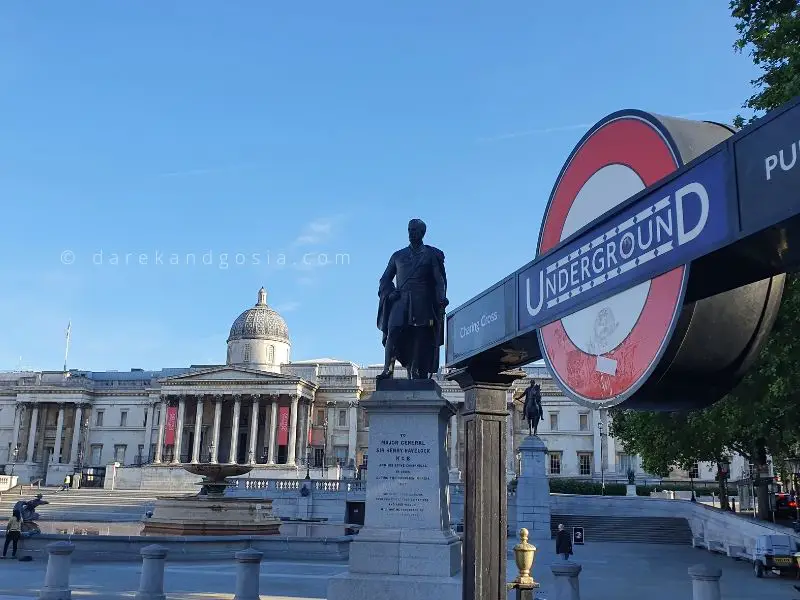 3. London red bus
Looking for the best things to do in central London? The classic London bus in a vibrant red; they are recognised across the globe. They aren't just for getting around though; there are loads of tour buses that can teach you interesting facts about the city as well as show you some hidden gems.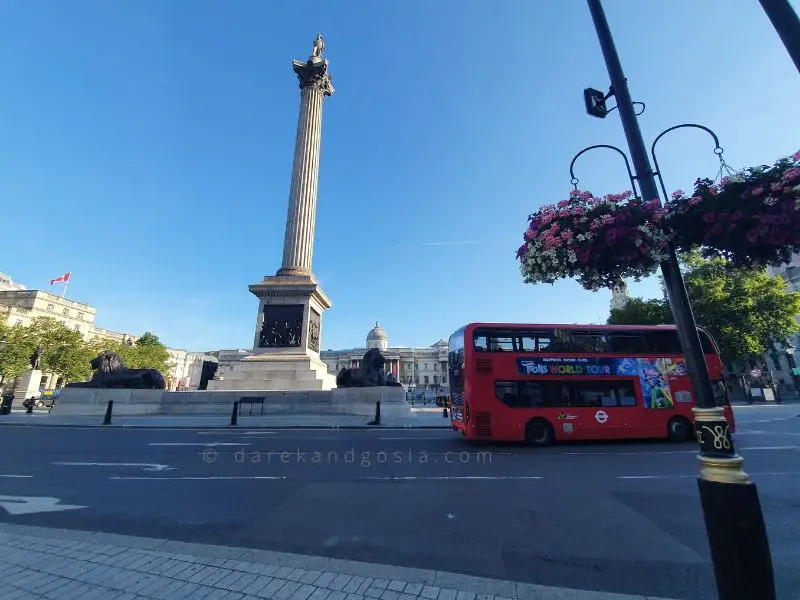 4. Tower of London
Where to visit in London? Ghastly stories and vengeful ghosts are just some of the reasons to visit this Medieval prison. Venture past the crows if you dare and listen to bone-chilling tales. Maybe even visit the crown jewels while you are there?
5. Big Ben & Houses of Parliament
Must visit places in London? Parliament is where all of the big decisions are made, but on top of that, it is also an architectural wonder. Paired perfectly with the iconic Big Ben, it is the one London attraction you need to see.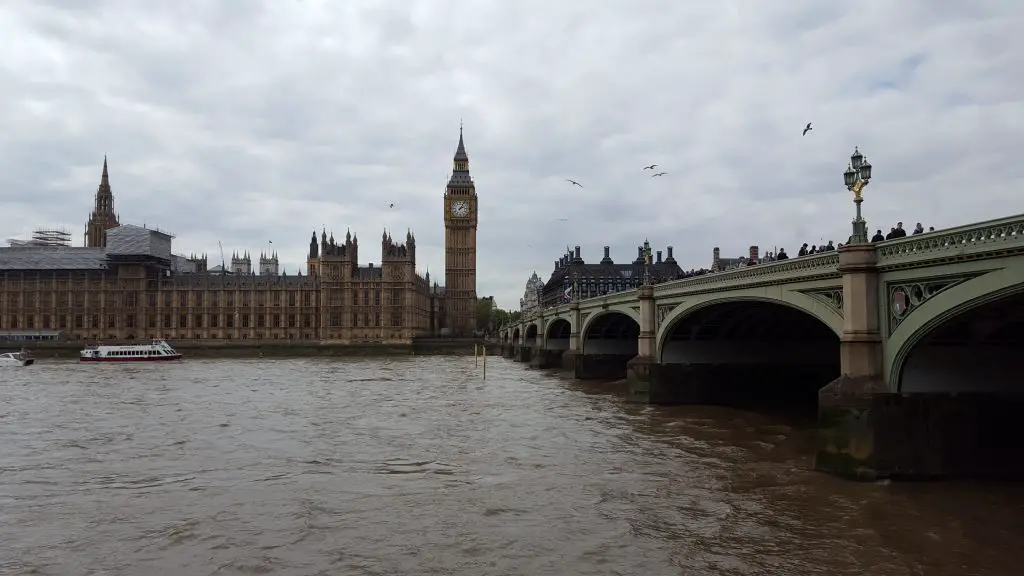 6. Buckingham Palace
Best places to go in London? Opened in 1703, it is perhaps one of the most famous palaces and one that is very popular with tourists. It is the centre of royal hospitality, and the guided tours will give you a little glance at palace life.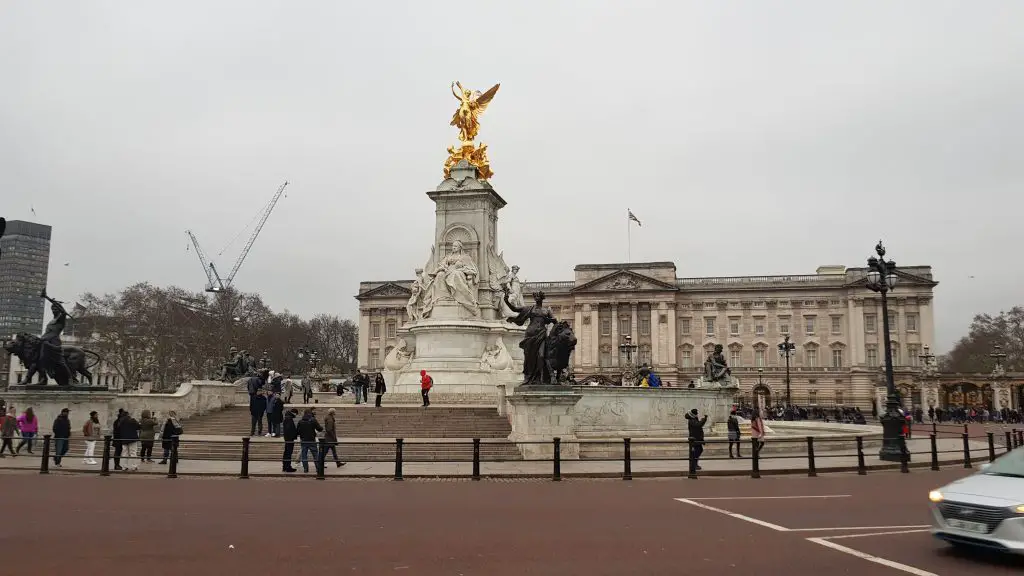 7. Westminster Abbey
What to visit in London? Opened in 1090, this ancient place of worship is absolutely incredible to witness in person – both inside and out. A recognised world heritage site; come and marvel at the architecture and design.
8. 10 Downing Street
Top places of interest in London? You'll recognise Number 10 because of the policeman outside the door, and why not take a quick photo outside the Prime Minister's house? Love them or hate them, it's a good tourist shot, and the copper might even pose for you if you're lucky.
9. Hop on Hop off Bus
What can you do in London? These 24-hour buses explain themselves. Travel around London, and jump on and off whenever you want, as many times as you like. They are a quick and easy way to get around the city, as well as fun to ride.
10. Piccadilly Circus
Must see places in London? This road junction can take you to Chinatown, Soho, Oxford Street, and Hyde Park to name a few. It's a central point that has so much potential for exceptional adventure. Take a selfie with the iconic electronic billboards at Piccadilly Circus 🙂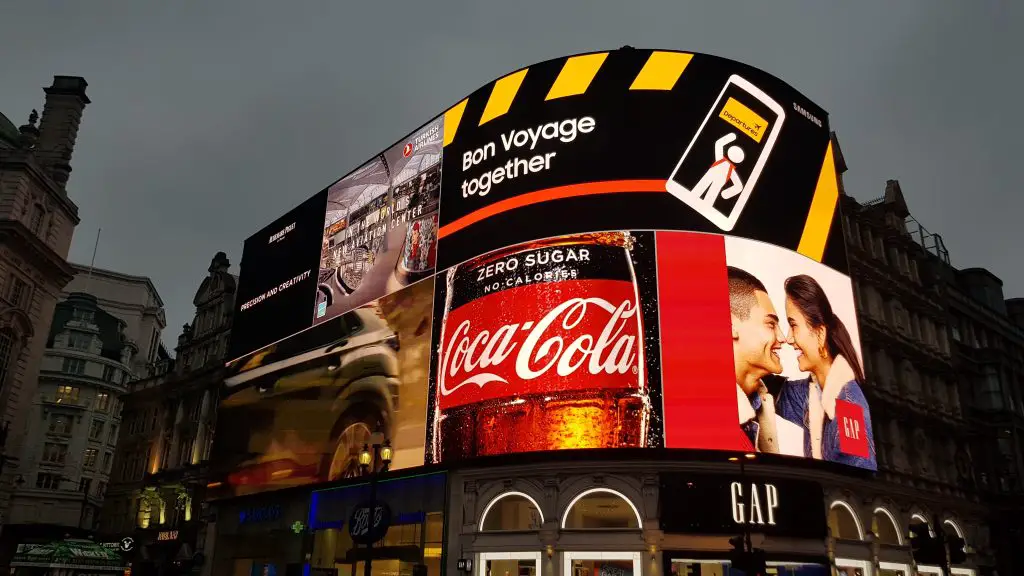 Best things to do in London for sport lovers
11. Chelsea Stadium
Where to go in London? Also known as Stamford Bridge, this famous stadium is home to Chelsea football club, as well as frequently visited by the team's many fans. You can even get guided tours if you are really into your sports.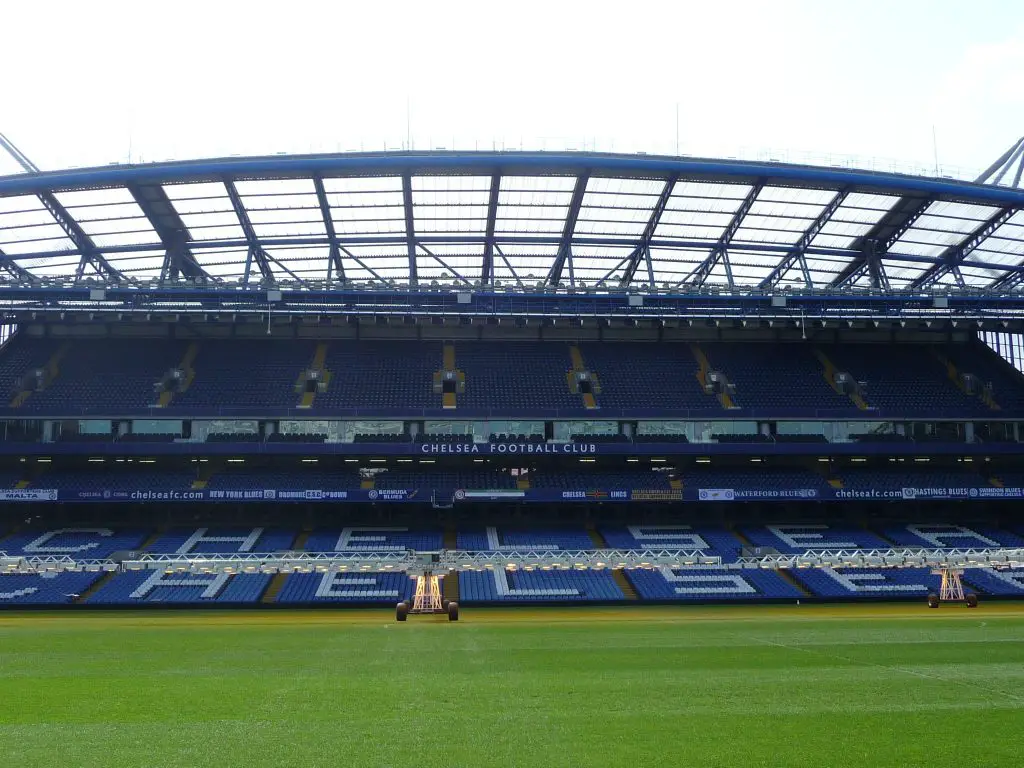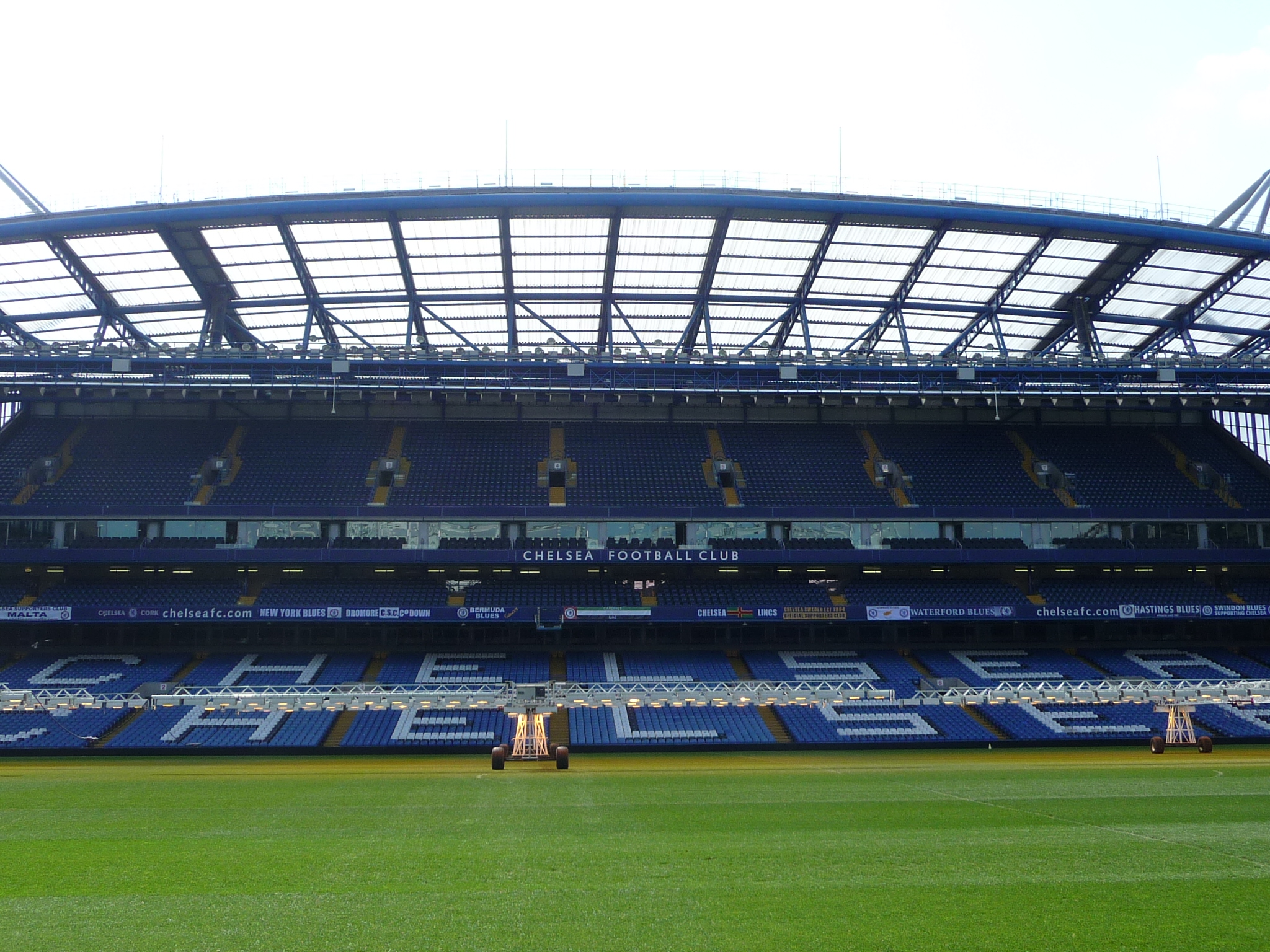 12. Wembley Stadium
What to do in London this weekend (game)? This football stadium first opened in 2007, and it replaced the original that was demolished some years earlier. Home to the FA Cup, it is an iconic structure and one every footy fan should visit.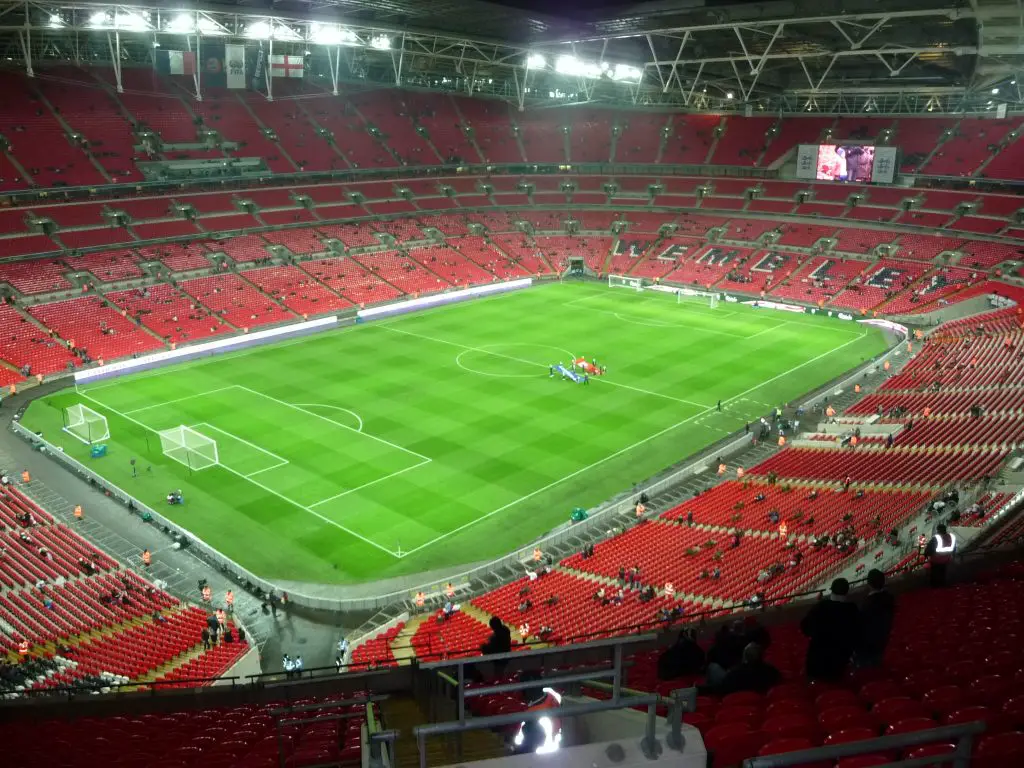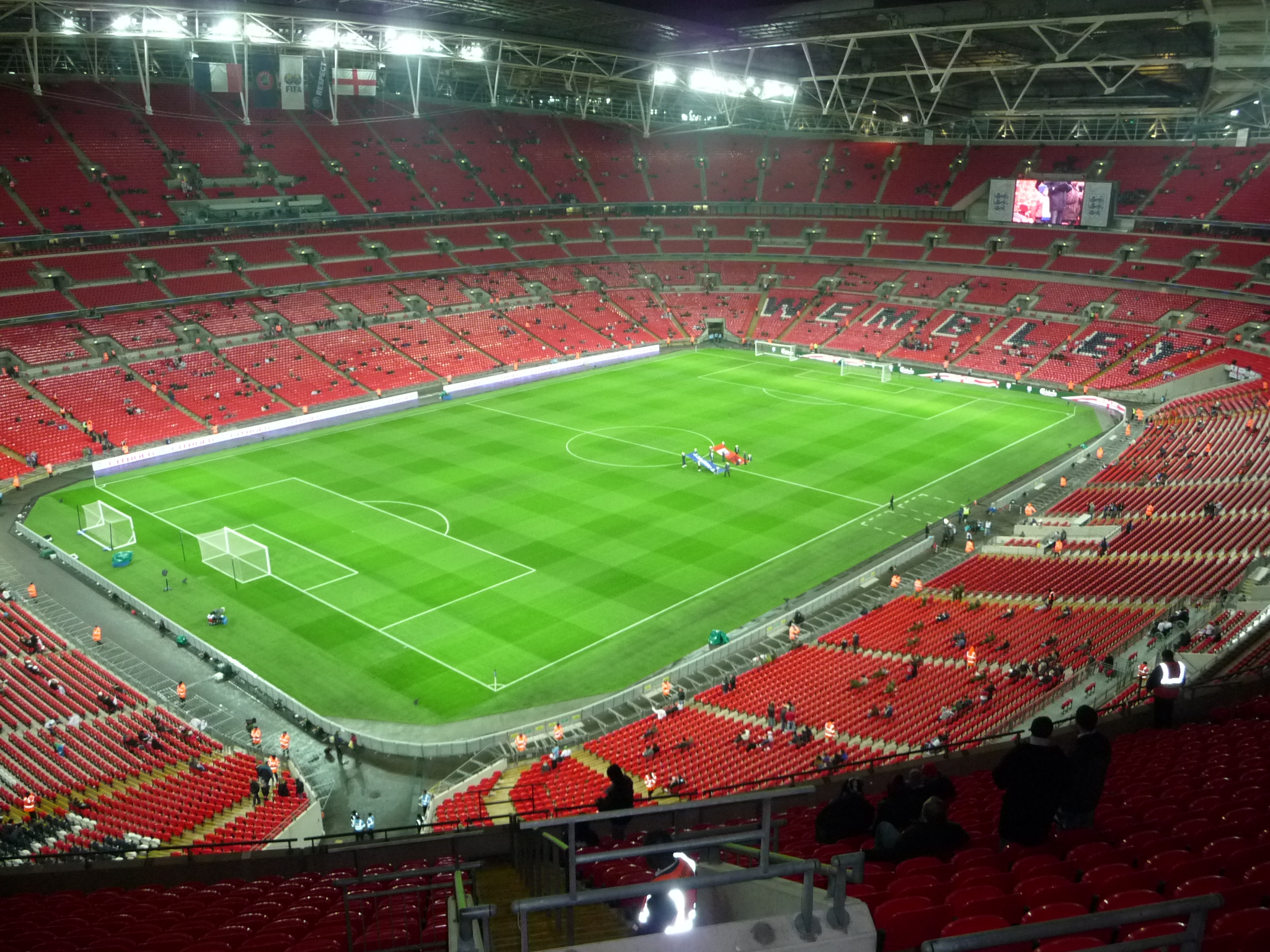 13. Olympic Park
Tourist things to do in London? Home to the 2012 Olympics, the park has been turned into an exciting tourist attraction. There are loads of sporting events, a giant slide, and even the chance to get creative with some Lego.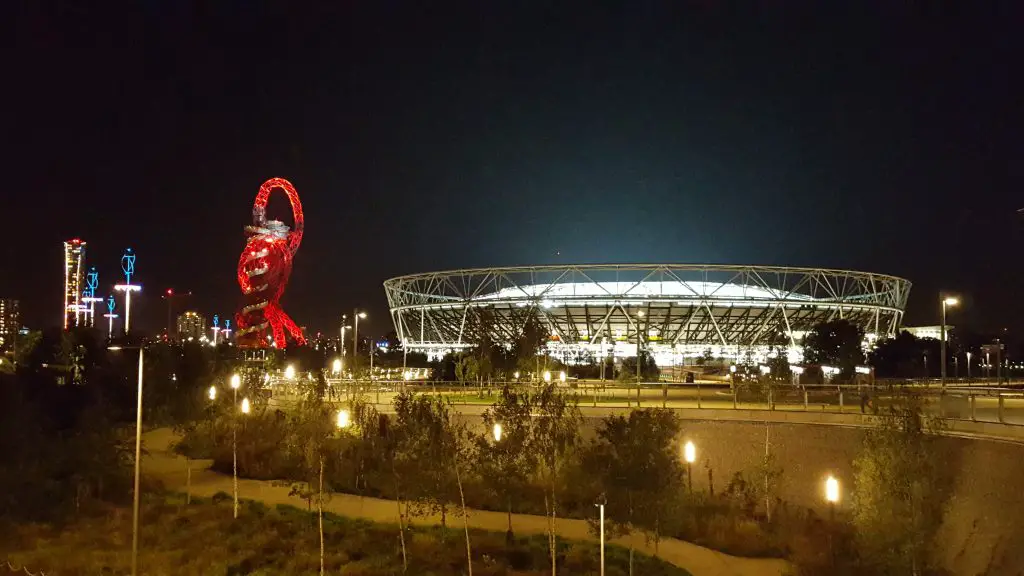 14. Wimbledon
What to do in London as a tourist? Founded in 1877, Wimbledon is the home of tennis, and where things get tense every summer. It is the oldest tennis tournament in the world, and it is also used for extensive practice. Plus, there are excellent guided tours available. Would watching tennis be your favourite thing to do in London?
Unusual places to visit in London
15. Skygarden
What is there to do in London? The unique shape of this skyscraper has earned it the nickname "the Walkie Talkie". London's highest public garden isn't just a great place to smell the flowers; it also has an exceptional restaurant.
16. Camden Canal Market
Best tourist attractions in London? Camden market is home to the bizarre, punks, goths, and steampunk fashion. With some incredible stores and stands, food and fashion come together to create an unforgettable experience.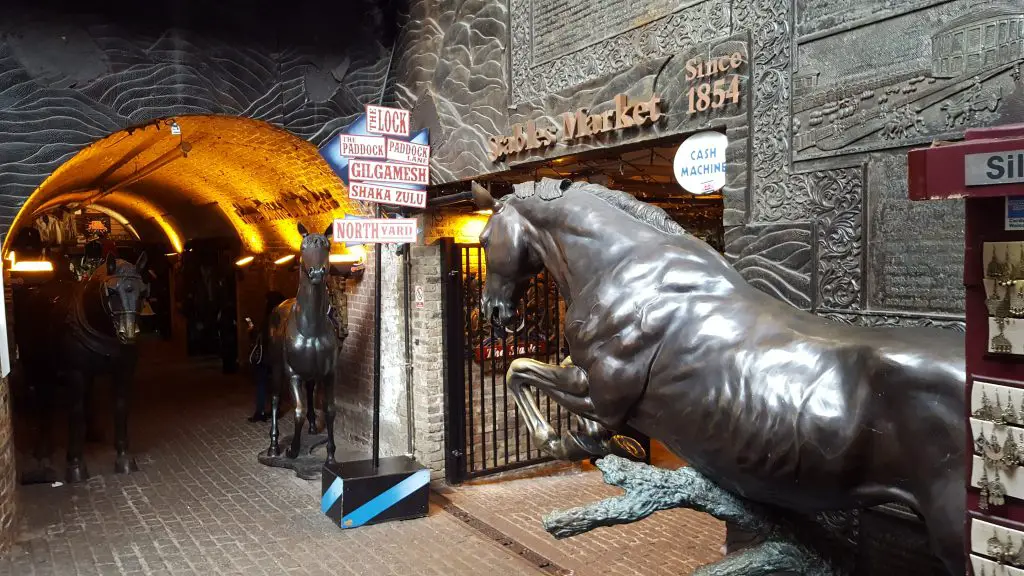 17. Liberty London
Nice places to visit in London? Known for its iconic prints, the department store provides fashion and accessories for men, women, and children alike. Everyone needs a little Liberty Print in their life, and so do you.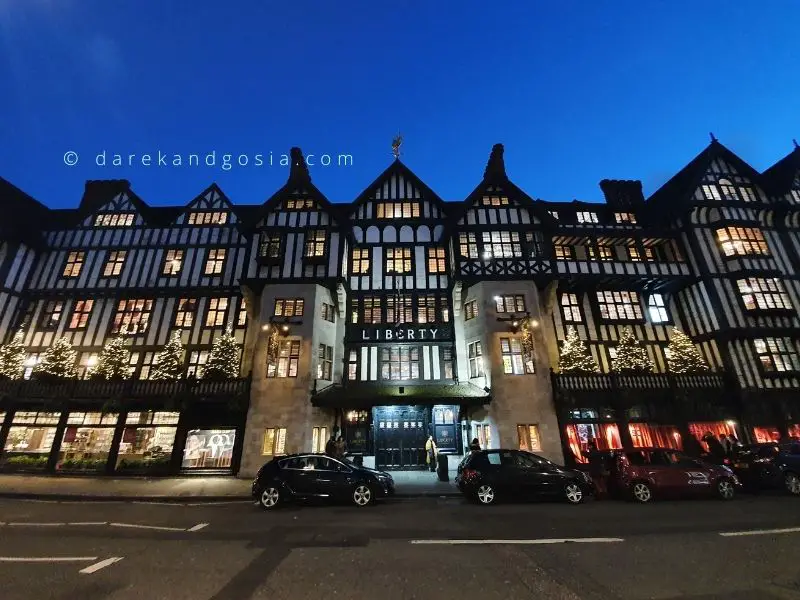 18. Notting Hill
Famous places in London? You'll find this road (and its market) in Notting Hill, an iconic location known for its high-end wares and quaint stores; as well as the film by the same name. It's a great place to visit for both the markets and the sights. There are also many colorful houses in Notting Hill so it's worth spending there a few hours if you love taking photos.
All Hugh Grant fans will have this location on their UK bucket list 🙂
19. Primrose Hill
Places you need to visit in London? This hill is a staggering 213 feet in height, and it can be found to the north of Regent's Park. With a 360-degree view of the city, it is known as one of London's most beautiful points and is an absolute must.
20. Emirates Cable Cars
Good places to go in London? A ten-minute trip over the Thames in a cable car is surprisingly relaxing, and you can enjoy some truly amazing views of London. It's also an easy way to get to the Greenwich Peninsula and the Royal Docks.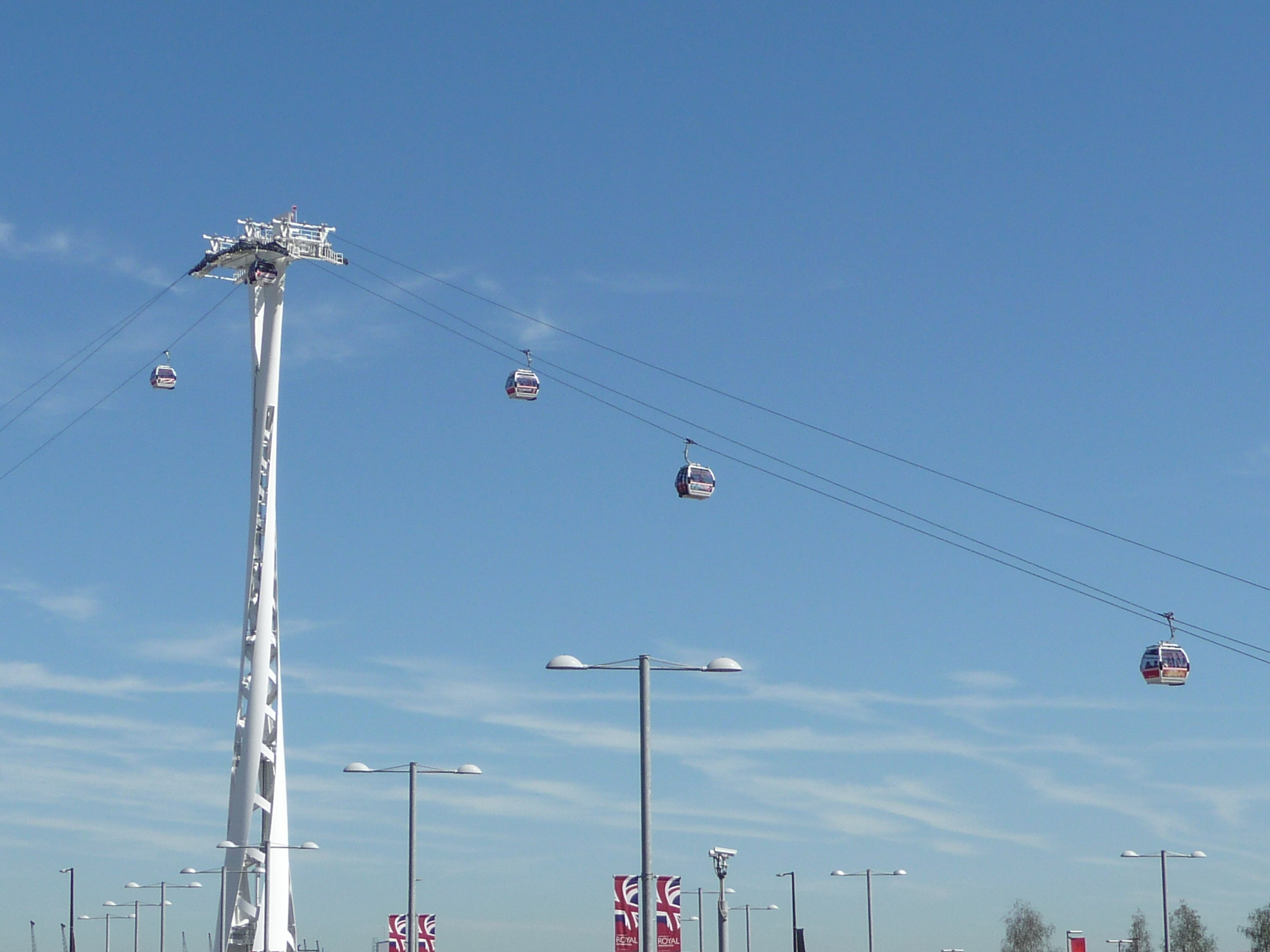 21. Musical at West End
What you must do in London? No trip to London is complete without a trip to a West End musical. Enjoy the classics, or maybe something you've never heard of before, and really get into the experience. Read the London West End Theater tips before going to one of the great shows!
22. The Shard
Best things to do in central London? Shaped like a shard of glass, this building is many things. It has offices, hotel rooms, and restaurants inside; all of which are high-end. It is an experience worth trying at least once.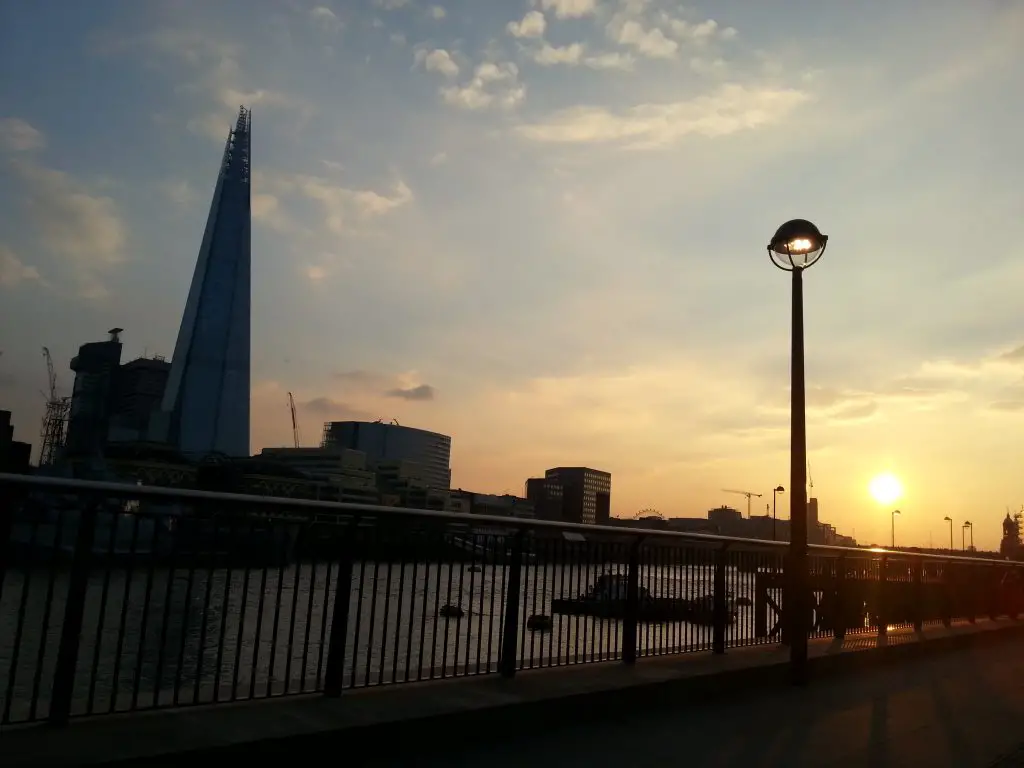 Must-see attractions in London
23. St. Pauls Cathedral
Top visitor attractions in London? It may have been around for 1400 years, but did you know it has been rebuilt five times? The cathedral hasn't got the best luck when it comes to damage, but the interior and exterior are both absolutely spectacular.
24. Kew Gardens
Most interesting places in London? These exceptional gardens aren't just beautiful, they are essential for botanical research and have government funding to keep them running. Here at Kew Gardens, you can learn so much more about the plant life around you, as well as buy a few of your own.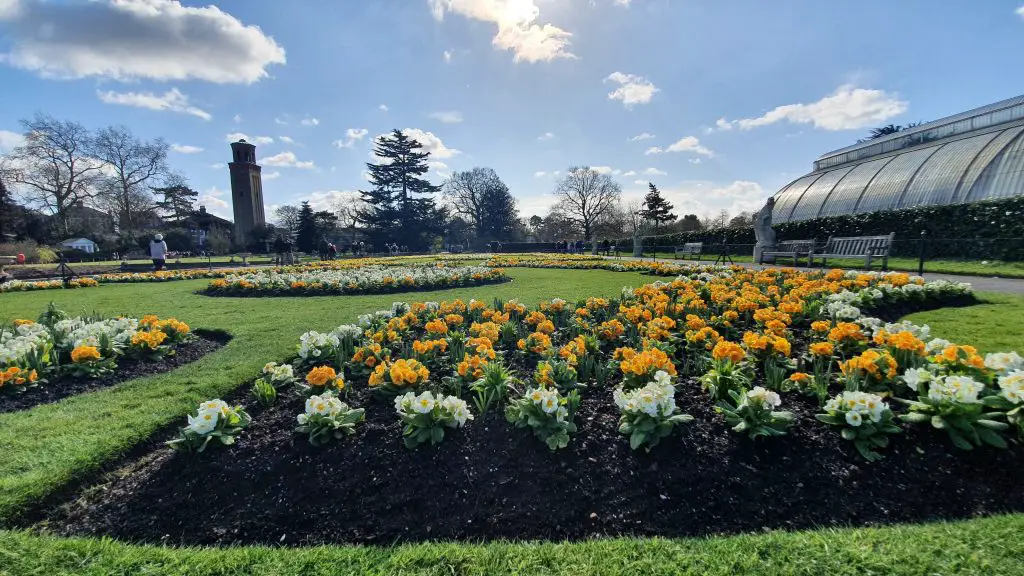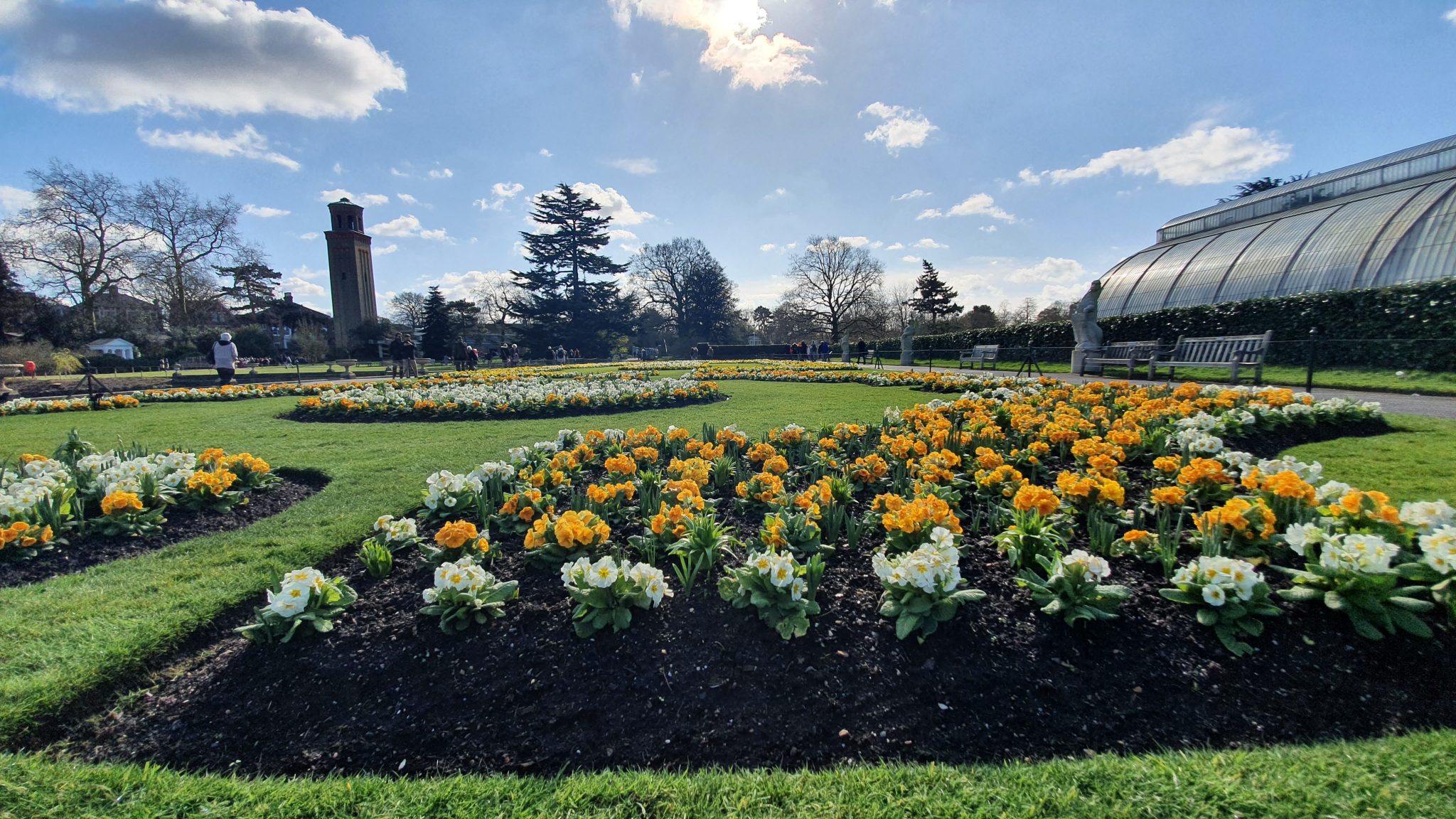 25. China Town
What to do in London this weekend? This area is all about authentic cuisine, exciting markets, and fun activities that can be enjoyed by everyone. Forget takeaways, take a trip here and let your taste buds be amazed.
26. Royal Observatory in Greenwich
London what to see during your trip? First opened in 1676, it has been revolutionary for our understanding of astronomy and navigation. It is more famous for the prime meridian passing directly through it, hence Greenwich Mean Time.
27. Kensington Palace
One of the main London attractions! Built in 1605, this gorgeous palace is a must-see for anyone visiting the city. Set in the gorgeous Kensington Gardens, it's a great chance to get to know more about the history of this palatial home.
28. O2 Arena
Best places in London to visit? Sport, comedy, music, and all things theatrical are here – there is even a cinema in this massive building. With dining and shopping, while you wait, as well as the chance to climb the arena, there is very little you can't do here.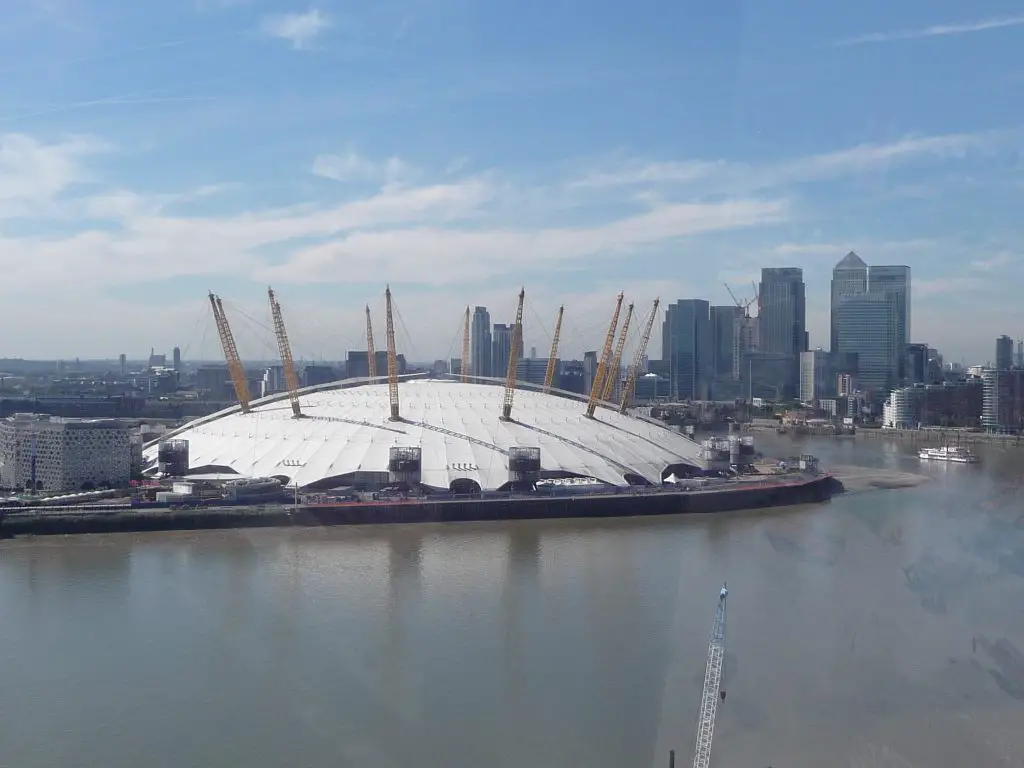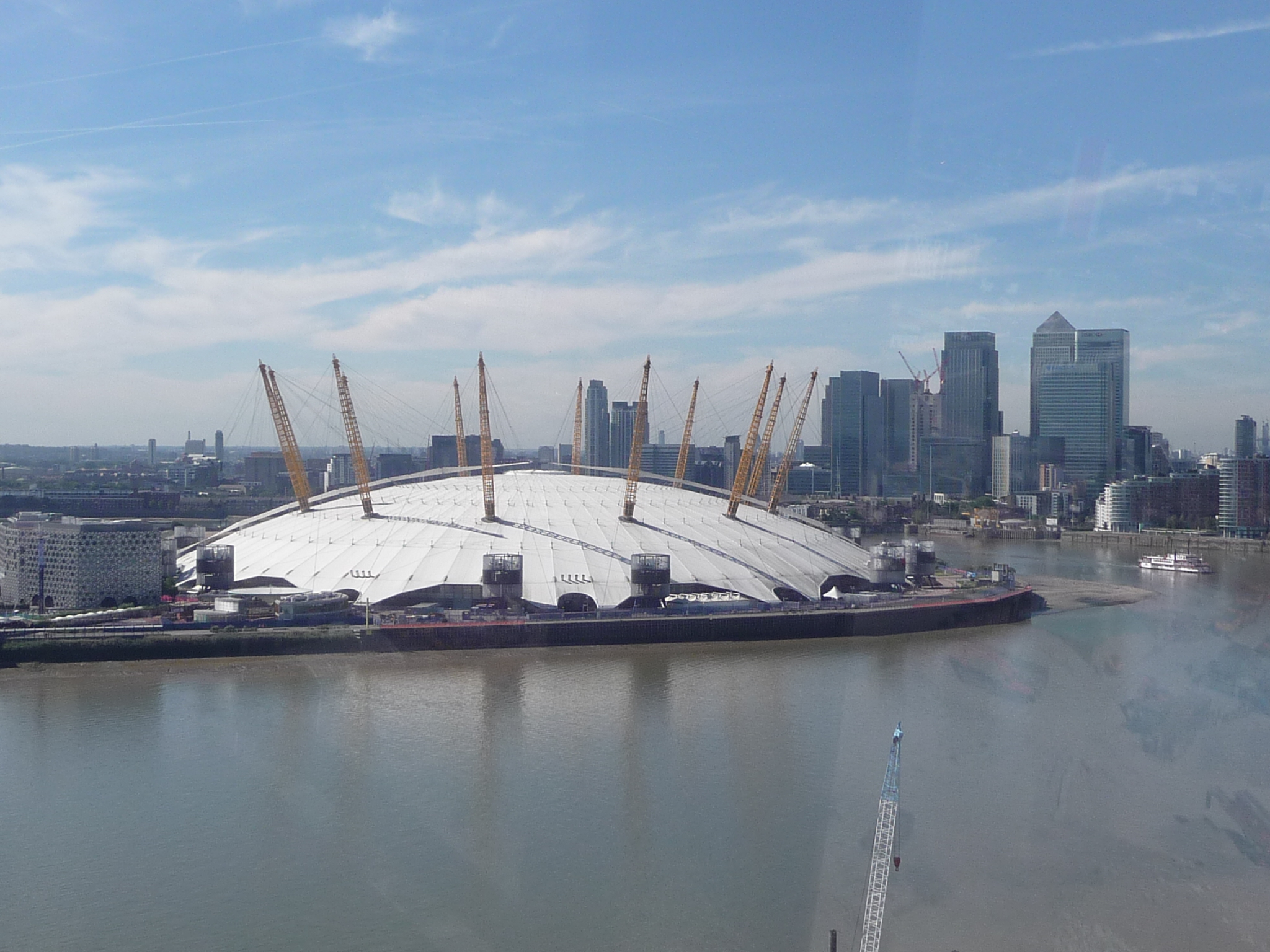 29. Tower Bridge
Things to visit in London? Opened in 1894, it is one of the top landmarks in London and one of the most famous bridges in Europe! It's one thing seeing it from afar, but actually going in, getting a tour, and walking along the terrifying glass floor will give you an unforgettable experience.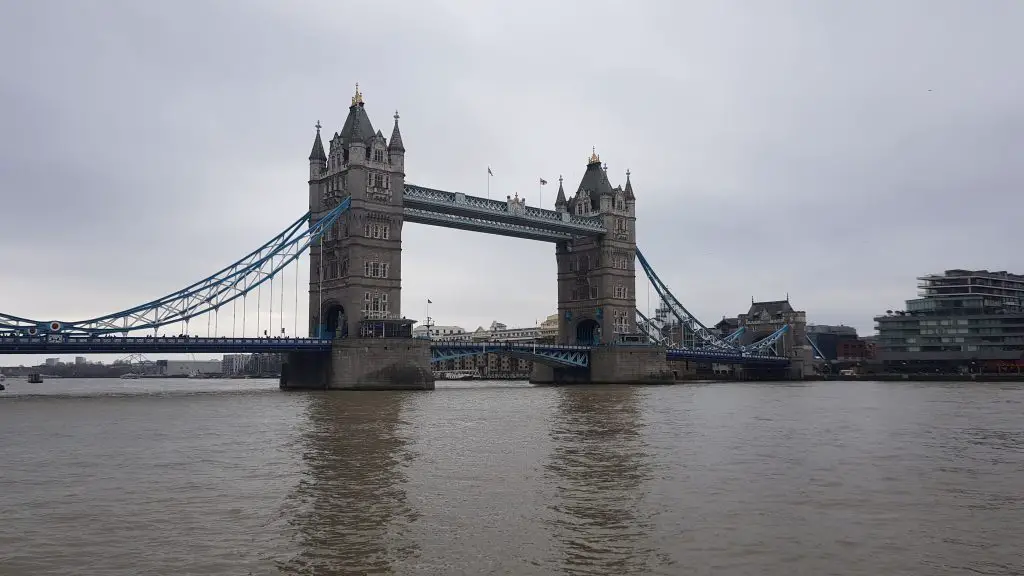 30. Changing of the Guard
Top London tourist spots? This ceremony takes half an hour and occurs at 11am each day, or 10am on a Sunday. While smaller than its Buckingham Palace counterpart, it's still an exciting tradition to go and watch with the family.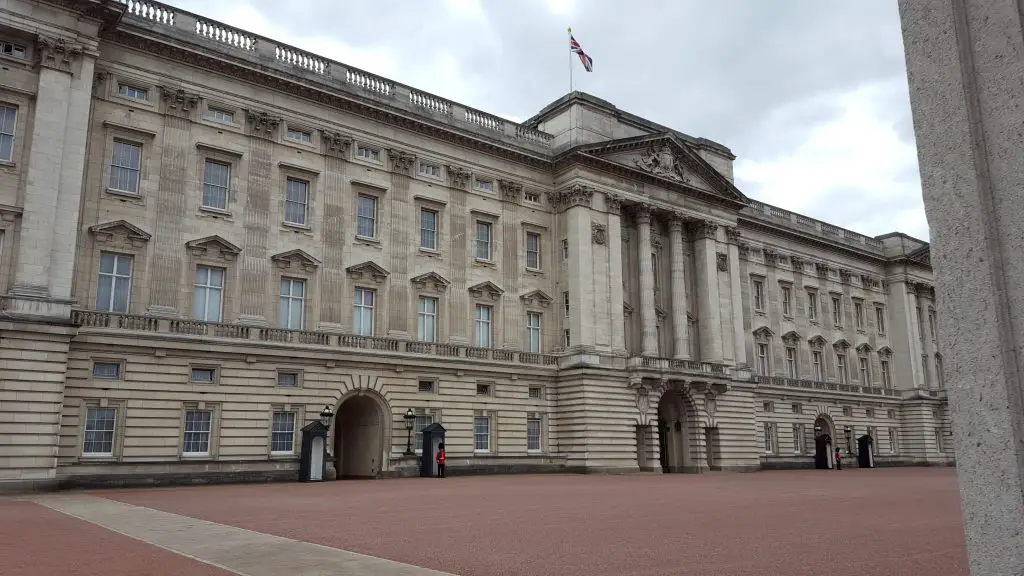 31. Leicester Square
What to do in central London? In use since 1670, it is an entertainment highlight, with loads to do. You can watch intense theatre, dine out, go shopping, and even watch comedy shows live. Everything you could want is right here.
32. Millennium Bridge
Top places to visit in central London? This steel pedestrian bridge was opened in the year 2000 and runs across the River Thames. Located near Southwark bridge, it makes for a scenic walk over the river and isn't too far from Shakespeare's Globe.
33. Victoria Albert Museum
Things to do in the city of London? The V&A is the largest museum in the world for decorative arts and was founded in 1852. Named after the long-ruling queen, the permanent collection features over two million items. How's that for a feast for the eyes?
Top things to do in London with kids
34. Hamleys Toy Store
Best places to go in central London? Every child's dream is to visit this toy store, and they have everything you could possibly imagine just waiting to be played with. Inspire your inner child and relive the magic of your youth the second you step inside.
35. SEA LIFE London Aquarium
Things to do in London during the day? Found next to the London Eye and open since 1997, it remains one of the most popular attractions in the area. A way to explore all sorts of aquatic life and learn more about them, it's an unforgettable trip that will leave you with great memories.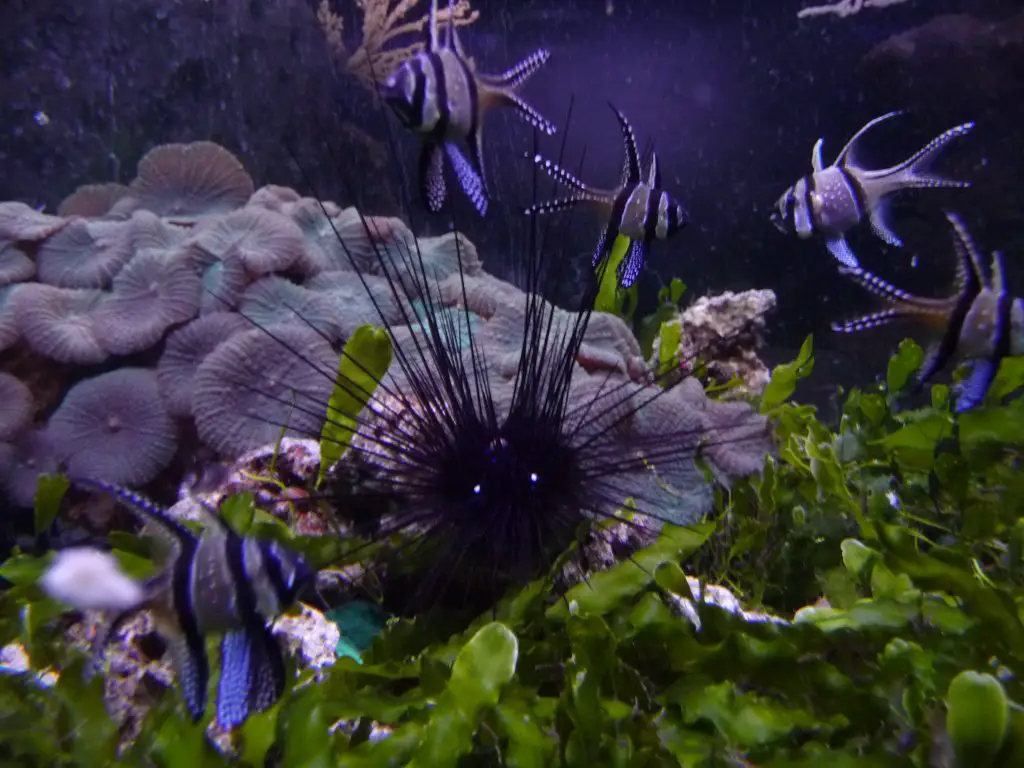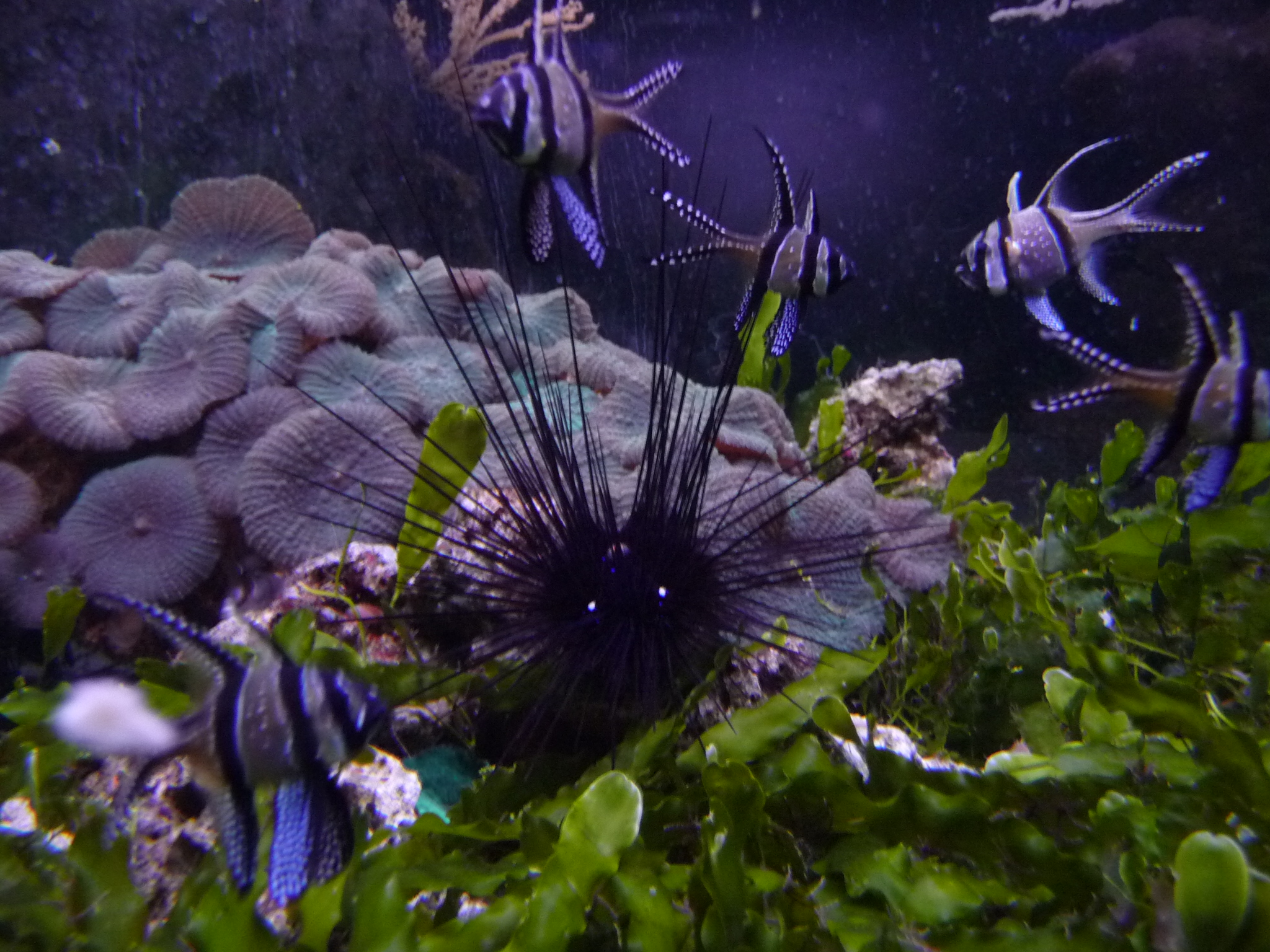 36. City Cruises
Cool experiences in London? Take a trip down the Thames, but do it in style with city cruises. You can lunch on the water, or even enjoy a romantic moonlit dinner. Not your thing? The guided tours are a great way to learn more about the city.
37. Greenwich
Beautiful places to visit in London? Known for its maritime history and sitting on the bank of the River Thames, this little borough is full of wonder and knowledge. The maritime museum is certainly worth a visit if you are interested in history.
38. Have a Sunday roast
Must do in London? Sunday roast is the very heart of this country, and you'll find that most pubs and restaurants have one each week. Roast beef with potatoes, carrots, mash, gravy, and Yorkshire puddings are the most popular, but there are so many delicious variations.
39. M&M World London
Fun places in London? A fun trip for M&M lovers everywhere, this tasty experience takes you through the world behind the delicious chocolate treat, as well as offering you the chance to buy some exclusive merchandise and homeware.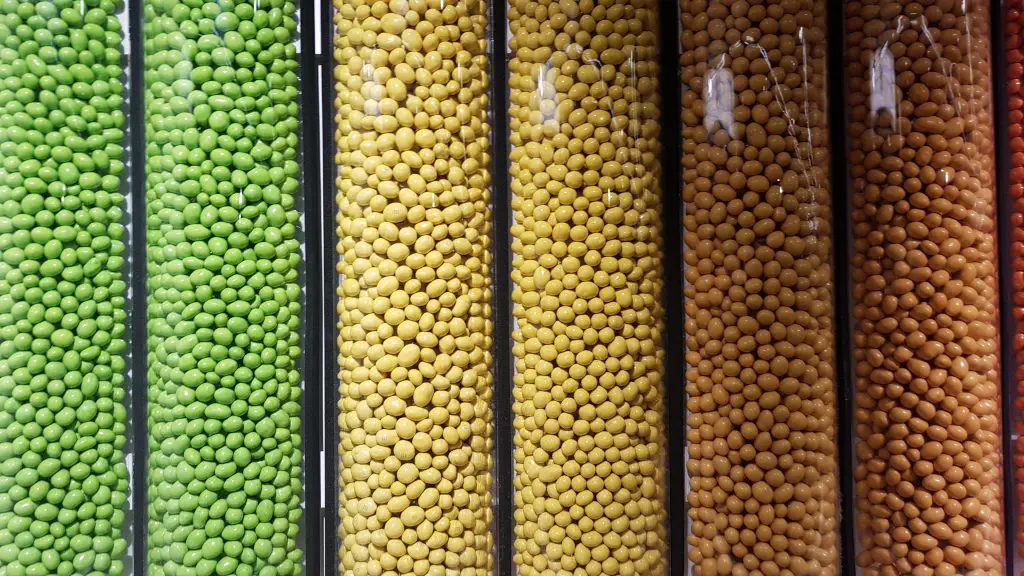 40. London Zoo
London best places to visit? It is the oldest scientific zoo, but also a wonderful place to see wildlife and learn more about them; as well as the ways we can try and preserve their natural habitats. In terms of zoos, this particular one has actually had a lot of firsts.
Cool things to do in London
41. Neal's Yard
Cool things in London England? Found in Covent Garden, this little colourful courtyard is full of independent bars, cafés, shops and restaurants. Neal's Yard is a must-see when visiting Seven Dials. Are you able to find this hidden and one of the prettiest streets in London?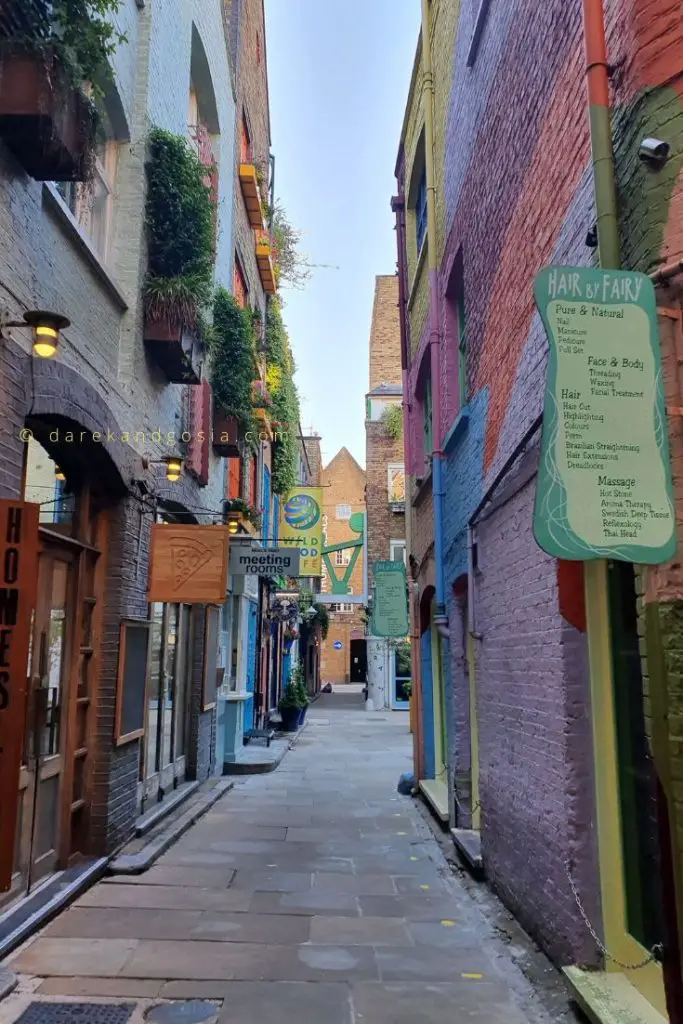 42. Rooftop bars
Best spots in London? There's nothing quite like experiencing a rooftop bar. Cocktail in one hand, a gorgeous view over the city, and a glorious sunset. Nothing better. There're loads to choose from, so why not visit a few?
43. St Patrick's Day
Best of London? The Irish celebration is huge in London, with a day and night of food, drink, and company that you will never forget. Listen to pure Irish music, make new friends, and create experiences – London must see!
44. Shakespeare's Globe
There are many great London things to see! This reconstruction of the classic theatre is a huge attraction, and Shakespearian plays are performed here on a regular basis. Come watch, and be transported to a different time.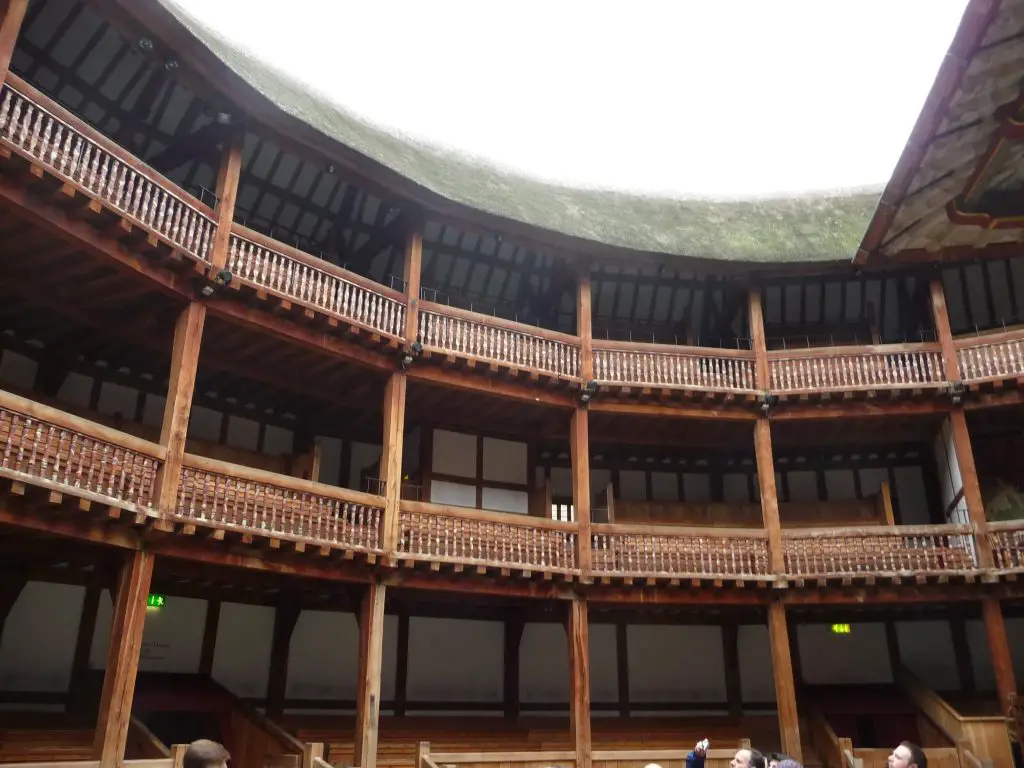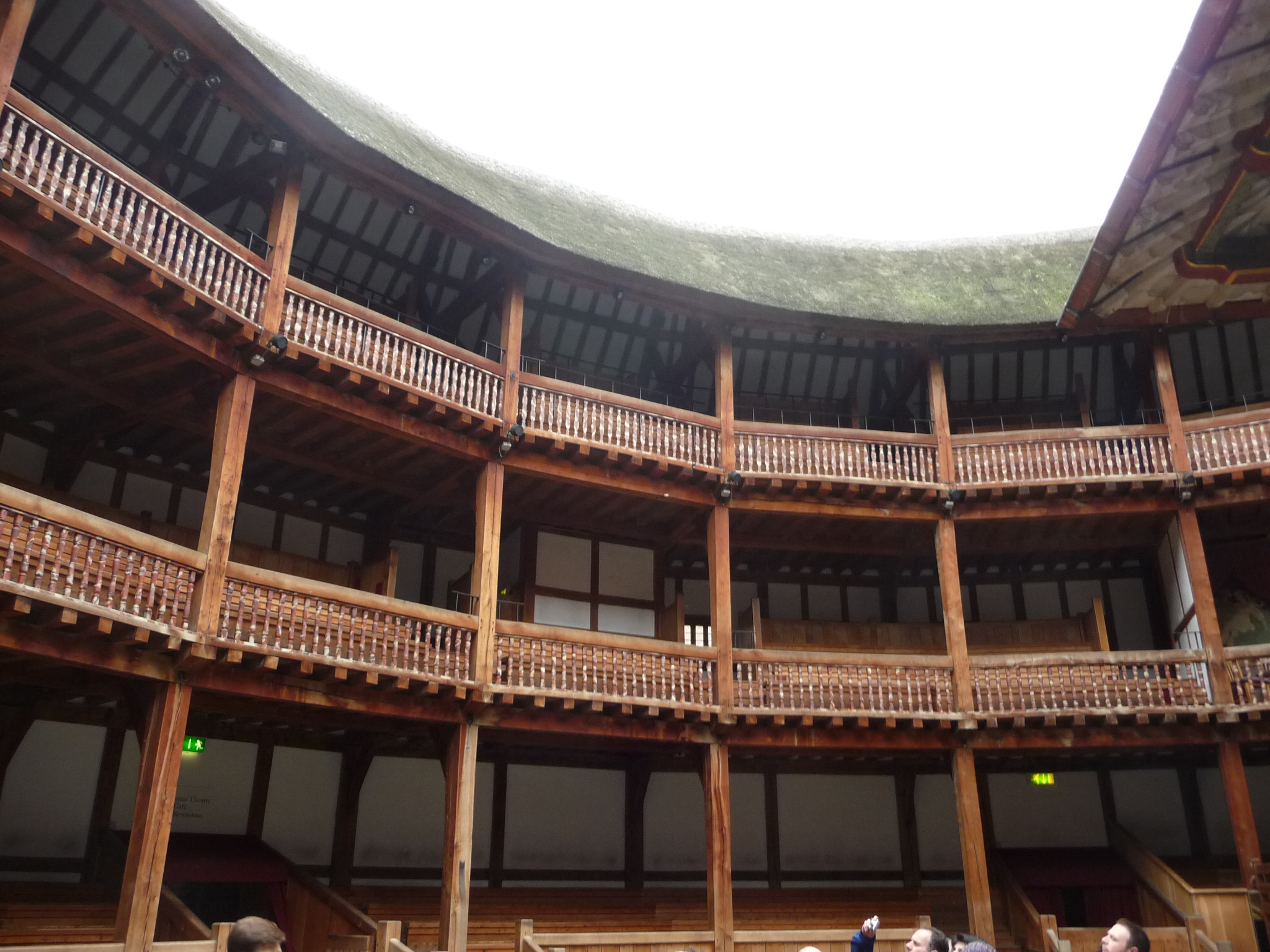 45. Maltby Street Market
Best to visit in London? This weekend market sells some incredible fresh foods that your taste buds will be dying to try, and the smell will leave your mouth watering. Set below scenic 19th-century arches, it has an old-time feel you won't find anywhere else.
46. Celebrate Bonfire Night
London main attractions? Since London is where the Guy Fawkes and his dastardly plan took place, it is only fitting that there be fireworks and celebrations here. You'll have loads to choose from, but Battersea put on a pretty spectacular show.
47. Portobello Road Market
Fun things to do in London with friends! Have an eye for antiques and rare finds? The Portobello Road Market is the largest of its kind in the world. Here, you will find a plethora of stands selling rare, vintage, and unique goods.
Cheap or free things to do in London
48. Covent Garden
Free things to do in London this weekend? Located in the stunning West End, Covent Garden London is the entertainment centre of the city; as well as the main theatre. Restaurants, museums, and the quality shows alike make this one of the greatest attractions.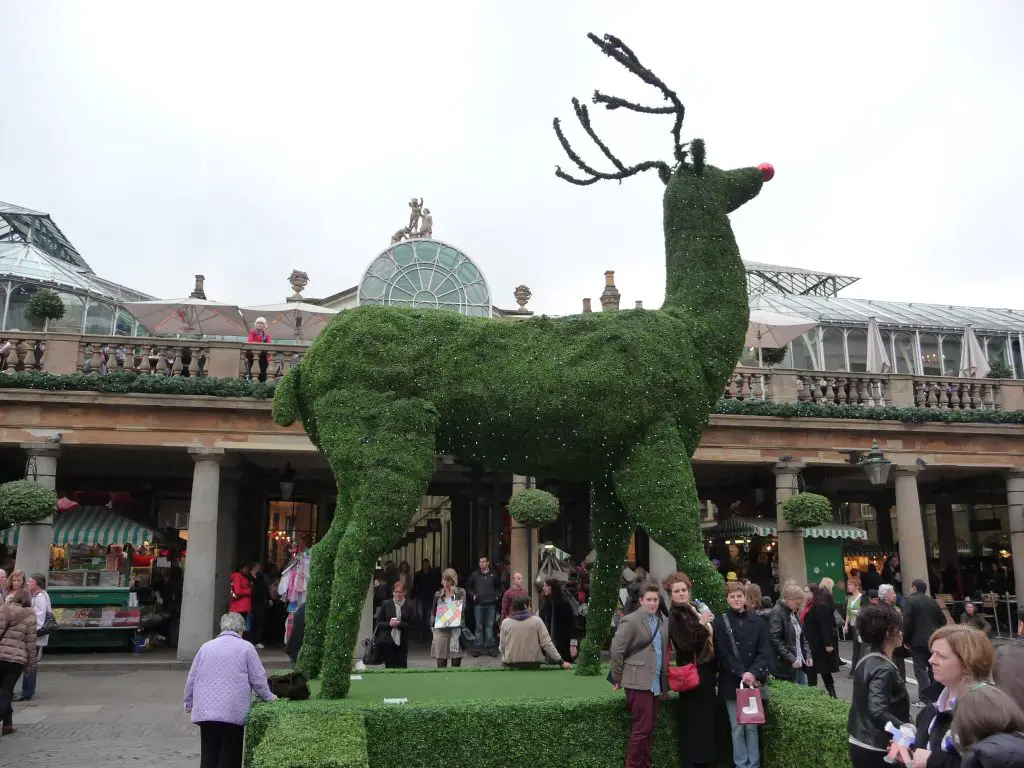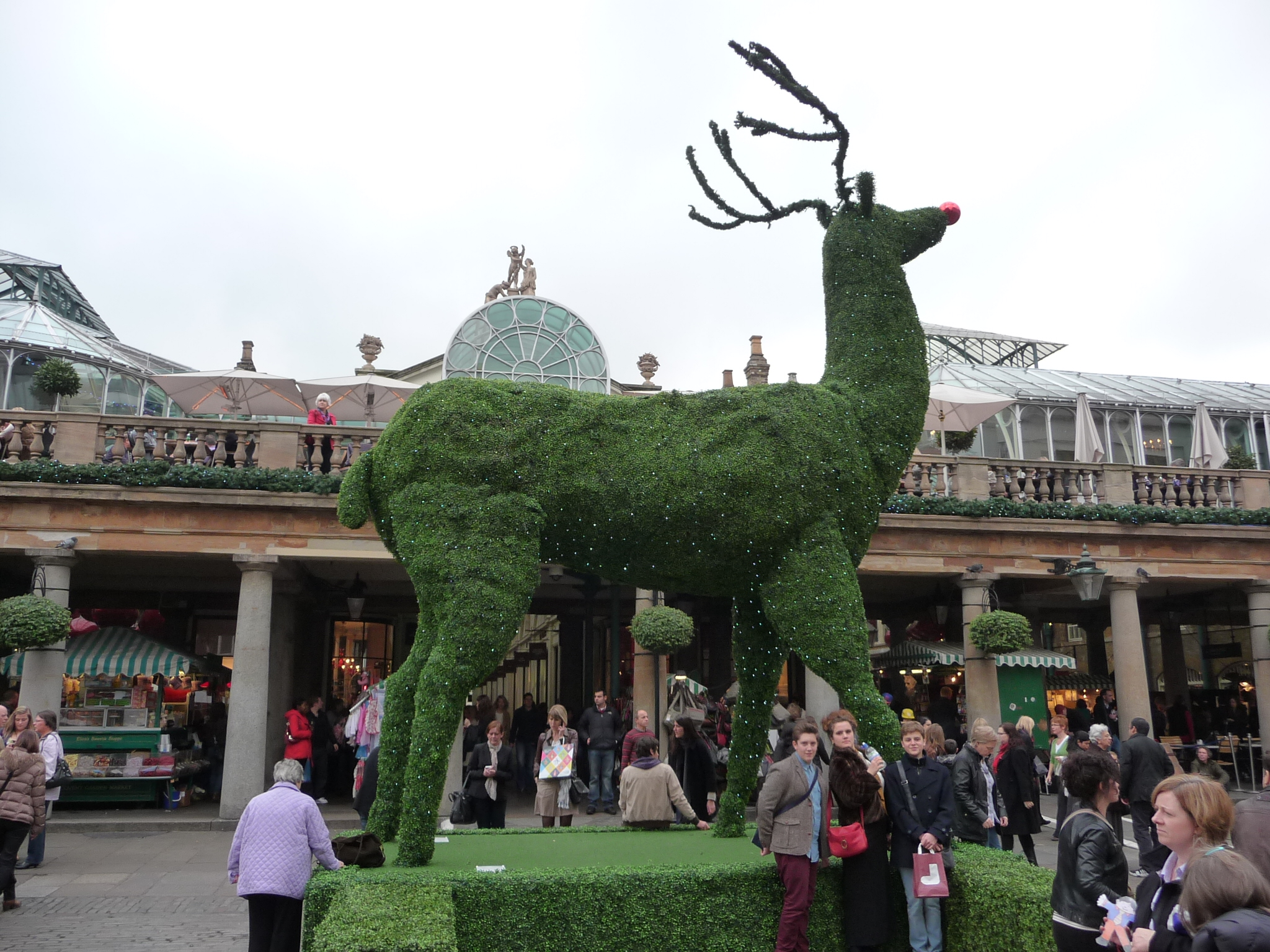 49. Leather Lane in Farringdon
Free stuff to do in London? Traditional London meets new on this street with a market that has been running for 400 years. Try some unique foods and artisan coffees, or pick up little trinkets you can't find anywhere else; the market is yours to explore.
50. Platform 9 ¾
Things to do in London with family? The journey starts with the trolley in the wall, and you can snap a quick picture as you imagine yourself heading off to Hogwarts. After, why not visit the Harry Potter shop for all your wizarding needs?
51. National Gallery
Cool museums in London? Located in Trafalgar Square, this art museum holds some gorgeous paintings. With over 2,000 paintings collected, you will find they date from the 13th Century, all the way up to 1900.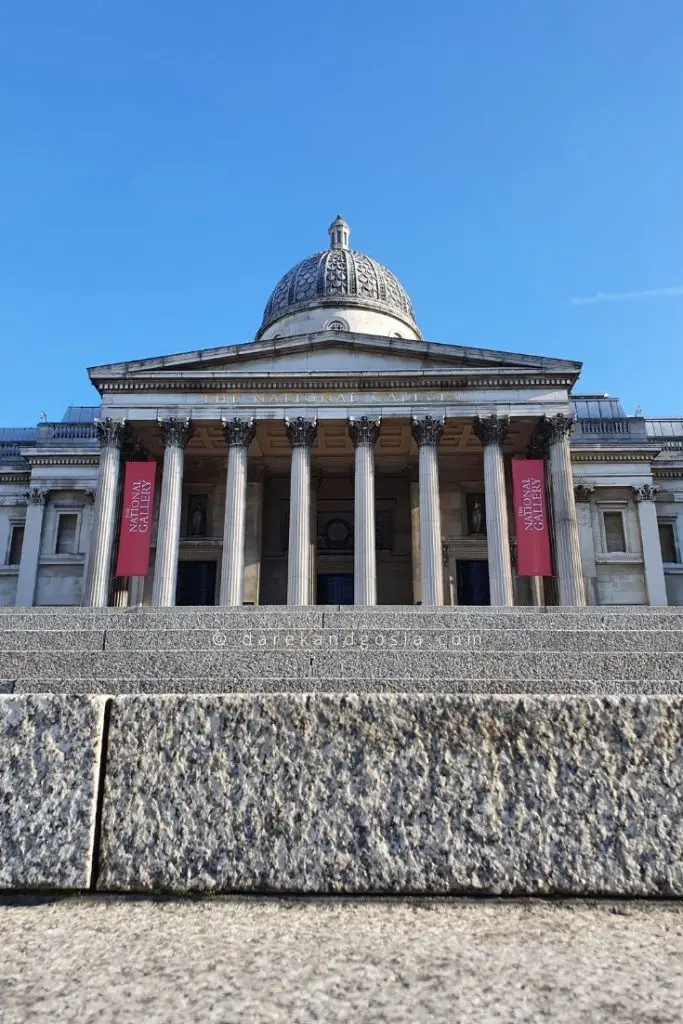 52. Free Walking Tour
Things to do in London on Saturday? There are some great tours through the city that won't cost you a penny, and they can teach you much about the city. There are even some that you can guide yourself through; perfect for when you just want to tour alone.
53. Try fish and chips
Things to do in London with friends? A classic British dish, everyone simply has to try fish and chips while in the capital. What better than finding a little chippy and picking up an order? Hate fish? Try a battered sausage instead – pure bliss.
54. Regents Park
Fun things to do in London this weekend? Nestled between Camden and the City of Westminster, there is a surprising amount to do here. From the famous London Zoo to open-air theatres, you are sure to find an adventure that excites you.
Best places to see in London for museum lovers
55. Imperial War Museum
Good places in london to visit? Remember the sacrifice made by those before us, the horrors of war, and the things we should learn from it. The museum sugar-coats nothing, bringing you raw truth and history that you may not even know. Be warned that the Holocaust exhibition is for ages 16 and over.
56. Madame Tussauds
Ever wanted to meet the queen? A few celebrities that you will never get the chance to see? Madame Tussauds has it all, with realistic wax figures that you can pose with; and they are extremely lifelike. London must visit!
57. Natural History Museum
One of the top central London attractions! Dinosaurs, mammals, plants, insects, and even bats. You can find it all at the Natural History Museum, and there are interactive exhibits for kids and adults alike. Close to the science museum, it is perfect for a day of learning.
If you love history, you should also consider visiting Stonehenge.
58. Sherlock Holmes Museum
Top sights in London for turists? You will find this privately-run museum exactly where you would expect; 221B Baker Street, London. The tour lasts around an hour, and there is a little gift shop at the end. Make sure to take a Sherlock Holmes Tour of London too! 🙂
59. Museum of London
What should be on your London points of interest list? This history of London is vast, and this museum starts in the Prehistoric Age and spans all the way to the Modern Era. What will you learn about our ancient capital on your visit?
60. British Museum
Many Brits will say that this is one od the 5 must see places in London! Founded in 1753, it is home to some of the most incredible and priceless artefacts ever found – including an Easter Island statue. With so much history to explore, you'll be hooked for hours.
Interesting stuff to do in London
61. Carnaby Street
Looking for exciting attractions in London? Soho is part of the very soul of London, and this street is no different. From shopping to dining, everything you need to have the best possible day in the city is right here and ready. Visiting the capital city during Xmas? Carnaby street is probably one of the best places to see Christmas Lights in London!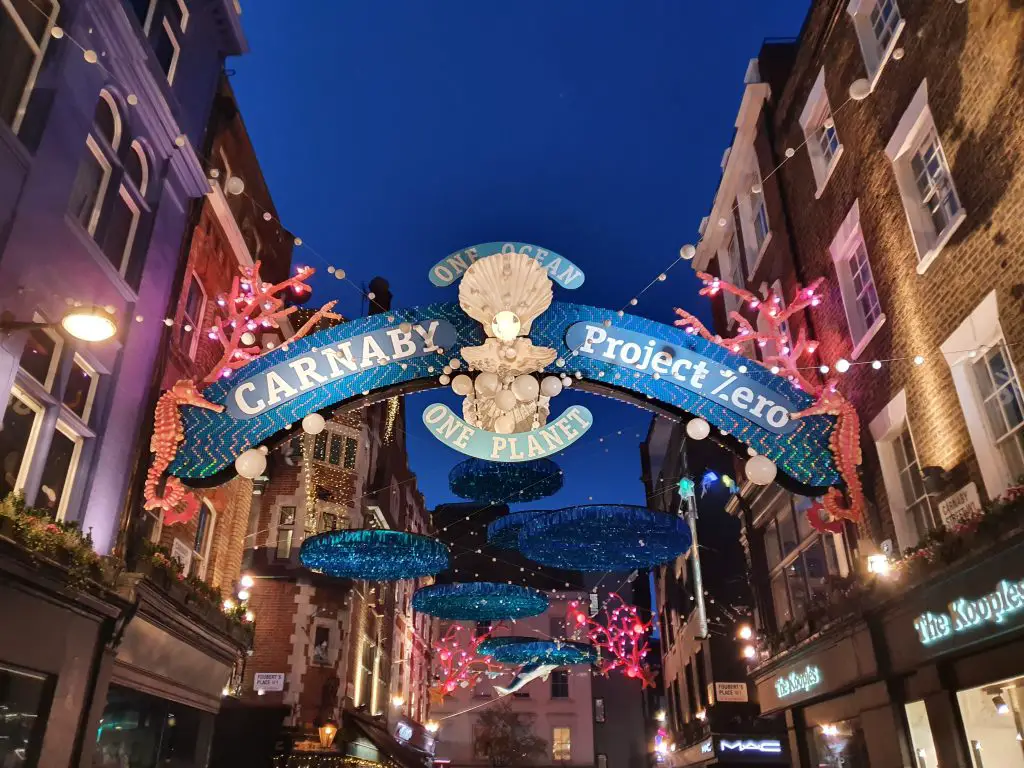 62. Brick Lane
Interesting things to see in London? Markets, galleries, restaurants, what more could you ask for? Brick lane has it all, and has been a highlight of London tourism for many years. Take a stroll through this East End street and see what you find.
63. Royal Albert Hall
Best places to go with friends in London? Opened in 1871, the hall has been home to the Proms since 1941, and millions tune in to watch every year. With a capacity of over 5,000 people and no government funding, watching a show here is good for you, and for them.
64. Thames Clipper
Best tourist attractions in London UK? These river buses work as an excellent commuter service and usually transport a little under 10,000 passengers each day. They make a nice change to the usual public transport, as well as fast travel through the city via the Thames.
65. South Bank
Looking for best areas to explore in London? Southbank is home to many exciting attractions, including the London Eye, London Dungeon, and Aquarium. With gorgeous views of the Thames and quick access to Waterloo station, it's worth a little stroll and visit.
66. Spitalfields City Farm
Best activities in London? This farm is the perfect opportunity to take kids to learn more about farm animals, bugs, plants, and even the way farming works. However, it can also be a great trip for adults. Run by community volunteers, it is free for all.
67. Tate Modern
Top city sightseeing London? Home to modern art from across the world, unleash your inner critic and see how you feel about some of the supposed best artists of our time. You might even find someone to swap opinions with.
68. Jack the Ripper Tour
Outdoor things to do in London? These two-hour tours can be done with strangers or be privately booked, and they transport you back to Victorian England as you visit the sites of the famed murderer, Jack the Ripper. A spooky and chilling experience.
69. Abbey Road zebra crossing
Unusual things to do experiences London? Be just like The Beatles and take a walk across this famous zebra crossing in Camden. Many have come to recreate the album cover, and you could be next. It's good fun and makes for a great photograph.
Fun stuff to do in London
70. ArcelorMittal Orbit
Things to do in London next weekend? Found in the Olympic Park, this bizarre statue is a huge tourist attraction. Controversial due to its appearance and cost, it's a massive talking point. What do you make of this red beast?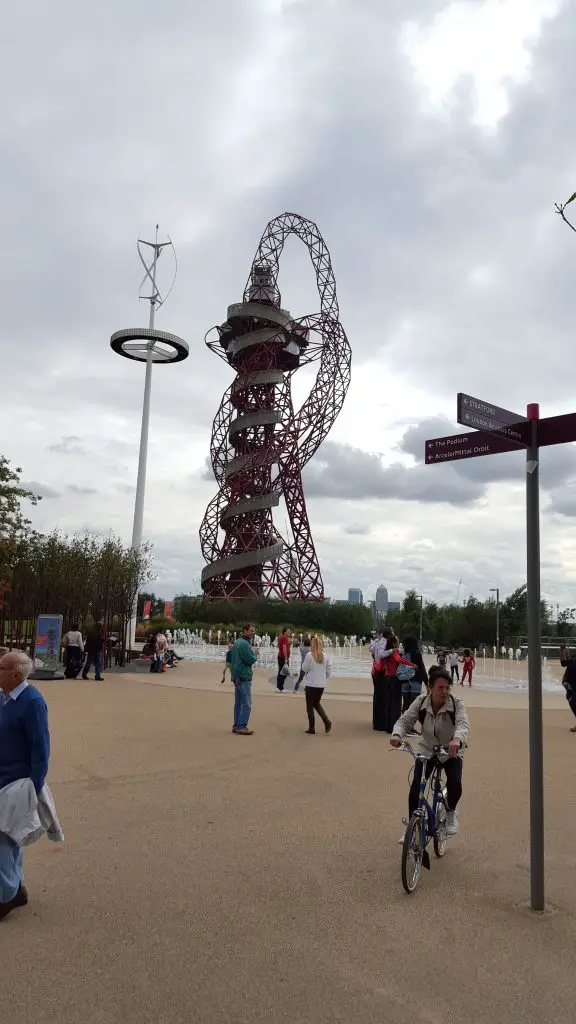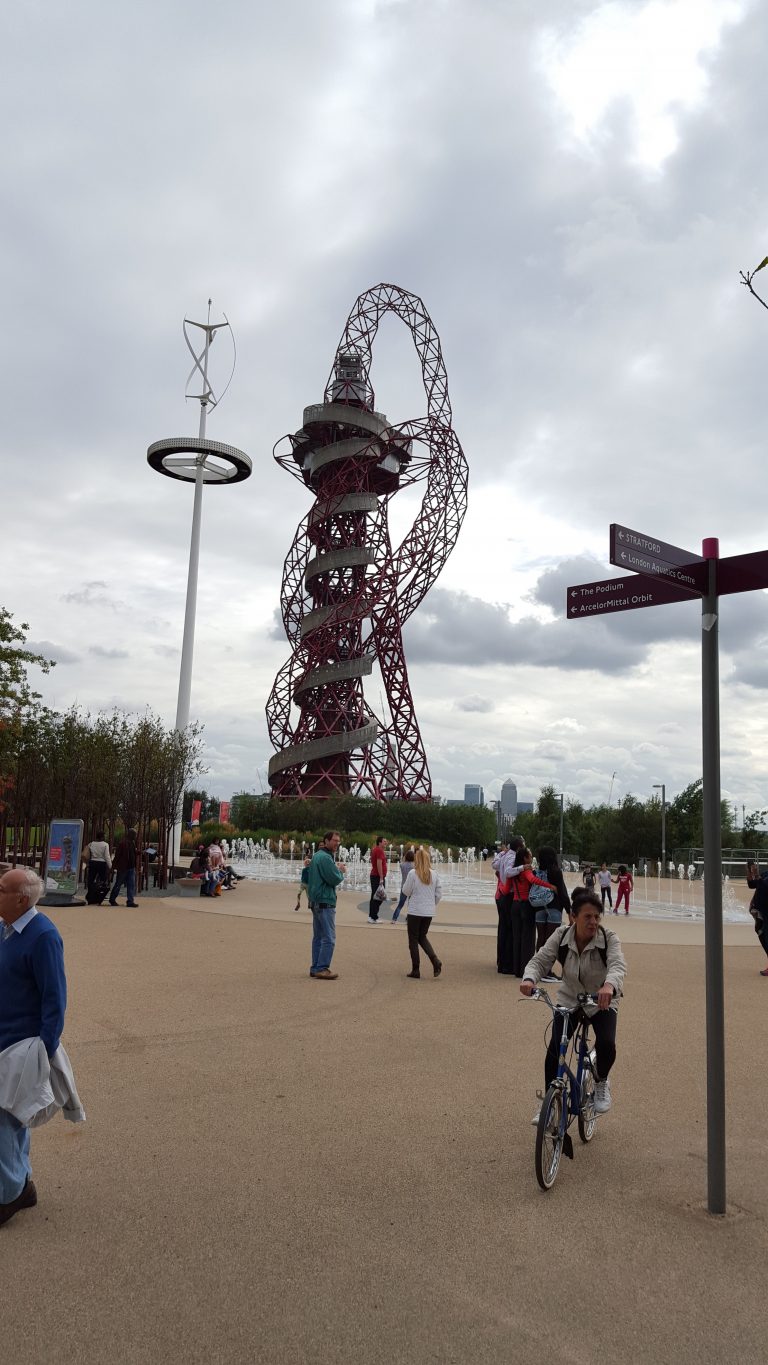 71. Woolwich Foot Tunnel
Any special things to do in London? Travel under the Thames through this exceptional tunnel and make your way to Greenwich or North Woolwich. It's surprisingly unknown to tourists, and walking through it can feel quite surreal.
72. St. James Park & Green Park
Things to do in London right now? Part of the Royal Parks, these areas are full of luscious green grass and plant life; making them a welcome escape from urban life. A perfect place to stop for lunch, or at the café, it gives you the chance to unwind.
73. Luna Cinema
Looking for unique activities in London? This is the ultimate outdoor cinema experience, and it really brings new meaning to the concept. Tickets sell out fast and are not available every month, so keep watch and snap them up quickly.
74. Walthamstow Wetlands
Things to do in London this weekend for adults? This vast nature reserve is also home to the Walthamstow Reservoirs. It is a prime location for migrating birds of all kinds, as well as a massive breeding ground for them. Ideal for bird lovers everywhere.
75. Soho
Fun things to do in London for adults? Home to West End nightlife, dining, and an energetic community, Soho is the soul of London in so many ways. Theatre fans, shoppers, and dancers alike are sure to find something they love.
76. Spitalfields Market
Looking for unusual things to do in London England? Famous for its lively spirit and strong sense of community, the market is home to all things creative, and you will find hordes of exceptional artists lining the streets. Opened in 1876, it remains a popular East End location.
77. Shoreditch
One of the most iconic London locations! A place for the young, everything hip and trendy can be found here, with extravagant youths filling the clubs and bars with vibrant energy. Known for creativity and flair, it's an experience worth having.
78. Red Telephone Box – Photo
Unique things to see in London? The red telephone box in Parliament Square isn't just an iconic reminder of British culture; it is also the most photographed phone box in the country. Do you think you'll be taking a quick snap with it as well?
Best places to visit in London for couples
79. Have afternoon tea
Looking for top things to in London? What's more British than tea and cucumber sandwiches? You can try the Mad Hatter's tea party near the British Museum or even stop for something really fancy at the Shard. Afternoon tea at the Ritz London is also a great idea 🙂
If afternoon tea is not really your cup of tea, you have to try at least one of the best London desserts – I bet, you will love all of them 🙂
80. Visit a Comedy Club
Looking for a bit of fun in London? One thing London is not short of is comedy clubs. Why not take the time to find some new talent that will leave your sides hurting? You might be surprised by how many amazing comedians there are in the city.
81. Borough Market
Things to do in London on your own? The most renowned food and drink market in the city, you are sure to find something you've never tried before here. Everything is fresh and sourced both nationally and internationally for pure culinary delight.
82. Somerset House
Pretty places in London to see? This neoclassical building was opened in 1796, and the architecture is quite extraordinary. Aside from the tours of the house, it is also used for ice skating in the winter months, making the perfect Christmas treat.
83. Have English breakfast
Sausages, bacon, eggs, beans, mushrooms, hash browns, tomatoes, black pudding, and toast. This is what makes an English breakfast, and if you are visiting, then you can't leave without trying one. Pretty much everywhere serves them, and you won't be disappointed.
84. Sherlock Holmes Tour
Best sights in London to visit? Take the time to visit and explore each of the London locations that the famed detective went to in the writings of Arthur Conan Doyle. As you venture on foot with your guide, you will be engaged in a truly exciting adventure.
85. Oxford Street
London cool places to go? Known as the most famous shopping street in the city, it is home to a cornucopia of designer names and top brands. You'll find everything you could ever want here, just make sure to bring a full bank account!
86. Southbank Centre
Music, art, comedy. These are just some of the things you can experience at the centre. With activities and events to entice people of all ages, it's worth seeing what's on and experiencing something new.
87. Little Venice
Fun places to visit in London? This little canal area may be small, but it is also exceptionally tranquil. Home to little waterside cafes and shops, why not take a ride and see what you find? You can even take a boat trip to London Zoo. If you have visited Venice Italy make sure to compare it to Little Venice in London 🙂
Non touristy things to do in London
88. Cycling
Free places to visit in central London? There are some amazing cycling routes through London, and there are also some that are quite dangerous. Before you undertake cycling in the city, make sure you plan a safe and cycle-friendly route.
89. Pride in London
Parades, parties, activism, and expression are just a few of the things you will notice about PRIDE. A day for being out and proud, it's the perfect time to own who you are no matter what anyone else thinks, and celebrate together.
Learn why Pride matters and should be celebrated every day! We all need a bit of diversity, and a bit of rainbow, every day 🙂
90. Daunt Books
Best things to go in London? This little London chain is ideal for every bookworm. While it used to specialise in travel books back in the 1900s, it has since started publishing itself and stocks a much wider selection. It is also the first custom-built bookshop in the world.
91. Westfield Shopping City
One of the largest urban shopping centres in Europe, the sheer size of this place will leave you stunned. Everything and anything is here, and it is quite close to the Olympic park. The floor is even used to harness kinetic energy.
92. Southwark
This little borough is close to iconic structures like Tower Bridge and the Shard. There are some great little markets and quaint restaurants that you can visit if you fancy a bit to eat while sightseeing.
93. Seven Dials
Fun stuff to do in London.
This is the connection of seven atmospheric and intriguing streets that link Covent Garden to Soho. You'll find high-end shopping, amazing dining, and even the Opera House as you traverse this highly desirable area.
94. Grand Design Live
Unique thing to see live in London.
Held at the famous EXCEL centre, it's all about getting advice, ideas, and learning more about home improvement. With fantastic exhibitors and talks, it's a design dream come true. If you are lucky, you will see Kevin live 🙂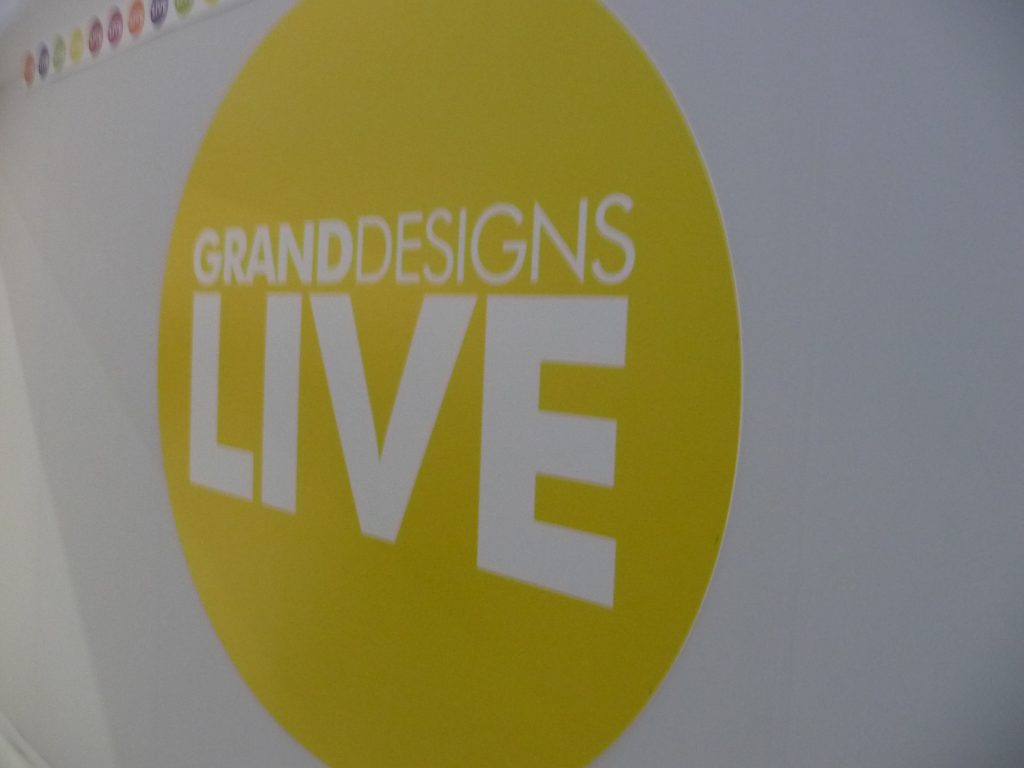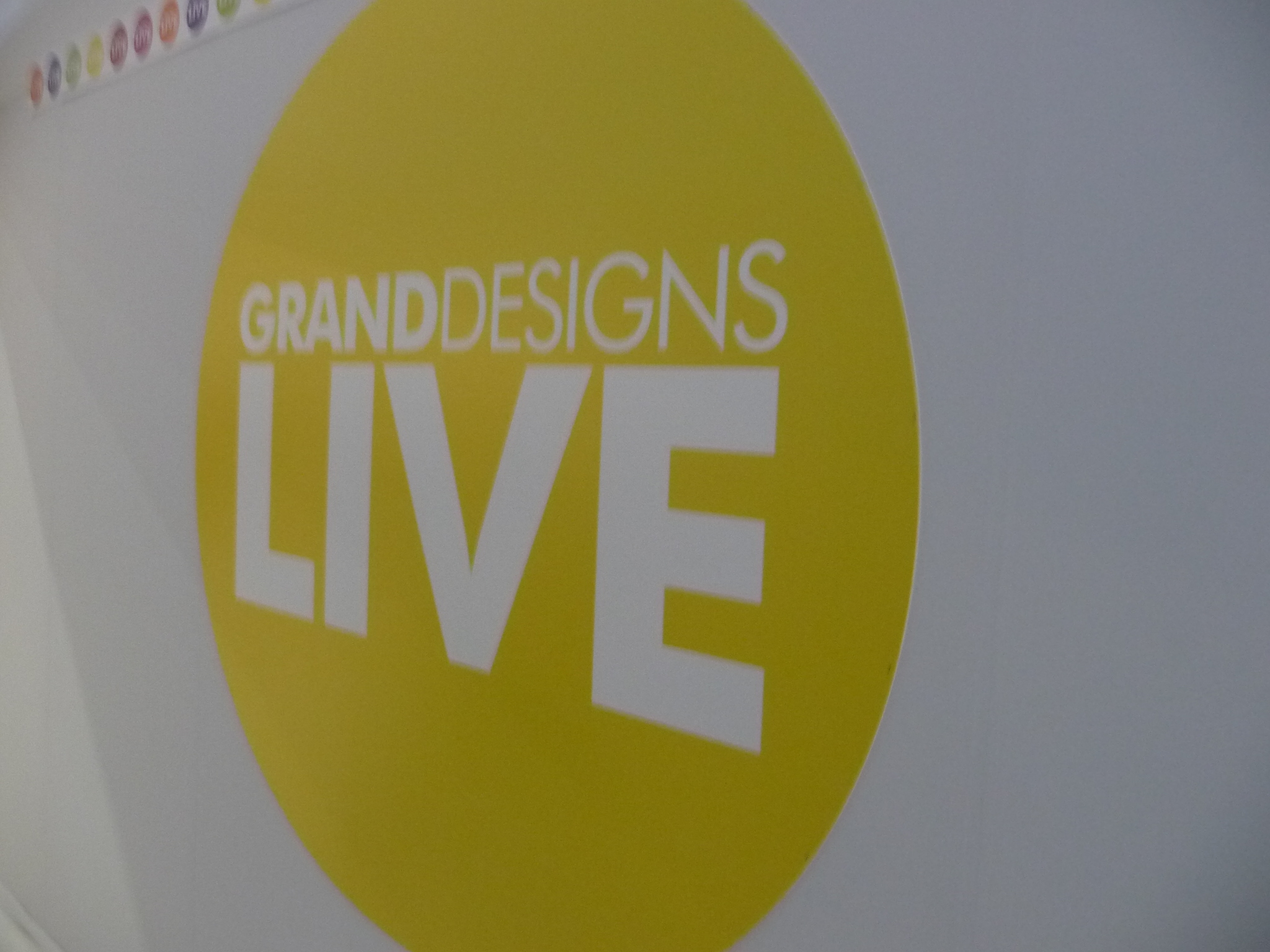 95. Vauxhall City Farm
Cool stuff to do in London.
An urban farm that is funded by public donations, it aims to educate and improve life for those in the city. With fantastic animals for you to meet, including alpacas, why not take a little trip?
Things to do near London
96. Richmond Park
Best places to visit near London? Opened as a deer park in the 17th Century by Charles I, Richmond Park remains an important wildlife reserve. With protected status, it is of national importance, and if you are quiet enough, you might just see the famous deer that live there.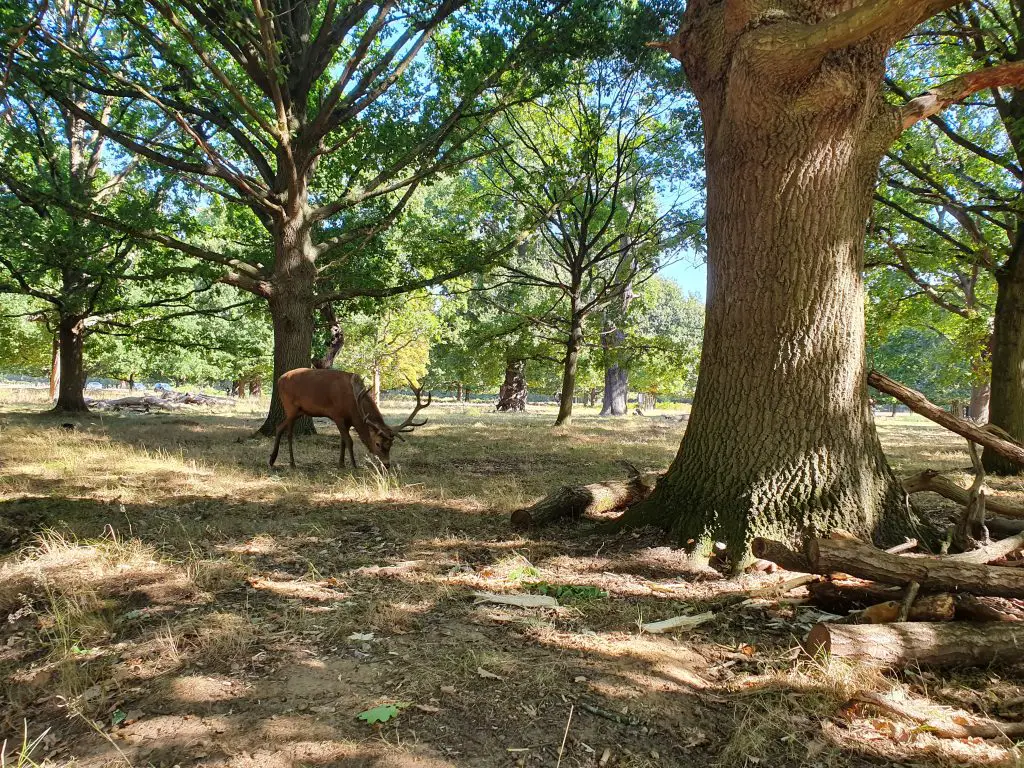 97. Epping Forest
Places to visit around London? This ancient woodland borders London and Essex, with an expansive set of trees that are home to all sorts of wildlife. Dating as far back as 700BC, the trees are full of history, and you can feel it with every step you take.
98. Harry Potter Studio Tour
What to see near London? Any Potterhead needs to take the time to go on this wonderous tour. A permanent exhibition, it takes you behind the scenes (and the magic) to show you how they brought the world we all know. Make sure you do the Warner Bros Harry Potter Studio Tour near London!
99. Hampton Court Palace
Places to go near me from London? Opened in 1514, this majestic abode has so much history to offer, and it is an incredible experience. Made for Henry VIII's favourite cardinal (Wolsey), come and explore this Tudor home and all its secrets.
If you liked our article, then please check out the below posts too:
Do you know any other interesting things to do in London?
London is one of the most visited cities in the world and at the same time one of the most romantic cities too. There is a reason for that – 100s of attractions, places to see and romantic things to do in London. The list could be easily as twice as long. But we are sure you will not be able to do all of them during one visit 😉
In case you would like to escape from London for a short break, you can choose one from our list of the best day trips from London – just hire a car a go explore!
Read also: How many days do I really need in London?
Are you thinking about moving to the capital city? Learn about the best places to live in London!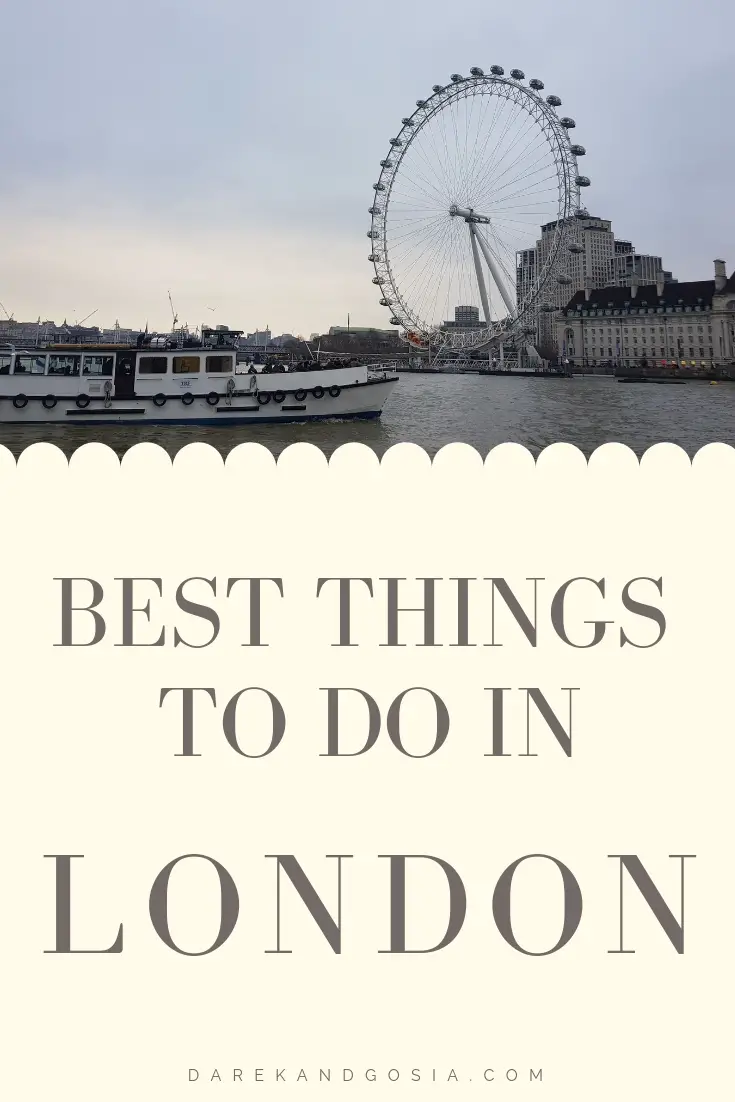 Articles you may like: