Visit iconic Seven Sisters Cliffs in East Sussex. Go for Seven Sisters walk & enjoy the stunning scenery of Seven Sisters viewpoint while hiking the best cliffs in Sussex England!
If you're looking for mesmerising views of unspoilt coastline, then the Seven Sisters Cliffs in East Sussex England are for you. For simply a picnic spot, an invigorating Seven Sisters walk or some fun on the beach, then the Seven Sisters has it all.
The Seven Sisters gets its name from the seven chalk cliffs that make up the stretch of coastline and provide stunning views of undulating pure white cliffs and mesmerising turquoise waters below.
From Seven Sisters best view to all the top things to do in Seven Sisters cliffs – we have covered all in our guide to Seven Sisters cliffs!
The Seven Sisters cliff walk really is one of the best places for hiking near London. It is also one of the most famous landmarks in England!
Whether you're looking for a new walking challenge, stunning photographs or just some time in nature, then the Seven Sisters cliffs is a must-visit location in the south of England and it's one of the best day trips from London.
We hope you will enjoy our guide to Seven Sisters cliffs walk! 🙂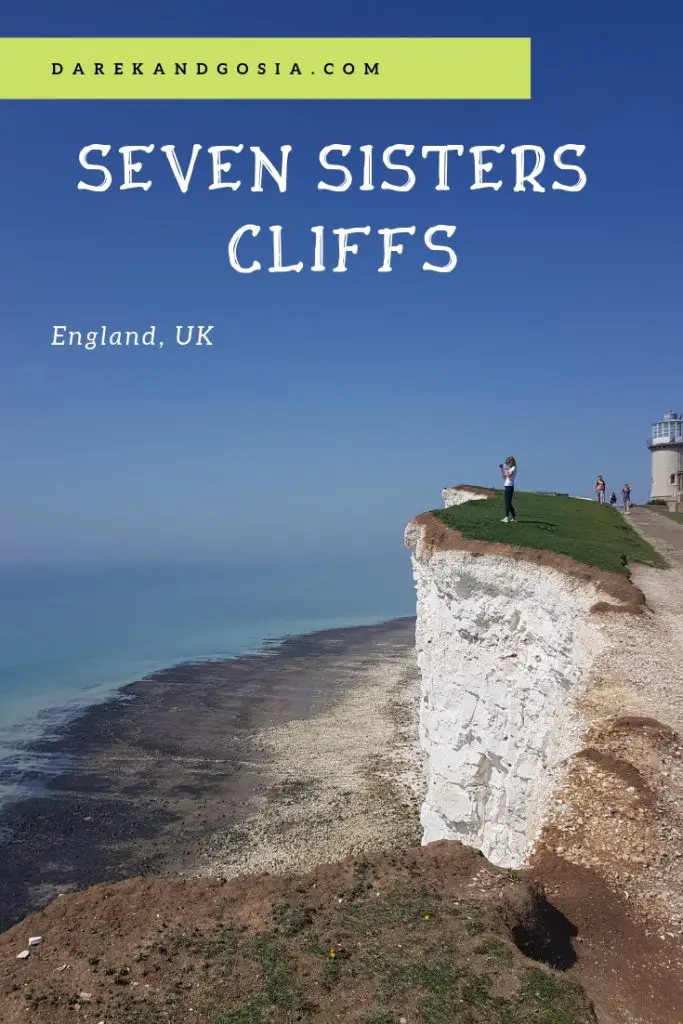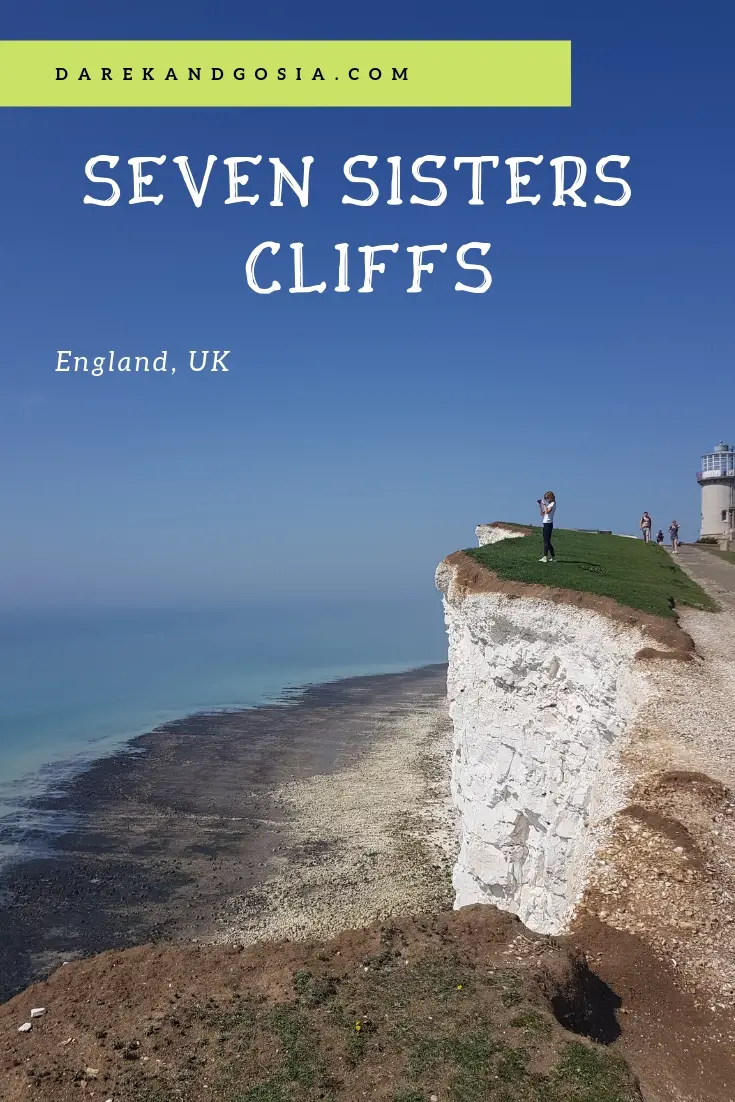 Where Are The Seven Sisters Cliffs?
What to do in Seven Sisters cliff? Before we asnwer that question you have to learn how to get to Seven Sisters hills.
The Seven Sisters cliffs and subsequently the Seven Sisters Country Park is located in East Sussex running between the seaside towns of Eastbourne and Seaford. The Seven Sisters are part of the protected 'Heritage Coast' and are surrounded by the Sussex Downs Area of Outstanding Natural Beauty. Furthermore, Seven Sisters is part of the South Downs Way too.
Being a popular place to visit, buses regularly run from nearby towns and cities such as Brighton, Seaford, Eastbourne, Hastings and Worthing. Most people would take a bus from Brighton to Seven Sisters Country Park.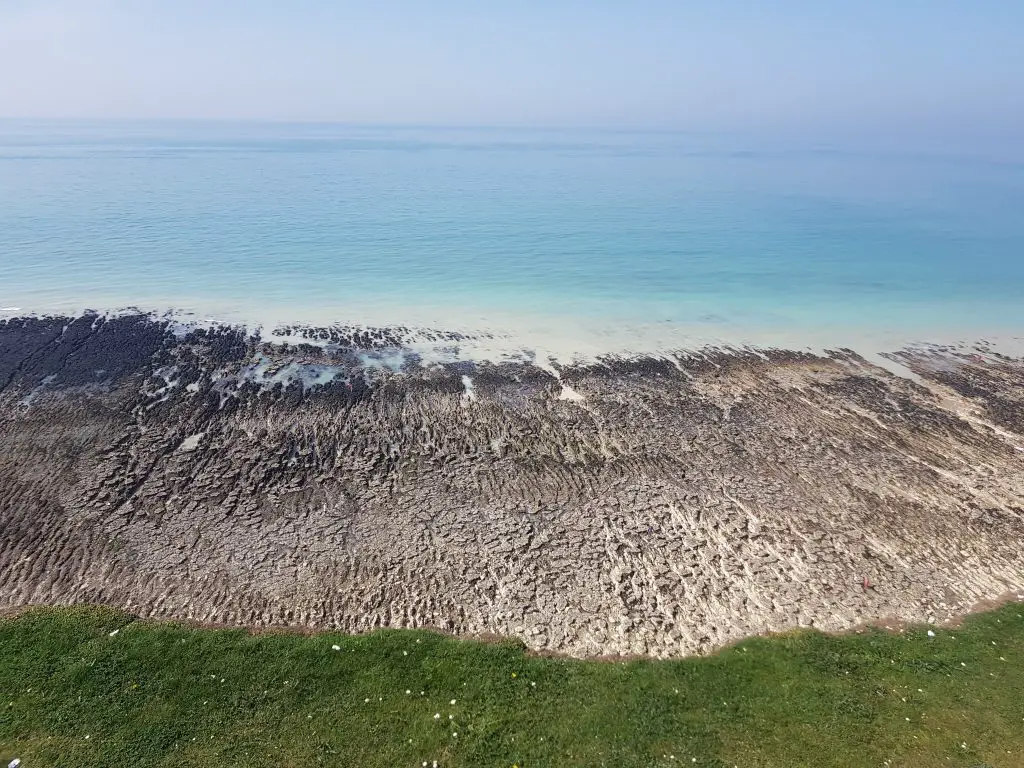 Where to stay near Seven Sisters Cliffs?
Best hotels near Seven Sisters Country Park? There are few great places to stay during your weekend trip to Seven Sisters Cliffs. Please see below some of the TOP hotels we have selected for you:
"Set in award-winning gardens, Hydro Hotel features an outdoor pool, elegant restaurant and superb sea views. The hotel is a few yards from Eastbourne Seafront, just a 10-minute walk from Eastbourne Pier."
"Set against the scenic hills of the South Downs, YHA Eastbourne is one mile from Eastbourne's centre and golden seafront. The modern, wood-faced building is surrounded by trees and gardens."
Need more inspiration? Find a hotel in your favourite part of Sussex England.
Seven Sisters Cliffs – What You Need To Know
Do you know all the names of the Seven Sisters cliffs? Of course you don't! Well, nothing to worry as we also didn't know that before we visited Seven Sisters Sussex.
The names of seven cliffs which make up the Seven Sisters are:
Haven Brow
Short Brow
Rough Brow
Brass Point
Flagstaff Brow
Bailey's Hill
Went Hill
However, the reasons for the names are not clear. What's interesting is that if you walk the Seven Sisters, you go over an eighth hill known as Flat Hill. It is not included in the seven because the erosion of the sea formed it.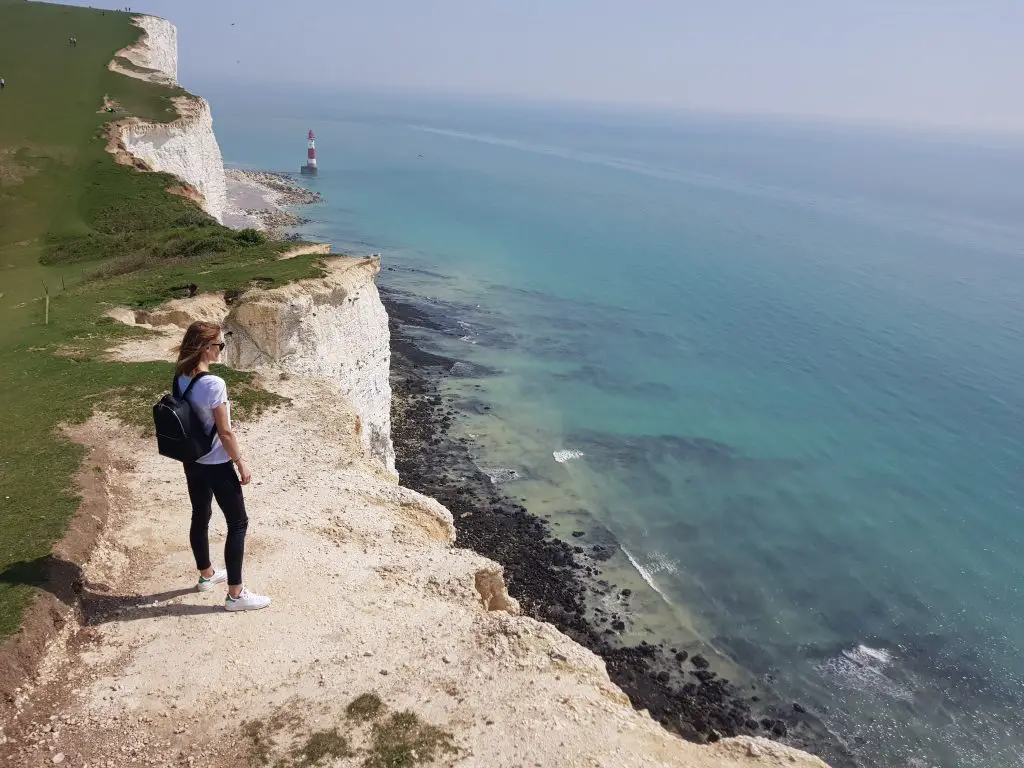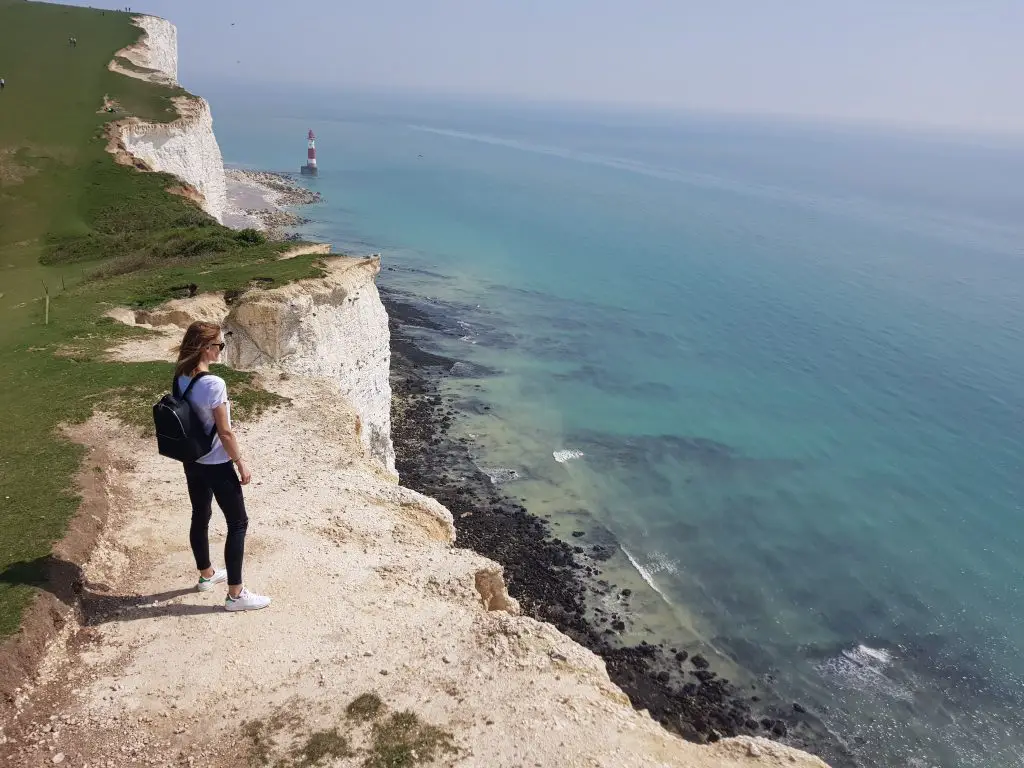 Seven Sisters hike tips:
Best places to visit in Seven Sisters? There are top 6 places you should try to experience while visiting Seven Sisters:
South Hill Barn
Seaford Head Nature Reserve
Seaford Head
Birling Gap
South Downs Way
Cuckmere Valley
The Seven Sisters cliff hike is not a difficult one but the most important tip you can give you is: don't get to the edge on the cliffs!
But before we explain all the top activities at Seven Sisters, you have to learn a few facts about this beautiful region in East Sussex, England.
How To Get To The Seven Sisters Cliffs
The Seven Sisters Cliffs From London
How to go to Seven Sisters cliffs from London? If you are driving, it is possible to park along the Seven Sisters, such as on the main road of the iconic Beachy Head. Alternatively, getting the train to Seaford, Brighton or Eastbourne from one of the main London stations is easy. For example, London Victoria to Eastbourne can take just 1 hour 24 minutes on the train. Subsequently, the train between Brighton to Eastbourne can take just 32 minutes if you want to see more of the south coast.
Alternatively, if you want a stress-free visit, then there are several tour operators that run a full-day tour from London which includes visits to the Seven Sisters and the South Downs. These tours come complete with a guide and will have multiple stops, so you do not have the walk the whole way.
Have a bit of time in the capital city? Try to visit London in one day!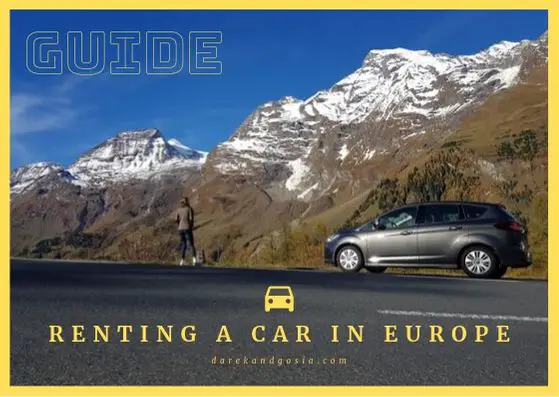 Driving To Seven Sisters Cliffs
What's the Seven Sisters cliffs postcode?
If you want a hassle-free drive to the Seven Sisters, then there are two pay and display car parks that serve the Seven Sisters Country Park. (Don't have a car? read our guide to renting a car in Europe). To park here, head for Exceat near Seaford, the postcode for the Satnav is BN25 4AD.
However, if you want the full walk, drive to either Seaford or Eastbourne, walk from one to the other and then get the bus or train back to the car (or walk back if your legs can take it!)
Seven Sisters Cliffs walk postcode: BN25 4AD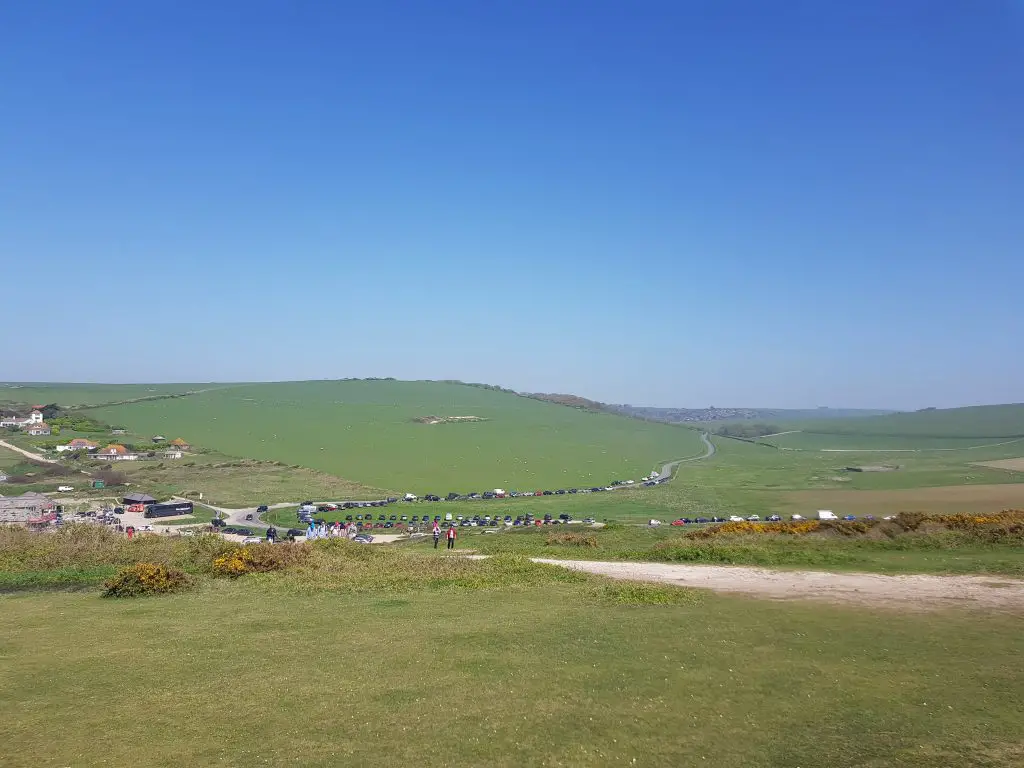 The best view of the Seven Sisters Cliffs
Looking for the best view of Seven Sisters cliffs?
Lucky you! There are two main points at Seven Sisters England to enjoy the best views of the cliffs:
If you want to capture the best view of all of the cliffs, then head to Seaford Head which gives a mesmerising, sweeping view of the beautiful white chalk cliffs in all their glory. It's probably the most famous picture of Seven Sisters you have seen, right?
Yes, below you can see my favourite Seven Sisters viewpoint. It really is the best place to see Seven Sisters!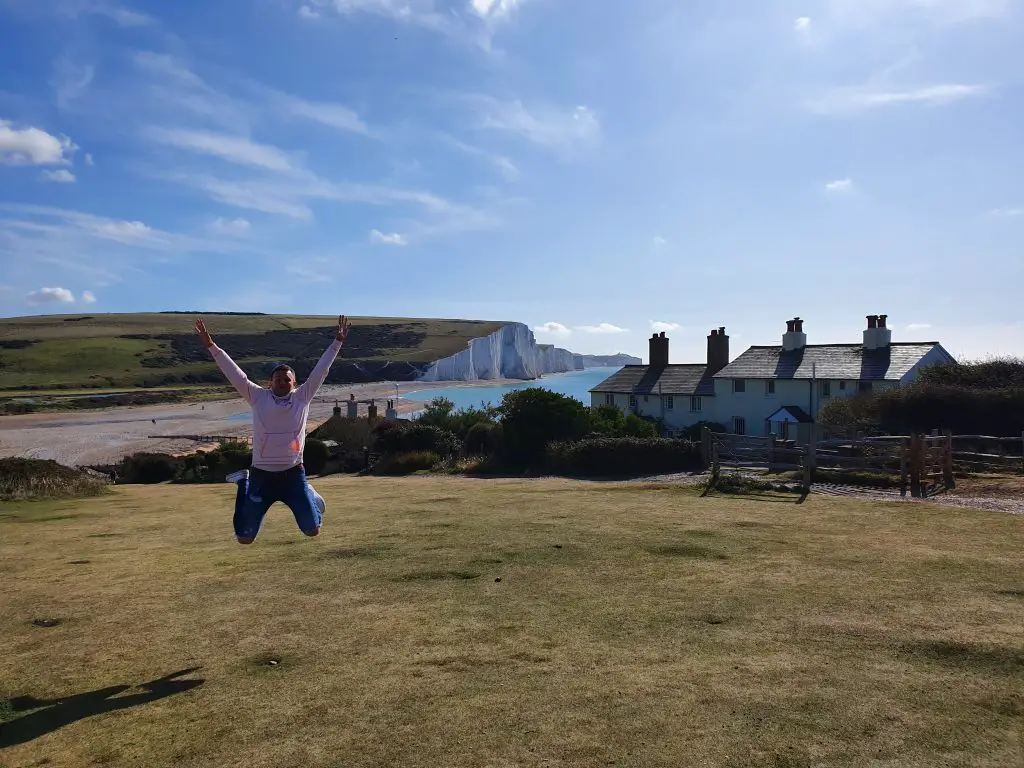 Birling Gap is also a stunning location, from which you can take a few amazing shots. It is also perfect starting point for Seven Sisters trail.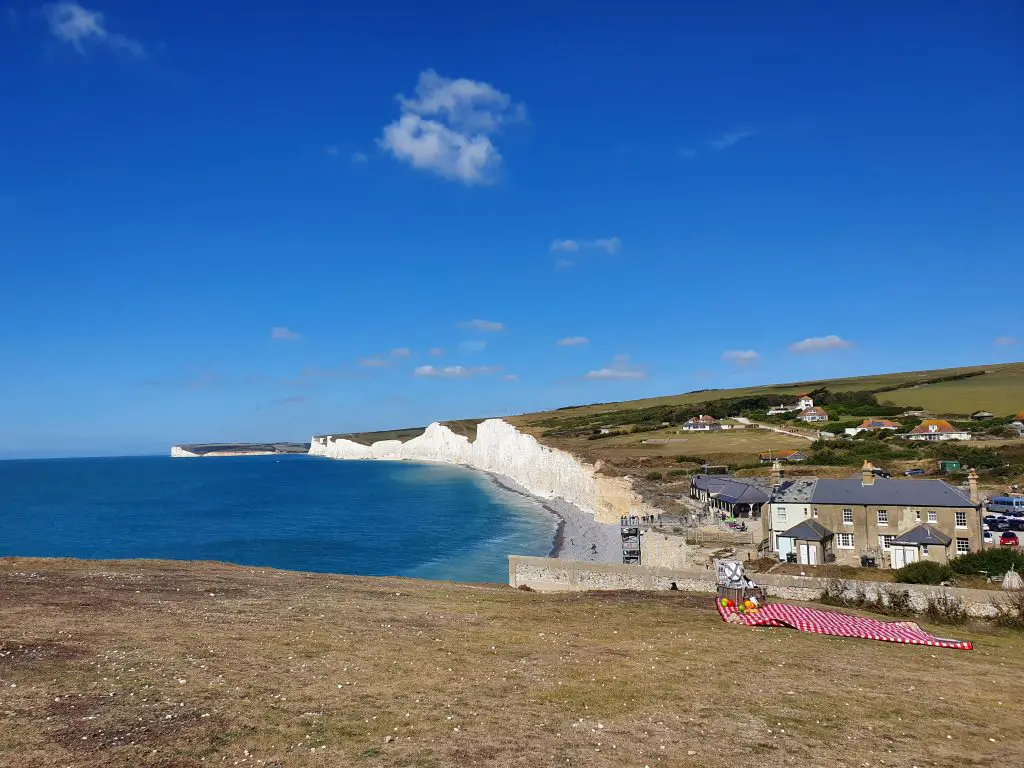 We highly recommend visiting both of them. Whether you drive from one to the other or go for a Seven Sisters hike – it's totally up to you 🙂
Which of the above is your favourite view of the Seven Sister cliffs?
Explore the top Seven Sisters cliffs walks and other attractions including the best view of Seven Sisters cliffs:
What to do in Seven Sisters?
Visiting Seven Sisters cliff is a stunning experience but what exactly is to do in Seven Sisters?
1. Visit South Hill Barn
If you are planning a trip to Seven Sisters UK, this is the place where you can start your day out to 7 Sister cliffs.
From here you can explore Seaford Head with stunning views and access to the Seven Sisters Cliffs, Seaford Bay, Cuckmere Valley and Seaford Head Nature Reserve.
But make most of your time here by popping into The View to enjoy a delicious breakfast, lunch or dinner, or simply pop in for a refreshing drink whilst soaking up the magnificent views!
This is a dog-friendly area, but you have to keep your dog under close control (as there are many sheep) and clean up after your dog of course!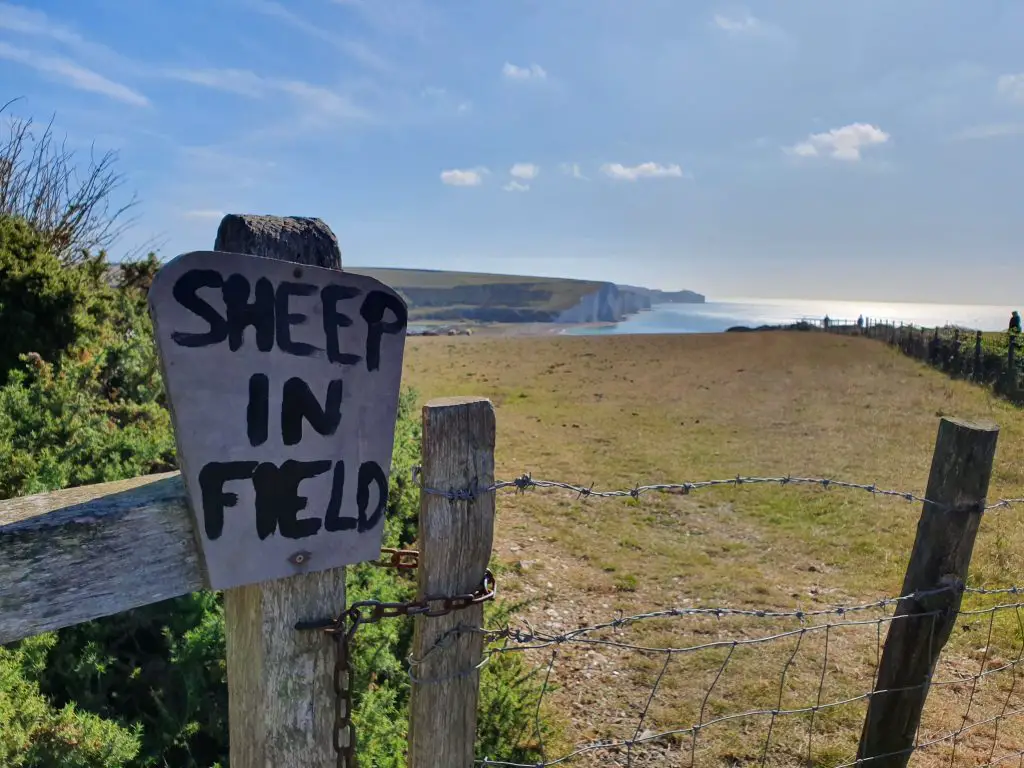 2. Learn about Seaford Head Nature Reserve
Planning to visit the Nature Reserve? The reserve is easiest accessed by one of the two points: South Hill Barn in Seaford or from Eastbourne Road (A259) at Exceat Bridge.
Seaford Head Nature Reserve is located at the eastern end of Seaford. It is a very large area spanning across 83 hectares from Seaford Head over to Cuckmere Valley and inland with the Cuckmere River. It is owned by Seaford Town Council, the National Trust and East Sussex County Council. There are a few voluntary groups that help to upkeep the Reserve. Are you thinking about becoming a ranger? 😉
Visiting Seven Sisters cliffs gives you the opportunity to learn about the region too – so, do take advantage of that!
This stunning region is home to many nationally rare species of plant, birds and insect. Combining this together with peaceful walks and wold-class views of the Coastguard Cottages and Seven Sisters Cliffs makes is a perfect destination for a day trip from London.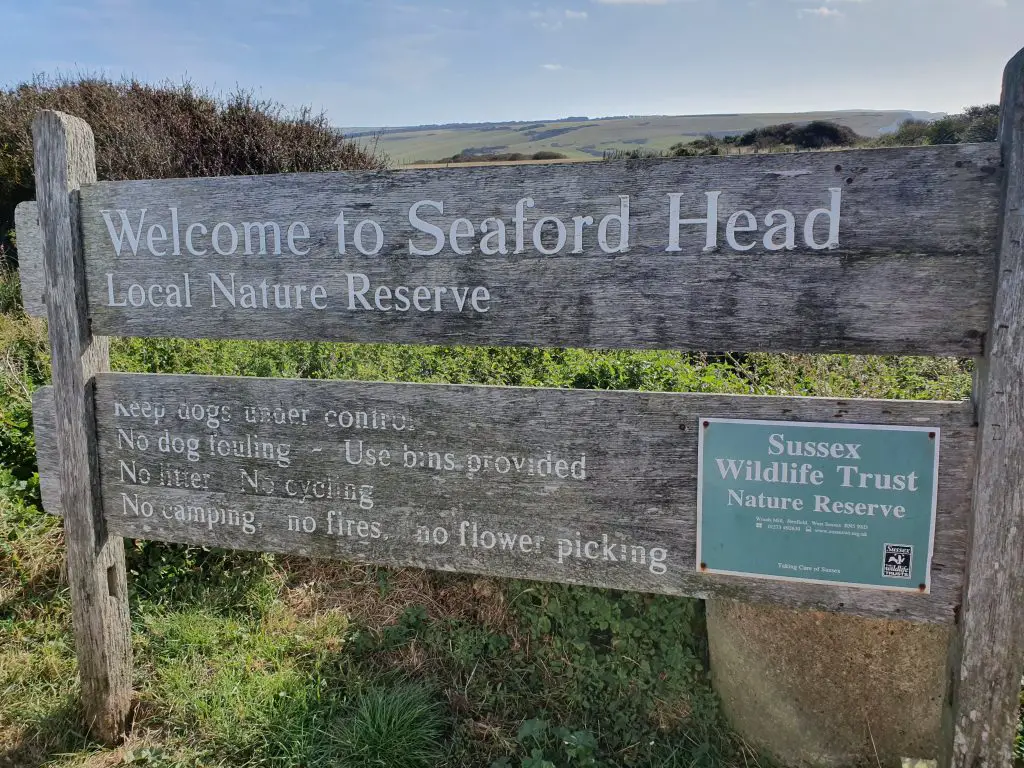 3. Admire stunning views at Seaford Head
The Seven Sisters cliff walk offers many stunning views!
For many, Seaford Head is the best spot to enjoy the iconic view of the amazing Seven Sisters cliffs. We probably do agree with that 😊 It lies west of the Cuckmere Valley at the Seven Sisters Country Park.
You can access this amazing location by a private road. There is also free parking at South Hill Barn.
Use this postcode to access the parking: BN25 4JQ.
So, would you admire the Seven Sisters view from a bench as I did? 😉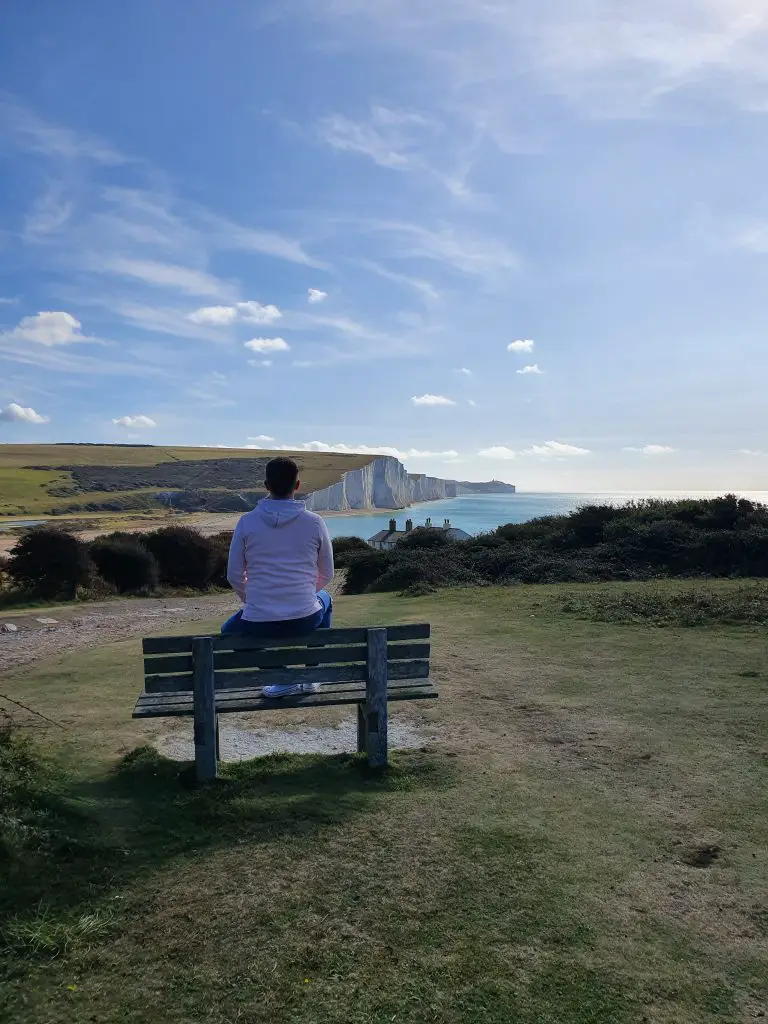 4. Go for a long Seven Sisters cliffs hike
Yes, you can go for a short Seven Sister cliff walk but to fully admire this area you need to go for a long Seven Sister hike.
Arguably the best walk in the south-east of England, visitors can enjoy all of the Seven Sisters in all their glory by walking from Eastbourne to Seaford. This walk covers 13.6 miles (21.9 km). Due to the undulating cliffs, the trail features lots of descents and climbs so make sure to be prepared with lots of drinks, food and sturdy, comfortable footwear.
Don't worry there are several pubs, tearooms and cafes at either end, to replenish yourself afterwards. You've earned it!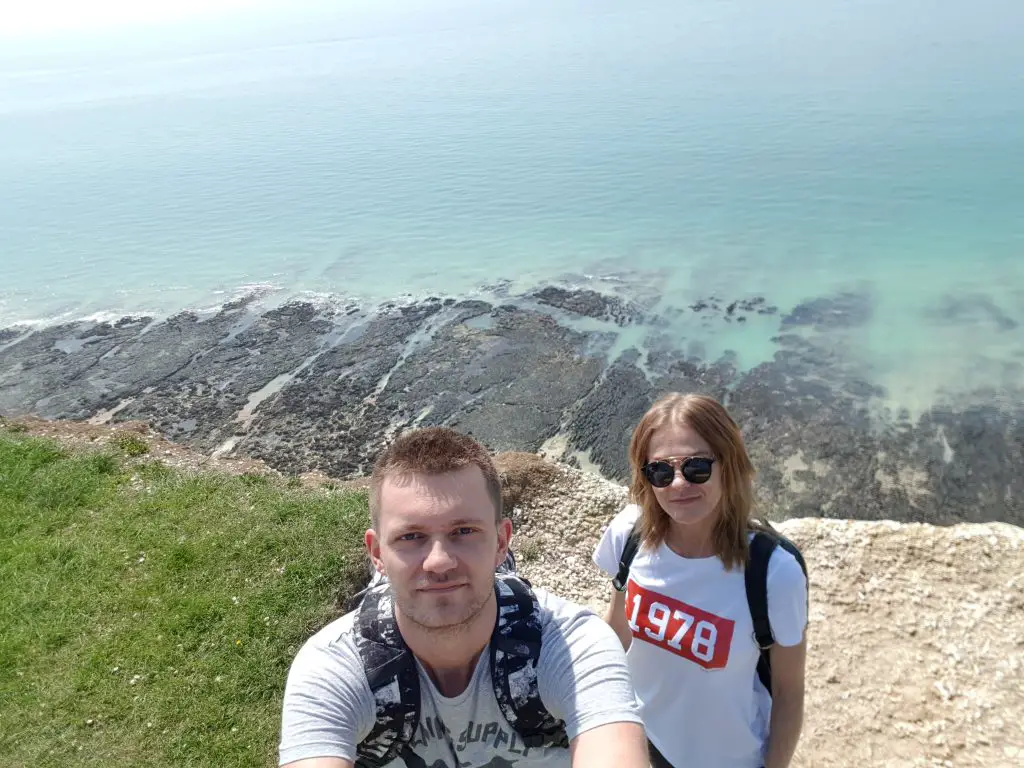 5. Go Shorter walks: Seven Sisters walk
If you do not have the time for the full walk, you can still see the impressive cliffs on shorter walks. Seaford to Birling Gap is considered a halfway hike and covers 7.9 miles or Exceat to Eastbourne is 9.7 miles.
The town of Seaford to the Seven Sisters Country Park is 3.9 miles. There are so many walks to choose from, such as this interesting circular walk on National Trails.
6. South Downs Way: Seven Sisters hike
If you're looking for a particular challenge, then the Seven Sisters hike is part of the South Downs Way, a 100-mile footpath that runs from Eastbourne to Winchester.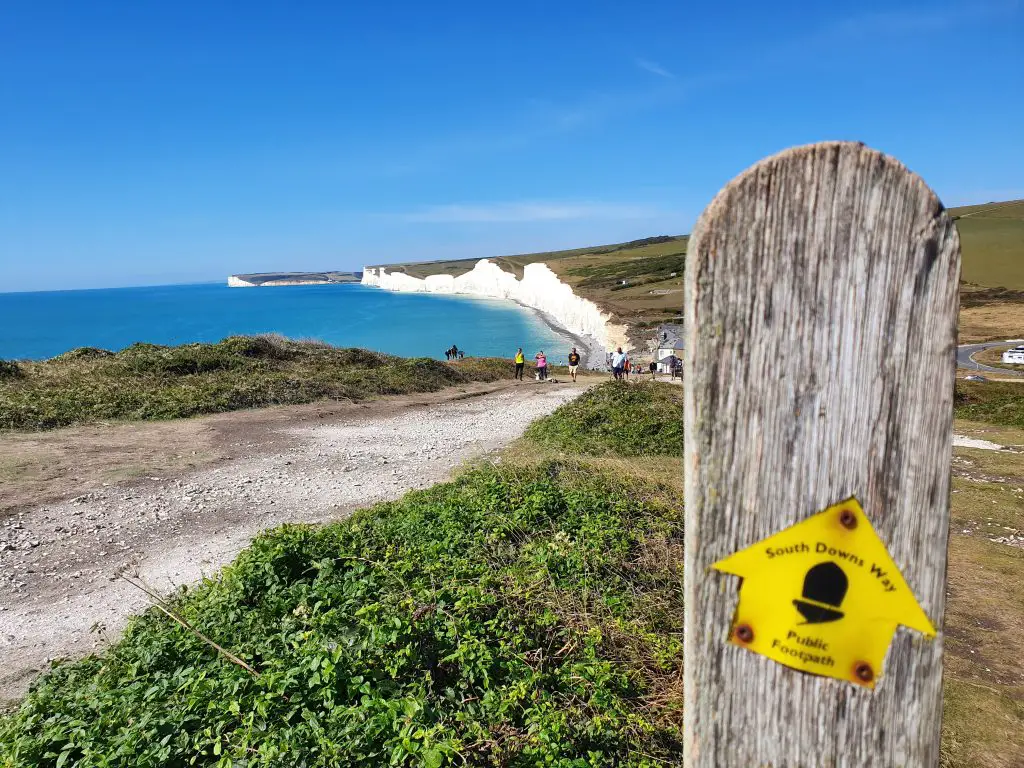 7. Head to the beach
The Seven Sisters cliffs beach is a perfect place to relax after a long hike and it's known as one of the best beaches near London!
There is an easy access beach trail at the Seven Sisters Country Park which is ideal for little ones. There is even a short walk to the top of the hill which provides stunning views of the cliffs.
The water and beach are safe for bathing at Cuckmere Haven too.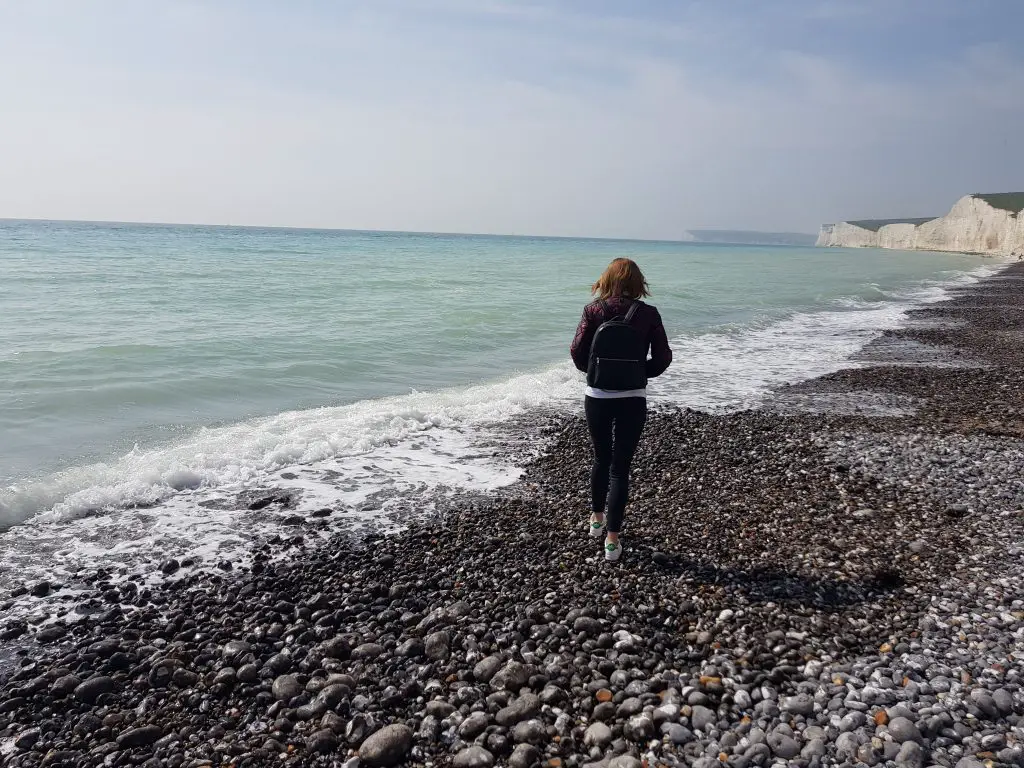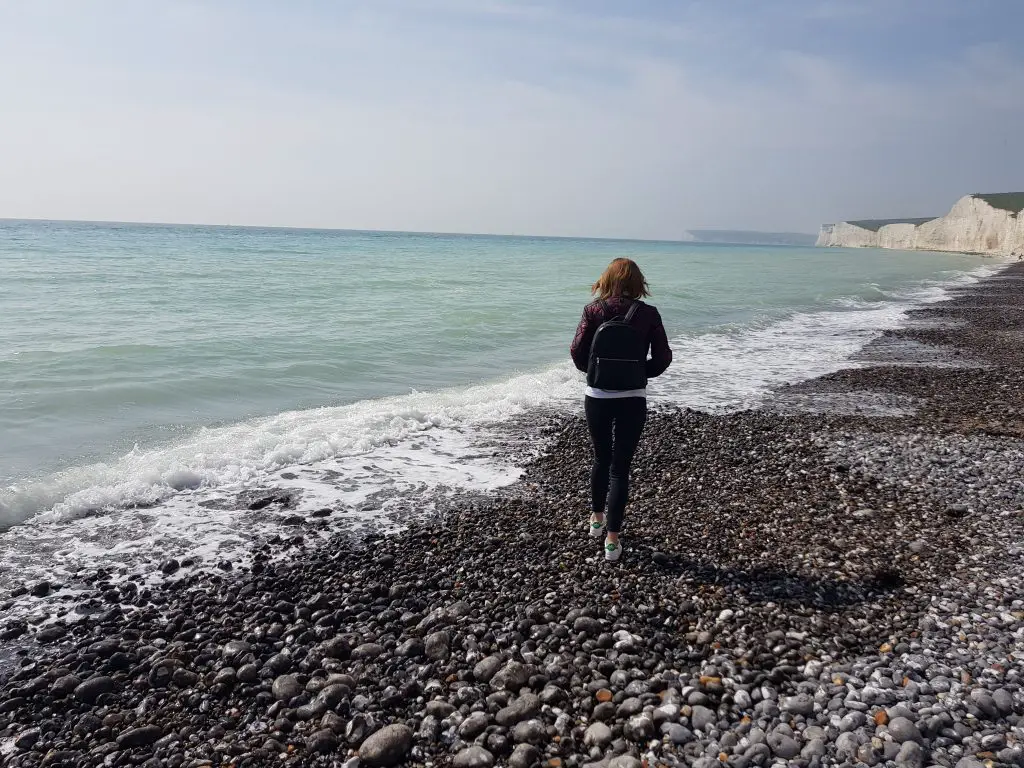 8. Bird watching
Seven Sisters cliffs Sussex is not only all about hiking and walking. It is also a great place for bird watching lovers!
Across the Seven Sisters Country Park, there is an array of different habitats which invites a variety of birdlife. Visitors can look out for kingfishers, teals, oystercatchers, yellowhammers, whitethroats, kittiwakes and skylarks among many others.
9. Spend time at Cuckmere Valley
Known as one of the best things to do near Seven Sisters, Cuckmere Valley is located on the coast at the point where the South Downs meet the sea. It's a must-see place while visiting the Seven Sisters area.
The area is constantly changing are cliffs are being eroded at a rate of 30 cm every year – this makes it one of the most stunning and dramatic landscapes in England.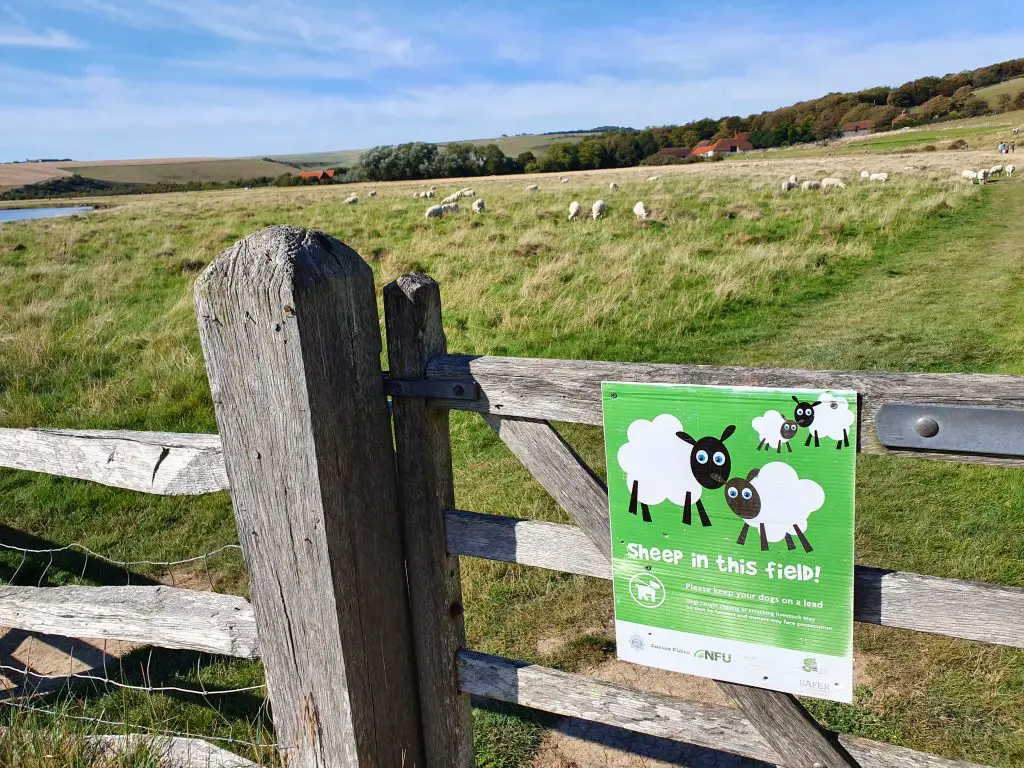 10. Paddleboarding with views of the cliffs
Cuckmere offers a range of water sports such as kayaks, canoes and stand-up paddleboards for a different way to see the countryside.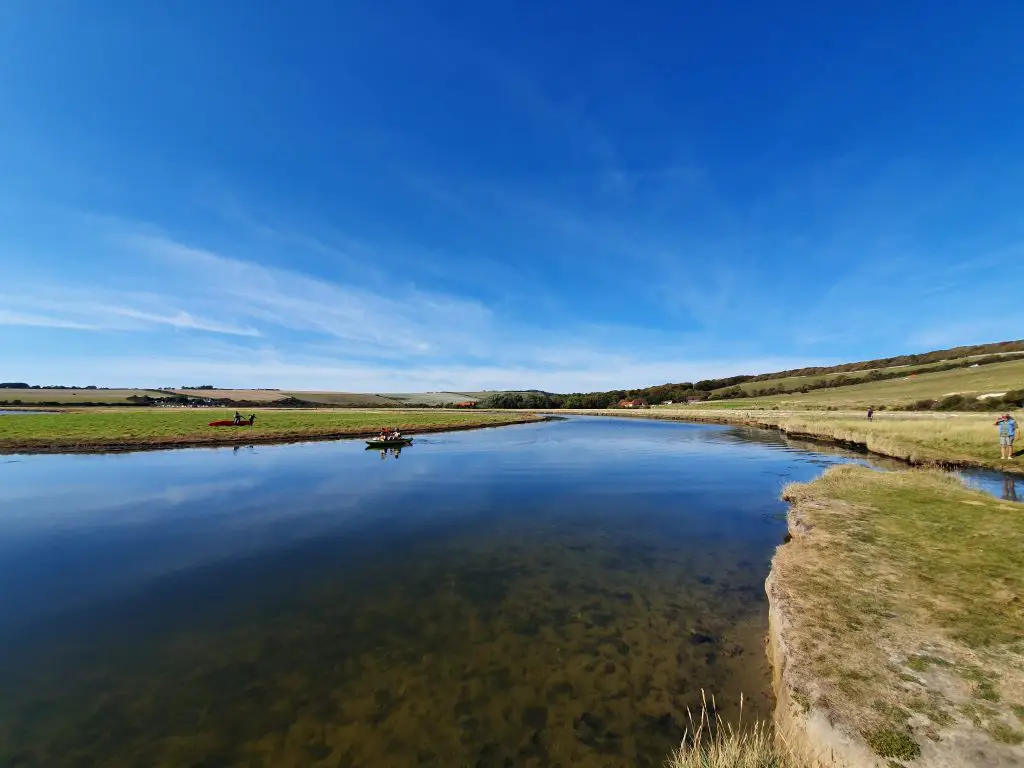 Is Seven Sisters Cliffs walk worth it?
To us, this is one of the most stunning places in Sussex, England – a true natural wonder! Seven Sisters hike is one of the best ways to spend a weekend outside of London. Whether you hike from Eastbourne to Seaford, go for a Seven Sisters walk or just visit the beach you will love it! The Seven Sisters Country Park is just a perfect day trip for anyone!
We absolutely loved the little walk alongside the cliffs and the country park. Don't wait! Plan your trip to Seaford and Seven Sisters Cliffs – one of the best landscapes in Europe! 🙂
With all that in mind, you can consider Seven Sisters as one of the best places to visit near London.
! WARNING !
The Seven Sisters comprises of chalk cliffs which are naturally unstable. Yes, this area is one of the best to visit in England and unique places to visit in Europe but it is important for people to stay well clear of the edges of the cliff as well as having caution at the base of the cliffs. There have been recent cliff falls in the area.
Yes, Seven Sisters cliff edge is dangerous and you need to be careful when visiting 7 Sisters cliffs!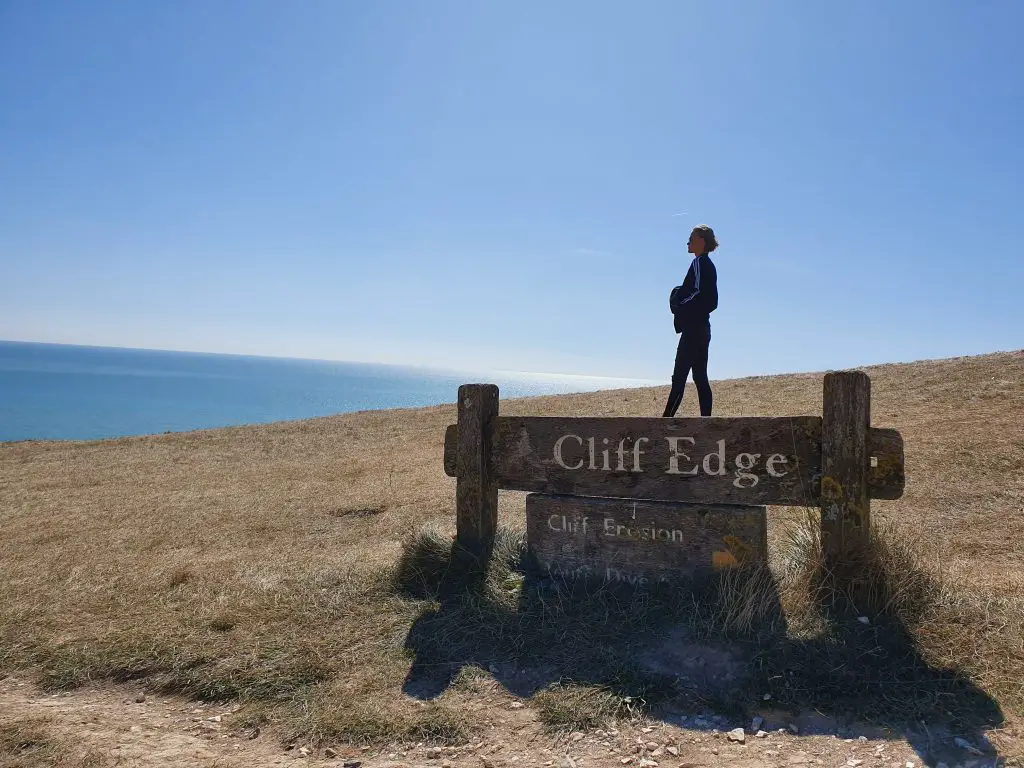 Sussex England cliff FAQ
Are there any drirect trains from Seaford to Eastbourne?
There are no direct trains so if you are looking to buy train tickets Seaford to Eastbourne you will need to get one going via Lewes Station. The total journey to the famous East Sussex cliffs takes around 45 minutes.
Is it worth taking the Seaford to Eastbourne walk?
The coastal walk from Seaford to Eastbourne is really stunning. You will need around 4 hours to complete the ~10 miles walk. You will be rewarded with stunning scenery of Cuckmere Haven, Birling Gap, Went Hill Seven Sisters and Beachy Head Lighthouse.
How to get from Brighton to Seven Sisters Cliffs?
If you are planning to visit the best cliffs in England from Brighton then you have two options:
By car: Brighton to Seven Sisters to Brighton (just use the Seven Sisters cliff postcode)
By bus: take the Seven Sisters Brighton bus number 12X – it runs between Brighton and Eastbourne every 20 minutes Mondays to Saturdays. The same bus (12X) operates Sundays too but "only" every 30 minutes. The good news is that there is additional service 13X providing a faster connection to Seven Sisters during high demand on Sundays.
Love England and the rest of the UK?
Read our other articles related to this stunning country:
Most beautiful places in England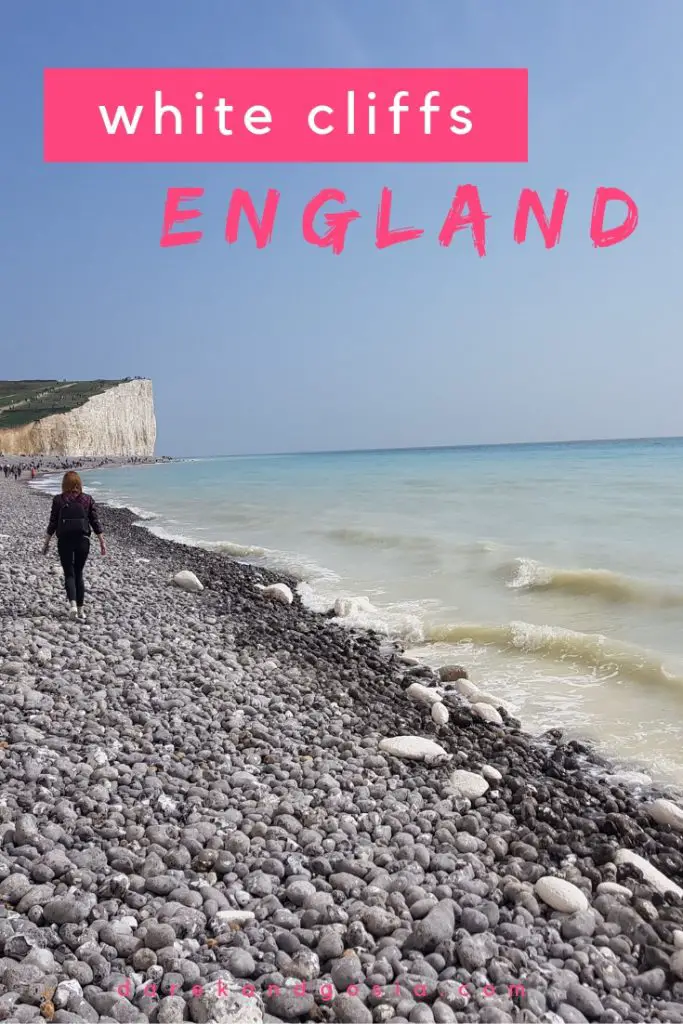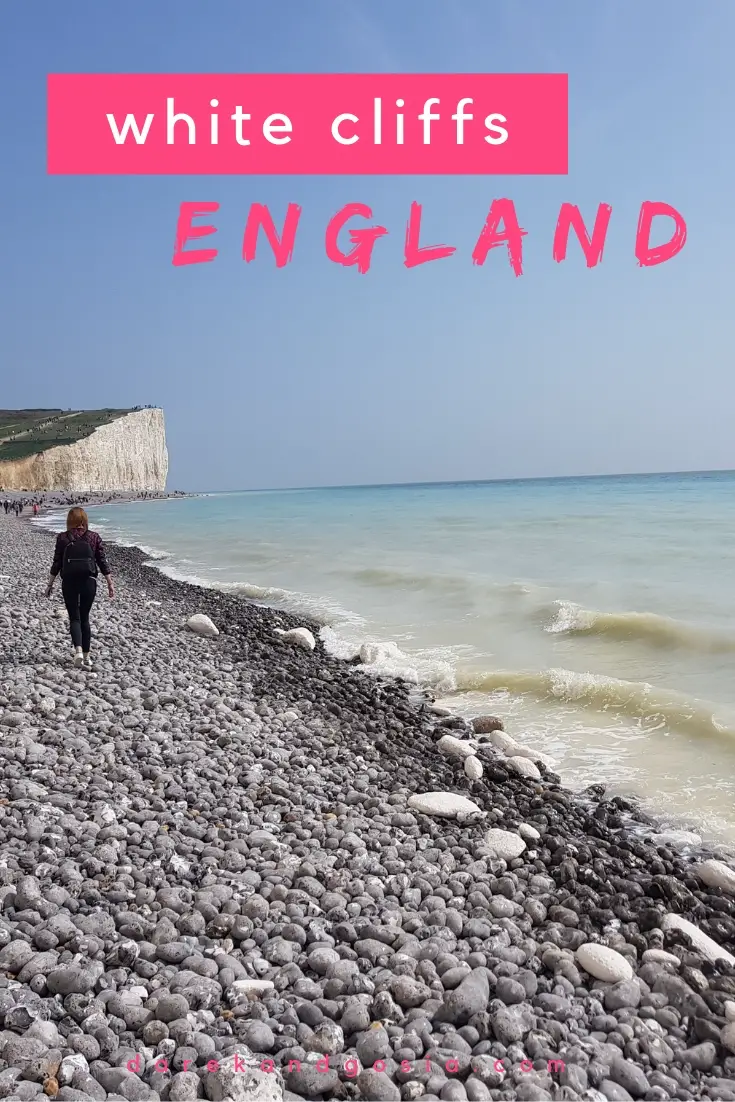 Articles you may like: