What is Garmisch Partenkirchen famous for? Learn about the best things to do in Garmisch-Partenkirchen & Day trips you can do from GaPa.
Best things to do in Garmisch-Partenkirchen? If there is one thing that you will quickly realise about this ski resort it's just how beautiful it is. Found in Bavaria, which is Southern Germany, it is not only a place for skiing but it's also a great place to get out and about in nature and explore your surrounds.
So if you wonder what to do in Garmisch Partenkirchen, then check out our list of the best things to do in Garmisch Partenkirchen!
What to do in Garmisch-Partenkirchen Germany? Here you will find the Linderhof Palace. The Zugspitze Mountain and the Eibsee Lake too. All ideal places to visit whilst you are on holiday in this stunning area.
As well as being memorable sights that you can treasure for a lifetime. It really is one of the must-see towns in Europe.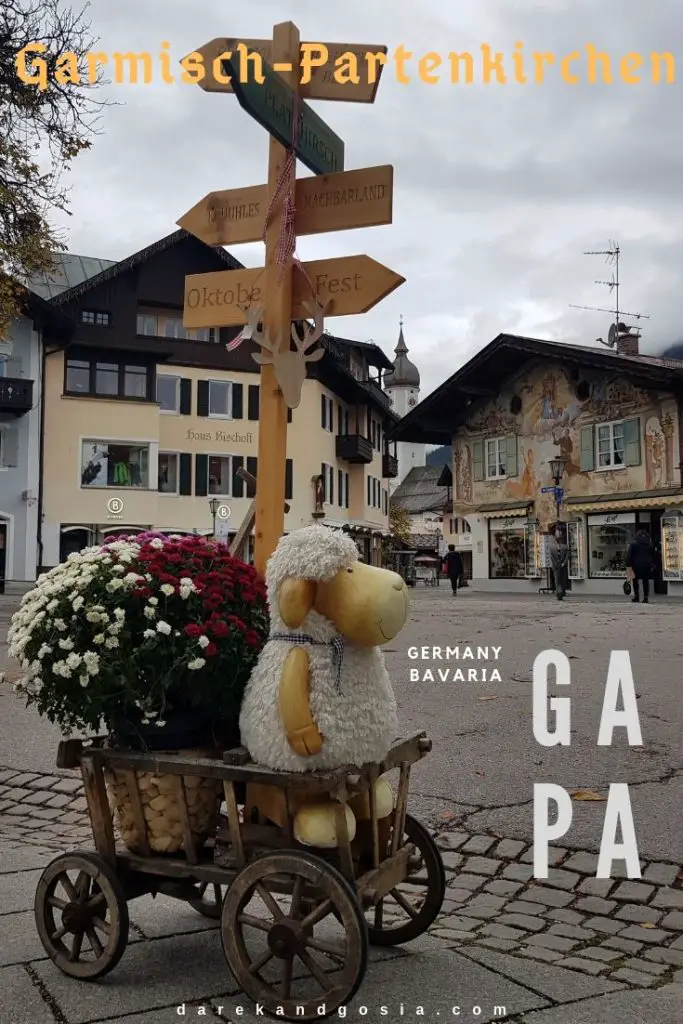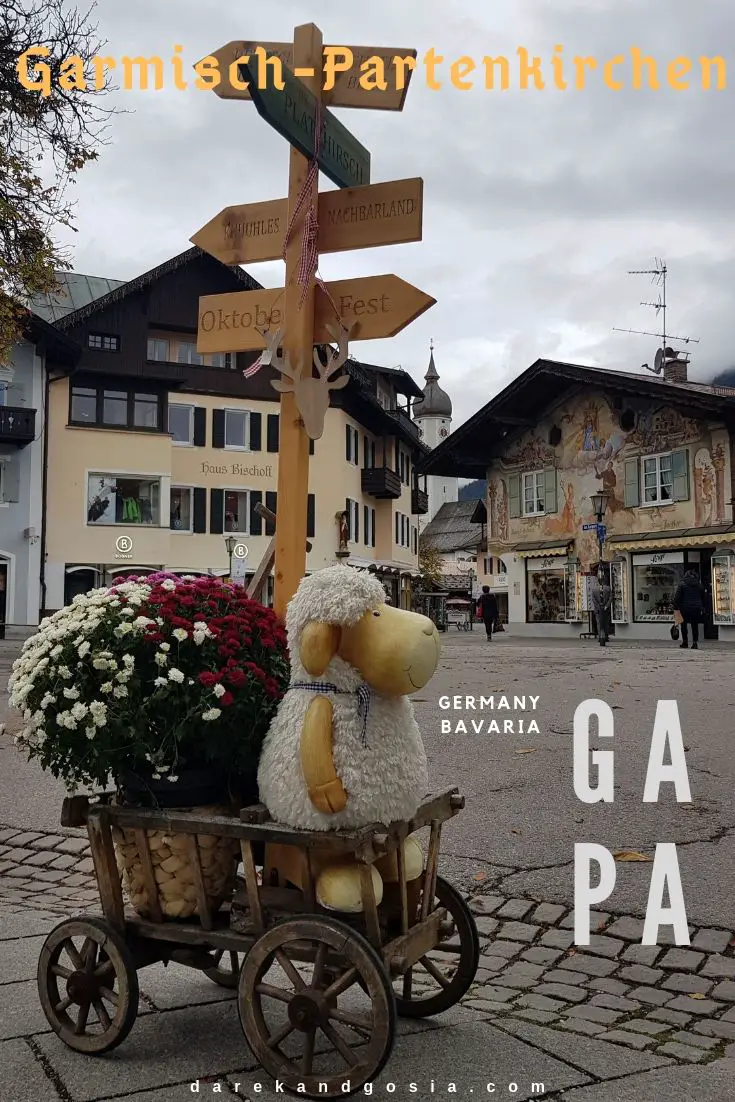 What is Garmisch-Partenkirchen known for?
Garmisch-Partenkirchen is renowned for Zugspitze, Germany's highest peak, offering breathtaking views and outdoor activities. The town is a popular destination for winter sports, with excellent skiing and snowboarding opportunities. Partnach Gorge, a natural wonder, features dramatic cliffs and a rushing river.
Nestled in the Bavarian Alps, Garmisch-Partenkirchen offers picturesque landscapes for hiking and outdoor recreation. The town's cultural heritage shines through its well-preserved Bavarian architecture and the historic Partenkirchen district.
How to get from Munich to Garmisch-Partenkirchen?
Bus from Munich airport to Garmisch-Partenkirchen
If you are not arriving very late, the best option (change-fee) to get to GaPa will be to get a FlixBus. If you book your ticket in advance you can travel for as little as €5.99 one way. So your total return journey will be at €11.98. This is a direct bus service which will take you to Garmisch-Partenkirchen in 1 hr and 15 minutes.
Munich airport to Garmisch-Partenkirchen by train
A Bayern train ticket is also an interesting option. It is a bit more expensive (currently for two people is €32) but it gives you a lot more flexibility. There are 2 trains per hour and the total journey to GaPa will take you around 2hrs and 30 minutes (including one change in Munich).
The big advantage is that you can get a train from the airport to Munich, and spend a few hours exploring the city before heading up to Garmisch-Partenkirchen. All trams and underground are included in the Bayern ticket so you can use public transport in Munich as much as you wish.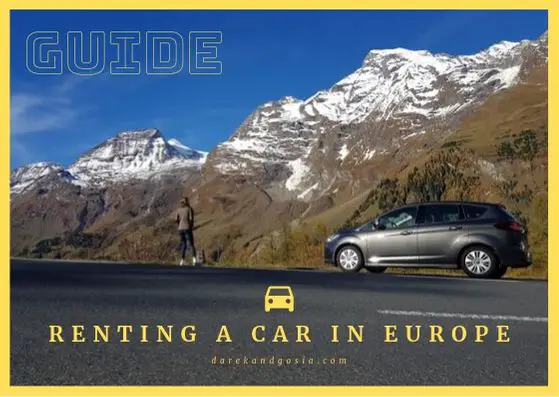 Rent a car at Munich airport
This is the best option as you really need a car in order to explore the Garmisch-Partenkirchen area properly. There are many car hire companies at the Munich airport and prices start from €18 a day.
Please read our guide RENTING CAR IN EUROPE before booking your car in Munich.
If by any chance you are based in GaPa, a trip from Garmisch Partenkirchen to Munich is also a great idea!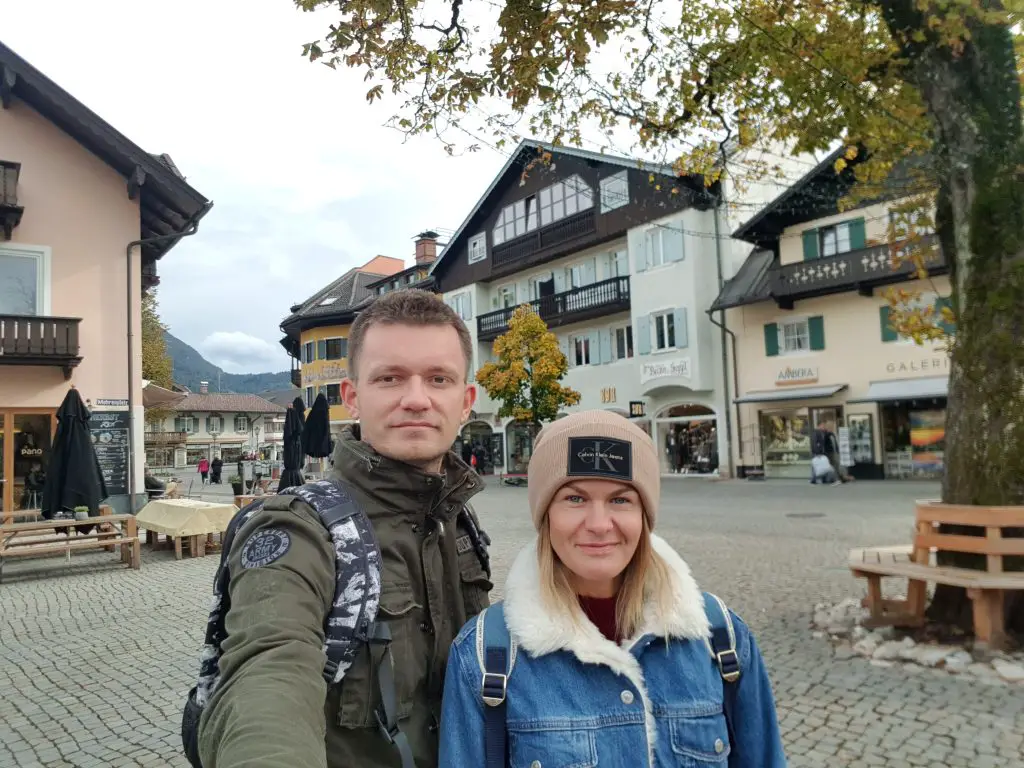 Is Garmisch-Partenkirchen walkable?
Yes, Garmisch-Partenkirchen is a walkable town, and many of its attractions and amenities are within walking distance of each other. The town is compact and pedestrian-friendly, making it convenient to explore on foot. You can easily stroll through the charming streets, visit shops, cafes, restaurants, and reach popular attractions.
However, keep in mind that Garmisch-Partenkirchen is located in a mountainous region, so some areas might have hills and inclines. It's advisable to wear comfortable shoes and be prepared for some elevation changes. Additionally, if you plan to visit attractions or destinations outside the town center, such as Zugspitze (Germany's highest peak) or Eibsee Lake, you may need to consider alternative modes of transportation, such as buses or cable cars.
Overall, for exploring the town center and immediate surroundings, Garmisch-Partenkirchen is indeed walkable and offers an enjoyable experience on foot.
How many days do you need in Garmisch Germany?
The number of days recommended for a visit to Garmisch, Germany, depends on your interests and the activities you wish to undertake. However, a suggested duration for a visit to Garmisch would be around 3 to 5 days. This timeframe allows you to experience the natural beauty of the region, engage in outdoor activities, and explore the surrounding attractions. Here's a general itinerary for a 4-day visit to Garmisch:
Day 1:
Arrive in Garmisch and get acquainted with the town. Take a leisurely walk through the charming streets, visit local shops, and enjoy a meal at one of the traditional Bavarian restaurants.
Explore the historic Partenkirchen district, known for its traditional architecture and cultural heritage.
Visit the Richard Strauss Institute to learn about the famous German composer who resided in Garmisch.
Day 2:
Take a cable car or cogwheel train to Zugspitze, the highest peak in Germany. Enjoy stunning panoramic views, go hiking, or try skiing or snowboarding depending on the season.
Visit the nearby Partnach Gorge, a natural wonder with dramatic cliffs and a beautiful river.
Day 3:
Explore the beautiful Eibsee Lake, located at the foot of the Zugspitze. Take a scenic walk around the lake, rent a paddleboat, or simply relax and enjoy the breathtaking surroundings.
If you're interested in winter sports, spend the day skiing or snowboarding at one of the nearby ski resorts, such as Garmisch-Classic or the Zugspitze Glacier.
Day 4:
Visit the Werdenfels Museum to learn about the history, culture, and traditions of the region.
Take a scenic drive or hike through the picturesque Bavarian Alps and visit nearby towns like Mittenwald, known for its painted houses and violin-making tradition.
Enjoy a relaxing afternoon at one of the local spas, such as the Alpentherme or the Wellness Center in Garmisch.
Of course, this itinerary can be adjusted based on your preferences and the time of year you visit. If you have more time, you can further explore the region, engage in additional outdoor activities like hiking or mountain biking, or simply immerse yourself in the beauty of the Bavarian Alps.
Where to stay in Garmisch-Partenkirchen?
There are many stunning places you can stay while visiting GaPa. The Olympiahaus Hotel is very popular among ski-jumps lovers 😉 It is located directly beside the ski jumps so you can really feel the atmosphere of the 1936 Winter Olympics. Partnachklamm is also a very short distance from there.
If you are looking for a bit of luxury in a Bavarian style, Hotel Zugspitze should be your choice. Located in the middle of the town is full of facilities you can use after a busy day. A spa area and an indoor swimming pool are always handy at any time of the year.
GaPa is a very popular market town in Bavaria so it's highly recommended to book a hotel way in advance.
Where we stayed during our trip to GaPa?
We were located in Mittenwald as we had slightly different plans and wanted to explore a few areas a bit further away from GaPa. Unfortunately, due to the weather, we had to change our plans. Mittenwald can be also a much cheaper place to stay for a few nights compared to Garmisch-Partenkirchen.
That's the view from our hotel – Berggasthof Kärntner Alm: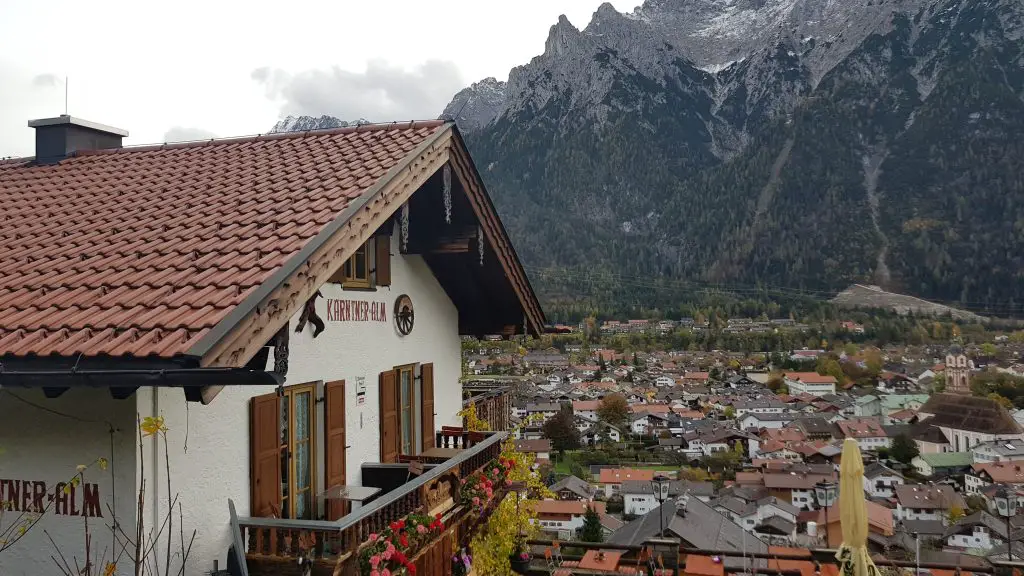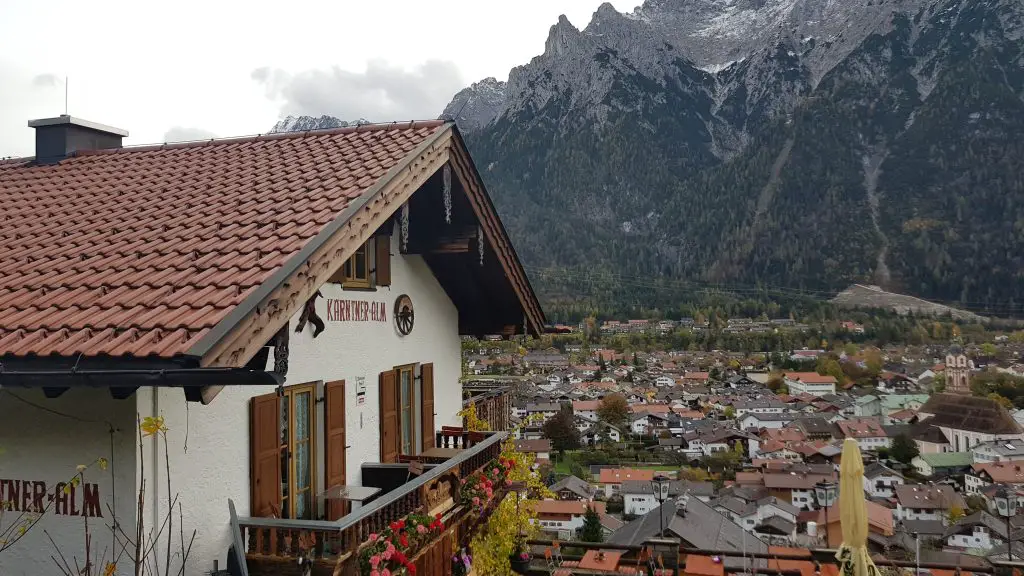 Book a train from Munich to Garmisch Partenkirchen Germany and explore the best things to do in Garmisch Partenkirchen:
Top 11 things to do in Garmisch-Partenkirchen
1. Garmisch-Partenkirchen
What to see in Garmisch-Partenkirchen? No surprise, we start with the beautiful Olimpic town of Ga-Pa. In fact, Garmisch and Partenkirchen used to be two separate towns before joining forces to organising the IV Olympic Winter Games in 1936.
Visit Kurpark and take a walk on the famous Am Kurpark road. It is full of beautifully painted houses which are very typical for the Bavarian region in Germany. The road is just gorgeous and it is one of the best activities in Garmisch Partenkirchen!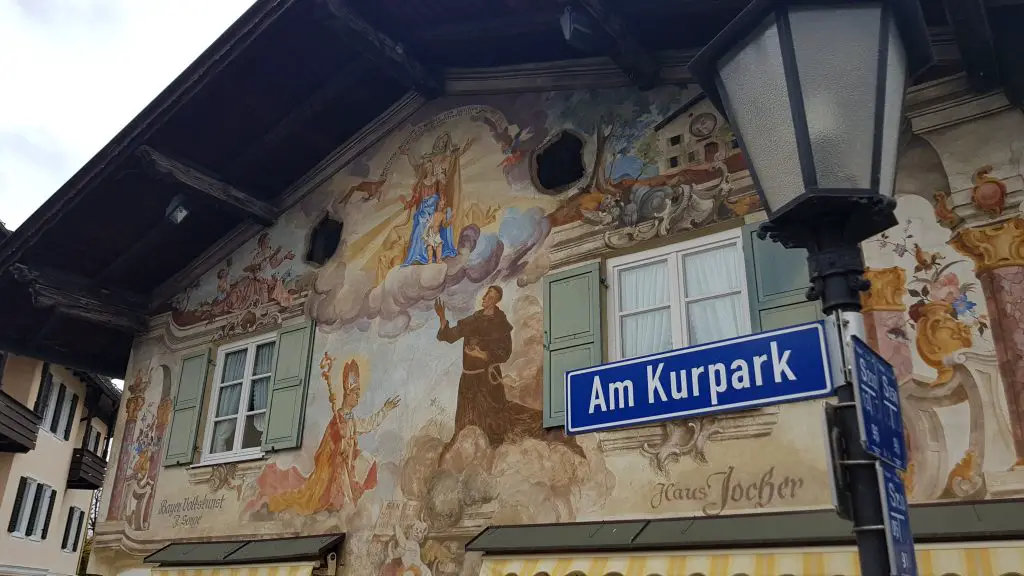 I have to admit this – we love German food! 🙂
You really have to try bratwurst or currywurst in Garmisch – traditional Bavarian food which is very delicious. Einfach lecker!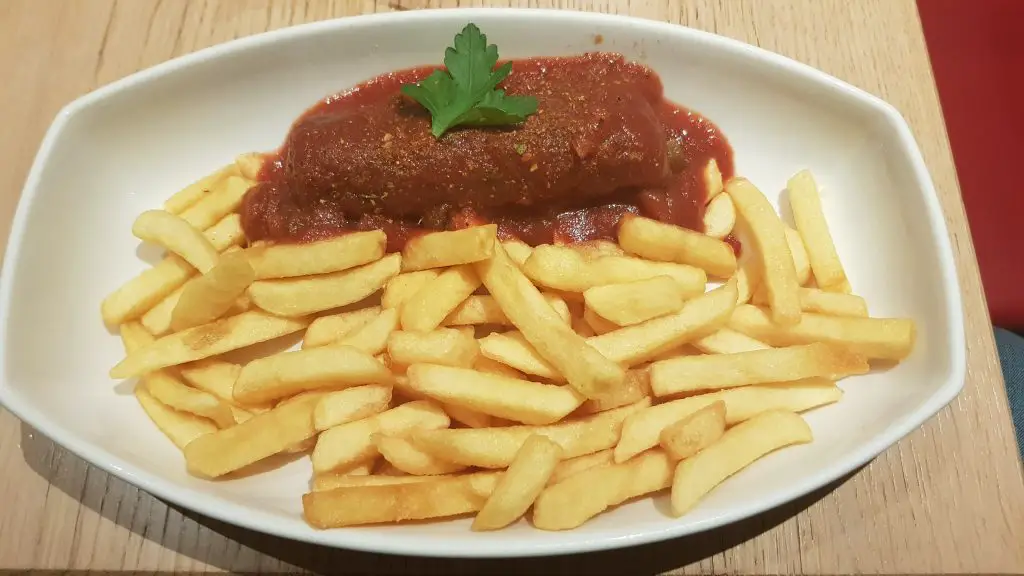 Once you are full again, take a walk along the Historischen Ludwigstraße in Partenkirchen. It's as beautiful as the Am Kurpark Road.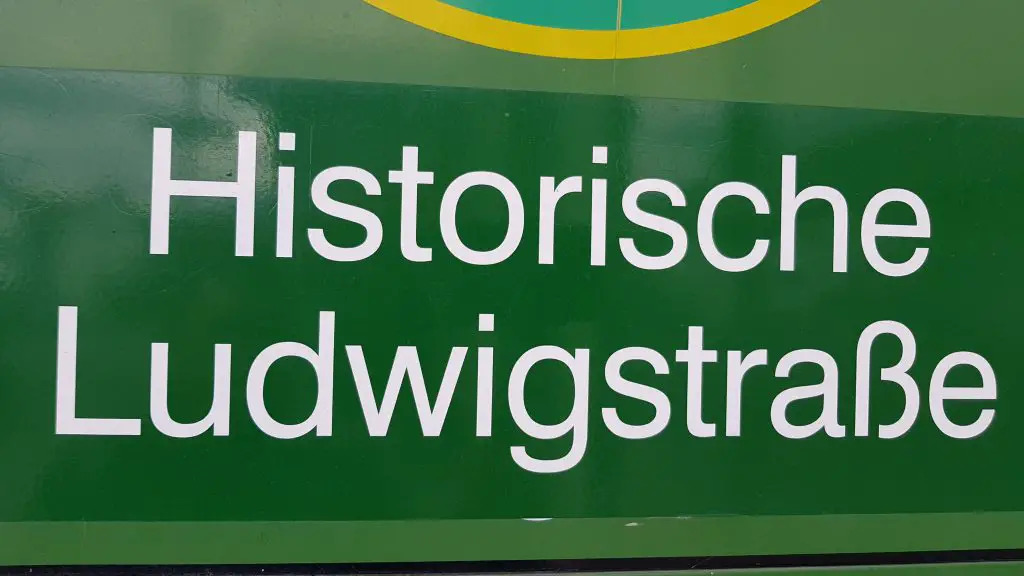 There are also many cosy coffee shops, local independent shops and boutiques where you can buy souvenirs from Garmisch-Partenkirchen.
2. Mittenwald
Where to visit on your trip to GaPa? There are also many things to do near Garmisch-Partenkirchen Germany.
Found in central Bavaria, 20 km from Ga-Pa, Mittenwald is a town that is not only packed full of amazing landscape and scenery, but it is also the ideal place if you are someone who wants to take in the area on their own two feet; and what a beautiful place to explore!
Leutaschklamm Gorge hike is one of the best places to visit while in Mittenwald 🙂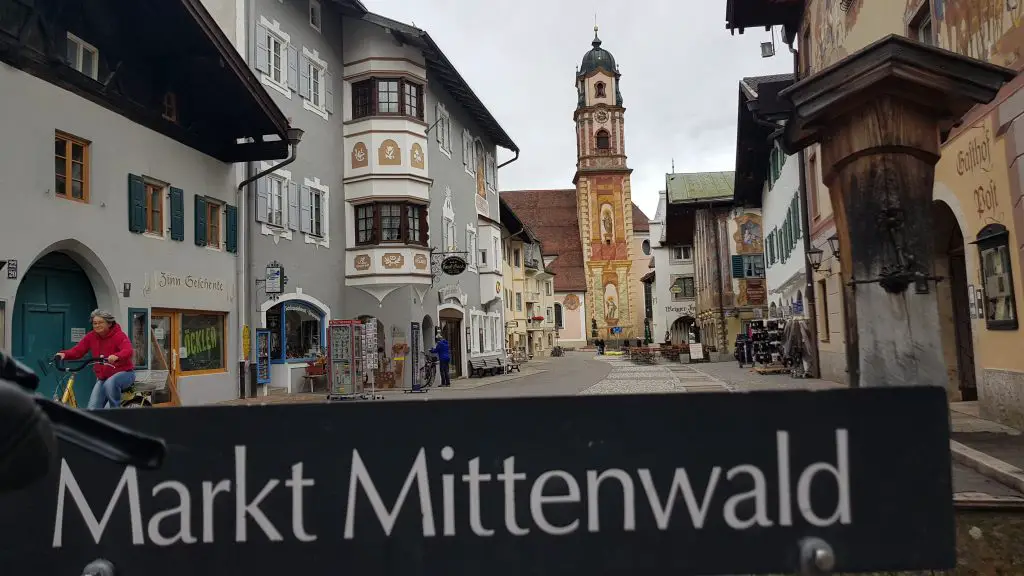 The air in Mittenwald is clean and clear and if you happen to take a walk down the main street, the only sound that you will hear is the babbling brook that runs through it.
Mittenwald is probably a bit underrated but it's really a beautiful part of Bavaria and one that you just have to visit during your trip to Ga-Pa.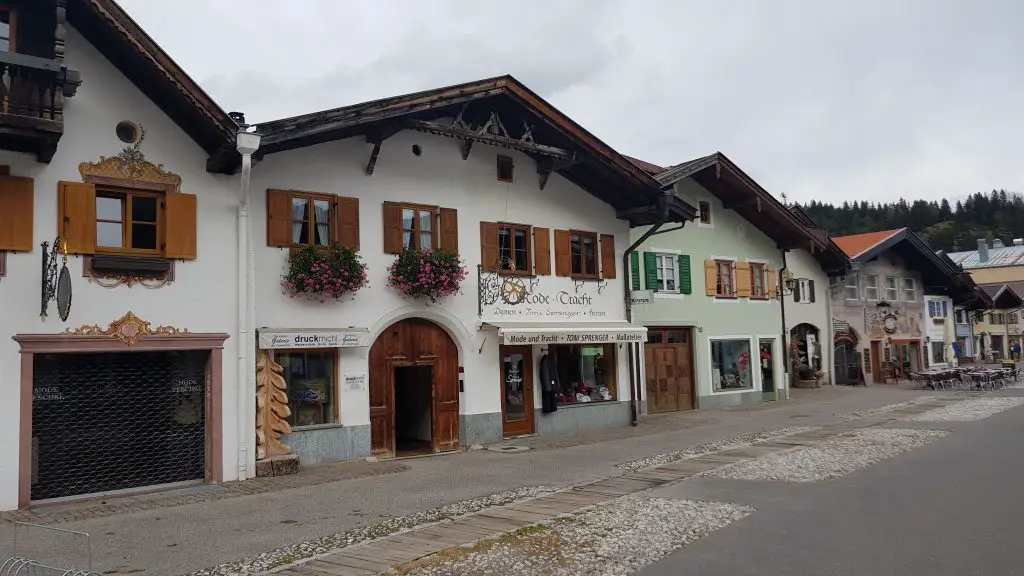 3. Zugspitze
Must see near Garmisch? Without a doubt, Zugspitze just has to be on our Garmisch Partenkirchen things to do list!
Known to be Germany's highest peak, Zugspitze is more than just a mountain nestled in the clouds. Reaching 2,962 metres above sea level, this mountain boasts three glaciers and the highest ski resort to be found in the whole of Germany making it a perfect place for hiking in Europe.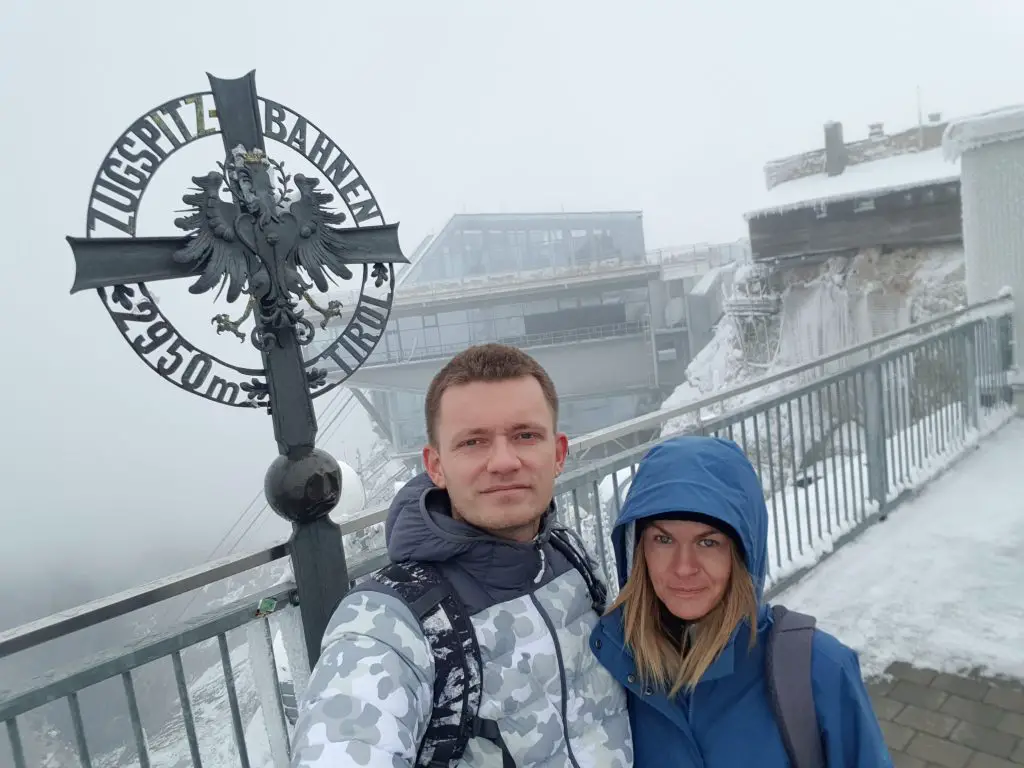 If skiing is your thing, then you will find 20 kilometres of pistes that you can enjoy and thanks to the extensive snowfall, these pistes are open for as much as 6 months of the year. Of course, if you prefer to stay under your own foot power, then you can still explore the beauty of the area and take in some of the most beautiful views in Europe.
Need any ideas about what to do in Garmisch-Partenkirchen?
You can be an angel on top of Germany! Or at least you can make one 😉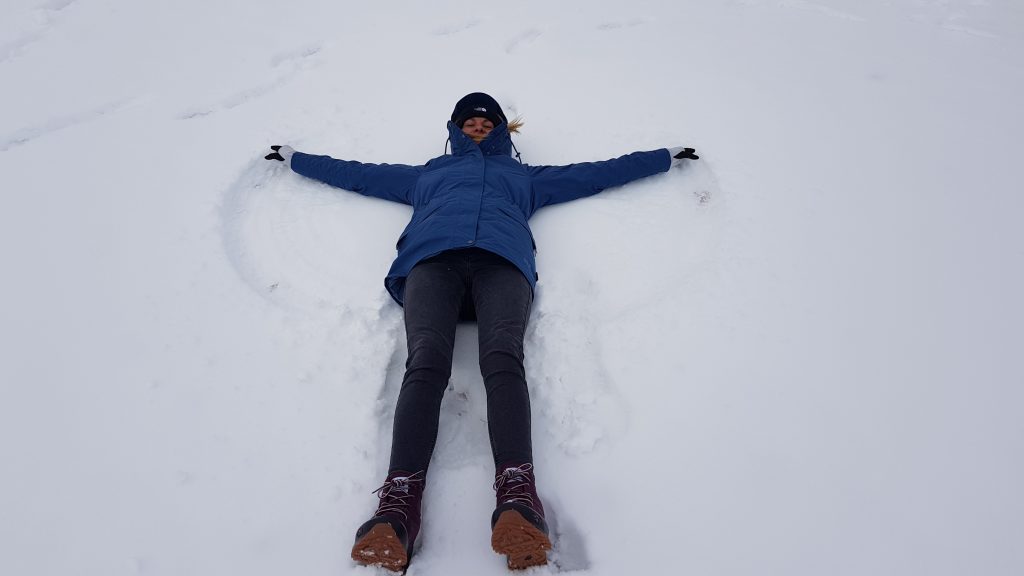 4. Linderhof Palace
Where to go in Garmisch? There is something special about a palace and Linderhof Palace in Bavaria is no different. A stunning piece of architecture, surrounded by equally as breath-taking natural landscapes, you will absolutely fall in love with this amazing and magical place.
Many locals would say that Linderhof Palace is one of the best places to visit in the Garmisch-Partenkirchen area.
The palace itself was built to be a hunting lodge, however, over the years it was extended built on and enlarged, all of which made it the building that it is today. It boasts a hall of mirrors as well as some intricately designed gardens that you can explore during your time there.
5. Eibsee
Best areas to visit Near GaPa? If you are looking for a place to take your breath away then you might want to take a look at Eibsee Lake. Known to be the most beautiful lake in the whole of Bavaria, this really is a place that needs to be seen to be believed.
When you visit Garmisch-Partenkirchen, Eibsee Lake is a must-see on your list!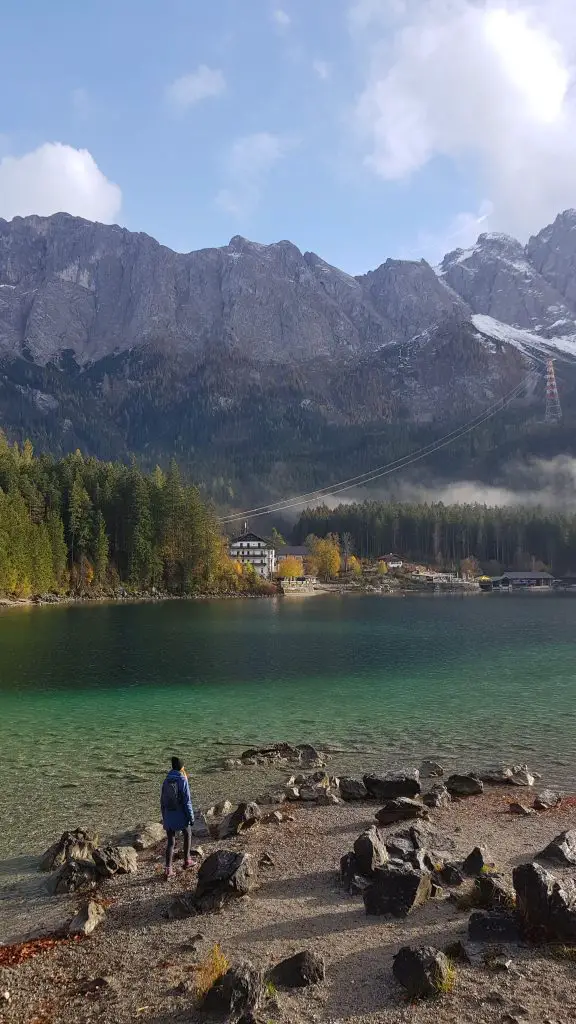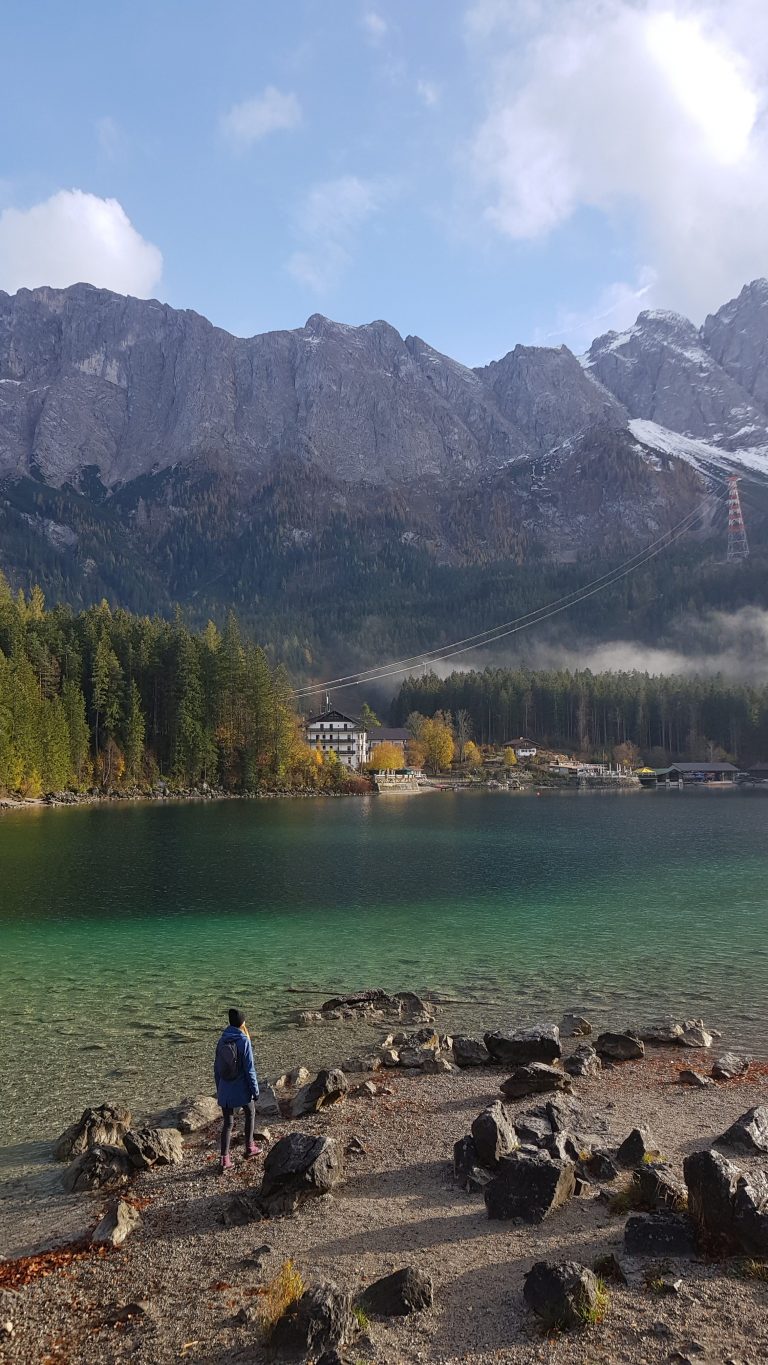 The lake was formed during the last ice age and sits at the foot of the famous Zugspitze mountain. It is not only surrounded by some of the most beautiful landscape ever, but the lake itself is as photogenic as the area around it.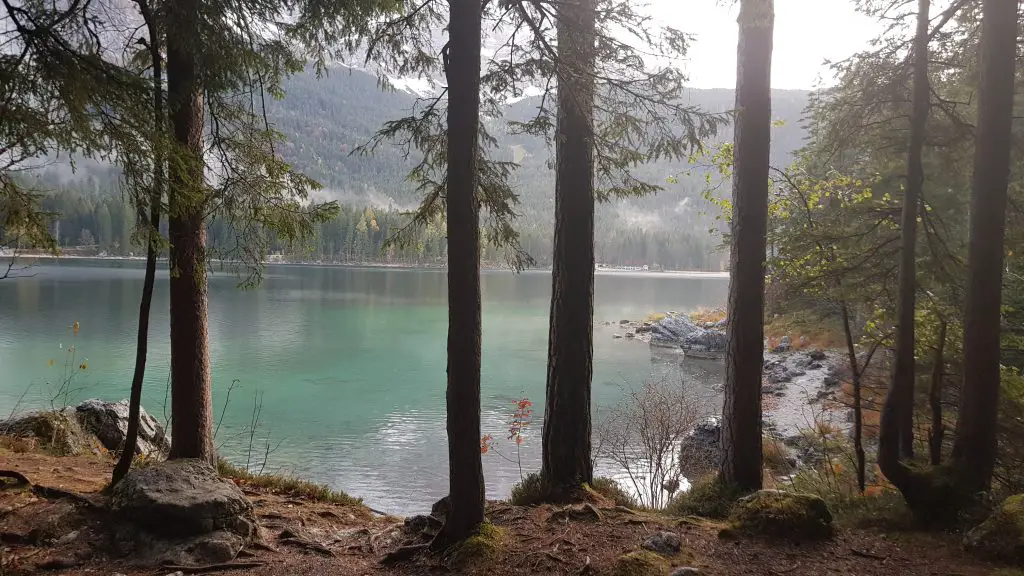 Would you add this stunning lake to your list of best things to do in Garmisch-Partenkirchen?
Read more: Eibsee Lake in Bavaria, Germany – the #1 lake in Bayern!
6. Partnach Gorge
Where to go in Garmisch-Partenkirchen? If you like your water wild and your thrills more than just a little exciting, then you need to visit the Partnach Gorge. Found just of GaPa, this Gorge has something magical about it. It comes complete with wild waterfalls, water rapids and even the most tranquil of water basins, offering something for everyone.
Thankfully the majority of the danger has been taken away from this Gorge and you can now take one of the two safe paths which not only take you through it but also allow you to see some of the most amazing views in Germany.
7. Alpspix
If you are looking for unique things to do in Garmisch Germany, then you have to see Alpspix!
Ever wished that you could get the best view of an area possible? If you do, then you might want to take a look at the Alpspix. Hanging above a vertical drop of almost 1,000 metres, this X shaped viewing platform is almost floating in the air, meaning that you could feel as if you are one step closer to heaven. It's one of the best places in Europe you can visit!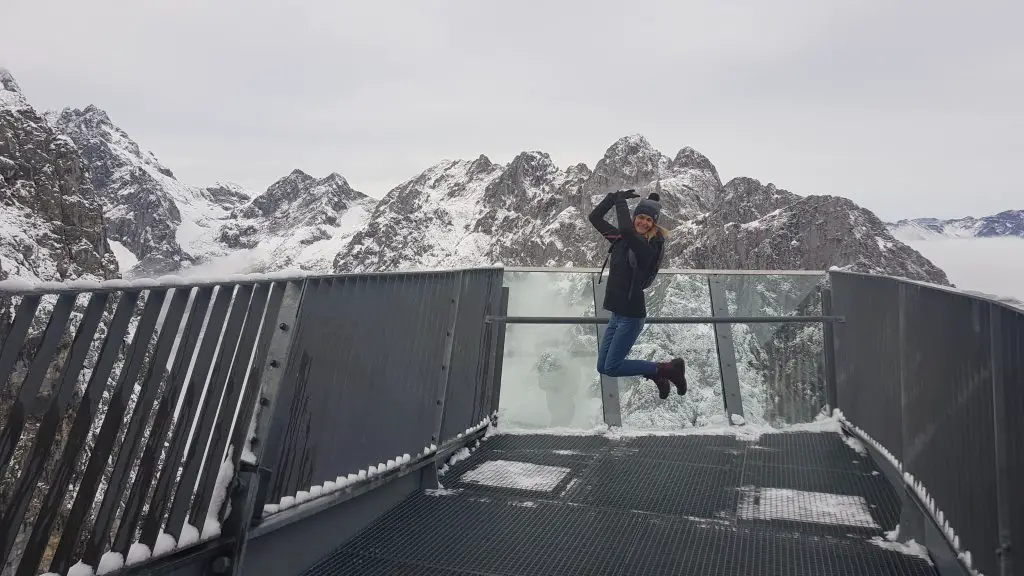 Allowing you to take in views around you, if you take the cable cars up to the platform, then we can promise you that you will never forget everything that you see around you. The views are breath-taking!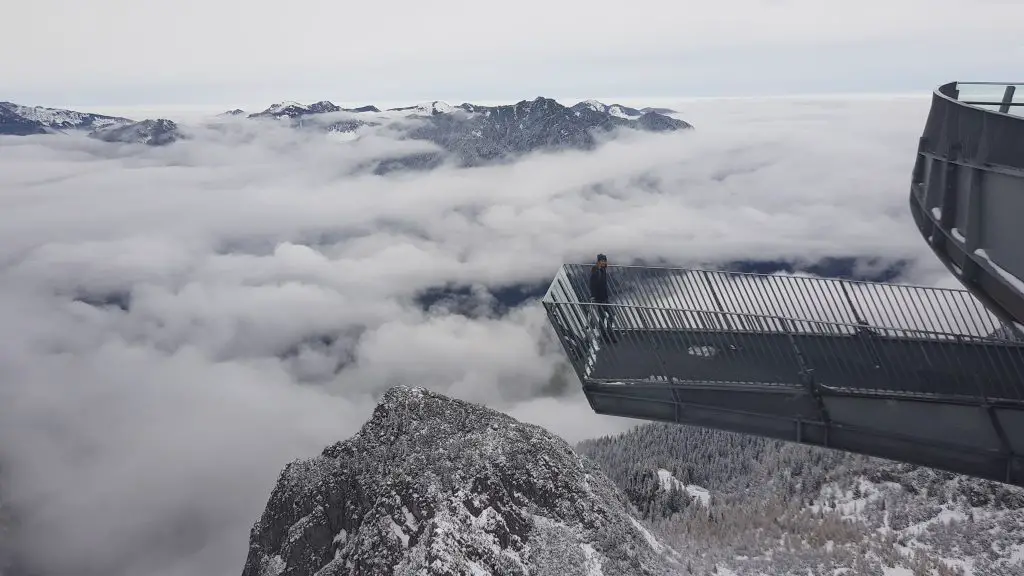 8. Ettal Abbey
Best places to visit on the trip to GaPa? The Abbey may look like a castle, but we can promise you that it really is a monastery. Found in the village of Ettal, this particular Abbey still is home to a community of monks. Whilst you can easily take in the beauty of this building from the outside, for a real insight into how those monks may live you can book in for a tour of the interior of the building.
Aside from the monks, there is so much to see at this Abbey. This includes cheese-making demonstrations, brewery tours and also a look round the distillery too.
9. Alpspitze
Top travel destinations near Garmisch? Anyone visiting Garmisch Partenkirchen Germany will at some point heat this name!
One of the best-known mountains in the area, the Alpspitze is found in Bavaria and stands a rather impressive 2,628 m tall. It is only 334m smaller than the highest mountain in Germany, which means that it is no less beautiful and impressive.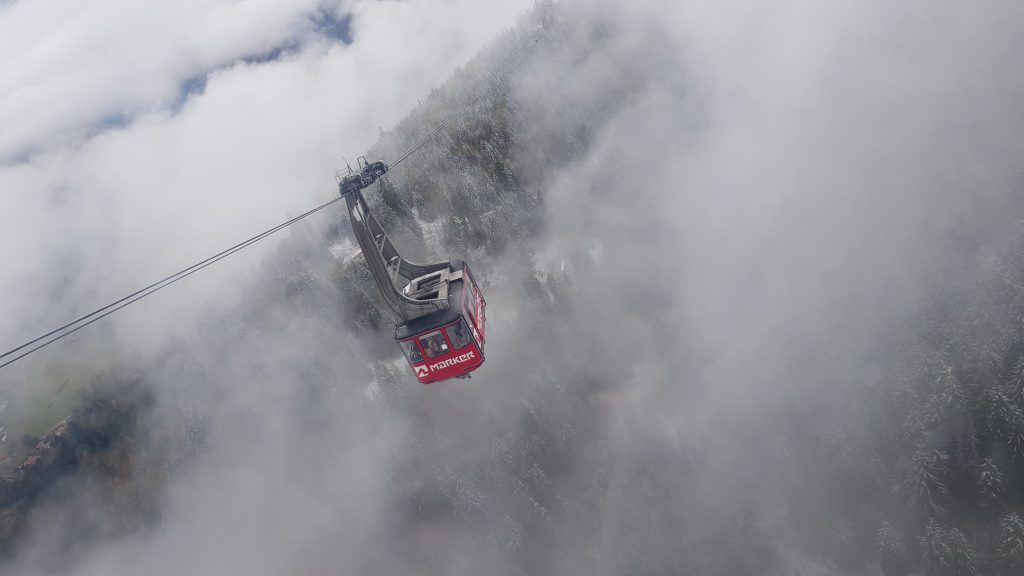 During the summer, you can choose to hike in the area, or perhaps try out mountain biking, however, as soon as the winter comes around, the mountain is transformed and becomes a popular ski resort with more than 40km of slopes for people to enjoy.
You can hike to the top of the Alpspitze, or… just take a few pictures of it – it's cool too! 😉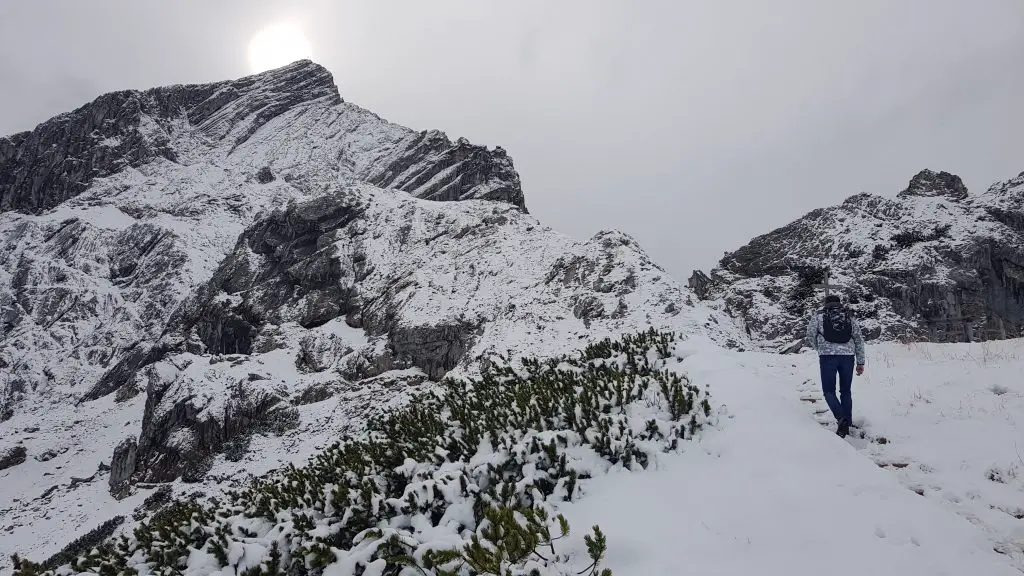 10. Olympia-Skistadion
Top things to see in Garmisch Partenkirchen? You might not be ready to win gold, but that doesn't mean that you can't pay a visit to the Olympic Skiing Stadium. Here you will find a backdrop that has seen some of the most amazing winter Olympic moments, especially the overwhelming ski jump. If Martin Schmitt, Adam Malysz or Andreas Goldberger names mean something to you, you will love this place! 🙂
During winter this is probably one of the top attractions in Garmisch Partenkirchen, but you can still admire its beauty in the low season.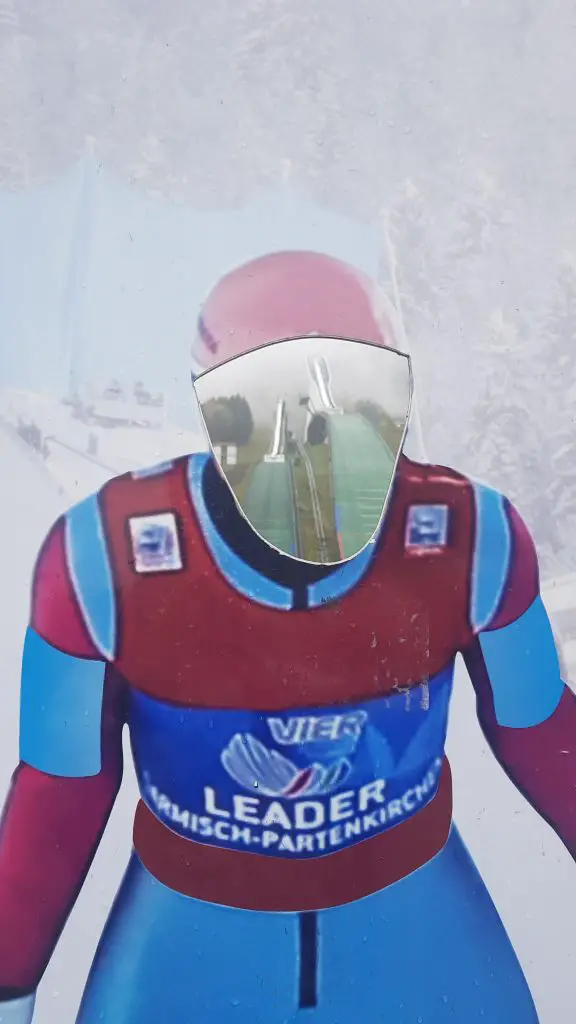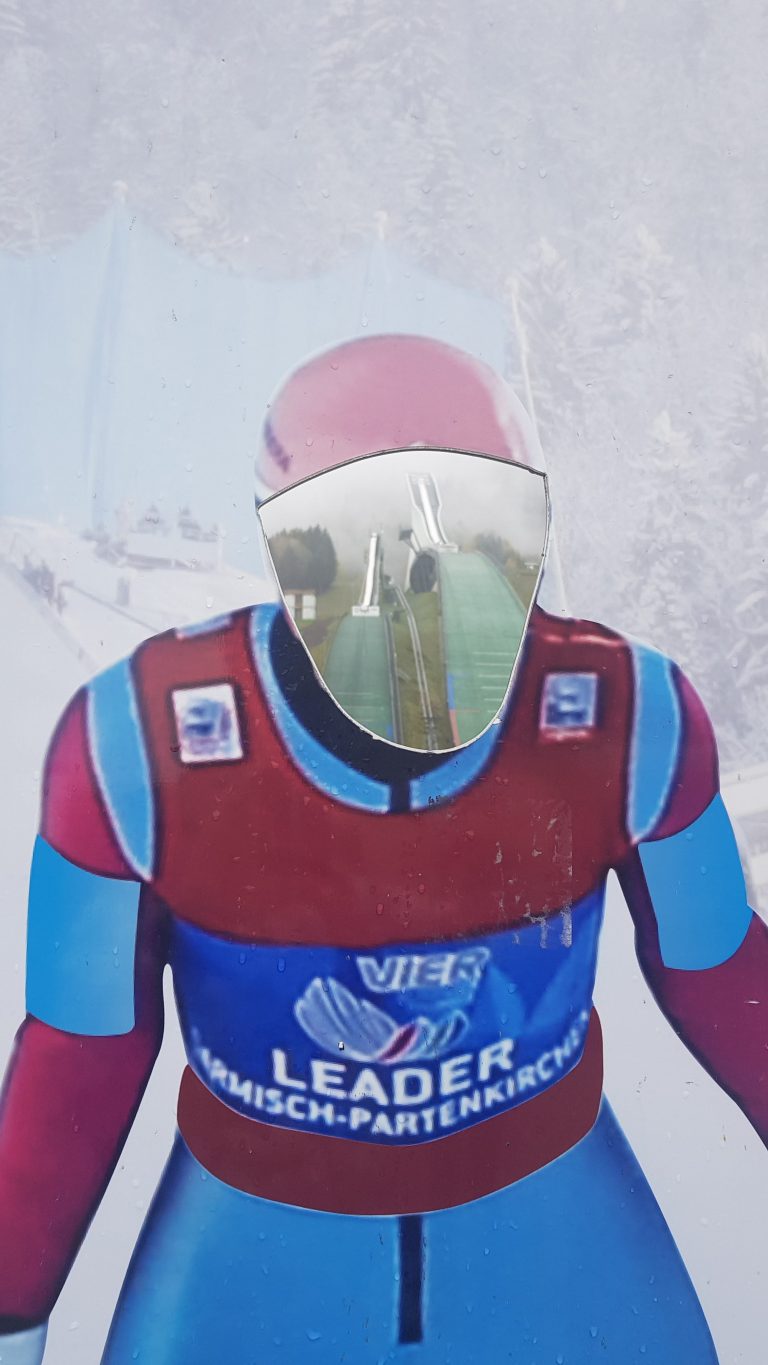 Known to be one of the most visited attractions in the area, if you want to see inside the stadium, then you could always go on one of the regular tours that are organised and give you an insight into the stadium and just how amazing it is.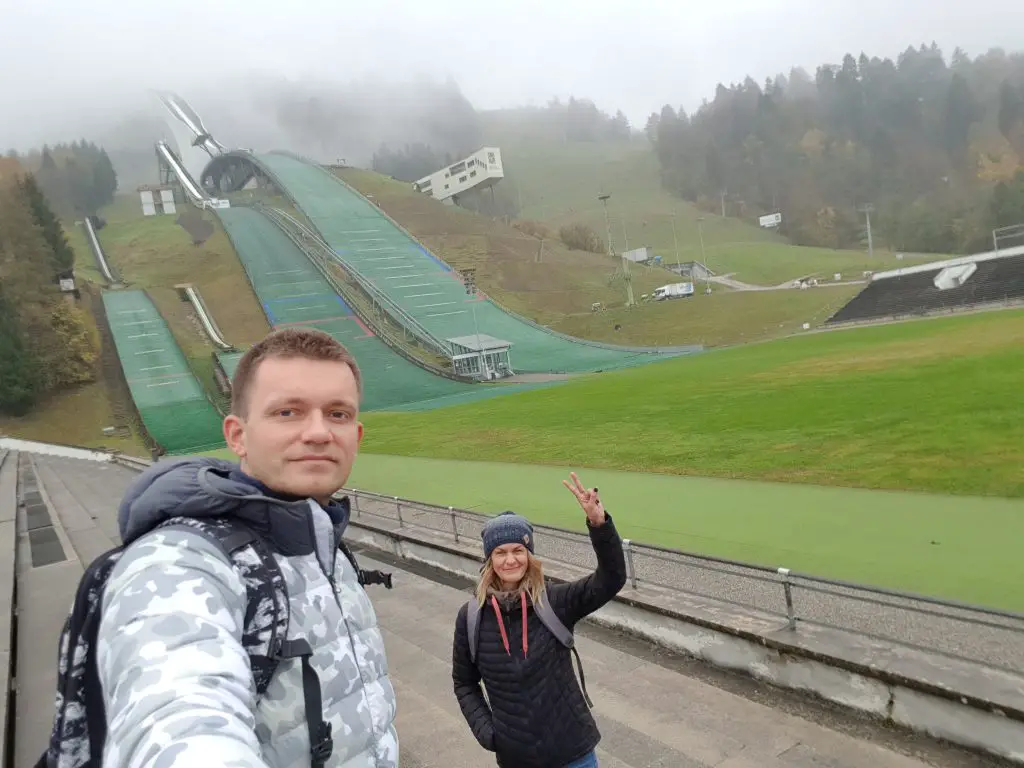 11. Neuschwanstein Castle
This really is a must see in Garmisch-Partenkirchen!
One of the most popular castles in the whole of Europe, every single year 1.4 million people decide to come and see this rather impressive building. The castle is found in one of the most beautiful areas in the whole of Europe and whilst the surroundings of the castle are breath-taking, the history of the castle itself is something that will stick with you.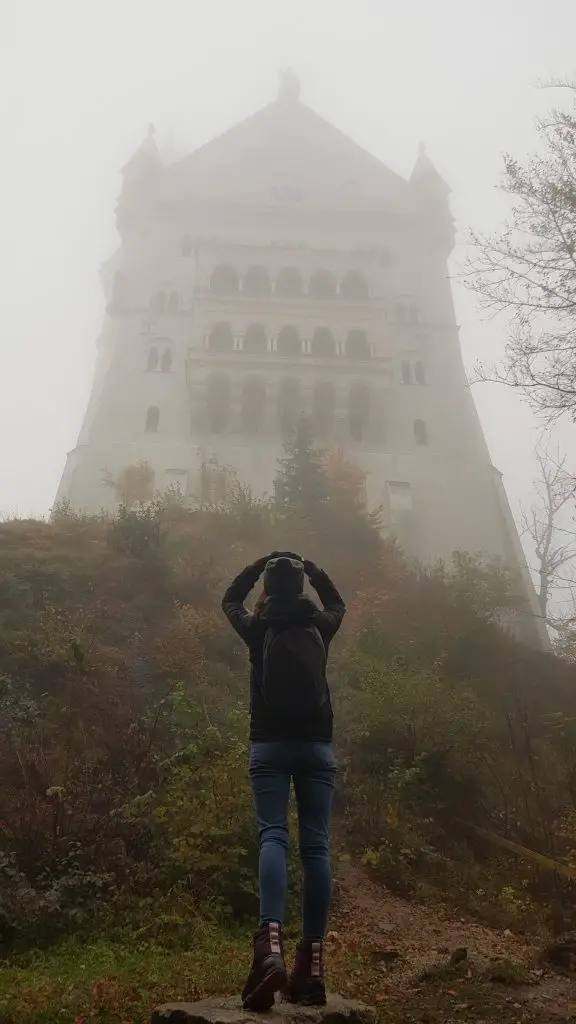 The castle was built as a way for Ludwig II to hide away from people. We are pretty sure this wouldn't be the perfect hiding place these days 😉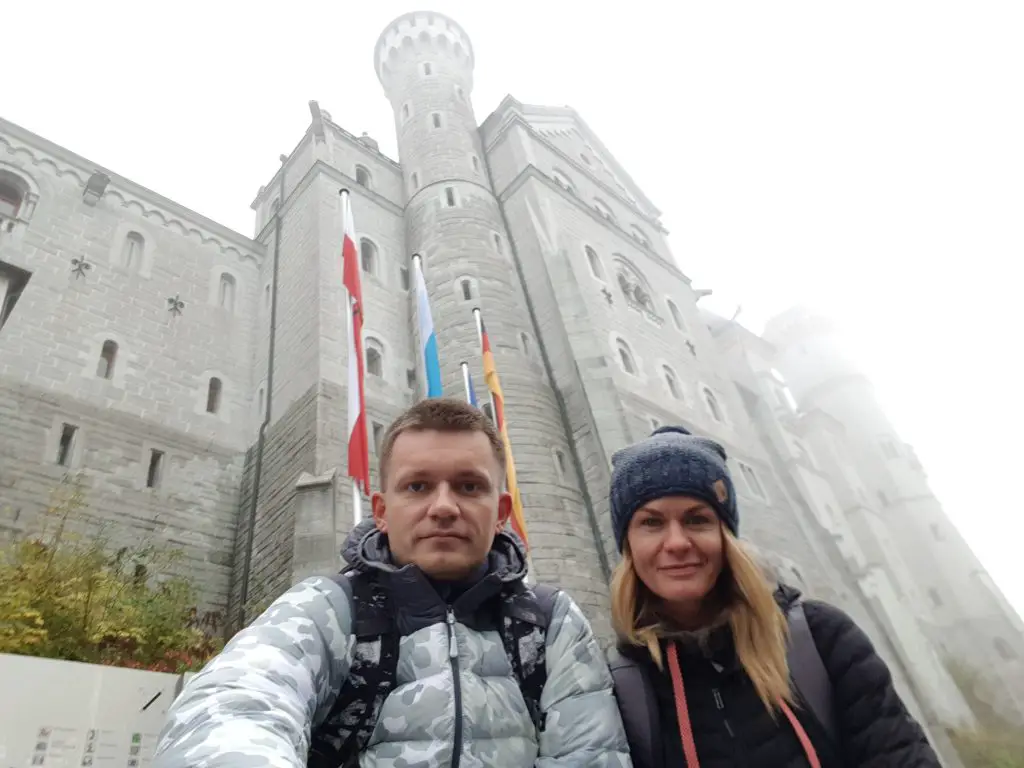 Best place to take pictures of the Neuschwanstein Castle:
Hike to Marienbrucke for the best spot to take a picture of the Neuschwanstein Castle. We hope you will have more luck, as that pedestrian bridge built over a cliff in 1845, was closed during our visit in GaPa.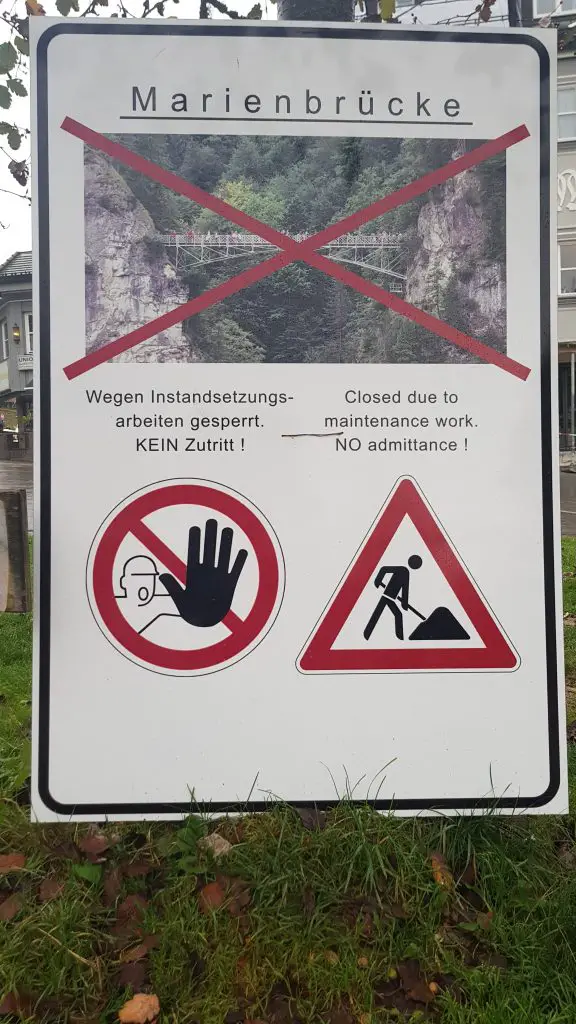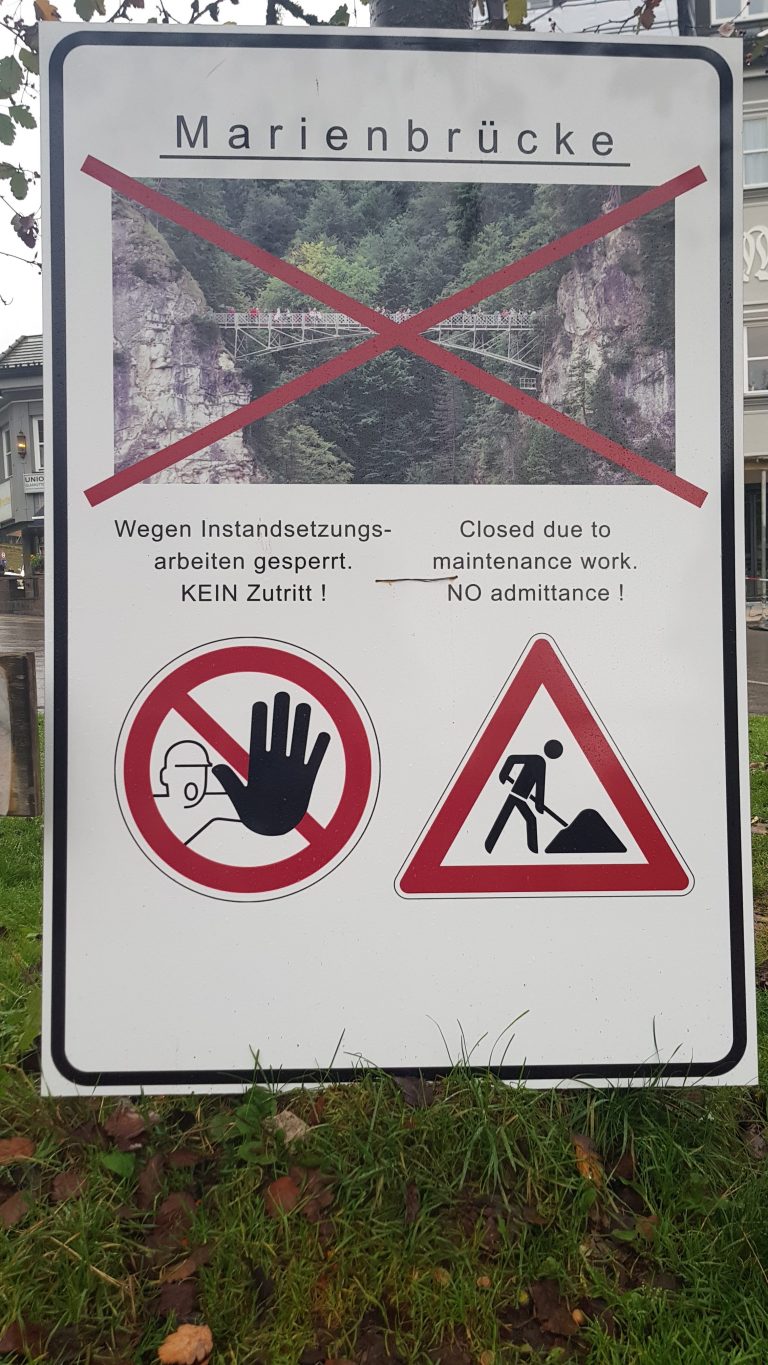 When is the best time to visit Garmisch-Partenkirchen?
In October tourism in Garmisch-Partenkirchen is dead! And this is most probably due to the weather – yes, we were unlucky again. But hey, as always, we only use our own photos on this blog so we can show you the true picture of our trip.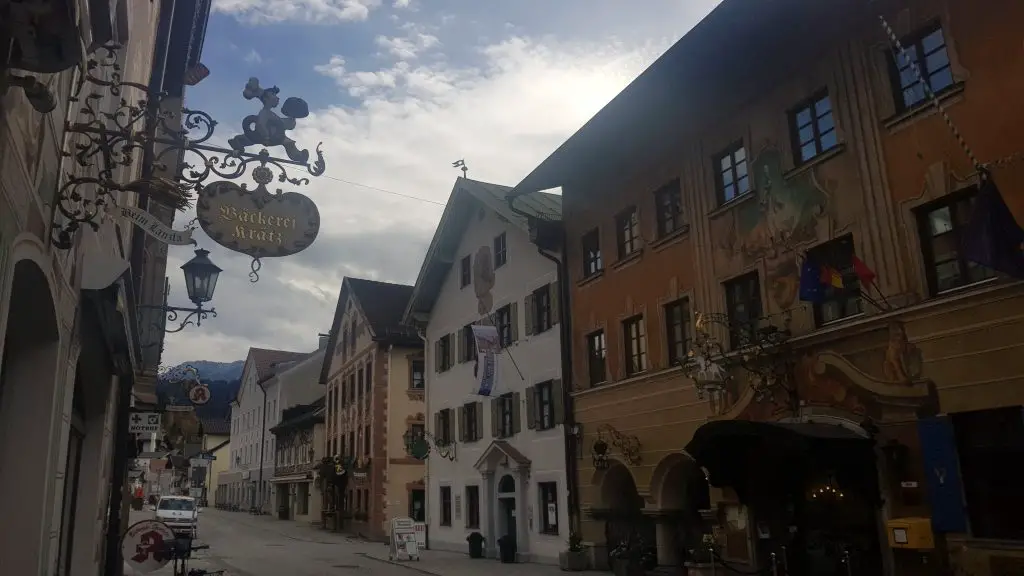 Is it worth visiting Garmisch-Partenkirchen?
So, is Garmisch Partenkirchen worth visiting? Let's face it. If you are visiting Munich, which together with Berlin and Hamburg should be on any travel bucket list, you have to go to GaPa!
Just jump on a train from Munich to Garmisch Partenkirchen or rent a car!
We absolutely loved our trip to Garmisch-Partenkirchen – one of the most beautiful towns in Bavaria and probably one of the prettiest towns in Europe! Even in poor weather – you can still see the full charm of GaPa.
If you liked our article about Garmisch-Partenkirchen, then please check out the below posts too:
Have more time in GaPa or Bavaria?
Bavaria is a stunning German region, which is beautiful at any time of the year. Whether you travel to the south of Germany during winter, make sure you visit one of the best German Christmas markets in Munich. You can also spend one day in Nuremberg or go for hiking in summer (is your camping list ready? 😉 ) – you will fall in love with Bavaria 🙂
It is also possible to visit a few famous places in the Austrian Alps.
Salzburg, Hallstatt or Schafberg are amongst the popular trips from GaPa.
Garmisch Partenkirchen Germany FAQ: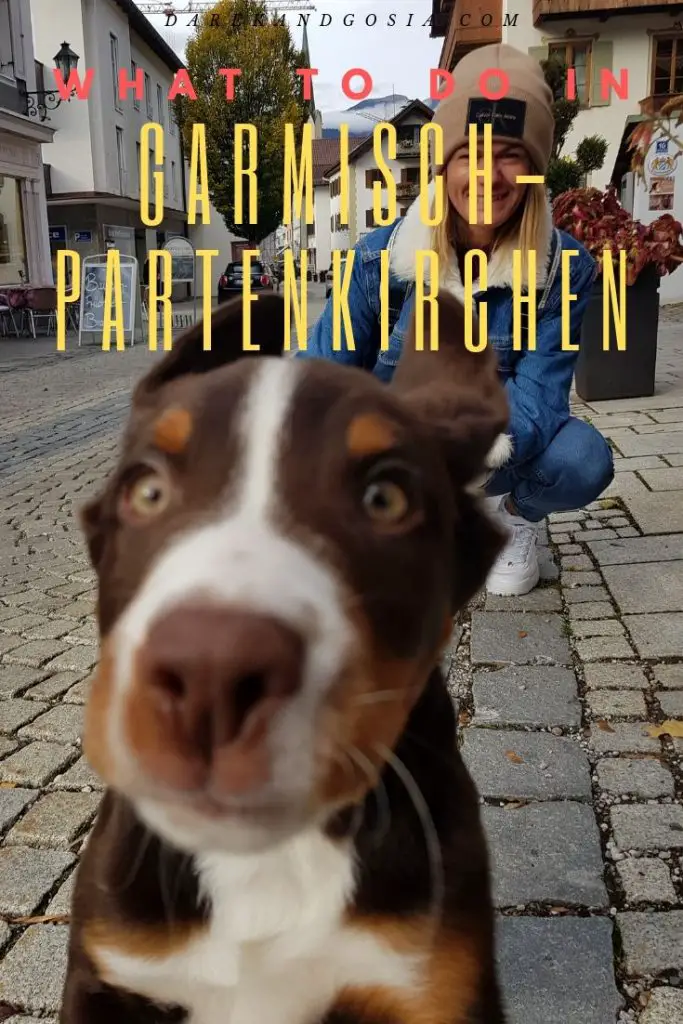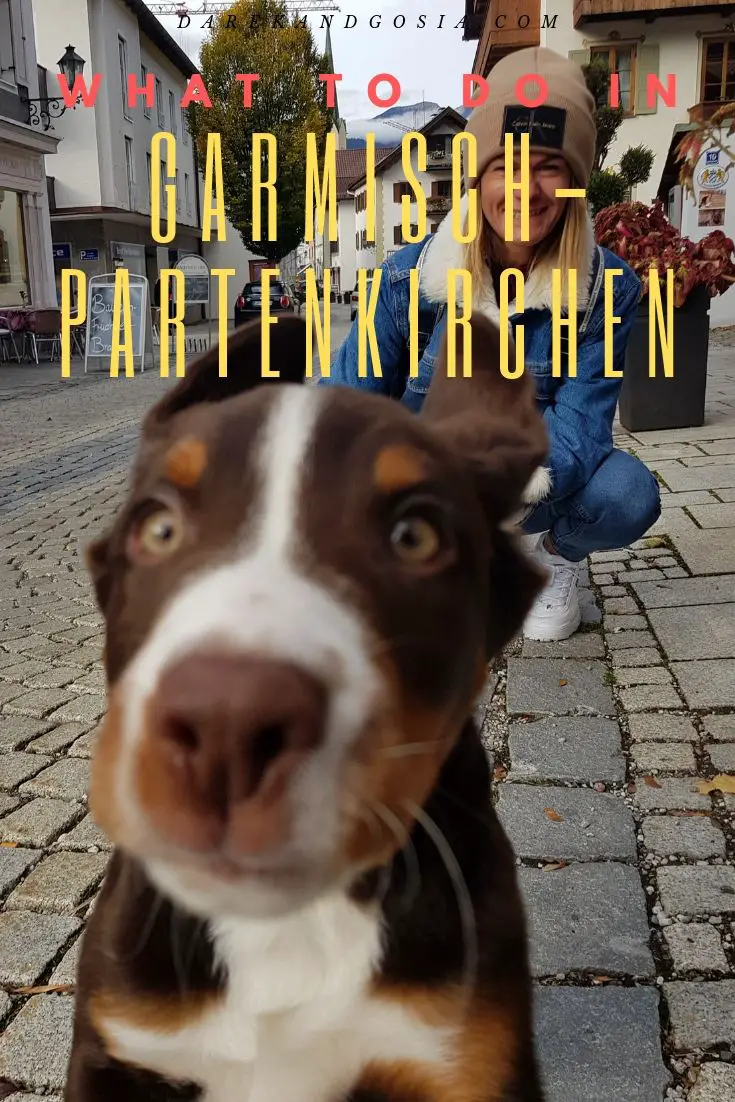 Articles you may like: