Discover the Algarve's sun-kissed beaches, where golden sands meet dramatic cliffs. Dive into a blend of natural beauty, water sports, and rich culture in Europe's favorite coastal escape.
If you're seeking sun, sea, and stunning landscapes, Algarve, Portugal should be on your travel radar. Known for its incredible coastline, this southern region of Portugal boasts more than 150 beaches, making it a prime destination for a beach holiday in Europe. In this comprehensive guide, we'll introduce you to the top 15 beaches in Algarve, ensuring your Portuguese vacation is nothing short of perfect.
Best Beaches in Algarve – A Beach Lover's Paradise
Algarve is renowned for its diverse range of beaches, catering to every beachgoer's preferences, whether you're a sunbather, surfer, or seeker of secluded shores. With such an abundance of options, narrowing down the best beaches can be challenging. However, we've curated a list of the most breathtaking beaches, each with its unique charm.
Visiting Algarve beaches – car hire
We have rented cars many times during holidays in Portugal and we always used discovercars.com
Check out our guide to the best car hire company in Portugal or simply explore the options directly on discovercars.com if you need a car during your next holiday on the Algarve Coast.
What is the nicest beach in the Algarve?
While the concept of "nicest" can be subjective, Praia da Marinha frequently receives this accolade. Located near Lagoa, it's revered not just for its pristine sandy stretch but also for its iconic golden limestone cliffs, azure waters, and picturesque arches and caves that dot its landscape.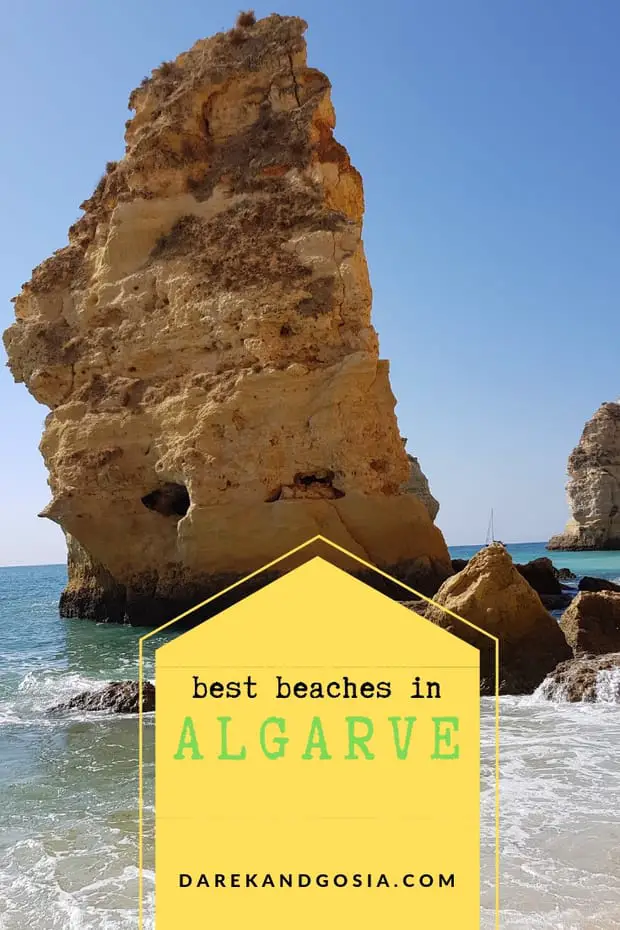 Best beaches in the Algarve
1. Praia da Marinha (Marinha Beach)
Renowned globally for its emblematic beauty, Praia da Marinha offers more than just a typical beach experience. Encircled by jagged limestone cliffs and punctuated by iconic rock formations that rise from its clear azure waters, it's a dream come true for nature lovers. Snorkelers are often rewarded with glimpses of diverse marine life, making every dive an adventure. With its serene atmosphere, the beach is a perfect spot for those wanting to disconnect and immerse in nature's splendor.
2. Praia da Falésia (Falésia Beach)
This expansive coastline, stretching for over 6 kilometers, is a harmonious blend of colors. The red and orange hues of the imposing cliffs contrast beautifully with the shimmering golden sands and the deep blue of the Atlantic. With verdant pine forests crowning the cliffs, the fresh, aromatic breeze mixes with the ocean's saltiness, creating a refreshing atmosphere. Each section of the beach offers varying levels of privacy and ambiance, ensuring every visitor finds their perfect spot.
3. Praia do Camilo
A testament to Algarve's natural beauty, Praia do Camilo is a picturesque nook embraced by limestone cliffs. As visitors embark on their descent through the iconic wooden staircase, they are treated to sweeping vistas of the beach and beyond. The juxtaposition of ochre cliffs, golden sands, and turquoise waters paints a serene landscape, making it an ideal location for romantic outings and peaceful reflections.
4. Praia de Benagil
This beach is more than just a stretch of sand; it's an entrance to one of the most magnificent sea caves in the world. The allure of Benagil goes beyond its soft sandy shores, offering explorers a chance to venture into caverns carved by nature. Sunlight streaming through the cave's open dome creates a magical ambiance, while the echoing sounds of waves add to the surreal experience.
5. Praia de Odeceixe
At the nexus of the Seixe river and the vast Atlantic, Praia de Odeceixe offers a dual experience. The beach, with its extensive sandy expanse, is divided into freshwater and seawater zones. Families adore this spot, with children often seen frolicking in tidal pools unveiled at low tide. The backdrop of rolling hills adds another layer of serenity to this already tranquil locale.
6. Praia dos Três Irmãos (Three Brothers Beach)
Named after the trio of towering rock formations that dominate its landscape, this beach is an explorer's delight. A labyrinth of tunnels, arches, and hidden coves awaits, beckoning visitors to embark on a unique seaside adventure. Every corner turned reveals a new perspective, from secluded spots for sunbathers to panoramic viewpoints atop the rocks.
7. Praia do Vau
Set within a gentle curve of coastline, Praia do Vau is a cherished destination for families and sun-seekers alike. The beach's golden sands are dotted with intriguing rock pools, revealing marine treasures with each ebb of the tide. With its calm waters and protective cliffs, it's not just a beach but a sanctuary for relaxation. Nearby, the aroma of Portuguese cuisines from local eateries fills the air, ensuring visitors are pampered both by nature and culinary delights.
8. Praia de São Rafael
Nestled between rugged limestone cliffs, this crescent-shaped beach is a slice of Algarvian paradise. Its crystalline waters, ranging from deep blues to vibrant turquoise, are a snorkeler's dream. The intricate patterns of the cliffs, eroded over millennia, form a stunning contrast to the beach's soft sands. It's a place where nature's grandeur meets tranquility, making every visit memorable.
9. Praia da Rocha
As one of the Algarve's most iconic beaches, Praia da Rocha lives up to its reputation. Adjacent to the bustling town of Portimão, it offers a harmonious blend of urban conveniences and natural splendor. The vast expanse of sand ensures there's always a spot for everyone, while the dramatic cliffs and rock formations provide endless opportunities for exploration and photography.
10. Praia da Arrifana
A surfer's haven, Praia da Arrifana boasts consistent waves set against a backdrop of imposing cliffs. The beach's curvature creates a natural amphitheater, where onlookers can admire the ballet of surfers dancing with the waves. As the sun sets, the horizon turns into a canvas of oranges and purples, making it a favored spot for evening relaxation.
11. Praia do Carvoeiro
With its position in a charming fishing village, Praia do Carvoeiro offers more than just sun and sea. The beach is a harmonious blend of tradition and nature, where whitewashed buildings provide a picturesque backdrop to its sandy shores. It's a place where one can lounge on the beach and then wander the village's narrow streets, discovering local crafts, cuisines, and culture.
12. Praia de Tavira
Located on the enchanting Ilha de Tavira, this beach boasts miles of pristine sands accessible only by boat. Its isolation adds to its allure, making visitors feel as though they've stumbled upon a hidden gem. The gentle sound of waves, rustling reeds, and distant seagulls create a symphony of nature, turning every moment into a serene escape.
13. Praia do Martinhal
Close to the historic town of Sagres, this beach offers a unique blend of cultural exploration and seaside leisure. Its spacious sandy expanse is frequently dotted with windsurfers, leveraging the consistent breezes. Families with children find solace in its calm waters, while history enthusiasts are often seen heading to nearby Sagres for its storied past.
14. Praia de Dona Ana
This cove beach is a marvel of nature, characterized by its turquoise waters, golden sands, and protective cliffs. Often touted as one of the Algarve's most beautiful, its waters are crystal clear, making it a hotspot for snorkeling. Each visit feels like a journey to a secluded and untouched paradise.
15. Praia da Luz
Beyond being a sandy retreat, Praia da Luz exudes a homely charm, thanks to its setting within a friendly village. Visitors often alternate between basking on the beach and mingling with locals in nearby cafes. The promenade, lined with palm trees, is perfect for evening strolls, allowing one to absorb the beach's beauty and the village's warmth simultaneously.
What part of Algarve has the best beaches?
The Algarve is renowned throughout for its stunning coastlines, but the central and western regions, particularly around Lagos, Albufeira, and Lagoa, are often singled out. These areas boast a diverse range of beaches, from secluded coves to expansive sandy stretches, framed by dramatic limestone cliffs and punctuated with captivating rock formations.
What is the number 1 beach in the Algarve?
Rankings often vary, but Praia da Marinha remains a consistent contender for the top spot. Its unique combination of natural beauty, water clarity, and accessibility make it a favorite among both locals and tourists.
Where is the prettiest place in the Algarve?
Beyond its beaches, the Algarve offers numerous picturesque locales. Towns like Tavira, with its historic charm, and Lagos, blending coastal beauty with a lively urban environment, are popular choices. The cliffs of Cabo de São Vicente, the westernmost point of Europe, also provide stunning vistas.
Which beach has the clearest water in Algarve?
Many of the region's beaches boast clear waters, but beaches like Praia da Marinha, Praia do Camilo, and Praia de Benagil are frequently noted for their exceptional water clarity, ideal for snorkeling and diving.
Which part of Algarve is the warmest?
The eastern Algarve, closer to the Spanish border, tends to be slightly warmer than the western end. Towns like Vila Real de Santo António and Tavira benefit from this warmer microclimate.
Where is the pink sand beach in Portugal?
Portugal doesn't have a naturally occurring pink sand beach. The closest you'd find in Europe are the pink sands of Elafonissi in Crete, Greece.
What is the least touristy part of Algarve?
The inland areas and some parts of the western Algarve, like Aljezur and Monchique, tend to be less tourist-centric, providing a more authentic and serene Algarvian experience.
Where is the warmest beach water in Portugal?
Generally, the beach waters get warmer as you move southward and eastward. Thus, the beaches in the eastern Algarve, close to the Spanish border, often have warmer waters than those in the north or west.
Does Albufeira have nice beaches?
Yes, Albufeira is home to several stunning beaches, such as Praia dos Pescadores, Praia da Oura, and Praia de São Rafael. They're known for their golden sands, clear waters, and a mix of busy spots and quieter coves.
What is the most charming beach town in the Algarve?
Carvoeiro, with its whitewashed buildings overlooking a stunning cove, often receives praise for its charm. Similarly, Salema, a former fishing village, retains its quaint and authentic vibe, making it a favorite for those seeking charm and tranquility.
What month is the beach best in Algarve Portugal?
The months of June, July, and August are the most popular for beachgoers due to the warm weather. However, September can also be ideal, offering slightly cooler temperatures, fewer crowds, and still-warm sea waters.
What is the famous beach cave in Algarve?
That would be the Benagil Sea Cave near Praia de Benagil. It's a spectacular dome-shaped cave with an open top, allowing sunlight to stream in, illuminating the sandy beach inside.
What is Albufeira beach like?
Albufeira Beach, or Praia dos Pescadores, is a vast stretch of golden sand, set against the backdrop of the bustling town. It's equipped with various amenities, sunbeds, and water sports options. Its central location and proximity to the town's amenities make it a favorite for both locals and tourists.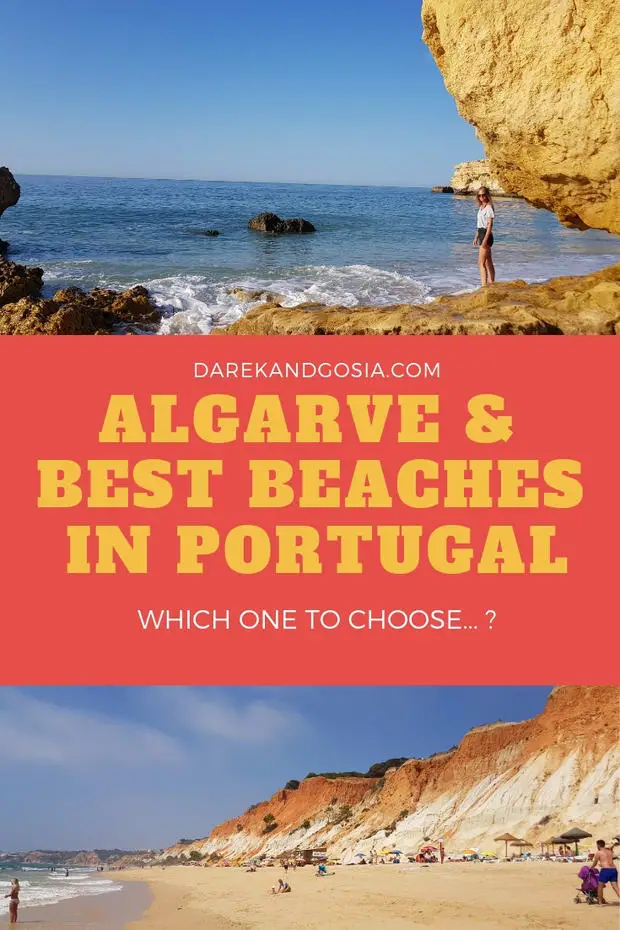 Are beaches in Algarve worth visiting?
The beaches in the Algarve are unequivocally worth visiting. They offer a unique blend of stunning natural beauty, from expansive sandy stretches to dramatic cliffs and captivating rock formations. Many are located near charming towns, allowing for a mix of relaxation and cultural exploration. The region is a haven for water activities, catering to surfers, swimmers, and divers alike.
Its Mediterranean climate ensures plenty of sunshine and warm waters for most of the year. Additionally, the Algarve provides great value for money, making it an ideal beach destination in Europe.