Best Beaches in Algarve! From Albufeira to Lagos & Benagil Cave – discover the best Beaches in Algarve for a perfect Portuguese holiday!
Known for its amazing beaches, the Algarve in Portugal is one of the top destinations for a beach holiday in Europe. Did you know there are more than 150 beaches to choose from in Southern Portugal? But what are the best beaches in Algarve and where can you find them? 🙂
Looking for the best places to visit in Portugal? Then head out to the southern region of the country – the best beaches Algarve are also top on the list of best beaches in Portugal!
It is almost impossible to visit all the beautiful beaches of this region – even though we would love to do so! So in this article, we only include the best 13 beaches in Algarve you should visit on your holiday in Portugal.
Where to find the best beaches in Algarve Portugal?
Due to its long coastline, Algarve has hundreds of diverse beaches. You can rest on some, others are better for sports like surfing. Whether sandy or stony, crowded or secluded – everyone will find the perfect beach for themselves. You just have to know where to look 🙂
But which one is the best?
It is very hard to say which of the beaches are the best beaches in Algarve Portugal – there are simply way too many nice beaches! 🙂
5 Most Beautiful Beaches in Algarve:
Praia de Marinha
Praia Dona Ana
Praia do Camilo
Praia da Falésia
Praia de Sao Rafael
Honestly! Just choosing those you want to visit during your trip to Algarve is a huge task in itself.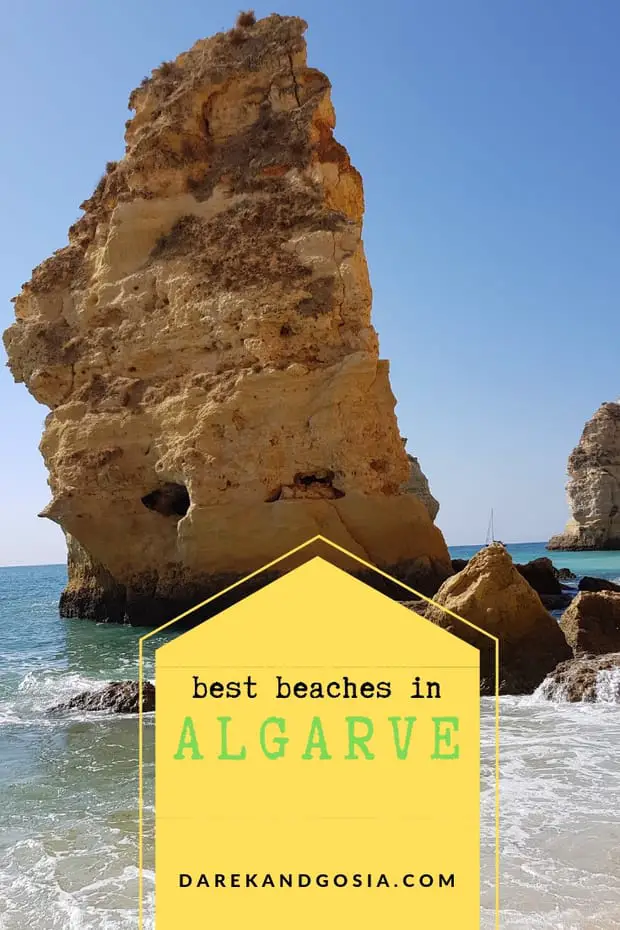 Enjoy our list of the best of the best beaches in Algarve Portugal:
We have grouped them into 4 categories, based on the regions – so you can see below the top beaches around Lagos, Albufeira, Portimao and the West part of Algarve.
Fan of small hidden beaches? Or maybe endless long beaches with golden sand? You will definitely find any sort of beach in the south of Portugal.
Best beaches in Algarve near LAGOS:
If you will be based around Lagos, you can consider yourself as being very lucky – so many incredible beaches with breathtaking views from the cliffs! 🙂
We have visited 3 amazing beaches near Lagos in Portugal:
1. Praia Dona Ana
Looking for the best beaches Algarve Portugal? The Algarve boasts some of Europe's most stunning coastline. If you are looking for the best Algarve beaches then don't miss this fabulous spot – the Praia Dona Ana beach is one of the best you can visit in Algarve!
Praia Dona Ana Beach is located around 2 km from Lagos. It's beautiful and at the same time, a small beach full of shells.
Amazing views with picturesque cliffs and rocks emerging from the turquoise waters of the Atlantic.
Another beach with spectacular views! It is very charming as it's situated among the rocks.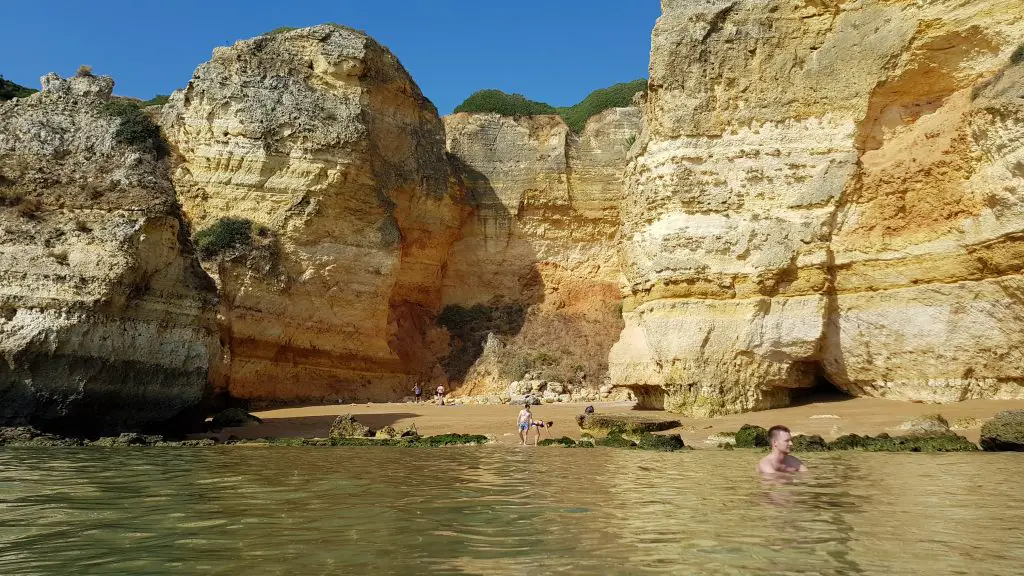 An ideal place to spend a lazy day on the beach – only the sand is a bit rough, so make sure you take with you a large towel or blanket to lie on.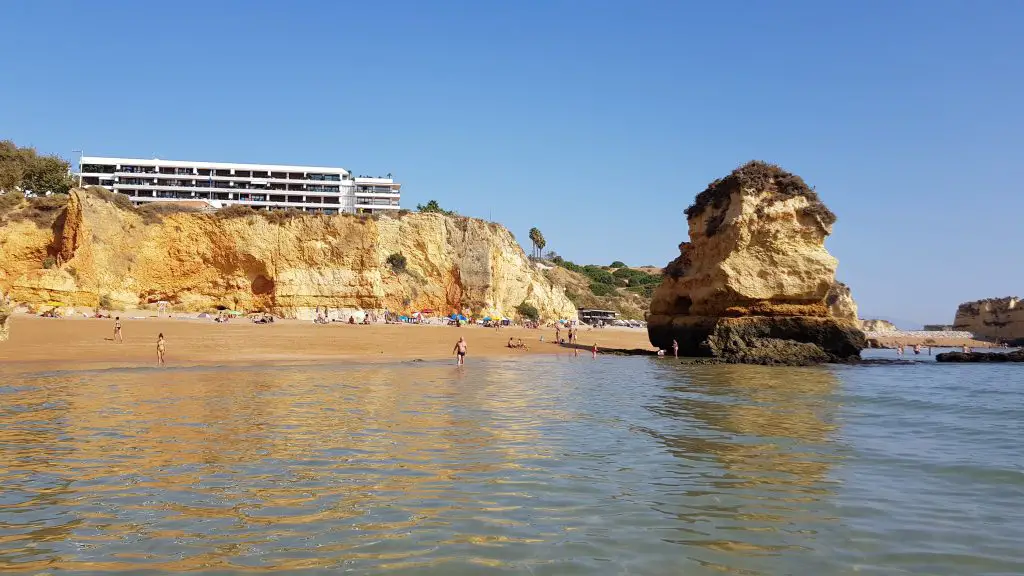 2. Praia do Camilo
Beautiful beaches in Portugal? Without a doubt, this is one of the top beaches in Lagos Portugal!
Algarve's coastline is dotted with an endless number of golden beaches, turquoise waters with dramatic cliffs. What is the best beach in Algarve? The Praia do Camilo is one of the most photographed beaches in the whole Algarve!
This is definitely THE beach! The best and nicest beach in Lagos and the whole of Portugal! – another tick on our bucket list! It really is a contender for the best beach in Algarve.
We did love it so much that we visited it twice during our holiday in Algarve 🙂
The beach is located near Ponta da Piedade. It's very small and it consists of two parts connected by a short tunnel cut into the rock. There is lots of free parking available but gets crowded from around 11 am.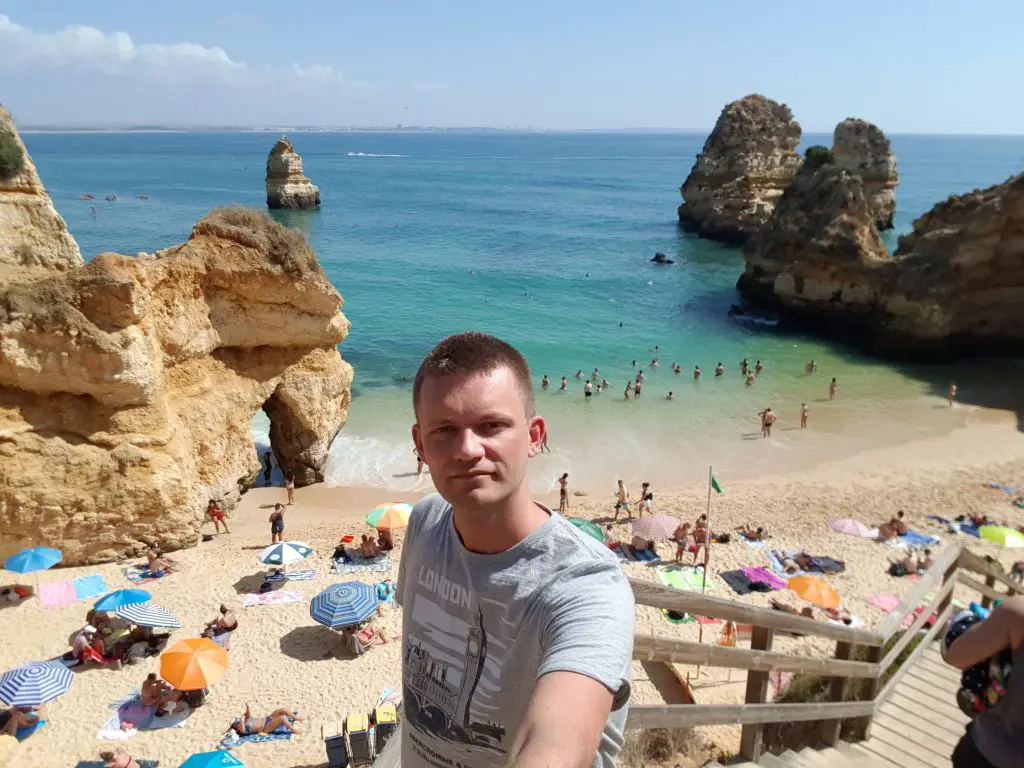 It is worth to note, that it will get very very busy around lunchtime. So, if you are not an early bird, you might have difficulty with finding a spot on the beach.
Honestly! It gets very busy. Everybody wants to visit this remarkable beach as it really is one of the best beaches near Lagos Portugal!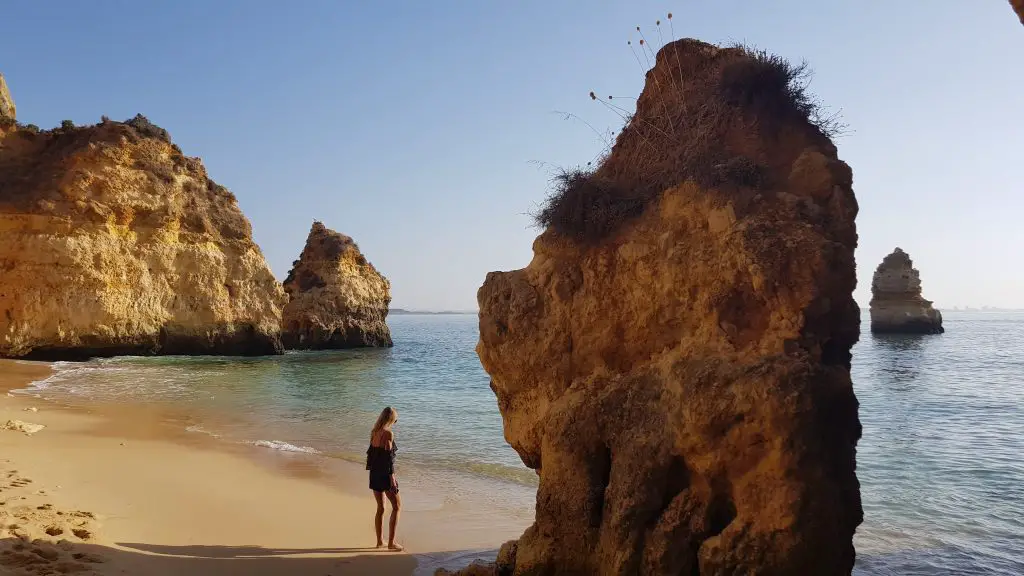 We have found a small place just in the 1st line and were very happy with it until… the tide did raise the level of the water and our little spot disappeared in the ocean 😉 Well… the 2nd time we visited Praia do Camilo we were one of the first people on the beach – it's always worth to wake up earlier! 🙂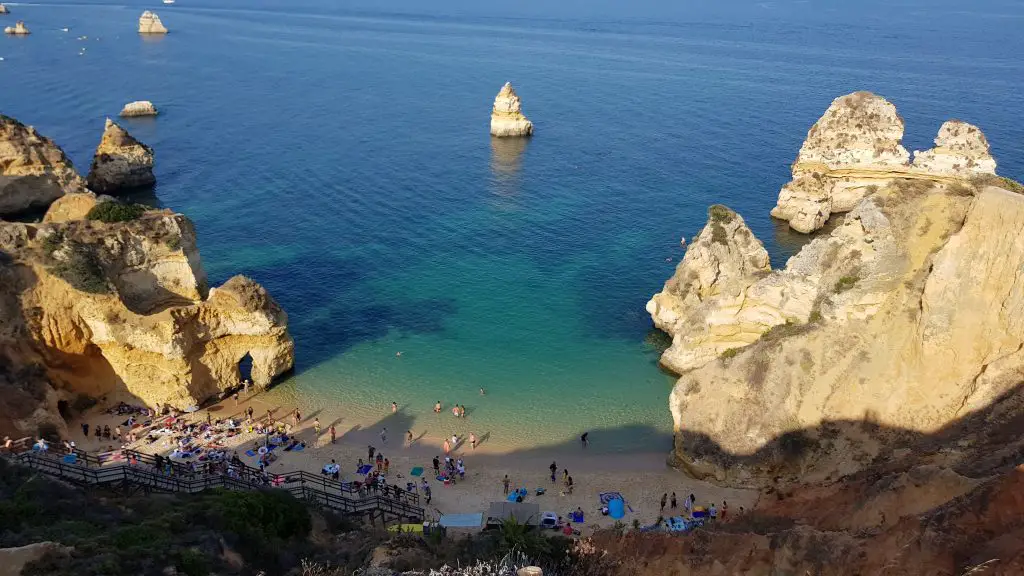 3. Praia de Porto de Mós
Most beautiful beaches in Portugal? Known for its amazing beaches, the Algarve in Portugal is one of the best destinations for a beach holiday in Europe. Don't believe us? Well, where else would you find ochre-coloured cliffsides, clear azure water and perfect golden sand beaches? Only in Algarve – home to the most stunning beaches in Portugal.
This beautiful sandy beach is only 10 minutes by car from Lagos. It is generally safe for swimming and also great for walking. There are no stones or rocks but beware of the current at times!
When the tide is low, you can access the next beach called Praia do Canavial. Much smaller and also a lot quieter beach. Don't worry if you get trapped by the high tide, there is a small path back up the cliffs 🙂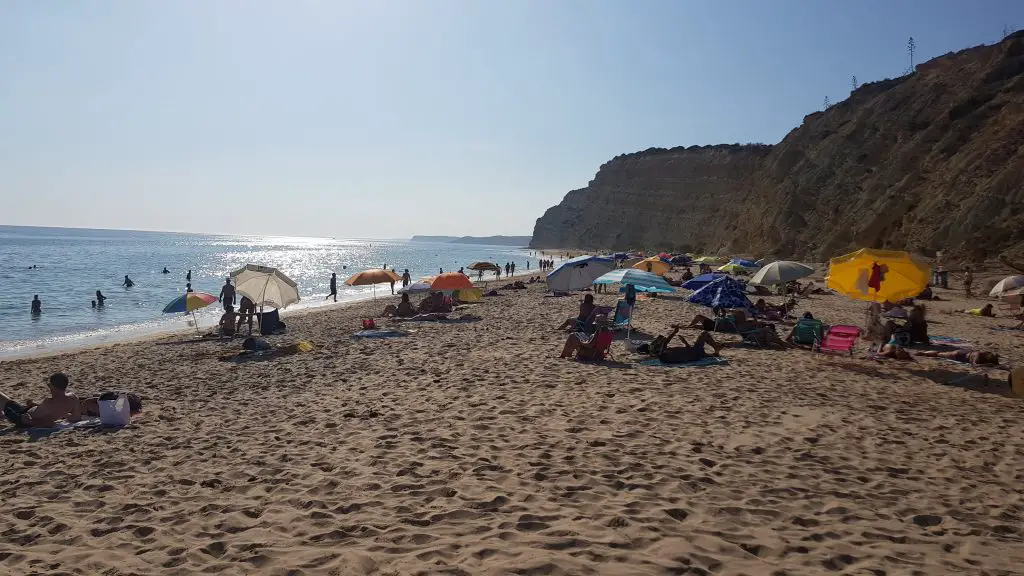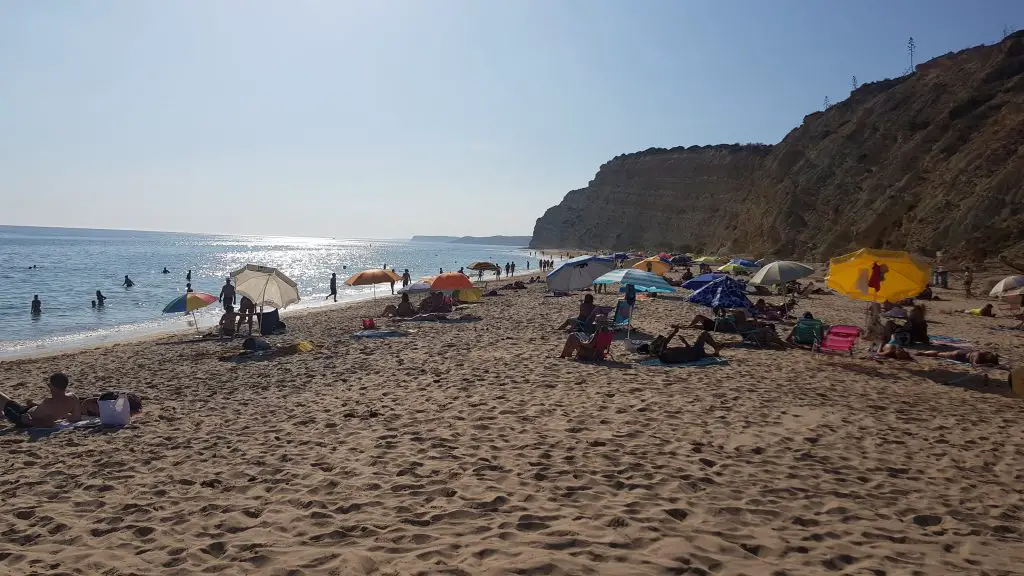 Is Praia de Porto de Mós on you list of top Lagos Portugal beaches?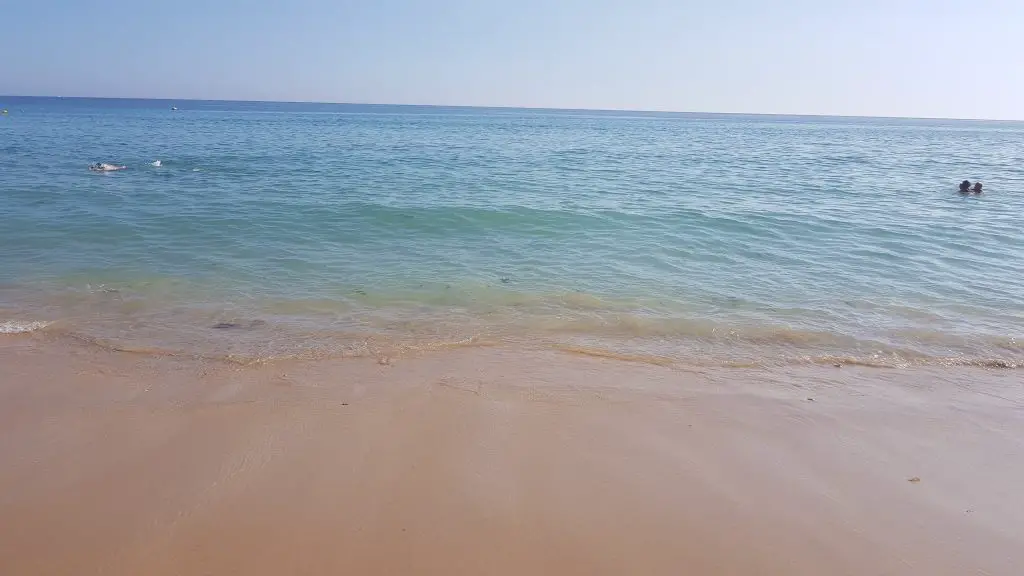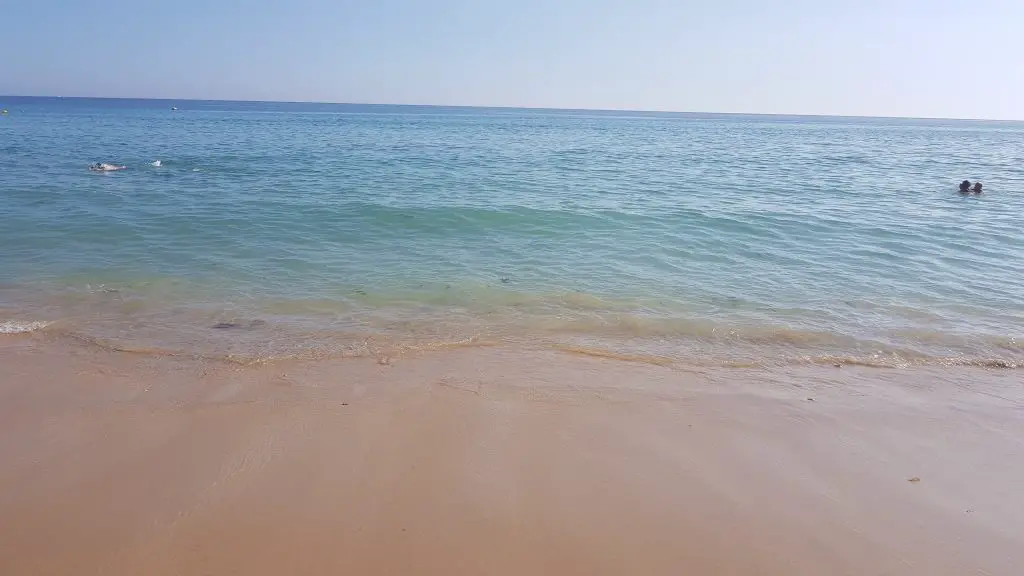 Which of those beautiful beaches near Lagos is your favourite one? 🙂
inspirational quotes about travel
Best beaches in Algarve near ALBUFEIRA:
Below, you can see 3 best beaches in Albufeira Portugal we have visited:
4. Praia da Falésia
Best beaches in southern Portugal? The Albufeira region in Algarve is home to some of the most beautiful beaches in the world and is regularly voted as the best beach destination in Europe. Surprised? Read further to learn more about some of our favourite beaches in Algarve,
This was the first beach we visited in Algarve. Praia da Falesia is over 6 kilometres long so you don't have to worry about finding a spot for your towel 😉
Blue-green-ish water of the Atlantic, red and orange cliffs with dark green pinewoods is an amazing combination creating this spectacular landscape. This all makes it one of the best Algarve Portugal beaches!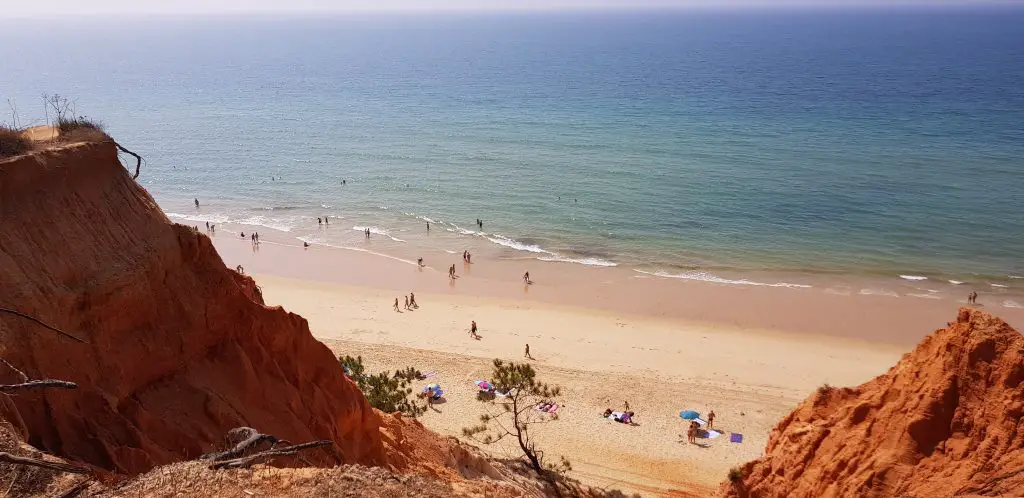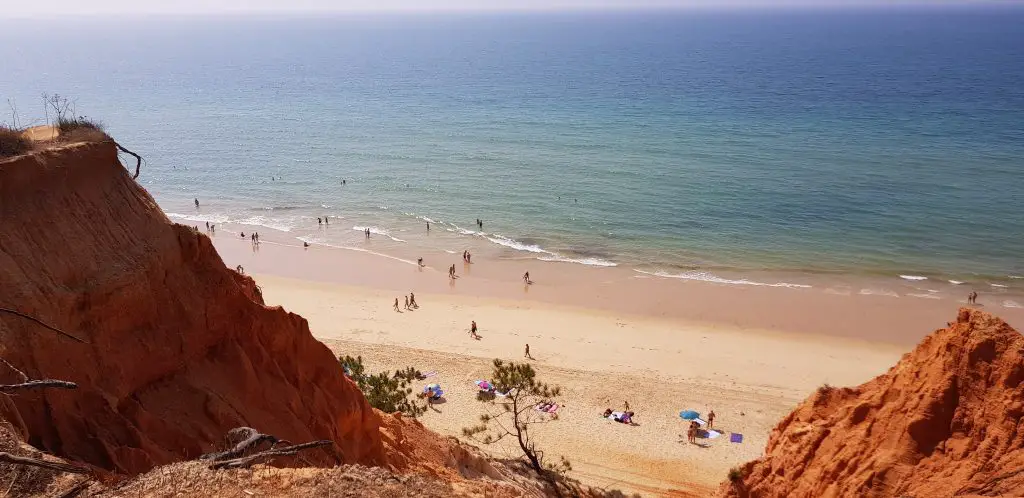 The beach has been awarded in many rankings as one of the best in Portugal. We definitely think is one of the best in Europe too! It's one of our favourite beaches and possibly one of the most unique in Algarve.
A perfect start to your holiday in Algarve!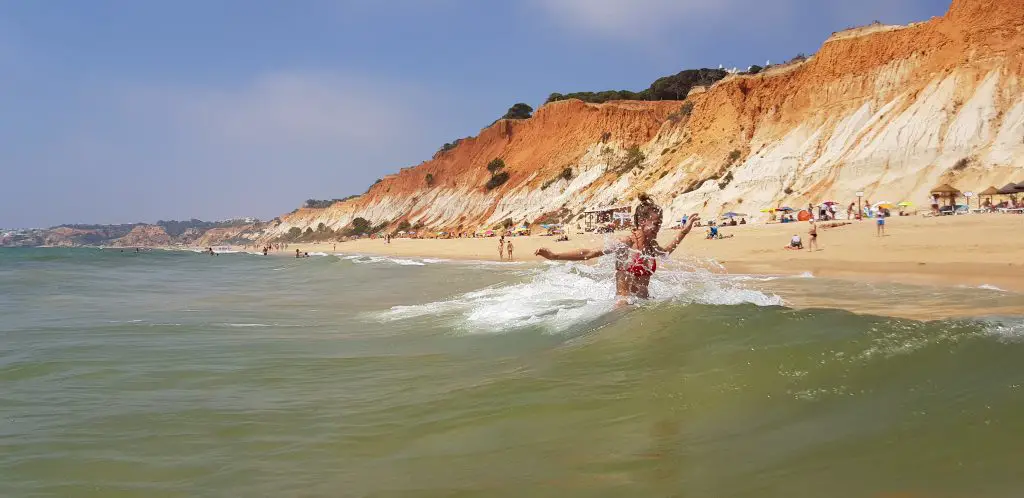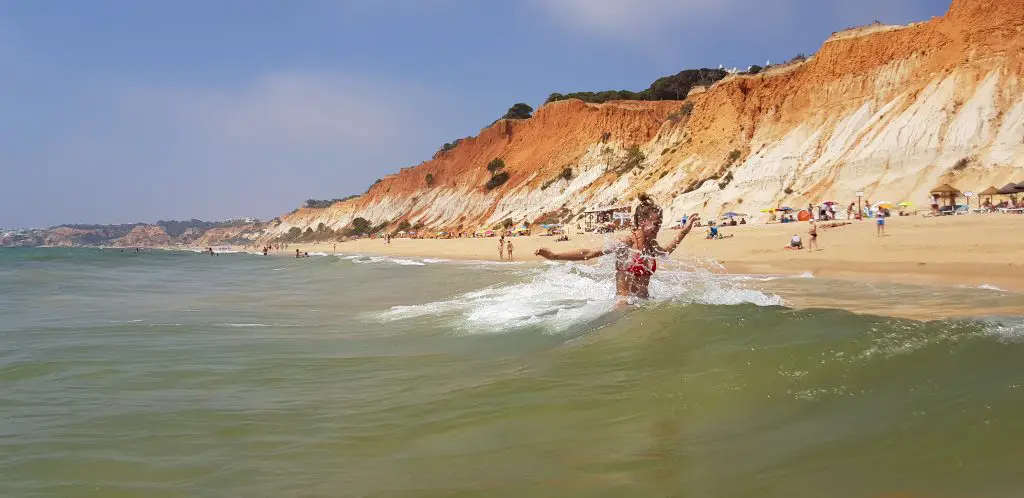 5. Praia da Cova Redonda
Portugal nice beaches? This one is not the most famous Portugal Algarve beach but it really is worth visiting.
A very long brick staircase will lead comfortably down to the beach. Praia da Cova Redonda is really gorgeous and was not crowded when we visited it. There is a small kiosk where you can buy drinks, ice cream or some snacks.
We tried Brazilian Super-food over there – ACAI – Mmm… Yummy! 🙂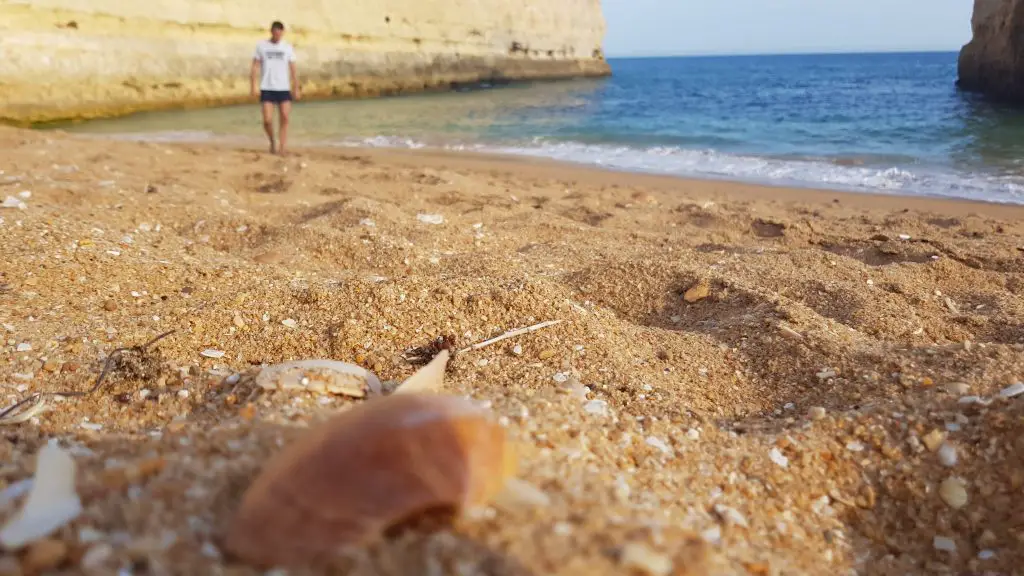 Umbrellas, sunbeds and water sports activities are also available and can be rented there cheap.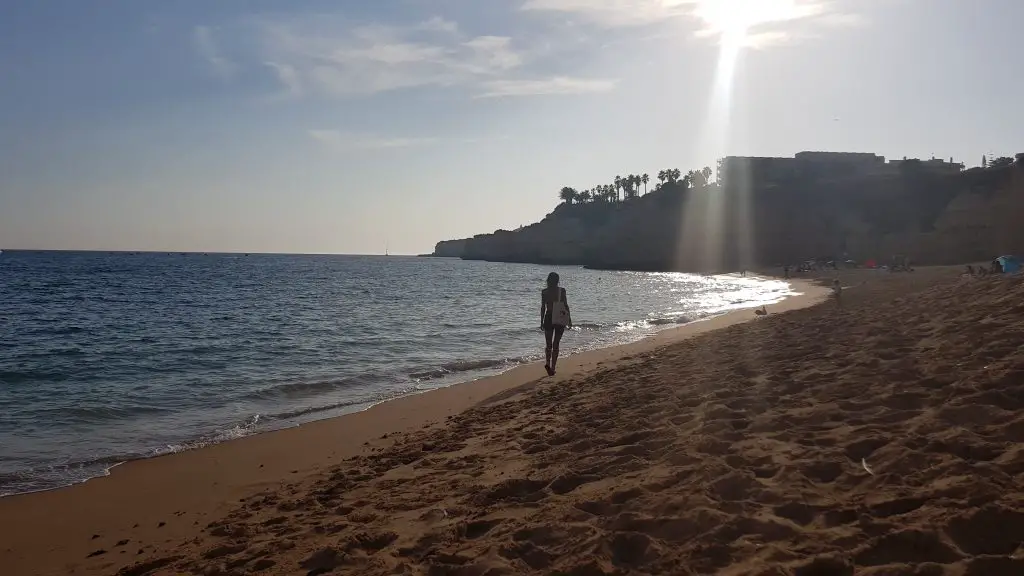 6. Praia de Sao Rafael
Portugal is home to some truly epic beach scenery! The popular Algarve region in the south of the country is renowned for its golden sands and Praia de Sao Rafael is one of the best of Algarve's beaches. In fact, it is very top on our list of the best beaches in the Algarve Portugal.
The beach lies in the middle of the Algarve coast and is surrounded by cream-red cliffs. Its most characteristic features are the rock formations located on the beach and in the water – some of them have even names (like Ponte Pequena – a small bridge).
The water here is crystal clear and has a lovely turquoise colour. You will find there everything you need to spend a whole day on the beach: showers, toilets, umbrella and sun loungers rental. It really is one of the best beaches to visit in Algarve.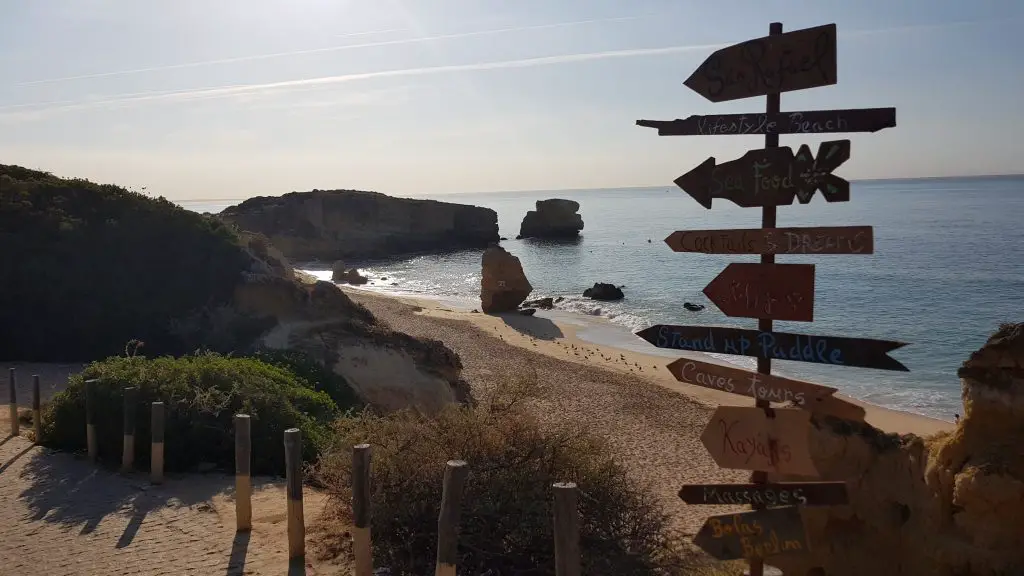 There is also a bar and restaurant – what else would you need when searching for the beaches Algarve Portugal? 😉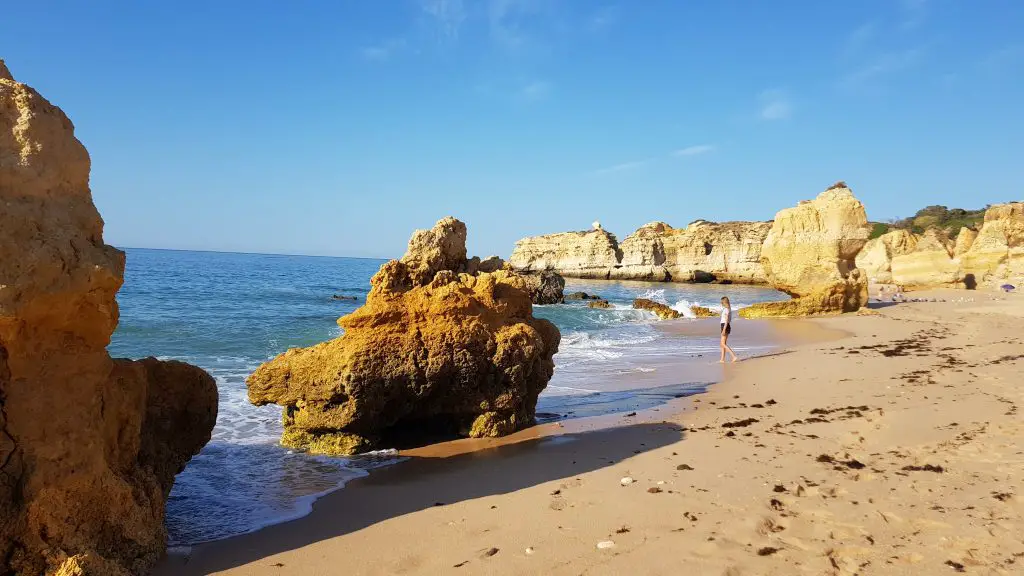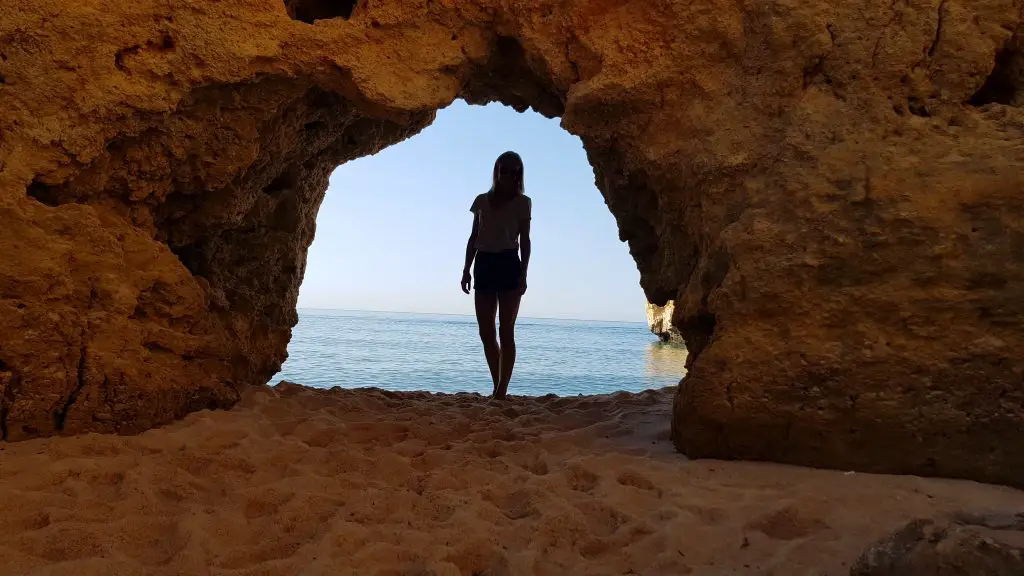 So, which of those top beaches in Albufeira would you visit? 🙂
Best beaches in Algarve near PORTIMAO:
We have seen those four amazing beaches located around Portimao Portugal:
7. Praia de Carvoeiro
Best beach in Portugal Algarve? We visited Praia do Carvoeiro, known to locals as the town beach, during our visit to the town of Carvoeiro. The beach is small, and it's sheltered by cliffs on either side – a great place to watch the sunset 🙂 It really is one of the best beaches Portimao.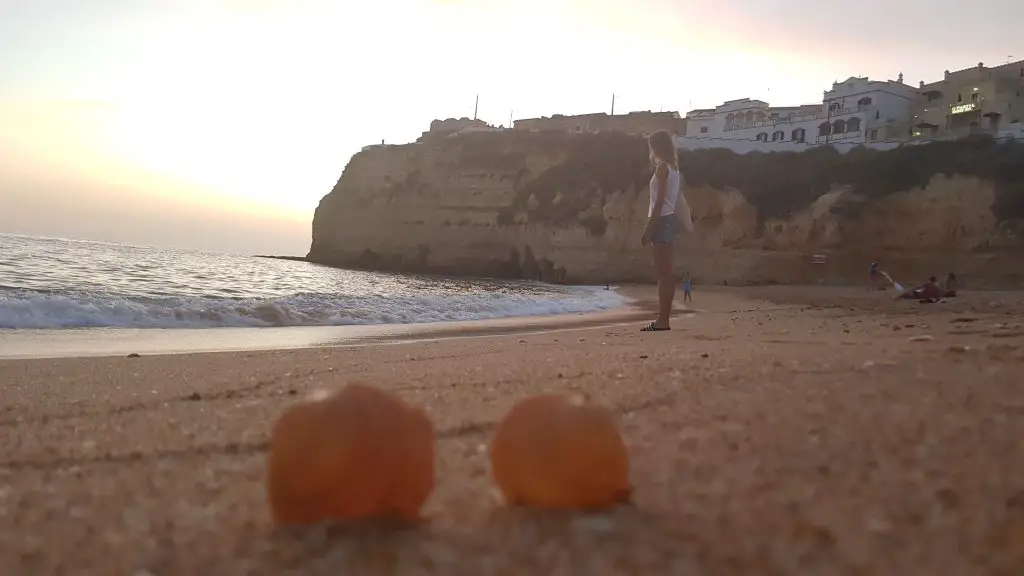 Whether you visit Carvoeiro beach during the day or to watch the sunset – you will love this stunning golden beach Algarve 🙂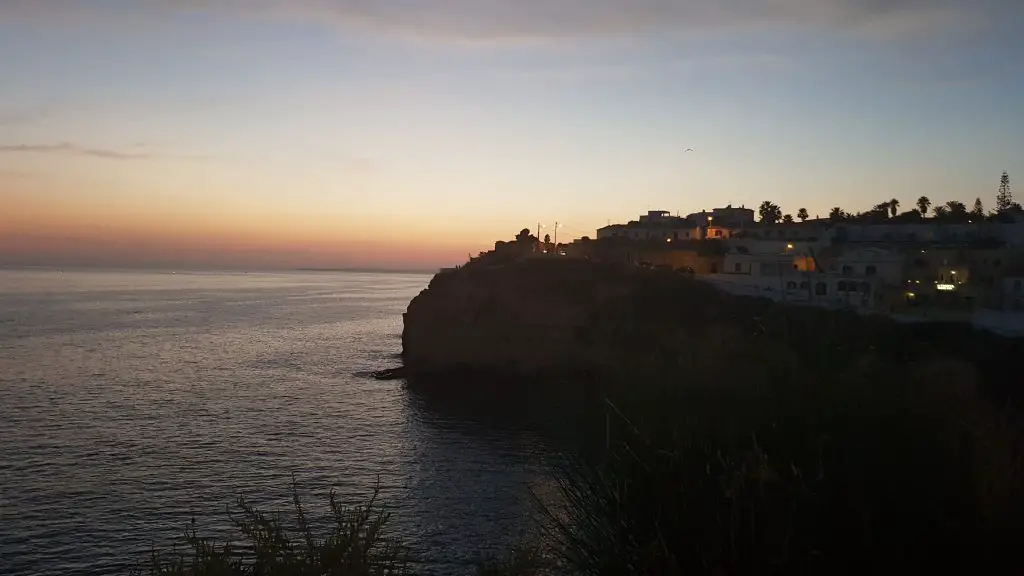 8. Praia de Benagil
Looking for Algarve best beaches? If you are staying in Lagoa region you will only need 15 minutes by car to get to the small Portuguese village of Benagil. There are few parking spaces next to the beach, but it will be much easier to leave your car at the top of the hill – just 5 minutes walk to the Benagil beach.
This beach is very tiny and it's mostly famous due to the proximity to the Algar de Benagil – but we will cover this trip a bit later in this blog post 🙂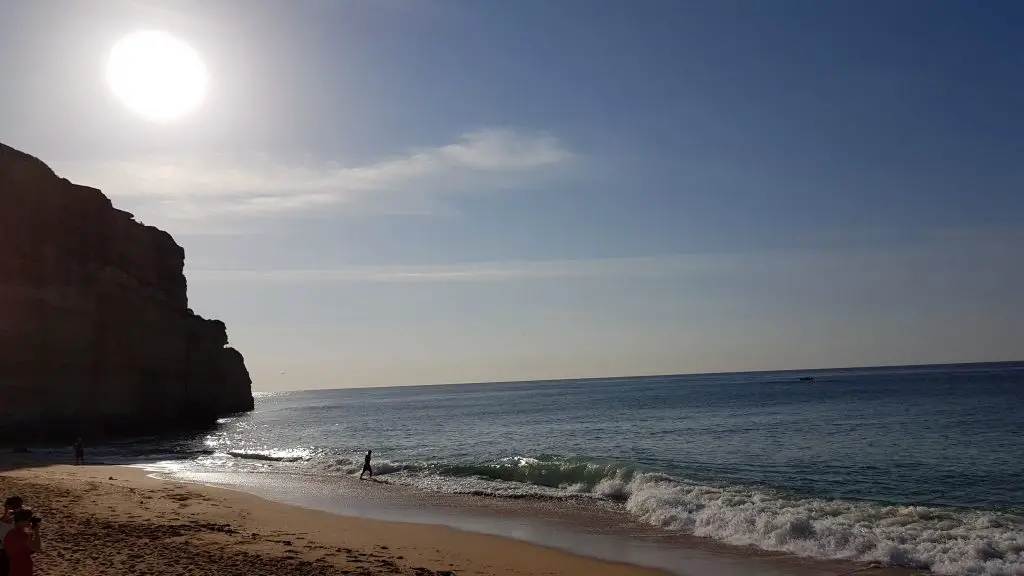 But hey! It's still worth spending few hours there 🙂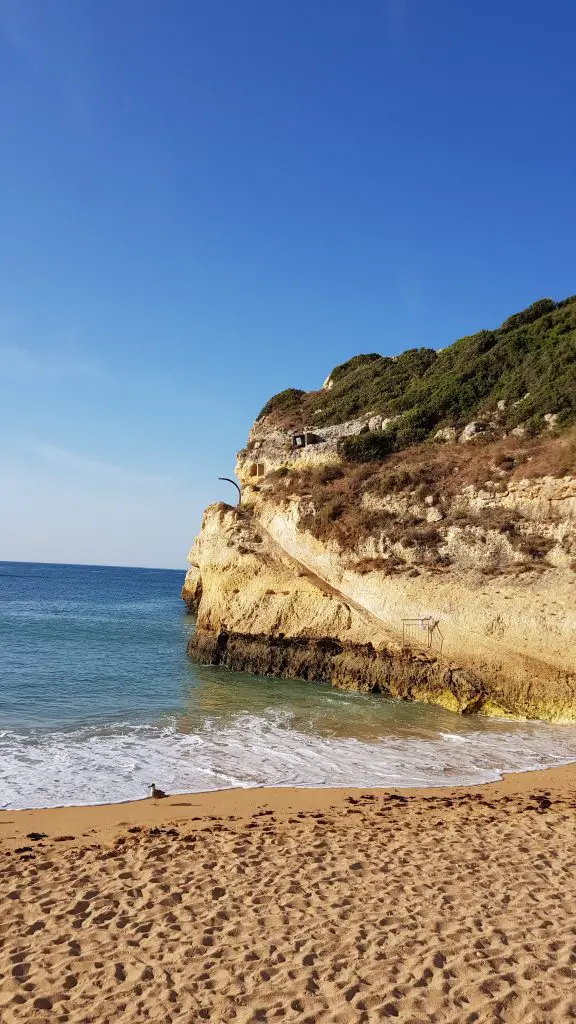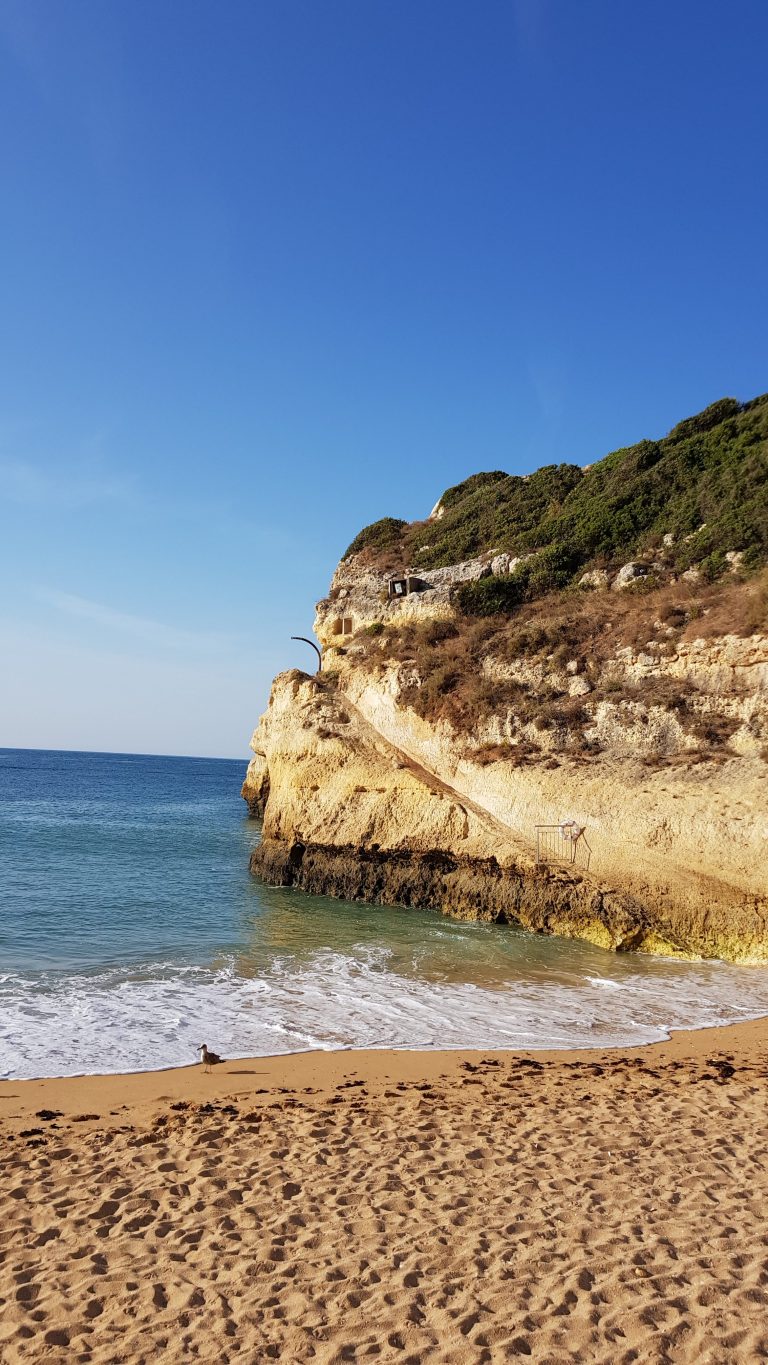 9. Praia de Carvalho
Top Southern Portugal beaches? It is less popular, a small beach surrounded by high cliffs – also known as smugglers' beach. Sounds great, right? 🙂
There is no tourist infrastructure around the beach which is also a great sigh as there will be fewer people visiting it.
Yes, it is a bit difficult to find the beach but that only adds to its charm and it really is the most beautiful beaches in Algarve Portugal.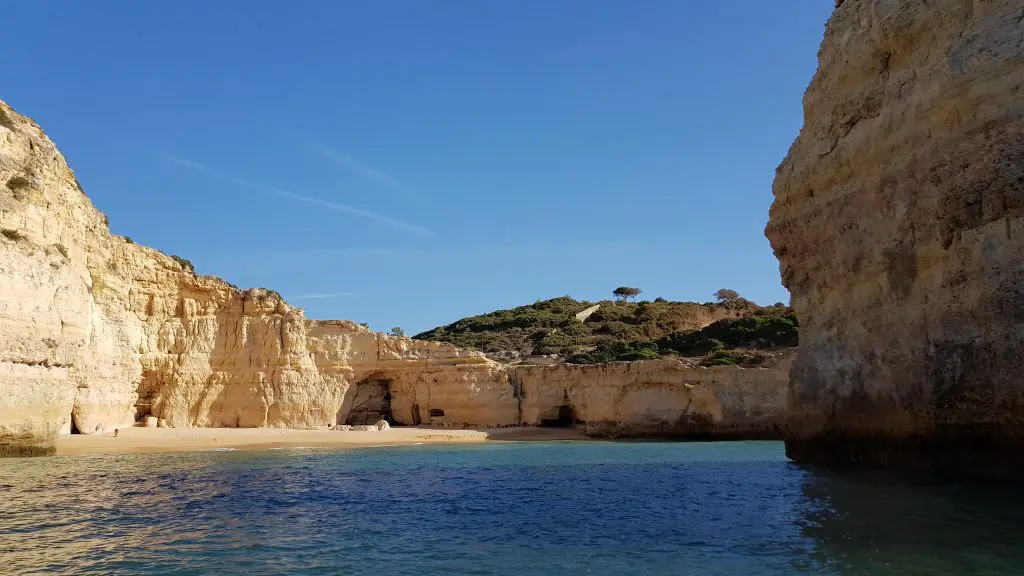 To get to the beach, you will have to go through a tunnel carved in the rock – very adventures.
Unfortunately, we have only seen the beach from the water, during our boat trip.
But hey! There is nothing stopping you from visiting Praia de Carvalho 🙂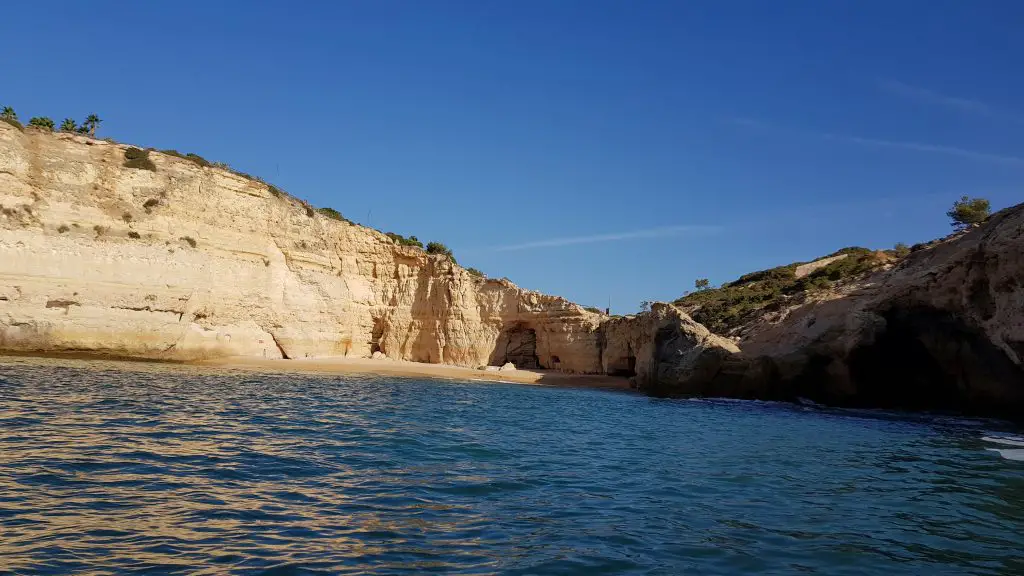 10. Praia de Marinha
Looking for the most beautiful beach in Algarve? Head out to Praia de Marinha! Next time you visit Portugal, make sure to visit this stunning beach. You will fall in love straight away.
Praia da Marinha is one of the most beautiful beaches in Europe – it is definitely a place that you have to visit while staying in the Algarve!
Yes! A MUST have! 🙂
It has been on our bucket list for a while so we were very happy to be able to cross it over after we visited this remarkable beach! 🙂 We fell in love with this beach straight away and it's really up there with the best beaches in Algarve!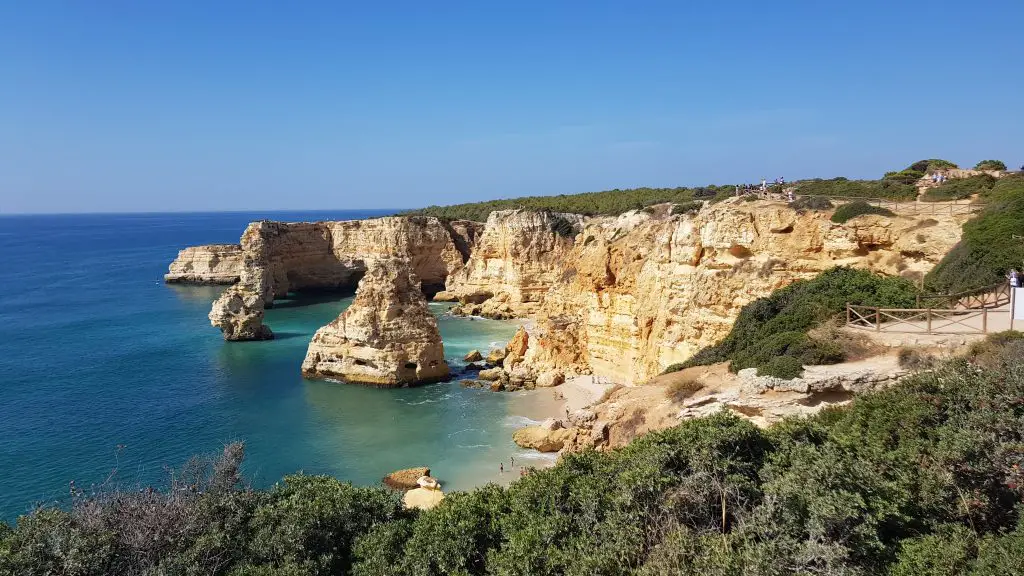 The beach is located 16 kilometres east from Portimão, just a short 25-minutes drive. If you have rented a car, this will be the best way to get to Praia da Marinha. There is a sufficient amount of parking spaces but make sure you get there in the morning as in high season it will be very crowded later in the day.
Would you call Praia da Marinha the best beach in Algarve Portugal? 🙂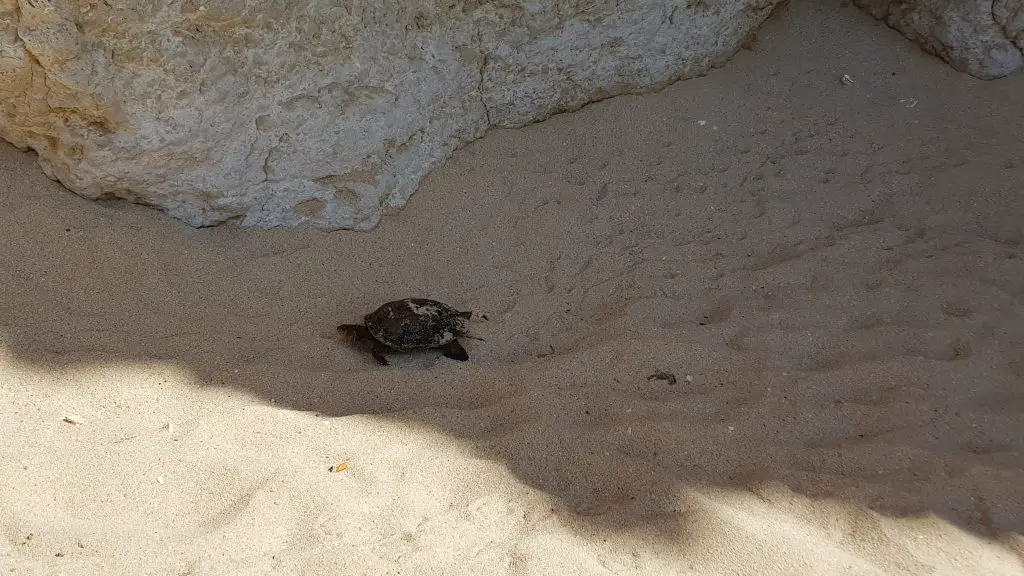 The surrounding 30-meters high rocks makes the beach famous not only in Europe but also in the whole world.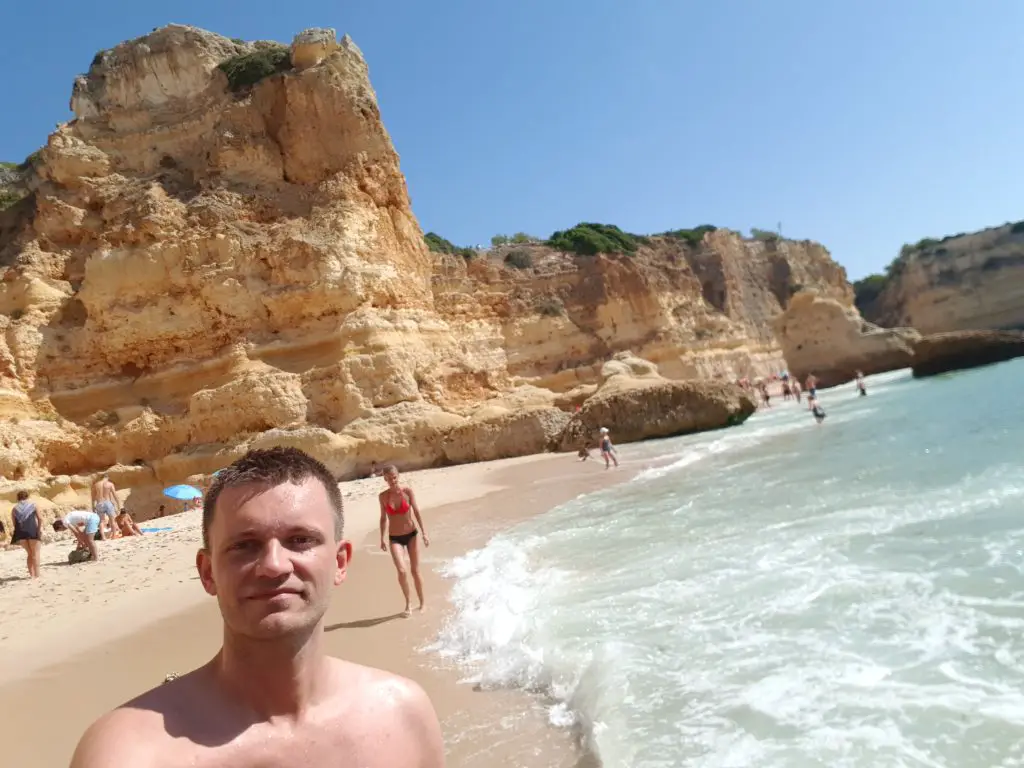 You will definitely recognise the views – one of the best landscapes in Europe! I bet you have seen them in many catalogues before 🙂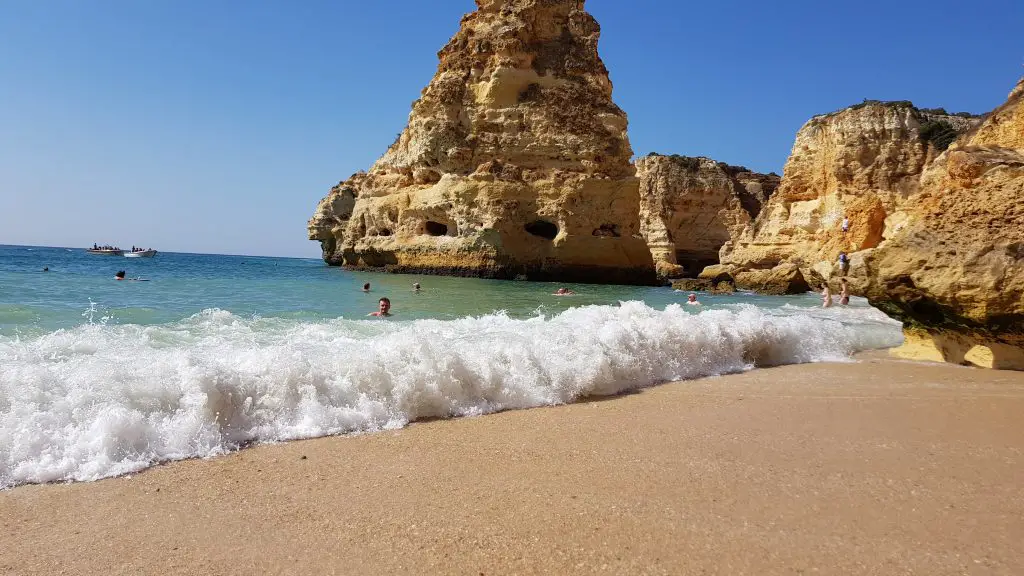 Would you call any of the Portimão beaches the best beach in Portugal? 🙂
Best beaches in WESTERN ALGARVE Portugal:
Western Algarve is home to the best surf beaches in Portugal – just a haven for all surfers 🙂
Make sure you visit the west part of Algarve for a day. We were a bit unlucky with the weather – where all that fog came from?!
But still, we would highly recommend visiting this remarkable part of Algarve as you really have to see some of the best beaches western Algarve!
11. Castelejo Viewpoint
Looking for nicest beaches in Portugal? When the weather is nice, the Castelejo Viewpoint is one of the most beautiful viewing points along the amazing Vicentine Coast in southwestern Portugal.
Right, but first, you must have nice weather… 😉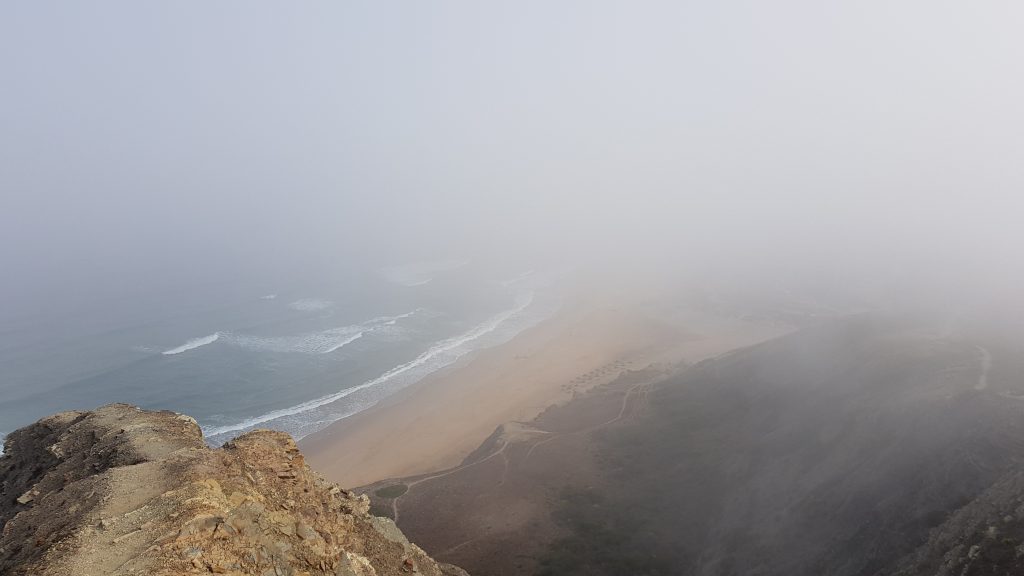 On the day we went to Castelejo Viewpoint the whole west coast was covered in fog! A bit unlucky, but from the other side, we were able to take those amazing pictures 🙂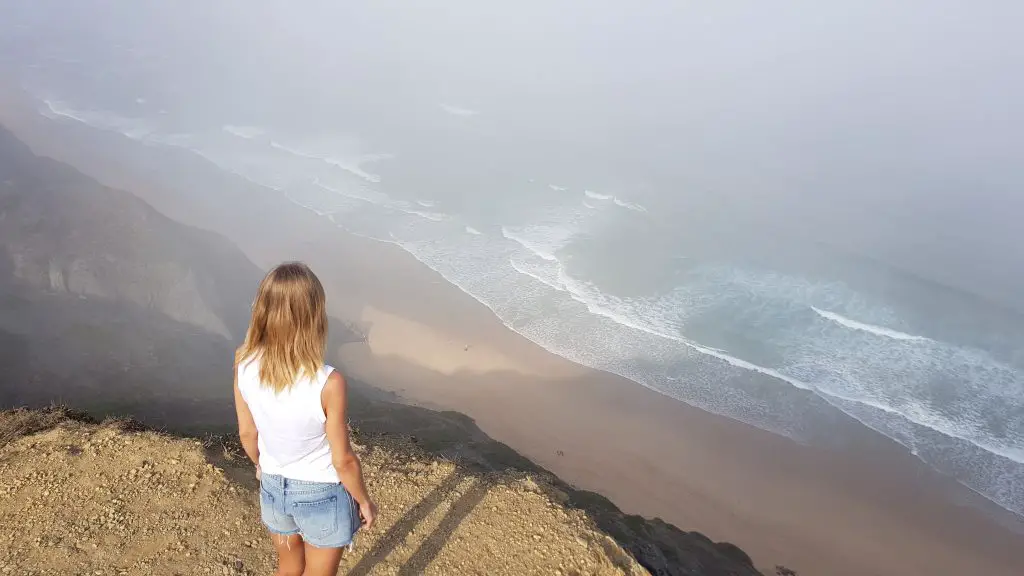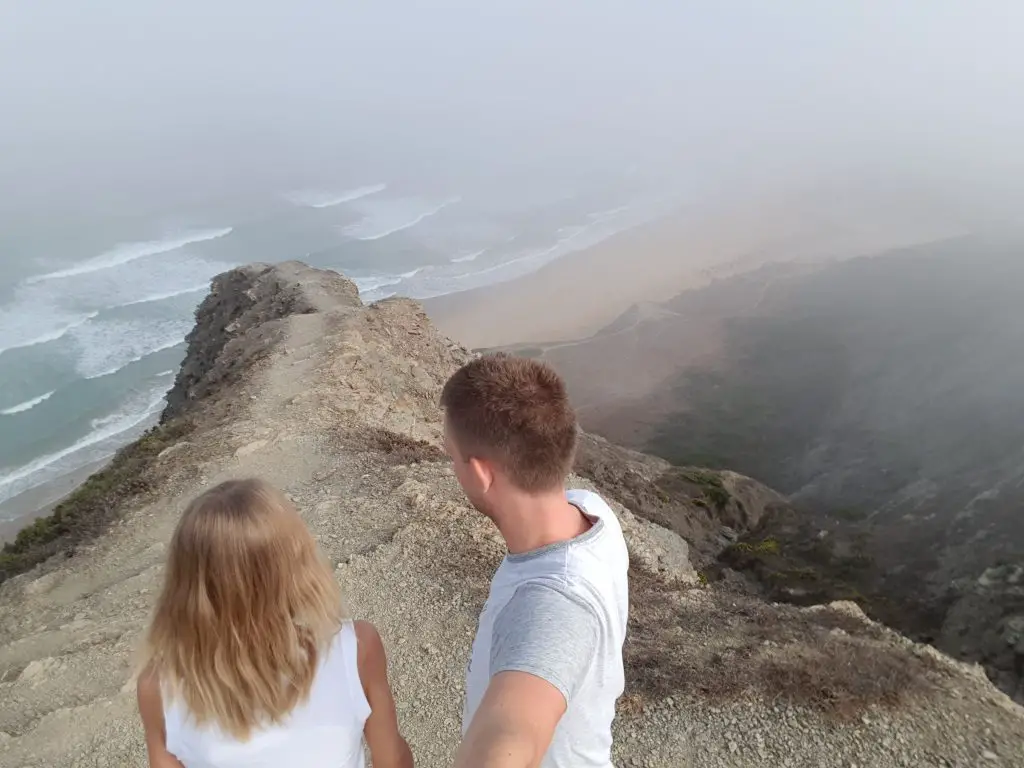 12. Praia da Amoriera
Most beautiful beaches Algarve? After a foggy trip to Castelejo Viewpoint, we really hoped that 45km north from there, the weather will be much better. The beautiful Praia da Amoriera was our target 🙂
But also this time, a bit unlucky 🙁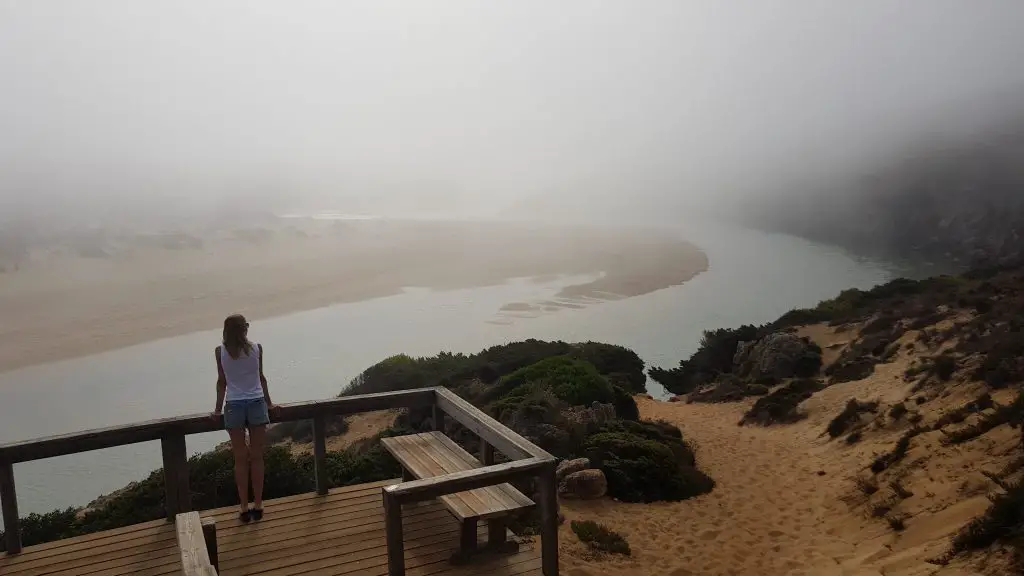 Fog didn't want to leave us and was covering the whole Praia da Amoriera. We have still managed to take a few stunning pictures – just imagine, how it looks like on a sunny day! 😀
You will honestly be blown away by how beautiful this place is and really is one of the best Portugal beaches Algarve.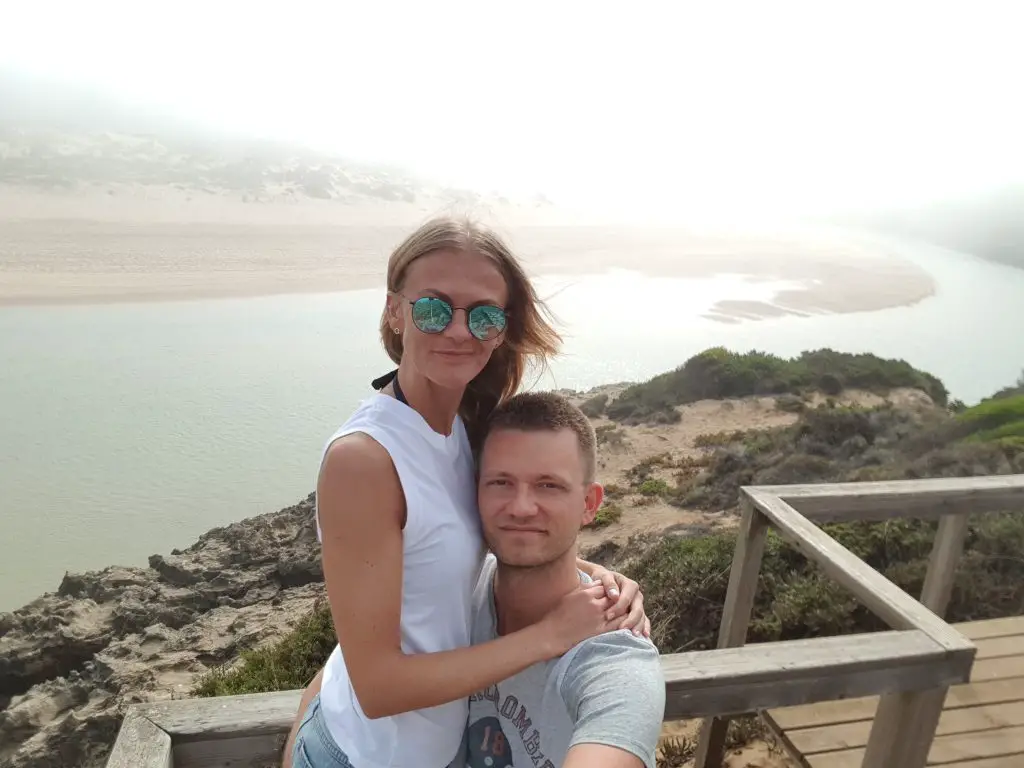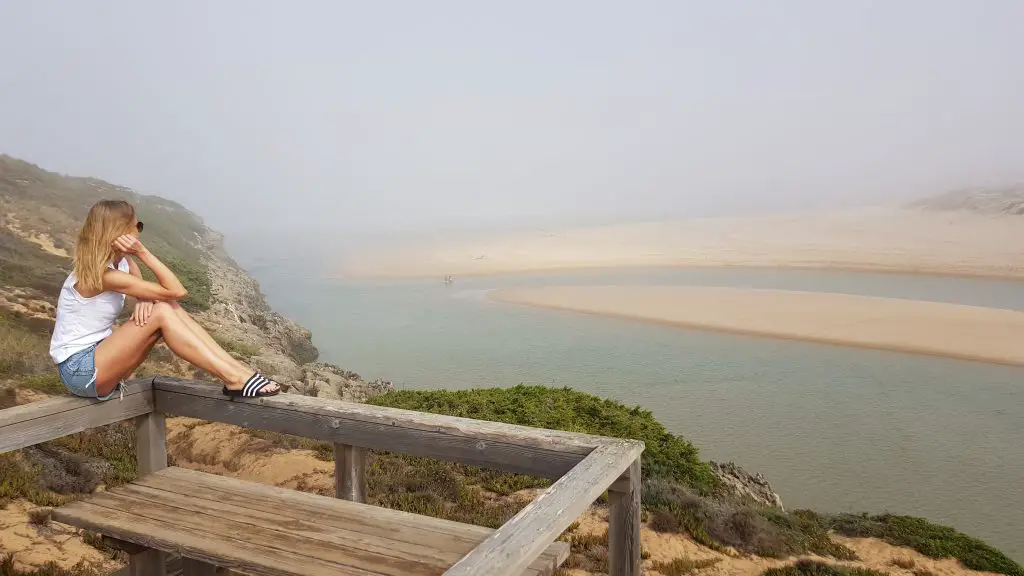 13. Praia do Martinhal
Still looking for the top beaches Algarve? Praia do Martinhal is a lovely beach and wasn't very busy when we were there – a definitely less crowded area of Algarve. The beach is long and has very nice sand – perfect for lengthy strolls 🙂
But be aware of the strong currents, which are often present on the west coast of Algarve.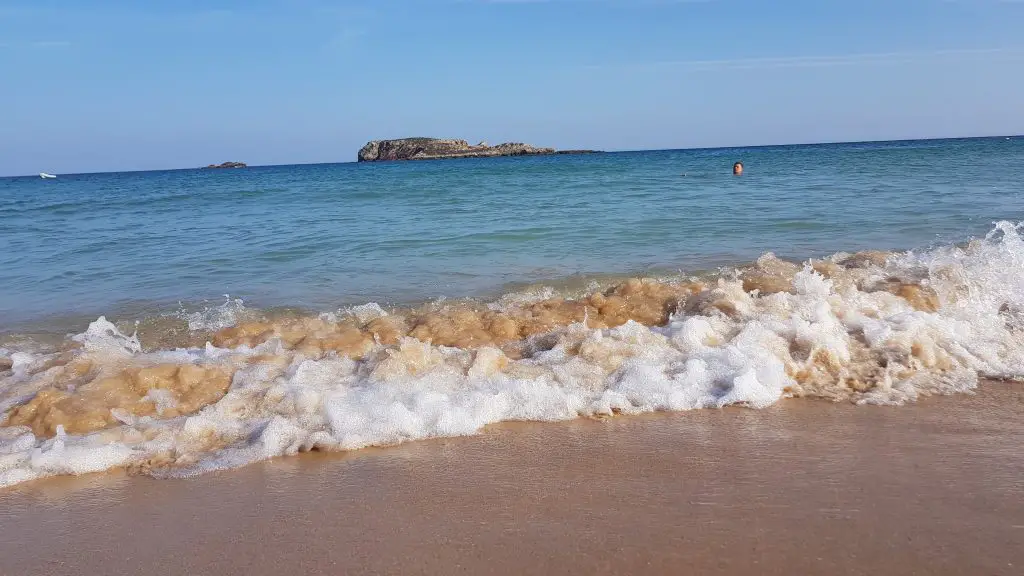 It really is one of the best beaches in the Algarve… especially for sun lovers!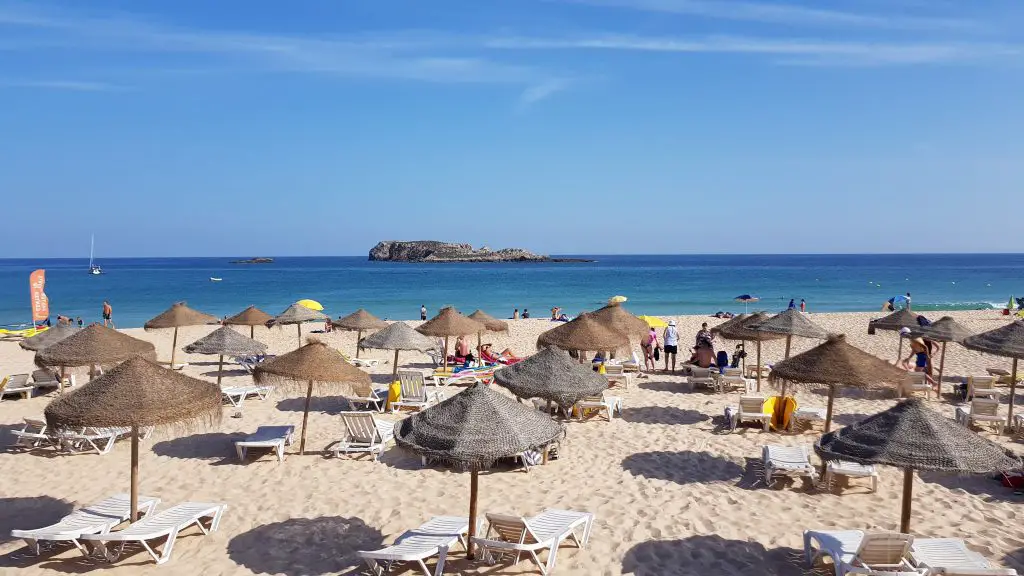 So, is the western part of the Algarve home to the top beaches in Portugal? 🙂
Are you ready to visit the best beaches in Algarve?
From the best beaches in Faro Portugal to the amazing Lagos Portugal beach this beautiful region is full of some of the best beaches in Portugal!
Book your flight to Faro & accommodation today! And once you get there, please say HALLO to Algarve beaches from us!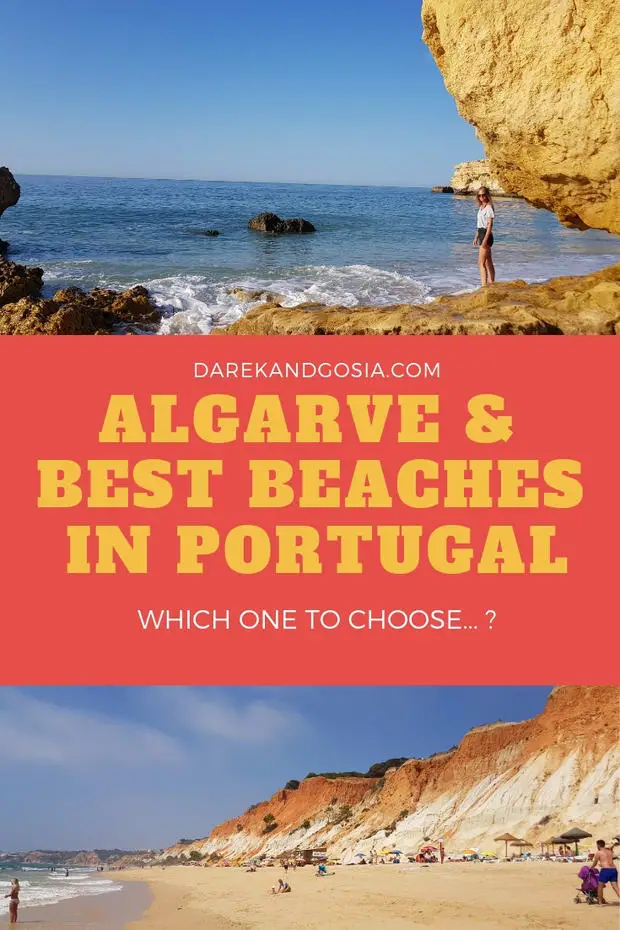 Articles you may like: