Whether you're a couple in the honeymoon phase or simply trying to reignite that old spark, Europe offers a smorgasbord of romantic experiences. From the lush vineyards of Bordeaux to the bustling energy of Barcelona, the choices are endless.
But why narrow it down to 25? Well, if you're in a relationship, you already know how challenging it can be to make a decision between two dinner options – let alone the numerous cities and countries vying for your attention. So we've done the hard work, sifted through the love letters Europe has sent us, and put together a list you and your partner will surely adore.
We have visited most of the romantic locations from our list – you can learn about them by reading the specific articles.
Settle in, grab a cuppa, and let's embark on a whirlwind tour of the most swoon-worthy European destinations for couples.
Romantic getaways in Europe – car hire:
We have rented cars many times during trips to some of the most romantic holiday destinations in Europe and we always used discovercars.com
Check out our guide to the best car rental company in Europe or simply explore the options directly on discovercars.com if you need a car during a trip in Europe.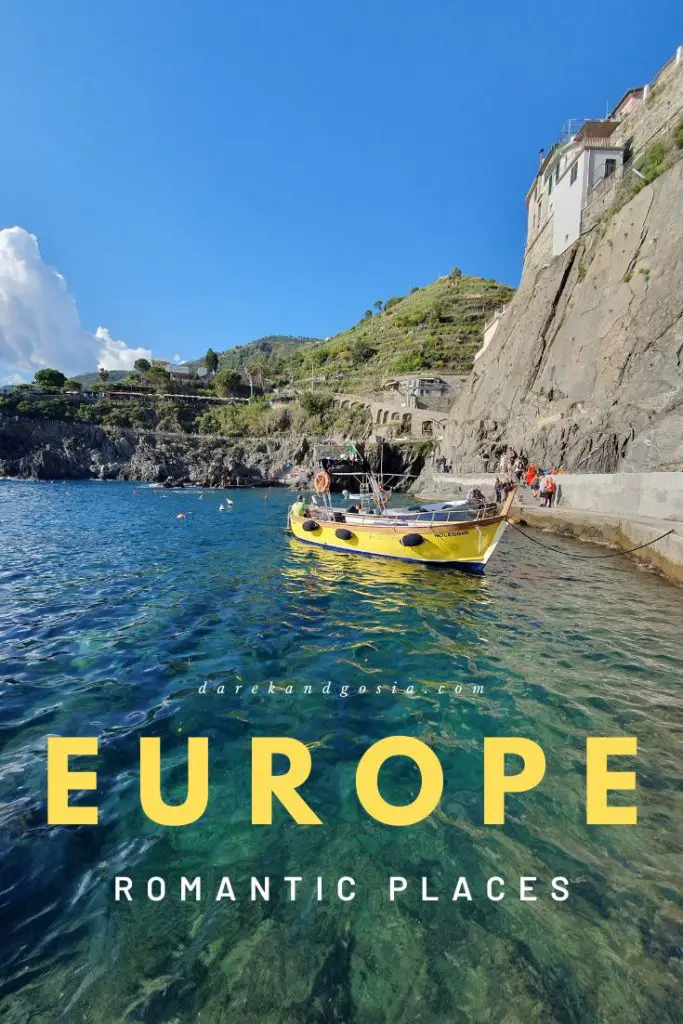 Best couples holidays Europe
1. Hallstatt, Austria
A Picture-Perfect Love Story
Hallstatt is often dubbed the most photographed village in the world, and for good reason. This small Austrian village offers an intimate setting, surrounded by the serene Hallstätter See and towering Dachstein Alps.
| Best Times to Visit | Why? |
| --- | --- |
| Summer (June-August) | Lakeside picnics. |
| Winter (December-February) | Snowy paradise. |
| Spring (April-June) | Blooming romance. |
| Autumn (September-November) | Foliage and calm. |
2. Bled, Slovenia
A Fairytale So Real, You'd Pinch Yourself!
Bled is like a page straight out of a fairytale book, complete with a stunning lake, a medieval castle, and even a charming little island in the middle. The lake mirrors the sky, the hills, and your love – a bit poetic, but truly fitting.
| Romantic Activities | Why? |
| --- | --- |
| Rowing to Bled Island | The ultimate couple's workout. |
| Bled Castle Visit | For history and views. |
| Lake Cycling | Active yet romantic. |
| Cream Cake at Park Café | Calories don't count on holiday! |
3. Paris, France
The City of Lights and Love
Ah, Paris! Eiffel Tower, art, fashion, and a surplus of opportunities to say "je t'aime." What can be more romantic than a moonlit walk by the Seine, complete with a champagne toast? Paris is where love stories are written, and trust us, yours will be no exception.
| Must-Do Activities | Why? |
| --- | --- |
| Eiffel Tower Visit | For that iconic kiss. |
| Montmartre Stroll | To unleash your inner artist. |
| Wine Tasting | Because you're in France! |
| Seine River Cruise | Water + Romance = Yes. |
4. Venice, Italy
Canals, Culture, and Canoodling
Gondolas and Venice go together like tea and biscuits. There's something undeniably romantic about navigating through narrow canals while being serenaded by a gondolier. Don't forget to explore the small islands around, like Murano and Burano, known for glass-making and lace, respectively.
| Must-See Spots | Why? |
| --- | --- |
| St. Mark's Square | A bustling yet intimate setting. |
| Doge's Palace | For a slice of history. |
| Bridge of Sighs | A must-kiss spot. |
| Burano | Colourful homes make colourful pics! |
5. Santorini, Greece
A Cycladic Dream
Santorini isn't just an Instagram hotspot; it's a love nest! Those beautiful sunsets over the iconic white buildings with blue domes? Unbeatable. Whether you're sipping wine or enjoying a Greek feast, Santorini makes every moment special.
Romantic Dinner Spots: Oia Castle, Akrotiri Lighthouse
Adventurous Outings: Volcano and hot spring tours
Local Delicacies: Fresh seafood, Greek salad
Must-Buy Souvenirs: Unique ceramics, local wine
6. Ronda, Spain
Where Every Cliff Edge is a Lover's Leap!
Ronda offers dramatic cliffs and dreamy views, making it a natural setting for romance. It's a small town but packs a big punch. The Puente Nuevo bridge isn't just an architectural marvel, it's a connecting arch for hearts as well.
Sights: Plaza de Toros, Puente Nuevo
Activities: Wine tasting, cliffside dining
Local Food: Gazpacho, Pata Negra
Natural Wonders: El Tajo Gorge, Cueva del Gato
7. Cinque Terre, Italy
Love on the Ledge: Five Villages, One Heartbeat
Cinque Terre, which means 'Five Lands,' is a stunning collection of five fishing villages perched on the rugged coast of the Italian Riviera. The colourful homes seem to defy gravity, while the azure Mediterranean Sea below mirrors the endless sky. It's a place where you'll wish your love, like the villages, will be etched into the cliffs forever.
| Hiking Trails | What to Expect |
| --- | --- |
| Monterosso to Vernazza | Sweeping sea views. |
| Vernazza to Corniglia | Steep inclines, rewarding vistas. |
| Corniglia to Manarola | Via dell'Amore (Path of Love). |
| Manarola to Riomaggiore | A lighter trail, equally scenic. |
8. Amsterdam, Netherlands
A Canal-Side Romance
If Venice is the city of canals, Amsterdam is its cooler, laid-back cousin. The city has 165 canals and countless bikes. A canal cruise or a simple bike ride will suffice for a day well-spent.
Picnic Spots: Vondelpark, Amstelpark
Museums: Van Gogh Museum, Rijksmuseum
Markets: Albert Cuyp Market, Flower Market
Local Food: Stroopwafel, Dutch Cheese
9. Bruges, Belgium
Chocolate, Beer, and Waffles – Oh My!
Bruges, with its cobblestone streets and medieval architecture, looks straight out of a postcard. If you're a couple who enjoys the simple things in life – like chocolate, beer, and waffles – then Bruges is for you.
| Places to Visit | What You Get |
| --- | --- |
| Markt Square | A lively atmosphere and great eateries. |
| Belfry of Bruges | Panoramic views from the top. |
| The Chocolate Line | Chocolates, of course! |
| The Beer Wall | A comprehensive Belgian beer experience. |
10. Positano, Italy
A Vertical Town with Sky-High Romance
Positano is a vertical town where every level offers a different panorama of the Amalfi Coast. Known for its pastel-hued homes and crystal-clear waters, it's as if Cupid himself painted this town.
Beaches: Spiaggia Grande, Fornillo
Shopping: Local boutiques for unique finds
Food: Seafood pasta, Limoncello
Scenic Drives: Amalfi Coast Road
11. Cotswolds, England
Rolling Hills and Rosy Cheeks
The Cotswolds are England's romance central, with rolling hills, medieval villages, and stone cottages. Nothing spells love better than a cosy evening in front of a fireplace in a traditional English cottage.
| Must-Visit Towns | What's Special |
| --- | --- |
| Bourton-on-the-Water | Venice of the Cotswolds. |
| Stow-on-the-Wold | Antique shops and historic market. |
| Chipping Campden | Start of the Cotswold Way. |
| Cirencester | Known as the "Capital of the Cotswolds". |
12. Prague, Czech Republic
Eastern Europe's Gem
Prague, the "City of a Hundred Spires," offers a blend of modernity and antiquity. A river cruise along the Vltava, or a walk on the Charles Bridge, can add a spark to any relationship.
Romantic Views: Prague Castle, Petřín Hill
Unique Experiences: Ghost and Legends Tour
Shopping: Bohemian glass, Garnet jewellery
Food & Drink: Trdelník, Czech beer
13. Budapest, Hungary
Romance on the Danube
Budapest serves romance on a silver platter, with architectural marvels and thermal baths. Take a dip in the Széchenyi Baths or Gellért Baths to unwind and reconnect.
| Activities | Why You'll Love It |
| --- | --- |
| Danube River Cruise | Best views of the city. |
| Buda Castle | A royal date, literally. |
| Fisherman's Bastion | Stunning panoramic vistas. |
| Ruin Bars | A unique and quirky night out. |
14. Barcelona, Spain
Passion in Every Pore
Barcelona is a city that oozes passion, evident in its art, architecture, and food. Visit the Sagrada Familia, saunter along La Rambla, and don't forget to indulge in tapas.
Instagrammable Spots: Park Güell, Magic Fountain
Beaches: Barceloneta, Mar Bella
Food: Paella, churros
Shopping: Passeig de Gràcia, La Boqueria Market
15. Salzburg, Austria
Music, Mountains, and 'Mozartkugel': The Symphony of Love
Salzburg offers a perfect mix of city charm and natural beauty, making it an ideal romantic destination for couples who enjoy a bit of both. Walk along the Salzach River, explore historic squares, and be sure to visit the birthplace of Mozart. A city where every street corner might burst into a classical tune – at least, in your head.
| Top Attractions | Why They're Special |
| --- | --- |
| Hohensalzburg Fortress | Panoramic views of the city. |
| Mirabell Palace and Gardens | Ideal for a romantic stroll. |
| Getreidegasse | Shopping in historic alleys. |
| Mozart's Birthplace | A touch of genius for your journey. |
16. Edinburgh, Scotland
A Highland Romance
In Edinburgh, you'll find romance amid historic castles and cobbled lanes. The city offers a blend of old and new, making it a versatile destination. Take a hike up Arthur's Seat for a panoramic view or explore the historic Royal Mile.
| Must-Visit Museums | What's Inside |
| --- | --- |
| National Museum of Scotland | History, culture, and science. |
| Edinburgh Castle | Military history and Crown Jewels. |
| Museum of Childhood | A nostalgic trip down memory lane. |
| The Scotch Whisky Experience | For the love of whisky. |
16. Lisbon, Portugal
Love in the Land of Fado
Lisbon is a city of seven hills, making for scenic viewpoints, historic trams, and lovely Alfama district serenades. It's a city that charms without even trying, much like your better half, we assume!
Evening Spots: Fado clubs in Alfama
Day Trips: Sintra, Cascais
Food: Pastéis de nata, Bacalhau
Local Drinks: Vinho Verde, Ginjinha
18. Copenhagen, Denmark
Hygge Your Way to Happiness
Copenhagen is the epitome of Scandinavian cool, but it also offers a cosy atmosphere – or 'hygge,' as the Danes call it. Walk along Nyhavn or visit the free-town Christiania for a different vibe altogether.
| Bicycle Tours | Why Cycle Around? |
| --- | --- |
| City Highlights | See all the main spots swiftly. |
| Countryside Tour | Escape the city rush. |
| Foodie Tour | Eat as you explore. |
| Canal Tour | Ride and float, the best of both! |
19. Mykonos, Greece
Island Love with a Party Twist
Looking for a romantic getaway with a bit of party flair? Mykonos is the place to be! Beautiful beaches during the day and vibrant clubs at night – this island is a perfect balance.
Beaches: Elia, Paradise
Bars: Little Venice for sunset cocktails
Activities: Watersports, boat tours
Food: Moussaka, fresh seafood
20. Rome, Italy
The Eternal Flame of the Eternal City
Rome may not have been built in a day, but love can certainly spark in that time here. From throwing coins into the Trevi Fountain to a passionate kiss at the Spanish Steps, Rome is full of love milestones.
| Roman Foods | Where to Try |
| --- | --- |
| Gelato | Literally every corner |
| Carbonara | Local trattorias |
| Pizza al Taglio | Quick pizza spots |
| Espresso | Italian coffee shops |
21. Lucerne, Switzerland
Alpine Elegance and Lakeside Love
Lucerne offers a serene lake, surrounding Alps, and a city filled with historic charm. It's the perfect place to unwind and connect amid natural beauty.
Activities: Lake Lucerne boat trips, Mount Pilatus
Views: Kapellbrücke, Lion Monument
Food: Swiss cheese, chocolate
Winter Sports: Skiing, snowboarding
22. Bordeaux, France
Where Love Ferments Like Fine Wine
In Bordeaux, every sip of wine is a celebration, and every vineyard stroll is a step closer to eternal romance. The city's gothic architecture adds to its romantic allure.
| Wine Tours | Why Go? |
| --- | --- |
| Médoc Region | High-quality reds. |
| Saint-Émilion | Variety and history. |
| Graves | Whites and historic sites. |
| Sauternes | For the love of sweet wines. |
23. Seville, Spain
Flamenco and Passion Under the Sun
Seville offers sunny skies, historic squares, and the rhythm of Flamenco. It's a destination that wears its heart on its sleeve, and you'll love every beat.
Sights: Alcazar, Plaza de España
Activities: Flamenco shows, tapas tours
Local Food: Salmorejo, Jamón ibérico
Nightlife: Triana district
24. Porto, Portugal
A Toast to Love on the Douro
Porto is not just about port wine; it's about sharing moments. The city offers steep terraced hillsides, charming riverside quarters, and a vibe that's both rustic and cosmopolitan.
| Popular Spots | What to Do |
| --- | --- |
| Ribeira | Riverside dining. |
| Livraria Lello | For the book-loving couples. |
| Foz | Beaches and sunsets. |
| Francesinha spots | Dive into Porto's culinary icon. |
25. Reykjavik, Iceland
Natural Wonders, Cozy Moments
Reykjavik offers breathtaking natural sites like the Blue Lagoon and Northern Lights. It's the place where love can literally feel like a force of nature.
Day Trips: Golden Circle, Vik
Activities: Geothermal spa, whale watching
Local Food: Skyr, Lamb
Seasonal Highlights: Midnight sun, Northern Lights
Best couples holidays in Europe?
There you have it, lovebirds! A list that takes you from the bustling avenues of Paris to the natural splendour of Iceland, covering the spectrum of romantic experiences. Each destination offers its own unique blend of elements to make your couple's holiday memorable.
So go ahead, pack those bags, and don't forget to pack some love along! Safe travels!