A weekend away with your loved one? But where are the most romantic cities and destinations in Europe? To answer this question let's try to define a romantic place:
Does a romantic city remind you of sweet, nice thing that gives you a dreamy feeling? Does a romantic place in Europe look like a fairy-tale with amazing atmospheric lighting and mirrored water?
Top 10 Most Romantic Places in Europe: At a Glance
Prague
Santorini
Verona
Paris
Do those places exist in Europe? We have made a list of top 30 romantic destinations in Europe! Would you call them the best romantic places in Europe? Or perhaps your most romantic city is not even on our list?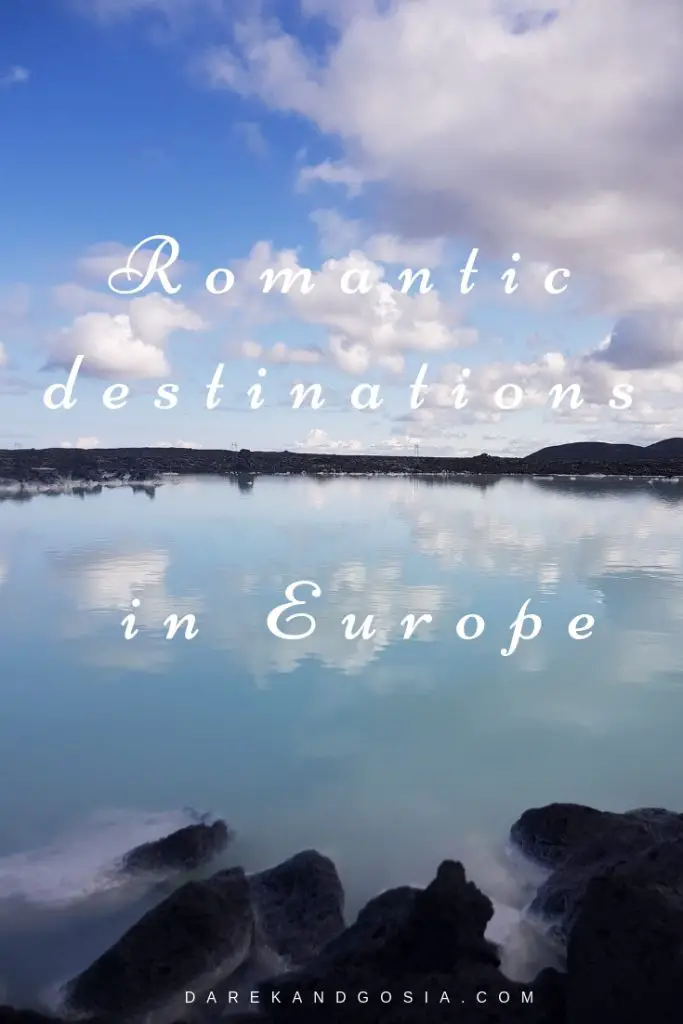 To all those who want to spend a few days together, we present the ranking of the most romantic European cities. See the places that will stay in your hearts for a long time!
This is our list of the most romantic places in Europe we visited (or still have to visit) – the GREAT EUROPEAN ROMANTIC LIST.
Top 30 most romantic destinations in Europe:
1. Prague
Often called "little Paris" of the Czech Republic, Prague has become the symbol of love and peace – a very romantic destination in Europe.
The famous Charles Bridge was built over the Vltava, a beautiful old bridge, which always has a cosy, romantic atmosphere. Evening, in the light of the street lamps, is the perfect starting point for a romantic walk through the old town. Romance guaranteed for your next romantic getaway in Europe!
2. Blue Lagoon
Need a new idea for a romantic getaway? What about visiting the Blue Lagoon in Iceland? 😊 Yes, the spa is utterly romantic, and it is one of the best places to visit in Iceland. Do you agree that it looks like the perfect romantic spot? The geothermal lake and the surrounding lava field create spectacular and very romantic scenery.
It is definitely one of Iceland's most romantic locations and an ideal getaway for couples at any time of the year.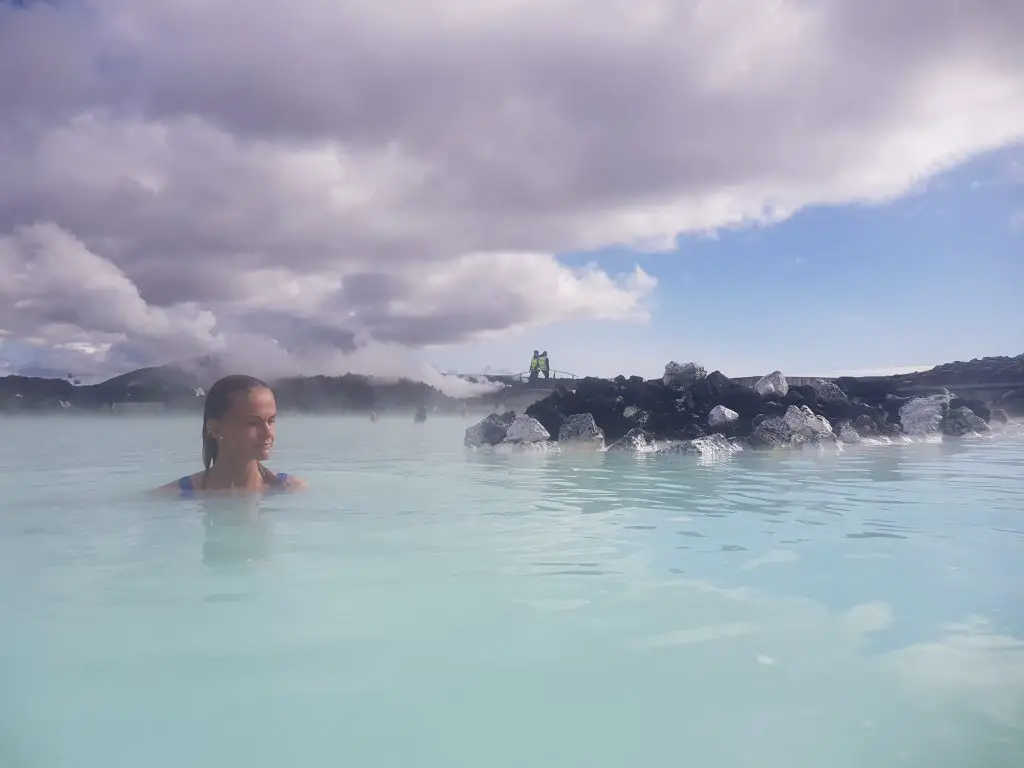 Read also: Blue Lagoon Geothermal Spa, Iceland – All you MUST know!
3. Venice
For centuries Venice in Italy has been lighting up the imaginations of couples in love. It was probably made up and built for lovers who are looking for a fairy-tale scenery and sweet rest. The narrow streets encourage you to take walks that do not have a planned route.
Venice consists of more than a hundred islands and is therefore only accessible by boat. That is, of course, a nice romantic start to a wonderful love weekend. Sooner or later it will get to one of the canals on which the gondolas run. Undoubtedly, this tour of the Venetian canals should be included among the most romantic ideas for a trip as a couple.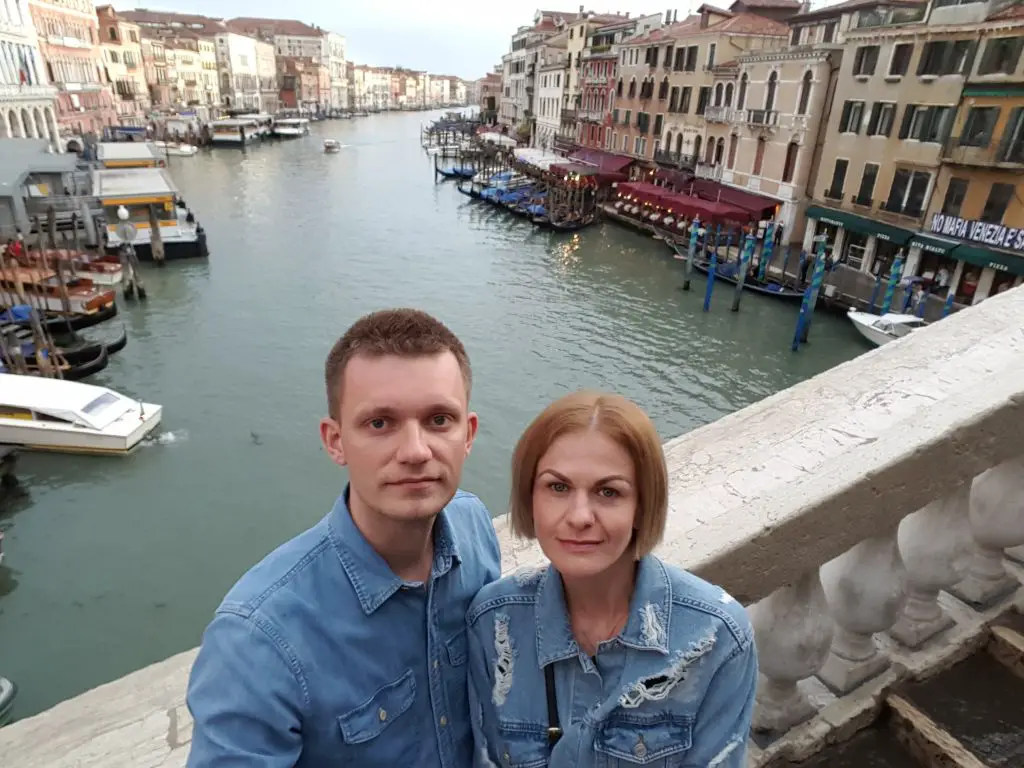 Read also: TOP 15 Things to do in VENICE Italy – The most romantic Italian city!
4. Keukenhof
The Netherlands romantic vacation can't go without visiting Keukenhof – one of the world's largest flower parks! With very short proximity to Amsterdam, makes it a perfect place for a weekend trip.
What can be more romantic than a walk with your loved one through allays of a garden with 7 million tulips in bloom?! It's a special place for a honeymoon in Europe and one of the most visited places in Holland. Do you agree that Keukenhof is one of the most romantic places in Europe?
But when is the best time to visit Keukenhof garden?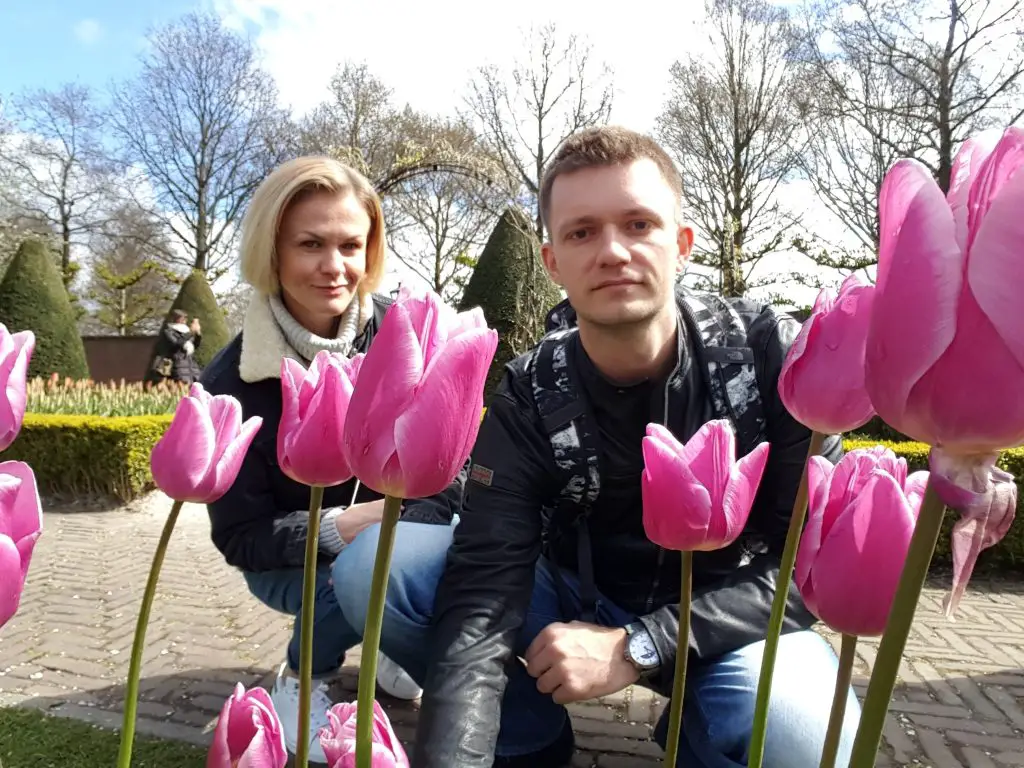 Read also: Tulips bloom – When is the best time to visit Keukenhof gardens?
5. Ronda
Located in the mountains above Malaga, Ronda is a perfect place for a romantic break in southern Spain. Ronda is one of the most beautiful white towns in Spain, so it has to be added to and Spanish bucket list. Its rugged scenery has inspired many romantic travellers in the past.
These days, Ronda is a must-visit destination for anyone who loves beauty, history and romance.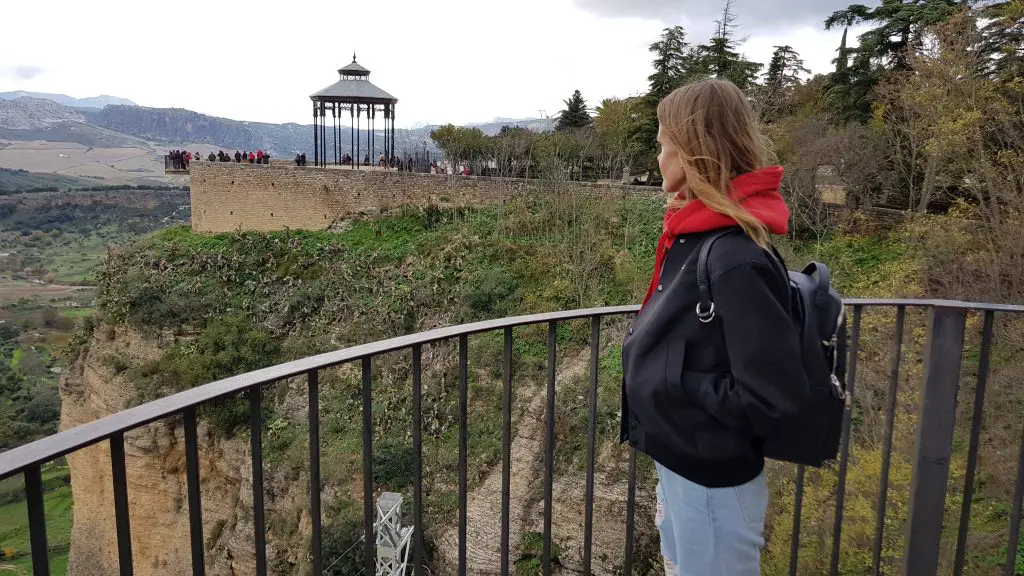 Read also: Ronda Spain: Day Trip to the Pearl of Spanish Andalusia
6. Bled
Have you ever been to Bled in Slovenia? Couples love this destination because of its incredible beauty and the many legends and stories associated with it.
Rowing to the island (located in the middle of a lake) is the perfect romantic activity. Once you reach St. Mary's Church, you must ring the bell first, as according to legend, all your dreams will come true. The romantic once too!
7. Florence
Perfect European escape for two? Go Florence in Italy – start your romantic tour of the city in the small shops on the bridge over the Ponte Vecchio and enjoy the romantic view from Piazzale Michelangelo, overlooking the Florentine cathedral.
Live the Italian la dolce-vita for a romantic weekend in Europe!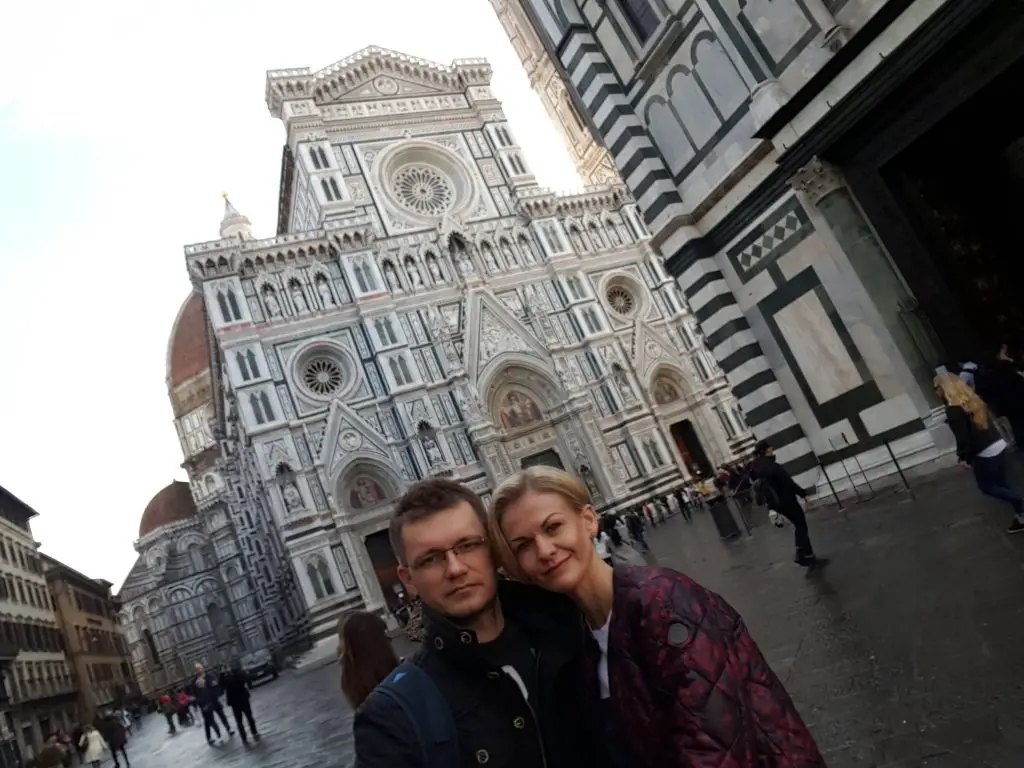 8. The Cinque Terre
This is one of the most famous romantic destinations in Europe and best places to visit in Italy!
Everyone who is in love should go to the Italian Liguria to cross the Way of Love together with the chosen one. The promenade connecting the villages of Riomaggiore and Manarola has 1.6 km and offers a view of the sea, rocky cliffs and also thousands of padlocks – yes, you can add one too! 🙂
You can also rent your own boat to explore the beautiful bays in the area during a romantic afternoon on the sea. So, make sure you visit the Cinque Terre for a weekend break in Europe!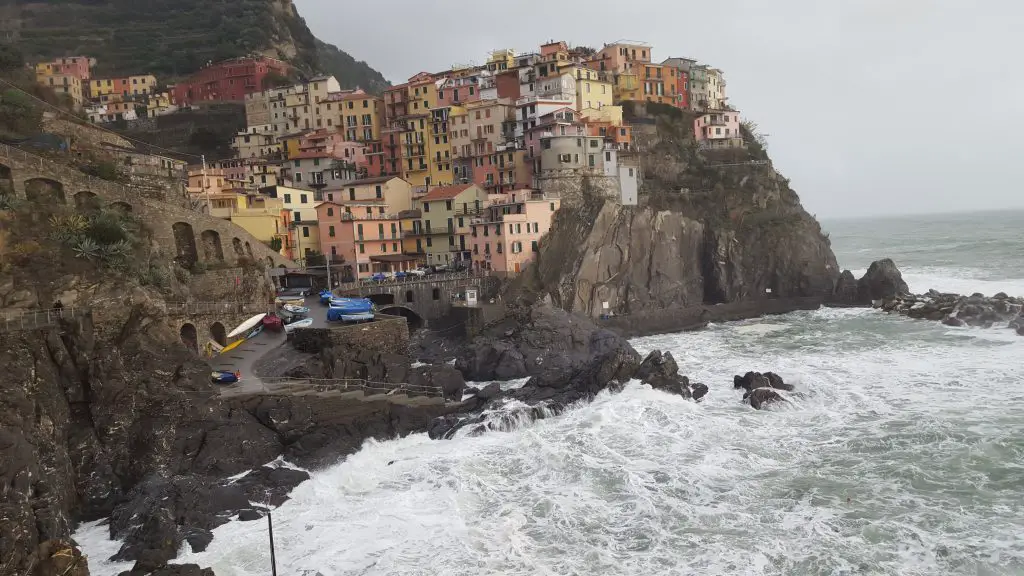 9. Santorini
Which couple has never dreamed of being on a paradise island for a while?
The most romantic island in Greece (maybe even in the world) attracts millions of couples on an unforgettable trip. Some couples get even married on the Greek island of Santorini.
Is Santorini on your list of the most romantic places in Europe? 🙂
10. Madeira
This island is called by many people the land of eternal spring. Beautiful landscapes, pleasant but not exceptionally hot weather and charming, Mediterranean architecture, attract many tourists seeking a romantic gateway during winter months.
Would you take your loved one for a romantic trip to Madeira – one of the best islands in Europe?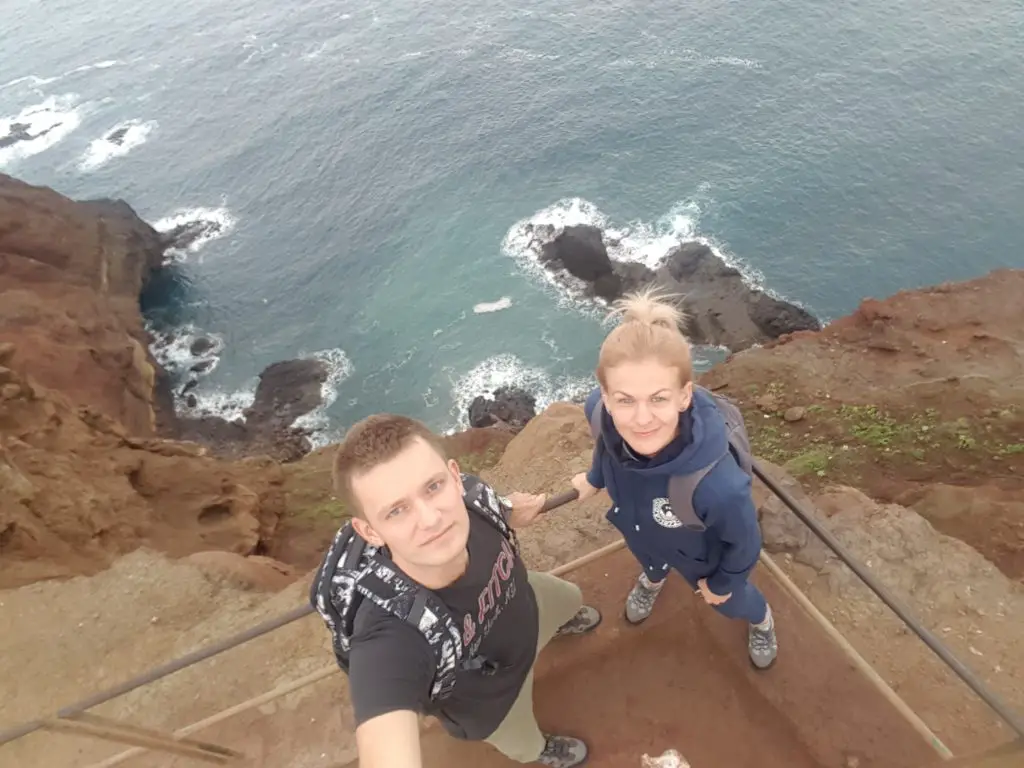 Read more: Unusual Things to do in Madeira – AMAZING Island of Eternal Spring!
11. Copenhagen
Copenhagen has everything you want for a romantic getaway. The city offers fantastic culinary experiences, as it is almost restaurants and cafés on every street corner.
The many neighbourhoods each have their own unique charm, and you can just as easily spend days strolling around hand in hand and enjoying the atmosphere. Love it or not, but Copenhagen in Denmark is one of the top romantic cities in Europe! 🙂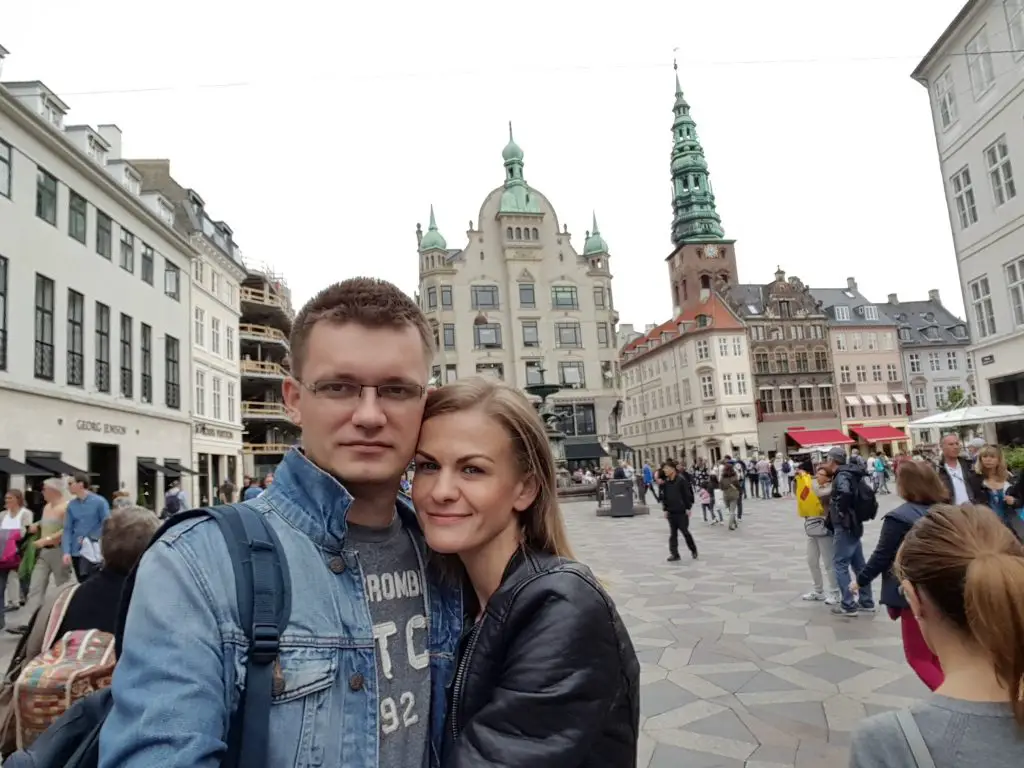 Read more: Things to do in Copenhagen, Denmark – 7 Must-see places in CPH!
12. Hallstatt
For romantic souls, a great tip for a trip is the picturesque town of Hallstatt in Austria. This small Austrian town of Hallstatt has so much charm that it could easily claim to be one of the most romantic small towns in Europe.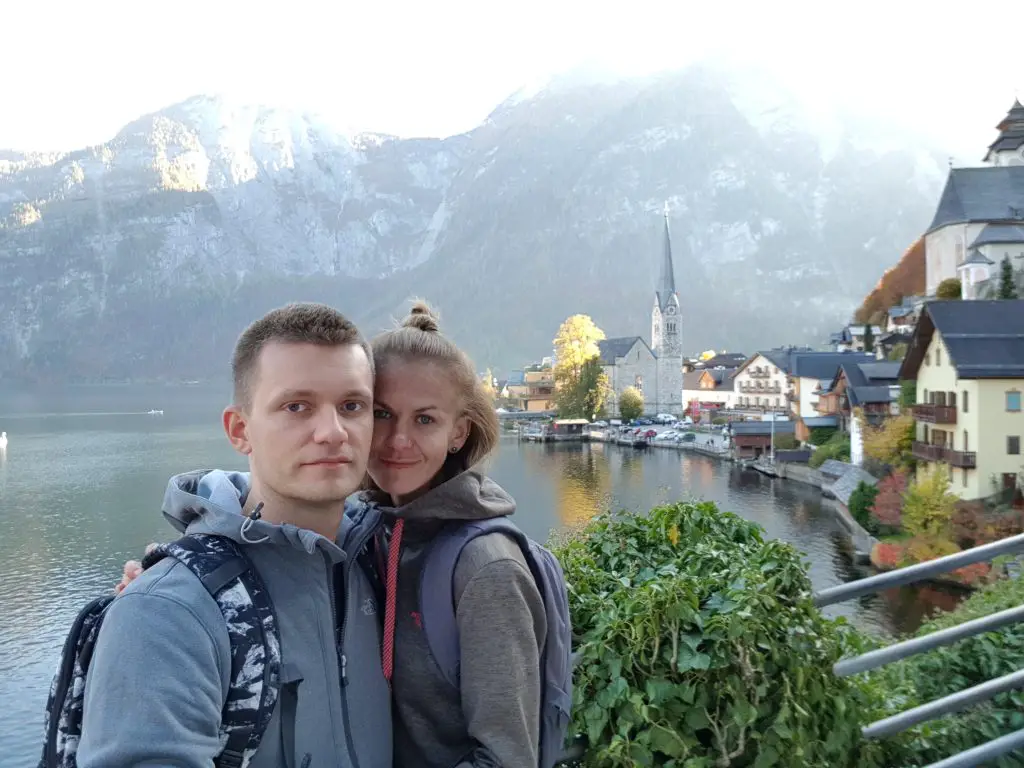 Read more: Is Hallstatt Austria worth to visit or is the Town a tourist TRAP?
13. Zante
Visiting any Greek island sounds like a journey into a romantic paradise! Zante is a true gem in the Ionian Sea that has preserved its natural beauty. Who wouldn't like to watch the sunset at Navagio Beach – one of the best beaches in Europe – a must-visit place in Europe!
It is worth going to Porto Vromi, surrounded by rocky cliffs Or visiting charming Keri and Vassilikos. They are considered the most romantic places in Zakynthos.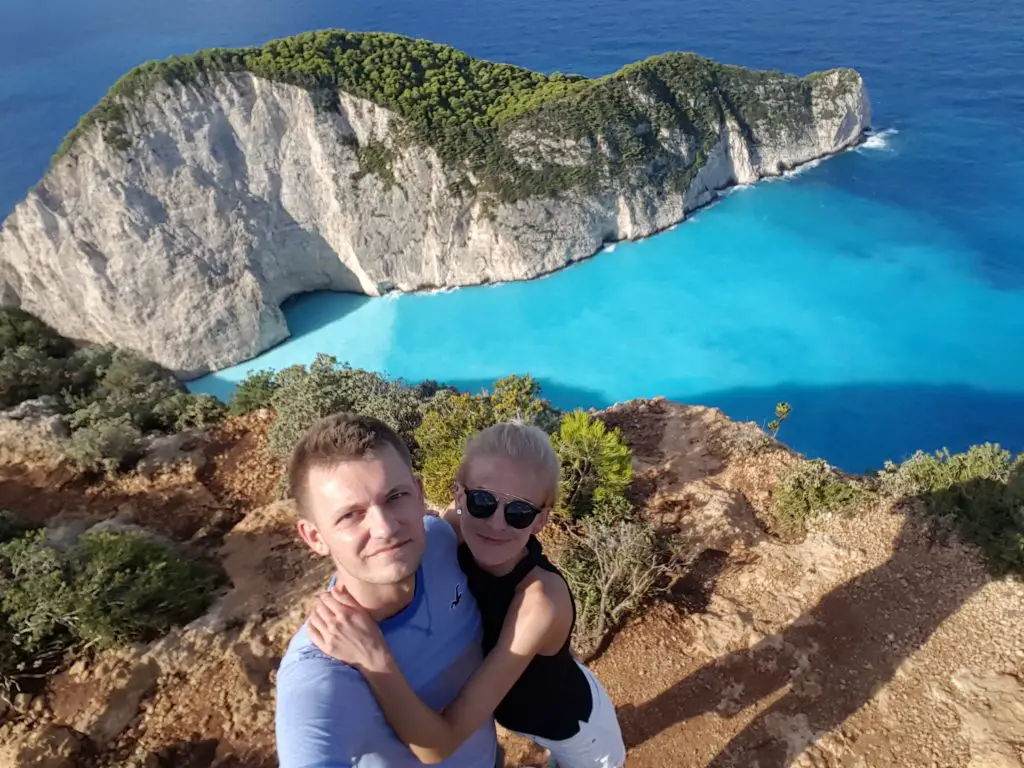 Read more: TOP 13 Things to do in Zakynthos [Zante – Ionian Island in Greece]
14. Lisbon
Sunny Lisbon it's easy to fall in love at first sight on your trip to Portugal.
The narrow and steep streets that characterize the whole layout of its old part, alternated with magnificent panoramic views from one of its viewpoints, give the city a nostalgic air and with much charm.
But first of all beware, because you will fall in love with Lisbon!
15. Valletta
Stroll through the Barrakka Gardens and enjoy the romantic sunset over St. George's Bay. In Malta, romance can be found in every corner so you don't have to look far 😉
Would you add this small island to your list of most romantic places in Europe?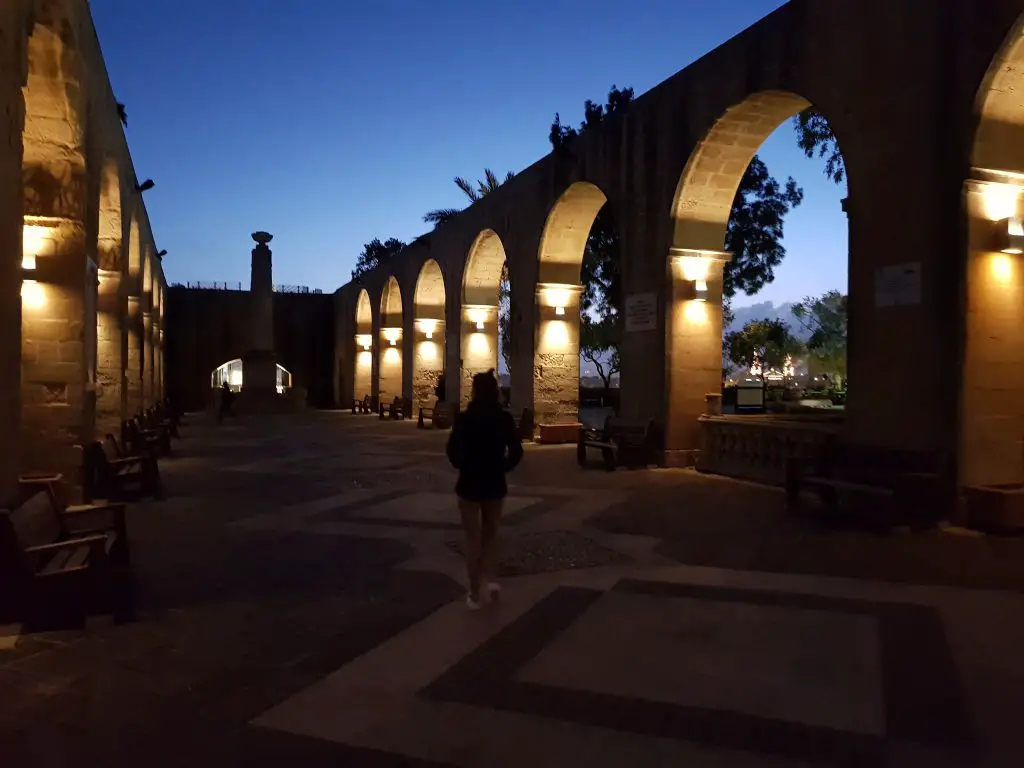 Read more: Best things to do in Malta & Gozo – TOP points of interest on Malta Island!
16. Positano
Positano is one of the most romantic villages on the Amalfi Coast in Italy. There is a huge selection of charming hotels and friendly bed & breakfasts which makes Positano an amazing place for a romantic trip or even a honeymoon destination.
You will fall in love with the Amalfi Coast at first sight! Or are we being too romantic? 😉
Make sure you add Positano to your list of most romantic places for couples – it's one of the best places to visit in Italy!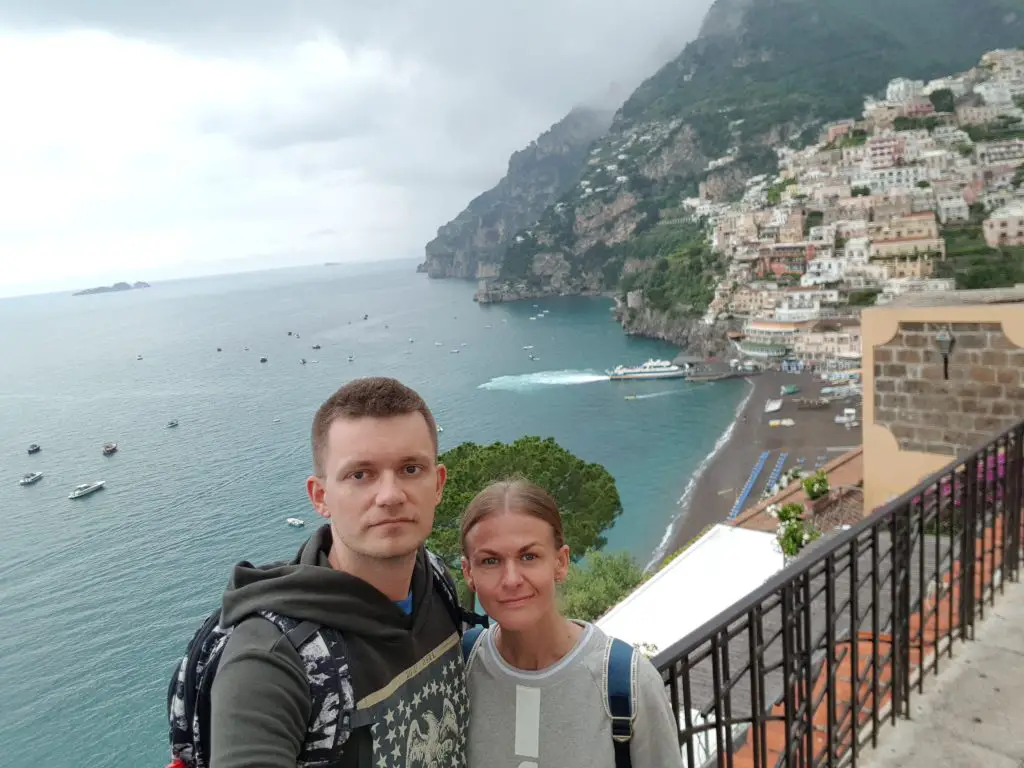 Read more: Amalfi Coast Italy (Campania) – Italy's most scenic & famous coastline!
17. Barcelona
For lovers who love the sun, this is a great place for a romantic weekend away. Barcelona, Spain is an excellent choice – there are so many great things to do in Barcelona!
Here you can really grow love in beautiful surroundings. Is Barcelona not one of the most visited places in Europe for couples in love?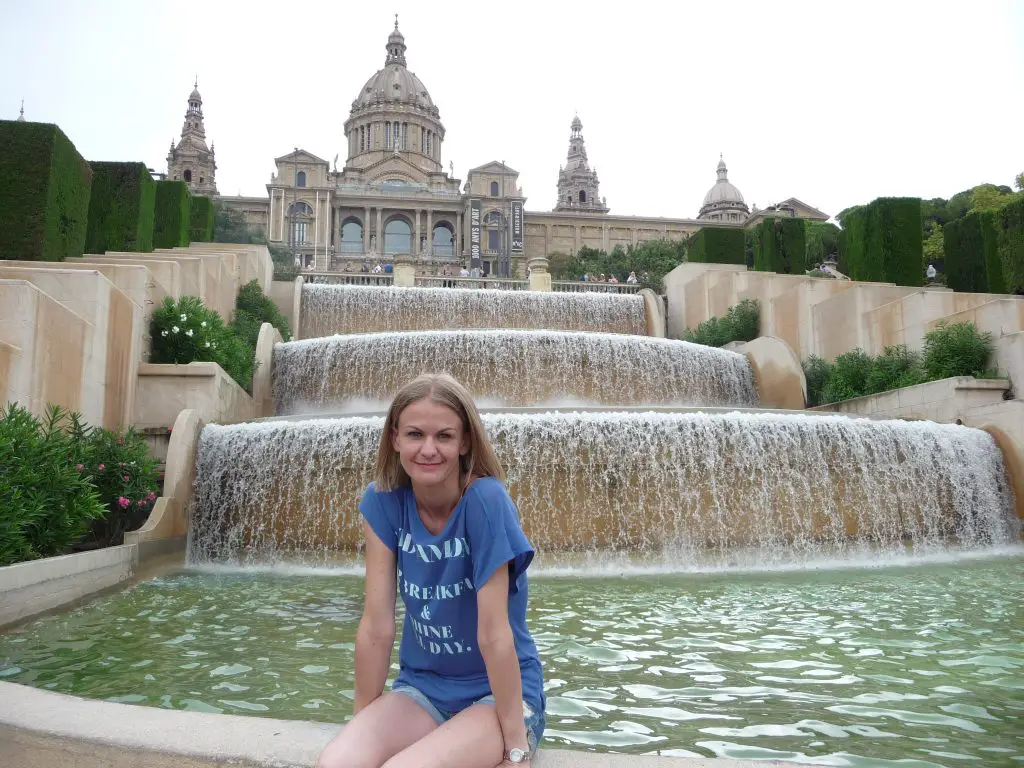 Going to Barcelona? Read more: 30 TOP Attractions & QUIRKY Things to do in Barcelona Spain!
18. Krakow
Are you looking for a perfect place to spend a romantic weekend together?
Take your other half to magical Krakow. This trip will give you an opportunity to spend together special moments in the beautiful scenery of the former capital of Poland!
Krakow is a perfect choice for a weekend getaway in Europe! Breakfast on the Main Market Square, taking a fairy-tale ride in a horse-drawn carriage or going for dinner to one of many charming restaurants make Krakow a perfect place for a date or celebration of your anniversary!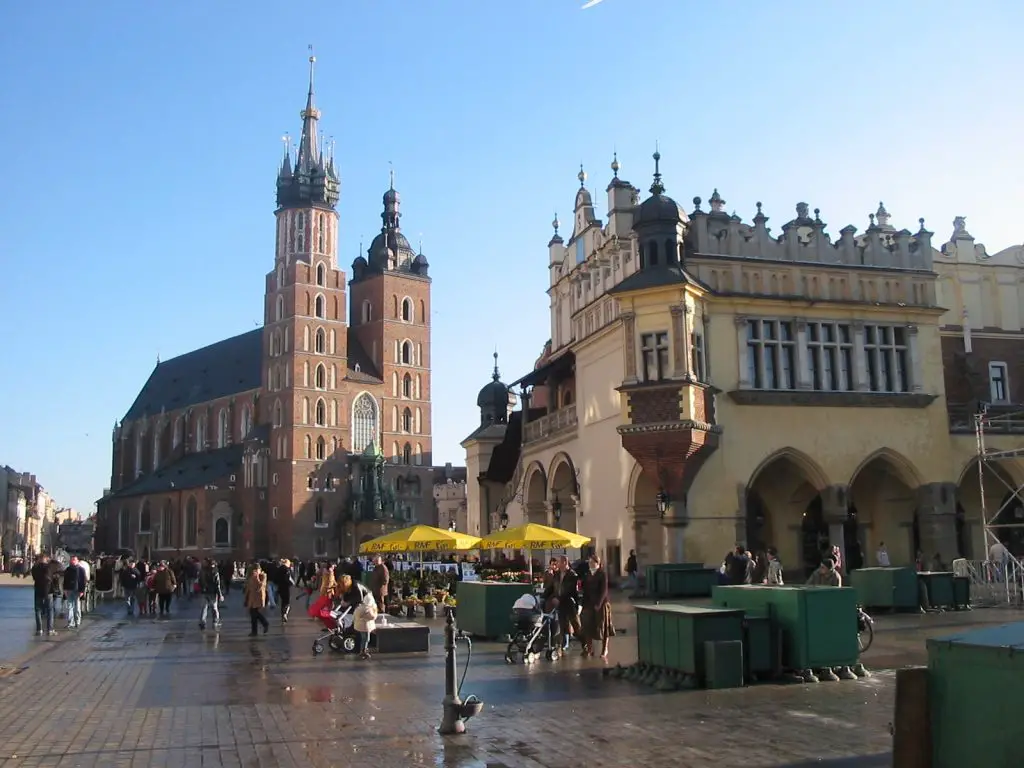 19. Bruges
Bruges is also called Venice of the north, which explains a lot, right? This charming city is full of churches and museums that have perfectly preserved the medieval atmosphere.
Take advantage of the picturesque houses with crenellated roofs, canals straddled by curved bridges, narrow cobbled streets, a swan lake, and many (really many) chocolatiers and go for a photo tour in Bruges with your second half. Both of you will love this very romantic activity – yes, you can eat a few chocolates as well 😉 What more can you ask for couple-trip to one of the most romantic cities in Europe?
Bruges is not overcrowded and you can enjoy romantic walks in an incredibly peaceful atmosphere and feel as if you are alone in the city.
Read more: 30 Best Things to do in Bruges, Belgium – How much choco can you eat?
20. Amsterdam
It is also the European capital of tolerance, whose romantic atmosphere can feel every couple! This small city offers the most romantic setting and is perfect for a small weekend getaway for two.
Amsterdam is full of beautiful canals, flower markets and has its very own vibe. If you want to top the idyll further, you can take a romantic bike ride through the small streets.
Beyond this, Amsterdam in Holland can offer beautiful food and small, hidden cafes, which are important ingredients for a romantic getaway.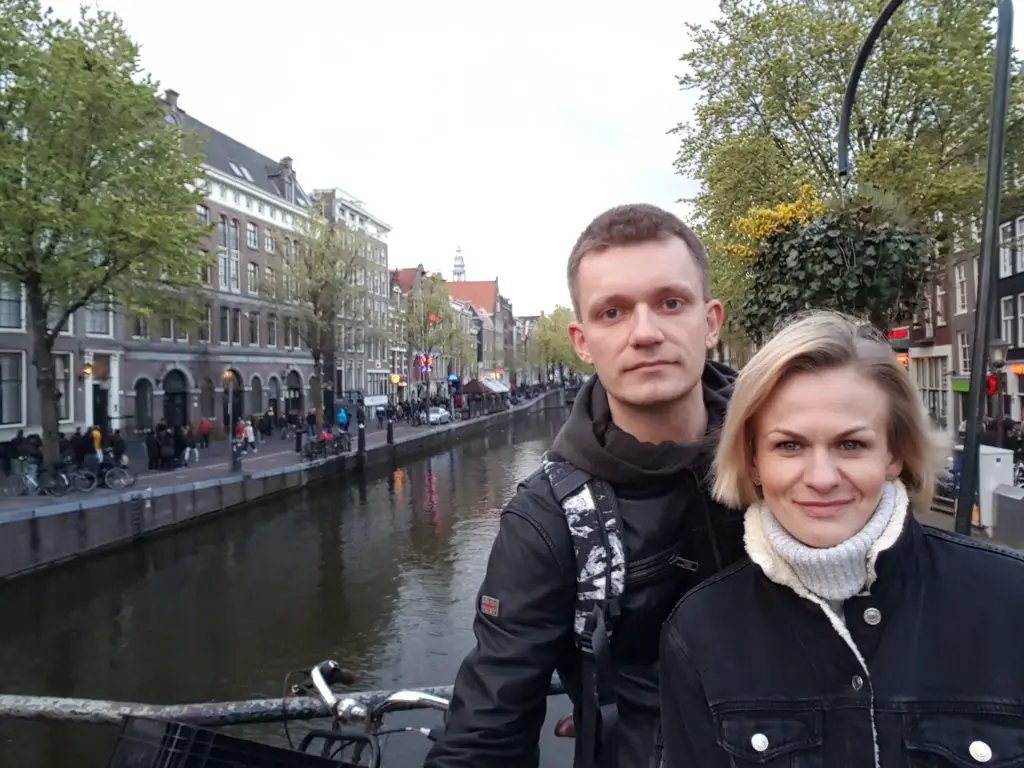 Read more: What to do in Amsterdam in 3 days – Best Places to visit & Things to see!
21. Verona
Verona is the place where the action of one of the greatest love stories in the history of art – "Romeo and Juliet" by William Shakespeare took place. No wonder that this city still remains a true symbol of love.
You can escape the crowds and experience a more intimate atmosphere – explore the charming streets, enjoy a long coffee break in the Piazza delle Erbe and taste some of the best food and wine in Italy.
22. Cotswolds
Cotswold is probably the most romantic places to escape to in the UK! Located just 2 hours drive from London, this full of charm and character region in mid-England is just perfect for a romantic trip. In fact, it's one of our favourite day trips from London 😊 Have you got Cotswold on your UK bucket list?
From visiting Bibury – the most photographed village in the Cotswolds, taking a walk in Bourton-on-the-Water on the banks of the River Windrush to enjoying a fairy-tale-like scenery from Broadway Tower, there are some many romantic things to do in the Cotswolds. Make sure you take your loved one to one of the best places to visit in England!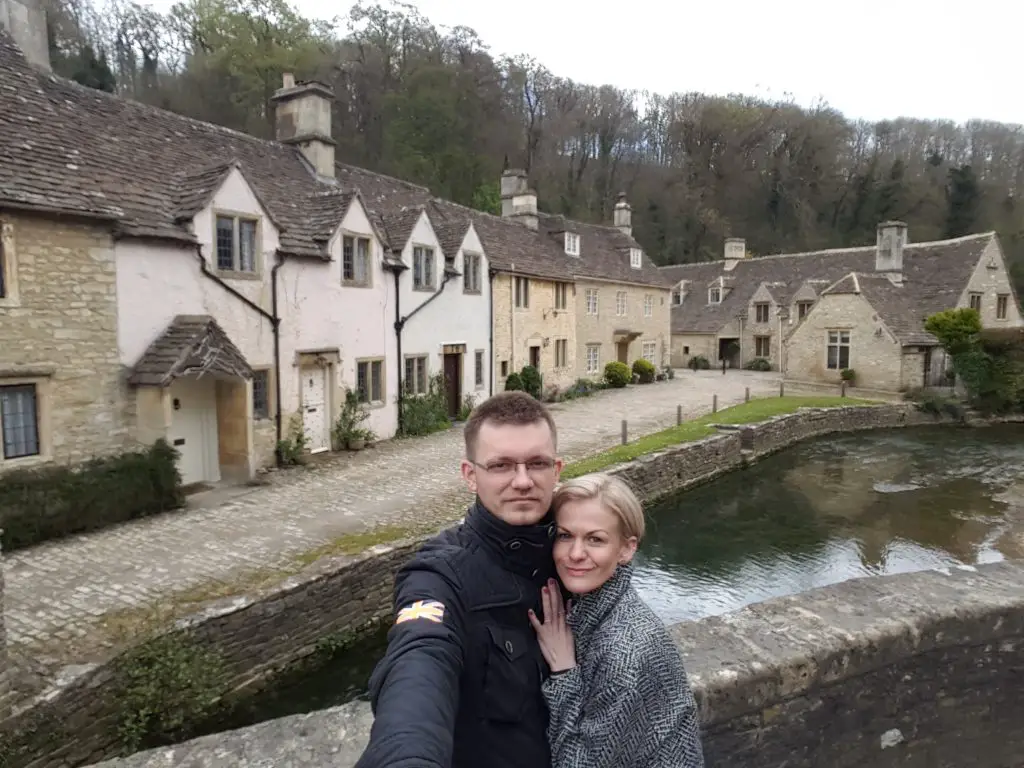 Read more: Best places to visit in the Cotswolds: Things to do & Top tourist attractions!
23. Cyprus
The patron of Cyprus is Aphrodite, the goddess of love, so it's no wonder that this island is on our list. From visiting the Rock of Aphrodite to hiking in the mountains and visits to the vineyards – there are many romantic things to din in Cyprus.
Is there anyone who would not like to try it with a loved one? Cyprus is probably one of the most unique and romantic places in Europe for honeymoon – great weather guaranteed! 🙂
24. Algarve
South Portugal is a great European destination for all types of trips. From the best beaches in Europe to amazing caves and bays in cape Ponta da Piedade, Algarve is just full of romantic spots.
Our favourite and most romantic place in Algarve is Cape Saint-Vincent with fantastic sunset – the best one in Europe!
Would you spend a romantic evening with your second half on Algarve's best beach – Praia do Camilo?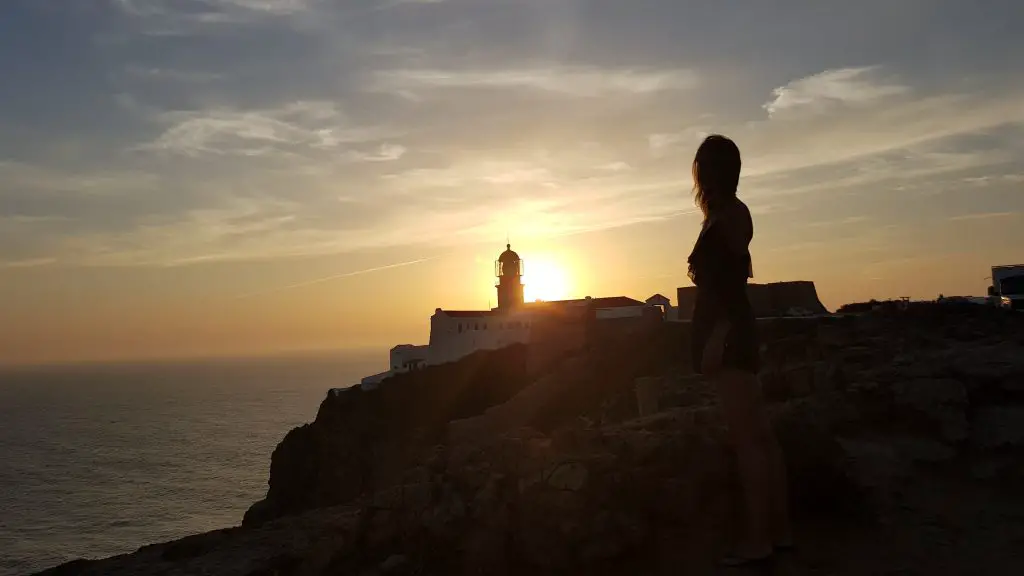 Read more: Best beaches in Algarve Portugal, places to visit & TOP things to do!
25. Stockholm
If you are looking for a romantic getaway with your husband or girlfriend, Stockholm can actually be the perfect destination.
Stroll through the city's cobbled streets as you take in a pleasant atmosphere and remember to visit the medieval Old Town – where you can see the beautiful 13th-century cathedral.
Then, just enjoy each other's company at one of the many nice cafes and restaurants that serve delicious food from around the world. Definitely set for romance!
26. French Riviera
French Rivera is one of the most romantic places to visit in Europe. Without a doubt, even the name Côte d'Azur sounds very romantic! Your loved one will definitely enjoy this amazing trip to the southern region of France.
The French Riviera has probably everything you need for a romantic weekend trip or even a honeymoon. With some of the best secluded European beaches like Plage de l'Escalet, to visiting the capital of French Riviera Nice, there are many things you can do together.
You can also take few day trips like visiting lavender fields in Valensole or go kayaking the Gorges du Verdon – both great for couples in love! Is French Riviera one of the top 10 romantic destinations in Europe on your list?
Read also: Best Places to visit on the French Riviera – Cote d'Azur's TOP 7
27. Rome
Charming streets and squares favour long walks with breaks for another glass of red wine. It is also a paradise for lovers in stylish scooters and exciting city rallies!
Rome is one of the best places to visit in Italy, so why not to go there for a romantic weekend? 😉
28. London
From having a romantic dinner cruise on the Thames, visiting a waterside cafe in Little Venice to booking the famous London Eye champagne experience – there are many romantic things to do in London for couples!
You can also do one of the great day trips from London if you fancy escaping from the capital city. Visiting Stonehenge or going for a weekend trip to the Isle of Wight should be added to any UK bucket list and are very romantic too 😊 Did you know that you can visit London in one day?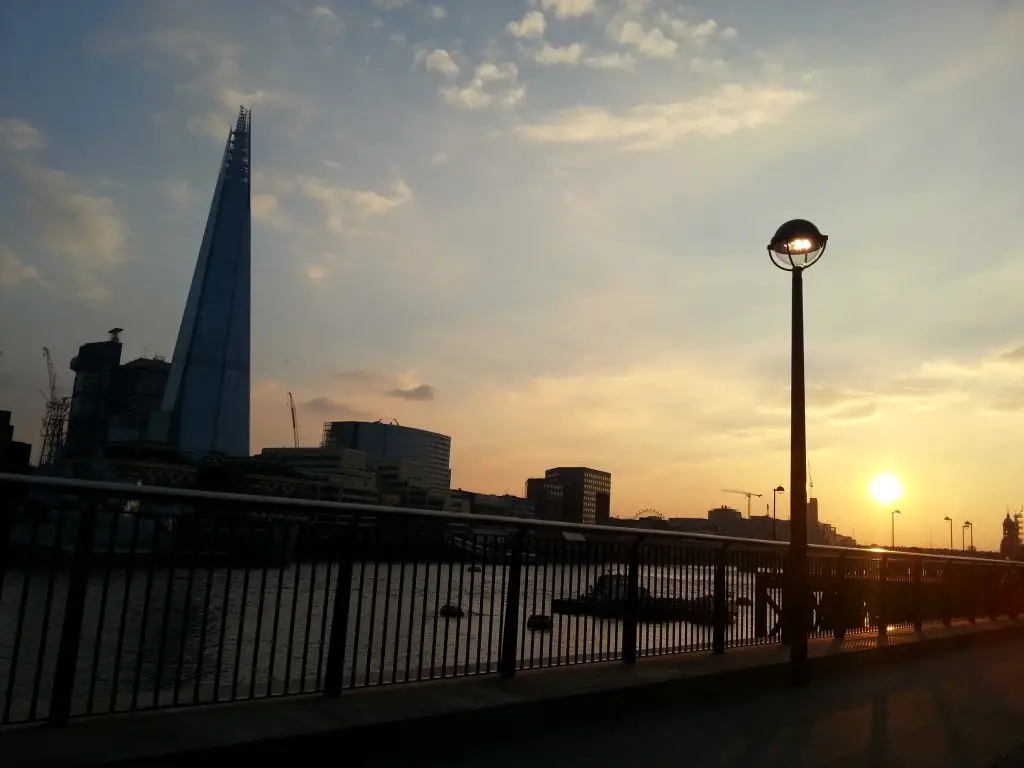 Read also: How many days do I really need in London?
29. Bavaria
Looking for that perfect romantic getaway or honeymoon destination? Bavaria is one of our favourite regions in Germany and it's a perfect location for a romantic trip with your loved one!
Spend a weekend in Garmisch-Partenkirchen – a fairy-tale looking town. Enjoy the cosy atmosphere while you are walking through the old town of Ga-Pa – the picturesque half-timbered houses displaying murals typical of the area are particularly worth taking pictures.
You can also take a romantic day trip to Zugspitze – the highest point of Germany to show your second half how big your love is! Or take a romantic walk around Eibsee Lake, a stunning lake with breath-taking scenery!
Read more: 4 days in Garmisch-Partenkirchen, Germany – Best Places to visit in GaPa
30. Paris
Paris is a city commonly known as the most romantic place on earth. A wonderful walk through the charming streets of the beautiful capital of France, and seeing the Eiffel Tower with your own eyes is a unique experience. The city of lights and the capital of love in Europe!
Among its many corners that have become key symbols of Parisian romanticism, you can not miss the Pont des Arts, famous in the past also for the thousands and thousands of locks that have been left here by couples from around the world.
What is your favourite romantic destination in Europe?
We do hope you agree that Europe is full of charming and romantic places to visit? The only question is, which one should you put first on your romantic getaway bucket list! 🙂
Not interested in romantic places in Europe?
No problem! You should try one of the best places to visit in Europe every American cowboy should see! 🙂 Alternatively, you can relax on the best European beaches if this is more your cup of tea.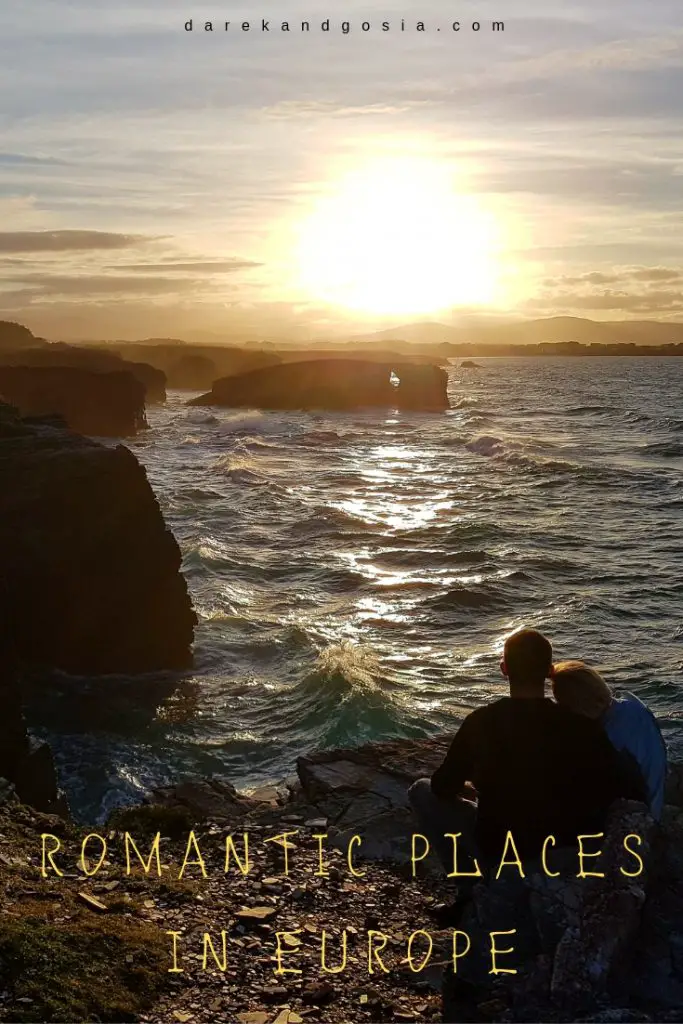 Articles you may like: