Going to Zugspitze in Germany? With an alpine atmosphere & the best views of the Alps, you can't get any higher than Zugspitze Mountain!
Zugspitze is the highest mountain in Germany. Of the Wetterstein Mountains, Zugspitze stands the tallest; rising 2,962 metres above sea level. Tourists can find Zugspitze by travelling south of Garmisch-Partenkirchen, a ski town that is well-known for its diverse history and culture.
The western summit of the mountains runs through the border between Austria and Germany, giving travellers plenty of choices to travel from to get to Zugspitze.
Zugspitze can be reached from either Germany or Austria, but for the purposes of this article, we'll be looking at travelling to the mountaintop from Germany and the various ways you can get there.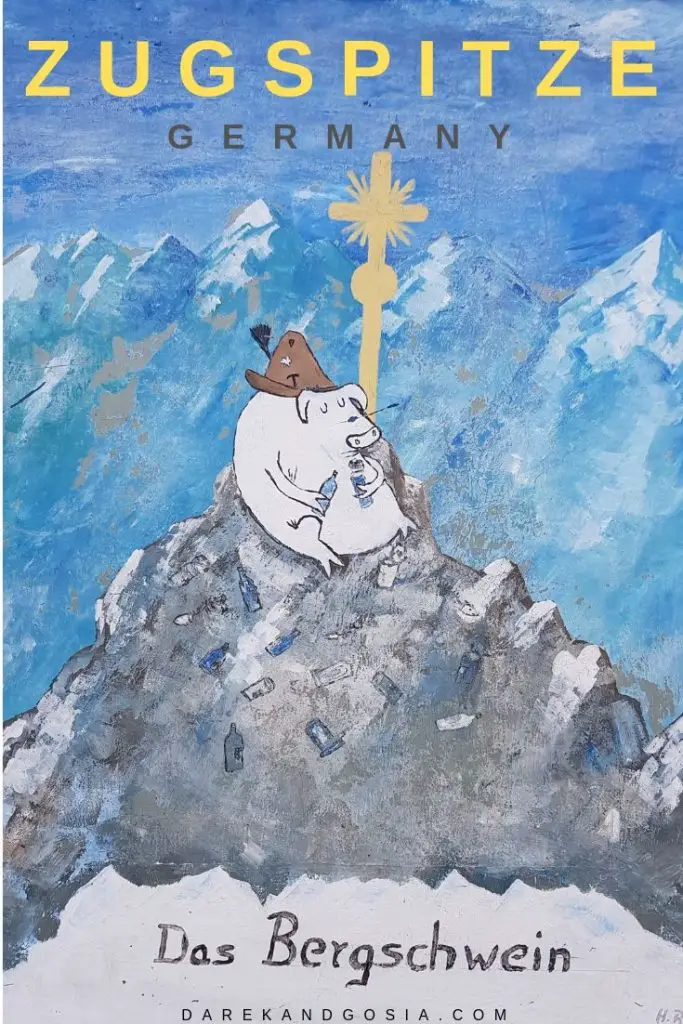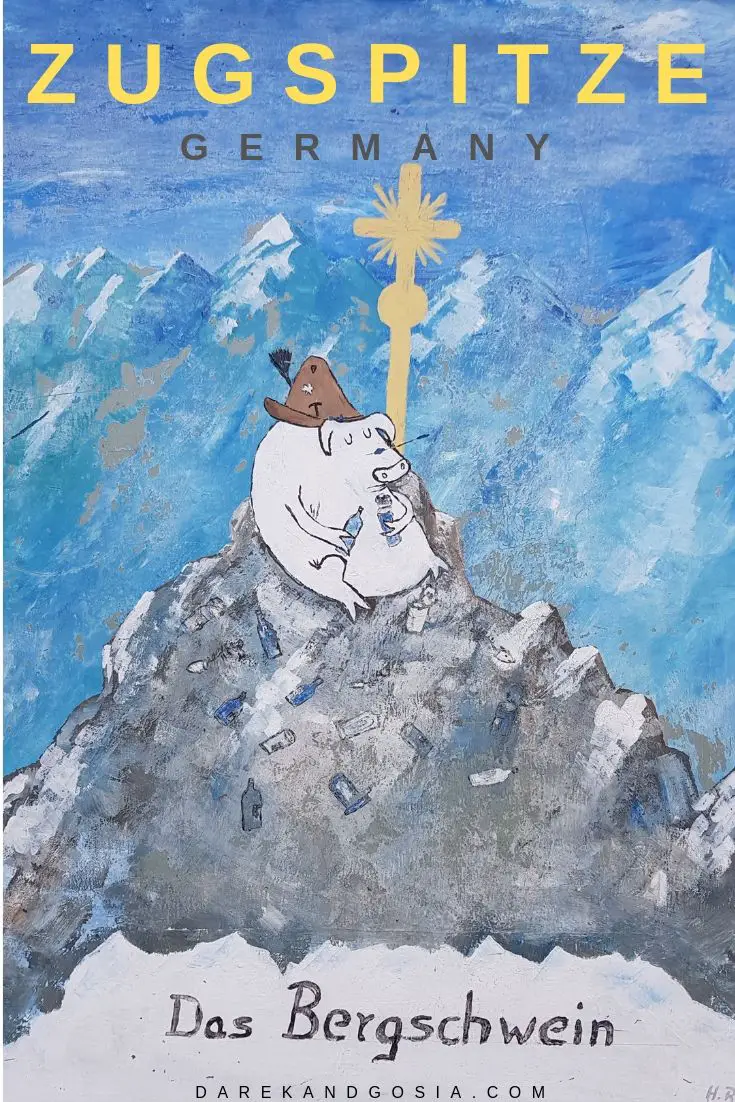 What is the nearest airport to Zugspitze?
The nearest airports to Zugspitze are located in Munich, Germany, and Innsbruck, Austria. The Munich Airport (MUC) is the largest international airport in the region and offers a wide range of domestic and international flights. It is approximately 125 kilometers (78 miles) away from Zugspitze and is well-connected to the region by various transportation options, including trains and buses.
Alternatively, the Innsbruck Airport (INN) is located in Austria and is approximately 60 kilometers (37 miles) away from Zugspitze. While smaller in size compared to Munich Airport, it also serves domestic and international flights, particularly for those coming from neighboring European countries.
Both airports provide convenient access to Zugspitze, and travelers can easily reach the mountain by taking a combination of trains, buses, and cable cars from either location.
How to get to Zugspitze from Munich
If you happen to be travelling from Munich, the capital of Bavaria, and home to Germany's famous Oktoberfest celebration, getting to Zugspitze couldn't be easier.
Munich is a popular city to stay in because of its central location, and there are a couple of ways to visit the Wetterstein Mountains from here.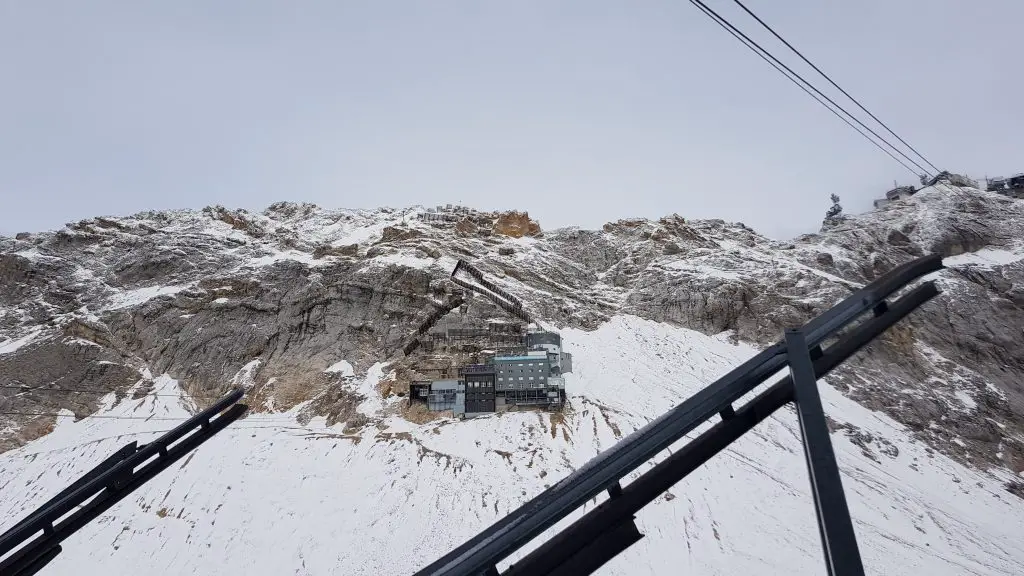 By car
First of all, you can rent a car in Munich. This is a popular choice for travellers and sightseers because it doesn't limit how long you can stay in a location or how far you can travel. It takes approximately two hours to travel from Munich to Zugspitze, but the trip is definitely worth it.
If you ask me, getting from Munich to Zugspitze by car is the best option!
You can find a car hire for as little as £15 a day in Munich, though most are closer to £30 per day; especially if you're renting from near the airport. Always compare the prices in advance as it's usually cheaper to book a car a few weeks before your trip.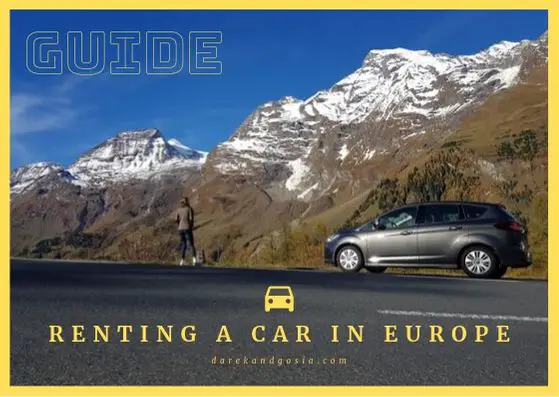 By train
Alternatively, buying a Bayern ticket can help you save loads on train travel around Bavaria and Munich. The Bayern ticket is a travel pass that is used by individual travellers or small groups. It can be used on regional trains, buses, and trams in Germany.
You can get your Munich to Zugspitze train on the day of your trip. The day travel card is around 25 euros from a single person, or around 53 euros for a group of people up to five that are travelling together.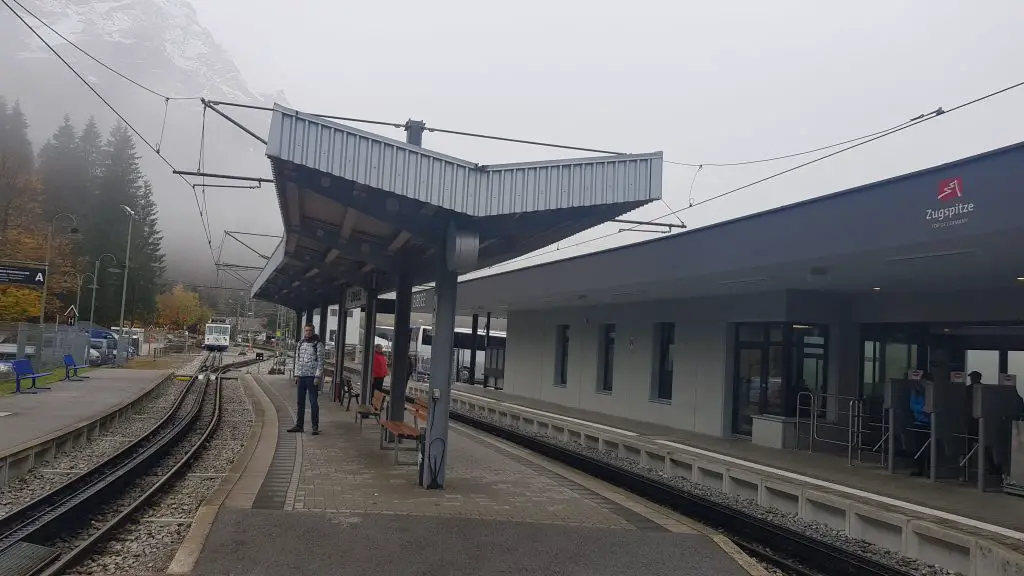 The card can only be used on weekdays after 9 am. If you're travelling during the night, the night ticket allows you to travel after 6 pm. During the weekends, travel is fine after midnight. First-class tickets are also available for this travel card. If you're travelling in a group, remember to write the passengers' names on the card before boarding.
It's cheaper to buy the Bayern ticket online or from the ticket machines. When brought from a station ticket window, they're a little more expensive. You can also buy these tickets from most bus drivers, but not from trams or on local trains – such as U or S Bahn trains.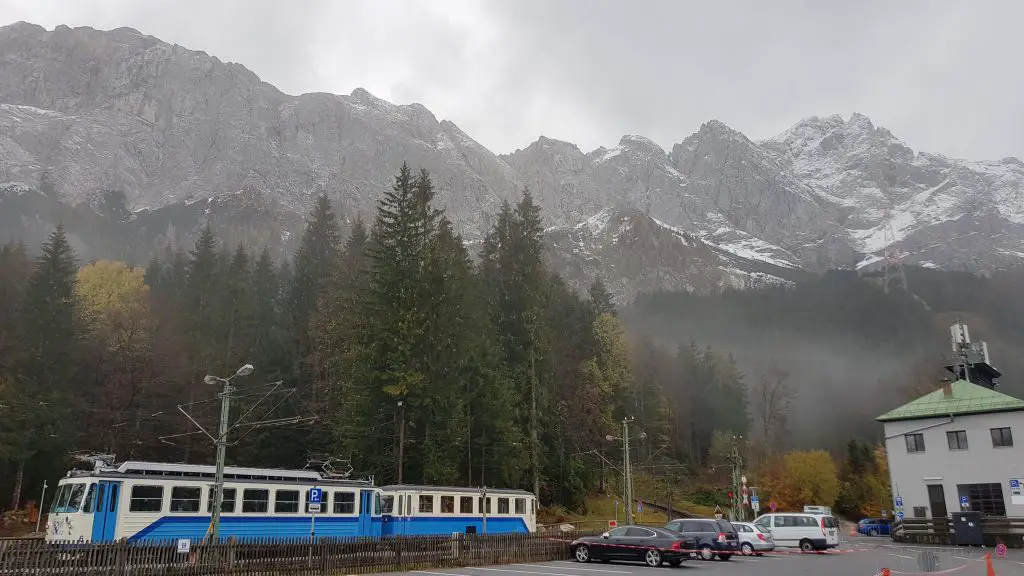 Munich – GaPa – Zugspitze
To actually reach Zugspitze, you'll need to take a train from Munich to Garmisch-Partenkirchen and take the rack railway to the Zugspitze from there. The journey is approximately three hours long, but trains from Munich to Garmisch run every hour. It is entirely possible to get there and back in one day if you aren't planning on being there very long.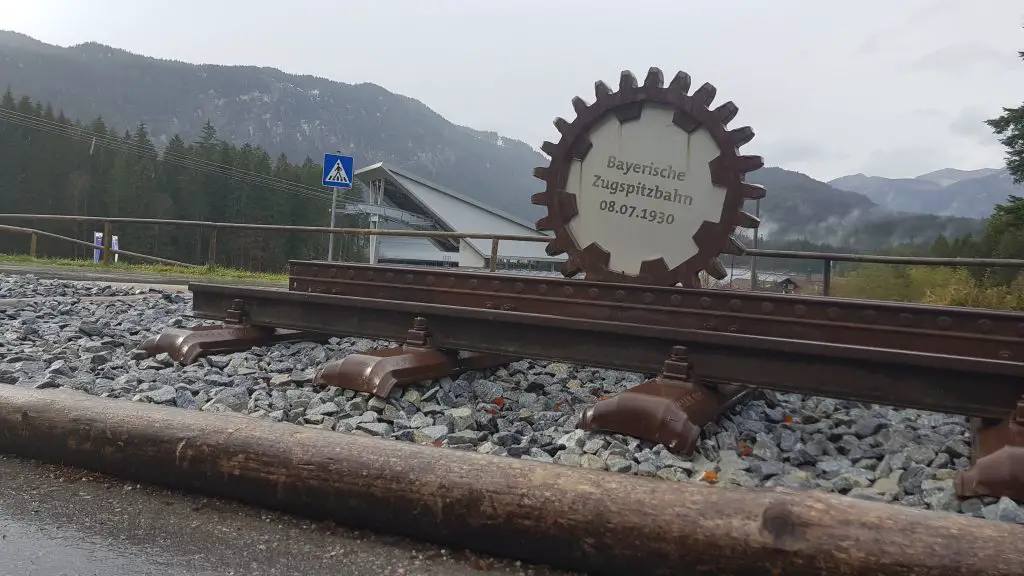 How do you get to the top of Zugspitze?
There are two main ways that visitors access the top of Zugspitze with ease. First, you can take the cogwheel train that departs from Zugspitze station Garmisch-Partenkirchen. This train will take you to Lake Eibsee, situated right at the foot of Zugspitze's mountainous peak.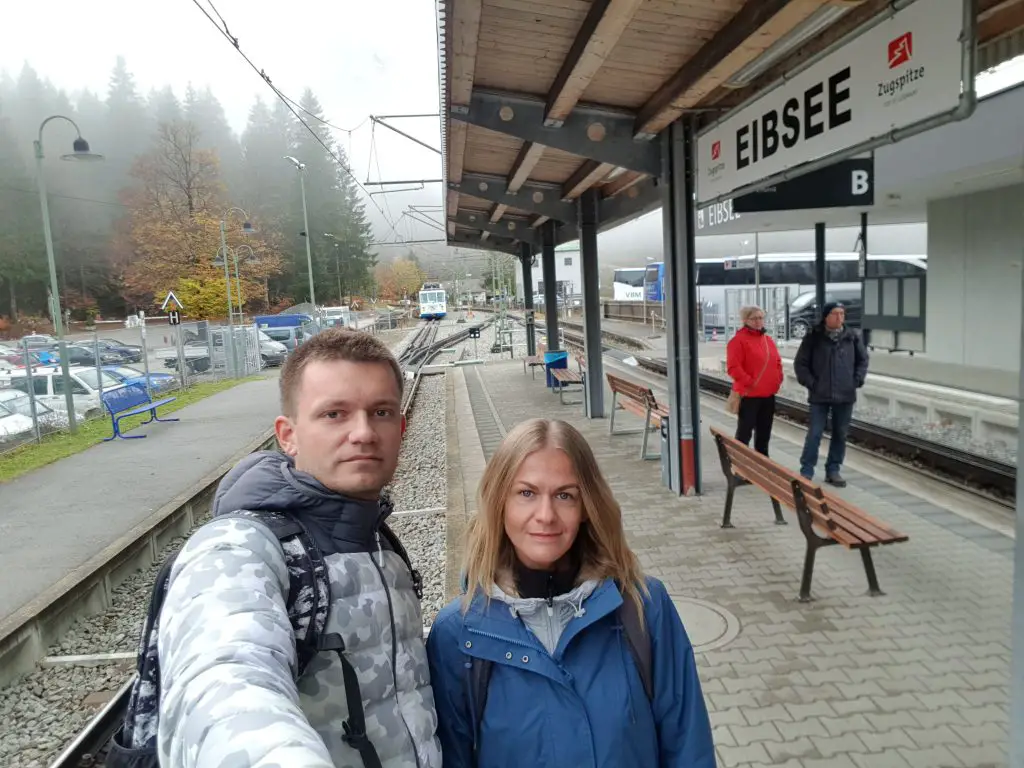 Next, board the cable car, which will help you rise all the way to the highest point in Germany, showing off the beautiful views of Zugspitze in a panoramic style that will leave you a little breathless.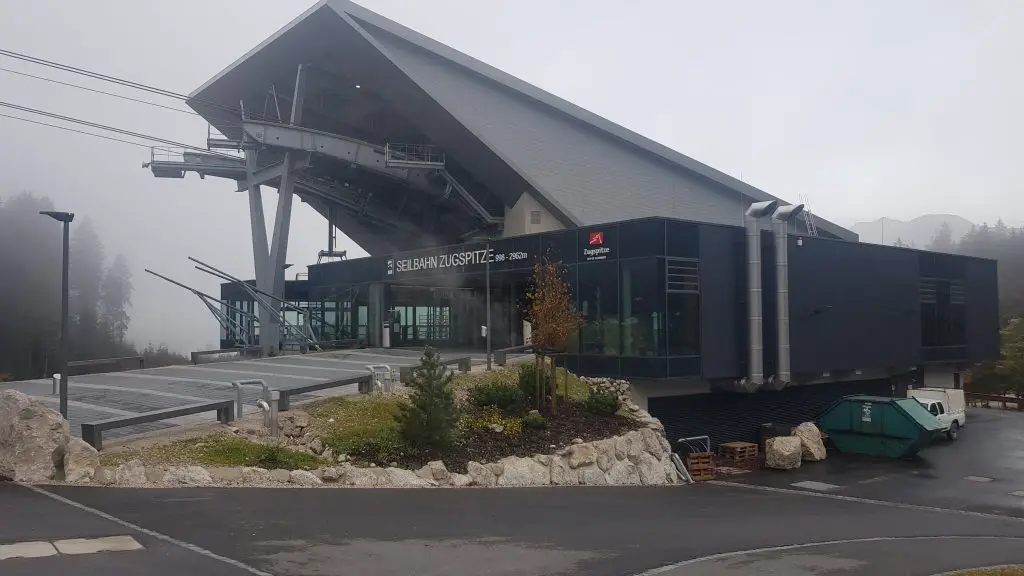 To reach the Zugspitze Glacier, take the glacier lifts, which will get you to that final point on the mountain. A whole 2,600 metres up! Finally, take the cogwheel train through the Zugspitze tunnel and back to your starting point near the lake.
Zugspitze tickets – how much to get to the top?
Zugspitze prices greatly vary, depending on who is travelling and how many people are in your group. To keep things simple for this informational article, we've listed the "Zugspitze ticket", which includes one ascent and one descent from the mountain, and unlimited use o the Gletscherbahn cable car during the day of your ticket.
Anyone over 19 years old is considered an adult, children under 6 years old travel for free.
Yes, it is a bit expensive… but look, you can make an angel on the snow on top of Germany! 😉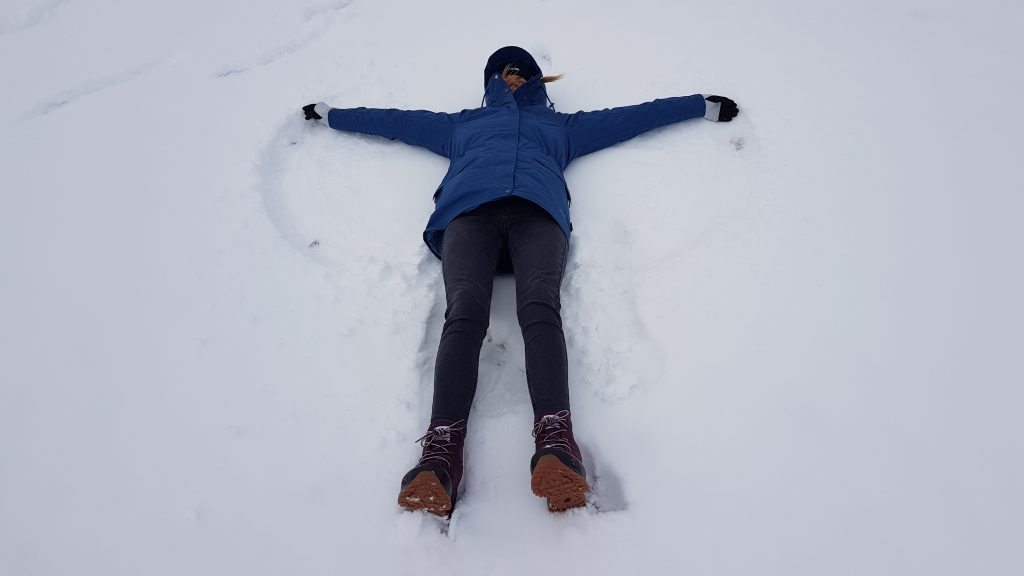 Dogs have their own 5 euro ticket, too, which is helpful for people travelling with their pet, who want to experience this lifetime adventure with their fluffy friend 🙂
There are also family discount tickets, which range from one adult and one child all the way to two adults travelling with three children (and everything in between). Prices for family discount Zugspitze tickets range from 69 euros to 149 euros. 69 euros is the price for one adult and one child, while 149 euros is the price for two adults travelling with three children.
The pricing system for Zugspitze is very competitive for anyone who wants to travel up the mountain and takes different groups of travellers into consideration when pricing their tickets for the train and cable car.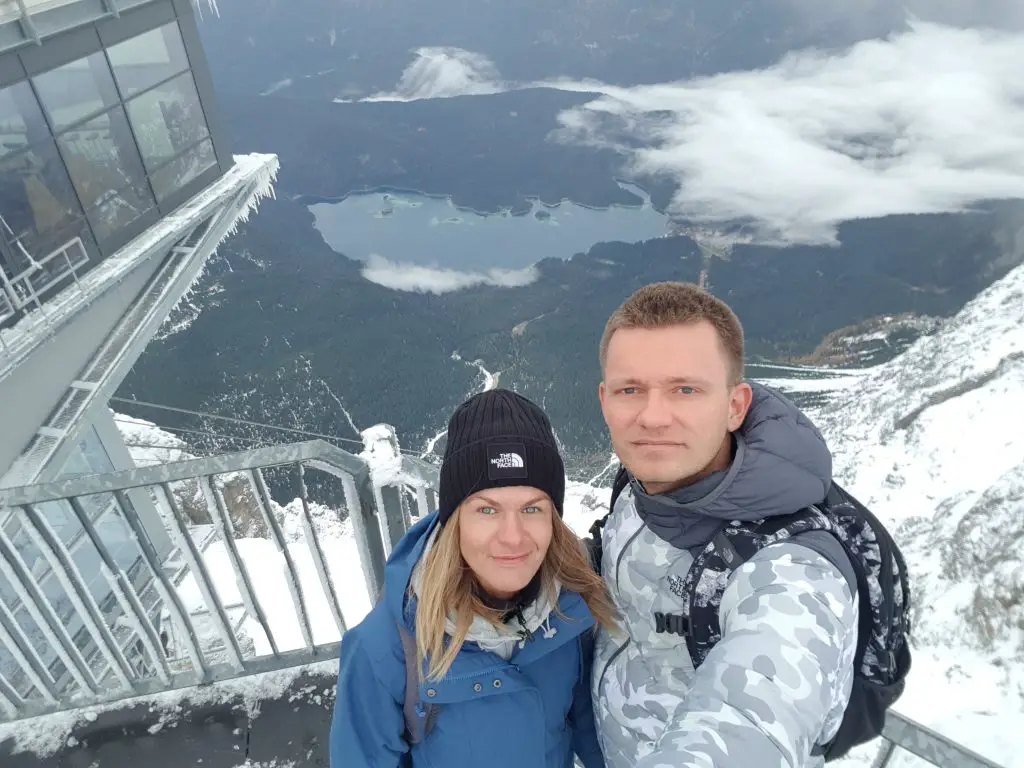 What's on top of Zugspitze?
Zugspitze offers more than you may believe – there are many things to do in Zugspitze! Restaurants, shops, a 360° Panoramic view of snow-covered mountain tops that seem to touch the sky, telescopes to let you view your surroundings, and much more await you. Zugspitze really is one of the most beautiful places to visit in Europe!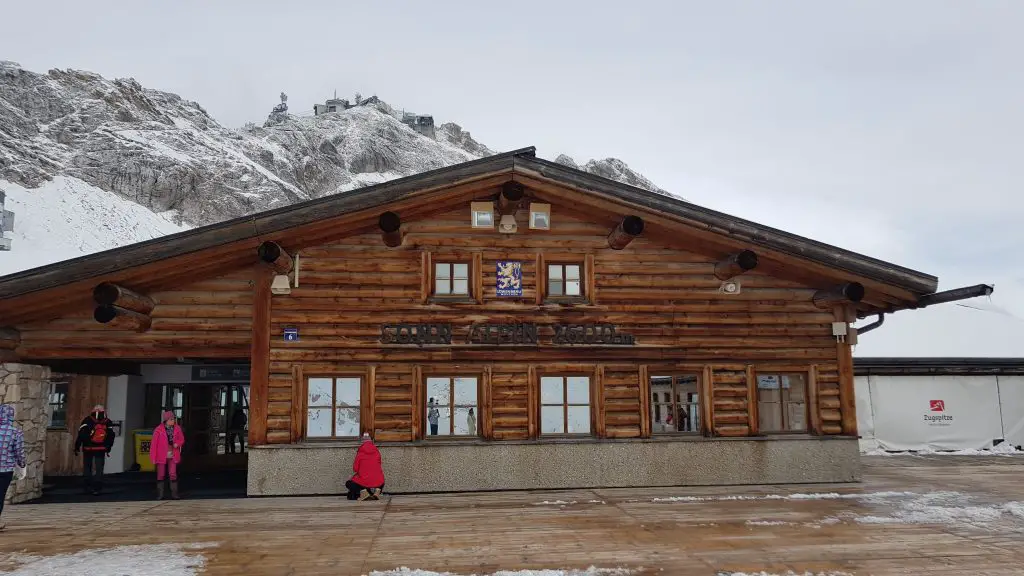 If you're approaching Zugspitze from Germany, you can find the mountain's oldest building. A weather tower that was built in 1900, made from tin and wood. You can also find Germany's highest chapel and a small igloo village that resides on the mountaintop.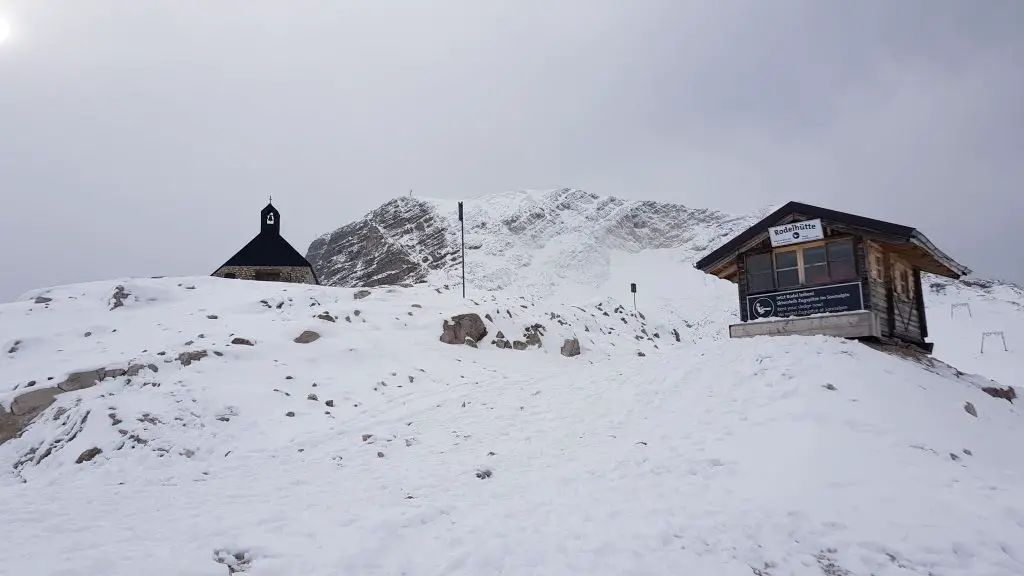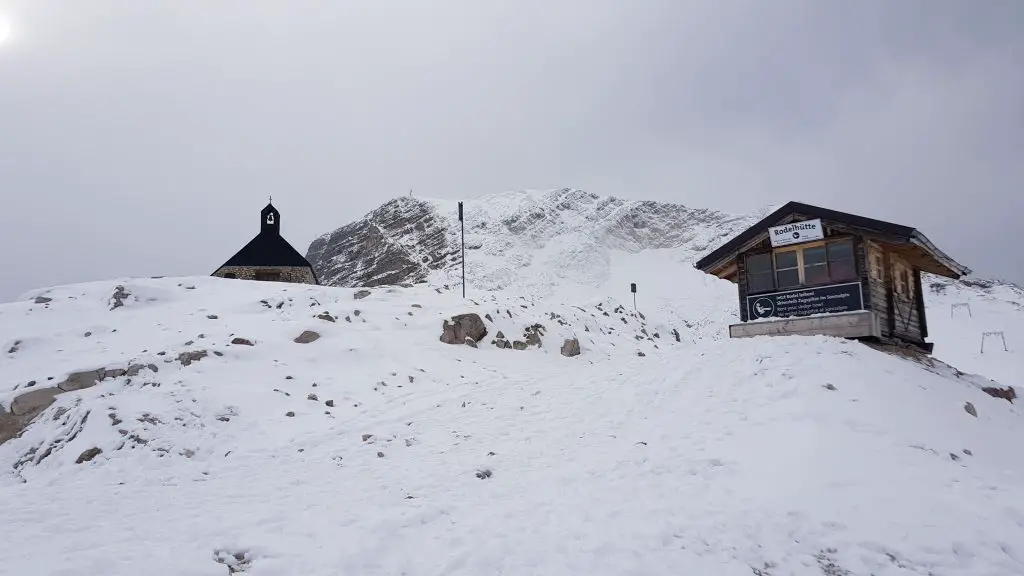 Restaurant
Gletschergarten, a cosy and popular restaurant, will really make you feel like you're dining in the sky, with all the comforts of a warm and beautiful restaurant interior. You can dine on international cuisine or be adventurous and try traditional Bavarian foods. Whatever you choose, it's not an experience that you should pass up if you're visiting Zugspitze.
There is nothing better than a Gulaschsuppe after hiking around Zugspitze! 🙂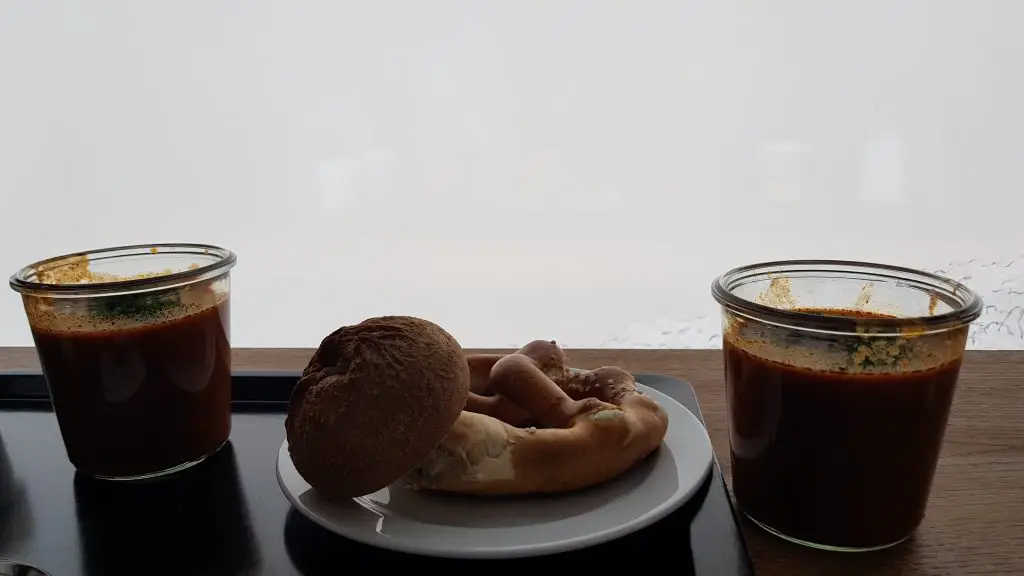 Hiking
And, of course, if you're the outdoorsy type, then it's quite possible to hike up to Zugspitze. It's a hike that you'll never forget, but it's very challenging. Definitely one of the best places for hiking in Europe! You can hike Zugspitze in one day, which will be extremely rewarded once you get to Germany's highest point.
There are various points in Germany that you can start your hike from, but one of the most common routes is through Rheintal in Garmisch-Partenkirchen. You can complete this route in two or three days, depending on how long you can hike for each day. It takes approximately 13 hours to hike to Zugspitze using the Rheintal, or "Rein Valley", route. There are places to stay along the route – such as Hut Reintalanger and Knorrhütte.
So, is the Zugspitze hike on your list of things to do while visiting Germany's highest mountain?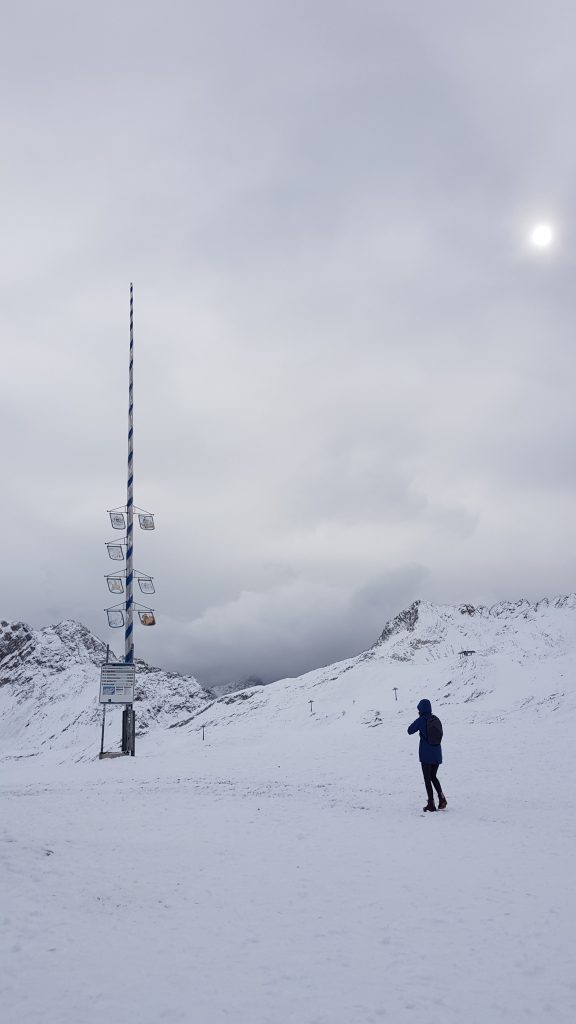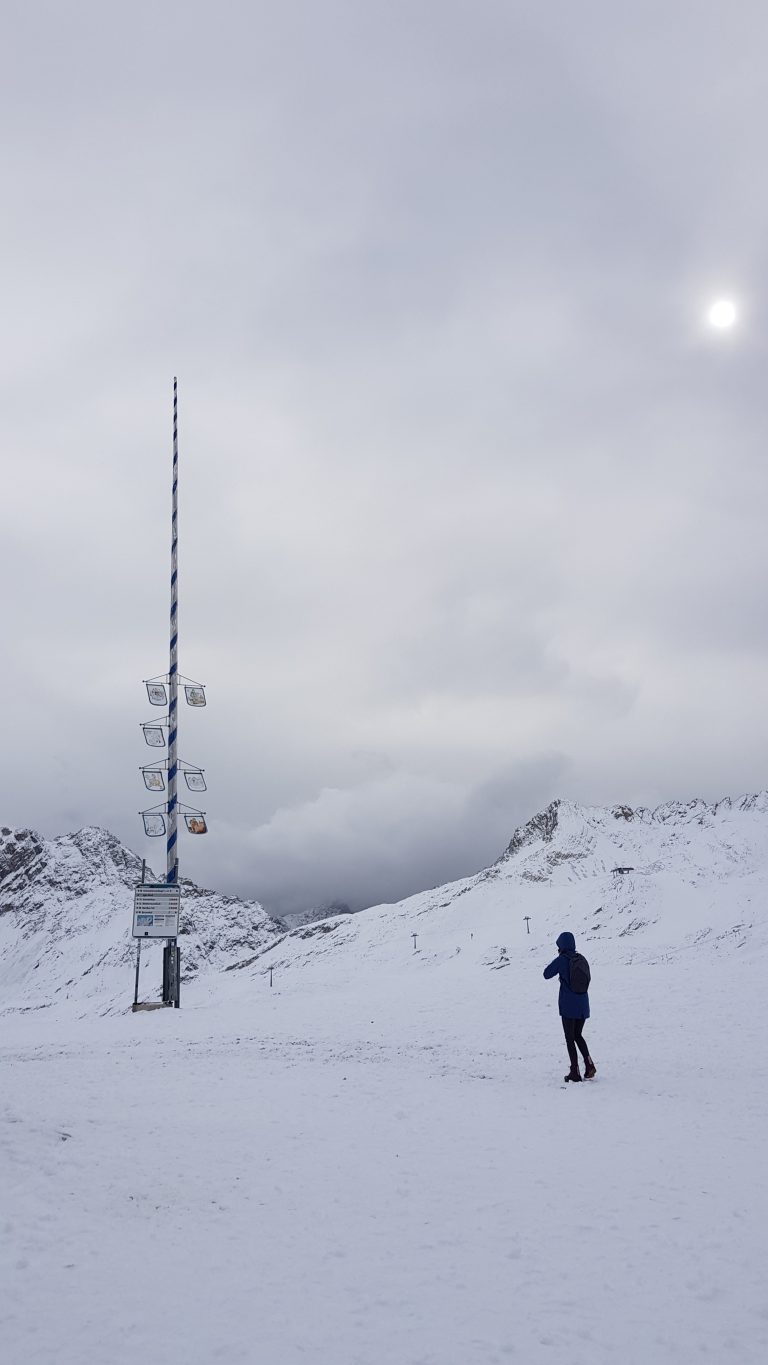 If you are hiking up Zugspitze, make sure you do your research and take layers with you. Knorrhütte is the furthest out you should go on the first day of hiking if you don't stop there for the night, there aren't other options for quite a while.
Book your accommodation in advance, if you can; rooms get sold out quickly and you don't want to be unnecessarily uncomfortable after hiking for so long. The start of the hike to Zugspitze is at the Olympic Ski Jump stadium in Garmisch-Patenkirchen. There are public transportation options to get to this point.
What countries can you see from Zugspitze?
Obviously, as Germany's highest mountain, Zugspitze is a mountain and is surrounded by other mountains. From the top, you can see mountain peaks in the direction of Germany, Austria, Switzerland, and Italy. On a clear day, you'll witness 400 mountain peaks fill your field of vision around the 360-degree view that Zugspitze offers.
Yes, you really need to visit Zugspitze on a clear day. We could see many of the other countries 😉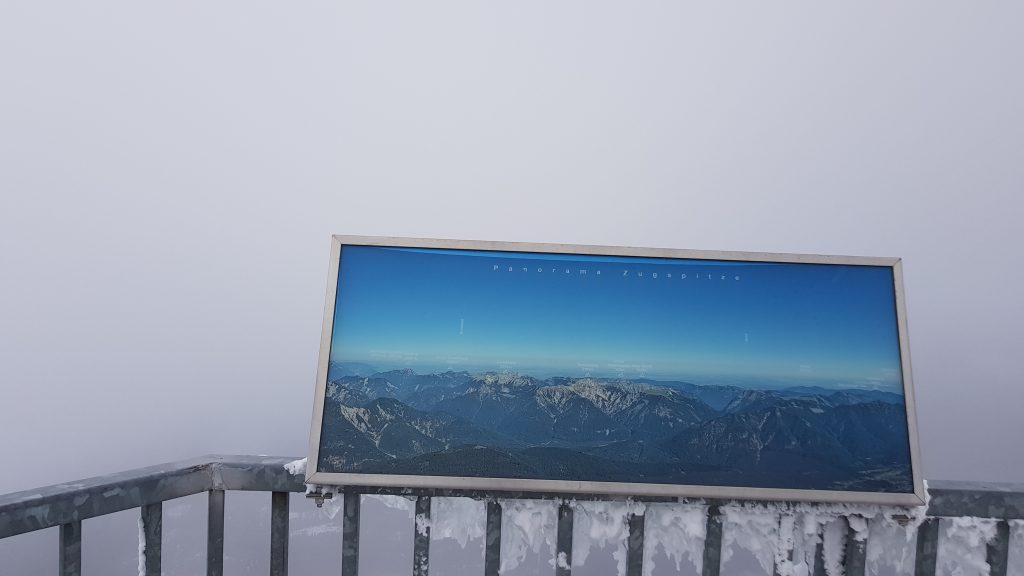 Can you visit Zugspitze from Austria?
How to reach Zugspitze? Germany isn't the only way to get up to the top of Zugspitze. You can also reach the peak from Austria, as the mountain straddles the border between the two. In fact, visiting Zugspitze from Salzburg is a very popular weekend trip. You can also spend a few days in the Austrian Alps before visiting Zugspitze.
There are different approaches to the summit, depending on which country you're travelling from. Travelling from either Germany or Austria has its own benefits, including different routes to the mountain peak. Austria primarily uses the cable car, while Germany has the cogwheel train.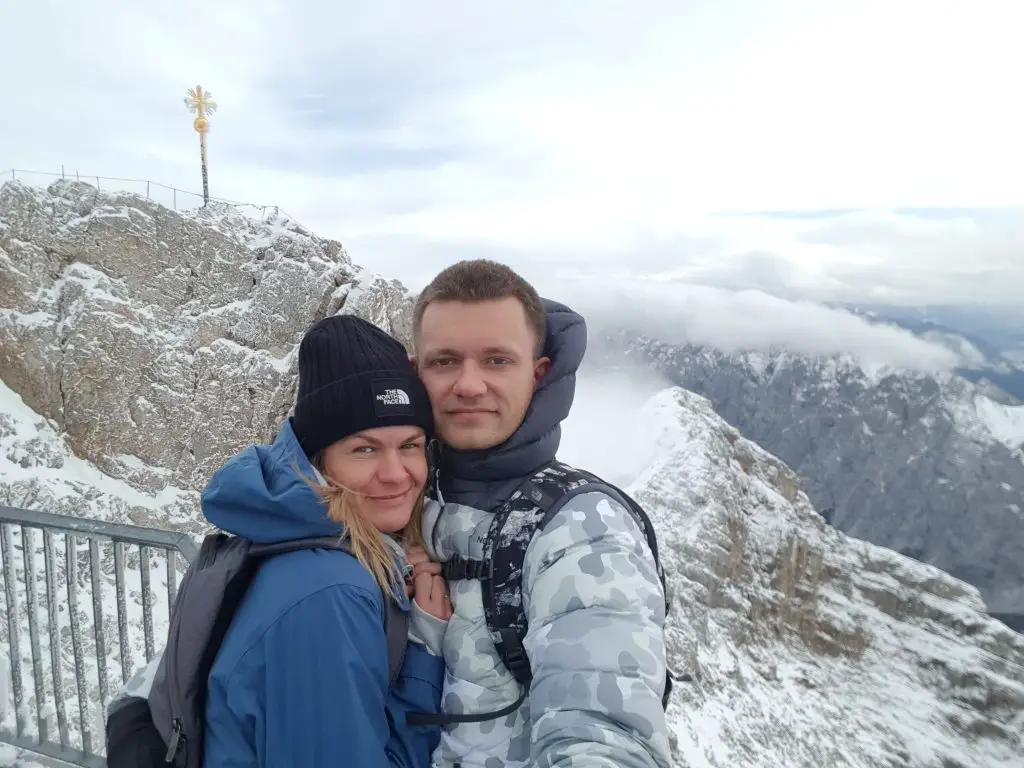 When to visit Zugspitze?
What is the best time to visit Zugspitze? Alpine weather is unpredictable, so it can be extremely difficult to plan a trip to Zugspitze in advance. Typically, it's clearer and warming in the mornings, which makes for great views and a good day out. If you're hiking, take into account the average temperature that Zugspitze tends to be during various months in the year.
We visited Zugspitze in October on a dark, windy and cloudy day. But we still loved it! At the end of the day, you will be above the clouds anyway 🙂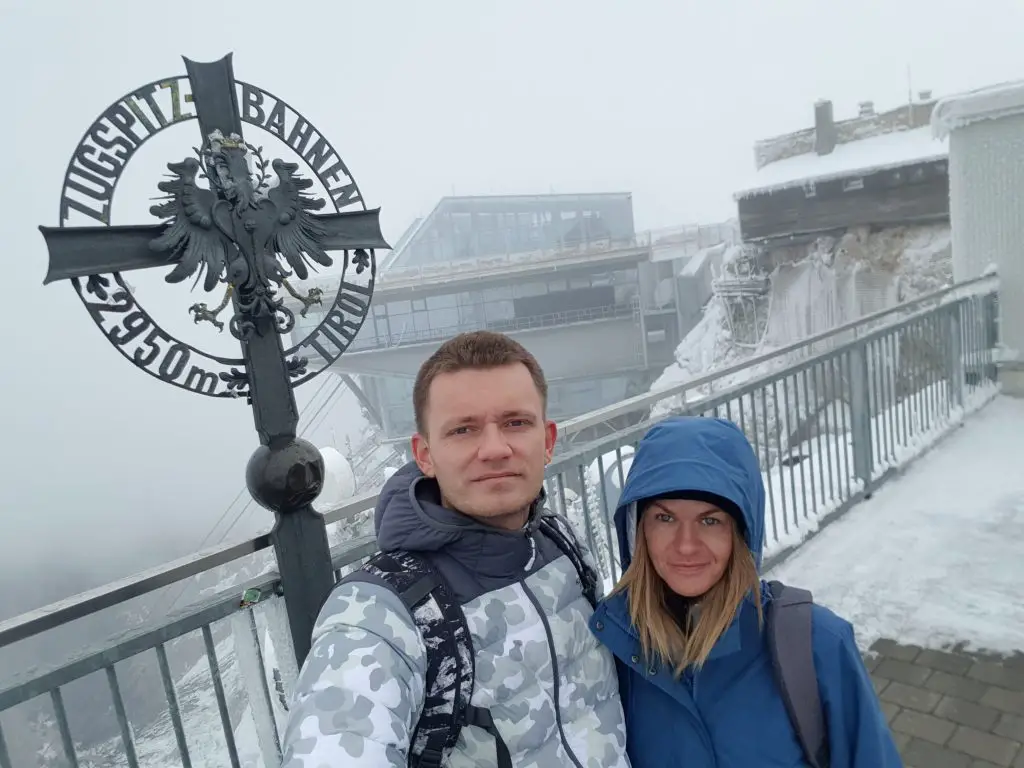 Zugspitze weather in winter
Zugspitze is coldest during December, January, and February, with temperatures as low as -9 degrees Celsius. But on average during these three winter months, the temperature is somewhere between 0 degrees and -1 degree Celsius.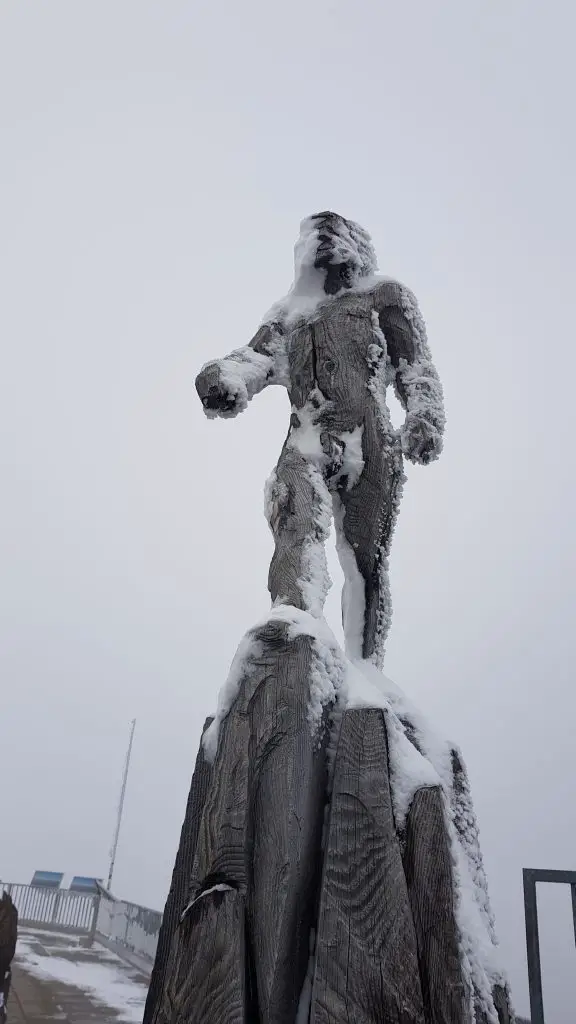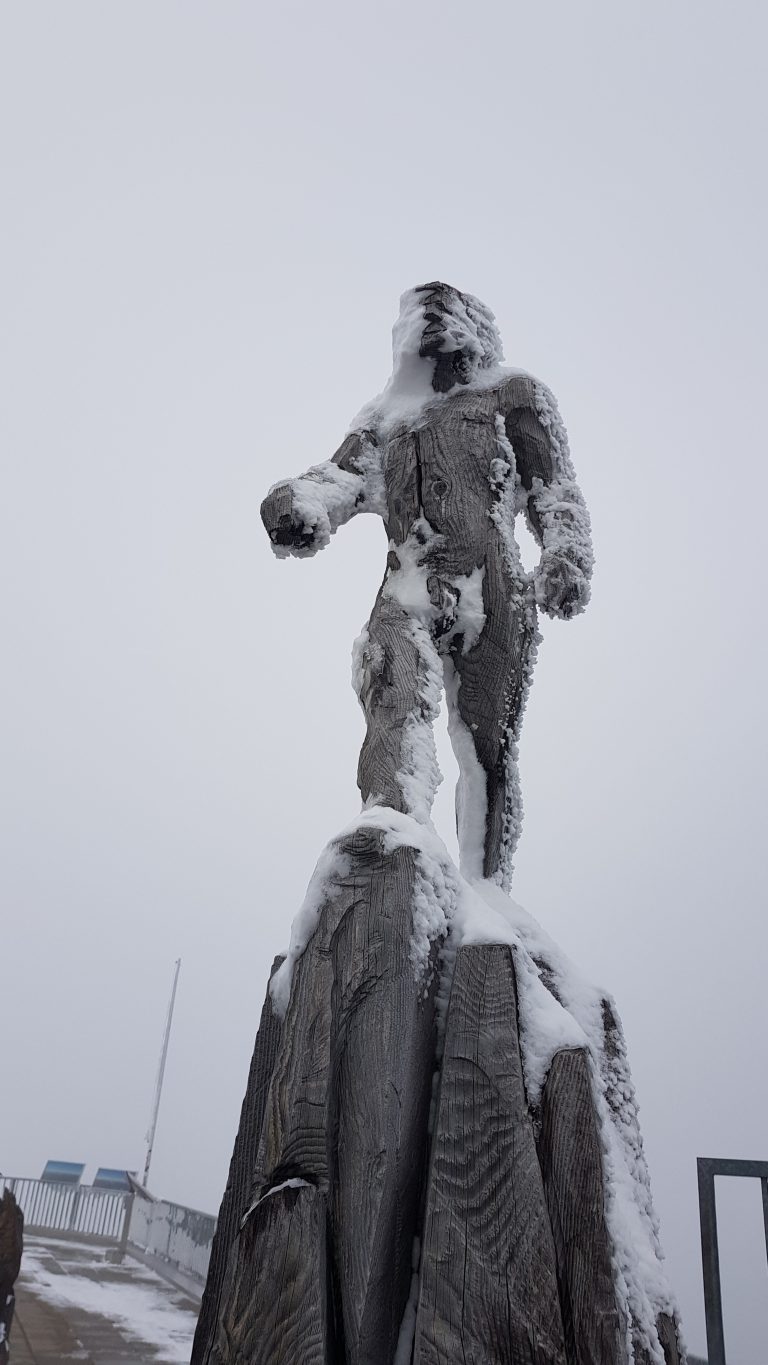 Zugspitze weather in summer
If you're looking to travel during warmer months, July and August boast the hottest of Zugspitze's temperatures. The average temperature is usually around 17 or 18 degrees Celsius, while the lowest temperatures only go down to 7 to 8 degrees.
It rains the most in the months between May and August, while it's less overcast in July, but it can still be partly cloudy. Summer is more crowded than winter, and more people visit with their children during the holidays than you would think.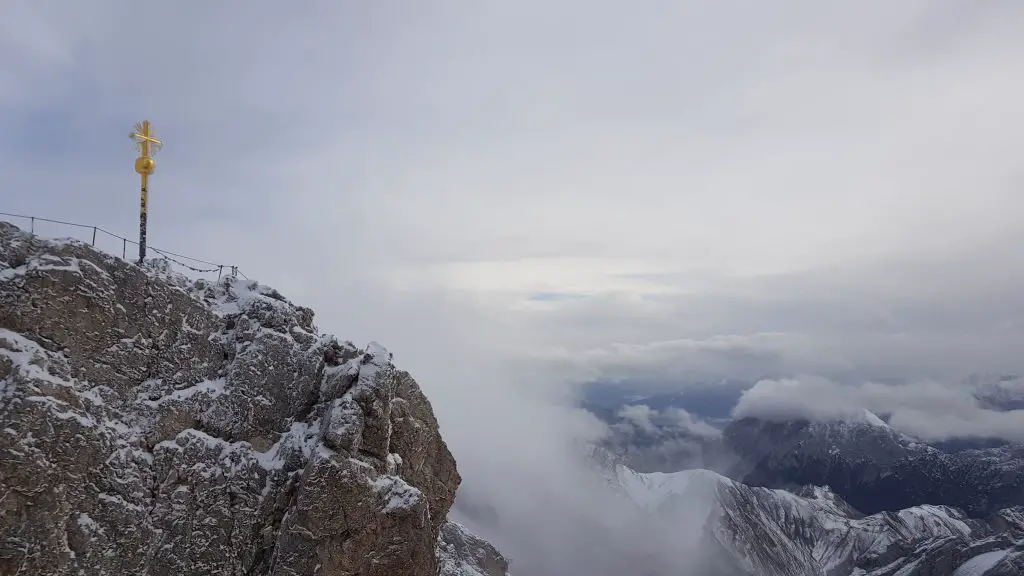 Love south of Germany? Read also:
Zugspitze mountain FAQ:
How to get to Zugspitze from Munich?
If you are thinking about how to reach Zugspitze from Munich then you have 2 options: by car or by train.

Is Zugspitze the highest mountain in Germany?
Yes, Zugspitze mountain is the highest point in Germany and it really has to be visited if you love mountains!
Hike Zugspitze Germany – is it really worth it?
Zugspitze Mountain in Germany really is worth visiting and if you have the opportunity to hike to the top, do it – You will love it!
Is it worth visiting Zugspitze in Germany?
So is Zugspitze worth it? The highest mountain in Germany Zugspitze really is worth making a trip to this part of Bavaria. If you are visiting Munich in winter, or any other time of the year; then a trip to Zugspitze is a must-do!
In case you don't have "going on Top of Germany" on your travel bucket list yet, make sure you add it! With spectacular views and amazing nature, this tallest mountain in Germany really is one of the best places to visit in Europe.
If you liked our article about Zugspitze, then please check out the below posts too: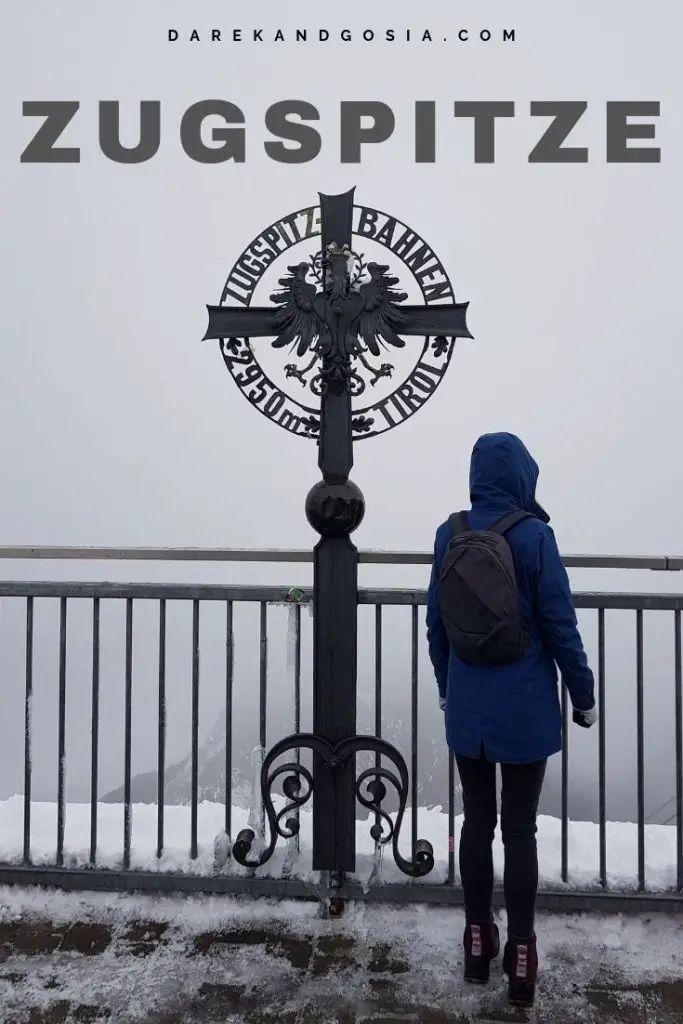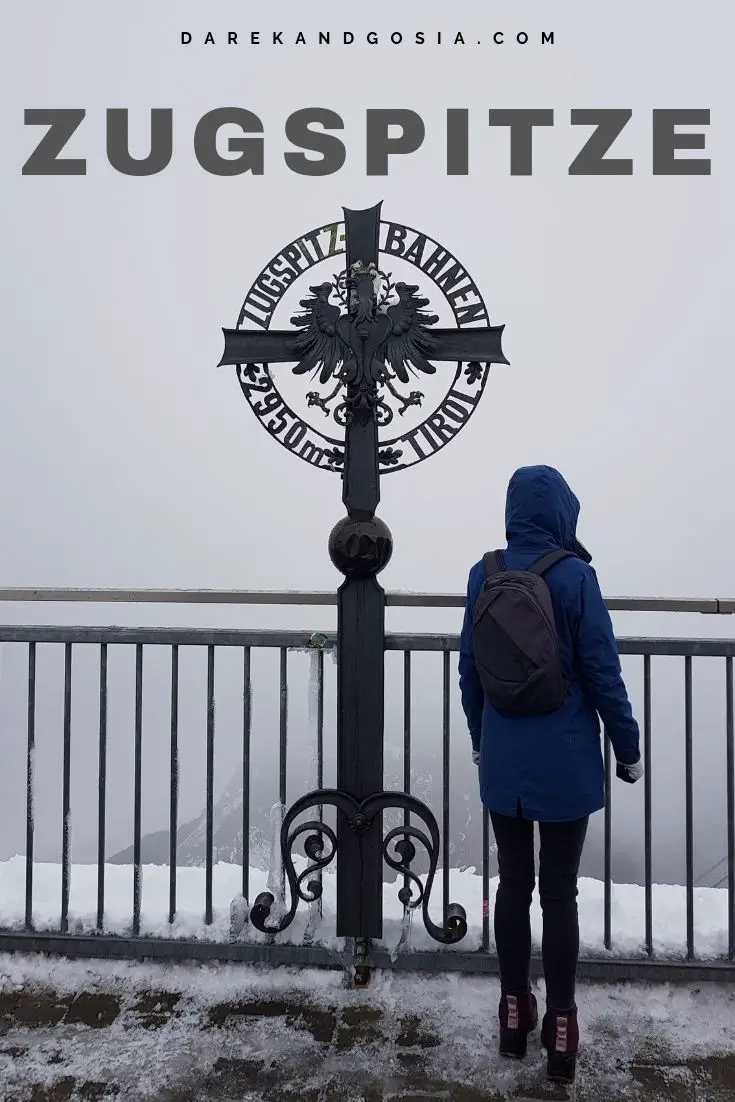 Articles you may like: