Winter can be a dreary time in the UK. To be honest, Gosia really doesn't like this part of the year. The sky is grey, your bones feel like icicles, and the siren call of a winter sun holiday beckons. But don't despair! Europe is sprinkled with hidden gems where the sun is still gracious enough to make an appearance during the colder months. Every year we try to get some winter sun in Europe. So, what say we swap snowflakes for sun rays, eh?
With that in mind, we've prepared for you a list of 18 European destinations that are perfect for soaking up some winter sun. Trust us, we've donned our sunglasses and tested the waters (sometimes quite literally) to bring you this sun-kissed guide.
Are you ready to escape the winter chill and catch some rays? Let's dive in, shall we?
Winter Sun Europe – car hire:
We have rented cars many times during winter sun breaks in Europe and we always used discovercars.com
Check out our guide to the best European rental car companies or simply explore the options directly on discovercars.com if you need a car during a trip in Europe.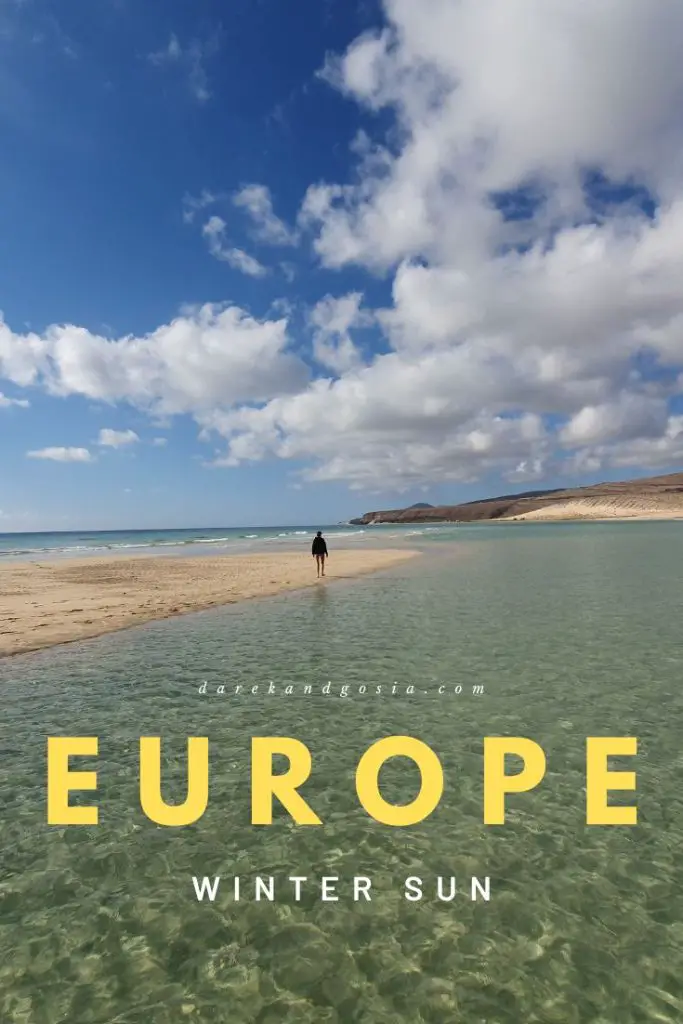 Winter sun destinations Europe
1. Fuerteventura, Canary Islands
Sun-Soaked Sands Meet Lunar Landscapes
Where to go for winter sun in Europe? When you're not sure whether you've landed on the moon or a beach paradise, you're likely in Fuerteventura. Winters here are a balmy 18°C to 24°C. I have to say, Fuerta is my favourite winter destination in Europe – you will love it too! 🙂
Best for: Beach bums, water sports enthusiasts, families
Don't miss: Corralejo Dunes, El Cotillo beaches, Lobos Island
Getting there: Direct flights from multiple UK airports to Fuerteventura Airport
Fuerteventura Frolics
Kite surfing
| Fuerteventura's Finest | Don't Miss This |
| --- | --- |
| Betancuria | Oldest town |
| Ajuy Caves | Coastal wonders |
| Oasis Park | Animal adventure |
| Isla de Lobos | Unspoilt beauty |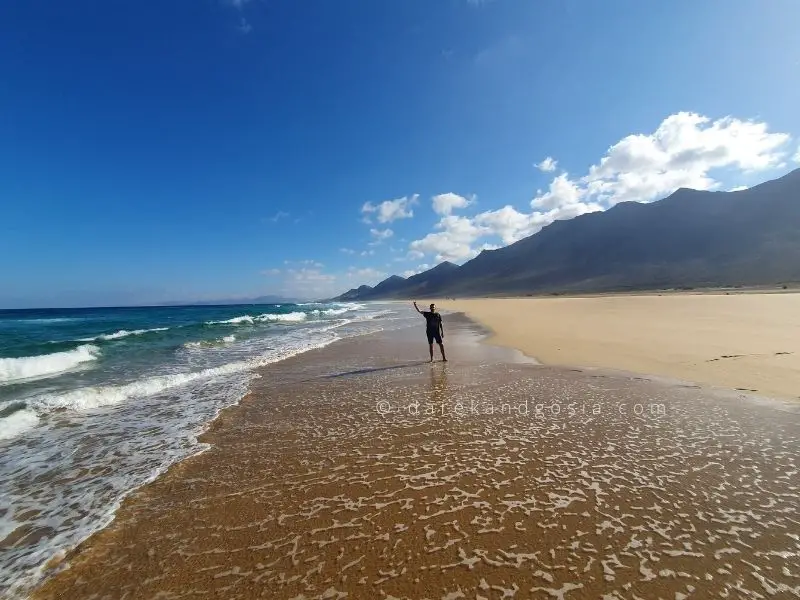 2. Algarve, Portugal
Sun's Out, Fun's Out!
Ah, the Algarve. A classic sun-seeker destination, with good reason. A mild climate, delightful beaches, and scrumptious cuisine await you here. The southern coast of Portugal is one of the most enchanting places you could hope to visit in the wintertime. With temperatures ranging from 12°C to 19°C, the Algarve will make you forget winter ever existed. Did we mention there there many stunning beaches on the Algarve Coast? We absolutely love this part of Europe!
Best for: Beach bums, foodies, golfers
Don't miss: Faro's historical centre, the dramatic cliffs at Ponta da Piedade
Getting there: Direct flights from various UK airports to Faro Airport
Activities to Try
Beach-hopping
Golfing
| Algarve Highlights | Why Visit? |
| --- | --- |
| Praia da Marinha Beach | One of the best in Europe |
| Albufeira Old Town | History with a view |
| Silves Castle | Step back in time |
| Ria Formosa Natural Park | A birdwatcher's paradise |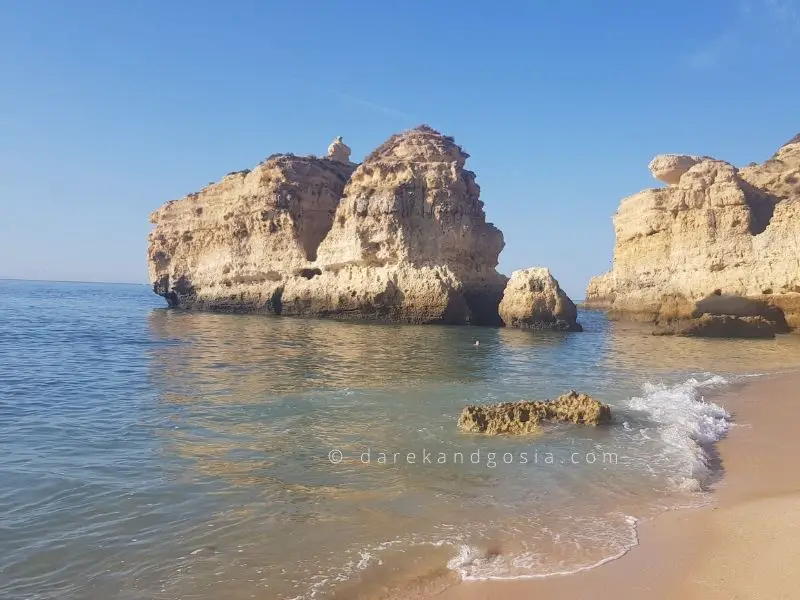 3. Barcelona, Spain
Sun, Sangria, and Sagrada Familia
Barcelona, the Catalan jewel, is the perfect winter sun destination for culture vultures and beach enthusiasts alike. While you might not get a tan, the mild winter temps (10°C-16°C) are a welcome relief from the UK's icy grip.
Best for: Culture buffs, architecture lovers, nightlife enthusiasts
Don't miss: Sagrada Familia, Gothic Quarter, the magic of Montjuic
Getting there: Direct flights from multiple UK airports to Barcelona-El Prat Airport
Things to See and Do
Walk down La Rambla
| Barcelona Highlights | What Makes It Special |
| --- | --- |
| Park Güell | Gaudi's playground |
| Casa Batlló | Architecture at its finest |
| Mercat de la Boqueria | Foodie's paradise |
| Magic Fountain | Light and music show |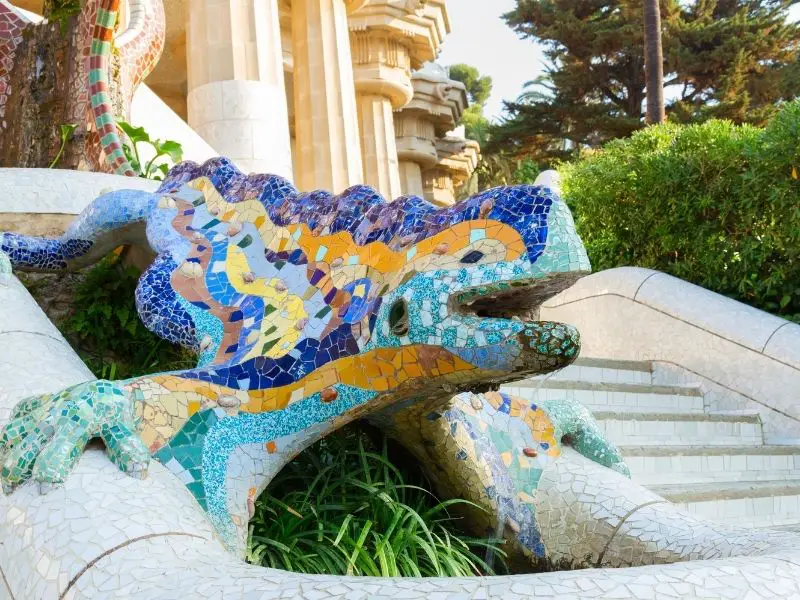 4. Gran Canaria, Canary Islands
It's Always Summer Somewhere!
Talk about an eternal summer. Gran Canaria, part of Spain's Canary Islands, boasts an average winter temperature of around 22°C. No joke! Ideal for Brits looking to escape the chill without jetting halfway across the globe.
Best for: Beach lovers, families, hikers
Don't miss: Maspalomas Dunes, Las Palmas, Roque Nublo
Getting there: Direct flights from multiple UK airports to Las Palmas de Gran Canaria Airport
Ideal Activities
Whale watching
Hiking
| Gran Canaria's Must-Dos | Why They're Hot |
| --- | --- |
| Maspalomas Lighthouse | Iconic spot |
| Puerto de Mogán | Venice of the Canaries |
| Palmitos Park | Animal-friendly fun |
| Playa de Amadores | For the perfect sunsets |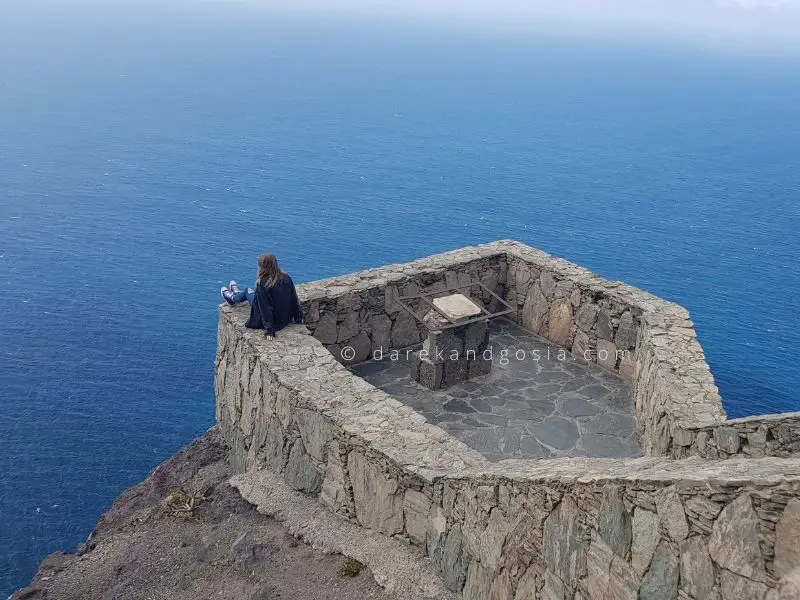 5. Nice, France
A Riviera Gem
Nice is, well, more than just nice – it's splendid! The Queen of the French Riviera shines even in winter, with temps between 10°C-16°C. It's less crowded, too, which means more room on the Promenade des Anglais for you!
Best for: Art lovers, food enthusiasts, luxury seekers
Don't miss: Marc Chagall National Museum, Nice Old Town, Promenade des Anglais
Getting there: Direct flights from several UK airports to Nice Côte d'Azur Airport
Must-Do Activities
Discover Nice Old Town
Eat Socca, the local pancake
| Nice Experiences | Reasons to Go |
| --- | --- |
| Cours Saleya Market | Fresh produce galore |
| Colline du Chateau | Panoramic views |
| Parc Phoenix | For botanical enthusiasts |
| Place Masséna | Cultural hub |
6. Athens, Greece
Sunshine and Souvlaki
Ah, Athens! The cradle of Western civilisation knows how to put on a show, even in winter. With average temperatures between 10°C and 17°C, it's a lovely escape. Plus, fewer crowds mean a more intimate experience with those iconic ruins.
Best for: History buffs, foodies, city explorers
Don't miss: Acropolis, Plaka neighbourhood, Syntagma Square
Getting there: Direct flights from various UK airports to Athens International Airport
Unmissable Athens Moments
Explore the Plaka
Try a traditional Greek coffee
| Athens Highlights | Special Features |
| --- | --- |
| Ancient Agora | A walk through history |
| Lycabettus Hill | Best view in town |
| Varvakios Agora | Food market extravaganza |
| Ermou Street | Shop 'til you drop |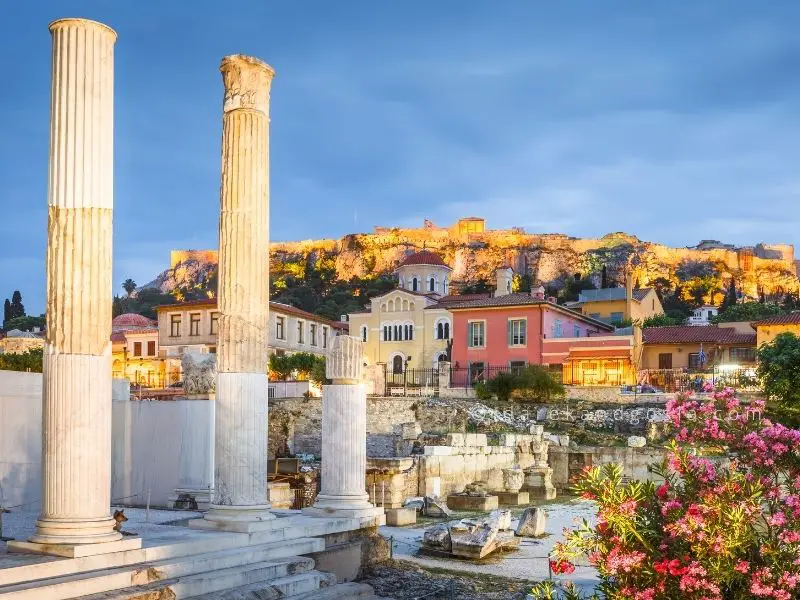 7. Antalya, Turkey
Where East Meets West in Winter
You don't have to give up on sun, sea, and sand in Turkey during the winter. Antalya offers mild temperatures between 10°C and 16°C.
Best for: History lovers, couples, families
Don't miss: Düden Waterfalls, Hadrian's Gate, Kaleiçi
Getting there: Flights from various UK airports to Antalya Airport
Antalyan Activities
Ancient ruins exploration
Turkish bath experience
| Antalyan Attractions | Worth the Trip |
| --- | --- |
| Konyaaltı Beach | Sun and sea |
| Aspendos Theatre | Roman relic |
| Antalya Museum | Cultural escapade |
| Perge | Archaeological wonder |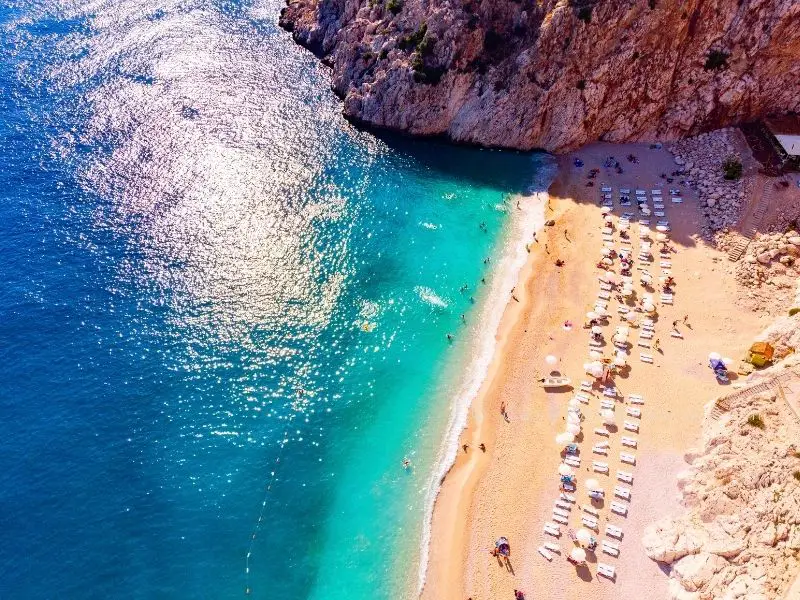 8. Malta
The Heart of the Mediterranean
Fancy a slice of history with your sun? Malta's your go-to. With winter temperatures ranging between 12°C-20°C, you won't need to lug around your winter coat here. Gosia loves Malta – we had an amazing time during our visit in February!
Best for: History lovers, divers, adventurers
Don't miss: Mdina, Blue Grotto, Valletta's baroque architecture
Getting there: Direct flights from multiple UK airports to Malta International Airport
Malta's Best Bits
Tour of Mdina
Valletta city walk
| Malta Highlights | Must Experience |
| --- | --- |
| St. John's Co-Cathedral | Baroque brilliance |
| Gozo Island | Tranquil beauty |
| Dingli Cliffs | Natural splendour |
| Marsaxlokk | Fishing village charm |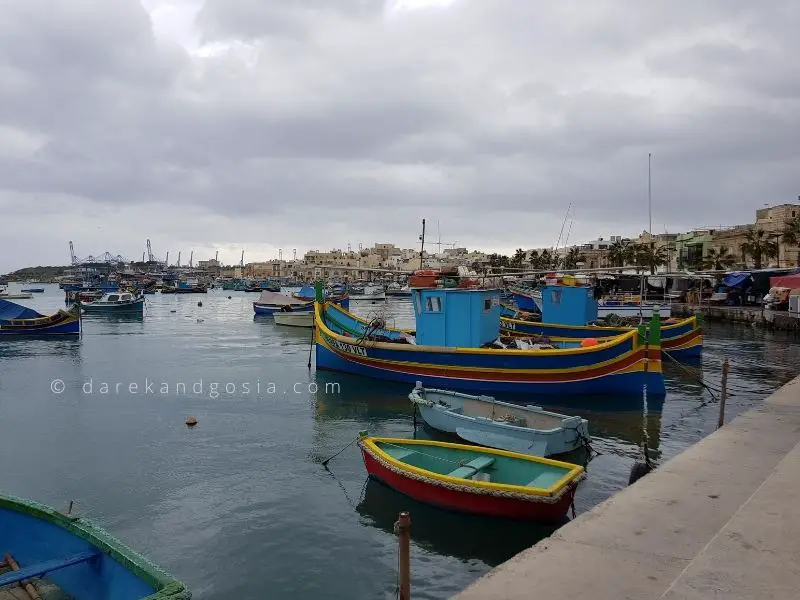 9. Cyprus
Island of Love
Aphrodite's Isle has more to offer than just love in the air. How about mild winters with temperatures between 12°C-20°C? Perfect for beach strolls.
Best for: Couples, families, nature lovers
Don't miss: Paphos Archaeological Park, Troodos Mountains
Getting there: Direct flights from various UK airports to Larnaca or Paphos
Cypriot Charms
Beach lounging
Explore Nicosia
| Cyprus Delights | Why Go? |
| --- | --- |
| Ayia Napa | Party central |
| Petra tou Romiou | Aphrodite's Rock |
| Kourion | Ancient ruins |
| Akamas Peninsula | Untamed wilderness |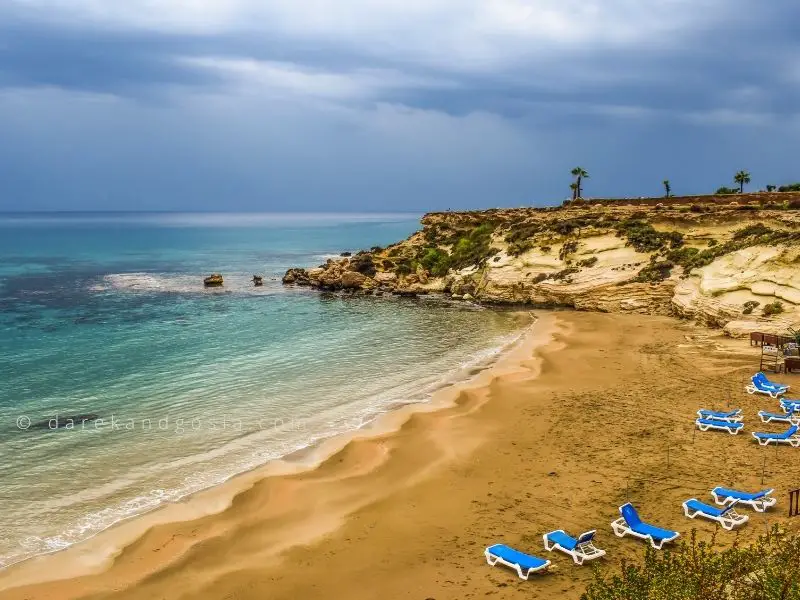 10. Seville, Spain
Ole for Sunshine!
Spain's southern belle rarely disappoints, especially in winter. The temps typically hover between 10°C-18°C, making Seville ideal for sightseeing without the sweat.
Best for: History enthusiasts, foodies, flamenco fans
Don't miss: Alcazar, Plaza de España, tapas crawls
Getting there: Flights from various UK airports to Seville Airport
Seville Must-Dos
Catch a bullfight
| Seville Highlights | Pure Magic |
| --- | --- |
| Metropol Parasol | The Mushrooms |
| Barrio Santa Cruz | Atmospheric quarters |
| Guadalquivir River | Riverside charm |
| Triana | Ceramic treasures |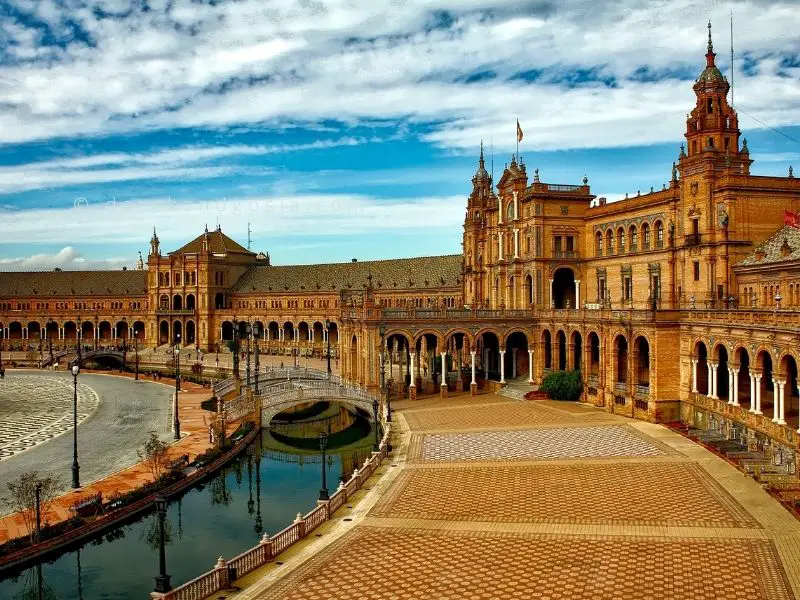 11. Madeira, Portugal
Floral Fantasy
This Portuguese archipelago is a horticultural dream, with winter temps of 16°C-22°C. Imagine taking your morning tea surrounded by blooming orchids in December!
Madeira really is one of our favourite islands in Europe – perfect for a winter trip!
Best for: Nature lovers, hikers, retirees
Don't miss: Funchal's Botanical Garden, Levada walks
Getting there: Direct flights from multiple UK airports to Madeira Airport
Things to Do in Madeira
Cable car ride
Botanical garden visit
| Madeira's Gems | Can't-Miss |
| --- | --- |
| Pico Ruivo | Highest peak |
| Porto Moniz | Natural pools |
| Monte Palace Gardens | Garden goals |
| São Vicente Caves | Subterranean adventure |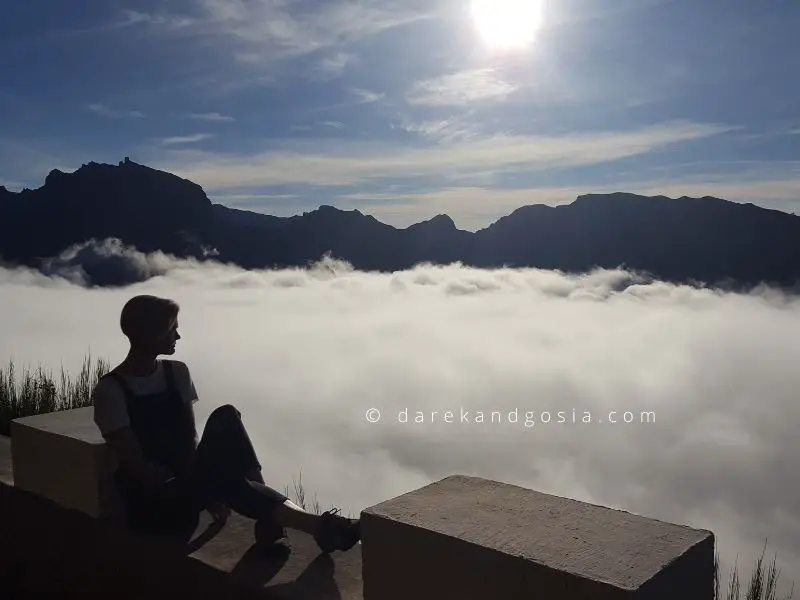 12. Bodrum, Turkey
Turkish Delight, Indeed
Forget the sweet; Bodrum is a Turkish delight all its own. With winter temperatures hovering between 12°C and 19°C, it's perfect for those who want to skip the summer crowds.
Best for: History enthusiasts, boating buffs, couples
Don't miss: Bodrum Castle, Antique Theatre, Windmills
Getting there: Flights from various UK airports to Bodrum Airport
Best of Bodrum
Castle tours
Windmill vistas
| Bodrum's Best | Sights to See |
| --- | --- |
| Gümüşlük | Peaceful village |
| Mausoleum at Halicarnassus | Wonder of the ancient world |
| Bodrum Amphitheatre | Roman ruins |
| Zeki Müren Museum | Pop culture |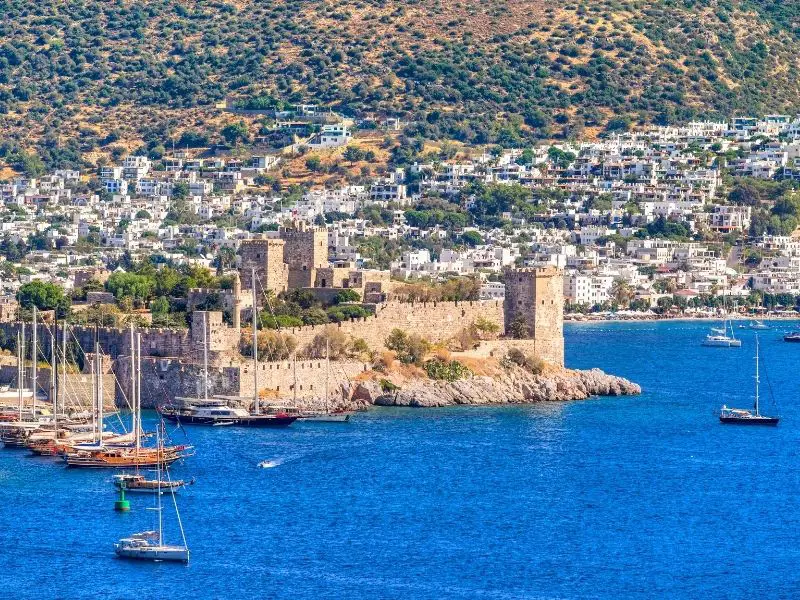 13. Dubrovnik, Croatia
The Pearl of the Adriatic
Winter sees Dubrovnik sans the tourist swarms, making it the best time to explore. With temps between 9°C-15°C, it's no sunbathing holiday, but still a worthy winter escape.
Best for: History buffs, Game of Thrones fans, couples
Don't miss: Old Town, city walls, Sponza Palace
Getting there: Flights from various UK airports to Dubrovnik Airport
Must-See Dubrovnik
Old Town tour
Visit Lokrum Island
| Dubrovnik Highlights | Why It's Fab |
| --- | --- |
| Rector's Palace | Renaissance wonder |
| Dubrovnik Cathedral | Baroque beauty |
| Fort Lovrijenac | "Croatian Gibraltar" |
| Stradun | Main thoroughfare |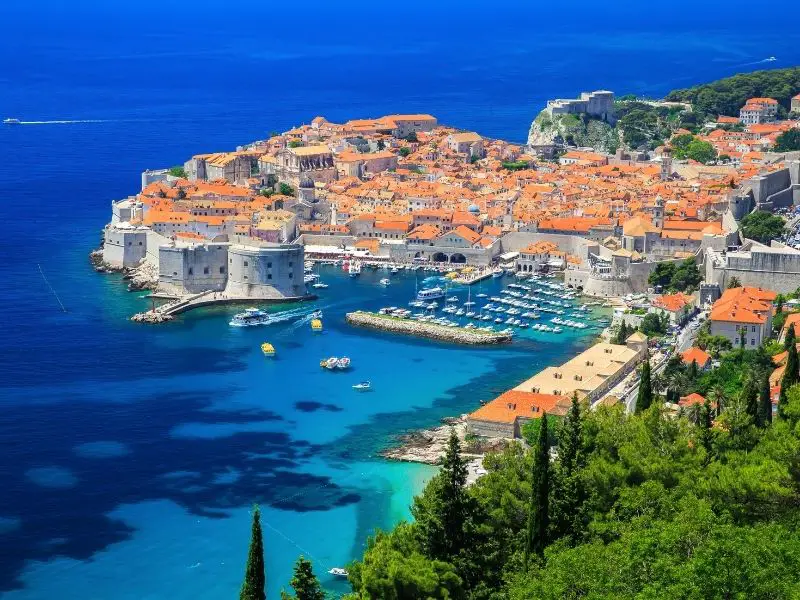 14. Sicily, Italy
Where Winter Takes a Siesta
Sicily, the football at Italy's toe, offers surprisingly mild winters, with temperatures ranging from 10°C to 17°C. Perfect for outdoor escapades sans the stifling heat of summer.
Best for: Food enthusiasts, history buffs, beach goers
Don't miss: Mount Etna, Valley of the Temples, Taormina
Getting there: Flights from various UK airports to Catania or Palermo
Sicilian Sojourns
Ancient ruins exploration
Cannoli indulgence
| Sicilian Wonders | Why Visit? |
| --- | --- |
| Syracuse | Historic treasure |
| Ragusa | Baroque charm |
| Aeolian Islands | Natural wonders |
| Catania Fish Market | Culinary adventure |
15. Lanzarote, Canary Islands
A Volcanic Paradise
Lanzarote offers a unique blend of natural beauty and agreeable climate. Expect temperatures from 17°C to 24°C – even in December! Fancy visiting Lanzarote during Christmas? We did it and it was one of the best trips ever!
Best for: Nature lovers, surfers, families
Don't miss: Timanfaya National Park, Playa Blanca, Papagayo Beach
Getting there: Direct flights from multiple UK airports to Lanzarote Airport
Lanzarote Must-Dos
Volcano tour
Wine tasting in La Geria
| Lanzarote Highlights | Why Go? |
| --- | --- |
| Cueva de los Verdes | Lava tube exploration |
| Jameos del Agua | Natural attraction |
| Playa del Papagayo | Idyllic beach |
| Mirador del Río | Best views in the island |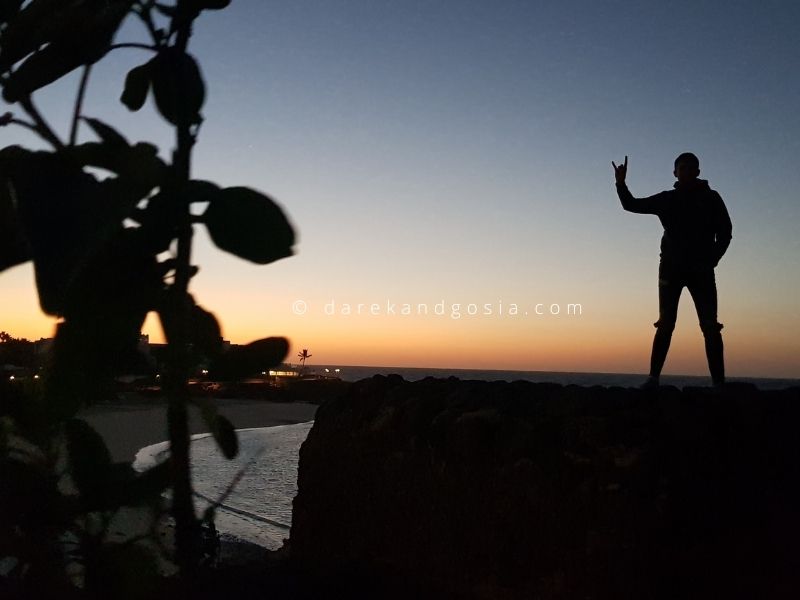 16. Ibiza, Spain
More Than Just Nightclubs
Ibiza isn't just a party island; it's also a winter retreat. The party crowd's absence makes it peaceful, and with temps from 12°C to 17°C, it's still quite warm.
Best for: Couples, friends, music lovers
Don't miss: Dalt Vila, Cala Salada Beach, Ibiza Old Town
Getting there: Flights from various UK airports to Ibiza Airport
Ibiza Experiences
Explore Dalt Vila
Sunset at Café del Mar
| Ibiza Treasures | Why Visit? |
| --- | --- |
| Es Vedrà | Mystical rock formation |
| Las Dalias Market | Hippie market |
| Formentera | Day-trip paradise |
| Cala d'Hort | Scenic beach |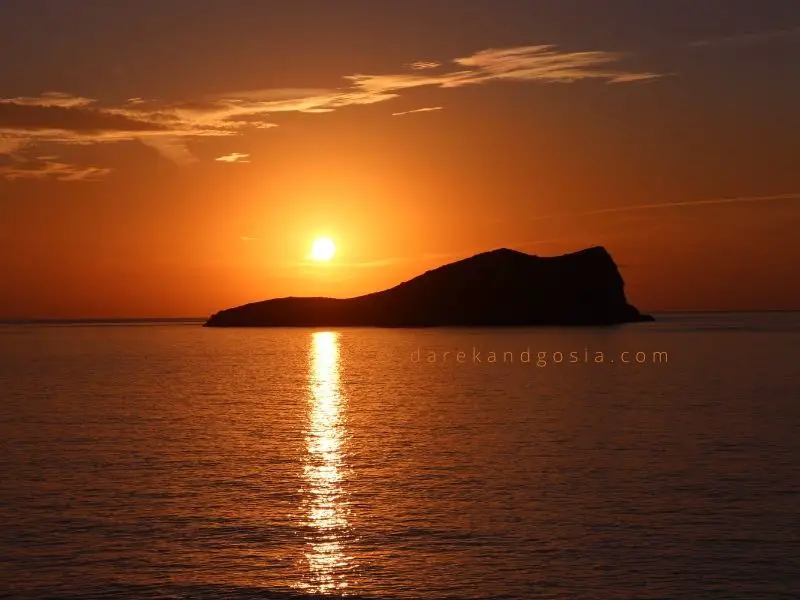 17. Tenerife, Canary Islands
Winter? Never Heard of Her!
Tenerife is another Canary Island gem where winter seems to have lost its way. Temperatures between 17°C and 24°C make it a delightful December destination.
Best for: Families, couples, hikers
Don't miss: Mount Teide, Playa de las Américas, Siam Park
Getting there: Direct flights from multiple UK airports to Tenerife South Airport
Tenerife's Top Picks
Teide National Park
Whale watching
| Tenerife's Best Bits | Special Features |
| --- | --- |
| Anaga Mountains | Hiking heaven |
| Loro Parque | Wildlife adventure |
| Los Cristianos | Seaside fun |
| Santa Cruz Carnival | Annual festivity |
18. Marrakech, Morocco
A Non-European Intruder
Alright, it's not in Europe, but it's a stone's throw away. Marrakech offers a different kind of winter sun with temperatures from 14°C to 20°C. Plus, it's a whole new world of experiences!
Best for: Culture seekers, foodies, shoppers
Don't miss: Jardin Majorelle, Bahia Palace, Souks
Getting there: Direct flights from various UK airports to Marrakech Airport
Marrakech Moments
Jardin Majorelle
| Marrakech Must-Sees | Can't-Miss |
| --- | --- |
| Koutoubia Mosque | Architectural marvel |
| Djemaa el Fna | The heart of the city |
| Saadian Tombs | Hidden history |
| Atlas Mountains | A day trip away |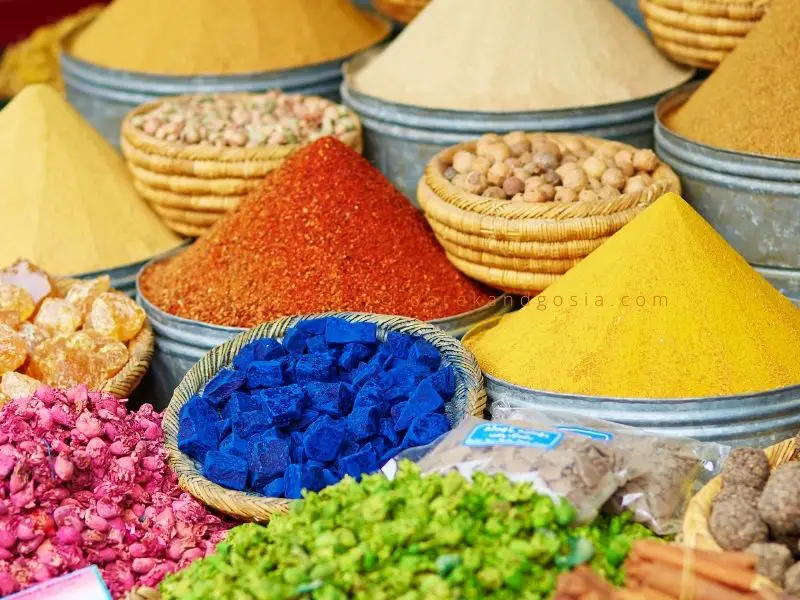 There you have it, a complete round-up of 18 fantastic destinations for the European winter sun (with one cheeky non-European guest). We've scoured the continent (and a bit beyond) to curate this list of winter wonders just for you. So pack those sunnies and leave the brolly behind, for your winter sun escape awaits. Off you pop, the world's your sunny oyster!
Is Europe good for winter sun?
Absolutely, old chap! While Europe may conjure up images of cosy winter markets and snow-covered Alps, let's not forget it's a continent of climatic diversity. The southern parts, like the Canary Islands, the Algarve, and Sicily, are particularly smashing for catching some winter rays.
Plus, you'll find these destinations less crowded, offering a more relaxed vibe than the bustling summer months. It's like having your cake and eating it too, only your cake is on a sunny beach and you're eating it in the middle of December!