Where is the warmest place in Europe? Find out more about the best destinations for winter-sun in Europe (20°C plus in winter)!
You have that feeling every year, right? You know it's coming! Winter in Europe – cold, dark and wet – a few months of your life wasted… Every year the same… But it doesn't have to be a depressing time of the year. All you have to do is break this time up with a few winter sun holidays in Europe!
This year it's time to recharge your batteries in the sun and try to avoid depression! Start thinking today about where to go for winter sun in Europe. Read our guide about the best destinations to find winter getaways in Europe!
Escape the cold, get some Vitamin D and enjoy the best winter sun destinations in Europe! With only a few hours of flight time, you can get a massive dose of short-haul sunshine during the winter months.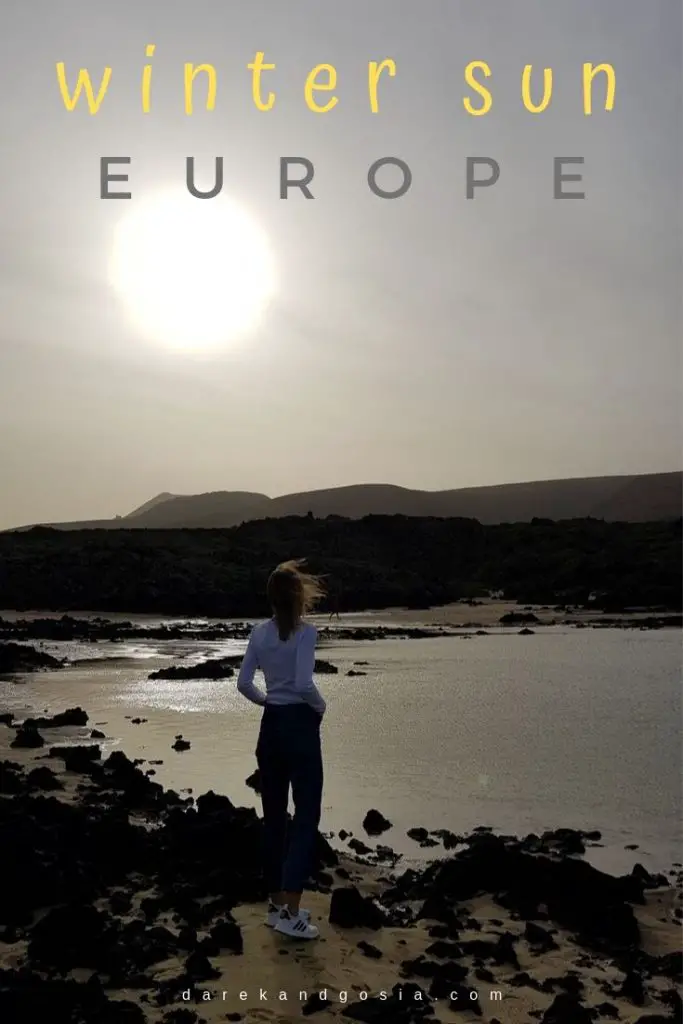 Top warm and sunny destinations in Europe for your winter sun escape:
Ready to stay warm this winter? I bet you are! 😊 With so many winter sun destinations Europe, we present you best from the best so we can plan stunning winter holidays Europe!
DECEMBER
Where is warm at Christmas in Europe?
Best winter sun destinations December in Europe? Ah, December can be cold in Europe. And at this time of the year, you really have to think about the best winter sun holiday destinations – yes, just so you can get through winter! You need to book warm holidays in December.
But what are the warm places in Europe in December? We have visited Lanzarote for Christmas and it was one of the best Christmas sun holidays we have ever had!
LANZAROTE
Winter sun destinations December in Europe? If you don't want to fly very far in search of heat, go to the Canary Islands. Lanzarote island offers sunny days even in December! With an average temperature of around 20 degrees during the day, the water temperature is also reaching up to 20 degrees. Would you be tempted to swim? 😊 You will honestly be blown away by how stunning this place is and really is one of the best places to visit in Europe for winter-sun. There is nothing like Christmas in Lanzarote!
Lanzarote is sometimes called the 'island of volcanoes', but the last volcanic eruption took place in the 19th century – so you should worry too much 😉 There are many stunning beaches in Lanzarote, which makes it an ideal place for holidays both in summer and winter. There is a mild climate, and tourists can enjoy warm weather most of the year. You must visit Timanfaya National Park – a top European landscape.
With so many activities to do, Lanzarote really is one of the top hot places in Europe in December.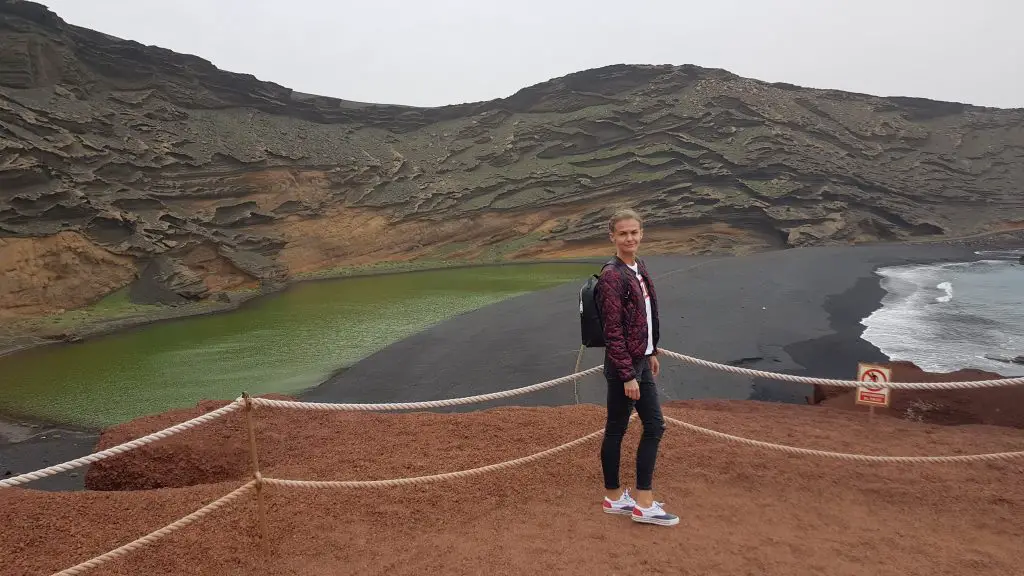 Read also: 21 Things to do in Lanzarote, Spain – TOP Attractions & Places to see
Winter holidays in Lanzarote:
Best places for winter sun in December in Europe? Lanzarote is an island with a very extensive hotel base. Where to stay depends only on your preferences, but we have some tips for you. If you want to be in the centre of all main attractions, you value the proximity of pubs and you don't mind tourists, we recommend hotels in Playa Blanca, Puerto del Carmen and Costa Teguise. So stop asking the question where is warm in December? and book a winter trip to Lanzarote!
But let's be honest, winter-time in Lanzarote is a perfect time to explore the island. So, you will be driving a lot instead of spending time on the beach. The location of your hotel is less important as the island is quite compact and very easy to drive from one end to another in one day.
There are many beautiful beaches on the island, which are also worth visiting in the winter. Even if it's too cold for you to sunbathe, you can go for a morning or an evening walk and you will not regret it. If you are brave enough you can still give it a go and swim for a bit – many tourists did during our winter holiday in Lanzarote!
The most popular beach among tourists is Playa de Papagayo in the south of the island. It is one of the most beautiful beaches in Europe! With a very unusual colour of water and the fact that there is no strong wind blowing there makes it a perfect place to spend a winter afternoon 😊 It's a stunning warm place in Europe in December!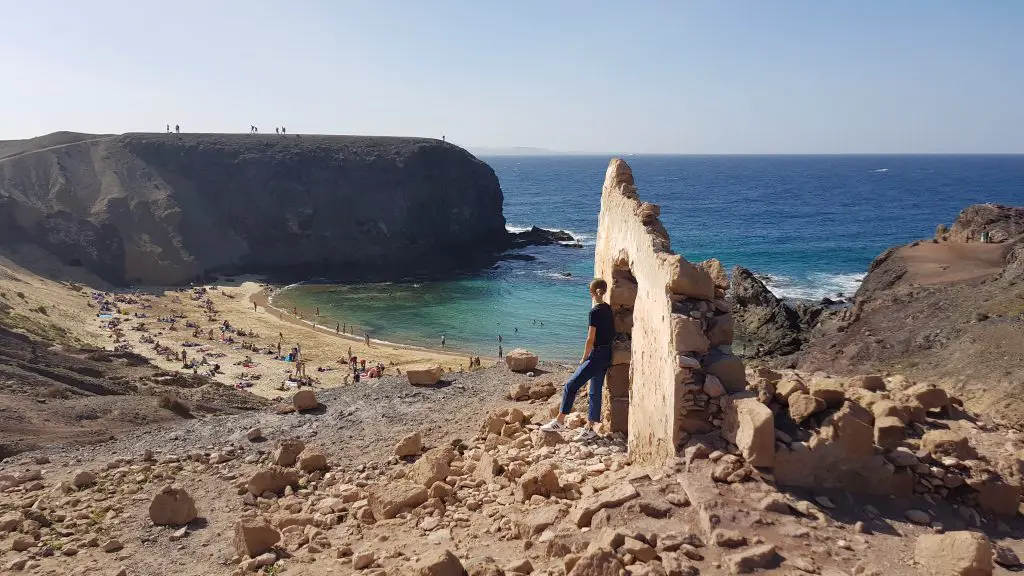 JANUARY
Where should I travel in January for winter sun in Europe?
Best places for winter sun in January in Europe? Is finding best winter destinations in Europe on your New Year's resolution list? But where is warm in January in Europe? Malta is the answer as this small island really is one of the best places to go in January for sun.
MALTA
Best winter sun January in Europe? Malta has remained a winter hit among Europeans for years. It is not far from most European countries. Flights are relatively short, and the total cost of the trip is quite low, especially if you add to this the opportunity to relax under the palm trees when the frost in continental Europe. It really is a contender for the best places to visit in Europe in winter!
Due to its location, Malta is one of the top warm European countries in January – you just have to spend your winter break there.
During your holiday in Malta, it is worth taking trips to the rest of the Maltese Islands. Sailing north-west from the main island, you'll encounter Gozo. This smaller island is primarily Ramla Bay with reddish sand and viewing platform – one of the most stunning beaches in Europe! The famous Azure Window on Gozo was the destination of diving expeditions until it collapsed due to natural causes in March 2017.
Malta tempts with plenty of sunshine all year round, famous for its hospitality, thousands of years old monuments, wonderful coastlines and great beaches. Added to this are unbelievably low prices which makes it a dream winter destination in Europe!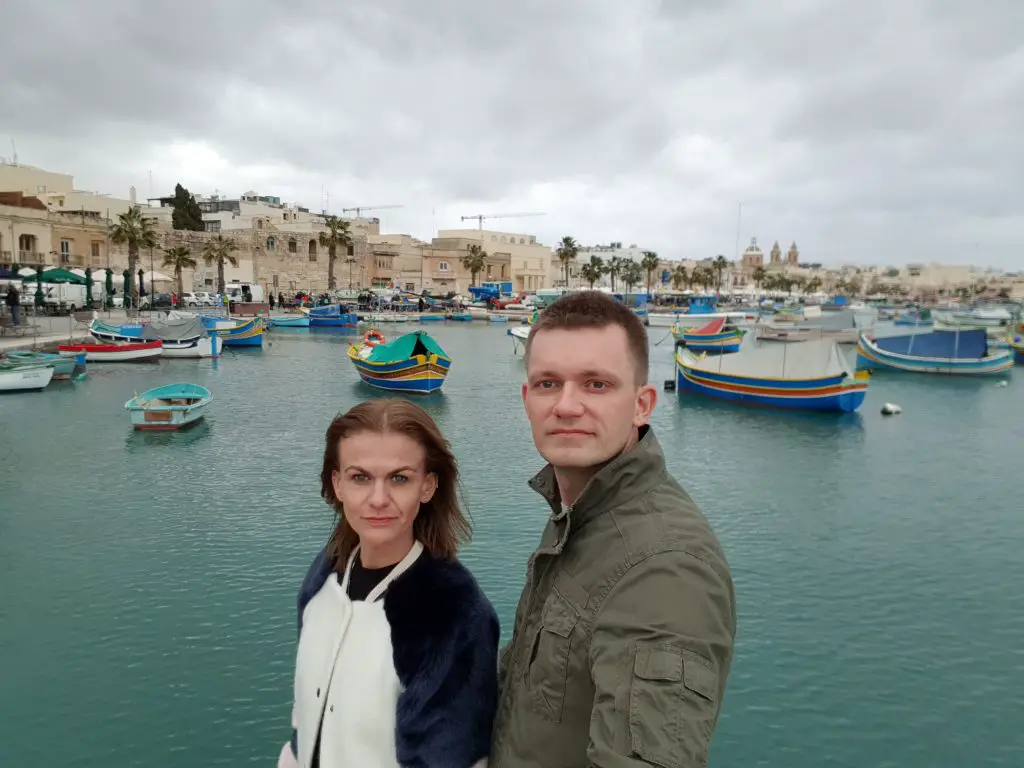 Read also: Unique things to do in Malta & Gozo – TOP 16 Malta points of interest!
Winter holidays in Malta:
Where to go for winter sun in January in Europe? Starting the search for accommodation should first determine whether you plan to rent a car. If so, it may be better for us to find accommodation a little further from the centres of major cities. These are crowded, it is difficult to find a parking space and in the case of Valletta, it is also very congested.
Where we have stayed in Malta? We decided to stay in the northern part of Malta – Cirkewwa. Our hotel was just a short distance from Passenger Terminal, from where you can access Gozo island.
Malta really is one of the top places to go in January for sun. January winter sun can be fun! 🙂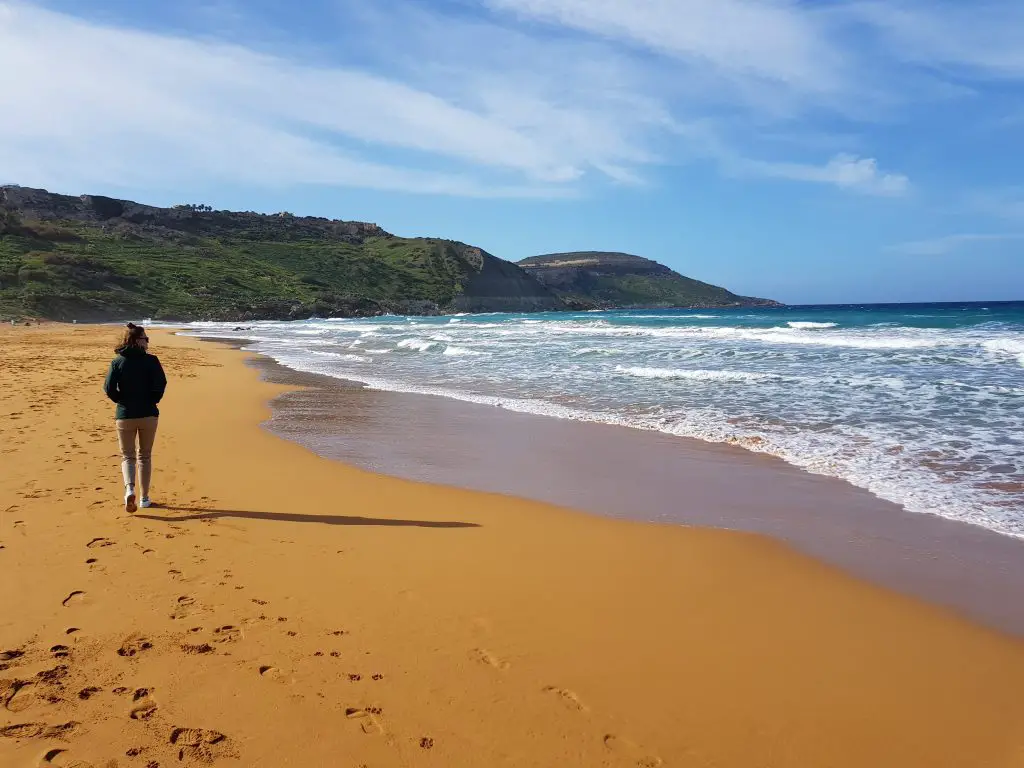 FEBRUARY
Where is 20 degrees in February in Europe?
Winter sun February in Europe? Well done! You have almost made it through the winter but warm holidays in February are always welcomed. Where is hot in February in Europe? In our opinion from all the warm places in February Europe, Spain is one of the best places for sun in February.
So, where is warm in February in Europe? Gran Canaria will be your destination during that month!
GRAN CANARIA
Where to go for winter sun in February in Europe? In winter, you can spend your holidays in the Canary Islands for half the price in summer, so why not go to Gran Canaria in February instead of July? Gran Canaria is the most diverse of all the Canary Islands, for this reason, it is called "a continent in miniature". With so much to do this really is one of the best places to go in February for sun!
We fell in love with the island straight away and it is really up there with the best places to visit in Europe in winter. If you are a beach person, you will find some of the best Spanish beaches in Gran Canaria.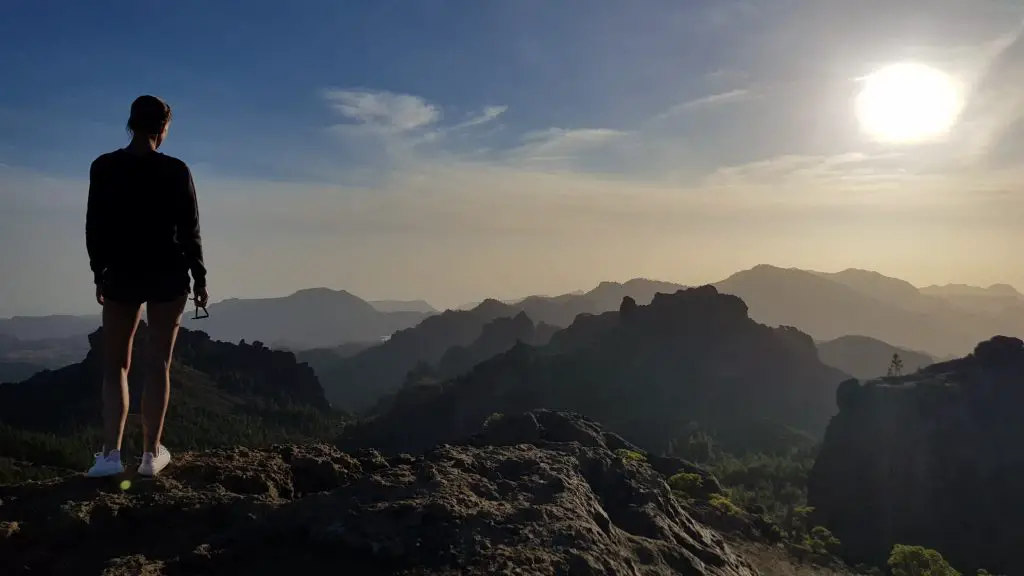 Read also: 20 Things to do in Gran Canaria & best places you HAVE to visit!
Winter holidays in Gran Canaria:
Winter sun destinations February in Europe? Sunshine holidays in February are priceless! But is it worth visiting Gran Canaria in February? The answer is yes!
Gran Canaria in February is a very good choice for people who do not necessarily want to sit on the beach for days and like temperatures between 18-21 degrees. In addition, they value peace and the lack of thousands of tourists in every possible place. Sounds ideal? 😊
Gran Canaria is really an island worth visiting at any time of the year. The climate there is extremely mild and it is said to be eternal spring on the Spanish island. February in Gran Canaria is a great opportunity to escape the winter cold and frost prevailing in the country at the time. However, you need to be prepared for showers.
Ready to explore the best beaches in Gran Canaria?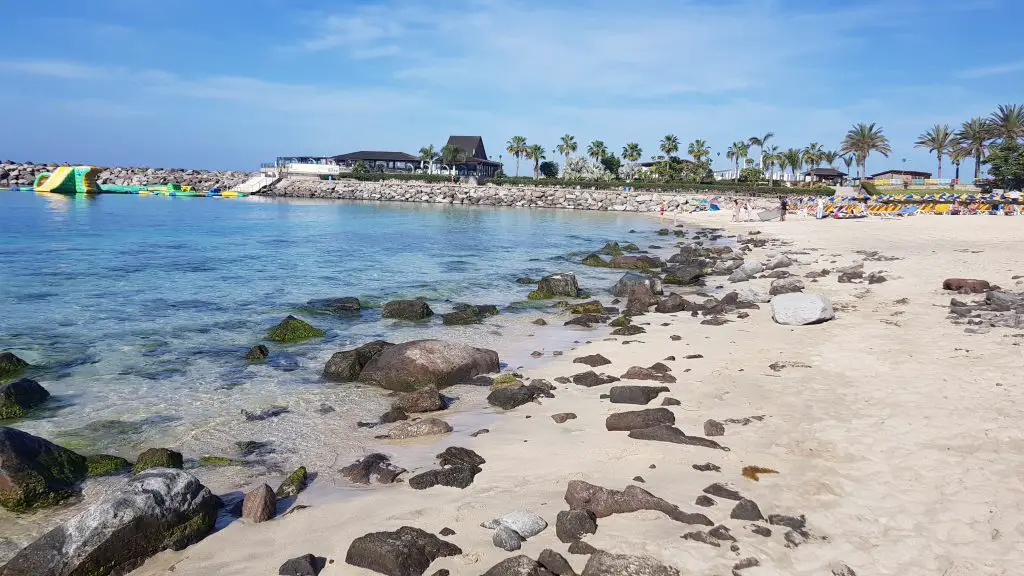 MARCH
Where's hot in March Europe?
Best winter sun destinations March in Europe? Spring is almost here, but where to go for winter sun in March? If you didn't manage to get your winter sun holiday before March then you really have to go big! You have suffured a lot duering cal winter months so book yourself nice warm holidays in March.
Where is hot in March in Europe and what is the best place for sunshine in March? If you consider Europe for you March winter sun trip, then head out to Cyprus!
CYPRUS
Winter sun March in Europe? If you are wondering where to go on holiday in the winter, and don't want to go outside of Europe, then Cyprus will be an interesting option. Warm and calm winter in Cyprus will interest lovers of ancient monuments, and promotional prices of trips after the season will attract those who care about savings.
There are not many countries that are hot in March in Europe but Cyprus should be very top on your list of best winter sun in March.
For sunbathing and swimming in Cyprus in the winter it is too cold, but for sightseeing and escape from continental frost or wet season is great. It really is one of the best places to visit in Europe for winter-sun.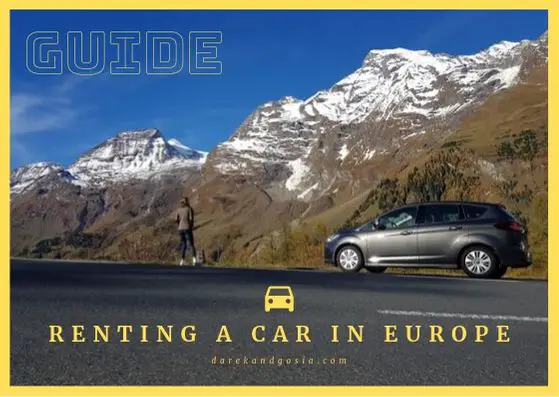 In Cyprus, it is worth going especially in late winter and early spring – at the end of March, it is warm and pleasant. In December you can expect 18-19 (the same amount as water in the sea), the coldest is in January and February – the air and water temperature is about 17 degrees. The temperatures are starting to rise in March. In Cyprus in the winter you can also expect rain, so during this period, it is best to set out for sightseeing.
Winter holidays in Cyprus:
Winter sun destinations March in Europe? Cyprus is the island of Aphrodite, it is necessary to see the rock at which, according to legend, the goddess emerged from the sea foam. Winter is also a good time to see the flamingos on the salt lake of Larnaca – a great reason to call Cyprus one of the best places to go in March for sun!
Cyprus is best visited by a rented car. You can then get to the remains of the ancient world, mountain monasteries, lost villages or wild beaches. It is worth visiting the capital of Cyprus, Nicosia, with a nice old town, Pissouri, a town located picturesquely on the rocky coast of the island, port Paphos with a Byzantine castle and Roman mosaics.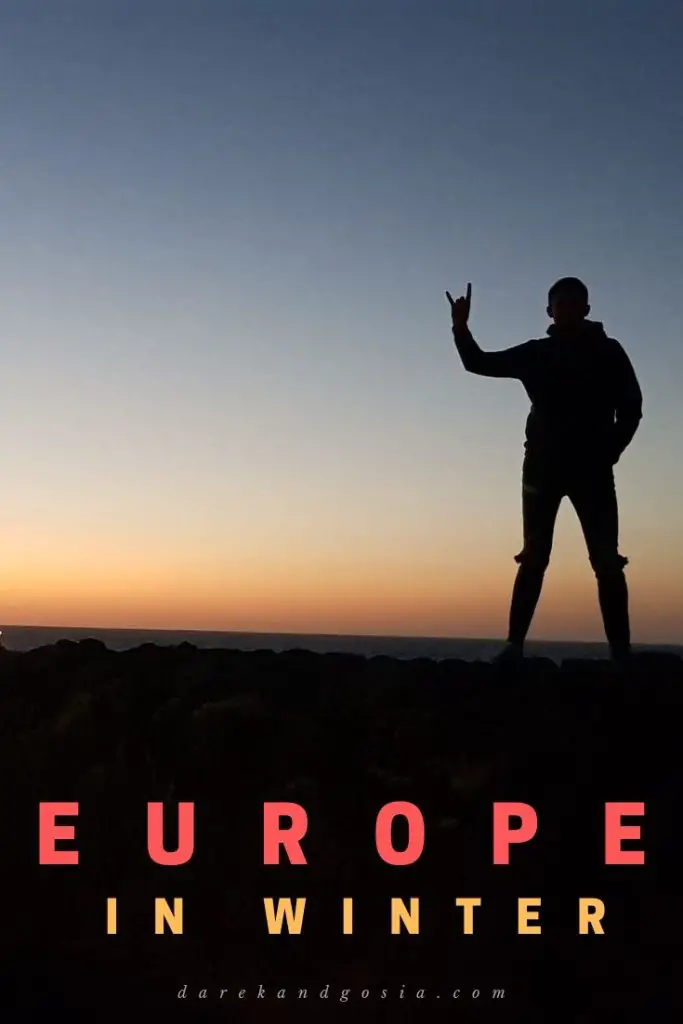 OTHER EUROPEAN PLACES TO VISIT IN WINTER FOR SUN:
Yes, there are many destination in Europe which could be added to the list of best winter sun holidays but we just simply didn't have more spaces as we covered all months with the best warm winter holidays destinations in Europe.
But if you are still looking for best winter sun Europe, best places for October sun or hot places in January Europe, consider the below destinations too.
Malaga
Best places for winter sun? Located on the Mediterranean Sea at the foot of the Betic Mountains in the south of the Iberian Peninsula, between Gibraltar and Almeria. This city is a perfect place in Europe that we can recommend for a winter trip. Why Malaga, you ask?
It is one of the best places to visit in Spain. The flight is very short and the tickets are really cheap. The weather may not be hot, but it will satisfy all those who like sightseeing in the city and relaxing in the seaside pubs that offer great food in outdoor gardens.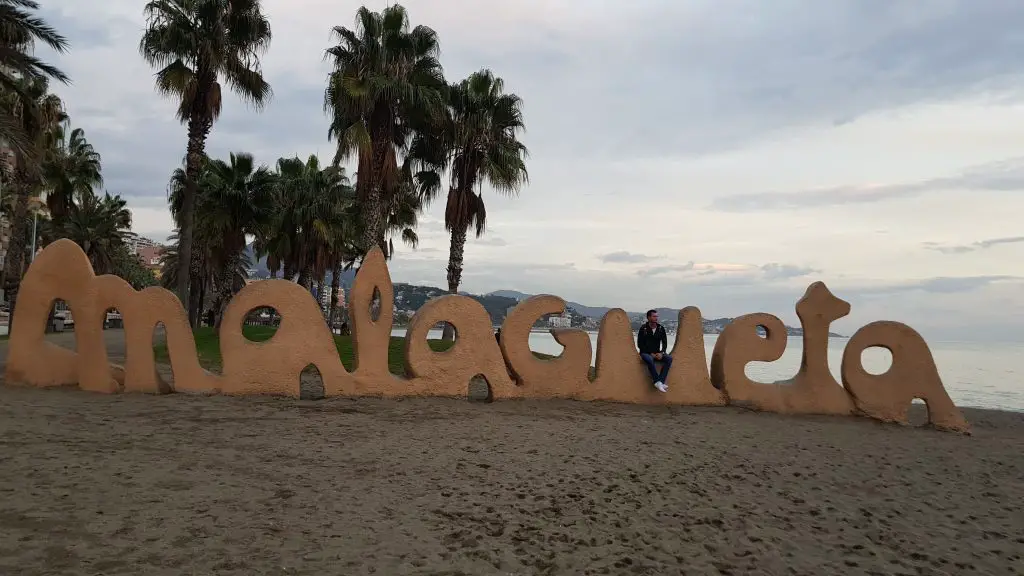 Read also: 11 Best things to do in Malaga, Spain [Costa del Sol]
Where is best for winter sun in Europe?
There are many interesting places in Europe for warm winter lovers. The Canary Islands are definitely the winner when it comes to temperature and the amount of sunshine. Wearing short sleeves during the day is almost guaranteed.
If after summer you ask yourself where is hot in February Europe or trying to find warm places in December in Europe then you really need to book a winter sun holiday!
Whether you choose Cyprus, Southern Spain or Madeira Island for your next winter sun destination – you can be sure you will have an amazing and warm holiday 😊
Winter sun Europe FAQ:
Read our other articles related to this stunning continent:
Best places to visit in Europe
Most romantic places in Europe
Most beautiful landscapes in Europe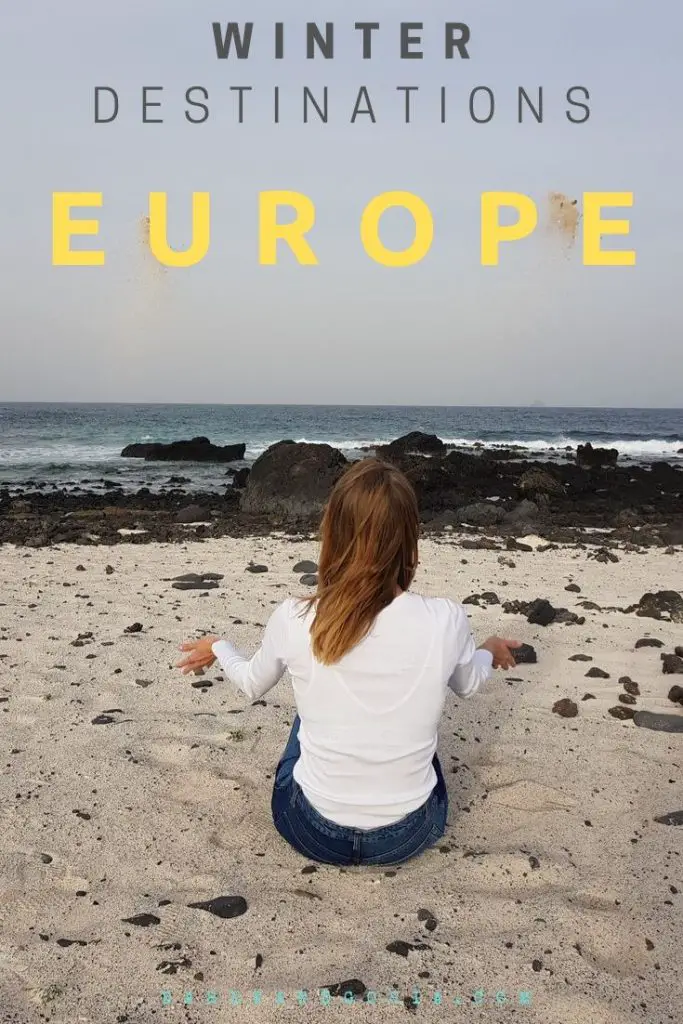 Love Europe? Read also: