How to get to Richmond Park and where to spot the deer? Learn all about the best things to do in Richmond Park London.
Planning to visit Richmond Park in London? Great choice! From watching deer, cycling around the park or simply having a picnic – there is no shortage of things to do in the park. In fact, Richmond Park UK is a must-visit location in London and probably one of the best places to visit in the UK!
Whether you want to learn about the best place to see deer in Richmond Park or just general about Richmond Park size, you have you covered!
Richmond is also one of the best places to live in London for green and park-lovers! So, if you are lucky to call Richmond home, then you will definitely visit the park every weekend 🙂
Where is Richmond Park?
Richmond Park is a large park located in southwest London, England. It is situated within the London Borough of Richmond upon Thames and covers an area of 2,500 acres, making it the largest Royal Park in London. The park is approximately 12 miles southwest of central London and is easily accessible by public transportation.
Richmond Deer Park facts:
| | |
| --- | --- |
| What to see in Richmond Park? | Richmond deers! 🙂 |
| How many deer in Richmond Park? | 600+ |
| When to see deers Richmond Park? | All year round |
| Types of deer in Richmond Park: | Red and fallow deer |
| Parking at Richmond Park: | TW10 5HS |
What is Richmond Park famous for?
Richmond Park is famous for several reasons, including:
Natural beauty: The park is home to a diverse range of flora and fauna and offers visitors breathtaking views of the surrounding landscapes. It is particularly famous for its herds of red and fallow deer that roam freely in the park.
Historical significance: The park has a rich history and was originally created by Charles I in the 17th century as a hunting ground. It has since been used for various purposes, including military training during both World Wars.
Recreational activities: The park is a popular destination for walkers, runners, cyclists, and horse riders. It also has several sports facilities, including golf courses and football pitches.
Conservation: The park is an important conservation area and is home to many rare and endangered species. The Royal Parks, which manages the park, works to protect and preserve the natural environment.
Overall, Richmond Park is famous for its natural beauty, historical significance, recreational activities, and conservation efforts. It is a popular destination for both locals and tourists alike.
Should I visit Richmond Park?
Richmond Park is the best park in London with deer. So, if you only have the opportunity to visit Richmond Park in London you should do it! Richmond Park will captivate you with a huge green space and deer that run freely throughout the park. It's a great place for a picnic, outdoor fun, and with such a large area, you will not feel crowded.
Do not collect anything from the park as it belongs to… the Royal Family. You don't really want to get in trouble, do you? Watching deer is still OK as the Queen was so nice and let us (ordinary people) do it for FREE. This quintessentially British woodland is one of the top landmarks in England so it has to be added to UK bucket list.
But let's be honest, who wouldn't like to see deer in the park? At the end of the day, where else in Europe could you spot deer not far from the city? Richmond Park is the best place to do that as it's best London park with deer.
With over 600 deer calling Richmond Park home you have to be very unlucky not to see one! 😉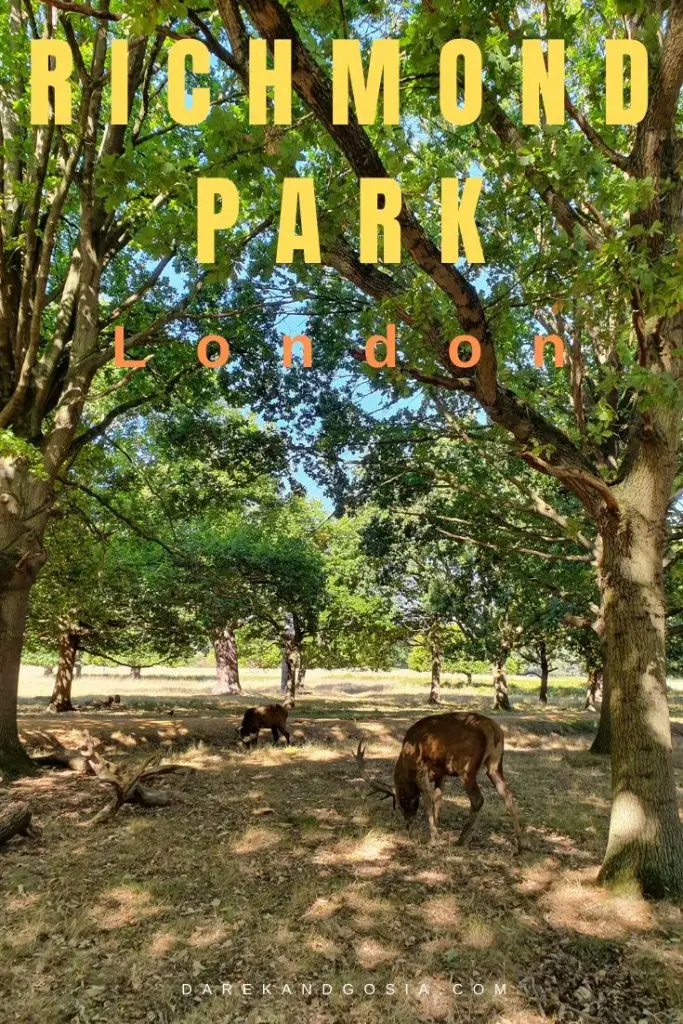 Top information about Richmond Park in London:
How to get to Richmond Park
There are a few ways you can access the park. The first is by car, as there are some parking facilities available. You can also catch the train and tube service followed by a short walk. Alternatively, take one of the many buses that travel directly to the park.
There is also a free minibus service that can be used if you are really stuck, and you can contact the park for more information. 
How to get to Richmond Park from central London?
If you are travelling from central London then the best way to get to Richmond Park is to take the District line towards Richmond.
Richmond Park postcode
The postcode for Richmond Park is TW10. However, please note that the park covers a large area and has several entrances, so the exact postcode you use will depend on which part of the park you are visiting.
Richmond Park Parking
Is there any parking in Richmond Park? There is a good amount of parking available, and it opens at 7 am in the summer and 7:30 am in the winter. The parking closes at dusk, which means the times vary according to the seasons. It is best to check the website for the latest updates.
There is also ample disabled parking if it is required. It is best to get to the park early on weekends as every kind of space can fill up quite quickly.
Is Richmond Park parking free?
Yes! The parking is free of charge os you can enjoy a great day out in the best park with deer London.
Richmond Park opening times
What time does Richmond Park open? The park office is open from 9 am until 4 am on weekdays and closed on weekends.
However, the pedestrian gate is open 24/7, except for during the deer culling in November and February each year. At this time, the gates open at 7:30 am and close at 8 pm.
So the good news is that if you want to see the best places in Richmond Park you don't have to worry about Richmond Park opening hours 🙂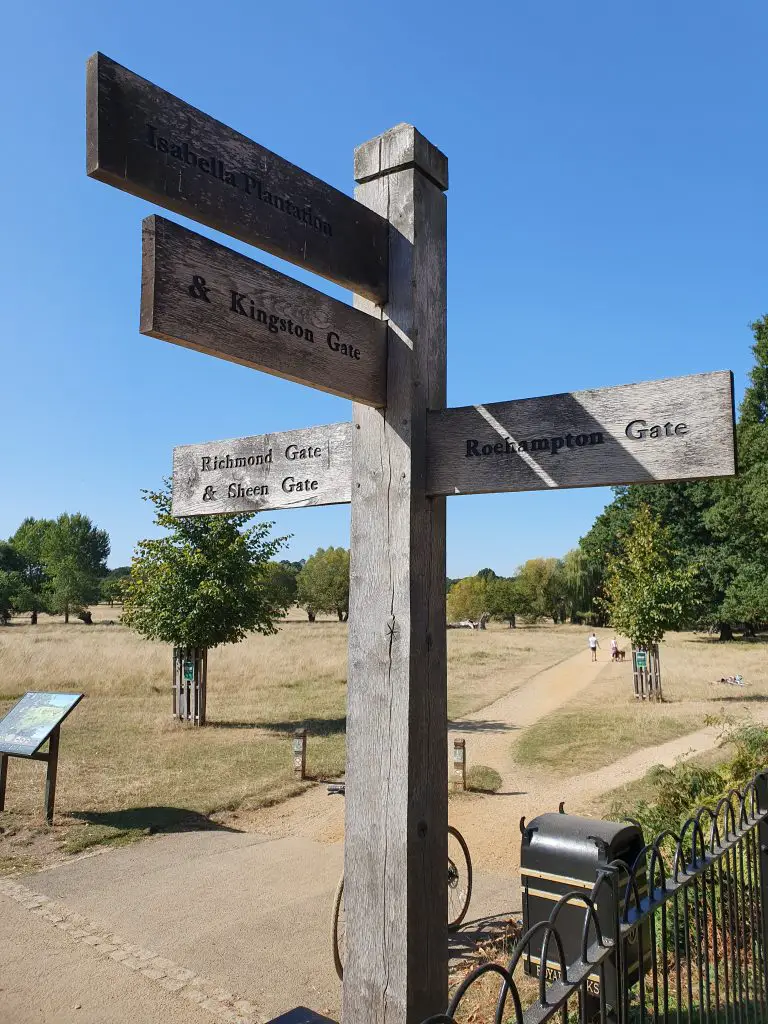 How big is Richmond Park in London?
Richmond Park, London is huge! It is the largest of the Royal Parks in London, covering an impressive 2,500 acres. At its highest points, you are even graced with a completely uninterrupted view of St Paul's Cathedral, which is 12 miles away.
It's a great place for the deer to run free, as well as for you to enjoy some epic trails that will give you a whole new perspective of London. As a fun additional fact, it is three times the size of Central Park in New York; pretty impressive.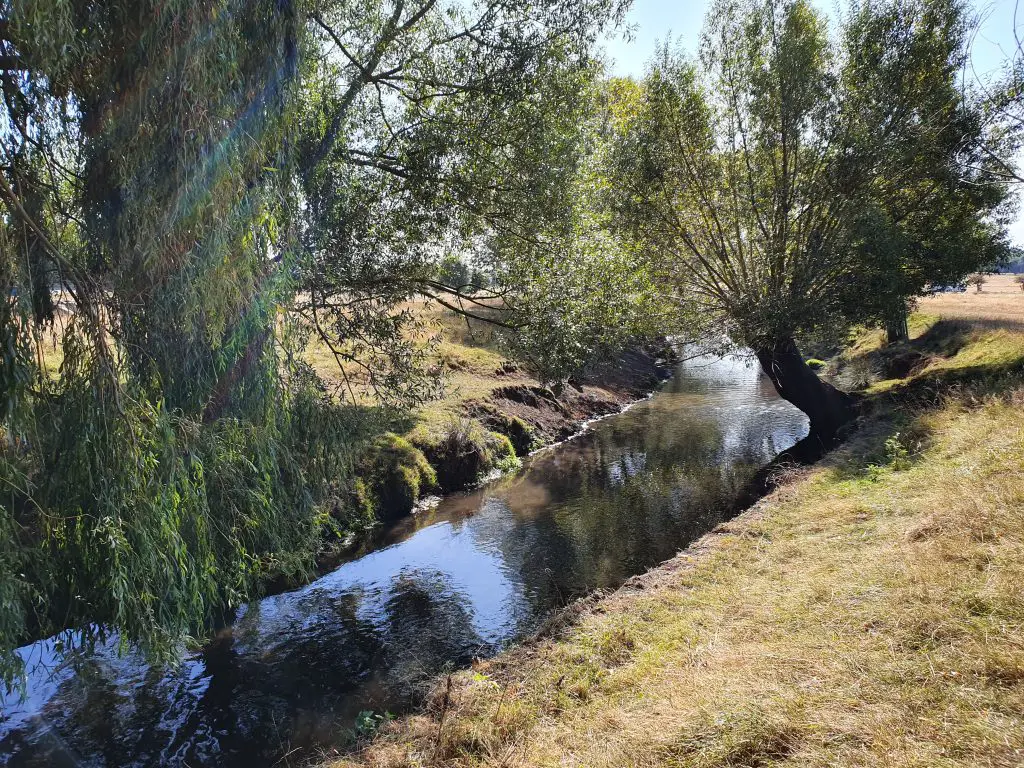 Is Richmond Park free?
Do they change to enter Richmond London Park? Like most of the parks in London, Richmond Park is completely free to enter. It should be noted that you may need to pay for parking, but this tends to be a very small charge.
There is also the chance to donate to the park if you so choose. Part of what makes the park so appealing is the lack of charges, but make sure you bring a little money with you so that you can take advantage of the scrumptious food and drinks, as well as all of the activities on offer.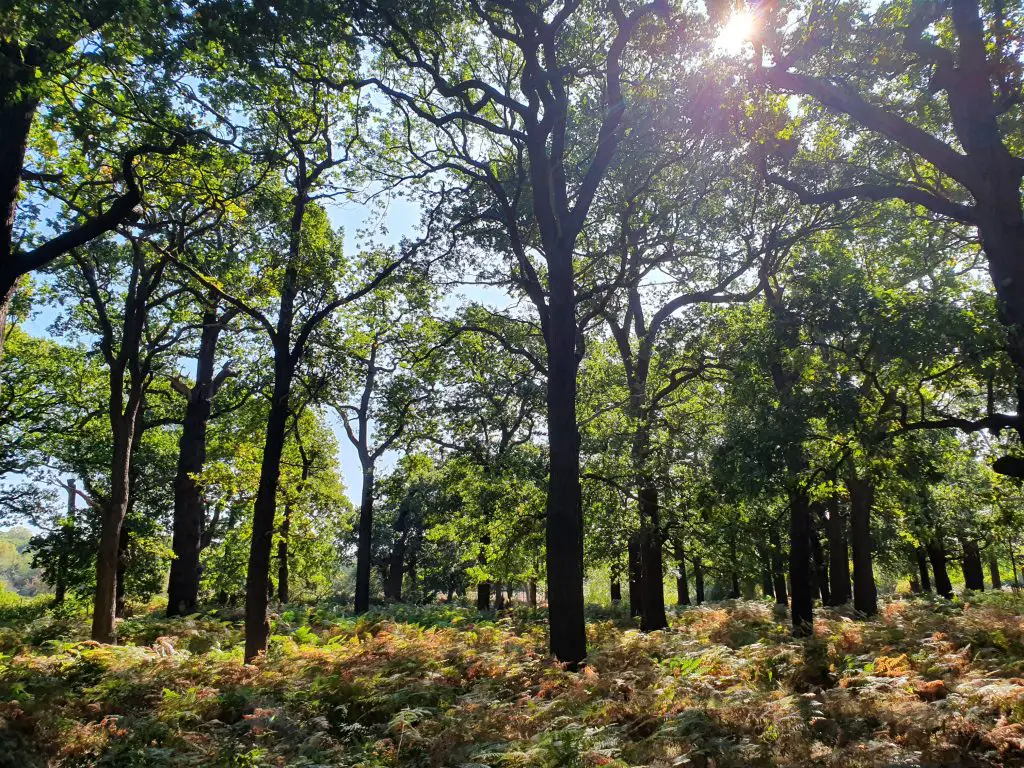 Things to do in Richmond Park:
Visiting Richmond Park deer is actually one of the best things to do in Richmond London! So let's learn about the to places to see in the park:
Richmond Park cafe
There are actually two cafes in the park, each of which has delicious menus to choose from and equally tasty drinks. The Roehampton Cafe is open from 9am until 5pm and even serves ice cream of you're travelling during the summer. This is one of Richmond Park best spots to relax.
In addition to this, you will find that there are a plethora of refreshment points scattered across the park so that you never need to worry about going without food or drink when exploring. 
Pembroke Lodge Richmond Park
This gorgeous Georgian Manor House is located on the highest point in the park and surrounded by 13 acres of beautifully landscaped gardens. It is both a hotel and a restaurant, as well as a popular wedding venue.
The menu features some classic and delicious dishes that you simply must try, and it has a rich history that is just waiting to be explored. With exquisite and spacious rooms, it's quite tempting to make a weekend out of the park.
Pembroke Lodge Richmond Park cafe is a great spot to relax after spotting deer.
While you're there, why not upgrade to a suite for a few days of total relaxation and luxury.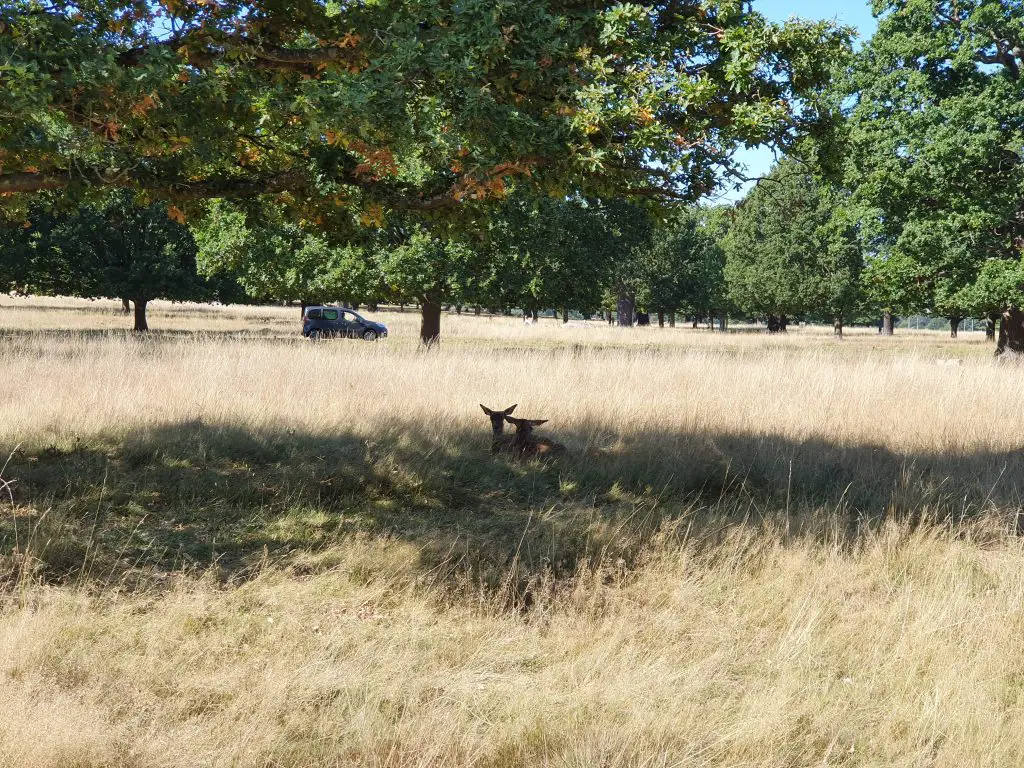 Richmond Park walks
Looking for best Richmond Park deer location? Just go for a walk around the park!
There are loads of fantastic walks you can go on, even whit your dog. Just remember that there are some parts where they will need to be kept on a lead.
The walks average around two hours, but they can be shorter or longer depending on the kind of trail you fancy or how often you stop to look at the deer.
There are also cycling trails, those that are child-friendly and even ones epically designed for flying kites. You certainly won't run out of things to do!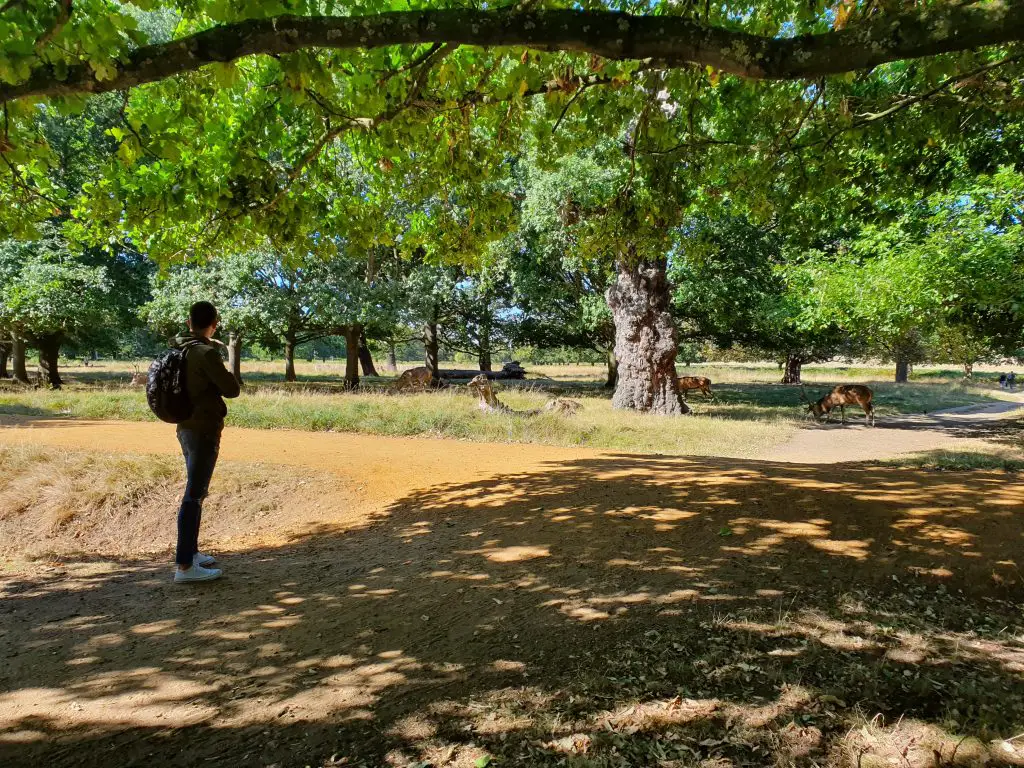 Where to find deer in Richmond Park?
Where are the deer in Richmond Park? Everywhere! 🙂
The deer in the park have been roaming freely since 1637, and it will always remain their home. There are 630 red and fallow deer living there, and you are pretty much guaranteed to see them.
So if you worry about where to spot deer in Richmond Park, don't as this is the best park with deer in London.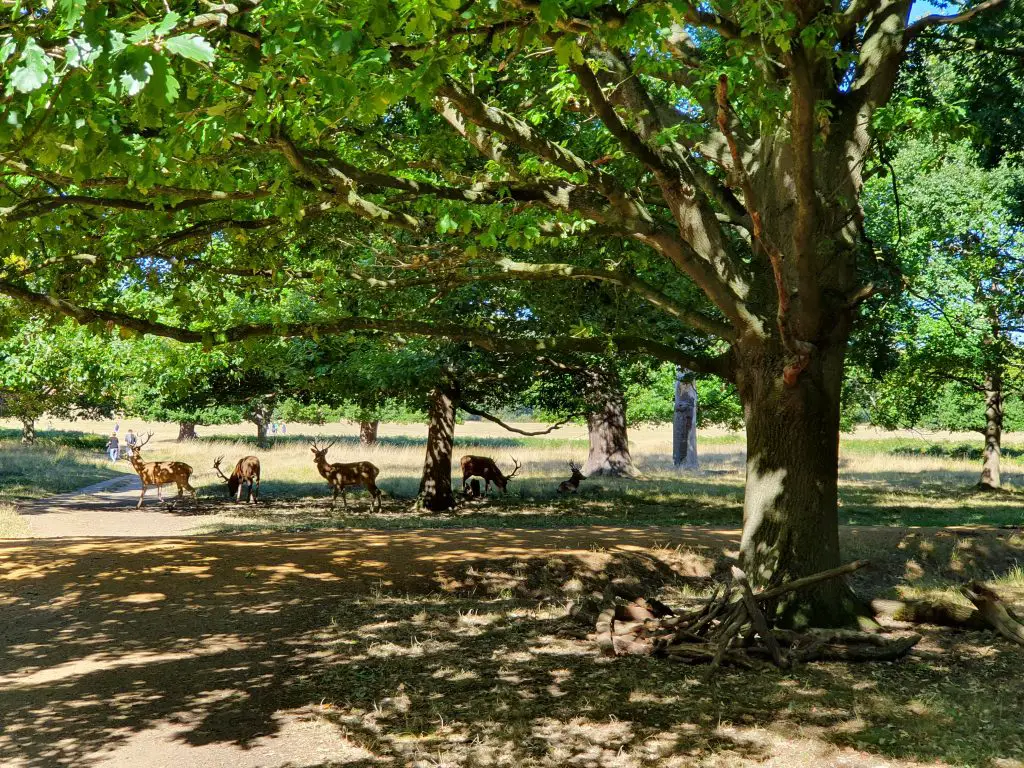 While they remain wild, and unpredictable as all wildlife is, they are quite used to humans being around. Therefore, you will find that they are happy to stay still while you take photos as long as you don't spook them.
The deer have a major role in forming the landscape of the park as well as being deeply ingrained in its history, so respecting them is essential.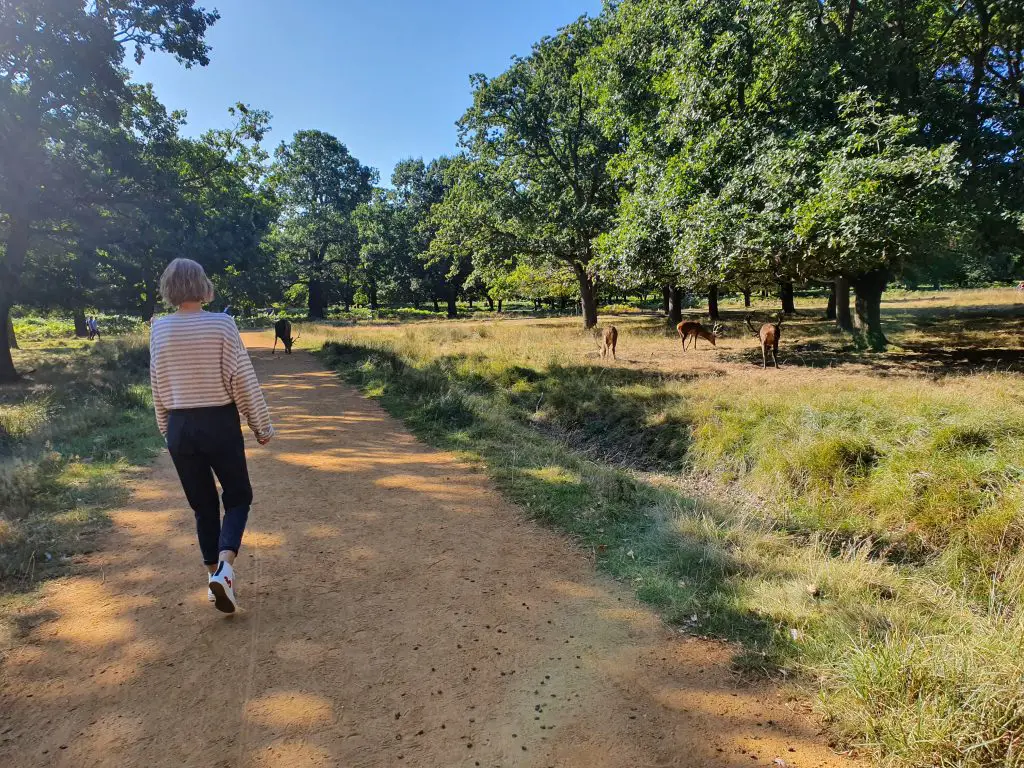 Why are there no deers in Richmond Park?
It would be surprising if there were no deer in Richmond Park, as the park is known for its herds of red and fallow deer. However, it is possible that visitors may not see deer during their visit, as the deer are wild animals and can move freely throughout the park.
It is also worth noting that the park is home to a large number of deer, and the population is carefully managed by The Royal Parks to ensure that the deer do not overgraze the park or pose a risk to public safety. This involves culling a certain number of deer each year to keep the population at a sustainable level.
If you are visiting Richmond Park and want to see the deer, it is best to visit during the early morning or late evening when the deer are most active. You should also be aware that the deer are wild animals and should be treated with caution and respect. Visitors should not approach or feed the deer, as this can be dangerous for both the deer and the visitors.
Richmond Park deer season
In Richmond Park, the deer mating season, also known as the rutting season, usually takes place in the autumn, between September and November. During this time, the male deer (stags) become more active and aggressive as they compete for the attention of the female deer (hinds).
Visitors to the park during the deer mating season should be aware of the potential risks associated with being in close proximity to the deer. The stags may become more aggressive towards humans during this time, especially if they feel threatened or provoked. It is important to keep a safe distance from the deer and not to approach them or attempt to feed them.
The park authorities also take measures to ensure the safety of visitors during the deer mating season. This may include closing certain areas of the park or putting up warning signs to alert visitors to the potential dangers.
Outside of the mating season, the deer in Richmond Park can be seen throughout the year and are a popular attraction for visitors to the park.
Richmond Park history
Richmond Park has a long and interesting history. Here are some key events:
The park was originally created by King Charles I in the 17th century as a deer park for his hunting activities.
During the English Civil War, the park was used as a stronghold by Parliamentary forces.
In 1758, the park was opened to the public by George II, who created public paths and roads to enable people to visit and enjoy the park.
In the 19th century, the park became a popular location for horse racing and steeplechasing.
During both World Wars, the park was used for military purposes. In World War I, it was used as a training ground for the Canadian Expeditionary Force. In World War II, anti-aircraft guns were stationed in the park to protect London from enemy air raids.
In 1965, the park was designated as a Site of Special Scientific Interest (SSSI) due to its diverse range of flora and fauna.
Today, the park is managed by The Royal Parks and is open to the public, offering opportunities for recreation and relaxation as well as conservation and protection of the natural environment.
Horse riding Richmond Park
What to do in Richmond Park? If you want to explore the best spots in Richmond Park go horse riding!
There are actually six local stables that ride regularly through the park. Most of them are happy to give lessons if you want to take some time and go hacking through the woodlands.
There are plenty of exciting trails that will take you right into the heart of nature. On the back of the horse, you can really get back in touch with the wild.
Check out the below pages if you fancy horse riding in Richmond park:
Richmond Park golf club
London Richmond Park is not only about deer. Golf is also one of the top Richmond Park attractions.
The golf club was actually opened in 1923 by the Prince of Wales. Since then, it has been the proud recipient of extensive renovations to make it a truly fantastic course.
The piece de resistance has to be the clubhouse. It was designed in such a way that it completely blends in with nature – especially the roof, which is made from acid grassland from the park.
36 holes, a brilliant driving range, and plenty of refreshments make this a unique golfing experience.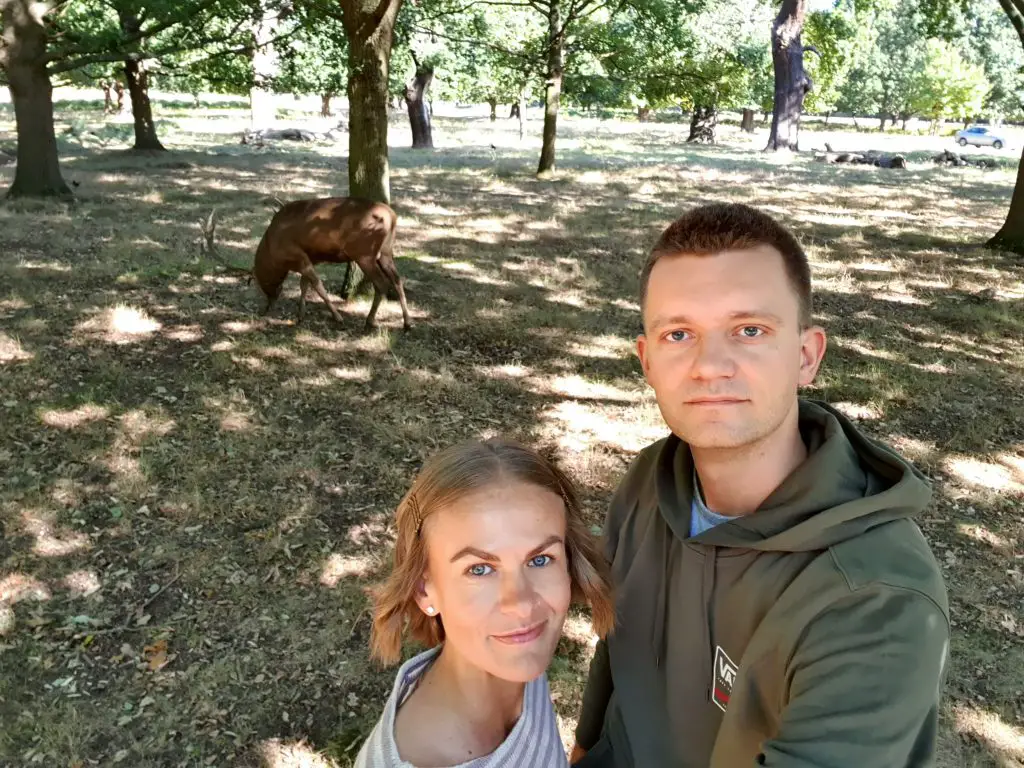 Richmond Park bike hire
Richmond Park cycle hire is the best way to explore the park and see deers at Richmond Park. Known as Parkcycle, this particular bike hire service works closely with the Royal Parks to provide you with a fantastic experience. You'll find this service in the Roehampton Gate car park, and there is a massive range of TREK mountain bikes ready to be hired out. Bike hire Richmond Park is great fun!
The prices do vary, with off-peak hire and advanced bookings resulting in much cheaper costs. Accessories for kids, such as seats and training wheels are all provided free of charge so that you can enjoy your trip as a family.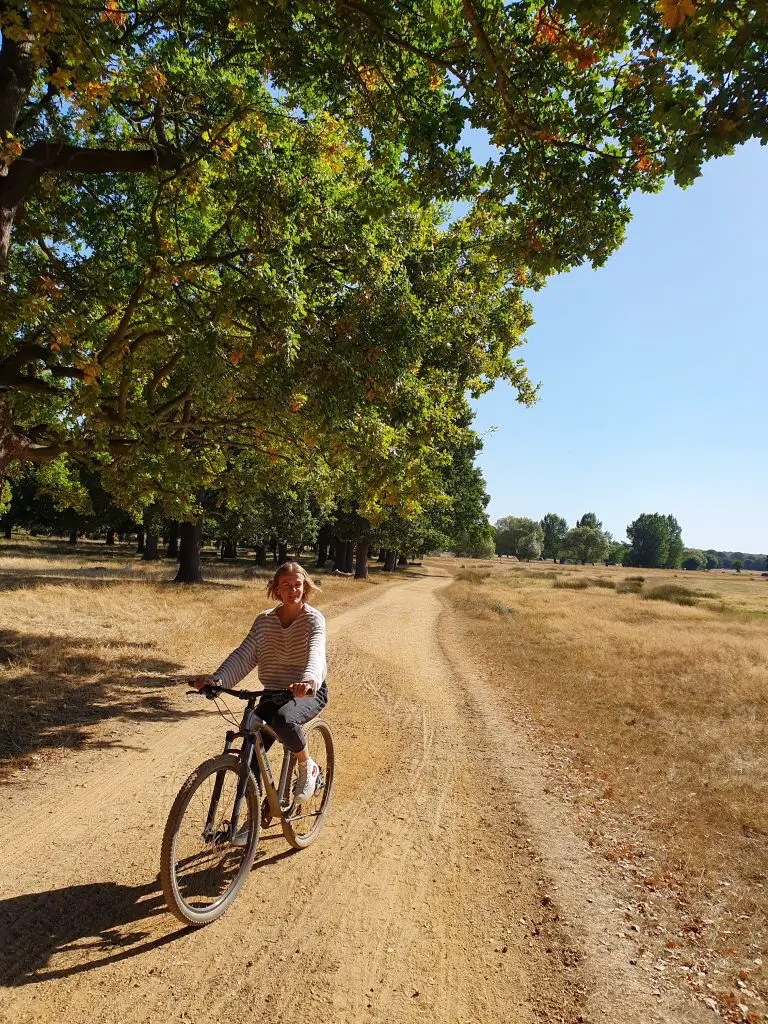 If your kids are too young to ride and you don't fancy a seat, you can even get a little cart that attaches itself to the back of your bike. Follow the cycling trails for a truly epic adventure through the vast landscapes of the park.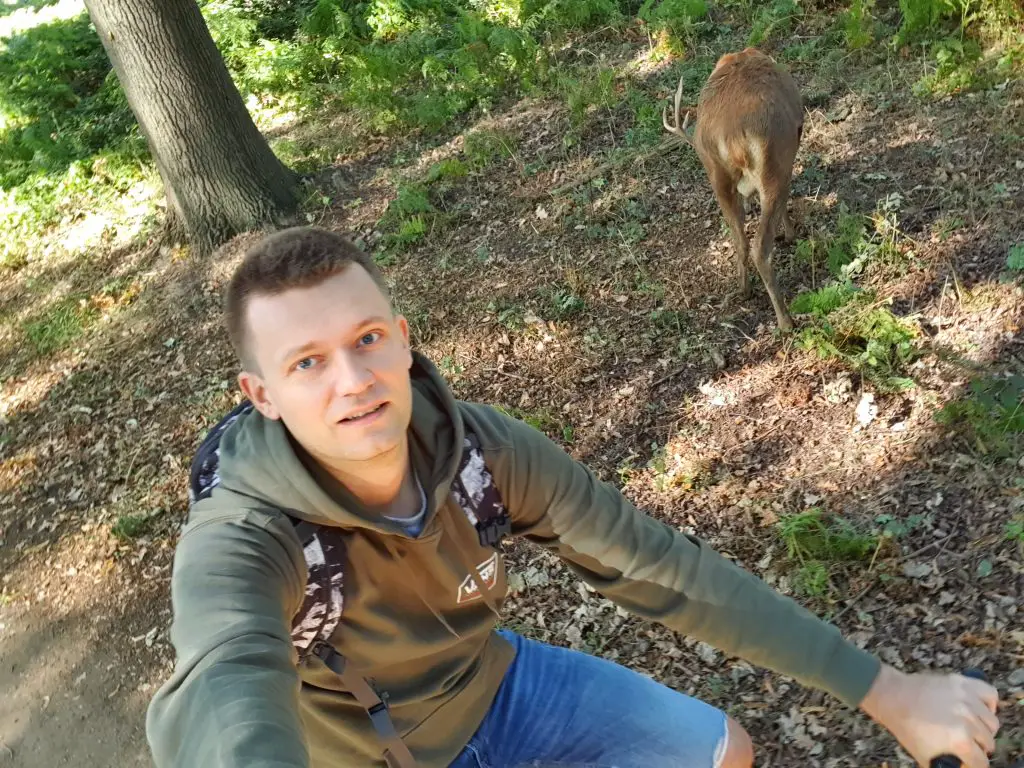 Richmond Park tourist information
Richmond Park is a popular tourist destination in London, and there is plenty to see and do for visitors. Here is some tourist information about the park:
Getting there: Richmond Park is easily accessible by public transport. The nearest train station is Richmond, which is served by the District line, the London Overground, and National Rail. From there, you can take a bus or walk to the park.
Things to see and do: There are many things to see and do in the park, including taking a walk or a bike ride, having a picnic, visiting the Isabella Plantation, watching the deer, and visiting Pembroke Lodge, a Georgian mansion with a restaurant and tea rooms.
Facilities: The park has several facilities for visitors, including car parks, toilets, and refreshment kiosks. There are also sports facilities, including golf courses, football pitches, and tennis courts.
Guided tours: If you want to learn more about the park's history and wildlife, you can book a guided tour with a knowledgeable guide.
Safety: Visitors should be aware that the park is home to wild deer, and it is important to keep a safe distance from them. Visitors should also be mindful of the park's conservation efforts and should take care not to disturb the natural environment.
Overall, Richmond Park is a great place to visit for anyone who wants to experience the natural beauty of London and learn more about its history and wildlife.
Richmond Park half marathon
The half marathon takes places several times a year, most prominently in November and February. It's a great event, and the trail used has scenic views as well as plenty of opportunities to soak in nature.
If you want to practice, there are also loads of free-running groups that you can join to get in shape for the half marathon. If a half marathon isn't enough for you, there are also full and ultimate marathons that you can take part in if you really want to feel the burn. 
Richmond Park picnic
Where better to have a picnic than a nature reserve that was formerly the hunting grounds of Henry VII? There are loads of fantastic locations for you to settle down and enjoy a quiet lunch; whether it's in one of the designated picnic areas or in the long grass overlooking the stretching landscapes.
So, where to see deers in Richmond Park? Best, from you picnic spot! 🙂
If you're very quiet while you munch on your snacks, you may even get the rare opportunity to see some of the deer incredibly close – so much so that you'll want to reach out and touch them.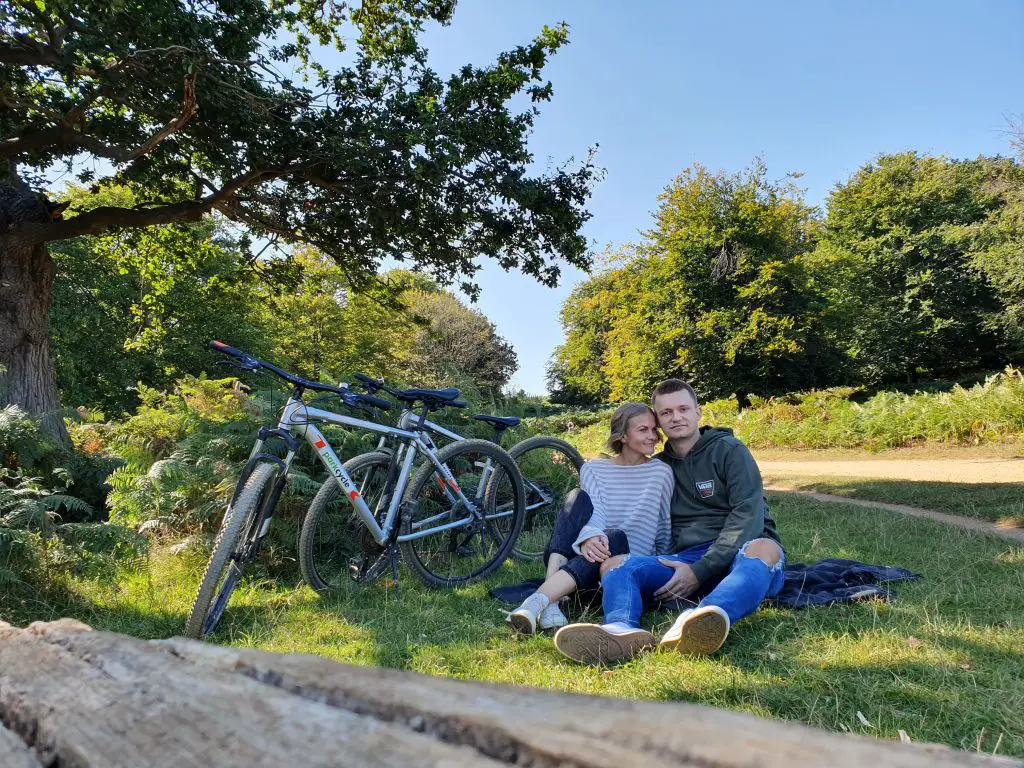 Restaurant Richmond Park
Best restaurants near Richmond Park? The Pembroke Lodge is the most popular restaurant in the park. The food is incredible, and you are sure to be amazed by some of the dishes that are presented to you.
Of course, you also have the Roehampton Cafe if you fancy a light bite and some refreshments during your visit. There are also loads of food stands you can visit if you are looking for something really quick.
Plus, you have a great selection of restaurants just outside of the park if you're interested in something different. 
Hotels near Richmond Park
If the Pembroke Lodge isn't quite your thing, there are loads of other options out there.
Within one or two miles of the park, you have tonnes of hotels that you can stay at. Many of them are priced at less than £100 per night if you are on a little bit of a budget as well.
Hotels near Pembroke Lodge Richmond Park:
This way, you can make a long weekend out of your visit and really take your time to explore everything the park has to offer.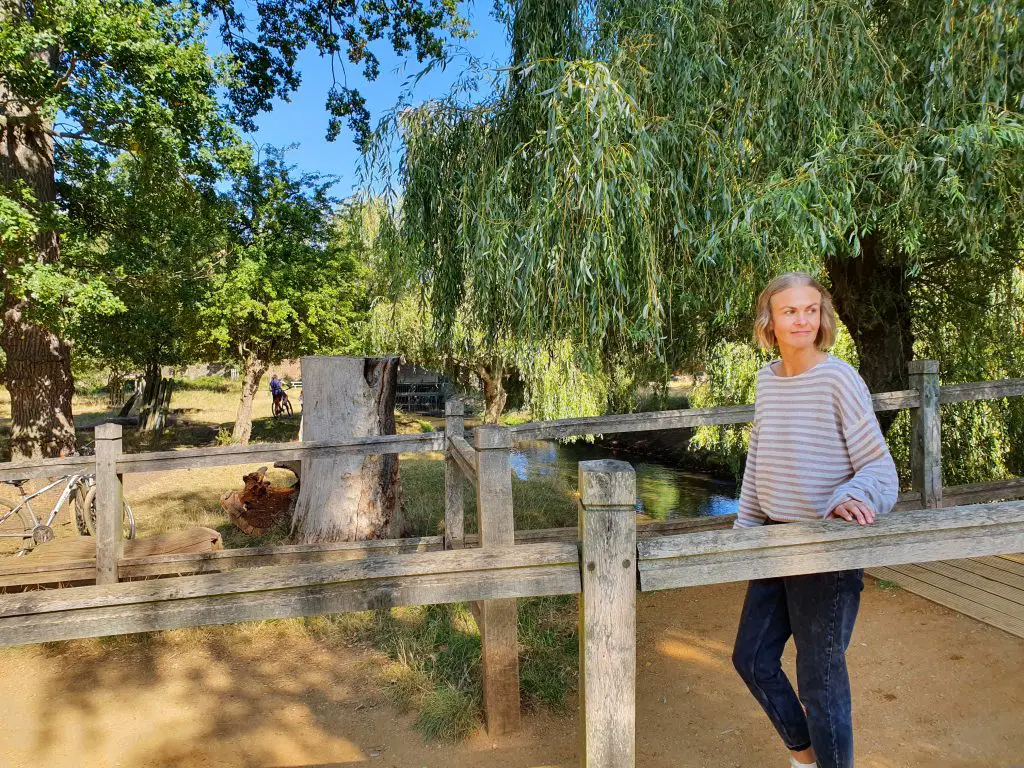 Pubs in Richmond Park
There are no pubs within Richmond Park itself, as alcohol consumption is not permitted within the park. However, there are many pubs located in the surrounding areas, which are popular with visitors to the park. Here are some of the pubs near Richmond Park:
The Roebuck – located on Richmond Hill, this pub offers great views of the Thames and is a popular spot for a pint after a walk in the park.
The Victoria – situated near Richmond train station, this pub has a large beer garden and offers a wide range of beers and food.
The Lass O'Richmond Hill – this historic pub dates back to the 17th century and is located on top of Richmond Hill, offering beautiful views of the surrounding area.
The Orange Tree – located in the heart of Richmond, this pub is known for its traditional British food and cozy atmosphere.
The White Cross – situated on the banks of the Thames, this pub is popular with locals and visitors alike and offers a great selection of food and drink.
These are just a few examples of the many pubs located in the surrounding areas of Richmond Park.
Is Richmond Park worth visiting?
Absolutely! One of the best woods near London. There is so much to do, and a lot more than has been listed here. In fact, Richmond Park is very top on our list of the best places to visit in southern England!
You can enjoy fishing in Richmond Park and rugby, as well as kite flying and power kiting. There are bikes for hire if you want to cycle, and some of the best food you are likely to find in the area. If you are visiting London for one day only, then you should consider extending your visit to min. 2 days in the capital city!
There are many nice places in Richmond and this park is very top on that list. If you want to see deer in London parks head out to Richmond Park!
The vast landscapes offer some breathtaking views, and the scenery is picturesque. Of course, the shining feature is the deer. They are a core part of what makes the park great, and why you'll love visiting time and time again.
Visiting this London's top landmark is a perfect opportunity to take some incredible photographs and make memories that will last a lifetime with friends or your second half – a romantic thing to do in London 🙂 
Places to visit near Richmond Park:
Richmond Park London FAQ
How long does it take to walk around Richmond Park?
If you follow the Tamsin Trail, which is the most famous walk around Richmond Park, then you can expect to take around 2.5 hours to complete the whole loop. having said that, in practice, it takes 4 hours as you will stop many times to take photos of deer!
How many deer are culled in Richmond Park?
Unfortunately, there are around 80 to 130 deer culled in Richmond Park every year. This usually happens between November and February and the main reason for doing that is to keep the populations under control.
You might see "Richmond Park deer cull" signs around that time of the year as the pedestrians gates are closed.
Can you barbecue in Richmond Park?
Absolutely not! Open fires and any type of barbecues are not allowed in Richmond Park! They are a safety risk and can easily damage the park's veteran trees, grassland and all the wildlife.
If you liked our article about Richmond Park, then please check out the below posts too: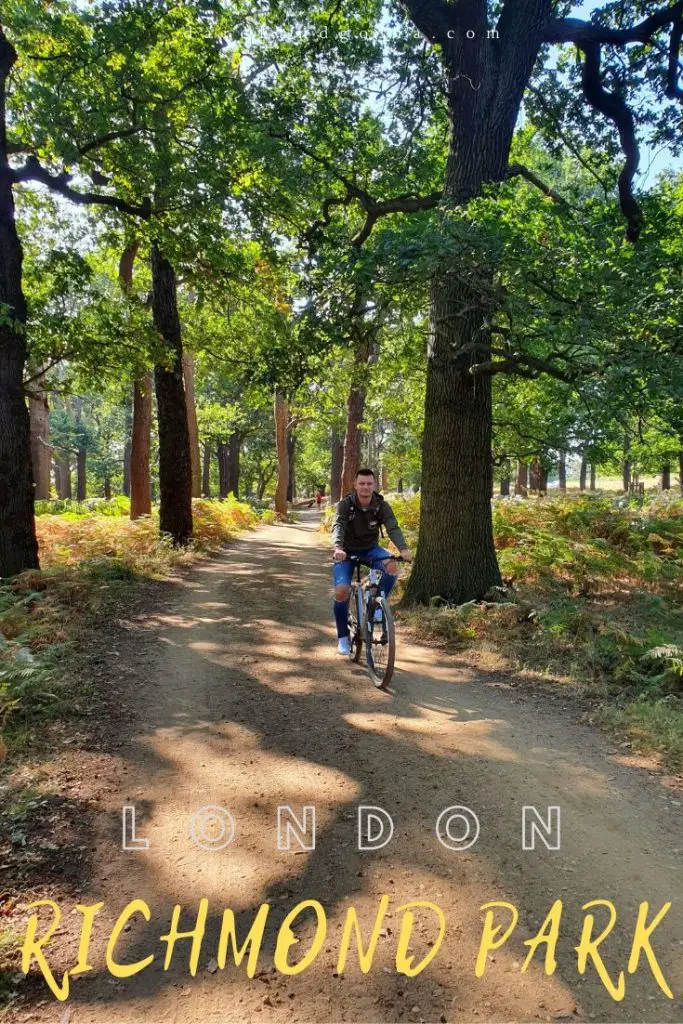 Articles you may like: