What to do in Madeira Portugal? From Pico Rouvio to Cabo Girão – learn more about romantic & unusual things to do in Madeira island!
Looking for free things to do in Madeira island or maybe romantic and unusual things to do in Funchal? There are endless attractions on this stunning island. And with so many stuff to explore, Madeira is one of the best islands in Europe! From romantic to alternative things to do, Madeira has it all! Madeira is for sure one of the most romantic places in Europe.
Madeira is a Portuguese island located in the Atlantic Ocean. Very often it is called the land of eternal spring. All because of the mild climate with an average temperature around 22 degrees Celsius.
The island of Madeira is an amazing place that combines breathtaking views, great cuisine and charming towns. Yes, there are no beaches on the island of Madeira (apart from a few artificially built with sand from Morocco). But there are many fantastic places with beautiful nature, amazing mountain treks and roads raising the level of adrenaline! Madeira is an island for active people. If you go to Madeira to rest, it means you haven't really experienced Madeira!
So, what to do in Madeira Portugal? We have prepared our pick of the best things to do and see in Madeira Island.
Top Things to do in Madeira: At a Glance
Cabo Girão
Pico Ruivo
Funchal
Levada das 25 Fontes
Santana
Ponta de Sao Lourenco
Pico do Arieiro
Porto Moniz
Balcoes
Ribeira da Janela
Madeira is still kind of unattached by mass tourism – which is obviously great news for you! Despite having spectacular hiking trails and many phenomenal coastline views, Madeira is definitely less popular than Lisbon or Algarve.
But, if you are looking for a perfect winter destination in Europe, The Island of Eternal Spring will be a perfect place to go!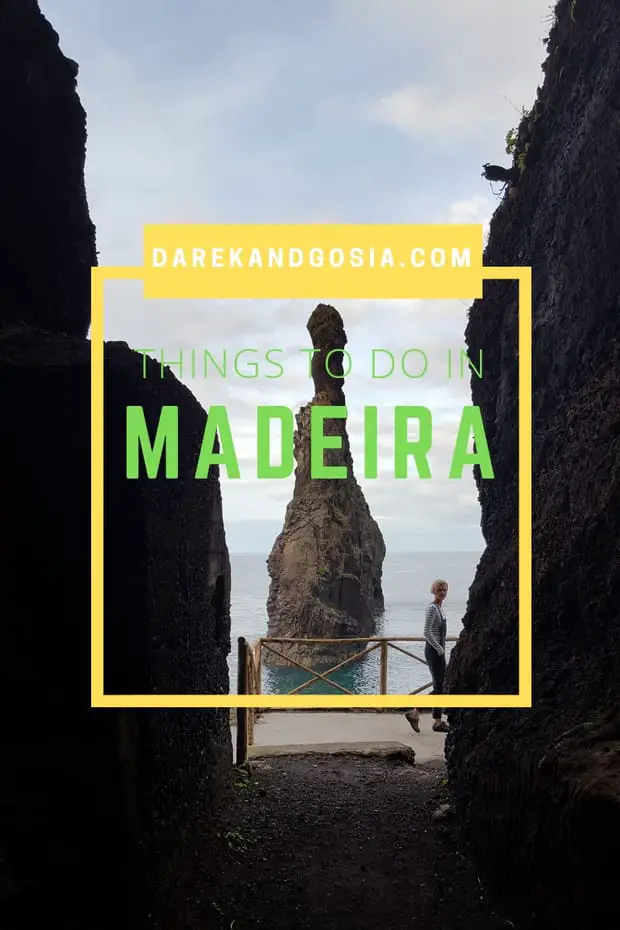 11 Unusual Things to do in Madeira island:
1. Look down from Cabo Girão Skywalk
If you are wondering what to do in Madeira island, this is the number one place to visit! Cabo Girão, a glass skywalk, is nearly vertically dropped above amazing cliffs (just only around 580m 😉 ) and it offers an incredible view of the fajãs of Rancho. You can even take a cable car to admire the cliffs from the bottom.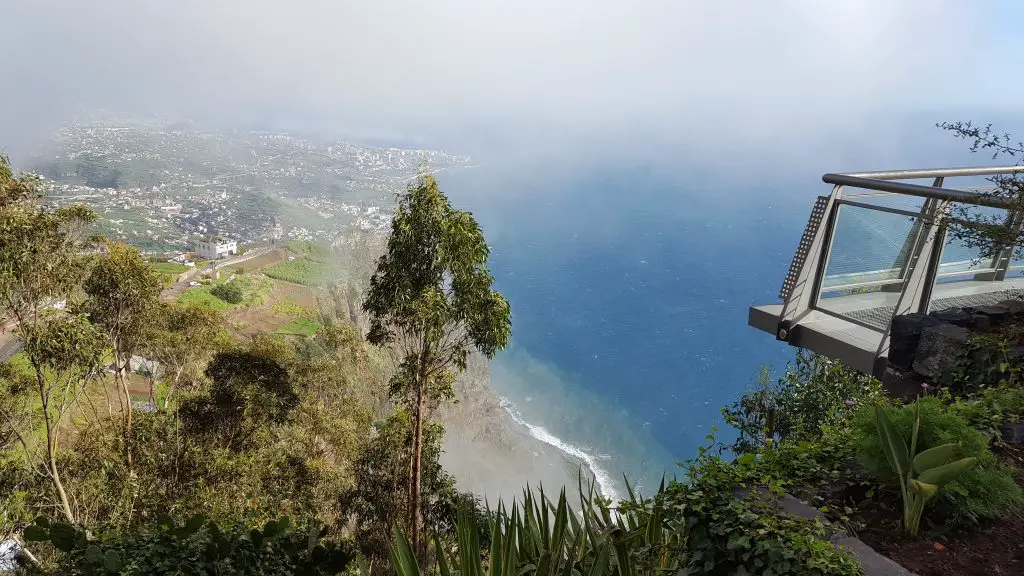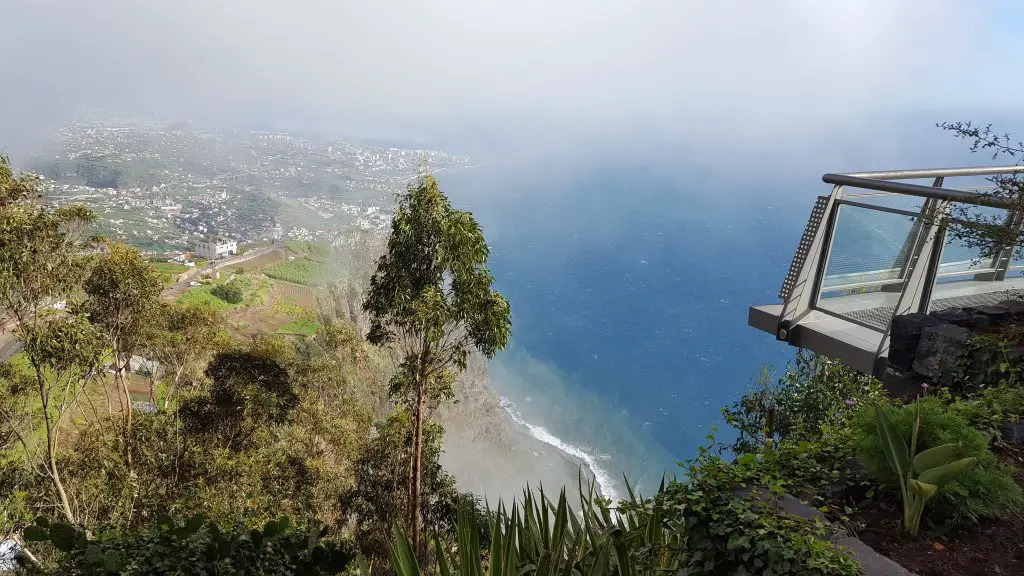 Don't panic! You don't have to be very brave to add this to your bucket list of things to do in Madeira – the views are definitely worth to go there!
And most importantly… it's absolutely FREE! What a starting point with your adventurer in Madeira, Portugal! Cabo Girão is one of the best places to visit in Europe so we couldn't skip it on our list of the unusual things to do in Madeira.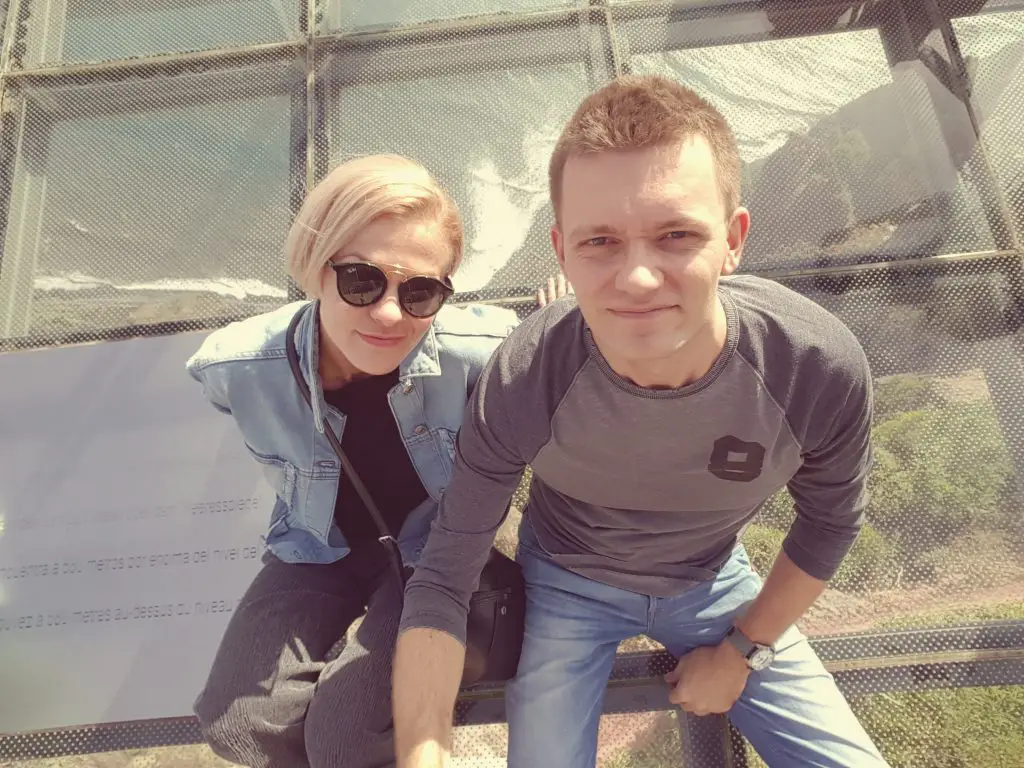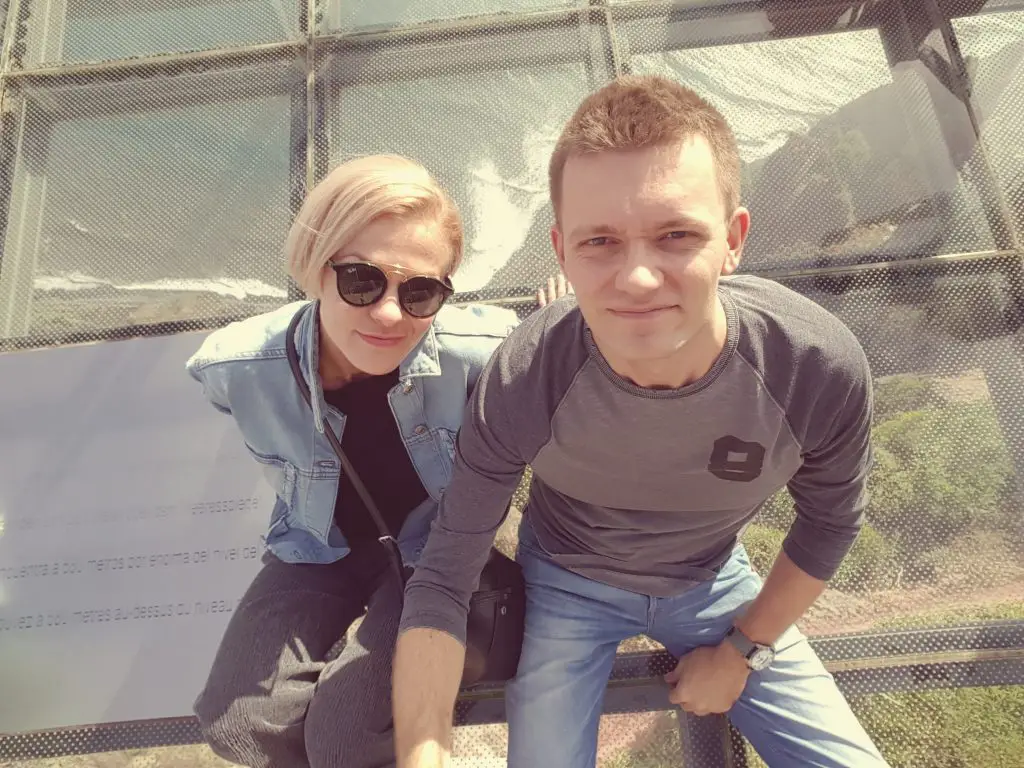 (TIP: the best time to go there is during… a part-cloudy day! You will see how the view is quickly changing once the clouds are gone. With or without (clouds), you will definitely love the panorama from the suspended glass platform!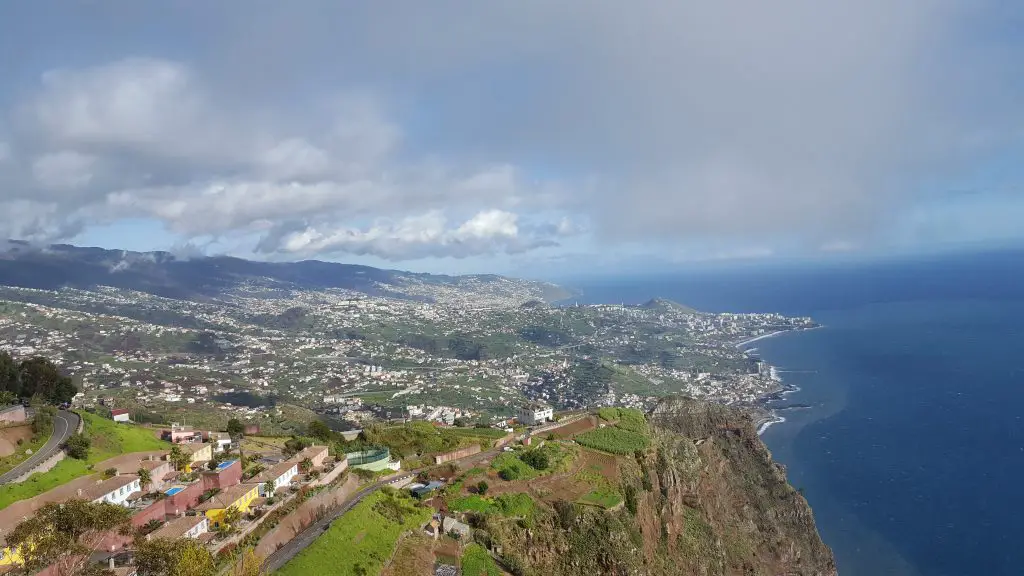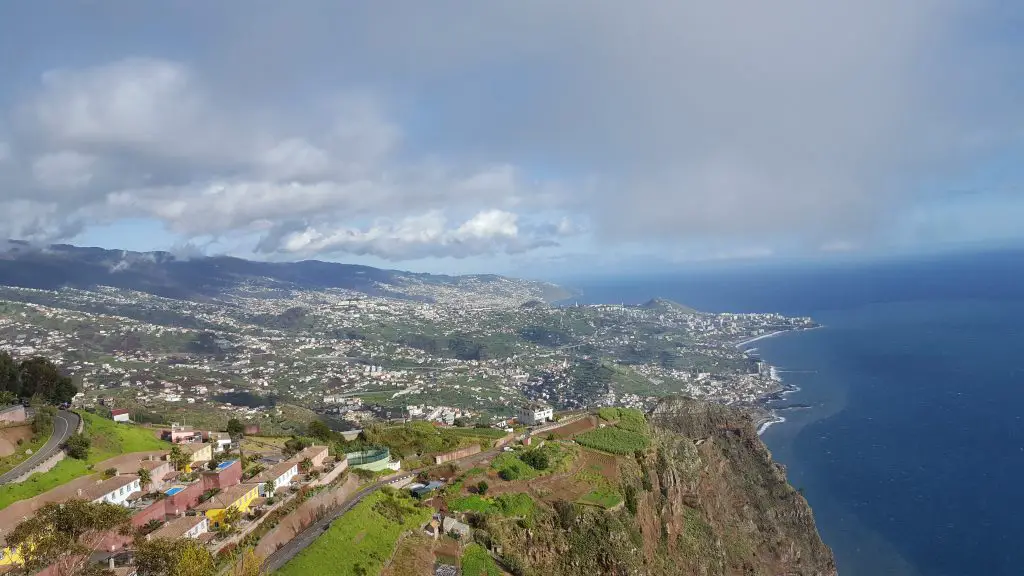 2. Pico Ruivo – amazing hiking trail
Are Madeira's mountains on your travel bucket list? We couldn't forget to shout out Pico Ruivo as one of the best places to visit in Madeira, could we? You can reach the peak (1,861 meters) following one of two amazing hiking trials:
1. from Achada do Teixeira village
or
2. from the summit of Pico do Arieiro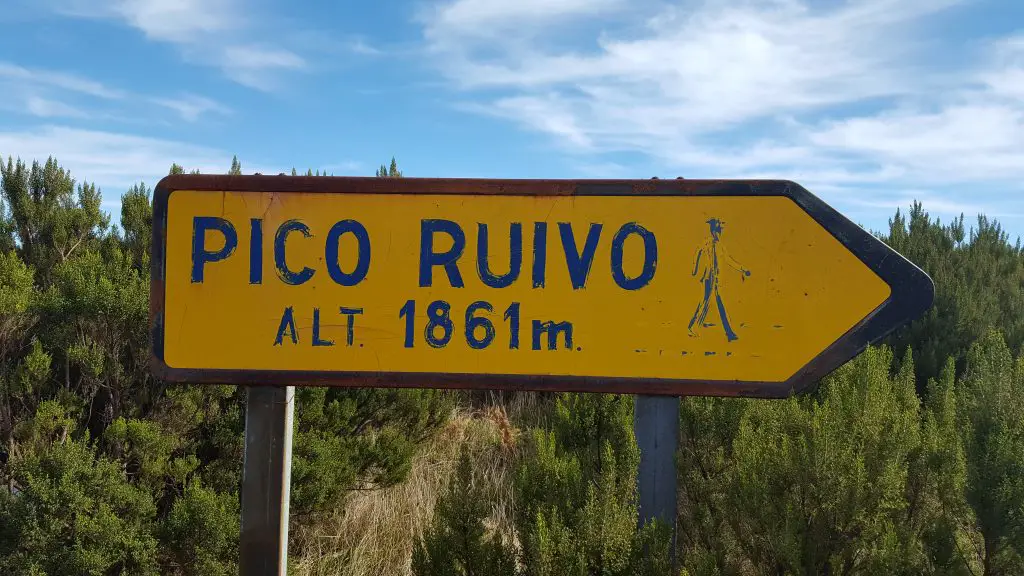 The first hike will take you around 1.5 hours compared to 5 hours from Pico do Arieiro. Pick the one, which suits you better depending on the time you have.
You can park your car at both of the starting points.
We recommend taking the trial from Achada do Teixeira – as we did.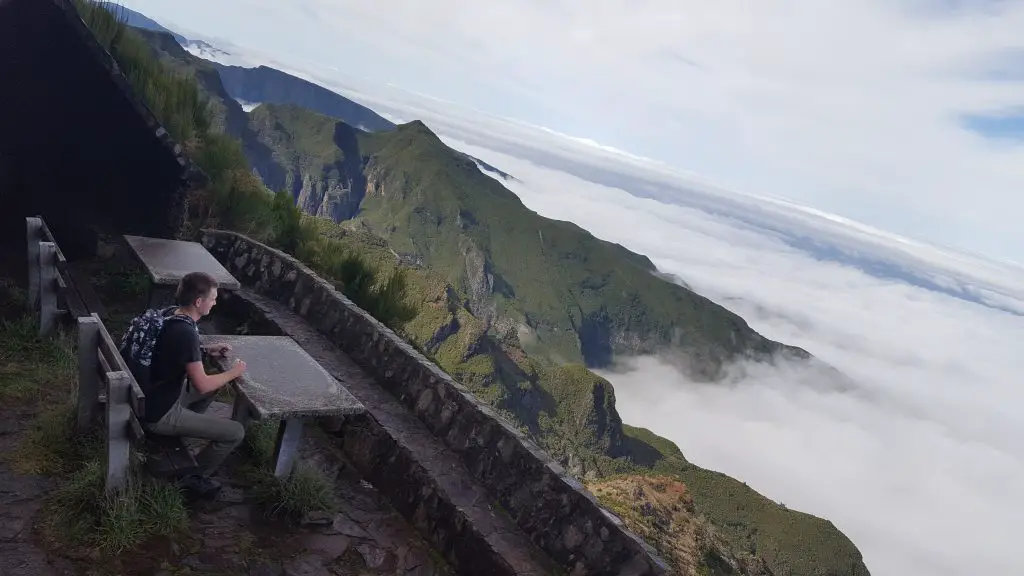 During your hike, the landscape will change dramatically as you will have to climb over 300m. From its 2,8km long route, the last few 100s meters of this hike are a bit challenging – massive stone-made stairs are not what you wish to have after 2kms of hiking 😉
But keep going!
Don't stop!
The awesome views and phenomenal landscape from Pick Ruivo are worth a few drops of sweat! This hike is one of the best free things you can do on the Portuguese Island of Madeira.
(TIP: be aware that the weather can change very rapidly. As always in the mountains – be prepared for the worse)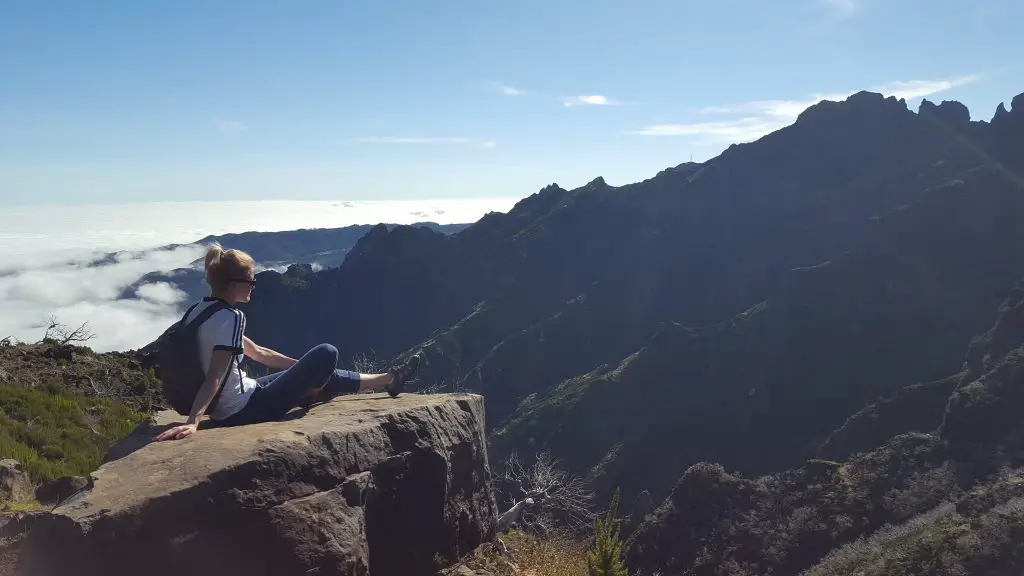 3. Enjoy remarkable coastline view
Some people say that Madeira is the most enviable island on earth.
It's hard to disagree! All across the island, it's filled to the brim with some of the best coastline views to see in Madeira.
But this European island doesn't have amazing beaches like the beaches in Algarve or a very intensive nightlife. It's rather quiet and sleepy. You can notice that time goes much slower there – just no-one is rushing.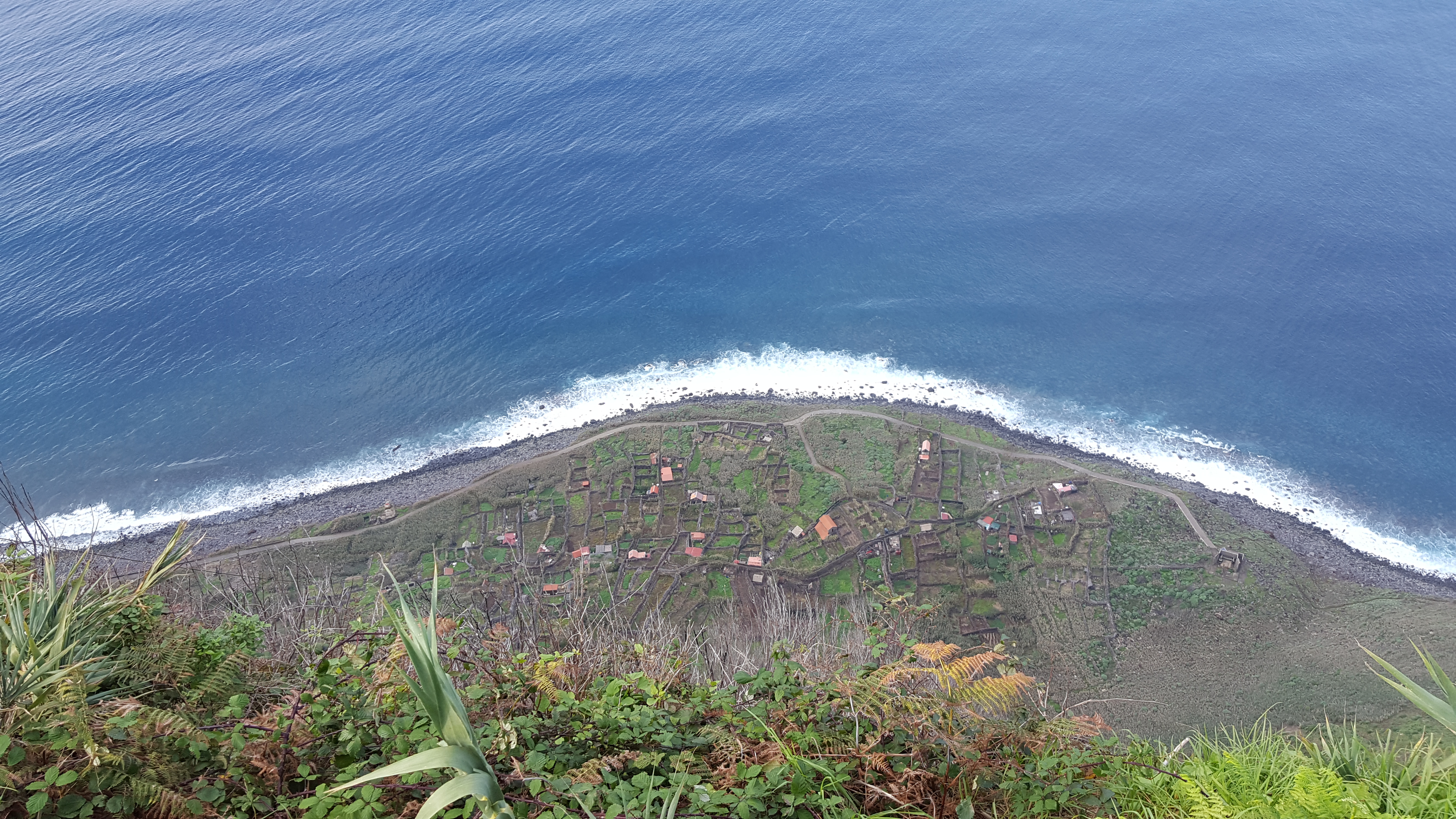 So, what makes it so special?
The answer is VIEWS!
Spectacular, breathtaking and sometimes even thrilling views!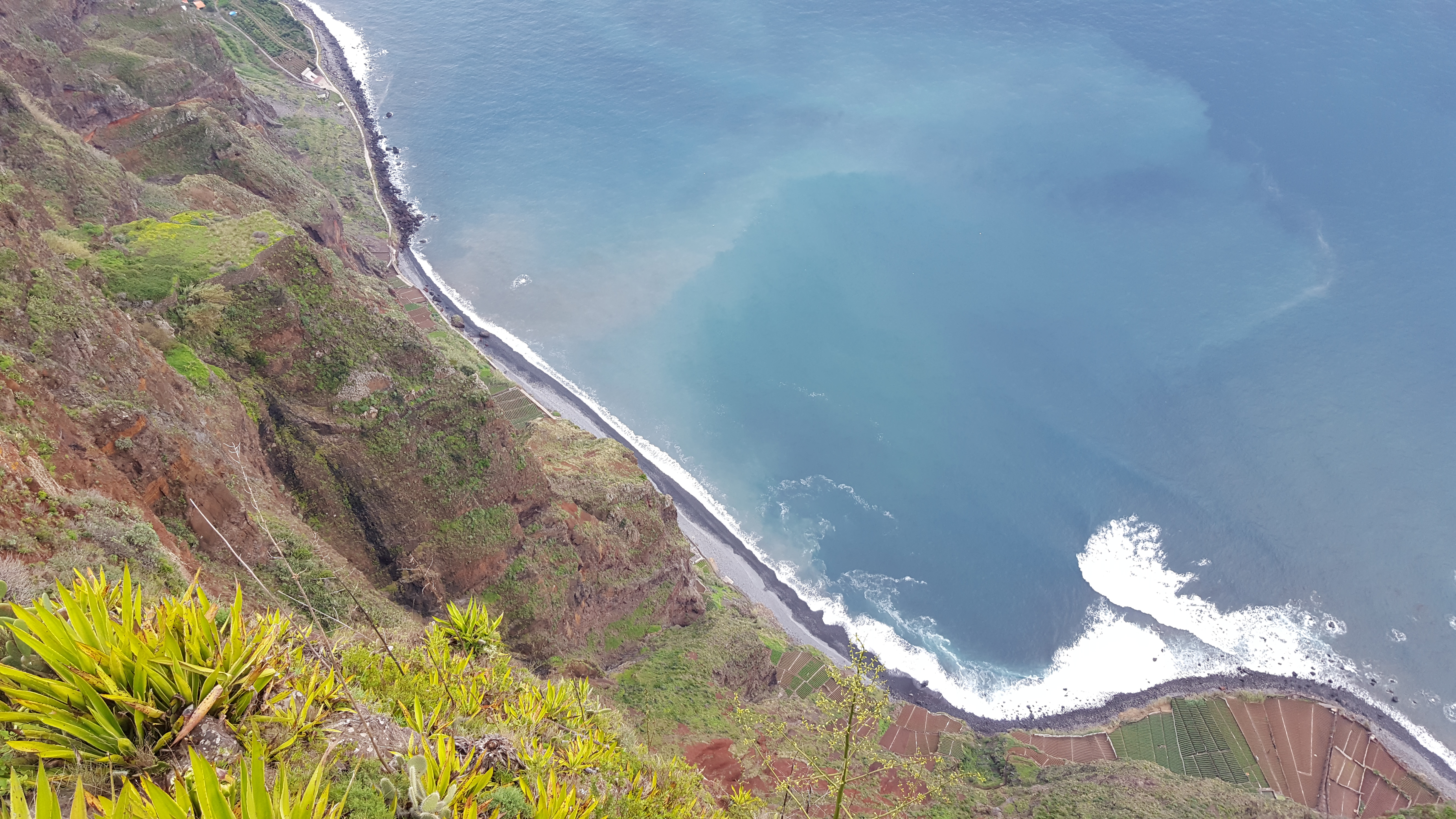 No matter where you go: east of the island to the Ponta de Sao Lourenco, south – to have dizziness from looking down from Cabo Girão or you climb one of the highest peaks – you can be sure:
The spectacular views will be there! And you will LOVE them!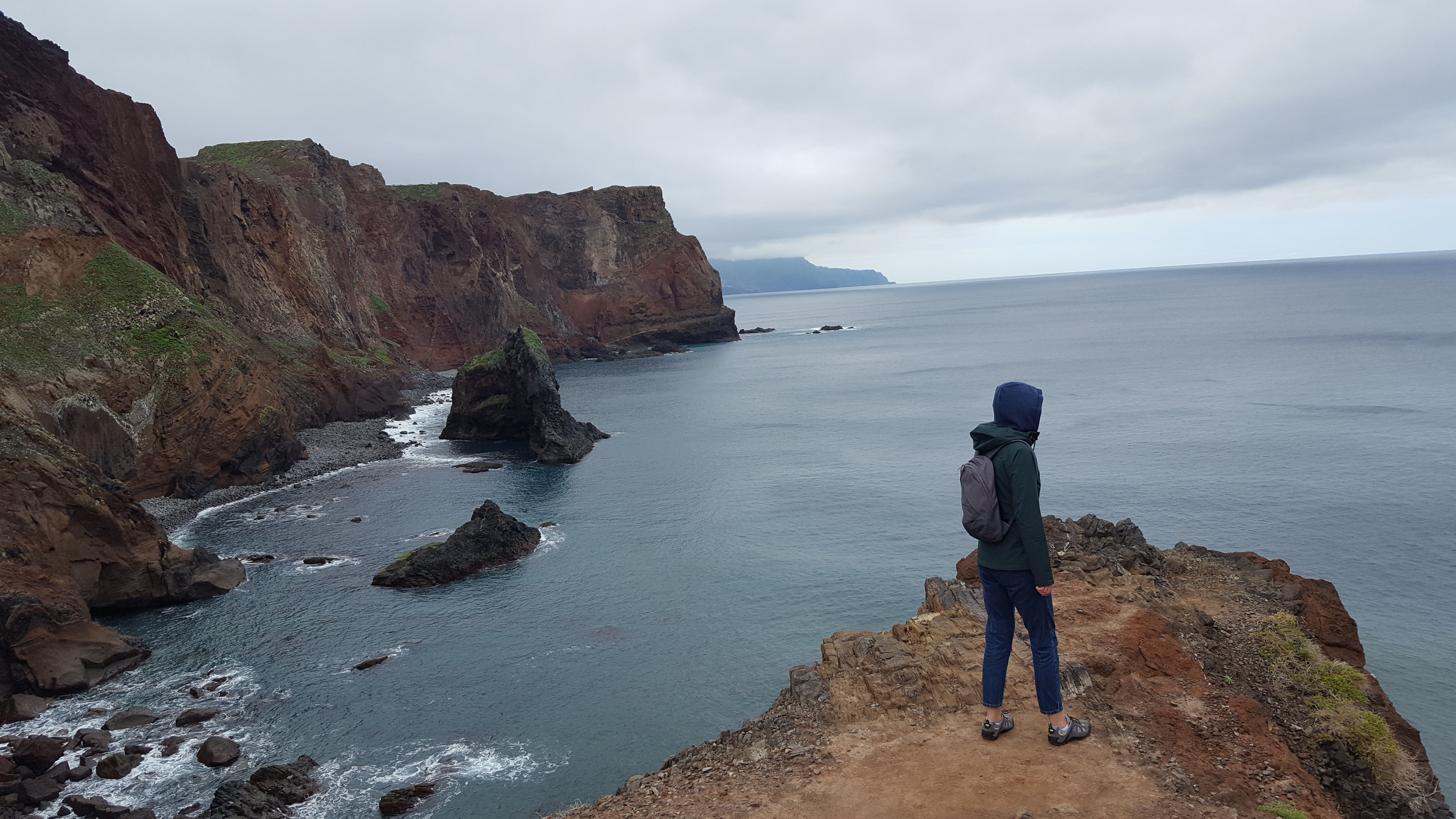 4. Visit Funchal
Whether you are visiting Botanical Garden, Cristiano Ronaldo Museum or you try Sledge Ride you will not be bored in the capital of Madeira. It's one of our favourite cities in Europe and possibly one of the best places to visit in Madeira.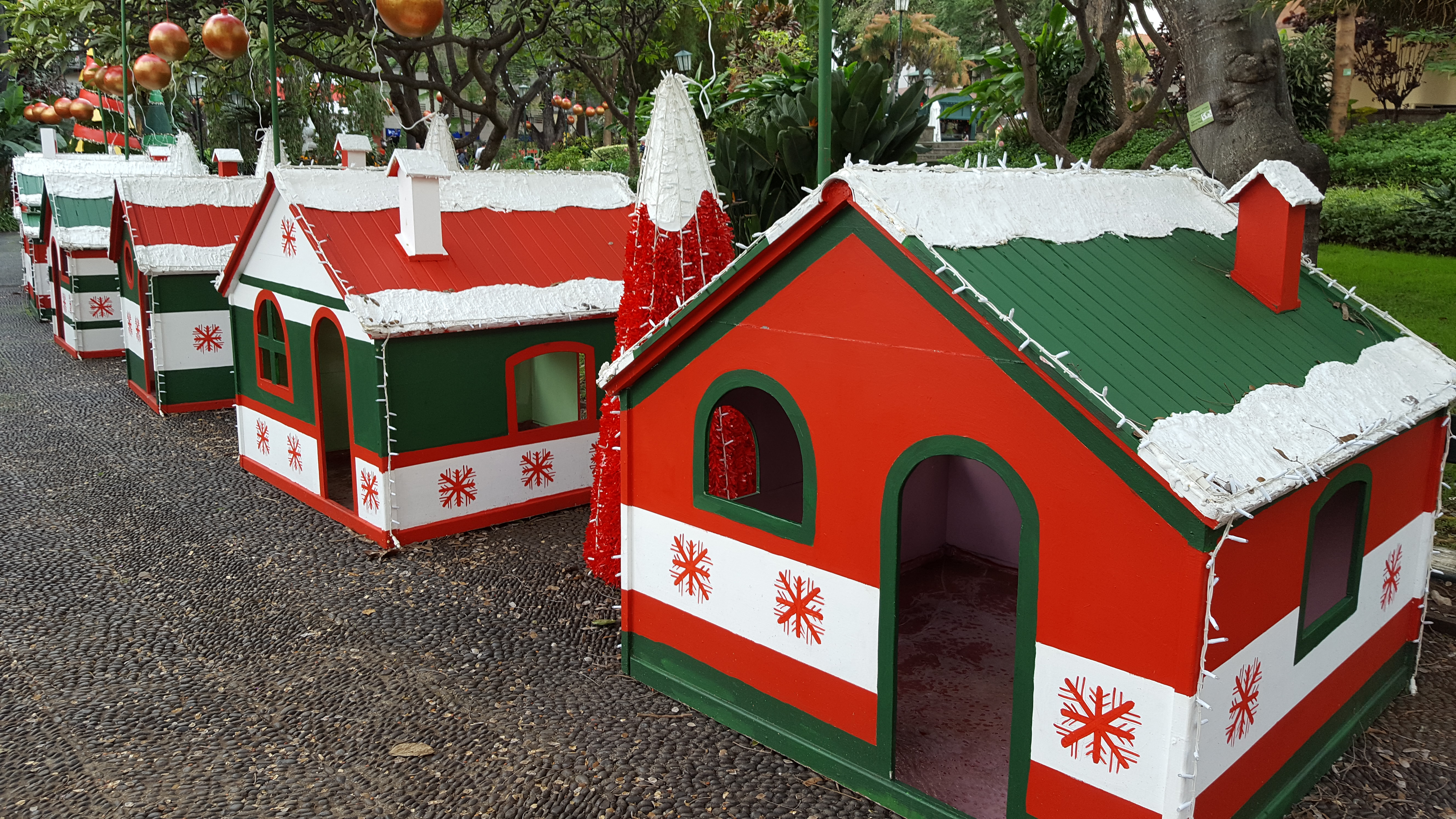 We visited Madeira in December – wintertime is just perfect to visit Madeira!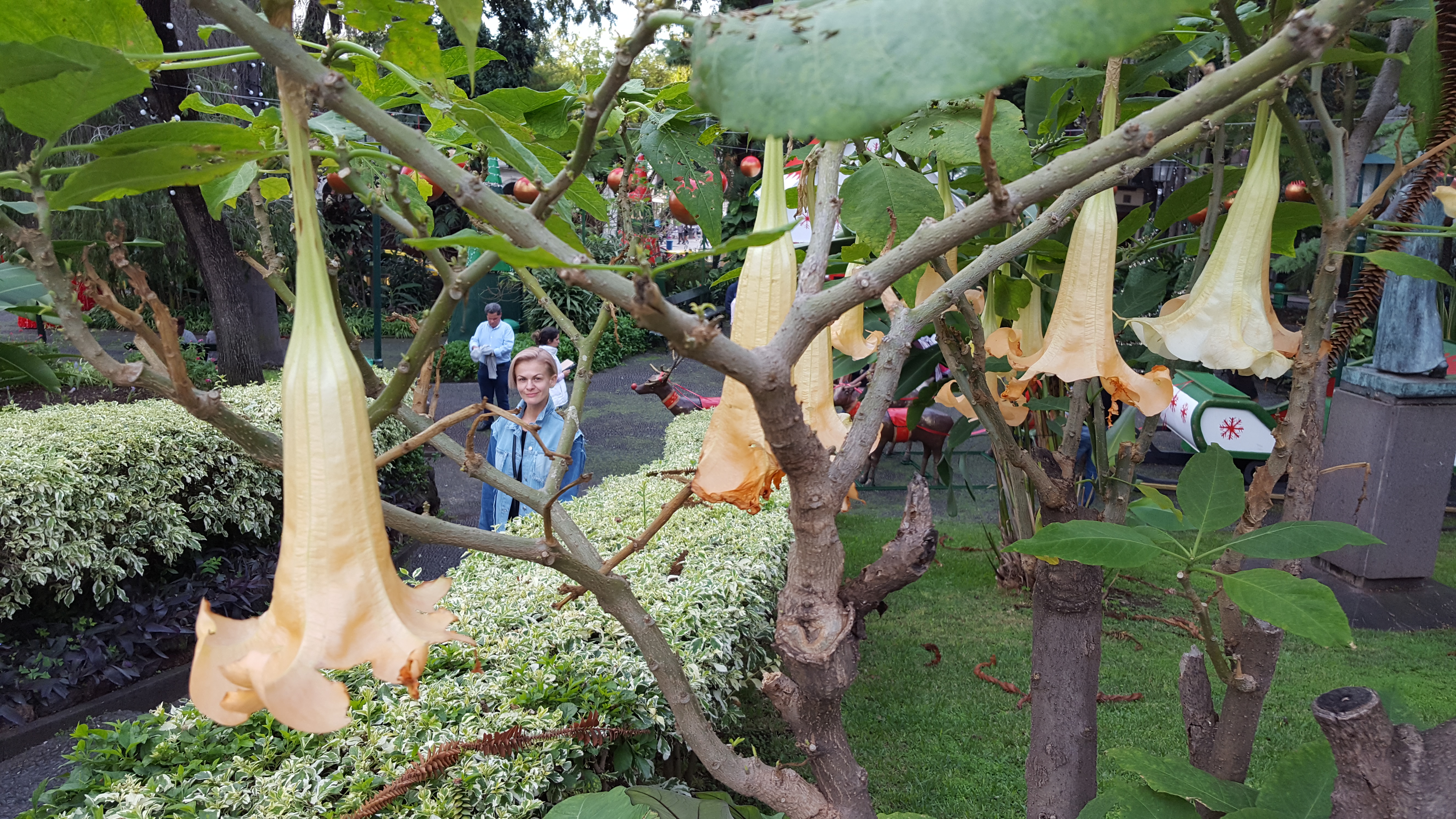 Who wouldn't like to escape from cold Europe to 20 Celsius degrees in the Island of Eternal Spring?!
If you are looking for romantic things to do in Madeira, visit Funchal during Christmas time. The atmosphere is just fantastic and you can feel the romance in the air! Yes, you will love Madeira Island! 🙂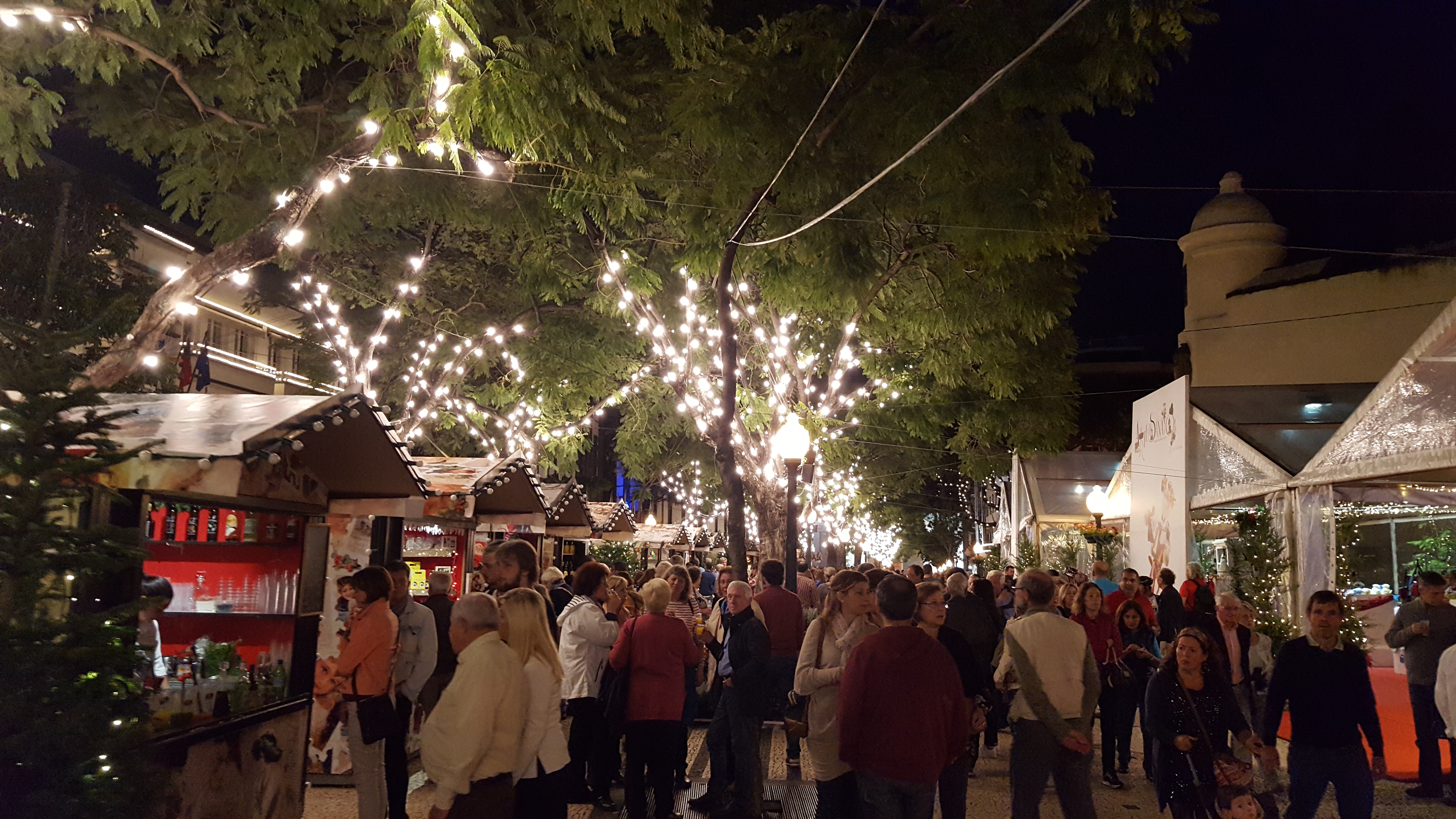 5. Levada das 25 Fontes
Madeira is famous for its levadas. There are about two hundred of them on the island of Madeira! What exactly are levadas? It is a network of irrigation canals supplying water from the mountainous areas to the south of the island. Many paths were additionally built along the canals to keep the system clear. The water on the levadas does still flow and the permanent paths are one of the main attractions in Madeira providing an unforgettable experience on this Portuguese island. Ready to hike Levada das 25 Fontes?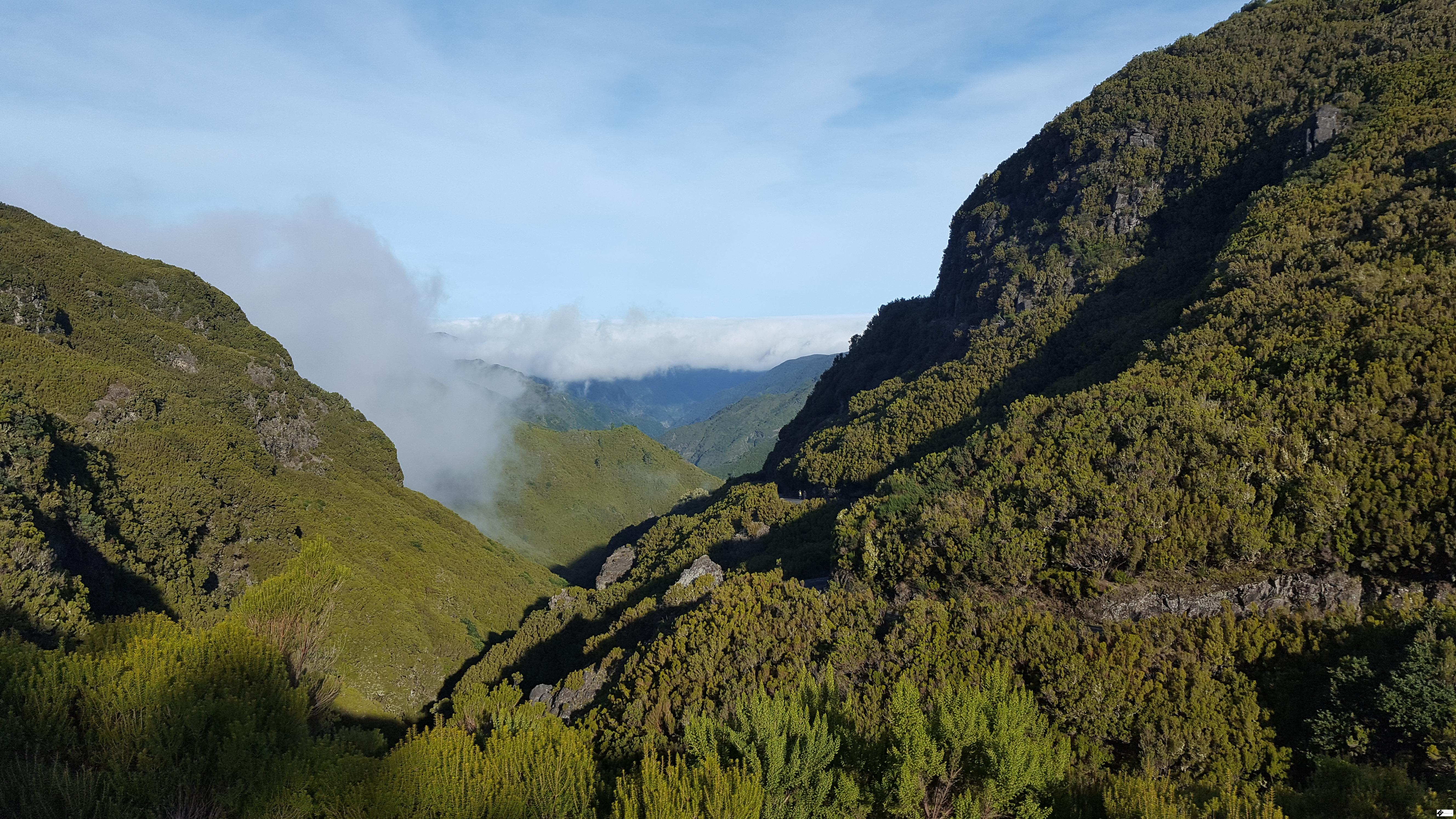 You will have to park your car in Rabaçal on the E.R. 105 and from there you can start an amazing day 🙂 It really is one of the best things to do in Madeira island. Please note that the "real" hike starts at The Rabaçal Forestry House which is about 2km from the place you left your car.
You can take a bus, which will take you to the Forestry House – we would recommend taking it if you don't start your hike early morning. You will be able to overtake a few tourists on the way 😉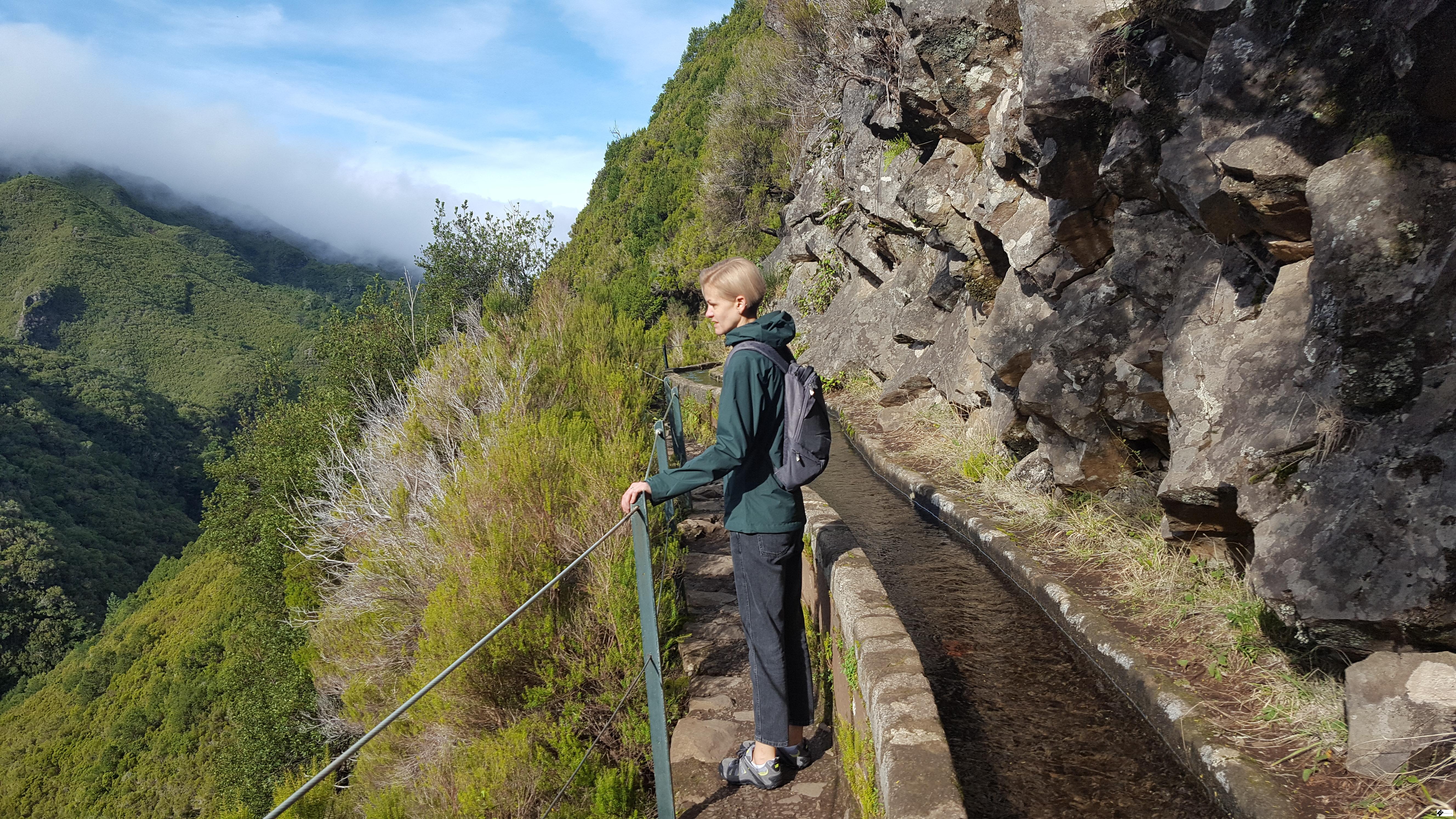 If you are an early bird, as we are, you will be better off by going down on foot – the scenery is worth it!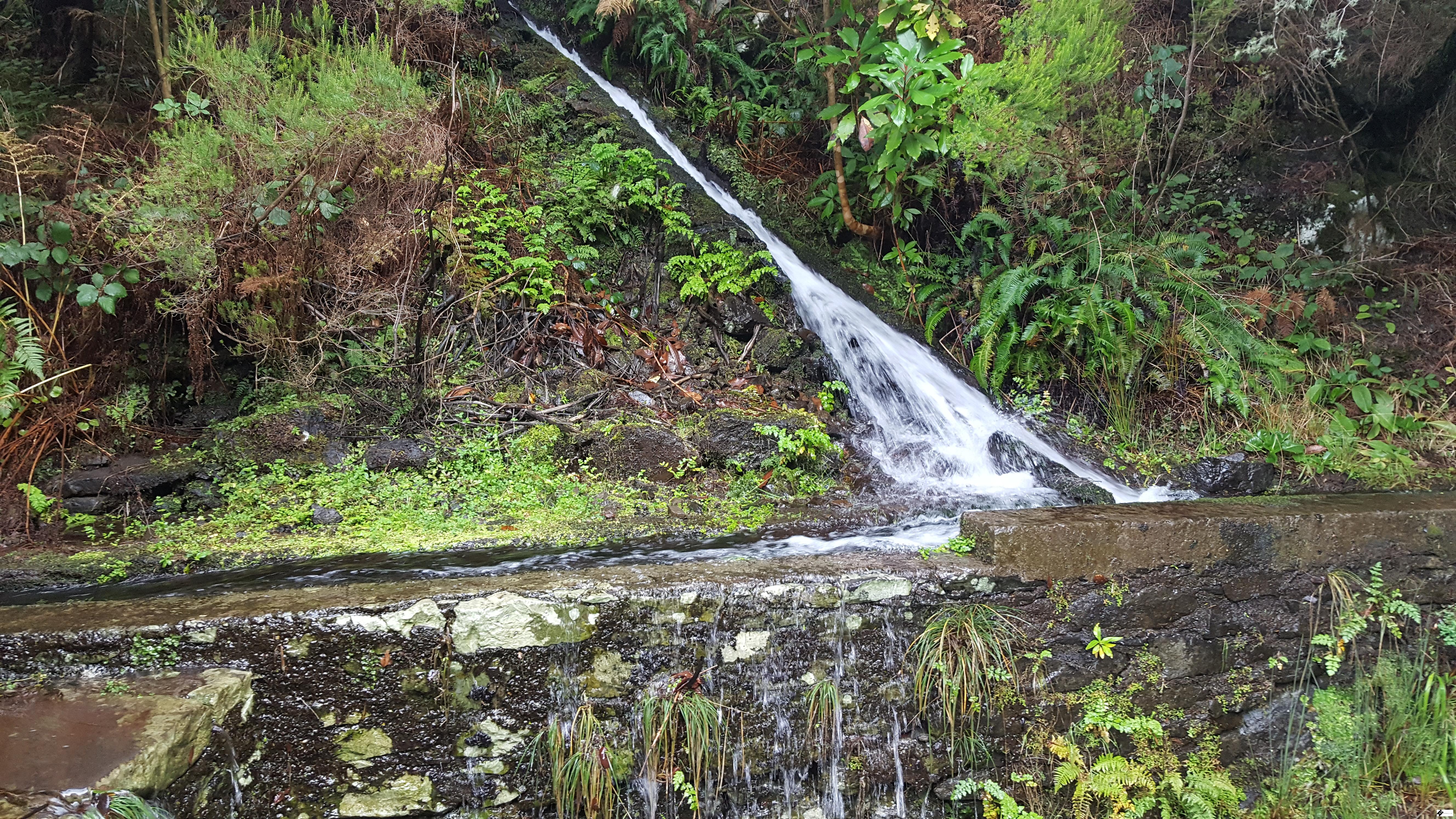 After 4.5km and two hours hike, you will finally see the spectacular waterfall.
But be careful! A rumour says that whoever is to dive there will never come back up to the surface again…
Ups… Have you seen Gosia?! 😉
(TIP: This is one of the most visited levadas on the Island. With its narrow path, it is very easy to be stuck in "traffic" – there will be many tourists willing to see the spectacular waterfall. Make sure you start the hike as early as possible)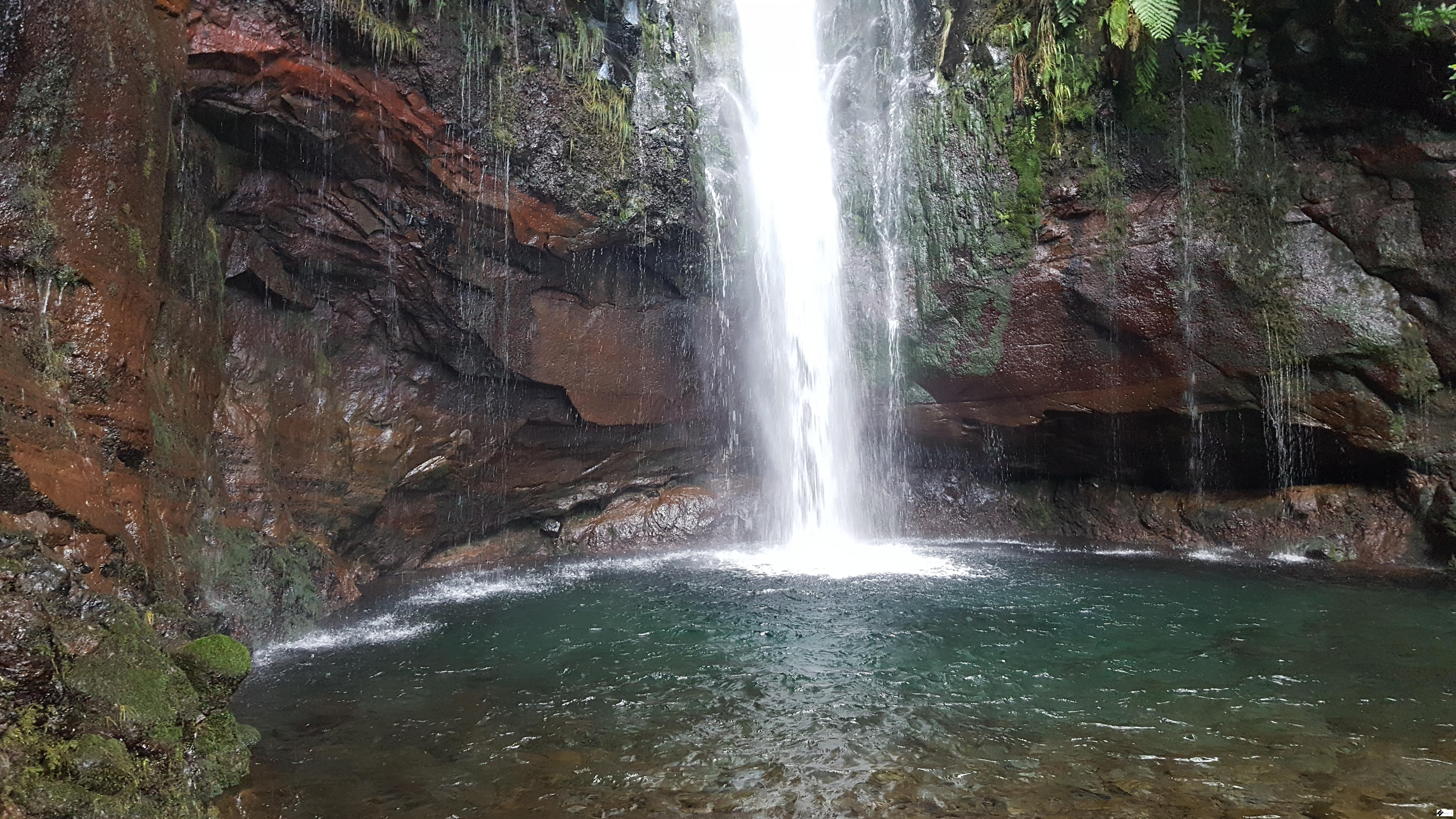 6. Feel like a 16th-century farmer in Casas Típicas de Santana
Make sure you visit Santana to take a picture in front of the thatched triangular small houses – there are just cute! We fell in love with Santana straight away and it's really up there with the best places to visit in Madeira.
It really is one of the most beautiful villages in Europe.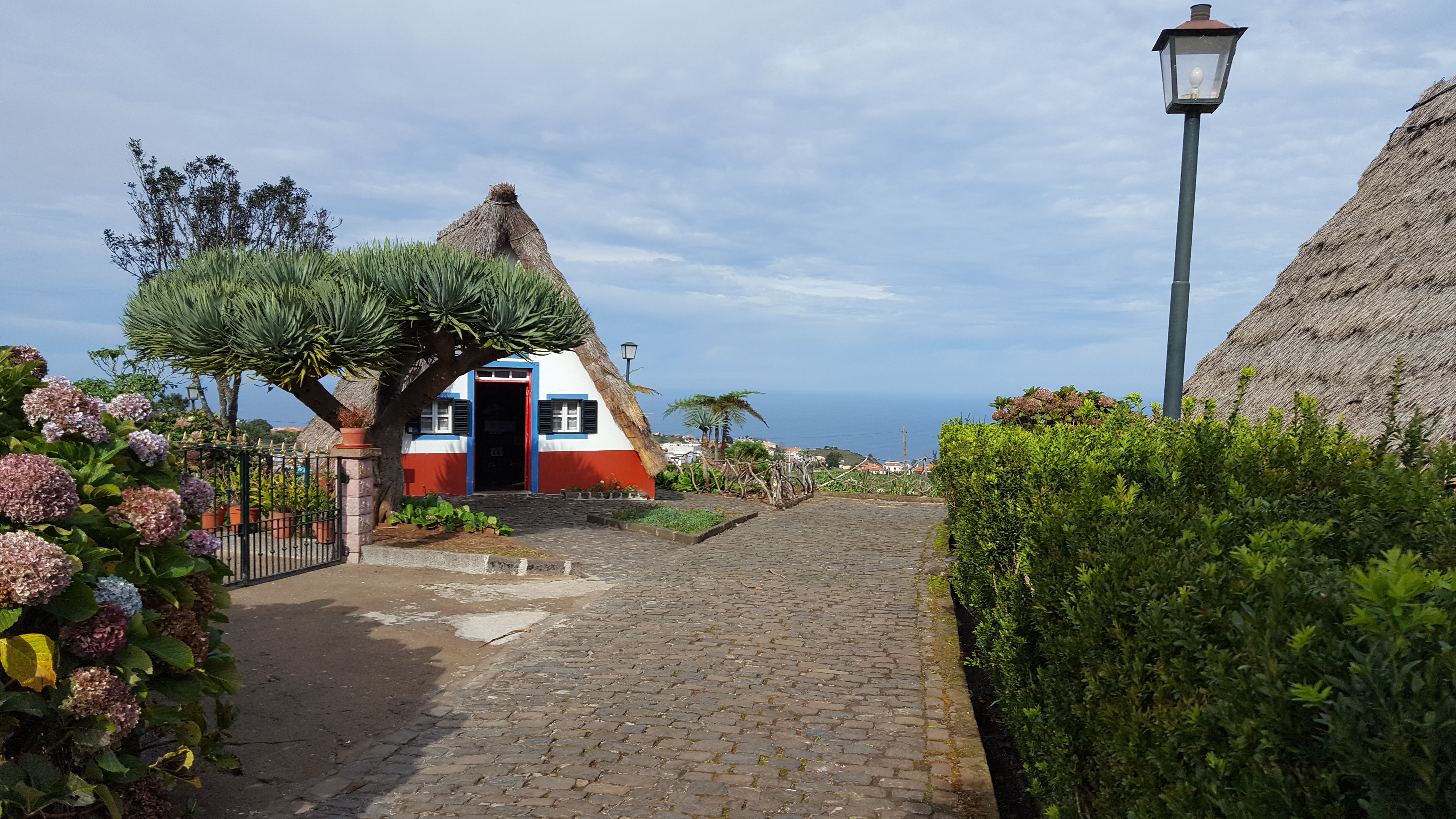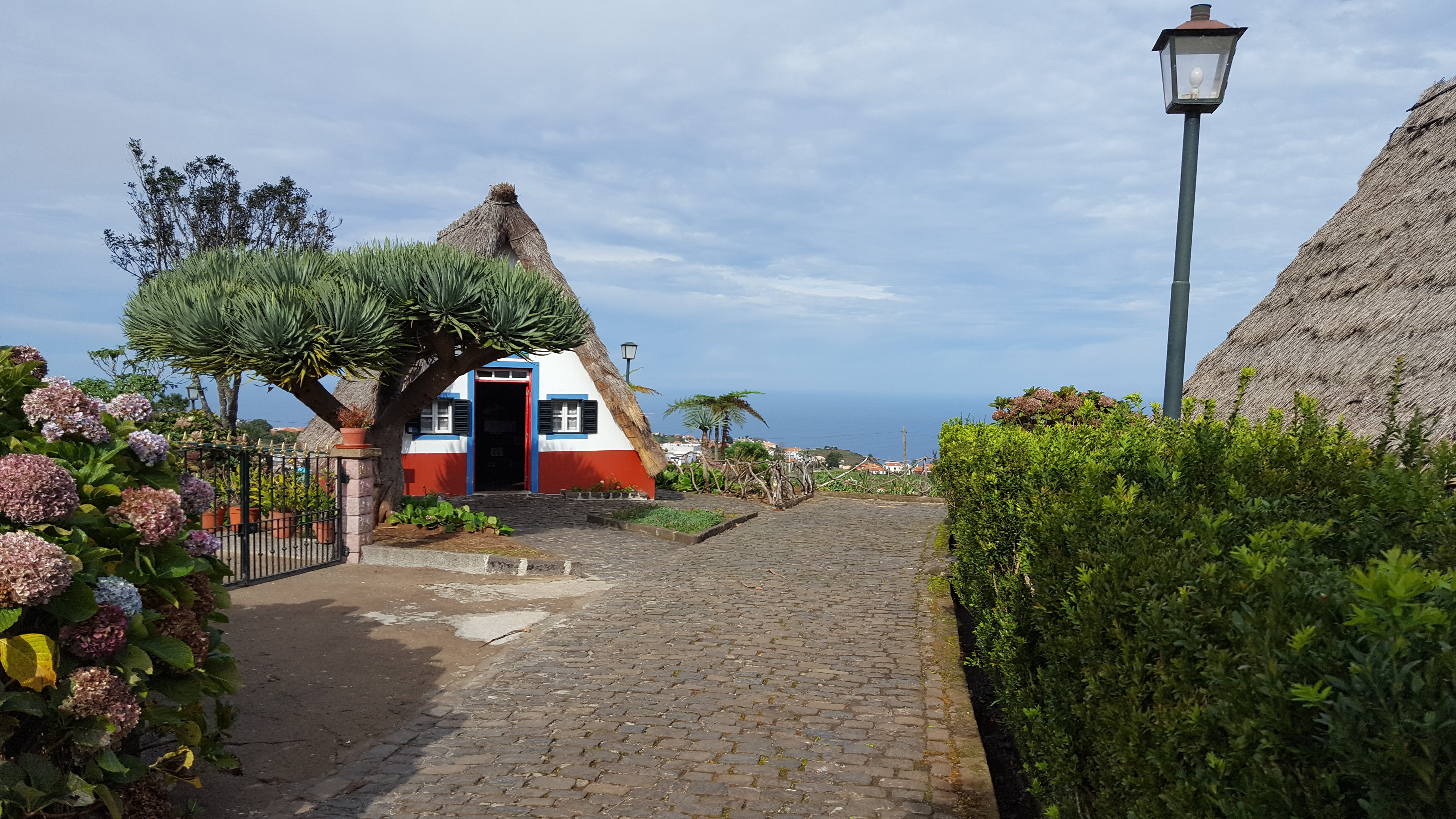 Just don't understand how in 16th-century farmers could live there?! I guess, there were not as tall as I am 🙂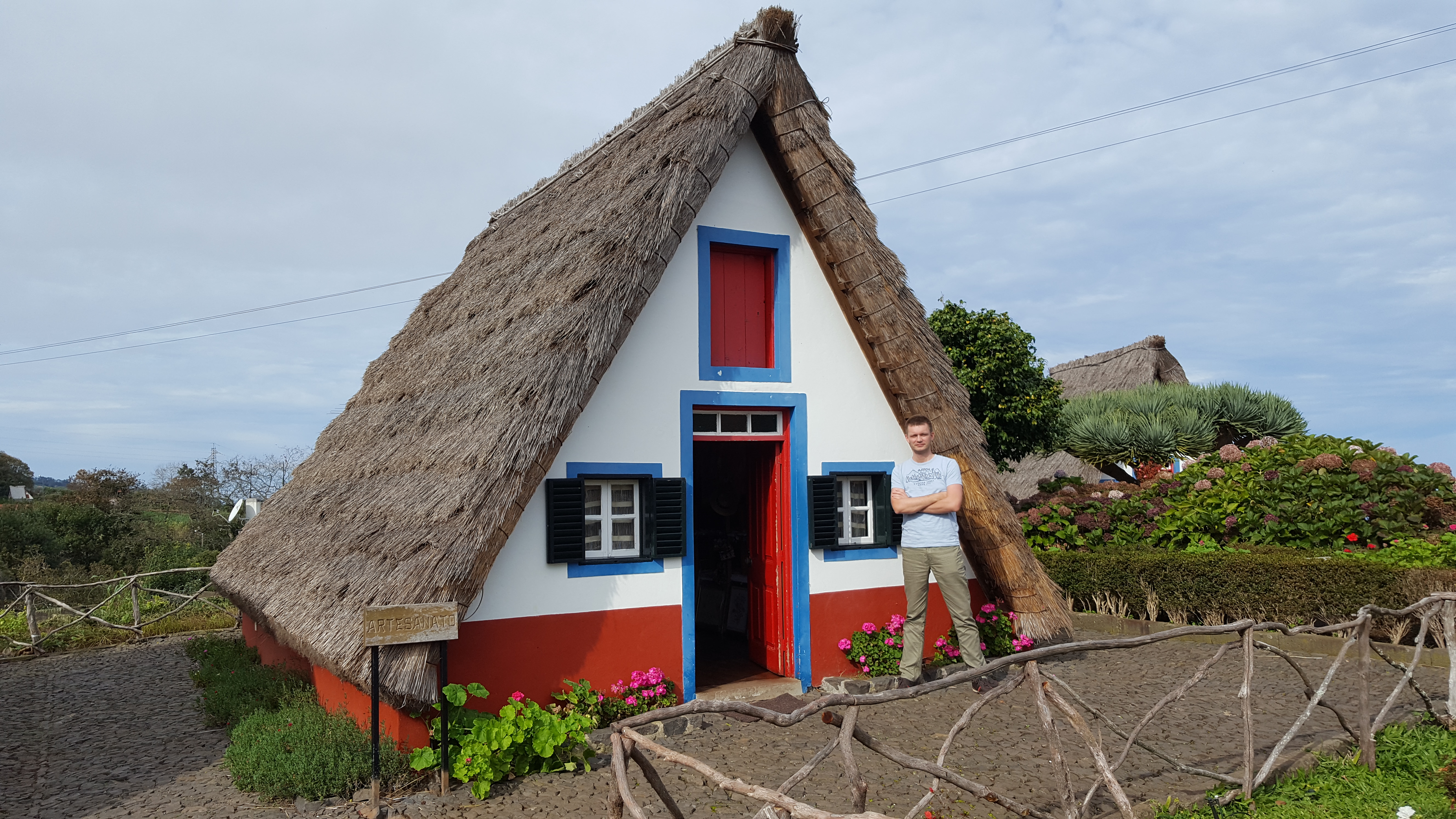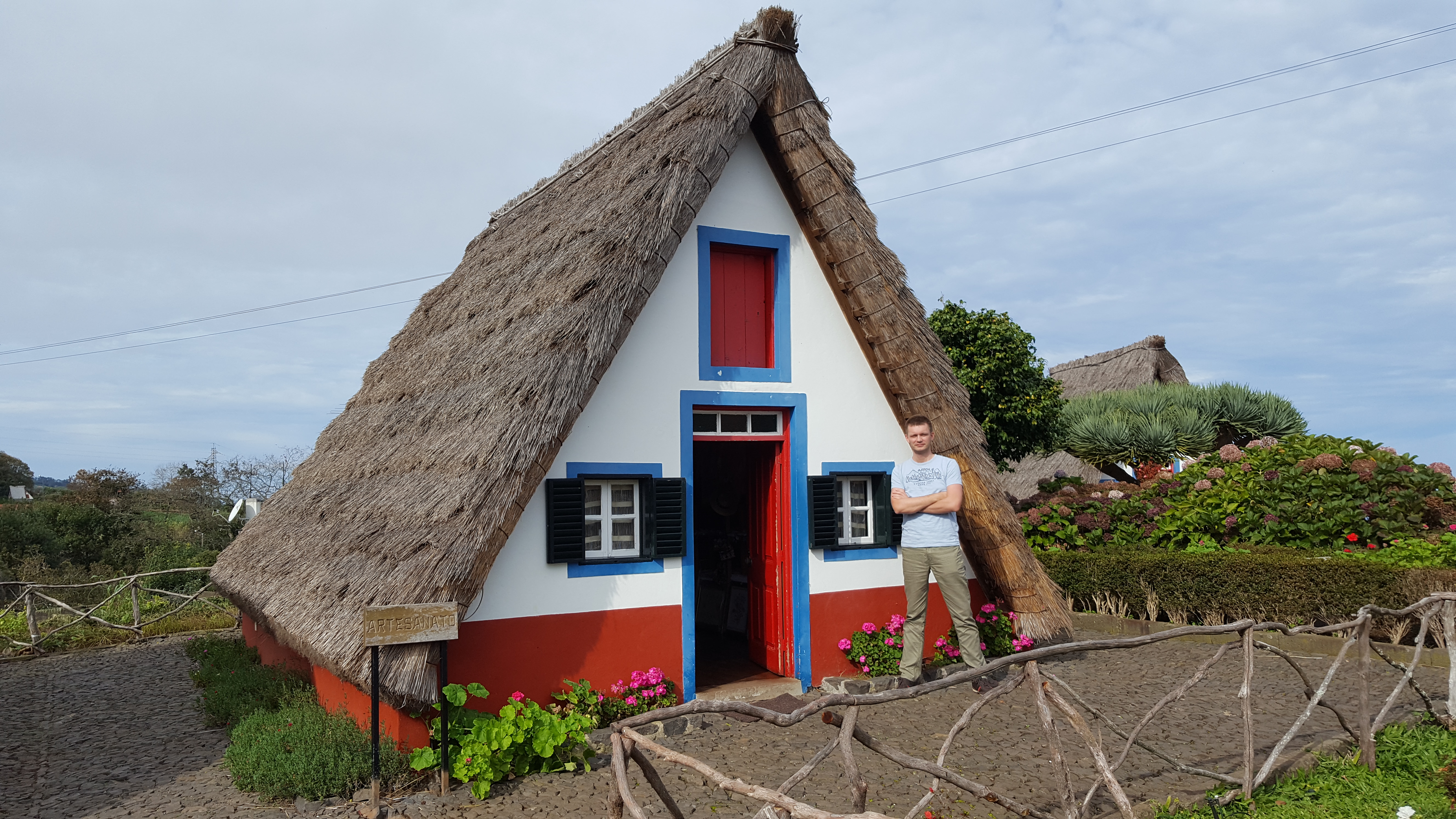 Just head to the north side of Madeira and you will be able to visit some of the houses – many are operating as tourist attractions.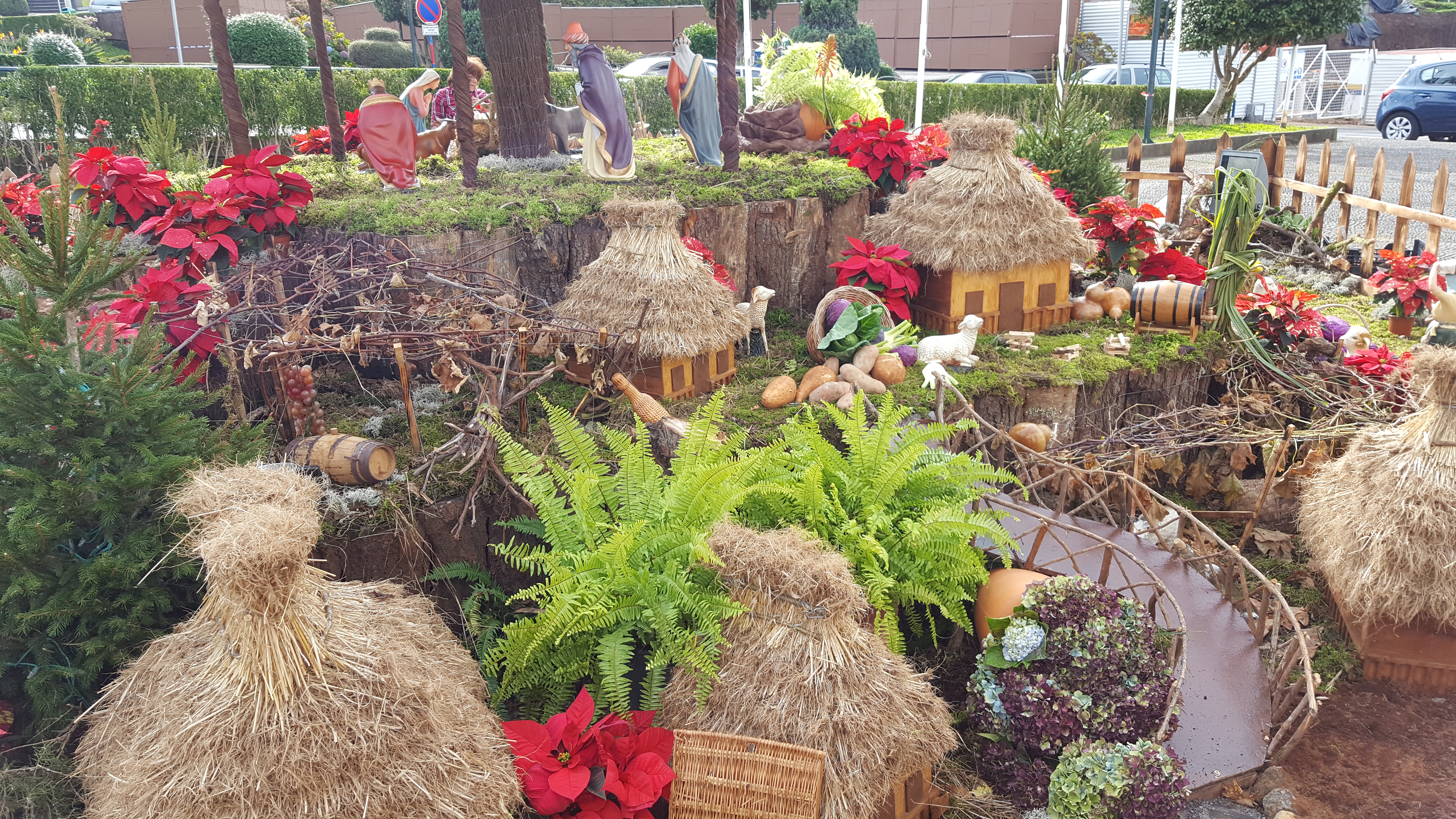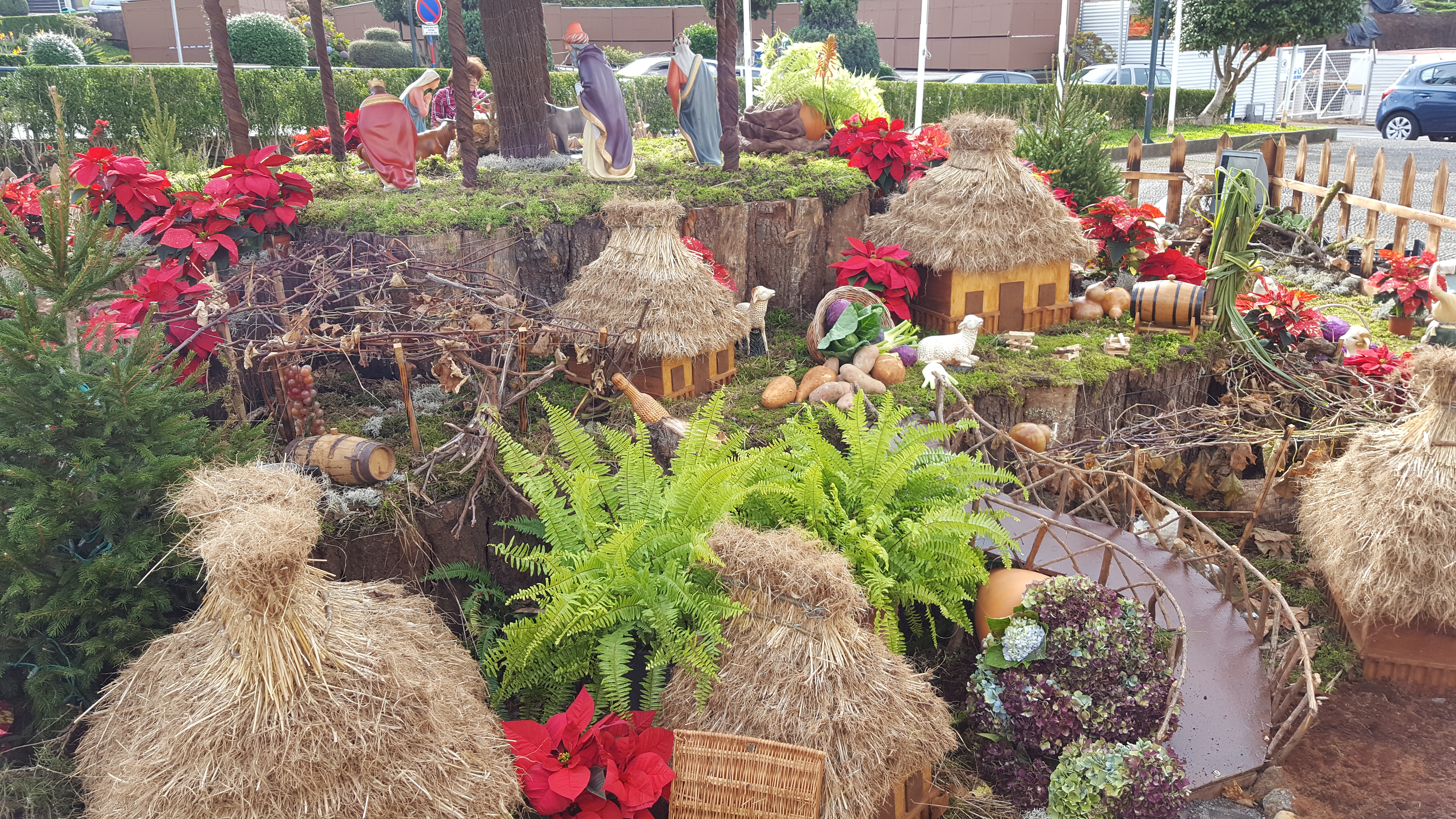 7. Ponta de Sao Lourenco – one of the best things to do in Madeira
WOW!
Mother Nature has spent a bit of time there – creating this phenomenal landscape.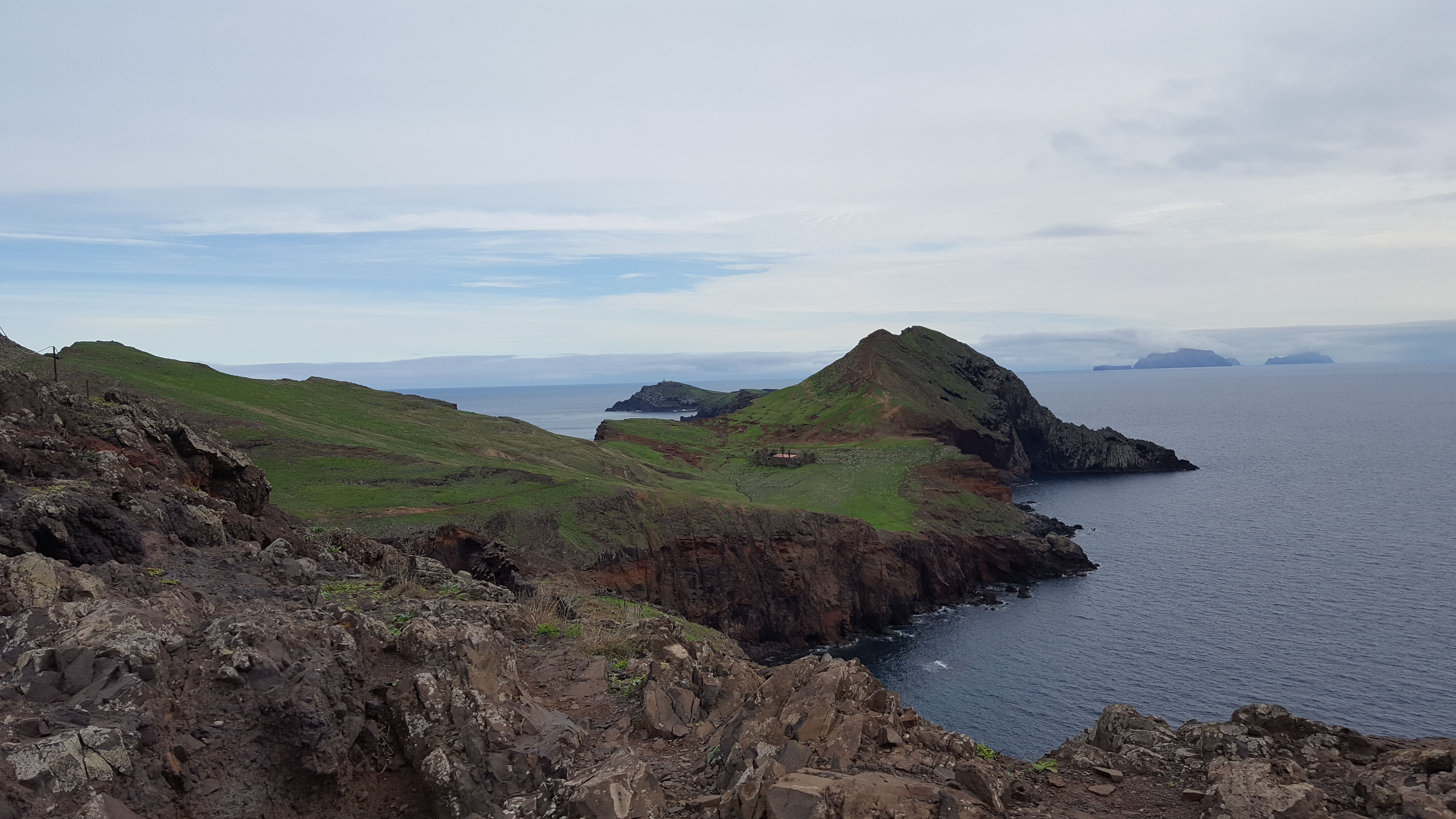 The Ponta de Sao Lourenço walk is really something you have to experience while visiting Madeira. A combination of basalt rock formations and the rough sea is just breathtaking!
This is the most eastern part of Madeira and it is a nature reserve since 1982 – hence, it's probably the most untouched area in Madeira. Of all the amazing things to do in Madeira, this one was one of the tops we enjoyed most. It really is a very unique place to visit!
A dream for all hike-lovers!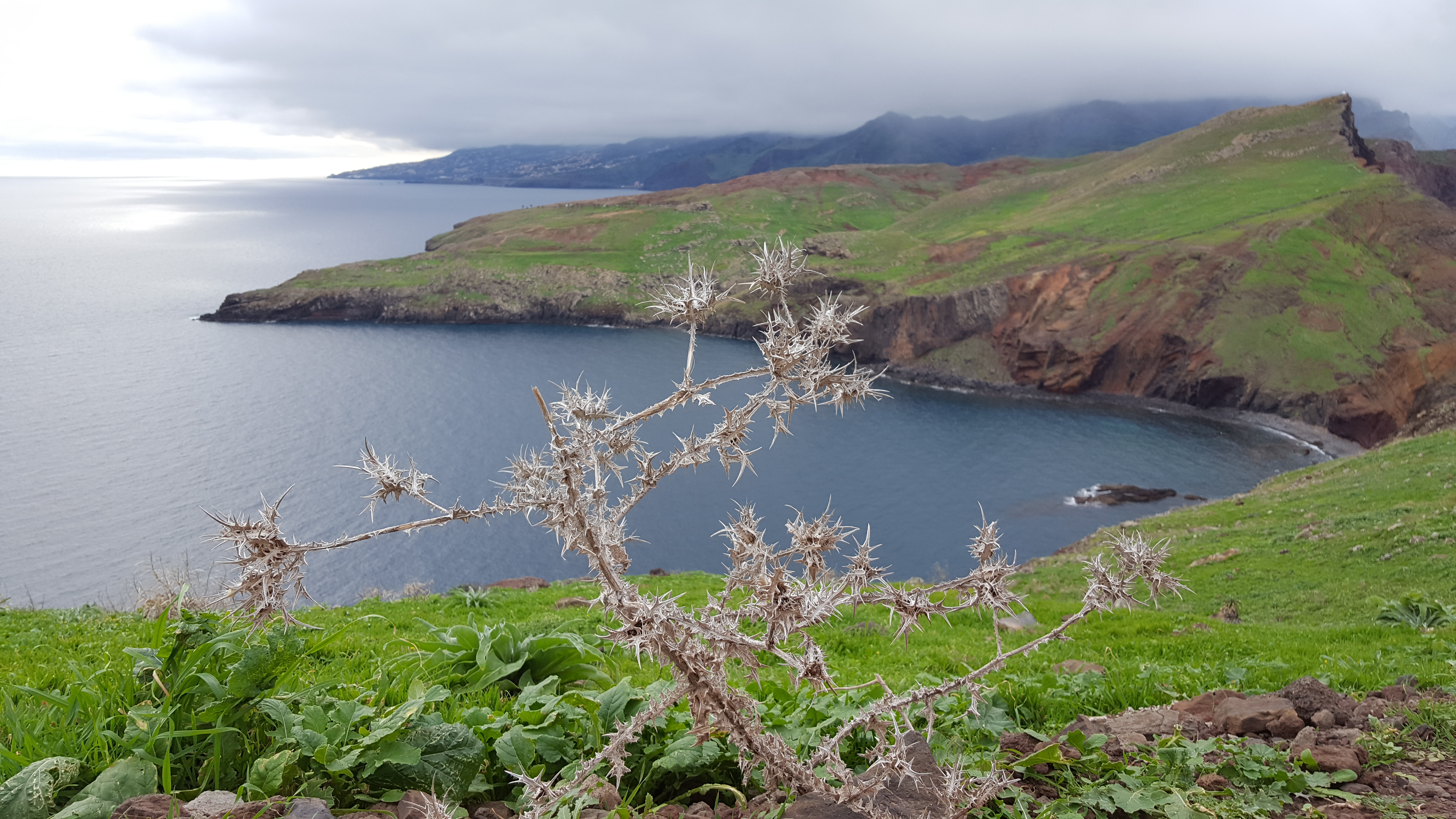 (TIP: This part of Madeira island is often very windy – make sure this doesn't surprise you)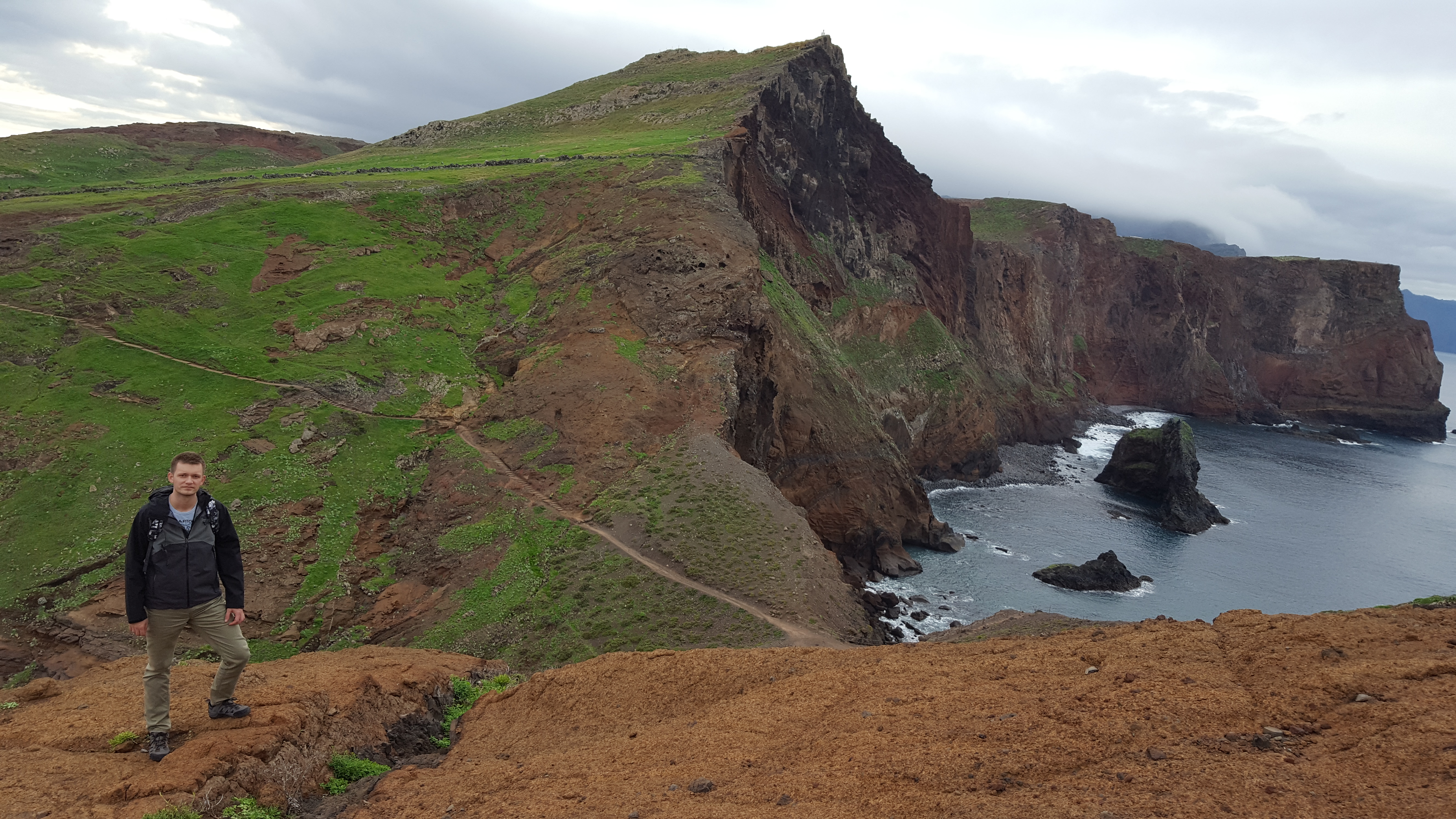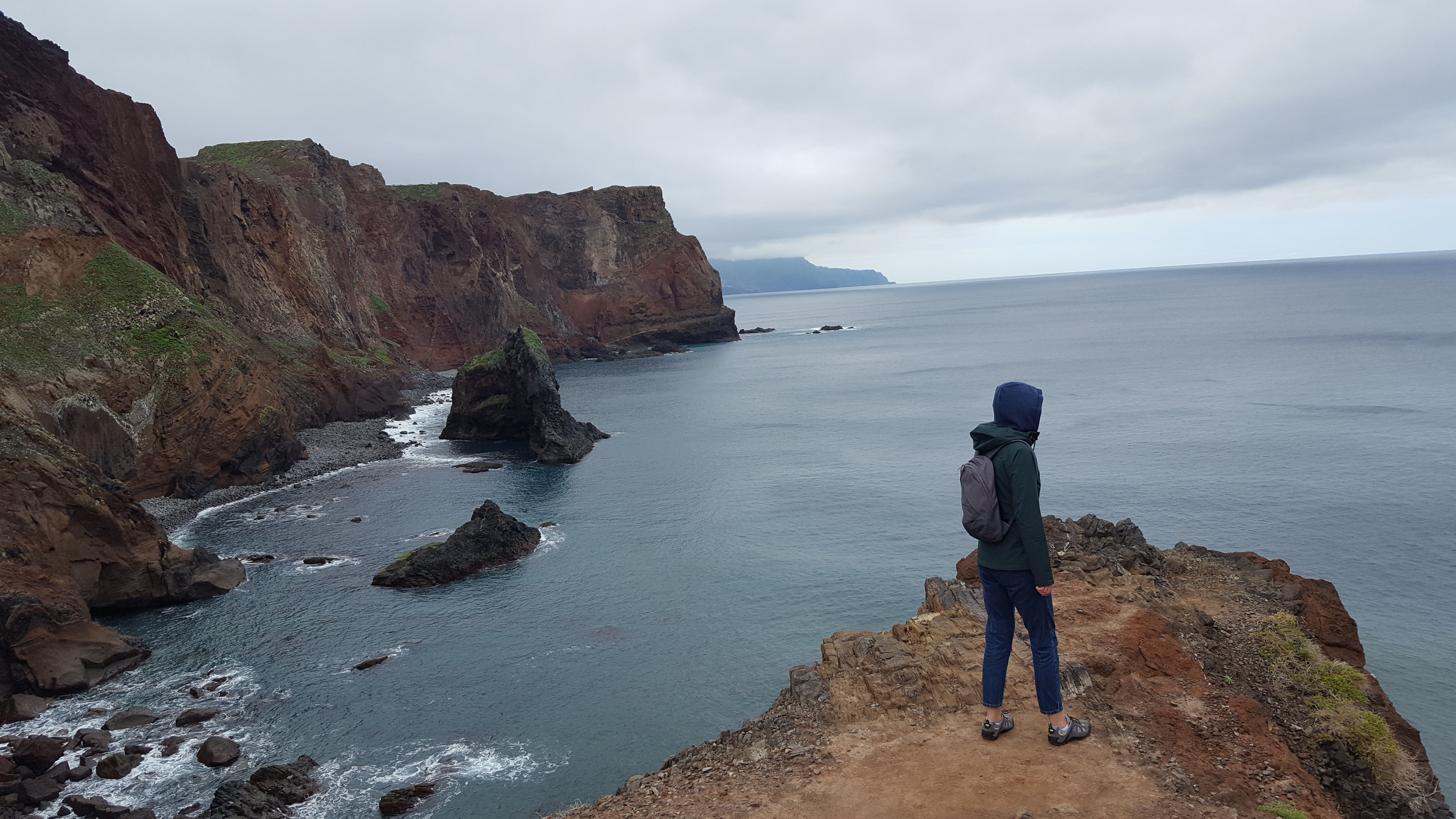 8. Porto Moniz Natural Pools
The highlight of Porto Moniz town – one of the must-see towns in Europe!
The natural lava-made saltwater pools are one of the main attractions in this part of the island. It really is a contender for the most unusual things to do in Madeira.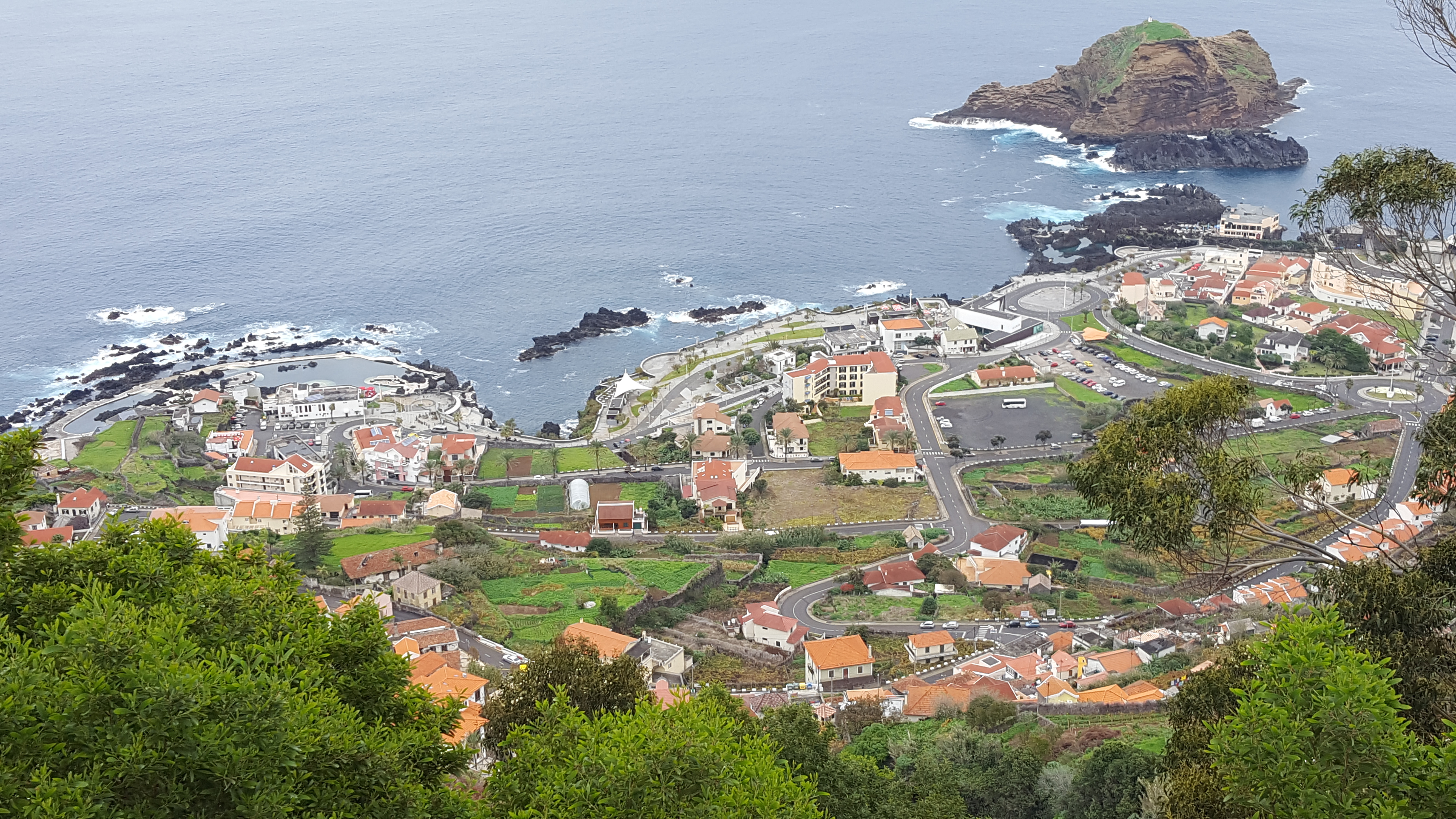 Just jump in and enjoy the swim! 🙂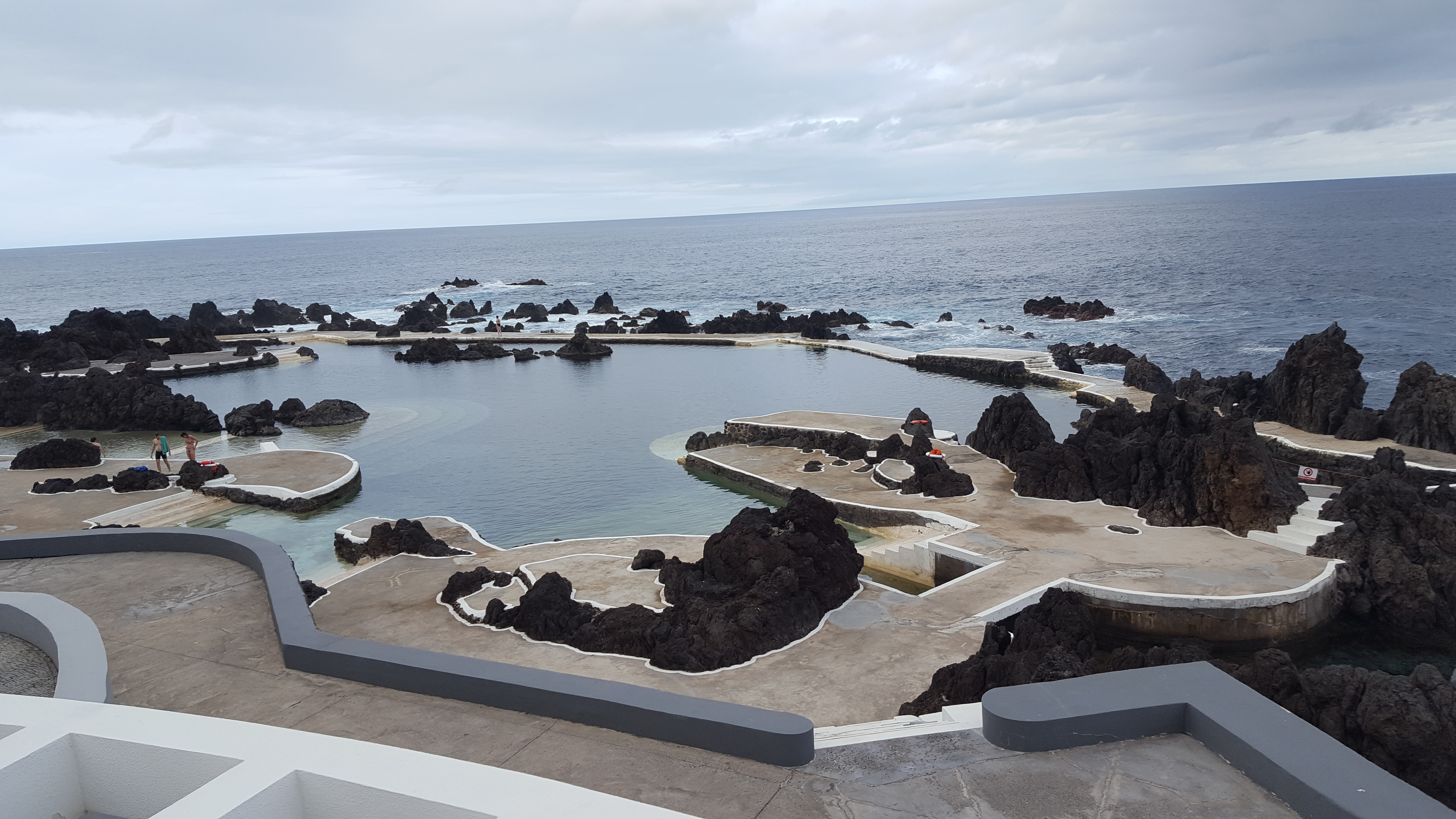 9. Driving above the clouds – a free thing to do in Madeira 😉
Have you ever dreamt to be above the clouds? Is this on your BUCKET LIST? A picture like that would be amazing, right?
Great news!
This is possible in Madeira! You will honestly be blown away by how beautiful this place is and really is one of the best things to do in Madeira.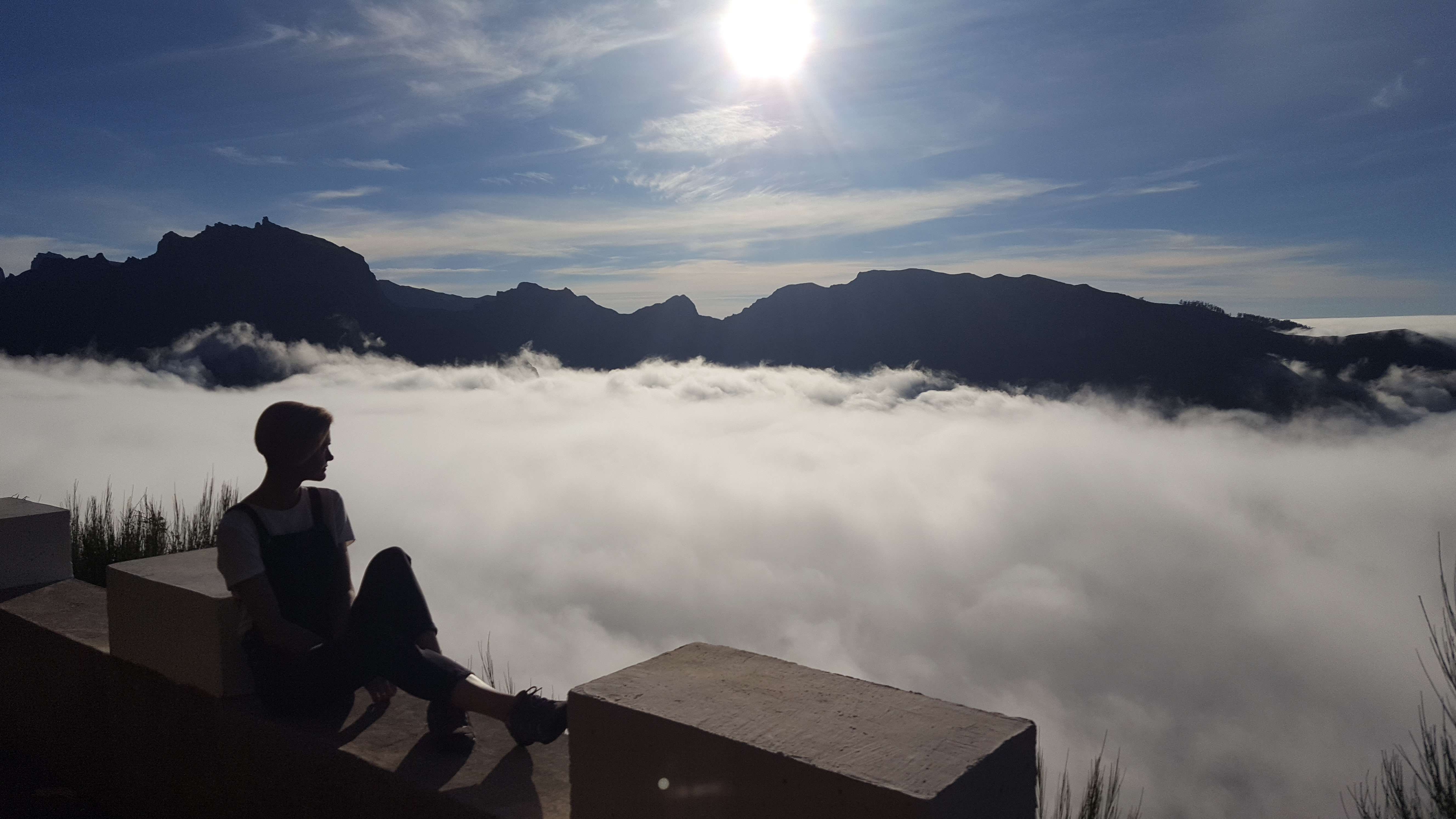 If you love our pictures, we can share with you the secret location.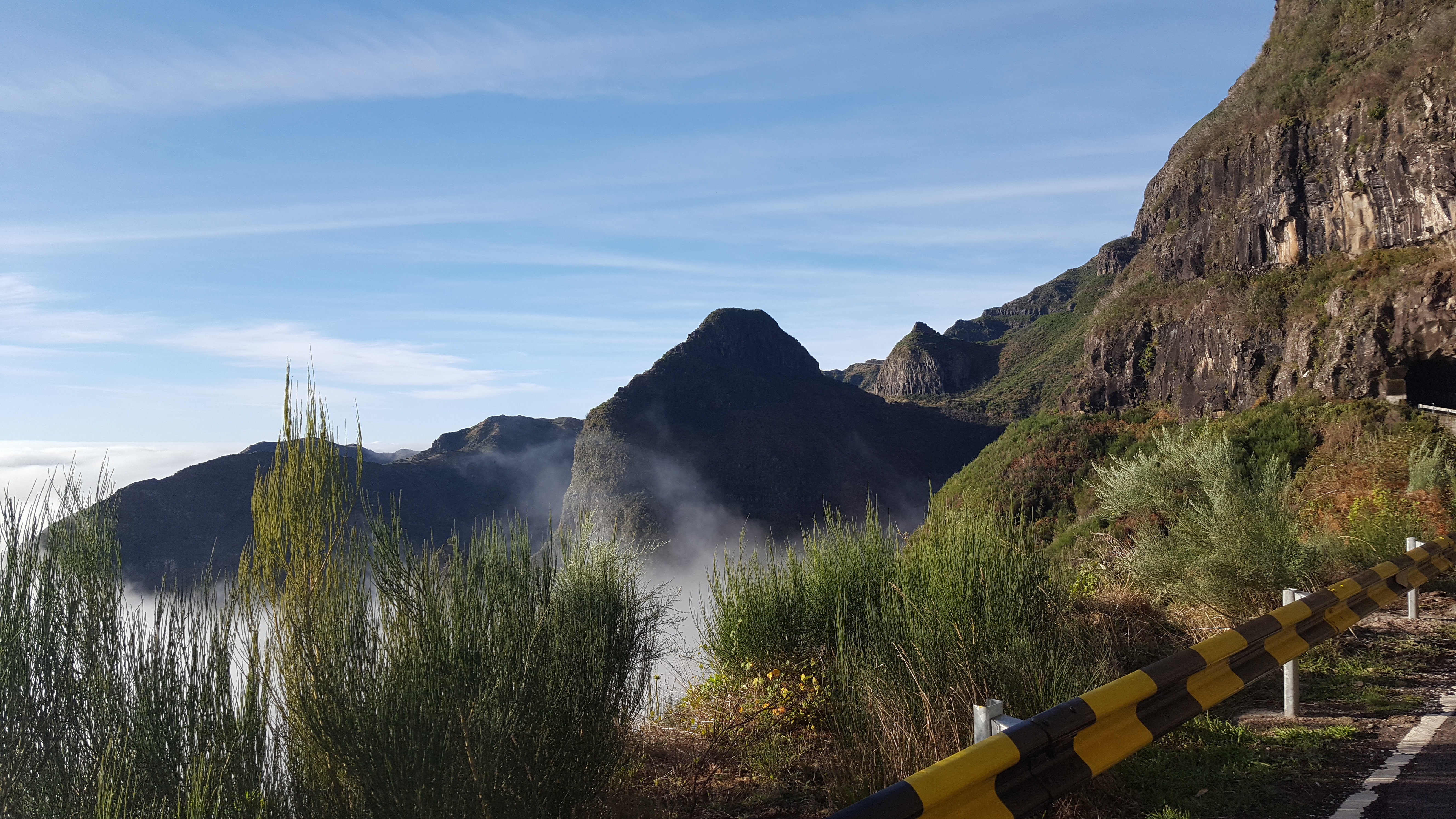 It's the ER110 road – you can take it after your hike to Levada das 25 Fontes and on the way to Porto Moniz.
But, please keep this secret to yourself! 😉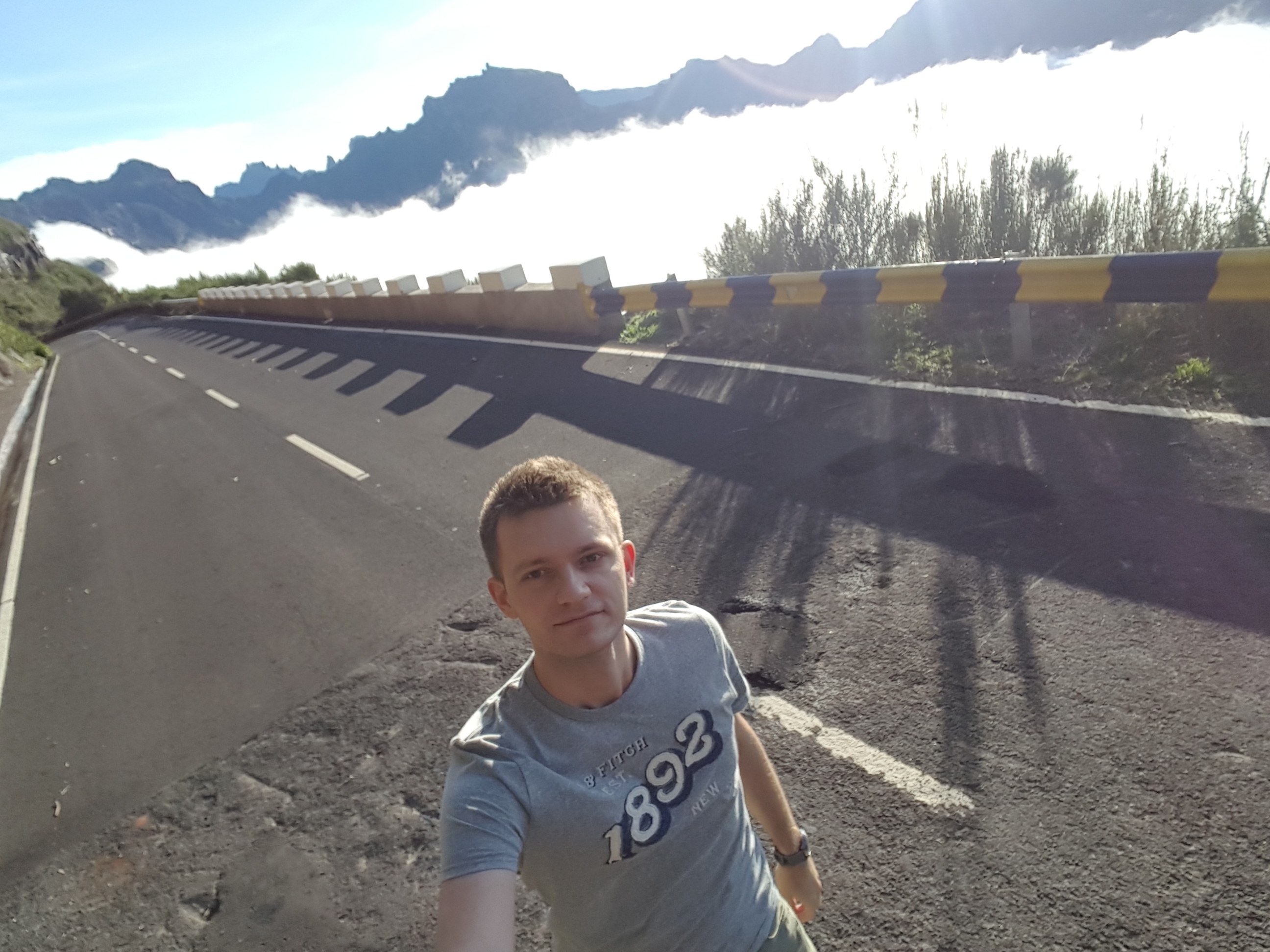 10. Visit Balcoes
This is a very easy Levada walk in Madeira. It's totally flat so no climbing is needed 🙂
Your starting point will be at Ribeiro Frio where you can park your car and start the hike.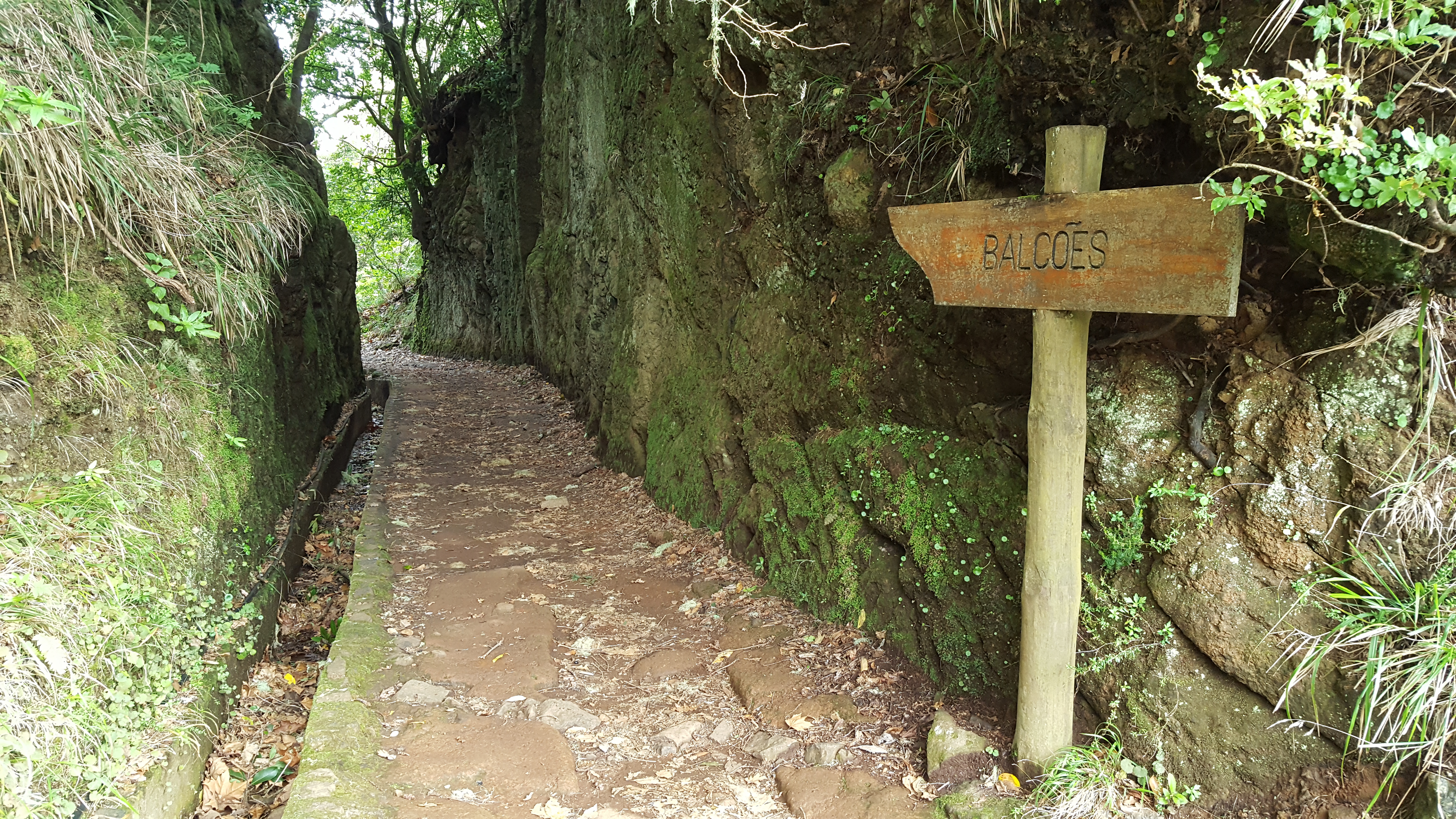 In less than 60 minutes you will get to the Vereda dos Balcões – Fab! Is that not right?!
On a sunny day, you will be able to admire Madeira's highest peaks Pico do Areeiro (1817m) and Pico Ruivo (1861m).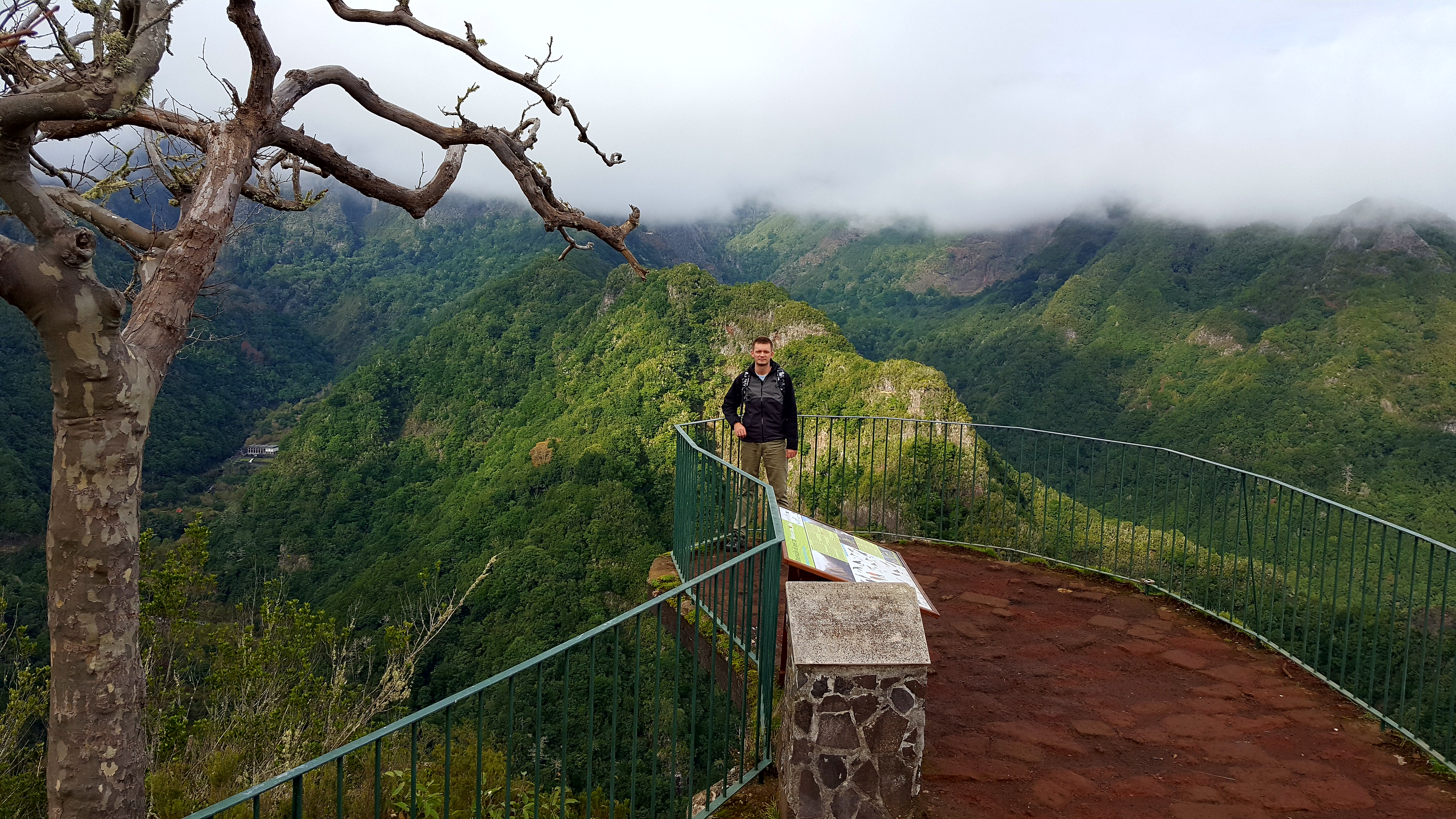 Look right and you will also see the Penha D'águia – a stunning rock formation.
(TIP: highly recommended for a family hike with children)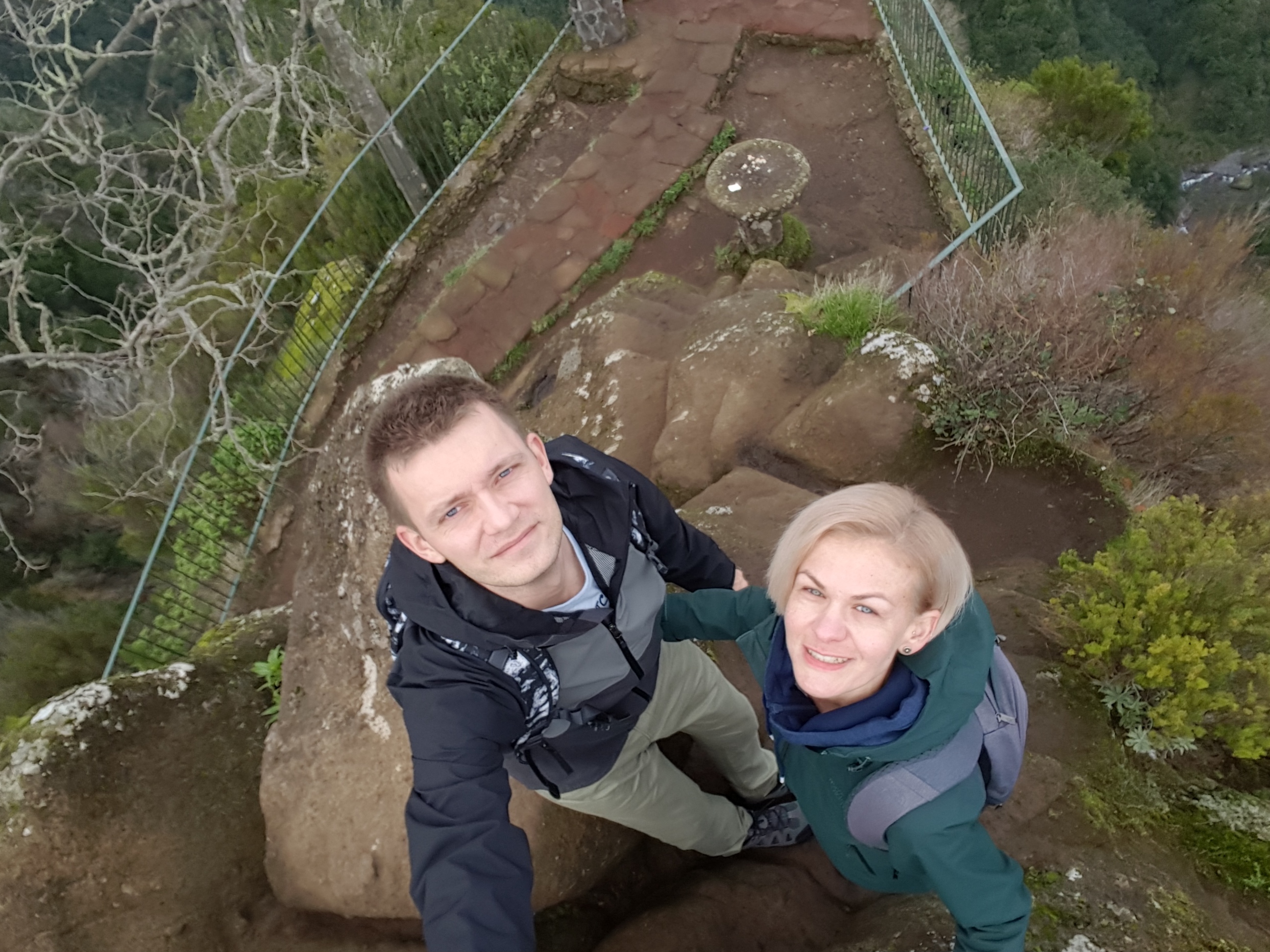 11. Go to Ribeira da Janela – unusual thing to see in Madeira
Not far from Porto Moniz is home to the Ribeira da Janela – one of the longest valleys on the island. It really is one of the best places to visit in Madeira.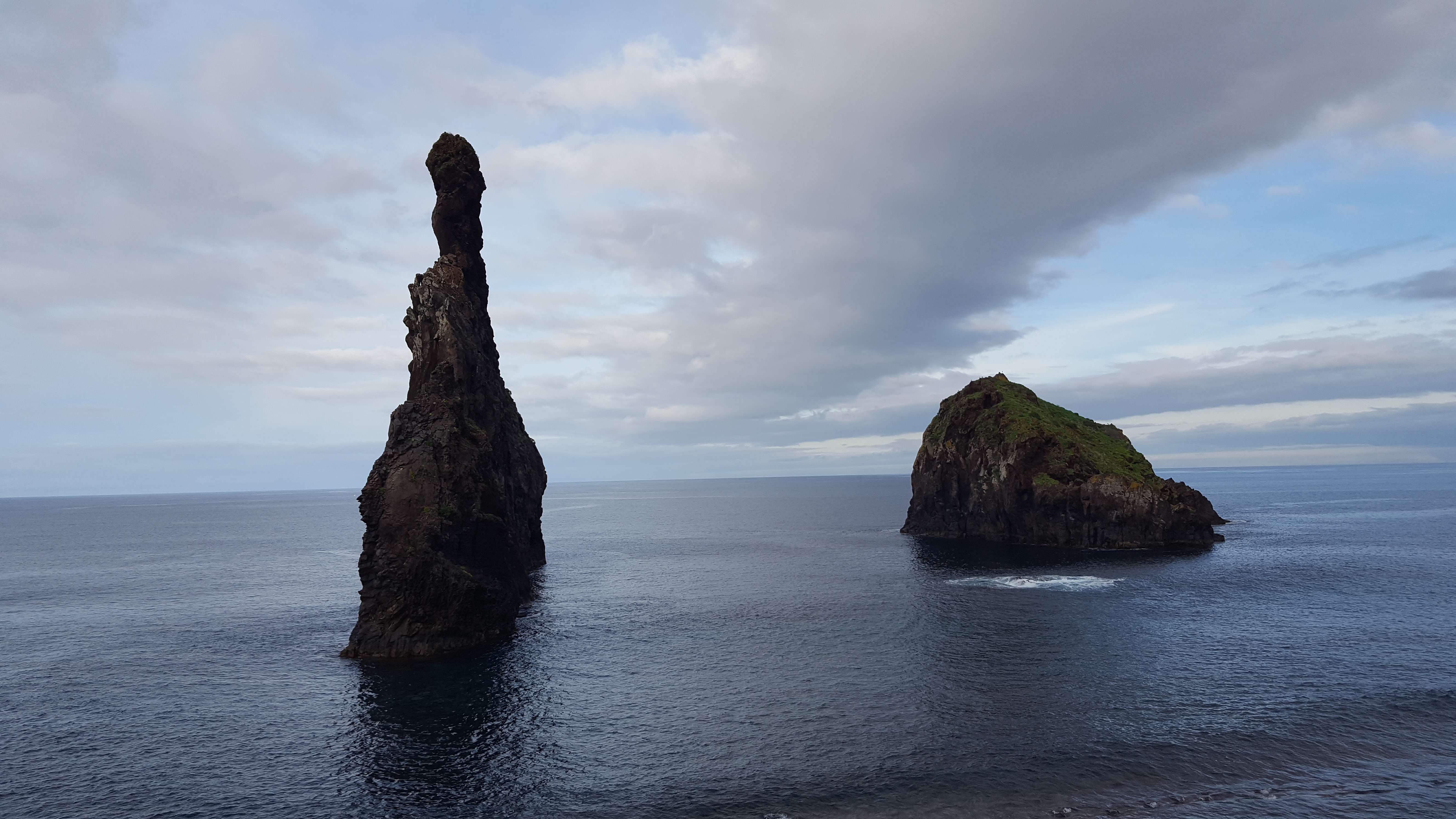 Make sure you take a picture of the bottle-shaped rock through a nature-made window.
Up for a challenge? I bet you can't build that formation from the stones! 😉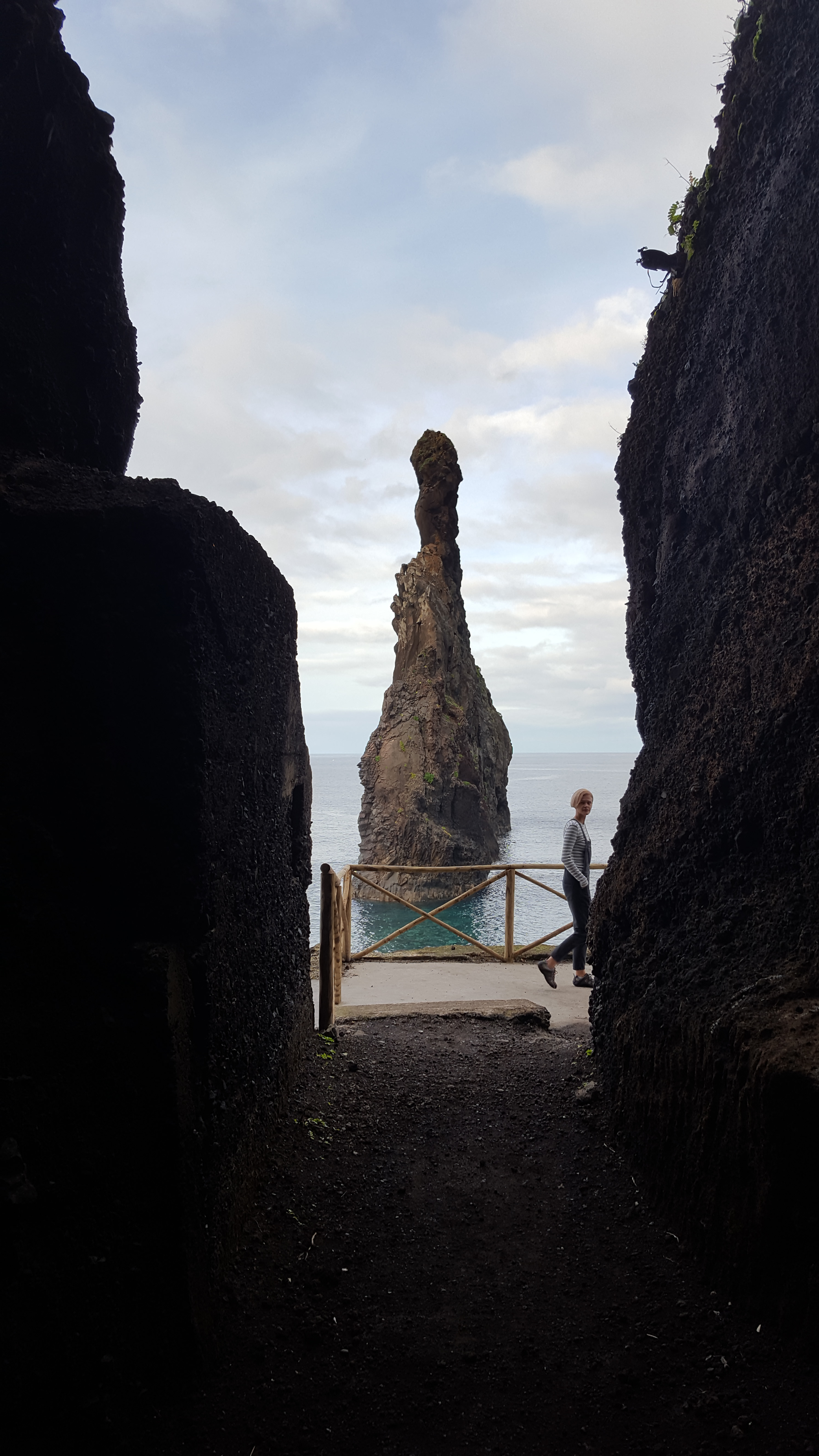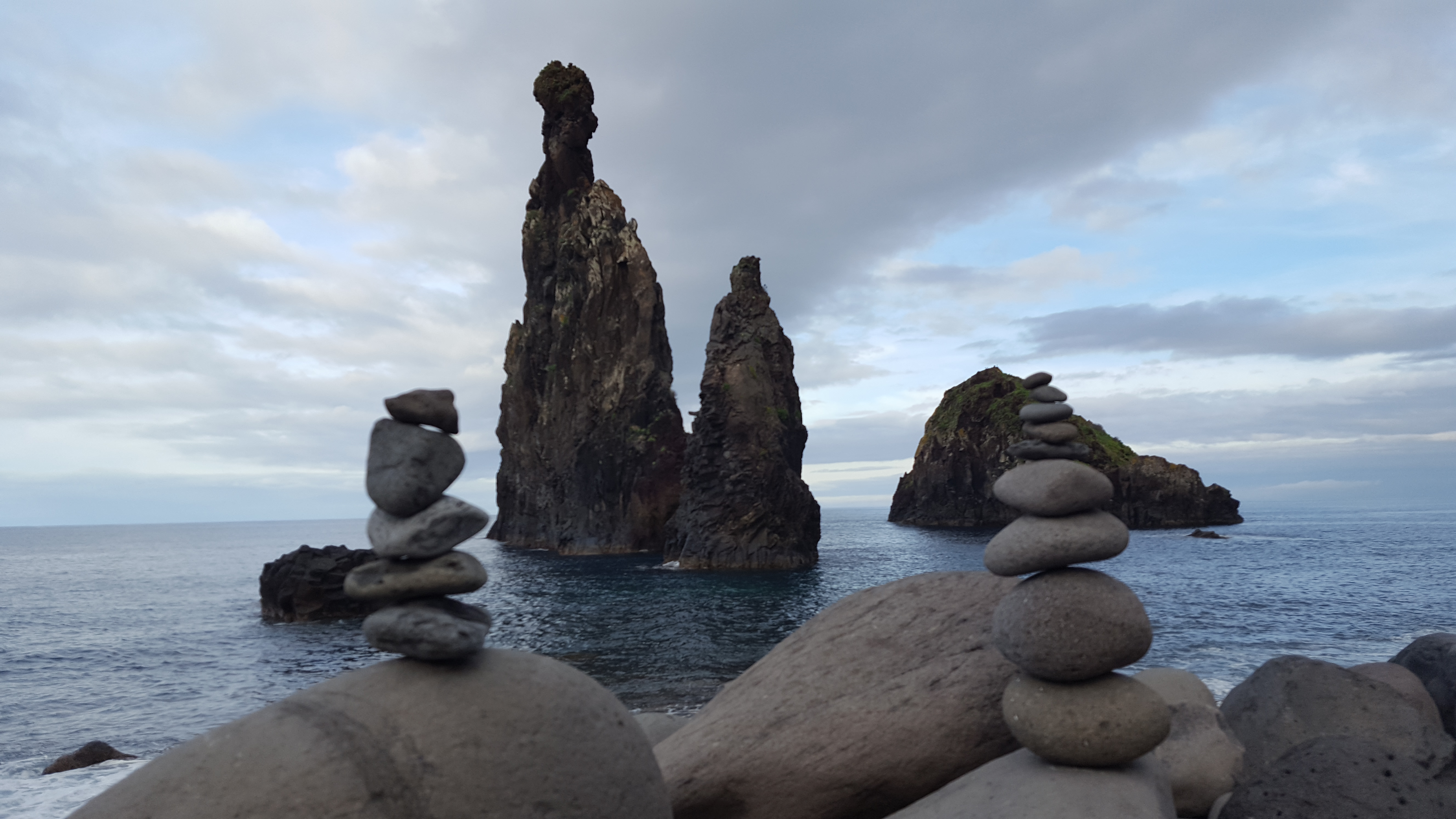 All you HAVE to know about Madeira island:
Is Madeira is Spain?
No. Madeira doesn't belong to Spain! It's a Portuguese island situated in the North Atlantic Ocean, southwest of Portugal mainland. If you love Spain, there are many cheap flights connecting Spain and Madeira.
How far is Madeira from Portugal?
The distance from Portugal to Madeira is around 1,000km. This will exactly depend on the destination on the mainland in Portugal. The distance from Funchal to Lisbon is 975km and to Porto 1200km. The flight time is just under 2 hours.
Is Madeira a good place to go on holiday?
The island is NOT the ideal place to go on holiday… if you are hoping for sandy beaches for your family to spend the day on. However, what Madeira does have to offer is volcanic sand and plenty of amazing places to see.
How do I get from Lisbon to Funchal?
The best way to get between Lisbon and Funchal is to take a flight that travels directly between the two. The flight won't take long (around 2 hours) and you can easily take a taxi into either resort once you land.
How do you get around Madeira?
There are a variety of ways that you can get around Madeira. The cheapest (although slowest) is to take a bus. If you need to get somewhere quickly then you can either drive yourself or, if you prefer you can take a taxi, although you will need to remember that this can be expensive.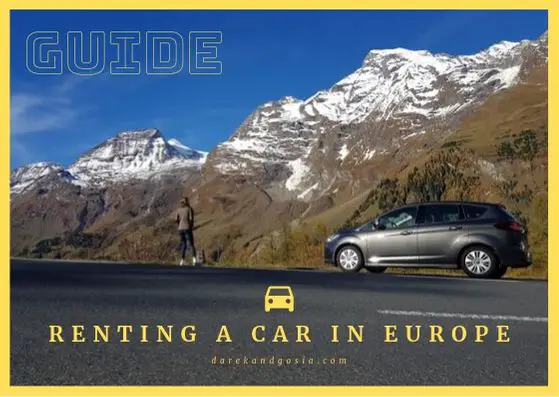 Is Madeira safe to visit?
If you are concerned about visiting a safe holiday destination, then you need not worry about Madeira. It is not only a safe place to visit with your family, but it is also a beautiful place too.
Do I need any vaccinations for Madeira?
It is not necessary to take any medical precautions if you are travelling to Madeira. This includes organising any vaccinations against diseases that you can develop during travel.
Can I drink tap water in Madeira?
It is perfectly safe to drink the tap water whilst you are spending some time in Madeira. However, if you are concerned, then you can always buy bottled water from one of the many shops.
What type of plug is used in Madeira?
On the island, they use a standard voltage of 230V and a frequency of 50Hz. The type of plug that the sockets take are different from those in the UK and you will need to make sure that you take an adaptor.
Can you get a ferry from Portugal to Madeira?
When it comes to ferries between Portugal and Madeira there is only one current route. This route runs between Funchal and Porto Santo and is operated by Porto Santo line. The crossing will take around 2 hours and 15 minutes.
Any other things to do in Madeira island?
There are definitely many more which we haven't explored.
If you know any interesting, please DO let us know!
Is it worth visiting Madeira island?
This green Atlantic garden and one of the highest volcanoes in the world is definitely worth visiting! Madeira is not without reason called the land of eternal spring. To us, it's one of the best islands in Europe. You can enjoy great weather all year round on this Portuguese island. It is an ideal place for holidays for both enthusiasts of active leisure and for sightseeing lovers.
Where to stay in Madeira?
Funchal, the capital of Madeira, is a good choice if you prefer to be in a city. There is no shortage of amazing places to stay during your holiday in Madeira. Please see below some of the TOP hotels we have selected for you:
"Boasting 450 yards of the private seafront, this 5-star property offers spacious rooms all with balcony and views of the Atlantic and the Deserted Islands. There are 3 pools, 2 at the sea level with seawater and private access to the sea and 1 at the hotel level with heated water."
"Overlooking the valleys of São Vicente, this restored 18th-century manor house features a garden with a heated swimming pool. Guest can enjoy the on-site wellness facilities and the traditional restaurant."
We stayed in Sao Vicente region, in the northern Madeira – make sure you rent a car if you prefer your hotel to be in a more quiet area.
Need more inspiration? Browse the map to find a hotel in your favourite part of the island:
Wherever you stay, we hope you will love your time on the Island of Eternal Spring! 🙂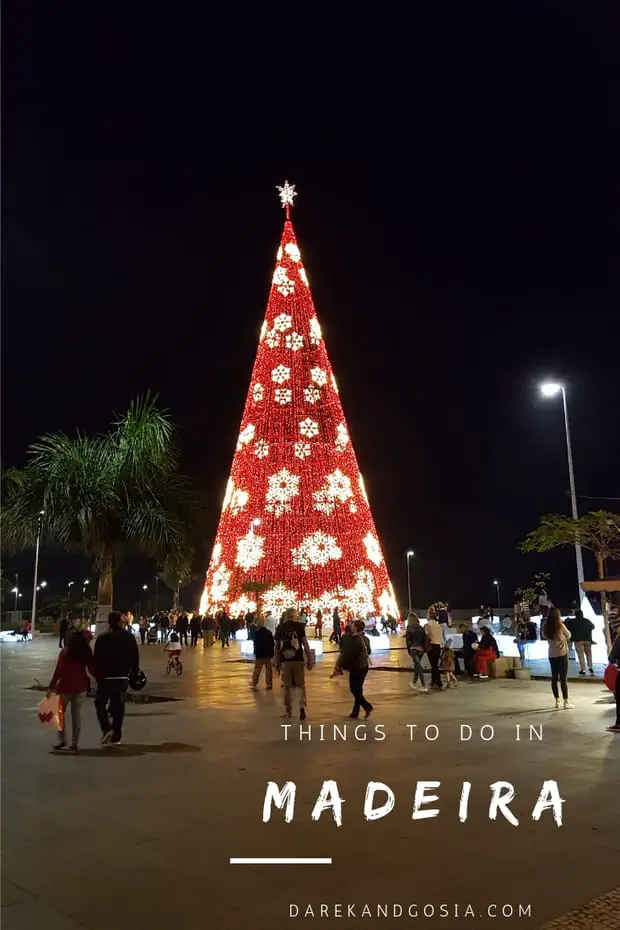 Articles you may like: