Where in Spain has the best beaches? We have covered some of those best beaches in Spain for your next beach holiday! Ready to explore?
Every year, millions of tourists from around the world dream about being on Spanish beaches. They love seaside resorts where life pulsates until dawn. There are many stunning beaches around the world – from amazing Thailand and Algarve beaches, to Hawaii and St Lucia beaches. So what attracts Spain so much?
Many people say that the most beautiful beaches in Europe are in Spain. It is true? Do you agree with this? We definitely do! 🙂
Sand, sea and breeze always attract waves of tourists. There are countless beaches all over Spain and it is difficult to choose the one that will steal your heart. We present the 19 most beautiful Spanish beaches that are worth seeing and visiting while spending your dream vacation in Spain.
Spain beach holidays – car hire:
We have rented cars many times during beach holidays in Spain and we always used discovercars.com
Check out our guide to the best car rental companies in Spain or simply explore the options directly on discovercars.com if you need a car during a trip to some of the best Spanish beaches.
In Spain, we find a lot of beautiful beaches, many of which are Blue Flag certified. Let's check which are the best and where they are.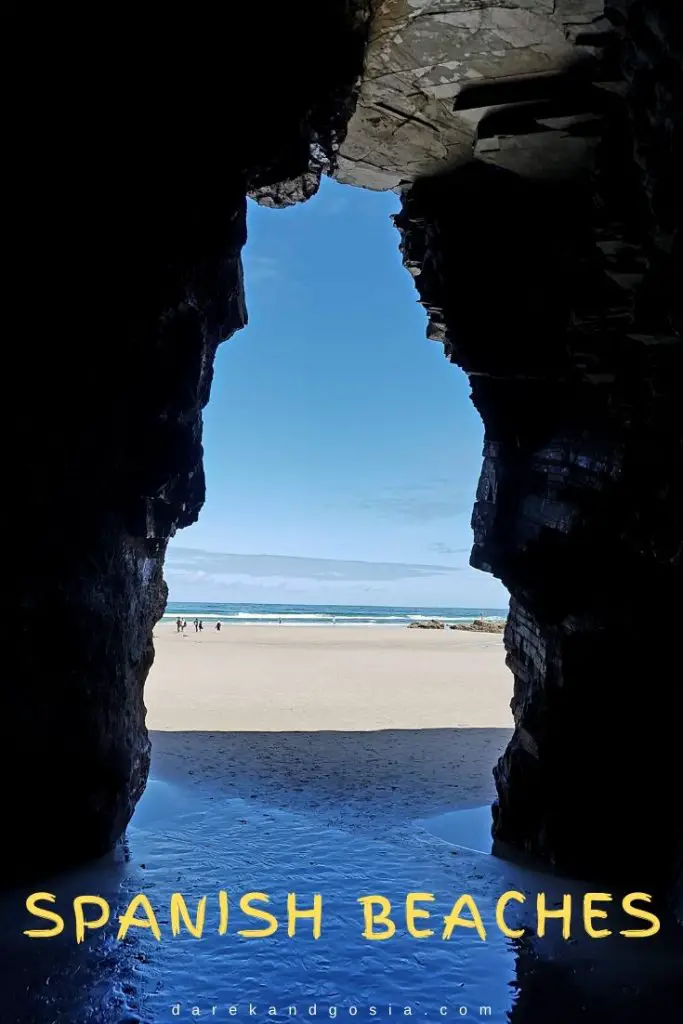 19 Best beaches in Spain:
1. La Barceloneta – Barcelona
Barceloneta is famous for its sandy beach. It is probably the most popular beach among tourists, mainly due to its location close to the centre of Barcelona.
Barceloneta is breathtaking! Golden beaches, crystal clear water and fresh sea breeze help you get some cool air on a hot day. From morning till late evening it is full of life – it has a large number of bars and clubs where you can eat traditional dishes or drink colourful drinks. On this bustling beach, there will also be a place for those who want a bit of peace – silence can be found in the less crowded part of Barceloneta in the vicinity Wella hotel.
This part of the beach is a favourite space for surfers and those who are unable to find a place on crowded shores. Near Barceloneta, there is also the largest aquarium in Europe. The biggest tourist attraction is located in the Aquarium Barcelona is extending above the heads of visitors transparent tunnel in which sharks swim! Barceloneta is without a doubt a must-see beach, but if you feel that this is not what you are looking for in our guide, you will find more options to choose from! 😉
2. Playa de Corralejo – Fuerteventura
Corralejo is the largest resort in Fuerteventura – one of the best Spanish islands! The main attraction of Corralejo are the beaches, the largest of which is over 10 kilometres of light sand.
It stretches southeast of the city and has a very gentle descent to the ocean. Part of the beach is developed, and the rest is a wild area, although equally beautiful. The dunes surrounding the beach were recognized as a nature reserve. The waters around Corralejo are extremely transparent and have an intense blue tint.
Would you add this beach to your list of the best beaches in Spain? 🙂
3. Playa de Las Americas – Tenerife
Playa de Las Americas located in the southwest of the Tenerife island is a modern resort with a global reputation, with a beautiful promenade of several kilometres stretching between palm trees along the coast.
There are many restaurants, bars, water sports opportunities as well as beautiful sand sculptures on the beach!
The coast, especially in some bays, is very gentle, which is worth paying attention to while relaxing with children. Bus transfer from the airport to hotels in Playa de las Americas takes only about 35 minutes, which makes this area of the best places to stay in Tenerife.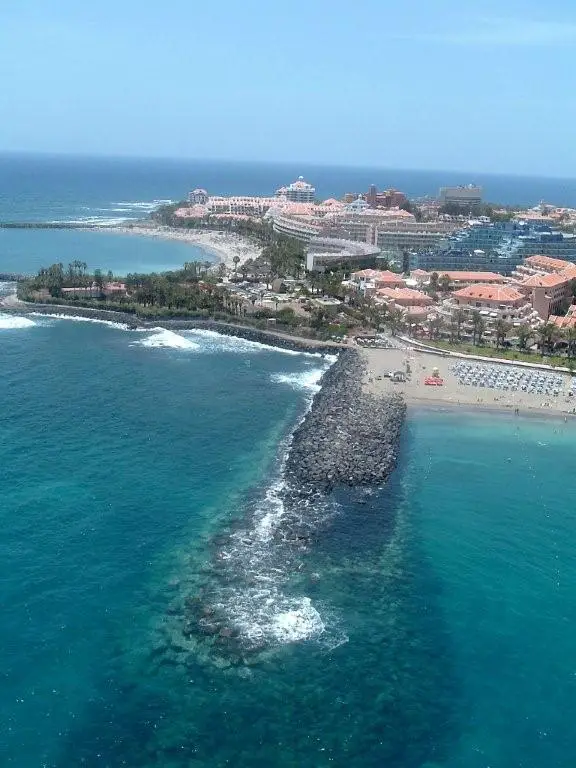 4. La Concha Beach – San Sebastian
In San Sebastian, in the Basque Country, there is the La Concha beach (Playa La Concha), distinguished by golden sand and integral with the urban environment, which is almost one and a half miles.
Calm waters of blue colour combined with a sandy shore make it possible to relax here comfortably with the whole family. Without a doubt, this is one of the best beaches in Spain!
It is also one of the most recognizable and crowded beaches in all of Spain. In the high season, finding free space is a real challenge.
La Concha Beach is connected with two other beaches, so tourists coming here can easily walk along the shore. The shallow waters near Playa de Ondarreta are a favourite place for canoeing and surfing enthusiasts.
5. As Catedrais Beach – Galicia
Playa de las Catedrales is located in the region of Galicia, near the city of Ribadeo. It's definitely our favourite in today's ranking of the best beaches in Spain.
This one of the most beautiful Spanish beaches owes its originality to the amazing cave-shaped arches and coves created only by nature. The clear water and rocky landscape architecture make this place unique and, in our opinion, a must-see on the list.
It is really worth visiting As Catedrais Beach and taking a walk, of course, during low tide among the amazing rock formations and enjoying the eyes with beautiful views and clear water. You will LOVE it! 🙂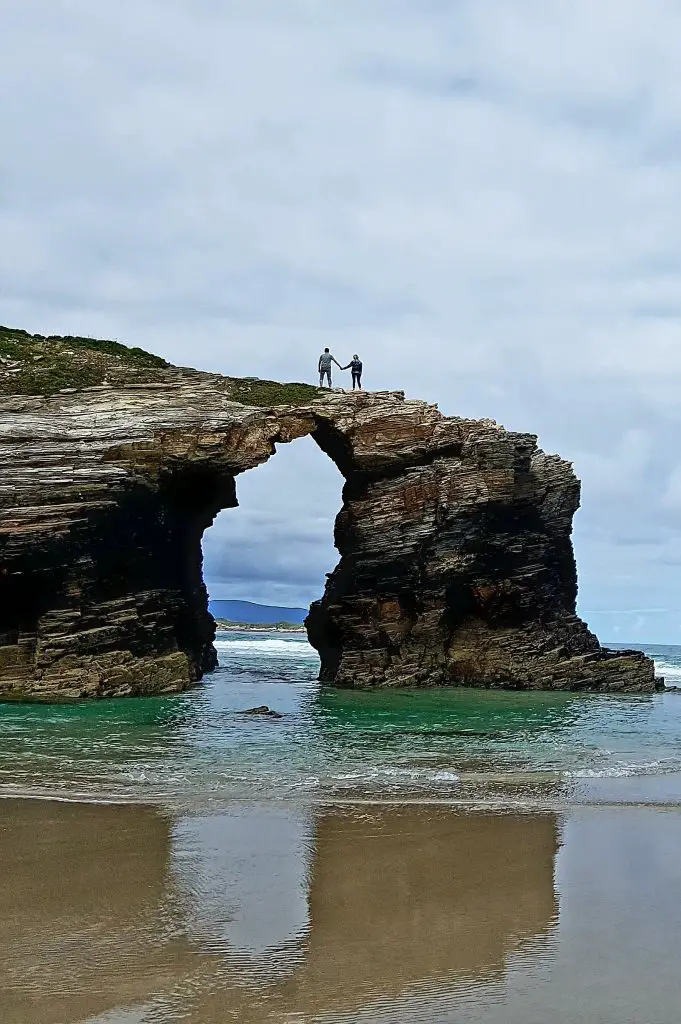 6. Cala de Algaiarens – Menorca
Cala de Algaiarens is one of the most beautiful beaches of Menorca, distinguished by a heavenly landscape with a sandy beach.
This beach is much less crowded by tourists which makes it even more attractive and is perfect for people who value peace and quiet. On the west side, we can go to a small and atmospheric port, which makes this place a great attraction for anglers.
The sand is white and the water is crystal clear, encouraging bathing and relaxation on hot days. In addition to relaxation, you can enjoy Spanish tapas with a glass of wine while watching the sunset.
Would you add Cala de Algaiarens to your Spanish beach bucket list?
7. Playa de Los Cristianos – Tenerife
This is the beach that became the first mass tourism destination in Tenerife.
Golden sand (with a rocky part) and a great location in a cove protecting against strong wind are its greatest advantages. In addition, very good leisure facilities (sun loungers and umbrellas for rent, showers, bars and restaurants nearby) make this beach one of the most popular beaches in Spain for night-life lovers!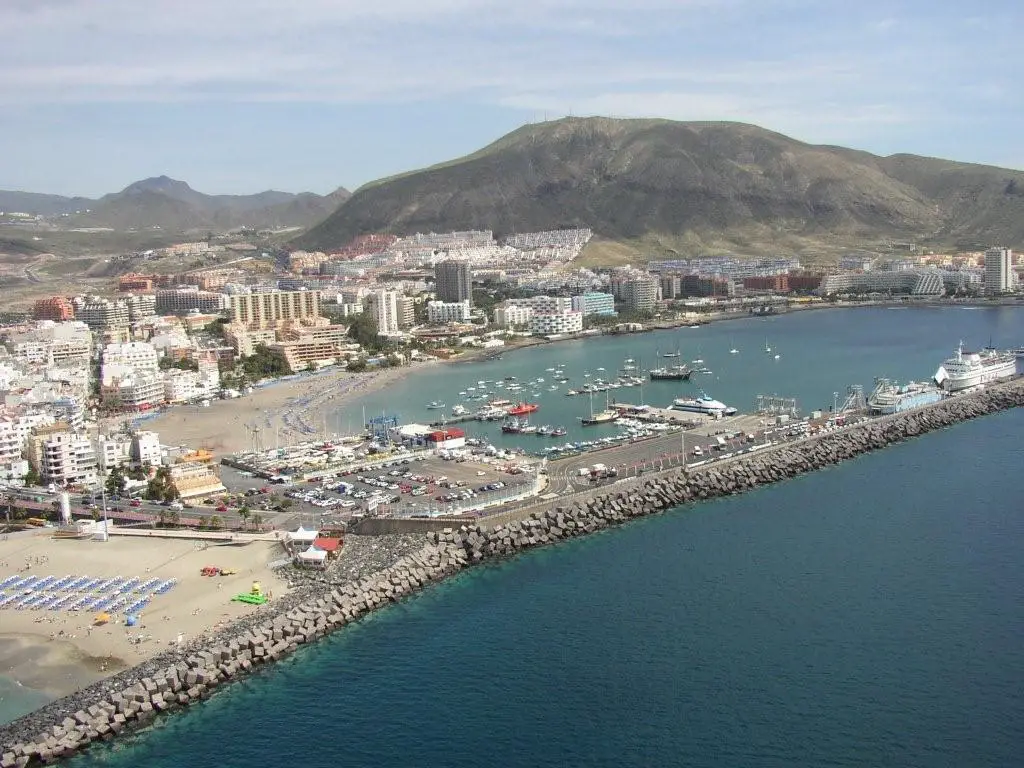 8. Playa de Illetes – Formentera
Another Spanish beach we wanted to present is Playa de Ses Illetes in Formentera. It belongs to the Balearic islands and it's stunning!
This place is so special that virtually everyone will find something for themselves. You can come with the whole family and spend your dream beach vacation resting on the sand, bathing in turquoise water and admiring the paradise views.
It is also a great place for all kinds of water sports, such as SUPs, windsurfing and kite. You can go there in a group of friends and everyone will find something for themselves. It really is a stunning beach!
9. Amadores Beach – Gran Canaria
Playa de Amadores has a special feature that distinguishes it from other of the most wonderful beaches of Spain – it was created artificially. Nevertheless, it has this natural charm and beauty that makes it unique amongst other beaches from our list.
Amadores Beach is our favourite form all the amazing beaches in Gran Canaria.
Golden sand, turquoise, clean water, shallow by the shore, calm waves, create this place an oasis of peace, ideal for an unforgettable vacation in Gran Canaria. In addition, the beach offers showers, umbrellas and sunbeds for rent and parking.
Playground and Aqua Park will cause that your children under the watchful eye of lifeguards will certainly not be bored. In the evening it is worth going to the beach while enjoying the amazing views watching the sunset – a fantastic experience. To have this unforgettable experience guaranteed while spending time on the beach in Spain, plan your stay in Gran Canaria island!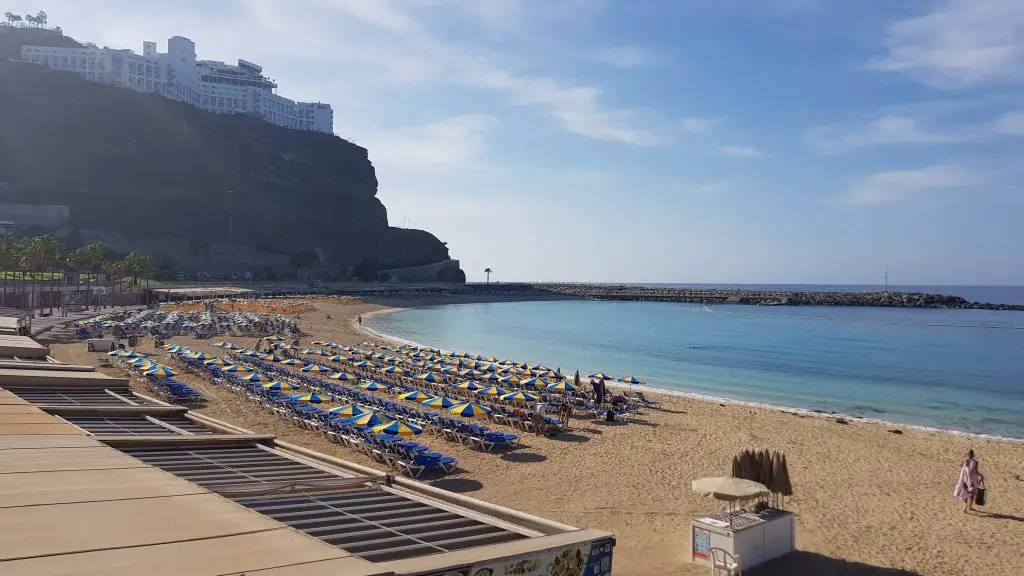 10. Maspalomas Beach – Gran Canaria
Maspalomas is a town located on the southern part of the island, where the most beautiful beaches of Gran Canaria stretch.
The long and sandy Maspalomas beach stretches from the old lighthouse Faro de Maspalomas to the neighbouring beach called Playa de Ingles.
It offers many opportunities for rest and recreation for visitors. The part of the beach located next to the palm grove of El Palmeral is part of a protected natural area of ​​great natural value.
The magnificent dunes located on the side of the beach cover an area of ​​400 hectares and are one of the most popular tourist attractions in Spain.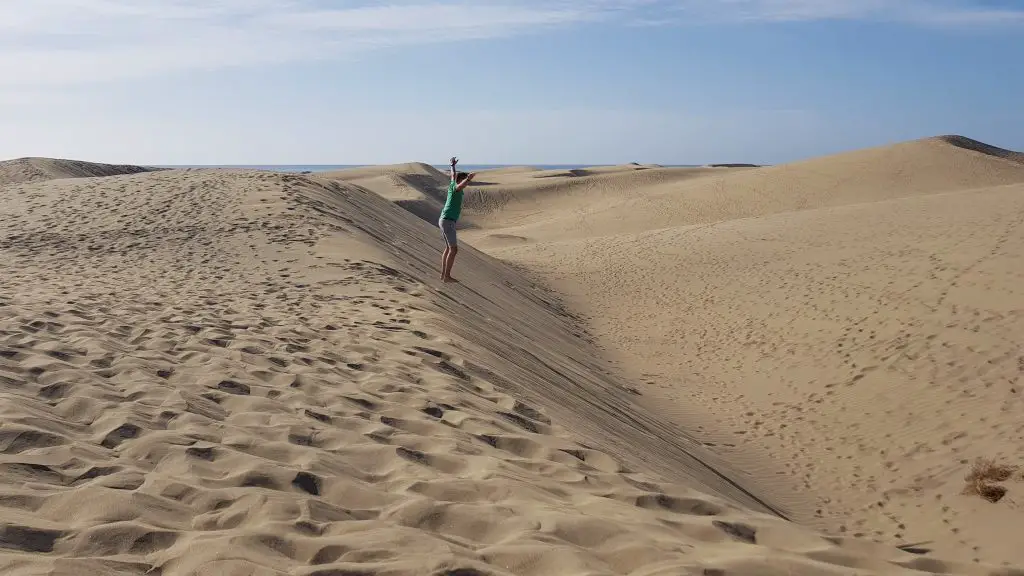 11. Charco de Los Clicos – Lanzarote
Lanzarote is not known for its beaches like Fuerteventura. The younger sister of Fuerteventura is a rather large lava field with hidden wonderful bays although you can still find some great beaches in Lanzarote!
And Charco de Los Clicos is one of them 🙂
You can walk, sunbathe on the beach, dive or skate. A paradise for active people.
The beach is actually a volcanic crater eroded by the sea, and the green spot is a lagoon connected to the ocean by lava tubes hidden under the sand. The colour of the water in the Charco de Los Clicos lake comes from algae and contrasts with the black sands of El Golfo beach.
Unfortunately, access to the beach in 2017 was closed, so we could not check if it was possible to find crystals of olivine, a green mineral considered a precious stone in black sand – maybe another time 😉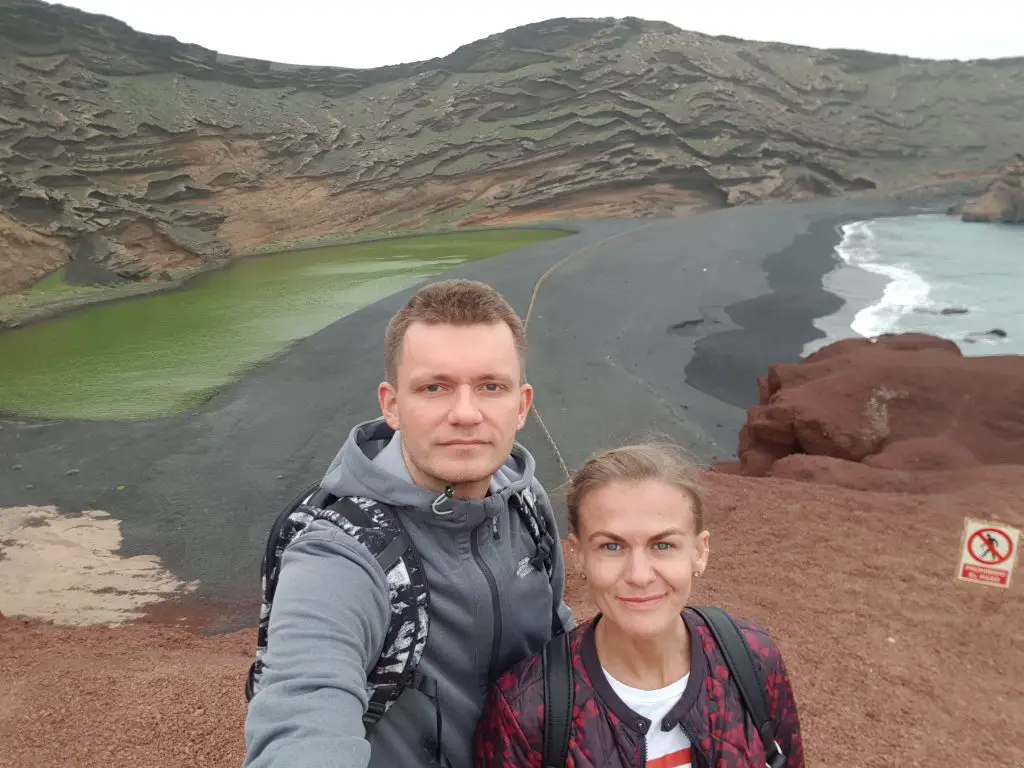 12. Papagayo Beach – Lanzarote
Papagayo is seven unusual bays, which are surrounded by golden and powdery sand and azure waters. One of the best places to visit in Lanzarote!
What makes these beaches stand out is the fact that there are no shops or noisy bars nearby – apart of two small restaurants.
Everyone who loves natural beauty, picturesque nature and silence will love by this place on Lanzarote. Here you can see the unique lunar landscape of the Canary Islands. The rocks make it windless and calm. In addition, there is a fairytale view of Fuerteventura.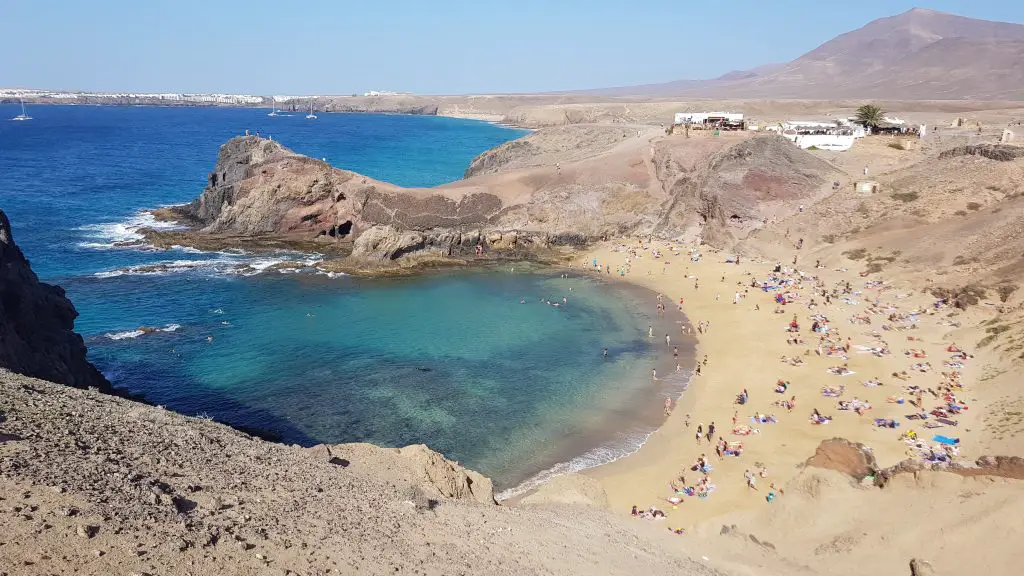 13. Popcorn Beach – Fuerteventura
This fairy-tale Spanish beach has already surprised many travellers who are looking for picturesque and unusual corners of the world.
Golden soft sand attracts many tourists. However, one Fuerteventura beach stands out from the others and despite the inconvenience that awaits tourists there, it is one of the most popular beaches in Spain!
"Popcorn", which is lined with the coastline of the Spanish island is actually a white coral with irregular shapes thrown out by the water. Residents did not think that this beach would become the main attraction, because the rocky shore is not comfortable to rest.
However, the desire to take a picture of yourself with a cinema delicacy and see this amazing phenomenon with your own eyes is greater than minor discomfort and attracts smiling tourists with cameras and telephones in their hands.
14. Playa de la Malagueta – Malaga
Another great Spanish beach is located in Malaga. La Malagueta beach is not far from the city centre and is popular among other things because of the sculpture that creates the inscription.
Being the name of the "Malagueta" beach, with which many tourists take pictures.
The beach is 1,200 meters long and 45 meters wide. You will find here not only sand, but also squares with greenery, palm trees, creating shade, as well as numerous bars and snack stands. The beach has a convenient location, you can come here on foot as the beach blends with the city.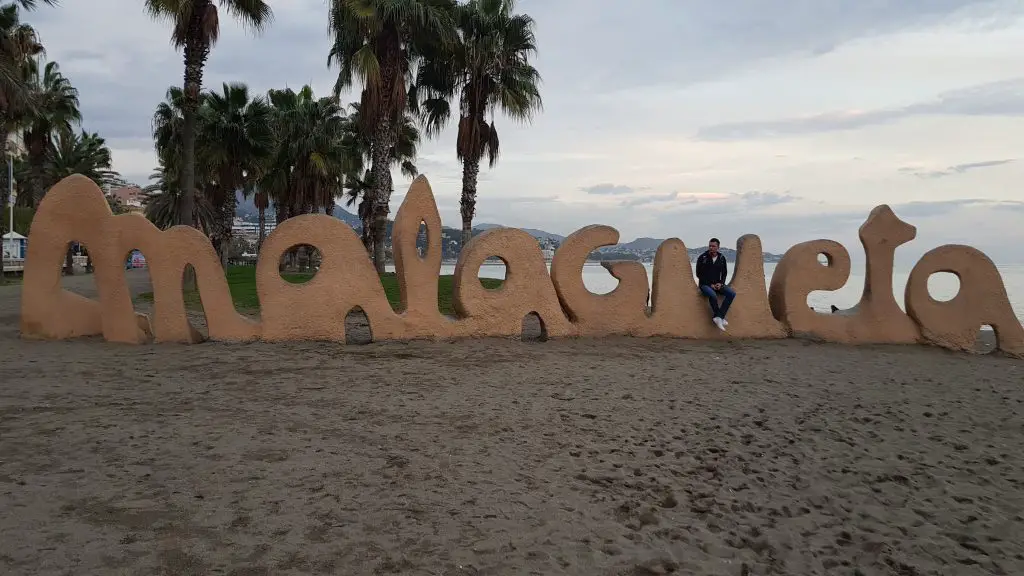 15. Playa de Bolonia – Tarifa
Bologna's wide beach stretches between the San Bartolomé and Sierra de Plata mountains, about 20 kilometres from the city of Tarifa.
The beach is considered one of the most beautiful in Spain. It is also one of the few pristine beaches that still retain their character. It is about 4 km long, white sand and clean water. You can explore the nearby ruins of the ancient city of Baelo Claudia.
In good weather, from the beach of Playa de Bolonia, you can see the African coast, which is located a short distance from this place. The wide beach with soft, golden sand creates almost fairy-tale landscapes. The characteristic feature of Playa de Bolonia beach are dunes that are even several dozen meters.
16. Burriana Beach – Nerja
The most popular beach in Nerja is Playa de Burriana. The beach is 800 meters long and 40 wide, covered with fine golden sand. This beach lies at the foot of Calle Filipinas.
The beach is fully urbanized, you can rent here not only umbrellas and sunbeds, but also all water equipment such as pedal boats, kayaks and scooters. There are showers and toilets here, and around the beach are chiringuitos, which are small stands with snacks, drinks and delicious food.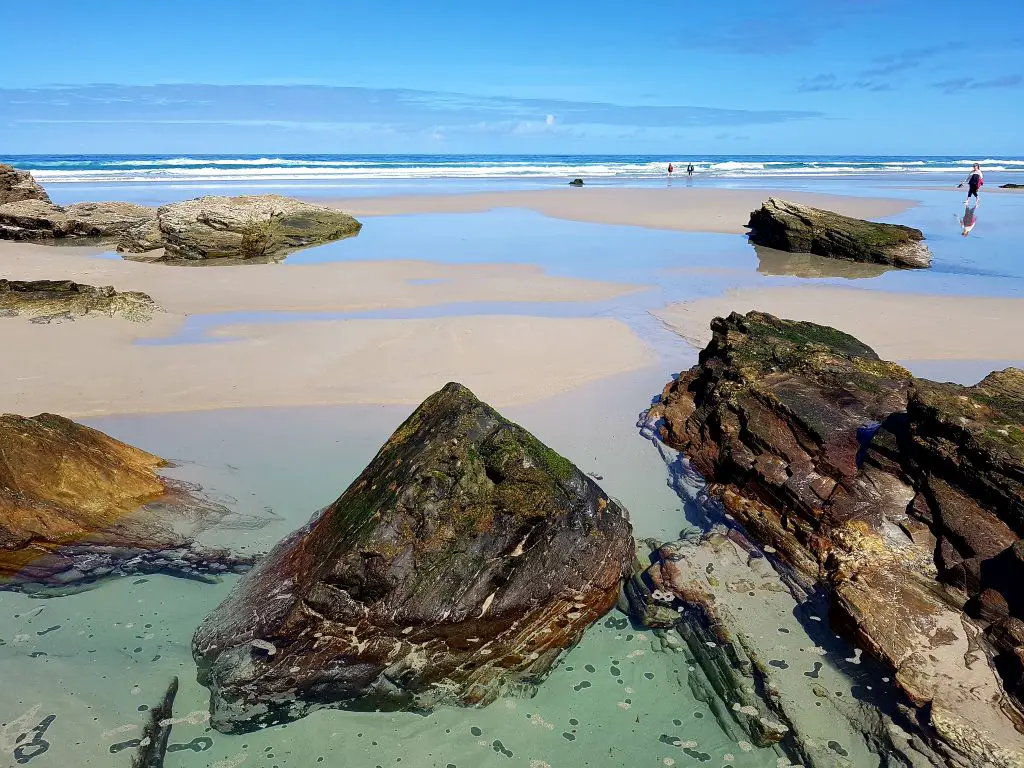 17. Pajara – Fuerteventura
There are several beautiful beaches in the Pajara area of ​​Fuerteventura.
On the eastern side, the beaches are white and sandy, and the waters are calm. In the west of the island, the waves are higher and the sand is black, volcanic. The city is worth visiting not only because of the beautiful beaches, but also the historic church of Iglesia de Virgen de la Regla.
18. Sitges Beach
Sitges is a small town and bathing area on the Costa del Garraf, in the autonomous region of Catalonia.
The town of Sitges is located about 35 km southwest of Barcelona. The beaches are long, narrow and sandy. The town is quiet during the day and lively at night. It is worth visiting Sitges while spending European weekend trip in Barcelona.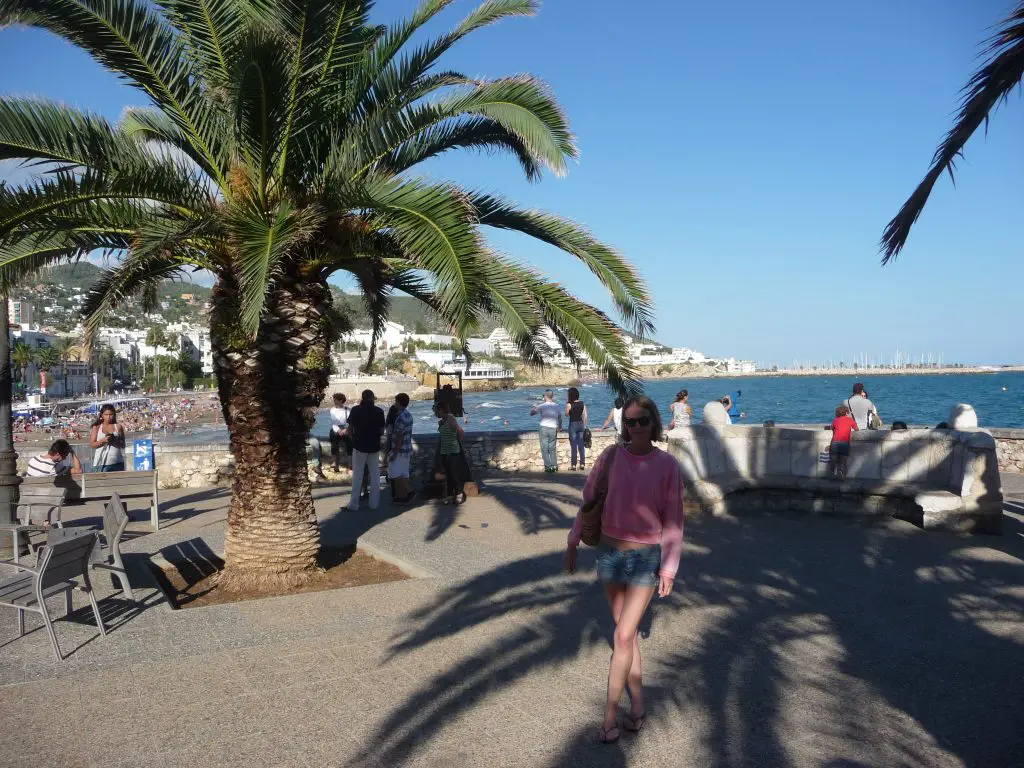 19. Praia da Rodas – Galicia
Although Playa de Rodas, belonging to the Cies archipelago on the northwest coast of Spain, is considered the most beautiful beach in the world, access to it is very limited.
Local residents often visit it, but tourists from abroad may encounter some difficulties on their way. Only 2,200 lucky people can visit the island per day. This limit was imposed to protect the island from destruction.
So, what is your favourite beach in Spain?
Everyone has heard about the beauty of Spanish beaches. In addition to the undoubted beauty and diversity, these beaches have been recognized for years as some of the cleanest and best maintained in the whole of Europe.
For many years Spain has remained one of the most popular tourist destinations in Europe. Perfect climatic conditions, many sunny days throughout the year and low risk of rainfall cause that Spanish beaches are perfect for sunbath from April to October.
Are you ready to book your next holiday so you can explore the best beaches in Spain? 🙂
Love Spain?
Read our other articles related to this stunning country:
Unusual Things to do in Alicante
Unique places to visit in Spain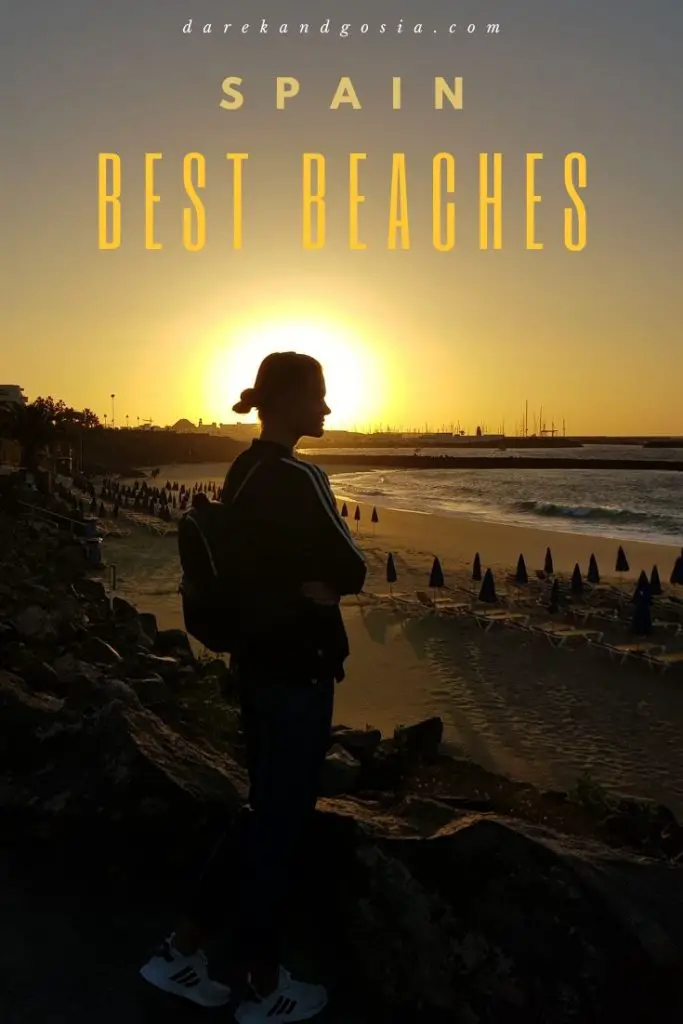 Articles you may like: