Best things to do in Ronda Spain: El Tajo de Ronda & Puente Nuevo, Plaza de Toros and Mirador de Aldehuela & Balcón del Coño.
Are you going to Ronda Spain for one day and not sure what to see? Ronda is undoubtedly one of the most beautiful cities in Andalucia and also one of the most visited cities in Spain. No surprise as there are many things to see in Ronda Spain.
It's located in the mountains, in two parks: the Parque Natural de la Sierra de las Nieves and the Parque Natural Sierra de Grazalema, just under an hour's drive from Malaga.
How to get to Ronda? Make sure you rent a car from Malaga! That's the best and most efficient way to get to this stunning town.
Ronda – car hire:
We have rented cars many times during holidays in Spain and we always used discovercars.com
Check out our guide to renting a car in Spain or simply explore the options directly on discovercars.com if you need a car during a trip to Ronda.
Ronda is one of the hottest parts of Europe in March and it's great for a weekend trip in Europe!
What to do in Ronda Spain? Surrounded by lush valleys and a deep ravine, offering views that will make you dizzy – anyone who was/is lucky to visit Ronda knows what I mean 🙂 – There are so many things to do in Ronda!
Ronda is probably the most romantic city in this region of Spain – who wouldn't like to take a picture from the bridge in Ronda?! Torn apart in a fierce gorge by the Tajo de Ronda, it arouses great astonishment as well as fear. Do you have enough courage to look into the 160-meter-deep abyss? 😉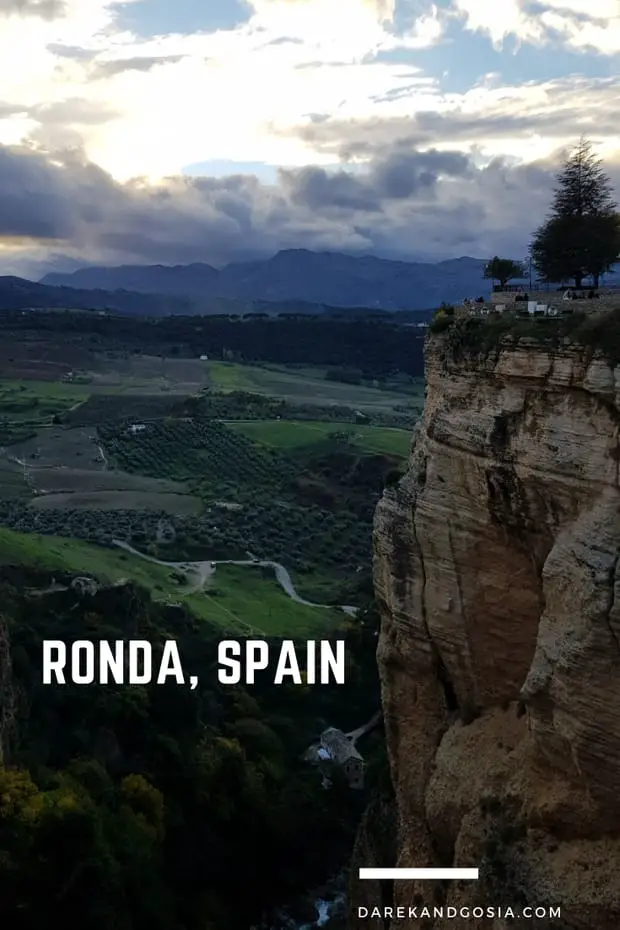 What are the best things to do in Ronda Spain?
1. Plaza de Toros
Ronda is also well known as the birthplace of bullfighting. Yes, the bullfights are held at Plaza de Toros in Ronda. We are not fans of that spectacle but Plaza de Toros is an amazing building with a great history so we decided to include it in this article.
Plaza de Toros in Ronda, built in 1785, is probably the most famous bullring in Andalucia (and one of the oldest and most picturesque in Spain).
The arena was the first in which traditional wooden load-bearing beams were replaced by stones – the whole complex (with a diameter of over 60 meters) consists of two floors surrounded by beautiful arcades and can accommodate up to 5,000 spectators at the same time. It really is one of the top Ronda Spain tourist attractions!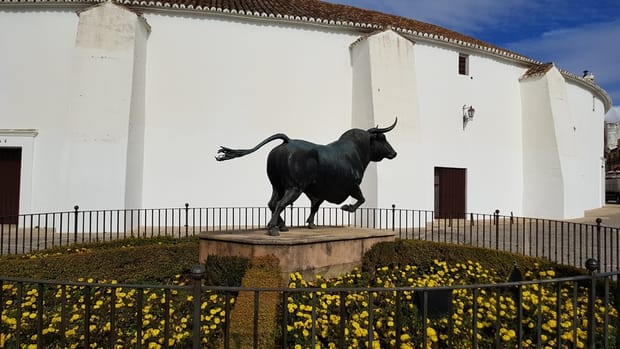 Fingers crossed none of the bulls will escape Plaza de Toros in Ronda! 😉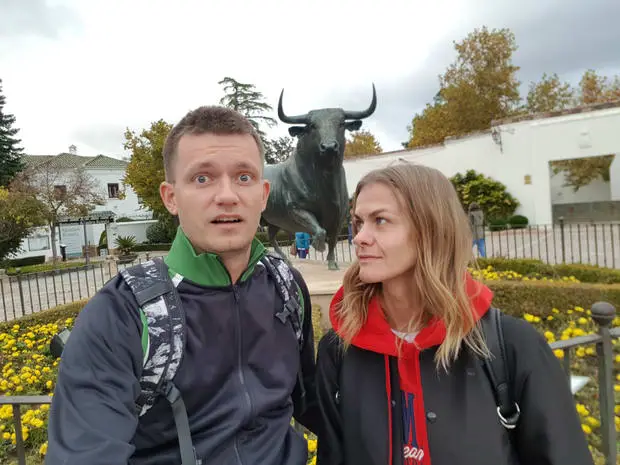 2. Mirador de Aldehuela & Balcón del Coño
One of the most popular viewing points in the town! For a good reason – the views of the gorge, Puente Nuevo and the surrounding villages are just spectacular.
Mirador received its name in honour of the architect José Martín de Aldehuela. The same one who built the bullring arena, Puente Nuevo, and also completed the construction of the Cathedral in Malaga.
"Ayy, coño!" – you will hear this phrase a lot when visiting el Balcón del Coño 😉
Yes, the amusing name of the balcony came from the above phrase – which we can't really translate here without it being censored… 😉
Whichever language you speak, we are 100% sure you will use a similar phrase once looking down 150m! So, fancy to see Puente Ronda? 🙂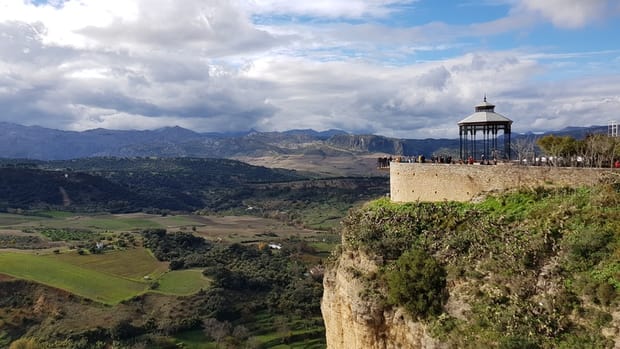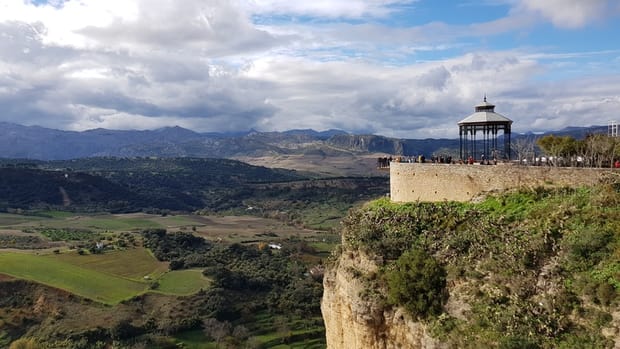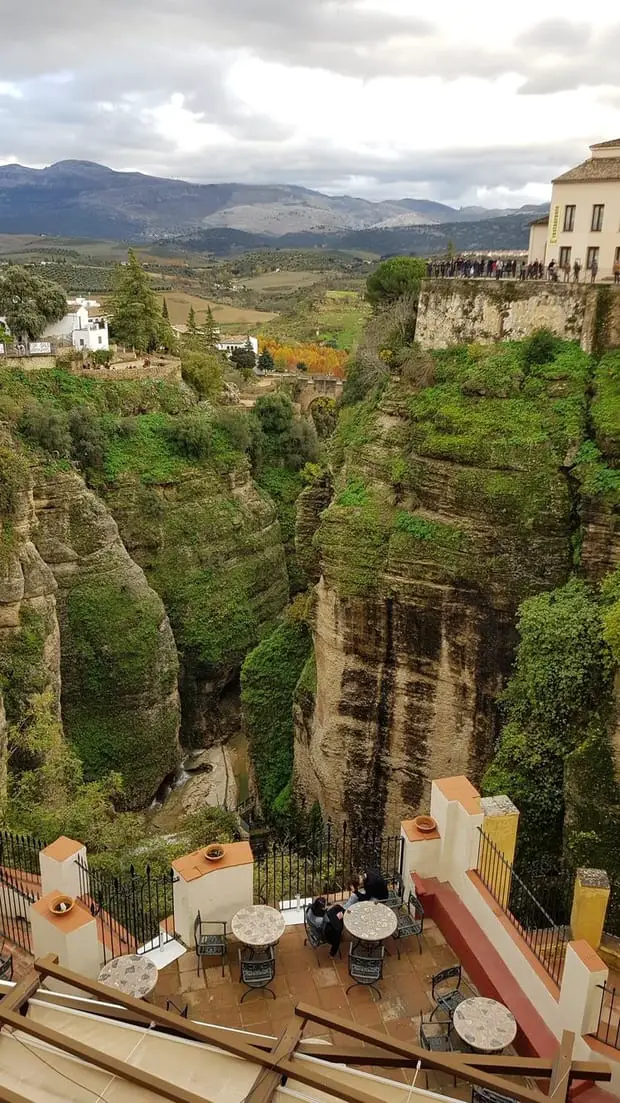 3. El Tajo de Ronda & Puente Nuevo
What to do in Ronda? Ronda is a town torn in two because it is separated by a very deep abyss. This abyss is the El Tajo de Ronda gorge.
The 18th-century Puente Nuevo bridge is one of the most important monuments in Ronda – one of the best things to see in Spain! Many say that this is one of the most beautiful bridges in Europe! And, no surprise, it is the most photographed object in the town too. From here you have unforgettable views of the Tajo de Ronda and the steep plateau where the town is located.
Did you know that the upper part of the bridge was once used as a prison?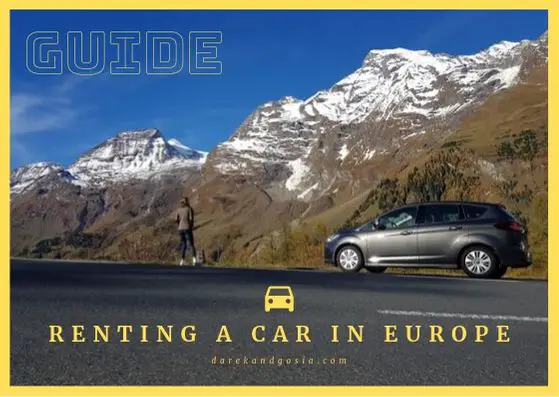 The remains of it is a small window that we can see over the central arch. So, please behave well in Ronda if you don't want to be locked down in that prison! The Puente Nuevo bridge is nearly 100 meters high so it would be difficult to escape from it 😉
Best view of the Puente Nuevo? Definitely not from the New Bridge! 😉 It's best to watch it from Camino de los Molinos, the road that runs along the bottom of the ravine.
This really is one of the top Ronda Spain attractions. No doubt, you just have to take a photo of the bridge while visiting Ronda!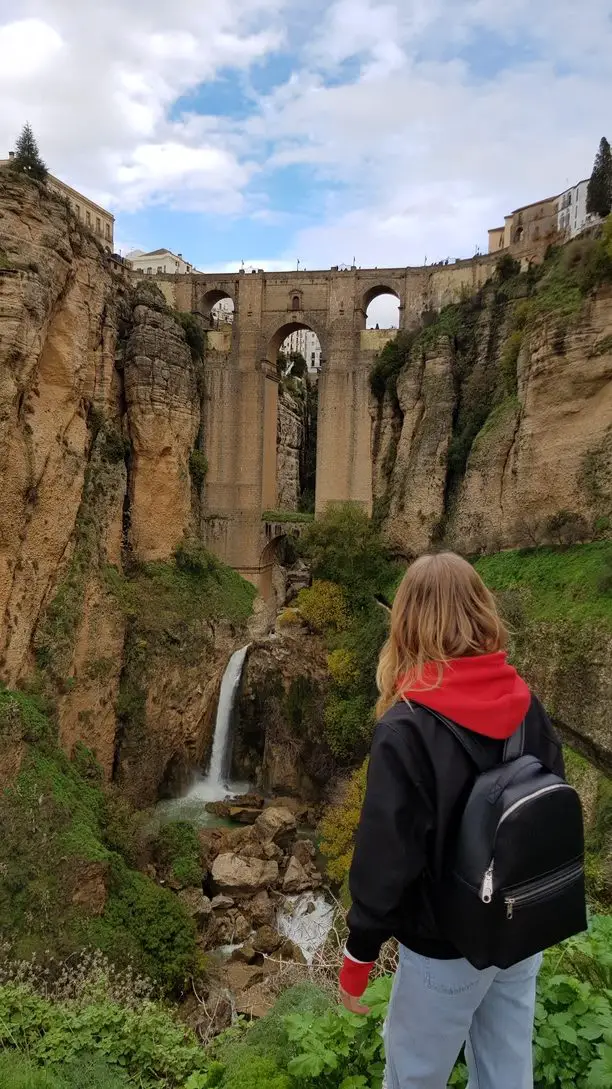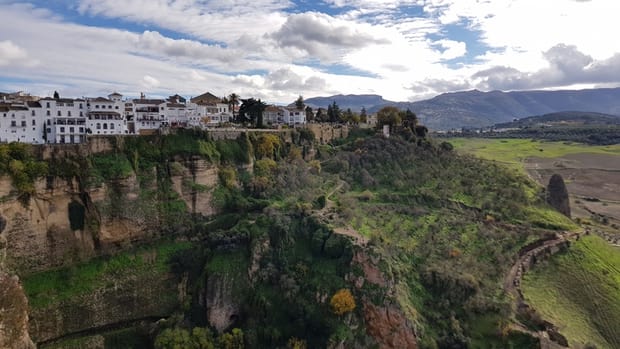 4. Puente Viejo
Puente Viejo is the middle bridge (only 31 m high) that connects two parts of Ronda. The date of its creation is not completely known, and moreover, many experts are still arguing whether Puente Viejo was built by the Romans or by Arabs.
To be honest, we didn't care about that too much. The views from the bridge are still amazing! If you are looking for off the beaten paths in Spain, then you will definitely love this one! 🙂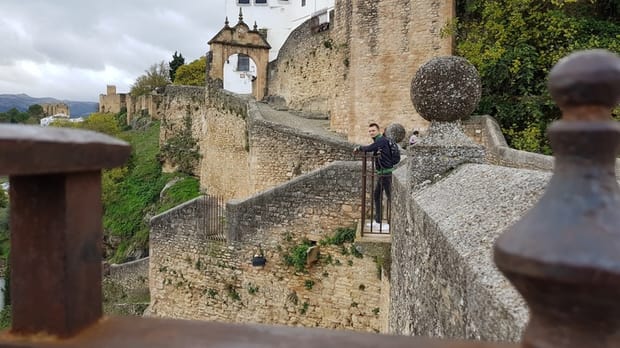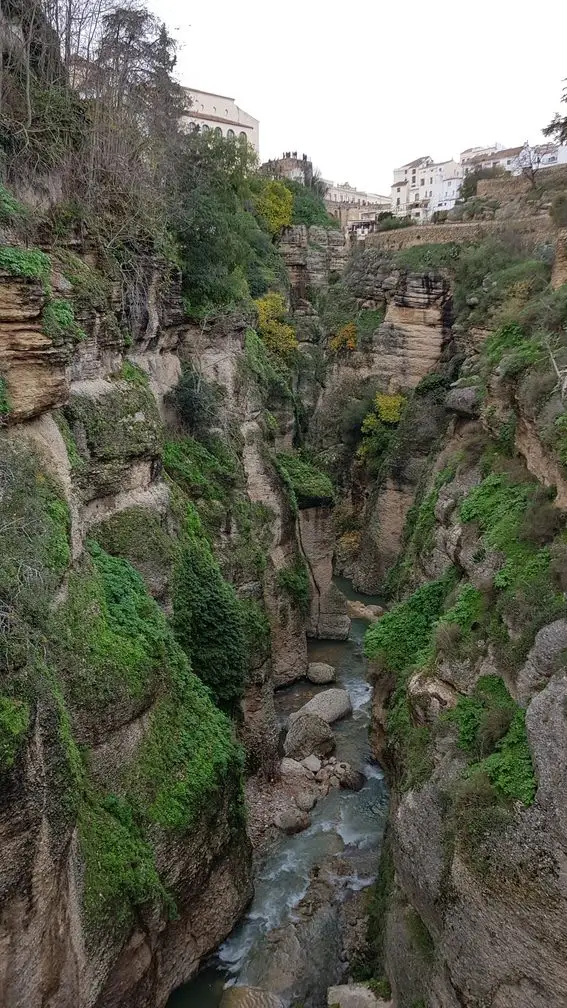 5. Puente Árabe
Top things to do in Ronda? Puente Árabe is the last of the 3 bridges over El Tajo gorge. It can be accessed by car or walking. Make sure you add it to your list of things to see in Ronda – it's really worth a visit.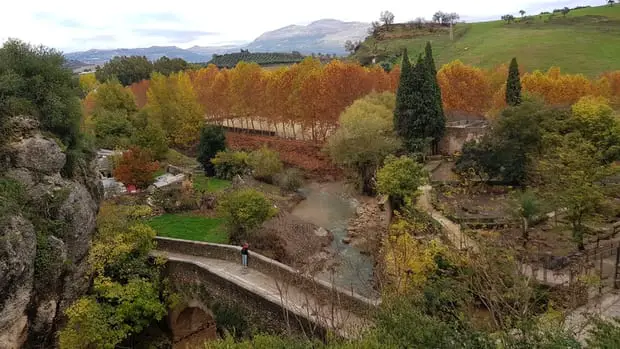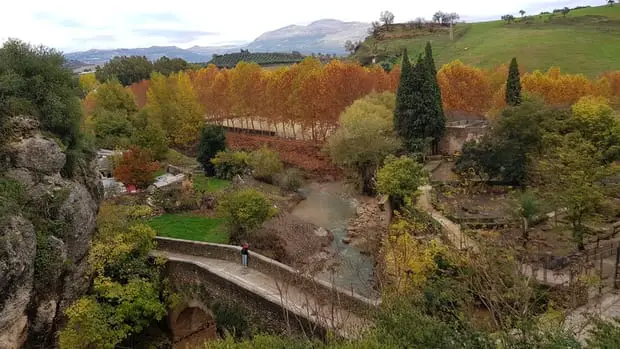 It is a great viewing point of the Puente Viejo bridge.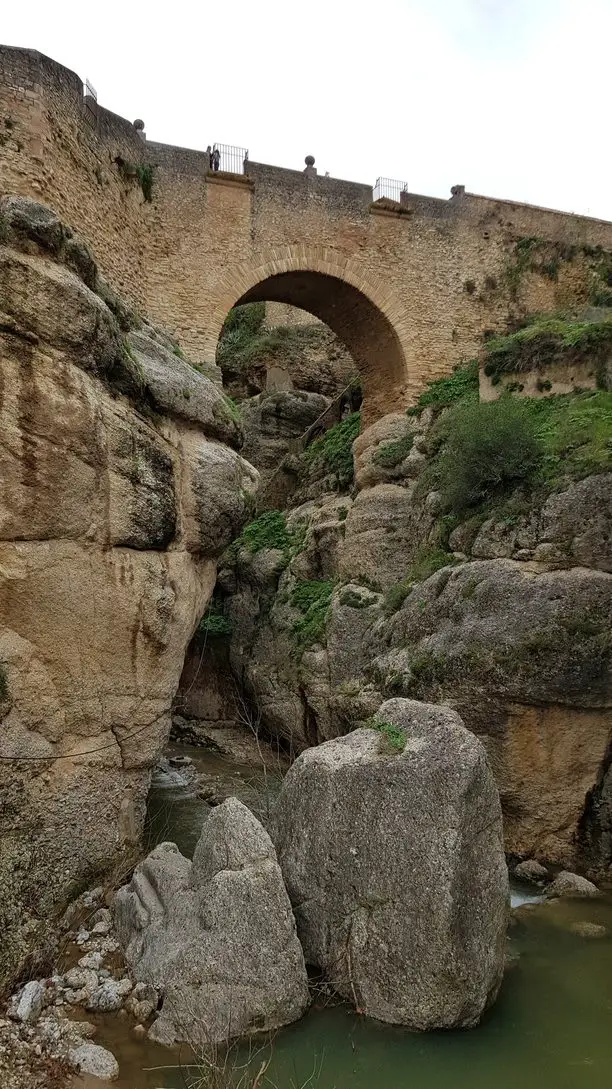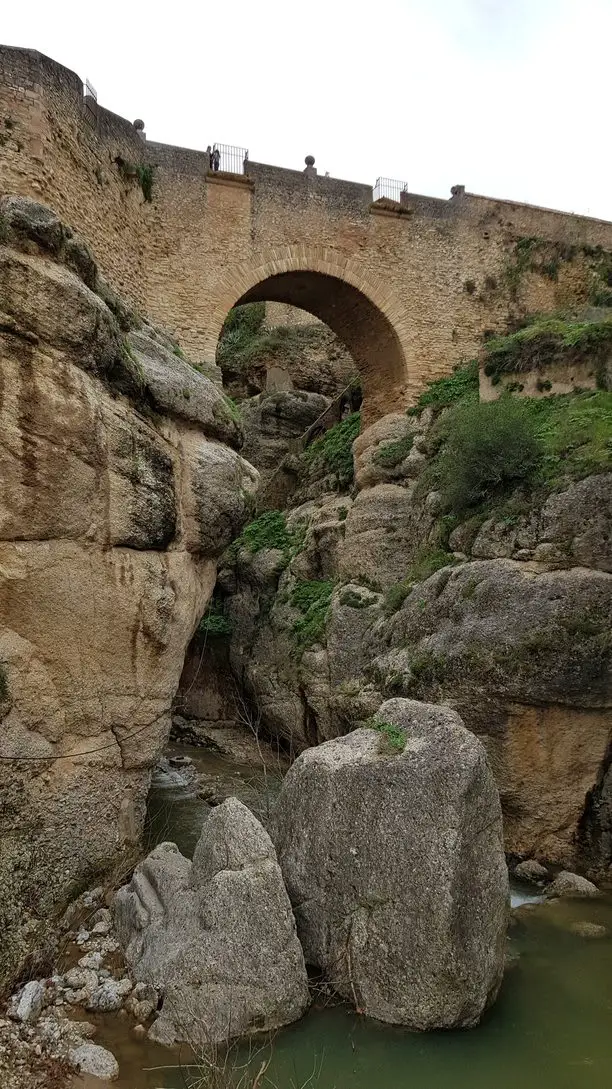 6. Plaza del Socorro
The Plaza del Socorro is a central square in the new part of Ronda. It is surrounded by many restaurants, bars and the church of the Virgen del Socorro. Its main point of interest is a beautiful fountain with a statue of Hercules.
If you are driving to Ronda by car, the APK2 Plaza del Socorro parking will be the best choice. It is located very close to all the main tourist attractions of the town.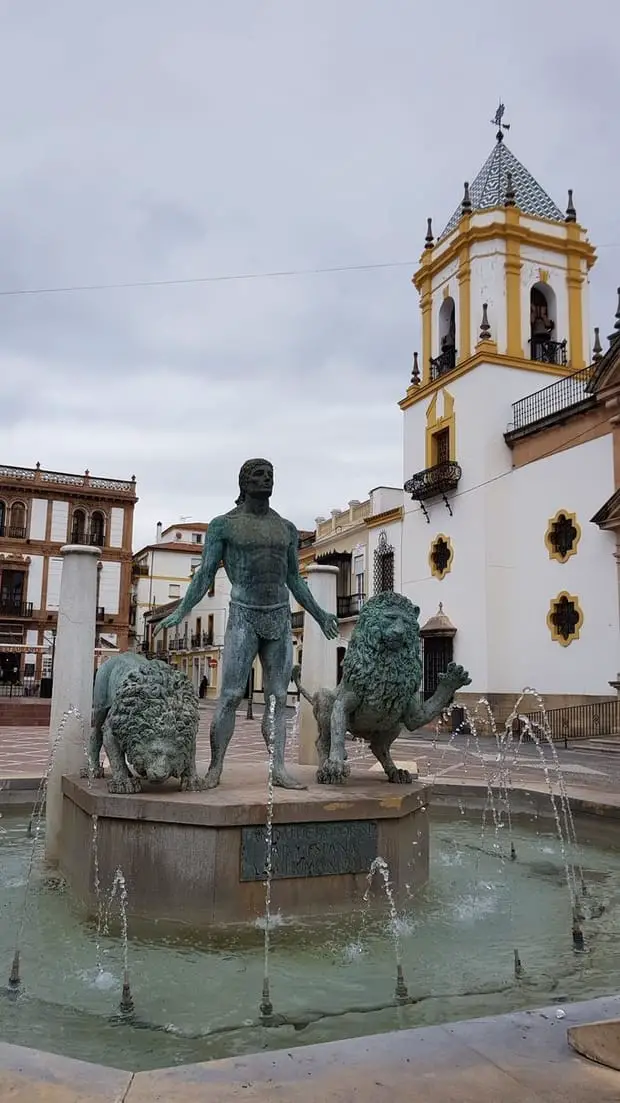 7. Old Town of Ronda, Spain
The perfectly preserved Old Town of Ronda is a place loved by couples and all those who like to be in the clouds.
The true beauty of Ronda has been appreciated for many centuries by artists and writers (like Ernest Hemingway or Victor Hugo). The history of the town remembers the times of Celts, Greeks, Carthaginians and Arabs. Each of these civilizations has played a significant role in the history of Ronda – the effects are visible across the whole town.
You will definitely love walking around the old town of Ronda!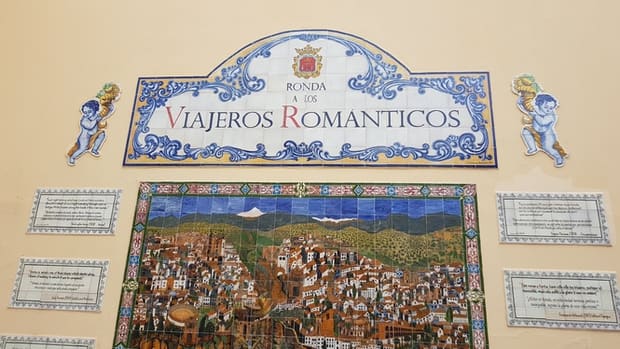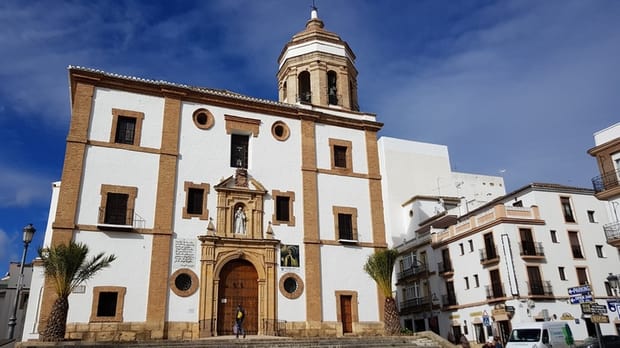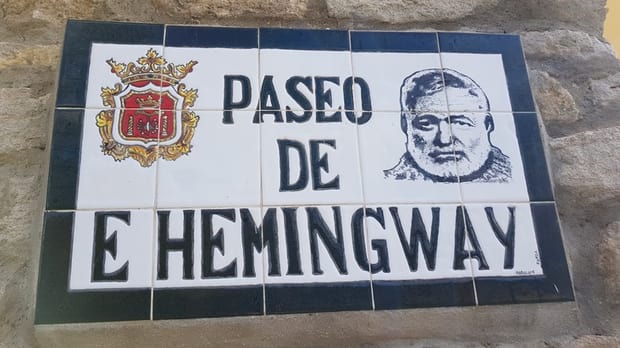 Where to stay in Ronda Spain?
There is no shortage of amazing places to stay during your holiday in Ronda. Please see below some of the TOP hotels we have selected for you:
"Set in the countryside, 10 minutes' drive from Ronda, the hotel features a seasonal outdoor pool and tennis court. All rooms offer mountain views and there are free Wi-Fi and free parking."
"Set on the edge of Ronda's famous gorge, this 17th-century palace offers fantastic views of the River Guadalevín. It has a seasonal outdoor pool, Turkish bath and rooms with free Wi-Fi."
Need more inspiration? Find a hotel in your favourite part of Ronda.
Is it worth to visit Ronda Spain?
If you are visiting southern Spain, make sure you add Ronda as one of the stops on your Spanish road trip in the south of Spain. It is one of the best day trips from Seville as there are many great things to do in Ronda.
In fact, this is one of the best places to see in Andalucia! You'll honestly be blown away by how stunning this town is and really is one of the best places to visit in Spain.
Love Spain?
Read our other articles related to this stunning country:
Unusual Things to do in Alicante
30 TOP attractions in Barcelona
Unusual Things to do in Tenerife
Don't forget to PIN me! 🙂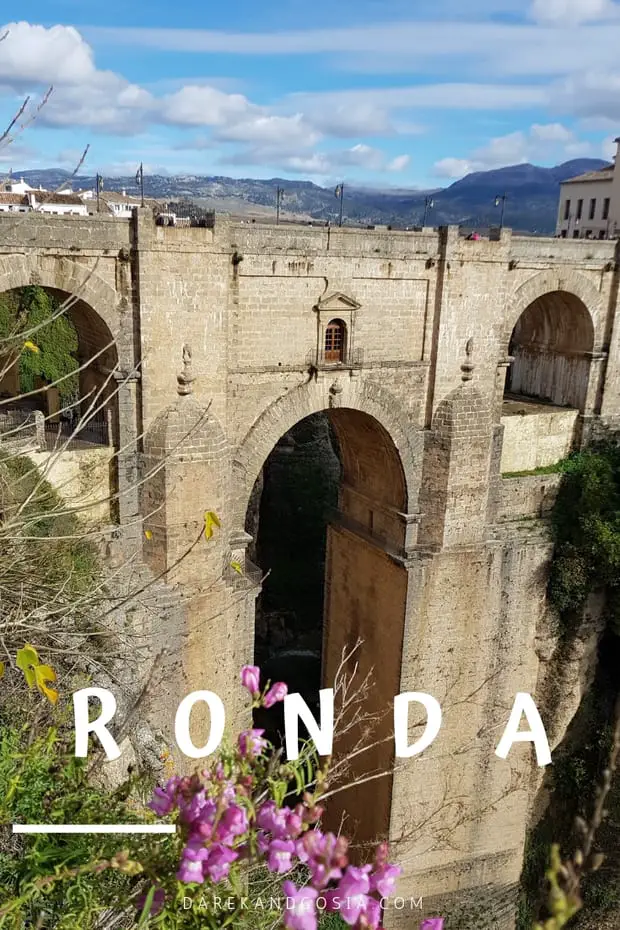 Articles you may like: