England's best landmarks: from historical places to natural British sights – find your favourite amongst famous landmarks in England, UK.
As one of the most popular travel destinations in Europe, England offers endless possibilities for travellers looking for top attractions, beautiful landscapes and many great things to do! The list of landmarks in England could be really endless!
What is the most famous landmark in England? From iconic British places to famous UK coastal landmarks and nice villages near London – we will try to cover top English landmarks!
With so much to do and see, we are lucky to live in England as we are spoilt for choice when it comes to exploring this beautiful country. From beautiful English villages, the amazing coastline to a few top UNESCO sites in Europe – there are so many stunning landmarks in England.
How many landmarks are there in the UK and what is the most famous monument in England? We hope you find the answers below as we tried to cover the top and must-see British landmarks.
Best UK landmarks Books:
7 Most famous landmarks in England:
So, we present here the most visited places and sights in Britain – an absolute must-visit list of top British landmarks. How many of them have you been to? 🙂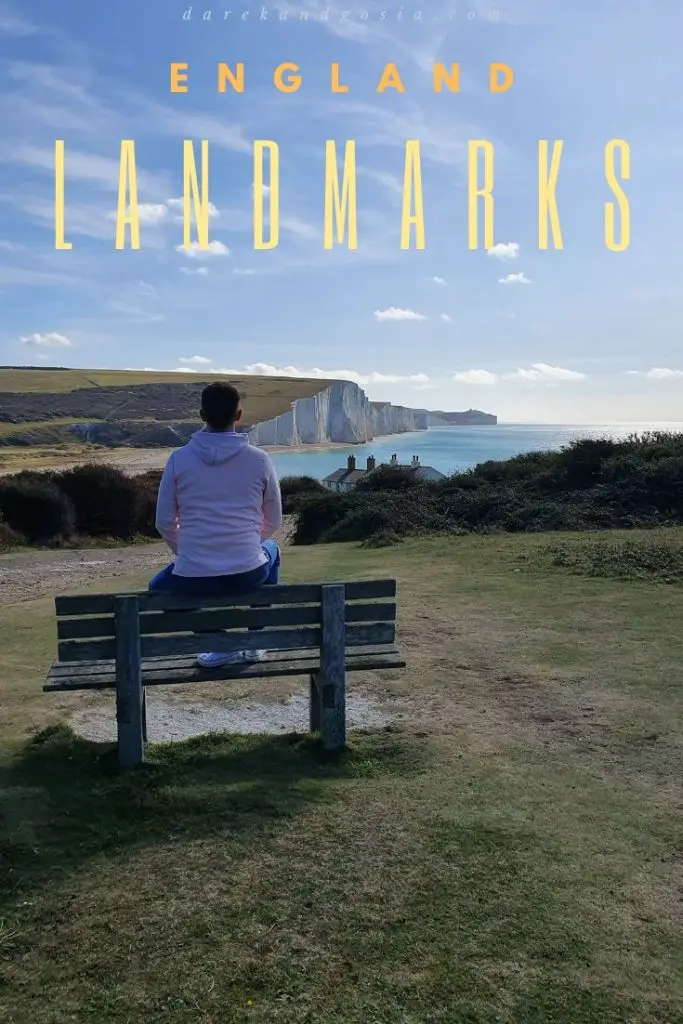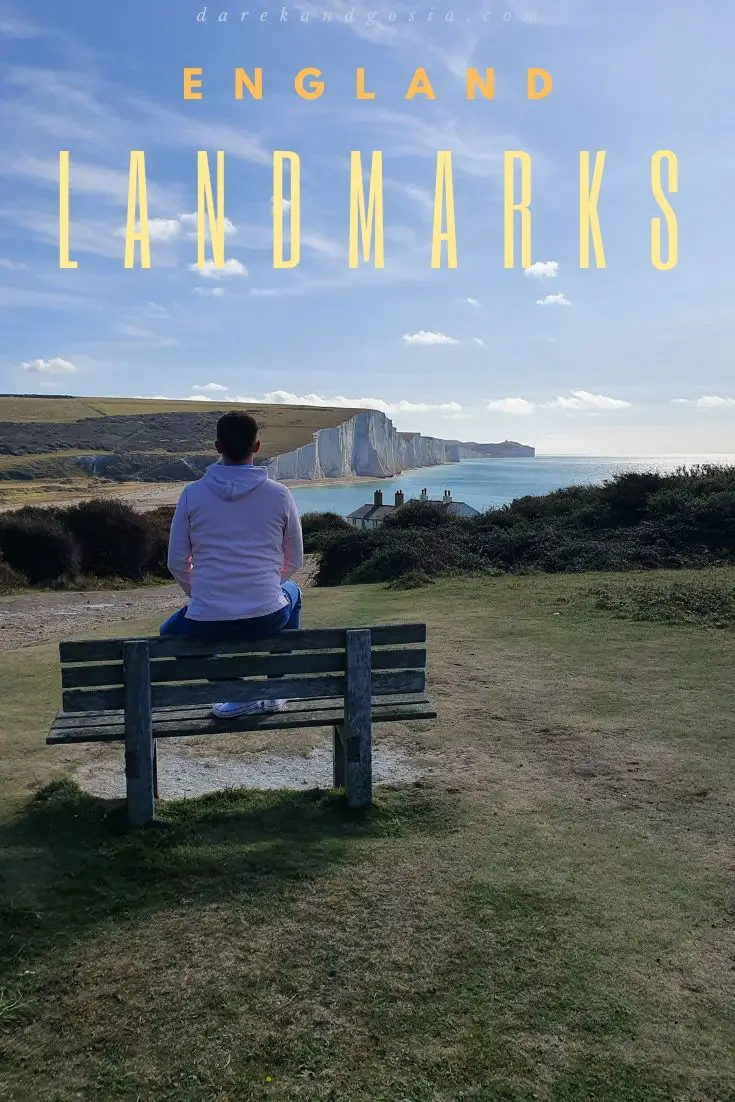 Explore the most famous UK landmarks and top famous British buildings to see around the country:
Top 37 landmarks in England
1. Big Ben
Looking for England famous landmarks? Everyone who knows anything about Britain has heard of Big Ben, but what's its real name? Located at the north end of the Palace of Westminster, formerly known as the Clock Tower, the structure was renamed the Elizabeth Tower in 2012, in honour of the Queen's Diamond Jubilee. Even if you are only one day in London you will see it for sure!
This is probably one of the most iconic British landmarks, that everyone has seen on TV!
Big Ben is actually the name of the great bell that resides in the Elizabeth Tower. Standing at a height of 3.159 feet, Big Ben is a landmark you can't miss! Can you? 😊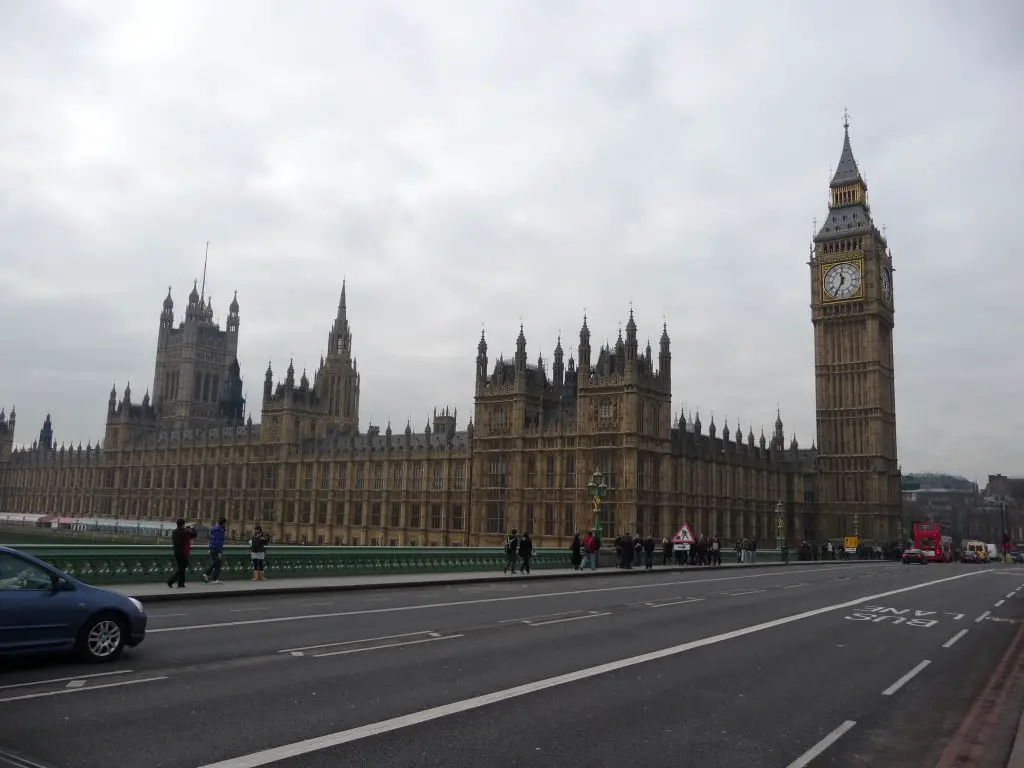 2. Windsor Castle
Windsor Castle is an official residence of The Queen and the largest occupied castle in the world. The It is a prominent landmark well known for its architecture and its association of over 900 years with the English and British Royalty – one of the must-see on any UK bucket list.
With so many famous landmarks in UK, Windsor must be the most royal one!
If you travel in England on an organized travel landmark tour Windsor will be probably on your list, together with Stonehenge and Oxford.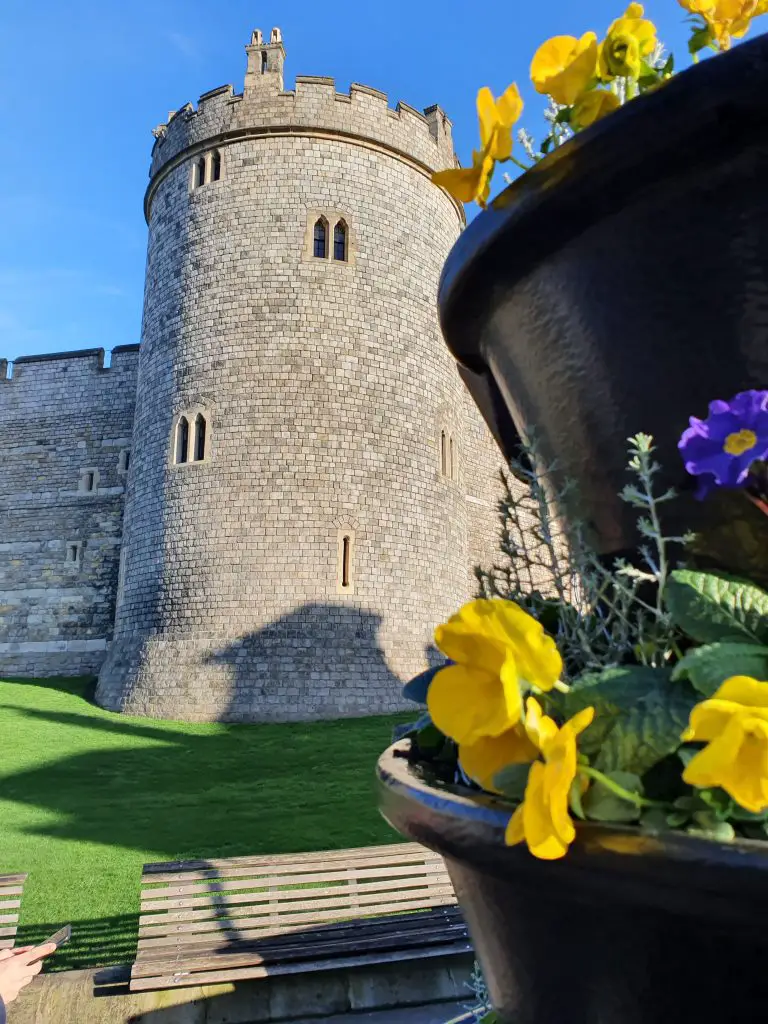 3. Stonehenge
Stonehenge is one of the most famous and unique prehistoric sites and among the most visited monuments in the UK. The area of Stonehenge is regarded as a British cultural icon so it's a must-visit for all British people.
Stonehenge is an iconic British landmark and one of the most famous UNESCO sites in Europe. If you are visiting the capital city you have to go for a day trips from London by car to Stonehenge!
So, is Stonehenge on your list of the famous British landmarks?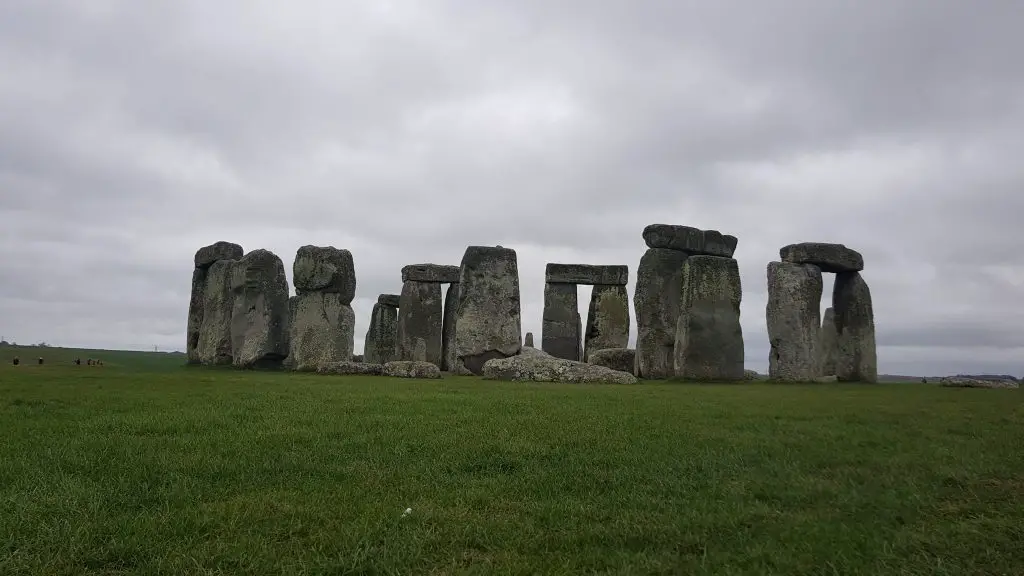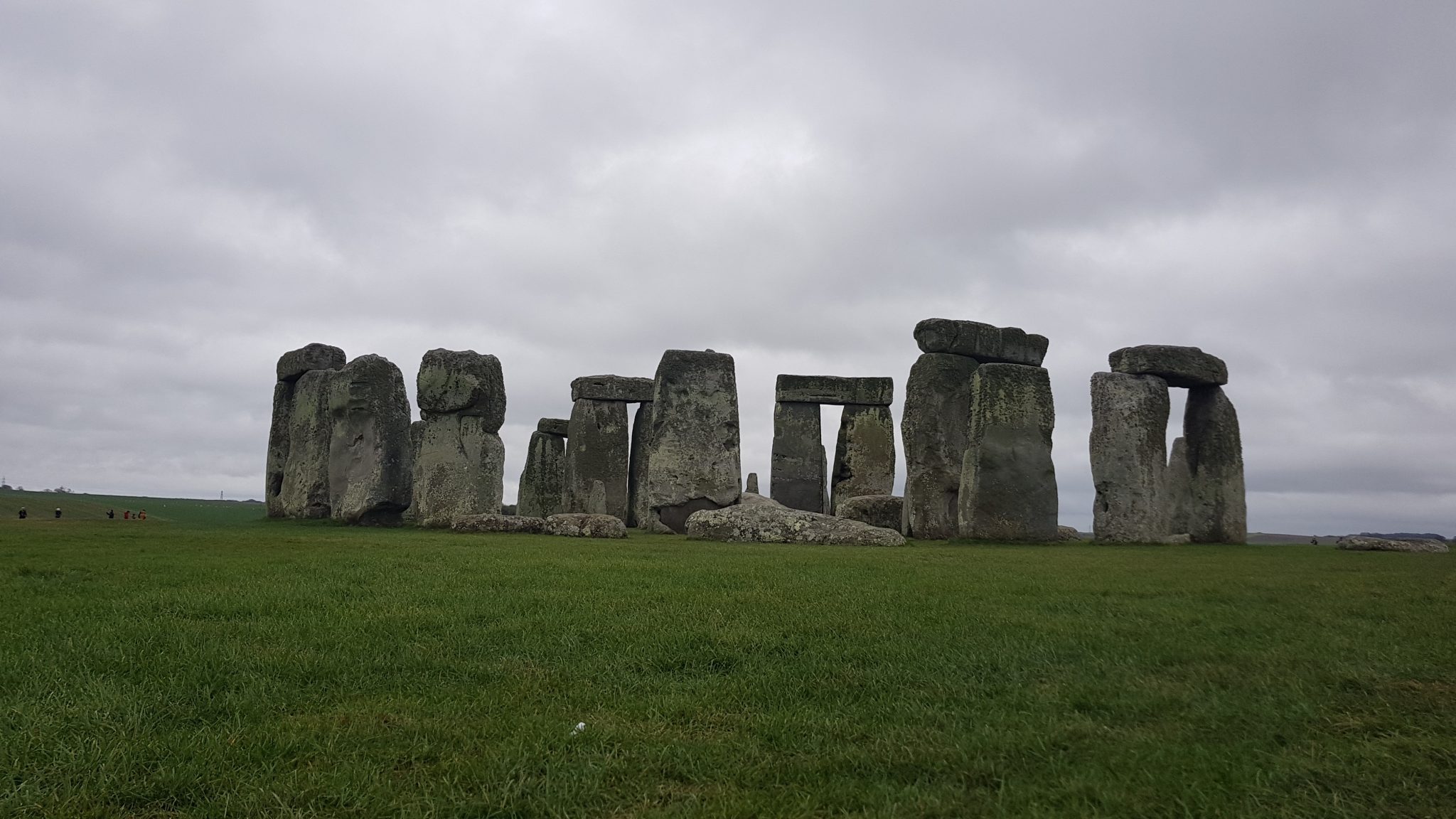 4. Cotswolds AONB
A protected landscape and Area of Outstanding Natural Beauty, Cotswolds is one of the most beautiful natural landmarks in England.
The Cotswolds are an area in south-central and south-west England. With so many stunning Cotswold villages to choose from, there are endless opportunities to spend a great weekend away in the UK. From Bibury village to Castle Combe – all a worth being added to the list of top British landmarks!
From all the famous English landmarks, Cotswolds really is the one we visited most.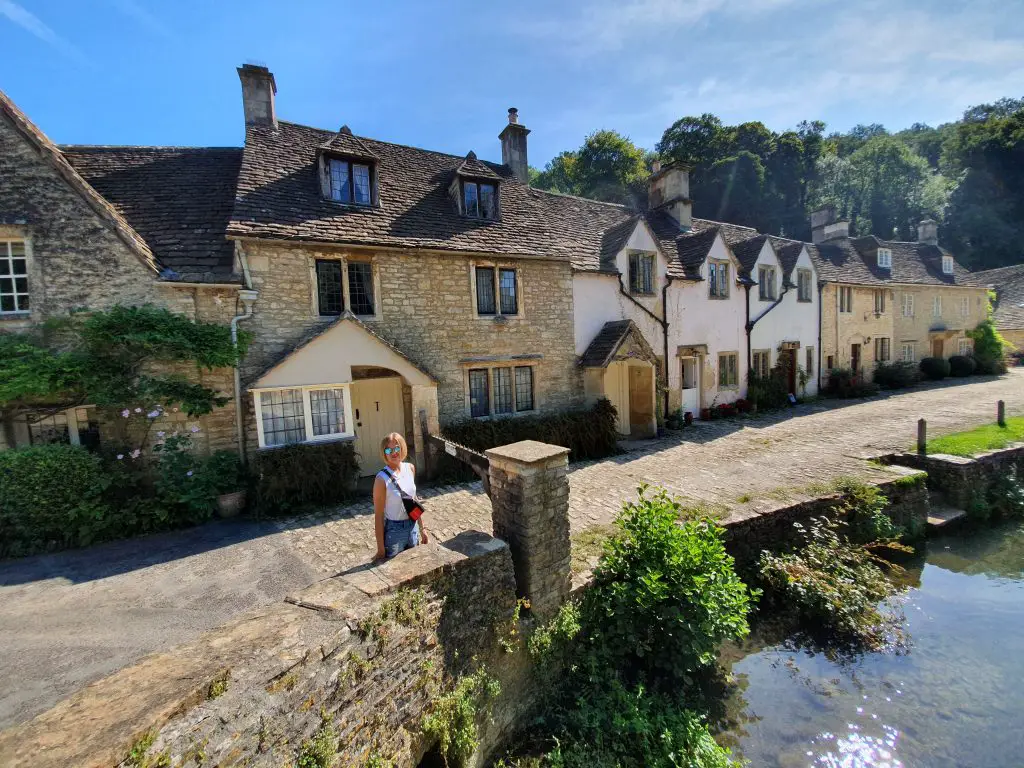 5. Blackpool Tower
Famous British buildings? Blackpool is famed for its seafront, and Blackpool Tower is an iconic feature that has become a much-loved great British landmark. First constructed back in 1894, Blackpool Tower has many wonderful attractions for visitors of all ages to enjoy.
At the top of the 518ft tower, visitors can enjoy panoramic views, and on a clear day, you can see for miles around. Those brave enough can test their nerves walking on the glass floor which peers down to the streets below. Blackpool Tower also features a dungeon, a circus and one of the world's most impressive ballrooms.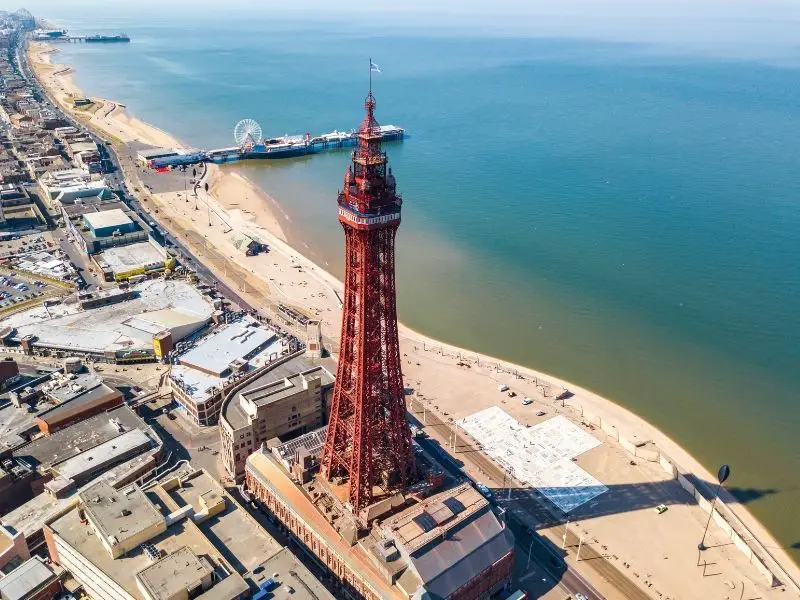 6. River Thames
There are many amazing places to see along the Thames. But the Thames river is a great landmark itself. Even in the past, it really quickly became a major landmark as it was used as an assembly point for shipping.
The Thames River spans 215 miles and is an iconic landmark of London flowing straight through the heart of the city. It is a landmark that very few know even exists, but it has been there for 100s of years. We just don't really notice it, as it is a… river 😊
There are also many other iconic places in Britain, which are located alongside the river – with many of them in Buckinghamshire and Oxfordshire.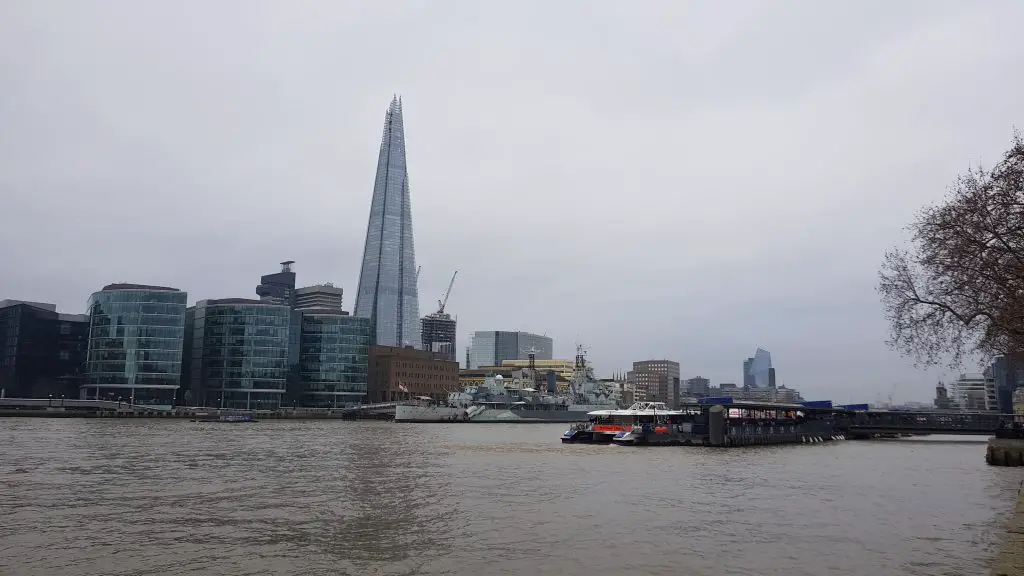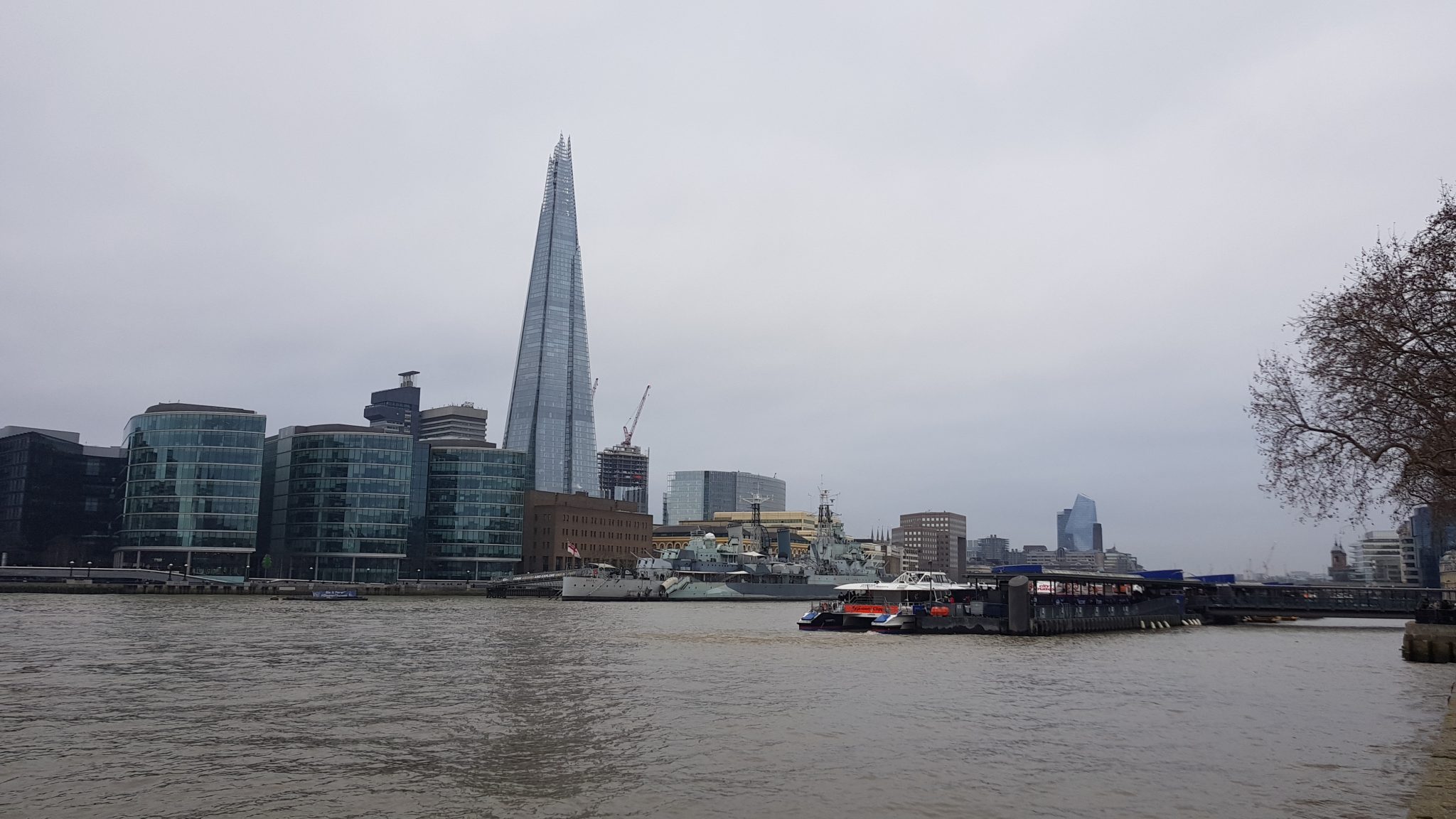 7. St Michael's Mount
Most famous landmark in UK? This tidal island sits just on the edge of Cornwall and has become an iconic landmark in the area. St Michael's Mount is a tiny island with a church and a castle which date back to the 12th century. Visitors from all over the world have visited St Michael's Mount to experience the unique atmosphere.
Today, the island is still home to a living community, with the St Aubyn family living in the castle. St Michael's Mount can be reached on foot at low tide or by a short boat trip.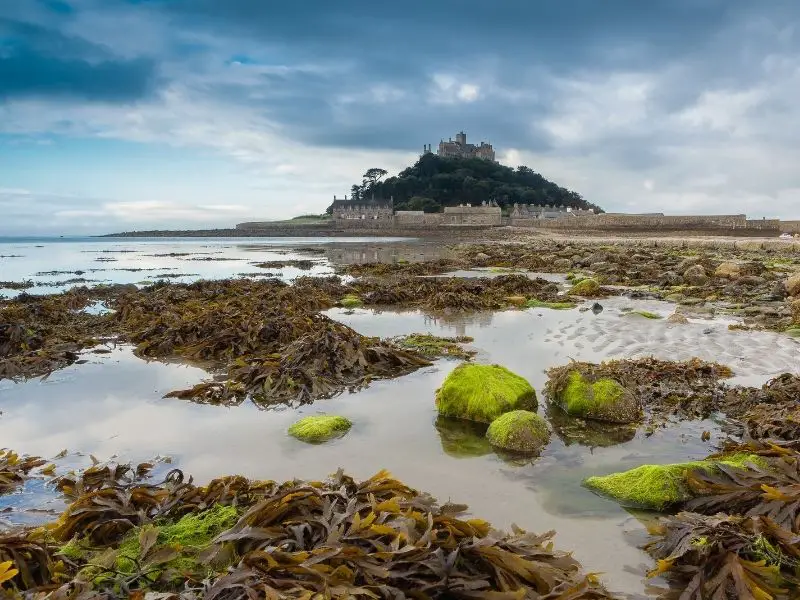 8. The Needles
The Needles Lighthouse on the Isle of Wight is an impressive sight. The Islands most famous landmark attraction has so much more to enjoy than the stunning views, it is a destination not to be missed – a perfect choice for a weekend trip in the UK.
The Needles offers interesting history and stunning ocean views. It is estimated that most of the Island's tourists each year will take a look, as part of a visit to the Isle of Wight – they can't all be wrong, can they? 😉
England's landmarks are really beautiful and this one definitely deserves to be top on the list of UK famous landmarks!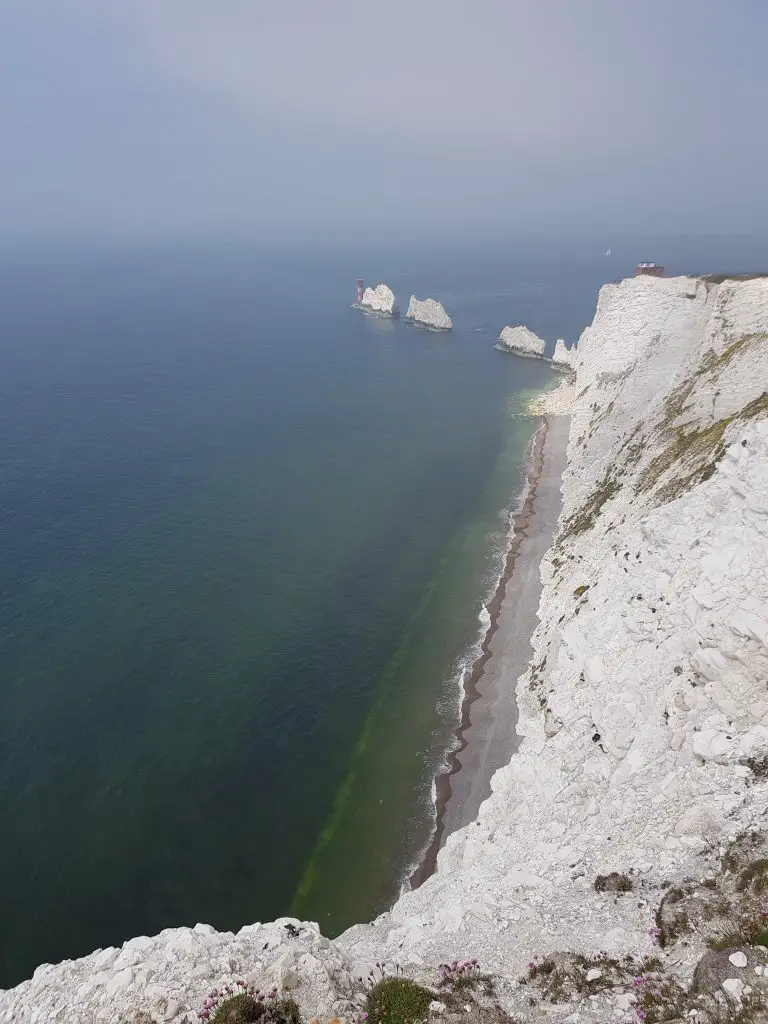 9. Yorkshire Dales
No list of the most stunning landmarks in England would be complete without the Yorkshire Dales!
The Dales are worth a visit at any time of year – whether it's to visit pretty English villages or enjoy the outdoors, then there are plenty of activities to keep you occupied while visiting the beautiful part of England.
The Yorkshire Dales National Park has something to offer for everyone. Whether you're planning a relaxing getaway or just a day trip, visiting the Dales is a great choice.
10. Glastonbury Tor
One of the most visited Great Britain famous landmarks in the summer! This landmark is one of the great icons in Glastonbury and can be spotted from afar. Tor means a cone-shaped hill in Celtic, and back in ancient times, Glastonbury Tor was an island thanks to the Somerset Levels. Over the years, the hill has become a sacred site and a popular landmark.
Atop Glastonbury Tor is the remains of a chapel which was dedicated to Saint Michael in the fourteenth century. Glastonbury Tor is free to visit and is owned by the National Trust.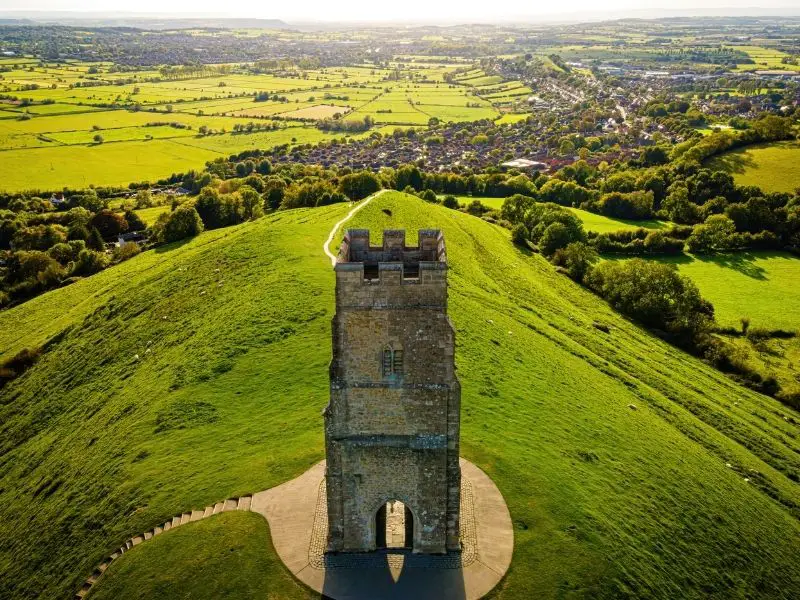 11. Tower Bridge
One of London's most famous bridges and a must-see sight while you are in the capital. Overlooking the River Thames by Tower Bridge became one of the most popular areas in London for its wealth of historic sites – an impressive modern landmark in England and one of the most famous bridges in Europe.
Tower Bridge, built over 125 years ago, is a combined bascule and suspension bridge. Its Victorian Gothic style makes the bridge a distinctive landmark and was intended to harmonise the bridge with the nearby Tower of London. You can also see inside of the bridge and from the high-level walkways take stunning panoramic views – must-do things in London!
From all the famous landmarks in the UK, Tower Bridge probably is the most iconic amongst famous places in England.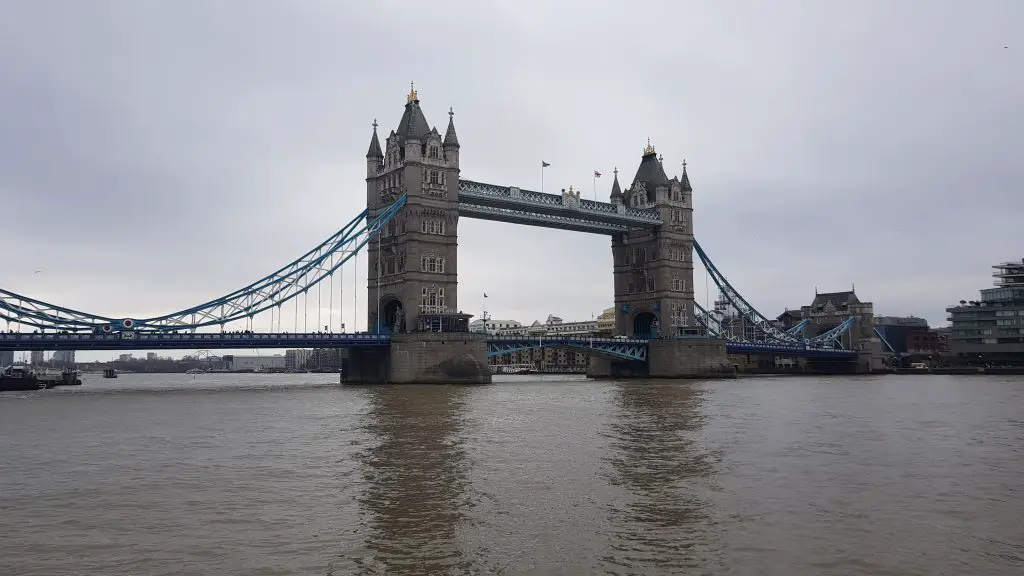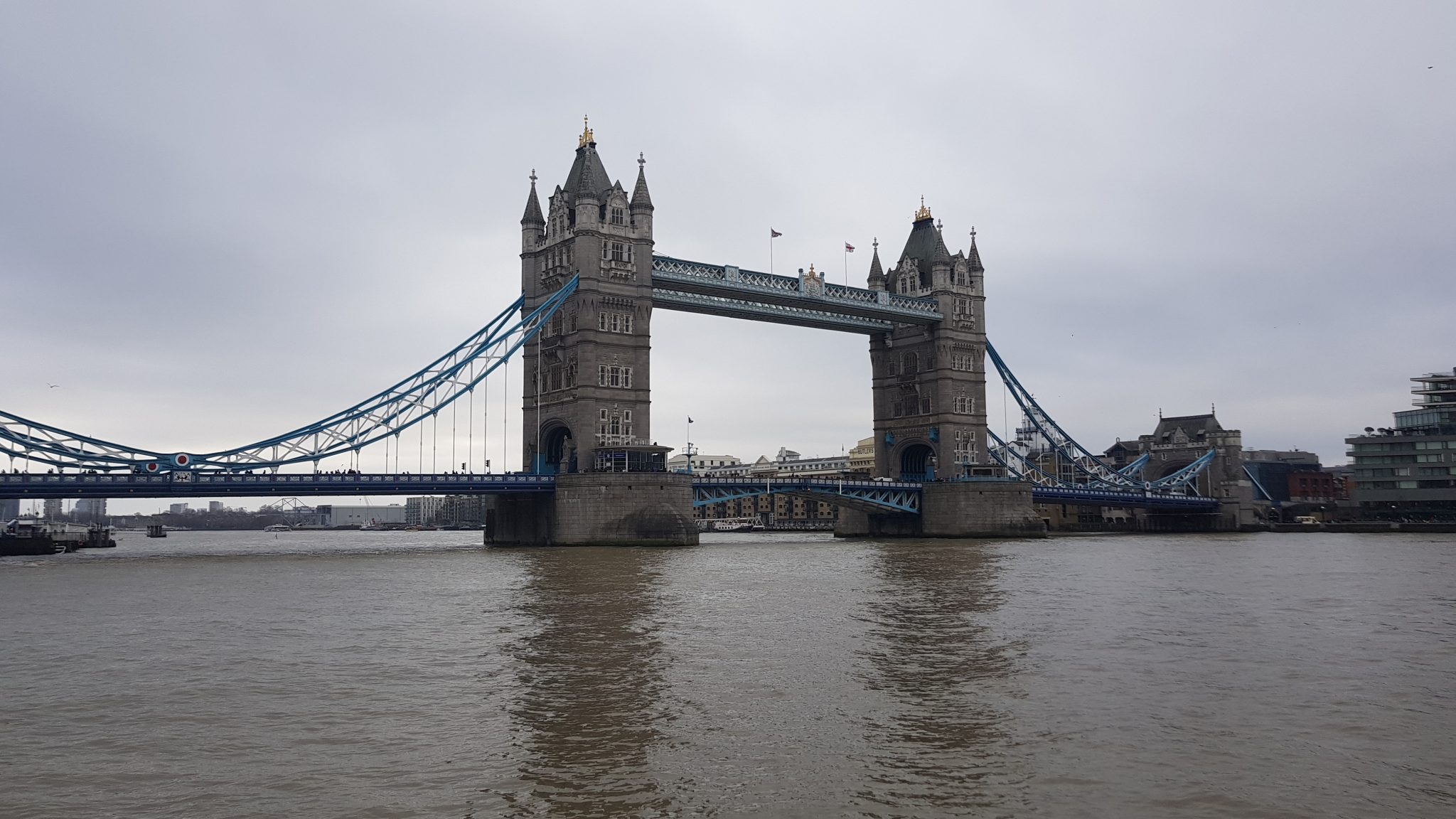 12. Cheddar Gorge
It's time to explore one of Britain's most spectacular natural landmarks – Cheddar Gorge!
This stunning limestone gorge, located in the Mendip Hills, near the village of Cheddar South England is one of the top natural wonders of Europe.
It is Britain's highest, inland limestone cliffs rising up 450ft and gives you a chance to explore the depths of stunning stalactite caverns below it which were created by Ice Age melt-waters.
Cheddar Gorge is an area of outstanding natural beauty and is an ideal UK weekend break trip for outdoor enthusiasts!
If you think about famous landmarks UK, Cheddar Gorge is one of our favourite amongst the most famous landmark in England!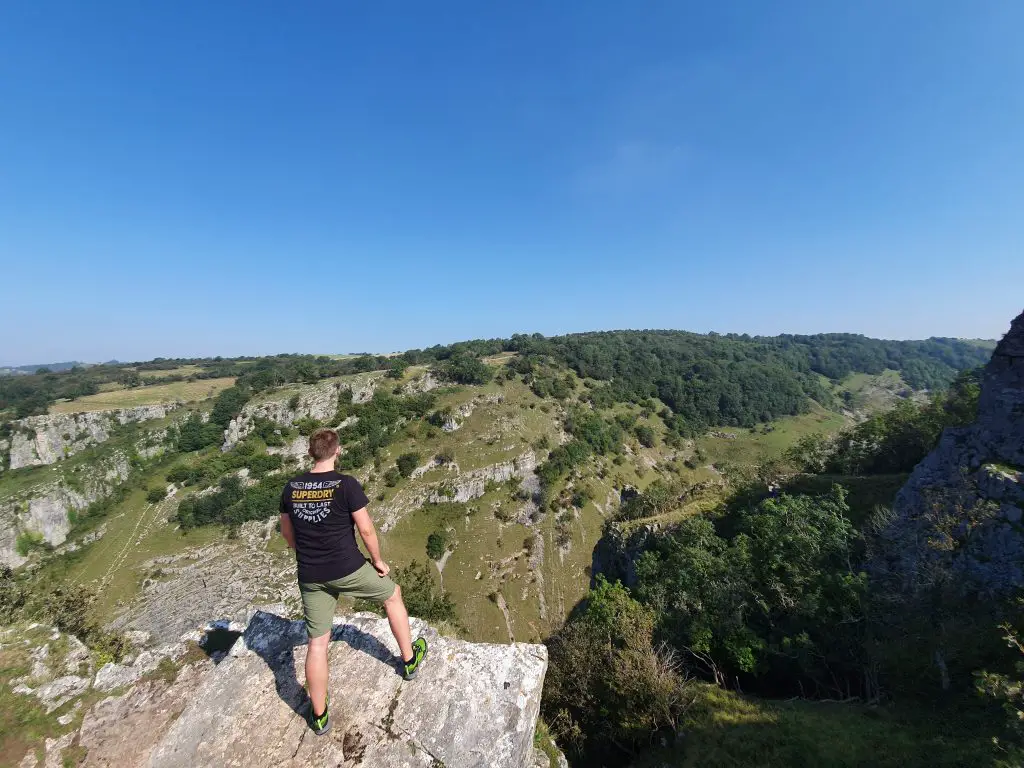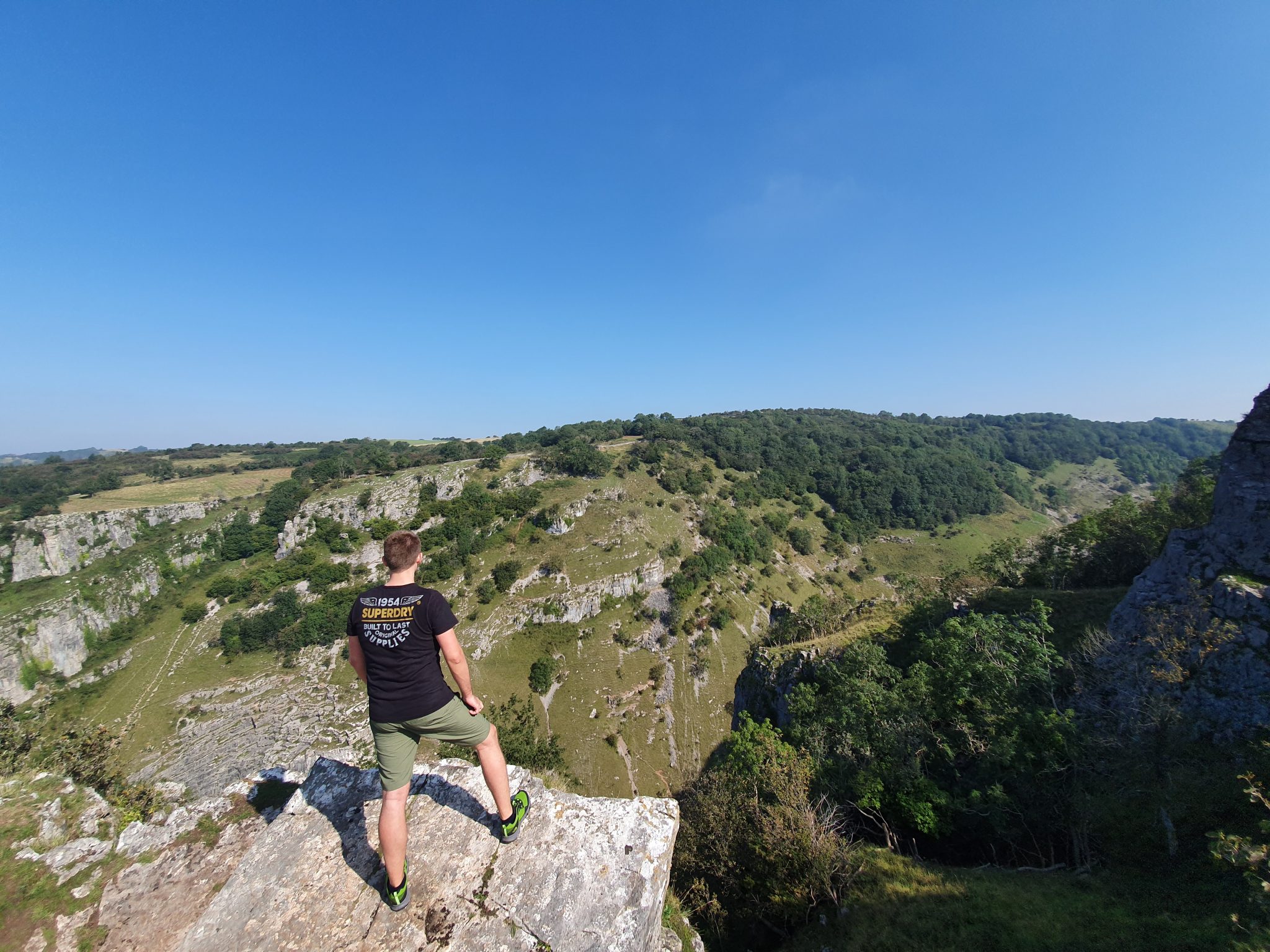 13. Angel of the North
Famous British places in the north? Standing tall over Newcastle is the Angel Of The North, the most famous piece of public art in the UK. Created by Antony Gormley, it has taken pride of place in Gateshead since 1998. It is thought to be the largest sculpture of an angel in the world, reaching a huge 20m high and 54m wide.
Thousands of tourists and locals visit the Angel Of The North every year, making It one of the most famous sculptures in the country.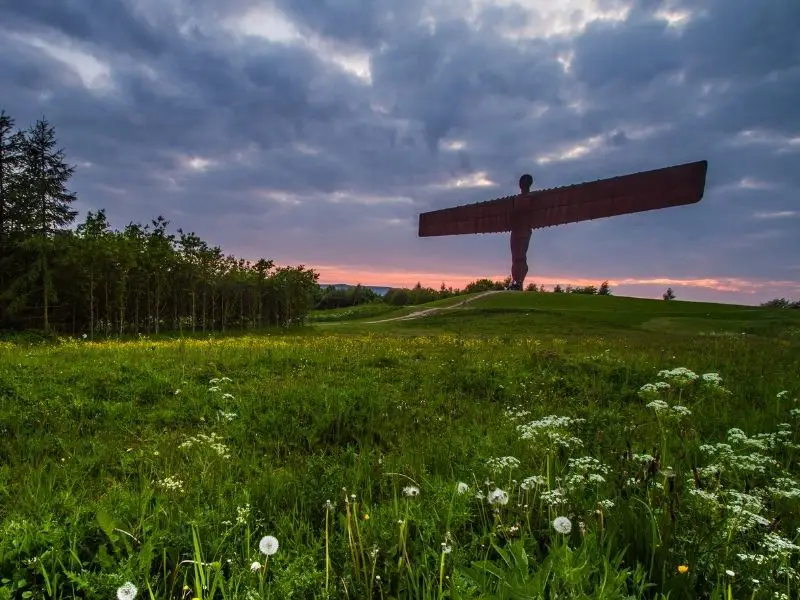 14. Seven Sisters Cliffs
This really is one of the most famous naturally created landmarks in England. The Seven Sisters are actually a series of dramatic chalk cliffs – a world-famous image of the English coast!
Featured with a lighthouse standing before the cliffs, Seven Sisters is a very popular destination for a day trip from London by car. It is really worth taking your family for a trip to Seven Sisters Country Park so you can discover this stunning landmarks and enjoy Seven Sisters walk.
Head out to Seaford Head for the best view of Seven Sisters – this really is one of the top landmarks in southern England and home to some of the best beaches near London!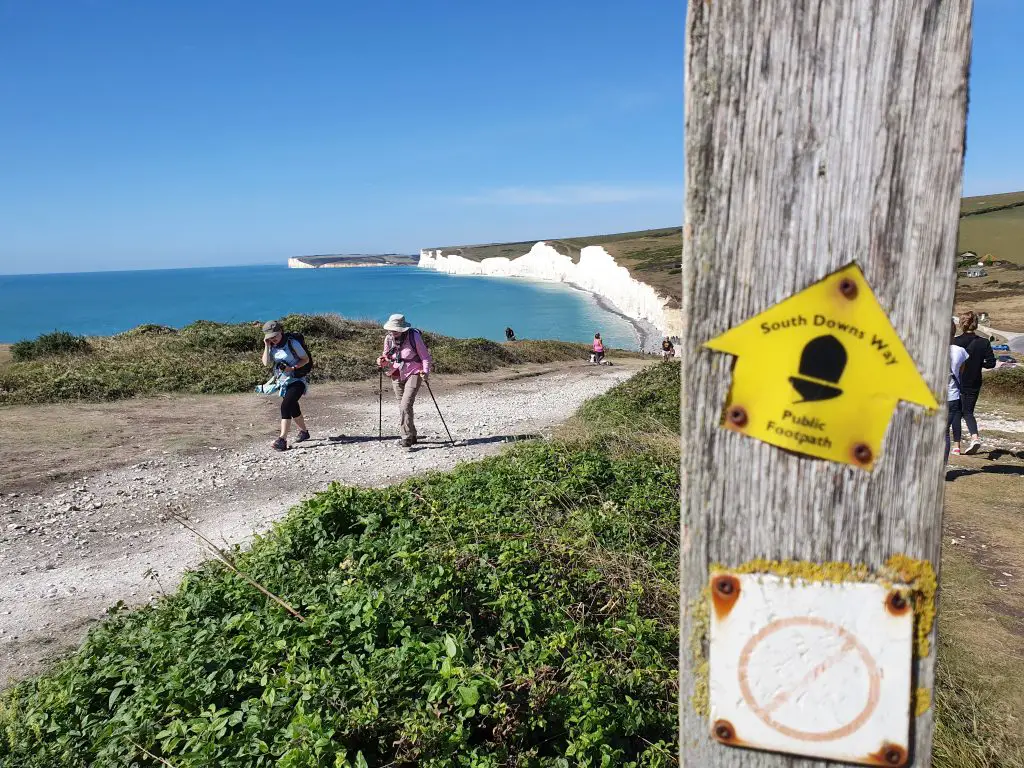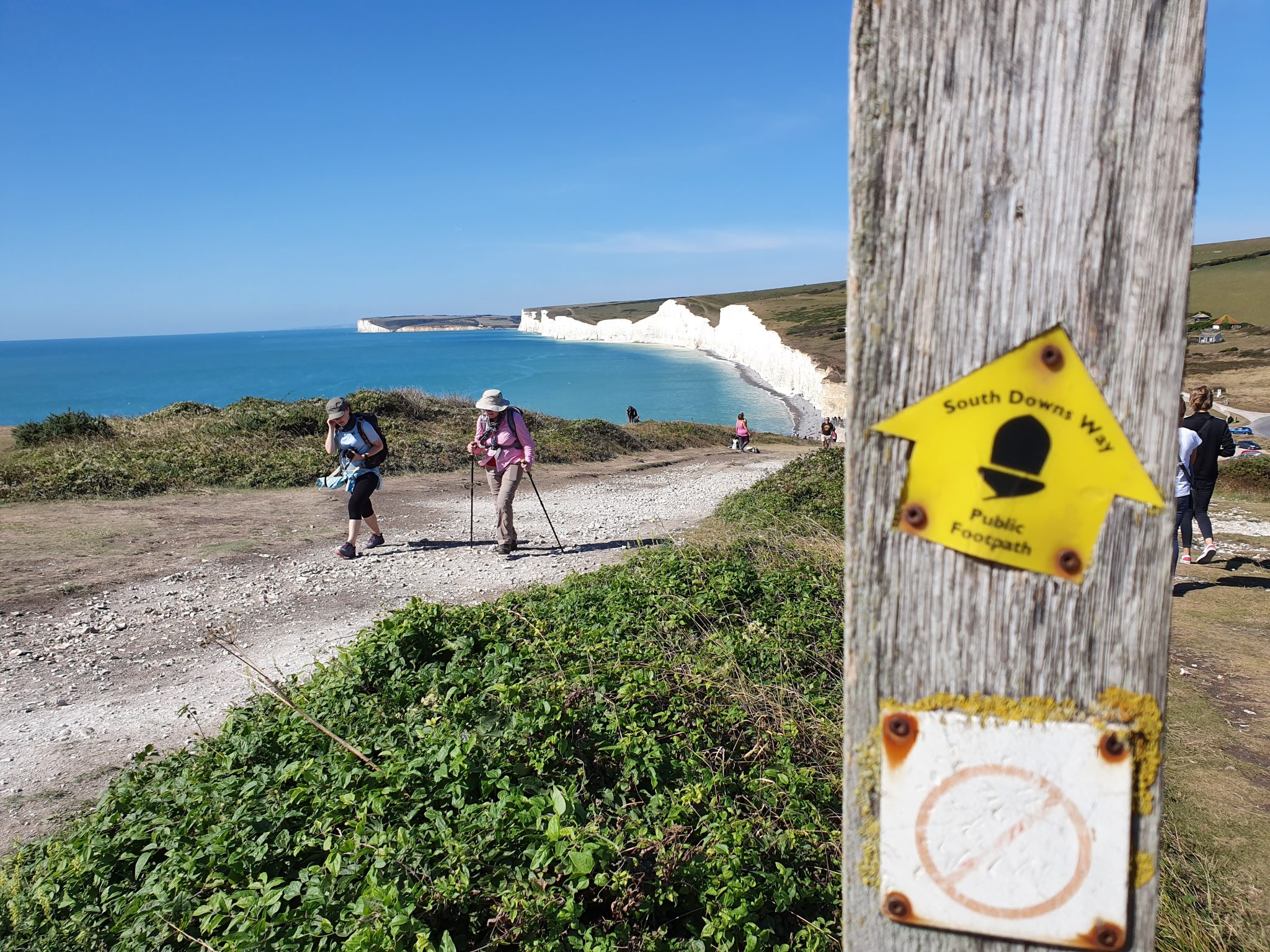 15. Piccadilly Circus
Probably one of the most famous squares in Europe, Piccadilly Circus is a key landmark in the capital city – a must-see in London! It is known for its neon displays and the Eros fountain which is located in the middle of this road junction.
There is a huge variety of shops, restaurants, British pubs and of course many great London theatres.
This is, an easy to reach landmark in London – located at a tube station called the same name – Piccadilly Circus. You can't get it wrong 😉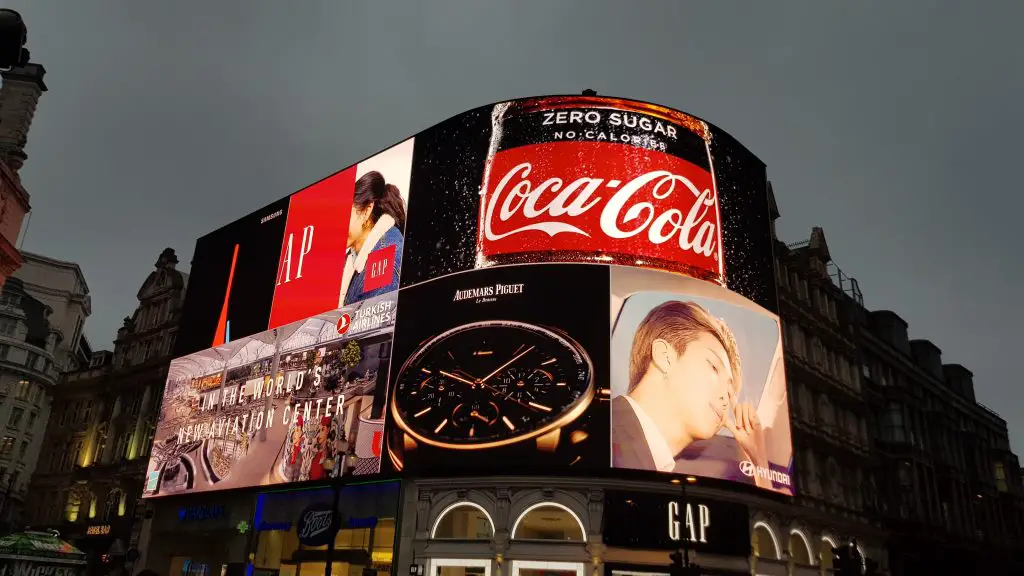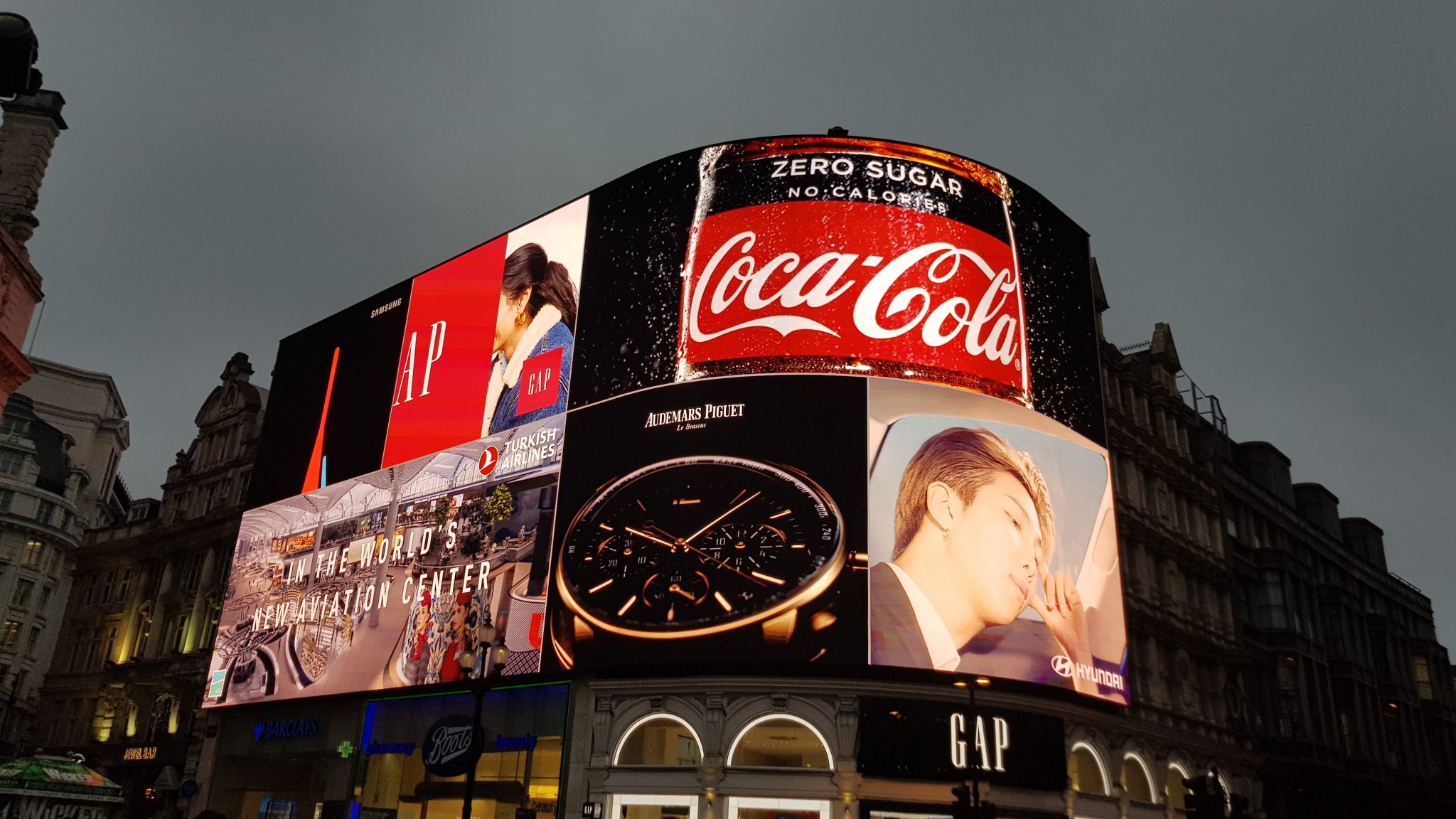 16. Albert Dock, Liverpool
Looking for famous buildings in UK? The Royal Albert Dock in Liverpool is one of the most visited spots in the city. It was designed back in 1846 by Jesse Hartley and was once used by sailing ships which carried cargo across the globe.
Albert Dock was a fully working dock up until 1972, and since then it has been rejuvenated as a bustling centre for shopping, dining and more. The beautiful architecture now homes museums, galleries, bars, restaurants, shops and more.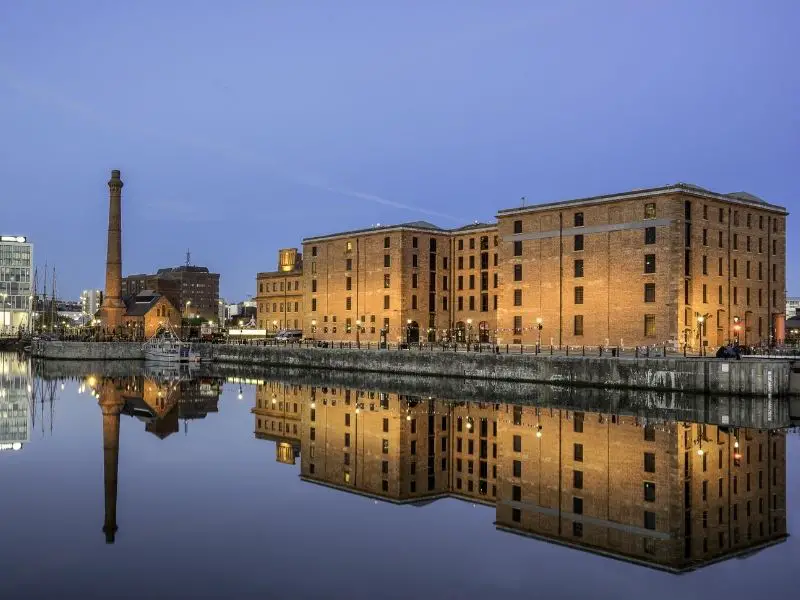 17. Royal Botanic Gardens, Kew
One of the greenest landmarks on our list – the Royal Botanic Gardens, Kew is one of the best parks in London. It is also one of the most visited landmarks in England with over 1.5 million visitors every year! Let's face it – they can't get all wrong with that choice. Can they?
This stunning sanctuary is of the called as the most important botanical garden in the world as it has the most diverse botanical collections.
This really has to be top on the list of British landmarks!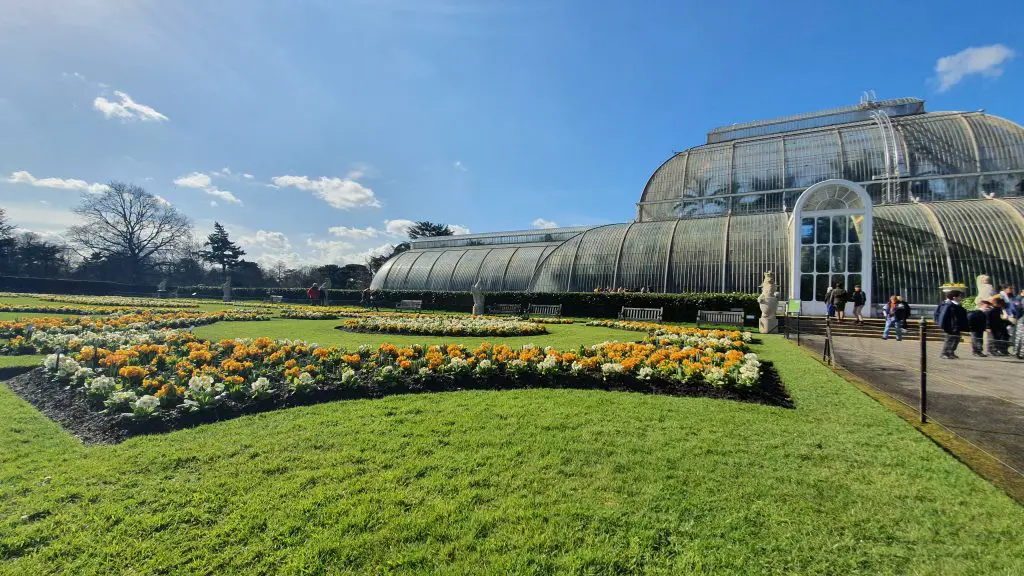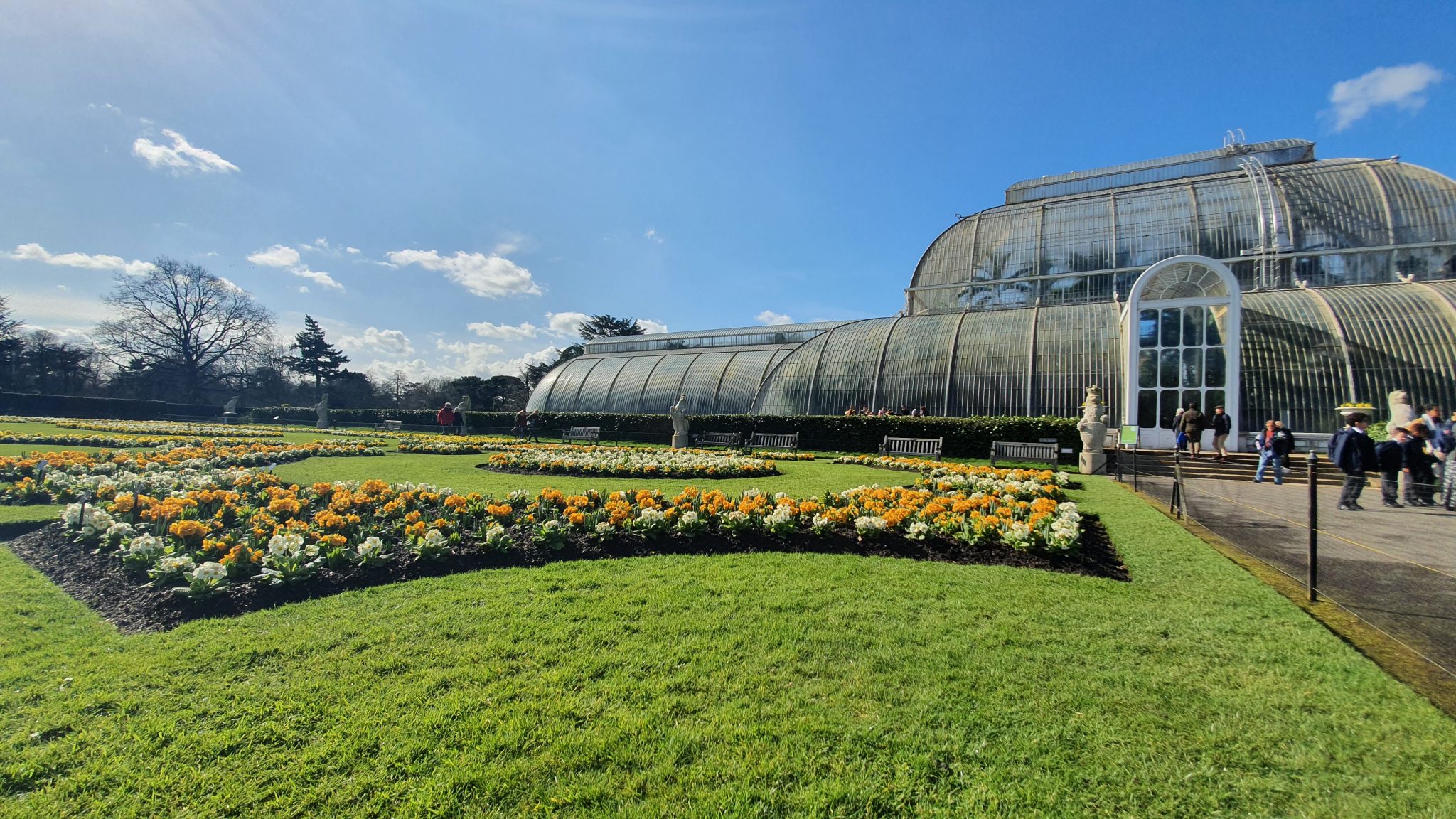 18. Hadrian's Wall
Where to find famous landmarks in the United Kingdom? Hadrian's Wall stretches across 73 miles from Bowness to Wallsend and is one of the UK's most unique landmarks. It was first built in AD122 under the orders of Emperor Hadrian, and the ruins of the wall still stand tall today. As a UNESCO World Heritage Site, Hadrian's Wall is well worth a visit.
Along the wall, visitors will find Roman forts and museums which explore its rich history. Hadrian's Wall isn't just a landmark for history buffs; the Heritage Site also features rare wildlife, beautiful landscapes and cosy pubs.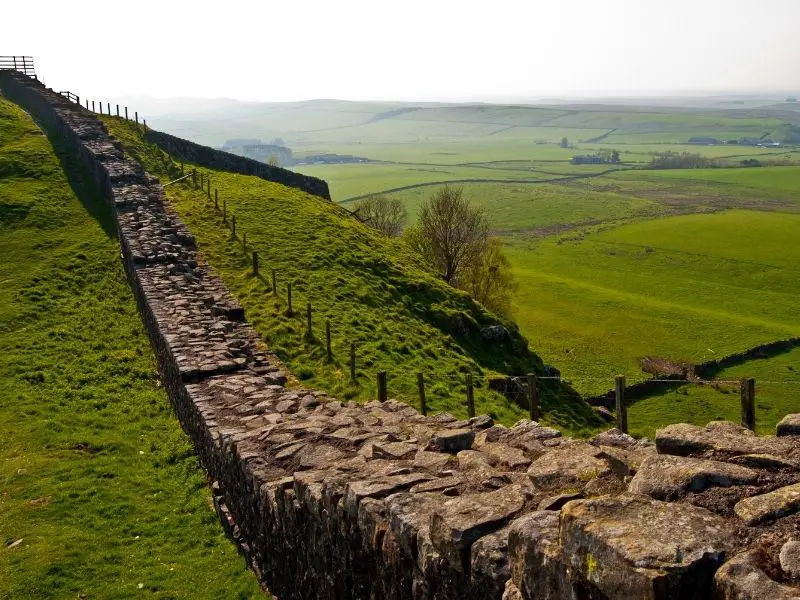 19. Brighton Palace Pier
Londoners love Brighton! In fact, this really is one of the top destinations in southern England for a day trip from London.
And if you visit this top British seaside resort you have to spend a day at the Brighton Palace Pier. This stunning landmark in England is a Grade II listed building which can be easily accessed from the city centre.
There is nothing more British in life than having fresh fish & chips at the end of the Brighton Pier! 😊
If you are looking for a famous landmark in the United Kingdom, then the iconic Brighton Pier has to be on your list!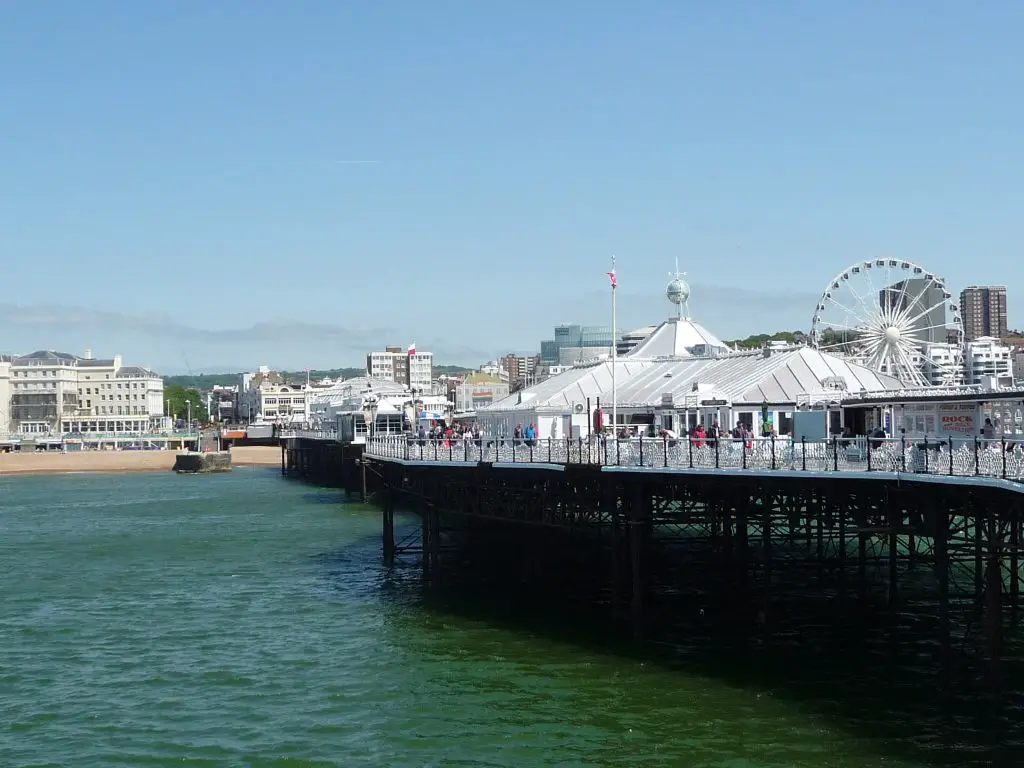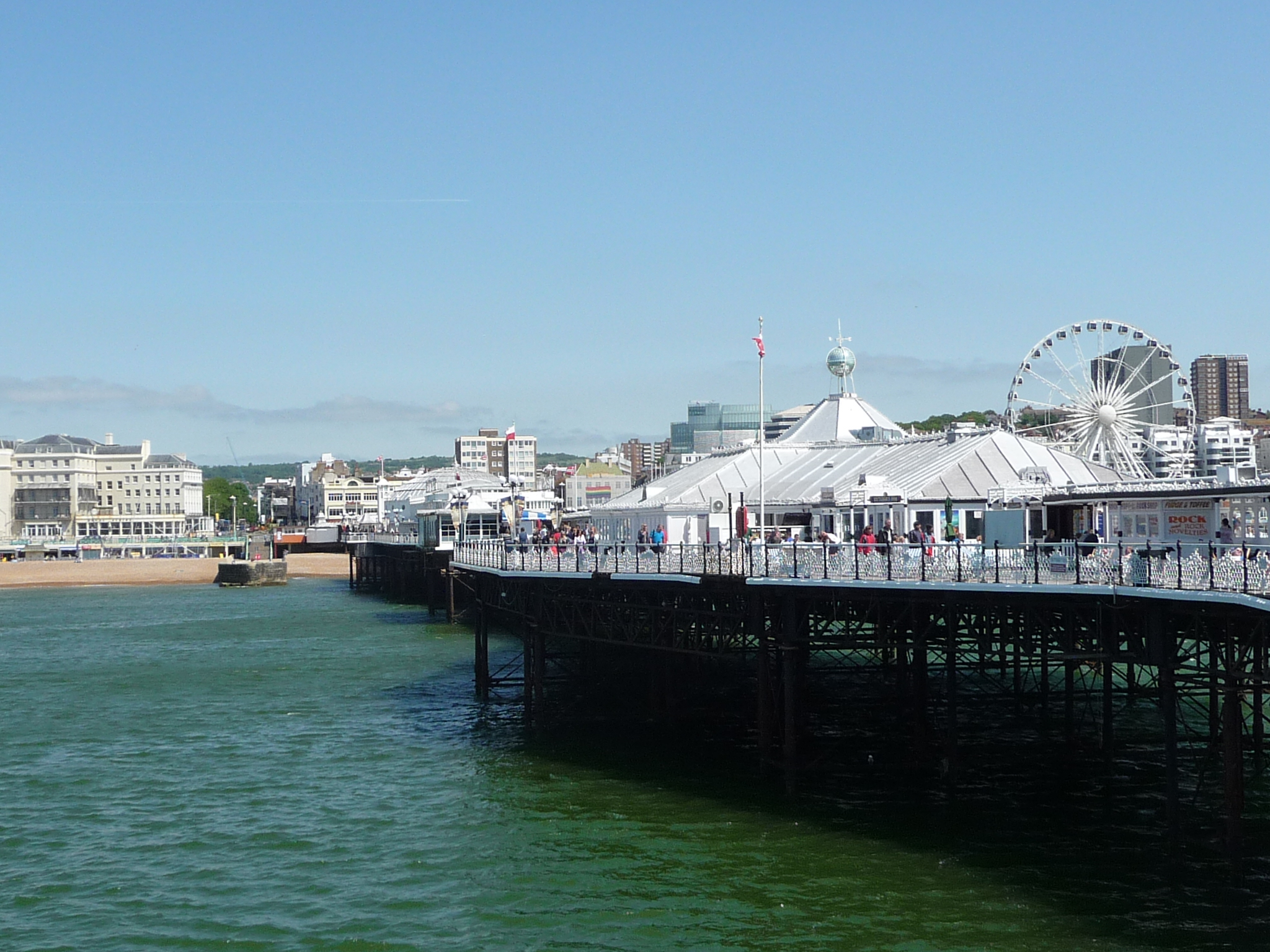 20. Blenheim Palace
This quintessential British landmark is one of the UK's most popular tourist destinations. Located 10 miles from Oxford at the edge of the Cotswolds. It's arguably most famous and known as the birthplace and home of Sir Winston Churchill, England's former Prime Minister.
Blenheim Palace is one of the top UNESCO sites in Europe – it's really worth it going there for a day trip from London.
As one of England's famous landmarks, Blenheim Palace just has to be visited.
There is also a beautiful park with a number of public footpaths – it's possible to enter without needing to buy a ticket and parking is also absolutely free! 😊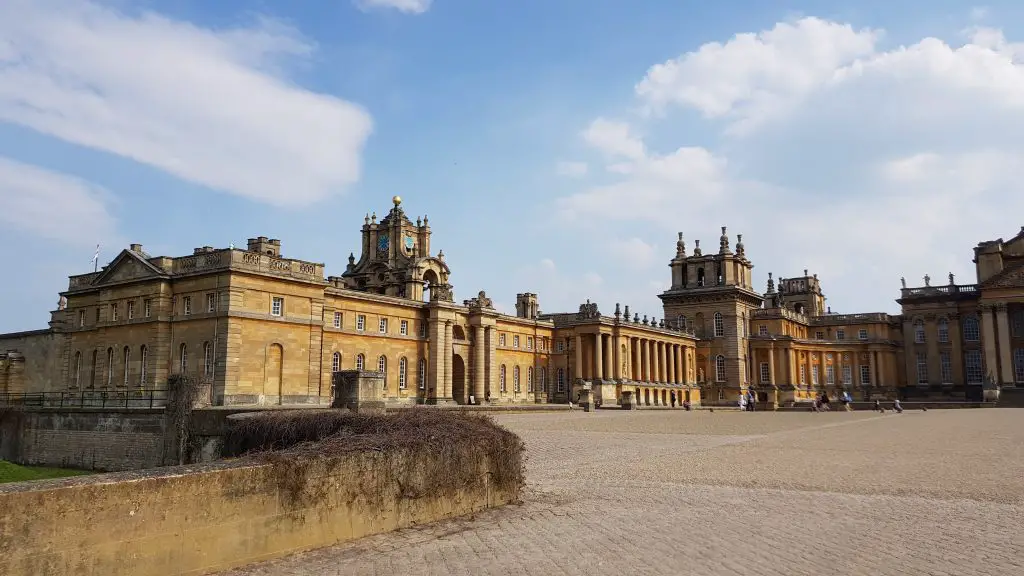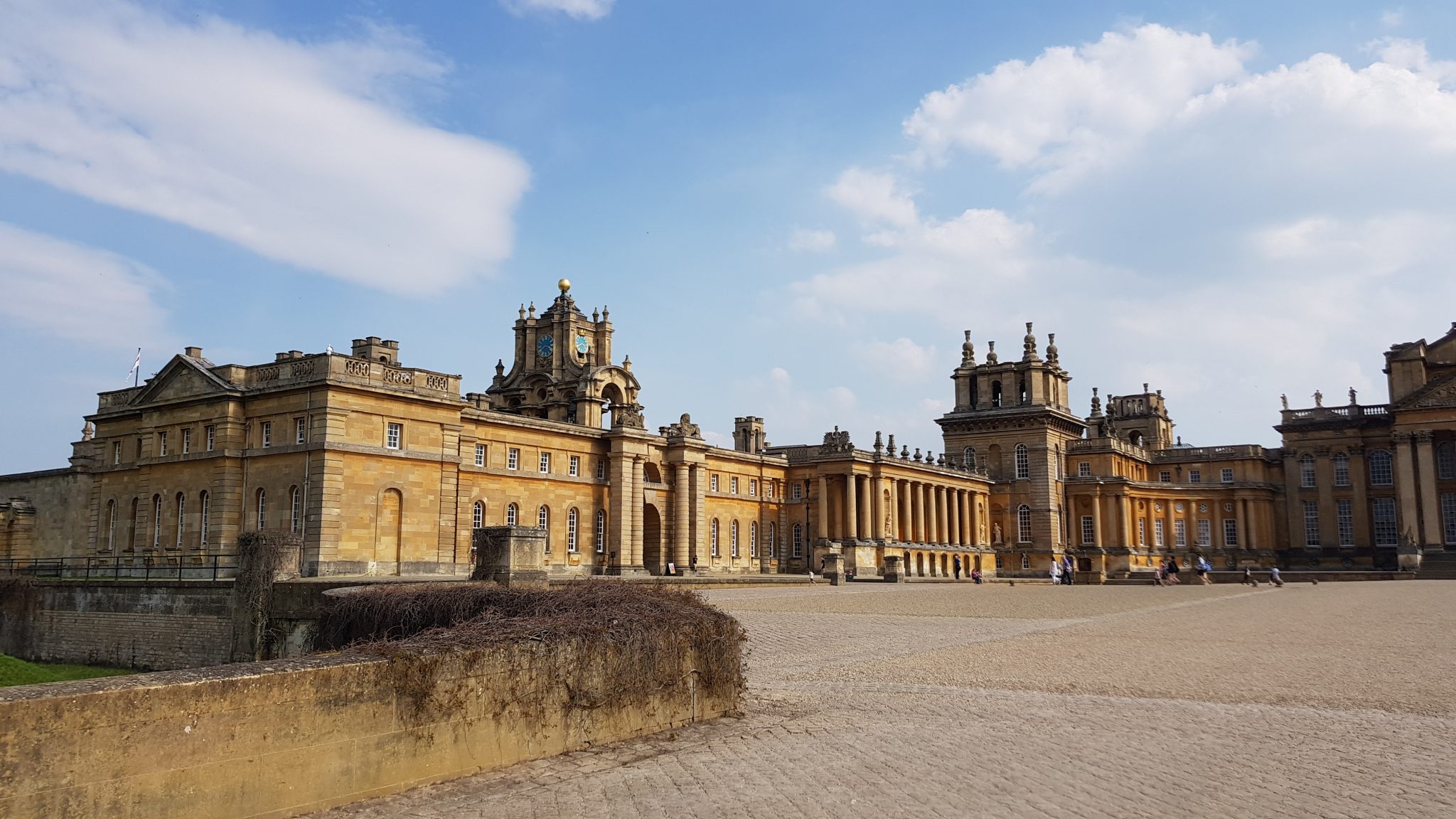 21. Durdle Door
Most famous landmarks of UK? Within the Jurassic Coast World Heritage Site is the iconic Durdle Door. It is one of the most photographed landmarks in the country and thought to be the most famous stone arch in the world. Durdle Door was naturally created around 10,000 years ago by the sea piercing the Portland limestone.
Visitors can follow the natural cliff path to Durdle Door beach, or there are steps to Man O'War beach nearby. The are many caves in the cliff faces which have been carved out by the sea over thousands of years.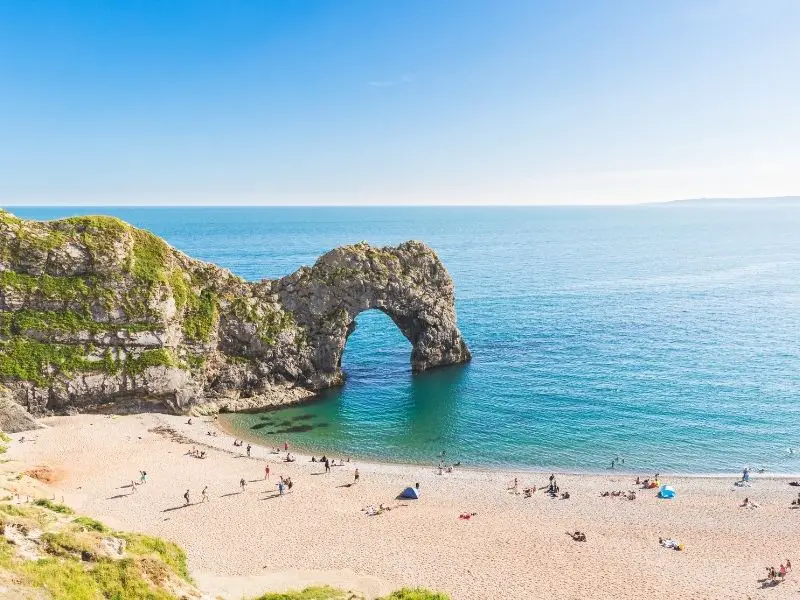 22. Trafalgar Square
Probably one of the most recognizable squares in Europe, Trafalgar Square had been a significant landmark since the 13th century.
Located in Westminster, in central London, it is a must-see place in the capital city even if you are only spending one day in London. There are a few museums around Trafalgar Square, including the National Gallery.
This is also home to Britain's smallest police station, which is "hidden" in the south-eastern corner of Trafalgar Square – we hope you will not have to visit it! 😉
With so many British landmarks, Trafalgar Square in London is the one we visited many times and it really is one of the most famous UK landmarks!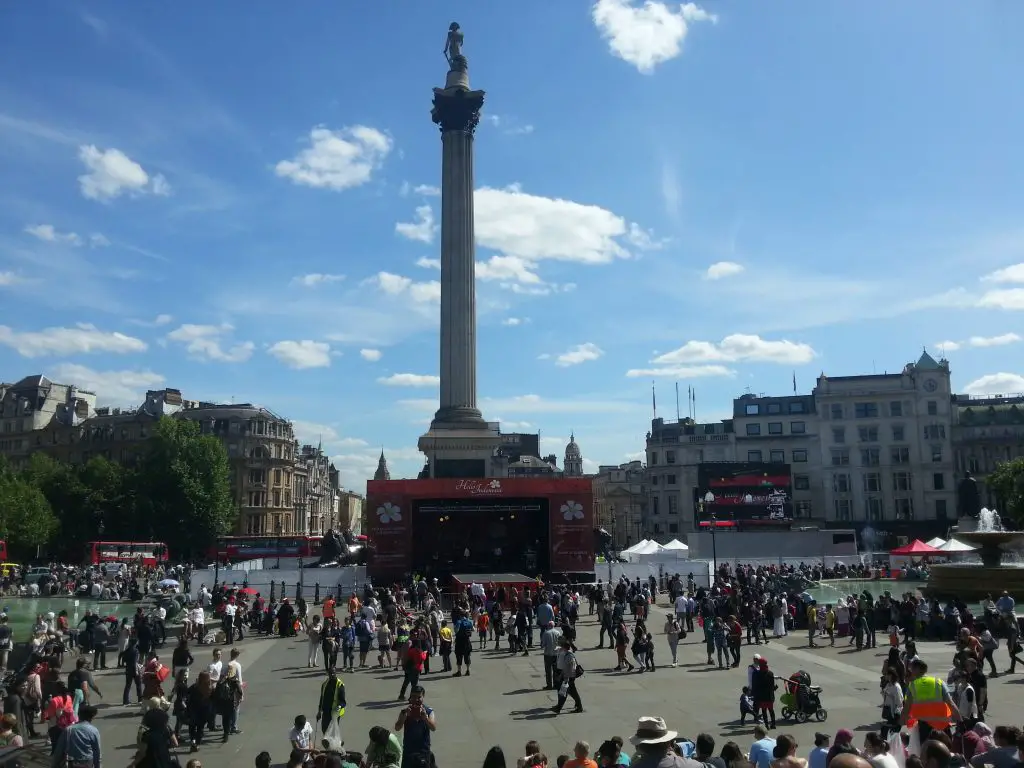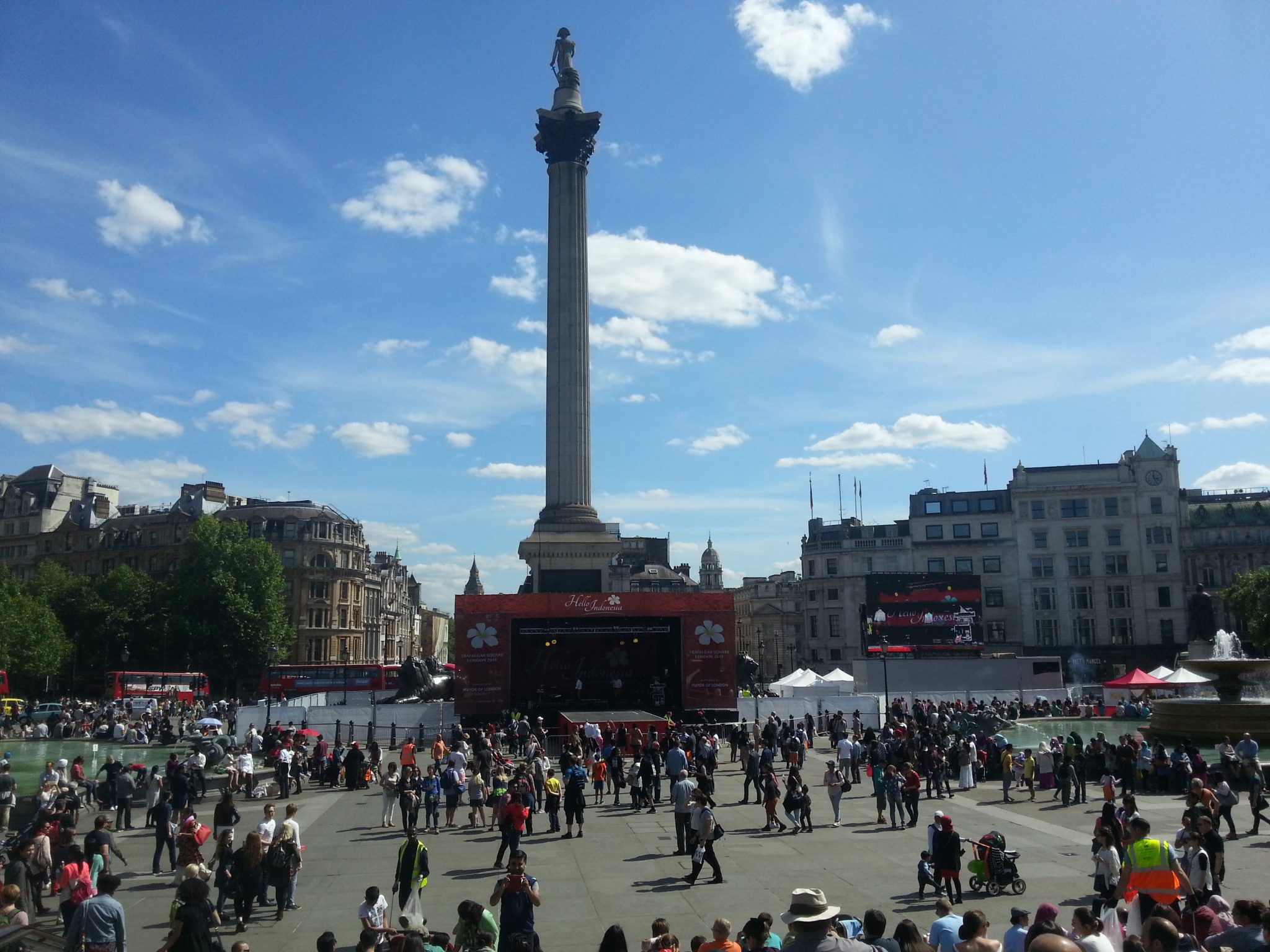 23. New Forest
This is rather an unusual landmark in England, but the New Forest pony is one of the best-known images of the National Park and this part of southern England.
The park is visited by millions of tourists and Brits every year. No wonder why! Watching the wild ponies is a must on any UK bucket list. But please remember – don't feed or touch them! You are allowed to take unlimited photos 😉
Some of England's most famous landmarks are a bit further away from all the hustle and bustle and the New Forest is definitely one of them!
24. Avebury
British famous landmarks? One of the greatest marvels from prehistoric Britain is Avebury. Avebury henge and stone circles were built and altered in the Neolithic period, and today can be seen as a large circular bank. It encircles part of the village of Avebury and is a popular landmark to visit.
Avebury henge features the largest stone circle in the country and was originally made up of around 100 stones. The area is part of a range of ceremonial sites from Neolithic and Bronze Age times which covered a vast sacred landscape.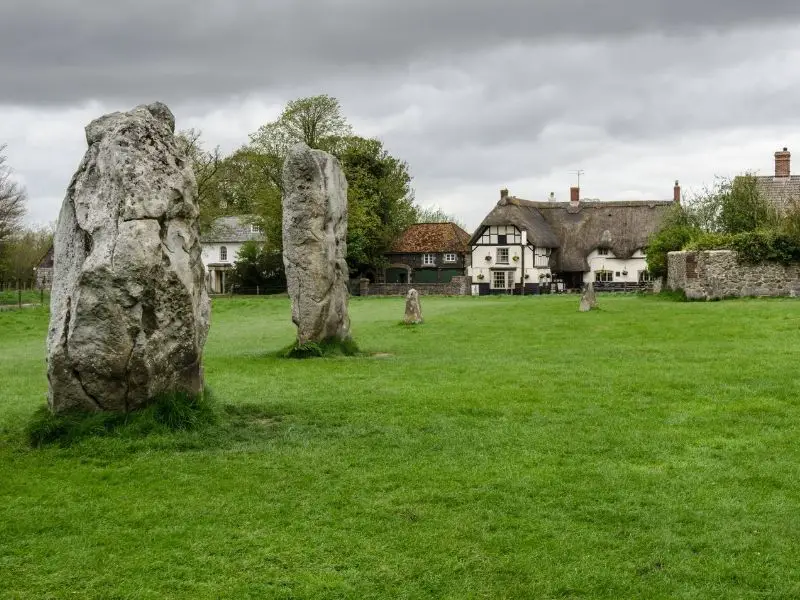 25. Broadway Tower
Located next to one of the most beautiful villages in Cotswolds – Broadway villages – the Broadway Tower is one of the key landmarks in the Worcestershire.
In the past, during World War Two, it was used By the Royal Observer Corps to track enemy aeroplanes. Today, it is one of the main attractions in Cotswolds and one of the most popular day trips from London.
If you are visiting Broadway village and the surrounding area, make sure you pay a visit to the Tower too – it really is one of the most popular landmarks in England!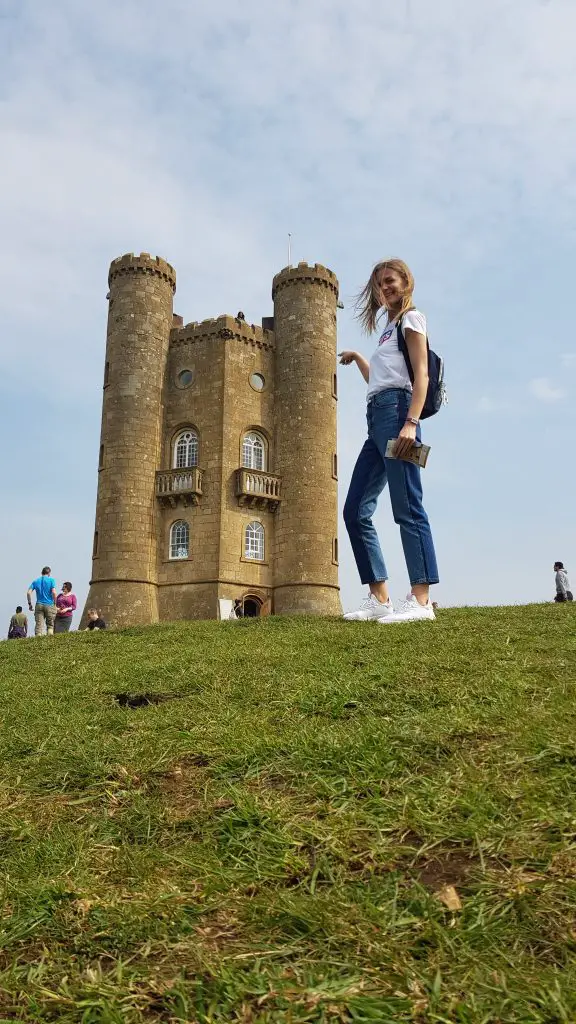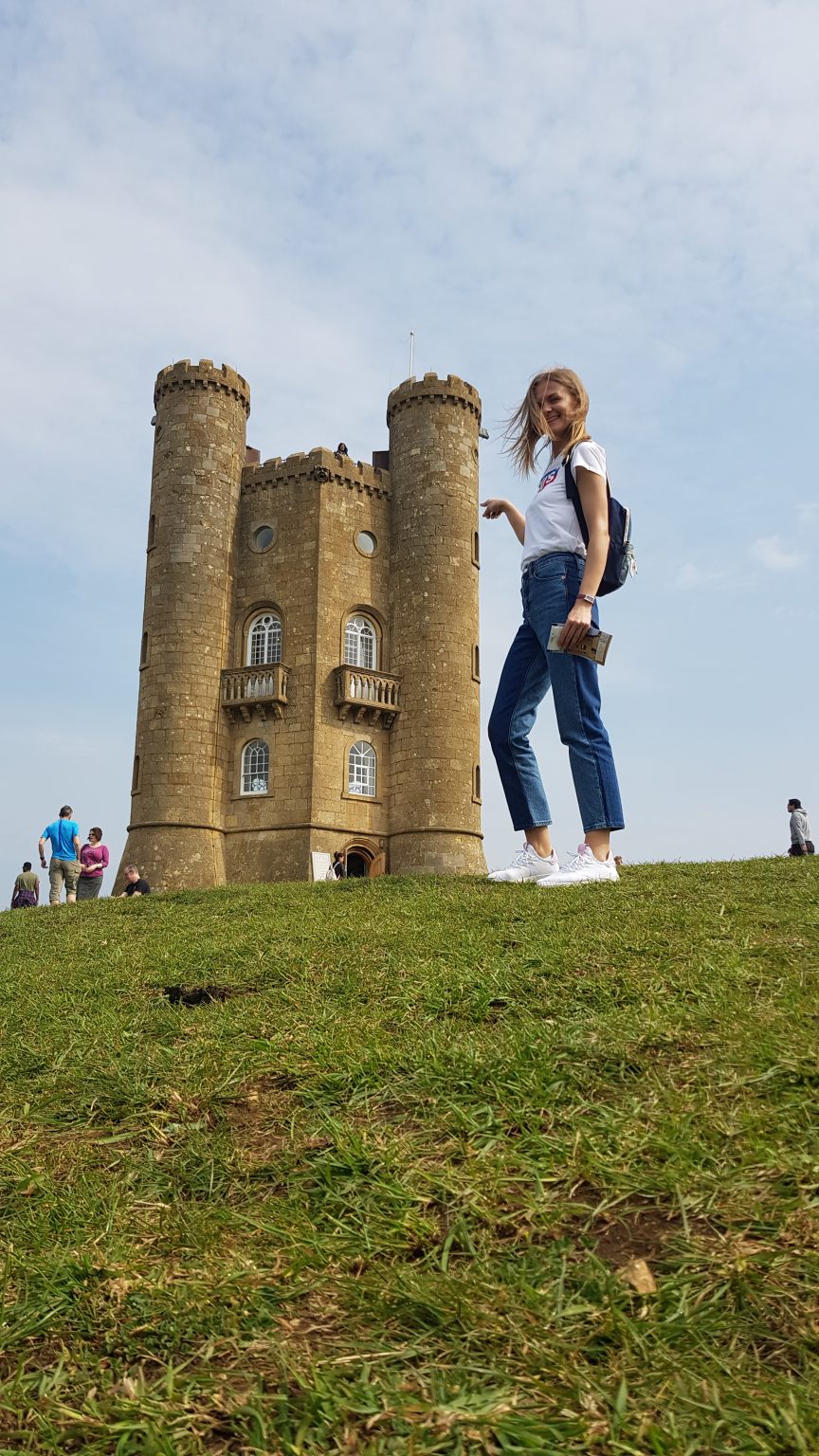 26. Richmond Park
Anyone visiting Richmond upon Thames, one of the best neighbourhoods in London, has to spend a day in Richmond Park. Deer living in the park and not only a famous landmark in London but also one of the iconic landmarks in England!
It is one of the largest parks in London and an amazing place for a day out. From cycling, having a picnic or simply walking around and watching deer – there is nothing better than a great British summer day out in Richmond Park!
It really is one of the best places to visit near London.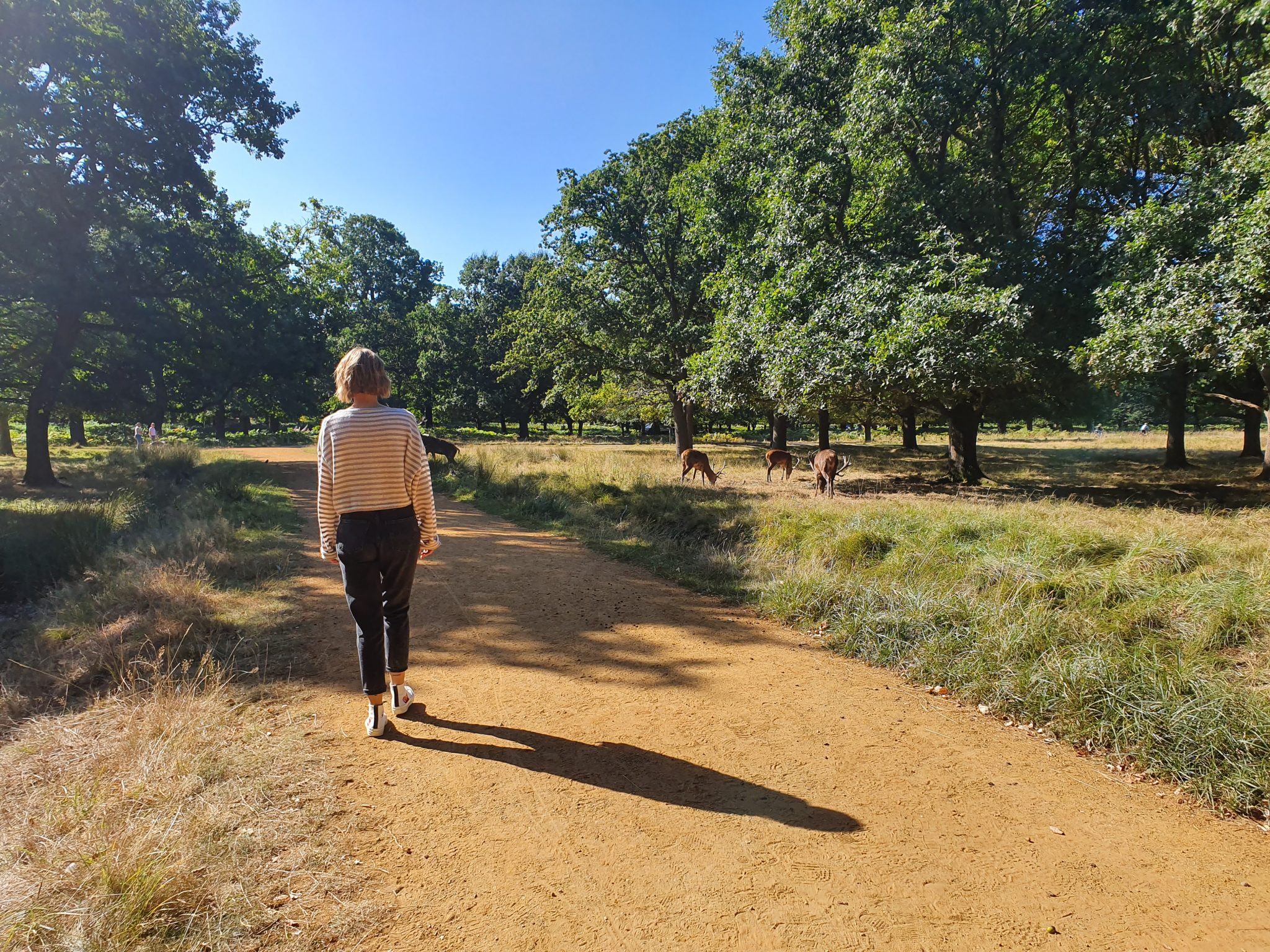 27. Shakespeare's Birthplace
This really is a truly quintessential British please, Shakespeare's Birthplace in Stratford-upon-Avon is one of the most famous landmarks in England.
Located between Birmingham and the northern part of the Cotswolds, this iconic building is one of the most photographed places in England – no wonder it attracts so many tourists.
If you would like to explore Shakespeare's childhood world and see where he was born and grew up, then you have to visit Stratford-upon-Avon during a weekend trip away in the UK.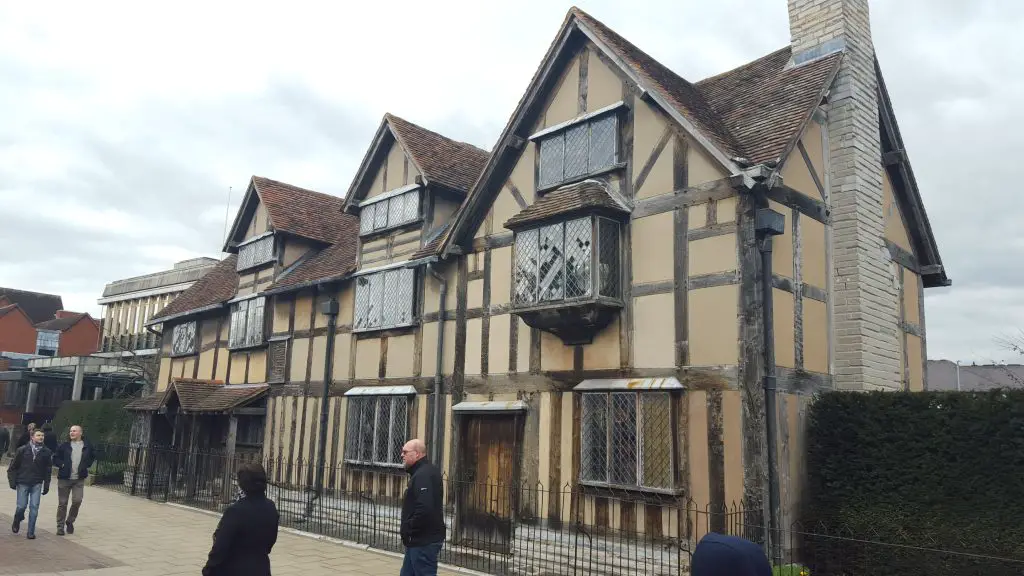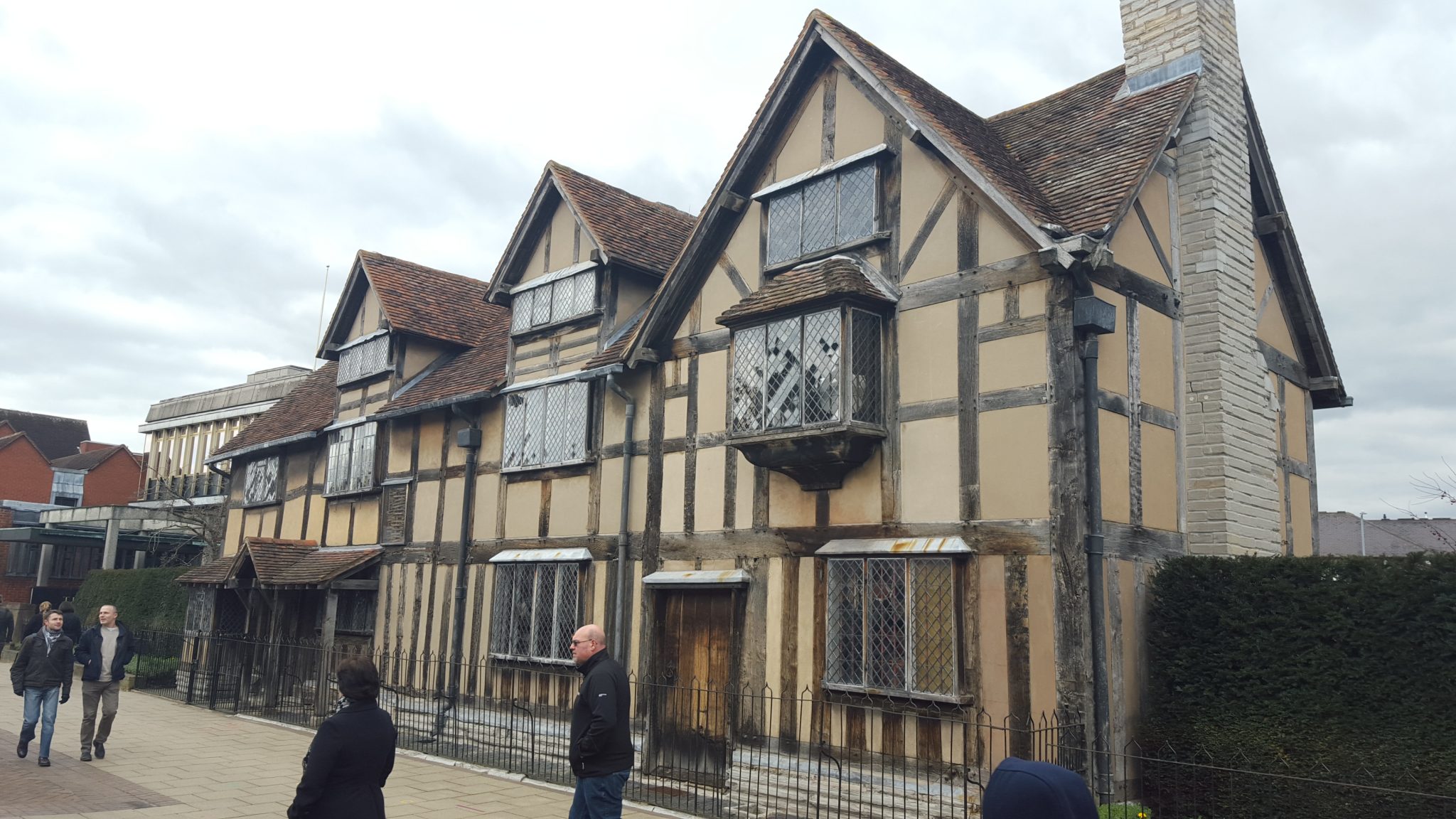 28. Lake District National Park
There are many beautiful spots in the Lake District. In fact, this stunning area itself is an amazing British landmark!
From picture-postcard villages, epic mountains and endless breath-taking views, it really is hard to pick the most beautiful place in the Lake District. All 4-wheel lovers will be delighted with the great driving experience on Honister Pass.
Without a doubt, Lake District is one of the best places to visit in England and a must-have on UK bucket list!
29. Eden Project
Where to go for famous landmarks in Great Britain? Eden Project is recognised all over the world as one of the best attractions around. The huge garden is housed within tropical biomes is a unique experience for visitors. Located in the Cornish countryside, Eden Project sits within a crater which is as large as 30 football pitches.
The Rainforest Biome is the largest greenhouse in the world, whereas the Mediterranean Biome transports visitors to California and South Africa. Eden Project is so much more than just a large garden; it explores how humans depend on plant life.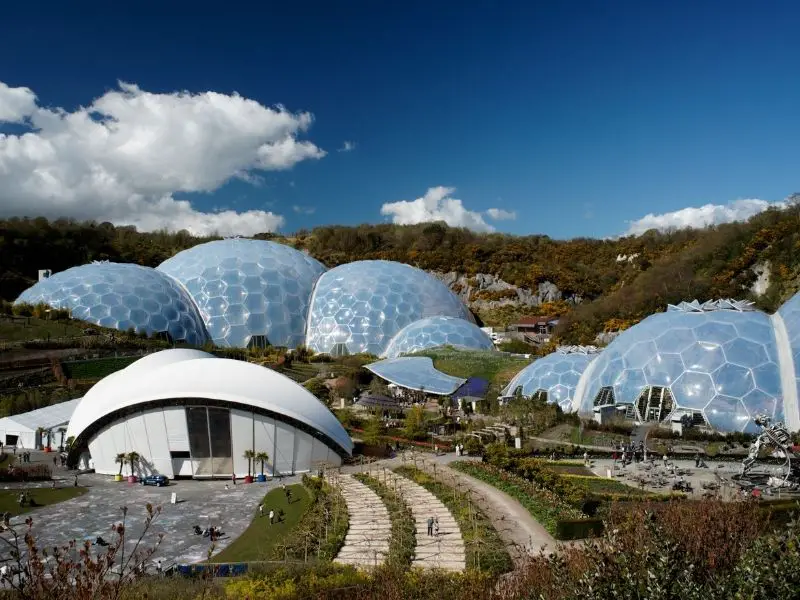 30. St Paul's Cathedral
One of the most famous cathedrals in Europe, St Paul's Cathedral really deserve to be classified as one of the main landmarks in England. It is located on Ludgate Hill (at the highest point of the City of London) and it is a Grade I listed building.
This cathedral is a must-see place in London as it has dominated the capital city skyline for over 300 years. Although it is quite crowded due to tourists, it is a place worth seeing even on a one day trip in London.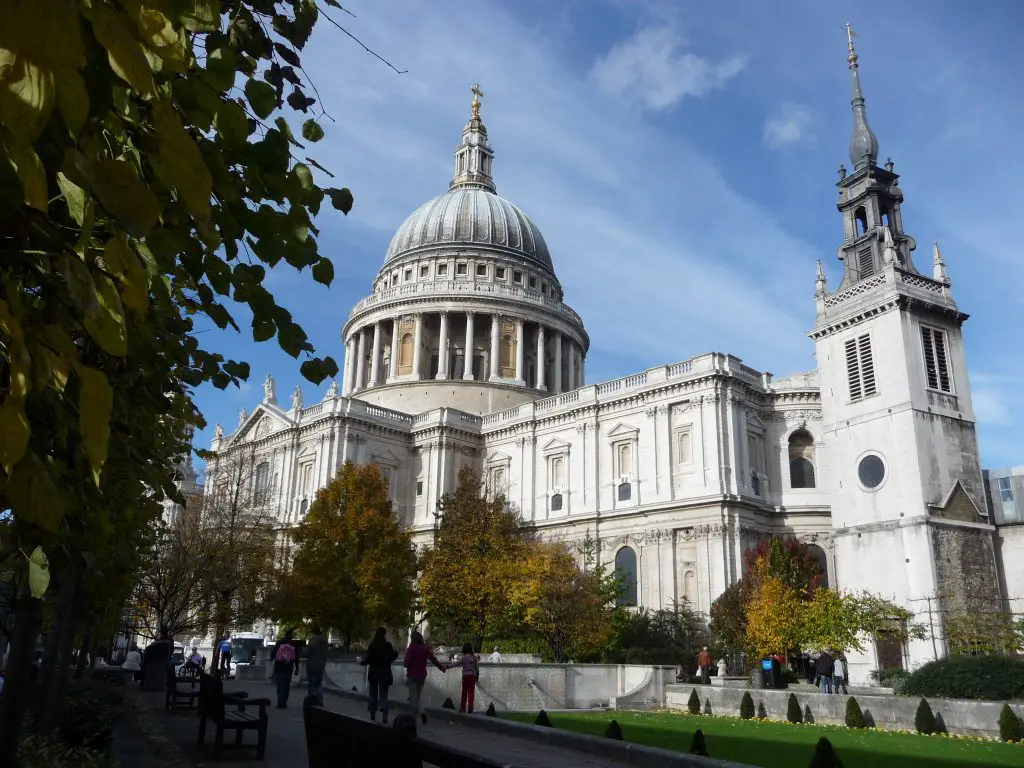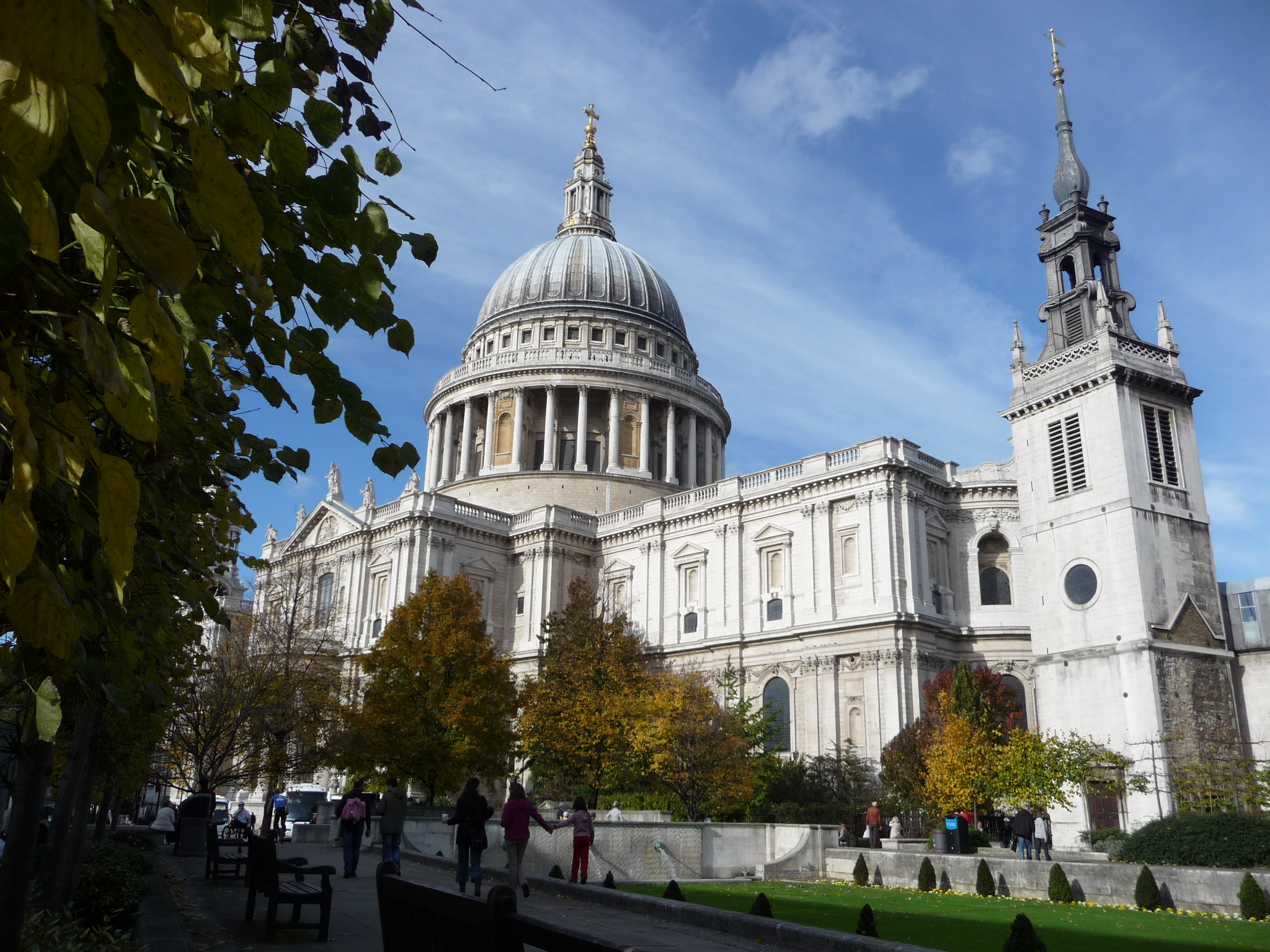 31. Jurassic Coast
There are many great places to visit on the Jurassic Coast. In fact, Durdle Door, Lulworth Cove and few other points of interests could be easily added as top landmarks in England.
This beautiful UNESCO World Heritage Site on the English Channel coast of southern England just has to be visited if you are in this part of the country. Stretching for about 96 miles from Exmouth in East Devon to Studland Bay in Dorset is just perfect for a weekend getaway in the UK!
Would you add Jurassic Coast to the list of top British landmarks?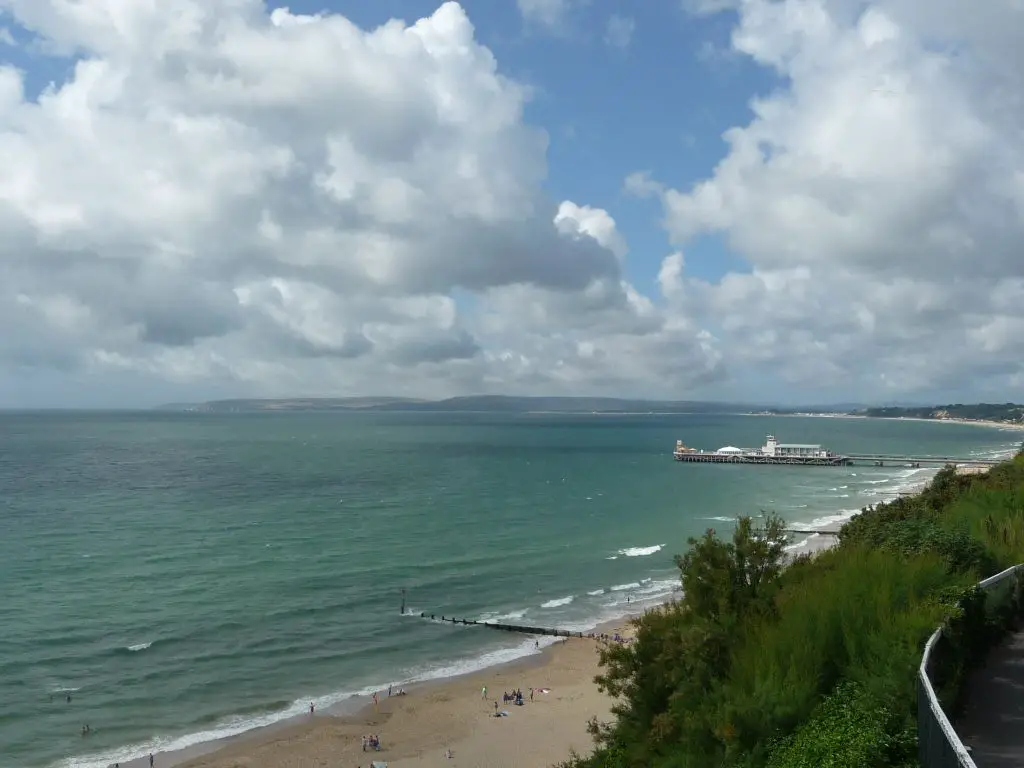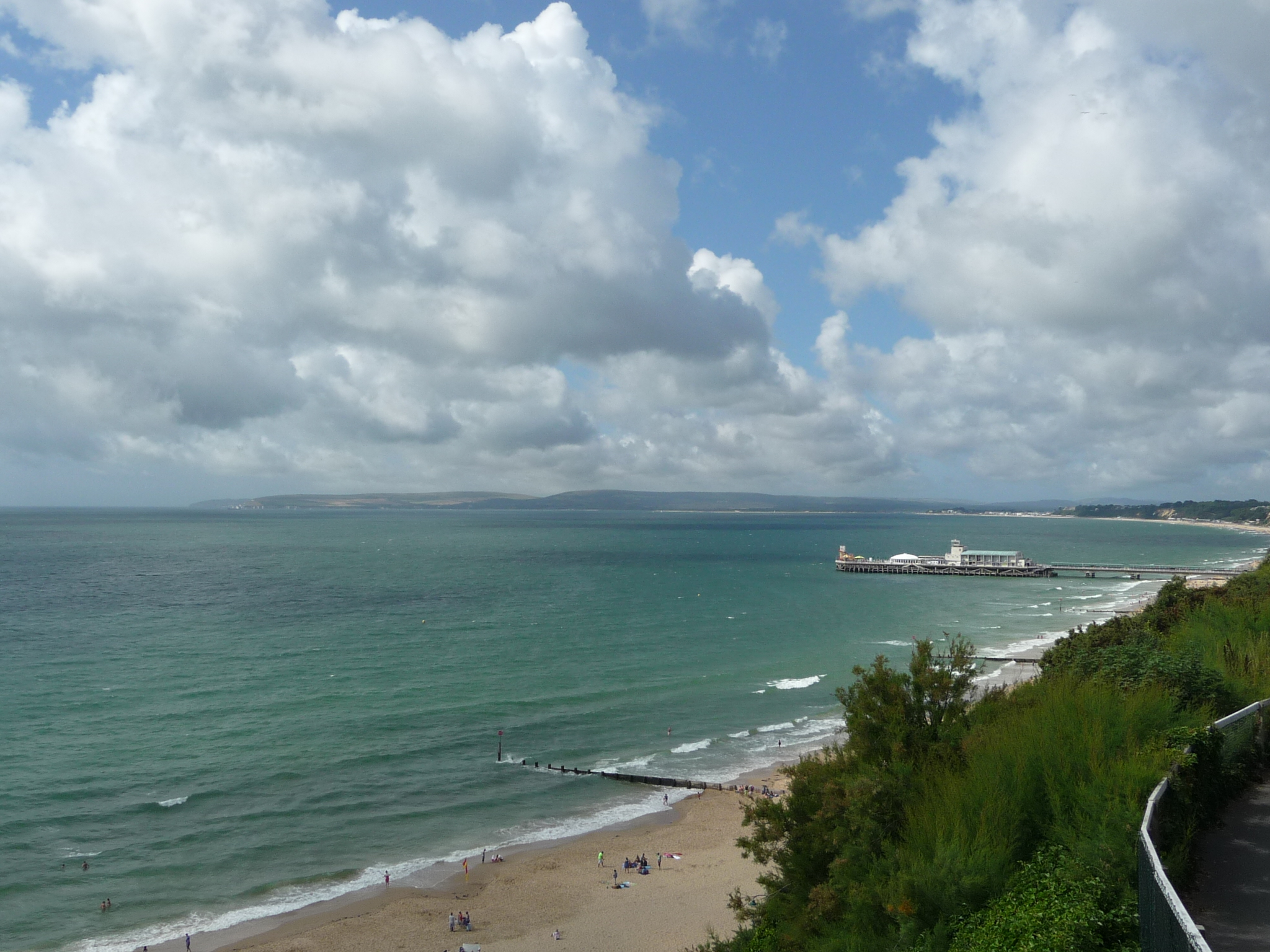 32. Peak District National Park
Our list of United Kingdom landmarks is also full of parks. The Peak District is one of the UK's most visited national parks spanning around 555 square miles.
There are many world-class heritage sites, castles and natural wonders to discover in this area. Peak District is full of rolling hills and many cave networks and it's one of the most famous landmarks in England.
The area is loved by many tourists and locals for its breath-taking views! Whether you are visiting the Heights of Abraham, riding a horse or go gorge-scrambling you will have a fantastic time on a weekend trip to the Peak District!
33. St Albans Cathedral
There are a few interesting landmarks in St. Albans, but one definitely deserves to be high on the list of the best landmarks in England – the St Albans Cathedral! In fact, it is one of the most famous churches in Europe and the main attraction in the city.
Whatever the weather, the St Albans Cathedral is a great place to visit with the whole family on a day trip from London.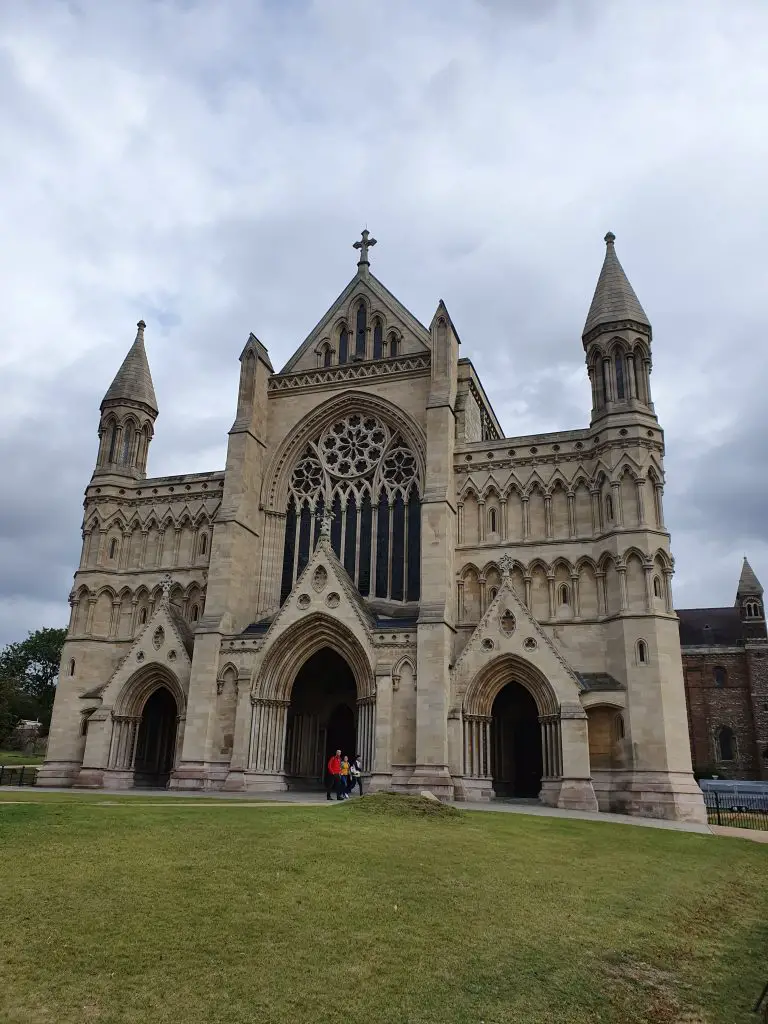 34. The Roman Baths
Landmarks of England are stunning. You don't have to visit Iceland to enjoy a geothermal spa, like the Blue Lagoon! OK, this one in Bath is not quite the same 😉 Still, it's one of the most visited places in Cotswolds and a key landmark in England.
Located in Somerset in southern England, the Roman Baths are one of the most interesting historic sites in England. With the city of Bath itself being a cultural UNESCO World Heritage Site, there are many interesting places to see during your visit in Bath.
This definitely is one of the hottest landmarks in England!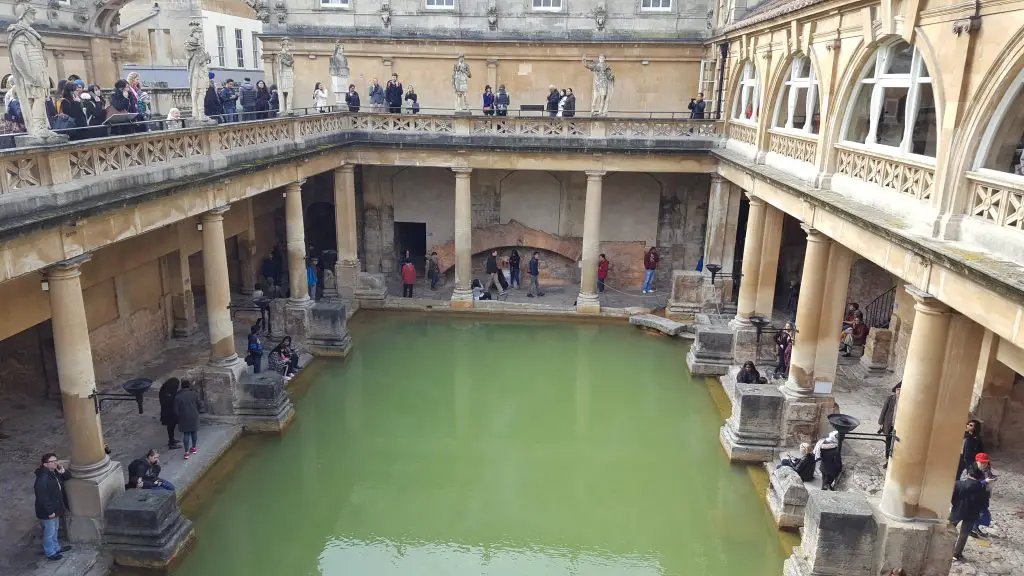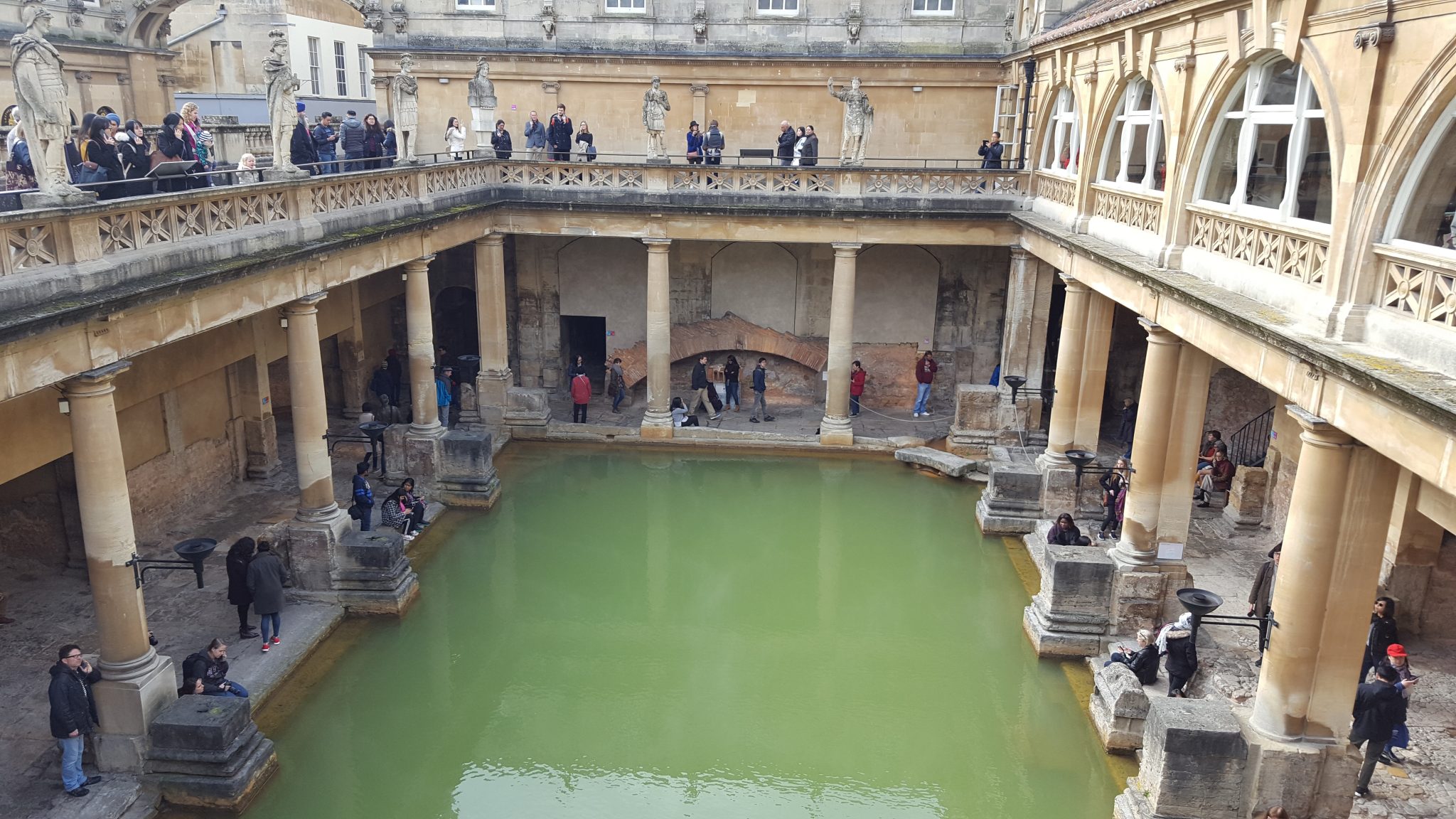 35. Sherwood Forest
Have you ever dreamt to be like Robin Hood? Well, there is no better place in England than the Sherwood Forest. It really is one of the most famous landmarks in Britain!
This royal forest in Nottinghamshire is mainly famous by its association with the legend. But there is also another reason why this forest is a key landmark in England – the area has been wooded for ages, in fact, since the end of the last glacial period. That's quite a long time!
You can book holidays in Sherwood Forest – it really is an amazing British landmark and a great please for a getaway trip in the UK!
36. Isles of Scilly
This really is a famous landmark in England! Just off the Cornish coast, the Isles of Scilly are a popular spot for tourists looking to explore. An enchanting archipelago with unspoilt beaches, beautiful heathland and a 17th-century castle tower. The largest island is St Mary's which feels like stepping back in time, Tresco offers stunning sub-tropical gardens, and St Martin's features white sand beaches and palm trees.
The Isles of Scilly feel like a million miles away from usual British life but can be reached in just 20 minutes from Land's End.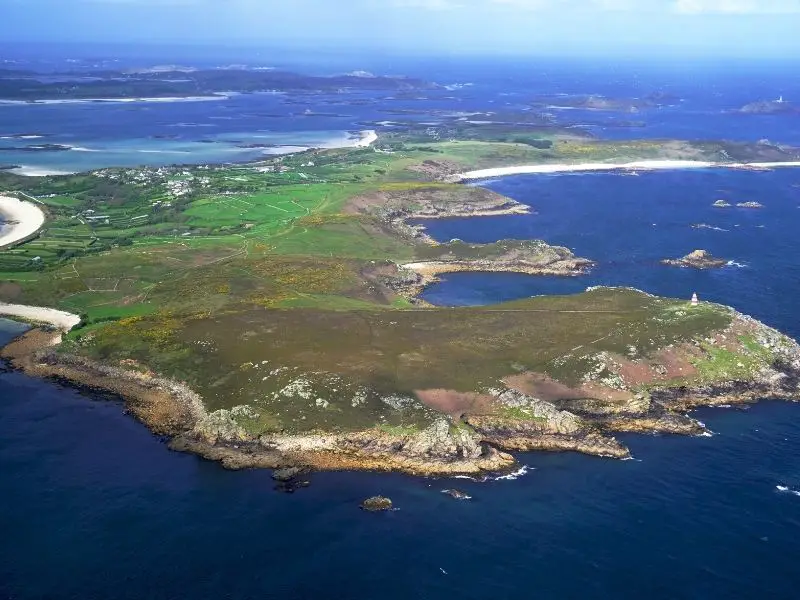 37. The Radcliffe Camera
Oxford is famous for its amazing architecture. Most tourists and locals agree that the Radcliffe Camera is the most beautiful amongst other buildings. And it's hard to disagree.
Built between 1737 and 1749, the Radcliffe Camera is surely Oxford's most photographed landmark and a must-have on your UK bucket list!
Without a doubt, this iconic sight has to be added to any list of the most famous landmarks in England!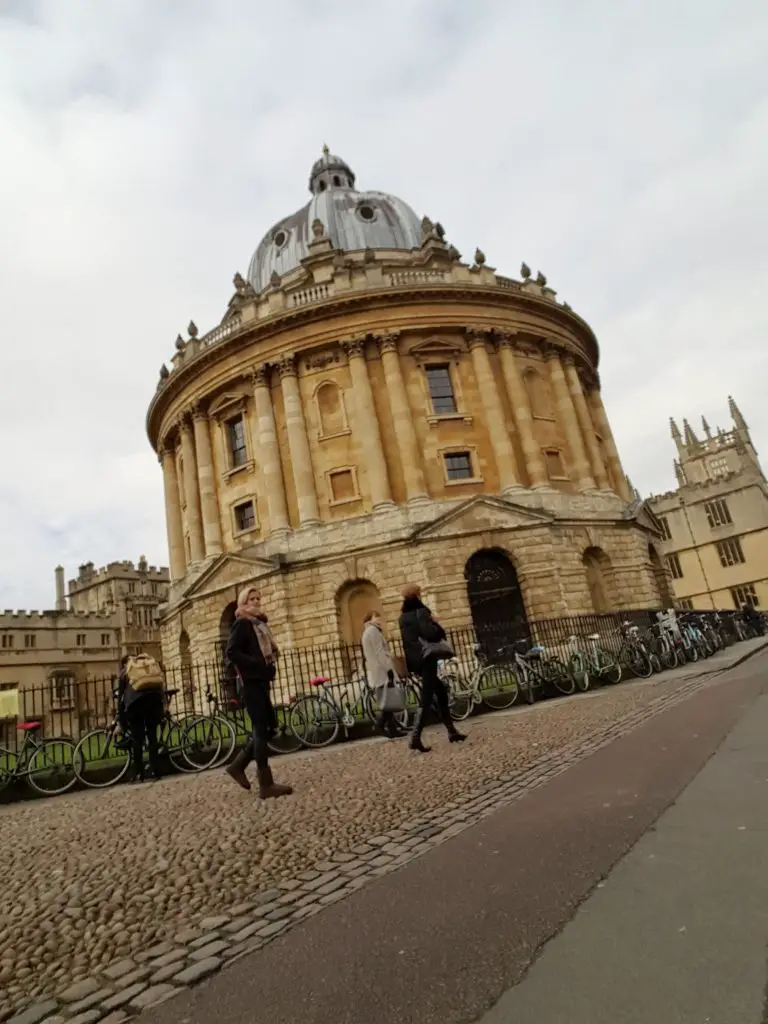 Which of the above landmarks in England is your favourite?
With so many amazing landmarks in England, it's not easy to pick just one! With Britain's exciting history, it's no surprise that the country is full of amazing landmarks. Whether you're looking to visit historic houses, stunning nature or amazing coastline, there's plenty of landmarks to visit when you're in the United Kingdom.
How many of our top British landmarks have you added to your travel bucket list? We would love to know your top 5 England landmarks! So, what is your story?
If you liked our article, then please check out the below posts too:
Famous landmarks in England FAQ:
Most famous UK coastal landmark:
Seven Sisters in the most visited coastal landmark in England!
Love England and the rest of the UK?
Read our other articles related to this stunning country: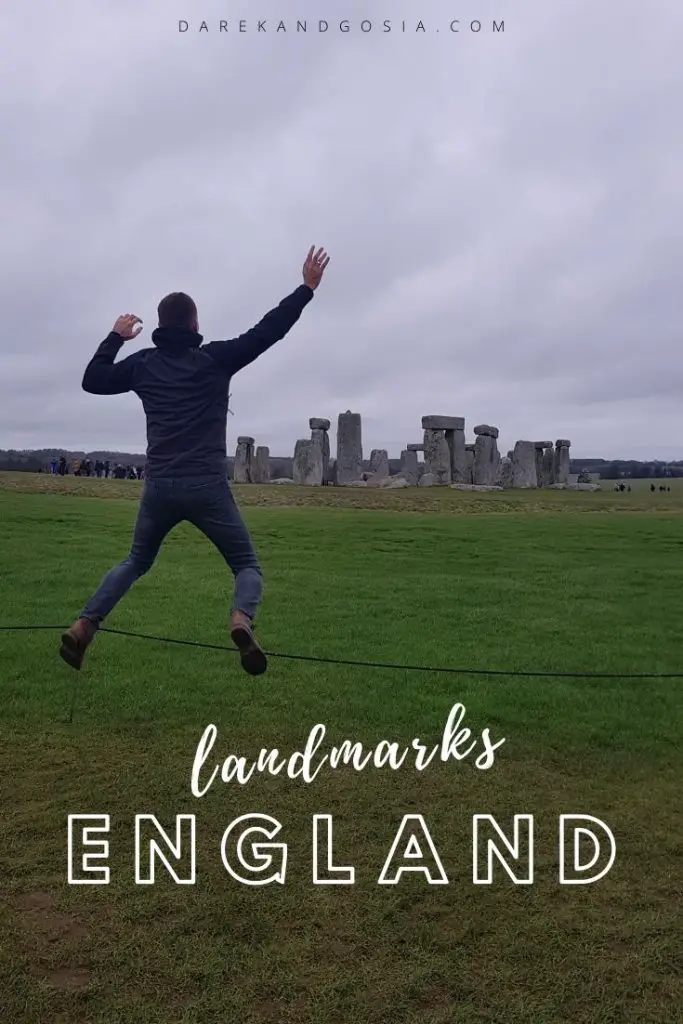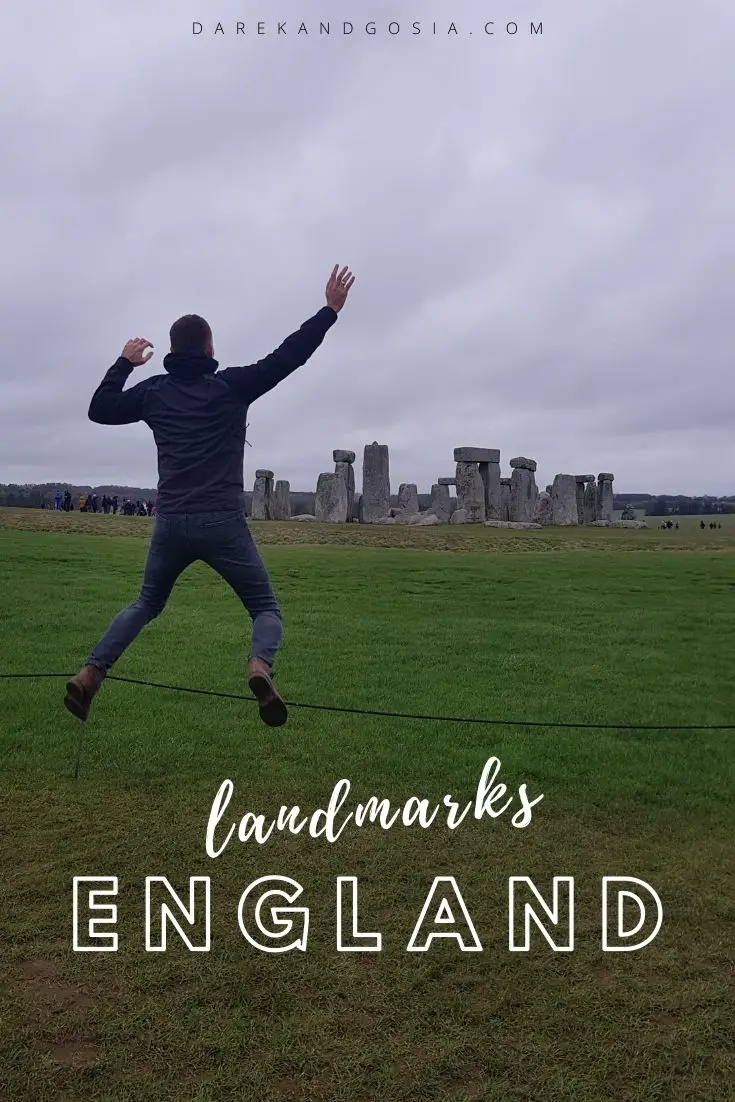 Articles you may like: