Check out our guide to the Best Beaches in Europe & find an amazing destination for your next summer Beach Holiday in Europe!
Europe is known for its amazing beaches. Every year, 1000s of holidaymakers are on the hunt to find the best beaches in Europe. From amazing Papagayo Beach, stunning beaches in Algarve to many great beaches in Gran Canaria and of course, some of the glamourous beaches in the south of France. You have a huge choice of beach holiday destinations in Europe!
Are you still wondering where to find the best beaches in Europe or which destination to choose for your next beach holidays in Europe? We are here to help!
To find an exotic beach, you do not have to go to the other end of the world. You can find all sorts of amazing beaches in Europe. In fact, we have many white, pink or even black beaches in Europe!
10 Best Beaches in Europe: At a Glance
Tuerredda Beach
Ready for the best beach holidays in Europe?
How to pick the best beach from the top beaches across the continent? The task is surely not easy!
We totally get you! 😉 So what are the best beach Europe destinations?!
It can be really tough to decide which of the beaches in Europe is the right one for you.
If you also have that dilemma check out our ranking of the most stunning beaches in Europe and choose the perfect place for your next European beach holiday.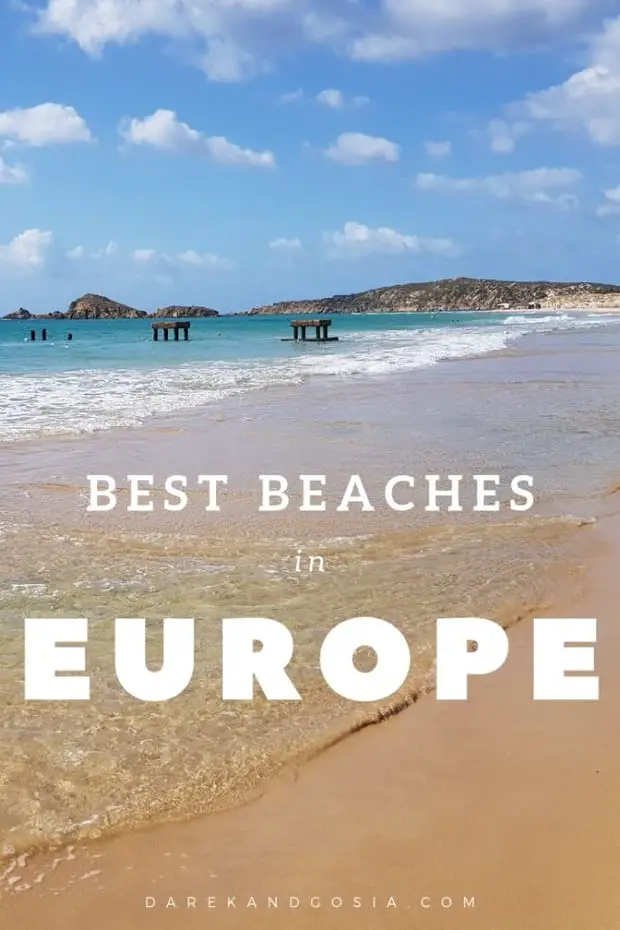 If you are curious, where the best beaches in Europe are, we have the list for you 🙂
BEST BEACHES IN EUROPE:
Let's start with an amazing day trip to Shipwreck Beach in Zakynthos – one of the most famous in all of Greece!
If you have seen photos of Navagio Beach, I bet you have added the Ionian island of Zakynthos to your travel bucket list. This white sand beach with the turquoise sea makes it a stunning setting for swimming and sunbathing.
The views are just breathtaking – the colour of the sea and sand in Zakynthos have to be seen to be believed. You will be blown away by how stunning this place is! It really is one of the best beaches to visit in Europe 🙂
Read more about Navagio Beach & Zakynthos one of the best beach holidays destination in Europe in September.
Navagio Beach is the kind of beach that you see in your mind's eye when you think of paradise. The water is a beautiful turquoise. The sand is pristine and shimmers white in the sun – just stunning! It really is one of the best natural wonders in Europe!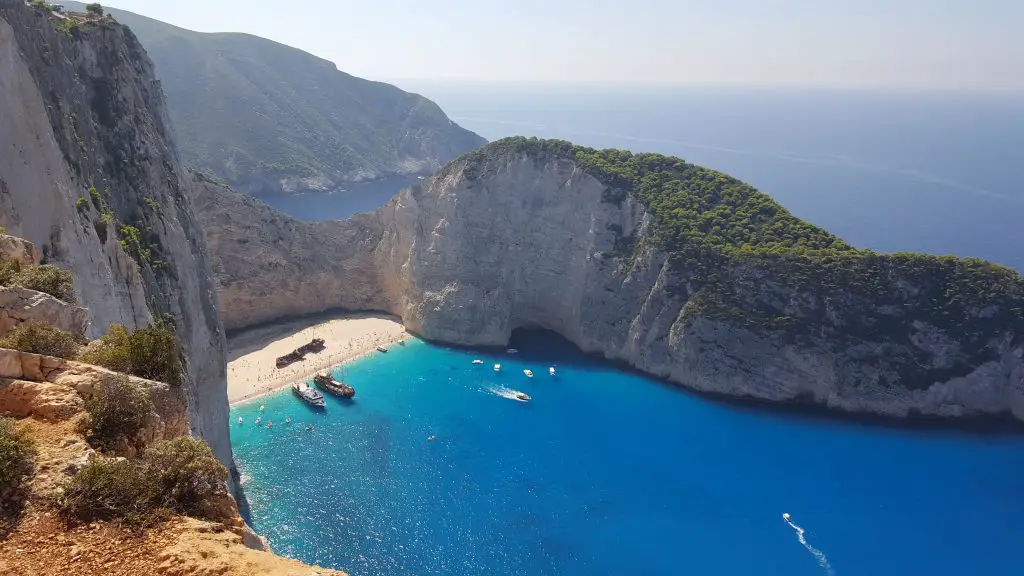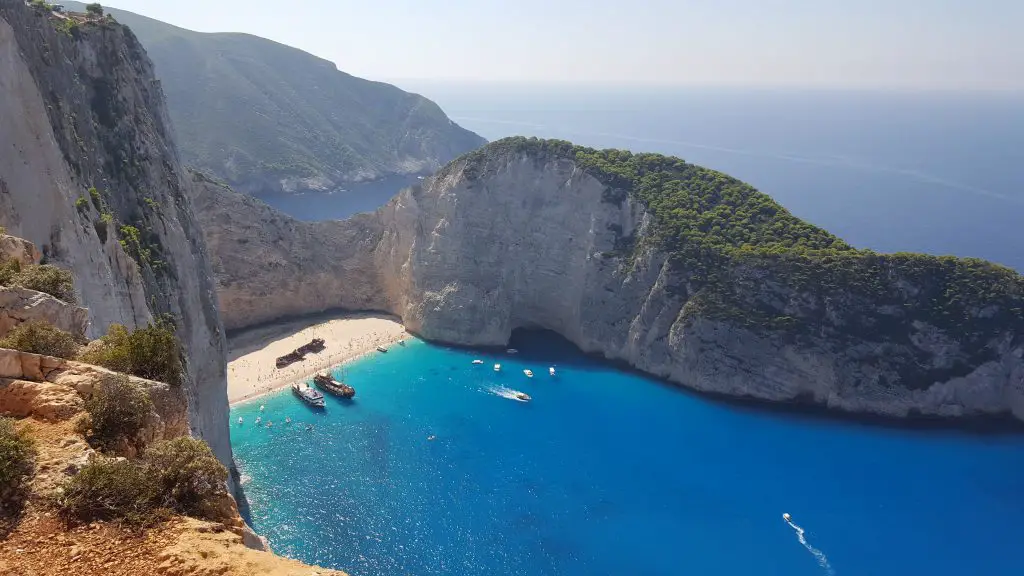 Read also: TOP 13 Things to do in Zakynthos [Zante – Ionian Island in Greece]
2. Tuerredda Beach, Sardinia
Sardinia is home to some of the most stunning beaches in Europe, there's no question about that! It's one of the best places to visit in Italy.
Spiaggia di Tuerredda, with its gleaming white sand, is one of the best beaches in Europe. And definitely one of the most amazing beaches in the southwestern coastline of Sardinia. We have been to a lot of beaches in Europe and can't recommend Tuerredda Beach enough!
The fabulous Tuerredda beach is located in a gorgeous cove between Capo Malfatano and Capo Spartivento – the setting is just stunning!
We are 100% sure that Tuerredda Beach has the right to be counted among the most beautiful European beaches.
Why Tuerredda Beach is one of the best places for beach holidays in Europe?
The crystal clear waters are calm and perfect for swimming. The soft, fine sand makes you feel like you are in the Caribbean. The encircling mountains provide a wonderful sheltered environment so you can enjoy the beach at its best.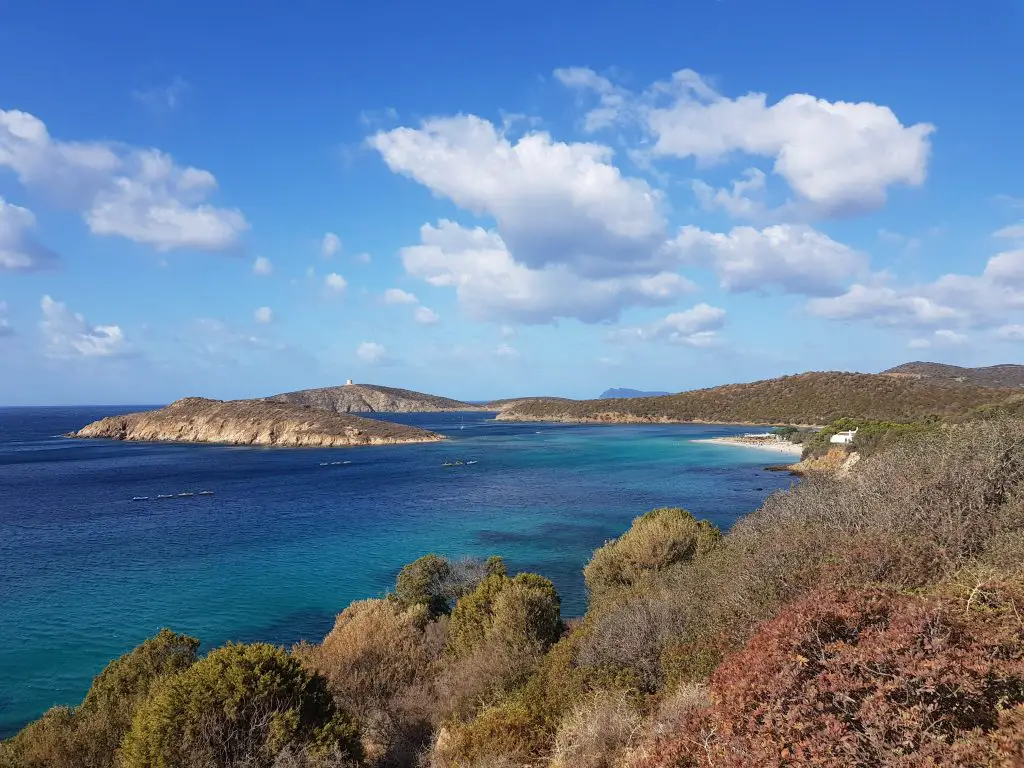 Read also: When is the best time to visit ITALY? [Month-by-Month Guide]
3. Praia da Marinha – The Prettiest Beach in Europe
Portugal is famous for its amazing beaches, Praia da Marinha in Algarve is probably the most beautiful of them.
The picturesque cliffs, golden sand and amazing turquoise water make the scenery fantastic! You just have to agree that this is one of the most beautiful beaches in Europe! 🙂
Perhaps that's why a lot of travel bloggers and beach lovers host so often here. But who wouldn't!? Learn more about the best beaches in Algarve.
Would you visit this stunning European sandy beach? 🙂
Why Praia da Marinha is the best beach holiday destination?
Considered one of the most beautiful beaches in the world, you can enjoy the panoramic views from the cliffs that surround the beach. The rock striking rock formations are bound to be some of your favourite holiday pictures.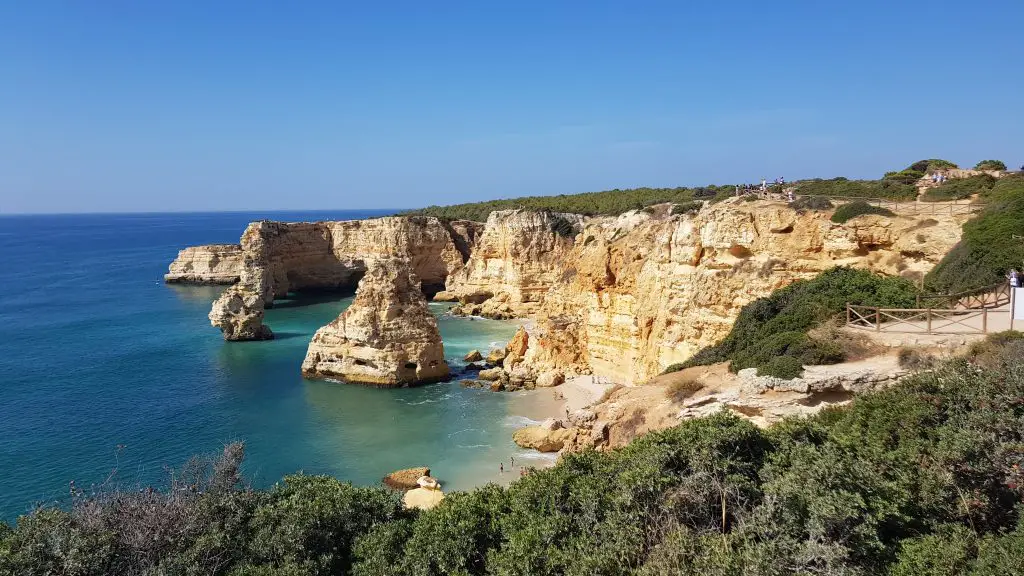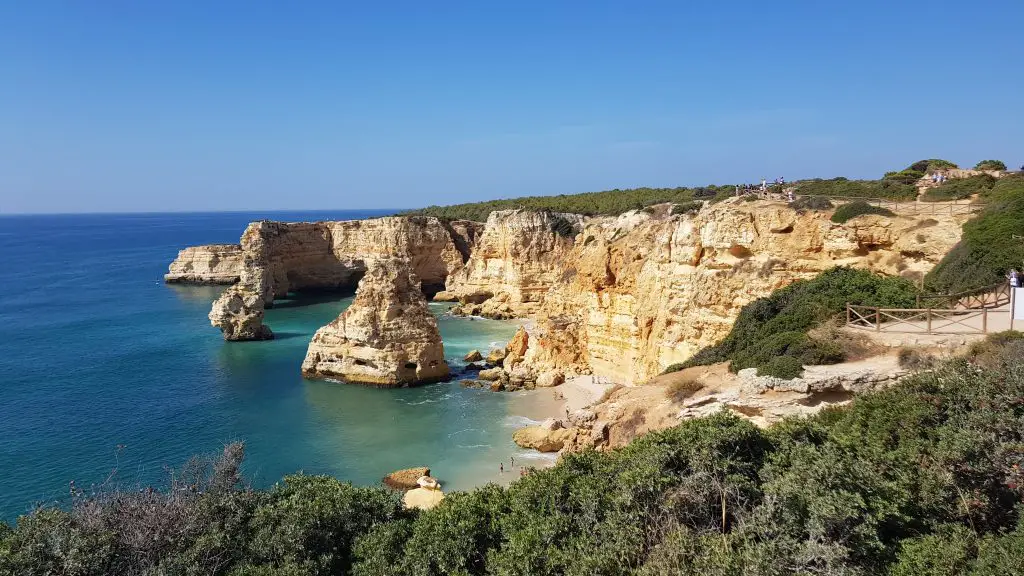 Read also: Best beaches in Algarve Portugal – Algarve's TOP 13 beaches!
4. Playa de Las Catedrales (Spain)
Known as Cathedral Beach, this Spanish beach is located on the north coast, not far from Ribadeo. The name comes from the characteristic rocks that were formed by wind and water.
The amazing rock arches reach up to thirty meters, and the best time to watch them is at the low tide. This is also the only time when you can see the caves under the cliffs from the beach level.
This beach is just fabulous! We are not surprised that this beach isn't more well-known outside of Spain. I bet, the locals want to keep this one to themselves as this is one of the best places to visit in Spain! 🙂
Taking a walk on this spectacular beach is an unforgettable experience. A must-have on your beach holiday in Europe!
For us, this is one of the most beautiful beaches in Europe.
Why Playa de Las Catedrales is one of the best beaches in Europe?
The tide carved arches of this beach appear with low tide and will leave you awed by the majesty of nature. Check the timing of the tides before you go to fully appreciate the wonder of this beach.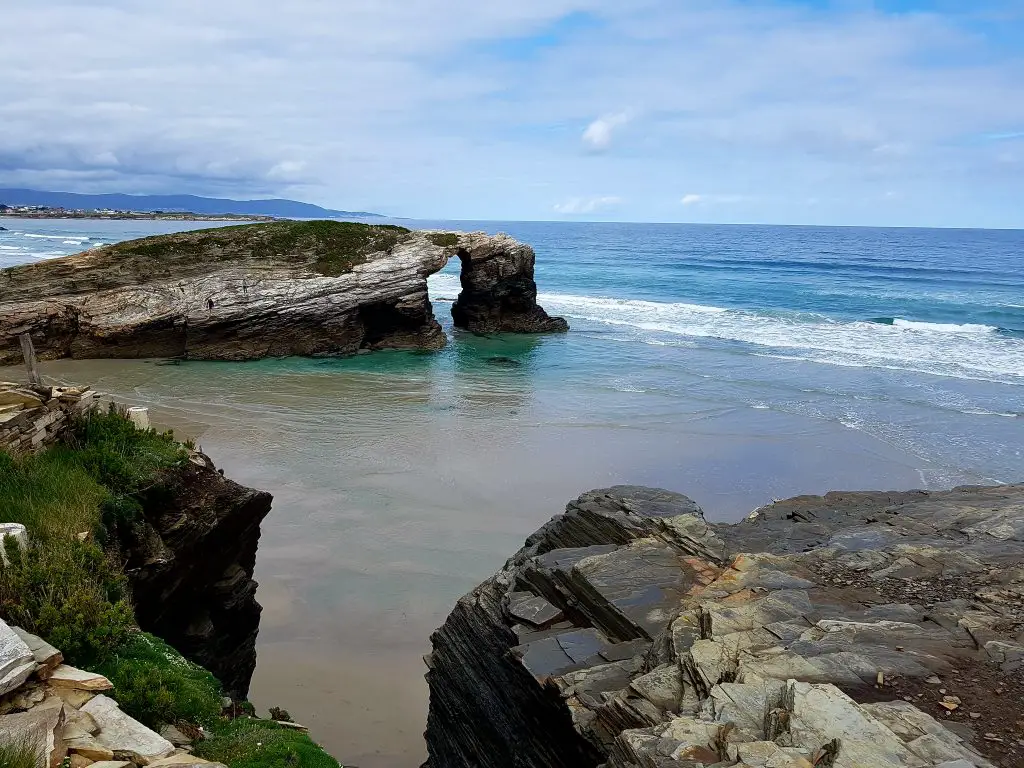 Read also: As Catedrais Beach in Ribadeo, Spain – The Beach of the Holy Waters!
5. Isola Bella
Recommended by Derek from robe-trotting.com
One of Europe's best beaches lies on the island of Sicily below the hilltop city of Taormina. It's called Isola Bella and is easily reached from downtown Taormina by taking a cablecar to the beach. Isola Bella is a pebble beach that's easily recognized by the narrow strip of beach that connects the mainland to an islet just off the coast. The islet is dotted with sea grottos and is also a nature reserve. It's lush with vegetation, which adds to the beauty of Isola Bella.
At high tide, the connecting strip of land is completely submerged. Many visitors will still wade through the warm turquoise waters of the Ionian Sea to check out the islet. Even during high tide, sunbathers don't mind getting a little wet to experience such a unique and beautiful beach. Other beach-goers opt to stay on the mainland beaches that line the coast. There you can rent a sunchair and umbrella and enjoy food and drinks on the beach.
With plenty of great restaurants, ancient ruins, and nearby attractions, Taormina is a top destination for anyone visiting Italy. The famous Isola Bella, however, is the ultimate beach destination in Sicily. It translates to "the beautiful island" and when you visit this stunning beach, you will agree it's well-named.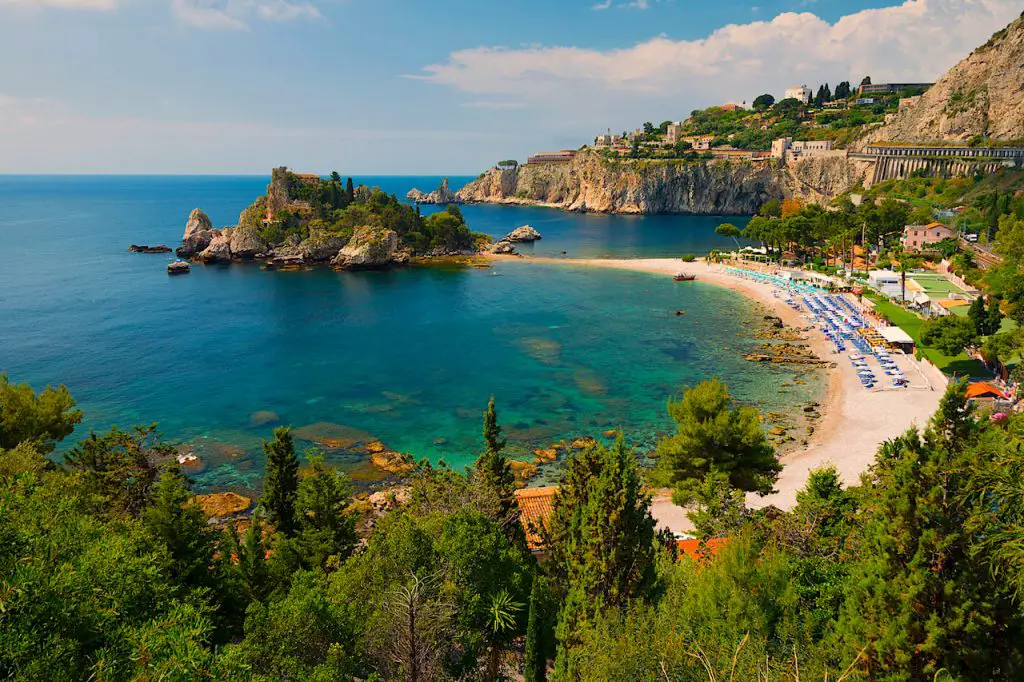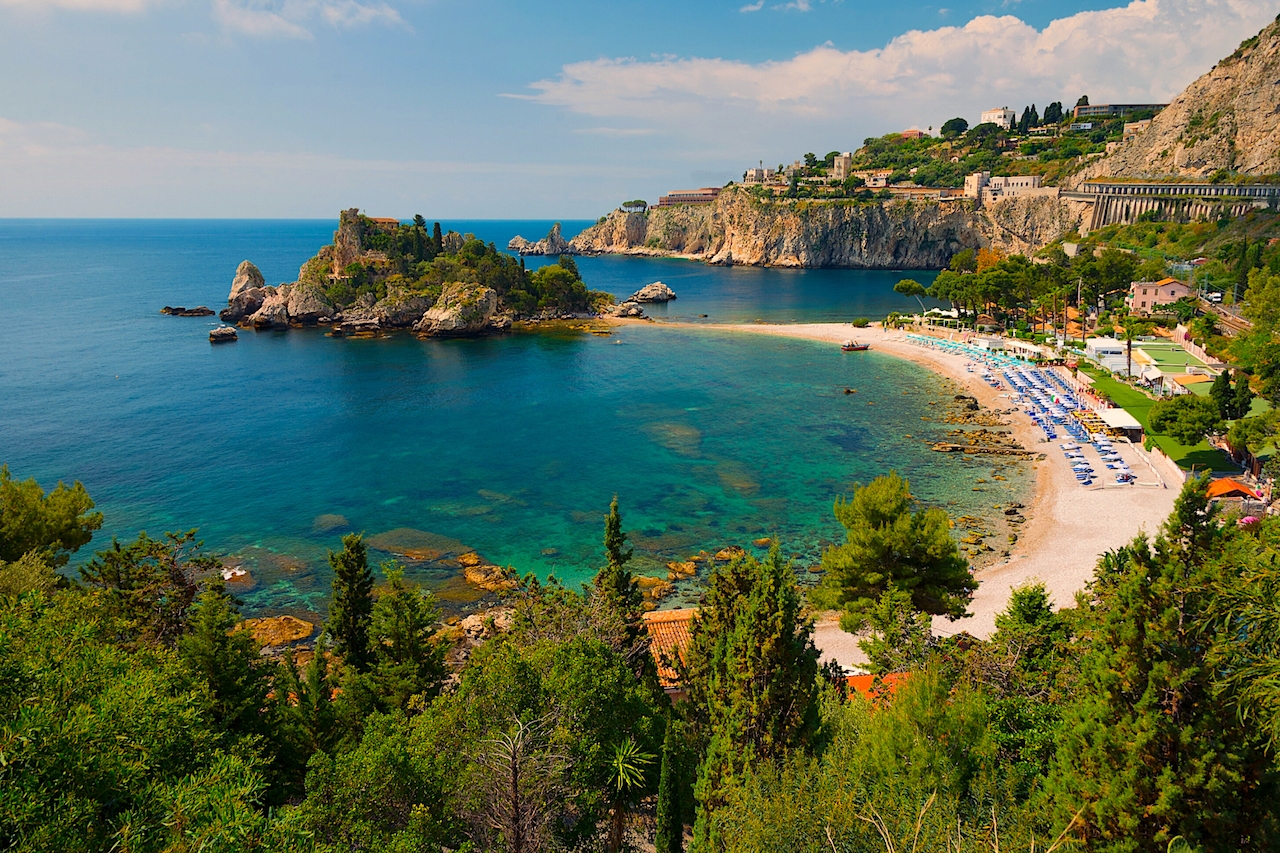 6. Ramla – amazing European Red-Sandy Beach
If you want to go to the most beautiful beach in Malta and Gozo (small European islands), be sure to choose Ramla Bay.
One of Malta's beauty spots, Ramla beach will charm any visitor with its idyllic azure waters and fine orange/red sands.
So, what are you waiting for?
Check out if Ramla Beach is one of the most beautiful beaches in Europe!
Why Ramla beach is the top beach holiday destination?
The fiery red sands of this beach are held inside the rocky arms of the twin headlands. This beach is relatively untouched by development and gives you a real chance to submerge yourself in a natural beach.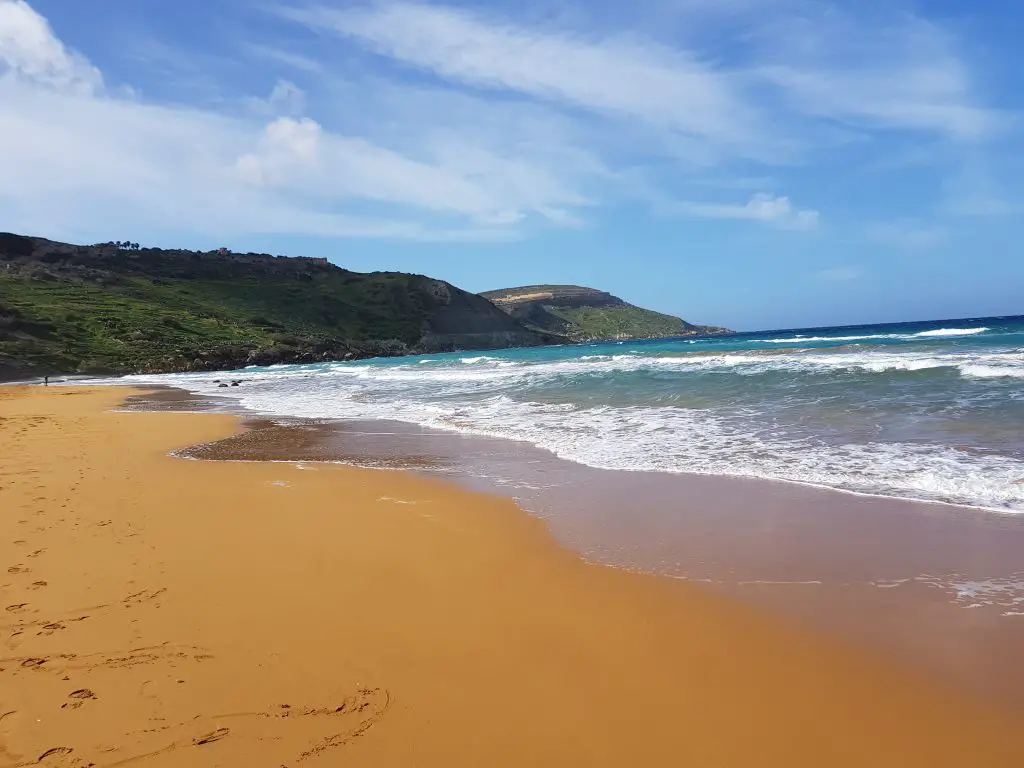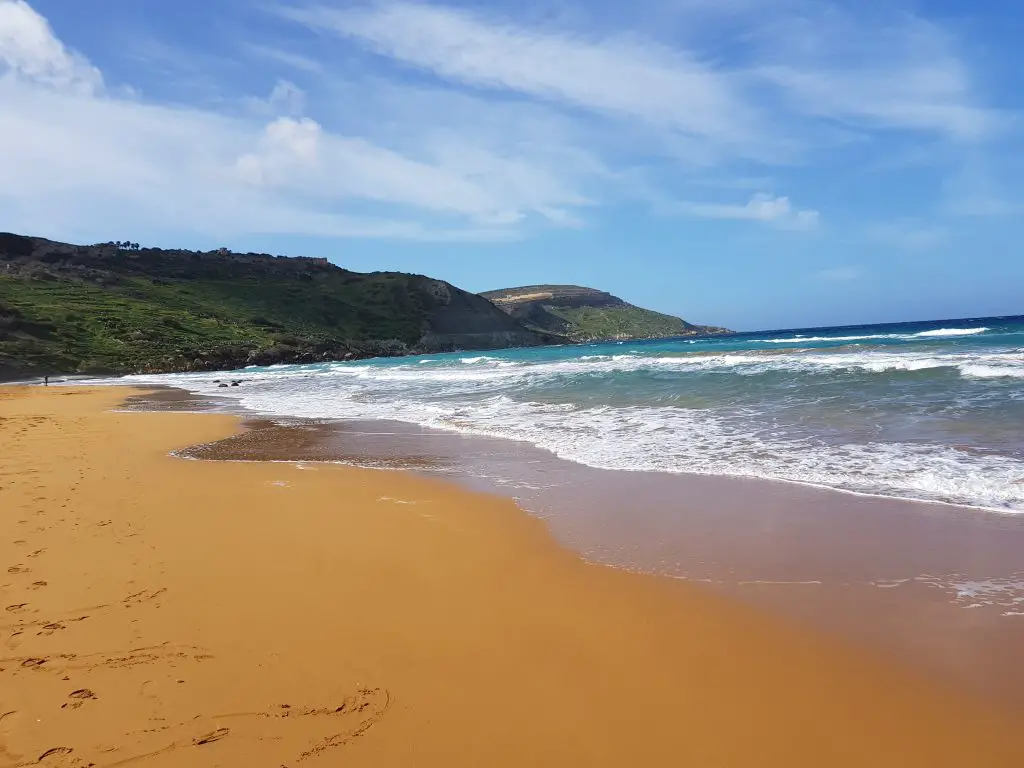 Read also: Best things to do in Malta & Gozo – TOP points of interest on Malta Island!
7. Nice – four miles long European Beach
What would you say about not one, not five but 35 beaches in Nice?
Yes, 35! 🙂 It really is a contender for the best beach holidays in Europe.
There are 15 private and 20 public beaches along the Promenade des Anglais in Nice, France. Every beach-lover searching for a beach holiday in Europe will love to spend a beach vacation in the capital of the French Riviera – one of the most romantic destinations in Europe!
Why Nice is one of the best holiday destinations in Europe?
With its mix of sand and pebble, Nice beach is the perfect spot for lounging in the sun. Watching the sunset from the shore is a must. The chic bars and seemingly endless beach make this a lively place to visit.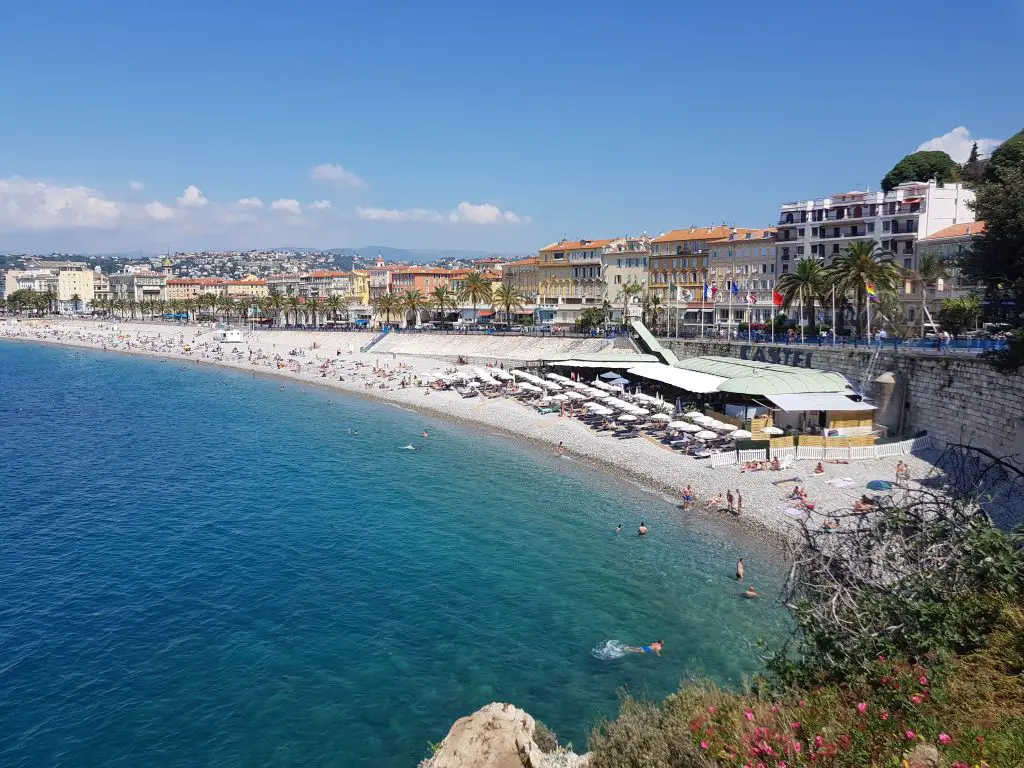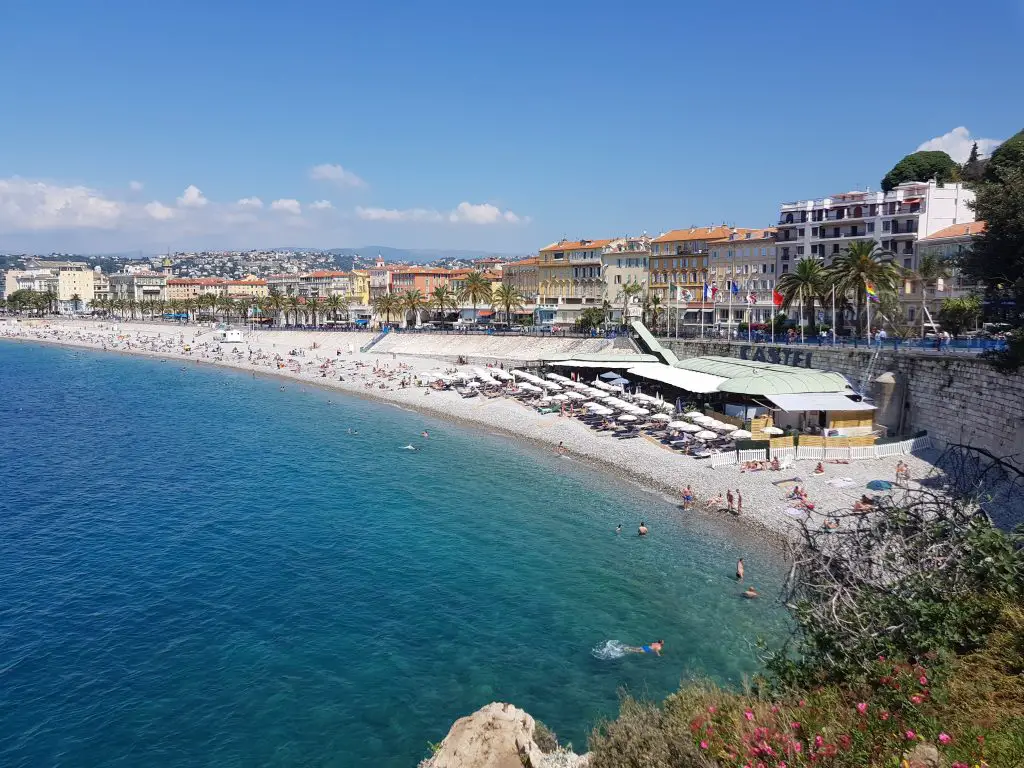 Need more beach holiday destinations in Europe?
8. Pampelonne Beach near St Tropez
Yes, another beach from the French Riviera has made to our top list.
But you shouldn't be surprised, southern France is one of the best destinations in Europe for beach breaks.
Pampelonne is not a hidden gem, it's known not only as one of the best beaches in Europe but in the whole world. Many VIPs relax there during the European beach vacation. Would you join them? 😉 We bet, you would as France is one of the top Europe beach destinations!
Why Pampelonne is one of the best white sand beaches in Europe?
This 5km long beach is the most iconic beach in St Tropez. If white sands and sparkling water aren't enough to captivate you, then you can spend some time spotting the A-listers who are known to frequent this world-class beach.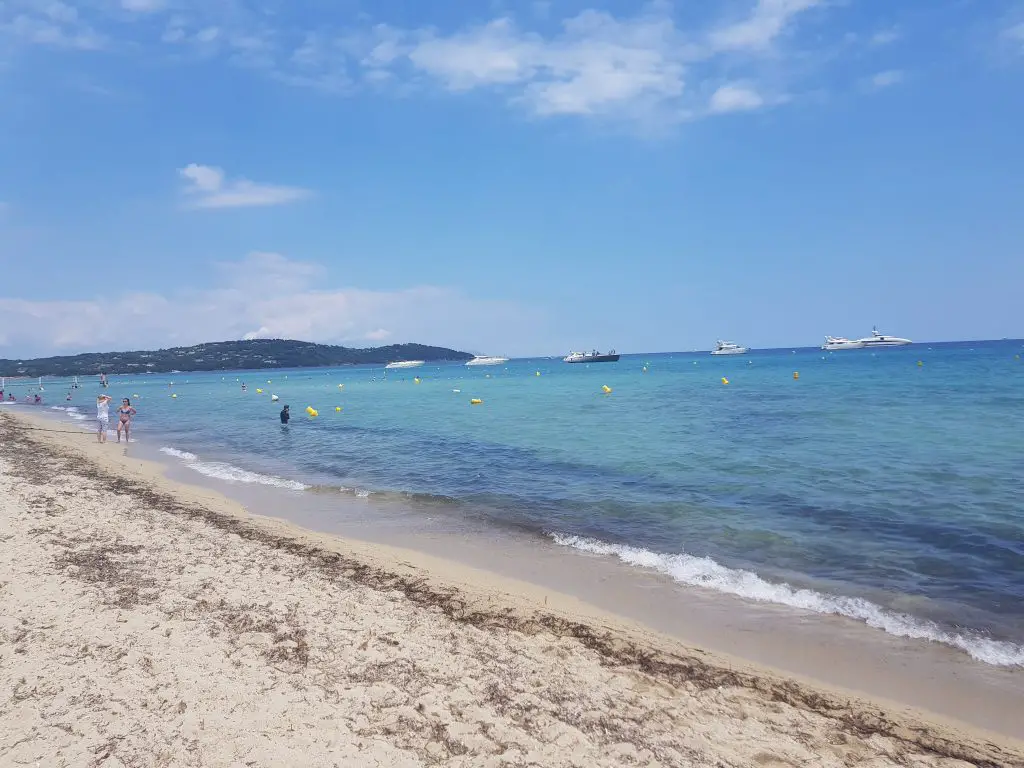 Read also: Best Places to visit on the French Riviera – Cote d'Azur's TOP 7
9. Playa Muchavista, Alicante
While on holiday in Alicante (Spain), make sure to visit one of the longest beaches in Europe. Just jump on a tram and get off at Carrabiners tram-stop. You will be blown away by the size of the beach!
The beach has a length of 3,300 metres and a width of 80 m – so there is more than enough space to enjoy the white sand 🙂
Alicante beach is one to visit for warm water, water-sports and amazing tapas.
Do you agree that Playa Muchavista is one of the best beaches in Europe?!
Why Playa Muchavista is one of the best beach holidays in Europe?
This beach is impeccably maintained, so you know that the sand will always be tempting you to stroll along. The water is warm and inviting. There are plenty of great restaurants lining the beach as well.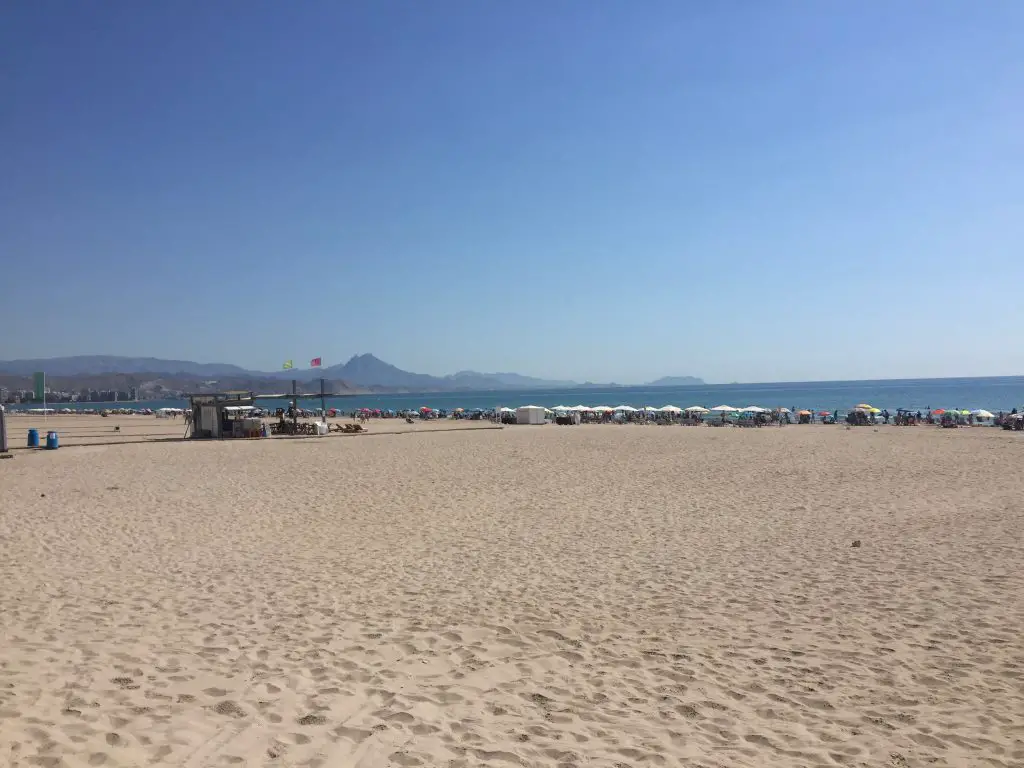 Read also: (NOT) Unusual Things to do in Alicante Spain – Top 11 must-see places!
10. Herceg Novi Beach
Recommended by Samantha from samseesworld.com
When most people think of a beach, they think of golden sand stretching in all directions. However, sometimes the most beautiful beaches aren't sandy at all, and their unique characteristics are what make them so special. This ideology is especially true when it comes to Bolivar beach in Herceg, Novi Montenegro.
Montenegro is located right along the Adriatic Sea, which means the whole coast is covered in beautiful beaches. But the beaches in Montenegro are mostly built on levelled out stone platforms and rocks.
Is this a perfect European beach holiday destination?
Every beach in Herceg Novi – a small coastal town in Montenegro – is built on rocks and stone platforms, and Bolivar beach is no different! This beach has both a beach-like area to lay out on that is close to the water and a beach bar right above it. On the beach, you can rent a sunbed for 5 euros a day and layout in the sun for hours on end while listening to the music from the speakers mixed with the waves. What's even better is that on this beach, you get food and drink services straight from your sunbed. Pizza and Mojitos on the beach, anyone?
This is the perfect beach to head to for a relaxing day in the sun, with great views, blue water, and perfect service.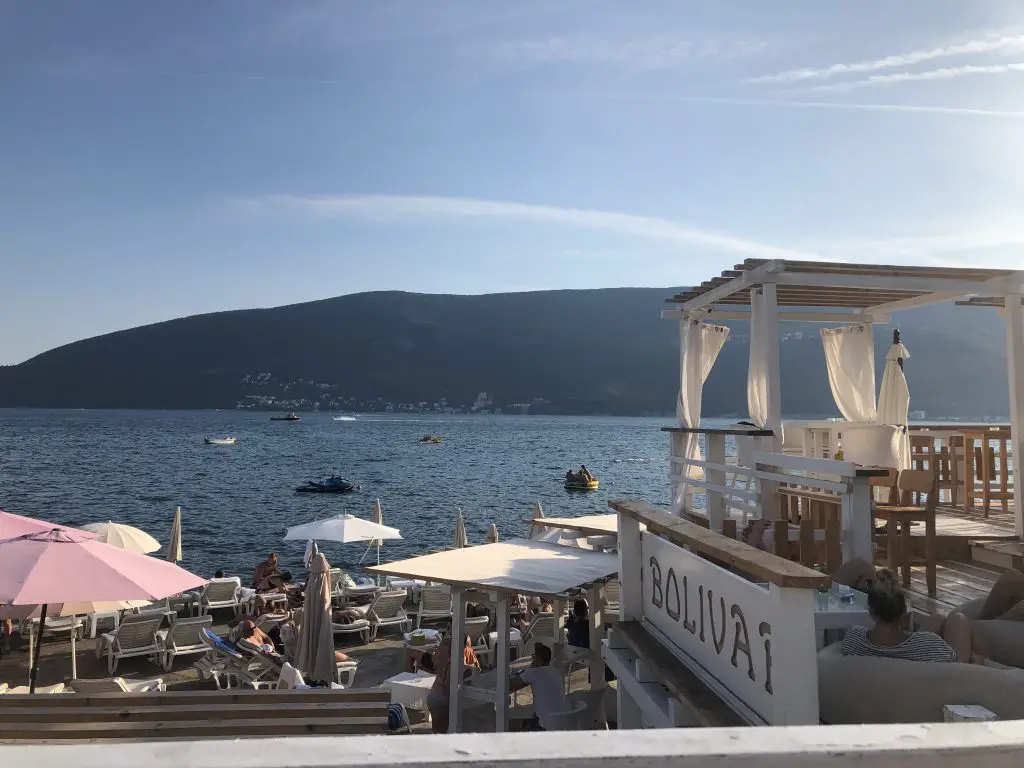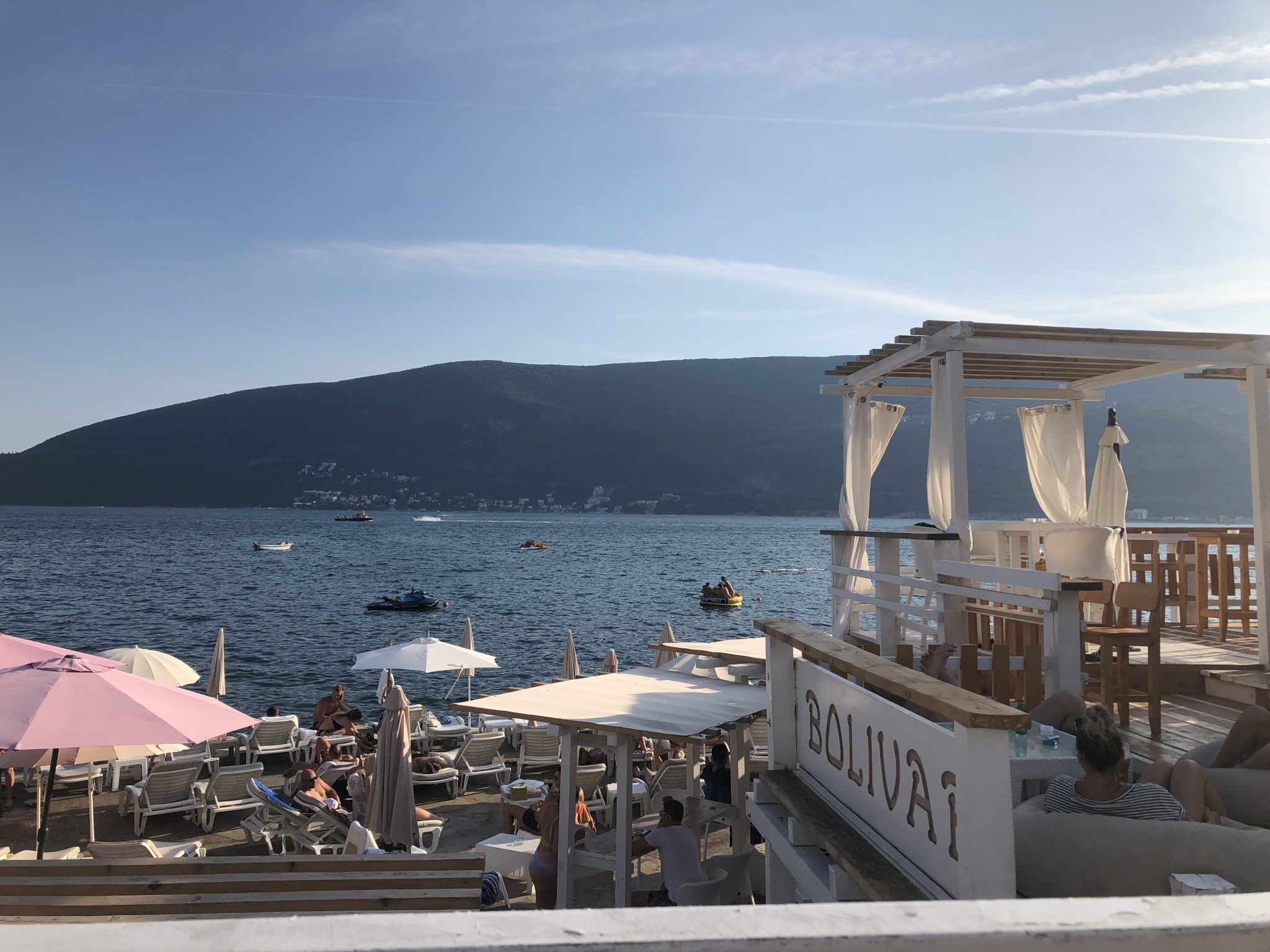 11. Reynisfjara Beach, Iceland
Fantastic, impressive, spectacular – you can go on and on!
Reynisfjara Beach in the south of Iceland has really deserved to be on our list of best beaches in Europe.
Yes, it doesn't have white sand.
Yes, you can't find any palm trees on the beach. And it's not one of the most exotic beaches in Europe.
But who cares?! It is still one of the best beaches in Europe!
Recently, Reynisfjara beach is one of the most sought-after beaches among travellers from all over the world! We were so happy when we visited this beach, even on a raining day it was fab! Make sure you rent a car and visit the beach early in the morning to avoid crowds.
Read more about Reynisfjara Beach it's only a short drive from the Golden Circle.
Why Reynisfjara Beach is one of the best beaches in Europe?
Considered the most beautiful of Iceland's black sand beaches, you will find panoramas, unlike anything you have seen before. The imposing basalt stacks and the roaring ocean have inspired countless folktales.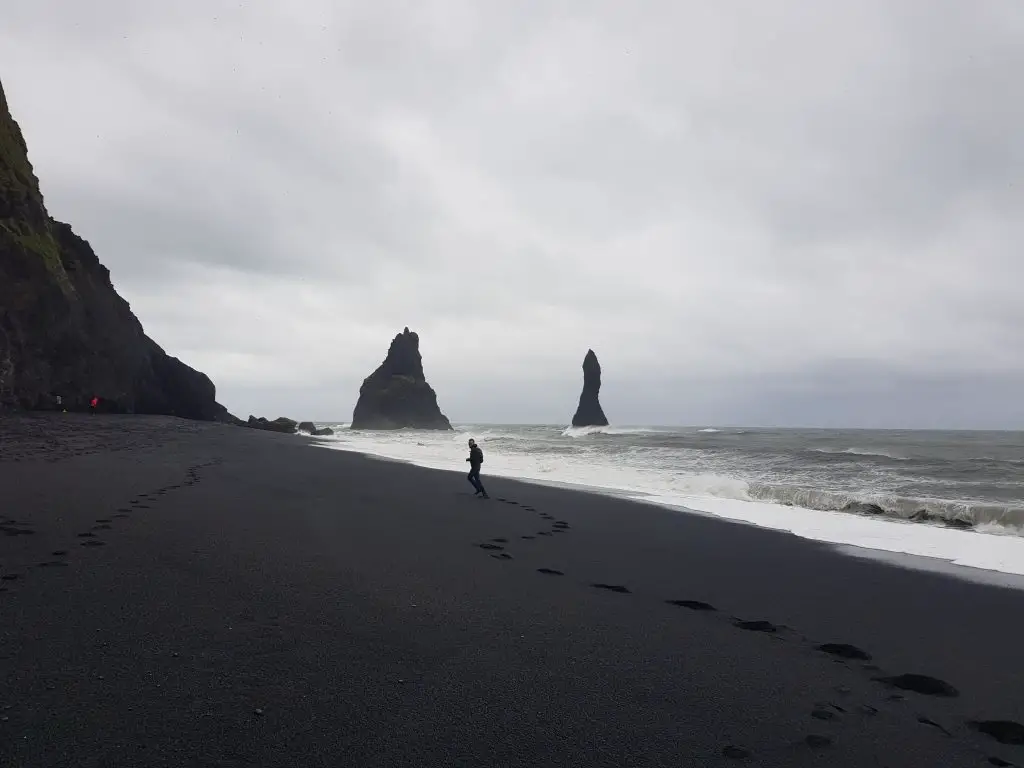 Read also: Reynisfjara beach, Iceland – a new standard of a beautiful beach!
12. Positano Beach
Positano in Italy is home to some of the best beaches on the Amalfi Coast.
For sure, you will not be alone there in high season, as the beach has become a very popular destination for VIPs and day-trippers. It really is one of the best beaches to visit in Europe.
It's very easy to see why this location is so popular. Its combination of gorgeous views and amazing sea make it everything you dream of on an Italian beach. Book your beach break in Europe today!
Why Positano Beach is one of the top European beach destinations?
This pebbled and black sand beach gives you a different type of experience than you'd expect. The hot sand will make you appreciate the cool water all the more. The surrounding town encircles the beach making for postcard-perfect views at every turn.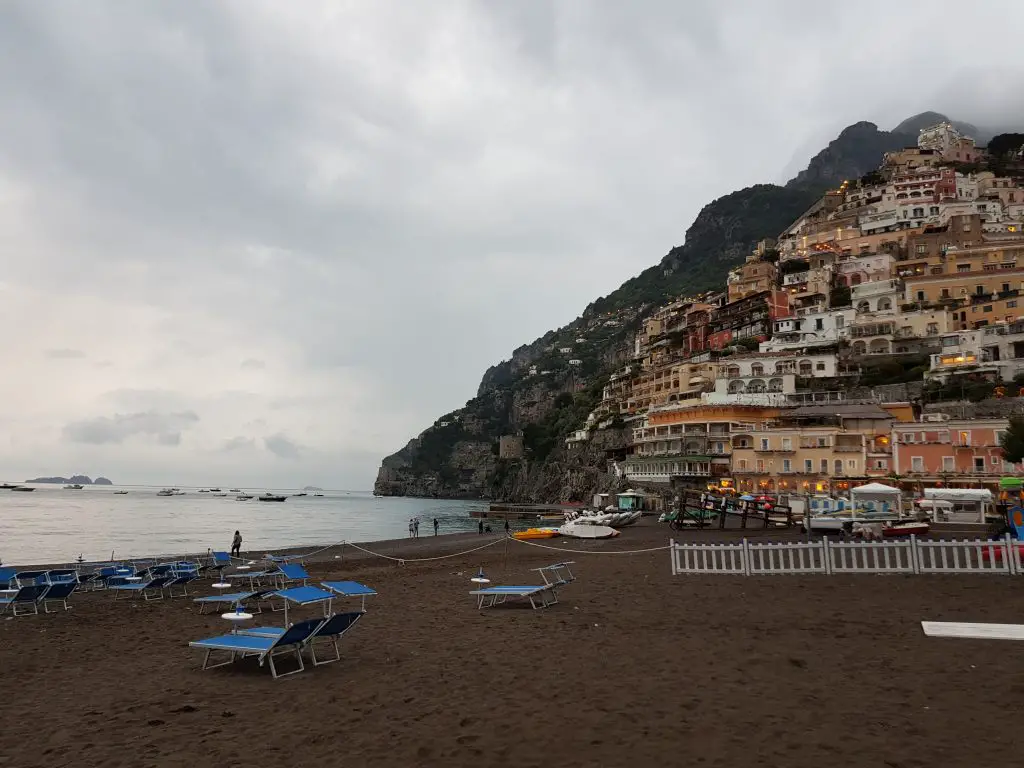 Read also: Amalfi Coast Italy (Campania) – Italy's most scenic & famous coastline!
13. Amager Strand
Recommended by everythingcopenhagen.com
Visitors to Copenhagen don't often think of the city as a beach destination. Still, it's located directly on the Baltic Sea and in the summer, Copenhagen is warm and gets sun. Denmark may not be a popular beach destination like Greece, Spain, and Italy, but Copenhagen has a number of great beach spots.
The best beach in Copenhagen is just a short walk from the city's metro stop that shares its name – Amager Strand. Amager Strandpark (Amager Beach Park) is easily accessible, and visitors can reach it from the city centre in under 20 minutes. The beachfront is located on a manmade island built off of the original beach. When you visit the beach park, you cross three bridges over the lagoon that separates the island from the original beach. It's flush with fine white sand and stunning seaside views. The Baltic Sea is chilly, even in mid-summer, but the beach is popular and full of sunbathers every sunny day.
Off the coast, beachgoers will see a windfarm as they lay on the beach. It's a nice reminder of Denmark's commitment to sustainability and green energy. There are often sailboats in the Baltic that dot the horizon. Some of the most beautiful sunsets in Denmark are witnessed from Amager Strandpark. This pristine beach in Copenhagen is often overlooked by tourists, but when the weather is right – it's a must-see spot in the Danish capital.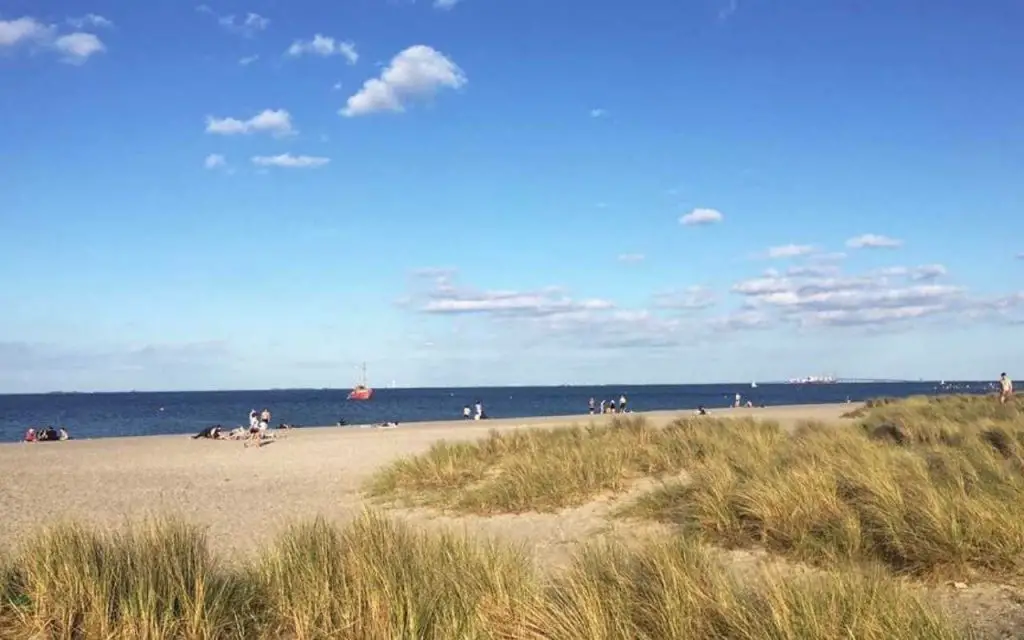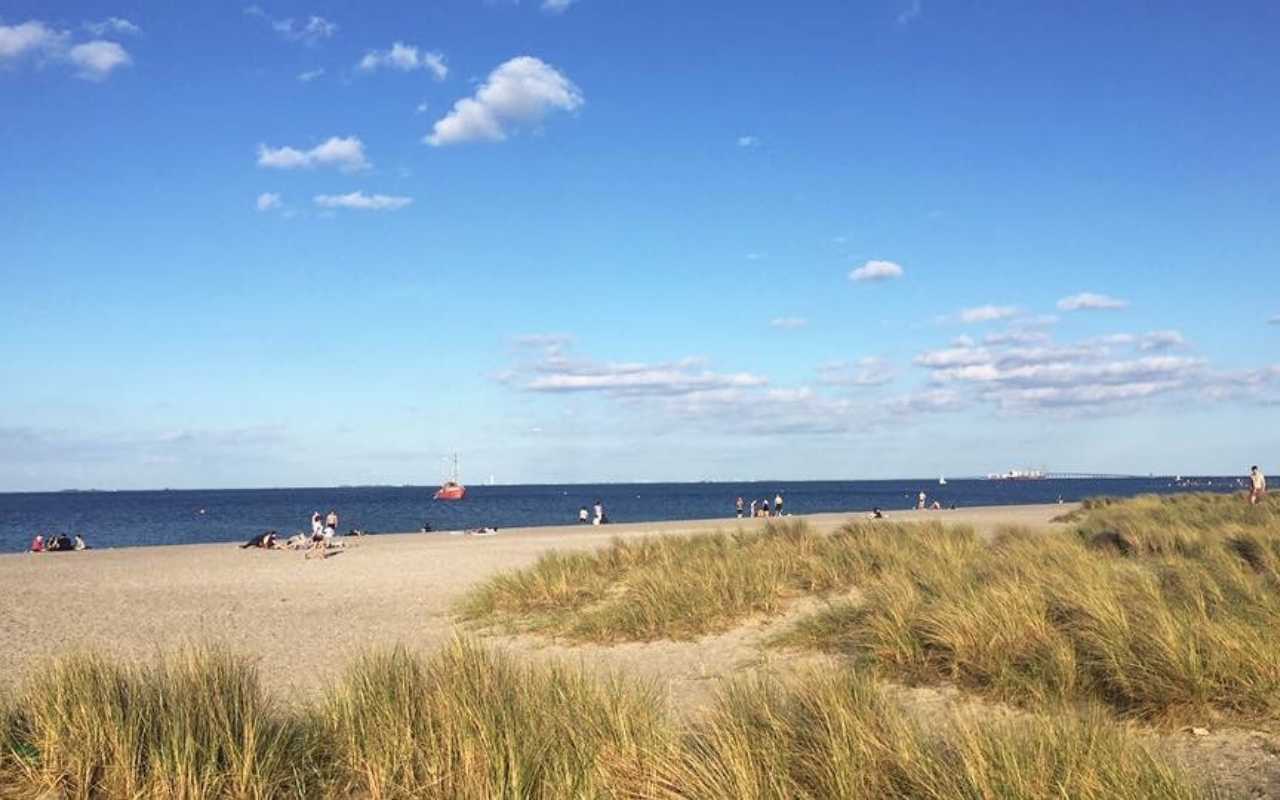 14. Papagayo Beach – best beach in Lanzarote
There are many stunning beaches in Lanzarote. But which one is the best one?
If you're looking for the most beautiful beaches in Lanzarote, then you don't have to look further than Playas de Papagayo – perhaps the most beautiful complex of beaches of all Canary Islands 🙂 A top beach holiday destination!
It's a perfect choice for a winter-sun holiday when the Mediterranean is too cold and too windy. There is nothing better than Christmas in Lanzarote! 😉
Make sure you have the Papagayo Beach on your list of things to do in Lanzarote!
Need more inspiration? Learn more about top things to do in Tenerife!
Why Playas de Papagayo is one of the best beaches in Europe?
This sheltered beach is the most popular in the area because the surrounding cliffs offer not only shade and shelter from the wind, but also make the perfect viewpoint to take in the beauty of all the beaches that dot the coastline.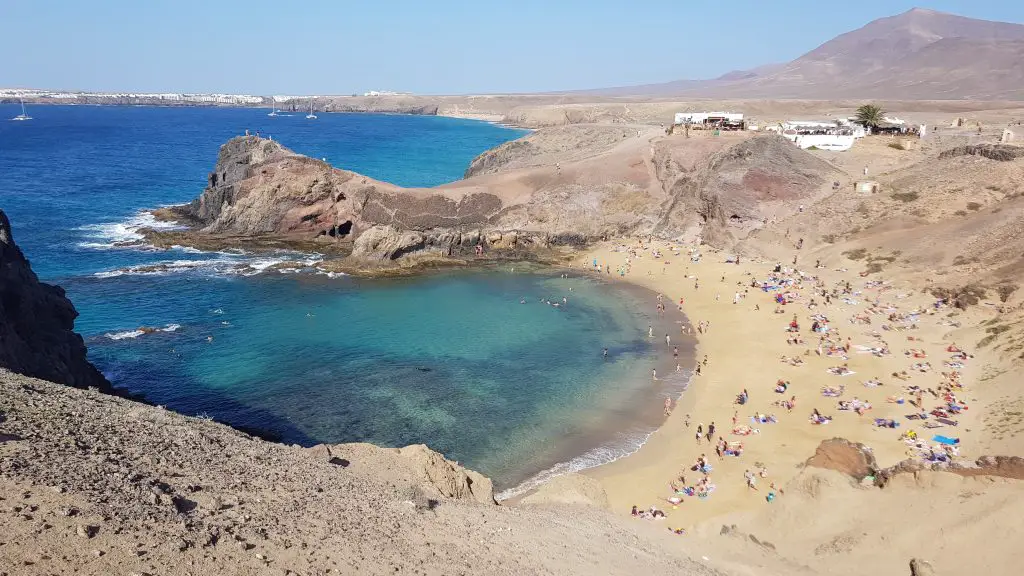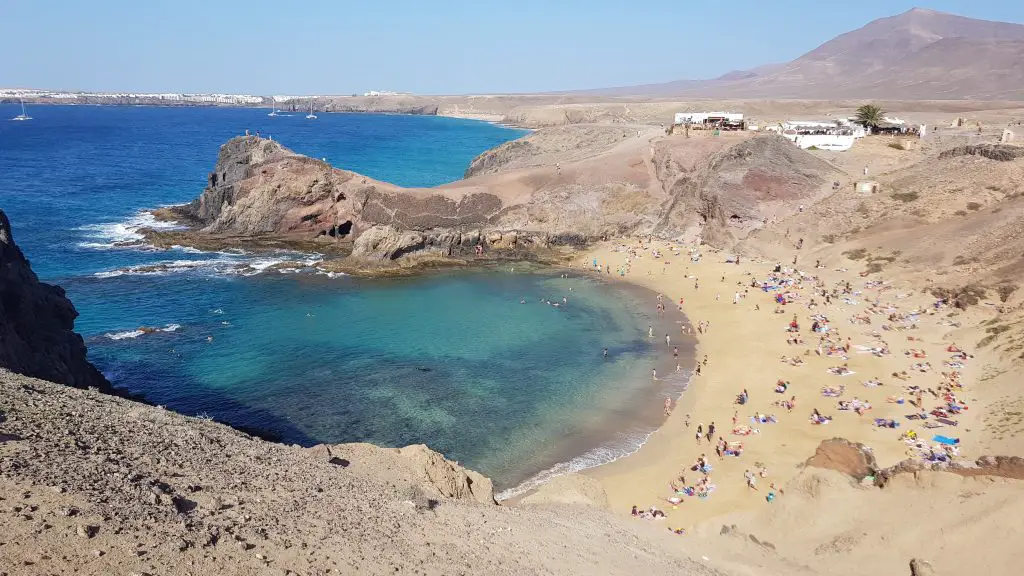 Read also: 21 Things to do in Lanzarote, Spain – TOP Attractions & Places to see
15. Go to Hel[l] in Poland!
Has anyone ever told you to go to Hell?
Yes? Few times? 😉
Next time when you hear that, just book a ticket to Gdansk. From there is just a stone's throw to Hel Peninsula.
The brilliant beach of Hel is one of the hidden gems of Poland's coast, which can get very busy in high season. Many polish people and tourists from the whole of Europe will visit the beach during the summer months.
In my childhood, I was lucky to spend every summer holiday on the best beaches in Poland. At the very end of northern Poland, you will find stunning wild beaches surrounding a small town of Hel.
There is a small, secluded public beach right in the centre of the town. But if you really would like to enjoy the best of Polish white-sand beaches, take a 45-minute walk to the end of the Hel Peninsula and get lost in the beautiful natural beaches.
Would you add Hel in Poland to your list of the best beaches in Europe?
You will love them! 🙂
Why beach in Hel is one of the top white sand beaches in Europe?
The beach at Hel offers you the chance to enjoy both wild and tamed beaches side by side. Whether you prefer to relax on a pristine maintained beach or walk along to the wild ends of the beach Hel has it all.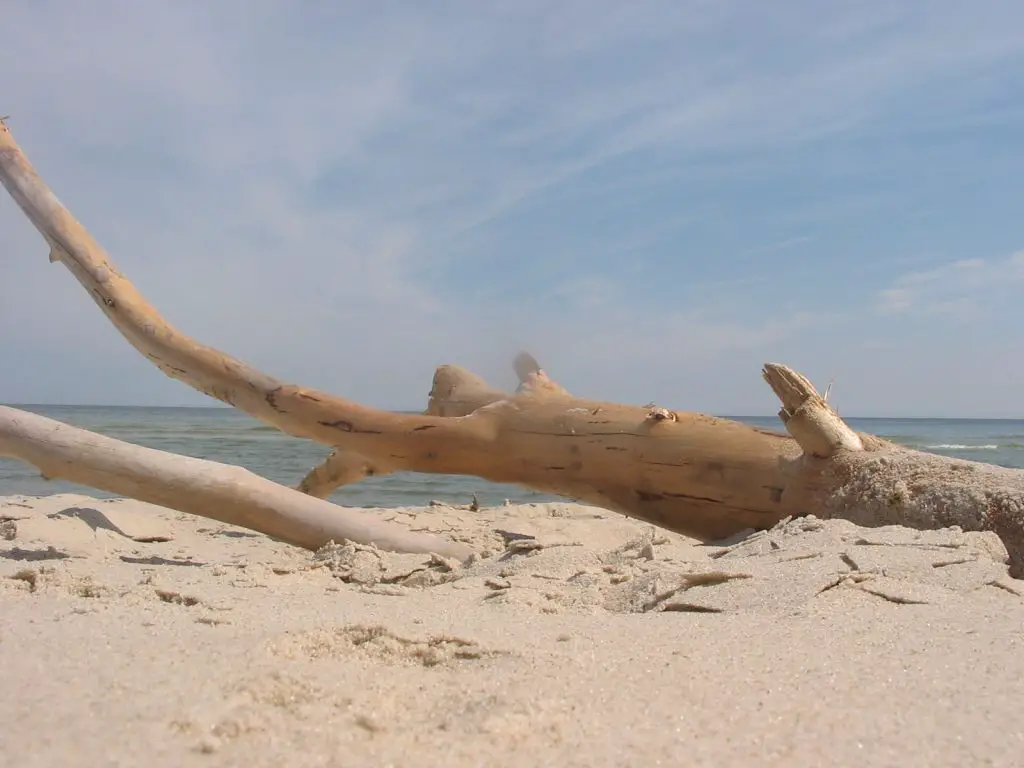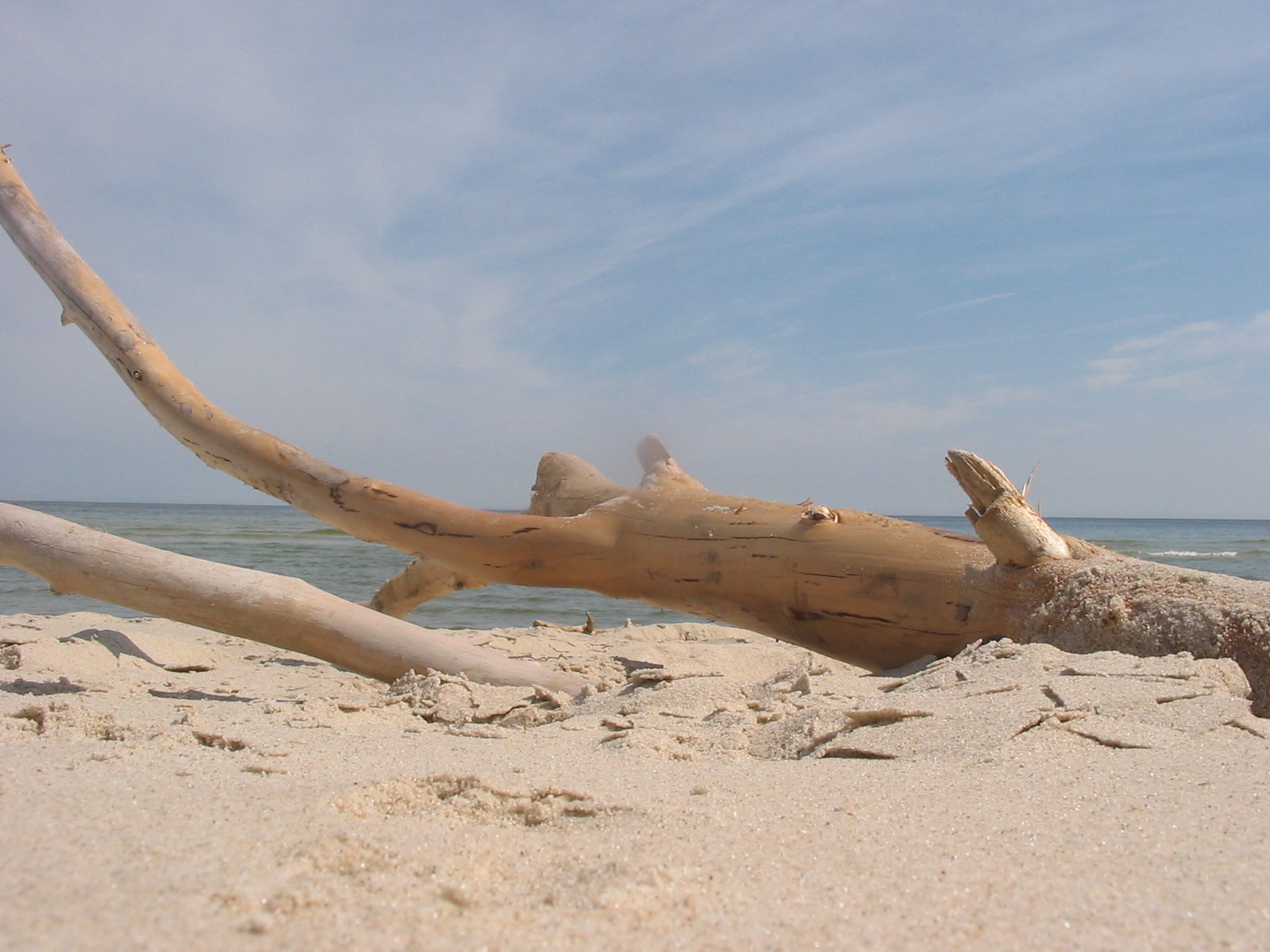 Read also: Go to HEL in Poland – it's better than Heaven!
16. Dierhagen beach
Recommended by Scott from 4degreesofdestination.com
Looking for the perfect spot on the Baltic Sea? Look no further than Dierhagen. A small, quiet coastal town that comes alive in summer. Whenever we return to Germany this is one place we visit for some quality family time.
The beach itself is paradise and there is a spot for everyone including the dog. We often rent a 'Strandkorb' (beach hut) for a few days. Cost around €4 per day, in the evening we lock it up with our beach toys inside ready for our return the next day.
One activity we love is hiring bikes and cycling up or down the coast on the cycle trails. Here we often check out other towns and villages and sometimes other beaches.
Dierhagen has a range of accommodation however we opt for Ostsee camping. The facilities here are 1st class and it's only a 5-minute walk to the beach. There are also plenty of places to eat, restaurants and cafes alike. We love grabbing a 'fischbrötchen' and at €2.50 you can't go wrong. There are also a few shops where you can buy cheap beach toys, shade tents or tourist souvenirs.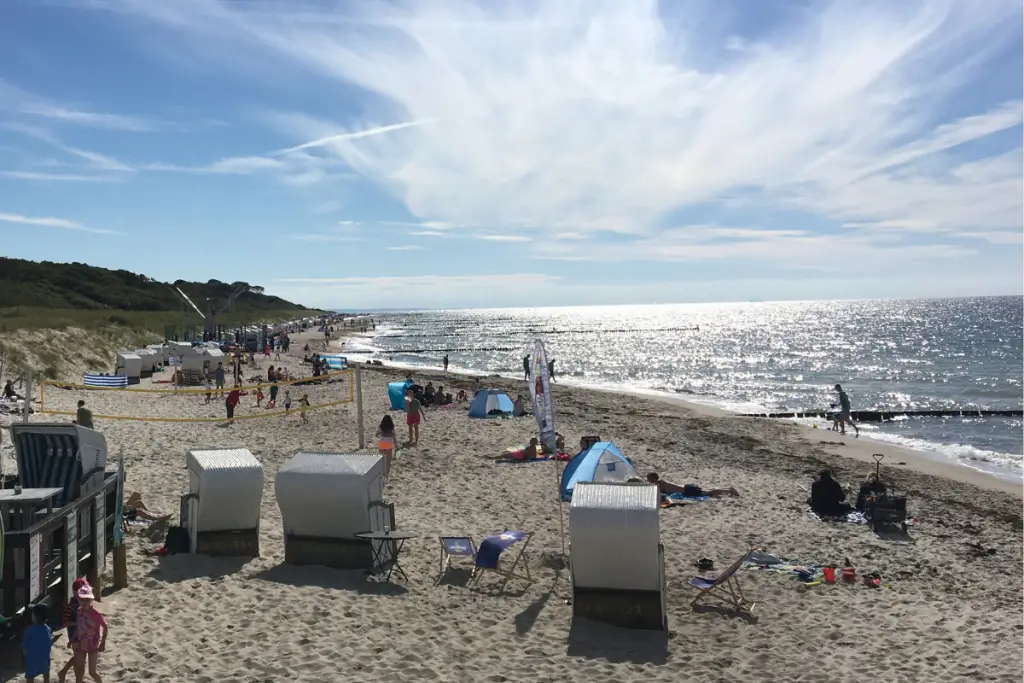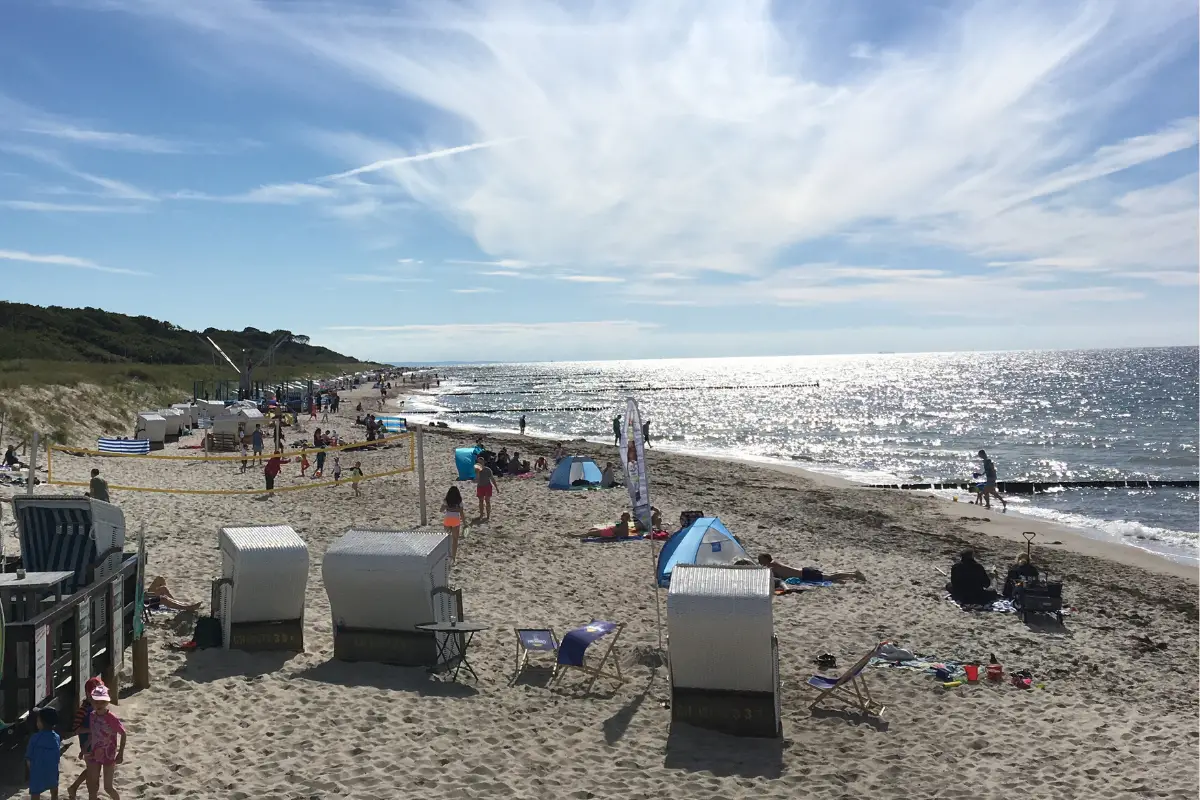 17. Praia de Benagil
Let's be honest, any number of beaches from Algarve in Portugal could be on this list!
The magnificent Praia de Benagil beach, located near Lagoa, is the door to Benagil Caves Portugal – a sensational cave!
The beach itself is not the most spectacular but due to the proximity to the Algar de Benagil it has made to our top 23 😊
Would you agree? Is Benagil Beach worth visiting while on a European vacation?
Why Praia de Benagil beach is the best sun holiday destination?
The soft sand and pristine cool water make this a beach more than worth visiting. The famous and iconic Algar de Benagil cave push this beach into being one that should be on everyone's must-see list.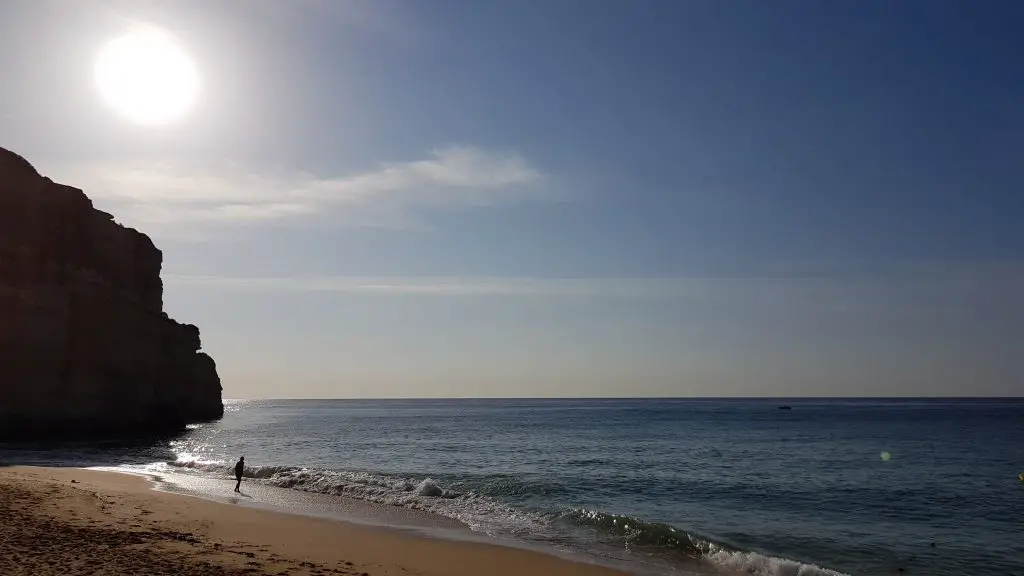 18. Malagueta Beach, Spain
Spain is one of the most beautiful countries in Europe with some of the most beautiful beaches on our continent. There are a few of Spanish beaches on our list 🙂
Málaga, a city on the Costa del Sol, is one of the best beach holiday destinations in Spain.
The city has its own unique charm, and it has a lot to offer. Sun, historic buildings, delicious food and top-rated beaches. Including Malagueta Beach – a major tourist attraction. Arguably the most beautiful beach on the Costa del Sol.
Learn more about Playa de la Malagueta.
Why Malagueta Beach is the best beach holiday destination?
The dark sand of this beach makes it an unusual sight, especially as it sits in the heart of the city. This means there is a large array of restaurants and bars lining the beach.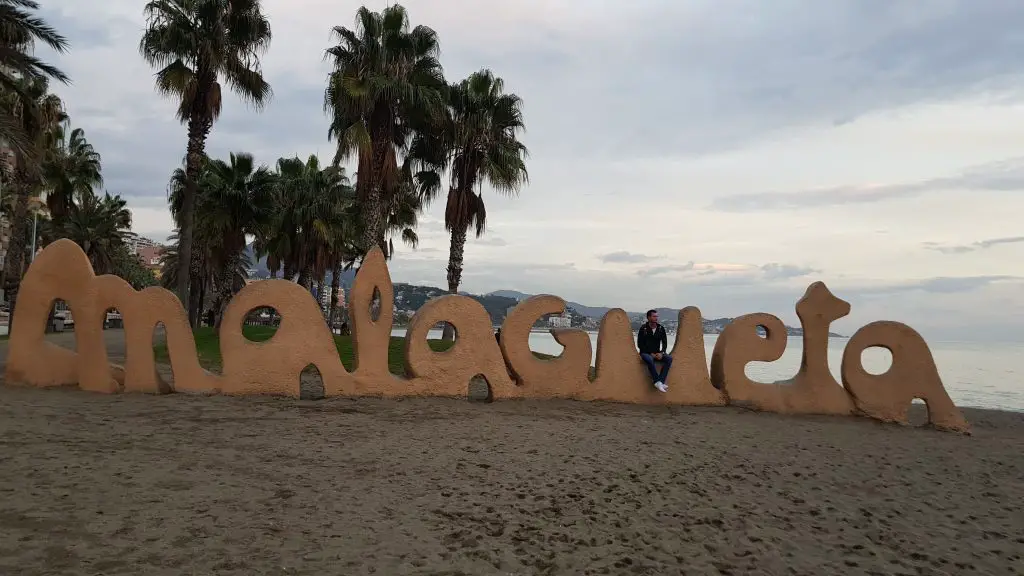 Read also: 11 Best things to do in Malaga, Spain [Costa del Sol]
19. Porto Santo Beach
Recommended by Edyta from sayyestomadeira.com
Porto Santo is a small island belonging to the Portuguese Archipelago of Madeira. It is much smaller than Madeira and the landscape differs greatly as well. While Madeira is known for rather unattractive pebble beaches, Porto Santo is a real heaven for all beach lovers.
The main beach of Porto Santo is 9km long and wide. It is a beautiful, golden sand beach, along which you can find some beach bars and cafés.
The waters around Porto Santo are pristine – it is a great destination to snorkel, dive, sail and observe dolphins. Most Porto Santo hotels are very affordable and have direct access to the beach. Many parts of the Porto Santo beach are guarded.
Why is it worth visiting Porto Santo beach?
Porto Santo is a great European beach destination for people travelling out of season. Most tourists come to Porto Santo in July and August, and that's when it gets pretty crowded. However, in September, the weather is still great while the beach is almost empty. There are also a lot of viewpoints permitting you to have a great view of the entire beach; one of them is Portela Viewpoint.
You can get to Porto Santo by plane or by ferry. The Porto Santo Line ferry operates daily and it is possible to return to Madeira even the same day.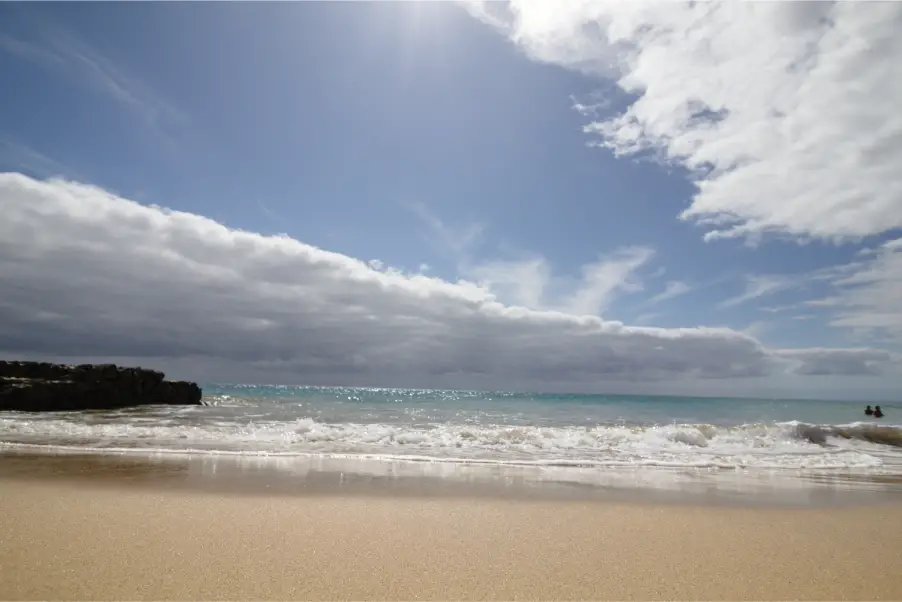 20. Blankenberge Beach
Did you know that one of the best European beaches is located just 25 minutes from Bruges? You probably wouldn't expect to find one of the best beach holiday destinations in this part of Europe, would you?!
If you love amazing views and typical European beach feeling with the huts and umbrellas to rent then this Blankenberge Beach is just perfect for beach holidays in Europe.
Why you should visit one of the longest and best beaches in Europe?
This sandy beach in Belgium seems to stretch on endlessly. Once the exclusive destination for royalty, it is now open for all to enjoy the beautiful sands, iconic pier, and bustling bars.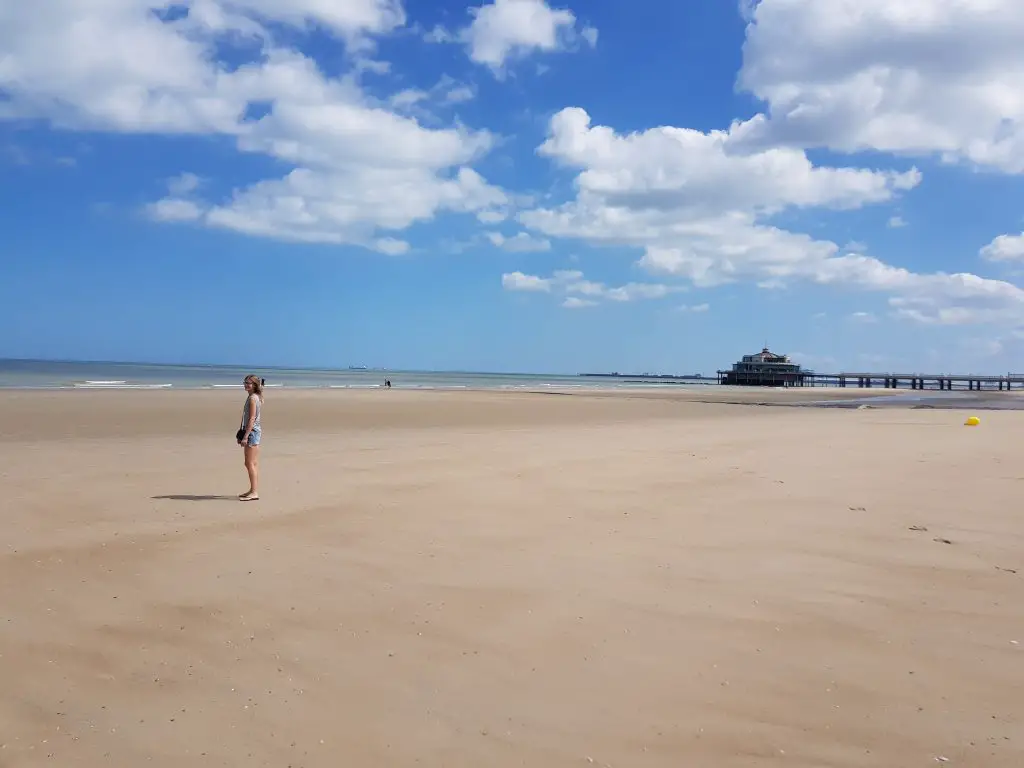 Read also: 30 Best Things to do in Bruges – chocolate & Belgian fries included!
21. Amadores Beach
Amadores Beach is one of the best beaches in Gran Canaria. This beauty is located in Gran Canaria and is visited by 1000s of tourists every year. We couldn't forget to shout out Amadores beach as one of the best beaches in Europe, could we? Ready to explore one of the best Spanish islands?
There are many interesting things to do in Gran Canaria but Amadores Beach is a must-visit place! Would you spend a relaxing day on this stunning Europen beach? 🙂
Why Amadores Beach is one of the best beaches in Europe?
This human-made beach has been designed so that the water is always calm and inviting. Tranquillity is the feeling of this beach, the perfect spot to soak up the sun and relax.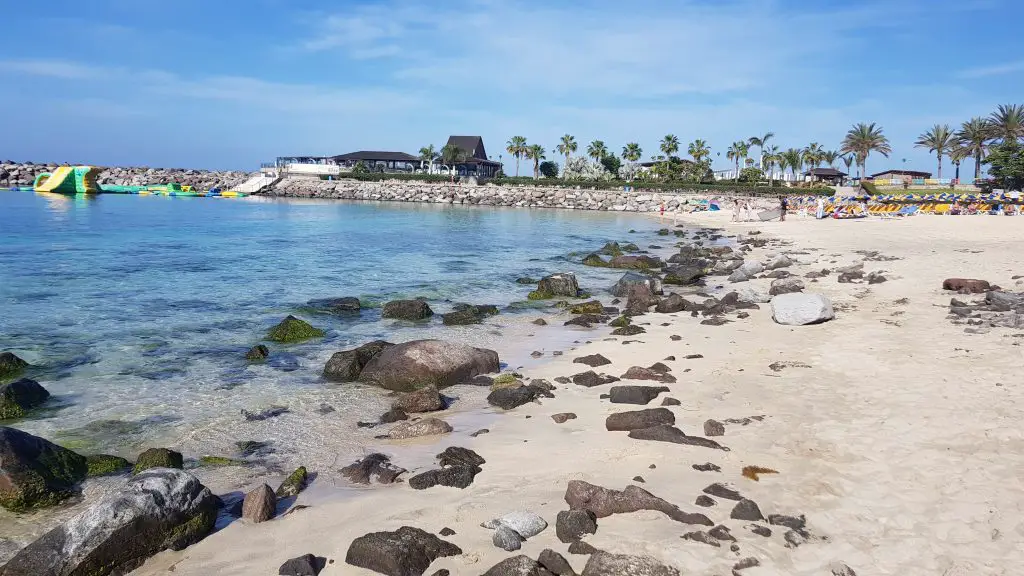 Read also: 20 Things to do in Gran Canaria & best places you HAVE to visit!
22. Derrynane Beach
This real gem can be found in Ireland! Would you believe that? Located on the Ring of Kerry, Derrynane Blue Flag Beach is one of the main attractions in this part of the island.
This extensive sandy beach in Derrynane Bay can be easily named as one of the best beaches in Europe! Make sure you add this beach to your travel bucket list and definitely spend there a few hours while you are on a European road trip in Ireland!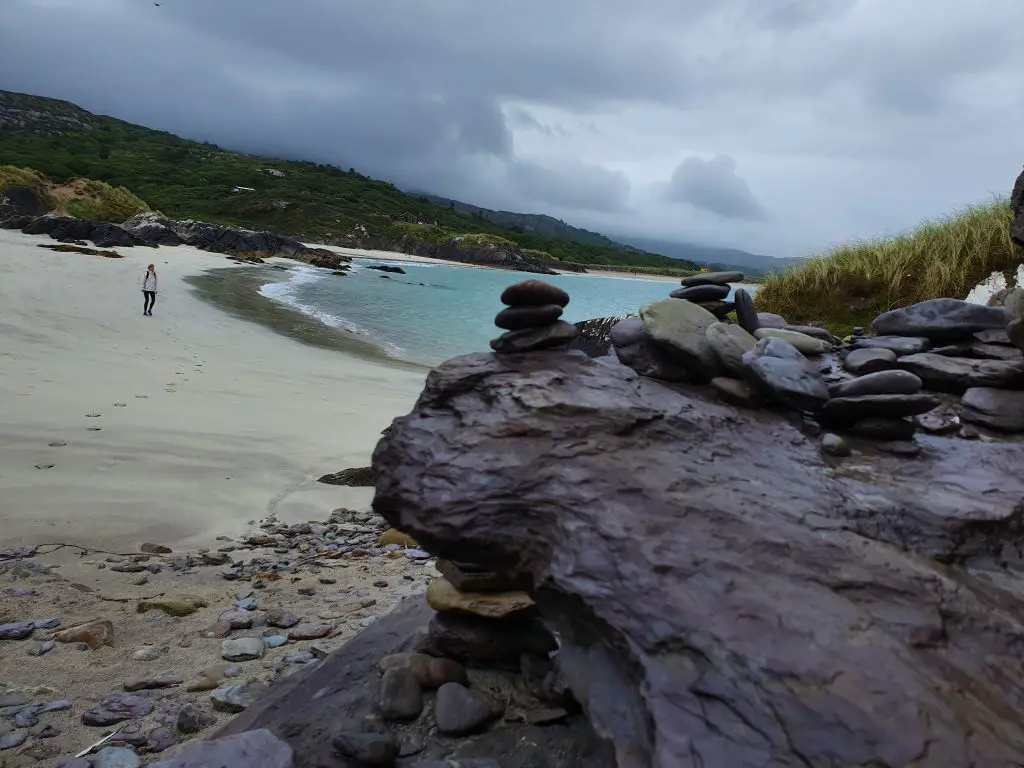 Read also: 3 days Ring of Kerry itinerary. Is driving the Ring of Kerry worth it?
23. Cap Taillat
Recommended by Alyx from healthylivintravelers.com
Cap Taillat is this picturesque beach in Ramatuelle, Saint-Tropez, France. Located in the Provence-Alpes-Côte d'Azur region of Southern France. Dreamy white sand, and crystal clear, turquoise water. If you are like me, then crowded beaches are not your thing! Cap Taillat offers so many secret sand beaches! You can hike in a bit or rent a kayak!
You will head through an absolute gorgeous nature reserve full of the Mediterranean colours!
Why is it worth visiting Cap Taillat beach?
If you are looking for a quiet secluded place for you and your significant other, some friends, or just a peaceful spot for yourself then you must check out Cap Taillat! This beach is Pure magical! If you continue to walk, you will eventually find a secluded spot away from the crowd! It's worth the hike!
One of the most beautiful sights in the area! Breathtaking! It's wild, unpolluted and preserved flora is why it's so beautiful! So many panoramic views. Peaceful, calm waters, the quiet area's where you can just take it all in and enjoy life! However, it is only located by foot. You must park at the l'Escalet, which is a beautiful rocky beach, typically crowded and then walk into Cap Taillat, which can be about a forty-five-minute walk for some.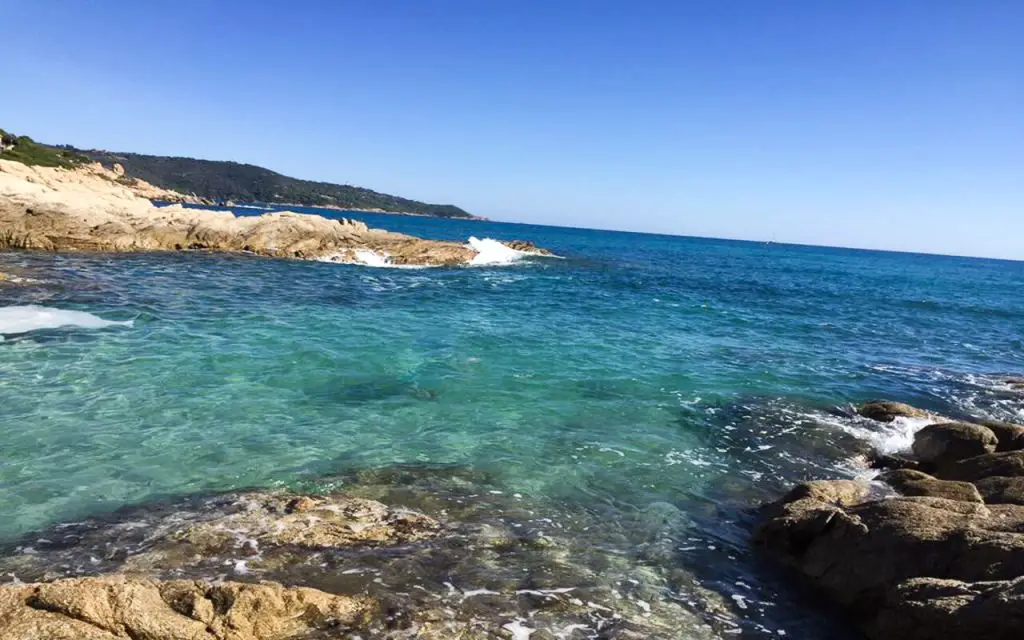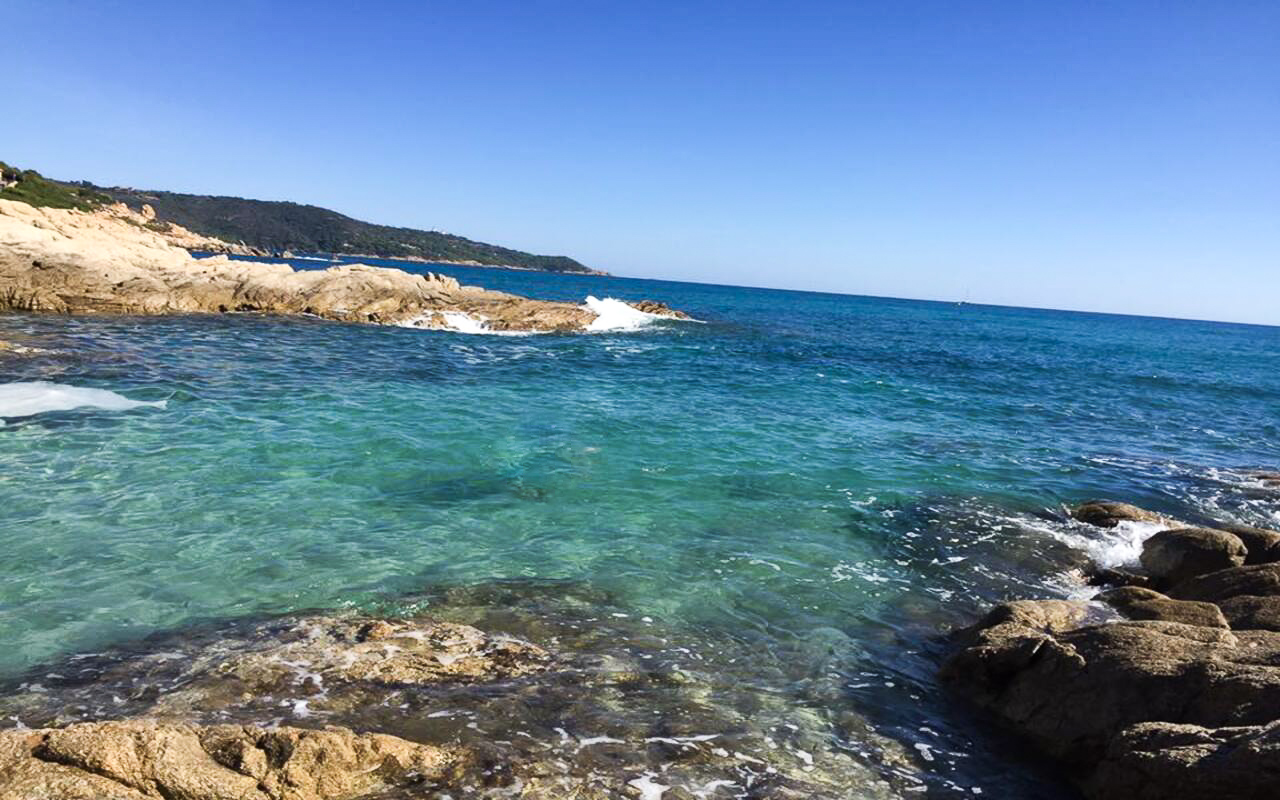 Top 5 of the best beach holiday destinations in Europe: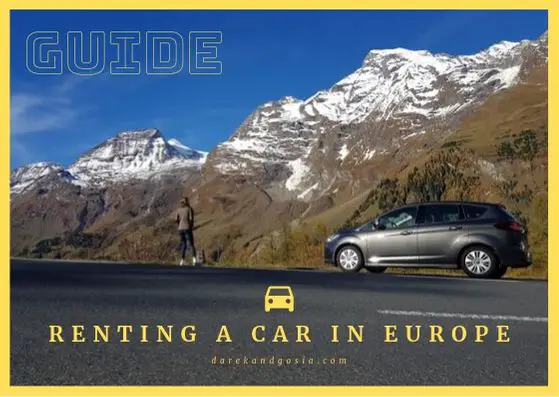 Best beaches in Europe FAQ:
Have we covered all the best beaches in Europe?
Probably not! 😉 There are many amazing landscapes in Europe! Our continent is known for its unique beaches and it's always a bit tricky to create a list of the best beach holiday destinations in Europe. Make sure you visit few of them during your next beach trip in Europe 🙂
Read our other articles related to this stunning continent:
Most romantic places in Europe
Most beautiful landscapes in Europe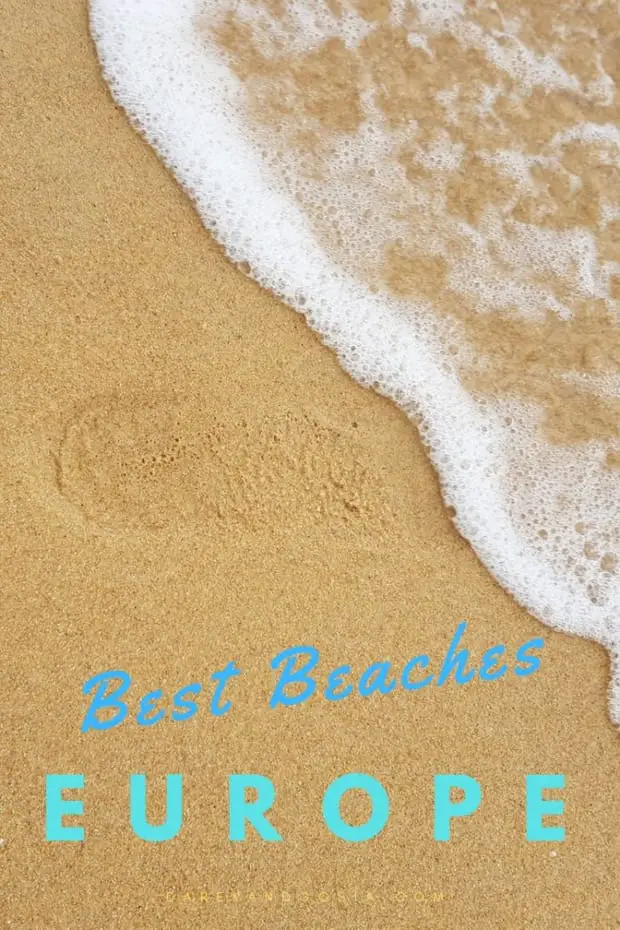 Do you know any other best beach Europe destinations?
Articles you may like: