Where are the most beautiful Cotswold villages? Check out our map and list of the prettiest Cotswold villages, England.
Looking for the most beautiful villages in Cotswolds? Great news! We have covered some of the most visited Cotswold villages – perfect places to spend a weekend getaway in the UK! Most of the villages are located within 2 hours from London, making them a perfect day trip from the capital.
We have visited many of the below villages and we always are happy to come back to the fairy-tale-like villages in the Cotswolds area 🙂
The Cotswolds, located in south England, consist of town and villages known for their markets and stone buildings coloured like honey. The glorious countryside and rolling hills can be found throughout the vast area that it encompasses; over 2000km if we're being more precise.
It's no surprise that it is the largest area of outstanding natural beauty in England and Wales, and once you get there, you'll understand why everyone you come across seems so happy.
Each of the Cotswold villages is worth visiting, but if you have to narrow them down then we have the perfect list for you. Memorise it, and begin a new adventure through one of the most wonderful places in the country.
Our TOP 5 villages in Cotswolds: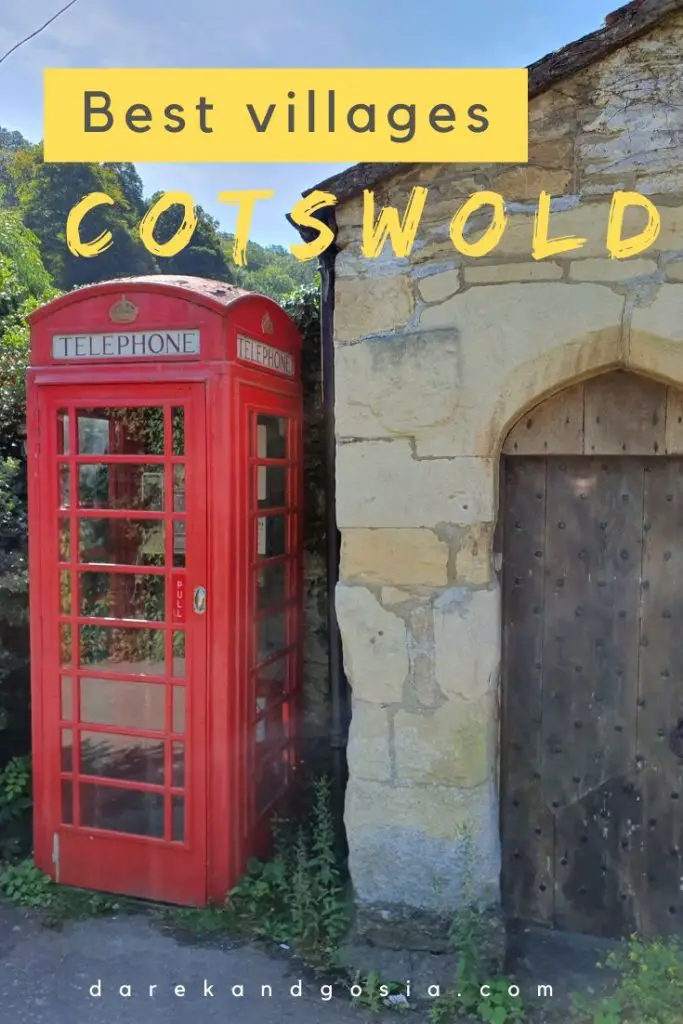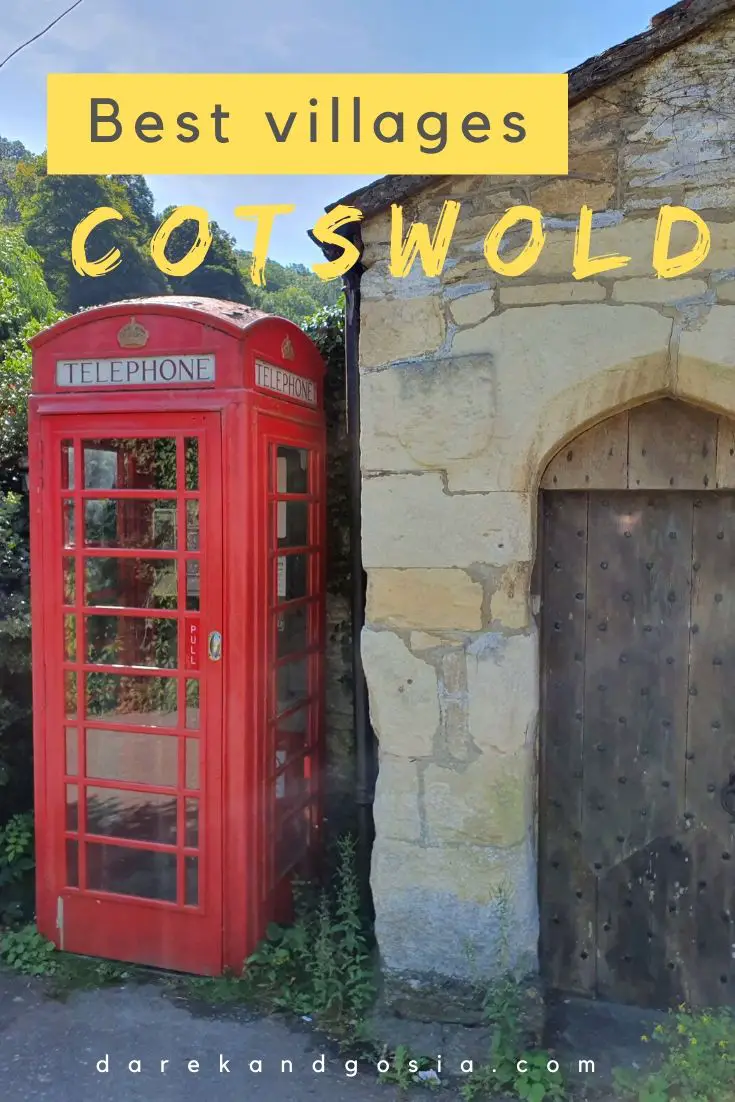 Best Cotswold villages:
1. Painswick
Best villages in Cotswolds to visit? There are a lot of Cotswolds villages to visit. Painswick village, with its stone cottages with thatched roofs, is one of the prettiest.
Known as the Queen of the Cotswolds, you'll find this little village nestled in Gloucestershire. This beautiful area first grew to fame for its wool trade and is surrounded by stunning hillsides that make for a picturesque setting. Now, this Cotswold village is known for the yew trees that grow in the parish church, as well as the Rococo gardens that grace it.
Sweet restaurants and traditional afternoon teas can be found effortlessly if you are searching for a relaxed afternoon with family and friends. Most of the buildings are made from quarried Cotswold stone, adding to that postcard look.
Would you add Painswick to the list of the best villages in the Cotswolds? 🙂
Where to stay/eat in Painswick village?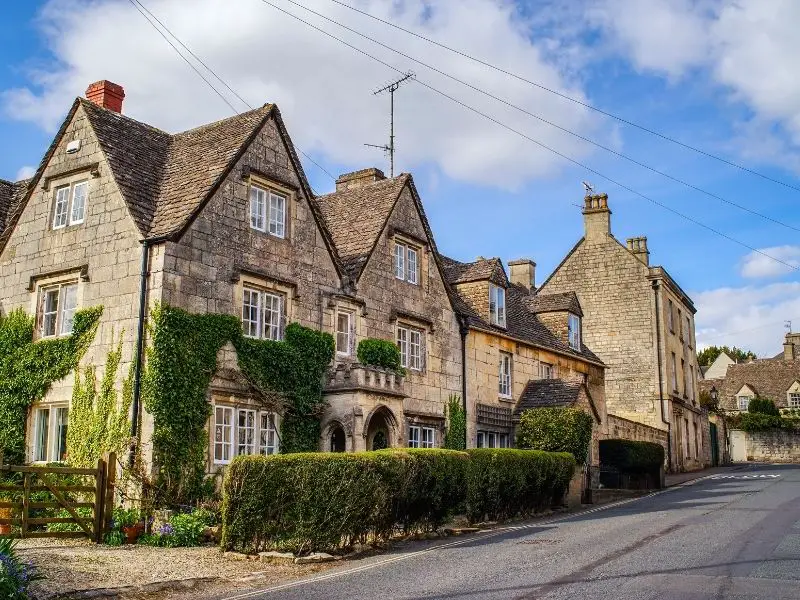 2. Castle Combe
Which Cotswold villages to visit? If you are looking for the prettiest villages in the Cotswolds, then Castle Combe must be on top of the list!
Found in Wiltshire, it is a stone's throw from the larger town of Chippenham. It's a quaint Cotswold village, with a parish church that really captures your attention. There are actually two parts to this little village, and they are separated by the higher and lower ground.
Castle Combe is not famous for having a castle, but instead for the imposing market cross that dates back to the 14th Century. This was used when sheep and wool were the main sources of income for the village, and a modern market is still open there to this day for you to visit.
Without a doubt, Castle Combe is one of the prettiest Cotswold villages!
Best accommodation in Castle Combe village: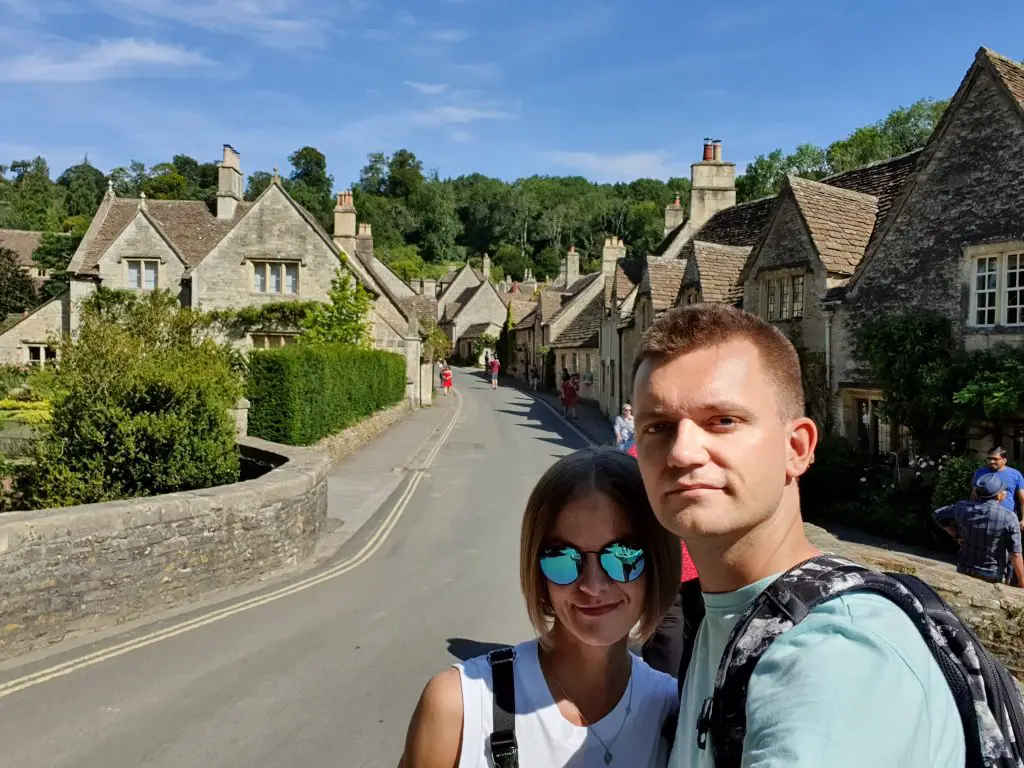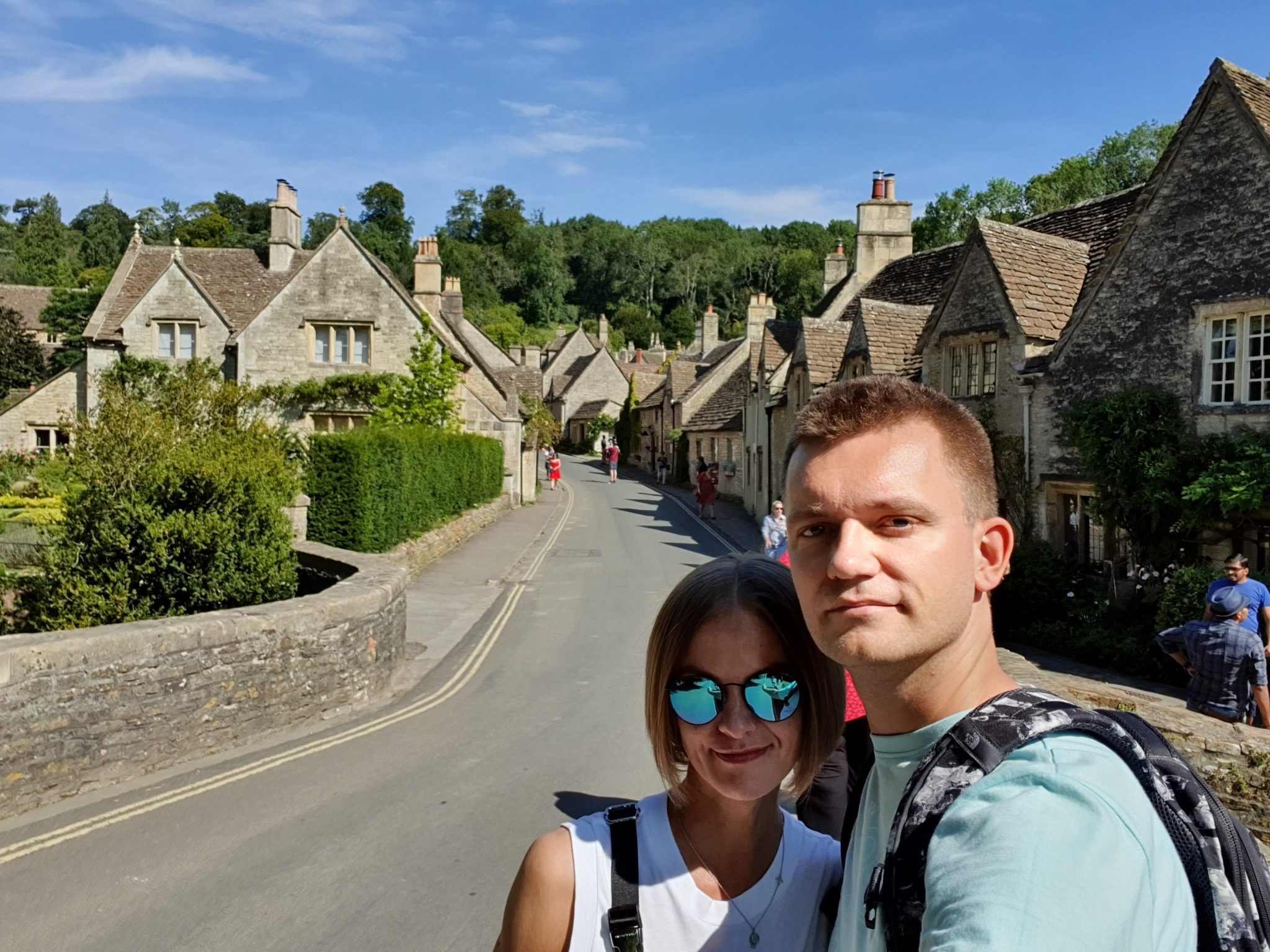 3. Lacock
Best places to visit Cotswold villages? No top Cotswold villages list would be completed without Lacock village!
It is another one found in Wiltshire, and very close to Chippenham, this civil parish has a lot of gorgeous architecture for you to discover. In classic Cotswold village style, you will find most of the houses and buildings to be similar to those seen on Christmas cards, and the picturesque location will surely lead to many long walks in the late afternoon.
The honey-coloured stone buildings are simply stunning – make sure to add Lacock to the list of must-visit villages in the Cotswolds!
The abbey and church are some of the most popular places to visit, but there are also gardens and the fabulous Bowood House that make for great day trips with the whole family. Not to mention the wonderful hotels and pubs found along the streets.
Best places to stay in Lacock village: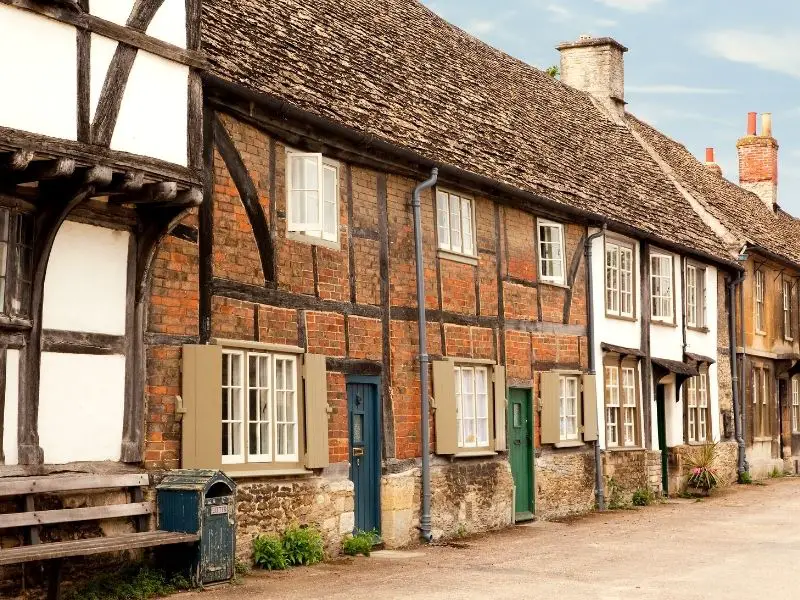 4. Chipping Campden
Best Cotswolds villages to visit? A famous market town, it is even named after it. The word Chipping comes from the Old English Ceping, which means a market, or marketplace. It might be a small Cotswold village, but it is packed with personality and remains a popular location for countless people to visit every year.
The market still runs regularly, with local people selling their wares in a way that will make you feel as though you have stepped back in time. It is most famous for its high street, which is elegantly terraced and is entirely unforgettable.
It dates back to the 14th Century, with additions being made to it all the way up to the 17th Century. Whether you want to sample a truly British pub or stroll through the countryside, it's all here for you to discover.
Where to stay during a visit to Chipping Campden?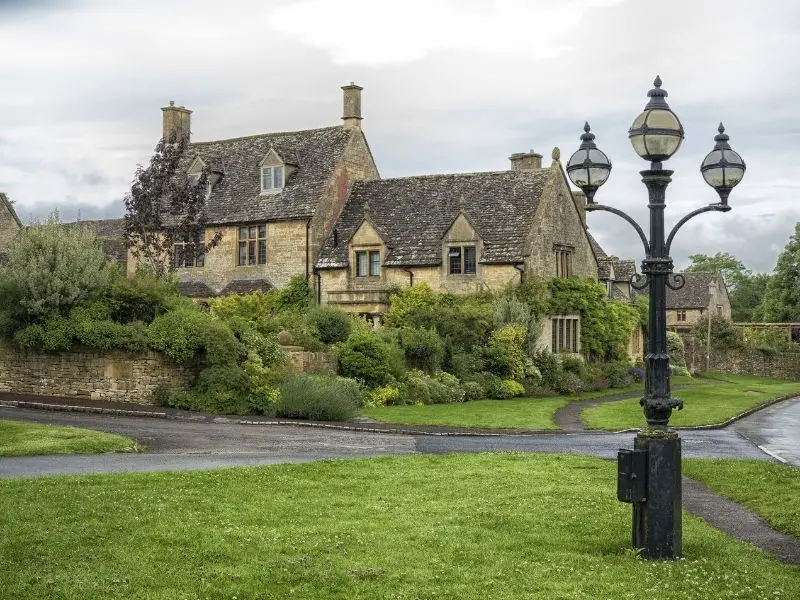 5. Bibury
Quiet Cotswold villages? The Cotswolds is home to some of the most unspoilt, historic and famous villages. And Bibury is definitely one of them! 🙂
Nestled into the vast countryside of Gloucestershire, you'll find the civil parish of Bibury; a classic Cotswold village in every regard. Through the centre of this village, the River Coln runs, adding to the appeal of this gorgeous location. It is exceptionally famous for Arlington Row, which was used in the fantasy film Stardust, and you can actually stay in the house that was used for the movie.
It's no surprise that Bibury village was used for it, as it is the very definition of a postcard town. Take a walk through the countryside, a registered National Trust site, or maybe stop off at a local hotel for a quiet spot of afternoon tea with the ones you love.
You can be 100% sure that Bibury is one of the best villages to visit in the Cotswolds and one of the best villages near London.
Where to stay/eat in Bibury village?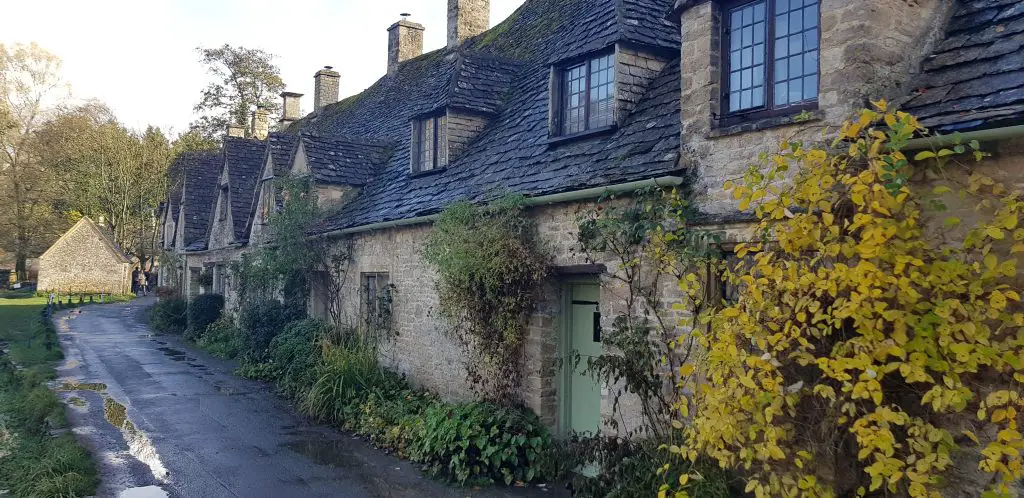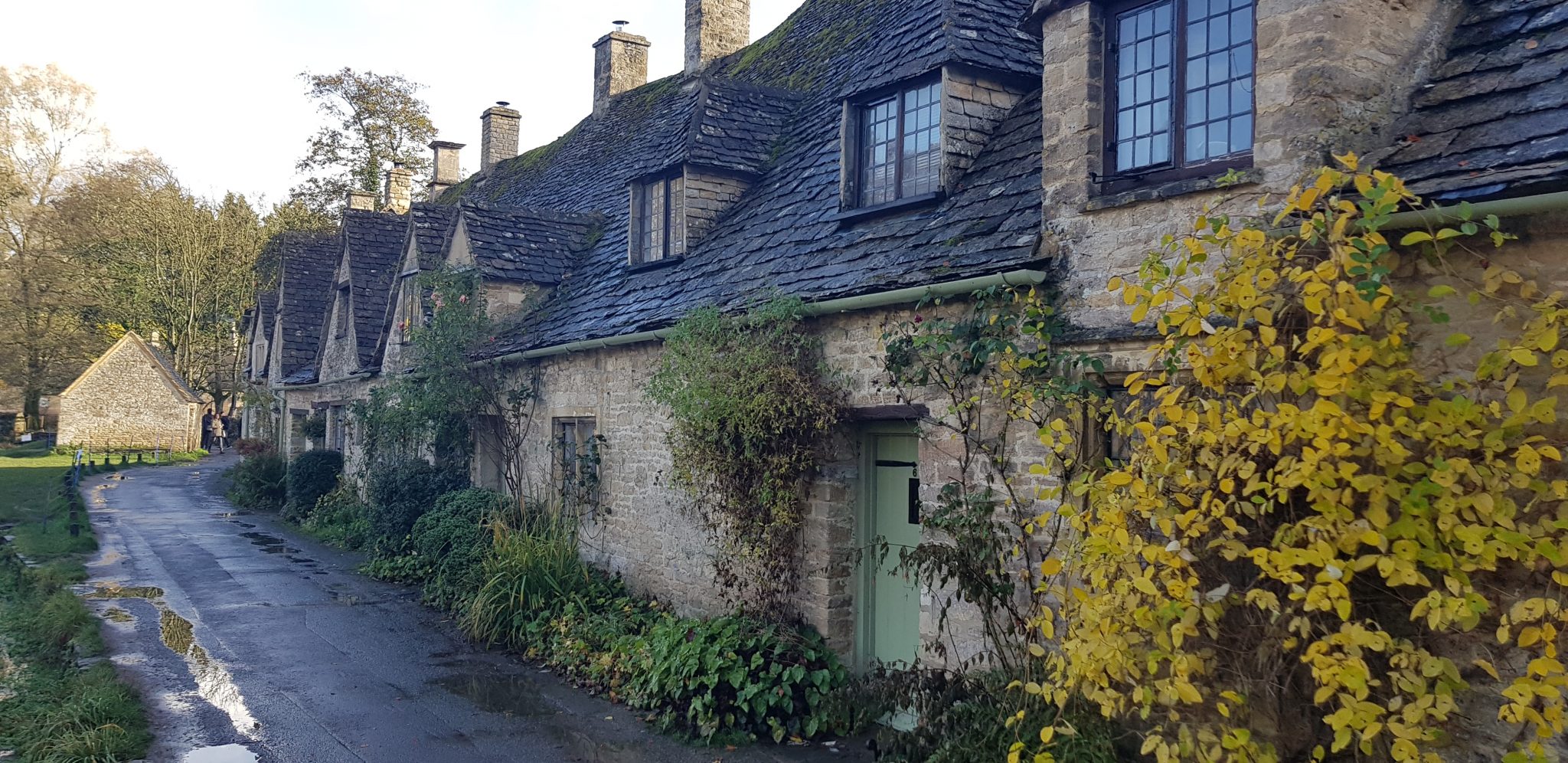 6. The Slaughters
Prettiest village in the Cotswolds? If you're looking for the Cotswolds villages that you can't simply miss, then head out to the Slaughters!
The name of these villages in the Cotswolds might be enough to put you off, but the name actually has a far more innocent meaning. It comes from the Old English Slohtre, which basically translates to Muddy Place. So, it has nothing to do with killing and everything to do with the usual British weather; wet and mucky 😉
The Old Mill is actually recorded in the Doomsday Book and remains open for public viewing to this day. Capturing a piece of historic England is so vital to the survival of these ancient buildings, and they hold some incredible stories; the mill included.
Are the Slaughters on your list of top Cotswold villages?
Upper Slaughter is known as a Sainted Town, which means that it didn't lose anyone during WWI. Both towns play host to an array of eateries and local businesses that are sure to spark delight in everyone who pays a visit.
Best accommodation in the Lower/Upper Slaughter: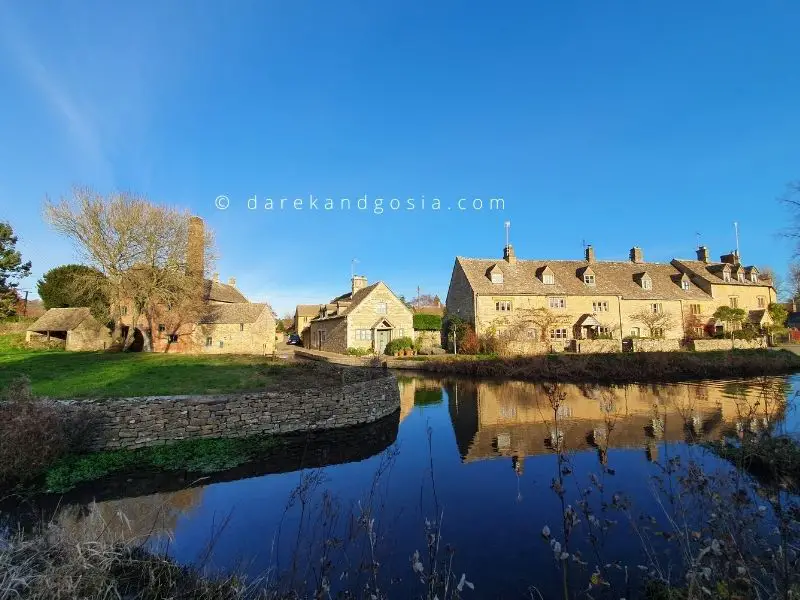 7. Wotton-under-Edge
Top places to visit Cotswold villages? Within the district of Stroud, Gloucestershire, you will find this quaint market town. It's located right on the southern fringe of the Cotswolds, and while a quiet place to visit, it's certainly not lacking in appeal. In fact, you will find the long, and stretching Cotswold Way footpath runs through this Cotswold village, which makes it an integral part of any avid hiking trip.
Is Wotton-under-Edge one of the picturesque villages in the Cotswolds? Yes, it really is!
Known for being home to an array of art galleries and local businesses, its quiet country charm doesn't mean that it's completely isolated. It's only five miles away from the M5, which makes for quick work and leisure access when you need it without the deafening motorway sounds.
We strongly recommend visiting the local markets, as well as sampling some of the delicious treats you are sure to find on your journey. If you're walking the trail, you're certainly going to need them.
Best places to stay in the village of Wotton-under-Edge: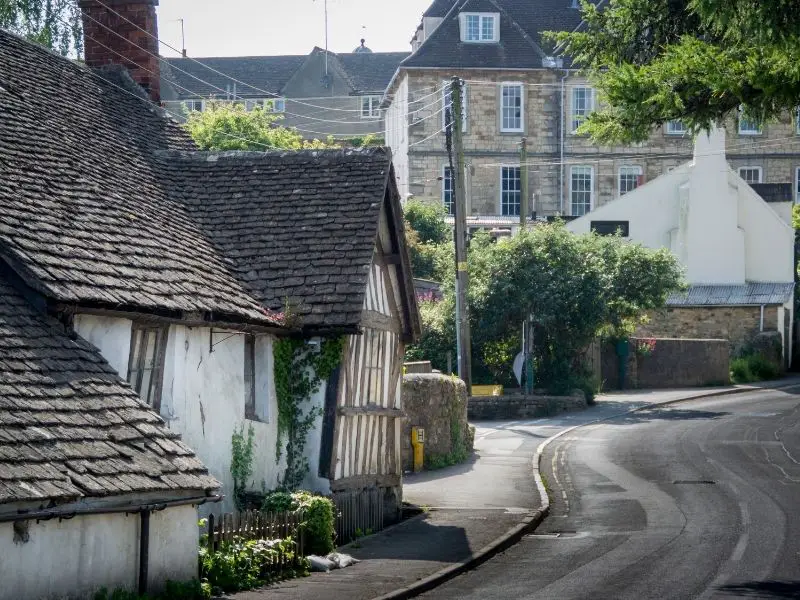 8. Burford
Prettiest villages Cotswolds? Situated on the River Windrush, there is the small Medieval town of Burford. Also known as the Gateway to the Cotswolds, you'll find it nestled in the hills of Oxfordshire. The architecture is what draws most to this quiet location, with three impressive Medieval bridges that remain in glorious condition, as well as a gorgeous church that dates back nearly a thousand years.
Whether you call it the best village in the Cotswolds or one of the best towns in Cotswolds, Burford really is worth visiting!
The river runs through the town, cutting it in half, and this makes the name all the more suited. It comes from Old English, combining the word burh, which means hill town or fortified town, with the word ford, which means river crossing. It's small, but beautiful, with a nice selection of leisure activities for you to choose from; including a golf course.
With many of the buildings dating back to the Medieval period, it's worth a visit if only for the stunning architecture.
Where to stay & eat in Burford?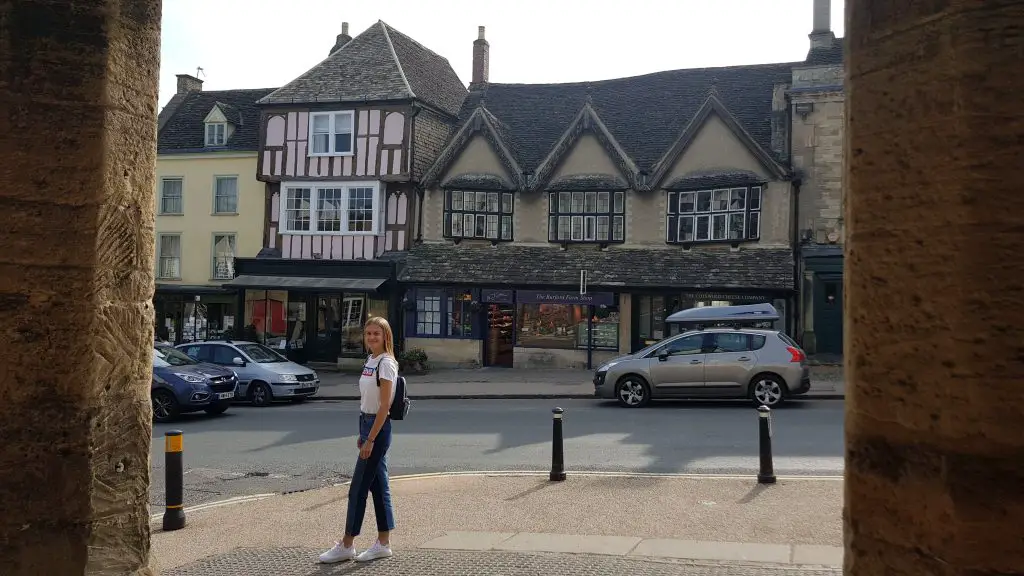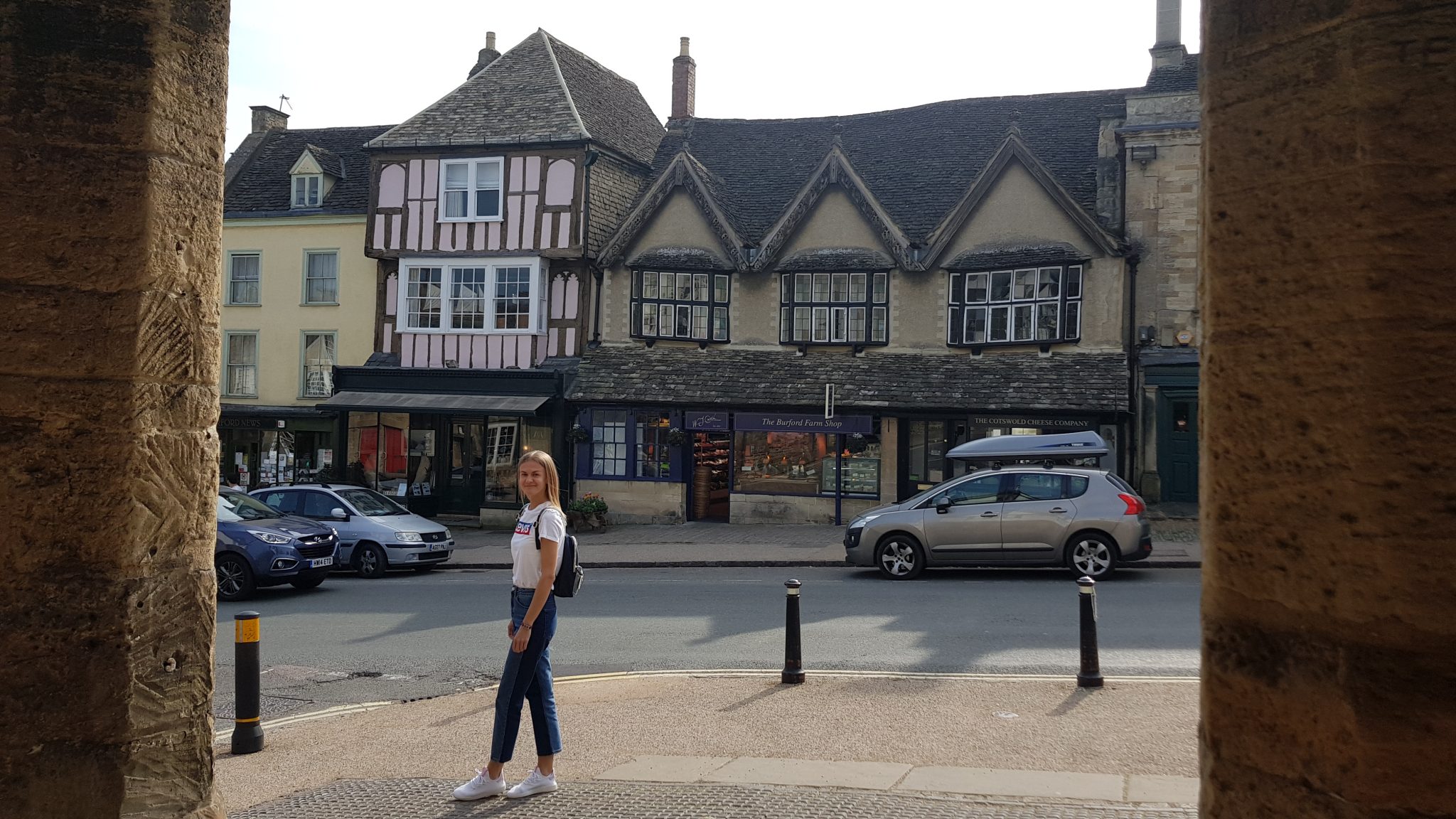 9. Tetbury
Nicest village in the Cotswolds? This civil parish rests on the remains of an old hill fort; the pinnacle of Iron Age construction. Before it was a Cotswold village, and after it was a hill fort, an Anglo-Saxon monastery was there instead. It has a rich history, one that can really be felt in the earth when you walk through the village.
It has to be top on the list of Cotswolds best villages!
Places like Highgrove House are the perfect way to learn more about Tetbury's past, as well as give you the opportunity to relax in the perfectly landscaped gardens. In fact, it is home to a number of different gardens that you can visit, each of which offers lovely services like afternoon tea and lunches that overlook the lawns. An architectural gem, you'll find that the majority of the merchant houses here remain completely unchanged; looking exactly the same as they did 300 years ago.
Additionally, it is home to over 25 antique shops, and it is famous for each of them. The perfect day out for a bargain hunter.
Best accommodation in Tetbury: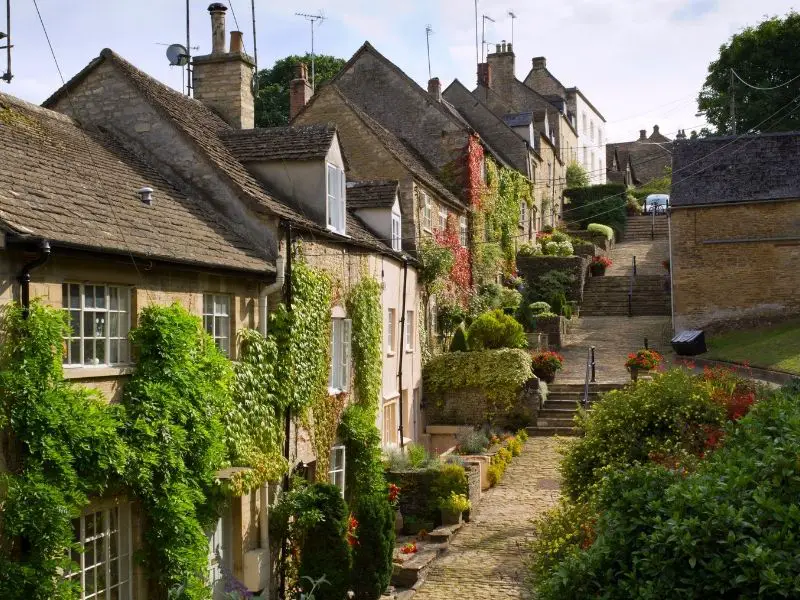 10. Bourton-on-the-Water
Looking for model village Cotswolds? The villages in the Cotswolds are some of the prettiest villages in England – everybody will tell you this. 😉 And Bourton-on-the-Water is one of the must-visit in the Cotswolds!
This rural Cotswold village can be found in the rolling hills of Gloucestershire and contains some truly stunning scenery and buildings. Known as the Venice of the Cotswolds, it straddles the River Windrush and is famous for its low bridges and stone houses.
We love Bourton on the Water and it really is one of the best Cotswold villages we have visited so far! 🙂
There is more to see than architecture here, with plenty of days out that will please the whole family – like the Bourton on the Water Model Village. It is quite well-known for the Cotswold Motoring Museum, which is host to numerous cars from across the past century.
While impressive, and exciting for those who love cars, it is not what this village is truly famed for. Bird World remains the main reason people come to visit, and it contains gorgeous gardens, life-size model dinosaurs, and exotic birds. From penguins to parrots, there are so many to see and interact with.
Where to stay in Bourton-on-the-Water village?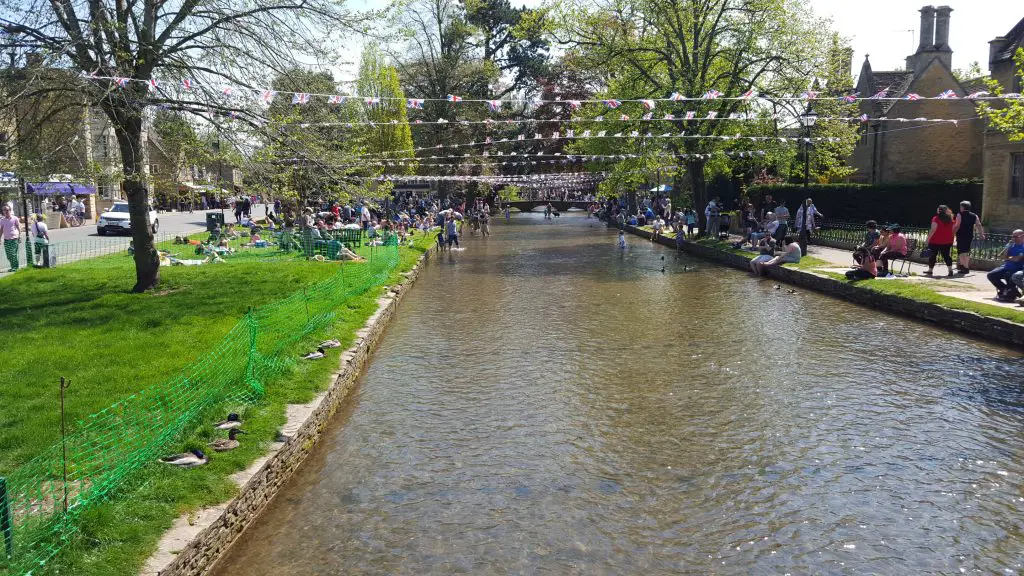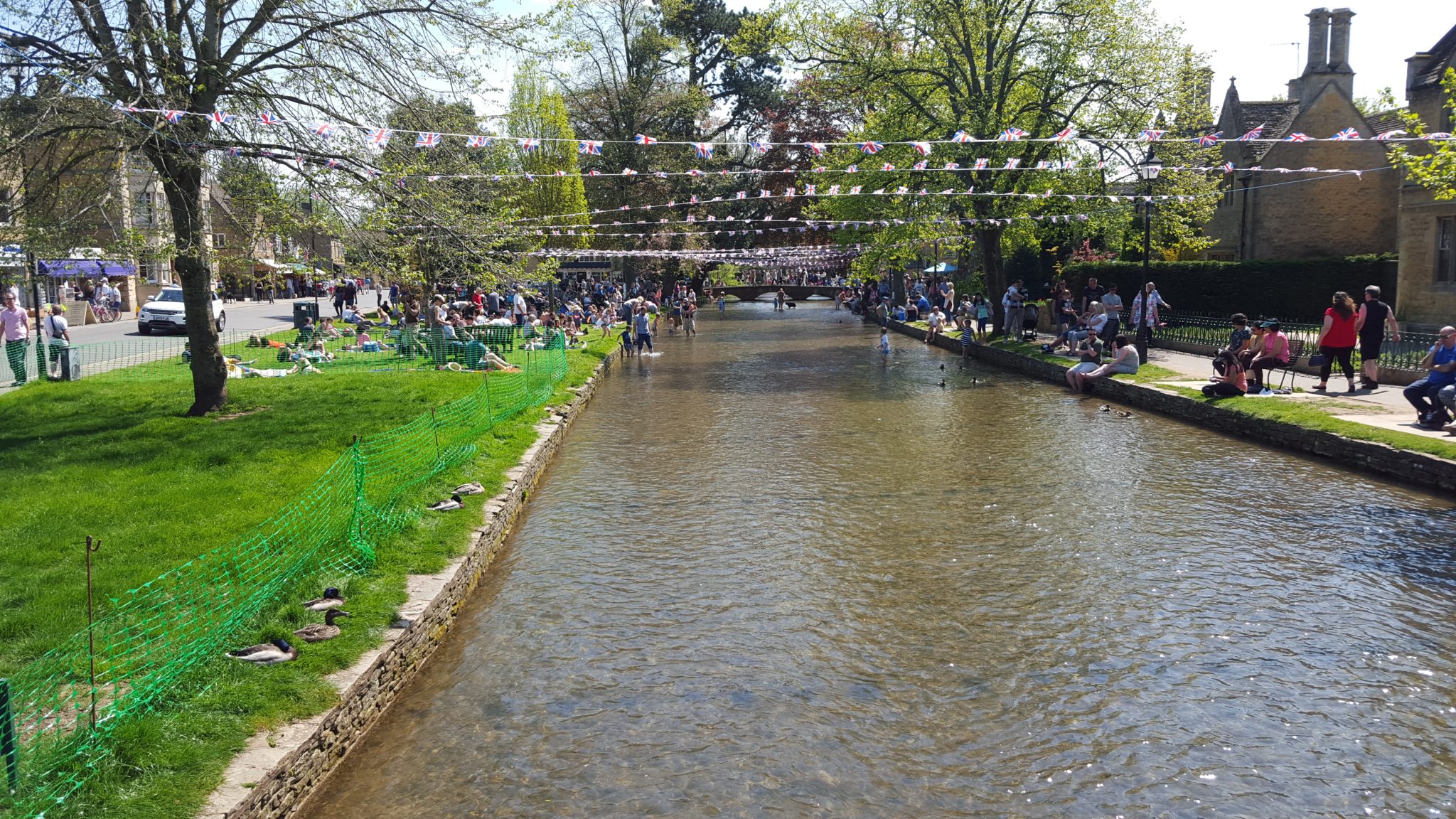 11. Kingham
Looking for famous Cotswolds villages? This civil parish in Oxfordshire carries many of the classic elements you expect to find in a Cotswold village. The stone houses, country lanes that are flanked by grasses and trees, and the friendly locals that only want to help you out. It's a small village with a relatively small population, and it makes for the ideal getaway if you want a laid-back trip.
The mainline railway station makes it easy to get to, and there are wide open green spaces where you can walk in a leisurely manner to really relax. There are quite a few places to grab a bit to eat, and you won't be disappointed by the selection or the quality. It makes for the perfect place to escape to for a long weekend away from the world.
Now, if you are looking for Cotswolds best villages to visit on your next trip, Kingham should be top on your list!
Best places to stay in the village of Kingham: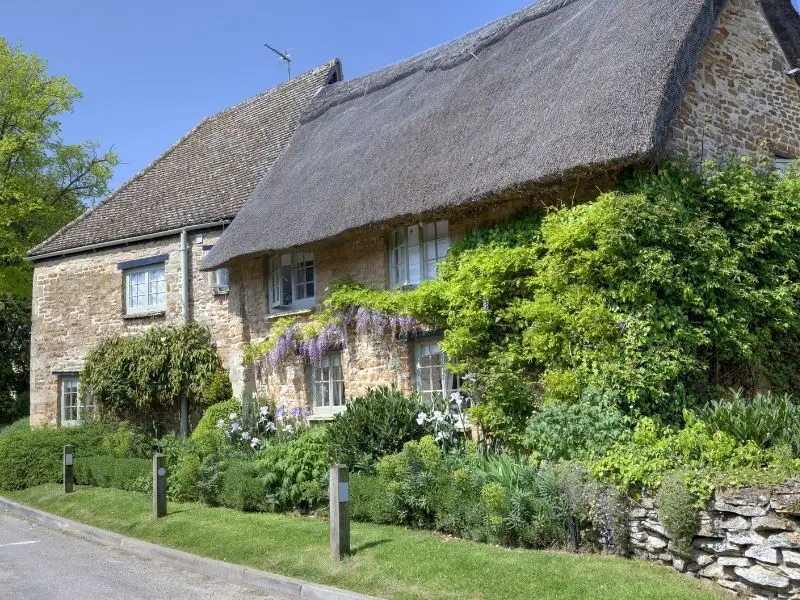 12. Broadway
Best pictures of Cotswold villages? Considered a large Cotswold village, its population is nearing 3,000 people. However, it does claim to hold the crown of the most beautiful village in the Cotswolds; although we will leave you to judge that for yourself. Despite its size, it actually feels quite small and homely; in that traditional Cotswold way.
As one of the Cotswolds prettiest villages, Broadway is a popular village amongst people looking for great locations to do hiking near London.
Found in the county of Worchester, it is home to a host of activities that are sure to inspire you. One of the most popular attractions is the steam railway that runs between Gloucestershire and Warwickshire. Who doesn't want to sit and have dinner on an old steam train? It's one of those experiences everyone should have.
There is also the Gordon Russell Design Museum, Snowshill Manor, and the Broadway Tower. Each of these attractions has something different to offer, catering to a wide range of tastes and making your trip a little more magical.
Where to stay in Broadway village?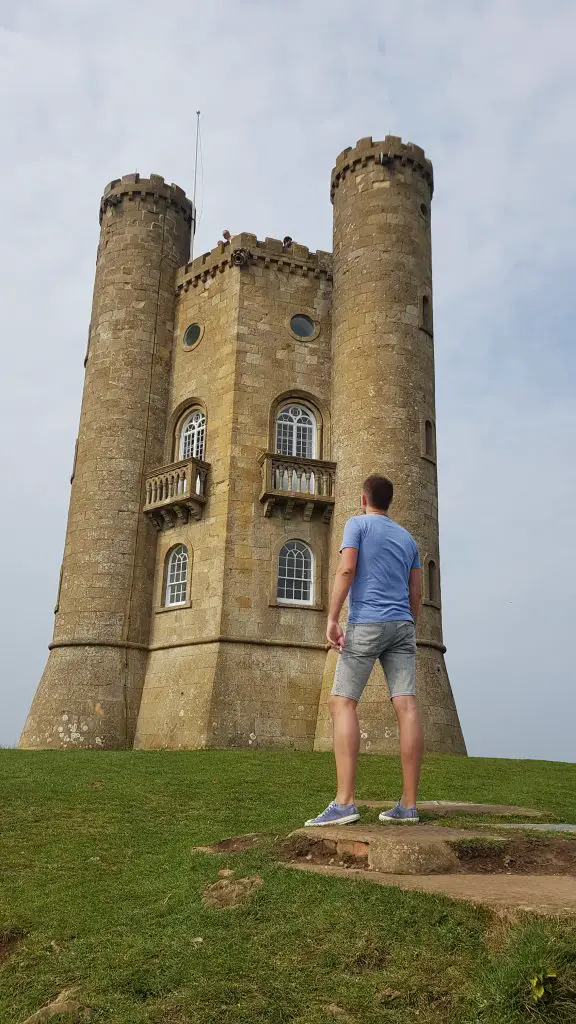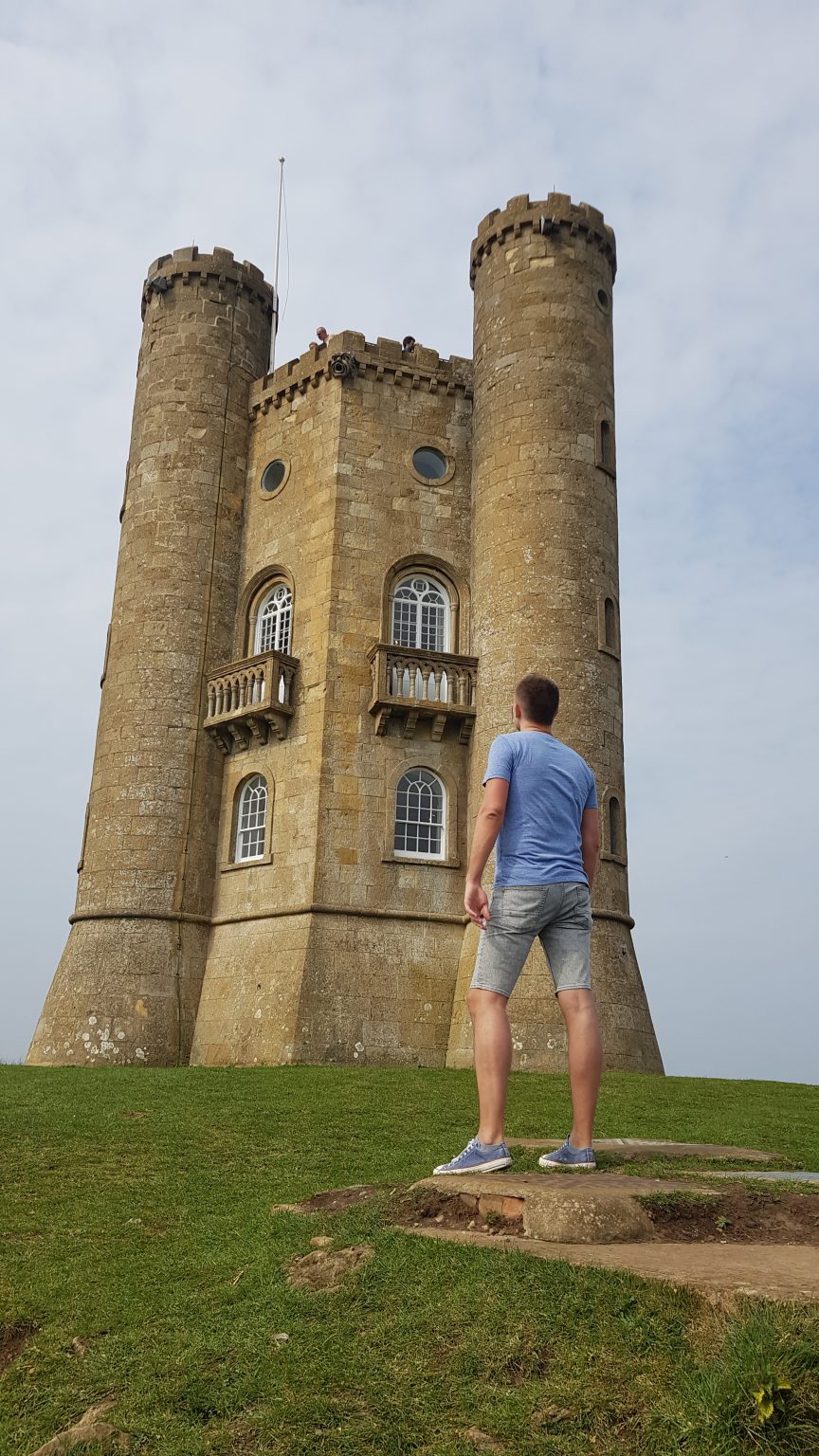 13. Naunton
Top Cotswold villages near Gloucester? If you go along the River Windrush, you will come across yet another Cotswold Village set in the gorgeous Gloucestershire countryside. It has been named an area of outstanding natural beauty, and as soon as you step foot in the area, it becomes clear why. It is absolutely stunning, with honeyed bricks constructing the majority of the buildings and a traditional church that dates back hundreds of years.
With so many villages to visit in the Cotswolds, Naunton really deserves your attention. Surrounded by trees and rolling hills, it provides an escape from the busyness and bustle of everyday life so that you can take a step back and truly breathe for the first time. The Christmas fair each year brings locals and tourists alike to come and sample some homemade wares and buy little gifts from small businesses.
Small pubs and restaurants line the streets, giving you a nice selection when you find yourself in need of refreshment. It's somewhere to go when you truly need to relax.
Where to stay around Naunton village?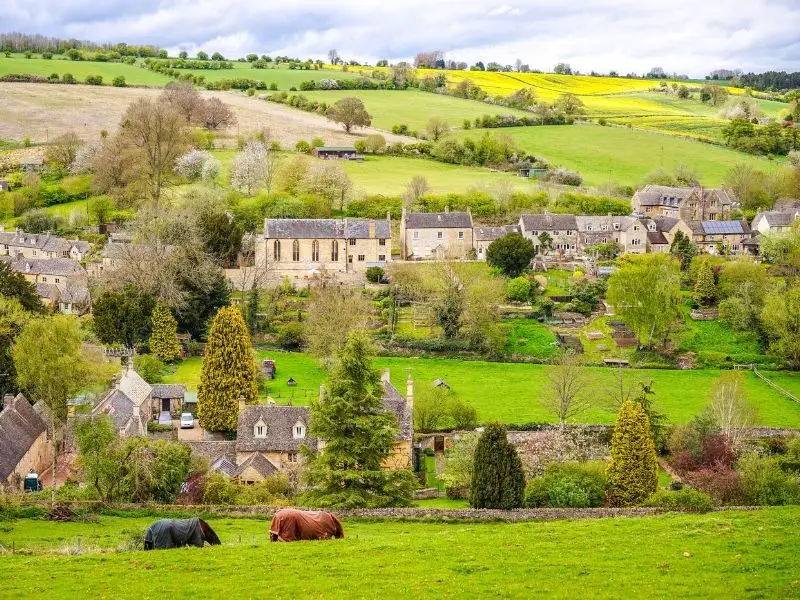 14. Woodstock
Where to go for most beautiful villages Cotswolds? A market town in Oxfordshire, it's not quite like the other Cotswold villages. It's larger, and still contains that historic vibe, but it is also combined with modern constructions that bring it in line with the times.
There are plenty of things to see and do, but the most impressive is Blenheim Palace, a UNESCO World Heritage Site. Set on vast grounds and with Baroque architecture, it really is a sight to behold, and you can take tours through the palace to learn more about its history. It is also a host to the Blenheim Horse Trials every year, and the Blenheim Christmas Market; each of which have a massive number of stalls where you can buy gifts from small businesses.
As one of the prettiest villages in Cotswolds, it is a lovely place to visit, and Woodstock has enough to keep everyone entertained.
Best accommodations in Woodstock village: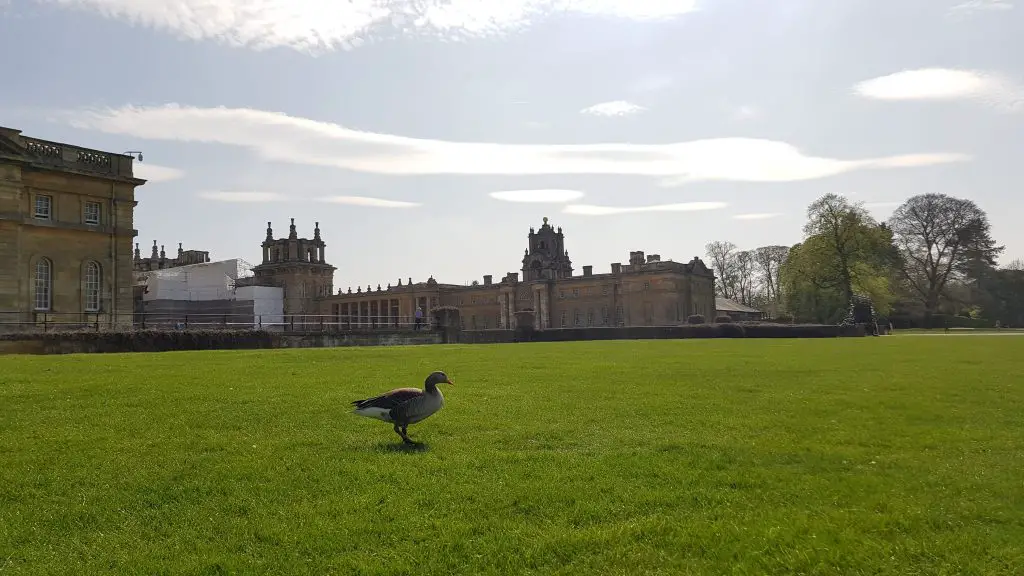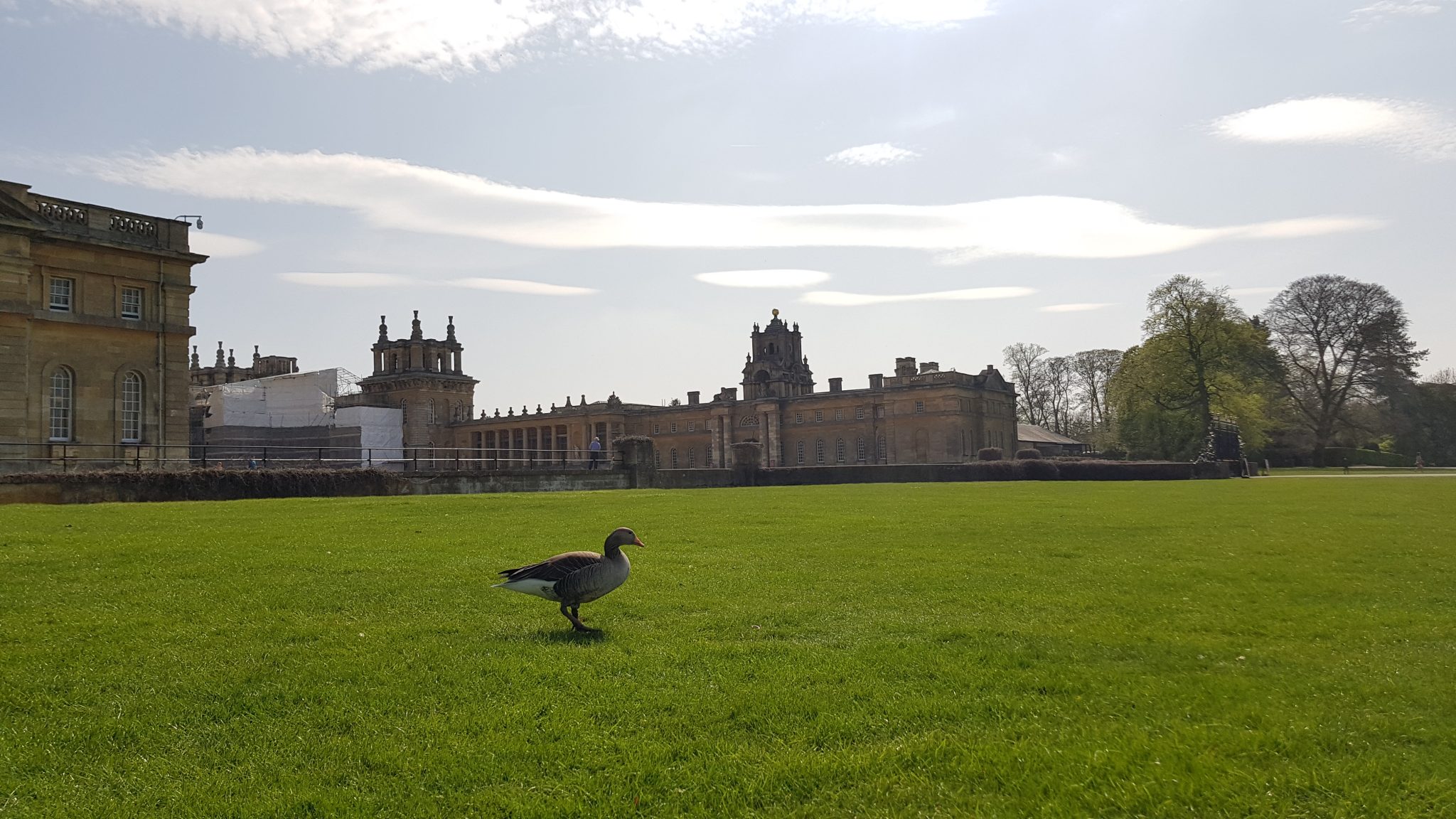 15. Chedworth
Looking for best Cotswold villages? A quaint Cotswold village and civil parish located in the idyllic county of Gloucestershire, Chedworth has a lot to offer to those who love food, peace, and history. Most famously, it is the home of the Chedworth Roman Villa. While much of it rests in ruins, the foundations and some of the walls remain for you to visit.
Is Chedworth on your list of Cotswold best villages?
Not only that, but the stunning mosaics and much of the pottery and items from inside the villa can be viewed in the attached museum. It provides an educational trip for children and adults, with interactive activities as well as a fun gift shop on the way out. For those who are less historically inclined, or want a break after the villa, there are loads of pubs and restaurants where you can stop for a spot of lunch or dinner. Perhaps you'll even try some afternoon tea?
Where to stay & eat around Chedworth village?
16. Moreton-in-Marsh
Where to find pretty villages in the Cotswolds? One of the most important market towns in Gloucestershire, this Cotswold village stands proudly at the forefront when it comes to the ancient practice of bartering. The marketplace still runs to this day, and it is enjoyable to visit if you want to pick up some local wares or fresh foods. They are a town that remains proud of their heritage, and the deep history that it is built upon. Like many of the areas in Gloucester, it is an area of outstanding natural beauty, and it wears this like a badge of honour.
The long, winding, walks make for some of the best you will experience, and you are sure to find some hidden gems on the way. Stop in a local pub for a pint and a quick meal to refuel, then continue your adventure as you explore more of the historical, and sometimes mythical, Cotswolds.
Best places to stay in the village of Moreton-in-Marsh: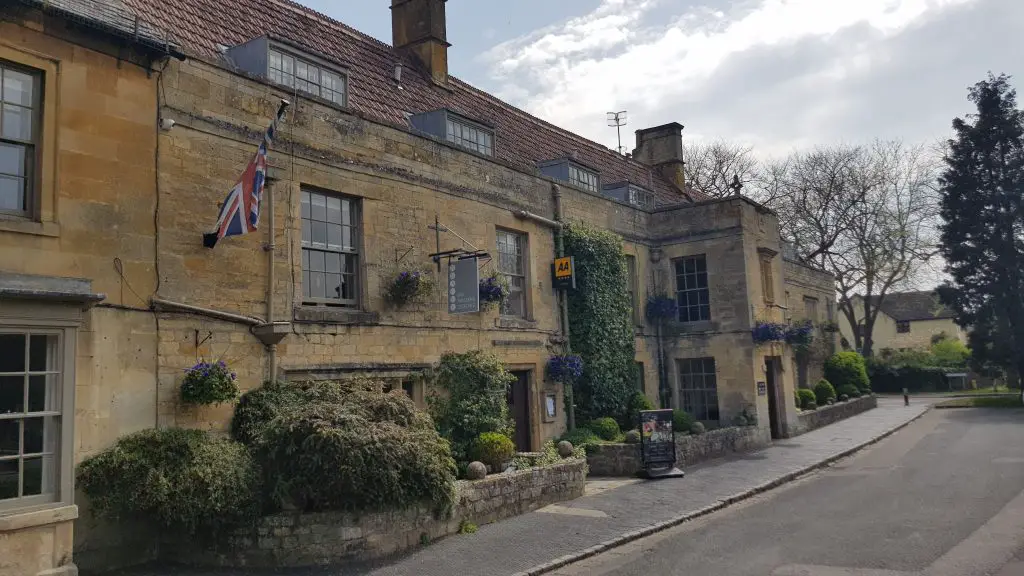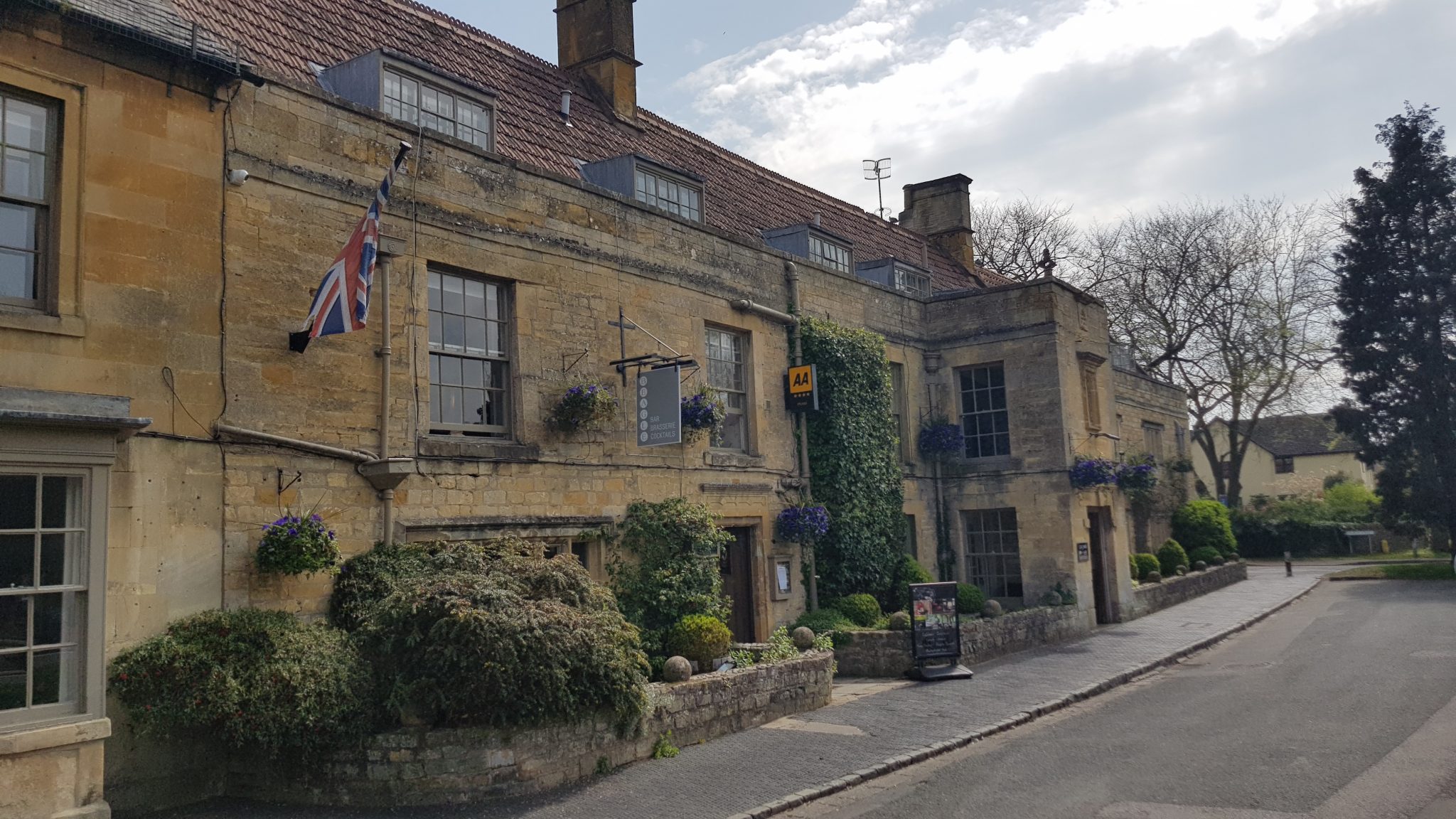 17. Blockley
Where to find prettiest Cotswold villages? A scenic and quiet Cotswold village, it's the perfect place to visit when you just want to sit back and relax. Located in the friendly county of Gloucestershire, it's got a lot to offer to those who decide to come for a trip. There are several gardens that you can visit, each of which has been carefully landscaped and provide a wonderful afternoon of quiet entertainment.
Each location also has a little café that you can stop in on your way around, perfect for a quick cake and coffee before you carry on with your journey. The John Davies art gallery is quite popular with creatives and is home to some exquisite pieces that you may find yourself unable to resist. For the fisherman, there is a gorgeous lake where you can spend a day laying on the bank just waiting for a bite.
Best accommodation in Blockley village: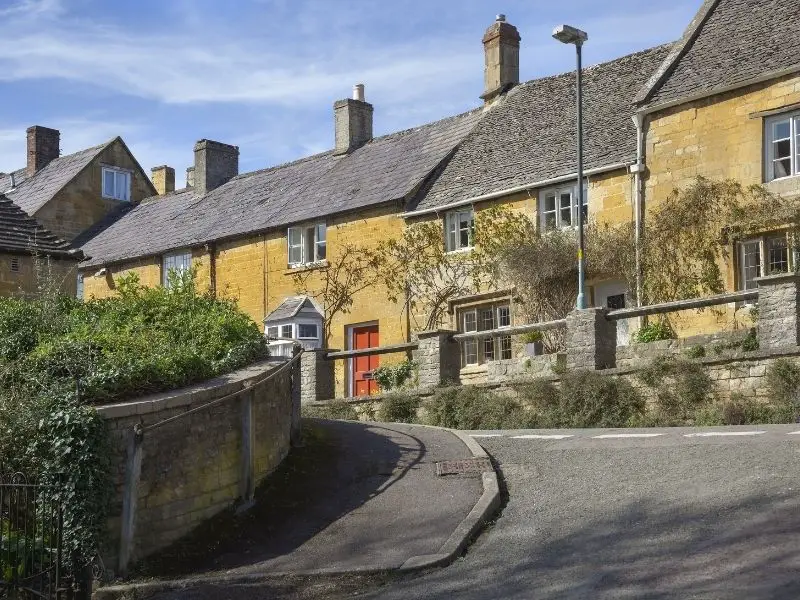 18. Stow-on-the-Wold
Pretty Cotswold villages to visit? Another one in Gloucestershire, you will find this Cotswold market town at the top of an 800-foot hill; making it an impressive sight from all directions. It is right at the junction of three of the main roads that run through the Cotswolds, including the old Roman road, Fosse Way. A popular location for trade hundreds of years ago, the town was originally founded by the Norman Lords to take advantage of this, as each of the roads was very popular trade routes.
You'll still find market activity there today, as well as some gorgeous architecture that you won't want to miss out on; especially the Medieval church. This place of worship can be found in a truly scenic setting that can only really be seen as opposed to described. The Fosse Gallery is a lovely place to stop if you're into artwork, and there are plenty of pubs and teahouses for you to chill out in.
Where to stay around Stow-on-the-Wold village?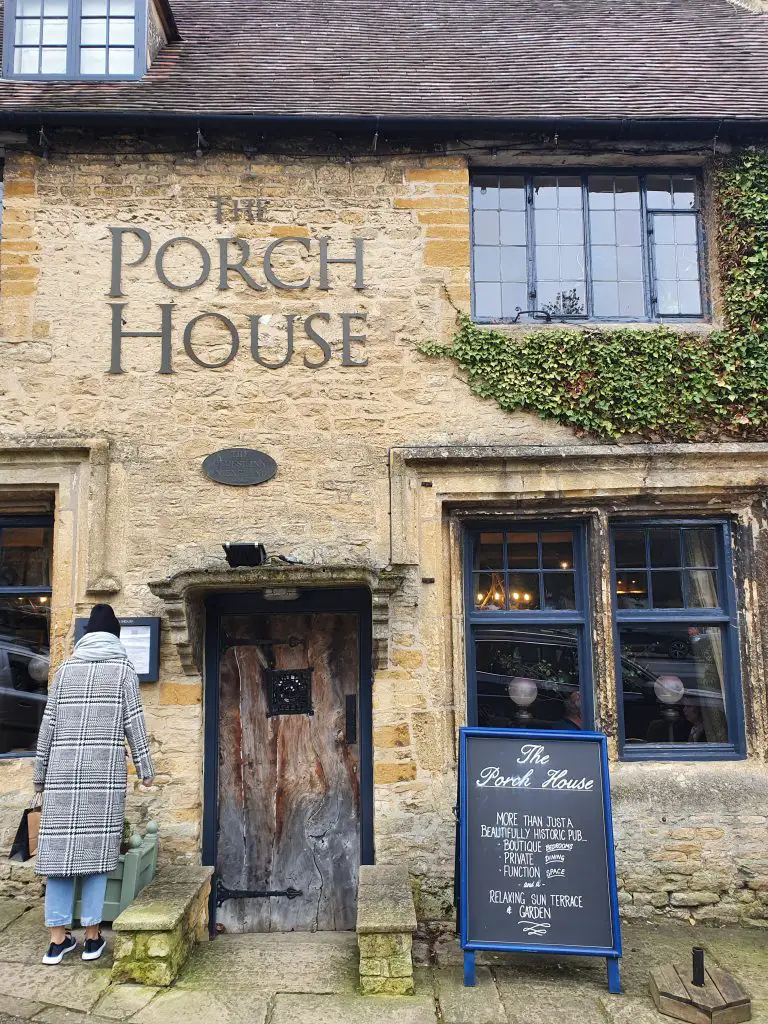 19. Cirencester
Looking for most beautiful village in Cotswolds? A large Cotswold village, it is more a town than anything and was known as a popular market town. As with much of the Cotswolds, you can expect to find a working market when you visit; ideal for sampling local treats as well as picking up unique gifts.
Aside from the Roman Catholic church, there is a lot to see and do in this town. The gothic architecture is likely to have an impact on you, but the merchant's tombs are the truly fascinating part of Cirencester, and well worth a visit if you find the time.
There are many gardens that you can walk through, as well as an impressive amphitheatre if you want to bring out your inner Roman. You can also visit the Abbey Grounds, and the Corinium Museum possesses quite a few pieces that cater to a wide range of interests.
Top accommodations in Cirencester: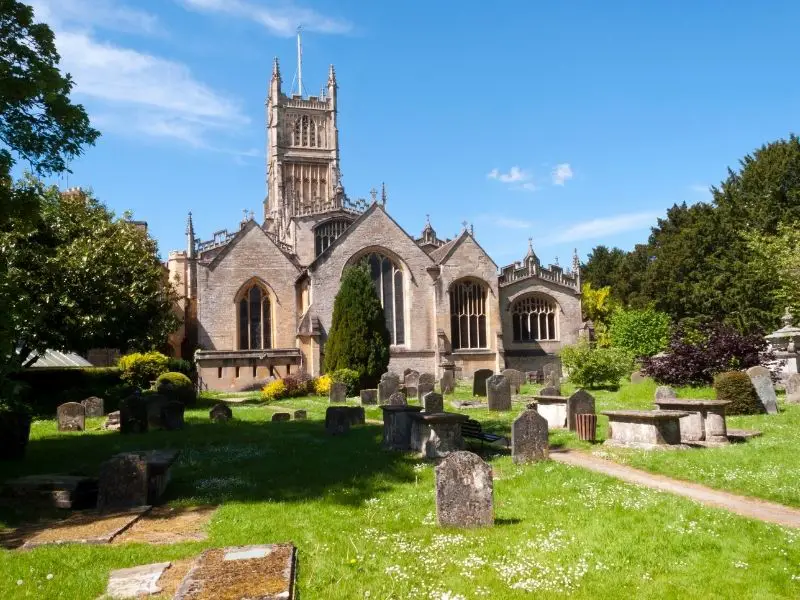 20. Winchcombe
Which Cotswold village is best? You can definitely consider Winchcombe as one of the top villages to visit in Cotswolds!
A timbered Cotswold village with an old feel, it's the kind of place that takes you back in time; in all the right ways. It's considered a town, with quite a large population compared to much of the Cotswolds. The architecture is something to behold, and certainly not in short supply in this town. The Neolithic burial grounds are the perfect place to visit for the prehistory lover, and certainly a humbling sight to behold.
If your historical interest is a little more modern, there is also Hailes Abbey, which dates back to the 13th Century, and the old fortress at Sudeley Castle. The latter of these also has a range of artefacts for you to admire and learn more about on display. There is also the Steam Railway if you fancy a delicious lunch and gorgeous sights between Gloucester and Warwickshire. It's a town that has something for everyone, as well as some of the best pub food in the region.
Best places to stay in the village of Winchcombe: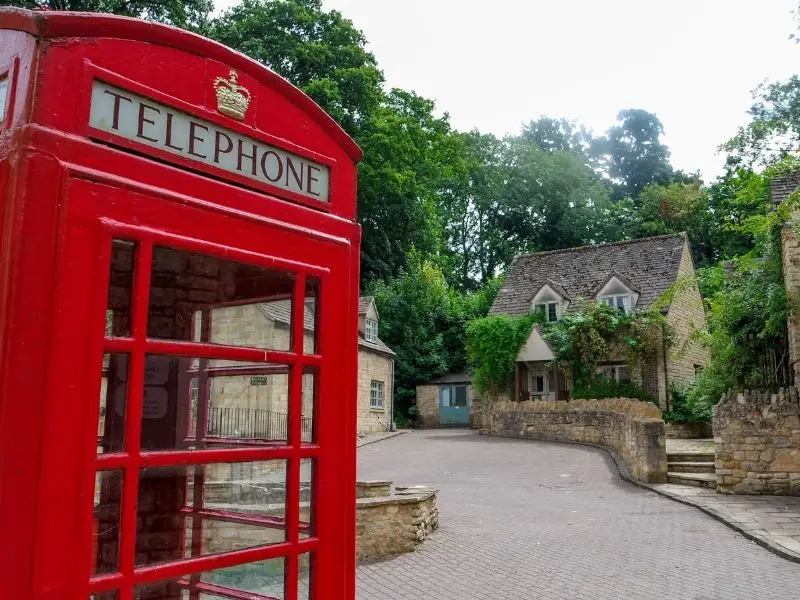 21. Stanton
Best villages to visit in the Cotswolds? We have also included Stanton on our map of Cotswold villages as it really deserves to be up there amongst other pretty Cotswold villages!
A spring line village at the foot of the Cotswold escarpment, Stanton is beloved as one of the prettiest villages in the Cotswolds. It's an idyllic location, and much of its charm comes from the fact that it remains practically unchanged over the course of the last 300 years. It's even recorded in the Doomsday Book, making it one of the oldest villages on record and further proving its deep-rooted history.
It is truly a hidden gem in the region, and a lovely place to visit if you want to laze around eating good food, drinking good ale, and taking leisurely walks around some of the most stunning countrysides in England. There are plenty of locations to choose from, and it's easy to see why this village is such a popular tourist destination.
Where to stay around Stanton?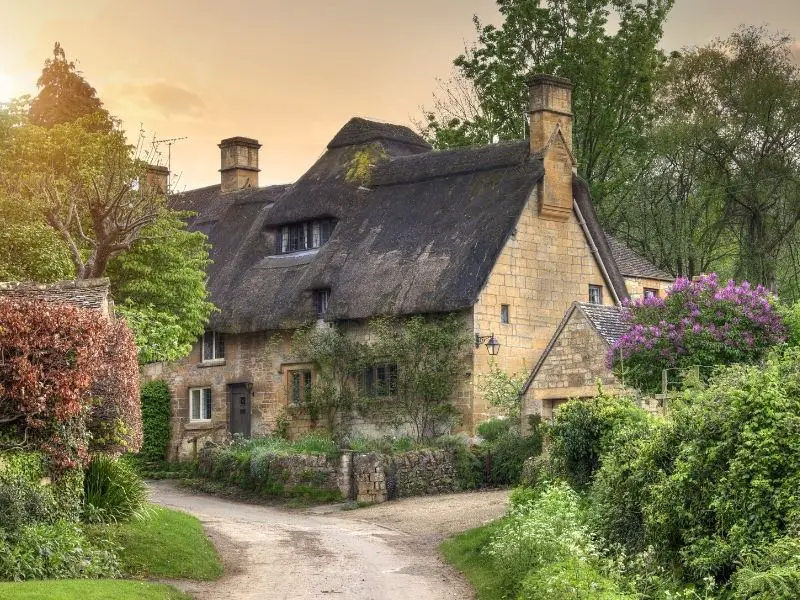 22. Mickleton
Most beautiful Cotswold villages? A sweet Cotswold village in the north of Gloucestershire, the traditional houses and idyllic scenery make it postcard-perfect, and something you would definitely imagine when you think of a quintessentially British village.
The Littleton Tithe Barn remains a popular tourist attraction, allowing visitors to come and admire the medieval architecture as well as learn more about its past use. There are also the Kiftsgate Court Gardens, and you can visit this grand house as well as wander its vast grounds for hours on end.
It is one of the hidden Cotswold villages but there is a lot to see and learn there. The best part has to be the gardens themselves as they are so beautifully landscaped. Topped off with a spot of afternoon tea, could a peaceful day out get any better than this?
Top places to eat and stay in Mickleton village: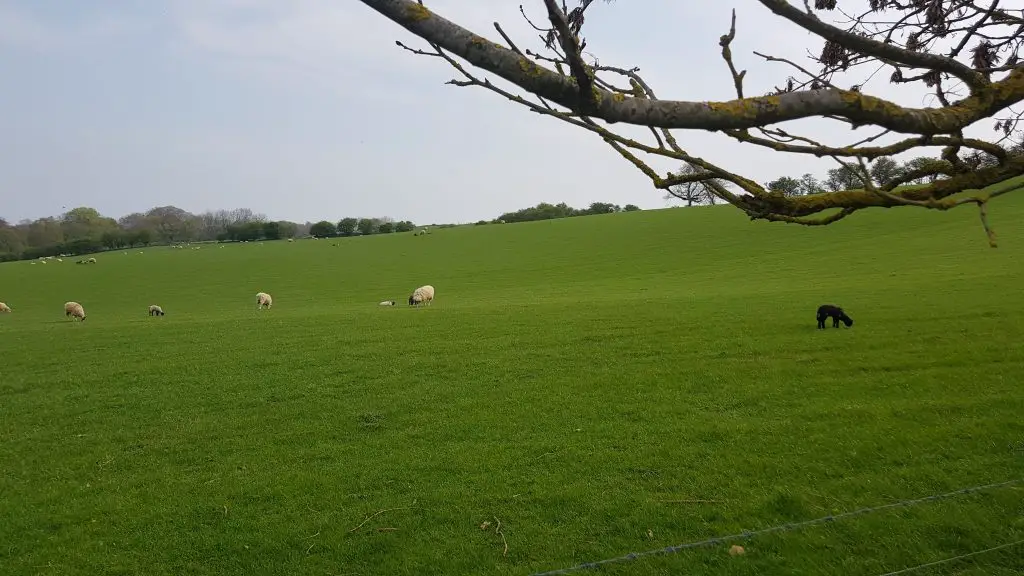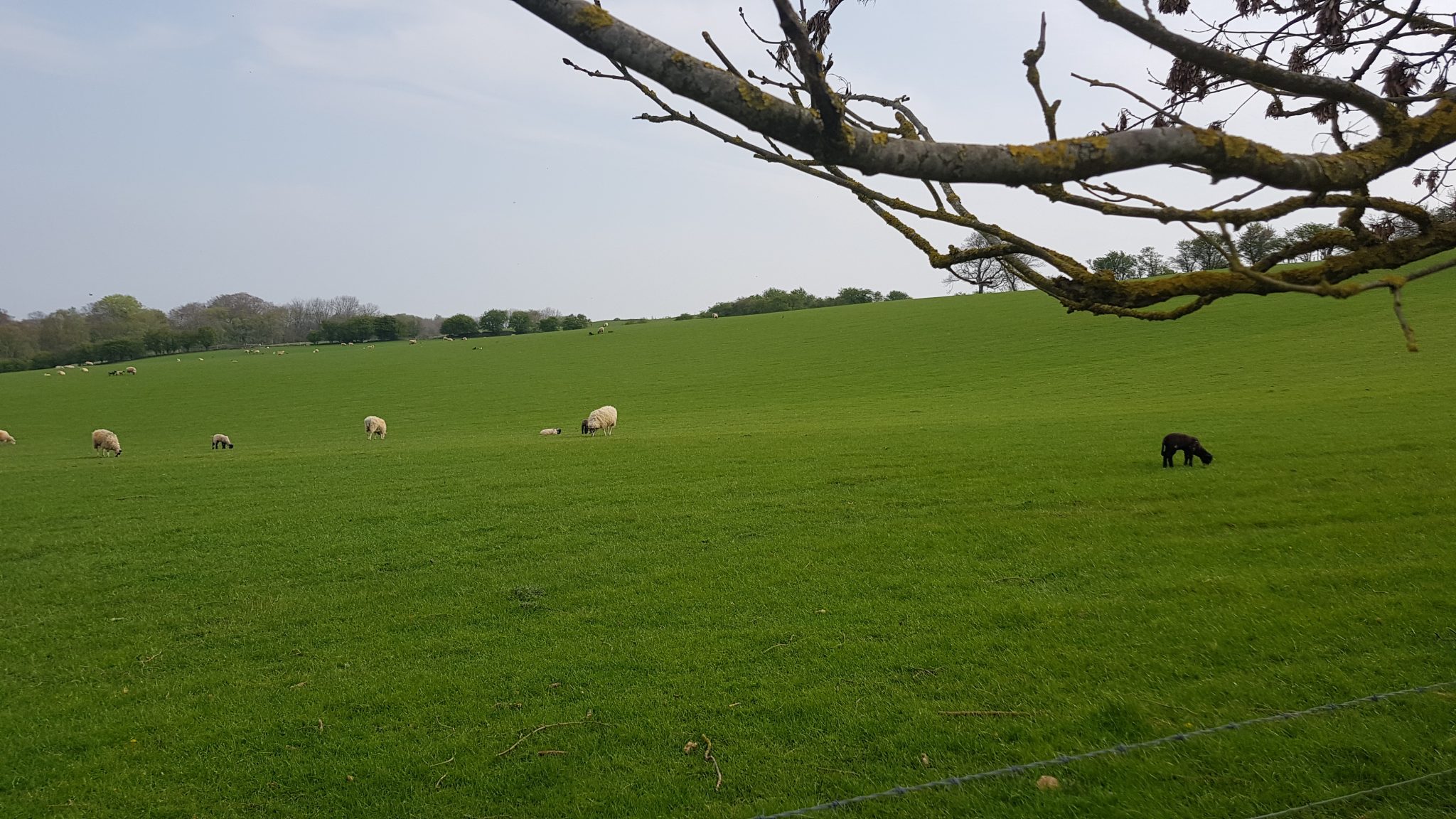 23. Stratford-upon-Avon
Where to go for pretty Cotswold villages? The birthplace and home of Shakespeare, this is easily one of the most popular Cotswold villages; if only for this fact. The wide highstreets and beautifully cobbled paths add to the honeyed stone and picturesque feel that this town has to offer.
Some people call it the best village in Cotswolds – would you agree?
On the banks of the River Avon, you will find the Swan Theatre where Shakespeare's plays are still performed regularly; alongside the nearby Royal Shakespeare Theatre. Every year, the town plays host to an authentic Victorian Christmas market, that really throws you back 200 years to a time that was so different, yet also strangely familiar.
Aside from the strong Shakespearean ties, it offers fantastic shopping as well as a chance to visit Stratford Butterfly Farm; a place that will leave you amazed and full of wonder.
Best accommodation in Stratford-upon-Avon: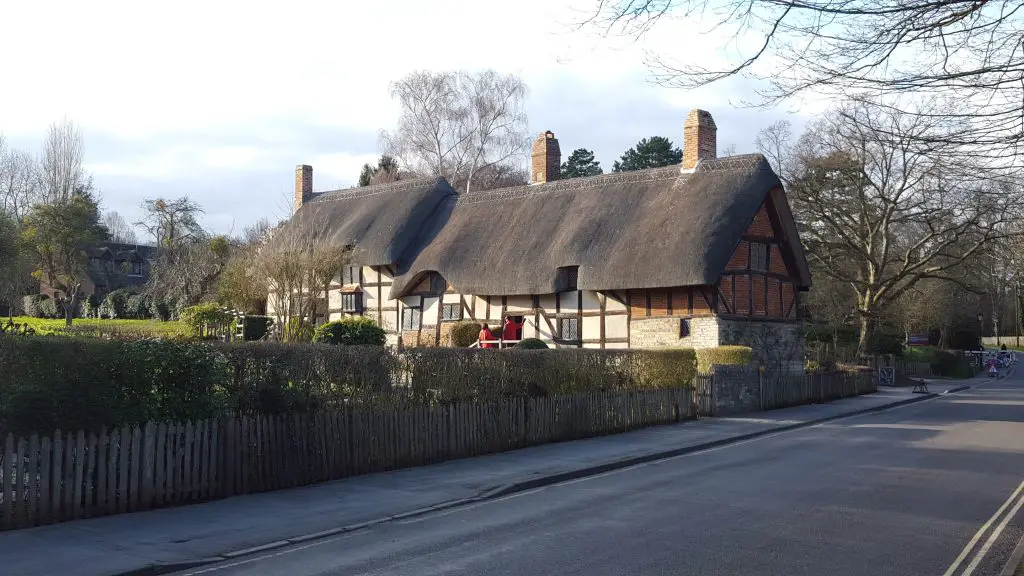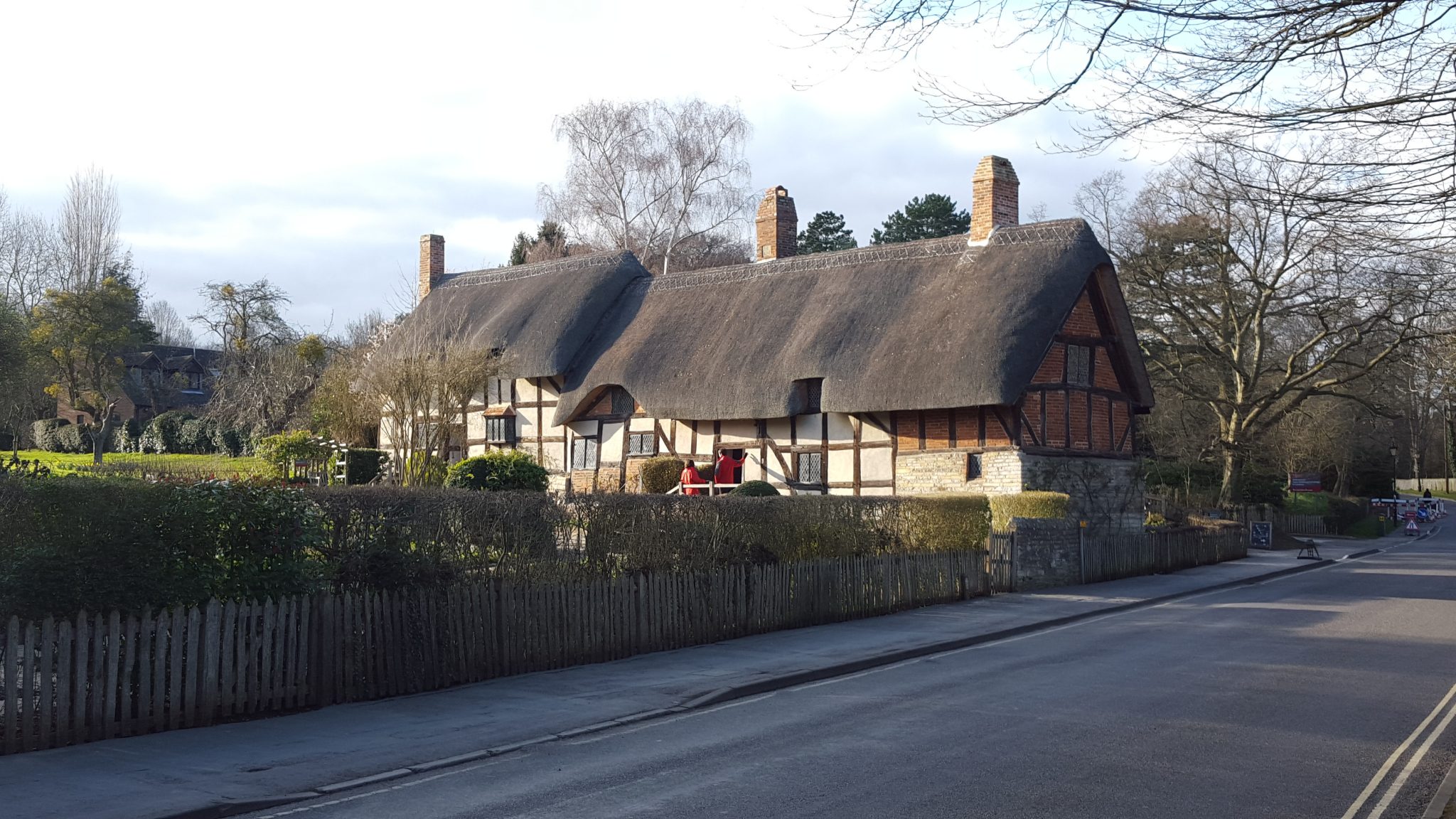 24. Nailsworth
Looking for best villages to visit in the Cotswolds? This civil parish in Gloucestershire is a Cotswold town that is home to some beautiful and traditional buildings that you won't be able to resist stopping to look at. It's a large town, but that also means it is never short of things for you to do. The skatepark is great for kids (and even adults) who want to practice their moves and have a little fun.
There are also loads of hotels and pubs where you can stop for a drink and a meal when you need to recharge. Not to mention the lovely selection of tearooms where you can enjoy a classic afternoon tea in true Cotswold style. Newark Park is home to an imposing Tudor manor house, complete with sculptured gardens that you can easily lose the day in.
Cycling and walking routes are in massive supply, leaving you with plenty of choices for your day out.
Where to eat & stay in the village of Nailsworth?
25. Guiting Power
Which village to stay in Cotswolds? A very small Cotswold village in Gloucestershire, the population is less than 300 people. Traditional stone houses line the streets, and it's the kind of place where everyone knows each other, and newcomers are welcomed with open arms. It's a tranquil village to visit, and one littered with the kind of idyllic scenery you expect to find in the region.
The woodlands that surround the area are perfect for long and aimless walks with the dog, yourself, or loved ones. There are also a couple of pubs in the village that you can visit, offering classic pub grub that tastes amazing and is reasonably priced. If you decide to stay in a B&B in the village, you may also want to plan a trip to the nearby Cotswold Farm Park for a family day out.
Places to stay around Guiting Power village: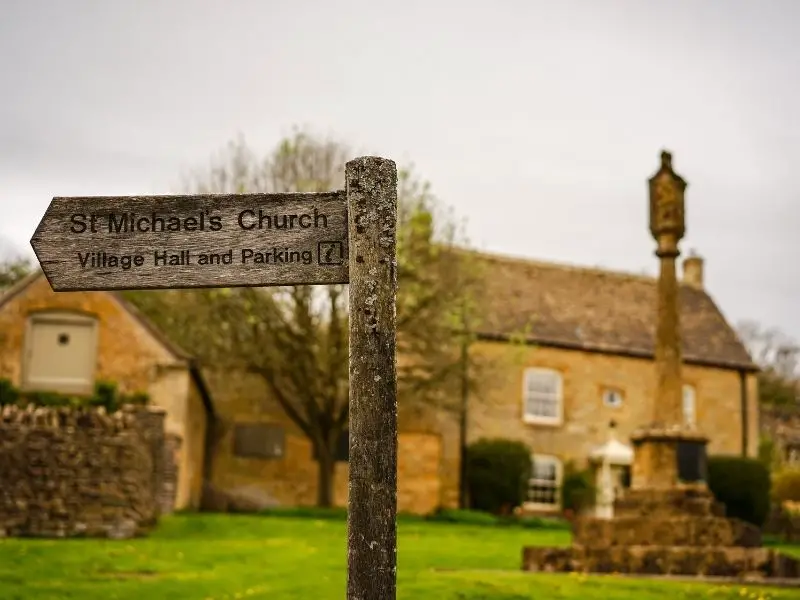 Is it worth visiting villages in Cotswold?
The whole area of Cotswold is one of the most beautiful places in England – everybody has to visit it. So, make sure at least one of the Cotswold villages is on your UK bucket list of places to visit!
You will probably need a bit more time than a weekend getaway in UK to see most of the villages in Cotswold. But this should stop you from making a few trips to this stunning area! 🙂
Want to find out which are the prettiest villages in the Cotswolds? Just try to visit some of them and let us know what you think! 🙂
Best villages in Cotswolds map:
How much time do you need in each of the villages in Cotswold?
Let's face it, there is never enough time in the Cotswold! This beautiful area of outstanding beauty is located just a couple of hours drive from London. And this gives you a few options to choose from. You can visit the best villages in Cotswold on:
Each of the above will give you enough time to explore the best from Cotswold villages 🙂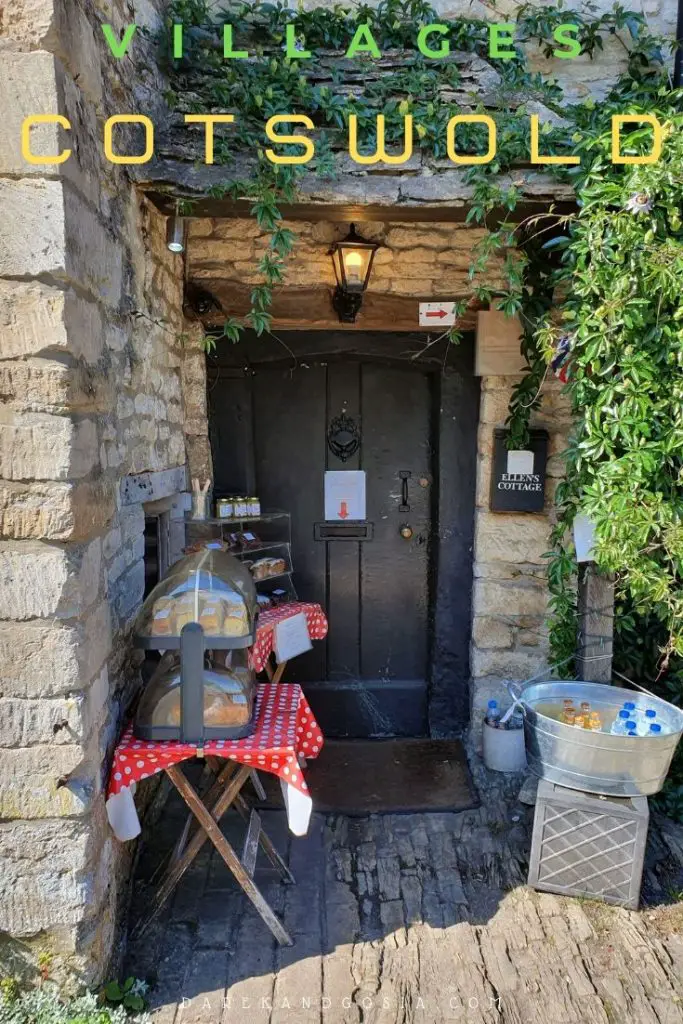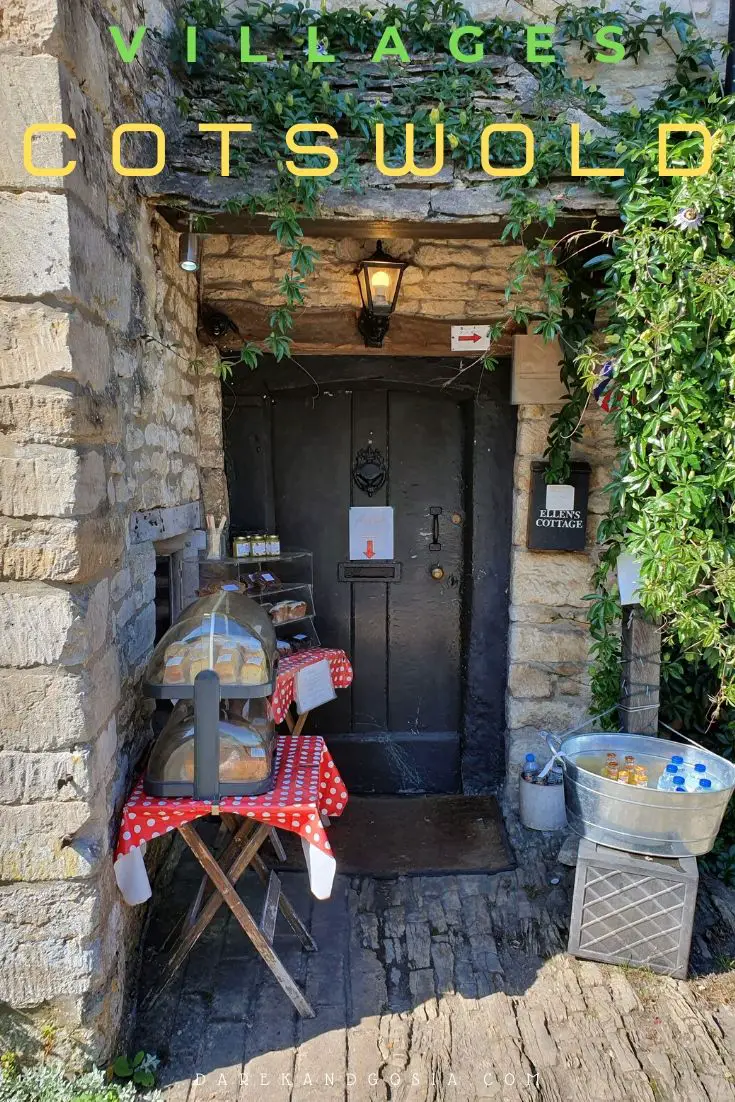 Our journey through the most beautiful and best villages in the Cotswolds has shown us a myriad of benefits. These enchanting Cotswold villages offer an escape into a fairy-tale-like setting, with honey-coloured stone buildings, peaceful countryside, and lively markets to explore.
If you're seeking an idyllic weekend getaway or an interesting day trip from London, the Cotswold villages present a perfect choice. Each visit offers a unique experience, whether it's the serene ambiance of pretty villages near Woodstock or the rich cultural life of the larger settlements. The opportunity to immerse yourself in a captivating landscape that spans over 2000km makes every journey to these villages truly special.
But the most compelling aspect is, undoubtedly, the sheer beauty and charm of the Cotswolds villages. As you wander through these settlements, the contentment and peace that you'll feel are unparalleled. It's no wonder that these villages in the largest area of outstanding natural beauty in England and Wales have such a profound impact on everyone who visits.
So, whether you're planning a trip or just daydreaming, our list of the prettiest Cotswold villages offers a starting point. It's a taste of what awaits you in one of the most delightful regions of the country. And remember, each visit to the Cotswolds opens the door to discovering yet another beautiful village. Happy travels!
Articles you may like: