Looking for famous landmarks on the Ring of Kerry in Ireland? This scenic drive is packed with must-see places and things to do!
Let's face it! There are many things to see Ring of Kerry! If you are planning a road trip in Ireland then head out to this beautiful part of the island and spend 3 days in Kerry!
What is Ring of Kerry in Ireland?
You hear a lot about the ring road but what is the Ring of Kerry actually? Driving in a circle might not sound ideal, but circles are a whole lot better when it comes to the Ring of Kerry. A 179km circular route, the Ring of Kerry takes you around the Iveragh Peninsula in County Kerry Ireland; taking in a wide range of beautiful places along the way.
There are a variety of landmarks and attractions that you can see during your time on the Ring of Kerry Ireland. This includes The Gap of Dunloe, Staigue Fort, Molls Gap, Ladies View and also Torc Waterfall.
Ring of Kerry route really is one of the best natural wonders of Europe!
Ring of Kerry facts:
| | |
| --- | --- |
| County: | Kerry |
| Region: | South-Western Ireland |
| Film location: | Star Wars |
| Famous for: | Skellig Michael |
| Best to visit: | June |
| Days needed: | 2-3 |
Best town to stay in Ring of Kerry?
Where to stay Ring of Kerry? One of the best things about the Ring of Kerry is that there are a whole host of amazing places for you to see. If you are planning to take a few days to travel around the Ring, then you are going to want to find the best places to stay during the trip.
One great place to plan to stay in is Kenmare, this may be a small town, but it has plenty to offer. It is not only one of the prettiest places in the whole of Ireland, but it is also packed full of wonderful places to eat too.
Best accommodation while driving the Ring of Kerry?
Best places to stay in Kerry Ring? There are many amazing places to stay during your holiday on the Ring of Kerry. Please see below some of the TOP hotels we have selected for you:
"With panoramic views of Kenmare Bay and the Kerry Mountains, the luxurious, 4-star Parknasilla Resort & Spa boasts a 12-hole golf course and a spa with a swimming pool, thermal suites, and outdoor hot tubs. Offering a fantastic range of activities, it is set within 500-acres of parkland"
"Located just 0.9 miles from Killarney High Street, Gleann Fia Country House offers guests free parking. Located on the river Deenagh with acres of a wild garden. The Guesthouse has a patio seating area and all guests rooms have scenic views of woodland or river."
Where did we stay on the Ring of Kerry trip?
We have stayed in Uisce Beatha House B&B and we loved our B&B! Located just a few miles from Portmagee village, this property has fantastic views over the Valentia island. Our hosts, Pete and Maureen were amazing and yes, the homemade cookies were delicious! 😉
Check the latest availability if you also would like to stay in a place with views line the below 😉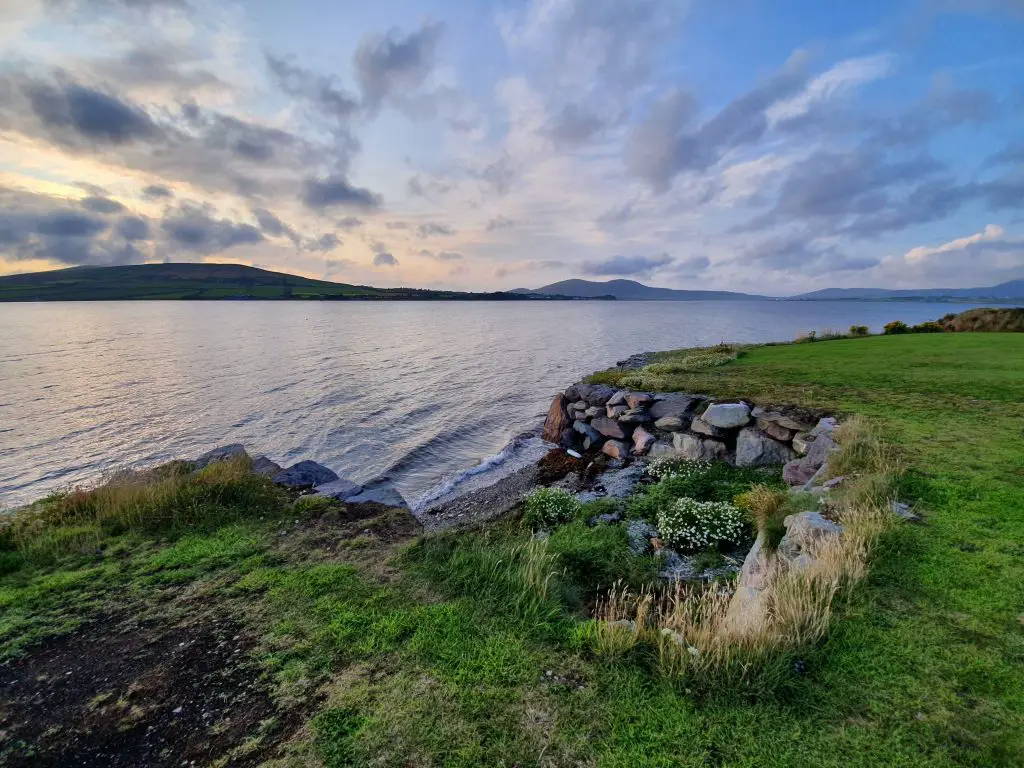 Need more inspiration? Find a hotel in your favourite part of the Kerry region!
Planning to rent a car during your trip to Ring of Kerry?
Read our guide to renting a car in Europe to learn more about what you can expect. Always compare prices before renting a car – there are many great offers at Cork airport.
Where is Ring of Kerry located?
As the name suggests the Ring of Kerry is found in County Kerry in south-west Ireland.
Ring of Kerry from Dublin
If you are planning on travelling to the Ring of Kerry from Dublin is quite a drive and you can expect it to take around the 4hr 45 mark on a good day. The distance is 379.7km and to get there you need to travel down the M8.
We would strongly recommend spending 2 days in Dublin before driving to Ring of Kerry. The capital city of Ireland is just packed with many interesting things to do!
Ring of Kerry from Cork
For those travelling from Cork the distance is much shorter. In fact, the start of the ring is only around 119km away. You do need to set aside at least 2 hours to make this journey, however, you can travel straight down the N22 in order to get where you want to be.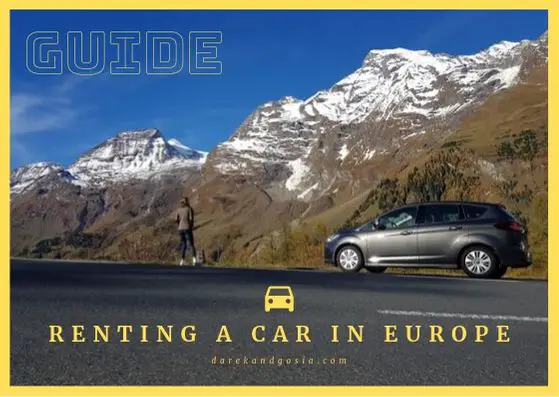 Can you drive the Ring of Kerry?
The short answer to this is yes, it is entirely possible to drive the route of the Ring of Kerry. In fact, this is a great way to experience everything that has to offer. By driving yourself you are able to go at a speed and a pace that suits you best.
You can also choose to go off the beaten track, see things that you want to see and really take it all in.
Can you drive to Ireland from the UK? Yes, but it would take you over 13 hours by car to get from London to the famous circle of Kerry.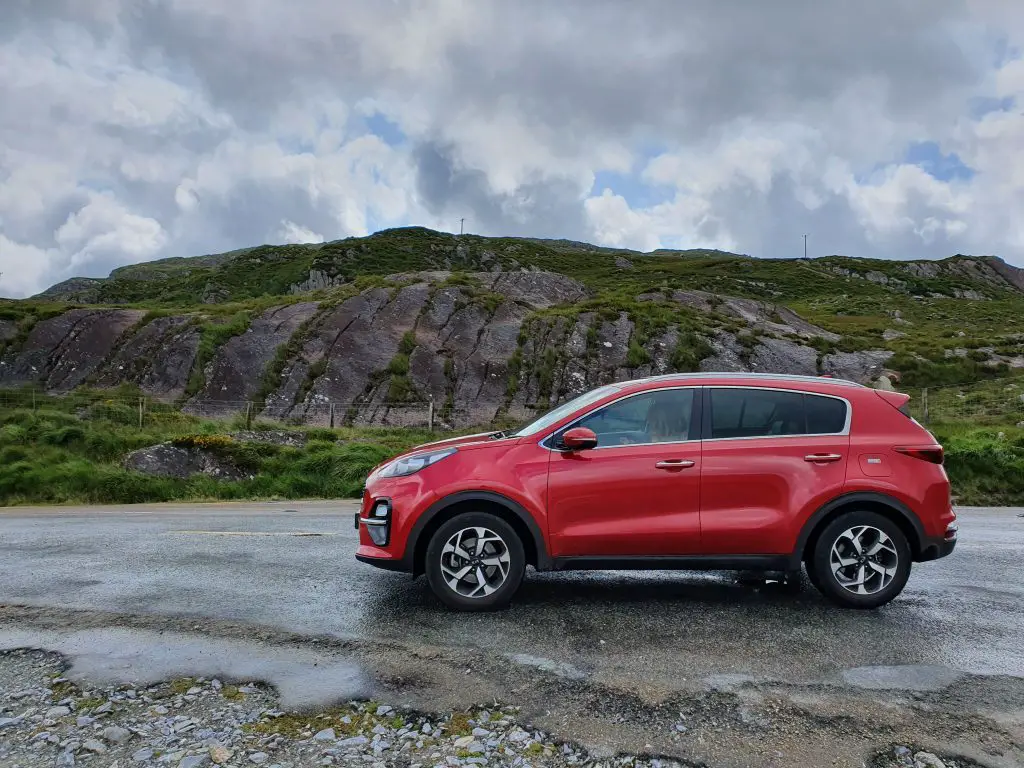 How long to drive the Ring of Kerry?
Fancy Ring of Kerry road trip? The Ring of Kerry is a popular route, but it is important that you know that it can still be incredibly narrow and winding in some parts. It is possible, distance-wise to travel the entire route in one day by car, but, this isn't always advisable.
Not only does this mean that you are likely to rush, but it also means that you are much more likely to miss things along the way. With so much to see and experience along the route, it is advisable that you spread out the road trip Ring of Kerry over the course of 2-3 days.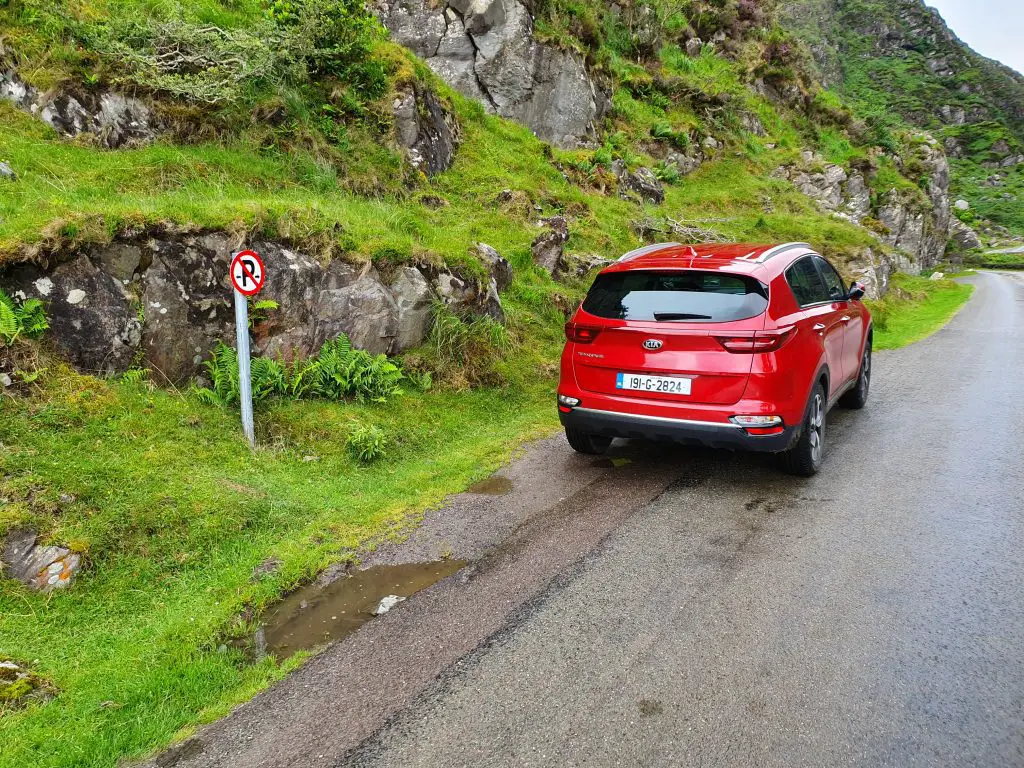 Ring of Kerry clockwise or anticlockwise?
When planning your Ring of Kerry tour itinerary you really have to consider this. It might sound like a strange question, but many people ask whether or not they should travel the Ring of Kerry in a clockwise or an anticlockwise direction.
It is suggested that you always travel anti-clockwise around the Ring of Kerry. This will help to minimise any traffic issues that can arise through the narrower sections of the road.
Satellite navigation systems may often take you clockwise, however, you should ignore this recommendation.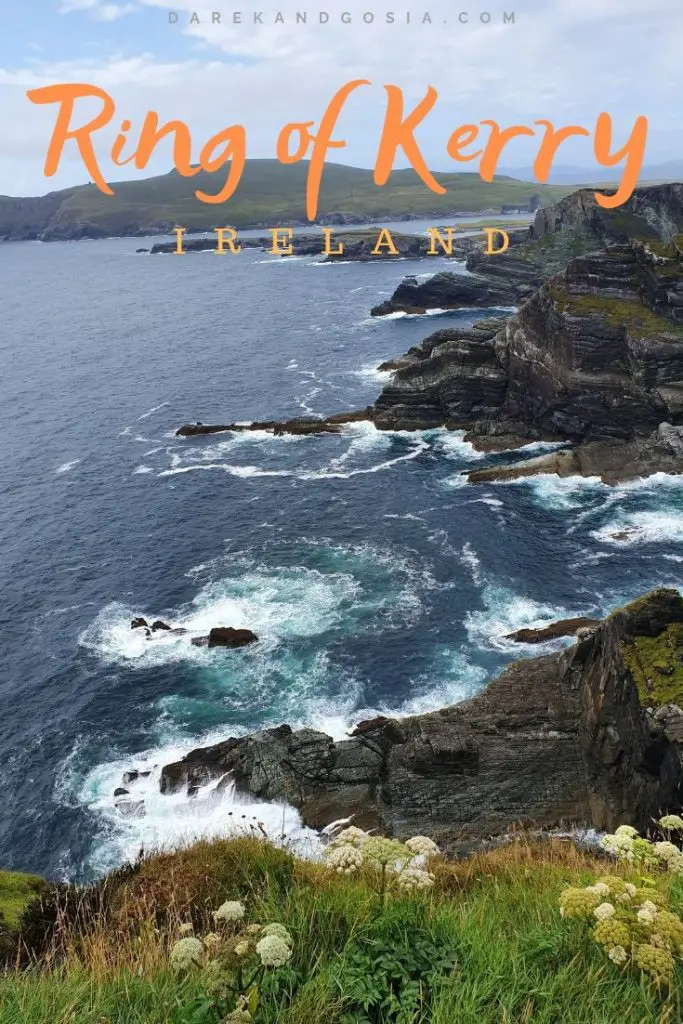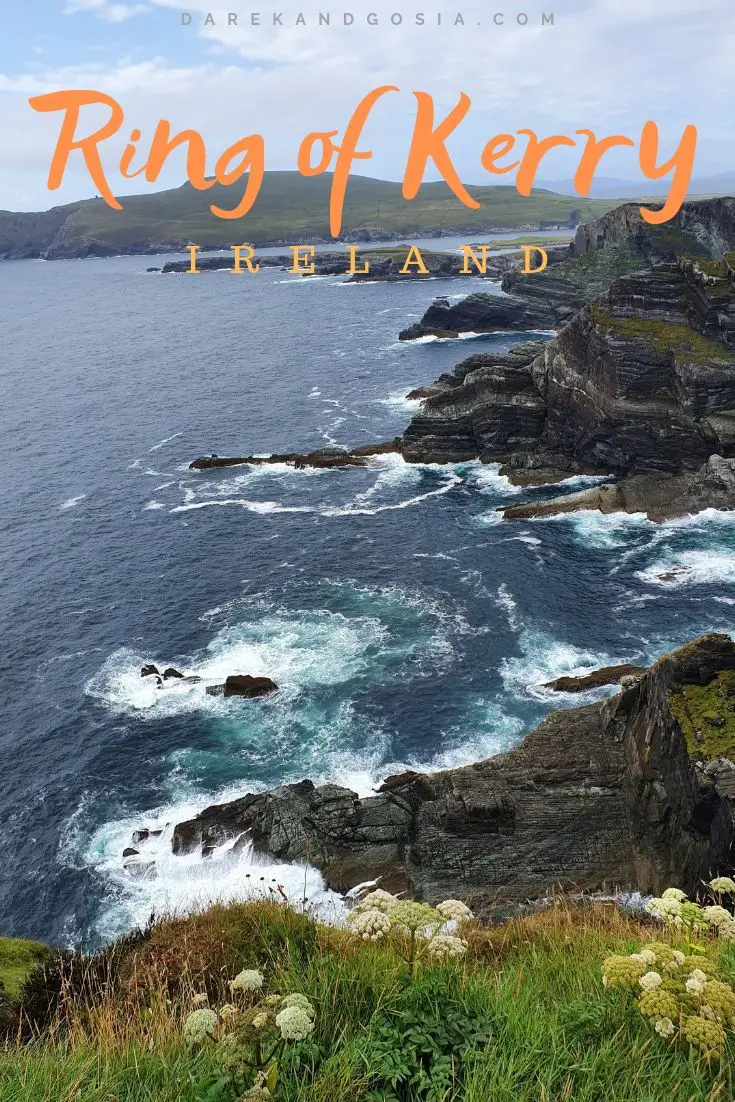 Explore the best things to do Ring of Kerry and top ideas for 3 days Ring of Kerry itinerary:
Best places to visit while driving the Ring of Kerry
1. Kate Kearney's Cottage
Best stops on Ring of Kerry? There are many things to do in Ring of Kerry. Over 150 years' old, Kate Kearney's Cottage marks the entrance to the Gap of Dunloe mountain pass. Family owned and operated; visitors will get a warm welcome in their bar or craft shop.
Both open seven days a week from 10 AM and they also serve a selection of local food from 12 Noon until 8 PM.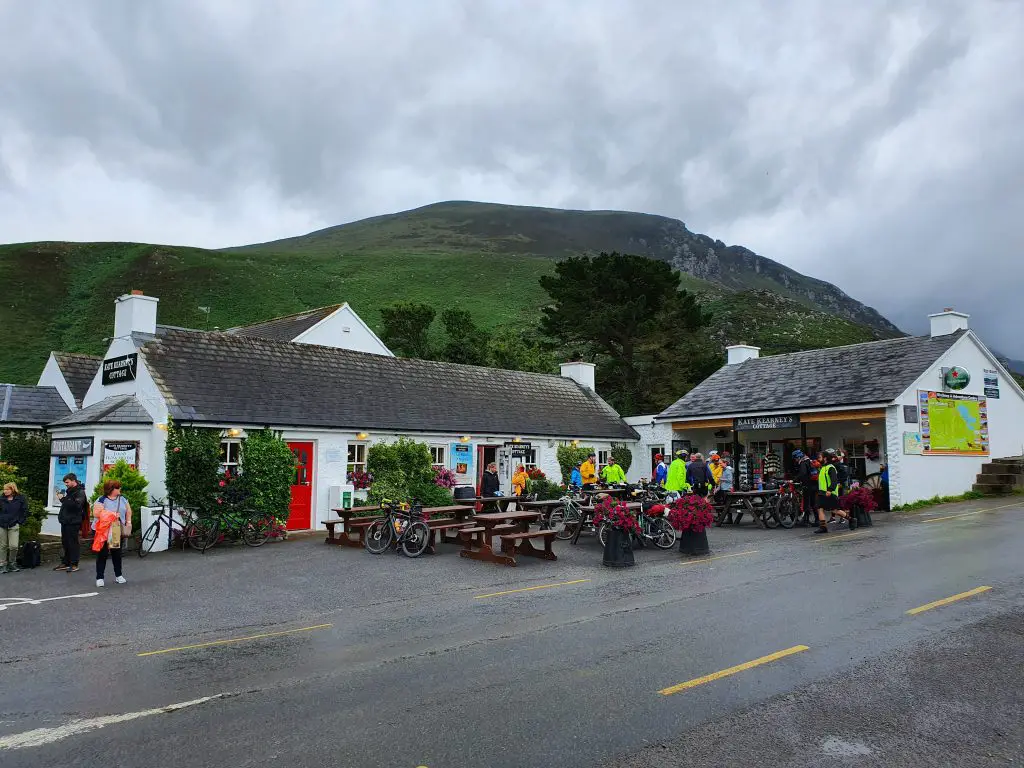 Food offerings include Sunday lunch and Traditional Irish Nights with dinner (for which they won a CIE Award two years in a row).
2. Gap of Dunloe
Places to see in Kerry Ring Ireland? This really is a must-see place on your Ring of Kerry driving tour!
A narrow mountain pass forged from glacial flows thousands of years ago, the Gap of Dunloe sits between MacGillycuddy Reeks and the Purple Mountains.
Named after the river Loe that runs through it, the Gap of Dunloe starts at Kate Kearney's Cottage. It then twists and turns along seven miles of road before reaching Lord Brandon's Cottage. It is probably one of the best road trips in Europe you can make!
Visitors can travel the Gap of Dunloe by foot, bike, car or jaunting car (horse-drawn wagon). Returns to Killarney are available by boat.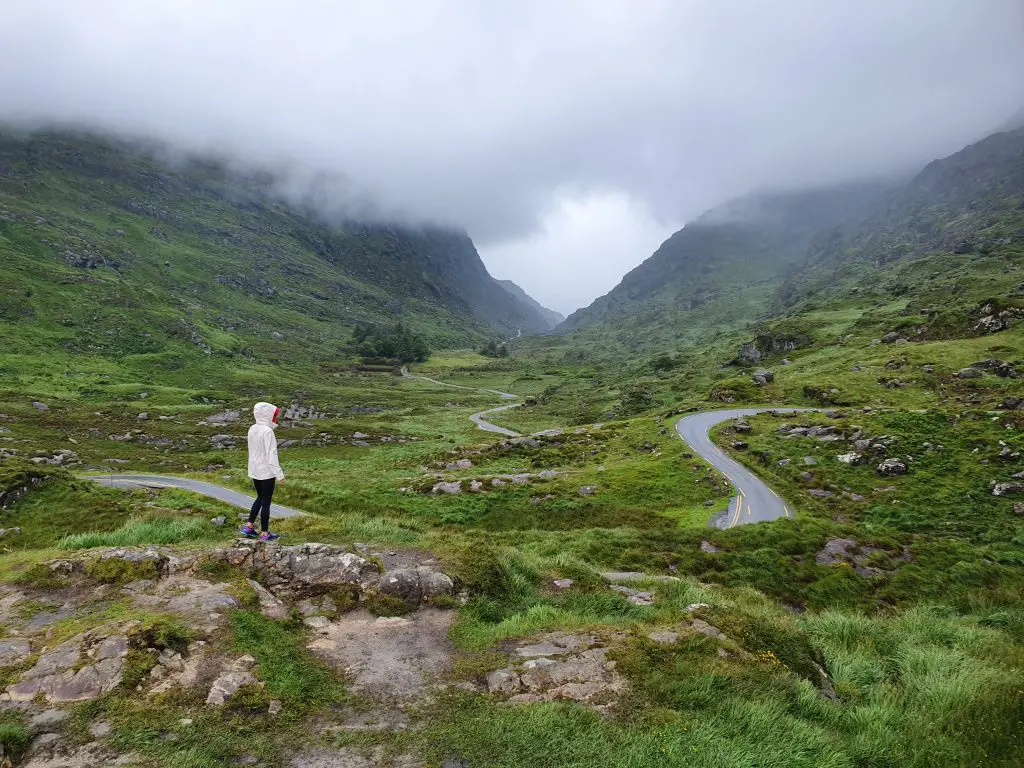 3. Wishing Bridge
Looking for Ring of Kerry must see? All best Ring of Kerry tours have to have this little bridge as a top attraction! From Kate Kearney's Cottage, it's just a short (and easy) walk to the Wishing Bridge – one of the most beautiful bridges in Europe! Located in the Gap of Dunloe between the Black Lake and Coosaun Lough, this picture-perfect bridge has a reputation around the world as a place where wishes come true.
First of all, though, visitors should make sure they're standing on the bridge when they make that wish. Then, they should take time to take in the beautiful scenery in which the Wishing Bridge finds itself.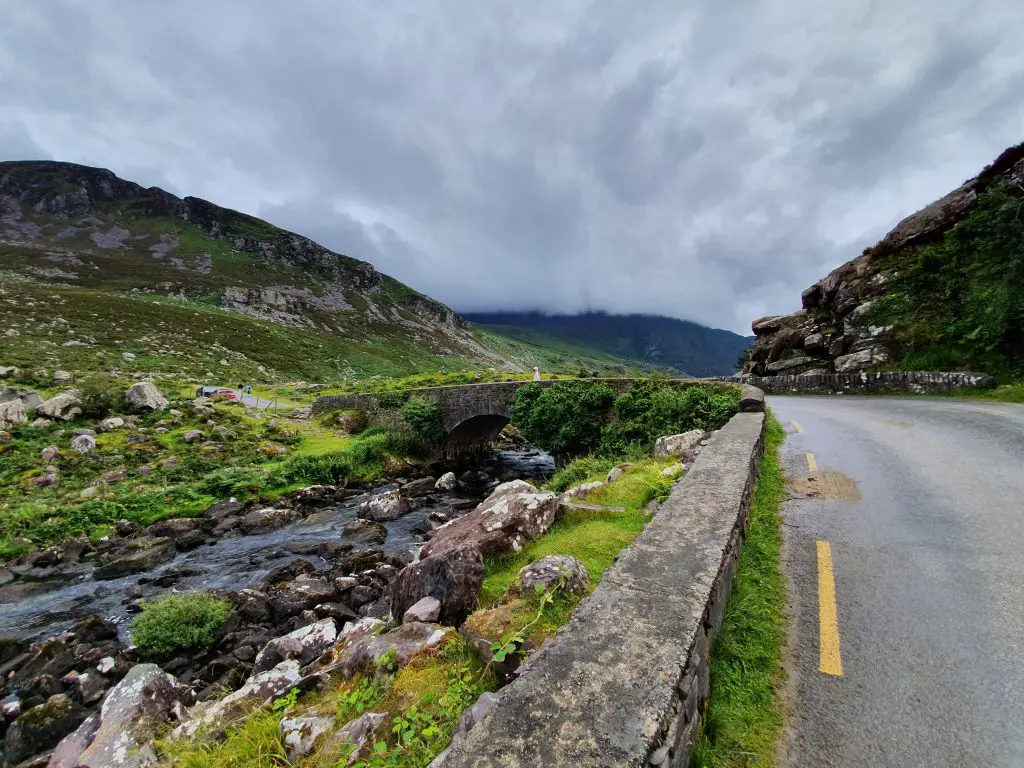 4. Moll's Gap
What to do in Ring of Kerry? Overlooking the Macgillycuddy Reeks mountains, Moll's Gap is found on the road between Kenmare and Killarney. From Moll's Gap, visitors can see Ireland's highest mountain, Carrauntoohil as well as the Gap of Dunloe.
Because of the views, this mountain pass is one of the most popular stops on the Ring of Kerry (getting thousands of visitors annually). Named after Moll Kissane, who made poitin (alcohol made from potatoes), her ancestors still live on the land, running the local farm shop. This really is one of the top Ring of Kerry attractions!
5. The Strawberry Field
Unique things to do in Kerry Ring? Over 200 years' old, the Strawberry Field Pancake Cottage was originally a farmhouse before becoming a café and restaurant in 1997.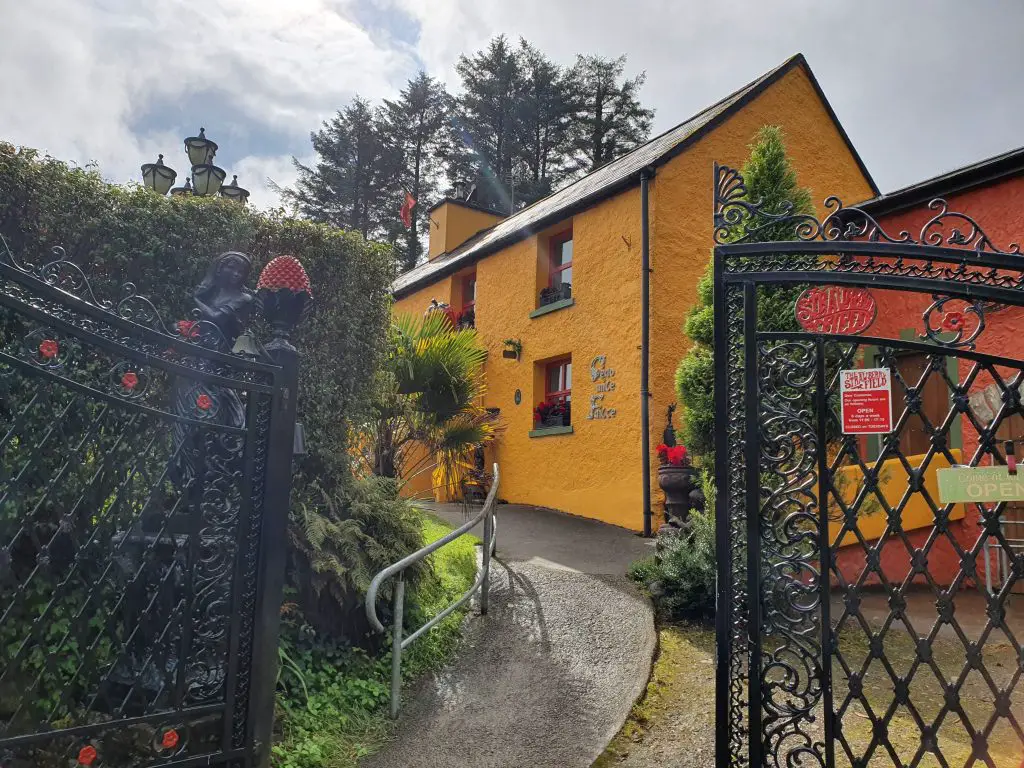 Run by Peter and Margaret Kerssens, they serve up traditional Irish food in a setting that honours the building's history. This includes water served from Strawberry Field's own well and an arts and crafts shop selling the works of local artists. And yes, you really have to try one of the pancakes!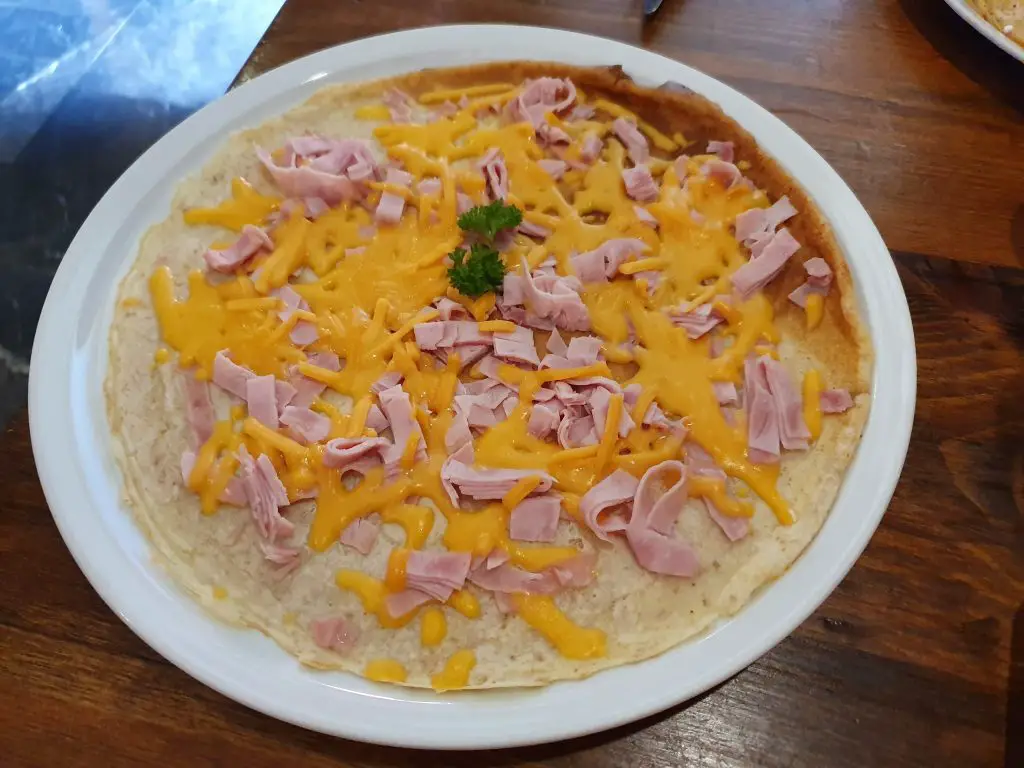 Or homemade soup 😉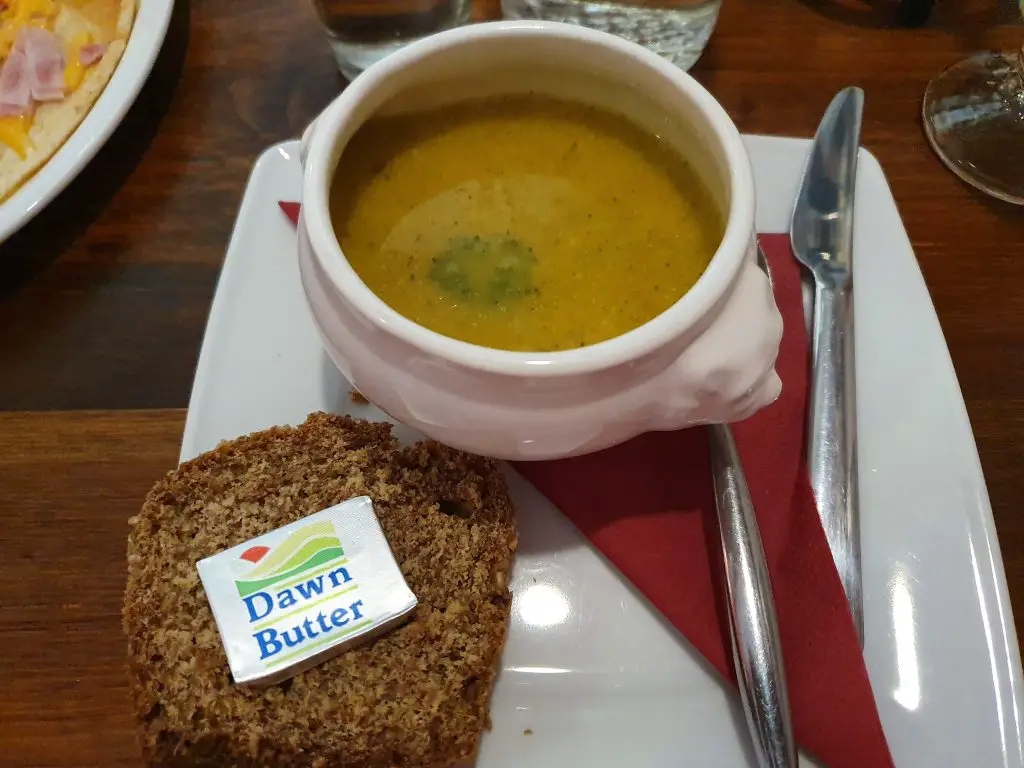 While there, visitors should check out the fantastic view of the Slievaduff Valley, which The Strawberry Field overlooks.
6. Staigue Stone Fort
Things to do in Ring of Kerry Ireland? Also known as Staig Stone Fort, this Iron Age defensive stronghold sits west of Sneem on the Iveragh Peninsula. Thought to be built between 300 and 400 AD, Staigue is probably the biggest and best example of a stone fort to be found in Ireland.
The fort, which sits on a low hill, includes a circular rampart and external bank made of interlocking stones (a traditional Irish building method). Furthermore, from the fort, visitors get a fantastic view of Kenmare Bay.
7. Glenalappa Middle
What to see in county Kerry Ireland? Probably one of the most beautiful beaches in Ireland, Glenalappa Middle is at its best when deserted, so visitors to take in the spectacular views undisturbed. One of the top things to do Ring of Kerry.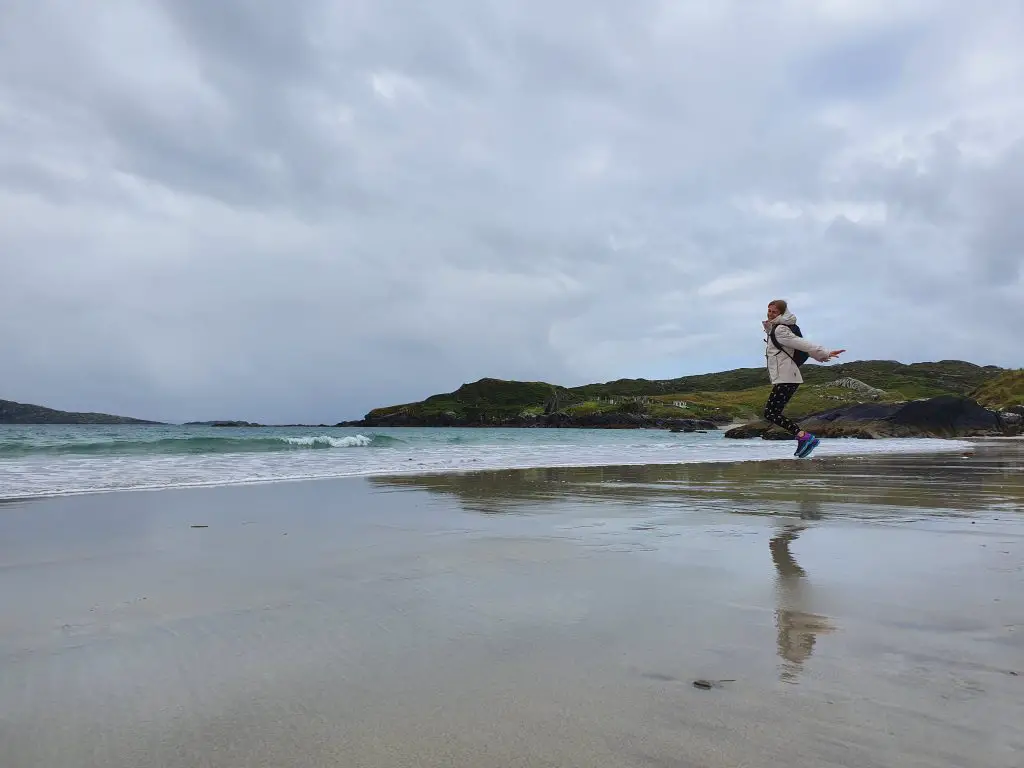 The sand is clean and dotted with rocks that rise, reminding visitors of just how rugged the Irish landscape is. Even on a grey day, the beach is worth visiting on your Ring of Kerry one day tour.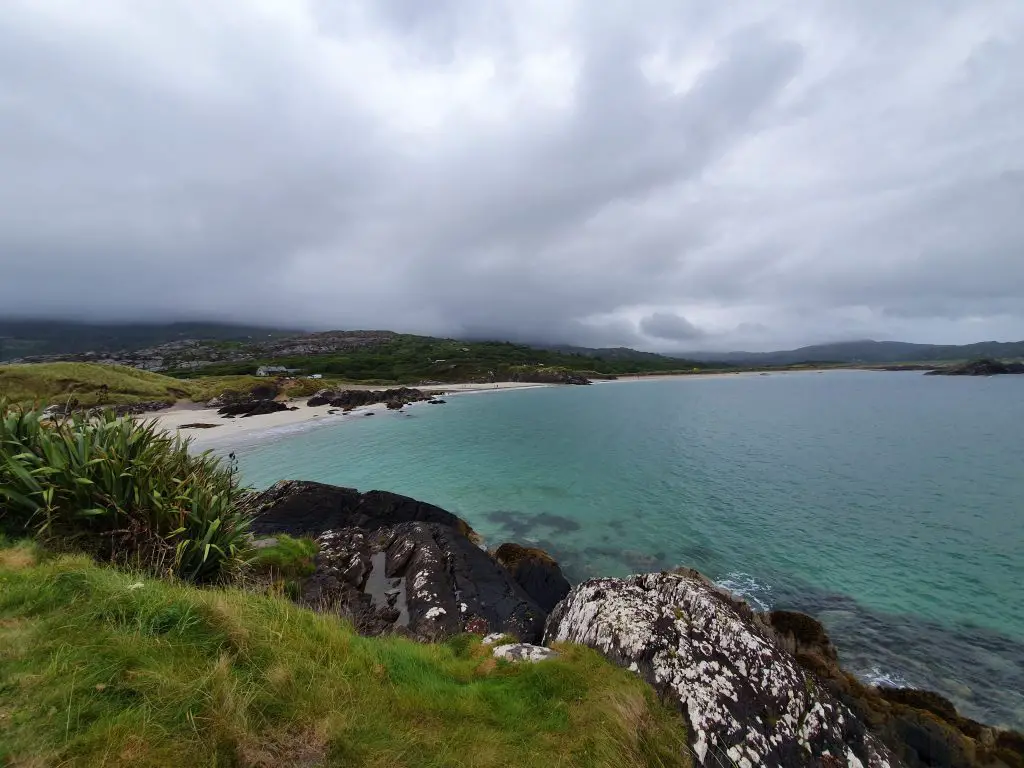 For those who haven't got time for a walk along the sands, they can still take in the views from the Ring of Kerry Lookout.
8. Derrynane Beach
Where to stop on the Ring of Kerry? Another beach worth visiting is Derrynane, which is just two miles outside Caherdaniel. To get there, visitors should look for signs to the beach from Derrynane House.
We really loved this place and it's 100% one of the best things to do on the Ring of Kerry!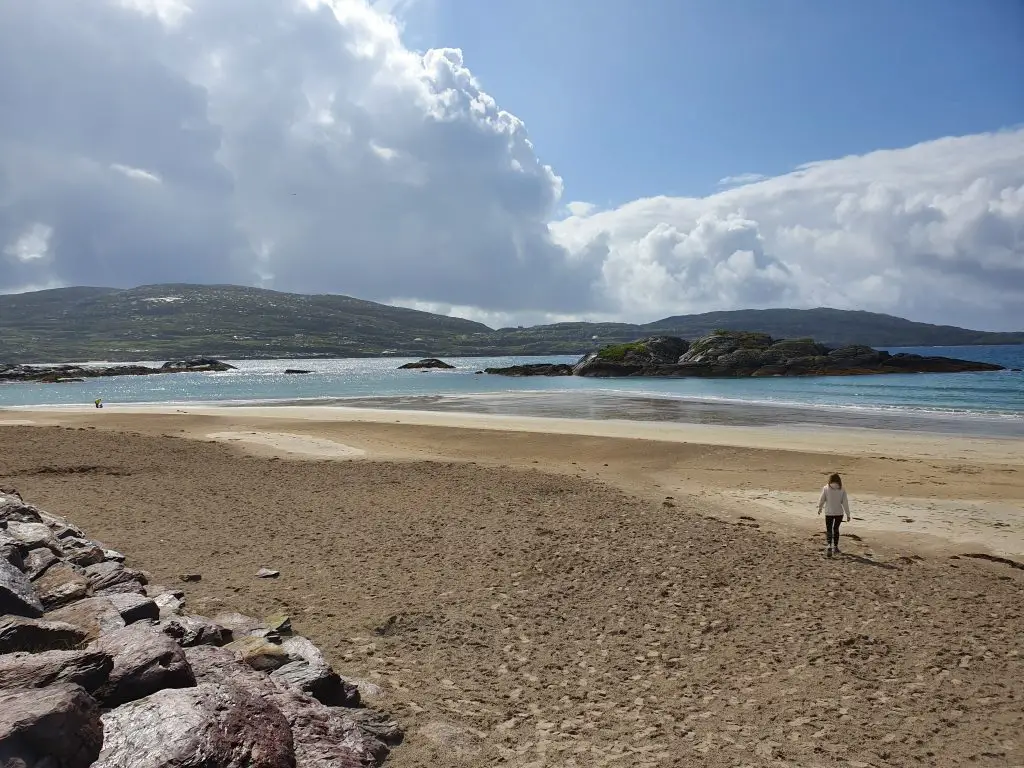 Arrived at by a narrow cliff path, this beach is not only beautiful; it is pristine. Visitors get their first glimpse of Derrynane as they cut through the bush and go over a small hill.
Finally, the beach spreads before them, dotted with rocks that make it feel just that little bit rugged. It is probably one of the best beaches in Europe!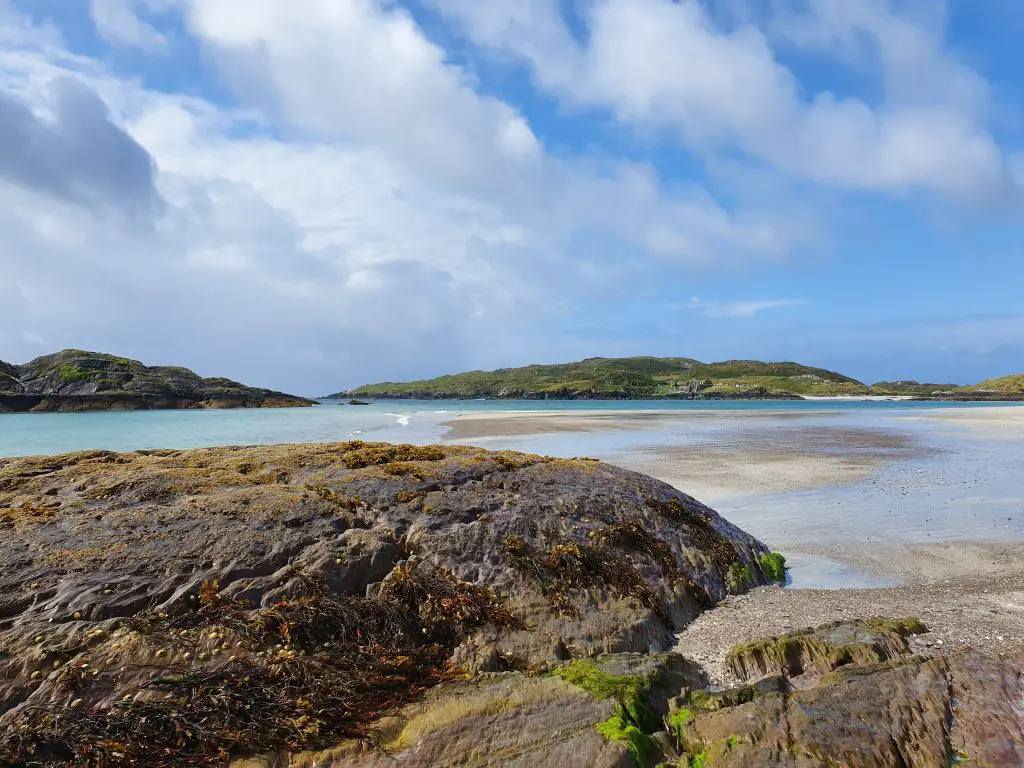 9. Derrynane Seashore Trail
Derrynane Beach is part of the Derrynane Seashore Trail, and also Derrynane National Park, which is made up of plantations and garden walks set out in the 18th and 19th centuries.
The Derrynane Shore trail takes visitors through the park and down to the shore. Along the way, they'll see bursts of wildflowers and some fantastic flora and fauna.
The trail to the seashore takes visitors over dunes to the Mass Rock and Smugglers viewing point. Younger ones will undoubtedly enjoy the fairy trail that is part of the Derrynane trail network.
10. Ring of Kerry Lookout and Car Park
Looking for stunning views on your Ring of Kerry full day tour? Set above the Glenalappa Middle beach, the Ring of Kerry Lookout is an excellent place for tourists to stop and take in the sights. There's a good car park here; so, visitors shouldn't have a problem finding a place to park, and great views.
The primary view is of the beach itself, with its rugged terrain but, on a clear day, visitors can look over the North Atlantic Ocean, though the view might be more spectacular as the clouds roll in.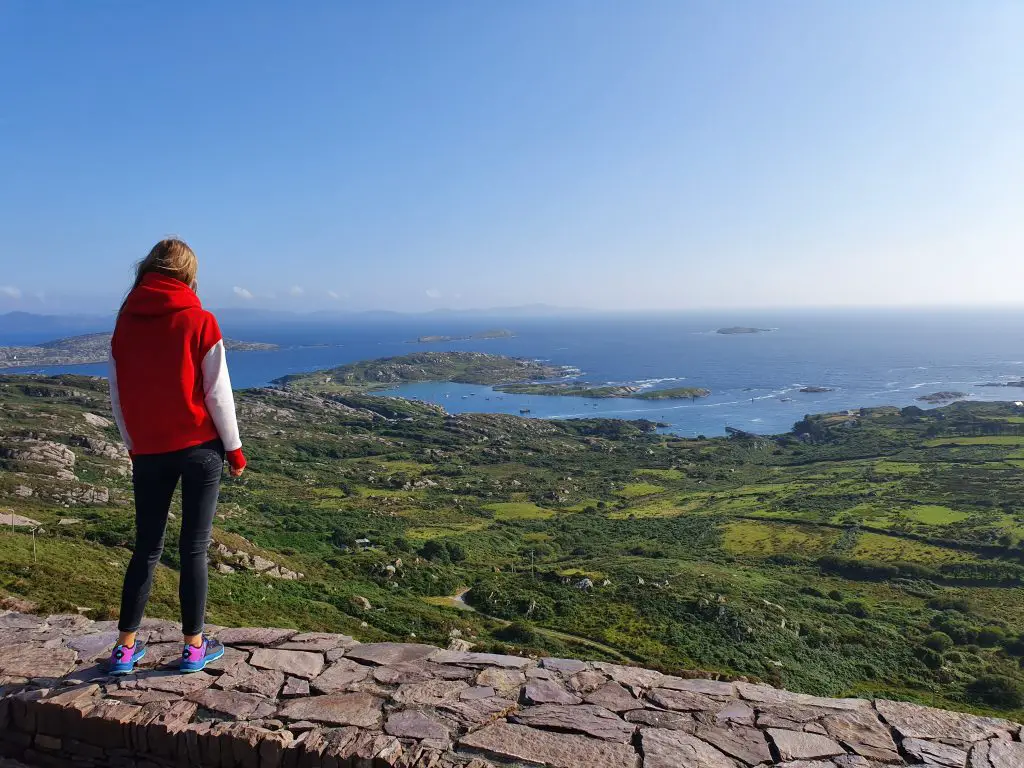 11. Waterville
What are the best stops on the Ring of Kerry? Down the road from the Ring of Kerry Lookout is the small village of Waterville. Despite having a small population of just over 500, there's still plenty to do here including lots of cafes, bars and restaurants.
Without a doubt, Waterville is one of the best villages in Europe we have visited.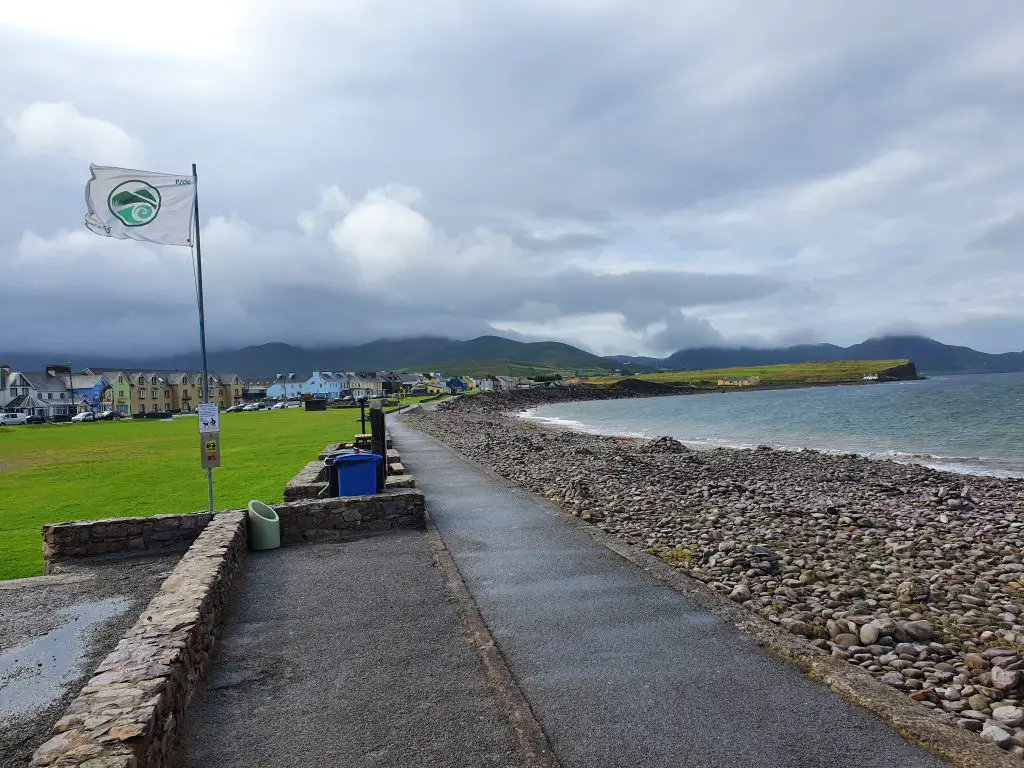 People spending more than a few hours in Waterville can go on nature walks, surf on the beach or enjoy a horseback ride. This is also one fo the best places to stay Ring of Kerry.
It's no wonder Waterville's attracted some famous visitors over the years, including Charlie Chaplin; it was one of his favourite places for a holiday.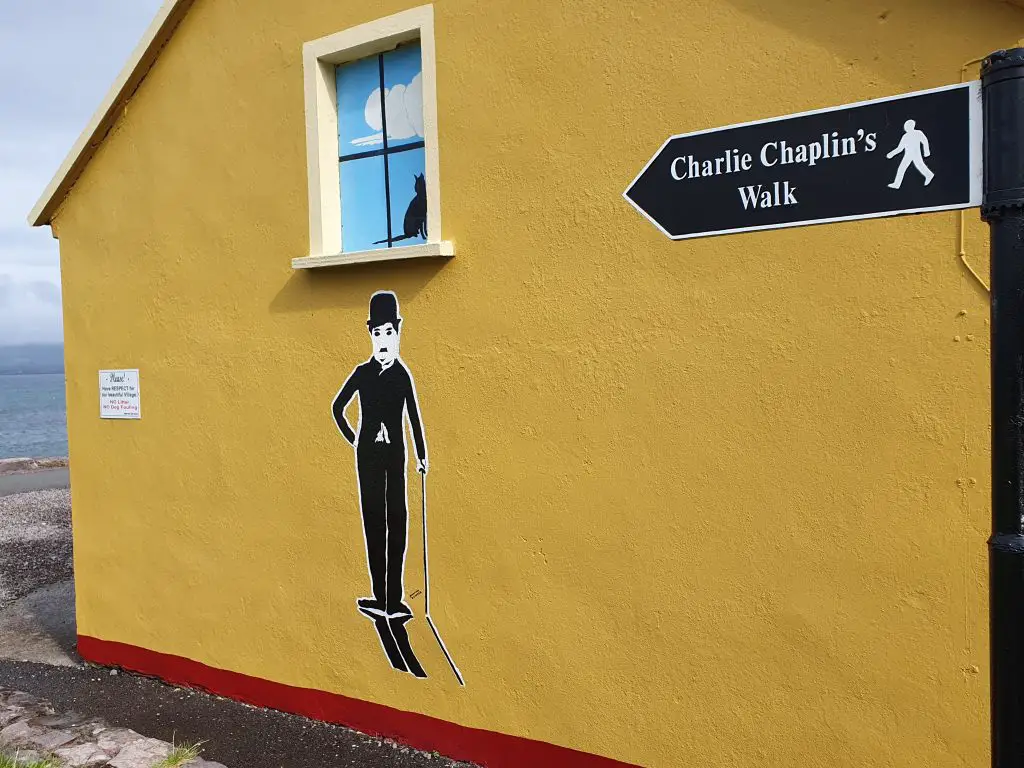 12. Ballinskelligs Castle
What to do Ring of Kerry, Ireland? Another small village on the Ring of Kerry is Ballinskelligs. This is one of the only places left in Ireland where people still speak Irish; consequently, it's worth a visit.
Set on the Iveragh Peninsula, it's wonderfully picturesque and unspoilt. Many organized Ring of Kerry tours will not stop here, but if you are driving you have to see it as it's one of the top Ring of Kerry landmarks!
It's also home to Ballinskelligs Castle, which sits on a narrow outcrop. The castle was built in the 16th century by MacCarthy Mors as a way to protect the bay from pirates and (probably) charge local mariners a tariff for landing their boats here.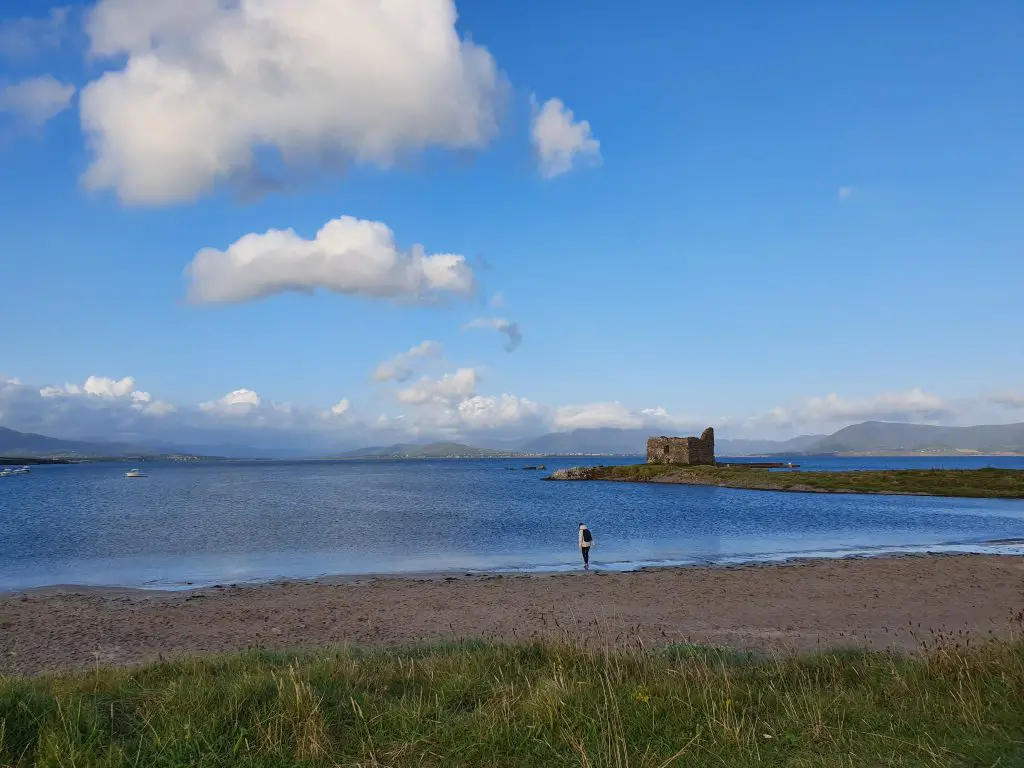 13. Skelligs Chocolate Factory
When planning your Ring of Kerry things to do list you can also include this one. It is probably the best places to visit on the Ring of Kerry when… it's raining! If you go to the factory during the week, you can watch how the chocolates are made in the open-plan kitchens. Yes, you can taste some of them too!
There is also a little cafe, so it's a perfect point for a coffee break while driving the Ring of Kerry.
If you are limited by time and don't have to hide from the rain, skip this place – there are much more interesting things to see on the Ring of Kerry! 🙂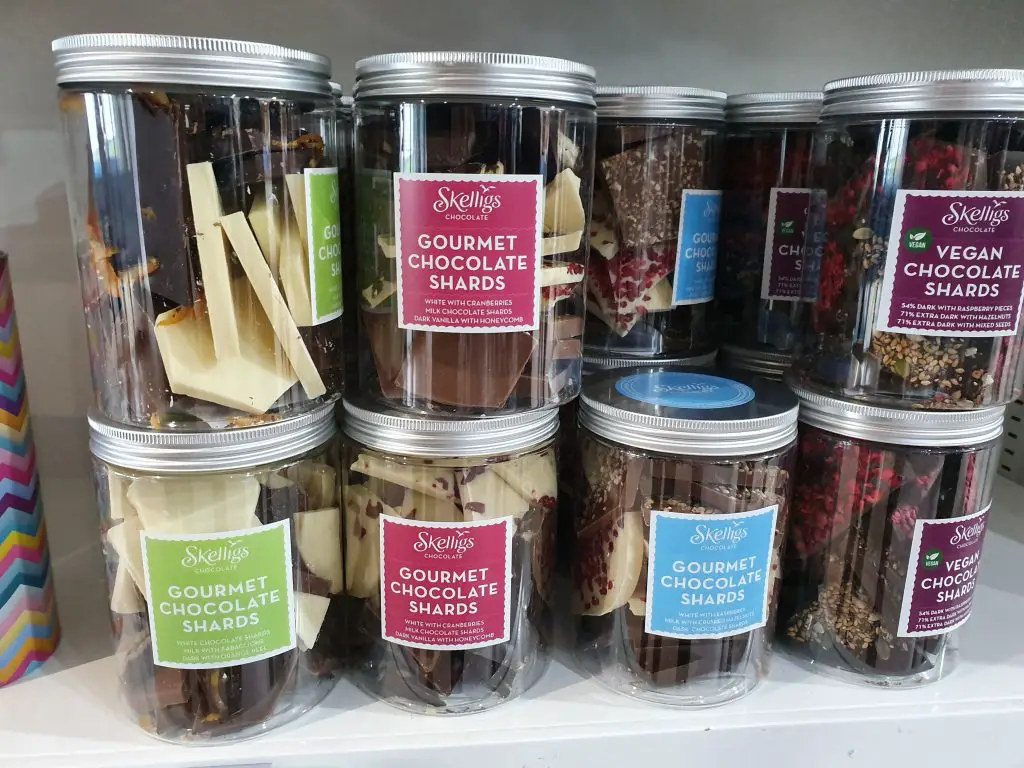 14. Cliff View on the Skellig Ring
Ring of Kerry what to see during driving tour of Ireland? The Ring of Kerry road is just stunning! Voted one of Lonely Planet's top ten places to visit in 2017, the Skellig Ring continues to attract visitors due to the views. The Cliff View is the highest point on the Skellig Ring.
Visitors reach it by a narrow coast road and mountain pass which opens up a lovely bay. Tourists can stop to take in the sights and a spot of lunch. There's plenty of parking and great views of Valentia Island to the North, an ideal photo opportunity.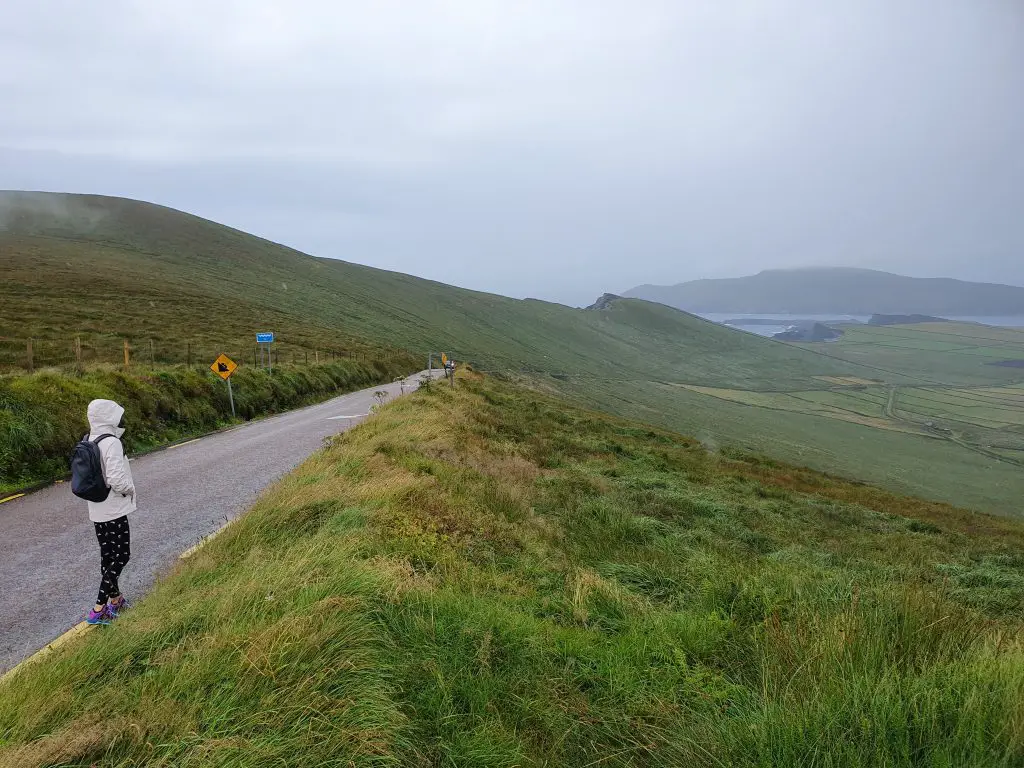 15. Kerry Cliffs Portmagee
Is the Ring of Kerry worth it? If you like views like the below one, then yes, yes, YES!
The Kerry Cliffs are probably the most famous cliffs and a must-stop on tours of the Ring of Kerry. They are well worth a visit – the views a stunning!
First, there's the size of the cliffs themselves, which are enough to make visitors stop and take a breath.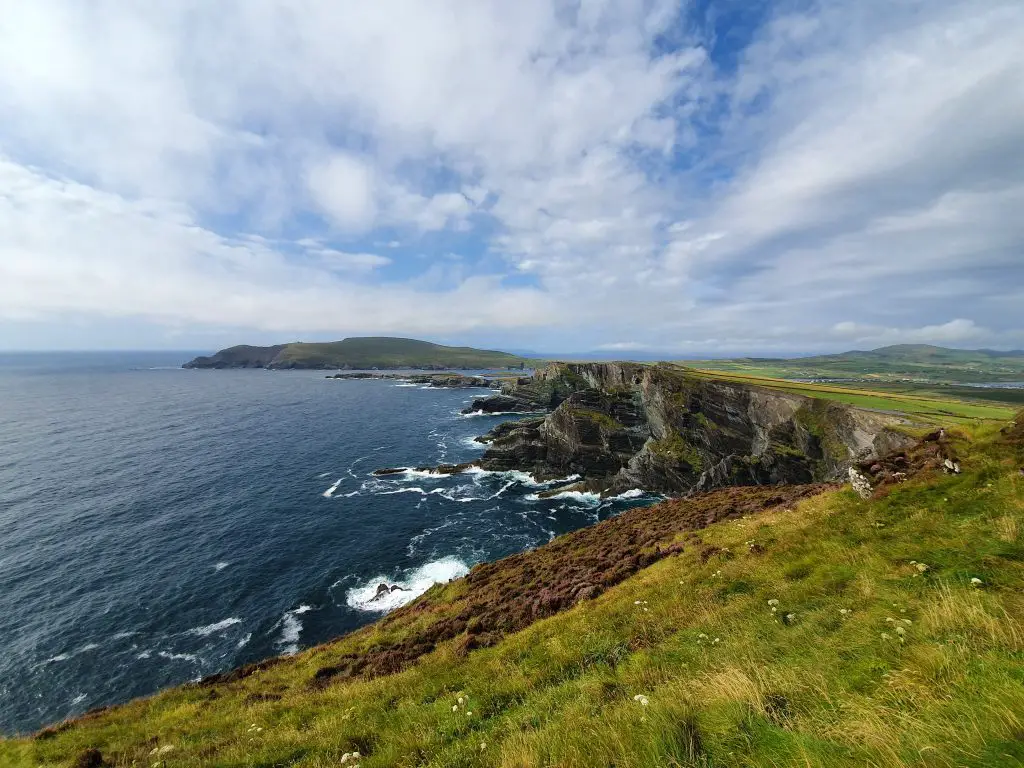 Then there are the views, which take in all of Skellig and Puffin Islands. Just a short drive from Portmagee, for many it seems like the Kerry Cliffs have the best views on the whole of the Ring of Kerry.
The Kerry Cliffs are one of the best places to visit in Europe!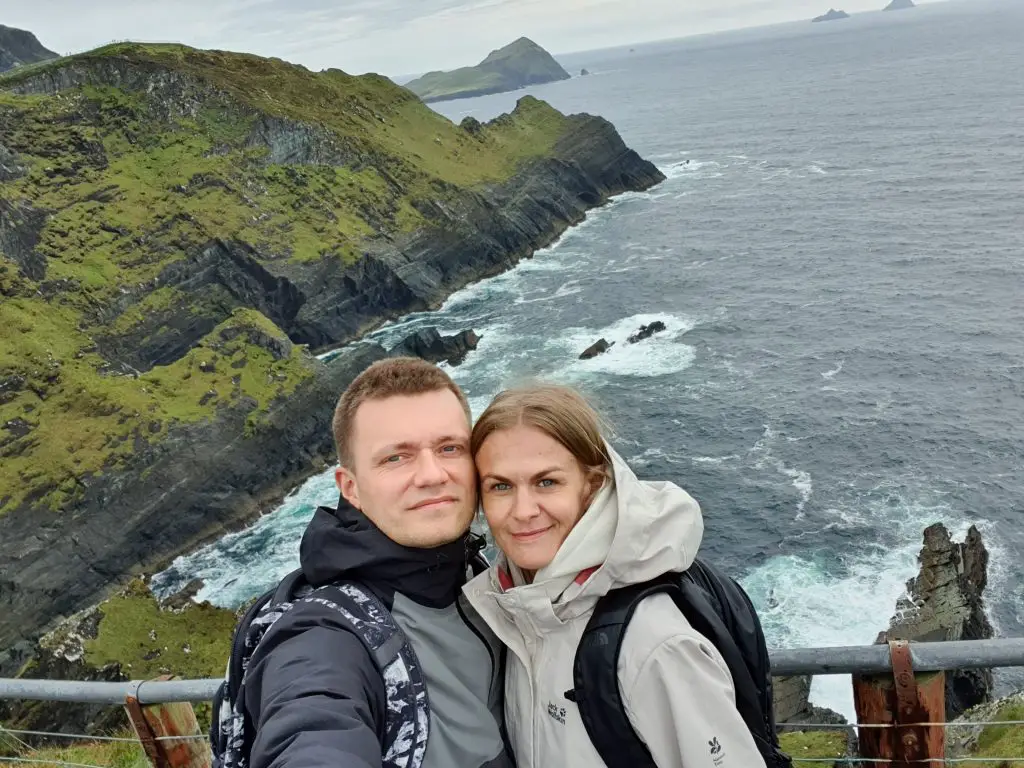 16. Sceilig Mhichíl / Skellig Michael
Probably one of Ring of Kerry best stops! One of the islands known collectively as the Skellig islands (the others are Great and Little Skellig), Skellig Michael is a must-see on any tour of the Ring of Kerry.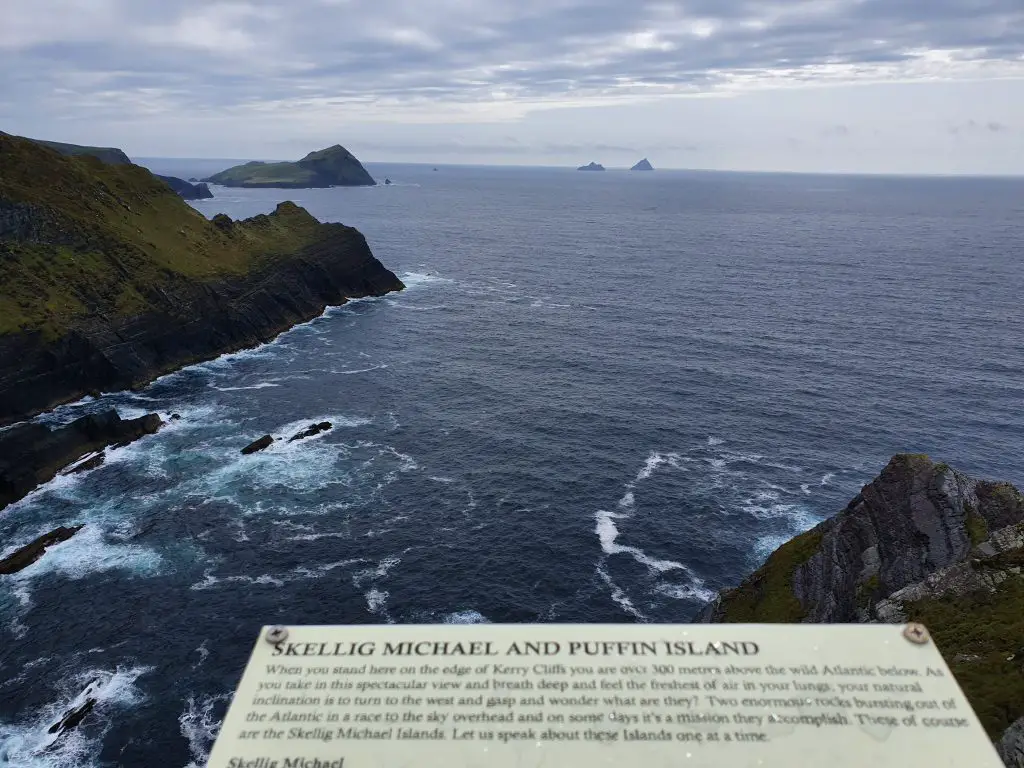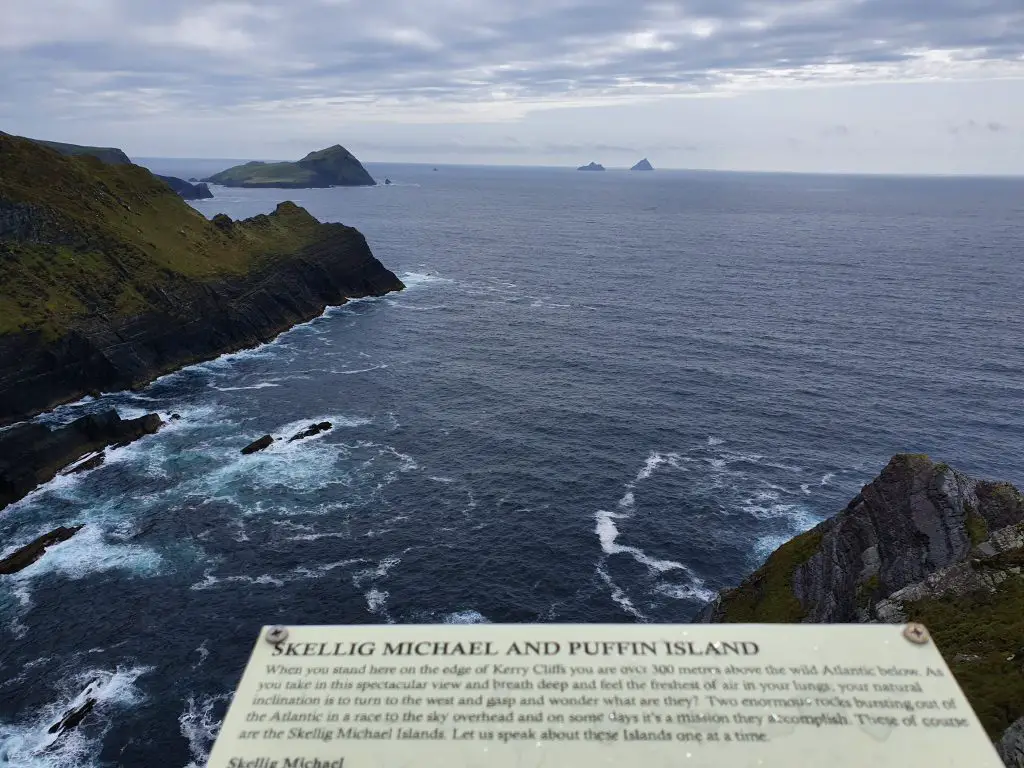 Unlike other stops, this one will need some advance planning because visitors need to book a trip and check the weather forecast; good weather makes the trip much more enjoyable.
Once on the island, they'll also need some stamina for a steep climb to an abandoned 7th-century monastery. So, is Skellig Michael on your list of things to do in Kerry Ireland?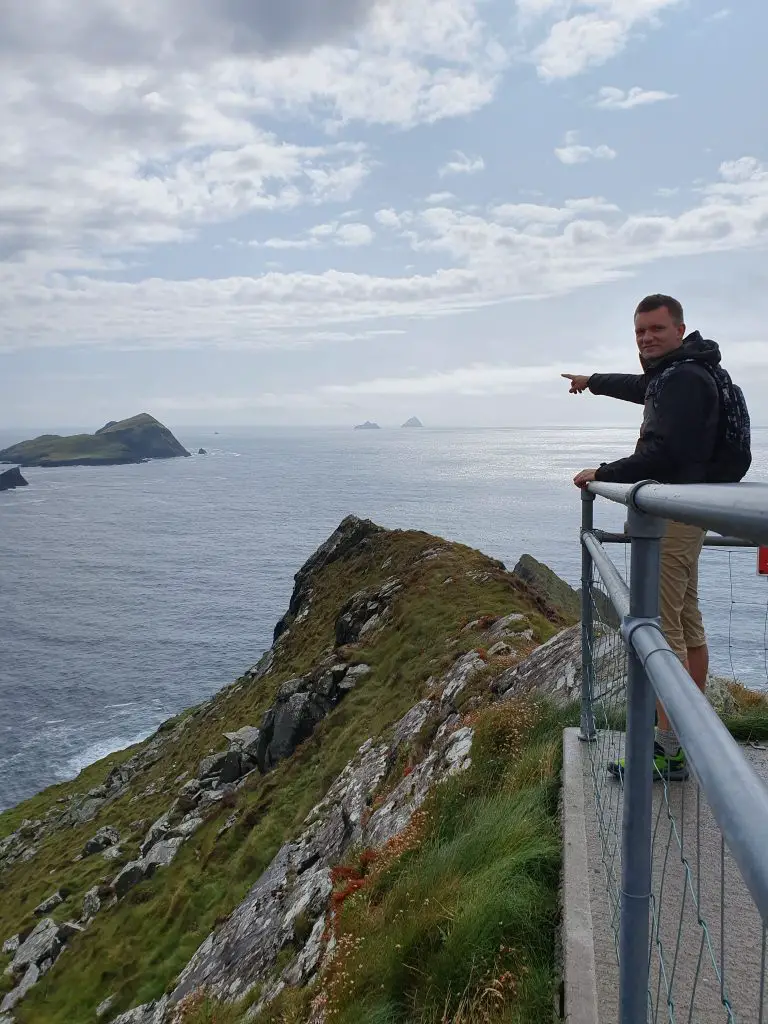 17. Cahersiveen
Things to do in Kerry this weekend? A small town close to Skellig Island, Cahersiveen is fun to walk around. There is a trip to the River Fertha on which Cahersiveen sits as well as a tour of the Daniel O'Connell Memorial Church.
There is also a stone fort dating back to around 600 AD and Ballcarbery Castle, built by the McCarthy Clan in the 15th century. Visitors can find out more about what is on offer from the visitor centre (housed in an old army barracks).
18. Count colourful sheep on the Ring of Kerry
Things to do in county Kerry? Let's face it – everybody loves sheep! 🙂 But have you ever seen sheep as colourful as those living on the Ring of Kerry? One of the Ring of Kerry main attractions!
You don't have to look far, they are just everywhere! Just be careful while driving around – they are often sitting on the roads 😉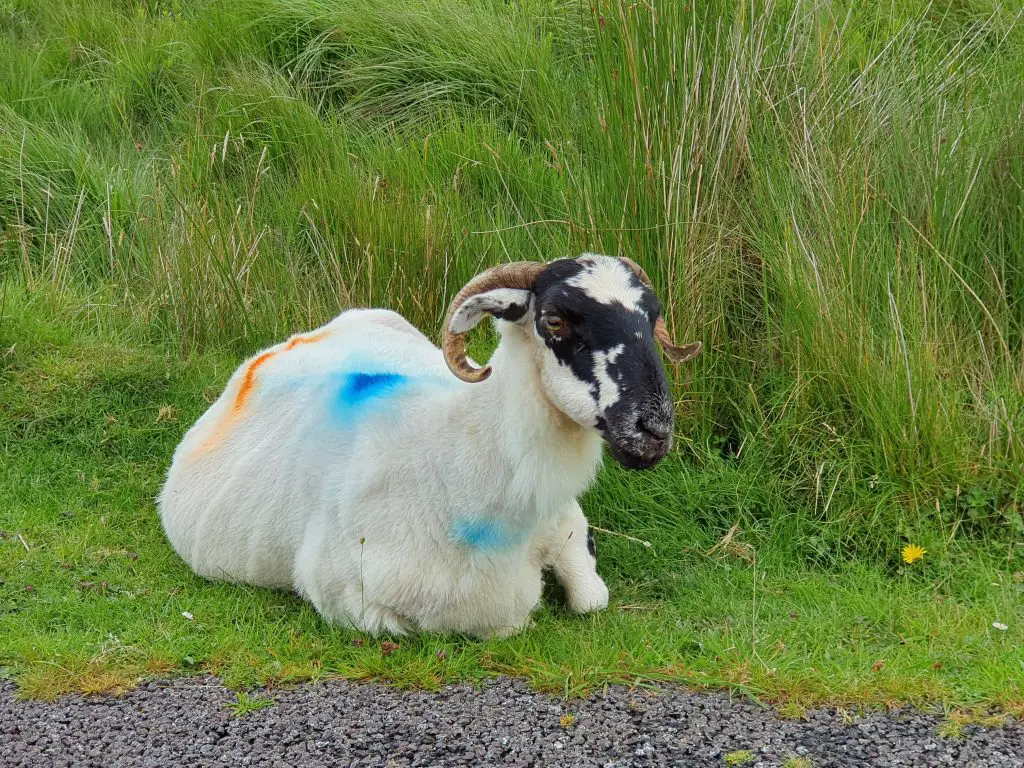 19. Portmagee
Best places to visit in Ring of Kerry? Irish villages are always a good choice!
Those looking to visit Skellig Michael (or Great or Little Skellig) might want to spend the night in Portmagee. This is a lovely little village situated close to many of the main sights on the Iveragh Peninsula.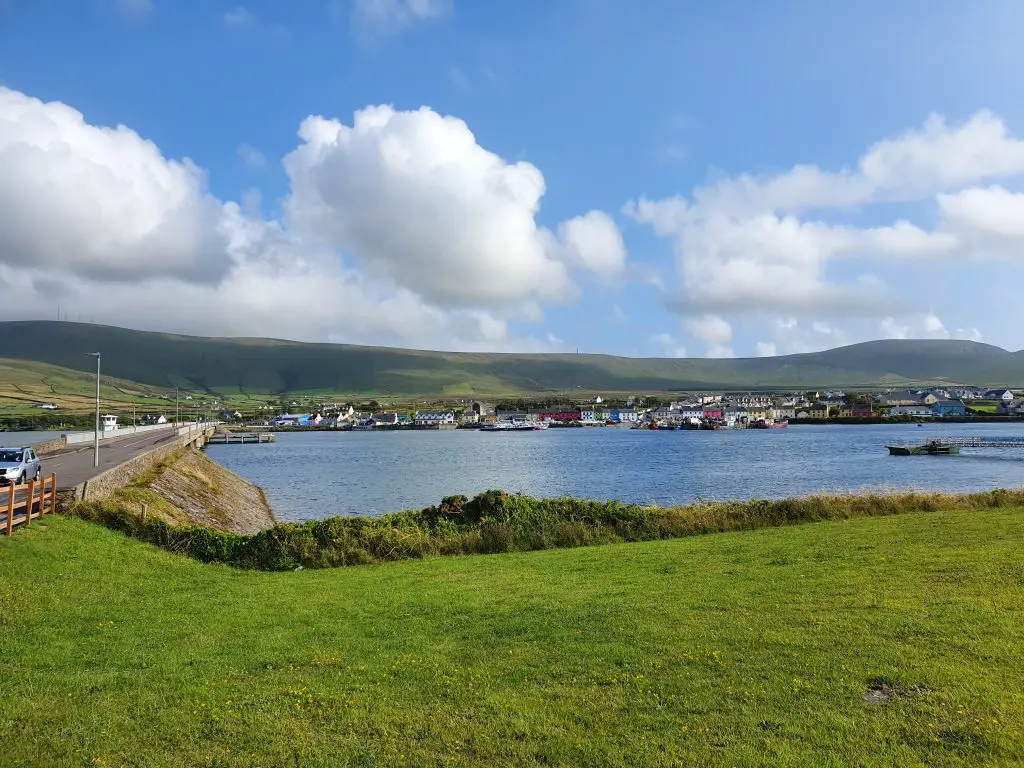 As a result, it's a great place to use as a base when doing the Ring of Kerry tour. There are plenty of bars, restaurants, cafés and overnight accommodation.
Finally, there's a lovely harbour where boats leave for the Skellig islands and Valentia islands.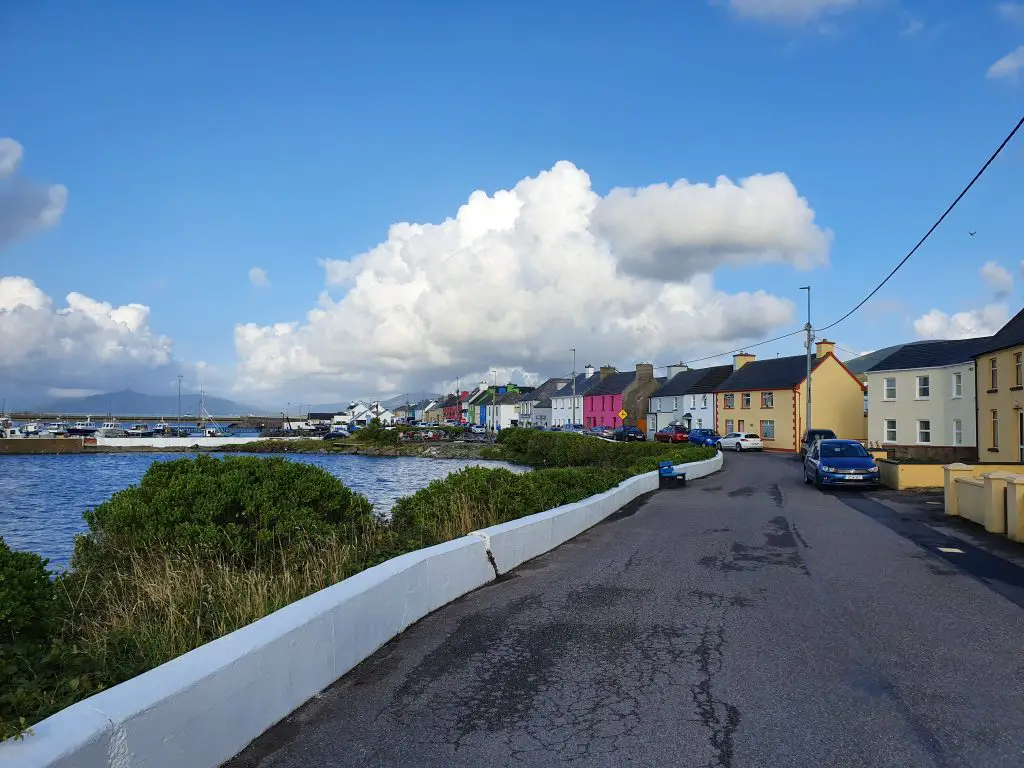 20. The Valentia Island
Best places to go in Kerry Ring? Unlike the Skellig islands, visitors to Valentia Island don't need to pre-plan their trip. They can reach Valentia Island by a bridge, not boat.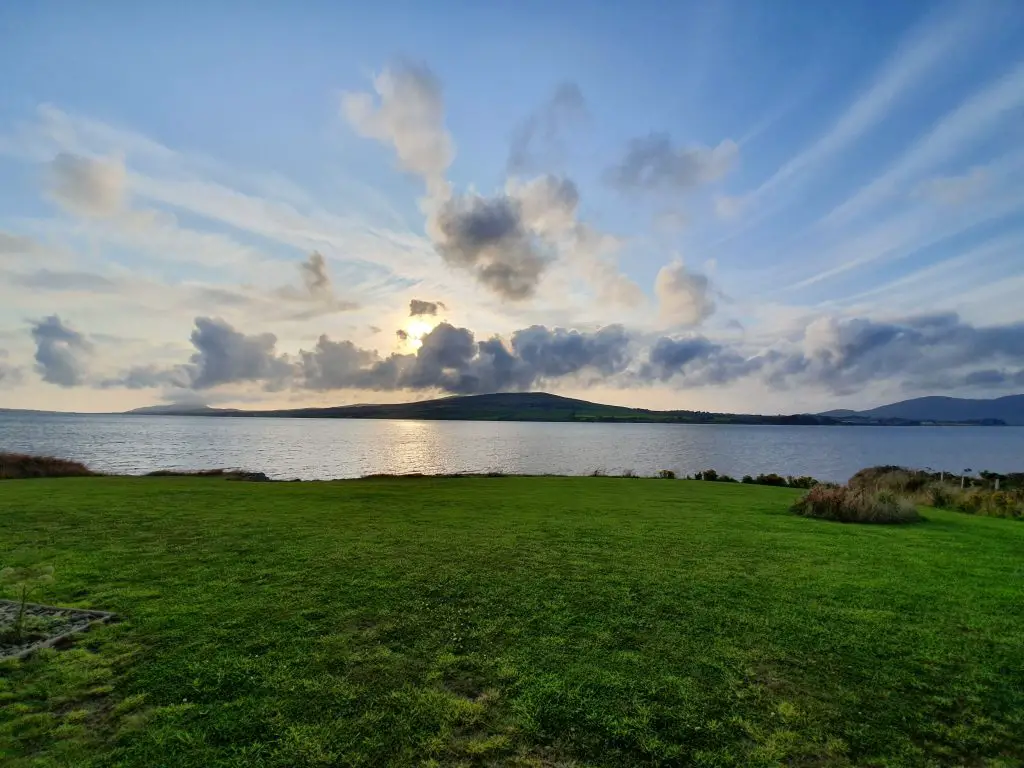 The Maurice O'Neill Memorial Bridge goes from Portmagee and is a short drive. Visitors to the island can hike the Bray Head Loop (with amazing views of the Skellig islands), climb the Geokaun Mountain and Fogher Cliffs, (with beautiful views of the Ring of Kerry drive), or walk the tetrapod tracks, left by animals a million years ago.
This really is one of the best places to visit in Kerry Ireland.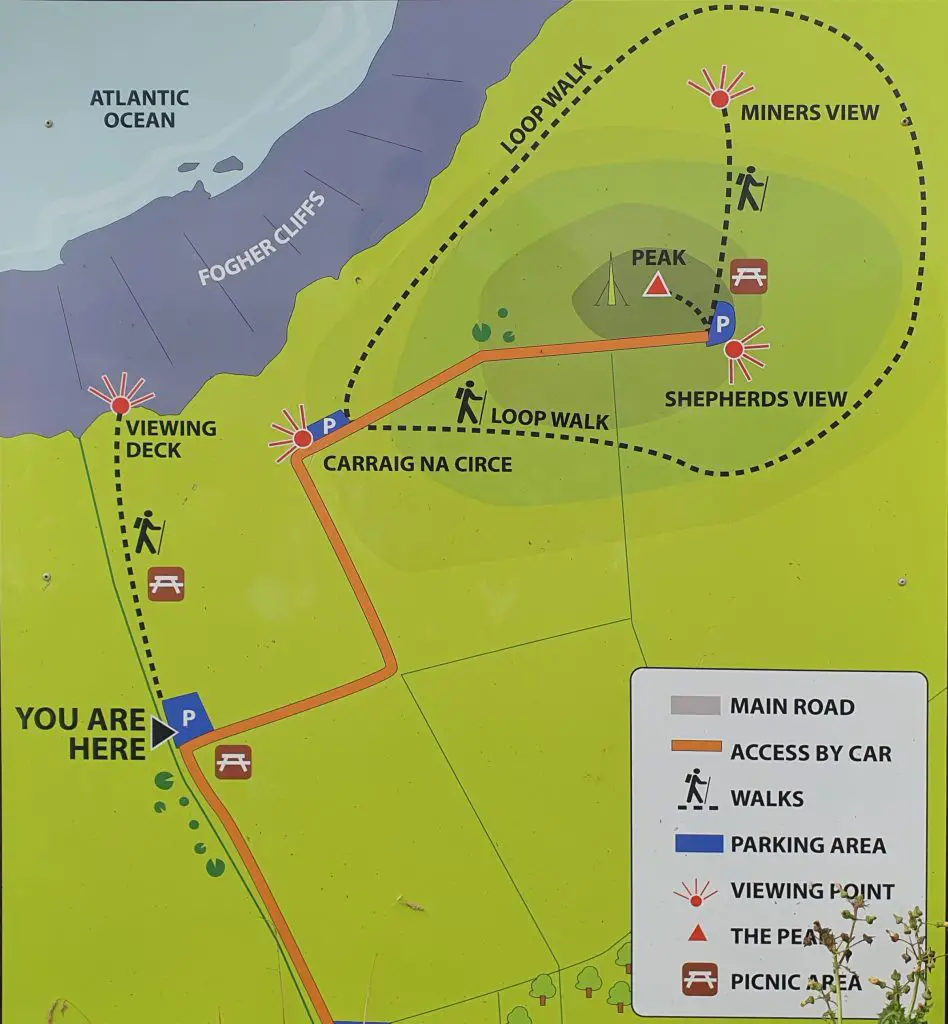 21. Geokaun mountain and Fogher Cliffs
Best Ring of Kerry cliffs and views? The Ring of Kerry route has many outstanding viewing points!
Visitors can walk or drive up the Geokaun Mountain and Fogher Cliffs, which are the highest peak on Valentia Island. On the way up the mountain, there are three viewing points, which include parking and offer those hiking to the top a place to stop and catch their breath.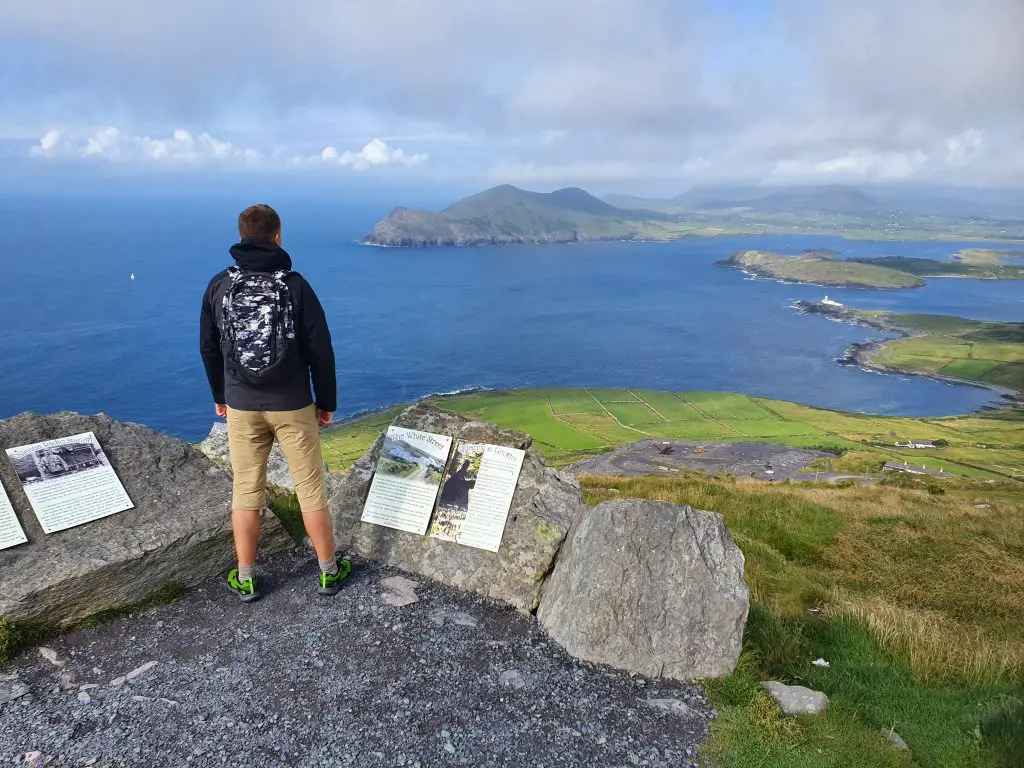 Once at the top, there are 360o views of the island itself, Kerry, Portmagee, Dingle Peninsula and the Blaskets and the Skellig Islands and information panels on local history, plants and animals.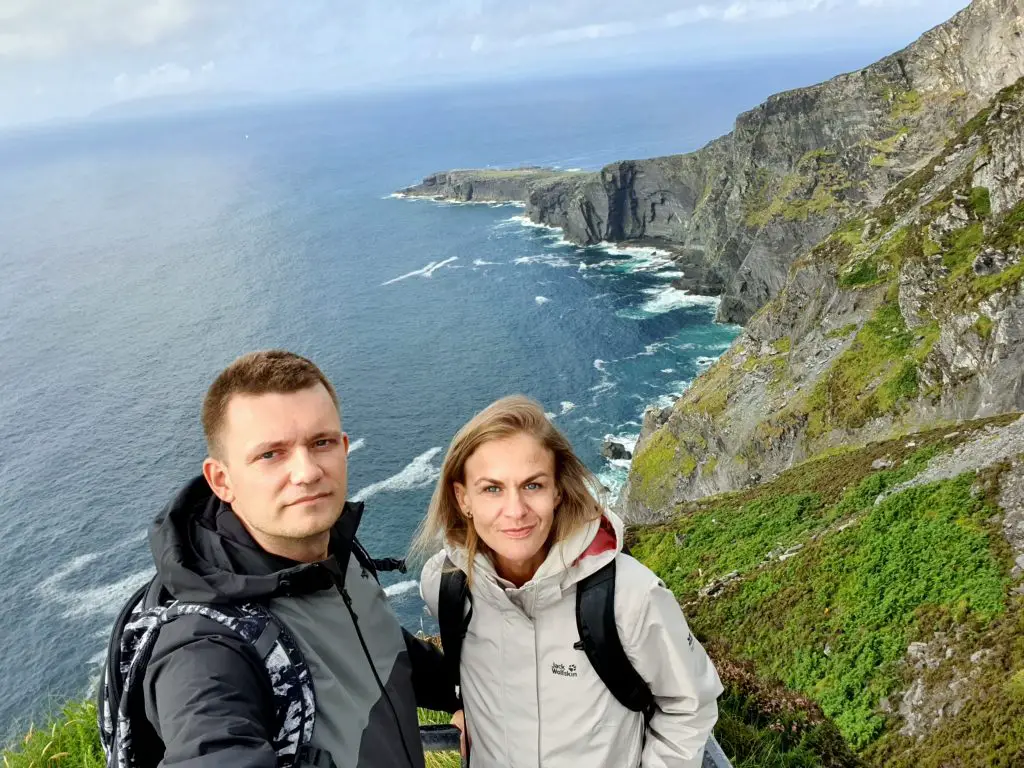 22. Valentia Lighthouse at Cromwell Point
Kerry tours Ireland what to see? Those visiting Valentia Island should take time to see Valentia Lighthouse at Cromwell Point. One of the most impressive lighthouses in Ireland, it is still used to guide ships into Valentia Harbour.
Built between 1838 and 1841, the site of the lighthouse is that of the Cromwell Feetwood Fort, one of two forts on the island. Built in the 16th century, the outline of the fort is still clearly noticeable from the air. The lighthouse was automated in 1947.
23. The Skellig Experience Visitor Centre
Things to do Kerry Ring? For those wanting to know more about the Skellig islands, they need to spend some time in the Skellig Experience Visitor Centre. Opened in 1992, the visitor centre was designed to reflect the rough and rugged terrain of the islands.
Inside, visitors will earn more about the history and archaeology of the island's monastery, the birds that live on the island (including their migratory patterns), the lighthouse which is still used to keep mariners safe, and the island's underwater world.
24. Find the happy Tree of Love
If we only could vote for the happiest tree of the year, the Tree of Love would have our vote! 🙂 Wondering where to find it? Head to Ballaghisheen Pass and keep your eyes open. Ready for Ring of Kerry scenic drive?
You probably would expect to see something like that on the Ireland Ring of Kerry tour, would you? 😉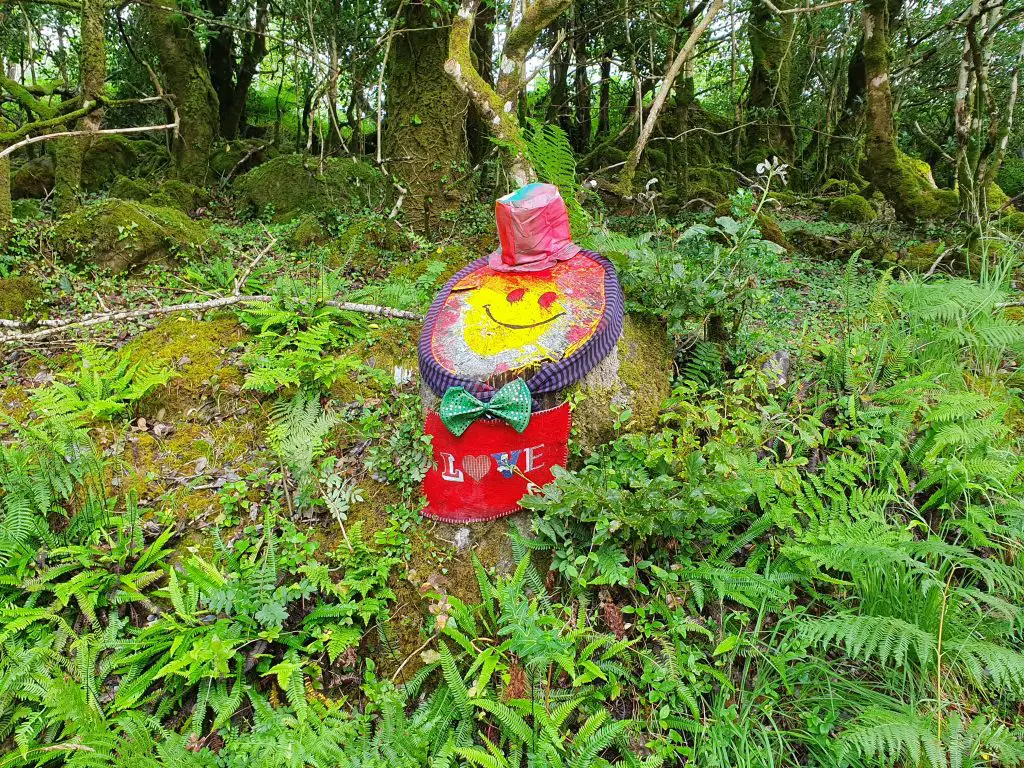 25. Ballaghisheen Pass
Also known as the Ballagh Oison Pass, or Bealach Oisin (the original Irish name), this road takes you through the Killarney National Park. This is a lovely drive. To the North, there is Macgillycuddy's Reeks. To the East, there is Ballaghnabeama Pass.
To the West, there is Carah Lake. This means there is plenty to see and plenty of potential destinations. As the road to Ballaghisheen Pass is quite narrow, drivers need to be wary of oncoming cars.
This really is one of the most beautiful parts to see on the Ring of Kerry driving route!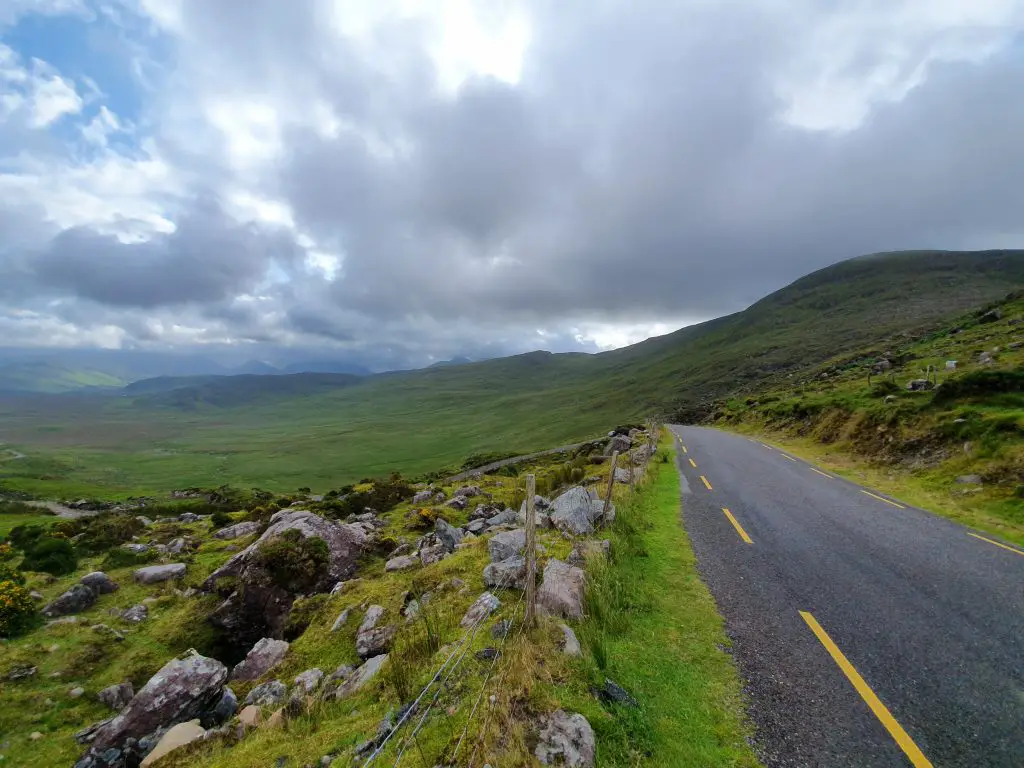 26. Ballaghbeama Gap
Ring of Kerry roads are stunning! Like Ballaghisheen Pass, the Ballaghbeama Gap is another narrow road where drivers will need to look out for oncoming cars. Thankfully, there are plenty of passing points and places to stop to take in the view.
We loved this area and it was one of our favourite places to visit Ring of Kerry.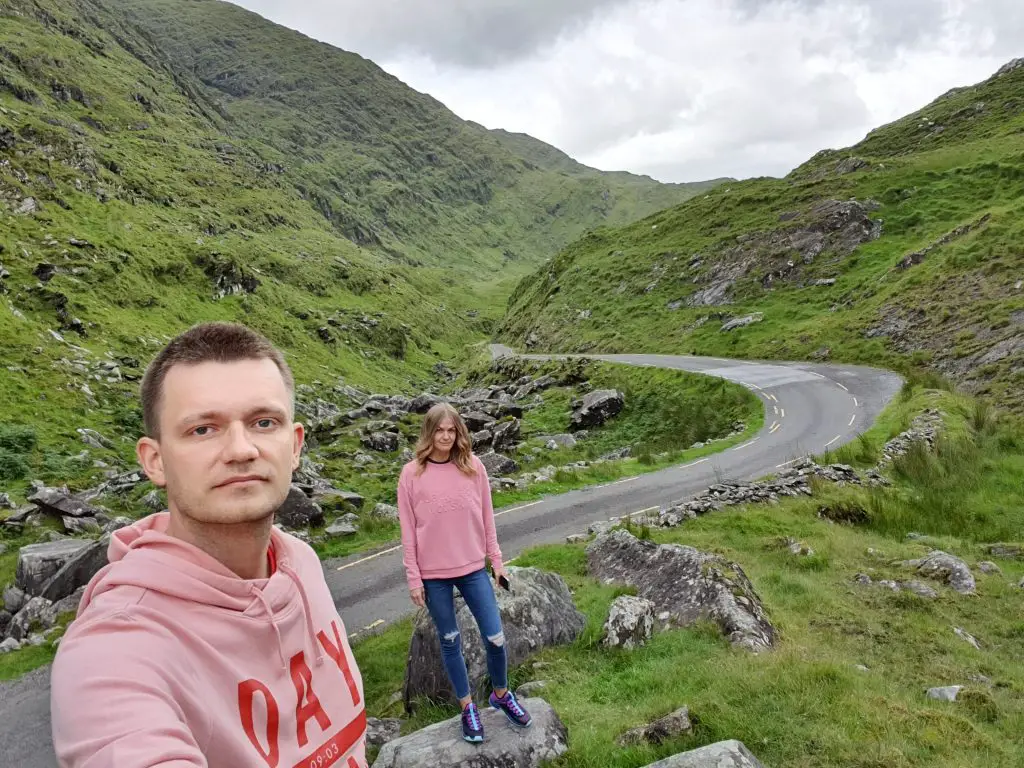 On the climb up the mountain pass, there is a chance of fog, though this can add to the beauty of the spot. There is also a good chance of sheep on the road so, again, drivers need to be careful on the road.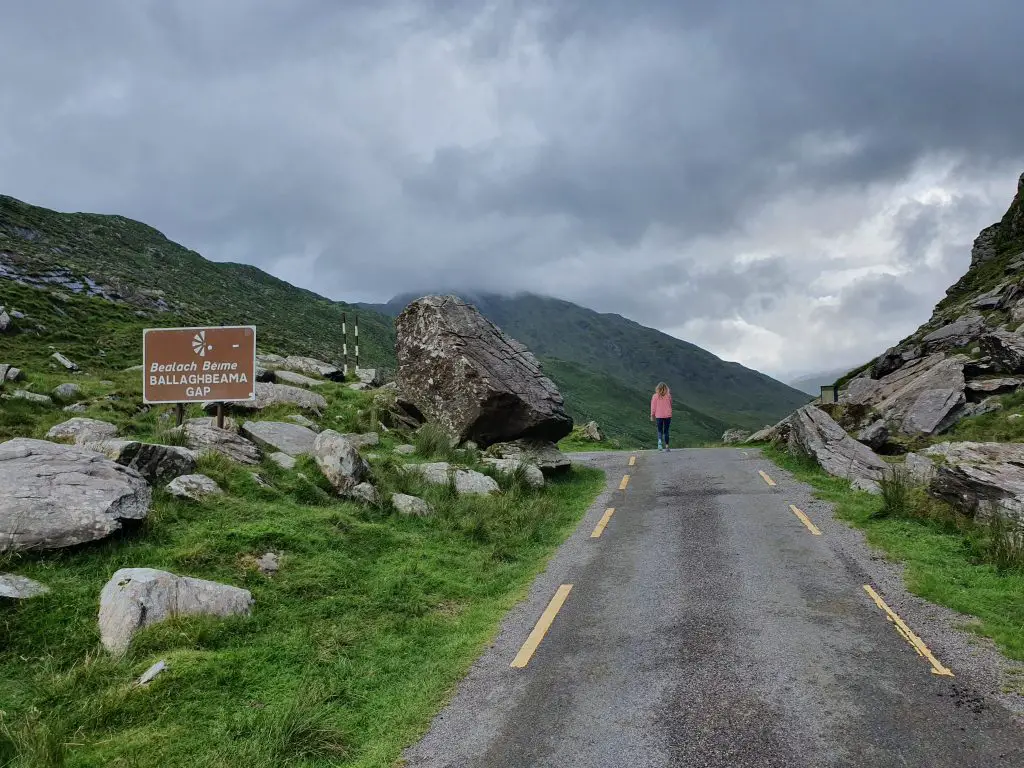 27. Ladies View
Best way to do Ring of Kerry? Stop as many times as you can and enjoy the views!
Ladies View got its name after Queen Victoria's ladies in waiting stopped here during a visit in 1861. This became one of their favourite places to sit and enjoy the scenery, and it's easy to see why.
Set in Killarney National Park, it offers impressive panoramic views of the Killarney Lake. Would you add Ladies View Ring of Kerry to your list of places to see?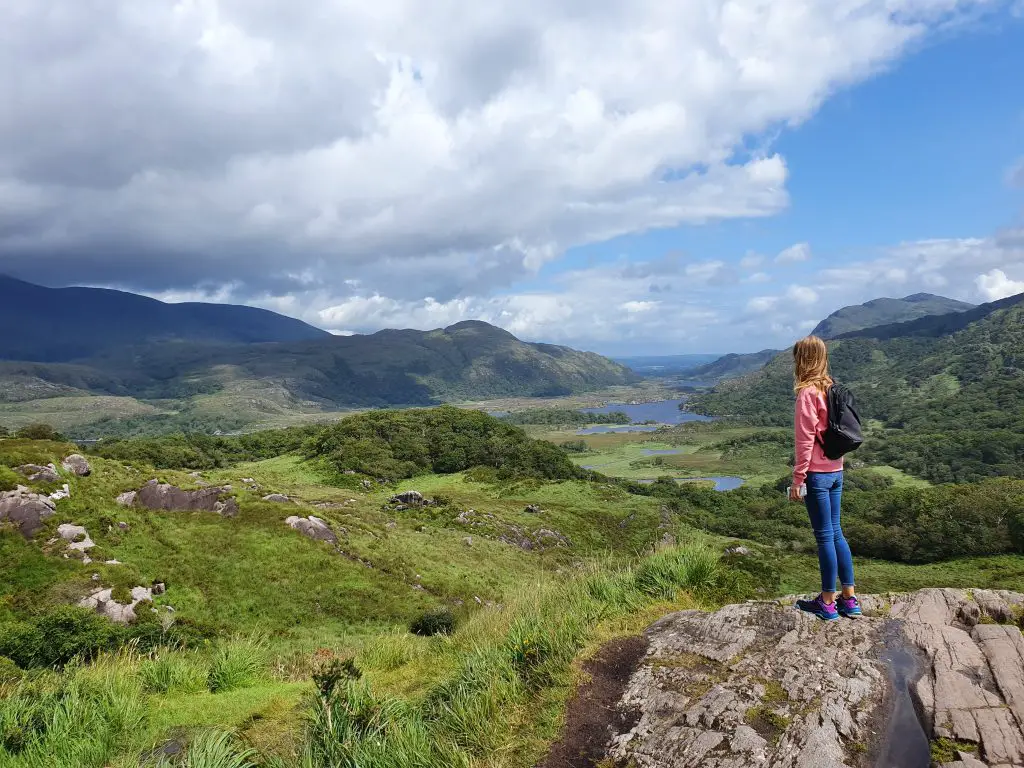 One of the most well know stops on the Ring of Kerry tour, this is an excellent place to stop for refreshments at the on-site café and souvenir shop.
28. Torc Waterfall
Also in Killarney National Park is the Torc Waterfall. A short walk (around two miles) from Muckross House, it is a sight to behold. It is also a pretty steep walk up a hill, meaning it isn't for everyone, unfortunately.
Those happy to do the climb, however, will get to see a 20-foot waterfall fed by the Owengarriff River. The best time to see it is after a period of heavy rain when the waterfall is at its strongest. A must-see when you tour Ring of Kerry.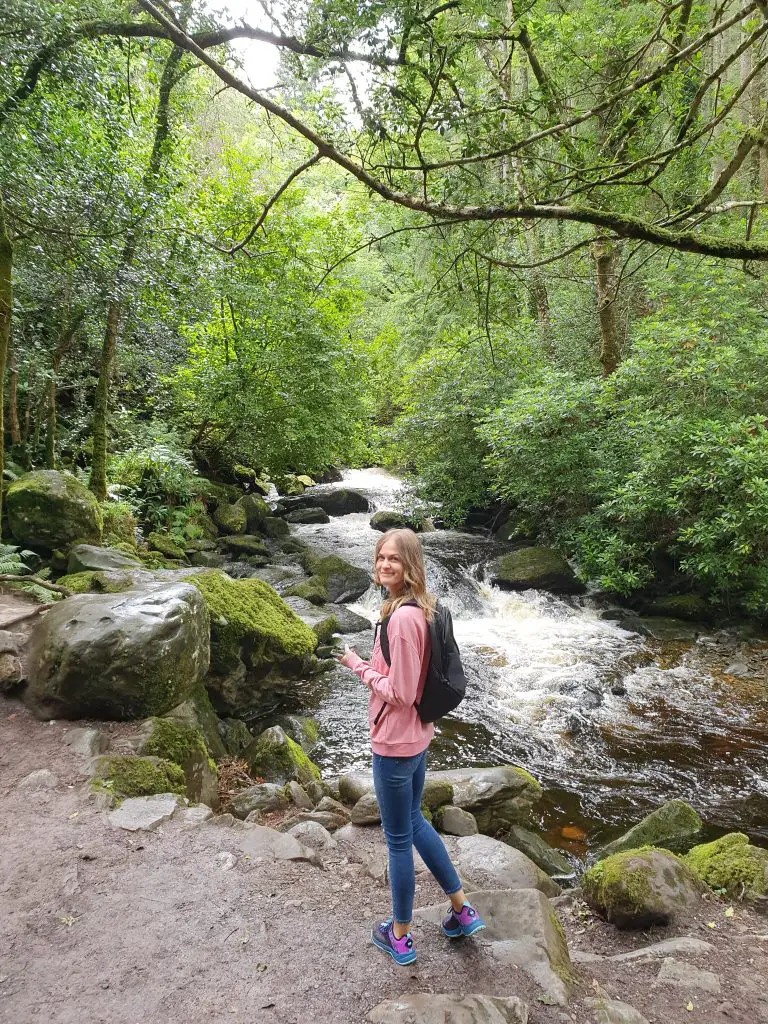 29. Killarney National Park
There is so much to do at Killarney National Park, and it is hard to know where to start. Visitors can spend time by the sea thanks to the Derrynane Seashore Trail and beach, go on nature walks, and see one of Ireland's prettiest waterfalls.
The park does offer something for everyone along with scenery that can take the breath away. There are lots of ways to explore it too, including on foot, by car or in a kayak or canoe. Definitely a must-have on your Ring of Kerry itinerary!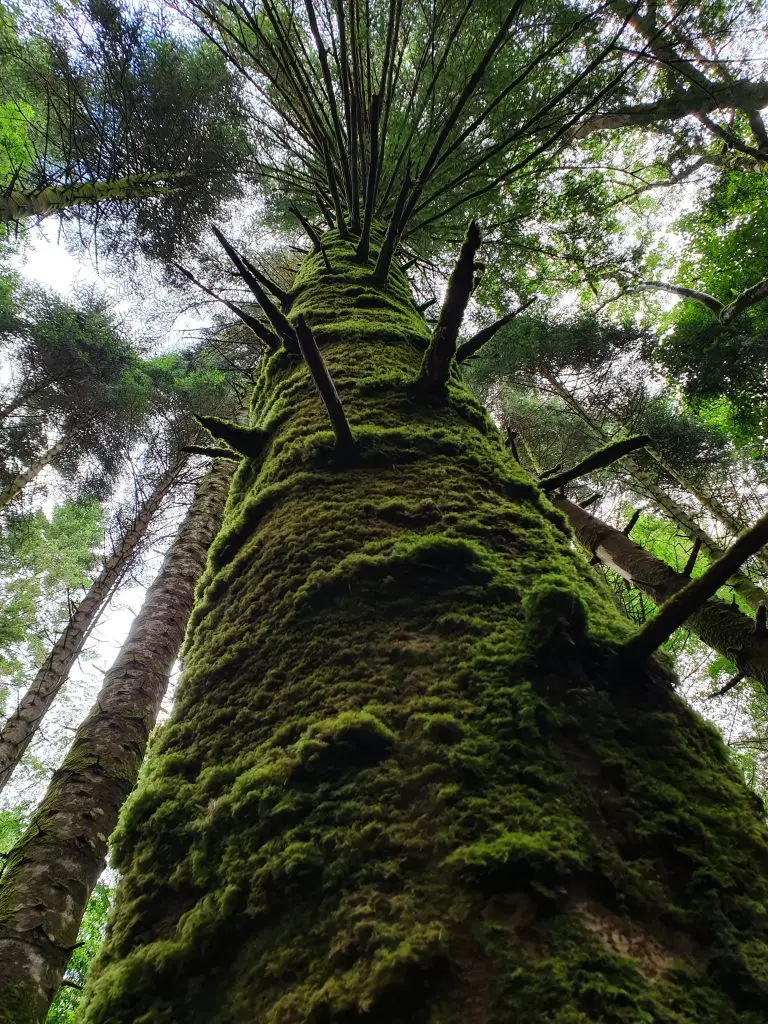 What to see on the Ring of Kerry if you have more than 3 days?
We had 3 amazing days on the Ring of Kerry. We have seen many stunning places but as always, there are way too many things to be seen. So, what would we go to see if we had one more day on the Ring of Kerry?
I. Muckross House & Ross Castle
Built in 1843, Muckross House sits in the middle of Killarney National Park (formed from Muckross Estate in 1932). With a stunning Tudor style, it has 65 rooms and has been used as a farm and hunting lodge over the years. Opened to the public in the 1960s, it overlooks 1,300 acres of natural beauty visitors love to explore. Tours of the house explain a little of its history as well as the history of farming in Ireland.
Set on the banks of Lough Leane, Ross Castle is an imposing structure – it really is one of the best castles in Ireland. Built in the 15th Century by the O'Donoghue Clan before the Earl of Kenmare took ownership during the Second Desmond Rebellion. Legend has it, however, that O'Donoghue has never left his castle. It says he lies asleep under the lake, waking every seven years on the first morning in May to bring good fortune to those who see him (making this a good day for a visit).
II. Killarney
Killarney is a great starting point for any trip to the Ring of Kerry. It's a small town with plenty to do. The architecture hasn't lost its 19th-century charm, so visitors often say they feel like they've been transported back in time. A trip to at least one of the town's old churches should be on any visitor's itinerary as should the town centre. While there, visitors can also grab a quick drink at one of the town's many cafés. 
III. Rossbeigh Beach
There are some beautiful beaches in Ireland and Rossbeigh Beach in Kerry is another one of them. This pristine beach has a blue-flag award, making it an ideal place to visit and spend the day. For families, children will enjoy the pony trekking, water sports and play area on offer. At the day's end,  they can head to Glenbeigh, a nearby village, where they can get something to eat before heading off to their next stop on the Ring of Kerry.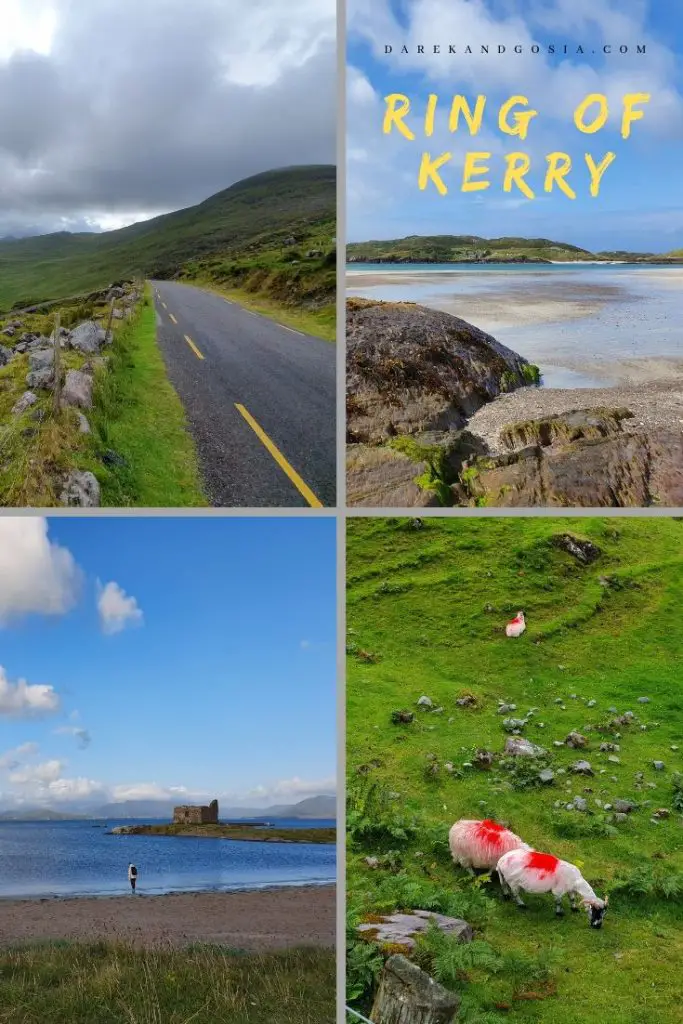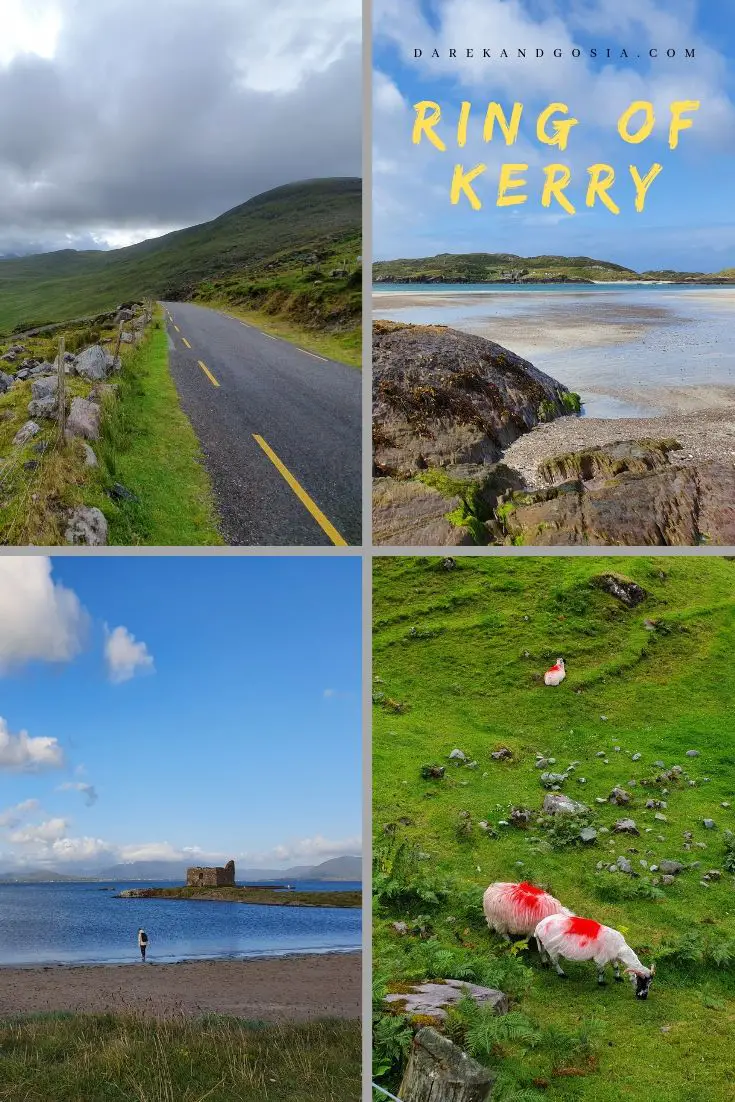 Is it worth driving the Ring of Kerry?
Confused? Not sure if driving the Ring of Kerry is for you?
Well, this part of Ireland has some of the best roads in Europe – you will be just speechless when driving there! With one of the most stunning landscapes in Europe and amazing beaches, it is really hard not to love this place!
If you liked our article about Ring of Kerry, then please check out the below posts too: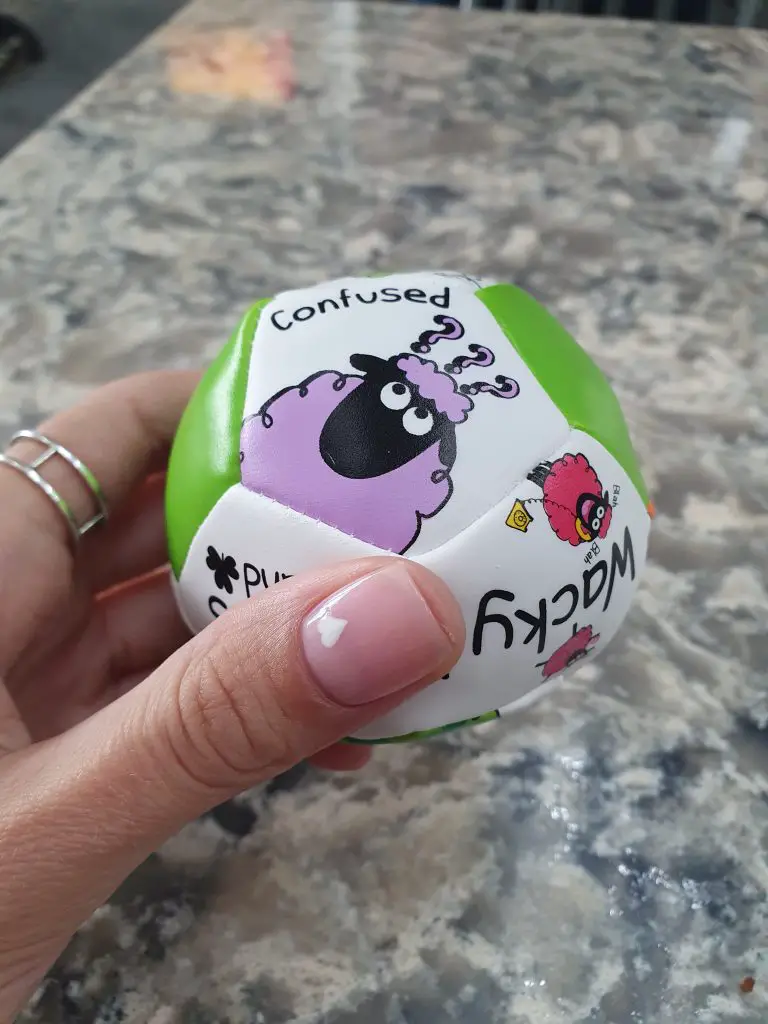 The Ring of Kerry FAQ
Can you do Ring of Kerry and Dingle Peninsula in one day?
In theory, you can do both Ring of Kerry and Dingle Peninsula in one day, but WHY would you do that?! Both areas are unique and have stunning views and many points of interests so you need to take time to fully appreciate all of them!
Which is the best way to drive the Ring of Kerry?
There is no ONE best way to do the Ring of Kerry! In fact, it does not really matter where you start as long you dedicate 2-3 days to complete the route. Take your time and drive Ring of Kerry your way!
Is the Ring of Kerry dangerous to drive?
No! Driving the famous Ring of Kerry cycle route is not dangerous. Having said that, you always have to drive carefully and be aware of sheep and other drivers. Many of the roads are very narrow but you will be rewarded with stunning vews!
Ring of Kerry weather Ireland – what to expect?
For those who are looking to explore the Ring of Kerry, you are going to want to know what type of weather to expect during the journey. Of course, much like the rest of the UK, the weather in this area can be unpredictable and you never quite know what you are going to get. June, July and August are the warmest months, however, in these months you still are not likely to have to deal with temperatures of more than 20 degrees.
Articles you may like: