Commuting to London? From Amersham town to Berkhamsted – the best family commuter towns London 2022 have been revealed!
As the capital of the country, London is a bustling hub with plenty going on. With an abundance of offices and workplaces, many thousands flock to the city every day. Life in central London is exciting, with plenty to see and do, but living in the centre isn't for everyone.
While your workplace might be in London, you might be considering moving somewhere further afield to make the most of the extra space, cheaper living and quieter lifestyle.
If you're considering whether commuting is the best option for you, we are looking into the top commuter towns near London to help you decide if it is worth living outside of the capital.
What is the London commuter belt?
The London commuter belt is the area that surrounds the city, which is a practical commuting distance. It is safe to say the commuter belt is widening, as more and more towns are getting faster train services, and workers are prepared to travel further than before.
Most areas in the London commuter belt are within 40 miles of the city centre and regions include Buckinghamshire, Berkshire, Surrey, Hertfordshire, Essex, Kent and more.
Is it better to live outside of London?
London is an exciting, fast-paced place to live, with everything on your doorstep and always something going on. However, moving outside of the capital has many advantages that are often not considered.
Living outside of London is often far cheaper, even with the added commuting costs. You can often buy or rent a bigger place, giving yourself and your family more space to call home. Not only that, but London can be a loud, busy and full-on city. Moving further afield is quieter, calmer and offers plenty more green spaces and beautiful scenery.
When you live outside of London, you can leave behind all the tourists, traffic and pollution, and head home to a peaceful town or village in the commuter belt.
You will need to consider the journey to the office if you are thinking about moving out of London. The idea of spending extra time travelling might not seem appealing, but for many commuters, this extra time can be spend unwinding from a busy day or reading a good book in the morning.
When you choose to live outside of London and commute in, you know you are never far from the buzz of the big city. You can easily visit London's attractions on weekends or head into the capital for a night out, with a quick train ride home.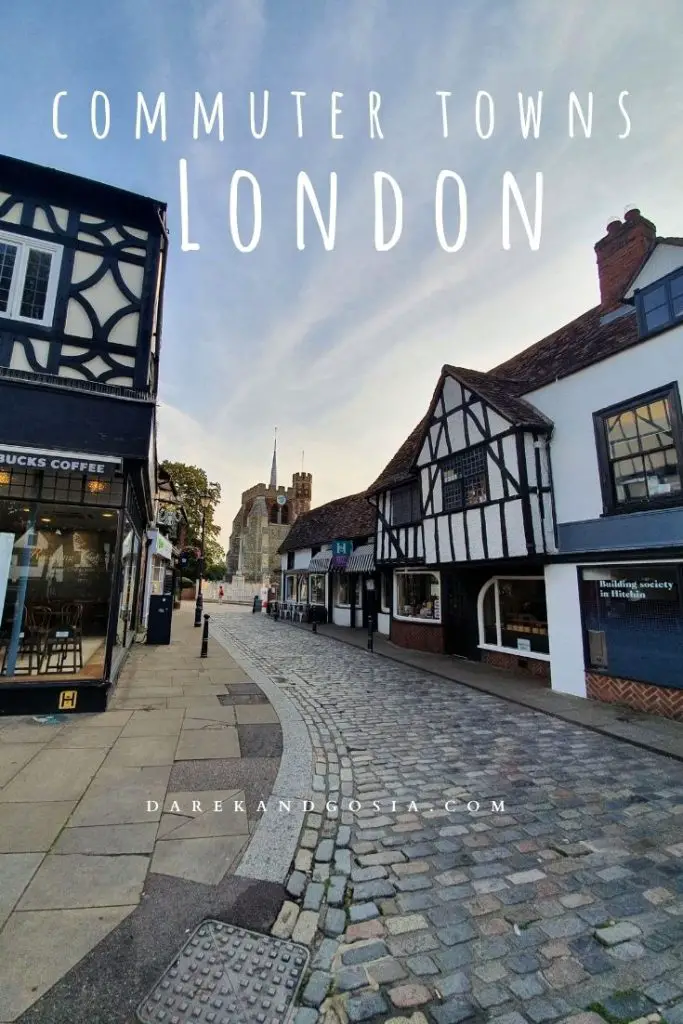 Best commuter towns London types:
| | |
| --- | --- |
| Best places to live outside London for nature: | Beaconsfield |
| Best places to live around London with top schools: | Marlow |
| Affordable commuter towns London: | High Wycombe |
| Places to live outside London with easy commute: | Amersham |
| Where to live outside London near forests: | Epping |
| Best London commuter towns for families: | Berkhamsted |
Explore the best commuter areas to live and top ideas for family-friendly commuter towns close to London:
Best towns to live near London
Many wonderful towns surround London, and the commuter belt offers something for everyone. Whether you choose to commute from Berkshire, Buckinghamshire, Essex, Surrey or Kent, these are some of the best towns to live near London;
1. Henley-On-Thames
Where to live to commute to London? Henley-On-Thames is famed for the annual regatta that takes place in the town every July. The rest of the year, Henley on Thames is a beautiful town just outside of London in the county of Oxfordshire.
Great Western Rail services run to Paddington Station and the journey time from Henley-On-Thames is roughly one hour. Living in Henley-On-Thames is certainly on the pricey end of towns in the commuter belt, but if you want to set up home in a beautiful riverside location with a rich history, it is well worth the money.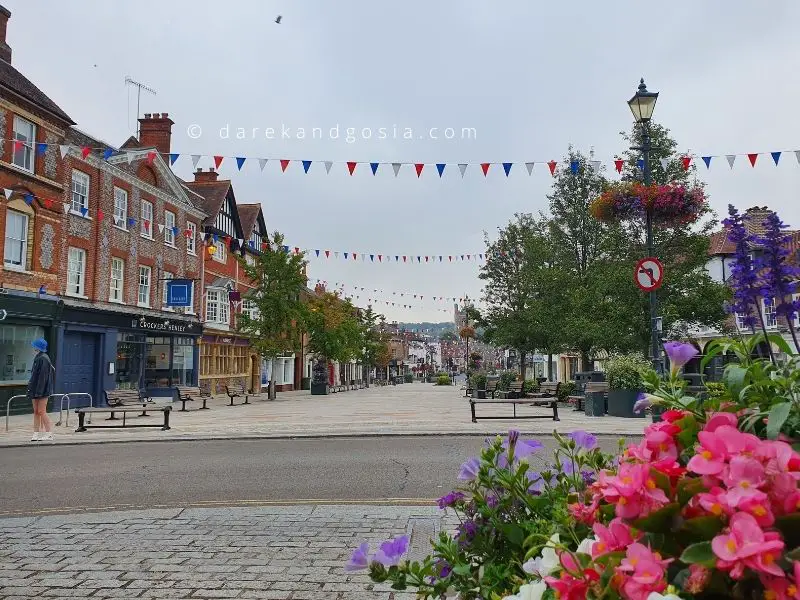 2. St Albans
Best places to live near 'outstanding' secondary schools outside of London? The stunning city of St Albans offers direct train services to London in just 18 minutes, so it is no surprise that it is such a popular commuter town. In the county of Hertfordshire, just outside the M25, St Albans is a top choice for those commuting to London.
The city was voted one of the best places to live in Britain by the Sunday Times, thanks to its beautiful countryside, an abundance of restaurants and proximity to major attractions.
Homes in St Albans are significantly cheaper than those in Central London, and commuters can enjoy plenty more space for their money.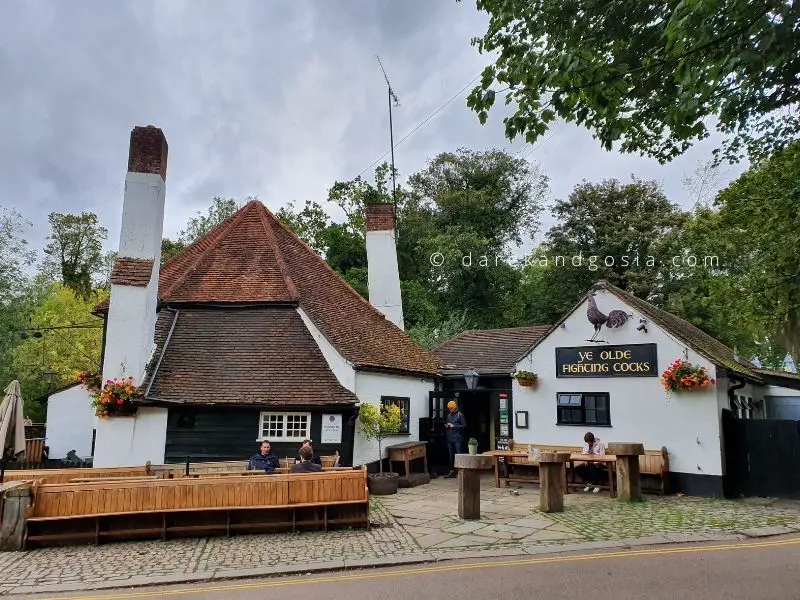 3. Chipping Campden
Best commuter towns outside London. Chipping Campden is a beautiful market town. Located in the Cotswold area provides lots of places to eat and drink it's worth a visit to see the buildings and architecture.
Its terraced High Street, dating from the 14th century to the 17th century, makes it a real gem in the Cotswolds and one of the most beautiful tourist destinations in the UK! Ready to call it home?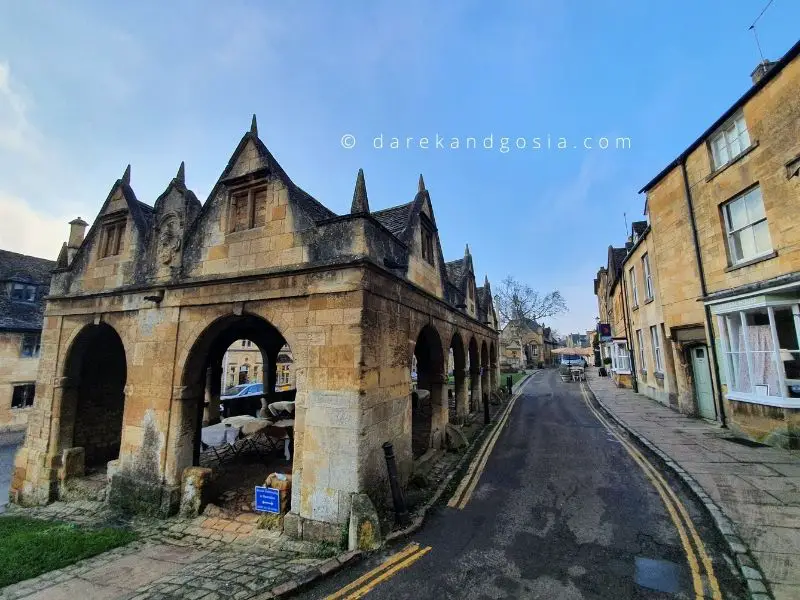 4. Lymington
Best places to live outside London for families? Lymington is a real gem! A town on the south coast of England, just a 2.5-hour drive from central London. If you have the luxury of working from home and can visit the capital city only once a week, then Lymington will be a very nice place to commute back to from London ?
This colourful coastal town is an ancient seaport famous for sailing and smugglers. Nowadays Lymington is a number one destination in the New Forest and one of the most visited places in Hampshire.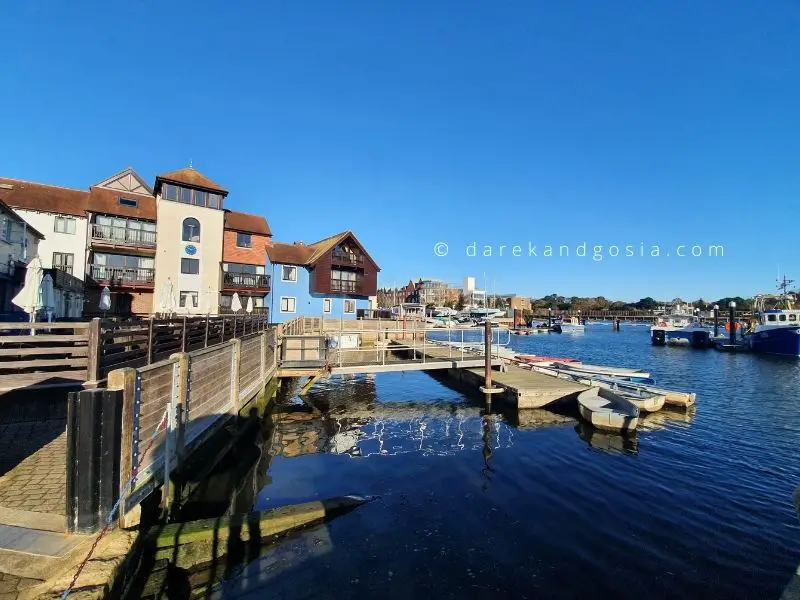 5. Bray
Best commuter areas close to London? This tiny village in Berkshire is perfect for commuters who really want to live out of the busy city of London. On the edge of the river Thames, Bray is extremely picturesque and offers stunning waterside views.
It is famed for being home of two of the four British restaurants that have three Michelin stars. Maidenhead train station is a ten-minute drive away, and from here there are direct train services into London Paddington.
6. Amersham
Best London commuter towns for families? Amersham is a beautiful town in Buckinghamshire, on the edge of the Chiltern Hills. It is a highly sought after place to live for commuters, and house prices have increased rapidly in the last two years. Direct services run into London Marylebone and the journey time is just over 30 minutes.
Amersham is actually just close enough to London to still benefit from being on the London Underground network. It sits at the end of the Metropolitan Line, although overground services to central London are a much quicker option. Within the town of Amersham is Old Amersham, which is steeped in history and looks like something from a picture book. Commuters love the boutique shops, old timbered pubs and local restaurants.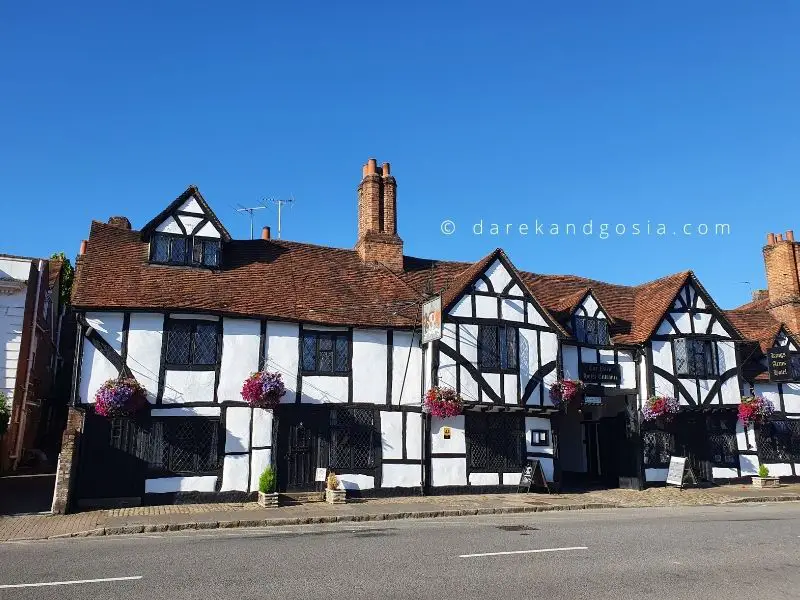 7. Beaconsfield
Looking for a town with 30 minute commute to London? Another town nestled into the Chiltern Hills is Beaconsfield. It is the perfect spot for commuters who love to get out and about in nature when they're not in the office. There is a lovely local community in the area and great schools, making it popular for families.
Although not as busy as London, the town of Beaconsfield is vibrant with plenty of pubs, bars and restaurants. Chiltern Railways run direct services from Beaconsfield to London Marylebone with a journey time of roughly 30 minutes.
The train station is located in the new town of Beaconsfield, but the old town is just a short distance away.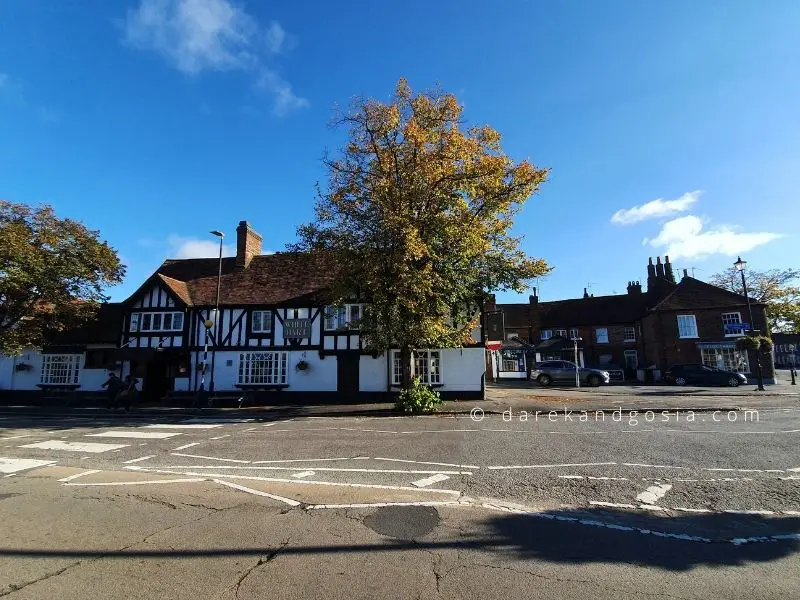 8. Arundel
Best places to live close to London? Arundel is a very nice market town located in West Sussex, in the South of England.
It is a popular tourist destination in this part of Sussex and according to some property experts, Arundel is one of the best places to live in England.
This historic market town has been named in the top towns in England to live in so it just has to be top on our list of the best commuter towns near London!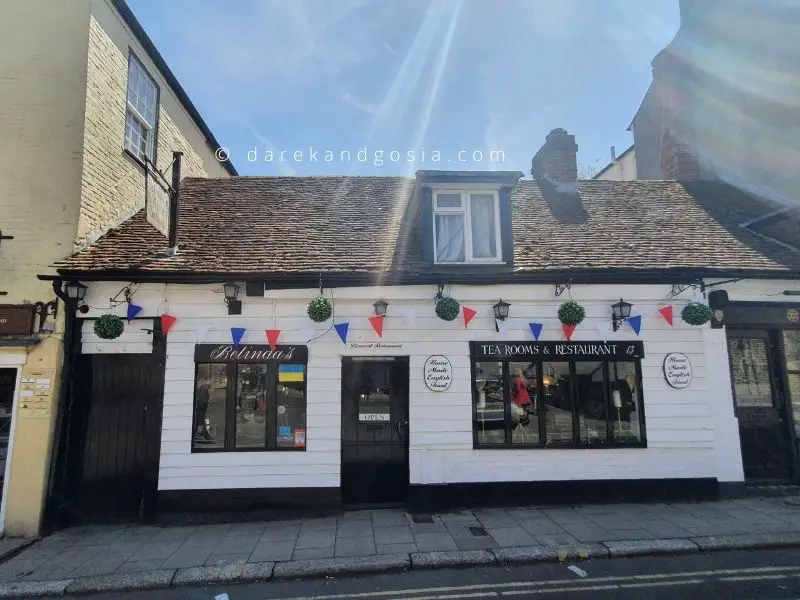 9. Cambridge
Where to find the best commuter towns around London? Cambridge might be over 60 miles away from Central London, but that doesn't mean it isn't a popular spot for commuters to live. Great Northern train services take just 50 minutes from Cambridge to London King's Cross, making it a reasonable journey. Cambridge is hailed as one of the most beautiful towns in the country, with the historic River Cam running through the centre.
The town has plenty of green spaces, stunning homes and a bustling centre. Living in Cambridge is particularly cheaper than in Central London or many other commuter towns but be sure to factor in the cost of train fare if you are considering a move to the town.
10. Marlow
Best London commuter areas for schools? Marlow is 50 minutes from London Paddington for direct services, or commuters can head to nearby Beaconsfield or High Wycombe for trains to Marylebone in just 30 minutes. The town is cute and unique in the heart of Buckinghamshire, perfect for commuters who want to enjoy life away from the busy London streets.
In the countryside around Marlow, there are many little villages which are great for visiting on a weekend. Marlow is particularly popular with families because of the many schools with outstanding Ofsted ratings.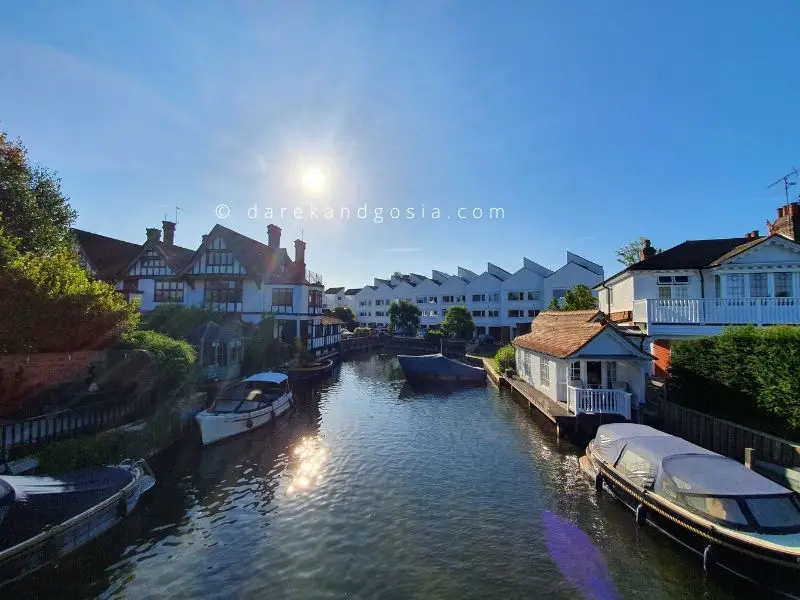 11. Epping
London commuter belt best towns! Just outside of the M25 in Essex is the town of Epping. It is on the Central Line offering direct services into Stratford, London Liverpool Street and beyond. The historic market town has many shops and restaurants, so despite the rural location there is plenty to see and do.
Epping is surrounded by 6,000 acres of woodland, known as Epping Forest, making it a great place for commuters that love nature and the great outdoors. When you live in Epping, it certainly doesn't feel like you are just 40 minutes from Central London.
12. Berkhamsted
Top 10 family-friendly commuter towns for London workers? Recently named the best place to live in the South-East by the Sunday Times, Berkhamsted in Hertfordshire is one of the most popular commuter towns in the area. It is a quaint market town in the Chiltern Hills, with The Grand Union Cancel running through the centre.
The canal makes the town a scenic spot, and the high street is lined with historic buildings which are a collection of big-name brands and local independents. West Midlands Trains run direct services from Berkhamsted to London Euston, with a journey time of less than 30 minutes.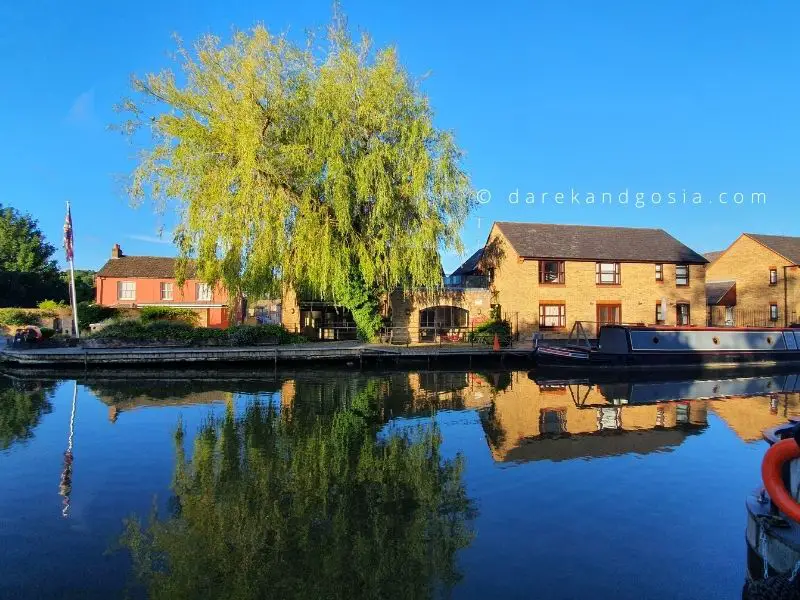 13. Ascot
Most expensive commuter towns London? Ascot is famous for its racecourse which has been used by the Royal family for hundreds of years. The relaxing Berkshire town is one of the most beautiful locations in the country, and just a stone's throw from Central London. It is for these reasons that Ascot is popular among commuters.
Ascot offers a friendly village feel and is known for being very upmarket, with some of the most glamorous homes in the UK found here. London Waterloo is reachable in 55 minutes of South Western Railway services.
14. Hitchin
Where to find best London commuter towns for first-time buyers? Just over half an hour North of London is the town of Hitchin. Thameslink offer direct services between Hitchin and St Pancras International. This characterful town in Herts features medieval remains and was once known for being a lovely, small market town.
Prices of living in Hitchin are extremely reasonable, making it great for commuters looking to save on the costs of London living. Nearby to Hitchin are the countryside villages of Charlton and Gosmore, which are also very desirable areas to live.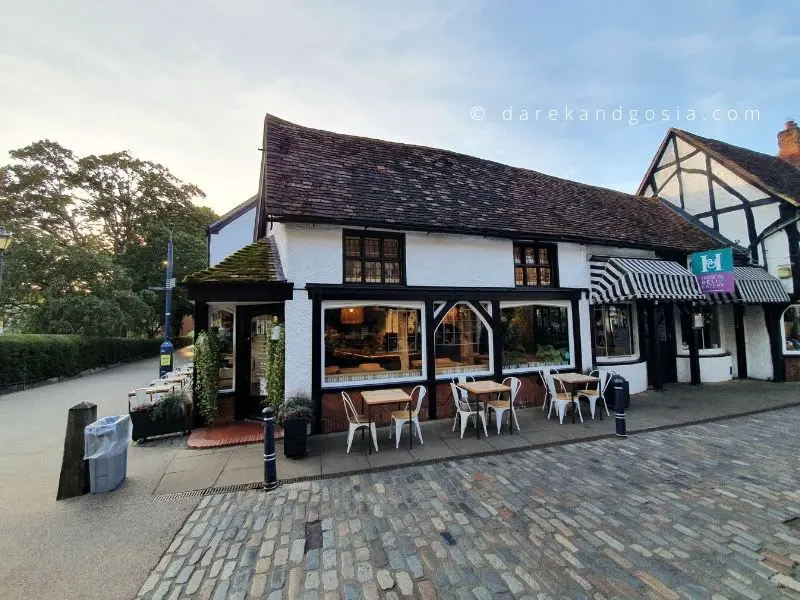 15. Tring
Where else is on the list of best commuter towns to London 2022? Tring is a beautiful little commuter town in Hertfordshire, with plenty of open spaces and a weekly farmers market. Tring train station is just one and a half miles outside of the town and offers direct services to London Euston. This picturesque little town has its own beautiful high street with quirky, independent restaurants and cafes.
Tring is right by the Chiltern Hills, an Area of Outstanding Natural Beauty, making it a great home for commuters with a passion for exploring nature. Tring also has its own natural history museum, an offshoot of the famed museum in central London.
16. Guildford
Looking for London commuter towns with good schools? In the county of Surrey is the popular market town of Guildford. Reachable from central London in just 30 minutes, South Western Railway run direct services into London Waterloo Station. Guildford is a beautiful historic town with its own castle, cathedral and bustling, cobbled high street.
Residents of Guildford enjoy a huge range of independent shops, big-name department stores and many pubs and restaurants.
17. Petworth
Top commuter towns London? There are many great locations for a scenic drive near London. But what if one of them is located in West Sussex and you could call it home?
Petworth is a perfectly preserved market town that is nestled in the heart of the stunning South Downs National Park. This beautiful and steeped in history town has been even voted as the Best Antiques Town!
From Petworth's historic streets to cute cafés and classic pubs are many things to do in Petworth.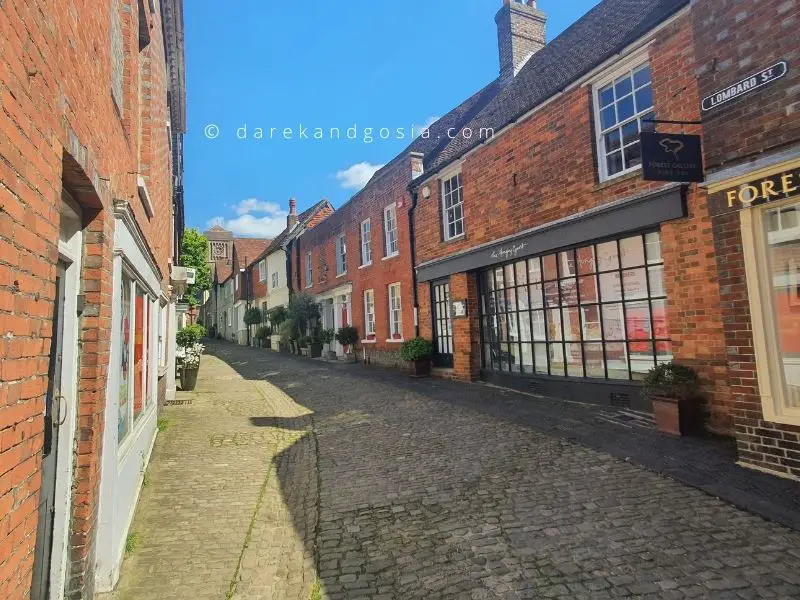 18. High Wycombe
Best cheap commuter towns London? High Wycombe is a peaceful town in Buckinghamshire and was once famed for being founded on the wool and furniture industry. These trades have been left behind, and it is now one of the most popular commuter towns thanks to its travel links to London.
Chiltern Railways run direct services to London Marylebone, with a journey time of 33 minutes.
If you are looking for a cosy place to live, then West Wycombe village (located just outside of High Wycombe) could be a great choice!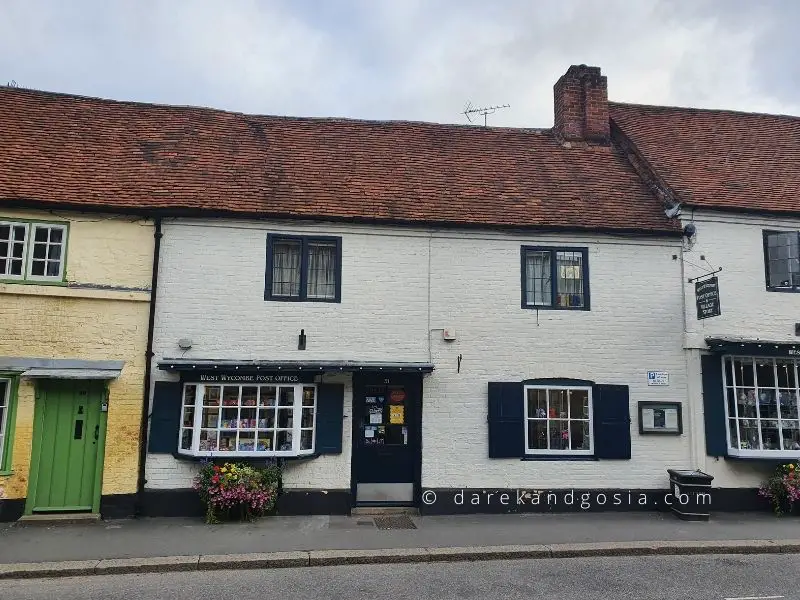 19. Borehamwood
Best places to live 1 hour from London? Borehamwood is well known for being a commuter town in Hertfordshire, with direct train services to Blackfriars and London Bridge in less than 40 minutes. There are many London commuter towns ranked very high and Borehamwood is also on that list!
The town is set to boom over the next few months, as Sky recently unveiled plans to create a 32 acre TV and film studio in the area.
20. Reading
Best London commuter towns for first-time buyers? Reading is regularly ranked as one of the best cities to live in. It is the perfect spot for commuters who don't want to live in central London but still want the buzz of a big city. There have recently been huge investments in Reading's rail facilities, and direct links from Reading to Heathrow as well as central London. London Paddington is just 23 minutes away on direct services by GWR.
You are really spoiled with choices here. Whether you choose to live in Reading town centre, Caversham or Sonning, the whole area of reading provides all you need as it's a perfect commuter town!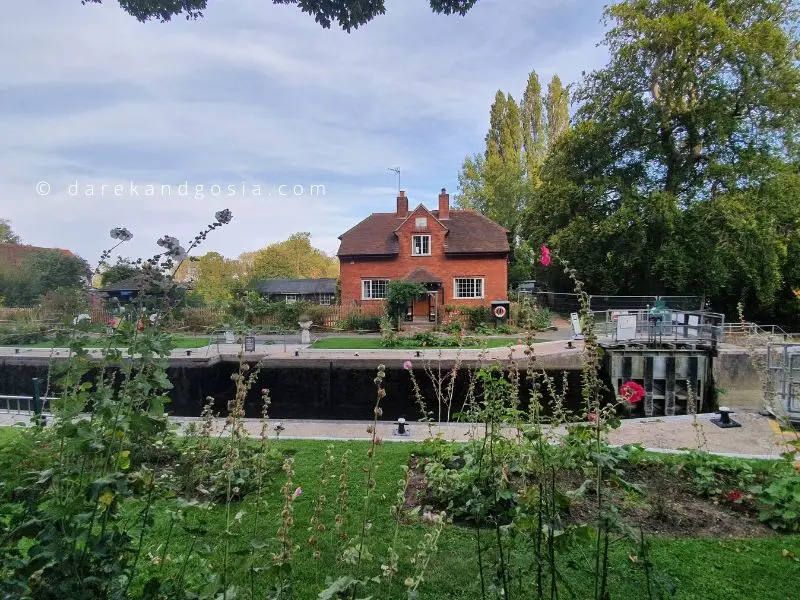 21. Windsor
Looking for most expensive commuter towns near capital city? Windsor is famed for its links to the Royal family, and the centre point of the town is Windsor Castle. It certainly isn't the cheapest commuter town to choose, but it is a beautifully quaint town with plenty of character.
Central London can be reached in just 30 minutes, and Windsor is served by two train stations giving commuters more choice than many other towns.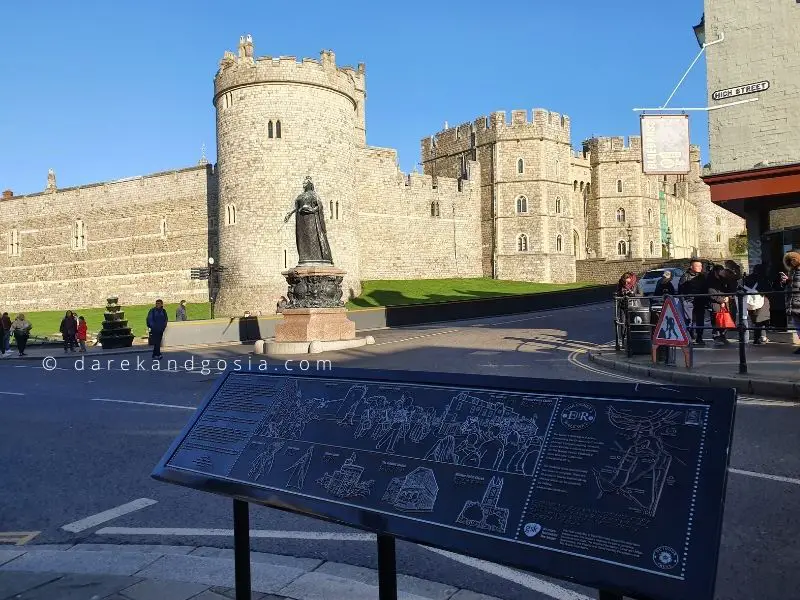 22. Maidenhead
Cheapest commuter towns London? On the edge of the river Thames in Berkshire, Maidenhead is a beautiful town with a rich history. Residents love the regular farmers market, small independent shops and pedestrianised high street.
As one of the top London commuter towns, Maidenhead is a great choice for first-time buyers! Commuters have been flocking to Maidenhead recently because of its new rail links on the Elizabeth line.
23. Rickmansworth
Best places to commute to London? Rickmansworth in Hertfordshire is a popular commuter town because of direct rail services to London Marylebone as well as the Metropolitan Line which runs to Baker Street and London Liverpool Street. The town itself offers a large town centre with many chain stores, restaurants and bars.
If you a looking for max 30 minute commute to London from your next town, then Rickmansworth should be high on your list!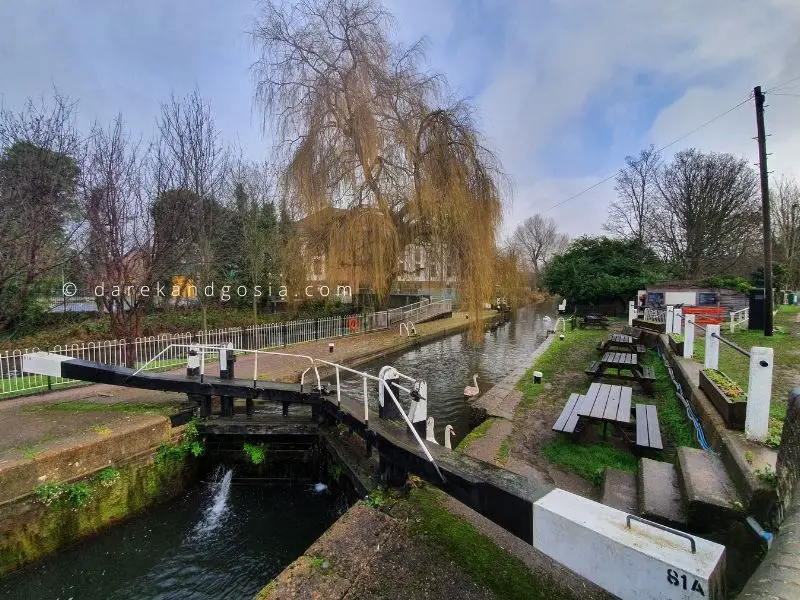 24. Woking
Towns 20 minutes from London? Less than half an hour south-west of London is the town of Woking. It has been known as one of the best commuter areas close to London for quite a long time.
The town has undergone many recent developments and is known as an up and coming commuter area. There is a thriving town centre with shopping centres and a range of excellent schools.
Buying and renting in Woking is much more affordable than London, currently. However, house prices are set to continue to soar.
25. Princes Risborough
Looking for London's most affordable commuter towns? On the edge of the Chiltern Hills in Buckinghamshire, Princes Risborough is a common choice for commuters. Chiltern Railways offer direct services to London Marylebone, with a journey time of roughly 45 minutes.
It is renowned for being a beautiful town and has featured on TV shows including Midsomer Murders. Princes Risborough is surrounded by many charming little villages, with lovely old pubs and historic architecture.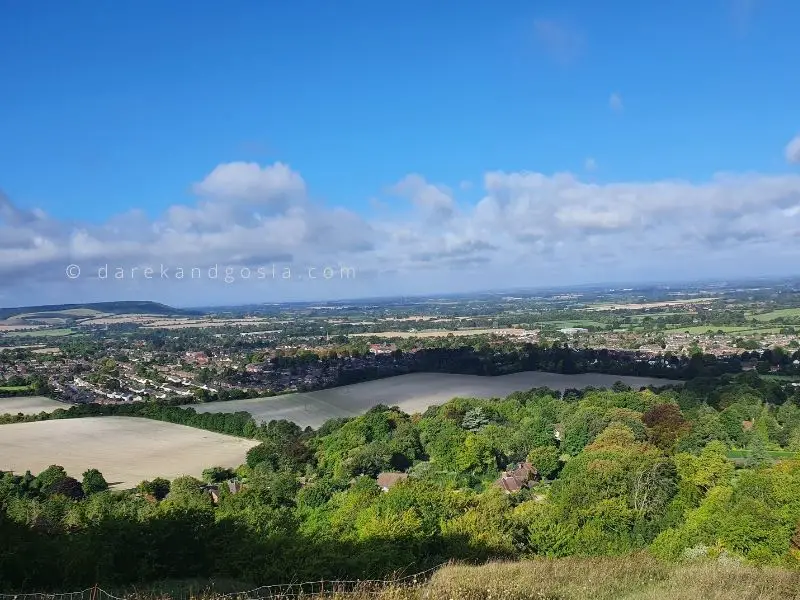 Interested in things to do near London?
Is it worth living outside of London and commute?
If you are considering making the move out of London and commuting to the office, there are a few things you must consider before deciding if it is worthwhile. Living outside of London is often far cheaper, and your money goes further towards bigger homes and more space. But always bear in mind the cost of travelling, as season tickets into the capital often aren't cheap.
Commuting from one of these popular commuter towns also gives you an escape from the hustle and bustle of London life, and more opportunities to enjoy the great outdoors. However, you need to consider if the additional journey time on to your working day (and potential added stress) is worth the peaceful town lifestyle.
Best London commuter towns FAQ:
Where should I live to commute to Paddington?
Maidenhead and Reading are some of the best commuter towns west of London.
Where should I live if I work in London Bridge?
If you're looking for an idyllic town with a short commute from the outskirts of London then Guildford, Petworth and Redhill are some of the best commuter towns south of London!
Best commuter towns London 2021:
There were many affordable commuter towns London 2021 on our list. Amersham, Marlow and Rickmansworth are amongst the top commutable places to London!
Best commuter towns north of London:
Borehamwood, Hitchin and Rickmansworth are the top north London commuter towns!
45-minute commute to London:
St Albans, Redhill and Borehamwood are the best places to live near London with commute time below 45 minutes.
Is it cheaper to commute or live in London?
The cost of living is definitely cheaper the further you move away from the capital city. With so many commutable towns to London, there are many commuter belt towns that you can call home.
If you liked our article, then please check out the below posts too: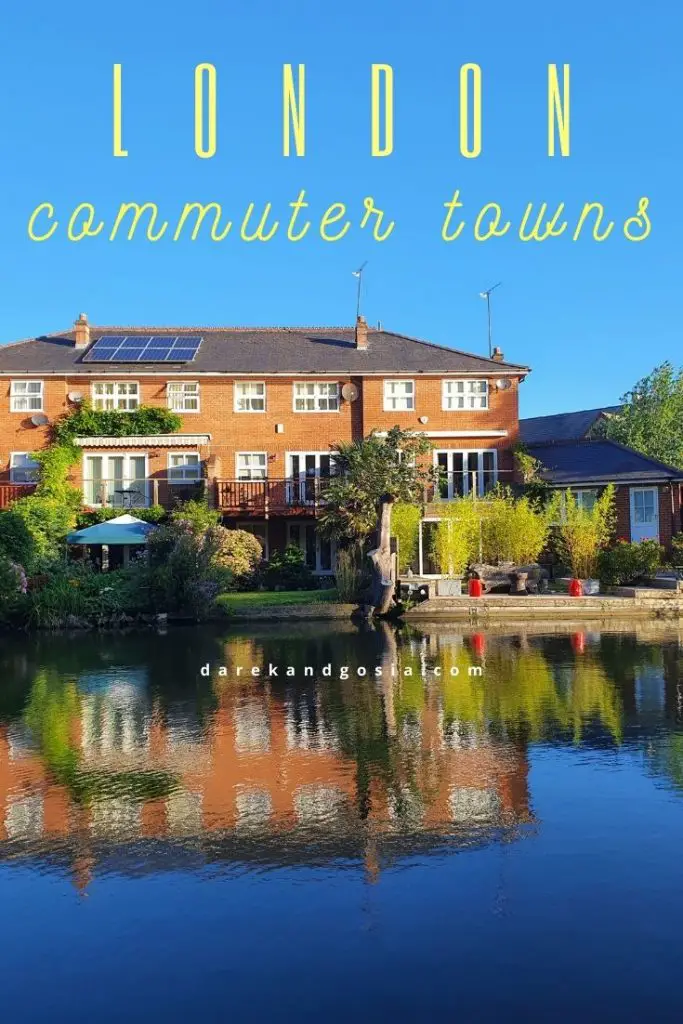 Articles you may like: