Debating a move to the 'burbs? Join Darek and Gosia as they humorously dissect the pros and cons of swapping London's allure for charming commuter towns. Discover if the grass is greener or just a clever illusion.
London – a city so great that people are willing to commute hours just to say they live in its proximity. But here's a secret: you don't have to be a sardine in a tube train every morning. There are places beyond the M25 where the air smells slightly better, and your wallet doesn't cry every time you buy a coffee. Trust us, we're Darek and Gosia, London residents turned amateur cartographers.
For those brave enough to leave the capital but smart enough not to go too far, we've curated a list of 40 commuter towns near London. These towns are so overwhelmingly beautiful that you should avoid driving to them at all costs – you might not come back.
So let's embark on this scenic journey of towns that are "ugly beautiful," in a manner only the Brits will understand. Keep your sarcasm detectors at the ready!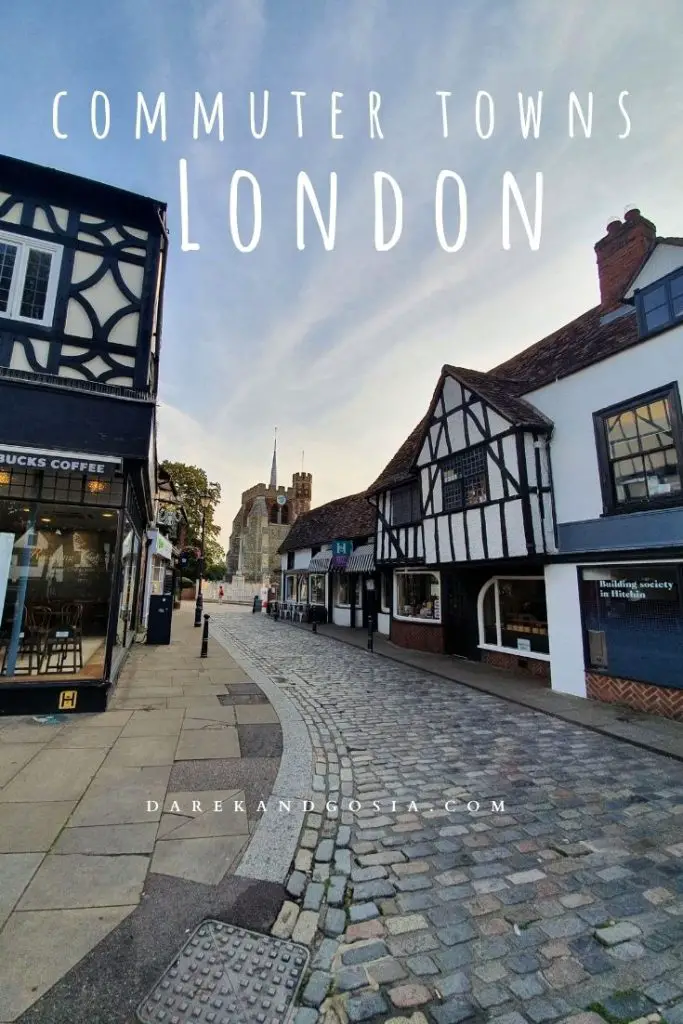 What is the London commuter belt?
The London Commuter Belt, a term as exciting as a stale scone. Essentially, it's a ring of towns and suburbs enveloping London like a suspiciously well-behaved teenager. These towns are close enough for a bearable commute to the Big Smoke but far enough to pretend you're escaping city life. Many places in this belt offer leafy streets, quaint high streets, and homes that boast more than just a shoebox-sized bedroom.
So, are these places charming havens or traps waiting to suck the London life out of you? Ah, that's the million-pound question, isn't it?
Best commuter towns London
1. Henley-On-Thames
Best commuter towns near London? Oh, Henley-On-Thames, you terrible beauty. A town so postcard-perfect, you wonder if it's the Truman Show set brought to life. Imagine strolling along the Thames with an ice-cream in hand, not a care in the world except for the burden of living in a real-life fairytale. Gosia was so entranced by its allure, she had to be dragged away from a charming little café by the river, mumbling something about "house prices" and "reality."
| Must-See Spots | Why You'll Regret Seeing Them |
| --- | --- |
| River Thames | It's distractingly picturesque |
| Rowing Museum | You might pick up a new hobby |
| The Argyll Pub | Their Pimm's is too perfect |
Commuting time to London – 65 mins.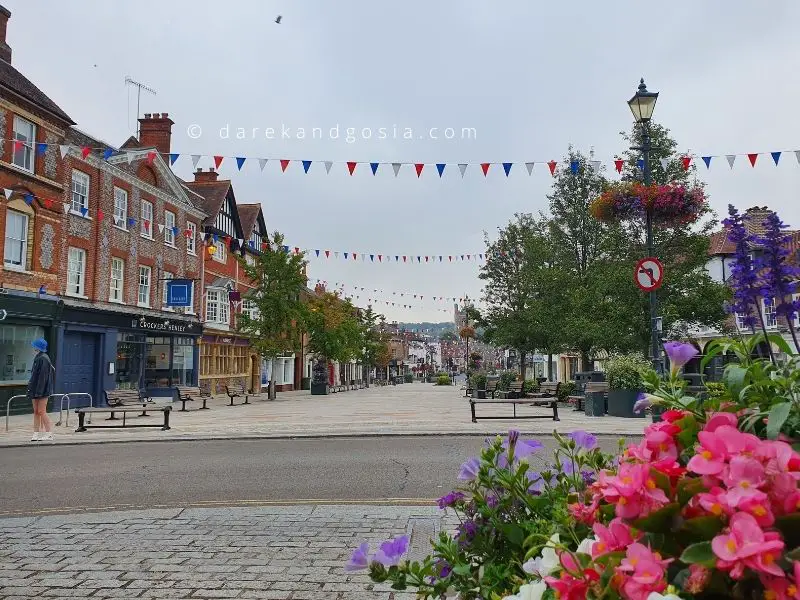 2. St Albans
Towns 30 minutes from London? St Albans – a town so bursting with history, you feel you're cheating on the present just by visiting. Marvel at its grand cathedral and picture-perfect streets, and then feel woefully inadequate about your modern existence. "If these streets could talk," we thought as we explored the town centre, "they'd probably tell us to move here and ruin our London-based lives."
Pros: Cathedral views, quaint cafes
Cons: Will induce a midlife crisis by age 30
Commuting time to London – 30 mins.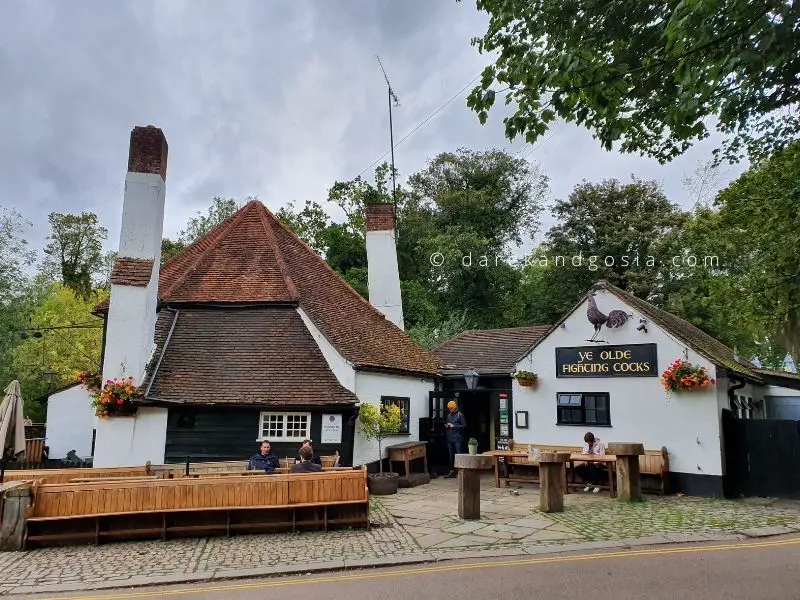 3. Chipping Campden
What are the best areas to live outside London? Nestled in the rolling hills of the Cotswolds, this town is annoyingly adorable. With its cobblestone streets and thatched cottages, Chipping Campden is a living testament to how unfair life can be. Why endure the grey concrete of London when you could be living in a colour palette ripped straight from a period drama? Darek was so captivated that he nearly booked a pottery class. Nearly.
| Unmissable Sights | Why You Must Miss Them |
| --- | --- |
| Market Hall | It's unbearably quaint |
| Thatched cottages | Will make your home seem dull |
| Dover's Hill | Views too good for your eyes |
Commuting time to London – 130 mins.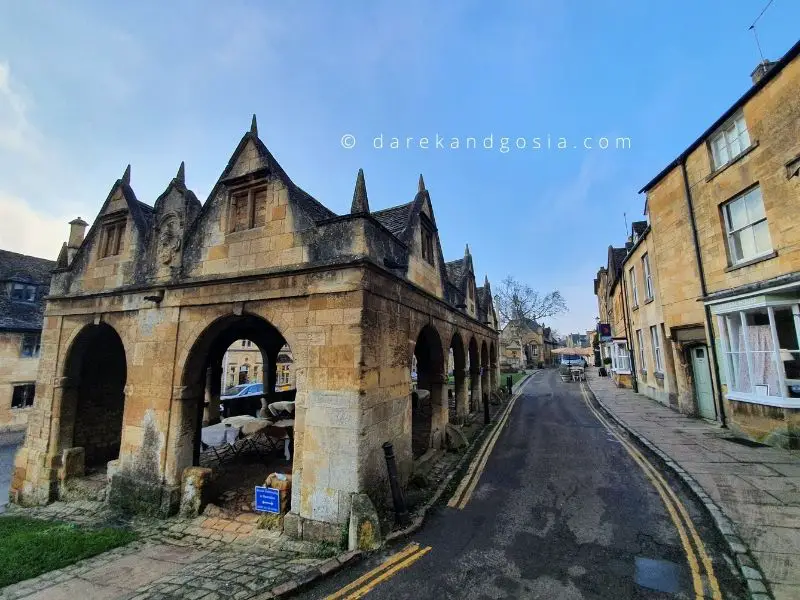 4. Wendover
Chilterns commuter belt town? Located in the Chiltern Hills, Wendover is essentially a John Constable painting come to life. Lush, green landscapes that you'll absolutely resent for making your daily commute so unbearable. I mean, who needs hills and open skies when you have the Northern Line, right? Gosia literally had to pinch herself to remember she wasn't in a dream, or worse, an Austen novel.
Pros: Scenic walks, weekly markets
Cons: Might make you forsake city life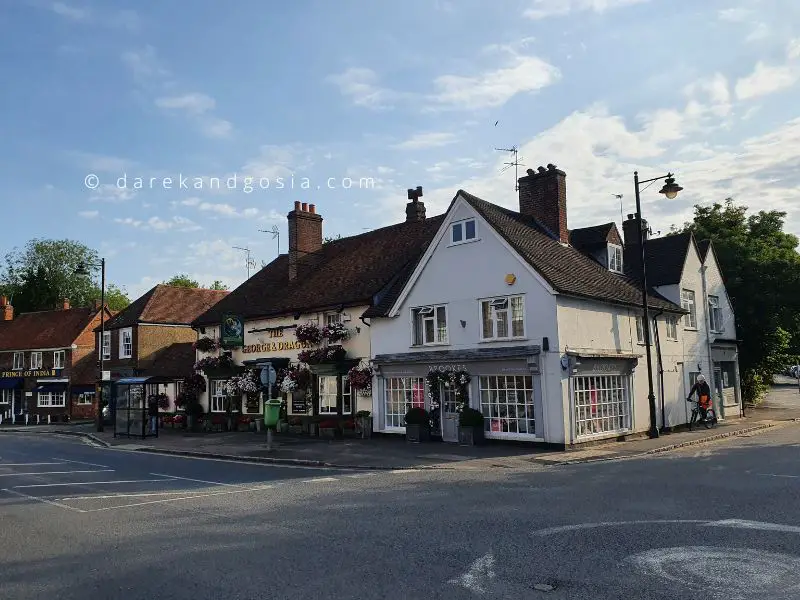 5. Lymington
Best London commuter towns? This is what happens when a maritime town gets everything right and decides to rub it in your face. Sea breezes, scenic vistas, and old-world charm – Lymington is the triple threat of commuter towns. If you can get past the obvious attempt to woo you away from city life, it's a delightful place for a weekend jaunt.
| The Best Parts | Why They're the Worst |
| --- | --- |
| The Quay | It's too bloody picturesque |
| Open-air Sea Baths | Swimming may ruin pools for you |
| Saturday Market | The fresh produce will spoil you |
Commuting time to London – 140 mins.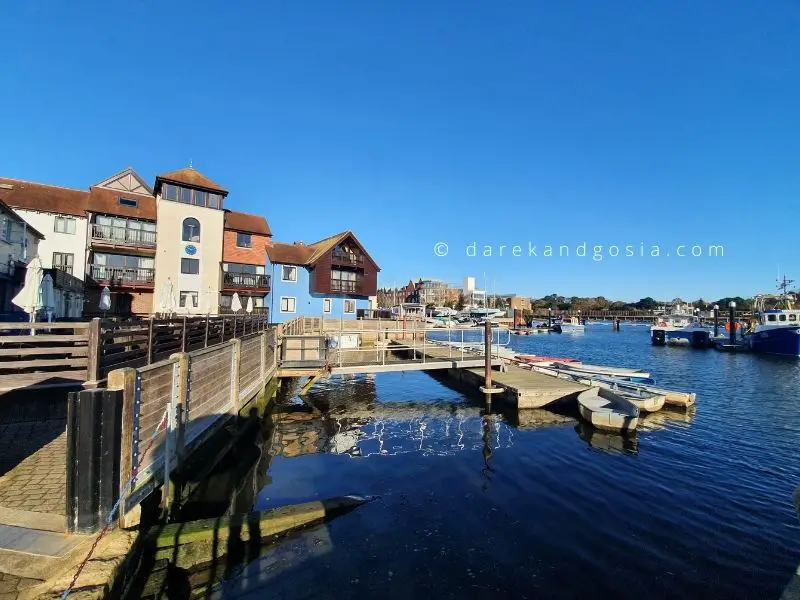 6. Bray
Where to live to commute to London? Here's Bray, flaunting its two Michelin-starred restaurants like it's no big deal. "Oh, you have street food in London? How… quaint." Be warned, a meal here might just ruin all other food for you, forever.
Pros: Culinary heaven
Cons: You'll despise your own cooking
Commuting time to London – 55 mins.
We've only scratched the surface, and already the allure of these towns is almost unbearable. But bear with us. There's more charm, more irony, and more reasons to question your life choices on the way. Stay tuned—or don't. It's your impending existential crisis, after all.
7. Amersham
What towns are 30 minutes from London? Amersham is so pretty, it's basically an Instagram influencer in town form. With half-timbered houses and the Chilterns for a backyard, this place is an overachiever and it knows it. Even its Tube station is charming; it's like it's begging you to consider life beyond the M25. Darek and I caught ourselves looking at property listings, then promptly shut our phones in a fit of "what are we thinking?"
| Places to Be | Why You Should Flee |
| --- | --- |
| Old Amersham | Beauty's too overwhelming |
| Amersham Museum | Risk of developing taste |
| High Street Shops | May lead to wallet loss |
Commuting time to London – 30 mins.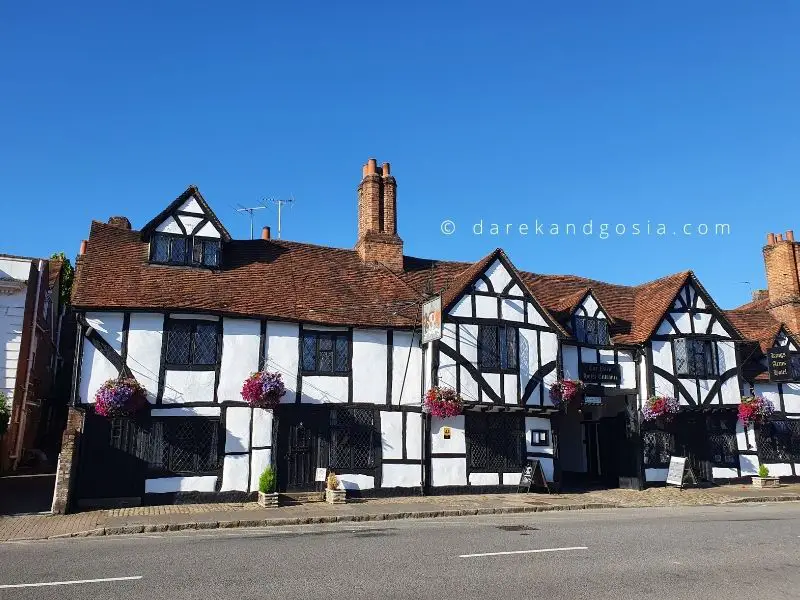 8. Abingdon on Thames
Best places to live near London? As if one Thames-side beauty wasn't enough, here's Abingdon, another siren trying to lure you away from the Big Smoke. The town is so ancient, it makes your grandma look like a spring chicken. With its market square and riverside parks, you'll start plotting your exit strategy from London—until you remember that you can't actually afford to live here.
Pros: Historic charm, river views
Cons: Could bankrupt you with loveliness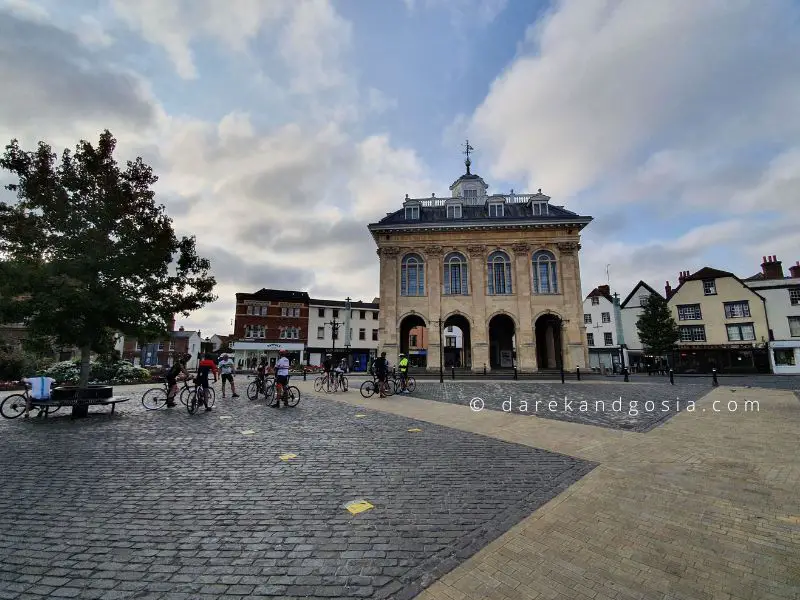 9. Beaconsfield
30 minute commute to London? Ever feel like your life could use a bit more Tudor architecture? Enter Beaconsfield, which is basically a 'Greatest Hits' album of architectural styles. Walk along its ancient streets, and you'll start feeling like Shakespeare, if he wore skinny jeans and took selfies. Beaconsfield will remind you that your London flat is basically a shoebox with windows.
| Must-See Places | Why to Avoid Them |
| --- | --- |
| Bekonscot Model Village | It's sickeningly adorable |
| Old Town | You'll want to move there |
| Town Hall | Too photogenic |
Commuting time to London – 30 mins.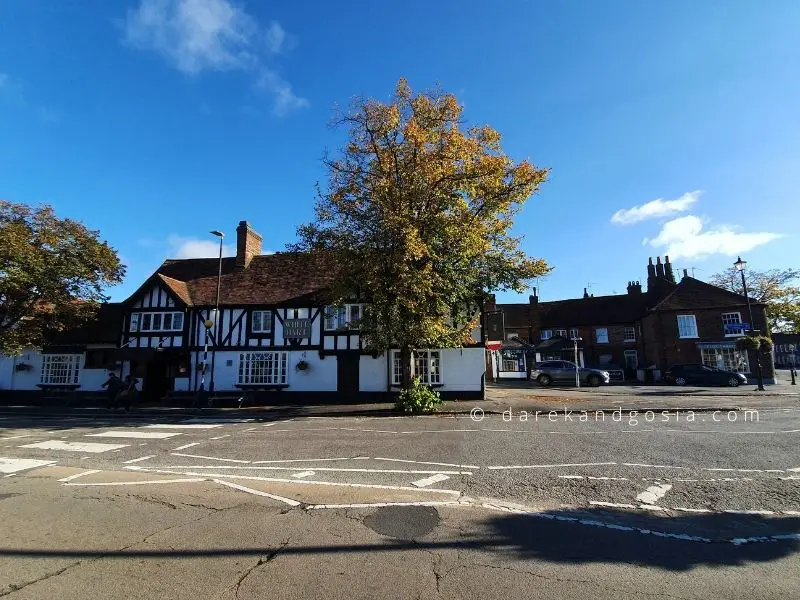 10. Redhill
Where to move outside London? Redhill, so conveniently situated yet so irrationally appealing. A commuter's dream or a daydreamer's trap? Its parks and open spaces are so family-friendly, you'll start hearing the pitter-patter of little feet—even if it's just in your imagination. But don't be seduced. Remember the hard, cold floors of the London Underground? That's where you belong.
Pros: Proximity to London, outdoor activities
Cons: Might trick you into a mortgage
11. Witney
Best places to live around London? This one's for the wannabe aristocrats. Witney has that Cotswolds allure without the absurd prices. It's almost like it's inviting you to move in and start a book club or something. With its stone-built facades and weeping willows, Witney's just showing off at this point. We're not falling for it. Or are we?
| Tempting Spots | Why to Resist |
| --- | --- |
| Church Green | Could make you religious |
| Witney Lake | Too much scenic beauty |
| Blanket Hall | Risk of excessive coziness |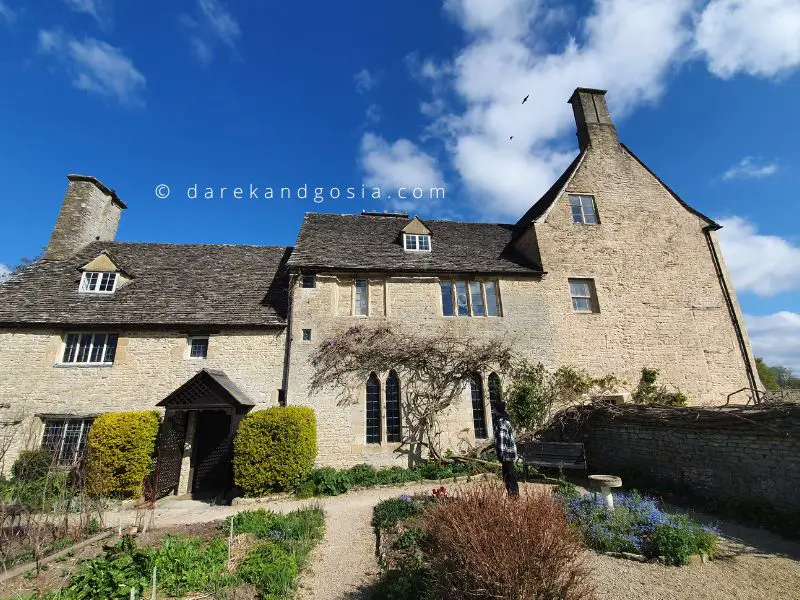 Alright, take a breather. We know it's a lot to process. These towns, with their charms and their wiles, are fighting tooth and nail to win you over. But remember, London's still got the Thames. Sort of. And a big clock. And pigeon-ridden squares. So, hang tight. We've got even more splendid yet regrettable options coming up.
12. Arundel
Best places to live 1 hour from London? Welcome to Arundel, where the castle isn't the only thing that's grand. This West Sussex beauty might as well be auditioning for a period drama with its picturesque landscapes and historic charm. How dare it make us question the appeal of London's skyline? Don't get too comfortable wandering its antique shops and riverbanks; you've got a commute to consider.
| What to See | Why to Look Away |
| --- | --- |
| Arundel Castle | Might make you feel common |
| The Swanbourne Lake | You'll become a nature enthusiast |
| Arundel Lido | Could spoil swimming pools for you |
Commuting time to London – 90 mins.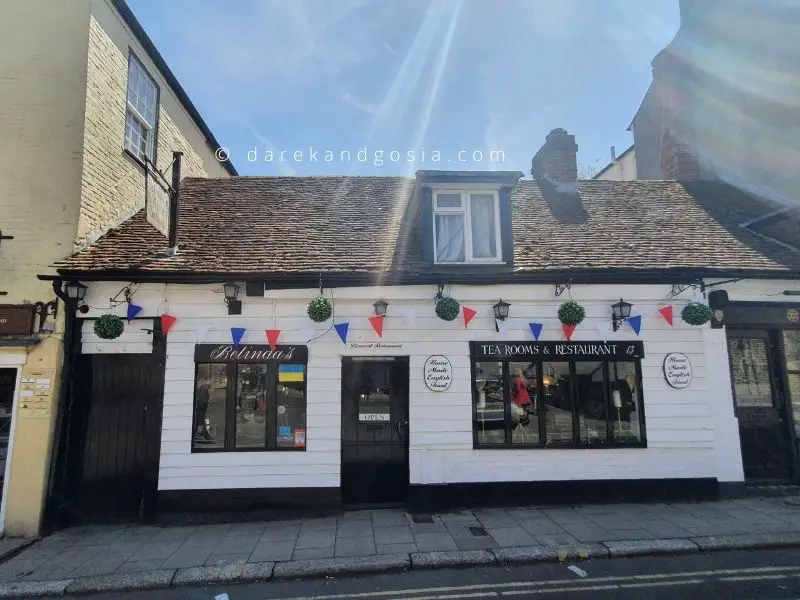 13. Cambridge
Where to live outside London and commute? Cambridge, where every cobblestone oozes intellect and even the ducks in the River Cam seem to quack in iambic pentameter. Here, the atmosphere's so thick with brainpower, you might just forget you're an adult who still struggles with basic math. Darek swears he felt smarter just by osmosis while visiting—but then he tried to solve a Sudoku puzzle and came back to reality.
Pros: Intellectual hub, stunning architecture
Cons: May inflate your ego undeservedly
Commuting time to London – 70 mins.
14. Marlow
Good commuter towns to London? Marlow is as inviting as a warm cuppa on a rainy day. With its Thames River walks and historic suspension bridge, it's as if this Buckinghamshire town was designed to make you loathe London. And let's not even talk about its food scene; it's a straight-up ambush on your taste buds.
| Gorgeous Sights | Why They're Treacherous |
| --- | --- |
| Higginson Park | Beauty levels are unfair |
| Marlow Bridge | Could seduce any city dweller |
| The Hand & Flowers | Food so good, it's criminal |
Commuting time to London – 75 mins.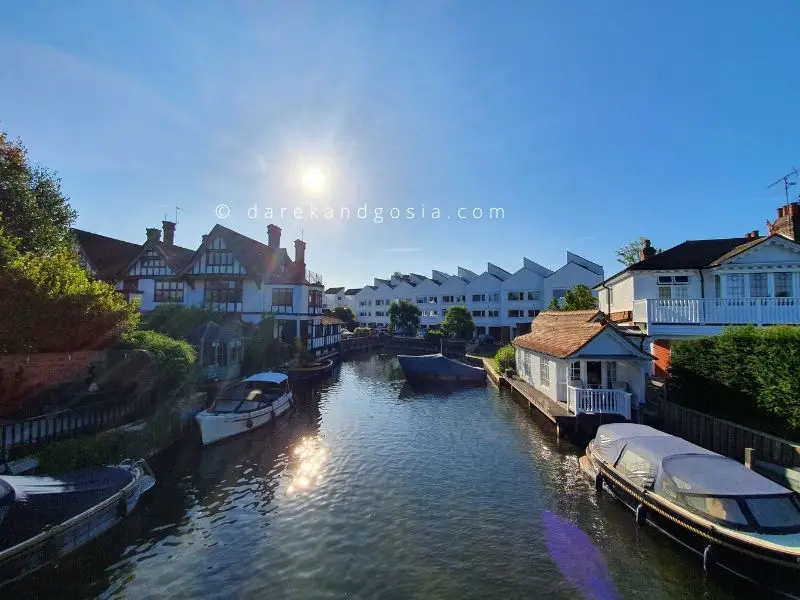 15. Wallingford
Best London commuter towns for families? Wallingford, so packed with medieval allure, you might start wearing chainmail and adopt "thee" and "thou" into your everyday speech. Beware, though. The town's marketplace and riverside allure are traps; devious snares to lure you into giving up your city slicker badge.
Pros: Market town charm, riverside appeal
Cons: Could make you turn your back on Uber Eats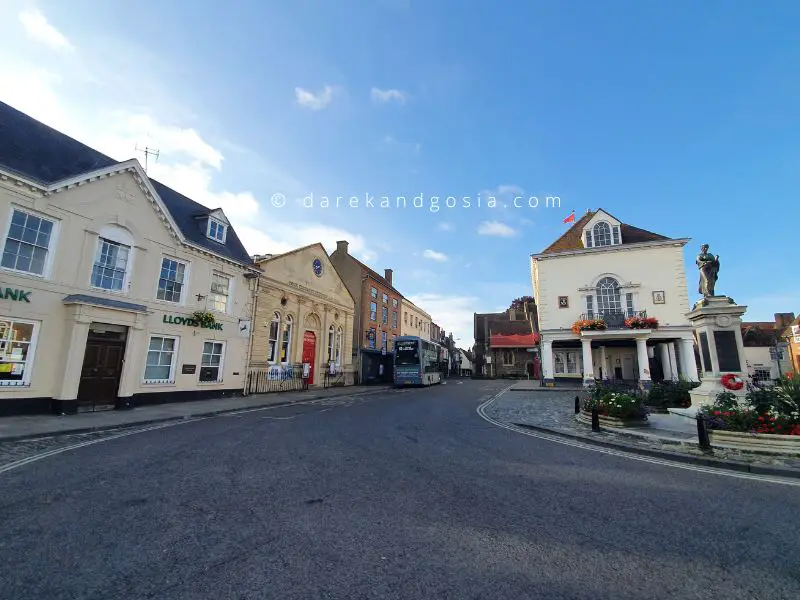 16. Twyford
45-minute commute to London? This one sounds like it's straight out of a fairytale, doesn't it? "Once upon a time, in a far-off land called Twyford…" Its train links are so good, you might start wondering why you're bothering with London at all. You get the benefit of country living without having to surrender your city job. It's downright cheating, that's what it is.
| Must-Visit Places | Why to Shun Them |
| --- | --- |
| Twyford Locks | It's too charming |
| Stanlake Park Wine | May turn you into a wino |
| The Waggon and Horses | Cosiness level is scandalous |
Alright, pause for a cuppa. It's been a roller coaster of emotions, hasn't it? It's like these towns are in a competition to see which can break your resolve first. And we still have a string of them to cover. Keep that stiff upper lip, because we're diving right back in. The best—or worst, depending on how much you love your current postcode—is yet to come.
17. Epping
Where to live outside of London? Epping is a town that tries to offer the best of both worlds: proximity to London and the charms of the countryside. But who asked for balance, eh? Epping Forest is this town's green, leafy temptation, making you consider if you could actually, possibly live here. No, no, let's not get carried away, shall we?
| Things to Fall for | Reasons to Resist |
| --- | --- |
| Epping Forest | Might turn you into a tree hugger |
| Market Garden | Could awaken your inner gardener |
| The High Street | Risk of developing village envy |
Commuting time to London – 55 mins.
18. Berkhamsted
Places to live outside London with easy commute? Berkhamsted, where even the name rolls off the tongue like a love poem written by a medieval knight. It has a canal, historic buildings, and an arts scene that will make you rethink London's monopoly on culture. But beware, for its lure is strong. Gosia almost bought a pottery set there, thinking of setting up shop. Close call!
Pros: Waterway scenery, arts and crafts galore
Cons: Could fool you into going rustic
Commuting time to London – 45 mins.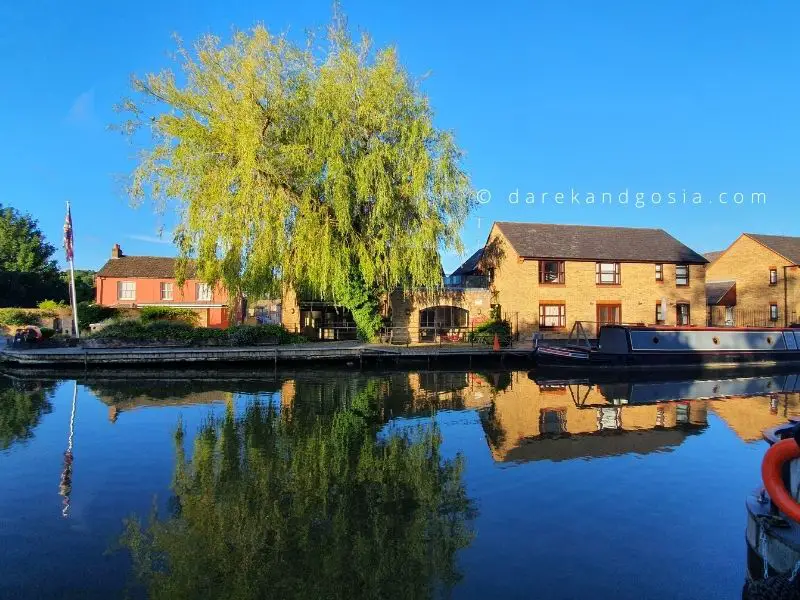 19. Chalfont St Giles
Nice places to live near London? Doesn't this sound like a place where British dramas are filmed? Well, guess what? It is. Chalfont St Giles is so drenched in history, it practically weeps ancient wisdom. Its village green and duck pond are diabolically quaint. Honestly, it's all a bit much.
| Charming Traps | How They'll Deceive You |
| --- | --- |
| Milton's Cottage | Will make you poetic |
| Village Green | You'll despise city squares |
| The Parish Church | Could make you find religion |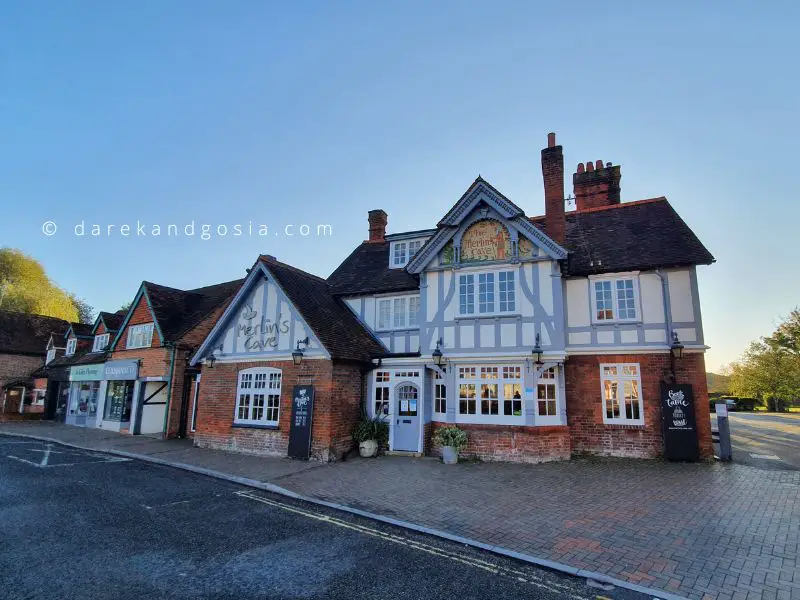 20. Ascot
Where to live around London? Home to the renowned Royal Ascot racecourse, this town is where you can rub shoulders with the elite while pretending you know a thing or two about horses. Its pomp and grandeur make the theatrics of London look like a school play.
Pros: High-society vibes, royal approval
Cons: Might develop a taste for expensive hats
Commuting time to London – 90 mins.
21. Watford
Affordable commuter towns London? Watford, it's like London's kid brother that's always been a bit jealous. With quick transport links and the Warner Bros. Studio Tour London for Harry Potter fans, it's like Watford's just begging for attention. It's like, "Look at me, I've got culture too!" Darling, you're cute, but let's not.
| Tempting Attractions | Why to Keep Away |
| --- | --- |
| Cassiobury Park | Will ruin other parks for you |
| Watford Palace Theatre | Could turn you into a thespian |
| The Pond | Beware the pastoral serenity |
Take a breather, maybe re-watch a few episodes of "Peaky Blinders" or whatever it is you do to remember that the big city has its own rugged allure. We've made it through 21 of these gloriously awful temptresses, and your loyalty to London's still intact, right? Hold tight; we've got a slew more. And they're all as sinfully enticing as a packet of Jammie Dodgers.
22. Chipping Norton
Best places to live close to London? Chipping Norton, or "Chippy" as the locals call it, is the epitome of Cotswold charm. The honey-coloured stone buildings could make even the most die-hard urbanite question their life choices. But careful, for it's all a ruse. The place is so tempting, Gosia started looking up country gardening tips there. Imagine that!
| Must-See Places | Cunning Traps |
| --- | --- |
| Bliss Mill | Might ruin cityscapes for you |
| The Theatre | Could steal your weekend plans |
| Market Square | You'll want to buy property |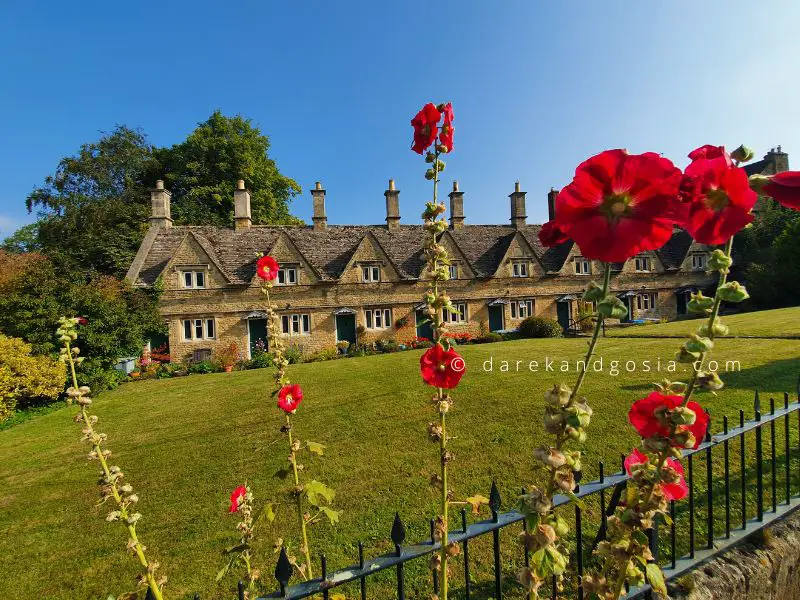 23. Hitchin
Commutable towns to London? Hitchin in Hertfordshire, where the past meets the present so seamlessly you'll wonder if you've stumbled into a time warp. With the beautiful St Mary's Church, medieval streets, and regular markets, it's almost as if Hitchin is begging you to leave London and embrace its slower pace. Sly devil, isn't it?
Pros: Timeless architecture, local markets
Cons: Might induce premature retirement plans
Commuting time to London – 45 mins.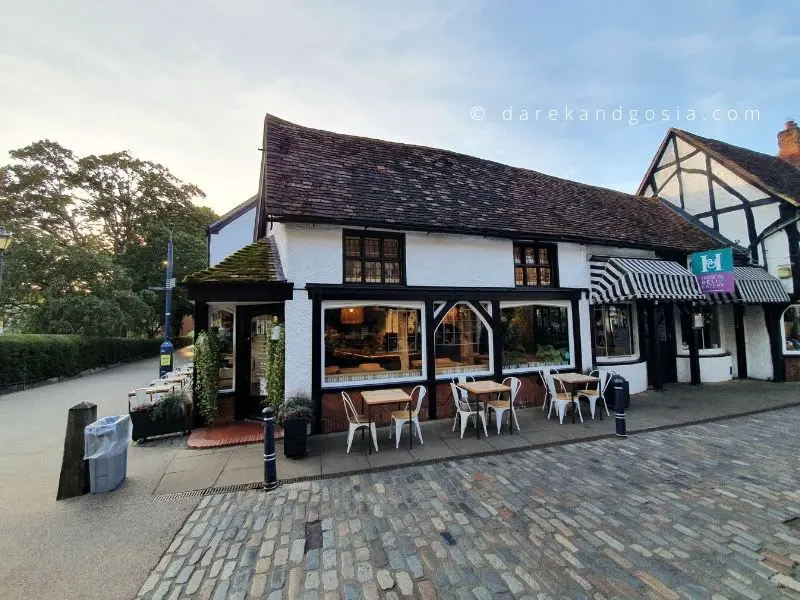 24. Tring
Where to live close to London? Tring is nature's sneaky trick to make you forget London's chaos. It's a town that's synonymous with the Natural History Museum, grand parks, and, well, duck-filled canals. Its peaceful atmosphere is like a spa day for your soul, but don't get comfy!
| Traps for City Folk | What They'll Do to You |
| --- | --- |
| Tring Park | You might never leave |
| The Reservoirs | Could awaken a love for fishing |
| Natural History Museum | Will make museums elsewhere pale in comparison |
Commuting time to London – 35 mins.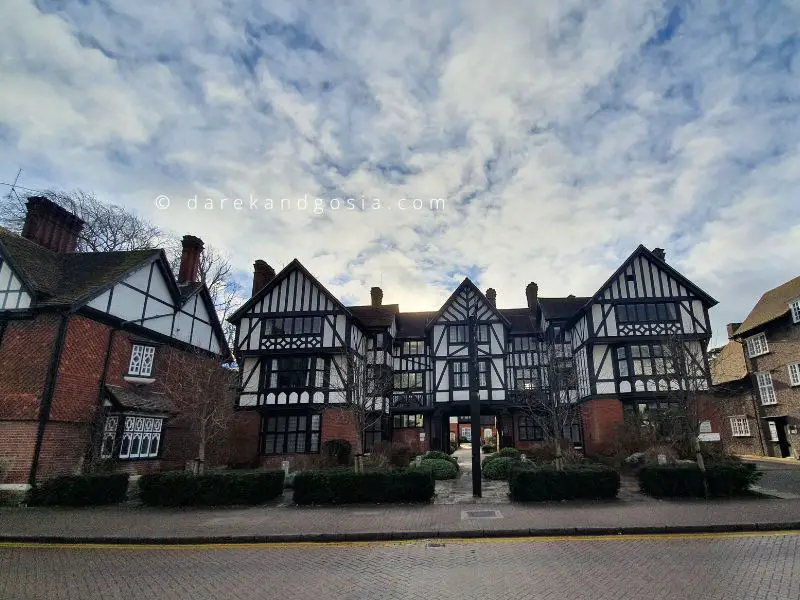 25. Guildford
Best places to commute to London? Guildford offers shopping, history, and stunning landscapes along the River Wey. We're talking about a High Street that's dotted with brands that you don't need but will want, and countryside so pretty it's practically showing off. I almost feel bad for London.
Pros: Shopping heaven, picturesque countryside
Cons: Might make you swap your Oyster Card for a canoe
Commuting time to London – 30 mins.
26. Petworth
Commutable places to London? Now, here's a town that gives the term "quaint" a run for its money. With antique shops that make you want to redecorate your entire house and Petworth Park offering views that are nothing short of Instagrammable, this place is a dangerous beauty.
| Gorgeous Spots | Why to Be Wary |
| --- | --- |
| Petworth House | Could turn you into an art snob |
| Leconfield Hall | You'll want to throw galas |
| The Sylvia Beaufoy Centre | May bring out your charitable side |
Commuting time to London – 120 mins.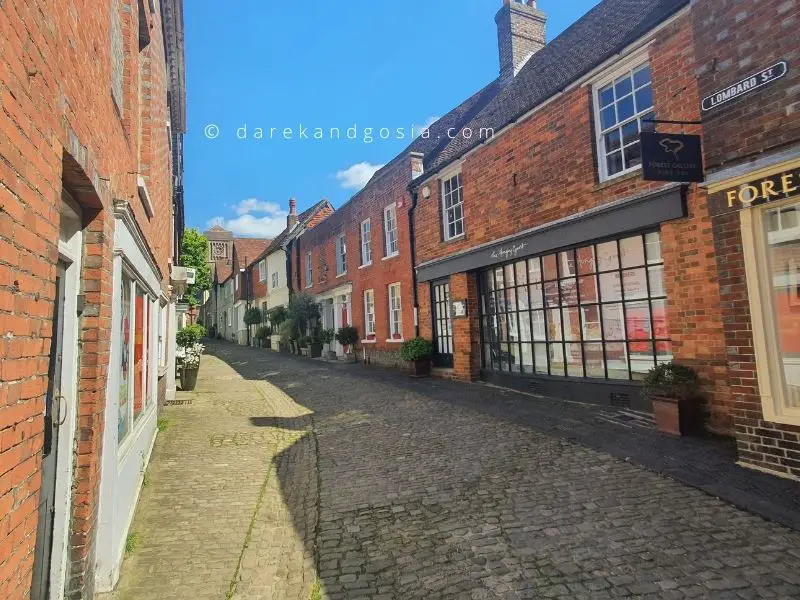 So, are we still holding up, tea in hand and our London loyalty unwavering? Trust us, it's for your own good that we're unveiling the real, gritty truth about these deceivingly lovely places. Brace yourselves, for the end is not yet nigh; more wickedly attractive towns await!
27. Luton
Best commuter towns for London? Luton – its airport may be its most redeeming feature, offering an escape to literally anywhere else. But hold on, it's not just a launching pad for getaways; the place is also trying to build up its own appeal. Its Mall Luton shopping centre is a genuine hazard; you might buy things you don't need and maybe even enjoy it.
| Appealing Distractions | Why to Look Away |
| --- | --- |
| Wardown House | Could make you appreciate art |
| Stockwood Park | Will incite peaceful walks |
| Luton Library Theatre | Might actually entertain you |
28. Pangbourne
Best commuter villages London? Pangbourne, the riverside village that could easily be mistaken for a holiday brochure backdrop. With the Thames Path and Beale Park, this Berkshire gem almost makes you feel like London is one big, noisy mistake. It's dangerously idyllic.
Pros: Idyllic river views, quietude galore
Cons: Could sabotage your city-dweller status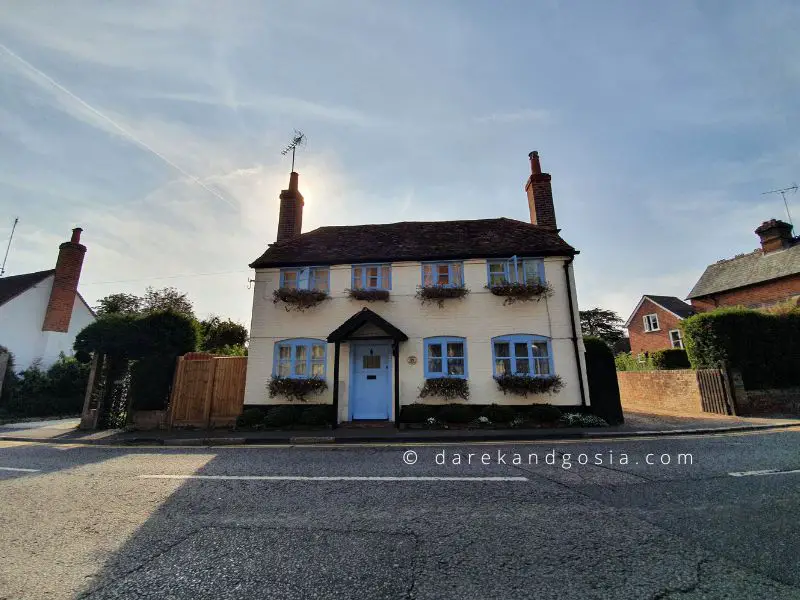 29. High Wycombe
Places to live 1 hour from London? High Wycombe's deceptive appeal lies in its balance. A retail therapy hub with a sprinkle of historic architecture, it's like it's trying to offer a bit of city living without all the fuss. Eden Shopping Centre has enough stores to make Oxford Street blush, but don't fall for it.
| What's Alluring | Why to Be Skeptical |
| --- | --- |
| Hughenden Manor | May make you go historical |
| Wycombe Swan Theatre | Could awaken your inner critic |
| Rye Park | Will make you despise urban parks |
Commuting time to London – 60 mins.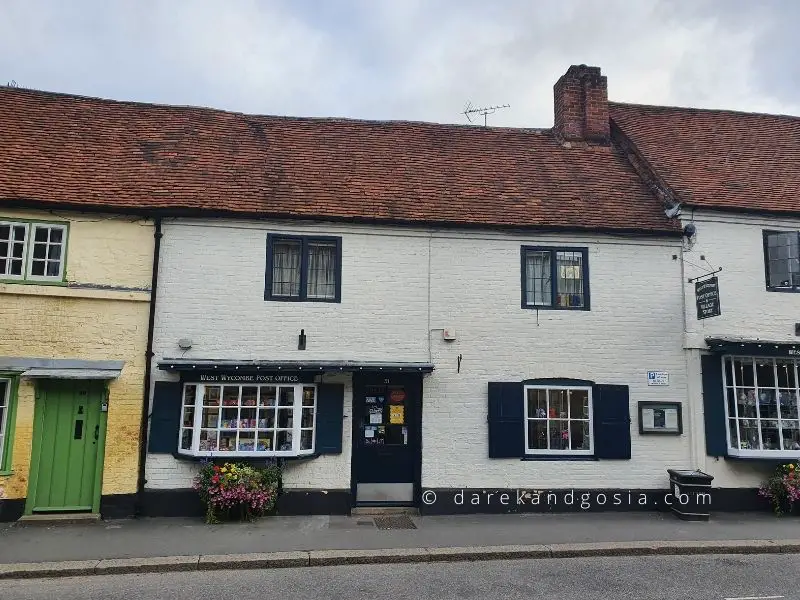 30. Borehamwood
Towns 20 minutes from London? Borehamwood is less of a town and more of a film set. Home to the infamous Elstree Studios, this Hertfordshire haunt is sneakily glamorous. Darek insists it was like walking onto the set of a blockbuster. But beware; it's all an illusion.
Pros: Cinematic glamour, suburban comfort
Cons: Might make you want to become a filmmaker
Commuting time to London – 20 mins.
31. Lavenham
Best places to live outside London for families? Last but not least for today, we venture into Suffolk to unveil Lavenham. Its medieval half-timbered buildings and charming streets are so picturesque, you'd think you've landed in a Shakespearean sonnet. But don't let that woo you; even sonnets have dark turns.
| Bewitching Places | Why to Resist |
| --- | --- |
| The Guildhall | Will make you appreciate history |
| Little Hall | Could lead you down the road of antiquing |
| Market Square | You might start a farmers market addiction |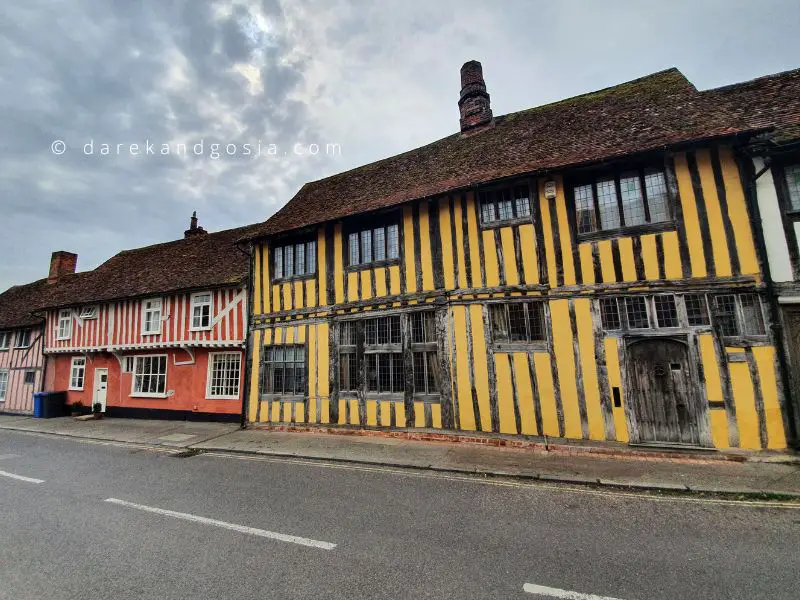 Deep breaths, everyone. London's allure is still there, buzzing in the background like a stubborn black cab honking in a jam. These towns may try their damnedest to court you away, but we must stand resilient. Keep that city grit; we still have more towns to scrutinise and more hidden pitfalls to reveal. Tread carefully, dear readers!
32. Reading
Best commuter towns west of London? Reading, it's not just a town; it's an activity you might actually have time for if you move here. The Thames Valley economic powerhouse will make you think, "Wait, am I still near London?" But don't get carried away. Gosia almost did, eyeing the Oracle Shopping Centre like a kid in a candy store.
| Reading's Sirens | Their Deceptive Charm |
| --- | --- |
| The Oracle | May cause shopping sprees |
| Reading Abbey | Could turn you scholarly |
| River Kennet | Beware of tranquil moments |
Commuting time to London – 25 mins.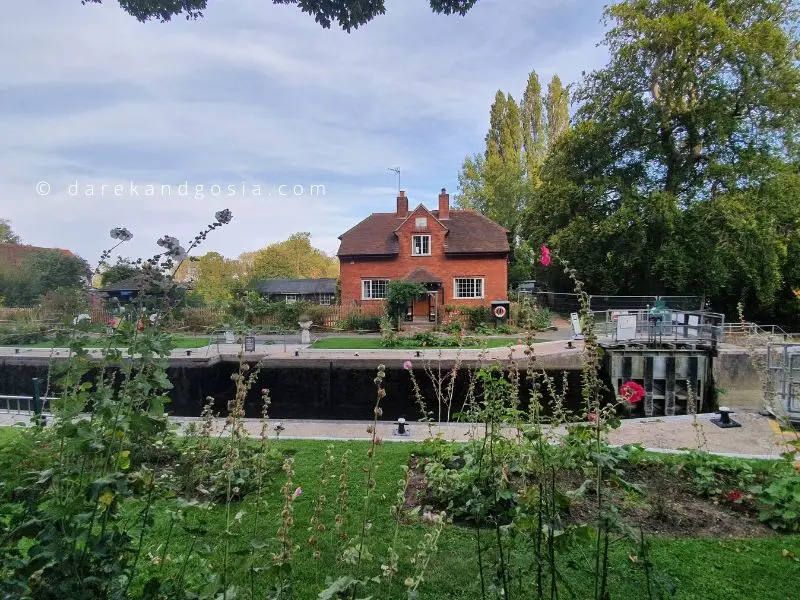 33. Windsor
Best areas to live around London? Windsor is where fairy tales come to life. Literally, the Queen hangs out here. Its castle, cobbled streets, and the Long Walk could easily deceive you into thinking life could be one big royal parade. Darek said it was like stepping into a postcard.
Pros: Royal vibes, horse-drawn carriages
Cons: May give you unrealistic life expectations
Commuting time to London – 30 mins.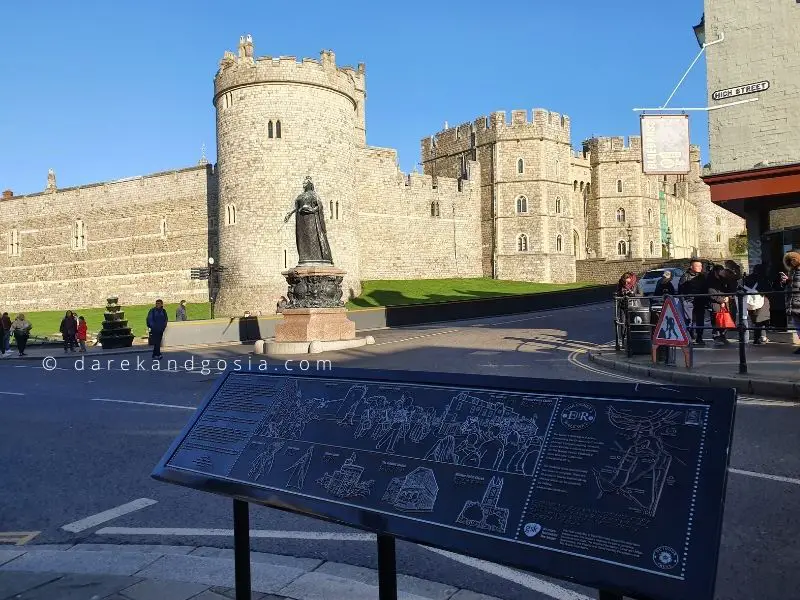 34. Uxbridge
Where to live outskirts of London? Uxbridge: it's like London, but it isn't. The town offers a plethora of shopping and dining options, almost enough to make you forget you're in Zone 6. Colne Valley Park and the Grand Union Canal almost made us swap the Thames. Almost.
| What's to Like? | But Seriously, Don't |
| --- | --- |
| Intu Shopping Centre | Could cause impulse buys |
| Brunel University | Might give you a mid-life crisis |
| Hillingdon Athletic Club | May awaken dormant athleticism |
35. Maidenhead
Cheapest commuter towns London? Maidenhead is perhaps where you go to pretend you've made it in life, without admitting you still have to commute to London. Its Thames-side setting is serene enough to lull you into contemplation. But remember, it's a trap!
Pros: Affluent feel, river walks
Cons: May create illusions of grandeur
Commuting time to London – 35 mins.
36. Rickmansworth
Best places to live outside of London? 'Ricky' as it's affectionately called. Nestled between lakes and canals, it's the kind of place you'd write a book or take up painting. Its Aquadrome alone is a scenic sin. Careful, you might just get inspired to live a peaceful life.
| What's the Catch? | How It'll Trap You |
| --- | --- |
| Aquadrome | Will make you forget the Tube |
| High Street | May make you detest Oxford Street |
| The lakes | Could become your happy place |
Commuting time to London – 50 mins.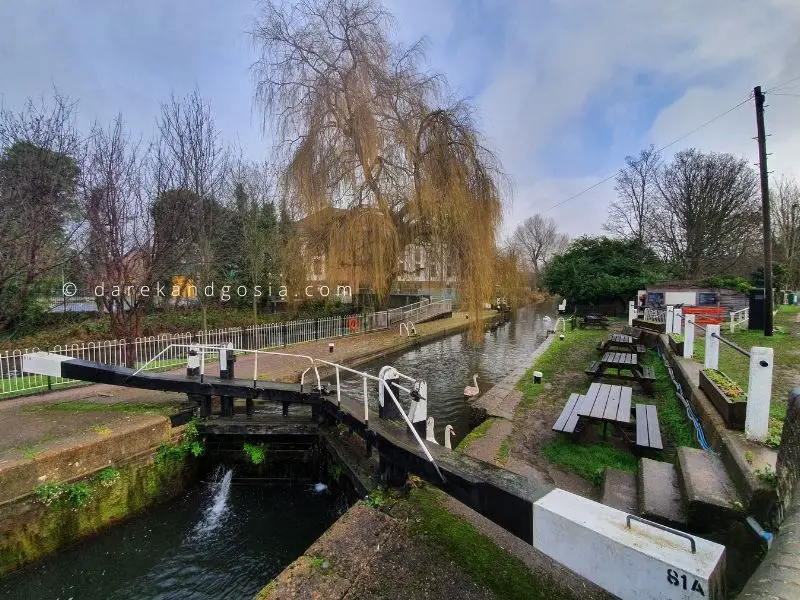 We've got our eyes on you, Rickmansworth. And on all the other stunningly dreadful places that have come before you. London's siren call is still audible, a gentle reminder that life in the fast lane has its own set of charms. But as we delve further into this labyrinth of commuter towns, who knows? Stay tuned and stay cautious. Darek and Gosia, your faithful London guardians, have more towns to dissect and more illusions to shatter. Hold onto your hats, folks!
37. Romford
Where to live outside London? Romford, with its bustling market and burgeoning nightlife, is less of a sleepy commuter town and more of a 'mini-London'. You've got to respect a place that hosts its own dog races. Darek even had a flutter on the greyhounds, but that's another story.
Pros: Active nightlife, Romford Market
Cons: May make you think you're still in East London
38. Burford
Best place to live near London? Picture-postcard streets, antique shops, and tea rooms – Burford has all the ingredients of a quintessentially British destination. So British, in fact, Gosia couldn't resist buying a vintage teapot. But let's not forget, we're here for sarcasm and not sentimentality.
| Tempting Nooks | Why You Must Resist |
| --- | --- |
| Burford Church | Could provoke spiritual musings |
| The Tolsey Museum | Might create an appetite for local history |
| The Windrush River | Will hypnotize you with its calmness |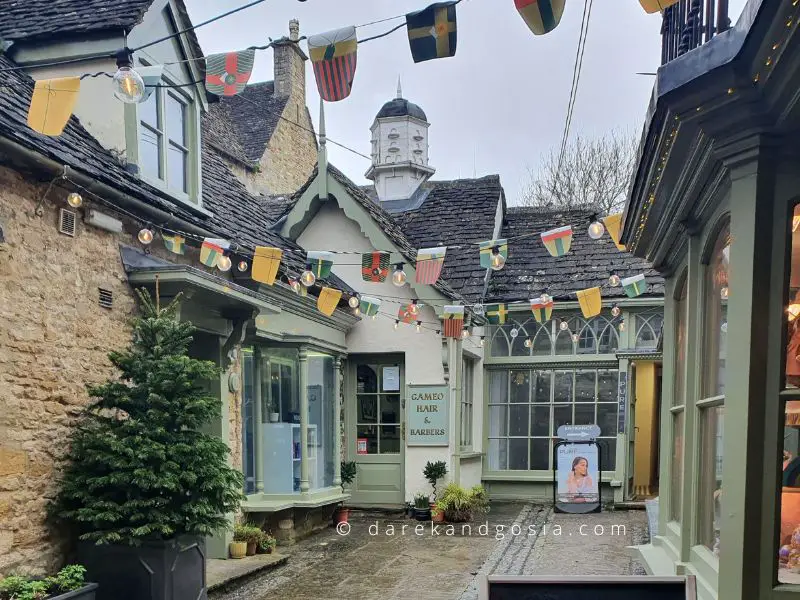 39. Woking
Most affordable London commuter towns? This Surrey town comes with its own alien—yes, a Martian tripod to commemorate H.G. Wells' "The War of the Worlds". Woking tries to be out of this world, but really, it's sneakily terrestrial with its shopping malls and parks.
Pros: Sci-fi landmarks, extensive shopping
Cons: Might make you expect an alien invasion
Commuting time to London – 30 mins.
40. Princes Risborough
Best places to live outskirts of London? Oh, the Chiltern Hills! Rolling landscapes and ancient woodlands make Princes Risborough an almost criminally idyllic scene. Don't fall for it! With its scenic train route to London, it's practically a Trojan horse.
| What Lures You In | Why You Shouldn't Fall For It |
| --- | --- |
| Chiltern Hills | You'll forget what concrete looks like |
| Kop Hill Climb | Could invoke an interest in car rallies |
| The Ridgeway Path | May lead you to become a hiker |
Commuting time to London – 70 mins.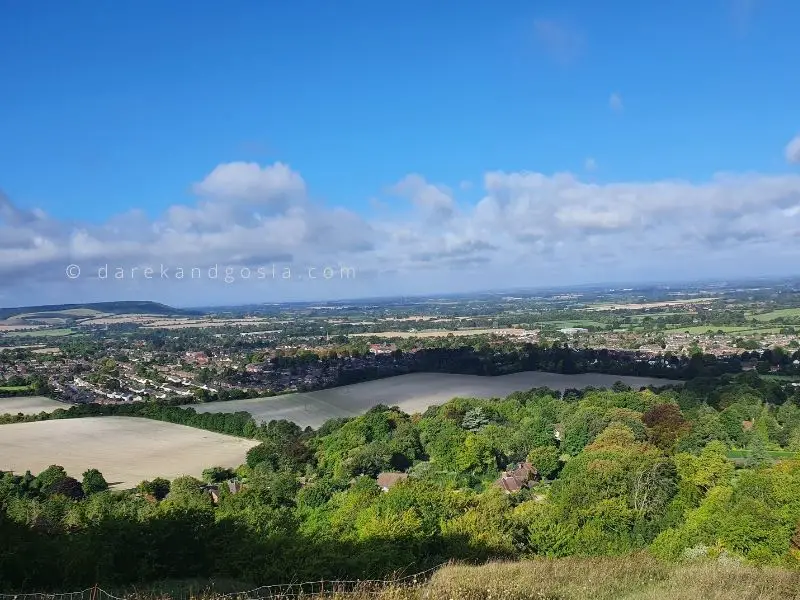 Is it better to live outside of London?
Imagine swapping the smog-filled euphoria of London for cleaner air = how terribly mundane! Outside London, you'll get more room to stretch your legs, but what use is that when you're far from the spontaneous delights of a midnight kebab? You'd also trade a 20-minute Tube ride full of interesting 'characters' for an hour-long train journey filled with people buried in their Kindles. Riveting, truly.
But let's not forget those quaint little community events that'll have you yearning for the anonymity of a London crowd. So, "better"? It's like asking if Marmite is better than jam, a matter of acquired taste, dear reader.
Can these towns tempt you away from the buzzing life of London?
Each one, with its own subtle seduction technique, seeks to upend your urban existence. Stay vigilant, for Gosia and Darek are still on the case, dissecting the pros and cons of each charming trap laid before you.
At this point, you may be gripping your Oyster Card like a talisman, muttering, "There's no place like London, there's no place like London." And that's precisely the spirit. Till the next round of alarmingly alluring towns, keep your wits about you and your city pride intact!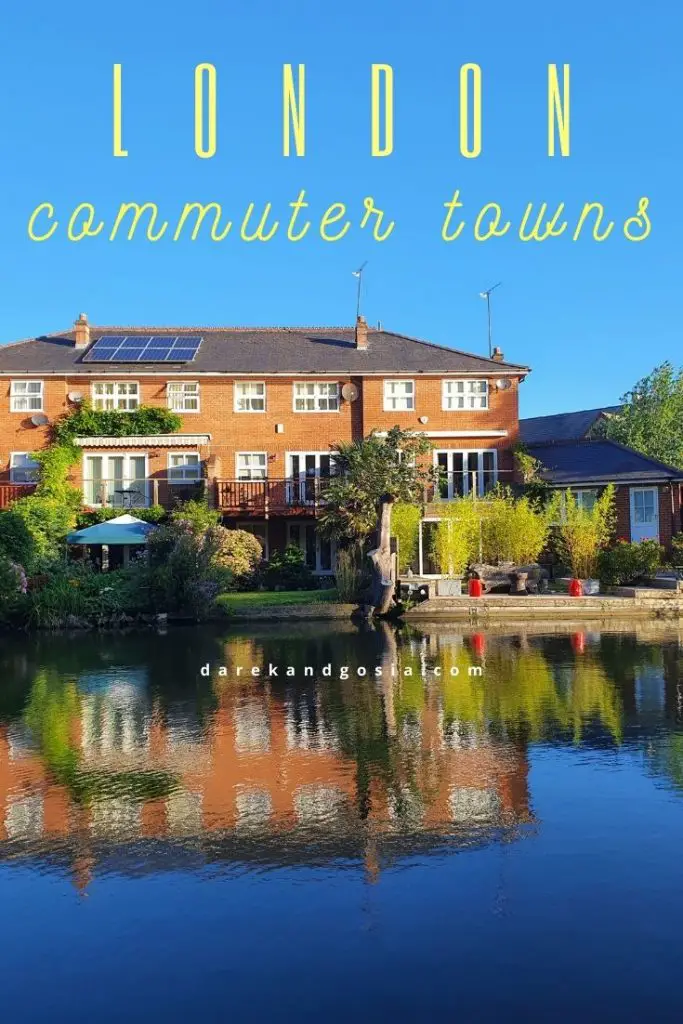 Is it worth living outside of London and commuting?
Ah, is it worth fleeing the concrete jungle for pastures new? Could you really swap Soho for St. Albans or Camden for Cambridge? The commuter towns dangle the carrot of larger homes and suspiciously clean air, but then you'd have to actually, you know, commute. Ah, the glamour of standing in a packed train before your coffee has even kicked in!
But let's not dismiss the appeal of actually knowing your neighbours beyond nodding terms. In summary, it's a toss-up between space and sanity, both have their merits and pitfalls. Choose wisely, urban warrior!