What is Lanzarote famous for? Costa Teguise, Timanfaya National Park, and Playa Blanca are among the top places and best things to do in Lanzarote!
Looking for the must-see locations and famous places in Lanzarote? From top tourist attractions in Playa Blanca, including the enigmatic spoon in concrete, to the picturesque towns on Costa Teguise, there's an abundance of Lanzarote activities awaiting every traveler.
Lanzarote, a jewel in the Atlantic Ocean, is one of the Spanish Canary Islands, famous for its mesmerizing landscapes and unique attractions. Located just off the coast of West Africa, it's the perfect answer for those pondering, where in Europe is warm in March?
Is Lanzarote worth visiting? Absolutely! Due to its year-round warm weather, rich history, and numerous attractions, Lanzarote stands out as a popular winter destination in Europe. Whether you're seeking the bustling vibes of Playa Blanca or the tranquillity of Costa Teguise, there's something for everyone. And let's not forget about the intriguing spoon in concrete Lanzarote mystery, which has intrigued many tourists.
For those venturing around in a vehicle, there are numerous things to see in Lanzarote by car, ensuring you get the full experience. Curious about Lanzarote's wildlife? While Lanzarote snakes are a topic of interest, the island boasts a myriad of unique species that captivate visitors.
From the renowned spots in Playa Blanca and the famous spoon in concrete Playa Blanca to lesser-known gems, you're in for a treat during your holiday in Lanzarote!
What is so special about Lanzarote?
Lanzarote, a Canary Island in Spain, is renowned for its extraordinary volcanic landscapes shaped by past eruptions. The influence of artist and architect César Manrique is evident in the island's harmonious integration of human creations with its natural beauty.
Timanfaya National Park showcases the island's volcanic wonders, with dramatic lava fields and geothermal demonstrations. Lanzarote's commitment to sustainable tourism and environmental preservation is reflected in its low-rise architecture and strict building regulations. The island offers pristine beaches, perfect for sunbathing, swimming, and engaging in water sports.
Outdoor enthusiasts can enjoy hiking, cycling, and a range of water activities in the island's diverse and captivating surroundings. Additionally, Lanzarote's unique wine cultivation techniques, such as "La Geria," add to its distinct charm and make it a truly special destination to explore.
Lanzarote – car hire:
We have rented cars many times during holidays in Spain and we always used discovercars.com
Check out our guide to the cheapest car rental in Spain or simply explore the options directly on discovercars.com if you need a car during a trip to Lanzarote.
This intriguing island, with extraordinary views and beautiful places to visit, should be on any Spanish bucket list.
Famous things to do in Lanzarote: At a Glance
Caleton Blanco
Jameos del Agua
Old-Salt Factory
Los Hervideros
The Spoon in Concrete
If you are interested in: what to visit, what to see or what's the weather like in December – please read our guide to the top attractions in Lanzarote.
Where to stay in Lanzarote?
There is no shortage of amazing places to stay during your holiday on Lanzarote island. Please see below some of the TOP hotels we have selected for you:
"Set 150 yards from Las Cucharas Beach, Barceló Teguise Beach is located in Costa Teguise. This adults-only hotel features free WiFi, a buffet restaurant, and a wellness centre."
"Located in Puerto del Carmen, featuring an outdoor pool with sun loungers and a restaurant and bar, Izaro Club Hotel is a complex of aparthotel offering breakfast and dinner buffets with show cooking."
Need more inspiration? Find a hotel in your favourite part of Lanzarote island.
Facts about Lanzarote:
Region:
Canary Islands
Population:
152,000
Main airport:
Arrecife
Top city:
Arrecife
Best town:
Playa Blanca
Best village:
El Golfo
Best for:
Winter sun
Best beach:
Papagayo
Sunset spot:
Mirador del Río
Best hotels:
H10 Lanzarote
Sol Lanzarote
So, here is our list of the top attractions and things to do in Lanzarote.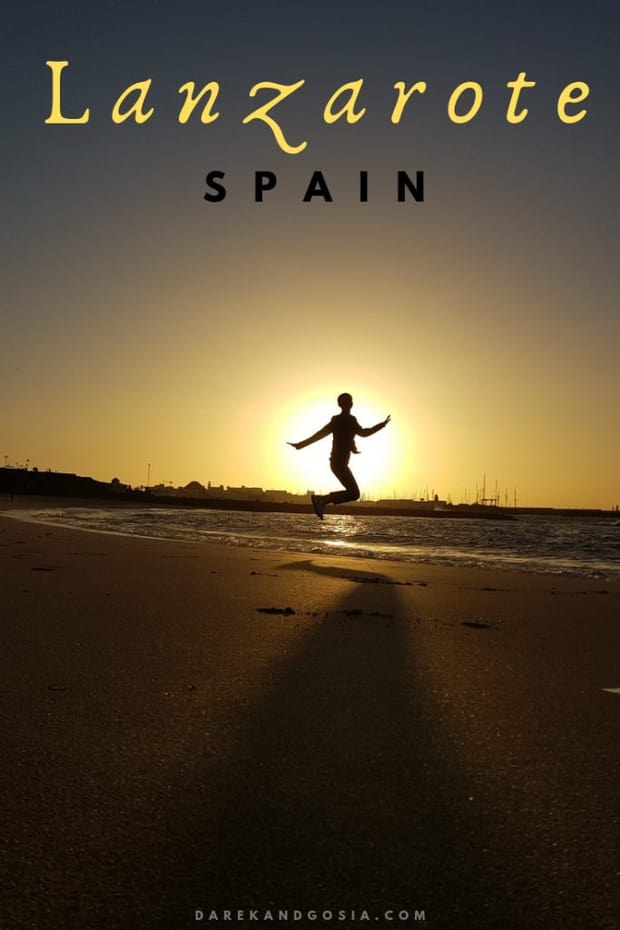 Explore the best Lanzarote attractions and top ideas for things to do around Playa Blanca and Costa Teguise:
25 TOP things to do in Lanzarote
1. The Cactus Garden
Best places of interest in Lanzarote? Jardín de Cactus, known as Cactus Garden, is located in a tiny town of Guatiza (municipality of Costa Teguise) in the north-eastern part of Lanzarote.
I guess you will not be surprised if we tell you that you will find cactus inside the garden. In fact, there are over 1,400 species of these plants! From tiny, measuring just a few centimetres, to some real giants.
Many of the cacti in the Jardín de Cactus are from the Canary Islands, but there are also a few from around the world (including Mexico, Chile or Morocco).
The whole garden is very well designed. After exploring and taking pictures of the plants, you can relax at the restaurant. You can even try a cactus burger if you fancy ?. Completing your trip to Cactus Garden, you can claim on a former windmill from the eighteenth century, which is located just above the restaurant.
So, is Jardín de Cactus one of the best things to do in Costa Teguise?
100% YES!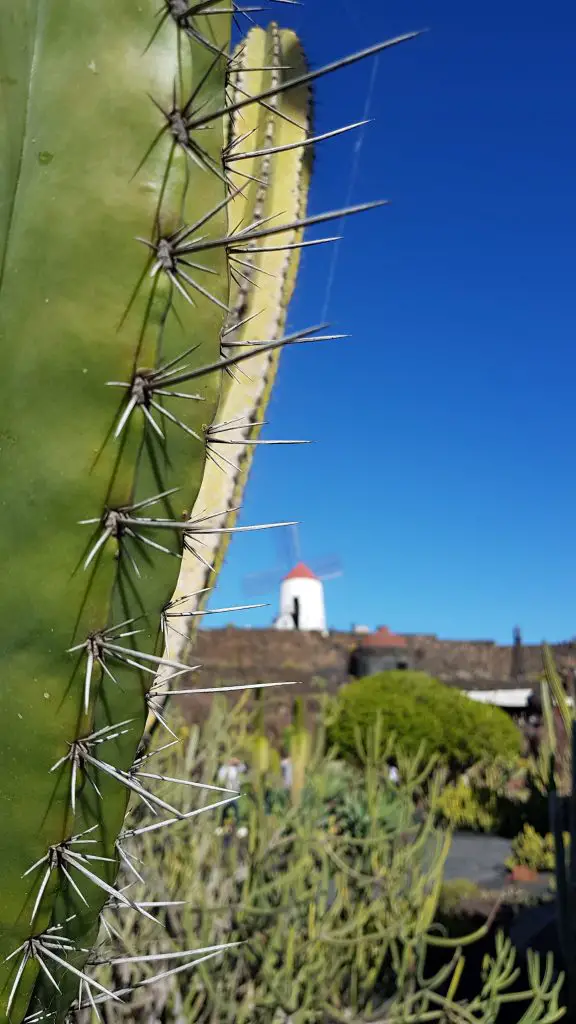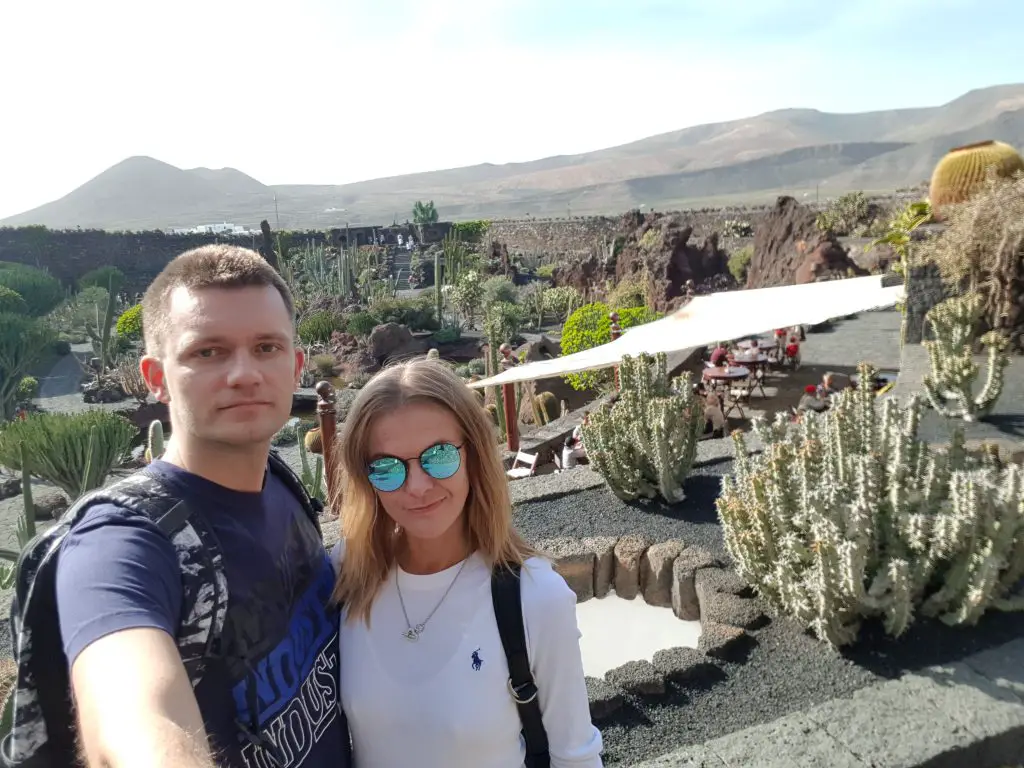 Of all Lanzarote places to visit, Cactus Garden is one of the most unique attractions!
2. Mirador del Rio
Looking for the best of Lanzarote? Without a doubt, this is one of the best places to see in Lanzarote! The Mirador del Rio viewpoint is located over a cliff (at 475m height) at the very north of the Spanish island of Lanzarote. Mirador del Rio offers one of the best views in Europe – the marvellous panorama covers the neighbouring island of La Graciosa and the breathtaking bay of El Rio.
The viewpoint on Mirador del Rio was designed by the famous designer of the Canary Islands Cesar Manrique. There is also a souvenir shop and a café-restaurant with an amazing view through its windows. But the real gem is the viewpoint located on the roof of the restaurant – we absolutely loved it!
Mirador del Rio is a must-visit place while on the island!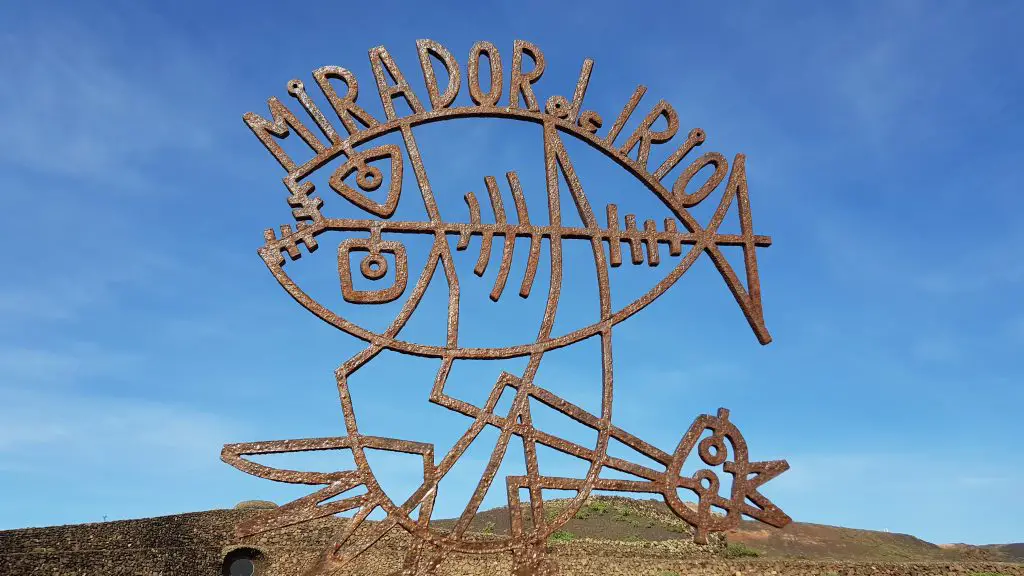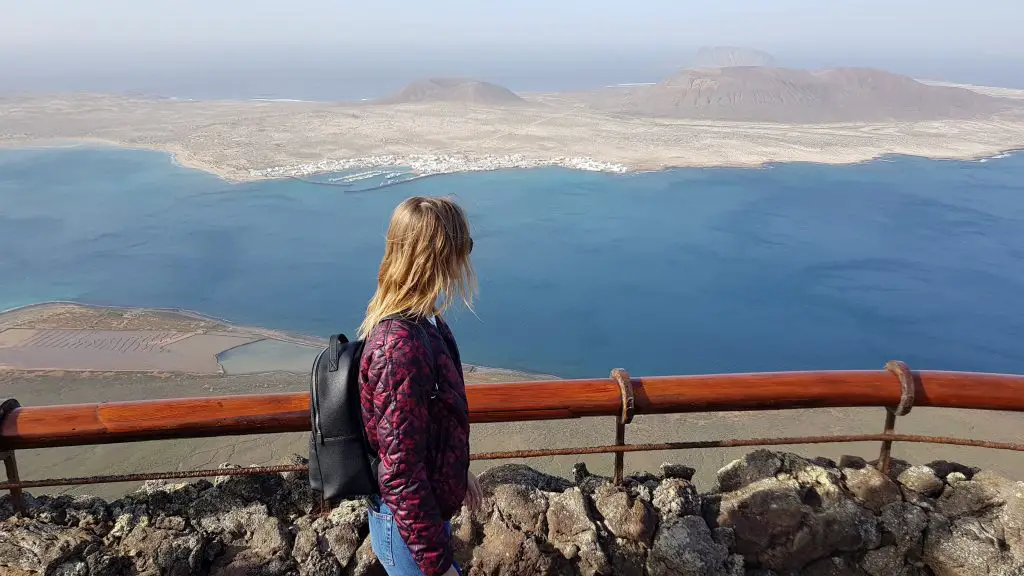 This view really is one of the best things to see in Lanzarote!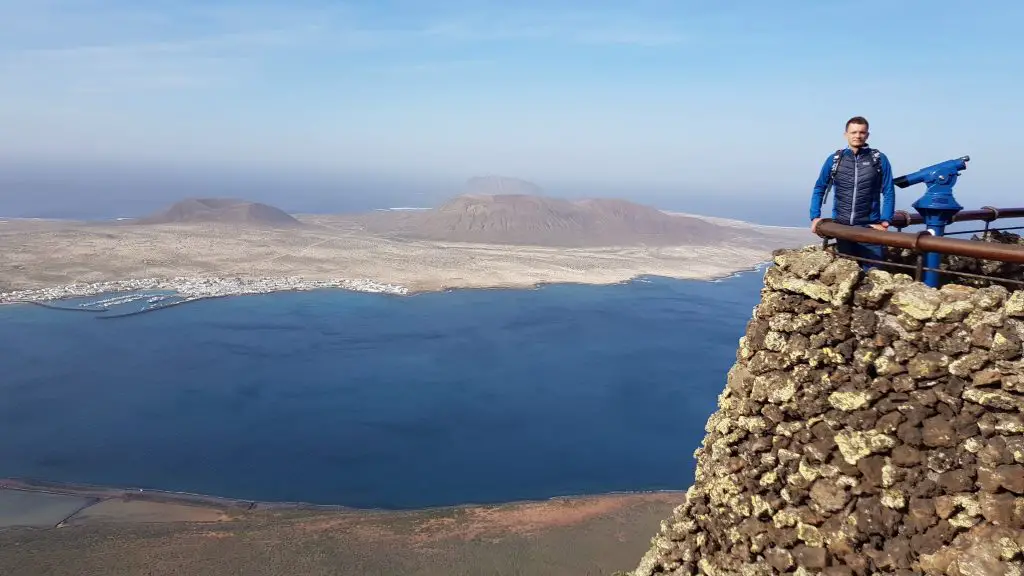 3. Ferry trip to La Graciosa Island
A must-have on your Lanzarote things-to-do list! The beautiful, unspoilt nature of La Graciosa means it is easily one of the best-hidden gems of Lanzarote. Catching a ferry from Orzola to La Graciosa takes just 30 minutes. When you get there, you'll notice how peaceful it is.
With no cars on the island, you can wander with ease through the streets of Caleta de Sebo or head to the beach and make the most of the mesmerising crystal-clear waters – whether for adventure or rest, La Graciosa really does offer something for everyone!
4. Caleton Blanco
Black lava rocks, turquoise Atlantic water and white sand make Caleton Blanco one of the top spots to visit on Lanzarote.
It is located in the north part of the island, not far from Órzola, and easily access it by a car after visiting Mirador del Rio. Yes, it is a bit away from everywhere else but well worth the trip! The scenery on the way there is beautiful! It really is one of the best places to visit in Lanzarote.
You will be impressed with the gorgeous white sand beach when you arrive. The contrast between the black lava stone and the partly very white sand is just stunning! You can even relax in one of the "windburgers", in case you have to hide from a strong wind ? The surreal landscape and views will definitely make your stay there a few hours!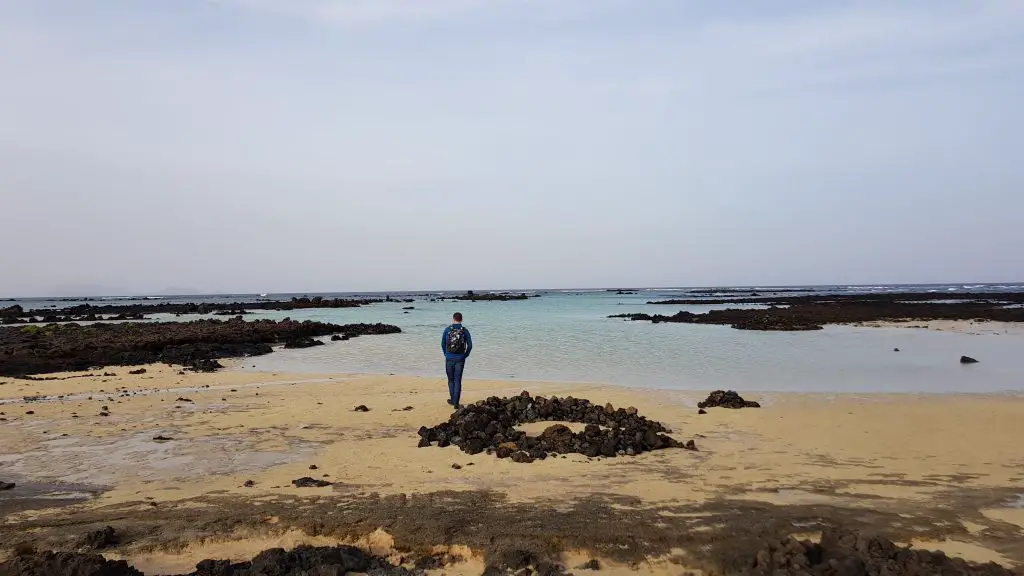 One of the less-known tourist attractions in Lanzarote, but still worth visiting!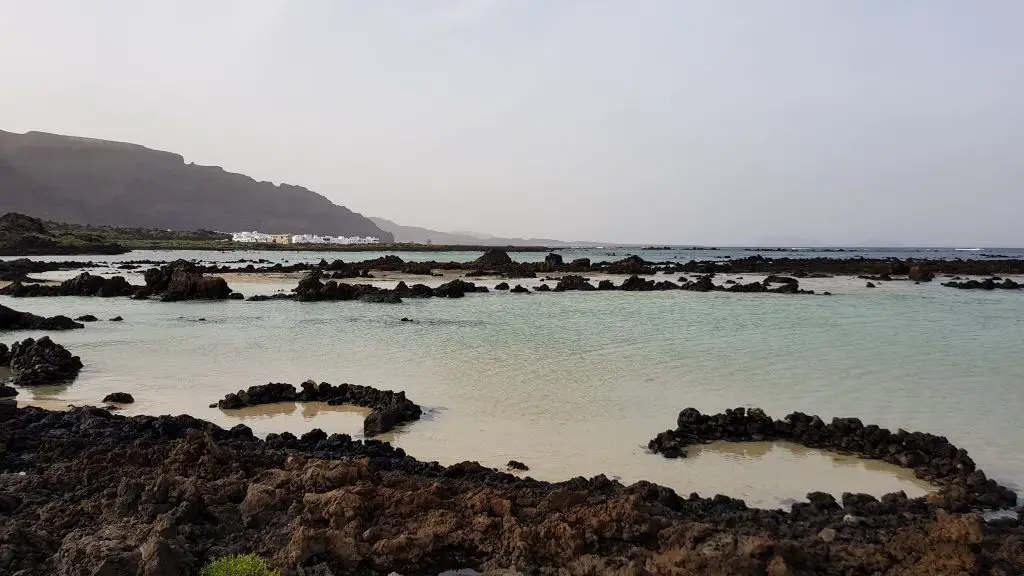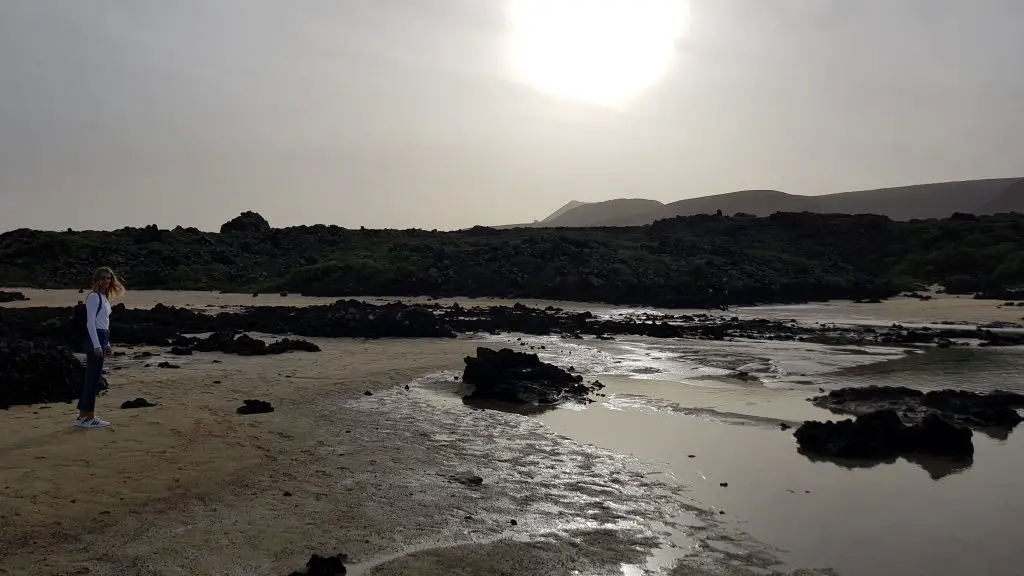 5. Spiral Caleta
The landscape here is fantastic! The contrast between the very white sand and the blackness of the rock and mountains makes this place worth visiting. You will probably not spend too much time at Spiral Caleta but make sure you stop for half an hour to admire the stunning views.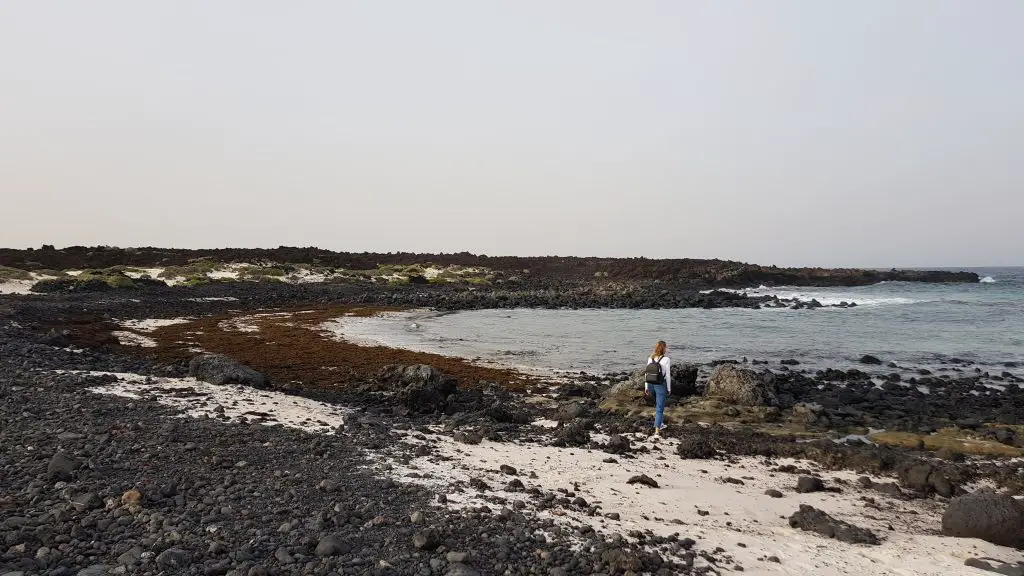 With so many activities in Lanzarote, this one is perfect for a little walk.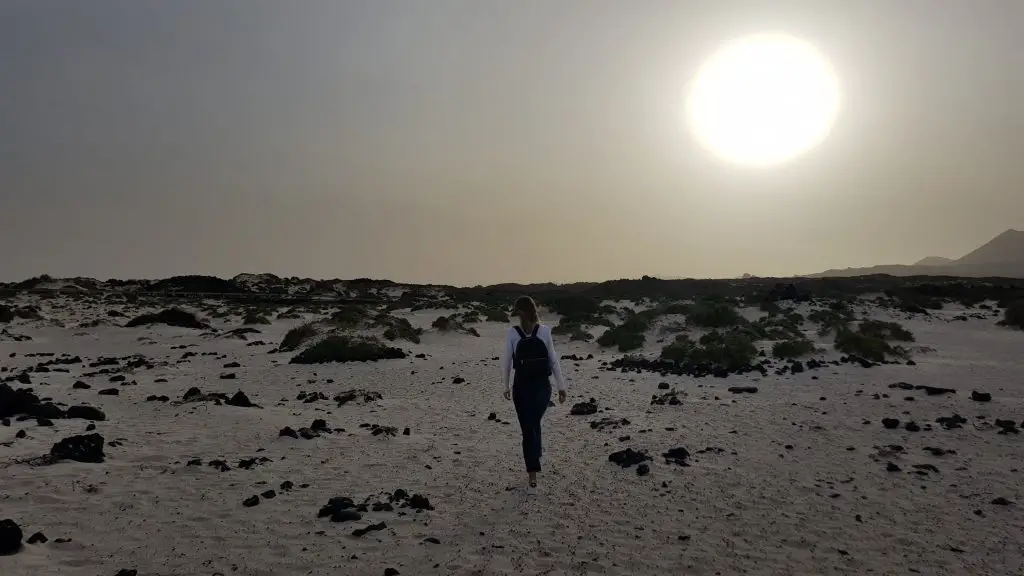 6. Dolphin-Watching Cruise
Best stuff to do in Lanzarote? The stunning waters surrounding Lanzarote are home to a diverse collection of marine animals including a variety of dolphins and whales. The beauty of dolphin watching in Lanzarote is that you can spot different species throughout the year.
The best way to get up close with these amazing creatures is with a dolphin-watching cruise that takes you around the island. With daytime trips with snorkelling or sunset cruises with drinks and canapes, there are lots of options for an unforgettable day out.
7. Cueva De Los Verdes
What is there to do in Lanzarote? This lava tube is one of the main tourist attractions on the island of Lanzarote. The tunnel, formed by La Corona Volcano, is one of the longest and probably most interesting in the world. So, all cave lovers should add this to their bucket list.
Cueva de Los Verdes can be visited as part of a 1hour guided tour, during which you can learn about the history of Lanzarote and the cave itself.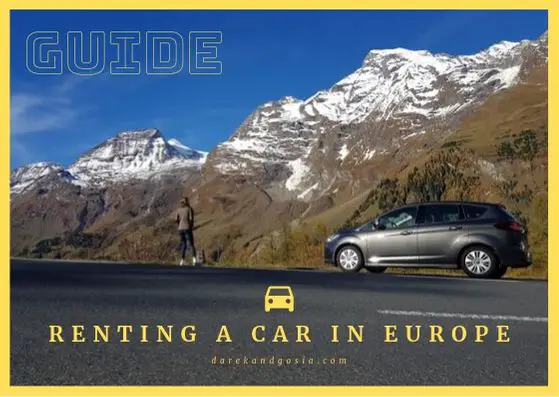 8. Jameos del Agua
Jameos del Agua, a very original cave, was created as a result of the La Corona volcano eruption 3000 thousand years ago. Hot lava made a long tunnel ending up at the bottom of the Atlantic.
Cesar Manrique, who designed this place, transformed several underground chambers into a huge 600-person auditorium with amazing acoustics. Together with a swimming pool, a tropical garden, an elegant restaurant and a moody nightclub Jameos del Agua became one of the most fascinating attractions on the island is the most-visited place in Lanzarote. 
There are unique species of albino crab (Munidopsis Polymorpha) in the lake, that occur only in this one place in the world. The crabs are blind and have white colour. They reach no more than 1 centimetre in length so you have to go closer to the lake's surface to admire those little crabs.
In one of the caves (Jameo Grande), a swimming pool with crystal-clear water and a white bottom was created. The view of the contrasting colours of the surrounding area and the water will stimulate your senses. Unfortunately, you are not allowed to swim in both the swimming pool and lake.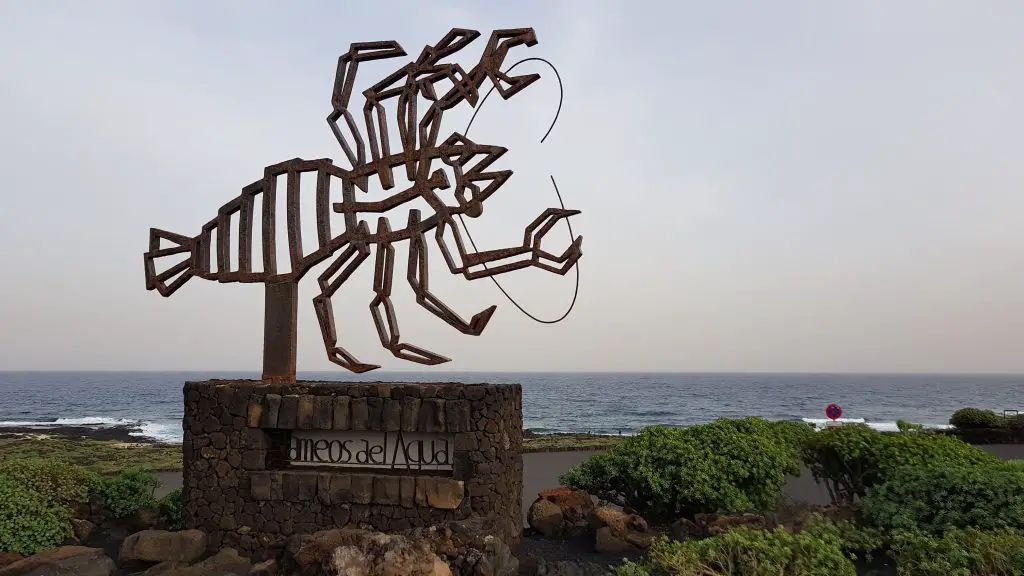 Is Jameos del Agua on your list of the best Lanzarote things to see?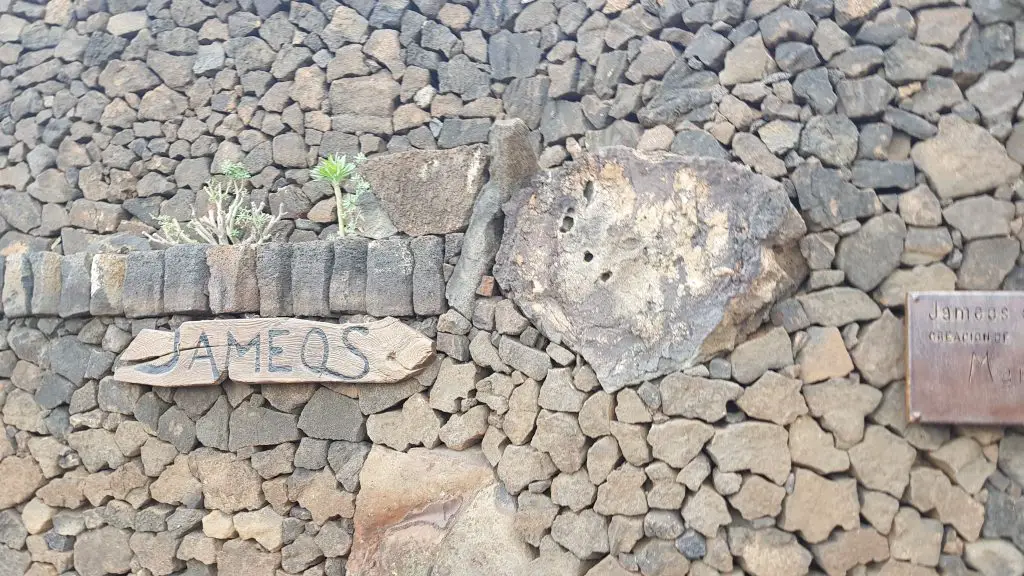 9. Timanfaya National Park – a journey to the Moon
Looking for the best place to go in Lanzarote? Head out to this stunning park! Timanfaya National Park, known as Mountains of Fire, is one of the main attractions on Lanzarote. In fact, more than 1.5 million people visit this park every year!
The park was established in 1974 and covers areas where eruptions took place between the 17th and 19th centuries. Here happened the most important volcanic eruptions in the history of mankind in terms of duration and extent.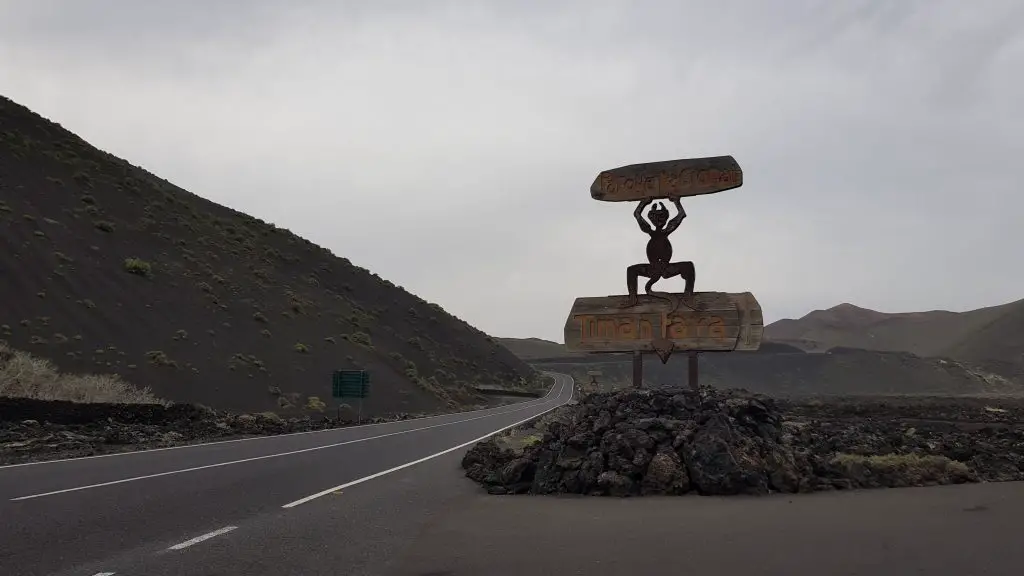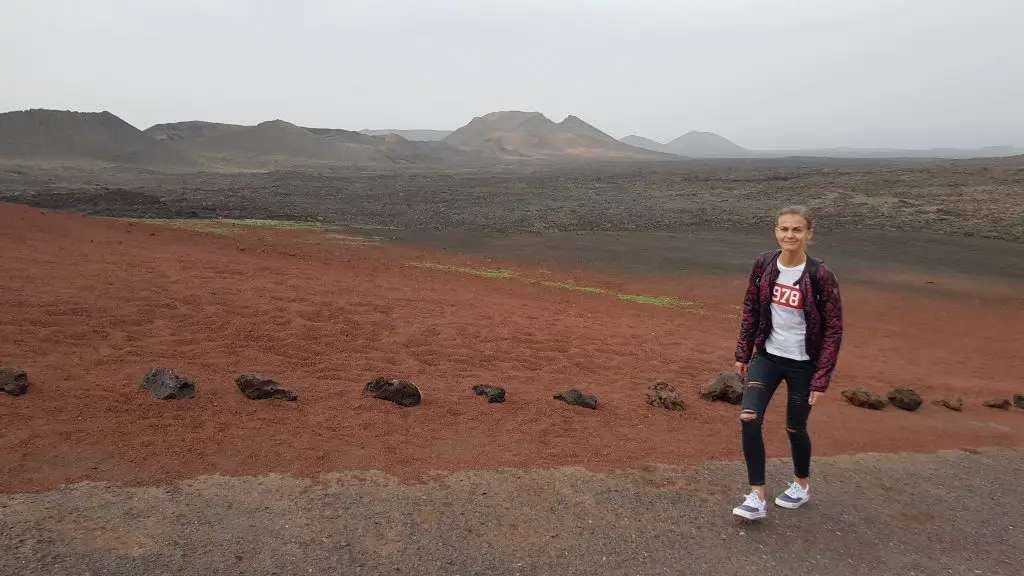 After the last explosion (1824) you can still see some geothermal anomaly in the park. Those are now attractions for visitors:
You can watch how park employees are pouring water into holes in the ground, causing the geysers to be launched.
Or a magic trick – they threw hay in between the rocks which self-lights up.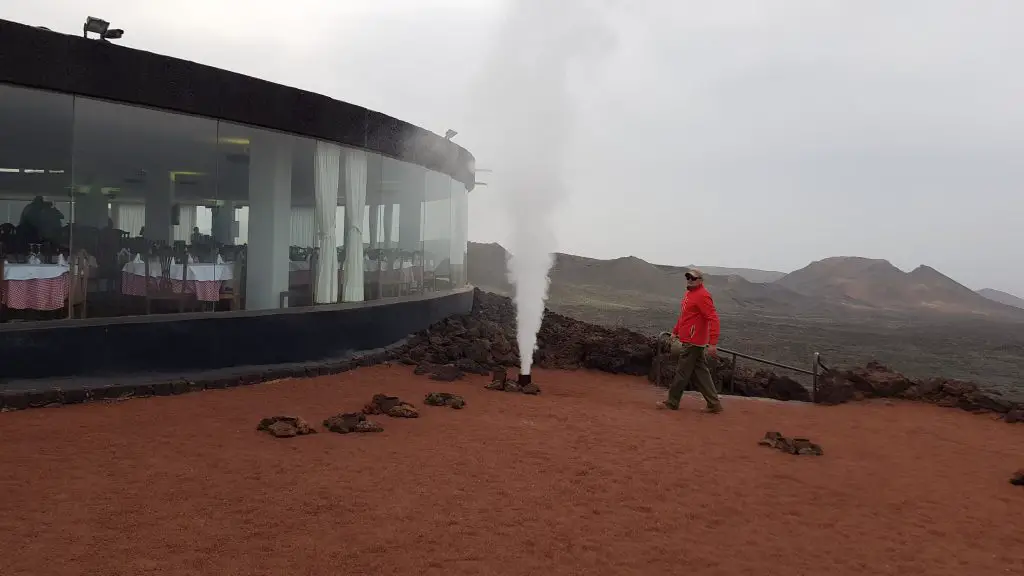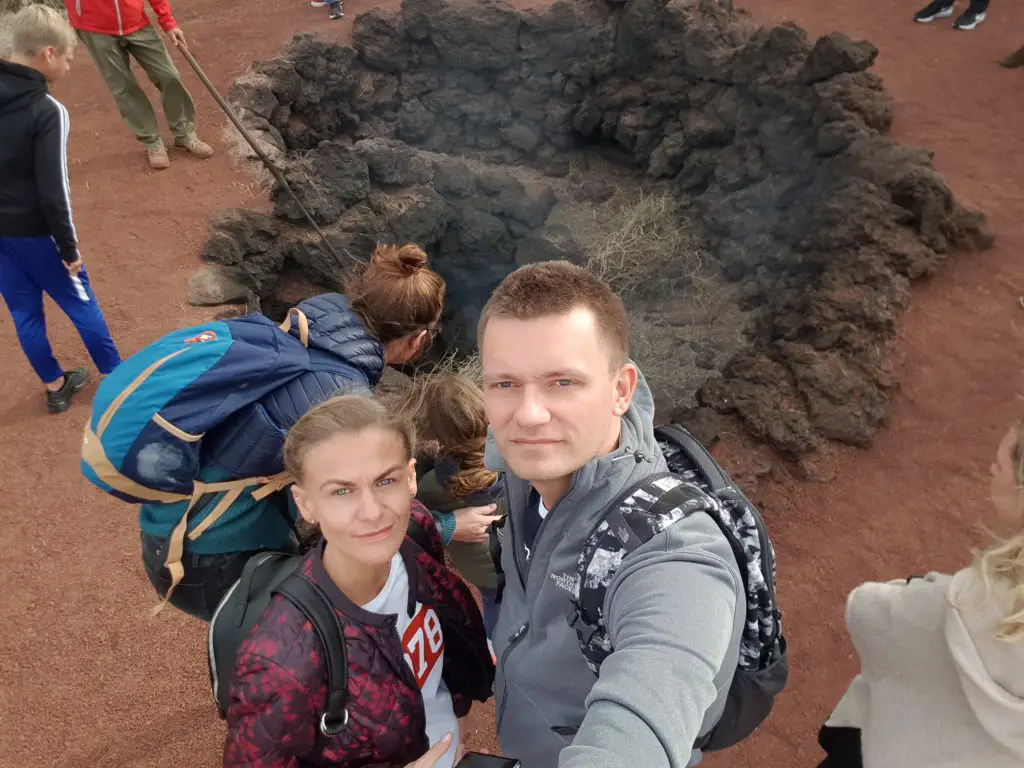 There is no way to explore Timanfaya National Park on your own. It is not possible to move around in a rented car or on foot. The only exception is the walking route Ruta del Litoral. The Coastal Route, trail no. 10, is leading from El Golfo to Playa de La Madera. It is 12 km long (one way) and you will need 4 h 30 minutes to complete it – so this is not an option if your time is limited.
The good news is that you can take the "Ruta de Los Volcanes" on the bus tour. There is no extra charge and the price is included in your €10 entry ticket to the park.
The volcano trail was designed in 1968 by César Manrique and Jesús Soto and allows you to admire the stunning landscape during a 45min long trip. To be honest, we are not big fans of taking pictures through coach windows, as you always get a reflection. Also, the colour of the glass changes the photos but there is no other option to admire those amazing views. Believe me, it's still worth it! We have been to a lot of places in Spain and we can't recommend this park enough.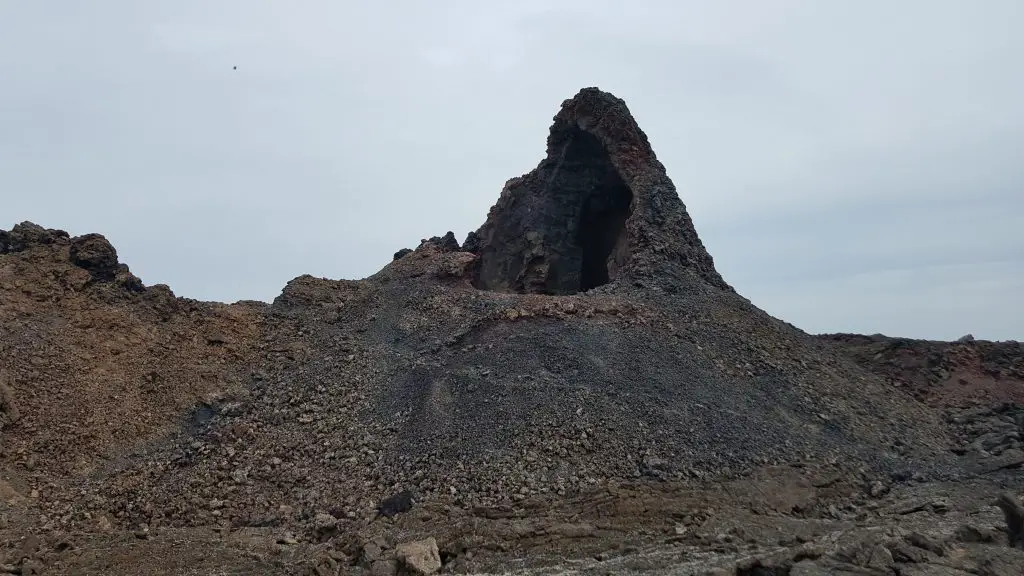 Looking for the best in Lanzarote Spain? This is one of the top Lanzarote tourist attractions with stunning views!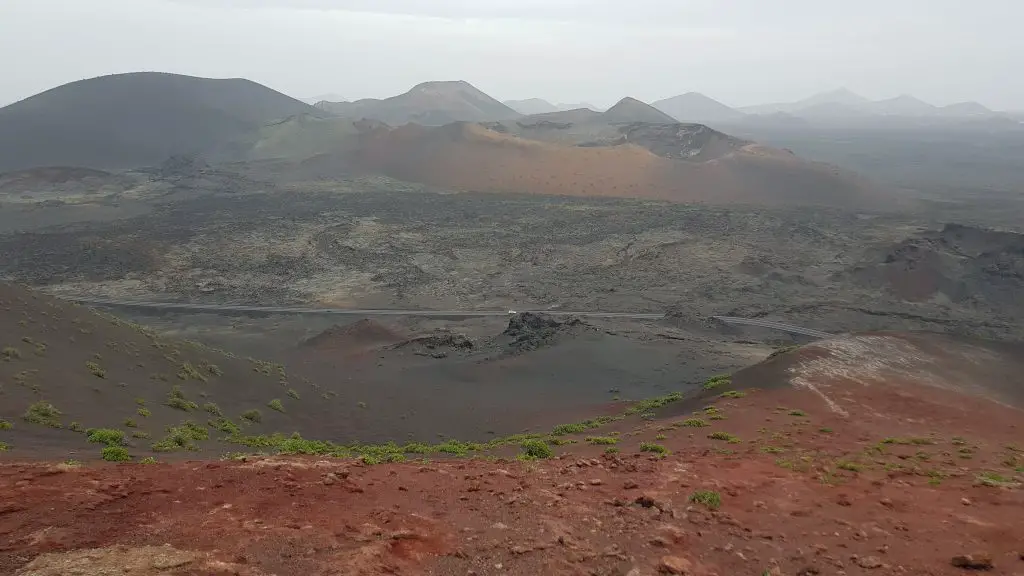 10. El Diablo Restaurant
In the place called Hilary Island, there is also the El Diablo restaurant designed by César Manrique. This characteristic building with a round facade perfectly integrated into the surrounding volcanic landscape. Thanks to a glass wall, you can enjoy the panorama of the Mountains of Fire while having your lunch. The restaurant itself is made of volcanic stones which looks fantastic.
They serve meals roasted on the grill, but not just any… It uses volcanic heat coming out straight from the ground! Would you eat something that was grilled on a volcano?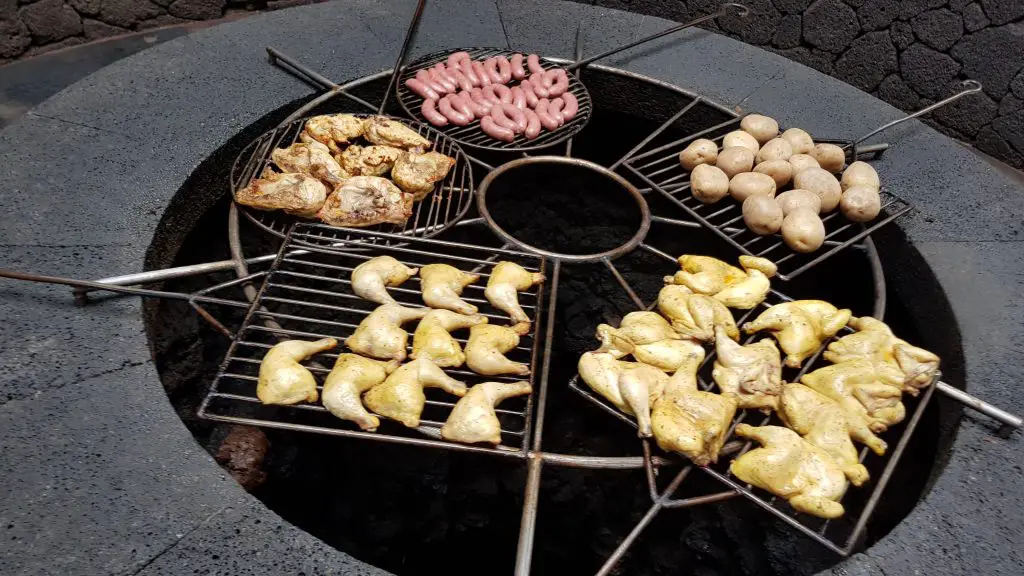 11. Camel Ride
2 kilometres before entering the Timanfaya National Park on the LZ-67 road there is a car park and a small museum. 
The main attraction here is a 200-meter-long camel tour. The ride takes 15-20 minutes while you are sitting on one of the traditional chairs placed on each side of the camel. The Ruta de Camellos, as it's called, is another way to visit the Timanfaya National Park.
We didn't take the ride, as to be honest, we didn't fancy it after we saw how the park employees were shouting in order to make the camels do what they wanted… But, it's your call really. The ride will cost you €6 if you decide to do the camel tour.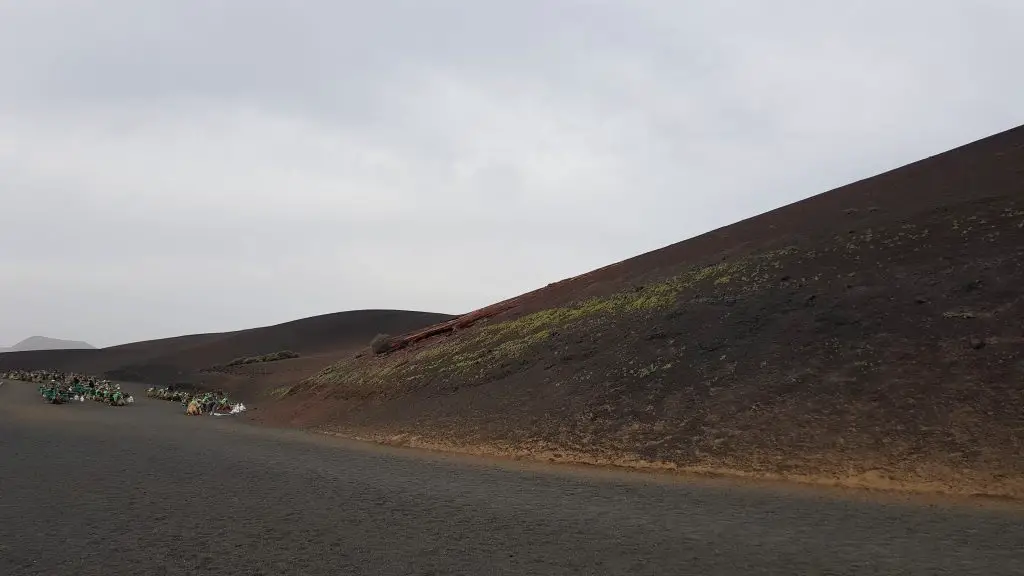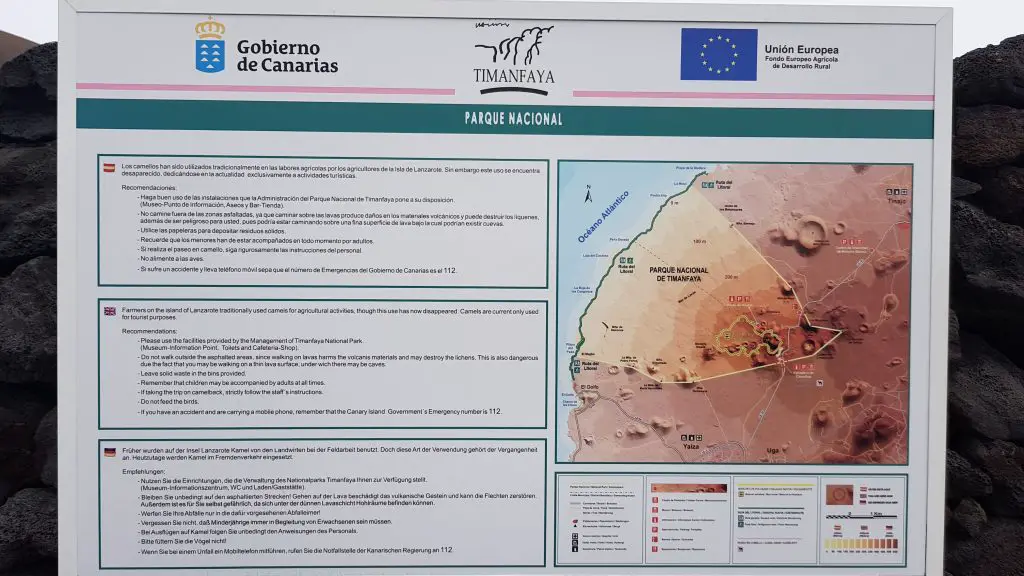 12. Scuba Diving
What to do on Lanzarote? With an abundance of marine life surrounding the island of Lanzarote and the beautiful crystal-clear waters makes Lanzarote an excellent location for scuba diving. Scuba diving is a year-round activity in Lanzarote.
Whether it's your first dive or you're an experienced diver, there are lots of options available and many dive schools to choose from. As well as spotting the marine life and discovering wreck sites, a must-visit for scuba diving in Lanzarote is the underwater museum which has over 300 underwater sculptures. One of the top things to do in Puerto del Carmen.
13. Old-Salt Factory
Las Salinas del Janubio is an impressive natural salt factory located by the coastline in the south of Lanzarote.
From a viewing point above the salt factory, you can watch the"plots" used to acquire salt. Dozens of clay-stone trusses form a kind of checkerboard in which the seawater after evaporation leaves a glassy pane of salt.
Currently, the salt obtained from those plots covers most of the Lanzarote population's needs for this spice. So, next time when you eat Canarian Potatoes, there is a big chance that the salt, used to prepare them, came from one of the fields you have seen.
It really is one of the best sightseeing in Lanzarote!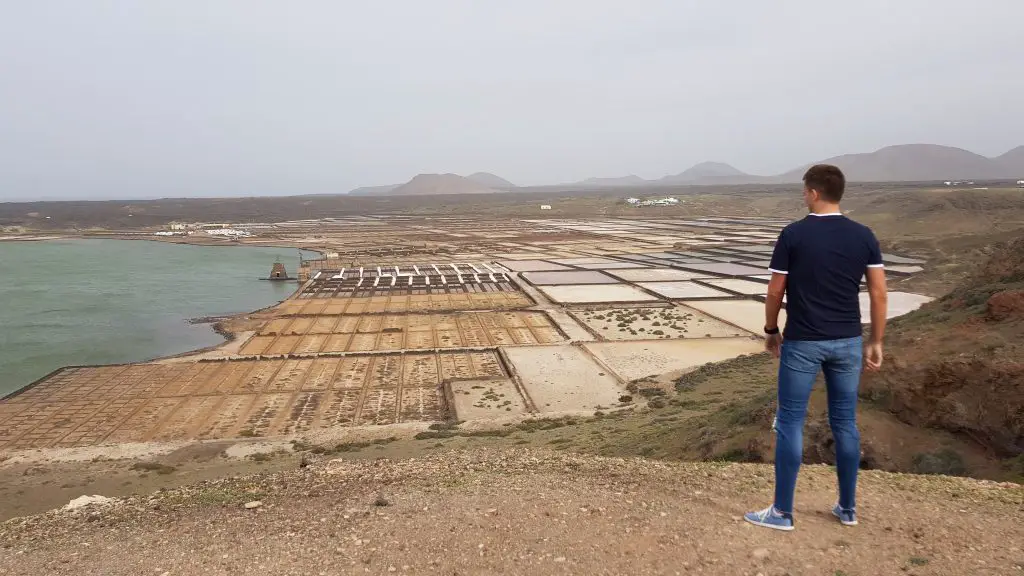 14. Janubio Beach
This stunning, stretching just over 800 meters, black-sand beach is located just stone's throw from the Old Salt factory. And it is a must-have stop on your way to Los Hervideros! You will have to go off-road to get there, but it shouldn't take you more than 5-10 minutes.
It is worth going for a walk on the black beach – the scenery is just breathtaking and you feel like walking on the Moon!
There is always a red flag present, indicating that bathing on Janubio Beach is dangerous – the current here is very strong. A lot of people will skip this beach which makes it an ideal spot for all looking for a quieter place on Lanzarote Island. Janubio Beach is one of the most interesting beaches in Lanzarote to visit, its colour reminded us of the famous Reynisfjara beach in Iceland.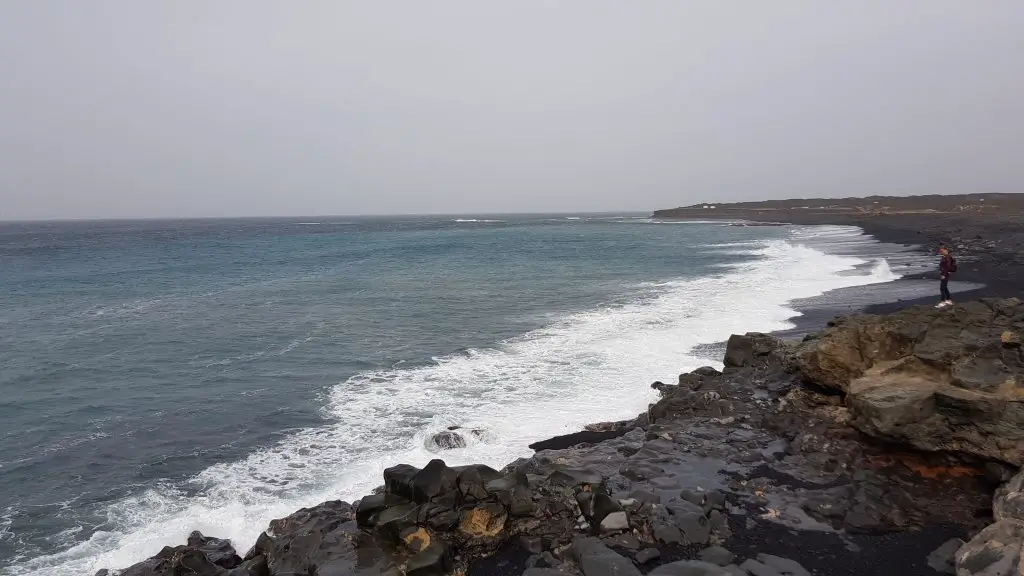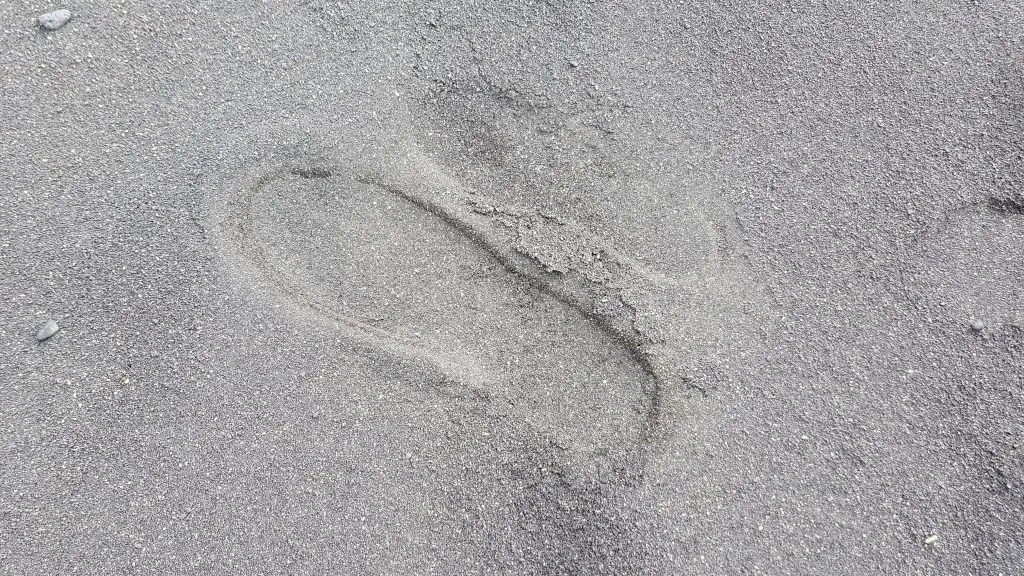 If you still ask yourself where to go in Lanzarote? This is a truly unique attraction!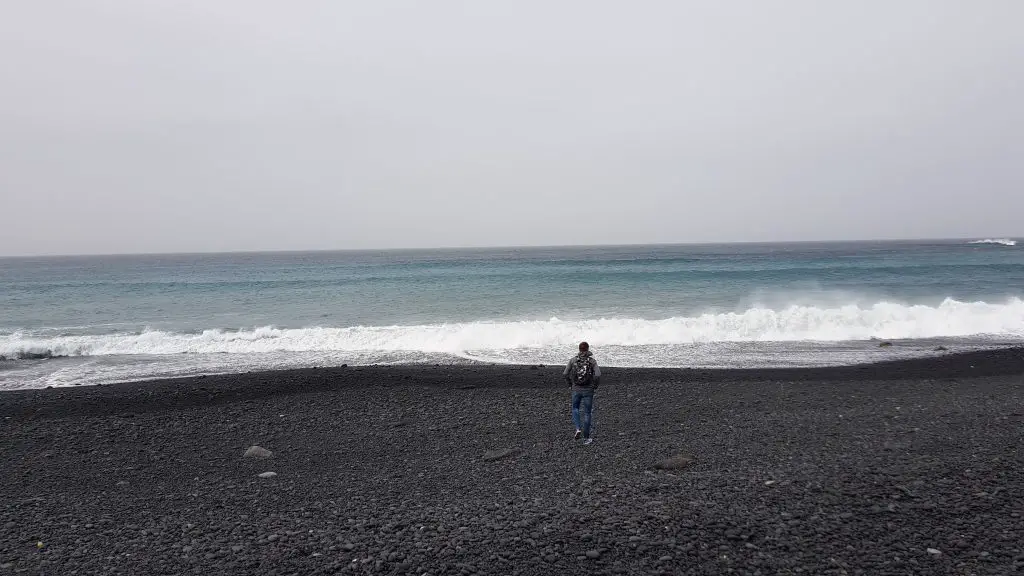 15. Los Hervideros
Los Hervideros, known as the boiling coast, is a must-visit stop on the LZ-703 road to El Golfo. This viewpoint is a fragment of a rugged shore which was created during volcanic eruptions when huge masses of hot lava met with cool seawater. It is a complex of rocks that have formed into specific labyrinths and amazing caves.
This free attraction on Lanzarote is really spectacular – a reminder of nature's power and beauty!
Best to visit on a windy day when the masses of seawater flow into the caves creating a beautiful "performance". All you have to do is just stand and admire this awesome spectacle. It's one of our favourite and possibly one of the best places to visit in Lanzarote.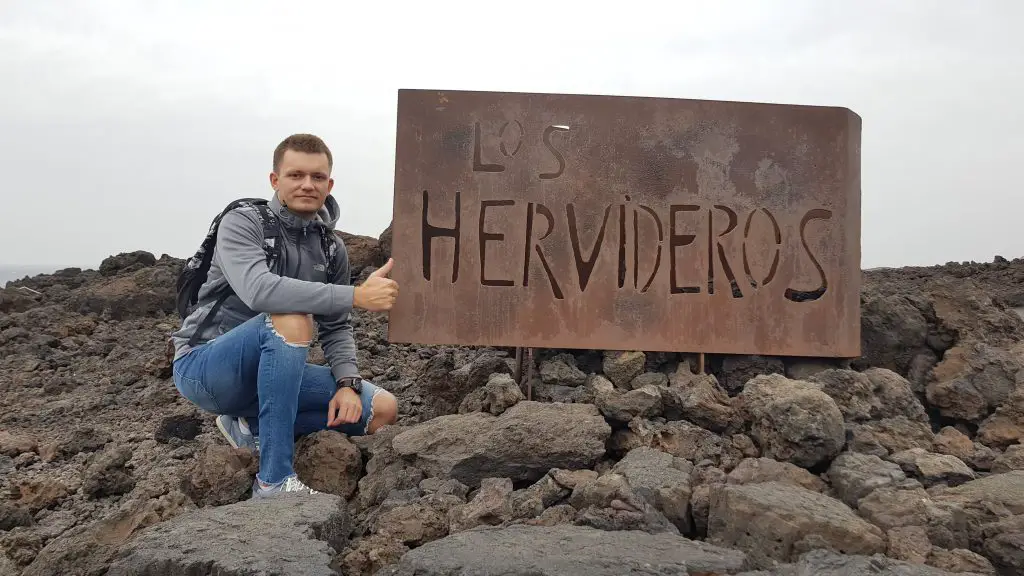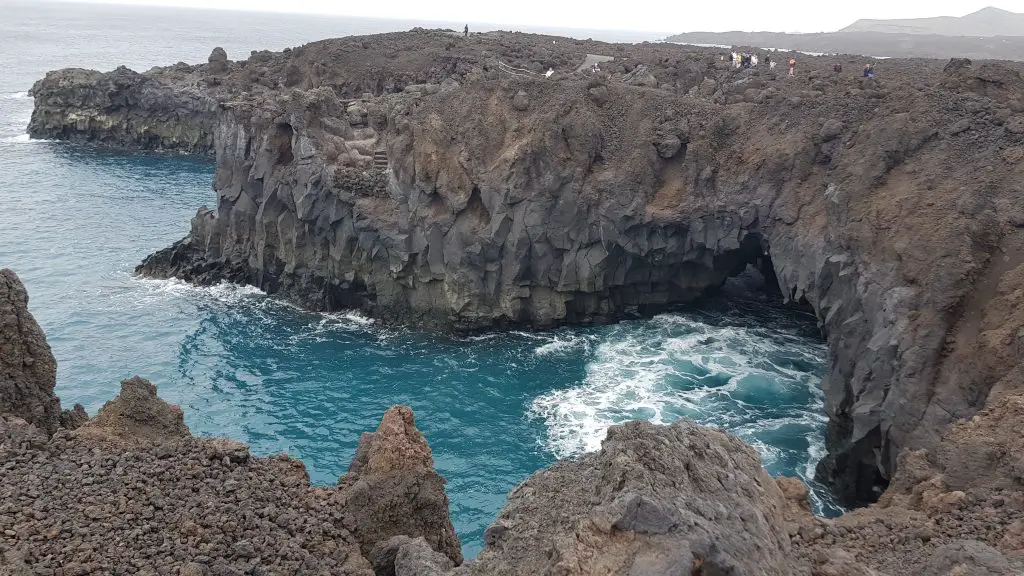 Most of the best places in Lanzarote were created by nature!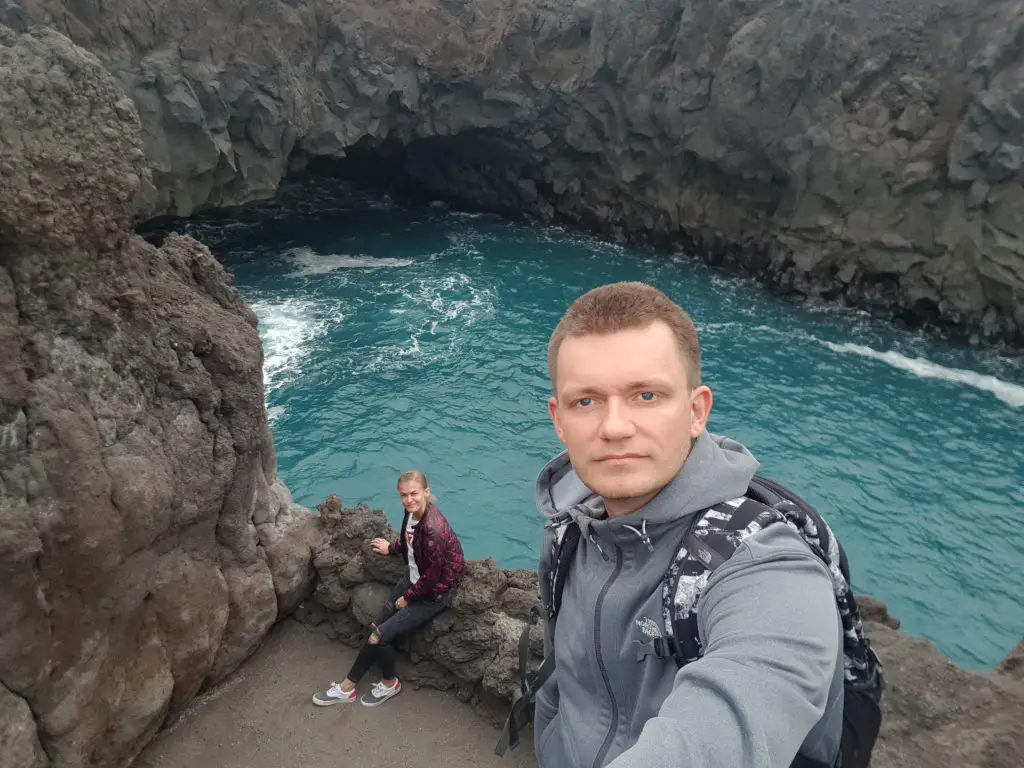 16. Playa Montana Bermeja
Playa de Montaña Bermeja, at about 400m length, is a bit shorter than the Janubio Beach – but it is also very impressive! It is located on the way to El Golfo so be ready that the car park will be full. But no worries, there will plenty of space.
The current is very strong on the beach, so you will not be able to take a swim there as it's highly recommended to not enter the water. But this shouldn't stop you from visiting Playa Montana Bermeja! You can still have an amazing time on the beach by taking a walk and observing little crabs hiding in the rocks and cliffs. There is also a mini lake, between the sea and the road, which combines with the red mountain & black beach create spectacular scenery.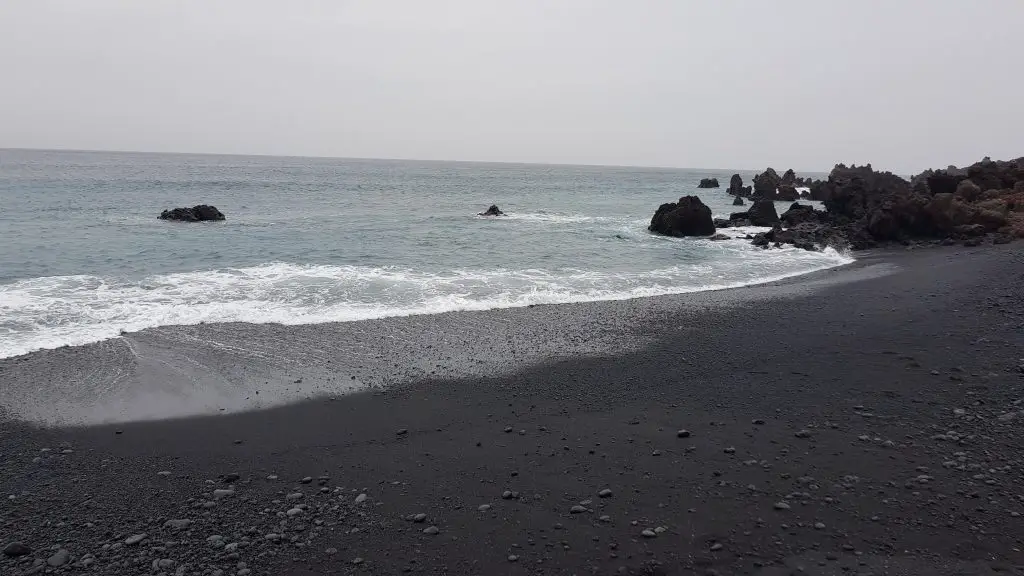 17. Day Trip to Fuerteventura
Best places to go in Lanzarote while on Canary Island holiday? Enjoy the best of two islands on one trip, with a ferry day trip to Fuerteventura. Fuerteventura offers beautiful white sandy beaches and extensive dunes which is perfect if you want a relaxing beach day in new surroundings.
As well as the Instagrammable beaches, Fuerteventura is home to lots of water sports. Here you can try your hand at windsurfing or kite surfing! There are several ferries running between the two islands, and the sailing duration takes just 25 minutes.
18. El Golfo
Going to Charco de Los Clicos, it is worth stopping in El Golfo. This little town is famous for its beautiful landscape, where white, traditional houses contrast with the dark, volcanic cliffs. You can also try the excellent local cuisine here – there is nothing better than lunch with a sea view.
Make sure you park your car at the end of El Golfo town. So, you can walk and enjoy the stunning coastline – make sure to take a few pictures there.
We couldn't forget to add this place to our list of top Lanzarote attractions, could we?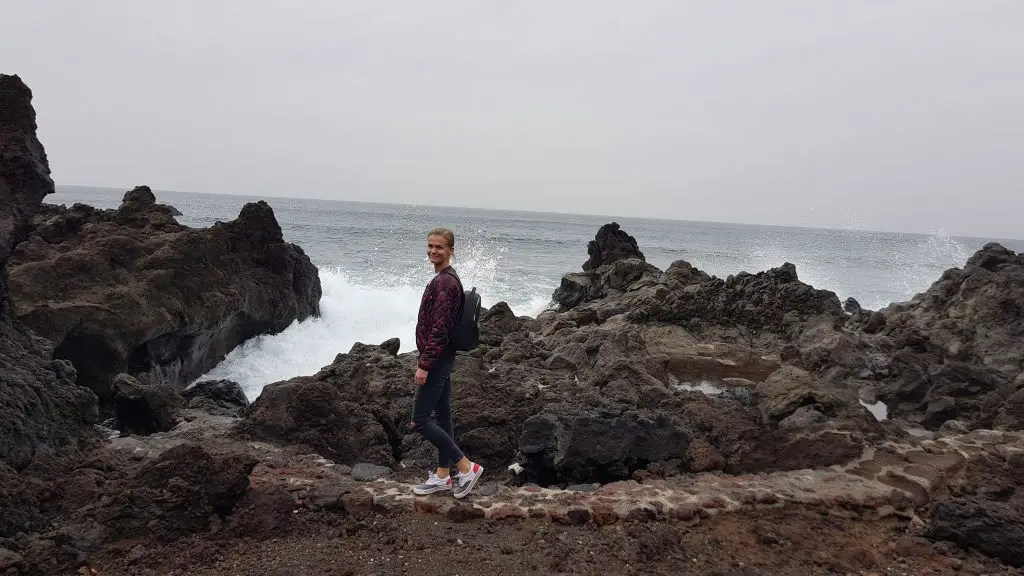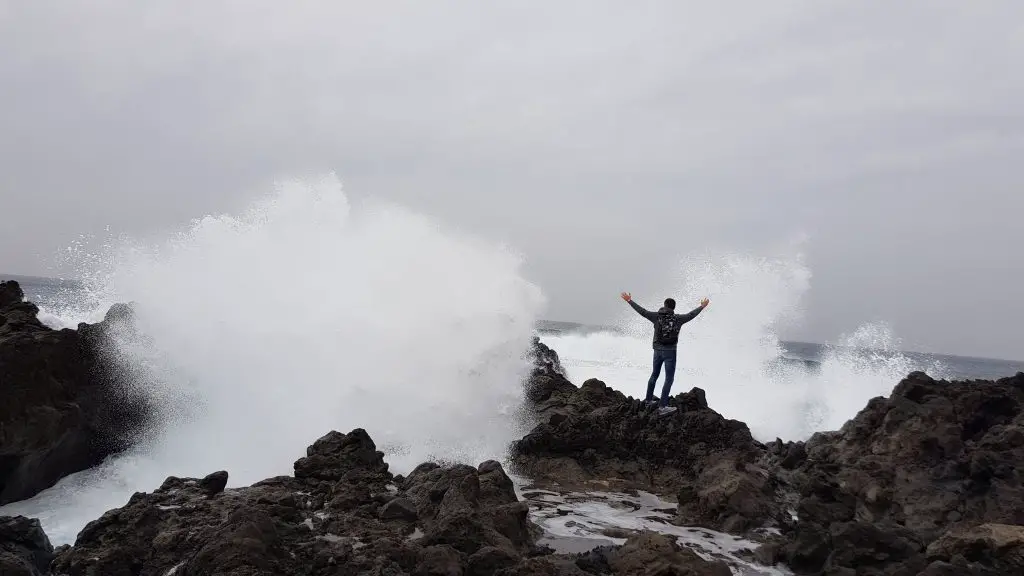 19. Charco de Los Clicos
Charco de Los Clicos (Charco Verde) is another place of the most visited tourist attractions on Lanzarote. It is located in Elf Golfo, on the south-west coast of the island. The Green Lagoon, approx. 10 m deep, is a natural lagoon powered by seawater. It was created as a result of the volcano El Golfo in the eighteenth century.
There is a viewing point which you can reach by foot. From there you will get the impression that you see a lake in the middle of the black beach. But Charco de Los Clicos is not a lake! In fact, it is a volcanic crater washed up by the sea. The lagoon has a very intense, bright green colour due to algae living in the tank. This creates incredible scenery as it contrasts with the surrounding black lava and orange rocks. A must-have on your list of things to do Lanzarote!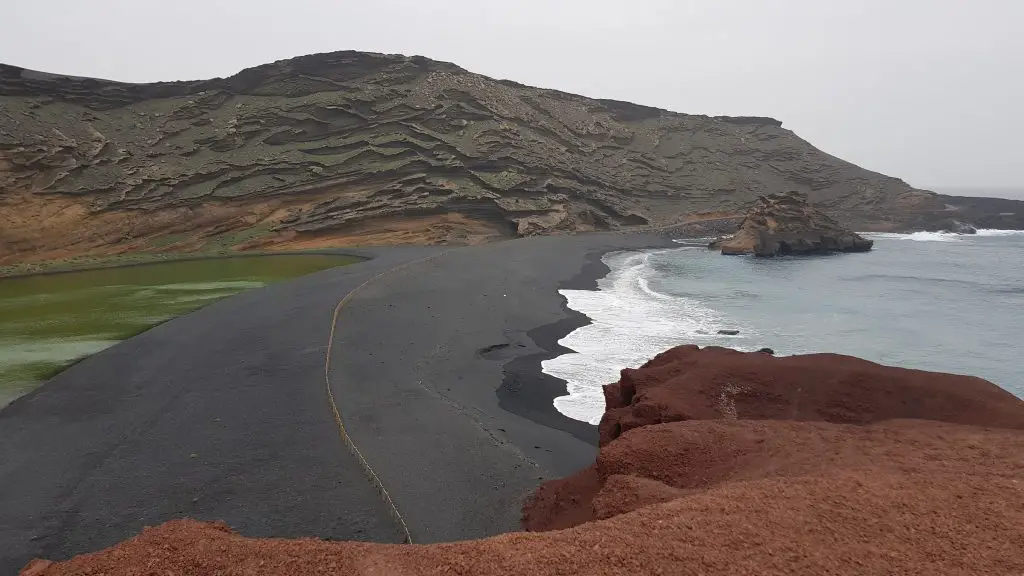 If you are still not sure what to see in Lanzarote, this really is a top spot!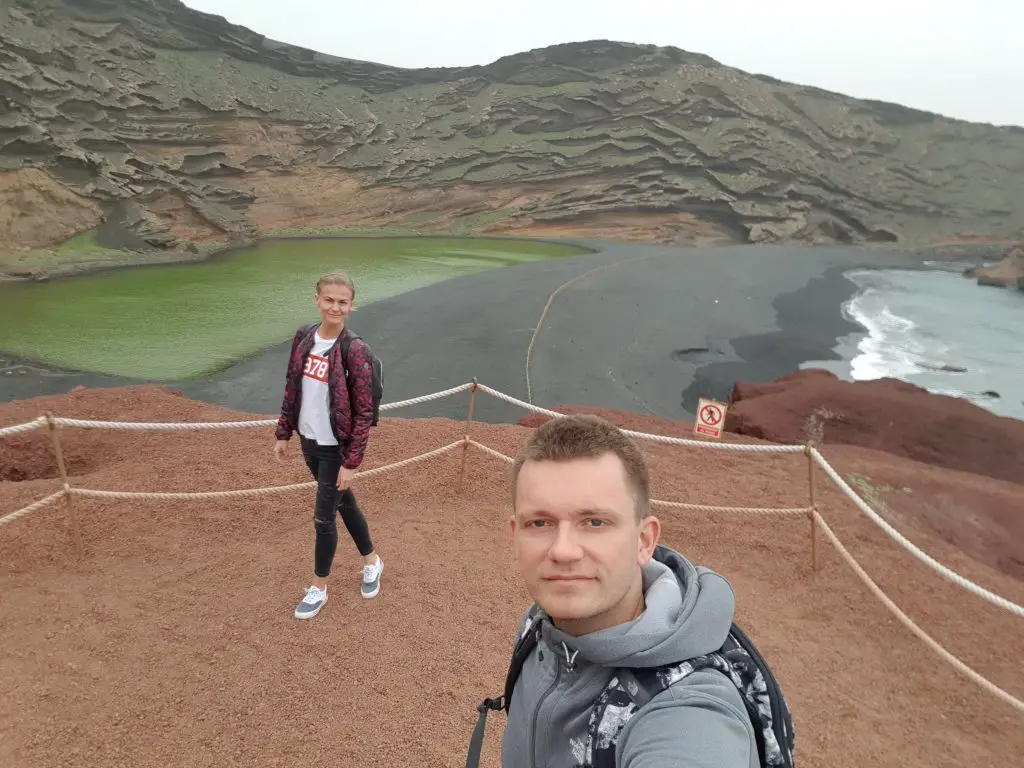 20. Playa Flamingo
This was the closest beach to our hotel. It's a nice little sandy beach sheltered by manmade breakwaters. It's a perfect place to watch the sunrise! There are a few restaurants, so you can enjoy an evening meal, have a cocktail and watch the sea. It's well worth taking a trip to Playa Flamingo if you are based in the south of Lanzarote.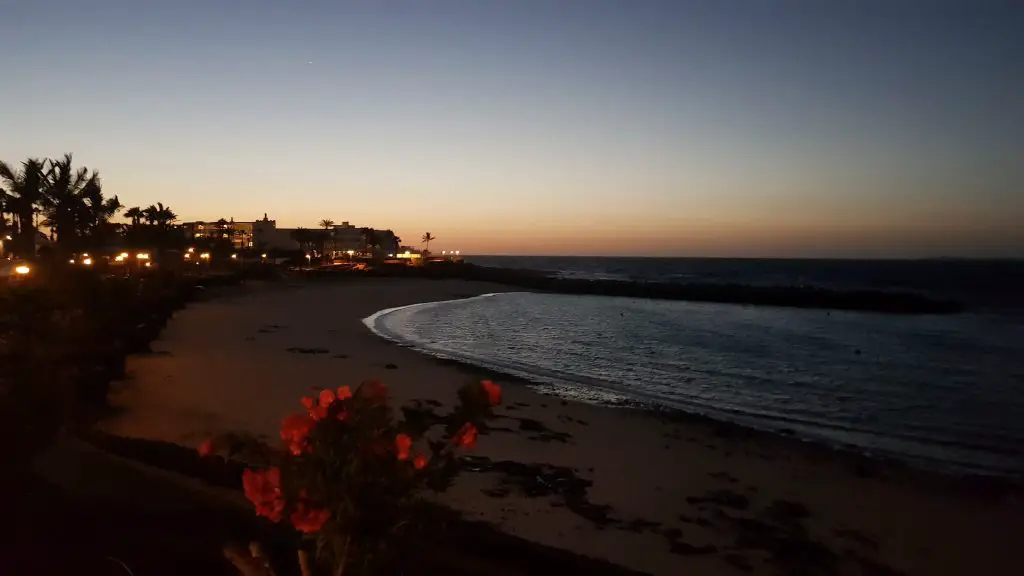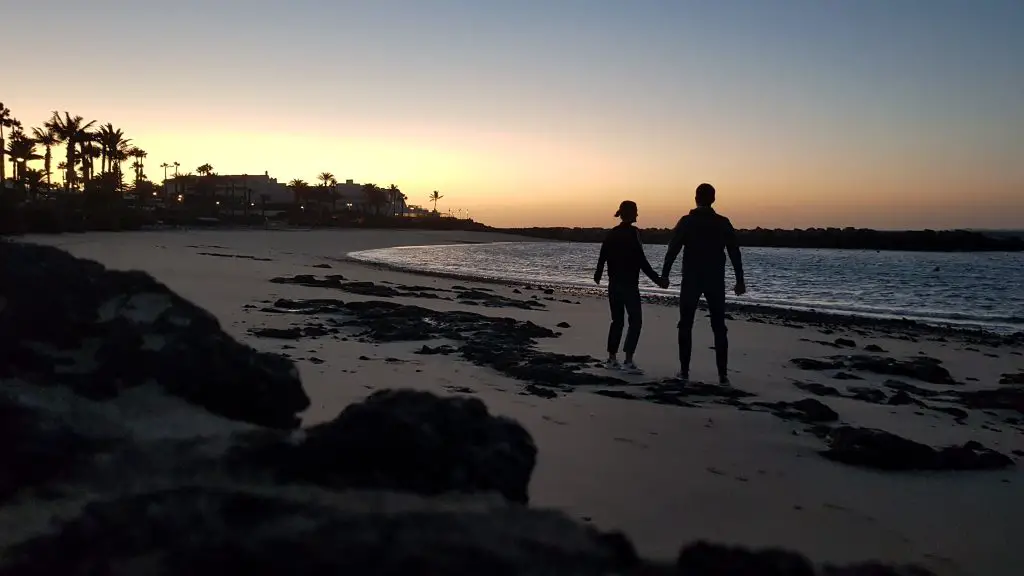 21. Playa Blanca
Without a doubt, this area is one of the best things to see in Lanzarote!
Playa Blanca, which in Spanish means "White Beach" is a town beach of Playa Blanca – the most Southerly resort on Lanzarote Island. The beach is not big and when the sea level is high, it might completely disappear!
Playa Blanca with its golden sand and calm waters offer good conditions for diving and plenty of restaurants, with terraces overlooking the sea, make this spot ideal to spend there a whole day.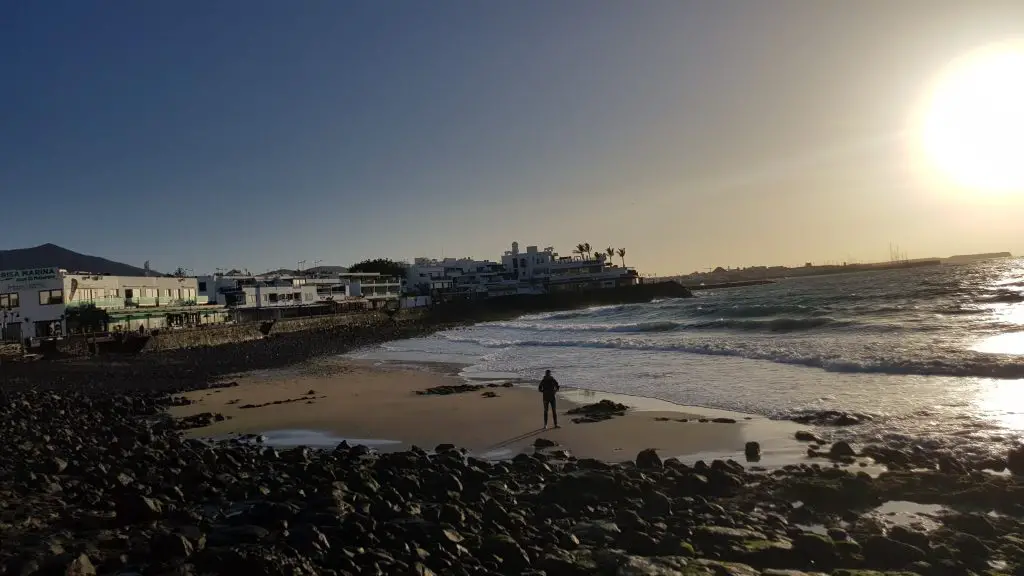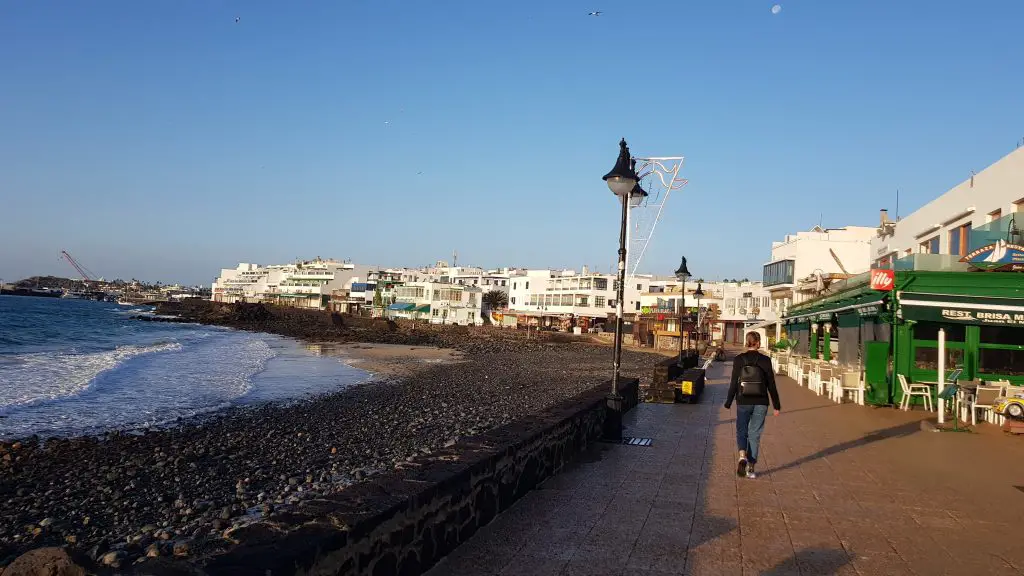 22. The Spoon in Concrete
Looking for unique activities in Lanzarote? This is it!
Outstanding, marvellous, just phenomenal! It is one of the top attractions on Lanzarote which is not easy to find!? 
It was definitely worth spending 4 hours on the plane to finally get the opportunity to see this place! ? No trip to Lanzarote is complete without a visit to the "spoon in concrete" location. It's one of the top things to do in Playa Blanca Lanzarote if you are either a crazy spoon fan or a concrete fanatic.
Would you add this to your bucket list?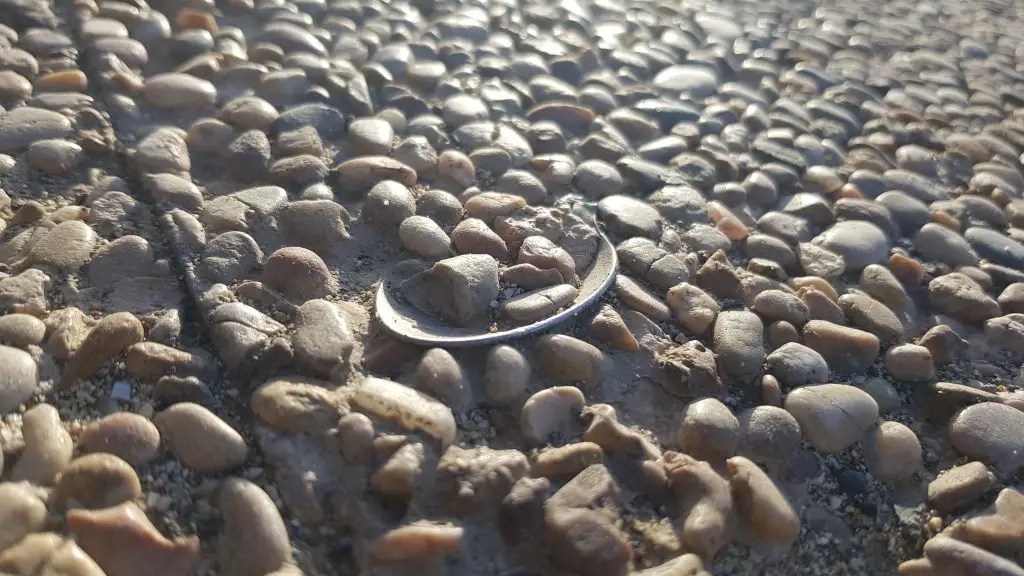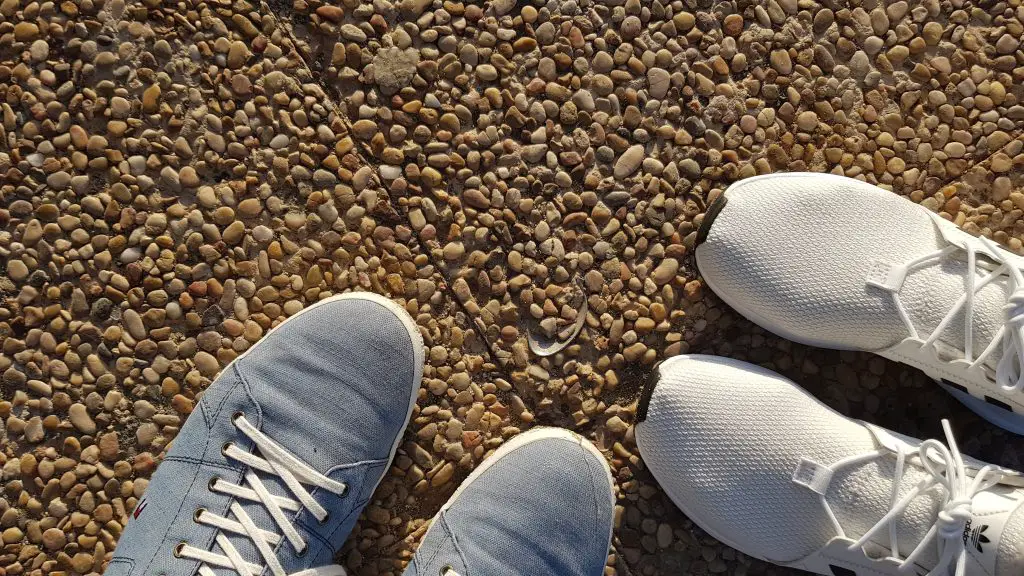 23. Dorada Beach
Playa Dorada with Golden sand and crystal-clear water is one of the nicest manmade beaches in Lanzarote. There a plenty of restaurants and little cafes so you can enjoy tapas from a bar area overlooking the sea.
We visited the beach early morning to watch the sunrise as well as the sunset in the evening. A perfect place to relax at any time of the day! It really is one of the best places to visit in Lanzarote – especially for sea & beach lovers!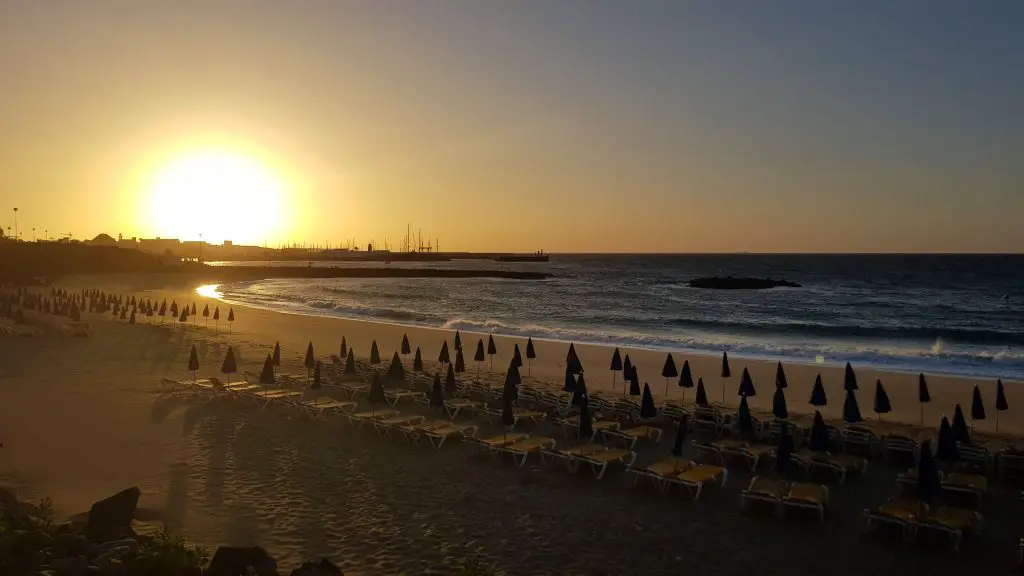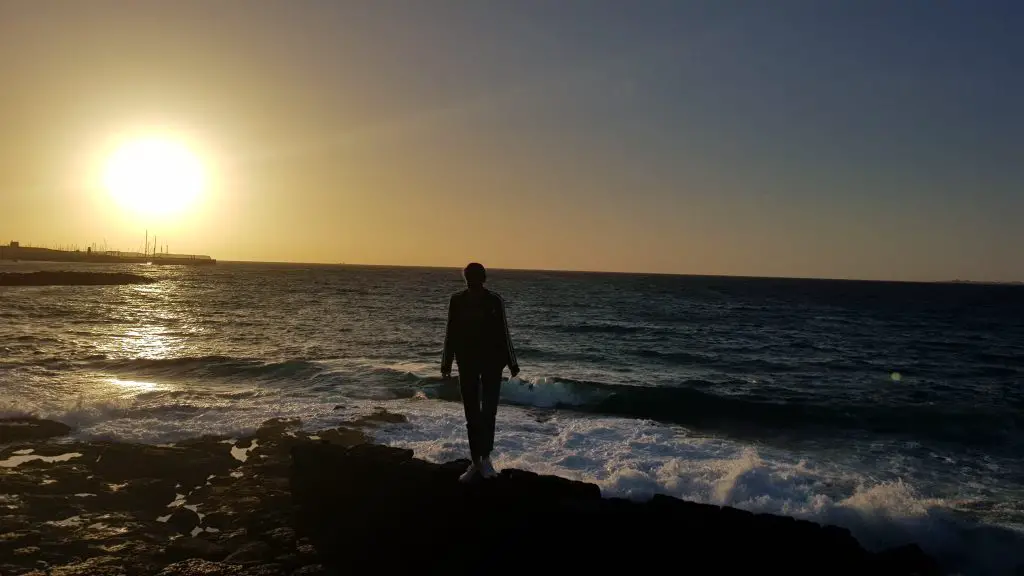 One of the most beautiful beaches in Lanzarote.
24. Playa de la Cera
If you are after relaxing things to do in Lanzarote? La Cera beach is located just next to the very popular beach of Playa de Papagayo. It is also one of the six beaches of Papagayo.
We absolutely loved that golden sandy beach. It is surrounded by many cliffs, which create a spectacular landscape. Whether you are on the beach or watching it from the above cliffs – you will love this unspoilt and natural beach.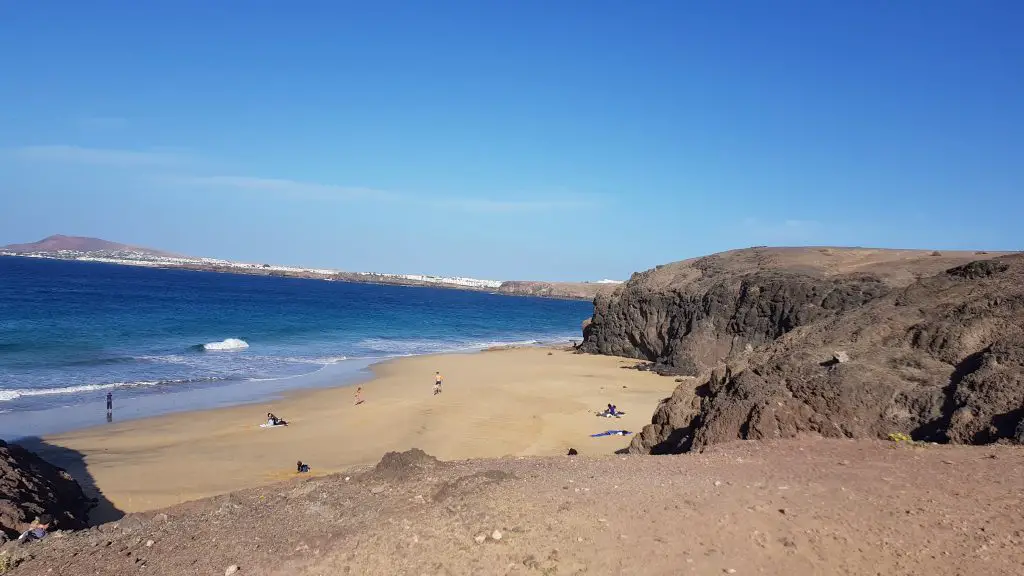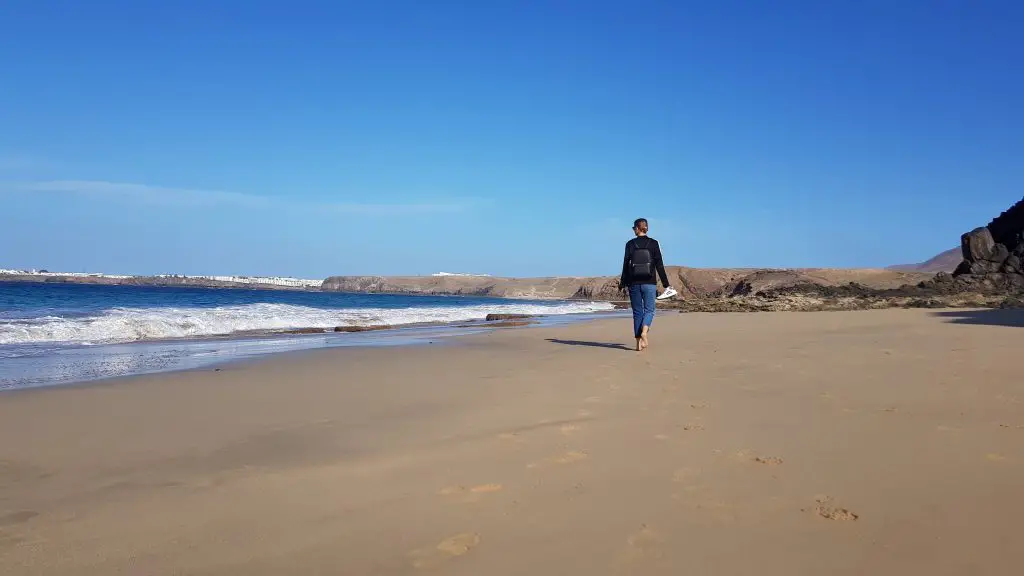 During low tide, you will have the chance to walk from La Cera beach to the other beaches on the northern side. On your way, you will find many small coves tucked between the cliffs – a perfect place to relax.
If you continue walking you will get to other beaches such as Playa de las Ahogaderas or Playa de las Coloradas.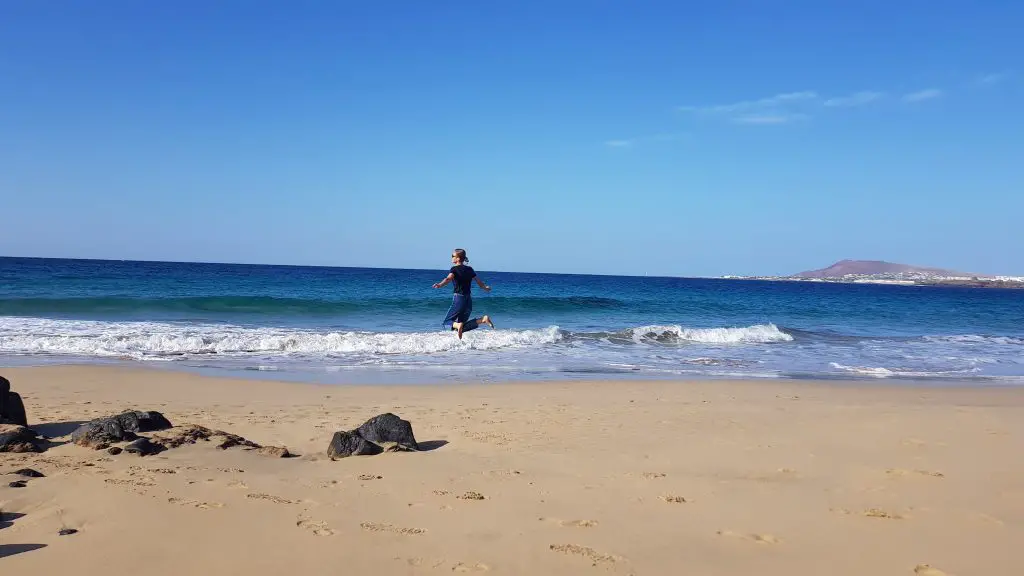 It's worth mentioning that the road leading to Playa de la Cera it's not a concrete road – it's a dirt road. Its condition is pretty good, but it will take you a bit of time to drive to the car park if you didn't rent out a 4×4 car.
25. Papagayo Beach
Probably the best beach in Lanzarote and one of the most beautiful European beaches! A must-see while visiting Lanzarote Island.
Papagayo Beach is located in the south of Lanzarote, inside Los Ajaches Natural Park. Since you are entering a protected natural space, there is an entry fee of €3 – luckily for us, the entry was free during Xmas time.
Papagayo Beach is one of the most advertised attractions on Lanzarote, so it can get crowded very quickly. Locals say that it used to be a well-kept secret once upon a time… but these days it's probably one of the most visited beaches on the Island. There are even some organized boat trips to Papagayo Beach.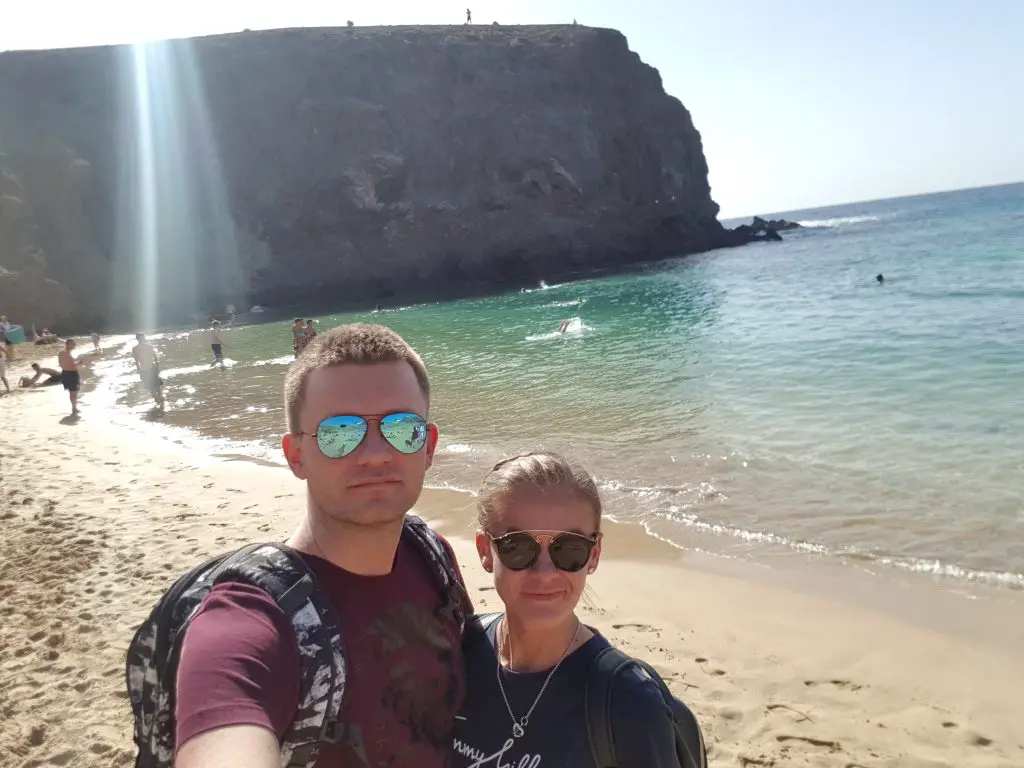 Papagayo is a sheltered beach and is surrounded by steep cliffs – the setting is really stunning! While visiting this beach, make sure to save some time to climb the cliffs. It's totally worth it! You will be rewarded with spectacular views of all Papagayo beaches. This is one of the best beaches in Spain!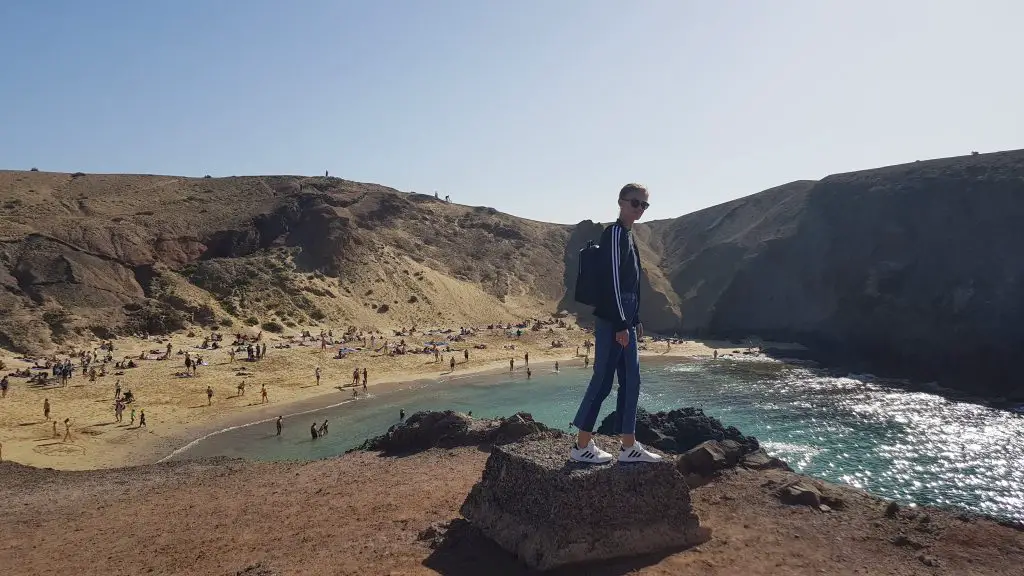 There are two nice restaurants overlooking the beach but be ready that both will be crowded during lunchtime. The prices are a bit high, but hey! You pay for the view too! ?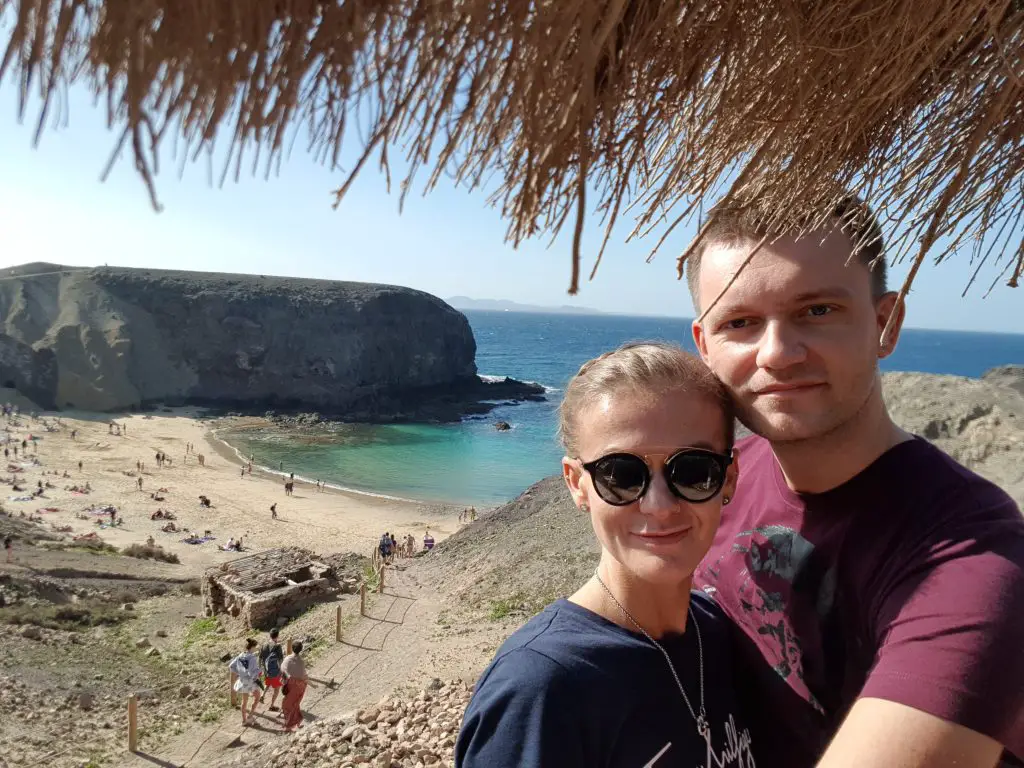 All you HAVE to know about Lanzarote Spain:
What can a family do in Lanzarote?
The great thing about Lanzarote is that there is plenty for all the family to do and see. Of course, you can relax on one of the many beaches, but there is also so much more to see. Including the Timanfaya National Park, the Cactus Garden and even a Submarine Safari in Puerto Calero.
Are there snakes in Lanzarote?
If you are afraid of all things that slither, then you will be incredibly pleased to know that there are no snakes that reside in Lanzarote. You might spot some lizards, but no reptiles without legs.
Are there sharks in Lanzarote?
The waters around Lanzarote are home to a variety of different shark species. However, they tend to only want to live in the open water, or at depths that are greater than 200m. The most common shark that you may see in Lanzarote is the Angelshark!
Where is the best weather in Lanzarote?
Lanzarote, on the whole, is a great place to go if you are in search of some sunshine. The coastal areas o are usually the warmest, the further inland that you go, then the cooler it tends to be. Arrecife is known to be the warmest in the entire destination, whilst Teguise can be seen to be the coolest.
The average temperature in Lanzarote per month:
| | |
| --- | --- |
| | Avg. high °C |
| January | 20 |
| February | 21 |
| March | 23 |
| April | 24 |
| May | 25 |
| June | 26 |
| July | 28 |
| August | 29 |
| September | 29 |
| October | 27 |
| November | 24 |
| December | 22 |
What is the best month to go to Lanzarote?
This Spanish island boasts 300 days of sunshine every single year as well as warm temperatures all year round. This means that there really is no month that you should avoid. However, if you want to enjoy the country in low season, then you might want to travel in either May or June.
What is the most popular resort in Lanzarote?
The most popular resort in Lanzarote has to be Puerto del Carmen. Not only is it beautiful with plenty to do, but it is also conveniently located close to the airport too.
Is Lanzarote always windy?
There is no denying that you are definitely going to be able to feel a breeze when you are in Lanzarote, however, seeing as it is only there when the weather is warm, then you will probably be grateful for the wind to cool you down.
Where should I stay in Lanzarote for nightlife?
For those that like to spend their evenings dancing and having a great time, you will be pleased to know that Lanzarote has plenty of nightlife. The main areas that you are going to want to stay in for nightlife are Arrecife and Puerto del Carmen. You will want to stay away from Playa Blanca and Costa Teguise as these are the quieter areas.
Is Costa Teguise good for families?
Looking for a family holiday in Lanzarote? If you are, then you might want to take a look at Costa Teguise. This coastal area is popular with families not only for the beautiful beaches but also for the number of activities including water sports and water parks.
Is there a bus from Costa Teguise to Playa Blanca?
There is no direct bus route which travels between Costa Teguise and Playa Blanca. However, there are a variety of bus services that you can link up to go between the two. If you are thinking about travelling in this way, then you are going to need to allow around 1 hour 20 minutes to travel (including the transfers).
What can you do in Playa Blanca Lanzarote?
If there is one thing that Lanzarote is great for, it is lounging on the beach, soaking up the sun. However, if you are in Playa Blanca and you want to do more than that, you could take wander around the market or perhaps visit the Atlantico Museum. If you are with your family then the Aqualava waterpark is also a great place to go too.
Planning a trip to Lanzarote soon? Make sure you use the below resources:

* Find a cheap flight to Lanzarote

* Rent a car at Lanzarote airport, but before you do that read our guide about renting a car in Europe

* Book accommodation: 3* Hotels in Lanzarote start at €40!

* Read our other Spanish articles: Alicante, Ronda or Tenerife
Things to do in Lanzarote FAQ:
What are the top attractions to visit in Lanzarote?
Timanfaya National Park
Mirador del Rio viewpoint
Cactus Garden
Papagayo Beach
What is the best beach in Lanzarote?
Sandos Papagayo offers direct access to Papagayo Beach – one of the best beaches in Lanzarote!
Which is nicer Lanzarote or Gran Canaria?
Both the Spanish islands are unique and should be visited. Gran Canaria is perfect for a spring holiday while Lanzarote is perfect for a Christmas trip.
Where to stay near The Spoon In Concrete?
H10 Lanzarote Princess and Casa Del Embajador are the best hotels to experience the spoon in the concrete.
If you liked our article about Lanzarote, then please check out the below posts too:
Did you like our list of the best things to do in Lanzarote?
Lanzarote may seem small, but it is interesting enough that it is worth adding it to a bucket list of top holiday destinations. Amazing landscapes like from the Moon, sleepy villages with atmospheric tapas bars and varied coastline with lava-carved cliffs are only a few things among the main attractions on this Canary Island. You can visit Lanzarote vineyards or just have a lazy day in El Golfo – there are many ways to spend your break in Lanzarote. Thinking about Christmas in Lanzarote? Just book your ticket and you will love it!
If you add crystal clear water + amazing beaches, in colours from dark graphite to golden-white, then this will become a very attractive holiday destination in Europe. Do you agree?
An abundance of beaches with shallow water and a year-round spring climate make Lanzarote one of our favourite destinations we have ever visited!
Need more inspiration? What about the top things to do in Tenerife or the best places to visit in Gran Canaria? 🙂
Is Lanzarote worth visiting?
Yes, Lanzarote is definitely worth visiting for several reasons. Its unique volcanic landscapes, shaped by past eruptions, offer stunning and otherworldly scenery that you won't find in many other places.
The influence of artist César Manrique adds an artistic and architectural touch to the island, blending human creations with the natural environment. Lanzarote's commitment to sustainable tourism and environmental conservation is commendable, making it an appealing destination for those who appreciate responsible travel. The pristine beaches, outdoor activities, and opportunities for water sports provide ample options for relaxation and adventure.
The island's distinct wine cultivation techniques and culinary offerings also make it a compelling destination for food and wine enthusiasts. Overall, Lanzarote's unique beauty, cultural heritage, and dedication to sustainable practices make it a captivating and worthwhile place to visit.
Love Spain?
Read our other articles related to this stunning country:
30 TOP attractions in Barcelona
11 Best things to do in Malaga
Whether you're plotting a grand itinerary or drafting a simple Lanzarote to-do list, this Canary Island gem promises an unparalleled experience. Lanzarote, known for its volcanic landscapes in Timanfaya and sun-drenched beaches in Playa Blanca, is truly a destination worth visiting. Dive deep into local legends, like the mysterious spoon in concrete Playa Blanca, or explore the island's diverse terrains and attractions.
From the lively streets of Costa Teguise to offbeat things to do in Lanzarote in December, every season and corner of Lanzarote offers a unique blend of adventure and relaxation.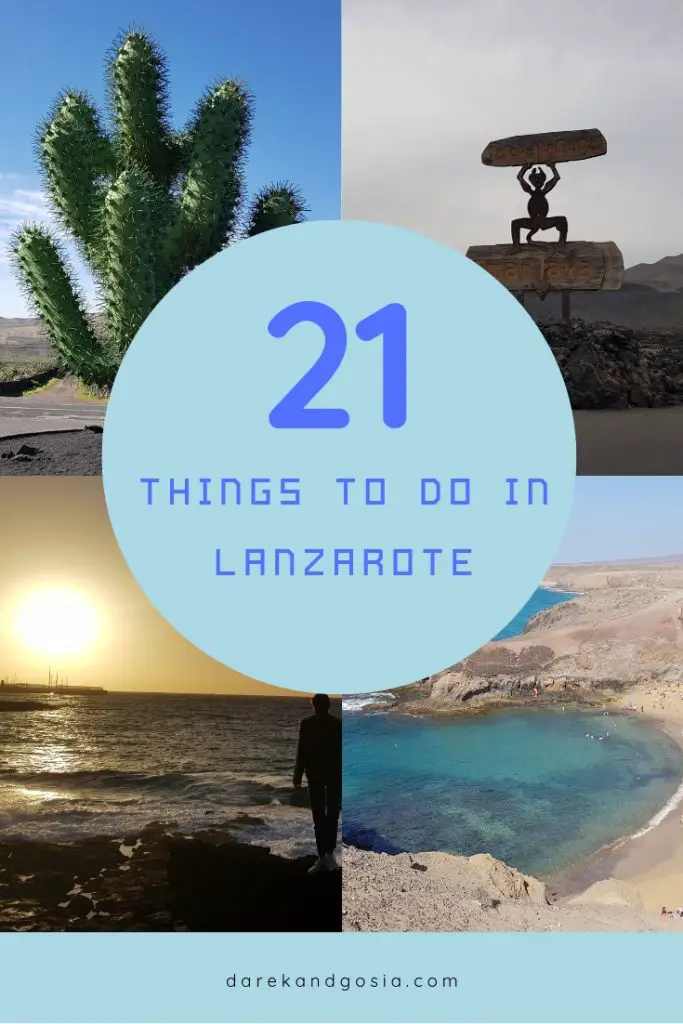 Articles you may like: