Welcome to Reynisfjara Beach – the awe-inspiring black-sand beach in Vik, a charming spot on Iceland's southern coast. Unusual, captivating and teeming with unique wildlife – from puffins to the elusive trolls of folklore – it's no ordinary beach. And it's not where your typical sandcastle gets built. 😉
When you picture a beach, sun-soaked golden sands and gentle waves might come to mind, right? What if I told you that one of the world's most stunning beaches is, in fact, a stage for drama, scattered with black pebbles and volcanic ash?
Venture north with us as we explore Reynisfjara, one of the most breathtaking black beaches in Iceland. This beach is a spectacle, like a scene straight out of a fantasy movie!
Once you step foot on this black sand beach in Vik, your definition of a beautiful beach will take an exciting turn. Forget the palm trees; at Reynisfjara, drama and nature's raw power take center stage. If you're keen to experience the unique charm of an Iceland black beach, then this is it.
The sights here are truly a feast for the senses: the mesmerizing dance of the crashing waves, the towering basalt columns and intricate lava formations, and the vast expanse of black ash and pebble beach.
So if you're crafting the perfect black sand beach caption for your next post or planning a sightseeing tour, Reynisfjara won't disappoint. This wonder, often referred to as black sands beach Iceland, promises an unforgettable experience. Simply grab a Reynisfjara map, get ready for adventure, and watch as Iceland's iconic landscapes unfold before your eyes!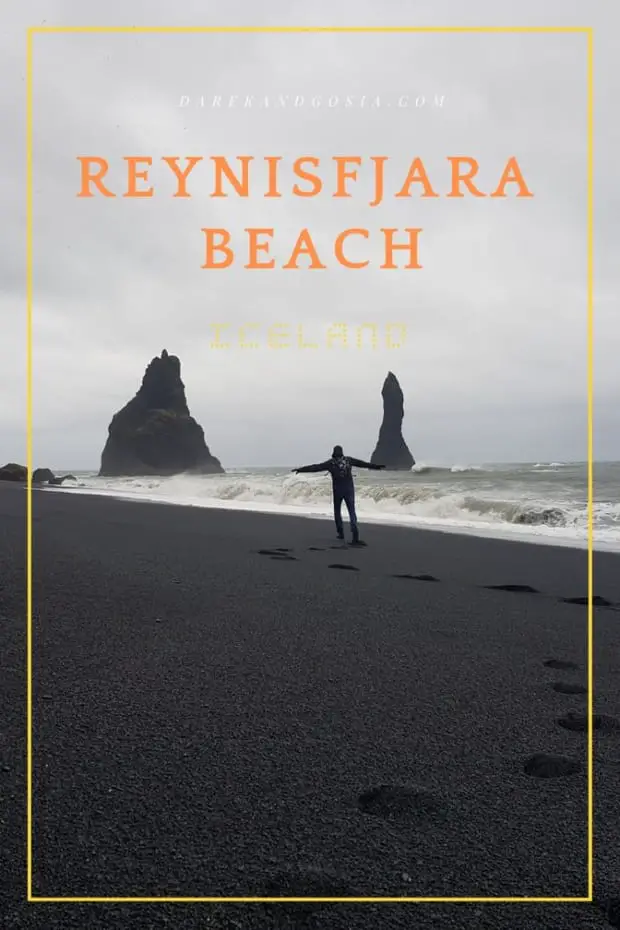 Iceland, one of the best islands in Europe, is actually home to several black beaches. However, as Reynisfjara is only 180km from the capital Reykjavik and just a few minutes off the Iceland Ring Road, it is an easy beach to explore and capture the stunning scene in envy-inducing photographs.
How to visit Reynisfjara beach?
If you're planning on visiting Iceland, then one of the best trips you can do is the Iceland Ring Road which encircles the perimeter of the whole island. Yes, you will need a car in order to do it! Read our guide to renting a car in Europe.
The route is around 1,300km meaning 7-9 days is perfect for exploring all that Iceland has to offer from the beach at Reynisfjara to the delights in the capital city. While it may seem the perfect place to drive off the beaten path, it is illegal to go off-roading in Iceland, so plan your route carefully ensuring you don't miss any of the hidden gems, using the correct routes.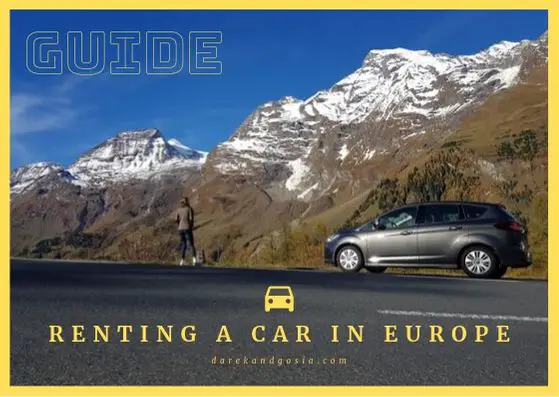 To visit Reynisfjara, head to the village of Vik (one of the most unique villages to visit in Europe) and then take the 215-road which will take you to a parking area next to the beach.
Reynisfjara black sand beach tour
Looking for the best black sand beach Iceland tour? This really is one of the best trips you can do while visiting Iceland. In fact, Reynisfjara beach near Vik is one of the most famous places to visit.
There are a few companies which organize black sand beach tour Iceland. Yes, a trip to see and explore the stunning Reynisfjara beach Iceland!
If you are planning holidays in Iceland a Reynisfjara trip is a must-do!
Any hotels around Reynisfjara beach, Iceland?
Looking for hotels near Reynisfjara?
Book a night in Vik to stay close to the Reynisfjara beach. Most of the hotels are fully booked in summer months so do check the availability way in advance! Staying in Reynisfjara hotels will give you the opportunity to explore Reynisfjara black sand beach before the crowds!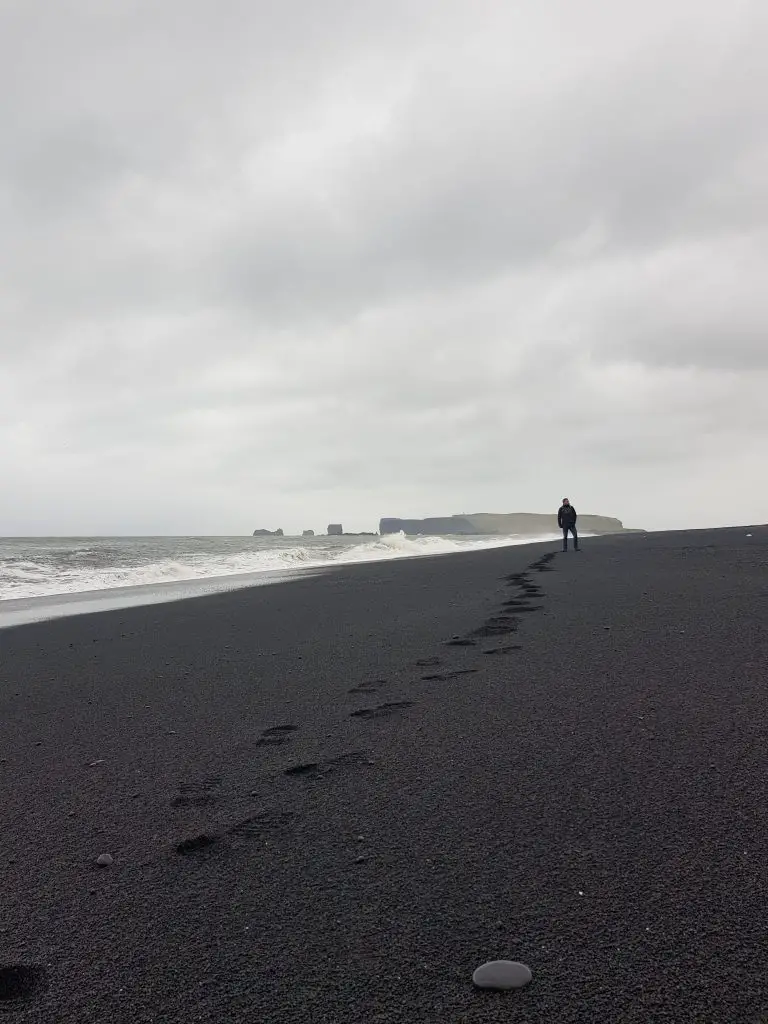 Beautiful whatever the weather!
Let's face it! Reynisfjara Iceland black sand beach is just stunning! With such a dramatic backdrop, you'll get a fantastic view whenever you go, whether rain or shine.
Cloud and fog only enhance the exciting 'out of this world' feel.  Sunshine, as well as sunsets and sunrises, can offer a fantastic light too. Whether the sea is calm or (more likely) raging and crashing, it is easy to picture how a volcanic explosion formed this incredible landscape.
The beach seems to stretch off for miles, with an uninterrupted view to the horizon, say for the dramatic columns that give an incredible sense of perspective and wonder.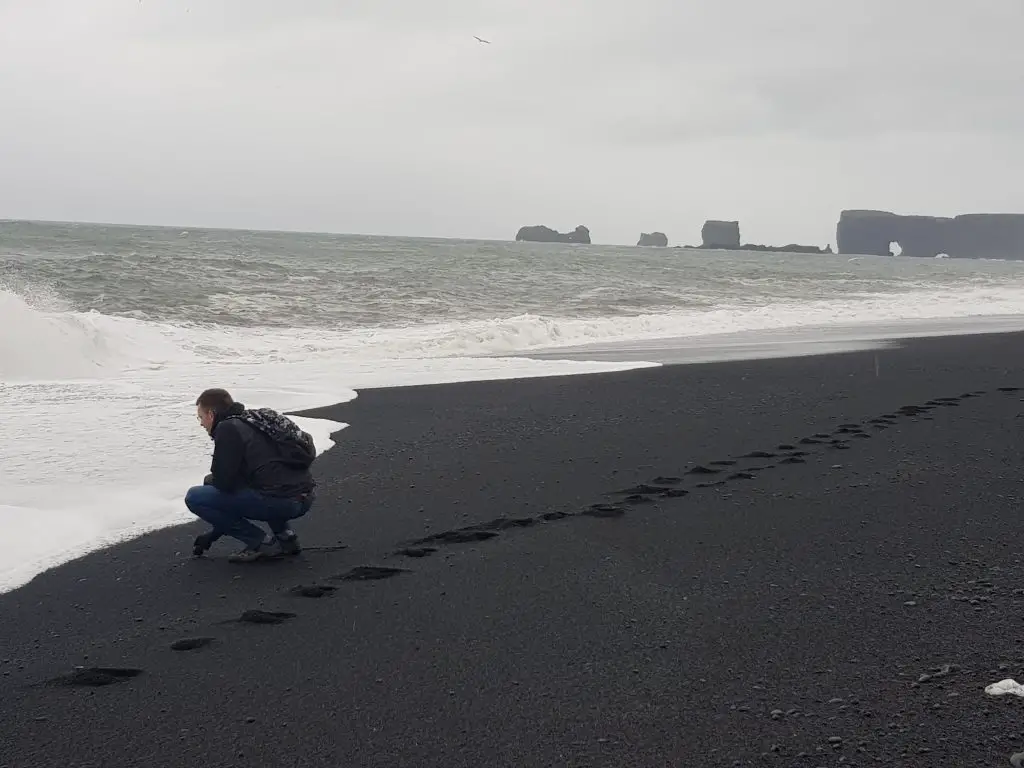 It is guaranteed you'll be left speechless as you stand and stare. Yes! We were 🙂
It is easy to believe something magical will happen in these unbelievable surroundings.
Basalt columns of Reynisfjall & Garda
The seemingly indestructible basalt columns are one of the highlights of the black beach Iceland, with many people braving the cold and the perils to climb to the top of Gardar column. It is no surprise there is usually a crowd trying to climb the column. However, taking photographs of Gardar is perhaps more impressive than pictures from the top!
In summer, swarms of puffins congregate on the basalt column, Reynisfjall, which makes the beach even more spectacular as you capture the birds in flight across the backdrop. Are Reynisfjara puffins on your photography list to do?
Visitors can also spot arctic terns, seagulls and fulmars too. We have only seen some puffins when visiting Iceland at the end of August.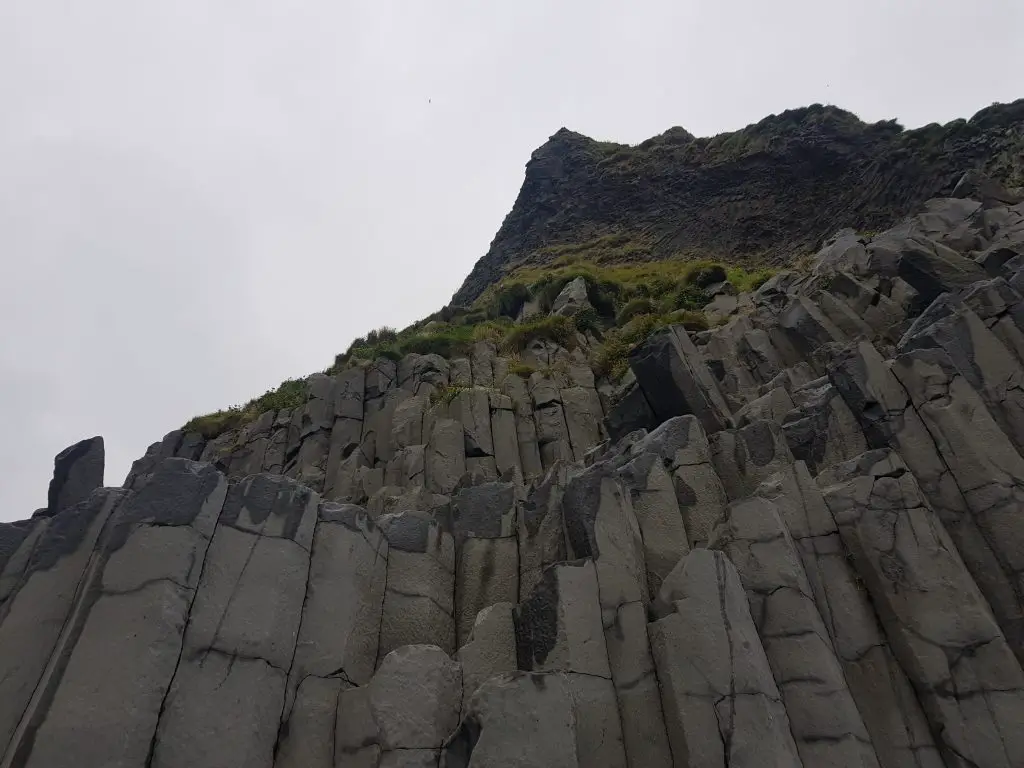 As well as the basalt columns, there's another sight on the beach not to miss. Head along the beach and seek out the mythical wonder of Hálsanefshellir. Hálsanefshellir is a small cave nestled on the coastline which adds to the fairytale ambience of the beach. What's more, the cave makes the perfect hideout when the rain comes 🙂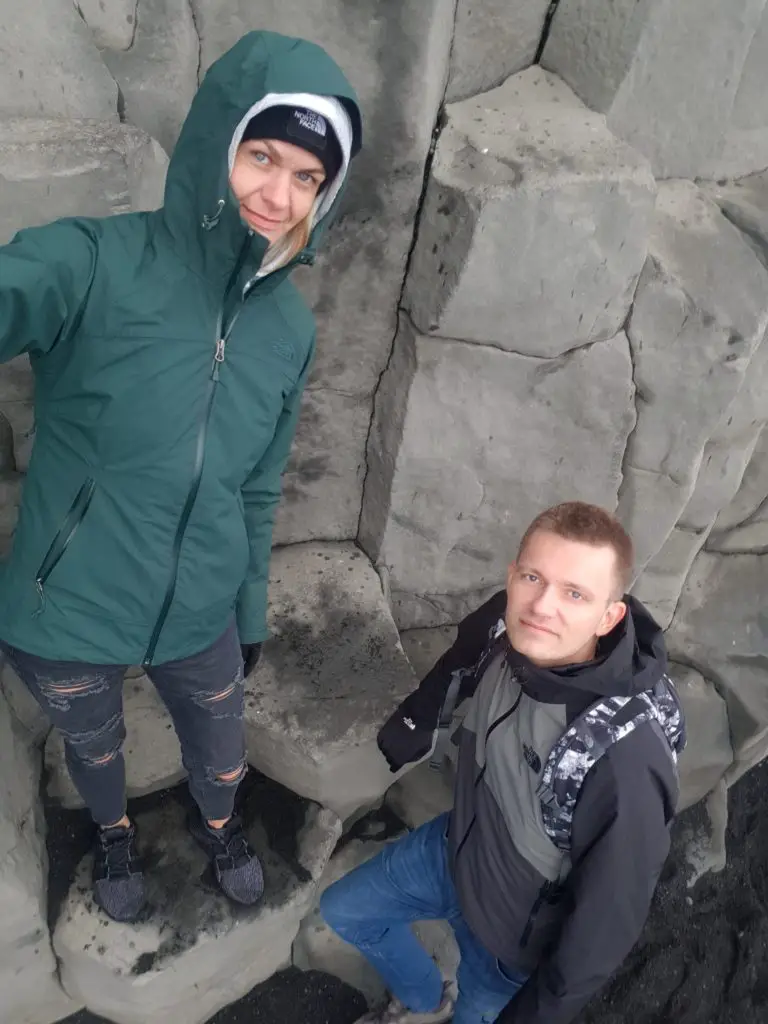 The Tales of the Trolls
Reynisfjara black beach is a magical place! Iceland is well known as a land of myths, legends and tales and the tales of Reynisfjara are no different.
On Reynisfjara beach, you will find the fantastic rock formations known as Reynisdrangar. According to legend, three trolls were plotting to take a three-masted ship under the cover of darkness. However, as they began to pull the ship to shore, the rising sun rays surprised them, and the power of the sun turned the trolls into rocks.
By looking at the intriguing formations, it is not hard to see why trolls have been immortalised in this stunning landscape.
If you are looking for the best iceland beaches, visit Vik Iceland black sand beach – you will love it!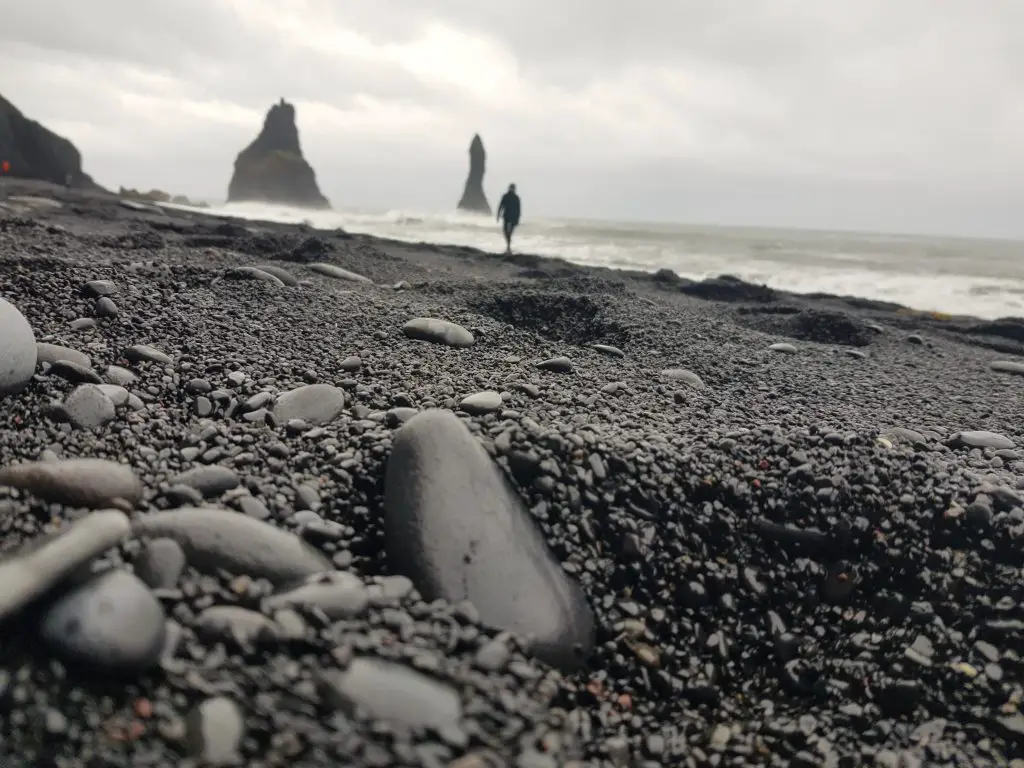 Whether you like the legend or not 😉 you will definitely love the amazing view with the Reynisdrangar in the background.
Is Reynisfjara beach worth visiting?
Without a doubt – it really is one of the best natural wonders of Europe! One you see the Reynisfjara beach waves yourself, you will known what we meant 🙂
The beauty of Reynisfjara beach is well worth the drive from Reykjavik! And it is definitely worth a stop if you're doing a driving tour around Iceland.
However, its unique beauty makes it a very popular place, especially in high season. Many companies offer organised tourist trips to the beach, so the beach can quickly become full of groups. However, if you time it right, or are willing to stay long enough, you'll be able to get the perfect uninterrupted view and photograph.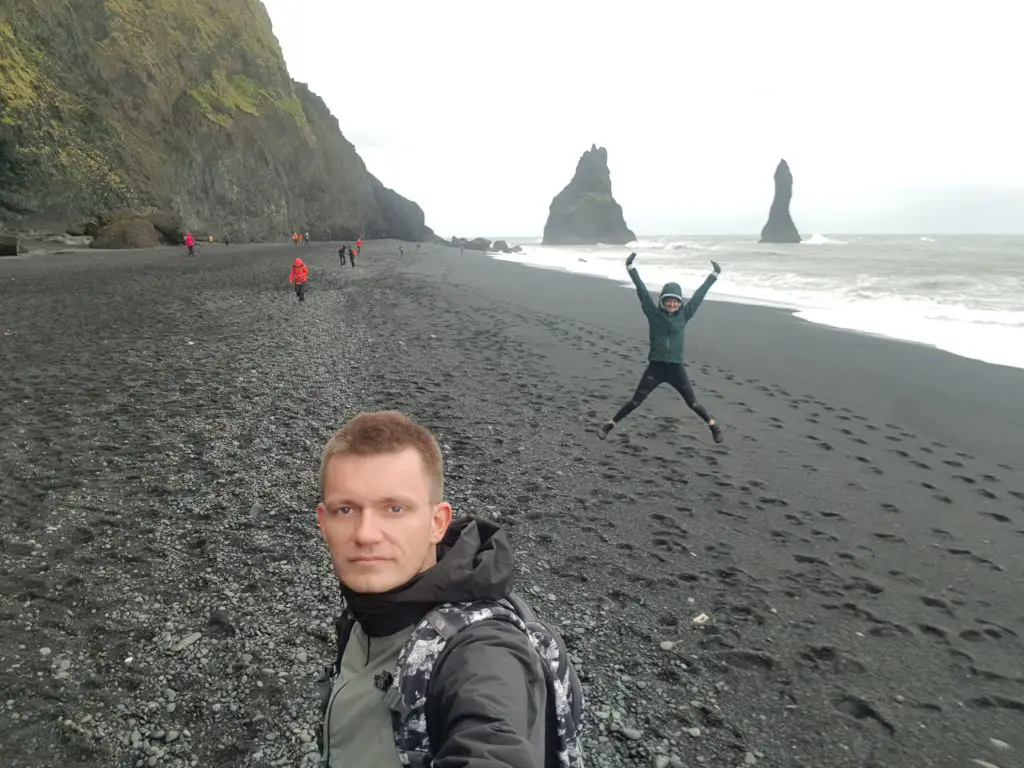 With a free carpark available and restaurants close by, visitors can spend as little or as long as they like here. Whether you want a quick walk on the beach or want to sample a local Icelandic delicacy such as mutton soup at a nearby eatery, the beach can suit any travel schedule.
A final word of WARNING!
As beautiful as the beach is, the sea is merciless, and accidents can happen. Keep a safe distance from the water, especially as the waves are so powerful and ruthless.
So, what are you waiting for?!
Pack your camera and sturdy boots & go! 🙂
Or, if you prefer a warmer climate, visit Janubio Beach in Lanzarote. It is also a black-sand beach and it's as stunning as the Reynisfjara Beach in Iceland.
Read also: Golden Circle in Iceland – MAP + self-drive tour for newbies
Black sand beach quotes
"On the black sands of Reynisfjara, the sea whispers ancient tales in every wave that breaks."
"Black sand underfoot, the Arctic sky overhead; Reynisfjara is a symphony of contrasts."
"Reynisfjara's black sand beach is where fire and ice dance their eternal tango."
"Every grain of black sand is a story, a testament to Iceland's fiery heart and icy soul."
"Beneath the Northern Lights or the midnight sun, Reynisfjara's black sands shimmer with the magic of Iceland."
"Reynisfjara is not just a beach. It's a statement, written in black sand and etched by the North Atlantic waves."
"Walking on Reynisfjara's black sand is like walking on the canvas of Mother Nature's most dramatic masterpiece."
"The black sands of Reynisfjara: a testament to the power of nature and the enduring allure of Iceland."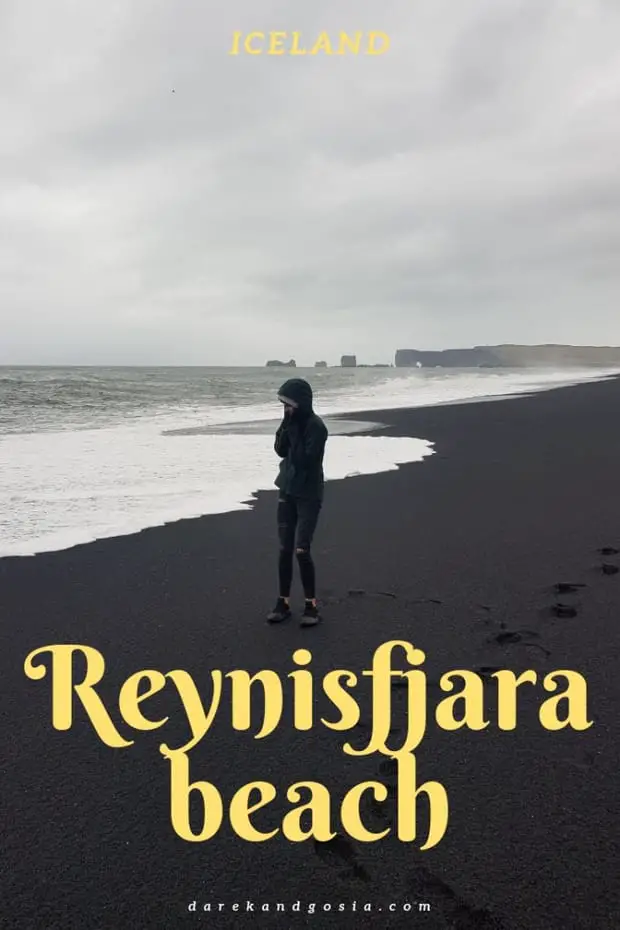 A visit to Reynisfjara, the black sand beach in Vik, is an exhilarating escape from the ordinary. Imagine feeling the raw power of the Atlantic waves, marveling at the distinctive basalt columns, and wandering the stretches of black volcanic sand. This isn't just a beach; it's an immersive natural theater unlike any other.
Reynisfjara Beach in Vik, Iceland stands out among the world's best beaches with its unique character. This isn't your typical golden-sand, sun-soaked experience, but a wild, dramatic spectacle set on the stage of an Iceland black beach.
From the spellbinding sights to the thrilling sense of adventure, Reynisfjara black sand beach offers an unforgettable experience. Whether you're an avid bird-watcher hoping to spot puffins, a traveler seeking the unusual, or a social media enthusiast searching for the perfect black sand beach captions, Reynisfjara has it all.
Using your Reynisfjara map, you'll find yourself at the heart of Iceland's dramatic beauty, where the land of fire meets the ice. When it comes to black sands beach Iceland, Reynisfjara stands unrivaled. So whether you're planning a detailed Reynisfjara black sand beach tour or simply adding a stop on your Icelandic adventure, Reynisfjara beckons. It's not just a destination; it's a journey into the wild, beautiful heart of Iceland.
Articles you may like: