Ahoy, fellow wanderer! On the hunt for some travel-fueled inspiration? From wisdom-filled words of Mark Twain to spontaneous musings from today's backpackers, we've gathered an array of travel quotes bound to resonate with your inner explorer.
Whether you identify as a seasoned travelholic or you're just getting started on your global adventures, we've got the perfect dose of wanderlust for you. Ever scrolled through Pinterest, getting lost in the myriad of travel quotes? We sure have! And that's precisely why we've curated a selection that combines age-old wisdom with modern-day insights.
Some quotes are perfect for those grand adventures, while others, like our short travel captions, fit the bill for those fleeting moments: the sunset on a remote beach, the chance to meet with a local, or the taste of a dish that's hard to pronounce but too delicious to forget.
Among our curated gems, there are profound bucket list quotes that make you ponder, and some playful ones that tug at the heartstrings. And who could forget the poignant, "Adventure may hurt you, but monotony will kill you." A reminder, perhaps, of the unpredictability of the road less traveled?
As you delve deeper, whether you're prepping for your next Instagram post, scribbling in your travel journal, or merely daydreaming of faraway lands, let these words be your compass. Dive into our collection, and embark on a literary journey, preparing your heart and soul for the actual adventures that await!
Inspirational Travel Quotes – the truth and only truth!
Sorry, this will look a bit s.p.a.m.m.y, but I have mentioned travel quotes here. Otherwise, Yoast SEO will give me a red card! 😉
So, let me tell you a secret – a lot of travel bloggers (probably most) create those pages (like "Top 50 Inspirational Travel Quotes" or "100 of the Most Inspiring Quotes of All Time") just to get better traffic. I mean, more traffic. As more traffic = more $ £ €…
And, they are doing this well! According to Google, there are around 60,000 searches for keyword travel quotes every month! Yes, every bloody day of the month, 2,000 people are searching for a travel quote! That's insane!
And you know what? You are searching for all sorts of adventure quotes. From short quotes about life or happy journey quotes to funny beach quotes!
OMG! Why would you search for a beach travel quote? Just book a flight ticket and admire FRANCE, GREECE or PORTUGAL beaches.
Why do we search for famous Travel Quotes?
So I was wondering…
Why the hell people are even searching for those Inspirational quotes?
Really! Can someone please tell me?
Do the 1,000s of people really need to be inspired? Just by reading those quotes? POOR YOU! 😉
What are the inspirational quotes actually about?
Most of the travel quotes are quotes about journey and destination, some about love and travel, and very few about travelling together.
And definitely – all the sayings are very inspirational as there are about life lessons.
But my main question here is:
Do you, all millennials, even care what someone said 10s or 100s years ago?
It's hard to believe!
So I thought, I will help you to understand some of the travel quotes and translate them into millennials language 😉
Whether there is a travel quote by Mark Twain or travel captions from Instagram we can write a short translation for you 😉
Why did we create our shortlist of inspirational travel quotes?
It's not because we had a lot of free time 😉 But as every travel blogger is making a list of the best travel quotes, we have done one for you too 🙂
Also, it's not that we need one to get new inspiration (we rather check on Pinterest) but it looks like this is what you are searching for 😉
So, enjoy our list of the best ever, wonderful, totally amazing travel quotes!
Ah, one more thing before we let you read them, just wanted to share with you my favourite author – Anonymous!
Honestly! That guy (probably Greek) was a genius – so many travel quotes!
I bet he had seen the whole world – shame that he didn't have access to Pinterest during his time 😉
The best ever, wonderful, totally amazing list of travel quotes:
(with short comments and/or explanations)
1. I'm in love with cities I've never been to and people I've never met – John Green
Dear John – we rather admire beautiful nature than cities!
2. Don't listen to what they say. Go see.
They are probably talking about places they have never been to!
3. Take only memories, leave only footprints – Chief Seattle
But also make sure you get a magnet for the fridge door and a mug for your collection!
4. Not all those who wander are lost
Yes, we all use Google Maps these days!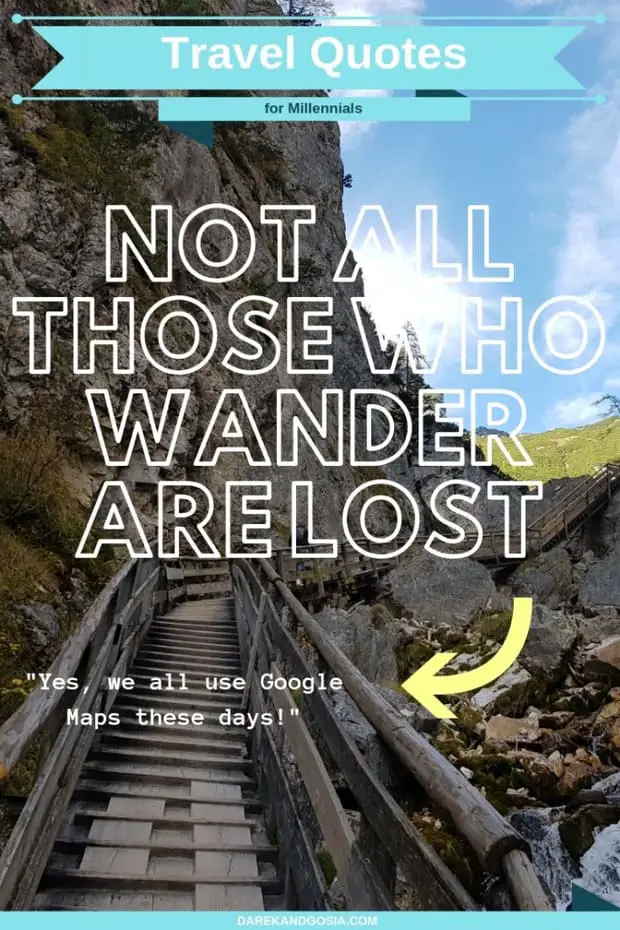 5. The world is a book and those who do not travel read only one page
Do people still read books? Or only Facebook?
6. Books are the plane, and the train, and the road
But Pinterest and Instagram are the jumbojet!
7. The goal is to die with memories not dreams
100% true! But let's hope we all manage to collect lots of memories
8. Travel isn't always pretty. It isn't always comfortable. Sometimes it hurts, it even breaks your heart. But that's okay – Anthony Bourdain
9. Man cannot discover new oceans unless he has the courage to lose sight of the shore – Andre Gide
Not true anymore, you can get the latest drone to do that!
10. Adventure may hurt you but monotony will kill you
Get travel insurance before it's too late!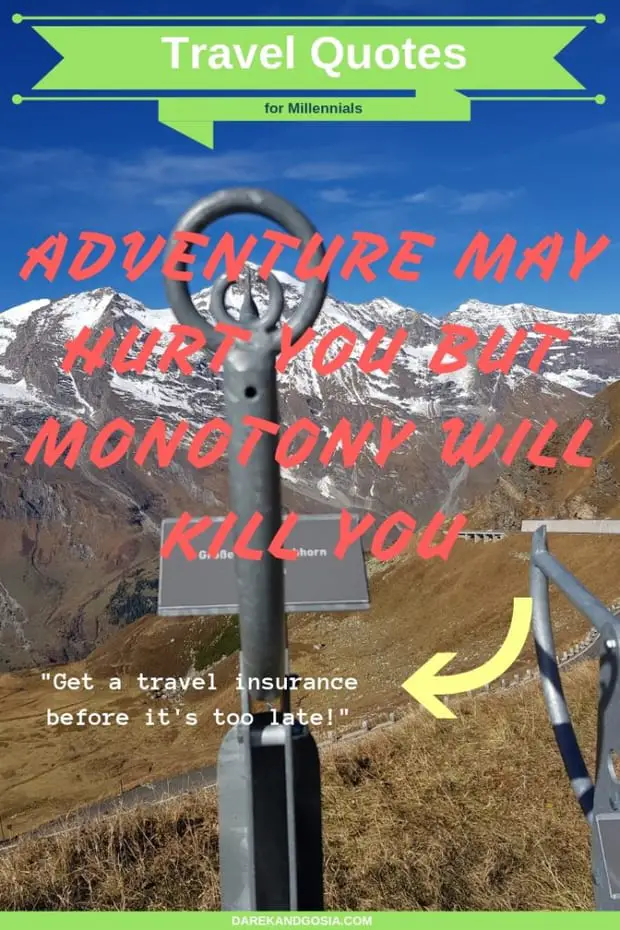 11. Better to see something once than hear about it a thousand times
True! We all can't be listing to people saying about places we haven't been to yet!
12. Jobs fill your pocket, but adventures fill your soul.
But if you are a travel blogger like… you have both!
13. It feels good to be lost in the right direction
OK GOOGLE: which way do I have to go to…
14. Once a year, go someplace you've never been before – Dalai Lama
Only once a year!? Can I go every week?
15. Go, fly, roam, travel, voyage, explore, journey, discover, adventure
Pin it, like it, and share it!
16. Work, Travel, Save, Repeat
I guess many of you would prefer: "—, Travel, —, Repeat"
17. Quit your job, buy a ticket, get a tan, never return
I'm in!
18. I haven't been everywhere, but it's on my list – Susan Sontag
Ahh… the famous bucket list! Even Susan had one
19. The journey of a thousand miles begins with a single step
Or Uber taking you to the Heathrow airport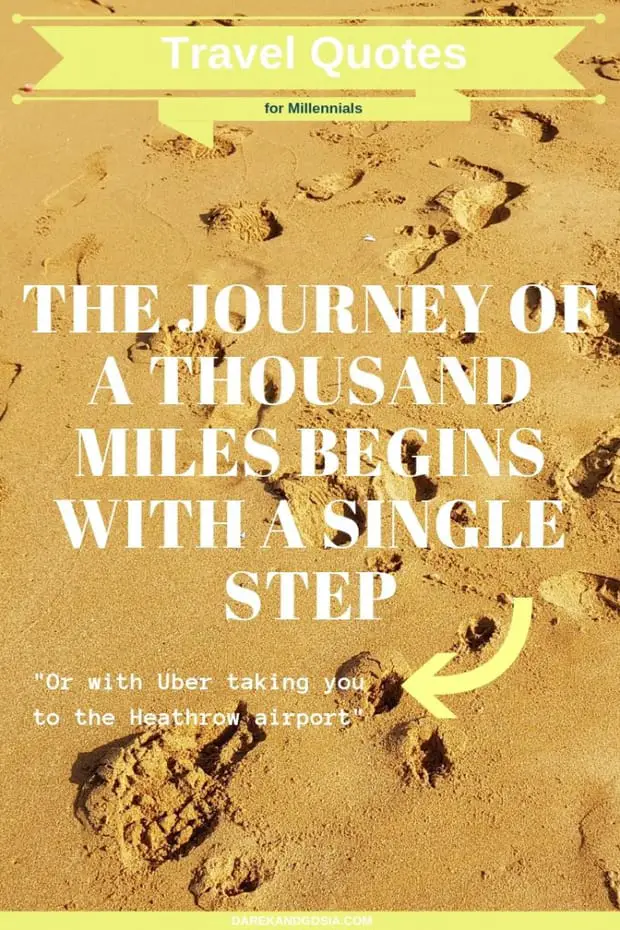 20. With the right mindset and spirit, only the sky is the limit
Damm… Sky! That's the one missing on our travel bucket list! I knew that was something blue like The Blue Lagoon 🙂
21. There's no way I was born to just pay bills and die
You also have to pay taxes!
As you have noticed, there is a huge number of travel quotes – an ocean of inspirational quotes!
Over to you!
Which of the travel quotes has inspired you the most?
Or, do you have any other quotes that mean something to you?
For every travelholic out there, and for those just dipping their toes into the vast ocean of travel, quotes are more than just words. They're a beacon, guiding you to unseen horizons and adventures waiting to be discovered. Through inspirational travel quotes, we're reminded of the transformative power of travel, how it shapes us, enlightens us, and, most importantly, how it enriches our souls.
From capturing wanderlust in short travel captions to delving deep with bucket list quotes, every phrase holds a unique story, an emotion, or a lesson. As we curate and share these words, remember they're not just for Pinterest boards or fleeting Instagram stories.
They're waypoints on the map of life, urging us to never settle, to always seek, and above all, to cherish the journey as much as the destination. Because in the end, isn't that what being a true travelholic person is all about?