Looking for the most beautiful beaches in Gran Canaria? From Amadores Beach to Playa de Maspalomas find a perfect spot for a beach holiday.
Gran Canaria is a "tiny continent" with golden beaches and beautiful landscapes. 60 kilometres of sandy beach shores lay across the coastline of this gently lit island, while UNESCO protects the native flora here through the Biosphere Reserve.
There are so many activities to do on this island and so many more places to see but exploring the best beaches in Gran Canaria is jsut something you have to do!
From Gran Canaria beaches Maspalomas to hidden beaches Gran Canaria we have covered them all!
Gran Canaria beaches – car hire:
We have rented cars many times during holidays in Spain and we always used discovercars.com
Check out our guide to cheap rental cars Spain or simply explore the options directly on discovercars.com if you need a car during a trip to Gran Canaria.
At the very least, try to visit one of these amazing beaches Gran Canaria: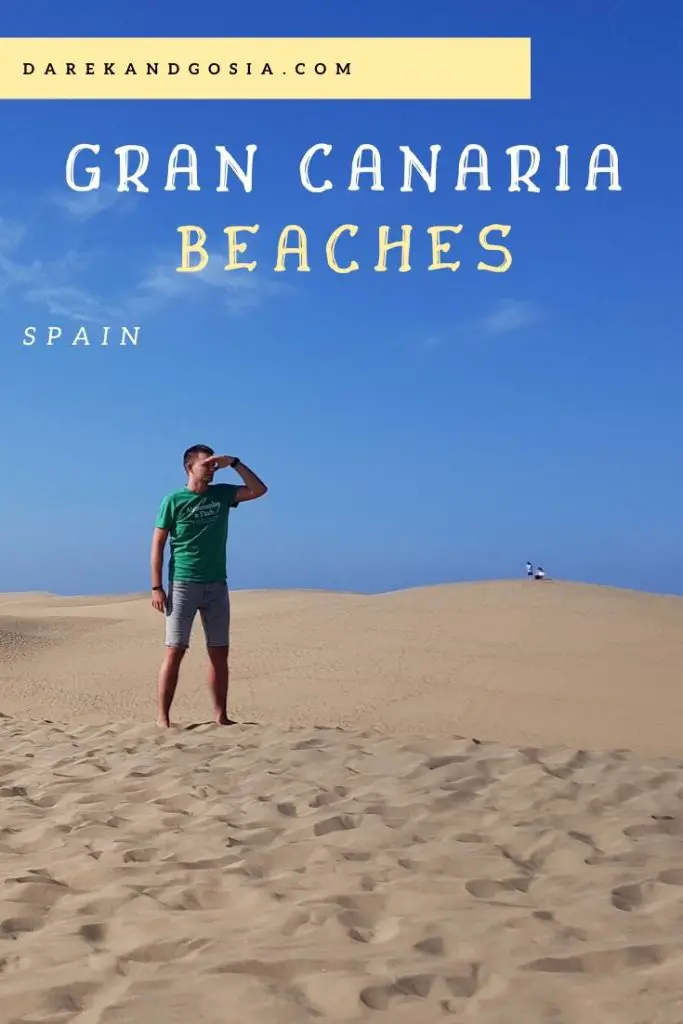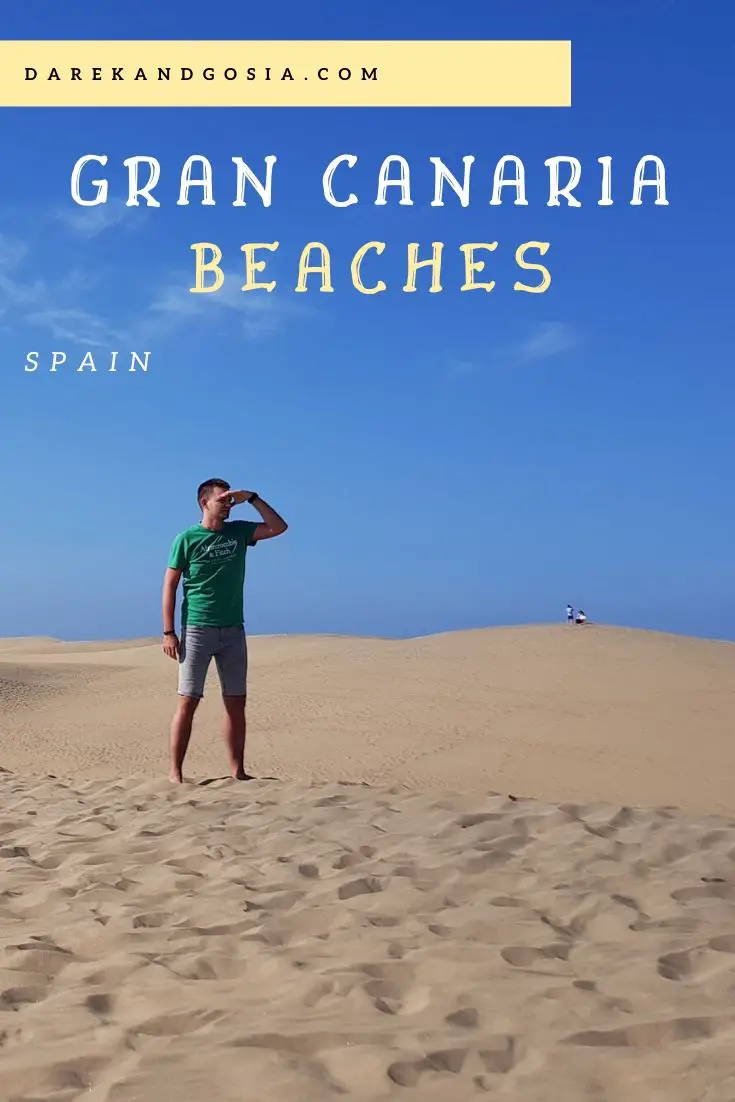 12 best beaches in Gran Canaria:
1. Amadores Beach
Gran Canaria's best beaches offer everything from stunning sandy shores to rugged coastline for hikers. And Amadores beach is one of the top on our list of the best beaches in Gran Canaria!
On the southwest shoreline of the Canary Island of Gran Canaria, near the port of Puerto Rico, lies Playa de Amadores. Known simply as "Amadores Beach" in English. This beach is very popular with holidaymakers, particularly lovers. This is because the direct translation of the beach's name is "beach of lovers", sweet, no?
With the expanding number of guests over time, Amadores Beach has expanded to include facilities, as well as two promenades that are right next to it.
This really is one of the best beaches Gran Canaria has to offer. If you can only see one beach on the island visit Amadores Beach Gran Canaria!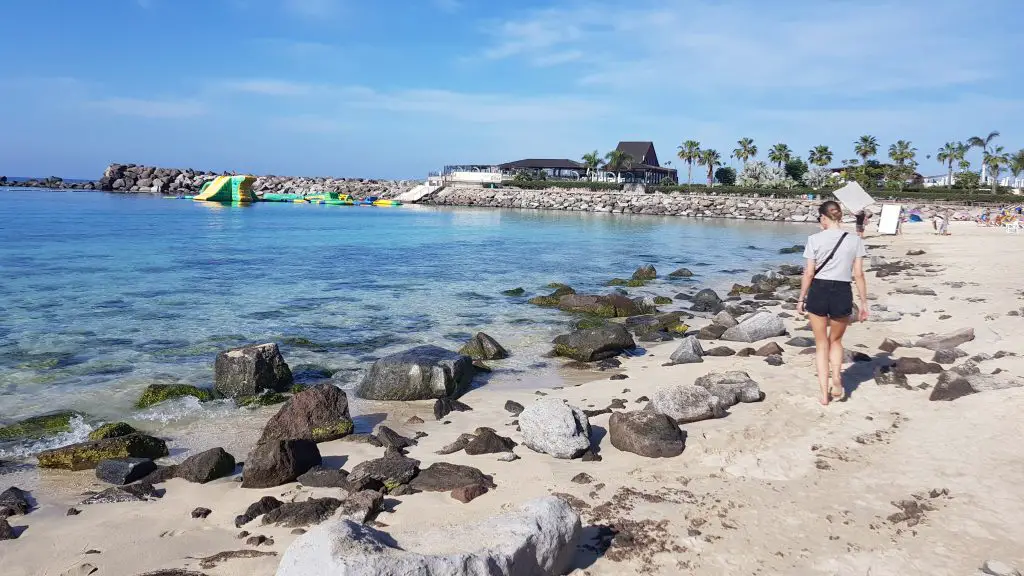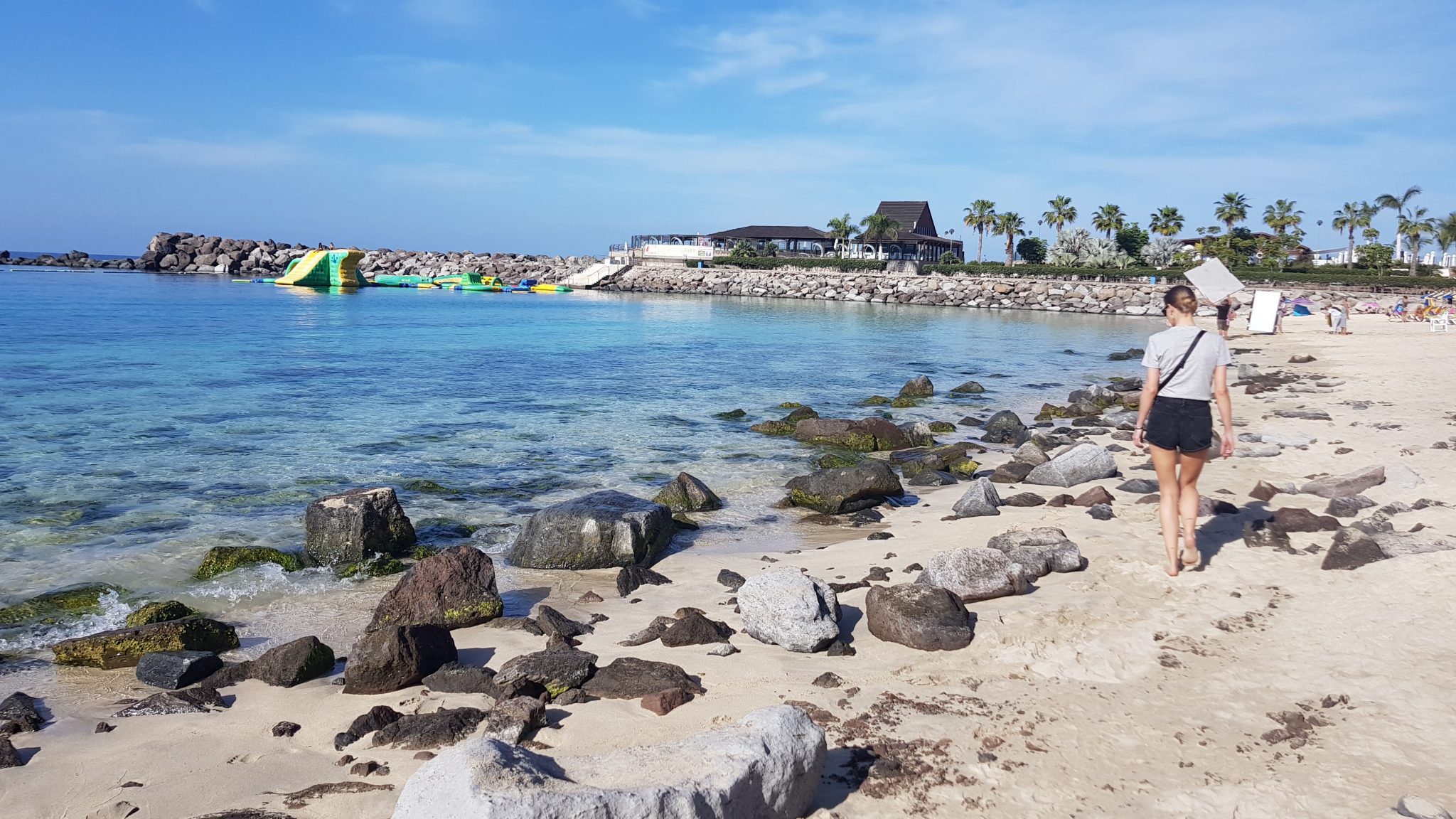 2. Puerto Rico beach
If you are looking for Gran Canaria best beaches then this one has to be very top on yuor list!
The island of Gran Canaria will always amaze you. Many long beaches with white and golden sand and crystalline waters are in every part of the island. Puerto Rico beach is one of the must-visit beaches in Gran Canaria.
Playa de Puerto Rico can be found in the south-west of the island of Gran Canaria. On the sands are various inviting eateries and seashore bars aplenty. It's primarily mixed cocktail drinks and smoothies on the menus, as well as native and international dishes. There's nothing to stop you making the most of your feast on a seashore lounger underneath a parasol.
If you're someone who prefers action, then you'll be happy to know that this is the ideal spot for water sports fans. So, is this Gran Canaria beach on your radar? 🙂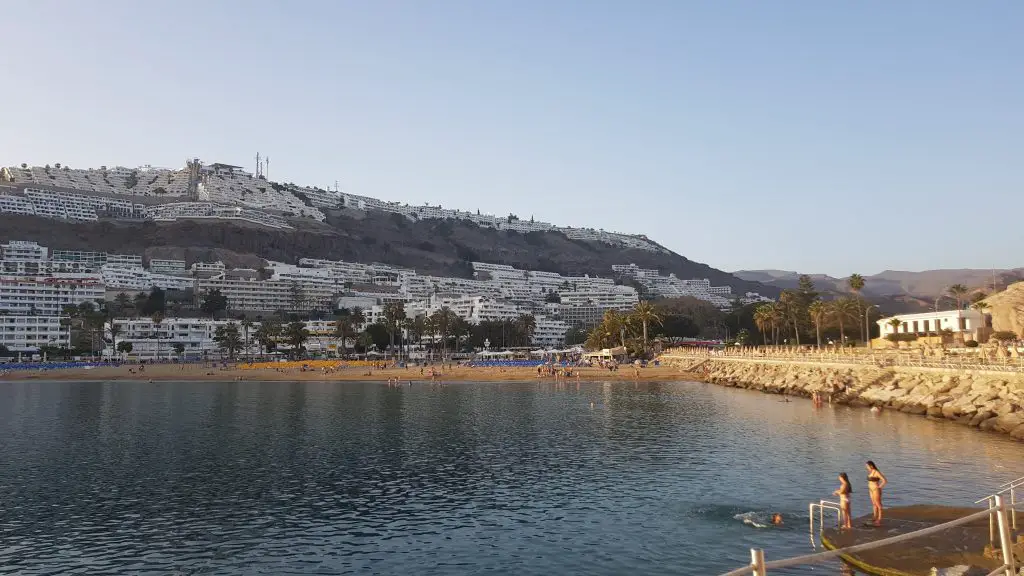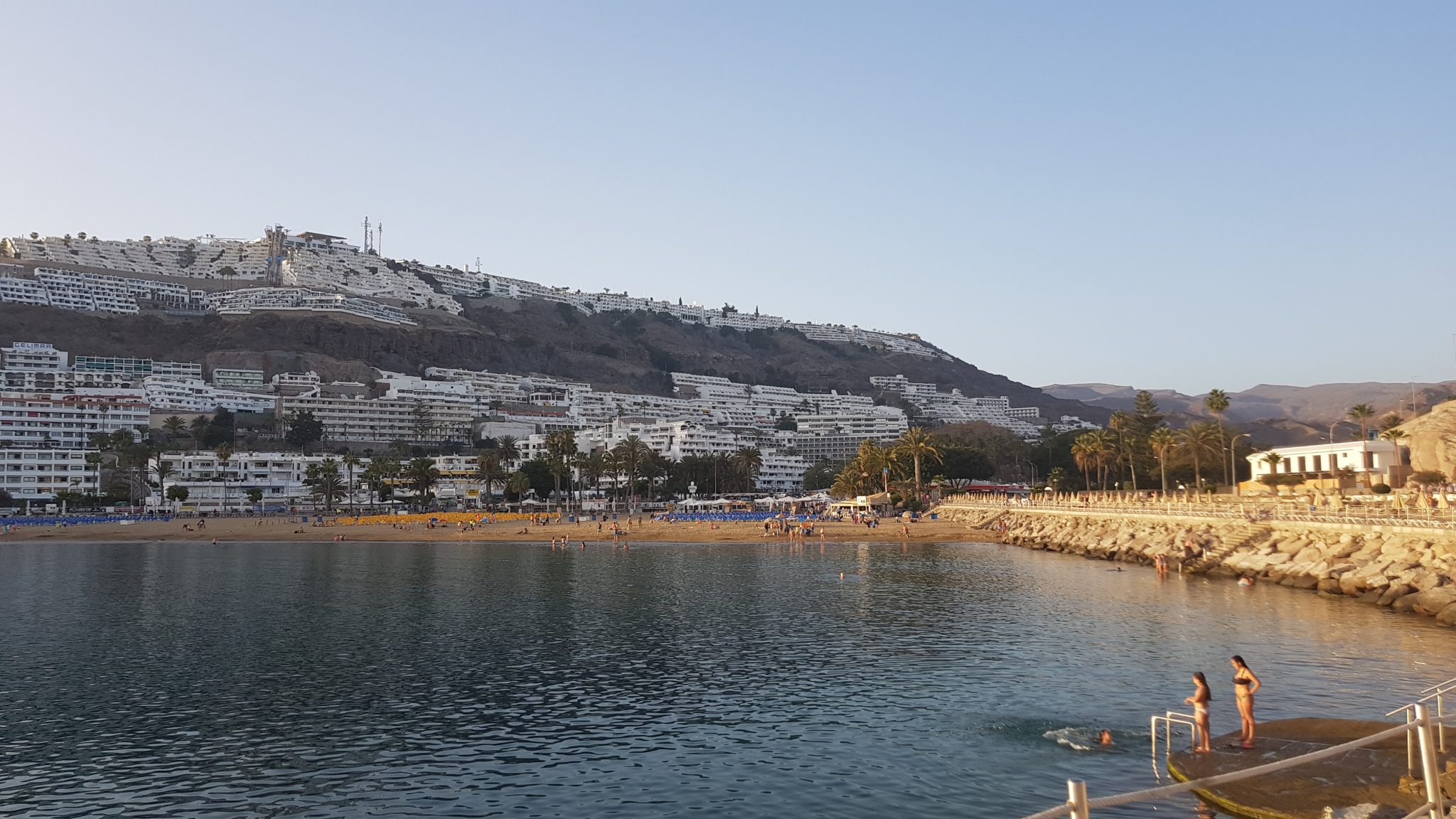 3. Playa Las Marañuelas
Las Marañuelas is effectively one of the few available beaches in south Gran Canaria with a genuine native and local feel.
That doesn't mean that Playa Las Marañuelas isn't a modern beach; in fact, it's one of the most loved in the town. The seashore, itself, is around 300 meters of dark sand bordered by palm trees and protected by the Arguineguín harbour. Some of the locals call it the best beach in Gran Canaria!
4. Playa de Maspalomas
If we talk about paradise we can´t ignore the amazing Maspalomas beach! Would you like to discover one of the best beaches in Spain? Head out to the south of the island. The Maspalomas beach is more than a beach, in fact, it's a mini-desert! 🙂
Let's face it, Maspalomas beach Gran Canaria is definitly one of the best beaches of Gran Canaria!
The core of Gran Canaria's tourism industry beats here. The two neighbouring seashores create the southern tip of the island and, simultaneously, a one of a kind miracle of nature – the rises of Maspalomas. From the water, this beach is an amazing scene full of life that is so very energetic.
Despite the fact that Playa de Maspalomas is easy to find, there are never any parking spots. It's best to drive to places nearby to find someone to leave your vehicle, and then walk over to the beach.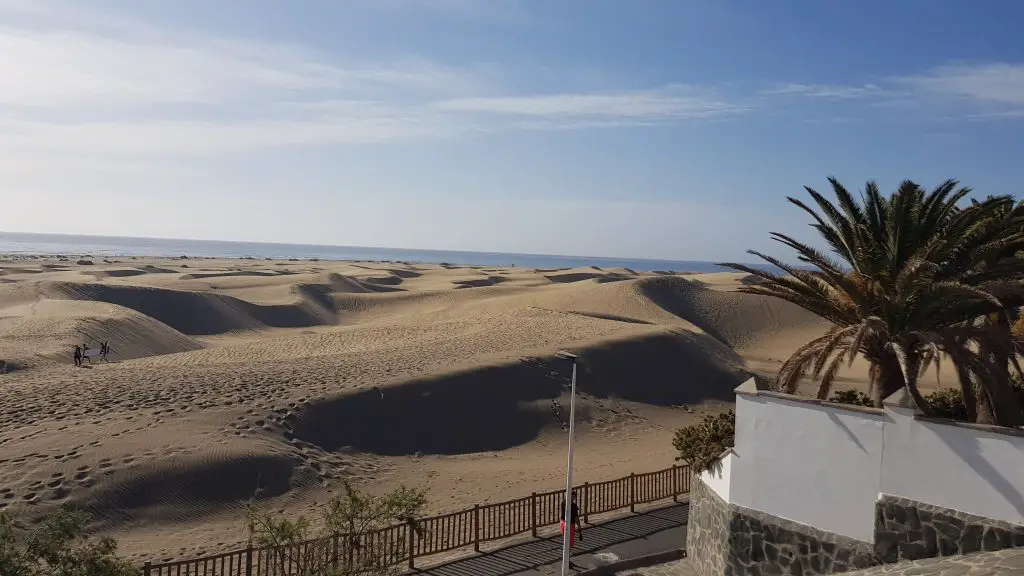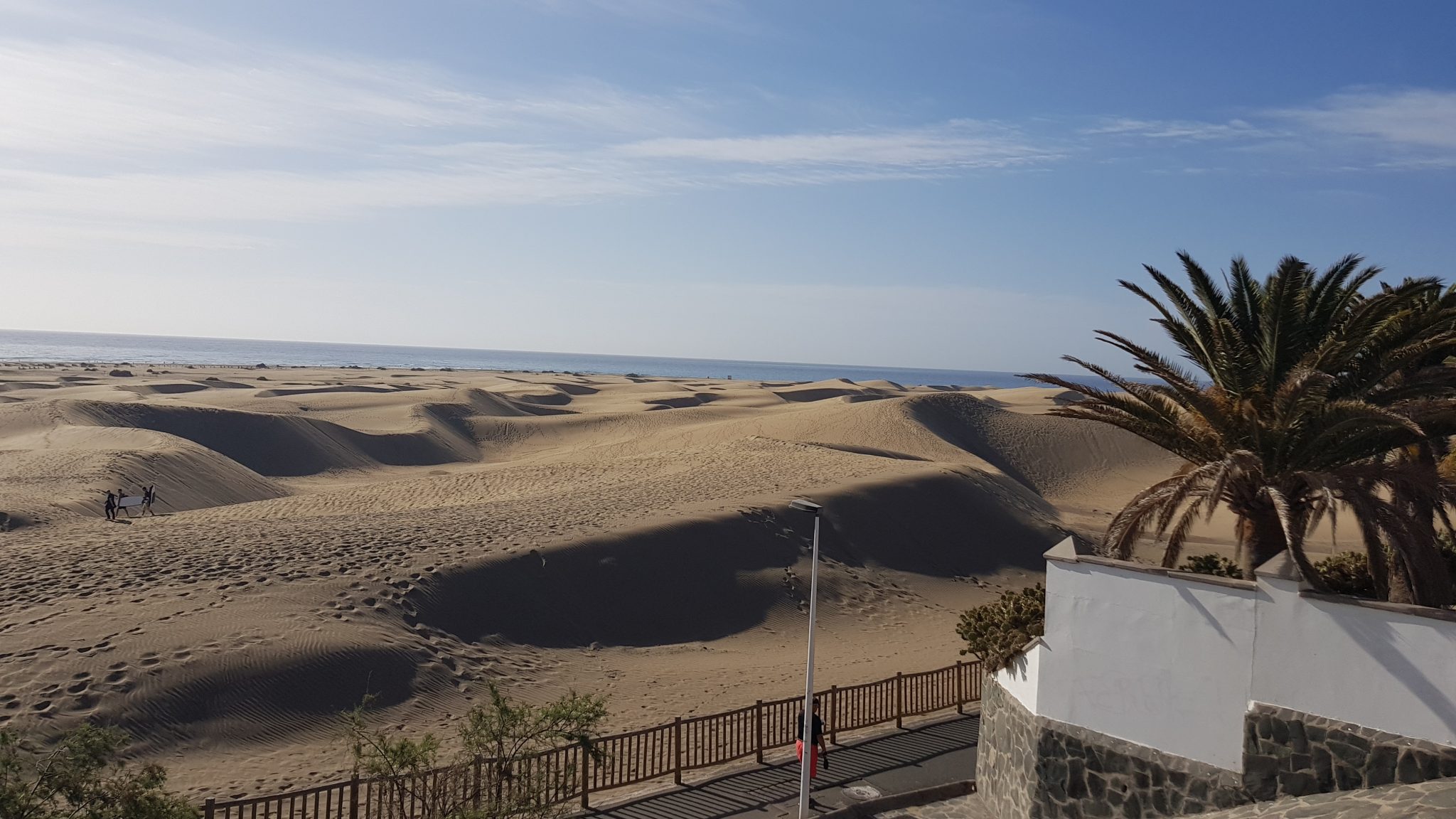 5. Playa Ingles
Many of the beaches in Gran Canaria are among the most beautiful beaches in Europe. Would you add Playa Ingles to that list too? It's for sure a top destination for beach holiday Gran Canaria.
Playa del Inglés is in the south of Gran Canaria, where visitors are more than welcome to grace its shores. The improvements to the appeared because of the vacationer blast in the 1960s and 1970s. This then affected the name, and the "Seashore of the English" was born.
Subsequently, in the summer, Playa del Inglés is packed, and there are almost always parties going on here at night. However, the crowd here is pretty diverse. You can expect to see a lot of families during the day, as well as elderly people looking for some peace in the sun. In the evening, expect to see singles, party lovers, and couples.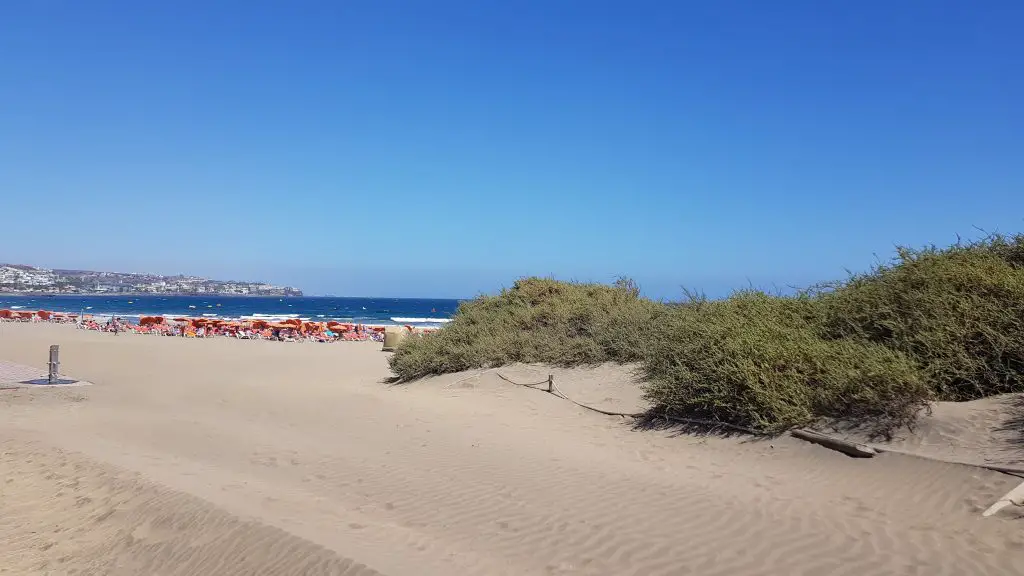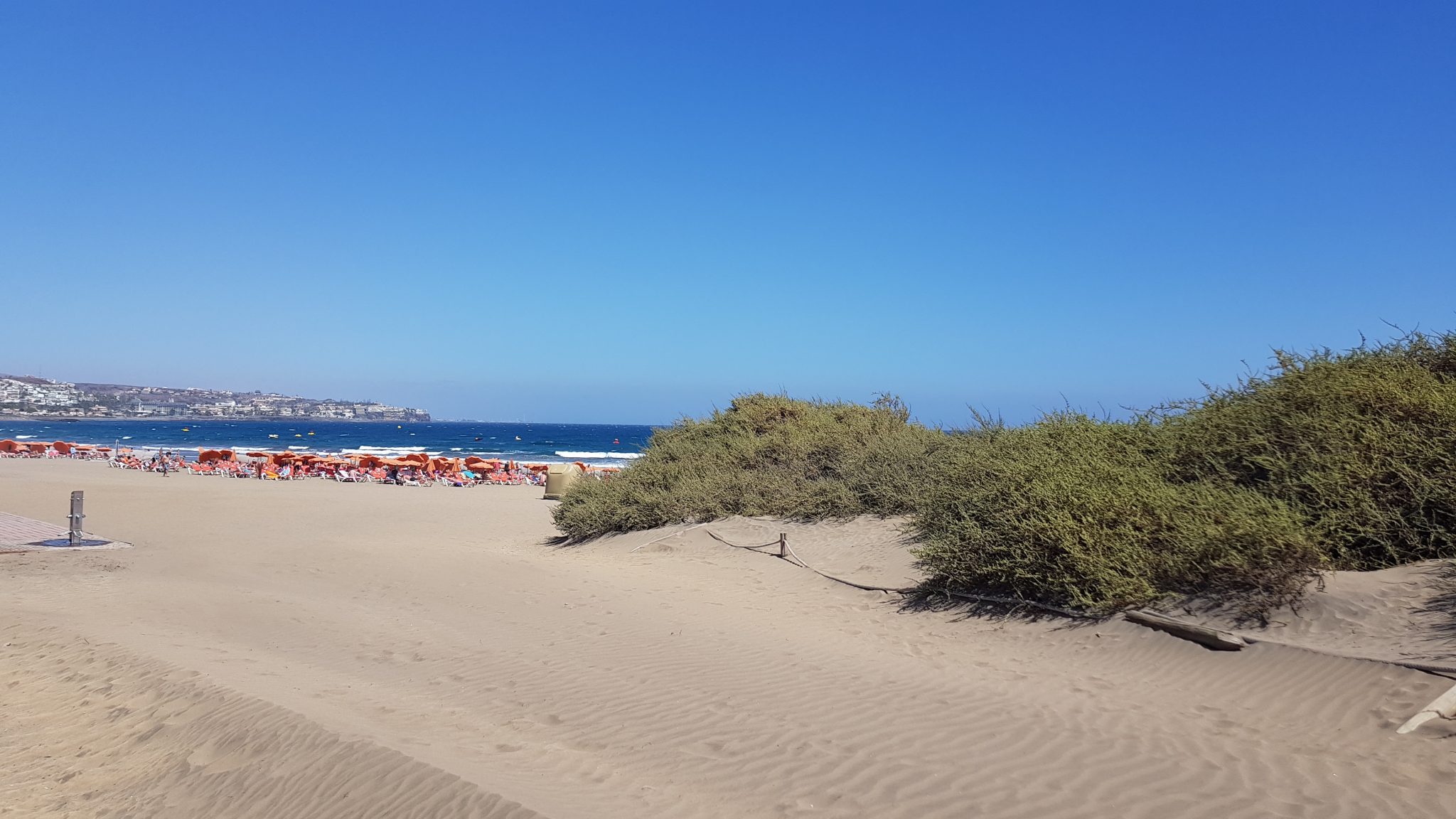 6. Playa de San Agustín
Playa del Inglés is another beach that is at the core of the travel industry in Gran Canaria. The brilliantly delicate sand that lies directly next to the sky blue Atlantic stretches seemingly across the world, lining the earth right under the sky. Whether you're appreciating this view yourself, you're your partner, or with your family, it is truly magical.
Being one of nature's well-designed seashores and one that's popular with travellers and the locals, Playa de San Agustín is particularly easy to find and it just has to be on the list of top Gran Canaria beaches.
7. La Garita Beach
From all the best Gran Canaria beaches this one is very unique. The unspoiled shores and wild beauty are just waiting to be discovered in this dreamy destination! Gran Canaria, famous for its year-round warm climate and mix of white and black sand beaches is on many travel bucket lists.
In the upper east end of Gran Canaria, you may find the wonderful Playa La Garita. The beach is one of the light sands but only a small part of the shore is sandy, while the rest is made up of stones of varying sizes.
There's a football pitch directly alongside the seashore, just in case you're someone who prefers to be a little more active during their day-long beach visits. Otherwise, take your bathing towel to the sandy side of the beach, and relax!
You should be made aware that there is no lifeguard for your own security while you're on the beach. But the entrance to the water isn't deep, and there is no danger in this area. Should something happen, there is a first aid centre nearby.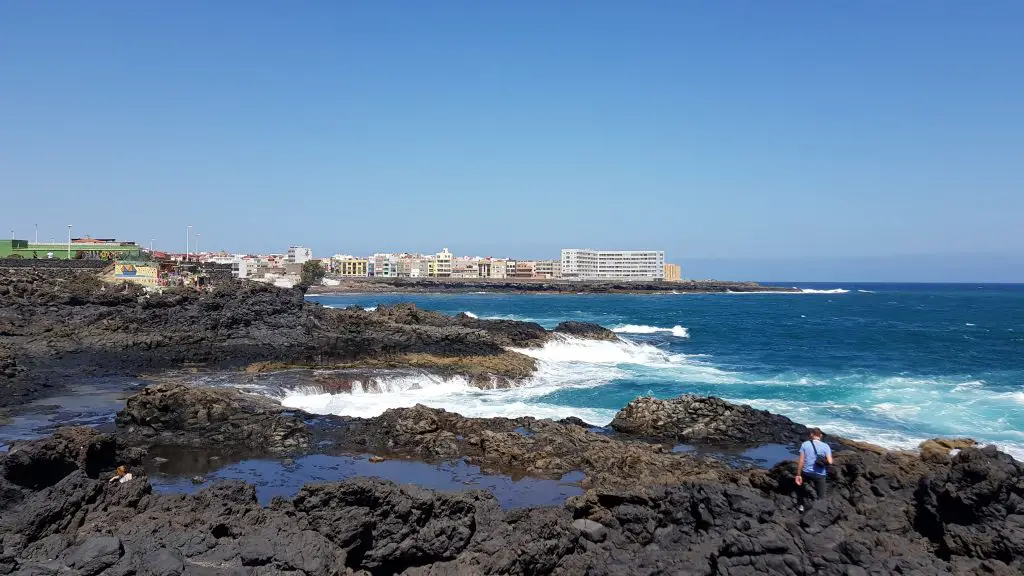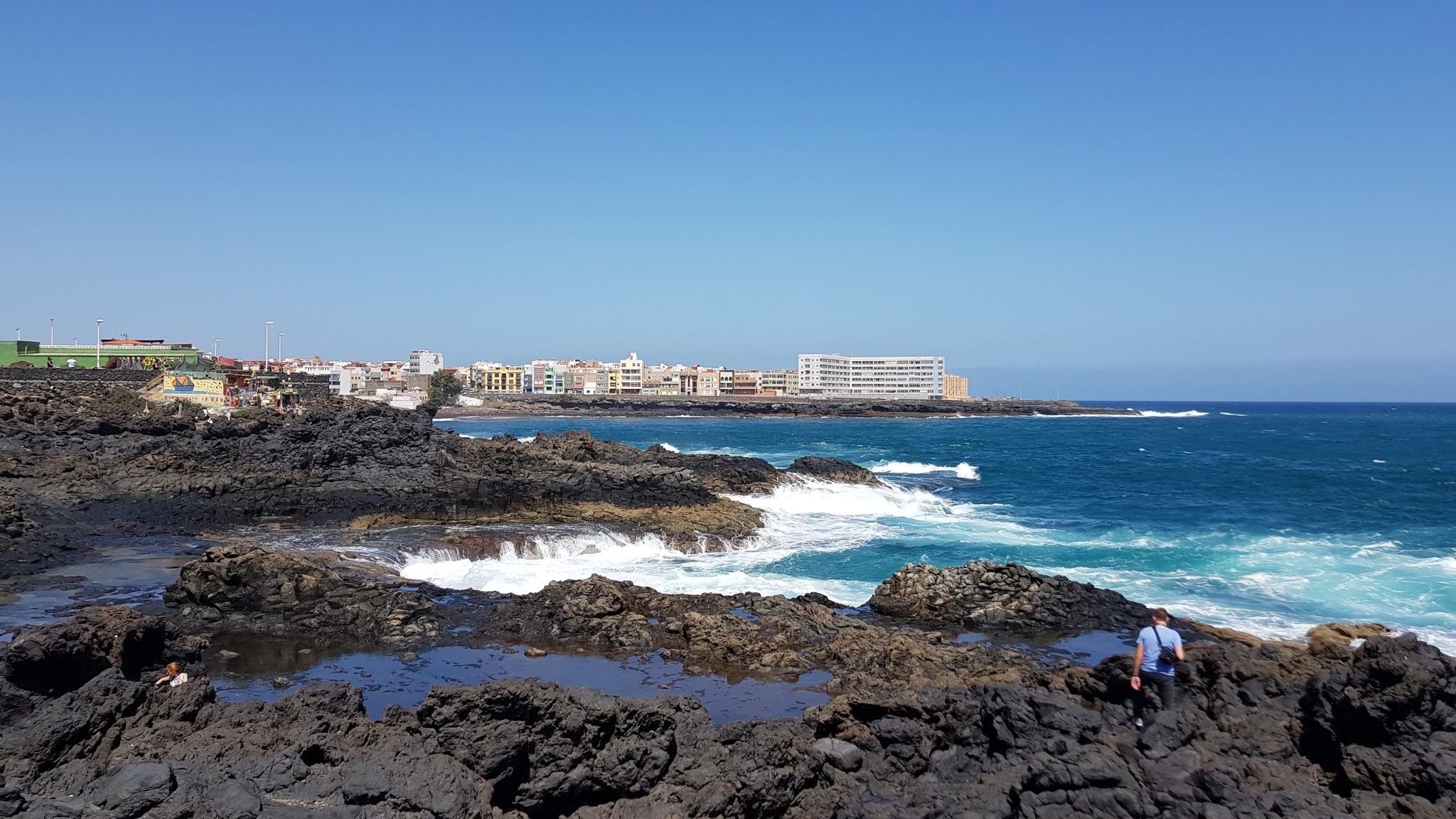 8. Playa De La Laja
If you're looking for a surfing beach, you've found it. Playa De La Laja has a long, sandy shore, and waves that are just ideal for surfing. The breeze is great, too, bringing just the right amount of wind for surfers to do their best runs.
Against an extremely fabulous display of the sand-yellow mountain inclines, you'll be able to get some grand surfing photos taken by your friends and family. Or, simply play in the beautiful blue waters. There are three lifeguards working during the top season, keeping everyone safe.
Would you add Playa De La Laja to the list of best beaches in Gran Canaria Spain?
9. Playa Las Canteras
Found in the northeast of Gran Canaria, right next to Las Palmas, the capital city, you can find Playa Las Canteras. It's a top beach in Gran Canaria perfect for families.
This beach is all calm waters and warm weather, and its home to an offshore lava reef that acts as a natural wave break to protect the sand and your little ones from any harsher waves coming in from the ocean.
10. Playa Boca Barranco
Despite the rocks, this is another great beach for surfers on a holiday retreat from their usual city lives.
Playa de Bocabarranco can be located in the north of Gran Canaria. The beach has an interesting shade of brown for its sand, and a natural swimming pool exists thanks to a border of large rocks.
However, swimming in the open waters of the sea is prohibited due to the strong current.
11. Playa de Las Arenas
You can really see why this Canary island is famous for its coastline. There are many hidden and small beaches along the coast of Gran Canaria. Some are rather difficult to reach but still, they deserve to be added to the list of the best beaches in Gran Canaria! Is Playa de Las Arenas worth adding to the list?
There's not a lot of sand on this beach, but it's a great area to explore and climb around.
Of course, if you would prefer to sunbathe, there are still areas that are suitable for you to put a towel down without worrying that rocks are going to be digging into you every other second.
Unfortunately, this beach isn't one made for swimming either, but there's a romantic atmosphere that brings visitors later in the day to watch the sun go down.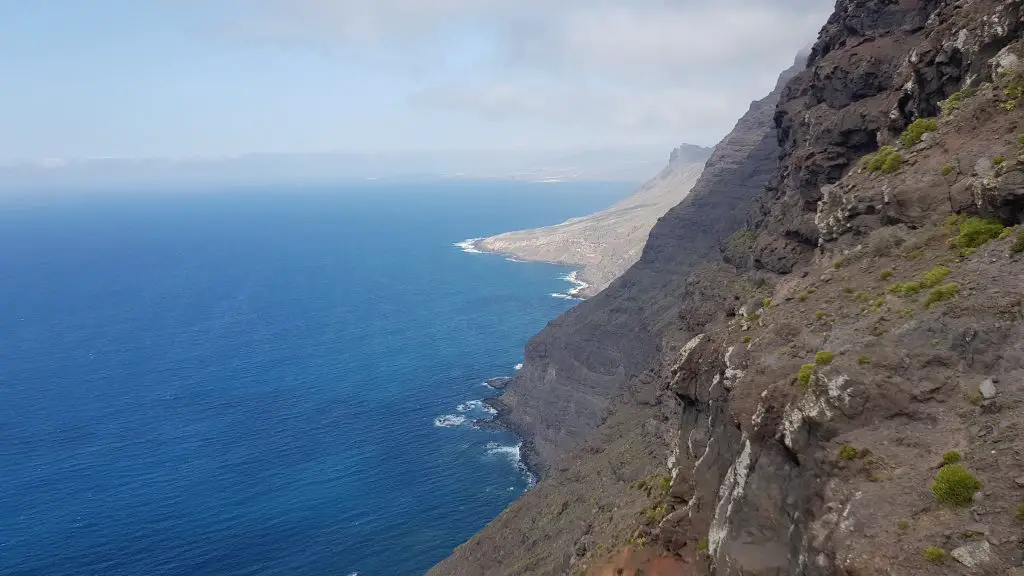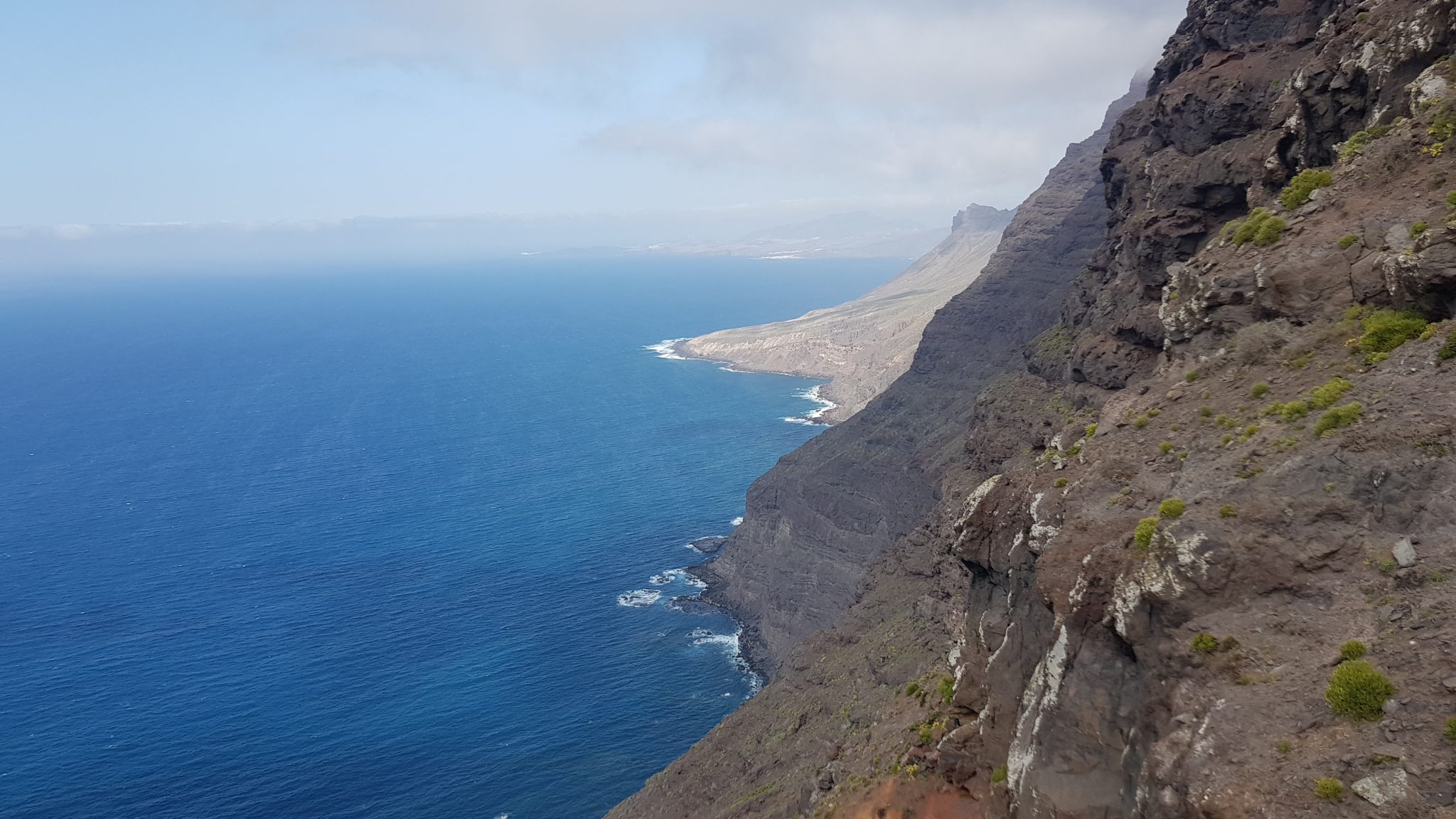 12. Playa Medio Almud
A guide to the best beaches on the island of Gran Canaria wouldn't be complete without Playa Medio Almud. It's one of the most visited beaches in Gran Canaria by… hiking lovers 🙂
To the west of Gran Canaria, Playa Medio Almud lies close to the town of Puerto Rico.
Those who feel at one with nature will enjoy this beach the most, thanks to the numerous little coves around the area. Be sure to pack the right footwear, for these rocks can be a tad slippery and sometimes quite sharp.
Planning a trip to Gran Canaria soon? Make sure you use the below resources:

* Find a cheap flight to Gran Canaria

* Rent a car at Gran Canaria airport, but before you do that read our guide about renting a car in Europe

* Book accommodation: 3* Hotels in Gran Canaria start at €33!

* Read our other Spanish articles: Alicante, Ronda or Lanzarote
Is it worth going to Gran Canaria for a beach holiday?
Some of the best beaches in the Canaries can be found in Gran Canaria island. Known as one of the best winter sun destinations in Europe, Gran Canaria is just famous for its stunning beaches. Whether you're looking for a watersports hotspot, a stretch of golden sand for sunbathing you will find a perfect spot on one of the top beaches in Gran Canaria.
Some of the iconic Spanish landmarks like the Maspalomas beach are also home in Gran Canaria. So, who wouldn't like to visit the stunning Gran Canaria's beaches?
Love Spain?
Read our other articles related to this stunning country:
Unusual Things to do in Alicante
30 TOP attractions in Barcelona
Unusual Things to do in Tenerife
11 Best things to do in Malaga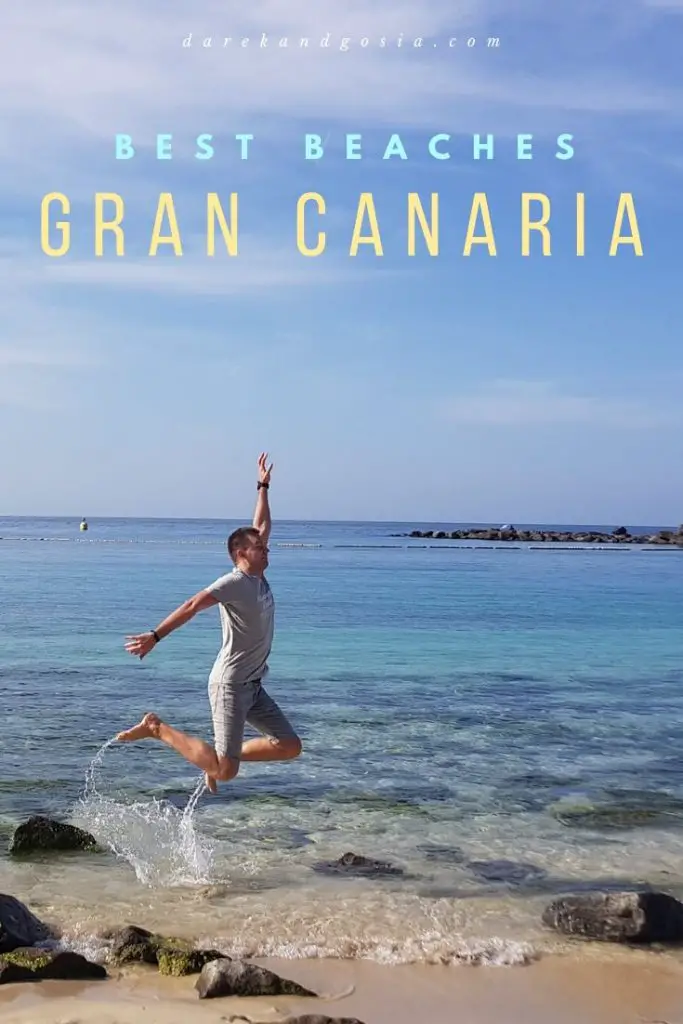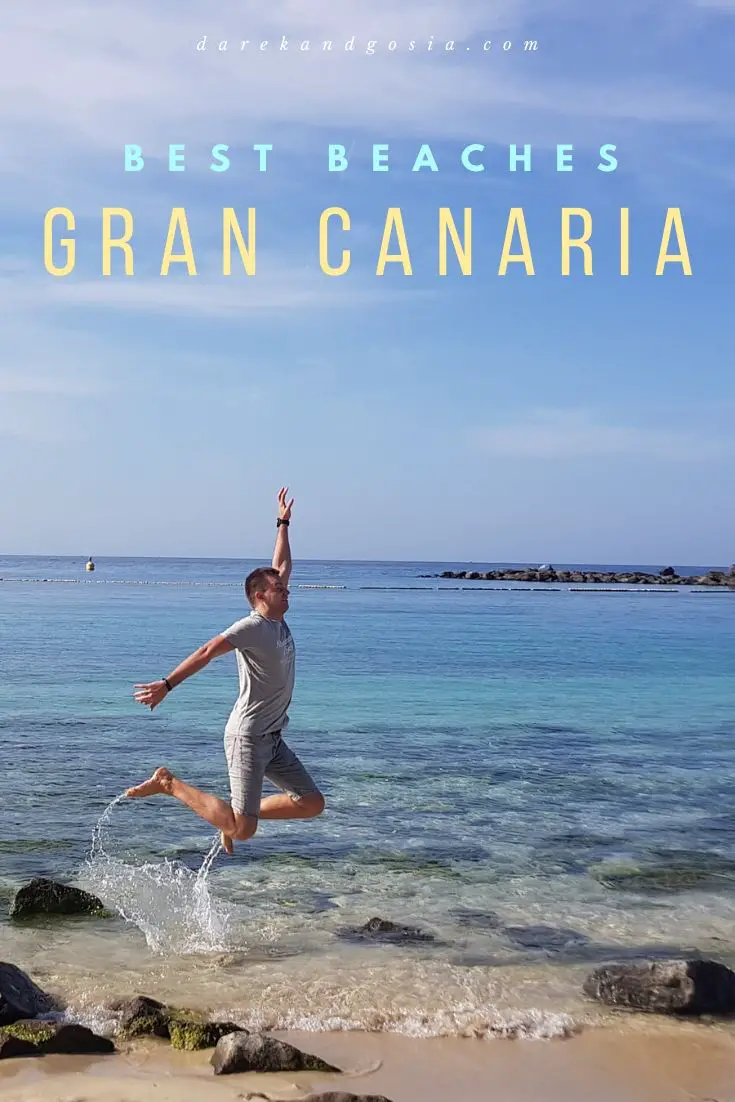 Articles you may like: