What to do in Dorset? Top Dorset attractions: from Durdle Door to Lulworth Cove and Shaftesbury Gold Hill to Dorset beaches – there are many nice places to visit in Dorset.
Dorset is a county in the south-west of England. It has a coastline on the English Channel with a number of seaside resorts and towns. It is known for its rural landscape and coastlines, as well as for its rich history. Dorset's rolling hills are dotted with castles and stately homes, and there are several National Trust properties across the county.
Dorset's coastline features some of the best beaches near London, including Bournemouth's South Sands beach and Poole Harbour's Brownsea Island. The Isle of Portland is also home to a famous lighthouse, while Chesil Beach is famous for being one of the most unique please to see in the UK.
What is Dorset known for?
Dorset is known for its beautiful coast, which attracts many tourists. It has also been the location for several films and television series.
Dorset's famous landmarks include the Jurassic Coastline and the Isle of Portland, which is connected to the mainland by a bridge. The county also includes many picturesque towns, such as Lyme Regis and Weymouth. In fact, Weymouth beach is one of the most popular tourist destinations in the country.
It's also known for its dairy farms, which produce the most cheese in England.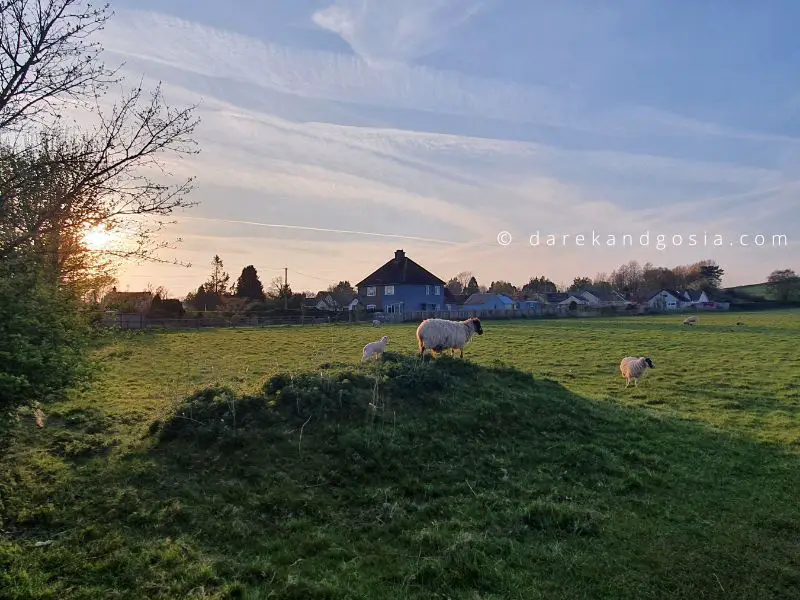 What is the nicest part of Dorset?
The best part of Dorset is the coastline, it has some of the most beautiful beaches in England and many stunning places for hiking.
From sandy beaches and rocky shores to small towns and top UK landmarks – there are many nice areas in Dorset you need to explore! Walk along the cliff top at Lulworth Cove, spend a day at Doorde Door or visit the countryside around Lyme Regis – we can easily say that all of them can be called the nicest parts of Dorset.
What is the main town of Dorset?
It has two major towns, Dorchester and Weymouth, both of which are worth visiting.
Dorchester has been there for over 2000 years and was an important town in Roman times. It is famous for its Saxon gold coin hoard, which was found in the 19th century.
Weymouth is more modern, having been founded by Thomas Pitt in 1759. It has a good harbour and became a popular tourist resort in the Georgian period.
Dorset England is a beautiful part of the country. There are many places to visit in Dorset – this is our list of must-see attractions in Dorset.
Best places to visit in Dorset
1. Dorset AONB
What to do in Dorset? Dorset AONB is a large area of outstanding natural beauty in southwest England. It covers most of the county, as well as parts of neighbouring counties.
The area is famous for its chalk hills, including the White Horse at Littlebredy and Cerne Abbas Giant. There are also many beautiful beaches, such as Lulworth Cove and more than 100 villages and small towns such as Lyme Regis and Dorchester.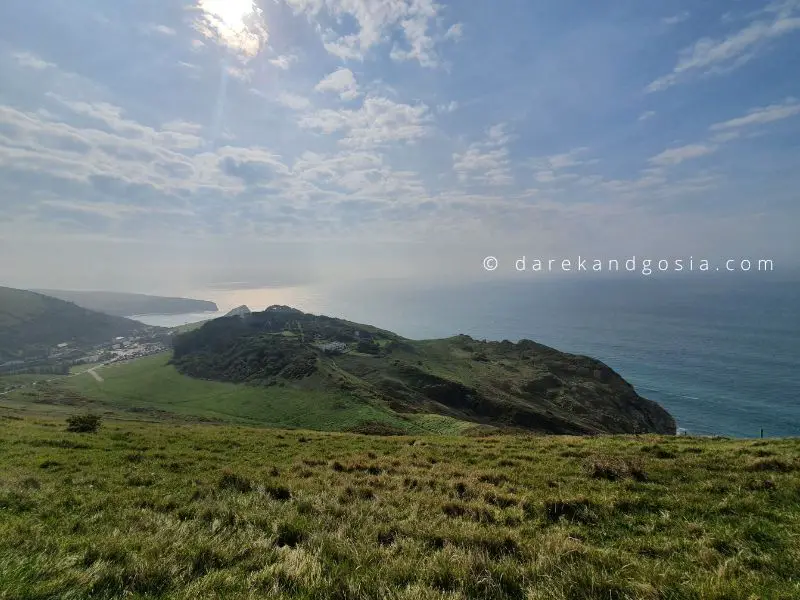 2. Jurassic Coast (Dorset)
Top 10 places to visit in Dorset? The Jurassic Coast is a World Heritage Site on the Dorset and East Devon coast of southern England. It was designated as a World Heritage Site by UNESCO in 2001 for its geological and biological importance.
The site covers 185 miles (298 km) of coastline, and extends from Exmouth in the west to Old Harry Rocks near Swanage in the east. It has varied topography, including cliffs, large shingle beaches and boulder-strewn beaches with geologically significant strata exposed in places.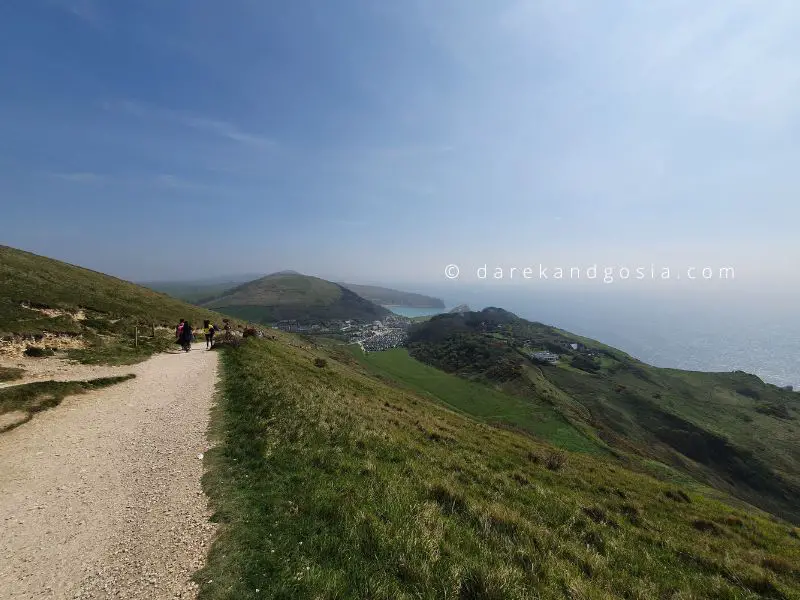 3. Durdle Door
Stunning tourist attractions Dorset? Durdle Door is a natural limestone arch and beach located near Lulworth, Dorset, England.
It is situated on the Jurassic Coast World Heritage Site, a 186 mile stretch of land from Exmouth in Devon to Studland in Dorset, which is noted for its geology and biodiversity.
The area around Durdle Door is rich in fossils, including ammonites and belemnites so it's a very popular place amongst walk-lovers.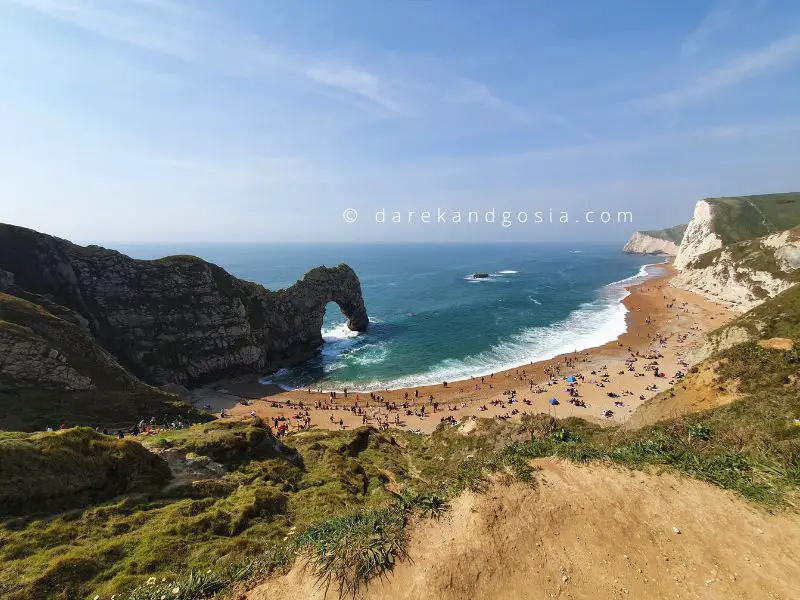 4. Bournemouth
What to do in Dorset England? Bournemouth is a large coastal resort town on the south coast of England directly to the east of the Jurassic Coast.
Bournemouth's location on the south coast of England makes it a popular destination for tourists seeking sunshine during winter and golf and beach holidays during summer. The town has a history as a spa resort dating back to Victorian times. In recent years, Bournemouth has been voted one of Britain's best-loved towns and named among Europe's most desirable places to live.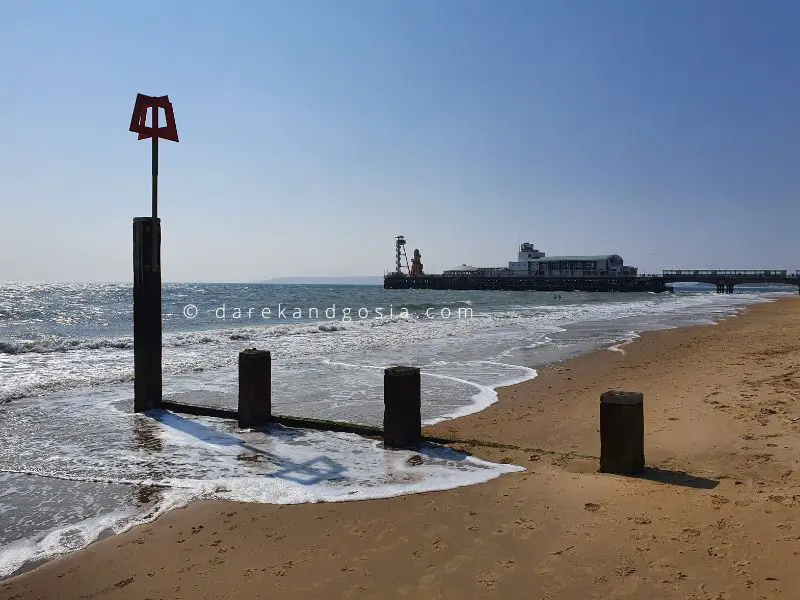 5. Lulworth Cove
Nice places to visit in Dorset? Lulworth Cove is located on the Jurassic Coast in Dorset, England. It is a small cove near the village of West Lulworth. The cove faces south and has a beach of shingle and sand. The rock formations are made up of limestone and chalk.
Lulworth Cove is popular with surfers due to its tidal range (the biggest on the south coast), but there are few facilities for them apart from changing rooms and showers. There are two pubs in the village – The Lighthouse Inn and The Shipwright's Arms – both with beer gardens overlooking the cove.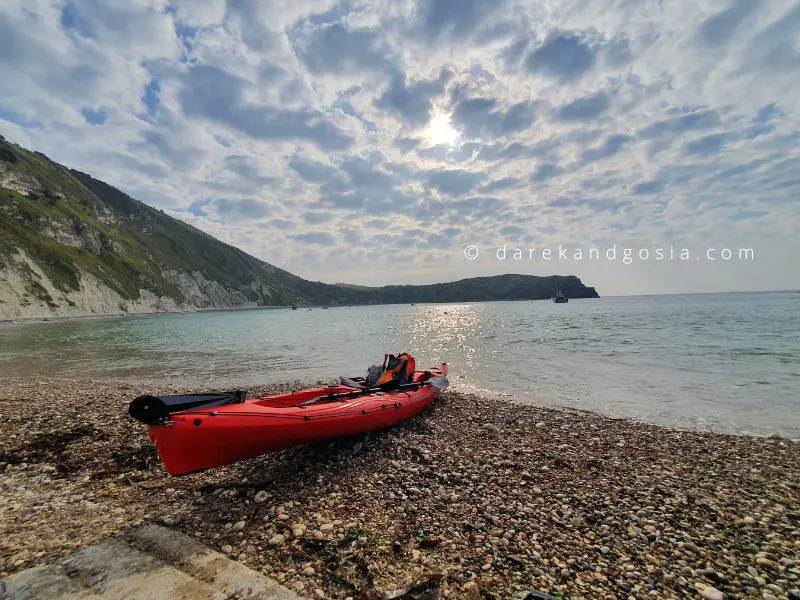 6. Shaftesbury Gold Hill
Beautiful places in Dorset? The historic town of Shaftesbury has a wealth of attractions, not least the famous Gold Hill. Shaftesbury is an ancient market town in the county of Dorset, England. It lies on the River Frome, near the border with Wiltshire, about 8 miles north of Salisbury.
The town has been used as a filming location for several films including The Madness Of King George (1994) and The Railway Children (1970).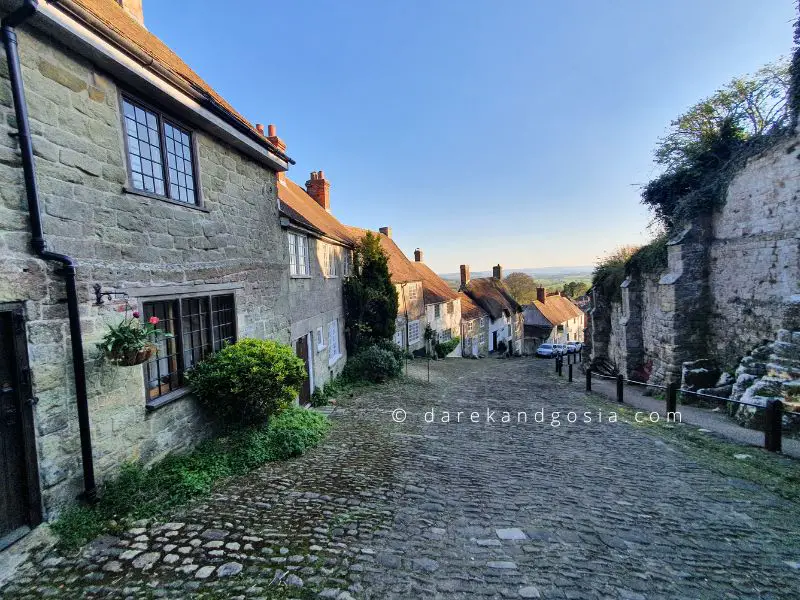 7. Lyme Regis
What to visit in Dorset? Lyme Regis is a coastal town in South West England. It lies at the mouth of the River Lim, an estuary that flows into Lyme Bay, and is renowned for its fossil heritage.
The local travel links have helped the town become a tourist destination with visitors attracted to its coastal scenery and heritage.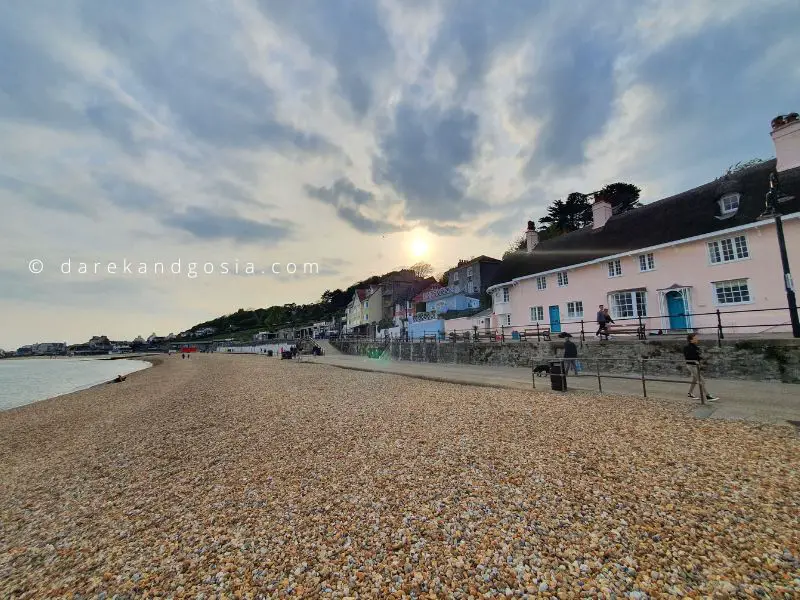 8. Man O'War Beach
Most beautiful place in Dorset to visit? Man O'War Beach is one of the most beautiful beaches in England and is located in the southwestern part of the country. The beach is very popular with surfers, but it's also a great place for families to visit and enjoy the sand, sea and sun.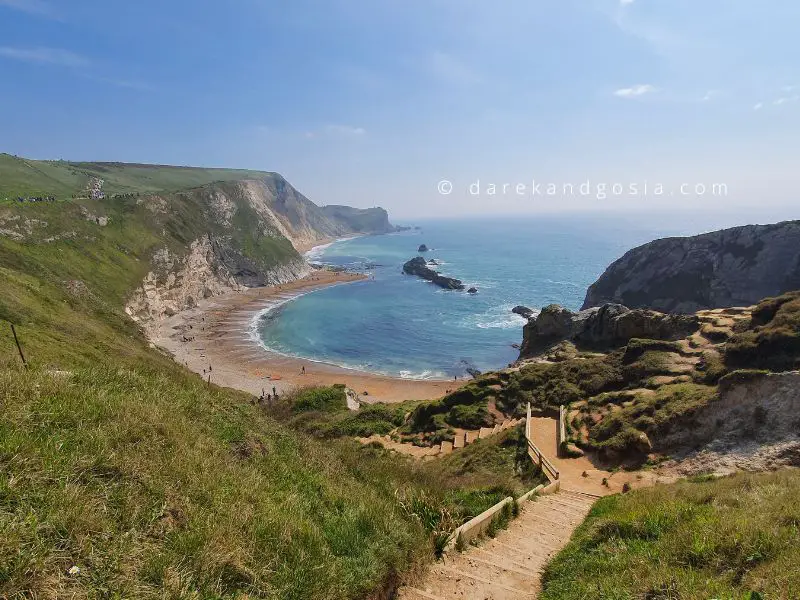 9. Old Harry Rocks
Things to do in Dorset this weekend? Old Harry Rocks is a large mass of chalk with a lighthouse at the top. The rocks are named after Harry "Longlegs" Ellyatt, who used to strip seaweed from the rocks for fertiliser.
The Old Harry Rocks are the remains of the most famous landslip in Britain's history. The rocks are part of the Jurassic Coast, a UNESCO World Heritage Site that stretches for 95 miles along the coast of Dorset and Devon.
10. Corfe Castle
What to see in Dorset? Corfe Castle is a fortification standing above the village of the same name on the Isle of Purbeck in the English county of Dorset. Built by William the Conqueror, the castle dates to the 11th century and commands a gap in the Purbeck Hills on the route between Wareham and Swanage
Corfe Castle has been used as a location for several films and television programmes; most famously perhaps as Hogwarts in Harry Potter and the Philosopher's Stone (2001). It has also featured in many other films including Prince Valiant (1997), Dracula Untold (2014) Midsomer Murders "The Man Who Haunted Himself" (1969).
11. Dorchester
Dorset towns to visit? Dorchester is a historic market town and borough in Dorset, England. It is situated on the River Frome eight miles (13 km) southwest of Poole and 15 miles (24 km) west of Salisbury.
It is the "county town" in Dorset – a small market town steeped in local history that is a perfect base for exploring the county.
12. West Lulworth
Places of interest in Dorset? West Lulworth is a small coastal village in the county of Dorset, England. It lies in the Purbeck hills, on the south coast of England, roughly mid-way between the towns of Weymouth and Swanage.
The village was recorded in Domesday Book as Lulueorde, meaning "Lula's ford". The ford was located near what is now called Ford Farm. The name evolved over time to become "Lowlandersford", before finally becoming West Lulworth.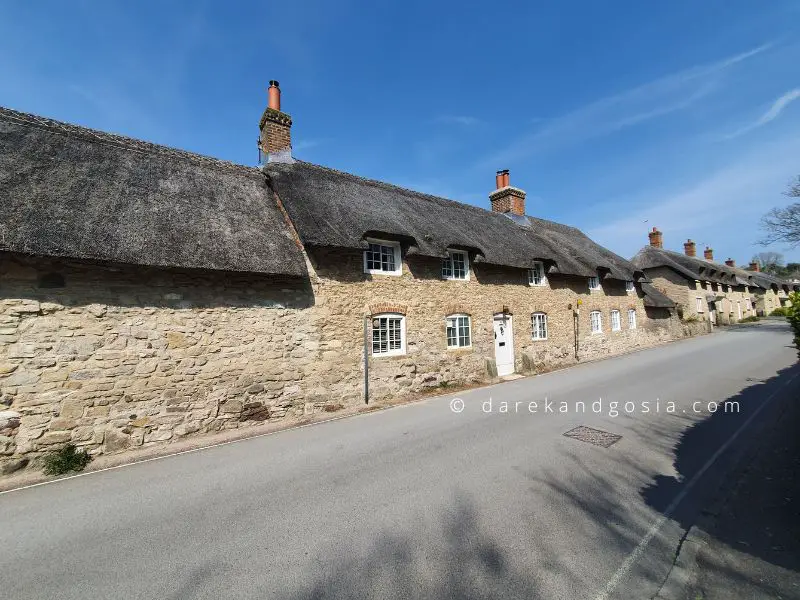 13. Charmouth
Top Dorset destinations? Charmouth Dorset is a beautiful coastal village, located in the West Dorset district of Dorset, England. It lies about 5 miles (8 km) south of Lyme Regis and runs along the Jurassic Coast, a World Heritage Site. The village has been inhabited since Neolithic times and contains many historic buildings.
The village of Charmouth is home to fossils dating back over 360 million years, including some of the earliest known fish fossils. These include examples of ancient primitive fish.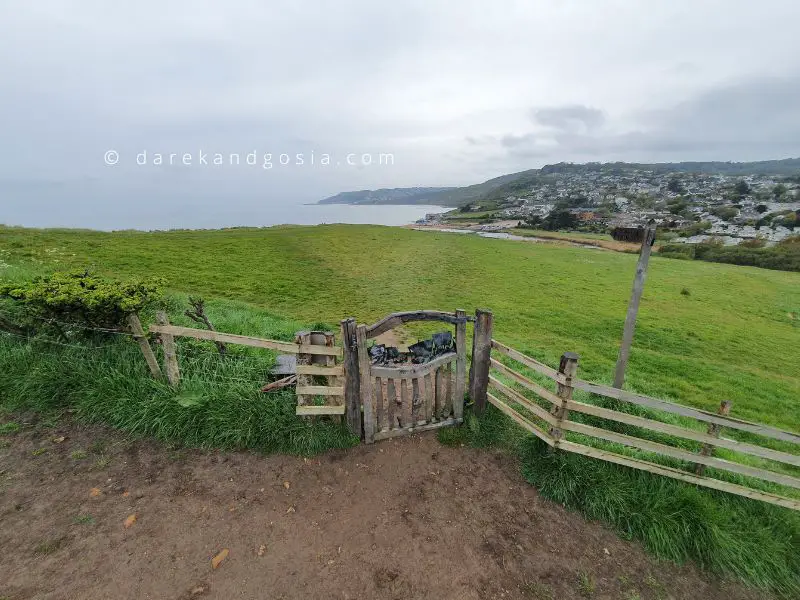 14. Studland
Dorset best places to visit? Studland is a village and civil parish in the English county of Dorset. It is situated on the shore of Poole Harbour, about 3 miles (4.8 km) east of Swanage, 7 miles (11 km) south of Bournemouth and 10 miles (16 km) west of Christchurch. It has a population of 1,758.
15. South Coast Path
Things to do Dorset? The South Coast Path is a National Trail, stretching from Minehead in Somerset to Poole Harbour in Dorset. The trail links with the West Country Way and Wessex Ridgeway, taking walkers past some of the most beautiful countryside in southern England.
The South Coast Path is a National Trail that is open to all walkers and cyclists. It has been designed so that it can be walked or cycled as part of a short break holiday or a longer holiday, by families or groups of friends, as well as by individuals with differing abilities.
16. Swanage
Places to see in Dorset? Swanage is a seaside town in Dorset, England. It is situated in the south west of the Isle of Purbeck, approximately 9 miles (14 km) east of Dorchester and 12 miles (19 km) west of Poole. The town has a population of approximately 10,000 people and contains the majority of the 7 miles (11 km) long Jurassic Coast World Heritage Site.
17. The Blue Pool
Most beautiful places in Dorset? The Blue Pool gets its name from the colour of its water, which can vary depending on the time of year and level of rainfall. The colour can be due to several factors like the presence of algae and the presence of minerals dissolved from surrounding rocks.
18. West Bay
Where to go in Dorset? West Bay Cliffs Dorset is a beautiful place to visit in Dorset and has plenty of great things to do. From the breathtaking cliffs, to the amazing views of the sea, West Bay is a place you will not forget!
The cliffs are home to many seabirds such as fulmars, guillemots and kittiwakes. The area is also a popular attraction for fossil collectors due to the large number of fossils found in the cliffs.
19. Chesil Beach
Nice places to visit Dorset? Chesil Beach is a wild and beautiful place. It was once a natural barrier between land and sea, but as the cliffs have been eroded by the sea, it has become a popular area for walking, cycling and horse riding.
The beach is one of only three major shingle structures in the world. It is also one of only three examples in Britain where a large area of continuous shingle beach occurs with no dunes behind it.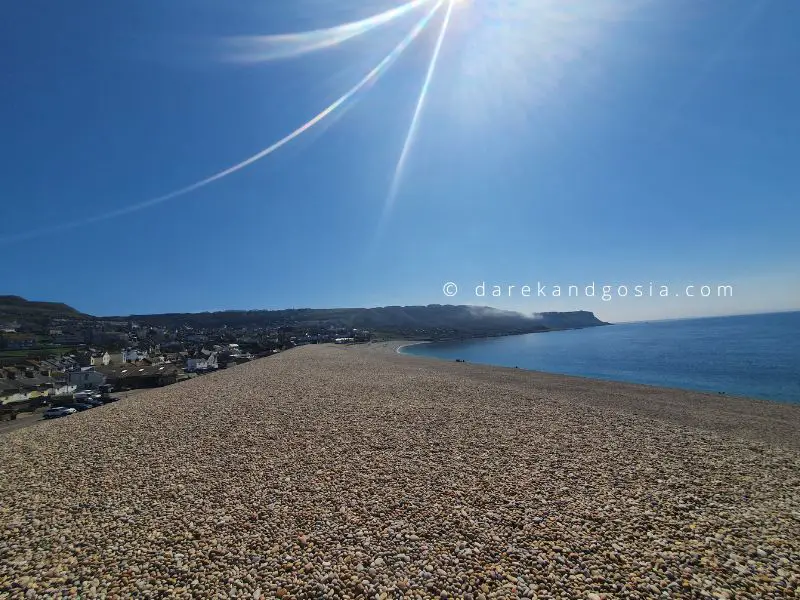 20. Stair Hole
Activities to do in Dorset for adults? Stair Hole is one of the best known natural sea caves on the Dorset coast. It is located at Burton Bradstock, about 3 miles (4.8 km) east of Swanage, and lies within the boundaries of the Purbeck Coast World Heritage Site.
The sea cave was formed by coastal erosion along a meandering river channel. The cave's name comes from its appearance as a staircase-like series of ledges connected by waterfalls and overhangs.
21. Abbotsbury Swannery
Fun things to do in Dorset? Abbotsbury Swannery is a nature reserve and bird sanctuary in the village of Abbotsbury on the Isle of Purbeck, in Dorset, England.
The reserve also includes ponds, marshes and reedbeds which support many other species including avocet, water rail, little egret and reed bunting. The site is open to visitors all year round but please note that it does get very busy during the spring and summer months so we recommend visiting outside this time if you would like more space to yourself!
22. Highcliffe Beach
Dorset beautiful places? The beach is situated between the towns of Bournemouth and Christchurch, in the borough of East Dorset. It is popular with tourists, particularly in the summer months when there are plenty of attractions nearby such as Bournemouth Pier.
If you're looking for a place to learn how to surf in Dorset, then Highcliffe Beach is a great place. The beach itself is only accessible by foot or by car and there is parking available near the beach entrance gates. The beach itself is made up of small pebbles and sand which makes it ideal for those who want to try their hand at surfing for the first time.
23. Kimmeridge Bay
Best things to do in Dorset? Kimmeridge Bay is one of the most spectacular beaches in England, if not Europe. It is located in Dorset and overlooked by the beautiful village of Kimmeridge.
The bay itself is formed by two huge Jurassic cliffs that stretch for over three miles along the coast. These cliffs are made up of layers of shelly limestone which formed when an ancient ocean covered what is now Britain.
24. Isle of Portland
Places to visit in Dorset UK? The Isle of Portland is a limestone-tied island, with a population of more than 2,000 residents, approximately eight miles (13 km) long by one and a half miles (2.4 km) wide. It lies just off the coast of Dorset, in south-west England, where the English Channel meets Weymouth Bay at Portland Harbour.
The island forms part of the Jurassic Coast, a World Heritage Site which includes some of the most significant coastal landforms and geology on the planet.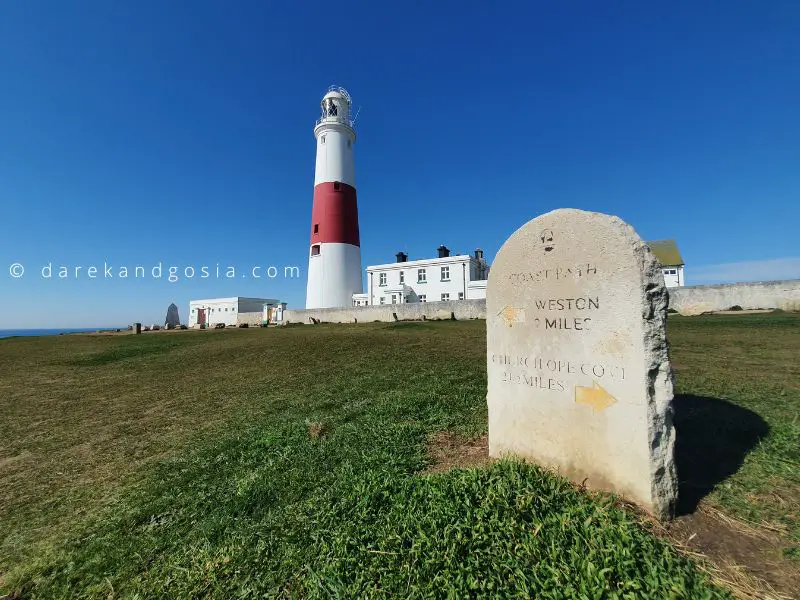 25. Weymouth
Places to go in Dorset? Weymouth is a seaside town in Dorset, on the south coast of England. It's the second largest resort in Dorset after Bournemouth and has a wide sandy beach, which attracts hundreds of thousands of visitors every year.
The town became a Naval Base in 1665 and was the launch point for several famous naval battles such as the Battle of Trafalgar and the Battle of Britain.
Articles you may like: