Pangbourne-on-Thames is a village in West Berkshire. From top restaurants to stunning river walks, there are many things to do in Pangbourne!
English villages are really stunning! If you are looking for ideas and best villages near London, then Pangbourne on Thames will be a great choice!
Known as one of the most popular places to visit in Berkshire, the village is also one of our favourite spots to visit on a day trip from London!
Pangbourne is a lovely and charming village nestled against the River Thames. It's a delightful place to wander around. The village is filled with one-off shops, pubs, and cafes that you won't find anywhere else. It's a village that's genuinely full of character, and there's nowhere else quite like it.
Ready to learn more about Pangbourne-on-Thames? 🙂
Where is Pangbourne?
Pangbourne is in Berkshire county. It sits on the outskirts of Reading, just east of London. If you're travelling from London, it's just a quick 30-minute train ride from Paddington Station.
Pangbourne's location is perfect for English countryside fans. It sits on the boundary between two areas of outstanding natural beauty – North Wessex Downs and the Chiltern Hills.
What is Pangbourne famous for?
Pangbourne has long been linked with the literary world. This delightful little village has served as inspiration for many a writer. 
Water voles live in the banks of the river. Many believed they were the inspiration for Kenneth William's Wind in the Willows. If you visit today, you can still see the banks of the river teeming with these delightful animals.
DH Lawrence, the author of Lady Chatterley's Lover, wasn't so taken with the town. After he visited, he renamed the town 'Pongbourne', an insult that still rankles the locals. They'll be quick to tell you that if he were to visit today, he certainly wouldn't think so poorly of the place anymore.
The local pub, The Swan, is also mentioned in Jerome K Jerome's Three Men in a Boat. After mucking around a bit, the men end their epic journey at The Swan in Pangbourne, which is certainly a good excuse to check it out for yourself.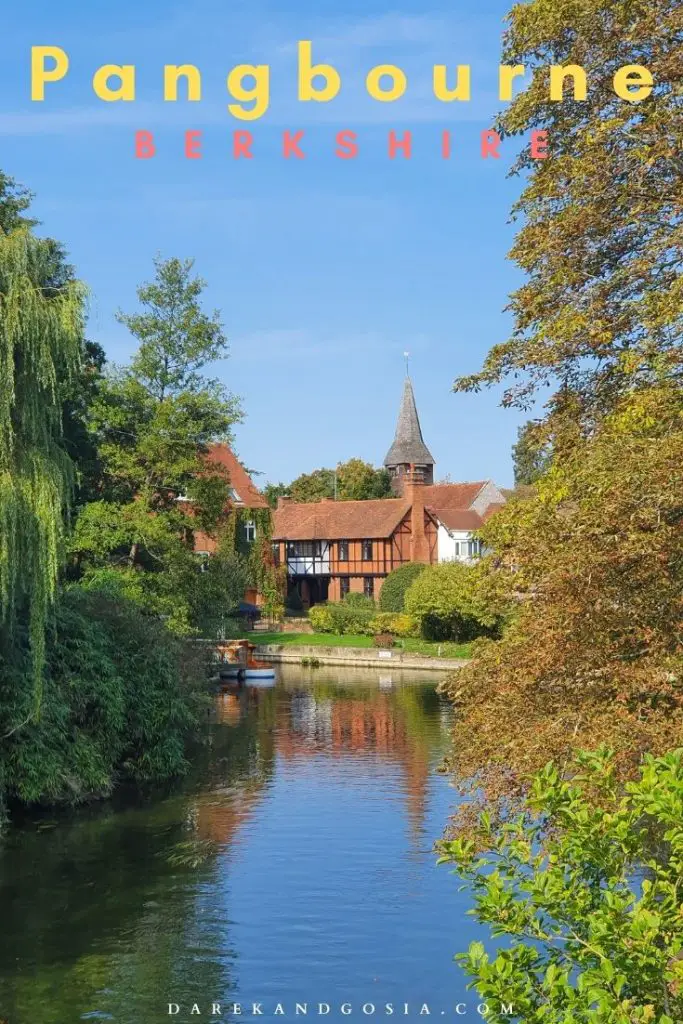 Things to do in Pangbourne:
Pangbourne is a lovely place filled with things to do. Just a little way down the road you'll find Basildon Park. It's a beautiful estate maintained by the National Trust which is worth a visit if you have the time.
For animal lovers, nearby Beale Park is also a great place to visit. They have everything from meerkats to mongooses, owls to otters and coatis to capybaras!
Within the village, you'll find lots of fantastic local shops and pubs. It's also a great place to start a walk from; you'll be in the countryside before you know it. Here are some of the highlights.
1. The Elephant Hotel
Where to stay in Pangbourne? The Elephant Hotel offers a great range of drinks, snacks and full meals. In the afternoons, you can enjoy an Afternoon Tea, their bar, Babar is described as an eclectic bar where you can get everything from cocktails to tiffin!
If you're in need of something more substantial, then you'll find a delightful seasonal menu in the restaurant, The Herd. This is a place run by people who are passionate about good food and drink. That passion shines through making it a great place to book in for a meal.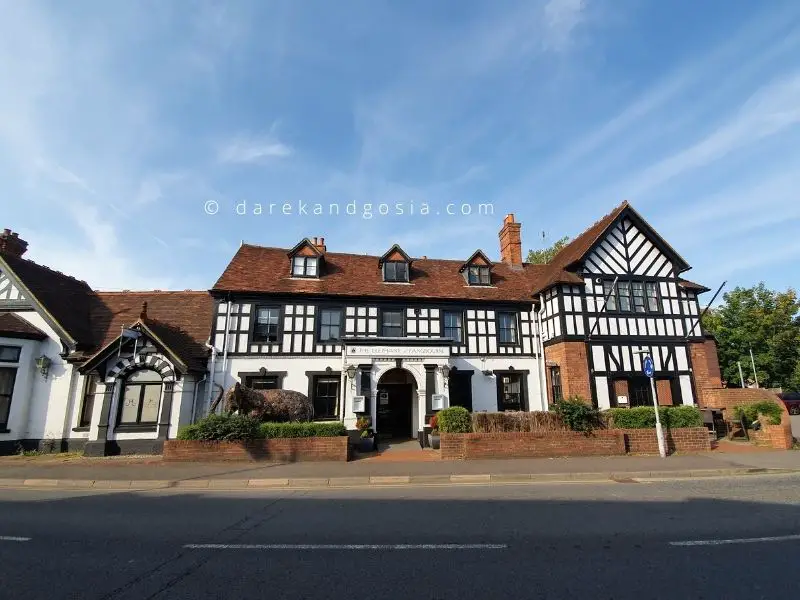 2. The George Hotel
The site of the George Hotel has been a destination for weary traveller since 1295. The current building is a 17th Century coaching inn. The restaurant has elegant beamed ceilings and offers a selection of traditional English pub food, done really well.
3. Pangbourne Meadows
What to do in Pangbourne? Pangbourne water meadow is a beautiful spot for a picnic and a stroll. The local parish council owns and maintains the area. They keep it in gorgeous condition, so it's a lovely place for all to enjoy.
If you're lucky enough to visit on the right day, you'll find the village fete here. They have all the classic tea and cake stalls as well as a not so traditional Limbo competition and Dragon Boat event.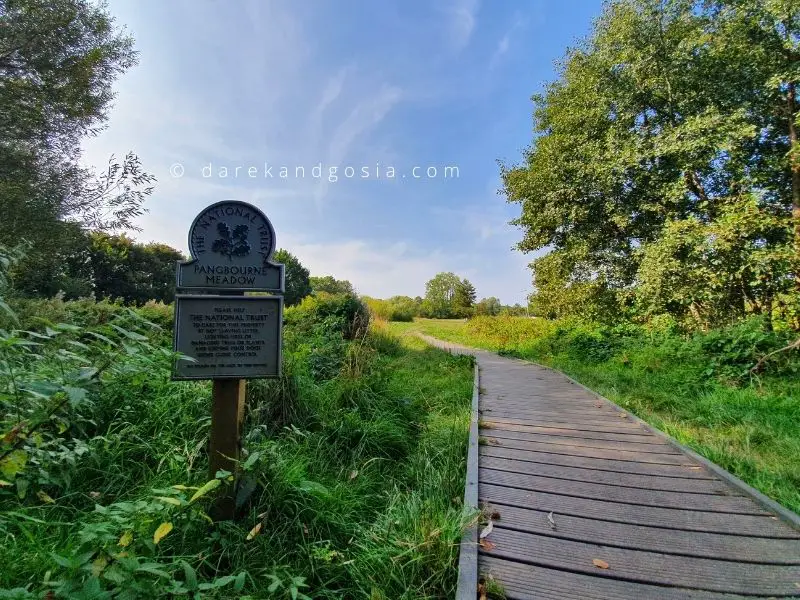 4. St James The Less
What to see in Pangbourne? If you're a fan of traditional and beautiful architecture, then you should take the time to visit St James the Less. This is the active parish church in Pangbourne. The red tile roof is a lovely contrast to the brick and stone walls.
The red-brick tower stands proudly at the end of the church. Inside, there are many beautiful features, including the stained glass windows. It is a truly lovely little church.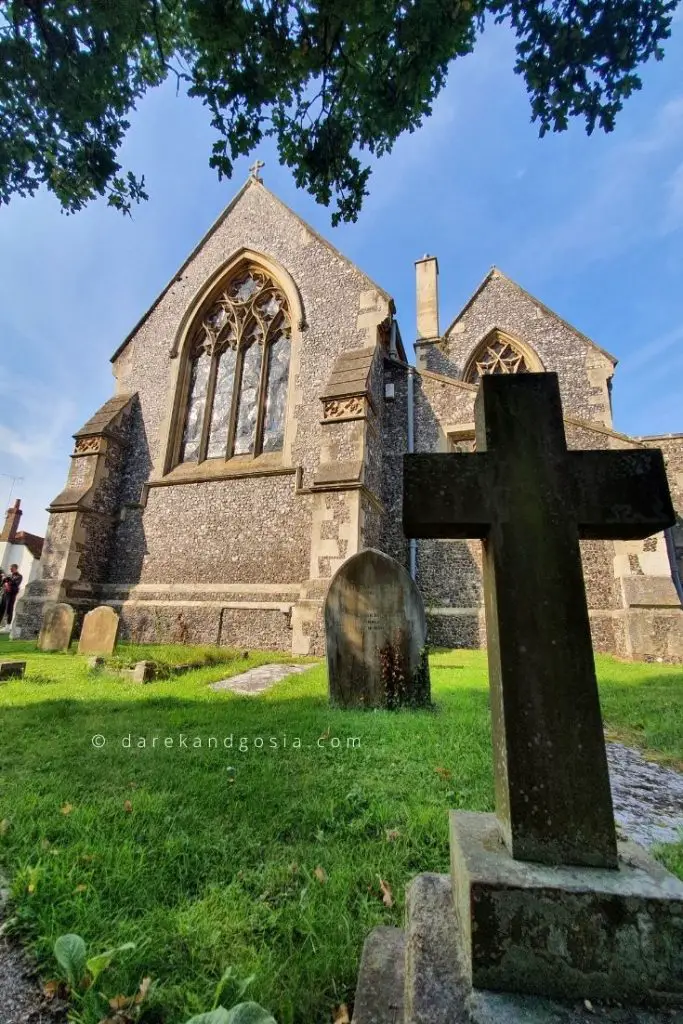 5. Cheese Etc
Interesting places to visit in Pangbourne? If you love cheese, and who doesn't, then you need to pop into this store. They stock over 100 different artisanal kinds of cheese.
They specialise in cheeses made by small producers, so you're sure to find something new and delicious at this award-winning shop.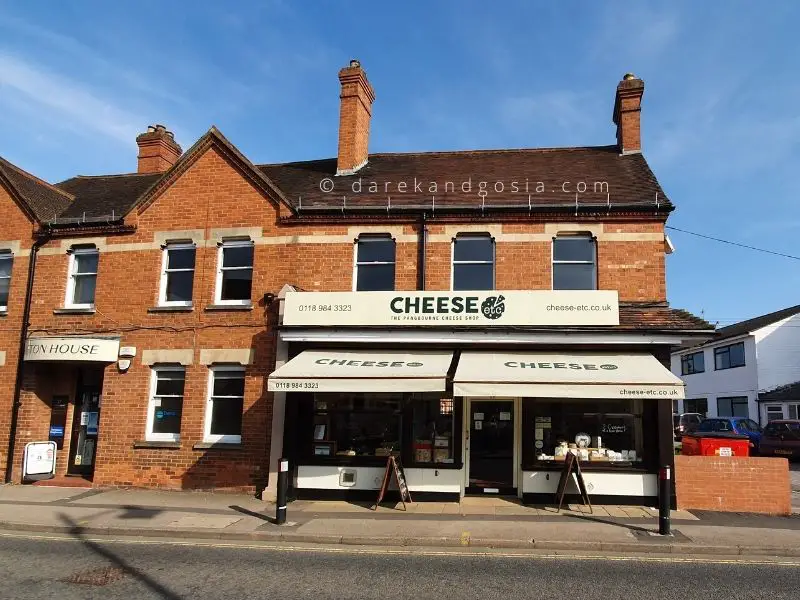 6. @Baxters Cafe Kitchen
This fun and quirky cafe serves food all day from breakfast through to the evening. They specialise in delicious and locally sourced meals. The menu is genuinely eclectic and offers a wide range of delights. There is bound to be something here that you just can't say no to.
7. The Swan
Looking for best pubs in Pangbourne? The Swan pub, where the Three Men in a Boat ended their journey, is well worth a visit. The building that houses it is called Shooter's Hill. It's a gorgeous 17th Century building that sits right on the bank of the river. Inside you'll see exposed oak beams and open fires. In summer, you can go out on to the terrace to enjoy a drink in the sun looking out over the gently flowing river.
For an extraordinary experience, you can book out the pub's private dining room. It's called 'The Bunker'. That's because you'll be dining in what used to be the pub's coal bunker. It's been converted into a gorgeous dining room that can hold around ten people.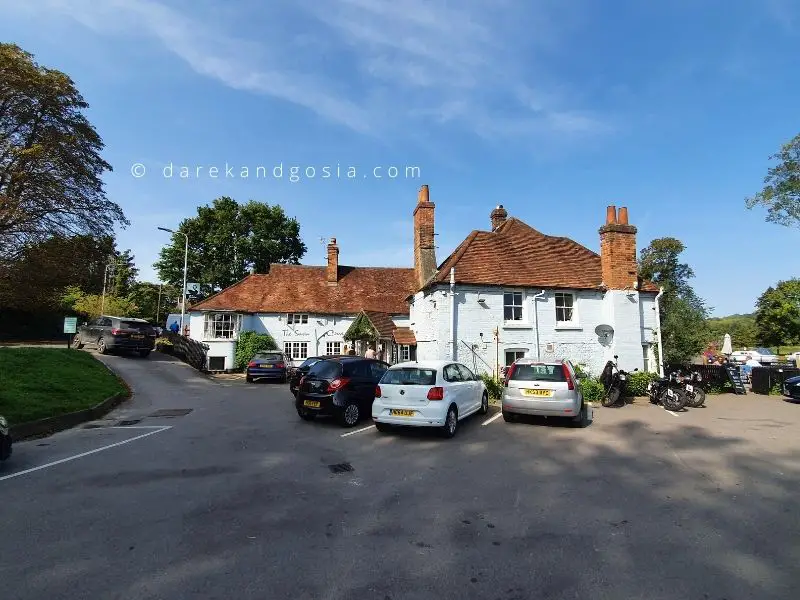 8. Walk to Whitchurch-on-Thames
What to do close to Pangbourne? One of the wonderful things bout visiting Pangbourne is that you can enjoy two country villages in one trip. A quick walk over the toll bridge and you'll find yourself in Whitchurch-on-Thames.
Fortunately, the toll only applies to cars, so you can pop back on forth on foot as much as you please.
9. The Toll Bridge
The Toll Bridge joins Pangbourne to the neighbouring village of Whitchurch. When you cross over the bridge, you'll not only cross the river but county lines as well. In Pangbourne, you're in Berkshire, however, on the other side of the bridge, you'll be in Oxfordshire. A must-see when visiting Pangbourne!
The bridge is a lovely wrought iron construction. The lattice of bars makes it a beautiful bridge indeed. What's even more attractive is the view from the middle. You can look upstream to see Pangbourne Lock, and to either side for great views of the two villages.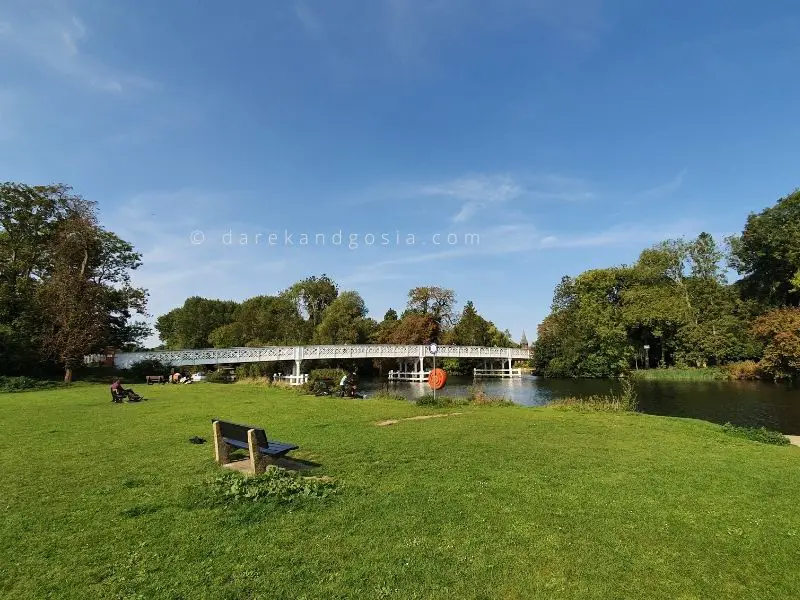 10. Toll Booth/Road
The toll booth sits on the Whitchurch side of the river. It has the distinction of being one of the most expensive tolls in England. So you might want to opt to walk over the bridge rather than drive if you can.
11. The Church of St Mary the Virgin
Things to see in Pangbourne? If you pop over the toll bridge into Whitchurch, you'll find another lovely and ancient church. St Mary the Virgin is a medieval church that is dated to the Anglo-Saxons.
If you go inside, you'll be able to see the exposed mediaeval timber roof. It is quite remarkable.
12. Whitchurch-on-Thames Circular walk
There are many stunning walks near London, and this one is one of the best! Starting from Pangbourne, you can easily get to the beginning of the Whitchurch-on-Thames circular walk. It's a 6-mile hike that will take you into the Chiltern Hills. At the highest points on the walk, you'll be able to get breathtaking views of the countryside.
When you're looking down over the Thames, it's easy to understand how this part of England was labelled as an area of outstanding natural beauty.
If you do the walk in summer, then you'll be treated to a carpet of wildflowers as you pass through Hartslock Nature Reserve.
Places to visit near Pangbourne: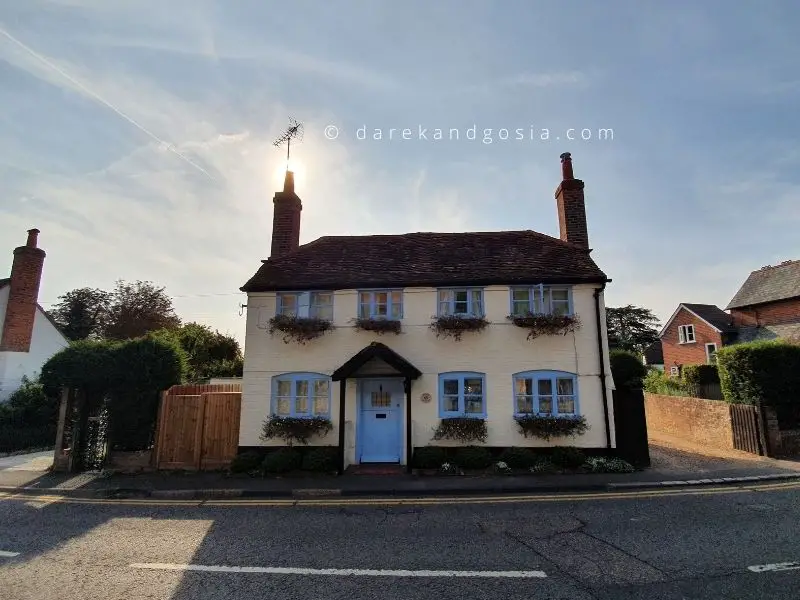 Is it worth visiting Pangbourne?
Pangbourne is a lovely village near London. It's the perfect size to come and explore, while still having time for an excursion into the countryside. The local shops and unique character of the place make it the perfect example of English country life.
It is most certainly worth a visit! In fact, the surrounding area is very popular amongst locals in this part of southern England.
Whether you are looking for the next UK weekend getaway idea or just a day trip from London, Pangbourne just has to be on your UK bucket list!
If you liked our article about Pangbourne, then please check out the below posts too: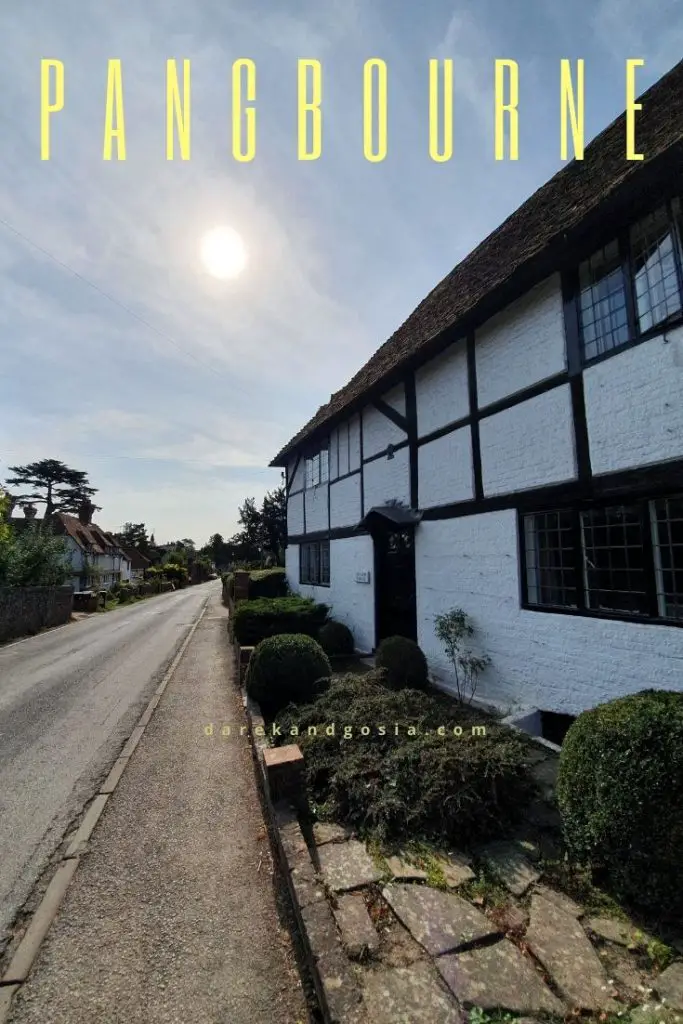 Articles you may like: