With so many great things to do in Henley-on-Thames, this town is a must-see place on the River Thames in Oxfordshire. Ready to explore Henley this weekend?
England is well-known for its quaint little towns and beautifully unique locations, and Henley-on-Thames is a prime example. The 13th-century market town is hailed as one of the most gorgeous locations in the country.
Situated on the edge of the iconic River Thames, Henley offers stunning scenery, traditional British pubs and independent shops and restaurants. During the summer, it is home to internationally renowned events and festivals, but it is an excellent place to visit all year round.
If you are looking for the best places to visit in Oxfordshire, this town has to be on your list!
Want to find out more? This guide covers everything you need to know about visiting Henley-on-Thames. So keep reading as we will present you top places to see in Henley on Thames 🙂
Where is Henley on Thames?
What county is Henley on Thames? Of course, the beautiful Oxfordshire!
Henley-on-Thames is a historic town in the South of England, just 40 miles west of London and 25 miles south-east of Oxford. It is part of the county of Oxfordshire and sits at the foot of the Chiltern Hills, an Area of Outstanding Natural Beauty.
Henley is on the edge of the left bank of the River Thames, which is the most famous river in England and spans 346km through London and beyond. Visitors to Henley-on-Thames enjoy the picturesque Chiltern landscape of rolling green fields and beautiful wooded hills.
So, is Henley-on-Thames on your UK bucket list?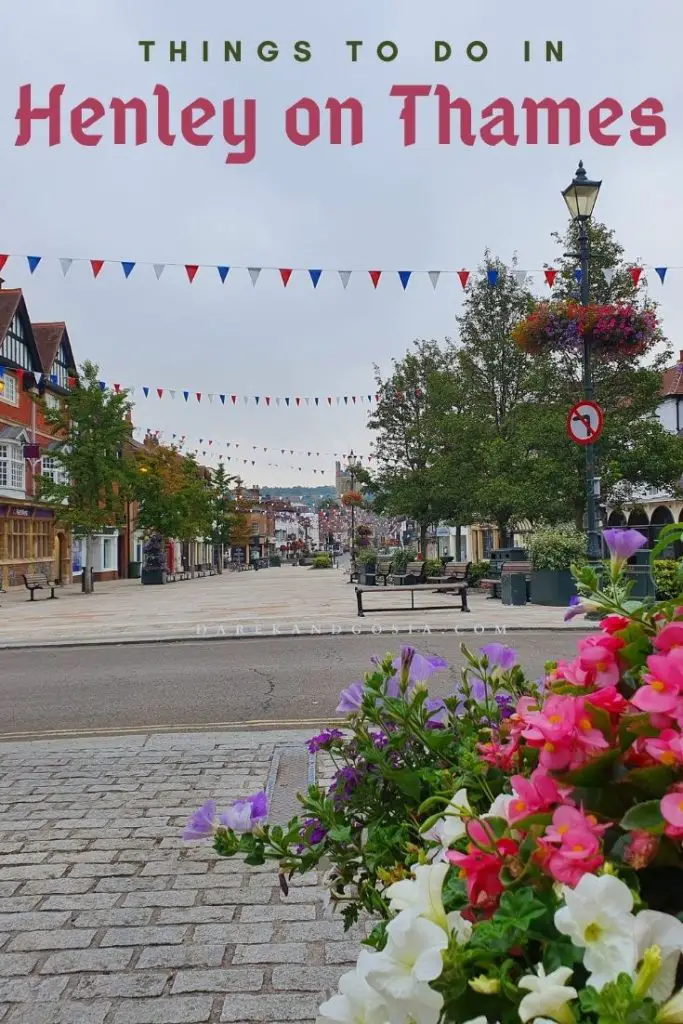 Henley on Thames facts:
| | |
| --- | --- |
| Population: | ~12,000 |
| County: | Oxfordshire |
| Region: | South East |
| Famous for: | Henley Royal Regatta |
| Film location: | Midsomer Murders |
| When to visit? | Summer |
How to get to Henley-on-Thames?
Henley-on-Thames is easy to reach from all over the country, whether you are travelling by rail, road or river.
Henley-on-Thames has excellent railway links and can be reached quickly and easily from London. Great Western Railway operates train services regularly from Twyford, which has connections from London Paddington and Reading. Once at Henley-on-Thames train station, you will be in walking distance of the town centre and river.
Henley-on-Thames is accessible from the M4, M40, A4130 and A4155, and is a short drive from London, Reading, Oxford and Windsor. There are various parking options available in the town, including the train station car park which is the largest. You can also get to Henley by bus, with regular services from Oxford, Reading, High Wycombe and Maidenhead.
If fact, Henley-on-Thames is one of the top day trips from Lodnon!
Henley is lucky enough to be accessible by river. You can catch a scheduled boat trip or hire a boat for yourself. There are temporary moorings at Mill Meadows near the town centre or downstream of Henley Bridge.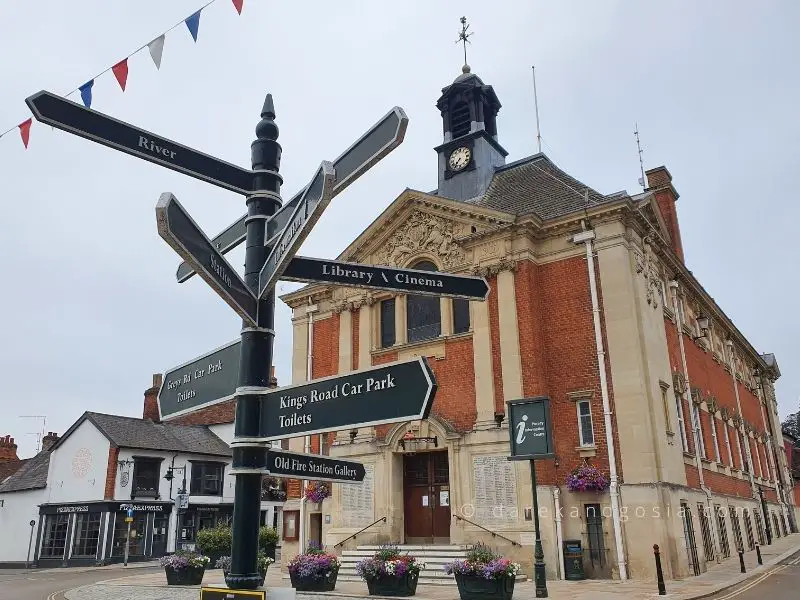 The Red Lion Hotel – best place to stay
Top hotels in Henley on Thames? The best way to truly immerse yourself in Henley-on-Thames is to stay in the very heart of the ancient town. The Red Lion Hotel is on the edge of the River Thames right by Henley Bridge, just steps from some of the main attractions of Henley. The hotel itself has a colourful history as it was once a coaching inn between London and Oxford. It has been a proud place of hospitality for over 600 years.
Whether you need somewhere to stay on your visit to Henley or just want to pop in to experience the history of the hotel, The Red Lion Hotel is the perfect spot. Their riverside terrace is a popular location for tourists and locals to enjoy the lovely views and a bite to eat.
Without a doubt, The Red Lion Hotel is the best hotel in Henley on Thames!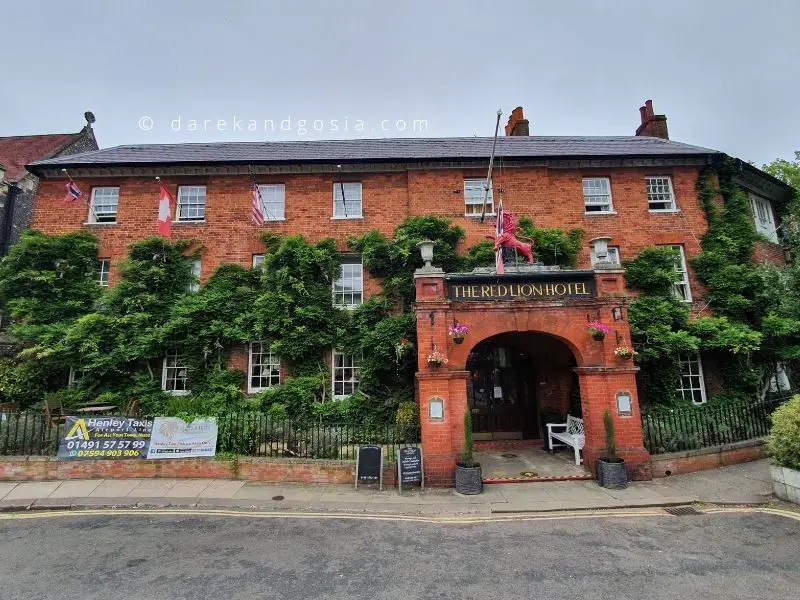 Top things to do in Henley on Thames:
So, what to do in Henley on Thames? Henley-on-Thames might not be a big destination, but it still offers plenty for tourists to see and do. It is a town of special architectural and historical interest thanks to its many quaint buildings, and its riverside location makes it perfect for boat trips and activities. Our top things to do in Henley-on-Thames are:
1. Henley-on-Thames town centre
What is Henley on Thames famous for? A wander around the stunning market town of Henley-of-Thames is a great way to spend a day. There are many quaint boutiques and independent stores to discover around the riverside town.
Whether you want to do a bit of window shopping or pick up a souvenir during your trip, you are sure to find something for everyone in Henley-on-Thames.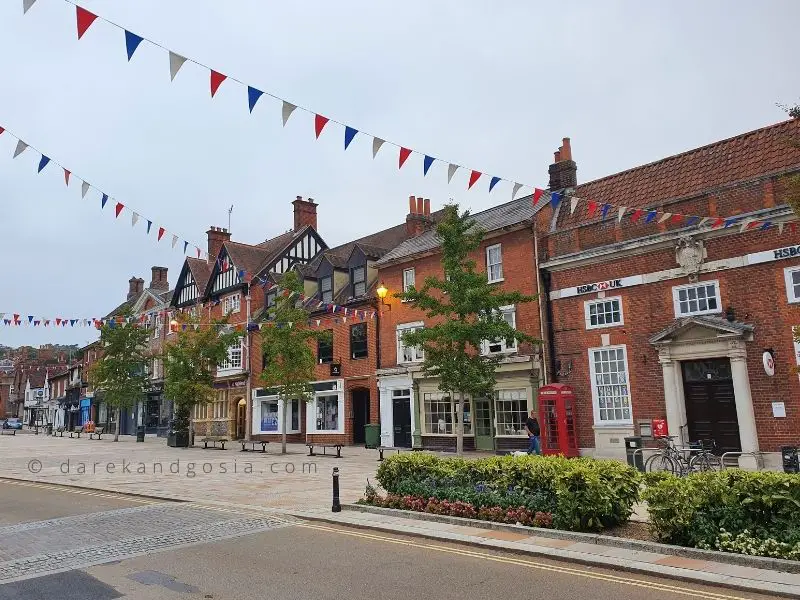 2. Henley on Thames main square
Top Henley on Thames attractions? Every British town has to have a nice-looking main square, and Henley is not an exception to that. This is a very popular place for locals, who can enjoy a few restaurants and coffee shops around the square.
It is also home to Farmers Market on every 2nd Saturday and 4th Thursday of the Month between 8am and 1.30pm.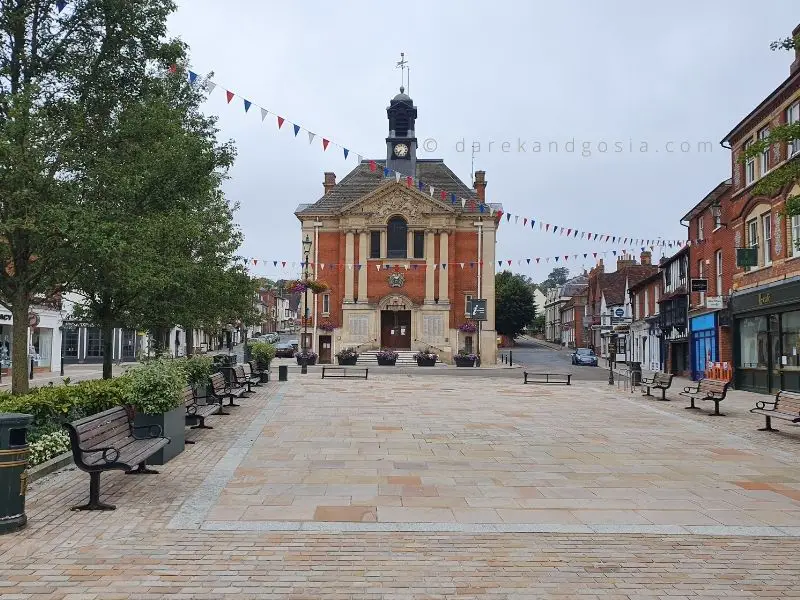 3. Henley Bridge
Things to do at Henley on Thames? Most pictures and postcards of Henley-on-Thames feature the beautiful Henley Bridge. It is a must-see structure in the town and a lovely stroll over the river. The five arched bridge was built in 1786 and crosses the river from Henley to Remenham.
 Look out for the two carved heads on the centre of the bridge, which were created by sculptress Anne Seymour Damer.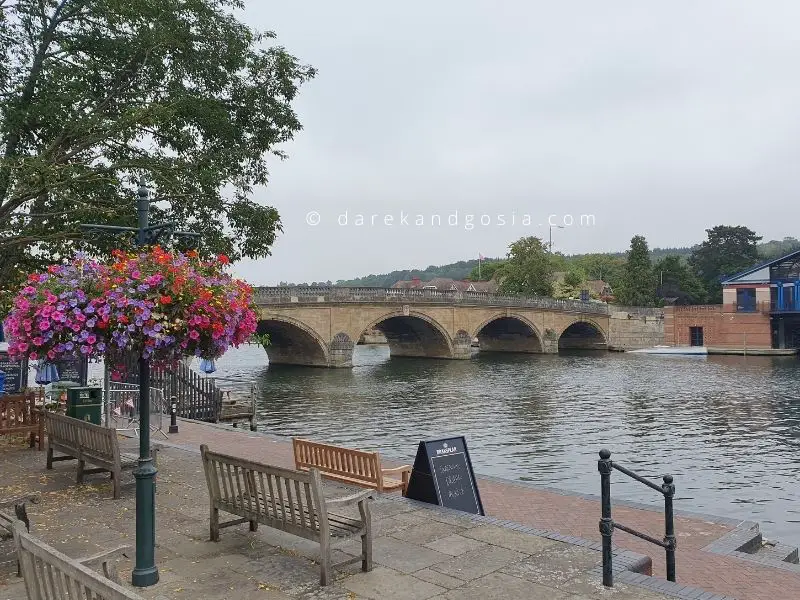 4. The Angel on the Bridge
What's in Henley on Thames? Pubs are synonymous with British history and tradition, and The Angel on the Bridge is an iconic pub in the heart of Henley. Located right by Henley Bridge, it serves classic pub grub and local drinks from a river terrace bar.
Visitors can enjoy a cosy pub vibe whilst overlooking the river. During the summer the terrace becomes a bustling hub for both locals and tourists.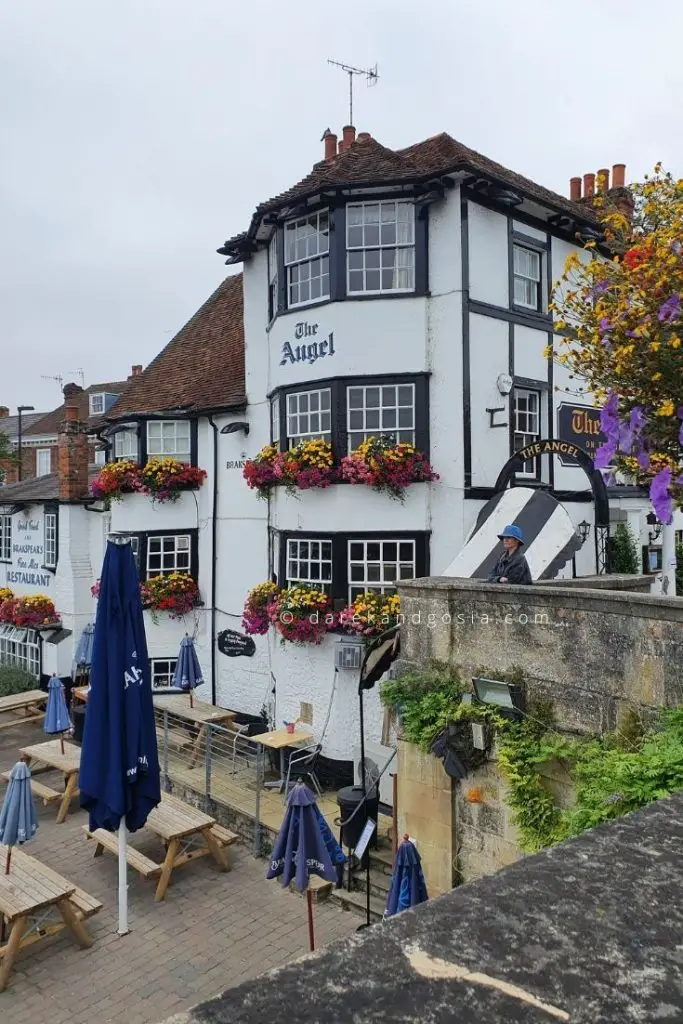 5. St Mary's Church
Henley on Thames places to visit? Located on Hart Street in the centre of Henley-on-Thames is St Mary's Church. It is a beautiful ancient building that is much-loved by locals and visitor to the area. The picturesque building has been a main feature in the town for nearly a thousand years and dates back to the 12th century.
It holds services every day of the week, with a Sung Eucharist on Sunday mornings.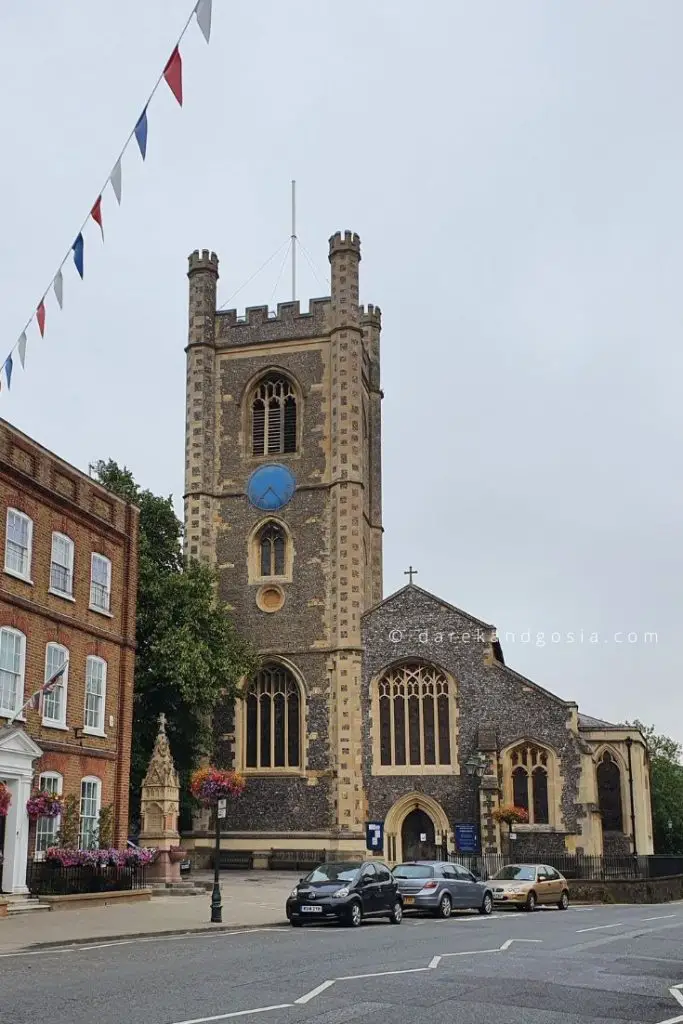 6. River & Rowing Museum
Things to do with kids in Henley on Thames? The River & Rowing Museum is one of the best independent museums in the UK. It takes visitors on a journey of the Thames, the international sport of rowing and the rich history of Henley. There are many exhibitions and displays for all the family, including the much-loved 'Wind in the Willows' gallery.
The museum itself is housed in an award-winning building which sits on the edge of the River Thames. There is also a pretty garden within the museum grounds featuring a pond, woodlands and bog area, with an abundance of wildlife.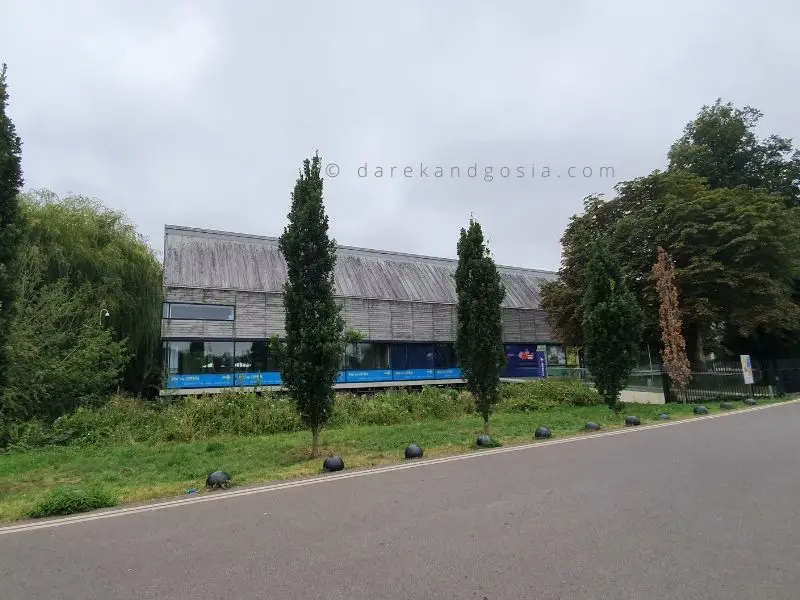 7. Hobbs of Henley's boat trips
Romantic things to do in Henley-on Thames? Hobbs of Henley's have been sailing the river since 1870, and they offer visitors many ways to enjoy the water in Henley-on-Thames. You can choose from public river cruises to self-drive boat hire. Their river tips are a relaxing way to discover the beauty and heritage of the River Thames and Henley.
Hobbs of Henley's boats are comfortable with ample seating and access for guests with disabilities. They also offer a range of event cruises throughout the year, including wildlife cruises and afternoon tea trips.
River cruises Henley on Thames is definitely one of the best activities you can you while visiting this town. The Hobbs of Henley's is located a short walk from Henley on Thames train station making it a perfect places to visit on a day out by train.
8. Thameside Henley-on-Thames
What to do at Henley on Thames? Thameside is one of the main streets in the town of Henley, and it runs along the bank of the river. A stroll down Thameside is the perfect way to experience everything this stunning location has to offer.
In the summer, you can grab an ice cream from the Beechdean Ice Cream Stand and enjoy the view in Singers Park. The Chocolate Café is perfect for chocoholics, and there are various traditional English pubs to stop in for a pint with a view.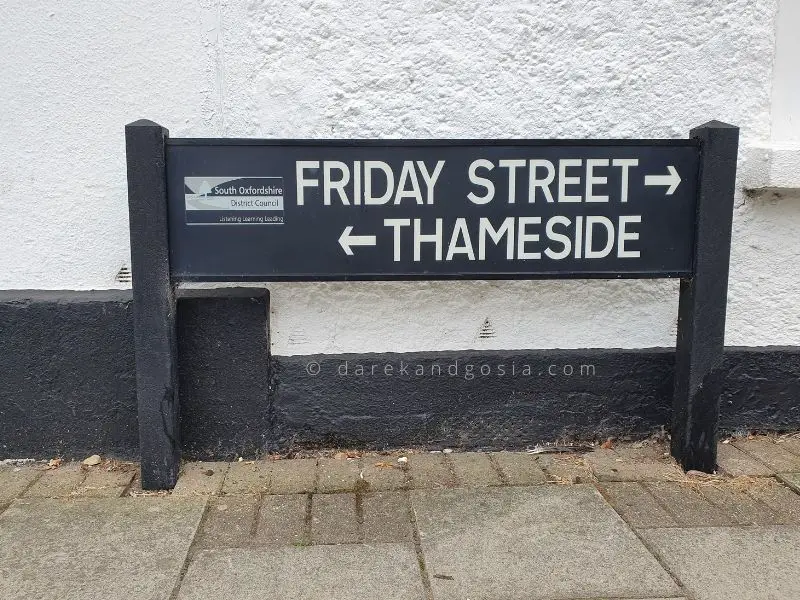 9. Old buildings on Friday street
What is Henley famous for? From all the places to see in Henley-on-Thames, Friday street is one of the most stunning!
Henley-on-Thames is steeped in rich history, and there are plenty of intriguing buildings throughout the town. If you are interested in architecture or just enjoy seeing the sights in ancient towns, then be sure to head to Friday Street. It is one of the most historic streets in the area and provides a real sense of the Victorian era when Henley truly thrived.
No visit to this quintessentially British market town is complete without experiencing the old buildings on Friday Street. Quaint timbered brick buildings line the street, which is located just off of Thameside, running parallel to Hart Street.
10. Chocolate Café
Things to do in Henley upon Thames? As mentioned above, Thameside is home to the Chocolate Café, which is popular among both residents and tourists. It serves great coffee, a selection of scrumptious handmade cakes, and the best hot chocolate around. The Chocolate Cafe Henley is definitely worth visiting 🙂
You can indulge in treats whilst enjoying the picturesque views of the river. As well as chocolate and sweets, they serve a selection of meals, including sandwiches, all-day breakfast and burgers. It is a fine spot to enjoy a traditional cream tea overlooking the river.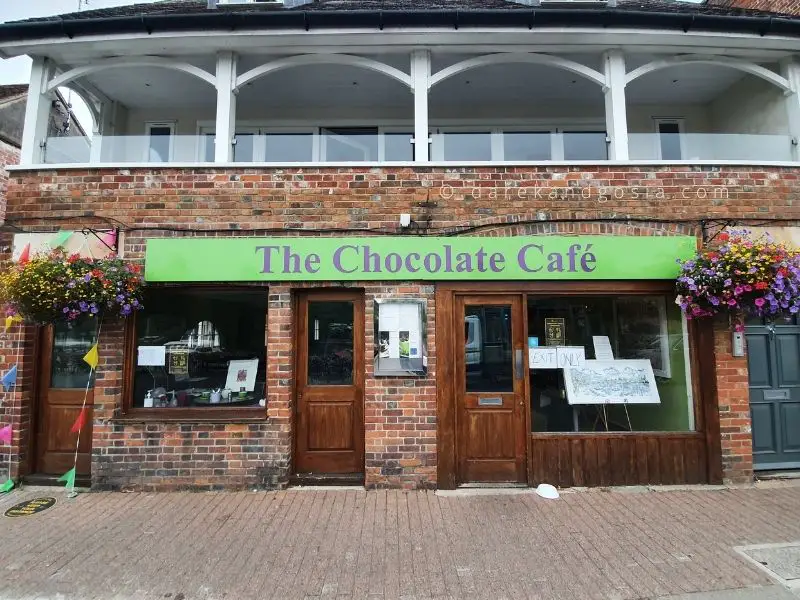 11. Hart street Tavern
What's on in Henley on Thames? Hart Street Tavern has been a popular place to dine in Henley-on-Thames for many years. The building has been various forms of restaurant over the years, and today is a modern, upmarket lounge. The restaurant underwent a stunning refurbishment in 2019 and today serves delicious local cuisine in a historic location.
Locals and visitors love the delicious menu featuring oysters, steaks, burgers and more.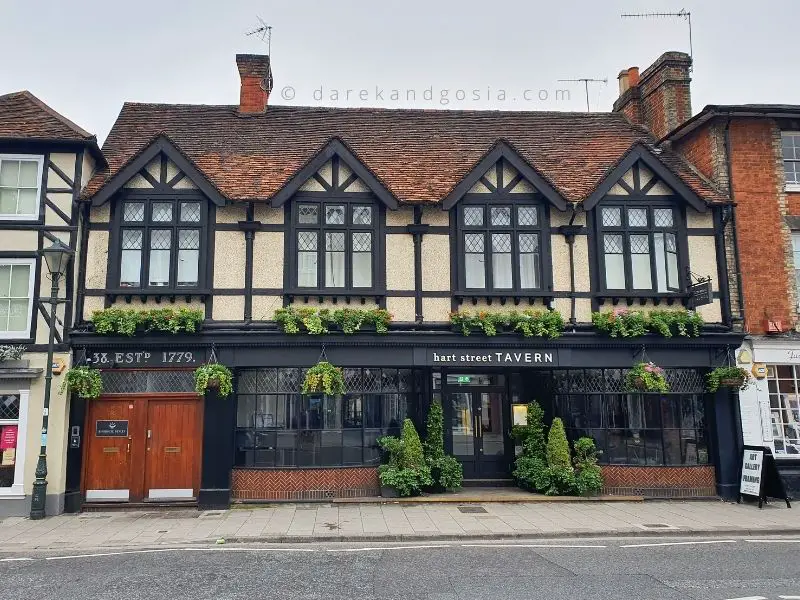 12. Tudor House Antiques
Best things to do in Henley on Thames? Tudor House Antiques is located on Duke Street in Henley-on-Thames and is the perfect spot for those looking for something special. The building itself is beautifully historic, and inside the ancient rafters are packed with unique items. Whether you are looking for something specific like a collector's item or just want a browse, you won't be disappointed.
A visit to Tudor House Antiques is an experience in itself, even if you aren't on the lookout for anything to buy.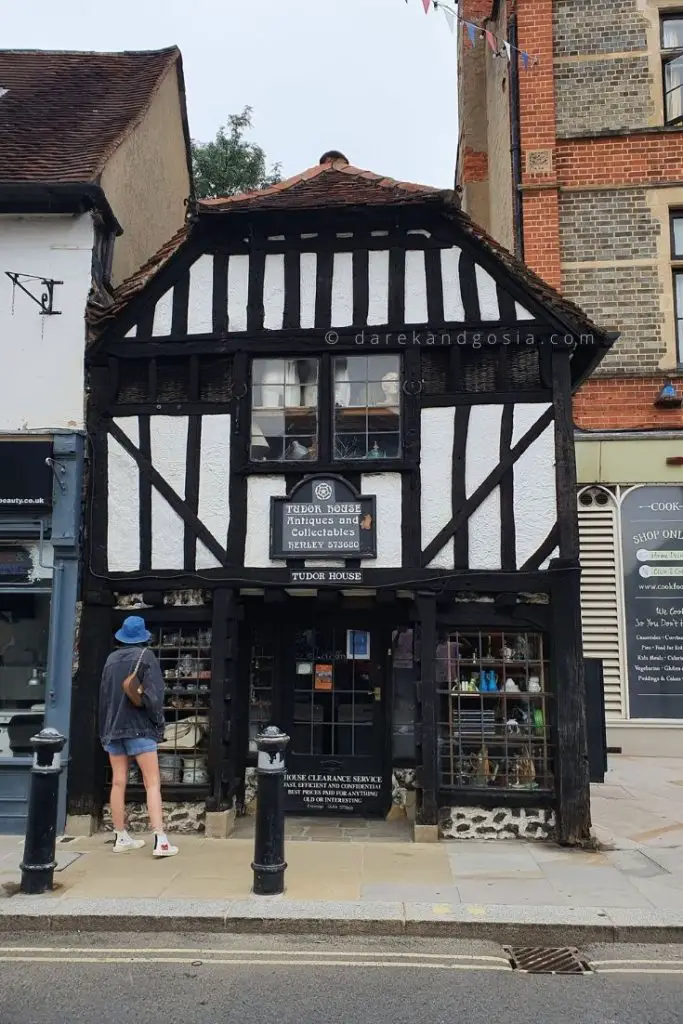 13. Way's Rare & Secondhand Bookshop
Henley what to do? Tucked away down a side street in Henley-on-Thames is Way's Rare & Secondhand Bookshop. The store specialises in second hand and rare books and has been described as a real Aladdin's Cave. The shop may be small, but it shouldn't be underestimated as it offers plenty of exciting and unique books that you can't find anywhere else.
Whether you are a book lover or just enjoy a browse of the bookshelves, be sure you don't miss out on a visit to this easily missed store. You can find Way's Rare & Secondhand Bookshop on the corner of Friday Street and Putman Place.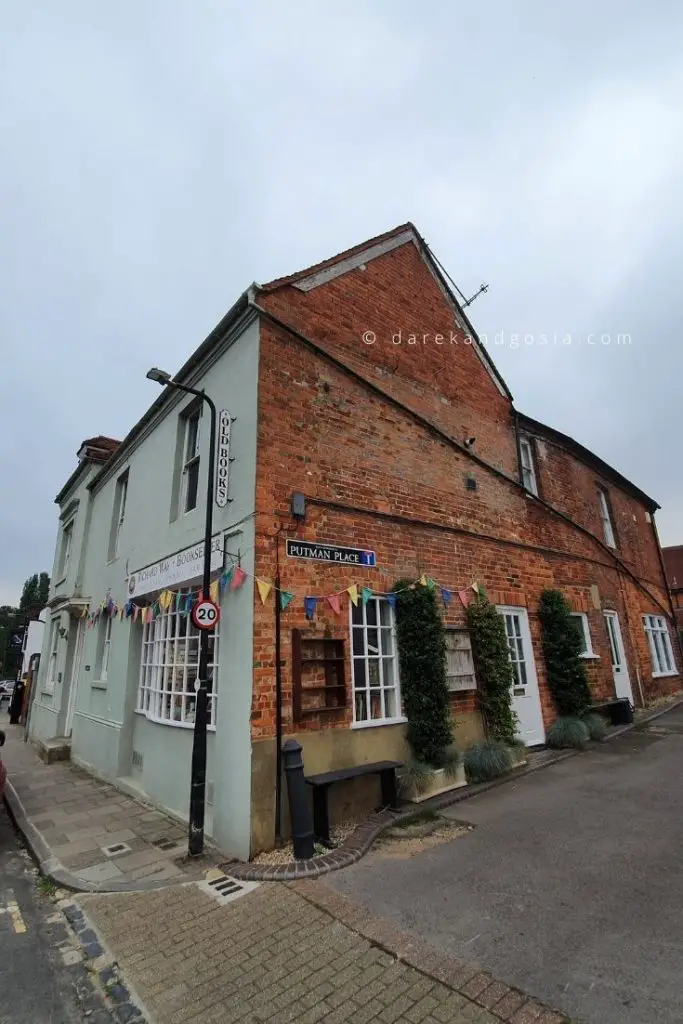 14. Drifters coffee house
Must-do in Henley-on-Thames in Oxfordshire? A day out in Henley-on-Thames isn't complete without a coffee stop at Drifters Coffee House. Not only is there great coffee and scrumptious homemade cakes, but the place has a chilled out vibe, perfect for relaxing after a day exploring.
Dogs are welcome, so feel free to bring along your furry friends. If coffee isn't your thing, you can also choose from a range of delicious ice creams or light bites made from only local produce.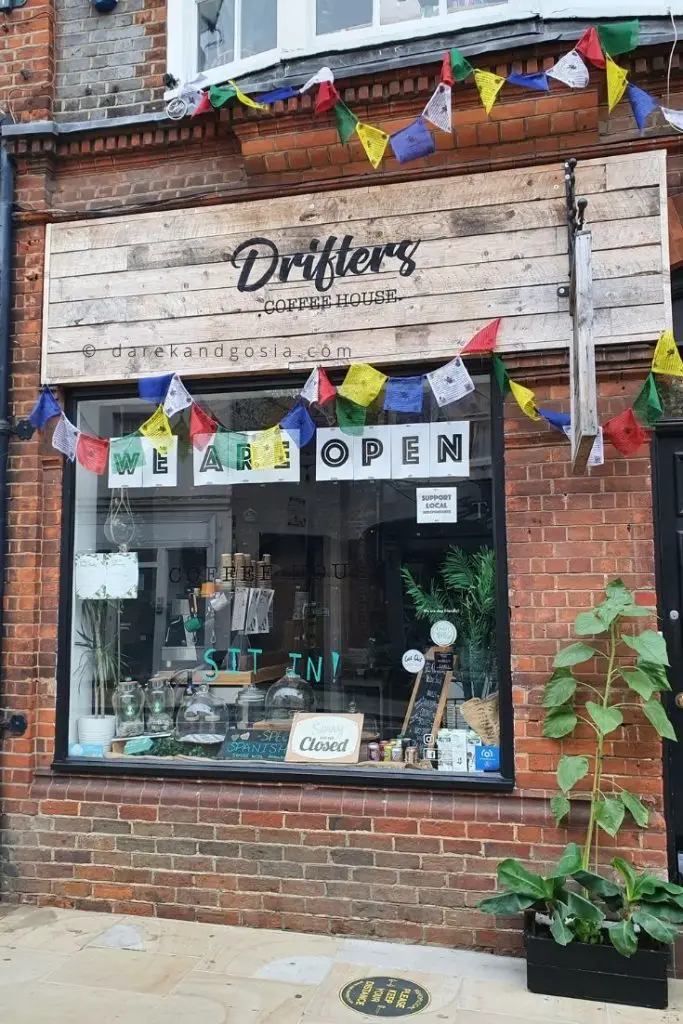 15. Henley Royal Regatta
Whats on Henley on Thames? Henley is most famed for the Henley Royal Regatta, or the Henley Regatta as it was once known. The grand event is held every year on the River Thames and has been running since 1839. It takes place on the first week of July and is five days of rowing races and socialising.
Rowers from across the globe take on the challenge of the Regatta, attracting huge crowds to the town. The event is popular among spectators who famously dress up in their poshest outfits, eat strawberries and cream, and drink Pimm's on the riverside. If you want to experience Henley-on-Thames in all its glory, then plan your visit during the Henley Royal Regatta.
16. Henley canoe hire
Things to do in Henley-on-Thames, Oxfordshire? One of the very best ways to explore Henley-on-Thames is on the river, and hiring a canoe means you can get out on the waters yourself. Henley Canoe Hire offers various packages for discovering Henley by river, including one or two-day packages or bespoke trips. Whether you are a first-time canoer or an experienced paddler, Henley Canoe Hire will have an option for you.
Based on Gosmore Walk in Marlow, Henley Canoe Hire offer great options for exploring the river all throughout Oxfordshire, Buckinghamshire and Berkshire.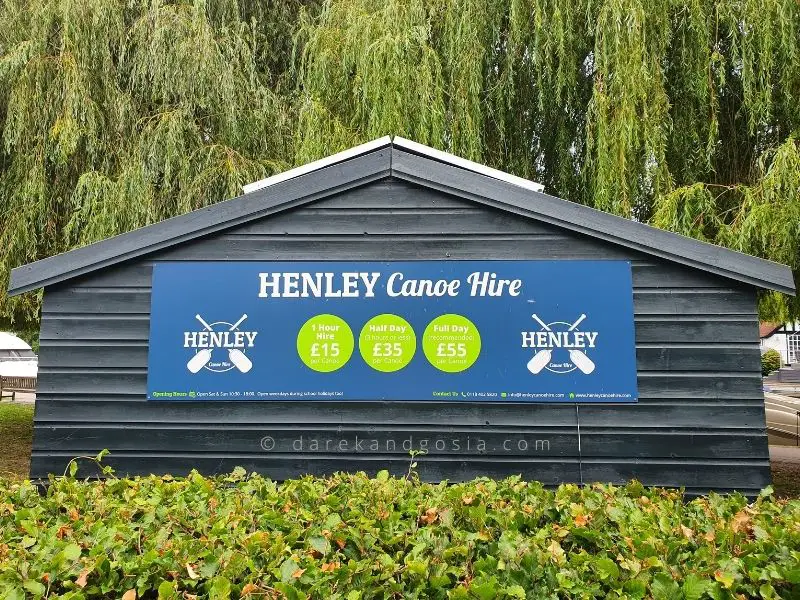 Is it worth visiting Henley-on-Thames?
Is Henley-on-Thames worth visiting? Henley-on-Thames is one of the most charming locations in England and offers a true sense of British heritage and history so it's definitely worth visiting. It is perfect for escaping the hustle and bustle of London and exploring the beautiful Chilterns countryside.
The town is well-known for the Henley Royal Regatta, which is an exciting time to visit but also extremely busy. For the rest of the year, the town is an excellent escape for walking, shopping and boating. Because the town is so close to London, it can easily be visited for the day by train or car. To really experience everything Henley-on-Thames has to offer, we recommend staying for the weekend.
Whether you are a foodie looking for delicious cuisine, an adventurer wanting to explore the river, or just after a relaxing break with unbelievable views, Henley-on-Thames is well worth a visit.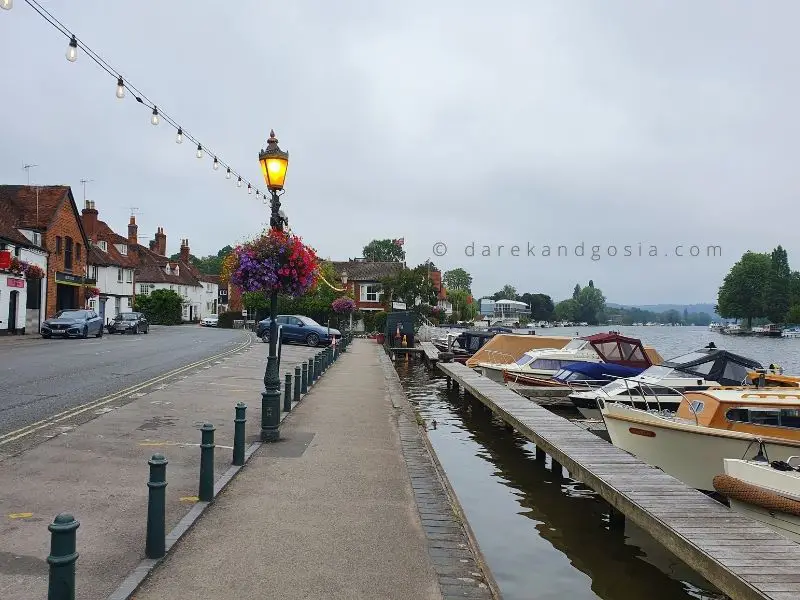 With so many things to do in Henley on Thames you can easily spend a day in the town. But there are also stunning places to visit near Henley on Thames if you are planning to spend more time in this part of Southern England.
Places to visit nearby Henley on Thames:
Henley on Thames FAQ:
What is Henley known for?
Henley on Thames is best known for its annual Royal Regatta. This famous event attracts some of the top finest rowers in the world.
Is Henley-on-Thames posh?
Henley-on-Thames, is often called an extremely desirable town to live in Oxfordshire. Is it posh? We wouldn't say so, but the town is 100% one of the nicest places you can settle down in.
How many people attend the Henley Regatta?
Over 300,000 people visit the Henley Regatta each year! This amazing venue covers over 300 boat races and usually takes a few days.
Can you watch Henley Regatta for free?
Great news! Henley Regatta is free to enter ? You can take a walk along the river to see the races from any point. There are also public toilets provided for spectators and many places to get some food and drinks.
Which region is Henley-on-Thames?
The town Henley-on-Thames is located in the South Oxfordshire region – part of southeast-central England. It really is a stunning region with the River Thames at the Chiltern Hills nearby.
What line is Henley-on-Thames on?
Henley-on-Thames in on the Henley branch line. It was built in 1857 by the Great Western Railway and connects Henley-on-Thames in Oxfordshire and Twyford in Berkshire.
Is Henley-on-Thames a market town?
Yes, Henley-on-Thames is a beautiful market town. I fact, it has held regular markets since the 13th century.
If you liked our article about Henley on Thames, then please check out the below posts too: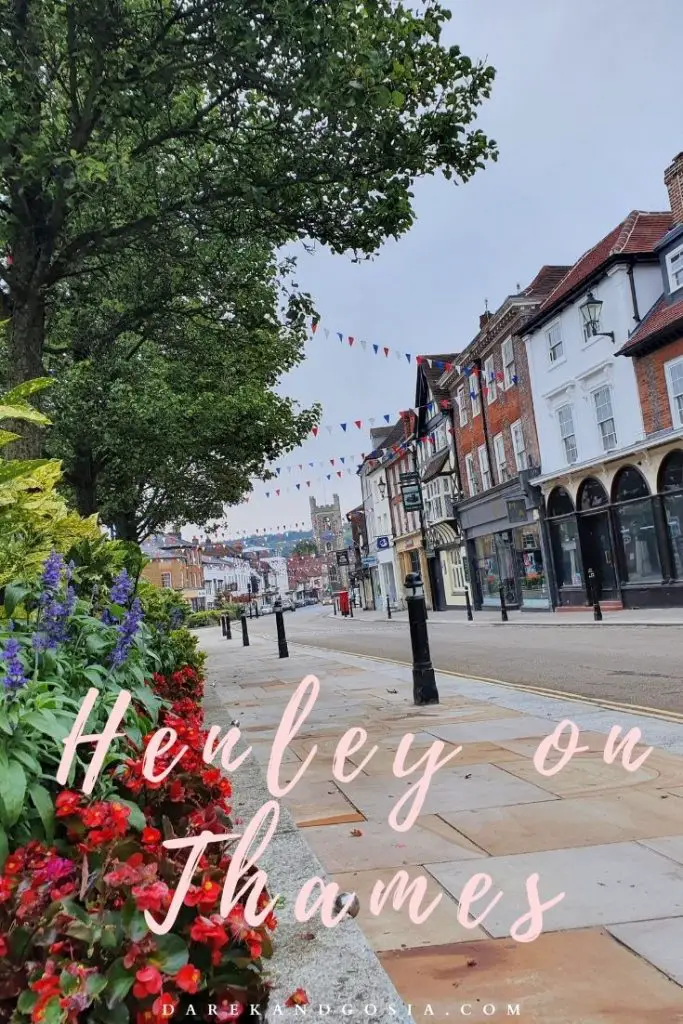 Articles you may like: