Visit Shere village & have an amazing day out in Surrey. From stunning walks to top British pub – all must-see things in Shere near Guildford.
When it comes to quintessential English villages, it's hard to find a more beautiful location than Shere in Surrey. Based between the towns of Dorking and Guildford, Shere is a small village with an abundance of historic buildings and plenty to see and do.
Looking for best villages near London? Nestled in the Surrey Hills Area of Outstanding Natural Beauty, Shere has some stunning scenery and plenty of unmissable sights including the Silent Pool and Newlands Corner. Shere is often visited by keen walkers and those looking for an outdoor adventure.
Not only that, but Shere is famed for being the location of some much-loved films.
Ready to explore one of the most beautiful villages in England? If you are based in the capital city, you can consider yourself a lucky person. Shere in Surrey is a top destination for a day trip from London!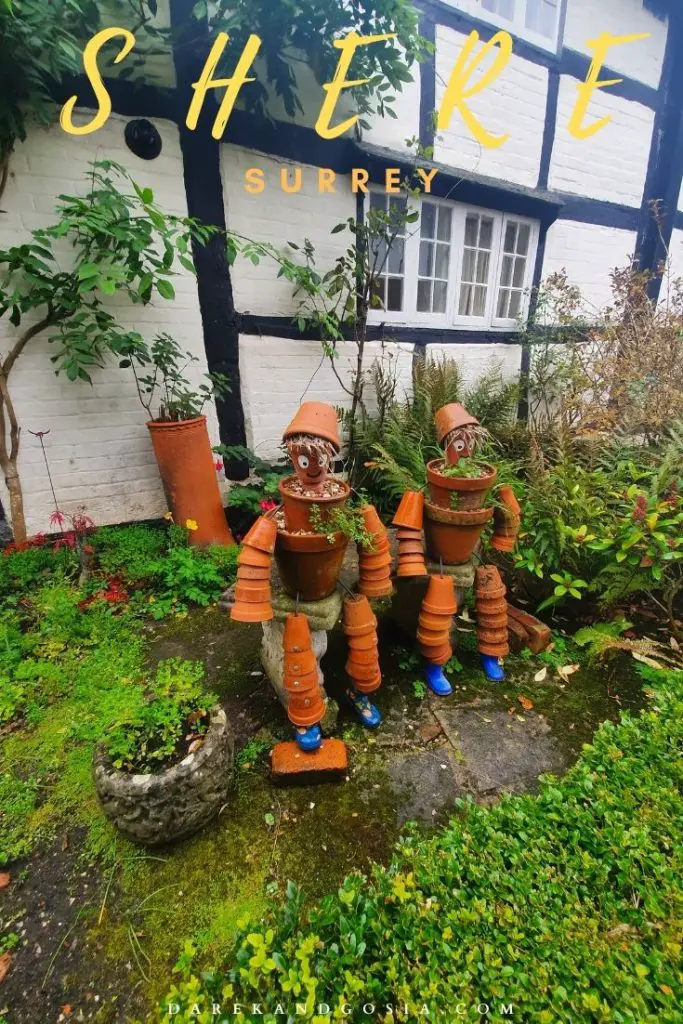 Shere facts:
| | |
| --- | --- |
| Population: | 1,032 |
| District: | Guildford |
| County: | Surrey |
| Region: | South East |
| Film location: | The Holiday |
What county is Shere in?
Shere is a small village located in the Guildford district of the county of Surrey. It sits just less than 5 miles south-east of Guildford and just over 5 miles west of Dorking. The county of Surrey is just south of London and includes the Surrey Hills Area of Outstanding Natural Beauty.
The area is one of the most stunning countryside locations around and offers unbeatable views and plenty of invigorating countryside walks. The nationally protected landscape stretches from the west at North Downs in Farnham to Oxted in the east. It includes the highest point in the South East of England at Leith Hill.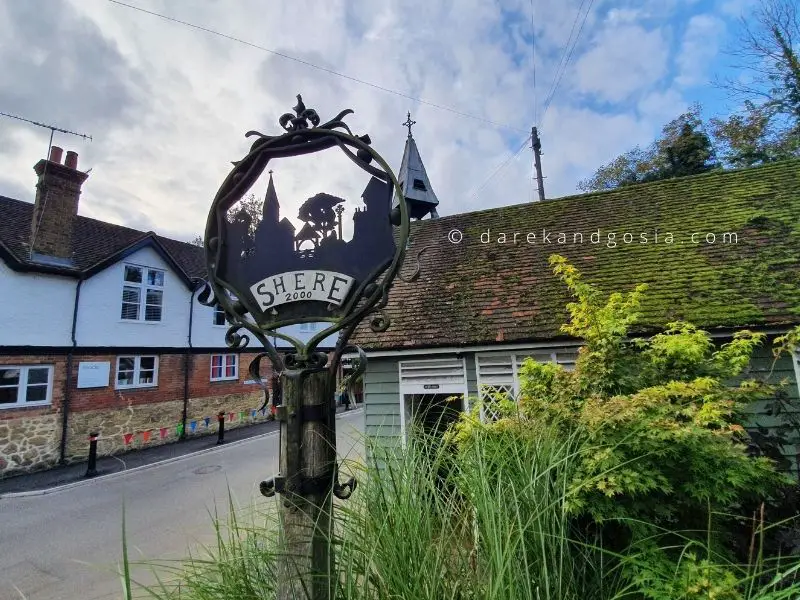 How do I get to Shere from London?
Shere is just under 35 miles from central London and easy to reach by car or train. If you are planning a day out to Shere from London, there are a few travel options to choose from;
By Car: You can drive from London to Shere in roughly an hour and ten minutes, depending on traffic. The easiest route is via the A3; however, you can also go via the M25 or A25.
By Rail: There are a few routes you can take to reach Shere by train from London. From London Victoria, you can take a Southern train to Dorking Station and then get the number 32 bus to Shere Village Hall.
From London Waterloo, you can catch a South Western Railway service to Guildford, from here walk 8 minutes to Friary and get the number 32 bus. Gomshall Station is also just 1 mile from Shere and can be walked to in 25 minutes.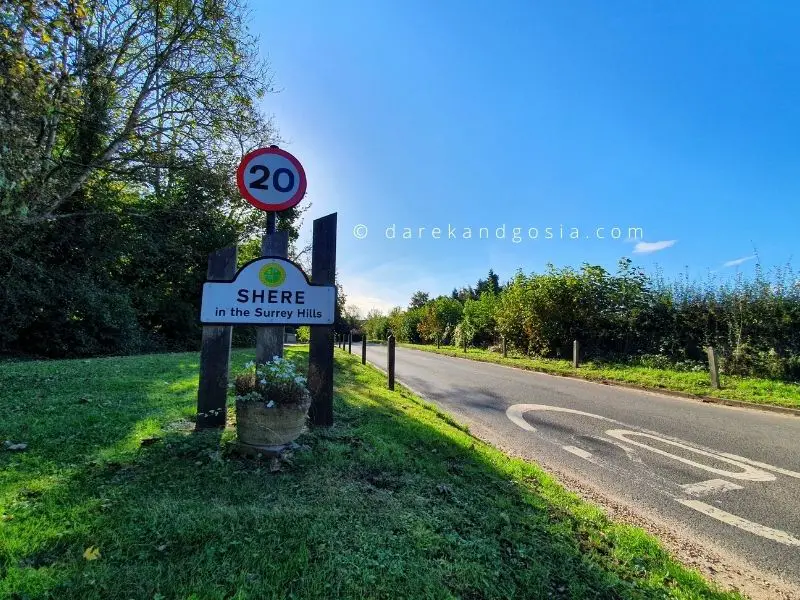 Shere car park
If you are heading to Shere by car, there is a village car park available for all visitors to use during their stay. Shere car park can be found by the recreation ground just off Upper Street.
You can use the postcode to GU5 9JF to find it on your sat nav. Parking is free of charge, but on busy days it can get full quickly, so we recommend arriving early.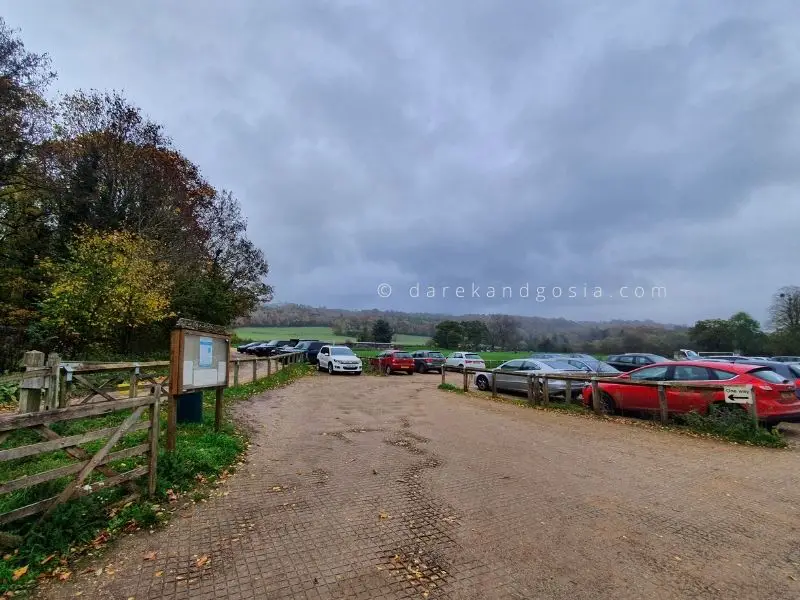 Where to stay in Shere?
If you want to visit Shere for a couple of days, there are some lovely places to stay nearby. In the village of Shere itself, there are two B&Bs available, Rookery Nook B&B and Vaughans B&B, both located on Church Street in the centre of the village.
There are also lots of options for staying in towns nearby, including Dorking and Guildford. Wotton House in Dorking is a stylish four-star hotel in the style of an old country house. The Drummond at Albury is another popular choice among visitors of Shere and is less than 2 miles from the village.
Explore the best places to visit in Shere England – top ideas for a day out in Shere village:
Things to do in Shere, Surrey
Shere might be small, but it is packed full of plenty of beautiful sights and exciting things to do. It is an up, and coming tourist destination and many visitors are surprised by the number of unique places and things to do in the area. Here are our top recommendations of things to do in Shere;
1. Cuckoo Corner
What to see in Shere village? Cuckoo Corner is a local gift shop in Shere and offers gifts and trinkets for every occasion. Here you will find beautiful jewellery, unique homeware, a range of furniture and seasonal goodies. Located on Middle Street in the centre of Shere, Cuckoo Corner is popular among locals and visitors.
If you are looking for a souvenir of your visit to Shere, a present for that special someone, or a statement piece for your room, you are sure to find something you love at Cuckoo Corner. Not only that, but if you want something specific, their lovely staff can locate and order one-off pieces.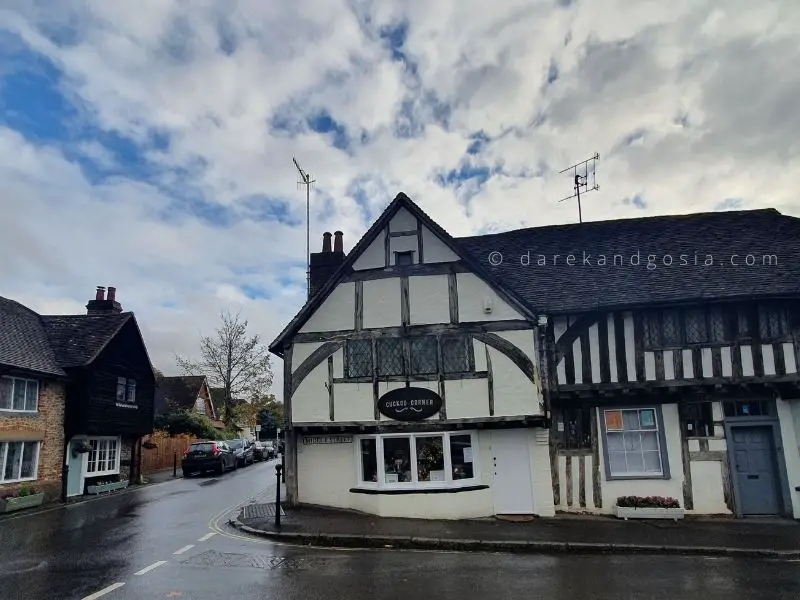 2. Shere Walks
Best things to do in Shere Surrey? Shere is nestled in the heart of the Surrey Hills Area of Outstanding Natural Beauty and thanks to its incredible location there are many walking trails nearby. There are Shere walks for all abilities, and you can choose a route that suits you.
A popular route is the 5km Shere Trail. Starting from Shere village car park of the recreation ground, this route explores the stunning village and the nearby fields to Albury park. Along the way, you can discover historic houses, churches and rivers. There are longer routes around Shere, with many starting from The Dabbling Duck.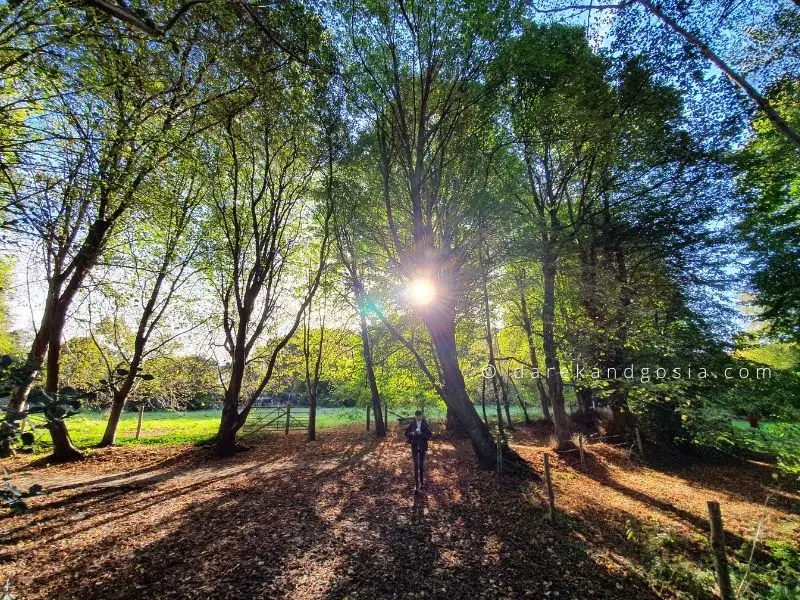 3. Church of St Peter and St Paul
What to see in Shere UK? The former Anglican church of St Peter and St Paul is in the village of Albury, just up the road from Shere. It is in the care of The Churches Conservation Trust and is a Grade I listed building in the National Heritage List for England.
The Church of St Peter and St Paul has a rich history and dates back to the Anglo-Saxon era. Back in 1819, Albury Park, where the church is located, was purchased by Henry Drummond who was a London banker. He built new churches in the area where Albury village residents went to worship.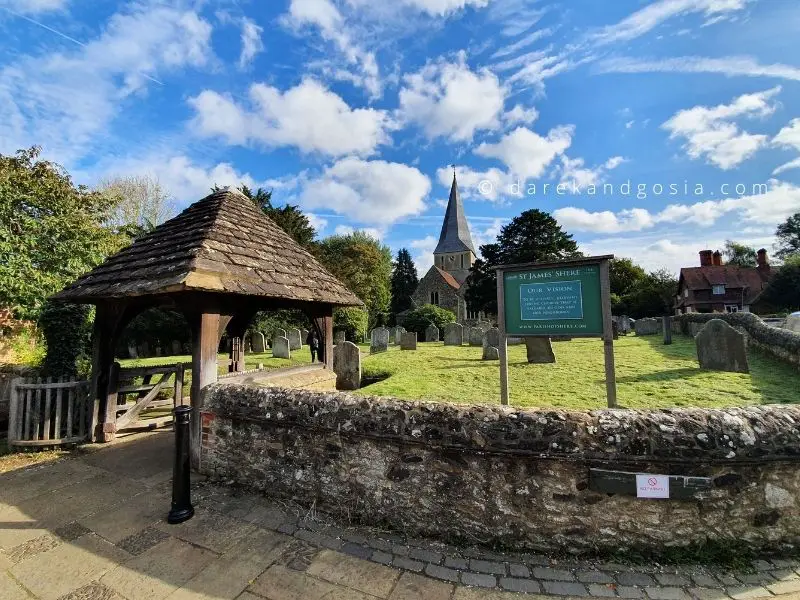 4. Silent Pool Distillers
Where to go in Shere? A visit to Shere is not complete without a trip to Silent Pool Distillers. The distillery was founded in 2014 and creates hand-crafted, premium spirits with a taste of the Surrey Hills. At Silent Pool Distillers, they create unique, local gin, brandy and grappa. All ingredients are locally sourced, and their aim is to incorporate the beauty of the area into every product.
Distillery tours are available and will walk you through the intriguing distilling process and the history of the Silent Pool. Visitors will also have the chance to taste their full gin range and purchase their favourites.
5. The Dabbling Duck
Must see in Shere UK? The Dabbling Duck is a much-loved café restaurant in the heart of Shere. It was opened in 2012 by two local friends with a passion for delicious food. In The Dabbling Duck, you will find a rustic, homely feel, with vintage furniture and a cosy fireplace. It is the perfect spot for a relaxing coffee and cake, or a delicious lunch after exploring the beautiful local area.
The Dabbling Duck has won many awards for their scrumptious food and impeccable service. As well as their own incredible food and drinks, The Dabbling Duck also use a selection of local suppliers as they are committed to reducing food miles.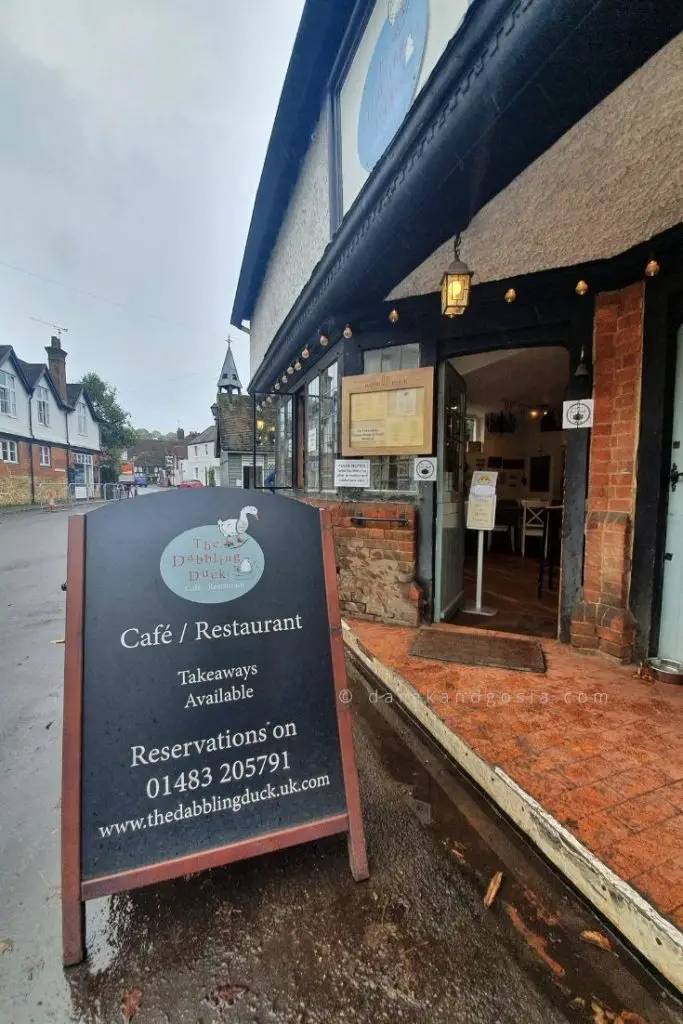 6. Hilly's Tea Shop
Hilly's Tea Shop can be found in central Shere and is a family run business that is renowned for its excellent and plentiful food. As well as the tea shop, Hilly's are also local caterers and deliver food to the local area. A visit to the Tea Shop is a must when visiting the area, and we recommend enjoying a scrumptious cream tea.
At Hilly's, you will enjoy a true family vibe, as the team comprises of a loving, friendly family.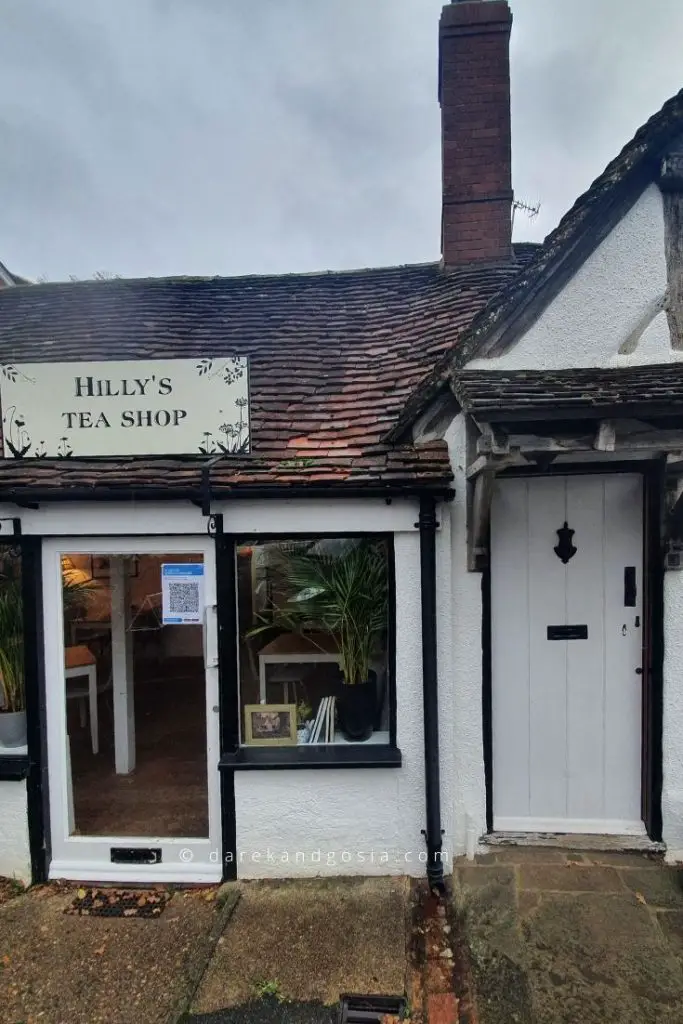 7. River Tillingbourne
What to see in the village of Shere? The River Tillingbourne runs by the village of Shere and is one of the most industrialised rivers in the country. It stretches from the source at Leith Hill along to the Wey at Shalford. Over the years, the 11 miles of water flow has had 50 water wheels and powered 24 mills and supported 12 different industries.
Today, the River Tillingbourne is used by a local trout farm, watercress beds and the nearby gin distillery.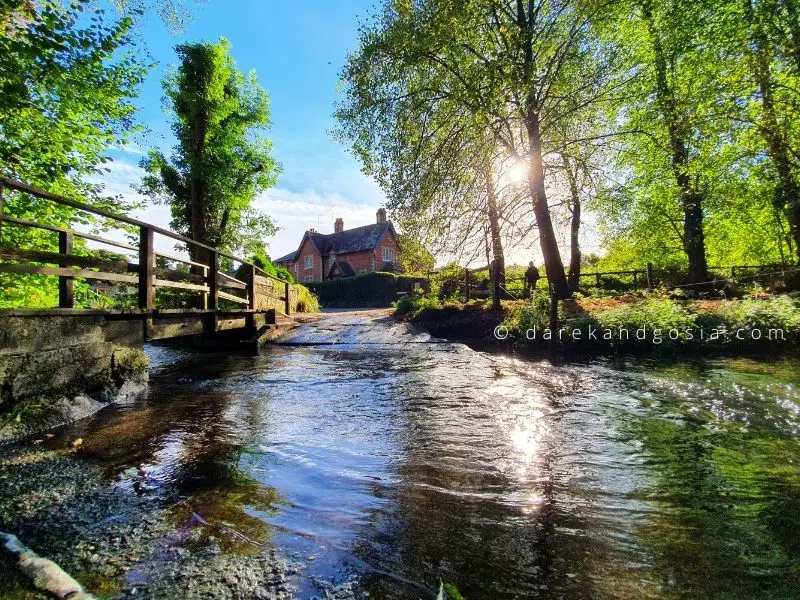 8. Upper Street
Upper Street is one of the main roads through the village of Shere and is home to many of the local shops, pubs and cafés. It runs from the A25 to Shere Lane by The Dabbling Duck.
Shere car park can be found just off of Upper Street, and it is also close to Shere Museum and plenty of historic houses.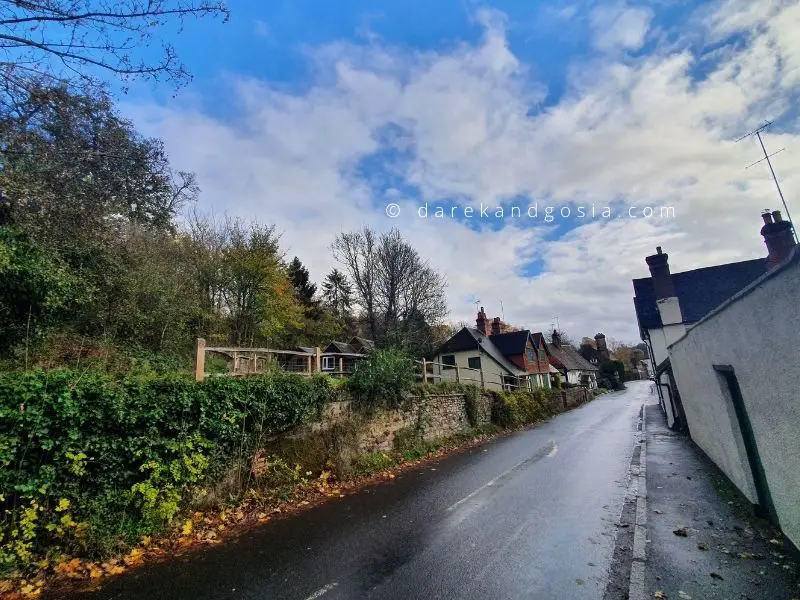 9. Rectory Lane
Rectory Lane in Shere is a small winding lane between Upper Street and Lower Street and runs over the River Tillingbourne. The quiet country lane is extremely picturesque and well worth a walk down on a visit to Shere.
There is a small wooden footbridge crossing the river and a few local houses.
10. The Shere Shop
Things to do in Shere Surrey? Located on the corner of Shere Lane and Church Lane is The Shere Shop. It is a small local gift shop comprised of three different rooms. There is a huge range of unique gifts and trinkets of the highest quality.
In The Shere Shop, you will find stunning jewellery, fashion accessories, greeting cards and much more.
11. The Old Fire Station
Best things to see in Shere village? The Old Fire Station is a prominent feature in the village of Shere. It was built in 1885 as a local fire station and is a Grade II listed building in the centre of the village. Today it still serves the village as public conveniences.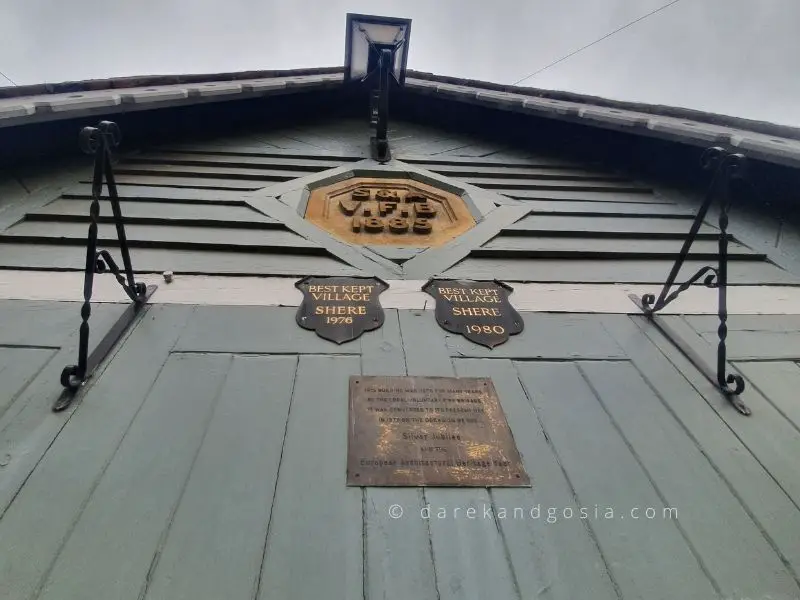 12. Old Cottages
The village of Shere is home to many old cottages, with grand timber frames and thatched roofs. Many of the homes in the area are listed buildings that have been lovingly restored.
The long history of the buildings can be felt on a walk around the village, spotting the most beautiful of the old cottages along the way.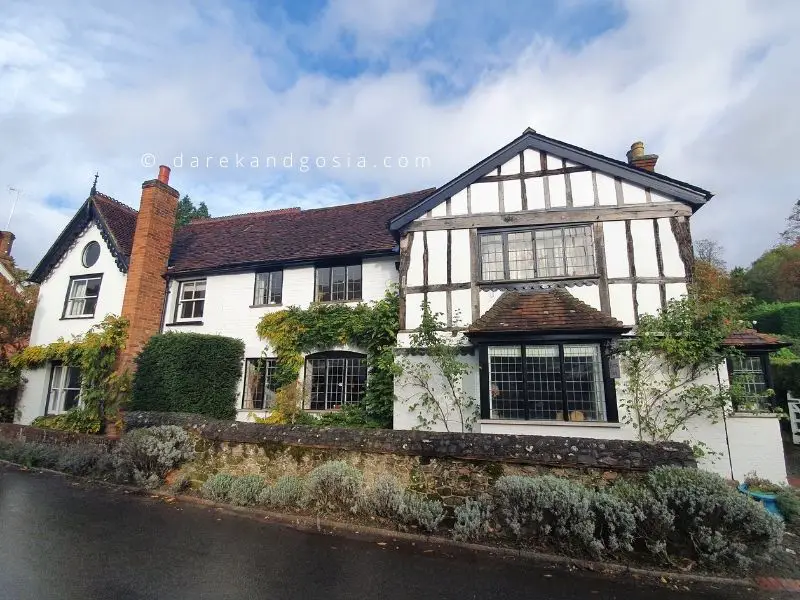 13. The William Bray Shere
Looking for best pubs in Shere Surrey? A quintessential British village wouldn't be complete without a traditional English pub. The William Bray sits in the centre of Shere and offers a unique atmosphere with delicious cuisine.
All food is freshly cooked with local ingredients, and there is an extensive wine list available.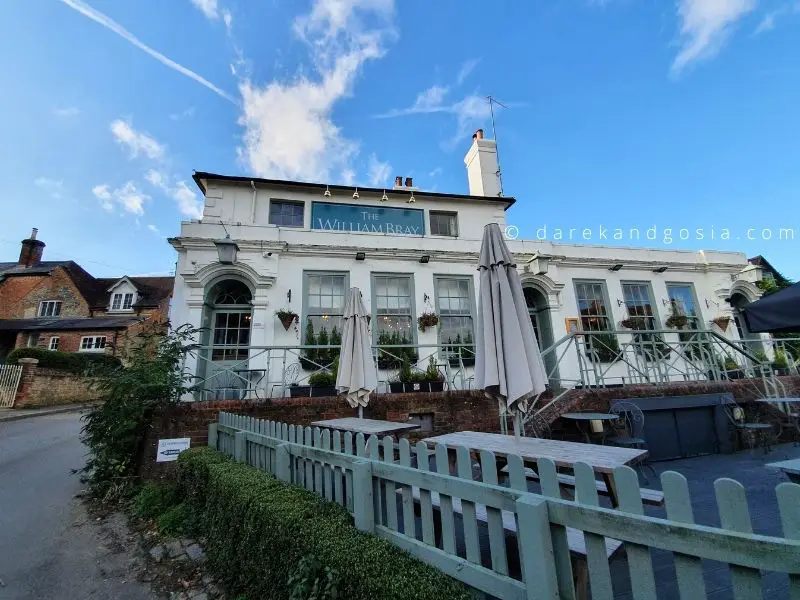 14. The White Horse Shere
The only other pub in Shere is the White Horse. It was built in 1425 as a farmhouse and has a rich history in the village. The Grade II listed building has undergone extensive renovations, and many treasures of the past have been uncovered, including Elizabethan shoes and old parchment documents.
The pub was owned by various members of the Askey family over the years, and today is part of the Chef and Brewer chain but has kept its family pub vibe.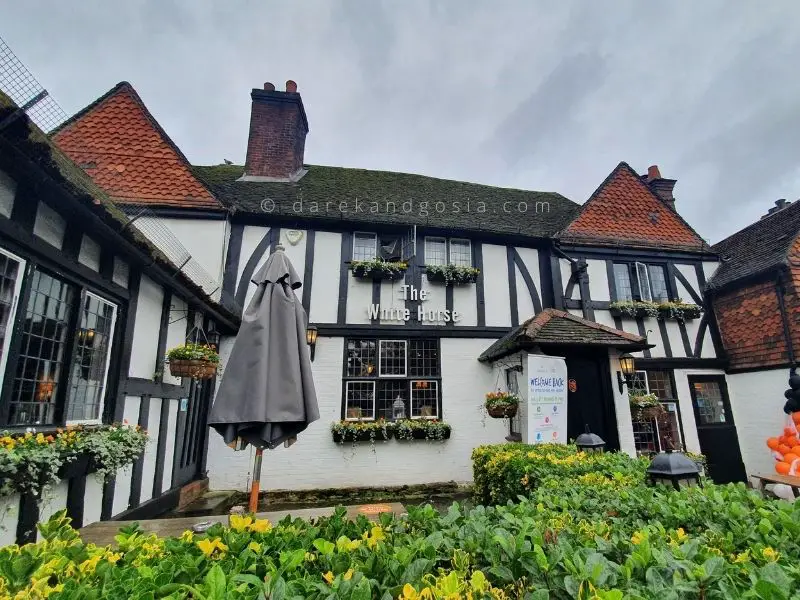 15. Kinghams Restaurant
If you are looking for somewhere to dine in Shere, then look no further than Kinghams Restaurant. It was opened in 1993 by Paul Baker and has been serving delicious cuisine ever since.
The building dates back to the 17th century and is full of historical charm. Visitors to Kinghams are met with a friendly face, fresh local produce and scrumptious wines.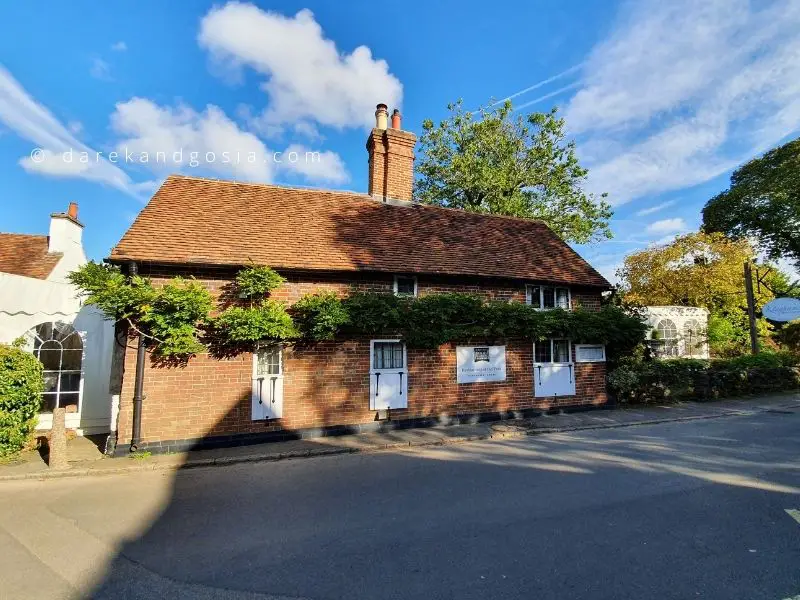 What films were filmed in Shere Surrey?
Shere is famed for being the location of many popular films. Over the last 100 years, it has been used as a film location plenty of times. Sir Sean Connery, Sir Roger Moore and Sir Michael Caine have all filmed in the village over the years. A whopping 40 films have shot in the village, with some of the most popular being;
What pub was the Holiday filmed in?
The Holiday is a much-loved film that was notoriously filmed in Shere. The pub used in the film is The White Horse in Shere, and it can be seen in the scene where Amanda (Cameron Diaz) meets Graham (Jude Law) and his friends for drinks.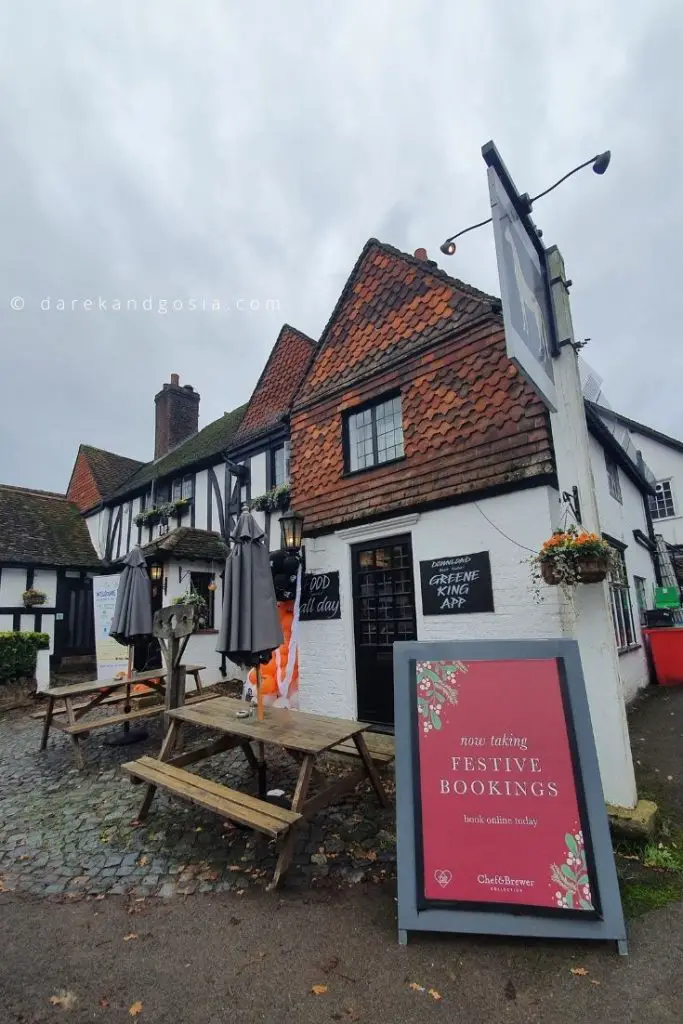 Places to visit near Shere: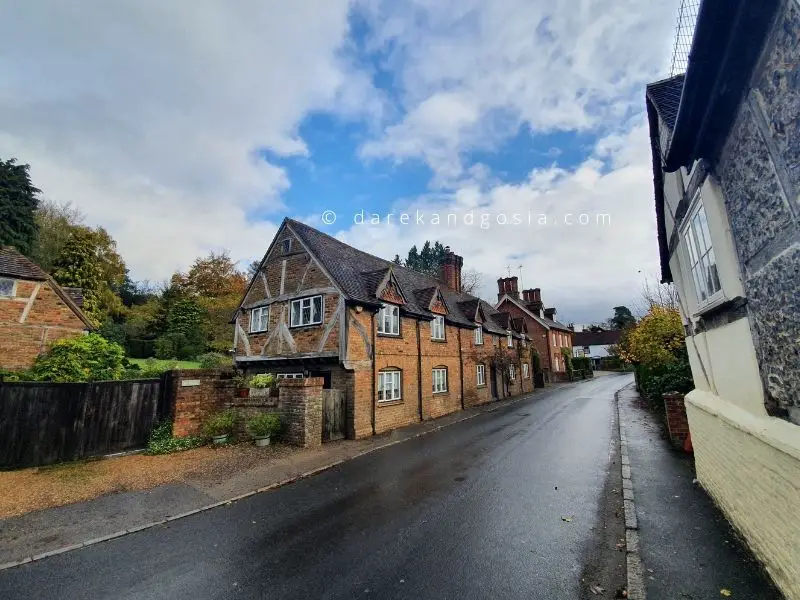 Shere Surrey FAQ
How old are the buildings in Shere?
Most of the buildings in Shere that are lived in were built between 1560 and 1620 and some of them there are even beams dating back to before 1500. So you can easily say that the buildings in Shere are very old!
How old is Shere church?
The beautiful Shere church has been a place of worship since around 1190. The spire of the church was built between 1213 and 1300 – it was then renovated in 2000.
Which village is the holiday set in?
Shere village was chosen as the film location for The Holiday due to its close proximity to London – it's only around an hour away from the capital city and also as it is one of the most beautiful English country villages in this part of England.
Was the Holiday filmed in England?
The movie was partially filmed in Godalming and Shere village. The stunning cottage's exterior was constructed in a field close to St James's Church in Shere.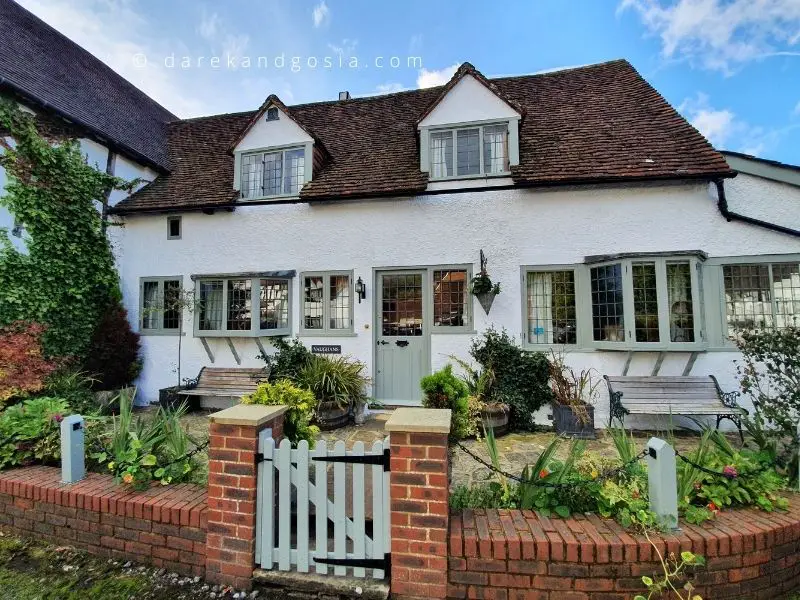 Is it worth visiting Shere village?
Shere village in Surrey is well worth a visit. While it might be small, there is so much to see and do on a trip to Shere. Whether you are a nature lover, film buff or gin fan, there is something for you to enjoy in Shere.
Located just outside of London, and in an Area of Outstanding Natural Beauty, Shere is easy to visit for a day trip from London or a weekend getaway in the UK.
If you liked our article about Shere, then please check out the below posts too: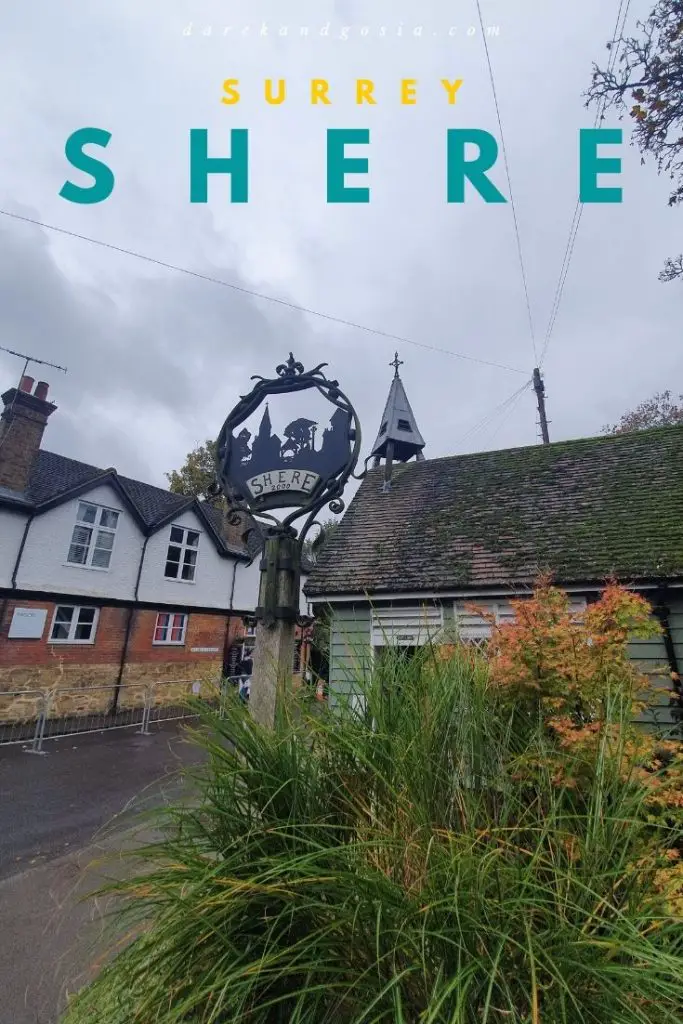 Articles you may like: