Without a doubt, Marlow is one of the best locations on the River Thames. Learn more about the best things to do in Marlow Buckinghamshire UK.
Marlow is an affluent town in Buckinghamshire that has a long history. Its location has been an important river crossing since the 13th Century. That's when the Knights Templar built the first bridge.
The town has long been a haven for rowing and is very proud to be the home of Sir Steve Redgrave. As you might imagine of a town that hosts a rowing club, Marlow UK is a place that showcases both wealth and class.
However, this does not make it an unwelcoming place. In reality, it is a warm and vibrant English town with plenty to see and do. Marlow is also known as one of the top towns to visit in the Chilterns.
So, what to do in Marlow, Buckinghamshire? Read our post to find out the main attractions you should see when to visit Marlow!
If you are looking for a place to visit on a day trip from London, Marlow town would definitely meet your expectation!
Where is Marlow?
Is Marlow in Buckinghamshire? Yes, Marlow is located on the River Thames, in the heart of Buckinghamshire. You will find it between High Wycombe and Maidenhead. It's around 33 miles west of the centre of London.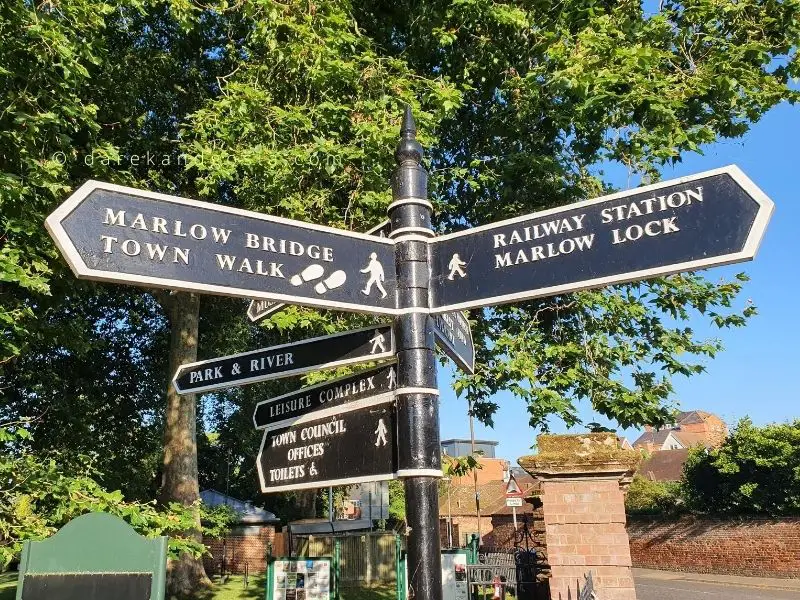 How to get to Marlow from London?
If you are travelling by car, then you can either take the M40 or the M4 from the M25. From the M40 you turn on to the A404 in High Wycombe. From the M4 you take a left on to the A404 in Maidenhead. Once you leave the M25, it will take around 30 minutes to reach Marlow.
If you are relying on public transport, you can take a mixture of buses and trains to get from central London to Marlow. The most straightforward route is to take a train from London Paddington to Maidenhead. From Maidenhead, you get a train to Marlow. The whole journey takes about 1hr 15mins.
Marlow is also known as one of the best commuter towns London for schools.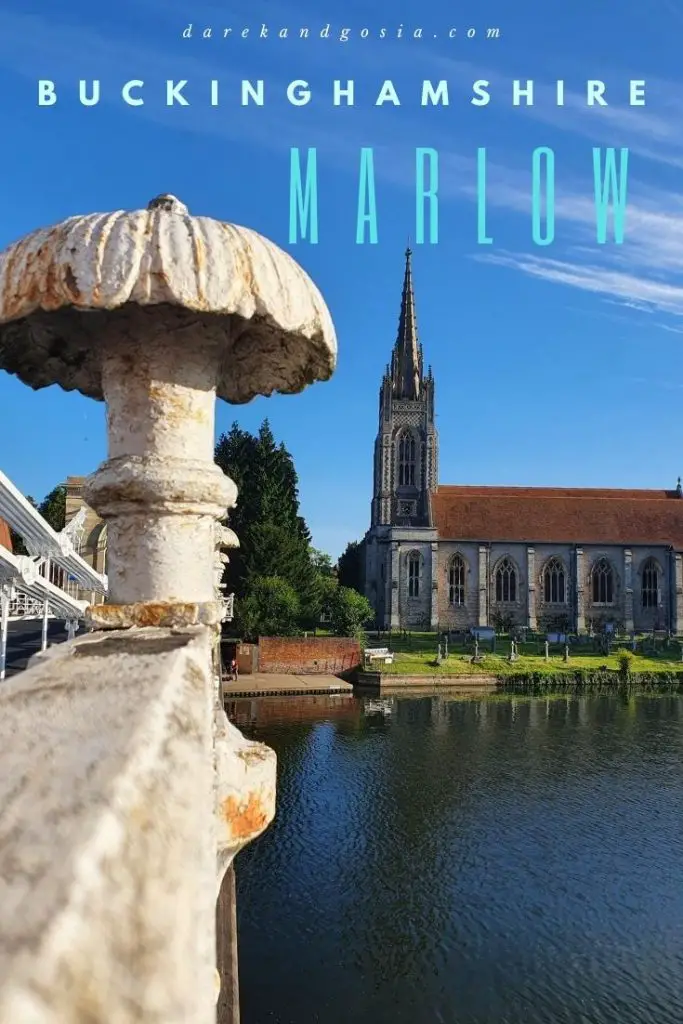 Explore the best things to see in Marlow and top ideas for things to do near Marlow Buckinghamshire:
Things to do in Marlow, Buckinghamshire
Marlow is a lovely place to explore. The town shimmers with many blue plaques commemorating all the things that have happened there. While you are wandering the streets between all the great attractions, you should keep an eye out for a few of the best.
For example, the spot where Mary Shelley wrote Frankenstein, the home of T. S. Eliot during WWI and the place where Ken 'Snakehips' Johnson studied.
This is our lsit of the best things to do Marlow-on-Thames:
1. Higginson Park and Court Garden Leisure Centre
What to do in Marlow UK? Higginson Park is the main green space in Marlow. This stunning outdoor space includes green lawn, river views, mature trees and is packed full of facilities. The park is an impressive 23 acres, but it feels so much more extensive.
You can enter the park from the High Street, but the western edge of the park is open to the countryside. This creates an open and expansive feel to the park.
Here you can just sit and enjoy nature, take your kids to the playground or the skate park, catch a play at the theatre or enjoy the pool and tennis courts at the leisure centre.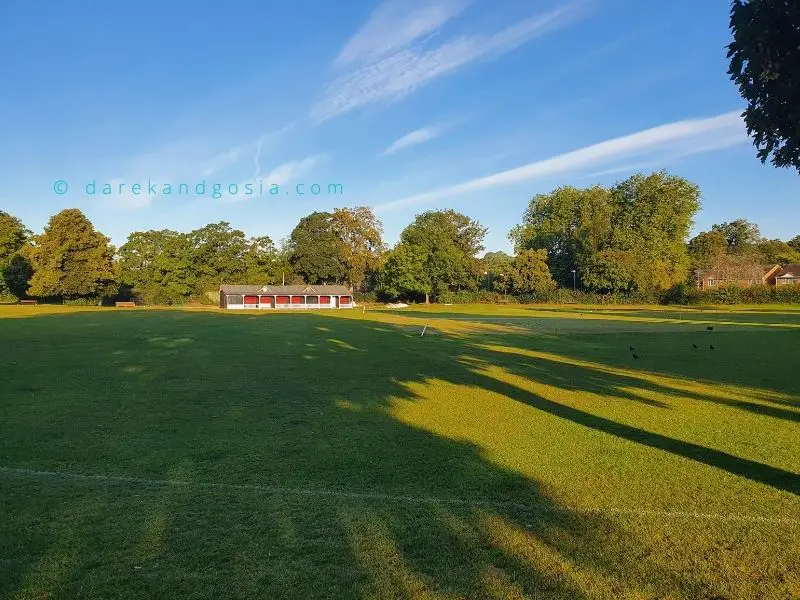 2. Marlow Suspension Bridge
What to do in Marlow Buckinghamshire? From all the things to see in Marlow, the Suspension Bridge is one of the first things you will visit. In fact, this is one of the top Marlow attractions!
Marlow became such a prominent spot because this was the place to cross the river Thames and joins Buckinghamshire and Berkshire. William Tierney Clark designed the bridge that now stands in 1832. What he created is possibly one of the most striking crossings over the River Thames – some even say that it is one of the most beautiful bridges in Europe.
Tierney designed four suspension bridges in total and the one in Marlow is only one of two that remain standing. The other is Széchenyi Chain Bridge in Budapest that crosses over the Danube, which was modelled after this one.
On either bank of the Marlow Suspension Bridge stands a triumphant arch. Joining these towering constructions are the cables and railings which support the bridge. This metalwork is all painted white which makes the bridge seem lighter somehow.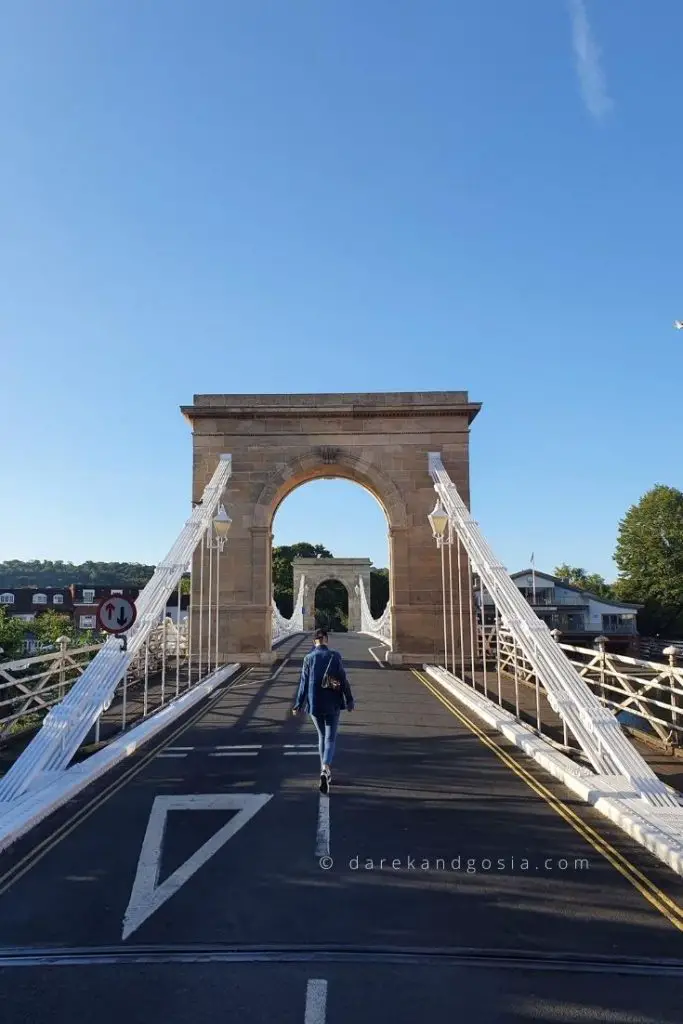 3. All Saints' Church
Where to go in Marlow England? Right next to Marlow Suspension Bridge is the All Saints' Church. This Gothic-style church boasts a 50-metre spire built out of Bath stone. It is a picture-perfect church. Known as River Church Marlow it is Marlow's key landmark!
As it sits on the banks of the Thames, near the delightful suspension bridge, you can capture an impressive vista.
Despite having been built in the 19th Century, the church has a magnificent Gothic facade. It is worth taking the time to explore the church inside and out as the craftsmanship is sublime.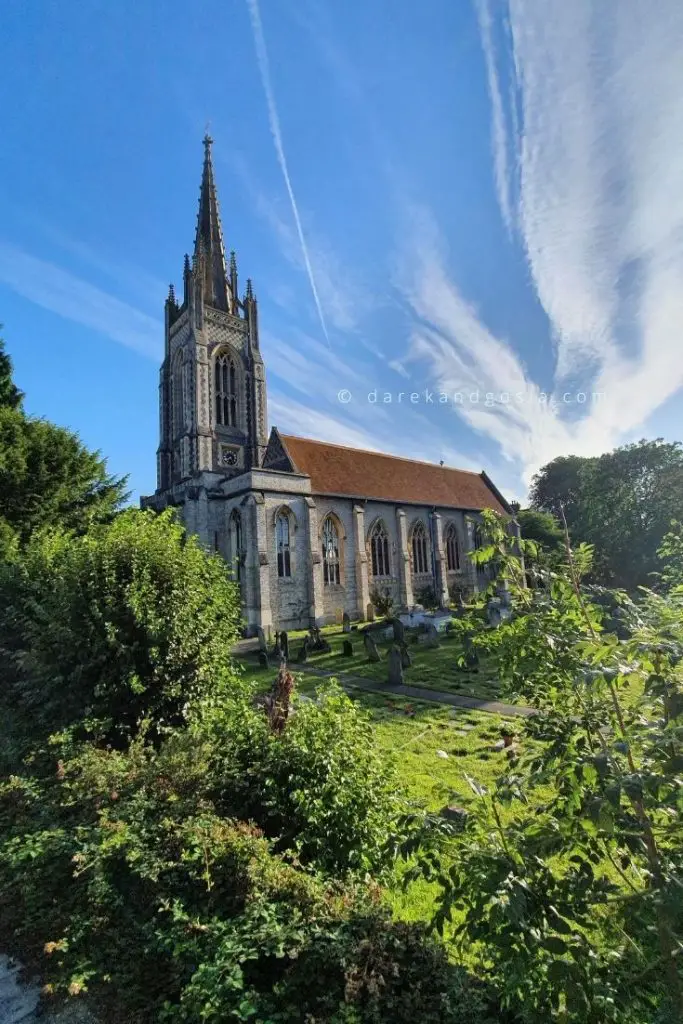 4. Marlow Lock
What to see in Marlow Bucks? Marlow UK is full of amazing places to visit and Marlow lock is one of them! There has been a dam of some sort in Marlow since at least 1086. It is even mentioned in the Domesday Book.
The current lock is almost 100 years old and is now the perfect spot to pass the day watching the river traffic flow past. Although now a peaceful place, there used to be many arguments between the millers and the navigators about the water flow.
This is definitely one of the most famous places to see in Marlow!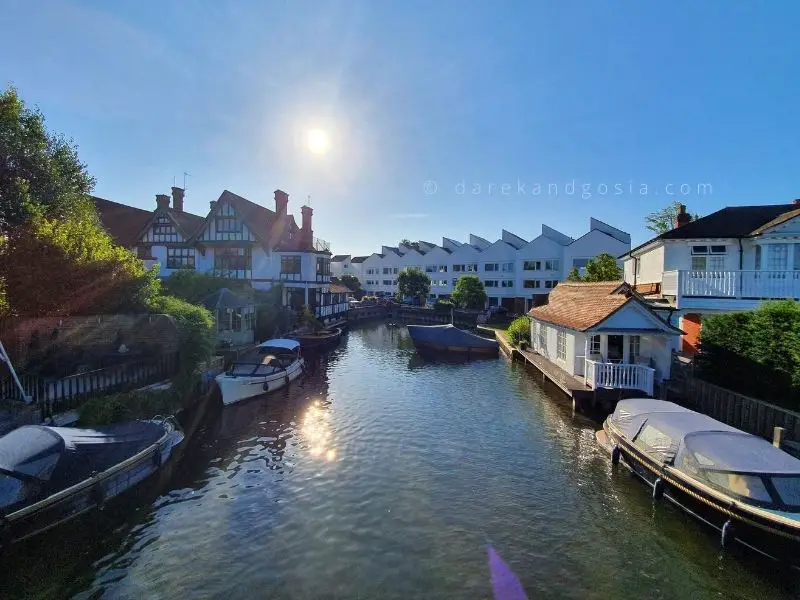 5. Marlow Museum
Not sure what to see in Marlow on a riany day? Head out to Marlow Museum!
If you can plan your visit to Marlow for a Wednesday, then you can visit this quaint little museum for free. It opened in 2009. Volunteers run the museum.
The collection is full of unusual and fascinating items. In their permanent collection is the town's stocks and a drum captured from the Russians during the Crimean War. They also have rotating collections which celebrate facets of local history.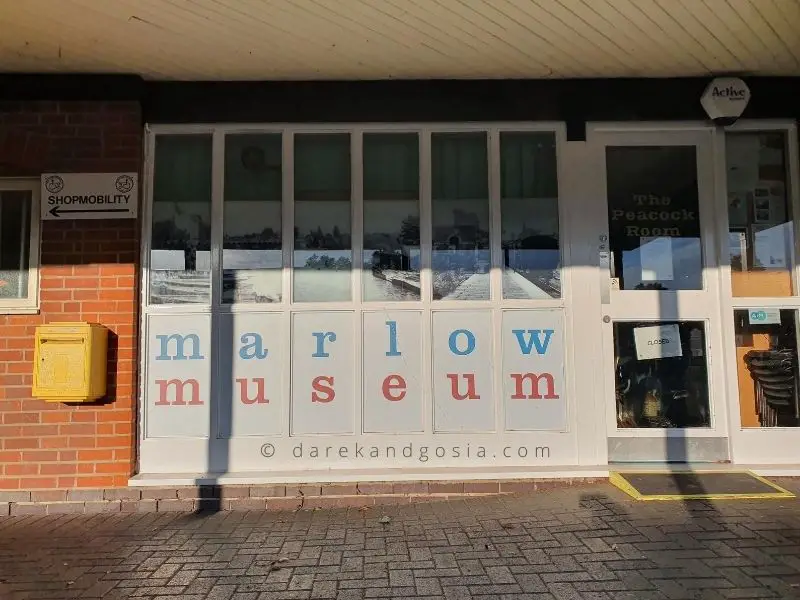 6. Marlow town centre
Interested in Marlow shopping day? Marlow town centre is a bustling spot, ideal for spending a relaxing day or retail therapy. The High Street has a pleasing mix of big-name stores, upmarket retailers and independent boutiques. For anyone who enjoys browsing and window shopping, this is a perfect town centre.
If you are more inclined towards exploring the local pubs and eateries, then you are in luck as well. Marlow had over the years attracted a lot of big-name chefs, so it is now home to a bustling food and market scene.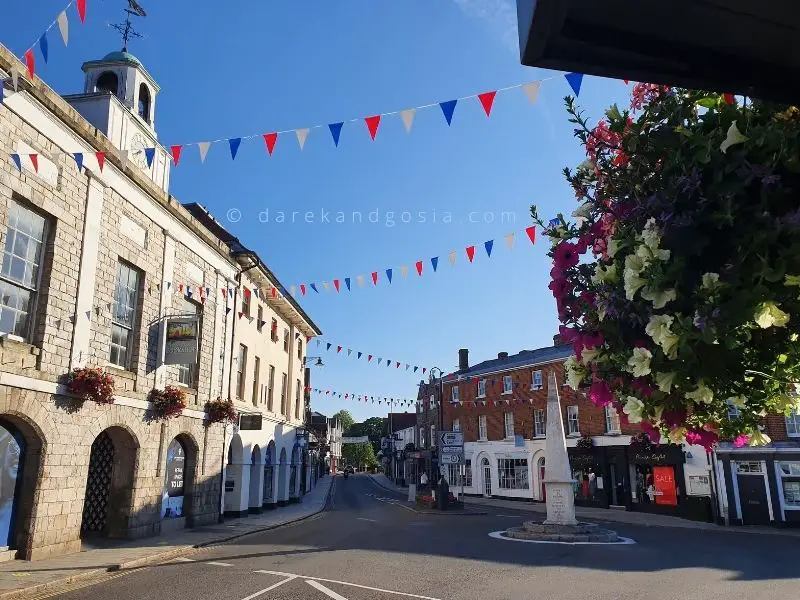 7. St Peter street
What to do in Marlow England? St Peter Street is one of the oldest streets in Marlow. It runs parallel to All Saints' Church and has some lovely views of the tower. In the short wander down this street, you will pass 17 Grade II listed properties, as well as Marlow Place, which is Grade I listed.
Great pains have been taken to keep the character of this ancient street intact. It really is a fascinating and idyllic little street.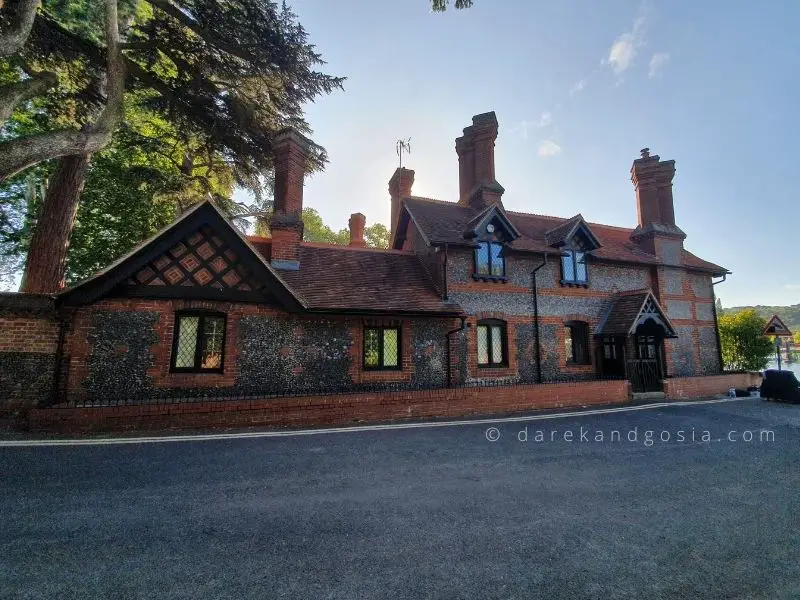 8. The Two Brewers
Best Marlow places to visit? The Two Brewers Pub is a quintessentially British pub. This is very much a local pub. It's the kind of place you walk in, and you know that all the locals come here.
You will be greeted with a warm welcome, and the staff are always happy to chat. You can get a relaxing drink and a good meal at a reasonable price.
This beautiful pub is also on the list of Buckinghamshire's Midsomer Murder locations, so it has to be added to the list of best things to do in Marlow!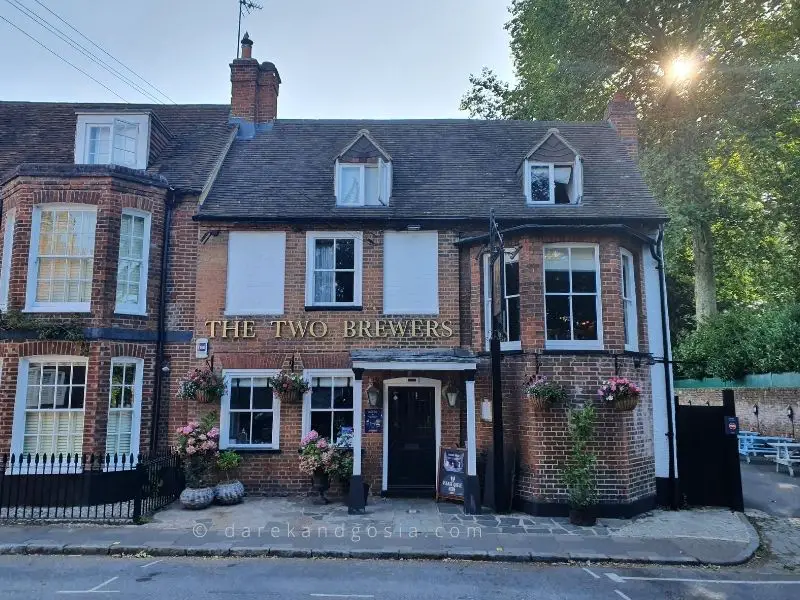 9. Marlow Place
What's in Marlow? Marlow Place has been described as the town's most flamboyant house. However, calling it a house is probably a disservice. It is more of a mansion than a mere house. The building stands out even though other historic buildings surround it.
Marlow Place will still draw your eye. It has a long and colourful history. Over the years it has been home to the Prince of Wales, a girls' finishing school and the Royal Military School.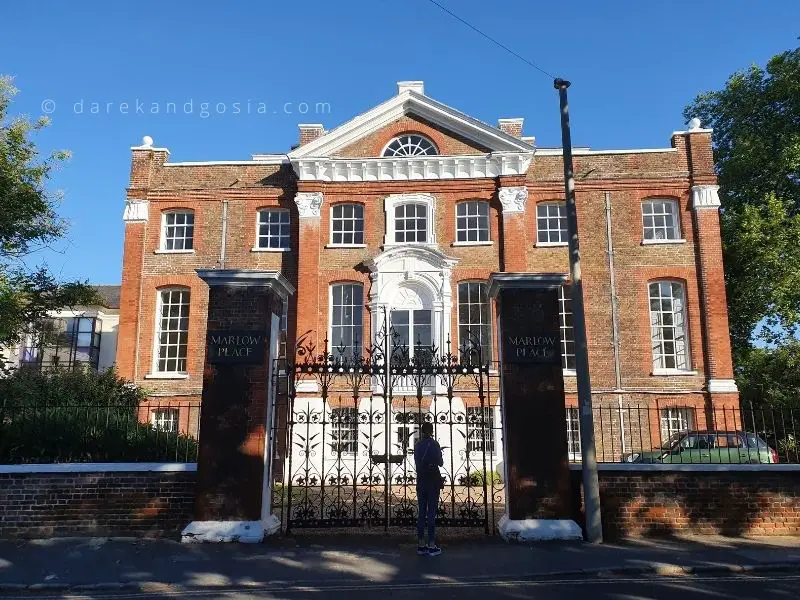 10. Marlow walks
There are a great many beautiful walks to enjoy in Marlow, Bucks. The Thames path is easy to follow. The route starts in Higginson Park, and you can then follow the trail either up or down the river. 
Marlow Common is a great place to explore. It is a nature reserve on the outskirts of town. There is lots of wildlife to spot here. The landscape is fascinating as a result of digging for clay. The trenches that now litter the landscape were used to train soldiers for trench warfare in WWI.
If you really want to stretch your legs, there is a 17-mile trail that gives you a tour of all the locations in the town where Midsummer Murders has filmed.
There are also many things to do near Marlow. So, if you are looking for a reasonable circular walk, then there is a popular route that takes you to the nearby village of Cookham. You walk along a lovely stretch of the river before turning at the golf course in Cookham. This route takes you through Coney Copes, Quarry Wood and then back to Marlow. Its's a very picturesque 9-mile walk.
11. Statue in memory of Charles Frohman
On the High Street in Marlow, you can find a magnificent statue. It features a naked woman sitting on the plinth. The statue is a memorial to, famous theatre direction Charles Frohman. It was erected after he died during WWI. He was aboard the Lusitania when it was torpedoed.
The statue bears an inscription which suggests that mourning is not appropriate for thespians. Instead, they simply wish to be remembered.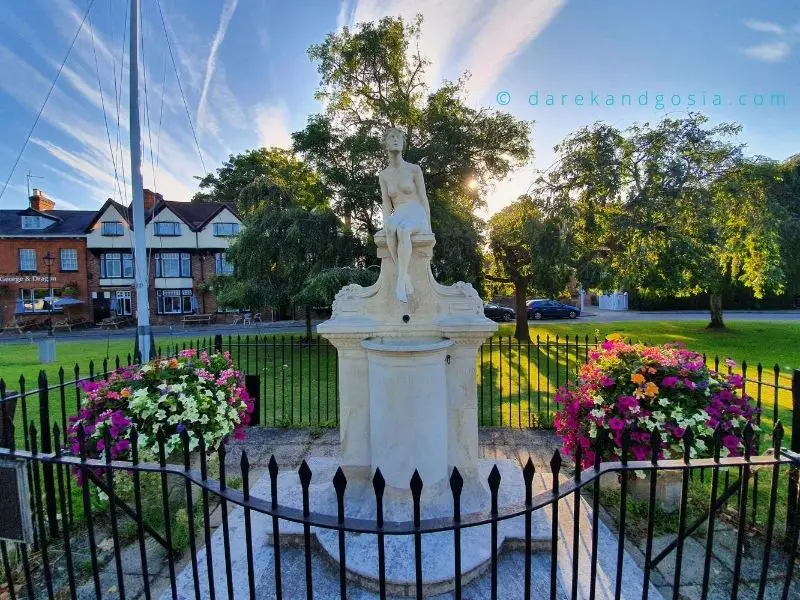 12. Marlow canoe club
Best Marlow day out? Marlow Canoe Club can be found tucked underneath Marlow Bridge. This is the place to come if you want to try your hand at some watersports on the Thames. They have all sorts of paddle craft to hire.
They are open to anyone who wants to get out on the water regardless of experience.
13. Marlow War Memorial
The Marlow War Memorial was erected following the First World War. The prominent location was chosen in sight of the church to ensure that all those who fought would not be forgotten. The monument had more names added following the Second World War and was most recently refurbished in 1993.
The memorial features a tapering cross that stands at 6 meters high. It is decorated with bronze victory wreaths and laurel sprays. There are dedications to read on three sides of the plinth.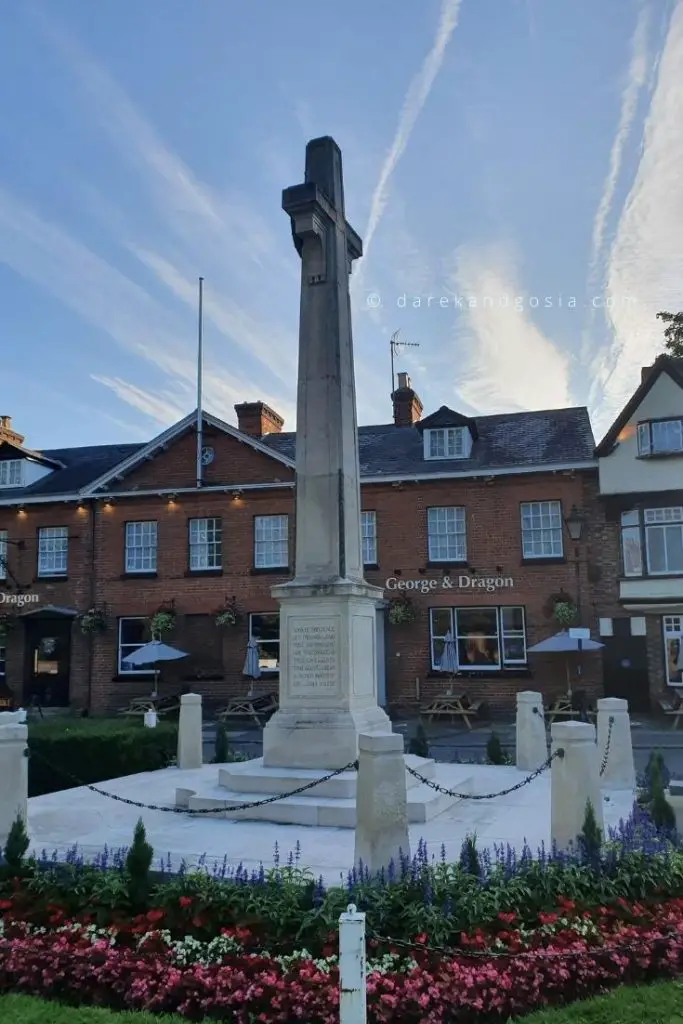 14. Sir Steve Redgrave Statue
What is Marlow famous for? Sir Steve Redgrave is probably Marlow's most famous son. So it is fitting that they erected a statue to celebrate all his achievements. The statue was built to commemorate his five consecutive Olympic gold medals.
However, it was no mean feat to get the statue erected in the first place. In fact, it took almost as long as it took Sir Steve to get his five medals. You can find the statue of Sir Steve with his five medals and oar in Higginson Park.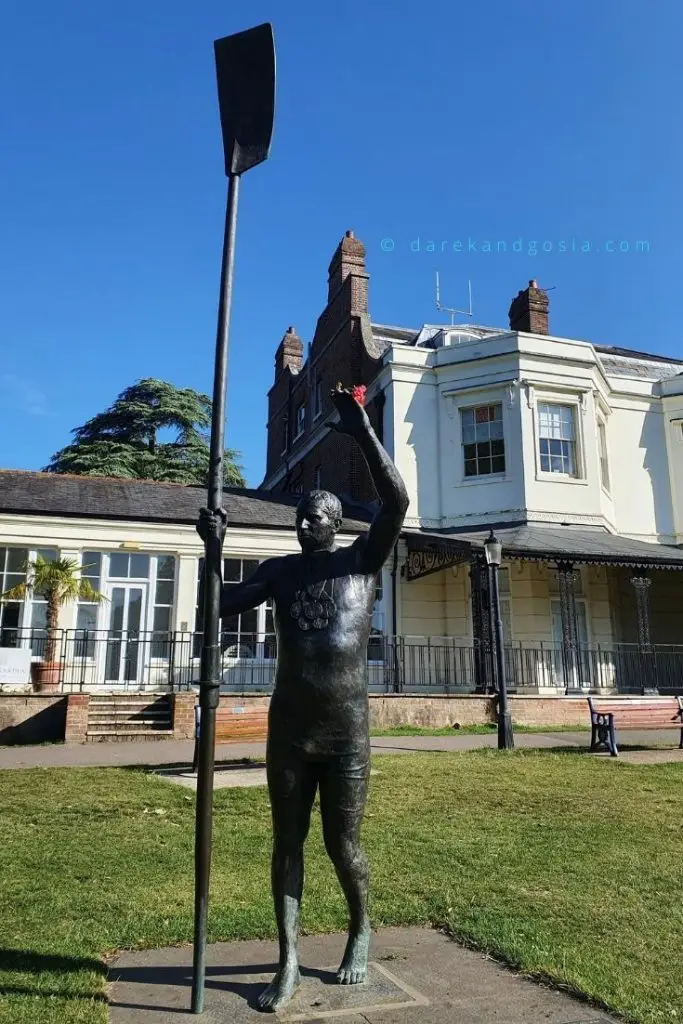 15. The Little Green boat company
Top things to do in Marlow Buckinghamshire? If you want the freedom to explore the Thames on your own, then the Little Green Boat Company is the place to visit. You can hire a rowboat or motorboat by the hour, or if you have grand plans, you can hire a boat for a full day. You can just turn up on the day and hire. There is no need to book in advance.
Even if you don't take a boat out yourself, you are sure to see these green boats dotted on the river all summer long.
So, if you fancy to do Marlow boat trips then check out the Little Green boat company Marlow.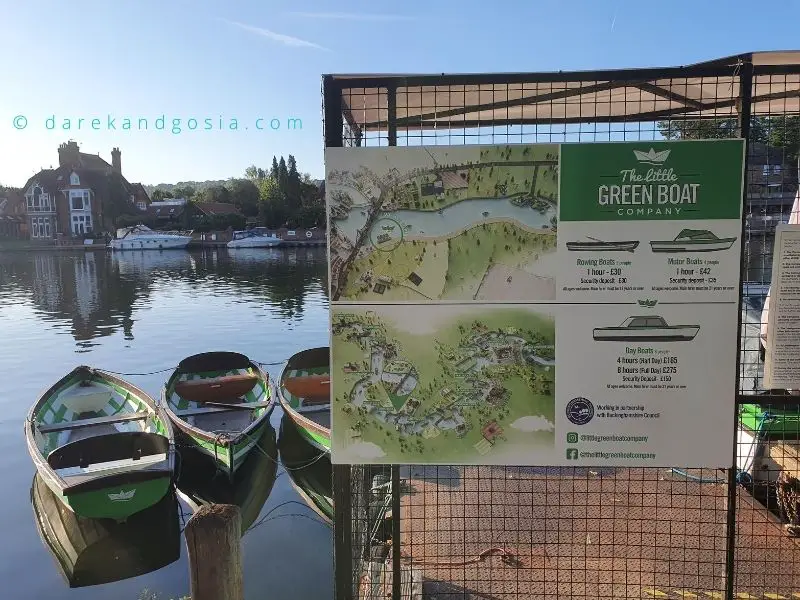 16. The Old Brewery
The Old Brewery is a great spot to visit. If you are a sports fan, then you should make a point to check out the pub when there is a big sporting event on. The atmosphere is absolutely amazing.
As well as getting a drink you can enjoy a good meal. There is seating inside and out with full service everywhere, and it's dog-friendly too.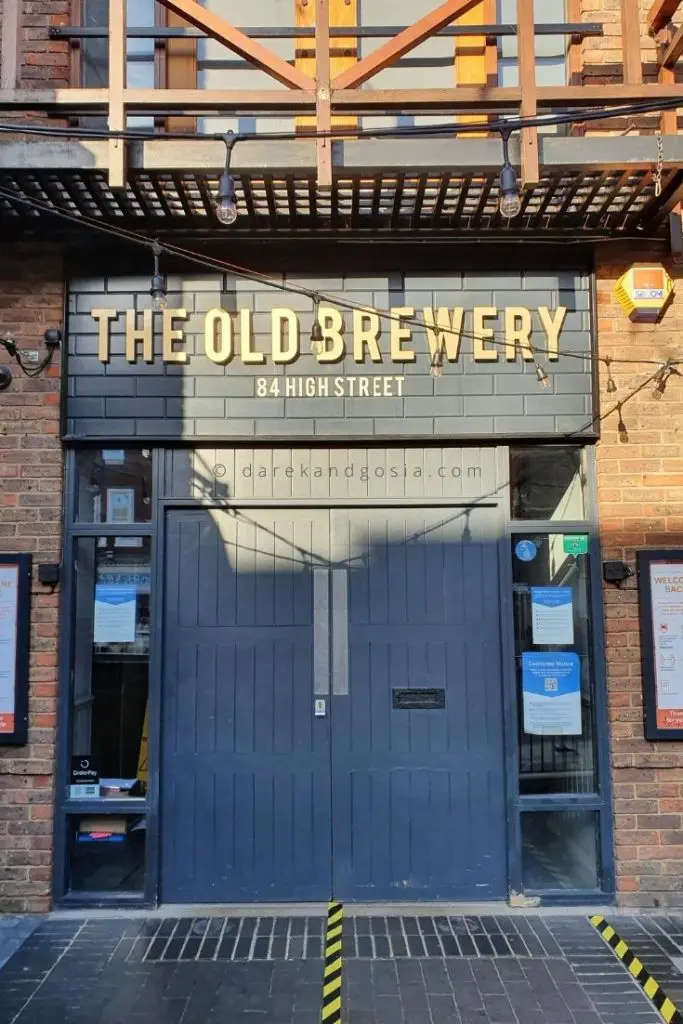 17. Boat trips to Henley-on-Thames or Windsor
Marlow is located in the Chilterns, an area of outstanding natural beauty. One of the best ways to experience that beauty is by taking a boat ride on the Thames. 
You can head upriver to Henley passing stately homes at Temple Medmenham and Bisham Abbey. You also be able to sail by the folly on Temple Island that marks the starting line of the famous Henley Regatta.
If you sail downstream, you will arrive in Windsor. This route takes you past an array of locks and bridges. You will pass Spade Oak's historic wharf, Isambard Kingdom Brunel's railway bridge in Maidenhead and the pavilions on Monkey Island Estate.
Marlow on Thames is all about the River Thames, so take advantage of that as there are many things to do around Marlow and Henley!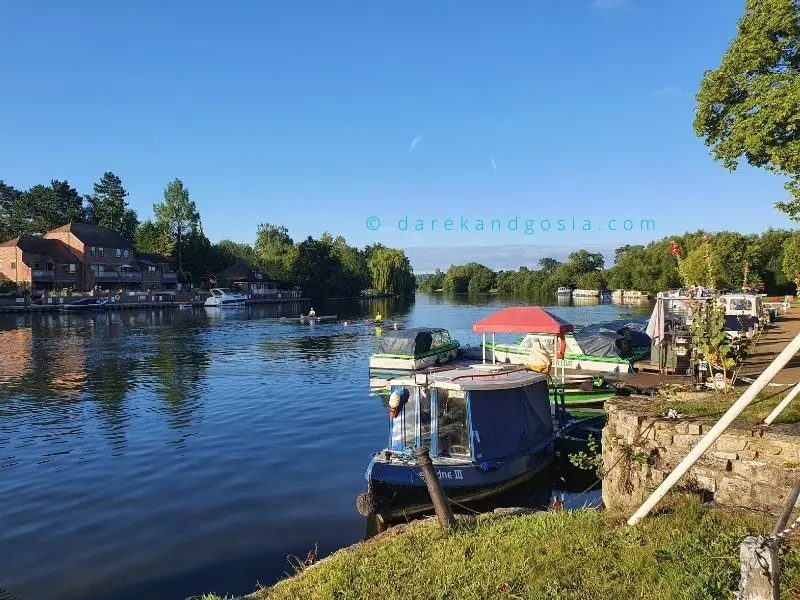 18. The Court Garden Cafe
To finish off our list of things to do Marlow, we present you this little cafe. Alongside the leisure centre in Marlow, you can find the Court Garden Café. This is the perfect pit-stop if you're using the leisure centre facilities or enjoy the setting of Higginson Park.
If you're spending the day in the park, then the Court Garden Café is a great place to grab a coffee or sandwich before continuing to explore the rest of this vast area of beautiful parkland.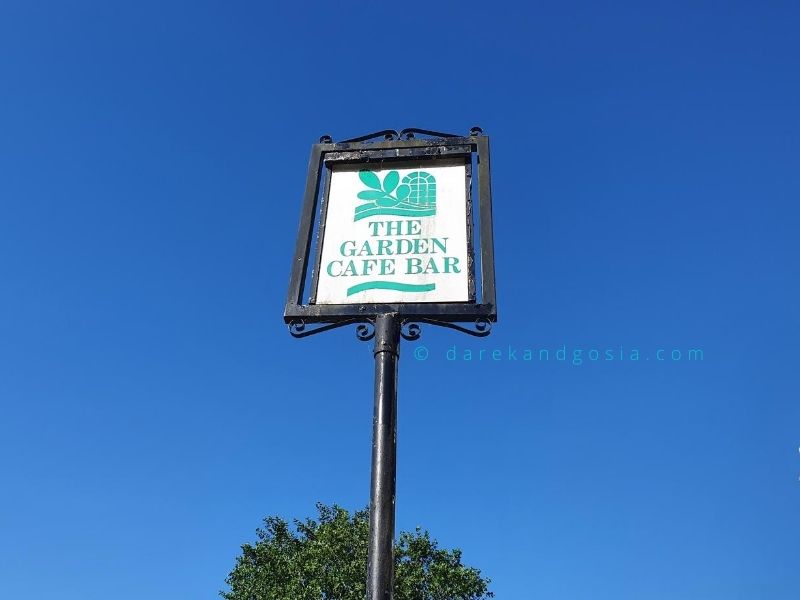 As you can see there are many things to do in Marlow, Buckinghamshire. But there are also stunning places to visit near Marlow, so check out the list below! 🙂
Places to visit near Marlow:
What to do near Marlow? There are many things to do near Marlow Bucks – check out the below list:
Is it worth visiting Marlow in Buckinghamshire?
Marlow is a charming town with a lot of interesting history and is a genuinely pretty place to explore. It has a little bit of everything, from beautiful green spaces, a river setting and a bustling town centre.
If nothing else this is the kind of town where you can have all sorts of fun exploring the listings in the estate agents windows! In all seriousness, if you are on a trip based in London, then a visit to Marlow will be a lovely change of pace.
It gives you a fantastic opportunity to enjoy the majesty of the Thames.
Love England and the rest of the UK?
Read our other articles related to this stunning country: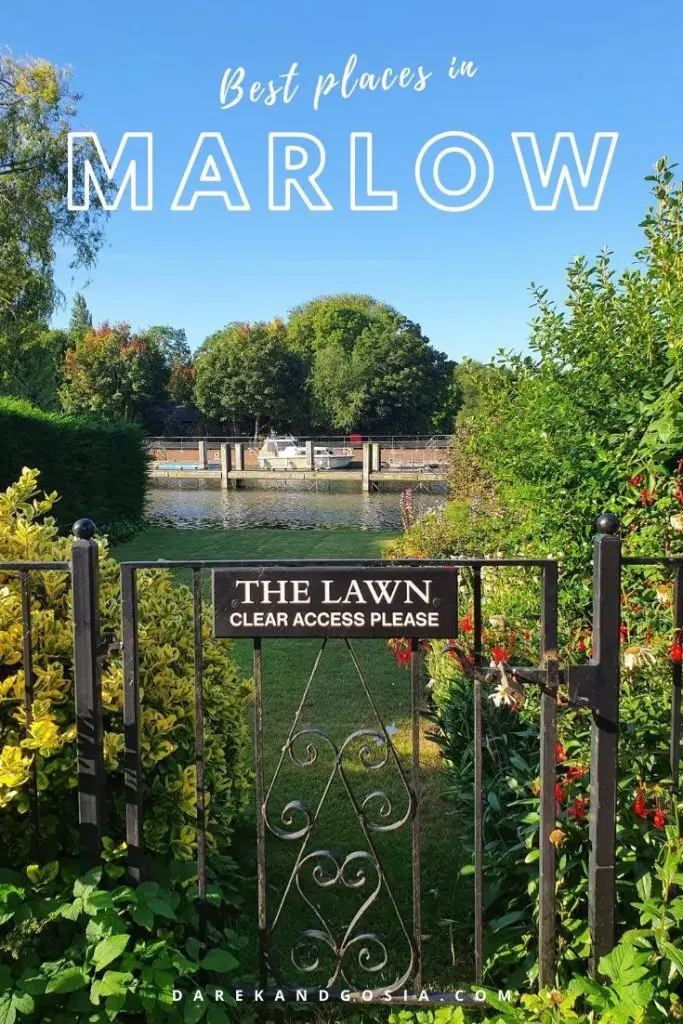 Articles you may like: