Explore Cornwall's charming towns and villages this summer by planning your trip to one of the best destinations in Cornwall, England.
With its combination of lush countryside and rugged coastline, Cornwall is a treasure trove of stunning landscapes and endless adventures. Whether it's the dazzling coast and dramatic cliffs, sunny beaches, or quaint fishing villages with their vibrant houses, there's something for everyone.
Relax and soak up the warm and inviting atmosphere of Cornwall as you wander along the harbors, admiring the picturesque cottages and houses. Ideal for families and couples, this county offers endless coves and outdoor activities for a perfect weekend getaway.
Discover the most picturesque towns and villages in Cornwall and experience the beauty of this wonderful county.
Are Cornish towns and villages good for a staycation or a UK weekend getaway?
Cornish towns and villages can be an excellent choice for a staycation or a UK weekend getaway. Cornwall is a popular destination for tourists and locals alike, with its stunning coastline, picturesque villages, and rich history and culture.
There are many charming towns and villages in Cornwall that are perfect for a relaxing break. Some popular options include St Ives, Padstow, Fowey, and Port Isaac. These towns offer a range of attractions, such as beautiful beaches, quaint shops, galleries, and restaurants.
Cornwall is also well-known for its outdoor activities, such as surfing, hiking, and cycling. The South West Coast Path offers some of the most spectacular coastal walks in the UK, while the region's many beaches provide opportunities for swimming, sunbathing, and water sports.
Overall, Cornish towns and villages can be a great choice for a UK staycation or a short weekend getaway, offering a unique blend of natural beauty, outdoor activities, and cultural attractions.
Cornish towns and villages – car hire:
Need a car for your next trip to Cornwall? Book it on discovercars.com for the cheapest prices!
Check out our guide to car rental companies in the UK or simply explore the options directly on discovercars.com if you need a car during a trip to visit amazing villages and towns in Cornwall.
What is the most visited town in Cornwall?
The vibrant town of St. Ives stands as Cornwall's most visited destination, drawing crowds of eager travelers seeking a blend of natural beauty, artistic inspiration, and a lively coastal atmosphere.
With its picturesque beaches, crystal-clear waters, and golden sands, St. Ives offers a paradise-like setting that captivates visitors from all over the world. Adding to its allure, the town's vibrant art scene boasts numerous galleries and studios, attracting artists and art enthusiasts who are inspired by the luminous light that has made St. Ives a haven for creativity.
Whether it's strolling along the quaint streets, indulging in delectable seafood, or simply soaking up the energetic ambiance, St. Ives guarantees an exhilarating experience that lingers long in the memories of those who wander its captivating shores.
What is the most picturesque village in Cornwall?
One of the most picturesque villages in Cornwall is Port Isaac. Nestled on the rugged North Cornwall coast, this charming fishing village offers a postcard-perfect setting with its narrow winding streets, whitewashed cottages adorned with colorful flowers, and a picturesque harbor bustling with fishing boats.
The village's idyllic charm has made it a popular filming location for TV shows such as "Doc Martin," adding to its allure for visitors seeking a quintessentially Cornish experience. As you explore the village, you can take in breathtaking views of the dramatic coastline, enjoy fresh seafood at local eateries, and immerse yourself in the laid-back atmosphere that epitomizes the beauty of Cornwall's coastal villages.
Best towns and villages to visit in Cornwall
1. Polperro
Pretty towns Cornwall? Polperro is a small and tranquil town, centered around its waterfront. Despite its peaceful demeanor, tourists are drawn to its unique layout during peak seasons. The town is situated in a ravine, with cobbled streets leading to steep inclines, but the breathtaking views make the effort worth it. The absence of vehicular traffic and the charming white-washed fisherman cottages with slate roofs attract artists to this idyllic location.
Most of the dining and cafe options are found in the bustling harbor area. The peaceful atmosphere is complemented by the soothing sound of River Pol as it runs through the town.
Polperro is also known as one of the best places to stay in Cornwall.
2. St. Ives
Best towns to visit in Cornwall? St. Ives is the epitome of a summer destination and the most sought-after town in Cornwall. The town is renowned for its exceptional light that has captivated artists for decades and this is reflected in the numerous art galleries dotted throughout the town. Three must-visit spots include the Tate Gallery, Barbara Hepworth Museum, and Sculpture Garden.
Walking through the narrow cobbled streets, you'll find charming craft shops and boutiques. The town is also home to some of the finest restaurants in Cornwall, including the historic Sloop Inn, established in 1312.
For a glimpse of the working harbour, take the scenic coastal train ride. And don't forget to spend some time on the breathtaking beaches, like Porthmeor Beach. To make the most of your day in St Ives, be sure to check out our guide for tips and recommendations.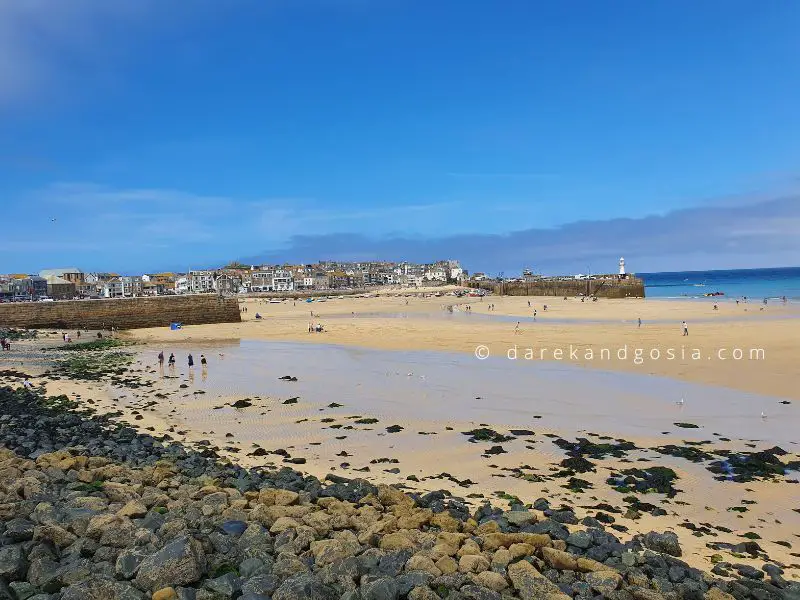 3. Port Isaac
Top fishing villages in Cornwall? Discover the charming seaside village of Port Isaac, located on the northern coast of Cornwall. Known for being the backdrop of the popular TV show, Doc Martin, visitors can take a tour of the filming locations. With its cobbled streets and aged stone walls, Port Isaac offers a picturesque setting for a relaxing day.
Savor a delicious fish finger sandwich at Chapel Café or indulge in a traditional cream tea at Cornish Cove Tearoom. Experience the quaint and timeless atmosphere of this idyllic destination.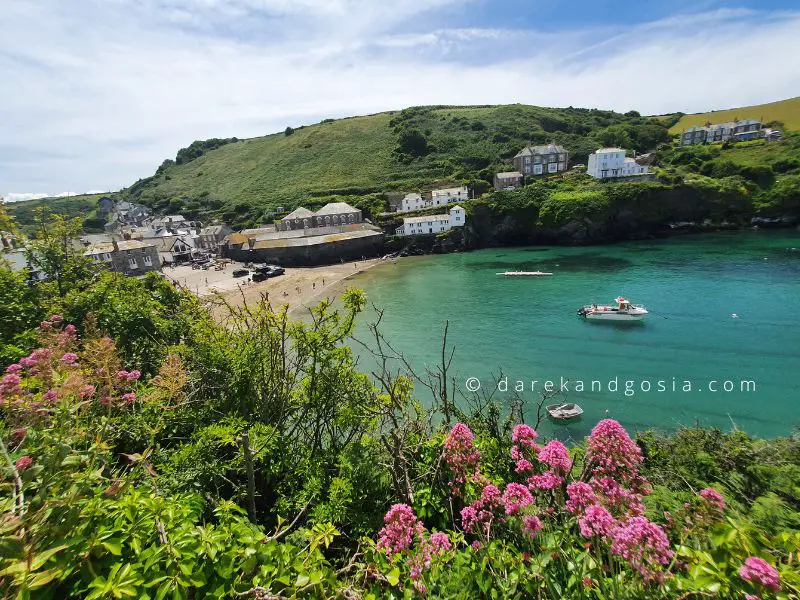 4. Padstow
Best seaside towns in Cornwall? Padstow is a charming, quintessential Cornish town known for its picturesque fishing port. With the harbor front always bustling, especially on weekends, and seven gorgeous golden sand beaches just minutes away, Padstow is a popular destination for tourists.
As a hub for all things seafood, Padstow is a food lover's paradise with a daily fresh supply of seafood. It's even nicknamed Padstein, after Chef Rick Stein who raised the town's culinary reputation.
For a casual but delectable dining experience, head to The Seafood Bar. And if you're in the mood for a sweet treat, The Chough Bakery is the place to go.
Padstow is also a top spot for paddleboarding and is considered one of the most beautiful towns in England. So, if you are looking for places to live in Cornwall, Padstow could be a great choice!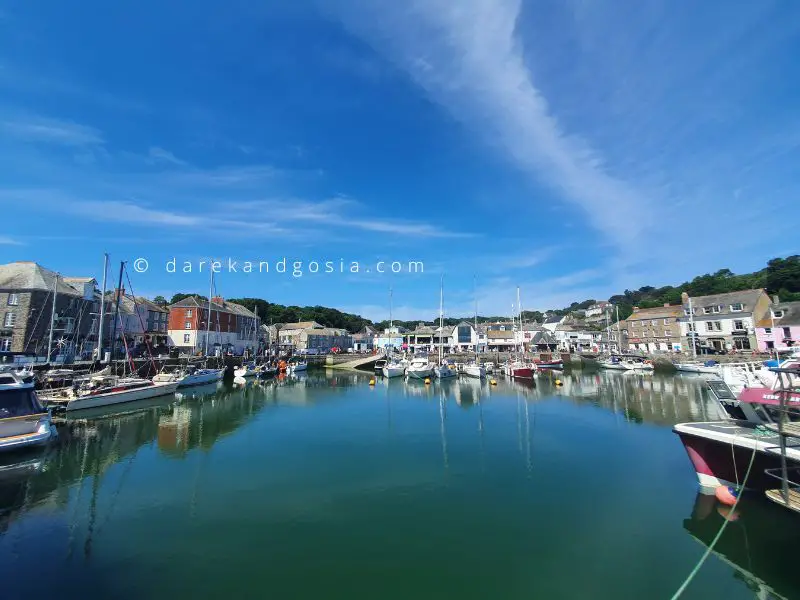 5. Marazion
Best Cornish towns to visit? Marazion is a truly unique and captivating place to visit in the UK, and one of our favorite weekend escapes. It is the oldest town in Cornwall and boasts a rich history that is reflected in its market town heritage. The quaint streets are lined with lovely merchants' houses, old cottages, and quaint shops selling ceramics and jewelry, giving visitors a true taste of the past.
Marazion is also the gateway to the National Trust destination St. Michael's Mount, which is a real-life fairy tale castle that must be seen. Visitors can cross the causeway on foot during low tide for a full experience or take the ferry during high tide. The gardens are simply stunning and not to be missed.
6. Boscastle
Best villages in Cornwall? Boscastle, nestled between lush hills, is a picturesque village not to be missed. The National Trust-protected Natural Boscastle Harbour features a cafe and shop, with trails to explore along the coast. A 2004 flood caused damage, but the quaint thatched and white-washed buildings, including medieval homes, pottery workshops, art galleries, and the unique Museum of Witchcraft and Magic, were restored to their original state.
To make the most of your visit, consider combining your trip to Boscastle with a visit to Tintagel, only 10 minutes away. Tintagel Castle and Merlin's Cave, located in an Area of Outstanding Natural Beauty, are perfect for fans of Arthurian legends.
7. Lizard
Pretty Cornish villages? Lizard is a peninsula and village located at the southernmost point of the UK, known for its serpentine rock, resembling a snake's skin, which supports a unique flora. The village is part of Landewednack parish and has connections to Landevennec in Brittany. The 6th-century parish church of St Wynwallow, founded by a monk named Guenole, is believed to be a daughter church of the abbey of Landevennec.
For walkers, Lizard offers a wide range of trails that traverse both the east and west sides of the peninsula and lead to the southernmost point. Birdwatchers can also spot the chough, a bird species that has returned to Cornwall after years of absence, breeding near Lizard Point. During breeding season, a telescope and expert assistance are available to observe the birds from a safe distance, with their distinctive red bill, legs, and wing style making them easy to identify.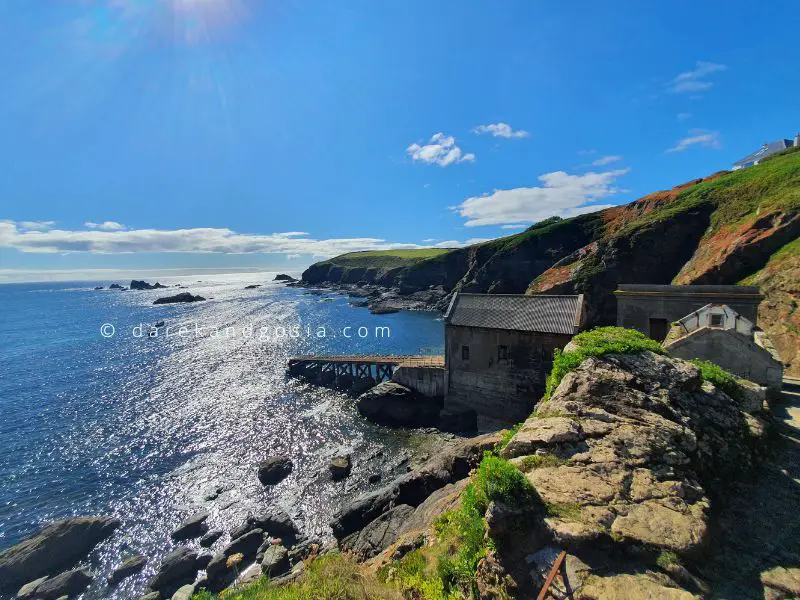 8. Looe
Best towns in Cornwall? Looe, a beautiful Cornish town, is the result of the merging of two separate medieval settlements via a seven-arched bridge. The fishing village is divided by the River Looe into east and west, featuring streets that ascend low hills for picturesque views, such as the 1500s Old Guildhall. With panoramic views extending to Prawle Point in Devon, Looe is a prime destination for photographers.
The east side of Looe houses the bustling harbor and numerous souvenir shops, while the west offers a more relaxed atmosphere with cafes and tea rooms. The town's charming beach, surrounded by a bay with calm waters ideal for swimming, is a popular spot for both locals and tourists alike.
9. Mousehole
Most beautiful villages in Cornwall? Nestled just a short distance from Penzance, Mousehole is a charming village located at the southern tip of Cornwall. With its small harbor and independent shops, cafes, and restaurants, it offers a typical Cornish experience. Take a boat tour and explore the surrounding waters, including the picturesque St Clements Isle, home to a variety of marine life and seabirds.
Visiting during the Christmas period is especially delightful as the harbor is illuminated with beautiful lights, providing a peaceful alternative to the bustling summer months. Truly one of the most beautiful villages in England.
10. Penzance
Must-visit Cornwall seaside towns? Penzance, with its name meaning "holy headland," is a town in Cornwall that deserves to be experienced firsthand. Its history is fascinating and its mild climate allows for plenty of exploration in the surrounding areas. You'll be pleasantly surprised by the palm trees and sub-tropical gardens, a rarity in the UK. Don't just limit yourself to Trengwainton Gardens, seek out the ancient stone circles such as the Lanyon Quoit and Merry Maidens, which possess a magical allure.
11. Fowey
Best seaside towns Cornwall? Fowey is a historic maritime town, dating back to 1300, with a rich history and stunning views of boats cruising along the estuary. From large cruise ships to sailing enthusiasts, the harbor attracts visitors from all over. Surrounded by breathtaking landscapes designated as Areas of Outstanding Natural Beauty, Fowey's center is also a sight to behold. Characterized by medieval and Georgian architecture, its main street, Fore Street, boasts a lively community of independent shops and restaurants, including fresh Fowey mussels.
Make the most of your holiday and take a ferry ride across River Fowey to nearby destinations such as Polperro or Mevagissey for a truly epic adventure.
12. St Just
Best town to visit in Cornwall? St Just-in-Penwith is located near Land's End and is an ideal destination for those visiting the western part of Cornwall. It is situated on the edge of the moors and close to the stunning north coast, and is only 8 miles away from Penzance. This town was once the hub of the tin mining industry in the area and its history can still be seen in its streets filled with granite cottages.
St Just was the mining center of the peninsula and abandoned engine houses can still be seen in the landscape. At the heart of the town is Plain-an-Gwarry, a theater that was used for miracle plays in the Middle Ages and today is the site of the Lafrowda Festival.
13. Newquay
Top towns of Cornwall? Nestled on Cornwall's Atlantic coast, Newquay is a highly-regarded seaside town that has received recognition as "One of the Nation's Favourite Seaside Towns" in the Which Holiday Survey, "Best Family Holiday Destination" by COAST magazine readers, and gold for "Best Seaside Towns for Families" by Days Out with the Kids. With some of the finest beaches in Cornwall, Newquay exudes a relaxed and welcoming atmosphere.
The town caters to all types of travelers, offering options for accommodation ranging from contemporary self-catering apartments to high-quality holiday parks for camping, caravaning or tenting, budget-friendly bed and breakfasts, and top-notch hotels and spas.
Newquay is accessible year-round via rail, road or air, and offers a host of top-notch attractions and thrilling activities both on land and in water, as well as classic events and some of the best beaches in Cornwall.
14. Mevagissey
Where to go for the best towns in Cornwall England? Explore the picturesque town of Mevagissey, once a hub of the pilchard fishing industry and now a thriving harbor. Sit by the harbor front and witness the daily comings and goings of fishing boats. Enjoy some delicious fish and chips while watching out for seagulls.
The town also boasts steep alleys, cozy pubs, boutique shops, a museum, and a small aquarium. For outdoor enthusiasts, take a fishing boat out and potentially spot dolphins and seals in the summer. Don't miss the opportunity to visit the nearby Lost Gardens of Heligan, one of England's most stunning gardens, if you're driving.
15. Sennen
Nice Cornish fishing villages? Sennen, a seaside village located on the southwestern tip of Cornwall and the UK, is near the iconic landmark of Land's End. 8 miles from Penzance and 6 miles from the former mining town of St Just, Sennen is located along the Penwith Heritage Coast and is a great starting point for walking the South West Coast Path.
Surrounded by the crashing waves of the Atlantic Ocean to the west and the inland Cornish parishes of St Just, St Buryan and St Levan, Sennen offers a serene and remote escape. Unlike typical picturesque fishing villages or coastal resorts, Sennen is a place for those who appreciate the raw beauty of Cornwall.
Learn more about this coastal village and its offerings with our guide to things to do in Sennen.
16. Falmouth
Stunning seaside towns in Cornwall? Explore Falmouth, one of Cornwall's largest towns, on foot. Located in a bay on the south coast, Falmouth is all about the water, with a pretty old harbor and docks on one side and sandy beaches on the other, separated by a grassy headland and Tudor castle. This is a working port with large ships, taking advantage of the third largest natural harbor in the world.
With the development of the University, Falmouth has a well-off atmosphere, especially along the south coast where grand hotels and upscale beach cafes overlook the beaches.
17. Truro
Best towns Cornwall to visit? Pristine Truro is a must-visit as the only city in Cornwall. Immerse yourself in its charming ambiance as you stroll through its charming cobbled streets, admiring the brightly painted shops and towering apartments. The Old Town is a picturesque collection of Gothic and Georgian homes, some of which have been converted into charming tea rooms like Charlotte's Teahouse.
After exploring the Royal Cornwall Museum and its rich history of mining and engineering, don't miss the grand Truro Cathedral, with its magnificent stained-glass windows and the stunning black ebony statue of Madonna and Child. When you're ready for a break from shopping, be sure to wander through the lush gardens that surround the city.
18. St Mawes
Top fishing villages Cornwall? The charming village of St. Mawes overlooks the River Fal and Falmouth. Once a thriving fishing port, the village now features steep and narrow streets leading down to the harbor. With its mix of traditional cob cottages and modern houses, St Mawes has become a sought-after location for both retirement and vacation homes.
As a popular tourist destination, the village offers an array of dining options, boutique shops, and art galleries. Visitors can choose from a variety of accommodations, including caravans, hotels, and luxury lodgings. The village also features two pristine beaches on either side of the harbor, which are safe for swimming and perfect for soaking up the sun. Other recreational activities include a local sailing club and tennis courts that can be rented at the recreation ground.
19. Portscatho
Amazing Cornwall villages? Portscatho is situated in Gerrans Bay on the Roseland Peninsula and faces east towards the cove. The shelter from the prevailing southwestern winds made it an ideal base for pilchard fleets in the 18th and 19th centuries and it continues to be a small fishing port. Its sheltered location and proximity to several beautiful sandy beaches make it a family-friendly destination.
In the heart of the village, you'll find a variety of shops, including a butcher, a grocery/off-licence, and gift shops. The Plume of Feathers pub offers St Austell Ales and pub food. A five-minute walk uphill will take you to the village of Gerrans, where you can find another pub, the Royal Standard, and a medieval church that has served as a landmark for local fishermen for generations.
20. Charlestown
Best Cornwall towns? Charlestown is an enchanting town in Cornwall with a rich history. Its strategic harbor once played a vital role in the export of copper and import of coal and is still functional today. Visit the Shipwreck and Heritage Centre, which was once village homes, to see relics from over 150 shipwrecks.
Charlestown has also gained popularity as a filming location, featuring in numerous productions such as Poldark, Alice in Wonderland, The Three Musketeers, About Time, and more. This highlights the town's captivating beauty.
What is the most isolated village in Cornwall?
The village of Zennor is often regarded as one of the most isolated villages in Cornwall. Located on the rugged coastline of West Cornwall, Zennor is nestled amidst rolling hills and moorland, with limited road access and a tranquil atmosphere that adds to its remote and secluded feel.
Best towns in Cornwall for shopping
Cornwall offers several towns that are renowned for their shopping experiences. Here are a few notable towns in Cornwall known for their excellent shopping opportunities:
Truro: As the county's capital, Truro is a prime shopping destination. It boasts a mix of high street brands, independent boutiques, and charming arcades. The bustling Lemon Street Market is worth exploring for unique artisanal goods.
Falmouth: Falmouth is a vibrant coastal town with a bustling shopping scene. From quirky independent stores to stylish fashion boutiques and art galleries, Falmouth offers a diverse range of shopping options. The town's regular markets and craft fairs are also worth checking out.
St. Ives: Known for its artistic flair, St. Ives is not only a haven for art lovers but also offers a variety of boutique shops, craft stores, and galleries. The narrow streets are dotted with intriguing shops selling local artwork, jewelry, ceramics, and more.
Padstow: This charming fishing village not only delights visitors with its culinary offerings but also offers excellent shopping opportunities. Explore the picturesque streets lined with boutique clothing stores, gift shops, and specialty food outlets.
Newquay: While primarily known as a popular surf destination, Newquay also features a range of shops catering to surfers, beachgoers, and fashion enthusiasts. Surf shops, trendy boutiques, and beachwear stores can be found along the town's main streets.
These towns offer a mix of unique shops, local boutiques, and well-known brands, ensuring a diverse shopping experience for visitors to Cornwall.
What is the poshest village in Cornwall?
Rock is often considered the poshest village in Cornwall. Situated on the north coast of the Camel Estuary, Rock attracts affluent residents and visitors with its exclusive waterfront properties, upscale restaurants, and a reputation as a popular holiday destination for celebrities and high-profile individuals. The village's luxurious atmosphere and stunning coastal setting contribute to its reputation as one of Cornwall's most affluent locations.
Cornwall villages and towns FAQ
What is the big town in Cornwall?
The largest town in Cornwall is Truro, serving as the county's administrative and commercial hub. With a population of around 20,000, Truro offers a wide range of amenities, shopping centers, cultural attractions, and serves as a focal point for business and services in Cornwall.
How many towns are there in Cornwall?
Cornwall is home to numerous towns, with the exact number varying depending on the criteria used to define a town. However, there are generally around 40 towns in Cornwall, each with its own unique character and attractions.
What is the scenic village on the North Cornish coast?
Boscastle is a scenic village on the North Cornish coast known for its picturesque harbor, charming cottages, and dramatic coastal scenery. Nestled in a valley, it offers breathtaking views and is a popular destination for visitors seeking natural beauty and tranquility.
What towns are near St Ives?
Two towns near St Ives are Hayle and Penzance. Hayle is located to the east of St Ives and is known for its sandy beaches and wildlife reserve, while Penzance is situated to the southwest and offers a vibrant harbor, historic architecture, and access to the iconic St. Michael's Mount.
What is the tiny town in Cornwall?
Polperro is often considered one of the smallest towns in Cornwall. This charming fishing village is nestled on the south coast and offers narrow winding streets, traditional cottages, and a picturesque harbor, creating an intimate and idyllic setting.
What is the oldest town in Cornwall?
The town of Marazion is considered one of the oldest towns in Cornwall, with a history dating back to prehistoric times. Its ancient roots and proximity to the historic site of St. Michael's Mount contribute to its significance as one of Cornwall's oldest settlements.
What is the party town in Cornwall?
Newquay is often regarded as the party town in Cornwall. Located on the north coast, it attracts a young and lively crowd with its vibrant nightlife, beach parties, and numerous bars and clubs, making it a popular destination for those seeking a vibrant party atmosphere.
Cornwall must visit towns
Two must-visit towns in Cornwall are St. Ives and Padstow. St. Ives charms visitors with its stunning beaches, art scene, and vibrant atmosphere, while Padstow offers a picturesque harbor, culinary delights, and easy access to the beautiful Camel Estuary.
Is it worth visiting pretty villages and towns in Cornwall?
Yes, it is worth visiting the pretty villages and towns in Cornwall. These towns offer a unique and charming atmosphere with their picturesque cottages, colorful houses, and inviting harbors. Whether you're looking for scenic landscapes, outdoor activities, or just a relaxing getaway, you'll find it all in Cornwall. With its combination of lush countryside and rugged coastline, it's a treasure trove of stunning scenery and endless adventures, making it a wonderful destination to visit.
Explore the charming and picturesque villages and towns in Cornwall and make the most of your time there by visiting as many of them as you can. Each town has its own unique character and charm, making it a memorable experience.
Which village in Cornwall is your favorite to explore? Share with us!