Looking for the best forest walks near London? From ancient forests to the best woodland there are many amazing forests around London!
London is a city bursting with exciting activities and eye-catching sights. But did you know that it's also the gateway to some of the UK's most enchanting woods and forests? While this may not be the first thing that comes to mind when you think of the bustling metropolis, a day trip to one of these verdant spots is always a rewarding idea.
From ancient, moss-covered forests to meticulously preserved woodlands, London has no shortage of breath-taking green spaces perfect for a day's escape from the urban rush. These are not just any old fields or picnic destinations, but places where you can truly lose yourself in nature.
Looking for a beautiful woodland walk? Or perhaps yearning for the scent of pine forests? From trails that meander through quiet woods near London to those that offer an exhilarating journey through larger expanses of forest, there's something for every nature enthusiast.
Imagine walking under the canopy of towering trees, listening to the rustle of leaves underfoot. Not only do these retreats offer us a chance to boost our physical health, but they also contribute greatly to our mental well-being. The tranquility found in these spots is a far cry from the city's hustle and bustle.
Stay tuned for our comprehensive guide on the best forest walks near London. We'll show you how to find those hidden gems right in your backyard, where you can experience some of the most majestic woodlands and forests in the region. So, whether you're interested in a forest park near you or simply eager to find out more about the jungle close to home, we've got you covered.
Who knows, your next great adventure might just be a stroll in the forest near you!
Forest walks near me types:
| | |
| --- | --- |
| Woods near me from West London: | Burnham Beeches |
| Forest near me from North London: | Wendover Woods |
| Woodland walks near me from East London: | Epping Forest |
| Nearest forest to me from South London: | Winterfold Forest |
Are there any forests near London?
A forest can be defined as any area of land that is dominated by trees, and some people only consider an area a forest if it is over 1.24 acres. Whatever you define a forest as there are certainly some to be found near London. Some forests and woodlands can be found within the capital itself, with a collection within walking distance of major London attractions.
There are also plenty of forests slightly further afield, but easy to travel to within a day. Epping Forest is one of the most famed forests near London, covering a vast 2,400 hectares and reachable on the Central Line on the London Underground.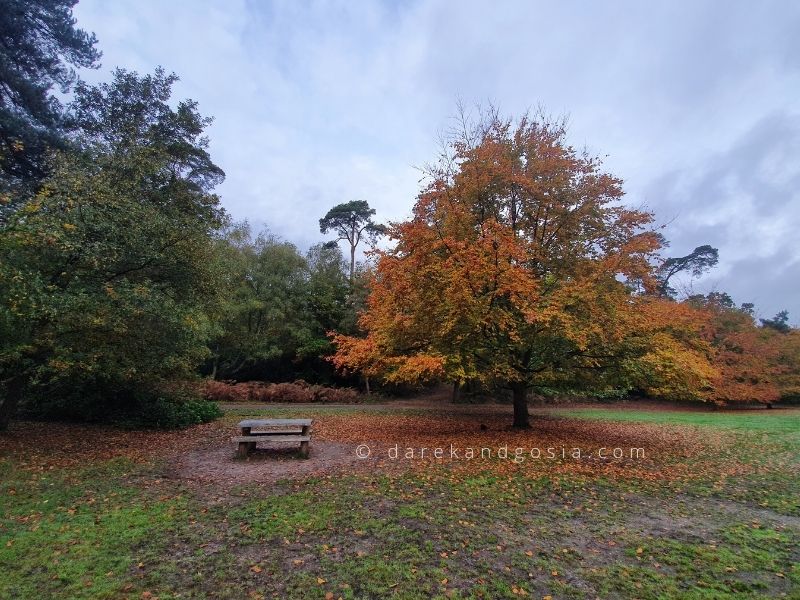 Forest near me – car hire
Check out our guide to the best car hire company in the UK or simply explore the options directly on discovercars.com if you need a car to visit the best forest near London.
Do I need trail shoes for walking in the woods?
When you are planning your day trip to the great outdoors, you might be wondering if you need trail shoes or special footwear for your adventure. Trail shoes are great because they are water-resistant, comfortable and protect your feet from the elements. Whether you really need them will depend on the type of walking you are planning on doing on your day out.
If you are the kind of walker who sticks to the paths and well-worn tracks, then any comfortable shoes will do the job. If you are more prone to heading off the beaten track and finding your own way, then trial shoes will offer traction, protection and stability.
How to get to the best woods near London?
Travelling to the best woods and forests around London will depend on your chosen location. Some woodland areas in London you could travel to on foot, if you don't mind a walk. Many other forests near to the capital can be reached using the underground network, local buses or train services.
If you prefer to travel by car, then a lot of the forests and woods near London also have car parking facilities and are easily accessible by road.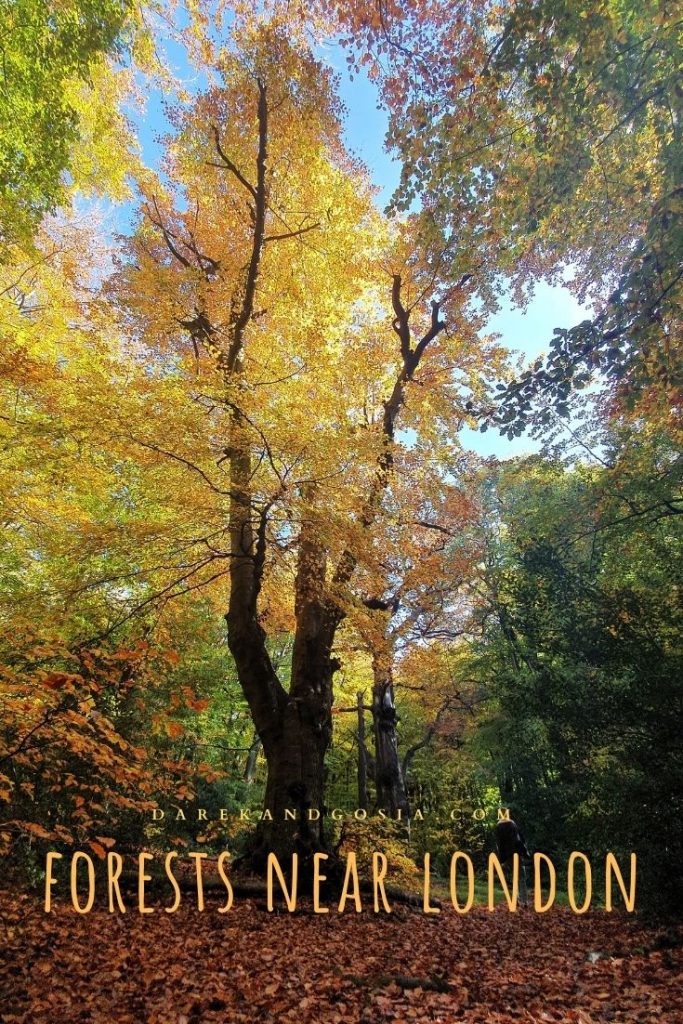 Explore the ancient woodland near me and top ideas to visit nearest woods to me from London:
Best woods and forests near London
1. New Forest
Best forest areas near me from London? Let's start with a big one – the New Forest National Park!
Without a double one of the National Park's main attractions are the native ponies. They roam freely around unspoilt woodland and river valleys. Yes, you can see the ponies in every corner of the New Forest.
We absolutely love this area! It's located only a 90-minute drive from the capital city so it's a perfect place to visit on a day trip from London!
Anyone looking for the nearest forest to London must consider the New Forest! It's not only a top location in southern England but also one of the most magical places in England!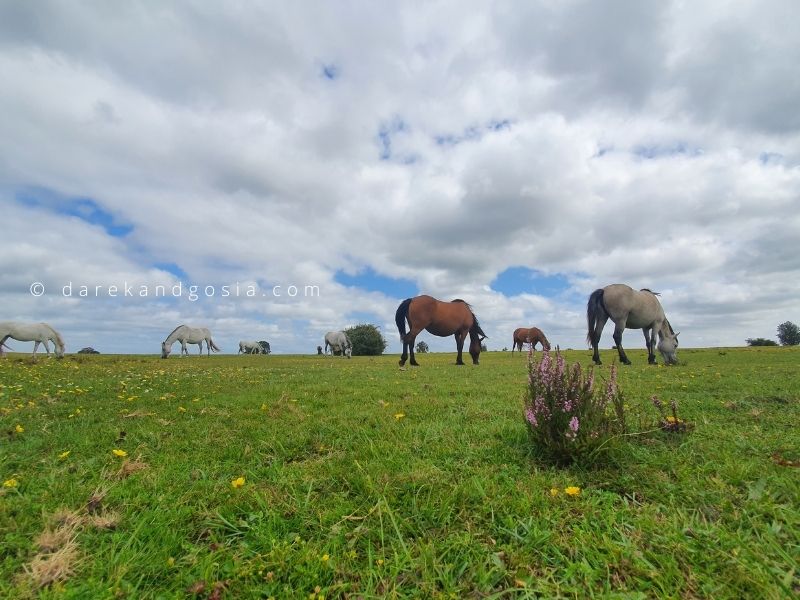 2. Richmond Park
Where to go for woods London walks? On the outskirts of southwest London is the beautiful Richmond Park. It is the second-largest park in all of London, and whilst not technically a forest or woods; it certainly shouldn't be dismissed. You can spot deer rambling around the grounds as over 600 of the majestic creatures live here. Find out more about the deer and discover everything the royal park has to offer by stopping off in the visitor centre first.
Open from 7 am every day, Richmond Park is nearby to many bus stops and Richmond train stations, making it easy to reach from central London.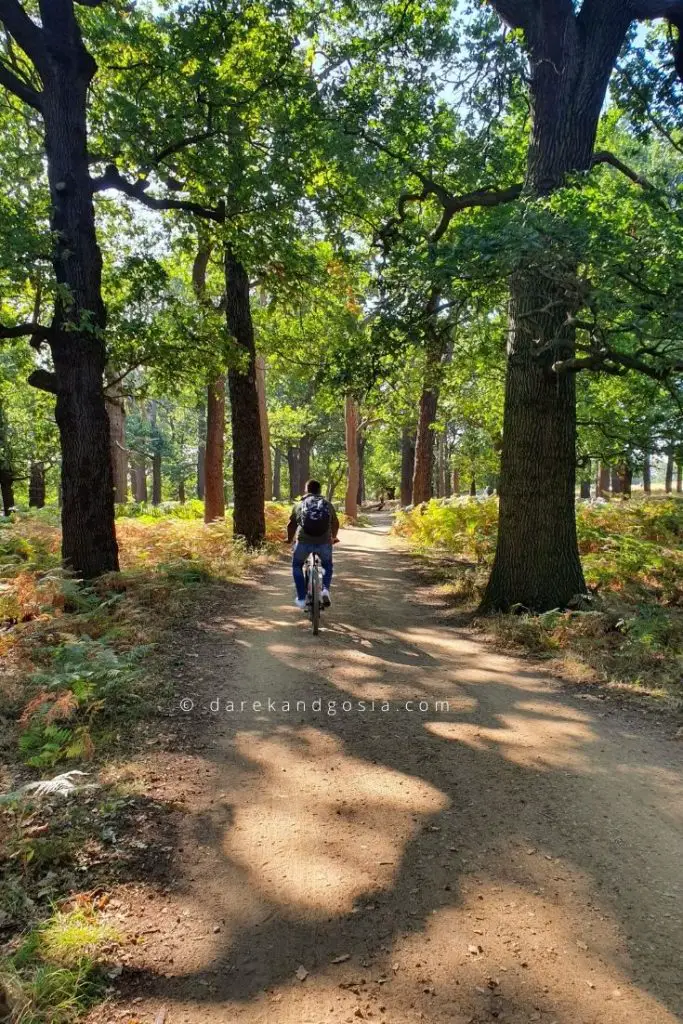 3. Swinley Forest
Forest parks near me? Located just 3 miles from Bracknell and 10 miles from Windsor, Swinley Forest really is one of the nice woods near me.
The forest is a great place to explore on foot, and it's very popular amongst dog walkers. Use The Look Out as a base for exploring this amazing woodland. In fact, Swinley Forest is home to some of the best circular walks near London!
You will find in the park the Swinley Bike Hub – you can hire a bike and explore all of the trails in the park. There are many trails in Swinley Forest – most suitable for riders of all levels, from very beginners to advanced.
Swinley Forest is also one of the best places to visit in Berkshire.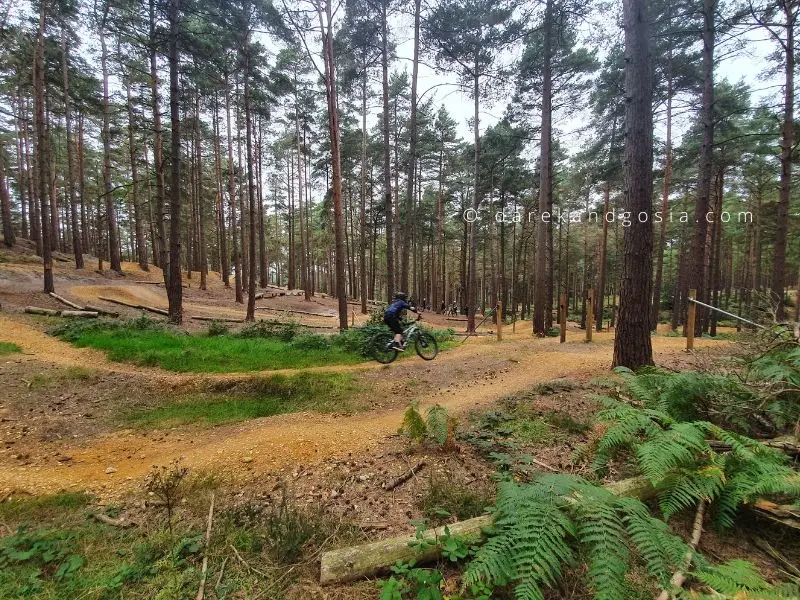 4. Epping Forest
Best forest outside London? Yes, Epping Forest nature reserve & woodland has to be top on our list of best London forests! Epping Forest covers 2,400 hectares of ancient woodland from east London to Essex. It is one of the largest and most impressive forests near London and a very popular choice for a day out.
There are various marked trails to tackle, with routes ranging from 1 mile to over 5 miles so you can find one to suit any ability. Epping Forest can be easily reached from central London by hopping on the overground to Chingford Station where you will find the entrance to the forest. You can also take the Central Line to Theydon Bois or Loughton and follow a short walk to the entrance.
5. Black Park Country Park
Looking for the best forests near London? Located in the beautiful Buckinghamshire countryside is Black Park Country Park. The park covers 530 acres of woodland, heathland and grassland, and is a popular spot for a day out from the city. In the centre of Black Park Country Park is a stunning lake, offering waterside walks and breathtaking views.
Your adventurous side can come out in the Go Ape Tree Top Trails, or little ones will love the woodland children's play area. Parking is available in the park, and it can be reached by car from London in about an hour.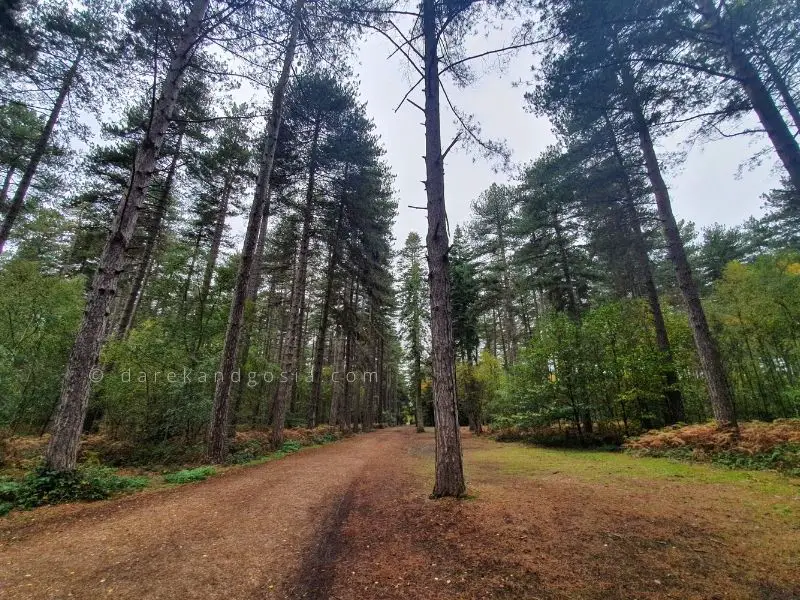 6. Alice Holt Forest
Forested areas near me? The royal forest of Alice Holt is situated around 4 miles south of Farnham, Surrey. It is free to visit but you will have to pay parking charges for your day out – $3 for 4 hours or £6 for the whole day.
Alice Holt really is an incredible forest with many amazing family and dog-friendly walks. There's so much to do at Alice Holt Forest – go for a walk, play family games, cycle or just relax and have a nice picnic.
Ahh, and don't forget to go on the trials as you must see all the Gruffalo sculptures! ?
Alice Holt Forest is not only one of the top places to visit in Hampshire but also one of the largest ancient woodlands in Southern England.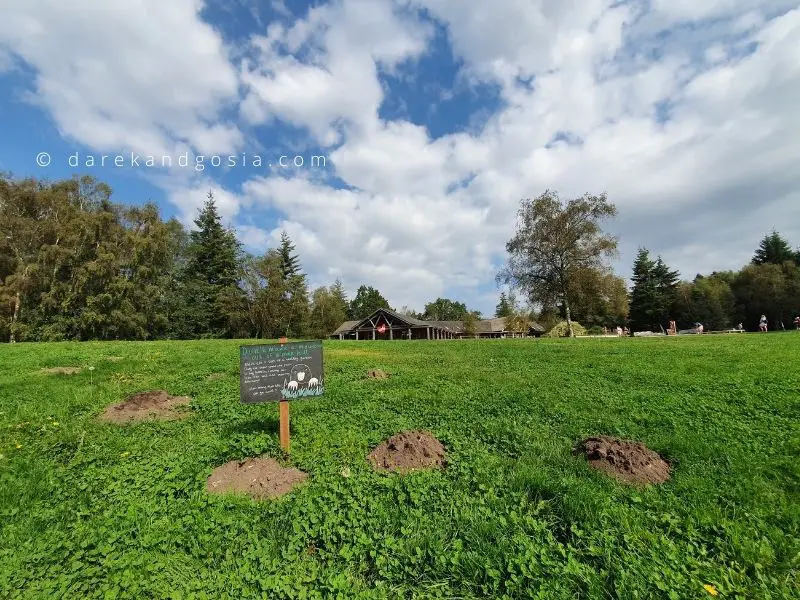 7. Ruislip Woods
Best woods near London? The National Nature Reserve at Ruislip Woods is the largest semi-natural woodland in Greater London. It is home to the most extensive hornbeam coppice and oak woods in all of South East England. Ruislip Woods is nearby to the popular Ruislip Lido and can be reached by public transport from central London.
You can take Metropolitan or Piccadilly Line services to Ruislip station, or hop on the H13 or 331 bus. Parking in the area is limited, so we recommend finding alternative ways to visit Ruislip Woods.
8. Wendover Woods
Famous woodlands near London? In the beautiful Chilterns countryside is Wendover Woods, just outside of West London. On a day trip to Wendover Woods, you will be treated to stunning views over the Chiltern Hills, rambling forest trails and a local café serving hot and cold favourites.
Wendover Woods is also home to Go Ape Tree Top Adventure, for the thrill-seekers among us. This woodland park is about an hour and a half drive from central London or can be reached by train using Chiltern Railways.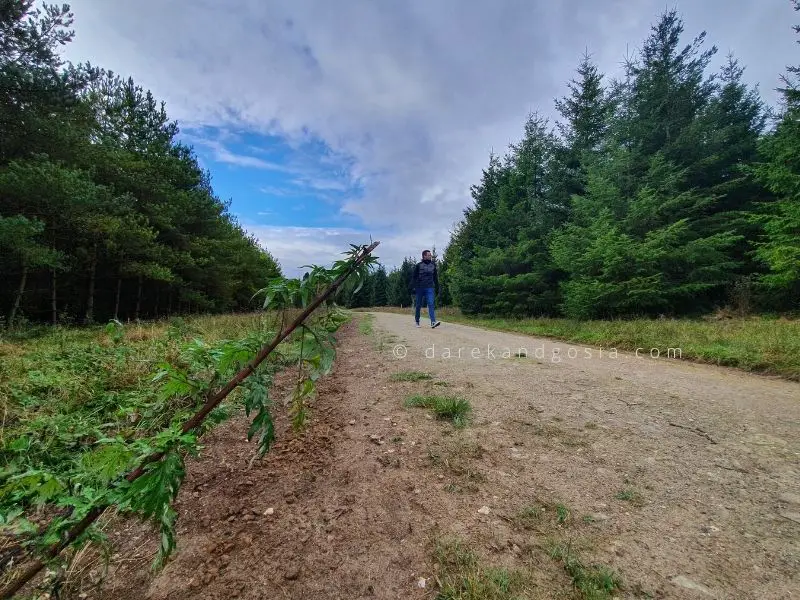 9. Penn Wood
Where to drive for London forests? Yet another beautiful woodland location in Buckinghamshire is Penn Wood. This breathtaking area of ancient woodland is a perfect day out from London offering stunning scenery and unique wildlife. The woodland is made up of various conifers, birch, rowan and cherry trees, and some of the beech trees in the woods are more than 200 years old.
Spanning across 435 acres, there are plenty of routes to choose from and a lot to take in, including a collection of hand-carved wooden sculptures. Travelling by train is easy from London, with Beaconsfield and Amersham stations both around 3 to 4 miles away.
10. Ashridge Forest
Top forest walks near London? The enchanting forest of Ashridge Estate in Hertfordshire is an excellent day out from London. Set in 5000 acres of woodland, there are various landscapes to explore. Ashridge Forest is home to rare butterflies, fallow deer and endless carpets of bluebells in the springtime.
Located on the edge of the Chiltern Hills, Ashridge Forest has been used as the setting for some much-loved movies. Disney's 2014 Sleeping Beauty used the area for Maleficent's Enchanted Forest, and it was also used in Les Miserables and Into The Woods.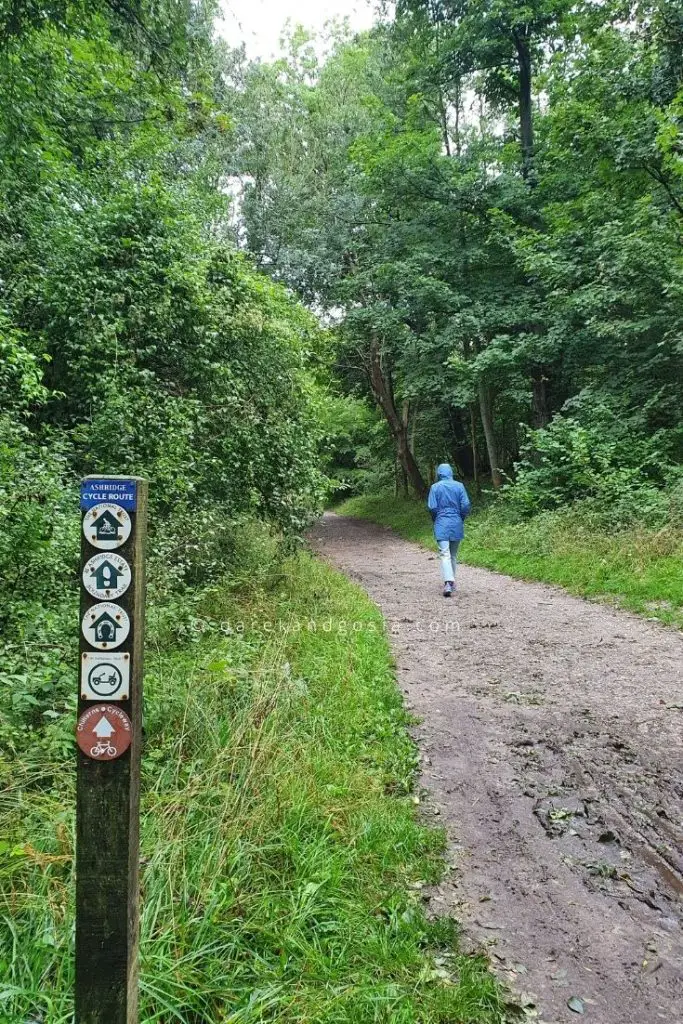 11. Burnham Beeches
Best ancient woodland near me? Just west of Farnham Common in Burnham, Buckinghamshire is Burnham Beeches. It is a biological Site of Special Interest and is owned by the Corporation of London. The picturesque nature reserve is open to the public, and visitors love exploring the woodland trails and beautiful surroundings.
Ponies and cattle are used to look after the reserve so keep an eye out for them on your visit.
So, is Burnham Beeches on your UK bucket list?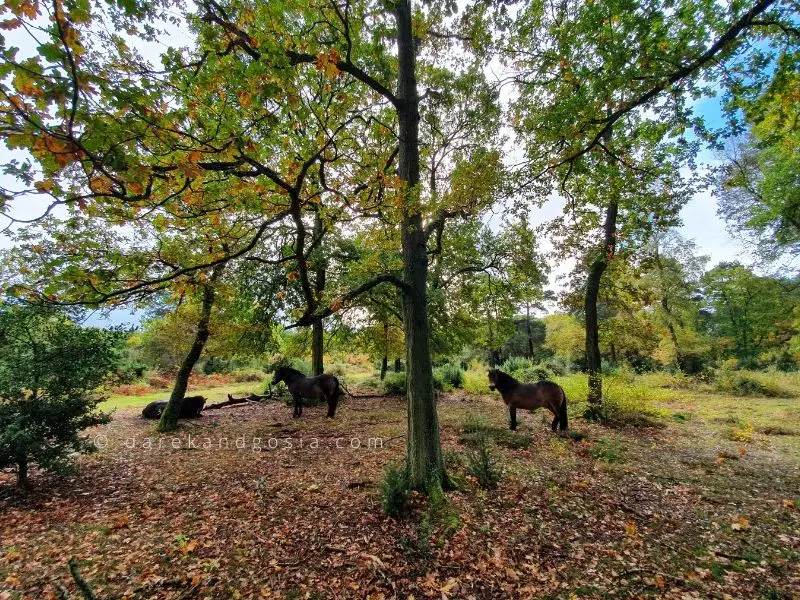 12. Whippendell Wood
Forest close to London? Northwest of London, just outside of Watford, is the quaint Whippendell Wood. It covers 165 acres of ancient forest and is thought to be more than 400 years old. Whippendell Wood is a designated Site of Special Interest because of the many woodland habitats in the area.
The woods are particularly well known for the impressive bluebell collection that can be seen during spring.
13. Turville Heath Woods
Looking for famous forests near the capital city? Turville Heath spans across 20 hectares of woodland and grazing land in the Chilterns. It is one of the only commons in the Chilterns where animals are still grazed regularly. It sits just 2km outside of the village of Turville and is best to be reached by car as public transport is limited.
On a day trip to Turville Heath Woods, you will find grand old oak trees, a mix of flora and fauna, and various grasslands and scrub.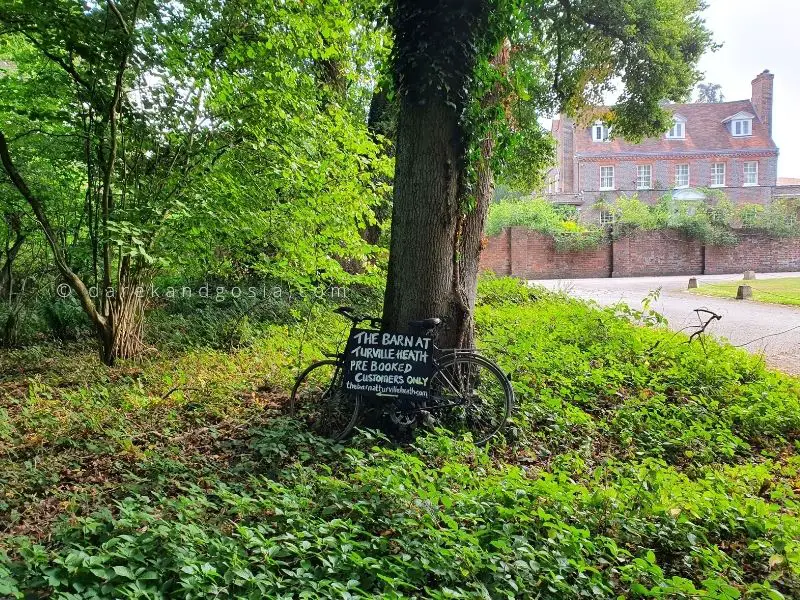 14. Finemere Wood
Beautiful forest near me? This wood is a little further afield from London, but well worth the trip. Just over 60 miles from Central London, Finemere Wood is a magnificent location for a day out in the countryside. It covers 77 hectares of land and offers a collection of walking trails for all abilities.
If you choose to visit in spring, you will be met with a vast collection of woodland flowers as an impressive 200 different flower species have been recorded in Finemere Wood.
15. Blackheath Common
Best forests to visit near me? If you head southwest of London for just over an hour, you can reach Blackheath Common in Surrey. Set in 250 acres of heathland, Blackheath Common is a popular choice for ramblers, dog walkers and adventure lovers. The internationally important habitat has sadly suffered huge losses of 85% in the last 200 years, which is now there is a significant focus on keeping the area as diverse and beautiful as possible.
Today, the local council is responsible for maintaining and enhancing the common. Set within the Surrey Hills Area of Outstanding Natural Beauty, Blackheath Common offers beautiful scenery on a day trip from London.
16. Coombe Hill Forest
Where to find the best forests around London? Be careful not to mistake Coombe Hill Forest for Combe Hill Wood in Glastonbury, or you'll be setting off on a much longer journey than anticipated.
This local forest is located next to the hamlet of Dunsmore in Buckinghamshire and is popular among local residents. Just 40 miles from central London and reachable by car, this forest is easy to access on a day trip from the capital.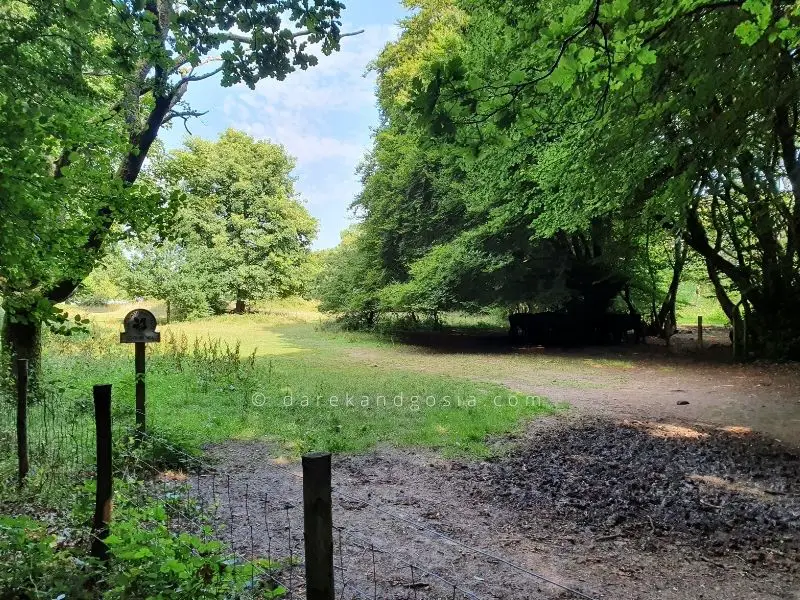 17. Hodgemoor Woods
Beautiful woods near me? Just over an hour from London into the Buckinghamshire countryside is Hodgemoor Woods. This woodland has a rich history, with records dating back to the 13th and 14th centuries. Most of the 90 hectares of woods have an ancient origin, resulting in a huge variety of wildlife, trees and shrubs.
It is the perfect spot for nature lovers to escape the busy city life and explore the beautiful forests of England. Hodgemoor Woods is popular among cyclists, walkers and horse riders, with plenty of space for everyone to enjoy.
18. Brush Hill Forest
Top woodland walks near me? Also known as Brush Hill Local Nature Reserve, Brush Hill Forest is an hour and a half west of London. The semi-natural woodland spans from Coombe Hill to Bradenham Estate and features a diverse range of species and wildflowers.
Every year, a flock of Herdwick sheep graze the reserve in order to promote the flora and fauna. There are various walking routes across the forest, offering spectacular views and excellent scenery.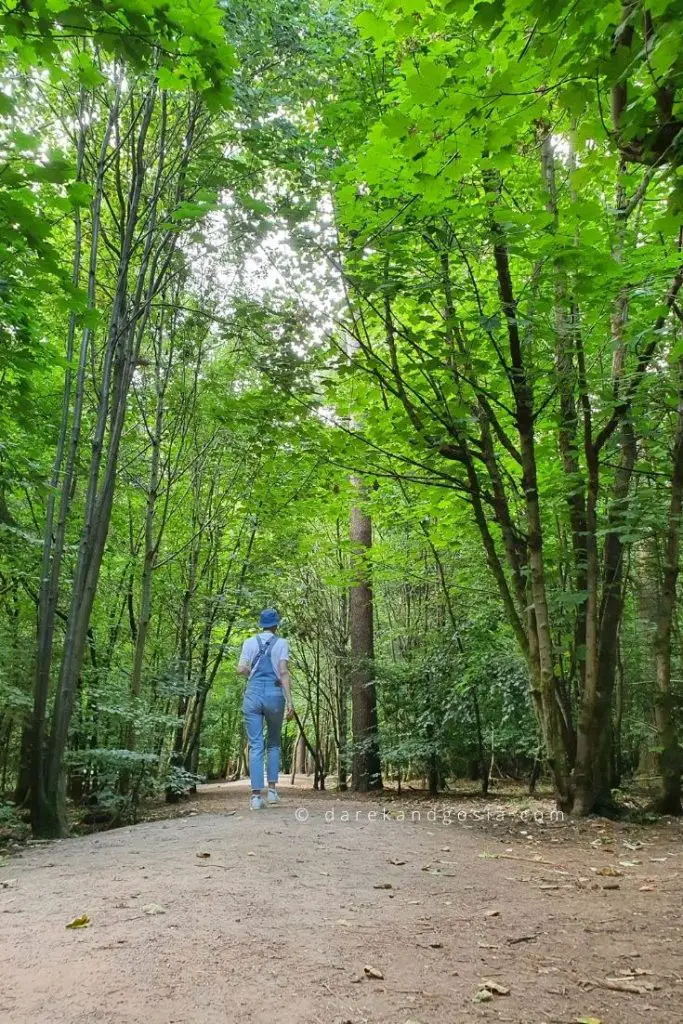 19. Winterfold Forest
Forest around London? Nestled in the Surrey Hills Area of Outstanding Natural Beauty is Winterfold Forest, just 40 miles from London. It offers unbeatable views across the woodland and a unique wooden sculpture called "Perspectives".
Driving to Winterfold Forest is easy from London, with two car parks serving the area.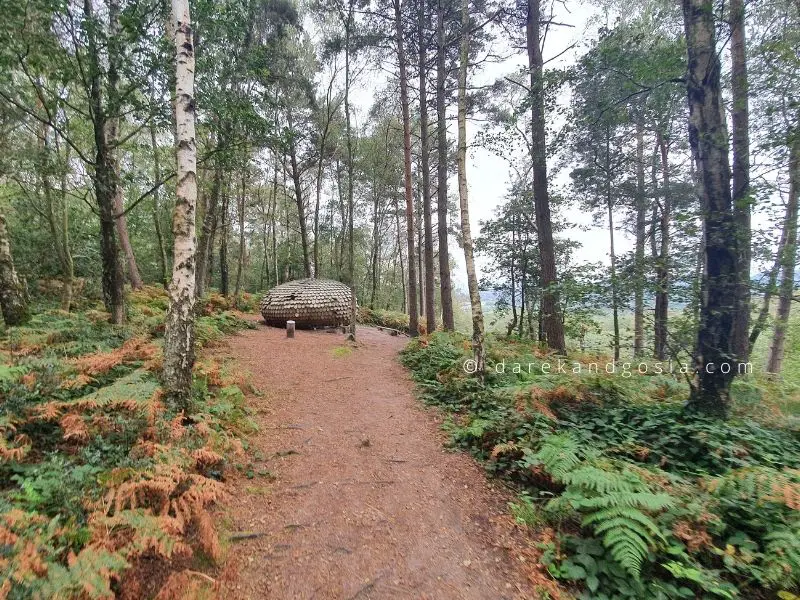 20. Whiteleaf Hill Forest
Top forests near London for a day trip? Covering 11 hectares of land near Princes Risborough in Buckinghamshire, Whiteleaf Hill Forest is easy to visit from London. It sits on the very edge of the Chiltern Hills Area of Outstanding Natural Beauty and offers beautiful views across the countryside.
In the forest, you will find five ancient monuments, some which date back to the Bronze Ages.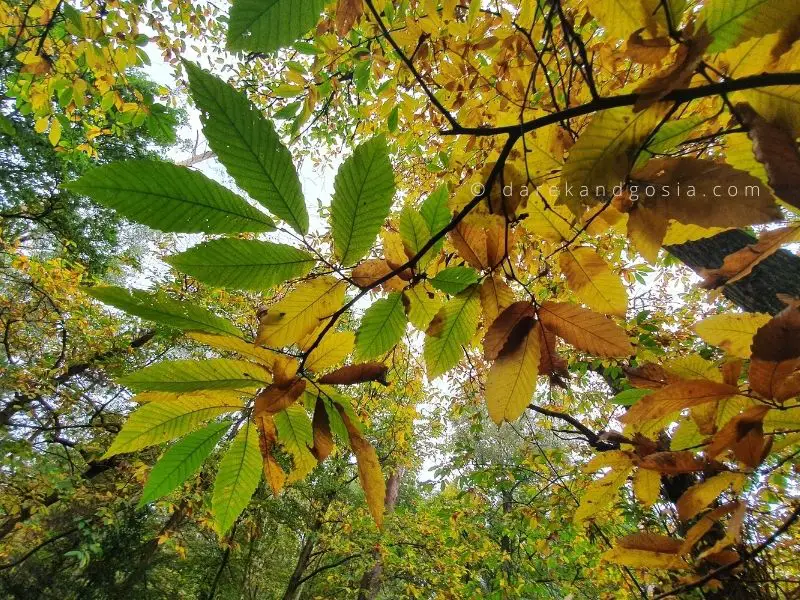 21. Langley Park
Forest trails near me? One hour west of London, just outside the M25 is Langley Country Park. It is one of the best-kept secrets of Buckinghamshire and a great choice for a nature-filled day our from the capital. Langley Park has a rich history and visitors can enjoy the beautiful Temple Gardens and views all the way to Windsor Castle.
Parking is available, and visitors can also travel by trail on Great Western Railway services from Paddington Station.
22. Dockey Wood
Where to visit for the best forests around London? Dockey Wood in Berkhamsted is part of the Ashridge Estate. The beautiful forest is renowned for being carpeted with bluebells every spring. The stunning blue flowers spread between the trees for as far as the eye can see.
Dockey Wood is a stretch of forest that is great to visit all year round but is particularly spectacular in March and April.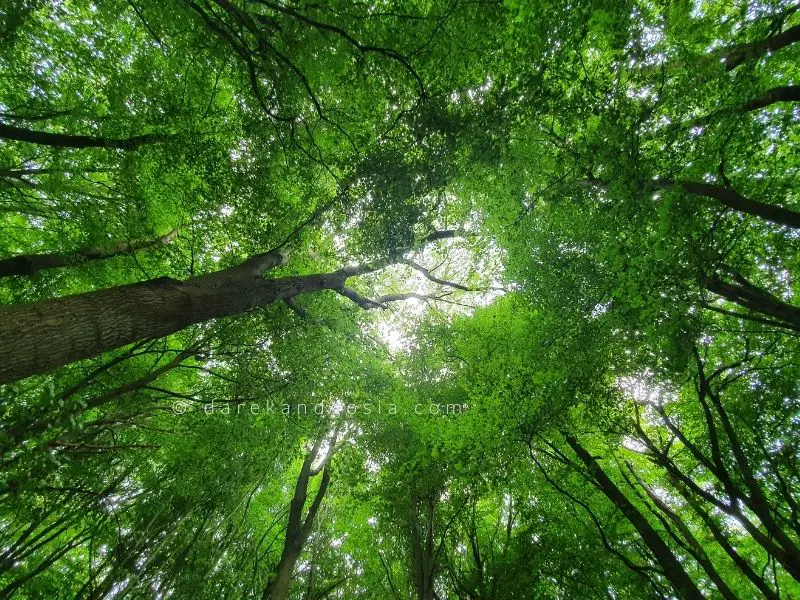 23. Windsor Forest
Best forest walks near me? Just over an hour from Central London, in the county of Berkshire is the famous town of Windsor. The royal town is known for Windsor Castle and its rich history. It is also home to Windsor Forest and Windsor Great Park, which is an excellent spot for a day out from the city.
Spanning across 1778 hectares of royal land, Windsor Forest is a Site of Special Scientific Interest and a National Conservation Review site. Within the woodland, visitors can see ancient trees and vast areas of beautiful parkland.
Interested in other things than forests near London?
Is it worth visiting the forest near London on a day trip?
Whether you choose a forest that is reachable on the underground network or want to adventure further afield to Buckinghamshire, Surrey or Berkshire, a day trip to the great outdoors is always worthwhile.
London is a beautiful, bustling city, but it often doesn't give you the chance to experience nature at its finest. Taking a trip to the outskirts of London and heading out for a walk in a nearby forest or woods is an excellent way to enjoy nature and get a breath of fresh air.
A day out to the forest or woodland is perfect for young children, couples or on your own to take in the beauty of England's green spaces.
Forest near me FAQ:
Best coniferous forest near me?
Swinley Forest is not only a stunning pine forest near me from London but also a top forests London!
What do Forestry England do?
As they say they "shaping landscapes for people, wildlife and timber" so in short, we can say that they make all the woodlands near me beautiful!
Top woods near me with parking?
If you are looking for forest walks near me with parking then head out to Wendover Woods or Alice Holt Forest some of the beautiful woodland walks near me.
Are there any forest in London?
If you are planning to visit forests in London then Epping Forest and Richmond Park should be on your list. But woods in London should stop you from visiting woods around London too!
Where are forests in UK?
Anyone looking for the best forests in UK doesn't need to look far away – there are many forest walk near London. With New Forest and Epping Forest being the top forest near me to walk!
If you liked our article, then please check out the below posts too:
To conclude, immersing yourself in the beauty of nature is a wonderful way to escape the city's bustle. This guide is your ultimate companion to the enchanting forests near London, offering the peace, serenity, and greenery you crave.
Perhaps you're longing to feel the crunch of leaves beneath your feet on a forest walk near you or seeking to explore the sprawling woodlands. You might even be eager to delve into the heart of a magnificent pine forest. Whatever your preference, rest assured that there are ample natural paradises just a stone's throw away from the busy metropolis.
Take advantage of the wooded areas, discover the unique flora and fauna, and let the whispering trees soothe your soul. Whether you're searching for an expansive forest park, planning a family picnic in the woods, or seeking the most beautiful forest near you for that perfect photo opportunity, London's nearby forests offer all this and more.
In essence, a trip to the nearest forest isn't merely a day out – it's a chance to connect with nature, improve your health and well-being, and create unforgettable memories. So, when you find yourself wondering about the big forest near you, remember that a green haven is always within reach, waiting for you to explore its trails and hidden paths.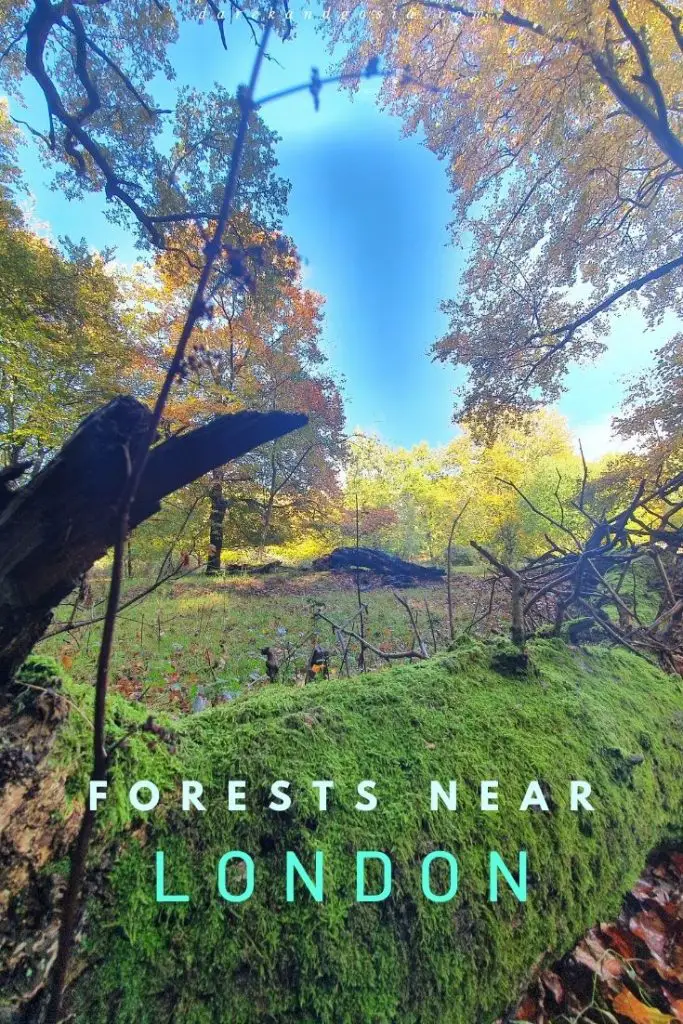 Articles you may like: