Village pubs are like hidden gems waiting to be discovered, especially the ones near me – in fact, some of the best ones can be found near London! But let's not restrict ourselves to just the village pubs. After all, who could resist the charm of country pubs, with their homely ambience and hearty fare?
Looking for that special spot to enjoy your next Sunday roast? Or perhaps you're on the quest for the best traditional pub food near London? Whether it's village pubs, country pubs, or riverside ones, we're here to guide you to the best pub experience!
Are you ready to explore outside of London? There's a whole world of delightful pubs outside London. Perhaps you're seeking the tranquillity of a countryside pub or the enchanting atmosphere of a riverside pub. And yes, we know the feeling – sometimes, you just need that pub near me kind of convenience.
From day trips that take you exploring the best country pubs outside London, to city escapades at quaint London pubs, we're glad to present to you some of the top spots you've been waiting to discover.
So, next time when you ask, where are the best country pubs near me? remember we've got you covered. And who knows? You might just stumble upon the perfect place to get that pint of lager (or two)!
We hope this guide will come handy when you're on your quest for the best country pub near me or that lovely riverside pub outside London. Have you been to any of these yet? Let's make some pub memories! 🙂
What are the best pubs in the home counties?
The Home Counties, located around London, encompass several counties known for their picturesque countryside and charming towns. While it's subjective to determine the "best" pubs, here are some highly regarded establishments across the Home Counties:
The Royal Standard of England (Bucks): Located in Beaconsfield, this historic pub dates back to the 17th century and is known for its cozy atmosphere, traditional ales, and hearty British fare.
The Greyhound (Herts): Situated in Wigginton, near Tring, this pub offers a warm and welcoming ambiance, a selection of real ales, and a menu featuring locally sourced ingredients.
The Anchor (Surrey): Nestled in Ripley village, this charming pub boasts a riverside location, serving excellent food and offering a wide range of drinks. It's a great spot for relaxation after exploring the nearby RHS Garden Wisley.
The Swan Inn (Berks): Located in Pangbourne, this riverside pub has a rich history dating back to the 17th century. It offers a cozy atmosphere, traditional pub food, and a wide selection of beers and wines.
The Crown Inn (Oxon): Situated in the idyllic village of Woodstock, near Blenheim Palace, this pub combines traditional features with modern comforts. It serves seasonal dishes and features a well-stocked bar.
The Plough (Essex): Found in the village of Galleywood, near Chelmsford, this pub offers a relaxed atmosphere, a selection of real ales, and a menu showcasing locally sourced ingredients.
These are just a few examples of well-regarded pubs in the Home Counties. Each county has its own unique establishments, so exploring the area will reveal even more delightful options.
Country pubs – car hire
Check out our guide to the best car hire company in the UK or simply explore the options directly on discovercars.com if you need a car to visit the best country pubs near me.
Avoid alcohol altogether if you plan to drive!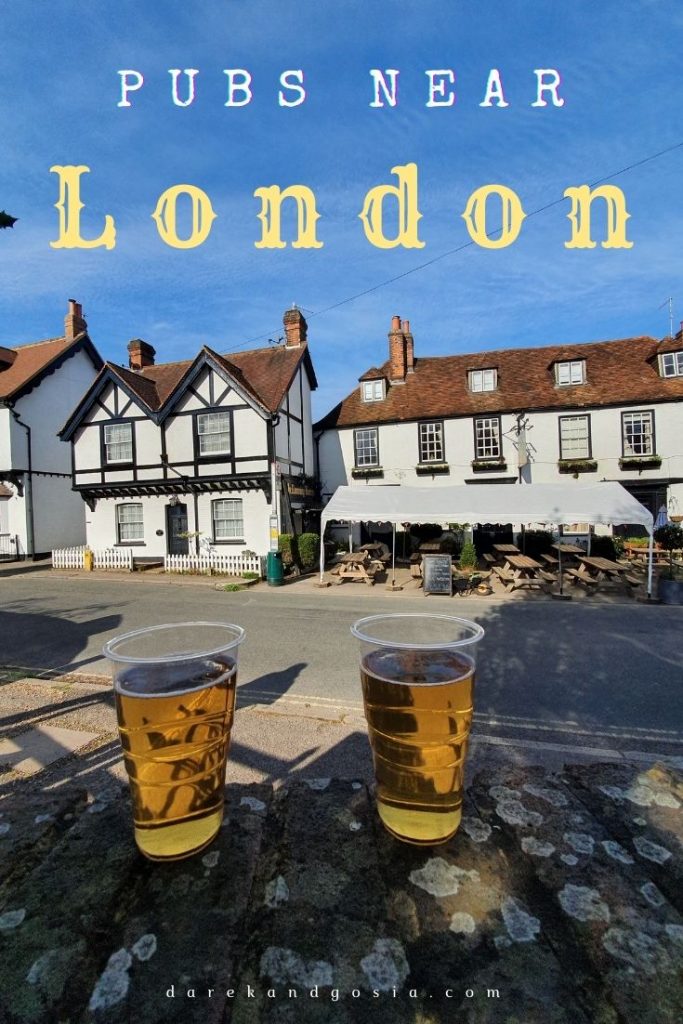 Top country pubs near me from London
1. The White Horse, Shere
Address: Shere Ln, Shere, Guildford GU5 9HS
Top English countryside pubs near London? The White Horse pub in Shere was built in 1425 as a farmhouse and has a rich history in the village. The Grade II listed building has undergone extensive renovations, and many treasures of the past have been uncovered, including Elizabethan shoes and old parchment documents.
The pub was owned by various members of the Askey family over the years, and today is part of the Chef and Brewer chain but has kept its family pub vibe.
If you are planning to visit Shere village on a day trip from London, make sure you book a table at the White Horse!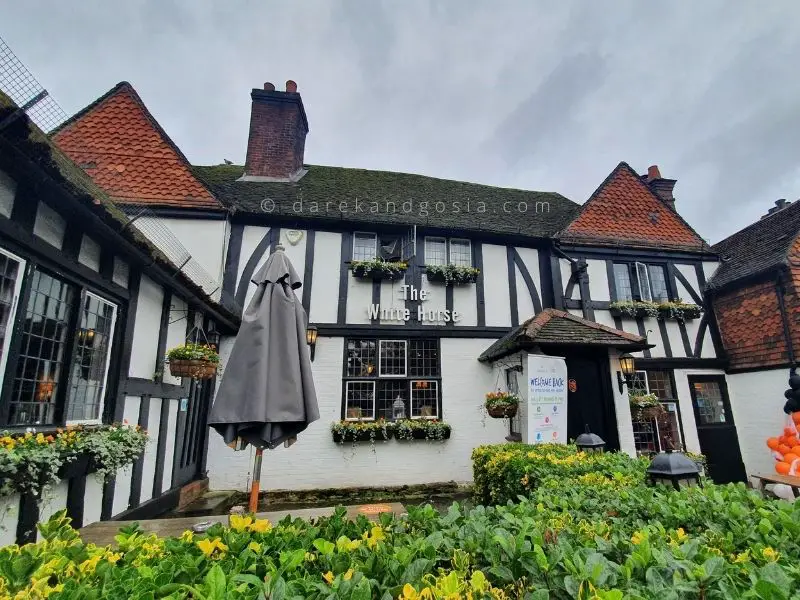 2. The Bull & Butcher, Turville
Address: Holloway Ln, Turville, Henley-on-Thames RG9 6QU
Good village pubs to visit near the capital city? Turville is a small village in Buckinghamshire, you will only find one pub. It is, however, an excellent pub, so that's ok. The Bull & Butcher is, from the outside a lovely rural village pub. The building has a Tudor style exterior, and ivy plants are growing up the walls. It is picture-perfect.
Inside the pub, you will find a classy and up-to-date gastropub that serves terrific food. If you plan on eating there during the weekend, you should book in advance as they are often full up. 
If the weather's nice, you might want to enjoy your drink and meal in the extensive beer garden. There are picnic tables in a lovely green and flowery garden to the side of the pub. There's plenty of space to relax and enjoy the beautiful surrounds. If you're lucky, you might even get to watch the horses in the neighbouring field.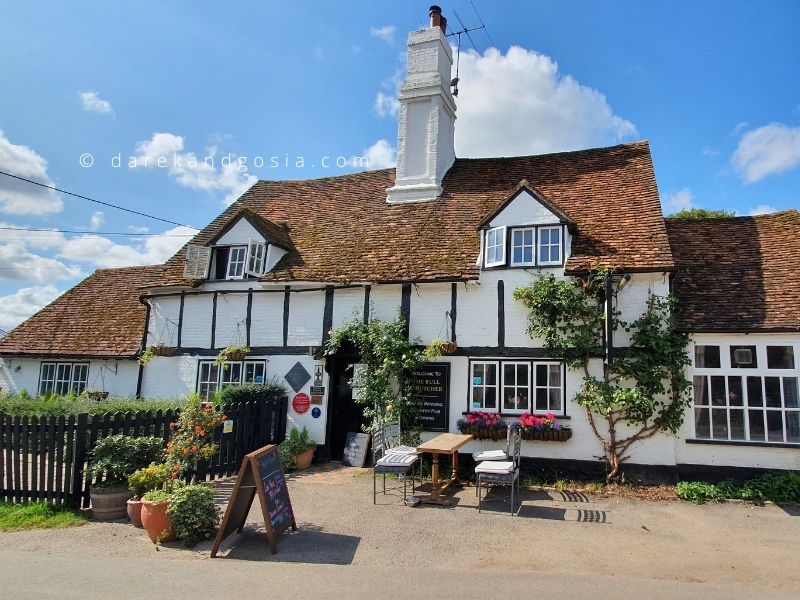 3. The Bull Inn, Sonning-on-Thames
Address: High St, Sonning, Reading RG4 6UP
Looking for the best pubs in Sonning? The Bull Inn is a picture-perfect English country pub and restaurant. This 16th Century pub is Grade II listed and in excellent condition. The timber frame and white rendered exterior is the perfect canvas for the plants and trees that climb its sides.
The food served is a great example of what can be done with seasonal produce. This means that what you have to choose from will depend on the time of year. With much of the food locally sourced you can get a real taste of proper English pub food.
So, is this British pub in Sonning on Thames on your UK bucket list? 🙂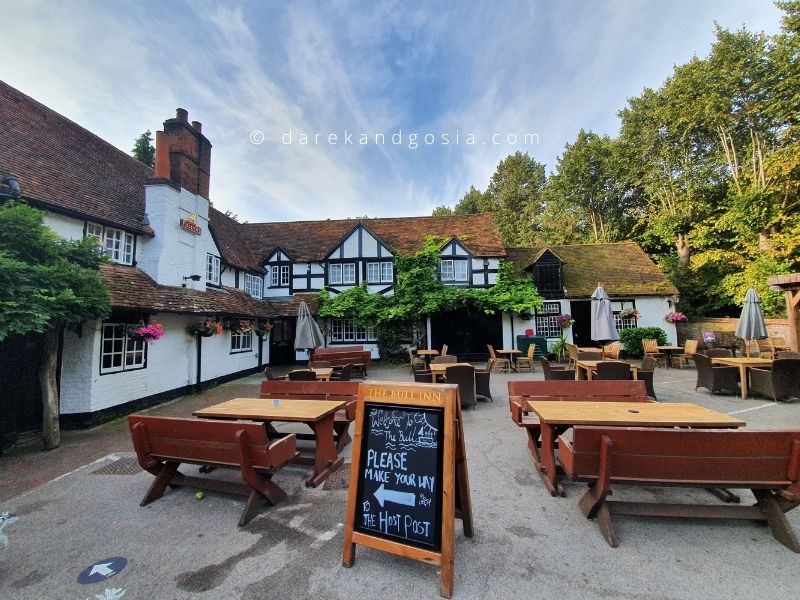 4. The Running Horses, Mickleham
Address: Old London Rd, Mickleham RH5 6DU
Where to go for the top village pubs near me?
And the Running Horses pub is a great dog-friendly place to eat, drink and sleep. Located in a charming location close to Box Hill and Denbies Wine Estate, Mickleham is one of the best places to visit in Surrey!
Ready to explore this part of Southern England on a UK weekend trip?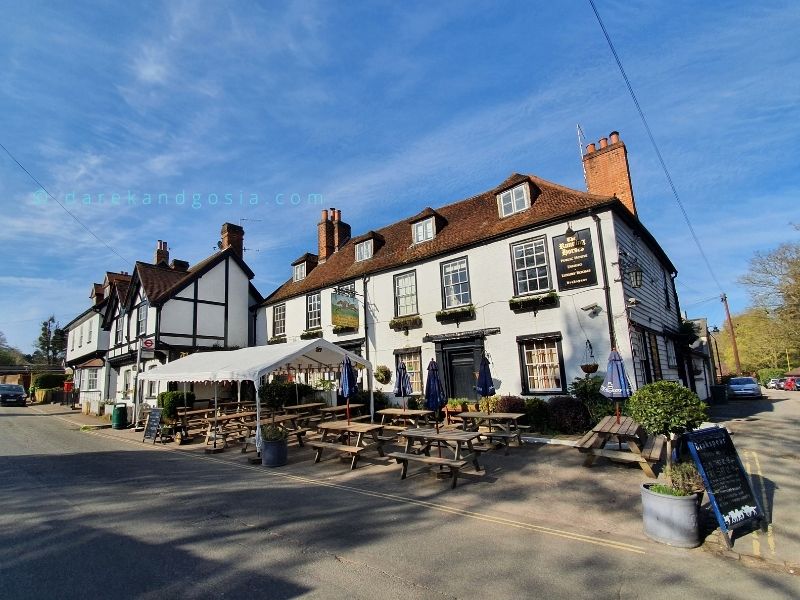 5. The Lamb Inn, Little Milton
Address: High St, Little Milton, Oxford OX44 7PU
Nice country pubs near me? If you are on a day out in Oxfordshire, chances are that you will end up in a pub ?
The Lamb Inn is a cosy pub & restaurant in Little Milton village.
Anyone fancy traditional roast dinners, steak & chips or a curry should consider visiting this village pub!
Without a doubt, this is one of the best countryside pubs near me we have seen!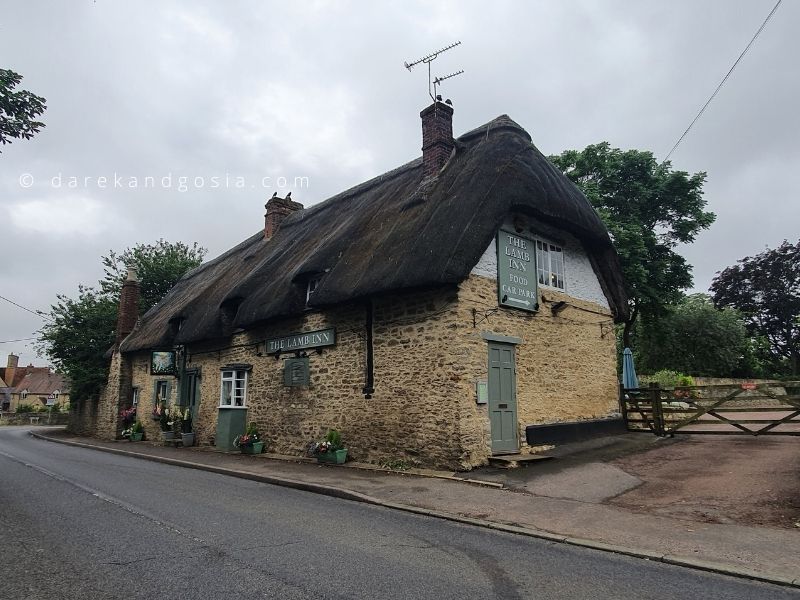 6. The Chequers Inn, Fingest
Address: Fingest Ln, Fingest, Henley-on-Thames RG9 6QD
Where to find beautiful countryside pubs near me? Head out to Fingest village in the Chilterns area of Outstanding Natural Beauty.
As is traditional in many small English villages, the pub is just opposite the church. The Chequers has been a pub since the 15th Century. The old building is cosy and warm. It's filled with traditional fireplaces that make it the perfect spot to sit and relax after a walk in the countryside. 
While you're at the Chequers Inn, you should take the time to try the food. The owners are passionate about using local ingredients and serving food that gives you a real 'taste' of the area.
Like many of the villages around, Fingest has been used as a location for Midsummer Murders. The Chequers was briefly converted into an antique shop for an episode that was filmed there.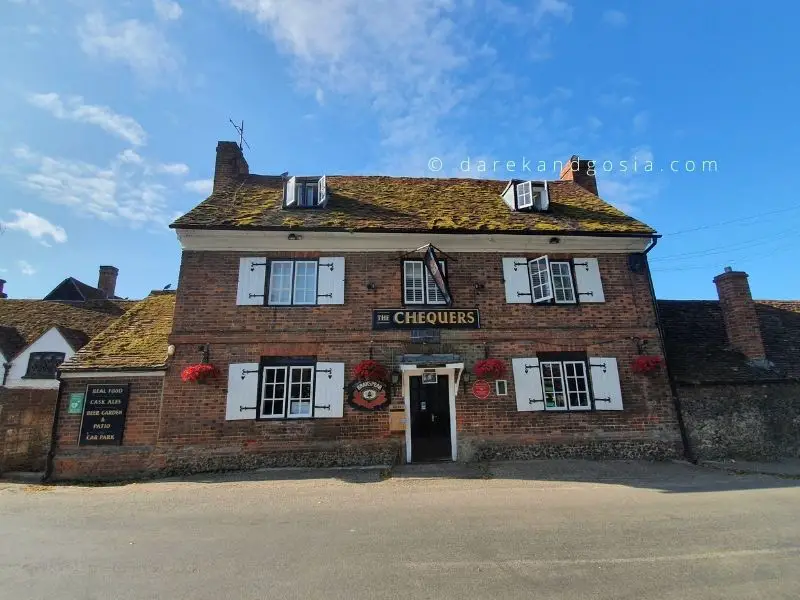 7. The Six Bells, Warborough
Address: 16 The Green S, Warborough, Wallingford OX10 7DN
Looking for rural pubs near me from London? This nice little pub in a village can be fairly busy so it's worth booking on a Sunday! Why is it so popular?
Dating from the 1600's The Six Bells in Warborough, South Oxfordshire was featured in a few Midsomer Murders episodes. So if you fancy traditional English Cuisine with local produce you better book a table in advance.
There are many traditional pubs near me but this one is very top on our list of English pubs near London!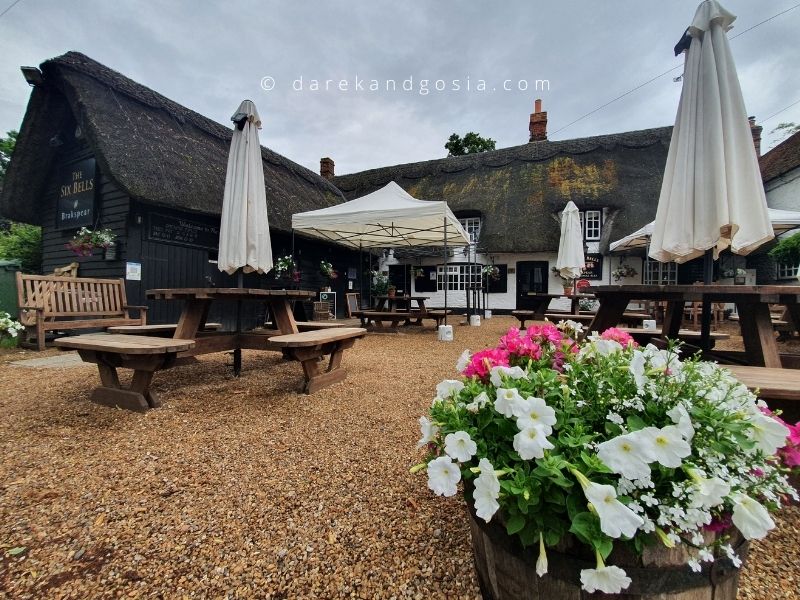 8. Fox & Hounds, Chalfont St Giles
Address: Silver Hill, Chalfont Saint Giles HP8 4PS
Any local pubs near London? Located on Silver Hill, to the north of Chalfont St Giles is the Fox & Hounds pub. This traditional country pub is a firm favourite among locals and serves classic pub meals and drinks.
Enjoy a pint of real ale from local breweries or a scrumptious dinner from their traditional menu.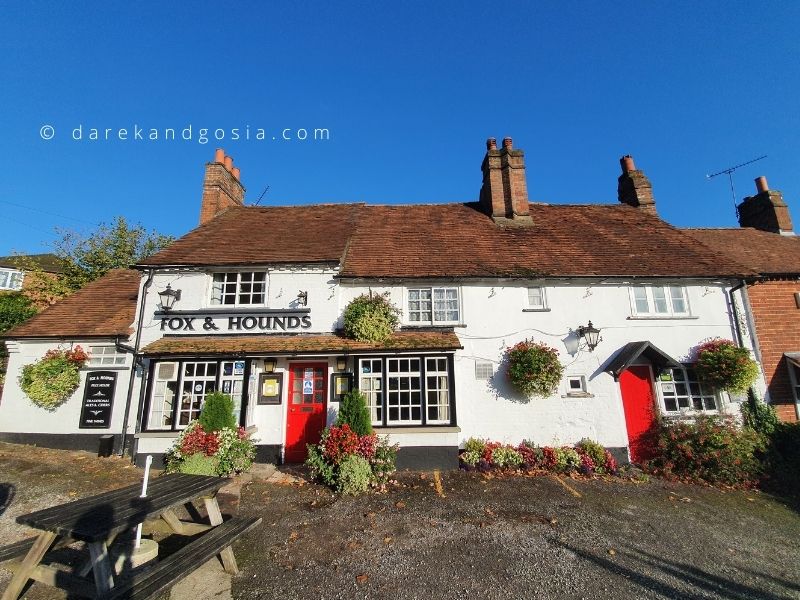 9. The Angel on the Bridge, Henley on Thames
Address: Thameside, Henley-on-Thames RG9 1BH
Where to find the best pubs around London? Pubs are synonymous with British history and tradition, and The Angel on the Bridge is an iconic pub in the heart of Henley. Located right by Henley Bridge, it serves classic pub grub and local drinks from a river terrace bar.
Visitors can enjoy a cosy pub vibe whilst overlooking the river. During the summer the terrace becomes a bustling hub for both locals and tourists.
Henley on Thames is also one of the best commuter towns near London, so if you call it home, then you definitely have plenty of time to visit this amazing pub!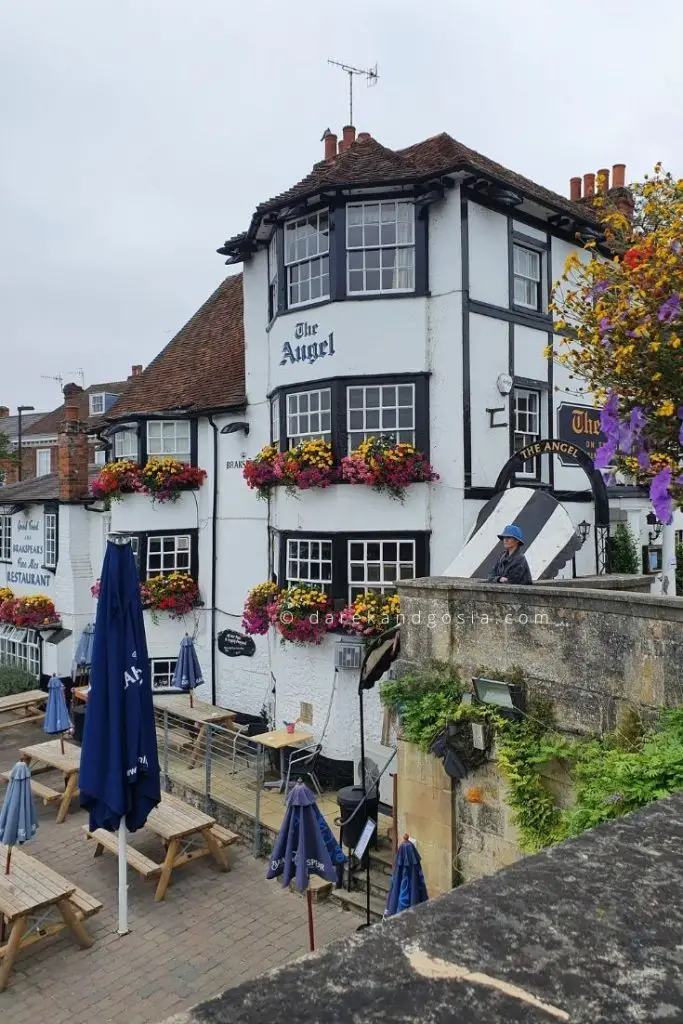 10. The White Hart, Castle Combe
Address: The St, Castle Combe, Chippenham SN14 7HU
Looking for the best Castle Combe pubs? Anyone visiting Cotswold villages has to go to Castle Combe – one of the most beautiful villages in England!
On the opposite side of the market square is the White Hart pub. This lovely little pub has been serving refreshments for five centuries. Which is a great excuse for you to have a seat and a drink, you'll just be keeping the history of the place alive.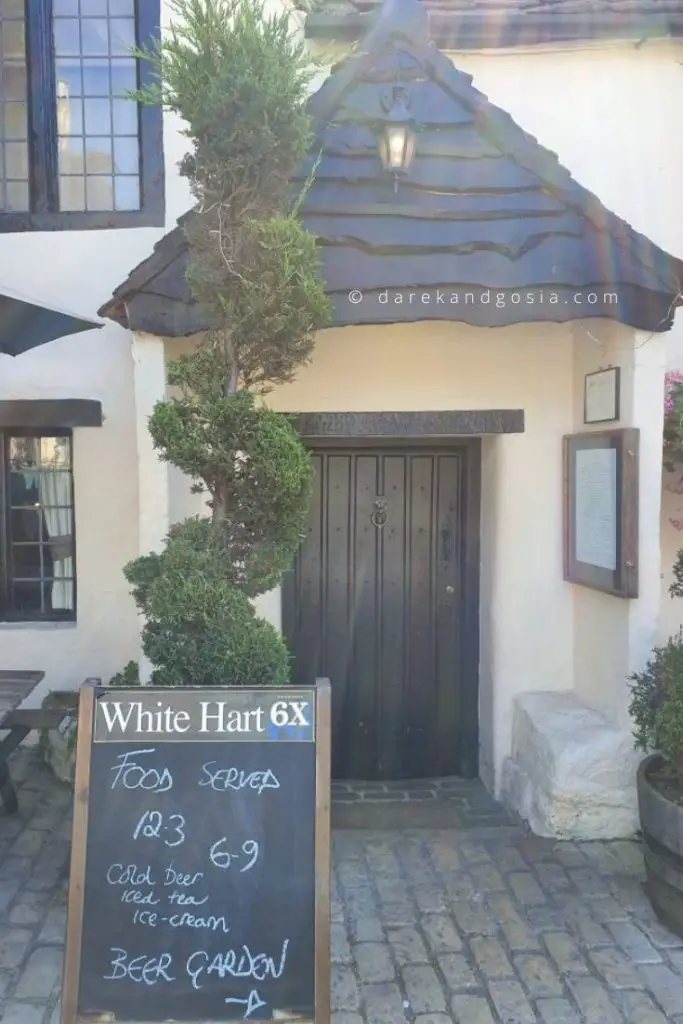 11. The Boat Pub, Berkhamsted
Address: Gravel Path, Berkhamsted HP4 2EF
Need any ideas for the best pubs around London? Visit Berkhamsted in Hertfordshire on a day trip from London and enjoy your time in one of the best commuter towns near the capital.
There's no warmer welcome than the one you'll experience when you step inside the Boat pub. The pub is located right next to the Grand Union Canal, and all locals and tourists are invited to climb aboard for their fresh take on traditional pub cuisine.
Try a range of quality craft ales, have a pint of lager on tap, or similar enjoy the company you bring with you.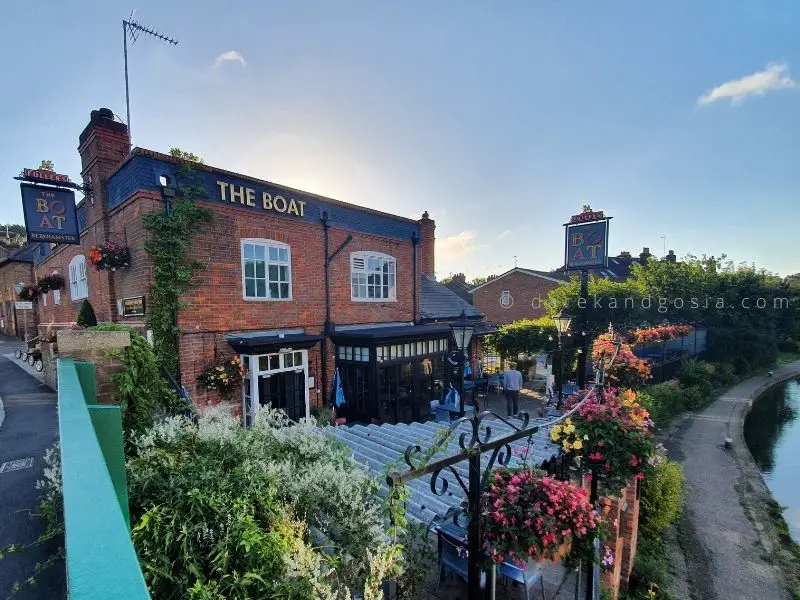 12. Swan Inn, West Wycombe
Address: High Street, West Wycombe HP14 3AE
Nice village pubs near me to visit? Located in Buckinghamshire, West Wycombe village is one of the most beautiful villages in England!
The Swan Inn in West Wycombe can only be described as a traditional English pub. It is a grade II listed building on the high street and offers a comfortable and rustic place to enjoy a pint of real ale.
Not much has changed in the Swan Inn for many years, and a visit to this pub is like travelling back in time.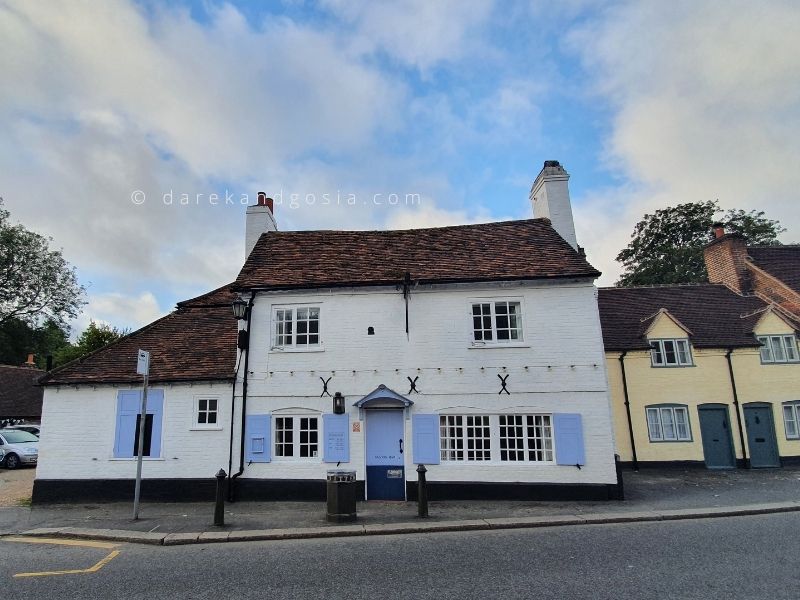 13. Ye Olde Fighting Co*ks, St. Albans
Address: 16 Abbey Mill Ln, St Albans AL3 4HE
Where to visit for best pubs around London? In Saint Albans, Hertfordshire!
Known to be one of the oldest pubs in the whole of the UK! Or the oldest one if you ask the locals. Ye Olde Fighting Co*ks has been around since the 8th century. From all the places to visit St Albans, this one just has to be on your list!
Aside from being an impressively old pub, it is also a great place to get a drink as well as something to eat too. All whilst you take in the fascinating surroundings.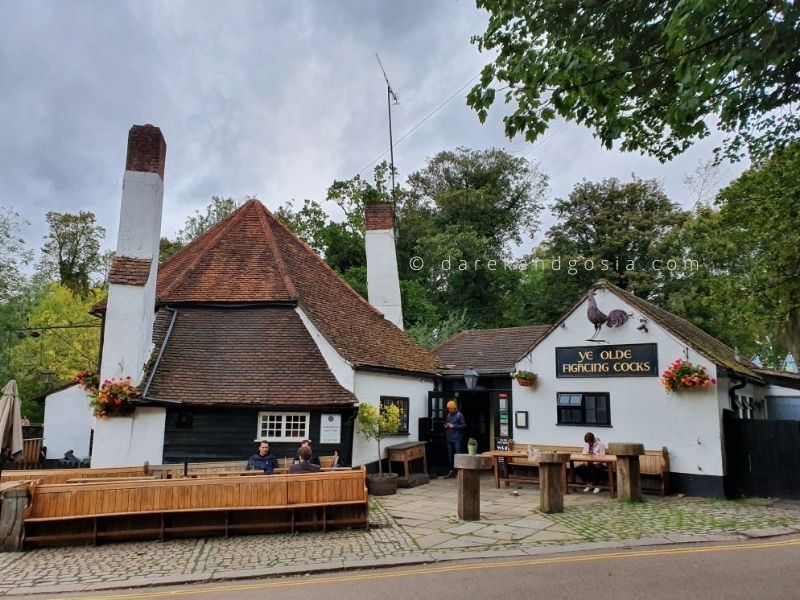 14. The Elephant and Castle, Amersham
Address: 97 High St, Amersham HP7 0DT
Looking for country pubs near London? Old Amersham is a lovely place to visit and a top commuter town.
The Elephant and Castle is a local pub in the heart of Amersham. It is a refurbished 17th-century pub, so it is full of character. There is a log fire to enjoy in winter and a walled garden for the summer.
They serve great British comfort food and often play host to live music.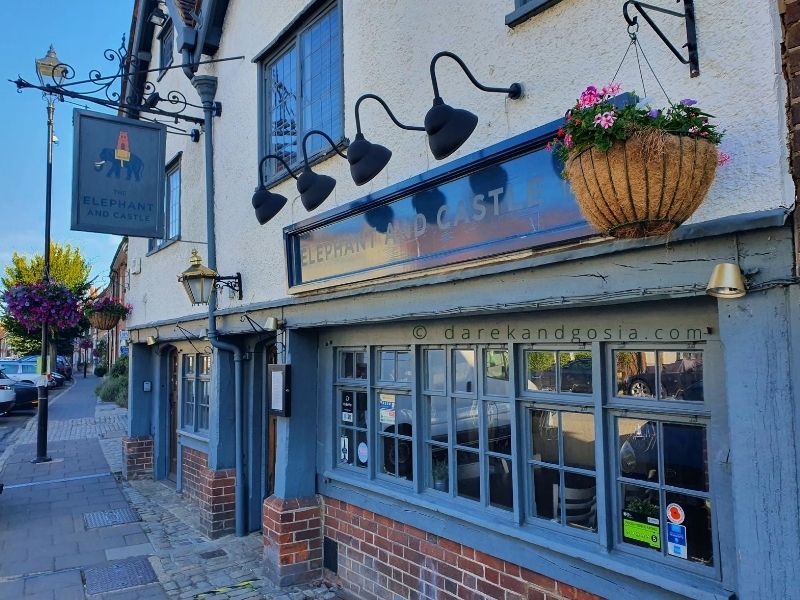 15. The Half Moon, Cuxham
Address: B480, Cuxham, Watlington OX49 5NF
Where to find great country pubs near me? The Half Moon is a delightful and quintessentially English thatched pub in the small village of Cuxham. 
Some even say that this pub serves the best pizza in Oxfordshire! Well, you will not know if that is true if you don't visit this amazing pub!
The Half Moon has a huge back garden to relax, have a pint or… play badminton. So, is it one of the best village pubs near me from London? 100%!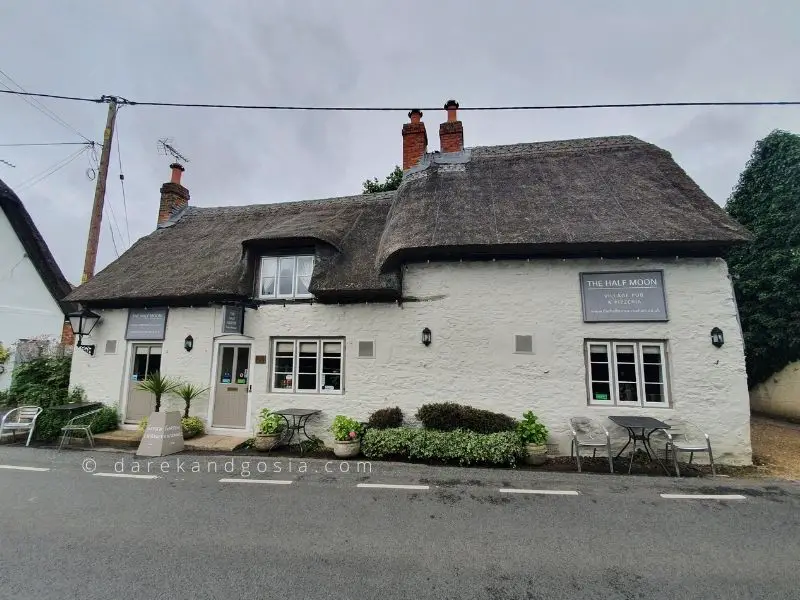 16. Red Lion pub, Little Missenden
Address: 1 Highmore Cottages, Little Missenden, Amersham HP7 0RB
Planning a trip to Little Missenden?
The Red Lion is housed inside a lovely 17th-century cottage. The bar is made from black beams, and the landlord is everything you'd expect from a small village pub.
There's a piano in an inglenook and pheasant decor in the dining room. Stepping into this pub is like stepping into a novel. It is well worth a visit.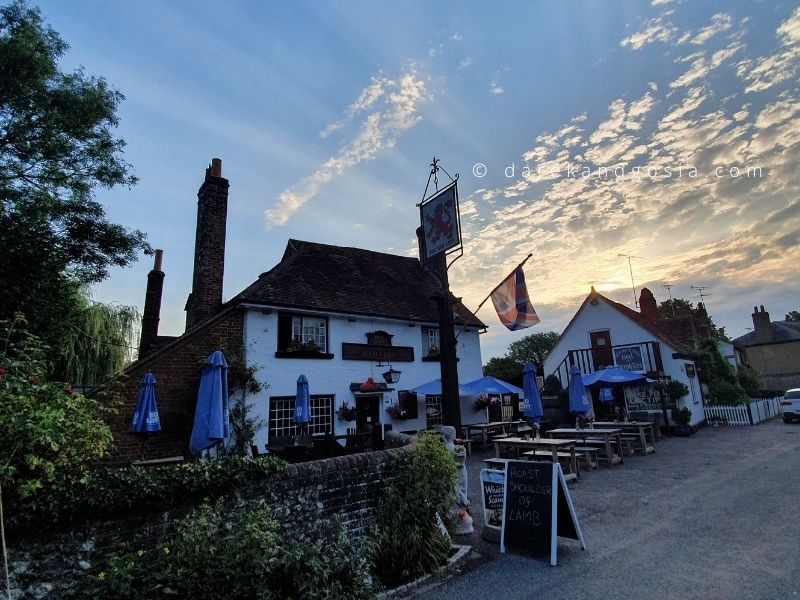 17. The Two Brewers, Marlow
Address: St Peter St, Marlow SL7 1NQ
Famous pubs near London? The Two Brewers Pub in Marlow is a quintessentially British pub. This is very much a local pub. It's the kind of place you walk in, and you know that all the locals come here.
You will be greeted with a warm welcome, and the staff are always happy to chat. You can get a relaxing drink and a good meal at a reasonable price.
This beautiful pub is also on the list of Buckinghamshire's Midsomer Murder locations, so it has to be added to the list of best things to do in Marlow!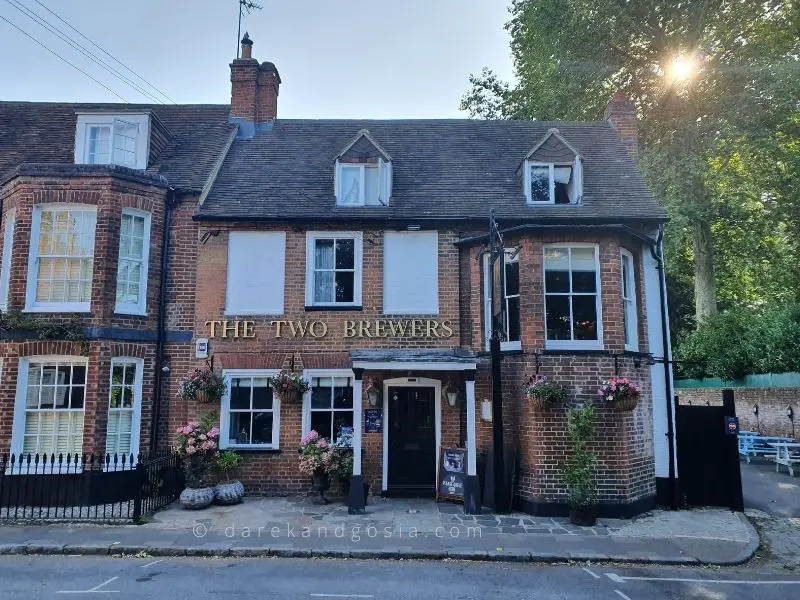 18. The Catherine Wheel, Goring
Address: Station Rd, Goring, Reading RG8 9HB
Looking for pubs in Goring? The Catherine Wheel is a traditional British pub in Goring on Thames. The 18th-century building is picturesque and has a quaint English vibe.
The Catherine Wheel has been serving pints for over 350 years and also offers fresh produce and delicious meals.
Goring on Thames pubs are known as one of the best pubs to visit near London!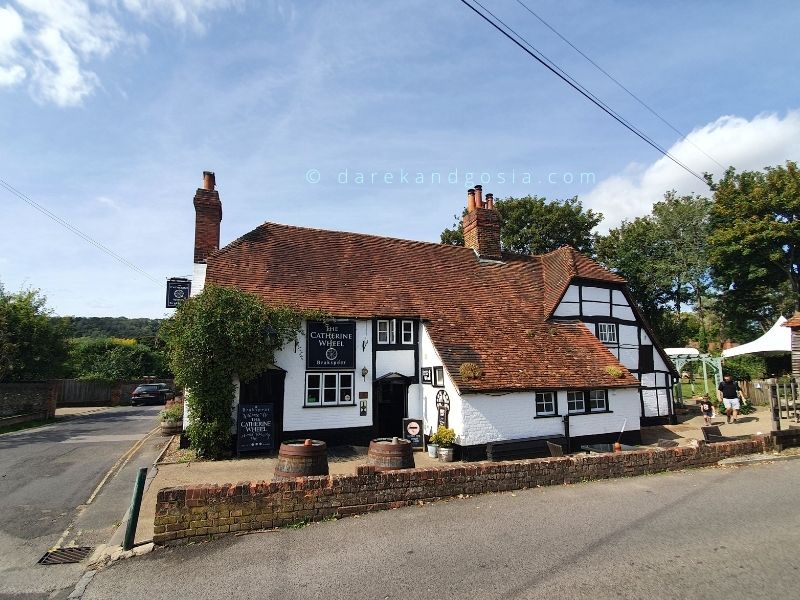 19. The Old Post Office, Wallingford
Address: St Martin's St, Wallingford OX10 0AA
Looking for the best pubs near London? The Old Post Office is a traditional British pub and restaurant in the heart of Wallingford town. The Grade II listed building overlooks the market square and was once the post office for the town.
Today, the building still has many of its old features such as the Victorian counter and red post box in the courtyard.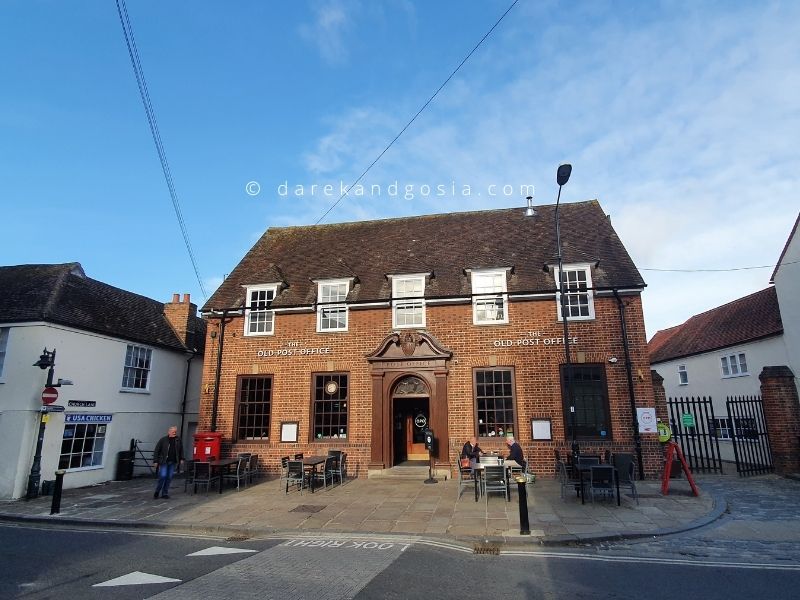 20. The Swan, Pangbourne
Address: Shooters Hill, Pangbourne, Reading RG8 7DU
Where to go for the best countryside pubs near London? The Swan pub in Pangbourne, where the Three Men in a Boat ended their journey, is well worth a visit. The building that houses it is called Shooter's Hill. It's a gorgeous 17th Century building that sits right on the bank of the river. Inside you'll see exposed oak beams and open fires. In summer, you can go out on to the terrace to enjoy a drink in the sun looking out over the gently flowing river.
For an extraordinary experience, you can book out the pub's private dining room. It's called 'The Bunker'. That's because you'll be dining in what used to be the pub's coal bunker. It's been converted into a gorgeous dining room that can hold around ten people.
So, are you ready to visit this stunning pub in Pangbourne?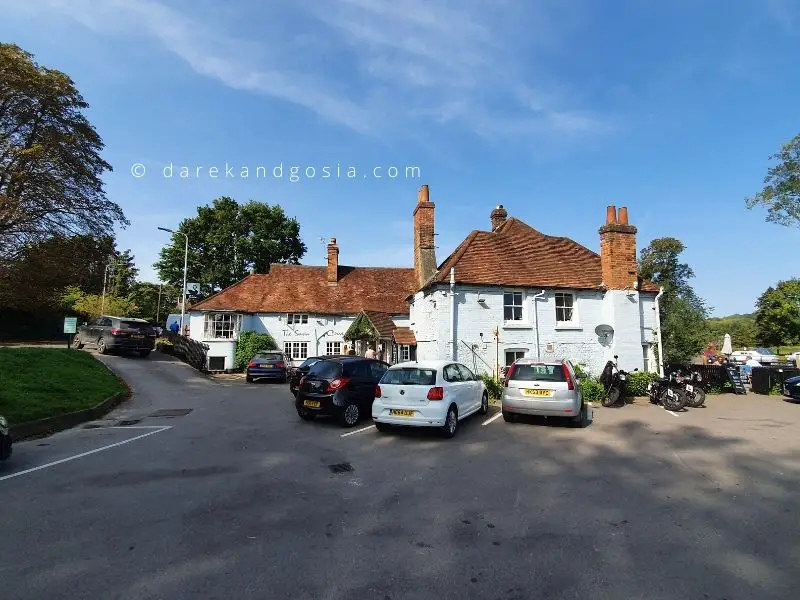 21. Merlin's Cave, Chalfont St Giles
Address: The Village Green, High St, Chalfont Saint Giles HP8 4QF
Best village pubs to visit near London? No visit to Chalfont St Giles is complete without a stop at the traditional British pub, Merlin's Cave. Located right in the heart of the parish, Merlin's Cave is a historic building with an attractive beer garden and children's play park.
The pub itself is uniquely stunning, and unlike any other pub you will have visited before. Merlin's Cave serves a delicious dining menu and makes a great place to stop for a quick drink and bite to eat when exploring Chalfont St Giles.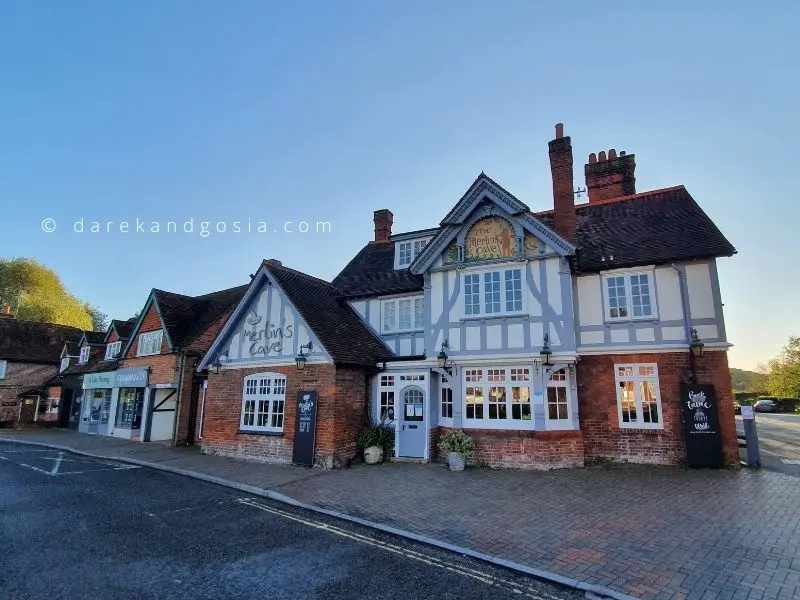 22. The French Horn, Sonning on Thames
Address: Sonning on Thames, Reading RG4 6TN
Best small village pubs near me? The French Horn is a pub and restaurant that sits on the banks of the River Thames. As you enter the cosy pub, you will be greeted with the sight and aroma of ducks roasting over an open fire.
This is a tradition almost as old as the pub itself. The French Horn is a must-visit in Sonning on Thames!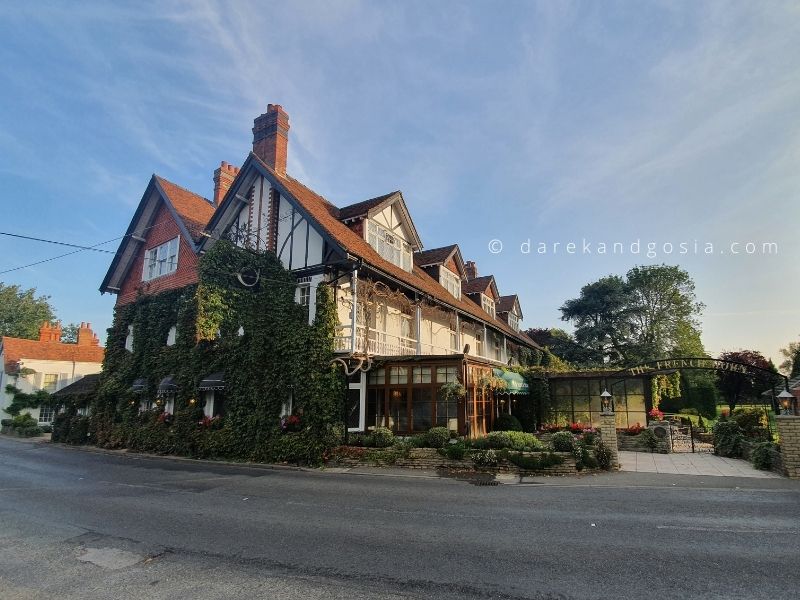 23. The John Barleycorn, Goring on Thames
Address: Manor Rd, Goring, Reading RG8 9DT
Top pubs near London for a day trip? Another much loved local pub in Goring on Thames is The John Barleycorn. It was first recorded back in 1810 as an alehouse and rumour has it that the workers building the railway line through the village were the pub's first regulars.
The unique building was previously three cottages knocked together. Expect uneven flooring, solid oak beams and low ceilings when you visit this historic pub. So, is John Barleycorn pub Goring on your list of places to visit?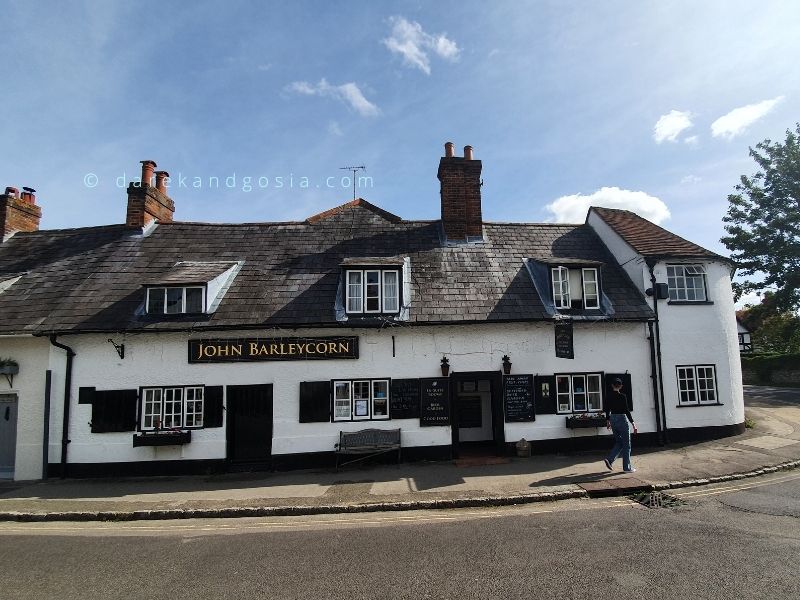 24. White Hart, Cheddar
Address: The Bays, Cheddar BS27 3QN
Looking for the best pubs near London? Cheddar village is one of the most beautiful villages in England.
As a popular tourist area, it is little surprise that there are plenty of places to eat in Cheddar and the surrounding local area. In fact, it doesn't matter your budget or what you fancy, you are likely to find exactly what you are looking for.
Some of the most highly recommended places to eat include: Slice Of Heaven, The Cider Barn, The Bath Arms and Edelweiss. All of which have their own appeal.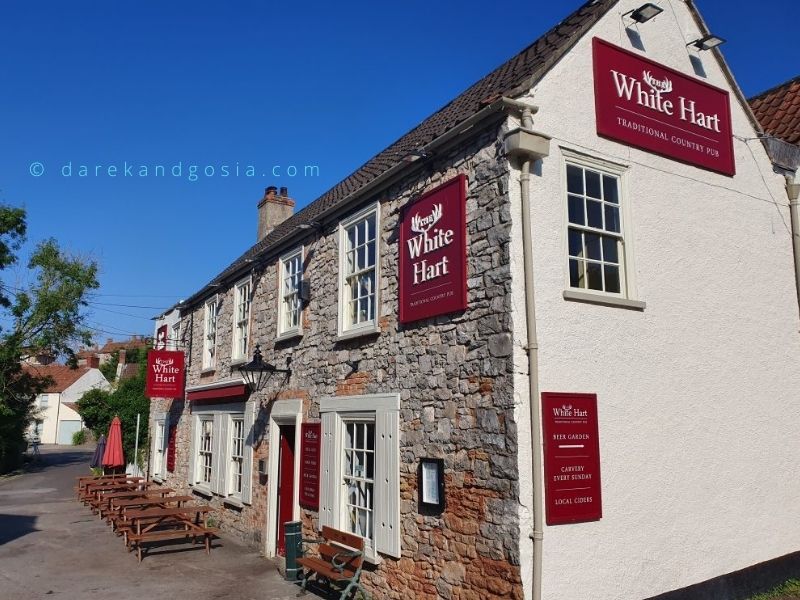 25. Old Five Bells, Burnham
Address: 14 Church St, Burnham, Slough SL1 7HZ
Top gastropub near me? The Old Five Bells is a perfect spot for a gathering of friends or family.
You can enjoy great homestyle cooking and a few drinks in the lovely atmosphere of the traditional pub and its large beautiful beer garden.
They offer a perfect place to relax with friends and family. If you are visiting Burnham Beeches or Maidenhead this pub is just a stone's throw away from both locations.
It really is one of the best local country pubs to visit!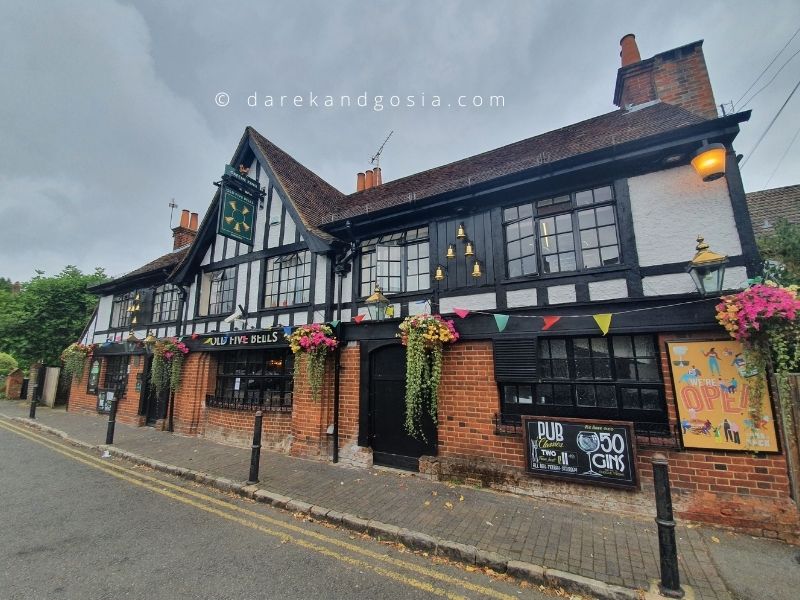 26. The William Bray, Shere
Address: Shere Ln, Shere, Guildford GU5 9HS
Where to go for top pubs near London? A quintessential British village wouldn't be complete without a traditional English pub. The William Bray sits in the centre of Shere Surrey and offers a unique atmosphere with delicious cuisine.
All food is freshly cooked with local ingredients, and there is an extensive wine list available.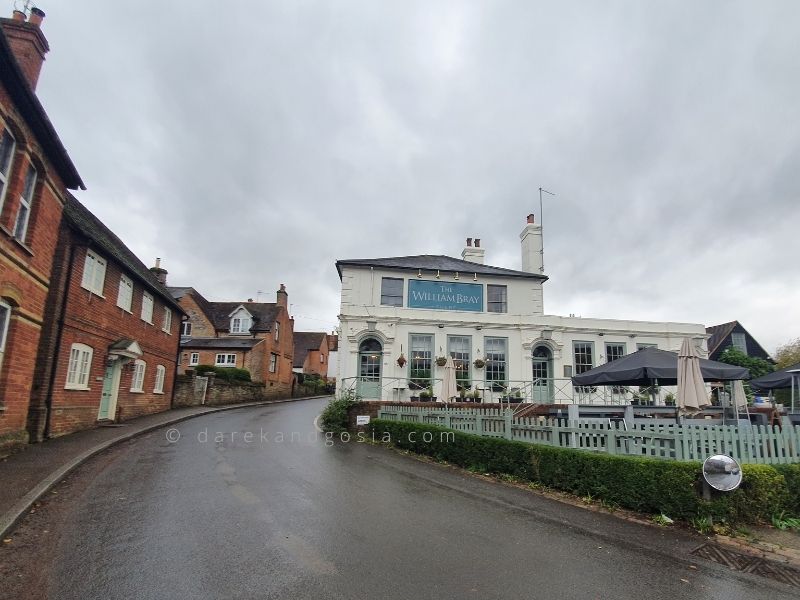 27. The Two Brewers, Windsor
Address: 34 Park St, Windsor SL4 1LB
Best pubs to visit near me on a day trip? This pub is located right next to one of the gates into Windsor Great Park and is about as perfect an example of the old-fashioned British pub as you'll find these days.
The best thing about this pub is no kids allowed! Amen to that 😉 OK, if you are visiting Windsor with children you can let them go for a long walk, while you will be enjoying the cold pint of lager! Cosy, warm, open fire and amazing food. Must be visited at Xmas time.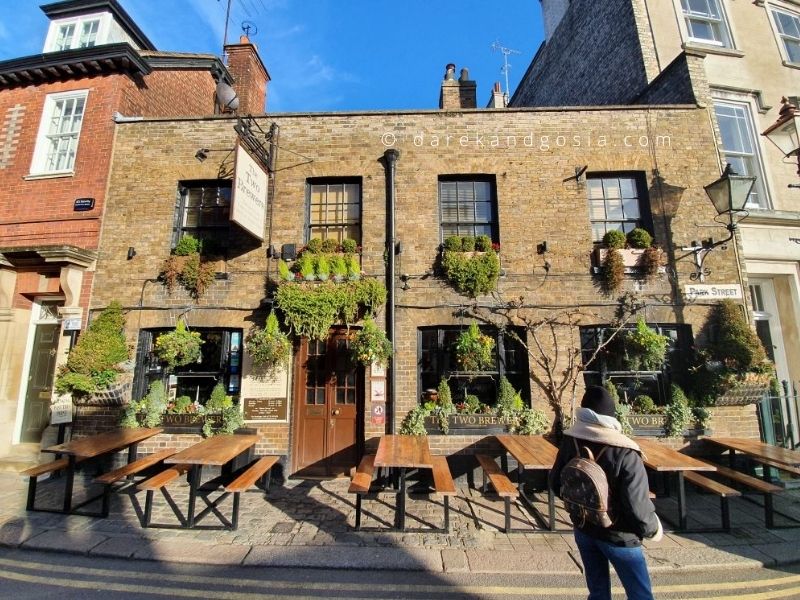 What is the most rural pub in the UK?
Determining the most rural pub in the UK can be subjective and may depend on various factors such as remoteness, location, and accessibility. However, one pub often mentioned in discussions of remote locations is The Old Forge in the village of Inverie, Scotland. Inverie is located on the Knoydart Peninsula, accessible only by boat or a long hike. The Old Forge is known for being the most remote pub on mainland Britain and offers stunning views of the surrounding wilderness.
It's worth noting that there may be other contenders for the title of "most rural pub" in different parts of the UK, as there are many secluded and picturesque locations throughout the country. Additionally, the definition of "rural" can vary, and different pubs may be considered the most remote depending on specific criteria or personal opinions.
What is the most crooked pub in the UK?
The Crooked House, located in Himley, near Dudley in the West Midlands, is often referred to as the most crooked pub in the UK. The building itself has a distinct and unique architectural feature as it appears to be leaning heavily to one side. It is believed that the uneven sinking of the ground caused the pub's structure to tilt. The Crooked House attracts visitors who are intrigued by its unusual appearance and enjoy its cozy atmosphere and traditional pub offerings.
What is England's lowest pub?
The New Inn, located in the village of Whitwell on the Isle of Wight, is often referred to as England's lowest pub. The Isle of Wight is known for its varying topography, and Whitwell happens to be situated in a low-lying area. The New Inn is nestled in this valley, earning it the distinction of being England's lowest pub. Visitors to the pub can enjoy its historic charm, traditional ambiance, and a selection of food and drinks.
What is the thinnest pub in England?
The Nutshell, located in Bury St Edmunds, Suffolk, is often recognized as the thinnest pub in England. Measuring just 15 feet by 7 feet (4.57 meters by 2.13 meters) at its widest points, the pub holds the Guinness World Record for being the smallest pub in Britain. Despite its small size, The Nutshell has become a popular tourist attraction and maintains a lively atmosphere, offering a range of drinks and a unique, cozy setting for visitors to enjoy.
What is the shortest pub name in Britain?
The shortest pub name in Britain is "Y Pub" in Ynysybwl, Wales. The name consists of just two letters, "Y" and "P," which are Welsh letters representing the sound "uh" and "puh," respectively. The pub is affectionately known by locals as "The Y" and has become a notable landmark in the area. Its concise name has earned it recognition as the pub with the shortest name in Britain.
Which English town has the most pubs?
The English town often associated with having the most pubs is the historic city of Norwich, located in the county of Norfolk. Norwich has gained a reputation for its high concentration of pubs within its city walls. It is estimated that there are over 360 pubs in Norwich, which gives it one of the highest pub-to-population ratios in the country. The city's pub scene offers a diverse range of establishments, including traditional alehouses, historic taverns, and modern bars, making it a popular destination for pub-goers and beer enthusiasts.
What are the oldest country pubs in England?
England has several country pubs that claim to be among the oldest in the country. Here are a few notable contenders:
Ye Olde Trip to Jerusalem (Nottingham): Located in Nottingham, this pub claims to have been established in 1189, making it one of the oldest pubs in England. It is situated near Nottingham Castle and has a unique cave-like interior.
The Porch House (Stow-on-the-Wold): Situated in Stow-on-the-Wold in the Cotswolds, The Porch House is believed to date back to 947 AD, making it one of the oldest inns in England. It retains its historic charm with original features and offers comfortable accommodation as well.
The Old Ferry Boat (Huntingdon): Located in Holywell, near Huntingdon, The Old Ferry Boat claims to have origins dating back to 560 AD, though the current building is from the 15th century. It is situated by the River Great Ouse and has a picturesque riverside setting.
The George Inn (Norton St Philip): Situated in Norton St Philip, near Bath, The George Inn dates back to the 14th century. It is known for its medieval architecture, wooden beams, and cozy atmosphere.
The Bell Inn (Stilton): Located in the village of Stilton, The Bell Inn is believed to have been established around 1642. It is associated with the famous Stilton cheese and offers a traditional pub experience.
These are just a few examples of country pubs in England with long-standing histories. The exact origins and claims to being the oldest can vary, and there are likely other contenders across the country.
What is the most used pub name in UK?
The most used pub name in the UK is "The Red Lion." It is an incredibly popular and widely used pub name found throughout England, Scotland, and Wales. The name "Red Lion" is derived from the heraldic symbol of a red lion, which holds significance in British history and culture. The Red Lion pubs often reflect a traditional and welcoming atmosphere, offering a range of food, drinks, and a place for the community to gather. Due to its popularity, you can find numerous pubs named "The Red Lion" in towns and villages across the UK.
What is the longest-running pub in the UK?
While several pubs claim to be the oldest, one notable contender is The Old Ferry Boat in Holywell, Cambridgeshire. It is believed to have operated since 560 AD, though the current building dates back to the 15th century. The pub has a picturesque riverside location and a rich history. However, it's worth noting that determining the absolute oldest pub can be challenging due to limited historical records and evolving establishments over time.
Pubs near me FAQ
Romantic country pubs near London
The Fox and Hounds in Hertfordshire is a romantic country pub set in a picturesque village, offering a cozy atmosphere, delicious food, and a selection of wines and ales. Another option is The Mill at Gordleton, a charming riverside pub in Hampshire with beautiful gardens, candlelit dining, and a relaxed ambiance, perfect for a romantic evening.
Best country pubs near me
The Crown Inn in Amersham, Buckinghamshire, is a highly regarded country pub with a traditional feel, serving quality food and ales in a cozy setting. The Three Horseshoes in Spellbrook, Hertfordshire, is another popular choice, offering a charming atmosphere, a range of pub classics, and a selection of real ales, all within easy reach of London.
Waterside pubs near me
The Anchor at Bankside is a historic waterside pub located along the Thames River in London, offering stunning views of the river and iconic landmarks like the Globe Theatre. The Narrow in Limehouse, East London, is another waterside pub with a scenic location along the Limehouse Cut canal, providing a picturesque setting to enjoy drinks and food.
Lovely country pubs near London
The Plough Inn in Cadsden, Buckinghamshire, is a charming country pub nestled in the countryside, known for its cozy interior, traditional British dishes, and welcoming atmosphere. The Royal Oak in Warlingham, Surrey, is another delightful country pub with a beautiful garden, a great selection of beers and wines, and a warm ambiance, offering a relaxing escape from the city.
Traditional pubs near me
The Spaniards Inn in Hampstead, London, is a traditional pub with a rich history dating back to the 16th century. It retains its classic charm with its wooden beams, open fires, and a lovely beer garden. The Prospect of Whitby in Wapping, East London, is another historic pub that has been operating since the 16th century, offering a traditional atmosphere, riverside views, and a connection to London's maritime past.
Your quest for finding the best country pubs near London, whether they are quaint village pubs or lovely riverside spots, is an adventure waiting to happen. It's about more than just finding a pub near me; it's about discovering places steeped in history, charm, and offering the best traditional pub food in London.
Immerse yourself in the enchanting atmosphere of a countryside pub, or experience the vibrant bustle of the best pubs outside London. Savour the finest pints, delightful roasts, and the scenic beauty of Britain's countryside.
Remember, it's not just about the destination, but the journey too. So why wait? The next time you're exploring London or its surrounding areas, make sure to drop into one of these gems. Whether you're a local or a visitor, these pubs will provide a slice of traditional British culture that's too good to miss.
From the city's heart to the charming villages and countryside, you're never too far from a fantastic pub experience. So, grab your coat, call your friends, and let's start creating some unforgettable pub memories!
Interested in other things than pubs near London?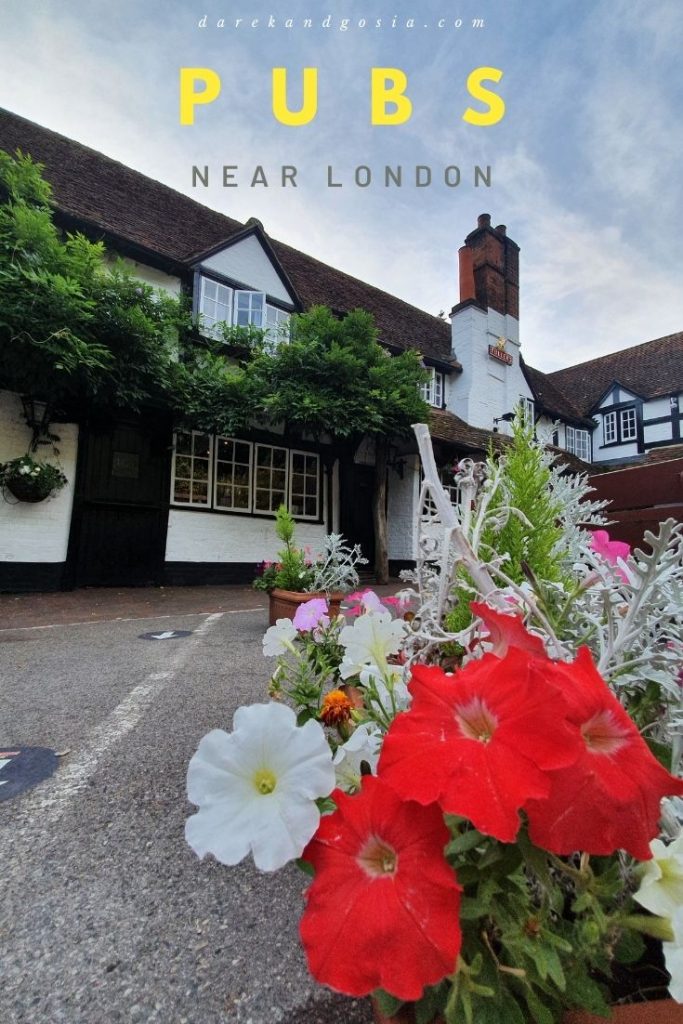 Articles you may like: