Looking for the best things to do in Windsor? Well, there is a good chance that you will not be able to have a cup of tea with the Queen at the Windsor castle 😉
Anyway, this is probably reserved only for the royalties!
But do not worry, if 3 o'clock tea is not your thing or you simply are not called sir or madam, there are many other attractions in Windsor. In fact, there are 25 great things to do in Windsor & Elton for ordinary British citizens and millions of tourists visiting Windsor every year! 🙂
Windsor is also know as one of the most expensive commuter towns near London.
Without a doubt, you can call Windsor as one of the best places to visit near London.
Windsor is considered as one of the most beautiful places in England, do you agree?
How to get to Windsor?
Windsor is one of the best day trips from London you can do! It is located around 20 miles west of the capital city and can be reached both by car and train.
London to Windsor by train:
Please note that there is no direct connection between London and Windsor. You will have to take a train from Paddington station in London to Slough and then change to service to Windsor and Eton Central. Both are run by GWR on a regular basis.
The journey takes approximate 35 minutes with trains leaving from Paddington every 30 minutes.
London to Windsor by car:
If you own 4 wheels, or you have rented a car, you can get to Windsor in about 40 minutes from West London.
Just follow the M4 to Slough and at junction 6, take the A355 exit to A332/Slough(Central)/Windsor. Then continue on A355 to your destination in Windsor – you will get there in no time! 😉
Parking in Windsor:
It has to be said that the parking in Windsor is rather expensive! A whole day spent in the town will cost you £18.70 if you park your car at the River Street parking.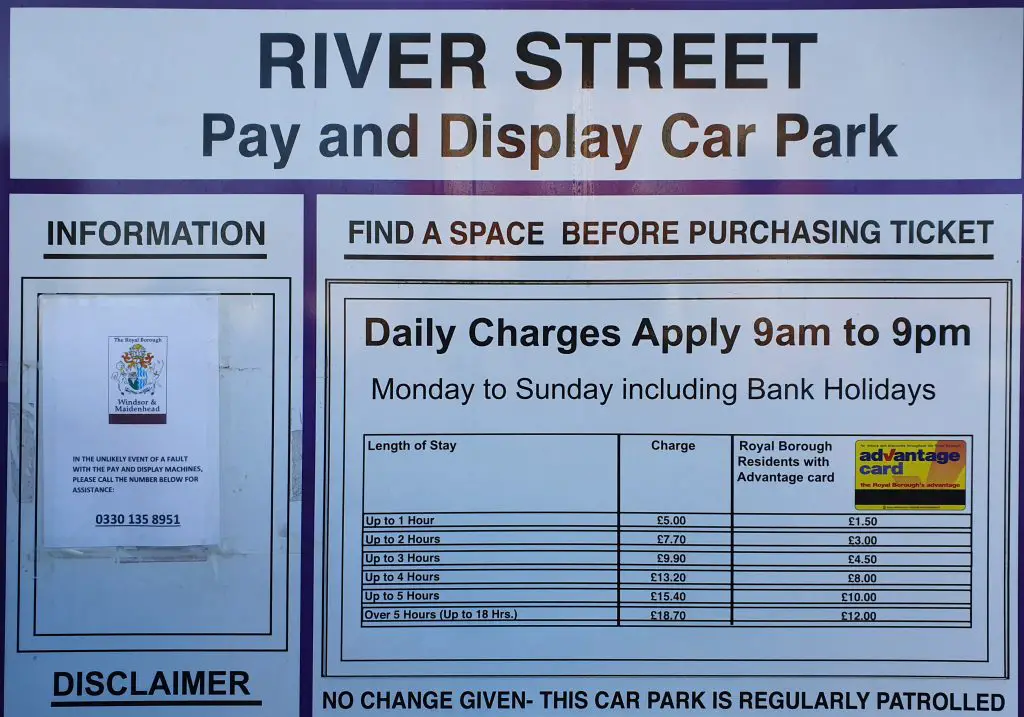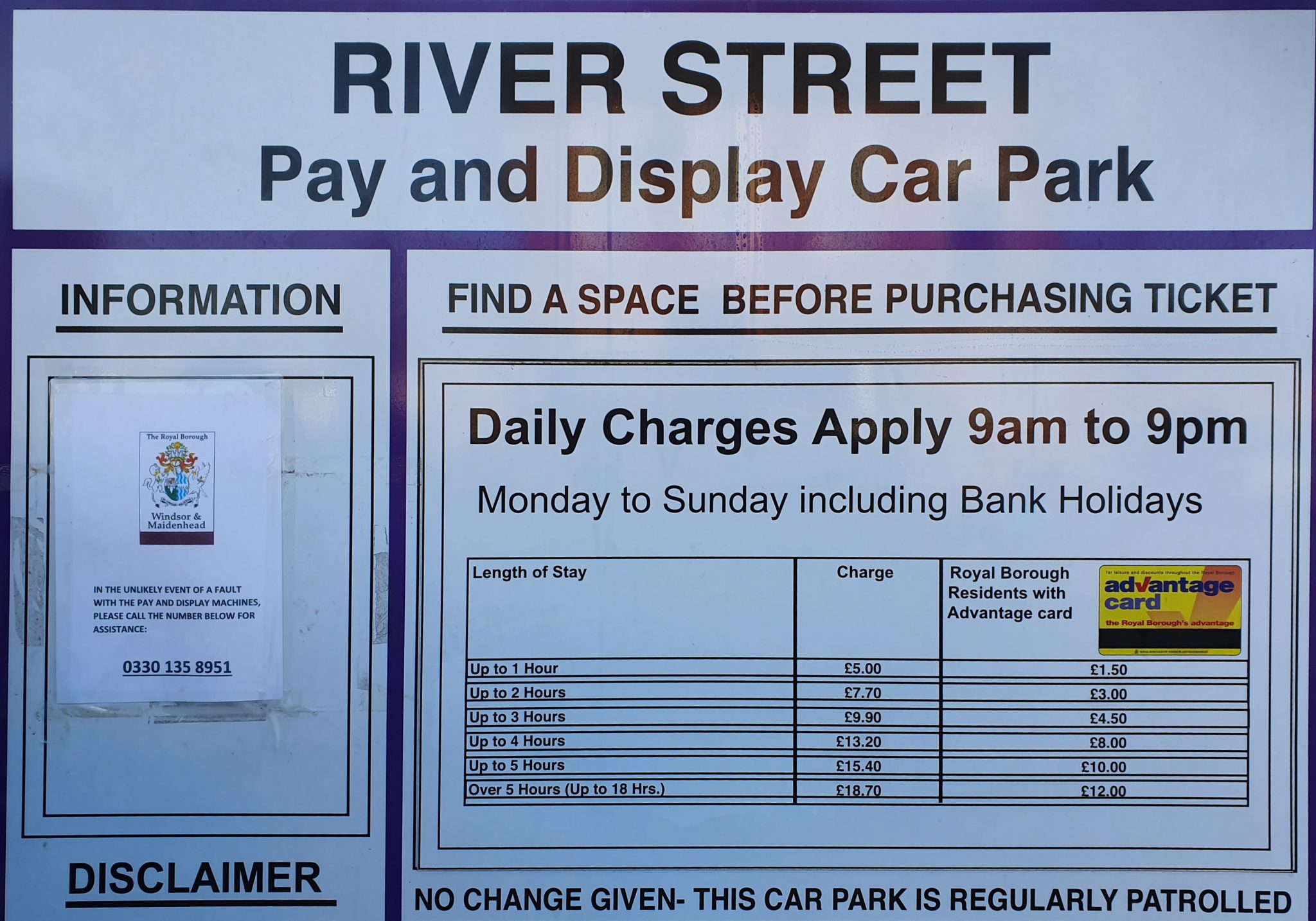 Please note that the above parking is also paid during Bank Holidays and as well as during all week and weekend days.
Top things to do in Windsor:
What to do in windsor? We're not saying visit all the best things to do in Windsor, but you should probably visit all the best things to do in Windsor 😉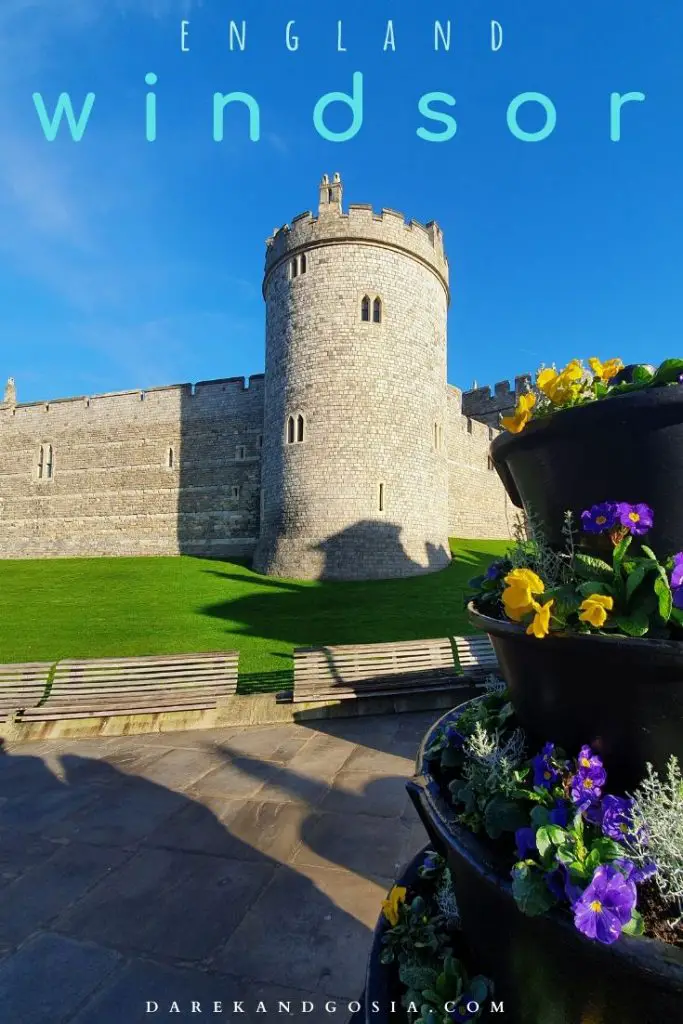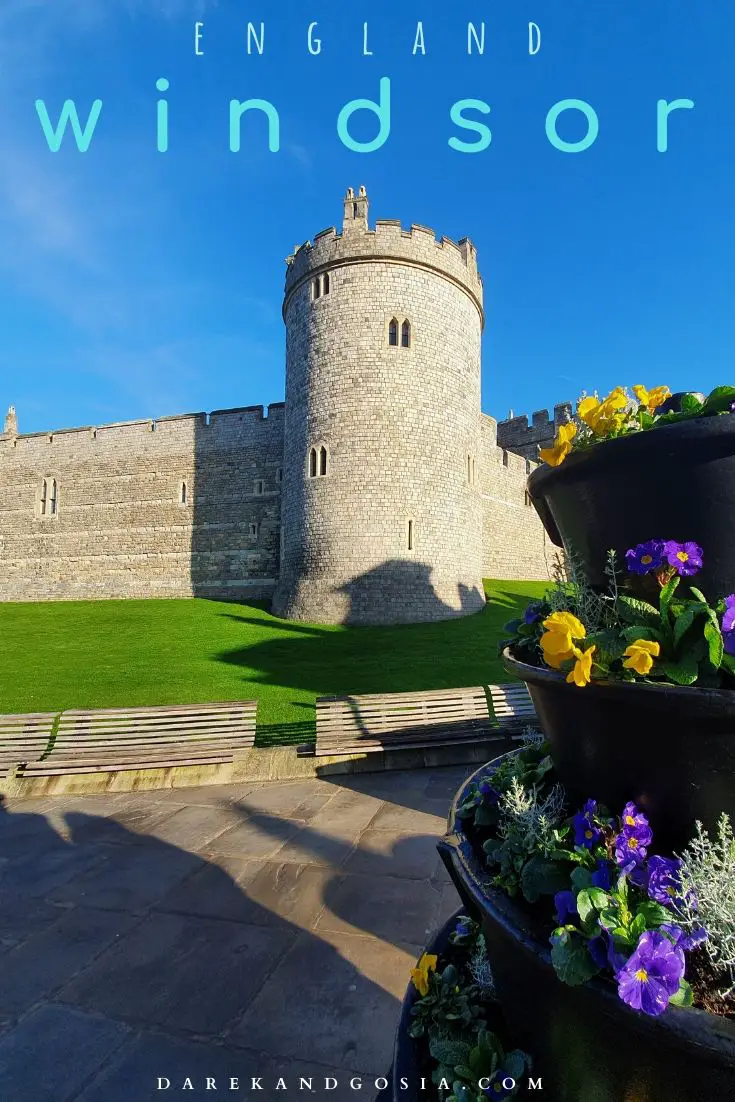 1. Admire the Windsor Castle from… outside
yes, this is one of the most famous landmarks in England, but it is totally OK if you don't visit Windsor Castle while in Windsor. Don't feel like you have to see it from inside – the views are much better from a perspective! Plus, spending £23.50 on a ticket to see old rooms is not everybody's cup of tea.
Unless you are under 5, then you can visit the castle for free. I know, that's a proper royal gesture! Otherwise, you will be better off, spending it on an afternoon tea! 😉
This really is one of the things to do in Windsor England.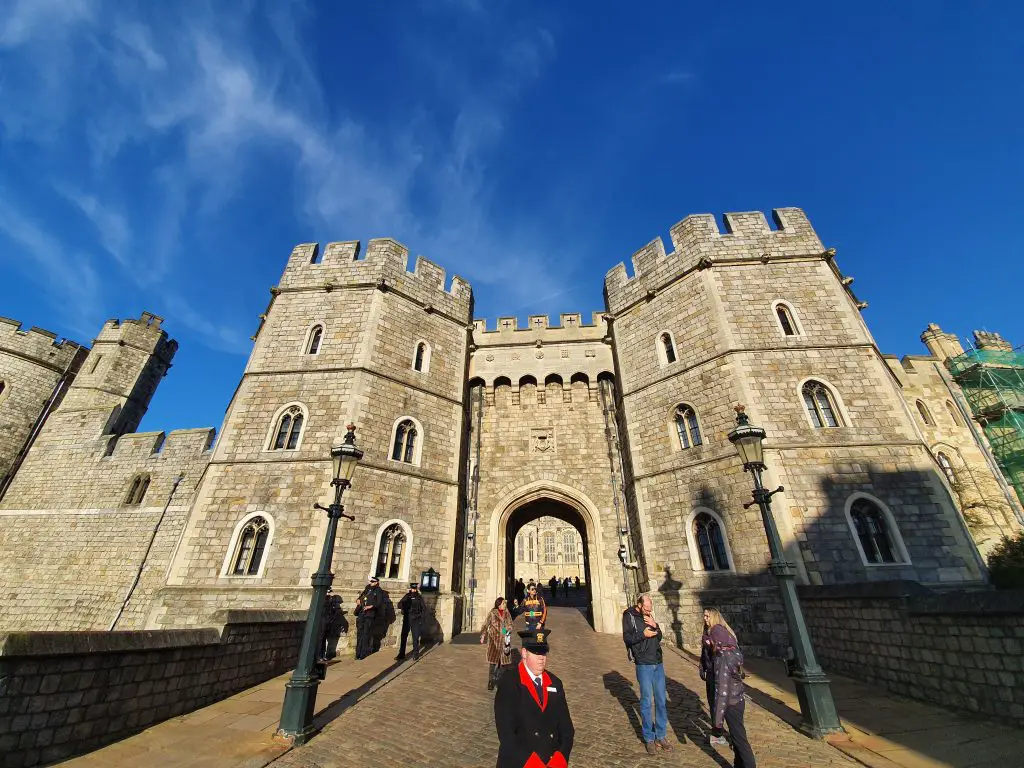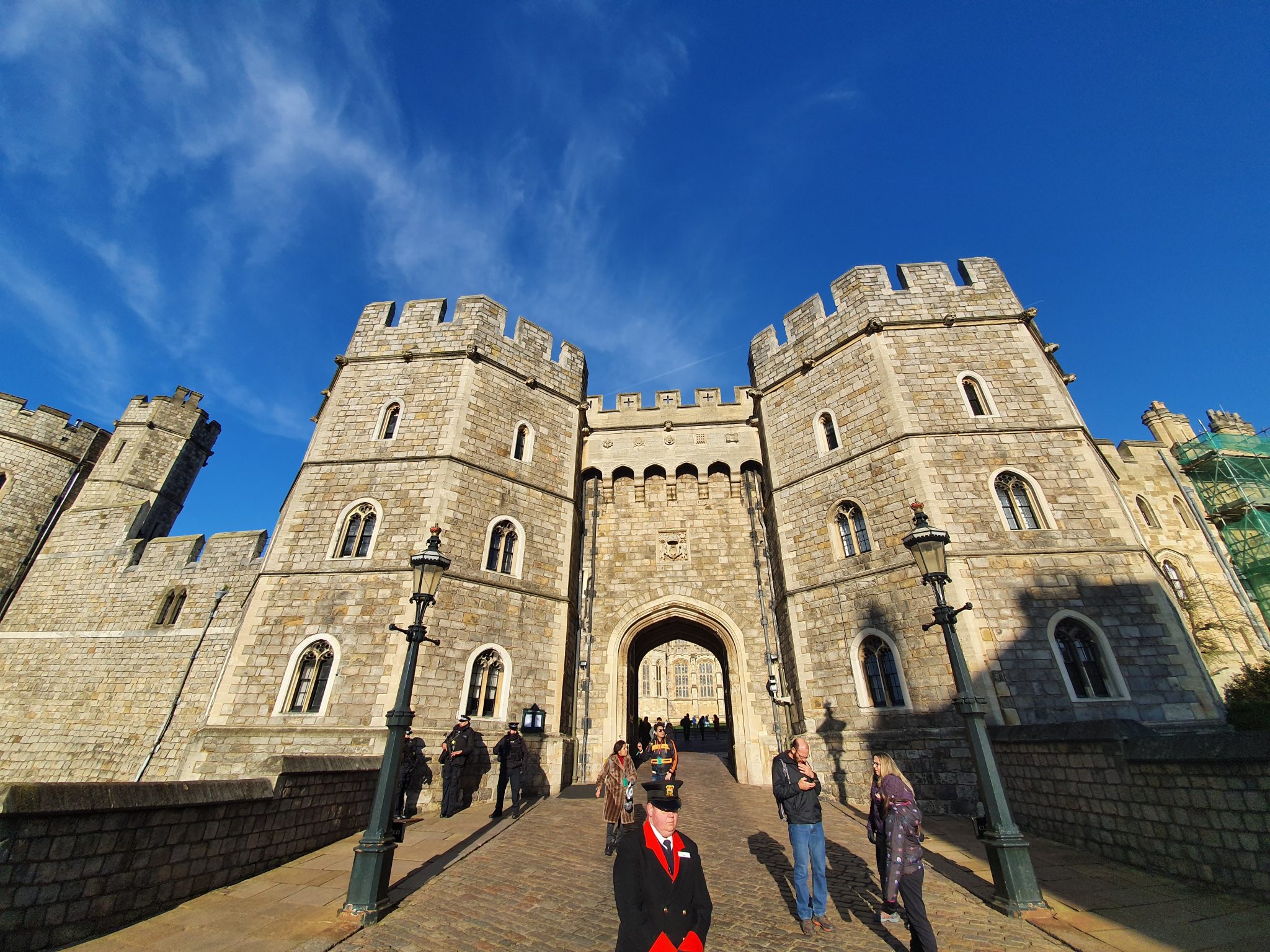 2. Visit Dr Choc's
Top things to see in Windsor? If you are into foodstuff, then visiting the Chocolate Factory in Windsor is a must! Dr Choc's is a small chocolate factory just opposite Windsor Castle. Perfect for a rainy day in Windsor, they run daily chocolate-making workshops for adults and children.
Ready for some fun? Let's make chocolate in the heart of Royal Windsor!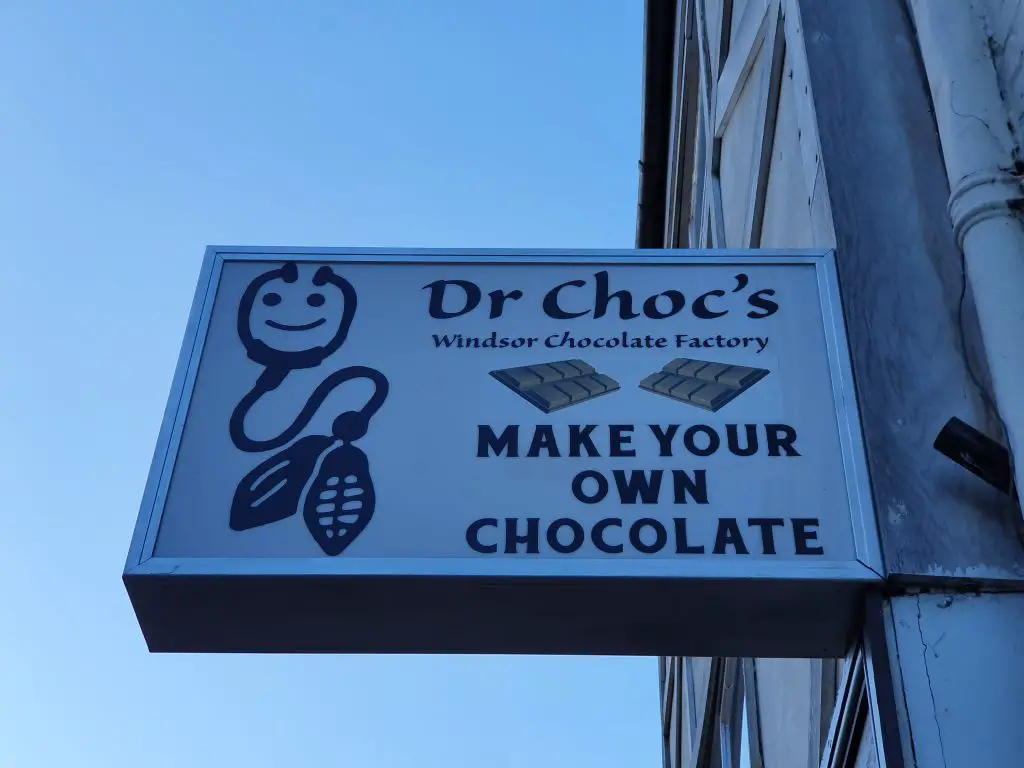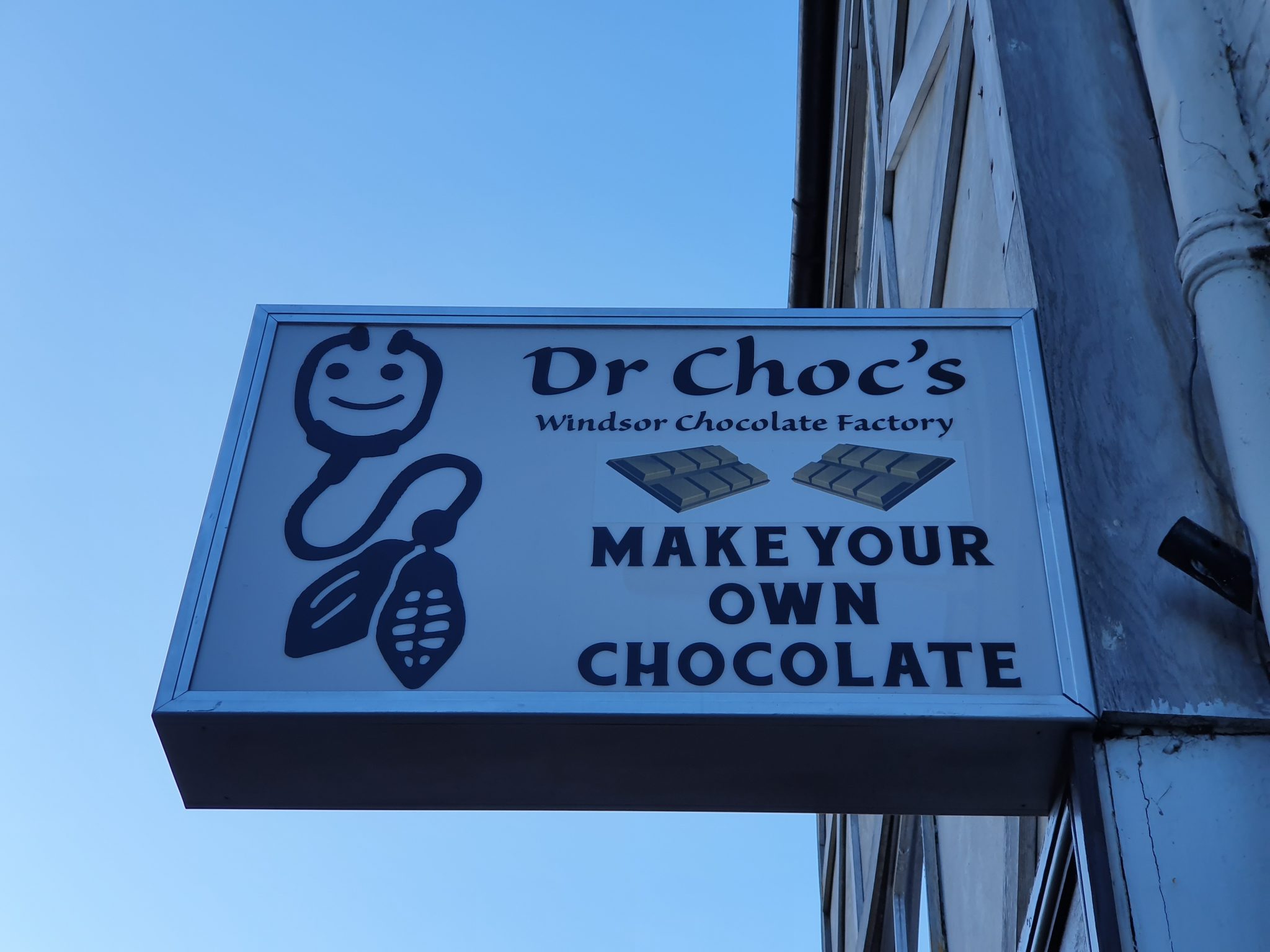 3. Sel et Sucre Windsor
Windsor places to visit? Cute cafe tucked away down one of Windsor's side streets. As they say on their website this is a cosy pink café, where the people are sugary sweet and the food is made with love.
Would you add it to the list of best things to do in Windsor? Well, this is definitely one of the sweetest places to visit!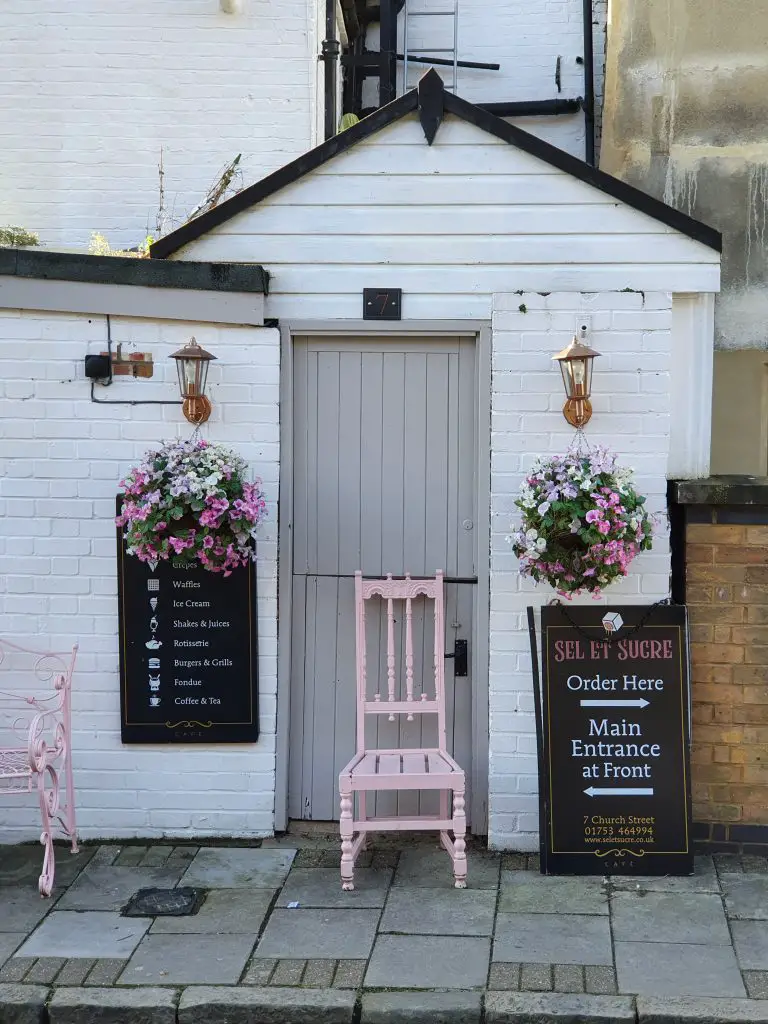 4. Windsor Parish Church
After a sweet little thing at the Sel et Sucre, you might have to visit the Parish Church. We are not judging, but don't you have to confess anything? 😉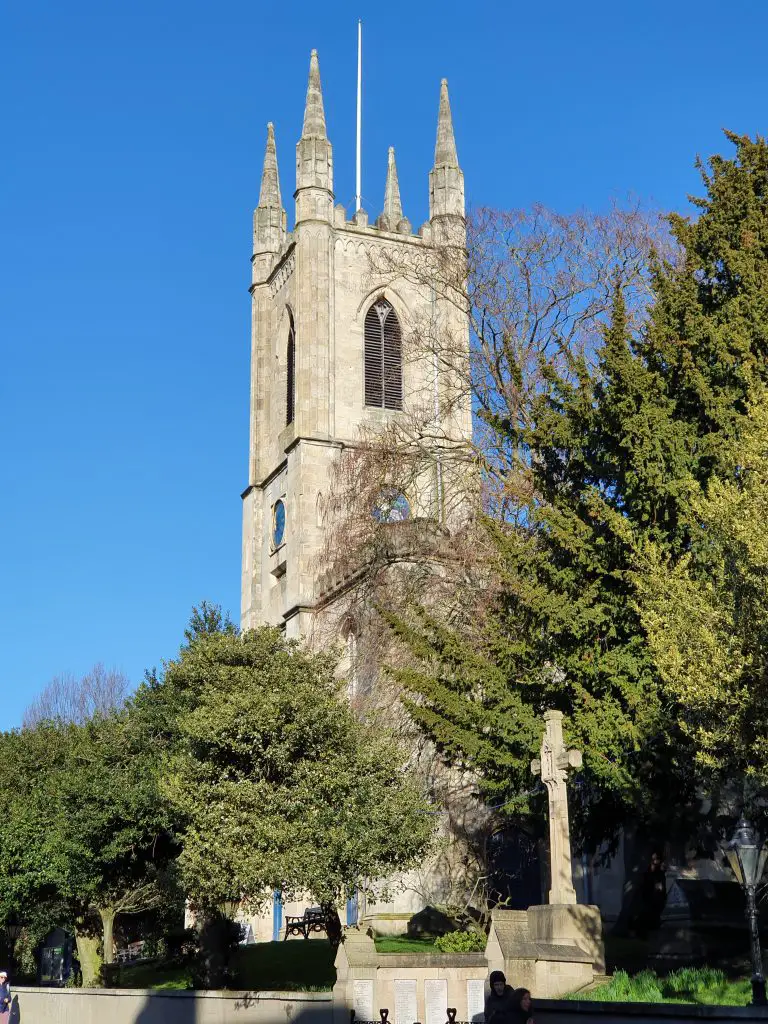 5. The Two Brewers
This pub is located right next to one of the gates into Windsor Great Park and is about as perfect an example of the old-fashioned British pub as you'll find these days.
The best thing about this pub is no kids allowed! Amen to that ? OK, if you are visiting Windsor with children you can let them go for a long walk, while you will be enjoying the cold pint of lager! Cosy, warm, open fire and amazing food. Must be visited at Xmas time.
This must be one of the best things to do in Windsor UK.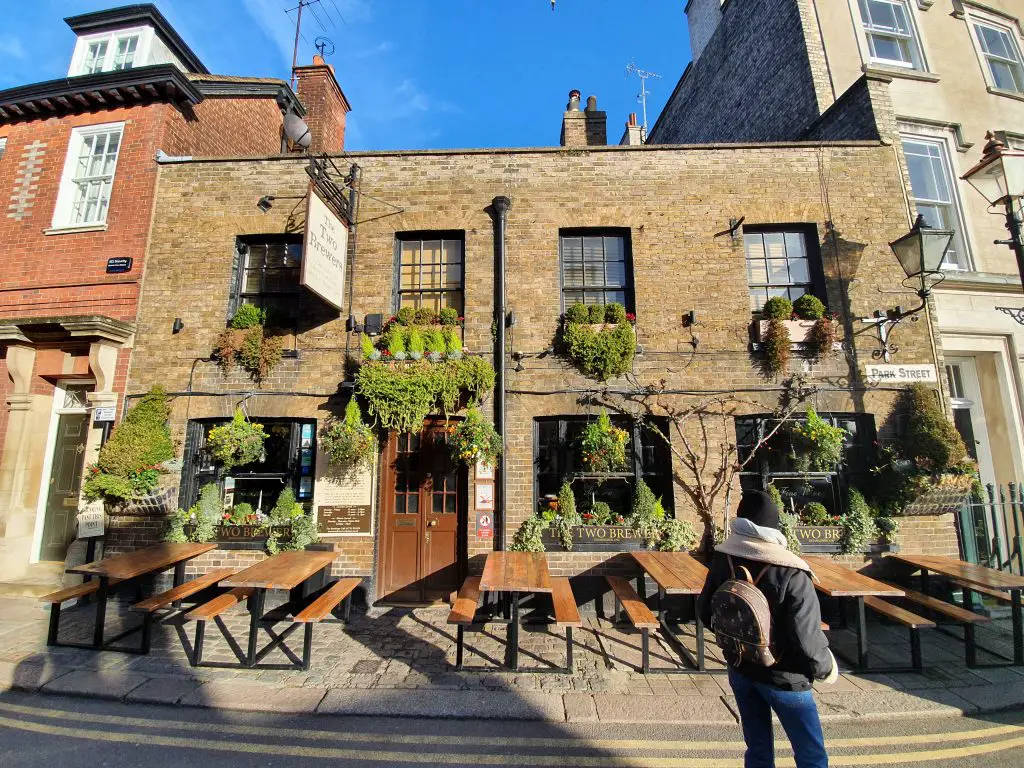 6. Take the LONG walk
Things to do near Windsor Castle? This dead-straight and 2.64 mile-long avenue is the quintessential Windsor walk for most locals and visitors.
From all the things to do in Windsor, this one is our favourite! It is probably the most well-known image of Windsor Great Park with the iconic view down the Long Walk, towards Windsor Castle at the far end of the path.
Very often you can see deer crossing the Long Walk too. If you are not lucky enough to see them head to Richmond Park in London – there are 100s of them.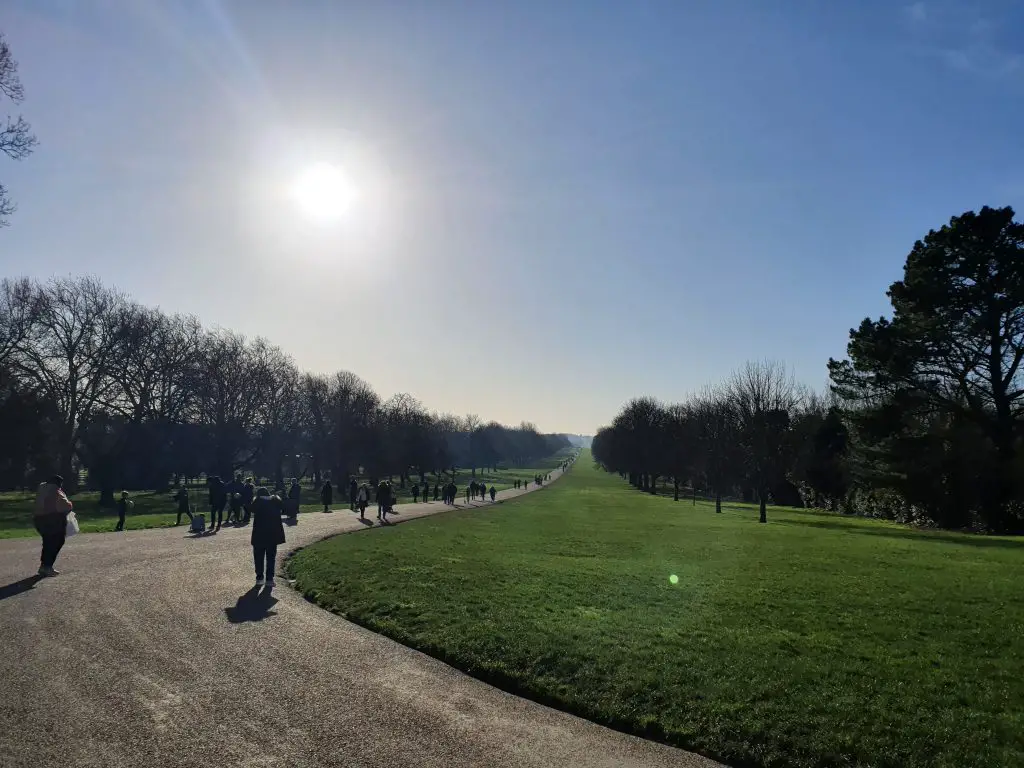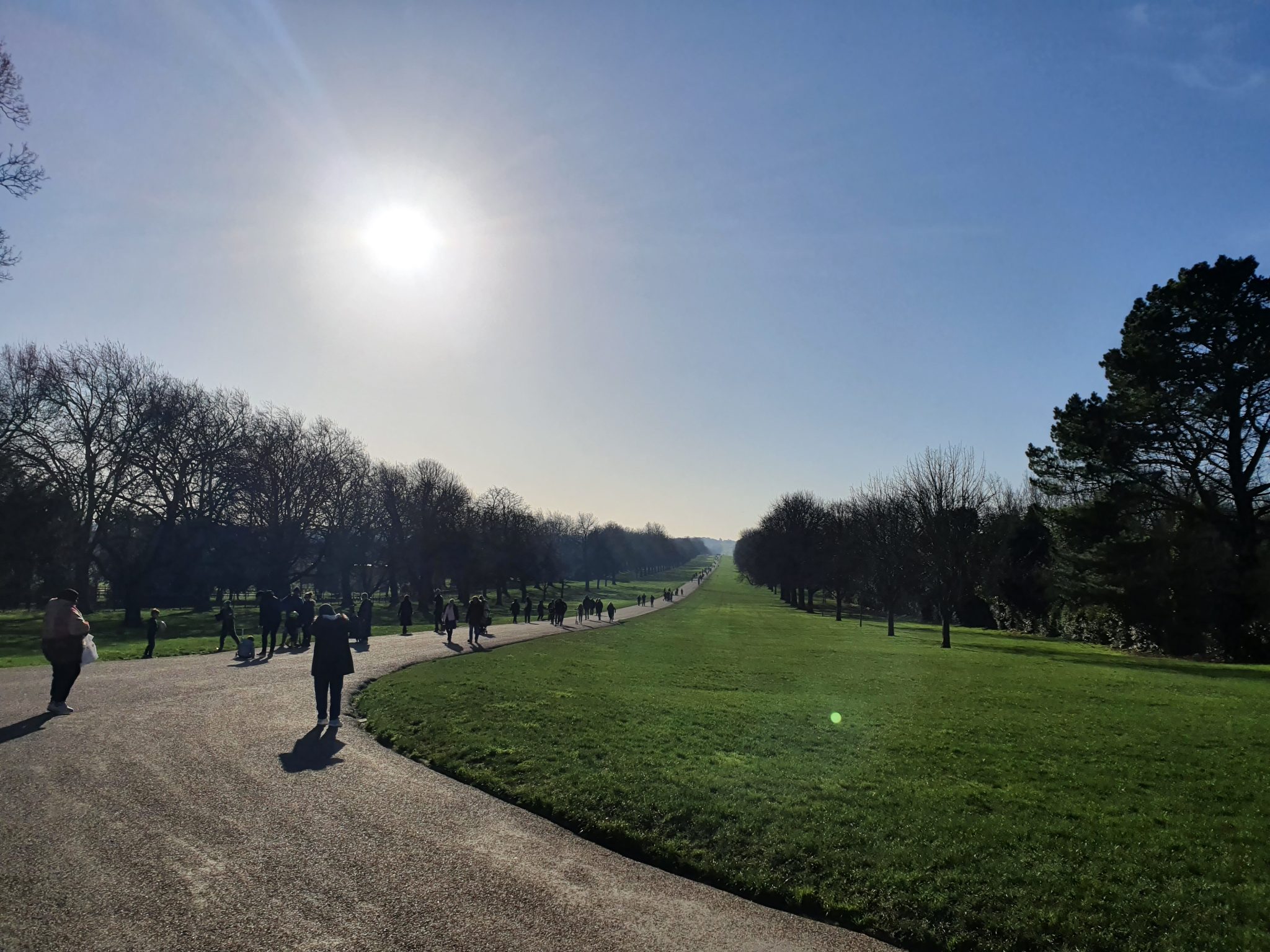 7. Step-in to the Windsor Castle…
What to do Windsor? While on the long walk you can step-in(on) the Windsor Castle too! 😉 Psss… this is the only place to do that in Windsor so please keep the secret – we don't want too many tourists to know about that 😉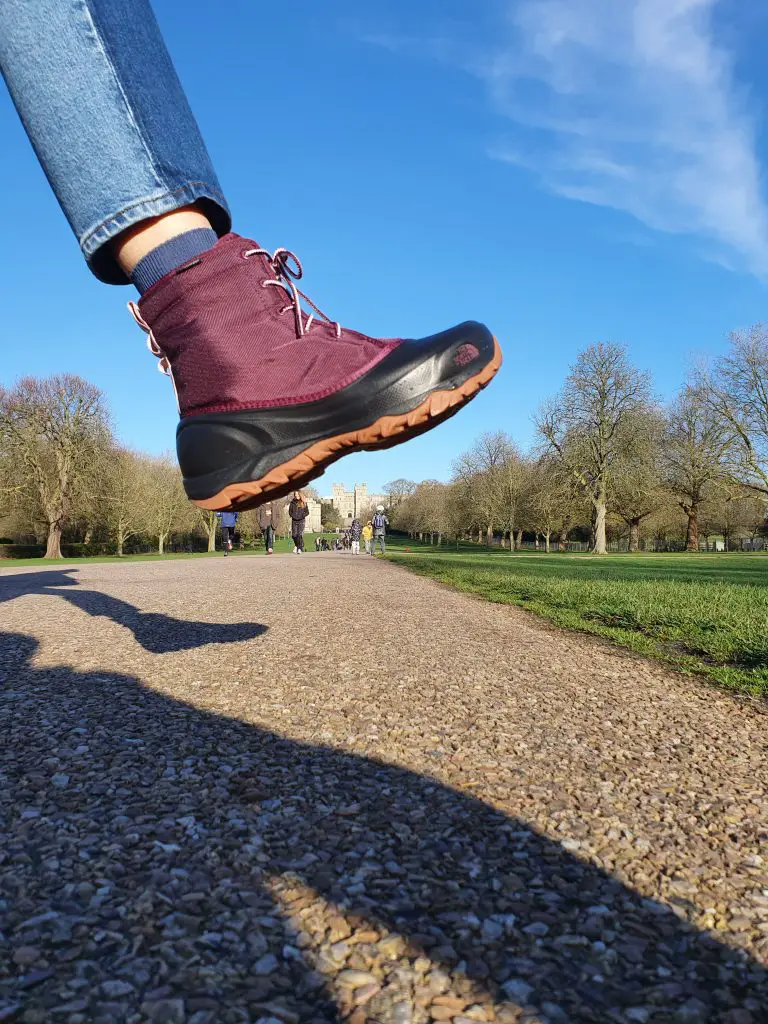 8. …or walk the Sheet Street
OK, there is not much to see but the name is funny 😉 You will have to take it after The Long Walk while going back to the town centre.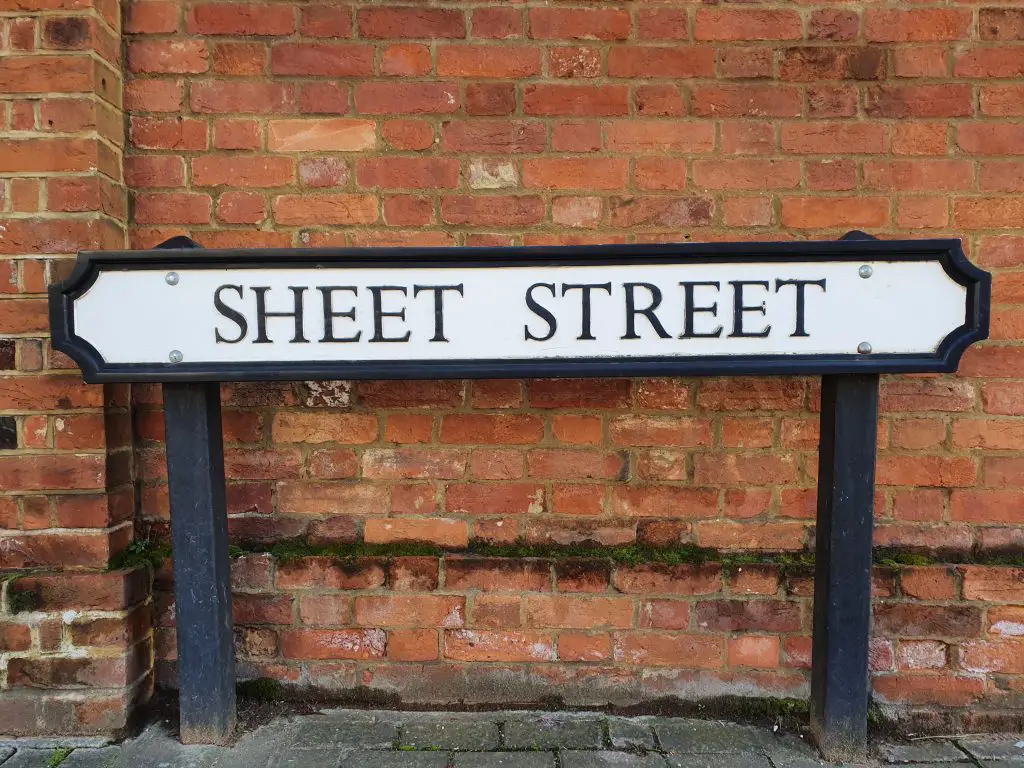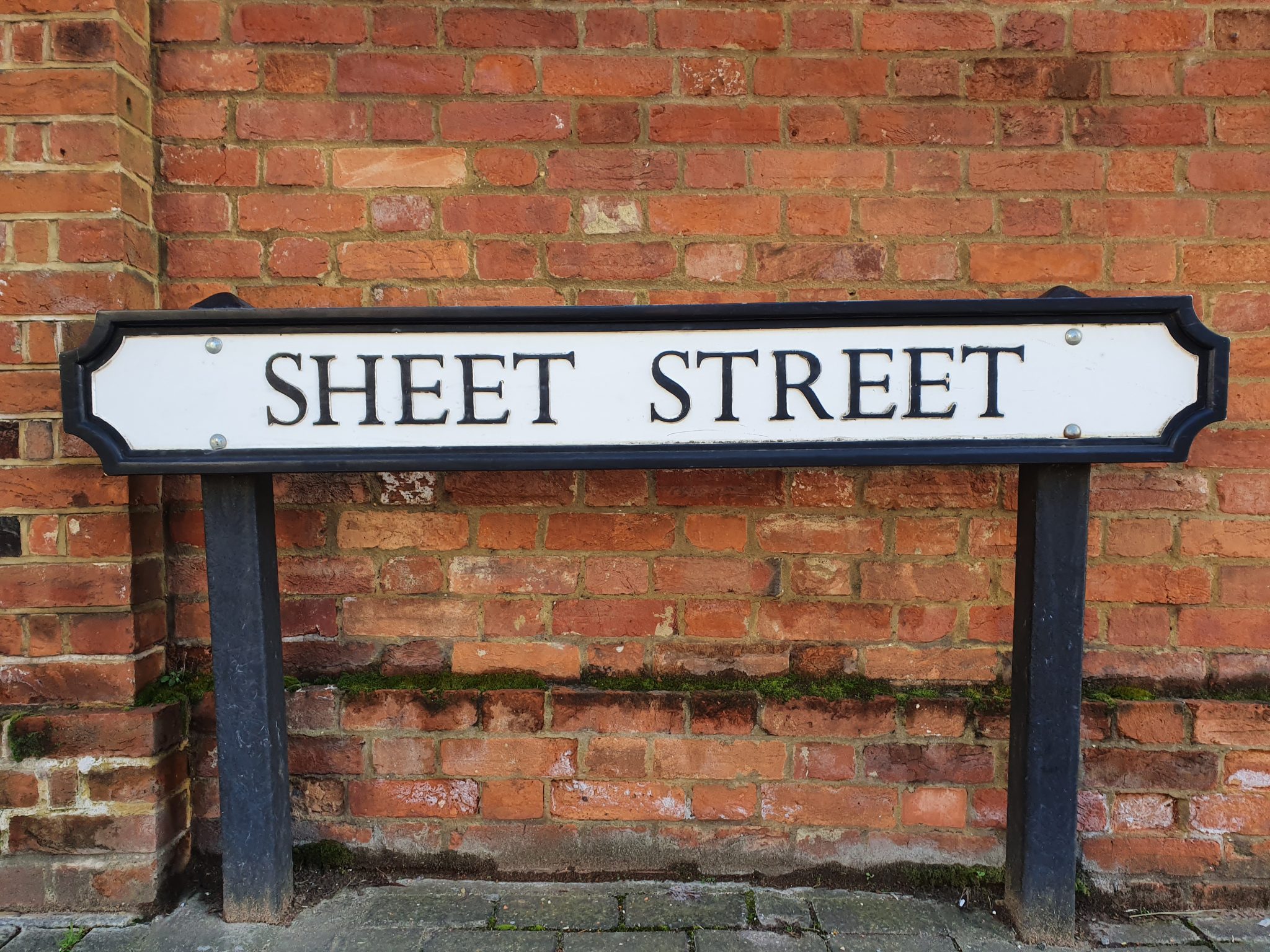 9. Windsor Legoland
Looking for best things to do in Windsor this weekend? Whether you are 5 or 55, you have probably heard about LEGO 😉 In fact, you might have even played once or twice and tried to build Windsor Castle from Lego.
This is one of the most visited places in Windsor!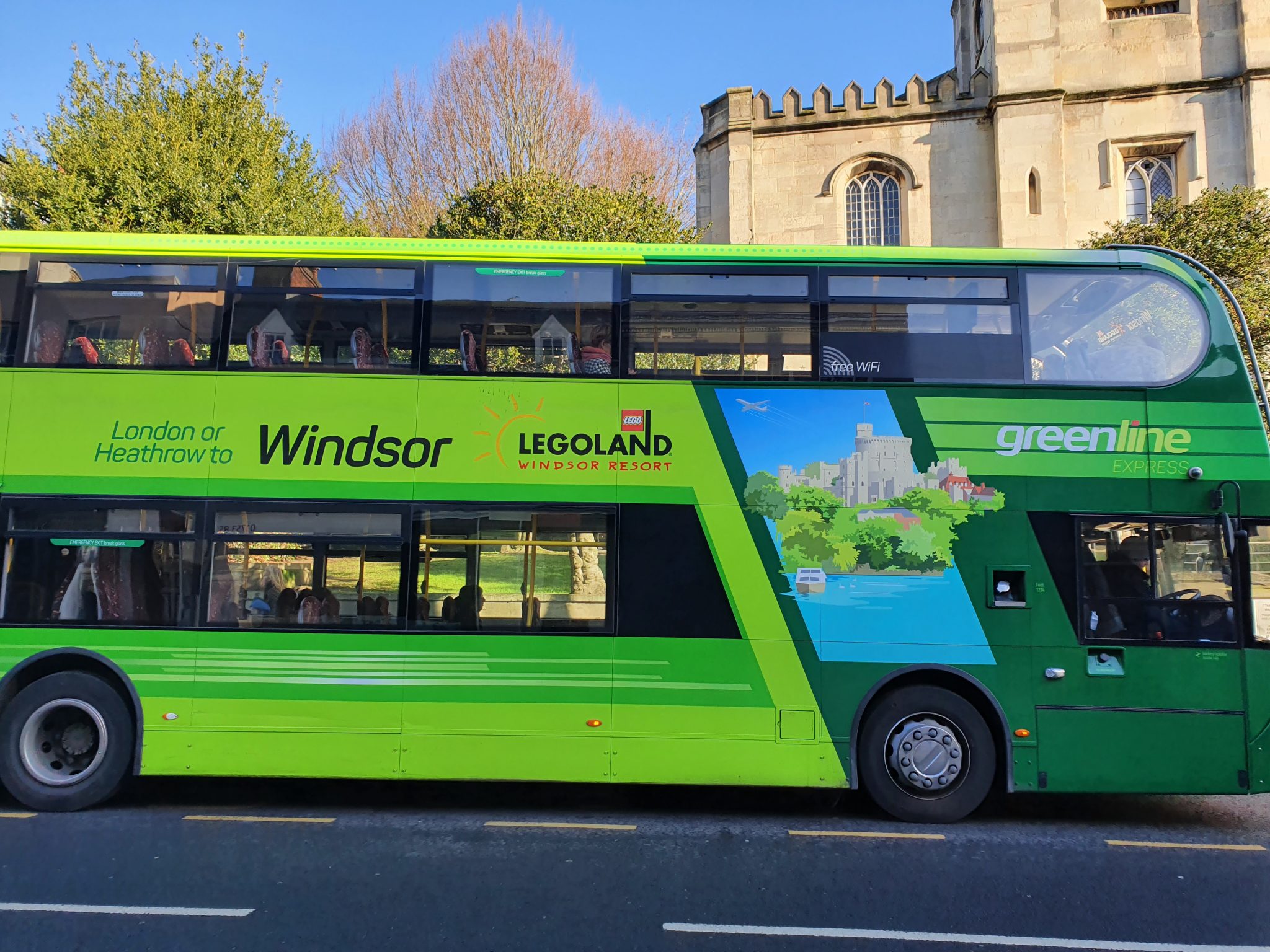 10. Soldier's Statue
This is rather an unusual thing to see in Windsor. The interesting fact about this statue is that the metal was brought back from Iraq and melted down to create this military monument.
It is worth a moment to look at on the way to the long walk from the Castle.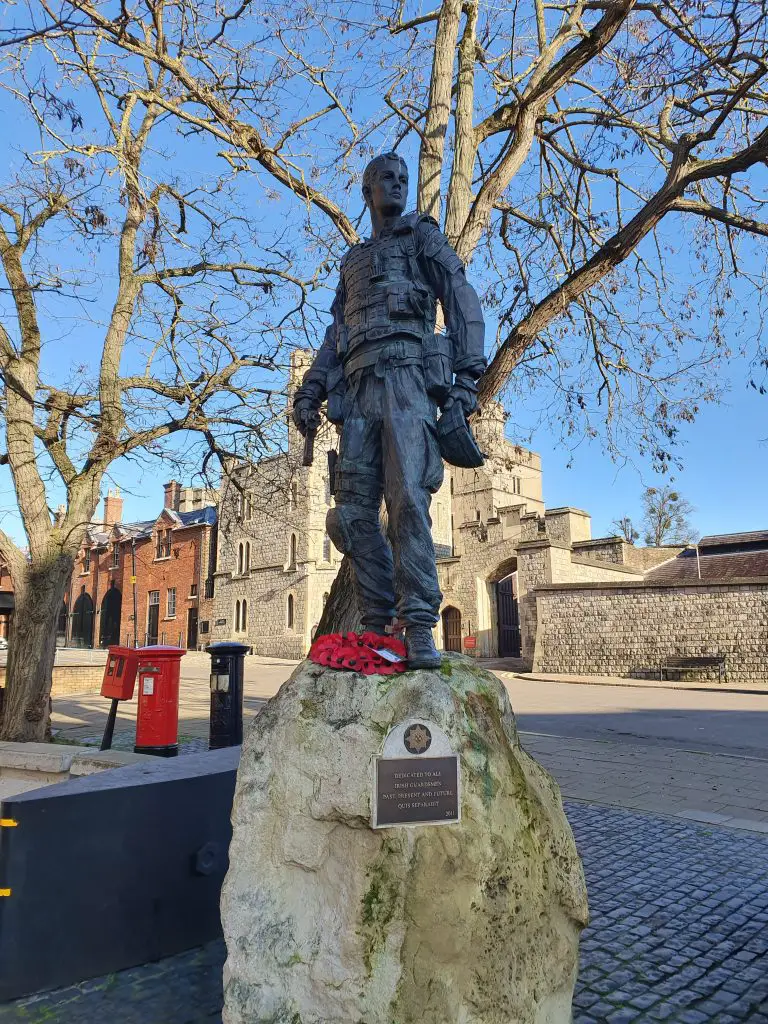 11. Visit The Prince Harry
What to do in Windsor England? Don't miss the last chance and visit The Prince Harry – we have heard that soon will jet off to start a new life!
We don't really know how they will move it to Canada for 6 months a year, but it will be a shame for Windsor to lose such a great… pub!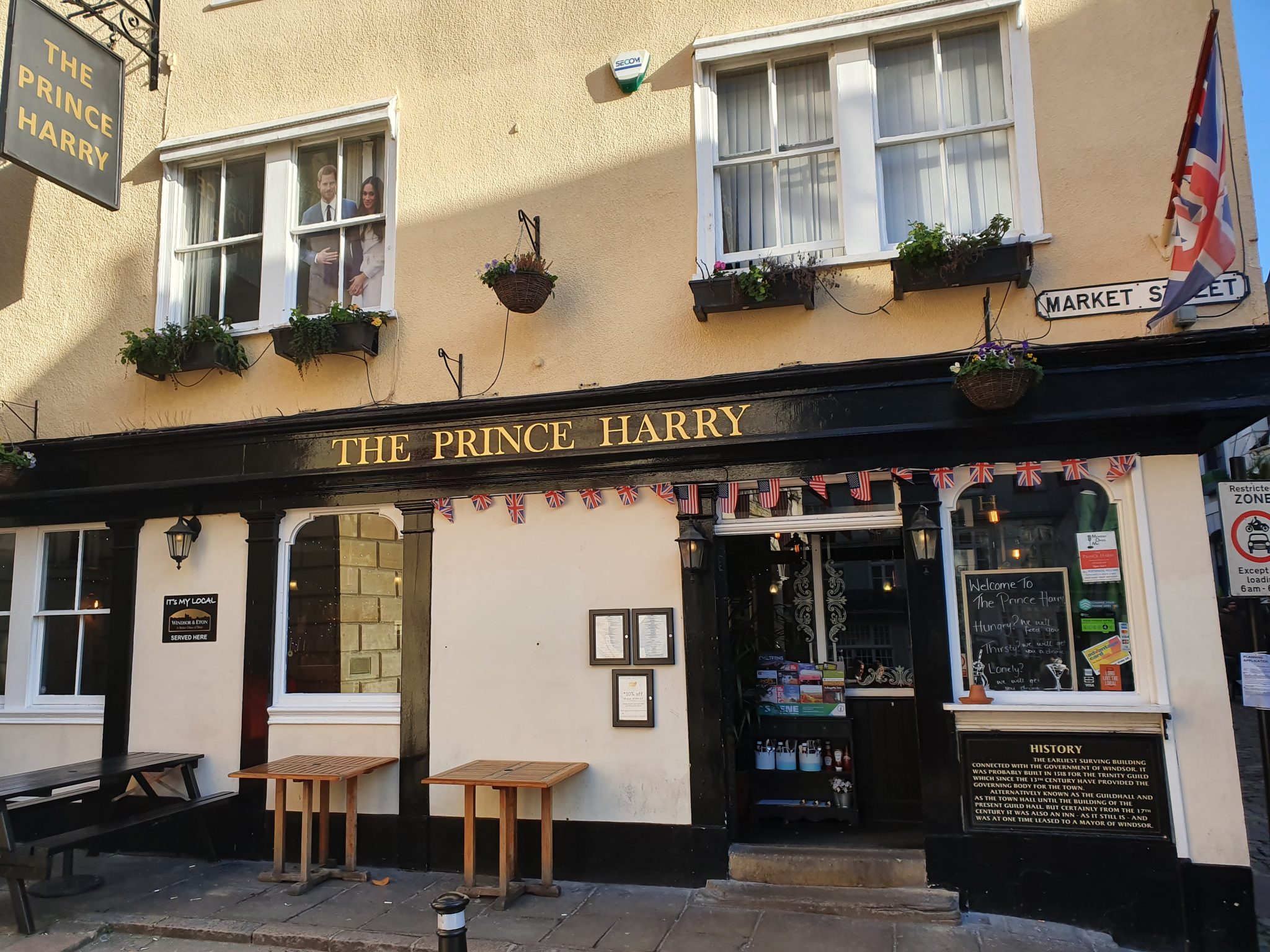 12. Broken house
This might be one of the last chances to take a picture of this beauty! This hidden gem in Windsor is rather falling to one side… Who knows how long it will still be there…
We hope you manage to capture it! Your Instagram account really deserves this picture 😉
13. Pub lunch with a Castle view
You probably think by now that we drink a lot! Not really 😉 It's not our fault that Windsor is full of great pubs. Sunday roast, fish and chips with a lager – who wouldn't like to enjoy that royalty?!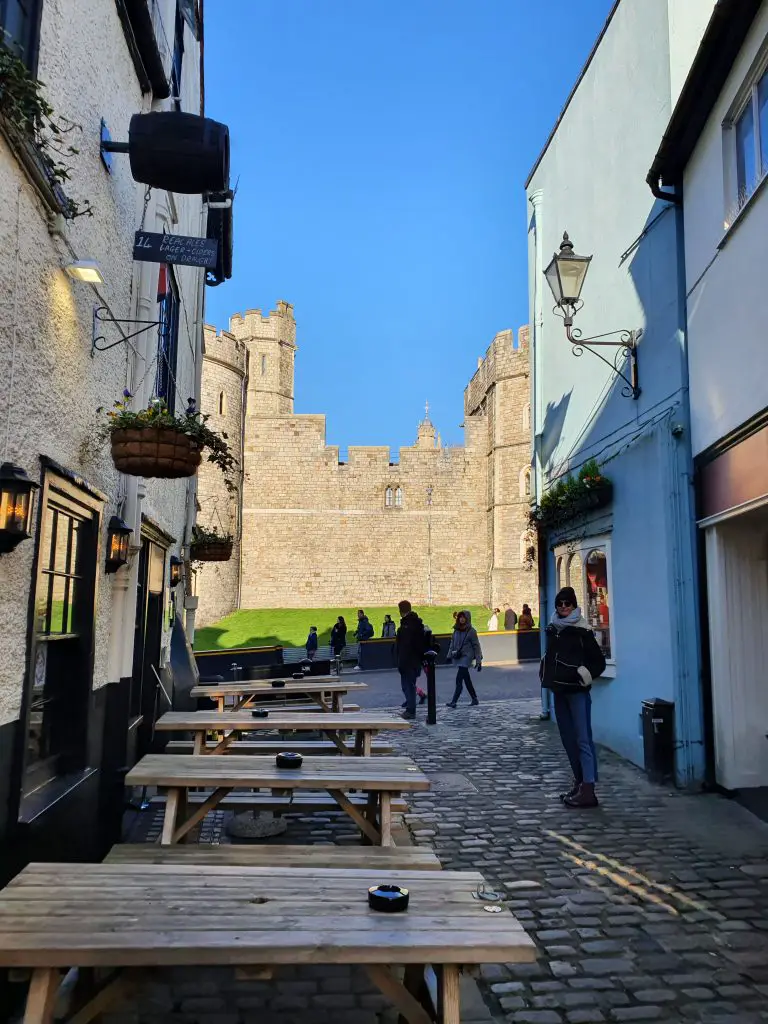 14. Try the tastiest crepe ever
If you are visiting Windsor, then you have to see the monthly independent food market located in Peascod Street.
Discover an abundant range of local fresh produce, artisan delicacies and homemade crafts on your doorstep. Freshly baked bread, locally-grown fruits and vegetables, or cheeses are all available to buy during the market day.
Pssst… if you are addicted to sweet things, try the tastiest crepe ever! 😉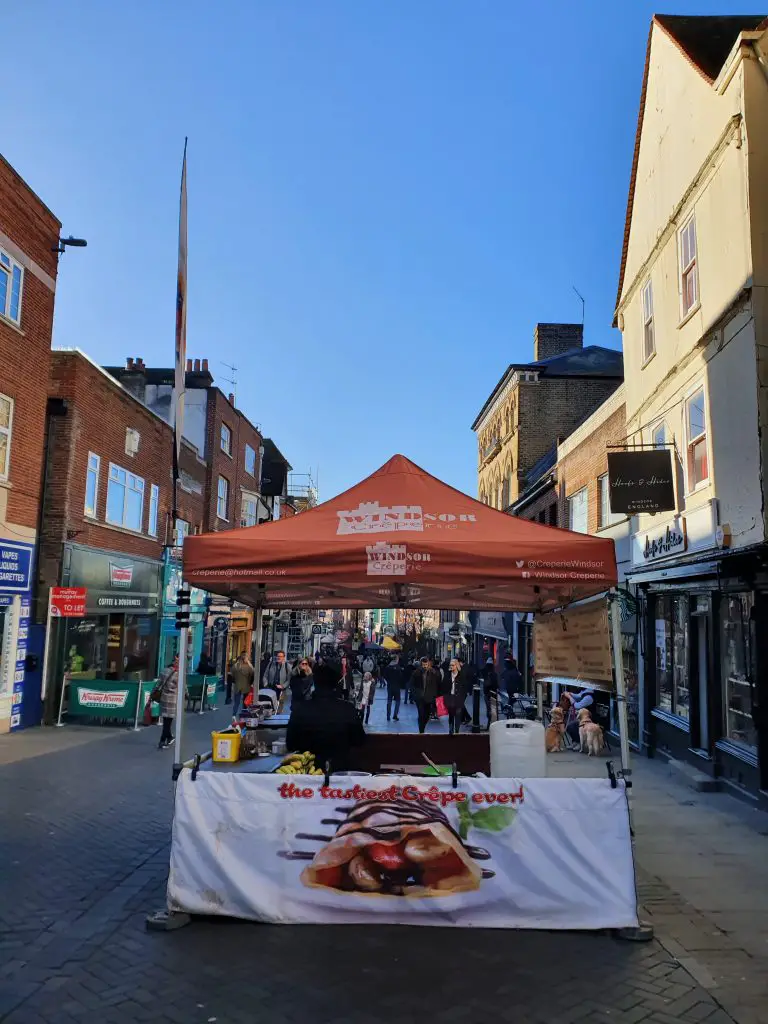 15. Shop like a royal!
The partially covered shopping centre is located in the heart of the historic town. It was converted from part of the old central railway station built in the 1850s, so it has lots of character!
It really is a beautiful building with some high end commonly known shops, as well as some more local sounding individual shops featuring local UK items.
The shopping area is located next to Windsor Castle so you can easily split the day between the two. With so many cafes to choose from, you are spoilt for choice for lunch or dinner!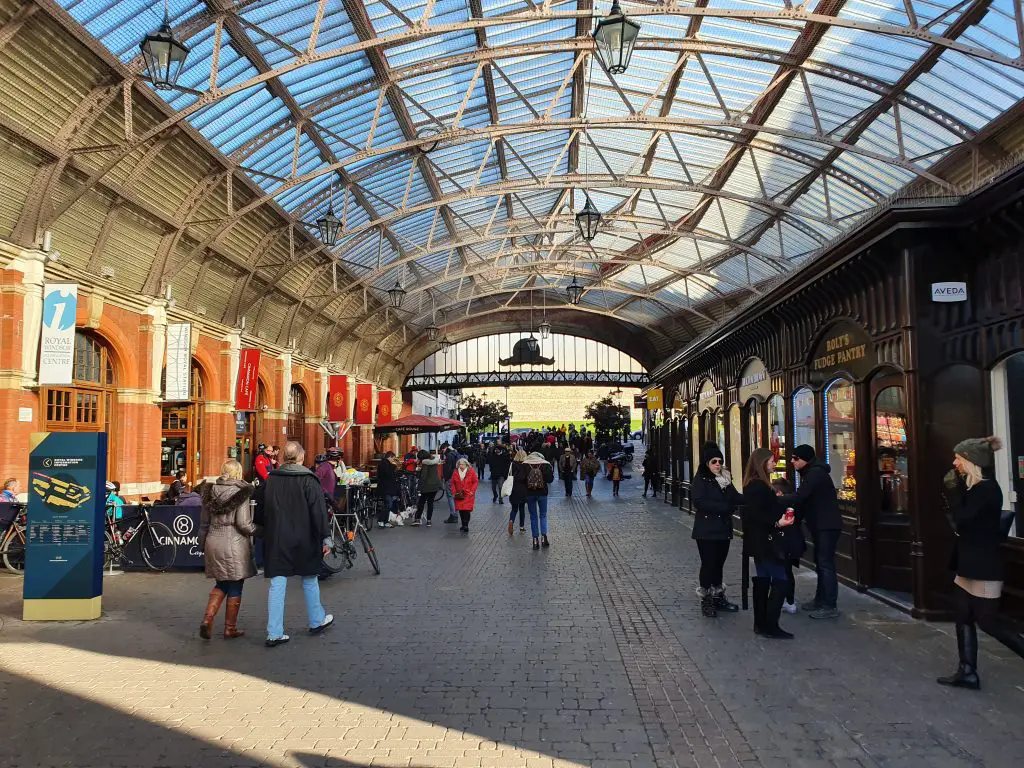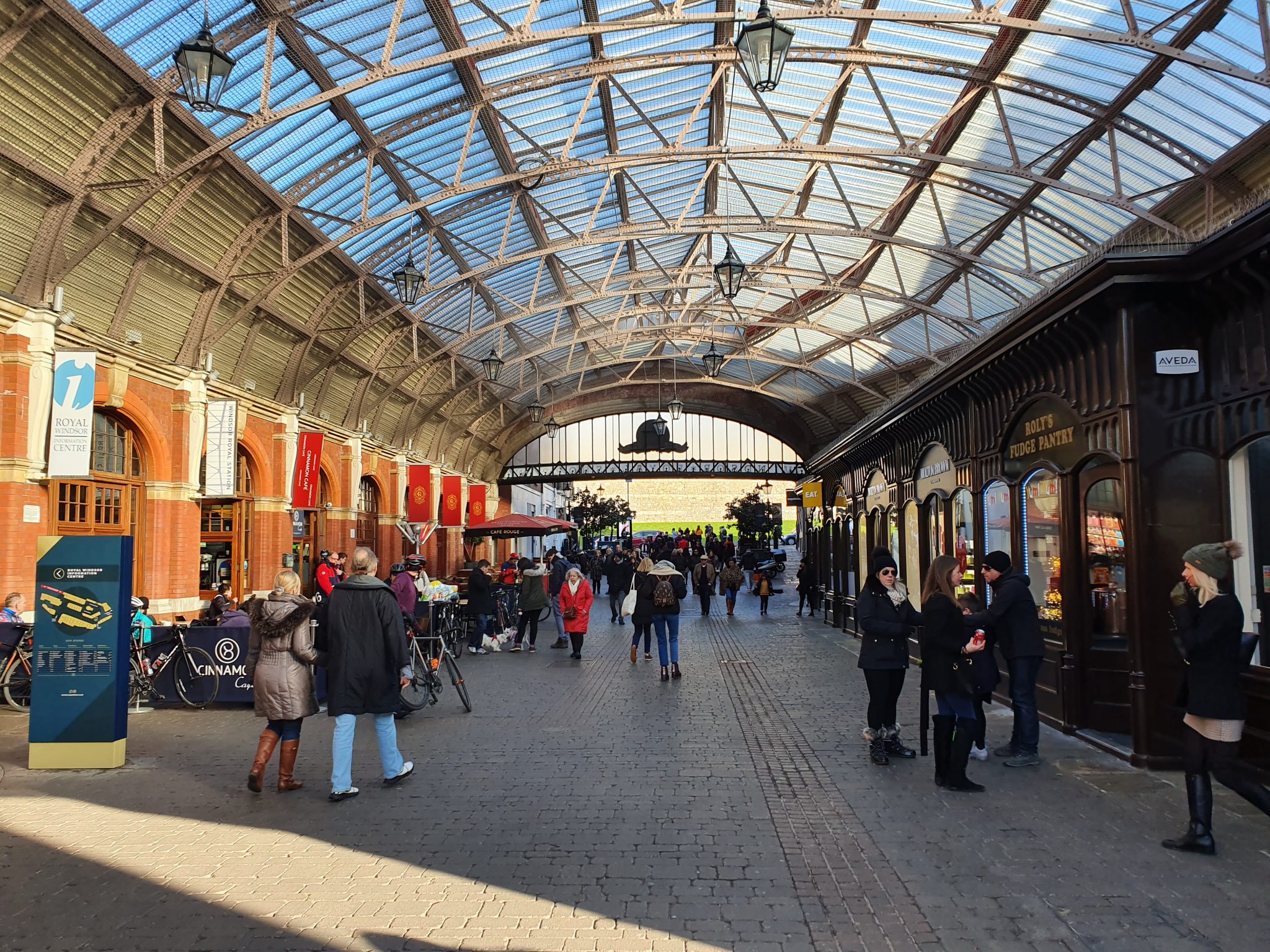 16. All Bar One
You might need a drink or two while visiting Windsor. Especially after shopping in the Royal Shopping Center – there are some top-end shops and boutiques so expect royal prices!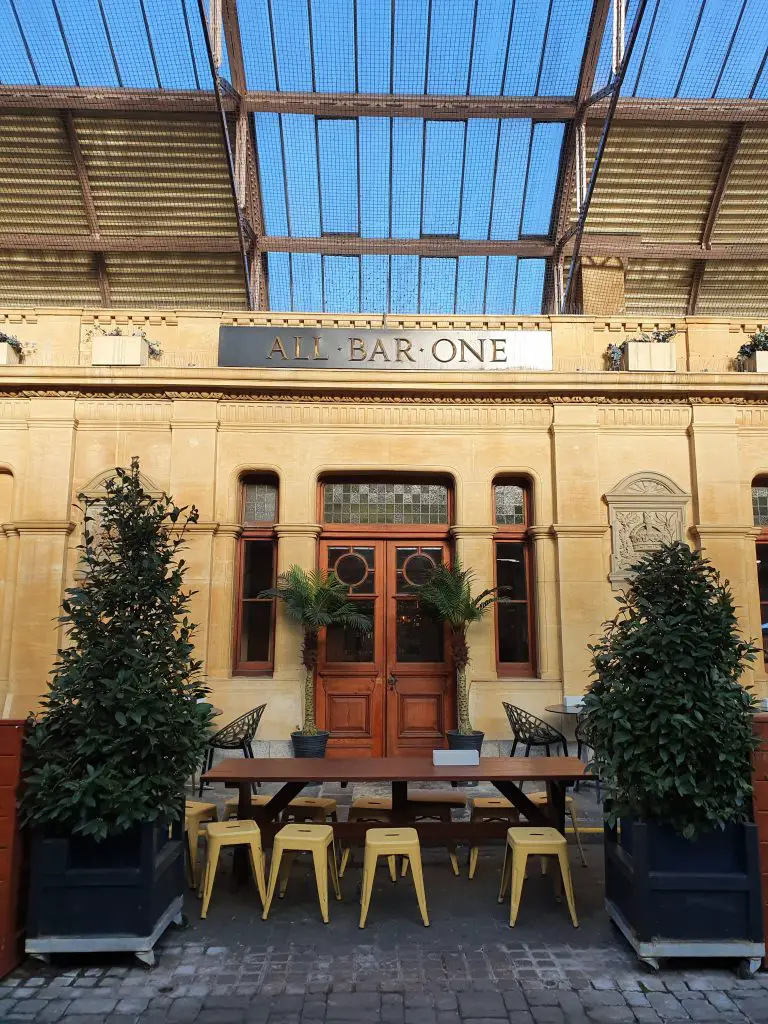 17. Windsor Guildhall
If you are into history, then you have to visit The Guildhall Windsor. It is currently home to the Windsor & Royal Borough Museum.
This small local history museum offers an interesting collection of articles, which relate to the history of the town and the surrounding area. Everything from prehistoric times via the Roman and Saxon eras, the Victorian era and right up to the present days.
OK, if this sounds boring to you, then there is a nice little pub located near to the Guildhall ?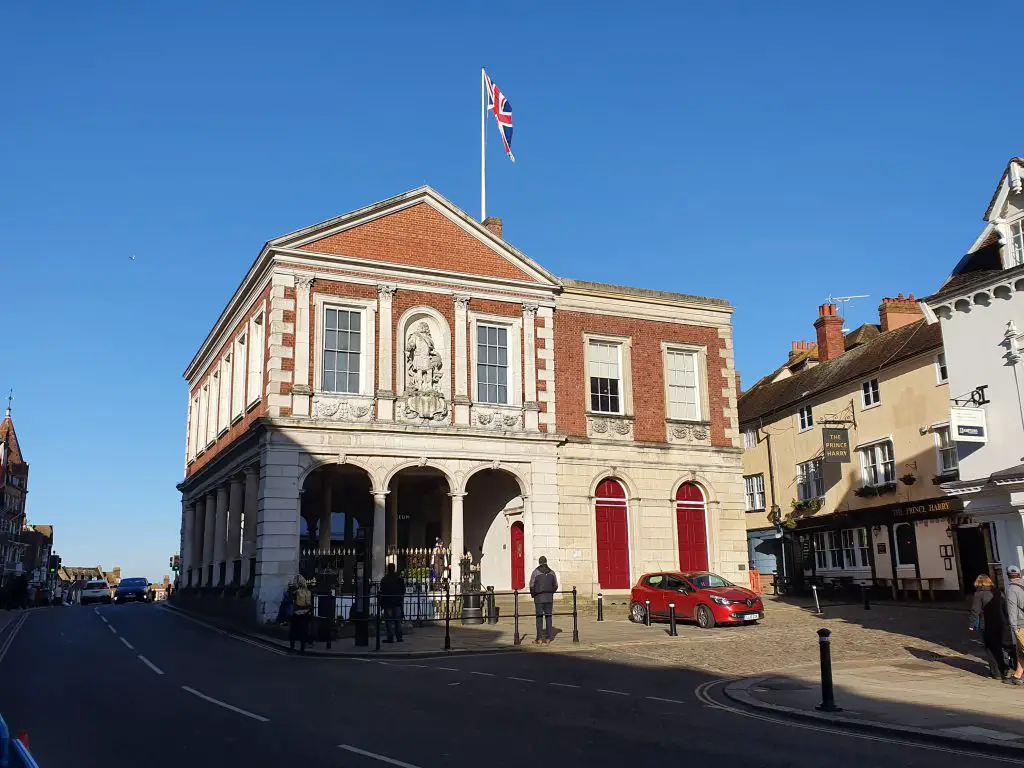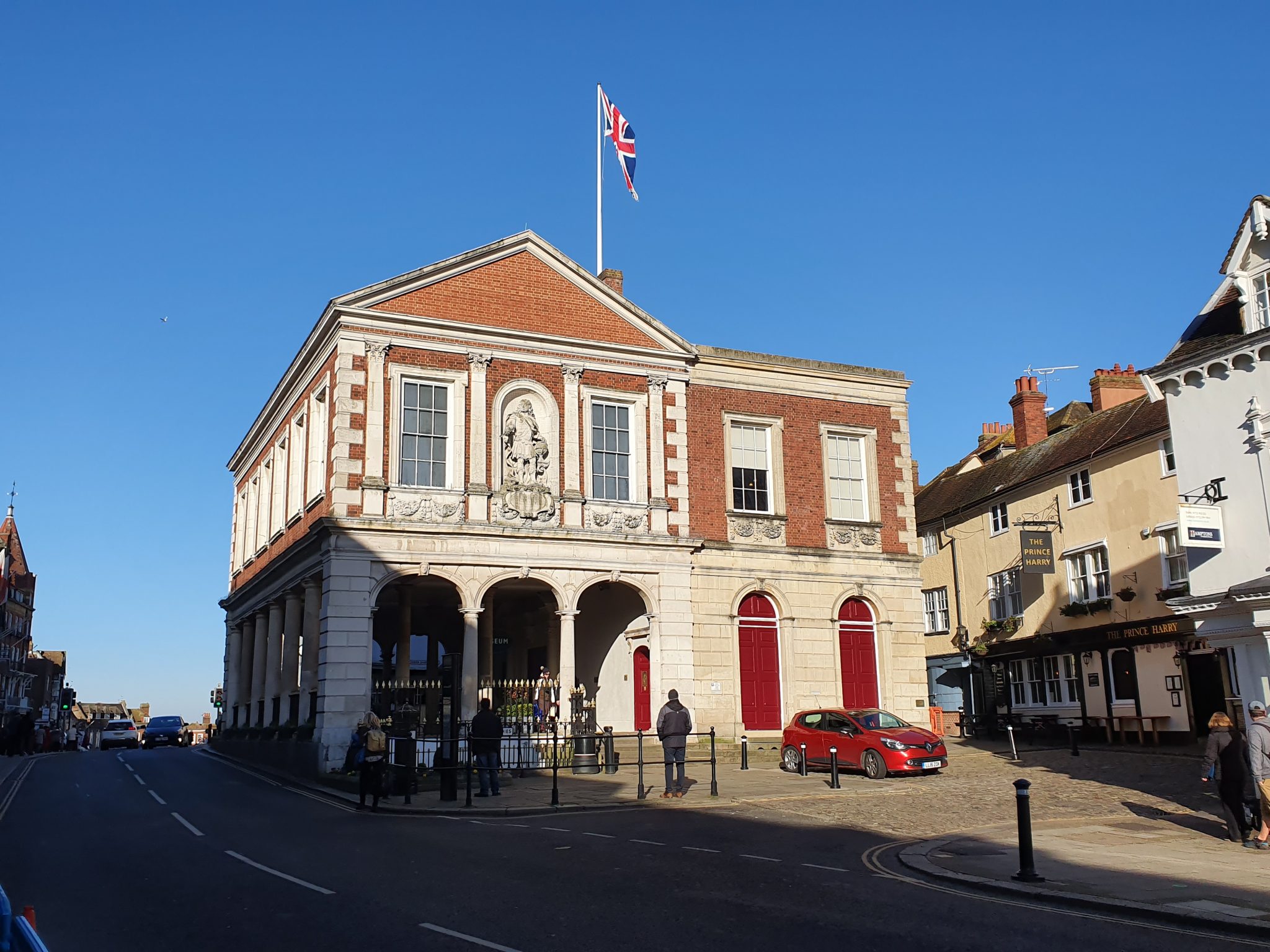 18. Queen Charlotte Windsor pub
OK, that's the last pub in Windsor (I promise!) we talk about. But we really want you to enjoy all the best Windsor has to offer! 😉
If you missed out of visiting The Prince Harry or were kicked out from The Two Brewers (as you came with kids), you will definitely have a great lunch at Queen Charlotte Windsor pub!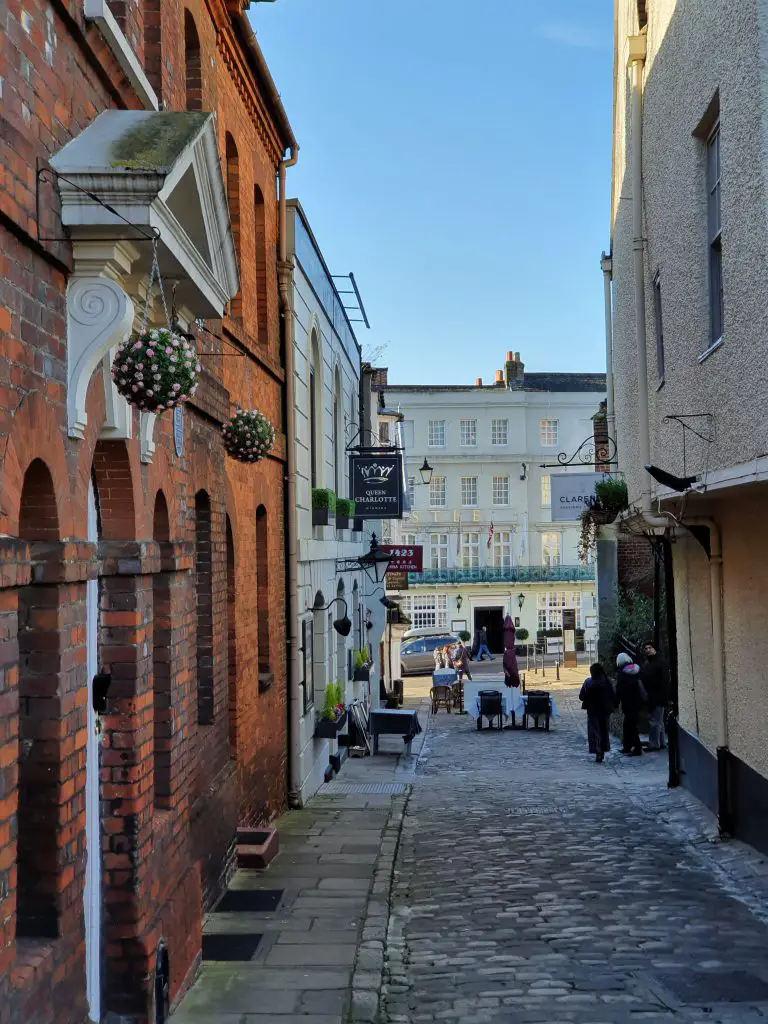 19. Feed the swans
Romantic things to do in Windsor? Pack some bread with you and head to the river – the giant swans are waiting for you 😉 Kids love this part of Windsor as there are many birds here – swans, gooses and ducks.
With so many birds, there are also many faeces on the pavement – white shoes are a no-no for this trip 😉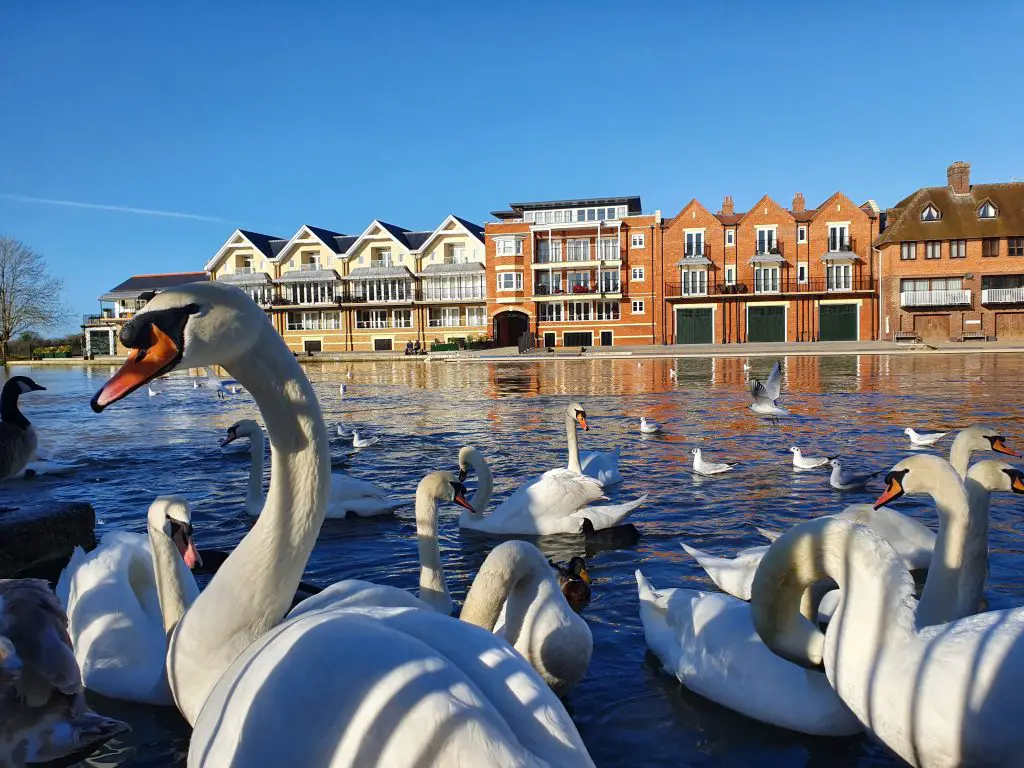 20. Go on a riverboat trip
Any interesting places to visit around Windsor? Choose from a short return trip or a full-day cruise – all with fantastic views of Windsor Castle! There is a number of providers doing riverboat trips so you can be sure you find a space.
Having said that, summer weekends are very busy with couples and families booking lunch cruises on a day trip to Windsor.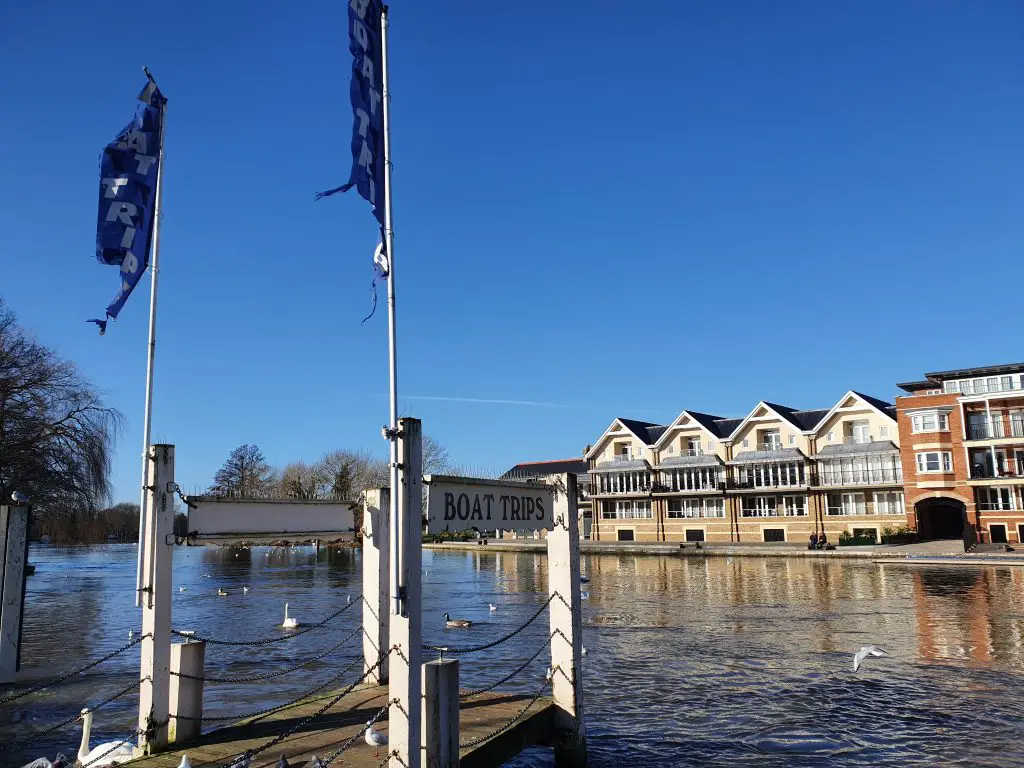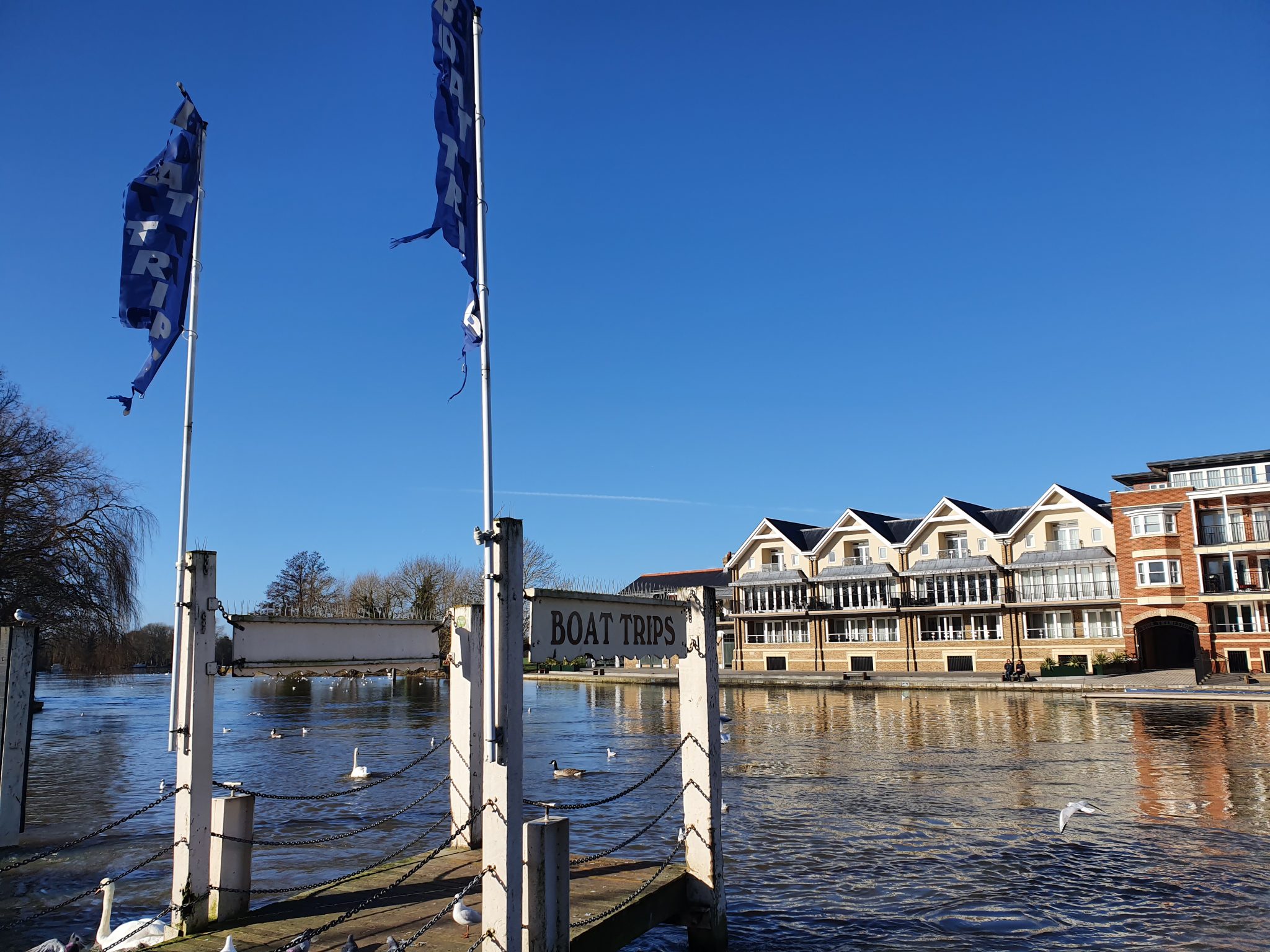 21. Learn about the Hawker Hurricane
Best attractions near Windsor Castle?
Yes, the weather is likely not being stormy in Windsor but you can for sure expect to see a Hurricane – the Hawker Hurricane! The full-size replica is a lasting memorial to Windsor resident Sir Sydney Camm. It was his best-known design, which first flew in 1935 and entered RAF service in 1937.
You might recognise it as there are many Hurricane toys – there is a big chance that you used to have one as a kid! I did 🙂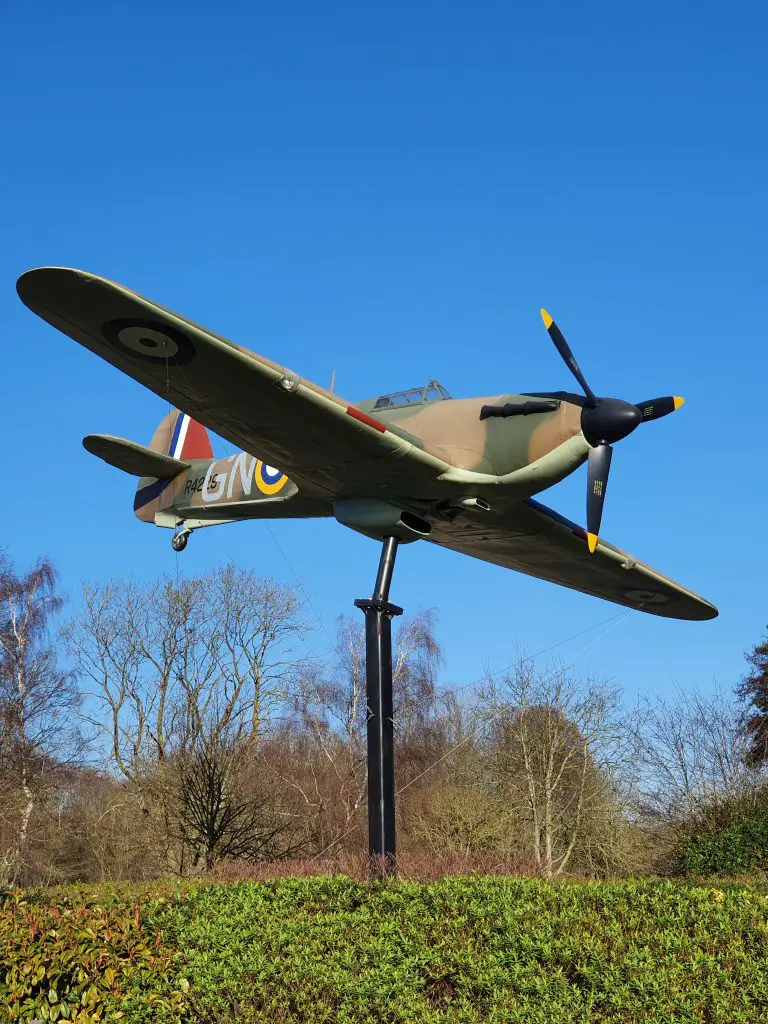 22. Baths Island
Baths Island is located just a short walk from the Hawker Hurricane. It is a nice little green area where you can go for a walk. Nothing really amazing but if the weather is nice you can enjoy this little walk ?
This must be one of the places to visit near Windsor Castle.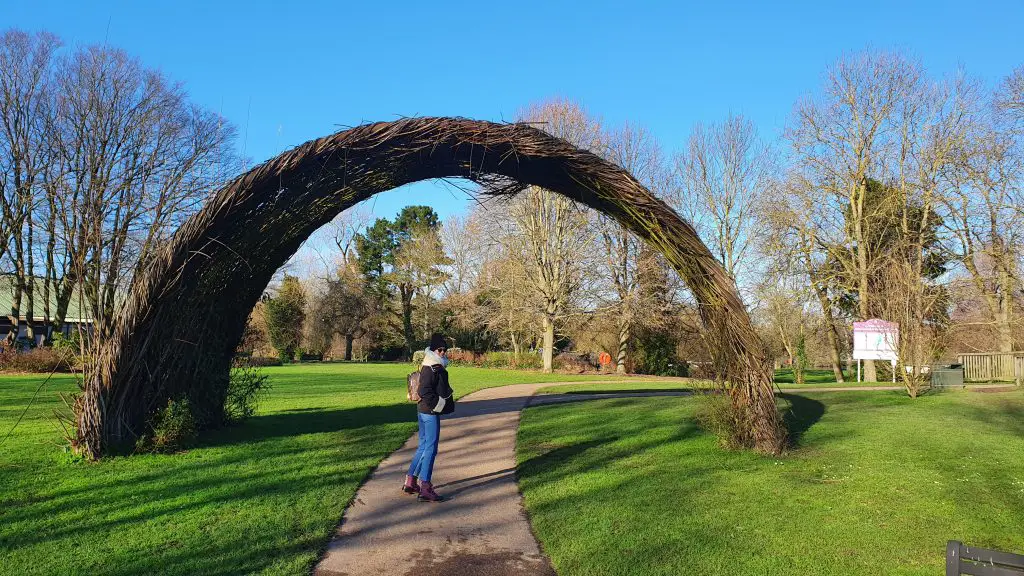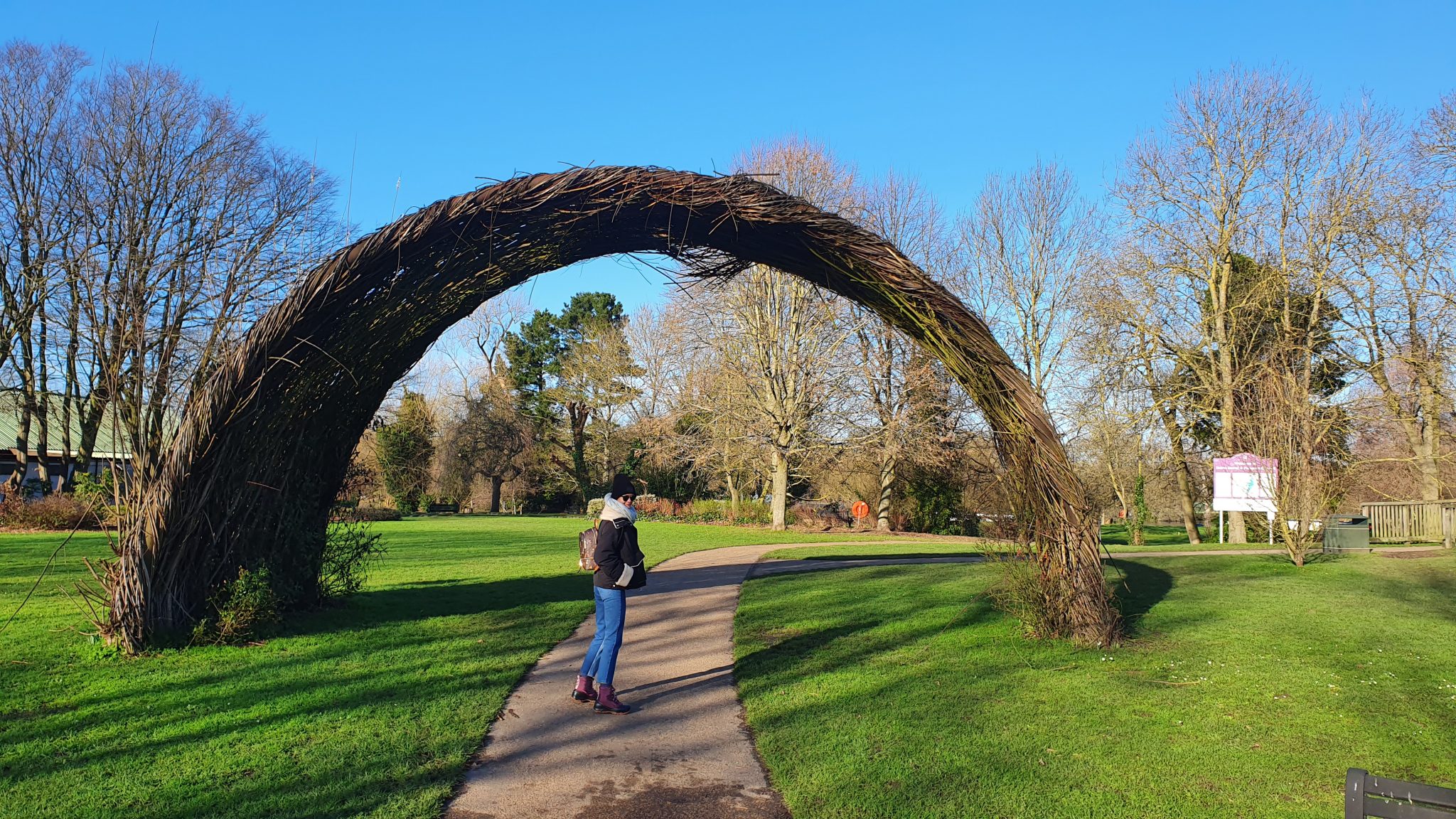 23. Visit Theatre Royal
The Theatre Royal Windsor is a beautiful Edwardian theatre located just outside the walls of Windsor Castle. How many times the Queen has visited the theatre? We don't really know ?
Theatre Royal Windsor has gained a huge reputation for the quality of its productions. It is currently one of Britain's leading theatres, so it's definitely worth visiting.
Some even say that Theatre Royal offers the best Panto in the world!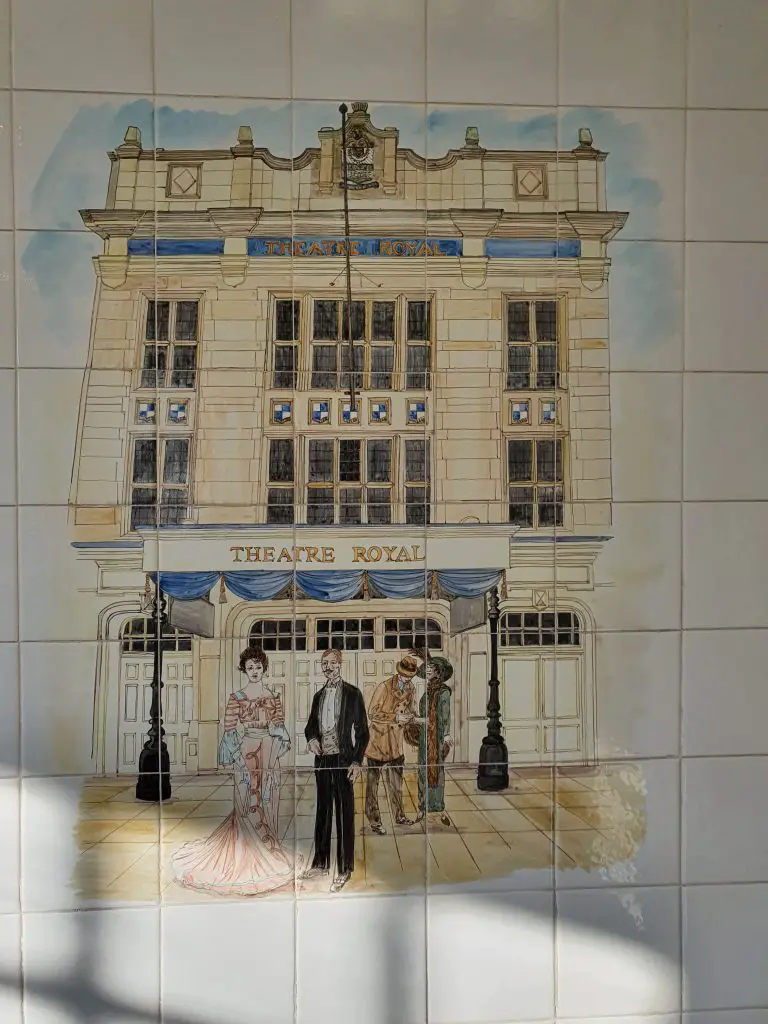 24. The Eton Walkway
If you have a bit more time while visiting Windsor, you should head out to Eton. Over 7 million annual visitors walk across the river from Windsor via a pedestrian footbridge, the town of Eton. I guess, there must be a good reason, right? ? Some even say that this is one of the most famous bridges in Europe!
The Eton Walkway, one-hour circular walk, connects 18 points of interest in the town. The 18 shields mark places like The King's Stables, Eton College and St John's Church.
Ready for a 2-mile walk in Eton? This really is one of the nice villages near London.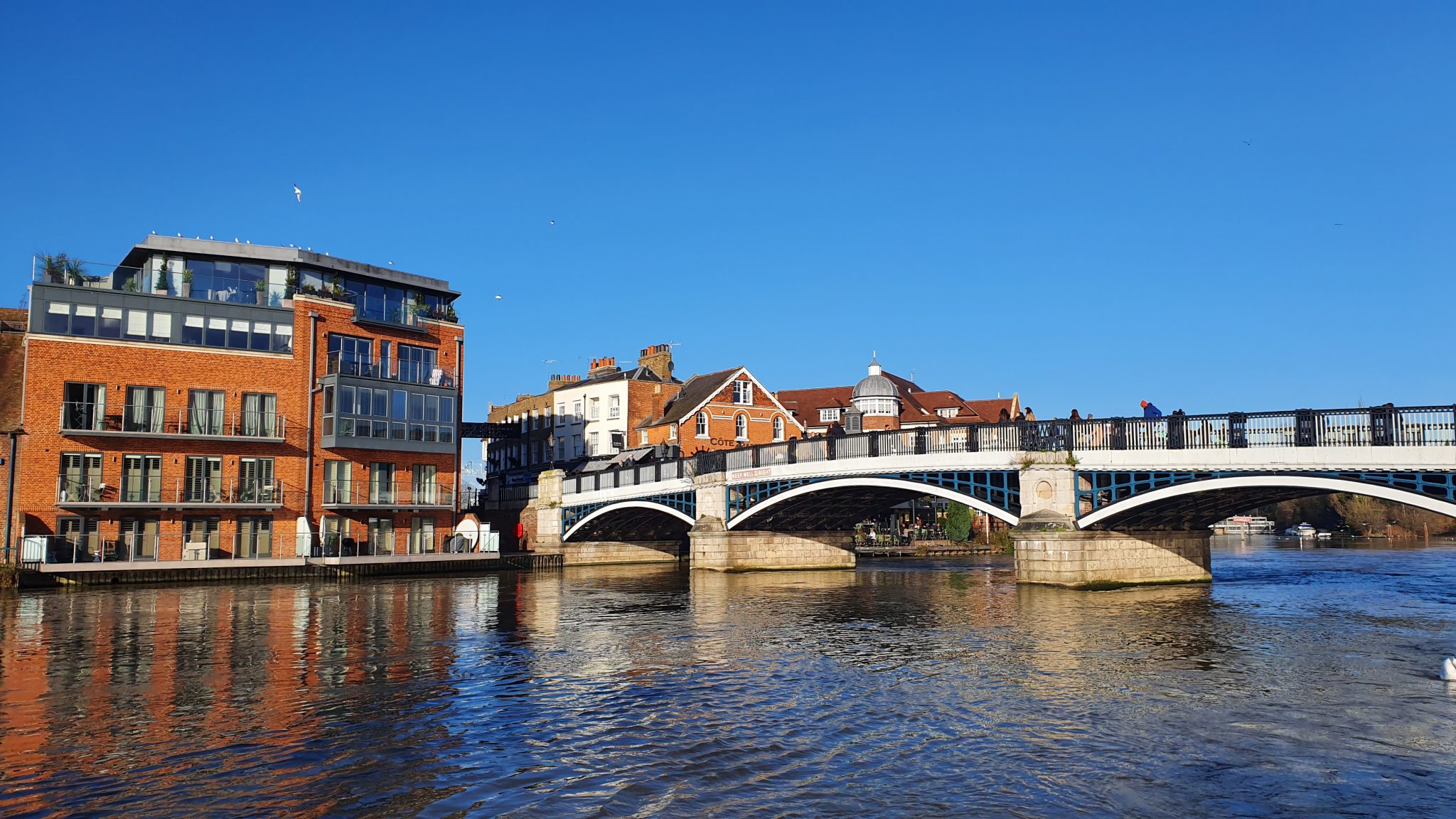 25. Eat at Mess – The Eton Mess
What a Mess! This is a rather dirty finish of our article about the best things to do in Windsor. But hey, nobody said everything is nice and clean in Windsor 😉
Would you dare eat the Mess? I mean, at the Mess?!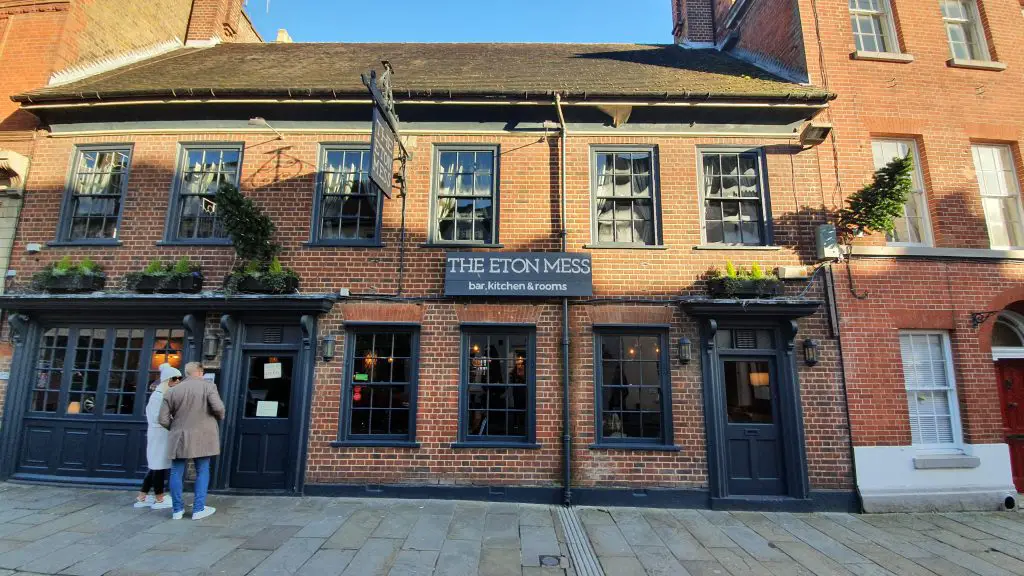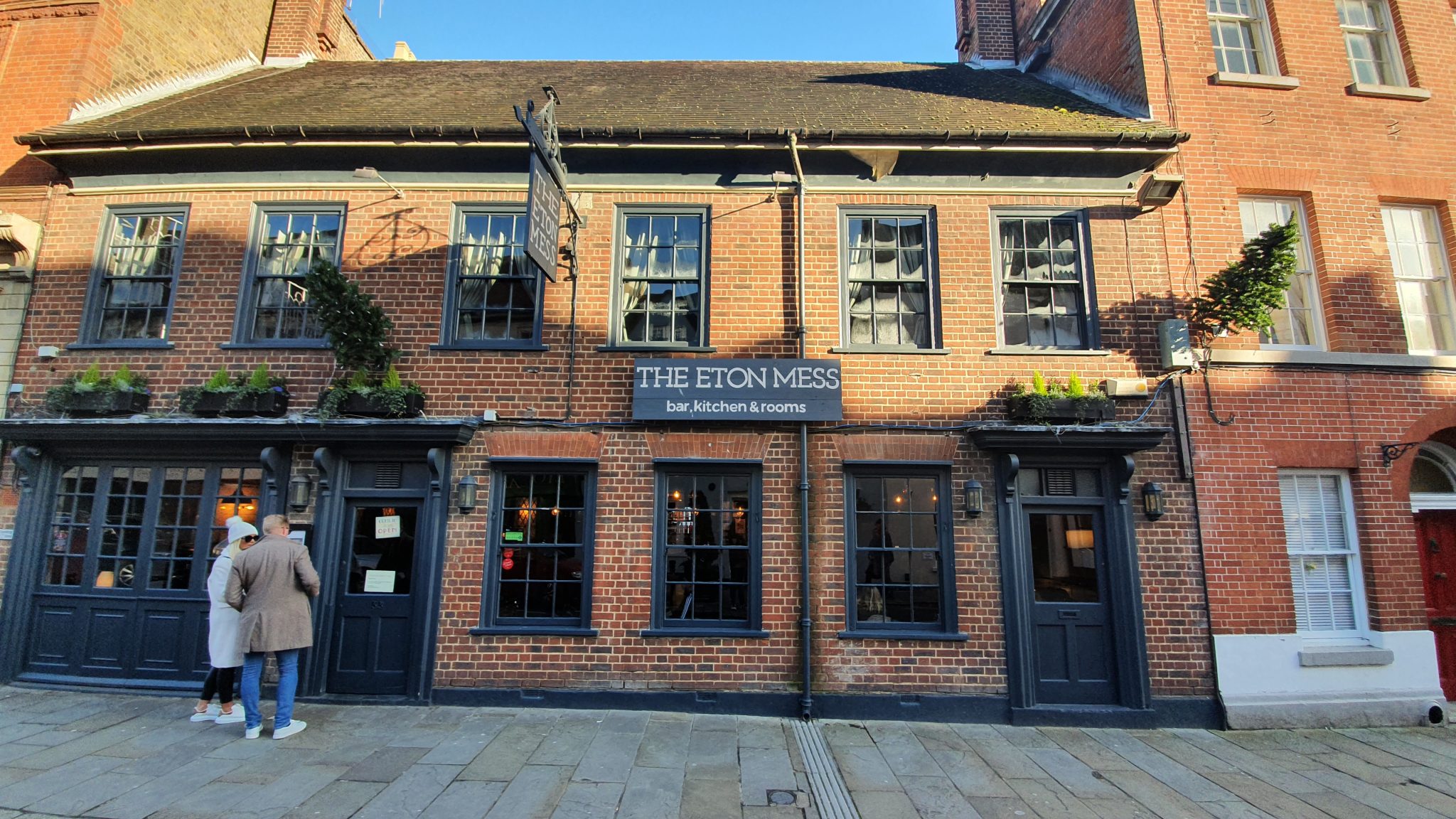 Places to visit nearby Windsor:
Is it worth visiting Windsor?
There are many places to visit in Windsor things to do around Windsor. If you are a big fan of the Royal family, then Windsor will be very top on your UK bucket list! For all the rest, less crazy about the Queen, Prince and Princess, Windsor is still a top day trip from London.
Your face doesn't have to be printed on the pound sterling banknote to have fun in this historic market town – there are many great things to do in Windsor for less-known people too! Ready to explore the best things to do in Windsor London? 🙂
Love England and the rest of the UK?
Read our other articles related to this stunning country: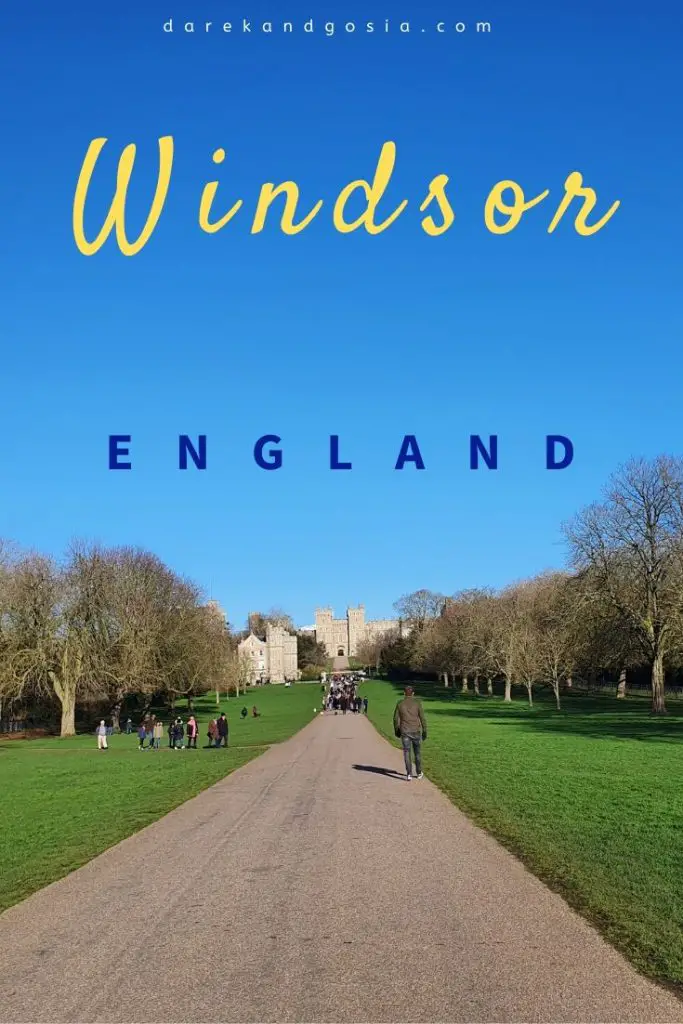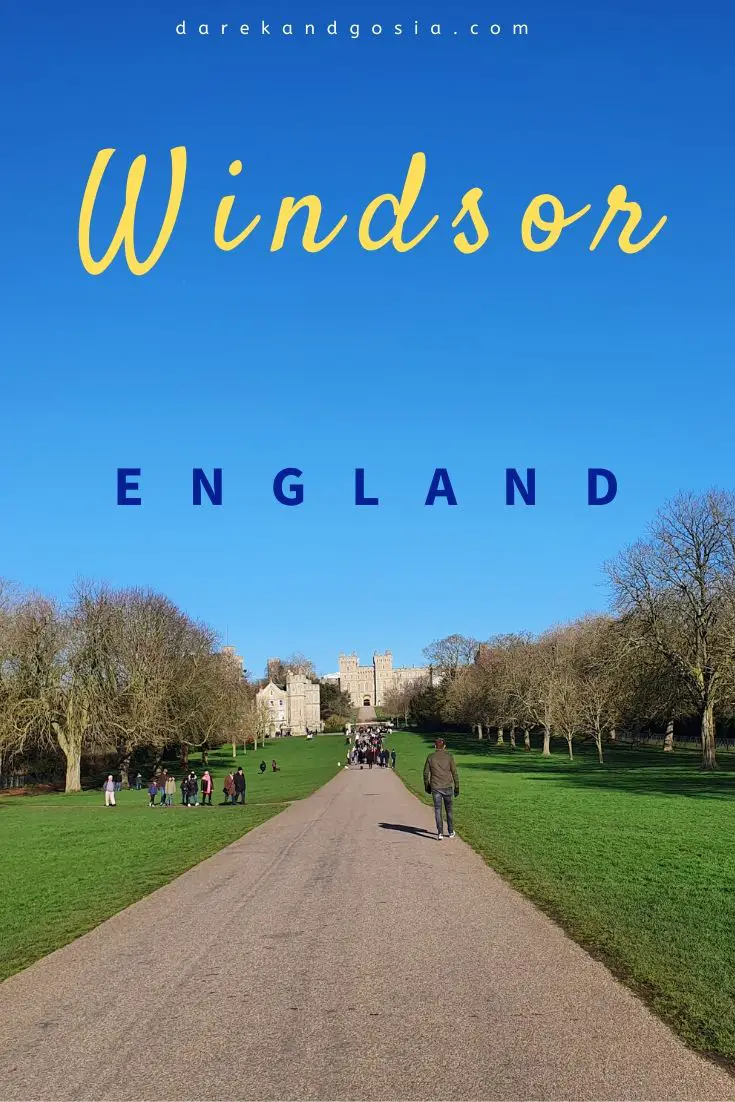 Articles you may like: