Visiting the best villages near London is a great way to spend time outside of the capital city. Find out more about the best beautiful countryside near London and some of the nice villages near me!
The hustle and bustle of London is delightful, but sometimes it's nice to escape the chaos of the city. Whether you are a Londoner yourself or visiting England's capital, there are many beautiful villages to explore nearby. There is something wonderful about a quintessentially British village.
Most villages are steeped in history and have the beauty of something out of a fairytale. Just outside of London there are endless miles of countryside and natural beauty to be explored and nestled within that are some of the best villages in England.
If you are looking for a peaceful day trip from London, then be sure to check out some of these much-loved villages.
Where to find the best villages near London?
Dotted all around the outskirts of the M25 are quaint villages just waiting to be explored. Surrey is a popular location for day trips from London, sitting just south of the capital, it is home to the Surrey Hills Area of Outstanding Natural Beauty.
Within Surrey, there are a few little villages for visitors to discover. Berkshire is another county just outside of London that boasts beautiful villages, many of which sit right on the edge of the River Thames. Nearby to Berkshire is Buckinghamshire, which offers picturesque rolling countryside and an abundance of cute local villages. Oxfordshire and Suffolk are also known as home to many picturesque villages near London!
When you are looking for villages near London, there are plenty within an hour or two of the city, just be sure to plan your route before setting off.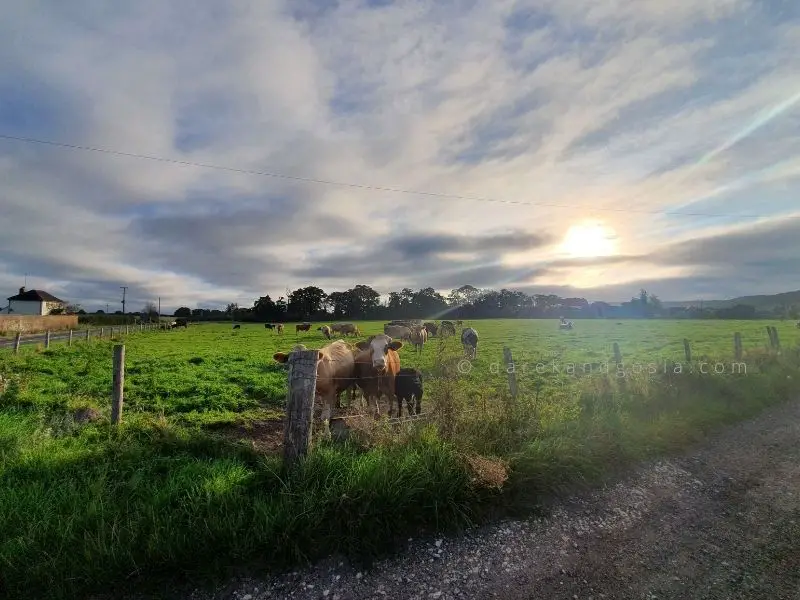 How to get to the villages?
London is lucky enough to have excellent transport links by both road and rail. Whichever village near to London you decide to visit, the chances are you can reach it either way.
The M25 runs right around London and can be used to reach most destinations in the country. If you are heading to villages in Berkshire or Buckinghamshire, head west on the M4 or M40. For villages in Surrey and nearby areas, the M3 or M23 should get you there.
Suffolk villages are a little further afield to the northeast of London and can be found by car on the A12.
Most villages near London can be reached by rail from one of London's central train stations. Great Western Railway runs services from London to Berkshire and beyond, whilst Chiltern Railways and London Northwestern can take you to Buckinghamshire.
South Western Railway and Southern trains cover most of Surrey. Some of the villages near London are quite remote and don't have train stations, so be sure to look for the closest rail and bus routes.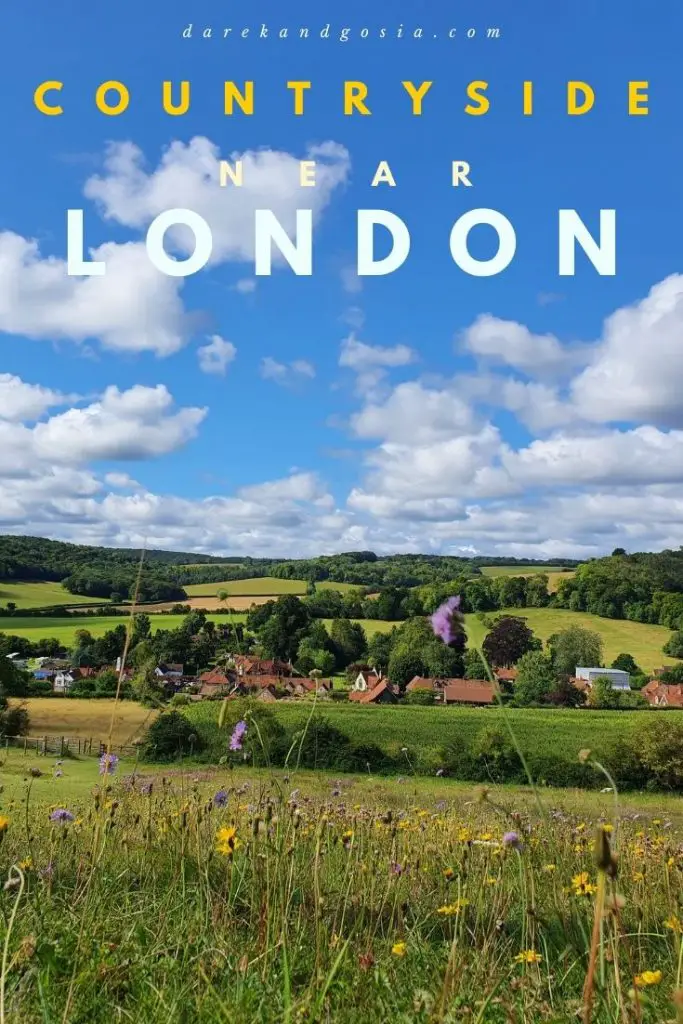 Best villages near London:
If you are ready to head out of London and take a breath of fresh air, then check out these villages near London;
1. Kersey, Suffolk
Nice village near me? With so many quaint villages near London, Kersey is the one where time really stands still.
This unspoilt medieval village is located between Sudbury and Lavenham in the beautiful county of Suffolk.
The main street is lined with many thatched and timber-framed cottages and there is also a medieval church that overlooks the village. Kersey is an iconic Suffolk sight and one of the most magical places in England. Without a double Kersey is one of the prettiest villages near London!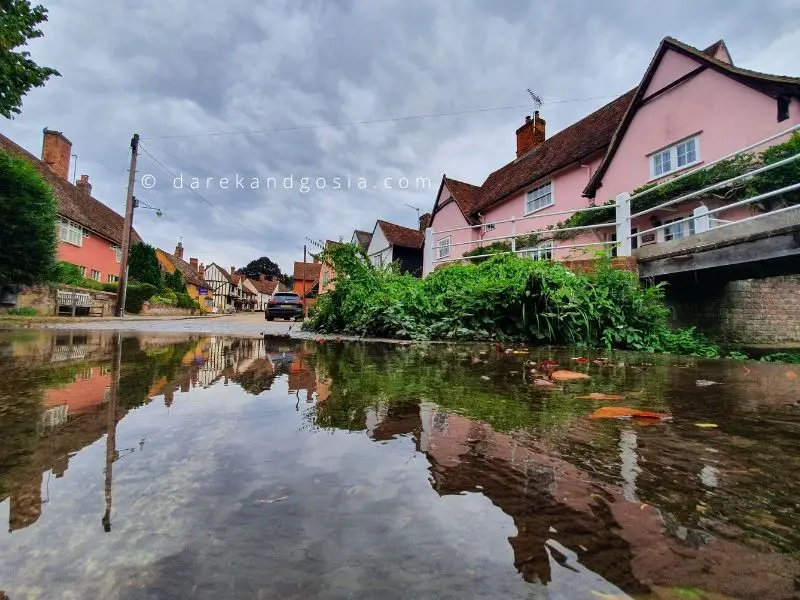 2. Finchingfield, Essex
Pretty village near me? Let's face it – Finchingfield in Essex is one of the top villages to explore near me!
This beautiful village really is a great example of a traditional English village. In fact, many say that it is one of the most photographed villages in England. Whether it's true or not, you just have to see it.
Finchingfield has a duck pond and village green area overlooked by colour cottages and nearby windmill and a medieval church. With a few coffee shops and a pub, it's a perfect place to visit in Essex.
This really is one of the top local beauty spots near me!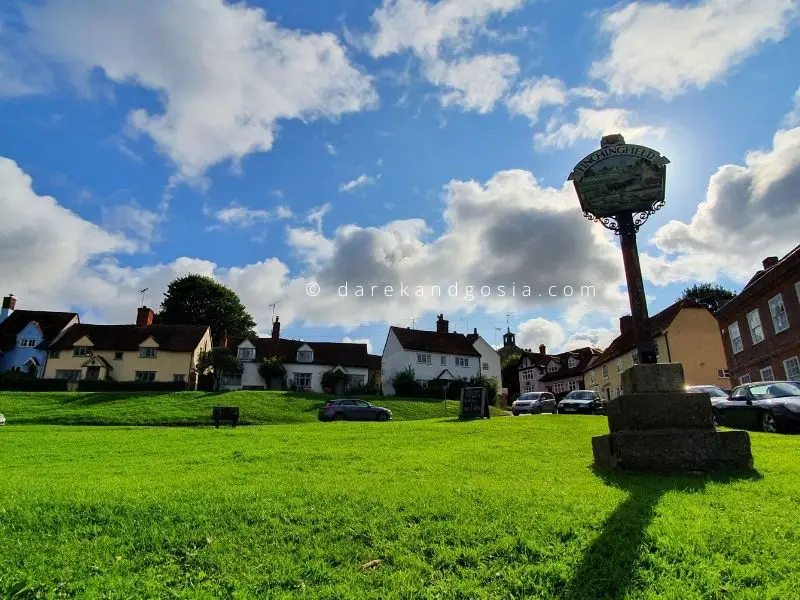 3. Hambleden, Buckinghamshire
Best countryside near London? Nestled within the valleys of the Chiltern Hills in Buckinghamshire, Hambleden is a truly beautiful village. Quaint brick and flint cottages line the streets and the village church, St Mary's, dates back to the 14th century.
Hambleden boasts a rich history and was once home to William Henry Smith, founder of the popular retailer W H Smith. Lord Cardigan was born in Hambleden's Manor House, and the famous sea chest which he took to the Crimea is in the church.
This picturesque village is just over an hour from London and has been a set location for many much-loved films, including Chitty Chitty Bang Bang, The Avengers and 101 Dalmatians.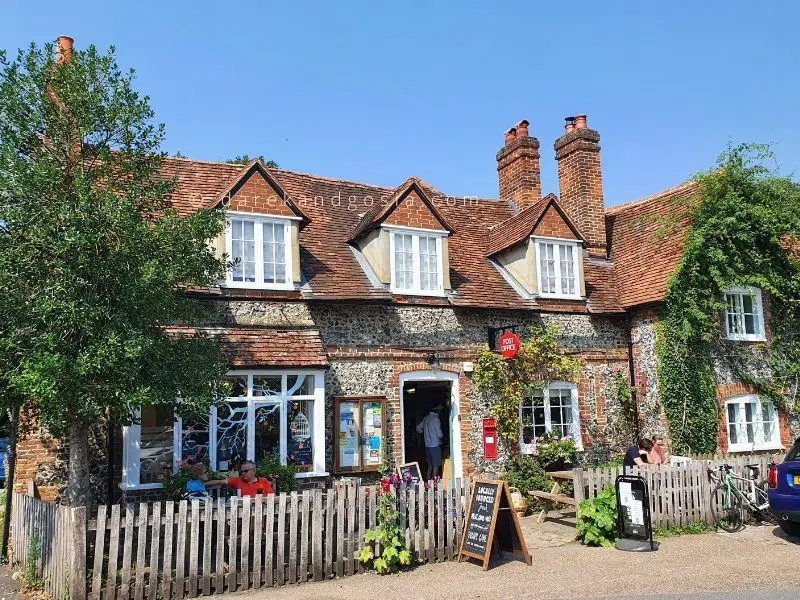 4. Peaslake, Surrey
Small villages near London? Surrey is being known as the top countryside outside London. And if you are after quiet areas then you need to visit Peaslake village!
Located in the heart of some of the top mountain biking in Surrey, Peaslake is a must-visit location in Surrey.
With a local pub, village shop and even a bike shop – there is everything you need to enjoy your day out from London!
This really is one of the best villages near London to visit!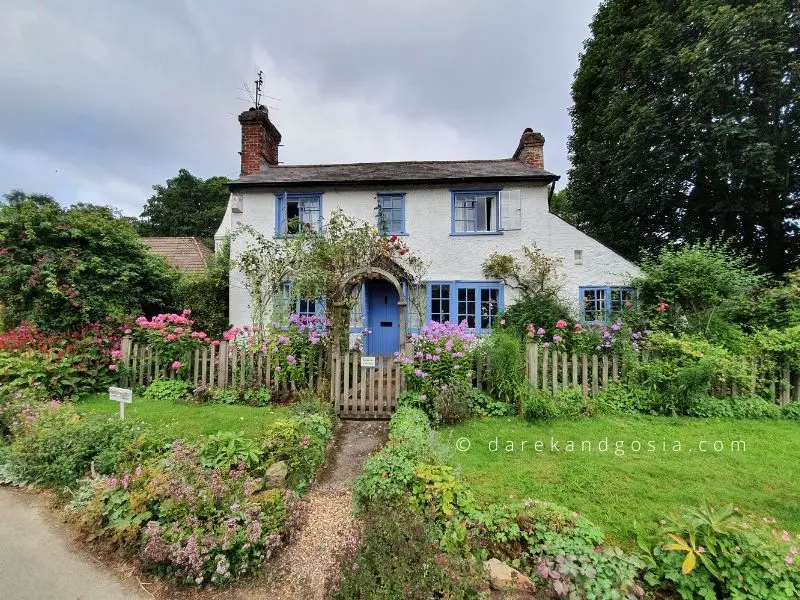 5. Beaulieu, New Forest
Old villages near me? With so many pretty villages near London, Beaulieu has a special place on our list. Yes, it's located in one of the most magical places in England – the New Forest National Park.
The Beaulieu villages, located in Hampshire (South England), is famous for its National Motor Museum and also as a getaway to the New Forest.
Head out to Steff's Kitchen for a top-quality lunch or stroll around the village and admire stunning old buildings.
This beautiful village near me just has to be top on our list!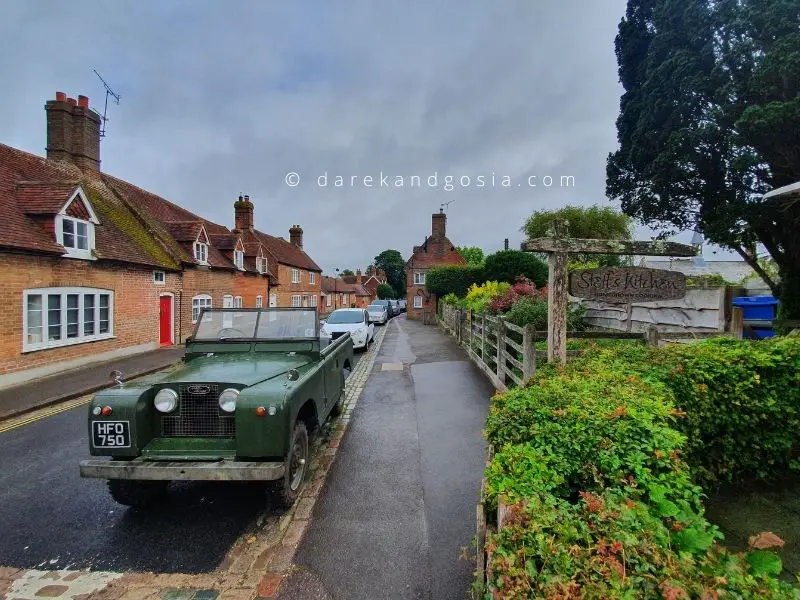 6. Shere, Surrey
Nice villages near me to visit? Shere has a proud reputation as one of the quaintest villages in all of Britain. Just 70 minutes South of London, the beautiful village has been used to film scenes in The Holiday and Bridget Jones. It is a quintessentially British village, with a 12th-century church, local tearoom and traditional pubs.
Most of the buildings you will see around Shere date back to the 16th and 17th centuries, making the whole place look like something off a postcard. Visitors to Shere in Surrey often say they feel as though they've stepped back in time when they wander around this picture-perfect village.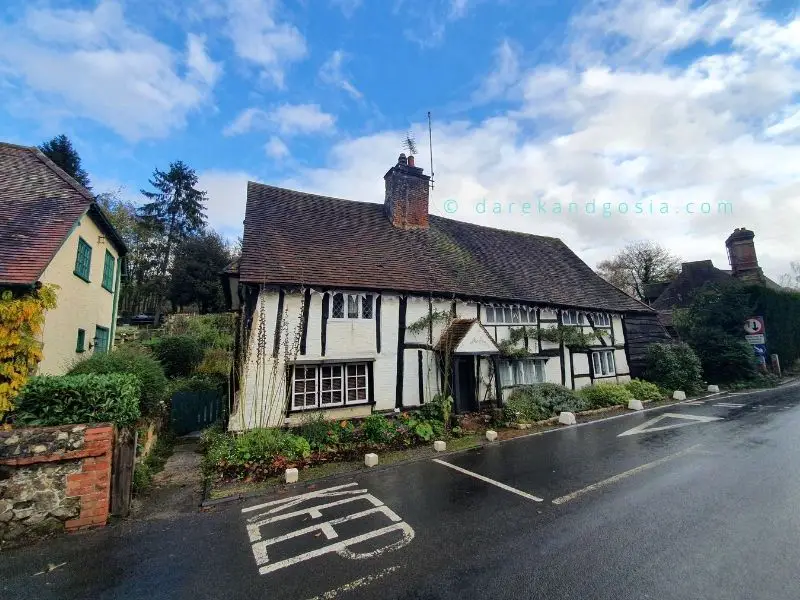 7. Wendens Ambo, Essex
Countryside places near London? If you are looking for rural places near London, then head out to Wendens Ambo!
Wendens Ambo is a small village located in the north-west corner of Essex. There is a church and a few stunning old cottages. You wouldn't spend too much time around there but it's definitely one of the must-see places in Essex.
So, is Wendens Ambo high on your list of the top villages in England near London?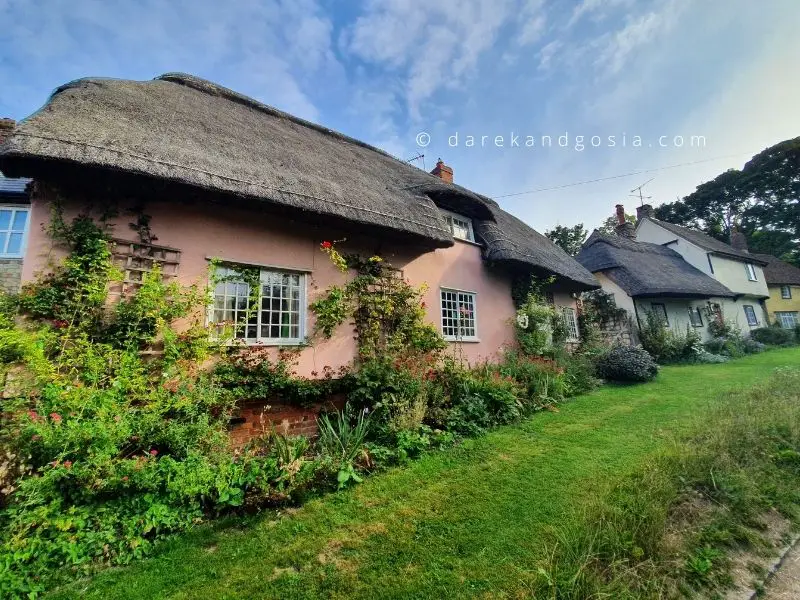 8. Sonning on Thames, Berkshire
Looking for best villages near London? As the name suggests, Sonning sits on the edge of the River Thames in the beautiful county of Berkshire. An hour and ten minutes west of London, Sonning on Thames is well worth a visit. Its location on the river's edge is absolutely stunning, perfect for a walk on a sunny day.
Sonning Lock and the colourful gardens create magical scenery that you wouldn't think is possible so close to London. The village is so picturesque that George Clooney and his wife decided to move to the area back in 2014.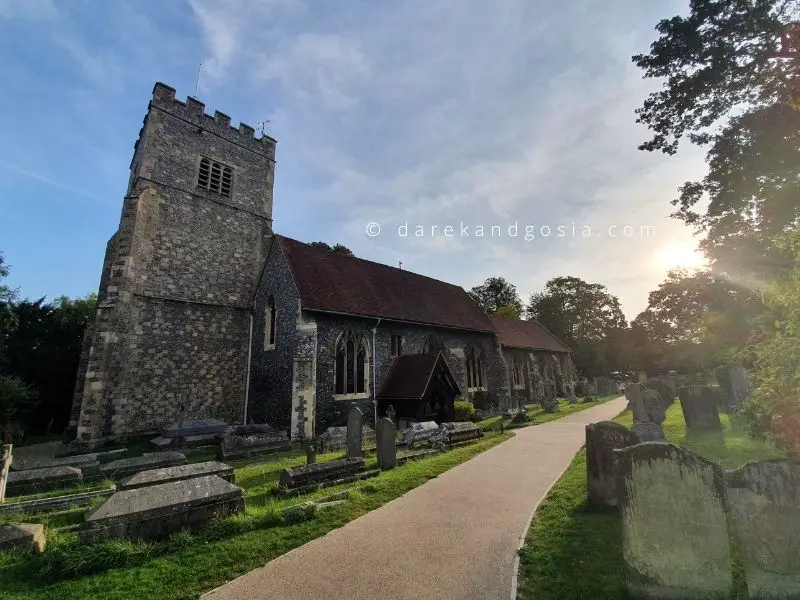 9. Cuxham, Oxfordshire
Countryside villages near me?
Located near Watlington in Oxfordshire, Cuxham is known for its numerous appearances in a television show called Midsomer Murders.
The village is very small and compact and you probably wouldn't spend too much time there, but still, it's very pretty and definitely worth stopping for a walk. If you face a bite, The Half Moon pub is great for a Sunday roast!
There are many lovely villages near me and Cuxham is on the list too!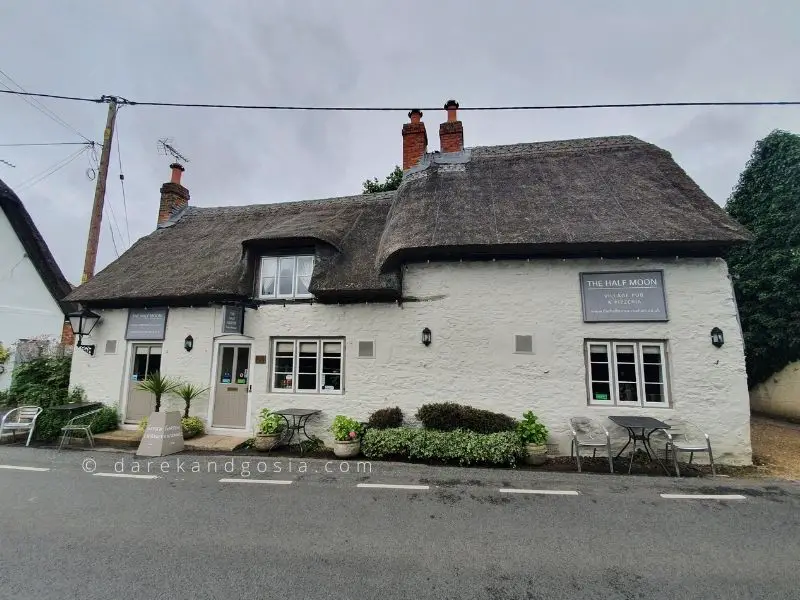 10. Chiddingfold, Surrey
Countryside near London to visit? With so many charming villages near London, Chiddingfold is also very high on our list.
Located in the south of Surrey, Chiddingfold is a nice village with a good number of timber-framed houses and beautiful old cottages.
In the middle of the village, there is a village pond and a few shops and pubs – all surrounded by amazing countryside.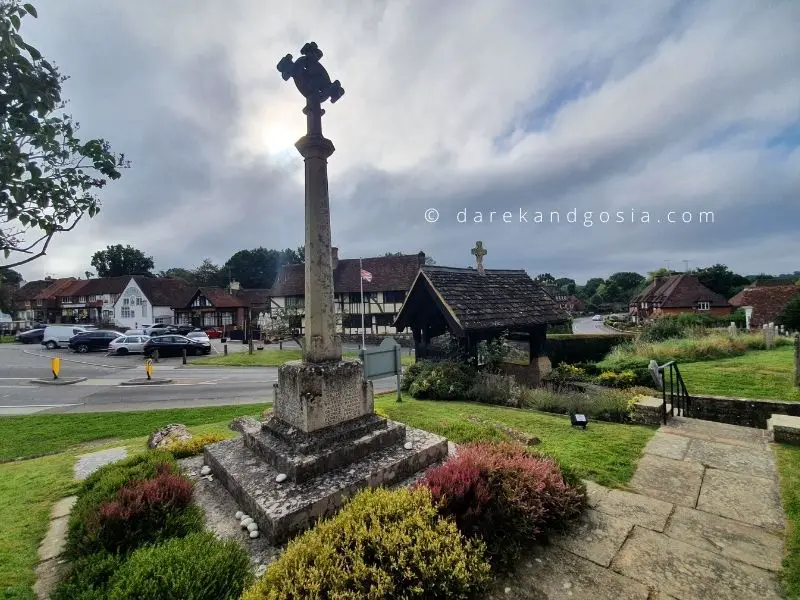 11. Ickleford, Hertfordshire
Best villages to visit near me on a day trip? Set in North Hertfordshire in the outskirts of Hitchin is cute village of Ickleford. About 90 minutes North of London, Ickleford is a tranquil little village to explore on a day trip. There are three traditional pubs in the village, with one dating back to the 17th century.
In the very centre of Ickleford is St Katherine's church which was built in the early 12th century. Architect Sir Giles Gilbert Scott then later made some Victorian additions to the beautiful church building, which still stands tall today.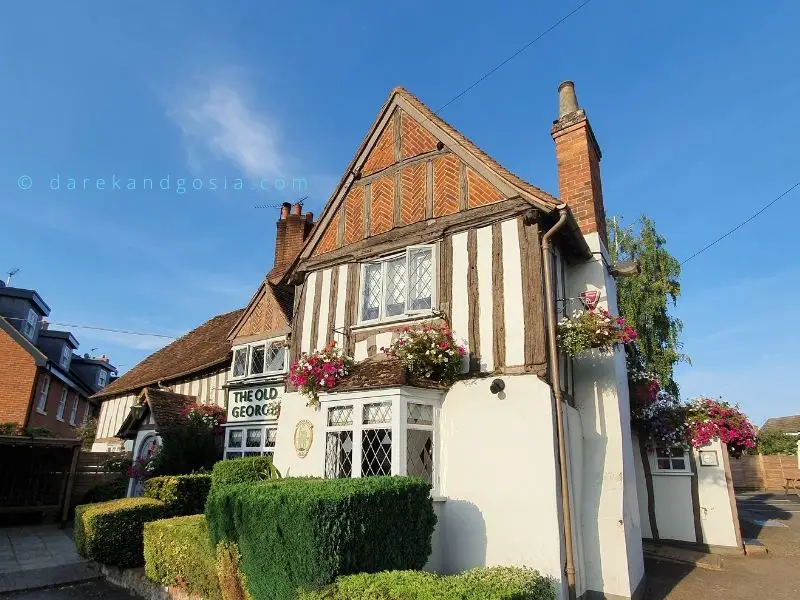 12. Chalfont St Giles, Buckinghamshire
Chocolate box village near London? Less than an hour west of the capital is the village of Chalfont St Giles. It can be found right on the edge of the Chiltern Hills, an Area of Outstanding Natural Beauty. Encompassed within Chalfont St Giles is the smaller village known as Jordans, which is famed for being the final resting place of William Penn.
Visitors will get a true sense of English village life on a day trip to Chalfont St Giles. There is a Village Market once a month selling local produce, which is a chance to enjoy local village life.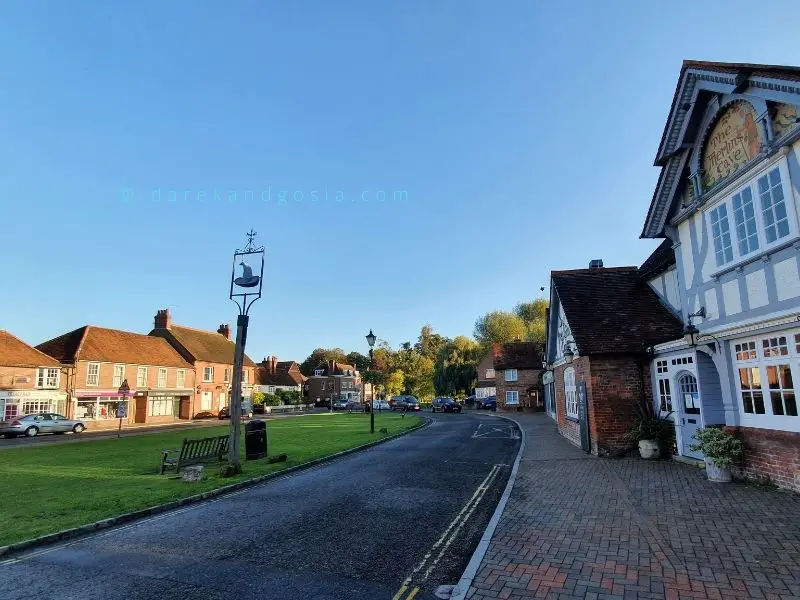 13. Aldbury, Hertfordshire
Nice villages to visit near me? Located just over 2 miles from Tring, this Hertfordshire village is one of the most picturesque villages in this part of the country.
Aldbury village is blessed with a good number of 16th and 17th-century timber-framed cottages clustered around the village duck pond – making it one of the most interesting villages near me!
The village itself has also appeared on screen – including being used as the Midsomer Murders location.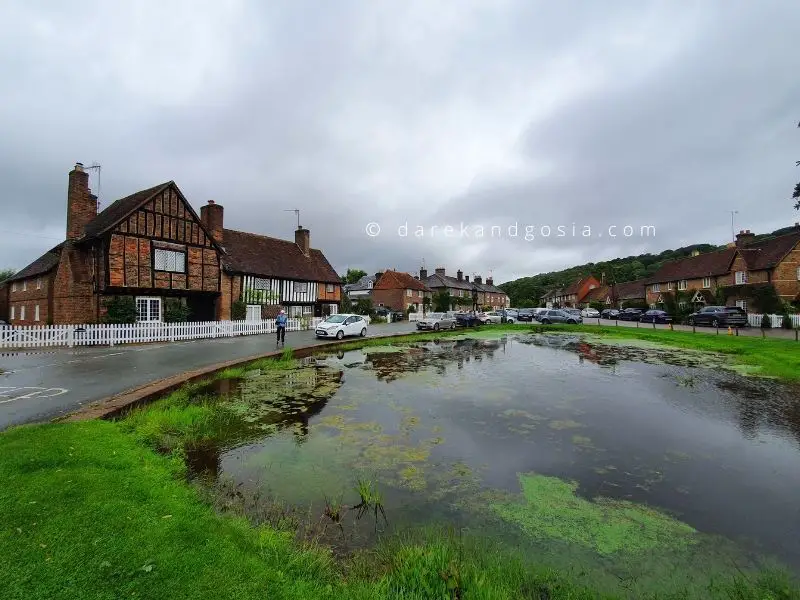 14. Cookham, Berkshire
Where to go for quaint villages near me? Another beautiful Berkshire village, just an hour from London is Cookham. The village was officially owned by The Crown up until 1818, and many of its historic features can still be found today. Most notably, the Bel And The Dragon pub dates back to 1417 and is known as one of the oldest licensed houses in the country.
The village of Cookham is nestled on the edge of the River Thames, and every July is used as one of the locations for the Swan Upping Ceremony. This is a ceremony in which is Royal Swankeeper catches new cygnets in the area and assigns their ownership to The Crown.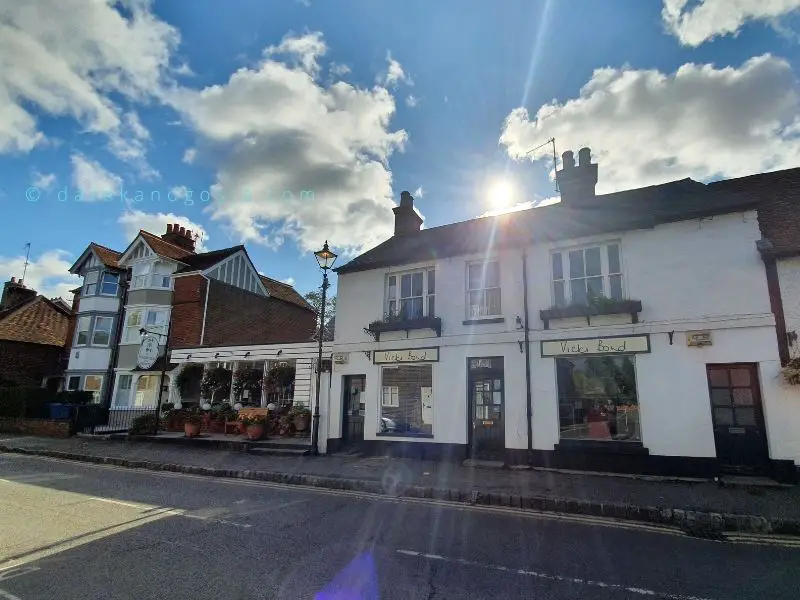 15. Ashwell, Hertfordshire
Looking for nice villages near London? Ashwell is an hour and a half north of central London in Hertfordshire. The village is small and picturesque, with a rich history as a local market town. St Mary The Virgin church in the centre of the village, dates back to the 14th century. The beautiful building is renowned for the ornate church tower which is crowned by an octagonal lantern.
Carved into the walls of the church visitors can see medieval graffiti which was put there by survivors of the Black Death plague.
16. Hascombe, Surrey
Nice village to visit near me? There are many cute little villages near me and Hascombe is also out there!
OMG! This really is a gem in the Surrey Hills. With breath-taking views across the Area of Outstanding Natural Beauty, Hascombe village is a must location in Surrey. The main street is lined with stunning colour-washed cottages built mainly of sandstone.
Without a doubt, we would love to call this village home! 😊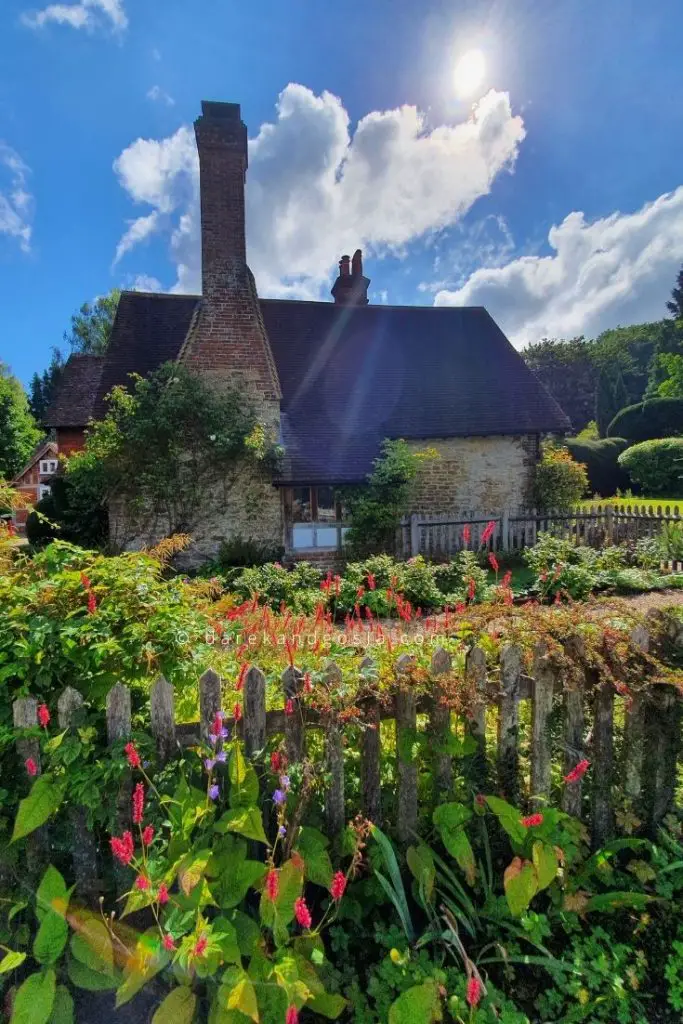 17. Turville, Buckinghamshire
Where to find beautiful countryside near me? The Chiltern Hills has an abundance of cute little villages to visit from London, and Turville is one of the best. The small village is about 80 minutes outside of London and known for being one of the most beautiful in the area.
In the centre of Turville, visitors will find an open area which houses the village pub and village church. This quaint location gives off a real homely vibe, and there are plenty of stunning cottages dotted around the village.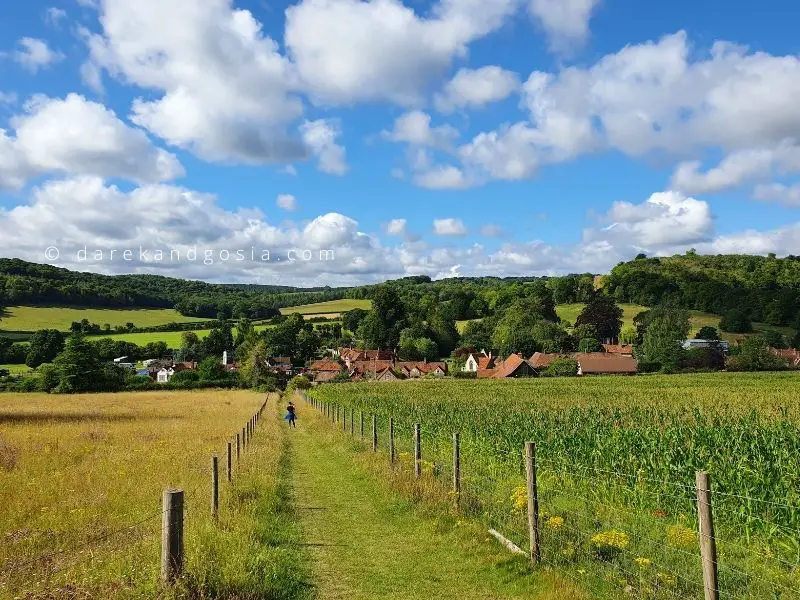 18. Brockham, Surrey
Looking for villages close to London? With its quintessential English village Green at its centre, Brockham is one of the most photographed villages near London. You might recognize it as it's very famous for the Bonfire celebrations, which take place every November.
We have visited many villages within 1 hour of London and we can honestly say that Brockham in Surrey is one of the most beautiful villages near London!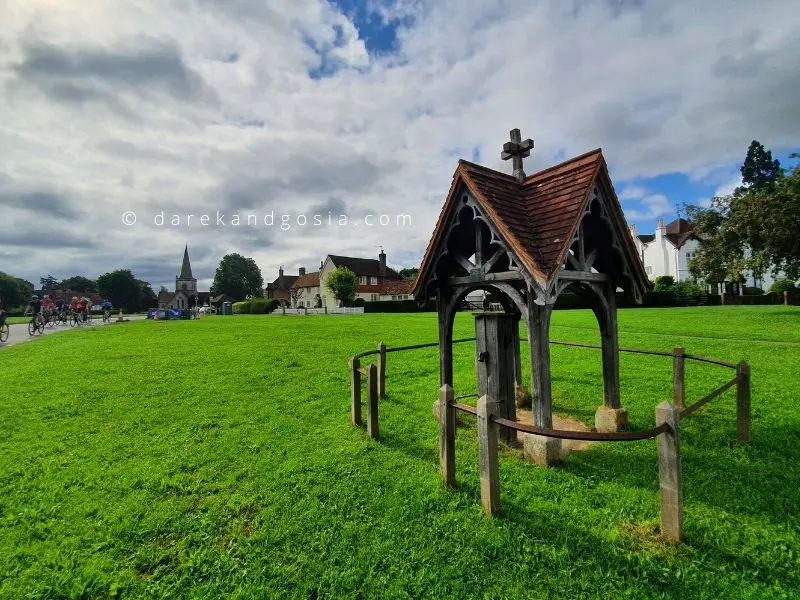 19. Haddenham, Buckinghamshire
Beautiful villages near London? In West Buckinghamshire sits the village of Haddenham, an hour and twenty minutes from central London. It is relatively large as villages go, with plenty to see and do in the picturesque area. It was recently voted the 5th best place to live in all of Britain, and it is easy to see why.
The village of Haddenham was used as the backdrop for Midsomer Murders and other popular TV programmes.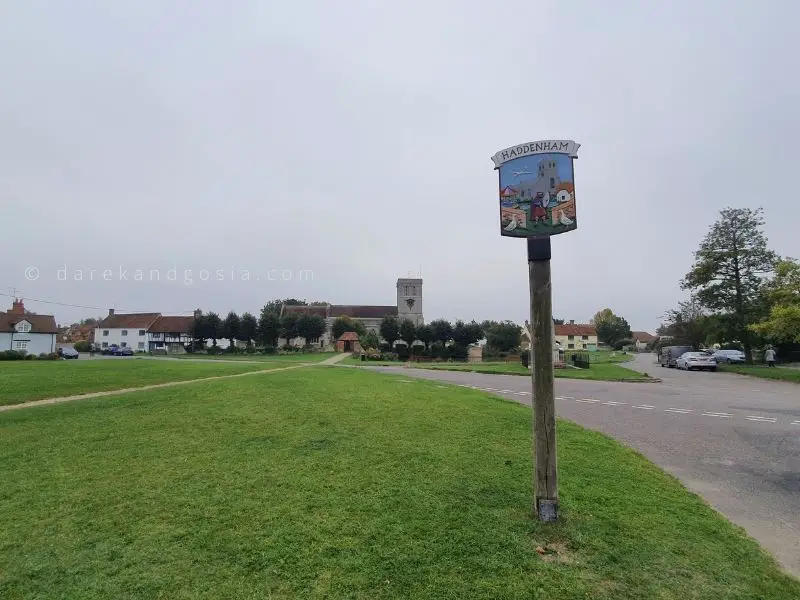 20. Whitchurch on Thames, Oxfordshire
Where to go for historical villages near me? Just outside Reading, about 90 minutes from the City of London, is Whitchurch On Thames. The riverside village is gorgeous, with flint cottages, Georgian townhouses and Edwardian villas lining the streets.
Just across the river is the village of Pangbourne, which is connected by the Whitchurch Bridge. The Church of St Mary in the village boasts architecture from Saxon, Gothic, Norman, Victorian and Georgian times.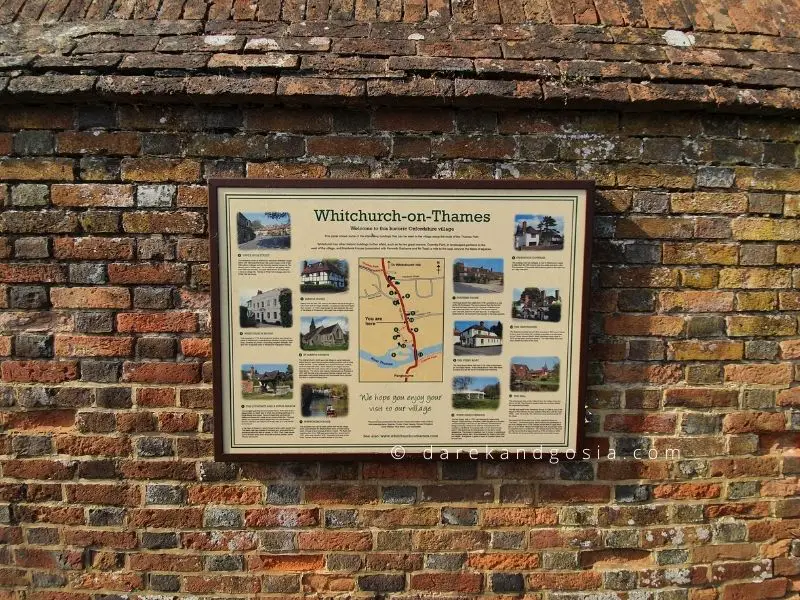 21. Fingest, Buckinghamshire
Best small villages near me? Yet another beautiful Chiltern Hills village is Fingest. Described as a completely unspoilt village, it is the perfect countryside getaway just over an hour from London. The name comes from Tinghurst, and Angle Saxon name which means 'wooded hill where assemblies are made'.
Within the village of Fingest is a manor which has changed hands many times over the years. Originally owned by St Albans Abbey, it was then gifted to the Bishop of Lincoln in 1163. In 1547 the manor was seized by The Crown, and the Duke of Somerset eventually exchanged it with Wells Cathedral.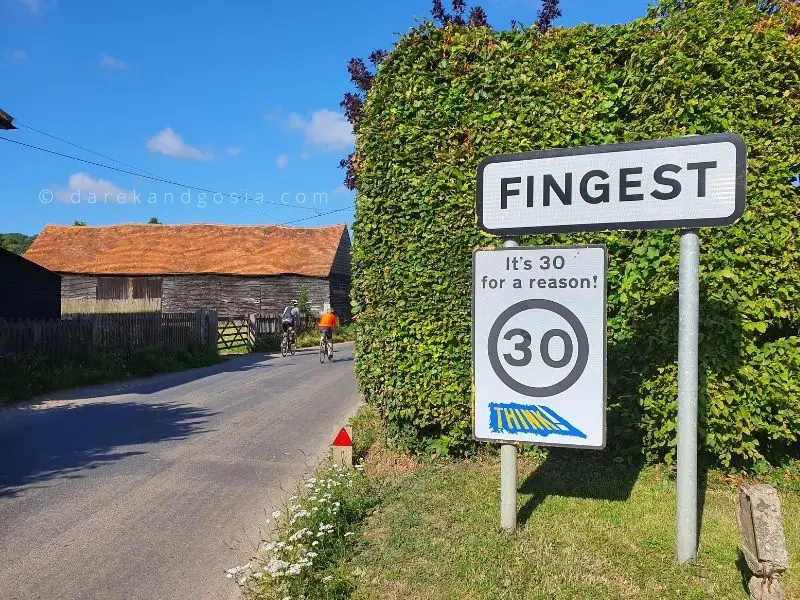 22. Rye, East Sussex
Looking for nice villages near London? If you are prepared to travel a bit further from London, then Rye is an excellent choice. Just over two hours from the city, Rye boasts medieval streets, sandstone hills and beautiful views over River Rother.
Technically Rye is now a town, but it has a small village feel. The coastal area has a colourful history, and smugglers caves and tunnels can still be found today.
23. Eton, Berkshire
Top villages to visit near me? Just across the River Thames from the famous town of Windsor is the unique village of Eton. Home to Eton College, this village is an absolute must on a day trip from London.
Less than an hour from central London, visitors are greeted with narrow winding streets, historic buildings and traditional pubs. You can walk around some areas of Eton College, and explore the banks of the River Thames.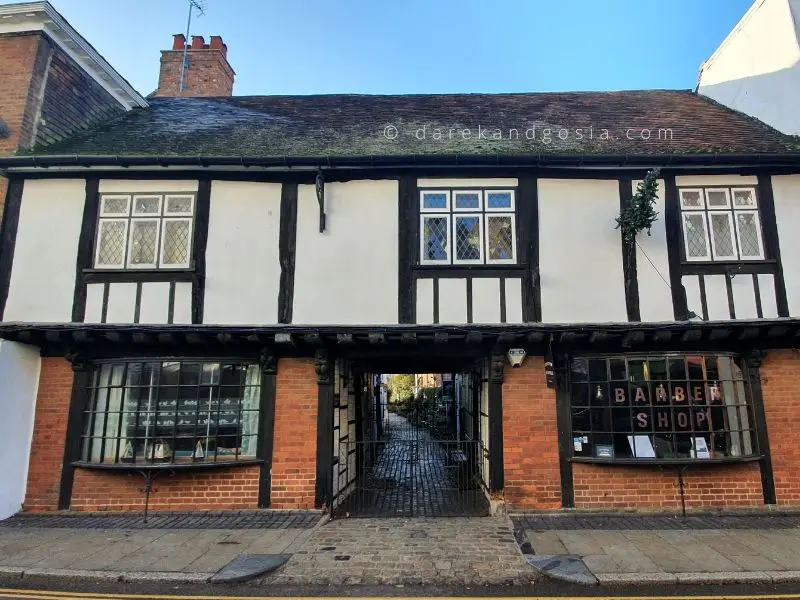 24. Ripley, Surrey
Best villages to visit near London? Less than an hour South West of London is the village of Ripley. It is a beautiful and historic area with a small village charm. Ripley sits close to the River Wey, and the area has been hailed as one of the best spots for cyclists.
In fact, the 2012 Olympic Cycling Road Race went right through the village of Ripley.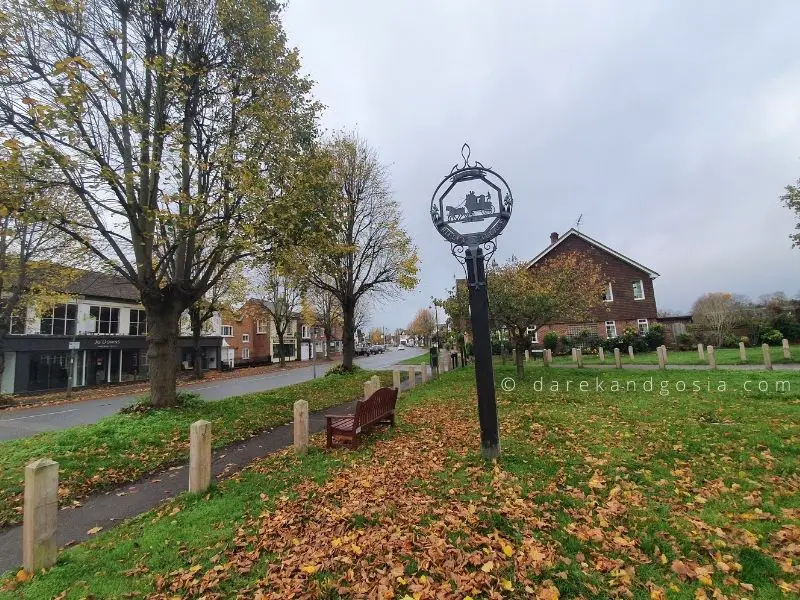 25. Amersham, Buckinghamshire
Where to go for best countryside near London? An hour from London in beautiful Buckinghamshire countryside is the small market town of Amersham. The old town of Amersham is a charming and characterful place, with plenty to see and do.
Some of the old houses date back to 1450, and the town's market hall is from 1682.
Amersham is also know as one of the best commuter towns London for schools.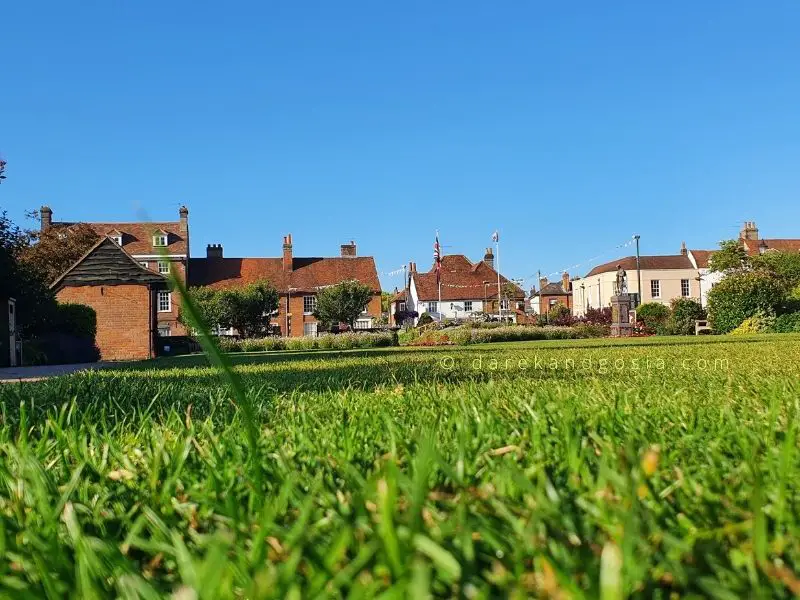 26. Little Milton, Oxfordshire
Rural villages near me? There are many attractions in Oxfordshire and Little Milton is high on that list too!
The village has a post office, a village shop and a church, there are also a few old buildings in the village with The Lamb Inn being one of them – in fact, this is also one of the best pubs to visit near London!
If you are looking for the countryside around London, then this is a great place to go!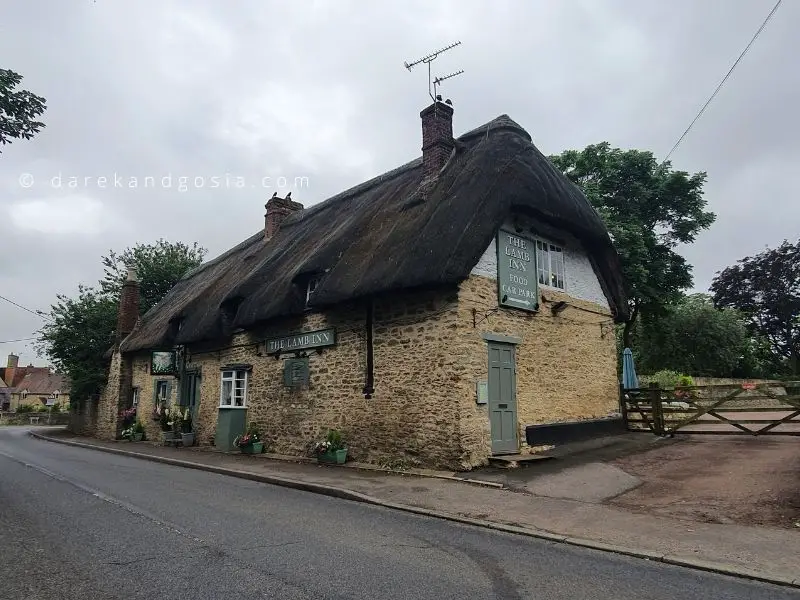 27. Hambledon, Surrey
Top countryside outside of London? Some of the prettiest villages near me are located in Surrey so if you are after a cute village – Hambledon will be a great choice!
Hambledon is a rural village situated south of Guildford. It is often called small in size, but large in history and character. Head out to the village shop for a coffee and local delights – cheese sticks are highly recommended 😉
This small village near London just has to be visited on a day out in Surrey!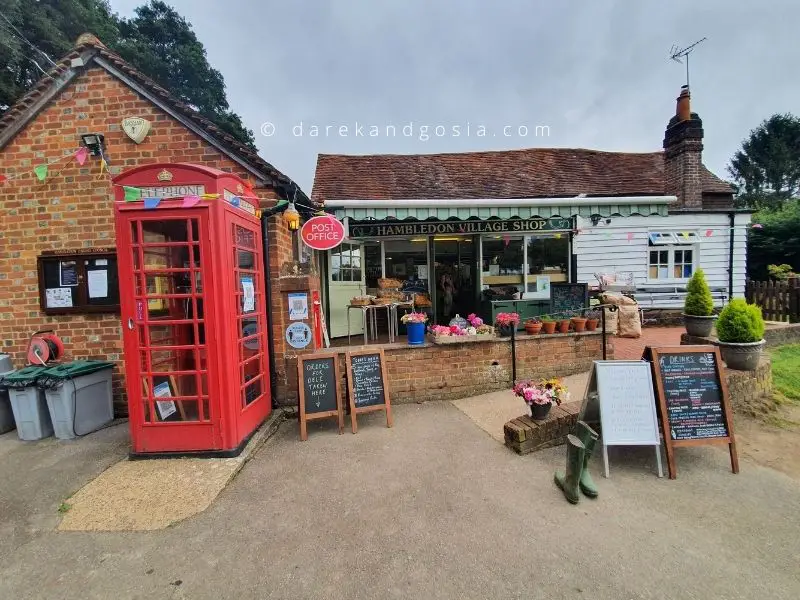 28. West Wycombe, Buckinghamshire
Looking for small villages to visit near London? The village of West Wycombe in Buckinghamshire sits adjacent to the stunning West Wycombe Park. The park and village are both maintained by National Trust, and renowned for their beauty and charm.
An hour outside of London, visitors to West Wycombe will enjoy carious architectural styles, ranging from 16th-century houses to more modern buildings.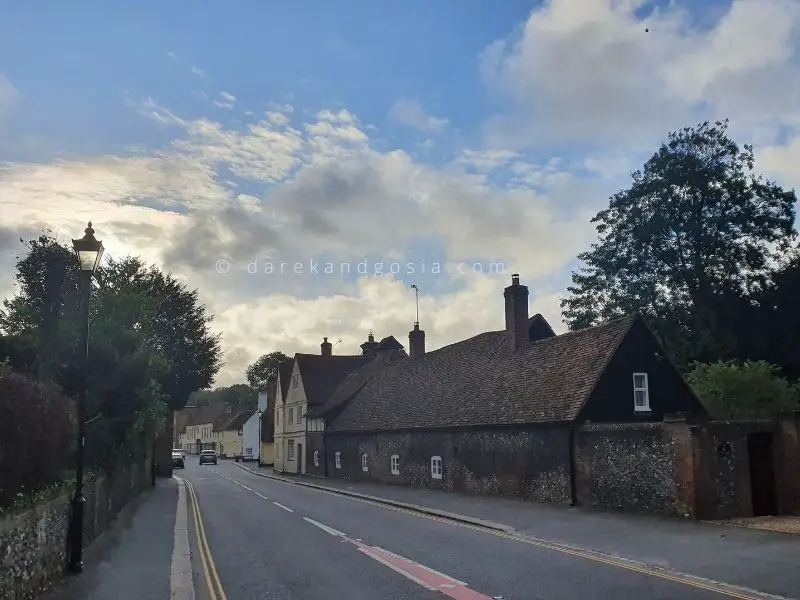 29. Aylesford, Kent
Good villages to visit near the capital city? Travel 90 minutes south-east from London and you will find the village of Aylesford in Kent. It sits on the River Medway and was originally a tiny riverside settlement.
In the old village, there are only 60 houses, two pubs and a village shop. It might not sound like much, but there are some breathtaking views to enjoy in the area.
30. Great Missenden, Buckinghamshire
Need ideas for best villages around London? Known as an affluent village, Great Missenden was once home to Roald Dahl. The Buckinghamshire village has been a source of inspiration for many of his children's stories, and visitors can discover them in the Roald Dahl Museum within the village.
Great Missenden is in the Chiltern Hills, just over an hour from London.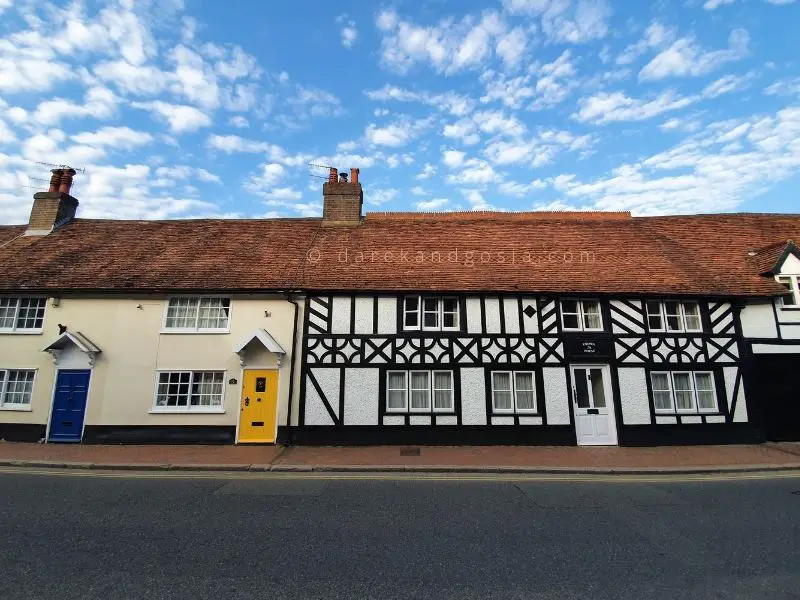 31. Lavenham, Suffolk
Nice villages near London? Two hours northeast of Central London, in Suffolk, is the village of Lavenham. It is often considered to be Britain's best-preserved medieval village, and there are winding streets with stunning buildings and architecture to explore.
The highlight is the beautiful large church of St Peter & St Paul.
32. Dorchester on Thames, Oxfordshire
Best countryside to visit near London? Nestled in the heart of Oxfordshire, Dorchester on Thames is an hour and a half west of London. The high street in Dorchester on Thames is lined with timber-framed buildings and a spectacular coaching inn.
The riverside village is small, and the highlight is Dorchester Abbey, a medieval parish church.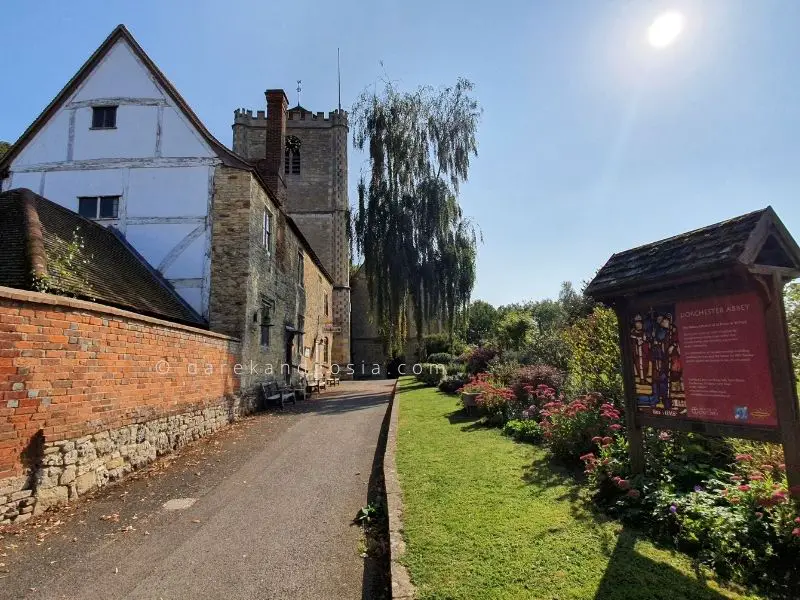 33. Cuddington, Buckinghamshire
Looking for a stunning chocolate box village near London? Technically part of Buckinghamshire, but right by the Oxfordshire border is the village of Cuddington.
Travel time from London is around 80 minutes, and like many other nearby villages, Cuddington has been used to film some episodes of Midsomer Murders. The stunning village often wins awards for being the best-kept village in Britain.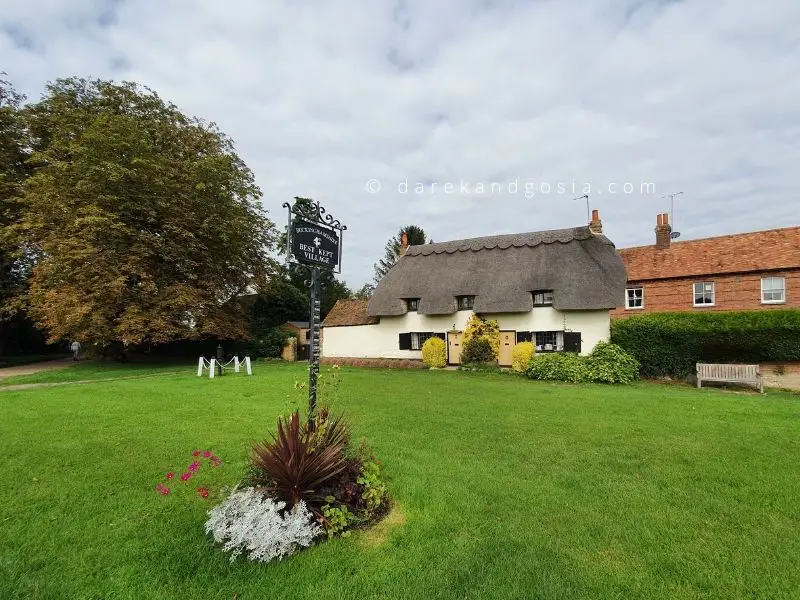 34. Goring on Thames, Oxfordshire
Best villages to visit in England near London? The Goring Gap sits between the North Wessex Downs Area Of Outstanding Natural Beauty and The Chiltern Hills.
Also nestled here is the village of Goring on Thames, and it is known as one of the most spectacular stretches of the famous river. Just across the river from Goring is the smaller village of Streatley.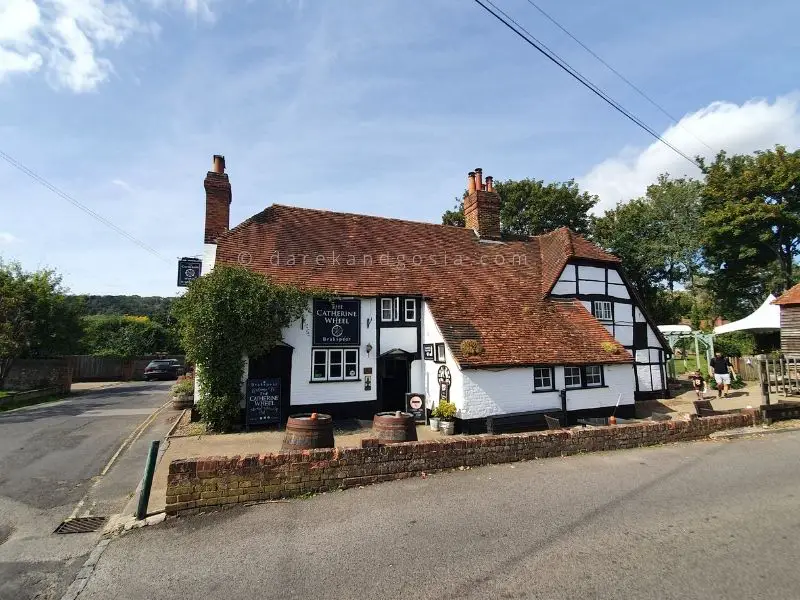 35. Long Crendon, Buckinghamshire
Top English countryside villages near London? Long Crendon is a tranquil little village in West Buckinghamshire, roughly an hour and twenty minutes from London.
On a day trip from London to Long Crendon, you can explore the quaint area and take in the beautiful sights of thatched cottages and the ancient Manor House.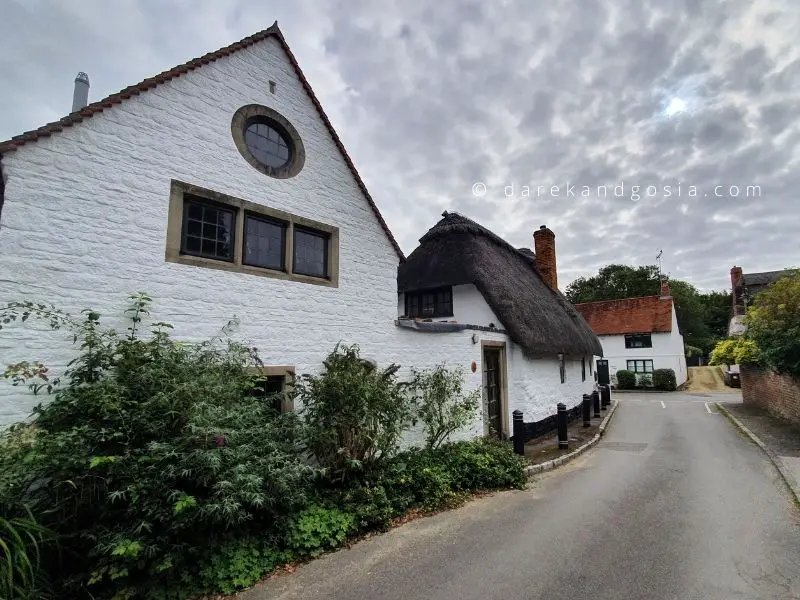 Is it worth visiting these villages near London?
If you want to get out of the busy London lifestyle and explore some of the most quintessentially British villages around, then these are definitely worth a visit.
All of these villages near London boast spectacular views and colourful histories. Just a short journey from the city, you can discover quaint English locations, traditional village pubs and enchanting countryside.
Many of these villages are close by to each other, so you can spend a day village-hopping around the stunning counties of Buckinghamshire, Berkshire, or Surrey.
If you liked our article, then please check out the below posts too:
Villages near London FAQ:
Where to go for the closest countryside to London?
Anyone looking for a top country side near London has to visit Essex, Surrey, Oxfordshire and Buckinghamshire!
Tourist villages near me in Essex?
Wendens Ambo, Finchingfield & Castle Hedingham
Nice little villages near me in Surrey?
Peaslake, Shere, Brockham and Ripley
Top places to go in the countryside near me in Oxfordshire?
Dorchester on Thames, Cuddington and Goring on Thames
Rural areas near London in Buckinghamshire?
Hambleden, Turville, Fingest & West Wycombe
Interested in other things than villages near Lodnon?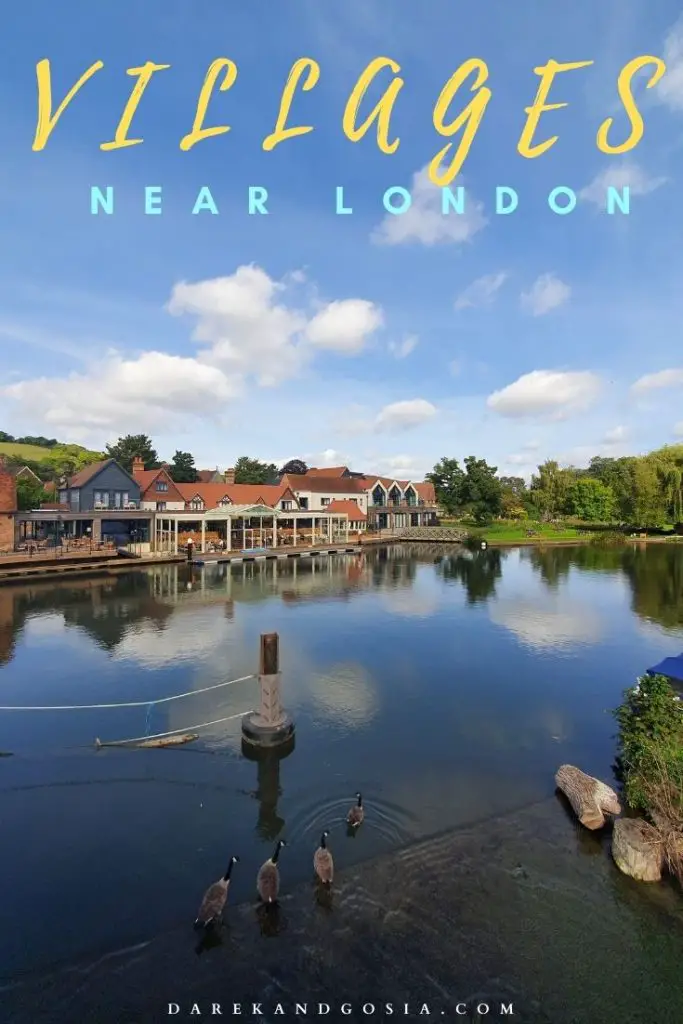 Articles you may like: