Looking for the best beaches near London to catch some breeze and a bit of Sunshine? Find the best seaside near London for your weekend trip to nearest beaches!
There is little better in this world that a sun-soaked beach, with glistening waters and soft sands. London might not be your first thought when you are planning a beach getaway, but there are actually a lot of hidden gems when it comes to beaches near the capital.
Fancy a day trip from London or a perfect weekend getaway in the UK? All arund the capital city, it's filled to the brim with some of the best beaches to visit near London!
You might be surprised that just a couple of hours from London are plenty of beautiful beaches to choose from. While we can't always guarantee the sunshine here in the UK, these beaches are sure to offer a great day out.
Get your bucket and spade at the ready and head out to one of these best beaches near London.
Where to find the best beaches near London?
Central London might not be the best spot for a beach day, but there are plenty of lovely beaches to find nearby. You can head out to the East or the South of London and be greeted with lengths of sandy shores and blue waters. Sussex and Kent are two of the best counties nearby to London where you will find some stunning seaside vistas.
There are also small islands near to London for a unique day trip. These include the Isle of Wight or Isle of Sheppey. British seaside towns are an experience not to be missed, often accompanied by traditional fish and chips, amusement arcades and delicious doughnuts.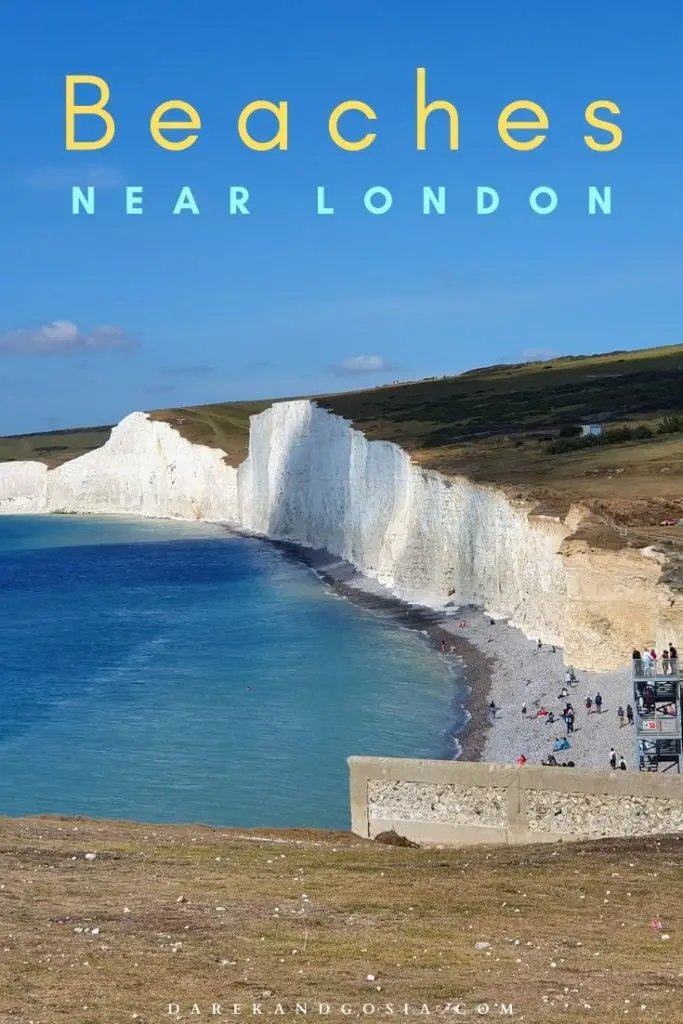 How to get to the beaches?
London has some of the best transport links and travel network in the world, so getting to its nearby beaches is simple. Most of the beaches near London are either to the east or the south and can be reached by car or train.
If you are heading to any of the beaches on the East coast of England, you can travel by car. Most of the beaches in Kent can be reached using the M25 and M20, although the exact route will depend on the beach you are visiting. For the beaches along the South coast, such as those in Sussex and East Sussex, drivers can take the M25 and leave on the M23 or M3.
Most beaches near London can be easily reached by rail. From Central London, Southeastern Railway runs direct services to various locations in Kent and East Sussex. Southern Railway has train services to the Sussex Coast. Some of the best beaches near to London are in remote locations, without nearby train stations. However, most of these will have bus services from local stations.
Best beaches near London:
These are some of the best beaches within easy travelling distance of London, perfect for a day trip from The Capital;
1. Hayling Island Beach, Hampshire
Nearest sea beach to me? Located in the south of England, between Portsmouth and Chichester, Hayling Island Beach is a stunning beach to visit. The island itself has over three miles of beaches along the seafront so there is enough space for everyone looking to get a bit of tan.
There is an amusement park and a few cafes. Hayling Island Beach is also very popular with horse riders along the sand flats and has great views over the Isle of Wight!
This really is a top beach on our list of nearest beaches to me from London!
Best hotels near Hayling Island Beach: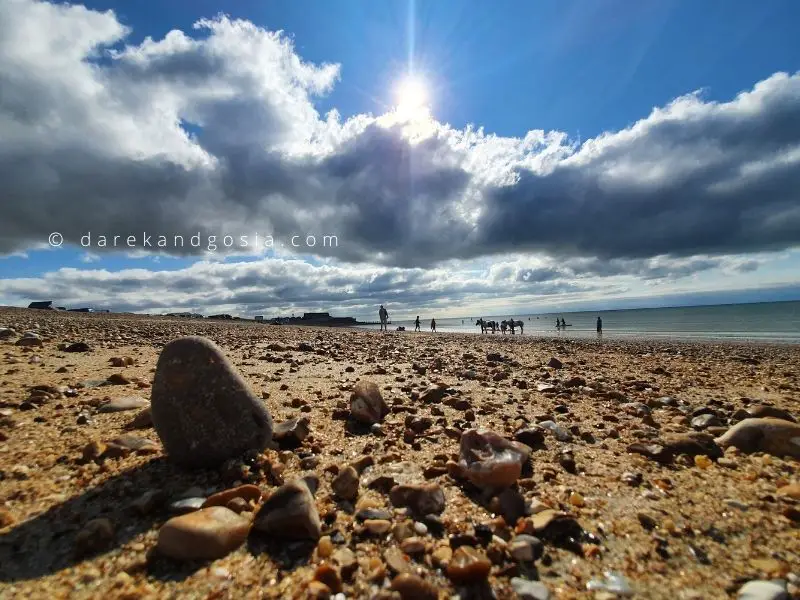 2. Brighton Beach, Sussex
Best beaches near me? Brighton is a great day out whether you are interested in the beach or not. The vibrant city is a popular tourist attraction, and it is easy to see why. The beach is not sandy like some others near London, and instead is a unique pebble beach with plenty of charm.
Just one hour south of London, Brighton is a great location to dip your toes in the sea and soak up some sunshine. It really is one of the best seaside resorts near me!
Where to stay near Brighton Beach?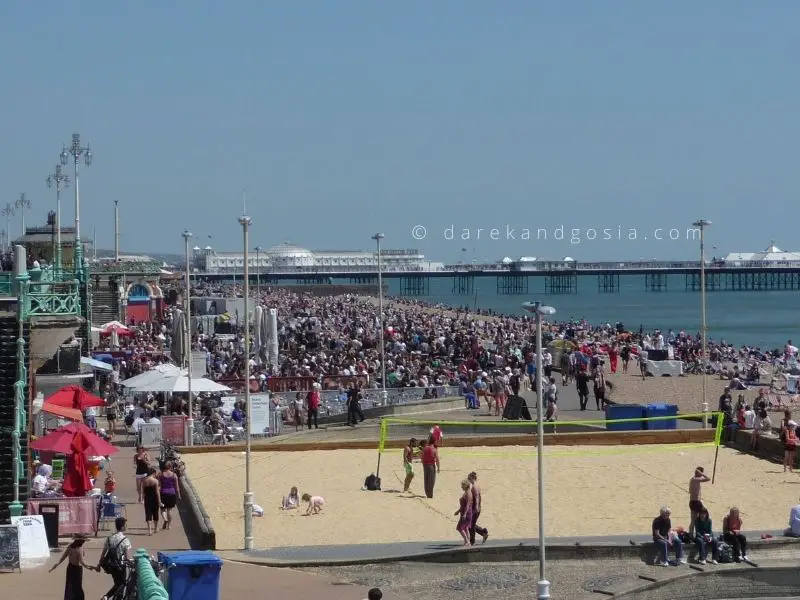 3. Margate, Kent
Where to go for sandy beaches near London? Margate is nestled in the East coast of Kent and is famed for the Dreamland theme park. Roughly an hour and a half from Central London, Margate offers beautiful sandy beaches and glistening waters. Not only that, but Margate Beach is close to exquisite restaurants, edgy cafes and classic arcade games.
Margate is easily one of the best beaches near to London, and direct trains run from various different central London stations.
You will honestly be blown away by how beautiful this beach is and really is one of the best sandy beaches near London!
Best hotels near Margate Beach: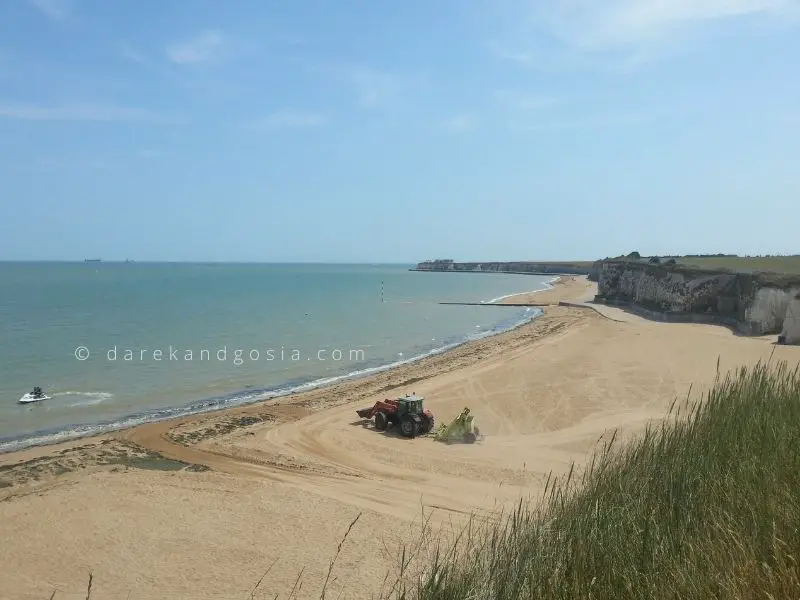 4. Herne Bay, Kent
Top seaside near London? Another beach location in the county of Kent is Herne Bay, just 90 minutes from London. Not quite as popular as Margate Beach, Herne Bay is less of a tourist trap. There is The Seaside Museum which hosts various exhibitions throughout the year.
Herne Bay pier offers an abundance of seaside snacks and fun rides and attractions for all the family. The beach itself is picturesque, with some of the best colourful beach huts in all of Kent. Like Brighton, Herne Bay is a pebble beach, so not the best spot for building sandcastles, but still a wonderful day out.
Where to stay near Herne Bay?
5. Whitstable Beach, Kent
Are you looking for nice beaches near London? Less than an hour and a half from London, Whitstable is famous for its delicious seafood. However, it isn't just the cuisine that makes Whitstable worth a visit. The shingle beach is the perfect spot for a beautiful wander down the coast, and there are unspoiled views of the sky and sea.
Beach huts line the coastline, making a quaint backdrop to your day at the seaside. Its unspoilt natural landscapes make this beach of the best beaches near me with sand.
Best hotels near Whitstable Beach: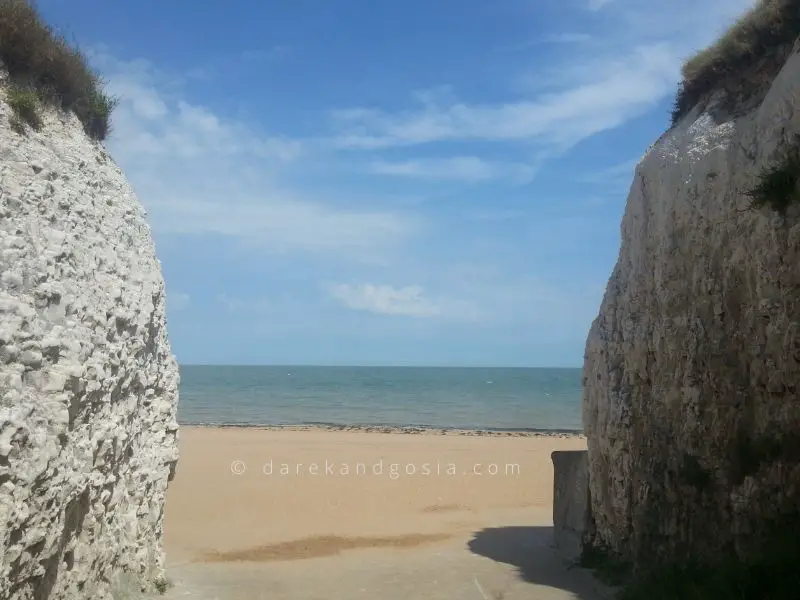 6. Hastings Beach, East Sussex
What is the closest beach near me? On the coast of West Sussex is the lovely Hastings Beach. The beach itself is pebbly with sandy sections, offering the best of both worlds when it comes to the seaside. Just less than two hours from London by train or car, Hastings Beach is a great day out. It doesn't have quite the same reputation as some of the other beaches on this list, but it shouldn't be underestimated.
Not only is Hastings a gorgeous beach day out, but it also has a rich history. It is famed for being the location of the Battle of Hastings in 1066, where Willian the Conqueror defeated King Harold.
Where to stay near Hastings Beach?
7. Eastbourne Beach, East Sussex
Best seaside near London? Eastbourne has been a popular beach destination among the British for many, many years. Another pebble beach for this list, with an abundance of charm and history.
Eastbourne is a very popular day out from London thanks to the direct trains that take just 90 minutes. On a visit to Eastbourne, make sure you visit the antique pier which is steeped in Victorian charm.
Best hotels near Eastbourne Beach:
8. Camber Sands, East Sussex
What is the best sandy beach near me? Camber Sands is regularly hailed as one of the very best beaches in all of England and is only one hour away from central London. Located in East Sussex, Camber Sands is extraordinarily beautiful. The beach has featured in various films and offers five uninterrupted miles of sandy shores. There are rolling sand dunes, perfect for a beach walk or for little ones to play in.
Camber Sands beach will leave you feeling like you're relaxing in some far-flung part of the world, not just outside of the M25.
Where to stay near Camber Sands?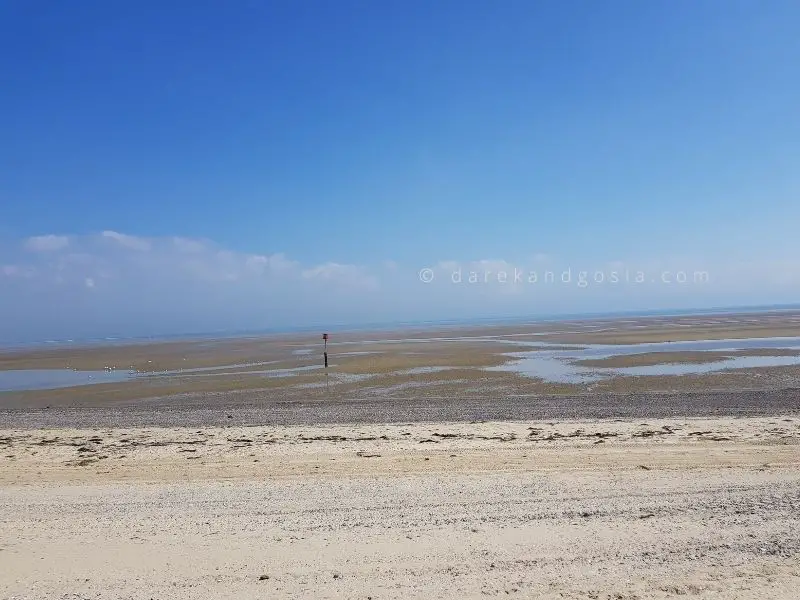 9. Kingsgate Bay, Broadstairs
What is the nearest beach to me? Kingsgate Bay could easily be called the most picturesque beach near to London. The seaside resort town has been very popular among tourists for hundreds of years. Kingsgate Bay isn't quite as easy to reach from London as some of the other beaches on this list but is well worth the travel.
On the East coast in Kent, Kingsgate Bay is easiest to reach from Margate or Ramsgate. The beach itself has a lengthy stretch of luscious sand, with a beautiful backdrop of white cliffs.
Best hotels near Kingsgate Bay:
10. Bournemouth, Dorset
Are you looking for beautiful beaches near London? With a huge 11 miles of sandy beach, Bournemouth is certainly a beach day out to remember. The beach in Bournemouth looks like something off a postcard, but it can become very busy in the summer.
Roughly two hours from central London, Bournemouth offers unbeatable beaches, a bustling town centre and gorgeous greenery.
Where to stay near Bournemouth Beach?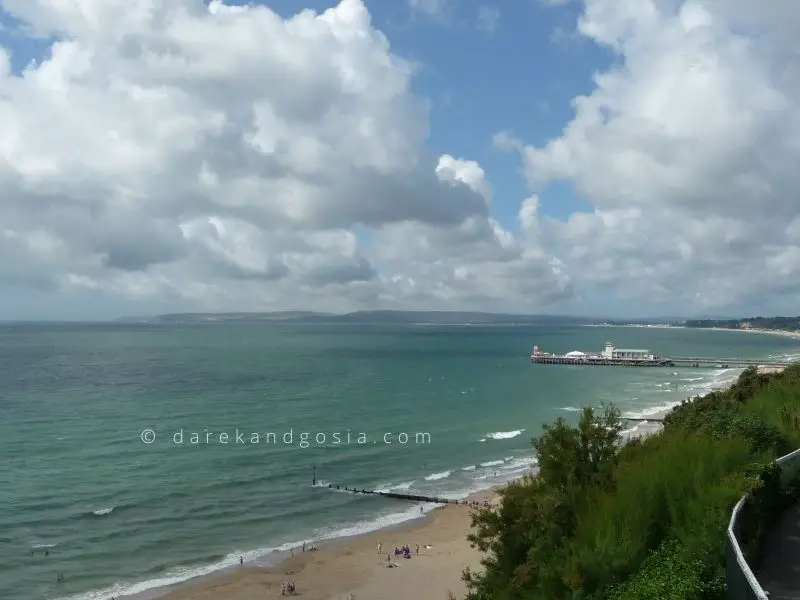 11. West Wittering, West Sussex
Where to go to the beach near London? West Wittering is close by to Chichester in West Sussex, just 90 minutes south of London. It is one of the prettiest beaches on the South coast of England, with sandy dunes, bright marram grass and rolling scenery.
West Wittering is a great beach for swimming in the sea, thanks to the coved beach and low tides. As well as the picturesque beach, visitors can also experience the views over Chichester Harbour.
Best hotels near West Wittering Beach:
12. Birling Gap, East Sussex
Popular beaches near London? Nestled at the foot of the chalk cliffs of Seven Sisters, Birling Gap is a beach with a difference. The wild, rocky beach might not be great for those looking to build sandcastles and relax on the shores. However, it is perfect for a day out filled with fossil hunting and rock pooling.
There is one narrow sand strip that can only be reached at low tide. Birling Gap is best to reach by car and is just a 90-minute drive from central London.
Where to stay near Birling Gap?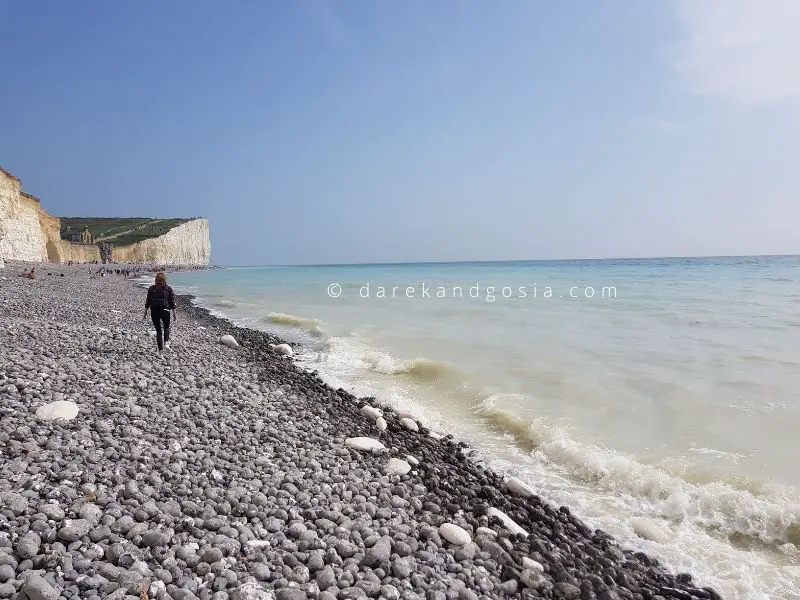 13. Cuckmere Haven, Sussex
Nice beaches near me? Another beautiful beach near to the Seven Sisters cliffs is Cuckmere Haven. It is where the River Cuckmere meets the English Channel and is the perfect spot for nature lovers. The beach itself is pebbled, but Cuckmere Haven is worth the 90-minute trip from London because of the gorgeous views.
Fans of Harry Potter may recognise Cuckmere Haven as the backdrop used in Harry Potter and The Goblet of Fire.
Best hotels near Cuckmere Haven: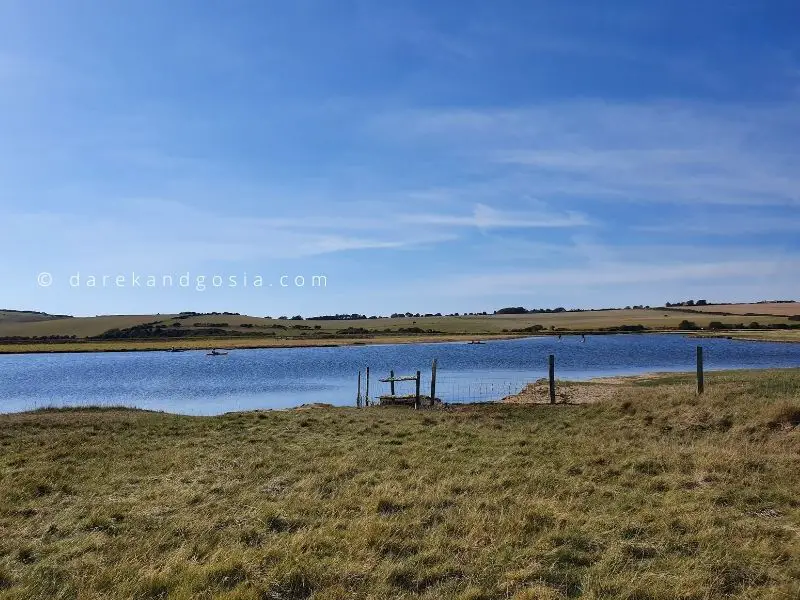 14. Pevensey Bay, East Sussex
Good beaches near me from London? This cosy beach may be small but shouldn't be underestimated. Pevensey Bay is usually fairly quiet as it hasn't become overly popular with tourists just yet. It is slightly further afield than other beaches near London but can be reached in roughly two and a half hours.
The pebble beach offers calm waters, perfect for a paddle in the sea.
Where to stay near Pevensey Bay?
15. Bexhill on Sea Beach, East Sussex
Where to find the best beaches close to London? Bexhill On Sea offers both a stunning beach and a historic town, making the perfect combination for a day out. Just less than two hours from London, Bexhill On Sea is steeped in fascinating history.
Like most Sussex beaches, the shores are pebbles, but the atmosphere of this seaside town is ideal. Beach huts line the coast, and there are lifeguards on duty to ensure safe sea swimming.
Best hotels near Bexhill on Sea Beach:
16. Greatstone Beach, Kent
Any beautiful beaches near me? If it's a sandy beach near London that you are after, then Greatstone Beach Romney Marsh is the one for you. Two hours outside of the city, this beach has particularly soft and luxurious sand shores.
Overlooking the English Channel, Greatstone Beach also has nearby sand dunes. It is a popular spot for beach lovers, dog walkers and horse riders.
Where to stay near Greatstone Beach?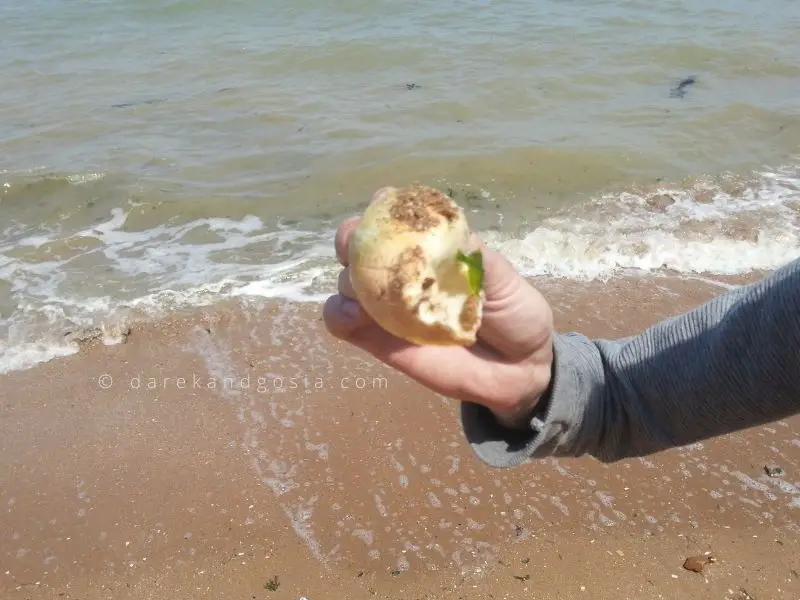 17. Ruislip Lido Beach, London
Best beaches in London? This is easily the closest beach to London and is reachable on the underground network. Just a 20-minute walk from Ruislip and Northwood Hills in Zone 6, is Ruislip Lido. It sits within 700 acres of woodland and is a sandy beach on the banks of a natural lake.
While swimming in the Lido isn't allowed, Ruislip Beach is the perfect spot for sunbathing and beach walks. There is even a miniature train which can take you on a trip around the entire lake.
Best hotels near Ruislip Lido Beach:
18. Ryde Beach, Isle of Wight
Best sandy beaches near me? You might not think you can reach another island in just two hours from London, but that is exactly the case with the Isle of Wight.
Just off the South coast near Portsmouth, the Isle of Wight is home to Ryde Beach. With soft sand and large shores, Ryde beach is one of the most beautiful in the UK. We recommend staying in the evening and watching the sunset over the pier.
Where to stay near Ryde Beach?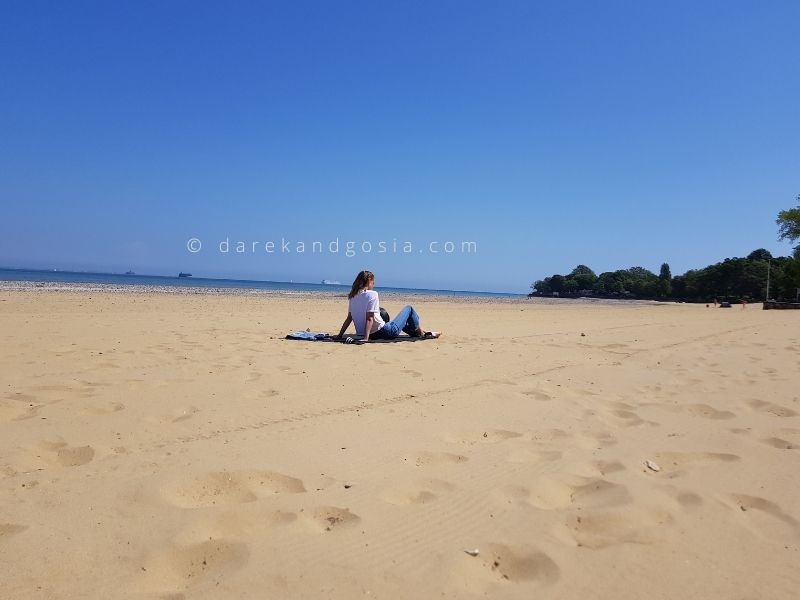 19. Botany Bay, Broadstairs
Where to go for local beaches near me? Botany Bay sits between Broadstairs and Margate in Kent and offers miles of clear sandy beaches and white cliff edges. There is a secret bay just to the right of the beach that can only be reached during low tide. Within the cliff sides, chambers that were once used by smugglers can easily be seen.
Just under an hour and a half from Central London, Botany Bay is a unique beach to visit on a day trip.
Best hotels near Botany Bay:
20. Shellness, Isle of Sheppey
Are you looking for quiet beaches near London? The Isle of Sheppey is an island just off the coast near Sittingbourne in Kent, and on the island is Shellness beach. Shellness can't be easily reached by public transport from London but is an hour and forty minutes by car.
This beautiful beach is not for the prudish, as clothing is optional. During high tide, it is a great beach for swimming in the sea, and there are some lovely cafes at Leysdown.
Where to stay near Shellness?
21. Walton-on-the-Naze Beach, Essex
Top seaside places near me? Not all of the best beaches near London are in Kent and Sussex, is this hidden gem in Essex is not to be missed. Roughly an hour and a half from London, Walton-on-the-Naze boasts the second-longest pier in the country. The beach is beautifully sandy and lined with colourful beach huts.
This beautiful beachfront is the ideal British seaside town.
Best hotels near Walton-on-the-Naze Beach: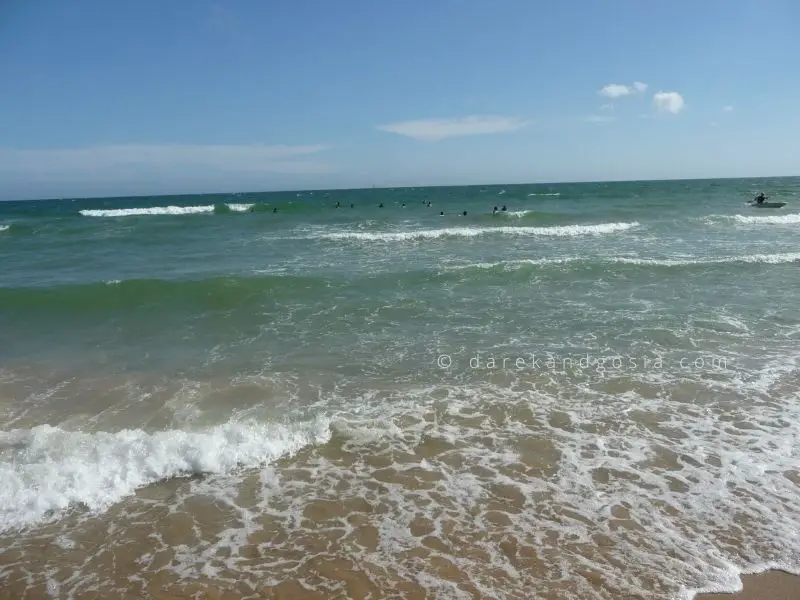 22. Dungeness, Kent
Top UK beaches near London? Shingle beaches might not be everyone's cup of tea, but this one offers its own charm. Dungeness in Kent is roughly 80 minutes from central London and a popular location for birdwatching and enjoying nature. This beach is one of the largest shingle beaches in all of Europe and is actually moving east at a rate of about two yards per year.
Out of fear that the nearby power station will one day end up in the sea, the shingles are moved back constantly by trucks.
Where to stay near Dungeness?
23. Sunny Sands, Kent
Best seaside near me? Sunny Sands in Kent really lives up to its name. It is known as one of the best beaches for building sandcastles, thanks to its beautifully soft sand shores.
During the Summer months, Sunny Sands can get very busy, and dogs aren't allowed, but it is well worth the visit. It can be reached from London in just one hour.
Best hotels near Sunny Sands: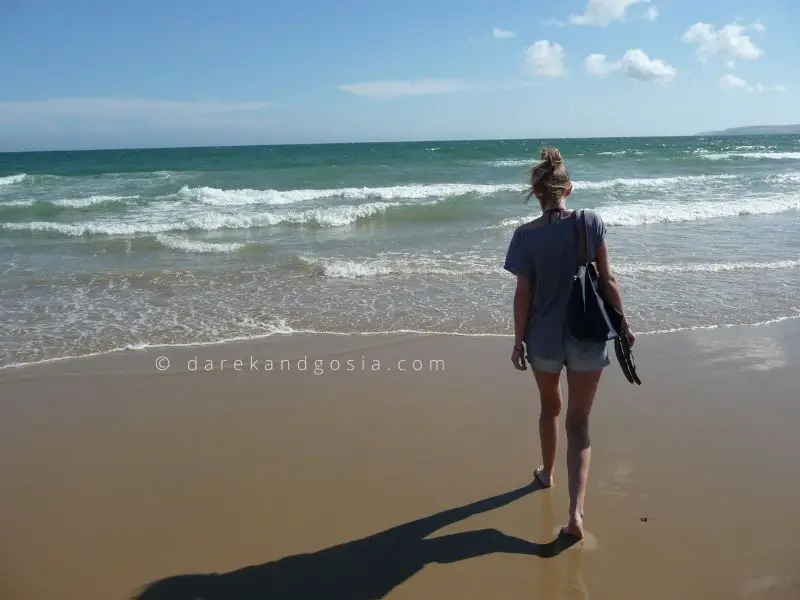 Interested in other things than the best beaches near Lodnon?
Is it worth visiting the best beaches near London?
With so many beautiful and unique beaches near London, you are sure to find one you'll love to visit. If miles of sand are your idea of heaven, then we recommend Walton-on-the-Naze, Camber Sands, Sunny Sands or Greatstone Beach.
If it's unrivalled views and picturesque sights that you prefer, then Herne Bay, Kingsgate Beach or Botany Bay might be more up your street. There is no need to travel far to reach a beach near London, with Ruislip Lido Beach being accessible on the Piccadilly Line.
But if you are prepared to go further afield, Shellness on the Isle of Sheppey, or Ryde Beach on the Isle of Wight are well worth a visit.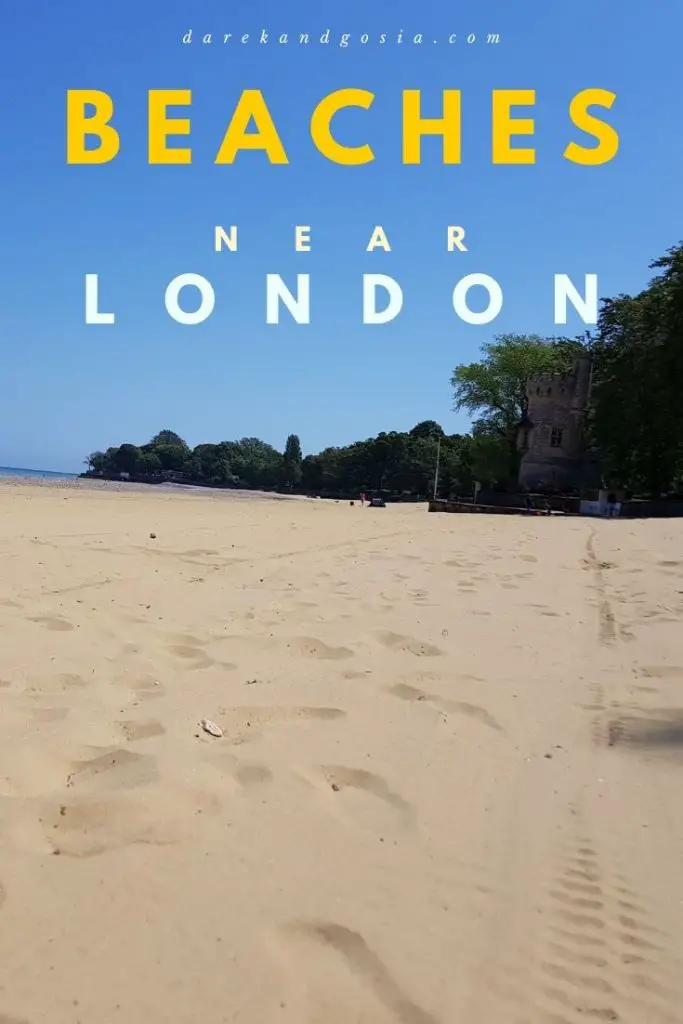 Articles you may like: