Burnham Beeches walks – from little ponds and streams to ancient woodland and wood pasture, there is so much to see on a trip to Burnham Beeches National Trust!
What to do in Burnham Beeches? Burnham Beeches is over 370 hectares of land. It's been designated an area of special scientific interest as it's a unique and special area that's home to a lot of wildlife and flora.
The trees you can find in this woodland are some of the most ancient in England. Burnham Beeches woodland is one of the best places for walks near London!
The southern half of the woods are open to the public and is maintained as a National Nature Reserve.
Ready to learn about Burnham Beeches near Slough? Let's start! 🙂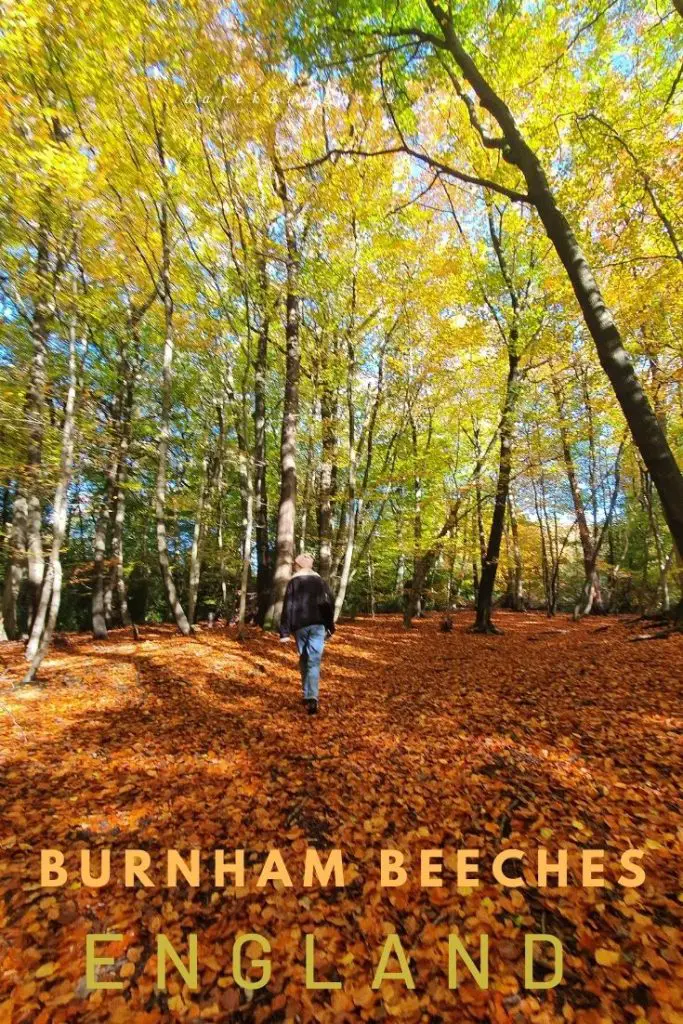 Burnham Beeches history
It's believed that there has been woodland on this spot since the end of the last ice age. So as far as woodlands go, it is one of the oldest in the world. 
The average age of the pollarded trees is over 400 years. These beech and oak trees have lost many of their lower branches as they've grown. This is what makes the wood such an interesting habitat for many endangered deadwood species.
Within the woods, you can find monuments that show that the woods were inhabited by people from as early as the Iron Age. There is also good evidence that there was a roman settlement under this vast canopy.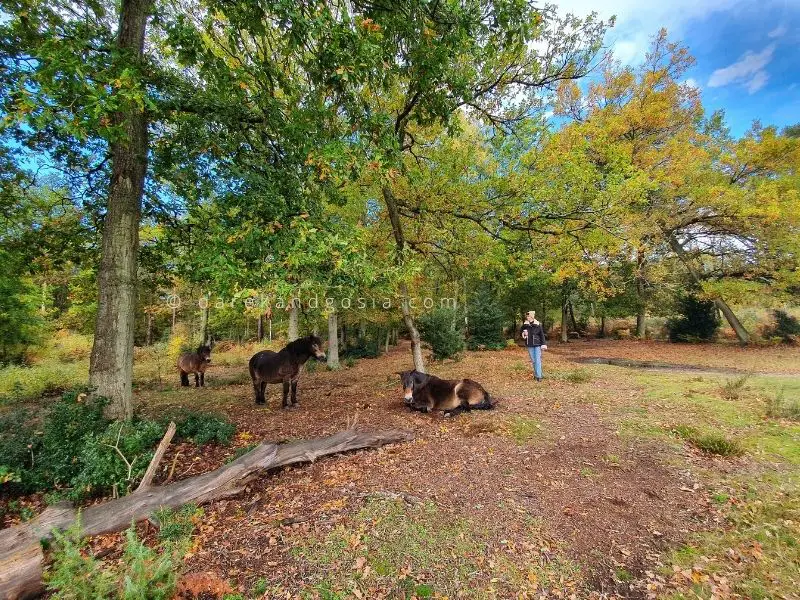 Best time to visit Burnham Beeches
There are many times of the year when you can visit Burnham Beeches and have a wonderful experience. It all depends on what you're hoping to see.
If you're interested in seeing the bluebells that carpet the woodland floor, then you'll want to visit in early May to catch them in bloom. 
A visit during autumn will give you the chance to see the leaves change into their red and orange foliage. In the spring and summer, the woods are full of life and greenery, and you can smell how vibrant the woods are. 
In winter if you're lucky enough to arrive after a snowfall, you can see feel the hush of the woods as the snow blankets the ground and the trees.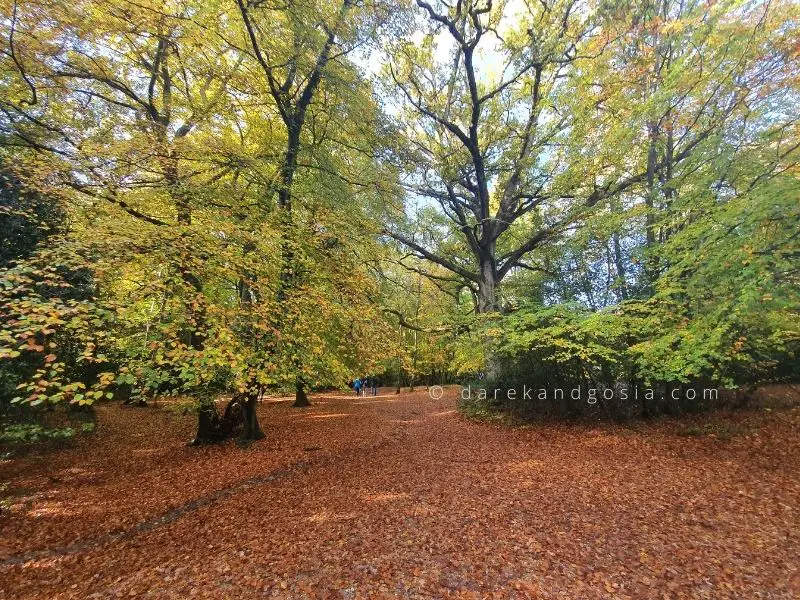 Burnham Beeches location
Where is Burnham Beeches located? Burnham Beeches is located right next to the village of Burnham in Buckinghamshire. It lies between Slough and Beaconsfield. It's about an hour's drive from the centre of London or 1 – 1.5 hours by train and bus.
Anyone located in West London can get to Burnham Beeches Slough in around 30 minutes by car – this making it one of the best day trips from London!
Burnham Beeches Postcode: SL2 3LB
If you are driving to Burnham Beeches and have to use the sat nav, then your final destination postcode should be SL2 3LB – this is the Burnham Beeches parking postcode.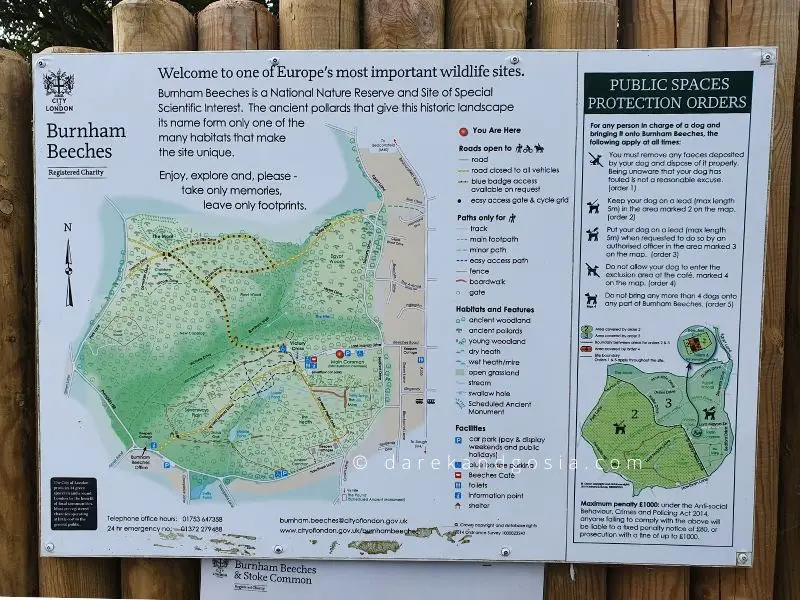 Burnham Beeches opening times
Is Burnham Beeches open today? The opening times for the woods are seasonal. The woods open at 8 am and then close at dusk. This works out to be around 4:30 pm in winter and as late as 9 pm in summer.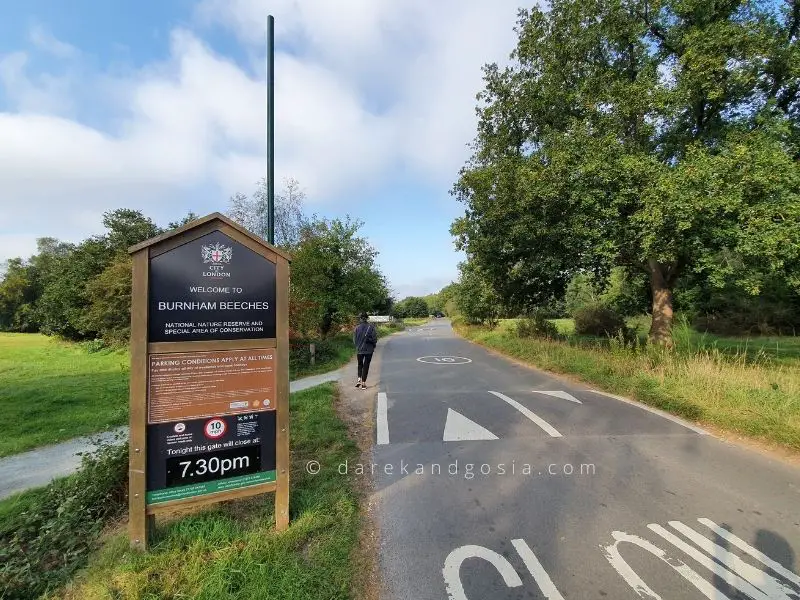 Burnham Beeches car park
Is Burnham Beeches car park open? There are two car park options for visiting Burnham Beeches. The main car park is located on Lord Mayors Drive. It opens at 8 am and closes at dusk.
There is a second parking option – the Stag and Dell car park. This is on Hawthorn Lane and closes at 7 pm.
If both these car parks are full, there is a layby near Stoke Common where you can park for free if there is space. But, it is a much longer walk to get to Burnham Beeches.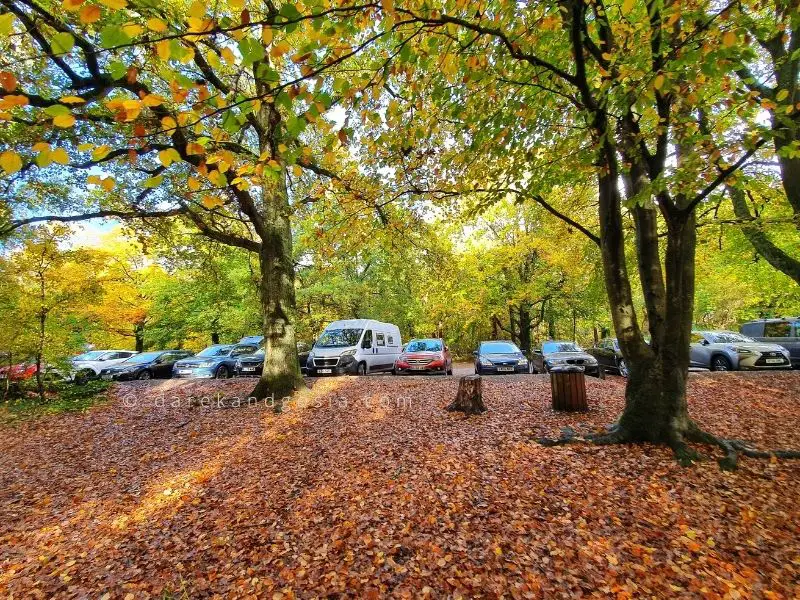 Burnham Beeches parking charges
Parking on weekdays is free. On the weekend the charge is £3 per car. You can only pay with cash on-site, but there is an app that will let you pay with your card as well. 
There is free parking for anyone with a blue disabled badge. There are also disabled parking bays.
The Beeches Eco Cafe
The Beeches Eco Cafe is located right by Burnham Beeches. It's a real community-spirited cafe. The folks who run the restaurant are friendly, knowledgeable and passionate about the woodlands.
If you're a fan of chickens, then you should visit the cafe. They have 15 free-range chickens on site. They have Silkies, Polish Hens, Goldstars and five ex McDonald's layers. These are very cool looking chickens that you'll have to see if you've never seen this sort of bird before.
The cafe is open every day from 10 am to 6 pm. You can get some excellent cakes and treats here as well as a selection of hot and cold drinks.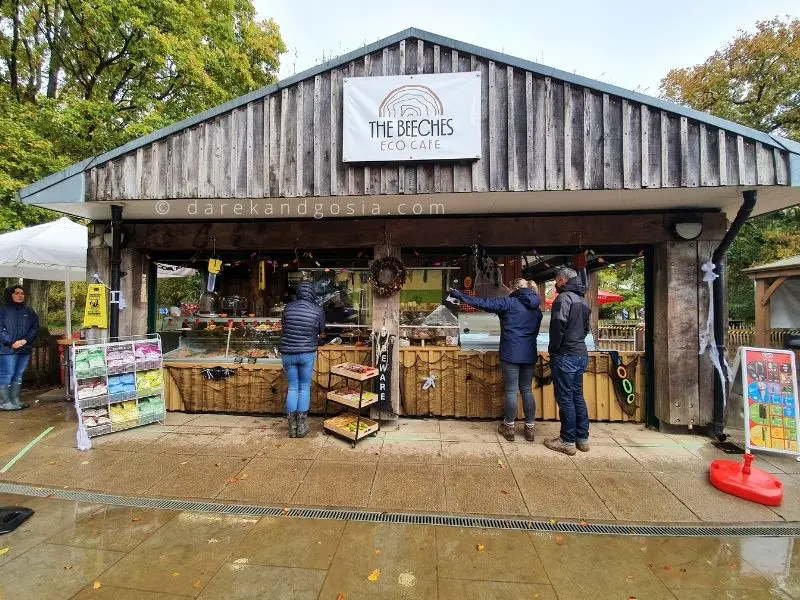 Burnham Beeches grazing area
Burnham Beeches has a long history of being used for grazing livestock. However, in efforts to make the space accessible for walkers, the grazing opportunities for livestock decreased, and the cows were eventually banished from the woodlands.
After a 100 year absence, the cows are back. There are now cows grazing freely in large sections of Burnham Beeches. The cows are wearing collars that keep them from straying. This means that everyone can share this space without the need for extensive fencing. 
So, do keep your eyes open for the cows as you explore the woodlands. There are lovely cow-shaped signs to let you know when you're entering a grazing area.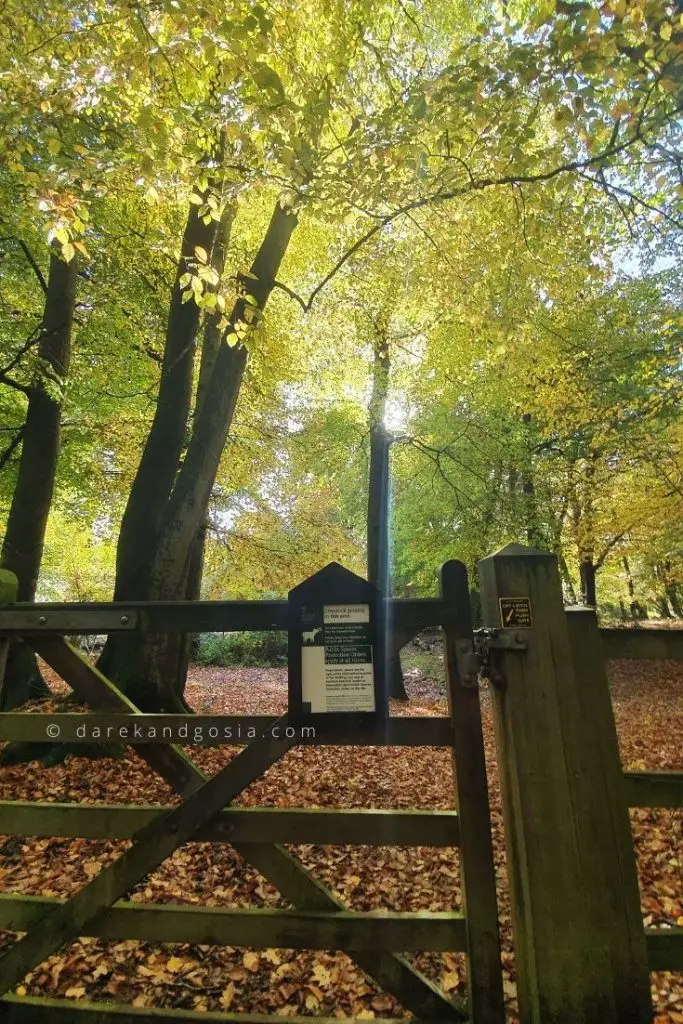 Burnham Beeches walks
There are lots of trails that wind through Burnham Beeches. So, if you want, you can just spend some time wandering the trails to see what you can find. 
If you're looking for a route to follow, there are several options you can choose from. There is a historical trail which will take you to all the historical points in the woods, or a geological trail which lets you visit and discover the fascinating geology of the area. If you are interested in the ancient trees, you can follow a path to see all the veteran trees in the wood. This really is one of the best forests near London!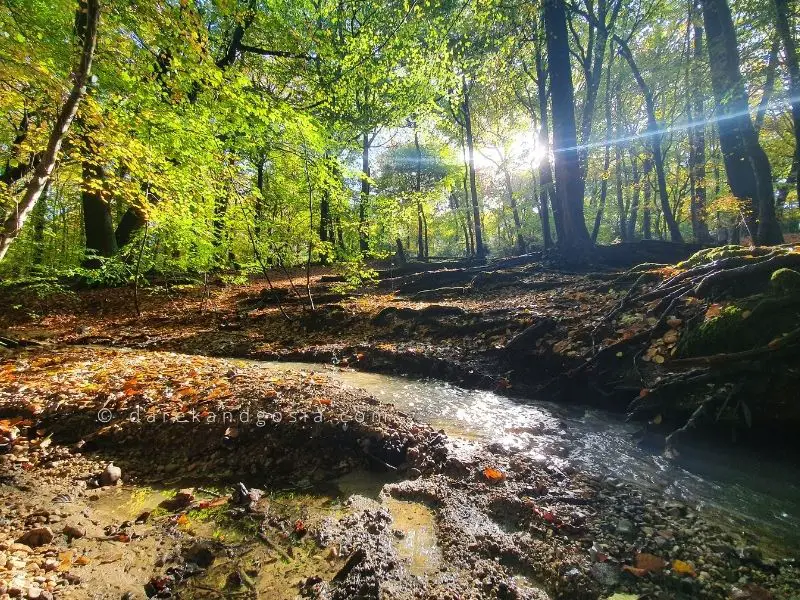 Sensory trail
The sensory trail is an excellent walk for younger kids. The route is around 1 km in length. Even with toddlers; it can easily be done in under an hour. 
As you walk along the route, there are all sorts of fascinating sculptures that encourage you to engage with the wildlife around you. The viewfinder benches are incredibly fun. The holes in the bench point you towards interesting features. They're also great for playing peekaboo with little ones.
The trail is an easy to follow loop, which very helpfully starts and ends right by the cafe.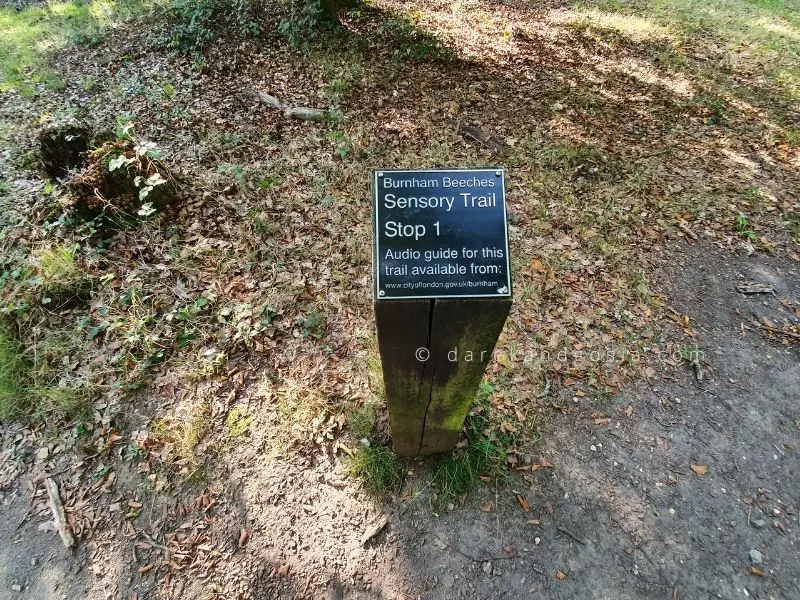 Druids Oak Burnham Beeches
Druid's Oak is the name of one of the oldest trees in the woods. It's undoubtedly the largest, and its exact age is hard to know. However, all the experts agree that it is certainly more than 800 years old.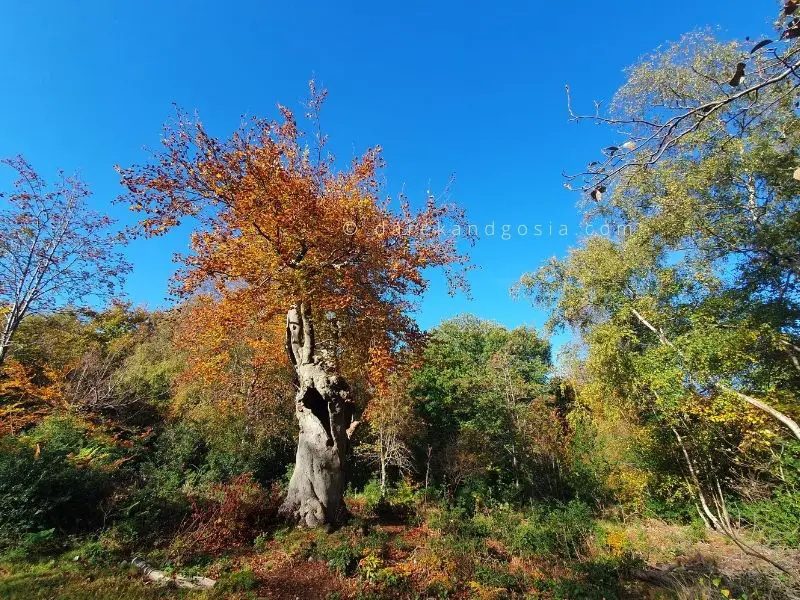 Seven Ways Plain Hill Fort
In the southern stretches of Burnham Beeches, you can find a scheduled monument. This is a spot that is believed to be the remains of an Iron Age plateau fort. All that remains of this ancient fort is the earthworks that were dug to support the stones. 
There is a fascinating information board posted at the spot that helps you identify the ditches that mark where the fort stood as well as showing you what it would have looked like.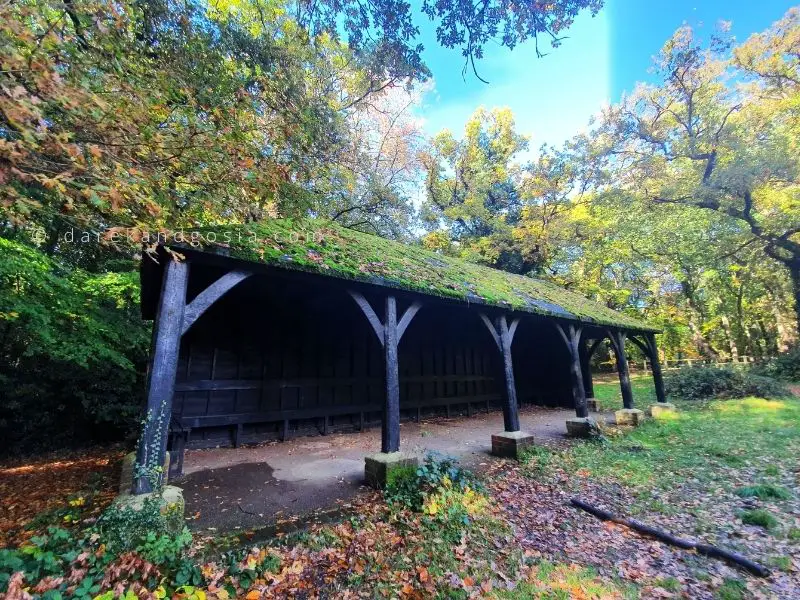 Mushroom spotting at Burnham Beeches
Burnham Beeches' large pollarded trees have created the perfect habitat for fungus. These mushrooms grow all over the woods. There are so many different varieties that it's absolutely mind-boggling. In fact, the woods are home to some nearly extinct species of fungus that you won't find anywhere else in the world.
While some might be tempting, you're not allowed to pick any of the mushrooms you find in the woods. You can, of course, take some great photos of these varied and fascinating plants.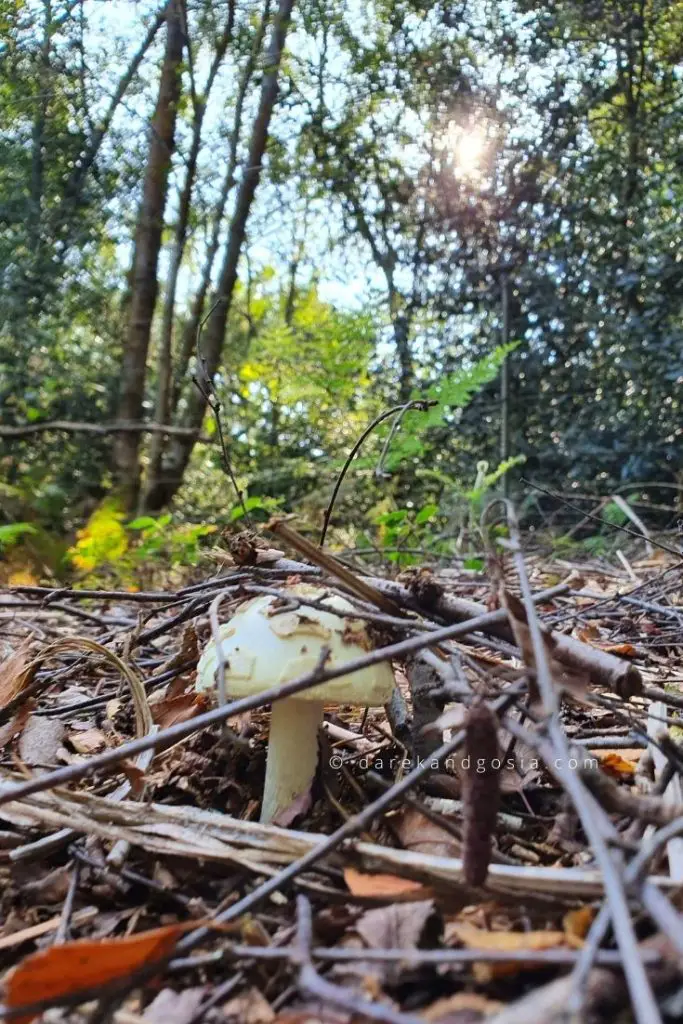 Movies filmed at Burnham Beeches
Burnham Beeches is a favourite spot for filming movies. The pollarded trees create large sheltered spaces that are open enough for filming. So these woods have appeared in a large number of films.
The woods have taken on the role of Sherwood Forest for Robin Hood, Prince of Thieves. In The Crying Game, they performed admirably as an Irish woodland. For First Knight and Ivanhoe, they took on the much easier role of a quintessential English forest.
In A Town Like Alice, the woods played what may be their most challenging role, that of a Malaya woodland.
Can I do BBQs in Burnham Beeches?
Burnham Beeches is a unique and protected Nature Reserve; for this reason, there are absolutely no BBQs or fires allowed. This is to protect this special area and not to disturb the sensitive habitat.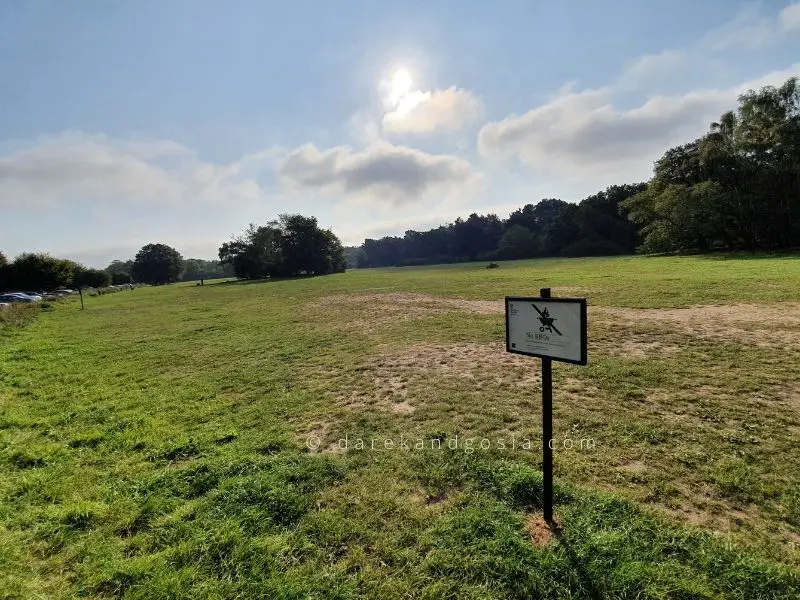 Are dogs allowed in Burnham Beeches?
Dogs are welcome at Burnham Beeches. If you bring a dog, you are required to keep it under close control. This means your dog should be in sight at all times, and should reliably return when called. If you're at all unsure about your dog's recall, you are asked to keep your dog on a lead.
Because Burnham Beeches is a special habitat, you do need to pick up after your dog. There are bins on-site that you can use. 
How long do you need at Burnham Beeches?
It depends on what you want to experience. You can enjoy a quick walk like the sensory trail in under an hour. If you're going to fully explore the woods and try some of the longer trails around the more ancient trees, this can easily take you 2-3 hours. If you're going to stop at the cafe, you can easily fill a half-day.
Places to visit near Burnham Beeches:
Is it worth visiting Burnham Beeches?
Burnham Beeches is a special and unique Nature Reserve. If you enjoy getting out into nature, then it's most certainly worth a visit. The parking is cheap, and there is a great cafe right by the woods. It's an ideal outing for the whole family.
If you liked our article about Burnham Beeches, then please check out the below posts too: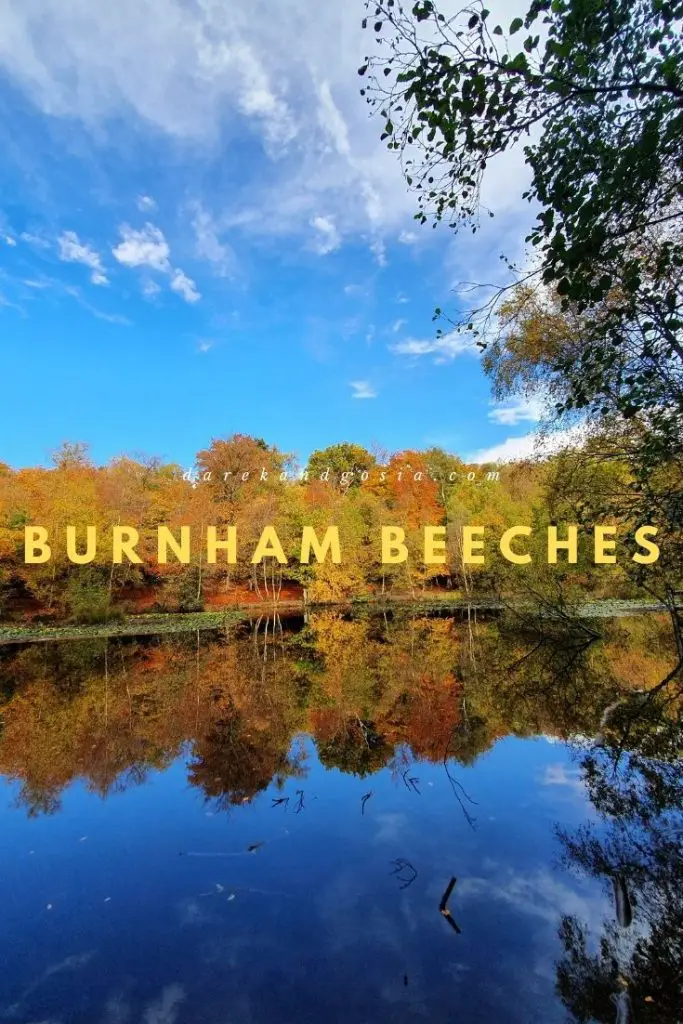 Articles you may like: