Indulge in the sweetest escape at Windbeutelbaron near Berchtesgaden in Bavaria. Discover the world of delectable windbeutels and more amidst picturesque landscapes. Plan your visit with opening times, travel tips, and a dash of British humour from darekandgosia.com
Imagine a world where sweet indulgence reigns, where German precision marries fluffy elegance. This is not a fairy tale, folks! No, it's the sumptuous realm of Windbeutelbaron in the idyllic Bavarian countryside. A haven for those who consider dessert not just a course, but an art form.
Second only to our love for travel is our penchant for divine desserts, isn't it? While traipsing through the mesmerising landscapes of Bavaria, Darek and I, stumbled upon a place that left us spellbound, drooling, and utterly satisfied. It's a joint that wears its culinary crown with pride – the Windbeutelbaron.
Nestled amid rolling hills and quaint villages, this spot offers something more than just scenic vistas. Trust us, the trek is worth it! Ready to sink your teeth into this scrumptious story?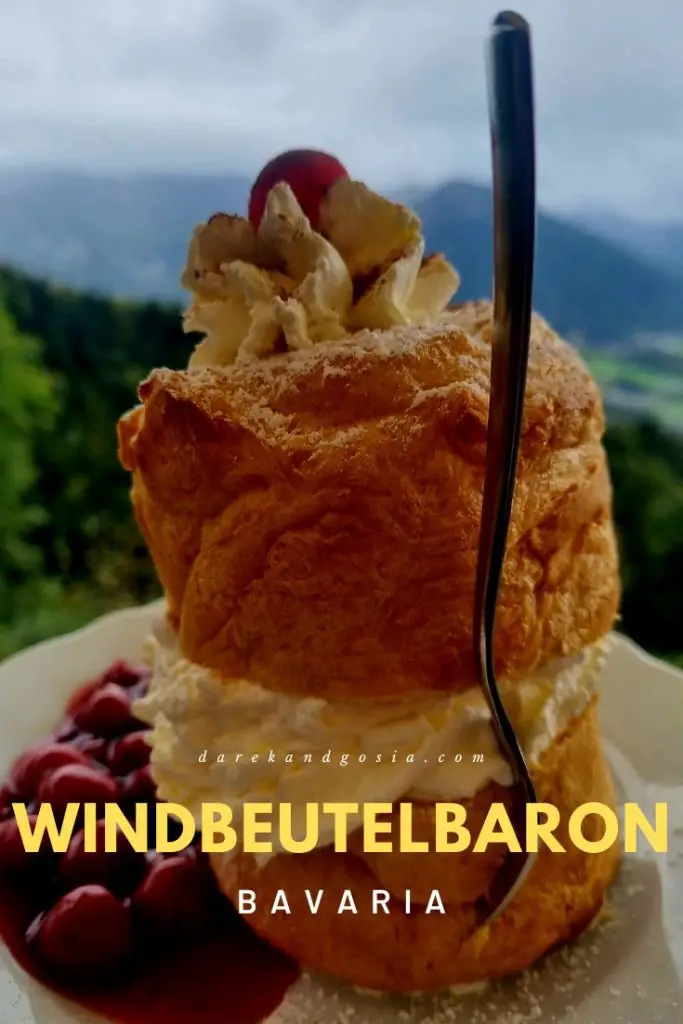 Setting the Scene: The Backdrop of Windbeutelbaron
Imagine pulling up at a quaint, timbered cottage, almost hidden within an all-enveloping green landscape. Flower baskets hanging on the porch, swaying lightly in the wind. The scent of freshly baked pastries fills the air, teasing your senses even before you step inside. There's an air of nostalgia, as if you've stepped back in time, yet everything seems perfectly in place in the modern world. This, dear reader, is the Windbeutelbaron – a sanctuary for the sweet-toothed souls among us.
What's In a Name?
Ah, the name! "Windbeutelbaron" translates to "Cream Puff Baron" in English. While the name suggests aristocracy, there's nothing pompous about this place. It's all about rustic charm and mouth-watering goodness. "Baron" here stands for the ultimate authority on windbeutels, the German cream puff that's a puff above the rest.
The Crown Jewel: Windbeutels
Windbeutels are essentially cream puffs, but oh, they're so much more than just that. These little airy pockets of dough are filled with heavenly whipped cream, fresh fruits, or even savoury elements for the more adventurous amongst us. The versatility is what makes them a showstopener. Darek was so taken by the raspberry-filled windbeutel that he was ready to swap his camera for another bite!
Cream of the Crop: Windbeutel Varieties
Here's a table detailing some of the must-try windbeutels at the Windbeutelbaron:
| Windbeutel Type | Key Ingredients |
| --- | --- |
| Classic | Whipped Cream |
| Fruity | Fresh Berries |
| Chocolatey | Cocoa & Cream |
| Savoury | Cheese & Herbs |
Taking the Plunge: Our Windbeutel Experience
Eagerly glancing through the menu, we opted for a classic and a chocolatey windbeutel. As the first bite melted into my mouth, I knew we had made the right choice. Fluffy, airy, and satisfyingly indulgent – the windbeutel transported me to dessert nirvana!
Darek was equally impressed. He had that gleam in his eyes – the same one he gets when he spots an uncharted hiking trail. We both agreed that it was a culinary masterpiece, one that could easily become the subject of cravings for years to come.
Don't Miss Out: Side Attractions
Windbeutelbaron isn't just about the windbeutels, though. They offer a range of other delicacies and local beverages that perfectly complement the main act. Be it the aromatic coffee or the handmade lemonades, every sip is a revelation.
Pairing Options for the Windbeutels:
| Beverage | Windbeutel Match |
| --- | --- |
| Coffee | Classic |
| Lemonade | Fruity |
| Hot Cocoa | Chocolatey |
| Beer | Savoury |
How to Embark on Your Own Sweet Journey to Windbeutelbaron
We've whetted your appetite, now let's get down to the nitty-gritty – how to actually visit this sugar-coated paradise. After all, a perfect windbeutel day-out requires a bit of planning, right?
Location: Where the Sweet Magic Happens
The Windbeutelbaron is located in the serene Bavarian countryside. A perfect spot for those touring the romantic vistas of Germany. The actual address is Winkl 3, 83334 Inzell, Bavaria, Germany. A GPS would be your best mate for this journey.
Opening Times: When to Pop In
Like any good thing in life, Windbeutelbaron isn't available around the clock. The place opens its doors at 10 AM and bids adieu to its guests at 5 PM. These timings are fairly consistent throughout the year.
| Days of the Week | Opening Times |
| --- | --- |
| Monday, Tuesday + Wednesday | Closed |
| Thursday-Sunday | 10 AM – 5 PM |
How to Get There
You've got a few options for reaching the cream puff haven:
By Car: If you're driving, the scenic route is an added bonus. Parking is ample, so no worries there.
Public Transport: You can catch a local bus that drops you nearby, followed by a small walk to reach your final destination.
On Foot: If you're staying nearby and love a good walk, the route to Windbeutelbaron is absolutely charming.
Modes of Transport:
| Transport Option | Best For |
| --- | --- |
| Car | Convenience & Scenic Drive |
| Public Transport | Budget-Friendly Travel |
| On Foot | Nearby Residents |
Tickets & Reservations: Do You Need to Book Ahead?
No ticket is needed for this sugary expedition, but reservations are recommended, especially on weekends and holidays. You see, the place can get packed, and waiting for a windbeutel with a growling tummy is nobody's idea of fun!
Bonus Tips for an Enchanting Visit
Seasonal Specials: Keep an eye out for the seasonal windbeutel flavours. We visited in the autumn, and oh boy, the pumpkin-spiced windbeutel was a revelation!
Outdoor Seating: If the weather is good, grab a seat outdoors. The view is as delightful as the dessert.
Pet-Friendly: Feel free to bring along your four-legged friends; they are welcome here.
Photography: The backdrop is picturesque, so make sure your camera is in tow. Darek couldn't stop snapping!
Checklist for Your Windbeutel Outing:
Reservations
Camera
Comfortable Attire
Appetite for Indulgence
Sense of Adventure
Your Sweet Escape Awaits!
As someone who has trodden this saccharine path, I can assure you that Windbeutelbaron is not just another dessert place; it's a destination. So mark your calendars, set your GPS, and prepare for a dessert experience that will have you coming back for seconds – or thirds, who's counting?
Whether you're a local Bavarian or an international traveller soaking in the German scenery, Windbeutelbaron needs to be on your itinerary. Why? Because life is short and windbeutels are delicious! Cheers to that, and we hope to bump into you there one sweet day.