Going on holiday to Barcelona Spain? But what is Barcelona actually known for? Learn about top things to do in Barcelona & all must-visit places!
What do to in Barcelona? From Gaudí's art in a park to Messi's art on the pitch – there are so many great things to do in Barcelona! As one of Spain's main attractions, the capital of Catalonia is one of a few must-see cities in Europe. So, no excuse – Barcelona Spain has to be on your travel bucket list!
If you are looking for the best city for a weekend break Barcelona is a great option!
Barcelona – car hire:
We have rented cars many times during holidays in Spain and we always used discovercars.com
Check out our guide to the best car rental company in Spain or simply explore the options directly on discovercars.com if you need a car during a trip to Barcelona.
Barcelona has so much great stuff to offer! With too many attractions you might run out of time while visiting this Catalonian city. Make sure you don't miss out on some of the best things to do and places to visit!
Barcelona is considered one of the best cities in Europe. It is not a surprise as the city offers a lot of attractions that attract crowds of tourists from the whole world. If you are planning to visit the capital of Spain, see what you can't miss.
Where to stay in Barcelona?
Looking for the best accommodation in Barcelona? Check out the below hotels!
"Set on Tibidabo Hill, the 5-star Gran Hotel La Florida offers spectacular views over Barcelona and the Mediterranean Sea. Guests enjoy free access to the beautiful Spa. Free shuttle service to and from Barcelona city centre runs 3 times a day."
"Located just off Diagonal Avenue, 10 minutes' walk from Barcelona FC's Camp Nou Stadium. It offers large rooms with free Wi-Fi, satellite TV and a kitchen."
Need more inspiration? Find a hotel in your favourite part of Barcelona!
With so many places to stay in Barcelona, there's something to delight everyone who visits the city – but which point of interests in Barcelona are actually worth visiting?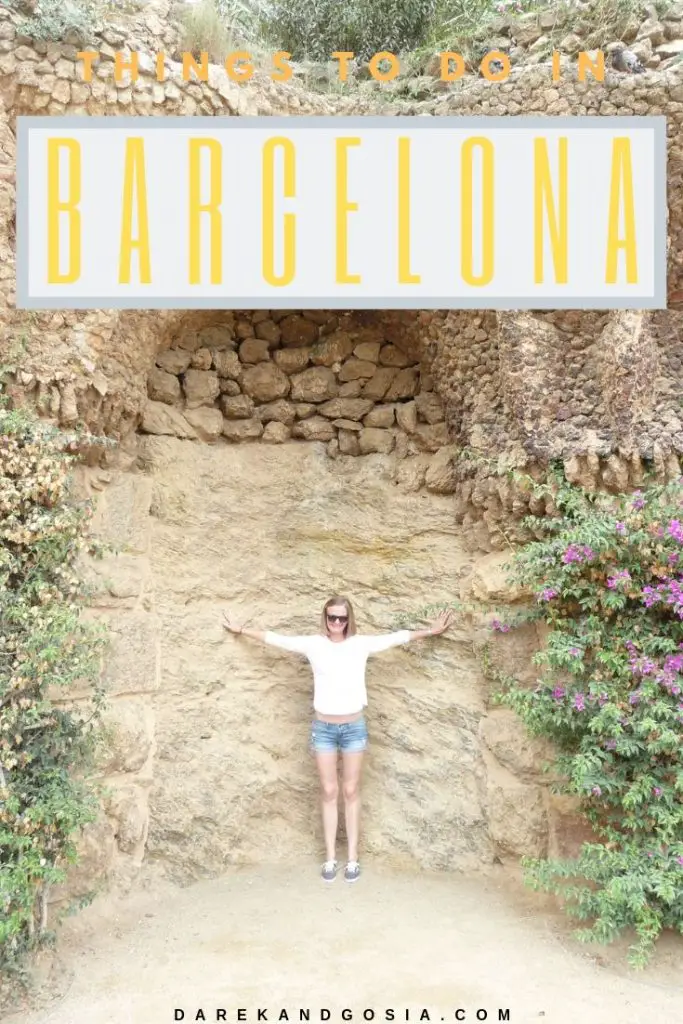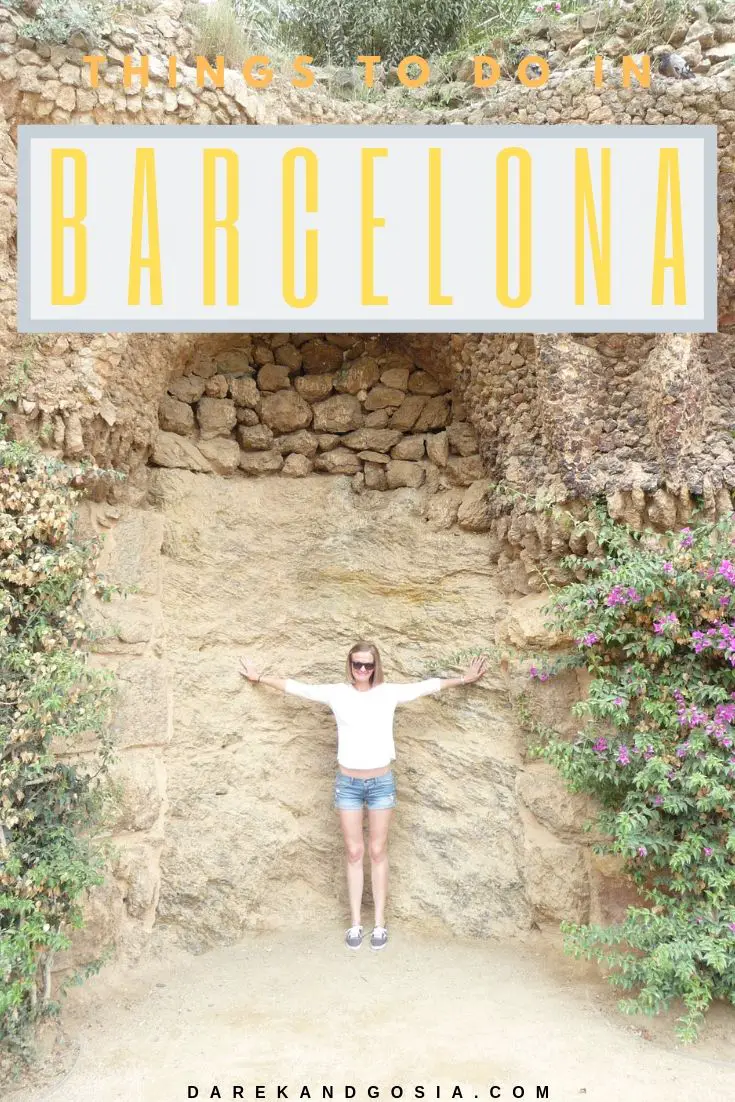 With so many great sights there, it is difficult to choose and decide what to see. From colourful Gaudi's work, through cool streets of the Gothic quarter to the crowded La Rambla – we created a definitive guide to the best local spots and things to do in Barcelona.
Explore the best things to do in Barcelona Spain and top Barcelona attractions:
What are the best things to do in Barcelona?
1. La Sagrada Familia
Best things to see in Barcelona Spain? This Catholic church dates back to the 1800s, but the most interesting thing about it is that it was never actually finished. It is one of Gaudi's most incredible creations, and construction is estimated to be finished in 2026! Which will mean it took nearly 200 years to construct.
The Sagrada Familia is a UNESCO World Heritage Site, a minor basilica, and one of the most incredible buildings you will see in Barcelona.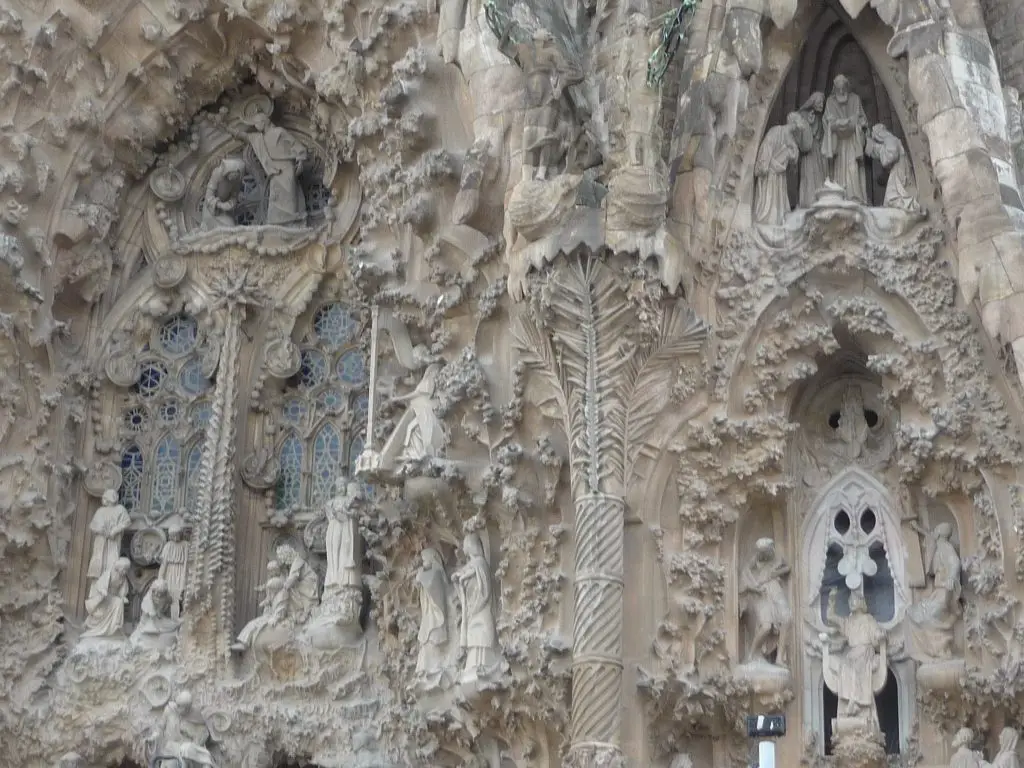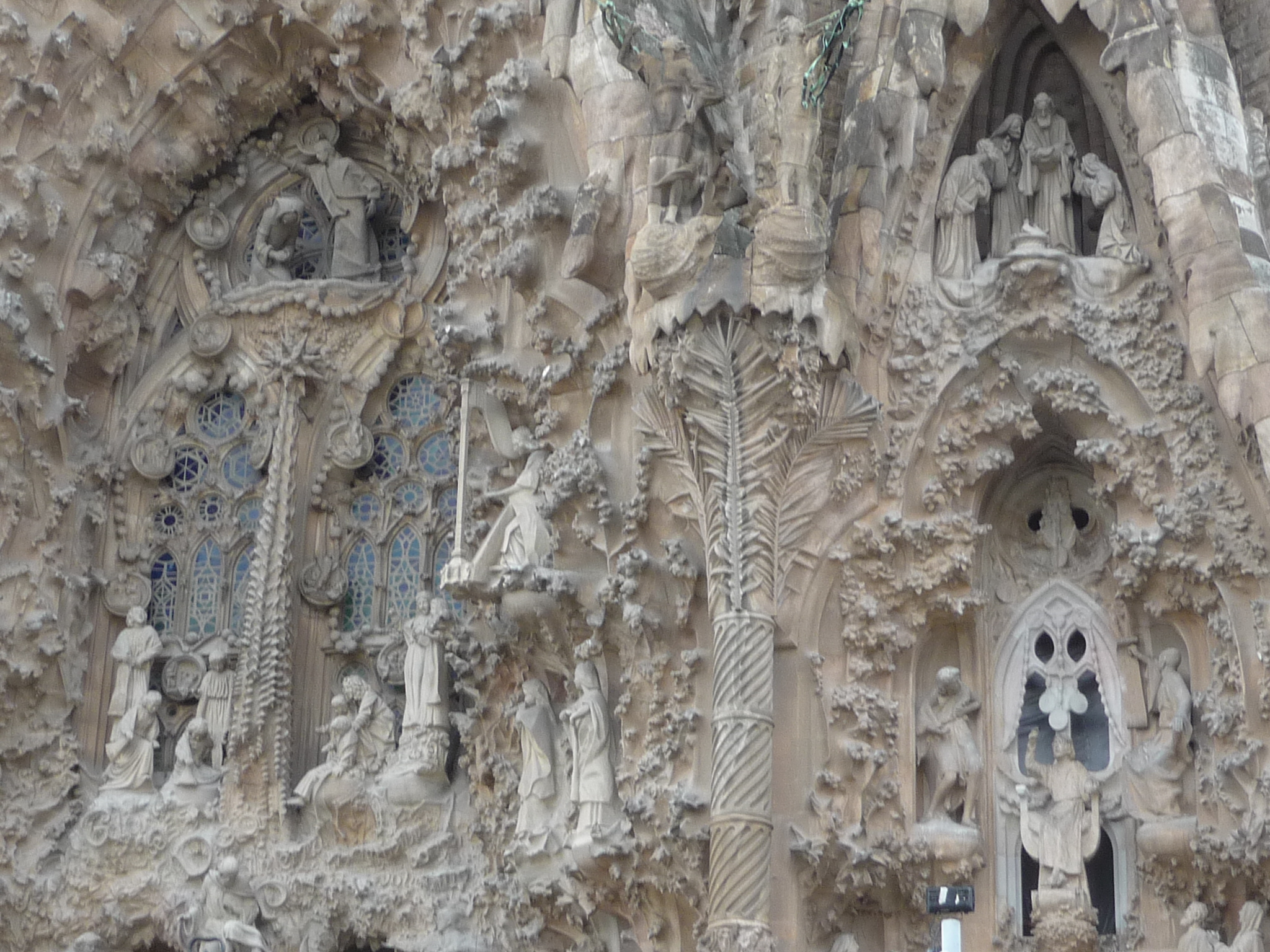 2. Hop-On Hop-Off Barcelona Tour
Yes, there are many attractions in Barcelona! Explore all that the vibrant city of Barcelona has to offer through a hop-on hop-off bus tour. The beauty of these tours is that you can explore the different sights and parts of the city at your own pace and leisure as you can get on and off the bus whenever you want and however many times you want.
This hop-on hop-off Barcelona tour offers discounts to popular attractions and provides a free audio guide as you travel too!
3. Park Güell
Looking for Barcelona top attractions? This is a park, but not as you know them. It is comprised of a system of gardens and architectonic elements; making it a truly unique and incredible experience.
The architecture within the park is unlike anything else, full of bright colours and designs that will leave you feeling free. Of course, it was designed by the amazing Gaudi for your enjoyment.
For sure this is one of the top places to visit in Barcelona!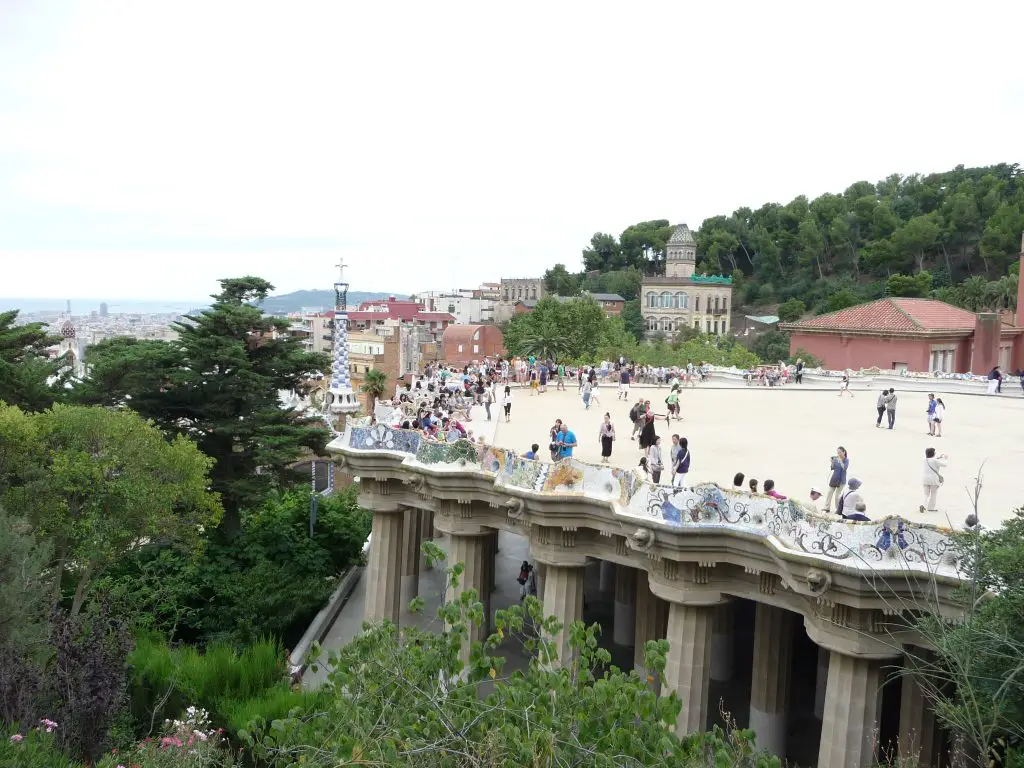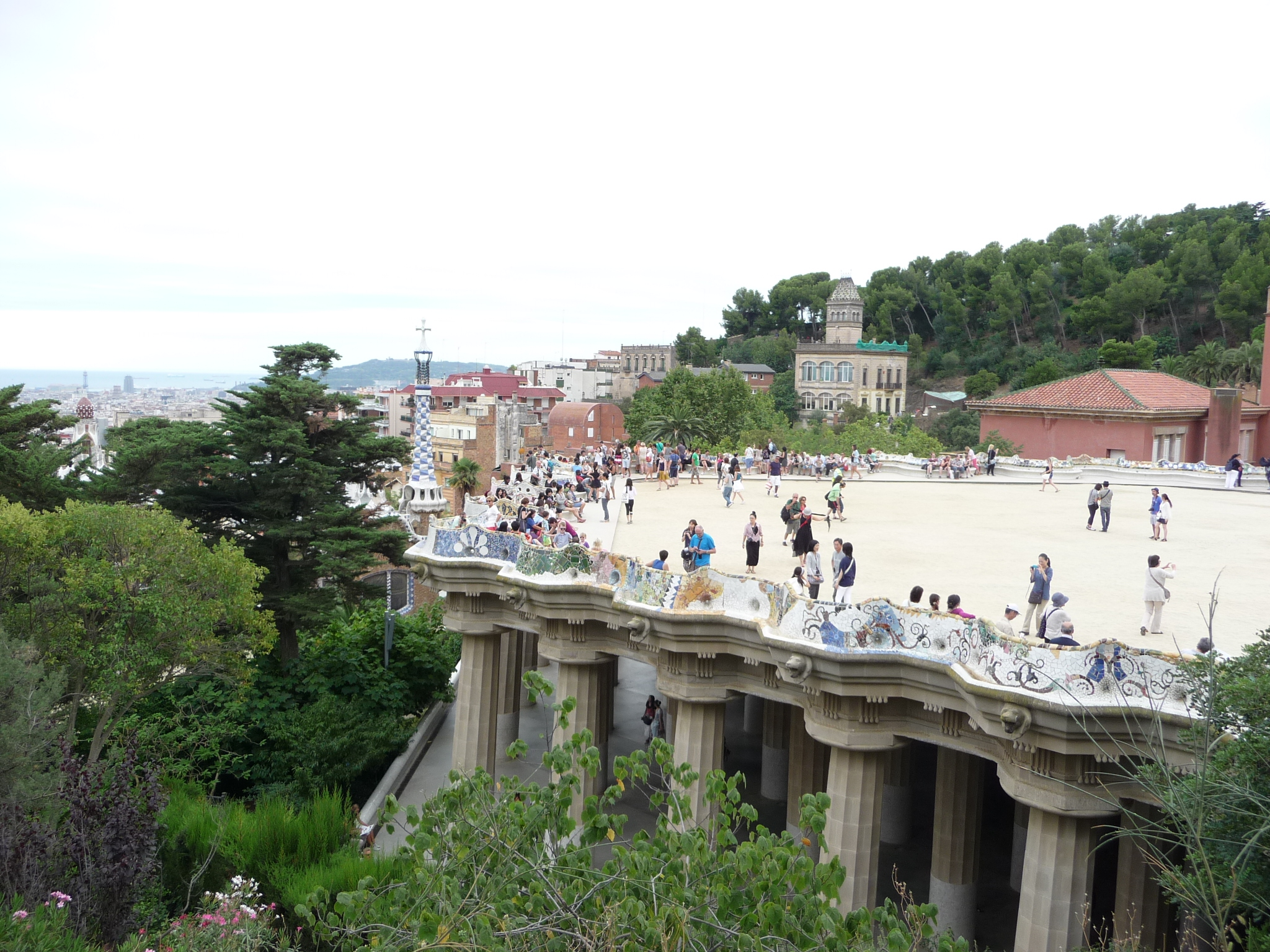 4. Catamaran trip
What to do in Barcelona? Enjoy the skyline of Barcelona from the sea on a relaxing catamaran cruise. You can see the historic sights including the Sagrada Familia which makes for some stunning photographs.
Catamaran trips take place throughout the day, from a romantic sunset cruise to a bright sunny day which is perfect for a day at sea – you can find a trip for you. What's more, dolphins are known to visit the Barcelona coast, so you may be lucky to spot incredible marine life as well as the stunning skyline.
5. Casa Milà
Unusual things to do in Barcelona? This is also known as La Pedrera, which means the Stone Quarry, and this is because of the way in which it was constructed. It has a rough, almost jagged, appearance that makes it stand out from the rest of Barcelona's architecture.
It was the last private residence that Gaudi designed, and is one of the most popular buildings in the city as a result of this. Prices for tours and entry are very modest.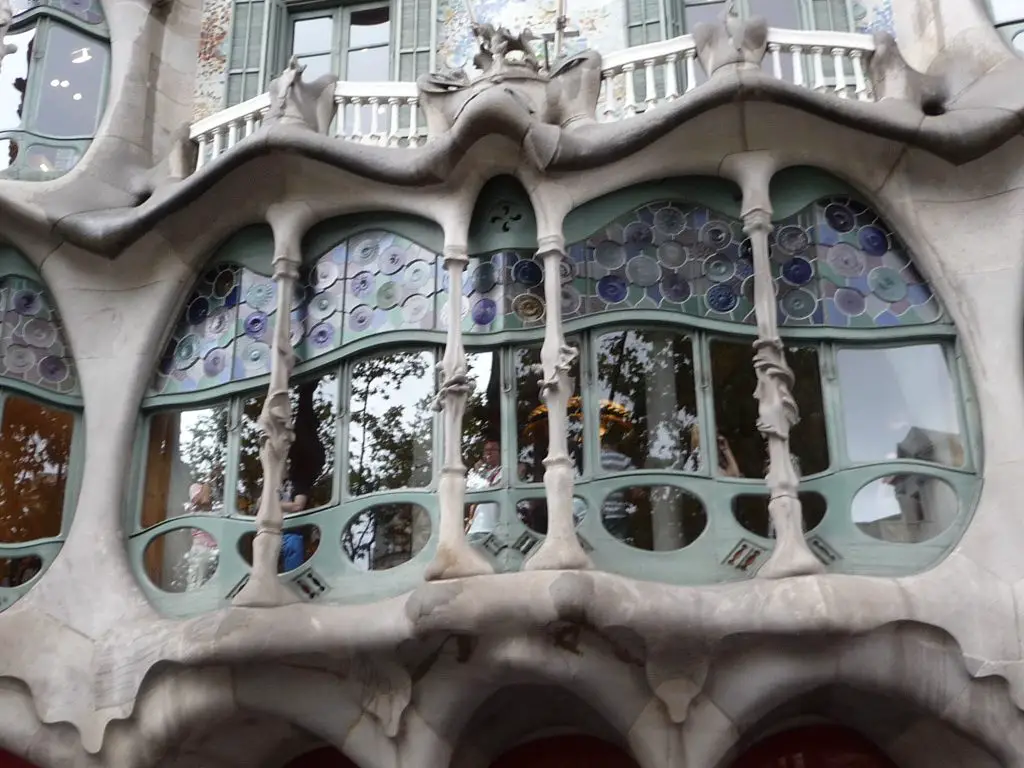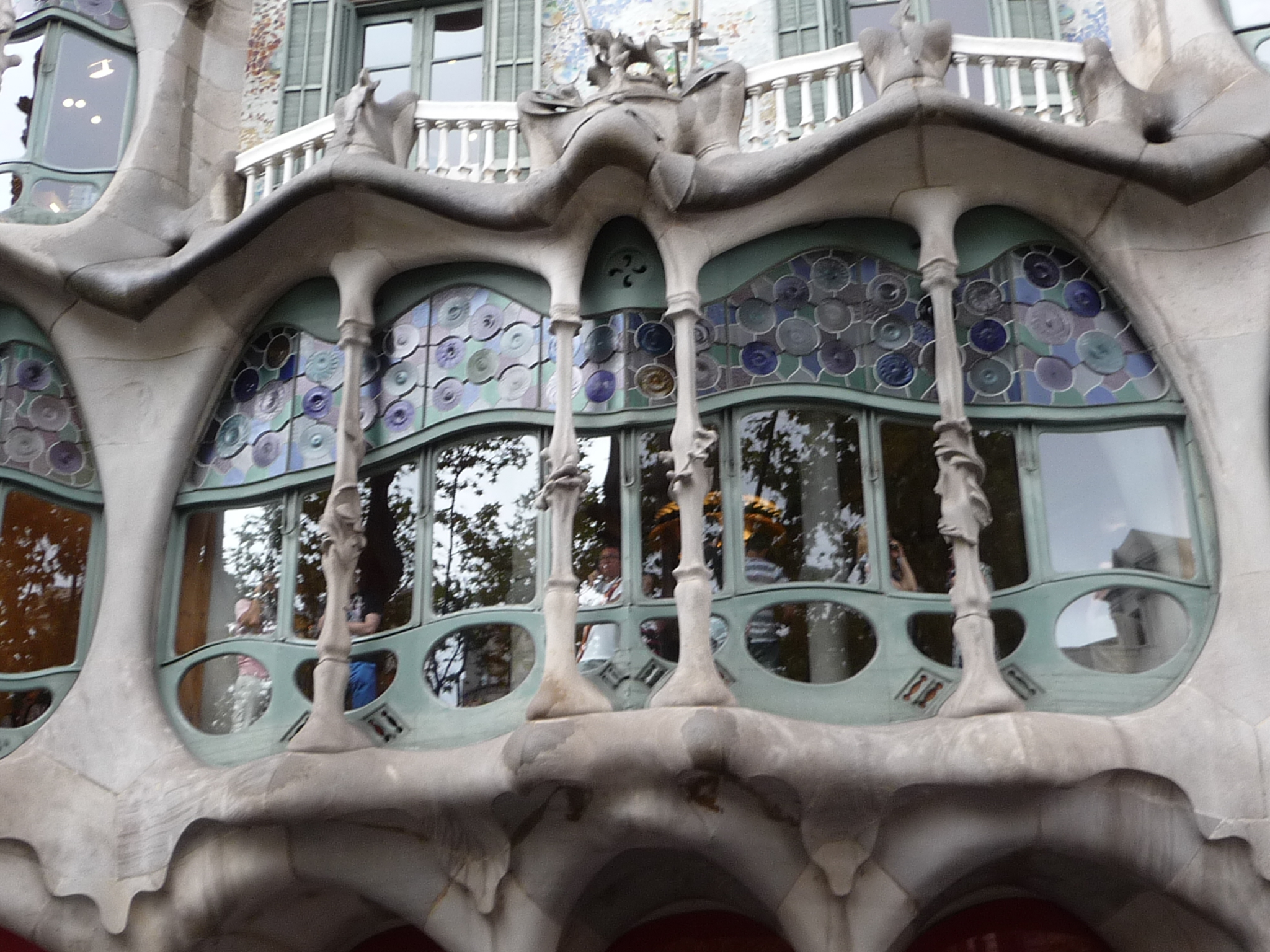 6. Casa Batlló
Top 10 Barcelona attractions? Located in the centre of Barcelona, this building is another of Gaudi's designs, and it is one of his best remodelling achievements. The wavy architecture gives a seaside feel to the architecture, and the bright colours match the vibes of the city beautifully.
Tours are available all day, and the building is said to have been built in honour of the Catalonian Patron Saint, Saint George. Would you add it to your Barcelona things to do list?
7. Montserrat Monastery trip
Any cool things to do in Barcelona? In the heart of the Catalan mountain range of Montserrat, you can discover Santa Maria de Montserrat, an incredible Benedictine monastery. The scenery alone is well worth a visit with Montserrat translating as 'saw mountain' thanks to the sharp, jagged appearance of the peaks.
However, many people want to experience the wonder of the spectacular religious retreat, which is the Montserrat Monastery. You can take a trip to the peaks by hiking, or there is a cable car and funicular available too where you can make the most of the most beautiful views from the top. Without a doubt, this is one of the top attractions in Barcelona!
8. La Rambla
Best places to visit in Barcelona Spain? This is a pedestrian street that goes on for 1.2km, which is just under a mile. It is lined with trees, and the wide street makes for a pleasant walk through the city.
On either side, you will find a variety of shops, cafes, and restaurants that you can visit if the mood takes you. It can be quite crowded during peak season, so it might be best to visit in the quieter months. A must see in Barcelona!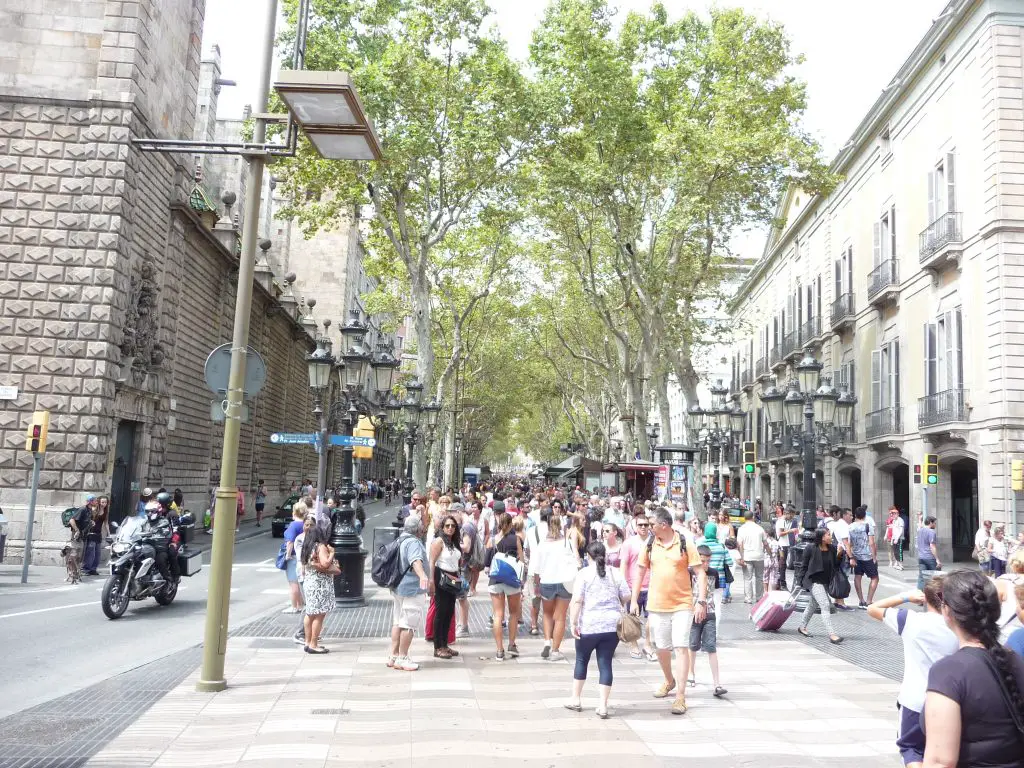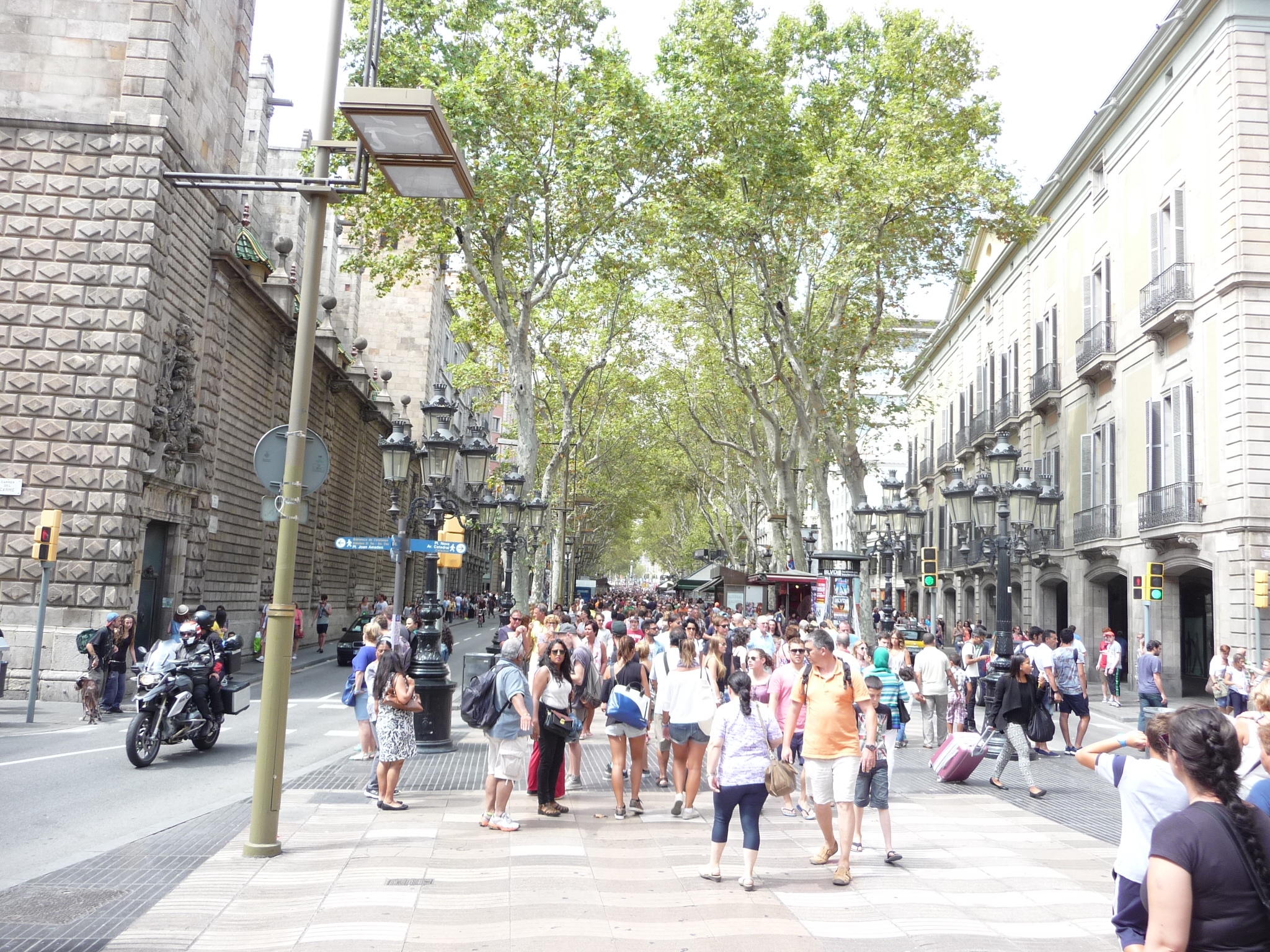 9. Gothic Quarter
Looking for top Barcelona Spain places to visit? The Gothic Quarter is gorgeous, and for those who are fans of Gothic architecture; an absolute must. The narrow Medieval streets bring a certain Je ne sais quois to the area, and you will discover a whole host of restaurants and unique stores.
There are flower stalls and street food, not to mention the imposing cathedral that holds weekend art fairs.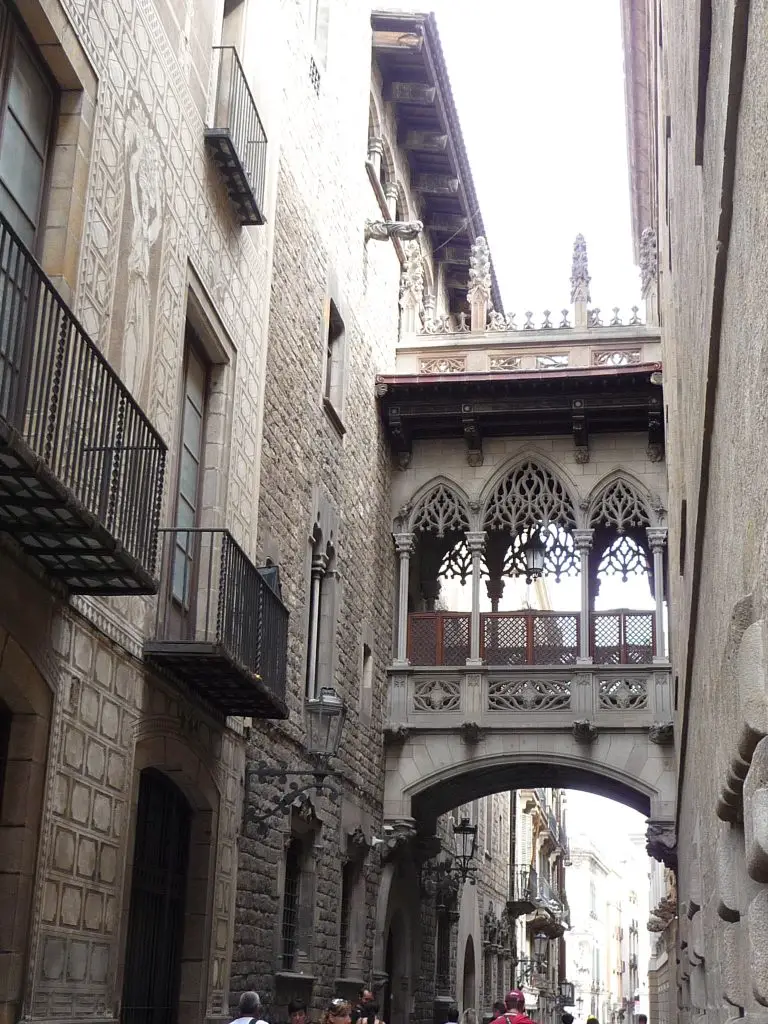 10. Kayak and Snorkel Tour
What to do in Barcelona Spain? While many people travel to Barcelona for a city break, this beachside city also offers plenty of beach activities and water sports too. One of the best ways to enjoy the Costa Brava coastline is with a kayak and snorkel tour.
Give yourself a break from pounding the pavements of the city and take to the sea where you can paddle your kayak around the coast, into sea caves, marvel at the rocky cliffs and discover secluded beaches. Then, pop your snorkel on to the discover the coral, urchins and abundance of marine life.
11. Montjuïc
What is there to do in Barcelona? This hill was once a strategic point in the city and was used for surveying the seas that led into the city. It overlooks the harbour, making for some unforgettable panoramic views of Barcelona that will remain high on the list of best experiences in the city. Yes, this is one of the best places in the city to see Barcelona from above!
There is a castle on the hill as well, and one that is quite spectacular to look at. After climbing the hill (or taking the bus), it is well worth visiting. One of the best attractions in Barcelona!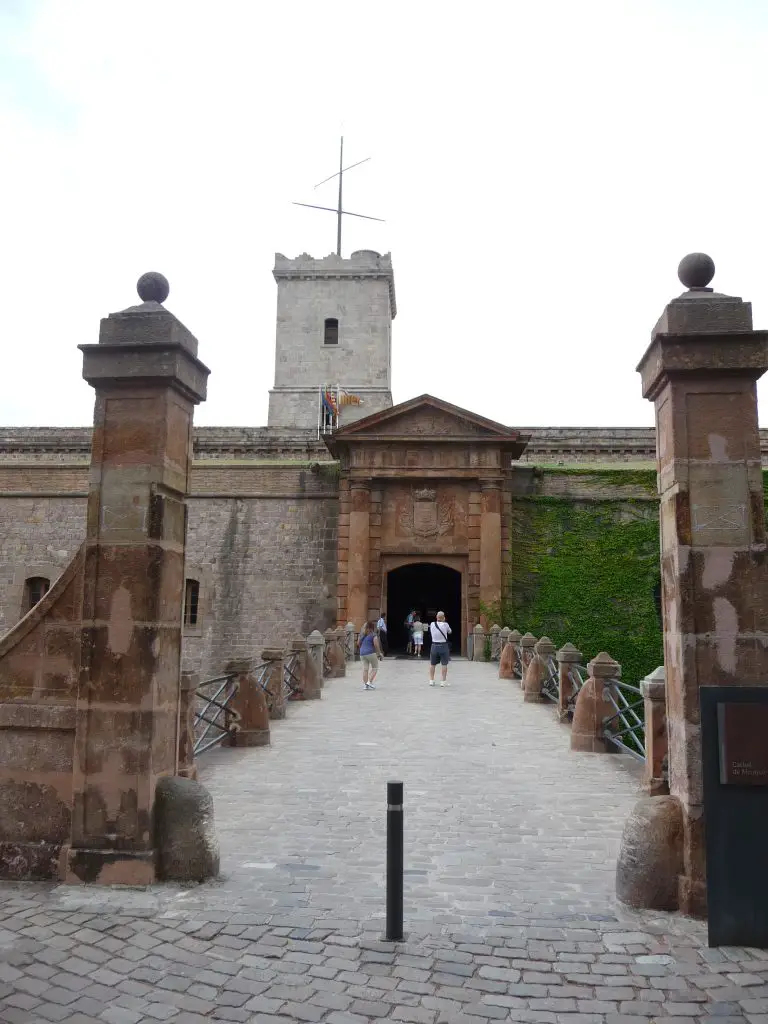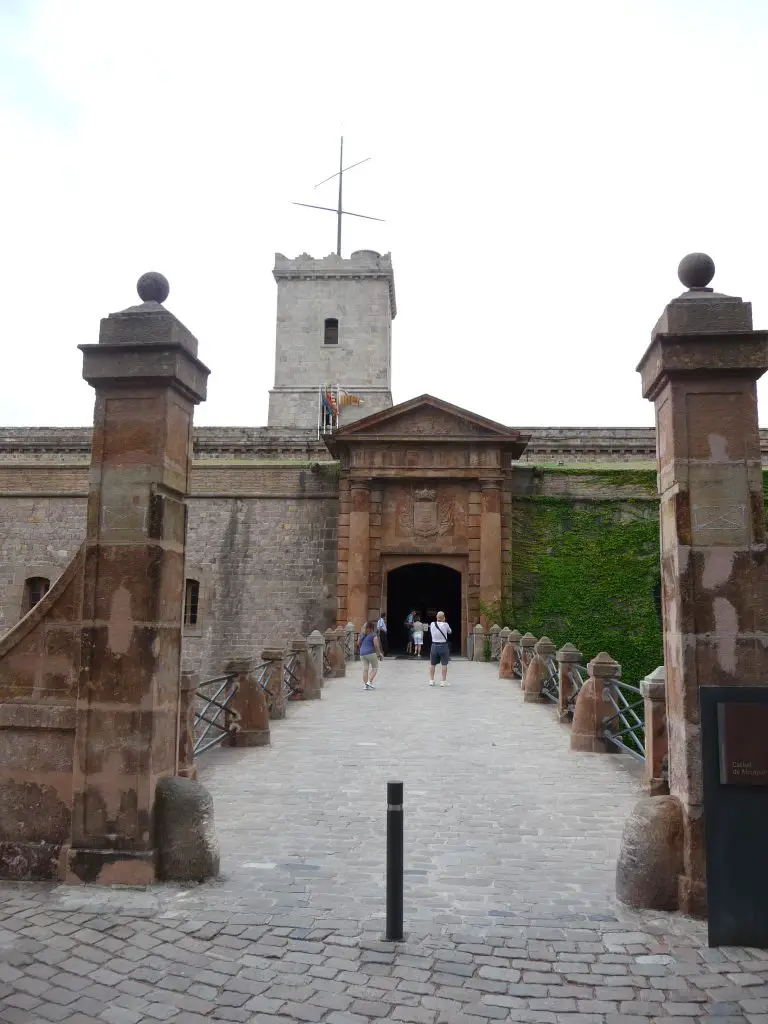 12. Ice Bar Experience at Icebarcelona
Interesting stuff to do in Barcelona? Icebarcelona is iconic as it was the first ice bar in the world. Designed by renowned artists, the ice bar features frozen sculptures, incredible styling and lighting that is regularly updated to ensure return visitors can enjoy a brand-new experience.
The bar stays at a chilly -5ºC (20ºF), but don't worry, you'll be provided with warm jackets and gloves to keep cosy, and you can also enjoy a drink on the sea-facing terrace to warm up after!
13. Mercado de La Boqueria
Barcelona Spain points of interest? One of the biggest tourist spots in the city, this market is absolutely massive. The entrance is close to La Rambla, and it is home to an array of interesting items.
Whether you want unique handmade gifts, or you would like to sample some Catalonian street food; this market has it all. Barcelona is considered one of the most vegan-friendly cities in Europe, so you will easily find delicious vegan tapas in Barcelona 🙂
Just head to the Ciudad Vieja District, and you'll see it – the entrance is quite hard to miss. Yes, this really is one of the most unique things to do in Barcelona!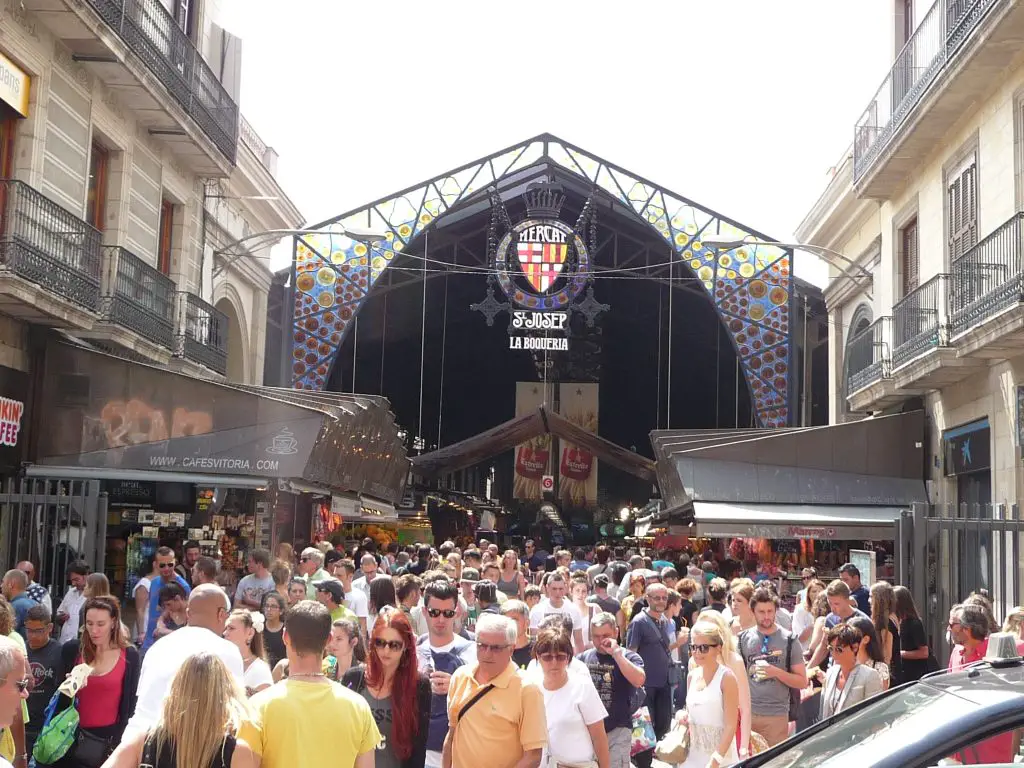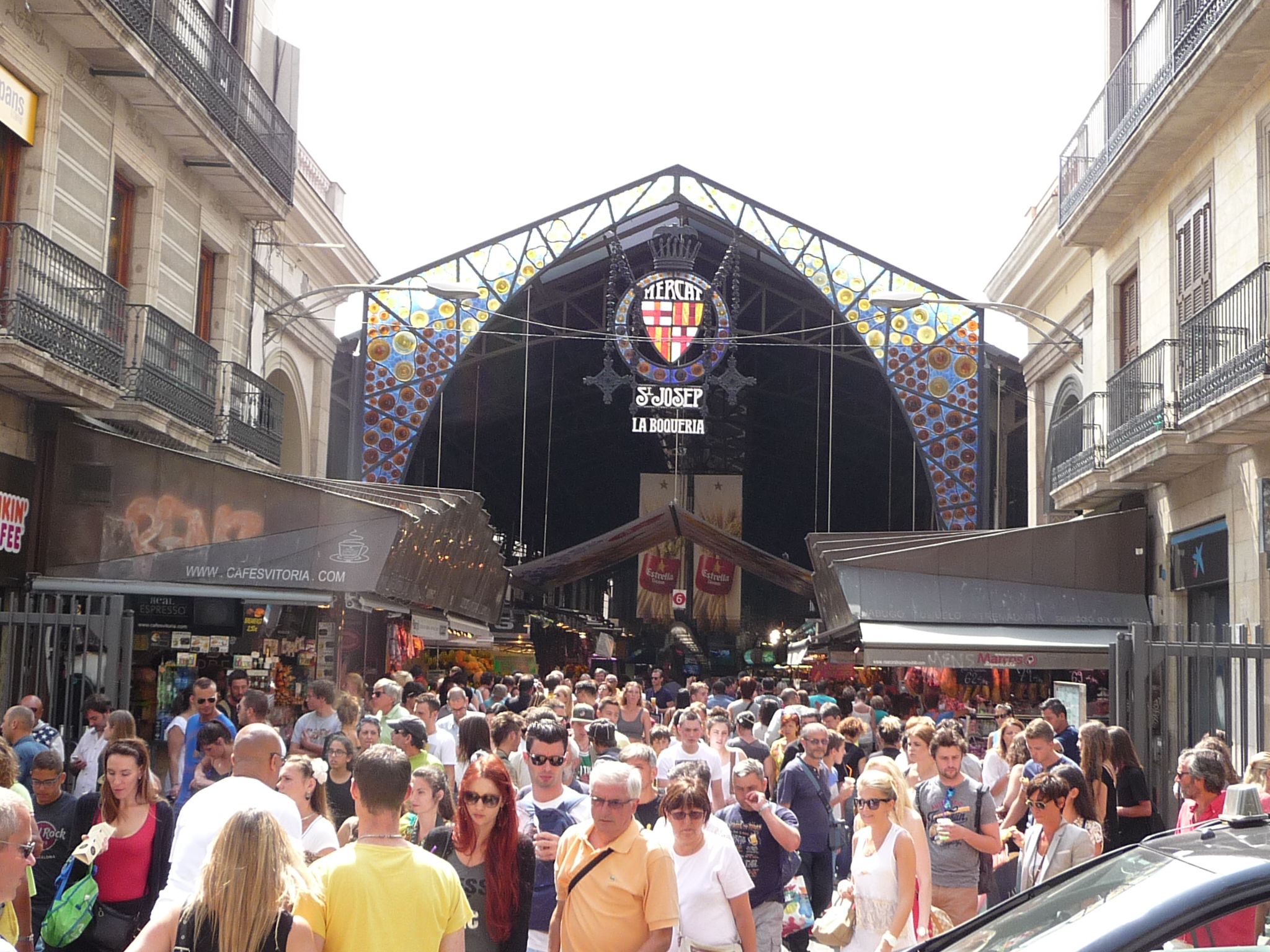 14. Plaça de Catalunya
What to do in Barcelona city? This large square is beautiful in terms of its design; a lot like most of the areas in Barcelona. The square itself is made up of a combination of paving and greenery, and it can be quite a relaxing place to visit.
It is considered to be both the very centre of the city, as well as the point where the old and new city meet; making it of huge historical interest and importance. So, is this square on your list of top Barcelona attractions?
15. Picasso Museum
Must do Barcelona? This museum houses one of the most extensive collections of Picasso's artworks in the world. There are over 4,000 paintings by the artist, all of which can be viewed when you go and visit.
The permanent exhibit is almost complete, which makes it a location you absolutely must go to when you are in the city. The opening hours are long, and the tickets to get in very well priced. If you love art, this one will be for you one of the top 10 things to do in Barcelona!
16. Visit Casa Vicens
One of the top attractions Barcelona, Casa Vicens is the UNESCO World Heritage Site of the first home of Gaudí. In the tranquil region of Gracia, Casa Vicens is a peaceful and relaxing place with a beautiful exterior covered in green and white tiles. Declared as a World Heritage Site in 2005, Casa Vicens was built as a summer house for Gaudí and was a source of modernist inspiration for the artist.
Throughout your visit, you will see all of the elements of nature incorporated into the design and see the nods to different styles such as Indian, Japanese and Mudejar. A must see in Barcelona Spain!
17. La Barceloneta
Top Barcelona city attractions? Located near the Gothic Quarter, this is where everyone goes when they want to enjoy the seaside and everything it has to offer. Sun, sea, and sand are just some of the things this neighbourhood has to offer.
Sometimes, you will come across some amazing sand sculptures by local artists, and there is delicious food that can be sampled all along the seafront. Worth to spend an afternoon on the La Barceloneta beach. This is a must visit in Barcelona and one of the things to do in Barcelona for couples!
18. Magic Fountain of Montjuïc
Best places to visit in Barcelona Spain? This fountain really does live up to its name. In the evenings, you can watch as it lights up with an array of stunning colours that will leave you speechless.
It took over 3000 workers in the course of a year to construct this huge fountain, and the results were worth it. The first fountain performance was in 1929, and it has been going on ever since.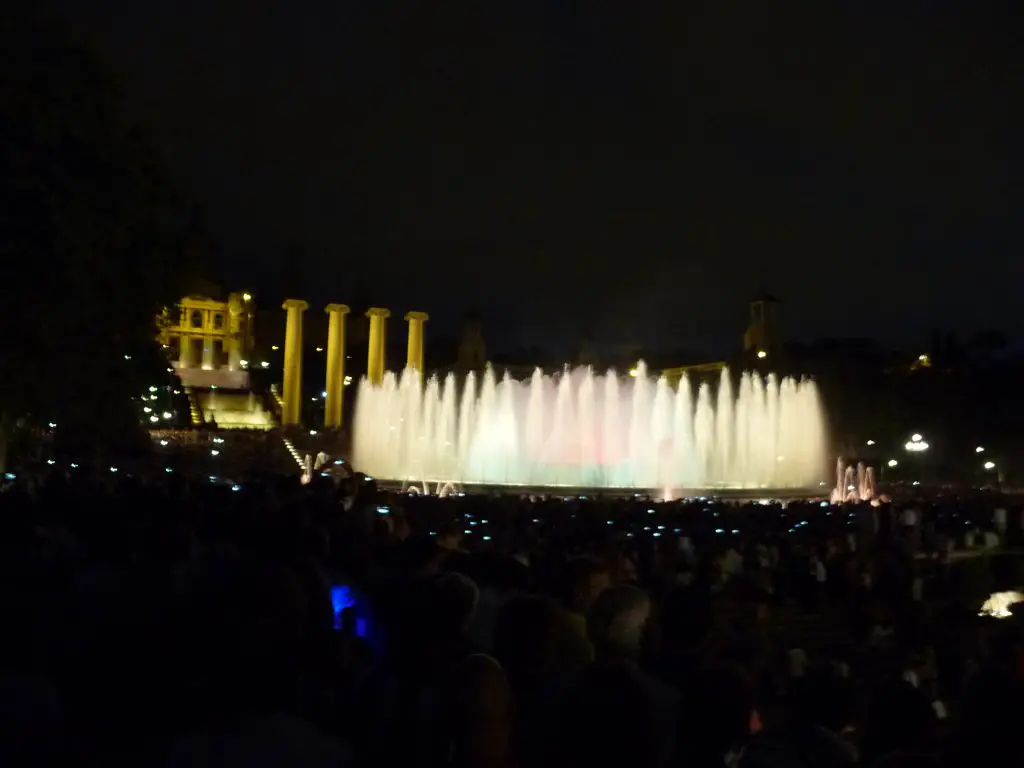 19. Ciutadella Park
What to do Barcelona? For a long time, this was the only green space within the city, and it remains the oldest park in Barcelona. You will find it next to the Picasso Museum. It has some really beautiful fountains within as well as loads of water spaces to create a cool and peaceful atmosphere.
It's a great place in Barcelona to go and relax, or maybe stop and have a picnic lunch after visiting the museum. Would you add it to your Barcelona top things to do list?
20. Hot Air Balloon Flight
Top things to do in Barcelona Spain? Enjoy unforgettable vistas of the beautiful Catalan skyline by floating up into the air in a magical hot air balloon experience. The beauty of a hot air balloon flight means you get to see the many wonders that Barcelona has to offer including the cityscape, the views across the Mediterranean Sea and the breath-taking Montserrat peaks and Montseny Natural Park.
This unforgettable experience provides the best of everything that Barcelona has to offer.
21. Cathedral of Barcelona
What to see and do in Barcelona Spain? Maybe not quite as grand as Gaudi's cathedral, but still an architectural wonder, this building stands tall and proud within the city. The Gothic construction makes this a memorable building, and the interior is gorgeous.
There isn't much that can top this building in terms of design, and the tours are certainly worth attending to learn more about the history of the structure.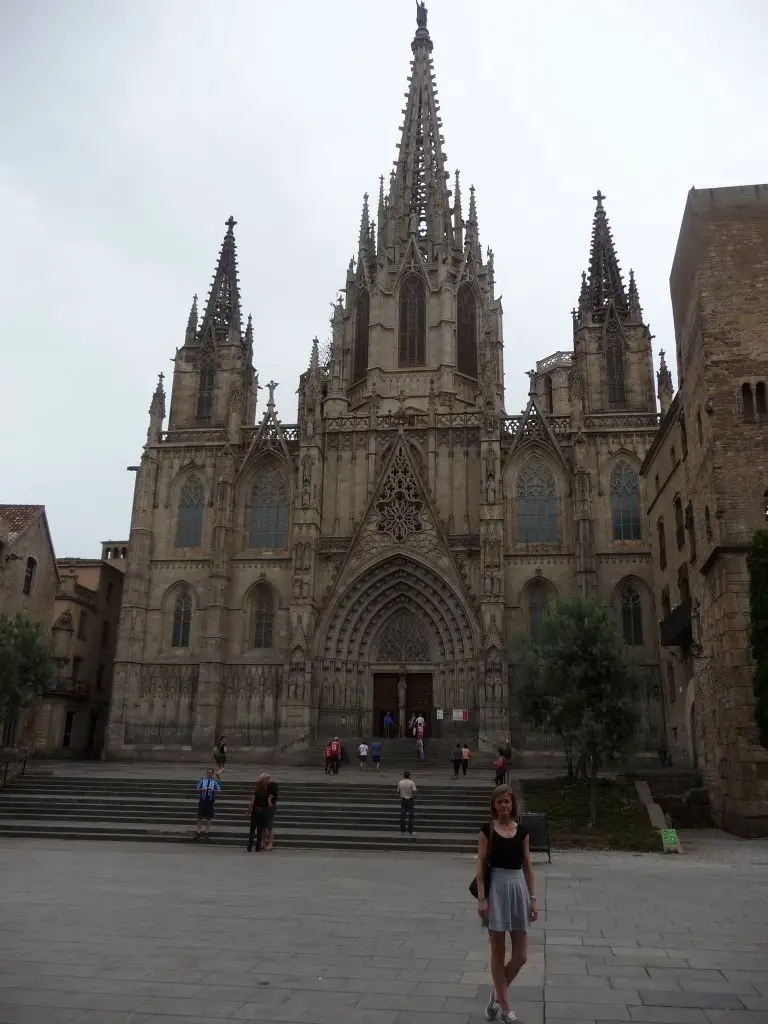 22. Palau de la Música Catalana
Barcelona things to see? This concert hall is like something straight out of Phantom of the Opera, with long rows of seating, ornate boxes, and a large stage for spectacular performances.
Classical music concerts are the main show you will find here, and the acoustics within the hall really amplify the sound and leave it resonating throughout the room. A truly magical experience and one of the best things to do in Barcelona Spain!
23. Camp Nou
Looking for the best things to see and do in Barcelona Spain? One for the football fans, this is the home of the FC Barcelona and has been since 1957. It is the largest stadium in Europe and has the third largest capacity in the world.
Camp Nou isn't just for football though; it has also been host to bands like U2 during their world tour. If you aren't watching football, there are also tours you can take to learn more about the stadium and its rich history.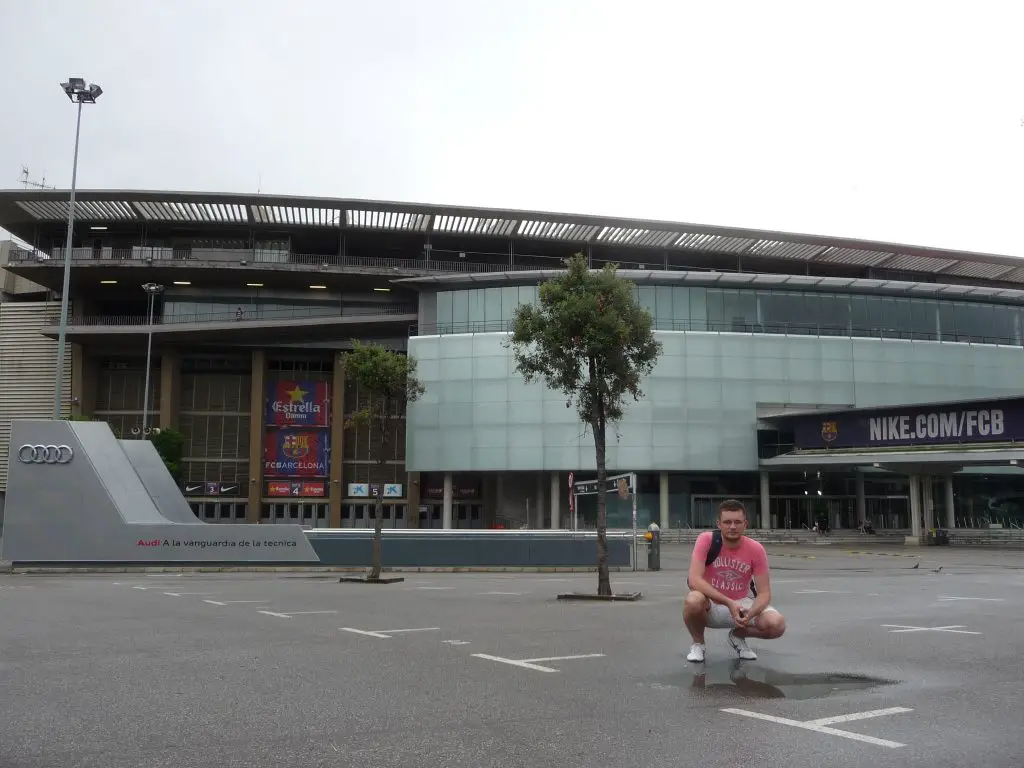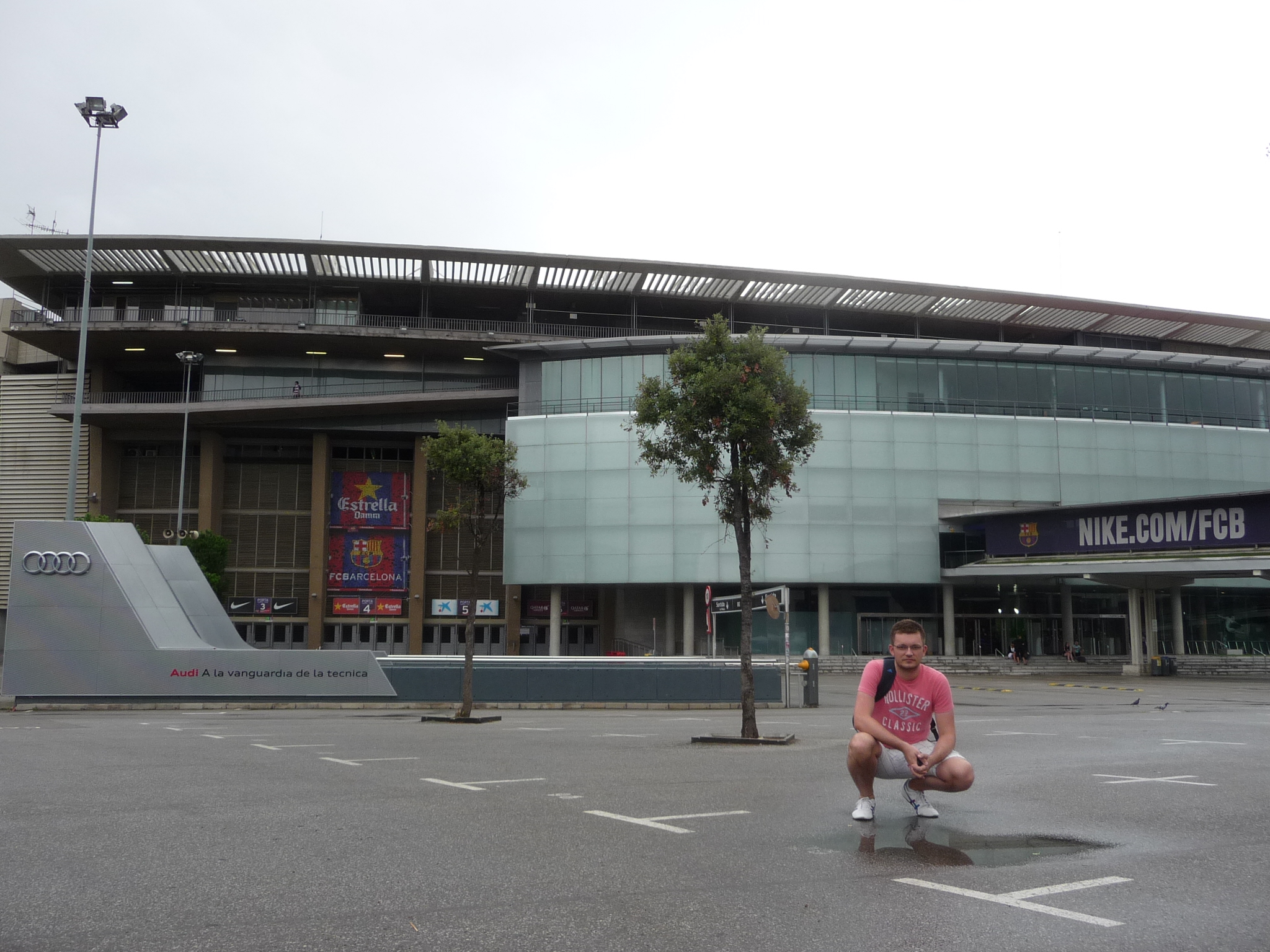 24. Museu Nacional d'Art de Catalunya
Barcelona unusual things to do? This is the National Museum of Catalan Visual Art, and within its walls, you will find some truly remarkable pieces. The collection is incredible, with 290,000 pieces for you to admire and learn more about.
You will find it within a Baroque Palace; the kind of architecture that you just don't see enough of anymore. With permanent and visiting exhibitions, you won't want to miss it as it's one of the top things in Barcelona to see!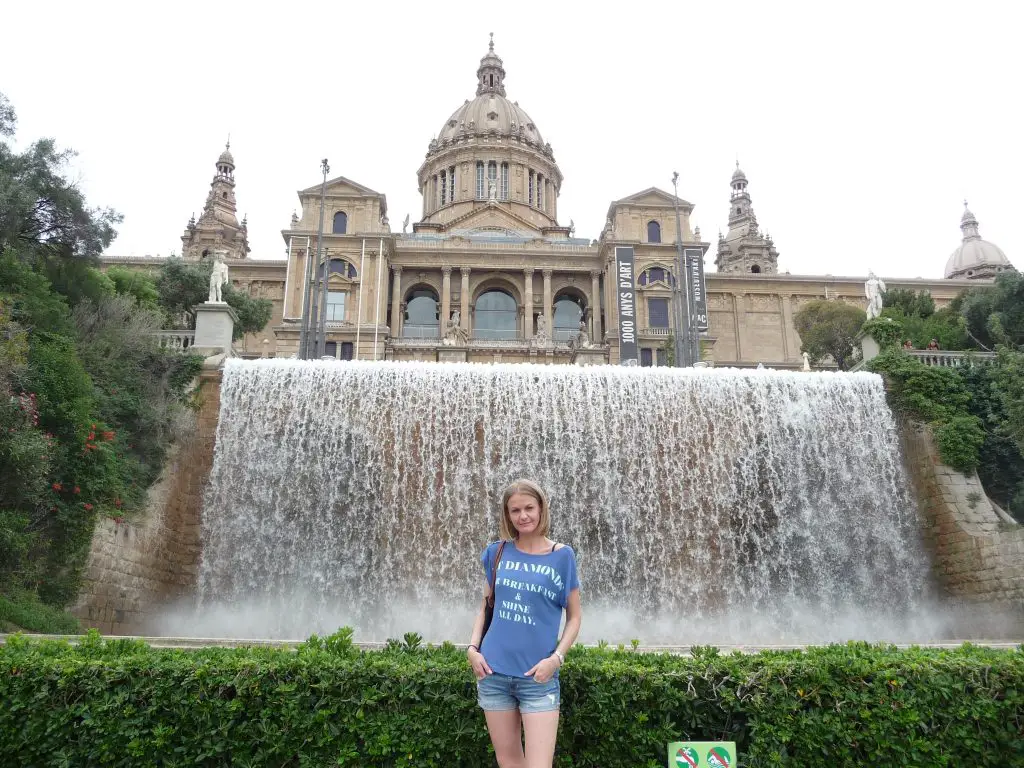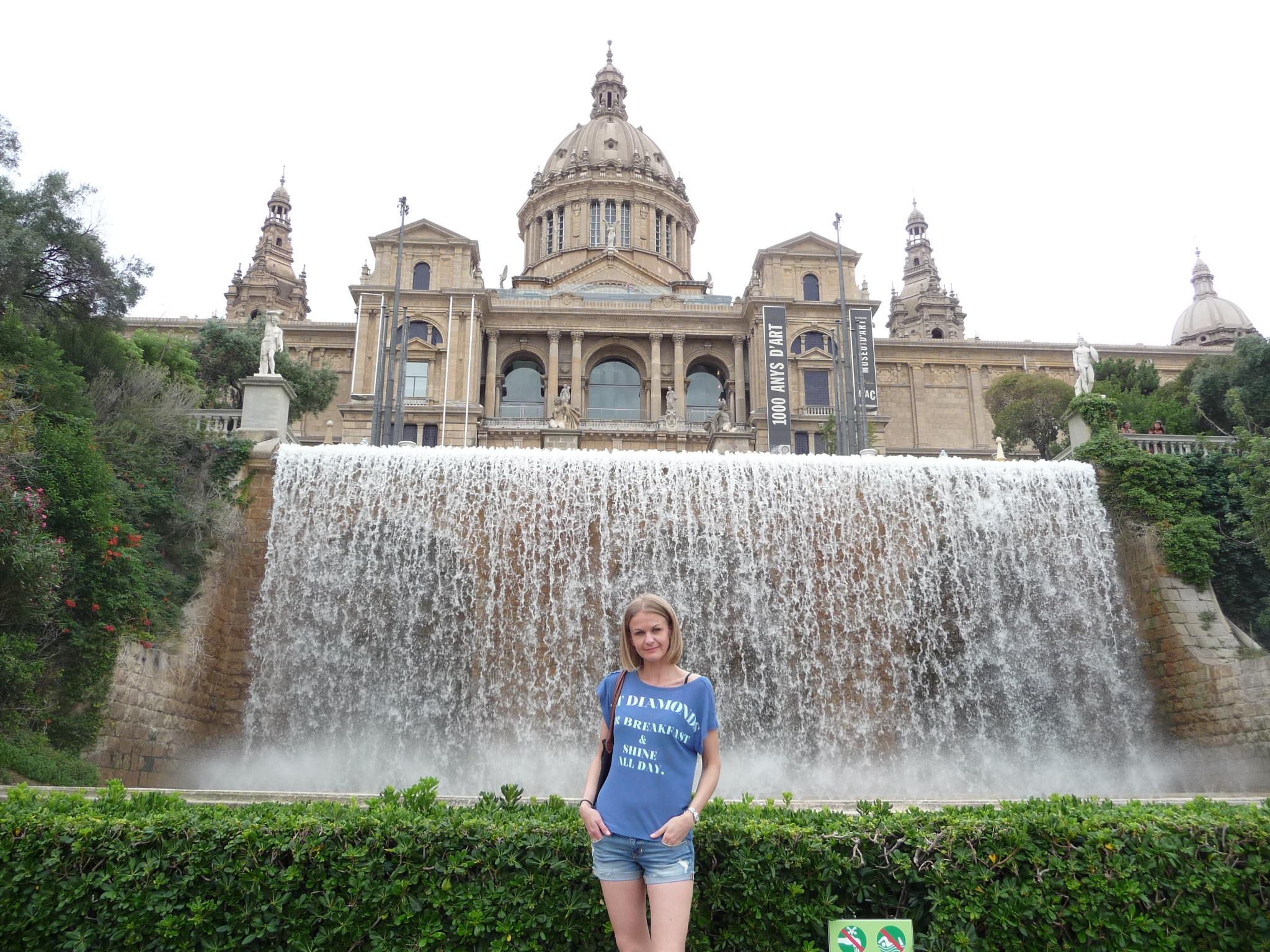 25. Passeig de Gràcia
Barcelona Spain top things to do? This is one of the most major avenues in Barcelona, as well as the most popular shopping street in the city and a key business area. This reallt is one of top Barcelona city centre attractions.
Not only does it contain some of the most celebrated architecture within Barcelona, such as the Casa Mila, but it also has an extensive history within in 1.3km stretch. Food, drink and amazing stores make this a street to remember.
26. Book Paella Cooking Experience
Things you must do in Barcelona? A big part of absorbing the culture of Barcelona is with the food. With a cooking experience, you can take home more than just souvenirs of your stay; you can take home a wealth of recipes and cooking knowledge too.
A paella cooking experience is a fantastic way to learn this classic dish, while expert chefs share the family secrets passed from generation to generation of how to make your paella as authentic and delicious as possible.
27. Tibidabo Amusement Park
What can you do in Barcelona Spain? Built in 1899 and opened in 1901, this amusement park has been operating for well over 100 years. It is among the oldest in the world that are still running, combining new and old to create an experience that you simply have to have in order to truly understand.
It's beautiful, vast and filled with rides that will leave you desperate for more. Would it be one of your favourite things to do in Barcelona? 😉
28. Columbus Monument
Free things to do in Barcelona? Standing tall at 60m, this statue is a tribute to Christopher Columbus, the famed explorer who opened up the map for Europe. It is a homage of his first voyage to America and was officially unveiled in 1888.
It can be found at the lower end of La Rambla and is certainly a site worth visiting if you want to grab a classic tourist shot.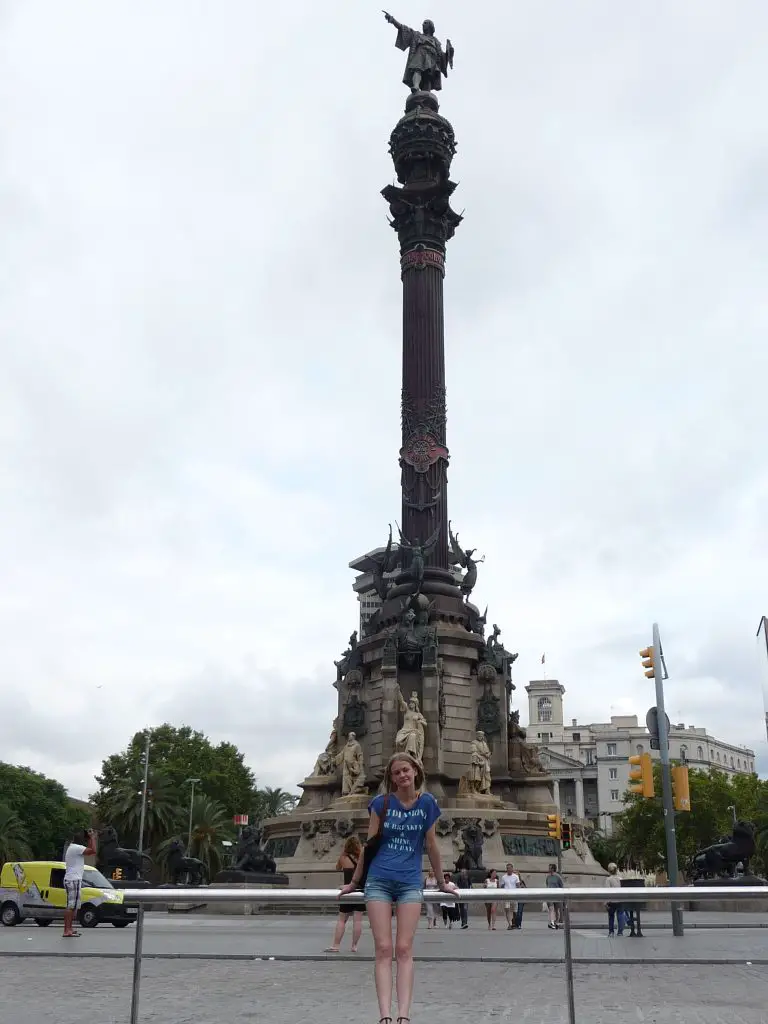 29. Aquarium Barcelona
Top 10 things to see in Barcelona with kids? The aquarium can be found in Port Vell, which is one of the harbours in Barcelona. There are over 11,000 animals and nearly 500 species within the aquarium, and it is massive in terms of size.
It makes a great day trip for people of all ages and is home to some of the most spectacular sea life that you are likely to witness. Entry is very reasonable, and there is a wonderful gift shop.
30. Arco de Triunfo de Barcelona
Barcelona what to do? The Triumphal Arch, a monument that stands out clearly within the city. You see arches like this across Europe, and each of them is glorious in their own right.
Created for the 1888 World Fair in Barcelona, it stands tall and proud as one of the most prominent landmarks within the city. A stunning piece of architecture that every visitor needs to grab a photograph of. This really is one of the top Barcelona Spain tourist spots.
31. See Flamenco Show
Romantic things to do in Barcelona? If you're looking for a fun-filled night out, there's nothing better than to see the impressive dancers at work during a jaw-dropping flamenco show. Flamenco is considered a Masterpiece of Intangible Heritage of Humanity by UNESCO, and there is no better place to see a flamenco show than in Barcelona.
The best places to see a flamenco show is in an authentic setting where the pure sound of the flamenco can really shine through. Throughout the city, there are some legendary places where the most famous flamenco artists in the world perform. Probably one of the most interesting things to do in Barcelona!
32. Plaça d'Espanya
Looking for Barcelona must see attractions? This is one of the most important squares in the city, as it was built for the 1929 International Exhibition. It acts as a roundabout, with glorious greenery and an impressive monument in the centre.
Getting up close is not an easy task, but seeing it from a distance is just as impressive. If you are touring landmarks for the area, this is one of those you should be seeing.
33. Gaudí House Museum
Things to see Barcelona? This was the residence of Gaudi for almost 20 years and is the house he spent the remainder of his life in. In 1963, it was opened up to the public as a historic home, and you are able to visit it and receive a guided tour through his life.
It still contains much of the original furniture and fixings, giving it life and personality. Considering the massive impact, he had on Barcelona it's somewhere you must visit. This really is one of the best Barcelona Spain attractions!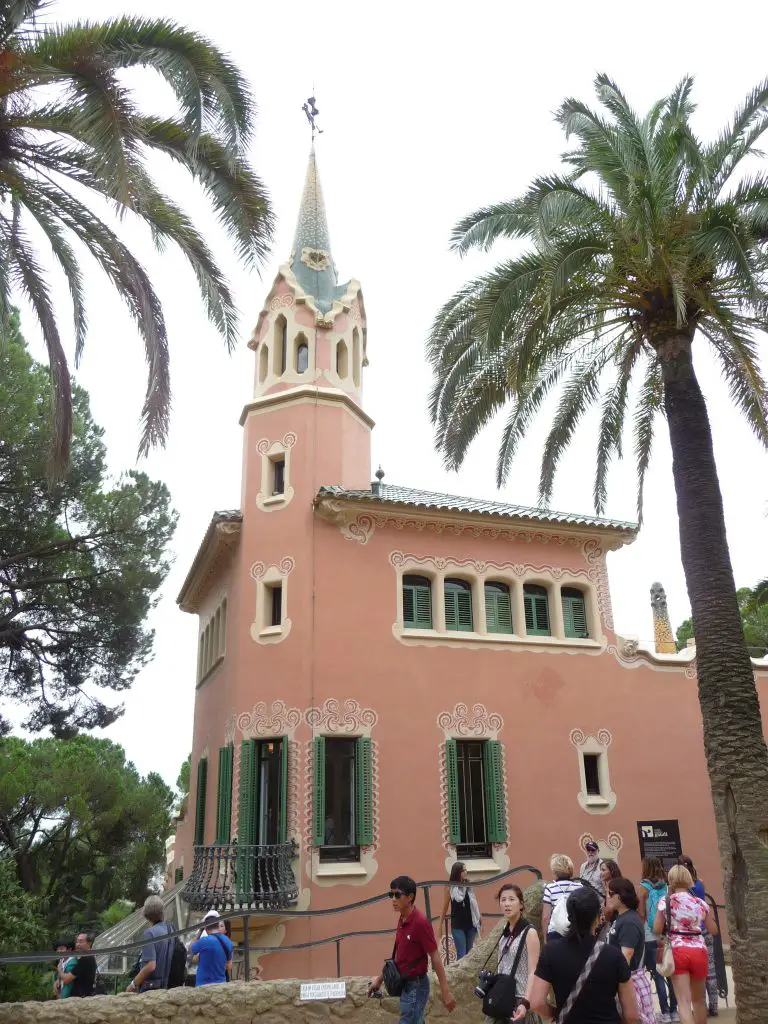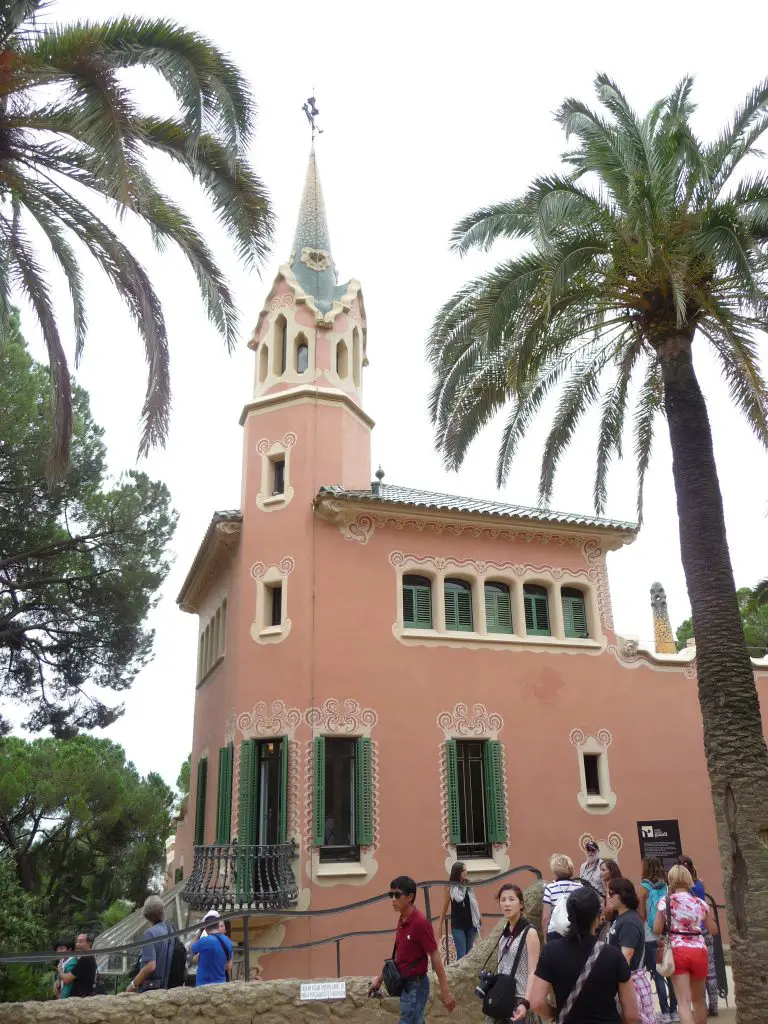 34. Laberint d'Horta Park
Best things to do Barcelona? A historic garden unlike any other, this is a landmark you will not want to miss out on. It is the oldest of its kind within the city, filled with gorgeous plants and aromas, as well as some delicate water features.
There is both a Neoclassical and a Romantic garden, merging centuries together to create truly unique and memorable designs. It makes for the perfect place to get away and really relax. Is this park on your Barcelona Spain things to do list?
35. Port of Barcelona
Must visit places in Barcelona? With a history spanning over 2,000 years, this port remains one of the most important and prominent in Europe. It has both contemporary and commercial importance, with a rich culture and hundreds of fascinating tales.
Even today, it remains incredibly active as the ninth largest container port in Europe, and it keeps the industries within Barcelona, and Spain alive.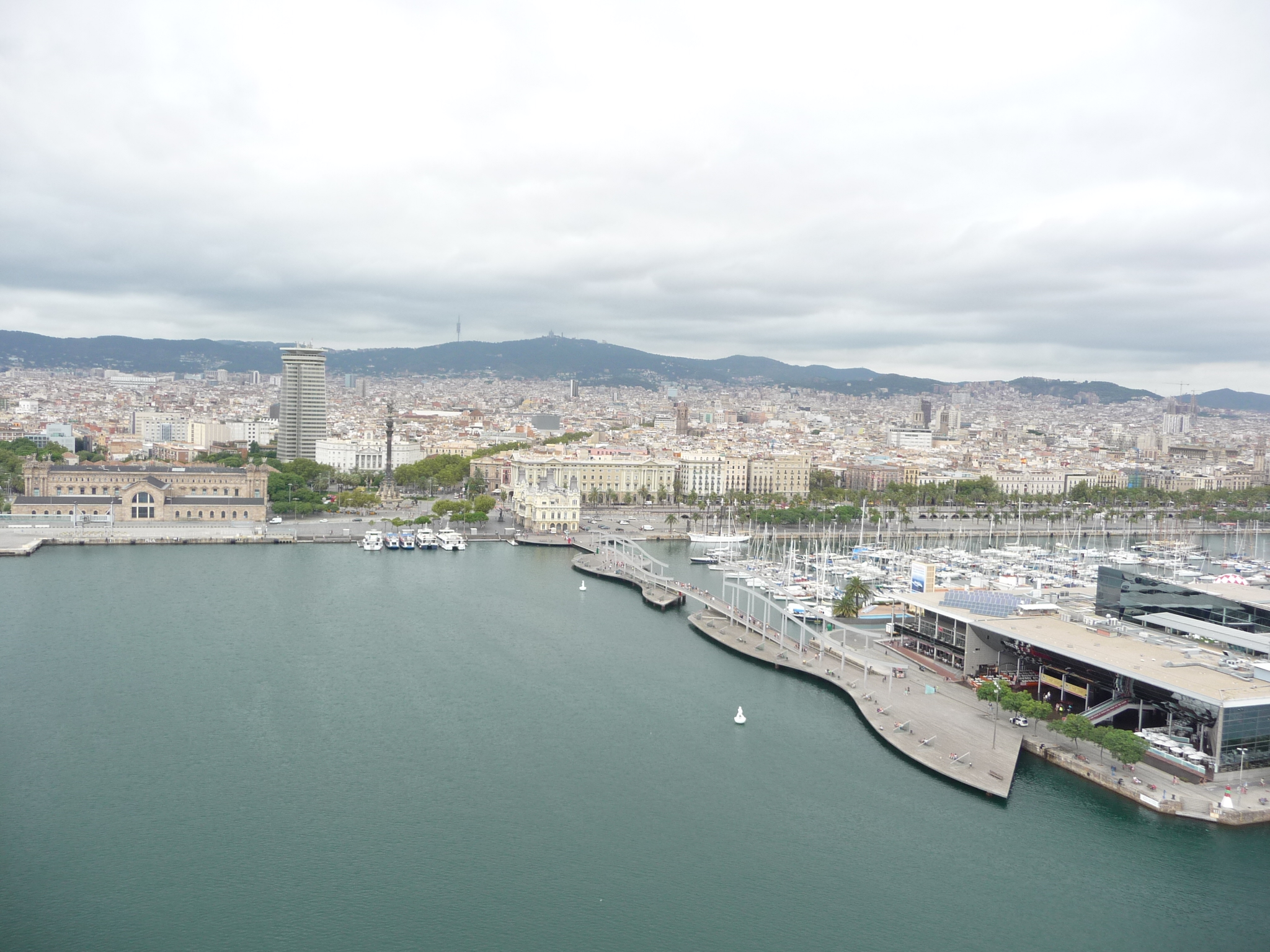 36. Agbar Tower
Top things to see in Barcelona? 38 floors make this skyscraper stand high above the city of Barcelona, and its rounded design blends in seamlessly with the interesting architecture that litters the city.
The tower actually marks the entrance to the technology district within Barcelona; demonstrating new design within an old and interesting city. It's worth a visit, and certainly a few photographs.
37. Port Olímpic
Activities in Barcelona? This marina is most famous for holding the sailing events during the 1992 Olympics, and it was officially opened in 1991. Now, it serves as the perfect place to try out new water sports and have fun.
It's open to all ages, and even if you aren't a huge fan of sailing, there is always the chance to catch some rays in the sun. It's a historical landmark worth visiting and it's probably one of the must see places in Barcelona!
38. Barcelona Zoo
Must see attractions in Barcelona? The Barcelona Zoo has always been famous for Snowflake, the only albino gorilla that was known to exist. Even though Snowflake sadly passed in 2003, the zoo has remained highly acclaimed and contains a huge variety of animals that you can view and learn more about.
It makes for a great day out, and there are some great restaurants if you want to eat there.
39. Gran Teatre del Liceu
There isn't anything quite like this opera house, and if you want to go and see a classic performance, this is the place to be. Opened in 1847, it remains one of the most gorgeous buildings for the performing arts, and the acoustics are sublime.
Comfortable seats, bright lights, and a large stage are just some of the features that make this architectural masterpiece worth the visit.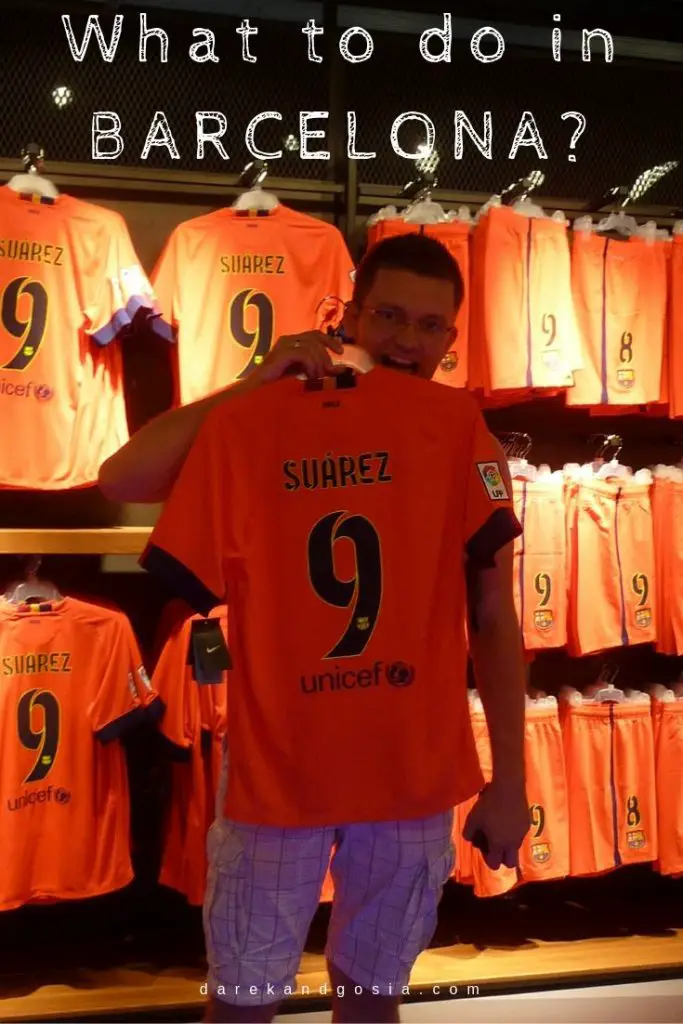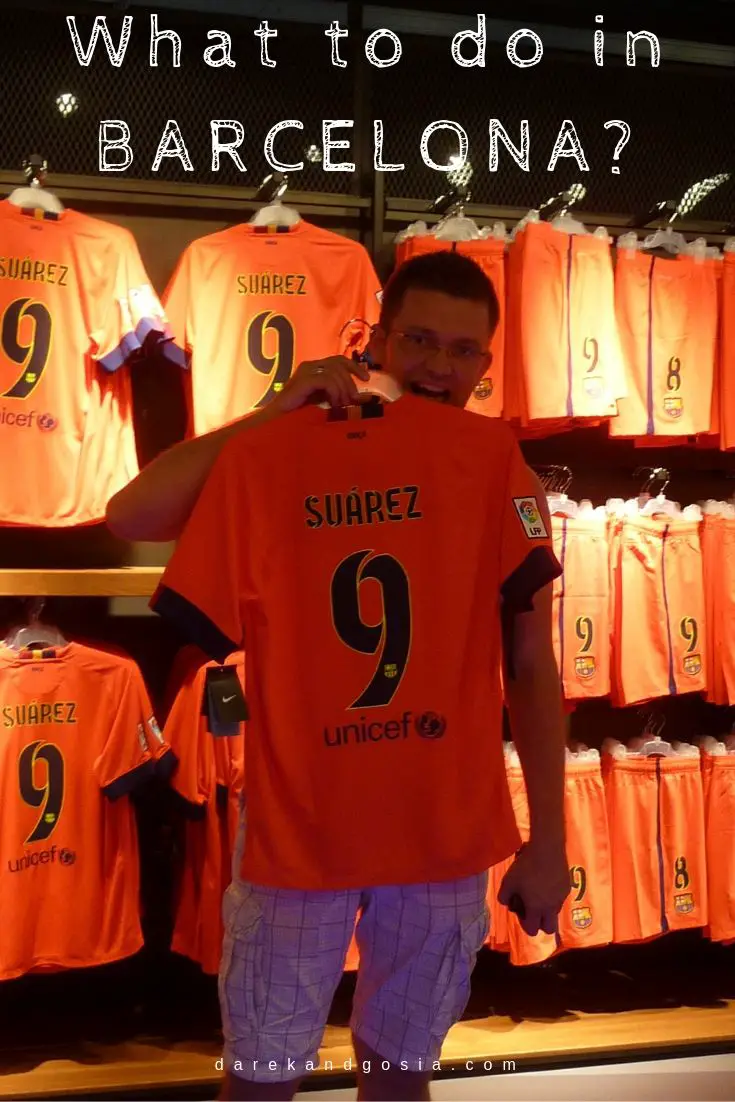 Have more time in Barcelona Spain?
You need at least 3 days in Barcelona to see of the top attractions. But if you stay a bit longer in this Spanish city, you have to try one of the interesting day-trips from Barcelona.
Attractions near Barcelona? If you like beautiful Mediterranean towns, a trip to Sitges will be perfect for you. All nature and cog rail lovers should take a day to visit the Montserrat monastery – you will love the views. Alternatively, if you just want to escape from the bustle of Barcelona, visit Girona for relaxing day out – the Arab baths and cathedral are really impressive!
There is no shortage of top places to stay in Barcelona. Please see below some of the TOP hotels we have selected for you:
If money is an issue and you are looking for budget accommodation, there are many cheap hostels in Barcelona too!
Love Spain?
Read our other articles related to this stunning country:
Unusual Things to do in Tenerife
11 Best things to do in Malaga
FACTS ABOUT BARCELONA:
Where should I stay in Barcelona?
Much like many cities in Europe, Barcelona has plenty of places to stay the night. However, if you are new to Barcelona, then you are going to want to know the best places to stay, right? Luckily, there are many great places to stay in Barcelona.
It really does depend on your budget as well as the type of accommodation that you like, however El Born, the Gothic Quarter, and Sant Antoni are just some of the main choices.
What is an interesting fact about Barcelona?
Barcelona is a fascinating city and it has plenty to offer those who visit. One thing that you might not realise is that the beaches of Barcelona haven't always been there. In fact, up until 1992, the city was a no go for beach lovers.
It was decided around the time that the city was going to hold the Olympics, a beach needed to be built, which is when it became a go-to seaside resort.
Is it safe to walk around Barcelona at night?
If you are staying in a city then you are likely to want to feel safe whilst you are there. The good news about Barcelona is that it is a relatively safe space and one with low crime and risk of violence.
That said, if you do walk around alone in the very early hours, then you might want to be careful.
What dialect is spoken in Barcelona?
Barcelona is officially a Catalonian spot, which means that both Catalan and Catalan Spanish are the official languages of the area. Whilst English may be spoken, you should also know that it can be hard to always find someone who speaks it fluently.
Is it rude to speak Spanish in Barcelona?
It is a common misconception that in Barcelona all the locals are going to speak Spanish and Spanish alone. Whilst it can be hard to tell the difference, the language that is actually spoken in Barcelona is not Spanish at all.
It is, in fact, Catalan and Catalan Spanish that is spoken and if you do speak Spanish then you may be thought of as being rude.
Can you drink in public in Barcelona?
Whilst you may see people who are selling alcohol in the street in Barcelona, it is important that you understand the legality of this. It is actually against the law to drink in public on the street in Barcelona and if you are caught then you can be arrested.
Barcelona Spain FAQ:
What is Barcelona famous for food?
As a cultural hotspot, it comes as no surprise that there are a variety of cuisines available throughout Barcelona. However, if you want to try some traditional and local dishes then you are likely to want to take a look at the many seafood options. Particularly the Catalan seafood stew which is flavoursome and packed full of hearty ingredients too.
What should I avoid in Barcelona?
In the most part, there isn't much that you need to avoid in Barcelona. However, there are some things that you might want to keep in mind. You should never drink beer out of a huge glass, you should never call Catalan just a dialect and you should never stamp your feet if you don't see paella in every restaurant.
Articles you may like: