Located in Oxfordshire, Abingdon-on-Thames is one of the most beautiful towns in this part of England. From stunning walks alongside the river & beautiful historical buildings – there are so many great things to do in Abingdon-on-Thames!
The South of England is well-known for its market towns in unique locations, and Abingdon-on-Thames is a perfect example of what Oxfordshire has to offer.
If you are looking for a perfect day trip from London then head out to Abingdon-on-Thames!
So, what to do in Abingdon, Oxfordshire? Read our post to find out the main attractions you should see when to visit Abingdon-on-Thames!
Where is Abingdon-on-Thames?
Part of Oxfordshire in the South East of England, Abingdon-on-Thames (commonly shortened to "Abingdon") is located to the south of Oxford, just off of the A34.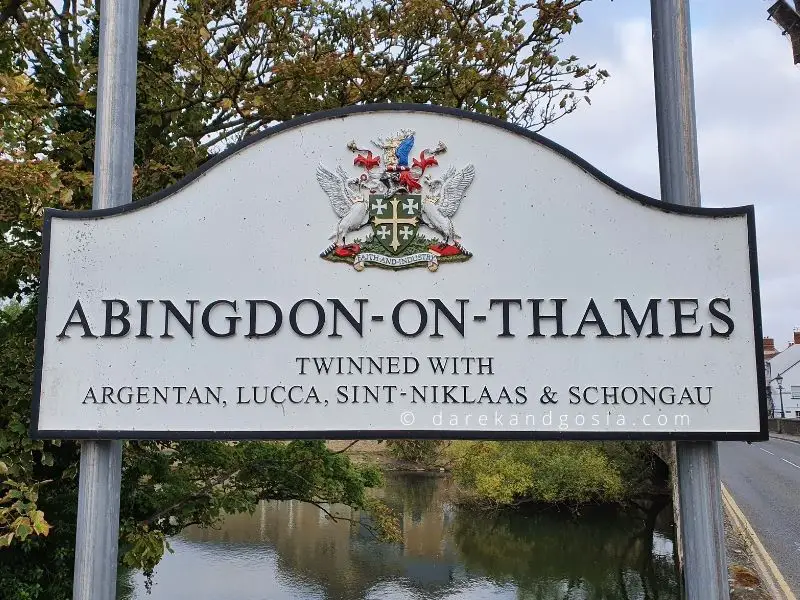 What is Abingdon famous for?
Now, we want you to know that we're being completely serious here. Abingdon is most famously known for two things: Bun-Throwing and the election of their Mock Mayor of Ock Street.
The Bun-Throwing ceremony is a 400-odd year-old tradition which takes place every time there is a special event to celebrate. For example, the most recent Bun-Throwing ceremony was in 2018 and took place to commemorate the year that World War I ended.
Other Bun-Throwing celebrations have included the coronation of several Royal Family members, a few jubilees, the year of the Millennium, and Her Majesty's 90th Birthday.
Buns are baked specially for this ceremony, where around 4000 currant buns are thrown at the gathered crowd by the town's Councillors (in their full ceremonial robes, no less!).
As for the Mock Mayor election, well, that's been going on for a number of years. The election takes place on whichever Saturday is closest to the midsummer solstice, which has suggested to many that the election has some very old roots, indeed.
Though the elected Mock Mayor has no real power, the celebration bursts through the streets of Abingdon with music, Morris dancers, and more.
Is Abingdon the oldest town in England?
Although Abingdon-on-Thames claims to be the oldest town in England, thanks to having proof of the town developing on its site for thousands of years, the oldest confirmed town is actually somewhere else.
In 2014, Amesbury in Wiltshire was confirmed as the oldest settlement in the UK. If you're struggling to put a place to the name, Amesbury is where you'd go to visit the illustrious and mystical Stonehenge. Experts have found that this area has been occupied since 8820BCE.
How to get to Abingdon-on-Thames?
Let's start with getting to Abingdon from Oxford. Going via the A34, it's just 13 minutes from Oxford to Abingdon by car. However, if you aren't travelling by car, you'll need to hop on a bus at Westgate and ride for between 41 and 45 minutes.
From London, your journey will become a little longer. It's around 1 hour and 22 minutes when travelling by car via the M40. For public transport, you'll want to take a train from Paddington Station to Didcot Parkway, and then a bus from Parkway Station to Abingdon. This should take no more than 1 hour and 45 minutes.
When travelling from other places in the UK, it's always easier to get to a major train station city like London and go from there. You might find travelling via London a bit cheaper, too.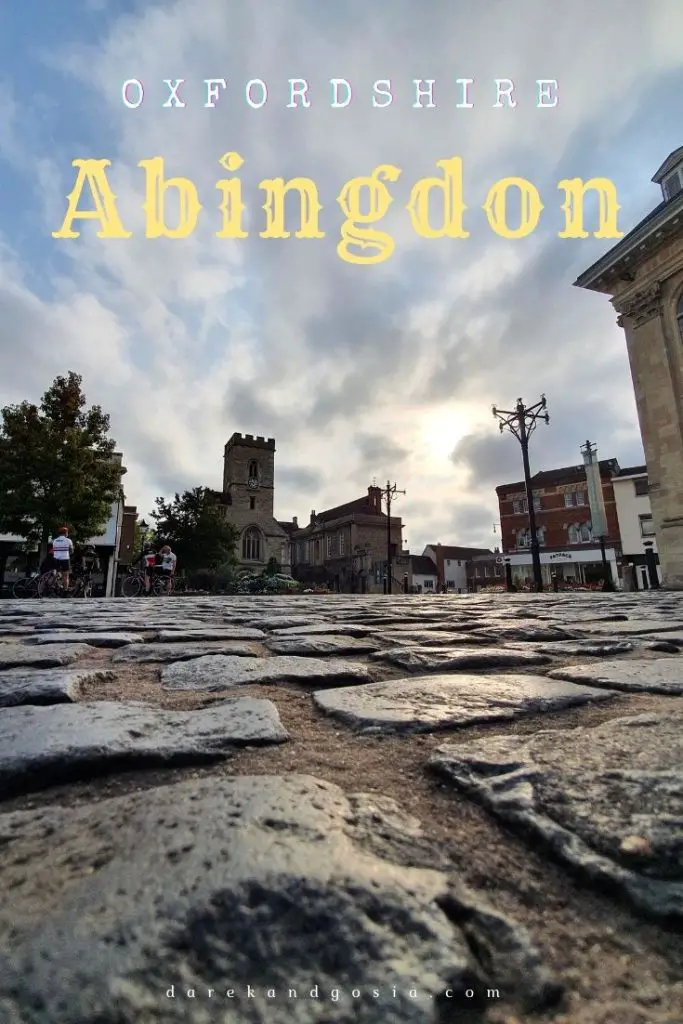 Things to do in Abingdon-on-Thames
From pubs to theatres, historical walks to shopping-filled afternoons, there's more to do in Abingdon than meets the eye.
1. The Nag's Head
Looking for places to visit in Abingdon-on-Thames? The Nag's Head is a charming establishment that can be found on The Bridge in Abingdon. The business describes themselves as a "little piece of paradise" and we couldn't agree more. The Nag's Head runs as a restaurant and a pub, and guests can also benefit from their riverside garden.
Why not try The Nag's Head's Grazing Board for a great brunch with your family or friends? The board comes with olives, houmous, and flatbread, but has a huge range of other options that you can add on for a small cost.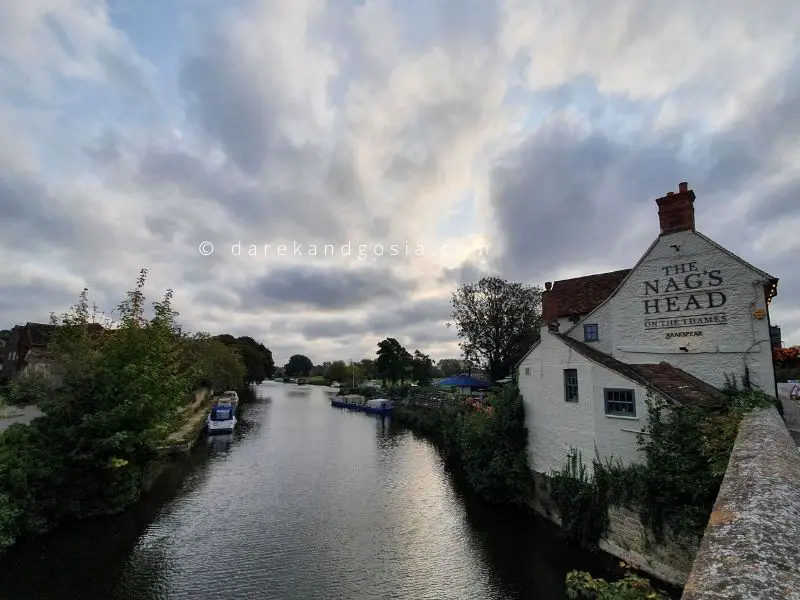 2. Almshouses in Abingdon-on-Thames
What to see in Abingdon-on-Thames? In older times, almshouses were used by various religious orders to feed and shelter the poor. This is a practice that can be dated all the way back to the medieval period. Today's existing almshouses are usually run by various independent charities, providing a safe and secure place for low-income individuals to stay when they have nowhere else to go. They aren't quite homeless shelters, per se, more low-cost housing solutions.
I. Brick Alley
The almshouse that faces St. Helen's churchyard is that which is called the Brick Alley Almshouses. This almshouse has history that dates back to the early 15th century, when Geoffrey Barbour left money for an almshouse to be built in the area.
The current almshouse that stands at Brick Alley is not the original one. It was rebuilt and completed back in 1720. Today, it is a Grade I listed building.
II. Long Alley
Like Brick Alley, Long Alley Almshouse was used as a hospital. It was constructed just a couple of decades after Brick Alley, once a new charter gave the townsfolk of Abingdon the right to set an almshouse up for the sick.
The central hall is open for viewings on Heritage Days.
III. Twitty's
Twitty's Almshouses have a different story to the other two famous almshouses in Abingdon. When Charles Twitty, a senior official who worked in the Exchequer, passed away, he left funds to build the Twitty's almshouses.
Unlike Brick Alley and Long Alley, Twitty's is a Grade II listed building. It isn't as old as the other almshouses, but it still holds significant history in Abingdon.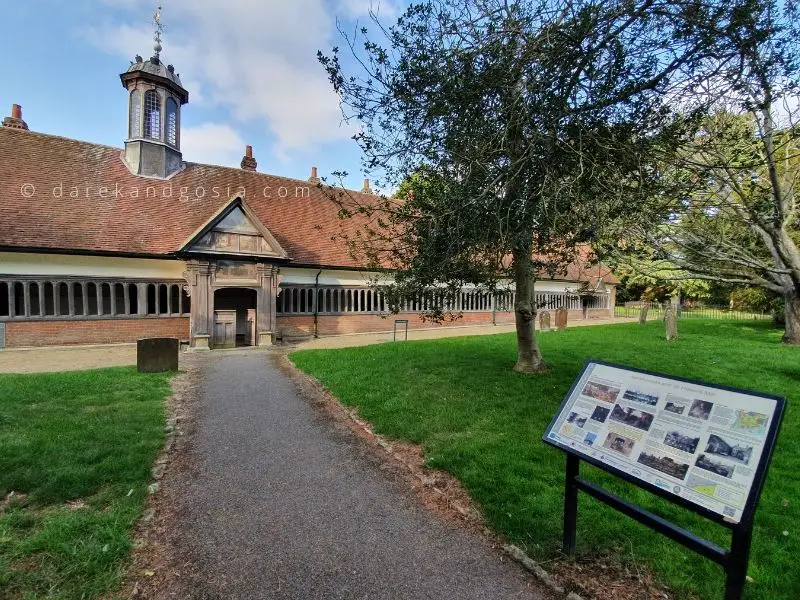 3. East St Helen Street
Top Abingdon-on-Thames sightseeing? Noted as one of the earliest streets in Abingdon, East St Helen Street is full of houses with medieval cellars, with many properties dating back to the 13th to 15th centuries. The beautiful thing about this street is that it's a timeline of history. Many of the houses have been dated back to different decades in different centuries, with several holding various pieces from years gone by.
It's a walk through time.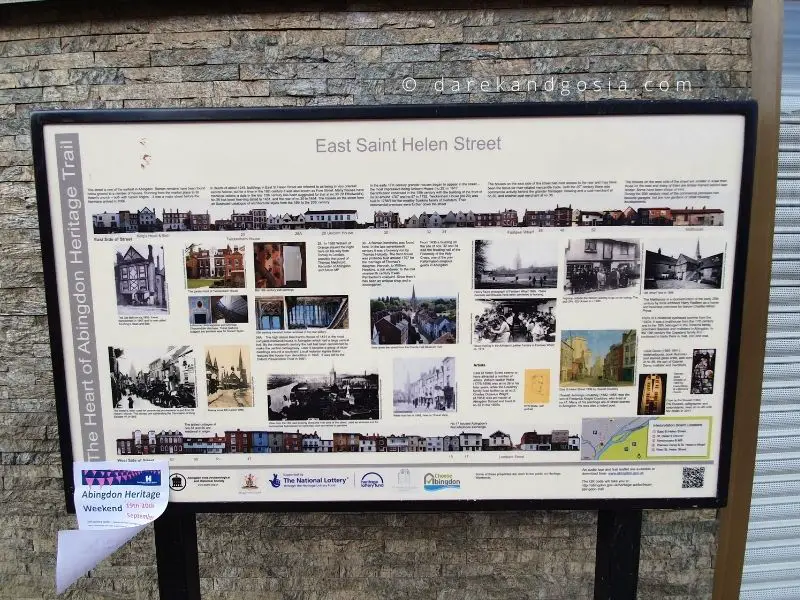 4. Abbey Gatehouse
Best Abingdon-on-Thames places to visit? Spanning across the road which was used as the entrance to the old Abbey, Abbey Gatehouse was built back in the 15th century. The gatehouse has been in constant use for a huge number of years and remains a strong piece of architecture in Abingdon.
5. Abingdon Abbey
Whats on Abingdon Oxfordshire? Once a monastery that was known as St Mary's Abbey, Abingdon Abbey was founded in the late 7th century – or that's the best guess that historians have. During the time of Henry VIII, the Abbey had the sixth largest income of the country and was one of the greatest landowners in Berkshire.
Today, only two groups of the Abbey's buildings remain. One, which contains the Gateway, St Nicholas' Church, and some of the Guildhall. And the other, which has the Long Gallery, the Checker, and the Unicorn Theatre (as it's now known).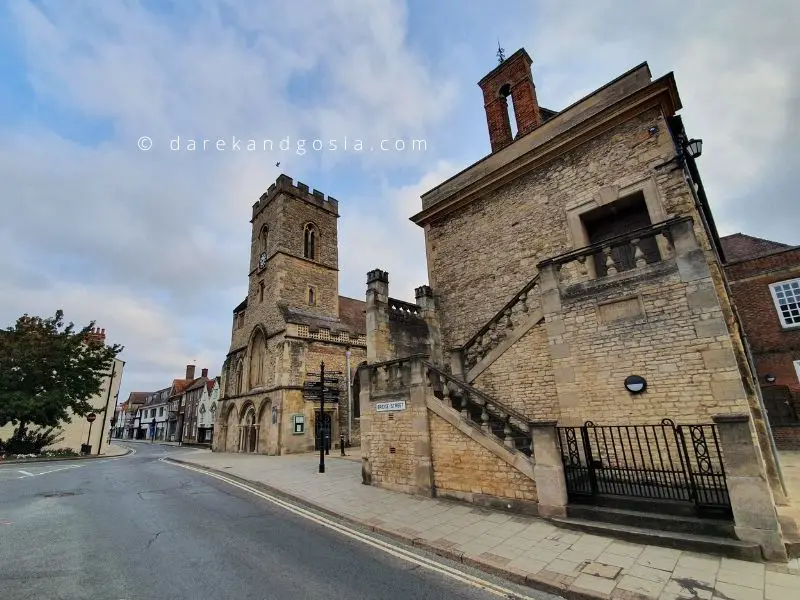 6. Abingdon main square
Top things to do in Abingdon Oxfordshire? The main square of Abingdon, also known as Market Square and Market Place, can be easily located in the centre of the town, right where all of the action is. At Market Place, you'll be able to find a range of cafés, various markets, and more.
Abingdon's main square is right next to the high street, too, which makes it the perfect location for a shopping trip.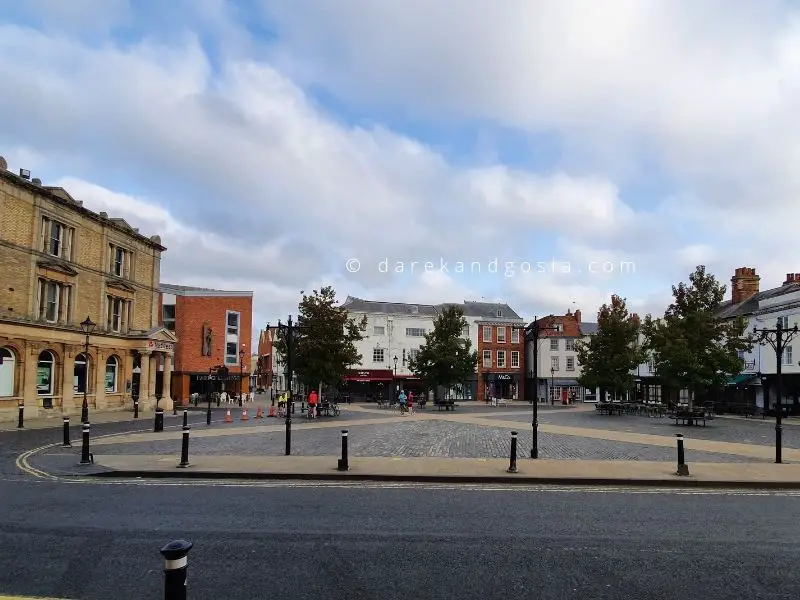 7. Abbey Meadow
What is there to do in Abingdon-on-Thames? Abbey Meadow links directly onto Abbey Gardens, the whole area is extremely charming. Along with the various flower displays scattered across the gardens, Victoria's statue, the ruins, and the nearby church, this area is a bit of a tourist hotspot.
For a relaxing afternoon, take a moment to venture down one of the paths or the 2.5-mile circular walk.
8. Abingdon County Hall Museum
Where to go in Abingdon-on-Thames Oxfordshire? An establishment that has long recorded the history of Abingdon for the public to view. Abingdon Country Hall Museum is known for making the town's historical information as accessible as possible, in the hopes that they can educate and excite their visitors.
You can enjoy a virtual tour of the museum online, as well, which could be helpful in planning your visit and figuring out what parts of the museum you want to see.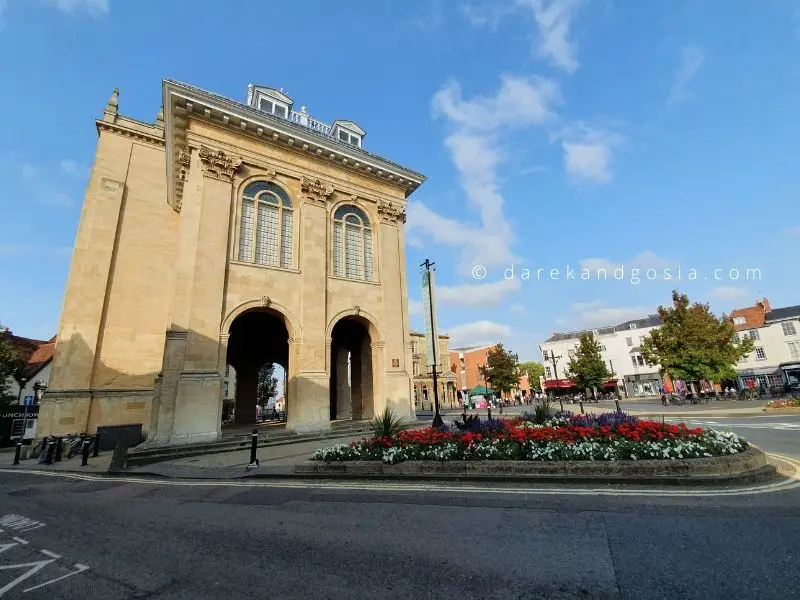 9. St Helen's Church
Where to go in Abingdon Oxfordshire? St Helen's Church has been Abingdon's principal church since its construction. There has never been a time when this architectural wonder hasn't been at the forefront of all churches in the town. St Helen's was likely founded around the 7th or 8th century, although the first mention of it in written record doesn't appear until the 10th century.
Over the many, many years that this church has stood in Abingdon, it has undergone rebuilding, extensions, and renovation. The last major extension has in the 16th century, which included the area of the outer south side of the church.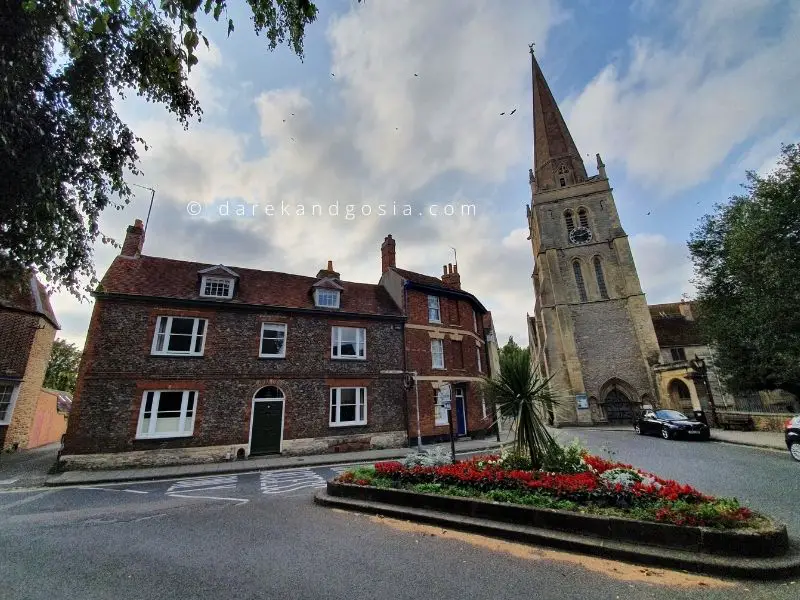 10. St Helen's Wharf
Best Abingdon-on-Thames day out? Directly next to St Helen's Church, St Helen's Wharf overlooks the Thames and is a great area to watch boats, feed ducks, or just sit down for a relaxing afternoon. There's a lot of trading history at the Wharf, and there's also the Gardens, which are right by the Wharf and are gorgeous in the warmer months.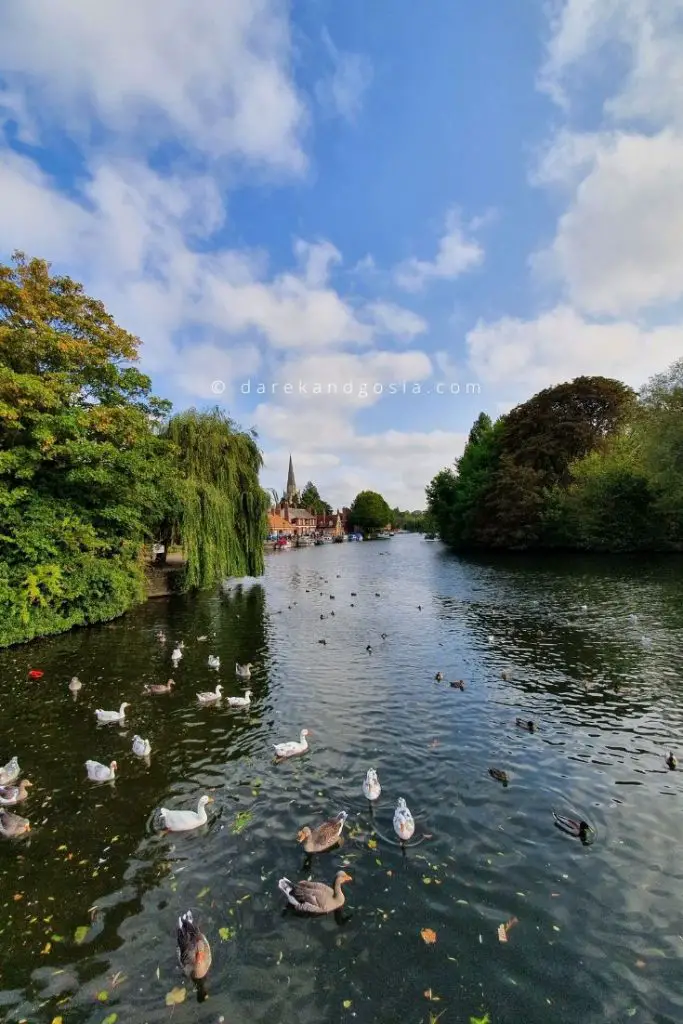 11. Abingdon flood level sign 15 Nov 1894
Must see places in Abingdon-on-Thames town? There's a fair bit of history in this little tourist spot in Abingdon. Right by the River Thames, you'll be able to spot at old flood level sign that was placed on the 15th of November 1894 – or that's what the sign tells us, anyway.
These signs were vital during times of flooding, giving the townspeople and authorities more of a warning about the state of potential floods in the area.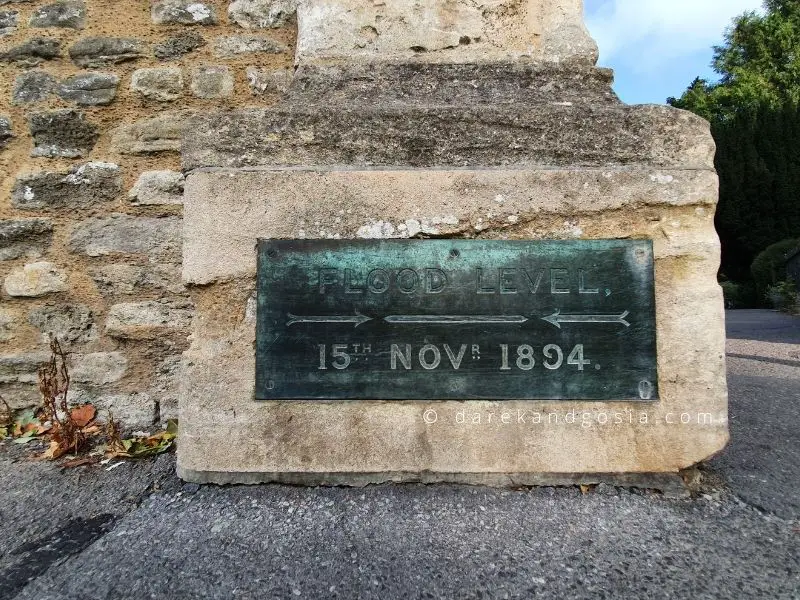 12. Cycling in Abingdon
What to do in Abingdon-on-Thames? Cycling enthusiasts will find plenty of trails to ride down in Abingdon. Which one you decide to try depends on how far you want to go and how long you're planning on cycling for.
One of the longer cycling routes is the Wallingford – Abingdon loop, which is over 30 miles and takes almost three hours to complete. Although it's lengthy and takes some time, the route is mostly paved areas and suitable for all cyclists.
For a shorter route that stays in Abingdon, try the Abingdon Bridge loop. It's just 6.37 miles and take a little over half an hour.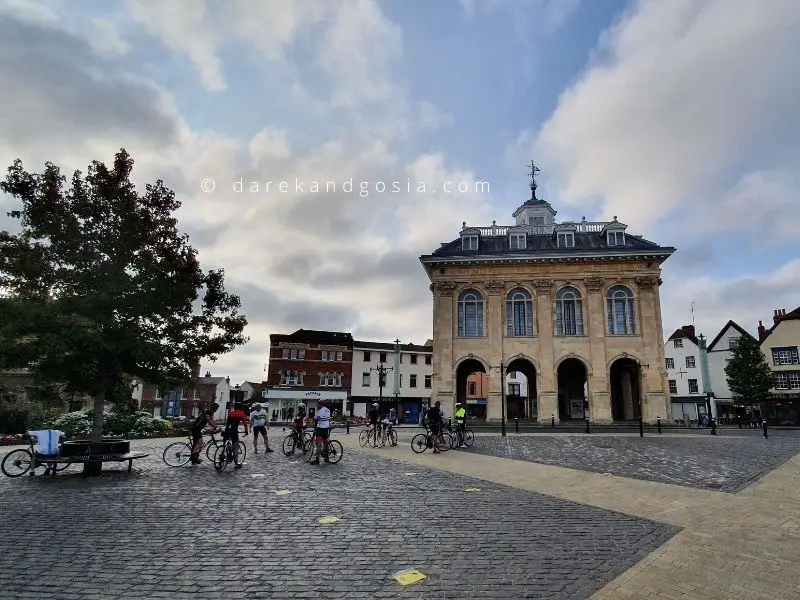 13. The Old Anchor Inn
Best places to see in Abingdon-on-Thames? Dating back to the 19th century, The Old Anchor Inn can be found on St Helen's Wharf in Abingdon. It's a cosy, riverside pub that serves lunch and dinner, and it has a kid's menu! Their main dishes include some great pub dishes, such as steak and chips, beer battered fish and chips, burgers, and more.
14. Unicorn Theatre
What's in Abingdon-on-Thames? With tickets to showings costing as little as £8, the Unicorn Theatre has been a family theatre for around 70 years. You can find it on Checker Walk, just a short walk from St Helen's Wharf and the Thames.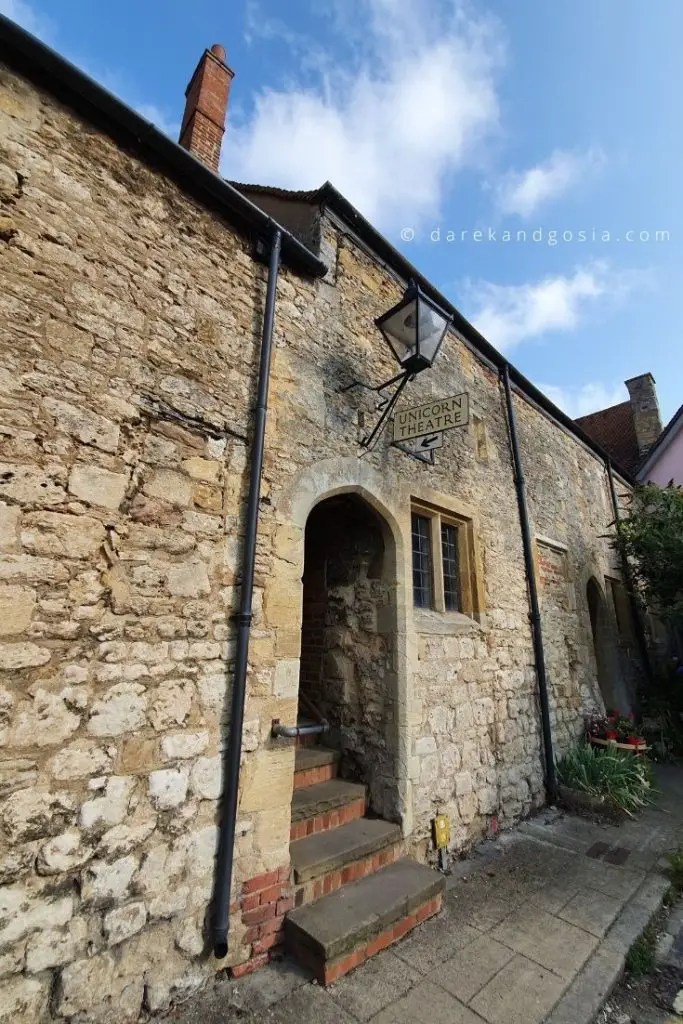 15. Thames Path
Nice places to visit in Oxfordshire? The Thames Path is a walking route in Abingdon that starts in the town and runs all the way to the village of Sandford-on-Thames. There are several miles of countryside on this route, and you'll also cross near the railway bridge – you might get lucky and be in the area the same time a train is passing through!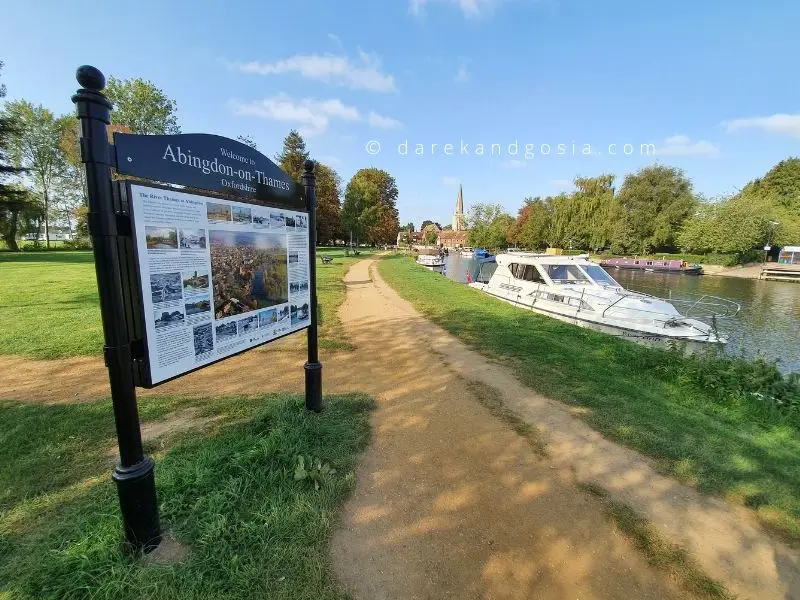 16. Abingdon Bridge
Crossing the River Thames, Abingdon Bridge allows traffic to go from Abingdon to Dorchester with ease. The bridge, itself, is listed as Grade II, and is actually two bridges that are linked together by Nag's Head Island.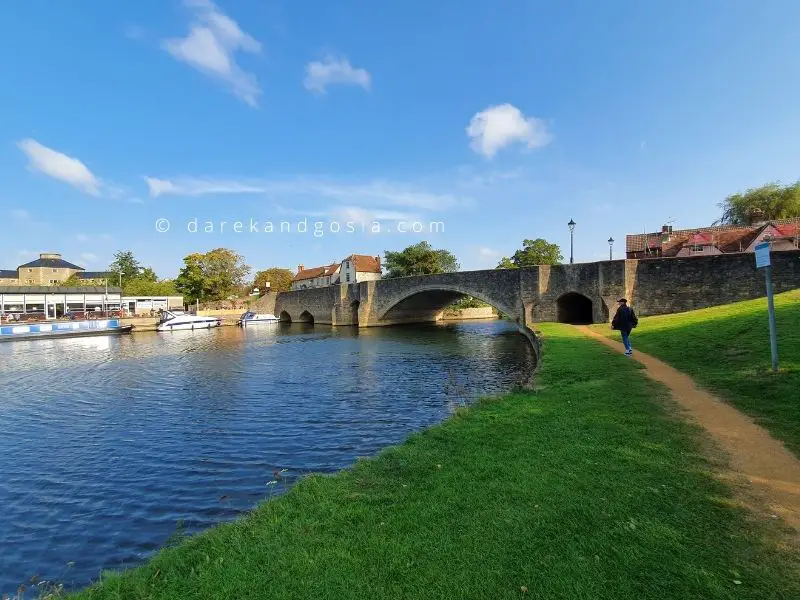 17. St Nicolas' Church
Another of Abingdon's wonderous churches, St Nicolas' Church can be found in Abingdon's Market Place. St Nicolas' Church became a parish church back in the late 14th century, though it was built around the late 12th century. 
18. Boat trips on the Thames
This is the perfect activity for anyone visiting Abingdon that wants to get out on the river. There's a company called Salter's Steamers that offer a river cruise from Oxford to Abingdon, starting at Oxford's Folly Bridge, and ending at Abingdon Bridge.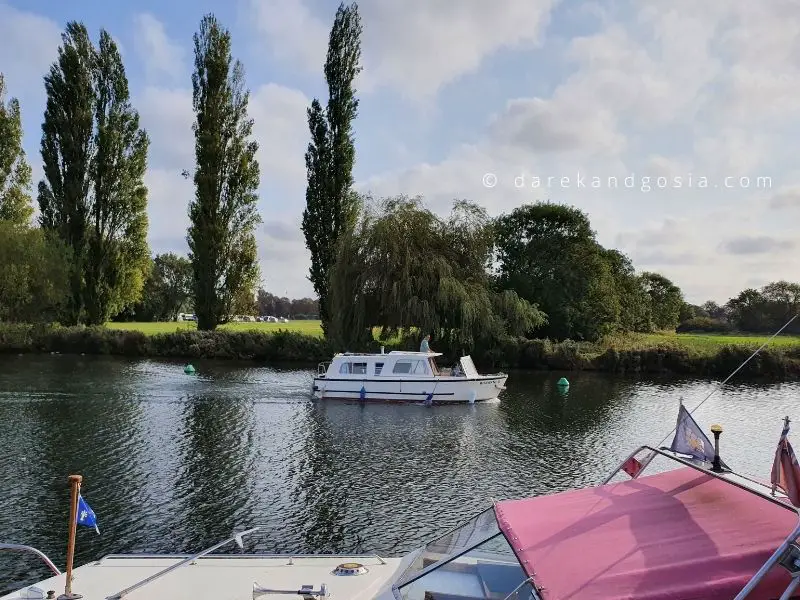 Places to visit near Abingdon-on-Thames:
Is it worth visiting Abingdon-on-Thames?
For those who are considering a quite day out near the countryside, who enjoy the history of old towns, religious architecture, and cycling or walking routes, Abingdon is a great place to visit.
It's not a town that you would need to stay in for more than a day or two if you want to see everything, and it'd be a good idea to visit during the Abingdon Heritage Festival to get a little more excitement out of your trip.
You could also very easily combine your journey with Oxford by using the river cruise option and explore two towns at once!
If you liked our article about Abingdon, then please check out the below posts too: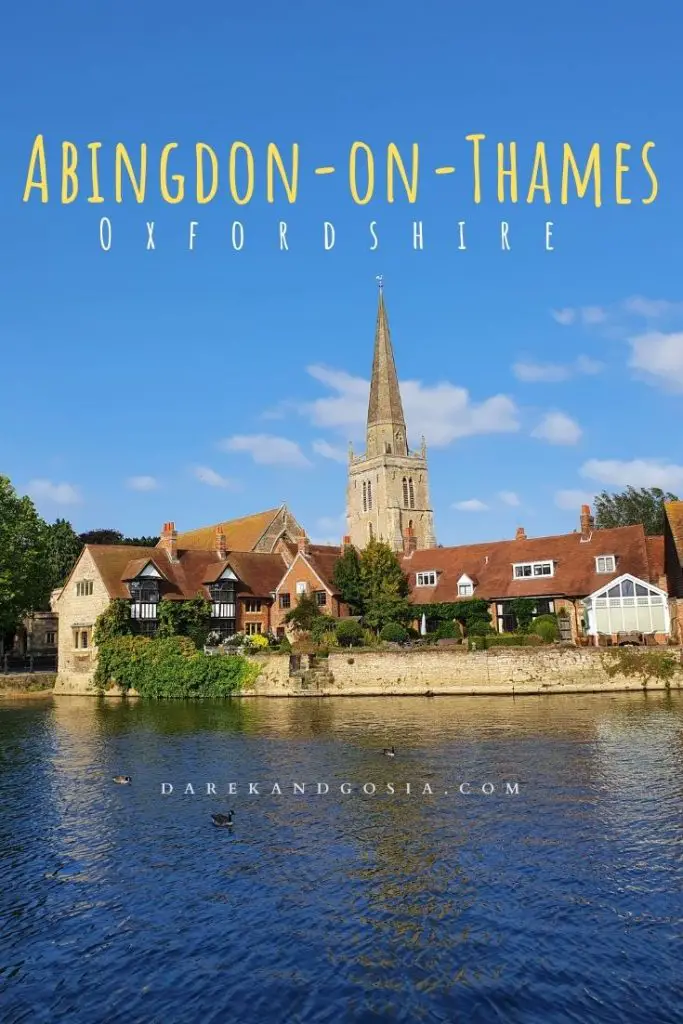 Articles you may like: