Find bluebells at Ashridge Estate and learn about the best things to do in Ashridge Estate in Hertfordshire. From top walks to horse riding there is so much to do and see around Ashridge Estate Herts!
The Ashridge Estate is a stunning slice of the Chiltern Hills. There are 5,000 acres of land. It's a mix of woodlands, commons, and chalk downs. With such a variety of landscapes sandwiched together, the estate supports a diverse mix of wildlife. 
Where is Ashridge Estate?
Ashridge Estate is located in Hertfordshire, England, about 30 miles northwest of London. The estate covers over 5,000 acres of woodlands, commons, and chalk downs and is managed by the National Trust. It is situated in the Chiltern Hills, a designated Area of Outstanding Natural Beauty, and is a popular destination for outdoor activities such as walking, cycling, and horse riding. The estate also contains a number of historic buildings and monuments, including the Bridgewater Monument, which is a 120-foot-high tower that offers panoramic views of the surrounding countryside.
Ashridge Estate postcode
The postcode for Ashridge Estate in Hertfordshire, England is HP4 1LX.
National Trust Ashridge Estate history
The Ashridge Estate is such a large site that it's not surprising to learn that it's overflowing with history. As you explore the grounds, you can find ancient monuments, like the hill fort at Ivinghoe Beacon. Bonfires are still held at the location to mark special occasions.
Ashridge, as a whole, was originally a monastery. It was founded in 1283 to house a holy relic. It was during this time that the deer park was first established. In fact, the deer that roam the estate today are descended from these 13th-century deer.
The estate and the house have changed hands many times over the years. With each new owner leaving their own mark on the place. From Henry VIII and the royal family, it passed to Thomas Egerton, and then to Capability Brown. Capability Brown is a well down landscape architect, and he did extensive work on the parklands surrounding the house.
During wartime, the estate was used to train and billet troops, then in the Second World War it was converted into a convalescent home serving St Albans Hospital.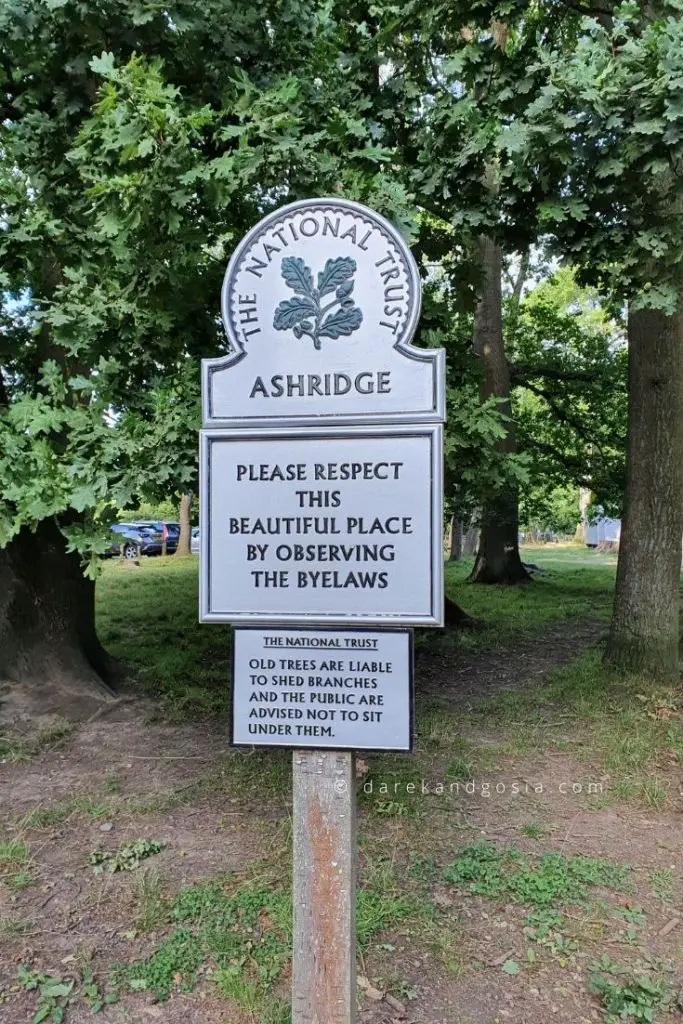 London to Ashridge Estate
Driving from London to the Ashridge Estate takes around 2 hours, depending on where you start from. You'll want to take the A41 off the M25. Once you get to Berkhamsted, you just follow the signs.
It is actually quicker to travel by train. If you take the West Midlands Train from Euston to Tring, it takes around 40 minutes. From the train station, you can hop on a bus to the estate or ride in a taxi. Either way, it only takes 5 minutes. You will then have a ½ mile walk uphill to get to Ashridge. It is a beautiful walk, though, so well worth the trouble.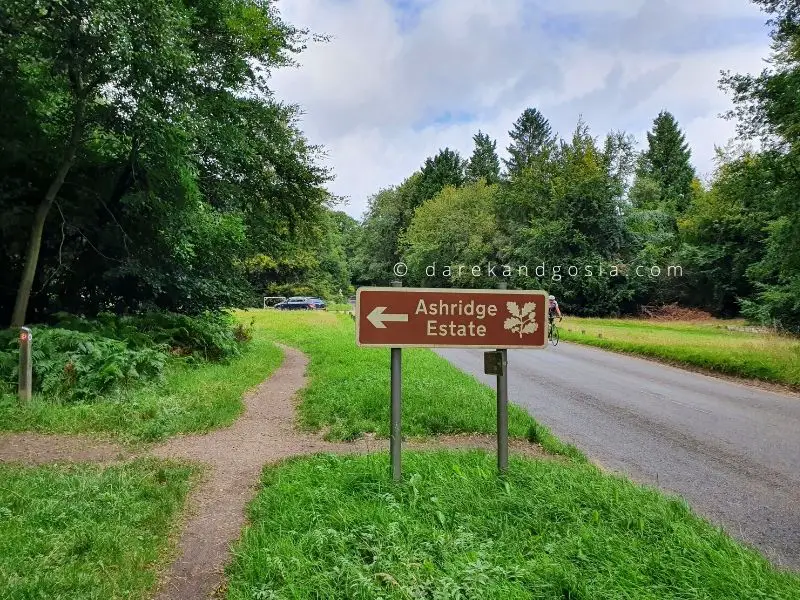 Ashridge Estate opening times
The estate is open to the public from dawn until dusk. The shop and visitor centre open at 10:00 and close at 16:00 every day of the week. The Brownlow Cafe isn't open on Mondays. The rest of the week you can get refreshments from 9:00 until 16:00.
The Bridgewater Monument is only open to visitors between April and October.
Ashridge NT car park
Ashridge Estate is a popular destination. Because a lot of the land is protected, it does mean that the car parking is a little limited. Work in underway to improve the situation, and depending on when you visit, you may find a different situation. At present, there is space for around 200 cars in the main car park, including 12 disabled spaces.
There is overflow parking on the meadow. There are plans to add more parking in the most sustainable way that minimises the impact on the environment. For this reason, you may be asked to make a small donation for parking on the site.
What is Ashridge Estate famous for?
Ashridge Estate is famous for its beautiful natural scenery, diverse wildlife, and rich cultural history. The estate is home to a wide variety of habitats, including ancient woodlands, wildflower meadows, and chalk grasslands, which support a range of rare and endangered species such as butterflies, birds, and wildflowers.
The estate is also known for its historic buildings and monuments, including Ashridge House, a 19th-century mansion that now serves as a business school, and the Bridgewater Monument, a 120-foot-high tower that commemorates the third Duke of Bridgewater, a pioneer of canal building in England. In addition to its natural and cultural attractions, Ashridge Estate is a popular destination for outdoor activities such as walking, cycling, and horse riding.
Explore the best things to do near Ashridge Estate – top ideas for activities at Ashridge Estate:
Things to see in & around Ashridge Estate
1. Bridgewater Monument
You can't miss the Bridgewater Monument when you visit Ashridge. This granite column towers above the visitor centre and the surrounding treetops. It was built in 1832 to commemorate the Duke of Bridgewater, also known as the Canal Duke. The base of the monument explains how it is dedicated to the father of inland navigation.
You can climb the 172 steps to the top for some fantastic views over the estate. It's definitely worth it if your legs are up to the challenge.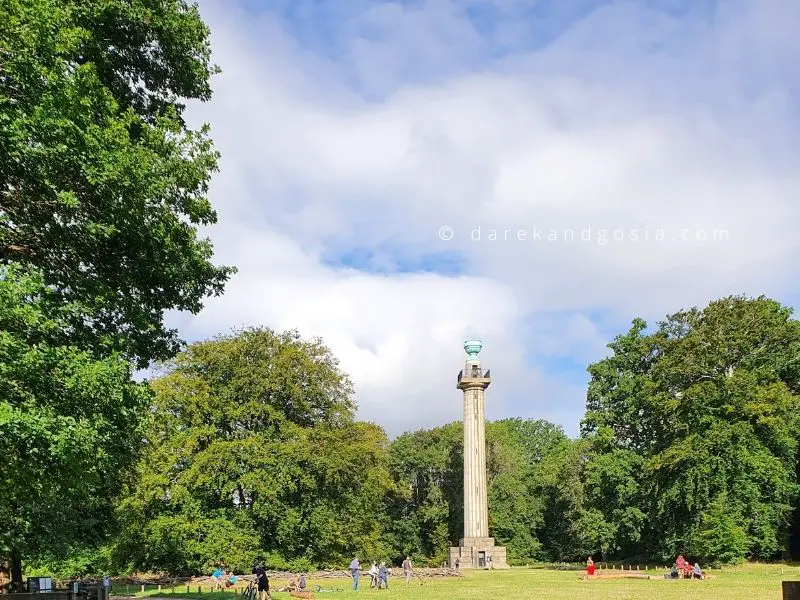 2. Brownlow Cafe @ Ashridge Estate
The Brownlow cafe isn't owned or operated by the National Trust, so you might find that they're opening times differ to the rest of the estate. You can get a great snack from here.
They serve some devastatingly good baked good, both sweet and savoury and you can get a hot or cold drink as well.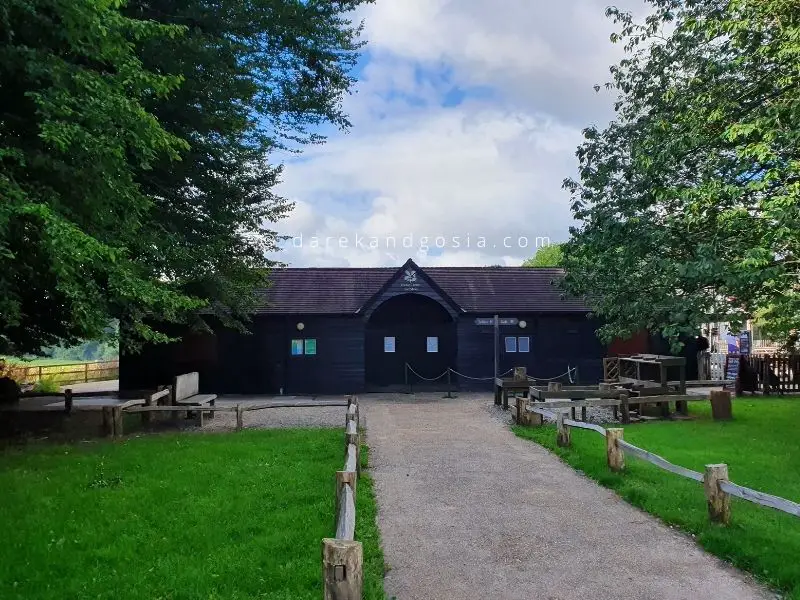 3. Ashridge Estate horse riding
There are over 30 miles of public bridleways through Ashridge. That means that while you're exploring the estate, you may come across horses. There are lots of options to enjoy horse trekking throughout the estate with experience days available for new riders as well as treks for more experienced horse riders. There are several local businesses that can help you to organise this as a fantastic day out and a chance to enjoy the estate from a new perspective!
It is also possible to bring your own horse to trek through the Ashridge Estate and buy a day, six-month or year permit. You can contact the National Trust for more information about this.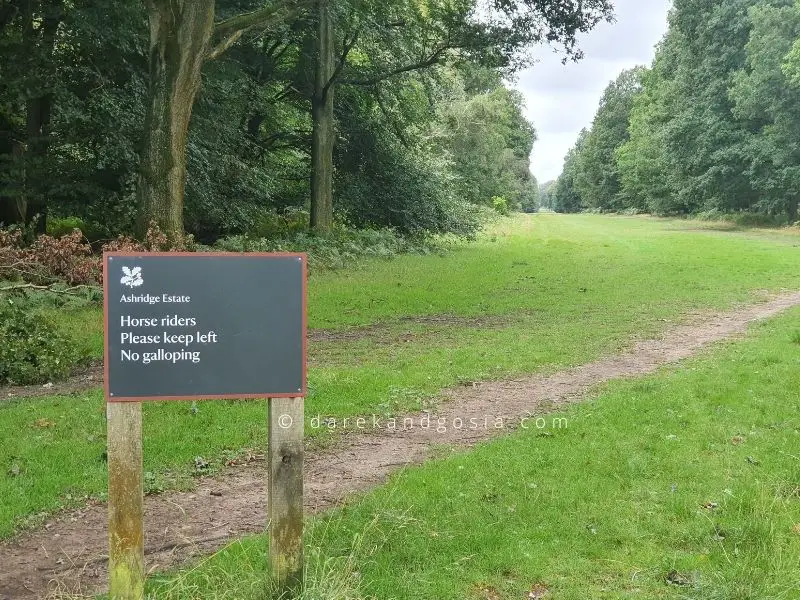 4. Ashridge forest
The Ashridge Estate is home to several large stretches of beech and oak trees. These gorgeous trees are delightful to walk through. There are plenty of routes to follow, with some clearly marked and colour coded to help you find your way.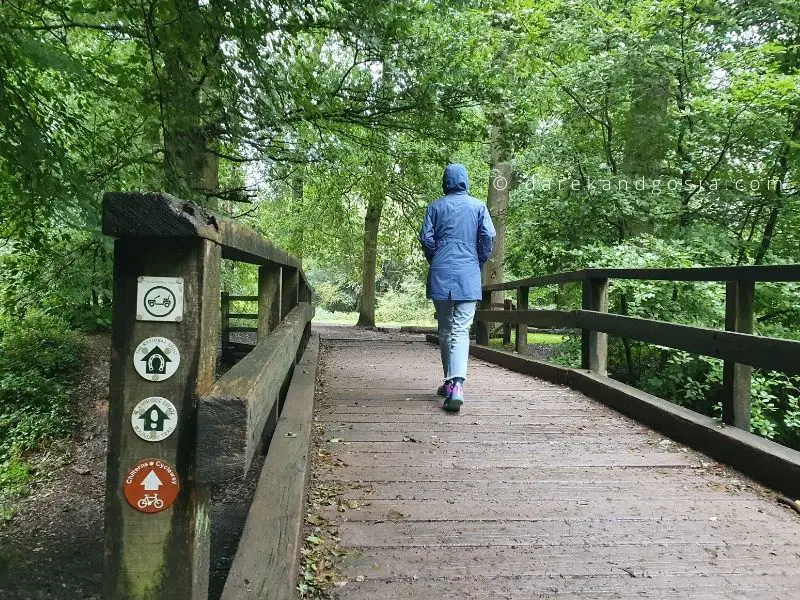 5. Meadleys Meadow track
This is a good option for those with prams or mobility scooters. It's a circular walk along a paved path that takes around 20 minutes. It will lead you around Meadley's Meadow. It's not signposted, but as it is paved, it's easy to find and follow.
6. Rangers' Ramble route
If you follow the green signs from the visitor centre, it will take you on a 3-mile loop through the woods. The walk should take you around 2 hours to complete.
It's one of the more challenging routes as there are several hills along the way and the footing can be a little uneven in places. It does give you a real feel for the woods though and offers the chance to spot plenty of wildlife.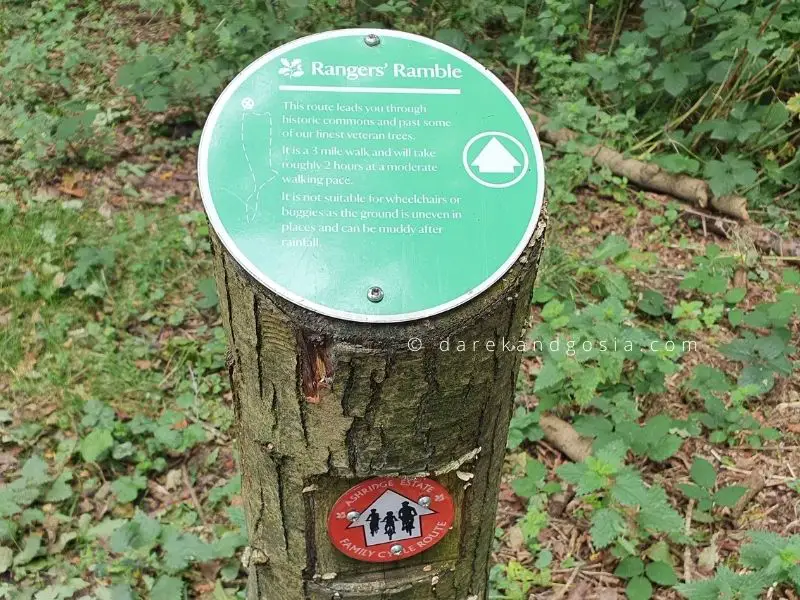 7. Woodland Walk trail
If you're looking for a long and challenging walk, then the Wildlife Walk is the one for you. Follow the yellow signs form the visitor centre, and you'll have a lovely 8-mile hike that takes you through the woods and out to Ivinghoe Beacon.
If you're flagging a little on the return leg, there is an optional shortcut that will get you back to the visitor's centre along a shorter route, as long as you don't mind repeating a bit of trail you already walked.
8. Boundary Trail
This is definitely not a walk to be taken lightly. This route will take you around the whole 500-acre estate. The walk is roughly 16 miles in length and will take an average of seven hours to complete. 
Completing this trail will give you a real flavour of everything the estate has to offer. You'll get to walk through woodlands and grasslands as you traverse the property. There is a good chance that you come across deer on this walk, so if you have a dog with you, you'll need to make sure it's under close control.
The trail is marked with green signs. Each one has an arrow to keep you going the right way.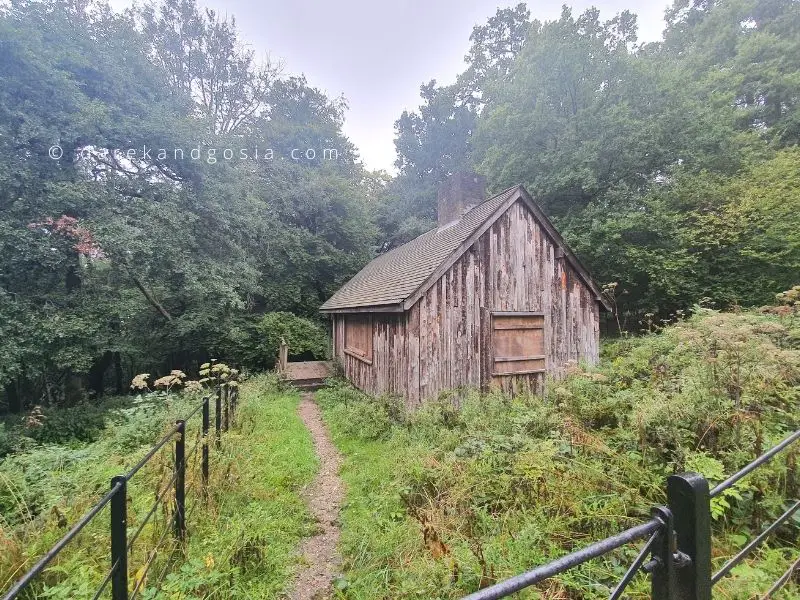 9. Ashridge Bluebell Walk
This is something of an unofficial walk. It's not signposted so you will need to make sure you have route instructions with you if you plan to follow this walk. It starts from the visitor centre and takes you 4.6 miles around the woodlands. It passes through all the spots that are most likely to be filled with bluebells during the springtime.
10. Ashridge House
Ashridge House is next to Ashridge Estate, but the National Trust does not own it. It is a separate entity. You can still visit the house, however. It is used as a conference and wedding venue and also houses the Ashridge Management College. Furthermore, there are gardens around the house, which you can explore as well.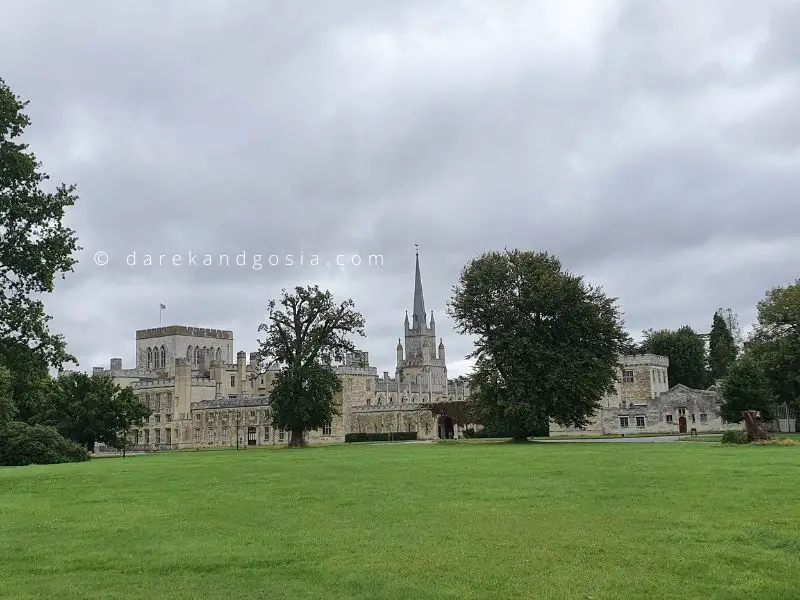 11. Hill Farm
Hill Farm Barn Walk-In Cafe is a cafe located on Ashridge Estate, which is owned by the National Trust. It is located near the Ashridge Visitor Centre, close to the Bridgewater Monument. The cafe serves a variety of hot and cold food, drinks and snacks. It is a great place to stop for a bite to eat and a drink after exploring the estate, or for a break during a longer walk in the surrounding countryside.
The cafe is open seasonally, so it is best to check their website or call ahead to confirm the timings before visiting.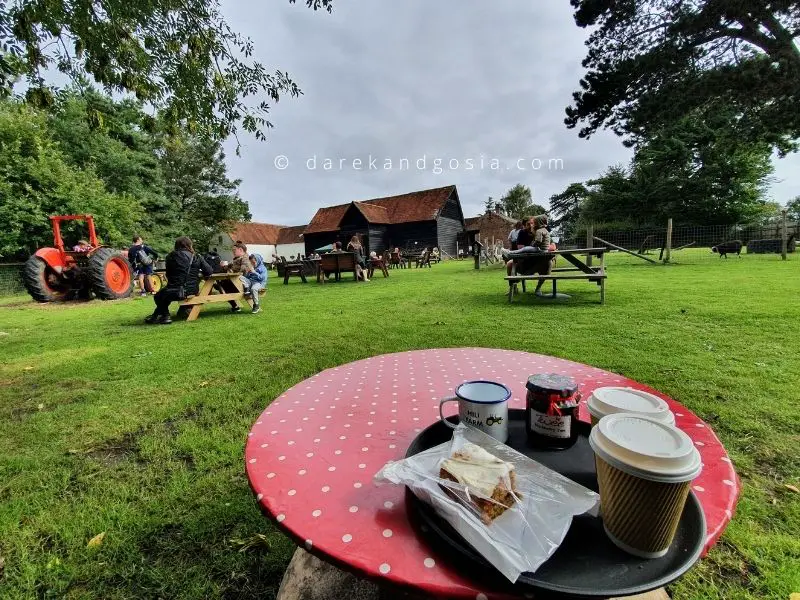 Who owns Ashridge House?
Hult International Business School privately owns Ashridge House.
Ashridge Estate tourist information
Ashridge Estate is a beautiful and historic destination in Hertfordshire, England. The estate covers over 5,000 acres of woodlands, commons, and chalk downs and is managed by the National Trust. Here are some tourist information for Ashridge Estate:
Outdoor Activities: Ashridge Estate is a great place for outdoor activities such as walking, cycling, and horse riding. The estate has a network of trails and paths that offer scenic views of the countryside. You can also explore the woods and meadows to see the wildlife and wildflowers.
Bridgewater Monument: The Bridgewater Monument is a 120-foot-high tower that offers panoramic views of the surrounding countryside. You can climb the 170 steps to the top of the tower to enjoy the view.
Ashridge House: Ashridge House is a 19th-century mansion that was once the home of the Earls and Dukes of Bridgewater. The house is now a business school, but you can still explore the gardens and parkland.
Visitor Center: The Ashridge Estate Visitor Center provides information about the estate, its history, and the activities you can do. The center also has a cafe and gift shop.
Events: Ashridge Estate hosts a range of events throughout the year, including guided walks, wildlife watching, and family activities.
Parking: There is a car park at the visitor center, which is the main access point to the estate. Parking is free for National Trust members, and charges apply for non-members.
Accessibility: Ashridge Estate has accessible paths and facilities for visitors with disabilities. The estate also has mobility scooters available for hire.
Overall, Ashridge Estate is a wonderful destination for nature lovers, history enthusiasts, and outdoor adventurers.
Places to visit nearby Ashridge Estate:
Is it worth visiting Ashridge Estate in Hertfordshire?
Ashridge Estate is a spectacular place. If you want to get a feel for English country estates and the wildlife they support, then there is no better place to visit. No matter the season there's something wonderful to see. Spring brings the bluebells, and summer is for the butterflies.
In Autumn, the deer take over while winter brings some calm and quiet as the landscape rejuvenates. It's a magical place to explore.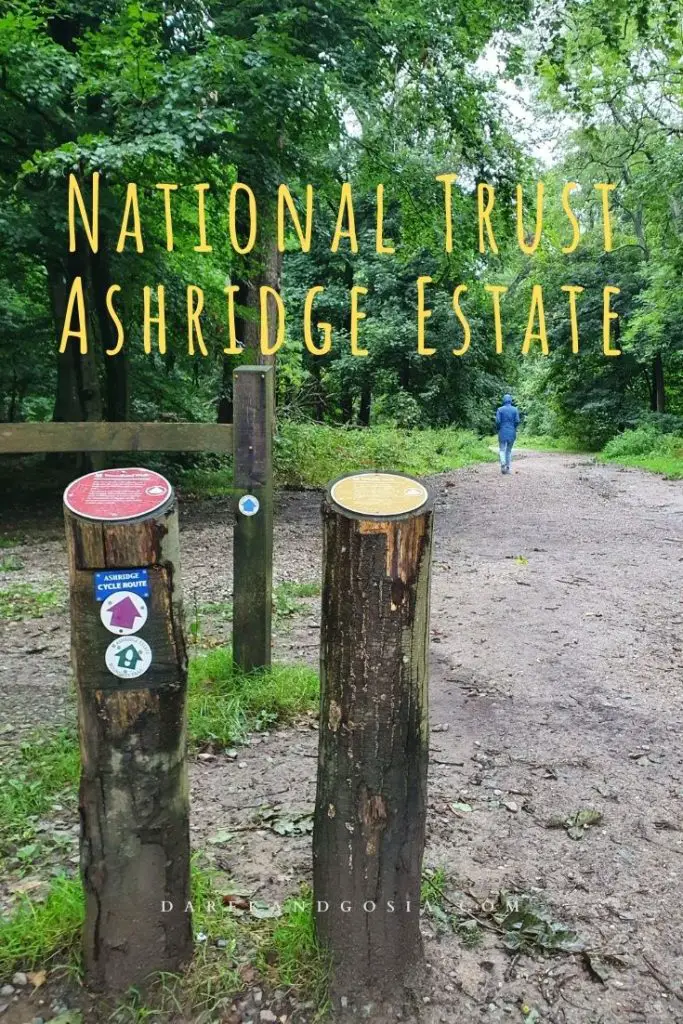 Articles you may like: